10 Best Beaches in Jacksonville, FL → for Your Next Vacation
Florida beaches are some of the very best in the world, no doubt about that! So if you're visiting Jacksonville for your next beach vacation, you're in for a treat. With 22 miles (35 km) of white sand beaches, there are countless places to have some fun in the sun. I've narrowed down the absolute best beaches in Jacksonville, and that's what I'm sharing with you today!
All of the beaches offer something a little different, so whether you're looking for a secluded beach to unwind and unplug or a spot on the sand right in the middle of the action, there's a perfect beach for you on this list.
A huge plus about the beautiful beaches here is that they're typically a lot less crowded than those in other popular Florida vacation destinations, which makes for a much more relaxing experience. Less crowds, less stress, more fun!
Without further ado, let's go over the incredible beaches in Jacksonville!
1. Jacksonville Beach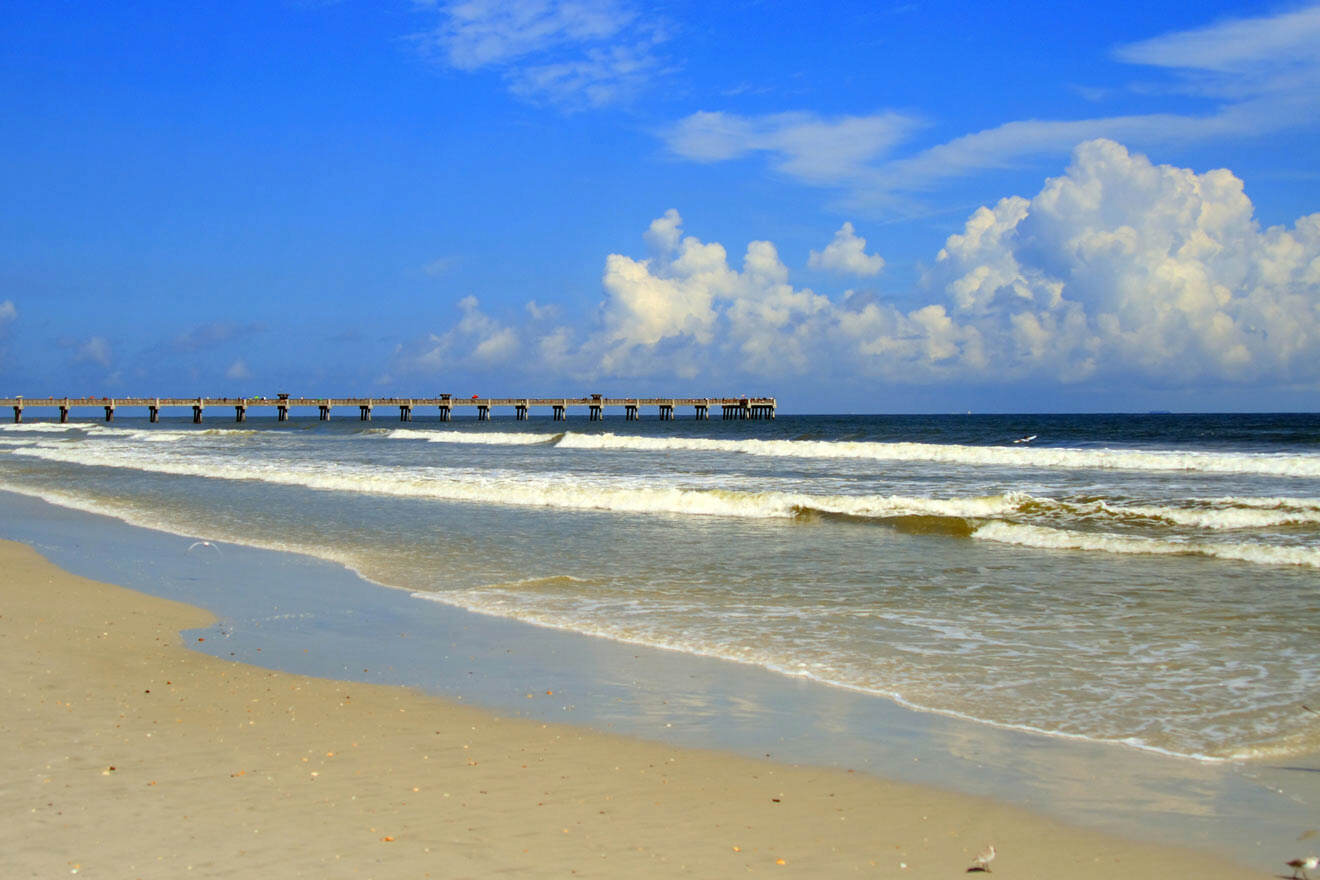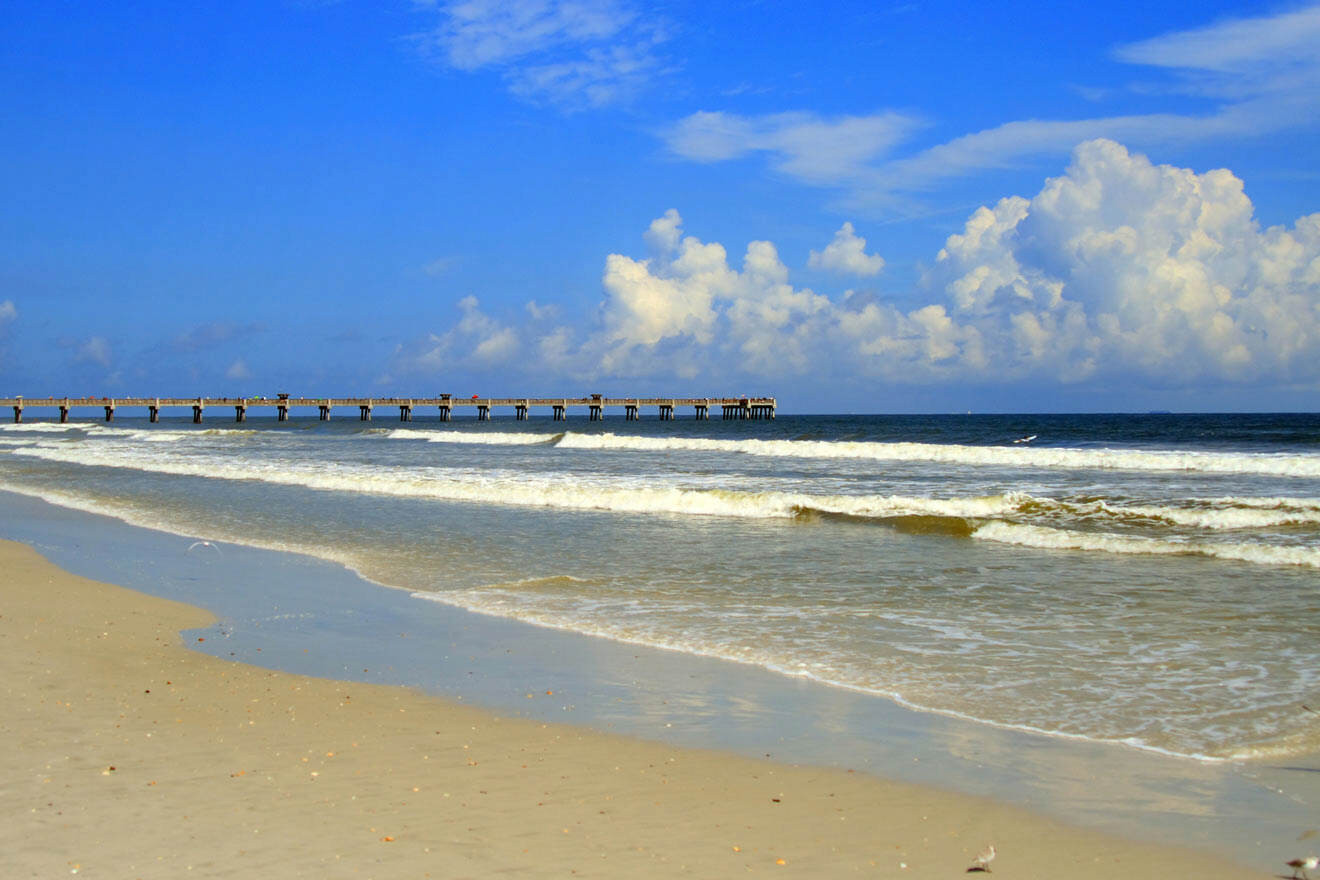 Of course, I'm kicking off this list of the best beaches in Jacksonville with Jacksonville's namesake beach, Jacksonville Beach! It has everything you need for a family-friendly beach day, spanning over 3.5 miles (over 5 km) of super soft sand. There is so much to do at this quintessential Florida beach, whether you want to catch some fish off the Jacksonville Beach pier or catch some waves on a surfboard.
There are some delicious places to eat and drink near the beach as well – Angie's Subs on Jax Beach serves up the absolute best sandwiches I've ever had! Just a half-mile (app. 1 km) from Jacksonville Beach at Whit's Frozen Custard, you can grab a mouth-watering sweet treat to cool off from the sun.
Jacksonville Beach has no shortage of rental companies, so if you're interested in renting chairs and umbrellas, bicycles, paddleboards, or any other gear for your beach adventure, you're in good hands. Beach Life Rentals is one of the most popular companies in the area, and they deliver right to you!
2. Atlantic Beach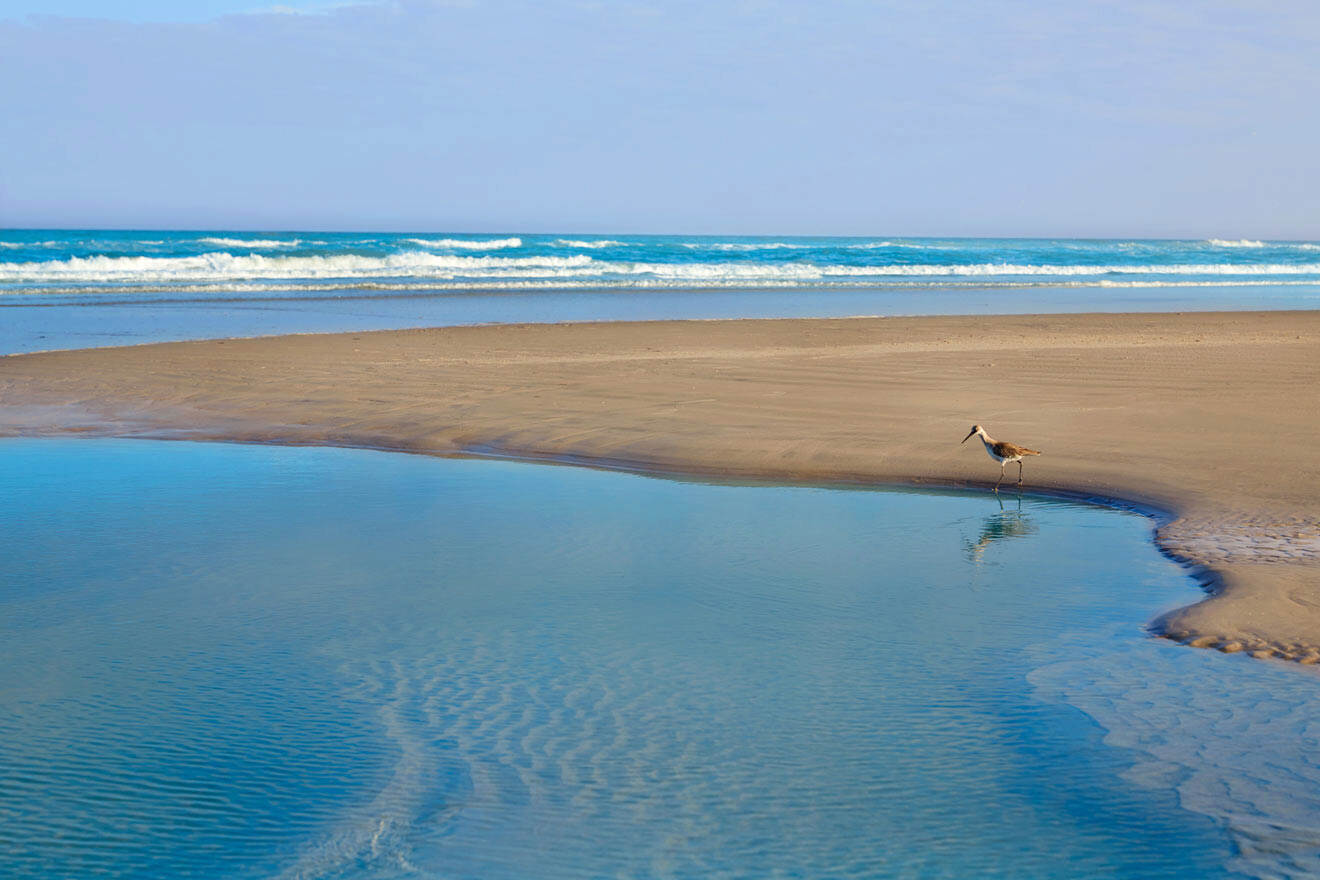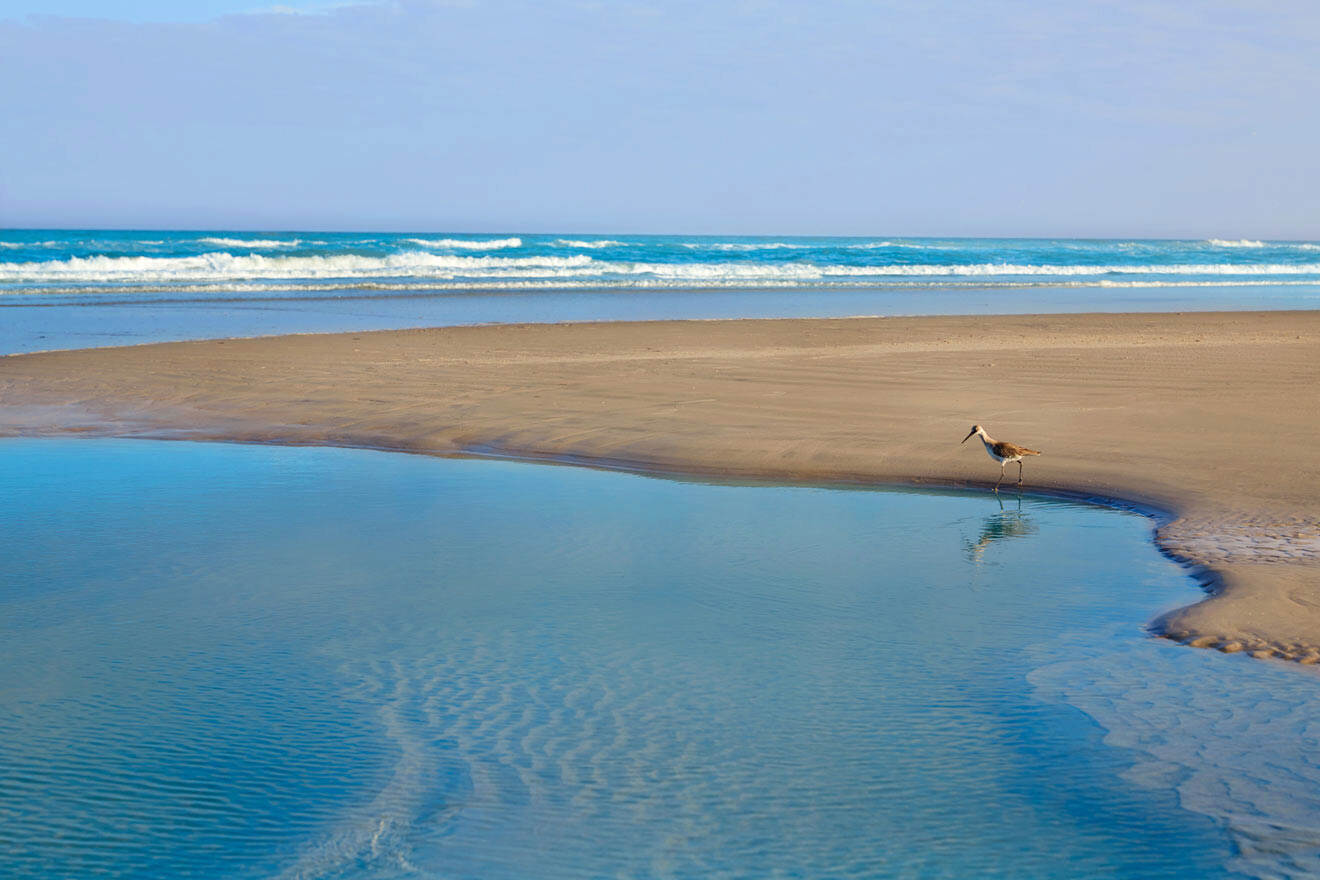 Only a 13-minute drive north of Jacksonville Beach, and around 30 minutes from downtown Jacksonville, lies Atlantic Beach, which is a must-see for beach lovers and history buffs alike! It's the northernmost of Jacksonville's 3 distinct beach communities, which includes #1 and #3 on our list.
Atlantic Beach remains a hidden gem in North Florida, and that's part of what makes it so charming. If you're a fan of cozy Florida beach towns, you'll love it here. It boasts a storied history as well – it's thought to be the first full-time settlement of Native Americans in North America!
The homes on Atlantic Beach just might be my favorite part. I'm a sucker for a beautiful beach house, and you'll find countless of them here to marvel at! With more mild waves than some of the other beaches in the area, Atlantic Beach is a great place for beginner surfers to learn the ropes and then eventually graduate to more advanced swells.
3. Neptune Beach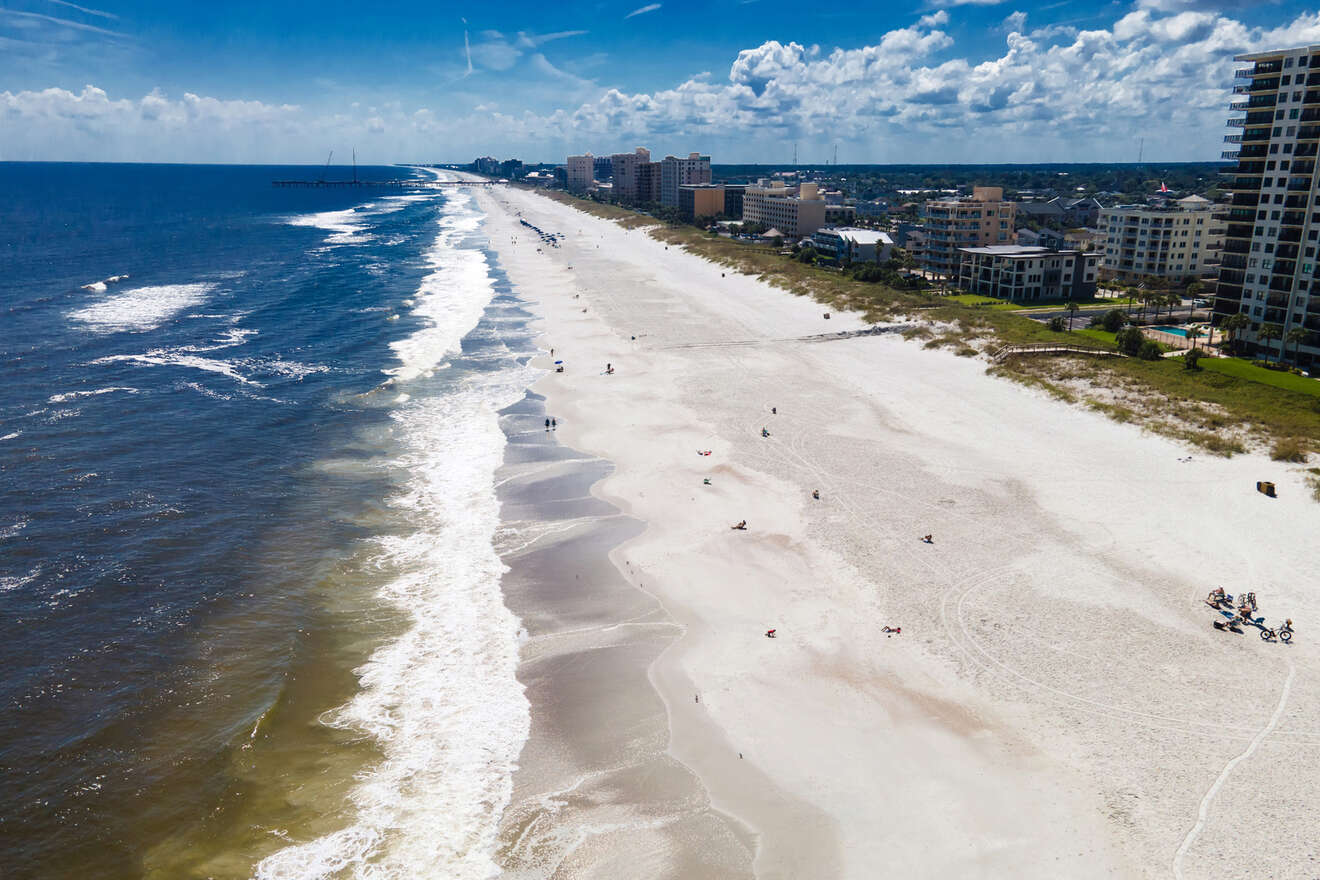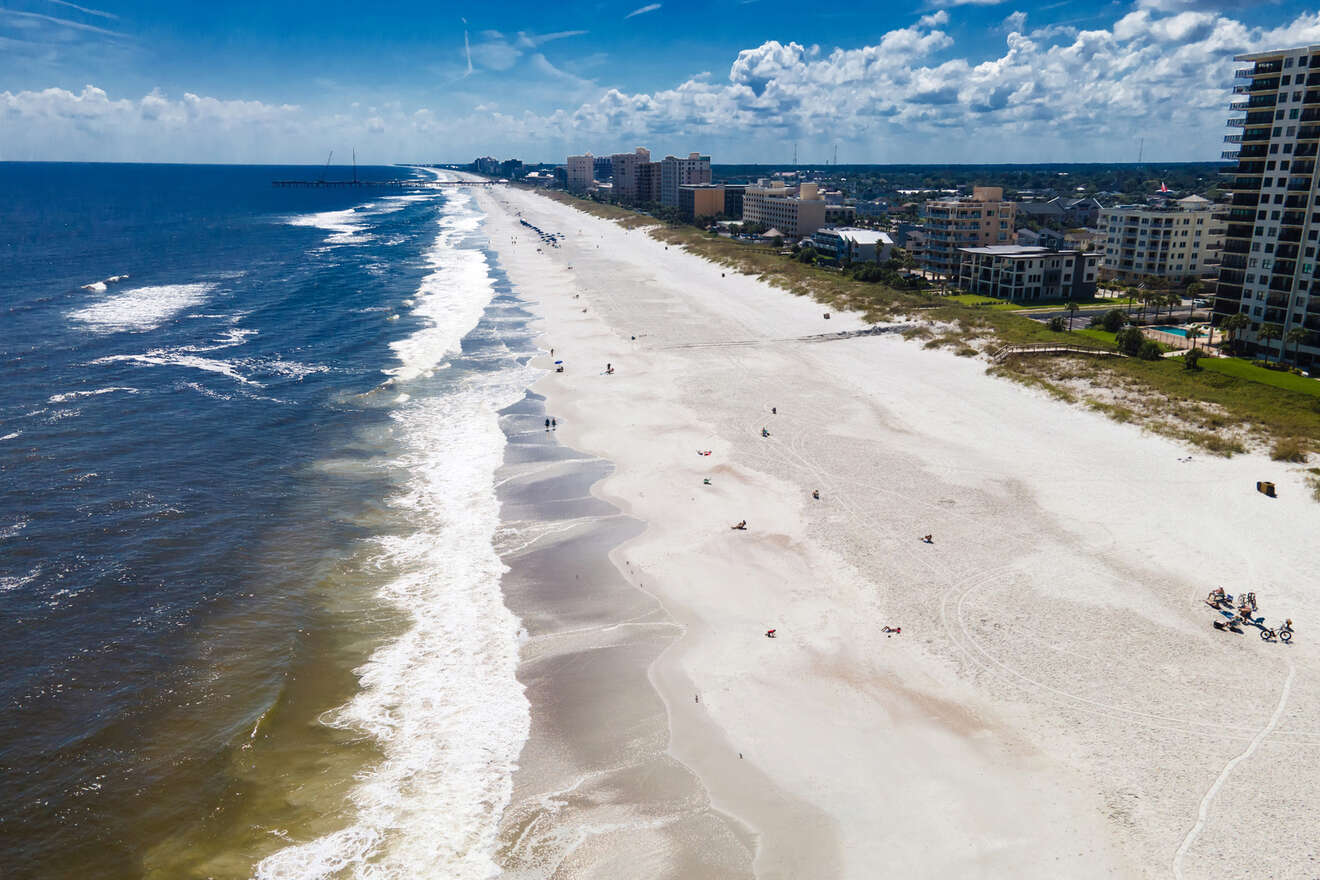 Sandwiched between Jacksonville Beach and Atlantic Beach is Neptune Beach, a quaint coastal town with an easygoing, laid-back attitude and one of the best beaches in Jacksonville. Spend a day relaxing on the white sand, shop at the adorable boutiques, or grab a bite at a locally-loved restaurant.
The oldest bar in the area, Pete's Bar, is an iconic establishment and one of the many amazing spots in Neptune Beach to unwind and grab a drink. Lemon Bar & Grille, located in the Seahorse Oceanfront Inn courtyard, boasts beachside frozen libations with postcard-worthy views of Neptune Beach.
You'll find plenty of places to enjoy local seafood as well. Sliders Oyster Bar in Neptune Beach serves up creative coastal cuisine in an atmosphere so cute you won't be able to resist posting it on Instagram.
Neptune Beach is an ideal destination for couples looking for a beach getaway!
4. Huguenot Memorial Park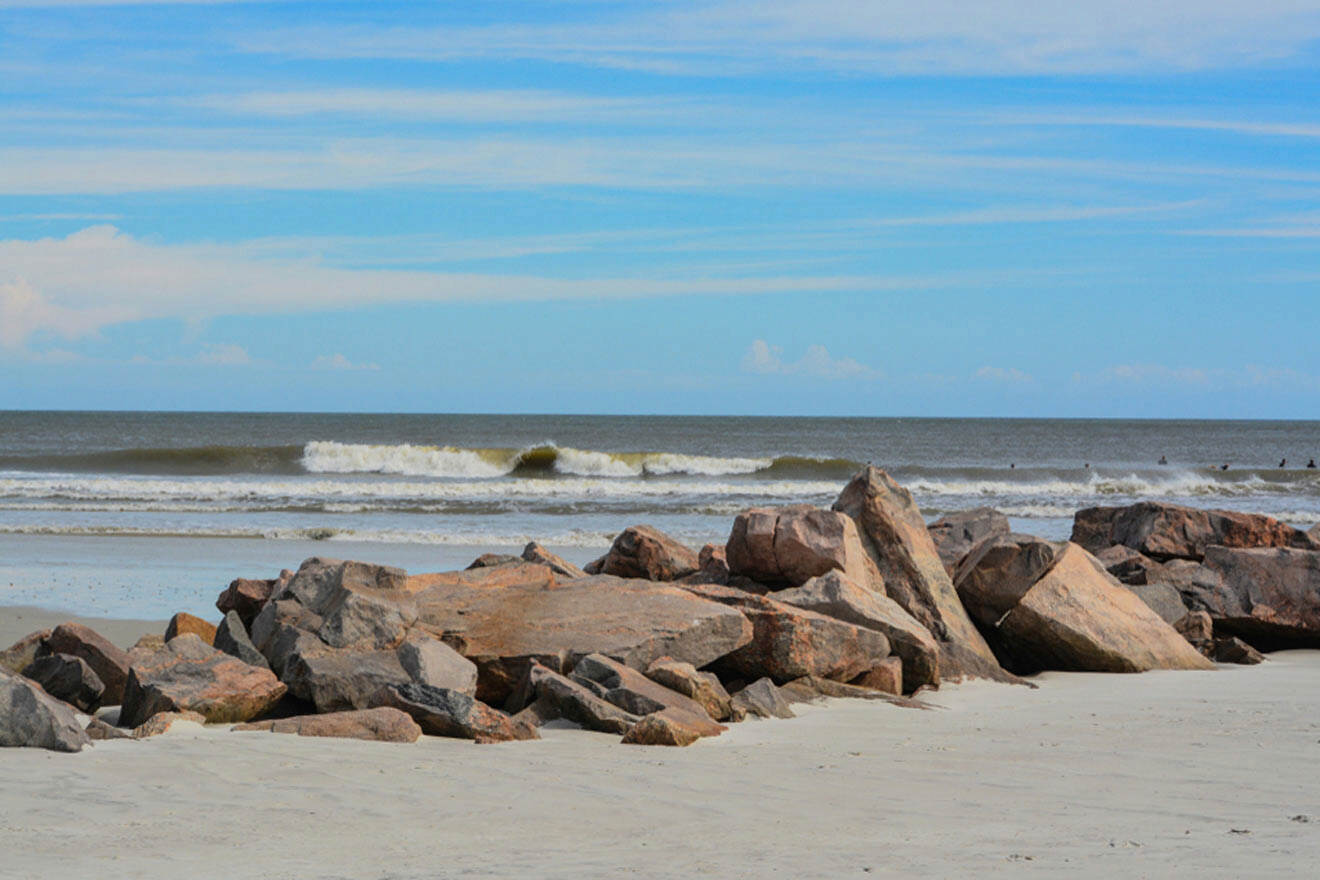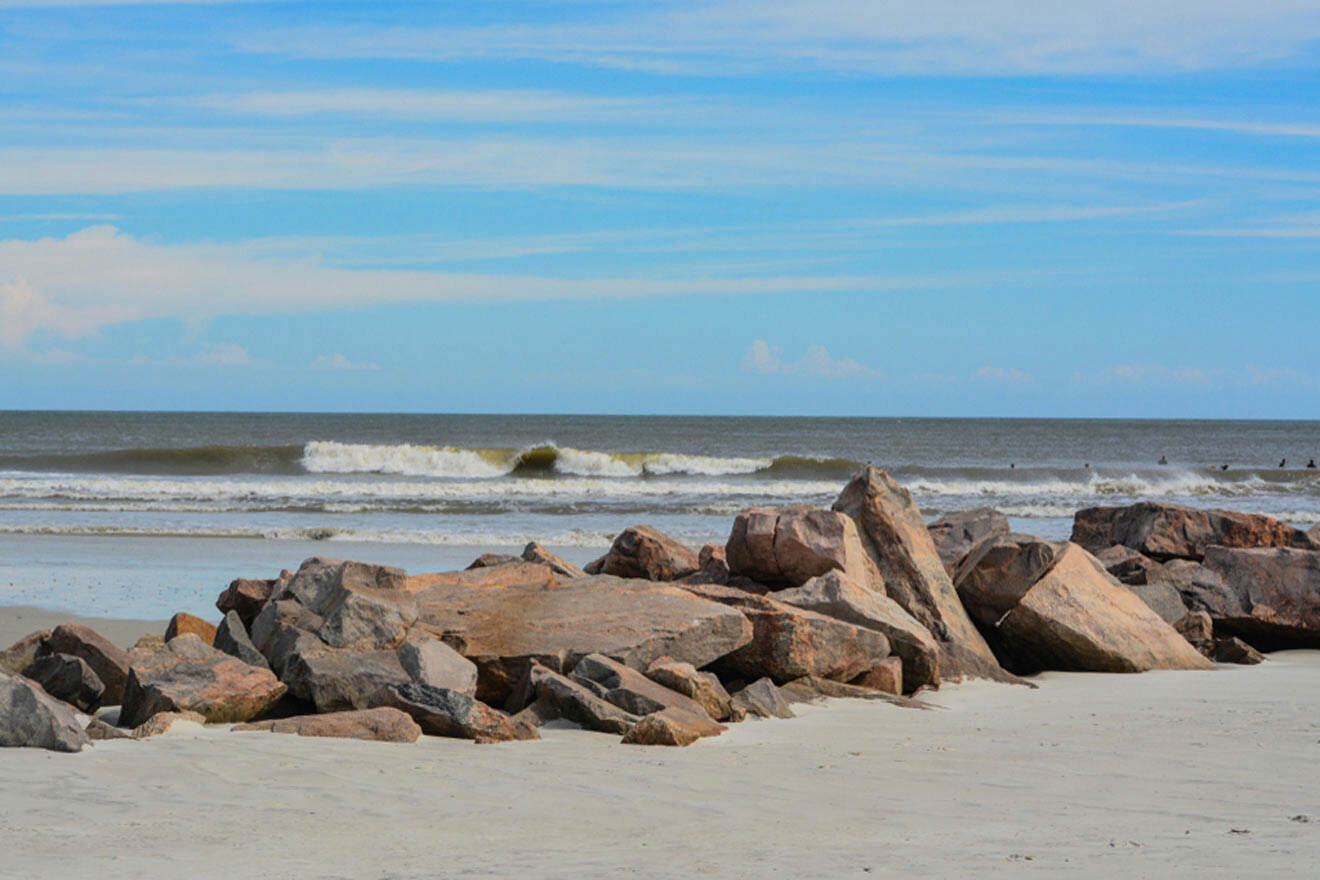 If you're looking for the best beaches in Jacksonville for families, Huguenot Memorial Park is for you and is located a 5-minute drive south of Jacksonville Beach. Unlike the first 3 beaches on our list, Huguenot Memorial Park does charge admission (for a nominal fee), but that admission gets you access to the park's wonderful amenities that will make your beach day stress-free!
Huguenot Memorial Park is absolutely beautiful, and it's almost completely surrounded by water! A part of the Great Florida Birding Trail, it's a must-see for wildlife enthusiasts, as it protects nesting terns and shorebirds. Over 200 species of birds have been recorded here! Stop by the Nature Center, which is open from 2 PM to 5 PM, to learn about the creatures that call Huguenot Park home.
In addition to bird-watching, this park boasts a fantastic swimming beach, as the swells tend to be pretty mild. Amenities include restrooms, showers, grills, a playground, a boat launch, and over 70 waterfront campsites. If you've never experienced camping on the beach, this is the place to try it!
PRICE: US$5 per vehicle, US$3 per pedestrian/bicyclist
5. Kathryn Abbey Hanna Park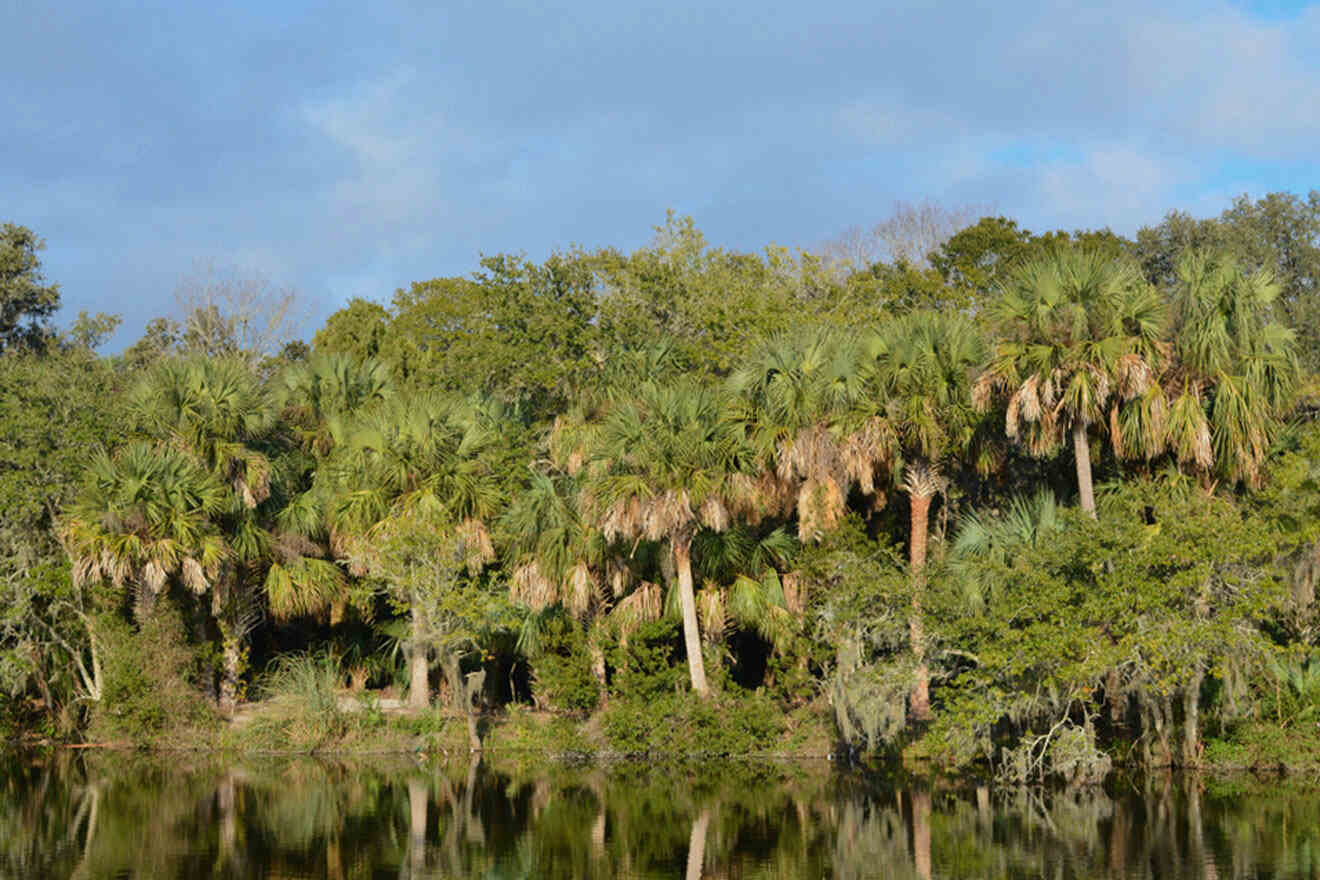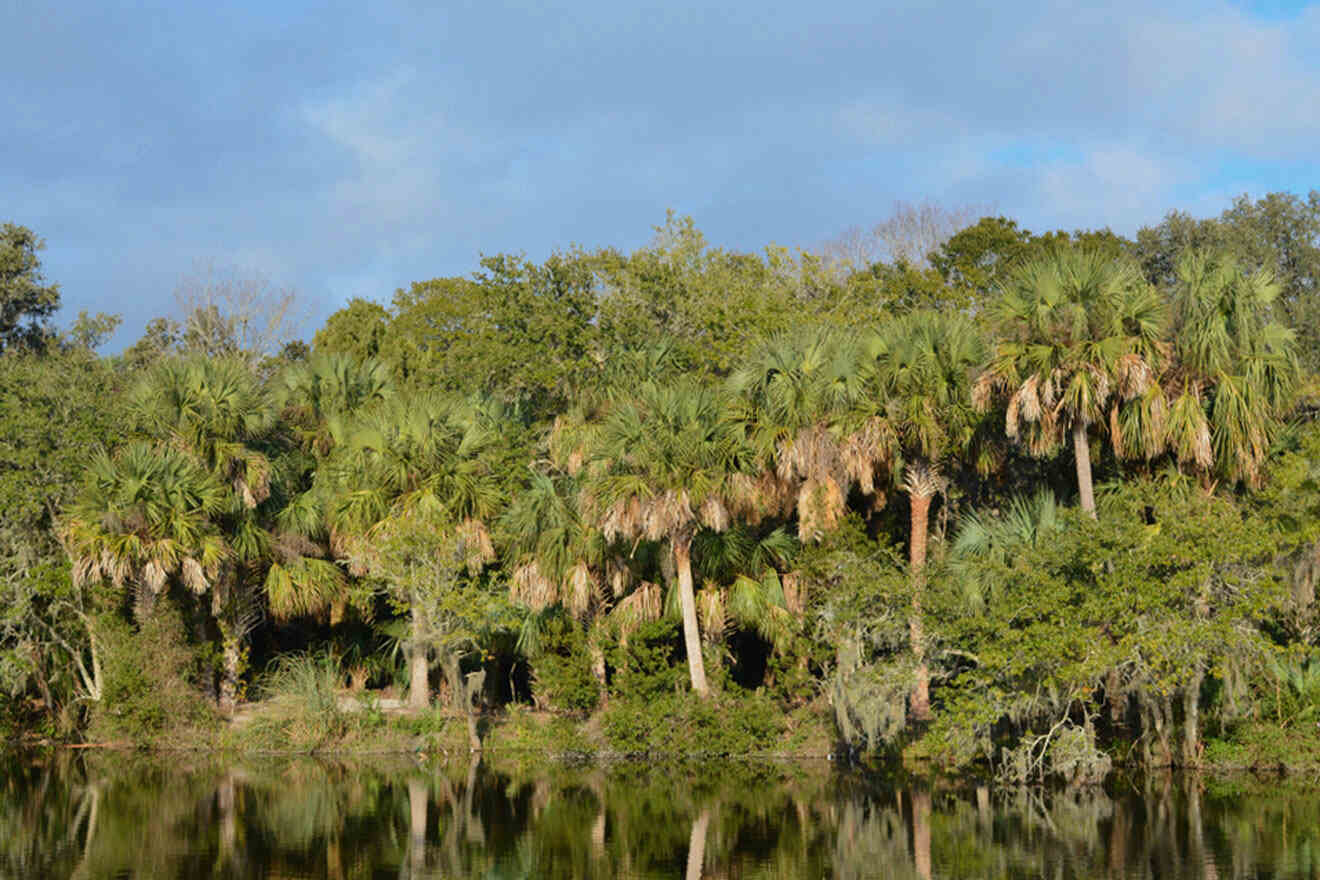 Surfers, sunbathers, nature lovers, and families will all adore Kathryn Abbey Hanna Park, which is just a 20-minute drive north of Jacksonville Beach. This massive waterfront park includes a 1.5 miles (app. 2.5 km) stretch of white sandy beach, as well as a 60-acre (24 hectares) freshwater lake, so you get the best of both worlds when you visit here.
Activities at Kathryn Abbey Hanna Park include swimming, paddling, fishing, boating, surfing, hiking, camping, and so much more. Wildlife enthusiasts should check out the bird trail, while those seeking adventure can rent kayaks and even sailboats for some fun on the water. For little ones, the kids' splash park provides a fun way to cool off from the Florida heat.
The northmost tip of Kathryn Abbey Hanna Park is known as The Poles and is a paradise for surfers in North Florida. Even if you don't surf yourself, it's worth checking out and seeing the surfers in action!
PRICE: US$5 per vehicle, US$3 per pedestrian/bicyclist
6. Little Talbot Island State Park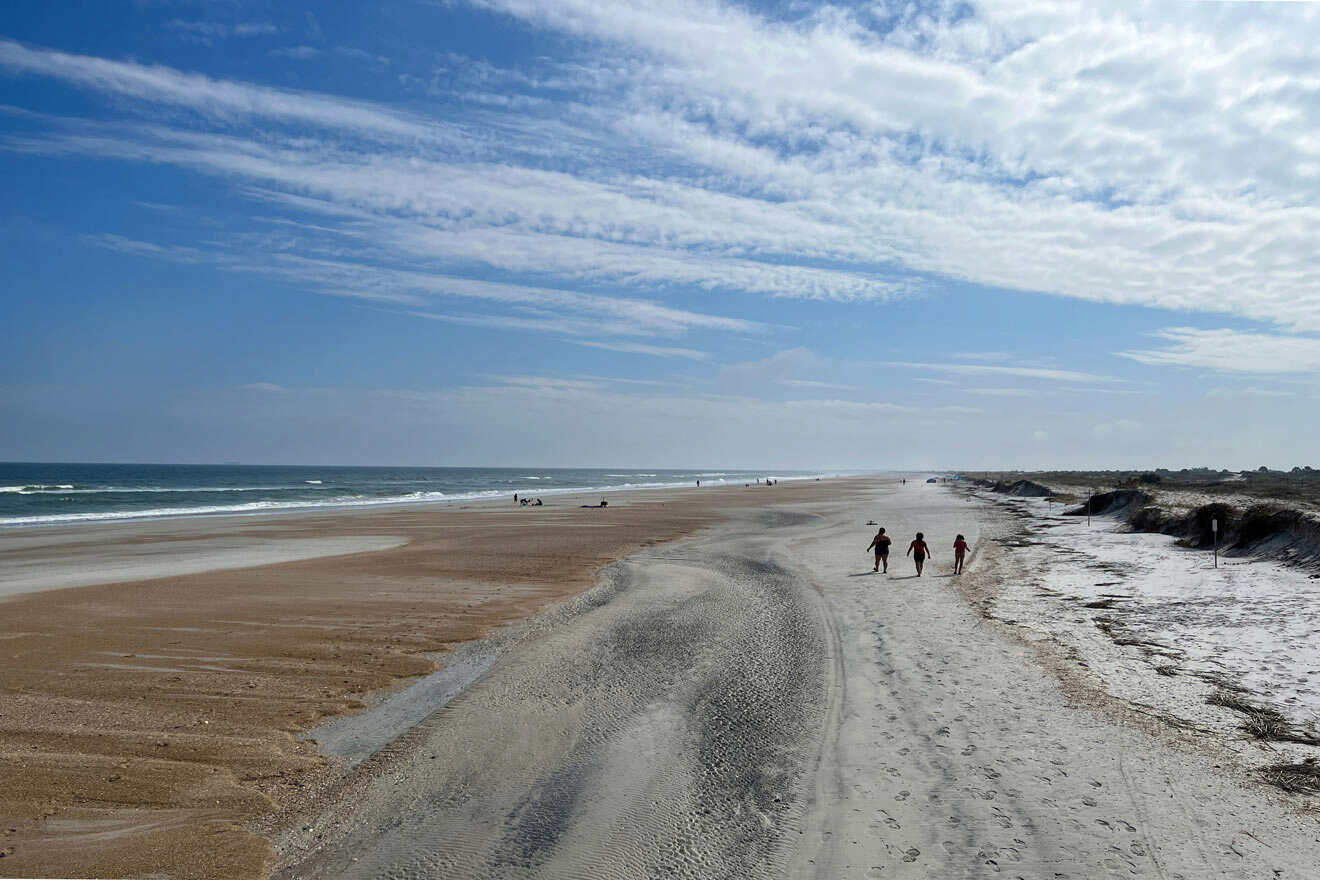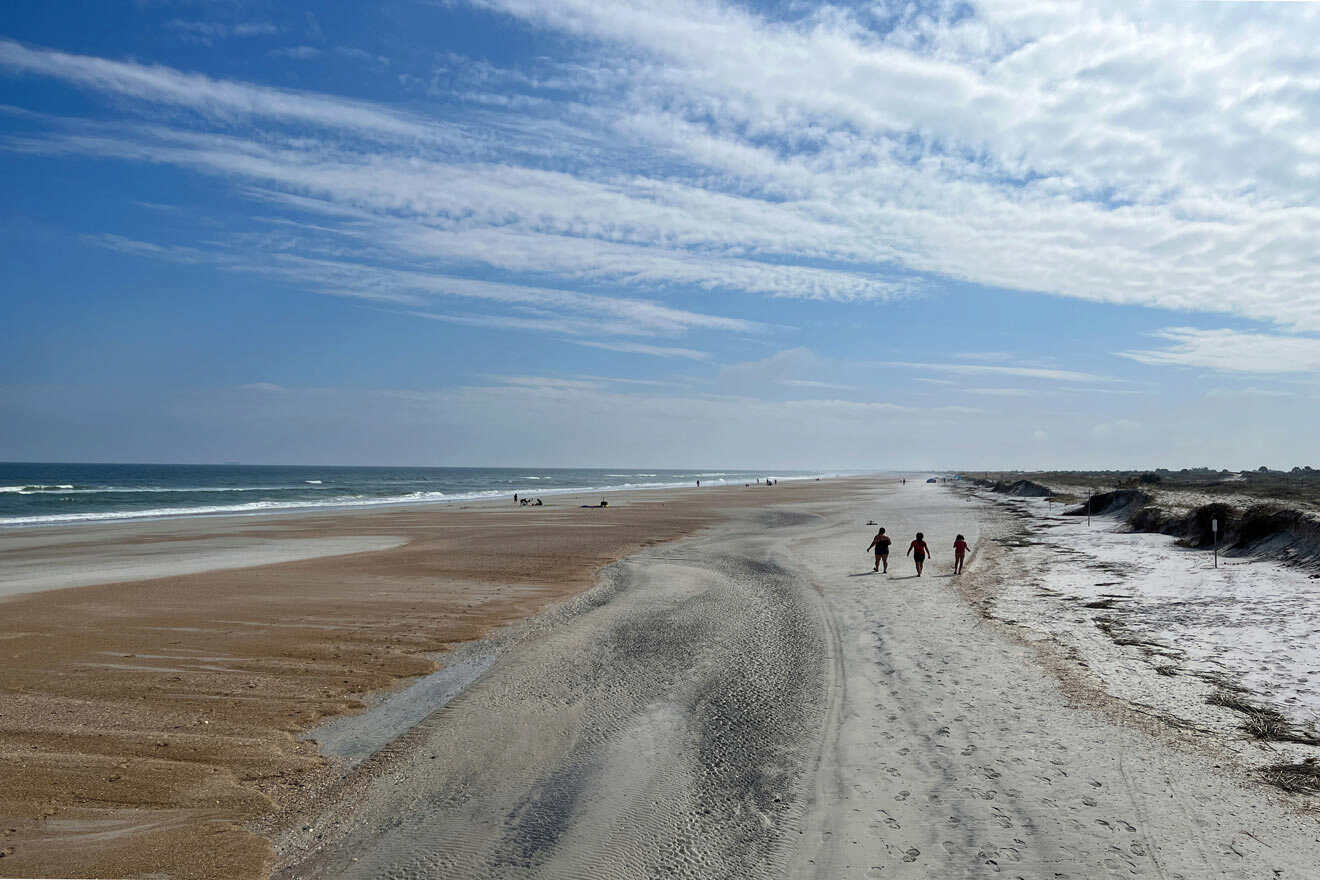 If a beach is located on a barrier island, then you know it's going to be a real slice of paradise! One of the few remaining undeveloped barrier islands in Northeast Florida is called Little Talbot Island, and it's home to Little Talbot Island State Park.
Little Talbot Island State Park has one of the best beaches in Jacksonville – over 5 miles (8 km) of white sandy beaches, to be exact. This Florida State Park is a dream come true not only for beach lovers but nature lovers, too!
In addition to the beautiful beaches you'd expect on an undeveloped barrier island, there are incredible hiking trails ranging from 1 – 4 miles (1.6 to 6 km) long that take you throughout the island, from the salt marshes to the live oak maritime forest. The park's diverse habitats are home to abundant wildlife, so keep your eyes peeled for gopher tortoises, snakes, armadillos, white-tailed deer, and even bobcats!
Little Talbot Island is a great place for fishing, camping, paddling, shelling, and swimming – there is something for everyone here. Gear rentals are available on-site, so you'll have everything you need for your adventure.
PRICE: US$5 per vehicle
7. American Beach
Step into an important part of American history at American Beach. Located just under an hour north of downtown Jacksonville on scenic Amelia Island, this historic beach is as beautiful as it is significant.
American Beach was founded by the first Black millionaire, Abraham Lincoln Lewis, during a dark time in America's past when people of color were not allowed at public beaches due to horrific segregation laws. Today, it is part of Florida's Black Heritage Trail and celebrates A.L. Lewis's contribution and triumph over segregation.
At the A.L. Lewis Museum, often called the American Beach Museum, visitors can learn all about the heritage and legacy of American Beach and even take guided beach tours. It's open Fridays, Saturdays, and Sundays.
The beach itself is very tranquil and a great break from the hustle and bustle. It also boasts the tallest sand dunes in Florida, the largest of which is called "Nana" and is quite a sight to see!
8. Ponte Vedra Beach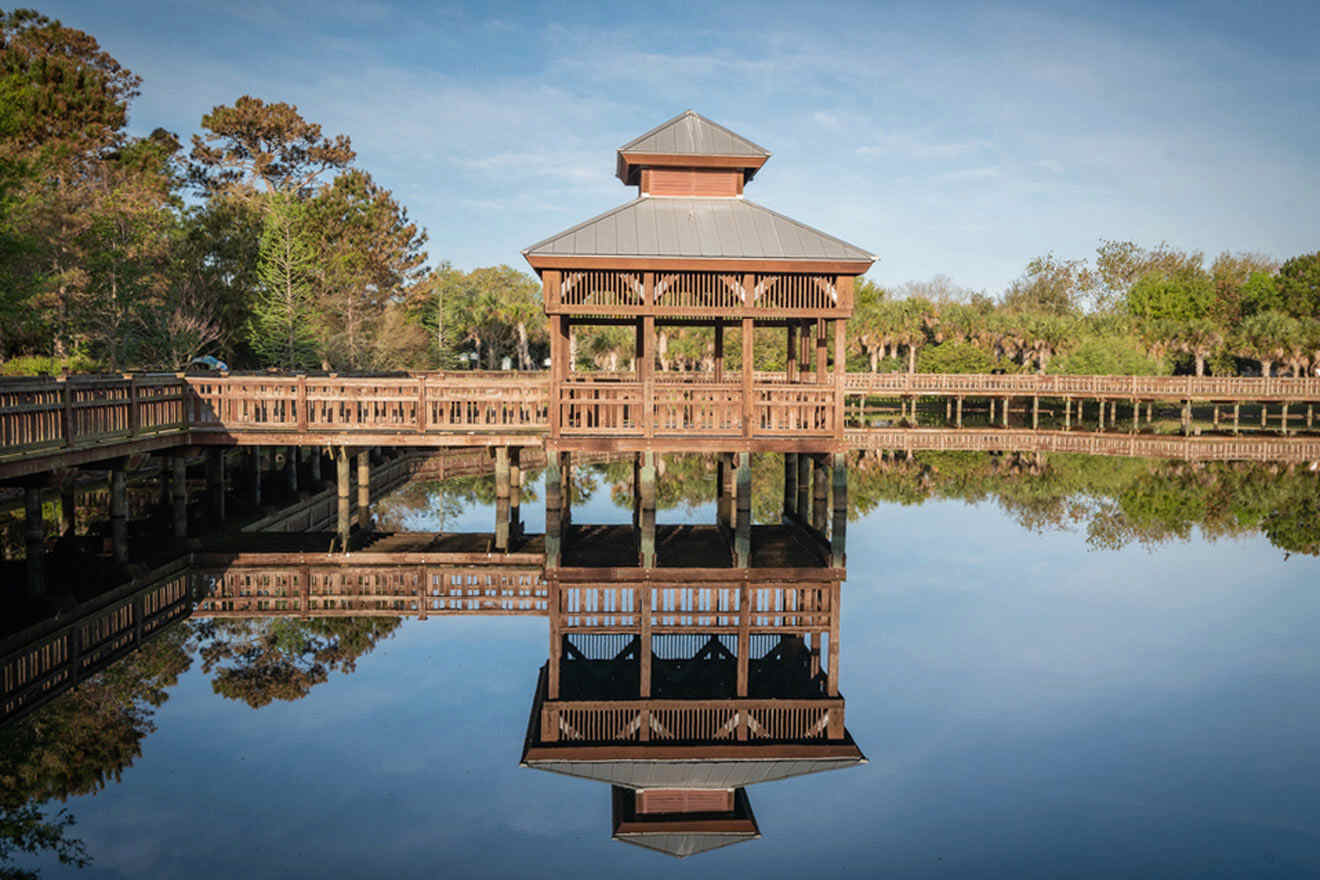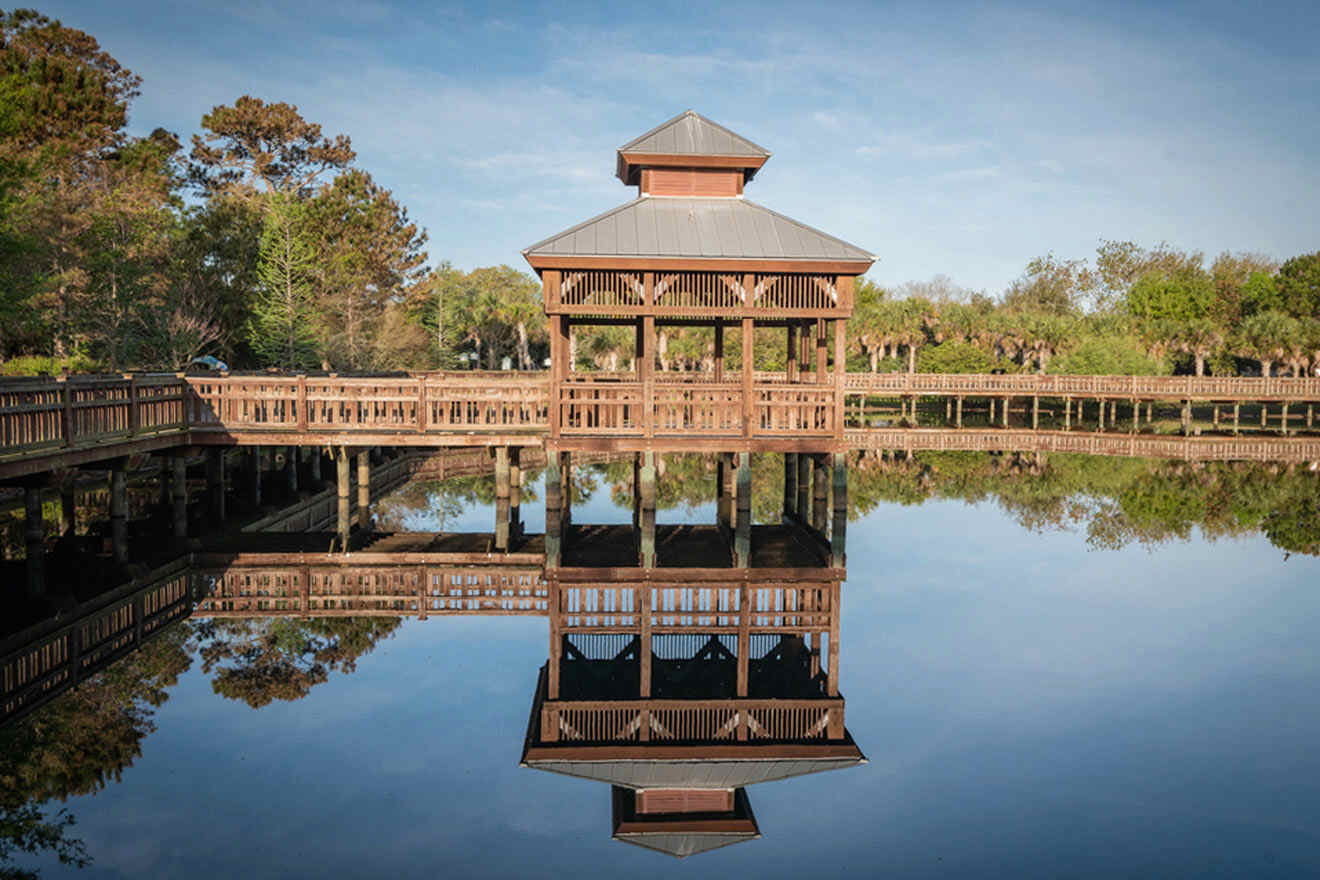 At just a 10-minute drive south of Jacksonville Beach lies Ponte Vedra Beach – ranked by CNN as one of the 22 Can't-Miss Beaches in the entire US! This luxurious yet laid-back beach on the Atlantic Ocean is a haven for golfers due to its proximity to TPC Sawgrass and for anyone looking for a relaxing day on the sand in an upscale beach town.
There are a few things that make Ponte Vedra Beach extra special. It's dog-friendly, so if you're traveling with your pup, you're welcome to bring them to Ponte Vedra Beach on a leash! South Ponte Vedra Beach recreation area offers amenities for beachgoers, like picnic tables and grills, so Ponte Vedra Beach is a fantastic spot to dine al fresco.
Finally, you may stumble upon a rather unique souvenir if you're walking along this beautiful beach – shark teeth! From current-day shark teeth to fossilized ones, you never know what you might find on the shore.
9. Black Rock Beach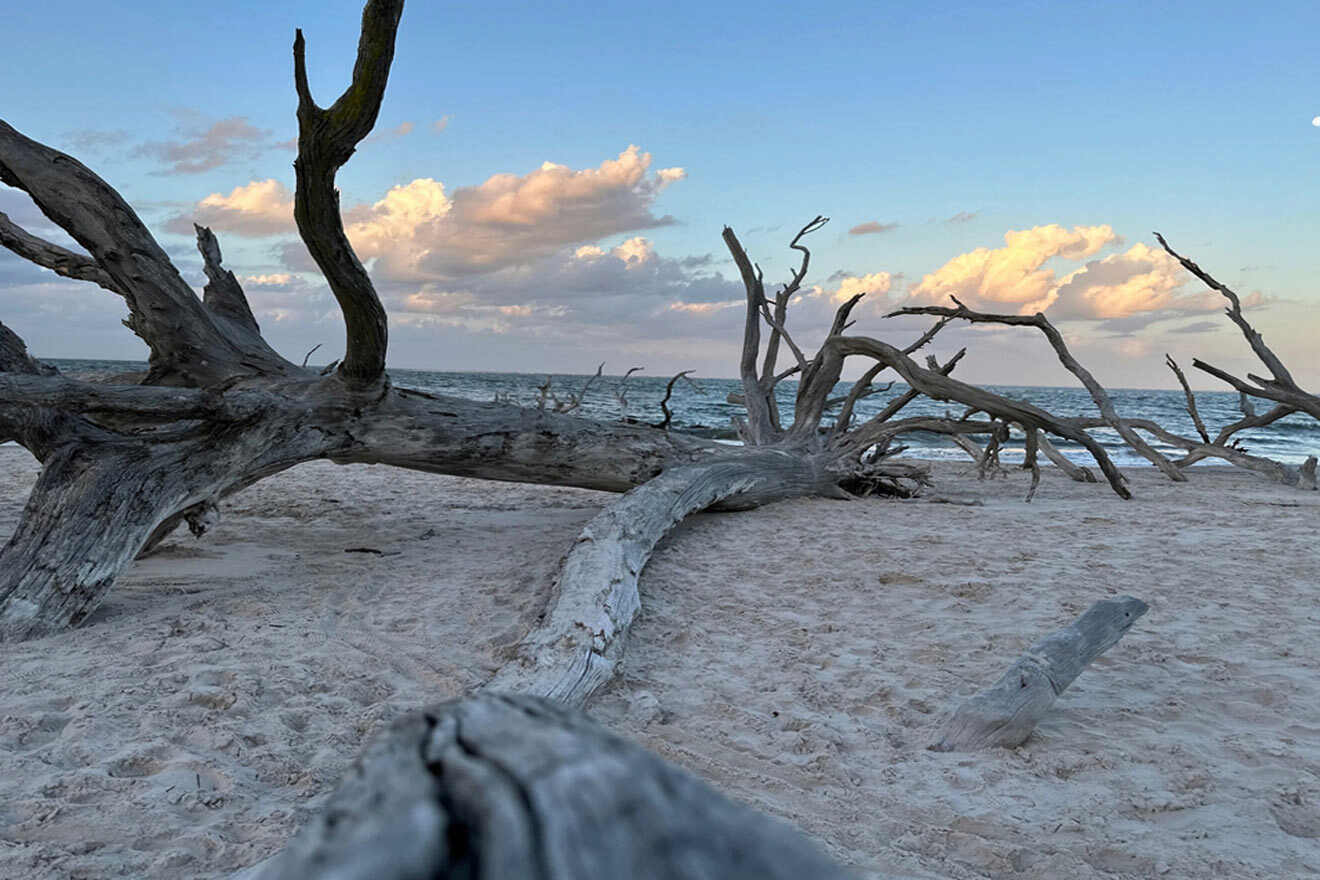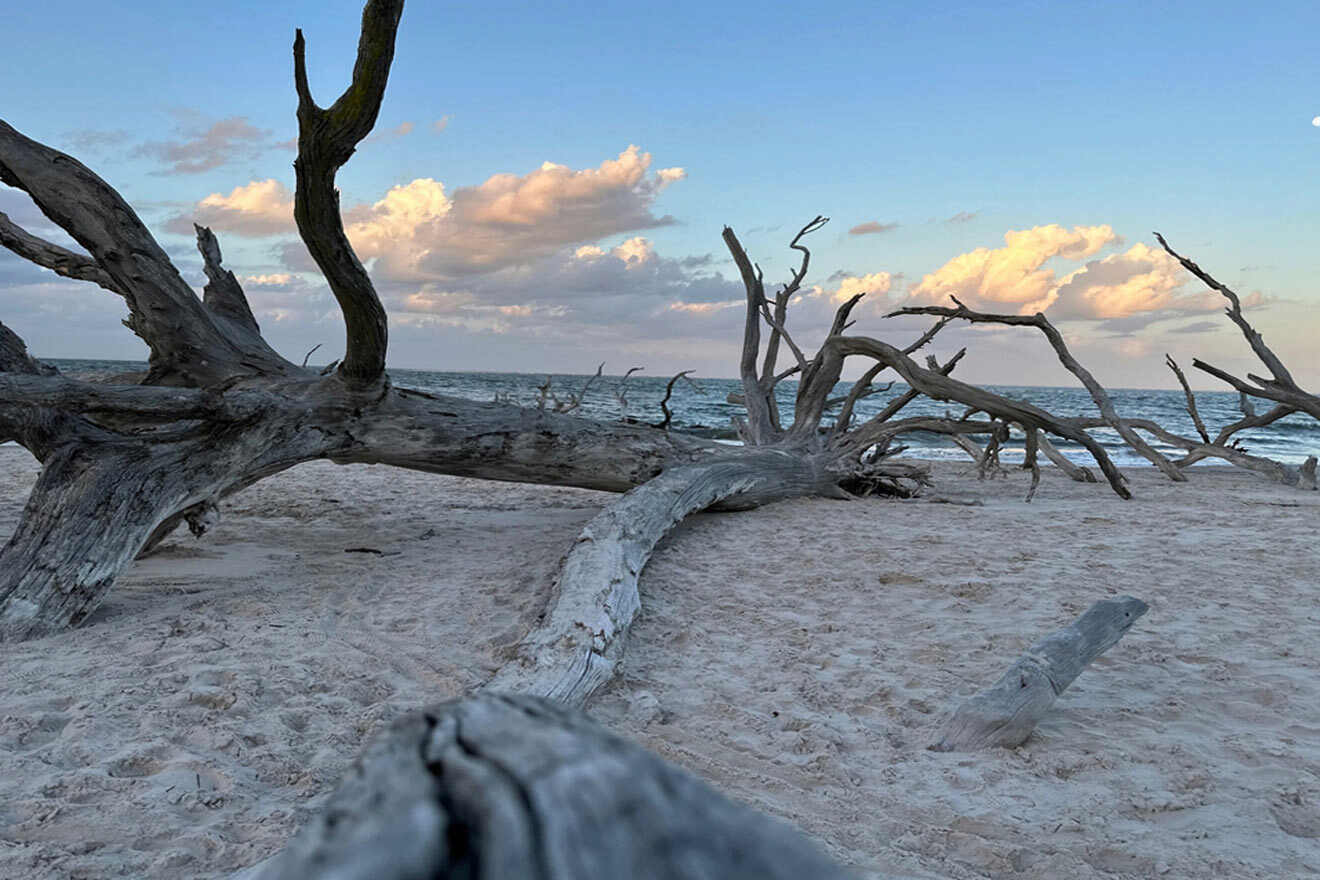 We talked about Little Talbot Island State Park at #6 on our list, and now, we're talking about Black Rock Beach, also in Big Talbot Island State Park. One of the most unique beaches you'll find anywhere, Black Rock Beach is a natural wonder. It was formed at the end of the Ice Age and looks like something out of this world.
Only 4% of the land in the entire world has the same soil formation as Black Rock Beach, so you won't want to miss the chance to see this unique place. The shore is lined with giant fallen oaks, giving it an enchanting, fairy tale feel. It may not look like something you'd see on a Florida beach postcard, but that's what makes it so spectacular.
The best time to visit Black Rock Beach is during sunrise since the area's low light makes it a truly magical experience. There's also a half-mile trail (1 km) to explore here, and you may spot gopher tortoises, bald eagles, and songbirds.
Make sure to wear sturdy shoes. As the name suggests, it's very rocky!
PRICE: US$3 per vehicle
10. Fernandina Beach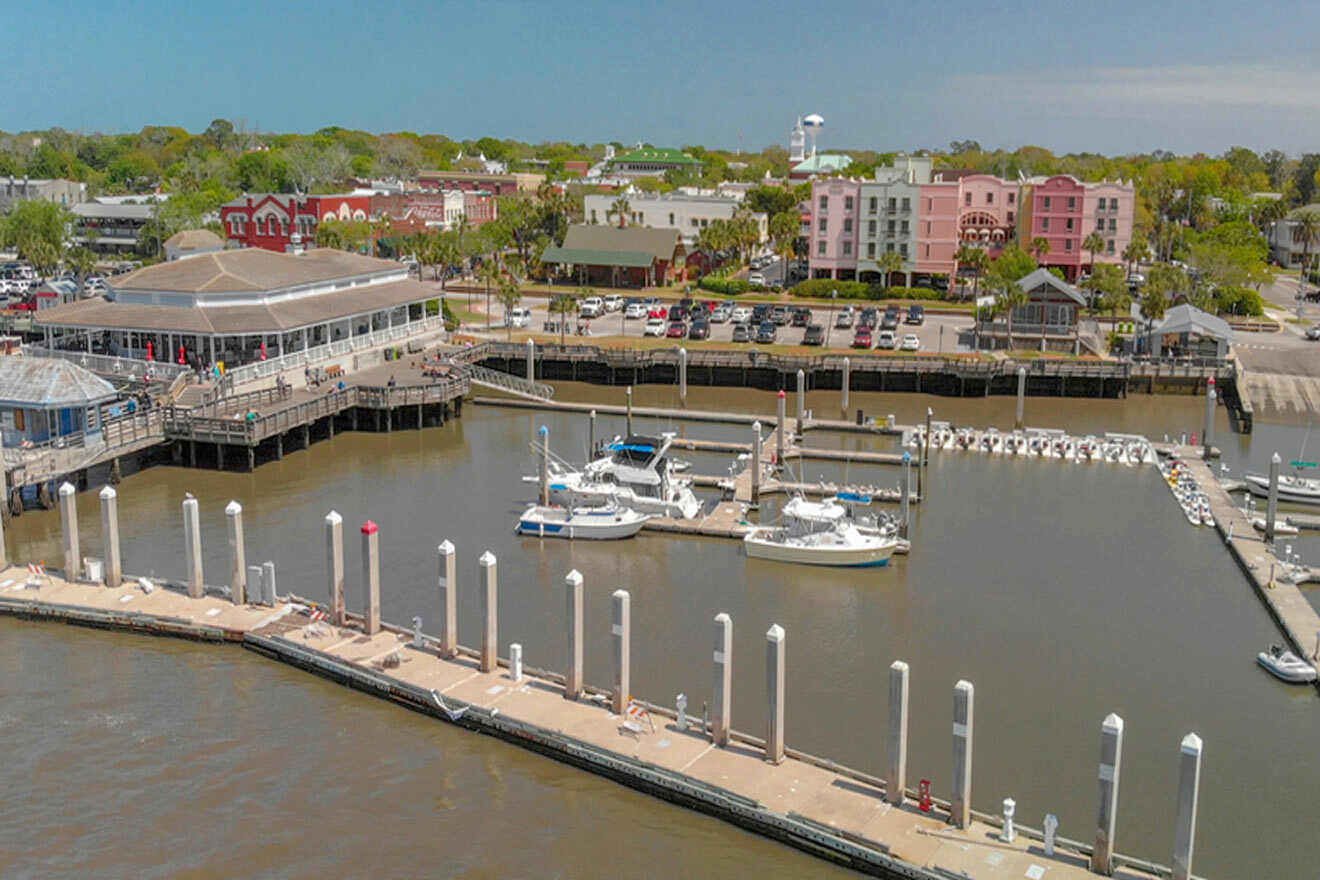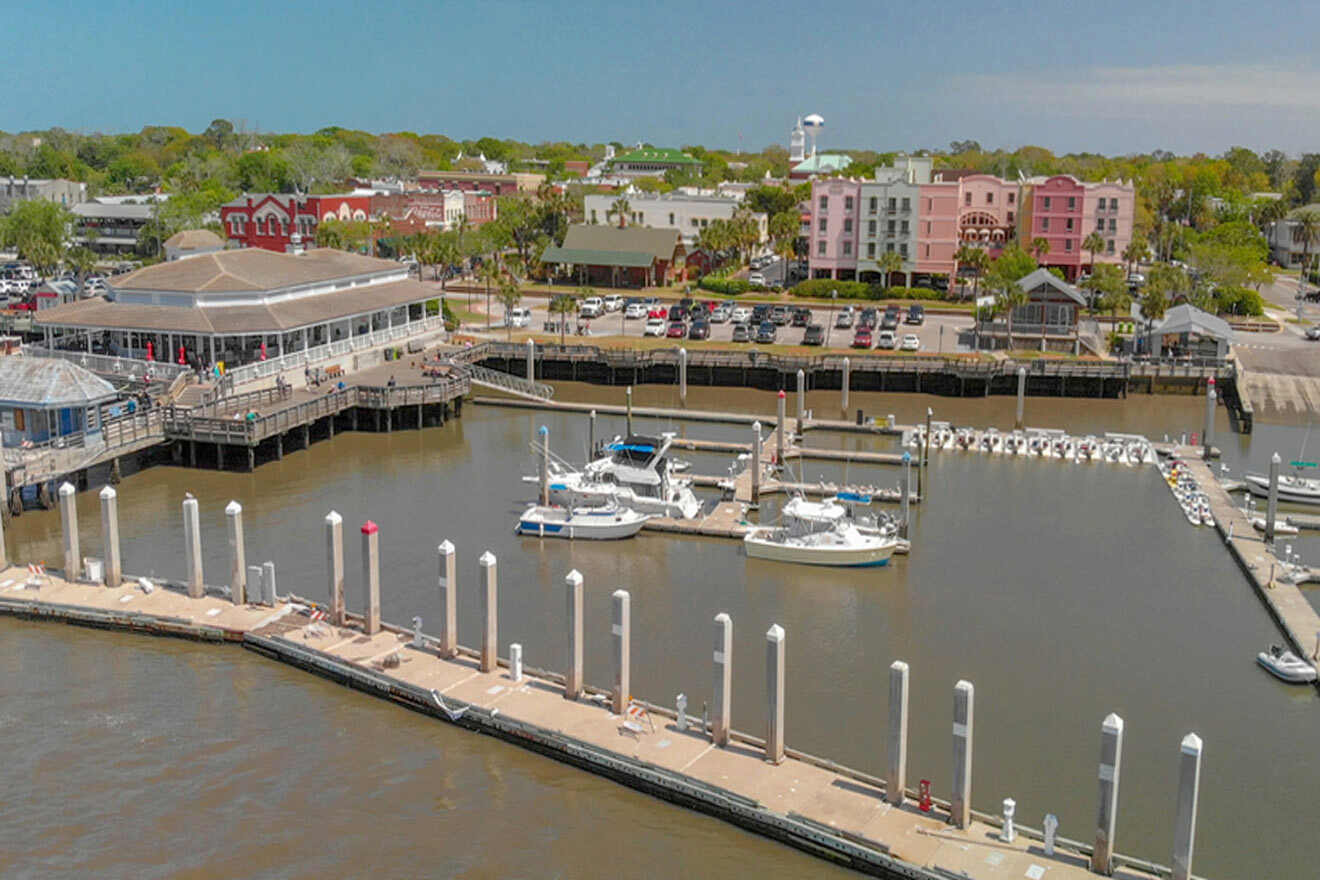 Last but certainly not least on our list of the best beaches in Jacksonville is Fernandina Beach. Although it's technically not in Jacksonville, Fernandina Beach is less than an hour from downtown Jacksonville and a worthy day trip indeed.
The northernmost city on the Atlantic coast, Fernandina Beach on Amelia Island is a charming beach town with amazing shopping and dining in addition to gorgeous white sand beaches. For a family-friendly day on the sand, check out Peters Point Beachfront Park, the perfect place for swimming, sunbathing, and fun in the sun.
Fernandina Beach has a historic downtown area with funky, eclectic boutique shops and incredible restaurants as well, so there's plenty to do when you're ready to rinse off, put away the towels, and embark on your next adventure.
If breakfast with an ocean view sounds like your kind of thing (it sure is mine!), Sunrise Café is a must-do for a meal. For a sweet treat, check out the Peach Cobbler Factory, serving up 12 different flavors of cobbler, 12 flavors of banana pudding, milkshakes, cookies, and so much more!
Want to explore Fernandina Beach further? This CraigCat Boat Tour takes you on an exciting tour of Fernandina Beach and the waterways, providing opportunities to spot local wildlife like dolphins, manatees, and birds.
PRICE: US$145 per person
Book Fernandina Beach Boat Tour
FAQs about the best beaches in Jacksonville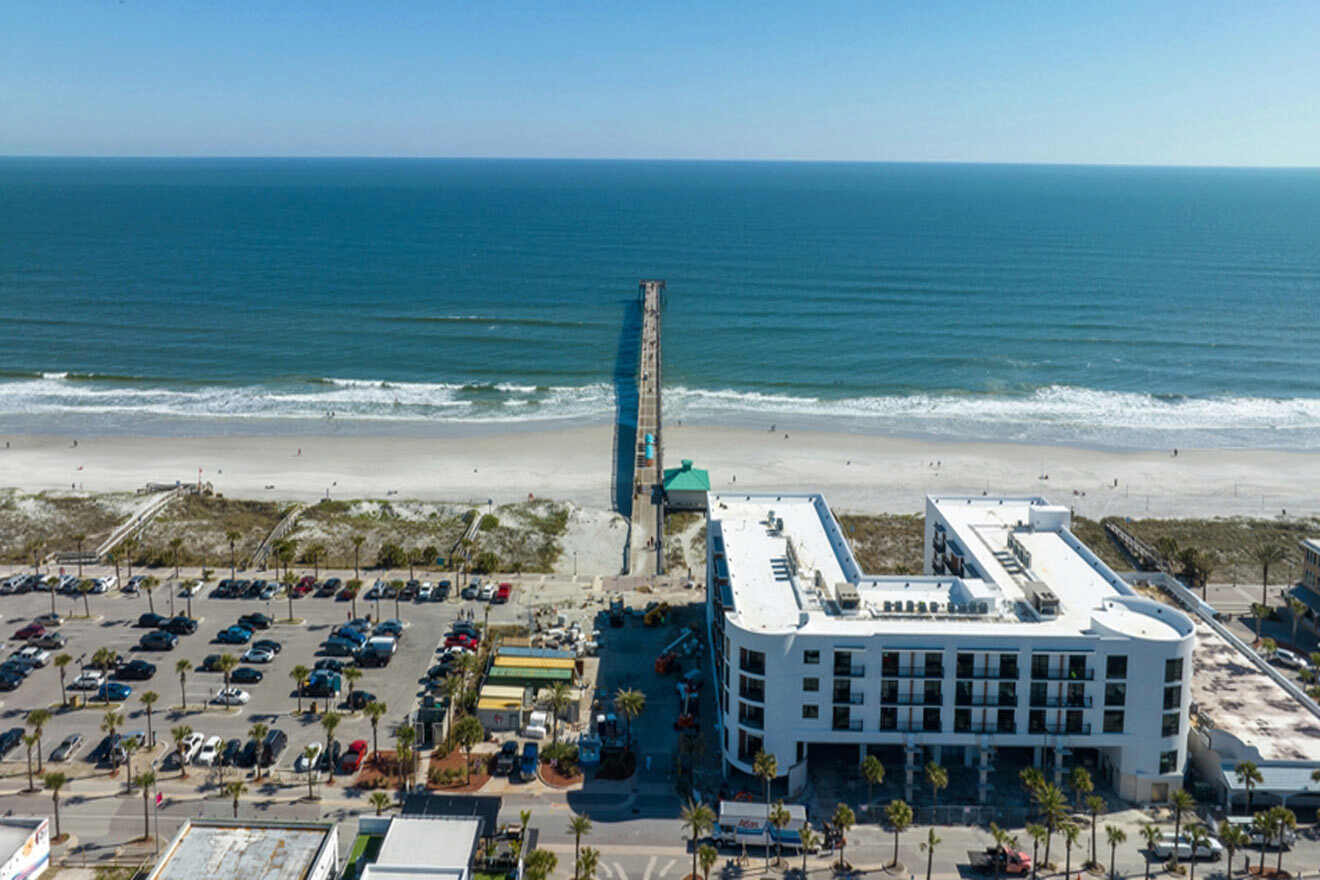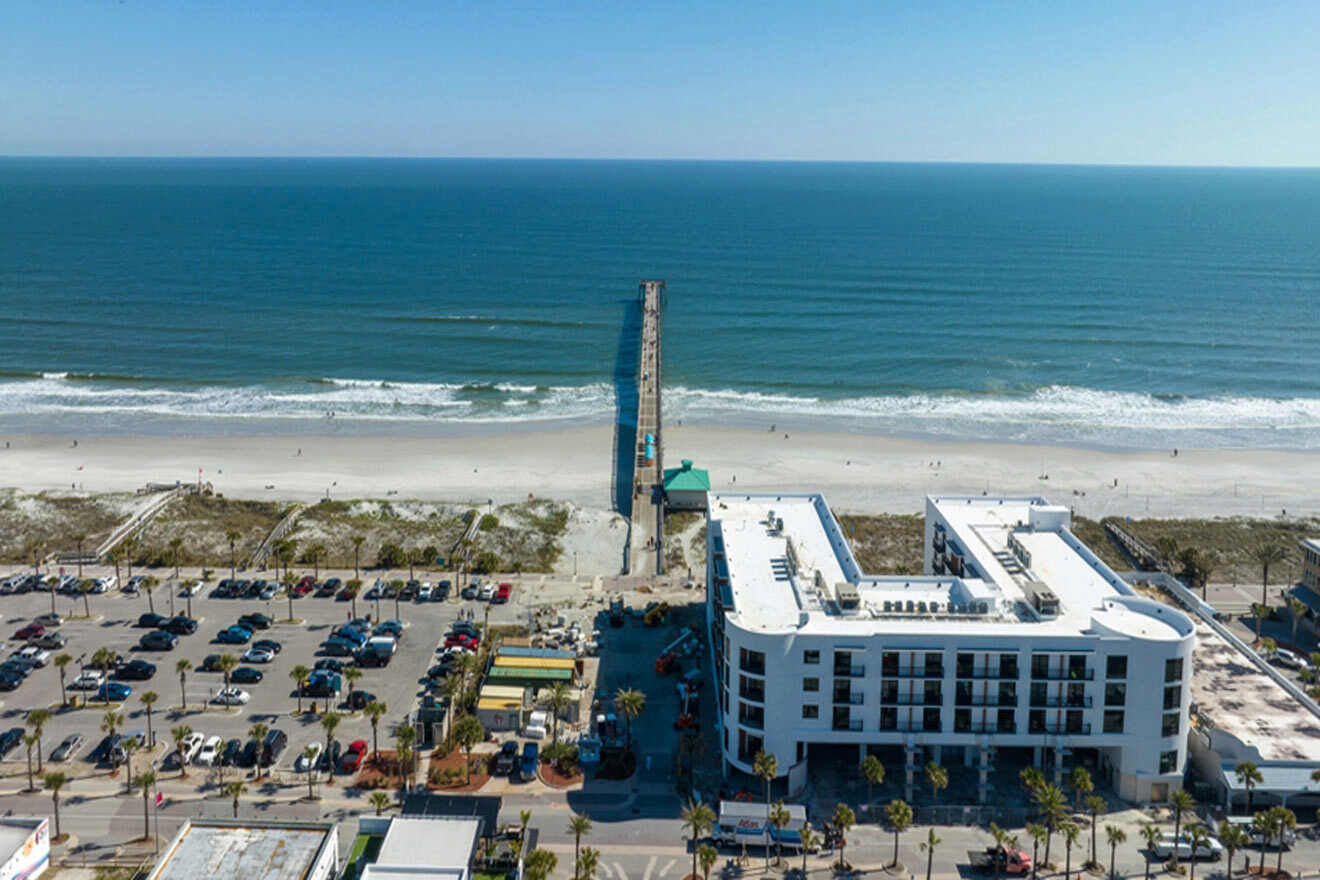 🥇 What is the best beach in Jacksonville?
The best beach in Jacksonville depends on what you're looking for in a beach day! You can't go wrong with the main beaches, Jacksonville Beach, Atlantic Beach, or Neptune Beach. Nature lovers will adore Big Talbot Island State Park, and Huguenot Memorial Park is great for families.
🏖️ Does Jacksonville have white sand beaches?
Yes! Jacksonville boasts 22 miles (35 km) of gorgeous, white sand beaches that are perfect for shelling, sunbathing, and long walks along the shore.
🌊 What is the least crowded beach in Jacksonville?
Neptune Beach feels more laidback and secluded than other popular beaches in the area, so it's great for those looking to unwind, unplug, and relax.
🐚 Are there nice beaches in Jacksonville, Florida?
Absolutely! Jacksonville and the surrounding areas have some really beautiful beaches open to the public, as well as no shortage of fantastic dining, shopping, and entertainment nearby.
Conclusion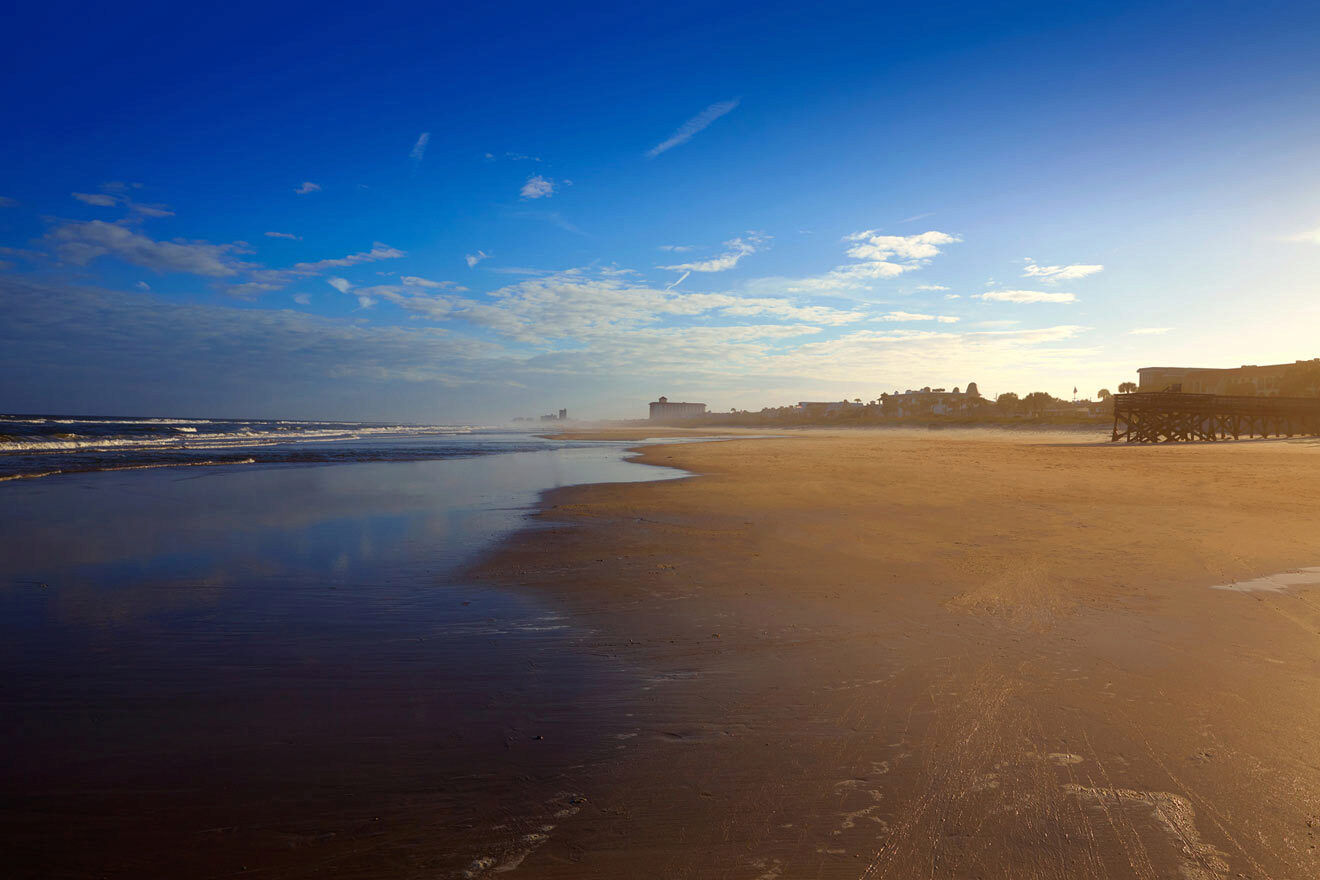 With so many beautiful beaches in Jacksonville to choose from, how will you ever decide? Luckily, you don't have to!
The best part of a Jacksonville vacation is being able to hop from beach to beach, depending on which one you're feeling. Maybe you want to sink your toes in the sand and get lost in a good book, or maybe you're craving adventure on the water – it's totally up to you!
Thanks so much for reading the end of the article on the best beaches in Jacksonville! I hope I was able to make your vacation planning a bit easier and share some beaches you may not have known about before.
As always, leave me a comment with any questions you have. And don't forget to pack plenty of SPF!
Happy travels!
Montana
---
Pin it for later!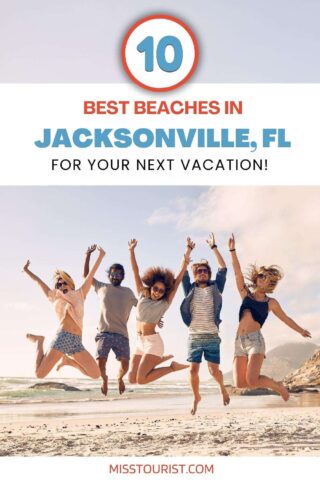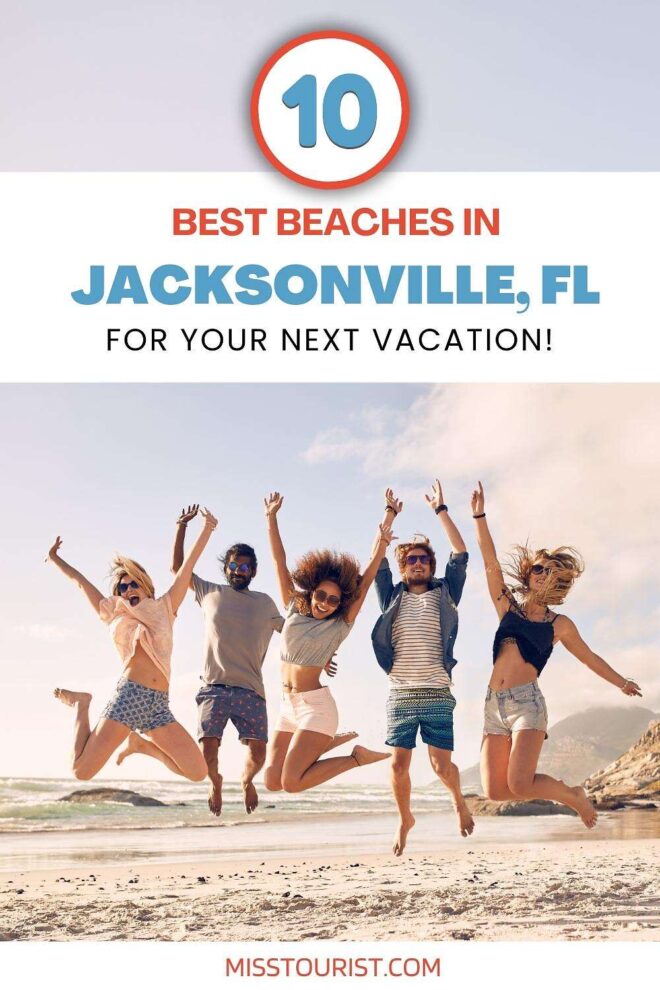 Pin it for later!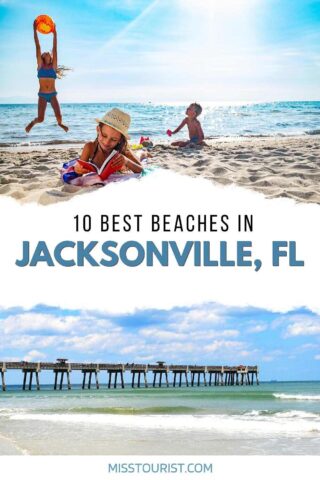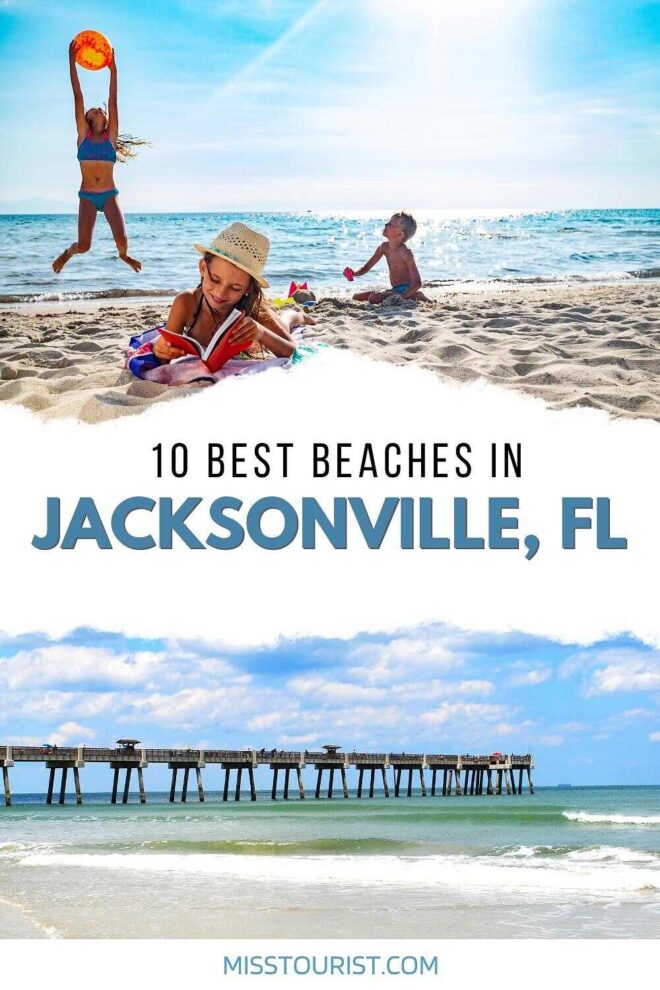 Products You May Like