10 Epic Santorini Boat Tour Options → Sail Into Vacay Mode!
Desperately trying to find a Santorini boat tour for your upcoming vacation? Can't choose? I've got you covered! I've done all the research for you and come up with 10 of the very best boat tours just for you, so you just grab one and go!
Santorini is one of the most STUNNING locations to visit, and everything is made 10X better by going out on the high seas! These Santorini boat tours are great for every interest and budget, so whether you're looking for a sunset tour, a volcano tour, a private tour, or a guided tour of Thirassia Island, you'll find something for you in the tours listed here.
Don't forget to book in advance! Boat tours are pretty popular in this region, so whether you're island hopping or staying in Santorini for a while, you should definitely plan well in advance of your trip if you want to get the best prices!
If you are in a hurry
If you don't have much time and you're looking for the best of the best, don't fret! Here are the top boat tours in Santorini that will get your adrenaline going!
1. Take a cruise of the Volcanic Islands and hot springs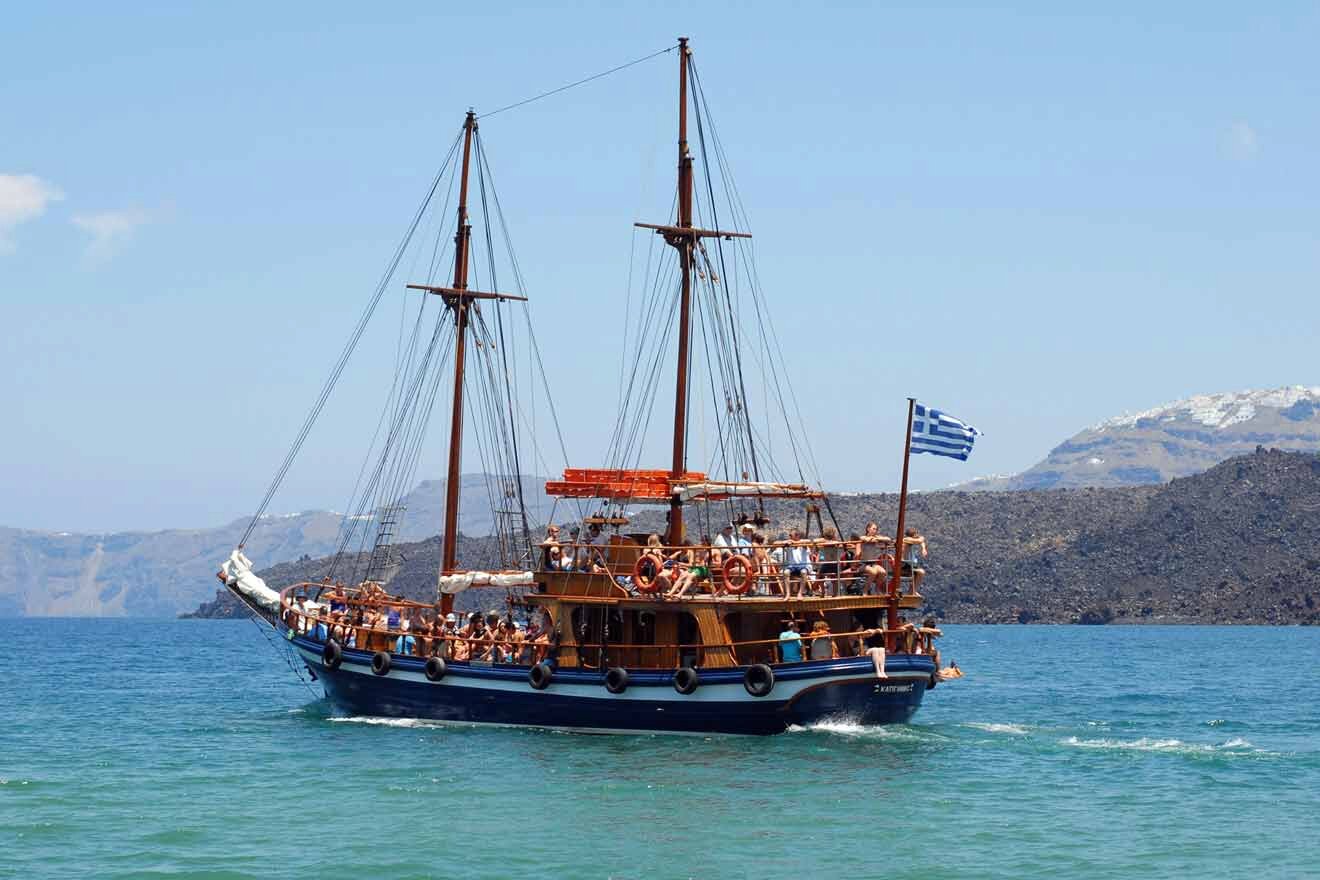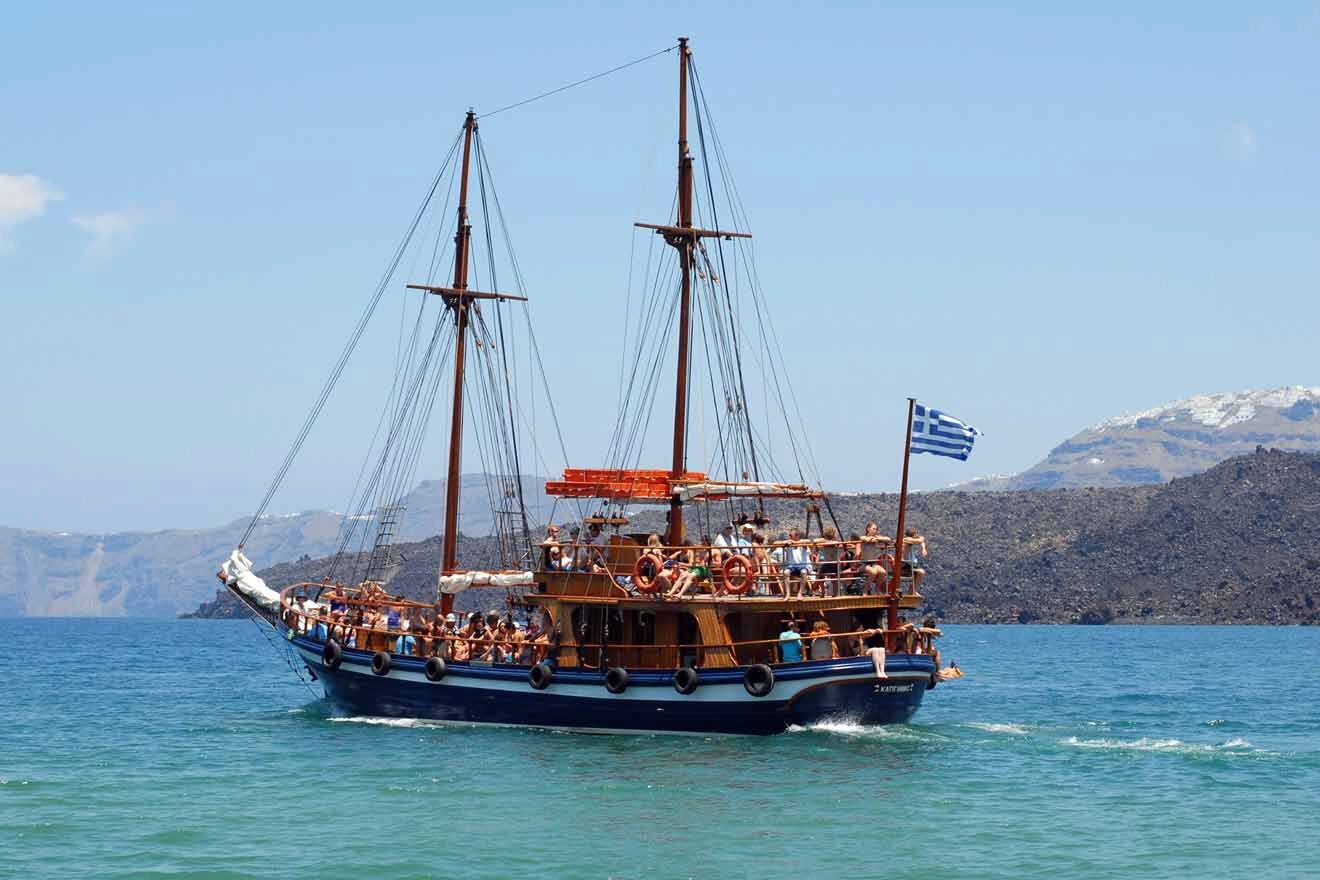 Duration: 3 – 10 hours 
Price: from €30
Why you should take it: the cheapest, most popular tour in Santorini
We're starting our post with the most amazing Santorini boat tour ever! The tour starts in Athinios and makes several stops to see stunning views, traditional villages, and some serious feats of nature! You'll be able to peer right into the volcano (which is active, by the way, not to scare anyone – but it's super safe), take a relaxing swim in the hot springs, and forget about all your troubles.
Being able to explore the villages around Santorini is also an amazing experience, you'll be able to get with the locals like a Spice Girl song before being transported by donkey up to Manolas. Sounds great, right?! The best part is the option to continue your journey to see the famous Santorini sunset!
2. Feel like a royal on a luxury catamaran cruise
Duration: 5 hours
Price: from €130
Why you should take it: a luxurious experience with a BBQ meal and unlimited drinks
All aboard, kings and queens! If you feel like stepping in a royal's footsteps, this incredible catamaran tour is for you. This boat trip will lead you to beaches, including White Beach, where you can swim and catch a glimpse of Santorini's gorgeous marine life in its natural habitat (snorkeling equipment included), and you can also swim in the volcanic hot springs for a chance to feel like you're in an outdoor spa!
Honestly, I think the best thing about this tour is the unlimited drinks – get your party hat on as you sail the high seas! You can also choose the sunset cruise in Oia village, which is absolutely unmissable. Once you've had your fill of sun, you can enjoy a full meal, which is a BBQ (included in the price) which really just adds the best vibes to your Santorini adventure! Now go book before I take your place!
3. Take a romantic Santorini volcanic islands cruise with dinner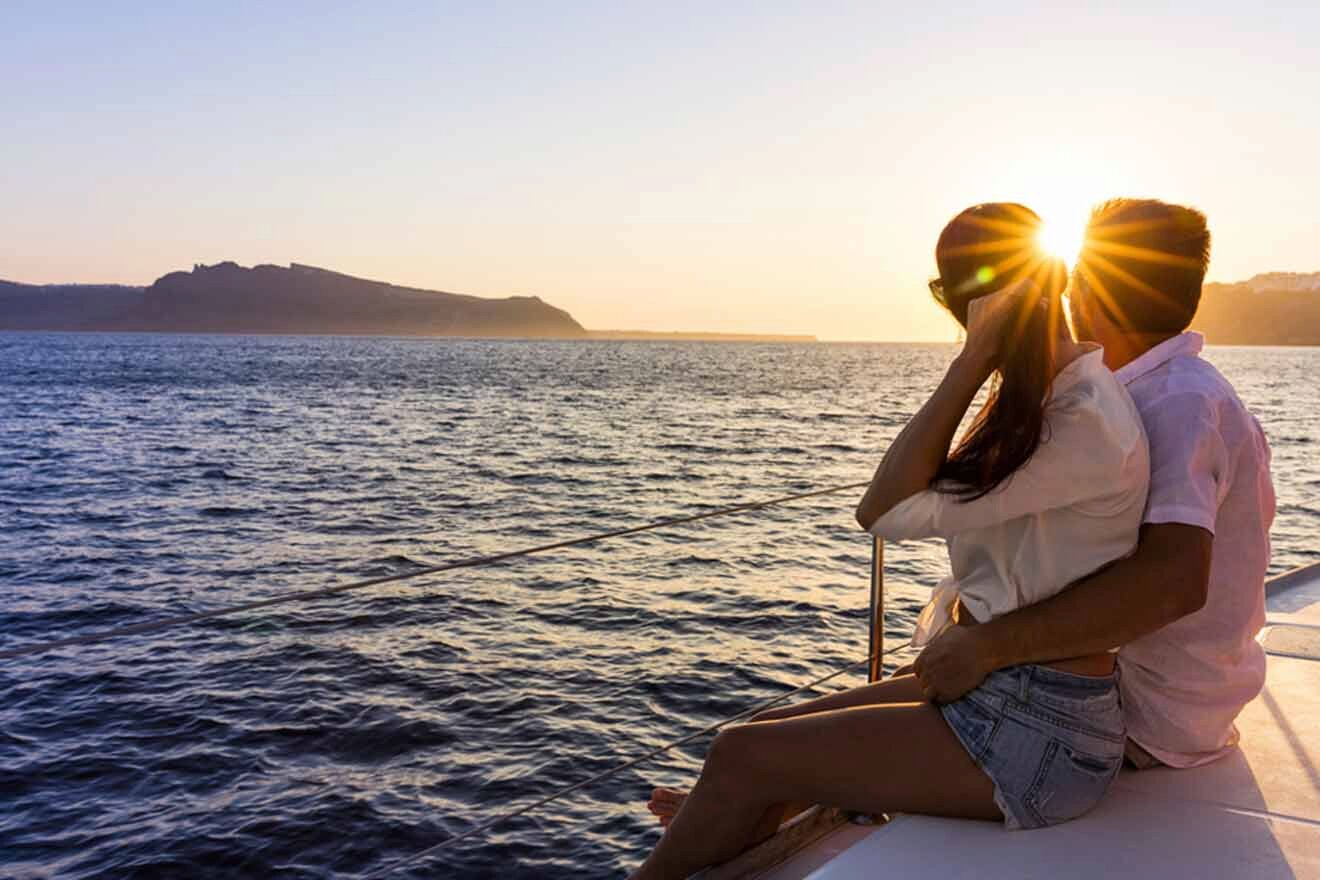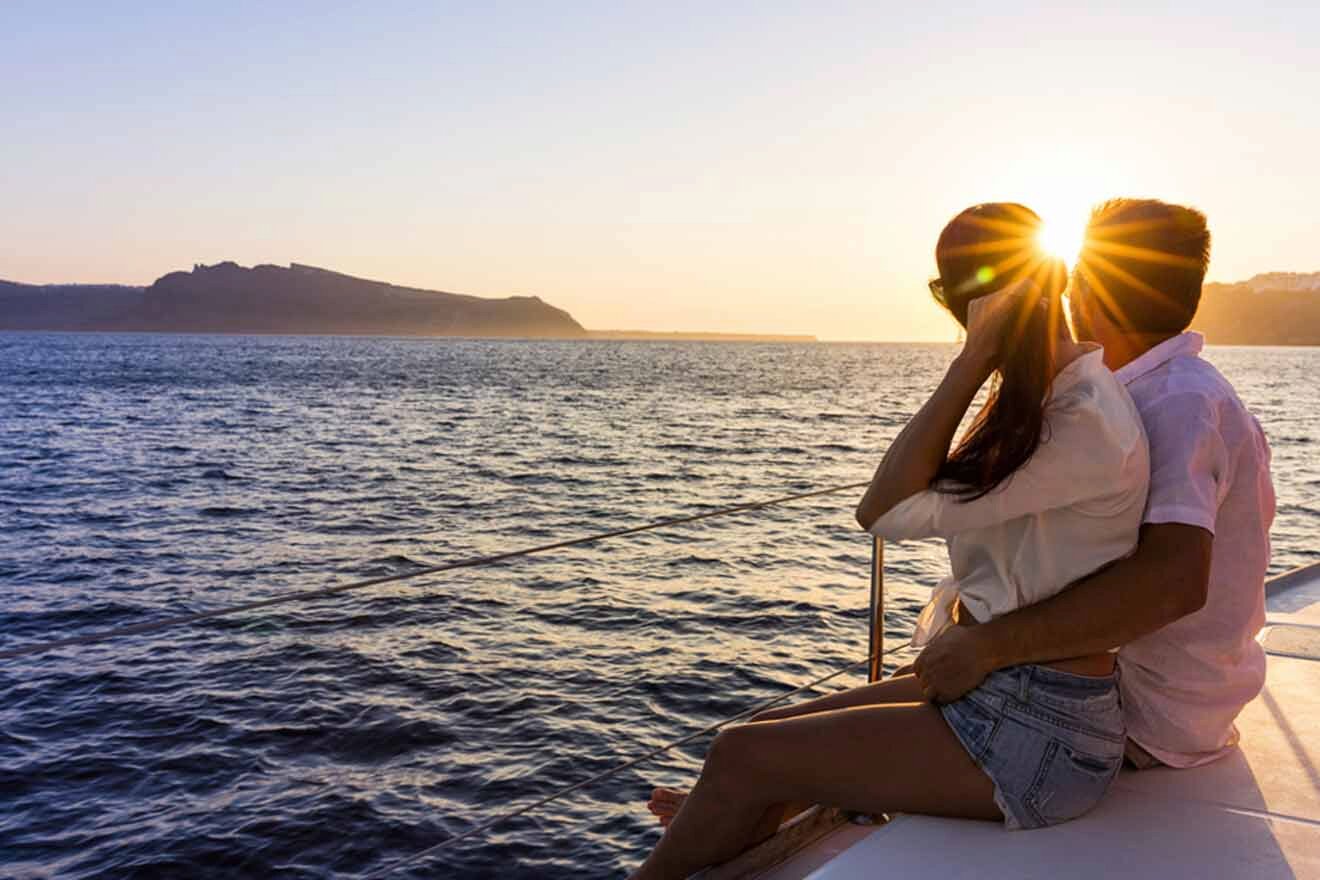 Duration: 8 hours
Price: from €90
Why you should take it: perfect for couples looking for a romantic experience
Calling all lovers! If you're going on a romantic vacay, planning a honeymoon, or even better, proposing (❤️‍🔥), then you'll love this, the crème de la crème of all sunset tours!
Get picked up from your hotel, go explore the Santorini volcano, and have a private moment in the hot springs with your lover. Once you've had your fill of sunshine lovin', dig into a hearty buffet meal aboard your boat!
Watching the famous sunset with your partner in Santorini is a truly moving experience – I guarantee you'll be gazing lovingly into each other's eyes like the day you first met! As one of the reviewers raved, it was "the best sunset she'd ever seen, so stunning that everyone clapped!" Along the way, you'll also get a commentary on the history of Santorini, so it's not just fun, it's cultural, too!
4. Bring your party hat to an open bar catamaran cruise!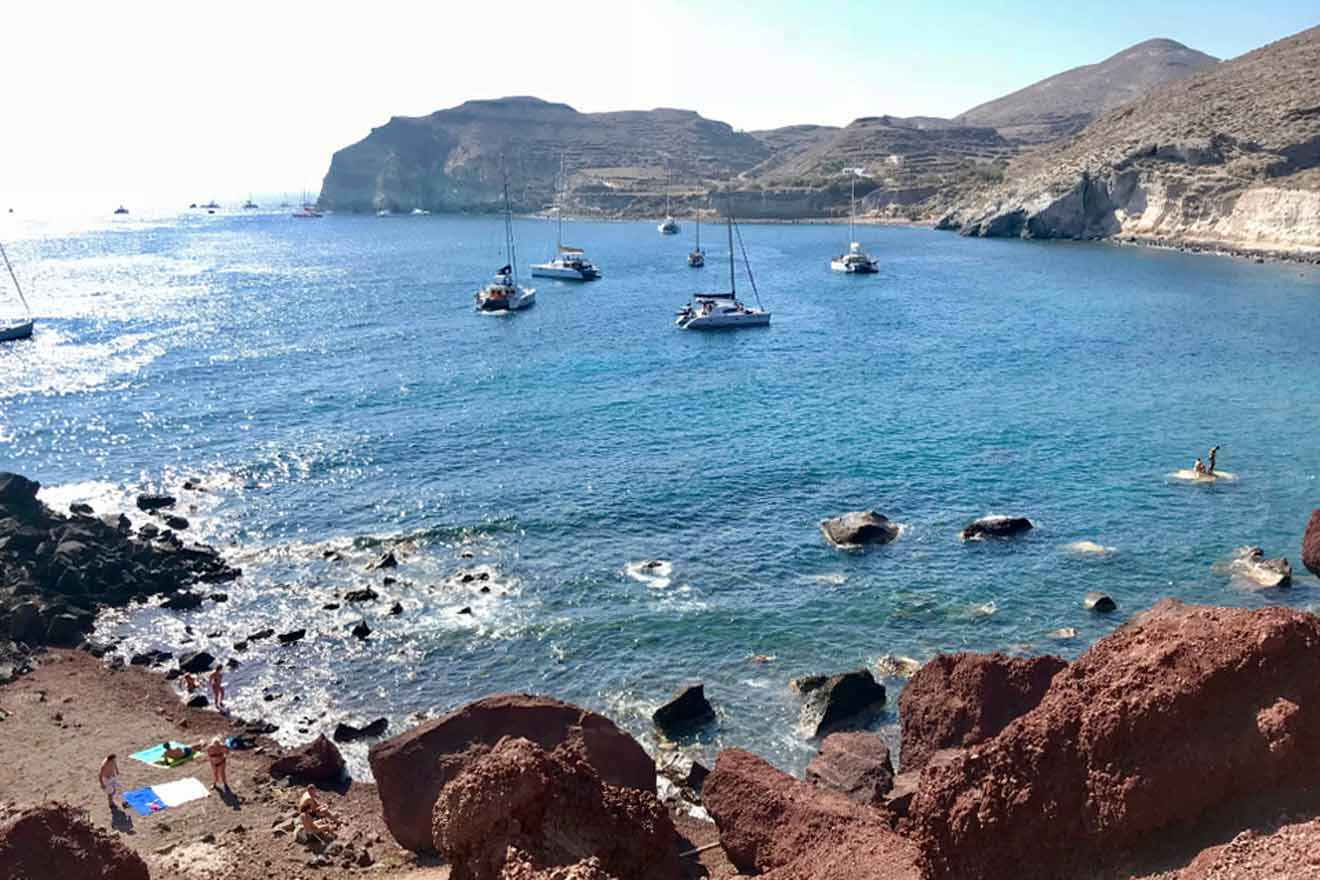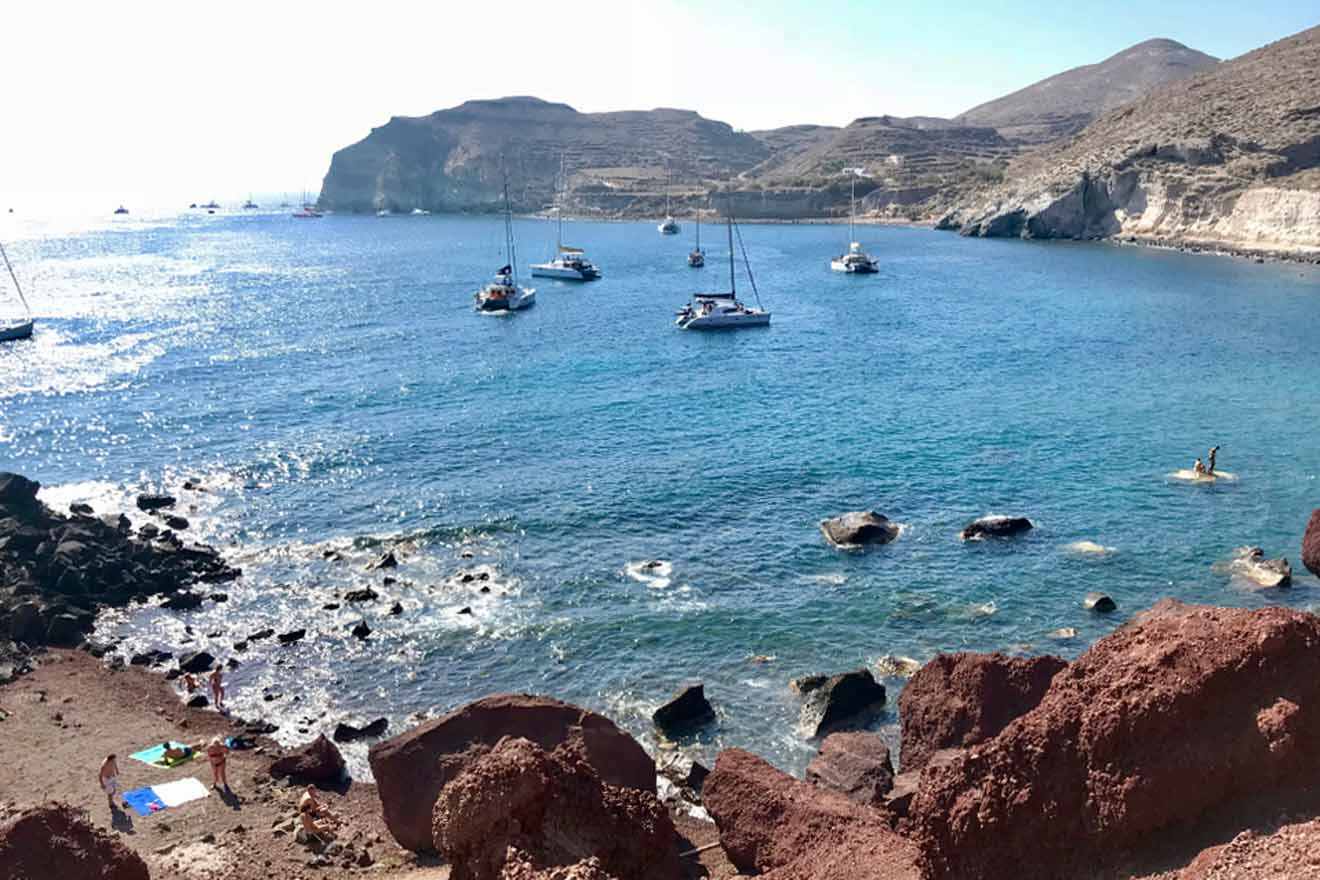 Duration: 5 hours
Price: from €110
Why you should take it: great for solo travelers and wine lovers
Guuuuys! If you book this tour, you might actually see me there, it's that good! Get picked up from your hotel and cruise the Santorini coastline on a tour that will get you giddy! Get your first glass of wine as you climb onboard and set sail to the famous Red Beach and White Beach for some fun watersports and sunbathing. You'll also enjoy a full Greek meal of traditional mezze and open white wine, which is just dreamy. 🥰
You'll love the fact that the playlist will keep going the whole day! Once you're done with your boat ride, you'll be taken back to your hotel by your own personal driver, which means you can just sit back, relax, and enjoy the drop-off back at your hotel like the VIP you are. 👑
5. Explore the Aegean Sea on a traditional wooden boat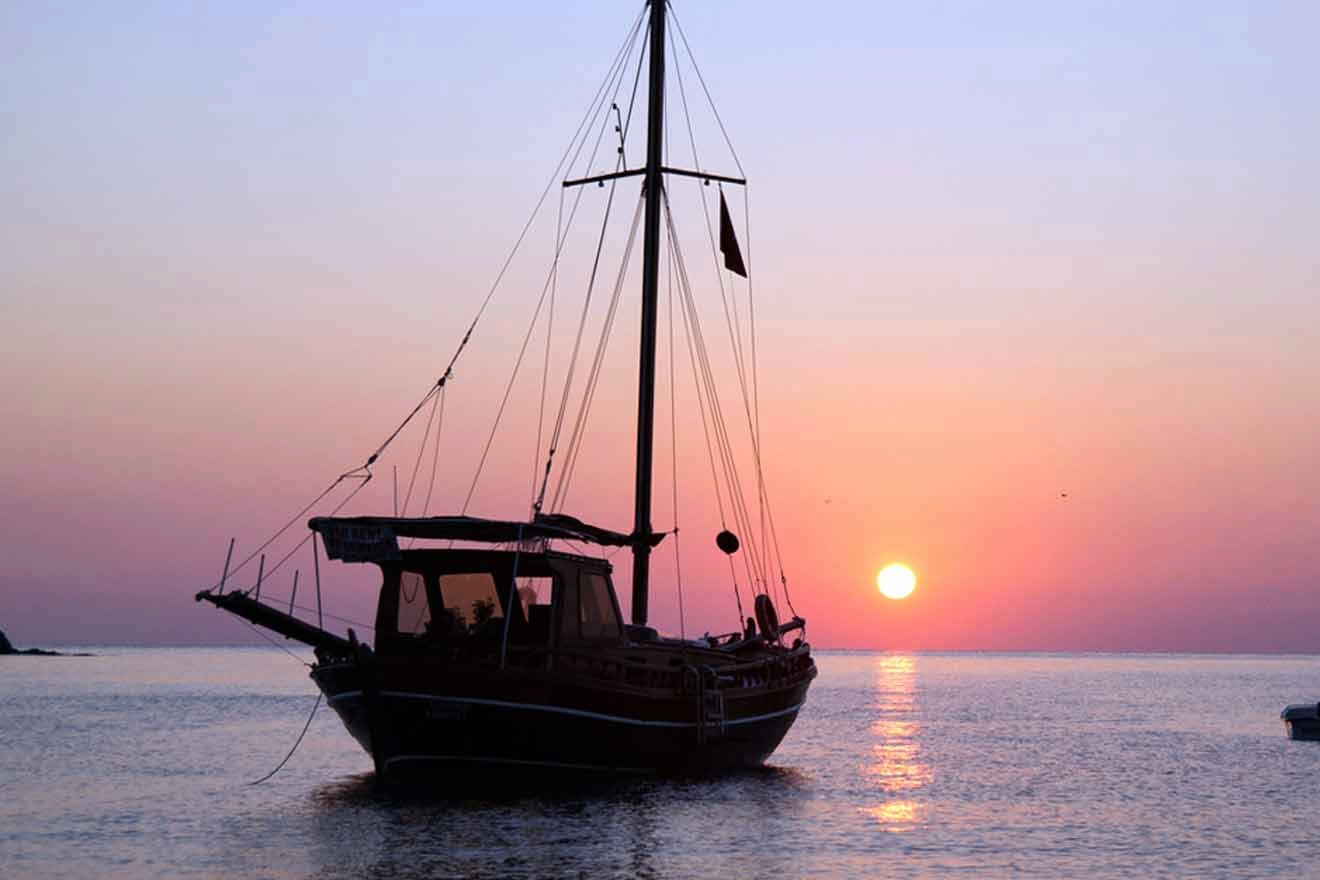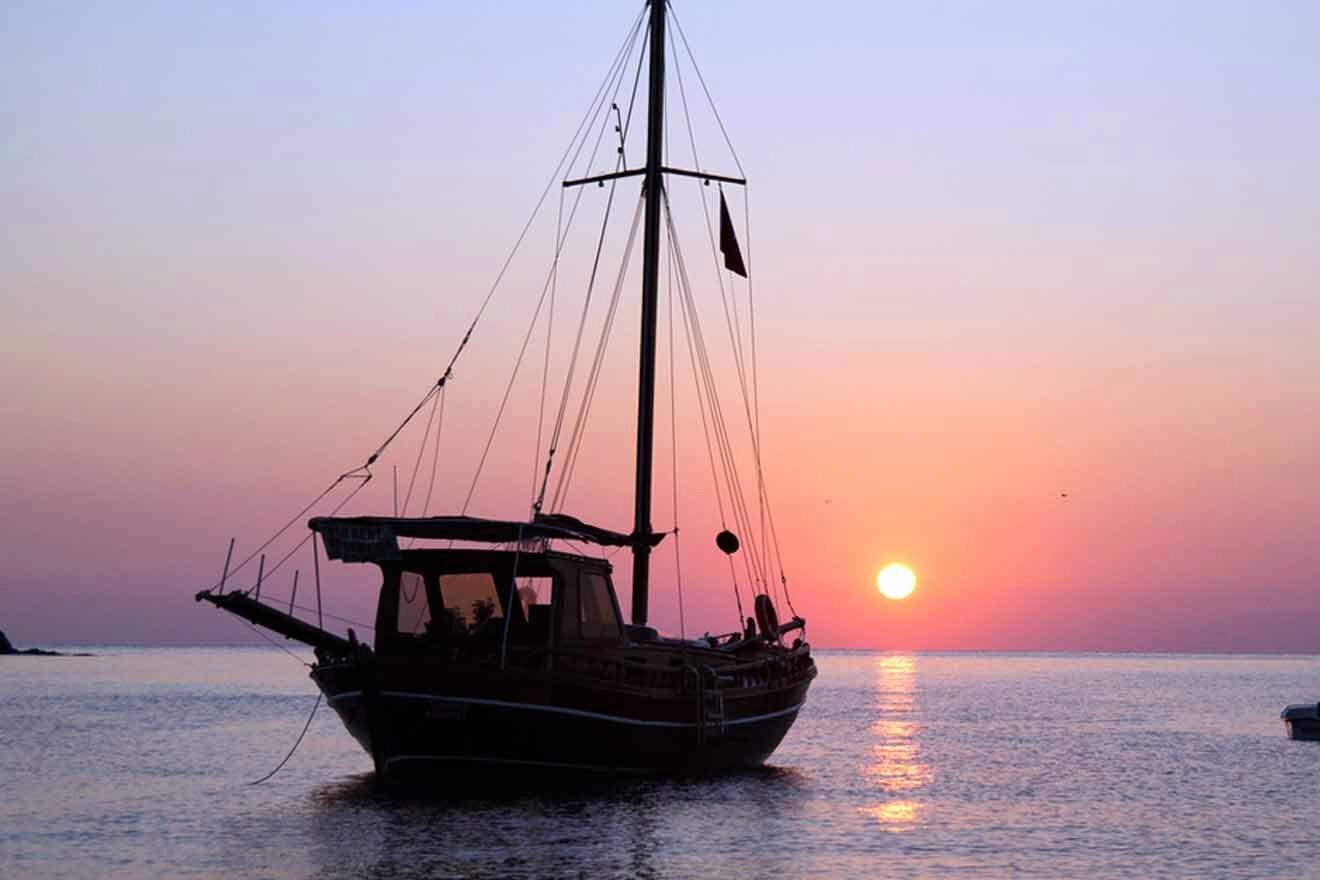 Duration: 5 hours
Price: from €100
Why you should take it: take a traditional cruise with dinner and local wine
This is your chance to get up close and personal with traditional sailing in the Santorini caldera! Grab your friends and visit all of Santorini's gorgeous hotspots, including the hot springs and the Black Mountain! Your Santorini trip is nothing without getting up close and personal with traditional sailing!
The great thing about this option is that you can choose to do one of their day trips or do the evening option instead, where you can watch the beautiful sunset while visiting all the same stunning places as the day option!
6. Spice up your life with a sunset BBQ cruise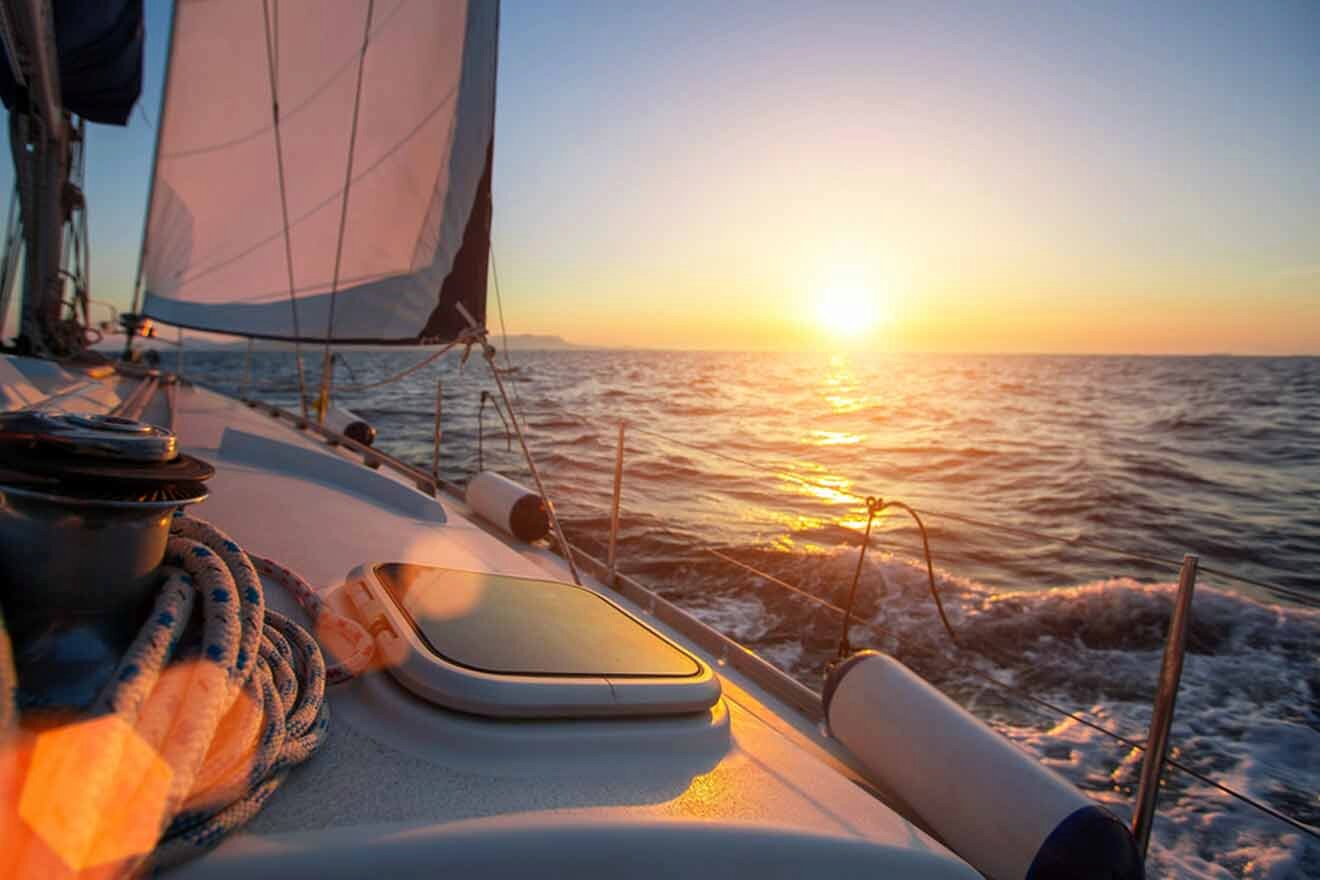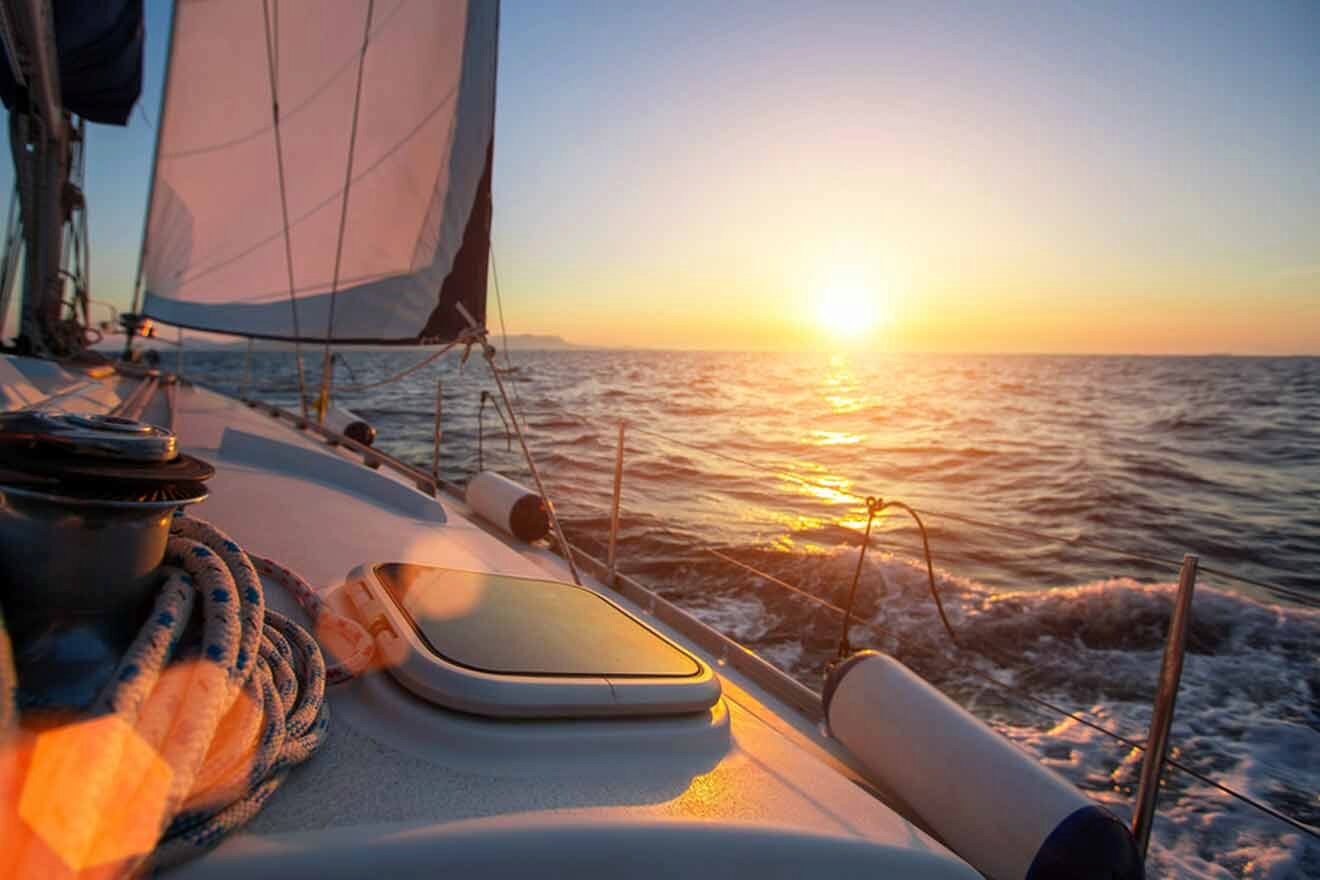 Duration: 5 hours
Price: from €160
Why you should take it: luxurious sailing experience with access to private bays
If you've had a long day exploring Santorini, this relaxing small-group tour will take you to the heavens of Santorini's Caldera! You'll travel all around the island under the beautiful sunset, and of all the boat trips you could take, this one will be the most chilled! If you want to snorkel, you can choose to do that, but otherwise, take your time and take in the breathtaking views.
At the end of your relaxing boat tour, you'll enjoy a fabulous BBQ meal onboard! Go home with full stomachs, satisfied, rejuvenated, and ready for a new day of exploring Santorini!
7. Get out your inner fisherman with a traditional fishing trip
Duration: 4 hours
Price: from €150
Why you should take it: learn all about traditional fishing and catch your own fish
When you're visiting Santorini, learning all the traditional ways to catch fish is a must! Although this is definitely a fun adventure, you don't have to leave luxury behind with this awesome morning fishing experience!
Not many boat tours in Santorini will give you luxury AND fun, and you'll learn all about the island's traditional fishing processes so you can catch some for yourself!
One of the most amazing things about this morning tour is that you'll be able to eat the fresh fish you caught for lunch! If you prefer an evening fishing experience, you can also book this stunning option, which gives you the opportunity to prepare your own fish dinner under the beautiful sunset!
8. Embark on a private catamaran cruise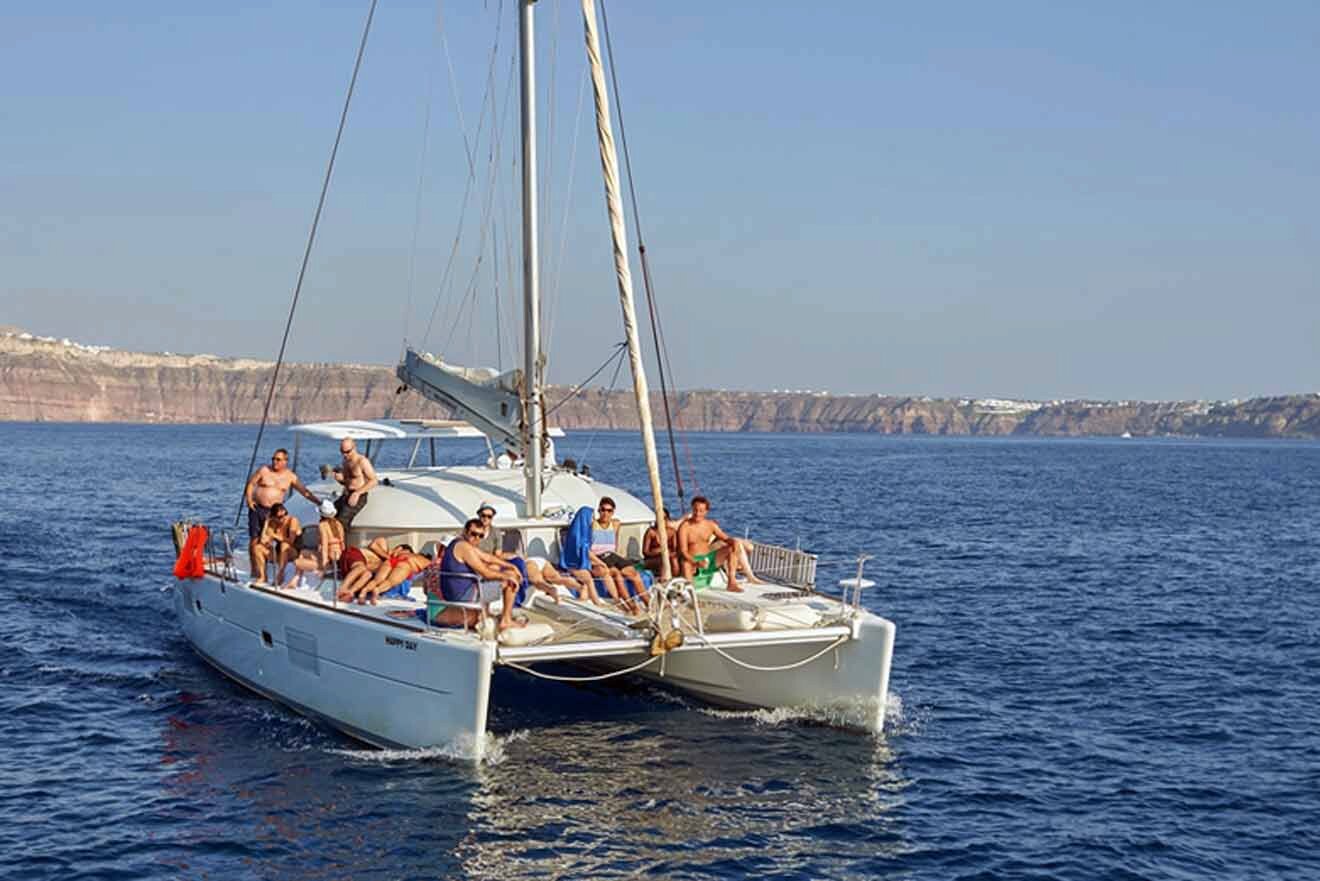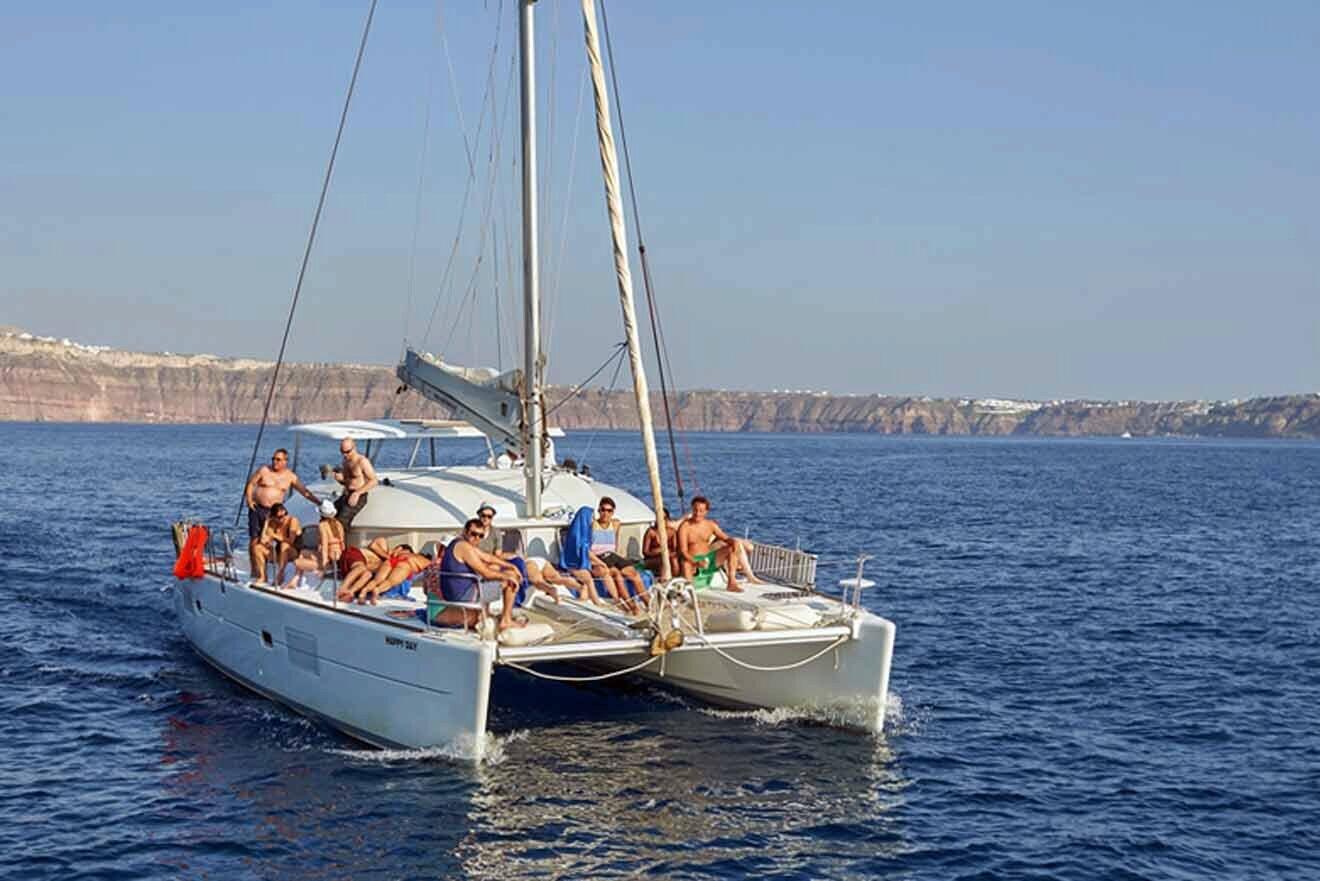 Duration: 5 hours
Price: from €1,180
Why you should take it: enjoy luxury in full privacy
Looking for a fancy private boat tour? This private tour takes the cake! Get going on your day cruise with direct pickup from your hotel and embark on a journey around Santorini, enjoying the volcanic landscape, the Venetian Lighthouse, Oia Castle, and Mésa Pigádia Beach.
This is the best Santorini boat tour for those looking to sit back and relax while all the hard work (and sailing) is done for you!
You can choose to take a dip in the warm waters of the hot spring and have an uninterrupted sunbathing session at Red Beach and White Beach – the perfect day tour for the elite! Your private chef onboard will feed you all sorts of culinary delights as well! You can choose between a day tour and a sunset option as well, so it's flexible for your preferences.
9. Go for a license-free motorboat adventure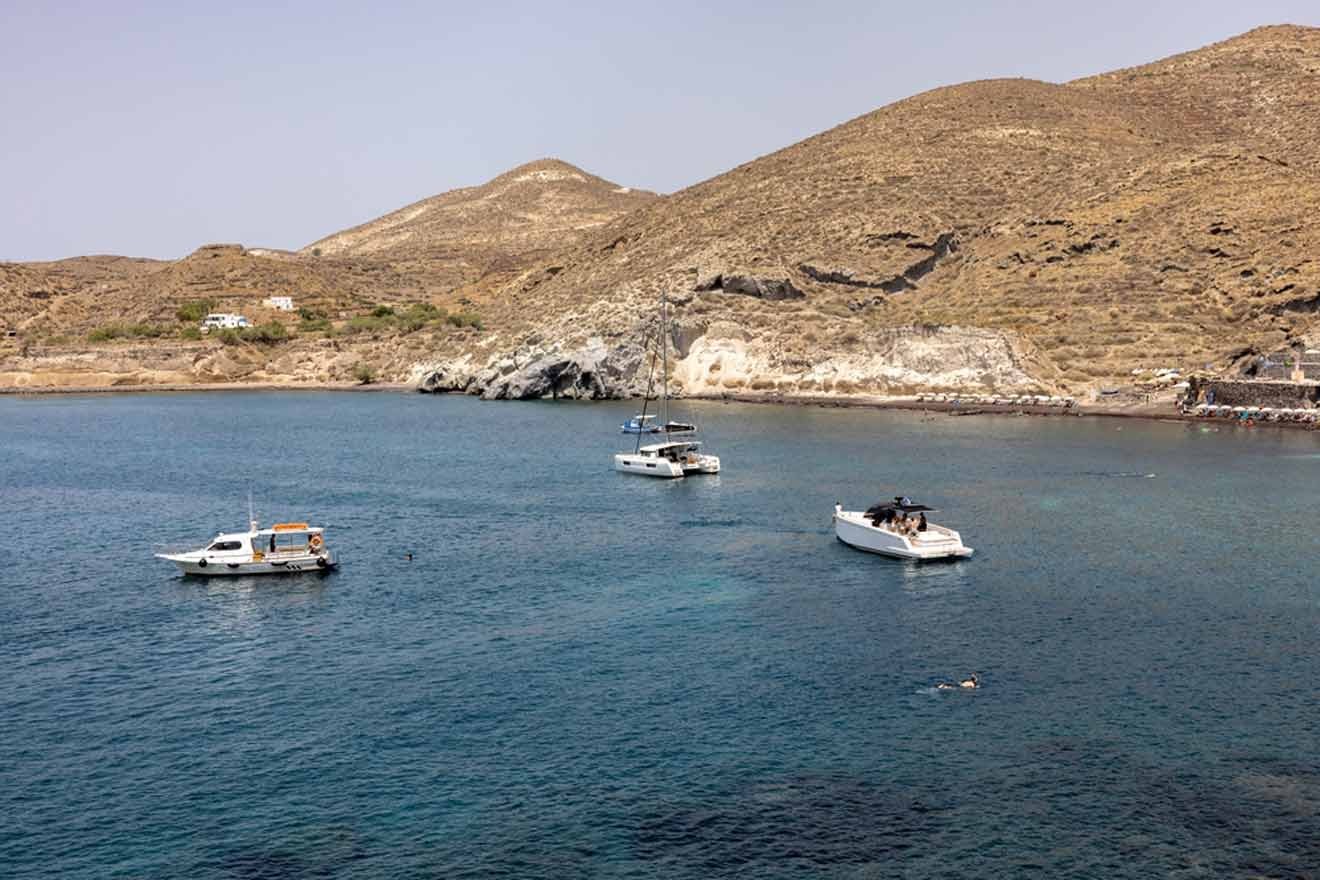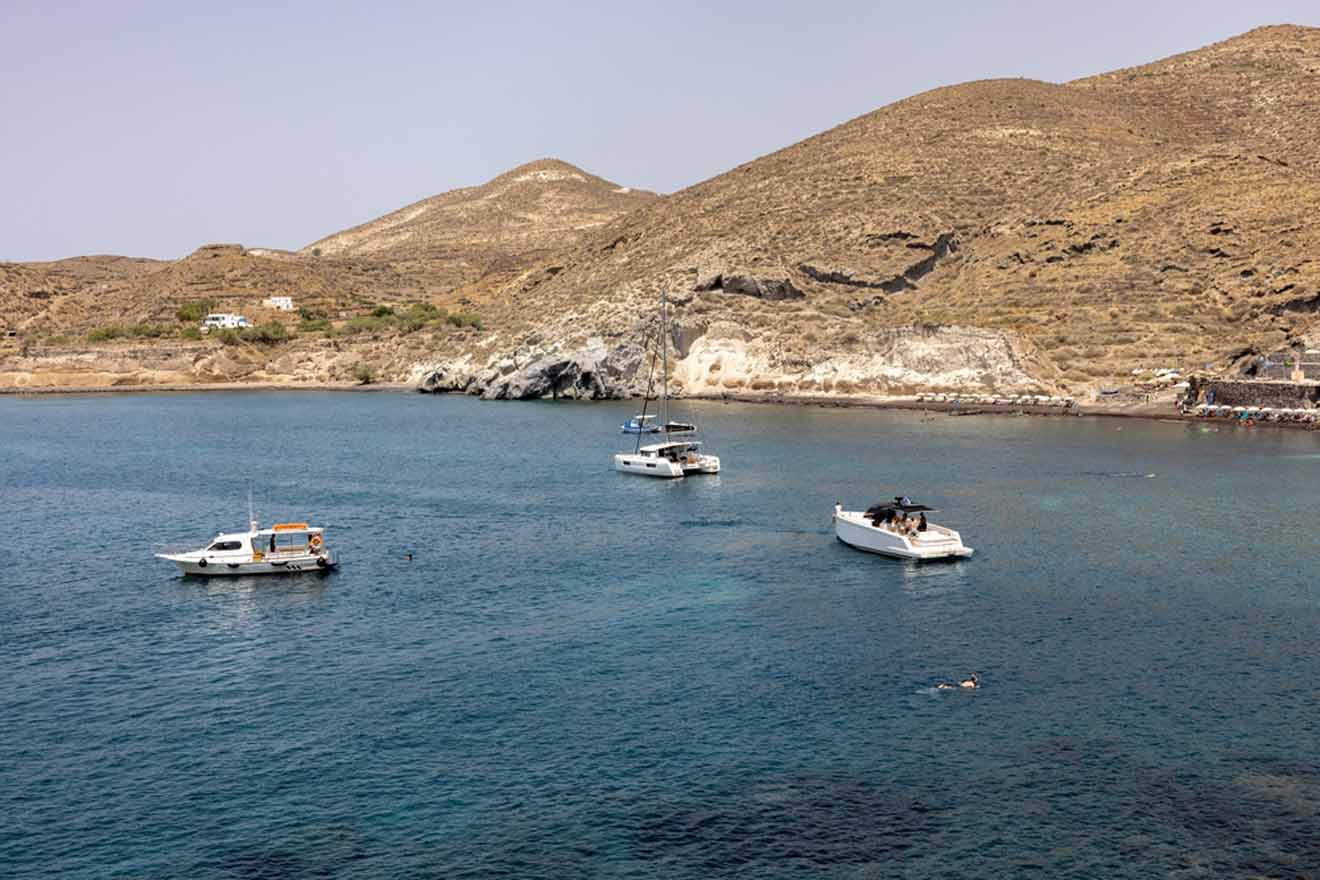 Duration: 9 hours
Price: from €430
Why you should take it: fun, fuss-free family-friendly activity
Don't have a motorboat license? Don't have time to get one? No problem! With this tour, you can rent out a motorboat for the whole family without needing a license at all. This Santorini boat trip will take you out on the high seas, discovering the neighboring island, volcano, hot springs, Thirassia, and so much more!
You have full freedom on this trip, so go wherever your heart takes you! The kids will absolutely LOVE it, and the captains at the shore will recommend a route for you as well as give you important safety tips. You'll also be given snacks, a GPS, and snorkeling gear so you can stop wherever you please to enjoy some watersports!
10. Feel like a king on a private yacht with an open bar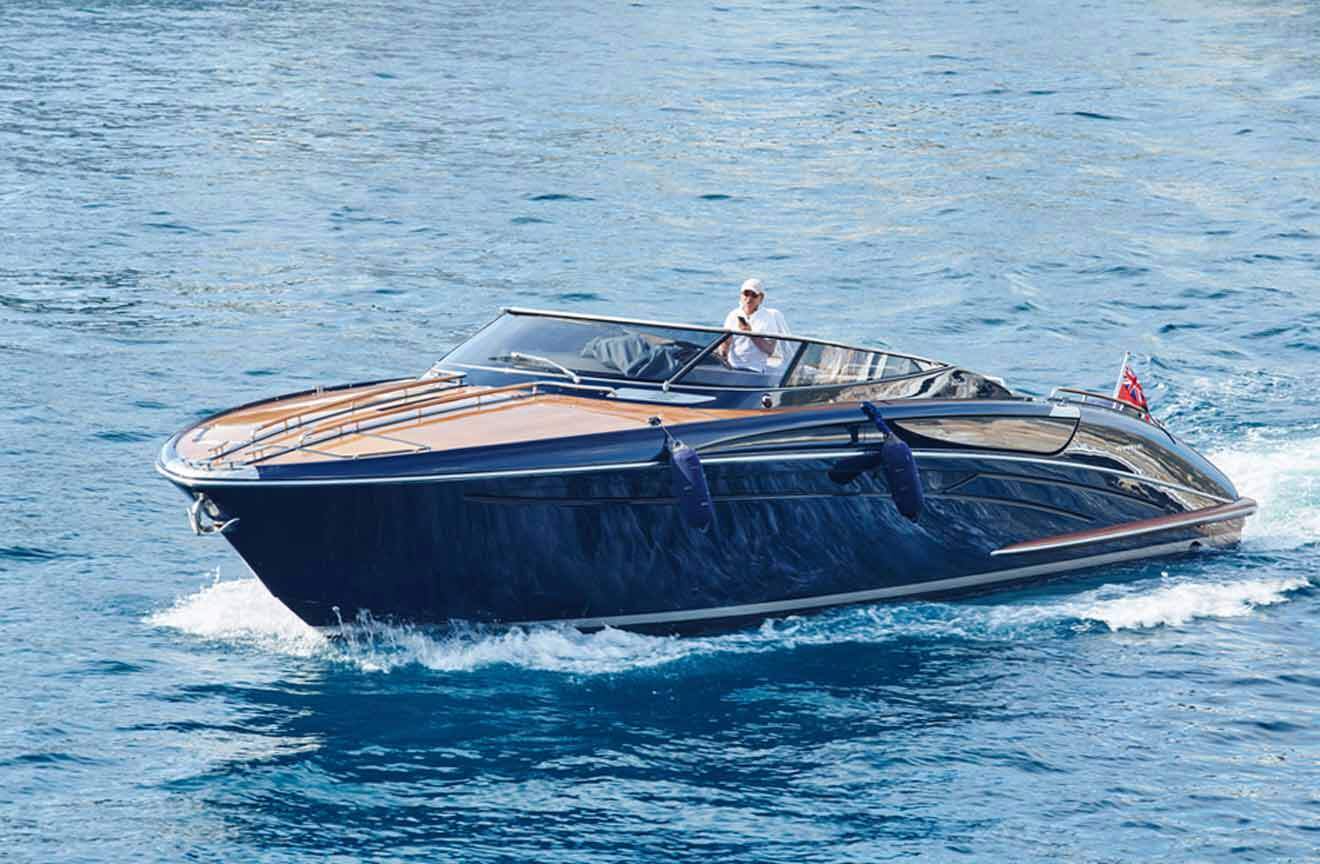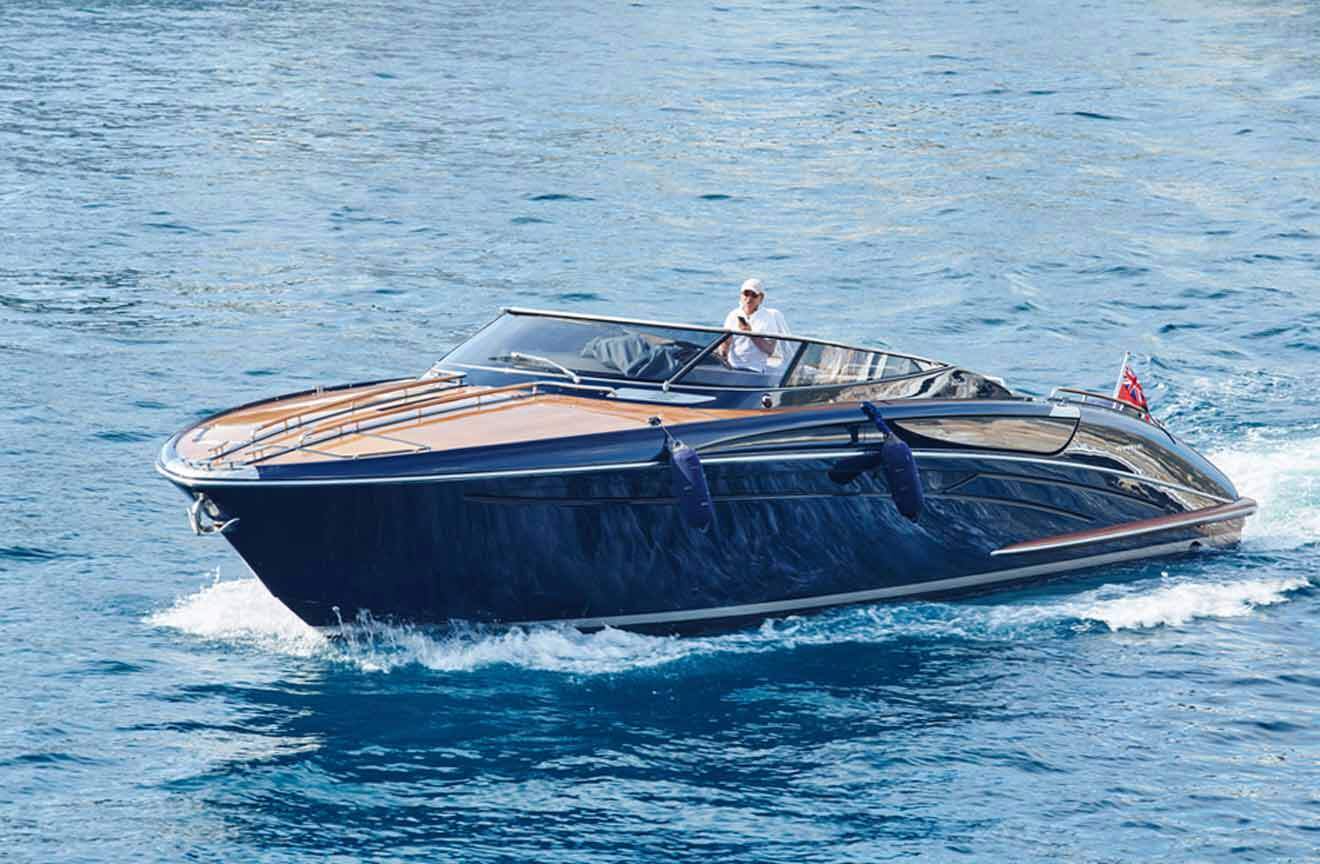 Duration: 5 hours
Price: from €1,800
Why you should take it: the best private tour on a Riva yacht
Got something more specific in mind? Fancy a private yacht all to yourself? Ooooh yes! Most tours don't give you the option of hanging out on a yacht, so this is the one for you!
Santorini is just a small island to a big fish like you! Head to all the classic sites, like the volcano and hot springs, all the fun beaches, and Akrotiri Lighthouse on the south coast of the island, all the while enjoying the sweet taste of the open bar!
At the end of your trip, you'll have a traditional Greek meal (which, let's be honest, is the cherry on top of the cake/tour), and you'll be dropped back at your hotel like royalty you are. Even better? They give you snorkeling gear!
BONUS: Best tours in Santorini
I couldn't finish this post without telling you all the most amazing tours you can take in Santorini aside from boat tours! Here are 5 of the very best, from walking tours and food tours to bus tours and a kayak trip!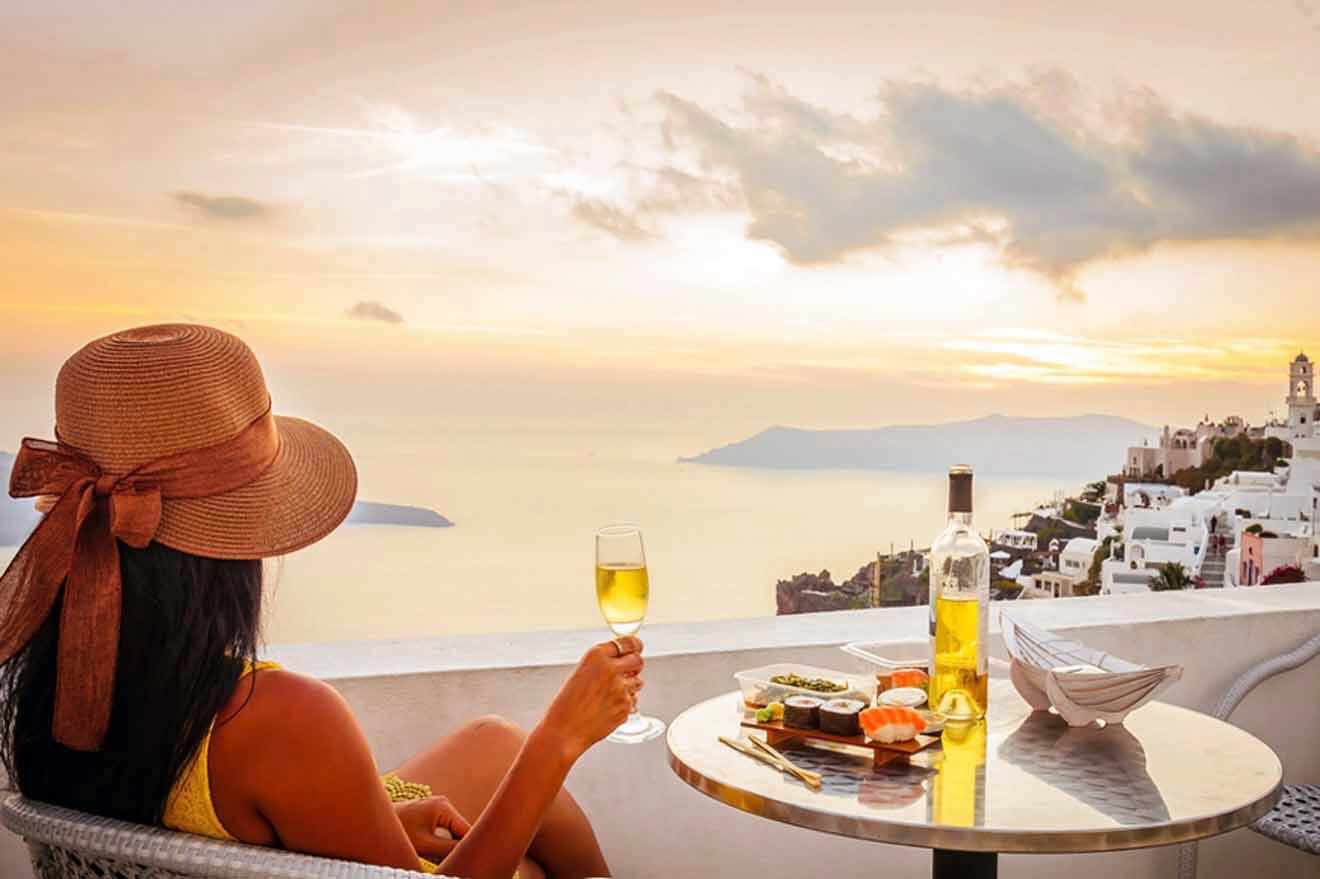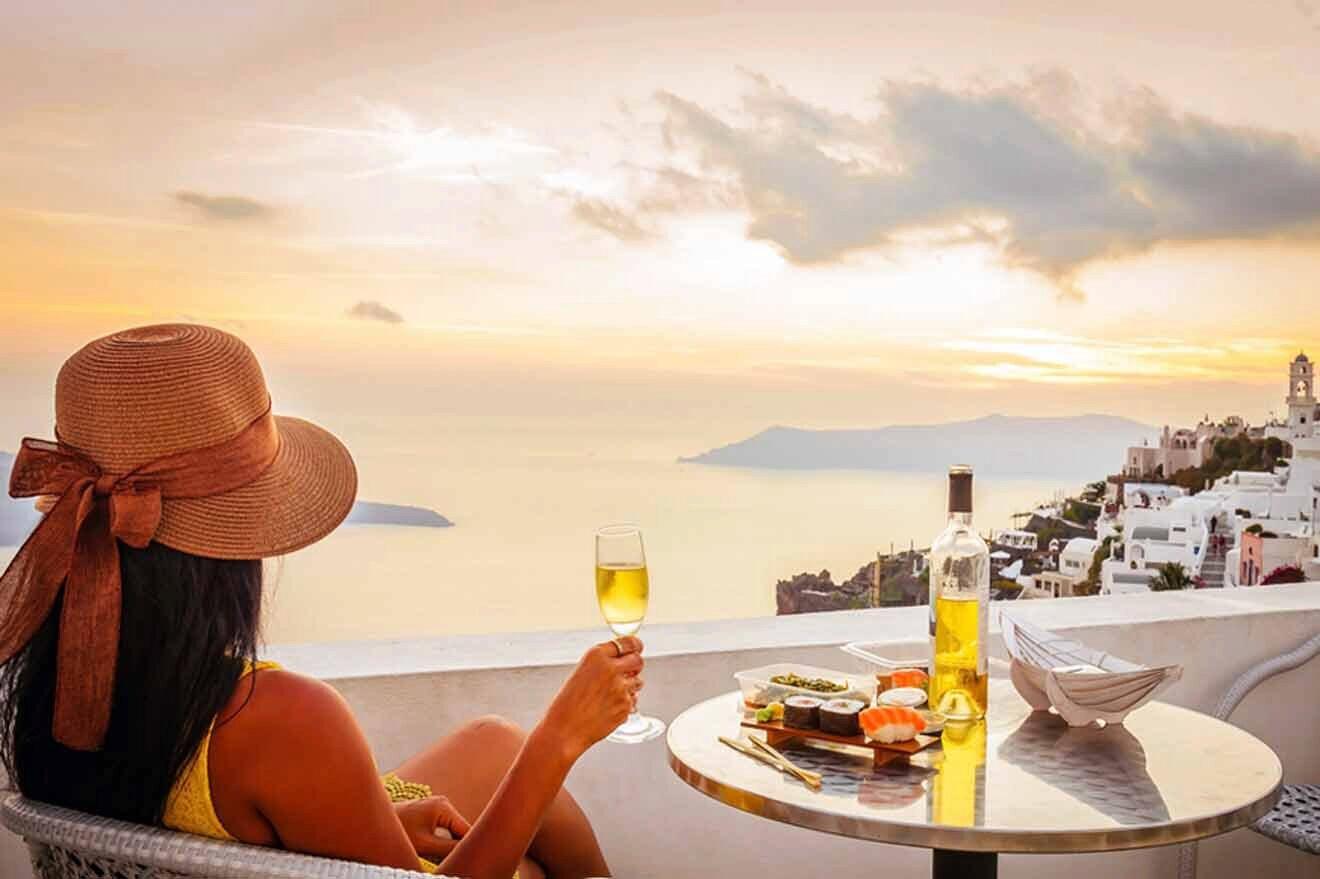 1. Traditional Sightseeing Bus Tour with Sunset
This full-day tour is great for those who just want to sit back and relax while being driven around in style! You'll see all the fun highlights of Santorini, including the Akrotiri Lighthouse & archeological site, a winery, endless beach views, and the highest peak on the island! Sounds like a dream to me! Taxis are suuuper expensive in Santorini, so this is a great tour for those on a budget!
2. Highlights Tour with Wine Tasting & Sunset
Calling all wine lovers! You'll have an action-packed day with this awesome tour, with cultural activities and sites on your list, stunning views, and the chance to indulge in some of Santorini's famous local wine! Enjoy panoramas from the old monastery and learn all about winemaking from Santorini's most prominent winemakers. Love!!
3. 4-Hour Walking Food Tour with Tastings
Who can visit Santorini without eating the incredible food? Not me! Get down to business with this incredible tour that will take you to the best places for specialty Santorini and Greek foods. You'll taste the local olive oil, sample all the most delicious nibbles available, and enjoy the views wherever you are!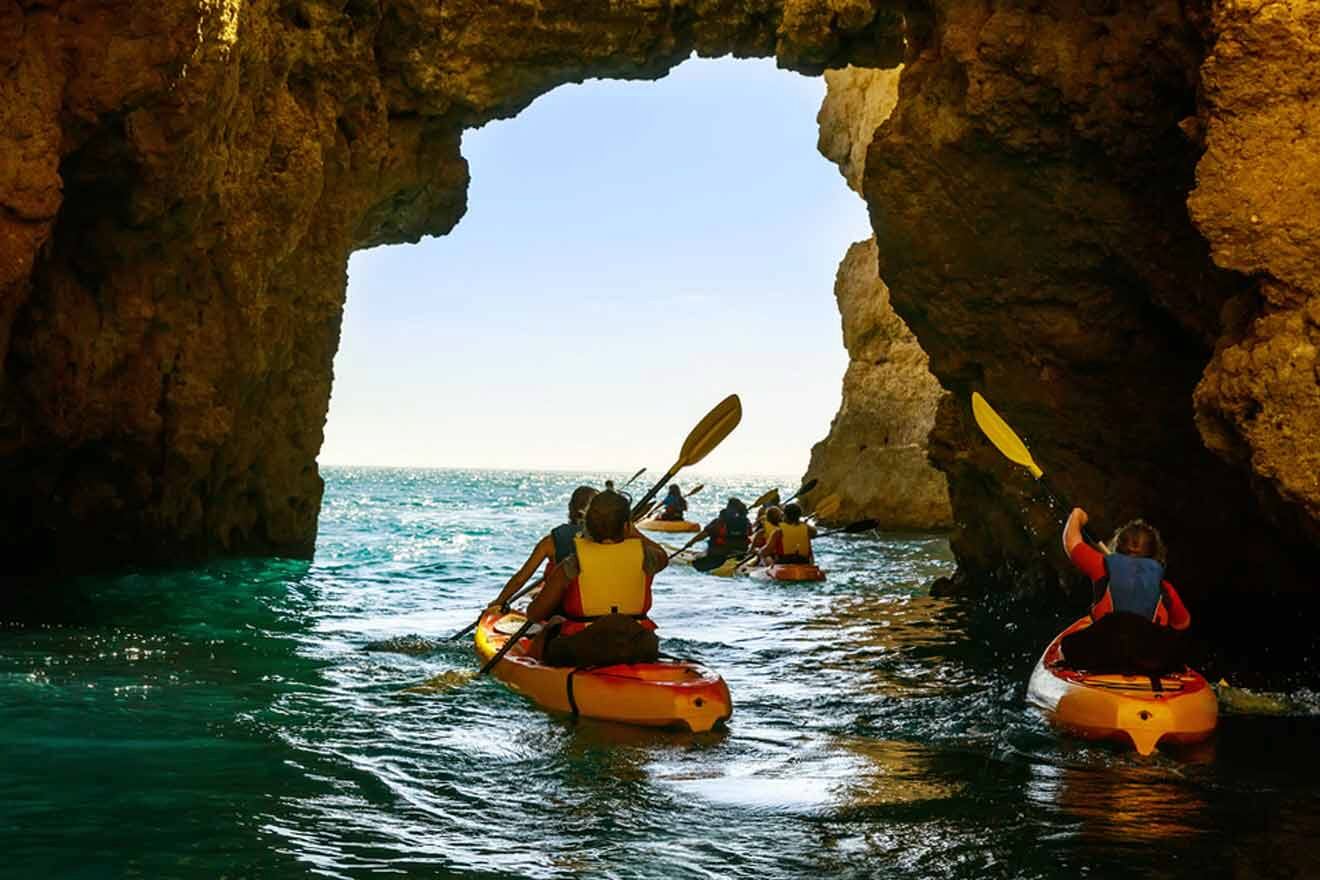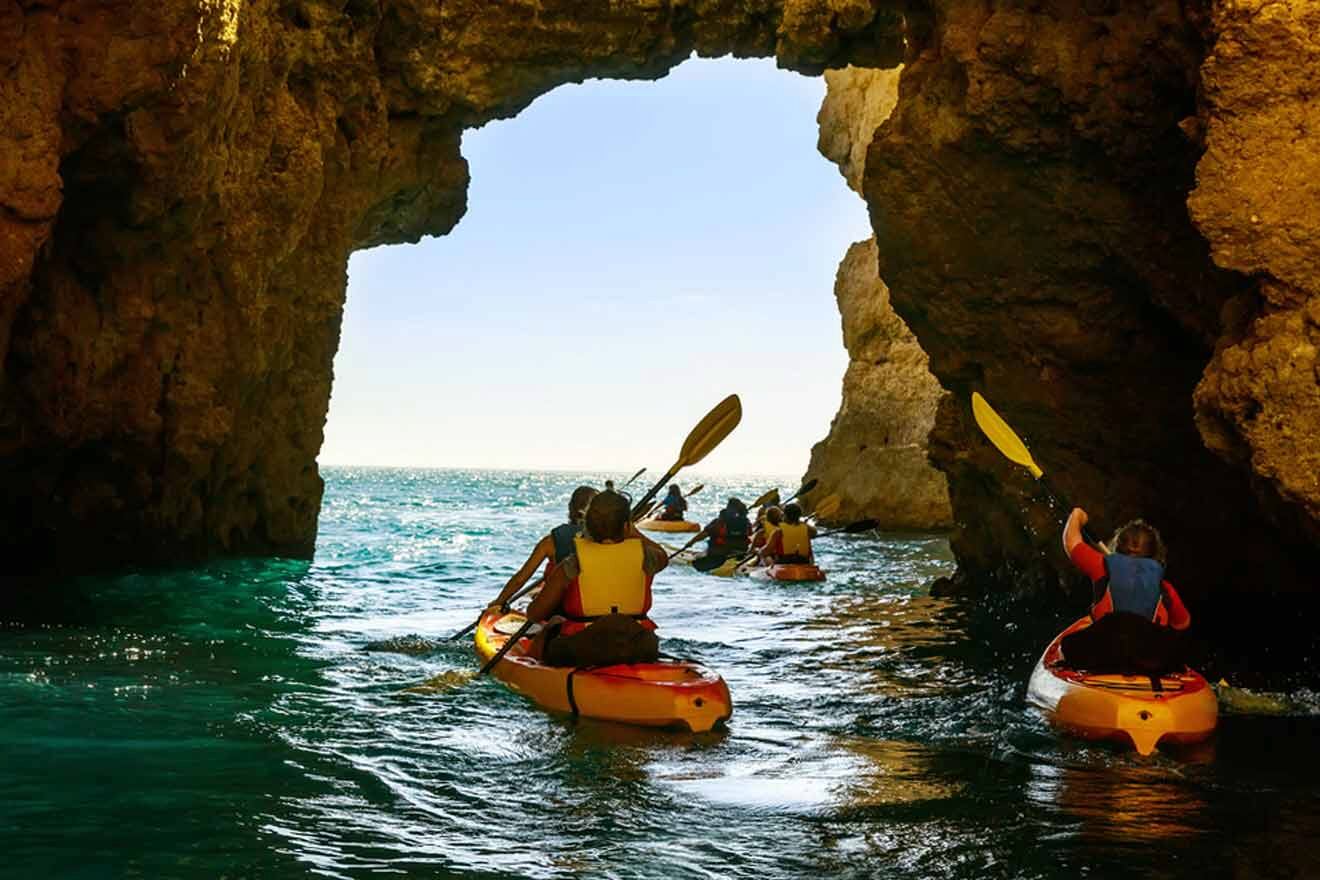 4. Sea Caves Kayak Trip with Snorkeling & Picnic
The best Santorini boat tours may be appealing, but this kayaking opportunity is a super fun option, and you don't even have to go anywhere with it! Paddle around in your kayak, jump off of cliffs, go for a quick snorkel, and enjoy a delicious picnic right on the beach with all the traditional local foods you've been dying to taste!
5. Car Tour with a Local
Listen, the best way to really get to grips with an area is to hang out with the locals! This awesome private tour will take you around the small island in the back of a local's car, who will tell you everything you need to know about the area. You'll learn all the tips and tricks to get around the island and some secret hidden gems that no other tourists are privy to! You also have the option to add things to your tour – whatever you fancy, you can do!
FAQs about your Santorini boat tour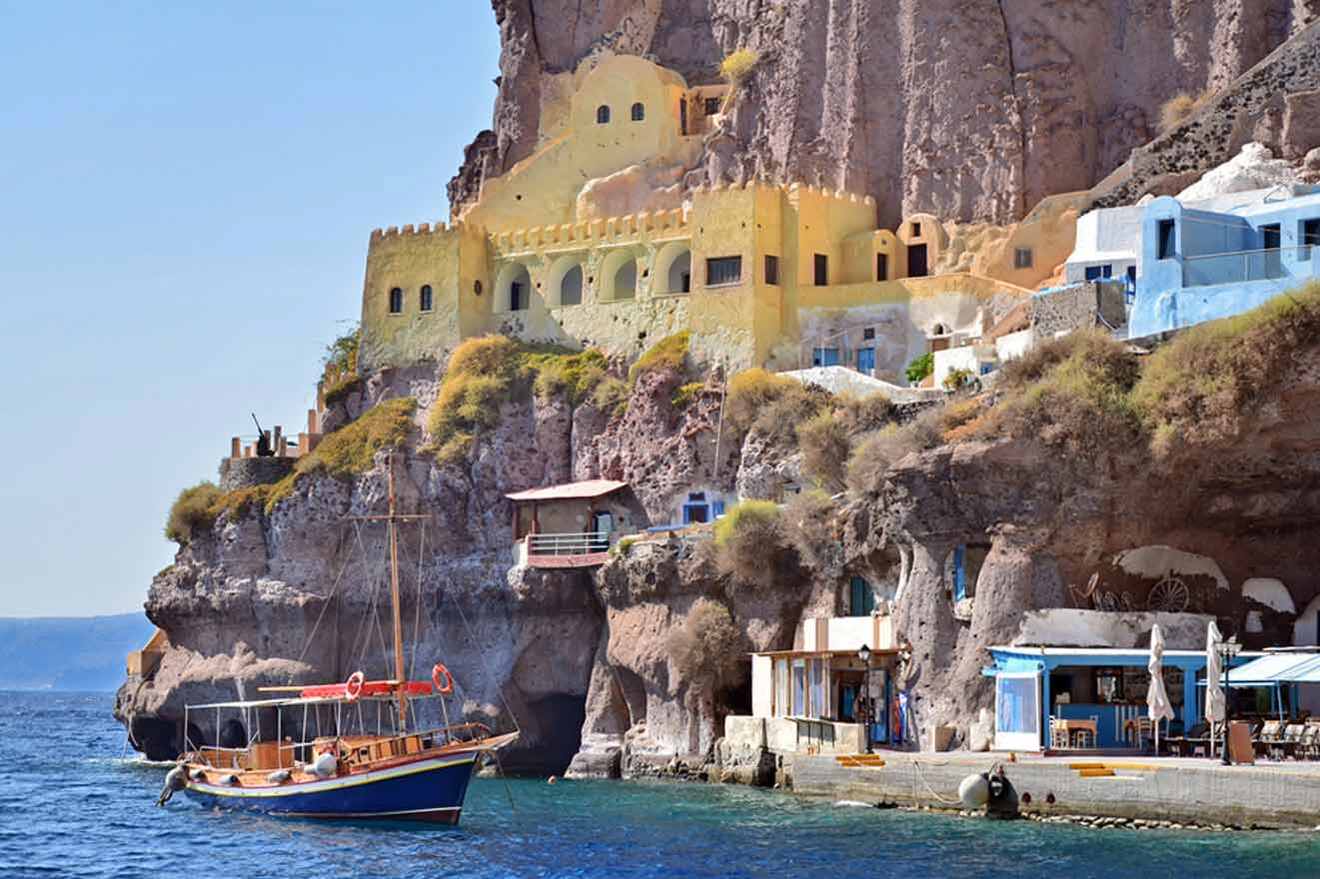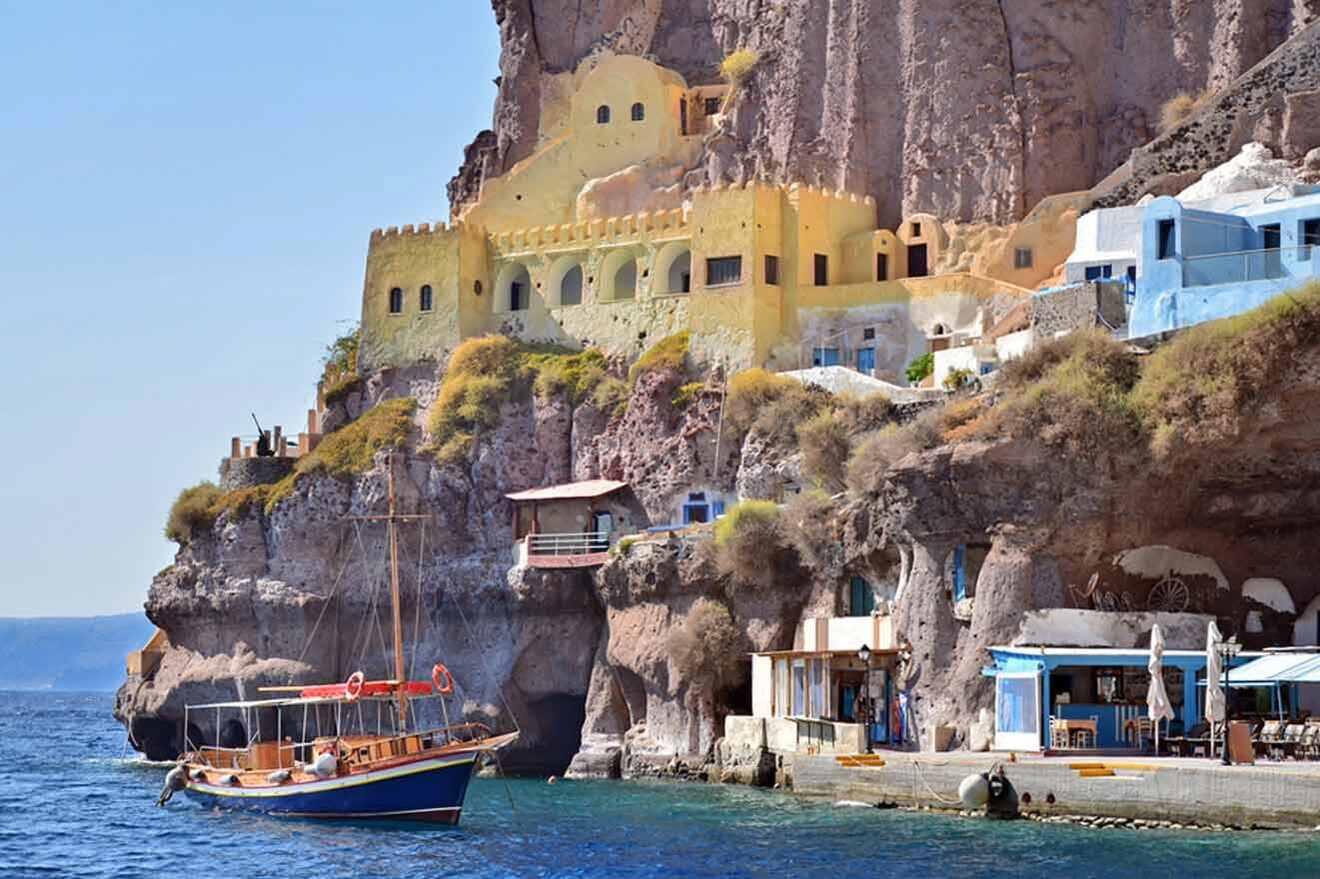 ⛵ Is it worth doing a boat tour in Santorini?
Yes! Doing a boat tour in Santorini will give you a chance to see the island from all different angles, and you'll get the chance to see all the best sites with the added bonus of sailing the high seas!
🧳 How many days is enough in Santorini?
At least 3 days is enough time to explore Santorini. Any less than that, and you'll miss out on some of the best activities and sightseeing opportunities!
🚣 Can you rent your own boat in Santorini?
Yes! If you want to have your own freedom to go wherever you want, you should check out this license-free motorboat rental – you'll have the boat for the entire day, and the family will love it!
🏨 Where is the best area to stay in Santorini?
Conclusion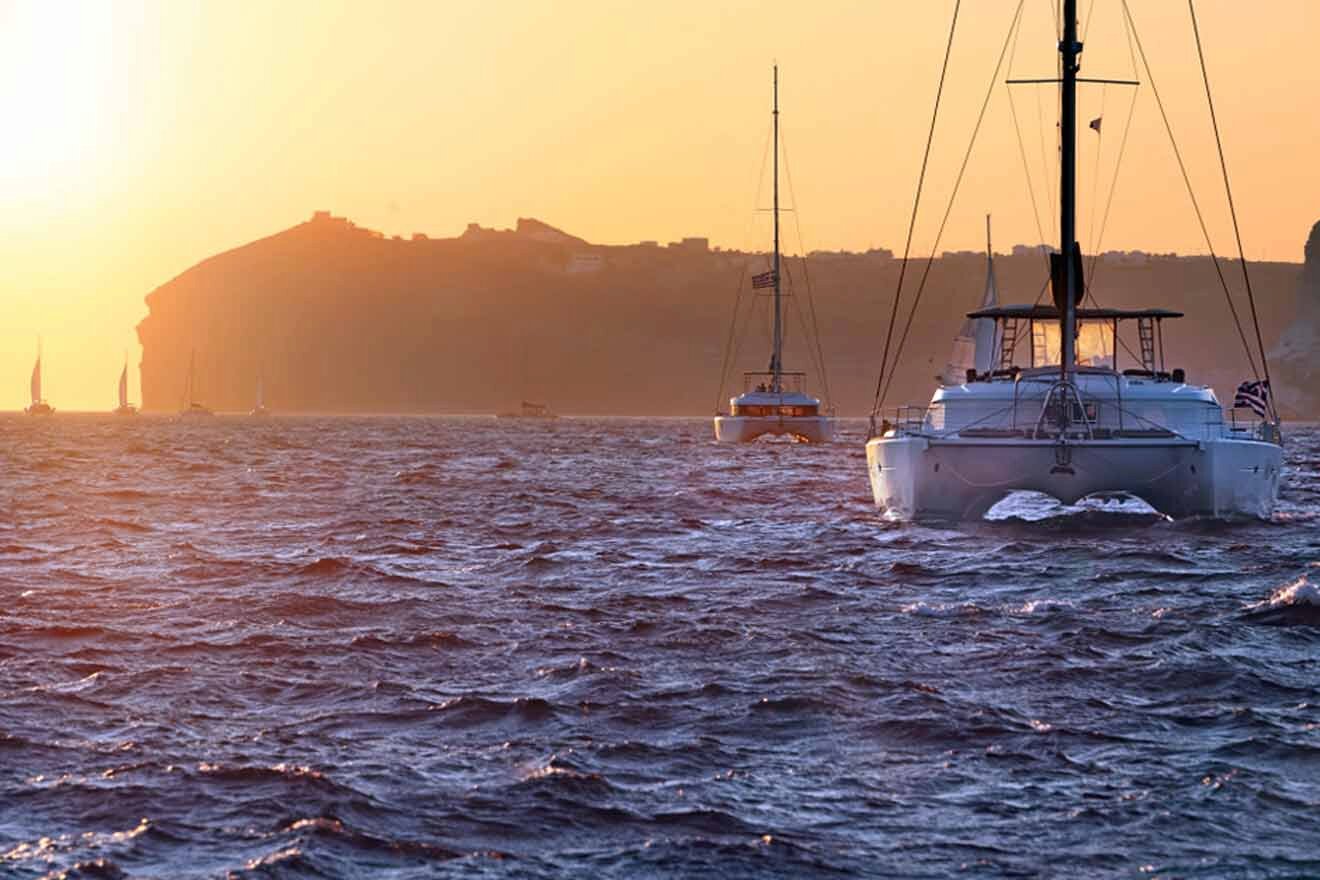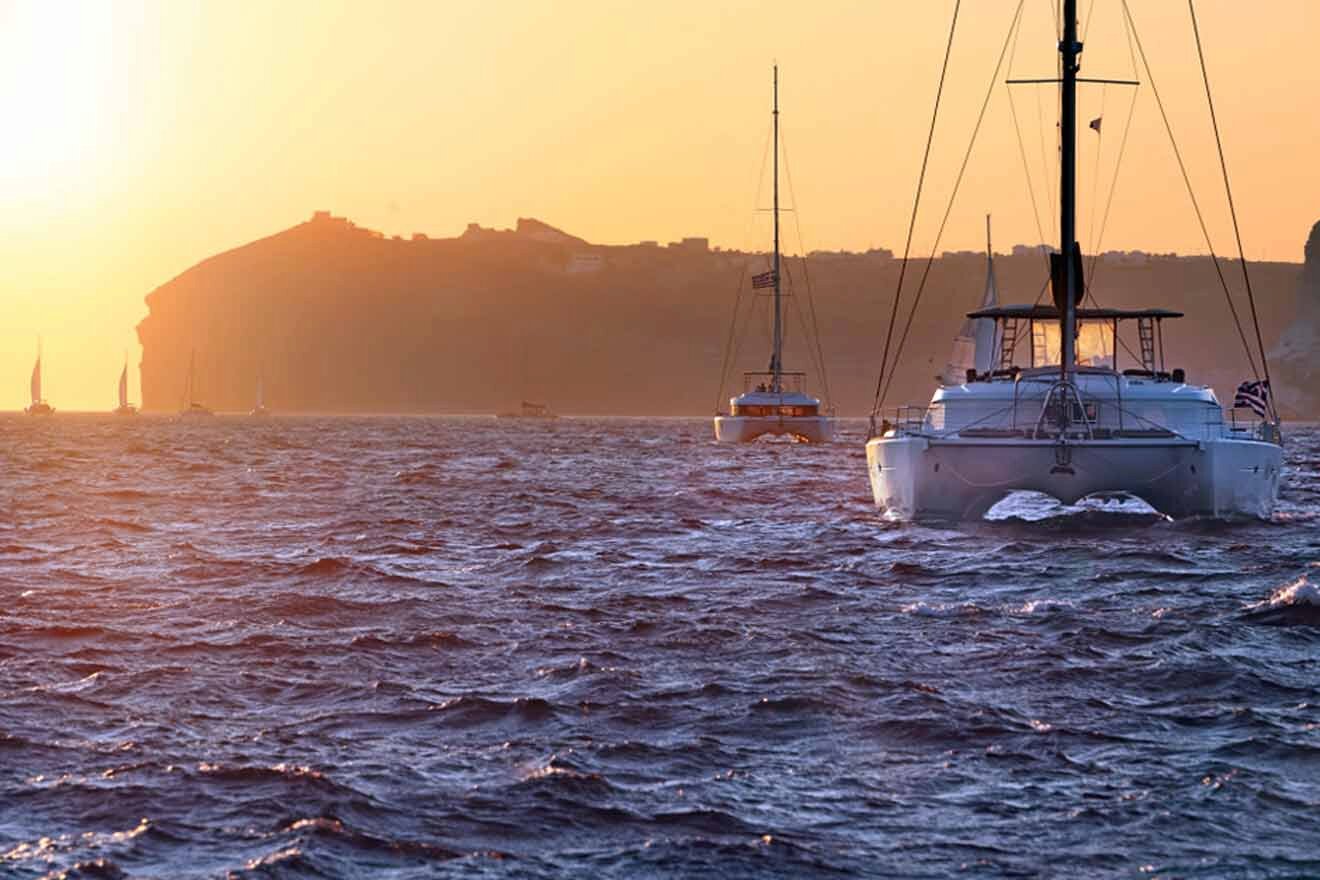 Well, sailors, that's it for today! Hopefully, you've chosen your favorite Santorini boat tour to make your trip as memorable as possible! I've also included a few of the most popular Santorini tours for you, so if you need a break from the high seas, you can come back down to earth and enjoy some fun on land!
Don't forget to book your Santorini boat trips well in advance of your trip to Santorini – the island gets suuuuper busy (especially during the peak of summer), so you wouldn't want to miss out on a tour just because you waited!
Drop me a comment if you have any questions, I'm here to help! And let me know if you've taken any of these tours, I'd love to hear about your experiences!
Ciao for now!
Lizzie
---
Pin it for later!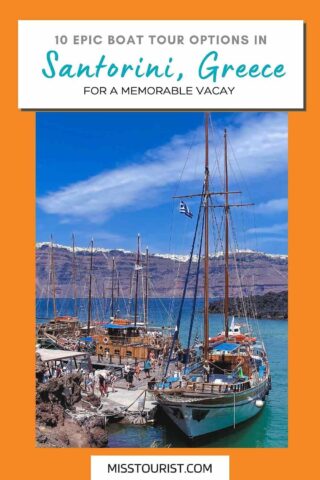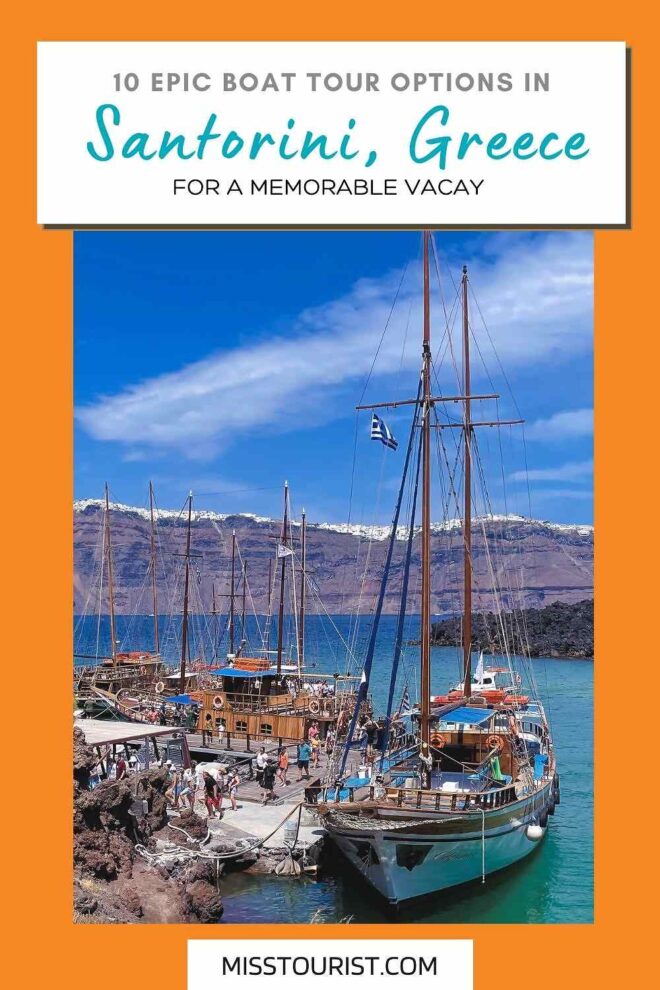 Pin it for later!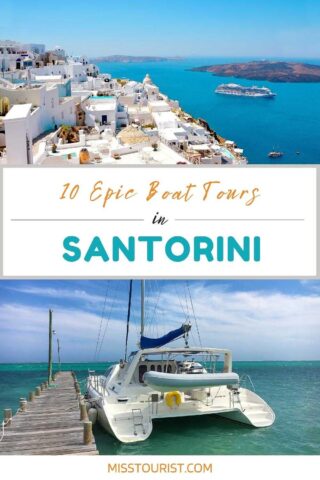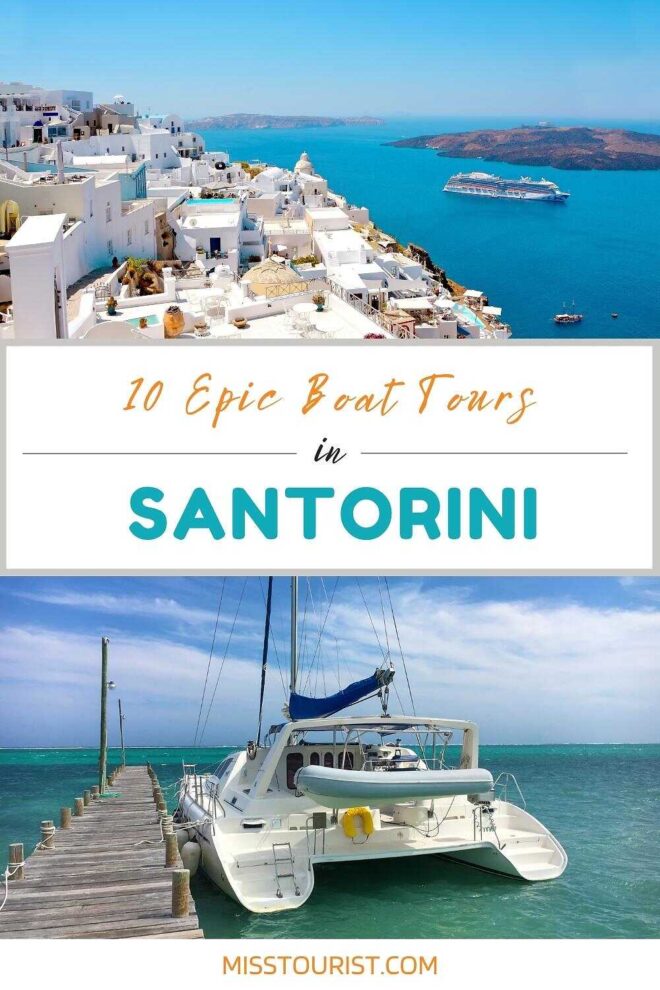 Products You May Like