10 MUST-Do Day Trips from Prague, Czech Republic
Even if most of the tourists usually stay in Prague's Old Town during their holiday, there is much more to see and do in the close surroundings of the beautiful Czech capital… but if you've ended up on this post you already know that!
To help you save some precious time researching, I've already done the job for you and collected here the best day trips from Prague, including many kinds of tourist attractions from historic castles to national parks, walking tours, charming towns and more.
I also included some accommodation options to stay in Prague for different budgets, so you have literally everything you need here!
The only thing you have to do is start reading this blog. So grab a cup of coffee and get yourself comfortable… Are you ready? Let's go!
If you are in a hurry
If you are in a rush and you don't have time to read the whole post, check out the best of the best day trip tours from Prague, Czech Republic that you should book in advance:
Here are the main things to book in advance:
Check out this map to visualize where all the best day trips from Prague, Czech Republic, are located: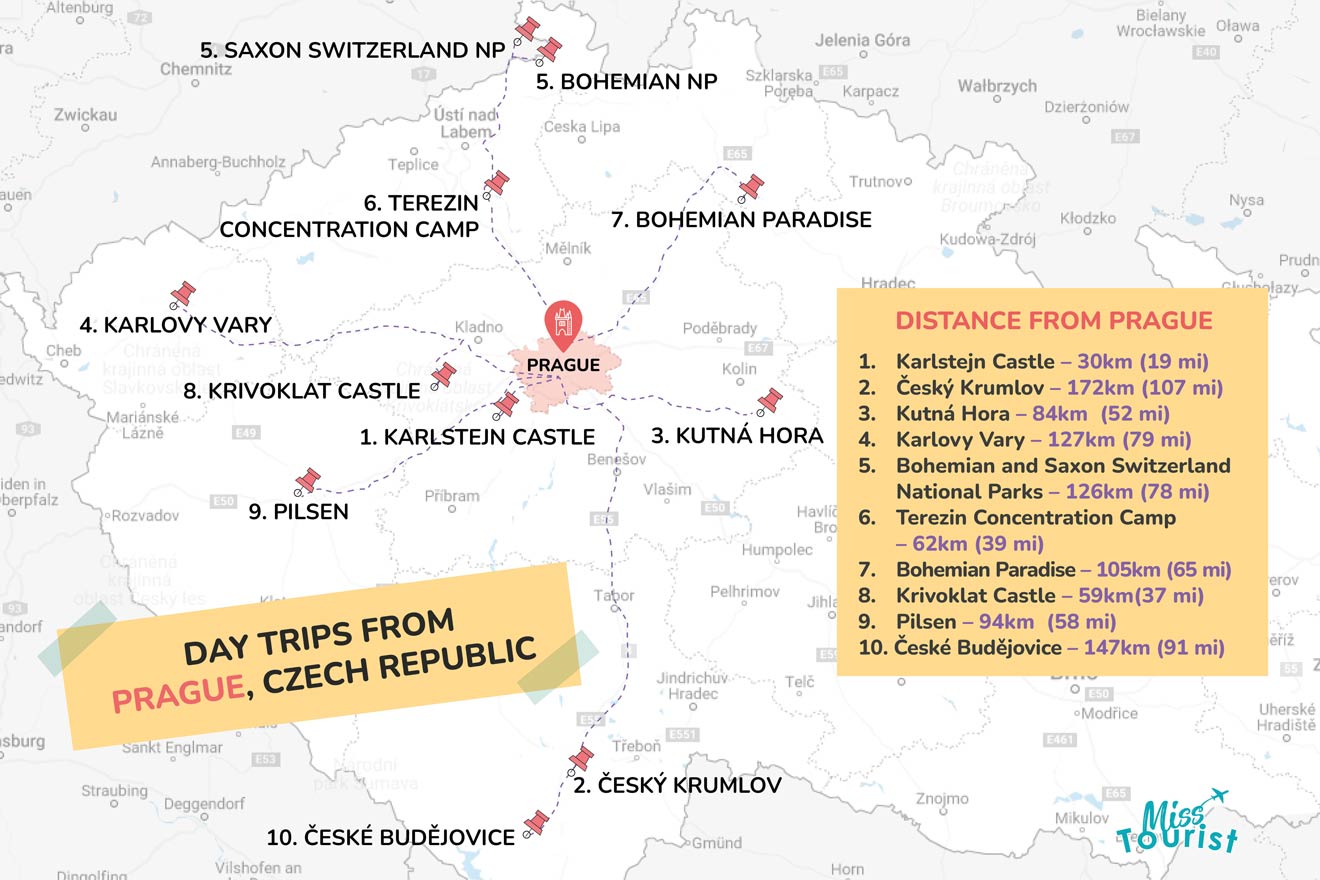 1. Check out Karlstejn Castle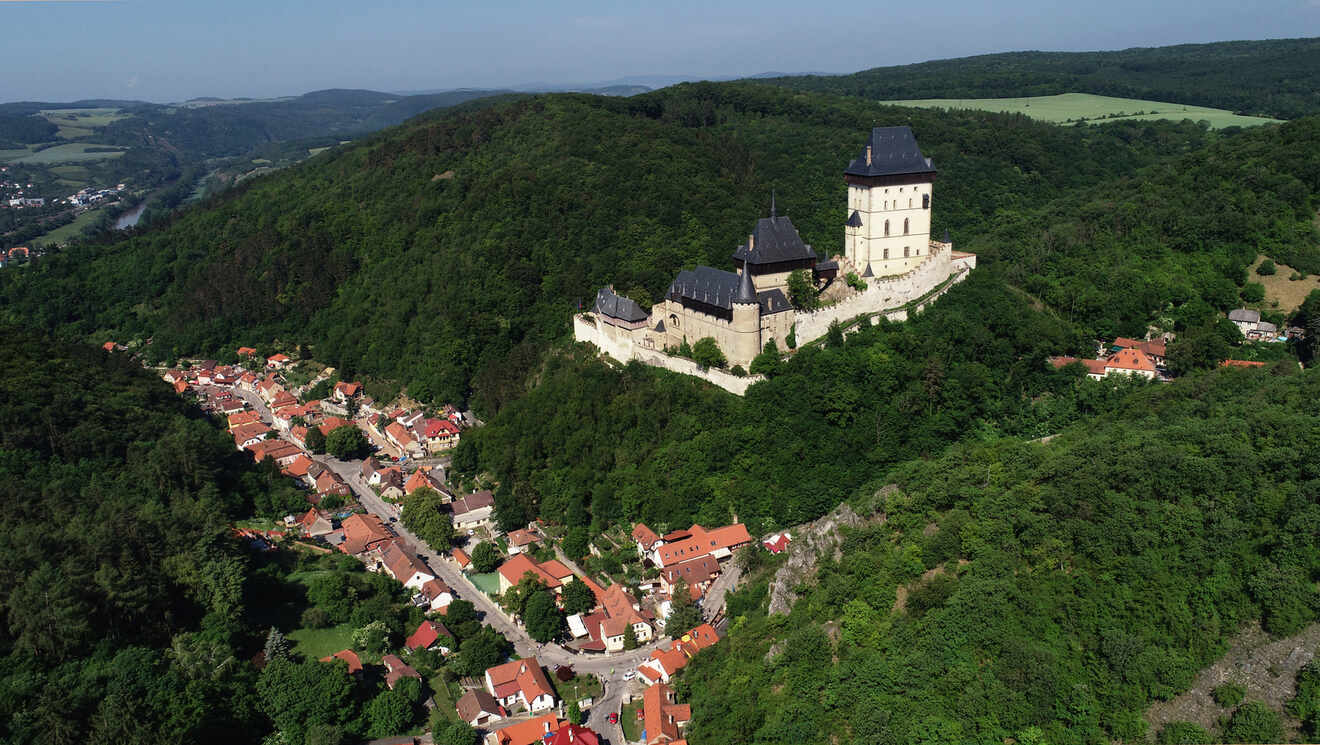 The Karlstejn Castle, the former summer residence of Charles IV, is a Gothic castle located above the village of Karlstejn, about 1-hour drive from Prague (or a 45-minute train ride).
When you get to Karlstejn village, you will need to do a 30-minute hike up to the castle, but it is definitely worth it! Once there, you will get breathtaking views of the landscape and the small town below, but the real attraction is inside the fortress!
Here you will find the Chapel of the Holy Cross, hosting the shining king's jewels and royal house treasures, some historical rooms with valuable furnishings, plus the Karlstejn Castle's storybook façade is just stunning to gaze at.
You can access the interiors of the Karlštejn Castle only through guided tours. You can book when you get there (the basic tour costs €10 per person and lasts 1 hour, but you can check out the full list here), but the attraction is always super crowded so I strongly suggest you book a guided tour online in advance.
This half-day trip takes care of the transport from Prague city center and gives you access to a skip-the-line ticket entrance for only €65, so you won't have to think about anything!
Getting there:
Book your Karlestejn Castle Tour
2. Explore Ceský Krumlov town and castle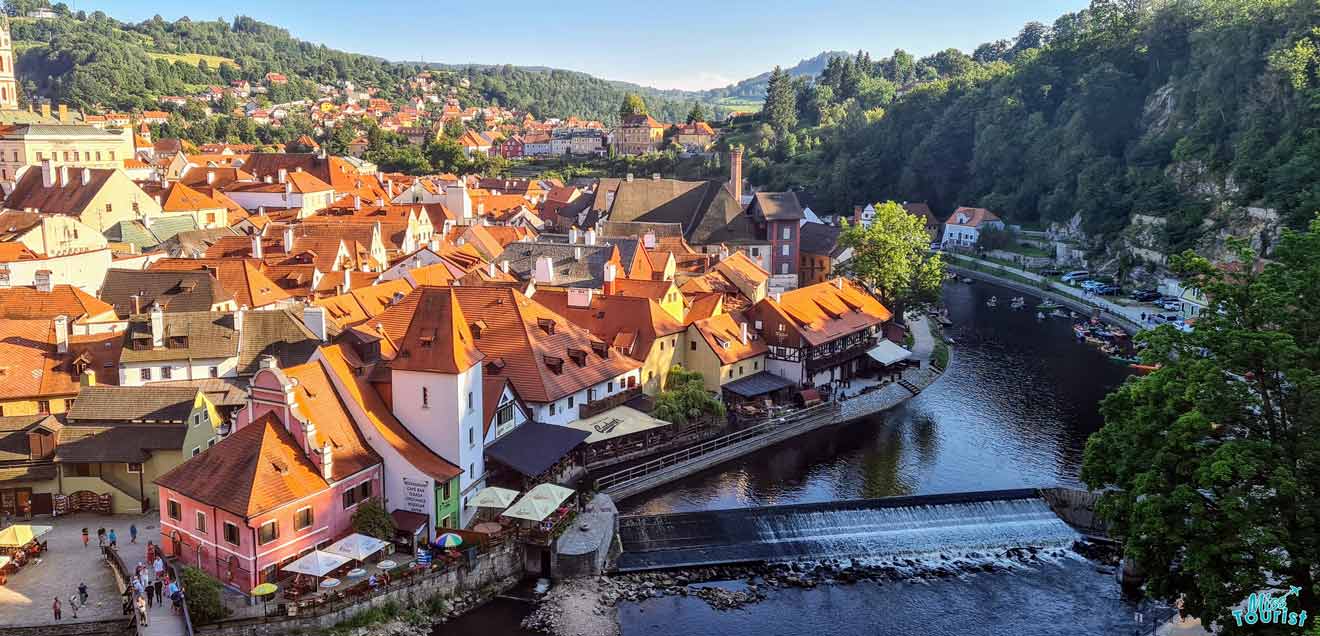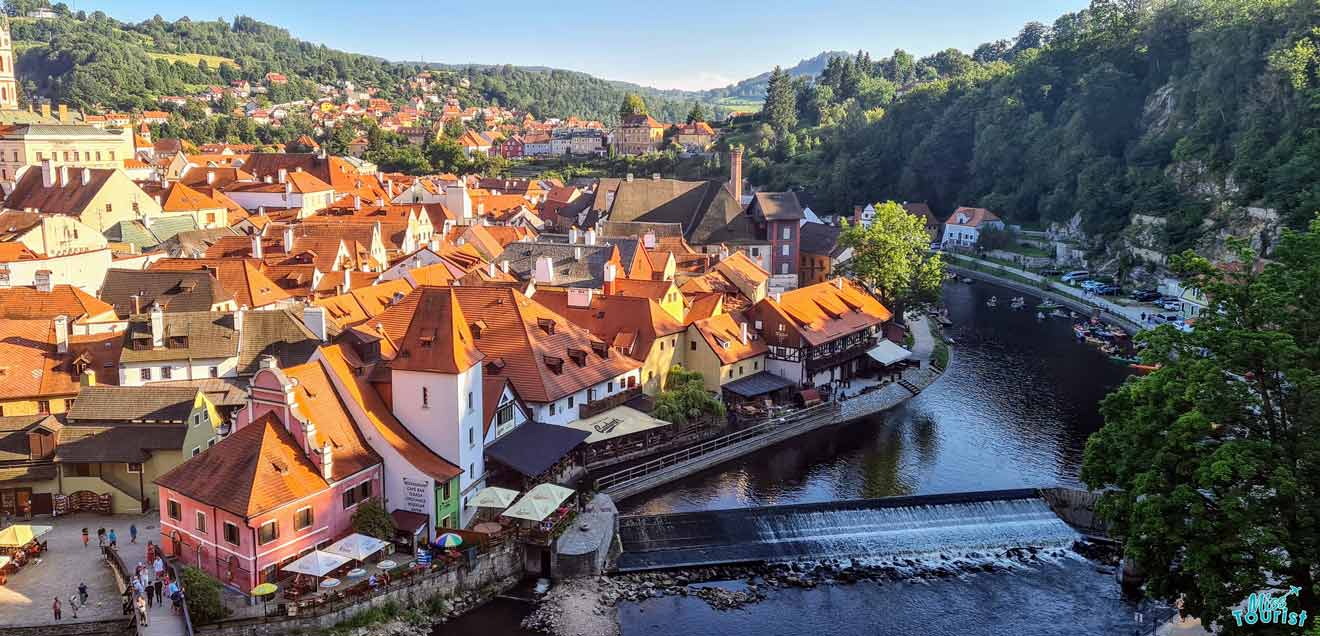 The picturesque town of Český Krumlov lies 2 hours drive from Prague, on the charming Vltava River. The town itself here is super enchanting but the main attraction is Český Krumlov's impressive castle and a UNESCO World Heritage Site! This one is definitely a must do trip from Prague!
The town itself is super charming with its cobbled streets, colorful houses, and the Svornosti historic square, while the castle is part of a huge complex including immense beautiful  gardens, a Baroque theater, a museum, a castle tower, and even an old castle moat with 2 big bears living inside!
FUN FACT: The castle is one of the Czech Republic's most visited sights and second largest castle in the country after Prague castle!
General admission to the Castle Museum and Castle Tower will cost you €7, but you can get all the info you need plus some more attractions to see during your visit in our guide to the best things to do in Cesky Krumlov.
I recommend staying in Cesky Krumlov for a couple of nights, but if you don't have the time and are looking for a stress-free day trip, I suggest you book this Cesky Krumlov full-day Trip from Prague. It combines a walking tour of the old town and the castle with a live guide and a scenic round-trip ride through the Bohemian countryside, for €88 per person.
Getting there:
Join a full day trip to Cesky Krumlov
3. Visit all the attractions of Kutná Hora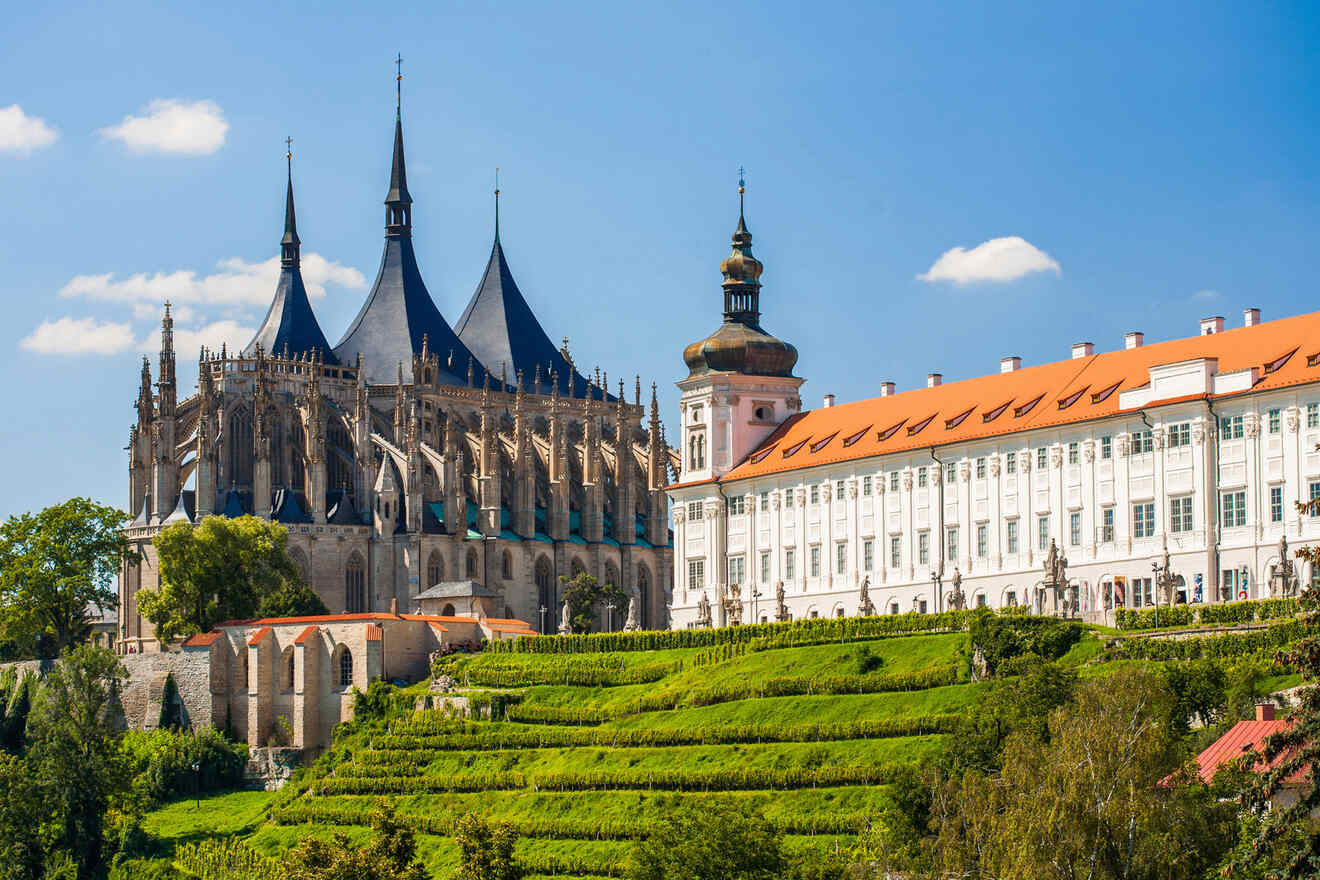 Kutná Hora is a former silver mining town which was called the "national treasury" due to its important silver mine and is located about an hour's drive from Prague.
Today, this medieval town is a UNESCO World Heritage site and has countless interesting things to offer, from monuments to beautiful architecture, the Italian Court (where coins were once minted), historic chapels and more, but the most popular attractions are Barbara's Cathedral and the Sedlec Ossuary.
Barbara's Cathedral
Built in 1338, Barbara's Cathedral is definitely a must-see if you are in Kutna Kahora, featuring vaulted ceiling, ornate frescoes, extravagantly decorated interiors, as well as a mural of the Vision of St. Ignatius.
To access this unique cathedral with wonderful Gothic architecture, you will need to pay a €6 ticket, and the visit itself will take you about 1h.
Sedlec Ossuary (Bone Church) in Kutná Hora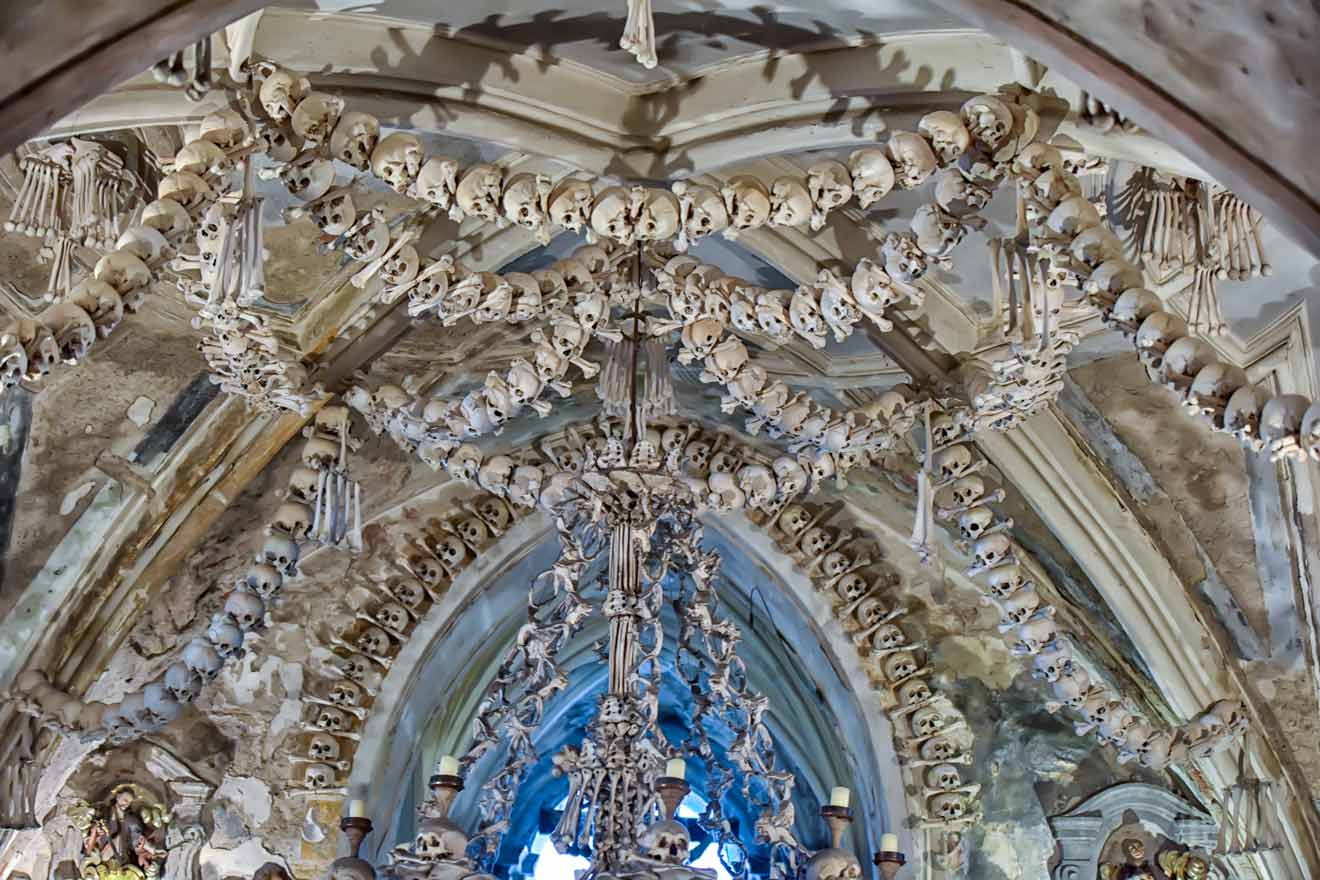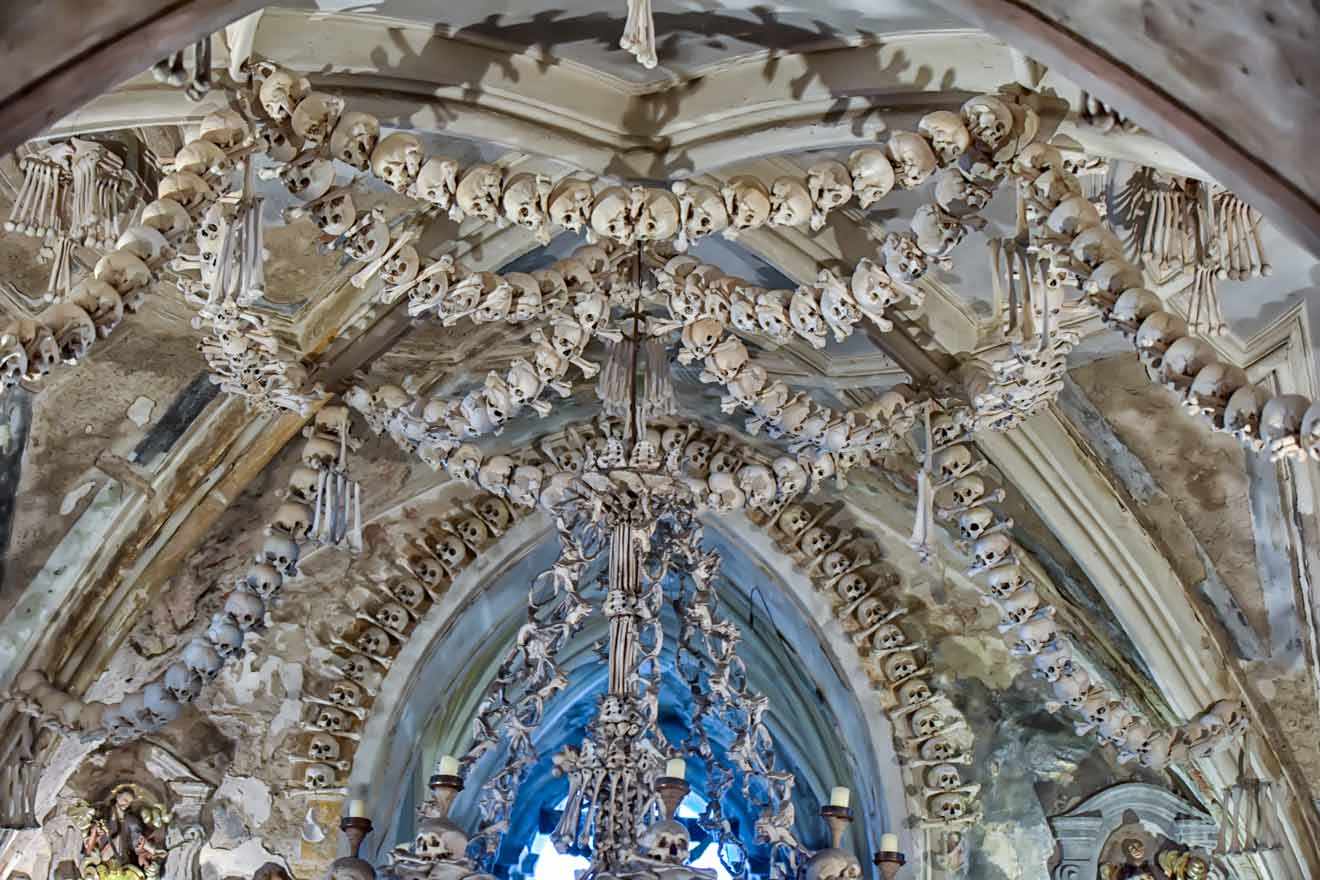 The Sedlec Ossuary (Bone Church), another UNESCO World Heritage site in the Czech Republic, is a small chapel located beneath the Cemetery Church of All Saints hosting the second-largest ossuary in Europe (the first one is the Paris Catacombs).
This church is completely decorated with 40,000 to 65,000 human skulls and bones of people who died from the plague, cholera epidemics, and war conflicts. Even if it's quite creepy, the place is extremely fascinating!
To access you will only have to pay €6 and the visit normally takes around 20 minutes but you can stay there longer if you want. Don't miss it… you will never see such a thing!
NOTE: You can combine these 2 great attractions (Barbara's Cathedral and the Sedlec Ossuary) on this half-day tour from Prague, also including a visit to the well-preserved town center and round-trip transportation for €71: a great value for the price!
Getting there:
4. Relax at the hot springs of Karlovy Vary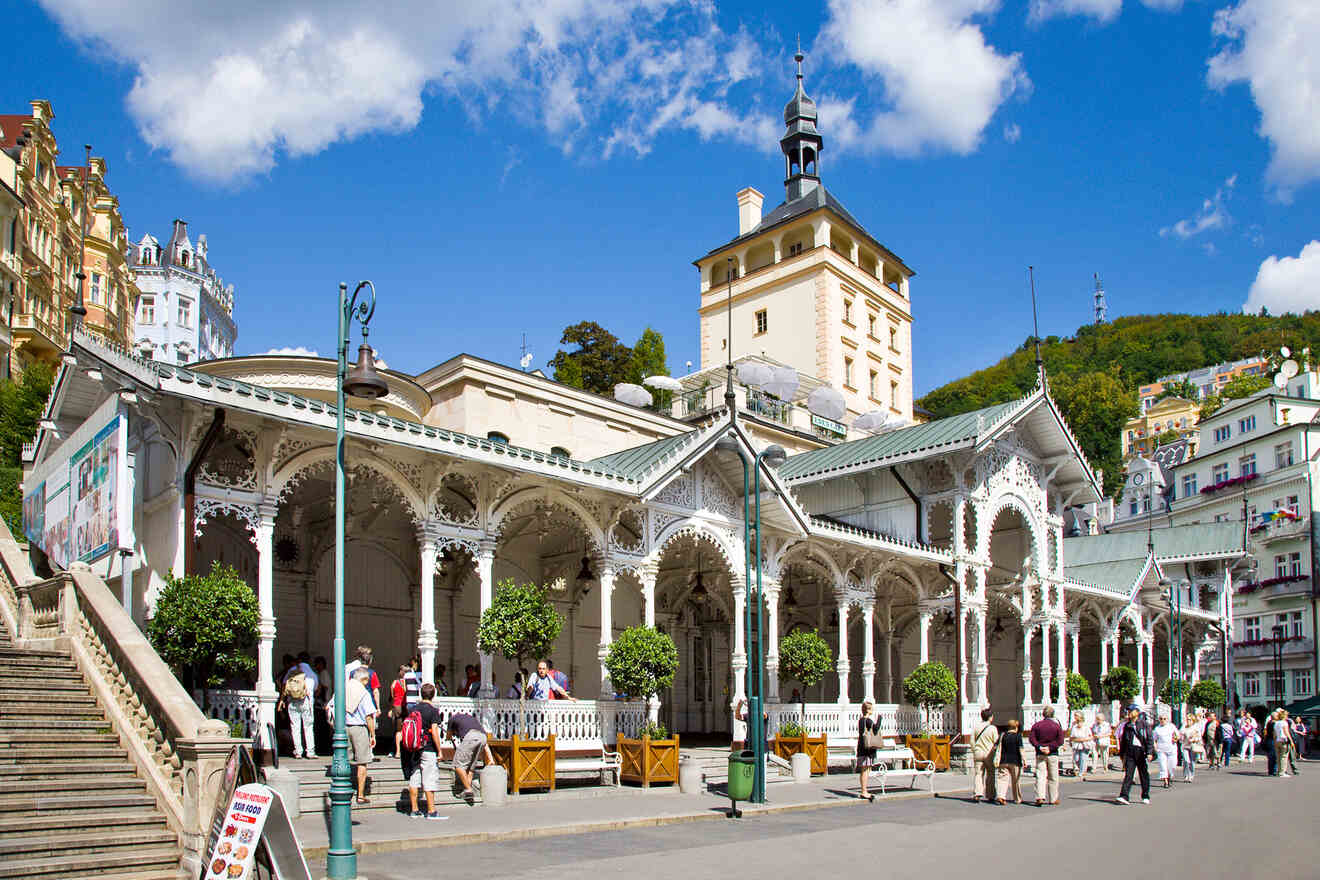 Karlovy Vary is a beautiful city, about an hour and a half drive from Prague, perfect for anyone looking for a different destination to relax with a calm ambiance and a diversity of things to do.
DID YOU KNOW? The city was named after Charles IV, King of Bohemia and Holy Roman Emperor, who founded it in 1370!
Today, Karlovy Vary is mainly known as a spa town known for its curative hot springs and 12 natural mineral springs… perfect for spending a day in full relaxation!
But as I said, this resort town has so much to offer: great architecture, cultural attractions like the Moser Glassworks museum (where you can see beautiful art objects in Bohemian crystal) and the famous Karlovy Vary International Film Festival from June 30th to July 8th, one of the oldest festival in Europe!
The best way to discover everything about the city is with this guided Karlovy Vary day trip tour, bringing you to the town's beautiful colonnades, 12 different springs and even the Christmas house with the Museum of Teddy bears for €81.
Getting there:
Book your Karlovy Vary day trip
5. Enjoy nature at the Bohemian and Saxon Switzerland National Parks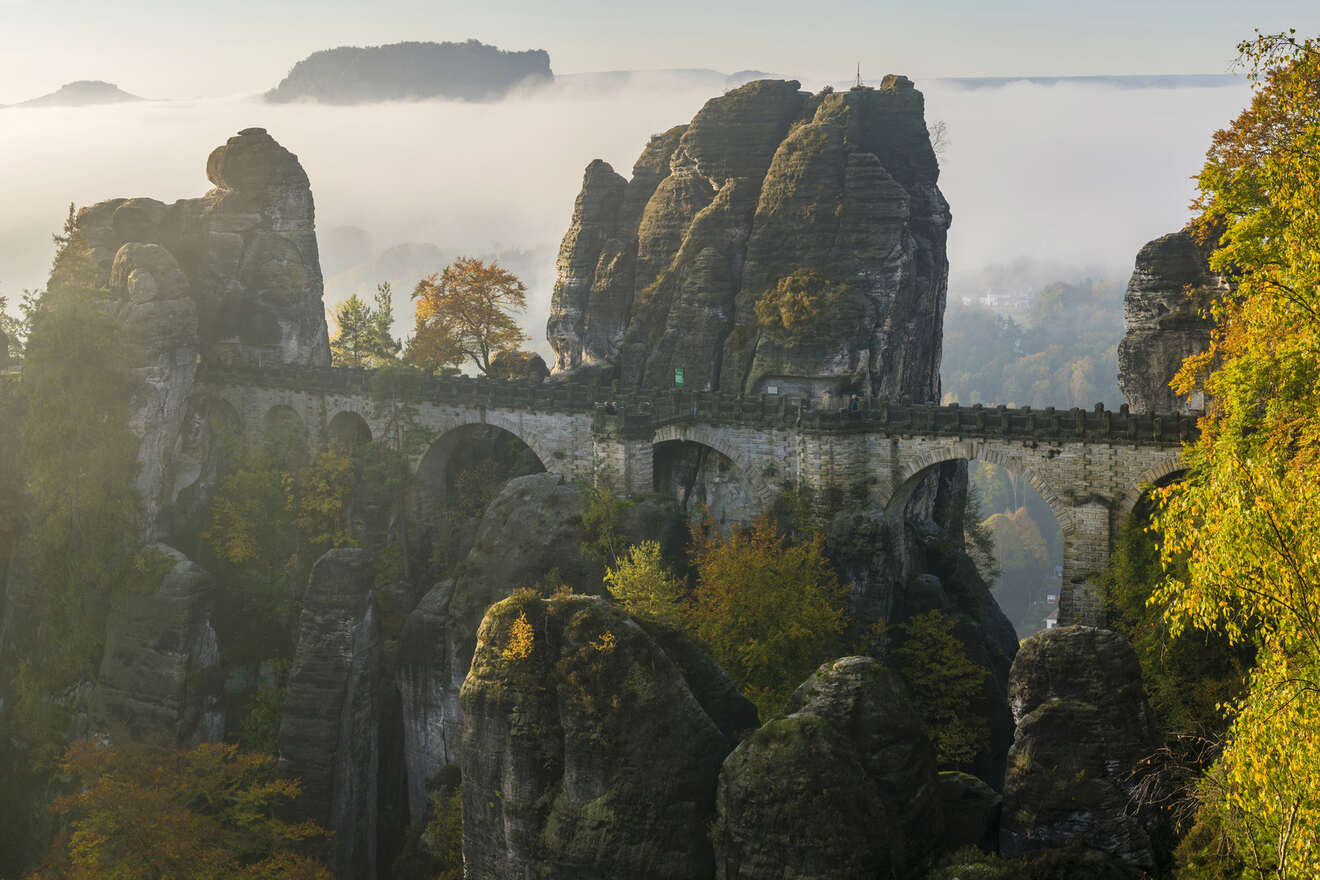 If you want to spend a day completely nestled in Nature, I have the perfect day trip from Prague for you: the Bohemian and Saxon Switzerland National Parks, located 1 hour and a half from Prague.
Although encompassing the same area (located a 10 minutes drive from each other),  these two national parks are different and are actually located in 2 distinct countries (and have separate entrances (both free)).
In fact, the Bohemian Switzerland National Park lies in the Czech Republic and Saxon National Park in Germany, along the Elbe River!
The two parks are true paradises for hiking lovers, hosting kilometers of hiking trails and paths, special rock formations and lush pine forests etc, but they do offer some interesting attractions on their own.
The Saxon is famous for the Bastei Bridge, the Castle of Konigstein and Schrammsteine mountain with panoramic views, while the Bohemian National Park for the Edmund Gorges (that you need to explore on a gondola-style boat for an extra €2.50) and Pravčická Brána Pravcicka rock bridge!
I know, it's hard to choose between the two, but you don't have to! If you join this full-day excursion, you will visit both of them with the option to customize the tour to your preference and select which attractions of the two parks you want to visit, and you won't have to think about transportation (which is quite tricky) and lunch.
Depending on which experiences you choose (walking along the Elbe River, taking a boat ride through Gorges of Kamenice, having a 7 or 15-kilometer guided hike and more) the final price will change, but it starts from €158.
Getting there:
6. Visit Terezin Concentration Camp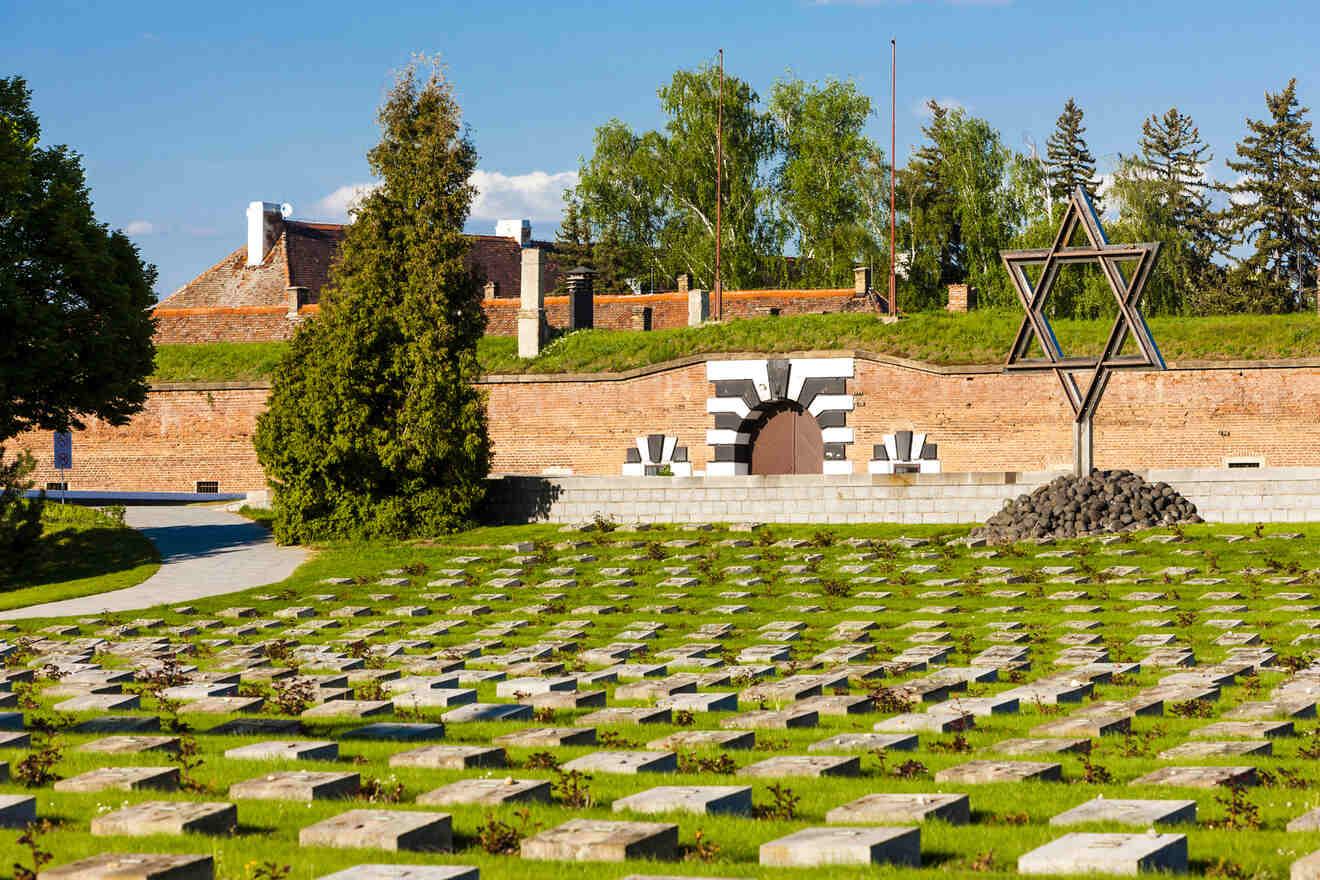 Located around 1-hour drive from Prague, you will find Terezín. This is a town of historical importance as it was occupied by the German Nazis during the second world war. Whilst under occupation it was converted into a concentration camp and held captured Jews before they were transferred to other concentration camps.
The city hosts the small fortress Theresienstadt, which was home to the prison of the Gestapo (Secret Police of Nazi Germany), a museum where you can discover and hear stories of the Jewish prisoners, and the Magdeburg Barracks.
You can visit all these attractions by paying a full entrance fee to the Terezín Ghetto Museum of €10 or join this half-day tour from Prague with an expert guide. With the guided tour you will have transportation included and you can learn about everything about this past tragedy, for €62.
Getting there:
Visit Terezin Concentration Camp
7. Hike in the Bohemian Paradise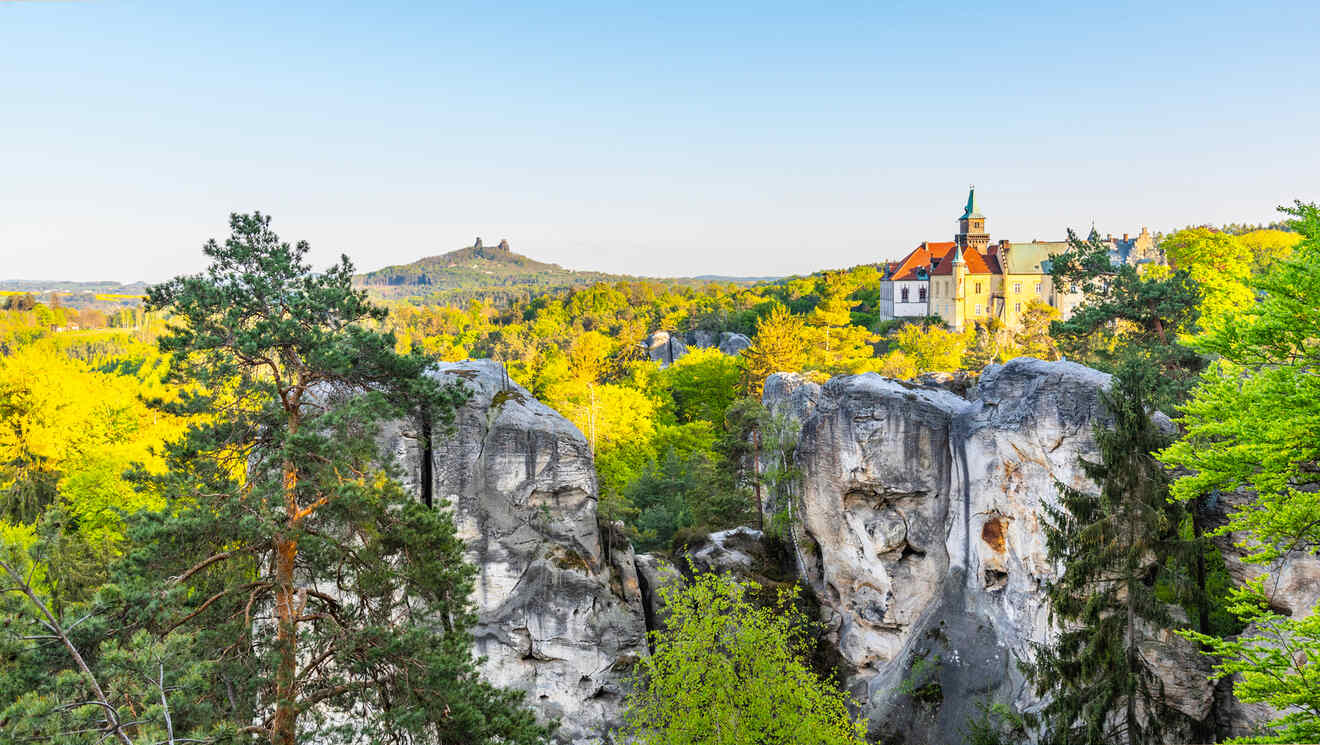 Located around 1h from Prague, the Bohemian Paradise is a protected natural area in the Bohemian region, which was declared a UNESCO Geopark in 2005.
If you want to spend a day completely nestled in nature, this is the place to be, featuring unique rock formations, ancient castles, sandstone hills, natural bridges, historical buildings, hiking trails, and much more… no wonder why it attracts visitors from all over Europe!
If you're not an active person, you can get there by car and ride through one of its scenic routes, offering stunning views of natural landscapes and old fortresses like Trosky and Most castles… and the best thing is that the entrance is completely free!
If you are an avid hiker, check out this amazing full-day hiking tour with a local guide, who will bring you to follow a beautiful trail (adjusted to individual and group needs) and give you a more intimate glimpse into the culture and history of the area, for €79.
The park is huge, so I definitely recommend exploring it with someone who guides you!
Getting there:
Join a Full-Day Hike in Bohemian Paradise
8. Travel back in time at Krivoklat Castle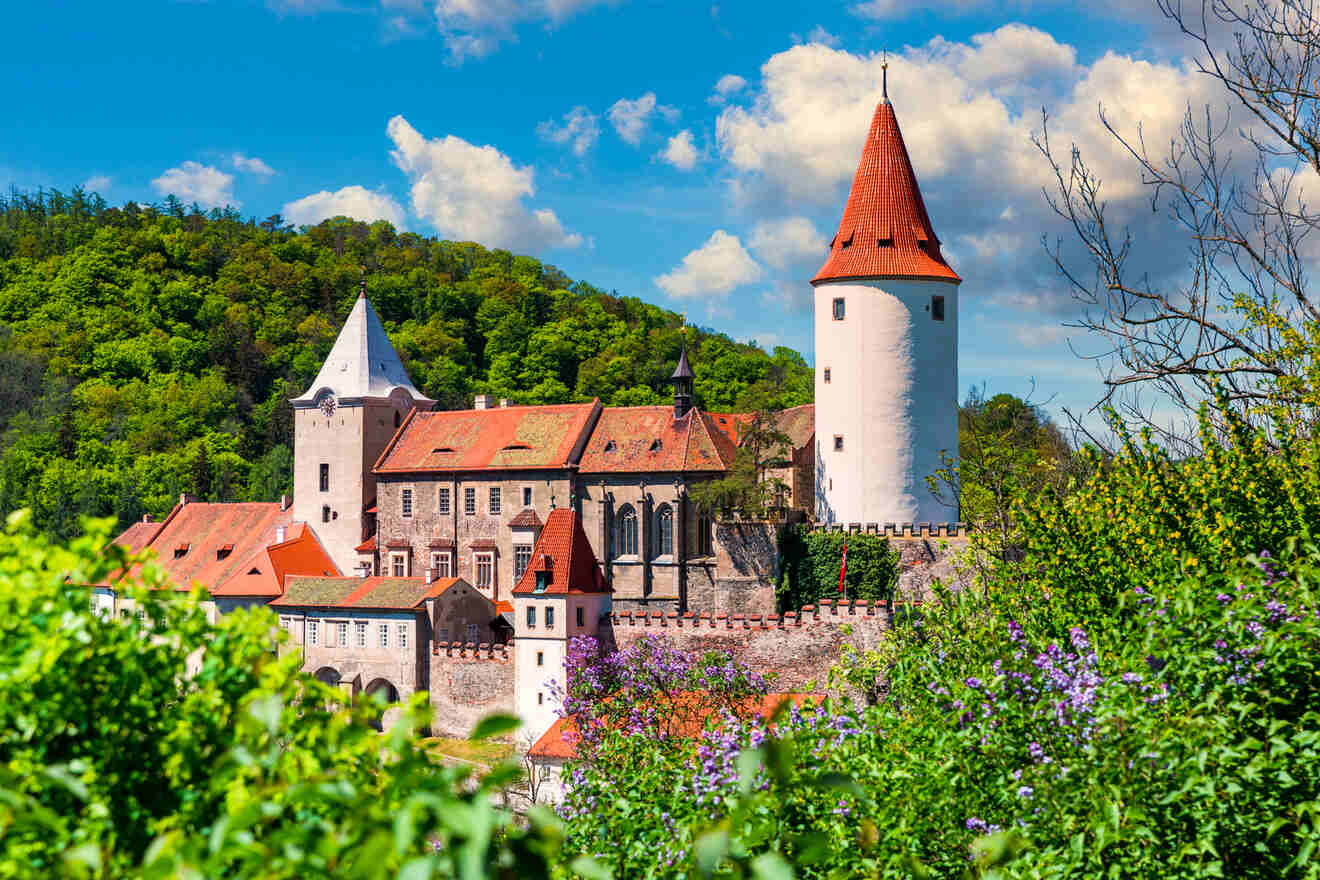 If you're passionate about ancient castles, you need to check out Krivoklat Castle, perched on a forested hill in the Berounka River Valley, around 1h from Prague.
The Krivoklat castle has a very rich history to discover. It was built as a royal residence in the 13th century and was then used to host political prisoners during the Middle Ages… so it is a good place to travel back in time!
The castle's Gothic interiors are just amazing, filled with paintings, artistic objects and more than 50,000 books. There is even a Royal Chapel with carvings depicting angels bearing instruments of torture (a reminder of its darker past).
A ticket to the castle costs €10 and the visit usually lasts around 1h, but you can combine a visit to the castle with a visit to the Bohemia Crystal Glassworks on this private day trip with a professional local licensed guide for €169, so you won't have to think about transportation and you learn a lot about the history.
Getting there:
Visit Krivoklat Castle on a full-day trip
9. Drink some fresh beer in Pilsen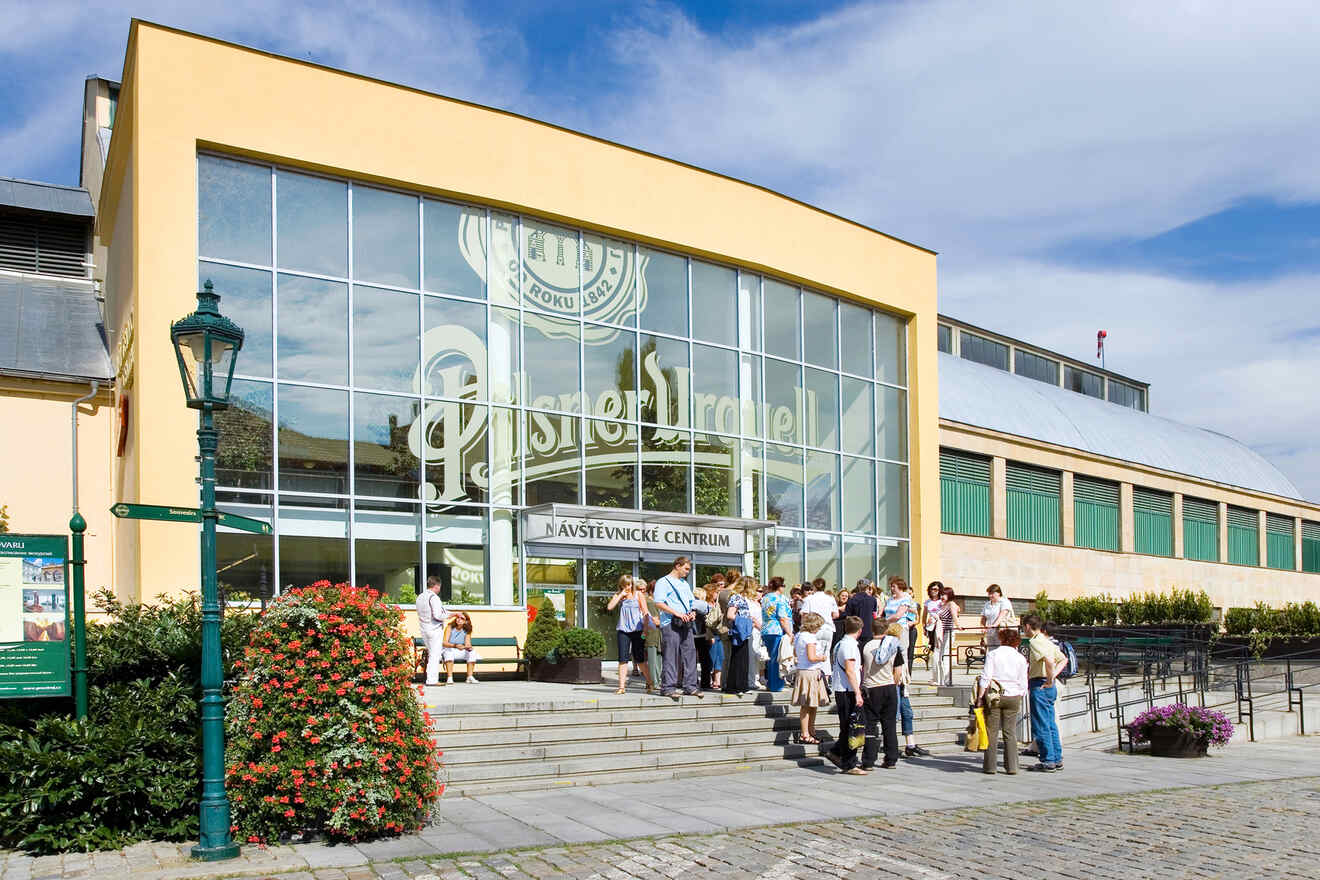 Do you love beer? Then you need to reserve a spot during your holiday for a trip to Pilsen, the hometown and birthplace of the famous Pilsner Urquell brewery, located 1h from Prague.
FUN FACT: Pilsen is actually the birthplace of 70% of all crafted and consumed beer on the planet!
Here a must-do is to join a tour of the Pilsner Urquell brewery, during which you will learn about the history, creation, storage, and consumption of this iconic beer and you end up, of course with some fresh beer tasting!
You can have an official tour directly from Pilsen, for €12 and about 2h, or join this day trip from Prague, combining a visit to Pilsen Town with an expert guide – who will bring you to famous attractions like the Cathedral of St. Bartholomew and the Techmania Science Center – a tour of the brewery and round trip transport for €225.
Getting there:
Explore Pilsen on a day trip from Prague
10. Spend a tranquil day at Ceské Budejovice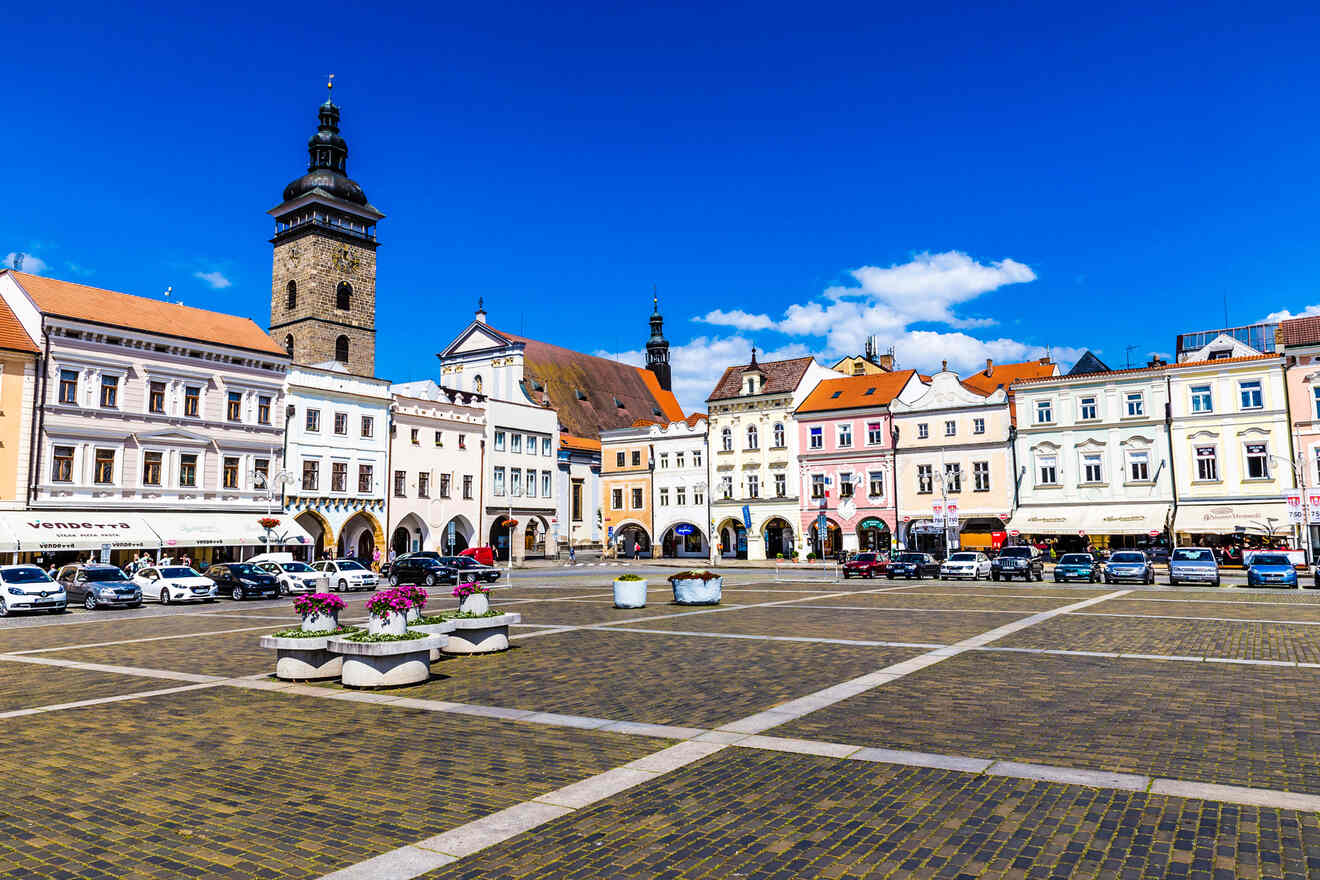 The small town of České Budějovice, the provincial capital of South Bohemia is located 2h from Prague and is so charming it's definitely worth a visit.
In fact, all its main attractions are located in the old town so you can explore them all just strolling around. The most famous one is the Přemysl Otakar II main square, home to the 18th-century Samson's Fountain and surrounded by Baroque buildings like the stunning Town Hall.
Other must-sees in the city are the 72-meter-tall Black Tower, located right by the town hall and offering some breathtaking views over the main square and town, and the historic riverfront where the Vltava and Malse rivers merge together, the perfect spot to take a souvenir picture!
Since the city is located only 20 minute's drive from Český Krumlov, there are many tours that combine a visit to the 2 towns. The best one is this full-day trip from Prague with an expert guide, including round-trip transportation and lunch in a historic restaurant for €97.
Getting there:
Where to stay in Prague, Czech Republic
Now you have all your trips organized, I thought I would help you out with some accommodation too.
Here are some accommodation options in Prague's Old town, one of the best areas to stay in Prague for tourists, giving you access to charming cobblestone streets and to some of the best attractions in the city, like the 15th-century astronomical clock tower and the famous Charles Bridge.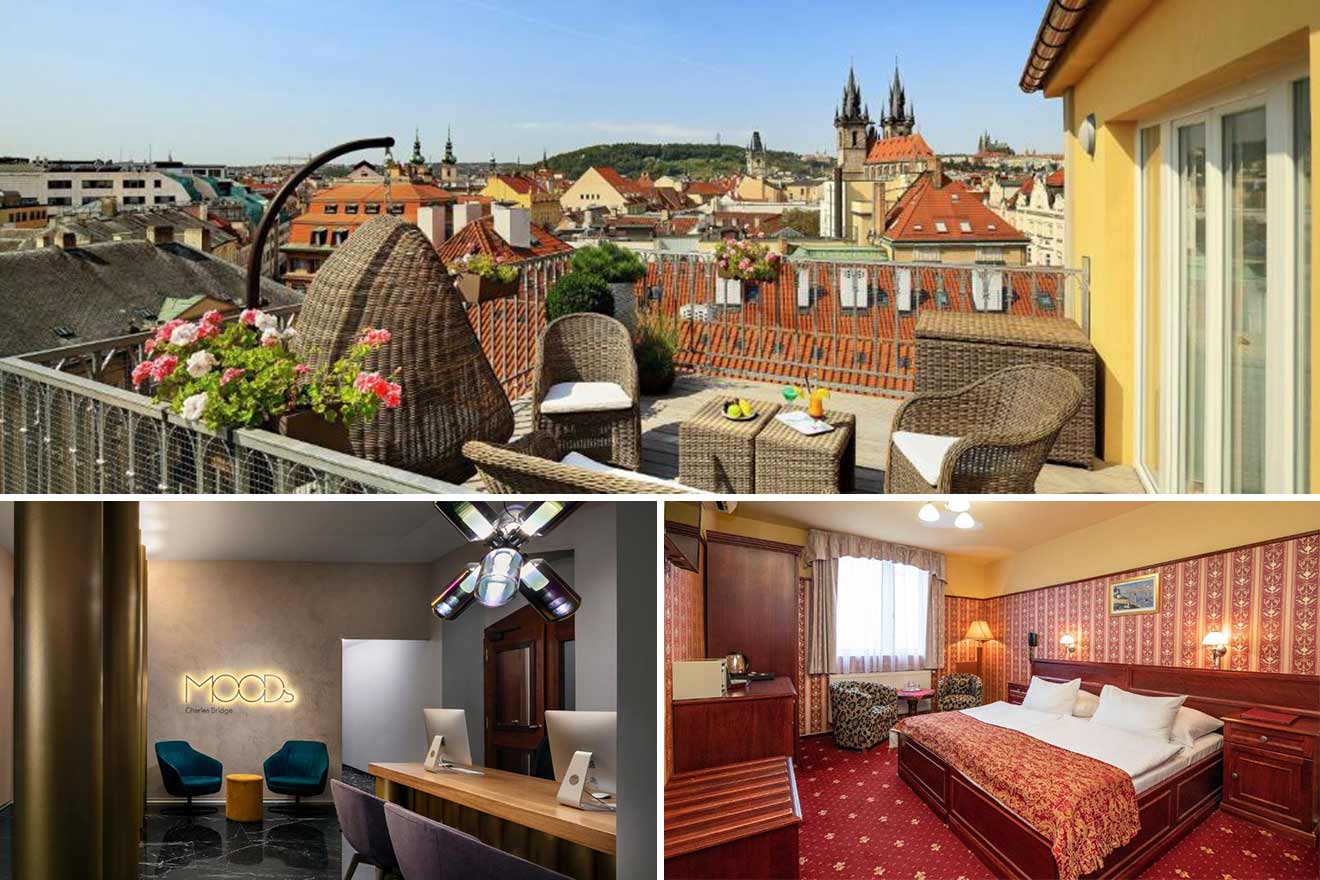 FAQs about day trips from Prague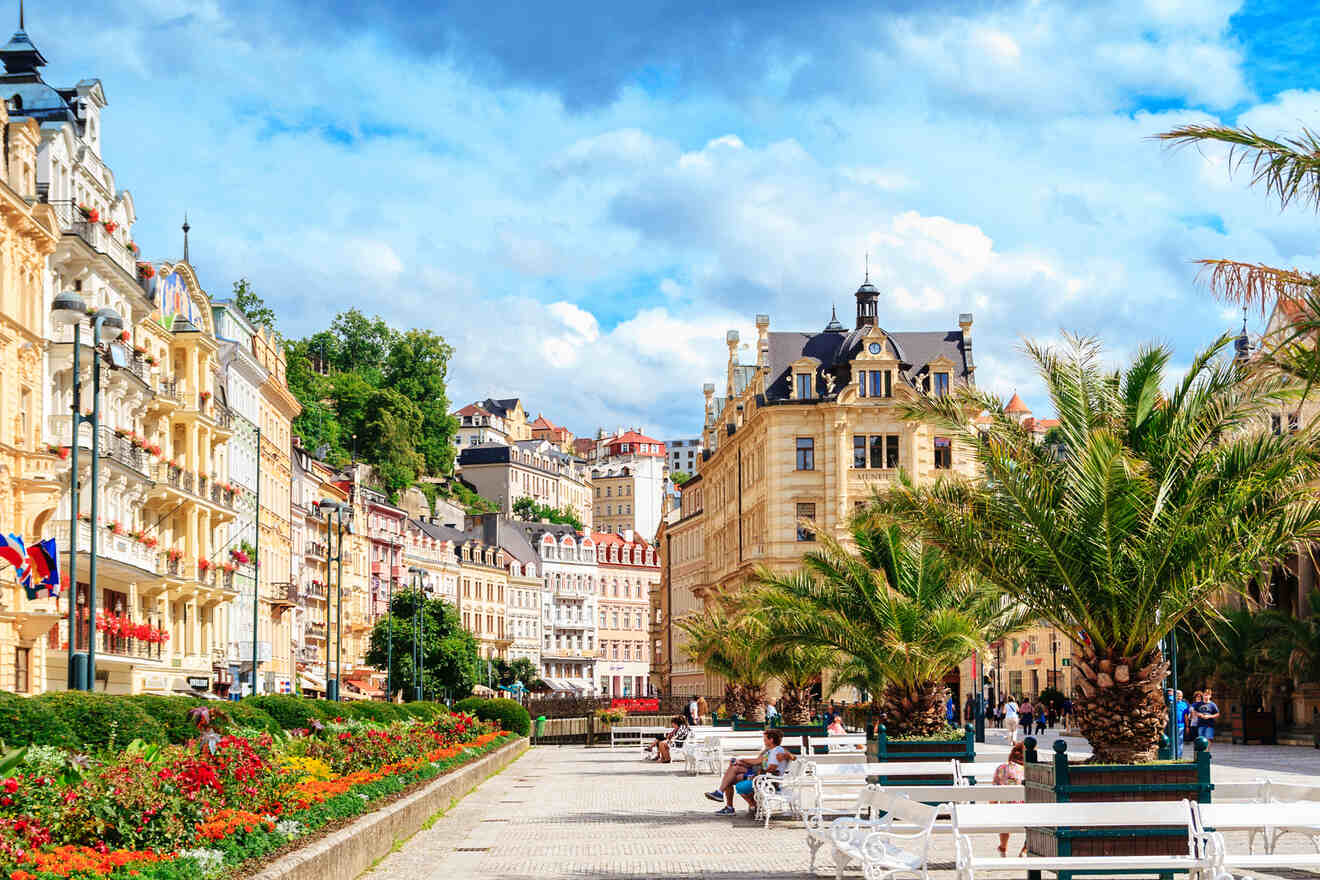 🚗 Which are the best day trips from Prague, Czech Republic?
👨‍👨‍👧‍👧 Which are the best day trips from Prague for families?
👍 Is Prague, Czech Republic, safe?
Yes, Prague is one of the safest cities in Europe for travelers, and the Czech Republic in general is a country known for its low crime rates.
🗓️ How many days in Prague, Czech Republic, is enough?
Conclusion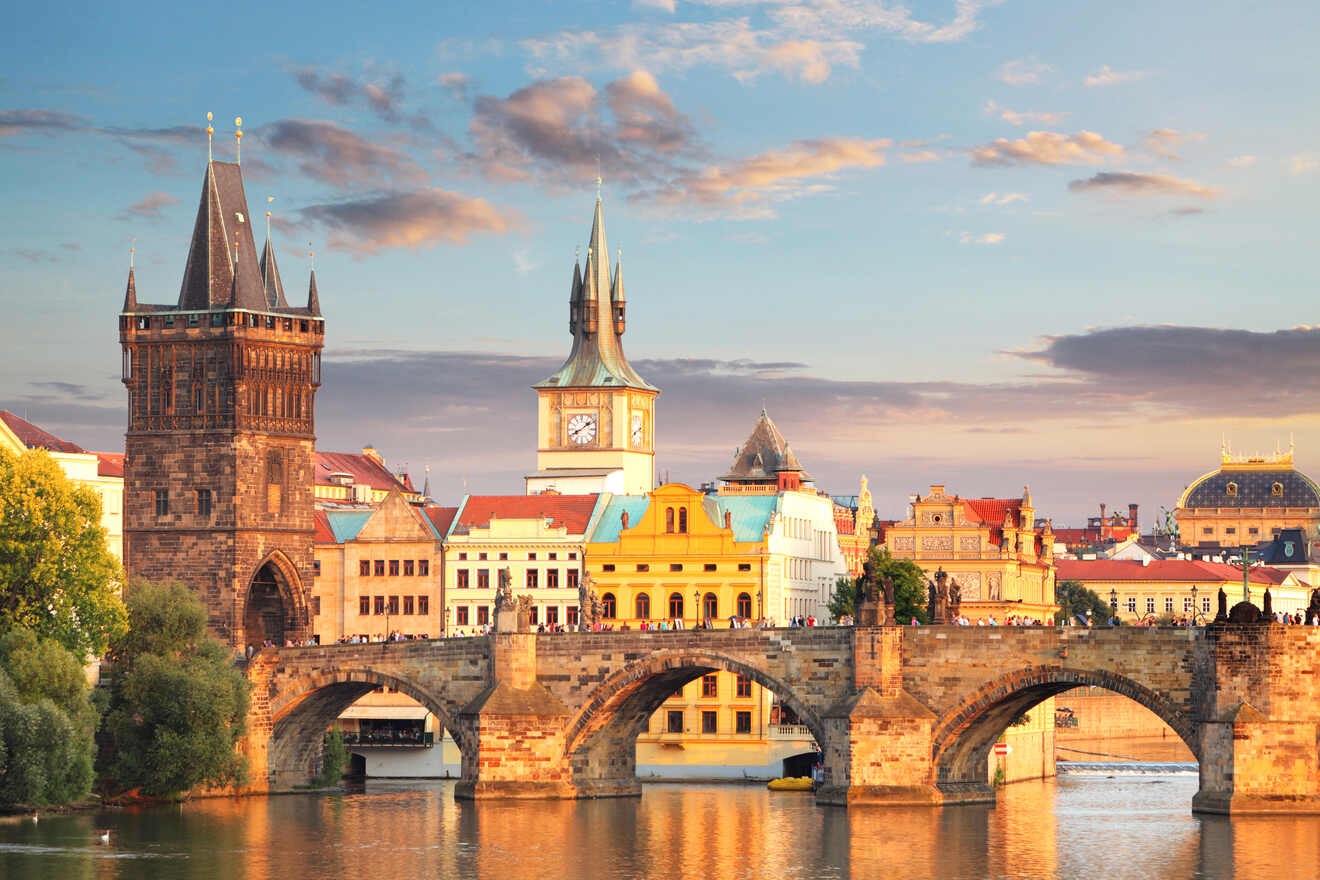 Here we are at the end of this amazing guide about the best day trips from Prague, the capital city of the Czech Republic.
We saw literally all kinds of tourist attractions, from historic castles like the Karlštejn Castle to national parks for a day trip in nature (like the Saxon and Bohemian Switzerland National Parks), and historical towns such as Český Krumlov… so you have something for any taste here.
If you have some other day trip suggestions for me, or you simply have any questions, please share them in the comments below, I will answer you as soon as possible!
Have an amazing holiday!
Elena
---
Pin it for later!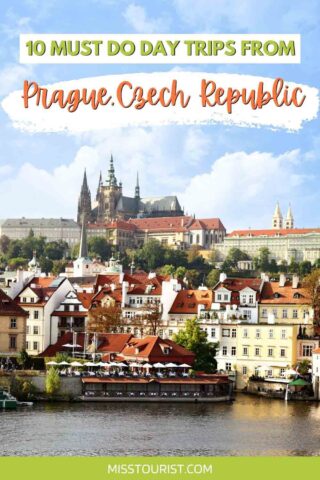 Pin it for later!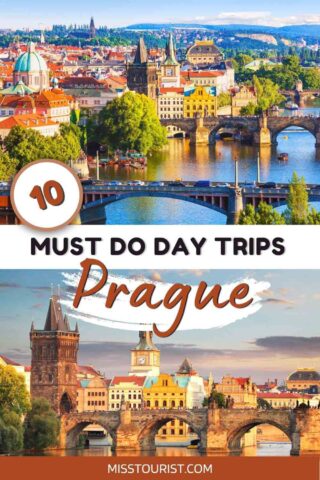 Products You May Like