10 Things to Do Alone in San Diego: Recommended by a Local
Thinking about planning a solo trip sometime soon? Sunny San Diego welcomes you with open arms! Otherwise known as "America's finest city," San Diego is where the sun never stops shining, the beautiful beaches are the greatest escape, and memories are made and cherished.
As a San Diego native and fellow solo traveler, I've explored my city for over 20 years and have learned a thing or two about what the best things to do alone in San Diego are. And lucky for you, I'm here to share allll the insider tips and suggestions.
My first bit of advice here is to remember to plan out your reservations, accommodation bookings, and any other tickets in advance. You'll end up saving a lot of money in the long run, and you can travel with peace of mind knowing you're all prepared and good to go!
Alright, let's get more into it!
If you are in a hurry
The absolute best thing you can do as a solo traveler is book tours!! Tours have definitely made my entire experiences in the past 100x more fun and stress-free. Here are a few I suggest booking in advance if you don't have time to go with the flow.
And here are the best hotels in San Diego: Fairmont Grand Del Mar (luxury), Tower 23 Hotel (mid-range), Samesun Ocean Beach (budget)
These are only a few suggestions, but check out the full rundown in our article on the best areas & hotels to stay in San Diego.
Things to keep in mind when you travel solo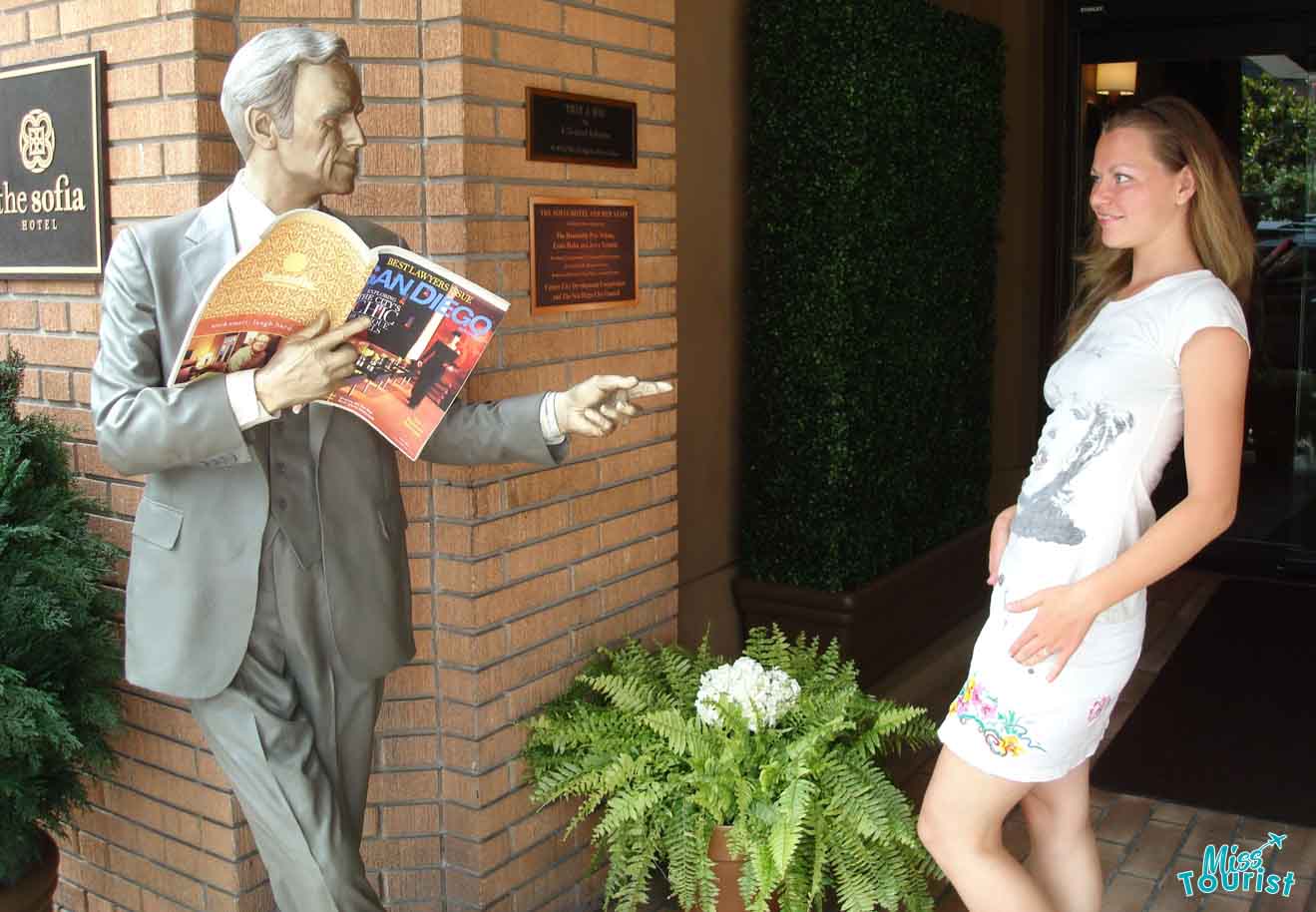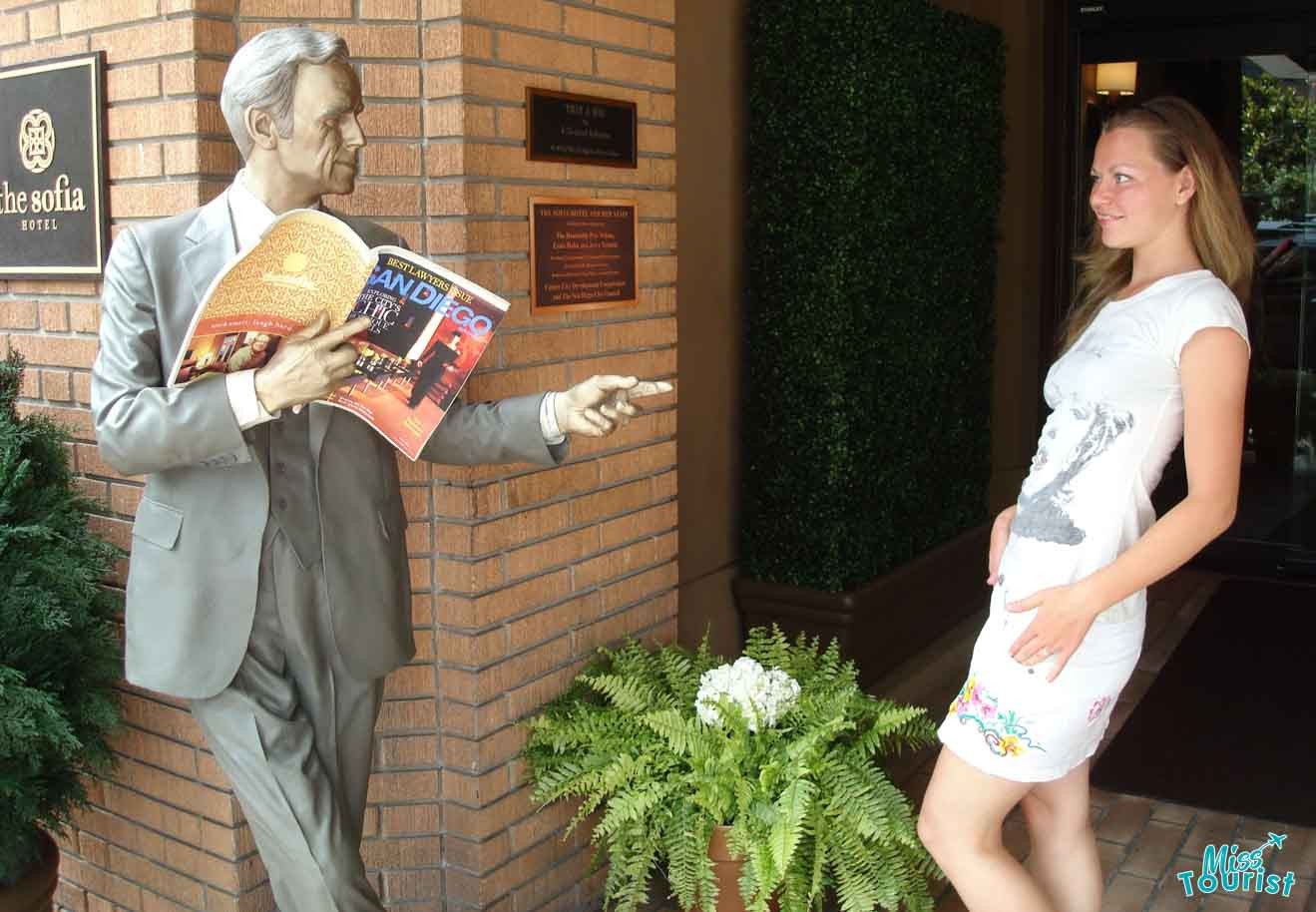 I personally prefer booking a solo trip over a group trip! You get a chance to explore new cities and cultures without external pressures around you while taking your time and meeting all kinds of people along the way.
However, being prepared for your trip is essential in ensuring a safe and fun trip. Here are a few tips I suggest keeping in mind while you plan your solo trip to San Diego:
Plan your itinerary in advance! There's a fine line between being prepared and letting the adventure lead you – I suggest planning an itinerary and making room for adventure in between. I personally plan 1 or 2 things a day and then go with the flow for the rest of the time (that's when the best memories form).
Make sure you're looking for your safety – Choose high-ranking hostels and hotel areas and avoid walking around solo at night. If you do choose to go out at night, consider booking group tours or going with your hostel mates. Trust your instincts if something feels off!
Invest in travel insurance! You never really know what can happen, whether you're traveling solo or not! Flights get canceled, luggage gets lost, etc. It's not uncommon and happens – so protect yourself!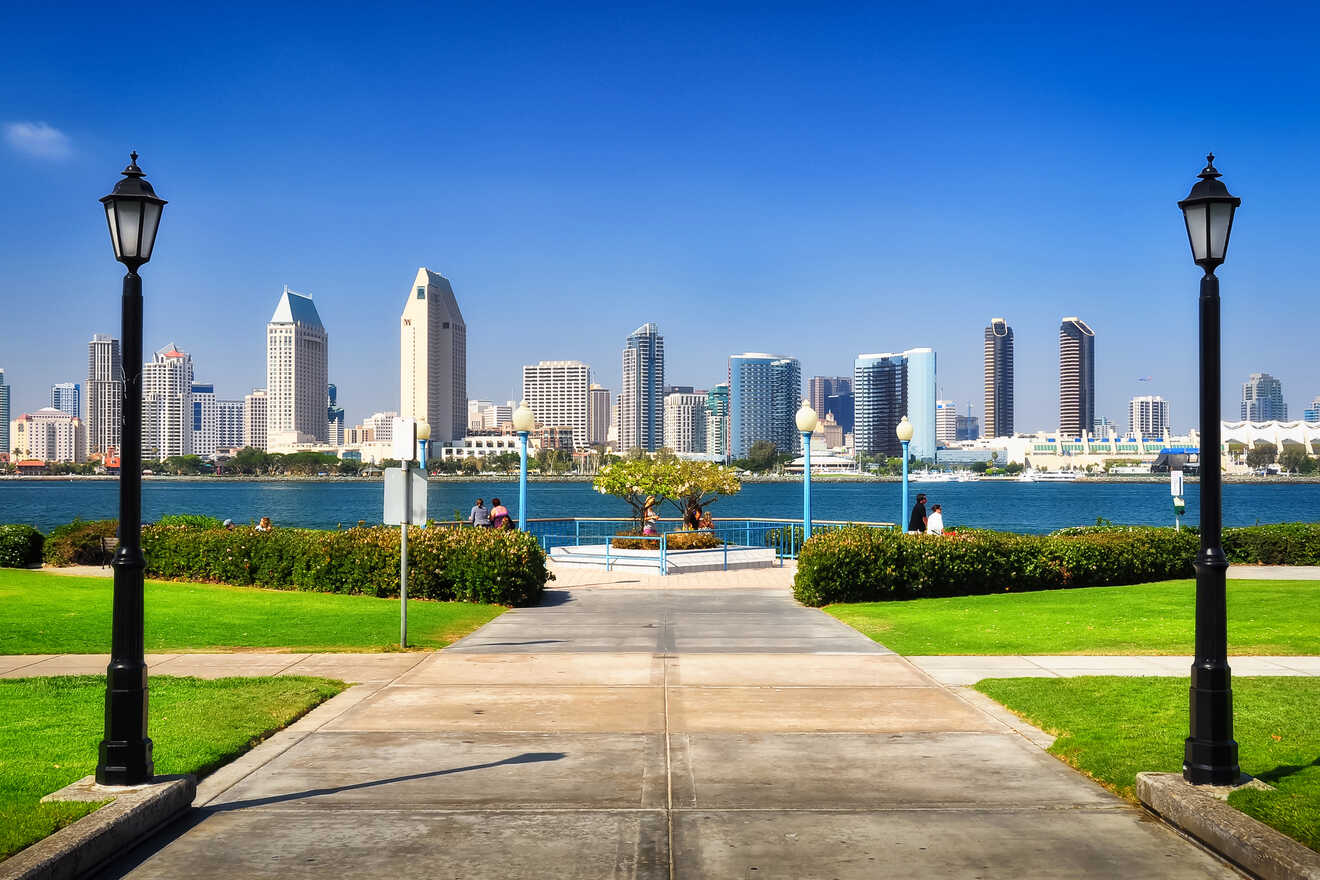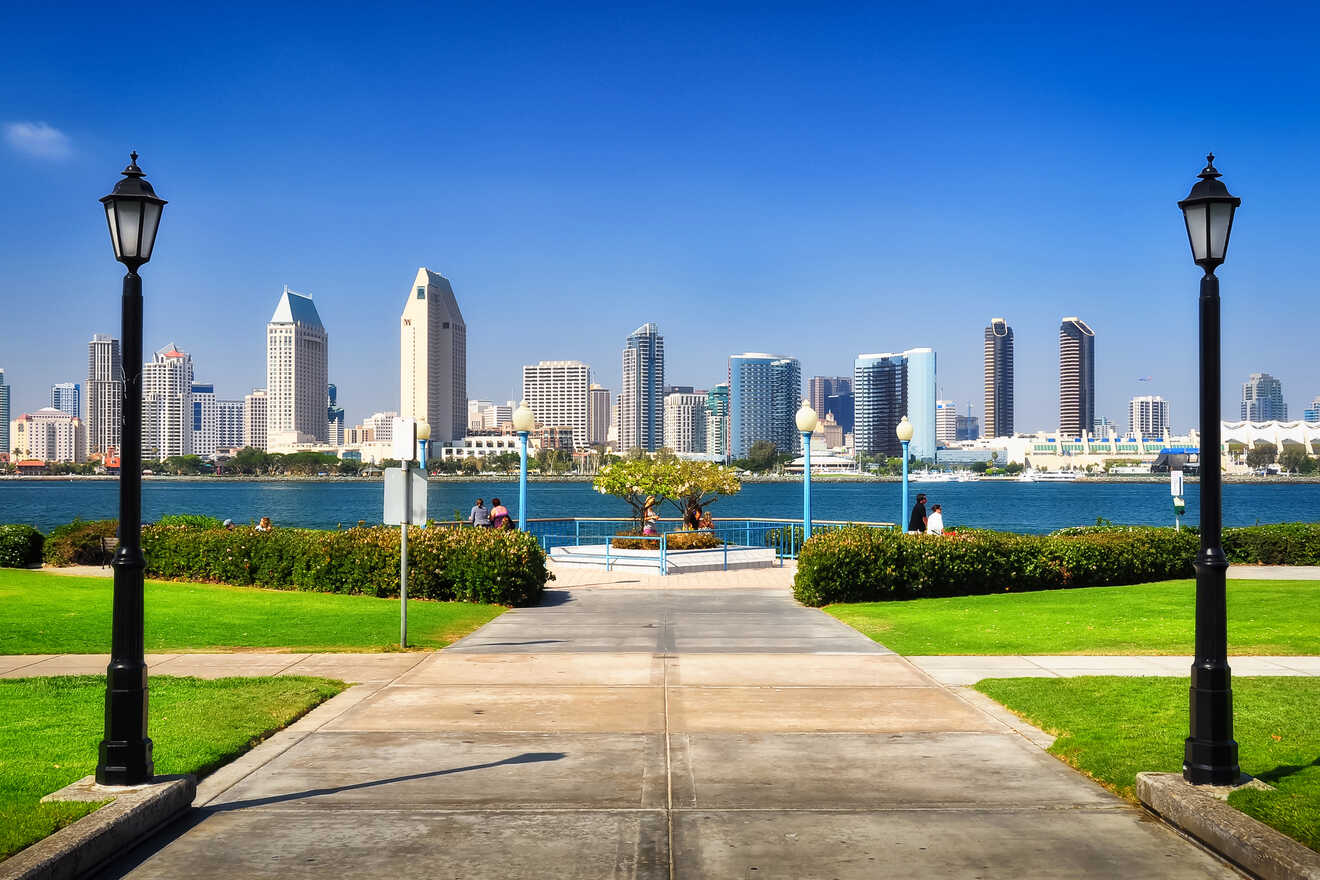 Make new friends but stay cautious – This is another fine line you'll need to tiptoe when solo traveling. I've lived in San Diego for 20+ years and have never encountered a "dangerous" stranger anytime I'm alone in public, but stay cautious of who you're engaging with!
Blend in – My biggest superpower when I solo travel is blending into the crowd. Whether that means meshing your sense of fashion with the locals or not carrying around a huge DSLR camera everywhere I go – it's definitely worked for me! In San Diego, get casual and comfy any time of the year.
Research, research, research! How are you getting everywhere? How far is your hostel from the main attractions? Which areas are considered safer than others? These are all essential questions that you'll need to figure out beforehand.
Book group tours everywhere you go – I've done quite a few solo trips, and some of my favorite memories and moments were during group tours. I've made friends from around the world through these experiences and learned SO much more in a shorter amount of time than if I were to stroll around alone.
Now, we're ready to see what you can do alone in this beautiful city.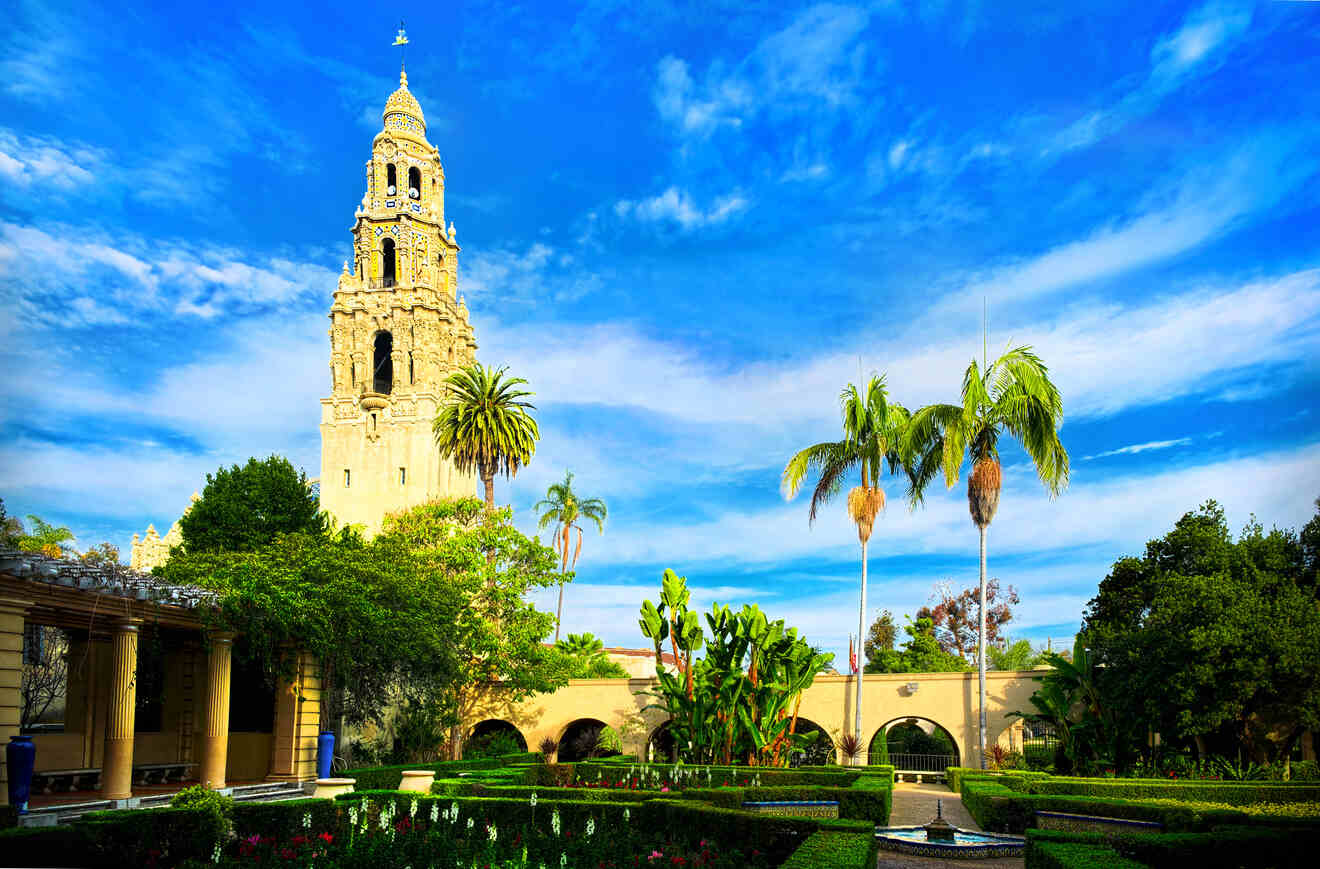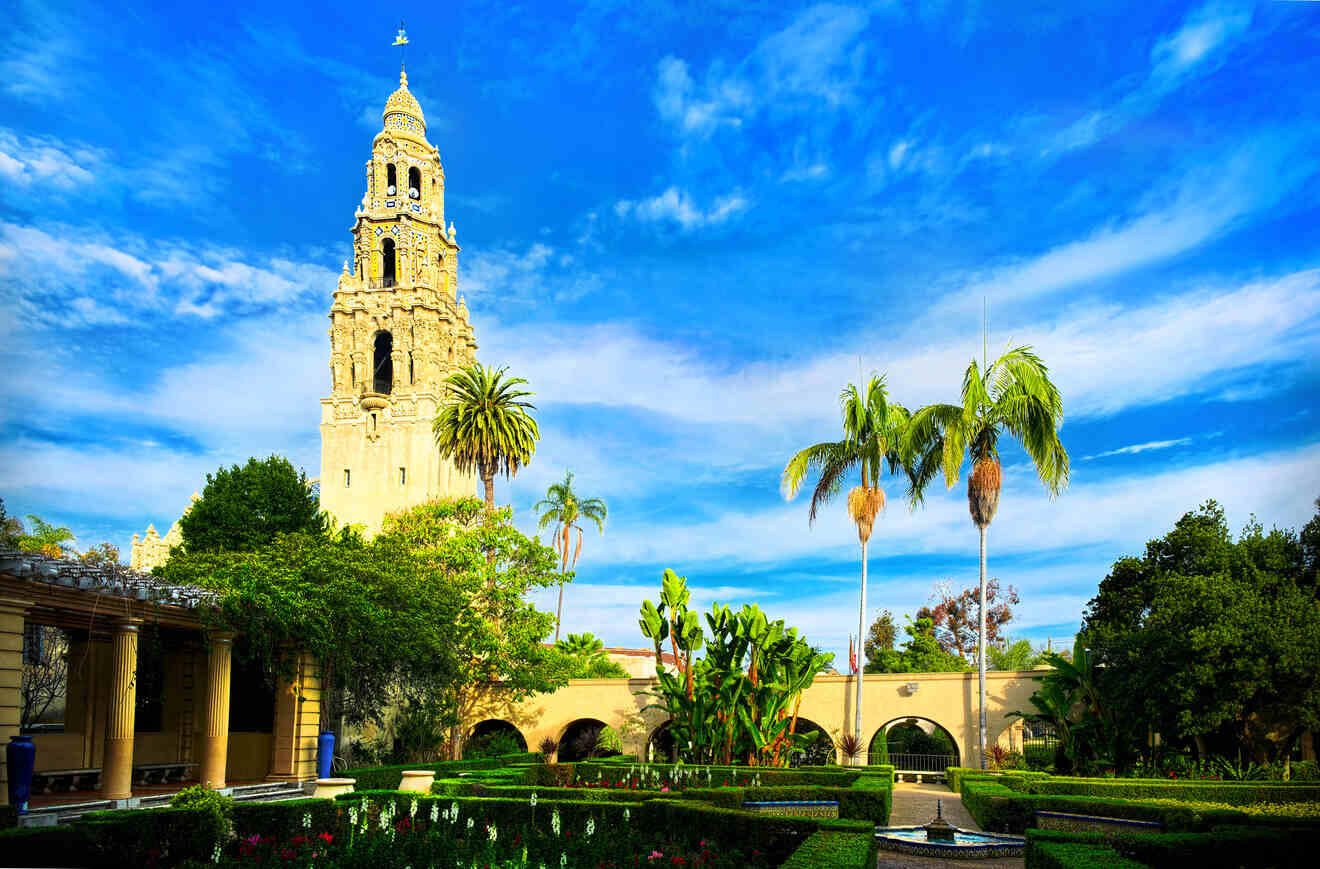 Welcome to the most beautiful park in San Diego! Balboa Park is the ultimate spot for solo travelers looking for a relaxing cultural oasis to unwind in for the day. I suggest bringing your camera and pocket journal to capture the moments and feelings under the stunning architecture and gardens and then explore the museums and attractions located all around the park.
Here are a couple of things you can do alone in Balboa Park:
Take your time and smell the roses around the Japanese Friendship Garden! Immersing yourself in the beauty of the garden is a totally different experience when you're by yourself – live slowly and enjoy the moment!
Grab a bite to eat at the Tea Pavillion, located right in front of the garden. It's the cutest little eatery and café. Grab some green tea and chill on the patio with outdoor seating. They have over 10 different types of green tea to choose from!
Uncover all the best museums – Museum of Us explores the complex history of human beings. It's fascinating to stroll around and figure out what makes humans human! If you're an aircraft nerd or just want to learn something new, visit the San Diego Air & Space Museum, too. Walk to the Spanish Village Art Center or San Diego Museum of Art for an inside look at historic working studios featuring over 200 local artists.
You might want to stop for a selfie around the Lily Pond & Lagoon – you'll find all kinds of fish and ducks roaming around the area!
2. Visit your favorite animals at the famous San Diego Zoo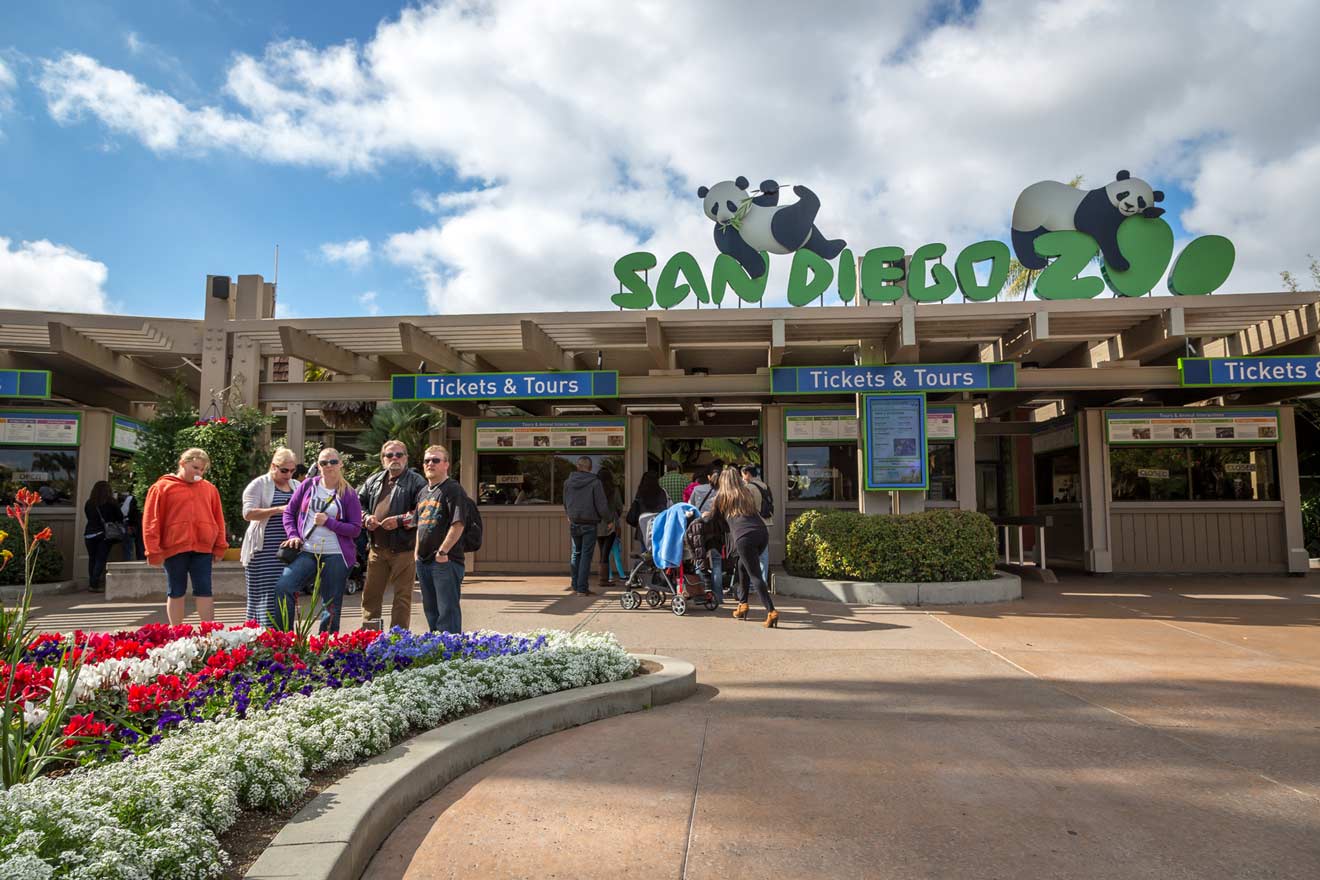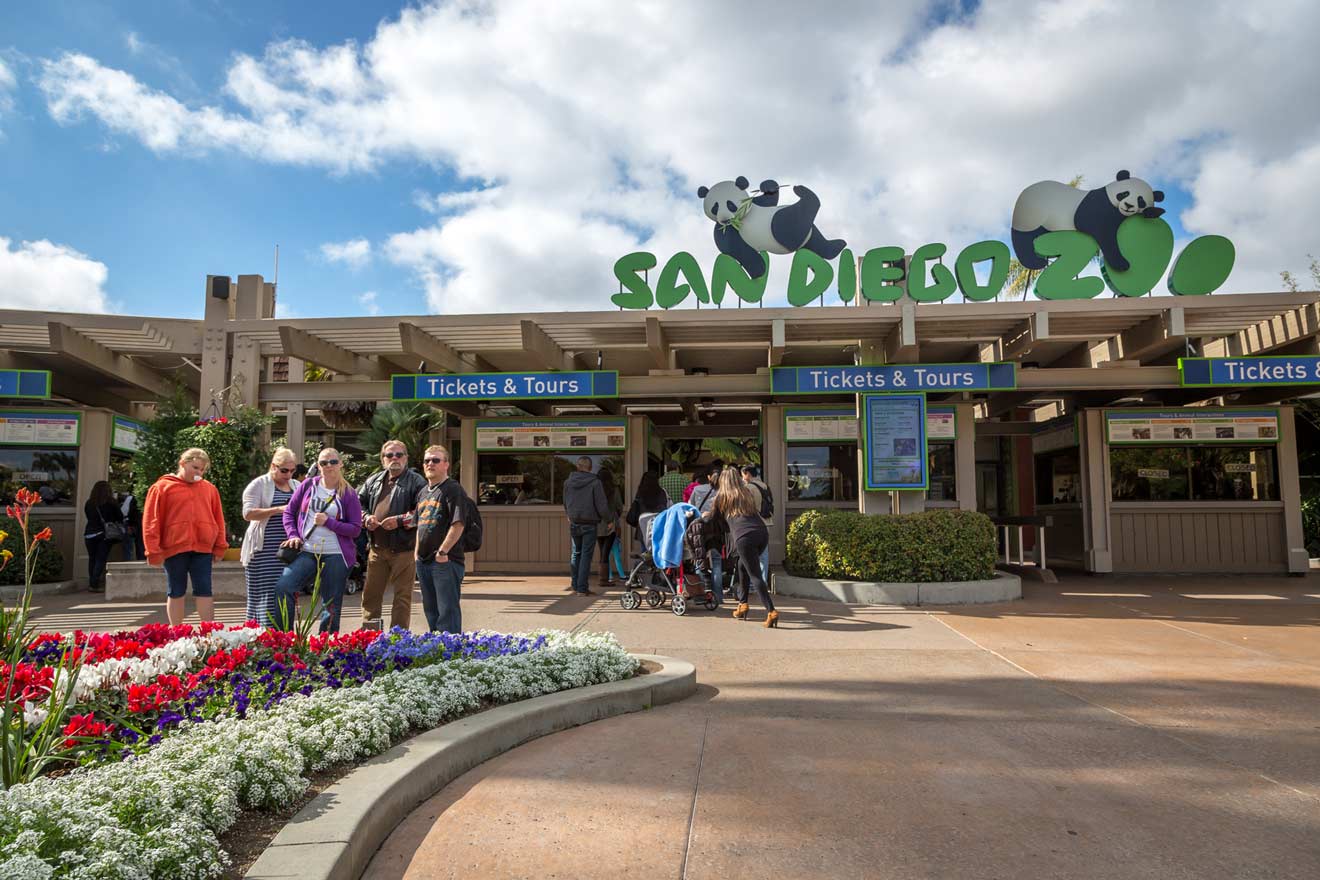 The San Diego Zoo is one of the top-rated attractions in all of San Diego! Walking around alone is completely safe to do here, and I couldn't recommend it more! It's actually located a short walk away from Balboa Park.
You can park at the zoo and roam around both Balboa Park and the zoo right afterward. Parking is free, and you'll find more options in comparison to the busier parking lots in Balboa!
You can use public transportation to get around, but I don't suggest it as your main point of transportation when you're traveling alone in San Diego because they aren't the safest way of getting around. Rent a car instead!
The San Diego Zoo is home to over 14,000 endangered and rare animals and 700 different species. If you want a more intense experience, I suggest buying a ticket to the Safari Park! You'll get a closer look at your favorite animals and make memories that will last a lifetime.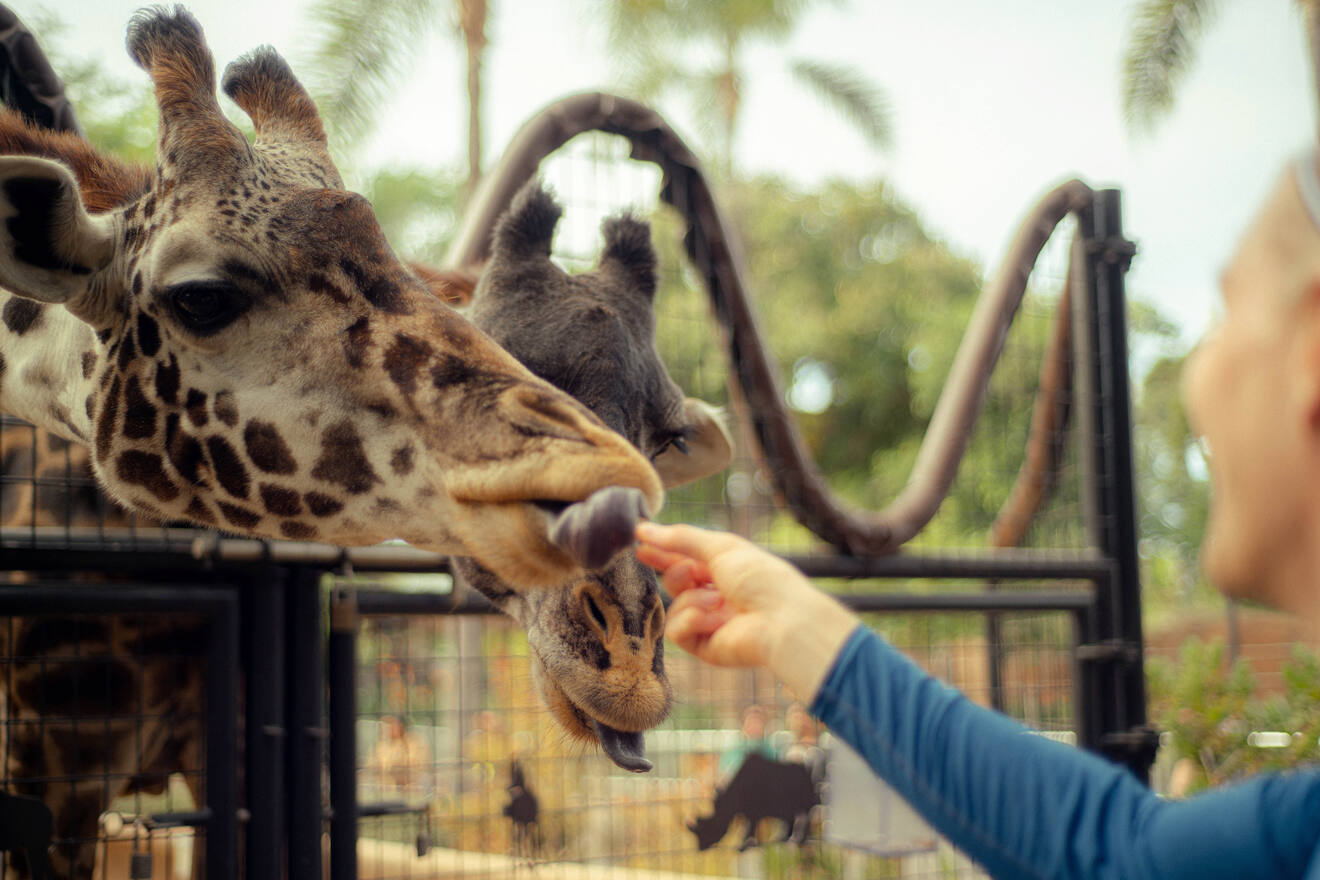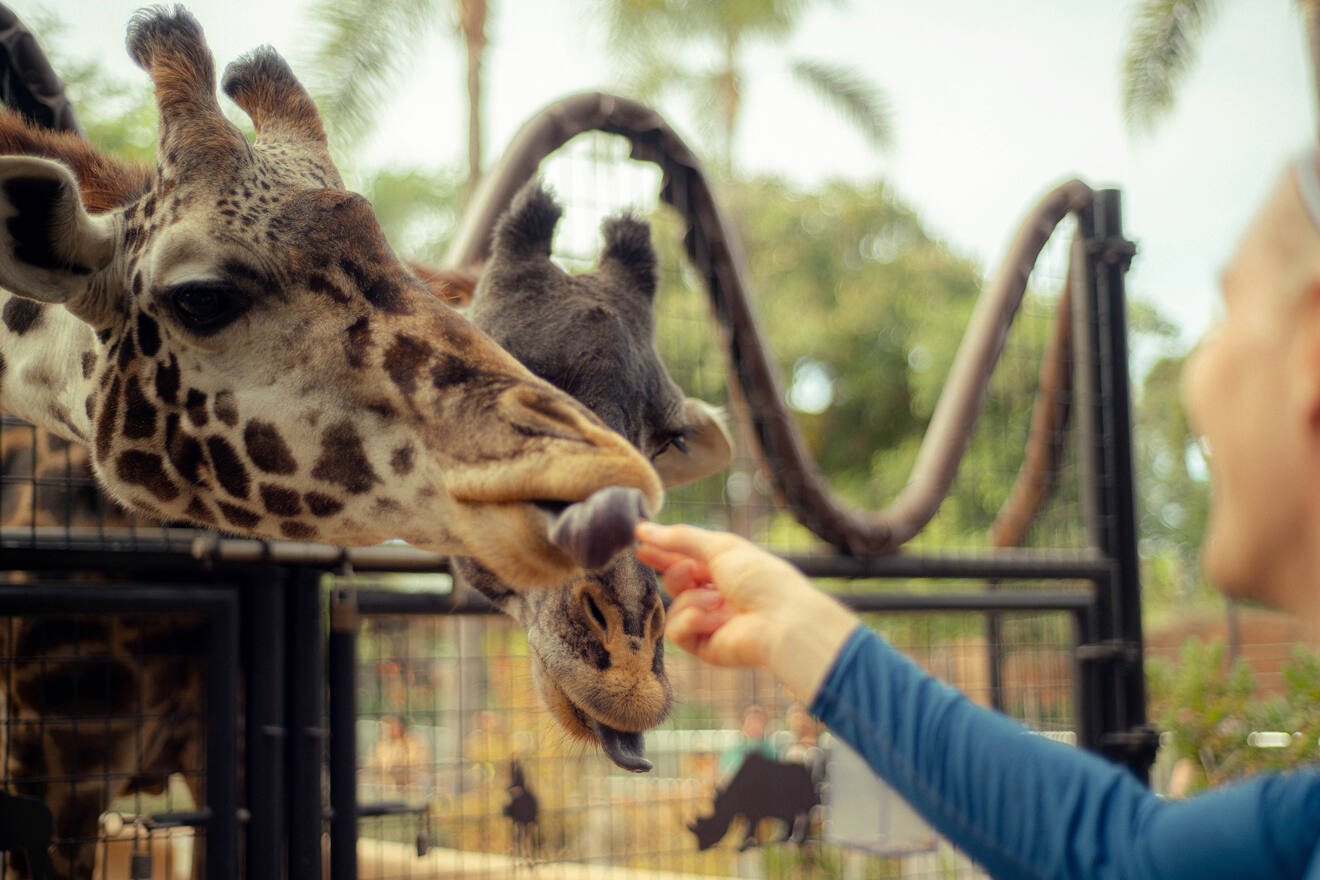 You can also get a Go City Explorer Pass for access to 2 – 7 San Diego attractions (depending on which pass you get) with dozens of attractions to choose from. You'll score the best deals using the pass! See all other San Diego Zoo ticket options and details in our dedicated article.
PRO TIP: Make sure to slather on your sunscreen! Keep your skin protected and avoid major sunburns. One of the worst things that can happen while you're alone is getting sick or feeling unwell – because the only person you can depend on is yourself! So do what you can to stay safe and protected.
PRICE: from US$70 per person
3. Stroll the laid-back Ocean Beach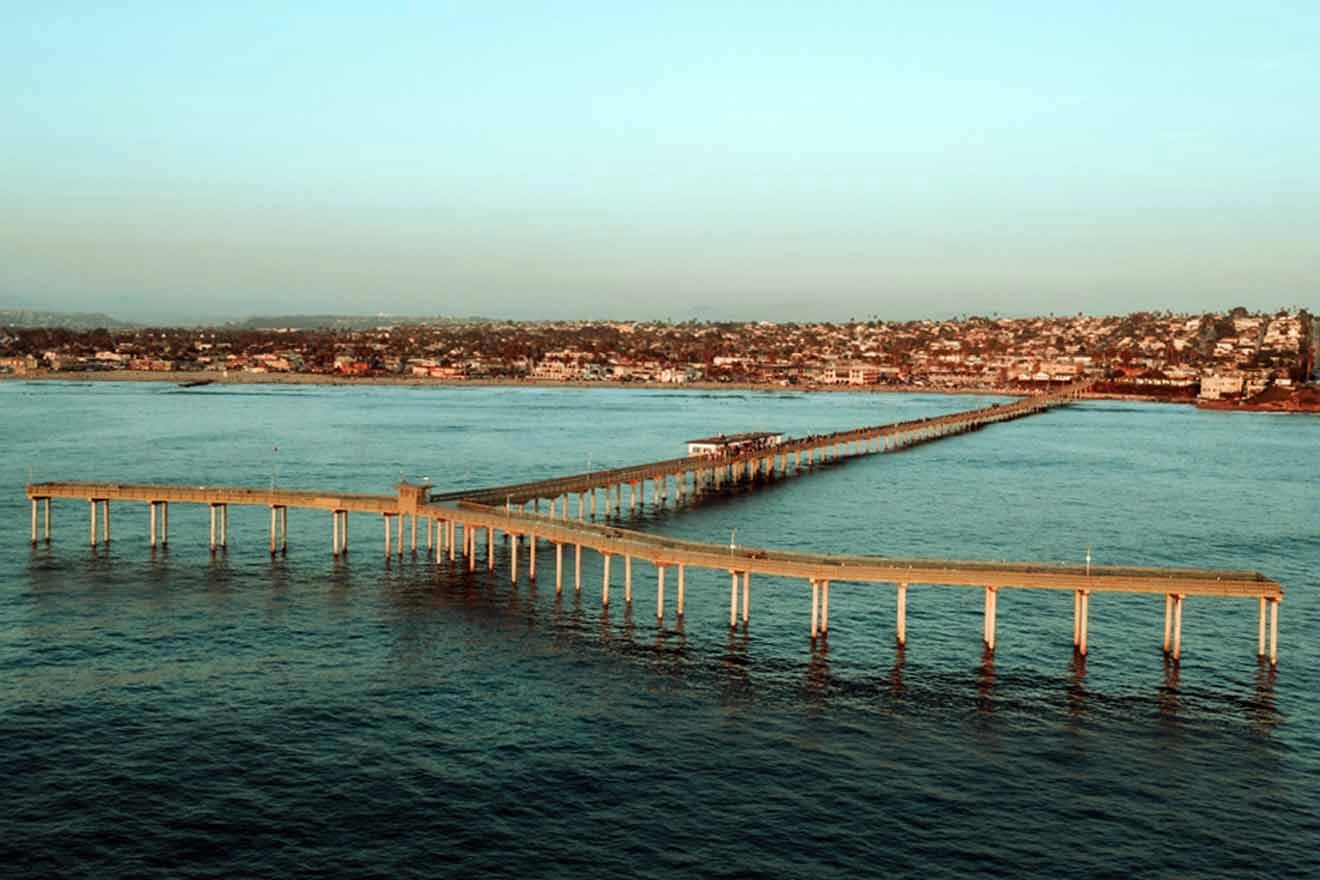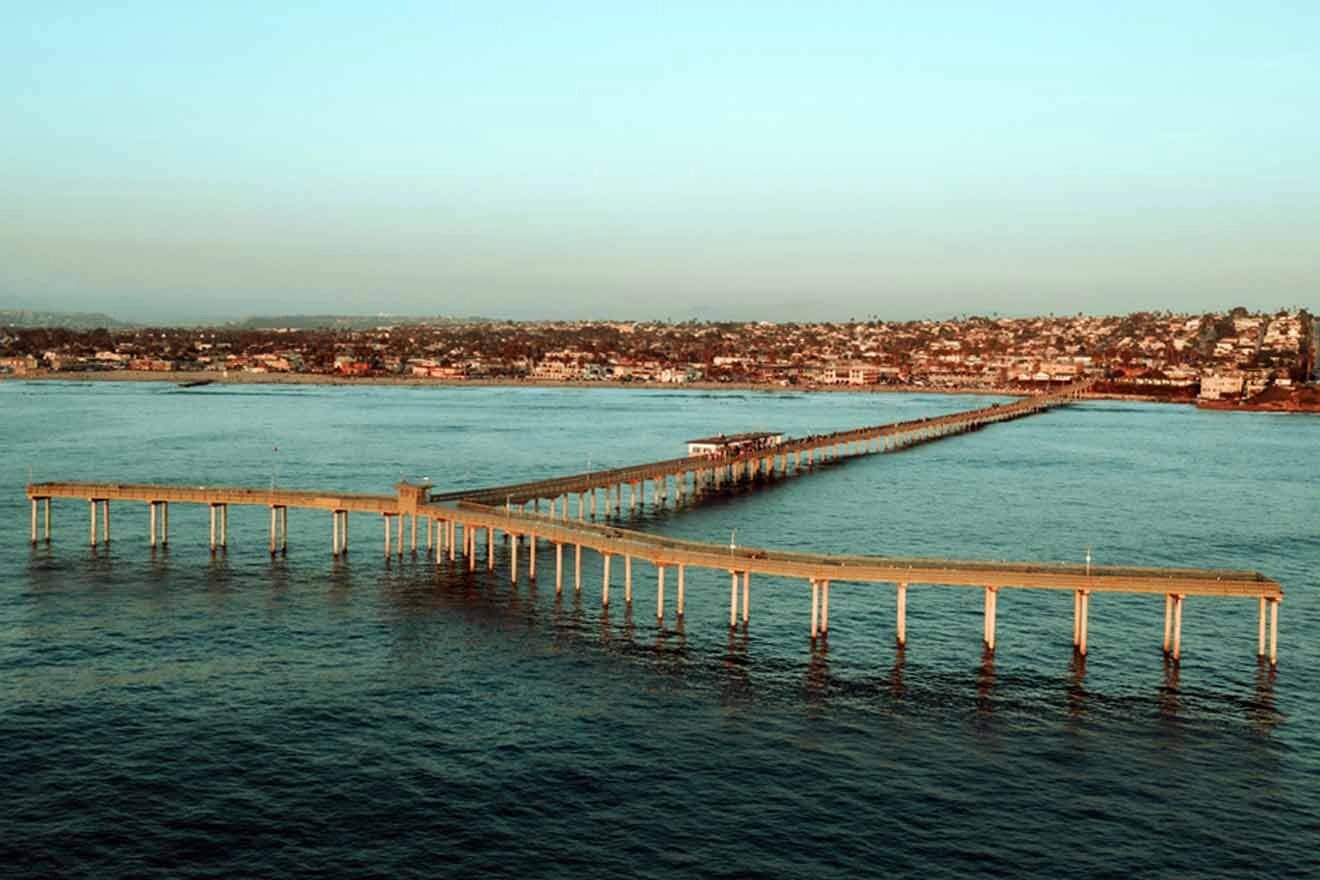 Ocean Beach has a small beach town feel. It's pretty safe to walk around for solo travelers and a great way to unwind under the sun and mingle with locals. There's a laid-back feel here, similar to Pacific Beach and Mission Beach, 2 other major beach towns nearby.
There are a few things I recommend checking out here:
The Ocean Beach Pier is one of the longest concrete piers in the world! You can fish here without a license, so if you're an avid fisher, bring your equipment without worrying about being fined. You'll also find other people doing the same thing alone – spark a conversation and meet awesome locals this way, too!
If you're staying nearby, I suggest shopping for locally grown foods from the O.B. Farmers Market on Wednesday, from 4 PM to 8 PM. You'll end up saving money in the end if you grocery shop instead of eating at restaurants all the time. Plus, this is another amazing way to meet locals!
Walk along Sunset Cliffs Natural Park and see the rugged coastline and panoramic views of the most beautiful Pacific Ocean viewpoint in San Diego! Bring a blanket and watch the sunset for the most peaceful way to end your day of solitude.
PRO TIP: Walking anywhere alone is always a big risk, so hold your purses close, and make sure everything is zipped up and secure. I have this anti-theft bag that I feel comfortable holding, knowing it's pickpocket-proof. Consider investing in one for yourself! 
4. Immerse yourself into the USS Midway Museum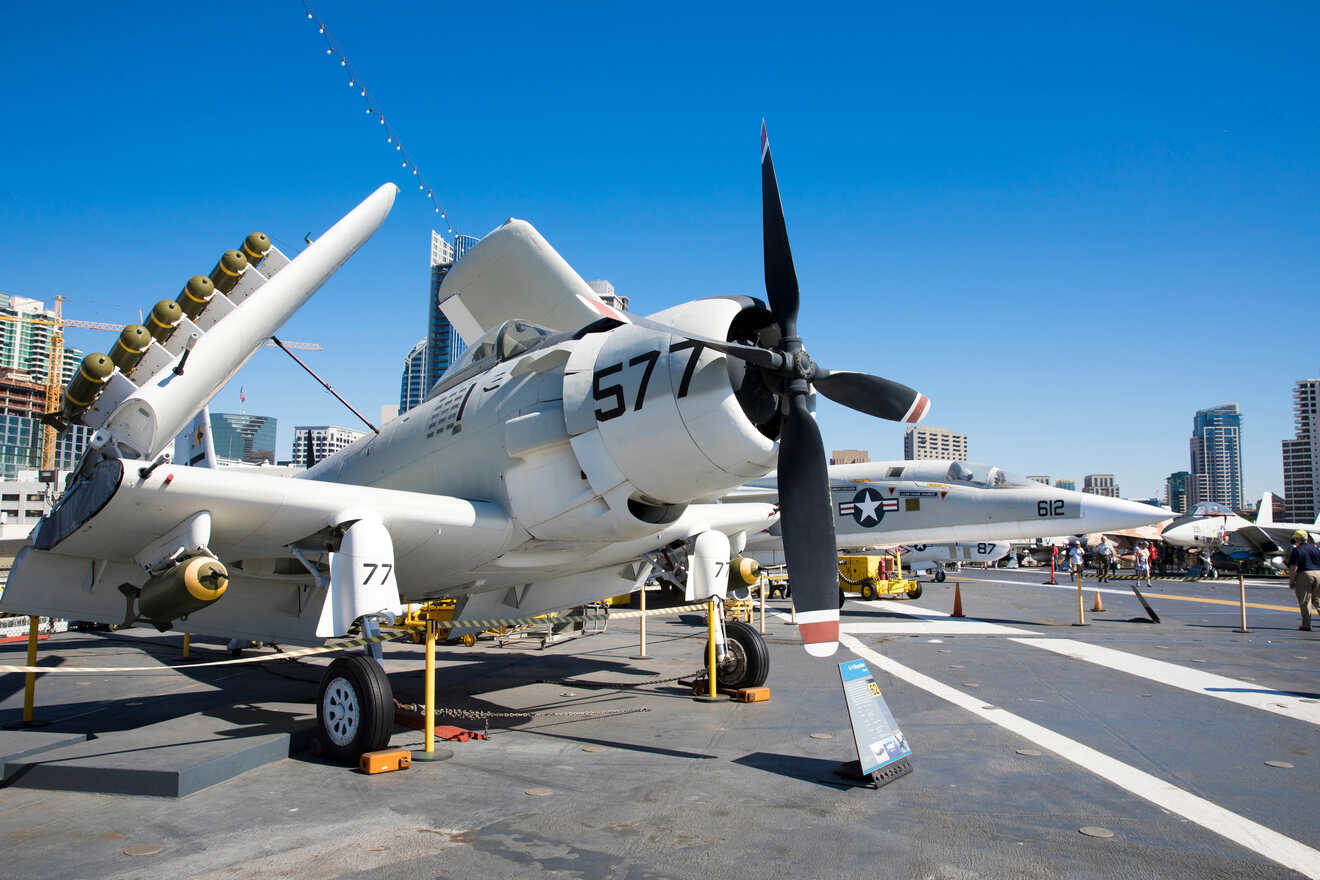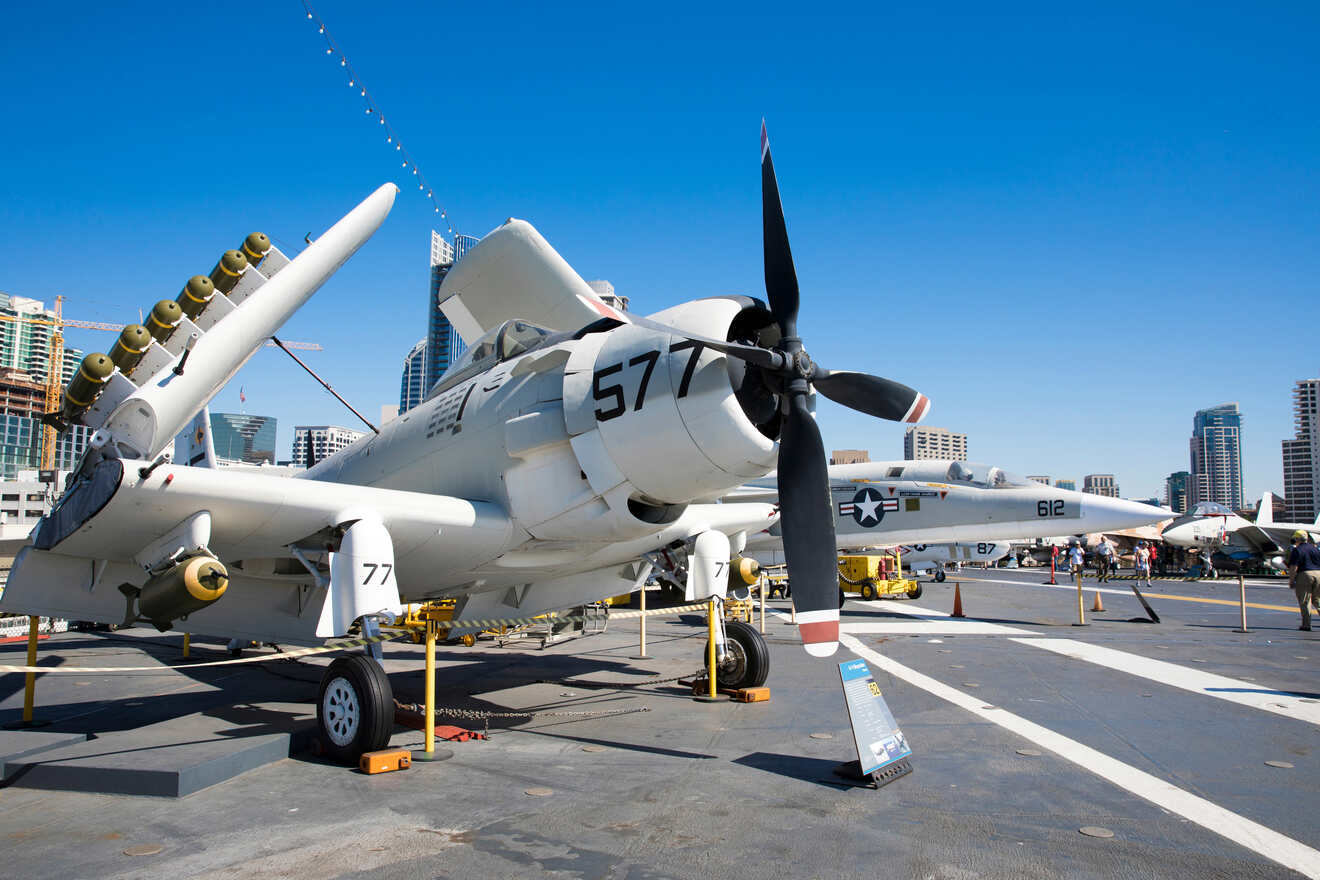 One of my favorite things to do when I solo travel is visit museums! I can honestly spend an entire day at a museum by myself!
You really get to immerse yourself in the exhibits without distraction. One of the best museums you absolutely need to see in San Diego is the USS Midway Museum. This historical naval aircraft is America's longest-serving aircraft carrier of the 20th century – as you can imagine, there's so much to uncover!
You'll get a chance to walk in the same footsteps that thousands of Americans walked in the Midway and see the aircraft carriers, engine rooms, and historic ships for yourself.
Since museums are meant to be enjoyed at your own pace, I don't recommend taking a guided tour, but rather a self-guided tour that will explain all the flight simulators, ejection seats, cockpits, and all the technicalities. The self-guided audio tour available inside is in English, Spanish, French, Japanese, Mandarin, and German, so it's perfect for almost everyone and anyone.
The USS Midway is a short walk away from Seaport Village along Embarcadero Marina Park. I suggest taking a walk around the village afterwards! It's a beautiful marina along the San Diego Bay that's great for people-watching. Grab some ice cream at Ben & Jerry's and chill by the water!
PRICE: from US$30 per person
5. Kayak through La Jolla's Sea Caves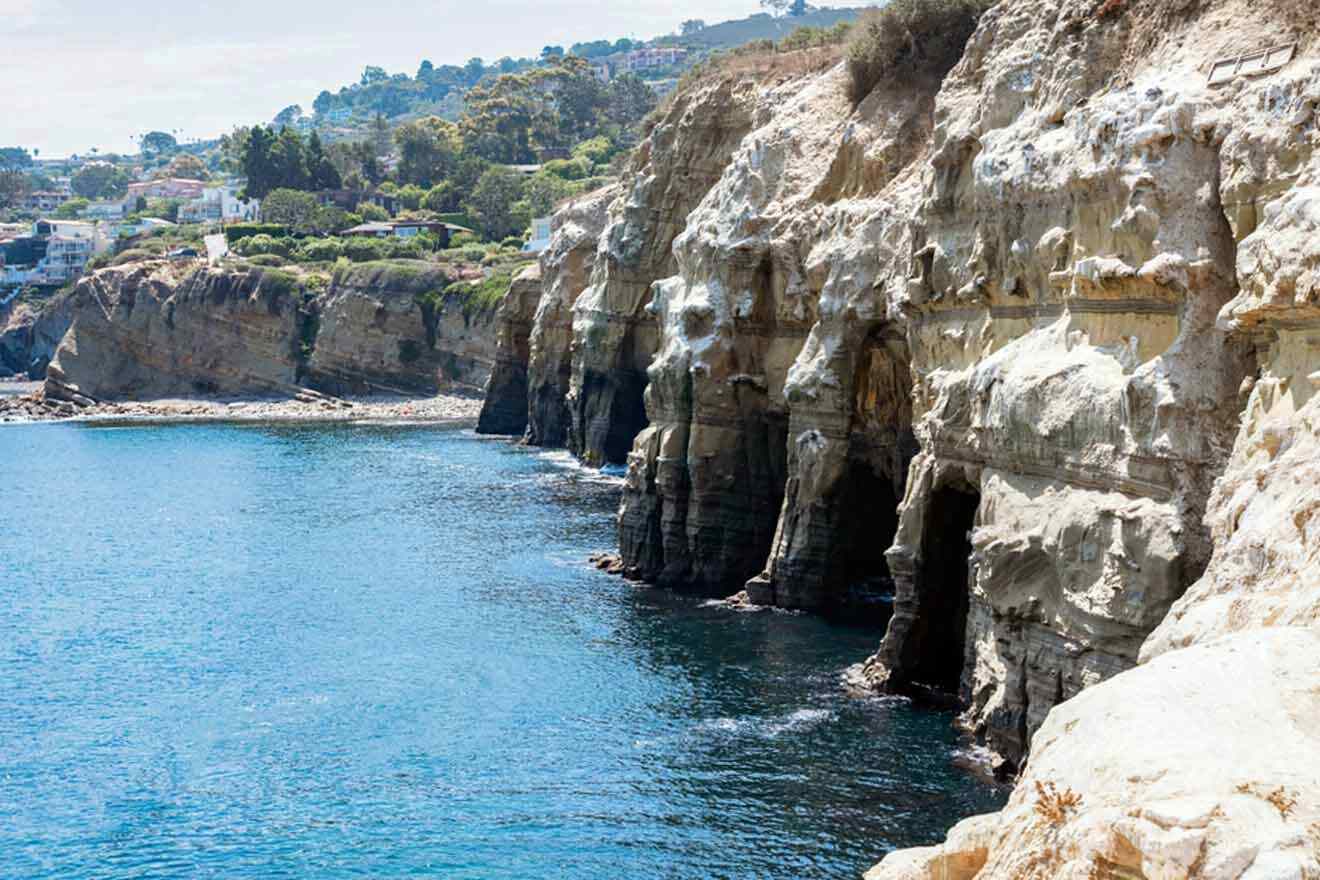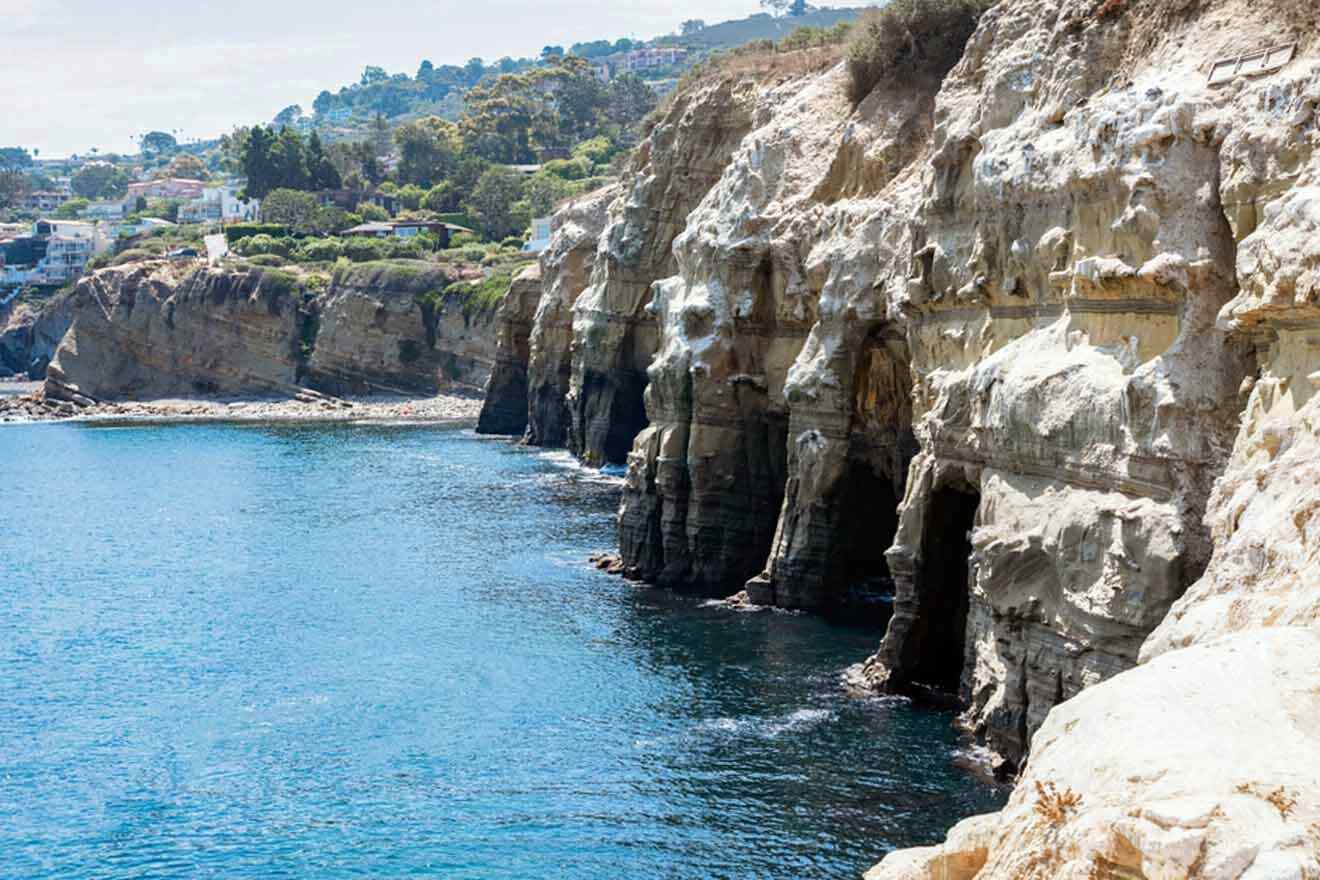 Time to book another group tour! This time, not only will you get a chance to meet all kinds of new people, you'll also get a chance to explore the depths of the La Jolla Sea Caves! This is one arguably one of the coolest experiences in San Diego, with each cave being around 600 – 800 ft (180 – 250 m) wide at the mouth and varying in size.
This kayak tour of La Jolla Sea Caves will take you through the ecological reserve along with a naturalist guide that will lead the way. You'll see all kinds of sea life, from sea lions, dolphins, and maybe even an orca if you're lucky!
PRO TIP: While you're in La Jolla, visit La Jolla Cove and take a walk to The Living Room Coffeehouse for a quick coffee break! Head to the Museum of Contemporary Art San Diego nearby if you're still energized enough and down to explore another museum.
TOUR PRICE: from US$74 per person
6. Visit the Gaslamp Quarter with new friends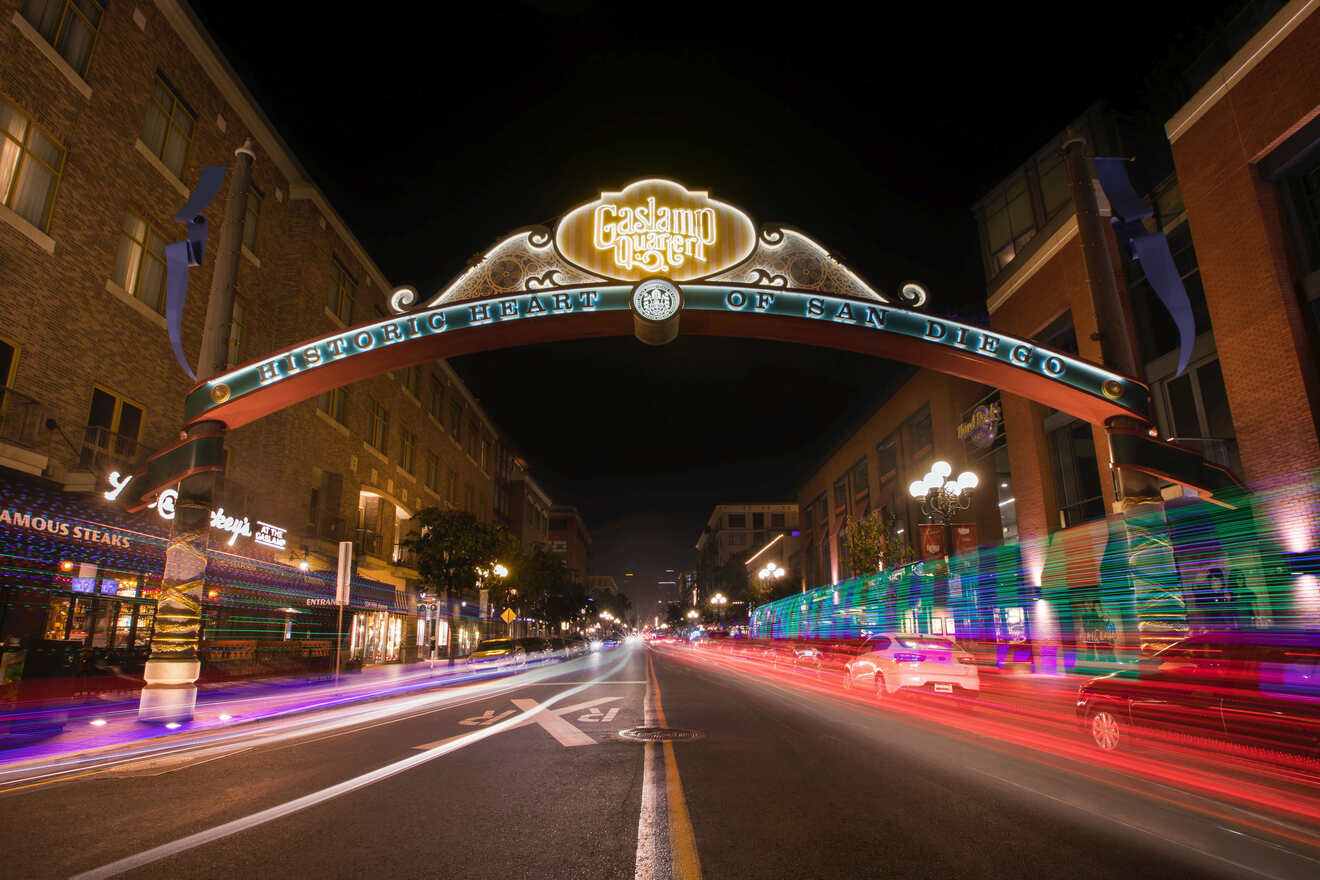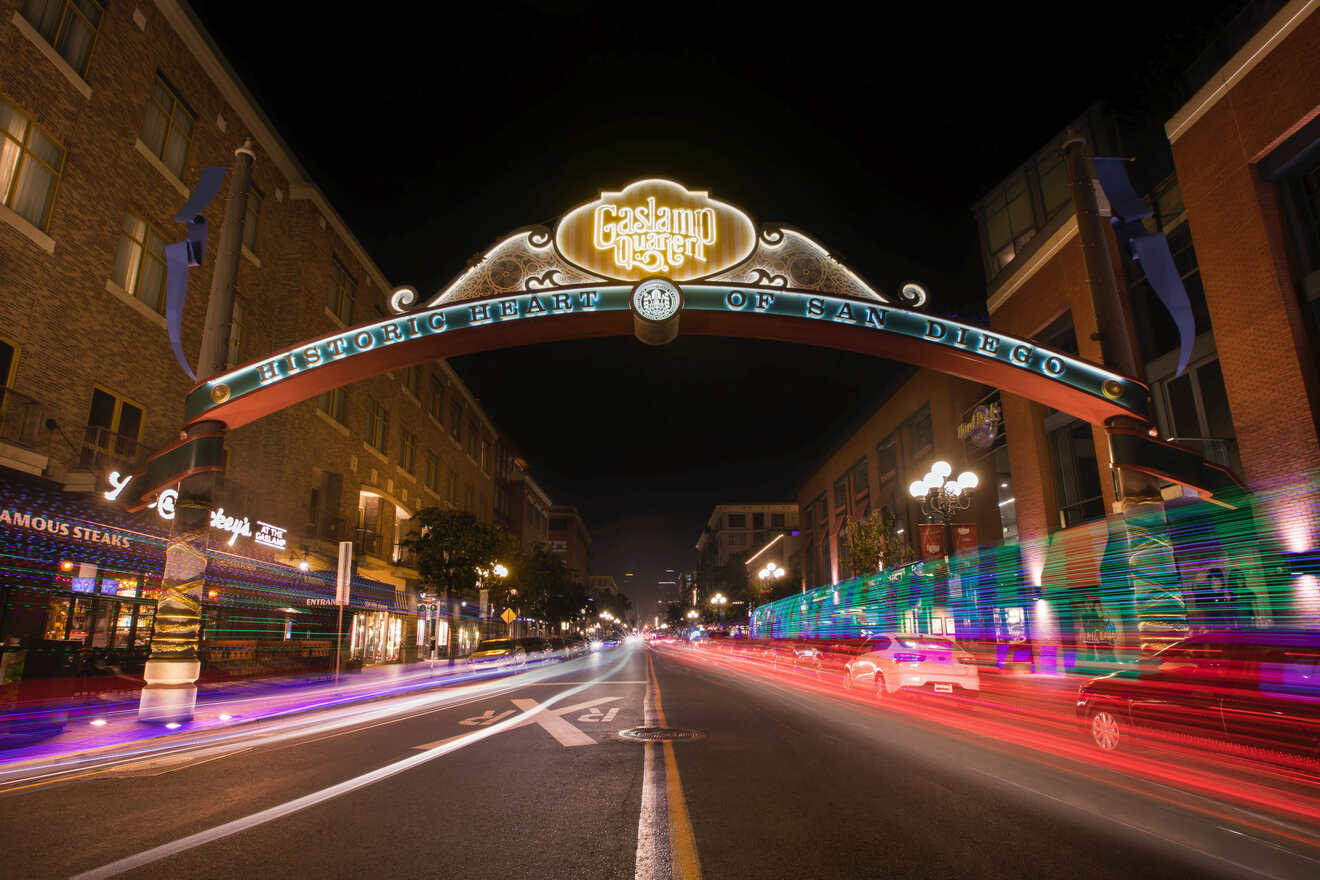 The Gaslmap Quarter is most known for its bustling nightlife scene in Downtown SD. From laid-back dive bars, dance clubs, cocktail bars, speakeasies, and more, there's plenty to explore here.
As a solo traveler, I don't recommend bar hopping by yourself since 1. that's not as fun, and 2. it can get you into some serious trouble in the end. Instead, I suggest bringing your new hostel friends along with you!
There are quite a few spots that I suggest visiting:
5th & Sky & Altitude Sky Lounge are 2 of my favorite rooftop bars that overlook San Diego's city lights. The weekends get packed, so prepare to be put on a waitlist.
Visit the coolest speakeasy in San Diego County: Youngblood! This bar is unlike anything you've ever experienced. Let loose with your new friends, but also take precautions by making sure you're hydrated and drinking responsibly.
Head on over to Little Italy for ice cream at Salt & Straw, or hop from Barbusa to Born & Raised to sober up with an appetizer a short walk away. If you're feeling a little buzzed or it's really late at night, take an Uber instead. The streets are really crowded and can get dangerous.
PRO TIP: If you're not staying at a hostel or haven't met anyone that you've quite clicked with, join this Brothels, Bites, and Booze tour for a historical tour of the Gaslamp District instead, along with a tasting of local favorite spots. You'll meet new people on this tour and let loose with them along the way!
TOUR PRICE: from US$80 per person
7. Take a ferry ride to Coronado Island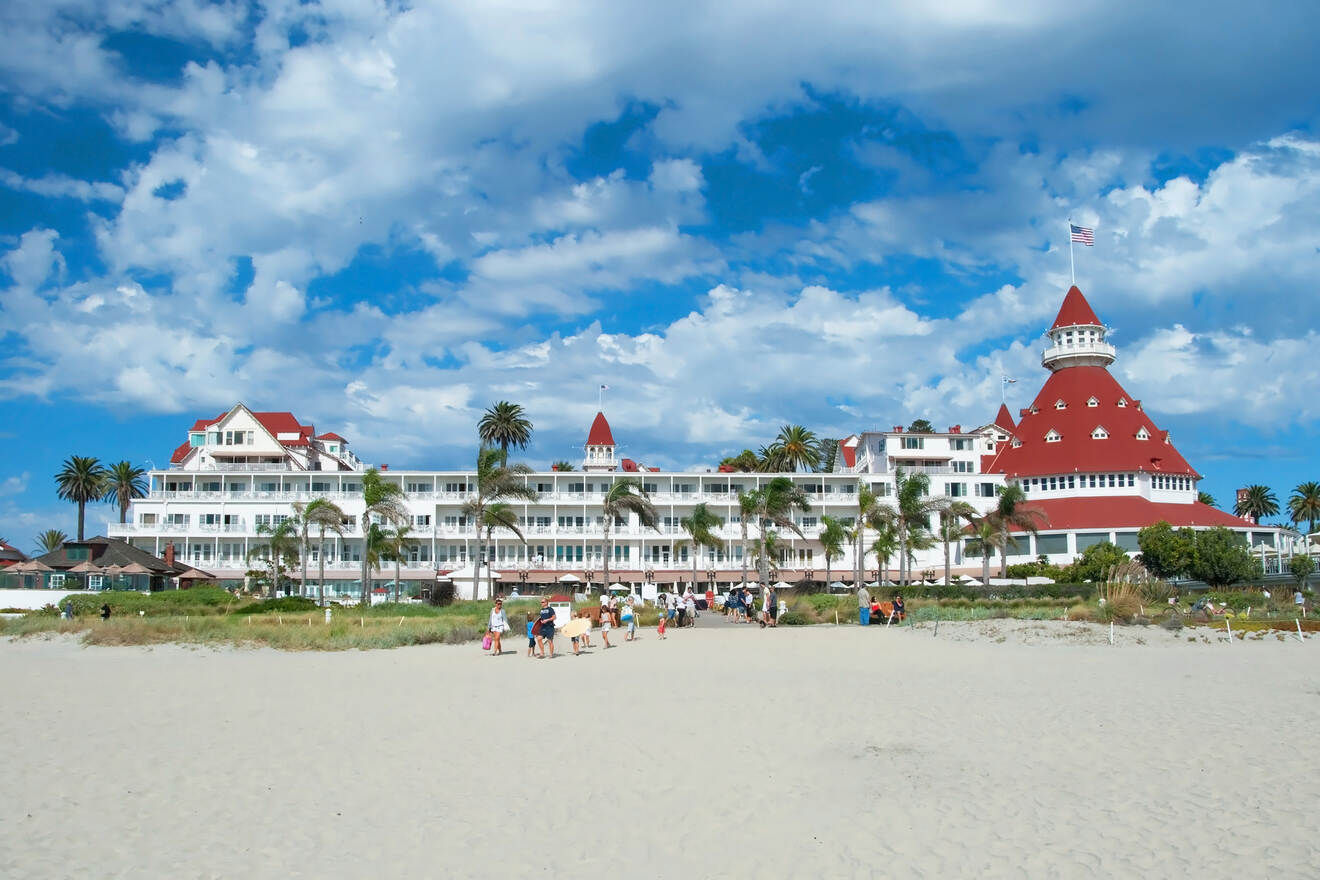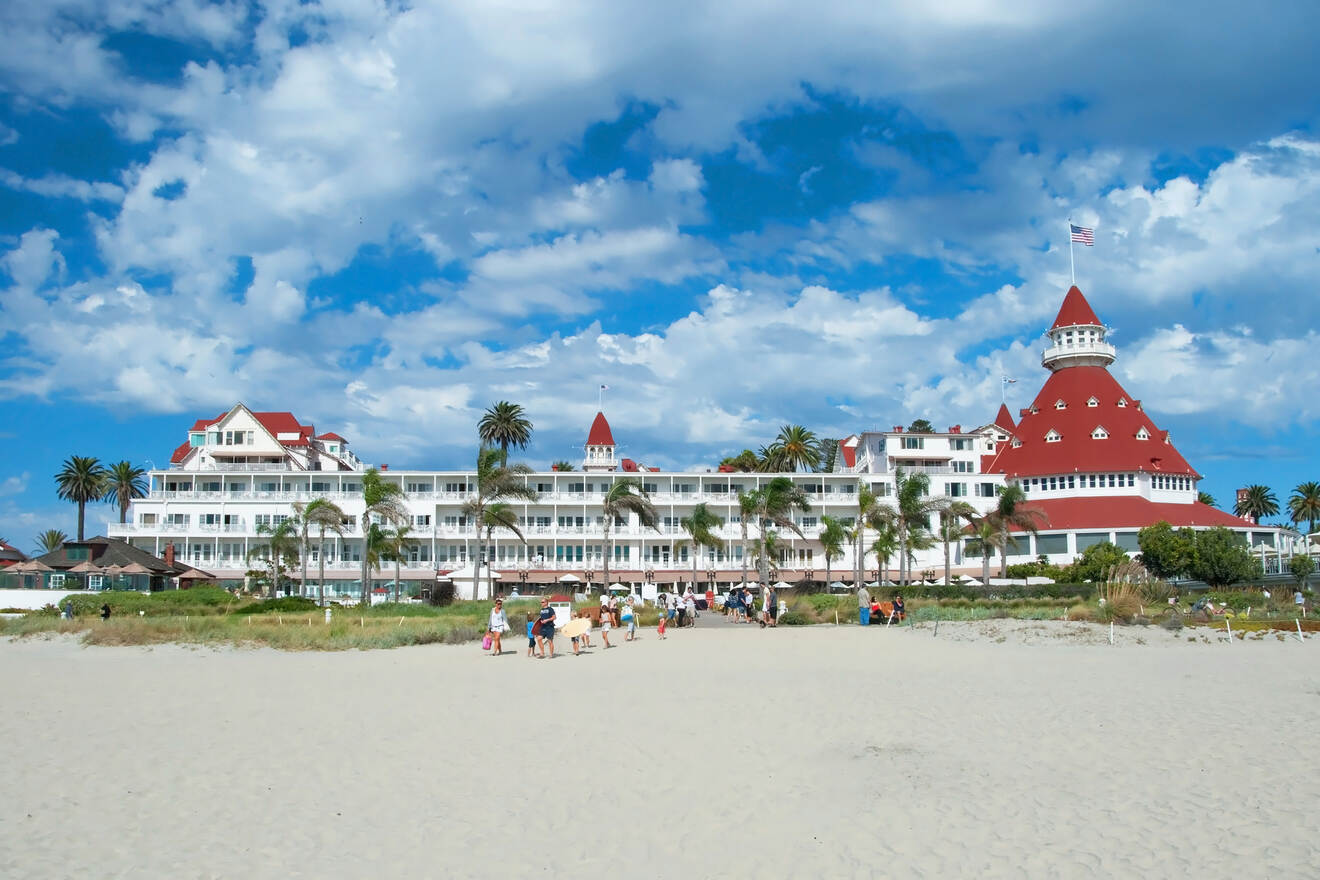 Coronado Island is a short ferry ride away from Downtown SD. Two ports depart from the Downtown San Diego area: Broadway Pier and the Convention Center – both ferries at the exact same thing, about a 15-minute ride away from the island.
I've done this commute solo before, and it's quite relaxing in the early mornings or late afternoons during sunset hour to look down at the water, straight ahead for the famous Coronado Bridge, and then look up to watch the city's skyline get further and further away.
Both ports land at the Coronado Ferry Landing. This is one of my favorite areas of Coronado Island because it's filled with live entertainment, local boutique shops, eateries, and small, stunning beaches if you feel like you want to dip your toes in the water. I suggest bringing a big tote bag filled with a blanket, a book, a pocket journal, and all the essentials.
Lay your blanket by the water and chill under the sun for a few hours before heading to Spiros for a gyro sandwich.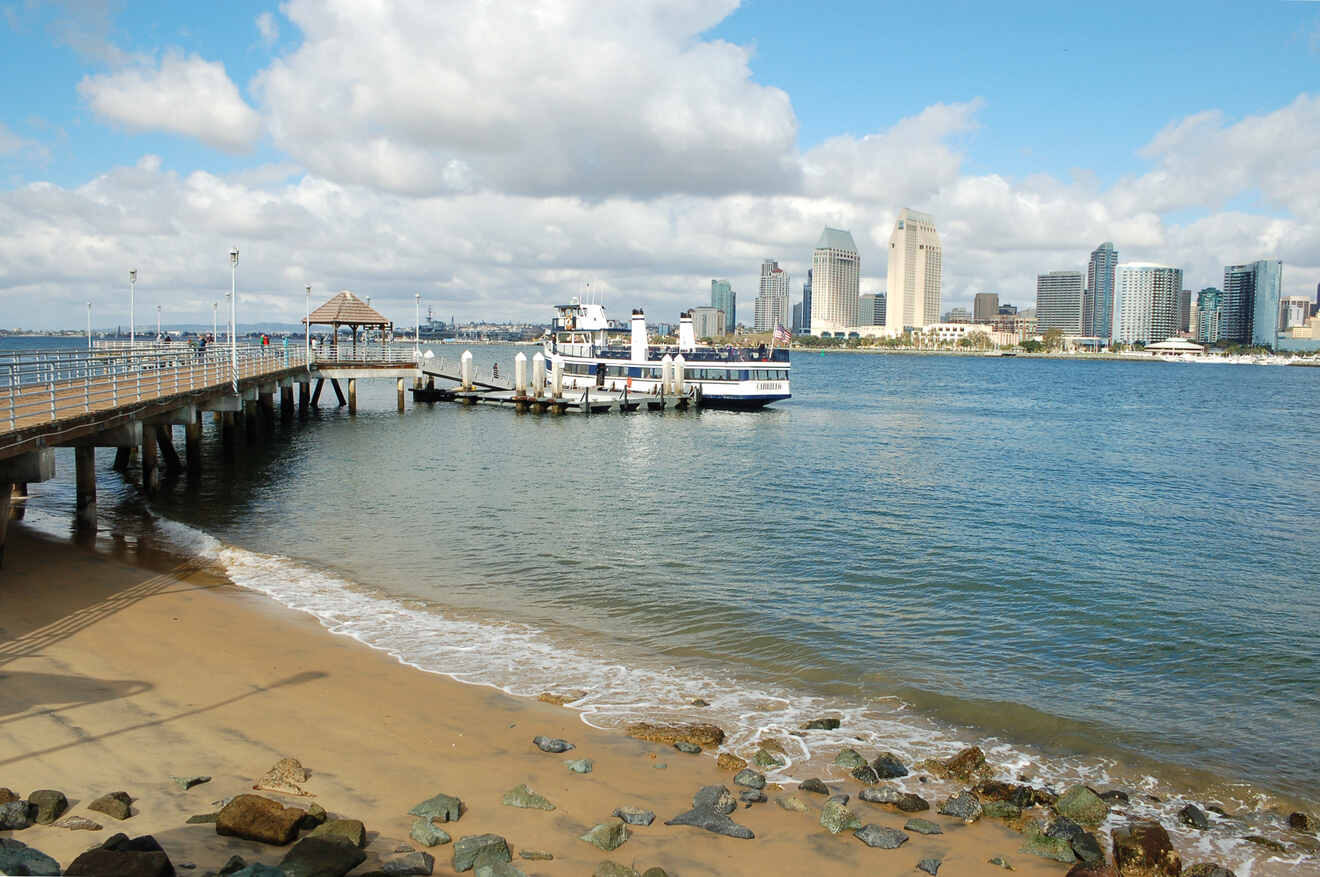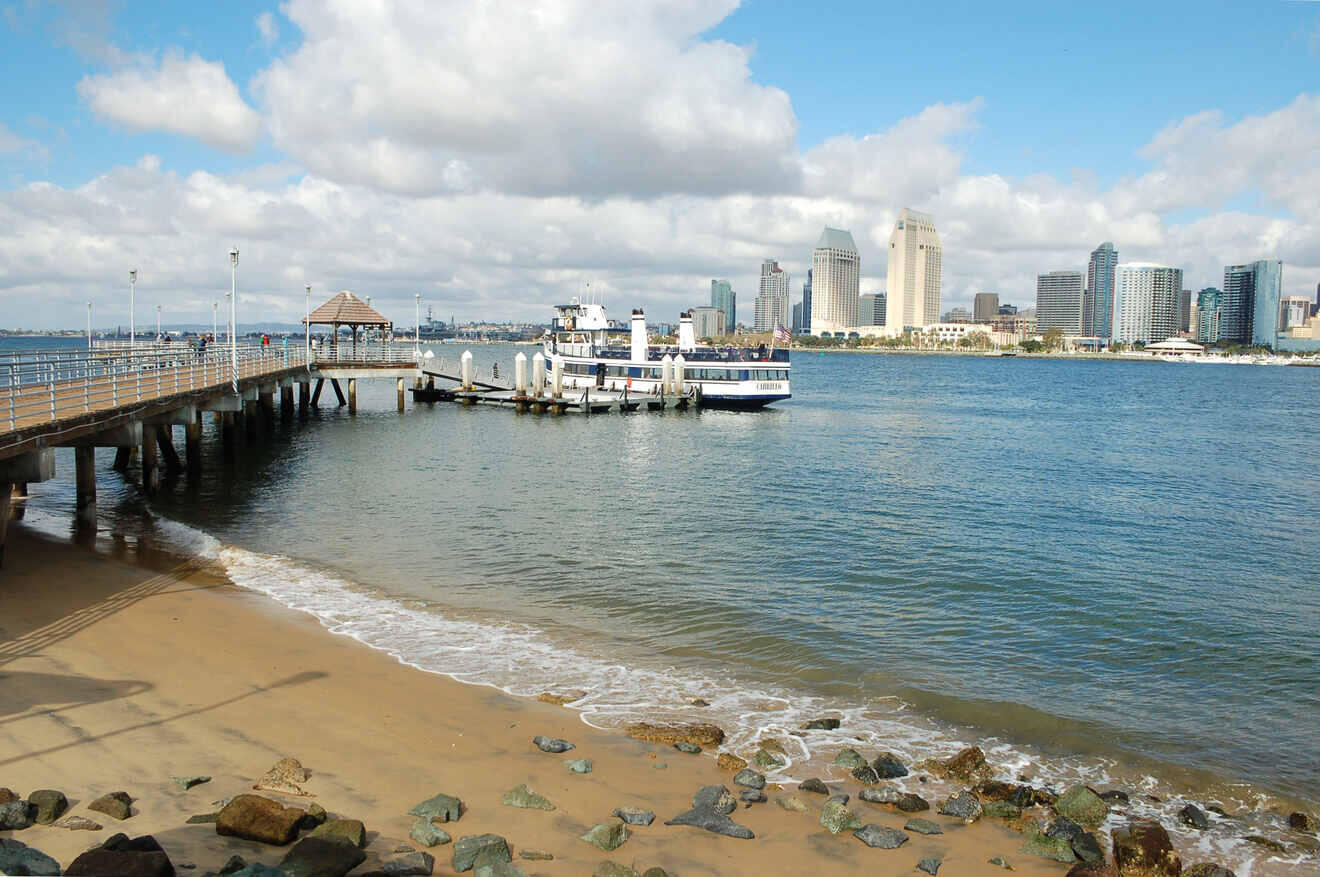 Roundtrip tickets for the ferry are US$14 per person and US$7 per person for one-way. Look at the ferry departing schedule online beforehand. I've definitely mistaken the Saturday schedule for a Monday schedule (they're different, so make sure to avoid my mistake and check)! Buy your tickets here, visit the Broadway Pier schedule here and the Convention Center route schedule here.
NOTE: You can ride for free if you travel between 5:40 AM and 8:50 AM! Save money and visit the Hotel Del Coronado and Coronado Beach early in the morning! It won't be quite as packed, and you can easily explore the area by yourself without feeling too overwhelmed.
PRO TIP: Free buses are going from the Ferry Landing to the Hotel Del Coronado/Coronado Beach area all summer long! Take advantage of that!
8. Bike, work, and drink in North Park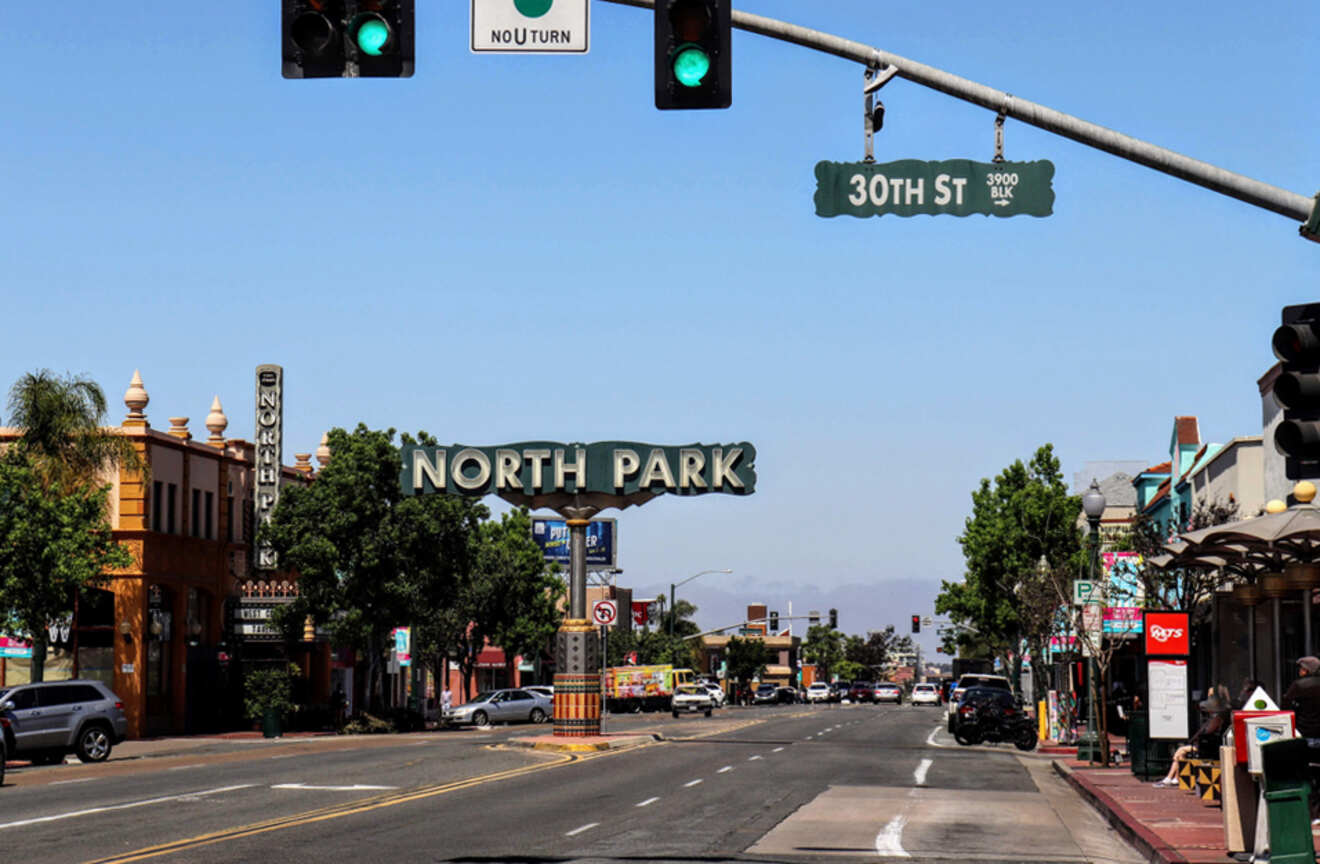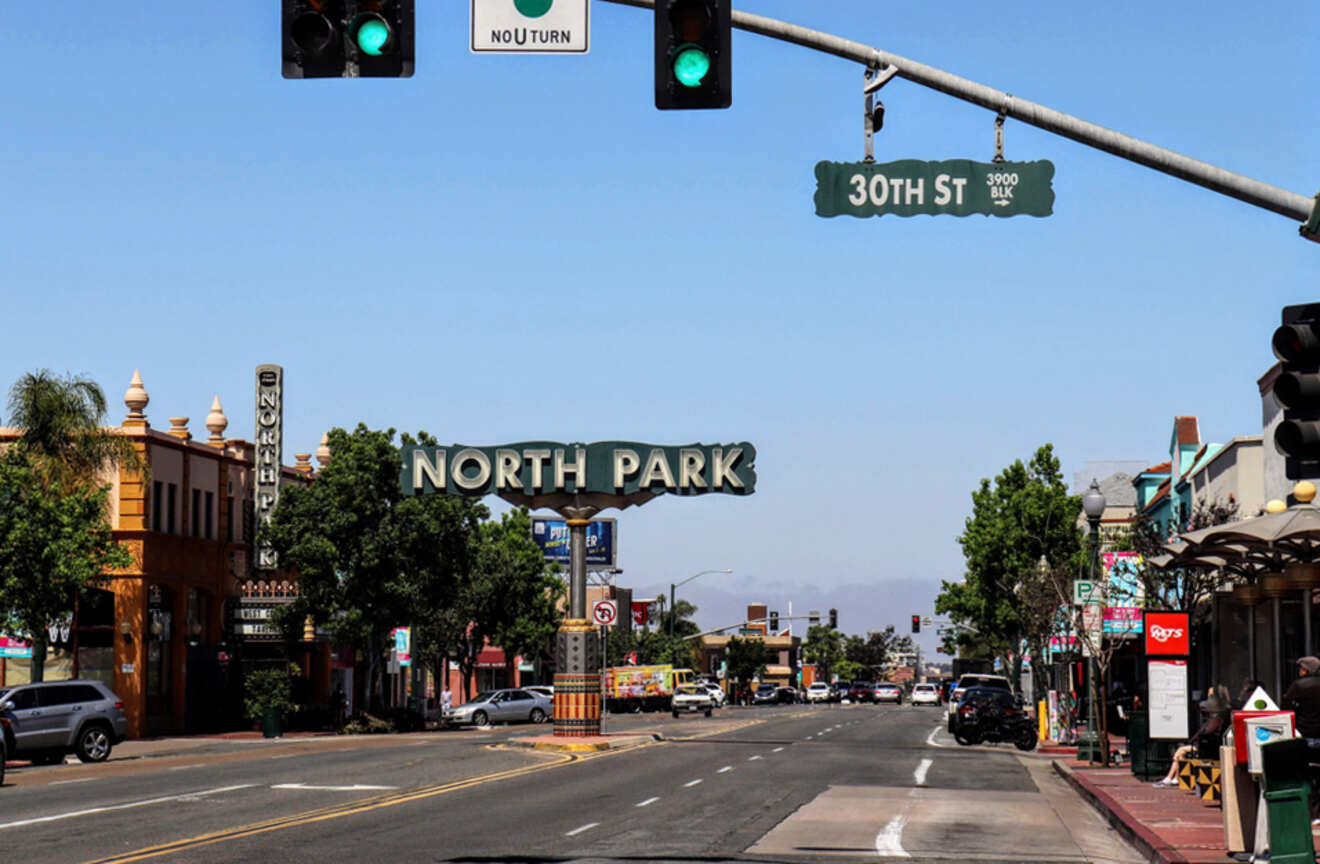 Speaking of coffee shops – North Park is an excellent place for solo travelers to walk around safely and feel comfortable exploring the vintage shops and laid-back hippie vibes everywhere you turn. I absolutely love exploring this community on my own, and I always feel safe doing so!
You'll find many locals on bikes here, so be cautious of bikers if you're driving. You can join in on the action by renting your own bike at Stay Classy Bikes! You can rent a bike for 24 hours for as little as US$50. It's the best way to get around North Park and a great solo experience in itself!
When I solo travel, I usually bring my laptop with me and travel as I work (anyone else a WF-anywhere kind of person?) With that said, I'm always on the lookout for the best coffee shops to work from. North Park has a few options that I suggest checking out:
Communal Coffee: This one is a bit away near South Park, but you can ride your bike here and enjoy the most relaxing ambiance while you work in their modern and clean coffee shop.
Gather Coffee and Kava Bar: There are very few and far between kava bars in San Diego. This is an excellent place to enjoy a cup of coffee while you work during the day and kava in the evening when you're finished.
Hawthorn Coffee: Quality coffee, a nice atmosphere, and plenty of room to sit! What else can you ask for?
After your day working in one of North Park's many coffee shops, book this beerucation guided tour! The tour takes you around North Park's most famous and successful breweries.
This is perfect for solo travelers like you because you can unwind with craft beer without having to stress about your safety, you're meeting other solo travelers along the way, and you get a local's perspective. It's a triple win!
TOUR PRICE: US$85 per person
9. Discover San Diego's history at Cabrillo National Monument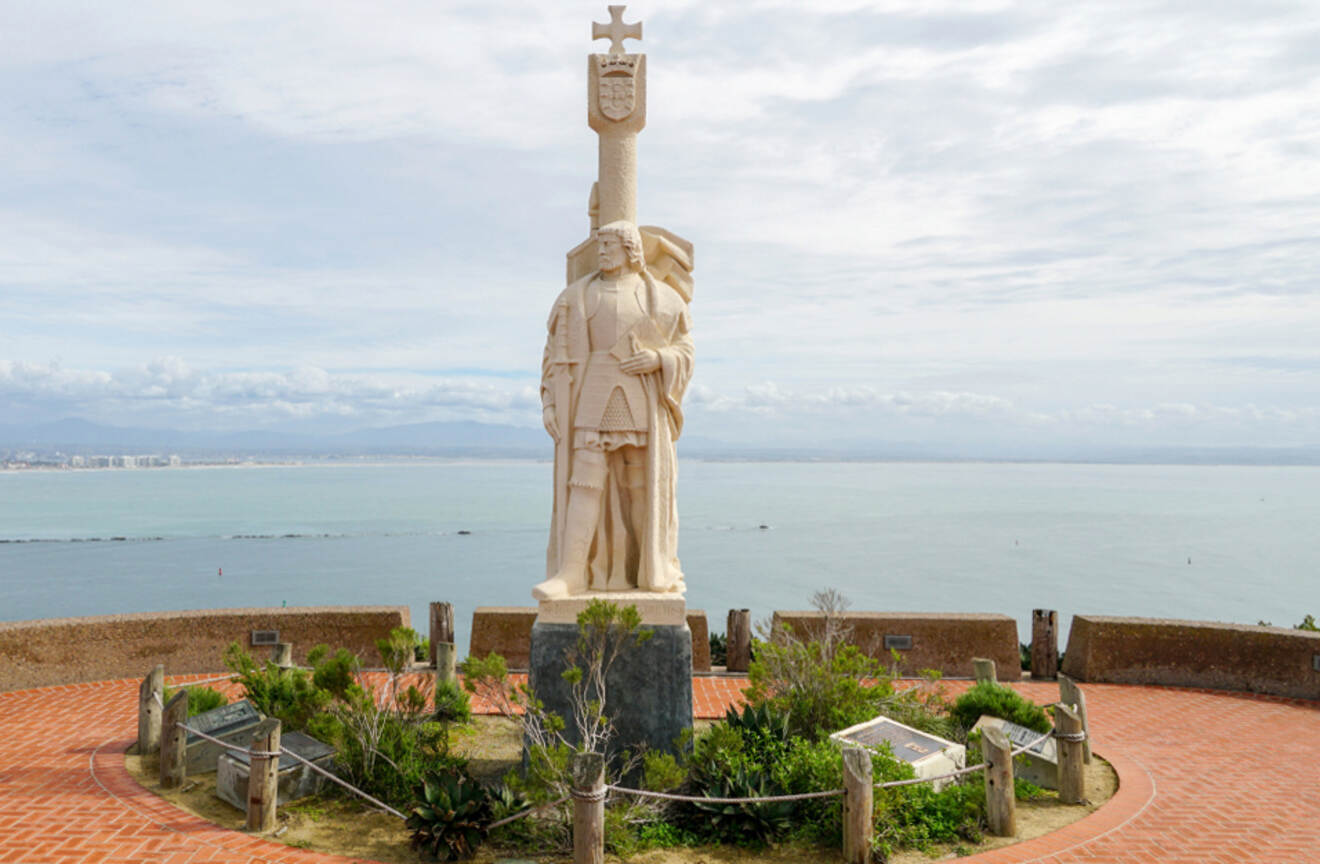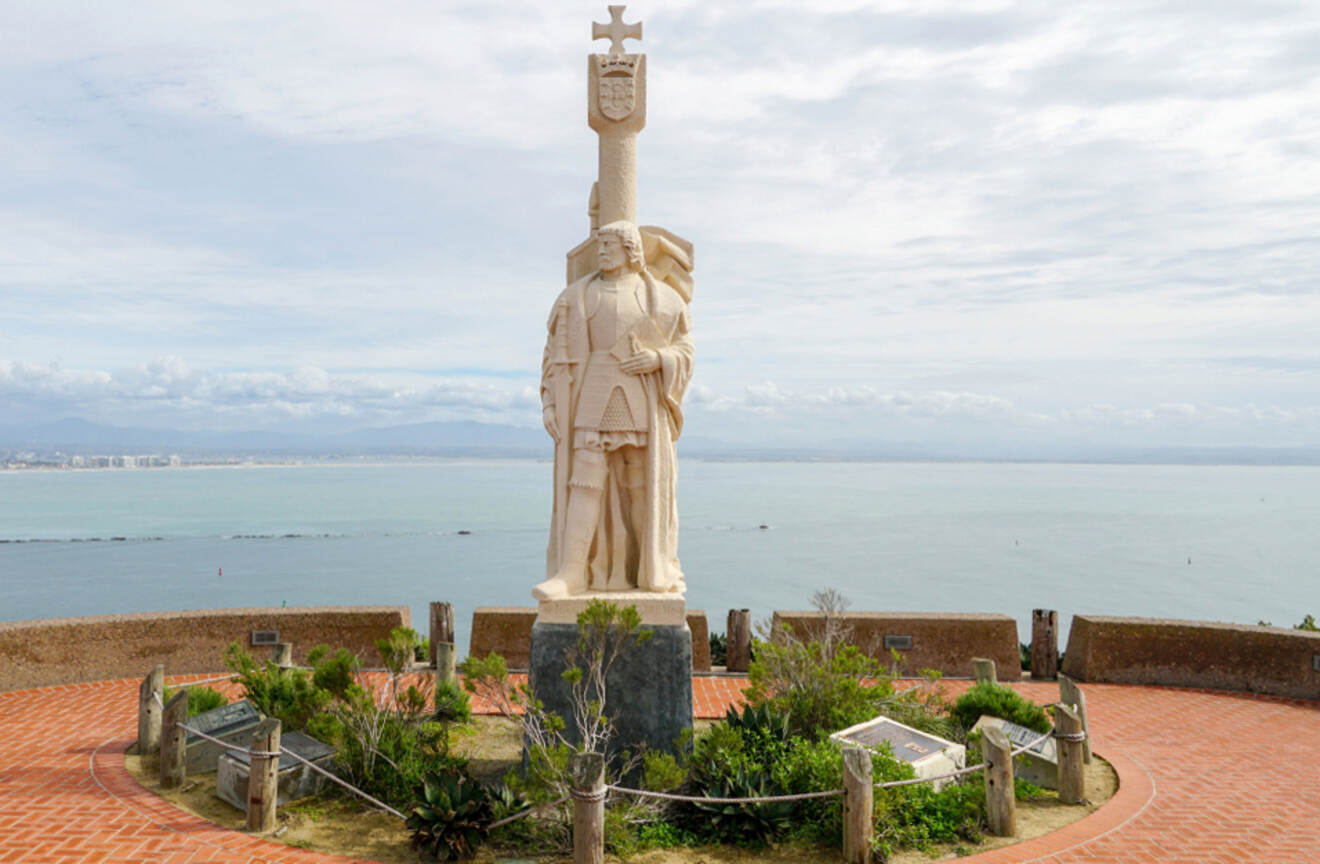 Cabrillo National Monument is one of the most picturesque monuments in the city of San Diego! The park is a peaceful stroll along Point Loma's highest point (at the Old Point Loma Lighthouse nearby) and pays homage to the city's natural and cultural history made in 1542 by Juan Rodriguez Cabrillo.
You'll uncover the history through stories of his exploration and discoveries. This is a safe area for solo travelers to explore since it's highly preserved and monitored by security. You can walk around alone, knowing you'll be okay.
The monument is located at the top of a hill where you'll see the San Diego skyline, San Diego Harbor, Coronado Island, Shelter Island, and sometimes you can even spot Mexico far away on a clear day. Oh, and watch out for marine life from the lighthouse and go whale watching from December to mid-April! You'll find gray whales migrating from up north during that time.
Cabrillo National Monument is another place you can embrace your solitude and immerse yourself in nature as you write your heart away.
PRICE: from US$10 per person
10. Have a picnic at Kate Sessions Park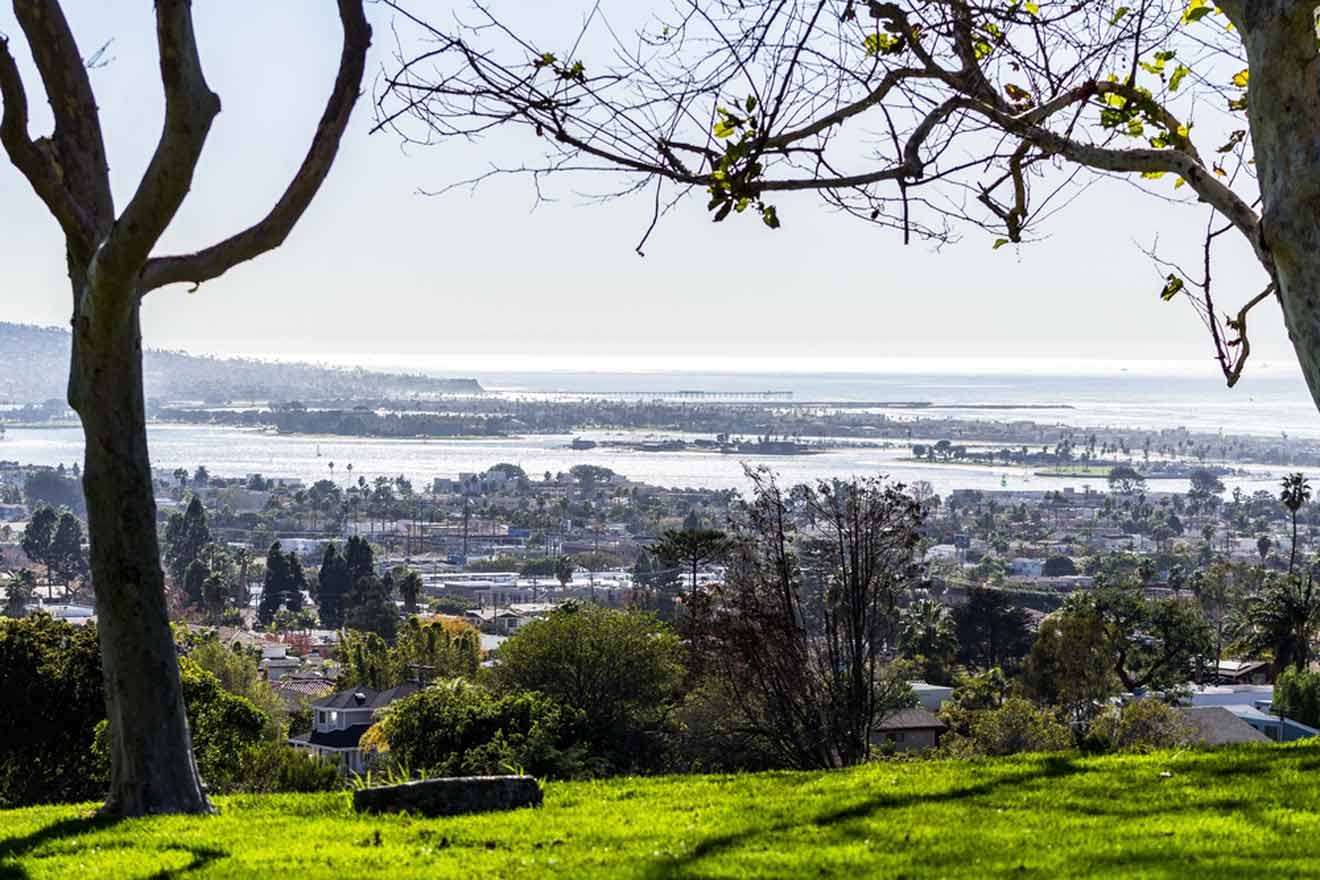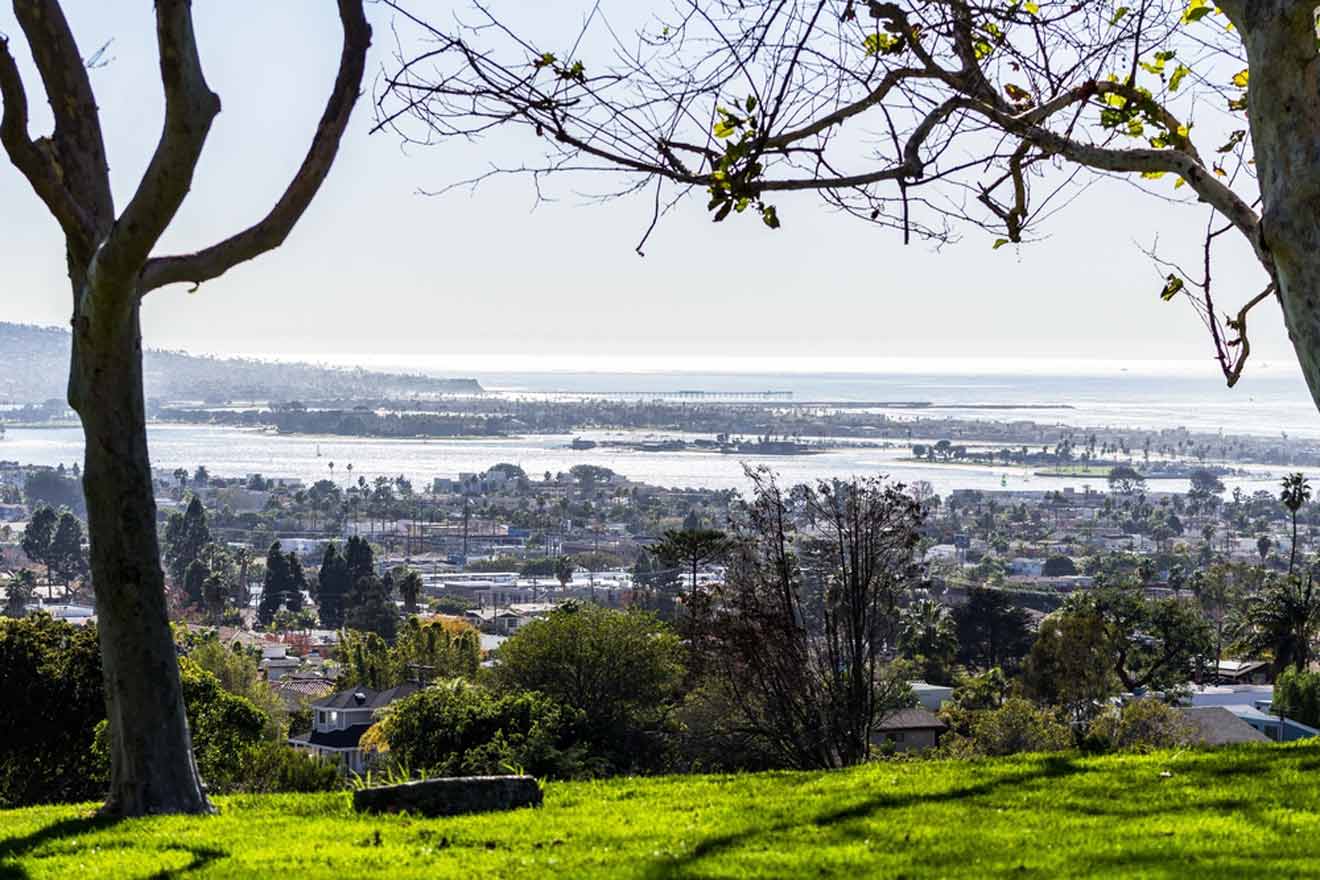 Kate Sessions Park in Pacific Beach is one of the most beautiful parks in San Diego (and my absolute favorite)! It's a classic, free park available for anyone and everyone from 7 AM to 10 PM. Whether you want a little solo picnic, lay down and admire the San Diego skyline, Mission Bay, and hillside views, or unwind and journal after a long day of exploring San Diego, this is the place to do it.
This is a local favorite, so you'll find all kinds of San Diegans (I like to people-watch here, and I suggest doing the same)! Don't forget your sunglasses and sunscreen, as it can get pretty hot and sunny during the day. I've been obsessed with the Shiseido sunscreen stick lately – it's so easy to pack since it's not a liquid and gets the job done!
Stop at Trader Joe's nearby beforehand for some healthy snacks, munch away on the grass before golden hour, and enjoy!
11. Eat yummy Mexican food in San Diego's oldest neighborhood
Welcome to Old Town San Diego, the oldest neighborhood in San Diego! You get a taste of its rich history, historical sites, some of San Diego's best Mexican food spots, and even a haunted house.
There are 2 things I always suggest visiting in Old Town San Diego:
Whaley House Museum: The legendary haunted house was built in 1857 and has a long history that can be uncovered on this self-guided tour. It's hard to do as a solo traveler, but check it out if you're feeling brave.
Cafe Coyote: Delicious Mexican food and amazing ambiance! They have huge portions, so if you don't finish, you can box up and take back to your hostel for later that night if you're hungry (not a solo travel hack, more like a life hack).
FAQs about things to do alone in San Diego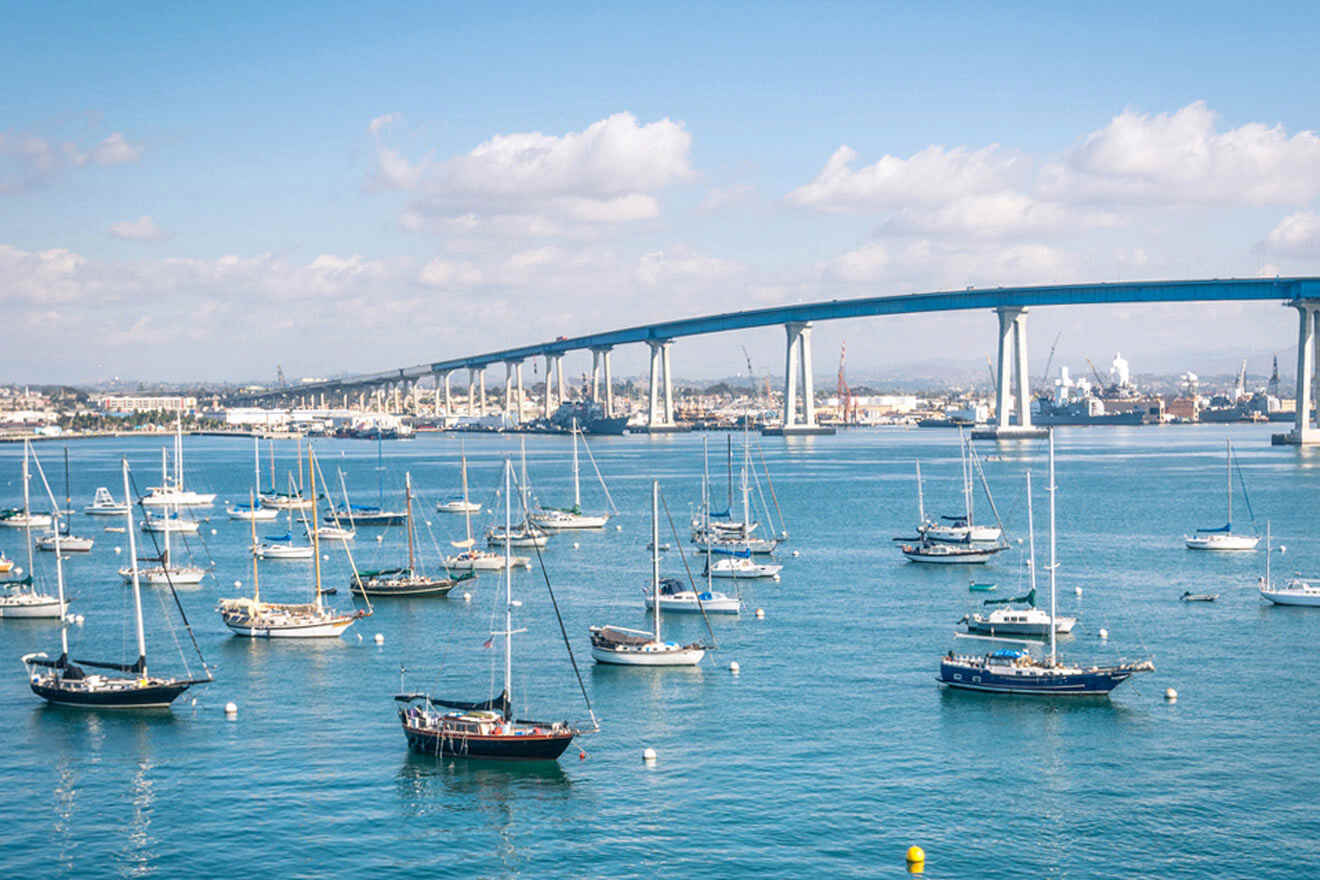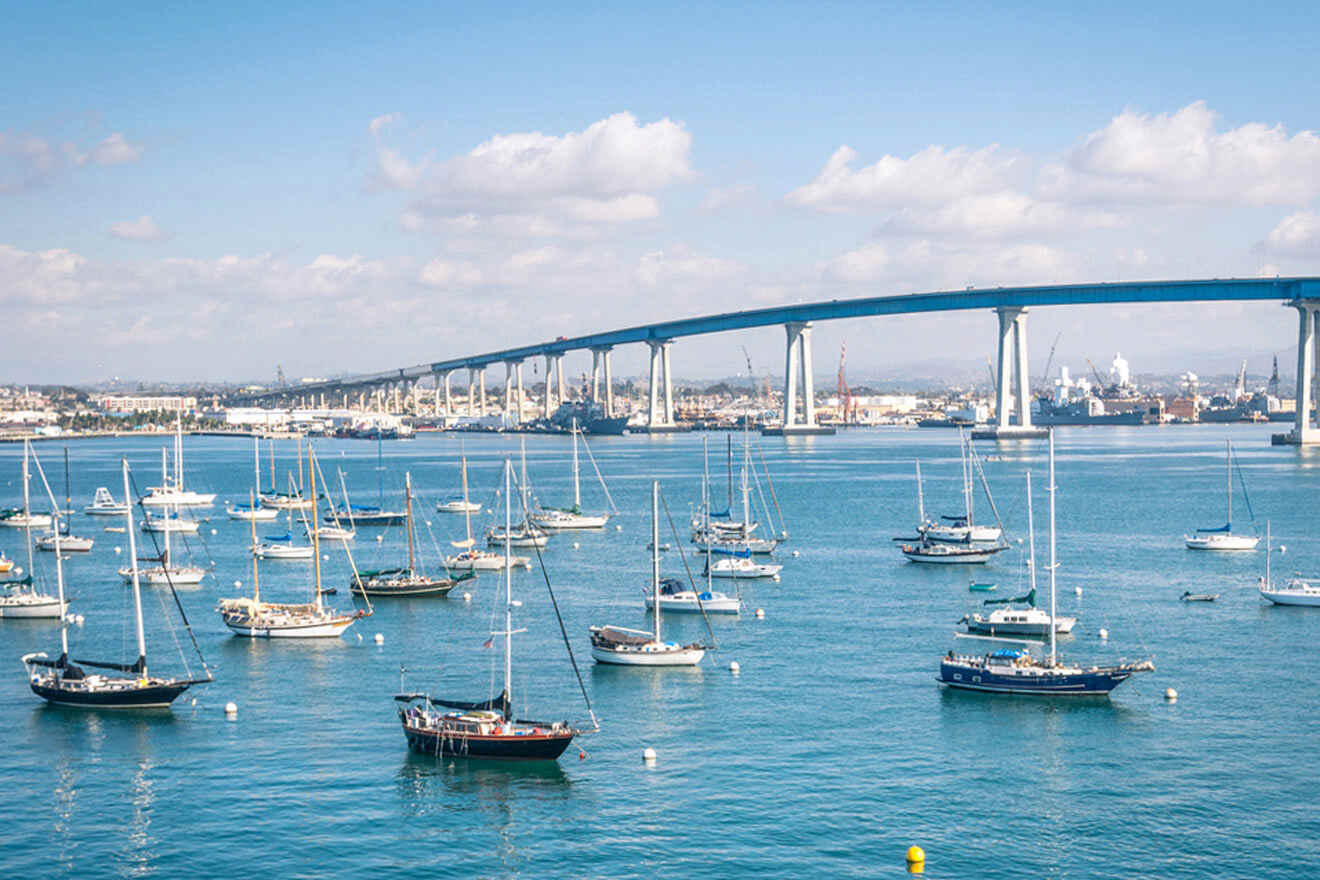 🏖️ Where is the best place to go out alone in San Diego?
The best place to go out alone in San Diego is North Park. It's safe, bike-friendly, and pedestrian-friendly, and there are plenty of coffee shops that you can explore while you're here during the day (along with the ultimate group brewery experience for later)!
💃 How can I have fun on a trip alone?
Visiting San Diego alone is a ton of fun if you keep an open mind, stay in a hostel to meet amazing like-minded people from around the world, embrace the solitude, take your time through your favorite attractions, and take tours to meet local tour guides!
🧐 How do you spend a day in San Diego?
⏱️ How many days should I spend alone in San Diego?
You should spend at least 2 – 3 days alone in San Diego! If you're staying in a hostel and saving money, consider staying longer to make the most out of your solo trip to San Diego.
Conclusion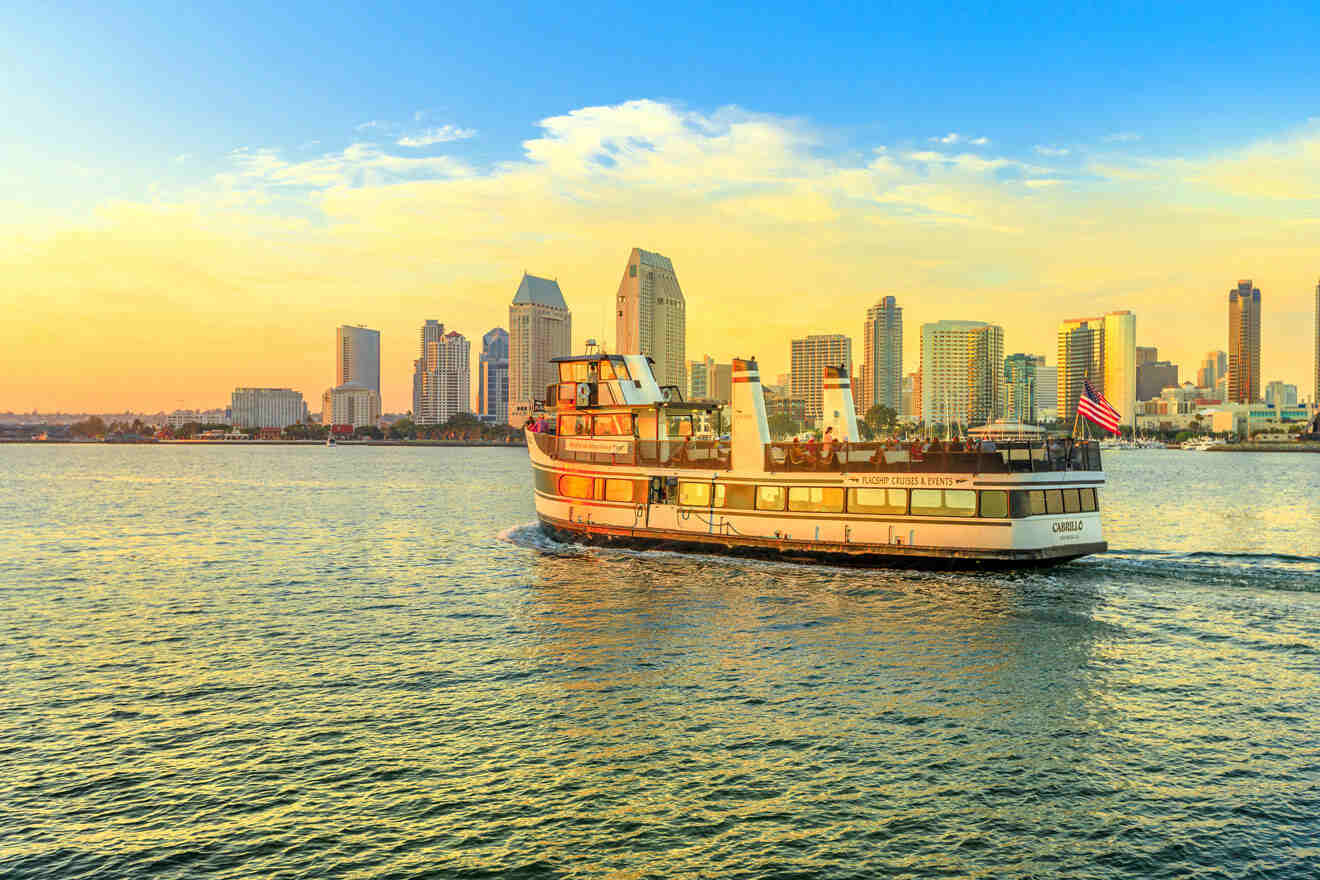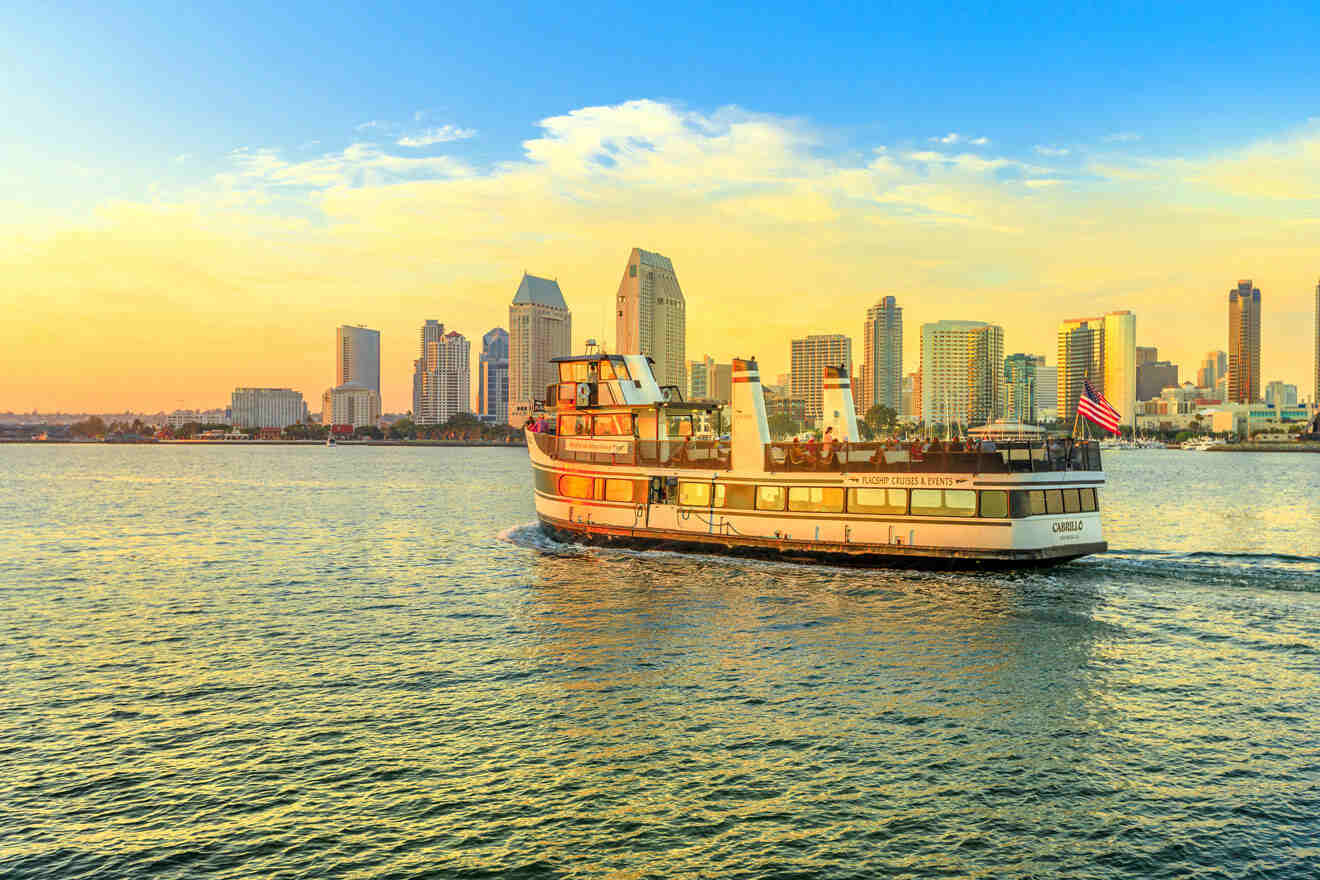 There you have it! You'll find plenty of fun things to do alone in San Diego! Solo travelers like you have the flexibility of going at their own pace, enjoying their own company without external stressors, and getting a chance to meet locals in new cities that you probably wouldn't branch out and meet if you were traveling with friends or family. It opens new doors and experiences – I couldn't recommend it enough!
With that said, if you haven't started already, San Diego is the most beautiful (and safe) place to start. My favorite things to do alone in San Diego are explore the historic Balboa Park and unwind at Kate Sessions Park. I love the nature and architecture surrounding both attractions, and I couldn't recommend them enough! Plus, they're both free to enter and make for the best budget-friendly solo trip.
Have any questions? Feel free to leave them below, and I'll get back to you with answers ASAP! If you plan on traveling solo to San Diego anytime soon, please remember to book all your reservations in advance to get ahead and stay prepared (and consider staying in a hostel for the best solo travel experience).
Be safe and enjoy!
Xoxo,
Esabel S.
---
Pin it for later!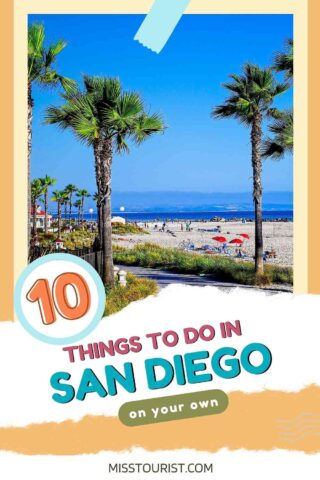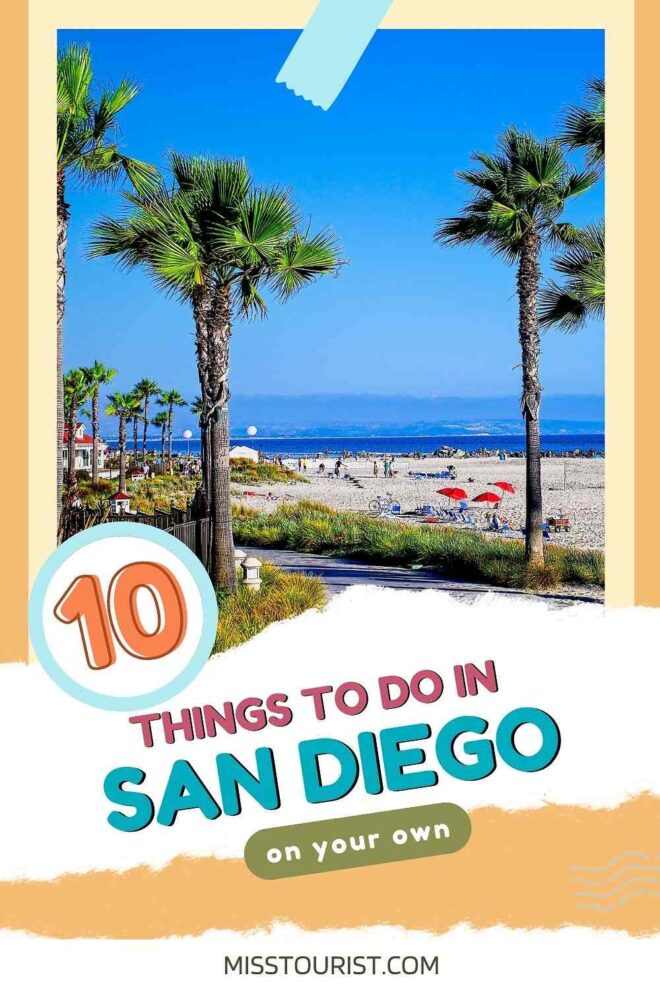 Pin it for later!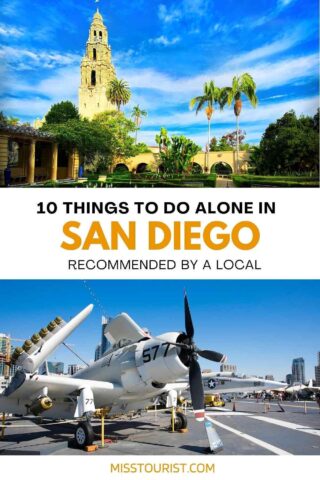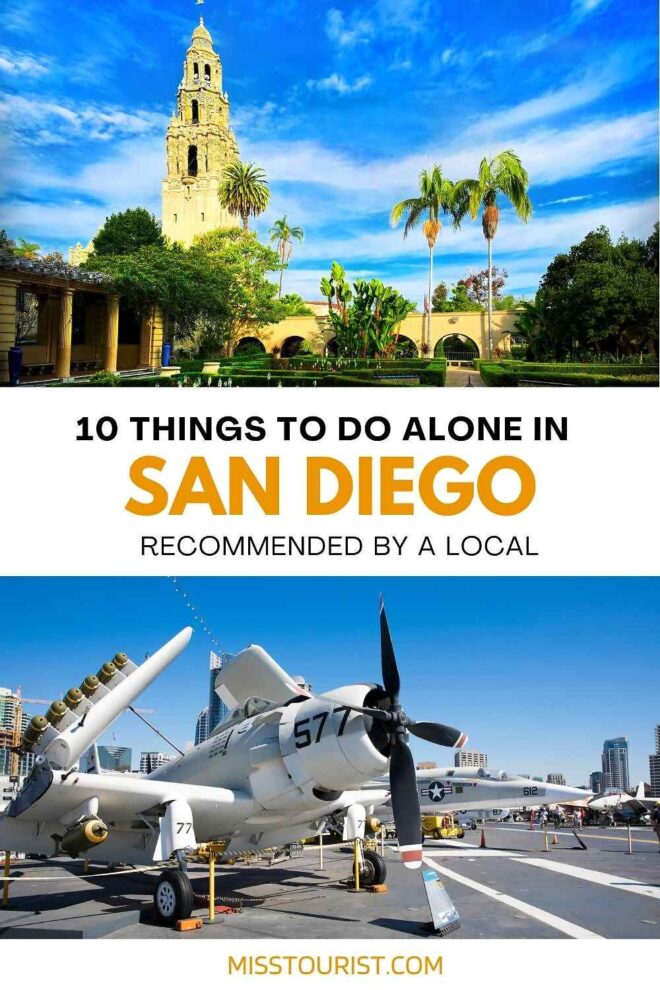 Products You May Like