11 Incredible Road Trips in Florida You Don't Want To Miss!
Emerald Coast, Nature Coast, Paradise Coast, Treasure Coast, and the hundreds of natural springs in Florida are just some of the incredible road trip destinations that await you in the Sunshine State!
Florida is one of the most diverse states for landscapes and fun travel adventures. With the different coastlines to visit and fun things to do in North, Central, and South Florida, you will never run out of fun adventures and road trips to plan some incredible getaways!
Whether you live in Florida or are planning a visit, planning a road trip should be high on your list of the best things to do!
In one day, you can travel from the panhandle, the Gulf of Mexico, to an artesian spring, to Disney World, to an animal sanctuary, to a zip line adventure, to a snorkeling adventure, or to the gorgeous Atlantic Coast.
There are endless road trips in Florida. As a Florida local and seasoned Sunshine State road tripper, I am going to give you the inside scoop not only on the best road trips but hidden gems along the way!
Let's dive into your personalized Florida road trip itinerary!
1. Take a drive from Miami to Key West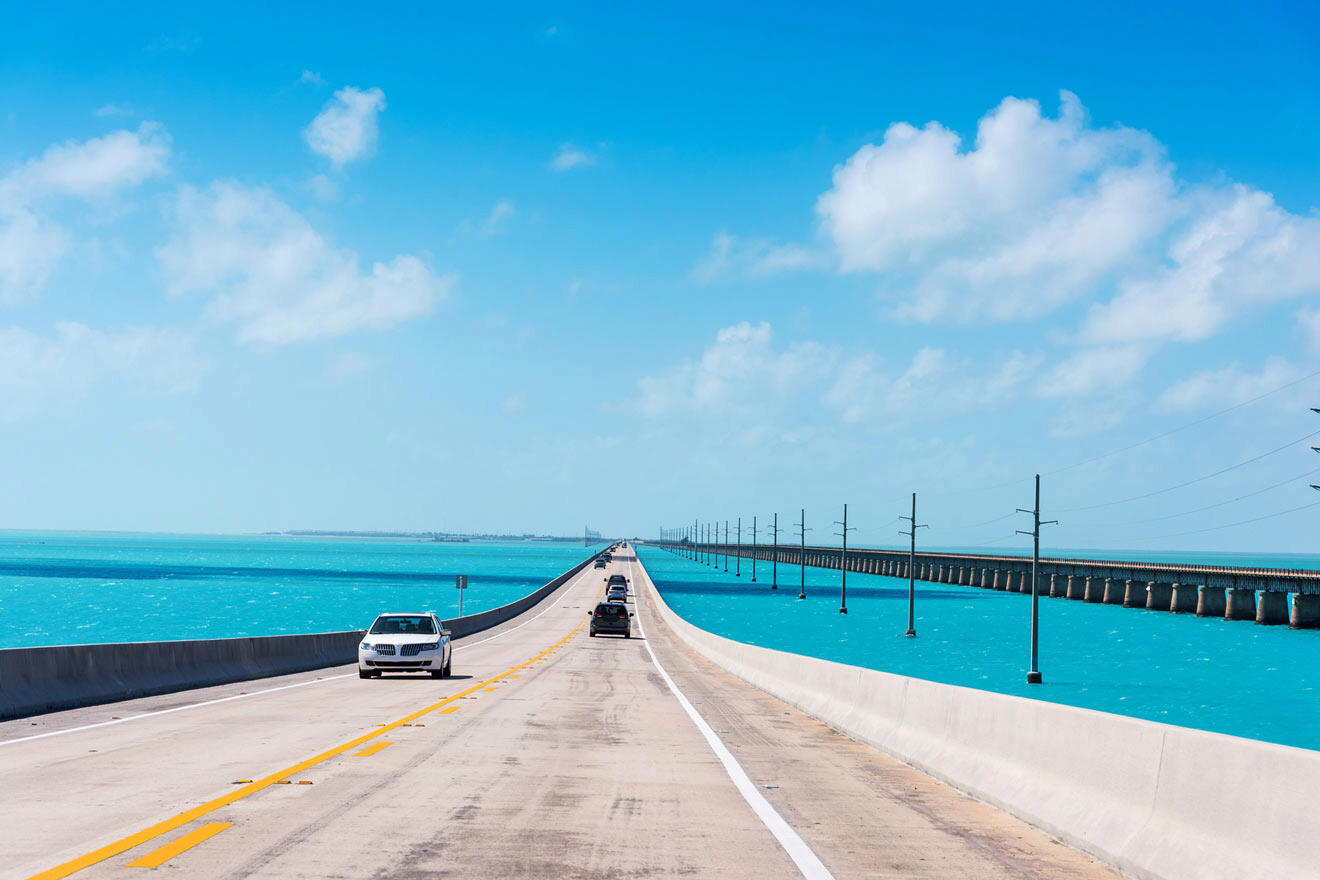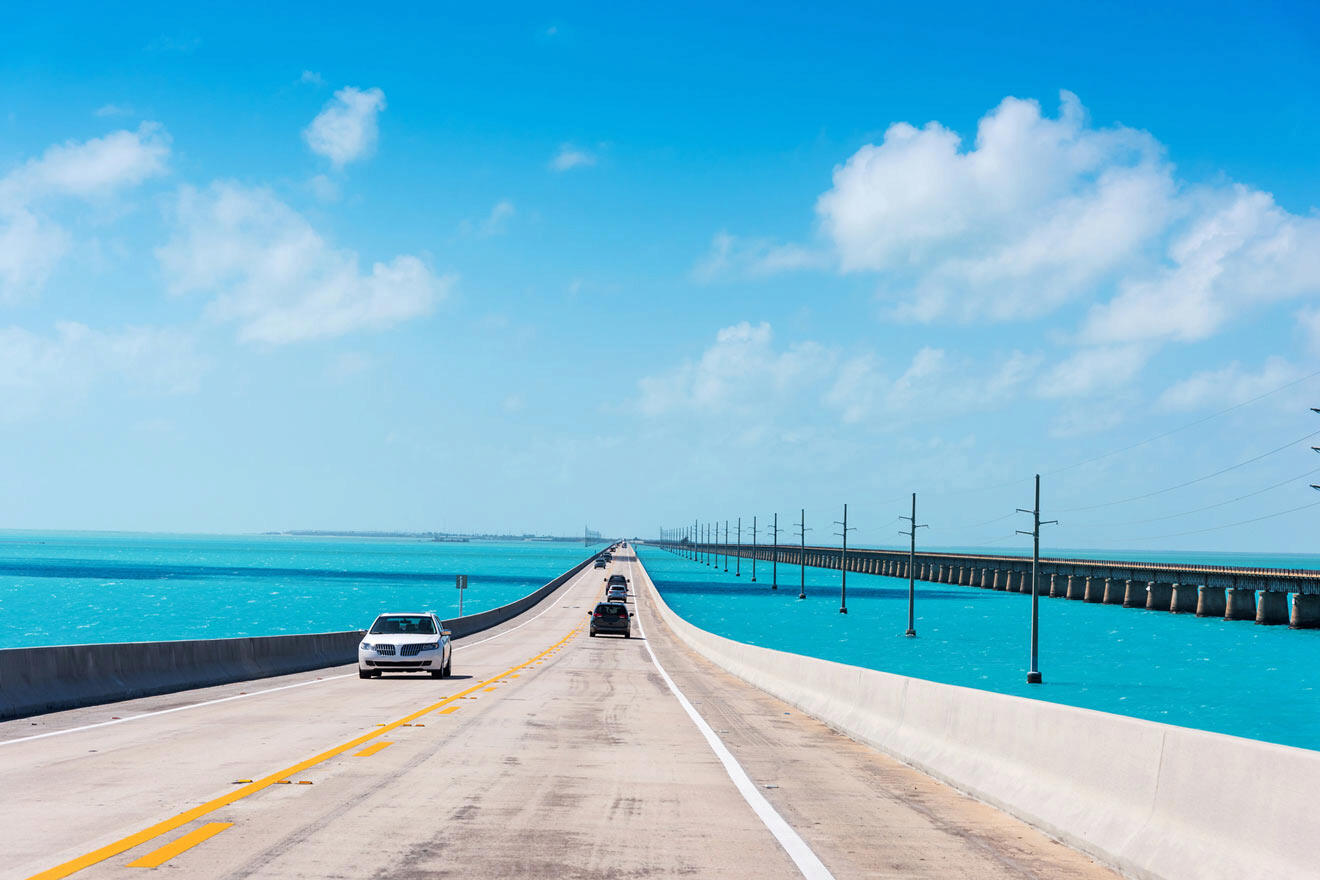 A road trip from Miami to Key West is probably one of the most popular road trips in Florida. Many Miami visitors end up traveling from Miami to Key West for the unbeatable views and quintessential Florida road trip experience.
Here are some of the highlights of this road trip from Miami to Key West:
1.1 Stop 1: Miami to Everglades National Park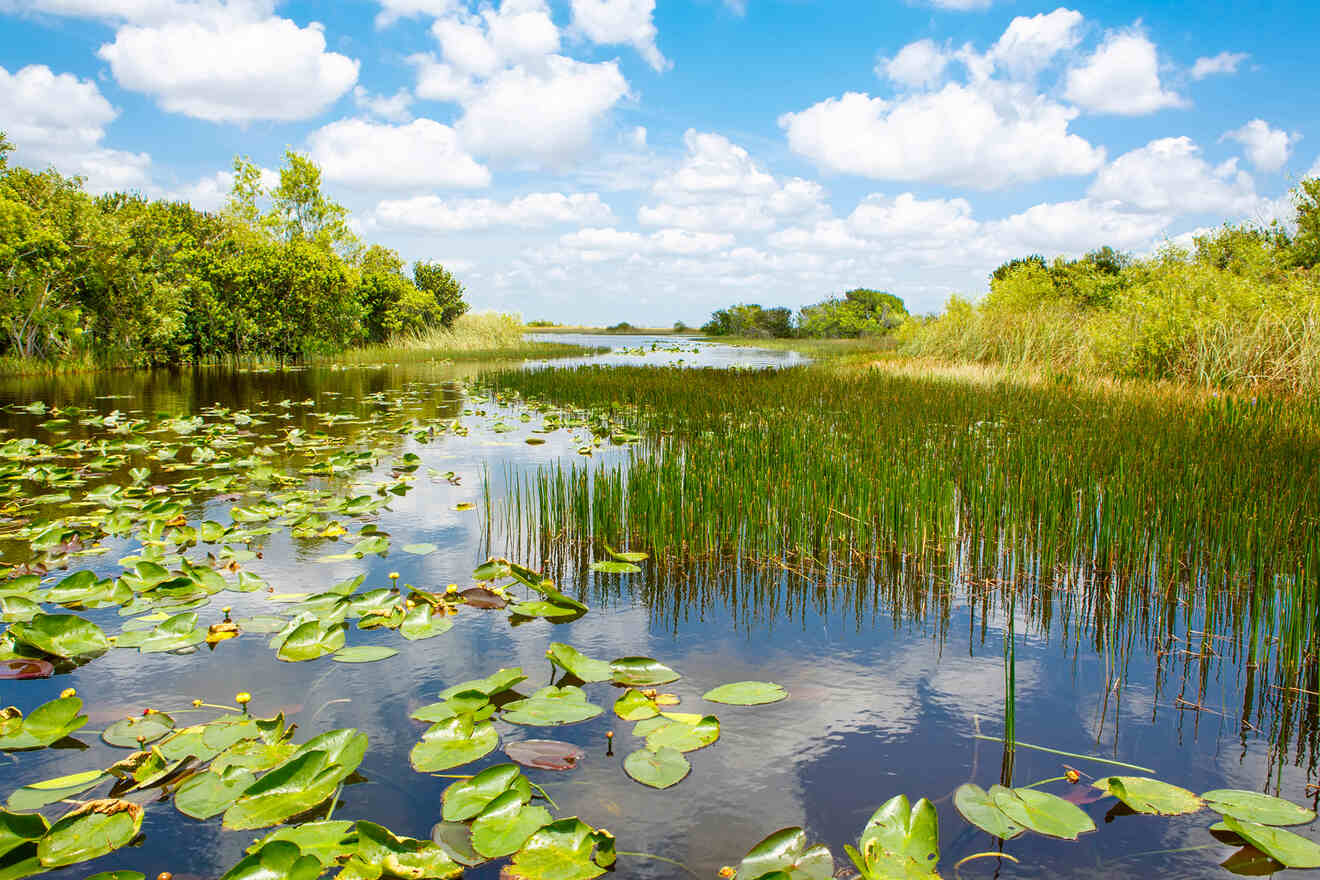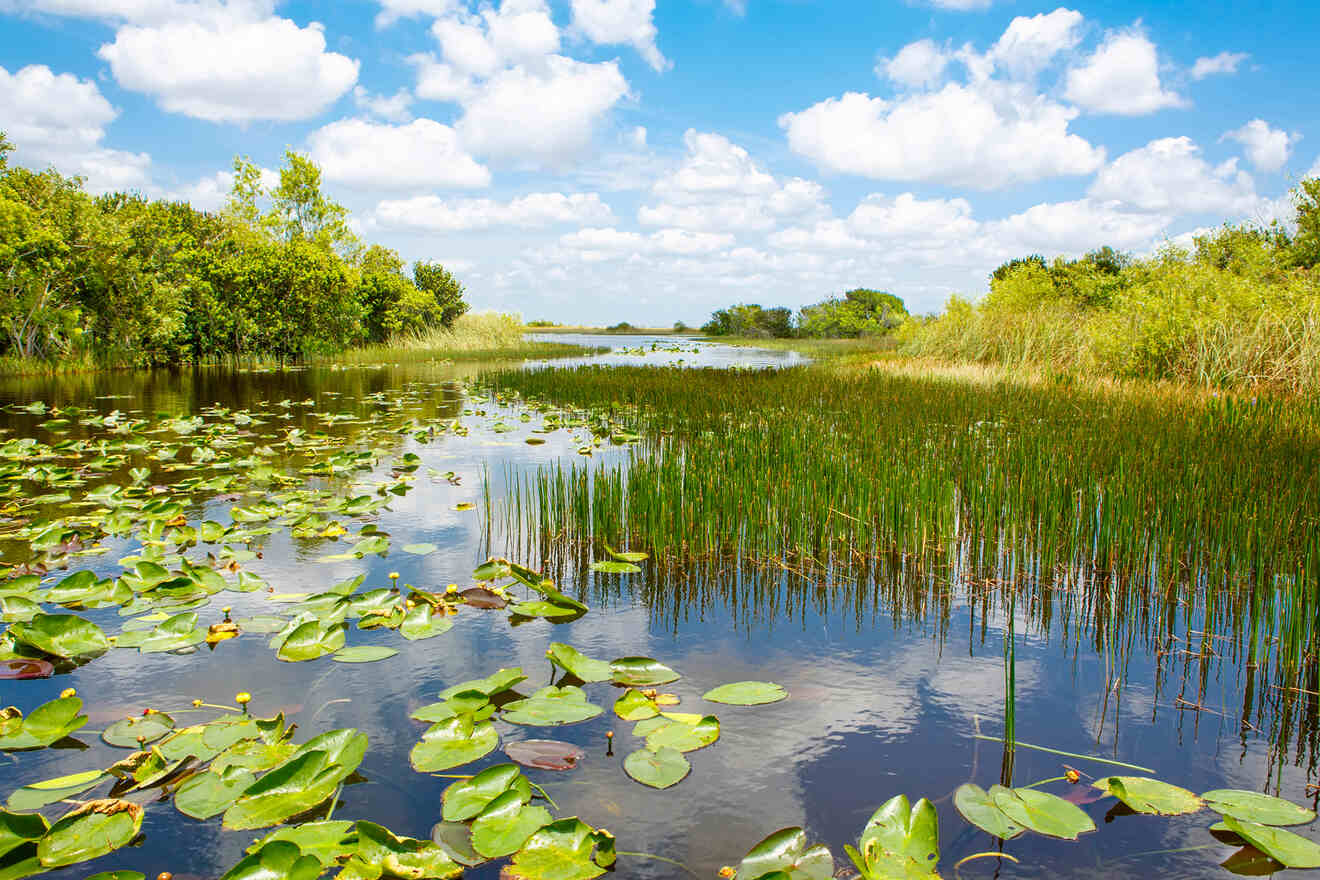 Miami is one of the best places to start a road trip. First things first, start your day with a cafecito! This is the classic Miami experience where you can try a Cuban-style coffee that will get your blood pumping for the drive ahead – head over to Versailles Restaurant for that morning buzz!
Checking out Miami Beach/South Beach areas before you start the drive is well worth it. I recommend grabbing a bite to eat on the beach before you continue on your journey.
Check out Orange Blossom for some delicious and classic Florida-style breakfast on Miami Beach.
Downtown Miami is also a great place to grab a bite to eat before you embark on your journey. I recommend Chicken and The Egg because they serve breakfast all day! Even if you get a late start on your day, you can get some delicious eats at this restaurant.
As you hit the road and head south of Miami, you are entering Homestead, which is the Everglades National Park territory.
If you do get an early start to your road trip, it is well worth planning your road trip around making a pit stop in the Everglades! The Homestead entrance to the Everglades is one of the most popular, and for good reason– the views are just incredible.
Stop by the Shark Valley Visitor Center and get a map before you begin to explore. Shark Valley is really unique and beautiful because it is where the Everglades begin to meet the ocean on the southern tip of Florida!
Between Homestead and Key West, there is SO MUCH to explore!
If you want a super unique experience on your Florida road trip to Key West, definitely make a pit stop at Coral Castle! This castle-turned-museum was made by a hopeless romantic for the love of his life, who unfortunately never showed up. The castle is made entirely of coral and has some really incredible and unique structures.
The Coral Castle also happens to be one of the many wonders of architecture, as this man allegedly built the entire castle by himself without any heavy machinery back in the 1930s. He is known for unlocking the unique formula of the Egyptian pyramids!
1.2 Exploring the Florida Keys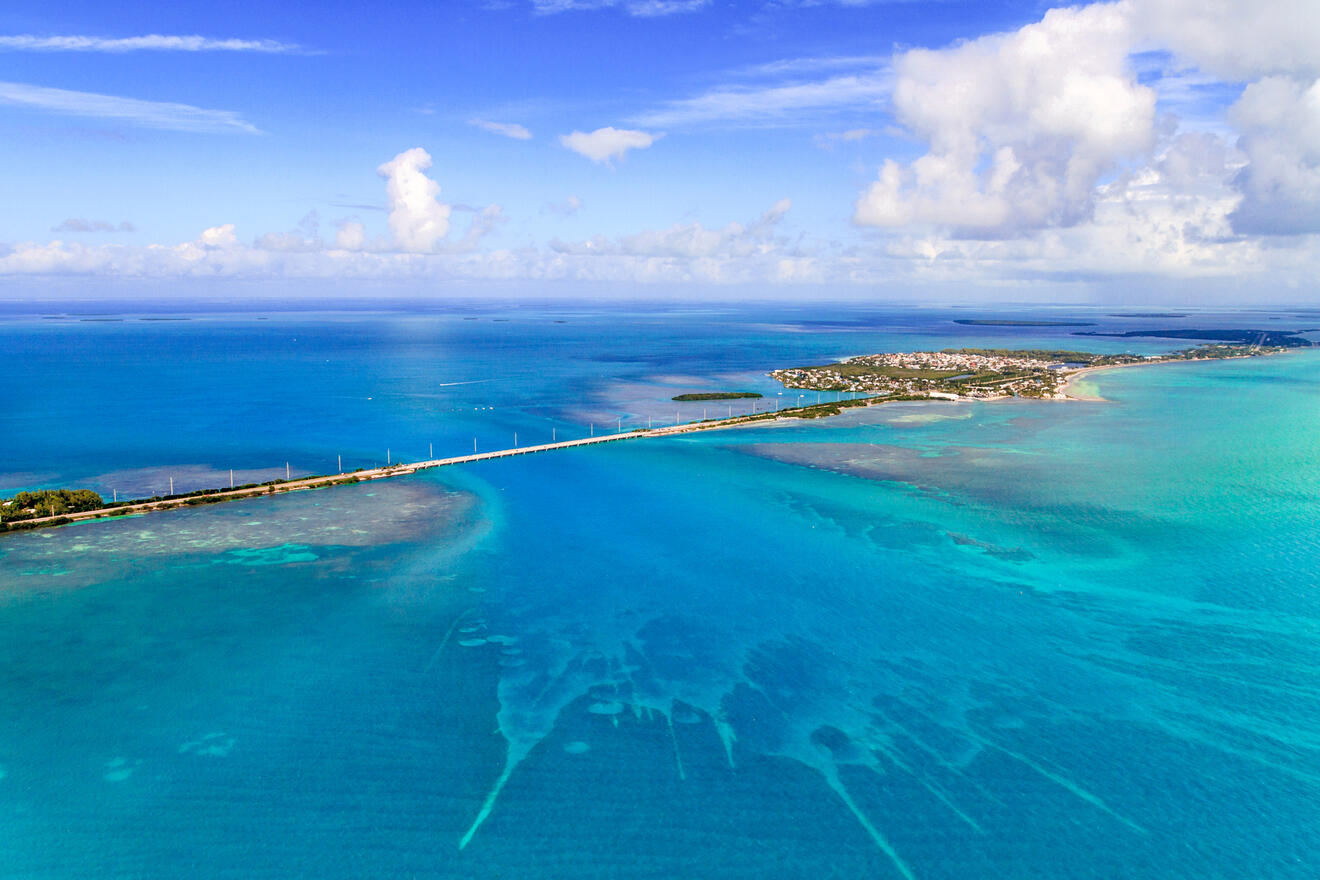 Once you hit the road, get ready to explore the Florida Keys! Key West is the very last stop in the Florida Keys, and When I planned my road trip, we left super early to make sure we could stop in as many keys as possible.
After Key Largo, Islamorada is a super fun Key to stop in as there are great places to eat, fantastic beaches, and super fun water activities!
Definitely don't miss out on the Hungry Tarpon Restaurant, where you can get the classic Florida Keys experience and feed the hungry tarpon!
If you decide to spend the whole day in Islamorada and want to break up your road trip a bit (which I recommend) The Cheeca Lodge and Spa is a great place to stay for the perfect pit stop in Islamorada on your way to Key West!
The reason I recommend breaking up your trip is that the Florida Keys have so much to offer. There are so many incredible places to stop on the way to Key West that if you try to do it all in a day, you will miss out on so many amazing opportunities!
Don't miss out on visiting Bahia Honda State Park, Dry Tortugas, Key Deer Refuge, and so much more!
The drive over the Overseas Highway to Key West is one of the most beautiful experiences you can have in the continental US. This should be high on your list of the best road trips in Florida!
Looking for where to stay in Key West once you arrive? Check out this article, where we highlight the best neighborhoods and hotels.
Make the best of your trip and plan a super fun water activity tour! Check out this incredible half-day snorkel trip in the Florida Keys!
Book Your Coral Reef Snorkel Adventure
2. Drive through sunny Central Florida: Orlando to Gainesville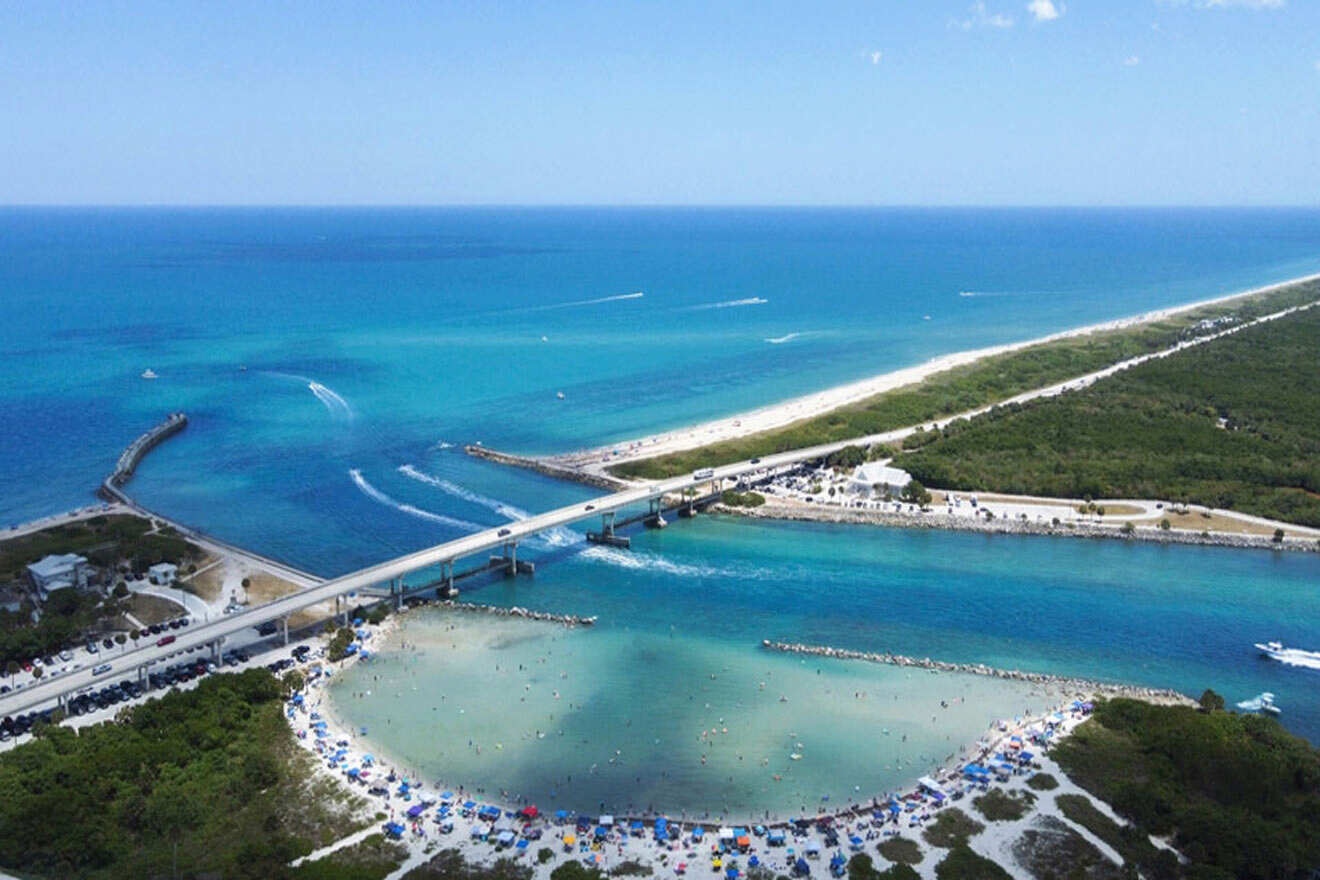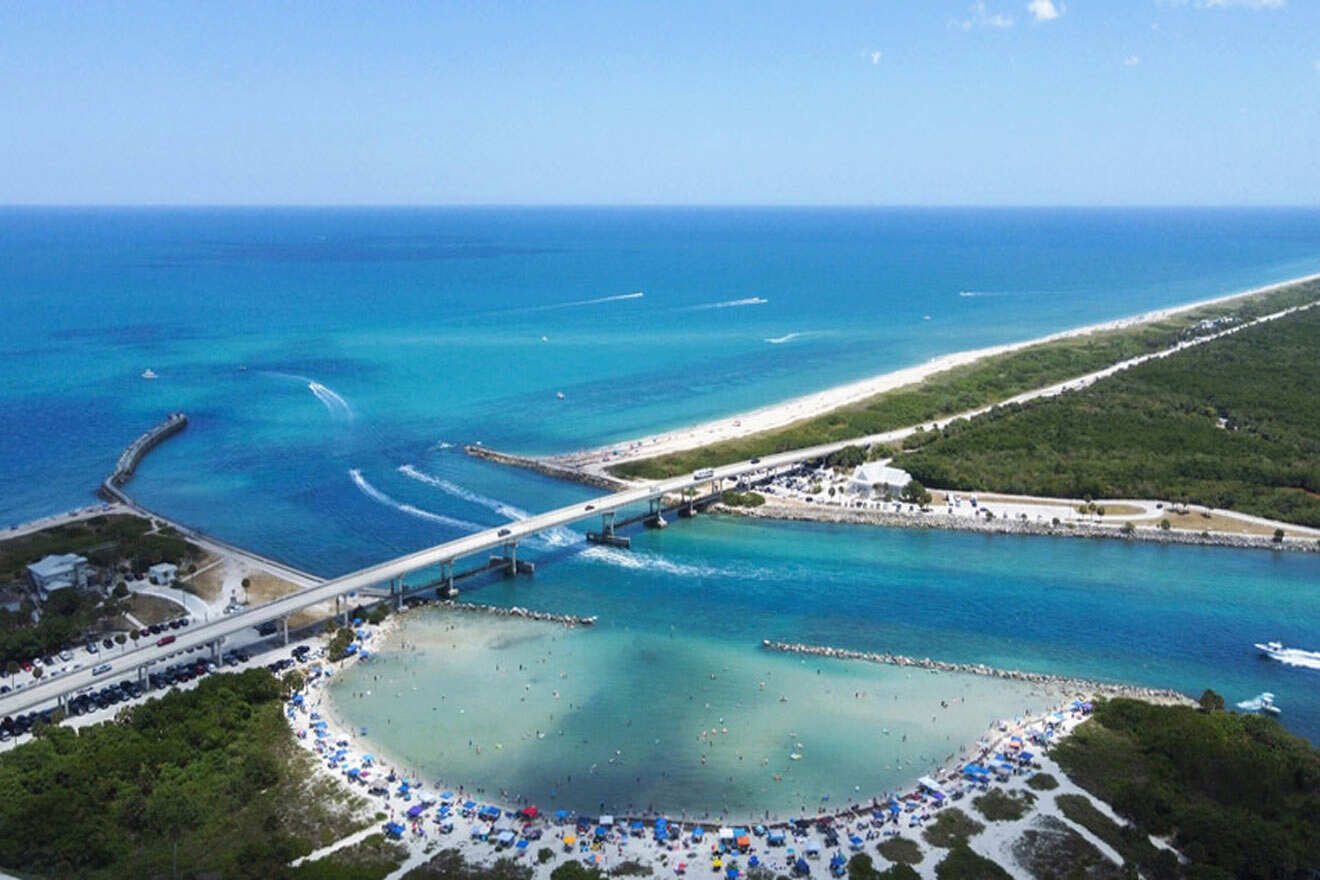 For this Florida road trip, buckle up because there are endless, super fun, and memorable things to do in Central Florida.
Before I moved here, I was a coastal snob! I was of the school of thought that why would anyone want to live inland in FLORIDA? With thousands of miles of coastline, why choose inland?
Well, I was made to feel stupid when I finally visited and then decided to MOVE to Central Florida! While Orlando and other cities in the center of the state may not have beaches super close by, they have SO MUCH to offer.
They offer a nice change of pace from super busy and bustling cities in FL, such as Miami or Tampa.
For one, C. Florida is home to literally HUNDREDS of natural artesian springs with clearer water than most of Florida's beaches. So, you will most likely find that you do not miss the beaches at all!
The springs in C. Florida are beyond beautiful. Thousands upon thousands of years old, these artesian, clear water springs have been pumping gallons of mineral-rich, drinkable water that feeds the entire ecosystem in C. Florida!
Not only are there tons of springs to visit in C. Florida, but you also have Disney World, Universal, Epcot, incredible food from fine dining to hole-in-the-wall restaurants with some of the best food you have ever had, and so much more!
OK, some of the C. Florida road trip highlights for you: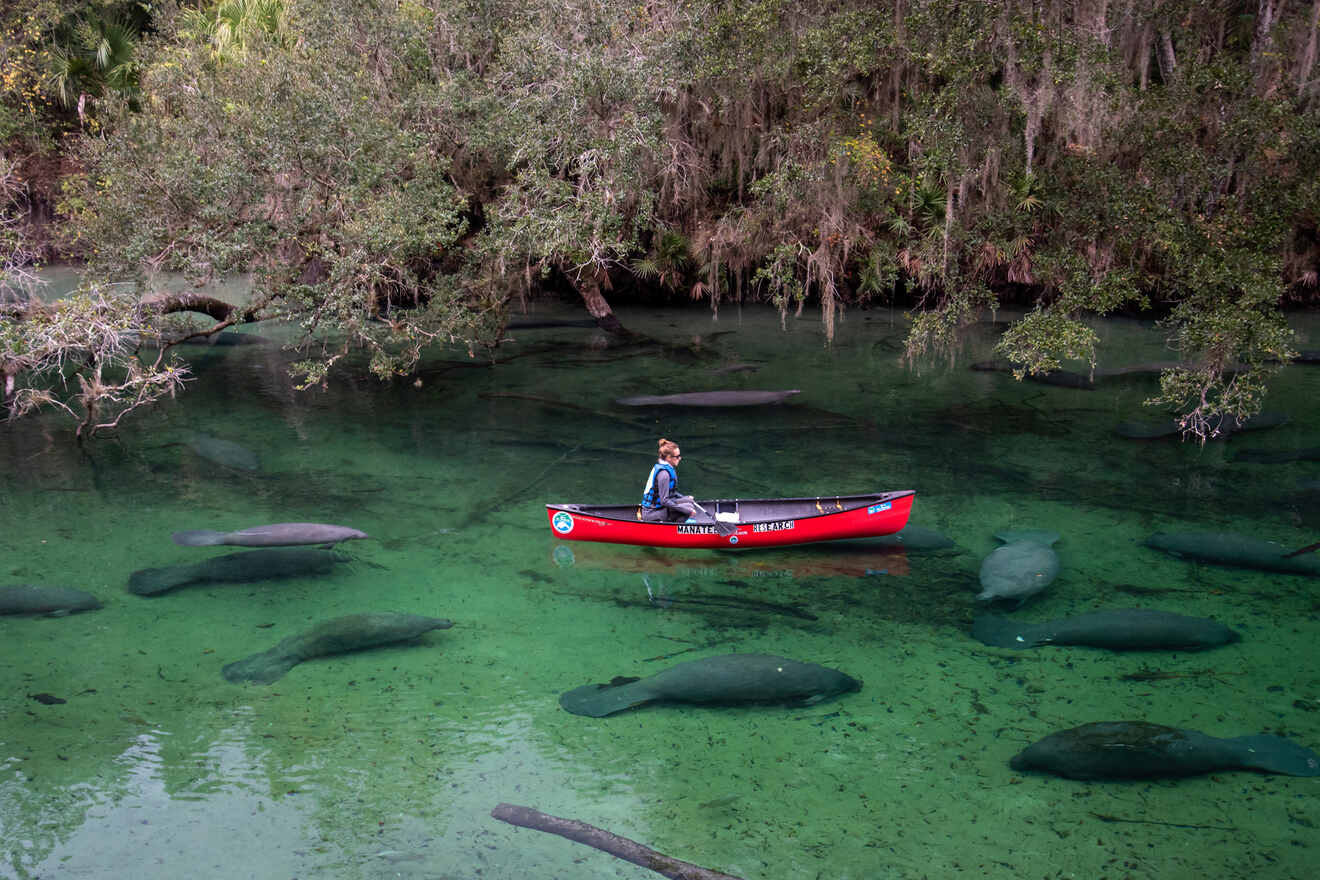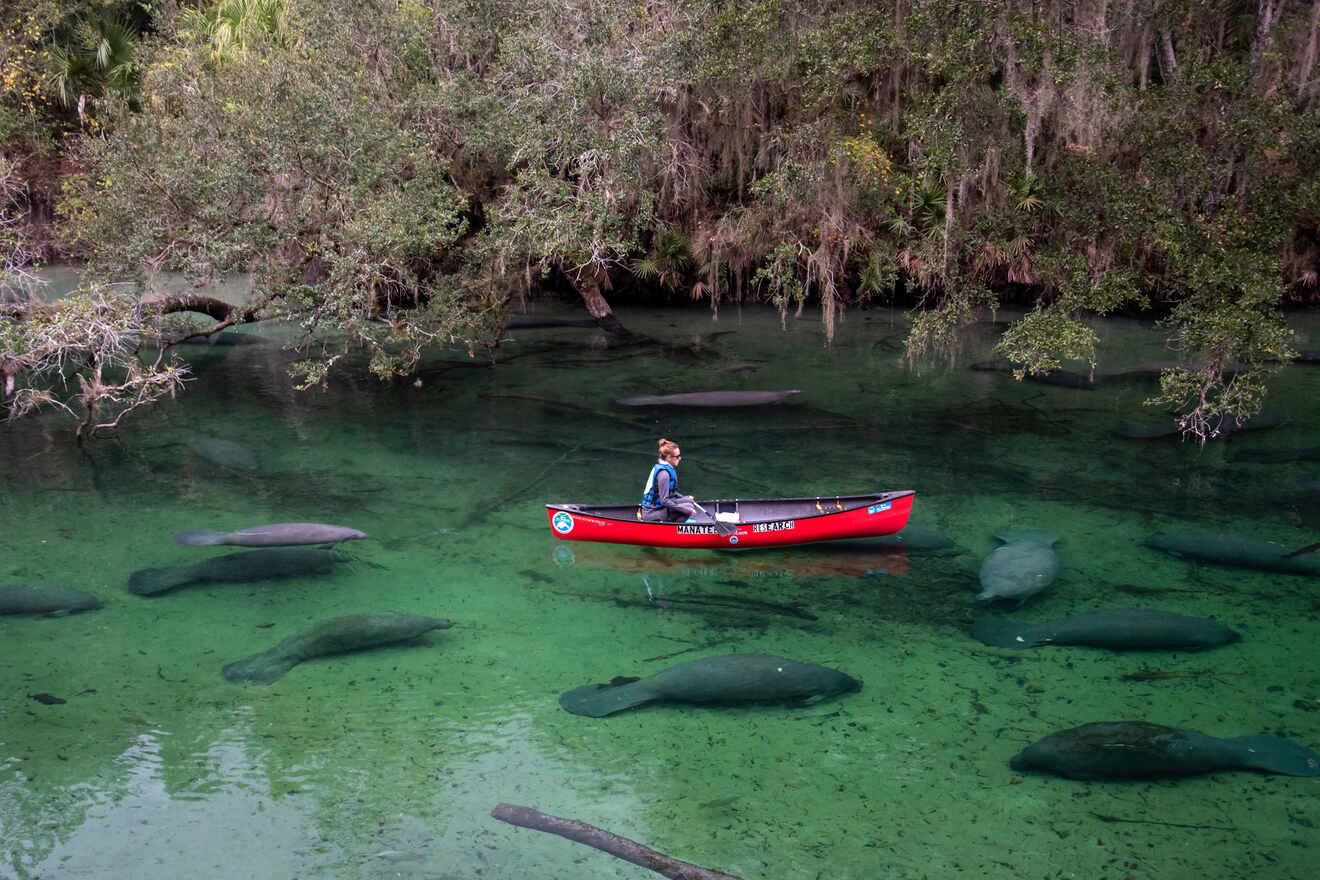 If you are starting your Florida road trip on the West Coast, say starting in Tampa and going to Cocoa Beach, this route will take you right through the center of the state, and you will be able to access all of these super fun attractions!
If you are not driving from the West Coast and find yourself staying in C. Florida, even better! You can take several days to visit all these incredible road trip destinations.
Here are a few of the places you should hit on your trip through C. Florida if you're starting around Orlando:
These are some incredible places to visit, and depending on what you are looking for, there is really something for everyone here.
Nature lovers will adore the local springs in the area, and foodies and theme park junkies will absolutely love Orlando's theme parks. Couples will love strolling around Lake Eola, surrounded by hundreds of swans, and possibly taking out a swan boat!
Looking for the best hotels around the area? Here are the best hotels near Disney World to plan your trip in advance!
Travel a bit north of Orlando and check out the beauty that Ocala has to offer, tons of freshwater springs, Ocala National Forest, Ziplining, going horseback riding, and checking out historic downtown!
Hidden gem in Ocala: Enchanted Oaks Farm and Lakehouse – this hidden gem is an adorable little farm complete with a wallaby and a zebra! Aside from the wildlife, there are magical little gnome-like houses you can stay in, as well as RVs you can rent out, a Lakehouse, an outdoor kitchen, and some of the most incredible views. This is a C. Florida gem!
Feel like checking out Gainesville at the end of your road trip? Just outside of the city center, you can visit Gilchrist Blue Springs, one of the most beautiful springs in Florida. Best of all? It doesn't get as packed as the other ones! I highly recommend checking out this spring, it is so stunning, and you will definitely not regret it especially if you take this glass-bottom guided eco kayak tour!
Lake Nona Wave Hotel is the place to beat if you're planning to stay near Orlando! There's an awesome pool, a delicious restaurant, and a beautiful sculpture garden so you can relax after a day of driving and exploring!
Book Your Stay at Lake Nona Wave
3. Cruise along Florida's East Coast from north to south!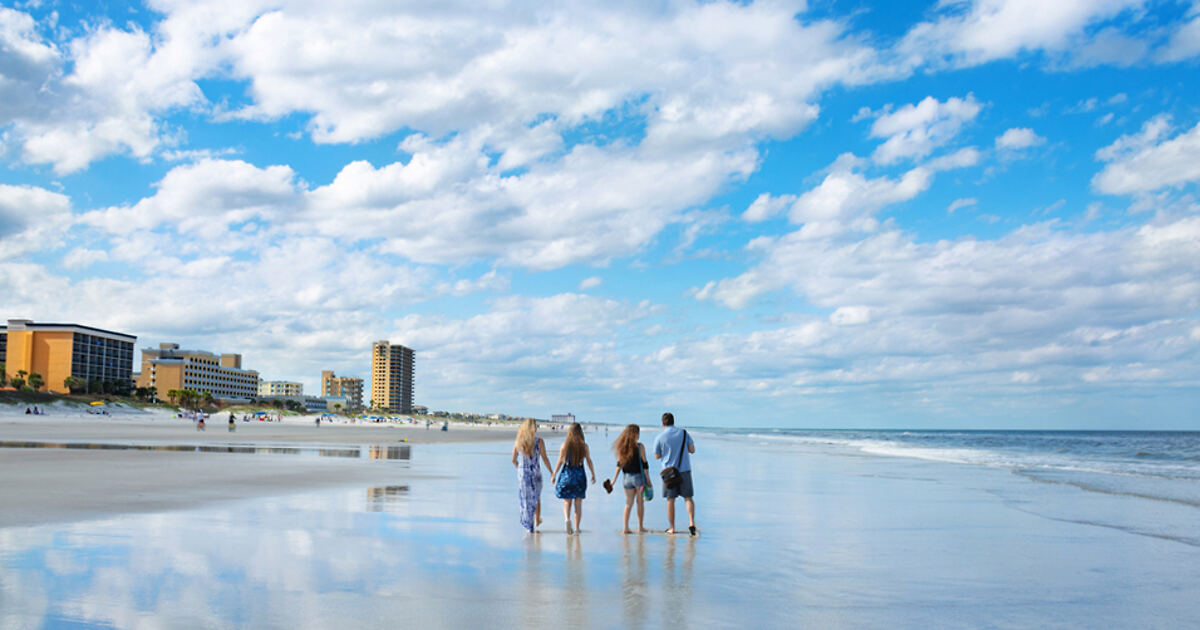 The Space Coast, Treasure Coast, Nature Coast, whatever you want to call it, Florida's East Coast is one of the best places for planning road trips in Florida!
All the way from North Florida to South Florida, there are so many incredible destinations along Florida's East Coast.
Here are some of the highlights you don't want to miss on the East Coast:
From Jacksonville Beach and Florida's Space Coast to tropical South Florida, there are endless road trips and possibilities for adventure along Florida's East Coast.
3.1 Start your journey in North Florida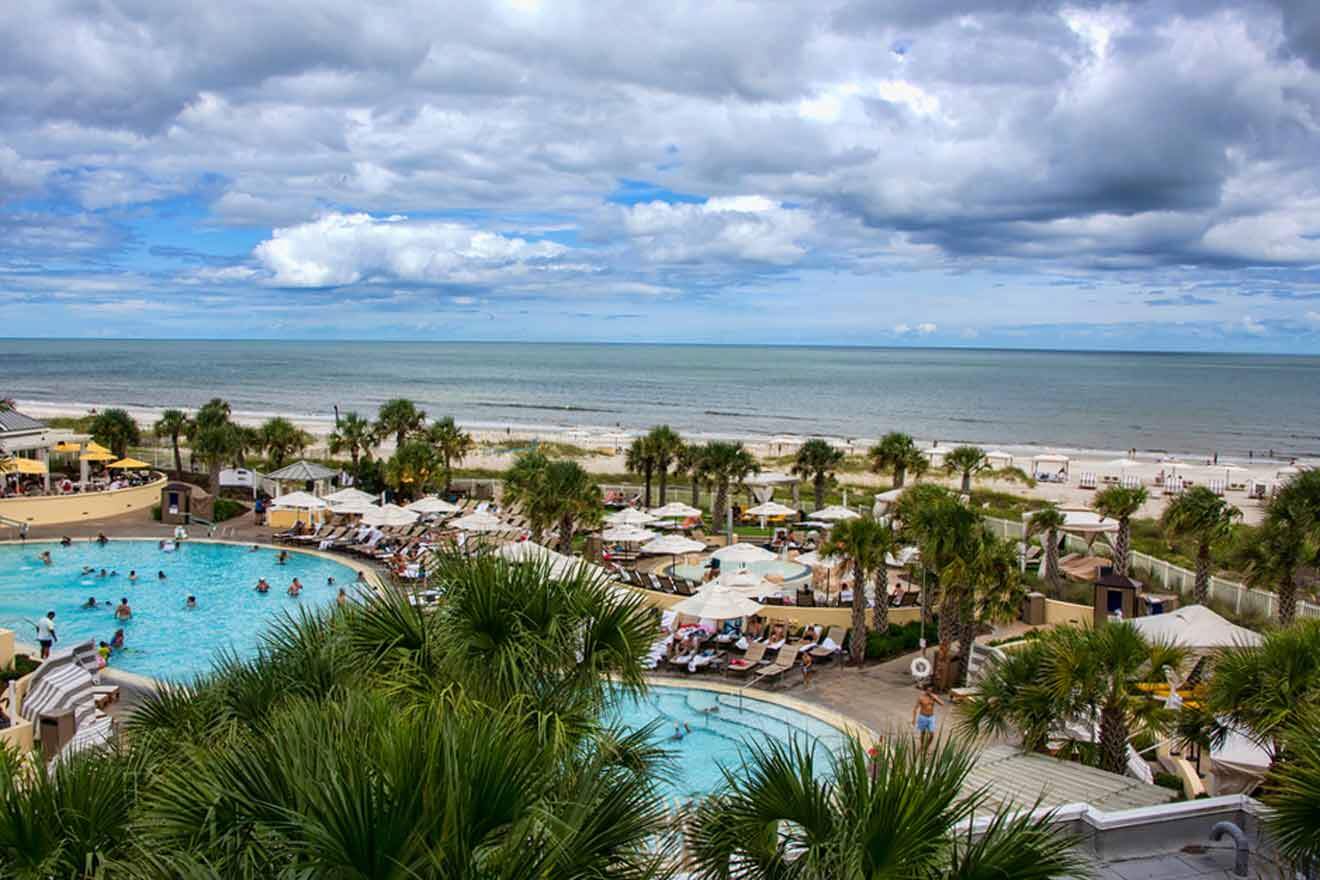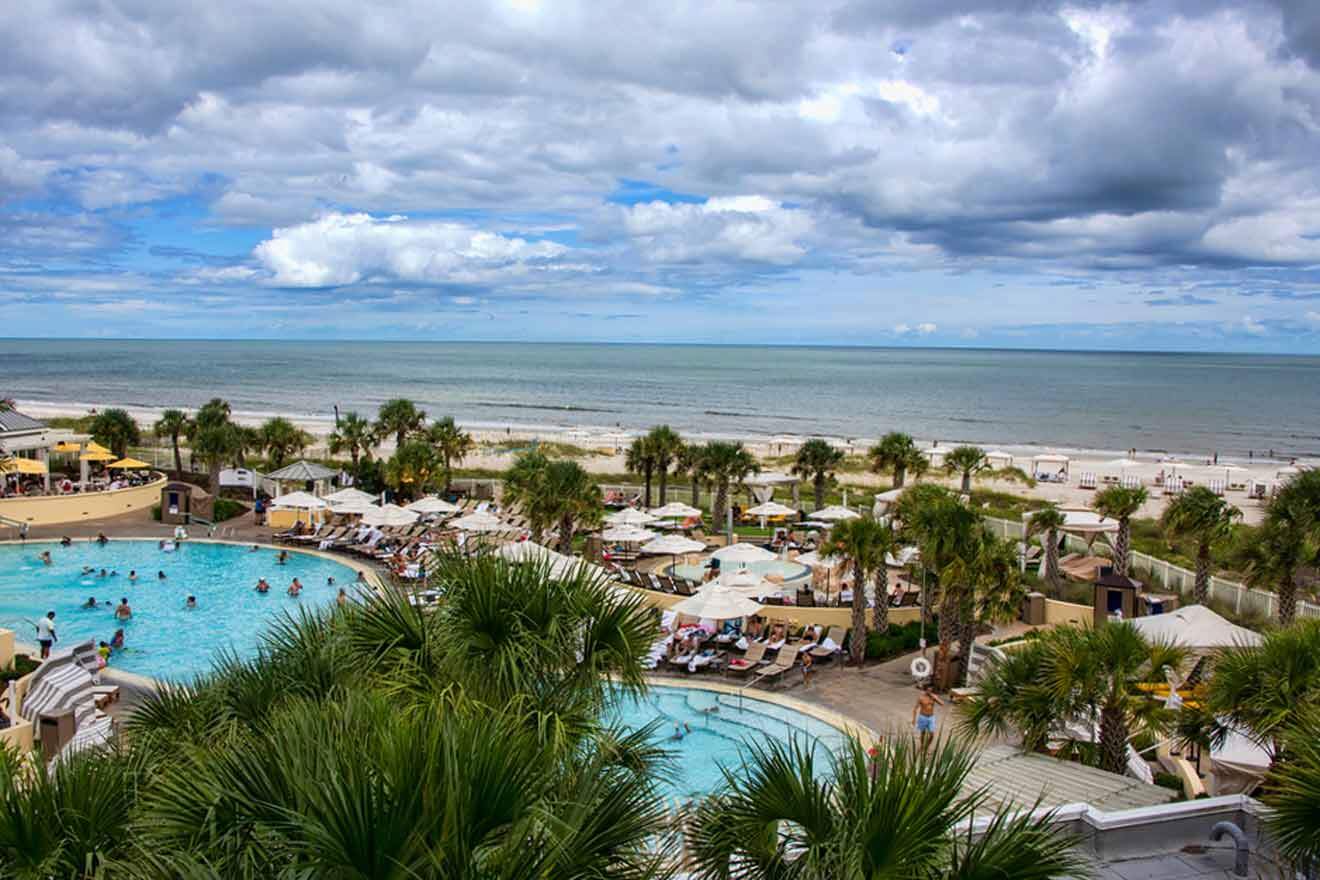 Amelia Island, in North Florida, is one of northern Florida's East Coast gems! This quaint little island near Jacksonville is filled with charm and well worth the trip.
Just south of Jacksonville, St. Augustine is one of the oldest cities in all of the US! St. Augustine is a great stop you should include on your road trip and is filled with historical significance and unbeatable charm.
Of course, the oldest city in the US has some seriously spooky tales and ghostly lore. Check out this super awesome ghost tour in St. Augustine! You'll hear all the haunted tales that will definitely spook you!
Book Your St. Augustine Ghost Tour
3.2 Drive down through Central Florida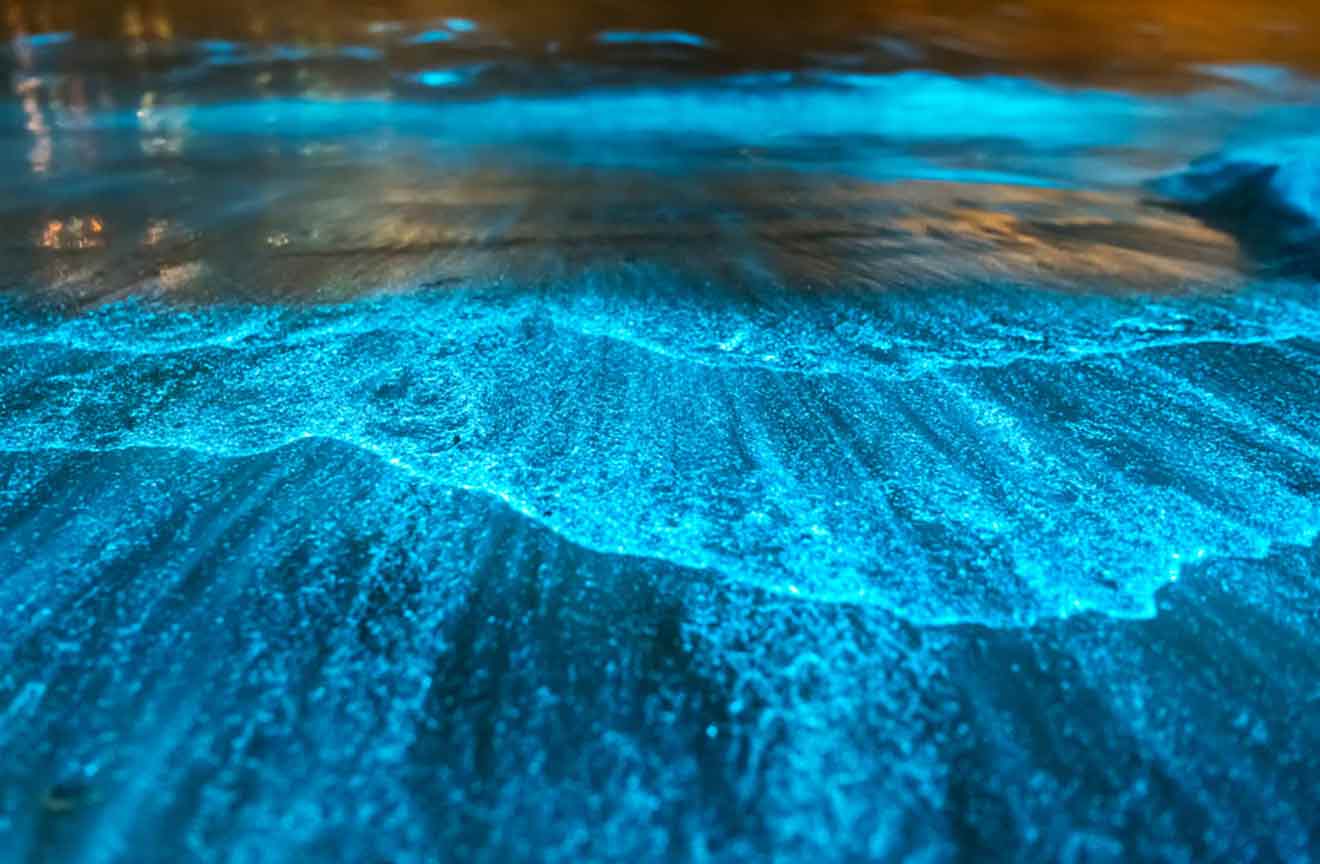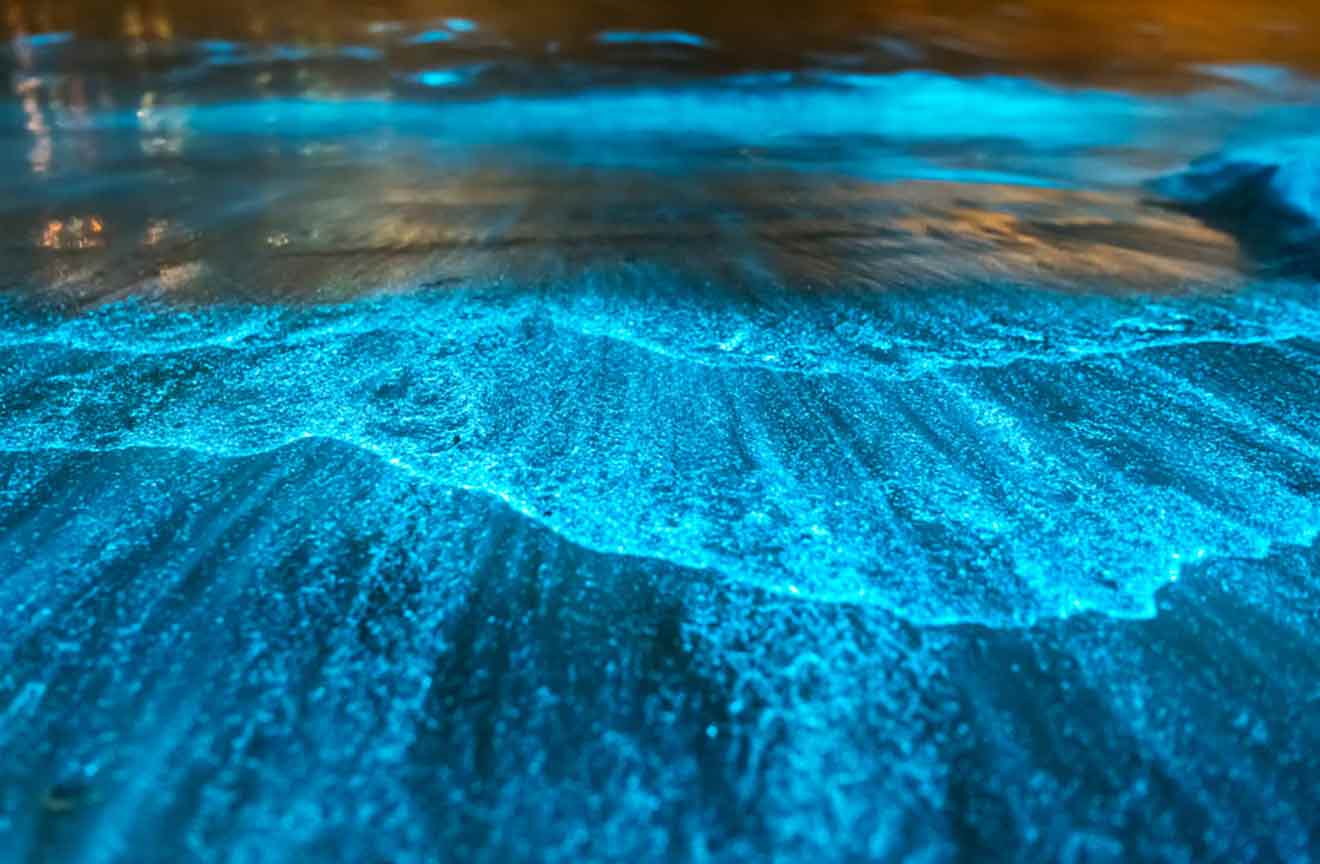 Along Florida's Space Coast, the coastline around C. Florida, there are so many fun activities!
First and foremost, you have Cocoa Beach, a historical beach town that is a fav of local Orlandoans. The Cocoa Beach pier is a beautiful sight, and there are so many fun things to do in the area.
Cocoa Beach is the closest beach to Orlando and makes for an excellent stop on your Florida road trip. The best family activity near Cocoa Beach is checking out Kennedy Space Center!
Kennedy Space Center is located right next to Cocoa Beach and is a great activity to do with the family in Florida. Merritt Island is a gorgeous place near Kennedy Space Center where you can get a killer view of the space center as well as go on some epic adventures!
Merritt Island is one of the most biodiverse estuaries in the country. Check out this super incredible kayak tour where you can see naturally occurring bioluminescence in Merritt Island! Keep your eyes peeled for dolphins!
Book Your Bioluminescence Kayak Tour
3.3 Head on down to South Florida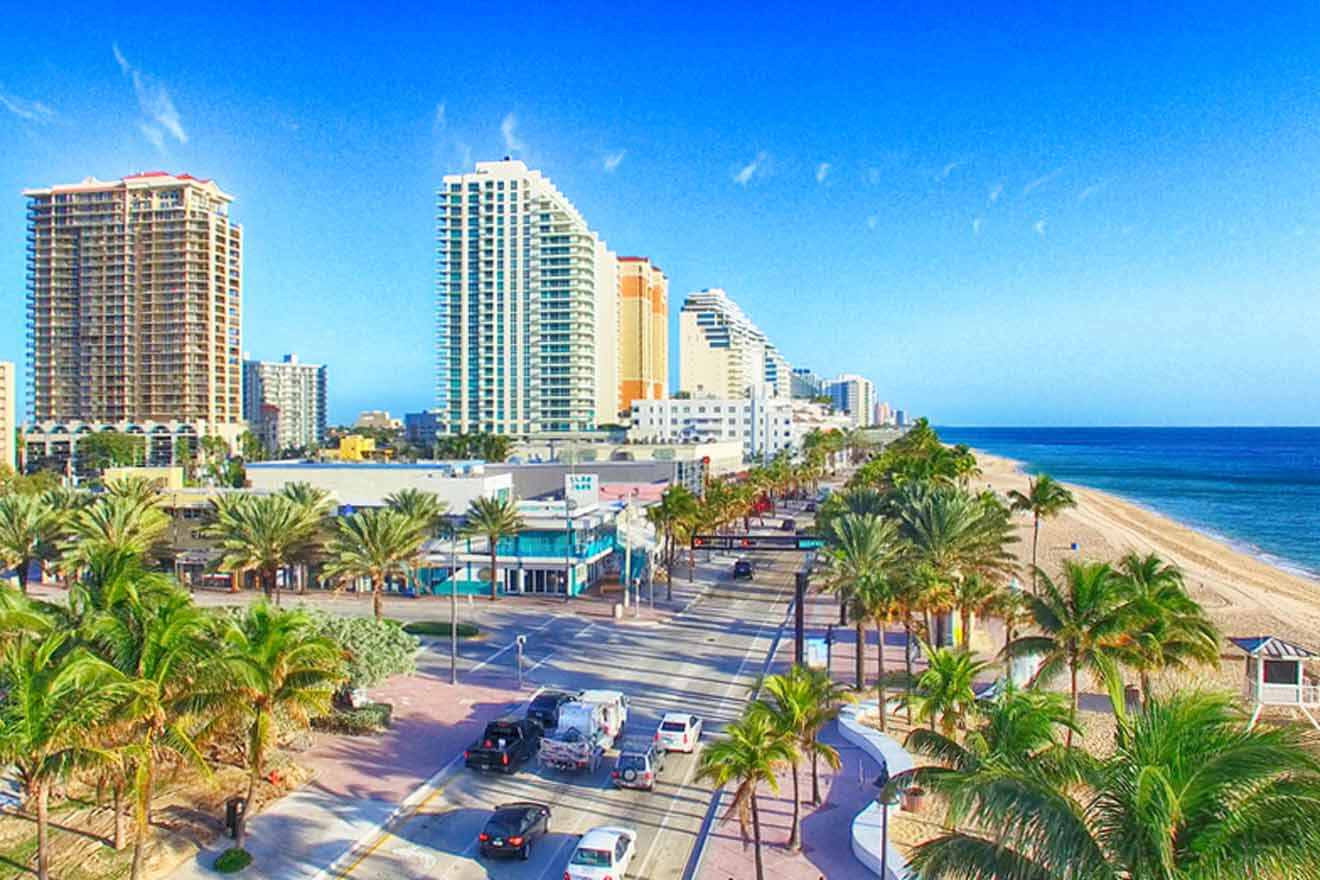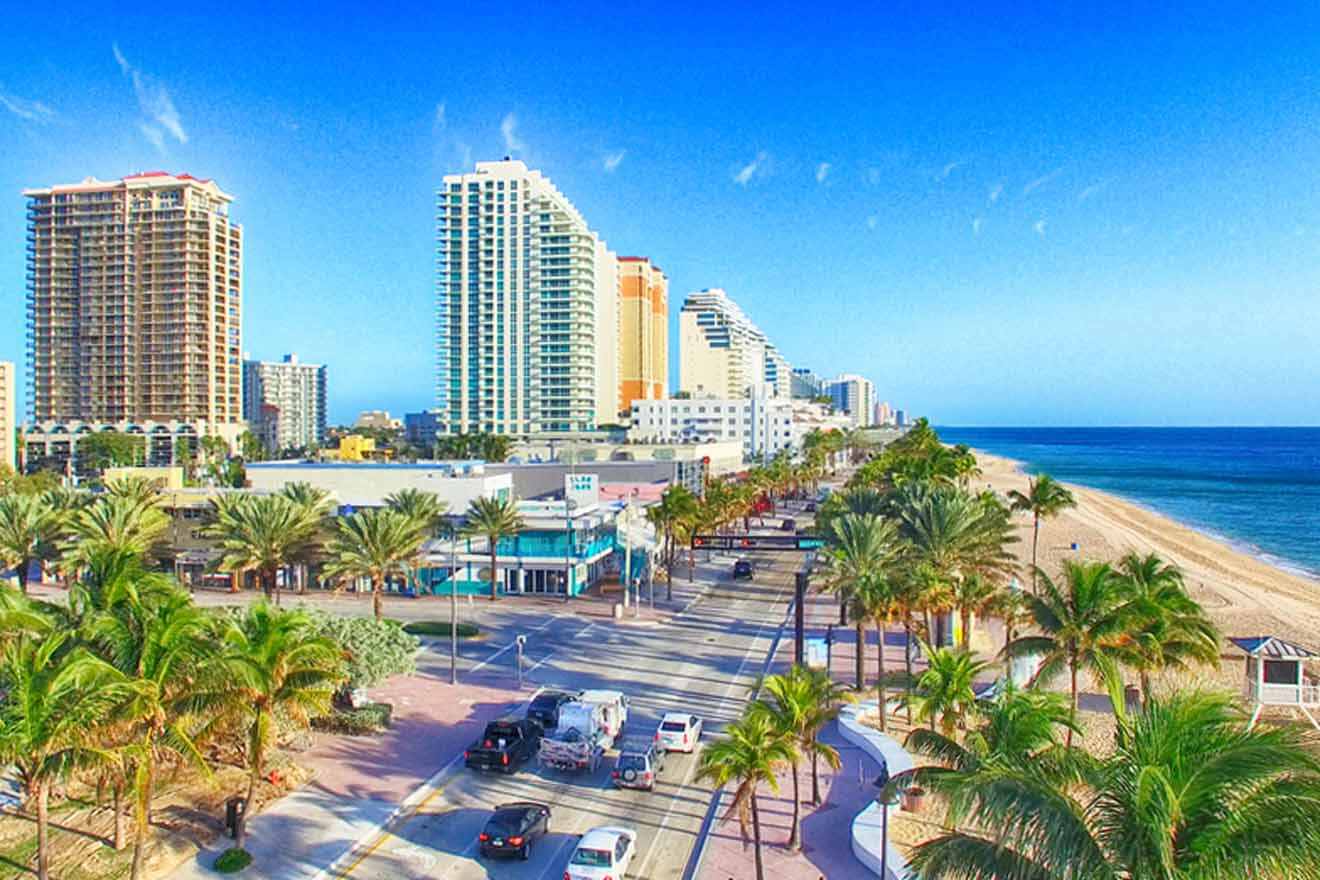 Heading further south, Vero Beach, Palm Beach, West Palm Beach, Fort Lauderdale, and Miami are all some of the most fun and exciting beaches, with so much to do on Florida's Atlantic Coast! The Indian River is also a magnificent tidal estuary where freshwater meets the ocean and makes for a super fun place to explore via paddle or kayak!
Fort Lauderdale has some really amazing beaches and some delicious food. For waterside dining and occasional manatee sightings, check out YOT Bar & Kitchen Fort Lauderdale.
Between Jacksonville and Miami, there are so many fun tours and activities to do that will make for the most memorable experience for your Florida road trip itinerary! If you're stopping off for the night in Miami, check out our post on the best places to stay in Miami!
Hidden Gem #1: On your way down Florida's Atlantic Coast, once you get to the West Palm Beach area, make sure you check out Hobe Sound Beach. It is one of the most beautiful beaches on the East Coast!
Hidden Gem #2: Mckee Botanical Gardens in Vero Beach
Hidden Gem #3: Oleta River State Park for some incredible kayaking and water activities in Southeast FL!
Here's an awesome place to stay in West Palm Beach if you're stopping off there!
Book Your Stay in West Palm Beach
4. Drive down the Emerald Coast from Tampa to Naples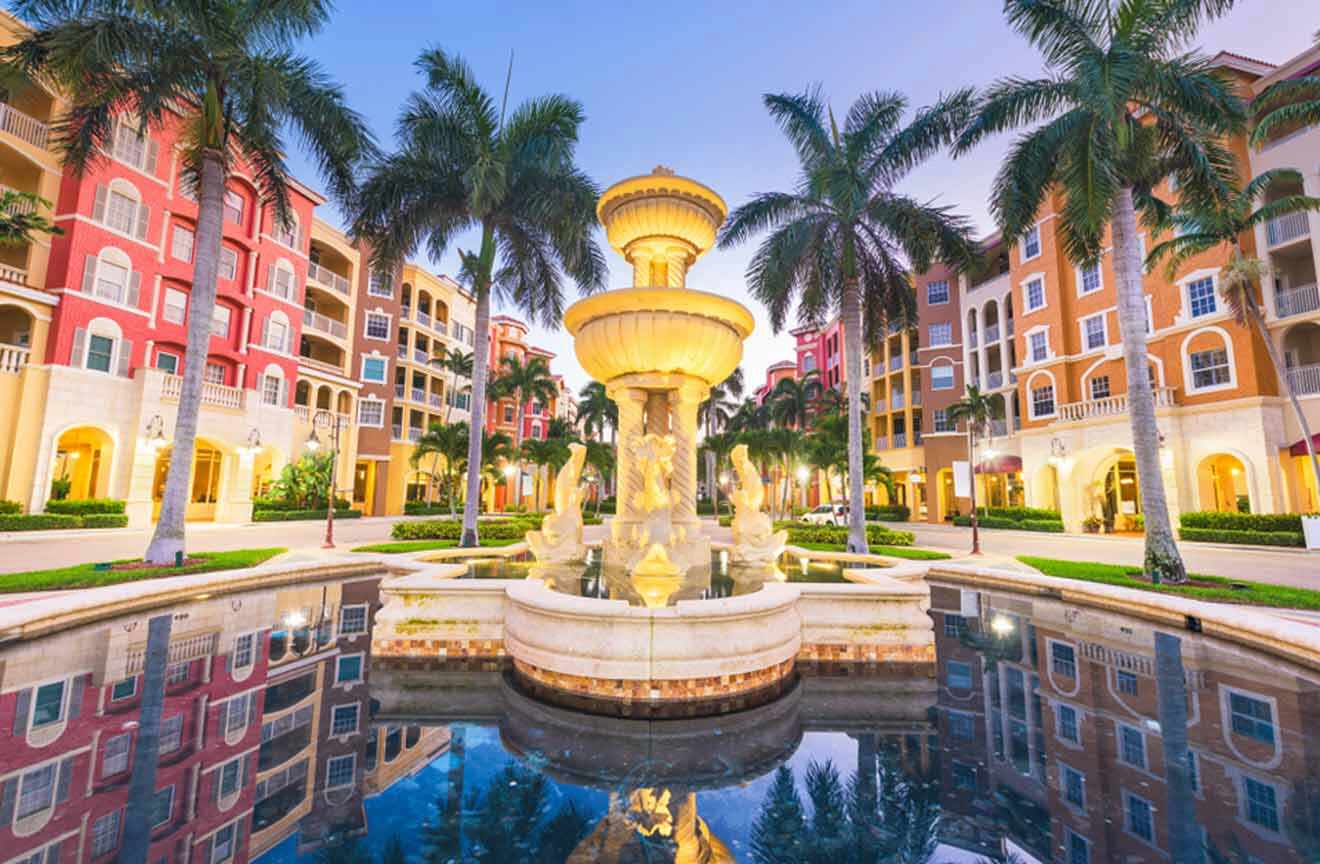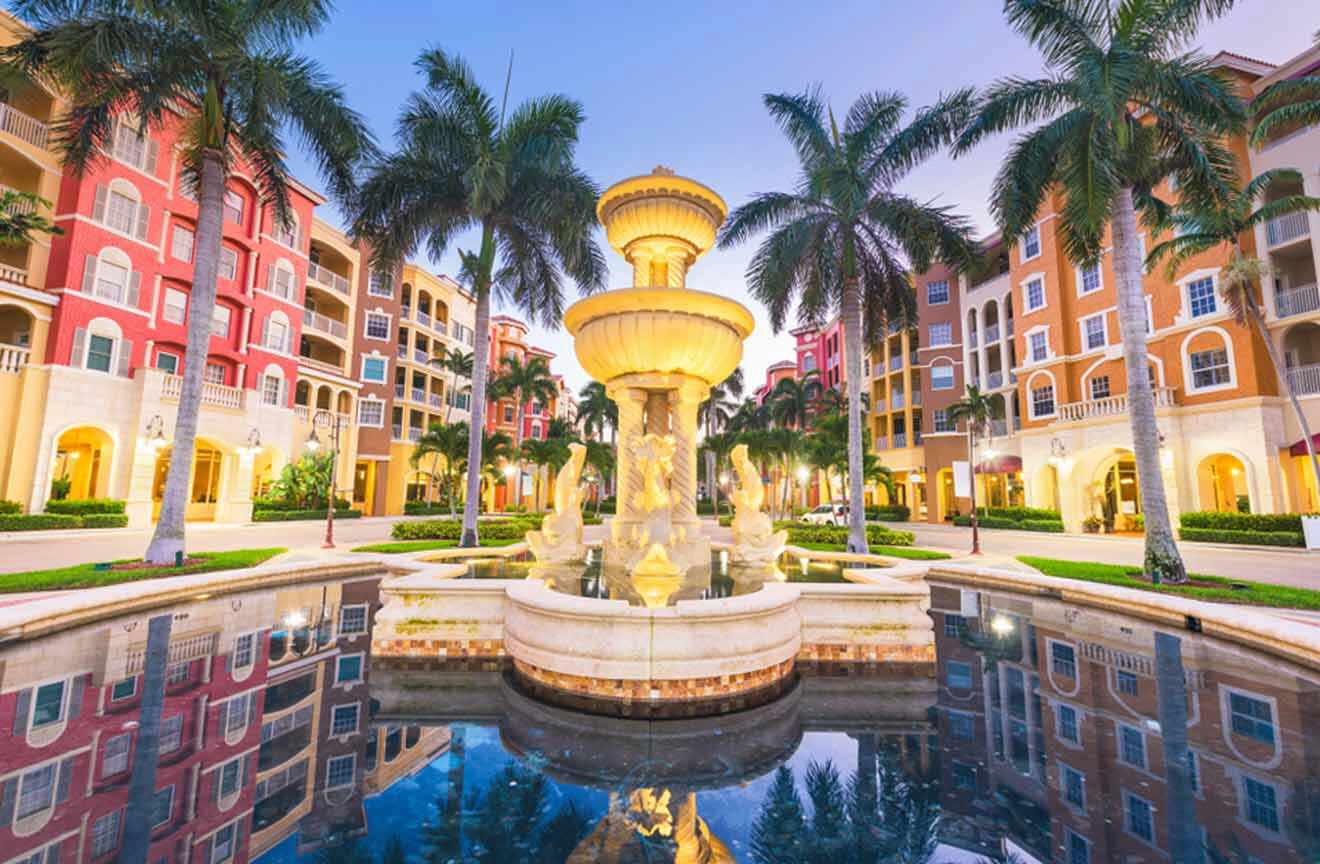 Known as the "Emerald Coast," the drive from Tampa to Naples is one of the most beautiful road trips in Florida!
Offering a different kind of charm than the East Coast of Florida, the West Coast, along the Gulf of Mexico, provides turquoise, warm, shallow waters, and a different more tropical vibe.
Here are some of the highlights of this Florida road trip:
The West Coast of Florida is a really special place to plan a road trip. There are endless things to do from Tampa all the way down to the most southern point on the West Coast, Naples.
If you happen to be staying north of Tampa or want to take a road trip from Tampa to Destin, Crystal River is a lovely hidden gem on Florida's West Coast. It is one of the best places to see manatees in Florida!
Crystal River has lots of different springs to explore, incredible places to get classic Florida seafood, and lots of nature adventures to offer roadtrippers!
If you're starting your journey in Tampa and looking for things to do in Tampa with kids, definitely make sure you check out Busch Gardens. A perfect Florida theme park adventure with acres of incredible wildlife your family will absolutely love!
This Tampa Bay CityPASS allows you to check out all of the incredible Tampa Bay theme parks at a great price!
Don't forget to check out the many museums, art galleries, excellent food, and some speakeasies! Ybor City is a really incredible location in Tampa and well worth checking out!
Here you can get a taste of the authentic culture interwoven in the very fabric of Tampa.
Next, nearby Tampa, check out Clearwater and St. Pete and see some incredibly clear and gorgeous tropical waters.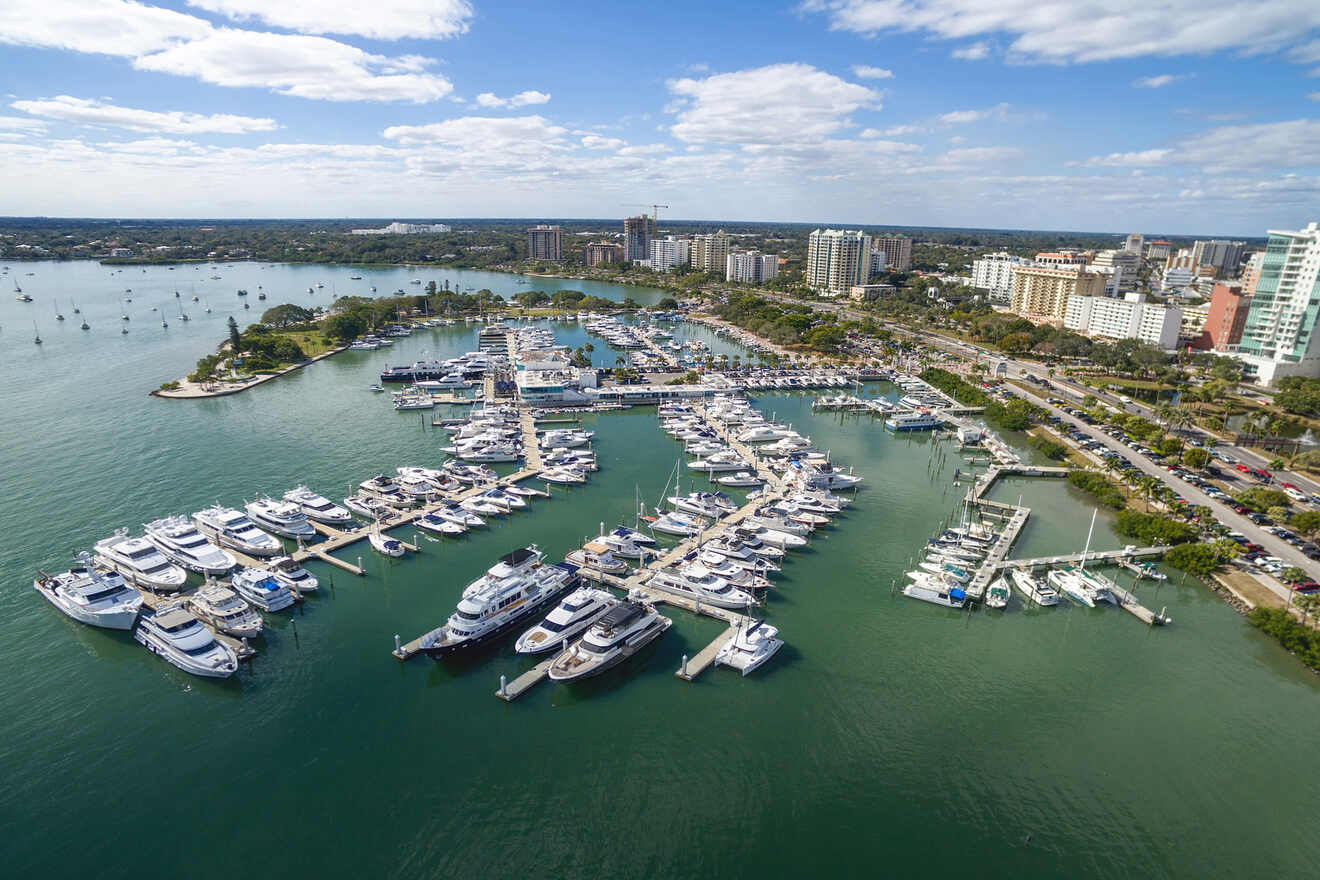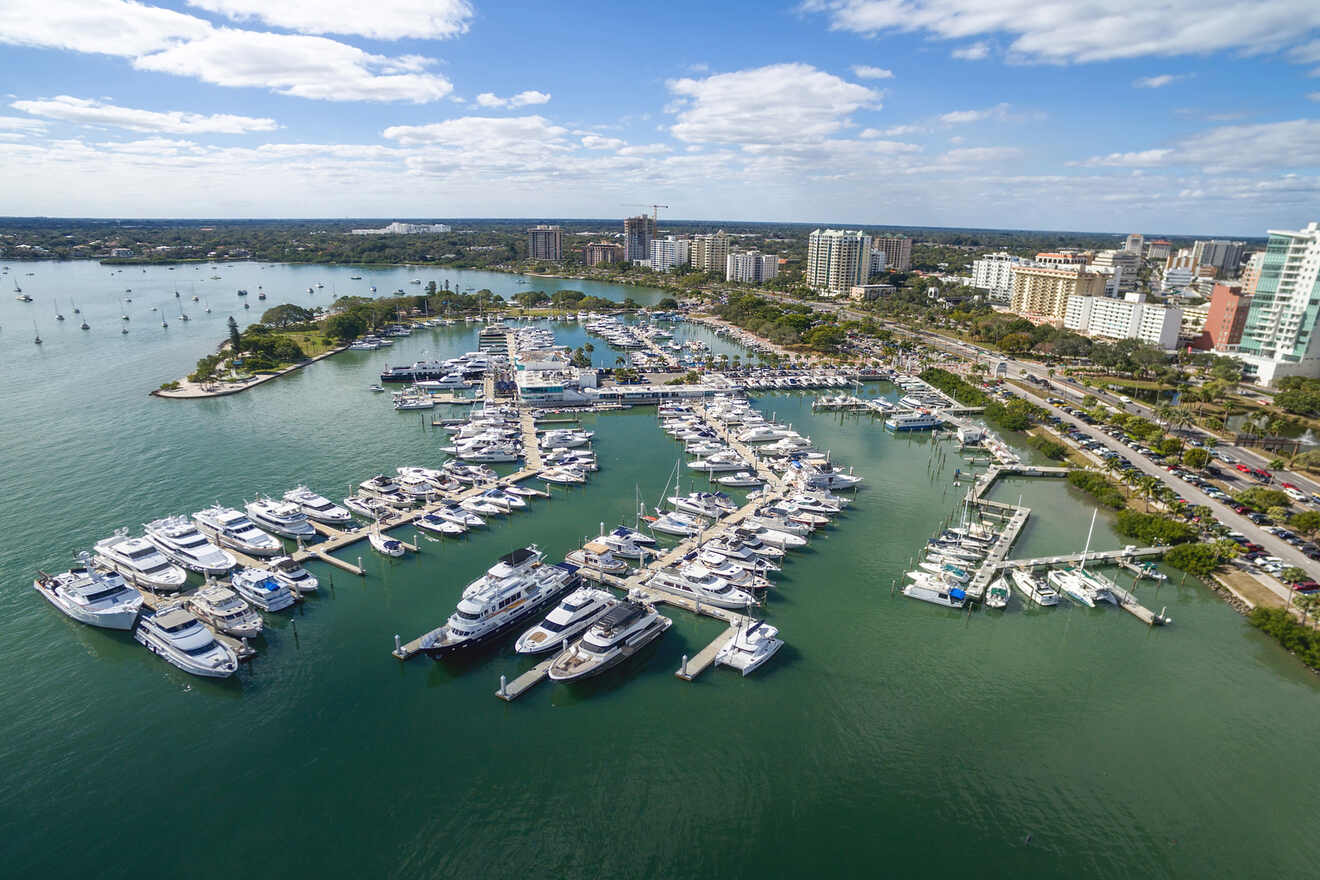 Then head south to the Sarasota area and check out gorgeous Marco Island, Beer Can Island, Sanibel Island, Siesta Key, and Anna Maria Island. These are some of the most beautiful parts of the West Coast of Florida, with gorgeous beaches, barrier islands, incredible places to eat, state parks and wildlife sanctuaries, and so much more!
Cape Coral, near Marco Island, is home to the famous otherworldly domes on stilts. An abandoned luxury vacation stay has turned into a beautiful site to see and a super fun activity for adventurous kayakers to see up close!
Don't miss out on Fort Myers and Fort Myers Beach for some incredible views and fabulous beaches!
As you make your way down the coast and end up in Naples, make sure you check out the Everglades, Big Cypress National Preserve, Shy Wolf Sanctuary, the beaches, golf courses, incredible food, and so much more!
Don't forget to book your Tampa Bay CityPASS to get great deals on all the attractions in Tampa!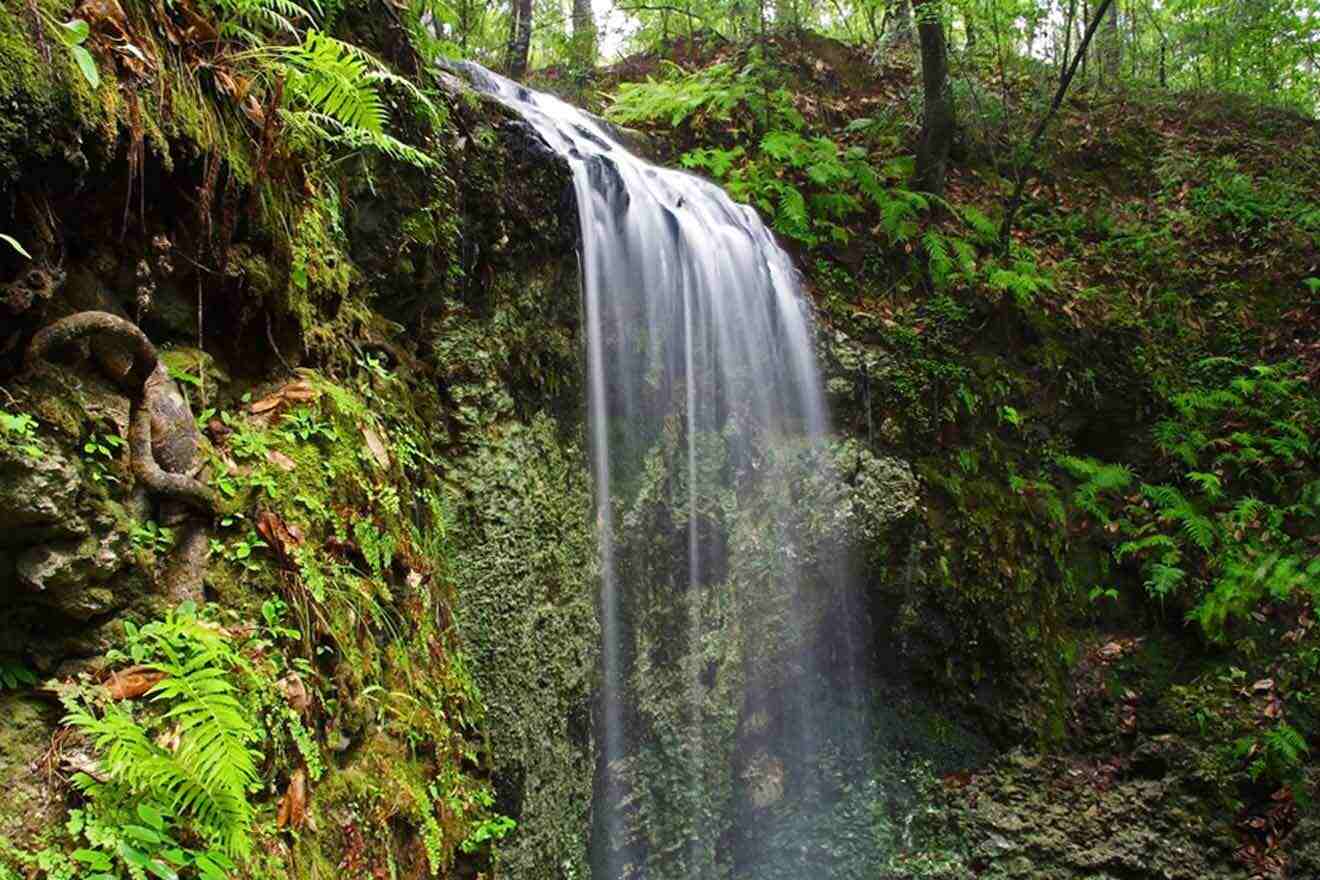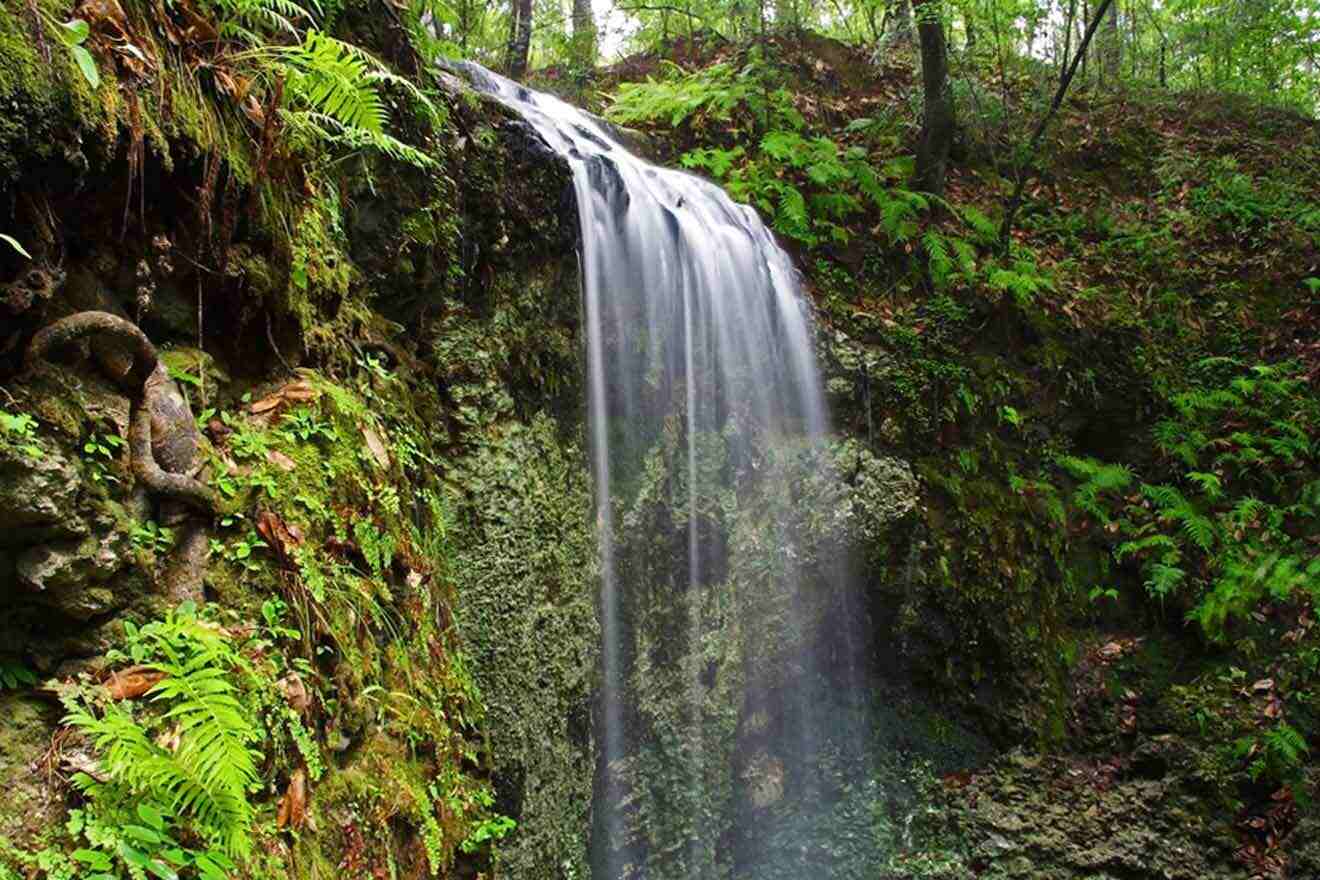 This incredible Florida road trip takes you all around central and north Florida to discover some of Florida's hidden waterfalls!
Many people do not know that Florida is home to quite a few natural waterfalls. While this may come as a surprise to many, given Florida's flat nature, the Sunshine State is home to some incredible natural waterfalls and even white water rapids!
Waterfall highlights for your road trip in Florida:
While Florida may not be known for its waterfalls, this is the ultimate Florida road trip experience. Whether you are a Florida local, just visiting, or an avid Florida adventurer, this Florida road trip is one you are not going to want to miss out on!
Start your journey in the Florida Panhandle in the Chipley area at Falling Waters State Park! This incredible waterfall falls in an enchanting state park with a lush forest, towering trees, and Florida's largest waterfall, over 73 feet in length!
Then head to Bristol and explore the Torreya State Park and check out Weeping Ridge Trail to see another epic Florida waterfall.
The next three waterfalls are pretty close to one another, which makes for a super smooth and easy road trip. Check out the disappearing waterfall at Camp Branch Conservation Area. A waterfall that disappears into a sinkhole!
Then explore Big Shoals State Park for 80 ft bluffs and white water rapids! Experienced white water rafters can enjoy all types of water adventures here.
Next, just south of Big Shoals, is Falling Creek Falls, another incredible natural waterfall in Florida.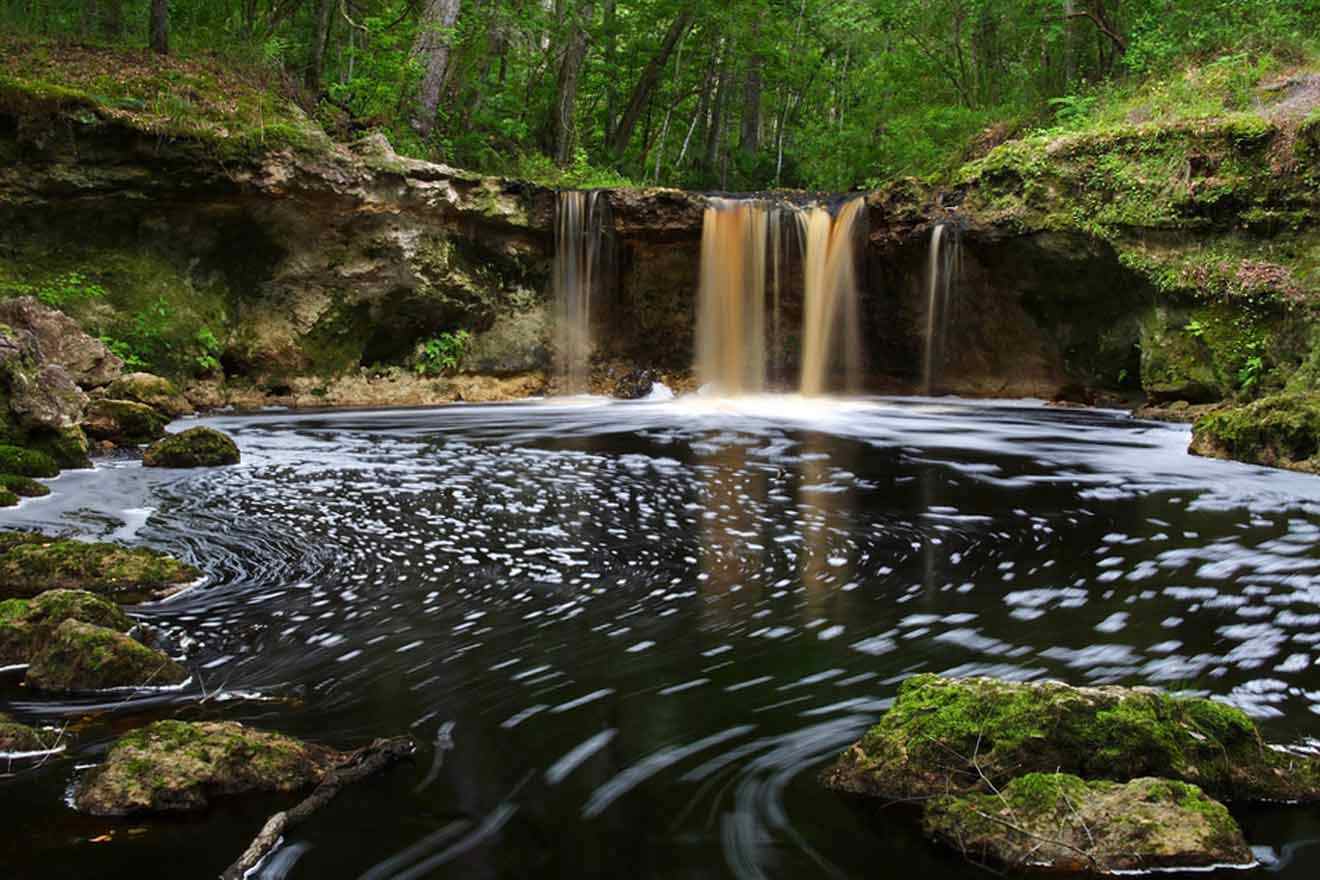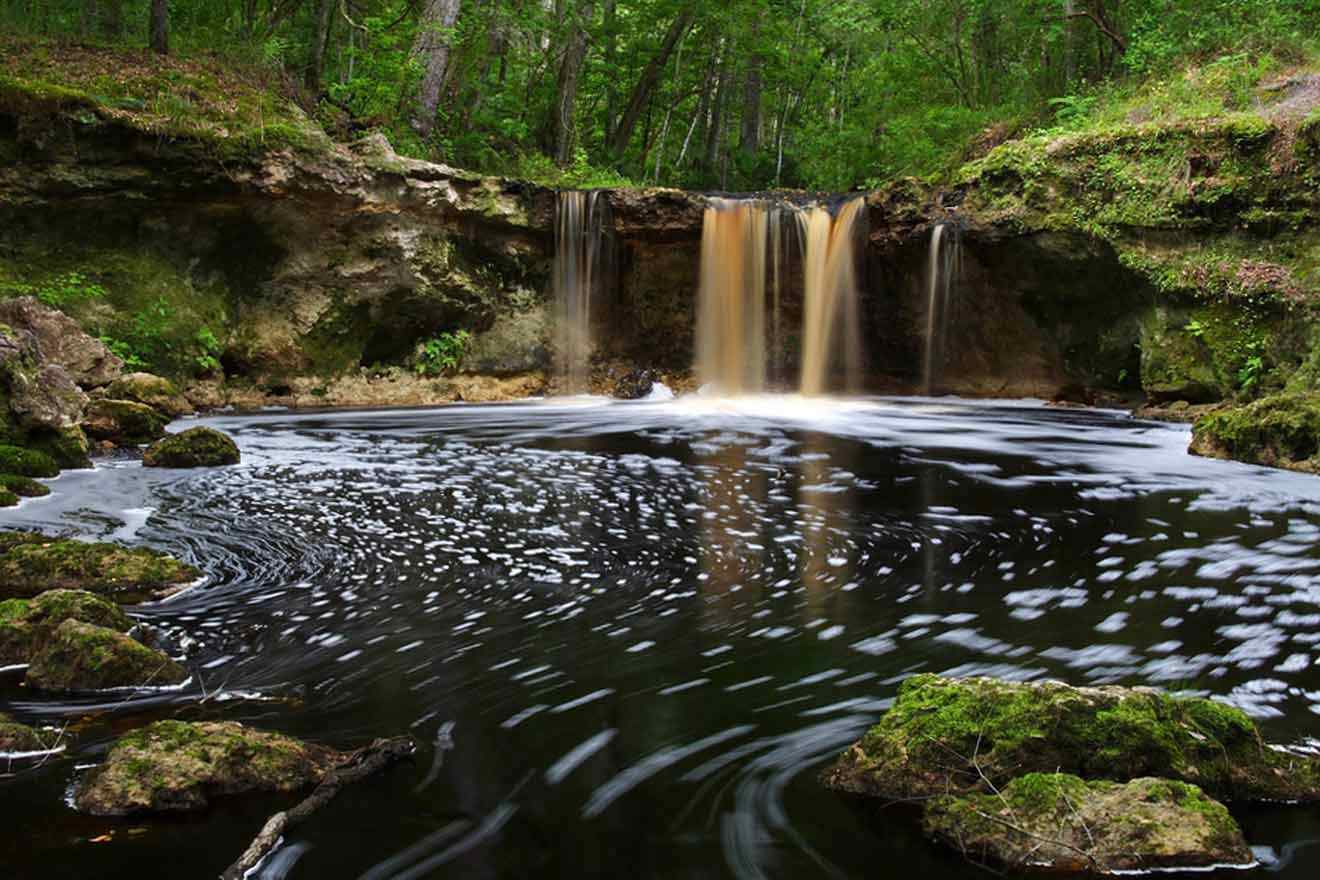 After you visit these incredible waterfalls, as you begin to pass through Gainesville, you will find the ethereal and otherworldly Devil's Millhopper Geological State Park. Naturally created by a series of sinkholes, one of the coolest parts of this Florida Road trip is you can actually stand in a sinkhole next to a waterfall!
Lastly, end your road trip with a splendid and refreshing reward in Ocala and check out Rainbow Springs. Not only will you be able to take a dip in some of the most beautiful clear freshwater you have ever seen, but there are six waterfalls here!
While these waterfalls are man-made, as you meander through the paths and view these incredible falls, made with repurposed spring water, it is well worth checking out.
The trails here are stunning and the views of the water with palm trees, ferns, and lots of diverse foliage and wildlife, this is the perfect way to end your Florida waterfalls road trip.
Check out this incredible VRBO listing with a screened-in pool in Ocala! Once you've finished your trip around the waterfalls you'll be glad to have this amazing haven waiting for you!
6. Go on a scenic hiking road trip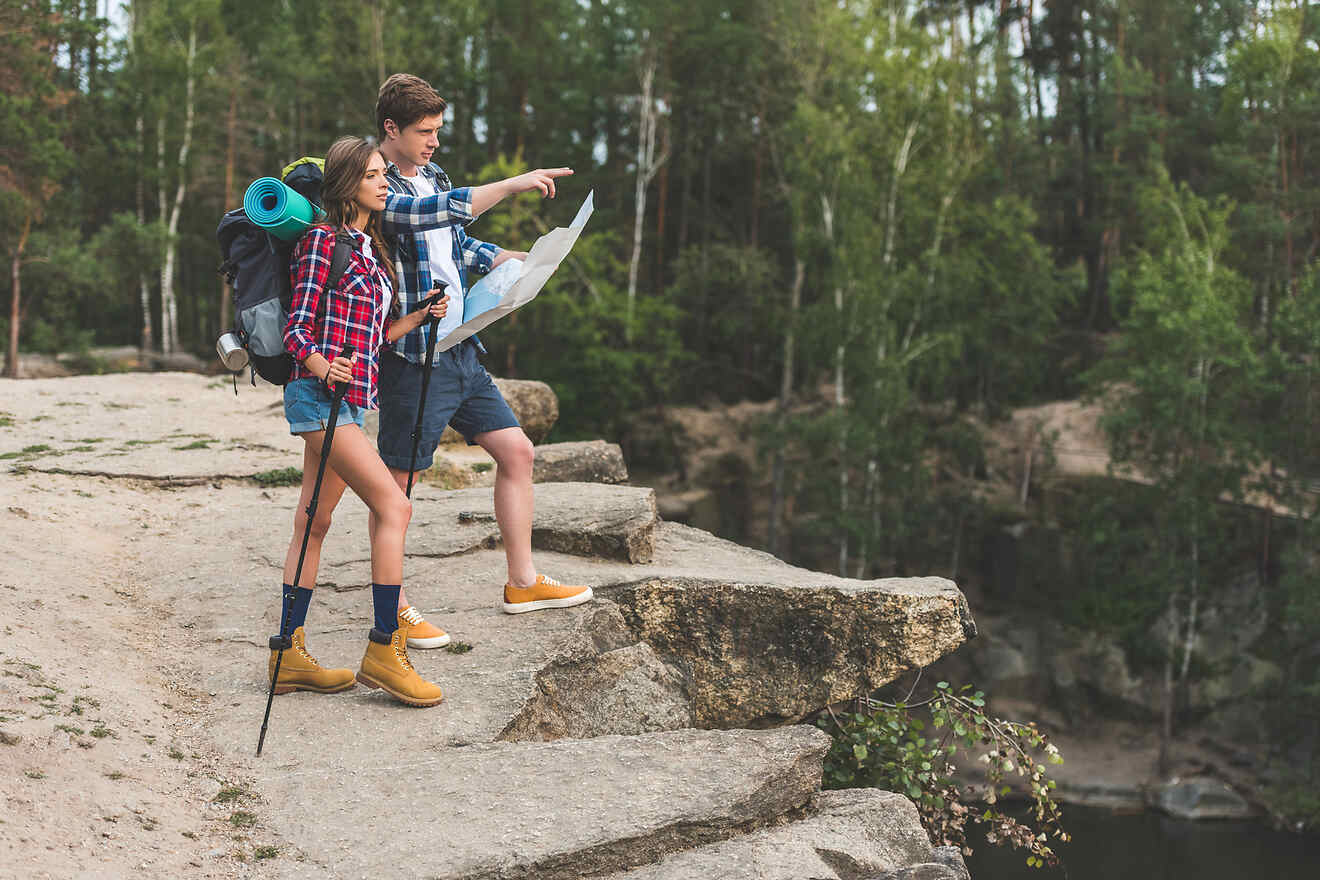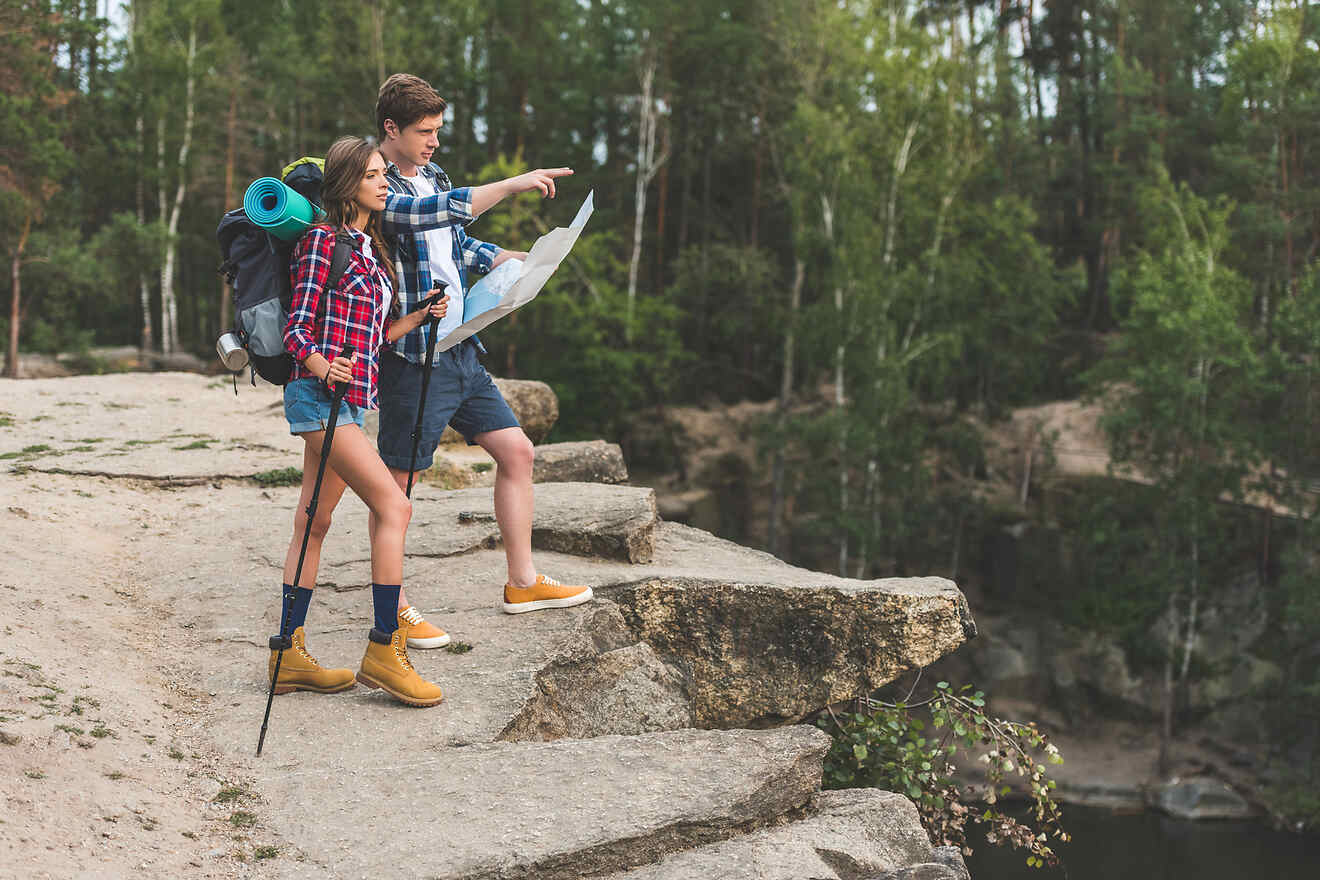 Florida is home to some incredible hiking trails with all different kinds of landscapes and views.
From tropical Caribbean hiking in the keys to hiking through the lush wood of C. Florida, seeing waterfalls in North Florida, and whitewater rapids, Florida really has so much to offer.
While Florida may not have the highest elevation in all of the US, it has some serious views, incredible biodiversity, and various unique landscapes to explore!
Some of the best highlights of this Florida Road Trip:
This scenic hiking road trip starts near Jacksonville and ends around Jupiter, Florida. This road trip is designed to take you to some of the most beautiful hiking destinations in the Sunshine State!
These are some of the most beautiful places to hike in Florida, and for nature lovers, this is one of the best Florida road trips.
Starting in Jacksonville, begin your journey at Big Talbot Island. Take the Black Rock Trail directly to the beach and experience some of the most beautiful views you have ever seen!
Here, you will see sun-bleached, dried trees that give the effect of an incredible boneyard! This is a beautiful and picturesque Florida experience that will stay with you forever. Boneyard Beach is an excellent photography destination and a place to take in some gorgeous views.
Next up is Prairie Paynes Loop Trail in Gainesville. Here, you can see wild horses and wild bison roaming free along miles and miles of prairie.
Located in Paynes Prairie, this is one of the darkest places in the United States due to low light pollution, which makes it an incredible opportunity for unique star gazing.
If you're feeling up to it, drive down to Dade City and attempt to hike the 4-day, 39-mile trail known as the Citrus Hiking Trail!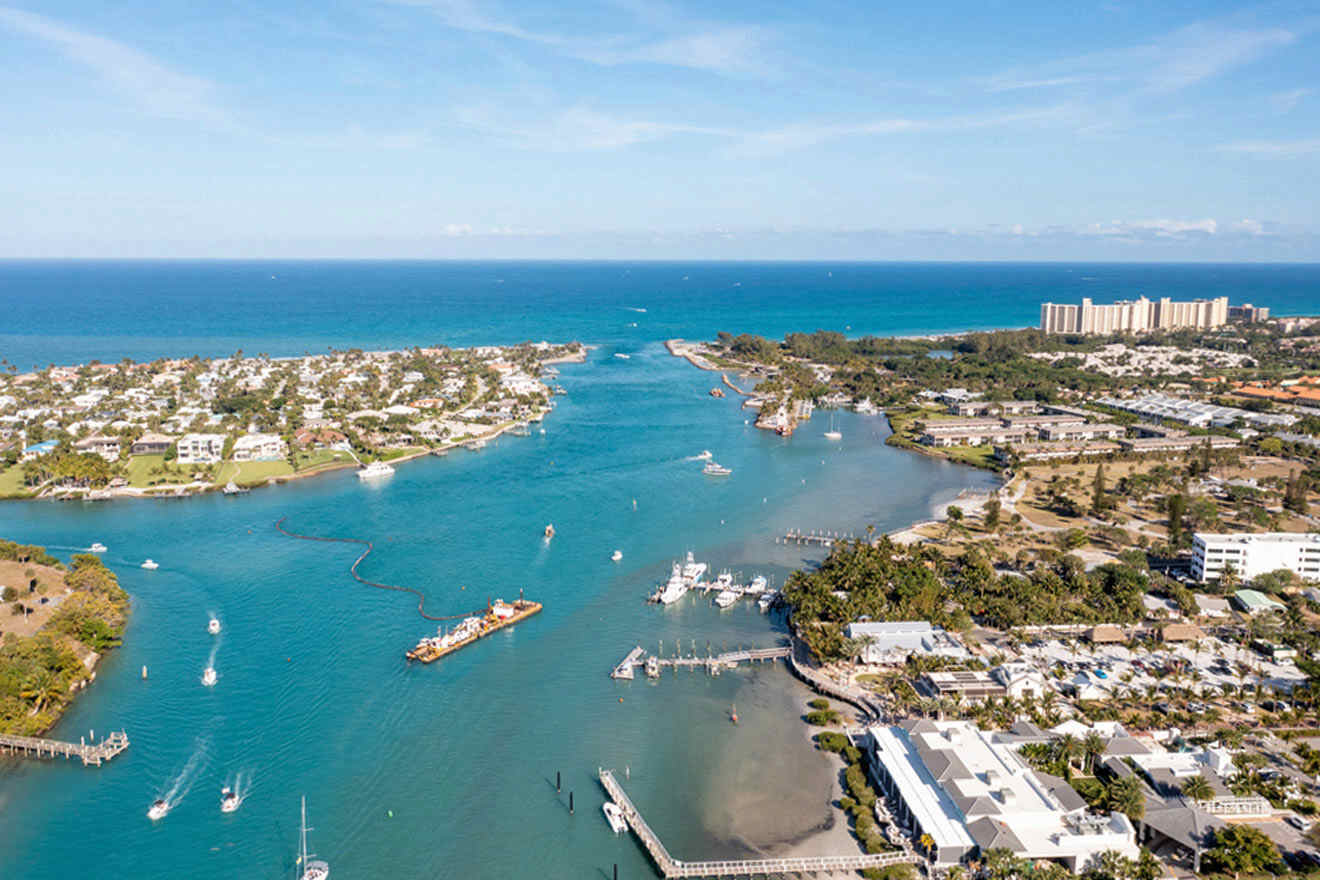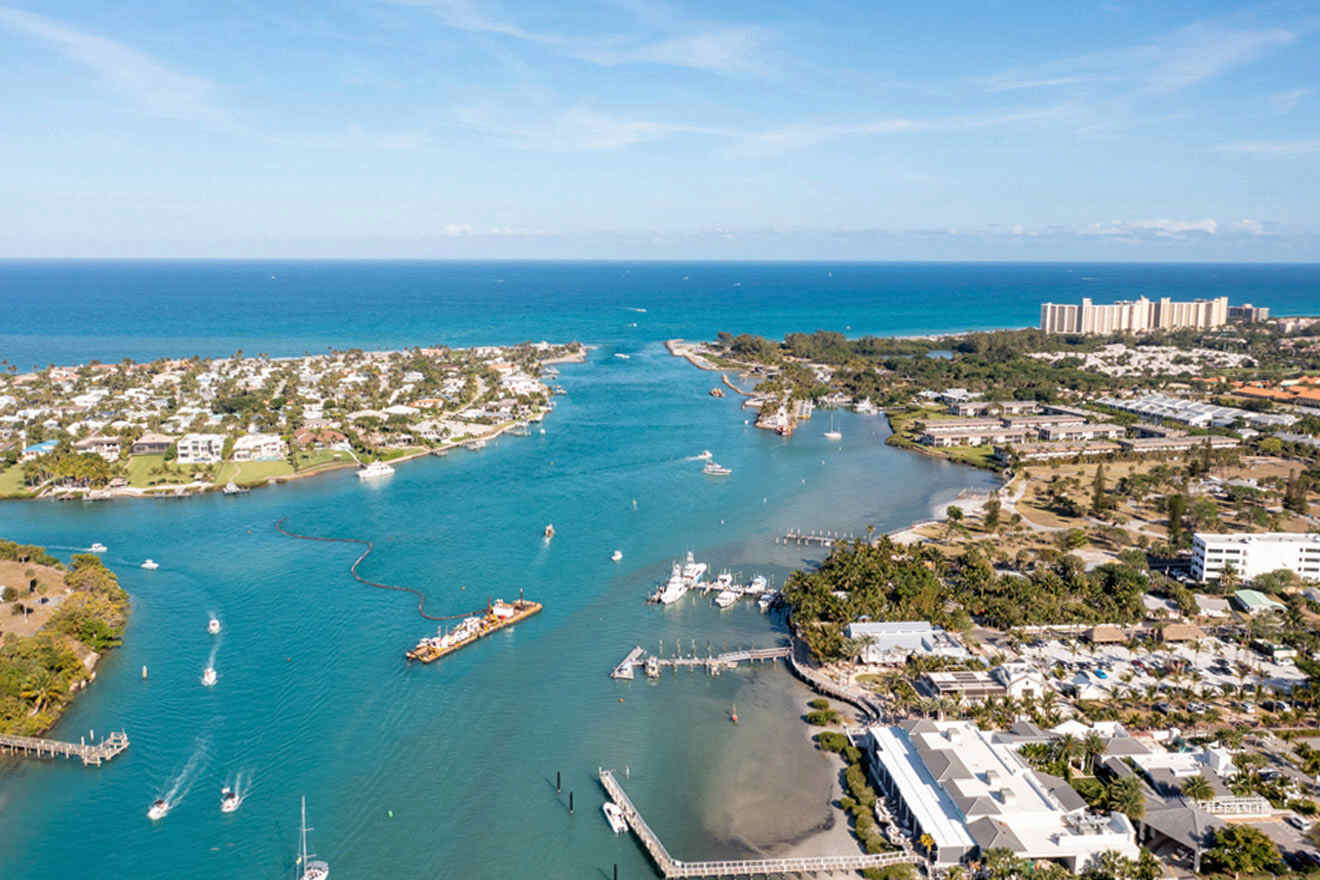 Then travel south outside of Lakeland and check out the stunning Bok Towers. Here you can meander through Japanese gardens, a gorgeous observation tower, and incredible trails. The tower also has a Carillon Bell, which can be enjoyed and played as an instrument!
Finally, finish your Florida road trip in Jupiter at Blowing Rocks. This is a gorgeous beach hiking destination with huge limestone rocks that the waves crash against creating a gorgeous environment and lulling atmosphere.
If you want to learn more about the best hiking trails in Orlando, check out our post on the best 10 hiking adventures on a budget!
Hidden Gem: Jupiter is home to a gorgeous coral reef that is well worth checking out! You do not want to miss out on exploring this coral reef on your trip to Jupiter.
Check out this clear kayaking adventure in Jupiter! You'll get to hang out with Florida's awesome wildlife and get a chance to see manatees and dolphins in their natural habitat!
Looking for a place to stay in Jupiter? Air-conditioned rooms right on the waterfront and a super relaxing atmosphere – what more could you want after a day of road-tripping?
7. Go on a surfing road trip!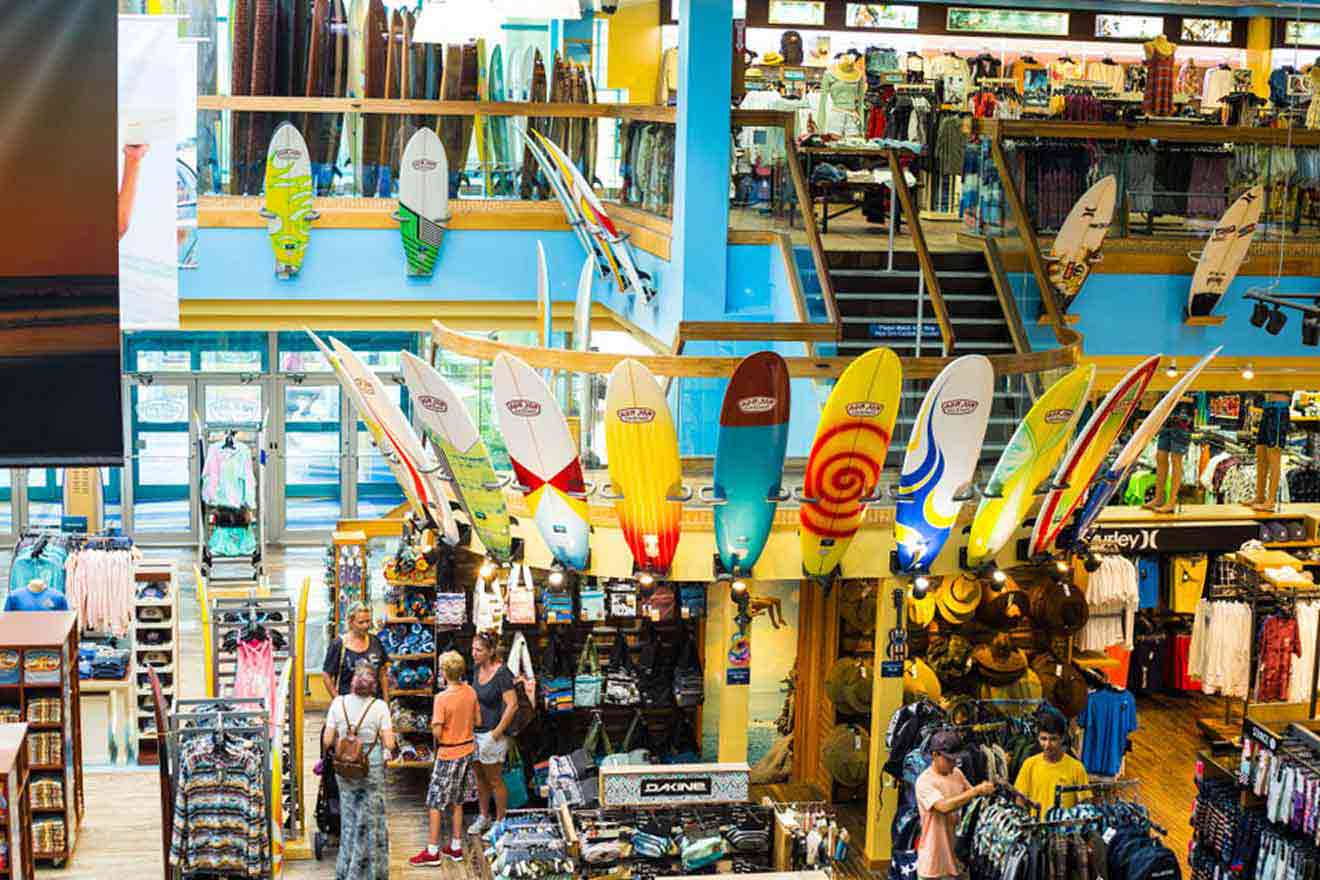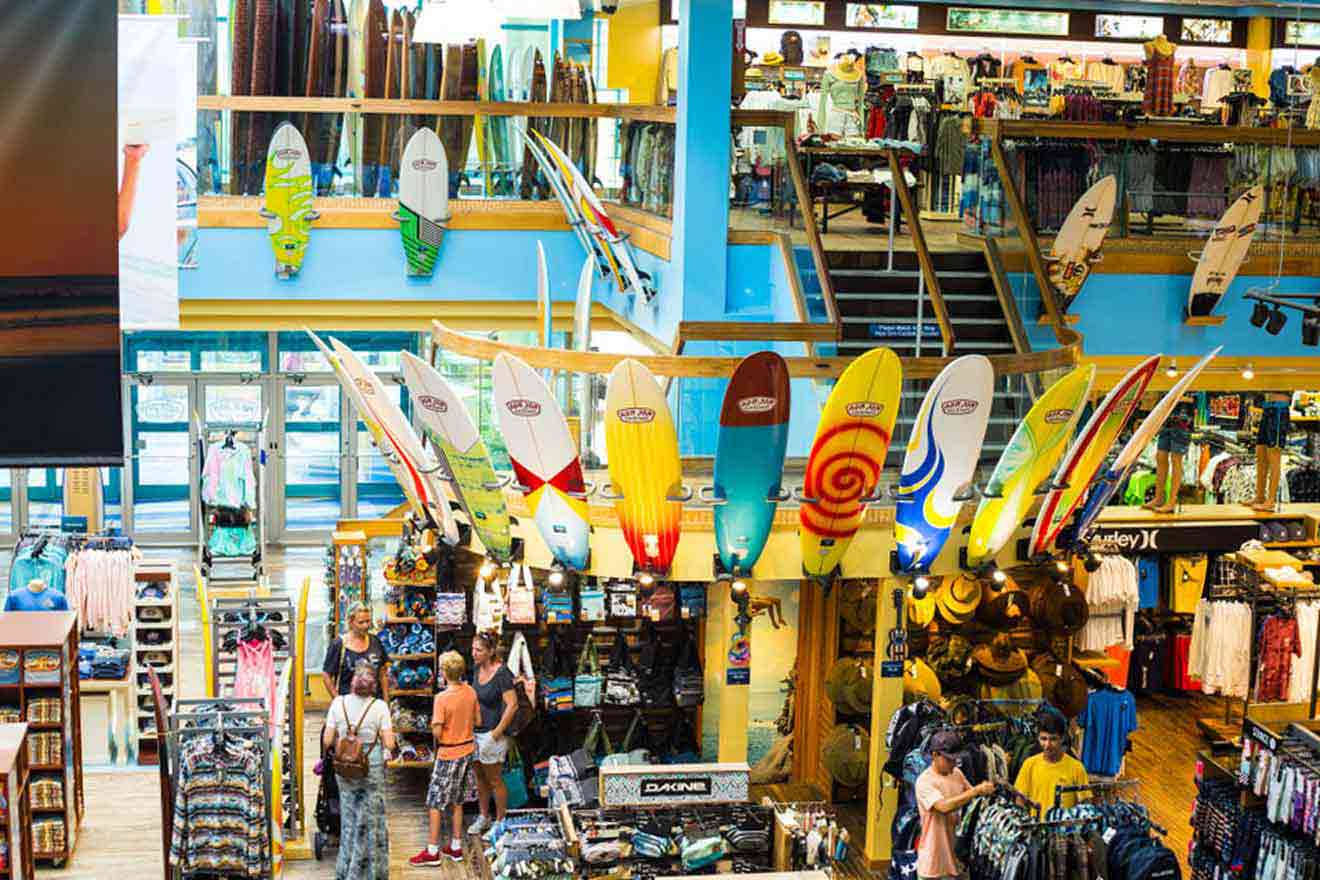 Florida is known for some of the best surfing destinations on the East Coast! The best surfing spots in Florida happen to be on the Atlantic Coast where the ocean has bigger waves than in the Gulf of Mexico.
If you love surfing, or you're a fan of unique activities, this is one of the coolest Florida road trip ideas.
Pack up your car for some seriously next-level surfing spots you don't want to miss!
Florida surfing road trip highlights:
While Florida may not be well known for surf spots, you may be surprised to know that Florida has some pretty epic surfing and is even home to one of the most popular surfing museums!
St. Augustine offers some pretty gnarly surfing, as well as lots of fun cultural activities that make for the perfect well-rounded trip!
Flagler Beach is an excellent surf destination. Just south of Jacksonville and St. Augustine, right next to Daytona Beach, Flagler offers some pretty stellar waves that are great for those looking to hang ten!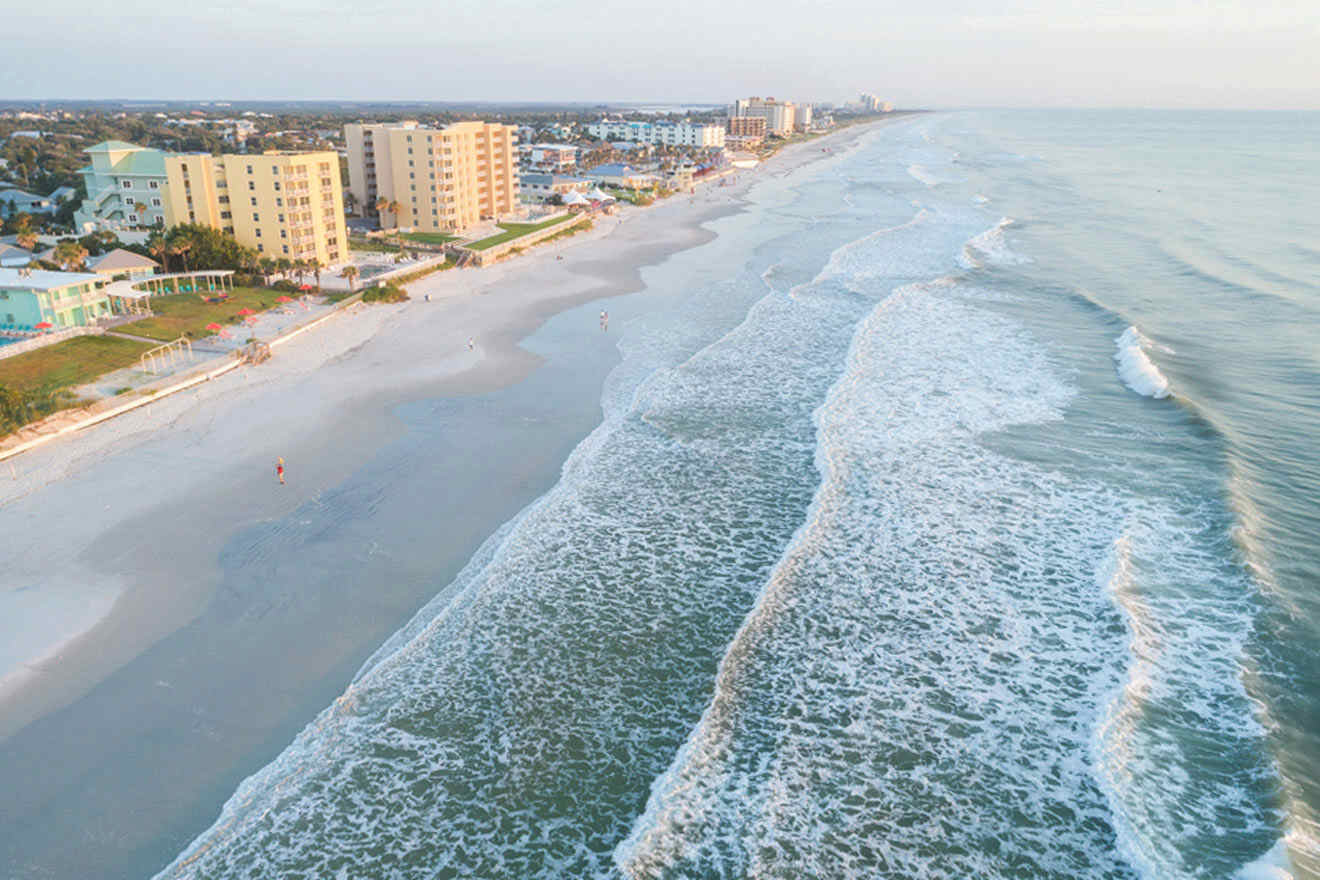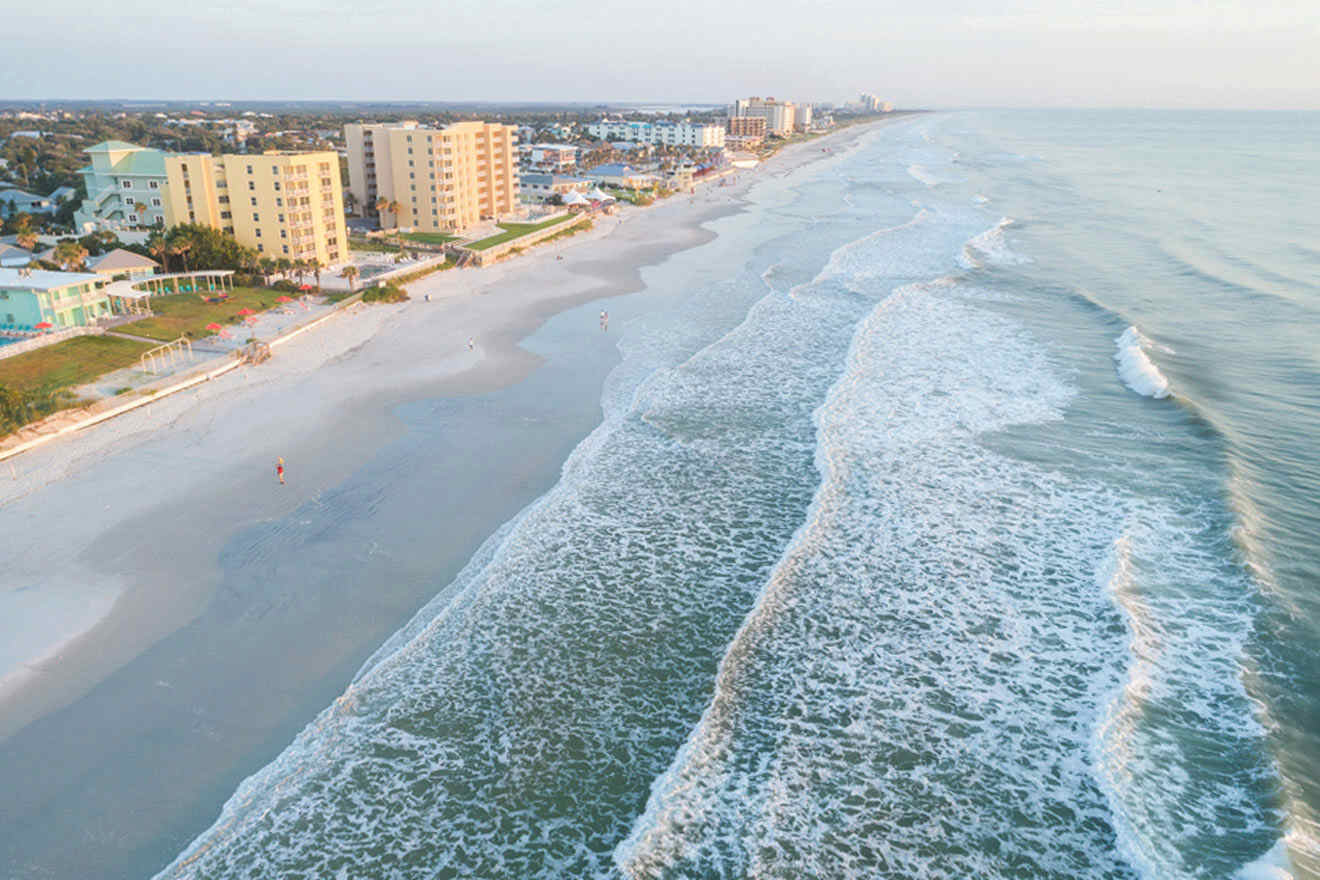 Then hit the waves at New Smyrna Beach before you hit the classic Florida surf destination, Cocoa Beach.
Melbourne Beach is another incredible surfing destination in Florida. Don't miss out on visiting Sebastian Inlet for some super fun water activities and fantastic views of Florida wildlife.
Finally, the last part of this road trip will take you to Jupiter Beach, where you can see some incredible natural limestone rock formations as well as gorgeous and vibrant coral reefs!
Then head on over to West Palm Beach for some fantastic beaches and surfing until you hit your final destination of Boynton Beach!
Looking for great places to stay in Boynton Beach? This is the perfect place to rest your head after your long surfing road trip! This hotel is chic, affordable, and the perfect beach stay!
8. Take a Florida Springs road trip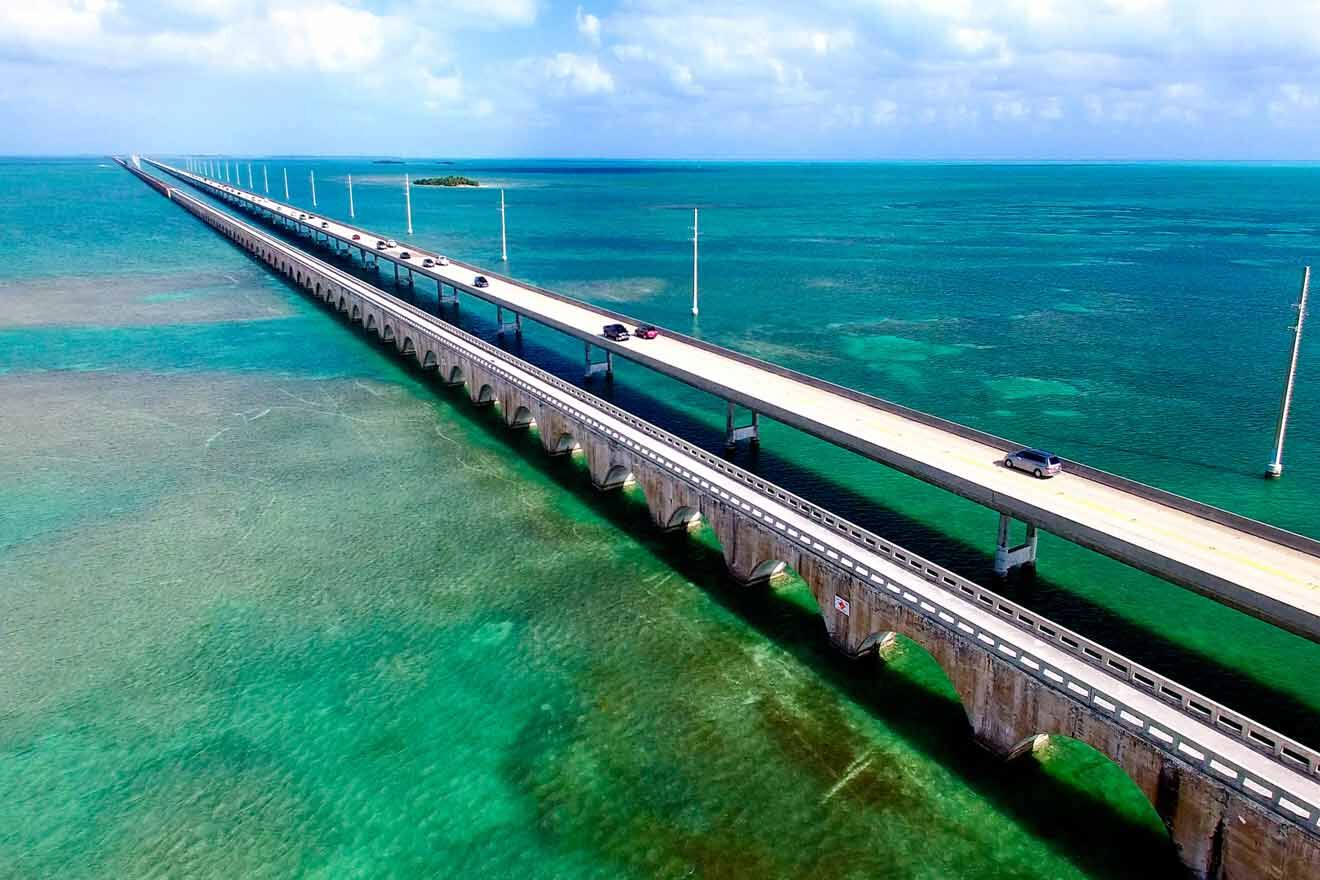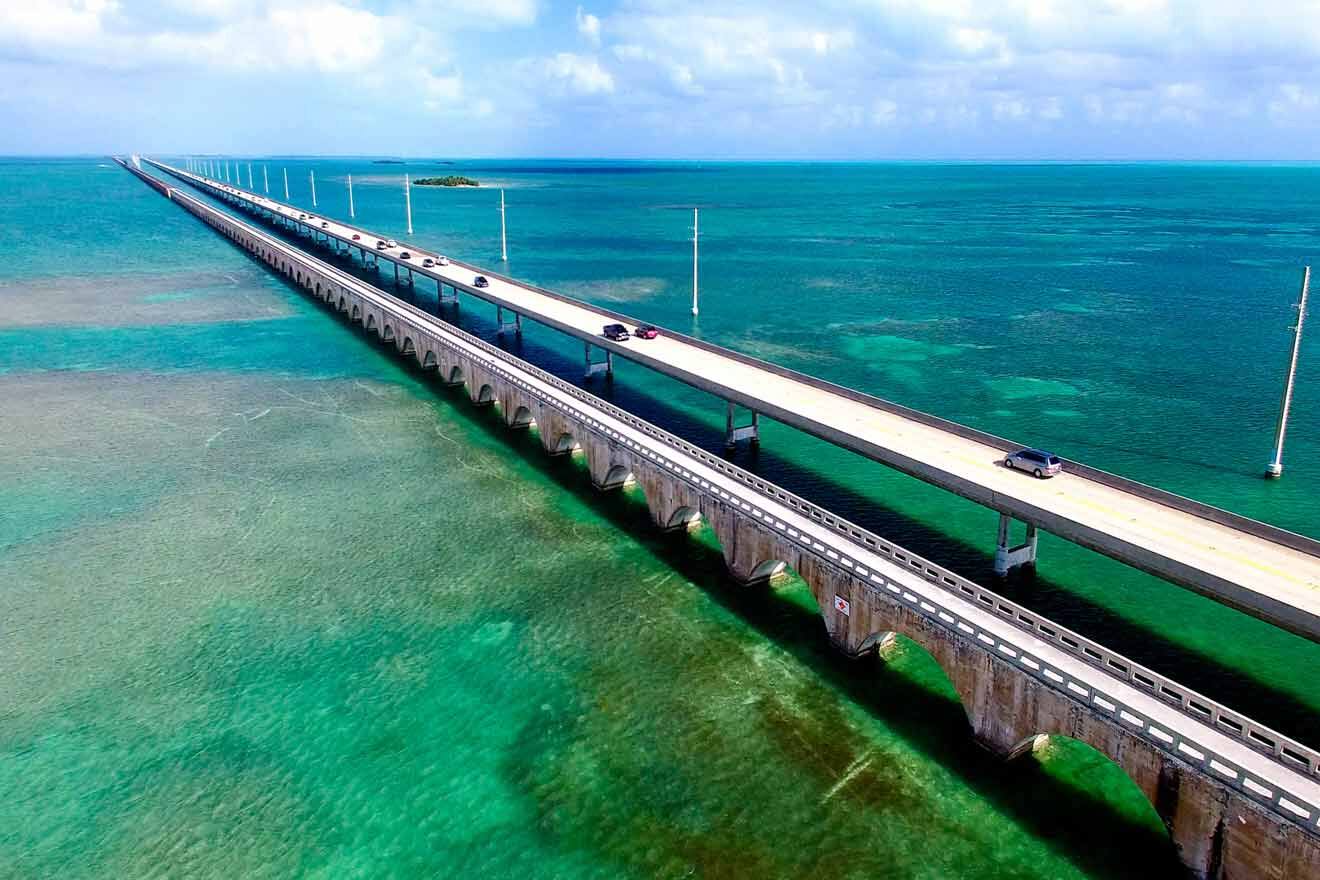 As I mentioned earlier in the article, Florida has hundreds of incredible freshwater springs teeming with life!
These ancient artesian springs with clear, bright blue water, lined with gorgeous palm trees and vegetation, are filled with lots of water adventures and fun in the sun!
Lounge around by the springs, swim in some incredibly clear water, see ancient wildlife like otters, alligators, turtles, and dozens of different bird species, and create unforgettable memories!
Since there are so many different springs in Florida with all sorts of different experiences and environments, why not plan a road trip to explore as many as you can?
Here are some of the springs highlighted on this Florida road trip adventure:
Not all Florida springs are created equally. Some of them are best fitted for swimming, snorkeling, tubing, kayaking, scuba diving, hiking, and more!
This is a great activity during the summer or fall seasons, as the water stays a steady 72 degrees year-round, which is perfect for cooling off in the hot summer Florida sun.
In the winter, many springs are closed because manatees migrate en masse to keep warm in the fresh spring waters.
A great starting point for your Florida Springs road trip is at Weeki Wachee Springs on the West Coast. Here, you can catch an incredible live mermaid show and explore the springs after! This spring fills up pretty quickly, so be sure to get there early!
Planning your trip for the winter season? Check out this Weeki Wachee clear kayak tour during manatee season!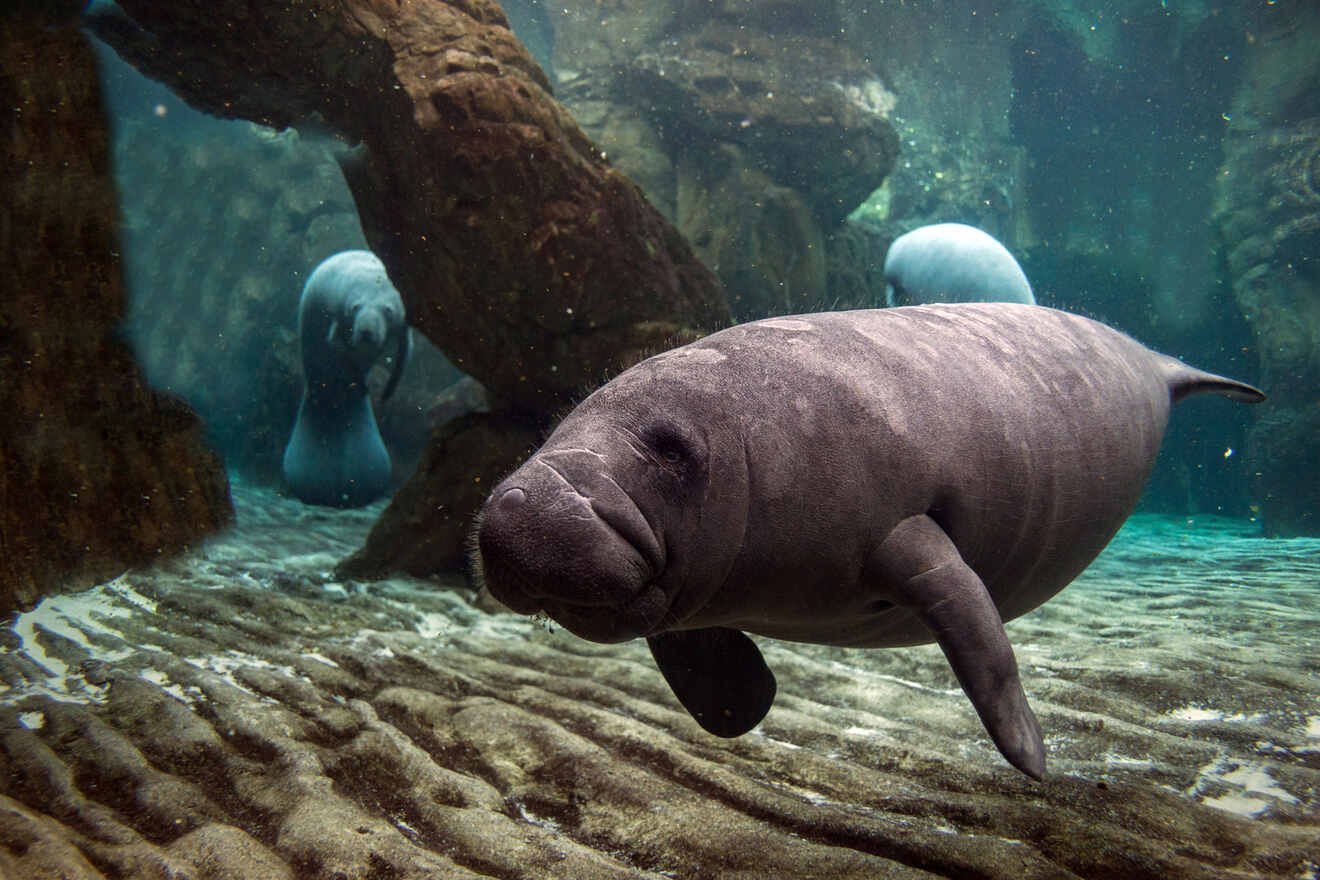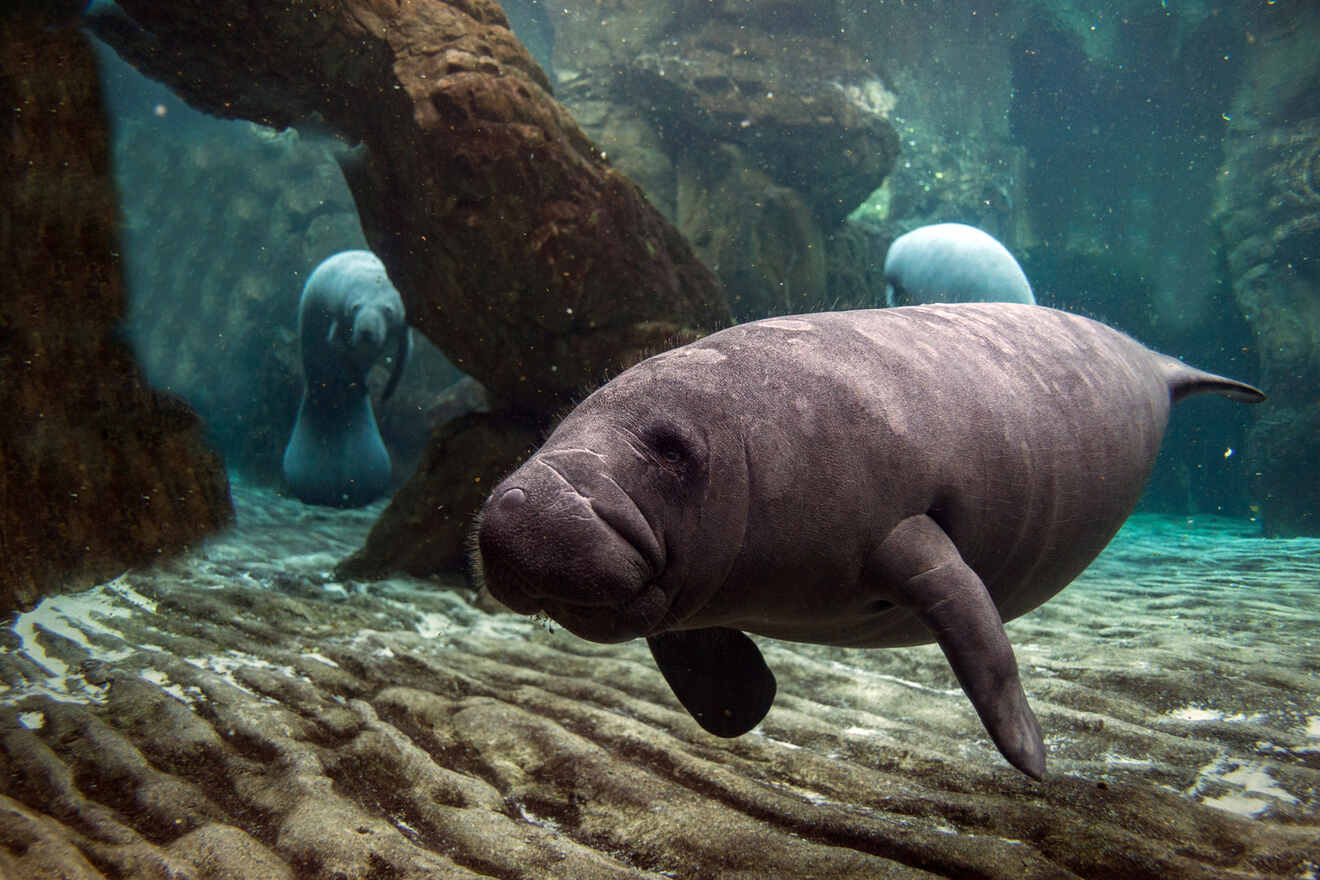 After checking out Weeki Wachee, head north to Crystal River and see some manatees! Also, check out Three Sister Springs while you're there!
Then, keep the party going and check out Rainbow Springs State Park, where you can see six waterfalls in addition to exploring and swimming in this awesome freshwater spring.
Next, hop on US-41 and check out Devil's Den, one of the most unique springs in all of Florida! Devil's Den is ideal for scuba diving as it is a spring in underwater caves! These ancient caves are one of the most beautiful places to explore in Florida!
After you hit Devil's Den, then head further north, where you will find an awesome location with three different springs in close proximity to each other!
Visit these incredible springs or take your pick between Gilchrist Blue Springs, Ginnie Springs, and Ichetucknee Springs.
Then, you can end this epic Florida road trip by heading north to Madison Blue Springs for a relaxing swim and unwinding in nature as a much-needed reward for a long trek!
Looking for places to stay near Fort White where you can easily access three springs? Check out this awesome farm stay on VRBO!
Book Your Florida Springs Farm Stay
9. Go on a Florida Castles road trip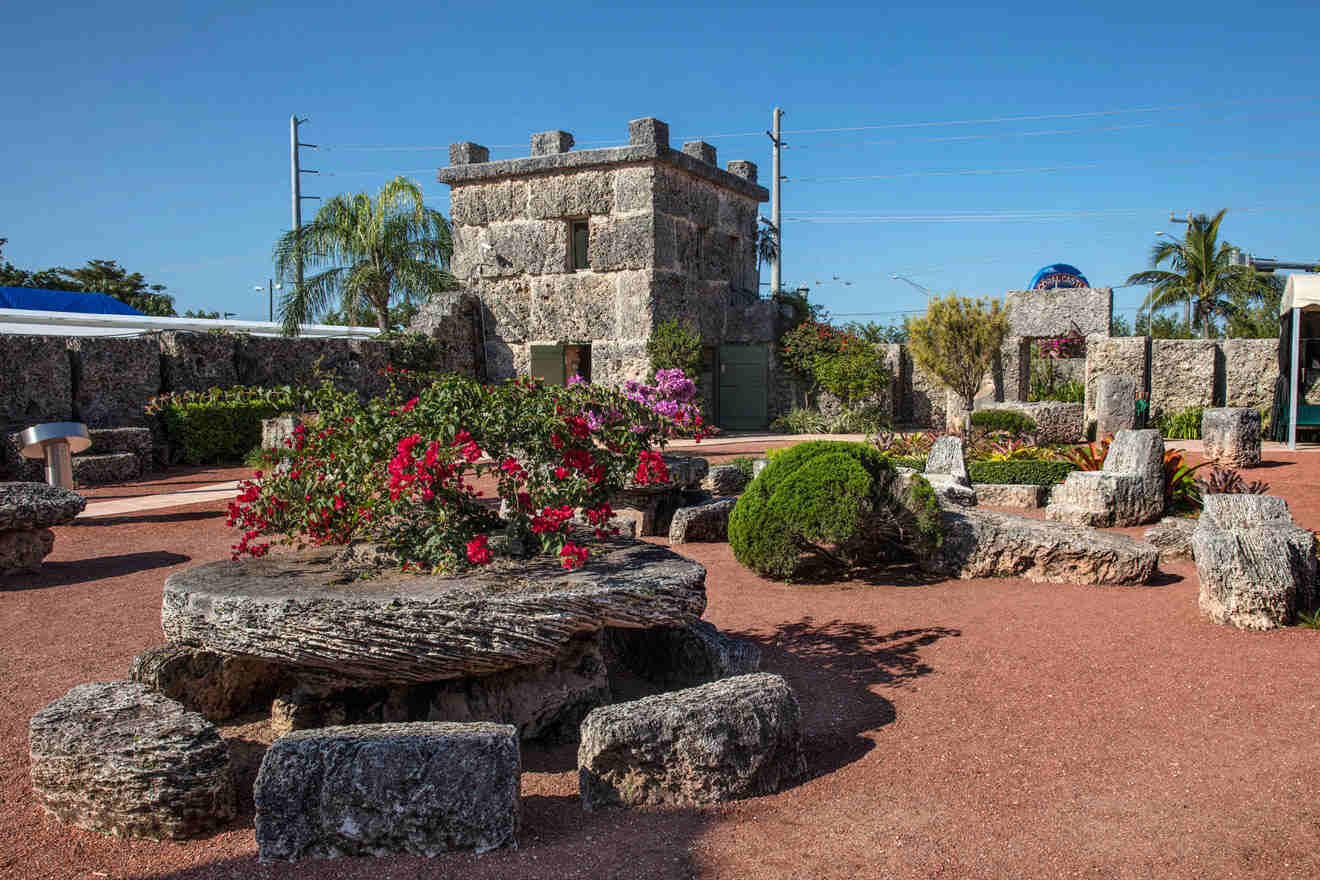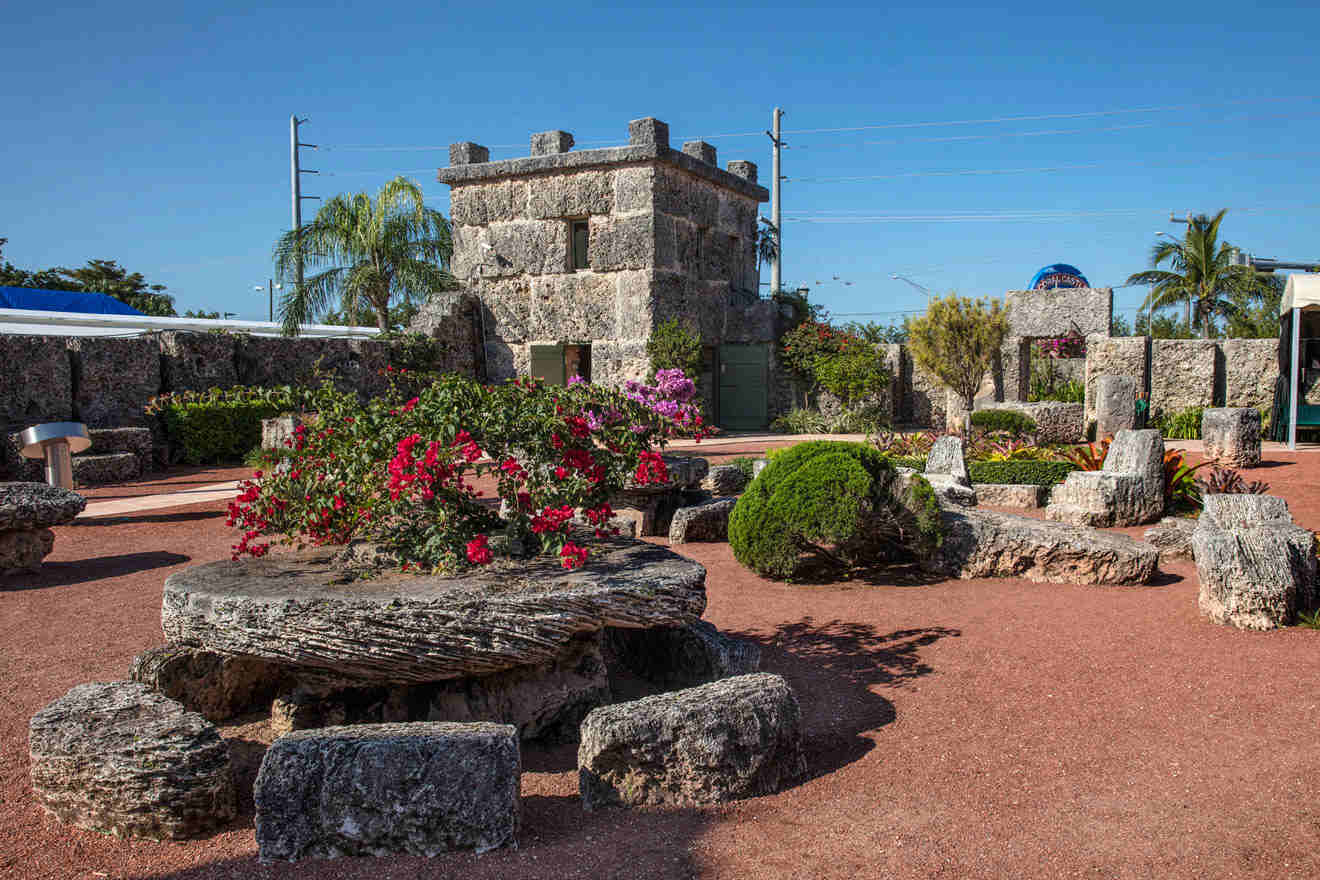 Florida is home to several different breathtaking castles that once played a key element in Florida's rich history.
Many people think they have to travel to Europe to see castles, well I got news for you! We have some epic castles in our very own home state!
This is a great Florida road trip for those planning a scenic getaway or looking for the perfect location for their next photoshoot!
Some Florida Castle road trip highlights:
This incredible road trip takes you all the way from St. Augustine down to Coral Castle in Miami!
Since St. Augustine is one of the oldest cities in the USA, it should come as no surprise that this city has plenty of forts and castles to explore!
St. Augustine's Castle Warden is featured on Ripleys Believe It Or Not! Another incredible place to see some stunning architecture and another castle in St. Augustine is Fort Matanzas, which was completed in 1742!
There is also the Villa Zorayda, an awe-inspiring replica of the Alhambra Palace! Of course, we can't forget the Spanish fortress and castle, Castillo de San Marcos. In the same area, there is also Castle Ottis. However, there are rarely tours because it is privately owned.
Then, a road trip across the state to St. Pete, where you can get some incredible views of the Gulf Coast and enjoy the warm turquoise waters and see Don Cesar.
Originally, Don Cesar was built to be a "Pink Castle," but now it is a luxury resort and spa!
PRO TIP: They offer ghost tours of the grounds which is a cool and spooky way to get to know this Pink Castle!
Next is the home and studio of Howard Soloman, Solomon's Castle. This incredible castle is actually made entirely of aluminum! How neat is that?!
Hidden Gem: Have lunch at the Boat on the Moat!
Last on this incredible Florida road trip is Coral Castle in Miami, a castle made by a hopeless romantic entirely out of coral and a local Florida stone called oolite.
This is the most interesting castle, in my opinion, with breathtaking views, incredible architecture, formulations modeled after planets, and colorful bougainvillea trailing around the castle.
This is one of the most mysterious castles because it was built by one man using no heavy machinery. It is one of the world's many wonders and an absolute sight to behold.
Looking for a place to stay in Miami? This is my favorite place to stay on Miami Beach for the amazing ambiance, incredible interior design and aesthetic, good pricing, proximity to the beach, and amazing food!
10. Take a tour of Florida's craft breweries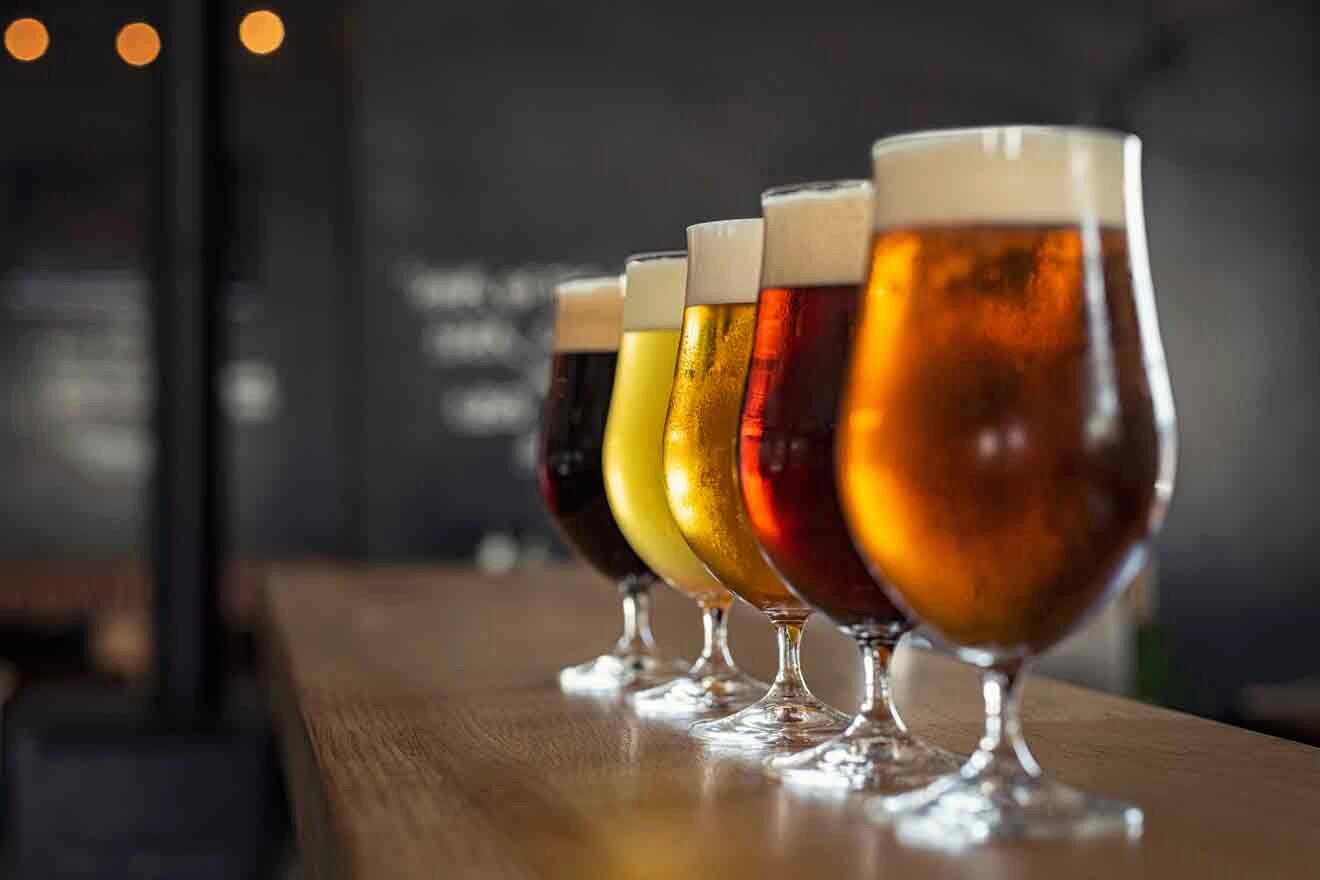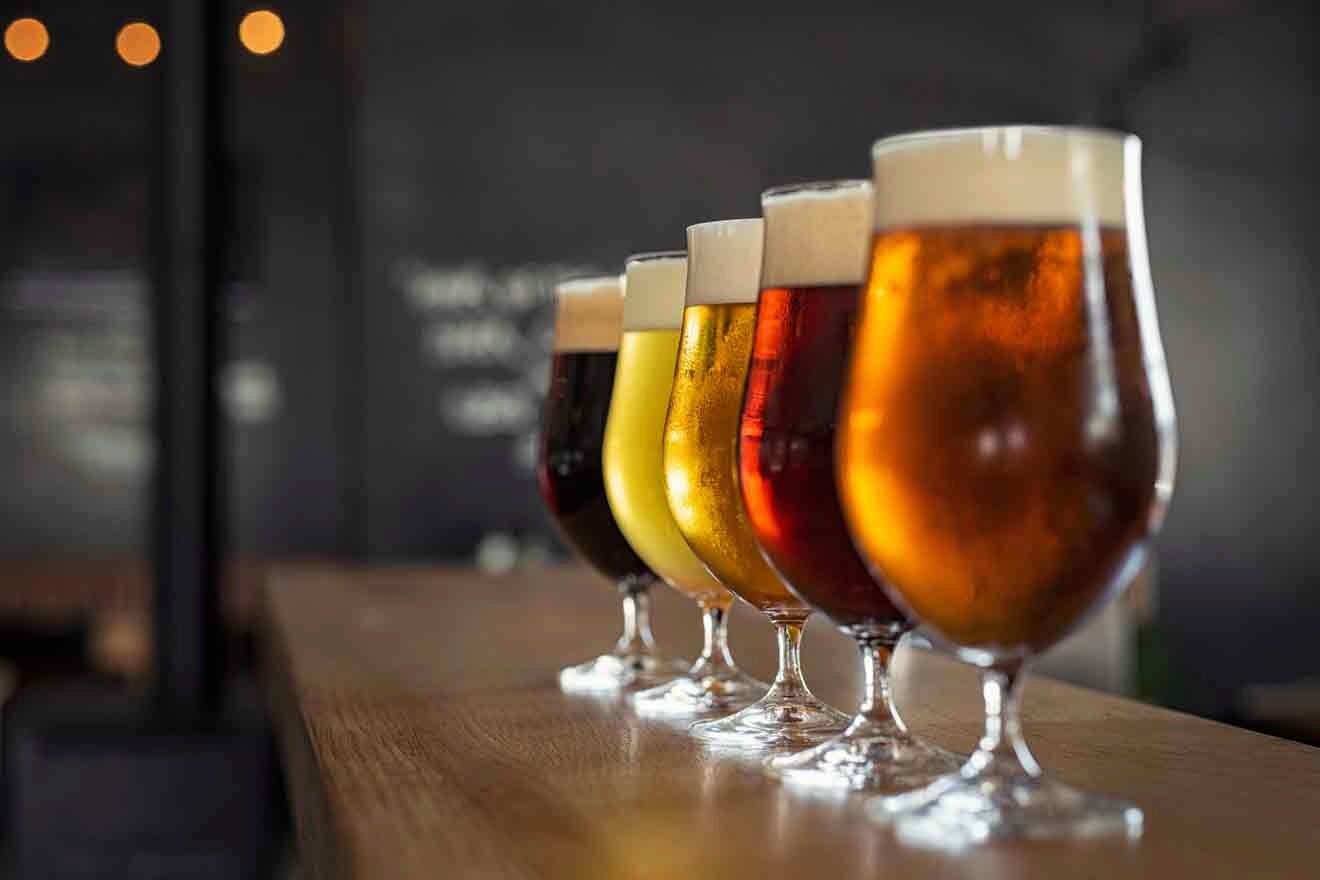 For all those foodies and craft brew enthusiasts, this is an excellent Florida road trip to put on your bucket list!
Florida is home to so many different local craft breweries that it only makes sense to go on a road trip to experience all of the incredible breweries that Florida has to offer!
Whether you are in Miami, North Florida, the West Coast, or anywhere else in the Sunshine State, there is a craft brewery near you!
The best part: many craft breweries have really good food to pair with their delicious libations!
Highlights of this brewery Florida road trip:
Craft breweries are going through a mass revival all around the country. Who doesn't love a good fresh craft brew?
Taste the hoppy taste of the Sunshine State and go on this delicious craft brew-tasting tour!
I recommend starting in the Tampa Bay area, where you can enjoy gorgeous beaches, delicious food, and Florida's top-rated brewery, Cigar City Brewing!
Then head over to Cycle Brewing over in St. Pete and then hit up 7venth Sun Brewing Company in sunny Dunedin, FL.
Next, explore some craft breweries in Orlando. I recommend Persimmon Hollow Brewing and Hourglass Brewing!
Head north to Jacksonville and grab a refreshing pint at Green Room Brewing! If you're in S. Florida, or plan on traveling down south on your road trip, check out 3 Sons Brewing Co for some super delicious and refreshing brews.
Want to go even further south to Miami? Check out the Wynwood Brewing Company! I definitely recommend doing this and then driving down to stay in Fort Lauderdale!
11. Go on a wildlife drive!
Florida is home to some incredible wildlife drives! From traveling all over the states, Florida is the only state that I have ever been to that offers such a diversity in wildlife drives!
From the comfort of your car, spot alligators, wading birds, turtles, otters, deer, wild hogs, snakes, and so much more!
11.1 Apopka Wildlife Drive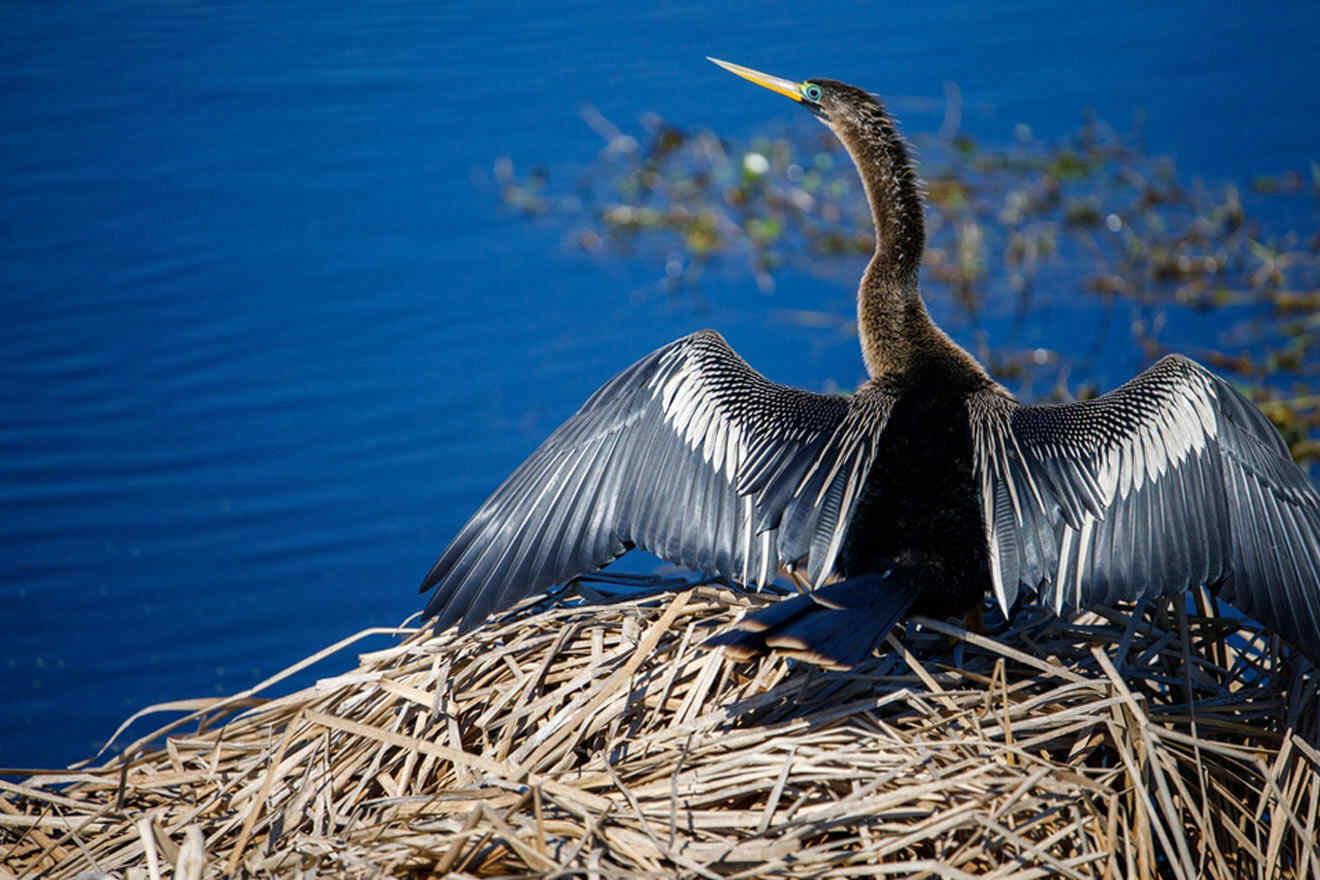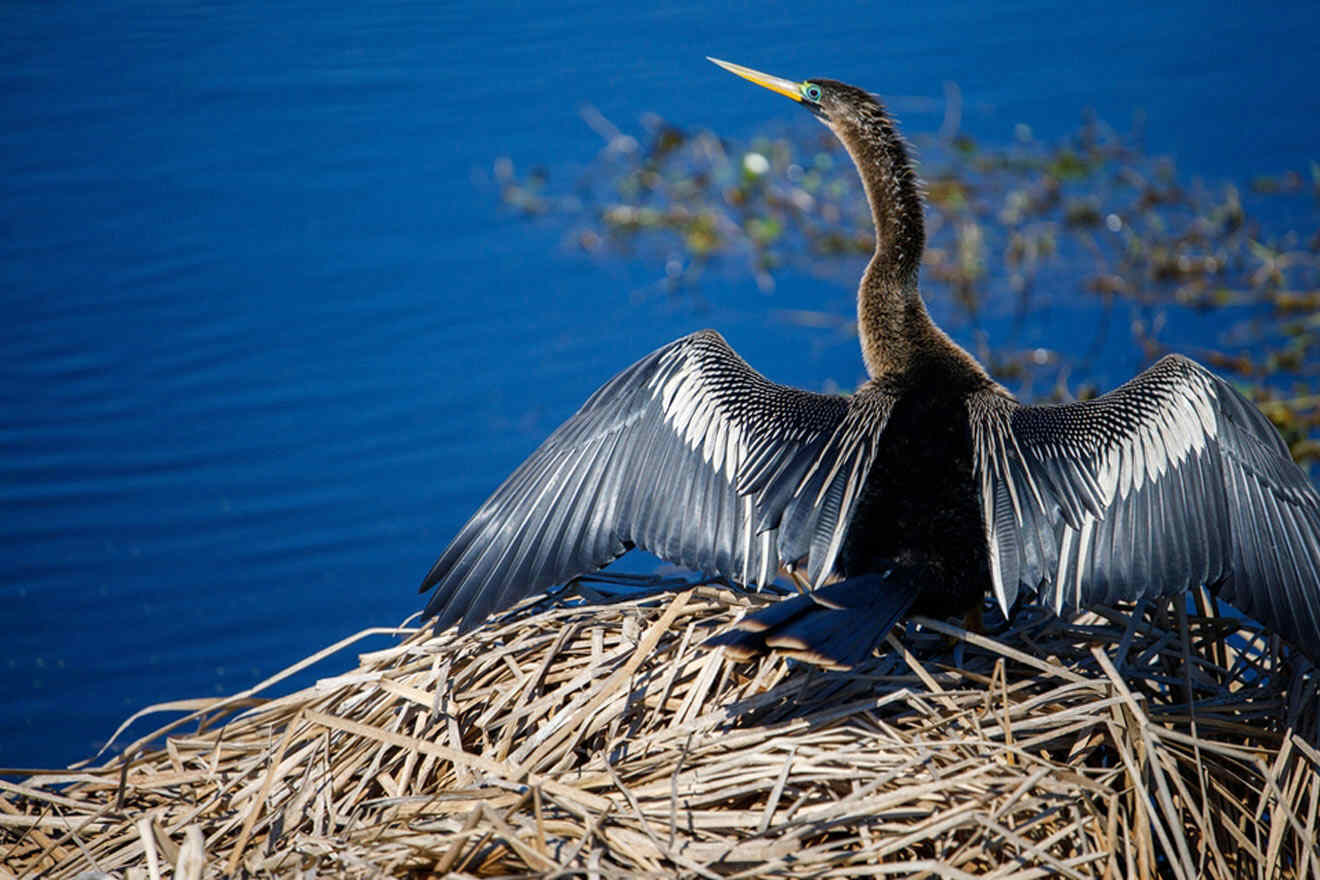 The Apopka Wildlife Drive, located just north of Orlando, is an incredible experience where you can see so much biodiversity and turn your car into a safari! Don't worry, you won't be doing any off-roading, so any car you have will work just fine!
The drive takes approximately 2 hours, so plan ahead. It is only one way in and one way out, and you can only go around 10 miles per hour to respect the wildlife, which is why it takes so long to complete.
The best part? The Apopka Wildlife Drive is 100% free!
This local favorite is an incredible experience to see some sunbathing alligators and even the occasional bobcat or wild boar.
Along the drive, there are several stops where you can get out and stretch your legs and get an up-close look at some of the incredible nature wild Florida has to offer!
Open Fridays through Sundays, this is not an experience you want to miss out on! Plus, it's a super fun adventure where you get to feel like you are on a safari, and also, this is an excellent opportunity for people who want to be immersed in nature but don't have the time for a long and expensive road trip!
11.2 Tosohatchee Wildlife Drive in Christmas, Florida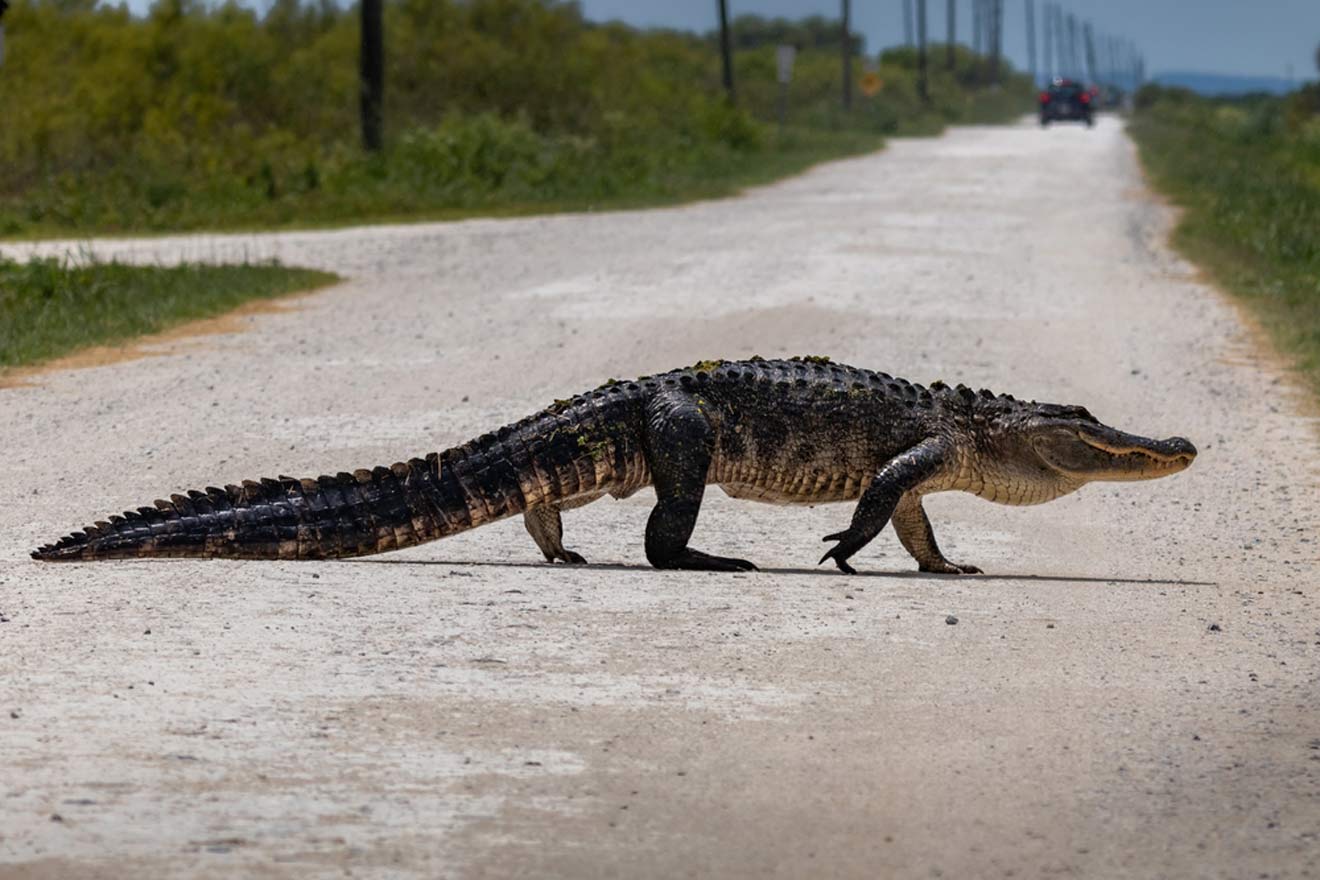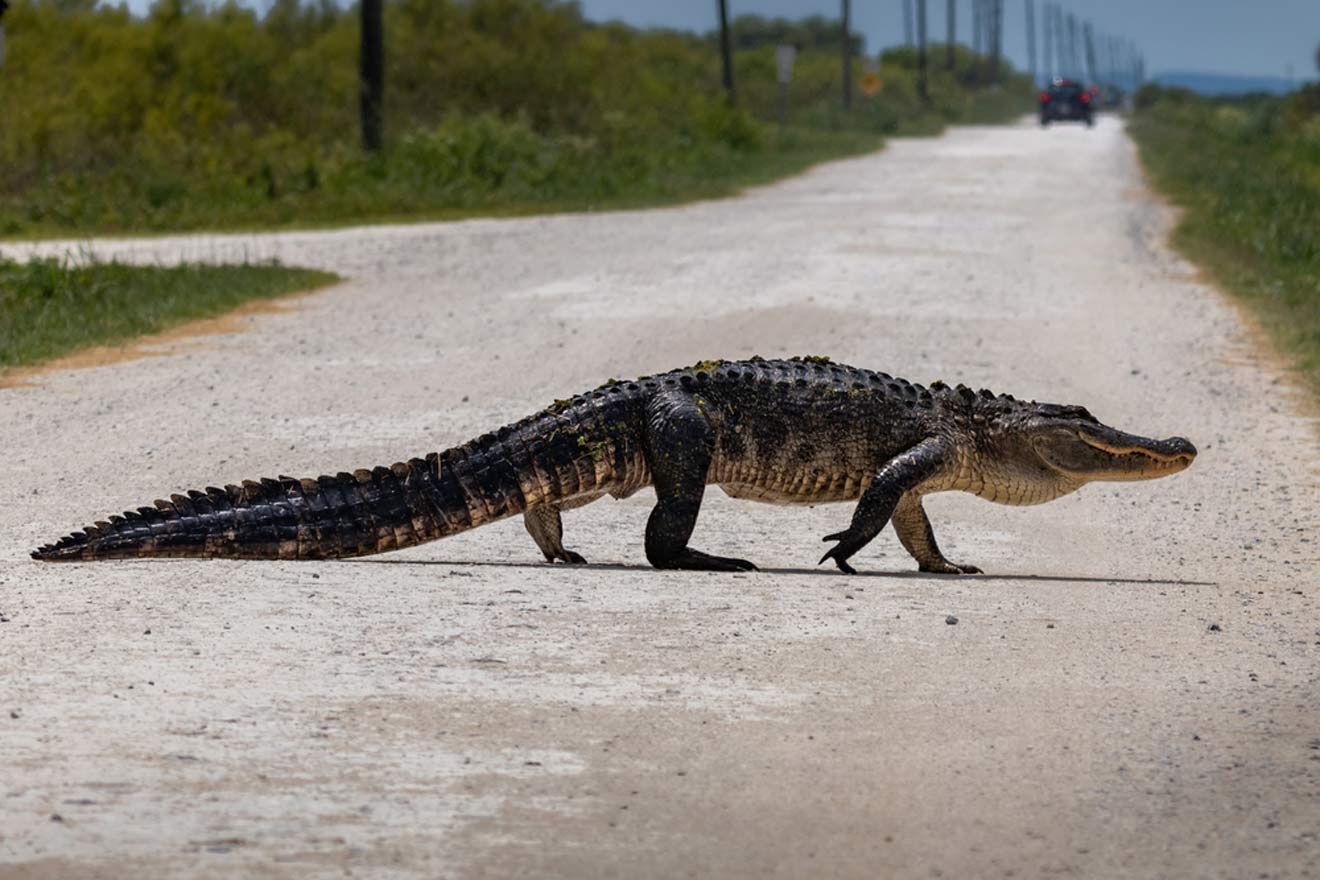 I absolutely love this wildlife drive. For one, it is not a straight shot. There are a few different roads to explore and over 60 miles of trails to hike!
The Apopka Wildlife Drive does not offer hikes along the drive, but for those looking for a more immersive experience and to get their daily steps in, the Tosohatchee Wildlife Drive provides an excellent experience to stretch your legs and explore the St. Johns River watershed.
When I went, I prepared to spend the day there, and my partner and I brought our dogs. Our dogs loved it; there were so many places to hike and walk around with them. So many new smells!
Along the drive, I was lucky enough to see a mama alligator sunning by the river bank and five of her babies! It was a truly incredible experience!
For those looking for a road trip nature adventure but don't want to travel far, I highly recommend going on a wildlife drive!
| | |
| --- | --- |
| 🏖️ Best Beaches | Florida's West Coast |
| 🏰 Best Castle | Coral Castle |
| 🚶🏽‍♂️ Best free activity: | Scenic hiking road trip |
| 👧 Best attraction for kids: | Clear Kayaking Adventure |
| 🕺 Best road trip for families | Central Florida |
| 🏊 Must-try activity | Florida Springs road trip |
FAQs about road trips in Florida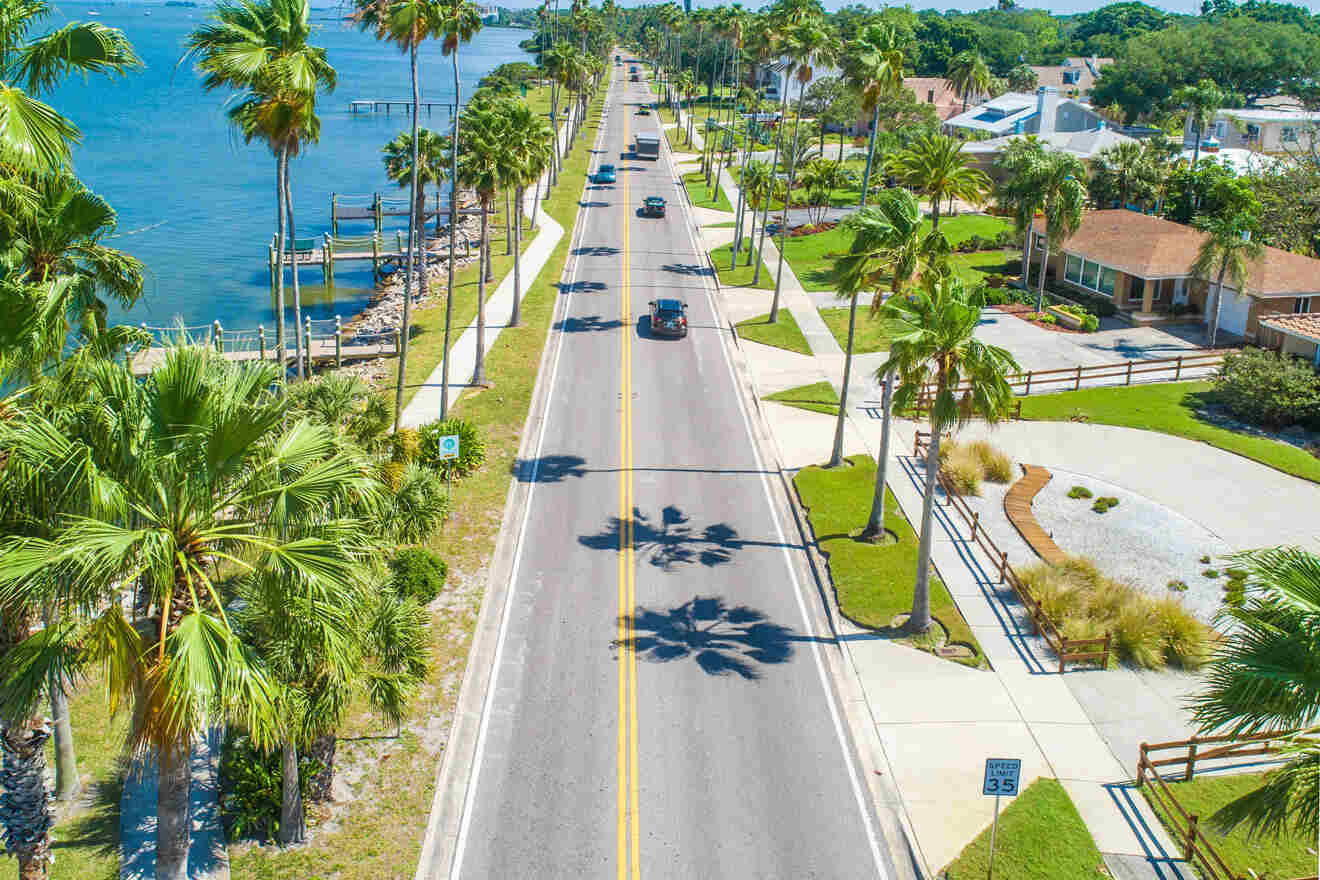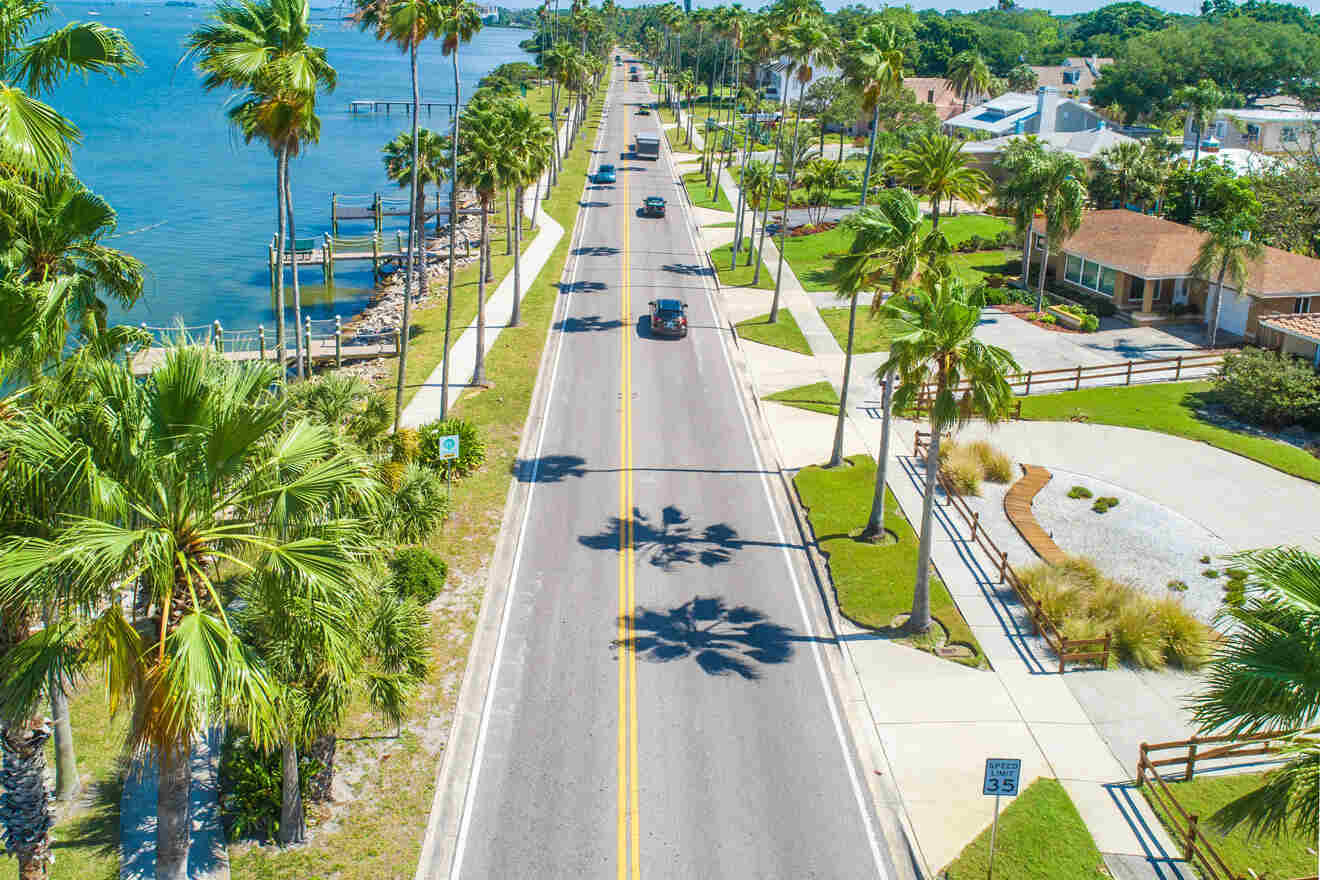 🏝️What are the best road trips from Tampa?
🚘 What is the best road trip in Florida?
Are you trying to explore Florida's many freshwater springs, Gulf Coast beaches, and barrier islands, the best places for hiking, seeing waterfalls, East Coast beaches, Florida Keys, etc? A wildlife drive is one of the best road trips to take!
🚗 What is the most scenic drive in Florida?
Florida is a beautiful and bountiful state with many scenic drives. Even driving on some of our turnpikes can be stunning! However, by popular vote, the most scenic drive in Florida would be the Overseas Highway which you can find on the drive to Key West in the Florida Keys.
🚦 Best day road trips in Florida?
Conclusion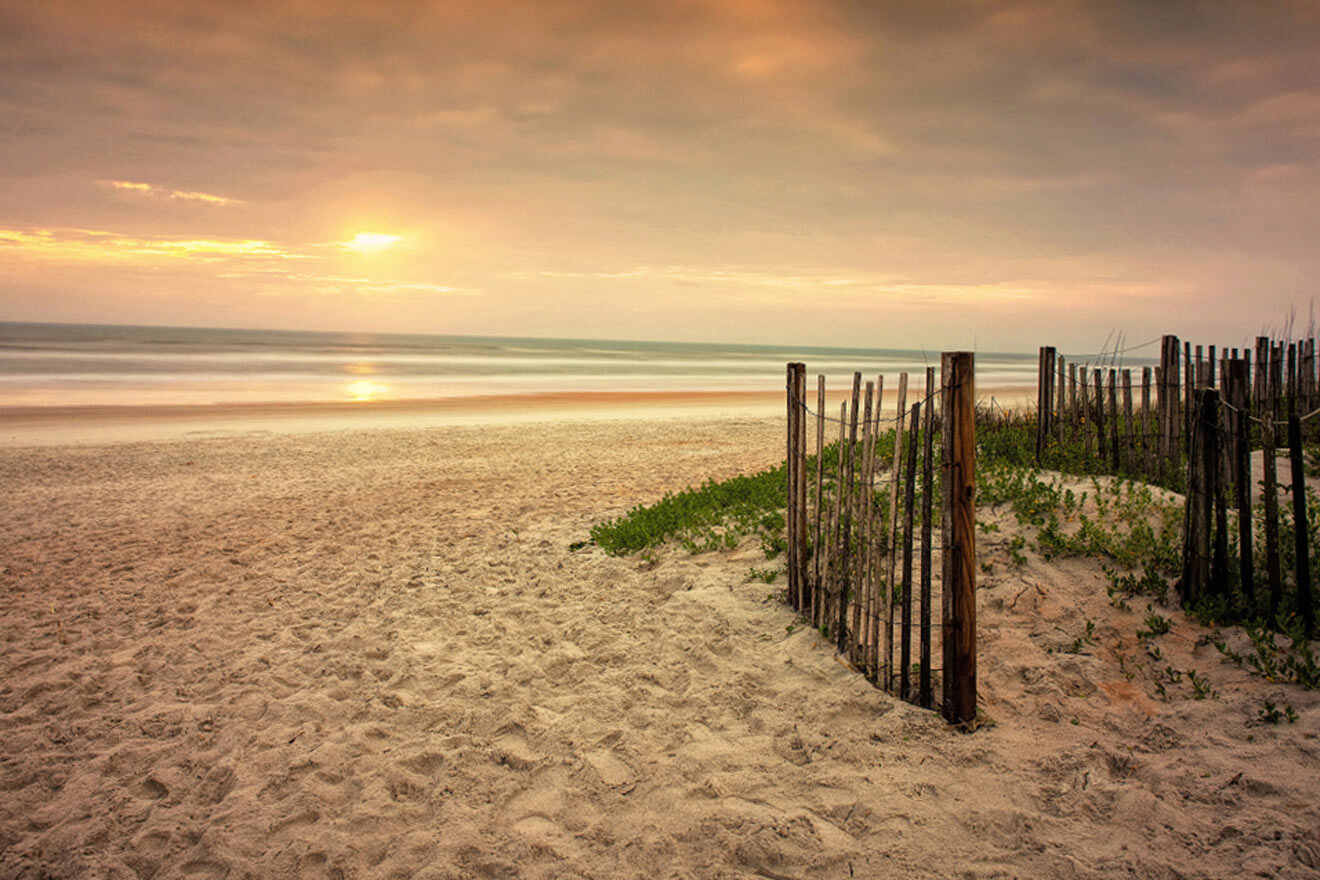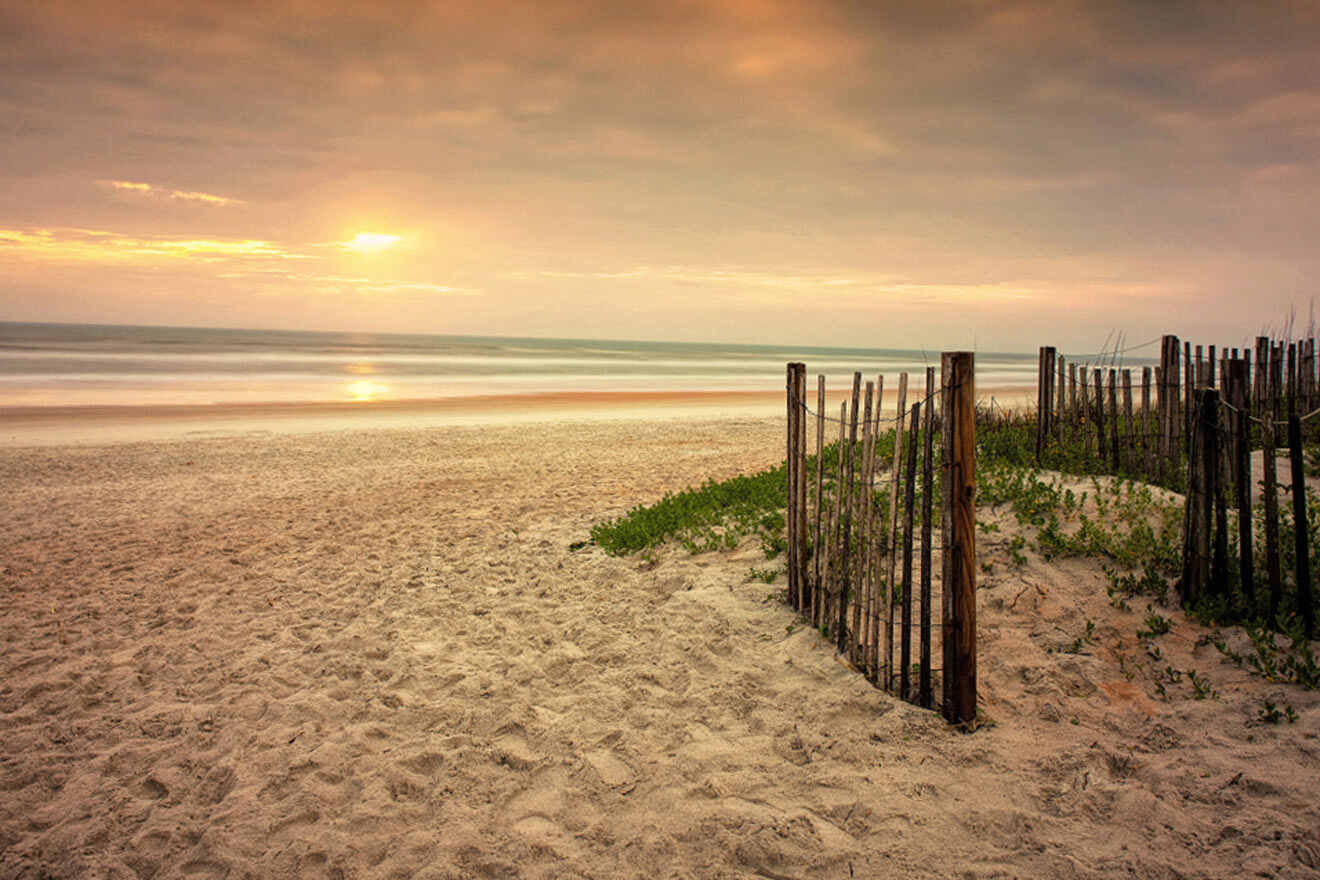 There you have it! Some of the best road trips in Florida!
Florida is one of the best states to take mini vacations within the state. You can jump in some fresh springs, check out some waterfalls, swim in the tropical Gulf waters, head to the Keys, go surfing on the East Coast, and so much more!
I hope this list helps you in planning the perfect Florida road trip!
With love and gratitude,
Amira G
---
Pin it for later!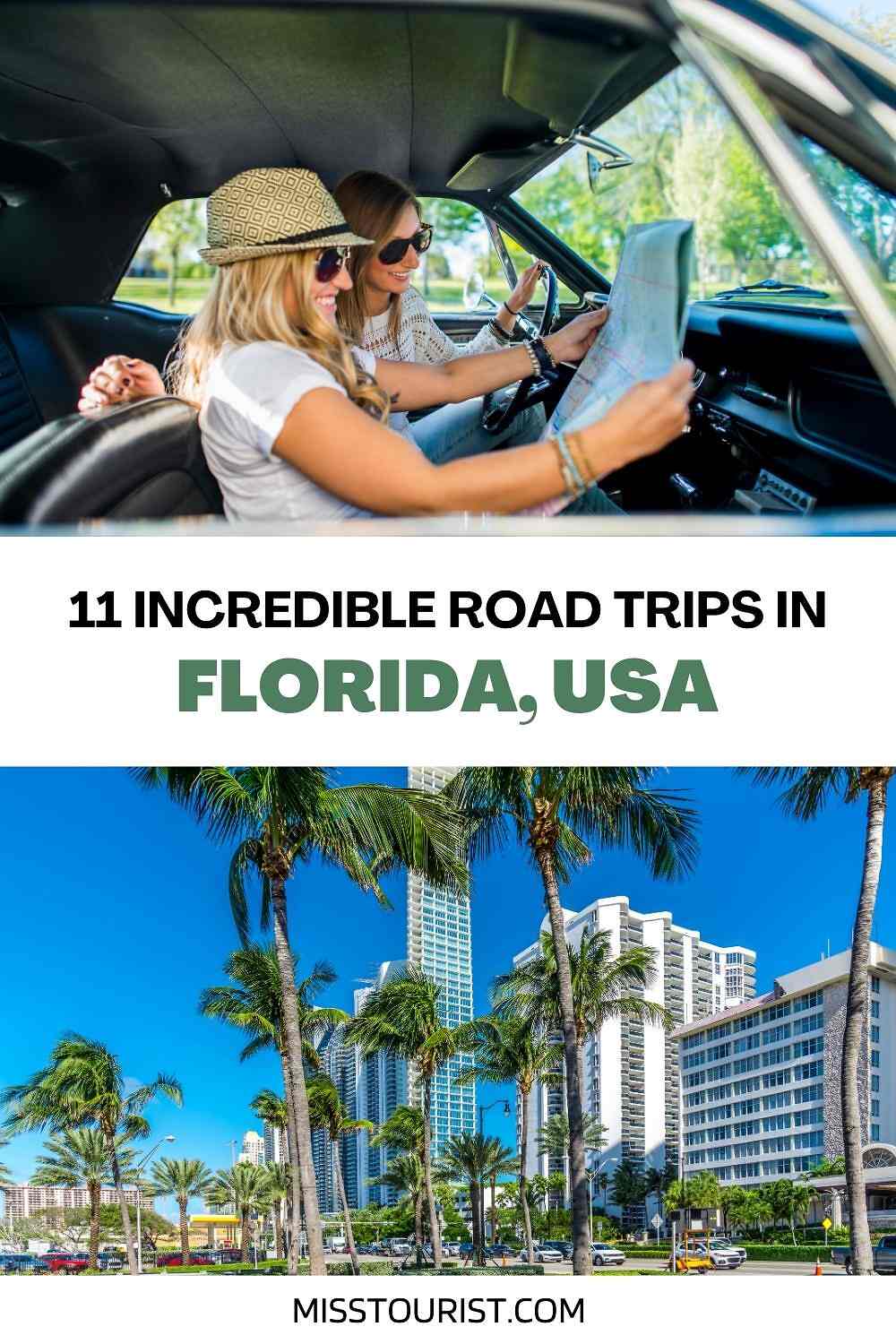 Pin it for later!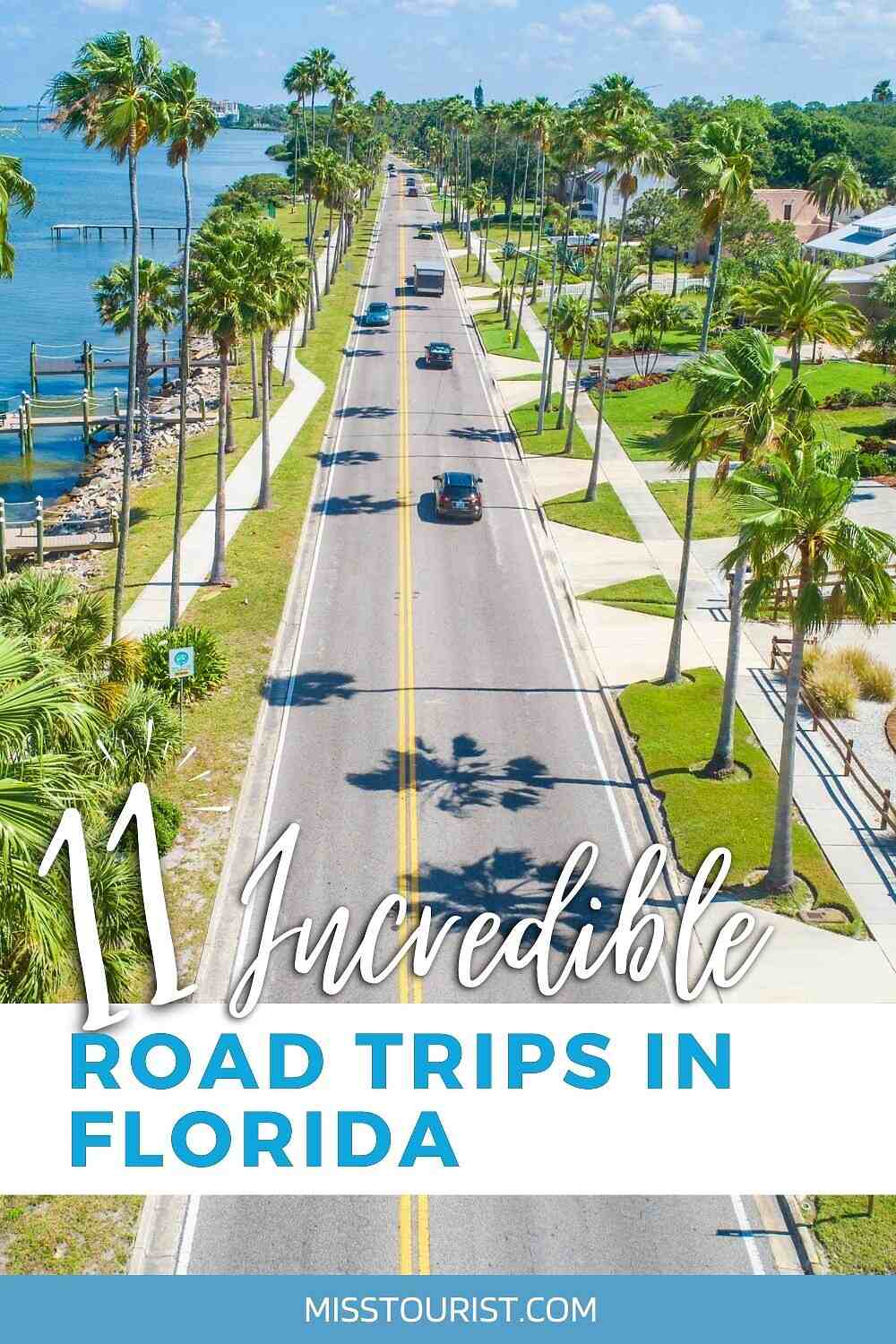 Products You May Like