13 EPIC Things to Do in Los Angeles Alone ✔️ by a Local
Welcome to the City of Angels! Los Angeles is the ultimate Southern California destination for an inside look at the entertainment and film industry and the music scene while exploring its stunning beaches, cultural diversity, and SO much more.
As a native SoCal gal, I've visited Los Angeles quite a few times alone, and I've figured out what works and what doesn't. Traveling solo here is an experience unlike anything anywhere else, and, lucky for you, I'm here to share with you all the best things to do in Los Angeles alone.
Throughout this post, I'll also be sharing some of my own personal tips and tricks that will help you tremendously along the way. Remember to plan ahead enough to be prepared, but also leave room for spontaneity and exploration so you can enjoy what solo travel is all about!
Alrighty, let's get started!
If you are in a hurry
If you only have a few days in Los Angeles, make the most out of your solo travel experience by booking some must-see tours and attractions and skip-the-line tickets.
Here are the main things to book in advance:
And here are the best hotels: The Prospect Hollywood (luxury), AC Hotel by Marriott Los Angeles South Bay (mid-range), HI Los Angeles (budget)
Things to keep in mind when you travel solo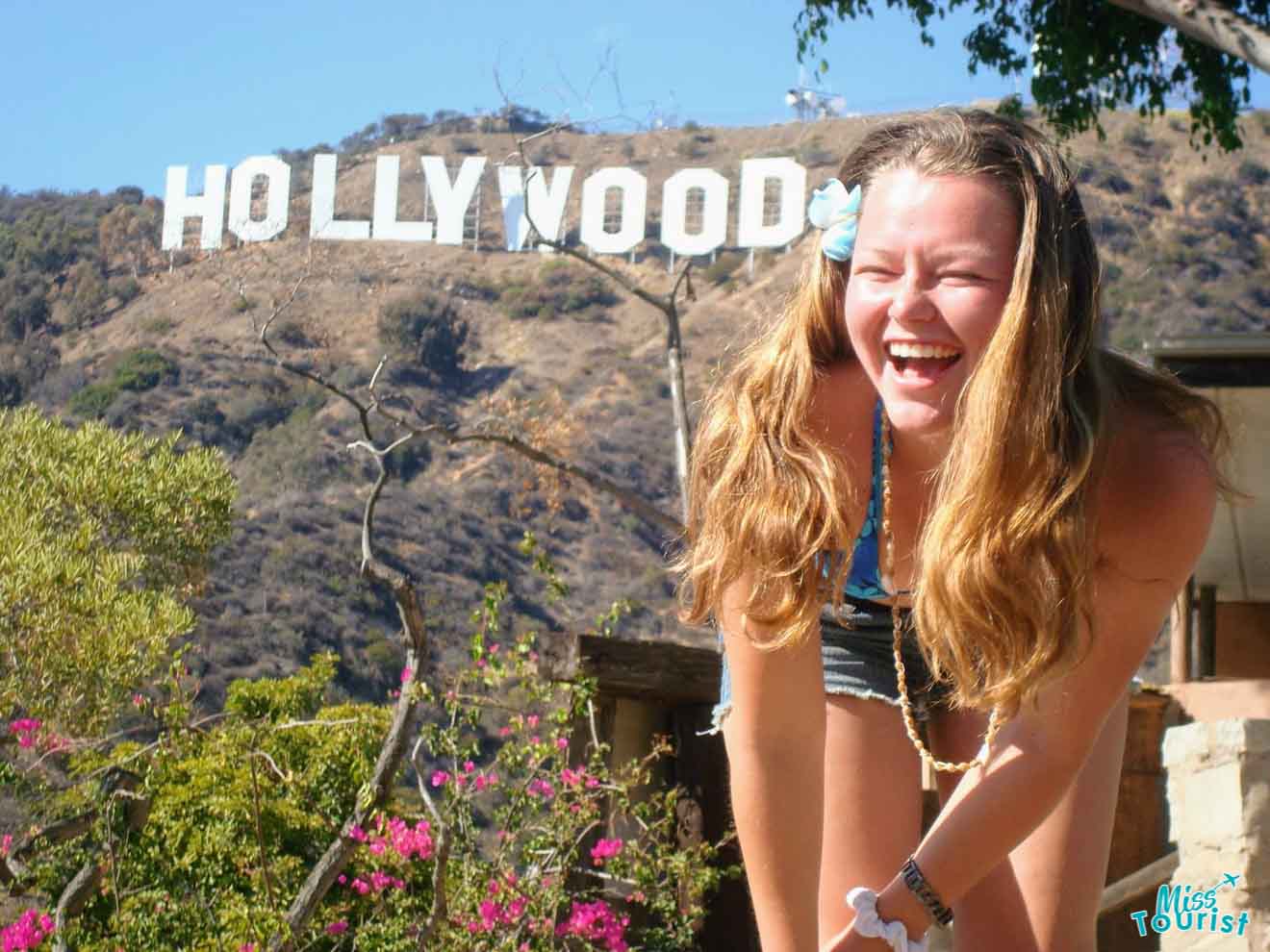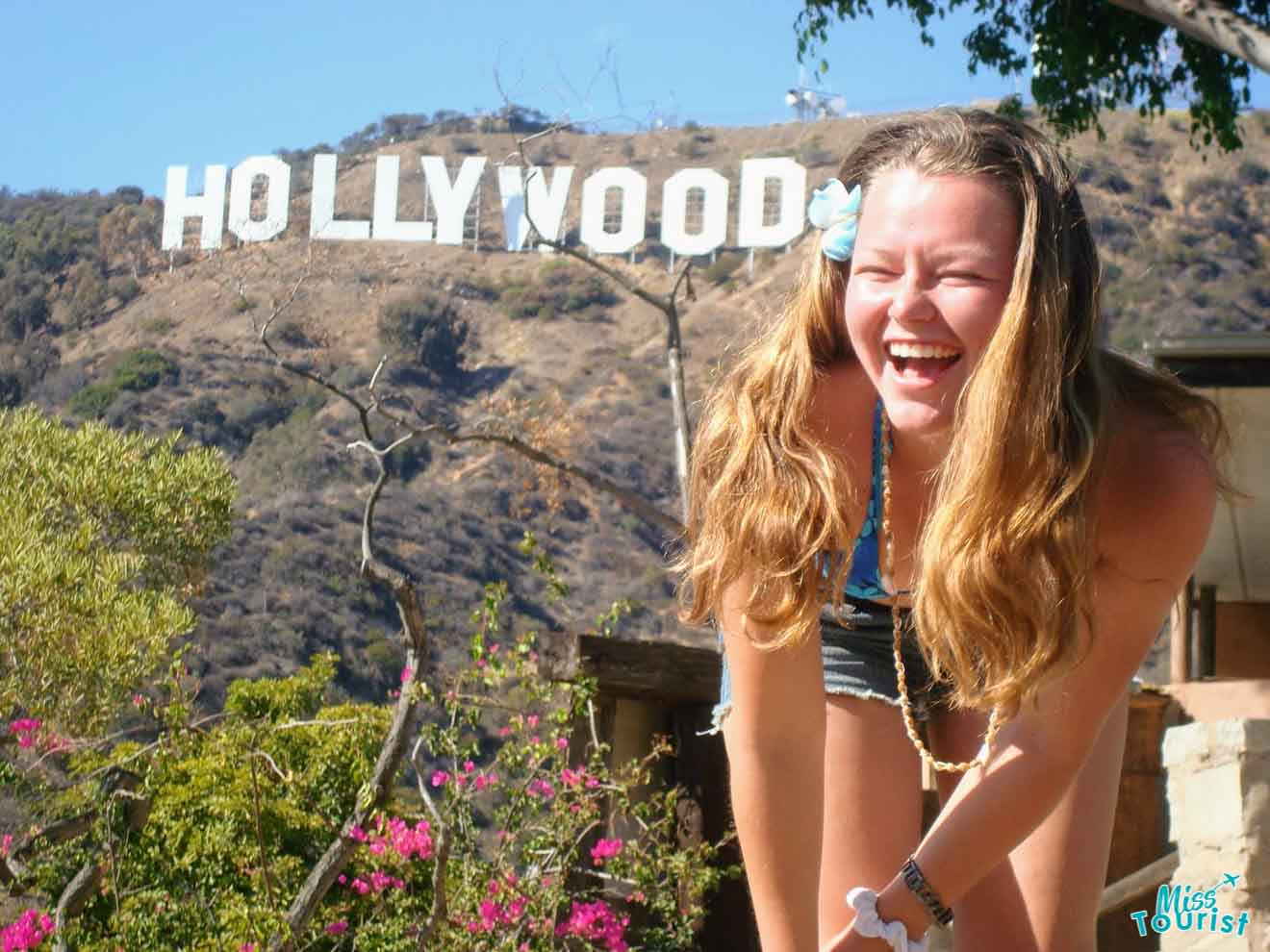 It's so important to be prepared when you plan your solo trip. I always plan ahead to ensure my safety. Here are some things I recommend doing before you head on your solo travel journey to Los Angeles:
Blend in – One thing I'm really good at when I solo travel is blending in. Depending on where in the world you might be, that might mean meshing your sense of fashion with theirs, doing whatever it takes to respect the local community, or just putting down the DSLR camera. In LA, there's a big enough melting pot of people and personalities that it's kind of hard to stand out. Just leave the camera at home and act like you belong there!
Research, research, research! It's important to know how you're getting everywhere, how far your hostel is from the main attractions, and which areas are safer than others. You'll need to know everything before getting there so you don't get lost!
Meet locals and be friendly but stay cautious! This is so important when you're traveling solo. Meeting people is one of the perks, but it also can be dangerous if you don't know how to walk the fine line. Be aware and trust your instincts if something feels off!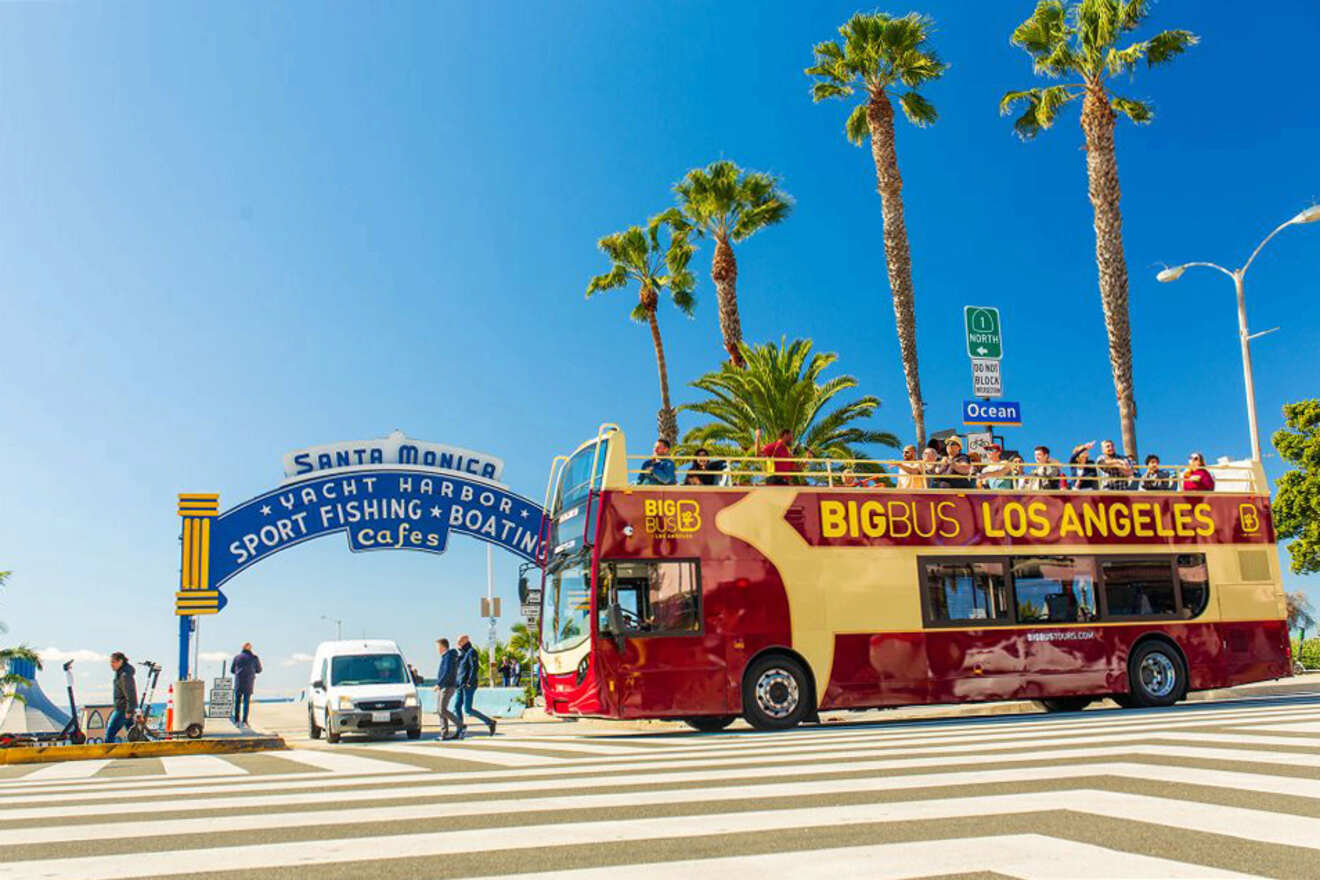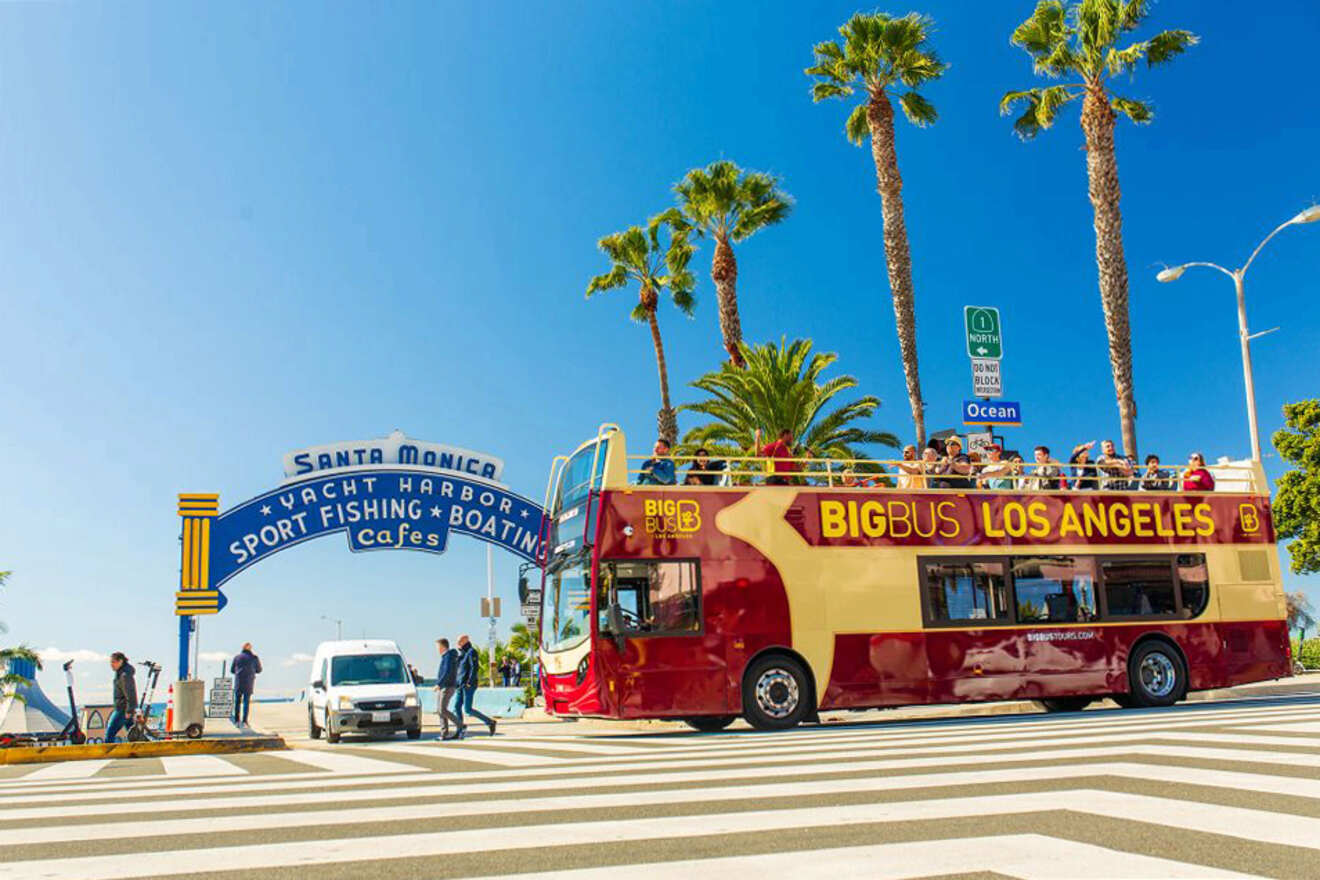 Book group tours – Some of my favorite moments and memories of my solo travel trips have been made with new people I've met in group tours around the world. You'll also learn and explore so much more in a shorter time on a group tour rather than wandering around the big, great city by yourself.
Invest in travel insurance! If your flights get canceled, luggage gets lost, or something goes sideways – you're protected! You never really know what can happen, so it's important to stay protected.
Prepare your schedule ahead of time! Having the right balance between readiness and allowing spontaneity is going to be so important. I recommend crafting an itinerary while leaving space for unexpected adventures. Personally, I like to schedule 1 or 2 activities each day and leave the remaining time open for spontaneous experiences (which often lead to the most cherished memories).
Once you check everything off the list, you're ready to start exploring Los Angeles and all the best things to do alone!
1. Get outside in the vibrant city of Santa Monica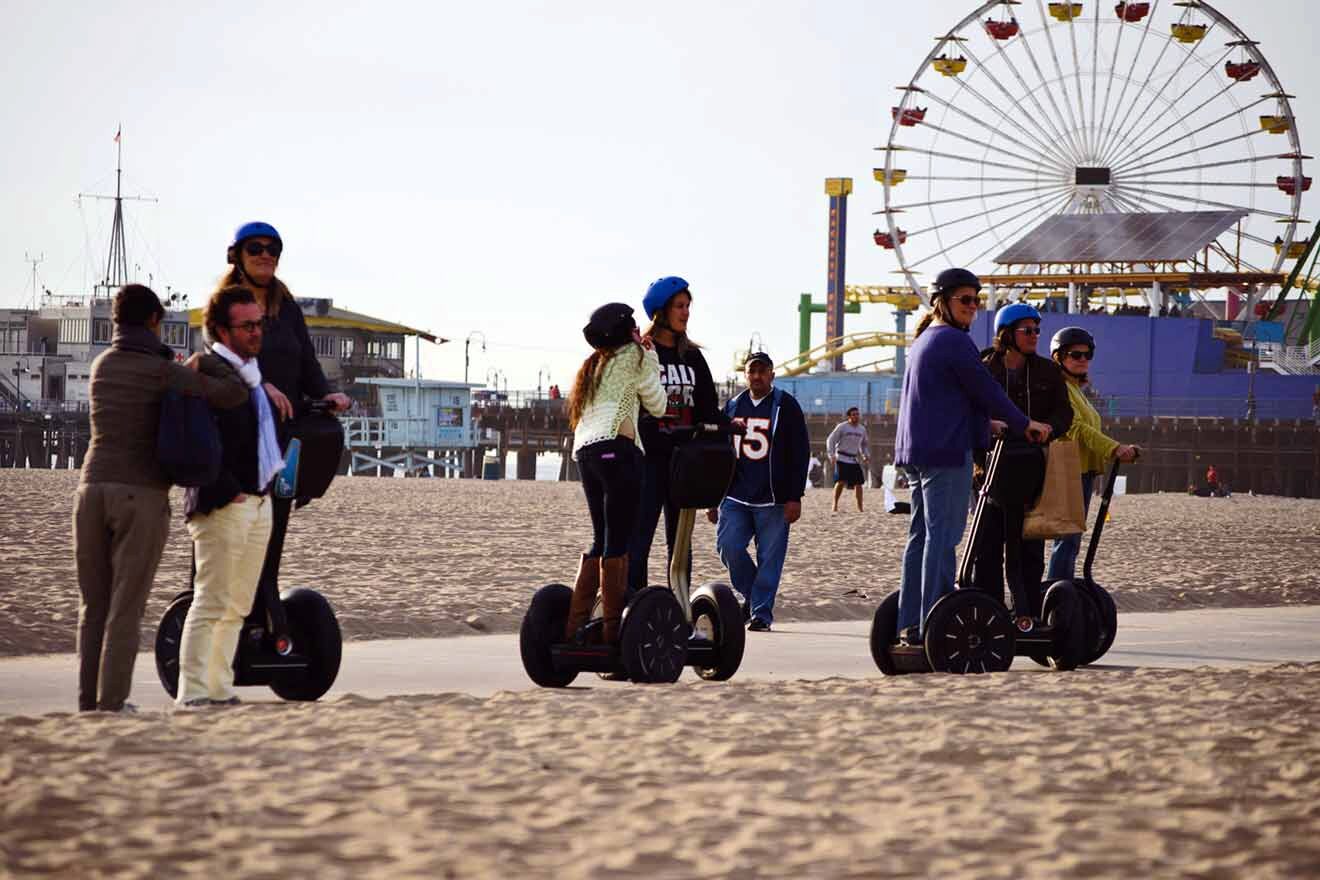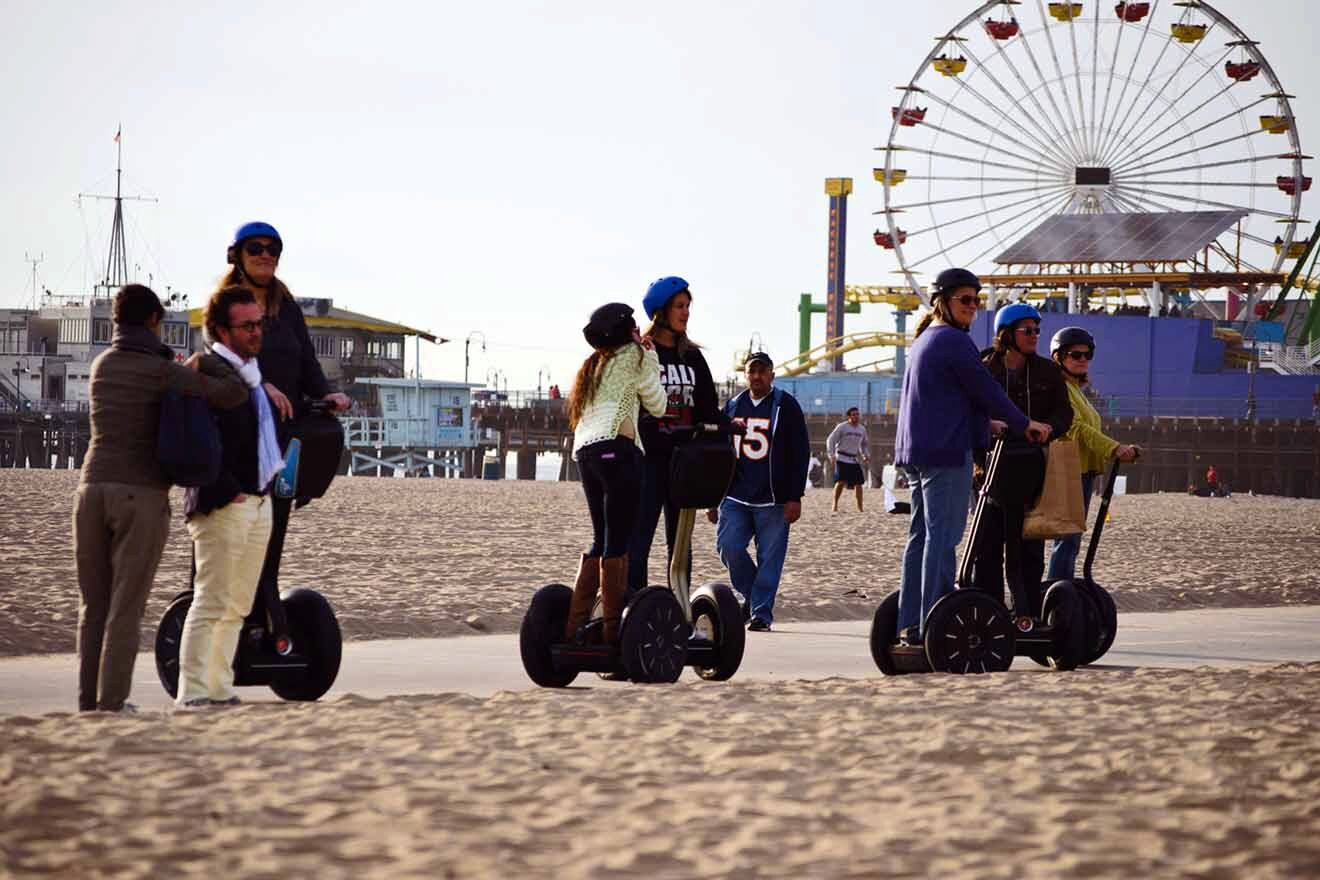 Santa Monica is known for its vibrant culture and a number of attractions that people from all around the world come to see. The beach town is known for its famous Santa Monica Pier for fun and games, Third Street Promenade for shopping and dining, and the beautiful Santa Monica Beach for a day under the California sun.
As a solo traveler, here are a few things to do alone while you're in Santa Monica:
Explore the Santa Monica Farmer's Market on Wednesdays, Saturdays, and Sundays in the Downtown, Main Street, and Pico neighborhoods. You'll find locally grown and fresh foods that you can eat on the spot or take back to your hostel (grocery shopping will save you tons of money in the end, too).
Go on a Segway tour of Santa Monica and Venice Beach. Explore the best of LA's popular 2 beaches without having to walk even more.
Take group surfing lessons which are an amazing experience for solo travelers! Meet new like-minded people, make new friends, and learn a skill in one of the best beach towns in SoCal!
e-Bike along the beach from Santa Monica to Venice Beach. Venice Beach is a short 45-minute walk from the pier, so it's worth checking out both beach towns on an adventurous tour like this! Plus, feeling the salty air and cool breeze is a refreshing awakening!
The best way to meet new people as a solo traveler is by speaking with the locals and, if you're staying in a hostel, sparking up a conversation with your fellow hostel mates. Once you do that, I suggest taking a visit with them to the Santa Monica Pier! The Santa Monica Pier has a world-famous amusement park with plenty of rides, games, and attractions to see.
PRO TIP: Head down to the Third Street Promenade for lunch at 1212 Santa Monica and enjoy their happy hour menu with a handcrafted cocktail at only US$9. I don't recommend having more than 1 or 2 drinks with your meal since you're alone and need to hold yourself accountable. Stay safe and drink responsibly!
2. Visit the Griffith Observatory and Griffith Park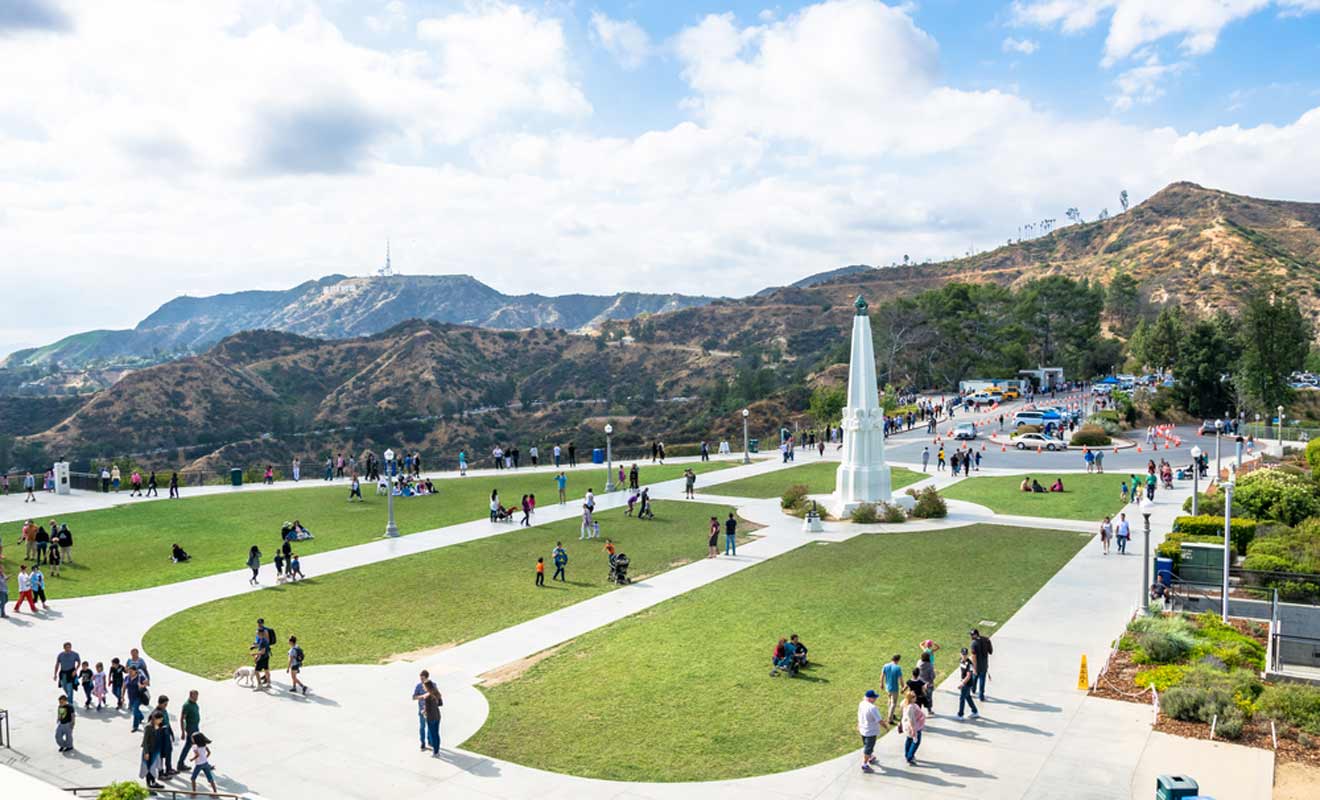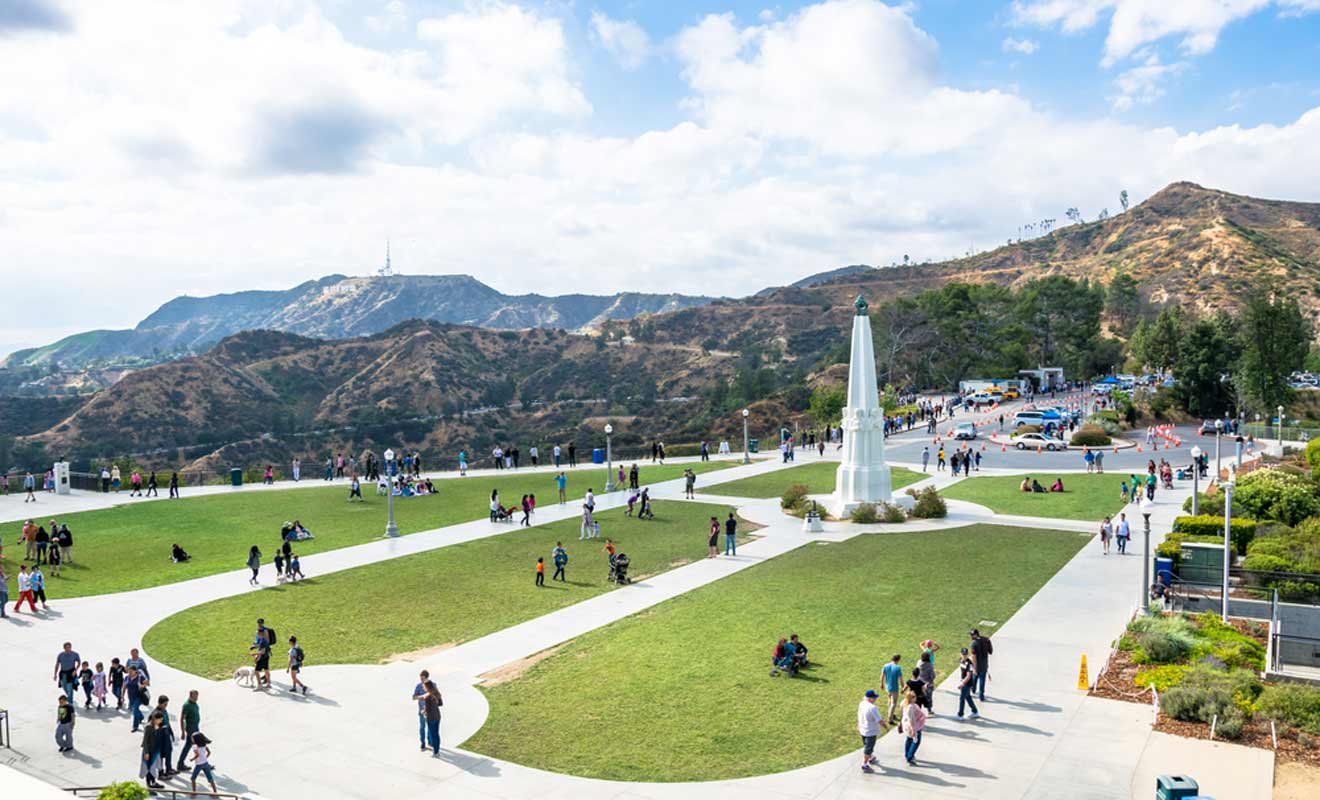 The Griffith Observatory is an all-around amazing museum that I couldn't recommend enough. As an astrology nerd, I really enjoyed walking through the exhibits and getting a close look at what is known as "Southern California's gateway to the Cosmos."
There are a number of unique exhibits, one of the most famous telescopes in the world (Zeiss refracting telescope), and live shows throughout the day that are great for solo travelers.
The Samuel Oschin Planetarium show is an absolute must-see. The graphics and feeling in the dark theater are unlike anything else. It's specifically great for solo travelers because it's nice and relaxing to just sit in the dome-shaped building, look up and relax under the star-lit night sky (aka the show). You'll leave the observatory with a better understanding of the world and refreshed, ready to continue walking through the exhibits.
The Griffith Observatory is also a fabulous viewpoint for the iconic Hollywood Sign and to observe the Los Angeles skyline! It's located on Mount Hollywood and Griffith Park, overlooking the Los Angeles basin. I recommend taking a selfie in front before walking into the observatory.
If you're feeling overwhelmed with all that this museum has to offer, book a guided tour to learn the ins and outs of the Griffith Observatory without having to stress about where you're going or if you're running late on time. The tour guide will take care of it for you!
TOUR PRICE: US$35 per person
3. Spend your day in Universal Studios Hollywood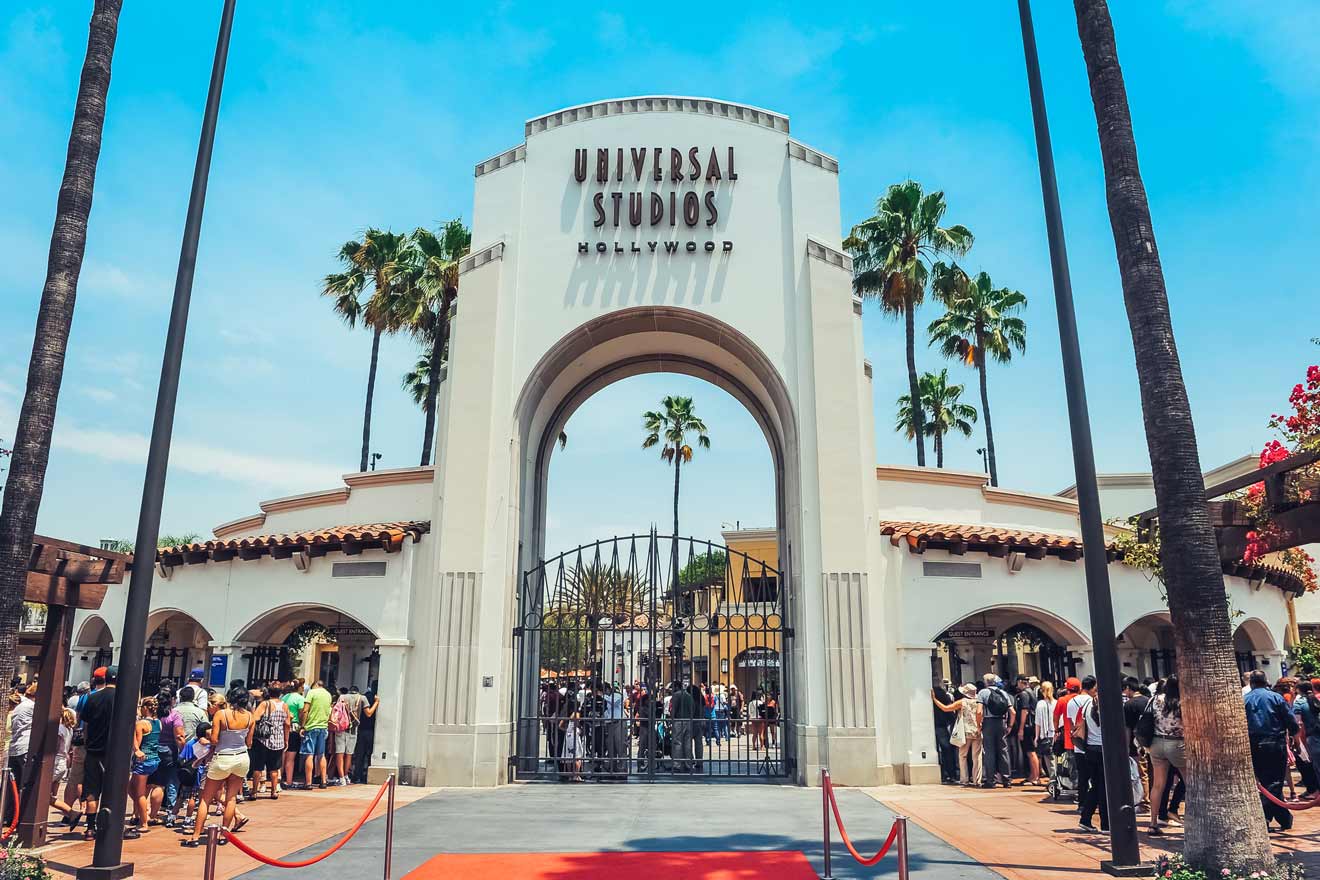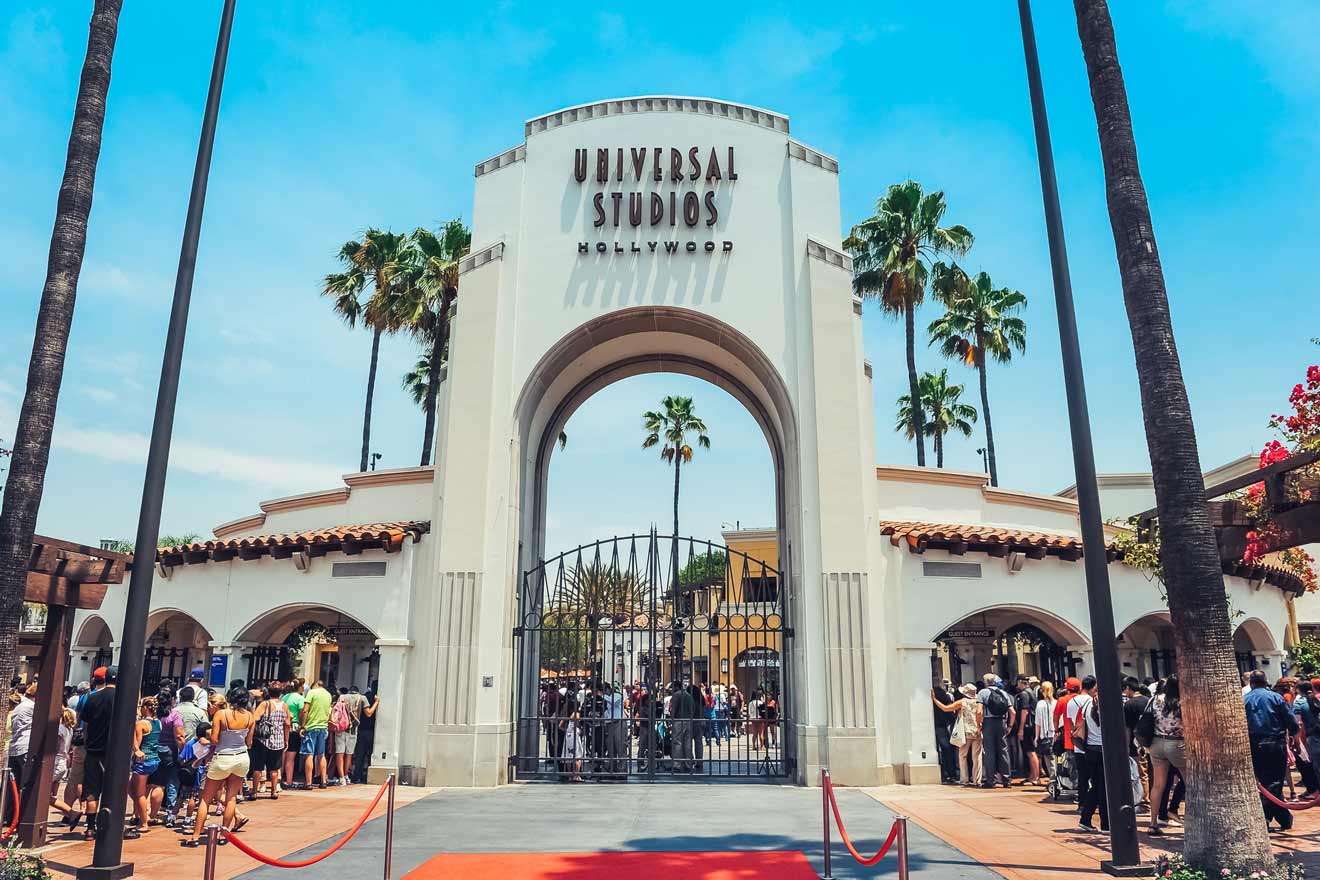 If you're traveling to Los Angeles for the first time, you really shouldn't miss out on one of the best theme parks in SoCal, Universal Studios Hollywood! As a solo traveler, there are a few ways you can really take advantage of the freedom you have roaming around the park alone.
Here are a few tips for your day in Universal Studios Hollywood:
Get in the single rider lanes! This is a huge perk considering the fact that regular lines get to be about 1 – 2 hours long. Single-rider lanes get you into your favorite rides quicker.
Explore the details – Every corner of Universal Studios Hollywood is very well thought out and put together. It's so easy to miss all the fine details when you're with your friends and family. Take the time to admire the details when you're by yourself!
Don't miss out on The World-Famous Studio Tour! It's my absolute favorite tour in Universal Studios and is included with your admission! See how to get the best deal in our article on Universal Hollywood tickets.
Go indoor skydiving at iFly Hollywood – The ultimate fun and safe solo adventure with their state-of-the-art vertical wind tunnel!
PRO TIP: Don't be afraid to spark up a conversation and meet other solo travelers while you're in the single-rider lines!
PRICE: from US$140 for adults
Buy Your Universal Studios Ticket
4. People watch and explore Venice Beach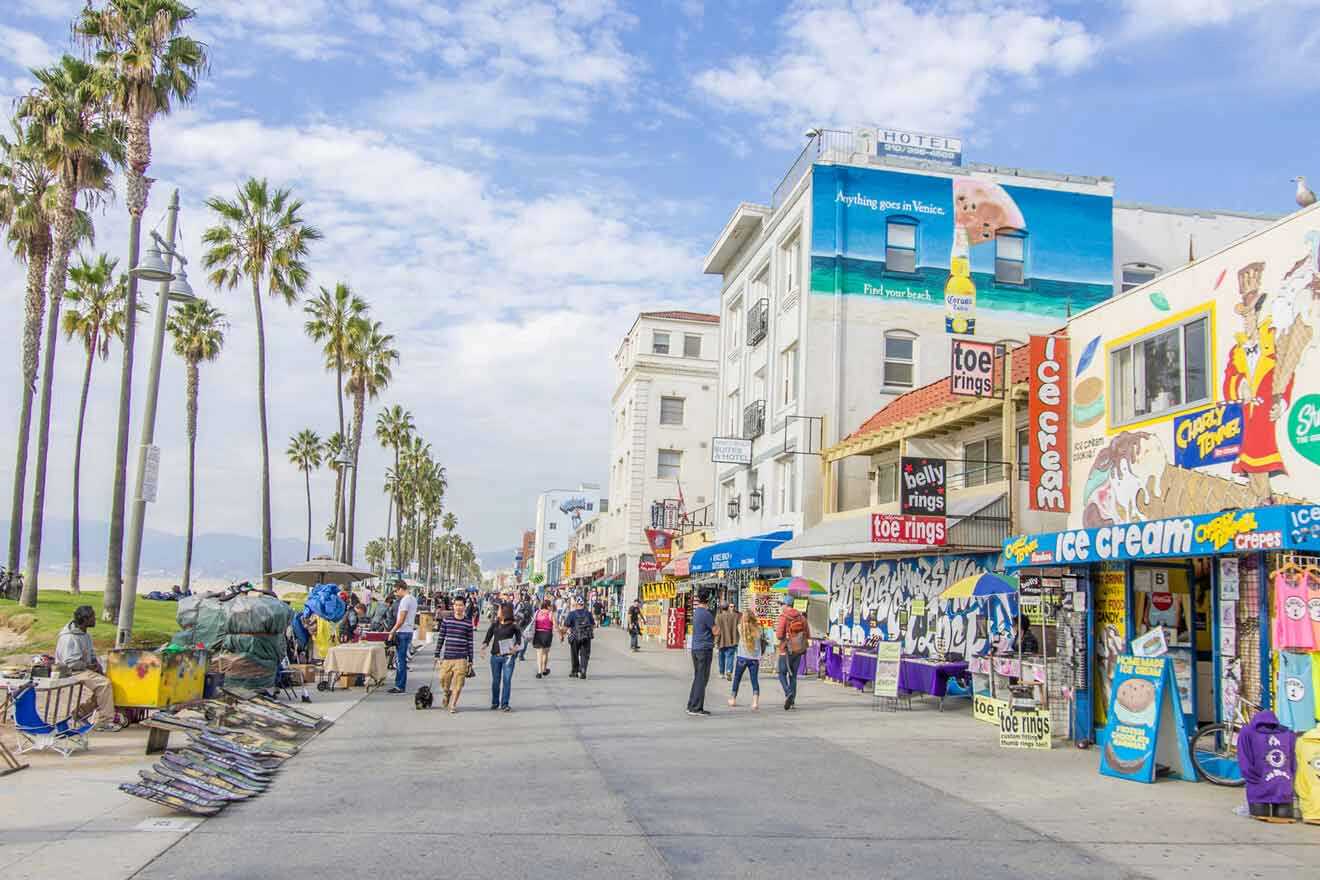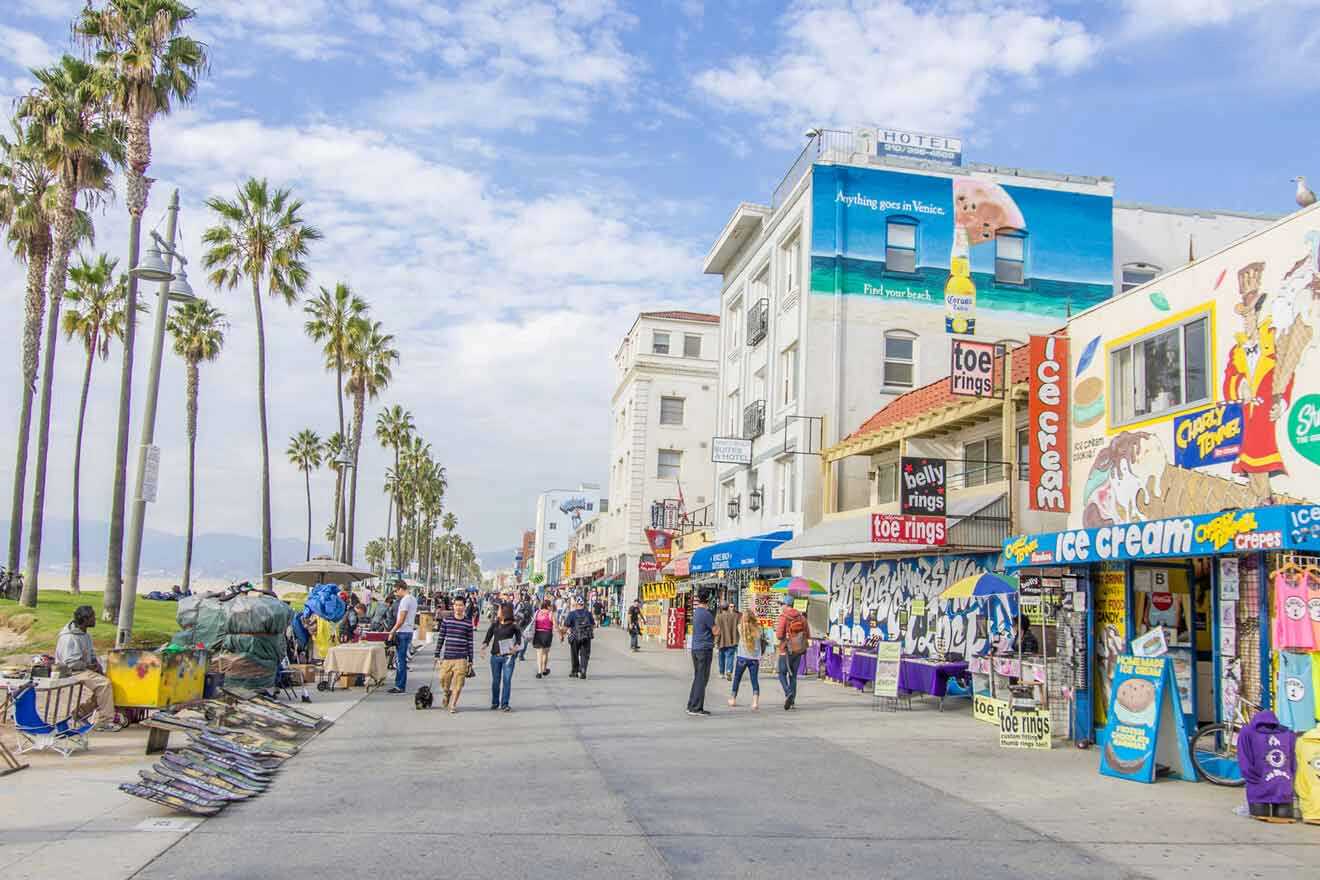 Immerse yourself in the vibrant Venice Beach! Venice Beach is about a 40-minute walk away from Santa Monica Pier, and it's super easy to navigate if you're spending the day walking between the 2 beach towns.
Venice Beach is well-known for its Marina Del Rey, Muscle Beach, Ocean Front Walk along the Pacific Ocean, Venice Skate Park, and the eclectic street art scene. Walk through the Ocean Front Walk and get a taste of free entertainment along the way, passing Muscle Beach and the skate park.
I personally love to stroll and people-watch when I'm traveling solo. I suggest doing the same here after grabbing a scoop of ice cream from Salt & Straw nearby!
Then, join a walking food tour for an inside look at the best eateries and local hidden gems loved by locals. This 3-hour tour (led by a local) takes you through the most delicious food spots and explores the history of Venice Beach! You also get to meet all kinds of people from around the world.
My absolute favorite way to explore a famous city as a solo traveler is through a walking tour before anything else. Not eating the best food during your trips can really make or break your trip – so book your tour and get a feel of where the best spots are (that way, you can go back and/or figure out what you like beforehand).
TOUR PRICE: US$86 per person
Explore Venice Beach Local Favorites
5. Make new friends at the Los Angeles Zoo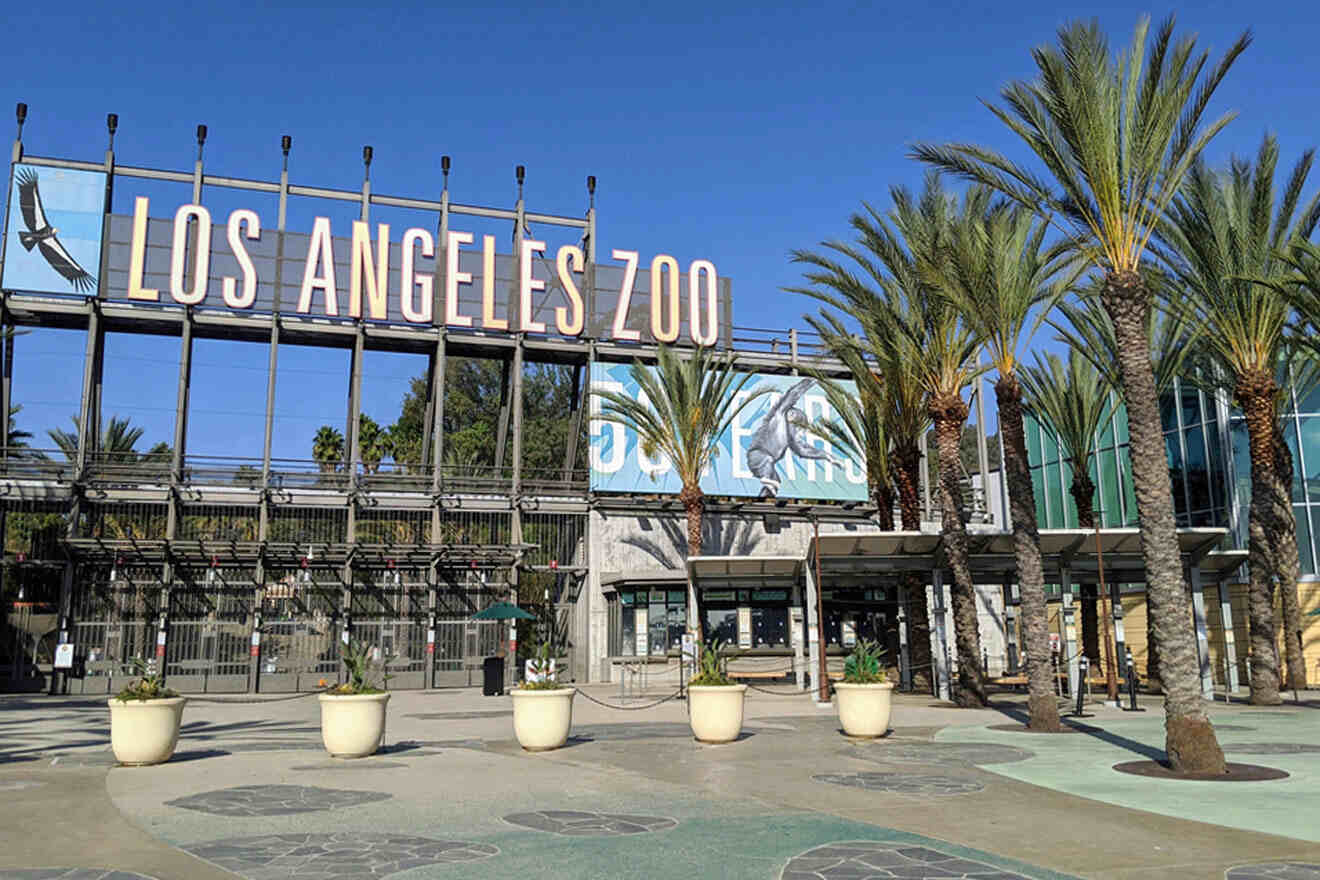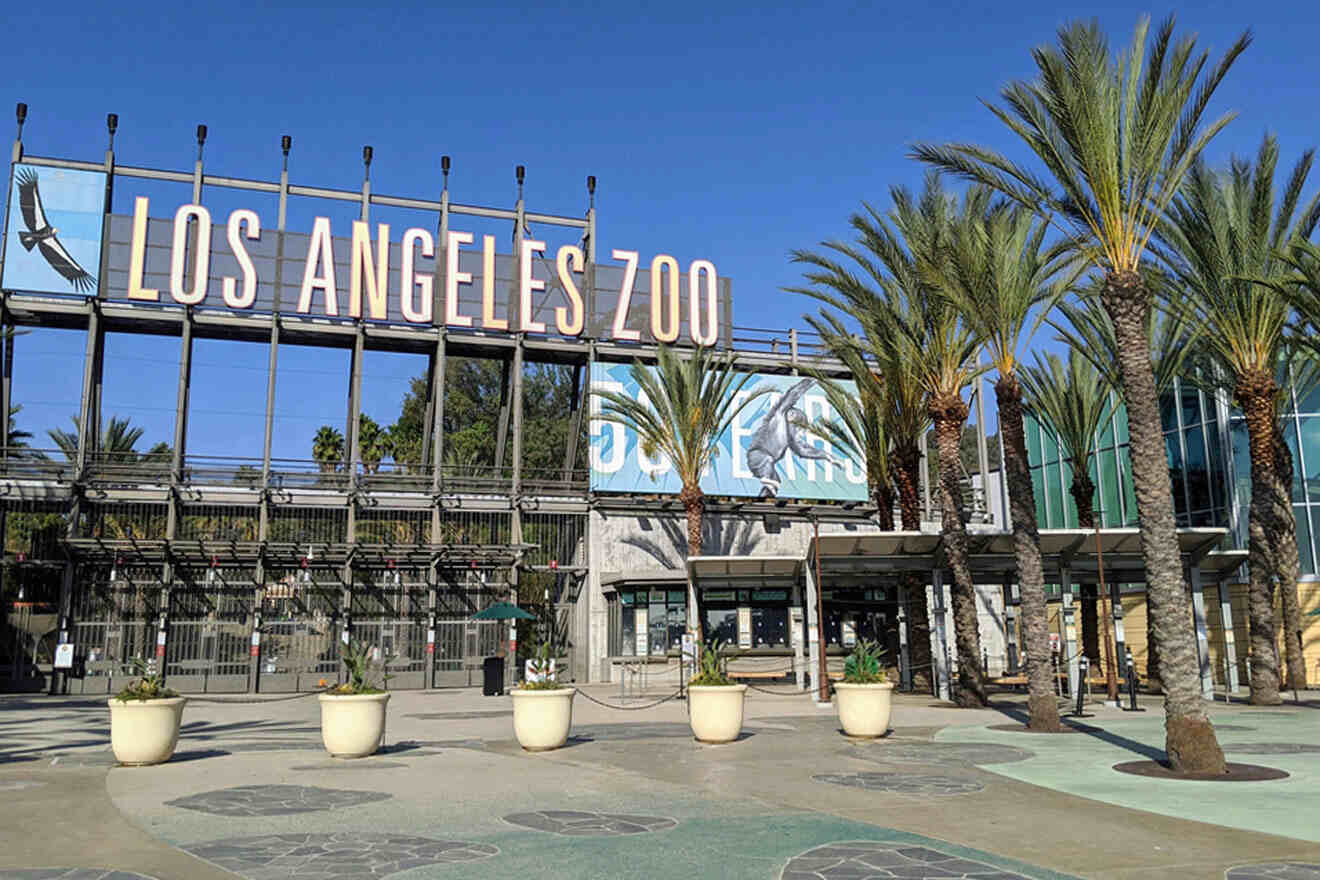 The Los Angeles Zoo is located within Griffith Park and carries a diverse collection of wildlife while also being dedicated to conserving and educating others on the animals that are home to this zoo.
It's a nice place to stroll and enjoy your surroundings while feeling safe as a solo traveler. I suggest visiting both the Griffith Observatory and Los Angeles Zoo on the same day since they are located near one another.
In addition to the animal exhibits, the Los Angeles Zoo offers extensive botanical gardens with a diverse collection of plant species, from Hong Kong orchid trees to Mexican fan palms. Bring a camera and take a relaxing stroll!
If you plan on visiting 2 or more famous attractions like this one, I suggest getting a GoCity Pass. The GoCity Pass can save you up to 45% off regular single-ticketed attractions, and if you don't know which attractions you want to see yet, you can still buy the pass and pick from about 30 attractions.
PRICE: From US$90 per person
6. Admire the art and architecture at the Getty Villa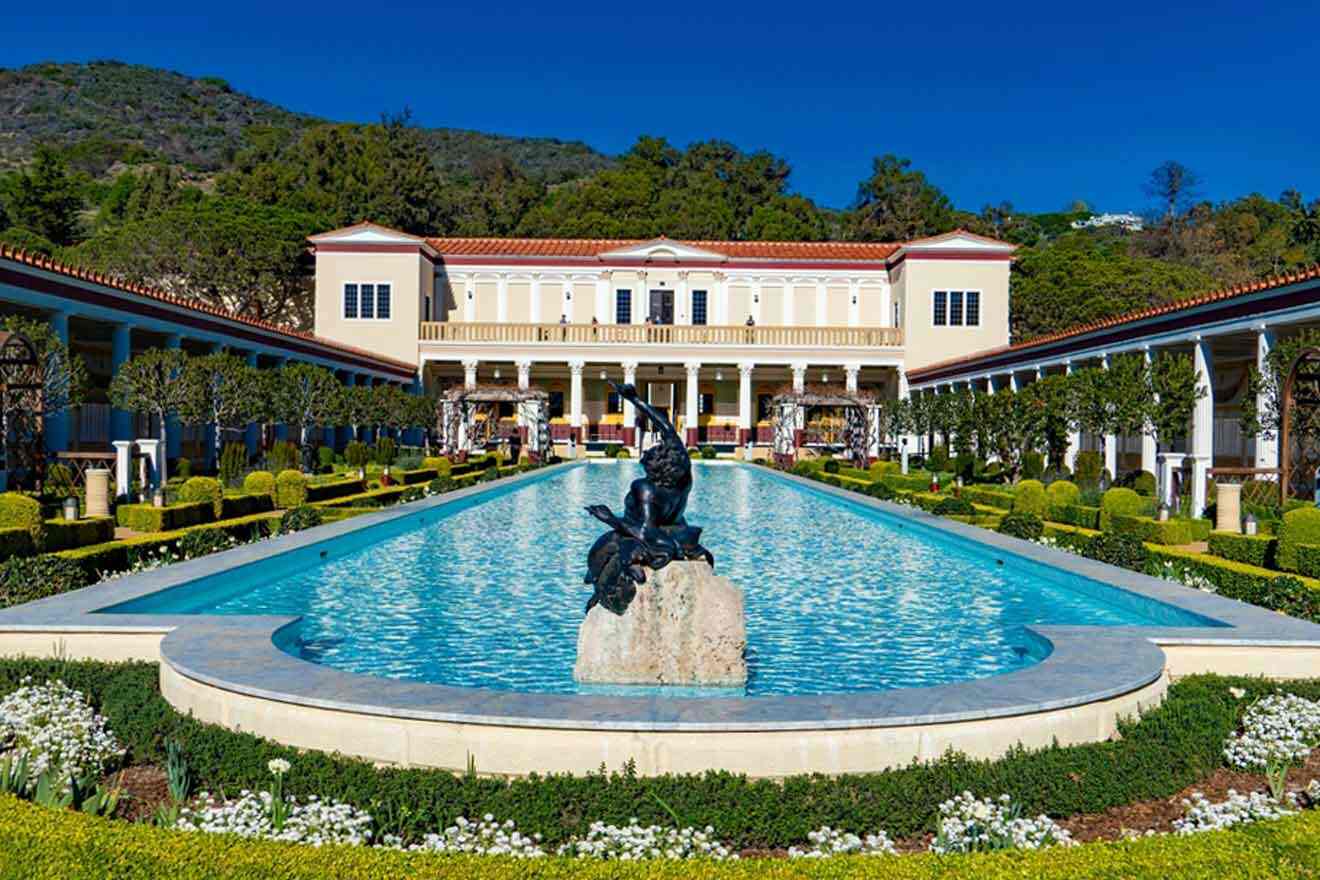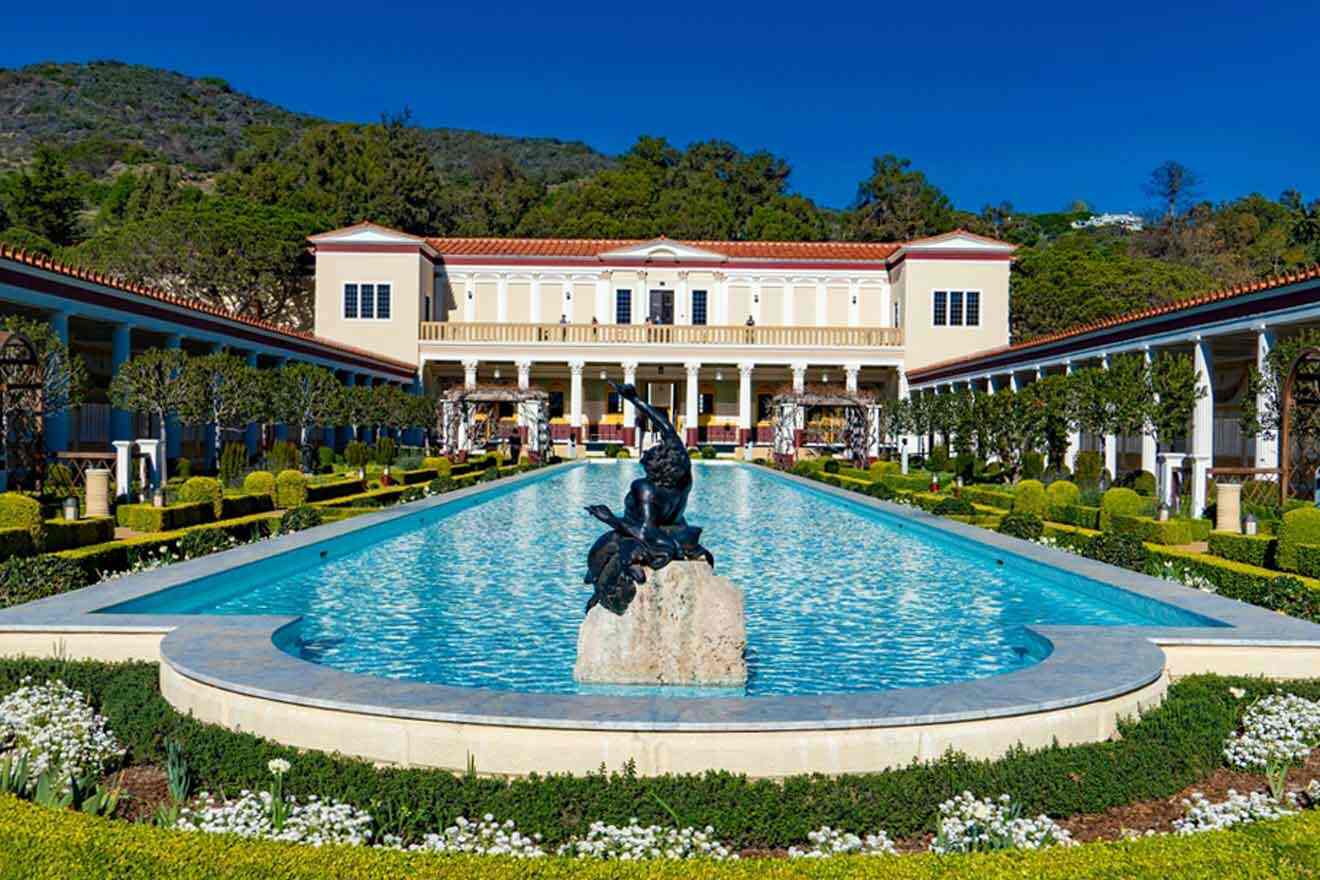 The Getty Villa is a Los Angeles art museum and education center. It's one of two locations of the J. Paul Getty Museum, the other being the Getty Center. The Getty Villa focuses on the arts and culture of Rome, Eturia, and ancient Greece.
I personally love walking through museums when I travel solo, simply because I'm taking my time reading each plaque and have the flexibility to take as long as I want! Known as the "largest cultural and philanthropic organization," it's a pretty popular attraction in Los Angeles and the place to be if you're an art enthusiast.
Not only is the inside filled with unique works of art from the ancient world, but The Getty Villa is also a beautiful work of architecture itself! I suggest snapping a selfie by the ancient Roman-inspired building, where you can also capture the beautiful Pacific Ocean views along the famous Pacific Coast Highway.
It's completely free to visit but make sure to book in advance to reserve your spot!
TIP: I suggest bringing a pocket journal for everything you solo travel! Jotting down your memories as you solo travel allows you to ponder on your experiences and the insight you gain. You might even decide to share your experiences on a travel blog one day, too! 😉
7. Take a walk in Runyon Canyon Park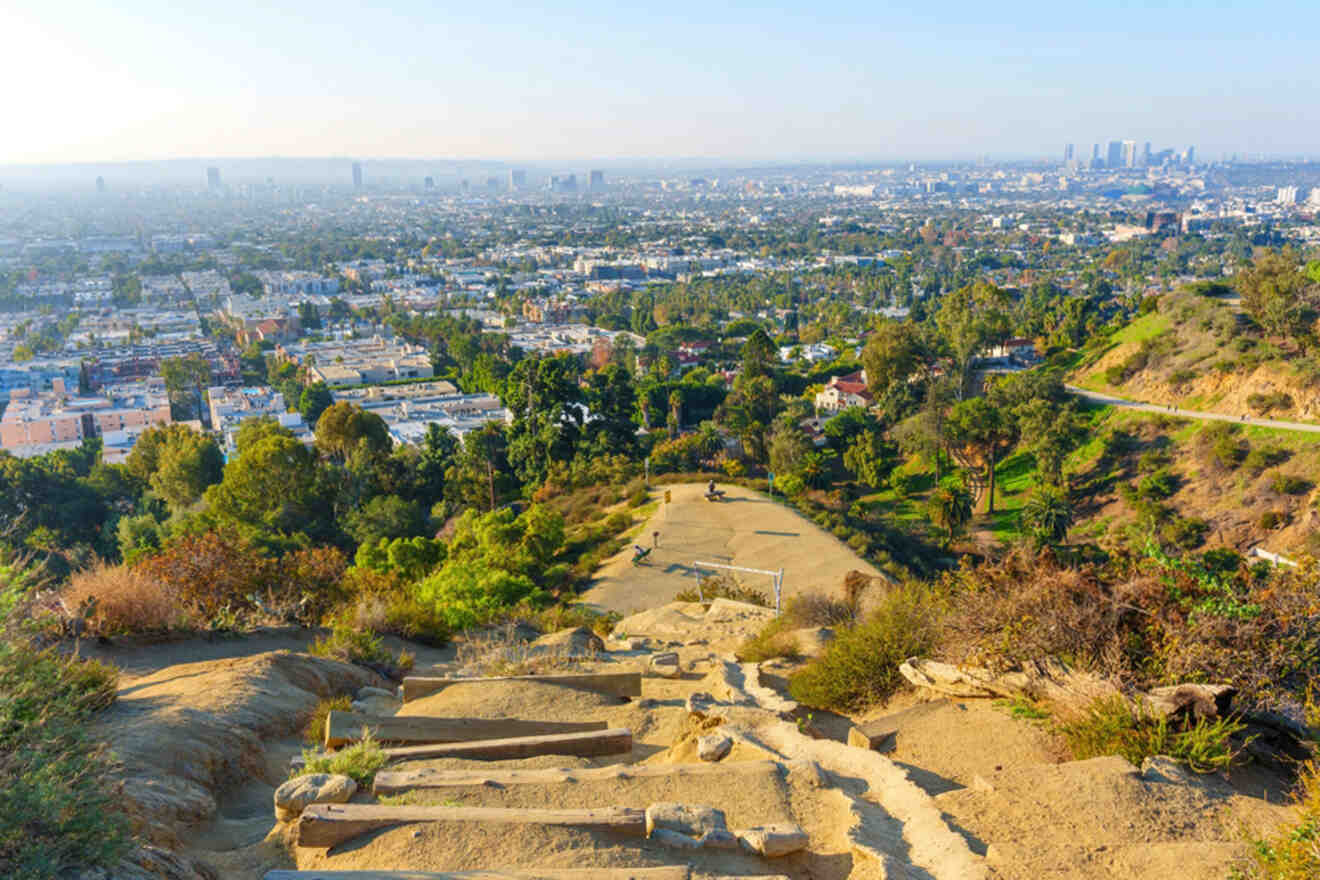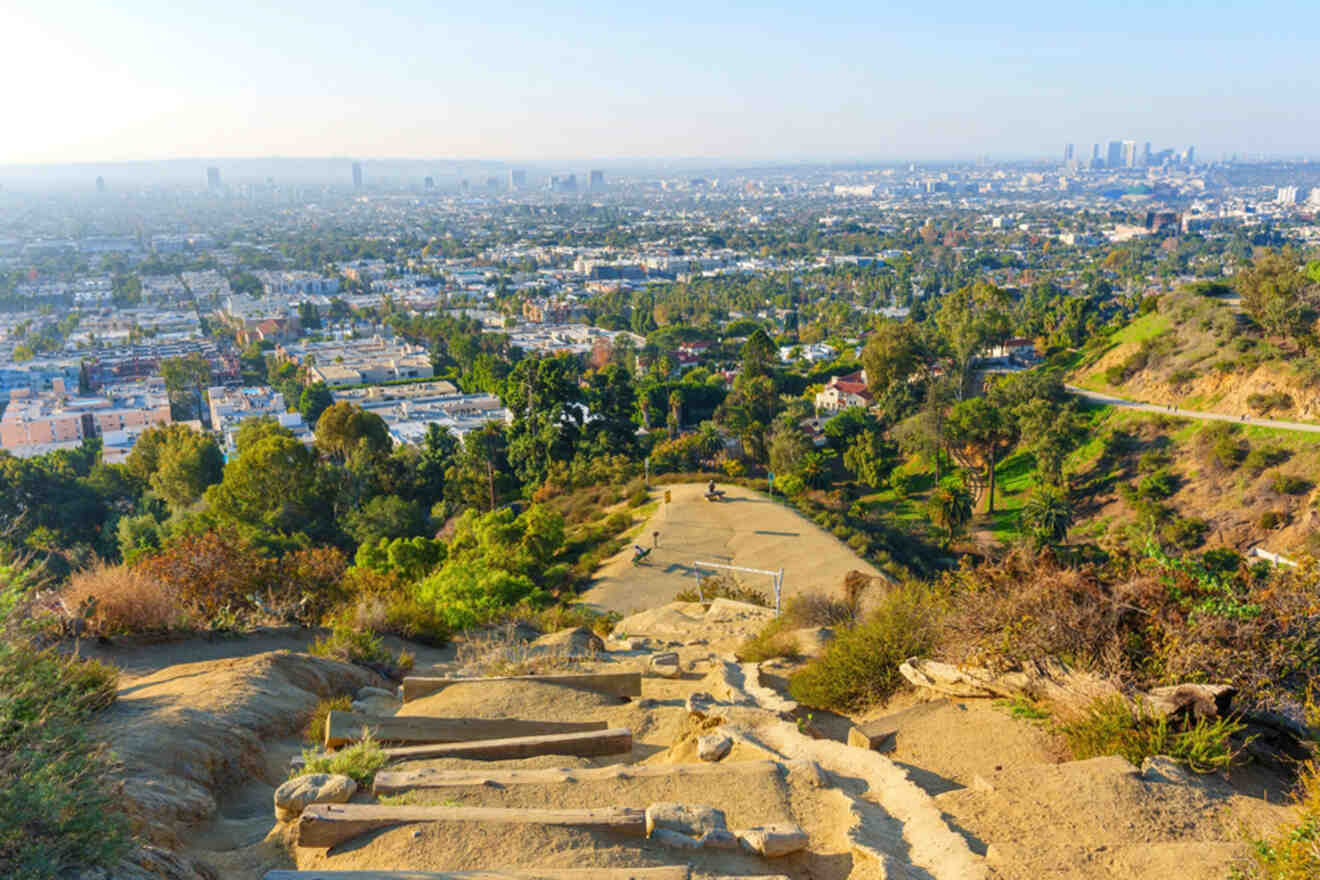 I personally enjoy going on hikes alone, whether in a new city or in my hometown. There's something about putting your headphones in, sunglasses on, hair up, and cap on – it's arguably the best way to work out and/or enjoy the present moment. Runyon Canyon Park is one of the best places to do that in LA!
The park has several hiking trails (also among the best hiking trails in LA) with different routes, depending on the level of difficulty you're willing to take on.
Here are a couple of routes I suggest taking:
Runyon Canyon Road: This is the 2.6-mile long (4.3 km) main loop trail that leads to the top of the canyon. Do this one if you don't want something too hard or too off-the-beaten-path. This is also a safer route to take since it's not a remote area. Here, you'll mostly find panoramic views of LA, along with local hikers, joggers, and dog walkers.
Star Trail: Star Trail is a far less crowded option that connects to Runyon Canyon Road. It's an alternative route leading up to the summit and great if you want to avoid the crowds. If you take this route, I suggest taking off the headphones and being more aware of your surroundings (you should always be doing that when you travel solo, but especially if you're in a remote setting like this)!
East Ridge Trail: This trail goes through the eastern side of Runyon Canyon and gives a less crowded hiking option with scenic views at the top. Take your time and enjoy the walk!
TIP: Bring plenty of water, snacks, and sunscreen, and don't go too hard on yourself! Being mindful of your own fitness level and limitations is always important, but especially now, since you don't have anyone with you to hold you accountable or if *knock on wood* something bad were to happen on your hike.
8. Spend time with nature at the Huntington Botanical Gardens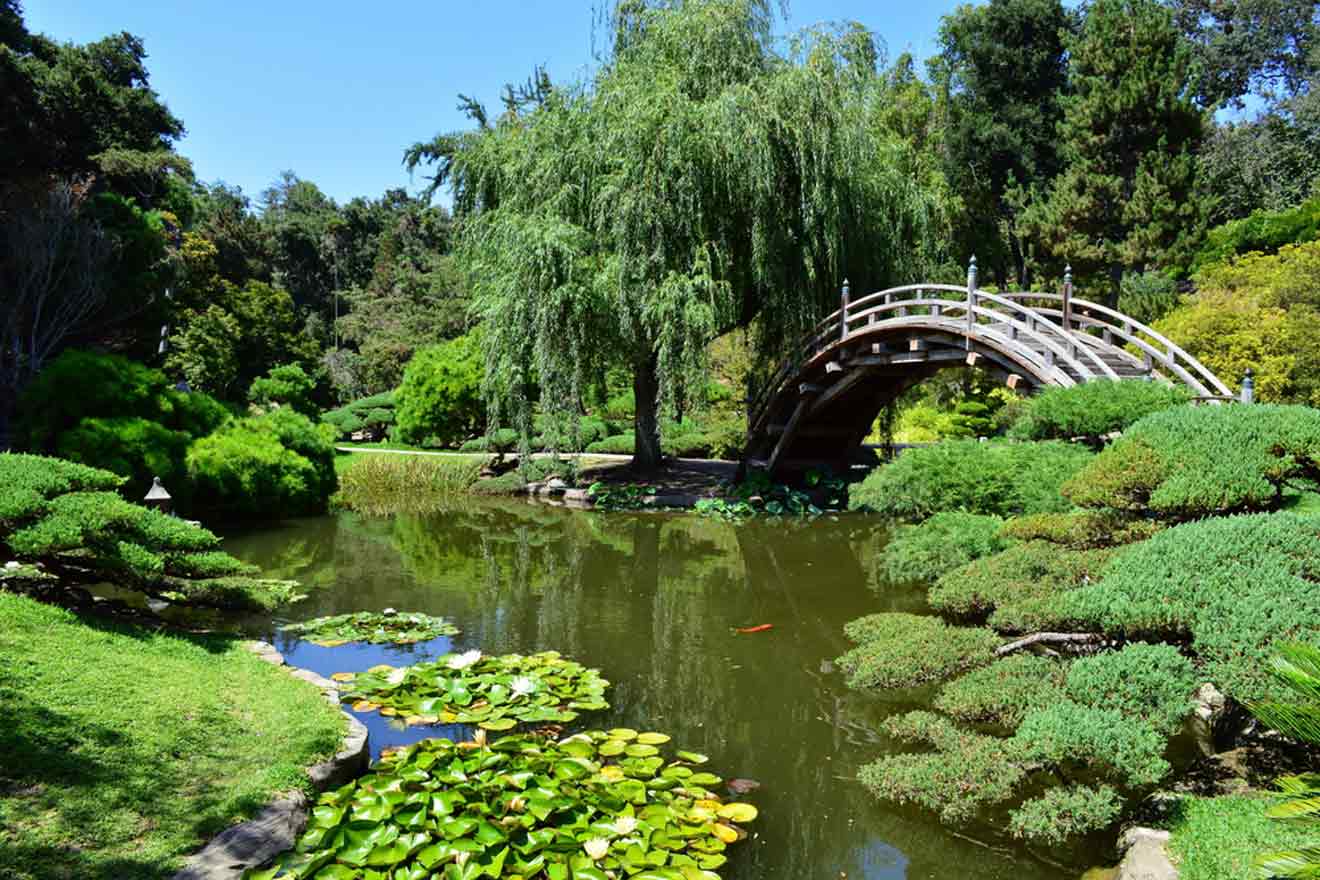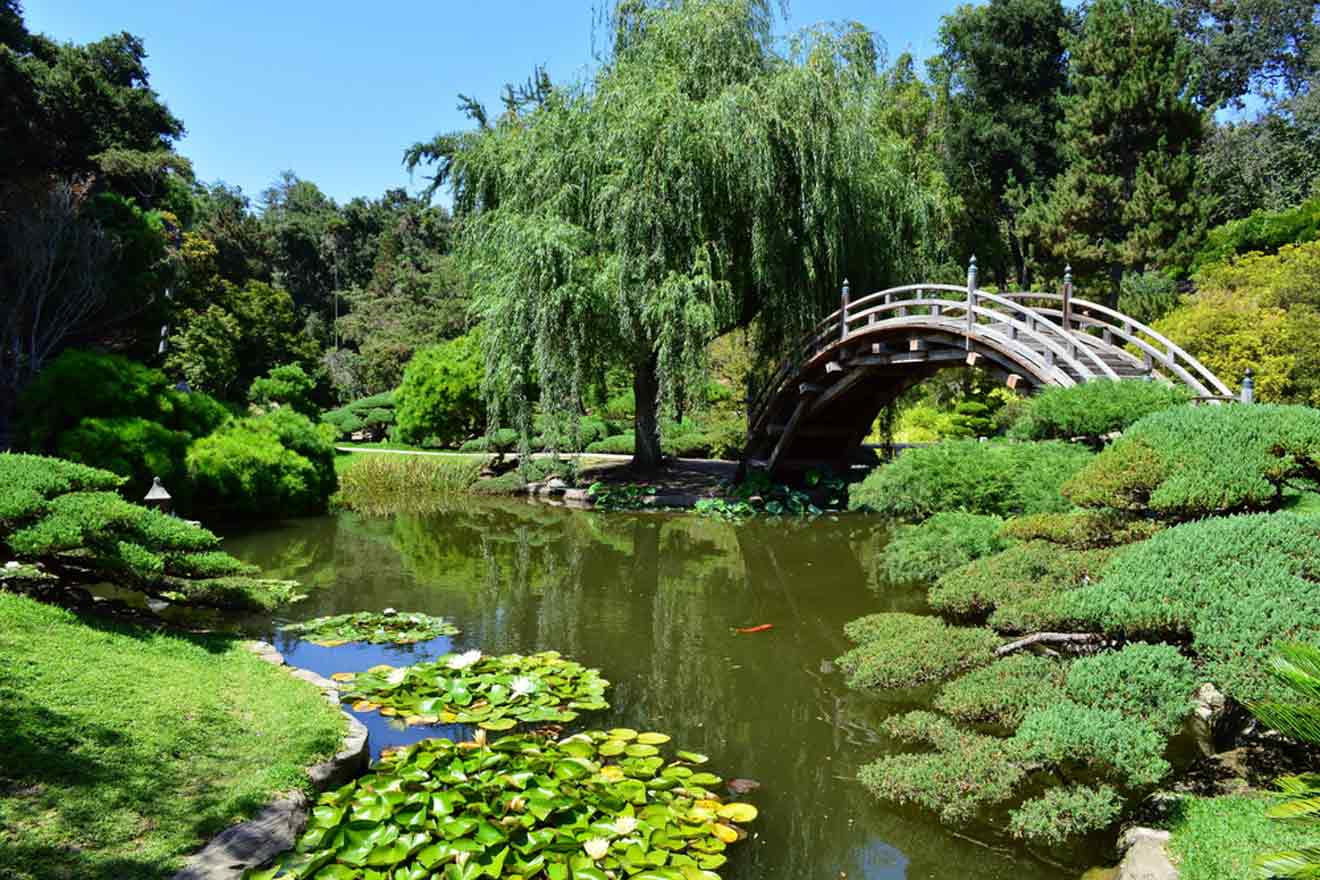 The Huntington Library, Art Museum, and Botanical Gardens (also just known as the Huntington Botanical Gardens) is home to 16 gardens with over 83,000 unique plants to admire! You'll find the Desert Garden, Japanese Garden, Chinese Garden, Rose Garden, Australian Garden, Jungle Garden, and more.
You can easily spend the entire day just wandering through the gardens, reading books, and learning all about history along the way.
The Desert Garden happens to be one of the largest outdoor collections of cacti and other forms of succulent plants in the world, featuring a variety of desert plants from around the world!
At the Japanese Garden, you'll feel a sense of serenity with the traditional Japanese elements like tea houses, bonsai specimens, koi ponds, and more. In the Chinese Garden, expect classic Chinese architecture, lakes, and paintings reminiscent of China's landscapes. These 3 gardens are my absolute favorite, and I couldn't recommend them enough!
If you can't get enough of this place, continue on to the art gallery and library for an extensive collection of European and American paintings and rare books.
The Huntington is open every day from 10 AM to 5 PM and closed on Tuesdays. Reservations are required, so buy your tickets ahead of time here!
PRICE: from US$25 per person
9. Book a yoga class in Beverly Hills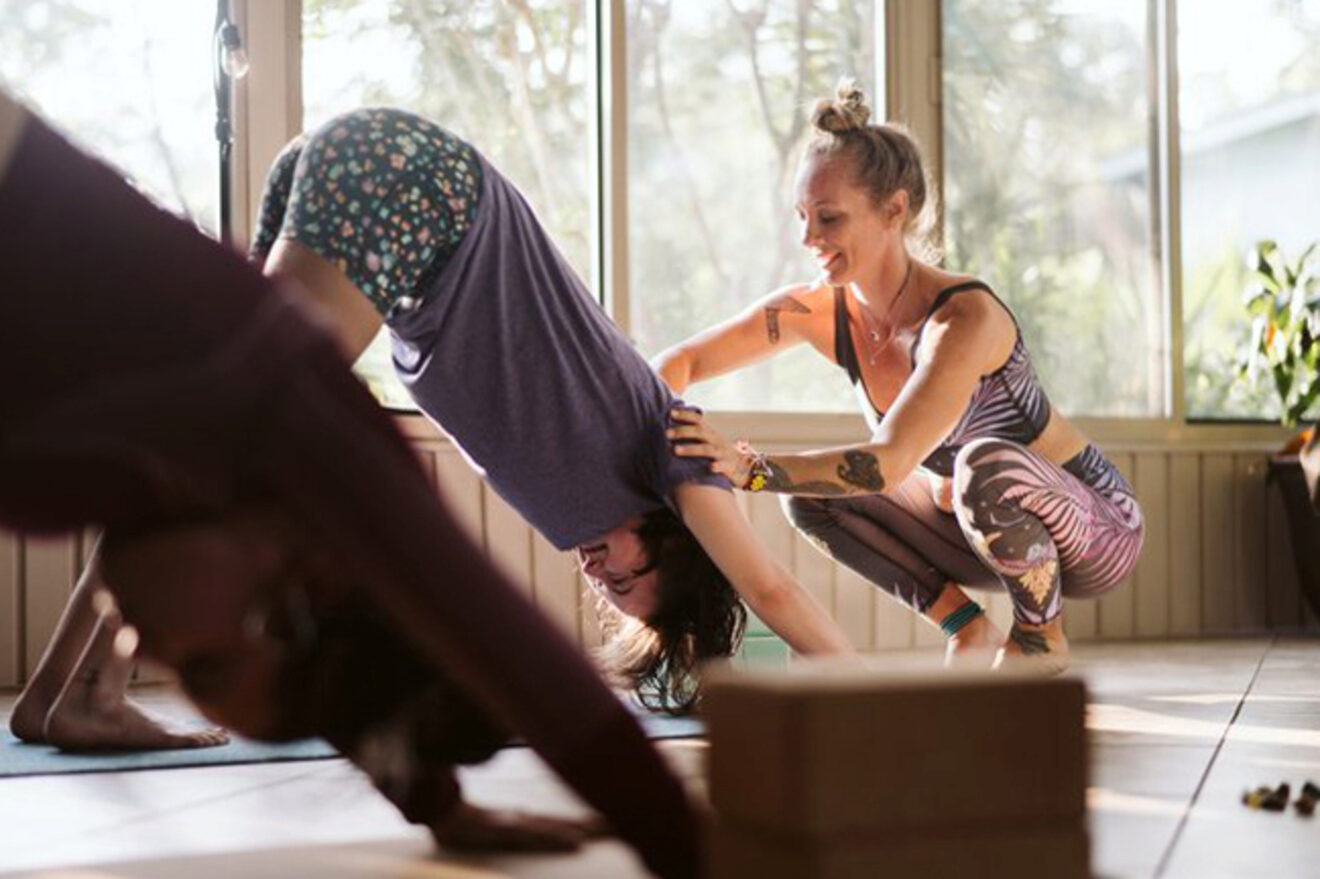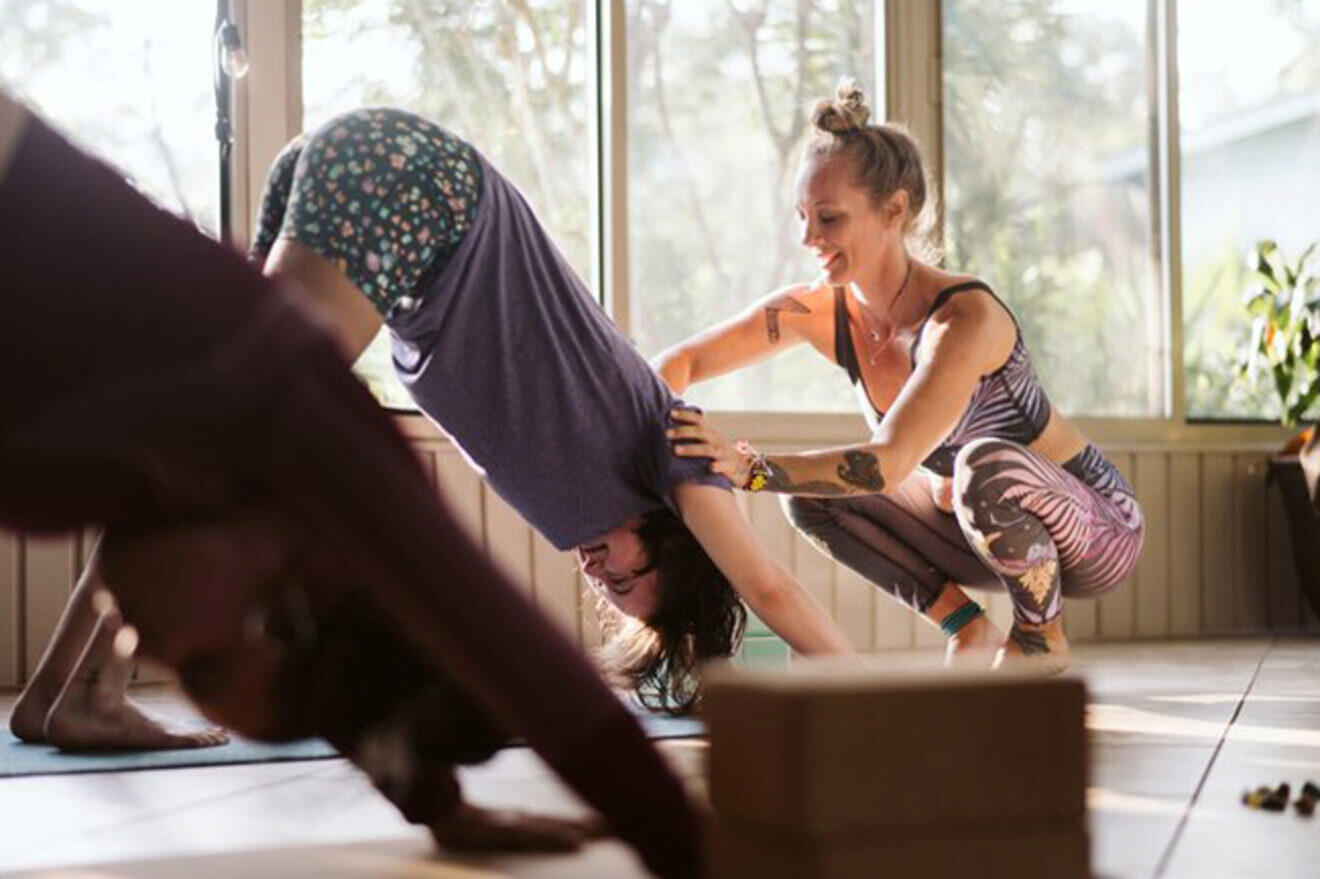 Beverly Hills is known for its glitz and glamour, celebrity culture, iconic hotels, and the famous Rodeo Drive. As a solo traveler, I don't recommend visiting any of that while you're in Beverly Hills.
Instead, book a yoga class at Hot 8 Yoga! The yoga classes at Hot 8 Yoga are so unique because you can choose the kind of class style you want (between non-heated vinyasa flow, yin yoga, and restorative yoga) and a selection of hot yoga classes if you want, from yoga to strength training and even ballet-inspired moves.
Yoga is one of the best activities to do solo, and I always look for classes anywhere I am! I suggest taking advantage of the New Student Welcome Week promotion for new students and paying the US$33 membership for 1 week of unlimited yoga, which is usually the price of one class.
If you're a serious yogi, consider going on a full-on this 3-day yoga retreat instead! This is an amazing way to meet new people, connect better with yourself, and relax during your time in Los Angeles.
After your Beverly Hills yoga class, consider ditching all the Beverly Hills things and take a drive back down to downtown LA for lunch at the food stalls in Grand Central Market.
Public transportation in Los Angeles isn't the best, so I do recommend renting a car instead. The public market offers food from local vendors that you absolutely need to check out. Don't miss out on arguably LA's (2nd) best burger – For The Win. The first is In-N-Out, of course.
RETREAT PRICE: from US$395 per person for 3 days
10. See all the Hollywood things on Hollywood Boulevard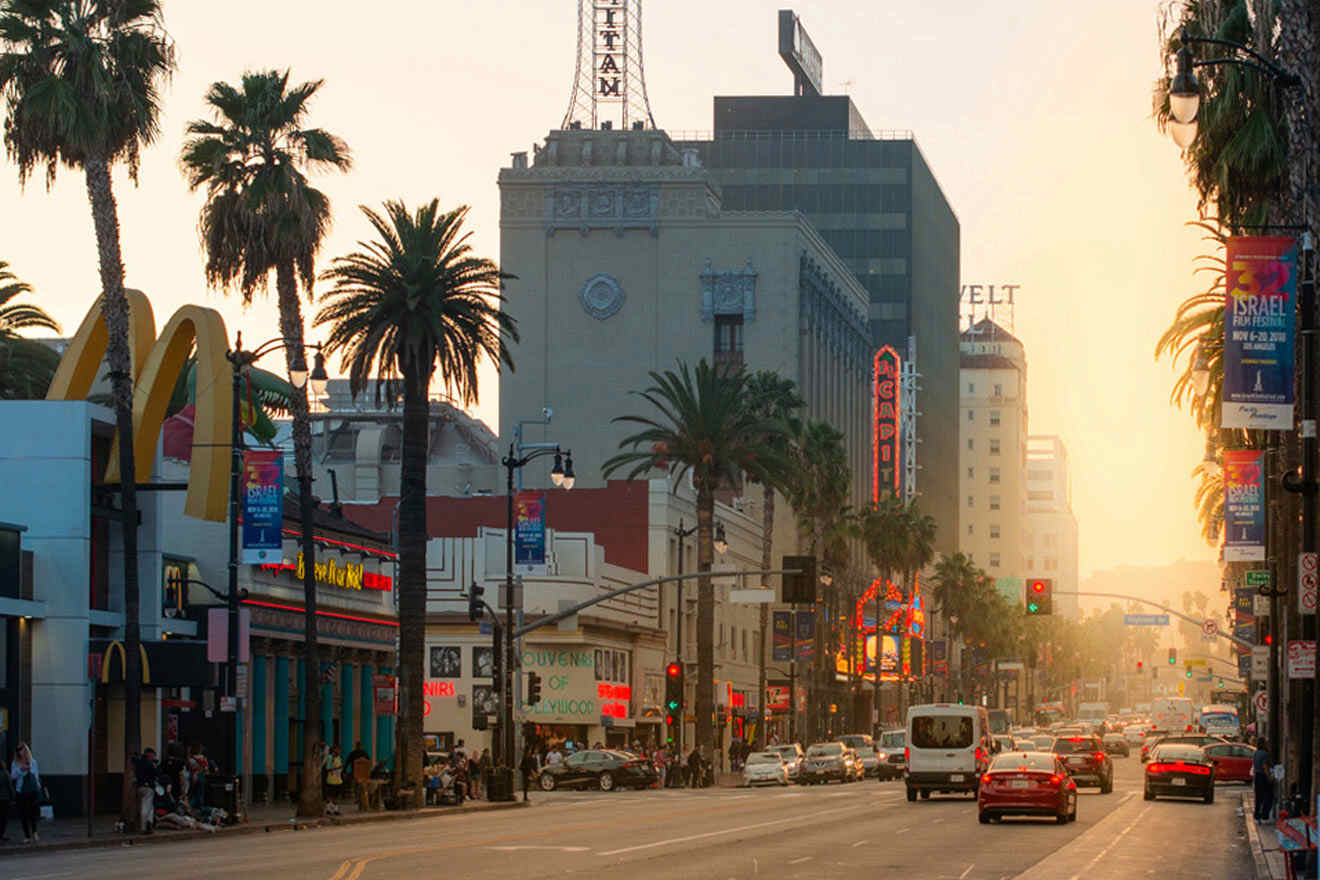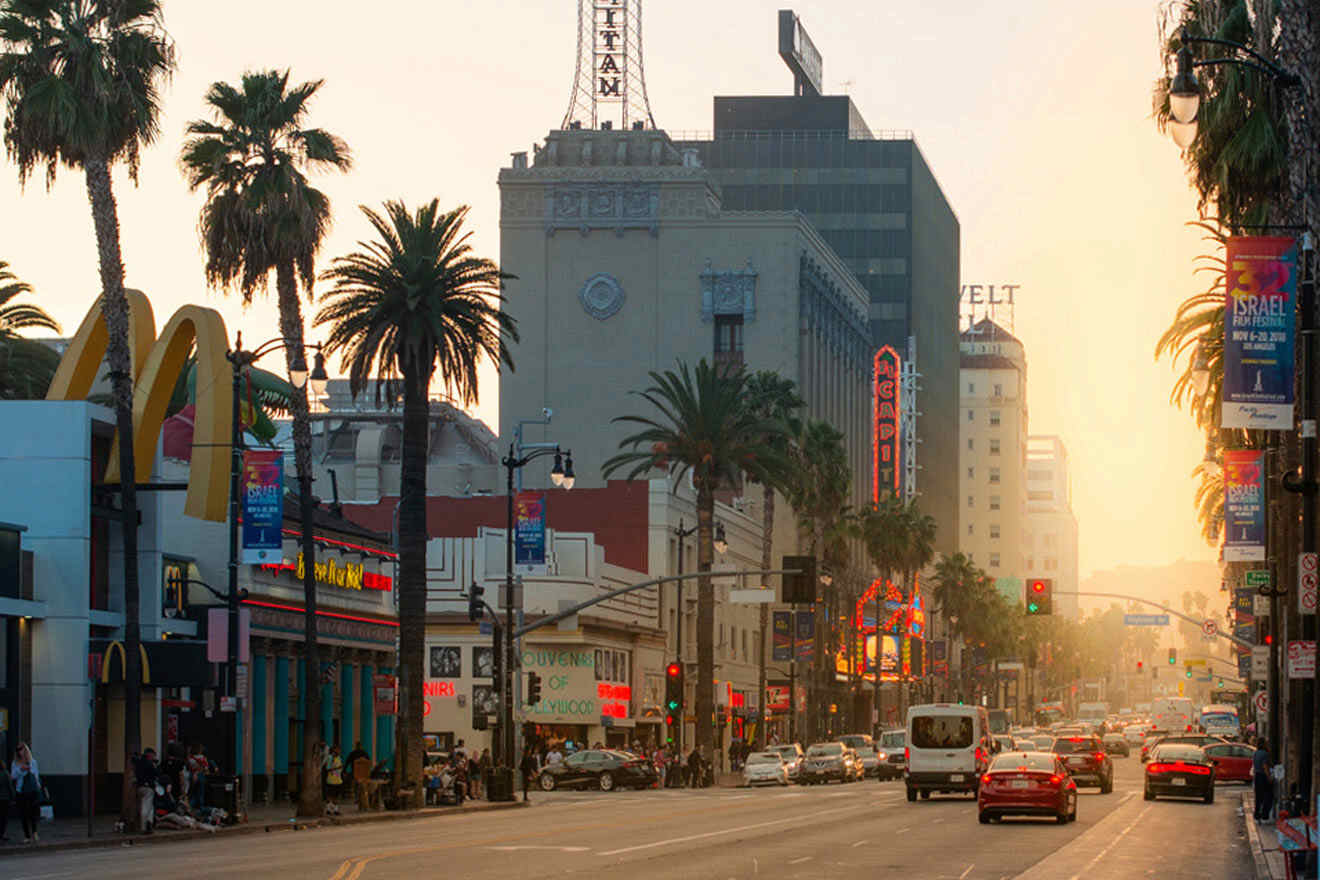 Alright, time to walk along the famous Hollywood Boulevard! This street is filled with all the LA attractions that people from around the world come to see. You can easily walk around the crowded streets and check a few fun things off your LA bucket list OR book a tour that will guide you through the crowds (yes, another tour – trust me, you'll need it here!)
Here are a couple of tours that will take you through some of the main attractions in Los Angeles, like the Sunset Strip and down through Hollywood Boulevard with the Chinese Theatre, Hollywood Bowl, Hollywood Walk of Fame, and other fun things in West Hollywood:
Have a full day of activities planned out for you on this Los Angeles day tour! They'll actually take you through West Hollywood, Santa Monica, Venice Beach, Beverly Hills, and more. Totally worth it if you're in Los Angeles for only 2 or 3 days!
Hollywood Sightseeing: This open bus tour takes you through all the iconic Hollywood things, plus you'll pass by some of the past and present mansions that famous celebrities once lived in.
Take a half-day tour around the best of LA! This 5-hour tour is a more comprehensive tour of LA, similar to the first one, but not as long.
11. Get lost in California's largest bookstore: The Last Bookstore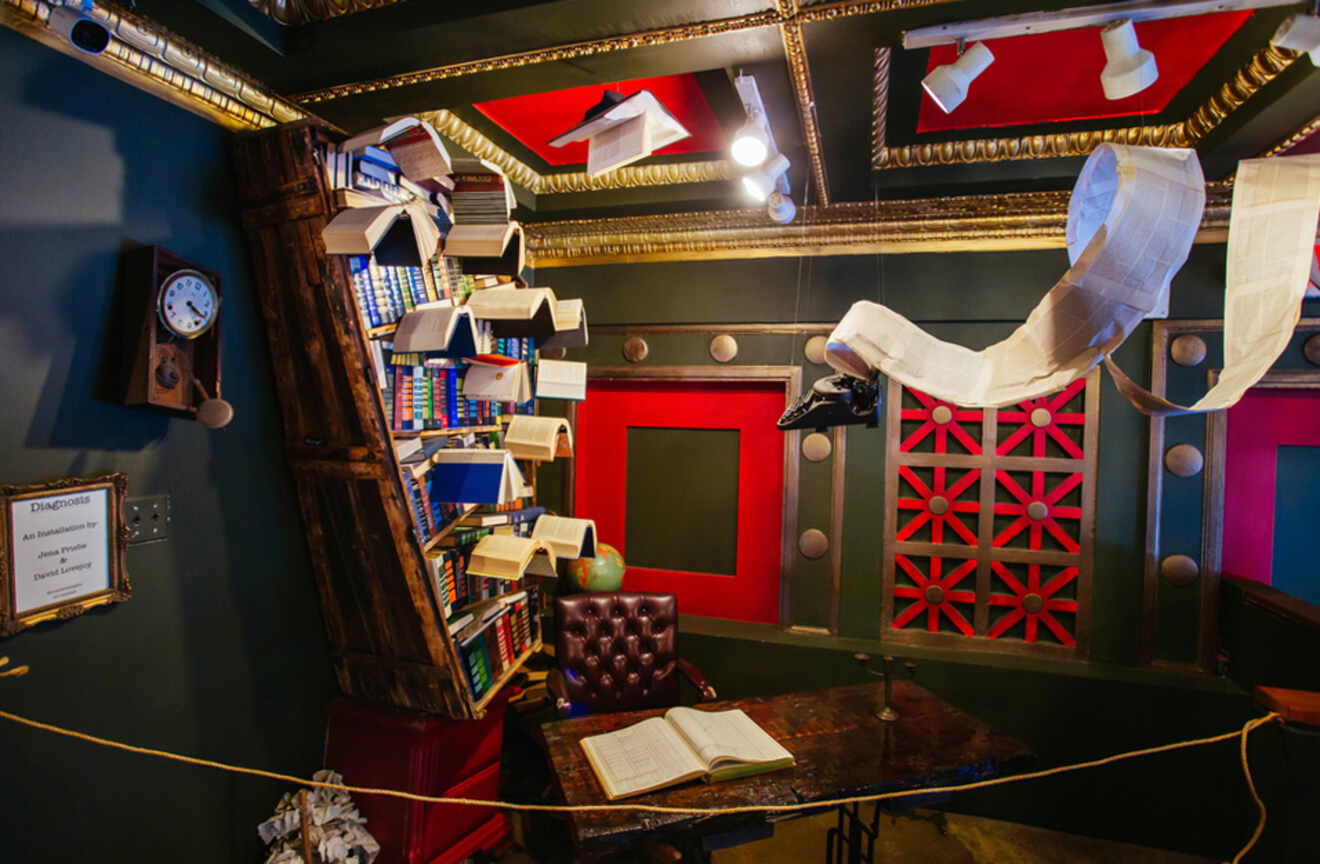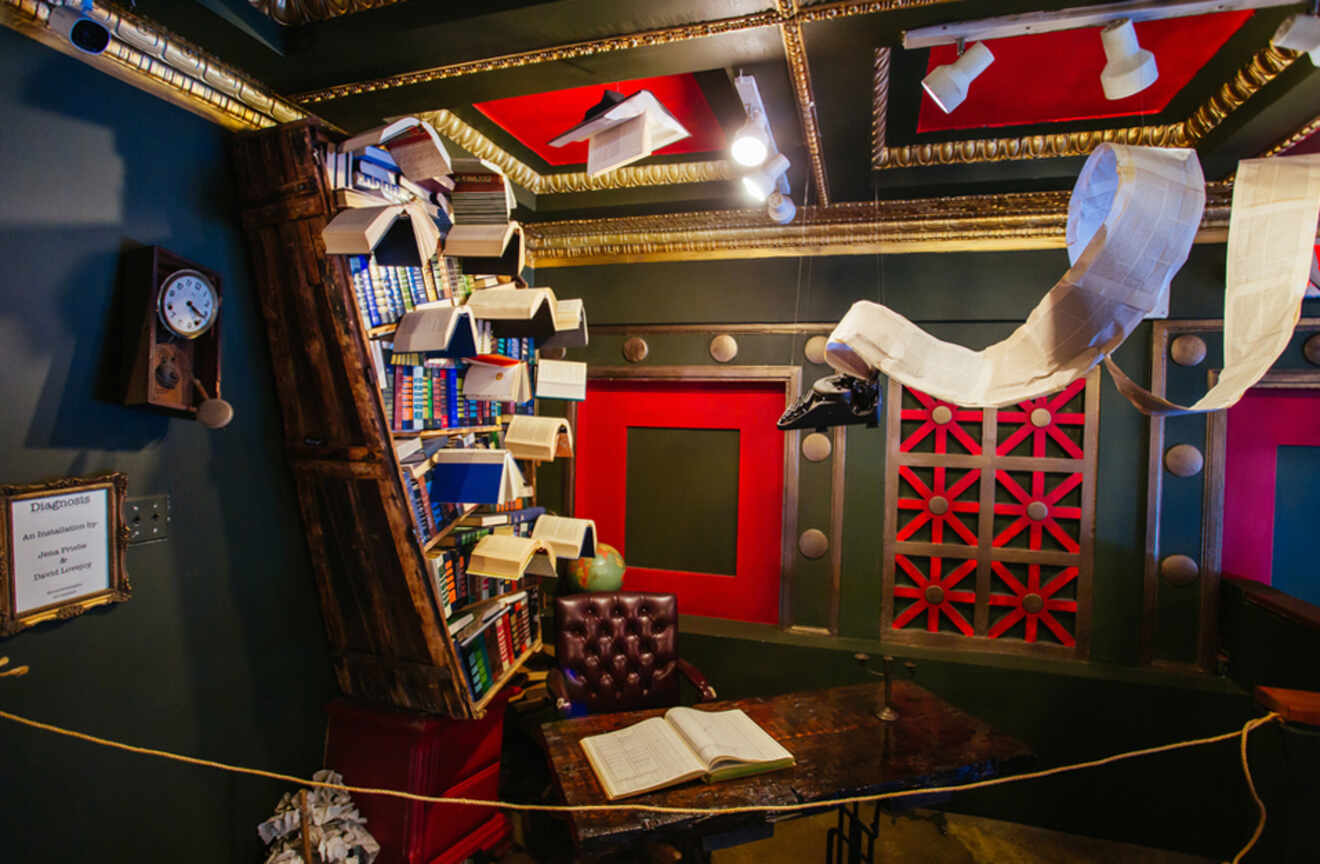 The Last Bookstore holds the title of being the largest bookstore in California, being about 22,000 ft² (2,045 m²). The bookstore started in 2005 and quickly has grown to be the iconic store it is today, selling used books, new books, and even trades books.
As I mentioned above, walking through museums is one of my favorite things to do alone – but walking through bookstores like this is a close second. I suggest immersing yourself in the halls of this unique bookstore.
There are 250,000 books to explore, along with tens of thousands of vinyl records, a rare books collection, and local galleries to uncover. It's located in the heart of Downtown Los Angeles so I suggest stopping by while you're having an adventure-filled day in the area.
Then take a walk to Old Bank District to visit the amazing 20th-century commercial buildings that still stand today, and then stop by Tilt Coffee Bar, one of the best coffee shops in the area, for a cup of joe.
12. Watch scientists dig up fossils at La Brea Tar Pits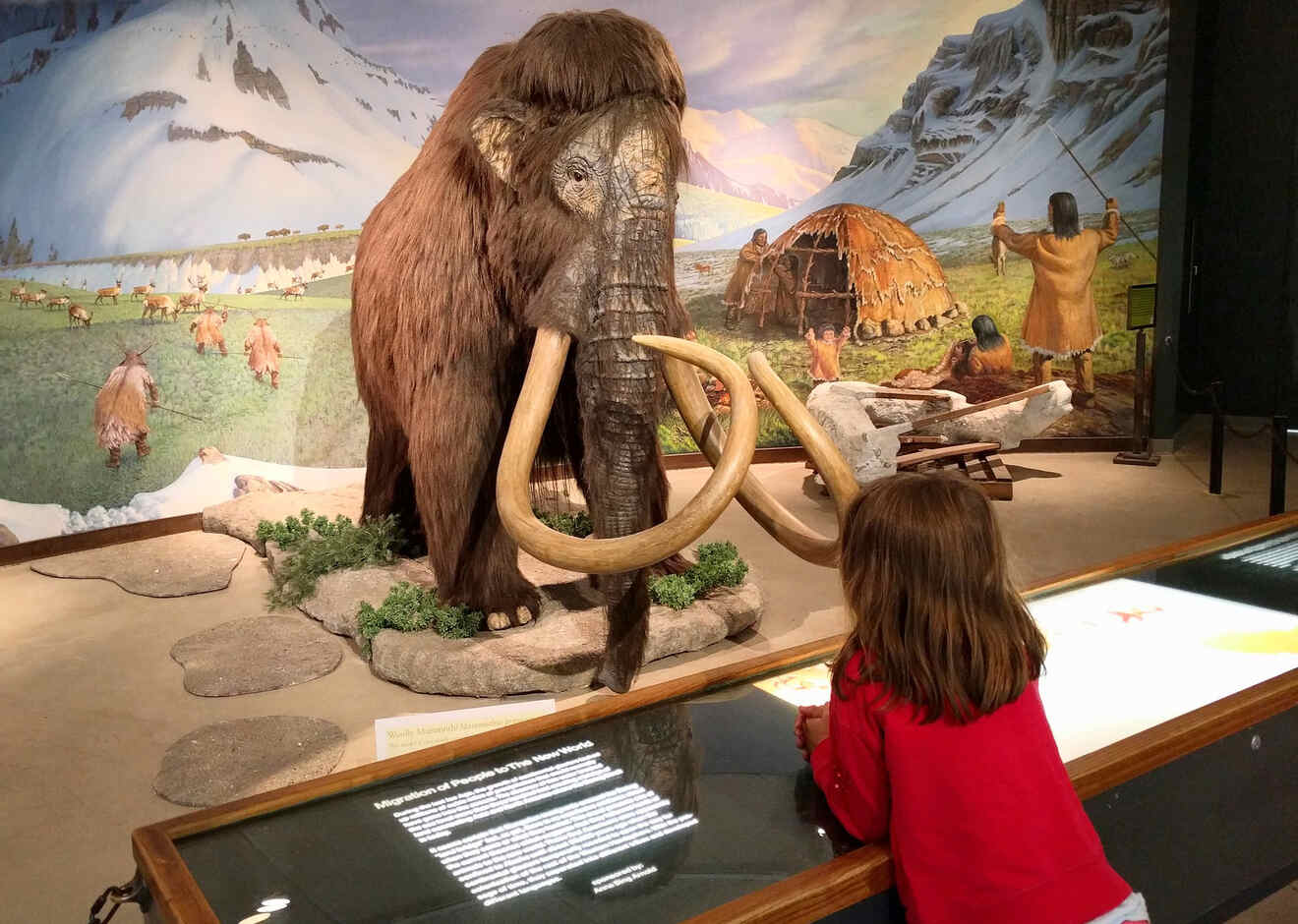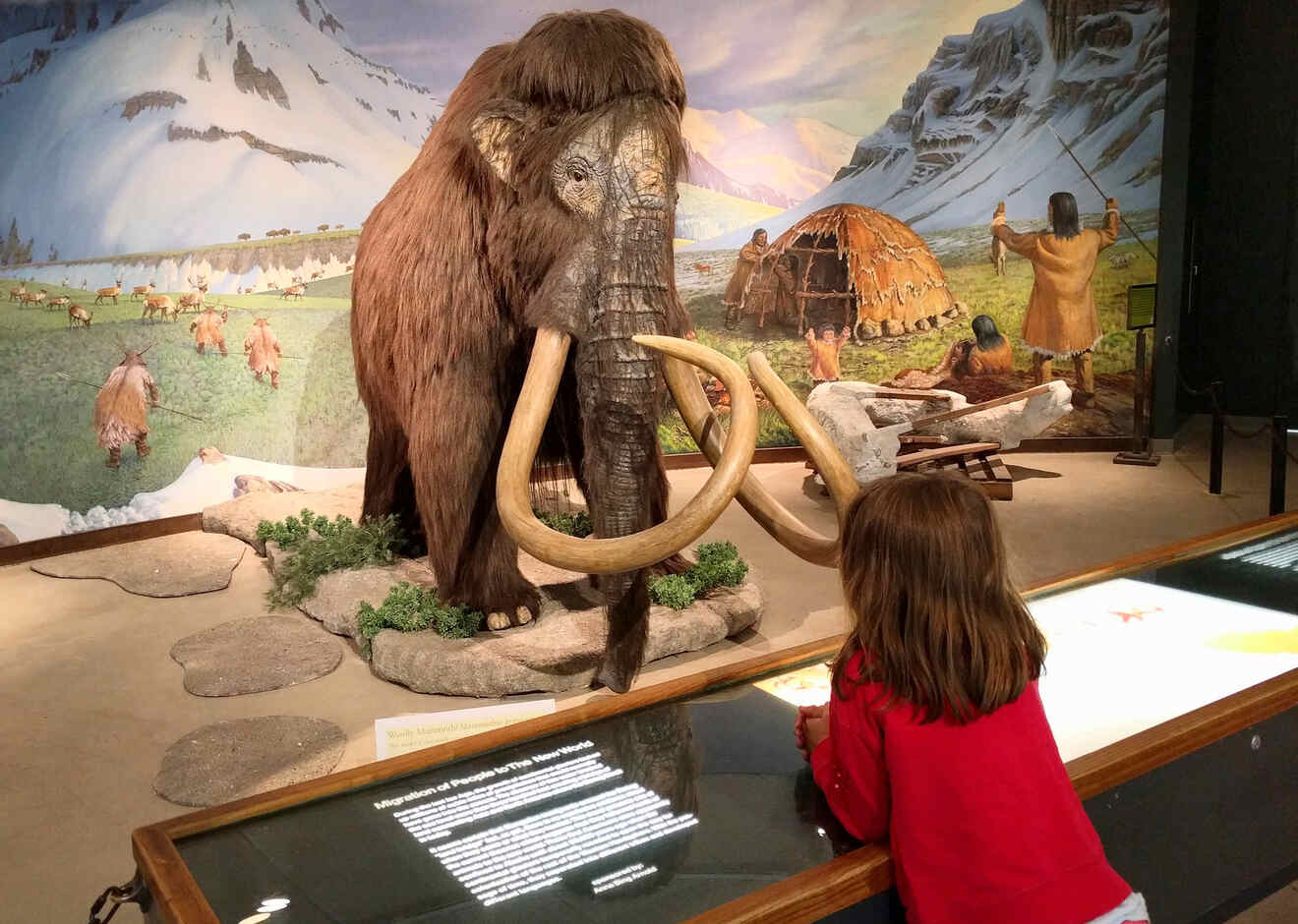 The most unique attraction in Los Angeles has to be the La Brea Tar Pits and Museum, a 30-minute drive away from Downtown Los Angeles. You can easily get lost in the moment watching scientists uncover artifacts in real time and exploring the active paleontological research site.
This museum is unlike anything I've seen in Los Angeles and an absolute must-see for easy-going solo travelers looking for a change of pace in LA!
Save your spot and get a sneak peek into the prehistoric world! There's an onsite parking lot that charges a flat rate of US$15. I recommend parking here and hopping around the museums nearby – like the Los Angeles County Museum of Art and the Academy Museum of Motion Pictures.
PRICE: from US$15 per person
13. See the Urban Light at the Los Angeles County Museum of Art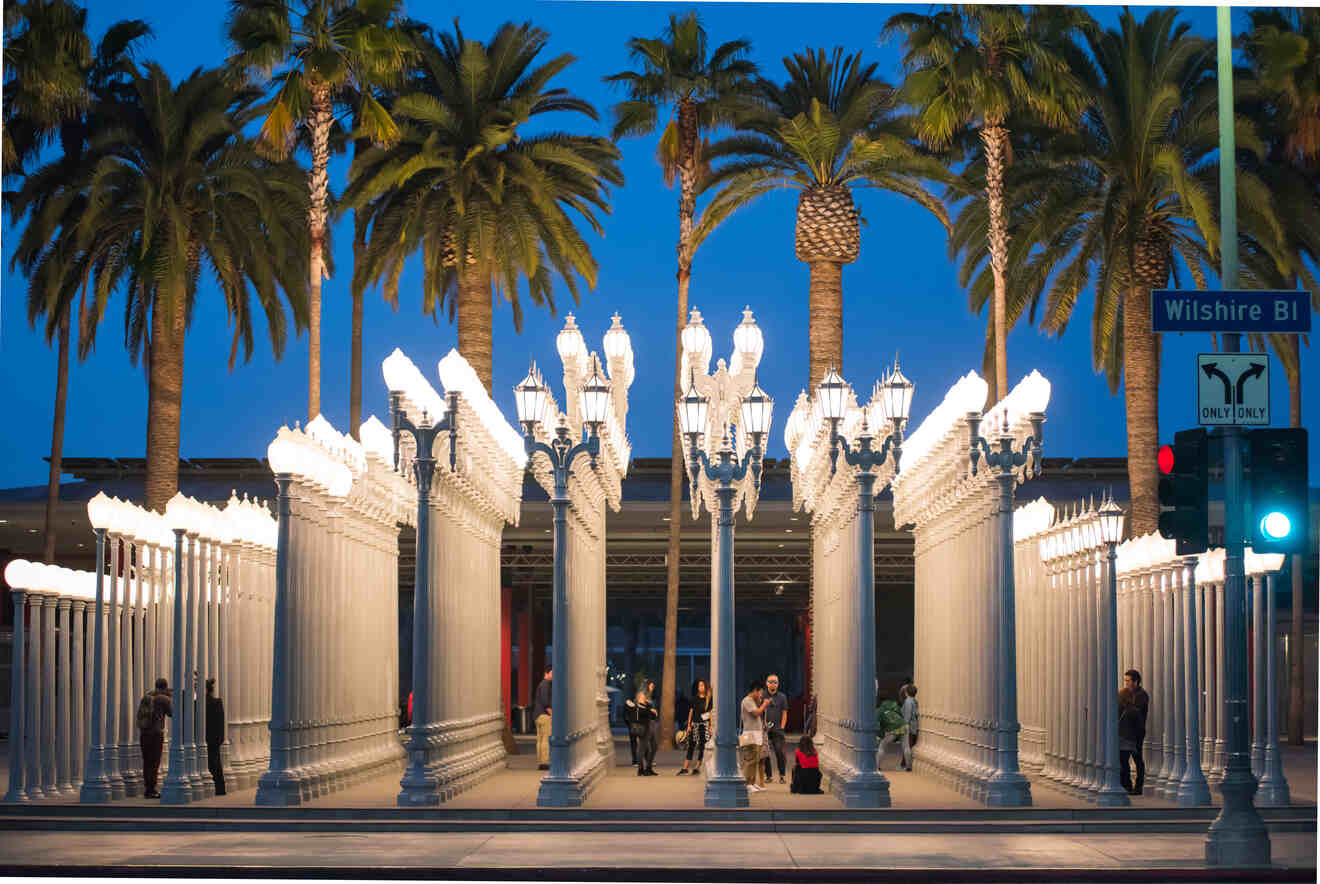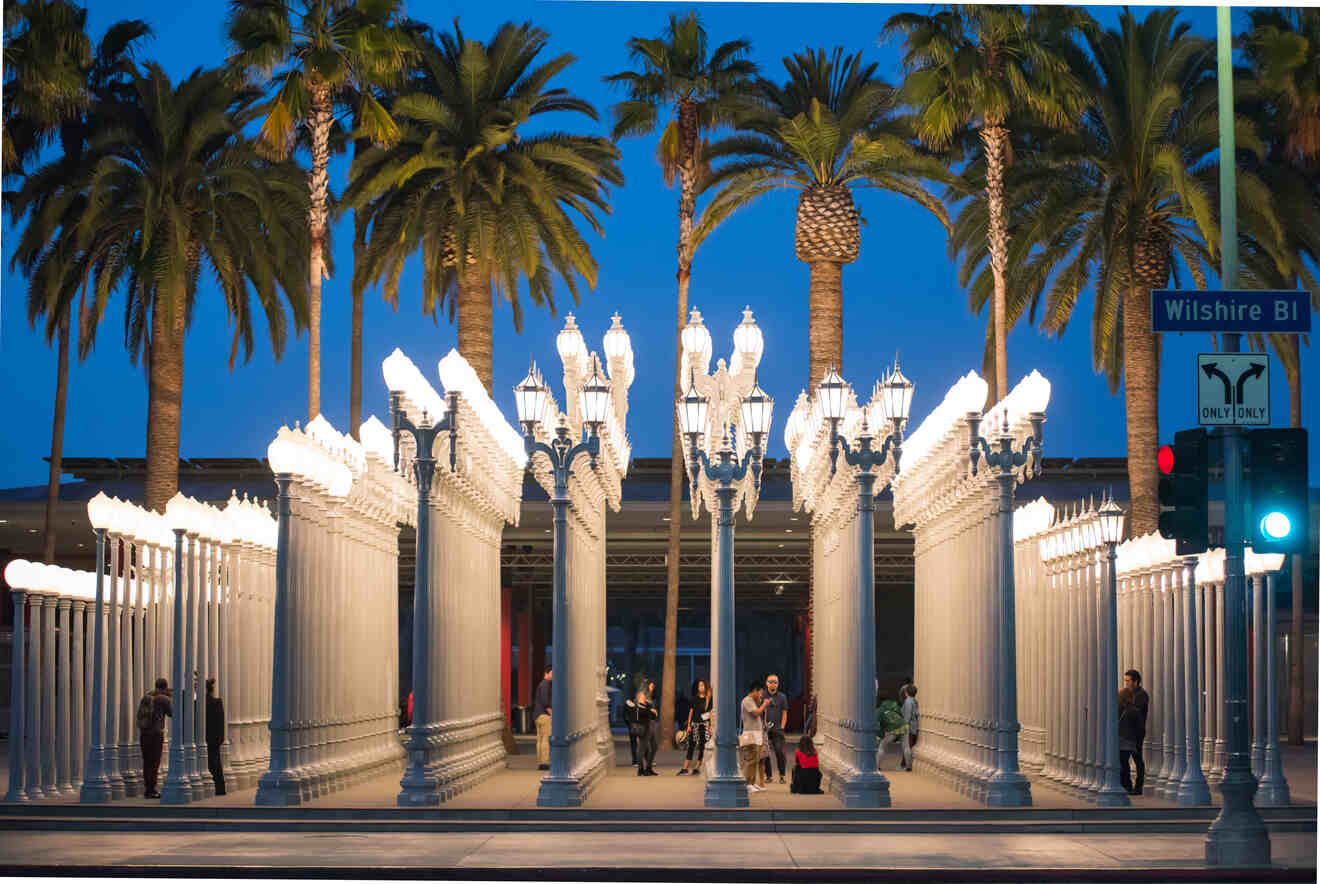 Last but not least, The Los Angeles County Museum of Art (LACMA) is the final museum I recommend to easy-going solo travelers like you to visit. Being the largest museum in the western United States, there are about 150,000 works of art to explore dating back to the ancient world all the way to the present 21st century.
The Urban Light at LACMA is composed of 200 historic street lamps that were originally placed throughout the city of Los Angeles in the 1920s and 1930s. They were all collected and made into the famous Urban Light sculpture, one of the most famous in the museum!
If you're not ready to head out quite yet, visit the Academy Museum! It's attached to the LACMA, making it an easy little detour.
PRICE: from US$20 per person
FAQs about things to do in Los Angeles alone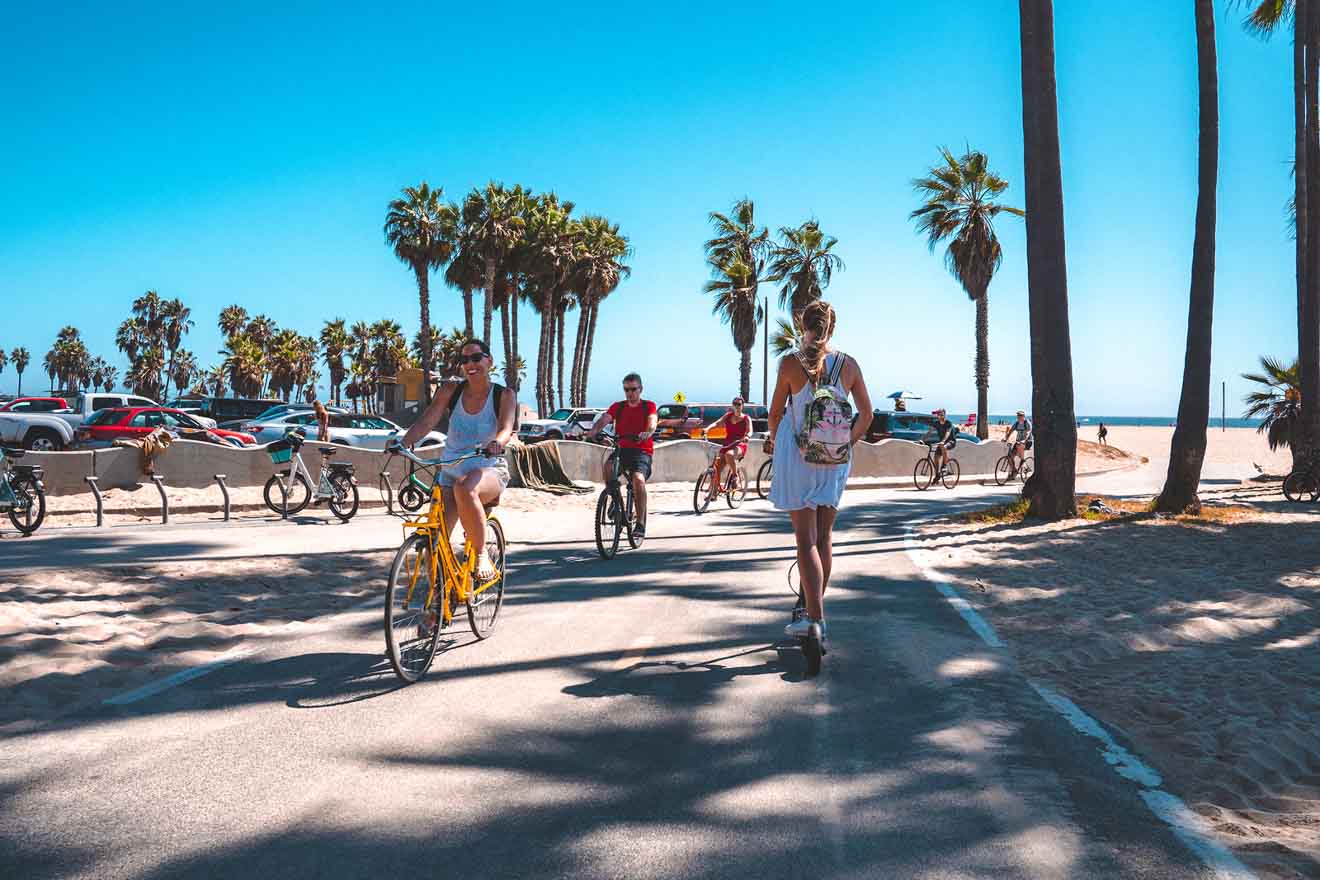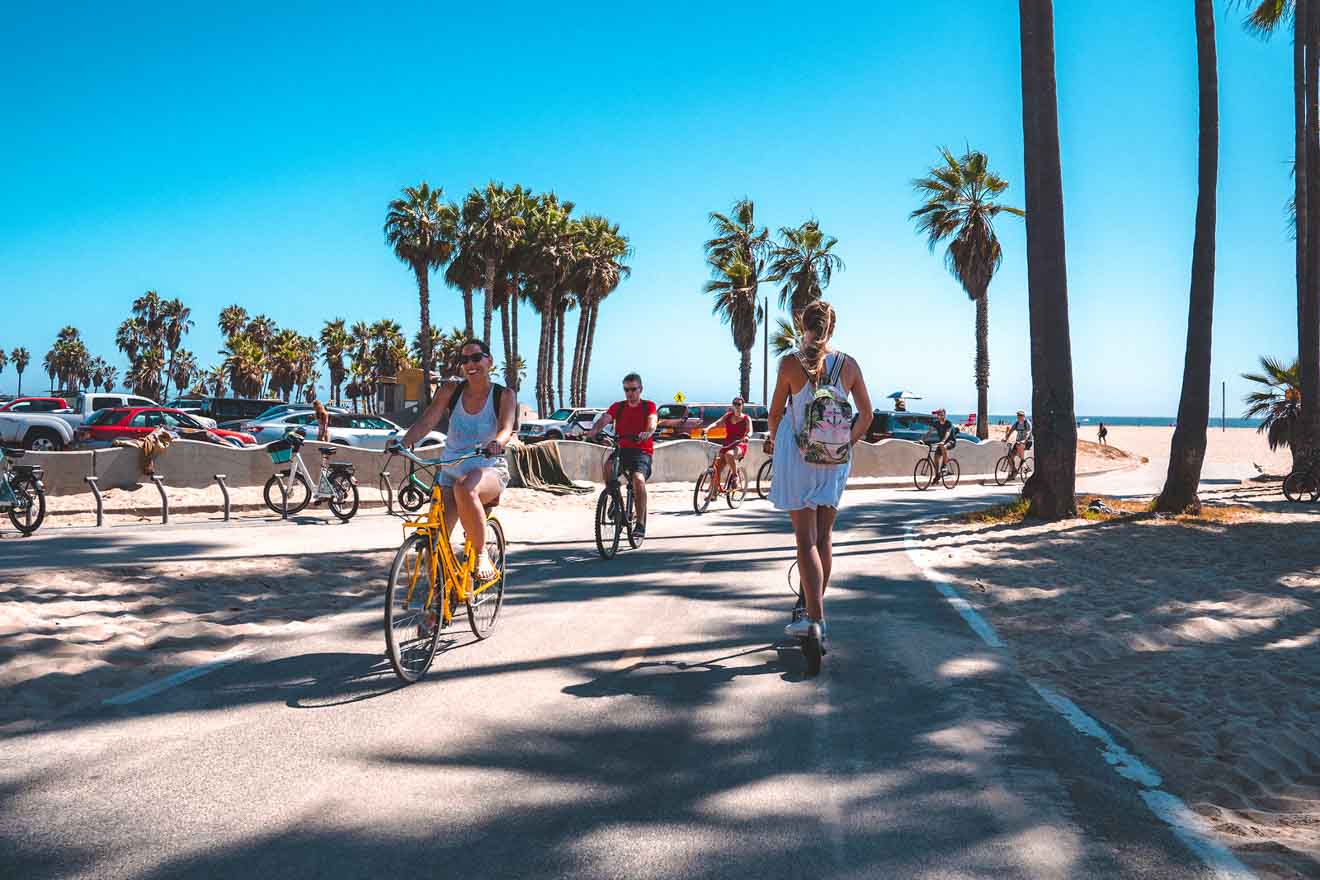 🕒 How can I spend a day alone in LA?
You can spend a day alone in LA by booking a full-day tour exploring all the iconic destinations and attractions from Santa Monica, Venice Beach, Beverly Hills, and Downtown Los Angeles.
🌆 Where are the best areas to stay in LA?
The best areas to stay in LA are Santa Monica and Beverly Hills, and if you want to get out of Central LA, stay in Glendale! I suggest booking a hostel anywhere you decide to stay!
📝 How do I plan a solo trip to LA?
You plan a solo trip to LA by booking all your reservations in advance and doing your research on the area you choose to stay in.
🔓 Is LA safe for solo travelers?
Like every other major American city, some areas are considered safe, and others are considered unsafe. I suggest doing your part in researching the areas you're staying in! If you do that, you will be safe. But still, be cautious anywhere you go!
Conclusion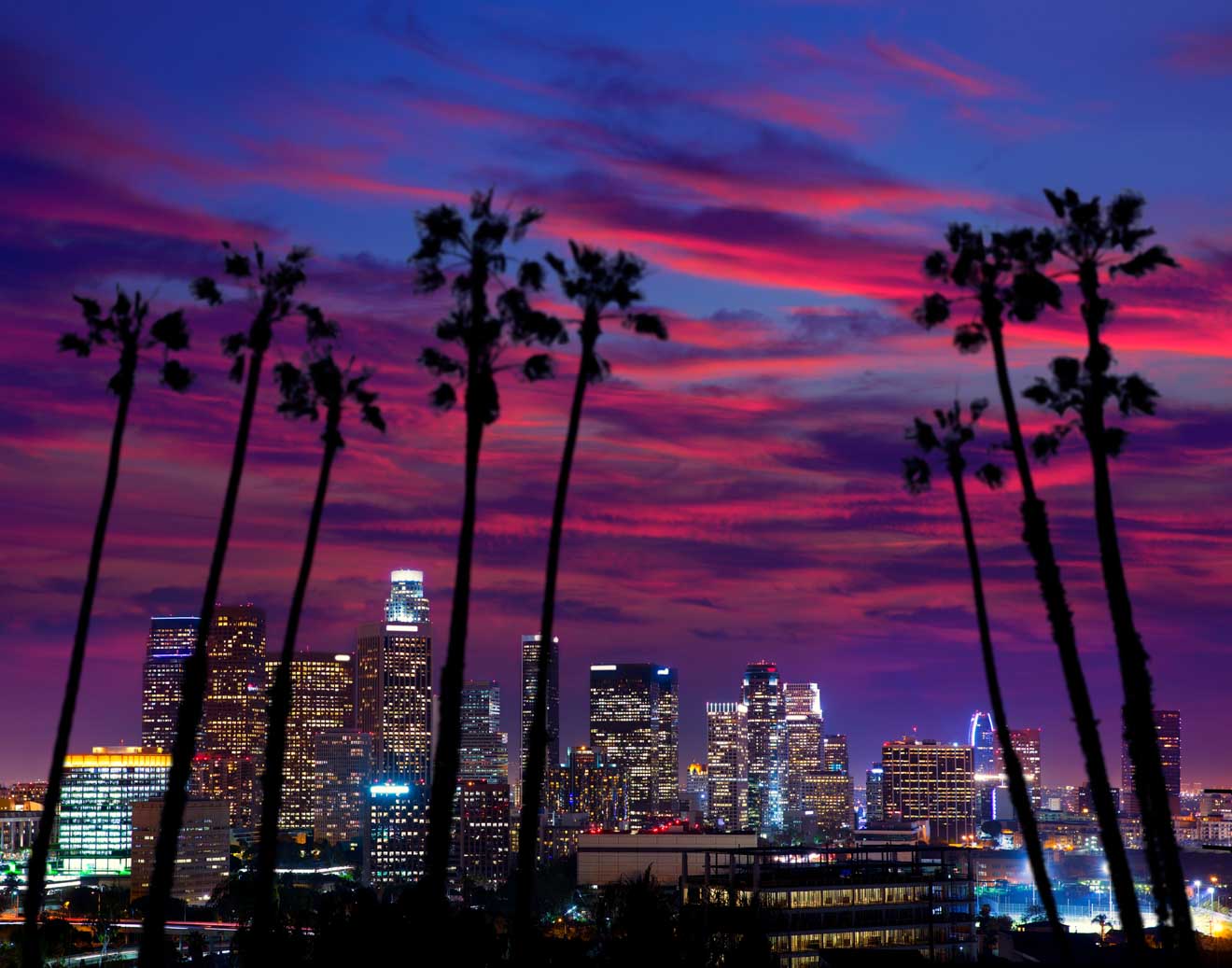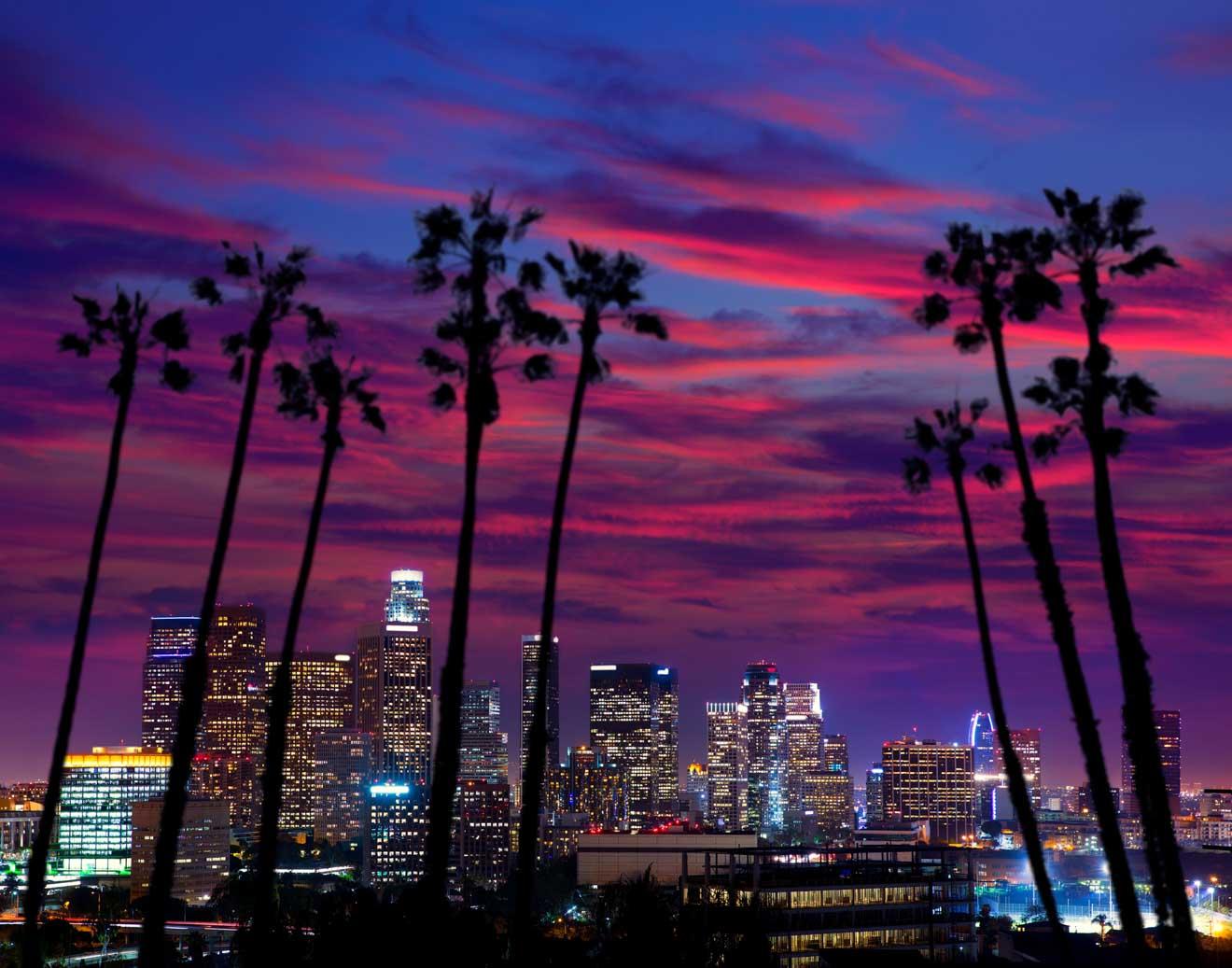 Ready to book your solo trip? I'm confident that next time you visit Los Angeles, you'll be an absolute pro. From where to stay, where not to stay, the kind of tours you want to book, where to visit, and amazing things to do alone – you're all set for a trip of a lifetime.
There are a plethora of fun activities and interesting things to do in Los Angeles alone. My 2 favorites from this list are the following:
Griffith Observatory – One of the most iconic buildings and museums in all of Los Angeles! You get views of the famous Hollywood Sign and Hollywood Hills right outside, and exploring the museums inside is a fun activity for astrology nerds like me.
Santa Monica Pier – Has one of the most beautiful beaches in all of Los Angeles! You can easily spend a few hours here enjoying the entertainment all around.
Los Angeles has a long, long list of things to do alone in Los Angeles. In fact, you could visit multiple times and still find new things to do! I live a few hours away from Los Angeles, and I'm finding new things to do and see every time I'm in the area! So as you can imagine, you probably won't run out of options.
From solo traveler to solo traveler – stay safe and bon voyage!
Xoxo,
Esabel S.
---
Pin it for later!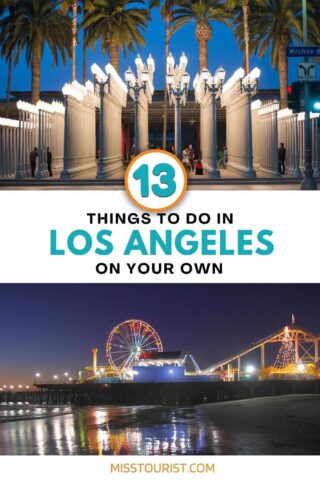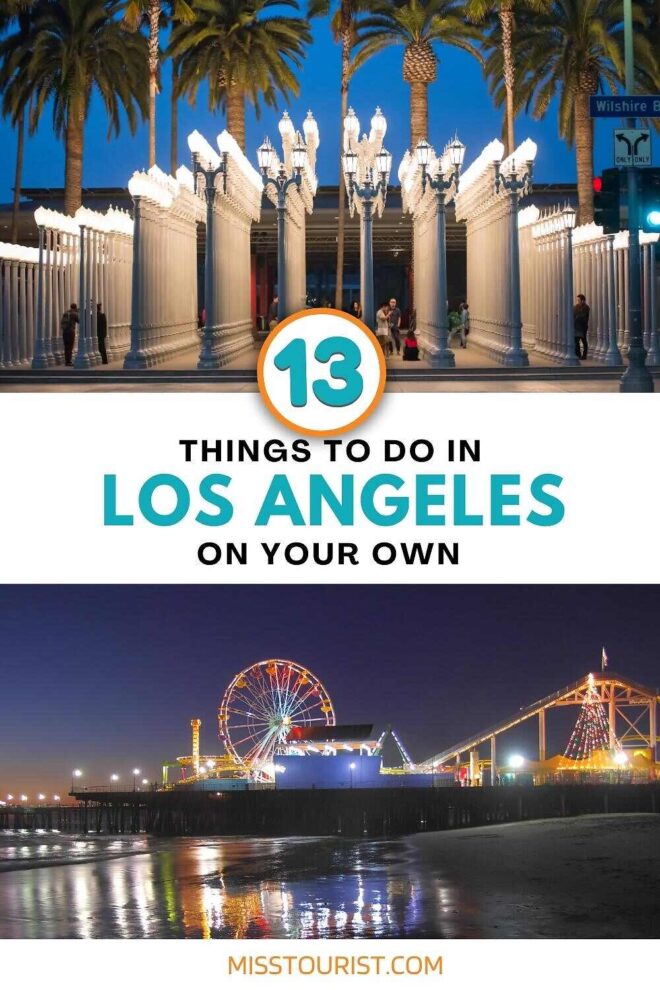 Pin it for later!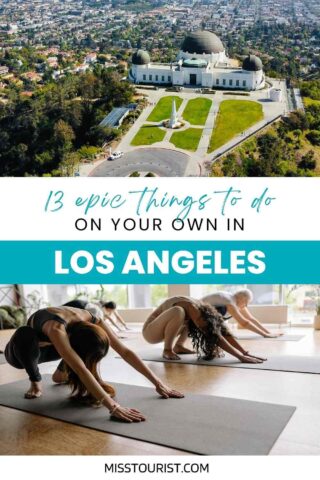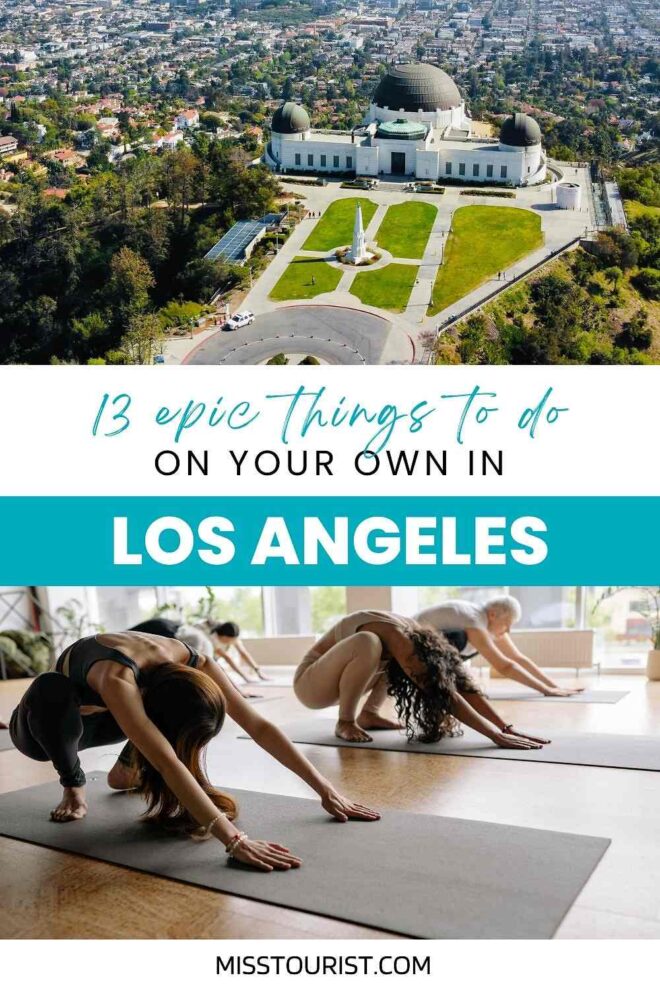 Products You May Like