14 Incredible Things to Do in Penang • for Your Holiday!
If you've set your heart on going to Penang (Southeast Asia), you're in for a treat! I spent some time there on my honeymoon and loved it so much that I am beyond happy to share all the great things to do in Penang with you.
So, if you want to start preparing a cool bucket list for your vacation, this is the right place to start! Get ready to visit the top Penang attractions and the island capital (George Town), explore the street food scene, and check out Chinese temples, nature trails, night markets, and much more!
To make your life (and journey) even easier, I also included the directions from George Town to the furthest attractions, prices in the local currency (Malaysian ringgit, RM), and some useful information about where to stay during your holiday.
Are you ready to explore this Penang travel blog?
Let's start!
If you are in a hurry
If you don't have the time to read the whole post, check out this quick list of the best things to do and book in advance in Penang, Malaysia:
And here are the best hotels in Penang: Blue Mansion (luxury), Mac Hotel by Sky Hive (mid-range), Carnarvon House (budget)
Check out this map to see where the best things to do on Penang Island are located:
1. Visit the 2 most important temples
One of the must-things to do in Penang is definitely visiting a Buddhist temple, but there are many of them on the island, so I picked 2 that you just must see, so you know what to focus on if you don't have much time during your holiday. Let's check them out:
1.1 Kek Lok Si Temple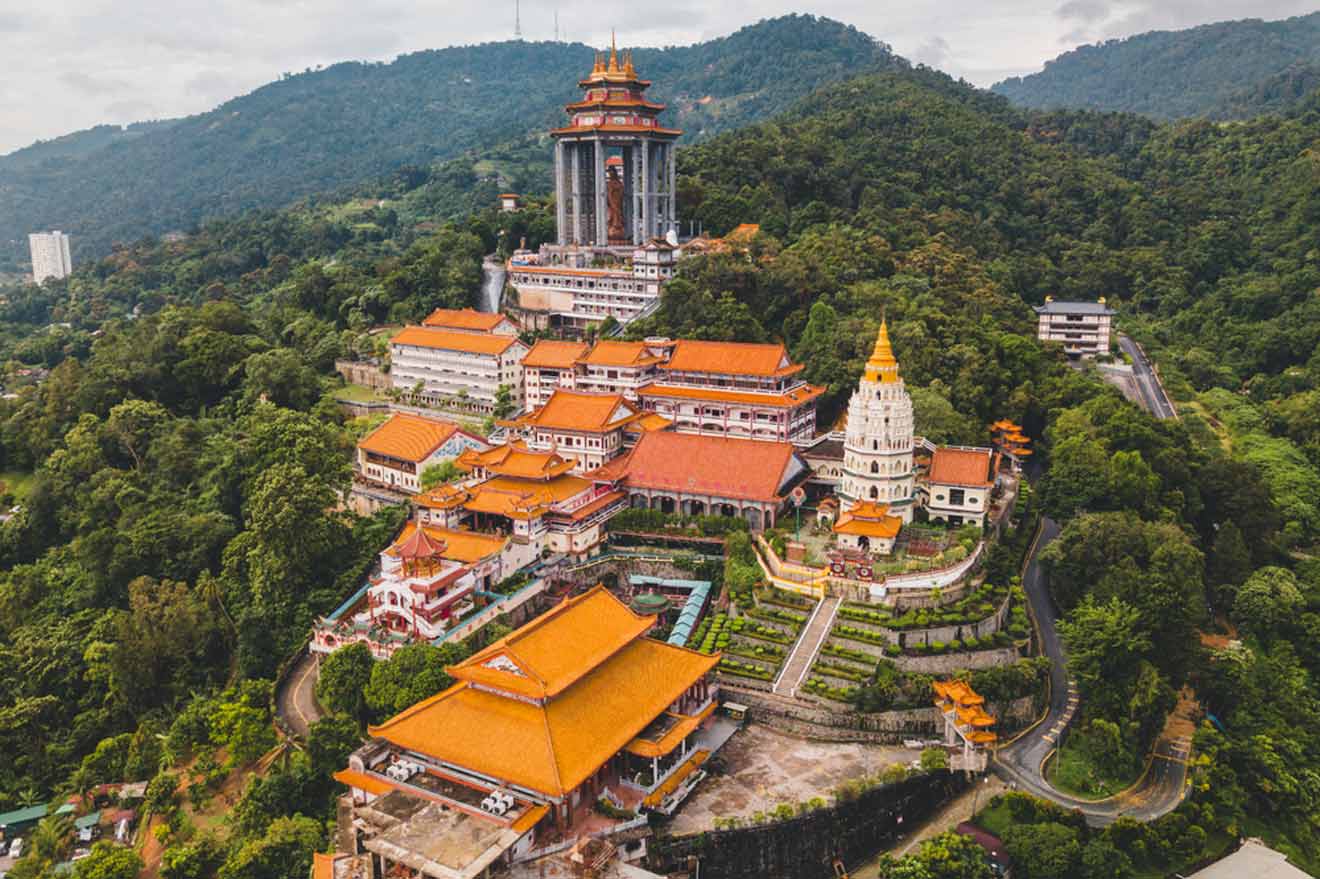 Located a 25-minute ride from George Town, the Kek Lok Si Temple is the most beautiful temple on Penang Island and the biggest Buddhist temple in Malaysia!
The Kek Lok Si Temple is absolutely stunning, featuring intricate architecture, statues, pathways, many sections and rooms to explore (each one is completely different), and stunning views over George Town. The entrance is completely free!
Here you'll also find a statue built in the shape of the one you find at the Goddess of Mercy Temple, a colorful Hindu temple decorated with gods and goddesses from Indian folklore.
My tip? Walk right up to the top of the tallest pagoda for the best views – it will be a lot of stairs, but it is definitely worth it!
If you're lucky, you may see some monks chanting, which is an incredibly surreal experience!
You can visit the temple in a few hours if you're in a rush, but I recommend allowing yourself more time to wander around. This place is magical, and you won't want to leave!
Otherwise, if you have more in Penang, you can explore the temple on this private half-day tour through George Town, Kek Lok Si Temple, and other attractions with a guide, including round-trip transport from your accommodation for US$86 (RM380).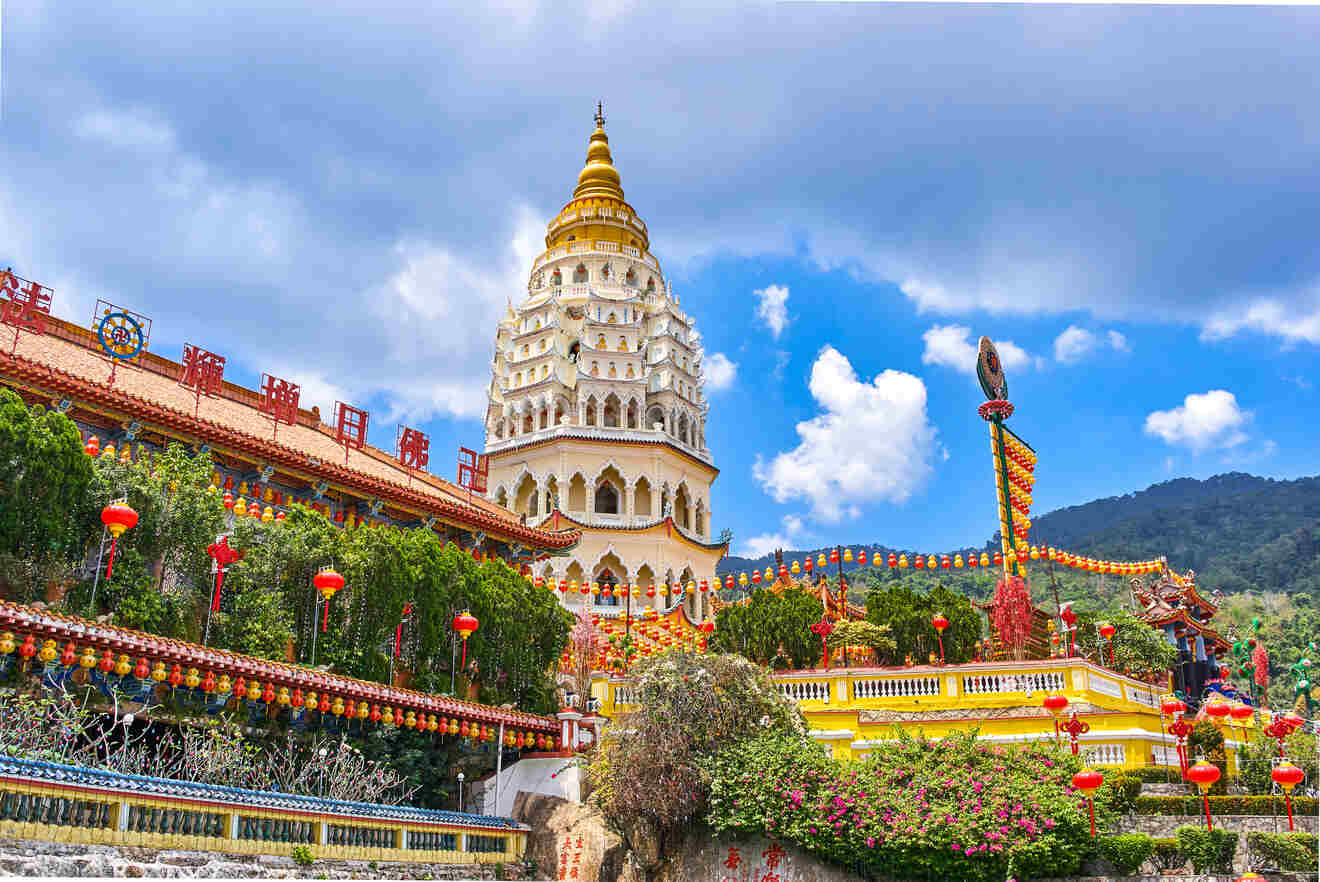 Temple admission: free
Getting there:
1.2 Arulmigu Sri Rudra Temple
The old and spacious Arulmigu Sri Ruthra Temple is located walking distance from Kek Lok Si Temple and is so beautiful, so you can actually combine the 2 on the same day!
My husband and I came across this temple purely by chance on our way back from Kek Lok Si, and I'm so glad we did!
The inside is so delicately decorated, and the peaceful atmosphere is amazing to take in, so it can be a great place if you want to enjoy some silence and tranquility.
Just be aware of any worshippers and be respectful here, this temple is a bit more solemn than Kek Lok Si and less of a tourist attraction, so bear that in mind when you go!
Be mindful of what you're wearing: a lot of the temples have a dress code (some of the more touristy ones don't, just don't show up with really short clothes!), but this one definitely requires visitors to cover up!
Temple admission: free
Getting there:
2. Wander around Penang Little India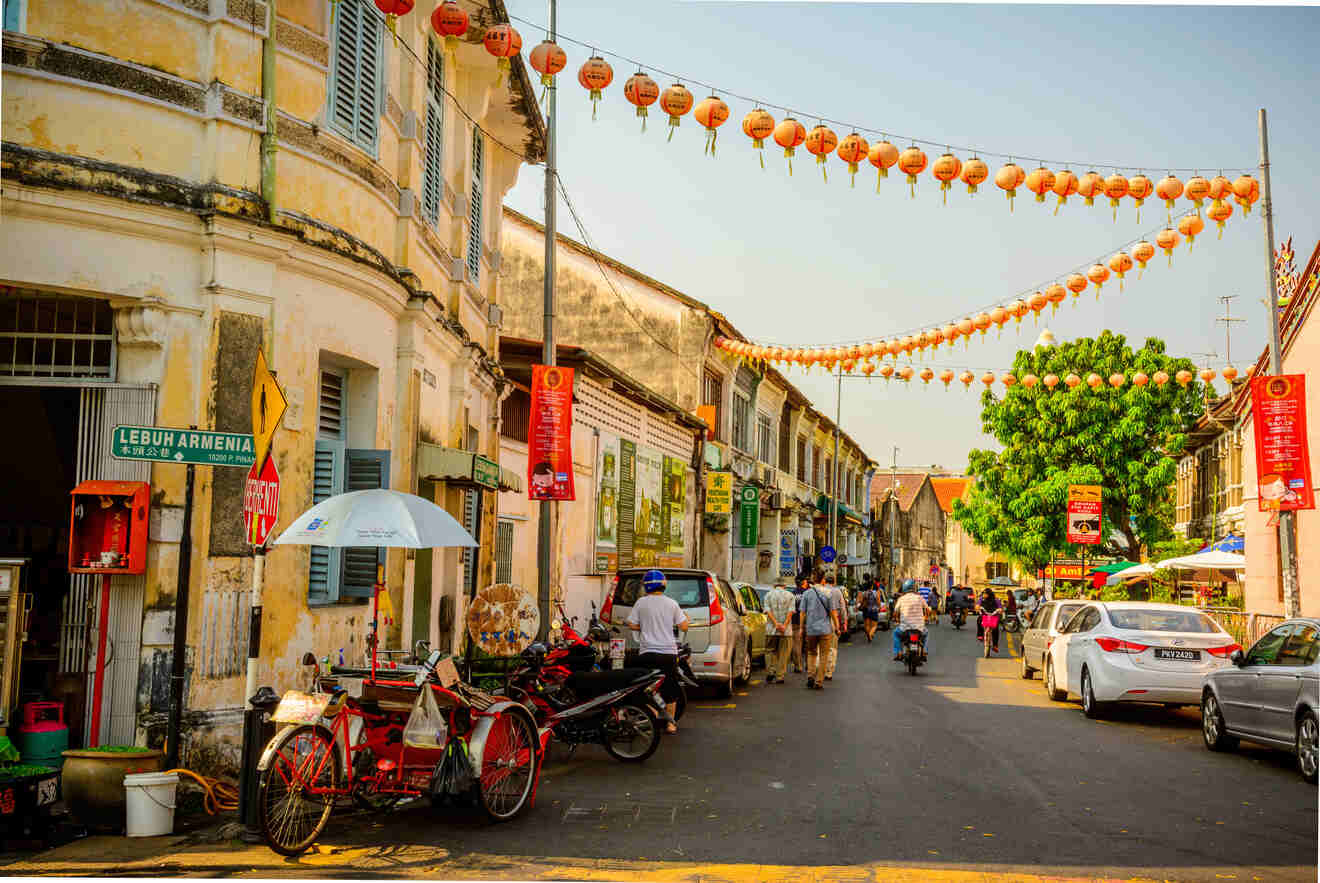 If you want to get a real feeling of the local vibe, the best place to experience it is Penang Little India, a collection of vibrant streets in George Town, full of Indian shops, Indian music, colorful temples, food stalls selling authentic Indian and Pakistani food which is oh, so delicious!
This is just a great place to wander around, but I suggest you do that in the evening, when the streets are all lit up, and there are a lot of people having fun and eating, so you can do some souvenir shopping and try some local specialties for dinner.
I can't for the life of me remember the name of the place we ate there, but my recommendation is to do exactly what we did – just pick a random place and get adventurous!! I promise you won't be disappointed!
3. Enjoy the beautiful Batu Ferringhi Beach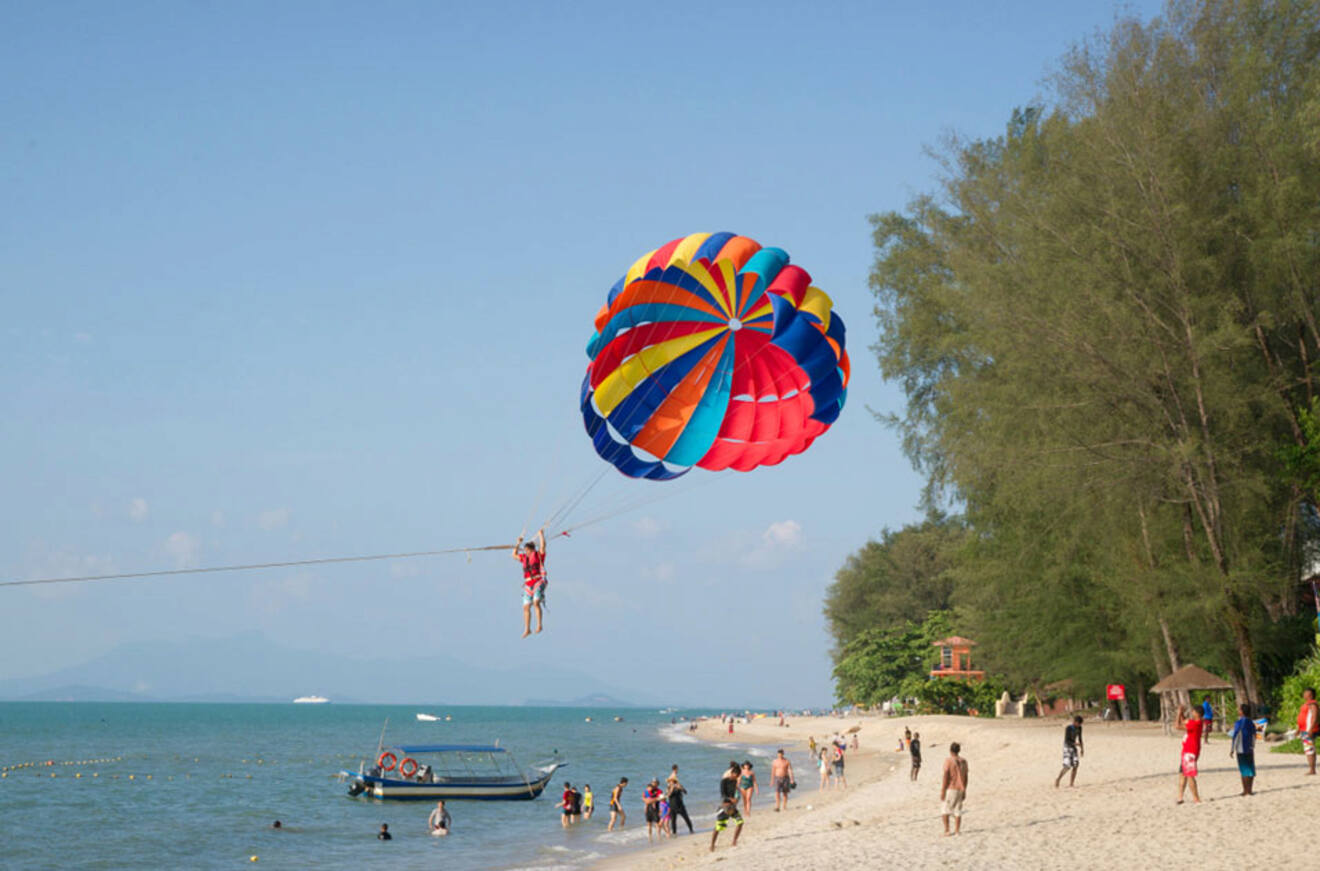 You will agree with me that you cannot leave Penang without spending a sunny day on one of its beautiful beaches, and the most popular one is the stunning Batu Ferringhi Beach, located at just a 30-minute drive from George Town.
This white sandy beach is super clean and usually without crowds, hosting many food stalls, bars, restaurants, and watersports companies. In this area, there are also many resorts and hotels, perfect for your stay in Penang!
Apart from splashing in the crystal clear water, here you can get a fresh coconut and drink it on the soft sand, enjoy a cool watersport like jet skiing for some adrenaline, take a banana boat ride, or even go deep-sea fishing on a boat, so nobody will get bored!
And if you stay later in the evening, you can go shopping and eat at the Batu Ferringhi Night Market, featuring a super exciting and chaotic atmosphere!
P.S. At Batu Ferringhi beach, you'll find the unique Tanjung Bungah Mosque, built right on the ocean, which is known as the 'Penang floating mosque' because when the tide gets high, it looks like it is floating! Make sure you check it out at sunset time – it will take your breath away!
Getting there:
The [email protected] is a beach bar and restaurant located right on Batu Ferringhi Beach, and it's 100% worth a mention!
Open every day except for Wednesday (from 12.30 PM to 1 AM), this place is so laid back and chill, and it is perfect for taking a break from the hot sun and enjoying a snack or a meal.
Here they have loads of different types of food for very cheap prices, from burgers to nachos, seafood, pasta, pizza, and vegetarian options, so any taste will be satisfied, and you can match them with fresh coconut: the perfect combo!
But one of the best things they do here is the cocktails, which are just AMAZING! Have one at sunset on the outdoor seating, which is right on the sand, and enjoy the breathtaking show!
5. Explore the snake temple 🐍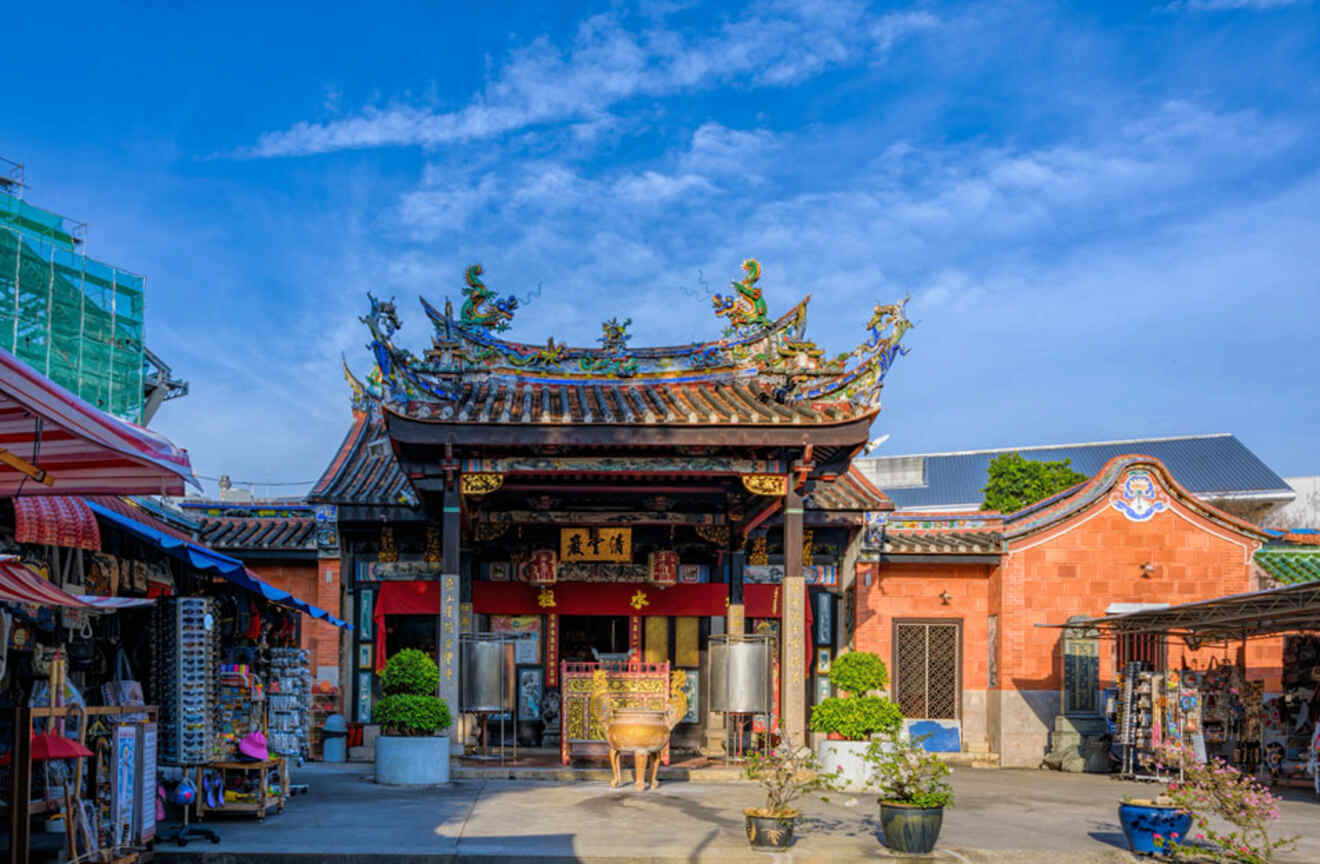 Looking for an alternative experience among the usual things to do in Penang? Then you will love the Snake Temple, located a 40 minutes drive south of George Town.
This is a traditional Chinese Buddhist temple built in 1850 in honor of Chor Soo Kong monk, but the difference with the other ones is that it is home to so many different kinds of snakes and venomous vipers, lazing around peacefully at any corner and even on the temple altars.
Half of the time, you don't even know they're there, and there are 15 of them right next to you: you can hold them as well but make sure you always ask a guide before touching any of the snakes, as you don't want to touch the wrong (venomous) one😉!
Allegedly, this is a great place to go also with the family. The snakes are said to be safe and do not attack people because they're used to having them around! My husband absolutely LOVED this place and took loads of pics with a snake wrapped around his neck! I wasn't quite so brave, but it was still fun!
P.S. The snake temple is very close to Penang Airport (just a 10-minute drive), so it can be a good first or last attraction for your Penang holiday.
The temple is open to visitors every day from 6 AM to 7 PM.
Temple admission: free
Getting there:
6. Check out Penang Street Art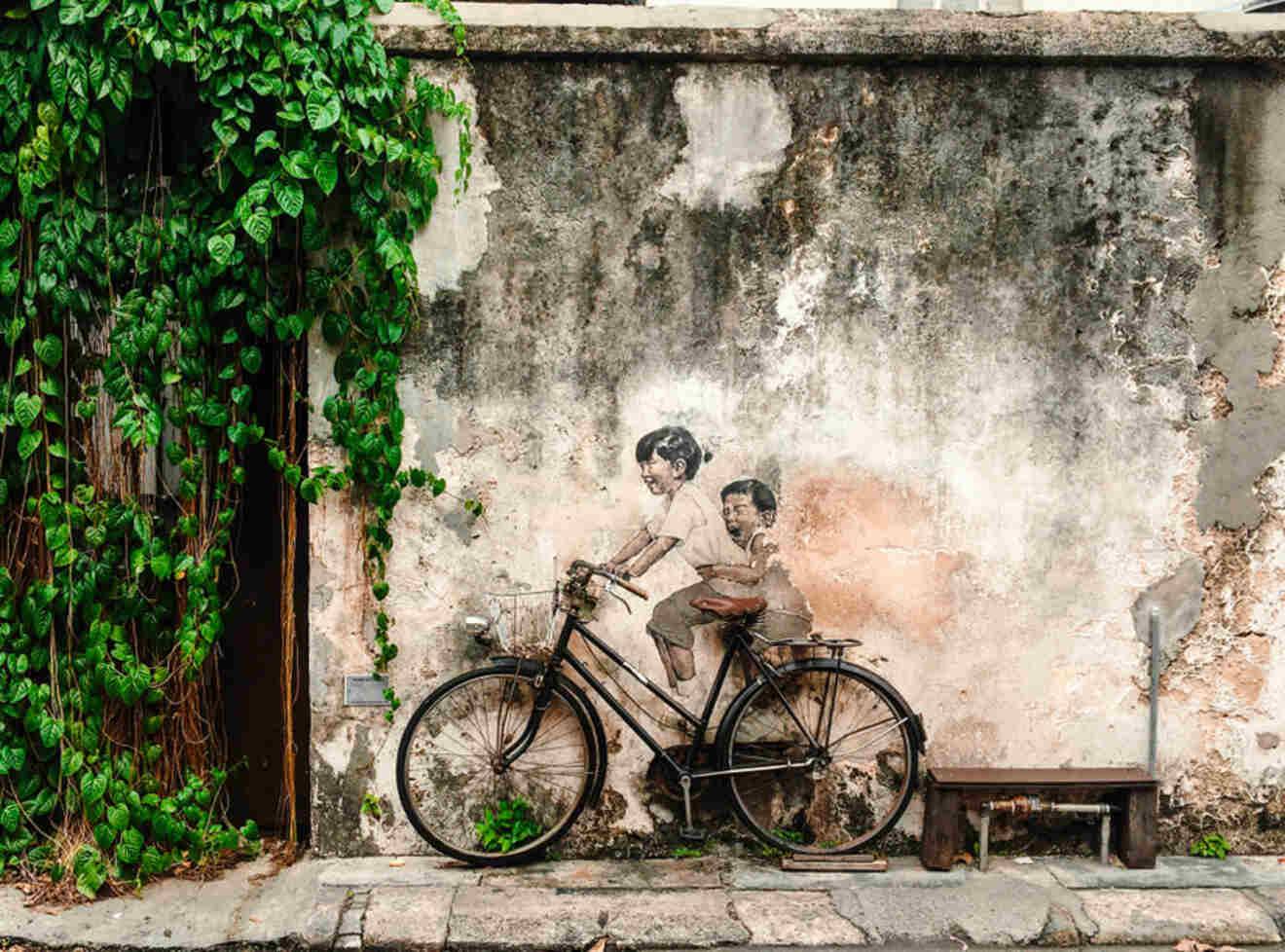 Street art is, in my opinion, one of the best representations of the culture of a city/country, and this is also true for Penang!
If you love street art as much as I do, you'll be happy to know that you'll find it pretty much everywhere in George Town, but the coolest ones are concentrated in this area.
Here you'll find many amazing murals and interactive paintings from the Lithuanian street artist Zacharevic, who did them for the George Town Festival in 2012, and then they became incredibly popular (you'll probably even have to queue up to take pictures!).
In order to make the best out of your time, I suggest you rent an e-scooter (or e-bike), which is super popular here. Basically, you rent it for about 30 minutes (and a few dollars), and you can just explore the area looking for INCREDIBLE and colorful street art. Make sure you don't forget your camera!
Another way to explore all the stunning graffiti of Penang is on this cool walking tour of inner George Town, during which an expert guide will bring you in search of the unique murals and wall paintings and give you some anecdotal descriptions of them, blending humor and historical facts!
TOUR PRICE: US$58 (RM255)
7. Try all the rare Penang food!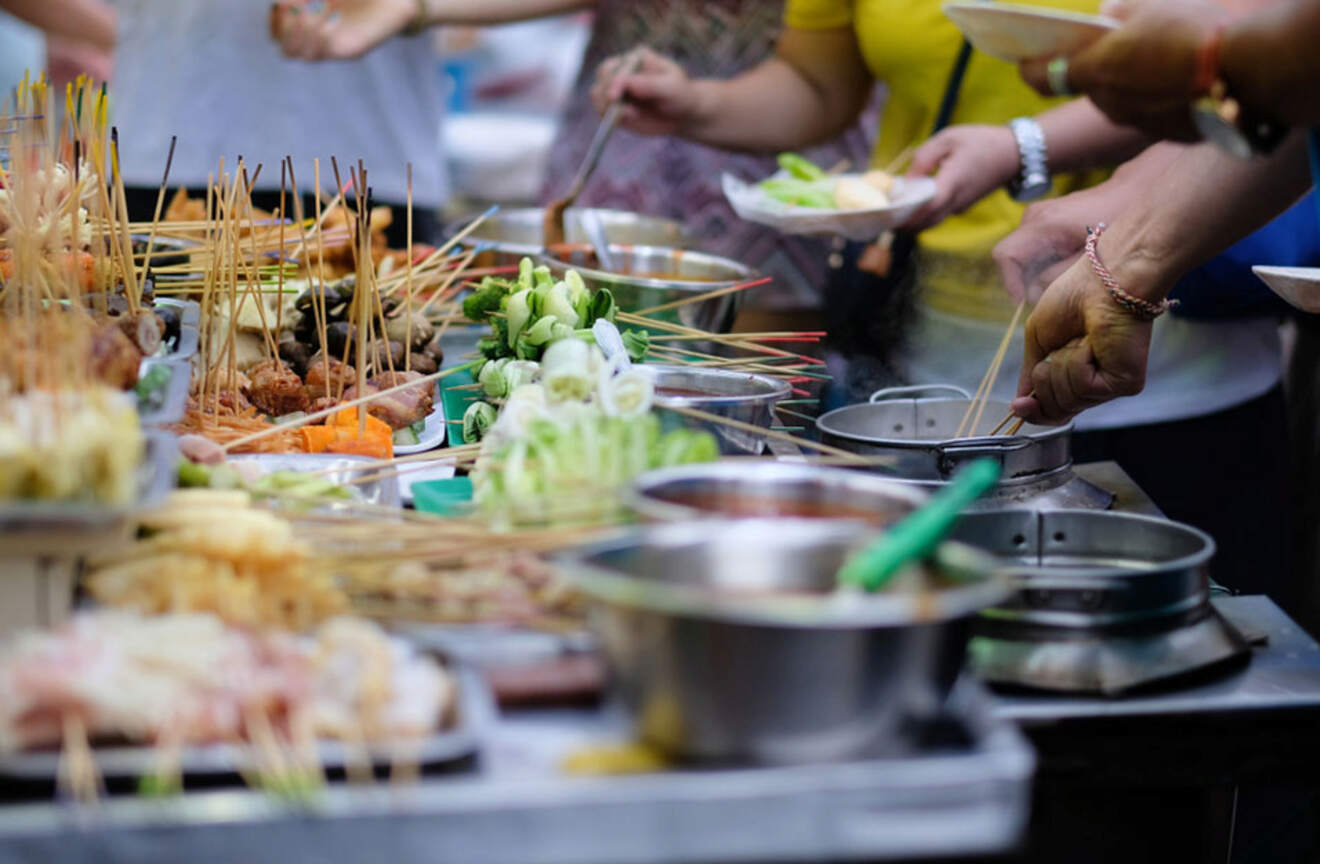 Are you a foodie like me? Then one of the best things to do in Penang (and in Malaysia in general) is definitely trying all the delicious street food, and there are many hawker stalls in George Town to do that!
These are just little "food courts" with dozens of different stalls selling all kinds of amazing food in a down-to-earth atmosphere surrounded by locals!
Get ready to try delicious broths like Assam Laksa, snacks like Rojak (a local salad of mixed vegetables and fruits), the Pelita Nasi Kandar rice, and much more.
To find them, just type into Google Maps "hawker stalls George Town," and you'll see so many come up, but some of them don't even exist on maps, so just go for a walk in the city and venture into one at random.
My recommendation is just to ask a vendor what they recommend for lunch or dinner and just have it – don't even ask what it is because it's always amazing (unless you are vegetarian or vegan, of course).
And the best thing is that prices are disgracefully low, you can feed an entire family of 4 until you're all full for only US$15 (RM66), so it is completely worth it for the price!
Otherwise, if you prefer to be guided by a local, you can join this 4-hour street food tour with an English-speaking guide, who will bring you authentic places off the beaten track to try fresh snacks from 5 different local food hawkers.
P.S. Food in Penang (and Malaysia in general) is so tasty, thanks to its fragrant spices. If you want to know all about them, you should also check out the Tropical Spice Garden, offering over 500 plant species and cooking courses!
TOUR PRICE: US$47 (RM206)
Join a 4-hour Street Food Tour
8. Enjoy spectacular views from Penang Hill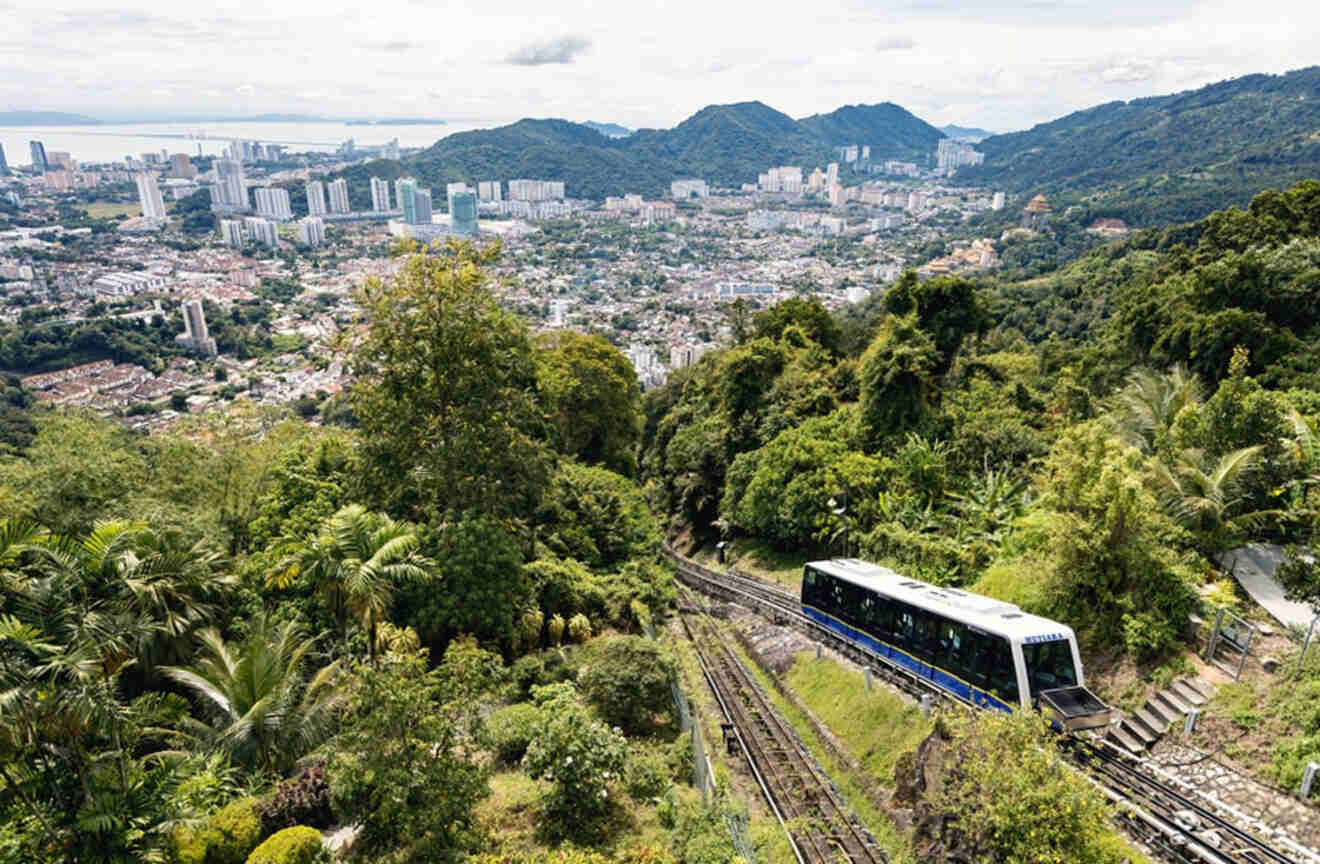 The beautiful Penang Hill, also known as Bukit Bendera, is one of the top attractions in Penang, offering some of the most breathtaking views on the island in a lush green setting!
The most popular way to reach the top of the hill from George Town is by the funicular Penang Hill railway, which takes only 5 minutes and costs US$8 (RM35) for the round-trip (you can buy your funicular tickets online in advance here!).
But if you want to be more in contact with nature and sweat a little bit, there are many hike trails you can follow. The best one is the Penang Hill Heritage Trail, which starts from Temple Road (George Town) and gets to the top of the hill through a combination of other paths for 3 hours, so I'd say it is only for trained people!
Once you get to the top of the hill, you can reward yourself with breathtaking vistas. On clear days, you can even spot some of George Town's iconic buildings and the Penang Bridge, so make sure you bring the camera with you for some souvenir pictures!
The area also hosts cozy restaurants, souvenir shops, and many other attractions to explore, like the Penang Hill Mosque, the Love Lock Bridge, and even a bird sanctuary, so you can actually spend the whole day there!
PRO TIP: bring a sweater with you, temperatures here are cooler than anywhere on the island!
FUNICULAR PRICE: US$8 (RM35)
Getting there:
NOTE: you cannot get to Penang Hill by car unless you are a resident of Penang!
9. Spend a day in nature at Penang National Park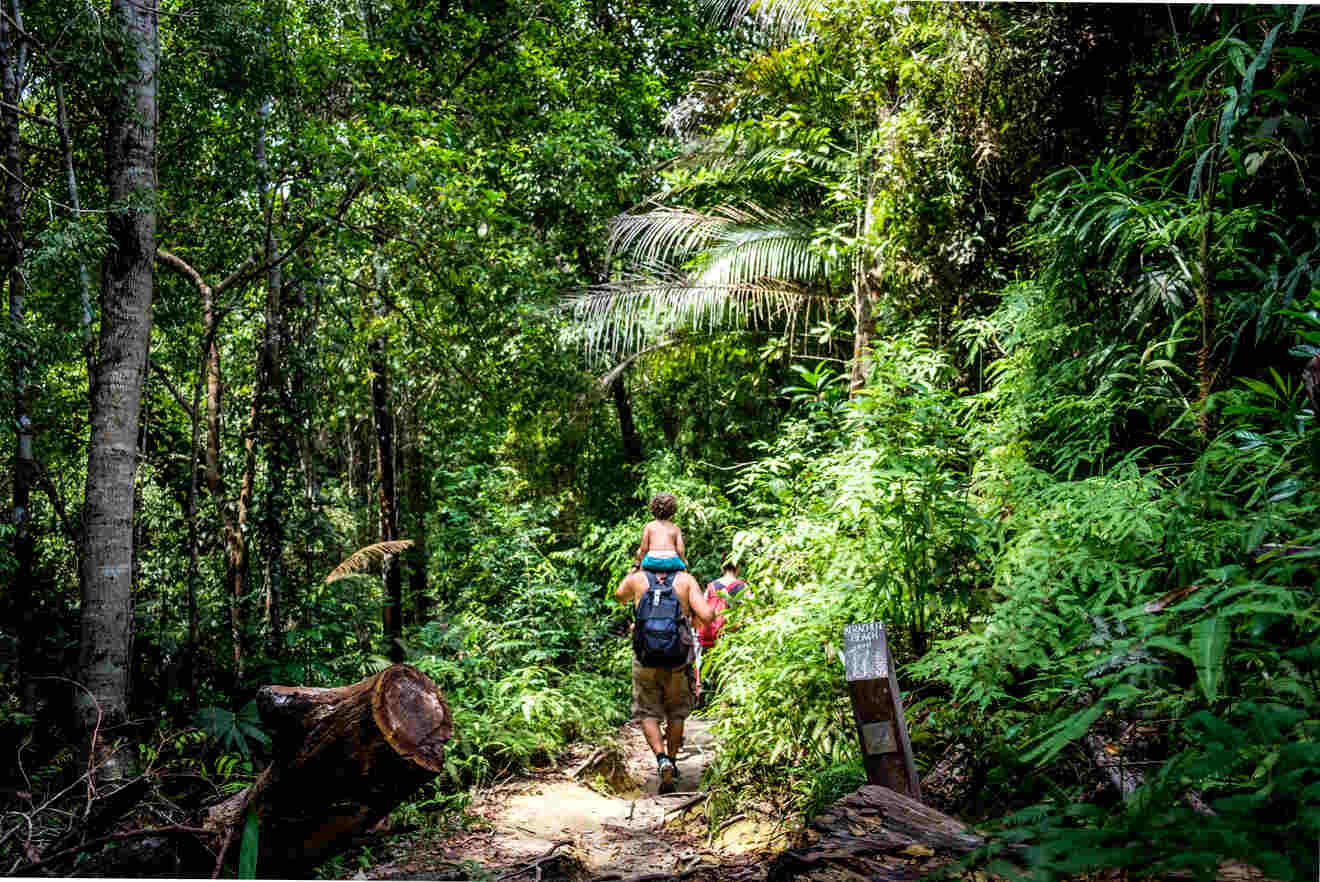 Sitting right on the ocean, at a 40 minutes drive from George Town, the 2.5-hectare (6 acres) Penang National Park is the smallest national park in the world, but it still contains a very rich diversity of habitats!
In fact, here, you'll find beautiful lakes, mangrove plantations, wetlands, coral reefs, turtle nesting, and even trekking routes to follow if you love outdoor sports. They can be quite challenging, but they will give you breathtaking views of the park, so they're definitely worth the effort!
The park will also give you access to some pristine beaches, like the secluded and stunning Monkey Beach, perfect if you want to enjoy an idyllic beach without the crowds. If you want to check it out, you can either reach it by a short boat ride (for around RM50/US$11 per boat) or by a 2-hour hike through the jungle.
This is the perfect place to spend a day (or at least half a day) nestled in nature and completely disconnect from the outside world!
The entrance to Penang National Park used to be free, but in 2022 they have introduced a fee of RM50 (US$11) per adult to access it, and you can pay it only by cash!
PRICE: US$11 (RM50)
Getting there:
10. Take a tour of George Town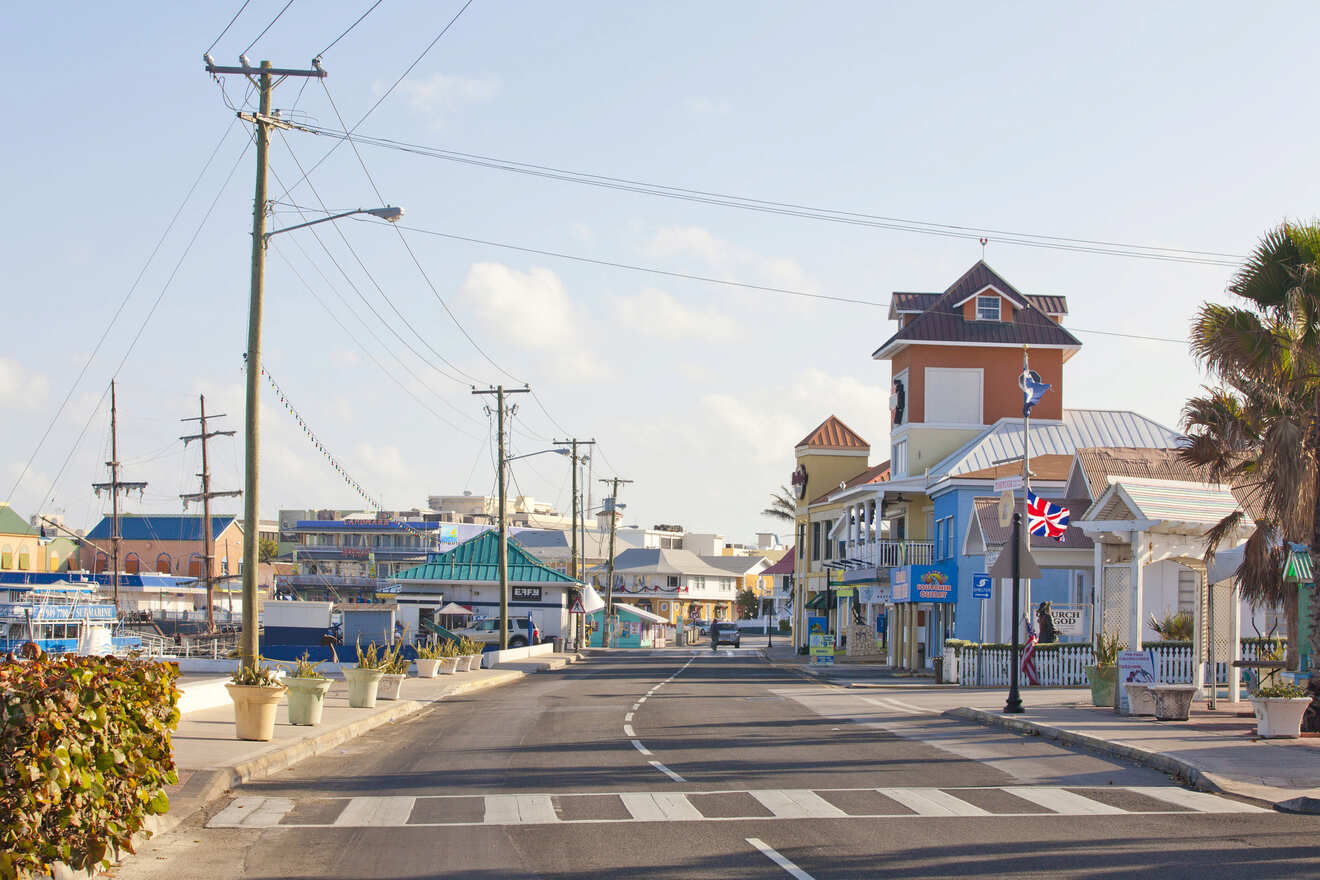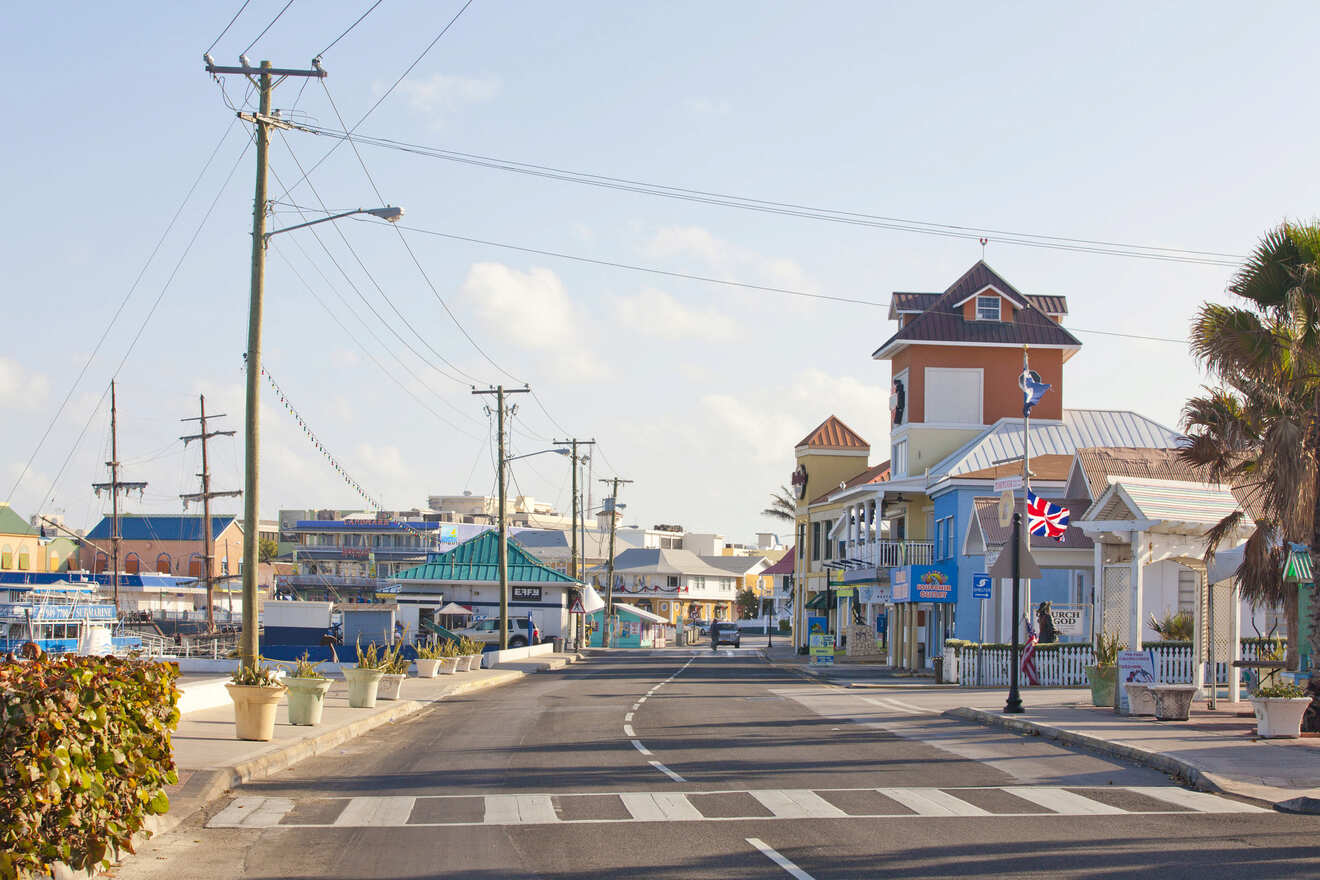 Until now, we have talked about lots of attractions in and around George Town, but Penang's capital itself is so worth exploring and visiting, and what better way to do that than a walking tour?
On this half-day private tour, an expert guide will bring you through the city's top highlights, like the bustling Clan Jetties, Khoo Kongsi clan house, and a pair of important Buddhist temples, while telling you everything about the local history and culture, so it is a great way to learn!
The tour offers the flexibility and personal service of a private guide and includes round-trip hotel transfers in the George Town area for about US$52 (RM230), but the price changes depending on the group size, which can be up to 15 people.
You can choose either morning or afternoon departure.
PRICE: US$52 (RM230)
Join a Historic Tour of George Town
11. Learn everything about Penang at the many museums
Another way to dig into the history and culture of Penang (and to have some fun) is by visiting the many museums hosted on the island, so I have collected below the most important ones, all located in George Town.
12. Have some fun at the Escape theme park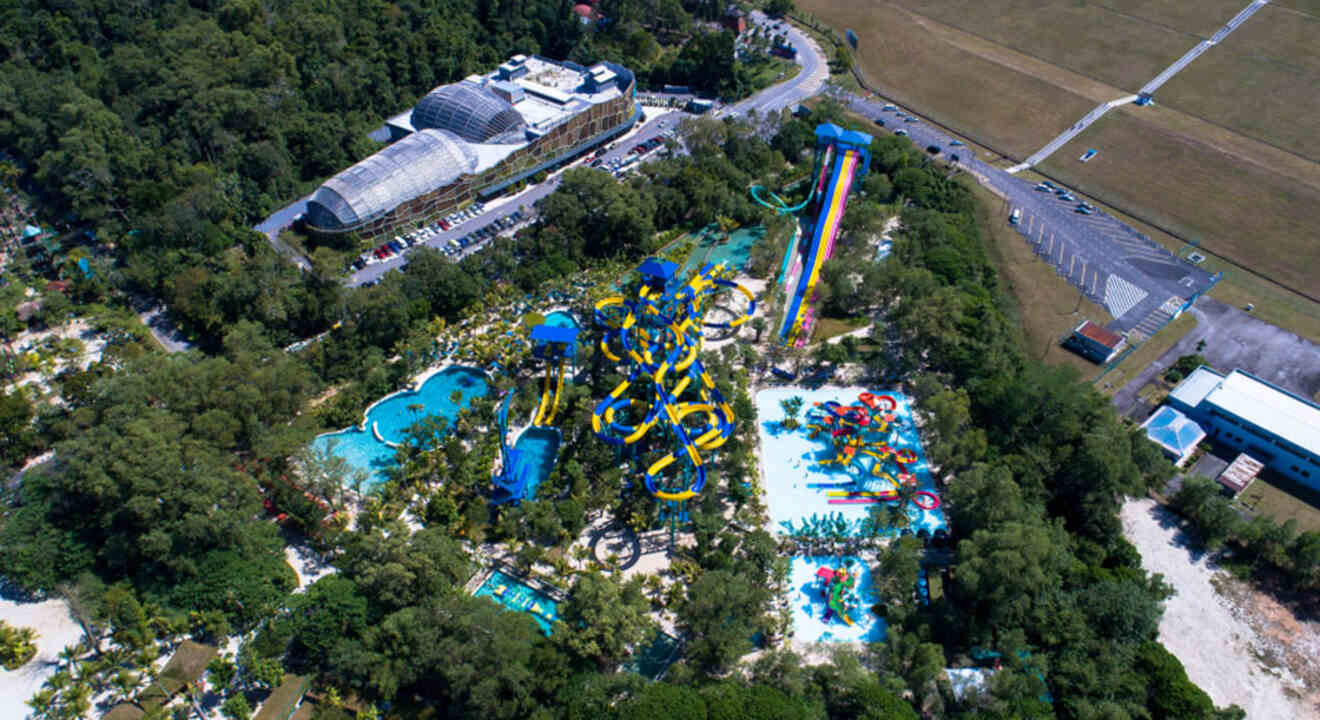 If you're looking for a place to have some family fun, the Escape theme park, located a half an hour's drive from George Town, is the attraction for you!
In fact, this outdoor adventure park offers exciting activities for any taste. Get ready to enjoy tower climbing, balance beam walking, zip lining for over 1km (a little less than 1 mile), and riding the world's longest water slide. You can easily stay the whole day, are you up for it?
If so, wear some comfy clothes and sports shoes and bring some snacks in case you get hungry, as there is only one A&W restaurant on site.
The park is open every day from 10 AM to 6 PM, and it has an entrance fee of US$38, but ticket prices change based on your age and get cheaper the more in advance you buy them (check out all the prices on the official website).
And if you don't find availability on the official website, you can always buy them online in advance on the ticket reseller Viator for US$47 (RM206).
PRICE: from US$38 (RM167)
Getting there:
13. See colorful butterflies at Penang Butterfly Farm
Close to both the Escape theme park and the Penang national park, at about 30 minutes from George Town, this is a paradise for animal lovers and definitely a must-do during your holiday!
In fact, the Penang Butterfly Farm is a huge living garden vivarium hosting over 15,000 free-flying and colorful butterflies of the most various species: a real show for your eyes!
Here you can just wander around the Natureland (the main attraction) and gaze at all the stunning butterflies or join some cool workshops like "Release a Butterfly," during which you'll be given a container with a butterfly that's about to enter the dome for the very first time.
To make it more magical, make a wish before opening the container, and then watch the butterfly flying away and carrying your wish!
A ticket to the Penang Butterfly Farm costs US$13 (RM57), and a visit usually takes around 2 or 3 hours. The place looks like heaven, so I doubt you'll want to leave sooner!
PRICE: US$13 (RM57)
Getting there:
Buy Your Ticket to Butterfly Farm
14. Travel back in time at Fort Cornwallis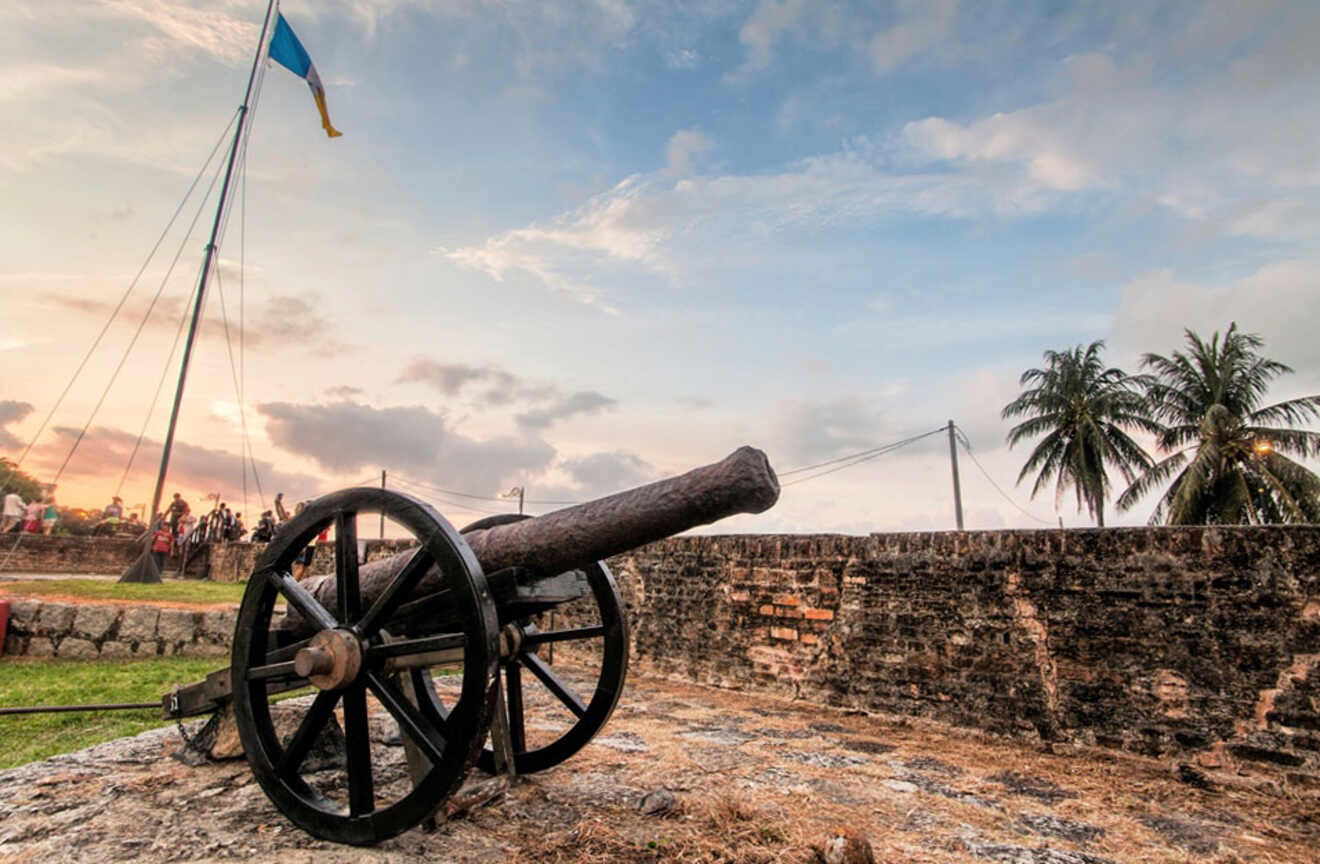 If you are a history buff, you will fall in love with Fort Cornwallis, the oldest and biggest fort in Malaysia!
Located on the northeastern tip of George Town, this star-shaped building was built by Captain Francis Light in the late 1700s to protect the island from pirates. Nowadays, it is still in great condition!
As long as you step inside the fort and start exploring it, you'll immediately travel back in time. Here, you will find a drawbridge, a lighthouse, a prison, original cannons, and the famous statue of Francis Light standing at the entrance.
Maybe you'll notice some flowers in the cannons – this is because of a local legend that says that whoever wishes to conceive should make an offering there. Will you?
P.S. You can explore the fort grounds for US$5 (RM22) every day from 8 AM until 11 PM (except for Tuesdays, which close at 8 PM): after that, the walls and flagstaff completely light up!
PRICE: US$5 (RM22)
Getting to Fort Cornwallis:
Where to stay in Penang
If you are visiting Penang, the best place to stay on the island is definitely its capital George Town, where all the tours start! I gathered here below the best hotel options in the city, including one accommodation for any budget, check them out: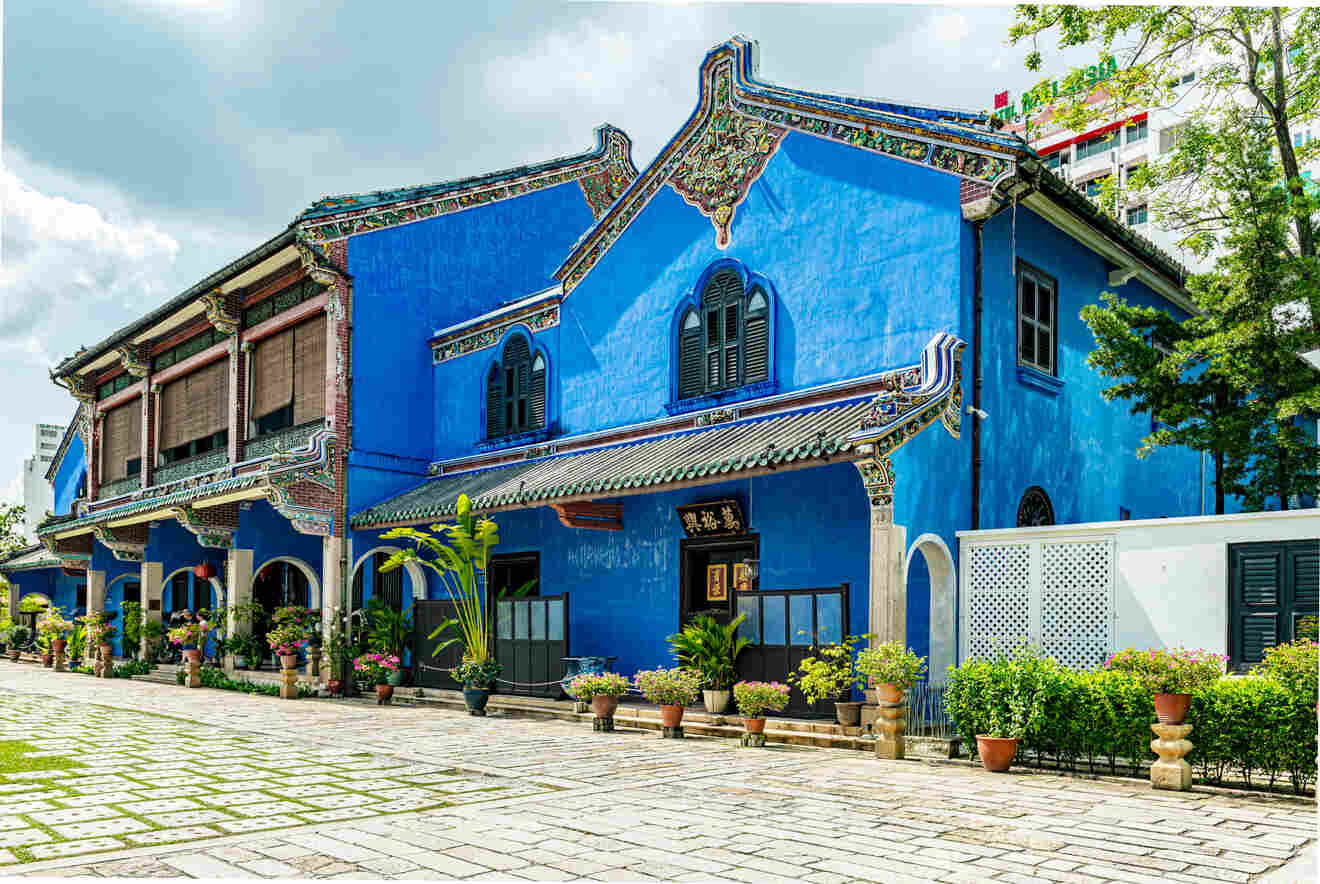 Luxury
Blue Mansion – The 4-star heritage Blue Mansion boutique hotel (aka the Cheong Fatt Tze Mansion) is perfect if you want to splurge, offering boutique rooms with antique furnishings, a fine dining restaurant on-site, and an outdoor swimming pool!
Mid-Range
Mac Hotel by Sky Hive – I stayed here during my holiday in Penang, and although it is not that highly rated on Booking, honestly, I loved it! The hotel is really clean and offers studio-style rooms, self-check-in and check-out, and super friendly staff!
Budget
Carnarvon House – If you want to save money during your holiday, check out this sustainable guest house boasting family rooms with private bathrooms, a terrace, room service, and free Wi-Fi!
FAQs about the best things to do in Penang, Malaysia
👀 Which are the best things to do in Penang, Malaysia?
👨‍👩‍👧‍👦 Which are the best things to do in Penang for families?
The best things to do in Penang, Malaysia, for families, are spending a day in nature at the Penang National Park, exploring the snake temple, having dinner at Penang Little India, or getting some adrenaline at the Escape theme park.
🏖️ What is Penang best known for?
Penang is particularly known for its stunning religious buildings like the Kek Lok Si Temple, the Penang floating mosque, and the George's Anglican Church, pristine beaches like Monkey Beach or Batu Ferringhi Beach, and chaotic neighborhoods like Penang Little India.
👍🏼 Is Penang, Malaysia, worth visiting?
Yes, the traditional center of Penang is actually a UNESCO World Heritage Site and hosts many attractions to check out, from cultural centers like the Penang State Museum and Art Gallery, and stunning temples like the Kek Lok Si Temple.
🗓️ Can you visit Penang in 3 days?
Visiting Penang in 3 days gives you enough time to check out important attractions like the Penang floating mosque, have delicious street food at the Batu Ferringhi night market, or check out the cool 3D Trick Art Museum.
Conclusion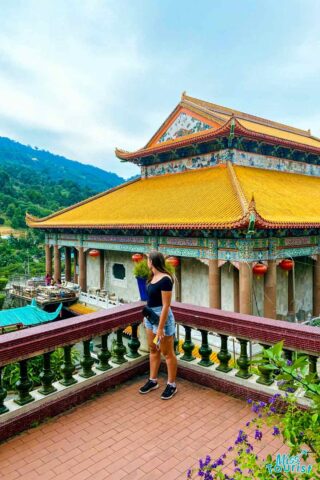 So, how great was this list of the best things to do in Penang Island (Southeast Asia)?
From delicious street food to stunning temples, parks, museums, and tours, it is hard to decide what to focus on during your holiday, especially if you don't have much time on the island!
In my opinion, some top Penang attractions you really cannot miss are the Kek Lok Si Temple and Penang Hill, which you can both visit on this cool half-day tour of Penang. Just make sure you book it in advance if you want to reserve yourself a spot at your desired time!
Did you like my travel guide? You can let me know in the comments below, and feel free to share some questions or tips if you have any.
Have an amazing holiday!
Lizzie 
---
Pin it for later!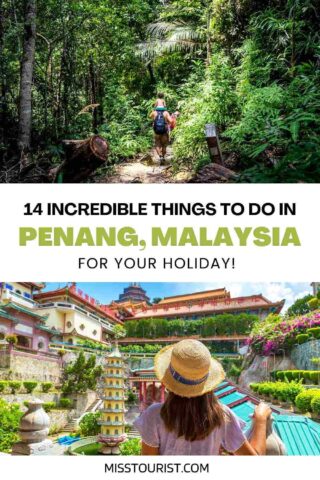 Pin it for later!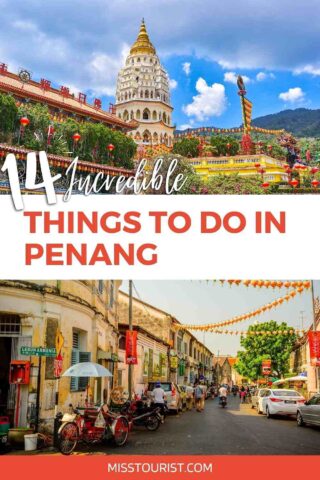 Products You May Like