16 BEST Hotels With a Jacuzzi in the Room in Orange County
Are you dreaming of a relaxing getaway to Orange County? Then what better way to relax than with in-room hot tubs? I cannot think of anything better than warm bubbles to decompress! So, if you want to go on a well-deserved vacation or a romantic weekend with someone special, I've got you!
I have researched for hours to find the best hotels with a jacuzzi in the room in Orange County, and I compiled a list of 16 top ones! All the Orange County hotels on this list are rated 8 points and up, and there is at least 1 guest room with a private hot tub.
This post is organized from the most expensive room to the least expensive one. I've covered luxury hotels, mid-range, and budget ones so that there's something for everyone! However, make sure to book your rooms fast, and don't miss out on the opportunity to stay at the best Orange County hotels with in-room hot tubs!
Let's buckle up and find you a relaxing and cozy hotel room with massaging bubbles!
If you are in a hurry
Here's a quick list of the top hotels in Orange County with a spa bath that most travelers are looking to stay at, which means you need to book them ASAP!
This article covers Orange County, which is a big area, so check out the map for a better understanding of the locations:
1. Hyatt Regency Resort and Spa – luxurious and elegant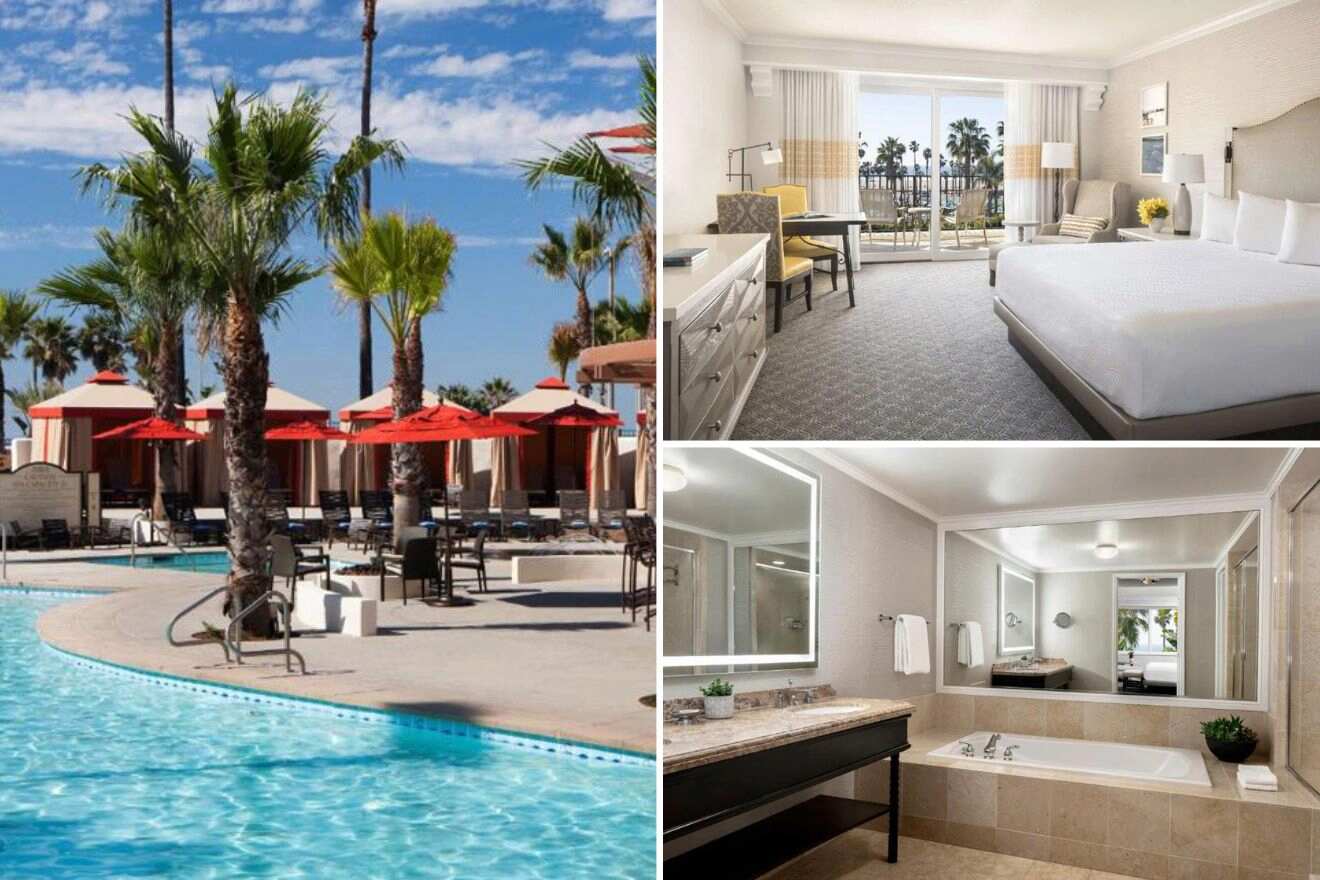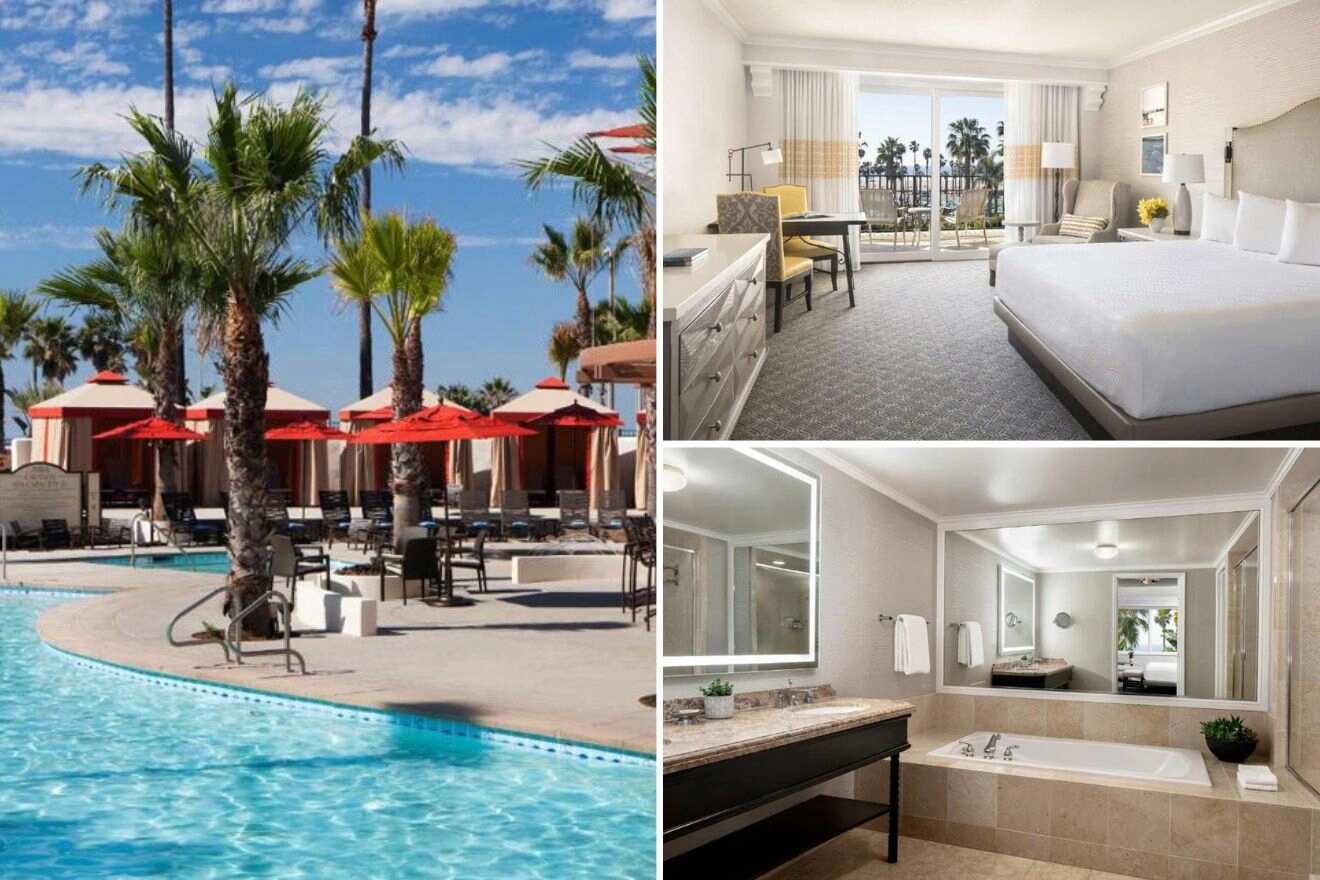 If you want the Californian start treatment, this 5-star California spa hotel in Huntington Beach is the best option! Talking about rooms, I especially recommend the King Suite With Spa Bath – SoCal Suite or the Luxury King Suite With Spa Bath – Huntington Suite, as these 2 spacious guest rooms not only have a spa tub but beautiful views, too that you can enjoy from a patio or a balcony.
In addition, you can enjoy an outdoor swimming pool, 2 spa services available for guests, and several restaurants and bars. The hotel is on the beachfront, so you can take surf and paddle lessons! If you are traveling with your family, there are playgrounds and pools for children, and if you are on a business trip, a business center is available on-site for an extra fee!
2. Surf and Sand Resort – stay in artsy Laguna Beach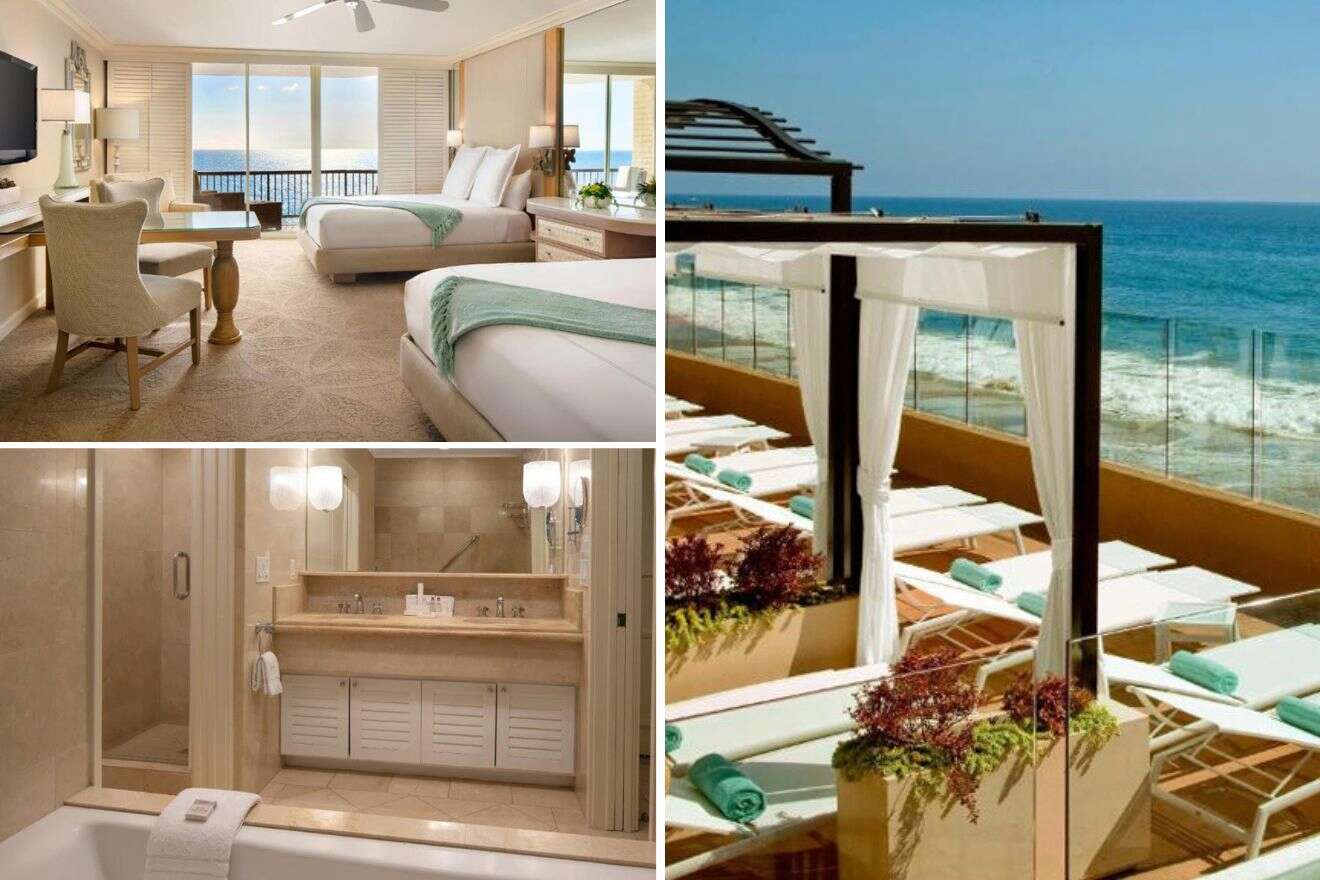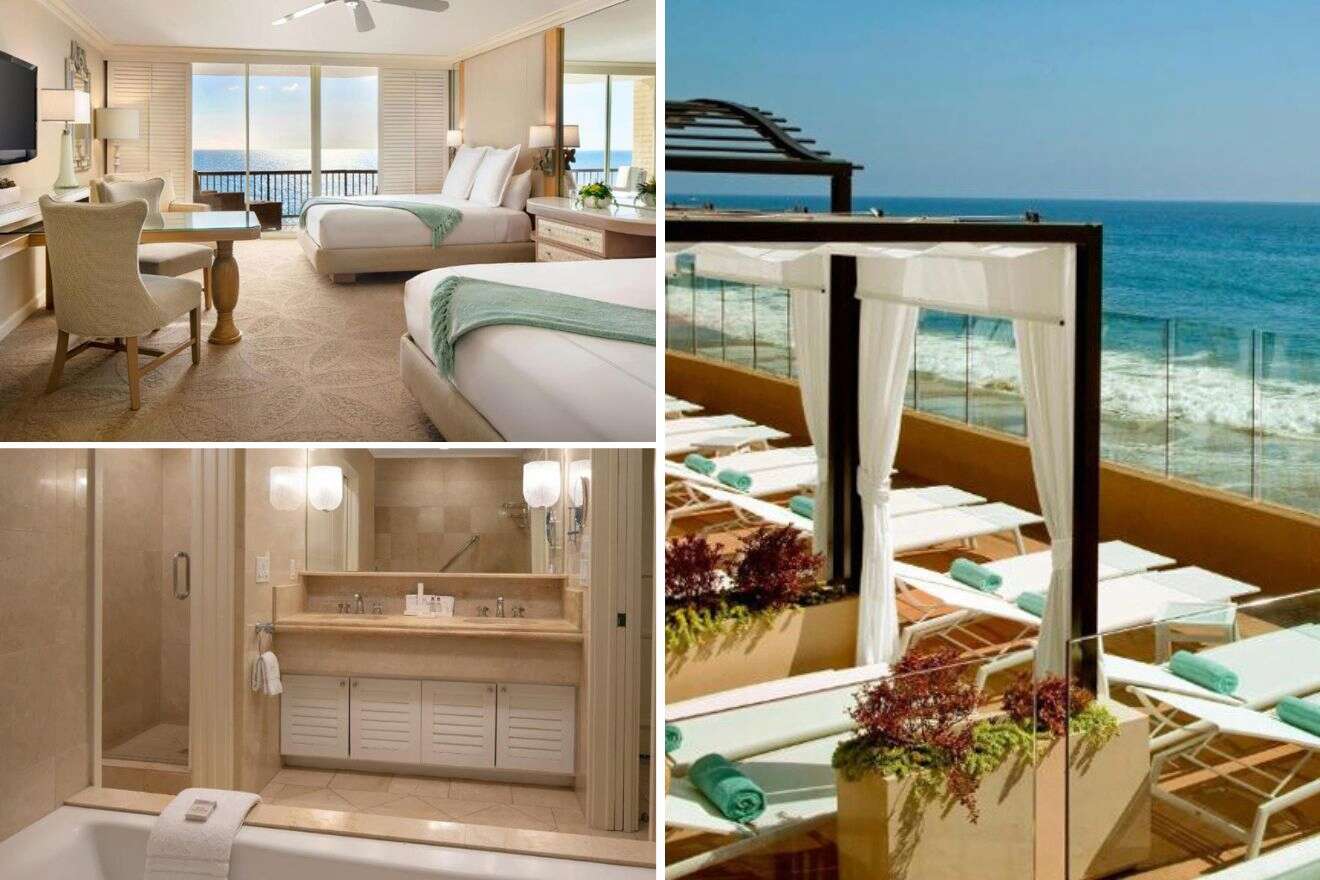 Looking for a beachfront hotel in Laguna Beach? Surf and Sand Resort is a great option in this great city for art and culture! If you are looking to travel with another adult, the Surfside King Room will suit you perfectly. Alternatively, the Oceanfront Towers Double Queen would be great for families or 4 adults traveling together! Both rooms have a flat-screen cable TV, a balcony with sea views, and a dreamy spa bath! Sounds pleasant, right? Then no need to leave the room for drinks or meals – enjoy the room service offered!
If you train, enjoy the hotel's fully equipped fitness center, and after all that hard work, you dip into their open all-year-round outdoor pool and sun terrace! If you feel adventurous, walk alongside the beach until you arrive at Laguna Art Museum!
3. Blue Lantern Inn, A Four Sisters Inn – great value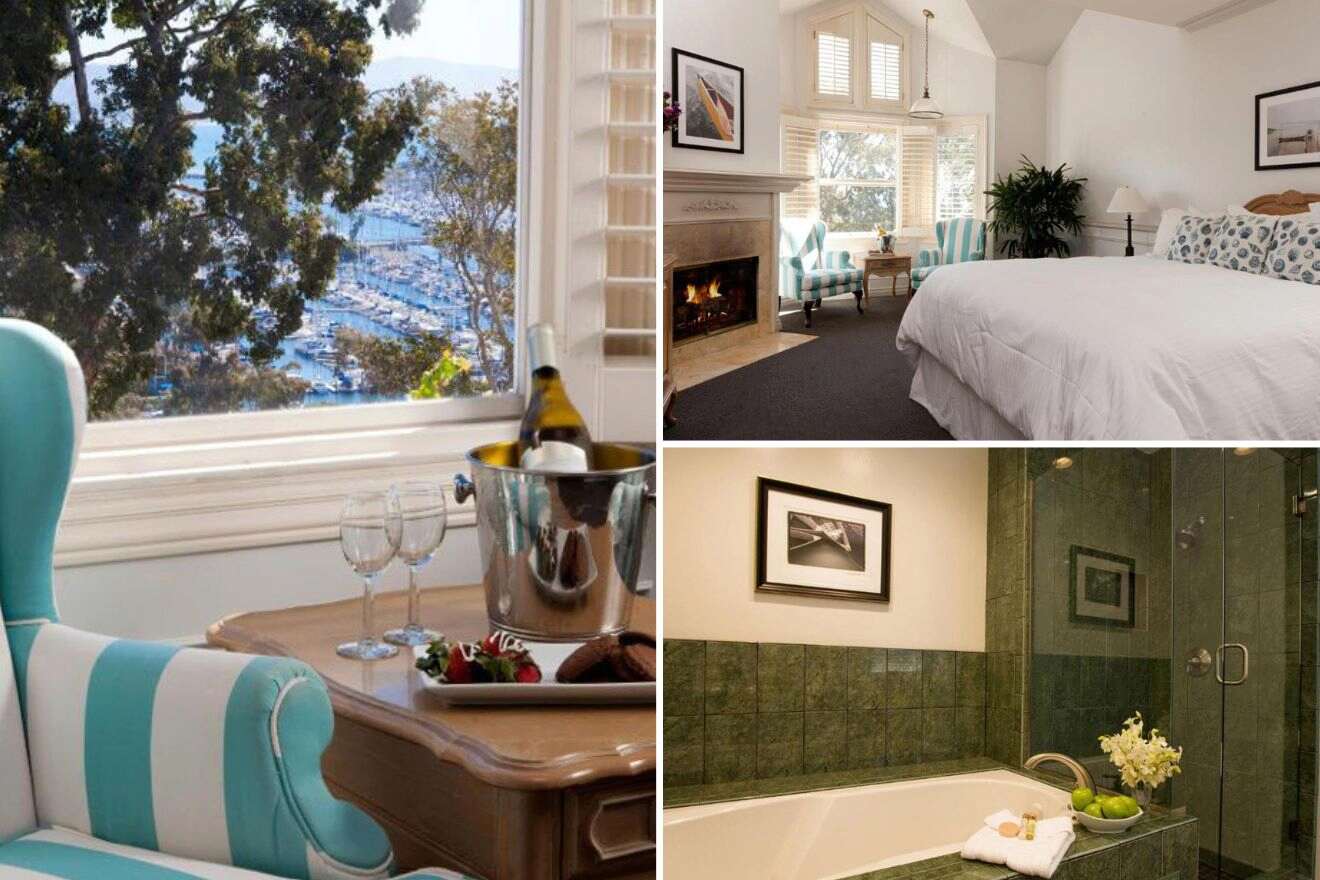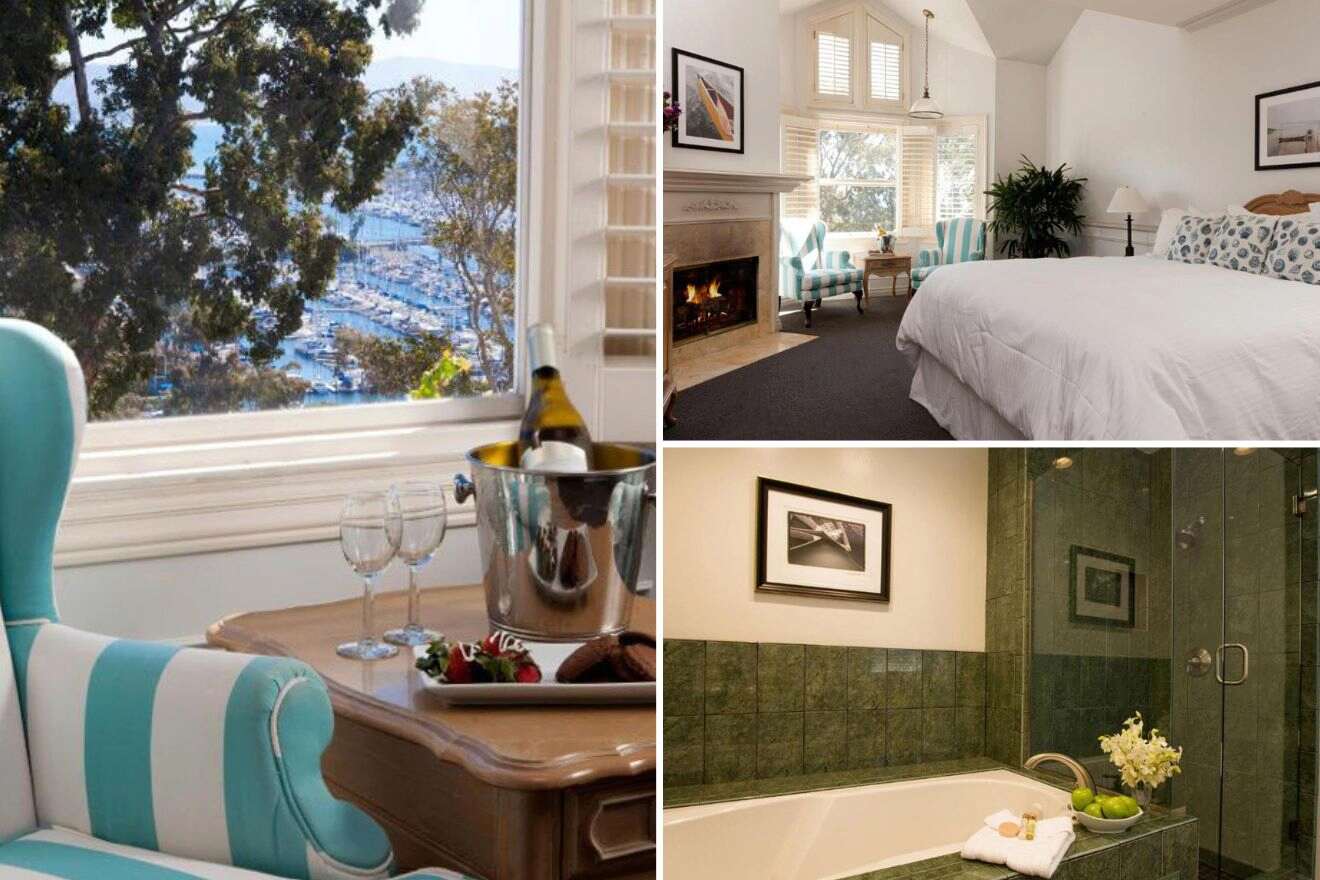 This Orange County hotel is located in Dana Point, with John Wayne Airport being just 17 miles (28km) away! This cute boutique hotel has guest rooms with jacuzzis and a cozy fireplace to keep the relaxation going.
The rooms with an in-room jacuzzi are the City King ADA – No View or Balcony, Harbor King ADA – Partial View No Balcony, and the Pacific Edge Limited + Balcony. Something to remember is that it doesn't matter which room you'll book, you will always enjoy free afternoon wine, a delicious buffet breakfast, free parking, a fitness center, and a business centre.
4. Newport Beach Hotel – perfect for couples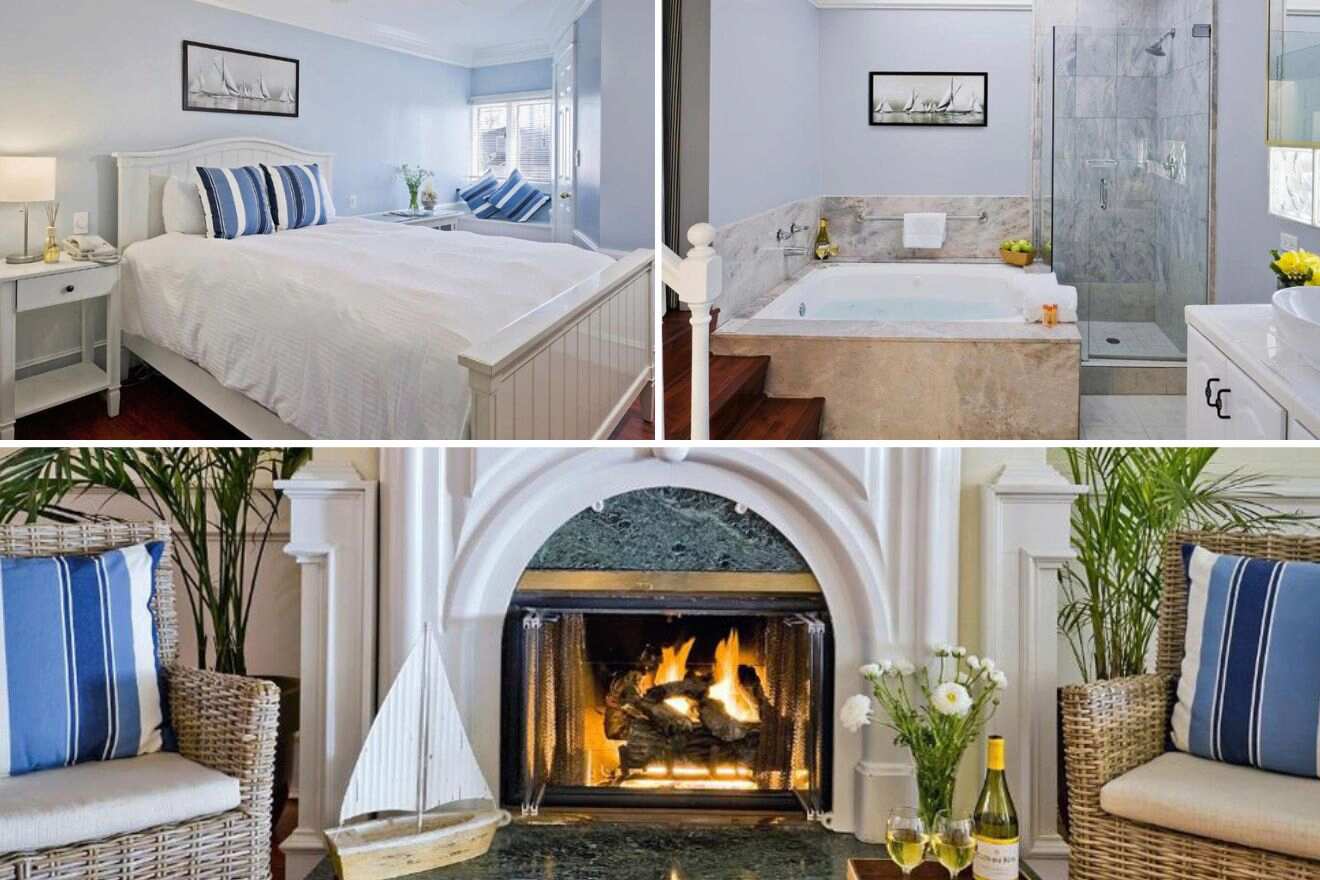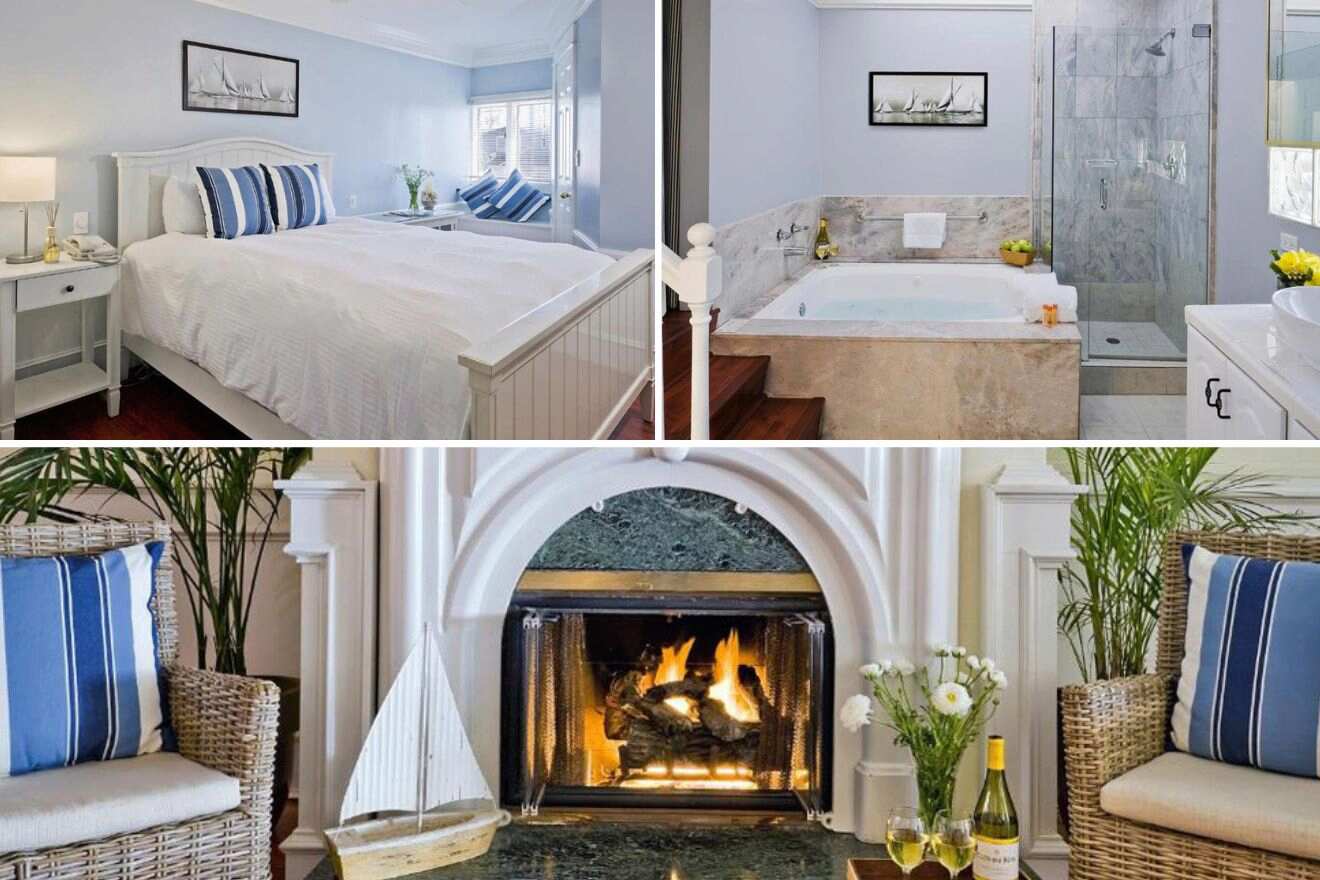 Booking The Mariner Spa room in this 3-star hotel in Newport Beach will get you a hot tub inside the room and a complimentary breakfast each morning, and free Wi-Fi access!
My favorite thing about this hotel, apart from the romantic rooms, is that it is only 65 ft (20 m) from the beach and has many restaurants within walking distance! You can take a stroll by the sea, have some tasty food and end the day relaxing in your in-room hot tub! If you want a drink without moving from the hotel, just go to the on-site bar.
Don't worry about bringing your children's beach towels, chairs, or beach toys for your children to your beach getaway – these will be provided by the hotel for free!
5. Ocean Surf Inn & Suites – a great value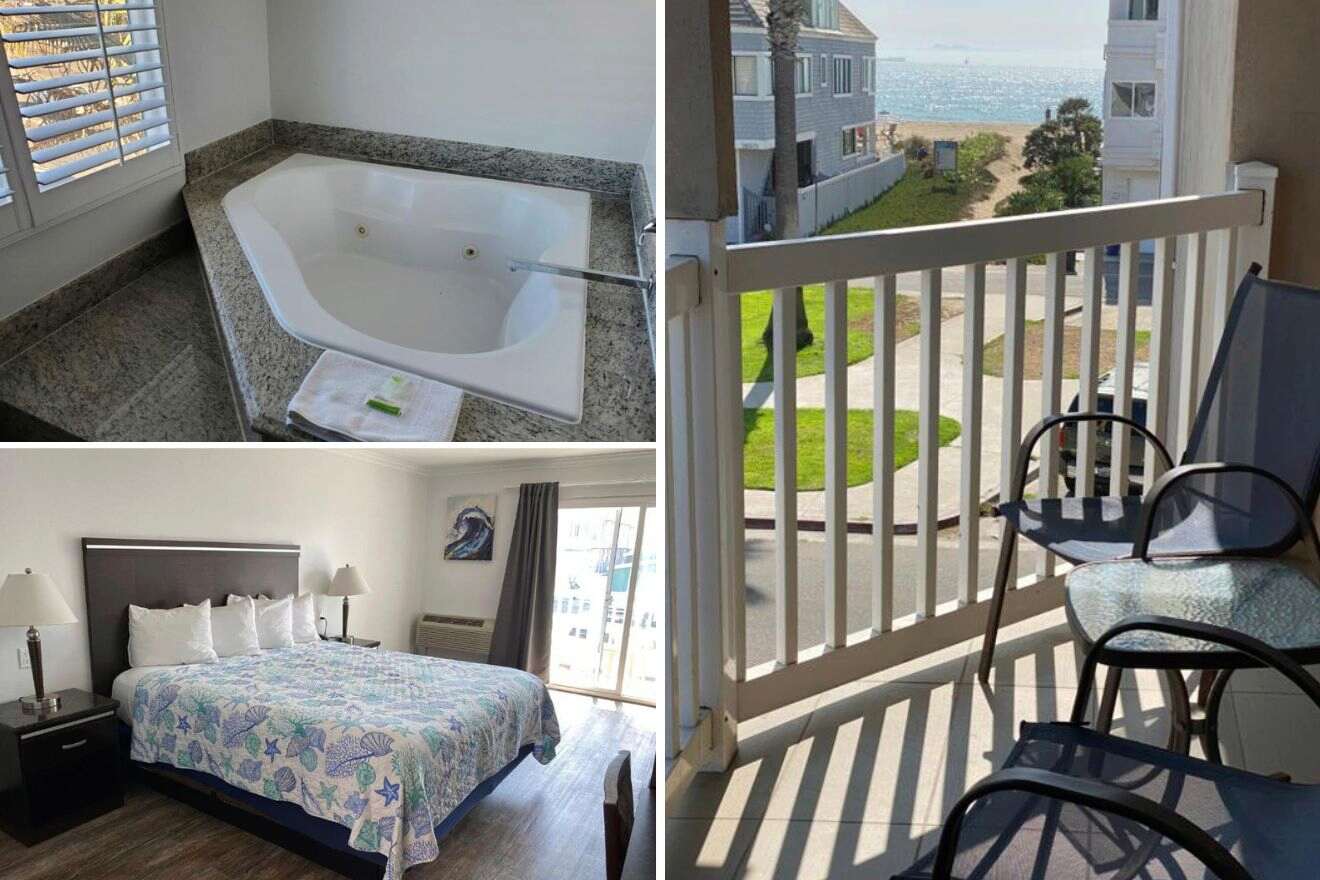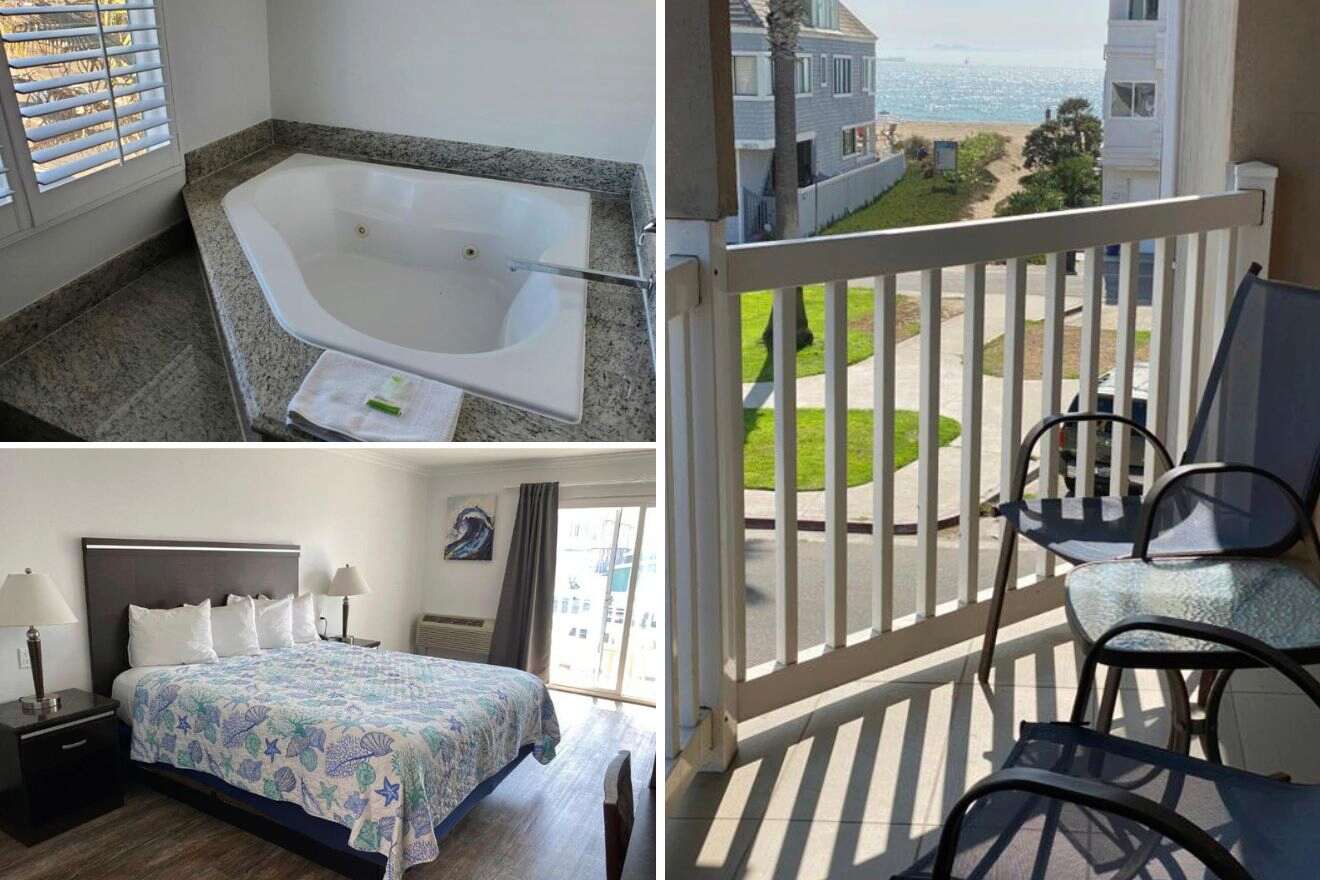 This 3-star hotel in Huntington Beach is a simple and easy vibe hotel, yet, it has all the things you need for a cozy stay and complimentary breakfast each morning. The Double Room With Spa Bath and the Premier Room With Spa Bath and Sea View – Adults Only are the ones you should be looking to book if you want to have a hot tub, a coffee maker, a compact refrigerator, air conditioning, and a microwave.
Free Wi-Fi and flat-screen cable TV are available for all guests in their rooms to use. Don't worry about going far or leaving the motel to do laundry, as Ocean Surf Inn & Suites has its own laundry facilities. Just remember at the time of booking that the rooms I am recommending can host a maximum of 2 guests!
6. Always Inn Bed & Breakfast by Elevate Rooms – a cozy vibe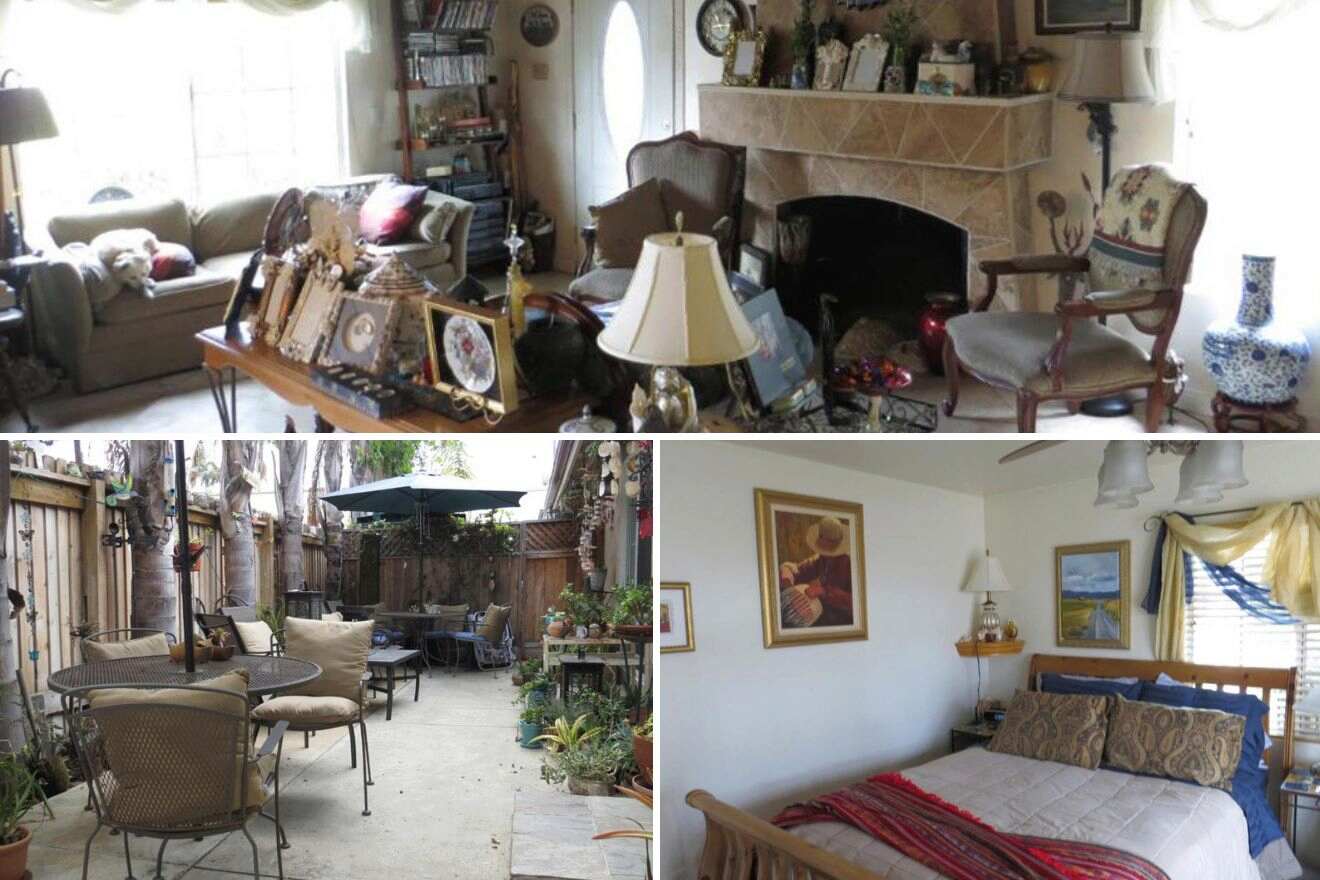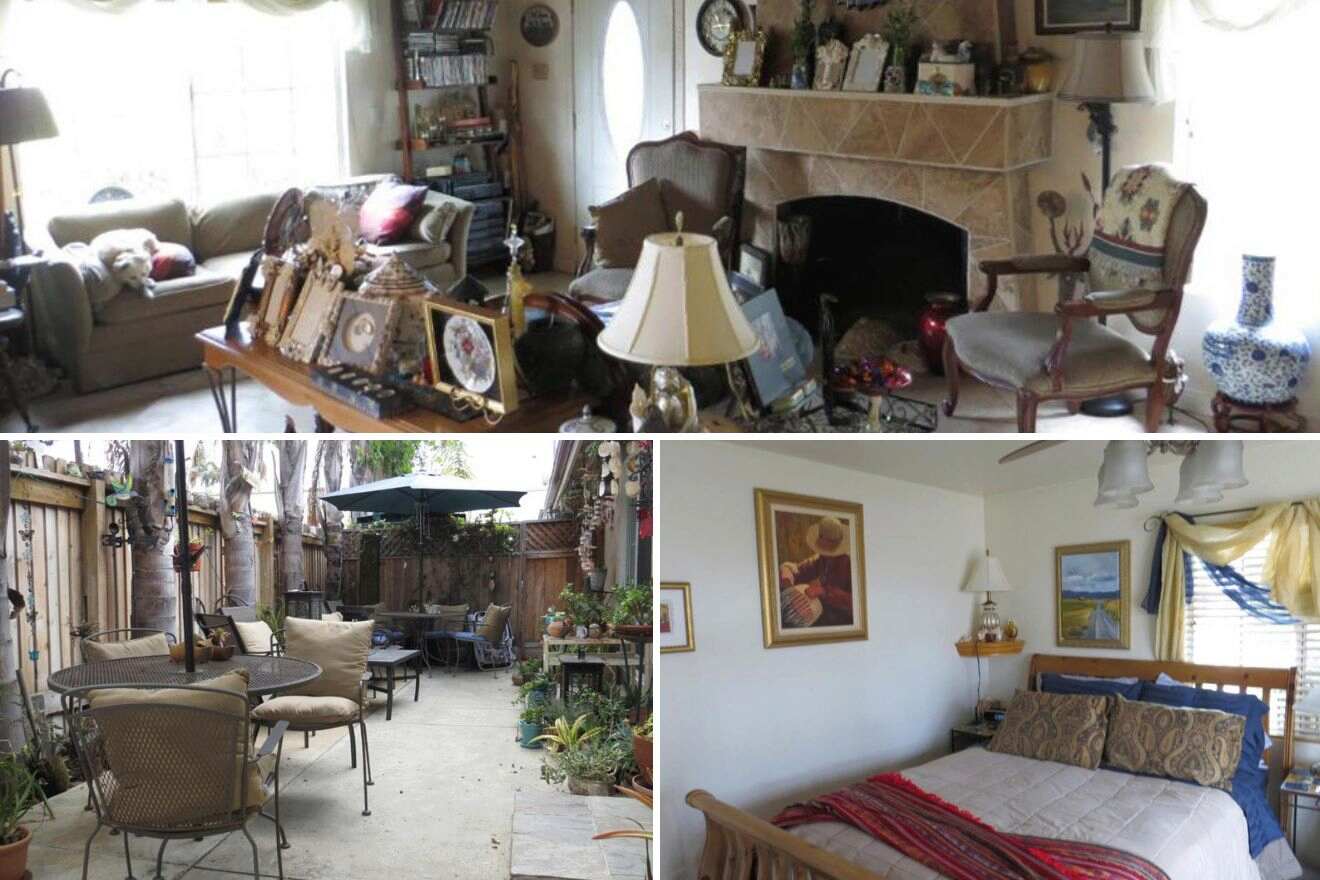 This cute little hotel in San Clemente is perfect for those looking for a homey feeling for their vacation! All the rooms have a jacuzzi, so pick the one that fits your preferences the most. For example, couples will love the Deluxe Family Room, which has a sofa bed and a large double bed for extra sleep!
The hotel has a cute garden open to all guests with an outdoor barbecue grill, and each morning a free hot breakfast will be served, with fresh fruits and pastries to home fries and sausages! If you are traveling to San Clemente by car, the hotel has free parking, and Laguna Beach is only 30 minutes drive from the bed and breakfast!
7. Ayres Hotel Costa Mesa Newport Beach – classic style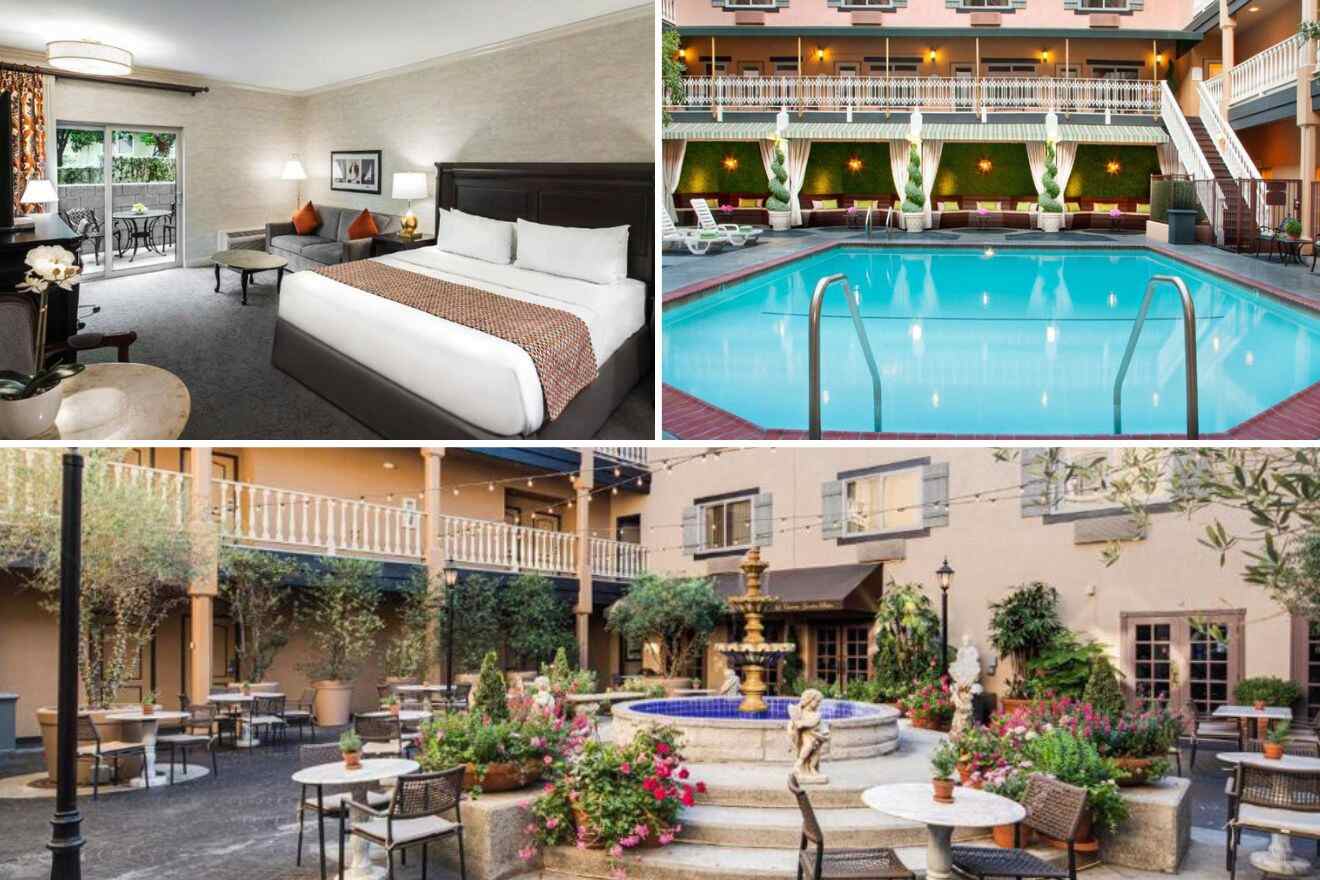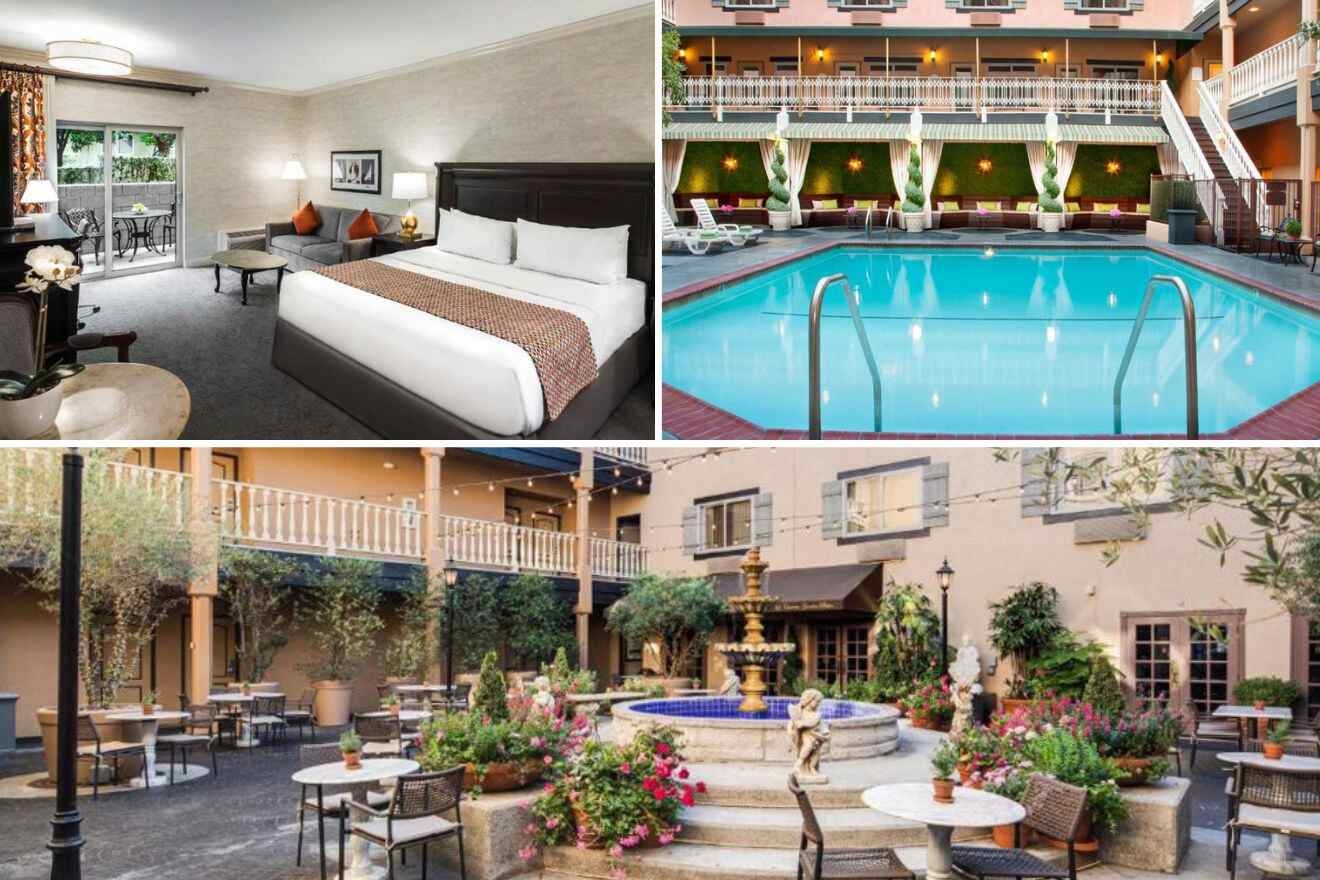 On the search for spacious suites in Costa Mesa? Ayres Hotel has a lovely King and Junior Suite with a flat-screen TV and a powerful whirlpool tub to unwind on your trip to Costa Mesa! The room can host a maximum of 4 guests, so it is perfect for families or friends!
On top of that, Ayres Hotel facilities are a delight. Marble floors and a fireplace in the hotel lobby, old school on-site bar, terraces, an outdoor pool, and fountains, so you can tune in with the classic style of the place! 
P.S. The hotel offers a free shuttle service from John Wayne Airport or South Coast Plaza.
8. The Pacific Inn – for families on a budget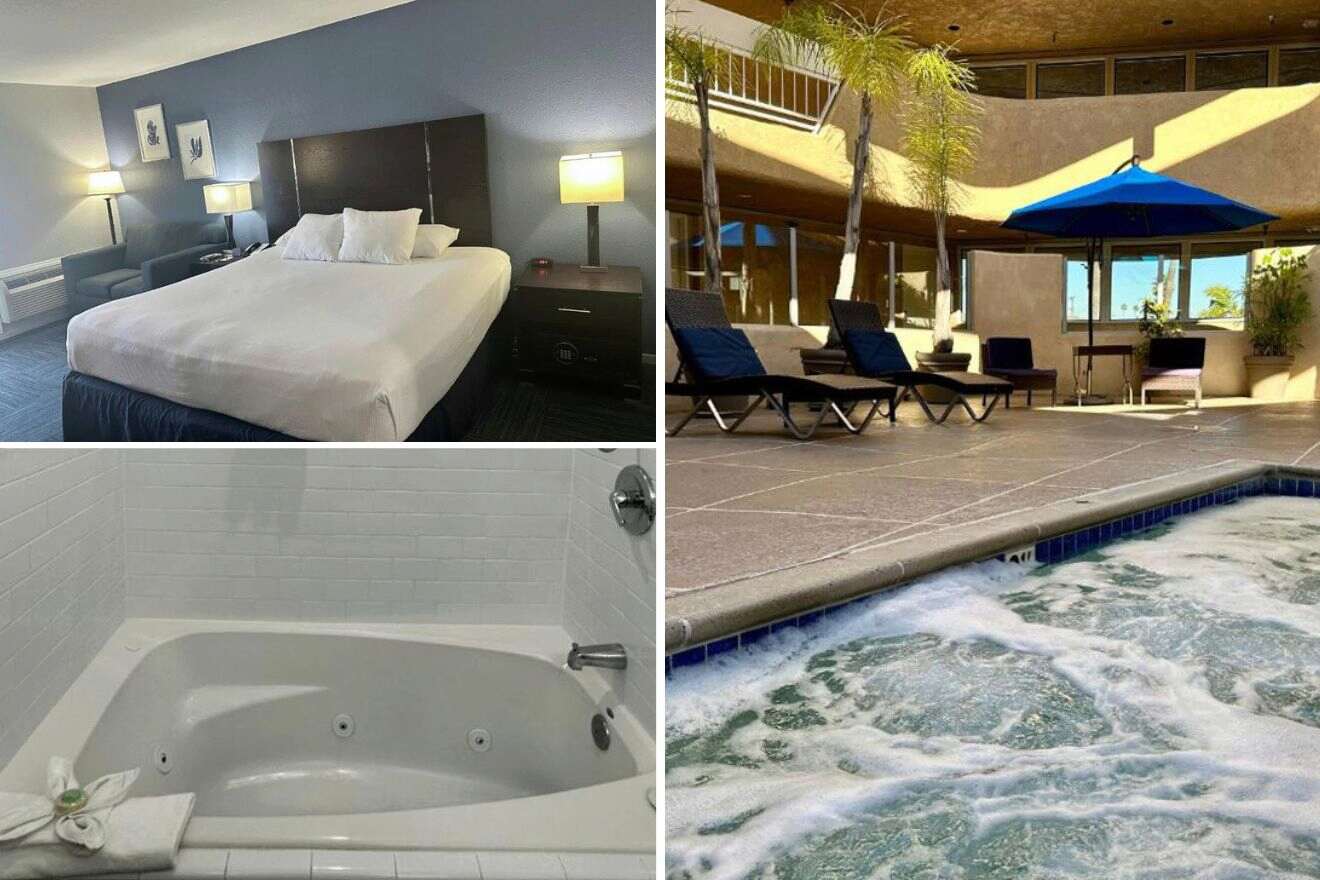 If you want to go on holiday with your family, but you are on a budget, I understand, and luckily the 3-star hotel Pacific Inn has a perfect budget family room – the Executive Two Queen Jacuzzi Room With Balcony. As an added plus, Seal Beach Pier is a 10-minute walk from the hotel.
The kids can enjoy the indoor swimming pool, or the whole family can make use of the free shuttle to the main street shopping district and different attractions like the Aquarium of the Pacific. At the end of the day, when kids are asleep, the parents can relax in their in-room jacuzzi!
9. Casablanca Inn – tasty buffet breakfast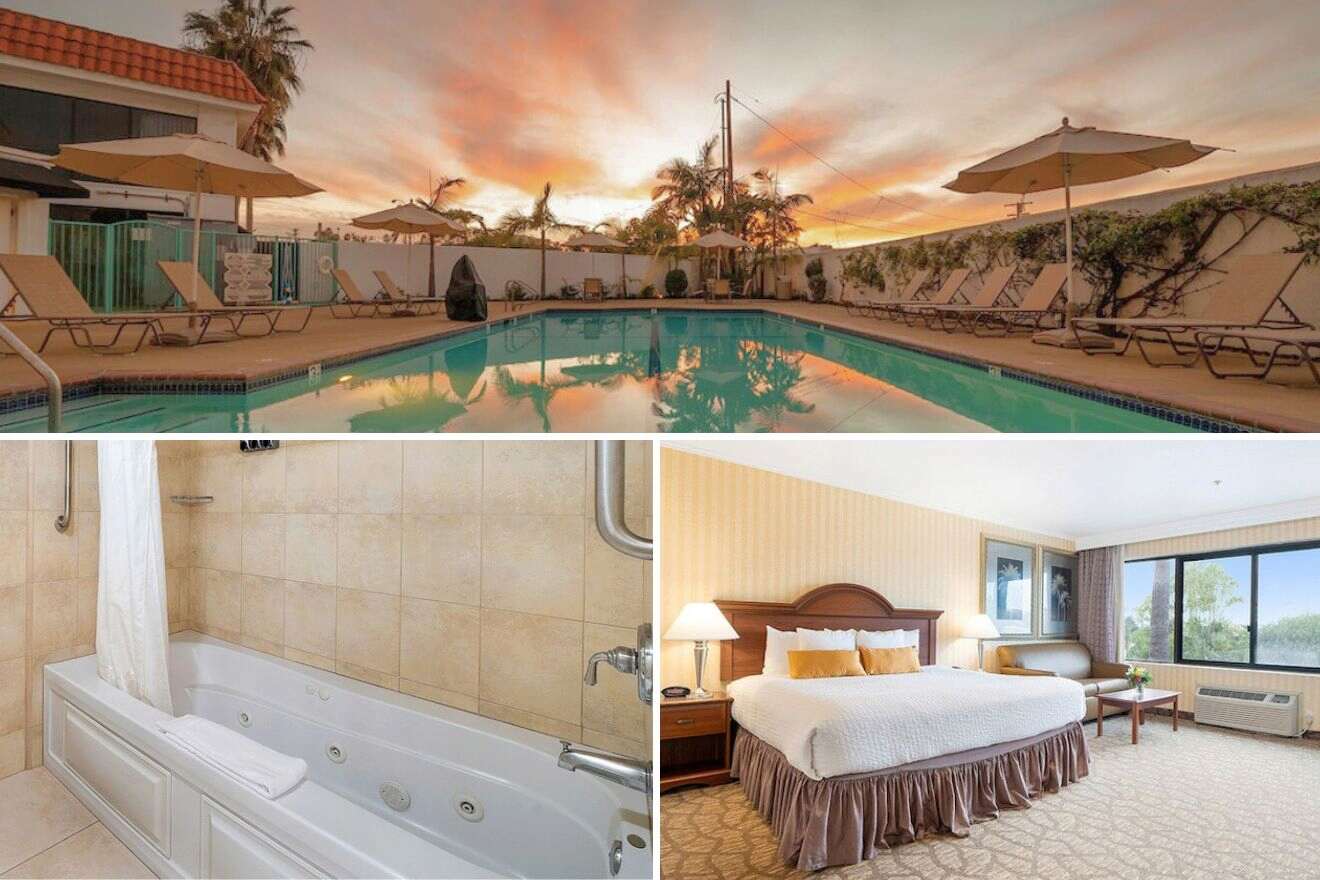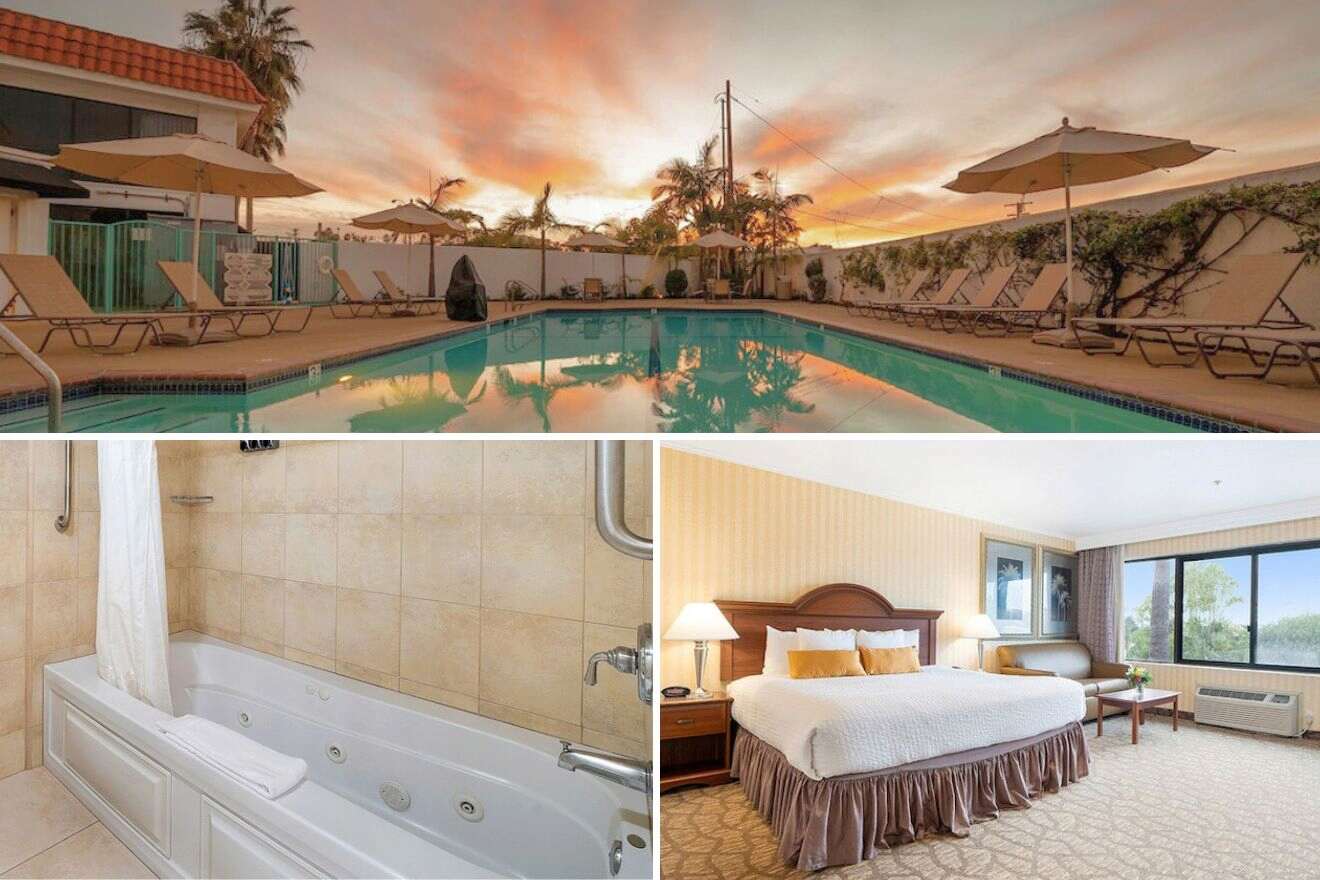 Casablanca Inn is a simple and convenient hotel in San Clemente! Why, you may wonder? Well, it is located only 1,310 ft (400 m) from the lovely North Beach and has a great free buffet breakfast (approved by guests), an open all-year and heated outdoor pool, a fitness and business center, and barbecue and laundry facilities. It does sound like it has it all!
The Deluxe King Room With Sofa Bed (Non-Smoking), the King Room With Spa Bath and Balcony (Non-Smoking), and the Queen Room With Whirlpool Tub are the ones with in-room jacuzzis and can host up to 5 people. I wouldn't wait for too long to book them!
10. Doubletree By Hilton Fullerton – a wholesome stay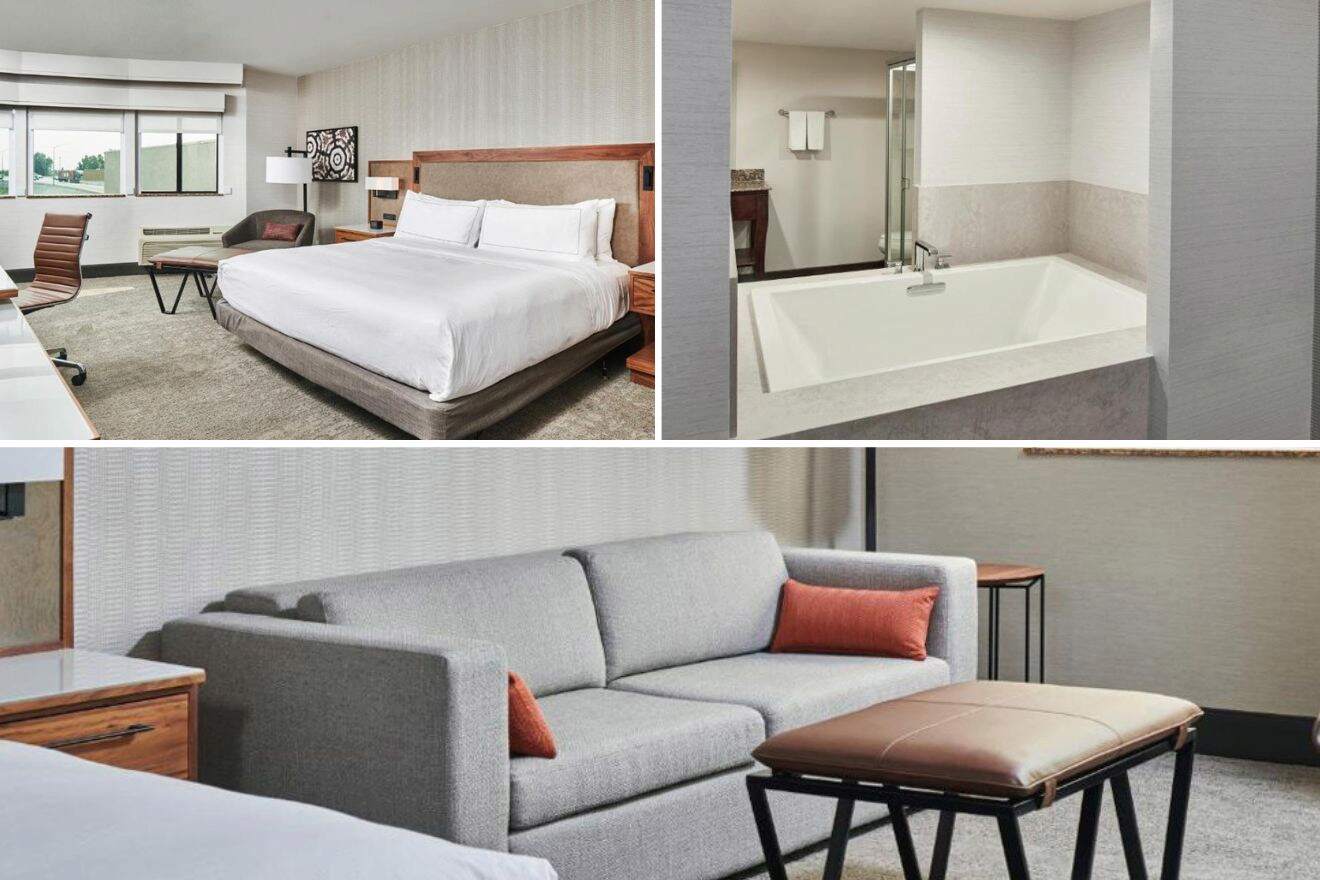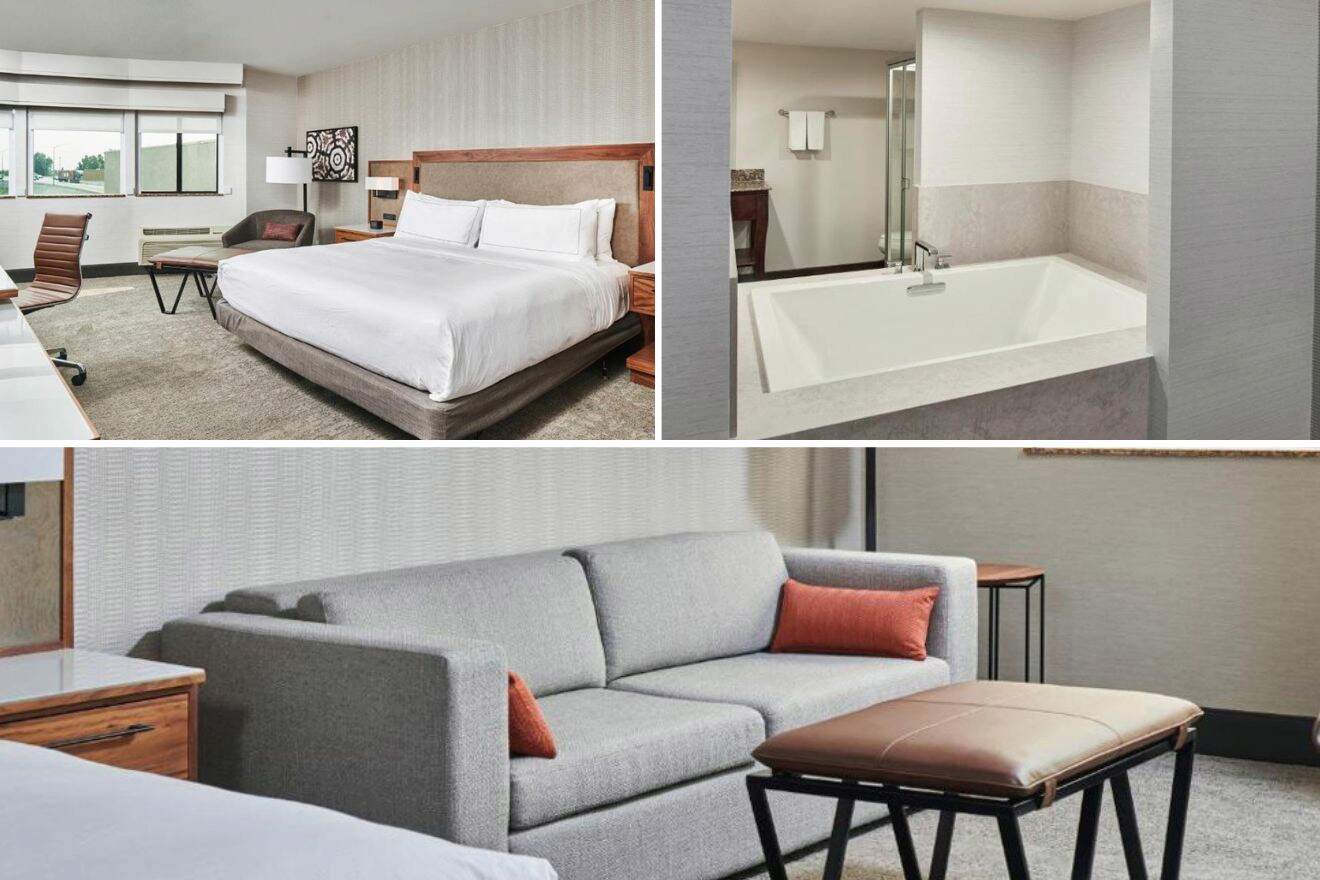 This 3-star hotel by Hilton has what you need for a perfect stay in Fullerton. Did you know California State University is only half a mile (1 km) away from the hotel? You can definitely walk to the University Campus or, for another 10 minutes, walk and check out Fullerton Arboretum.
Now, let's talk about the rooms! Which rooms have a jacuzzi, you wonder? Well, the King Room With Jetted Tub and the One-Bedroom King Suite With Jetted Tub! The rooms also come with a flat-screen TV, and every morning you will enjoy an à la carte breakfast! Additionally, the hotel offers a lot of useful facilities, such as a fitness centre, outdoor swimming pools, and an on-site bar!
11. Best Western Plus Hotel – for the golf course nearby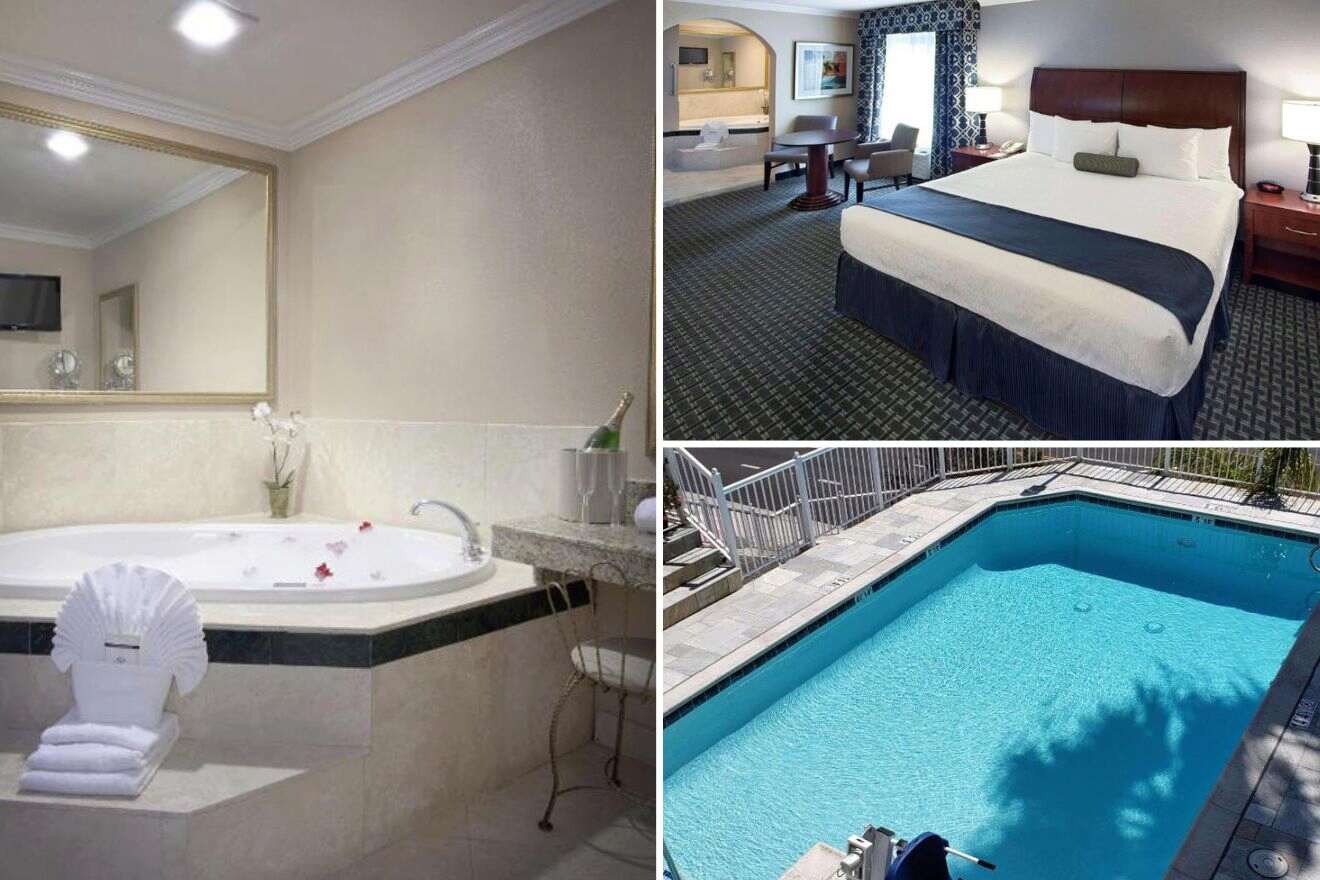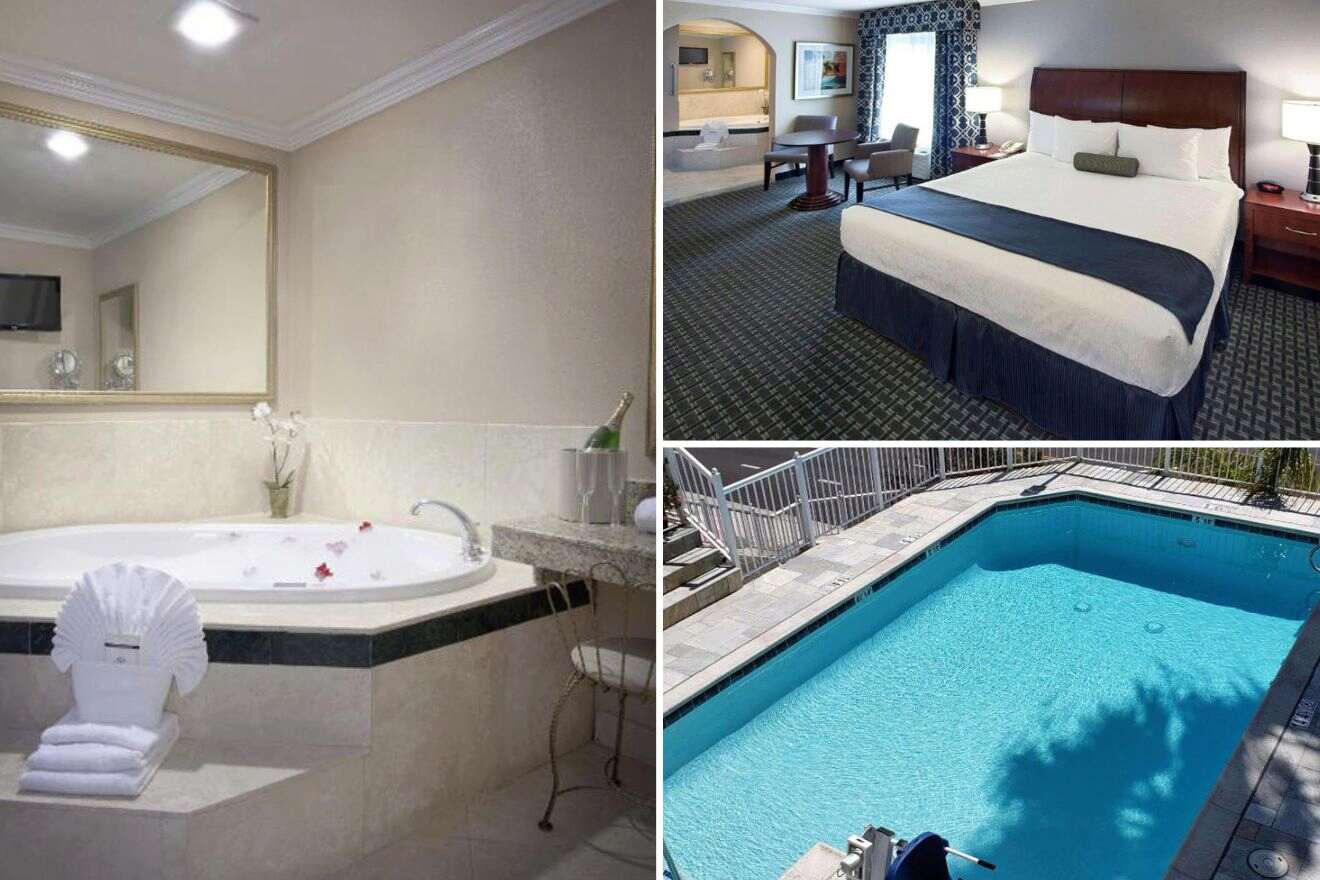 This hotel located in Dana Point has a 24-hour reception service, a swimming pool, and a gym, and your furry friends are welcome! The room I want to recommend to you is the King Room With Spa Bath (Non-Smoking) which has bubbles. Another plus is that just by staying at the hotel, you get free breakfast!
Another advantage of this hotel is that it has Aliso Creek Golf Course at only a 10-minute drive, so all of you golf lovers, take this opportunity! The closest beaches are Doheny State Beach and Capistrano Beach at 1,310 ft (400 m)!
12. Grand Legacy At The Park – near Disney California!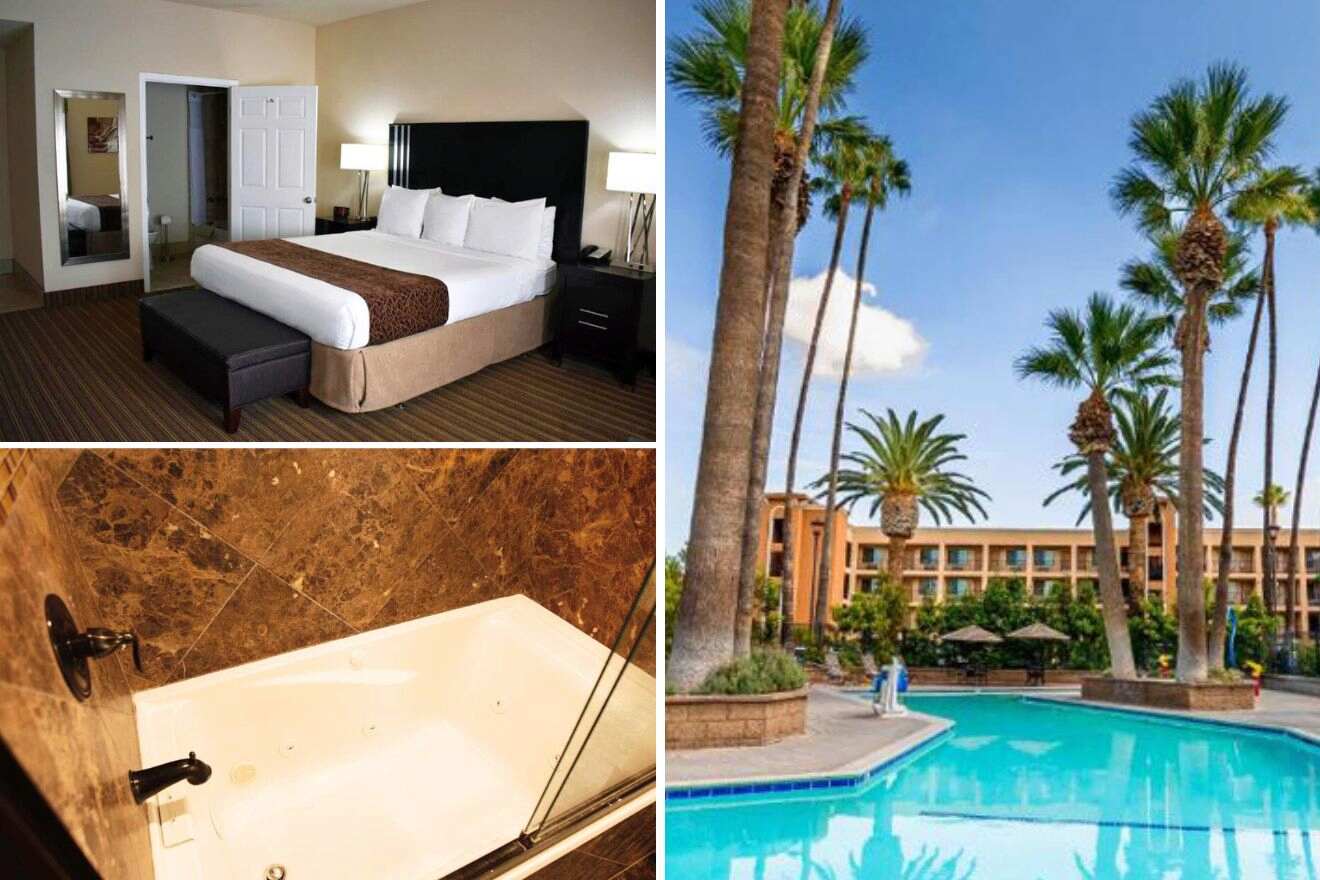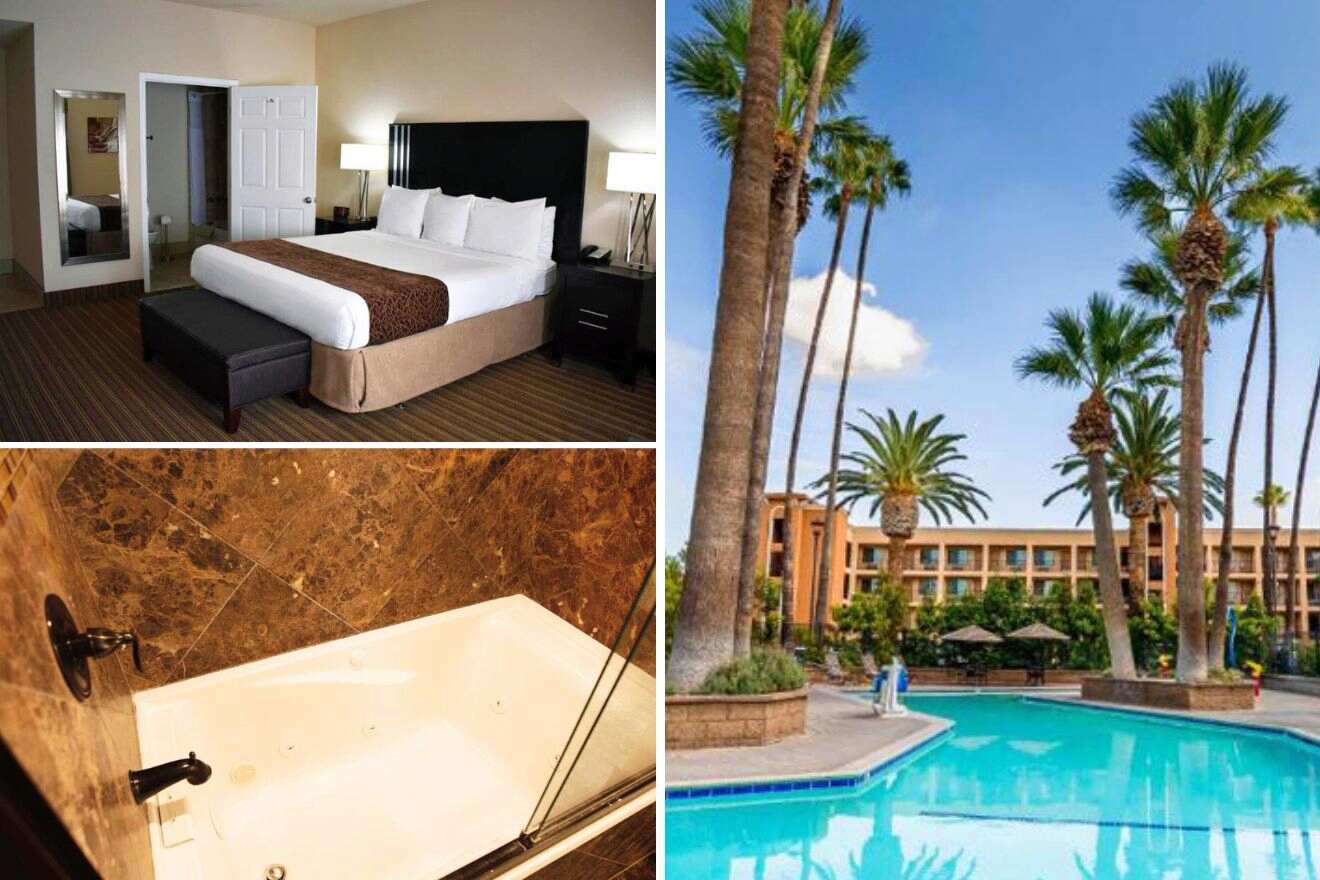 This 3-star hotel in Anaheim feels like a 5-star one! The hotel counts a heated outdoor pool and a rooftop bar (The Fifth) from which you can see Disneyland fireworks! Yes, Disney California Adventure is only 1,310 ft (400 m) away.
The Premium King Spa Room comes with an air conditioner to beat hot summer days, flat-screen TV with cable channels, a coffee maker, and a jacuzzi, so maybe after a long day and a good drink at the bar, it would be a good idea to daydream surrounded by nice bubbles!
13. Quality Inn & Suites Westminster – simple and relaxing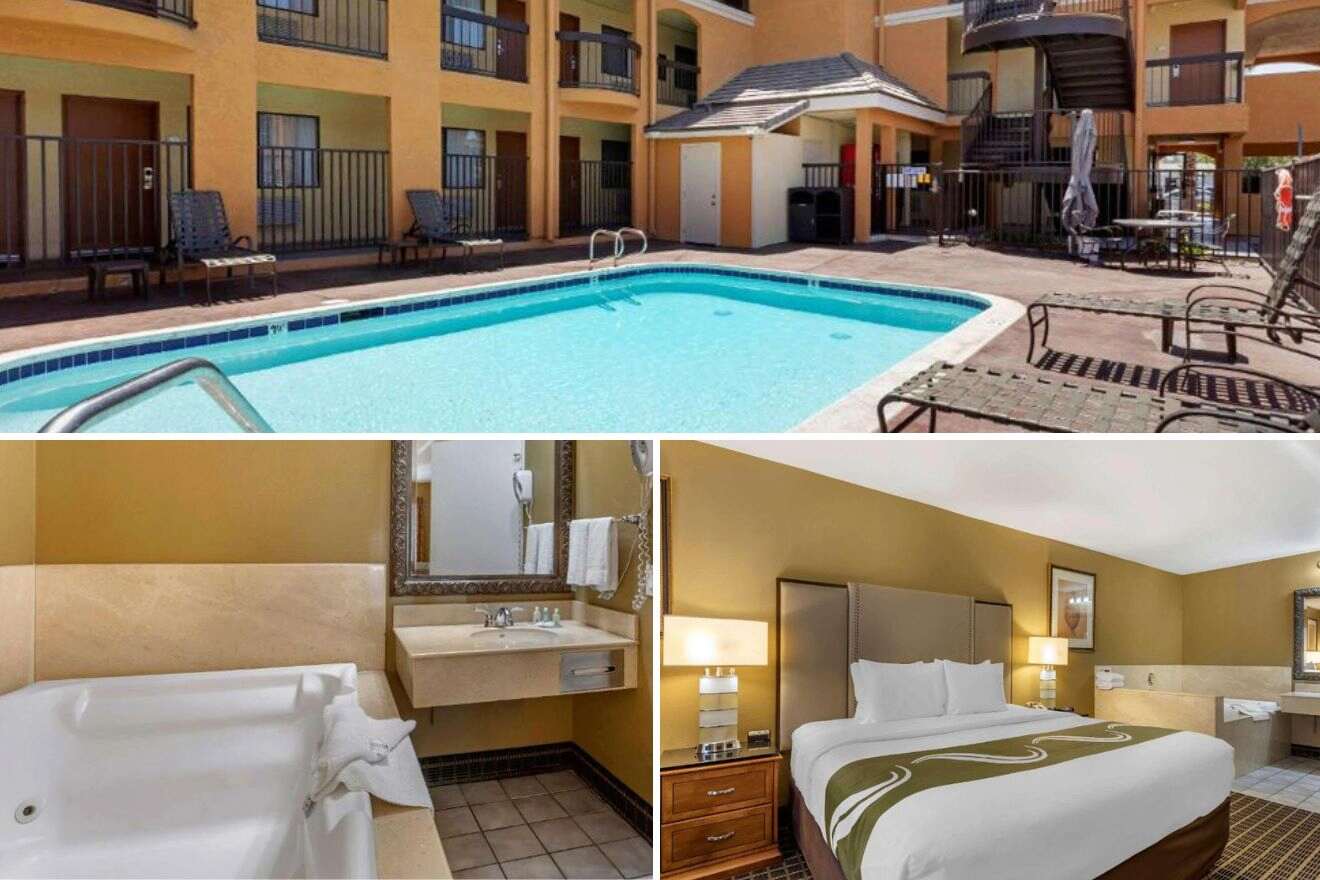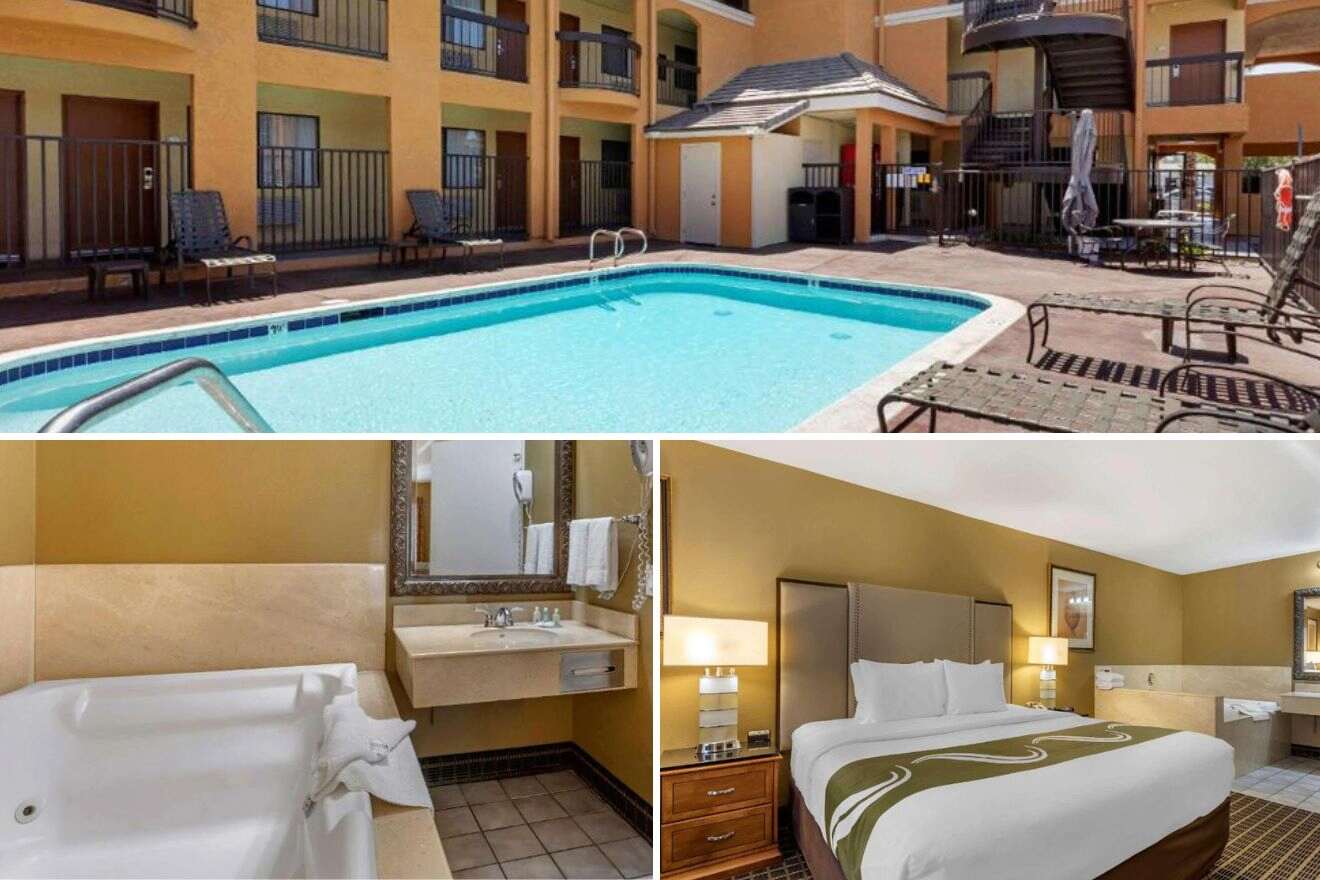 I would recommend this hotel for travelers who want to take some time off and enjoy their own company! The hotel is great for a restful vacation! It has an outdoor pool, free hot breakfast, and free parking, which is a great benefit if you're traveling by car!
There are many parks within walking distance, but if what you really want is an easy breezy stay and stay in and enjoy a hot tub, then you need to go ahead and make a reservation for the King Room With Hot Tub, which you can choose for smokers or non-smokers!
14. Best Western Plus Newport Mesa Inn – wellness all around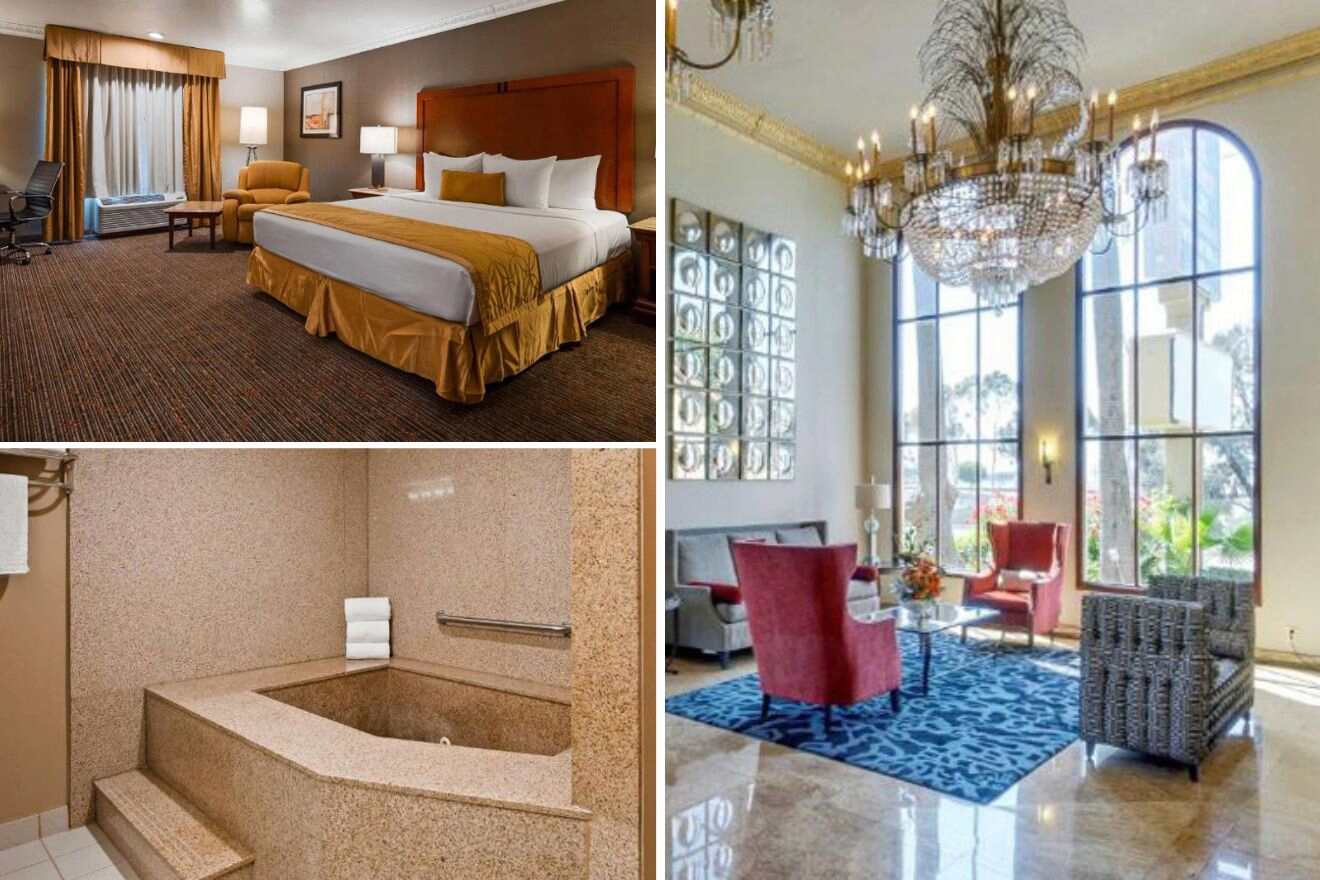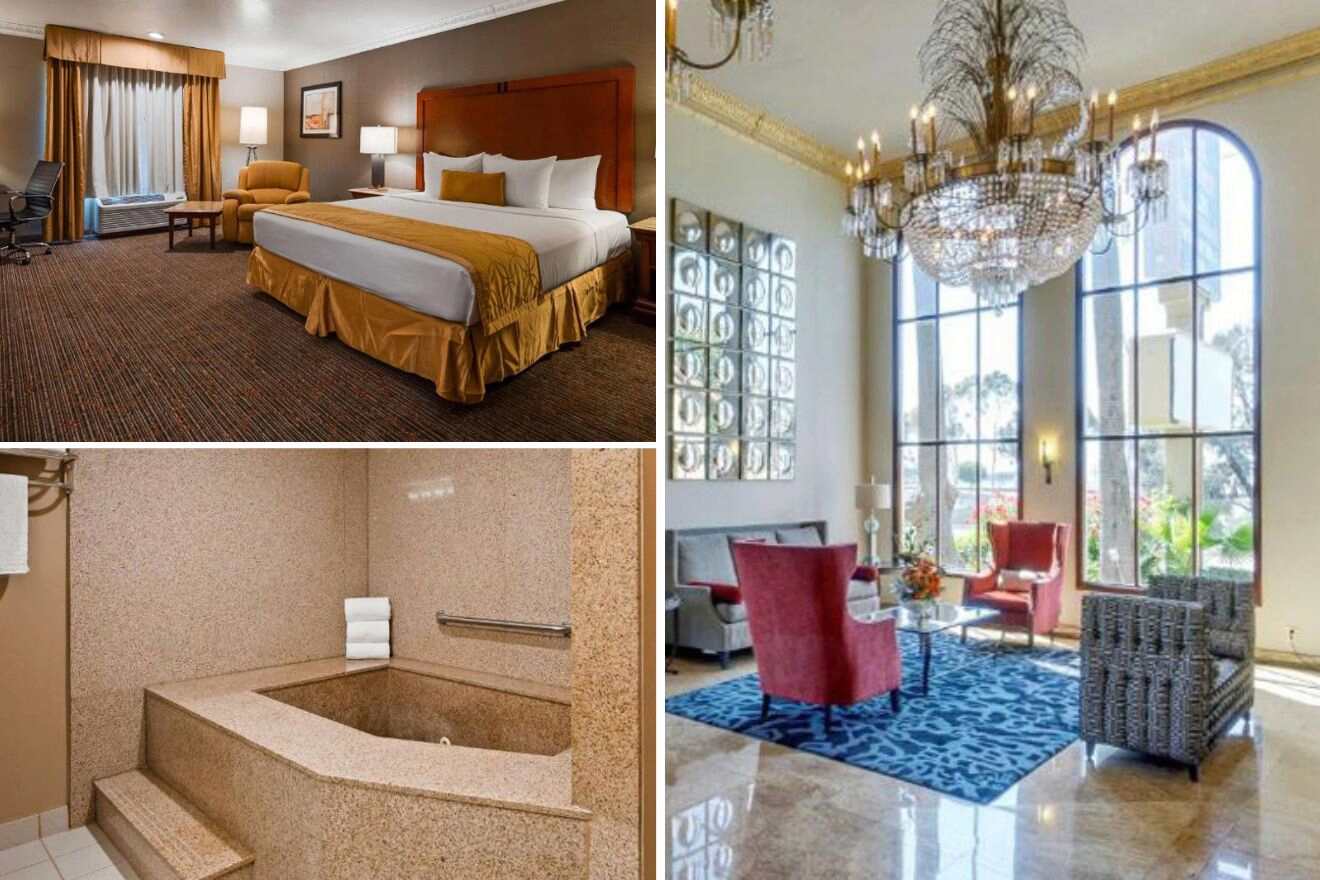 Located in Costa Mesa, this hotel is really focusing on your spa time during your vacation. If you book the King Room With Sofa Bed and Jacuzzi, you will obviously have your own in-room hot tub; on top of this, the hotel has a shared outdoor pool and an outdoor hot tub for all guests!
The lobby has tall ceilings with beautiful chandeliers, an outdoor pool, a fitness center, free complimentary fruits and coffee at the lobby, and of course, free breakfast every morning! There is a free airport shuttle available for all guests, a spa to keep the good times coming, and the restaurant "Le Biarritz Spirit."
15. Quality Inn & Suites Anaheim Maingate – for small families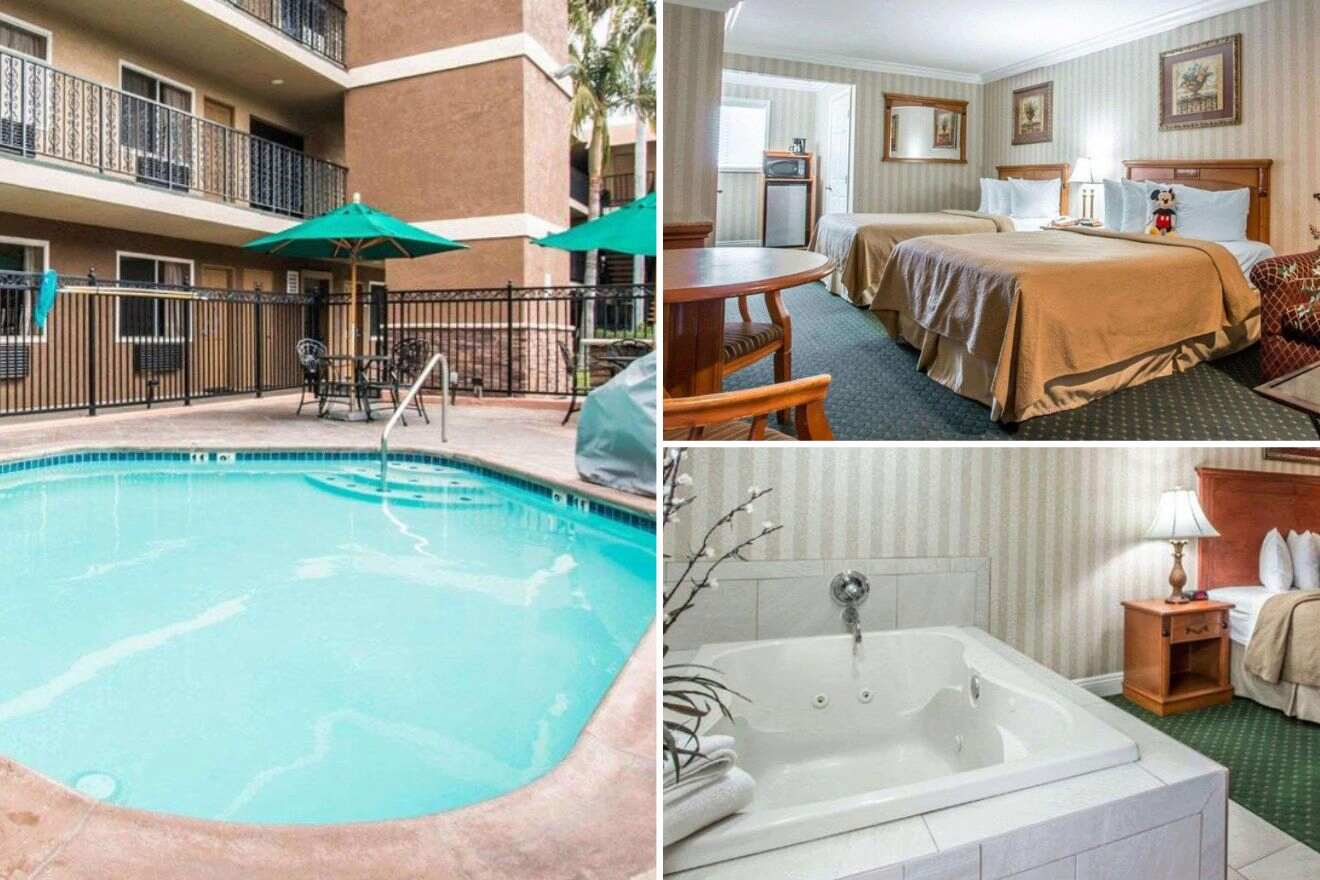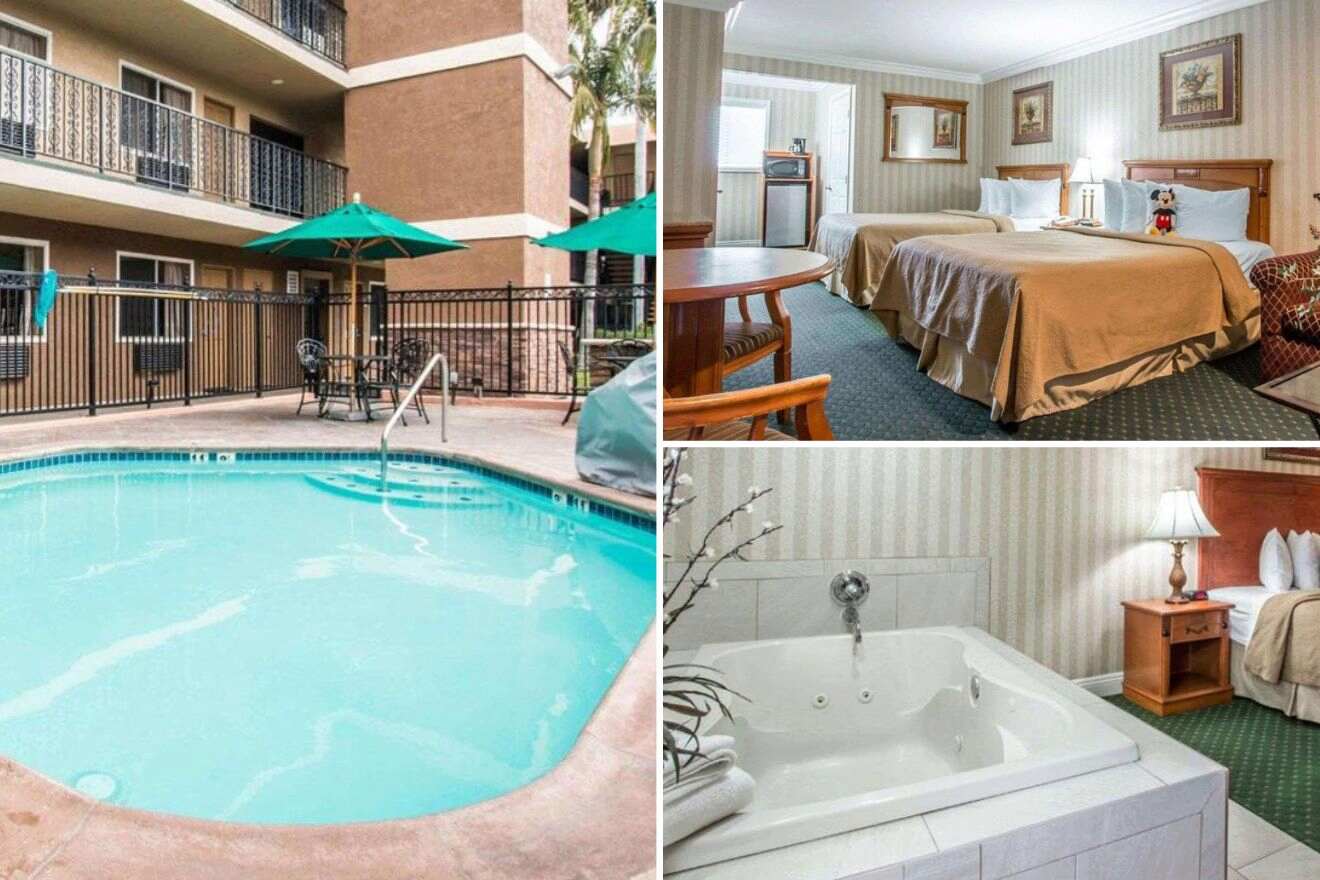 Care to know which rooms come with hot tubs in this amazing hotel? Well, the Deluxe Room, with one king bed, has an in-room hot tub and is great for small families of 3. The room has soundproofing and comes with a flat-screen TV, a microwave, and a coffee maker.
One of the best aspects of this hotel is its complimentary free breakfast, laundry facilities, private parking, and outdoor swimming pool! And when you feel like exploring, Mikey's Toontown Depot is a short drive away from the hotel, and Fantasy Station is nearby as well!
16. Best Western Plus Irvine Spectrum – for business trips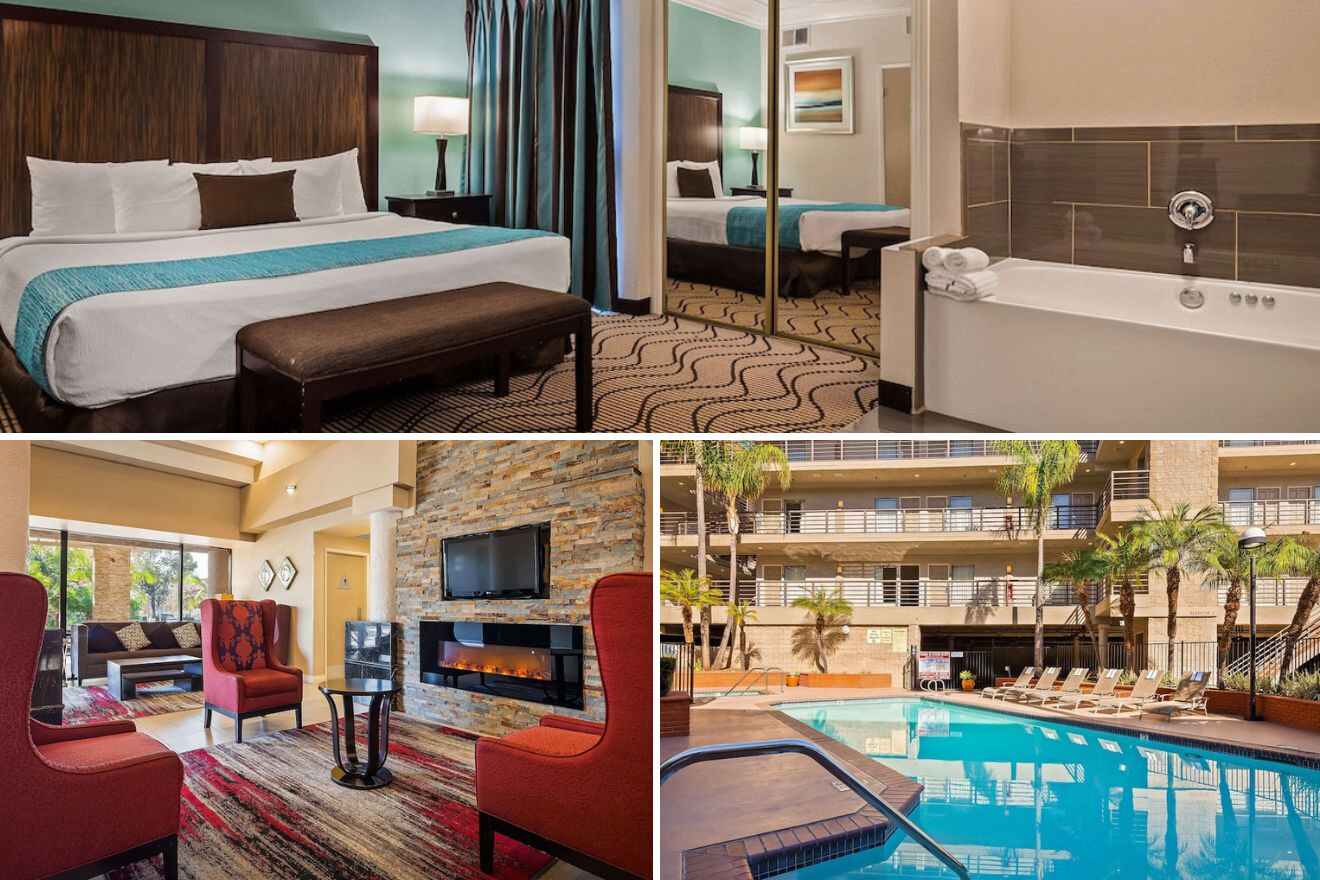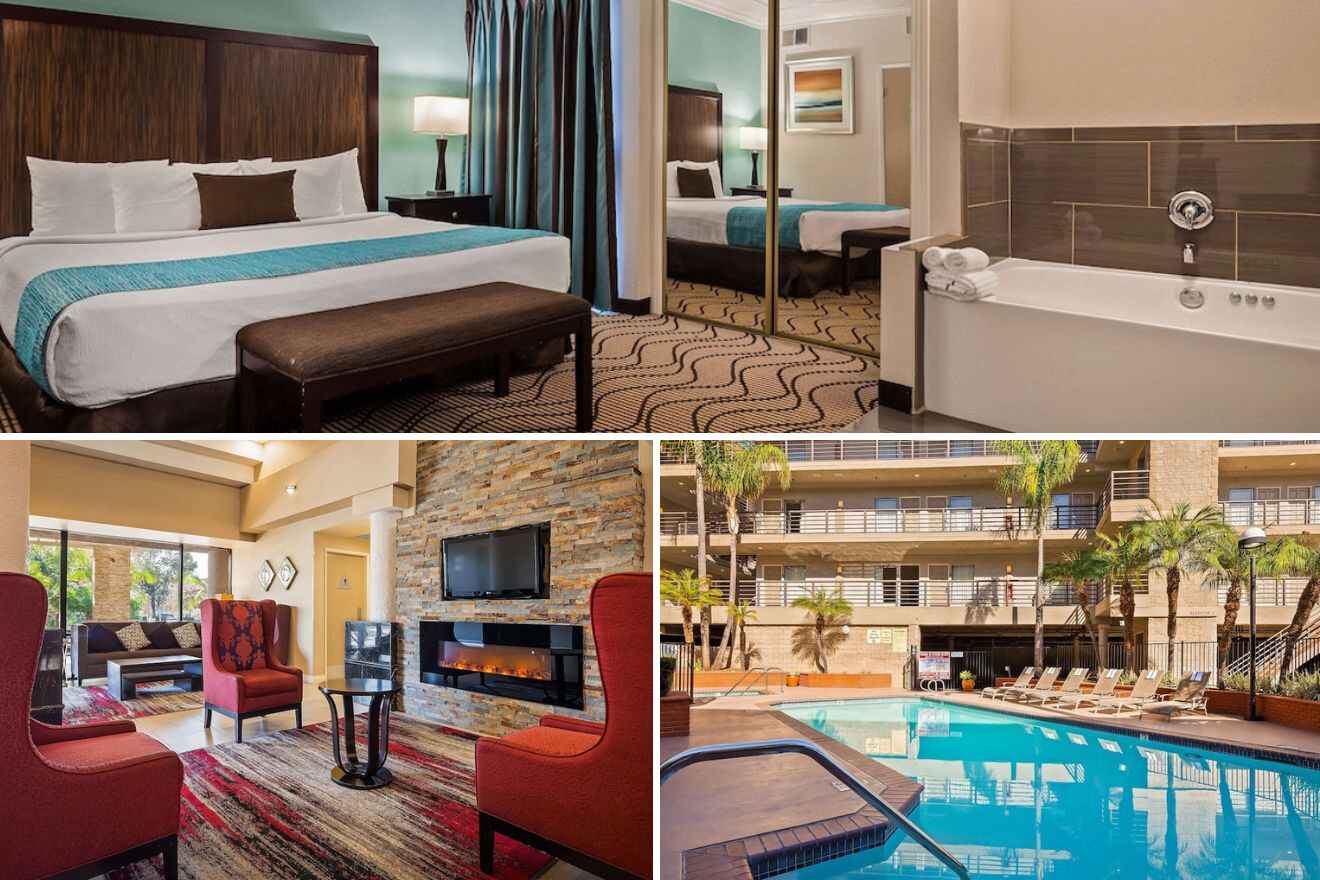 This hotel is located in Lake Forest and has an old-school and classic vibe! There is a fitness center in the hotel, where all guests can train, and a big pool on the terrace to jump in on a hot day! The Lake Forest Golf Center and Laguna Woods Golf Club are nearby!
There are 2 suites with jetted tubs, so you should hurry up and book them if you want to stay in a jacuzzi room. So, what better way to end a business and working day than with a nice bath?! The hotel serves continental breakfast and has a terrace with a nice swimming pool! If you come by car, there is free parking available as well!
FAQs about hotels with jacuzzi in the room in Orange County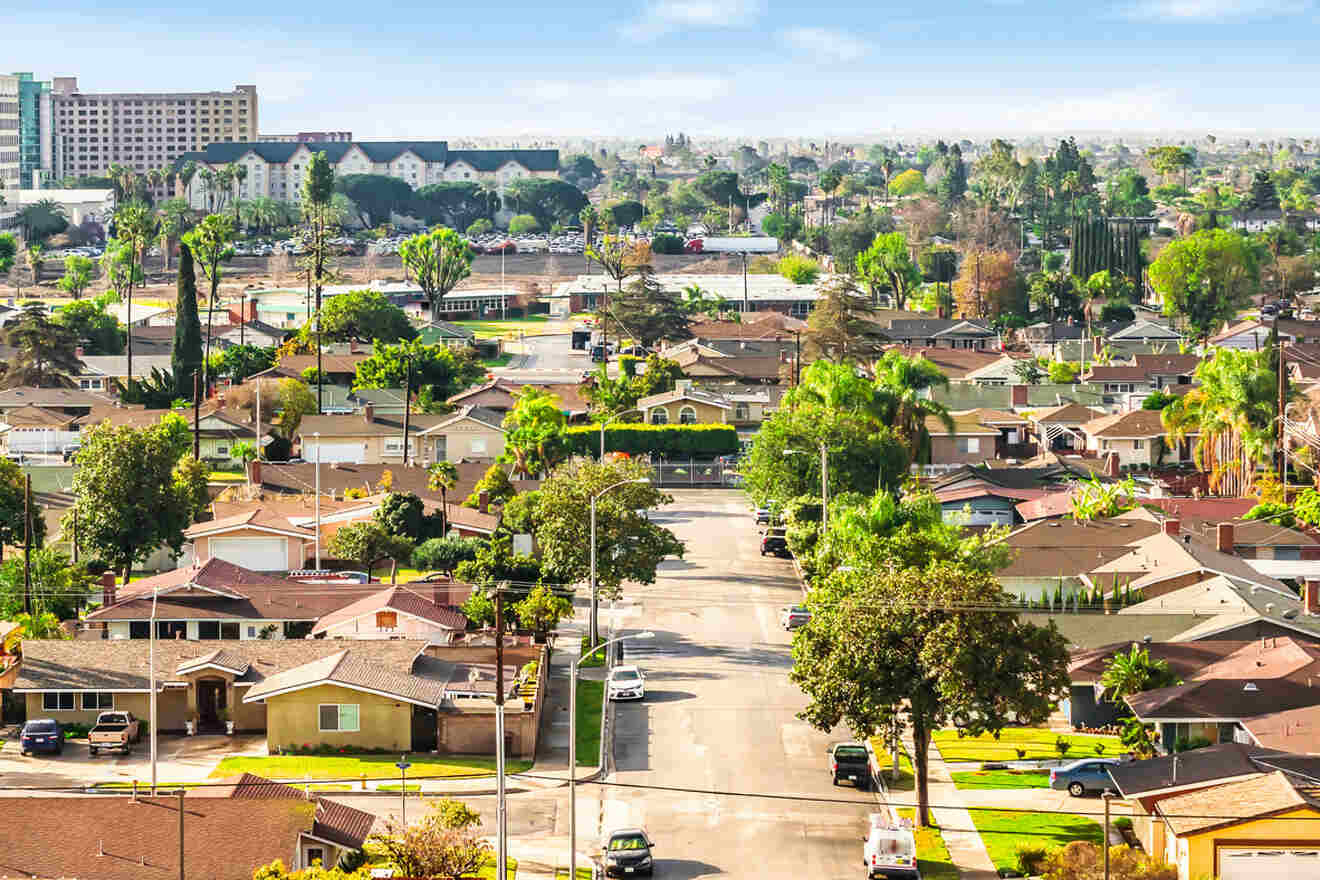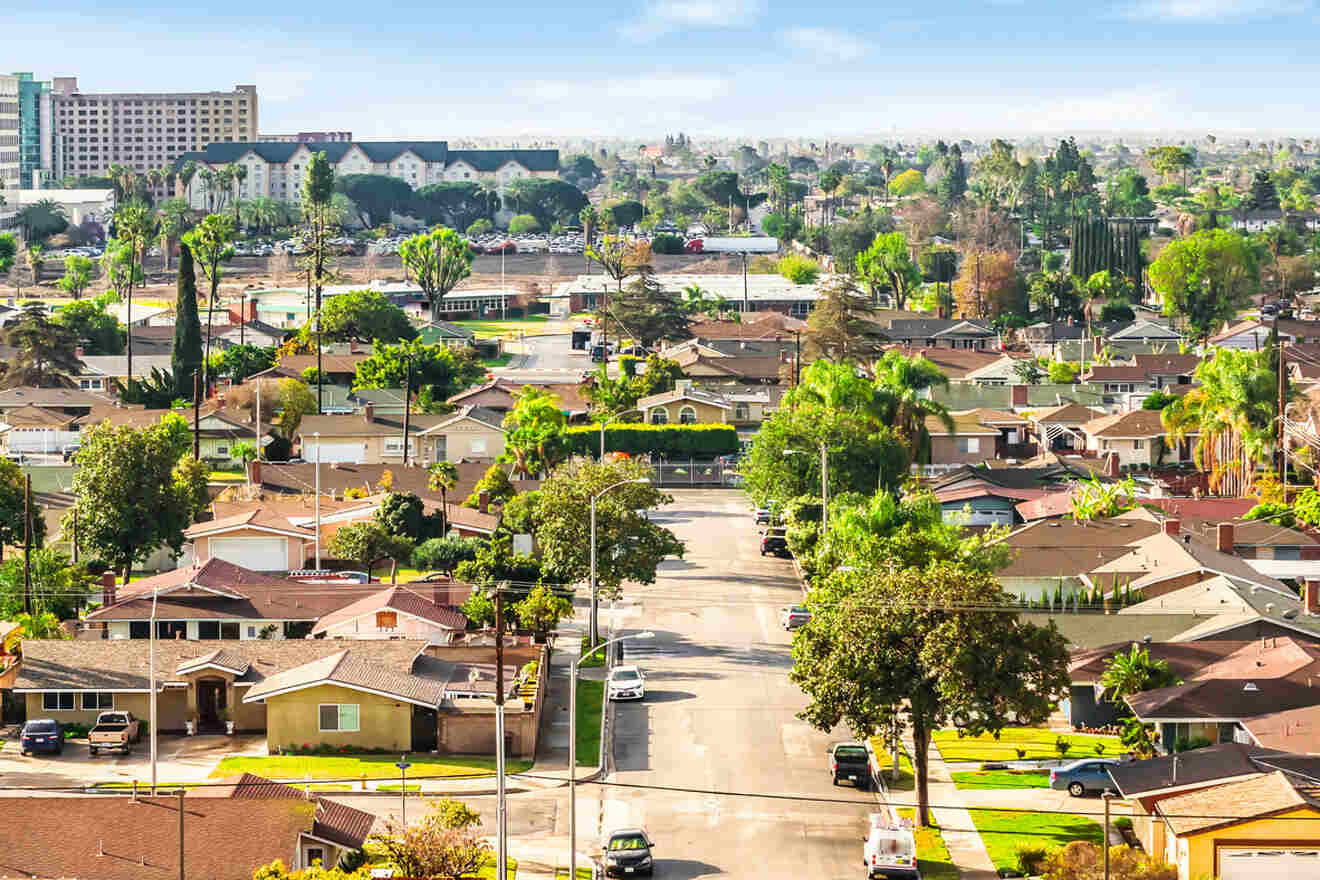 🤔 What is the best hotel for couples?
🛀 Which hotels have the best view?
💭 Which hotel is closest to Disney, California?
🚿 What is the best value-for-money hotel with a jacuzzi in Orange County?
The winner of this section is Blue Lantern Inn! You will have all the commodities needed, including an in-room hot tub and many complimentary benefits like free afternoon wine!
Conclusion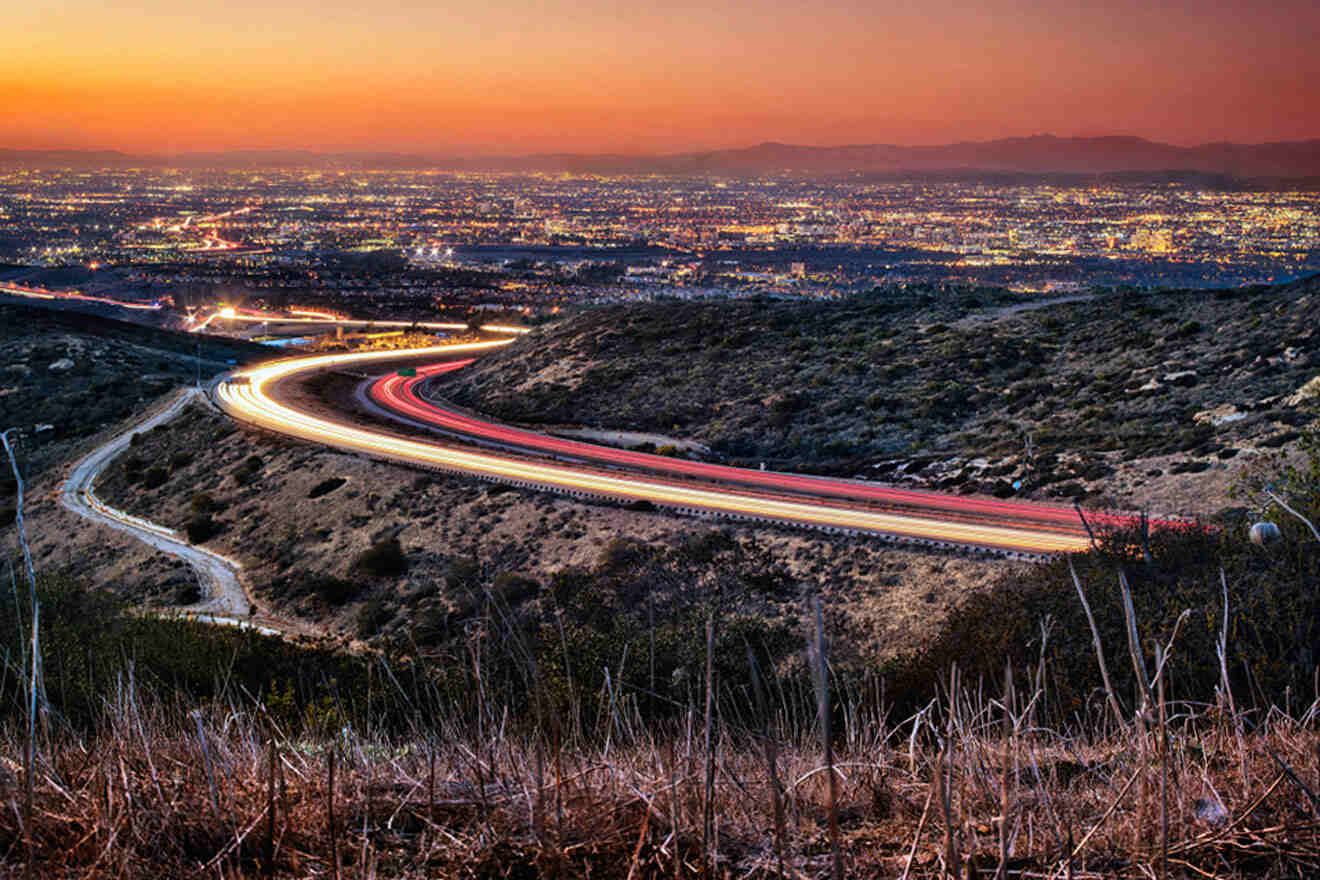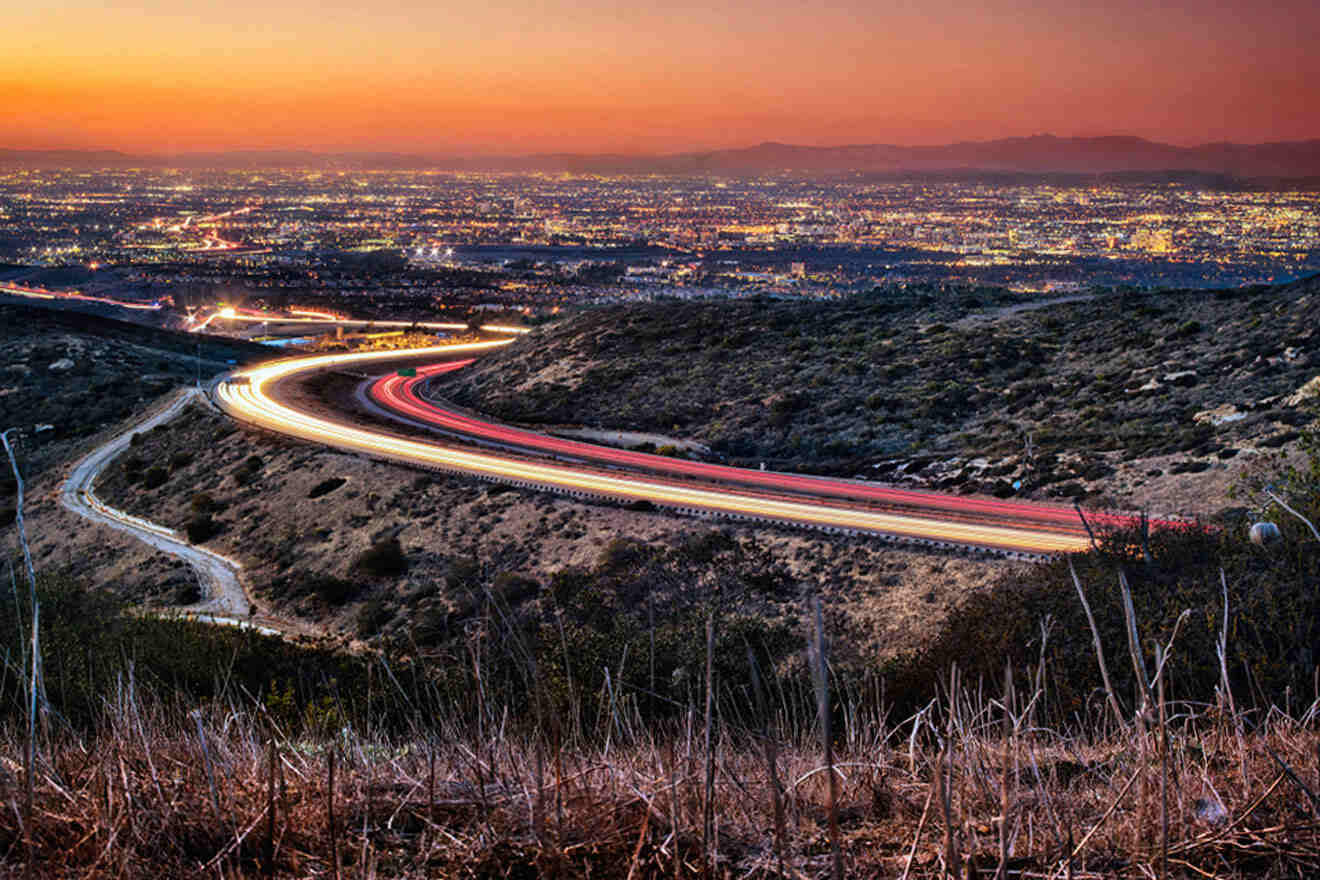 I hope this article helped you choose the perfect room for your needs in breathtaking Orange County! What I like about this post is that there are options for all budgets and in different parts of Orange County!
If you ask me which are my 2 absolute favorite hotels, I would have to say:
Surf and Sand Resort: Laguna Beach is so beautiful, and the hotel location is perfect for city and art lovers! The rooms look so comfy, and who doesn't love a balcony with a sea view?!
Newport Beach Hotel: I would love to stay in a top-rated hotel! If you tell me I can enjoy all benefits of a 5-star hotel for half the price, why would I ever say no?!
Which of these hotels with jacuzzi in-room in Orange County was your favorite? Let me know in the comments below! But first, go and book your dream hotel room before someone else does!
Until the next adventure,
Daniela
---
Pin it for later!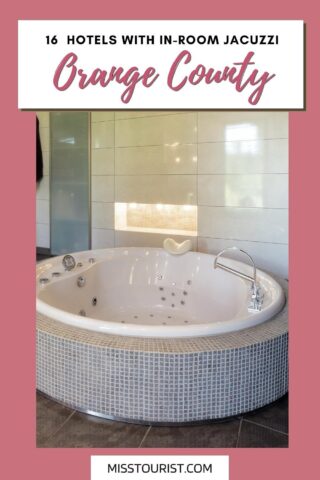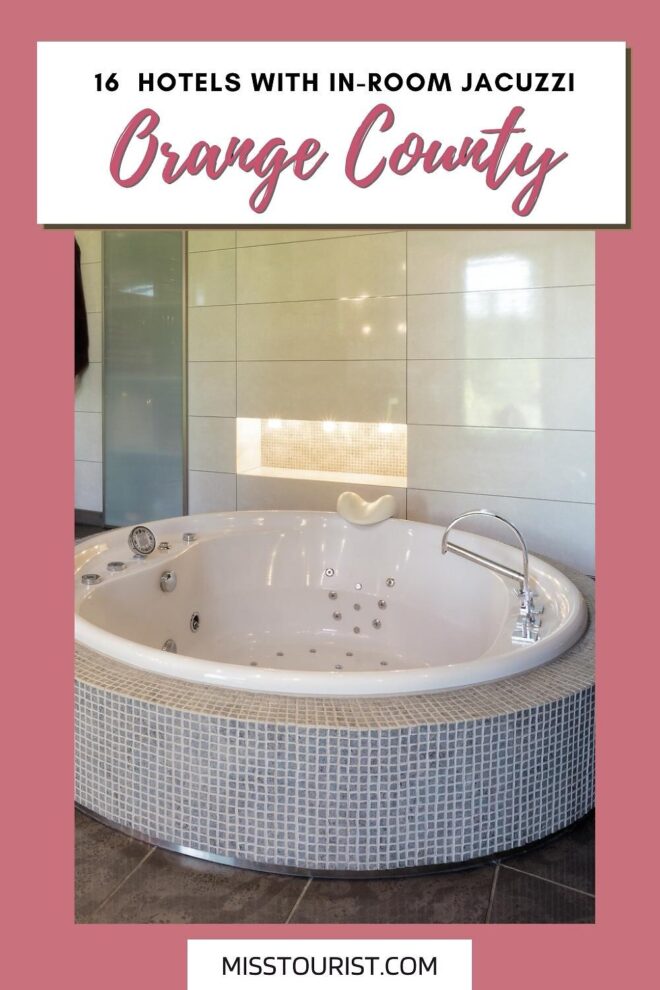 Pin it for later!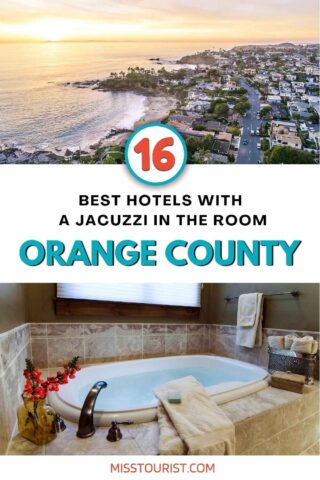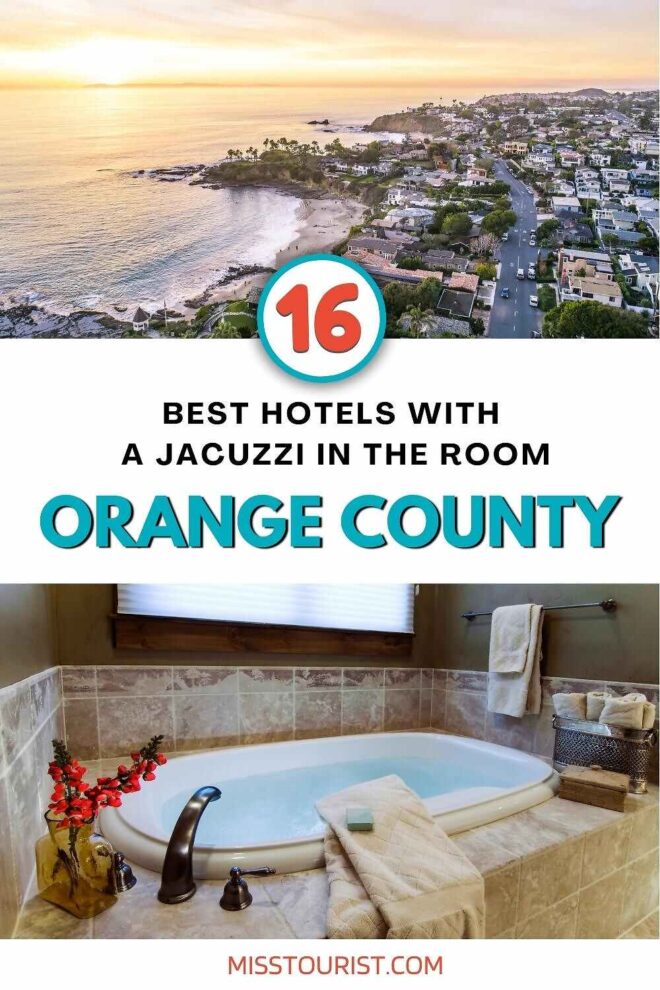 Products You May Like