16 Exciting Things to Do in Polignano a Mare From Experience
Dramatic limestone cliffs, history, delicious food…no wonder Polignano a Mare is such a popular destination with so many fans!
If you're headed there on your holiday to Southern Italy, then you're in for a thrill! Although a small town, there are so many things to do in Polignano a Mare, and that's what I'll talk about today! I'll also mention where to stay in Polignano a Mare, how to get there, and a few tips to make your trip run as smoothly as possible!
I've recently gone on a trip there myself, and just like the others, had a crush on this quaint Italian town. In addition, I made sure to mention useful information that I wish I knew when planning my holiday.
You are probably aware by now that Polignano a Mare is one of the most popular places in Puglia, and it gets many tourists, especially in June, July, August, and early September. That's why I recommend booking your hotels, tours, and everything else in advance! You'll want to be prepared in a place like this one!
Who's ready to eat focaccia and see some caves?
Andiamo!
If you are in a hurry
Don't worry if you can't make it through the whole post, just have a look below, and you'll find the main things to book in advance:
And here are the best hotels: Hotel Grotta Palazzese (luxury), Malù Bed&Breakfast (mid-range), Dimora Anderì (budget)
1. Cool off at Lama Monachile beach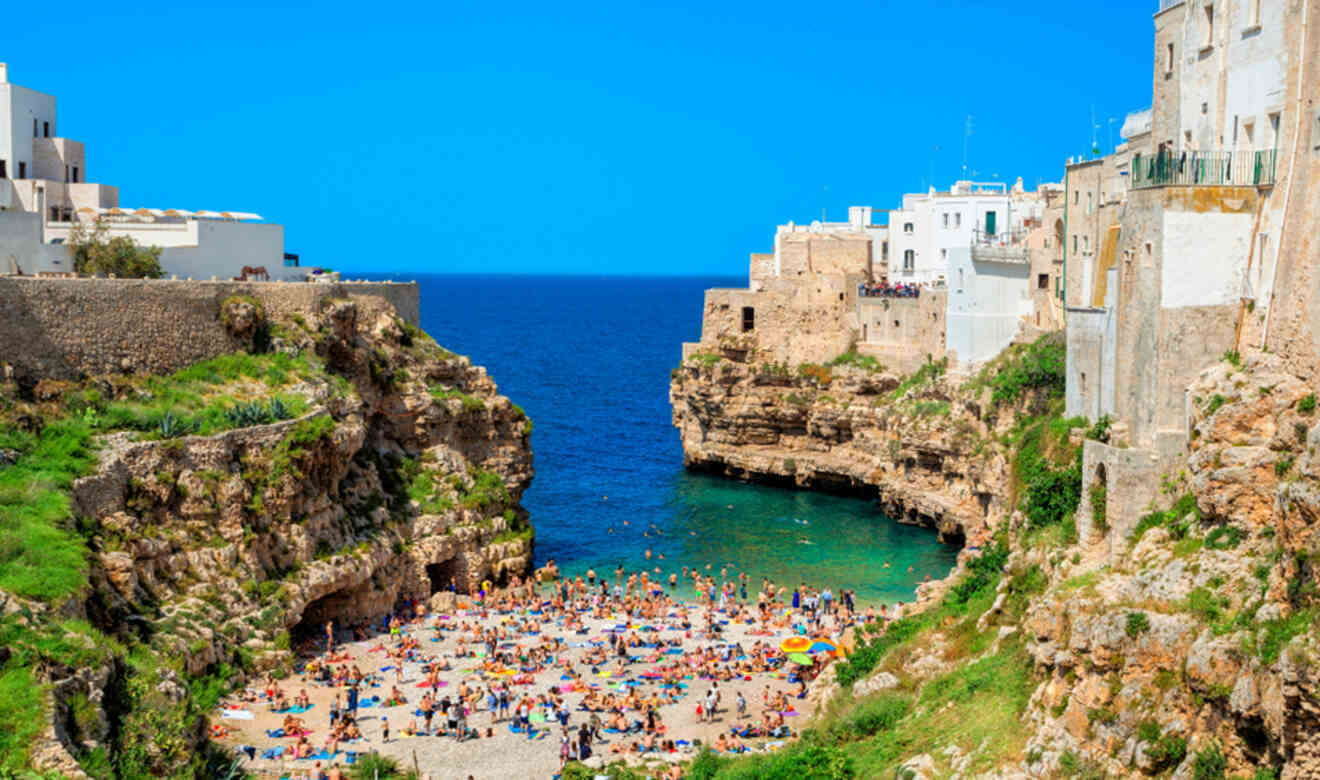 If you've already googled this location, then I'm sure you've come across a picture of the town's famous beach!
Lama Monachile is surrounded by 2 giant limestone cliffs and whitewashed buildings that look like the classical Italian hot spot!
It really is a gorgeous beach, although it's rather small (yep, it gets crowded, especially in the high season), but it offers a breathtaking view of the Adriatic Sea!
I absolutely loved the scenery, even though it was hard to enjoy as it was packed with tourists and locals alike! But to avoid this, go to Lama Monachile first thing in the morning before everyone wakes up and rushes down here.
You can do the typical beachy activities like reading a book and swimming, and if you're looking for something a bit more exciting, you'll find plenty of cliff-jumping points near this rocky beach!
2. Try the mouth-watering focaccia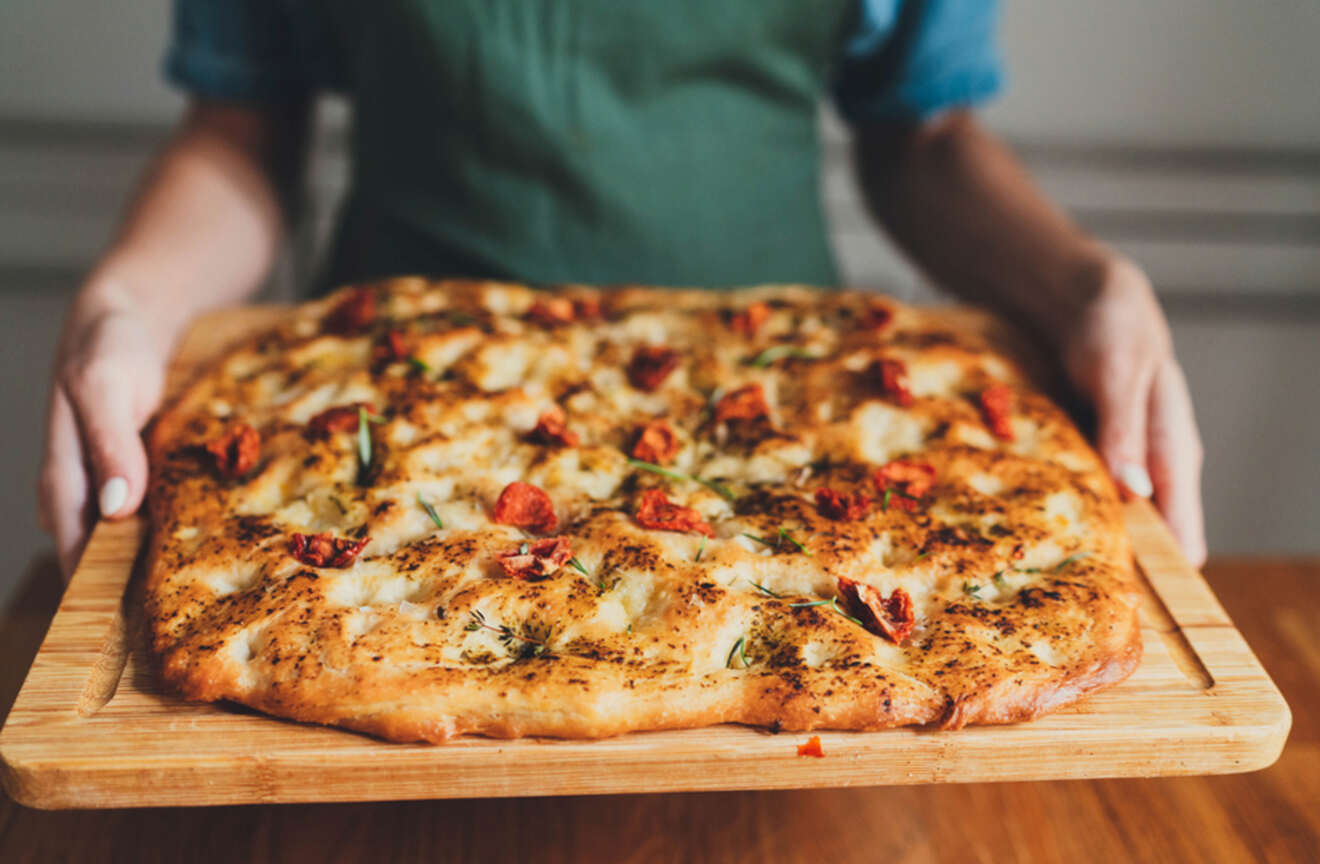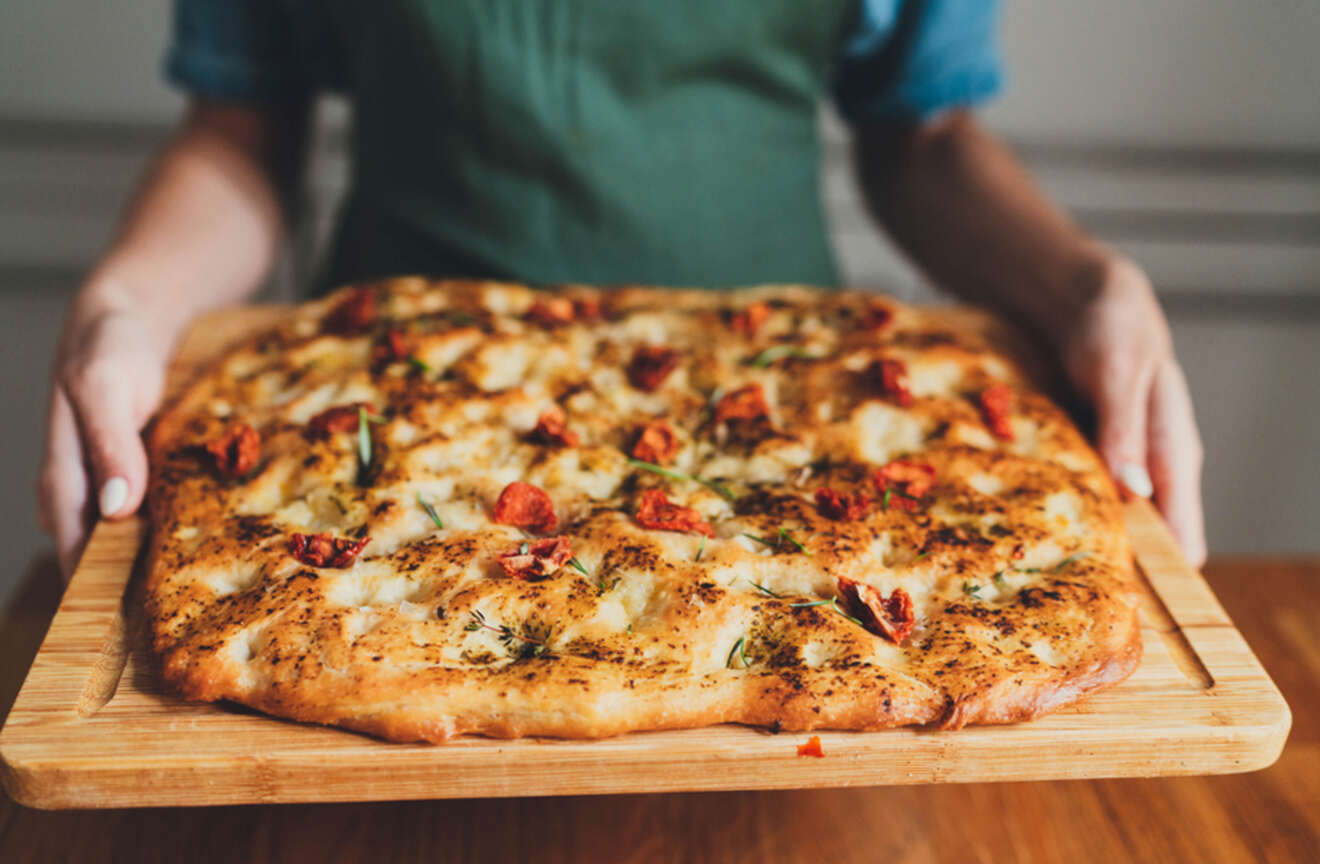 One thing you may not know about Polignano a Mare, Italy, is that they're really big on focaccia here! Yep, the super fluffy Italian bread that smells and tastes heavenly!
As you explore the town's beautiful streets, you'll come across lots of small bakeries that sell focaccia and other baked goodies! If you don't have a lot of time in town, then these places will become your best friend as they're perfect for a quick bite!
La Focacceria di Delle Noci Marco is a great one that has a convenient location right near Lama Monachile Beach and the Centro Storico. This wonderful place serves one of the best focaccia in town, with numerous toppings that will leave you coming back for more!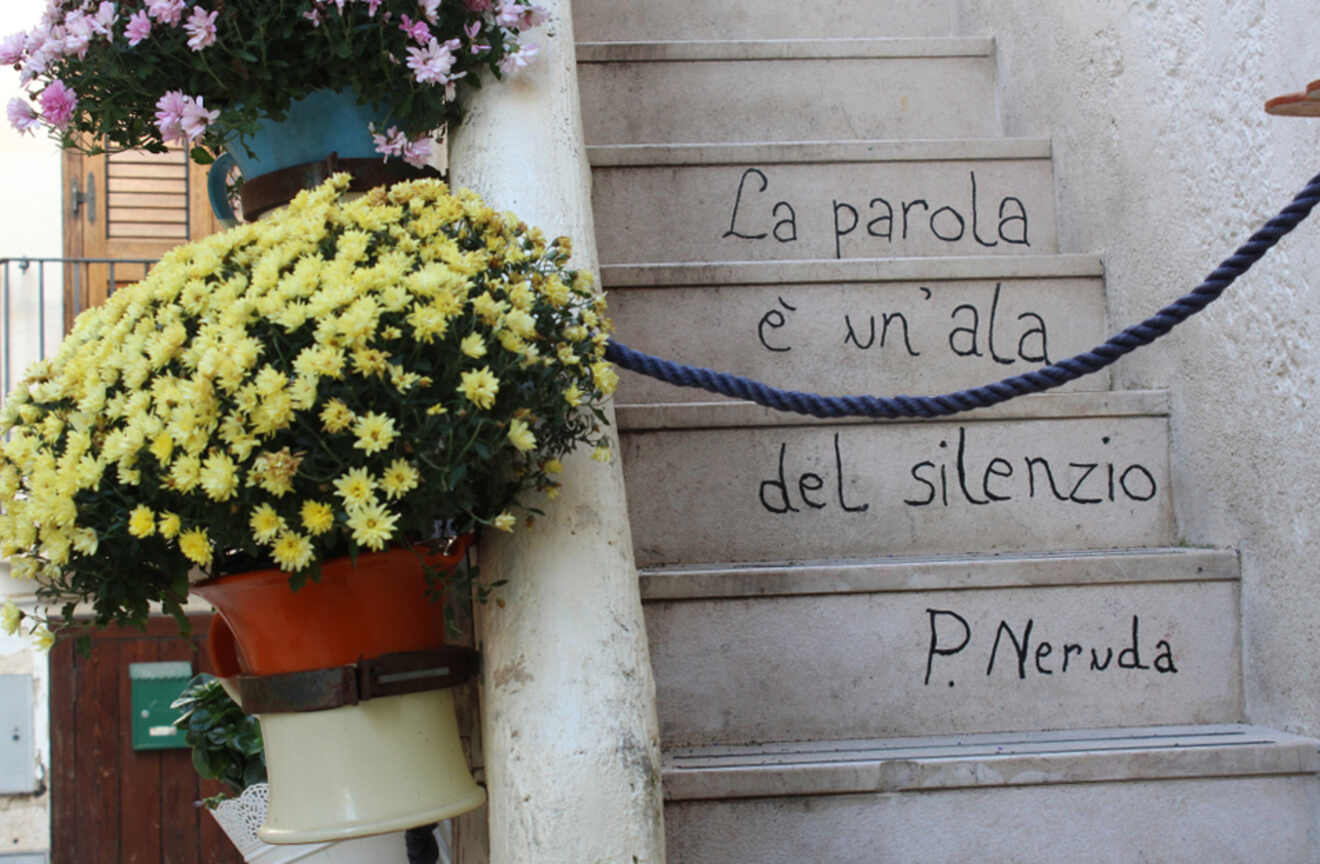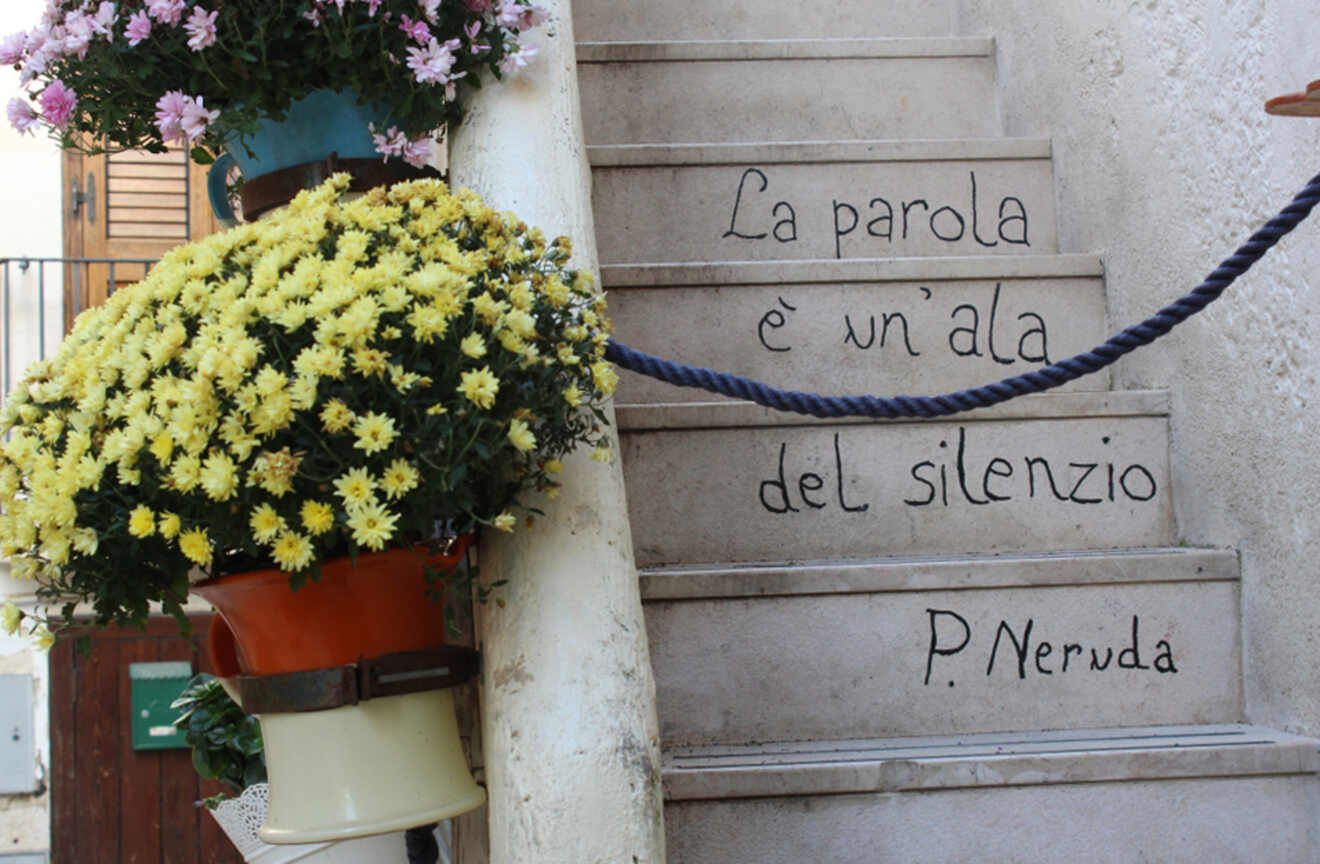 Here's something for any poetry lover out there! I'm definitely part of that crowd, too, as lately, I've been re-discovering this gorgeous art form!
While exploring the narrow alleys in the Centro Storico, keep an eye on some of the stairs and buildings which have poems written on them!
Apparently, all the poetry was written by an artist called "Guido Il Flâneur," who, word has it, moved from Bari, Puglia's capital city, to Polignano a Mare, Italy, years ago! And in case you were wondering whether visiting Bari is worth it, decide for yourself after reading the best things to do in Bari.
If you're in Polignano just for a few hours and you can't find the poems, ask a local to help you out or someone working in a restaurant or shop!
4. Explore Polignano's Centro Storico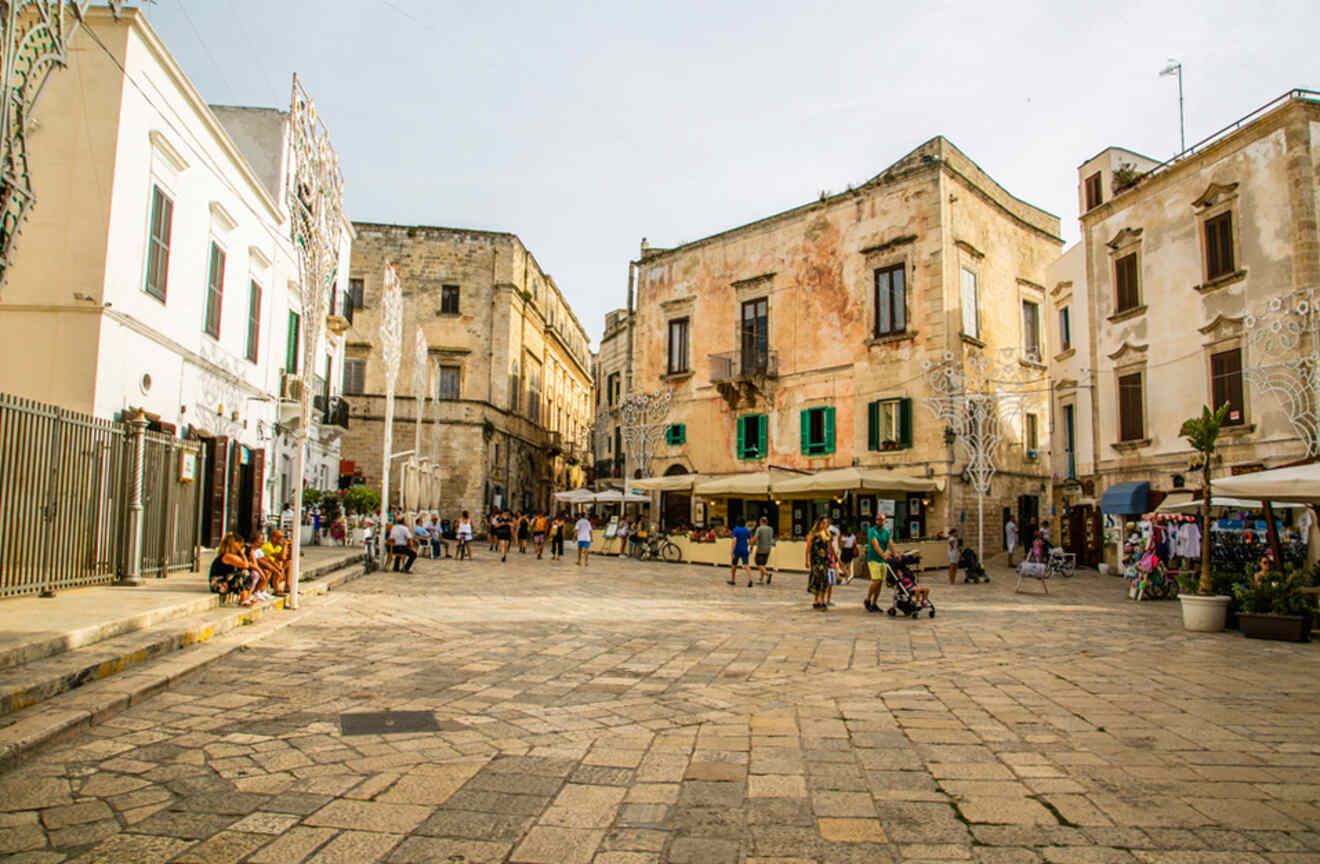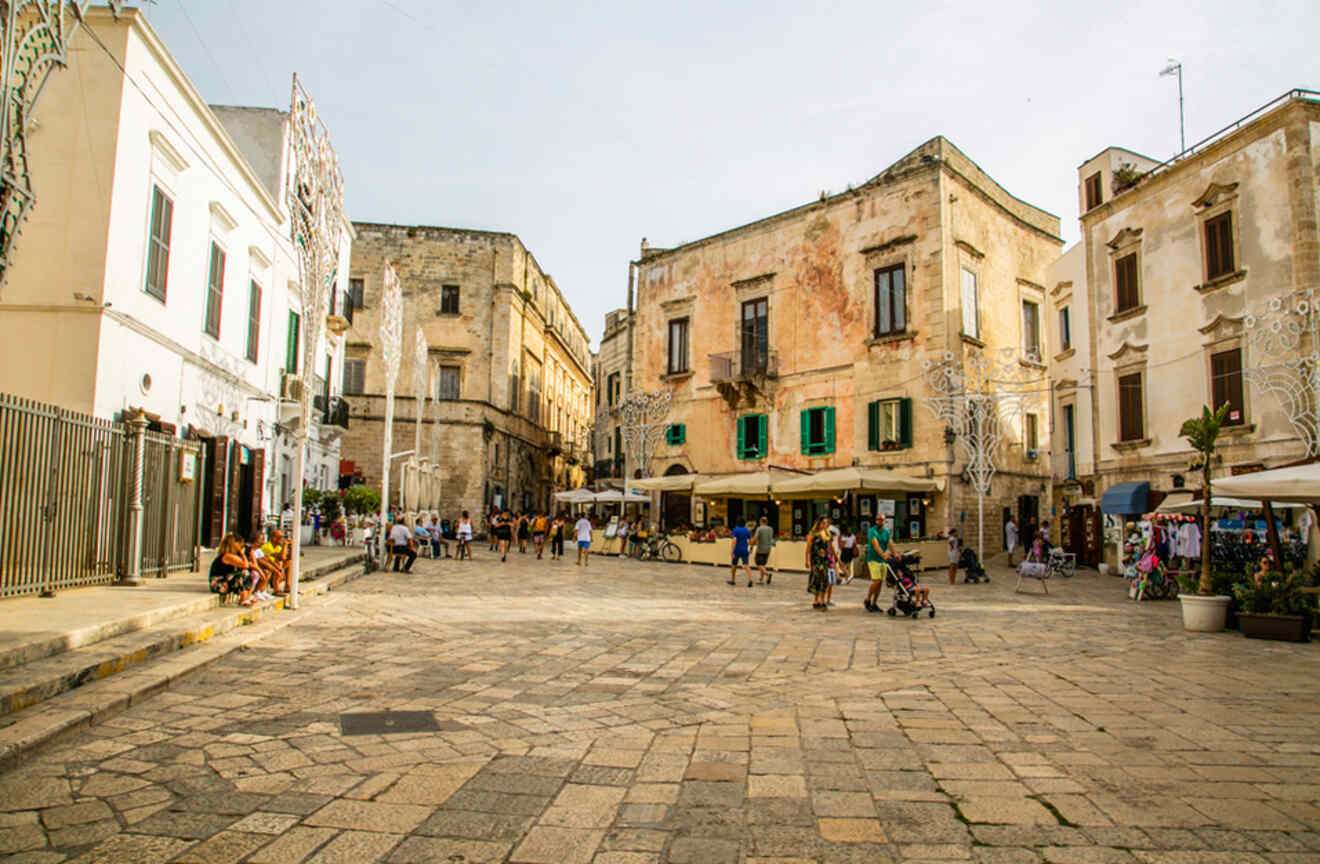 Although everyone comes to Polignano to see the famous beach (guilty of that as well), I feel like we're all so pleasantly surprised when we get to walk around the Historic Centre of this charming town!
You won't need Google Maps navigation to find it as it's a pretty small town, but if you want to go through the original entrance, then head to Arco Marchesale (also known as Porta Grande), which is an old Roman gate that leads to the historic center!
From there, let your intuition guide you, and just explore the narrow streets at your own pace! That's what I did when I visited Polignano on a day trip from Ostuni, and I loved it. It felt so nice to walk around with no agenda other than just discovering this lovely town. Find out more about that trip in my post on things to do in Ostuni.
While you walk around, you'll find lots of boutique shops (they're very big on handmade things in Puglia), bars, restaurants, and some attractions like the Church of Saint Mary of the Assumption.
5. Visit the Museum of Contemporary Art Pino Pascali
I feel like no trip to Italy is ever complete without a visit to the nearest art museum!
In Polignano a Mare, Italy, you can find some gorgeous pieces at the Museum of Contemporary Art Pino Pascali, which is set in a gorgeous building overlooking the sea. Talk about a dreamy set-up, Italian art, and the ocean!
This is the only contemporary art museum in town, and it was named after Pino Pascali, one of Puglia's greatest artists who created many famous statues, and it was funded right after his family donated all his works to the museum!
By the way, if you're planning to visit more places in the region, check out our post with the best places to stay in Puglia, where you'll find the major towns and things to see!
PRICE: €2 per person
6. Discover the caves on a boat tour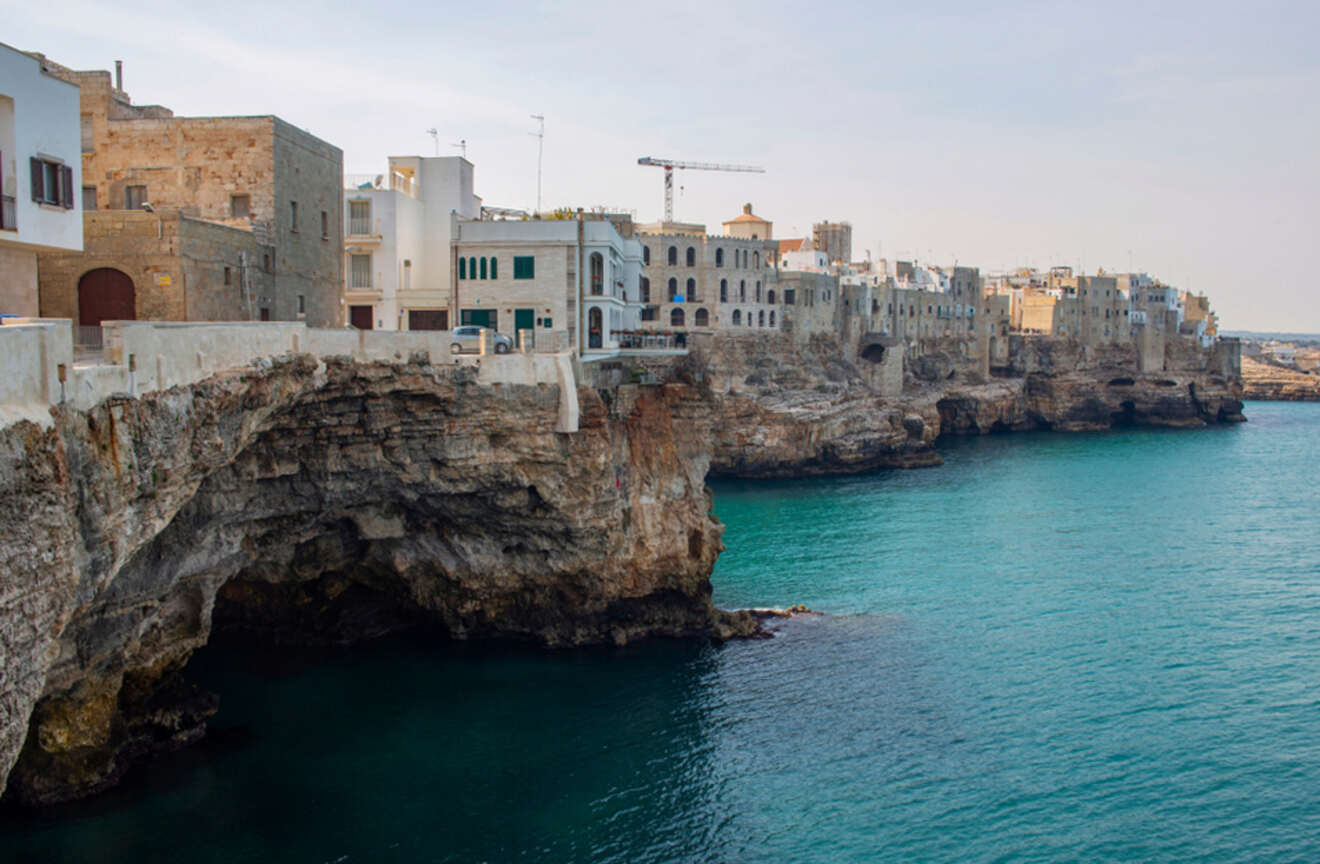 Visiting Polignano a Mare is not just walking around the picturesque squares or admiring the historic buildings!
This town has some incredible sea caves that you can best discover on a boat trip tour!
I found this really great tour that lasts 1.5 hours and costs €40 (US$44). What's really fun about this one is that it sails around most of the known caves on the coast, like Grotta Azzurra, Grotta Piana, Cala Paura, and many others!
You'll also get an aperitif, and the boat will stop a few times so that everyone can swim in the crystal-clear water!
So meet with your guide in the San Vito Port and get ready for a fun adventure in Polignano's sea caves!
TOUR PRICE: €40
Join a boat tour in Polignano a Mare
7. Take a break in Piazza Vittoro Emanuele II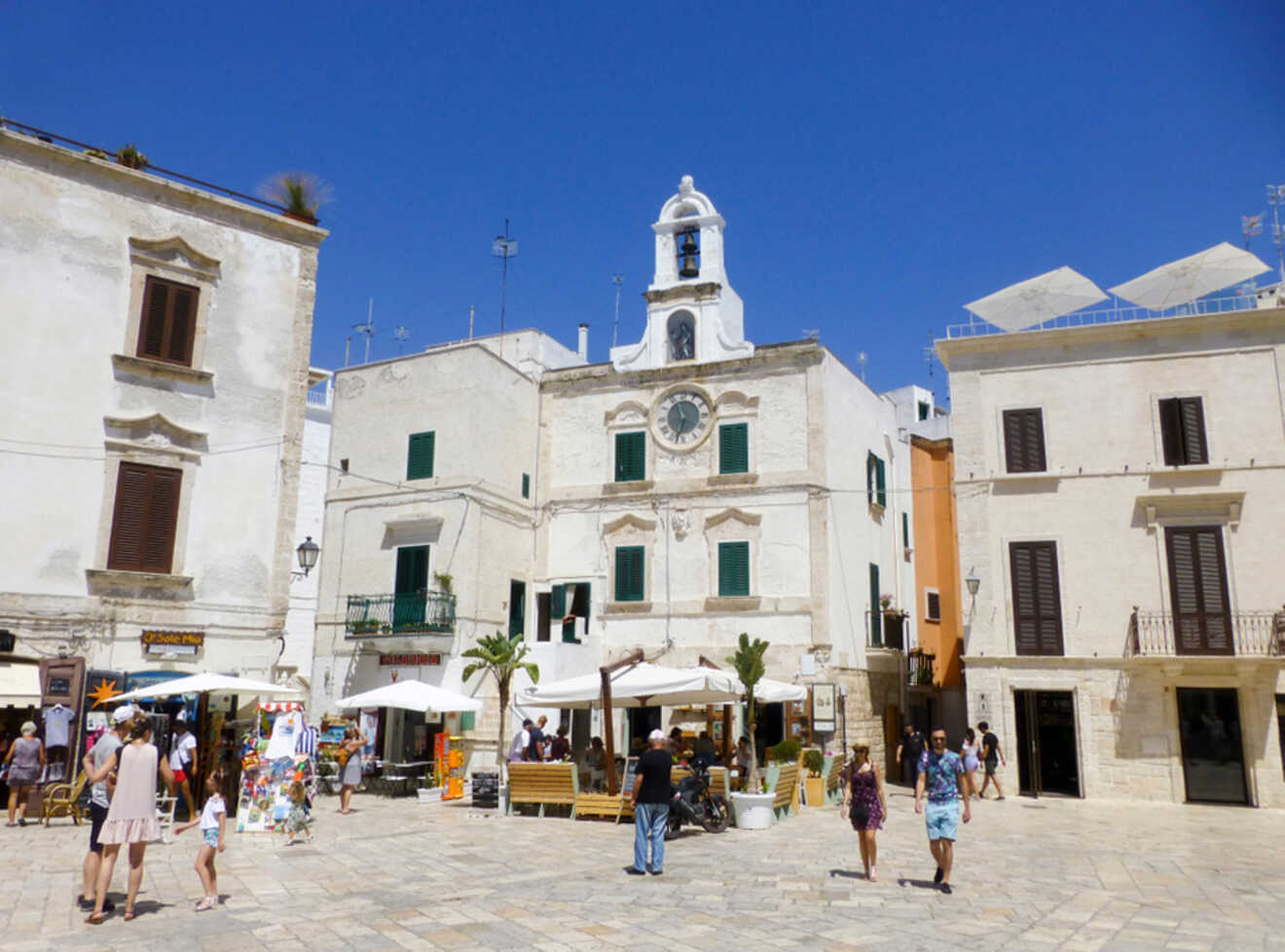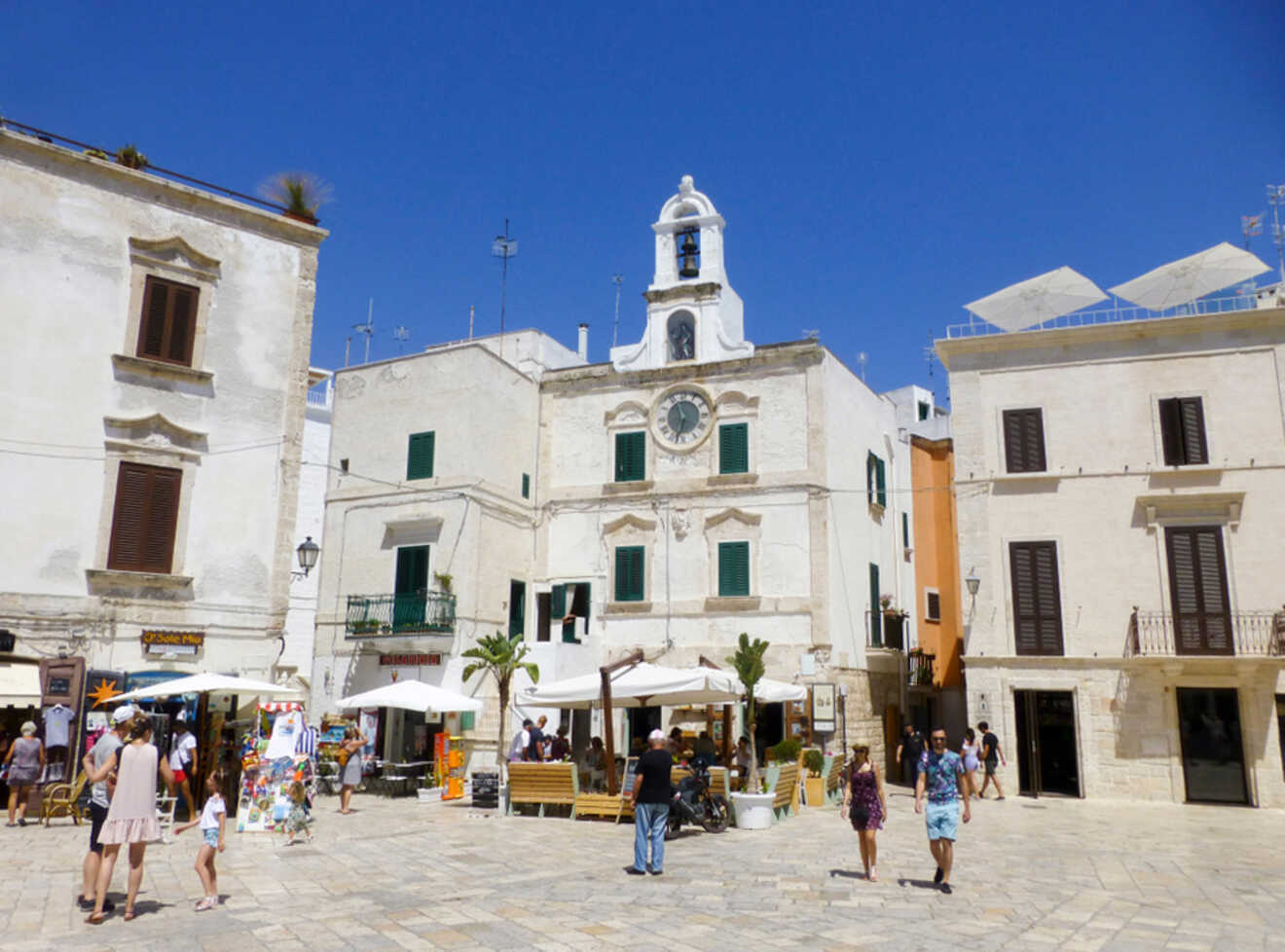 If you've been walking and walking for hours now and need to rest for a minute, then head to Piazza Vittorio Emanuele II!
This little square is set just a few minutes away from the sea, and it's the perfect place to do some people-watching and decide what to do next.
Here you'll also find the Palazzo dell' Orologio (Medieval Clock Palace), which has a statue of San Vito, Polignano a Mare's patron saint, right above it.
8. Check out Domenico Modugno statue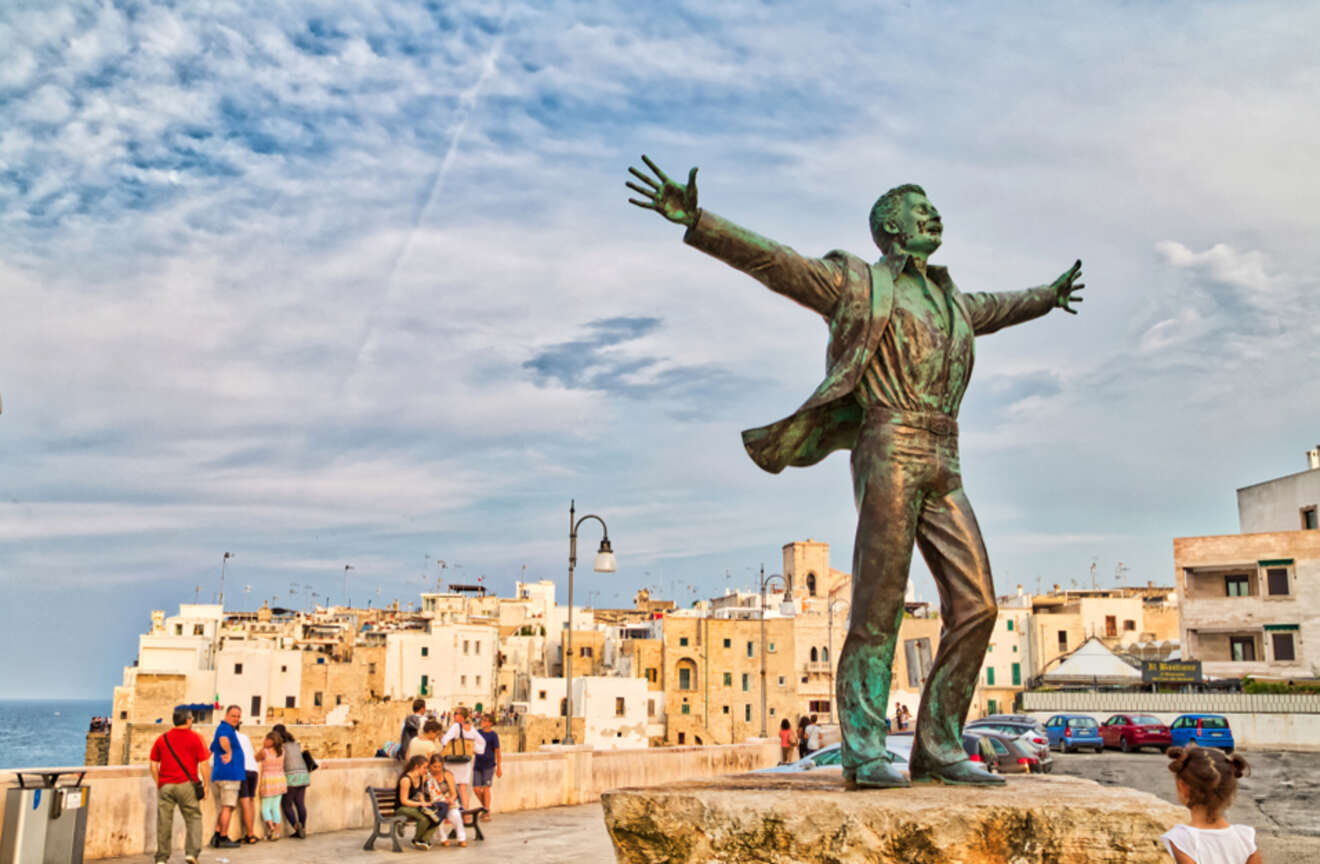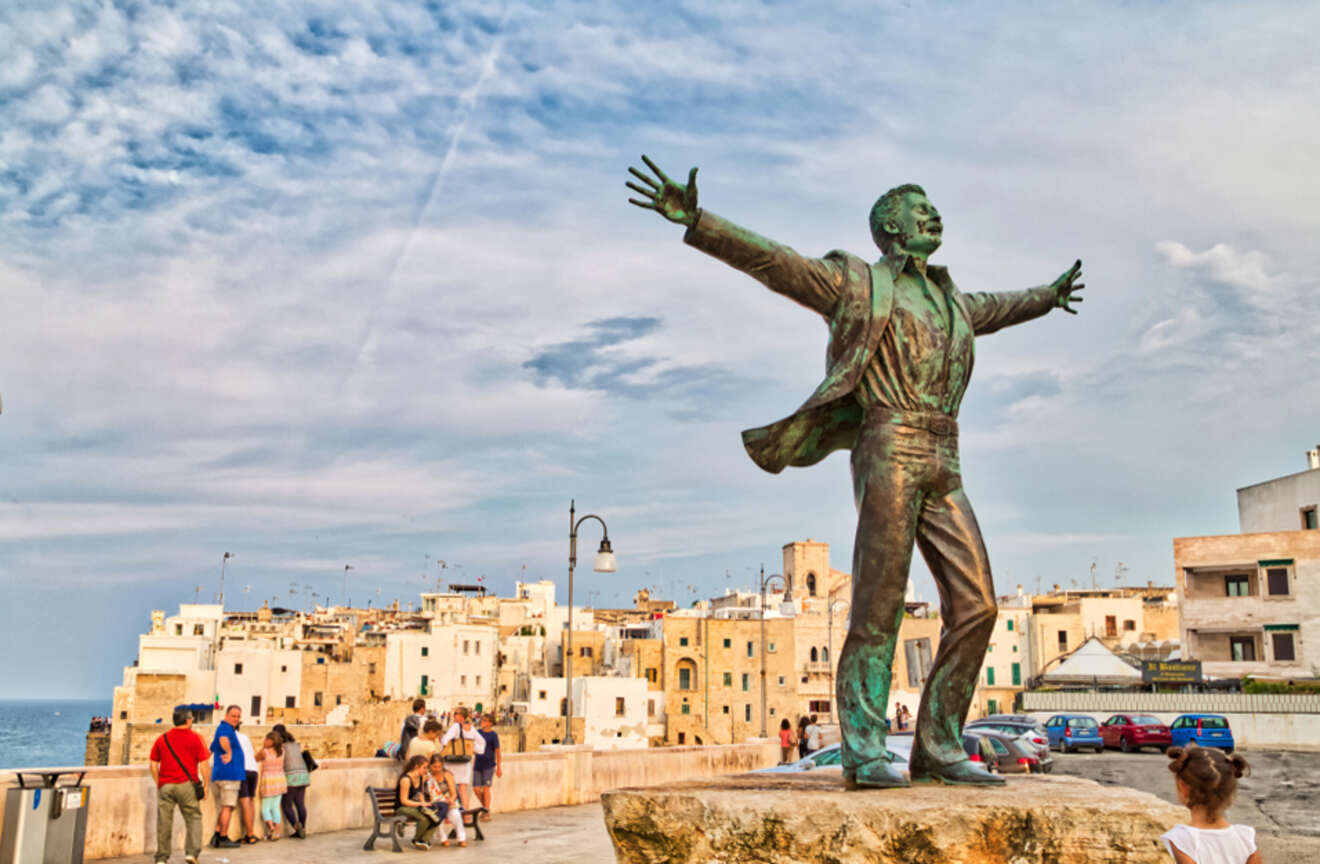 Maybe you won't recognize this person by his name, but I'm sure you'll know one of his popular songs: Volare!
I'm guessing you can already hear the song in your head now! Well, Domenico Medugno is the town's local celebrity, and the locals love him so much that they built this famous statue in his honor!
The huge statue is set near the sea in this location! You can go there and enjoy the sea view and maybe join a sing-along with the other tourists and locals! Many people come here and start singing his most famous song!
9. Grab dinner in a cave restaurant
Yep, you read that right! You can enjoy a super unique dining experience while you're in Polignano a Mare and eat a yummy Italian meal in a luxury cave!
You might've seen pictures and videos of Grotta Palazzese Restaurant (which is also a hotel) on social media. It looks as incredible in reality as in the photos!
The restaurant is basically right in the cave and has a terrace overlooking the sea! If you're assuming a dinner here will cost you an arm and a leg, well, honestly, you're right!
The lowest prices start at €195 (US$210) and can get up to €350 (US$380). But, let's face it, how often do you have the opportunity to dine in an Italian cave? This a one-of-a-kind opportunity which I definitely recommend if you've got the resources, or if you are looking to celebrate some personal occasion like a proposal, maybe!
If you're interested in this exclusive experience, you can get all the details on their website.
10. Admire the Church of Saint Mary of the Assumption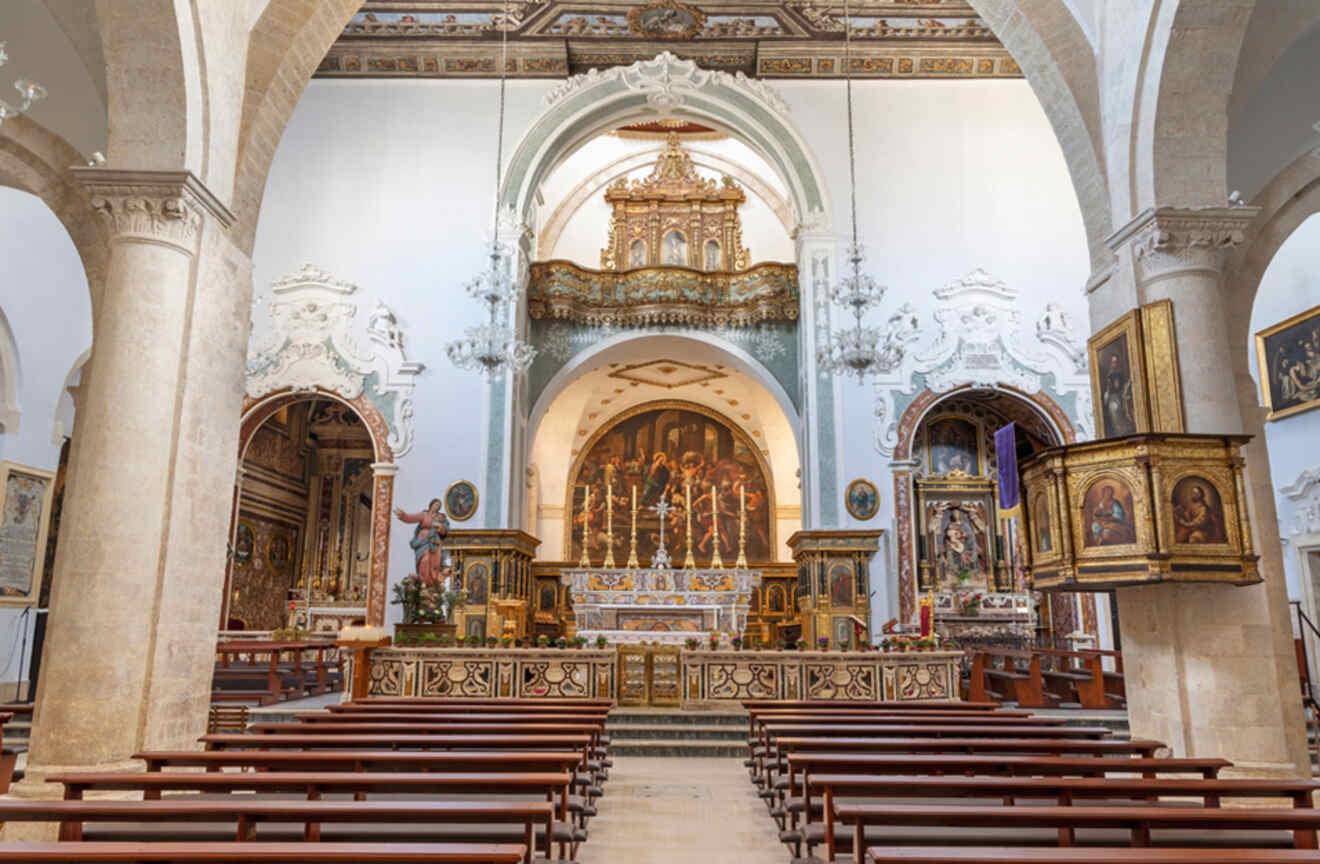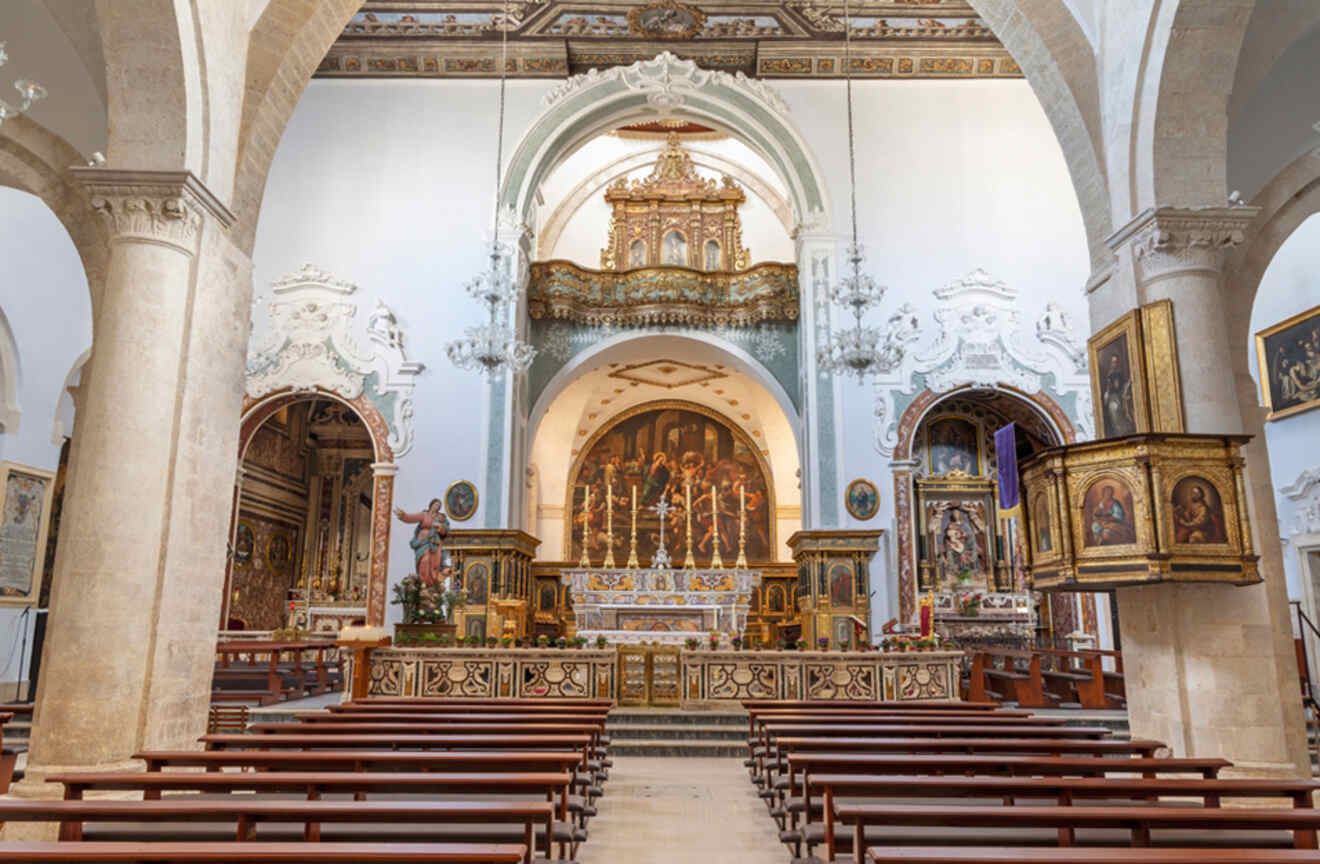 Make your trip to Polignano a Mare complete with a visit to one of its churches!
Set on a former pagan site, Chiesa Matrice di Santa Maria Assunto in Cielo dates back to the 13th century and features some beautiful artwork!
The church is inside the Centro Storico, so you can easily find it while exploring the narrow streets! The entrance is free for everyone!
11. Catch a sunset on Polignano's Lungomare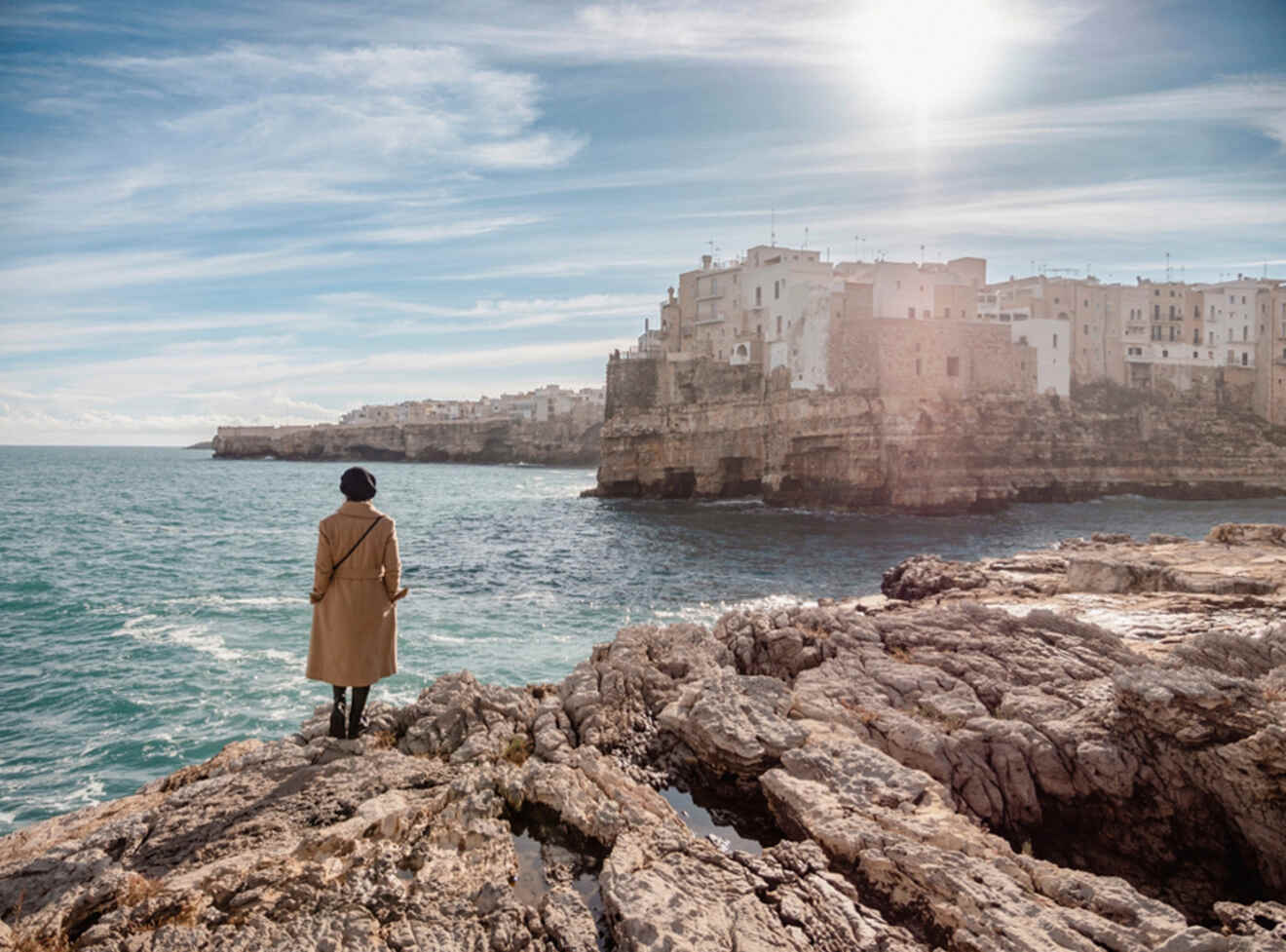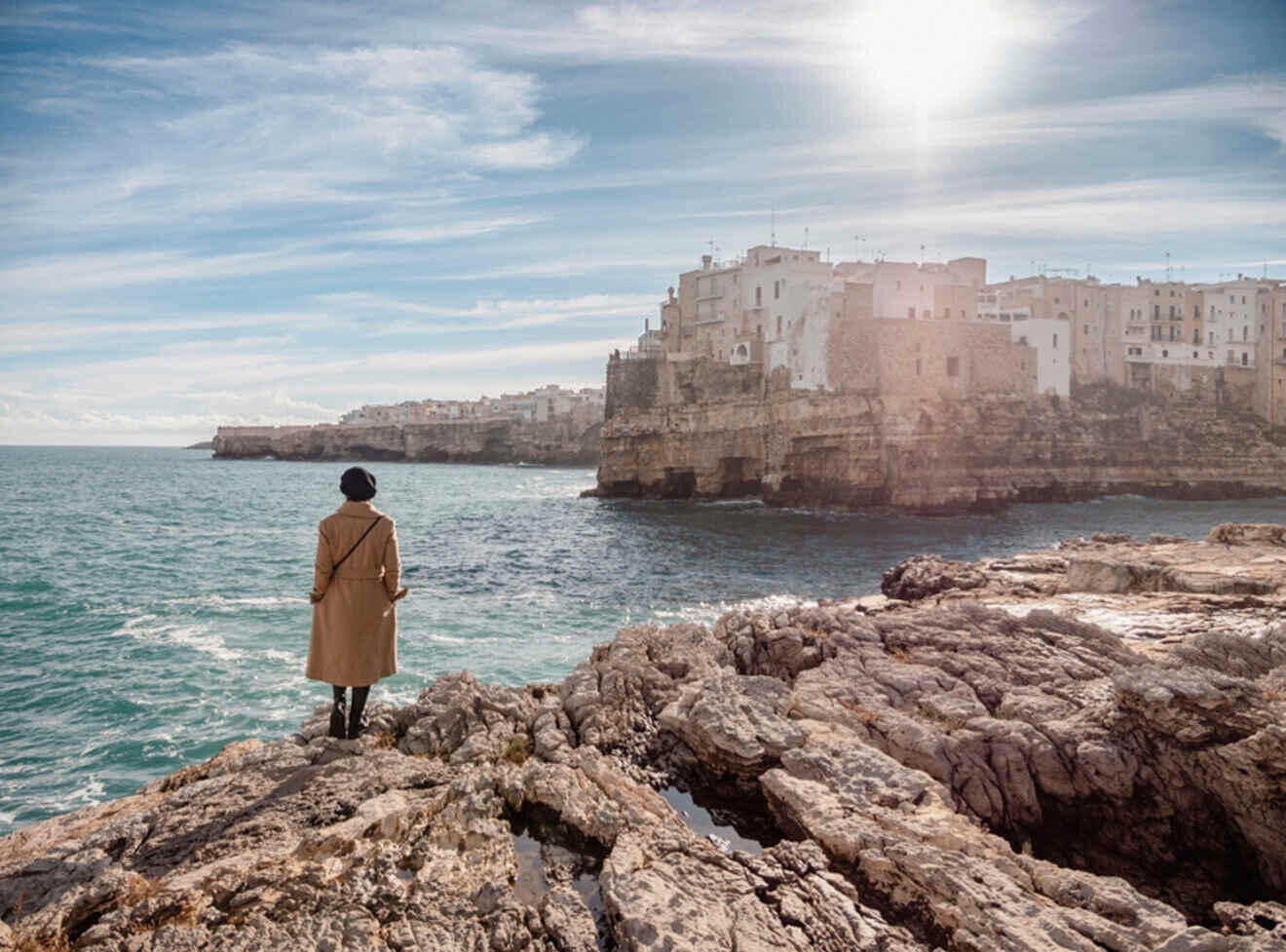 Walking on Polignano's Lungomare at sunset, truly is the perfect way to end your day or holiday in this town!
That golden light reflecting in the crystal clear water of the Adriatic Sea, the dramatic cliffs that sustain the whitewashed buildings, phew, what a view!
You'll literally get to walk on the edge of the town, and the feeling is so special! I loved every minute of it!
12. Enjoy the views from Ponte Borbonico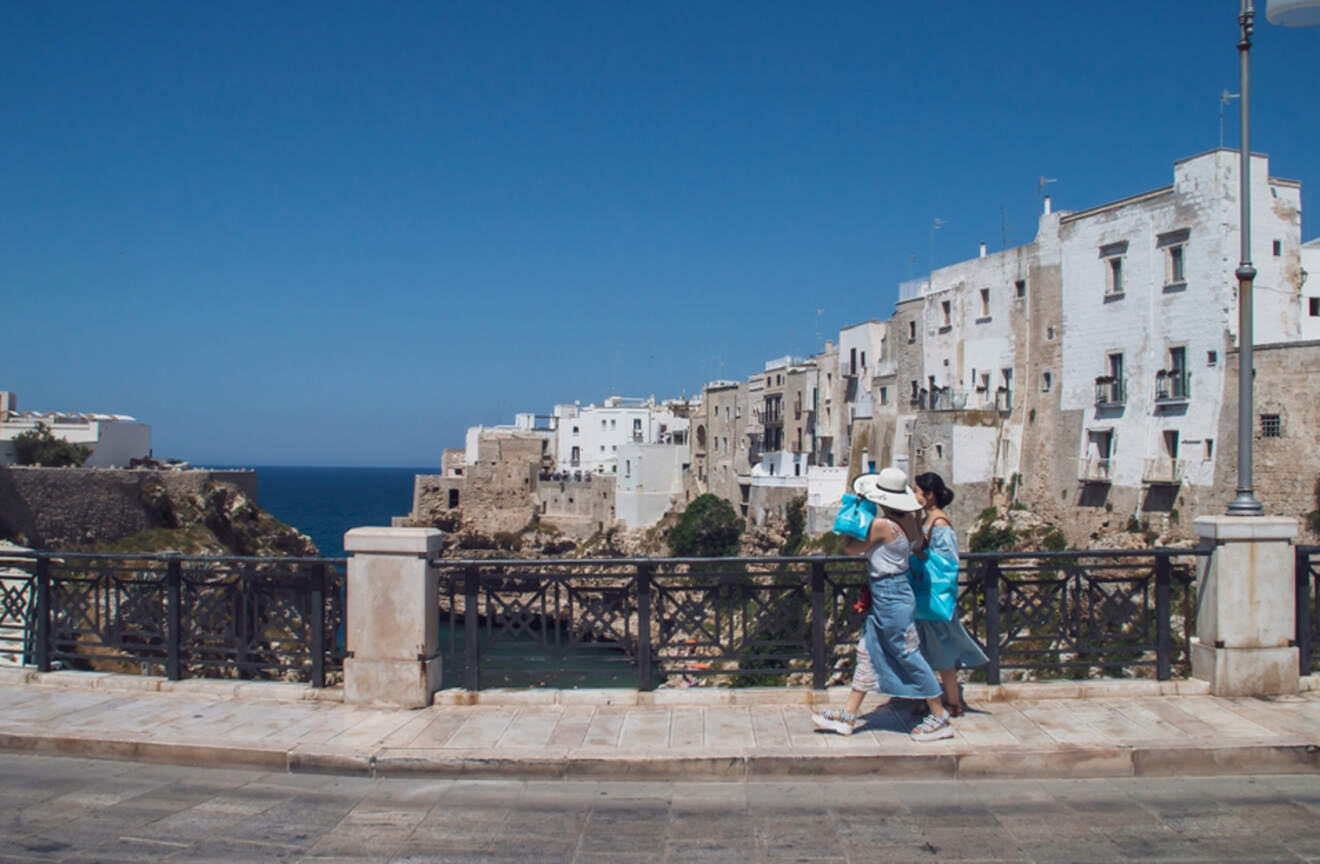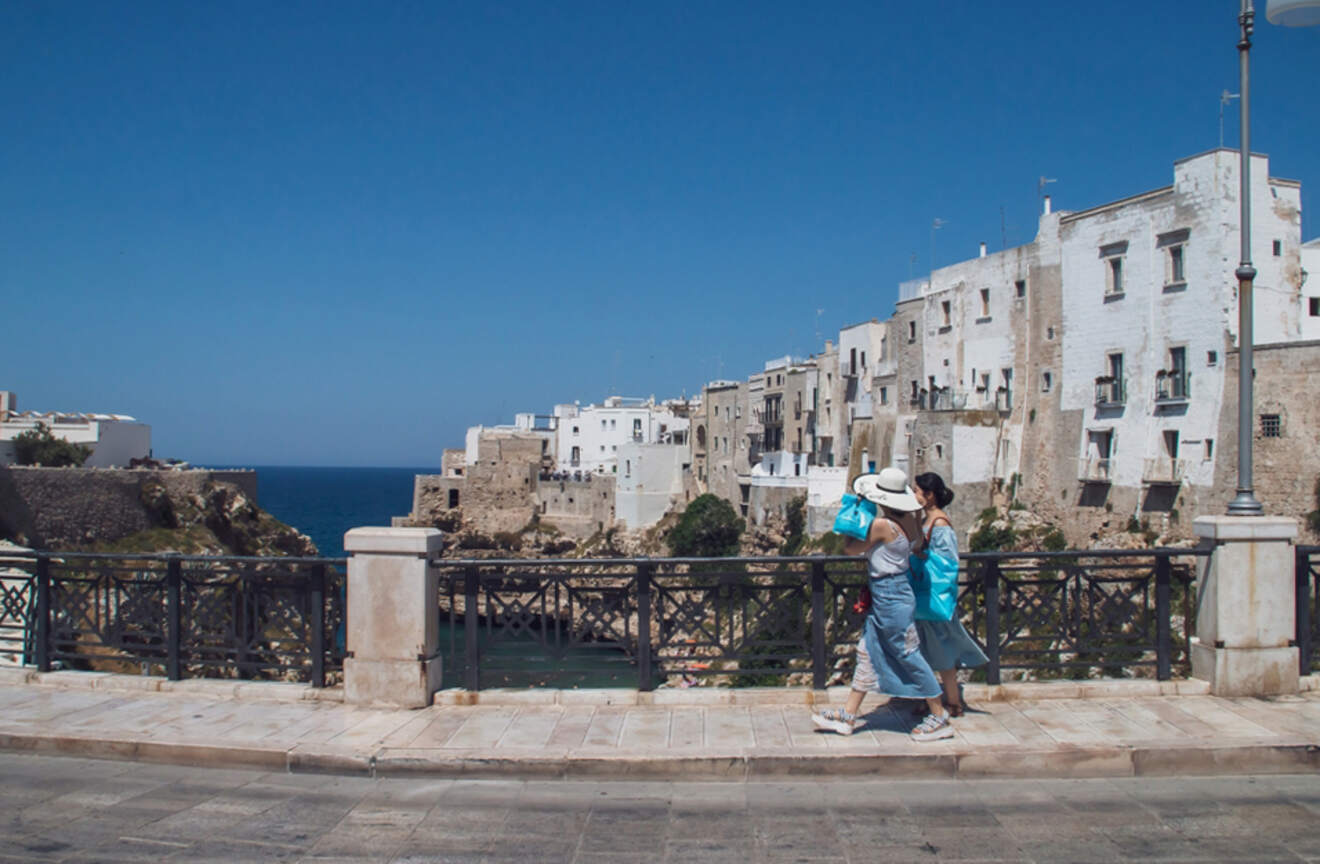 If you want to learn how all those fabulous pictures of the Lama Monachile Beach were taken, and even snap one yourself, then head over to Ponte Borbonico!
This giant bridge has some incredible arches that offer views of the picturesque beach and but you can also get a pretty incredible sight, while walking on it!
During the day, it can get pretty busy as everyone wants to take a picture in this famous viewpoint of the dramatic limestone cliffs and the sea!
If you're looking for more places to admire the typical Poligano a Mare views, you can also try Pietra Piatta, a huge flat rock with great sights of the Old Town!
13. Get your adrenaline shot while cliff-diving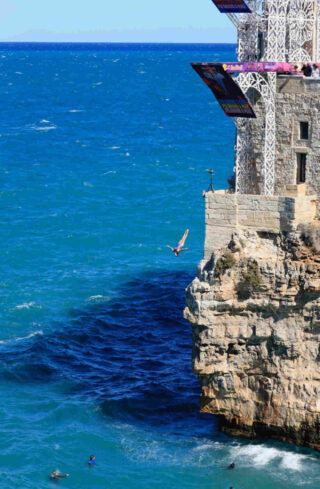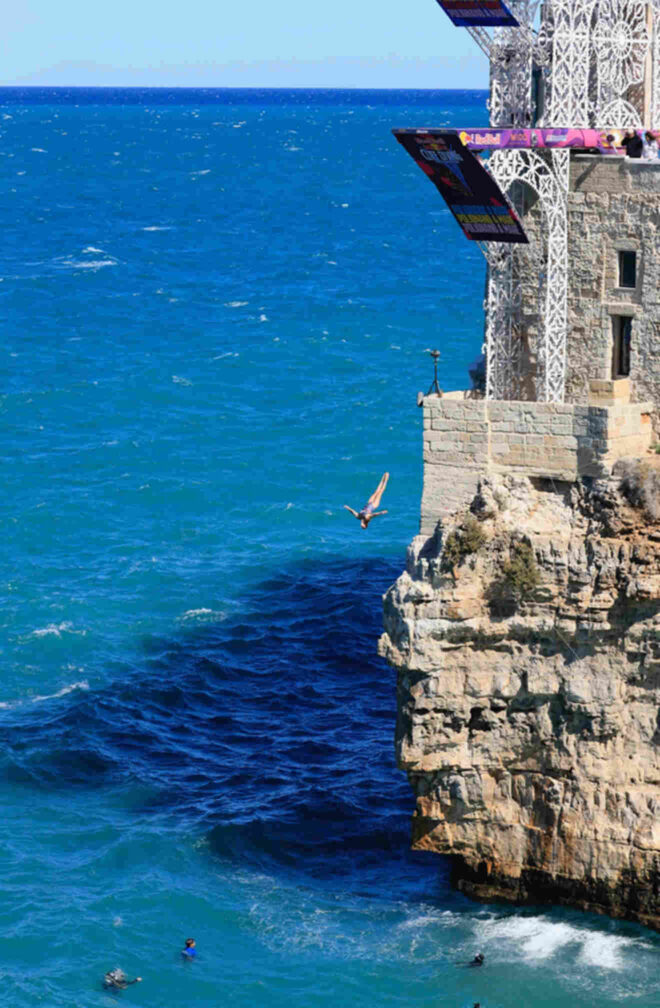 As you've probably noticed by now there are lots of rocky cliffs in Polignano a Mare, and this town is actually home to the Red Bull Cliff Diving World Series, a cliff-jumping competition, where a lot of people gather to jump off the high cliffs at Lama Monachile!
Yep, it's a big deal!
So if you're one of those people who'd love to try it, then head to Lama Monachile, where they hold the competition, usually from Grotta Piana! However, take extra care and if you're unsure or don't feel safe, don't force yourself! You can still have some fun watching the others jumping!
14. Relax and enjoy a tuk-tuk tour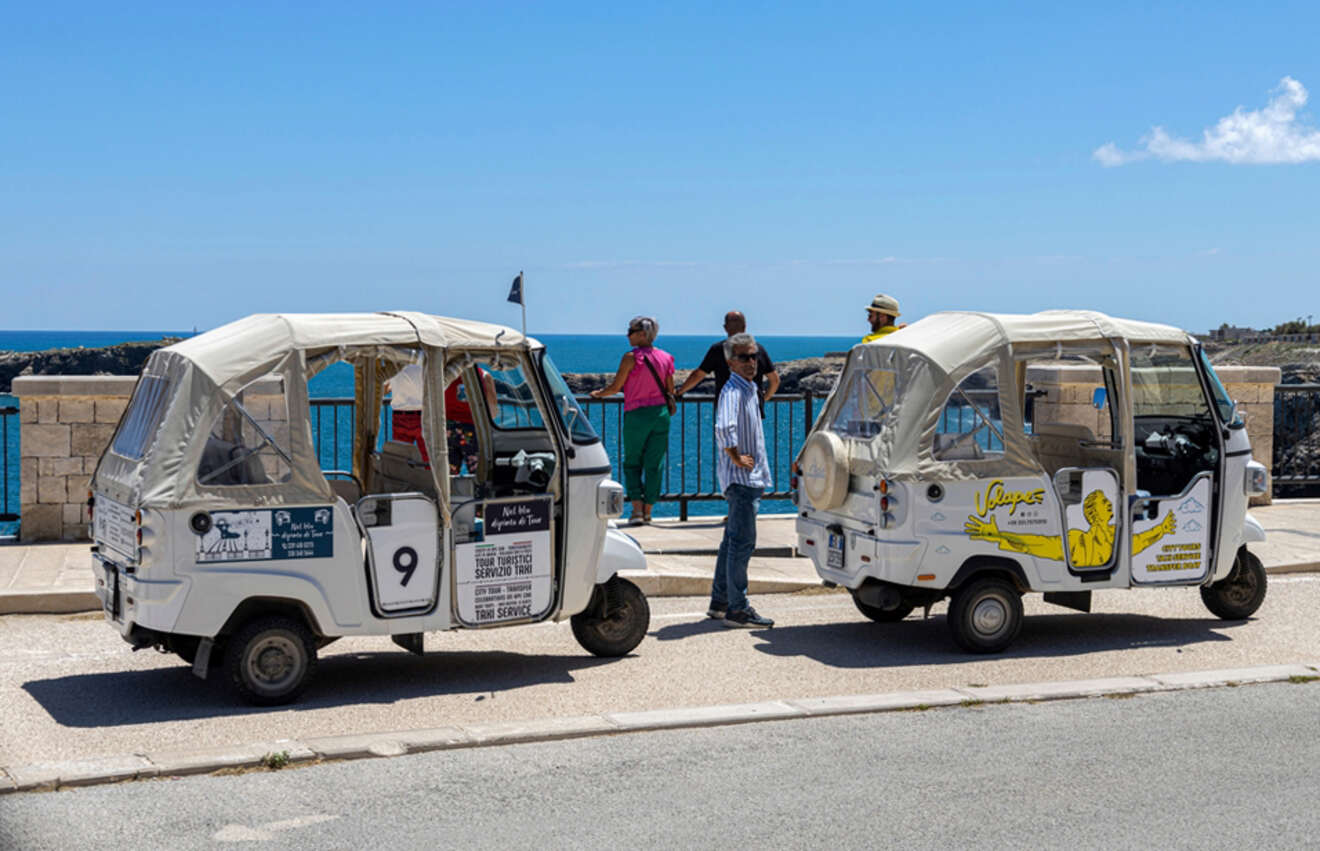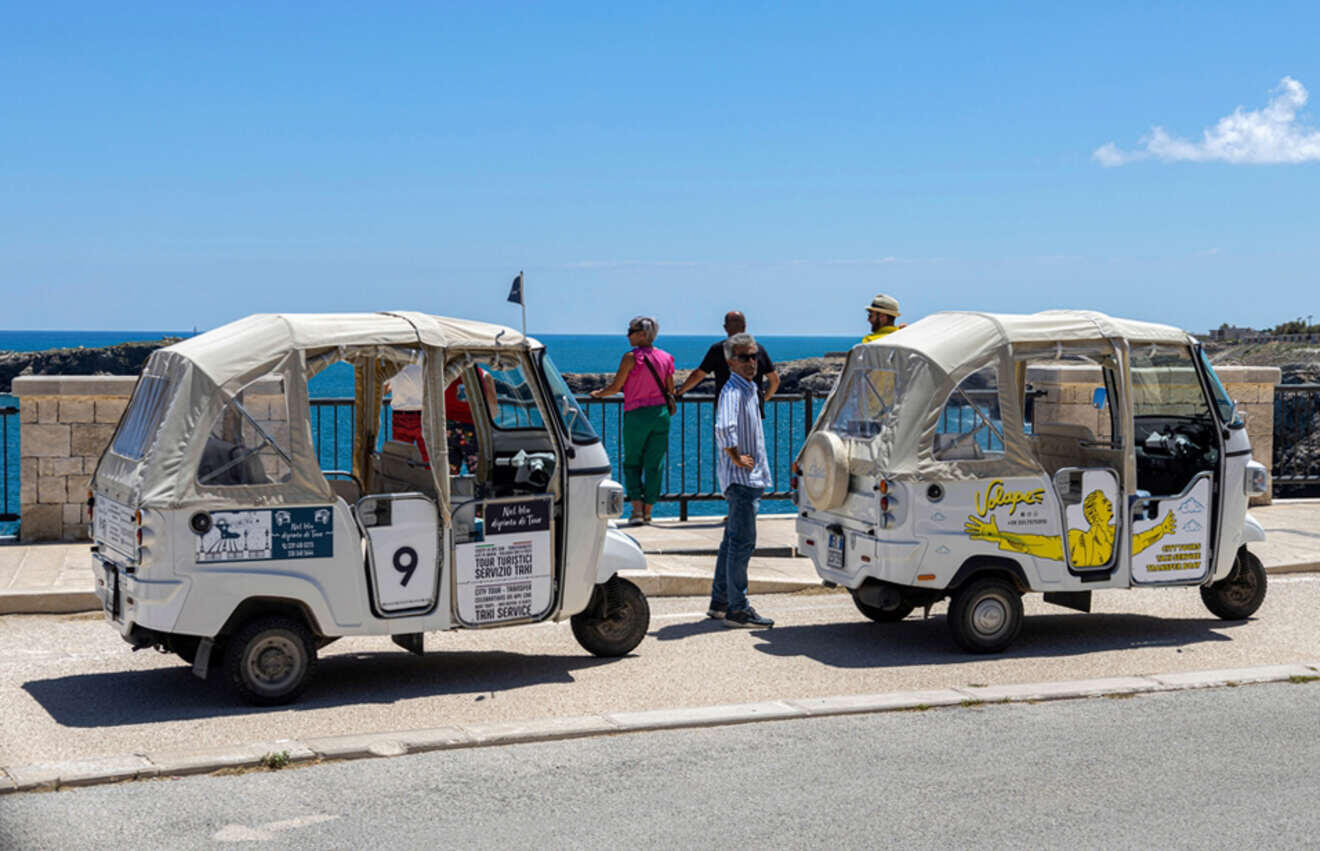 If you're just passing through Polignano but still want to see all of the town center, the caves, and other attractions, then you might consider joining a tuk-tuk tour!
This is a great way to see a big chunk of the town and save the time you'd spend walking around!
I found this great tour that can last from 30 min to 1h and costs around €20 (US$22). Your driver will take you around the town's coastline, starting from Cala Incina towards San Vito and you'll get to admire all the beautiful coves, cliffs, and beaches!
Maybe you'll even learn some things about Polignano's history as the guides are usually super nice! If you ask me, this activity definitely tops a walking tour as you'll get to see more of the town, in a fast way that'll leave you time to visit the other attractions.
TOUR PRICE: from €20 per person
Explore the Coast on a Tuk-Tuk
15. Try all the delicious gelato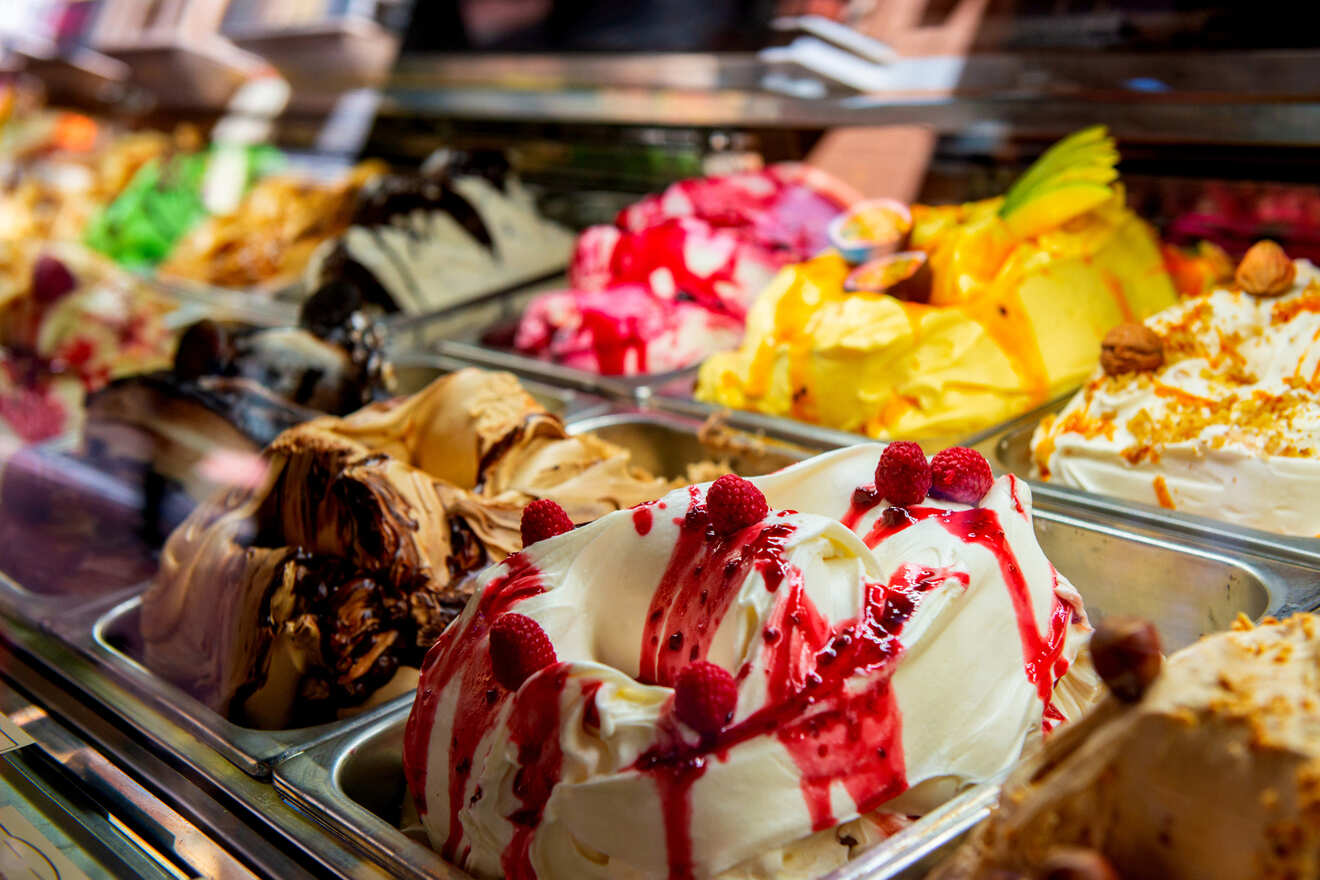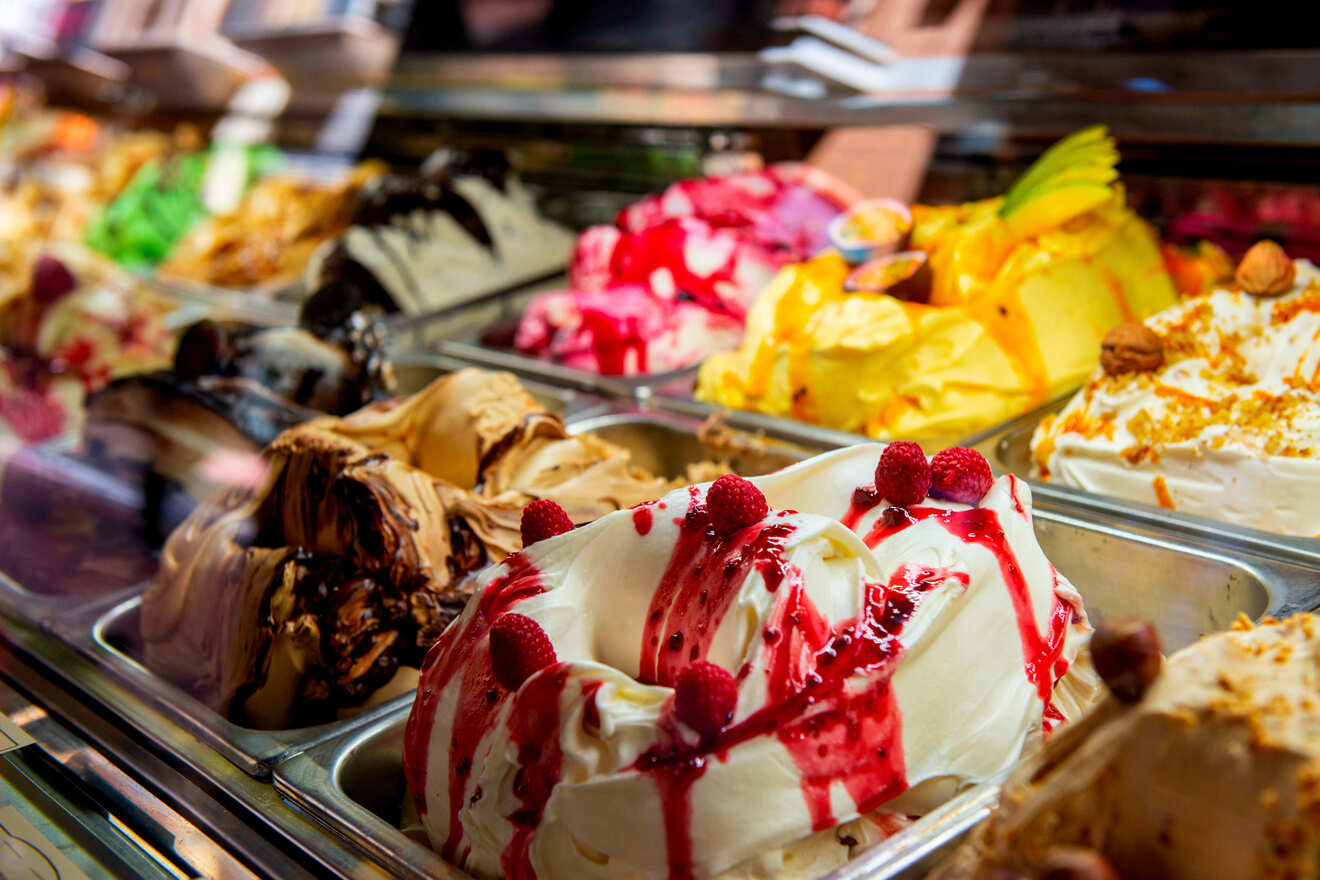 What's better than eating a delicious Italian gelato on a hot summer day? Luckily, Polignano a Mare has some incredible gelaterias where you can try various flavors!
One of my favorites was Gusto Caruso, which had a wide variety of mouth-watering flavors that left me wanting to get another cone!
You can buy your ice cream and then head to the Old Town to enjoy it in one of the little squares and really enjoy the Italian "Dolce far niente"!
Practical information about Polignano a Mare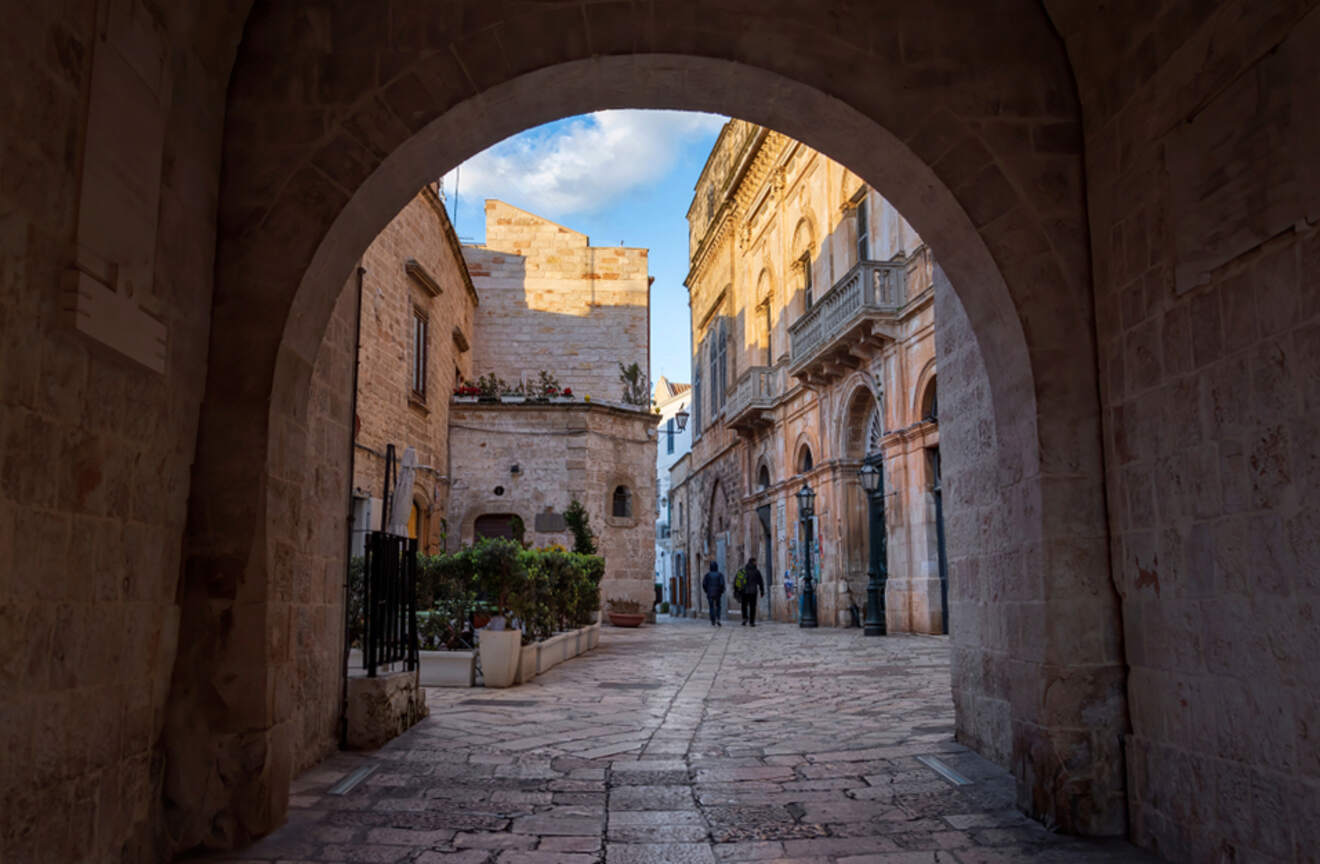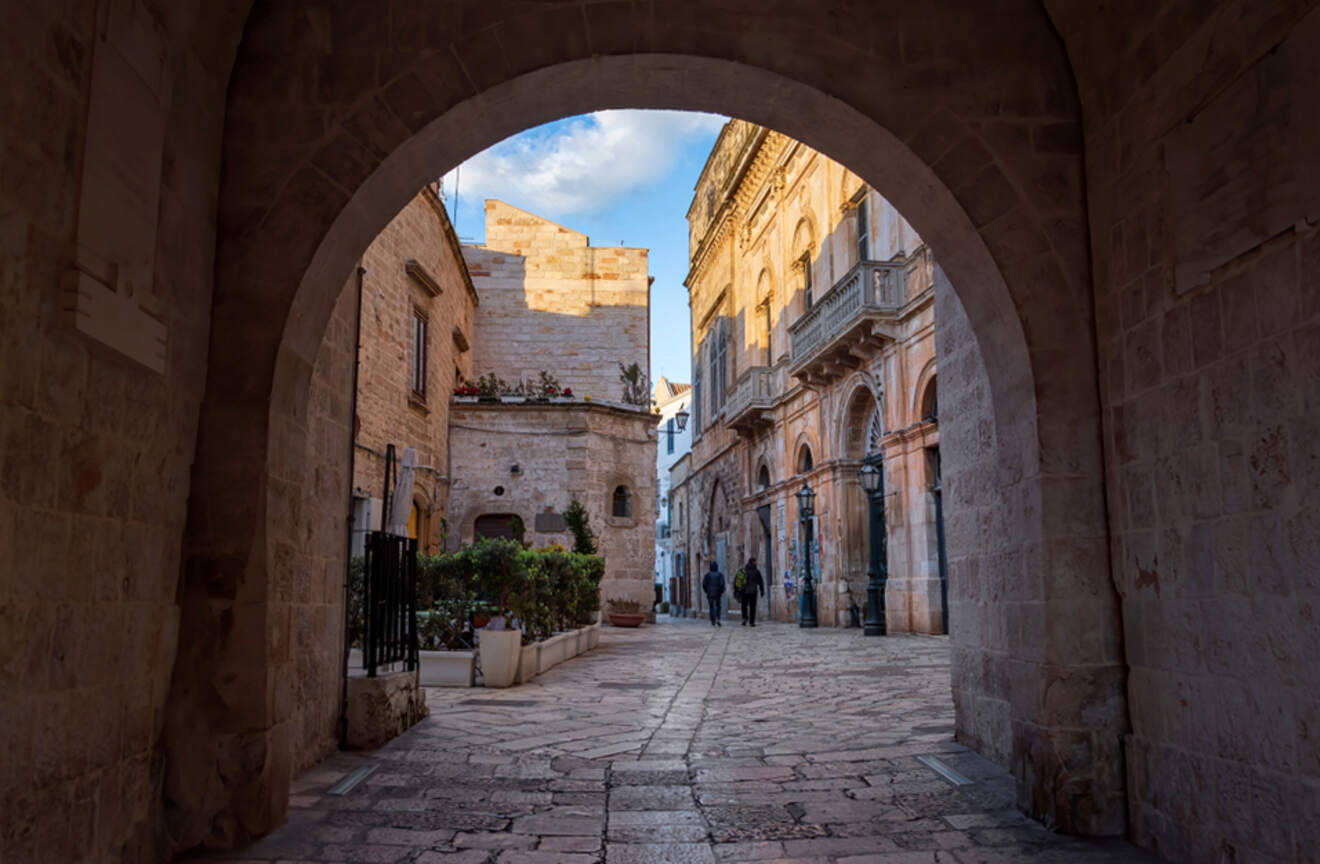 We've seen all the fun things to do in Polignano a Mare by now, from exploring the Old Town to cliff diving in the most incredible sites and eating yummy food! But this blog post is not your usual one, and I'll do everything I can to make planning your holiday run as smoothly as possible!
So if you're up to getting more tips from me, someone who's already been to Polignano a Mare, check out the section below for the juicy information!
Where to stay in Polignano a Mare
Let's check out some of the best hotels in this town! I've ordered them from most to least expensive so you can easily choose your favorite: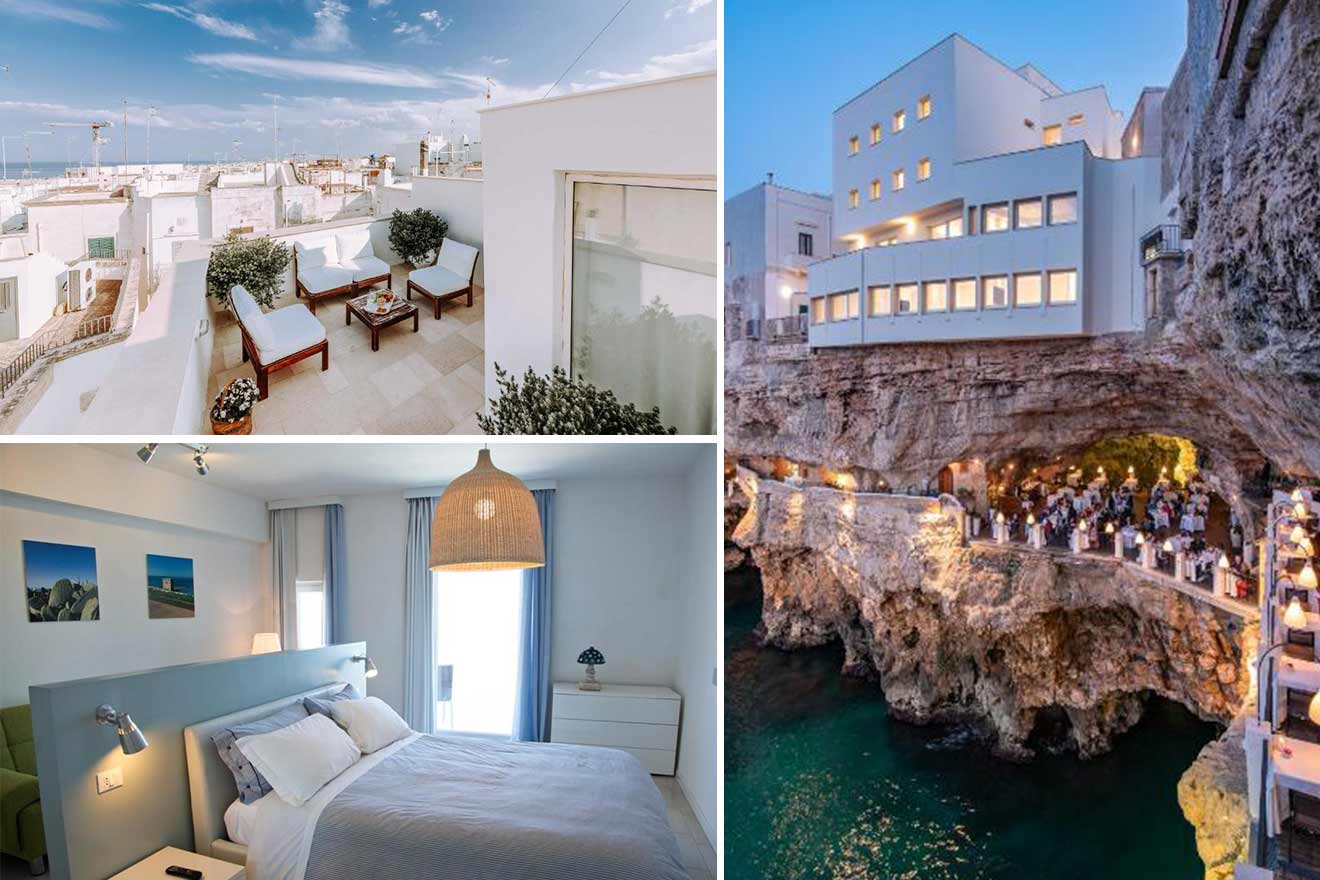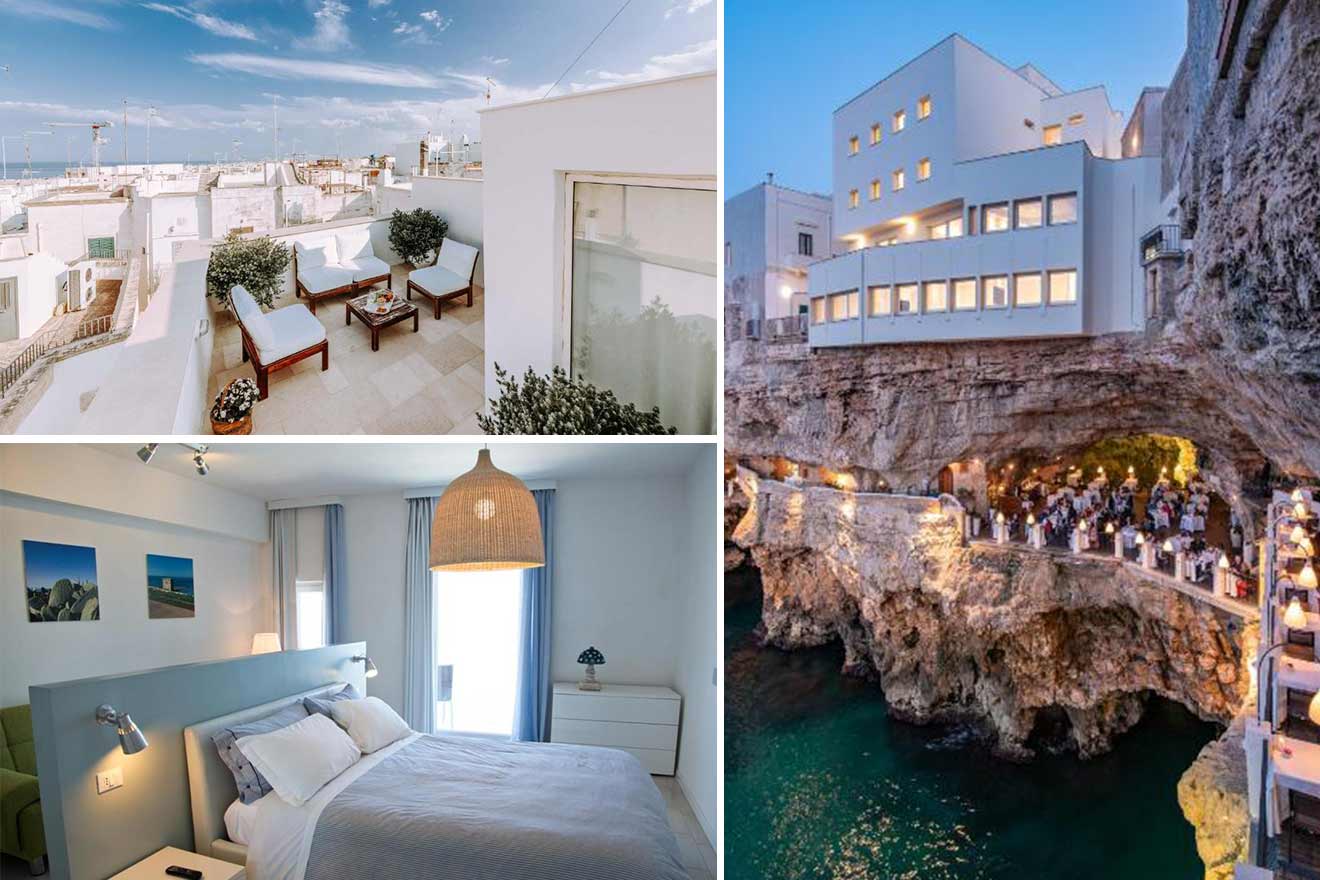 Luxury: Hotel Grotta Palazzese – Home to the famous cave restaurant that I mentioned in section #9, this luxurious hotel offers gorgeous rooms with air-conditioning and balcony where you can enjoy the sea views, a private beach area, and free parking!
Mid-Range: Malù Bed&Breakfast – Set a short walk away from the Old Town and the famous rocky beach, this hotel is perfect for your stay! It provides a free breakfast each morning and rooms with a balcony that overlook the Adriatic Sea!
Budget: Dimora Anderì – I love the all-white decor of this hotel near the Old Town that has rooms with a flat-screen TV and free Wi-Fi. There's also a rooftop sun terrace where you can enjoy your coffee in the morning and catch a scenic sunset at night!
How to get to Polignano a Mare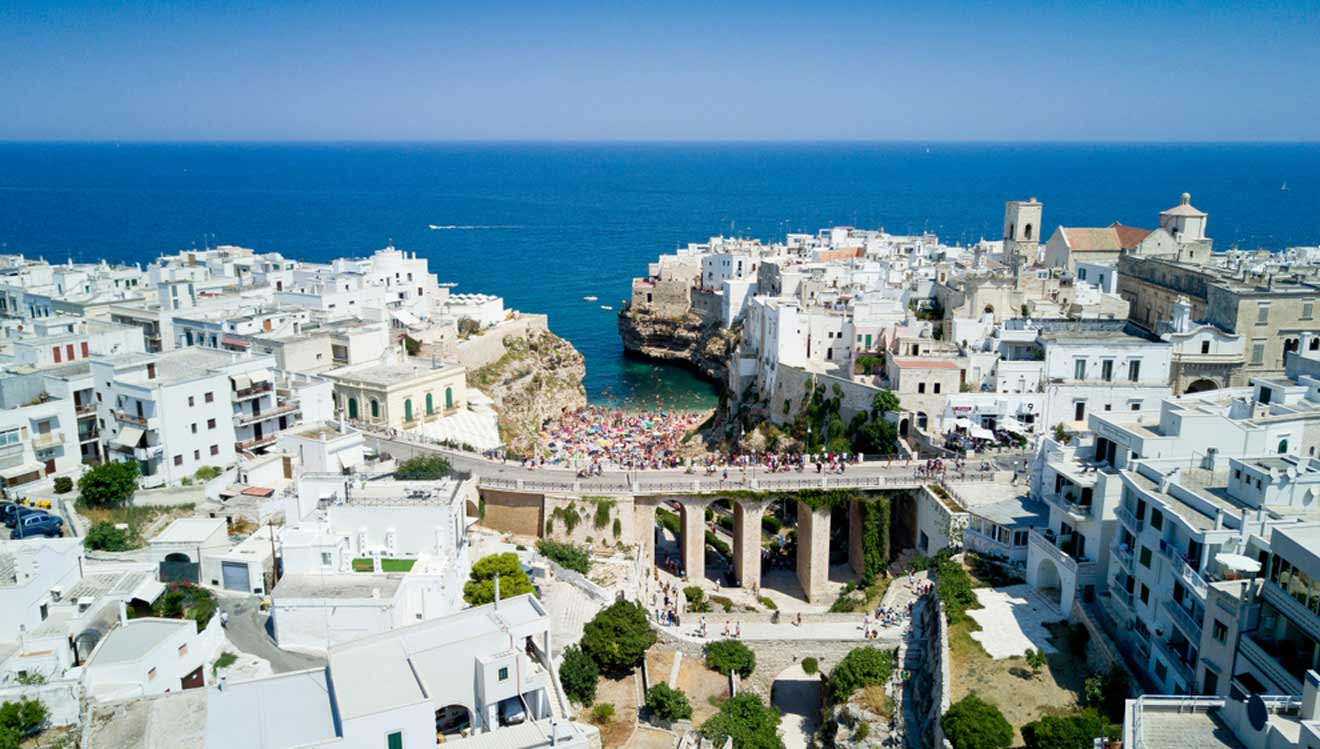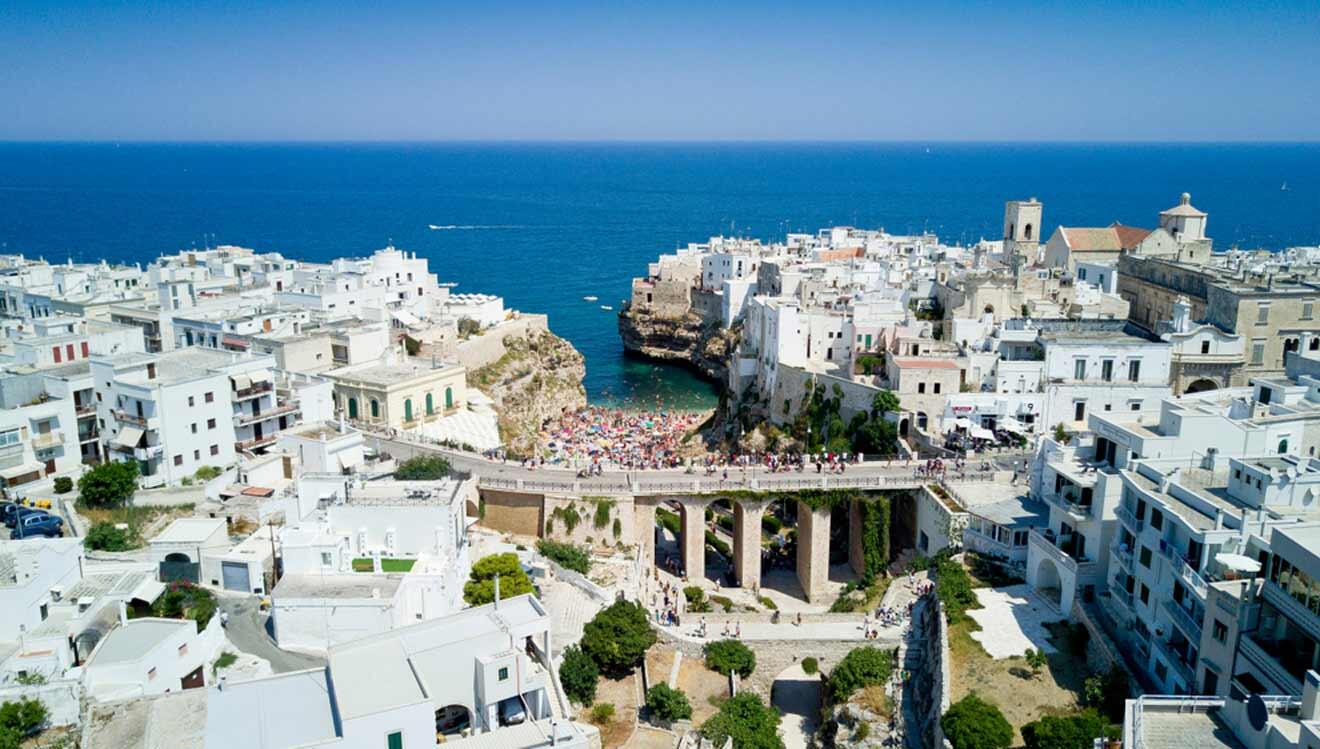 As always, this depends on where you're coming from! But luckily, the Polignano a Mare train station has connections to pretty much all the major towns in the entire region, so it should be fairly easy to get here. Let's see all the main ways you can come:
By plane – The closest city with a big airport is Bar, from where you can use public transport or rent a car to get to Polignano a Mare.
By train – Just like I said above, trains are one of the best ways to get to Polignano a Mare once you're in Italy. That's what I used, and I got there super fast from Ostuni, so just head to the Trenitalia website and search for the routes.
By car – Probably the most comfortable way to get to Polignano a Mare is if you rent a car. If you do that, I recommend going on a road trip around Puglia. It's a favorite of many tourists!
How to get around Polignano a Mare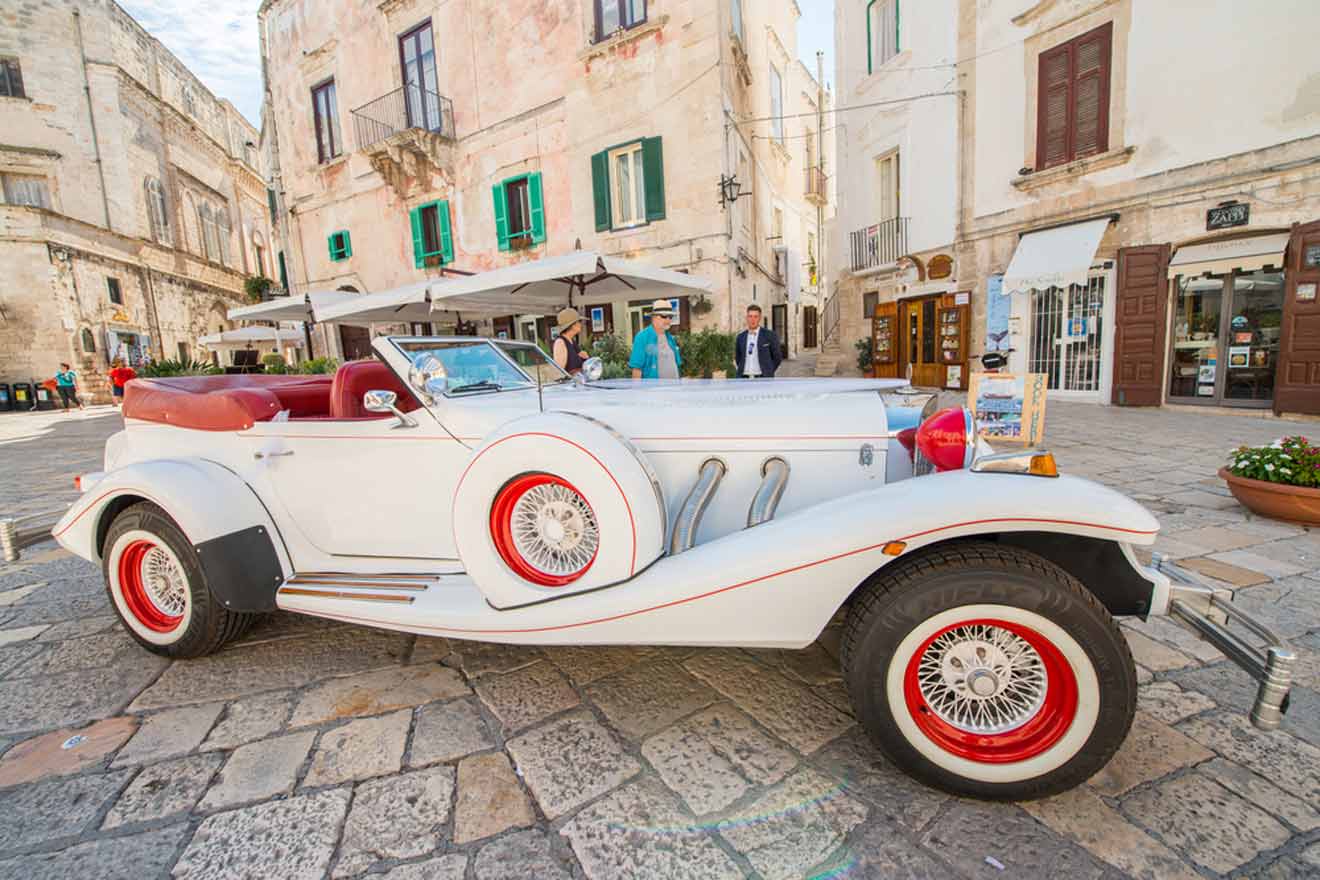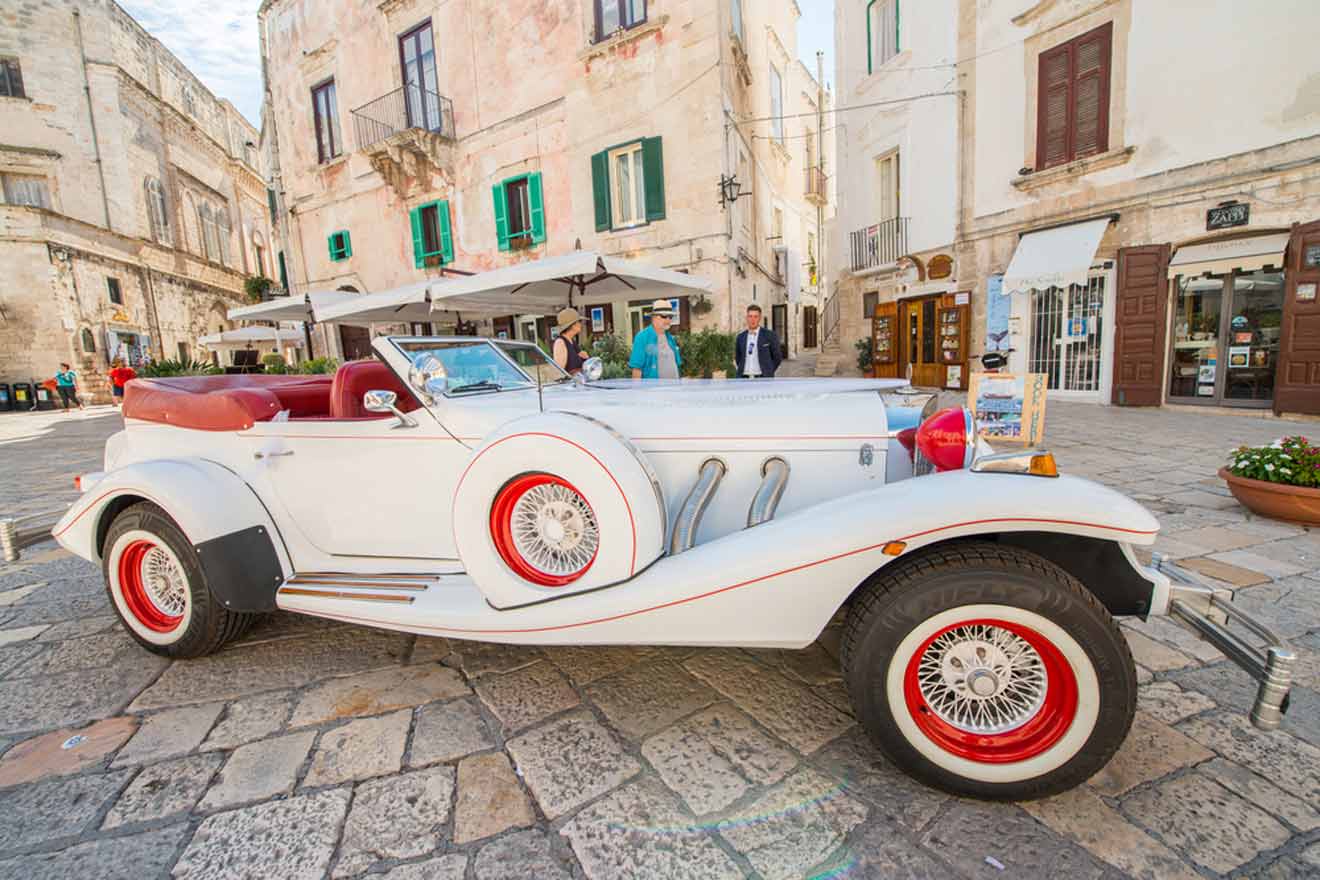 This is fairly easy: on foot! Yep, Polignano a Mare is a small town, and you'll find all the major attractions, beaches, and the Old Town just a short walk away from the train station!
Alternatively, if you want to explore the outskirts of the city or just head to a beach near the town, you can rent a bike! I found this great company that offers bikes, luggage storage, and tours!
FAQs about things to do in Polignano a Mare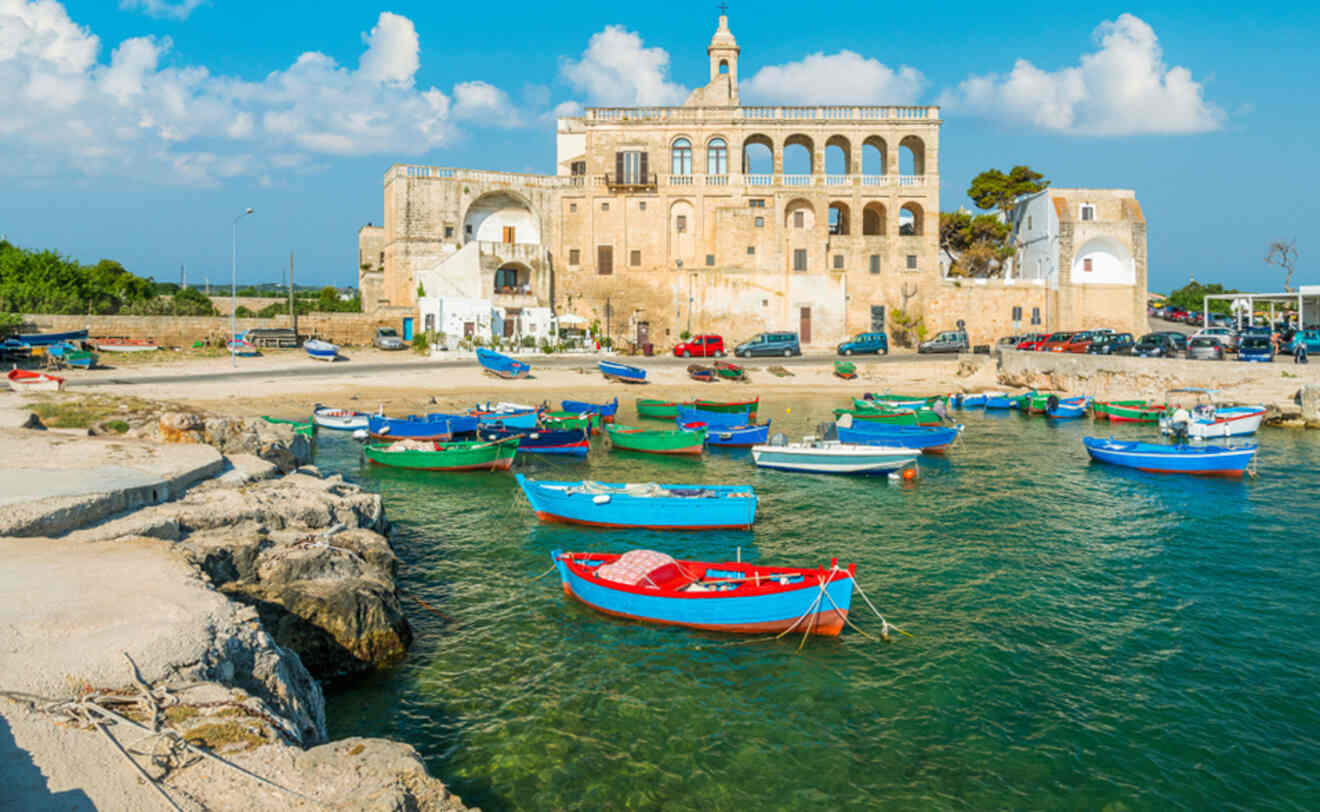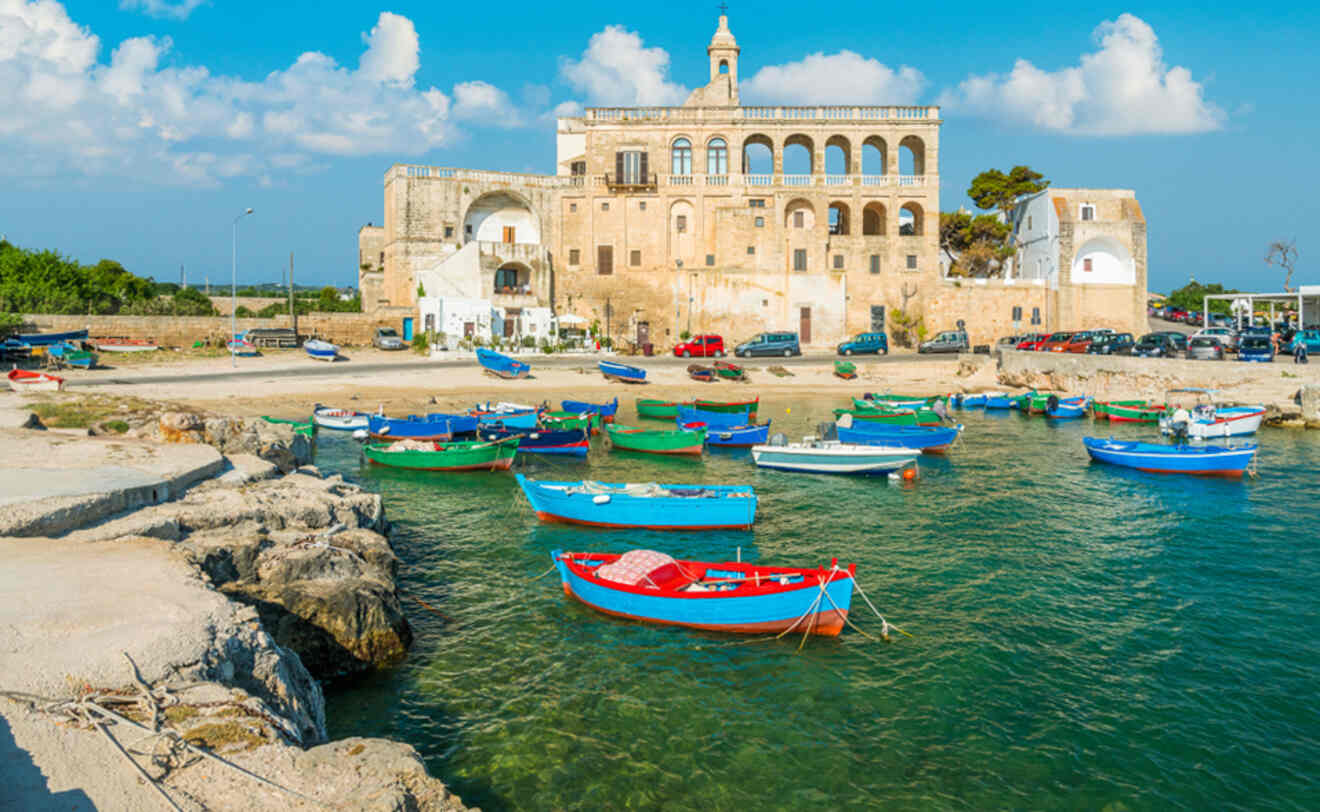 💙 Is Polignano a Mare worth visiting?
Yes, absolutely! You should definitely visit Polignano a Mare as it's such an amazing town with a beautiful Old Town with historical buildings, amazing beaches, and yummy food!
📅 How long should I spend in Polignano a Mare?
I recommend spending 2 to 3 days in Polignano, as that will give you plenty of time to explore the town and maybe a few more days if you want to visit other popular towns in Southern Italy like Ostuni.
🤔 Is it better to stay in Polignano a Mare or Monopoli?
It depends. Polignano a Mare is more touristic and has more famous attractions, while Monopoli has more of a residential feel. I would pick Polignano if you've got just a few days in Puglia!
🚶‍♀️ Is Polignano a Mare walkable?
Yes! You can walk pretty much everywhere you want in Polignano a Mare! The historic centre, the beaches, and everything else is within short reach.
Conclusion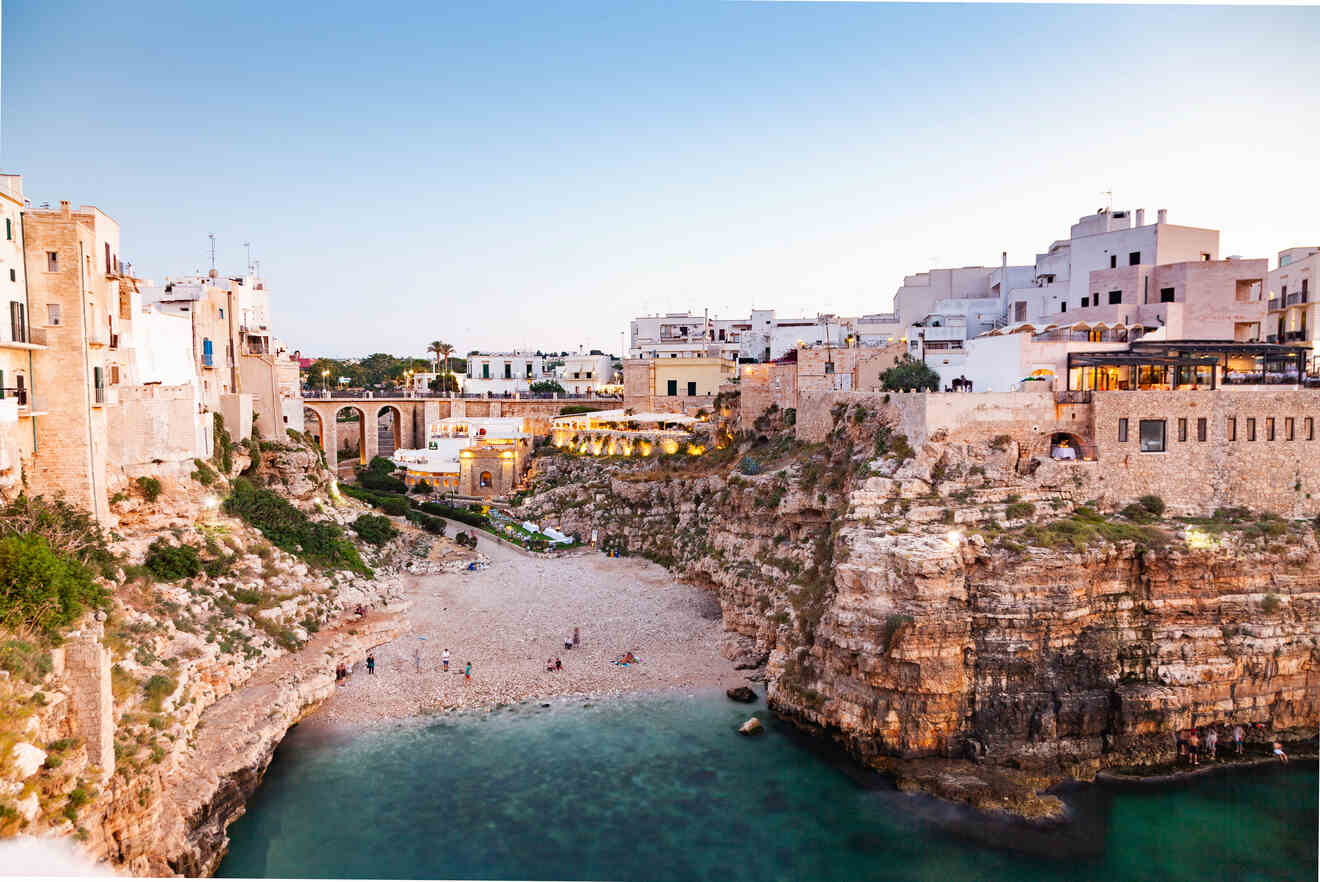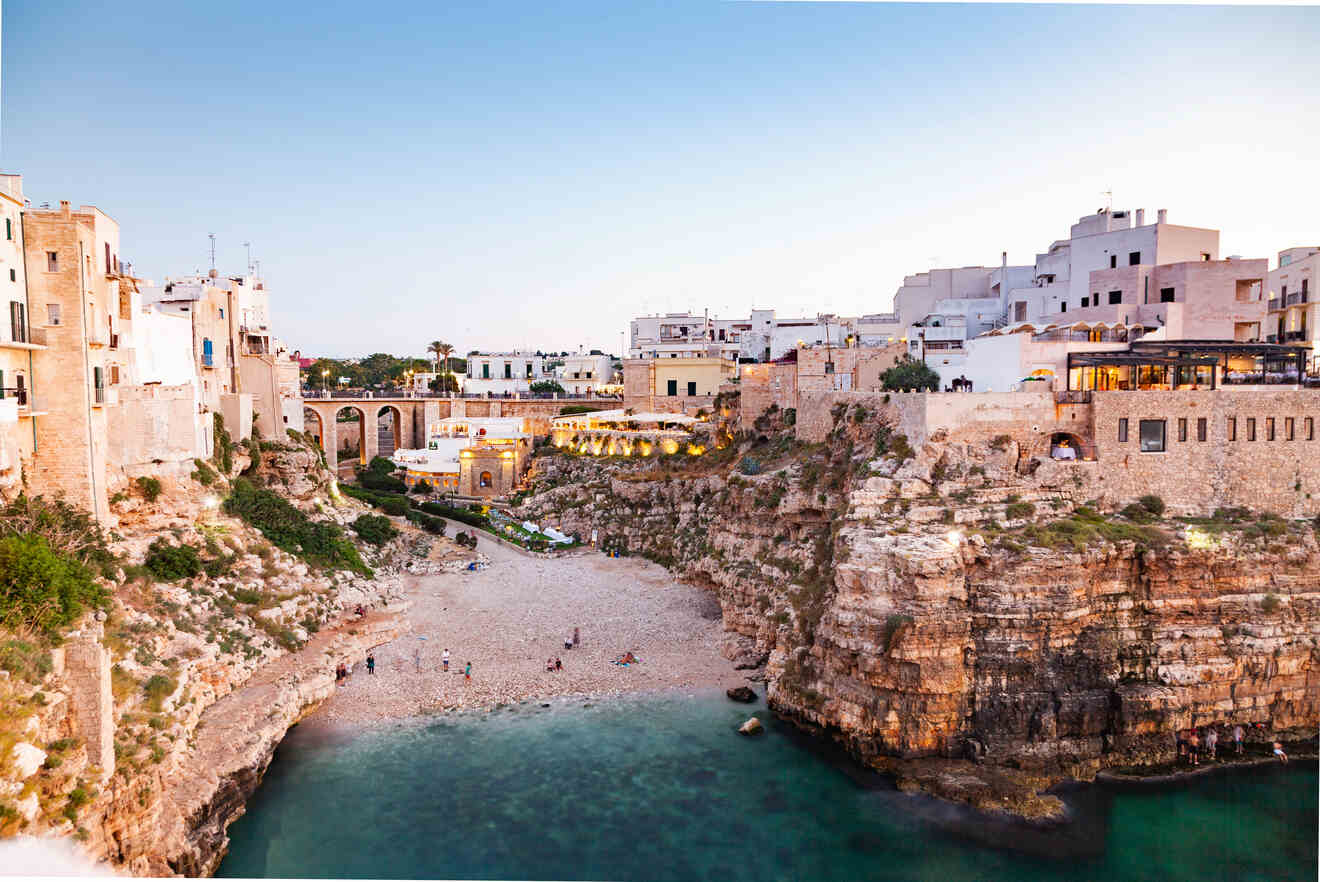 Writing about Polignano a Mare made me remember how incredible this town is!
I hope this post with the best things to do in Polignano a Mare will help you plan your trip! Don't forget also to check the second part of the article! That's where I included all useful tips on the best Polignano a Mare hotels, how to get there, and much other information!
Before you run to book all your tickets, I wanted to leave you with 2 of my favorite activities in Polignano a Mare:
Phew, for a small town, Poligano sure has lots of things to do!
I've included lots of details (hope it wasn't too overwhelming) but I know from experience how important it is to be prepared. That being said, if I did miss anything, you can leave me your question below and I'll make sure to answer it!
Safe travels,
Victoria
---
Pin it for later!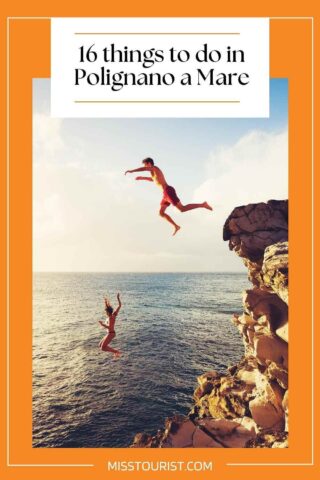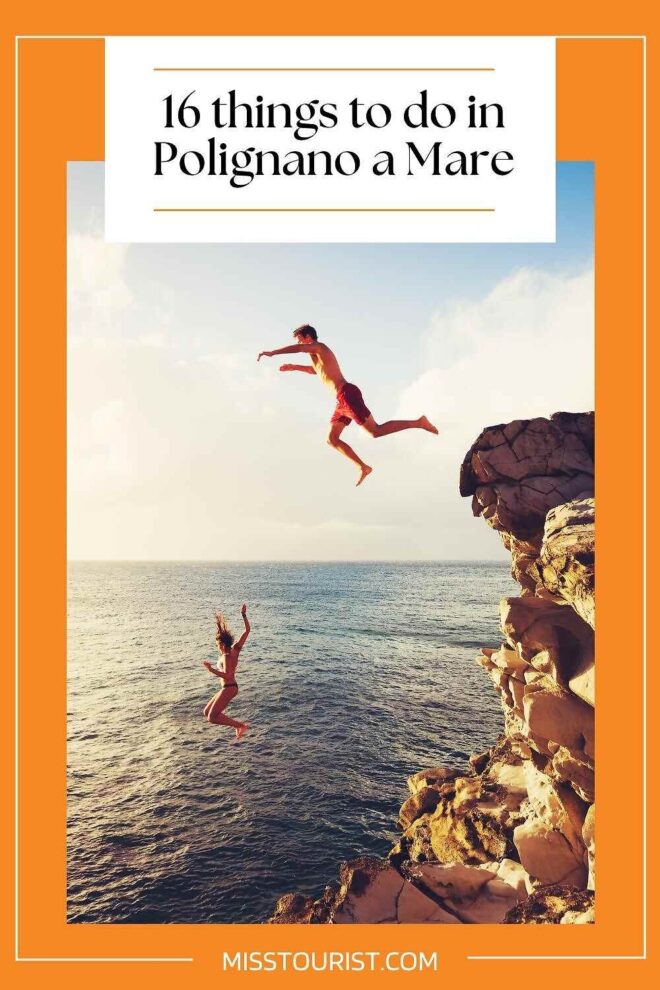 Pin it for later!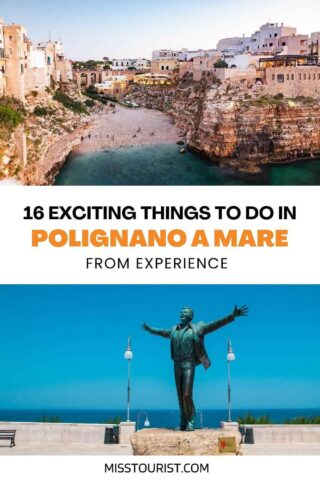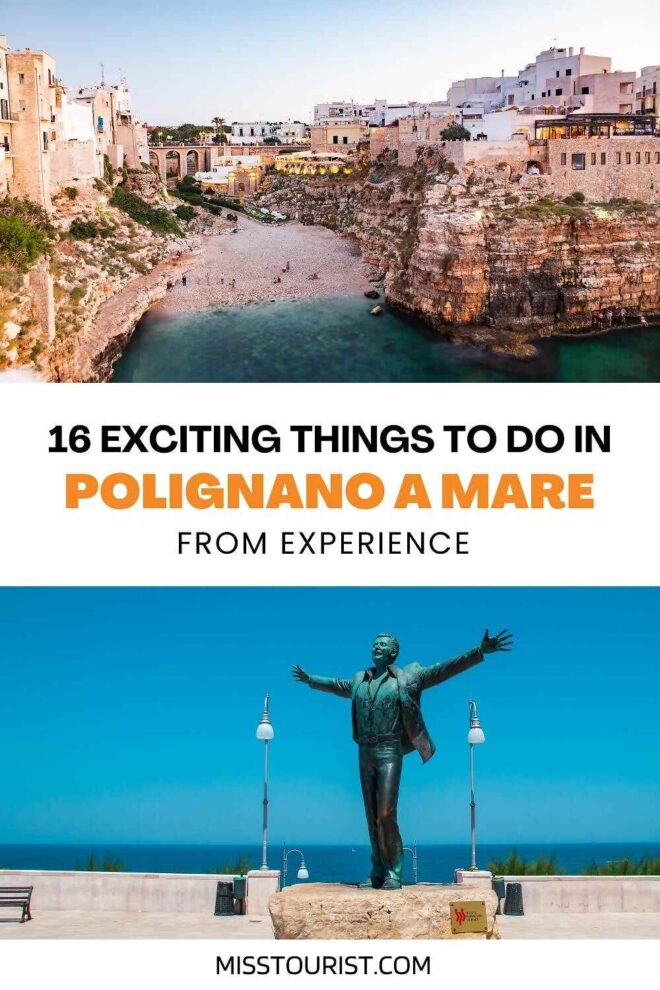 Products You May Like