19 Fantastic Things to do in Bali (from (Almost) a Local!)
Hey there, fellow travelers! Are you looking for the ultimate guide to things to do in Bali? Look no further, because I've got you covered for the perfect Bali holiday.
As someone who has lived on the island of Gods for a while and traveled extensively there, I can personally vouch for all of these must-see attractions and activities.
From its stunning beaches and colorful temples to its delicious food and vibrant culture, Bali truly has something for everyone. And don't worry, I won't just be listing only the obvious stuff like "visit the rice terraces" (although, let's be real, those are a must-see!). I'll also be sharing some off-the-beaten-path gems that you won't find in every other Bali travel guide!
I've also included a fun bonus for those traveling with kids! You'll have endless activities to do, whether you're traveling solo, with your partner, or the whole family!
If you are in a hurry
Here are the main things you absolutely shouldn't miss out on, and book in advance:
And here are the best hotels to stay: Aksari Resort Ubud (luxury), Incense Impossible Beach (mid-range), Pedukuhan Nawa Sakti Resort (budget)
1. Climb Mount Batur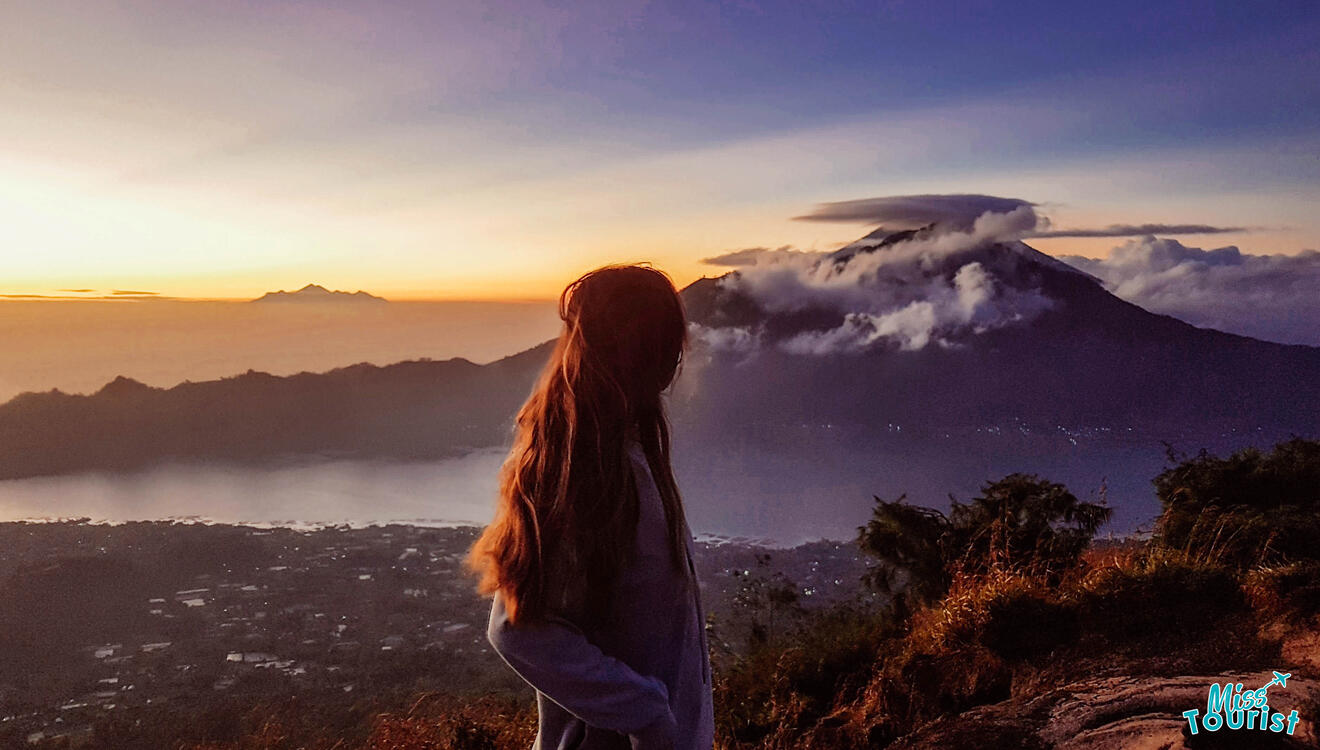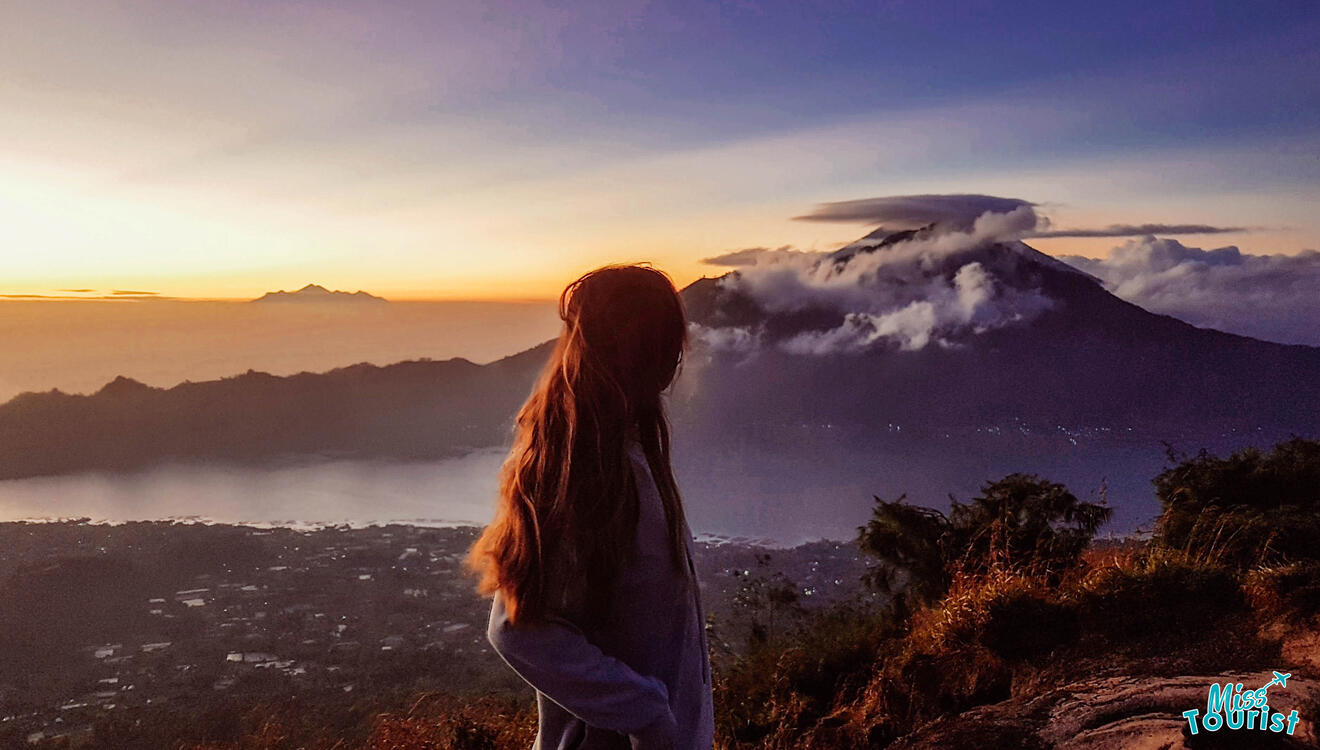 Welcome to Mount Batur, Bali, the most popular volcano hike in Indonesia! 
I hiked to the top of Mount Batur twice and each time it was absolutely wonderful and unforgettable!
If you're looking for a fantastic adventure with incredible views, this is the place for you. With its active volcano and rumored to be the best sunrise in the world (I tend to agree), you'd be a fool to miss out on this opportunity. And don't worry if you're not a seasoned hiker – the climb is easily accessible for all levels of fitness and ability.
So how do you get started? Well, it's easy – just head over to one of the many travel agencies in Bali and they'll arrange everything you need. The reason why I suggest a tour is because, well… it is the only option. 🙂 Batur is one of those mountains where you have to go with a guide, either a private one or as part of the group.
The cool thing about taking a tour is that it will also provide transportation and an explanation on what you will see (if you choose a good agency), so they will make sure your journey is as safe and fun as possible, and it is usually very affordable.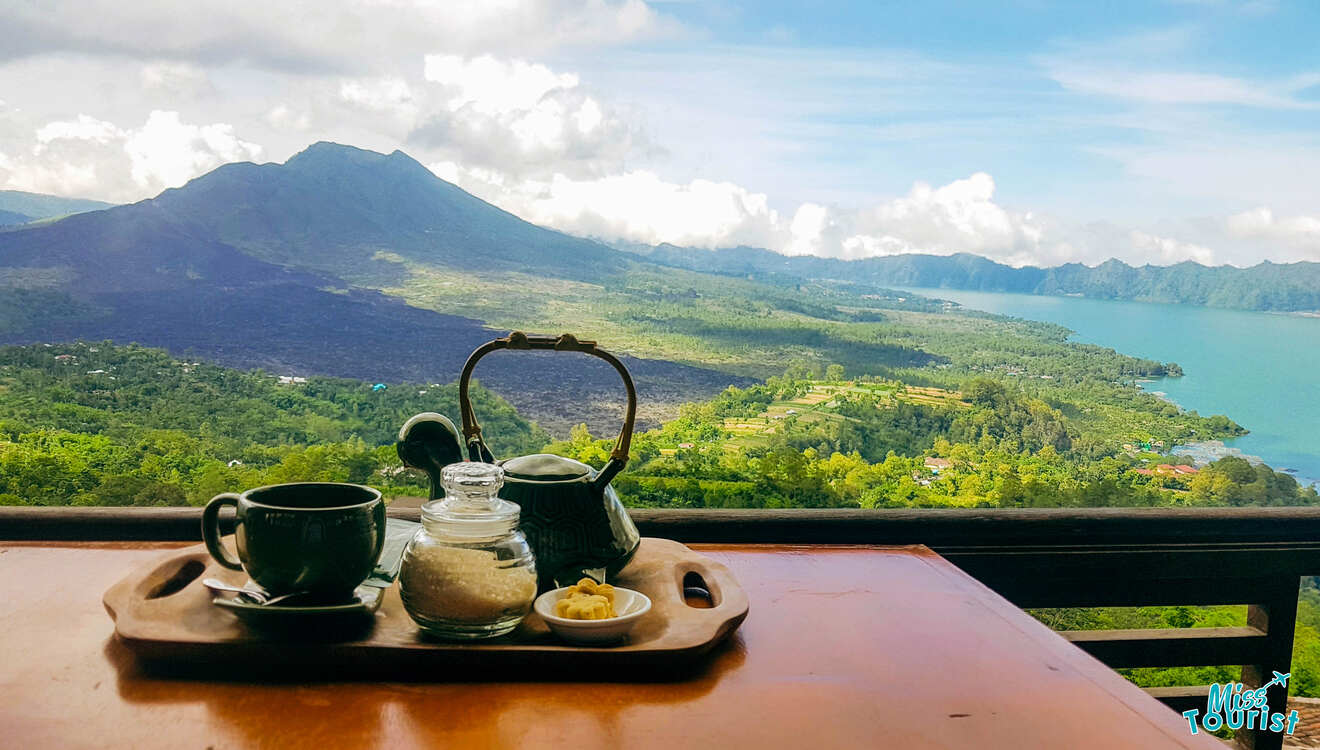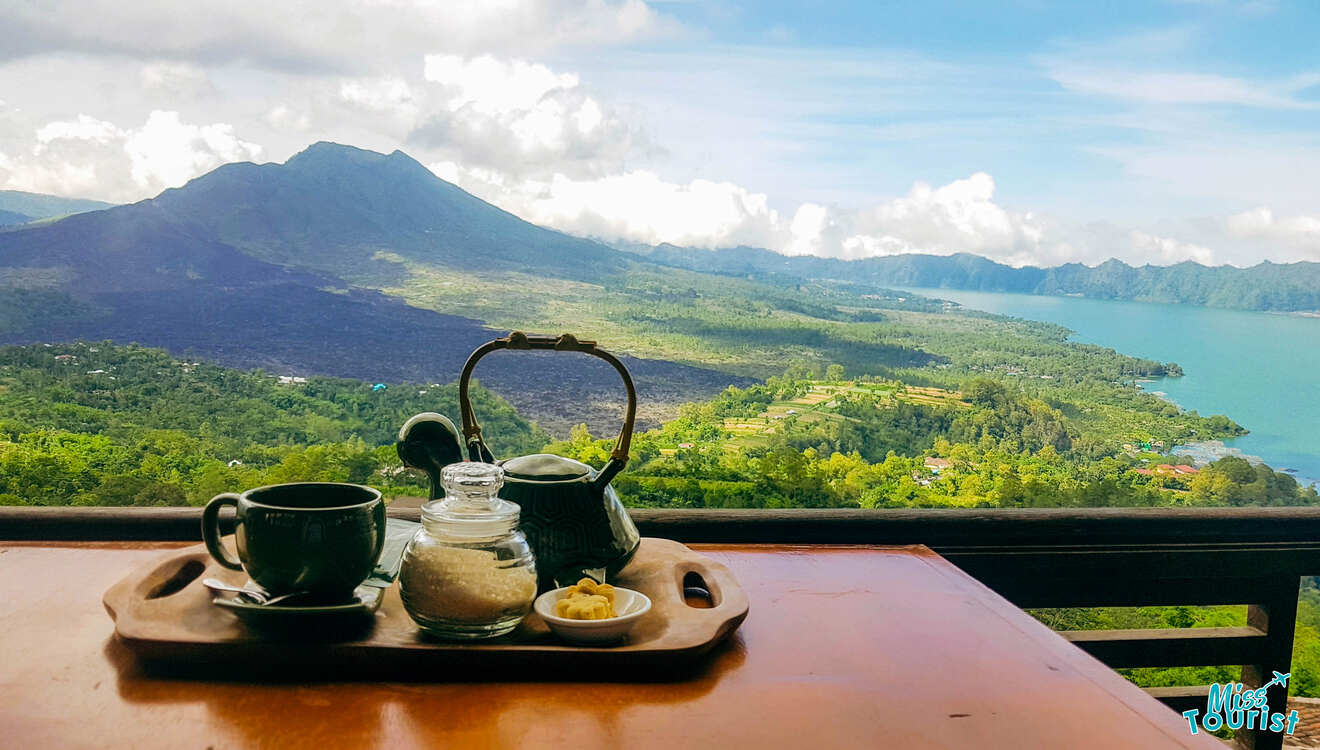 NOTE: most tours pick up their tourists at ~3 AM (depending on where you're staying) because if you want to see that sunrise, you need to be on the top of the volcano by about 5 – 5:30 AM.
The hike itself takes around 2 hours from start to finish, and it's not too difficult. Even novice hikers can make it up with no trouble at all!
Once you get up there, the view will be something straight out of a movie, I promise!
PRO TIP: Bali in general is hot, but it will be freeeeezing at 5 AM on the top of the mountain, so make sure to wear warm clothes for the hike!
I can highly recommend this tour – it is run by knowledgeable guides and it also includes a visit to a natural spring afterwards (a great way to treat yourself after a hike!). This particular tour also includes optional transportation and breakfast, so it ticks all the boxes.
Where to stay around Mt Batur: If you are staying overnight in the area, choose something with a view! Here are 3 great options, one for each price range: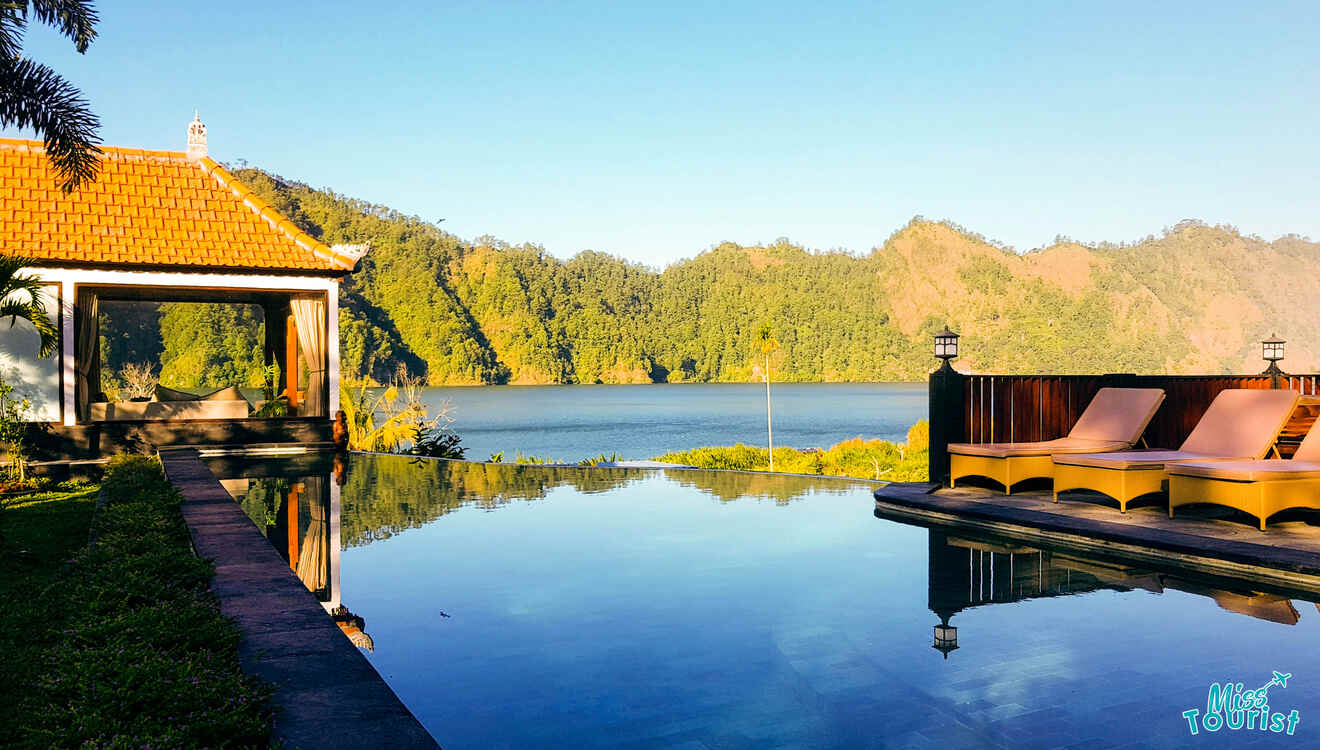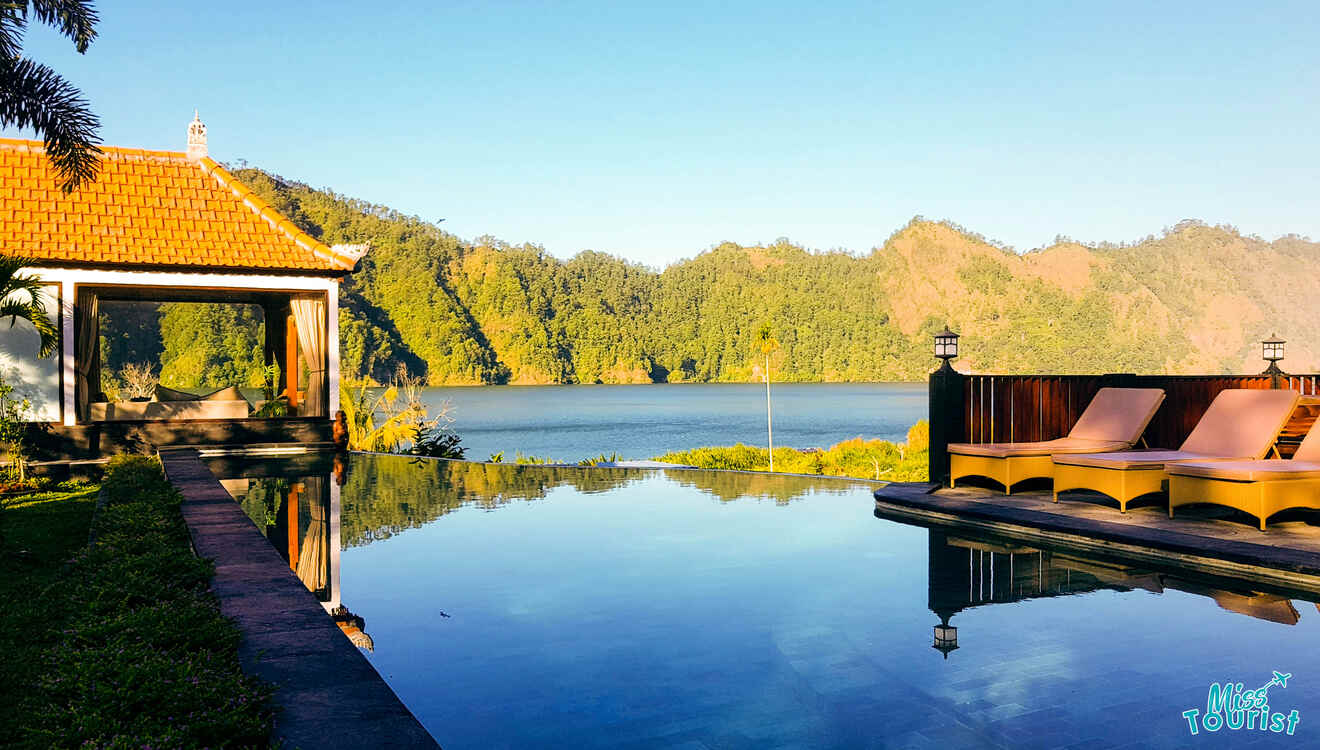 Ayodya Batur Villa – Looking for amazing views? This is the hotel to beat! Sat right into the rockface of a mountain with views of Mount Batur, expect comfy suites and private balconies. You can also rent bikes there!
Batur Panorama – It's all in the name! Batur Panorama has gorgeous, rustic rooms, stunning views, and free motorbike use! Enjoy the sunset viewpoint at their outdoor pool!
Black Lava Hostel & Lodge – It's affordable but it's everything you need for an awesome stay near Mount Batur. There's a hot spring on-site which is awesome, and you can choose between staying in a tent, glamping, traditional double or twin rooms, and even a cottage. The choice is yours!
Things to do around Mount Batur: if you have some time, stick around and discover other, lesser known things, such as:
PRICE: from US$39
2. Admire Tegallalang rice terraces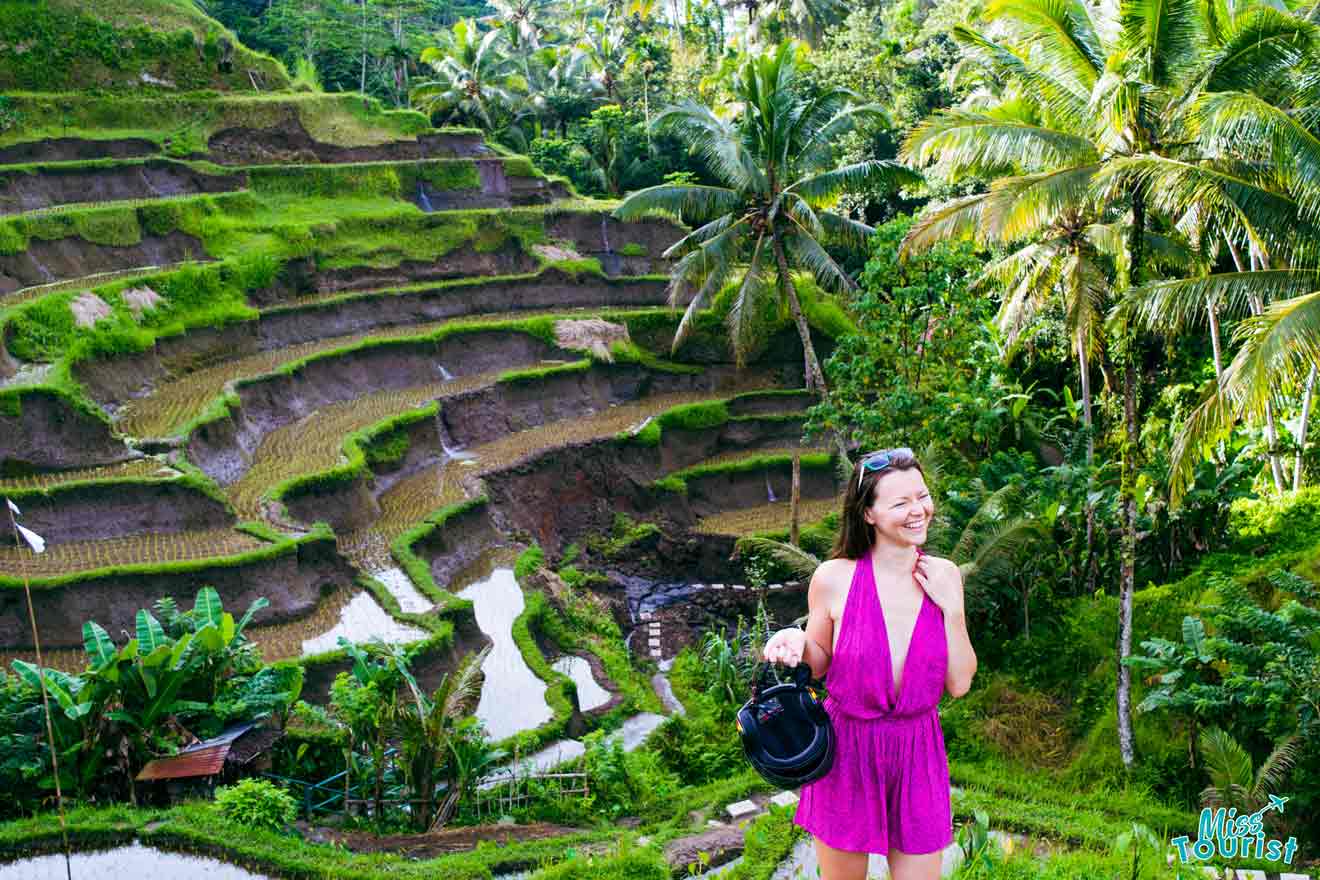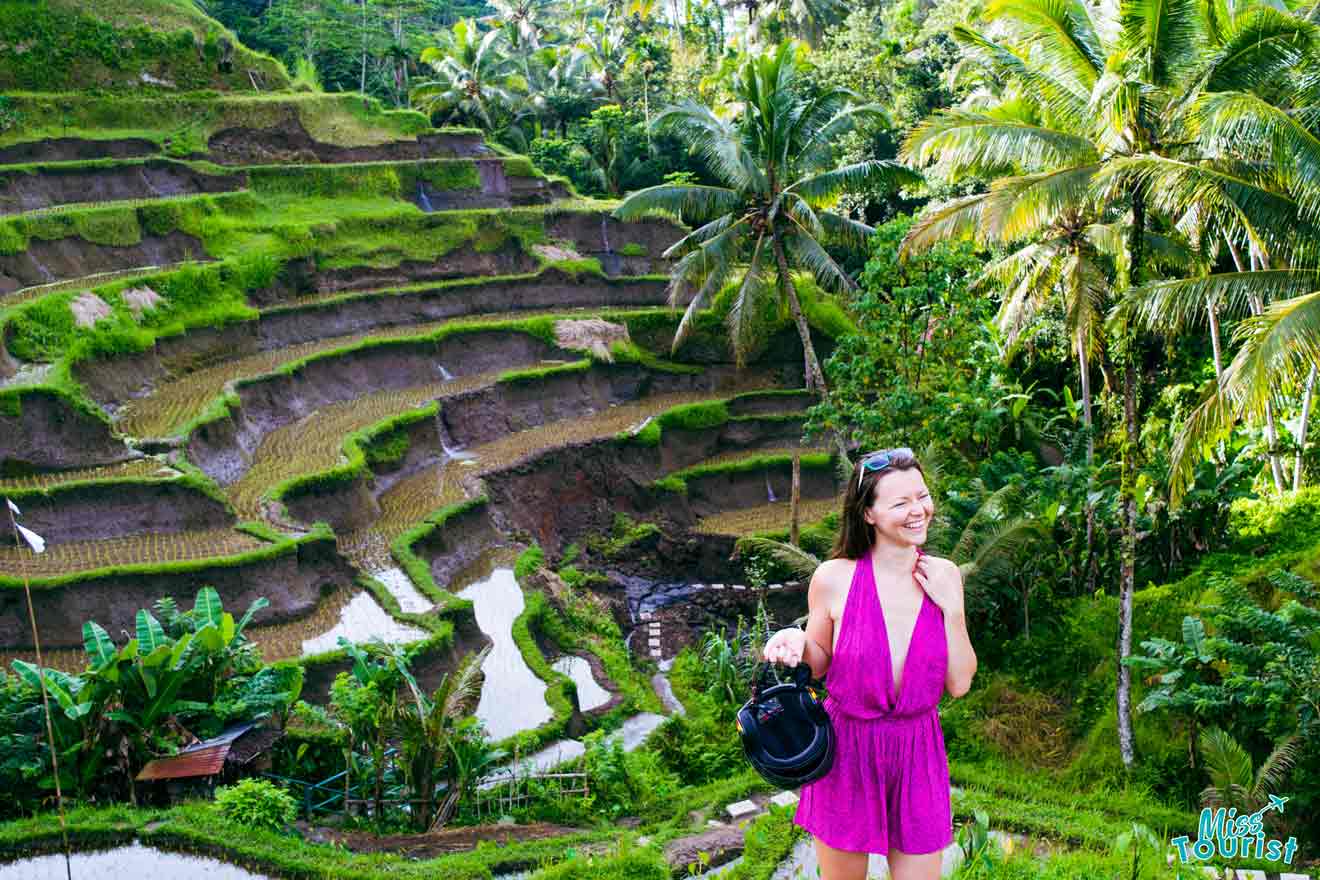 Whether you're looking for some spectacular scenery or an iconic selfie spot, Tegallalang is definitely the place to be! By the way, did you know it is also a UNESCO heritage site?
From cascading rice terraces to lush jungles, you'll find yourself snapping photos left, right and center imagining you are in an Eat, Pray, Love movie scene!
PRO TIP: Arrive early in the morning to take some epic pictures with no crowds!
Tegallalang rice terrace is a must-visit when in Ubud (it is maybe a 10-20 min drive from Ubud center). You can also easily arrange a tour of the terraces if you are staying somewhere further and don't want to deal with transportation yourself.
Other then just admiring the rice paddies, here are other things you can do while in Tegallalang: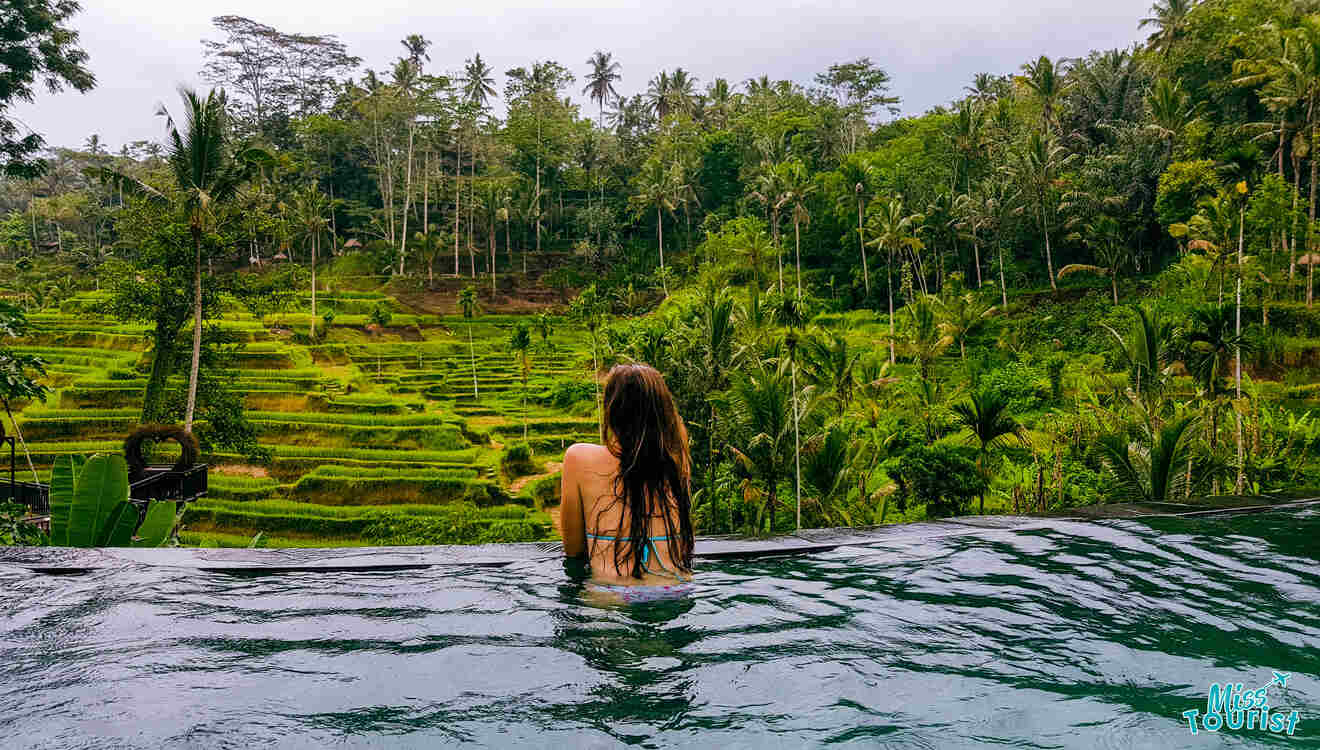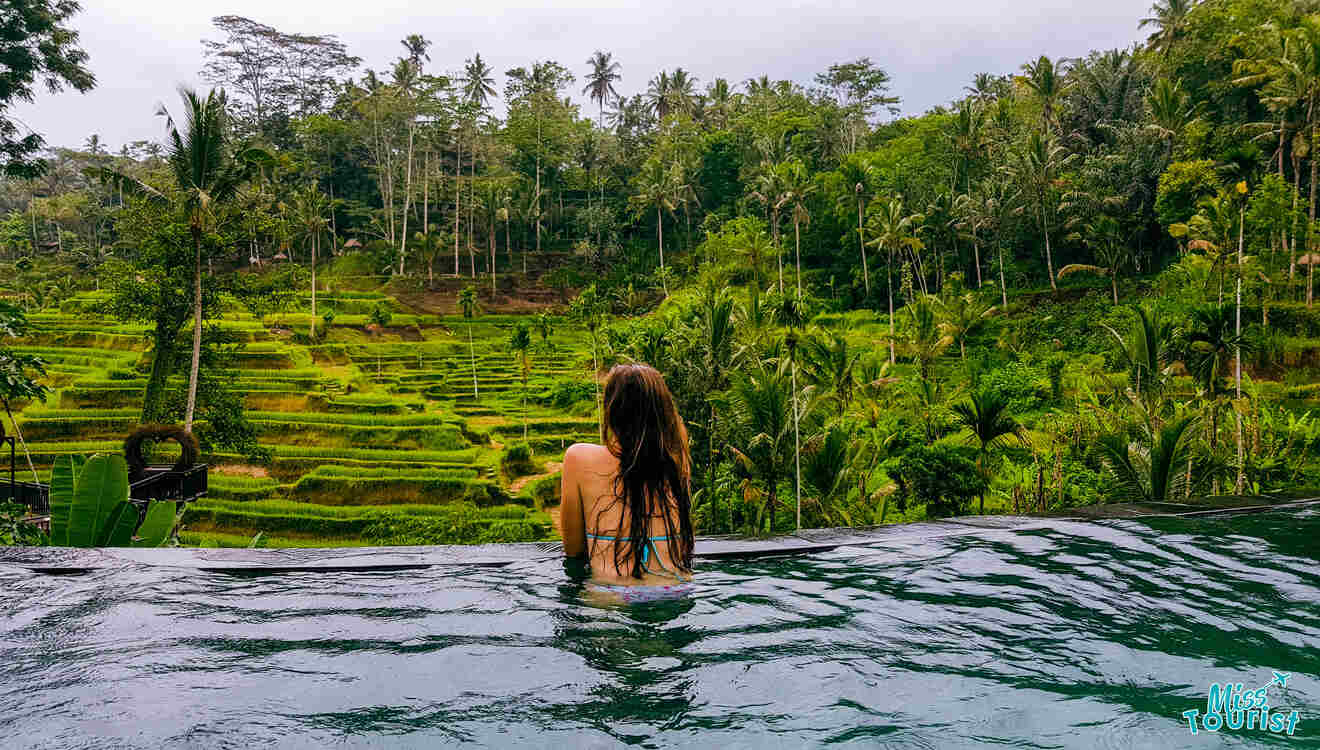 Snap a picture on a swing (there are many swings on the island, I will talk more about it in #12) – this one is the most epic one in my opinion! PRO TIP: the most beautiful pics are with a long dress. If you did not bring one, you can either use a silk scarf for it or you can rent one right there.
Adventure OVER a rice fields on a bicycle – How? There is a special string and the bicycle glides along it! PRO TIP: Do not wear long dresses on that ride, or make sure you tuck it in so it doesn't hang! My dress got stuck in the wheel in the middle of the ride (we were hanging in the air over the rice field) and it was quite terrifying until I managed to release it.
Relax in an infinity pool with the view of the rice fields – There are many cafes around Tagallanag area, but imho the best one is definitely Tis Cafe. It has 2 cascading infinity pools with absolutely an epic view to the rice fields!
Where to stay around Tegallalang: here are some great accommodation options in Tegallalang if you are staying overnight: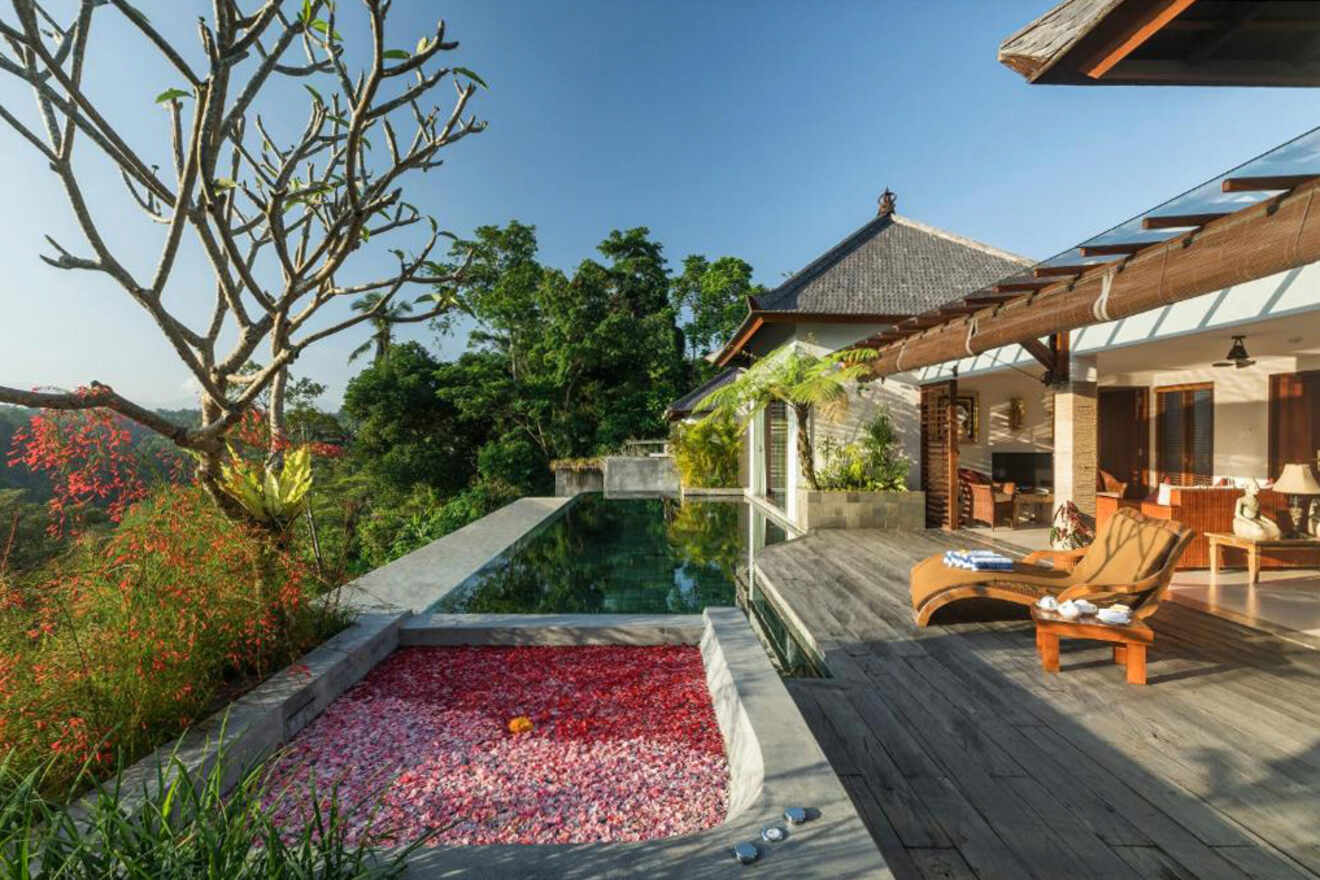 Aksari Resort Ubud – If you like a pool in the middle of nature, you'll love this luxury resort. Complete with a fitness center and a gorgeous terrace to admire your surroundings, you'll have the perfect place to unwind after your rice field adventures!
Pedukuhan Nawa Sakti Resort – Prefer your trips to be planned for you? This resort has a tour desk just for you! The location is super quiet and you can rent bikes to explore the area.
Om Ham Retreat & Resort – Budget-friendly accommodation for the win! But you won't know this is budget, the rooms are beautifully furnished and you can enjoy the stunning views on the terrace. You're also just a 15-minute drive from the Monkey Forest!
PRICE: free
3. Witness Kecak Kecak dance in Uluwatu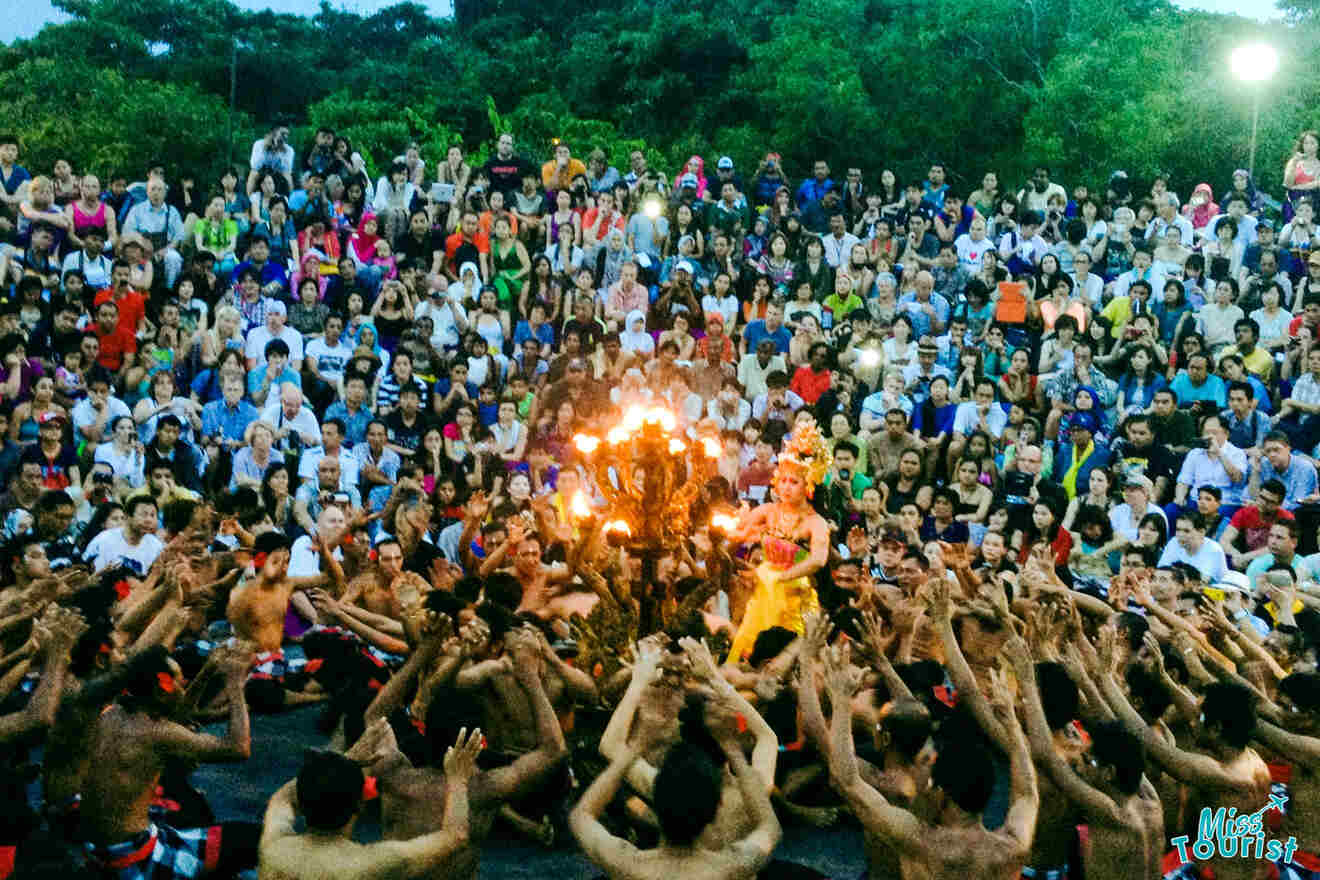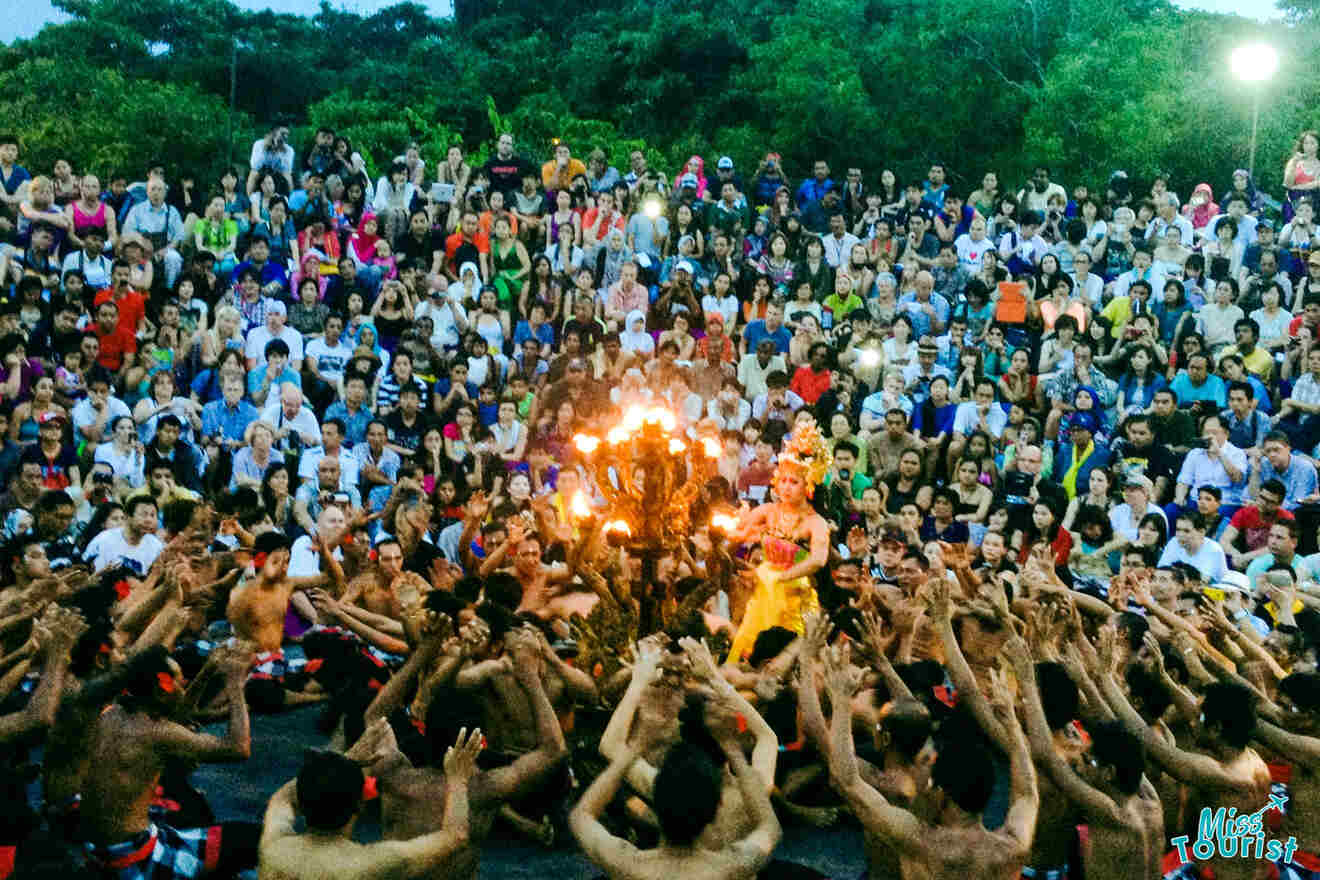 Although Uluwatu is best known for its gorgeous beaches and incredible views, you can't miss out on the incredible culture you can experience in the area! Leave Uluwatu Beach behind and get up close and personal with the locals!
This unique dance is performed by a group of men who sit in a circle and chant "kecak kecak" while moving their hands and arms in unison. The dance tells the story of the Ramayana, an ancient Hindu epic, and is accompanied by traditional Balinese music.
Best part of all? There's no music! All the music is created by the dancers in acapella.
The performance takes place every evening in Uluwatu Temple on a cliff, as the sun sets over the Indian Ocean. With 50-70 men chanting at the same time, it is a truly captivating experience that you should not miss!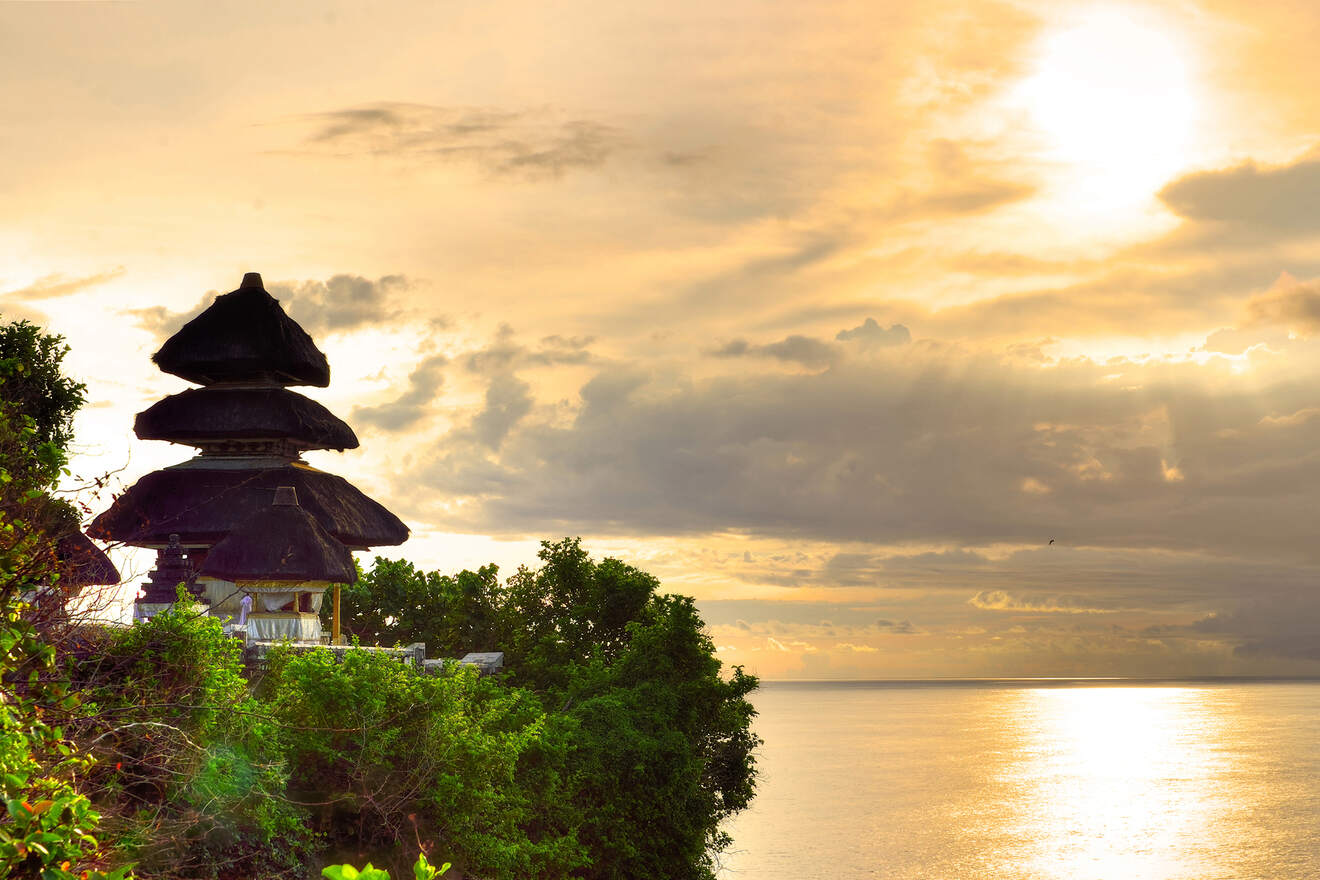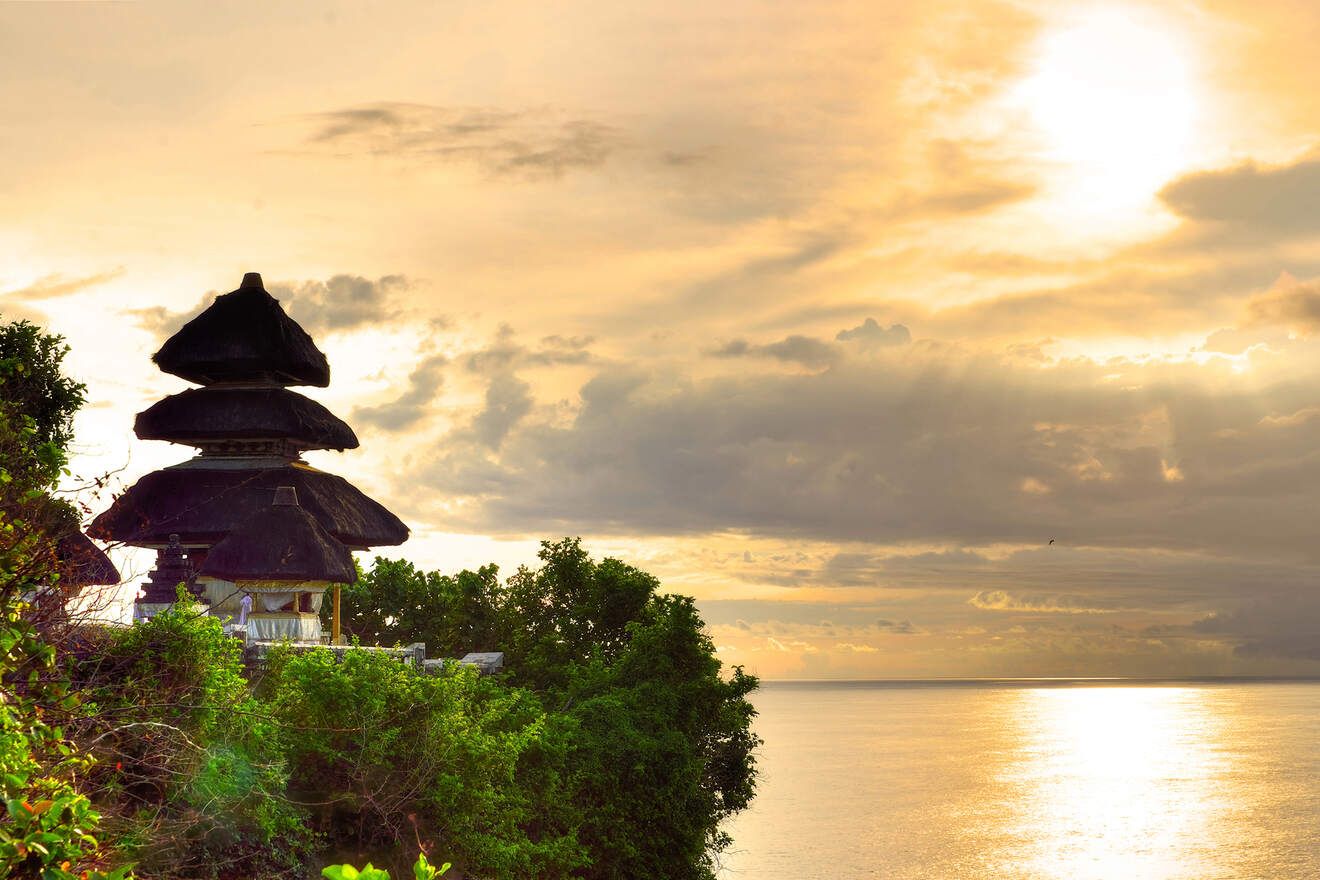 Tickets can be bought at the entrance and they are relatively cheap, so you can have an amazing time without breaking the bank. If you don't want to deal with transportation to the place, here is a great tour that I recommend taking.
The performance usually runs from 6:00 PM to 7:00 PM, so be sure to get there early for a good spot!
PRO TIP 1: Watch your belongings and don't maintain eye contact with monkeys, I know a lot of people whose glasses were stolen by them!
PRO TIP 2: If you have more time, a dinner in Jimbaran (#18 in my list of things to do here) is just around the corner from here
Where to stay in Uluwatu: we actually have a whole post on where to stay in Uluwatu, but here are the main 3 recs: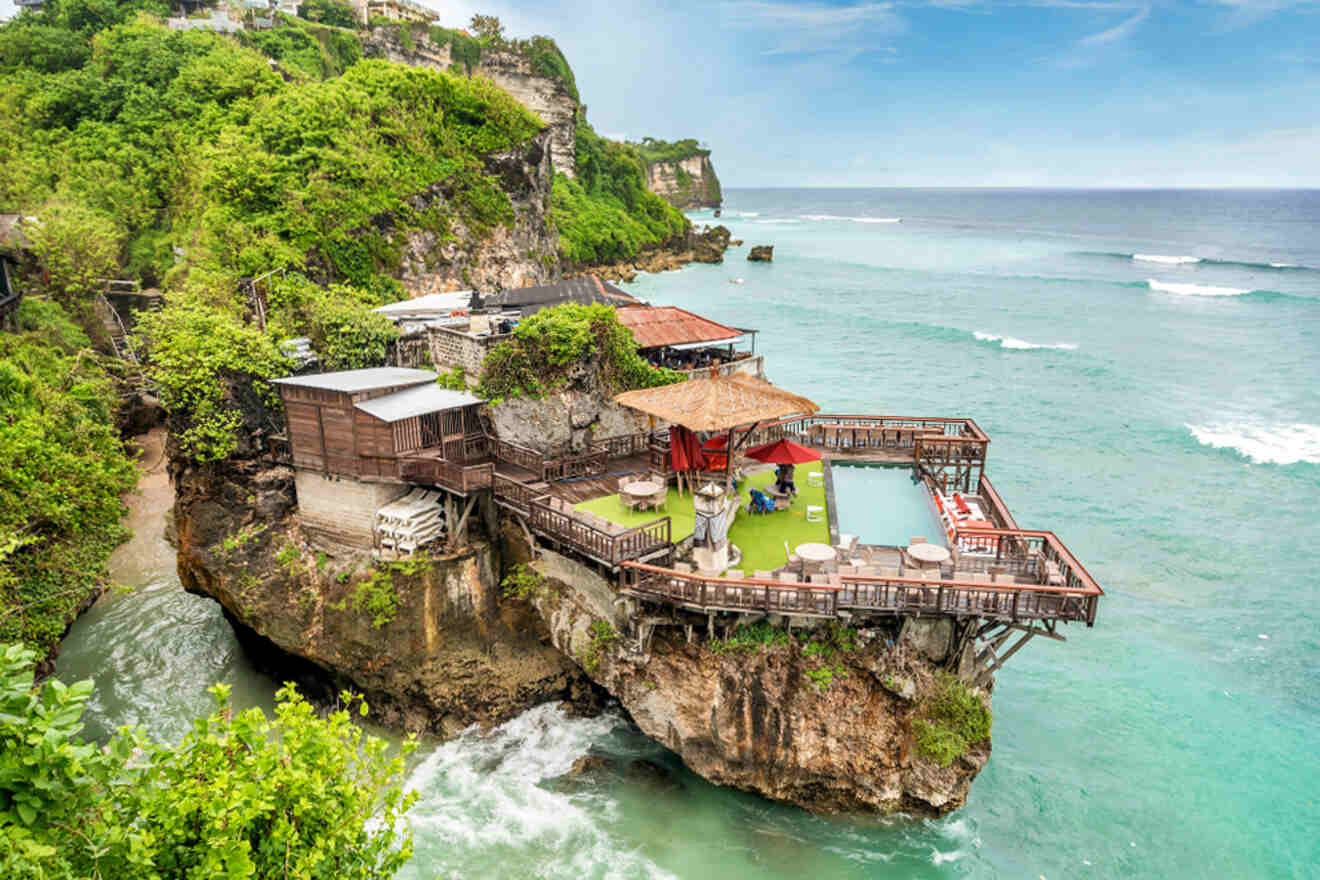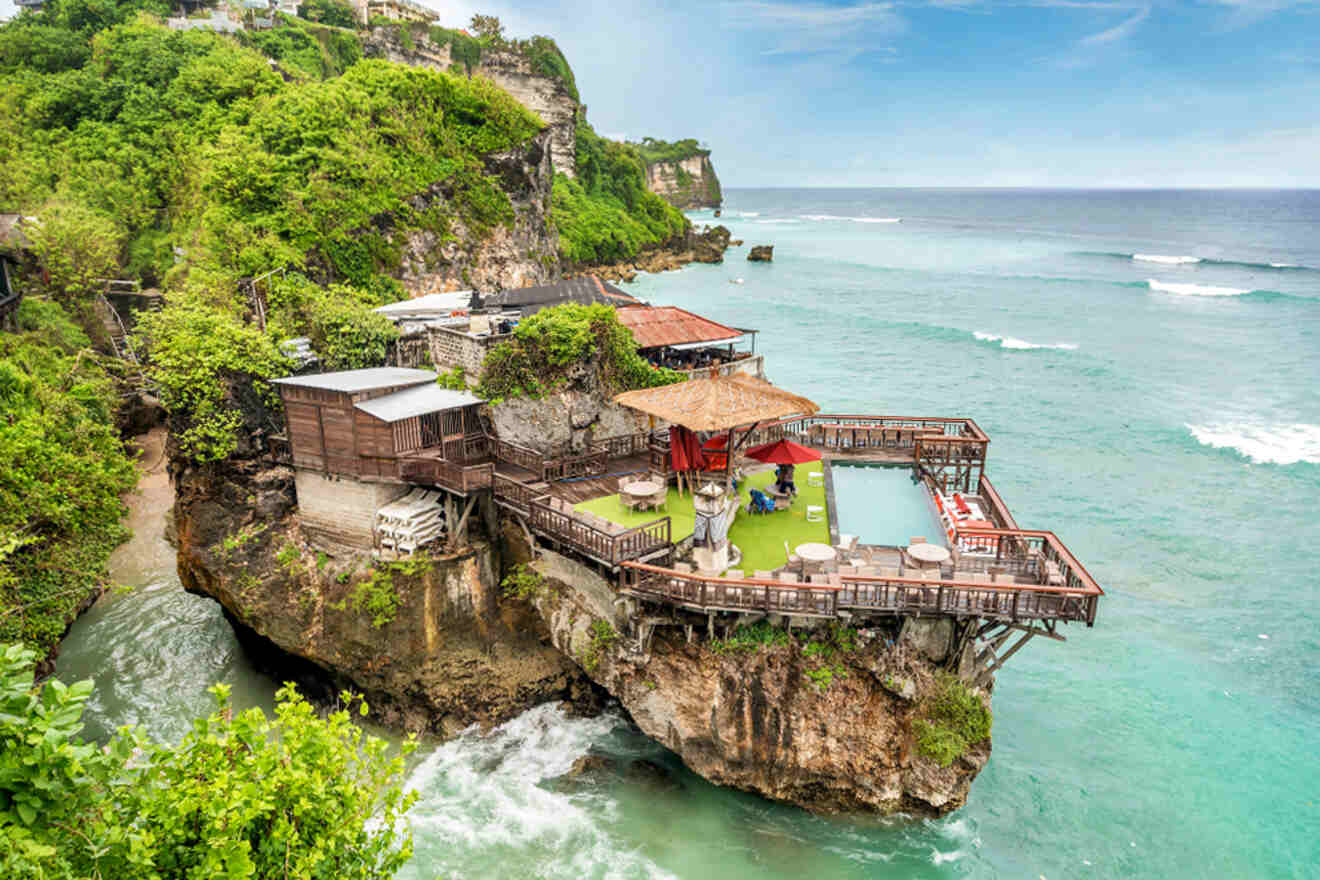 Anantara Uluwatu Bali Resort – Fancy a spa hotel right on the seafront? Yesss please! You can enjoy daily treatments in the spa, free shuttle to the beach, Japanese fusion cuisine, and views that I guarantee are almost impossible to beat!
Incense Impossible Beach – Affordable luxury much?! This place is the PERFECT quiet retreat, and you'll be surrounded by nature to help you reconnect with yourself and spend time with Mother Earth. Plus, helpful staff and boho-style rooms for an epic stay!
Alamanda Bingin – Just a few steps from Dreamland Beach and just down the coast from Balangan Beach, this wallet-friendly accommodation is an excellent choice for those who need all the basics in a beautiful, quiet location, and bike rentals to explore the surrounding area!
PRICE: 50K IDR if you buy tickets at the entrance (~US$3-4), about US$9 here (no hassle), from US$36 with transportation and the tour
4. Take a yoga class in Ubud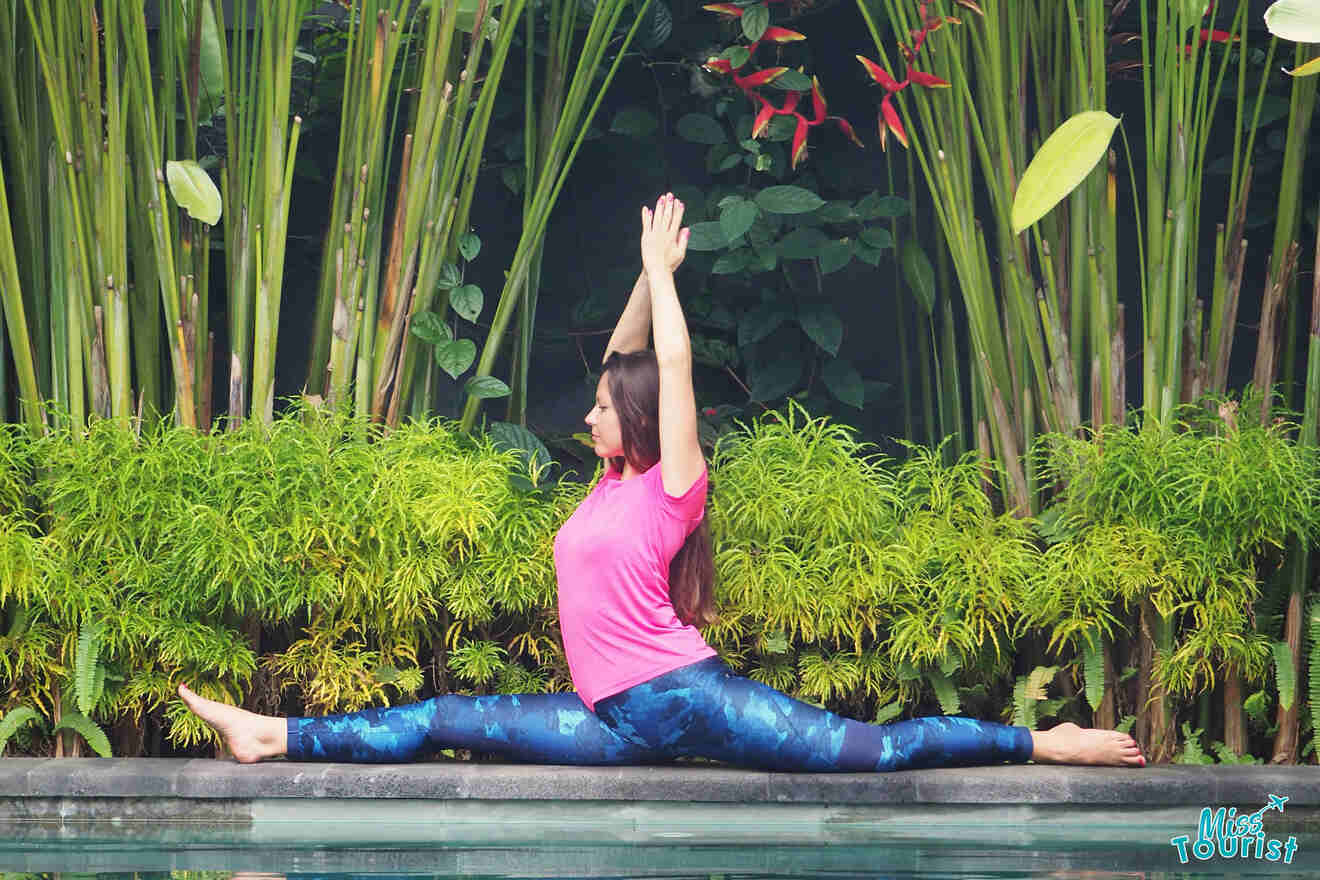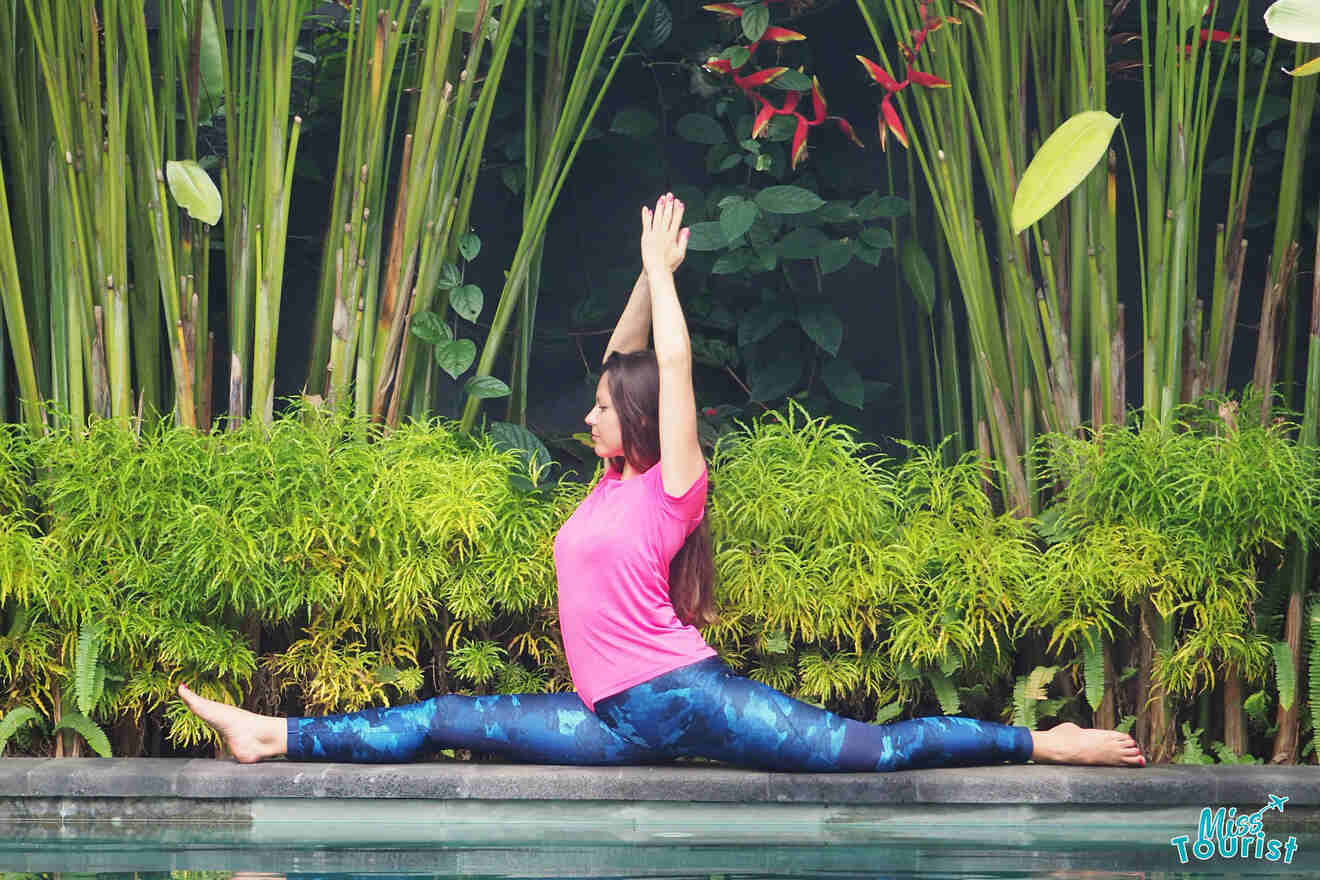 Are you looking for the ultimate yoga experience in the world? Ubud is the perfect place to enjoy yoga – it can be a multiple day yoga retreat or just an hour yoga lesson, whatever you fancy!
The Yoga Barn is Ubud's biggest studio out there, and it offers classes for everyone, from beginners to experts. Choose from a wide range of styles, from traditional asana classes to meditation, massage treatments, healing programs, and rituals. They also have a nice restaurant on-site if you are interested.
With over 20 different classes each day, you're sure to find something new every time!
If you want to try something other than the most known Yoga Barn, here are a few other places that I love:
If you are interested in doing a yoga retreat, I did a Panchakarma retreat by OneWorld Ayurveda that I enjoyed SO much. Alternatively, you can choose what's available for your dates on this site. 
Where to stay in Ubud: Ubud is where I spend most of my time in Bali and I have a whole post on the best places to stay there, otherwise here is a short list: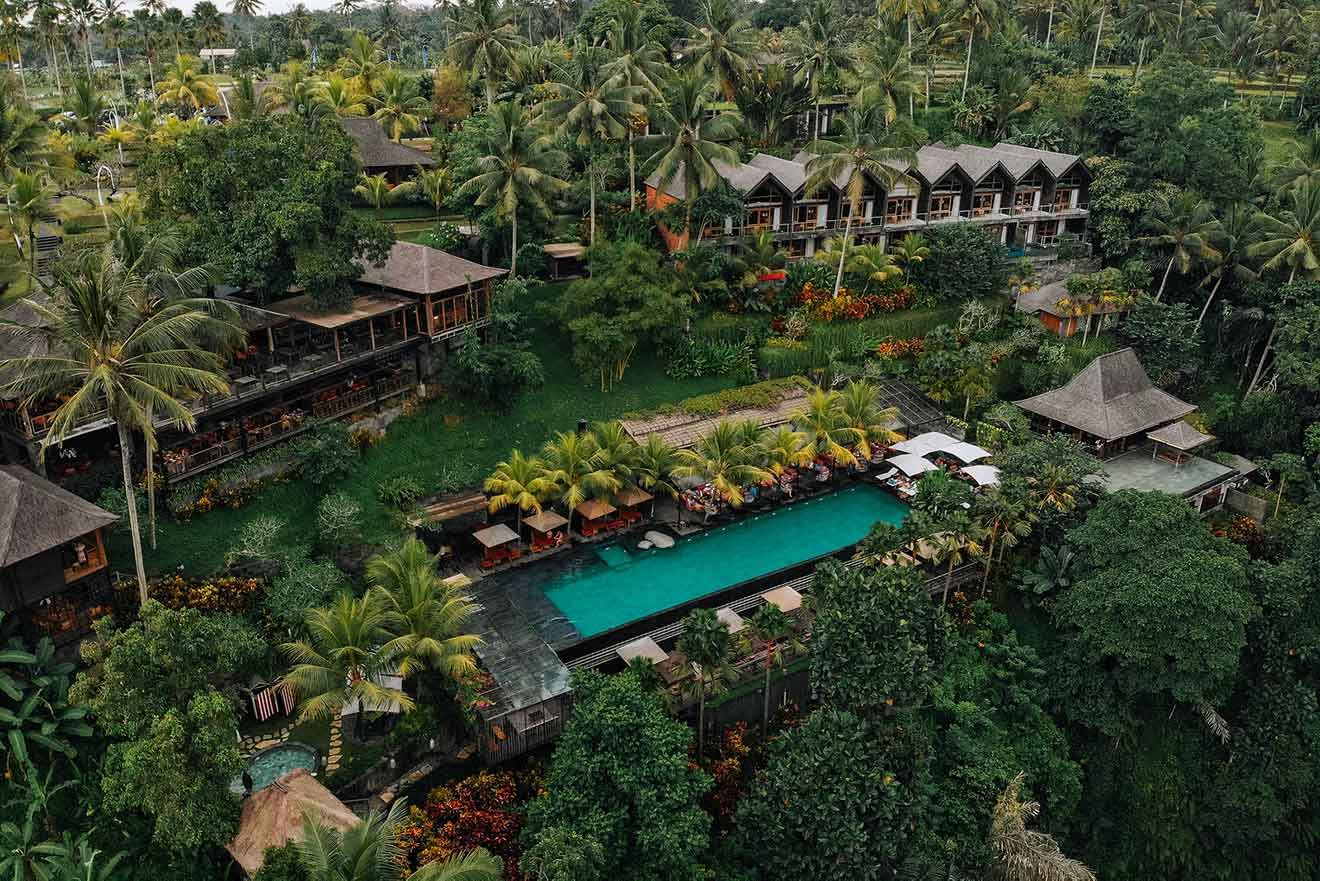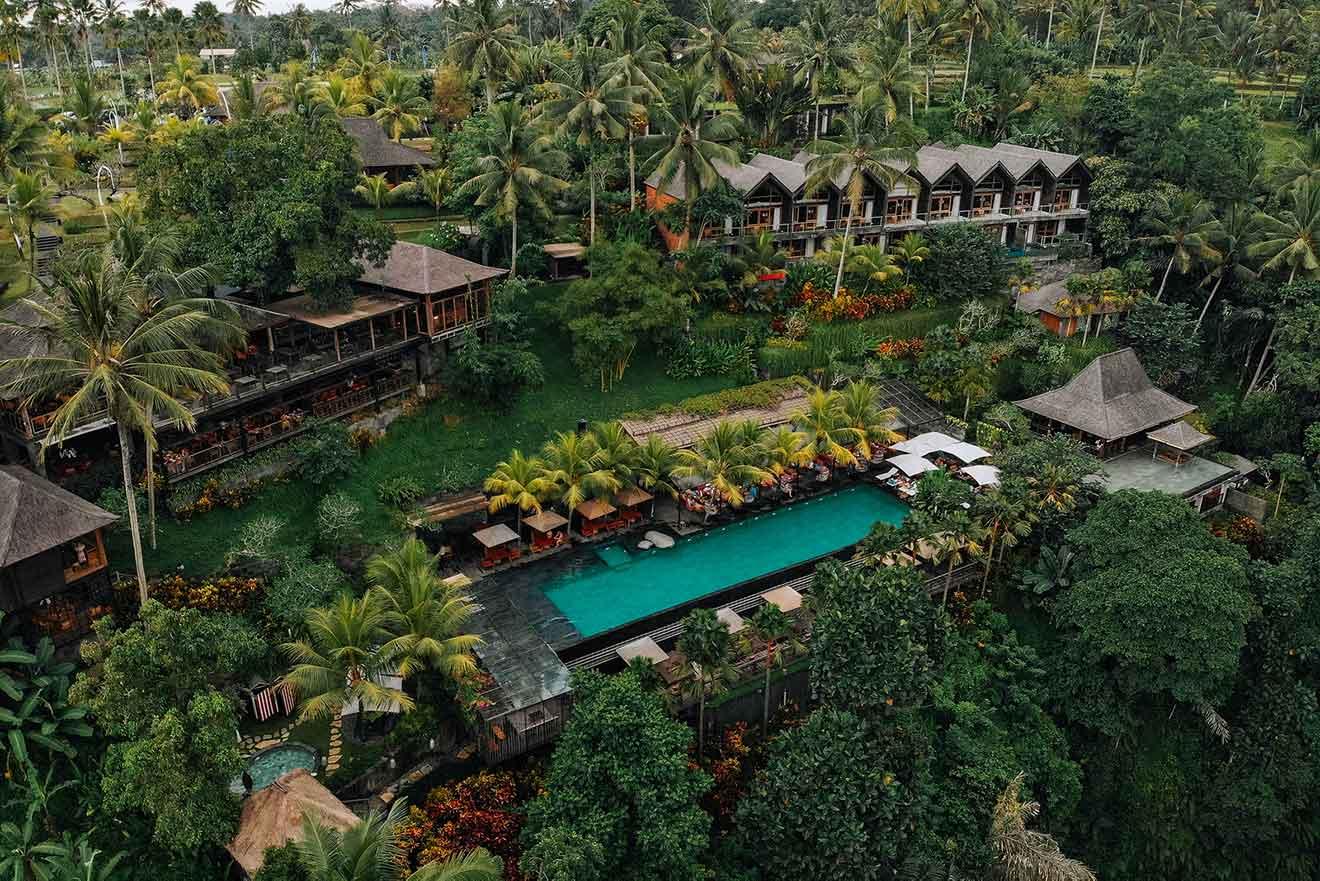 The Sebali Resort – This place looks like it's straight out of a movie! Trust me, you won't be disappointed; with the ultimate spa treatments, a free shuttle into town, STUNNING surroundings, and staff there at your beck and call, you'll definitely feel like a royal!
Kuwarasan A Pramana Experience – Oooh, I hear a honeymoon calling! A great place for couples to spend time together, this hotel is quaint, traditional, and suuuper romantic. But fret not! It's still pretty luxurious – for an excellent price!
Villa Kayu Lama – If you'd like to stay right in the heart of Ubud's rice fields, this one's for you. It's super private, cozy, and even has a comfy 4 poster bed for the ultimate vacay. Plus, if you're traveling with the kids, they offer babysitting services!
PRICE: around US$10 for a drop-in lesson (depending on the studio)
5. Explore the numerous temples on the island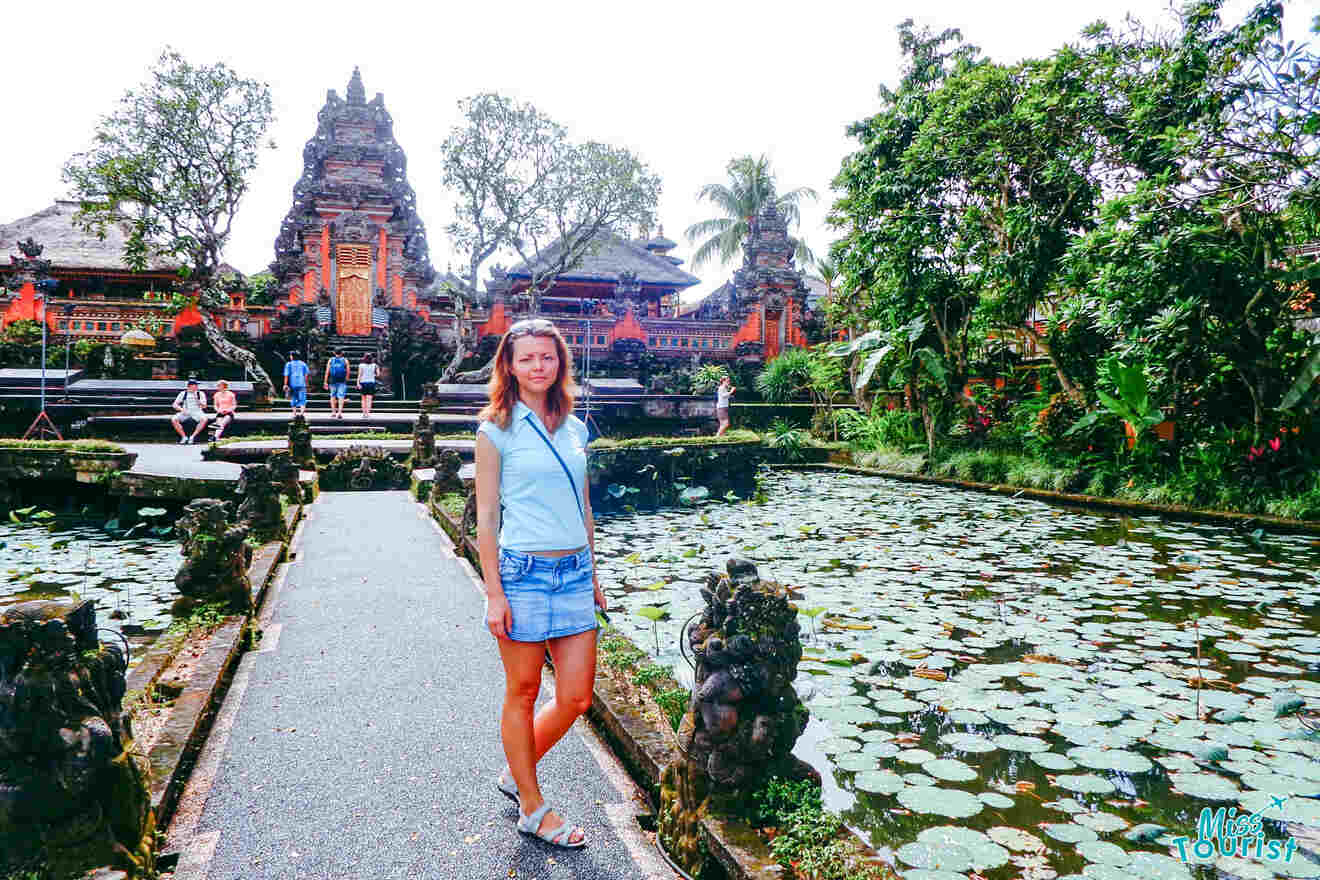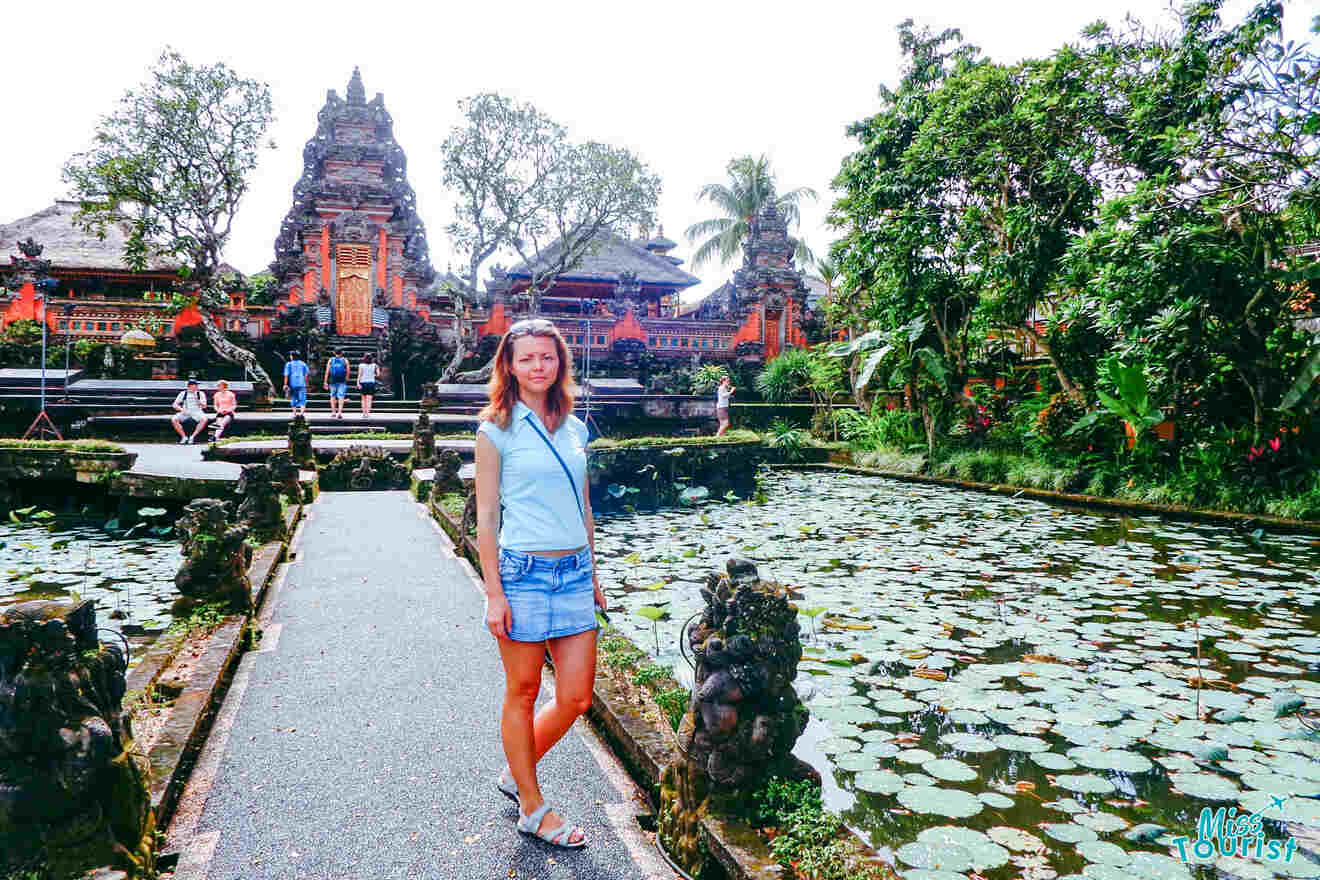 Visiting temples in Bali is a great way to experience the island's rich cultural heritage and learn about local customs and traditions. The temples are beautiful and sacred places that offer a unique insight into the spiritual beliefs of the Balinese people.
Please note, it's a good idea to take a sarong with you since it's required in most temples.
Here are the most known ones:
Ulun Danu Beratan Temple – located in the Beratan Lake, this magnificent temple is dedicated to the goddess of lakes and rivers. You can take a boat ride on the lake, or even trek up to its entrance. When there, you can take a speed boat that will take you around the temple in 10 mins. 
Then make your way to the Mother Temple of Besakih, perched on the side of a mountain and one of the largest temples in Bali. PRO TIP: if you don't have a sarong, you don't need to urgently buy it from the street sellers, it will be provided with your ticket. 
Wander around the garden and moat of Taman Ayun Temple and marvel at its beautiful architecture and the gorgeous garden behind the temple too! And don't forget to capture some amazing photos of this beautiful UNESCO World heritage Site! 
Tanah Lot Temple. Located conveniently close to Canggu, this famous temple is perched atop a large rock and is one of the most important directional temples in Bali. As you wander around its grounds, you'll be in awe of its beauty and grandeur.
PRICE: anywhere from US$5 to US$10 donations depending on the temple
6. Dance the night away in Kuta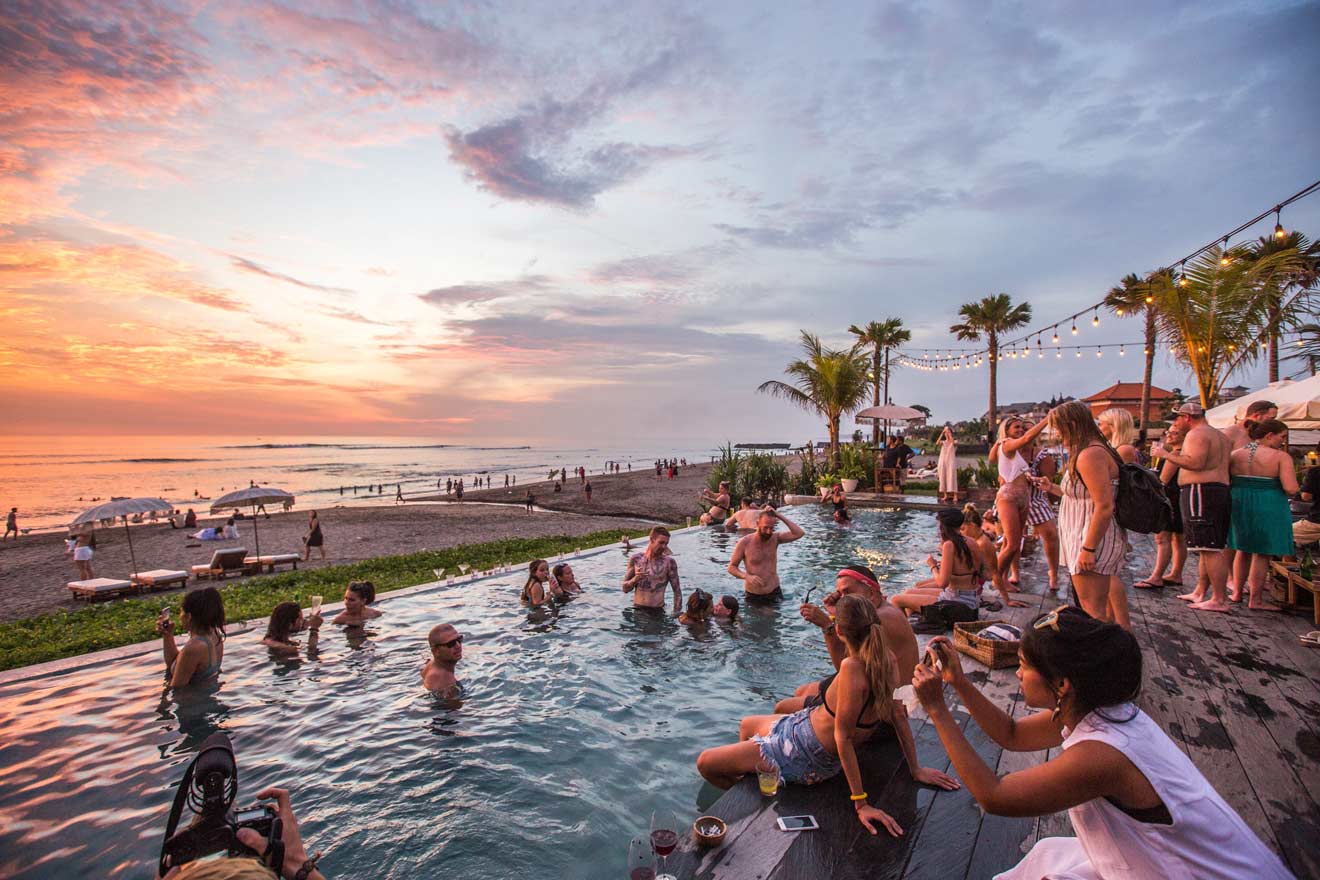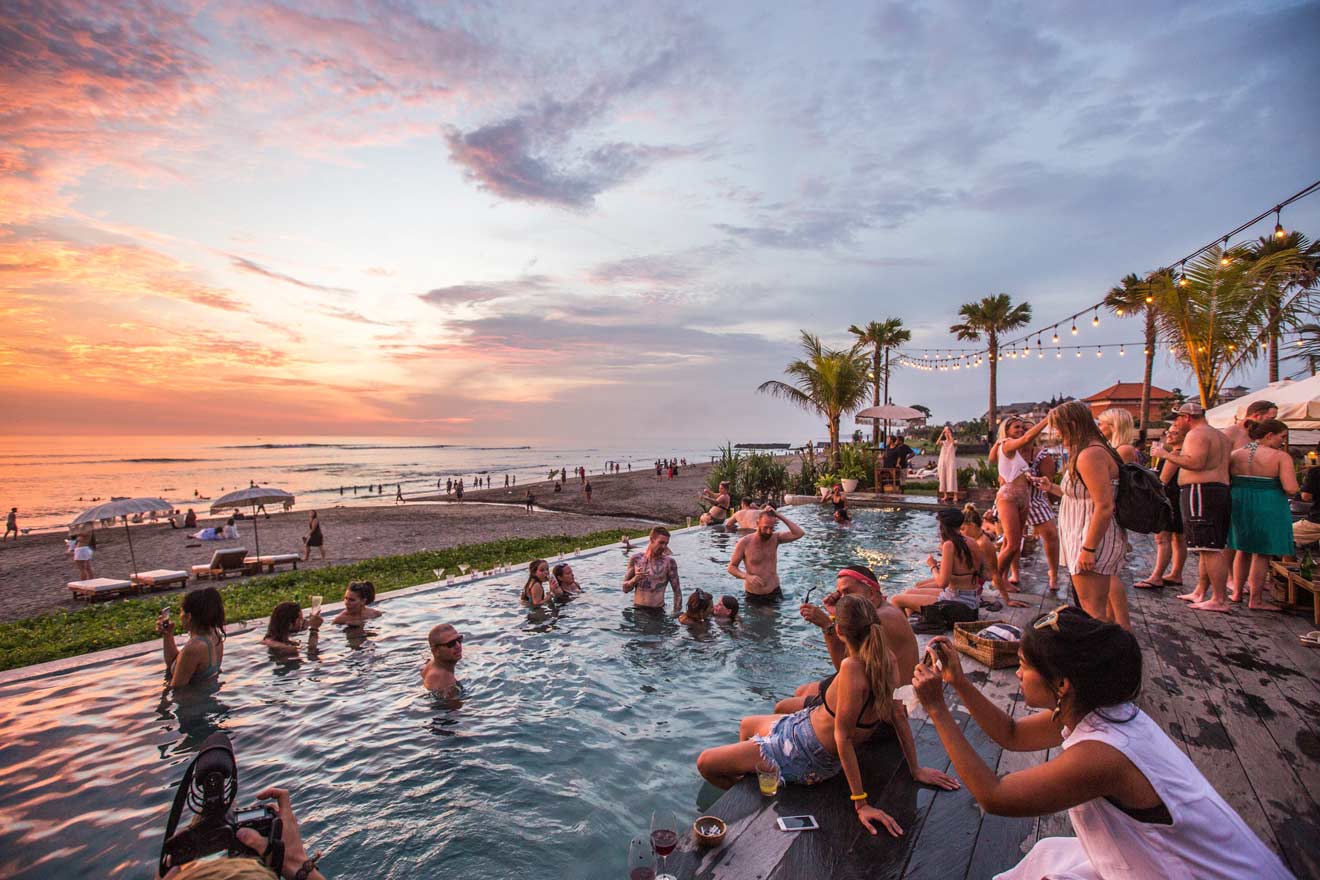 You've been looking for the ultimate party destination, and you've found it!
Kuta is a vibrant area and is home to some of the most legendary nightclubs, beach bars and beach clubs in the world. If you're looking for a wild night out, then Kuta is the place to be.
From sophisticated fancier venues like Ku De Ta and LXXY Bali, to more relaxed spots like Potato Head Beach Club and SkyGarden – there are plenty of options to choose from.
But that's not all – with international DJs spinning beats all night long at Finns and Como Beach Clubs (note that this one is technically not in Kuta, but in Canggu which is about 20 mins away), you can be sure that your night will be an unforgettable one!
Where to stay in Kuta: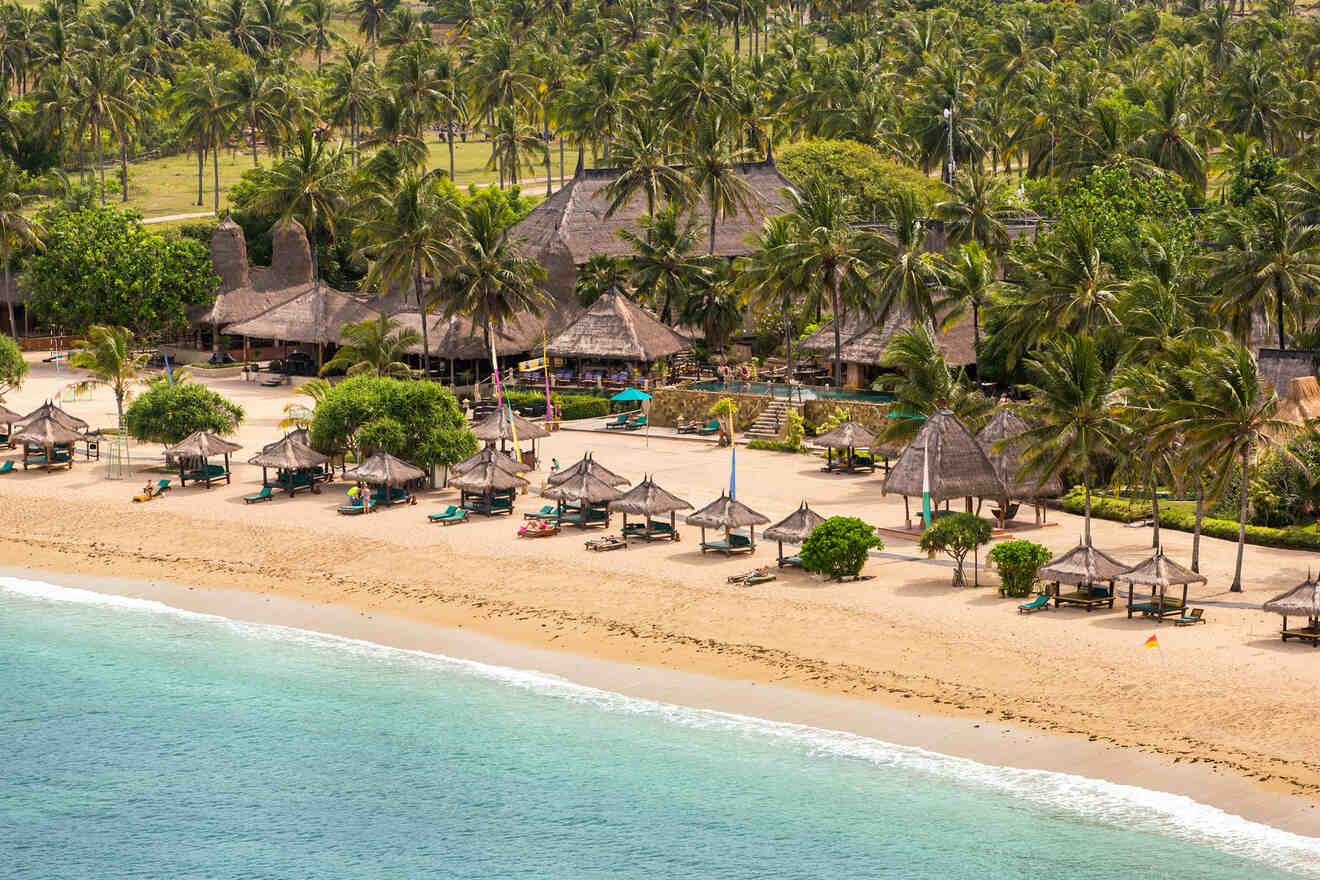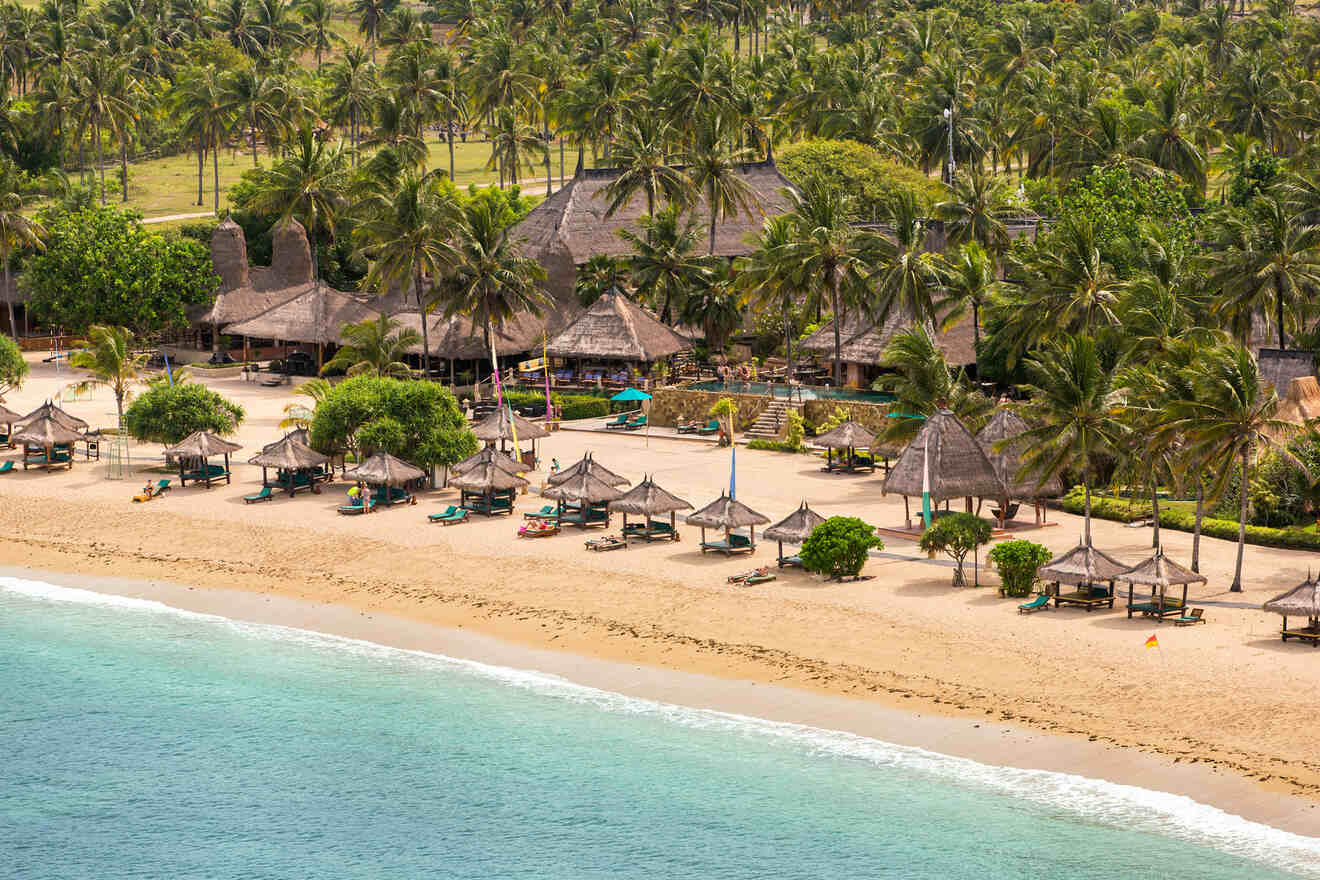 Amnaya Resort Kuta – If you're a bookworm, this resort has a library! People absolutely RAVE about the breakfast here, so after a wild night out on the town, this is the hangover cure you needed! The rooms are also super private and you'll get a lovely terrace!
The Vira Bali Boutique Hotel & Suite – If you're a jetsetter, Vira Bali has an airport shuttle just for you. You'll love the pool, full-service spa with Balinese massage, and the tour desk dedicated to making your trip as smooth as possible.
Aloft Bali Kuta at Beachwalk – This affordable hotel has everything you need for a lovely vacay! Complete with international breakfast options, airport shuttle service, full-service bar, and bike rental, you'll hardly know your wallet has been touched!
7. Try the famous Luwak coffee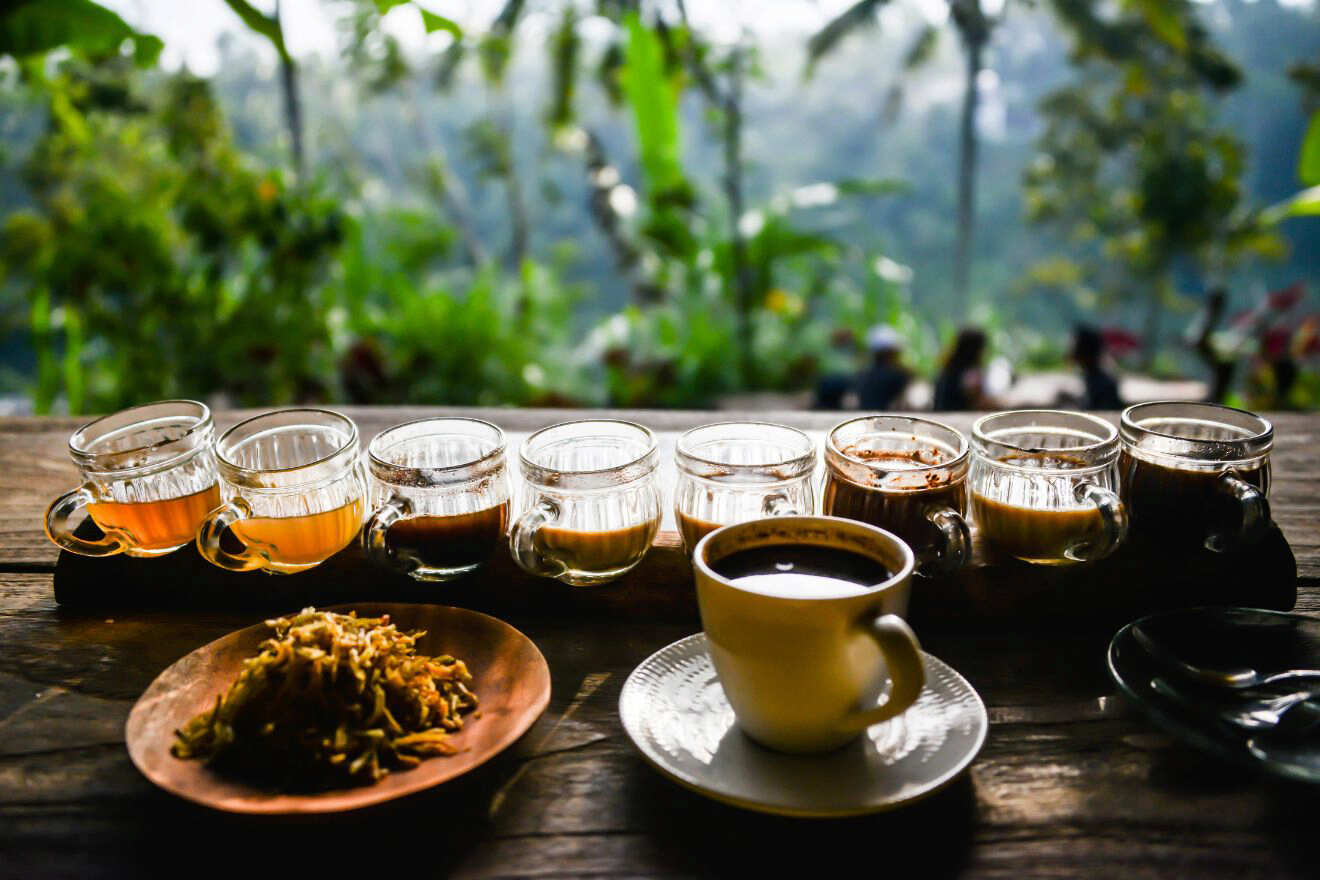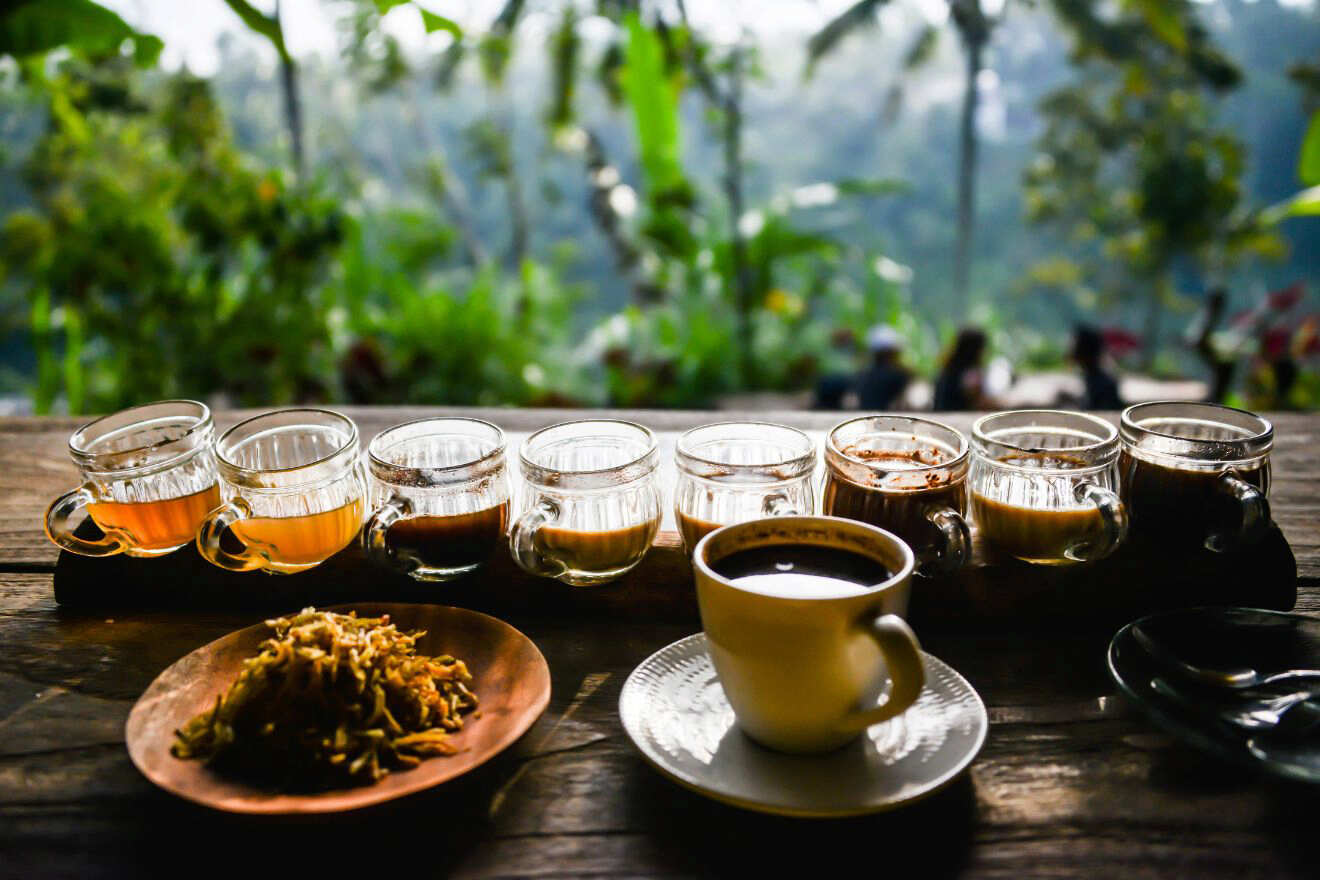 So, what is this coffee and why is it the most expensive coffee in the world??
Well, Kopi Luwak is an Indonesian coffee that is made from partially digested coffee beans eaten and well…defecated by a civet.
Yes, you read that right! It's basically called a "cat poop coffee"! But despite its unappetizing name, it's actually the most expensive coffee in the world and people usually like it. Honestly, I am no expert in coffee, so I can't vouch for its quality, but if you are, I guess it is worth a try, right? Here is a good place to try it for the first time.
On your trip to Bali, you can find out firsthand how this unique beverage is made. Visit one of Bali's coffee farms and learn about the production process of Kopi Luwak. This also can be a great souvenir to bring back home!
PRICE: from US$15 per cup
8. Become a surfing pro!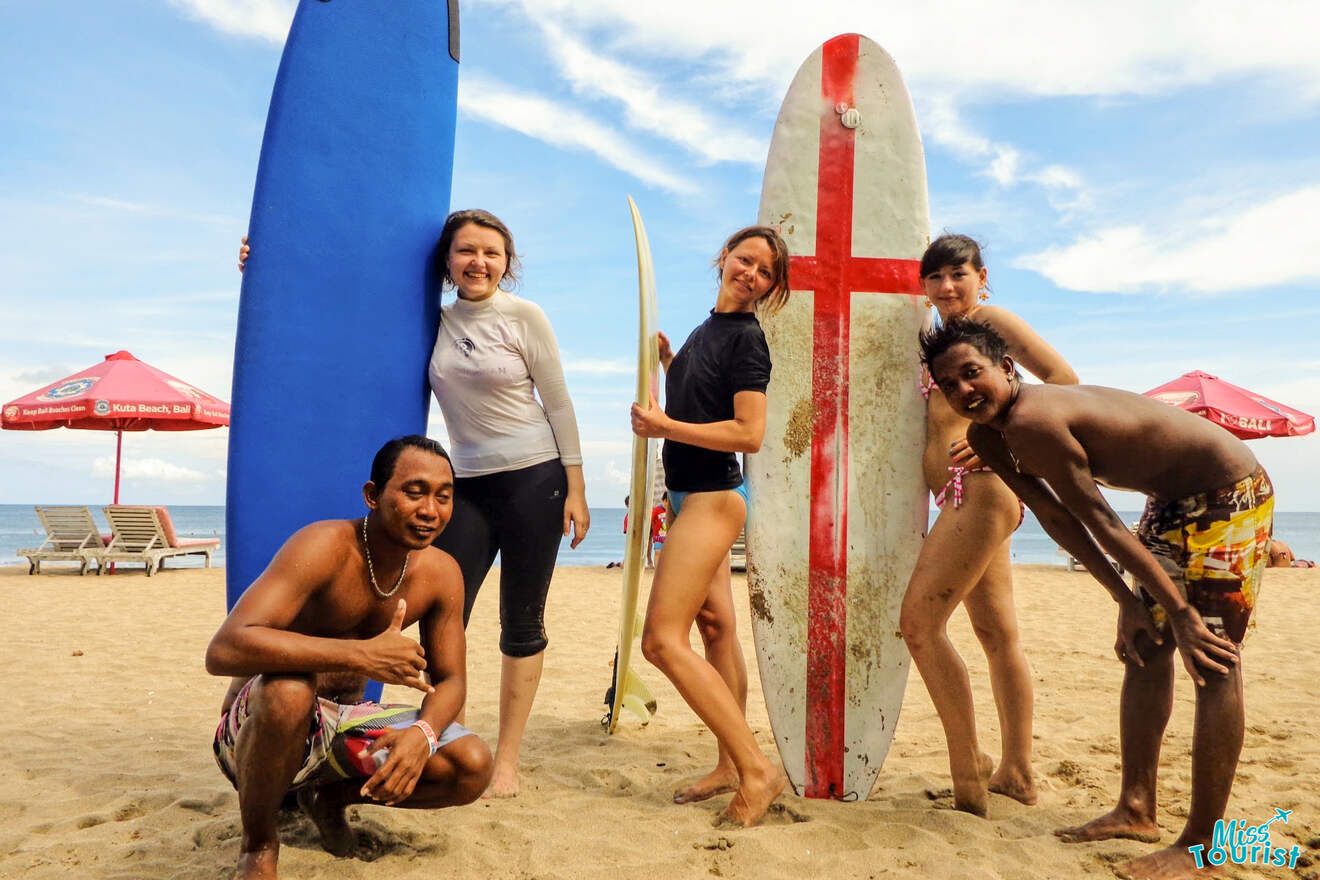 Bali has some of the best surf spots in the world – whether you're a novice or a pro, there are waves for everyone!
Canggu is one of the best places to learn surfing in Bali. Here you'll find lots of information about surfing, and all the beaches are very accessible.
The South West Coast of Bali is also a great place to start – Kuta Beach and Legian all offer great waves for beginners. I myself started in Kuta and it went quite well I would say!
If you're more of an intermediate level surfer, then head to Canggu. I know that a lot of beginners start there too, but it's not super easy, you've been warned!
Uluwatu is an absolute gem, and even experienced surfers will find something to challenge them there!
You can take just one lesson or a package, it's up to you. I took 3 lessons each time and was happy with my progress. There are a lot of teachers and small schools that will offer their services right on the beach, but I would recommend going with known reputed schools like this one.
A good teacher with good surf (and language!) skills will be able to teach you how to ride a wave in just a day!
If you are interested in a surf camp, look for the right one on this site, you can sort by dates, reviews etc.
PRICE: from US$10 per lesson
9. Go diving and explore Bali's underwater world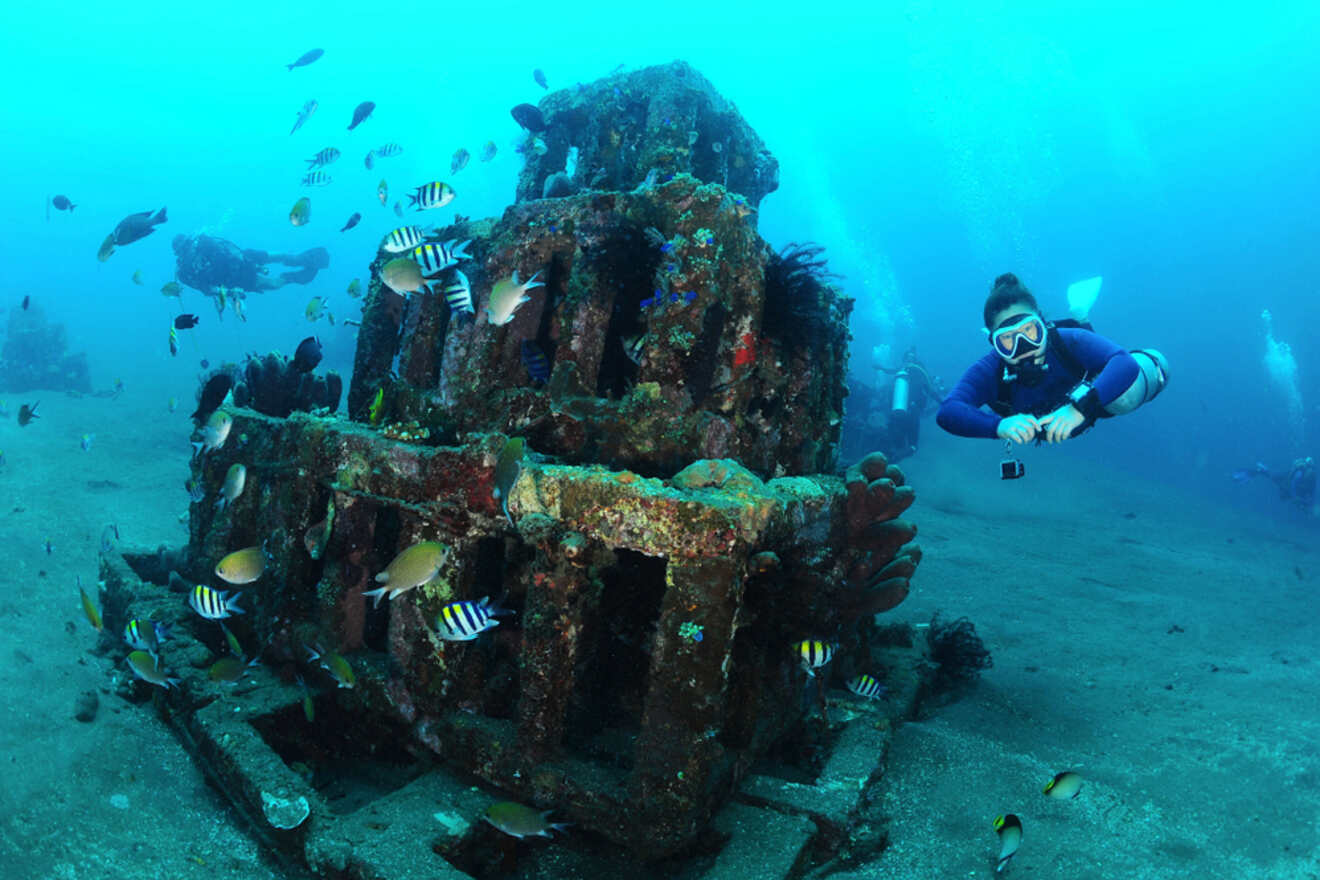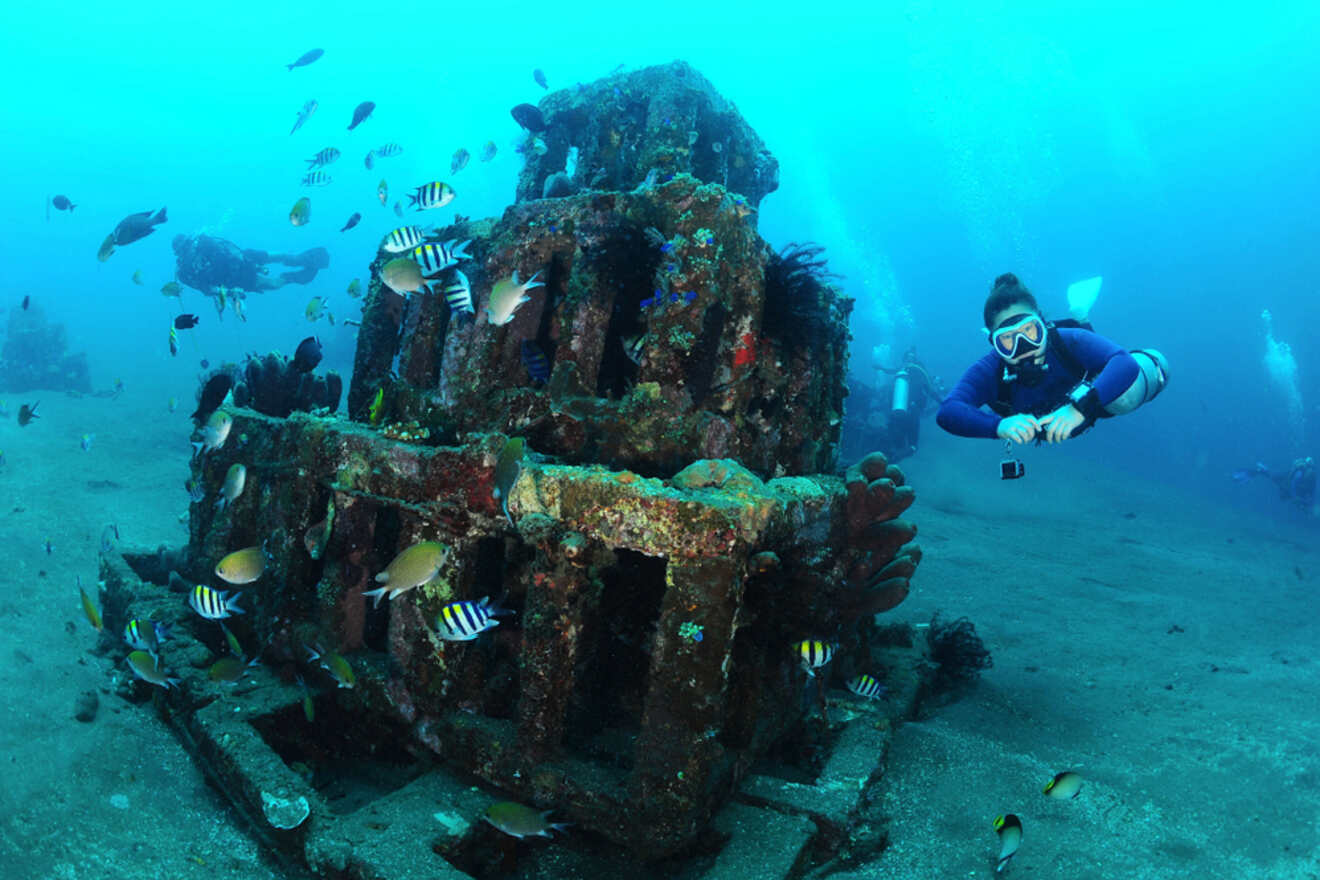 Whether you're interested in shipwrecks, vibrant coral reefs, or the chance to see rare marine life in their natural habitats, Bali has something to offer for every diving enthusiast!
Amed – This is a small fishing village on the North of the island. It is definitely worth taking a dive there because of its affordability and its shallow waters.
Tulamben – USAT Liberty Wreck is definitely one of the most popular dives in Bali. The wreck is covered in coral and is home to a diverse array of marine life, including barracuda, reef sharks, and octopuses.
Padangbai – This small town on the east coast of Bali is a popular spot for diving and snorkeling. Check out Blue Lagoon and Jetty dive spots when there!
Nusa Lembongan and Nusa Penida – These areas have stronger currents and big fish, you can even see manta rays there.
Gili Islands – This is an awesome spot if you want to hang out with Bali's sea turtles!
The best time to dive in Bali is roughly between May and November, when the waters are calmer. Go island hopping to dive in lots of different, interesting spots!
If you are going to do your PADI/SSI certification there, here is a dive school with great reviews!
If you already have the open water certificate, here is a great organized dive to the shipwreck you should do!
PRICE: from ~US$50 for half a day of diving + transfer
10. Go white water rafting in Ayung River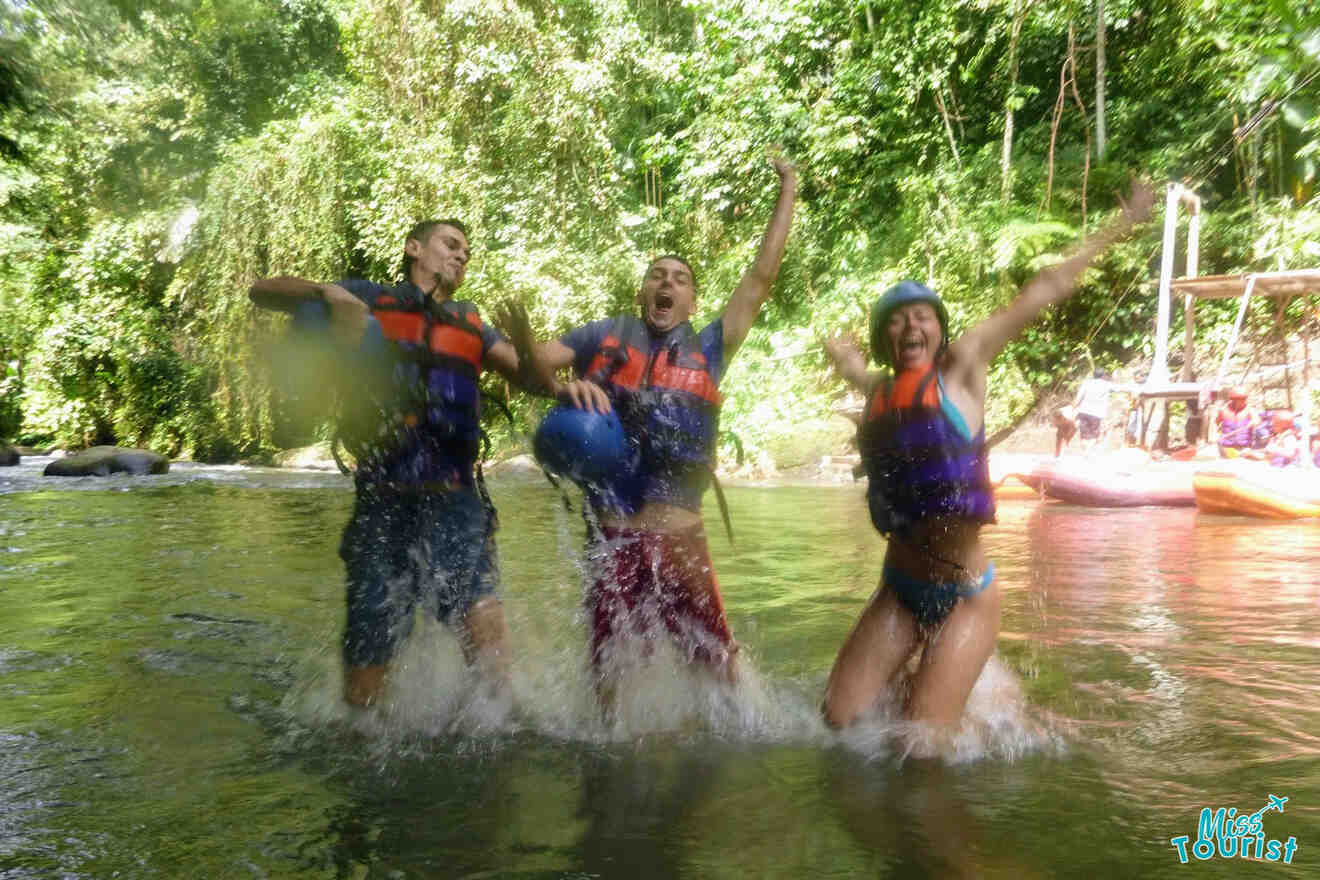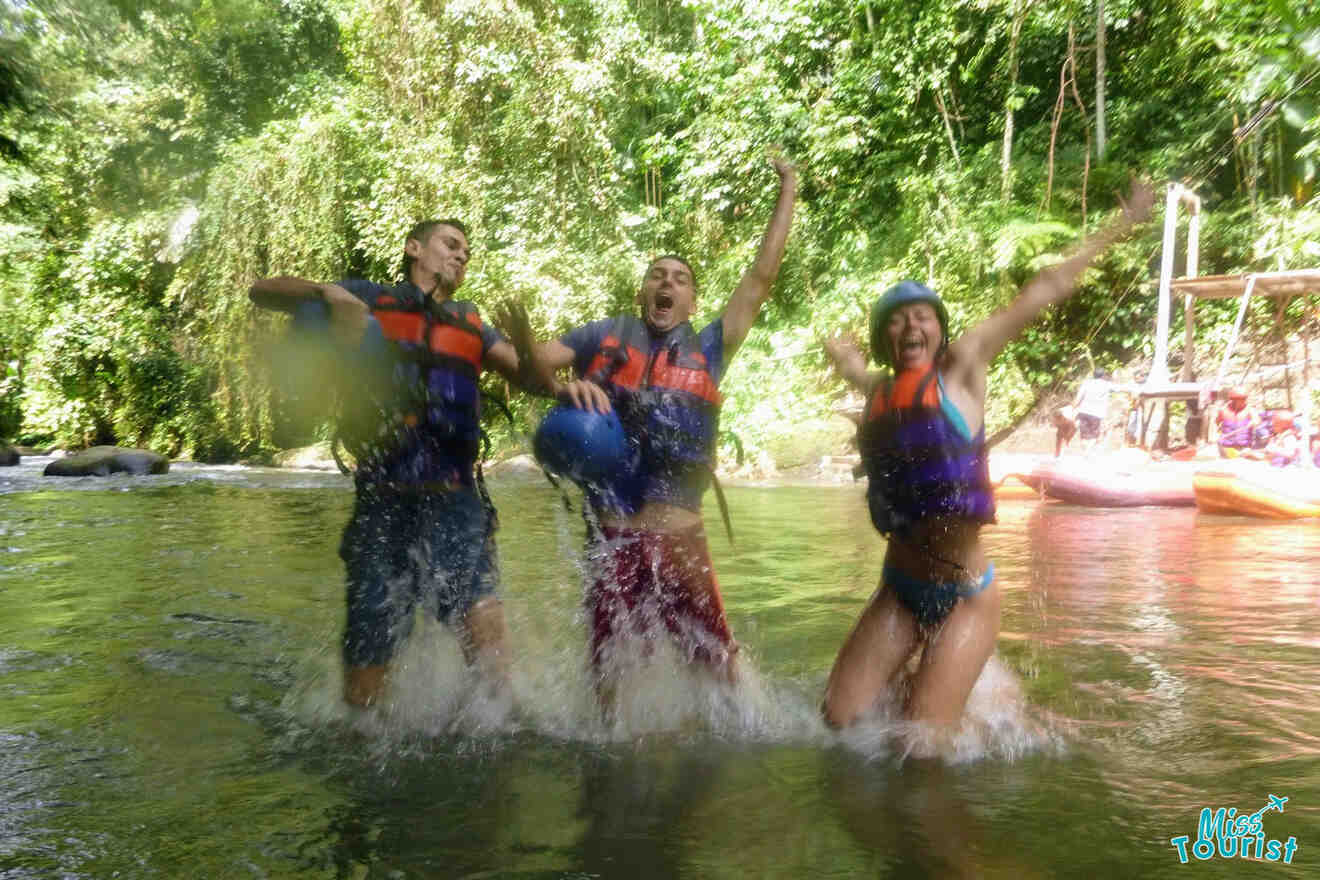 Psssst! This one is actually one of my favorite activities to do in Bali!
Get ready for an adrenaline-fueled adventure like no other with white water rafting in Ayung River! The rush of the rapids, the stunning scenery, and the thrill of the ride will leave you feeling alive and invigorated – I did it twice and I am definitely coming back!
Not only will you get to enjoy a long, exciting ride downriver, but you'll also be able to take in some breathtaking views of the surrounding landscape.
The Ayung River is considered to be one of the best spots for white water rafting due to its length and (relatively) challenging rapids.
The 10 kilometer route will take about 1.5-2 hours from start to finish, so make sure you leave plenty of time in your itinerary for this unforgettable activity!
PRO TIP: bring your swimsuit (duh), a towel, and a GoPro if you have one.
This tour is pretty awesome because it includes transportation to the point, lunch, and you can add additional activities like an ATV tour or a Bali swing etc. If you are looking for something a bit more upscale ( a company that will provide you with towels, showers, AC in the car etc.) then I recommend going with this company.
PRICE: from US$15 and up (depending on the add-ons)
11. Make friends with monkeys in the sacred Monkey Forest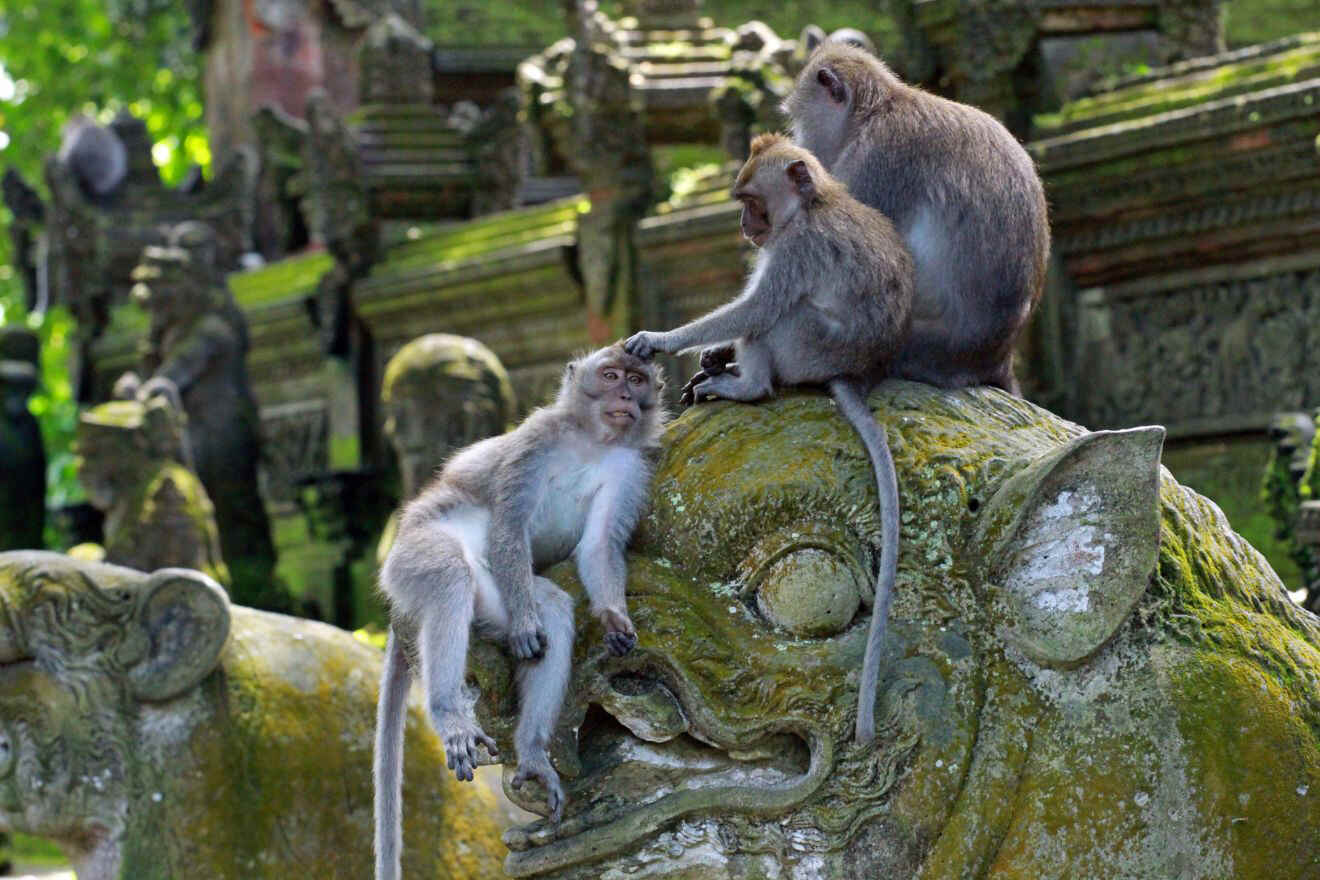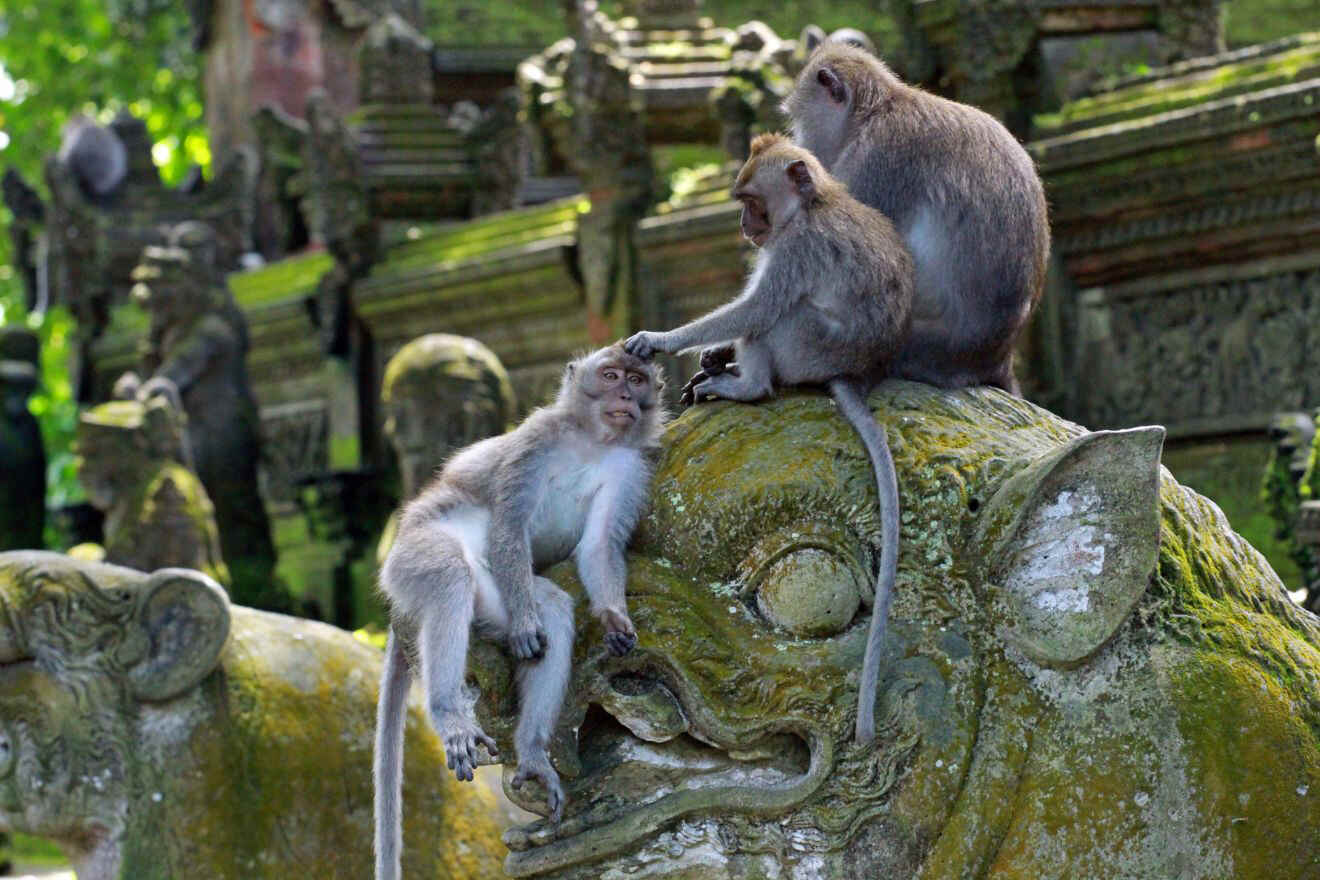 The Ubud Monkey Forest, a 30 acre nature reserve, is home to over 1,000 Balinese long-tailed monkeys (macaques actually), and it's a great opportunity to get up close and personal with these creatures.
Monkeys are an important part of Balinese culture, so make sure to take time to appreciate their presence.
NOTE: These cheeky guys may look cute but they can be mischievous if provoked, so it's important to take the necessary precautions. For example, make sure you don't bring any food into the forest as the monkeys may try to take it from you. You should also be aware that some of the monkeys may jump on visitors – this is totally normal behavior – so it's best to move slowly and calmly if one approaches you.
PRO TIP 1: Try to not put your hands in your pockets, monkeys may think that you hide some treats for them there 😉
PRO TIP 2: while the most known monkey forest is definitely in Ubud, if you are looking for a less crowded place, there is a lesser known monkey forest called Sangeh located here and from what I remember it is also free of charge!
PRICE: 40K IDR (~US$3)
12. Snap a pic on a swing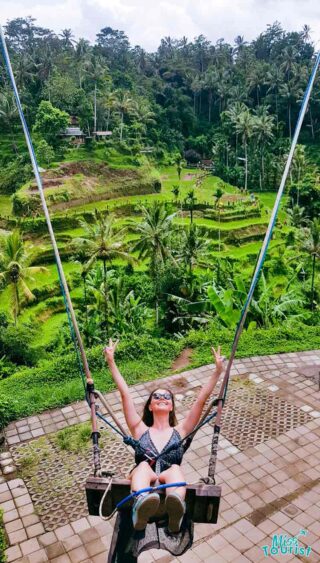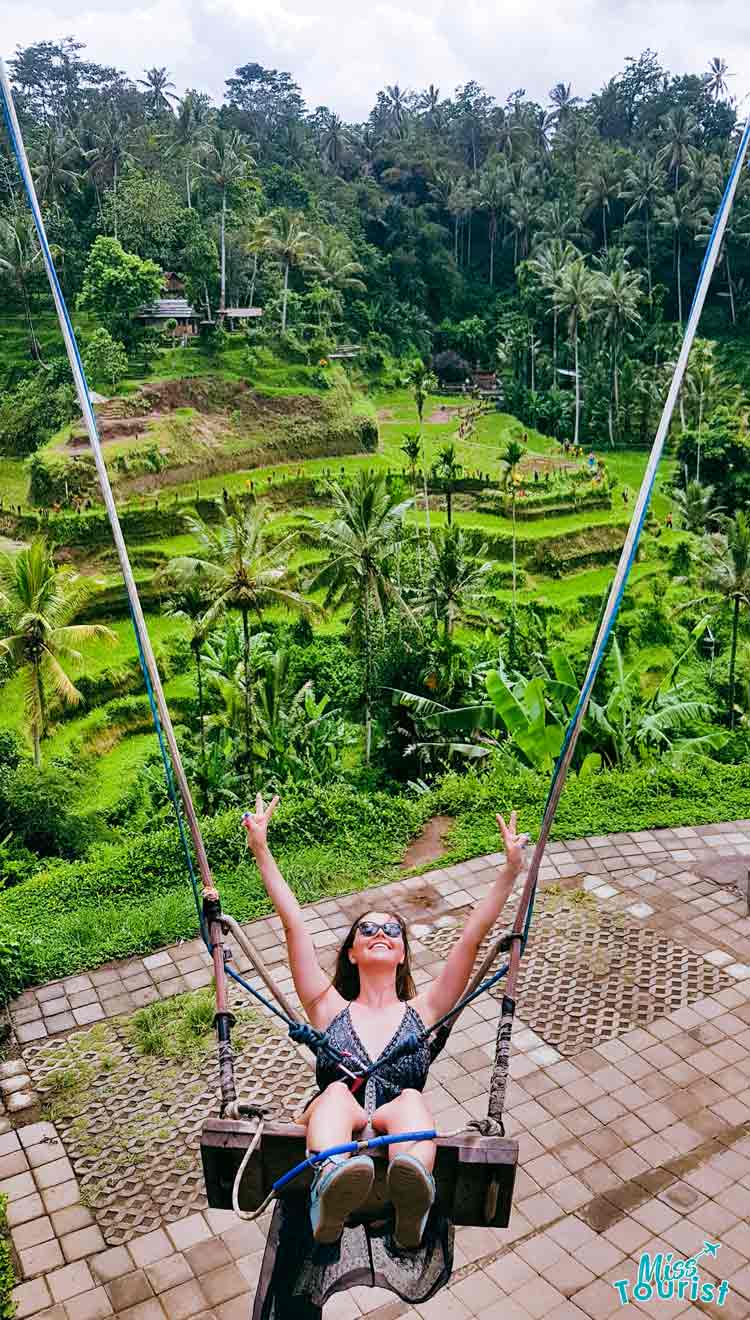 Have you been dreaming of taking that epic shot on a swing overlooking the stunning landscape?
Then head over to one of the most popular swing locations (clickable to Google maps for your convenience):
Some of the most popular tourist spots, like Tegallalang, even offer those long dresses to rent for a photo! It is up to you to prepare your own outfit or rent it from them, but I remember they charge quite a lot for that option. (PRO TIP: Just a long scarf attached to your pants will look great too!)
How it works: Don't worry, the attraction is very safe – they will first attach a special harness so if you fall down (verrry unlikely, I never saw that happening), it would serve as a safety net!
Not ready for that experience just yet but still want to take an epic picture? No problem, Bali has other options for you:
Picture in a straw casket (may also be in the shape of a heart!)
Picture on a chair-swing
Most of these are actually free to take a picture in if you use their facilities, like paying for the entrance to the park/waterfalls/go to a cafe etc.
There's plenty of other possibilities for taking pics with a view – just keep your eyes peeled and go for the option you are most comfortable with!
P.S. Don't want to organize anything yourself? Take this tour, it will take you to the most wonderful spots so you can relax on your vacation!
PRICE: free if you use their facilities, otherwise between US$10-15
13. Enjoy the sunset in Canggu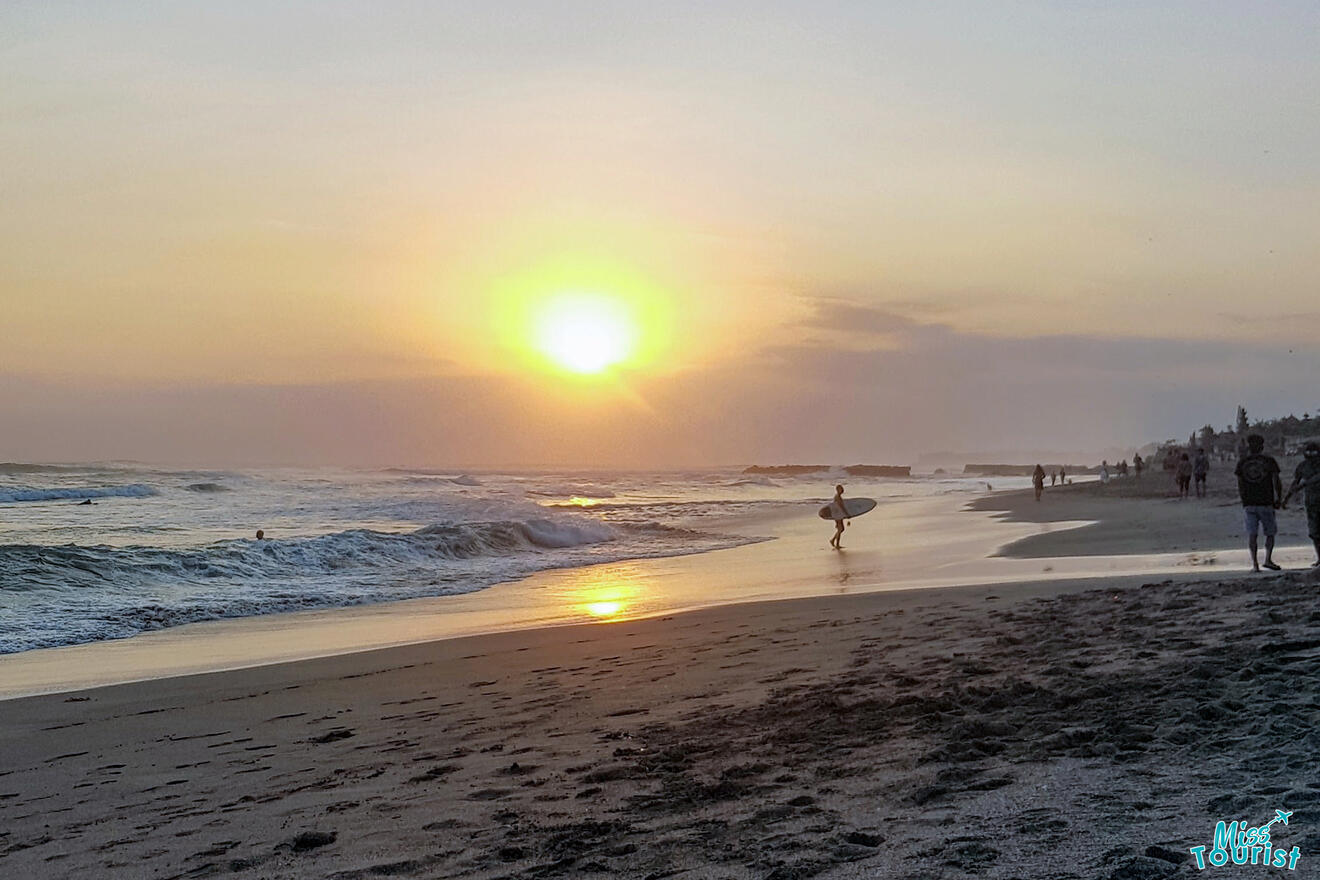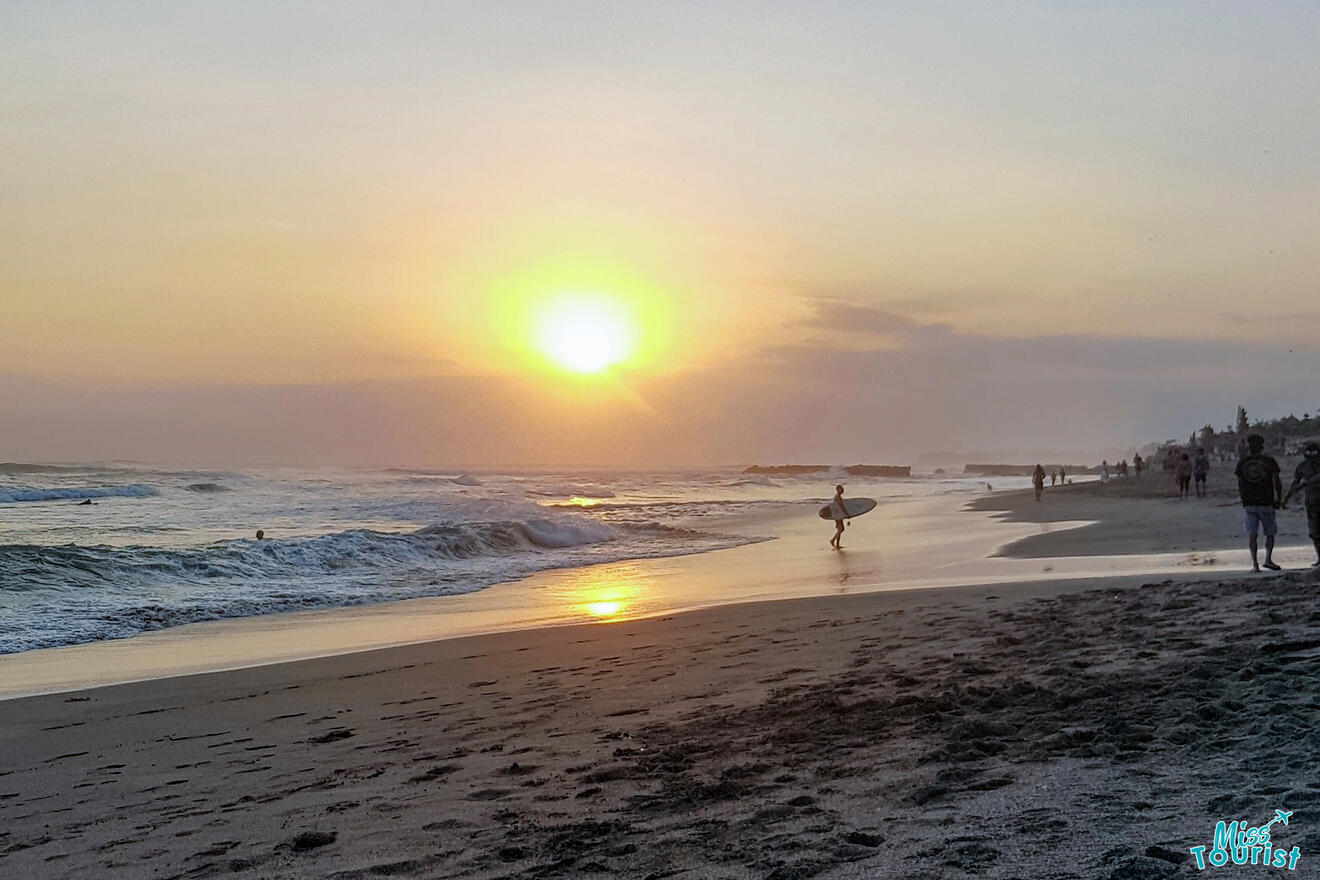 With its stunning coastal areas and verdant interior, Canggu is one of the best places to experience a beautiful sunset! There's no shortage of great spots to sit back and watch the sun go down!
If you want to enjoy a cocktail with your sunset views, you can literally hop in any of the random bars on the beach, and sit on a bean bag sipping on your coconut.
Here are my favorite places if you need some suggestions:
You could also head down to Berawa Beach for some of the best sunset views in Bali.
Where to stay in Canggu: Find my detailed post on the best areas and villas to stay in Canggu here or enjoy these top 3 options from luxury to budget: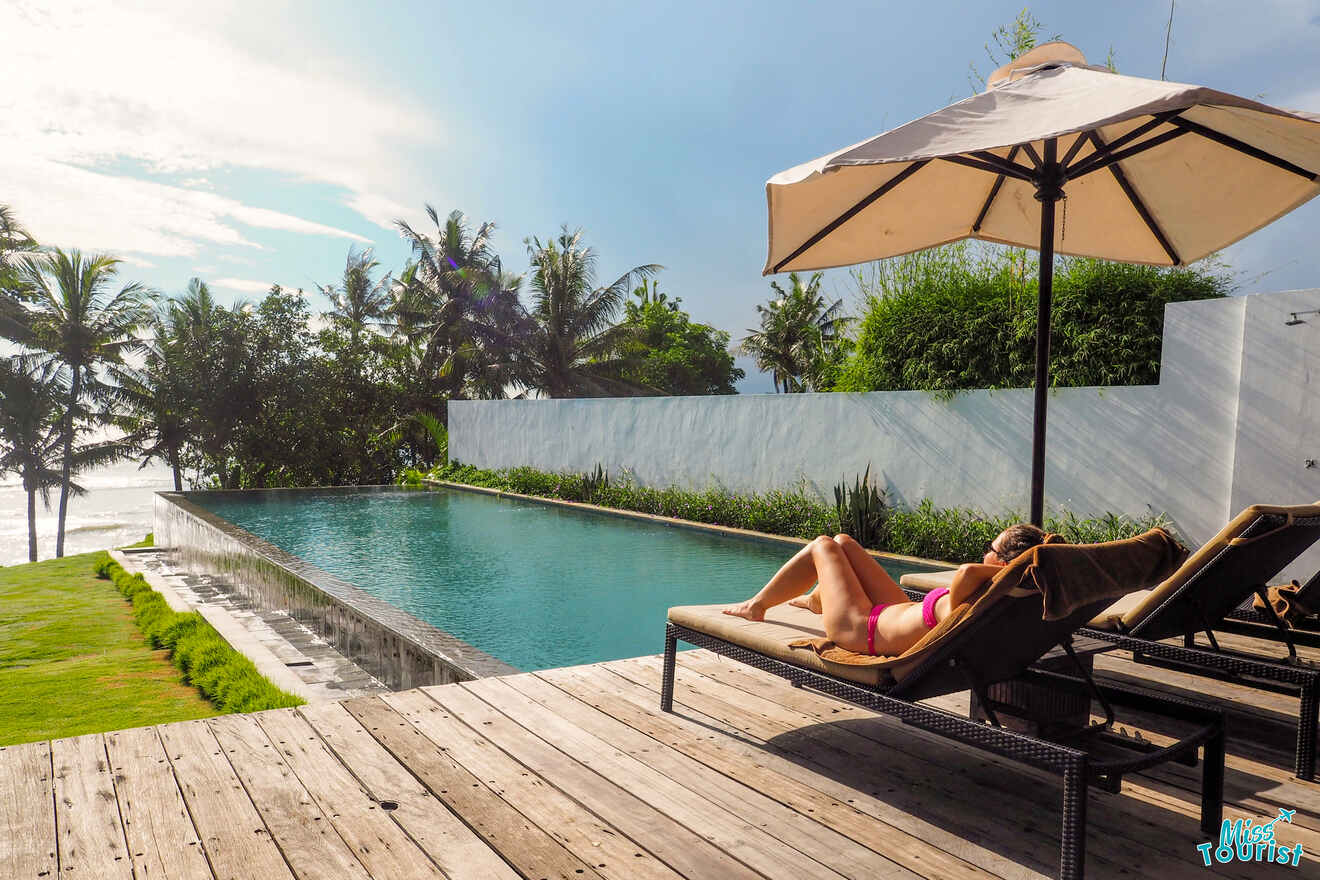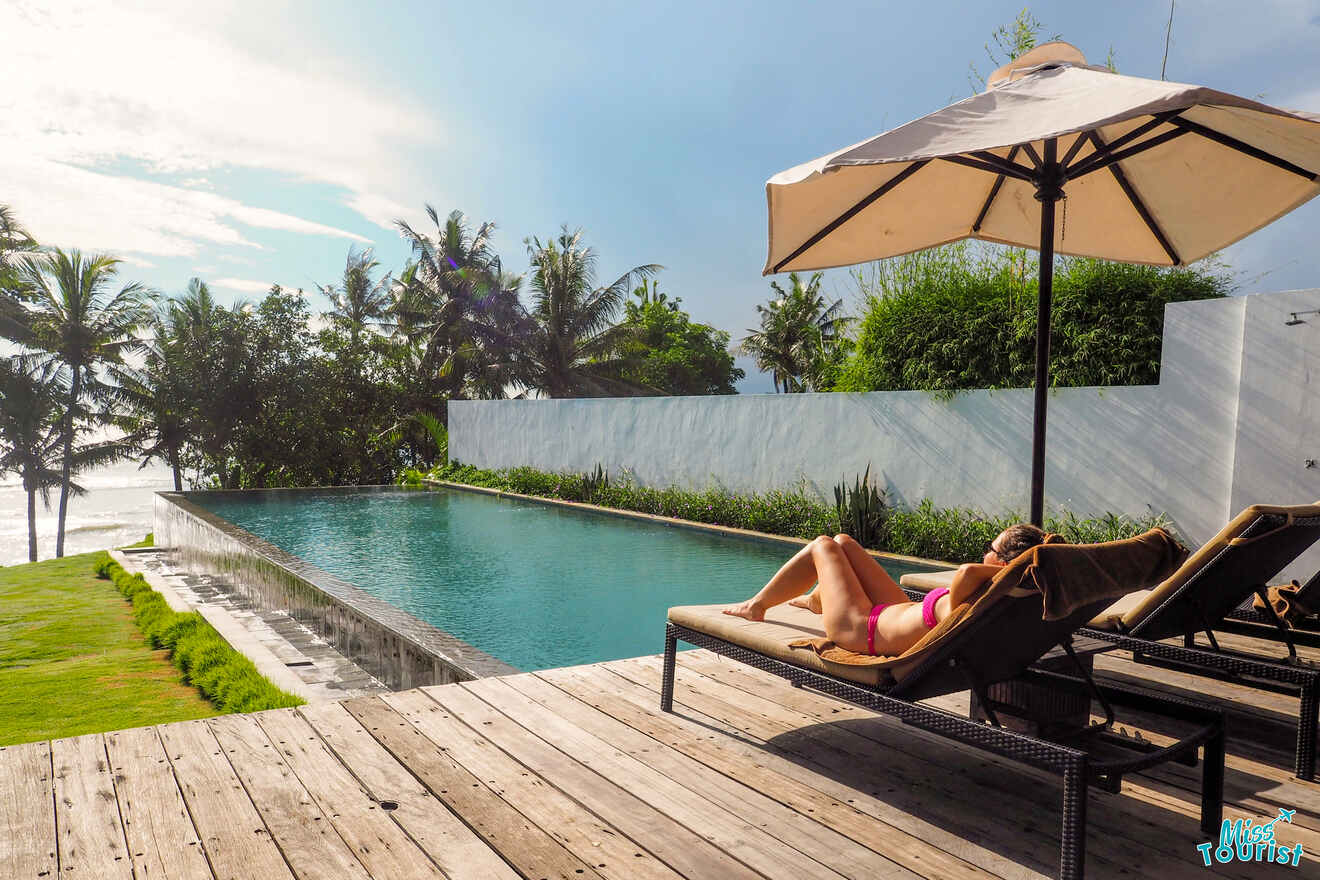 The BK Village – For the ultimate luxury experience, this place is STUNNING. Super peaceful, relaxing, and close to all the most essential beach clubs for the best vacay, you can expect incredible service, spacious rooms, and massages!
PNB Bali Villas – Affordable luxury? Yes, please! These villas are super romantic so perfect for couples traveling together! You'll be met by smiling faces and you can rent out motorbikes to explore the area!
Kalapa Boutique Resort & Yoga – Spa treatments, an on-site bar, free bubbles for your bath, an outdoor pool, and all for a price that won't burn a hole in your wallet! Plus, free daily yoga classes!
PRICE: free on the beach or the price of a coconut/beer if you are in one of the beach cafes
14. Pamper yourself for a royal spa experience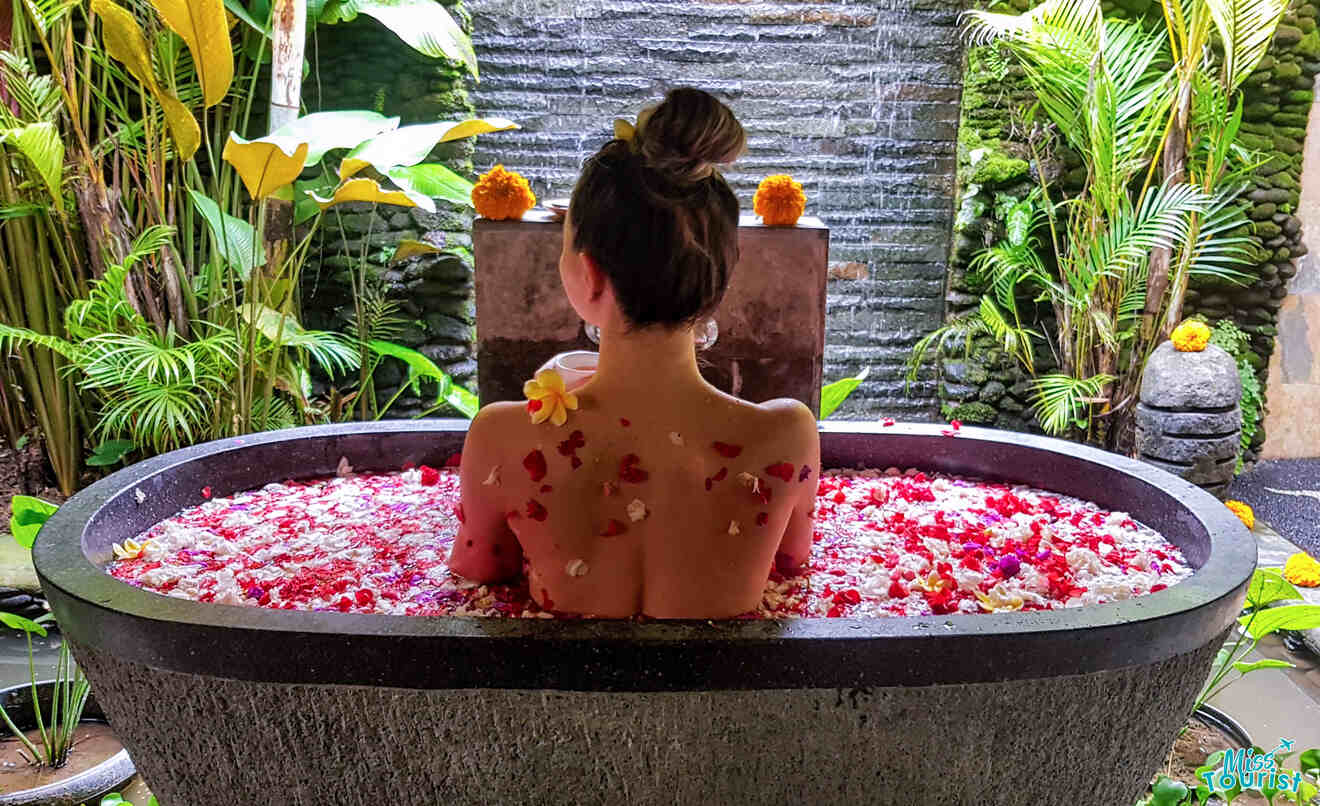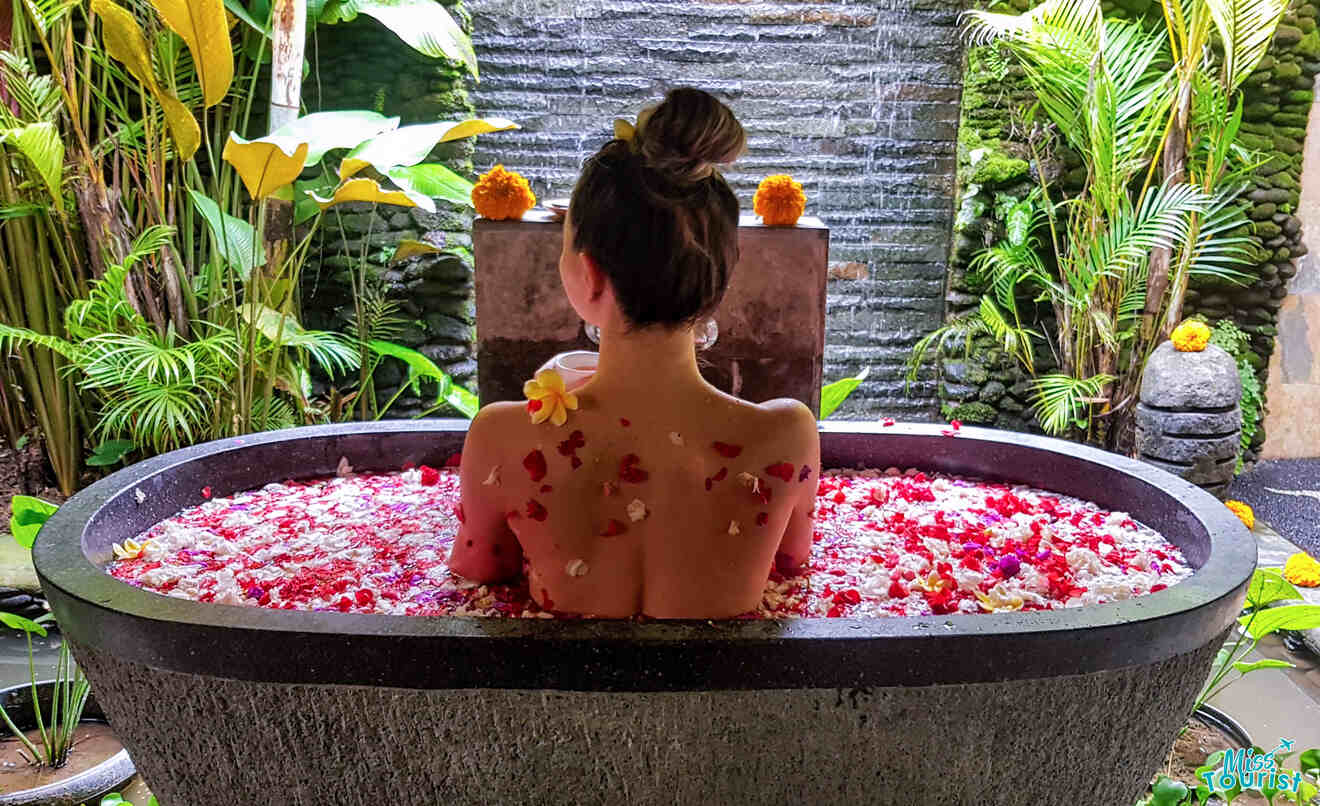 The spas in Bali are probably one of the main reasons I keep coming back to the island – fantastic views, amazing service, serene atmosphere and VERY affordable!
Also, if you're looking for the ultimate luxury – the flower bath – then you're in for a treat!
Here are some of the places I personally love:
1. Maya Spa, Ubud – It's the perfect place to enjoy a luxurious flower bath with fresh or dried petals arranged in a warm tub, mixed with oils and fragrances. And the view of the river is outstanding! When I leave Bali, this is one of the places I truly miss!
2. Karsa Spa, Ubud – The most popular spot for flower baths in Bali. This spa is absolutely stunning and offers an unforgettable experience – book in advance! Your one and only also went for a massage there! See the picture above and the masseuse was not only amazing in the actual massage, but also took some great shots of me!
The first 2 places mentioned were in Ubud, if you're looking for something in Canggu, then pay a visit to Amo Spa or Goldust. Those are one of my favs since they offer guests heartfelt, homely treatments that will make you feel like royalty!
PRICE: anywhere from US$10 to US$100 per hour, but US$10 to US$15 is the most common
15. Do go chasing waterfalls
Bali is so lush and tropical thanks to the abundance of rain and it stays on the island in the form of waterfalls and rivers!
There are a lot, and I mean A LOT of waterfalls on the island, so here are some of the most spectacular ones:
Sekumpul waterfall: Located in the village of Lemukih, Sekumpul Waterfall is a popular spot for visitors to Bali. The waterfall is surrounded by lush greenery, and the pool at the bottom is a great spot for swimming. Map
Gitgit waterfall: The waterfall is located in the village of Sukasada and is accessible via an easy hike. It is enveloped by lush greenery and has a pool at the base that provides a wonderful spot for swimming. The cost is only 20K IDR to enter, do not fall off all the local "guides". Map
Aling-Aling waterfall: It is actually a number of waterfalls together, what a find! Aling-Aling Waterfall is a popular spot for adrenaline junkies because you can do cliff jumping from 4 different heights. Be sure to take some good shoes! Map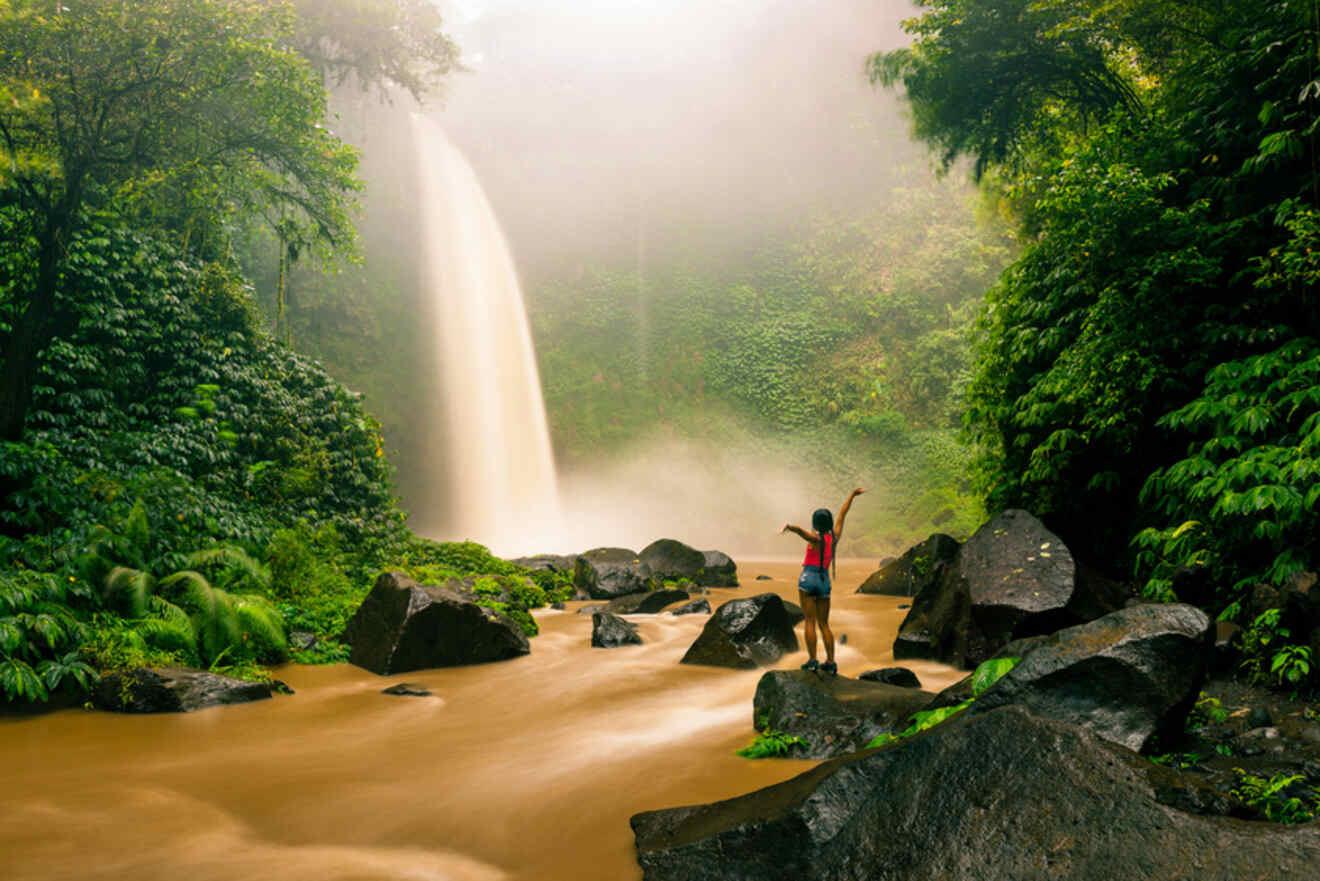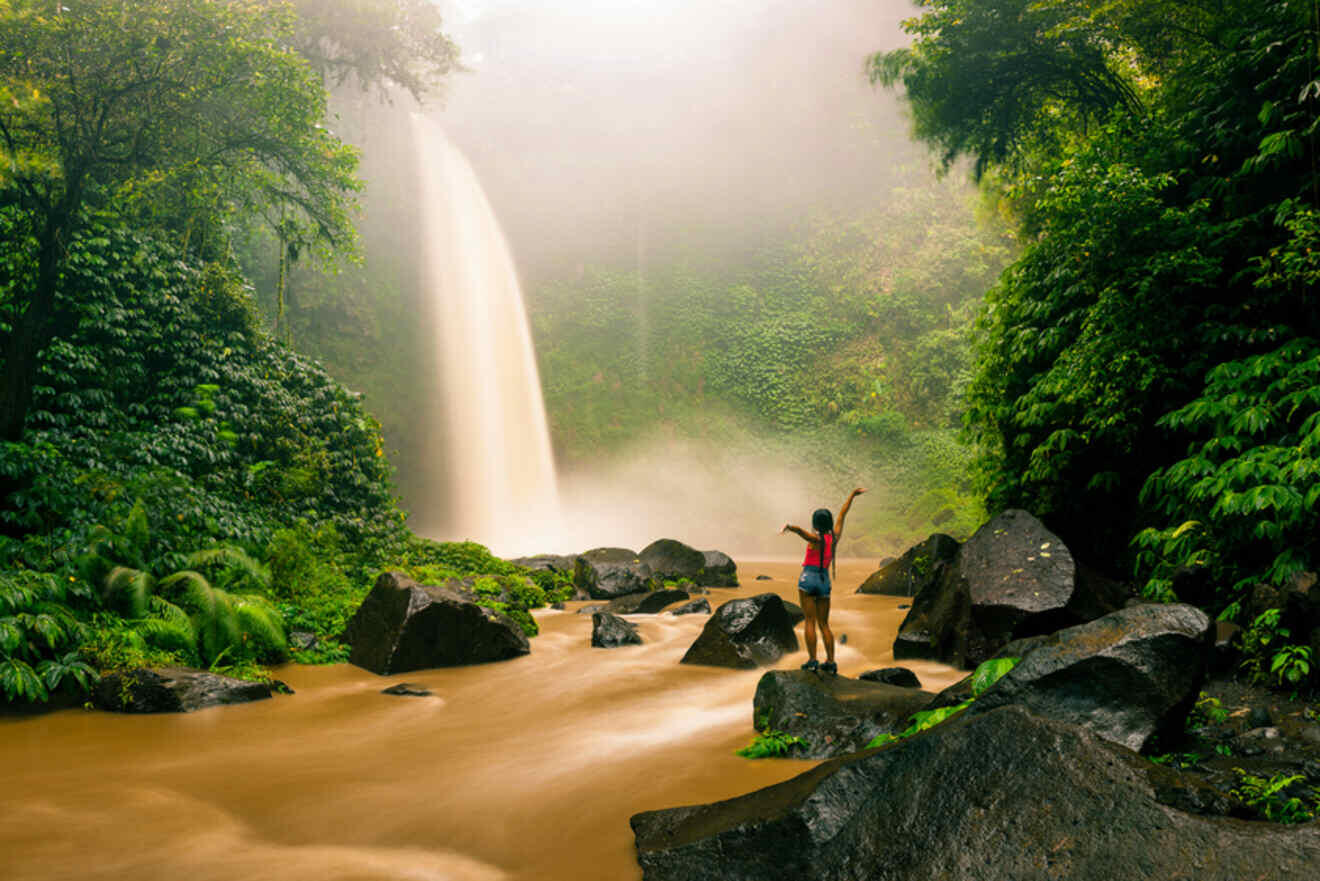 Nungnung waterfall: (pictured above) A hidden gem in central Bali, Nungnung is a stunning powerful waterfall that requires a bit of a trek (stairs) to reach but offers a peaceful and uncrowded escape from the hustle and bustle of the island's more popular attractions. Map
Tegenungan waterfall: the waterfall cascades down over several tiers, creating a picturesque swimming pool at the bottom. There are stairs to get to the fall so take some good shoes and water with you! Pro tip – go in the morning to avoid the crowds, this is one of the most known waterfalls in Bali! Map
Tibumana waterfall: located close to Ubud, this one is a hidden gem that is less crowded than some of the other waterfalls on the island. It is very easy to reach (downhill) and the best time for pics is in the middle of the day! Map
If you want to avoid hustling for tickets each time (there is usually no official price and the locals will try to convince you that you need a tour, that it is a regulation etc.,) then just go for an organized one with transfers and food included. For example, this one or this one are great options!
PRICE: most are 20K IDR to visit (around US$1.3)
16. Spot dolphins in Lovina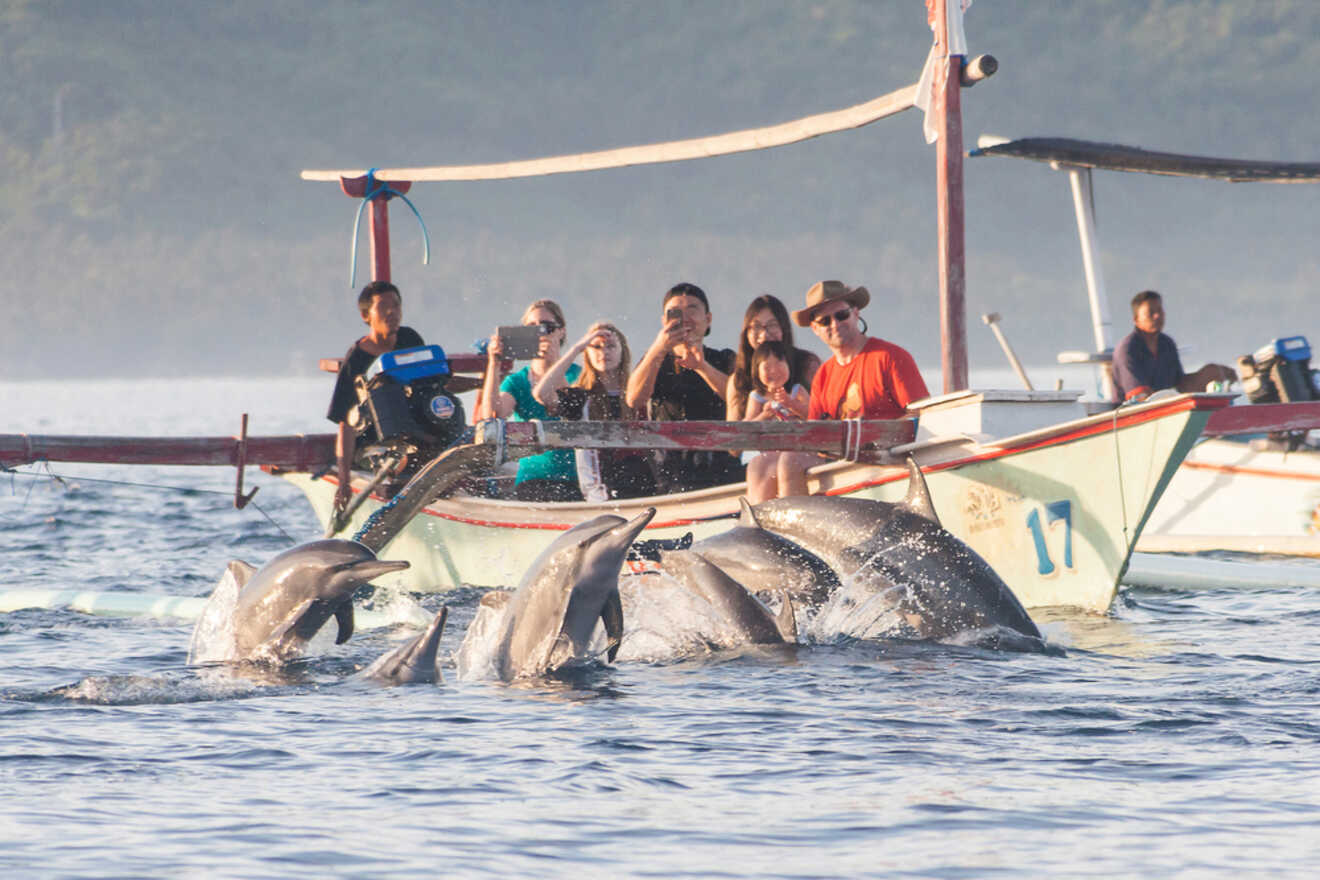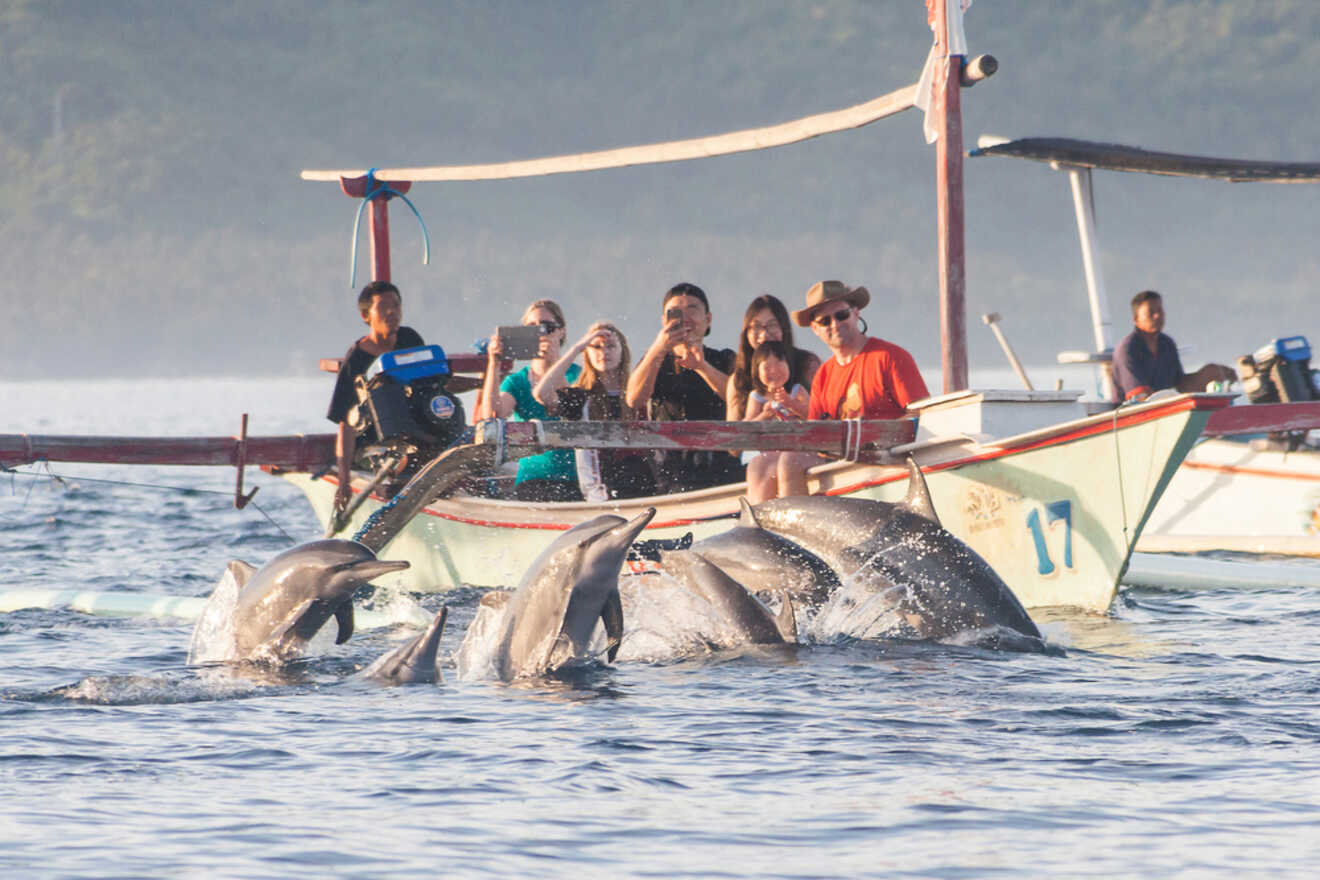 Dolphins are abundant in the North of the island (the area called Lovina), and if you have some time to explore the area further, you should definitely go there too! The area is still not as popular as Kuta/Canggu and Ubud, but it is definitely worth checking out!
You definitely want to take a boat tour that leaves early in the morning, as you won't see much from the shore.
I know that there are some tours that also would allow you to swim with the dolphins in the wild, how awesome is that? I found this company that provides this service, and they have rave reviews!
I swam with dolphins in Madeira ones and it was definitely a highlight of the whole trip, so if you are lucky to see them, I can totally recommend going for a swim with them!
If you are looking for a simple dolphin watching tour (no swimming), then this tour is for you. If you need transportation to the place as well, check out this one.  
The best time to see dolphins in Lovina is from May to January, but you can spot them year-round if you're lucky. Just make sure to get up early – the dolphins are most active in the morning, and tours typically depart between 6:00 AM and 7:00 AM.
Where to stay in Lovina: If you want to stay in the North of the island for longer (you should!), here are my top suggestions: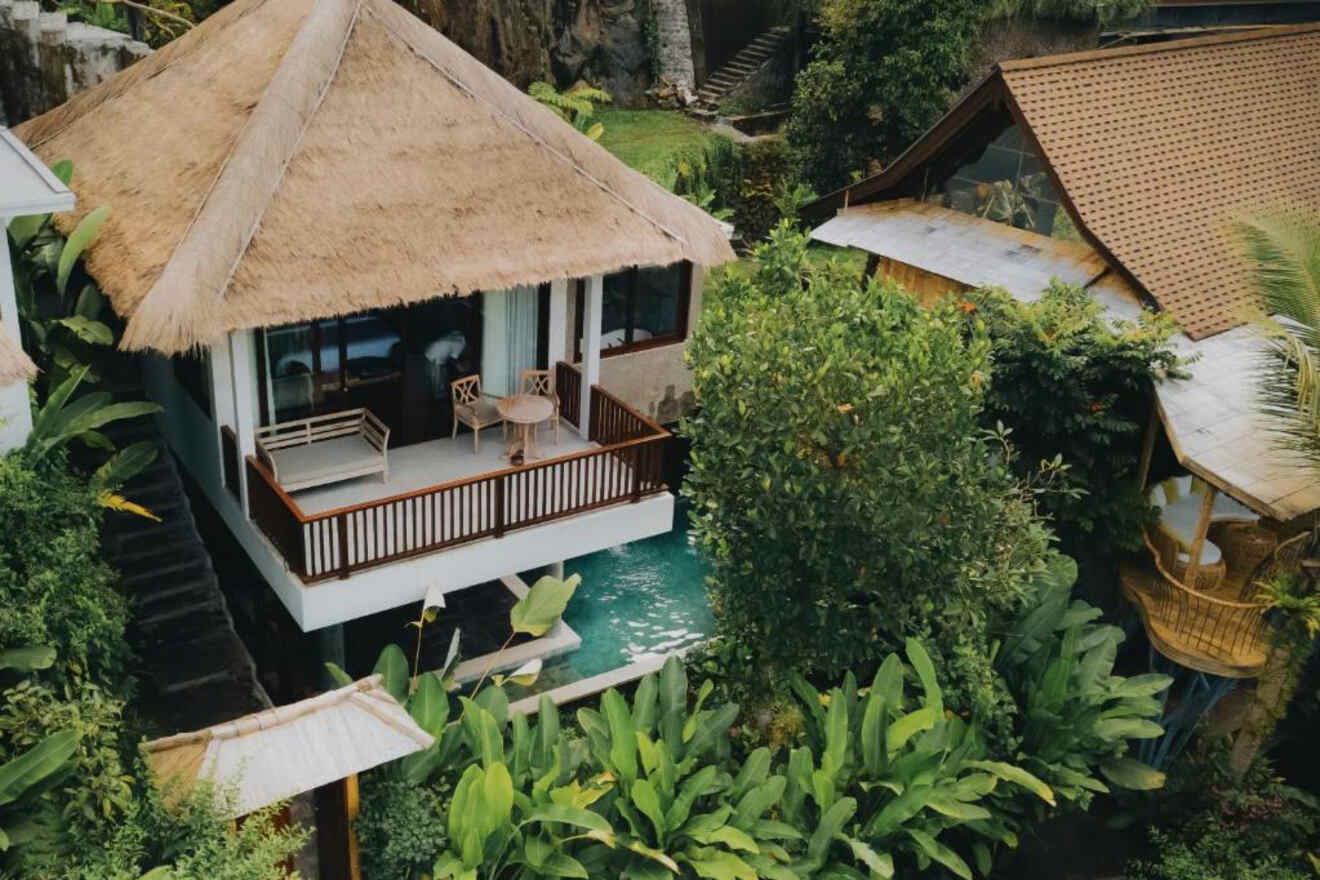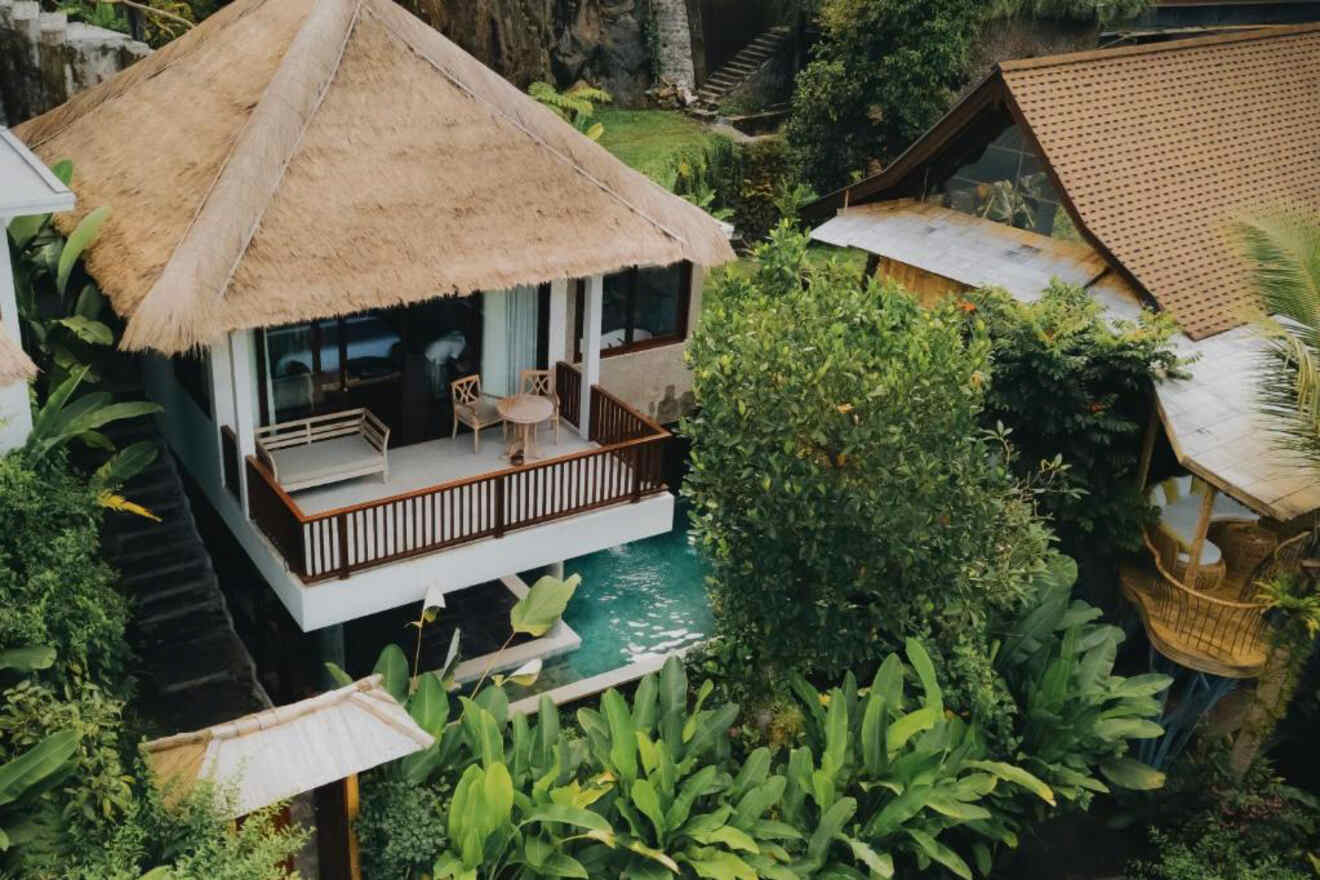 Maha Hills Resort – Unending views of rice fields and mountains? Yep, that's what I want! Breakfast is international whether you prefer classic American food, local dishes, or vegetarian options. Ultimate luxury!
Lata Lama – Get ready to rent bikes to explore the local area! Right up close to Lovina Beach, this hotel offers gorgeous rooms. Some of them have a kitchen!
Puri Mangga Sea View Resort & Spa – If you're a budgeteer and nature bunny, this affordable option is the one for you. Just a short drive from the beach and with Balinese/Tuscan-style rooms, you'll have everything you need – even babysitting services if you're traveling with the kids!
PRICE: from US$10 if you don't need transportation
17. Dine with your feet touching the ocean in Jimbaran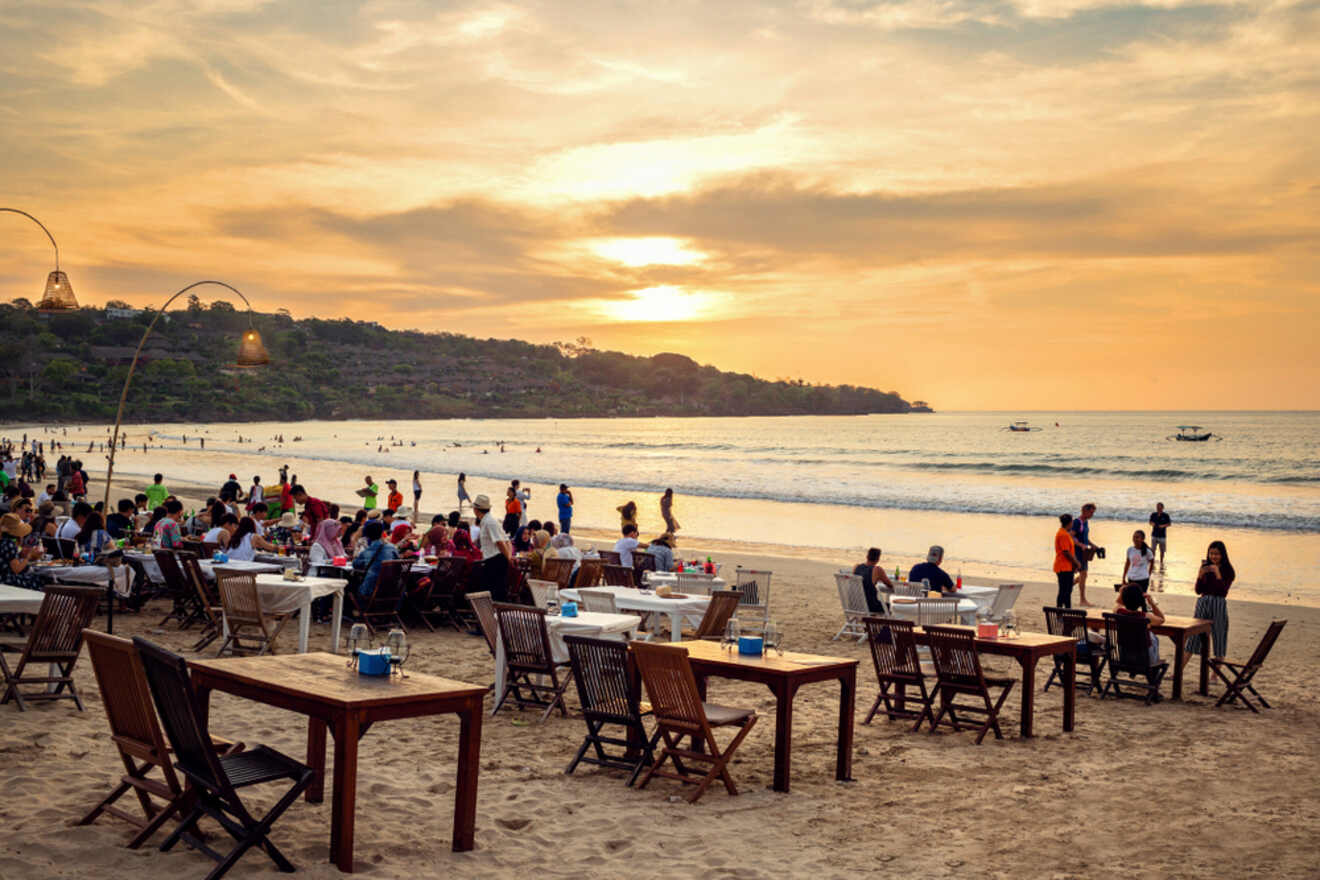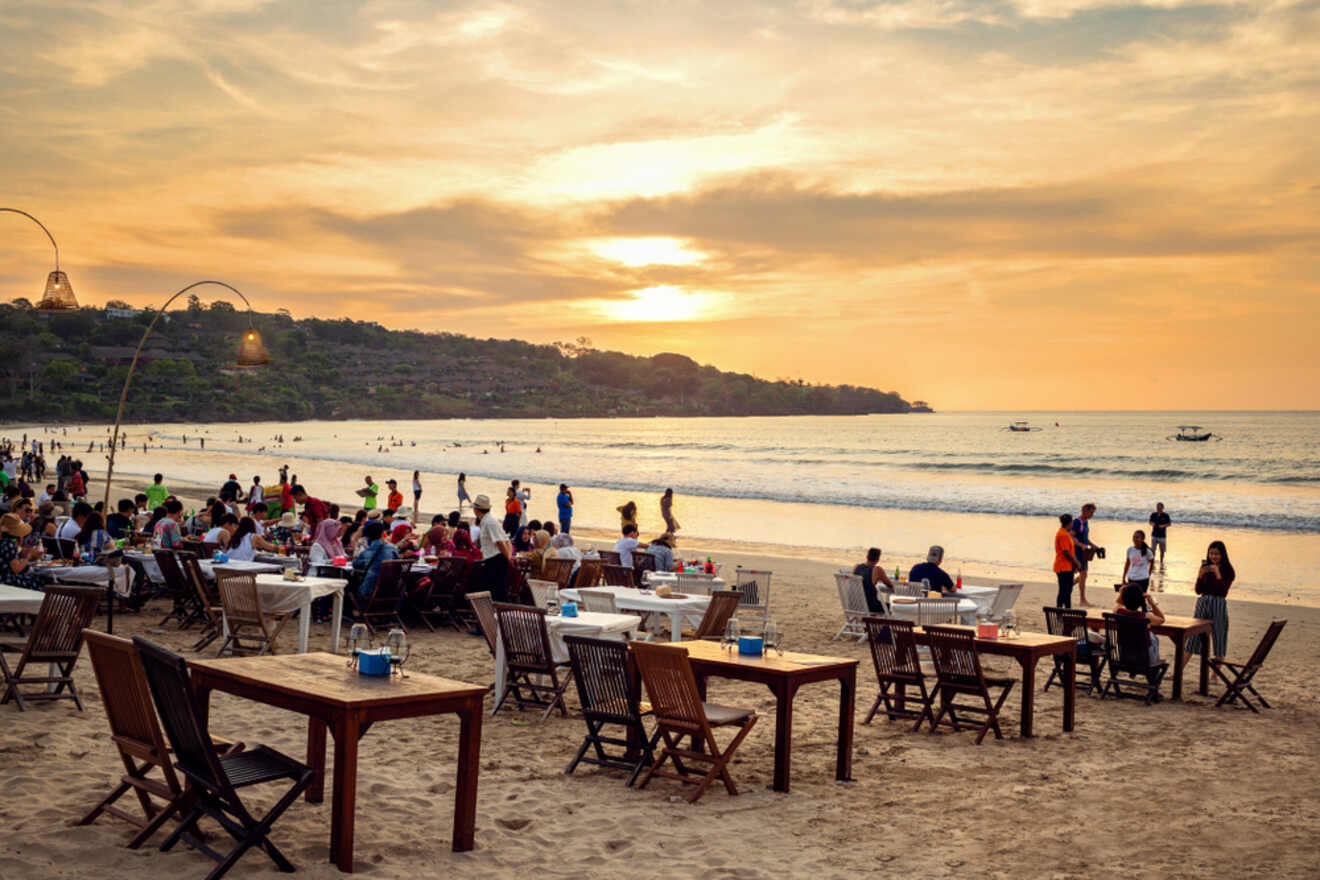 Are you ready to dine with your toes in the sand and with the sound of the waves crashing at your feet? Then dinner in Jimbaran is a must-do on your Bali itinerary!
Located on the Southern coast of the island, this charming beach town is home to a number of restaurants that serve up delicious fresh seafood with a side of stunning ocean views.
One of the unique features of dining in Jimbaran is the option to enjoy a meal on the beach with your feet in the sand and the water lapping at your toes. Can it get more romantic than that?
Prices vary depending on the restaurant and the dishes you order, but you can generally expect to pay around US$10 to US$35 for a meal for 2, including drinks.
Usually reservation is not required, you can just walk in any restaurant if there are seats available, but more famous ones like Hatiku might need one.
Where to stay in Jimbaran: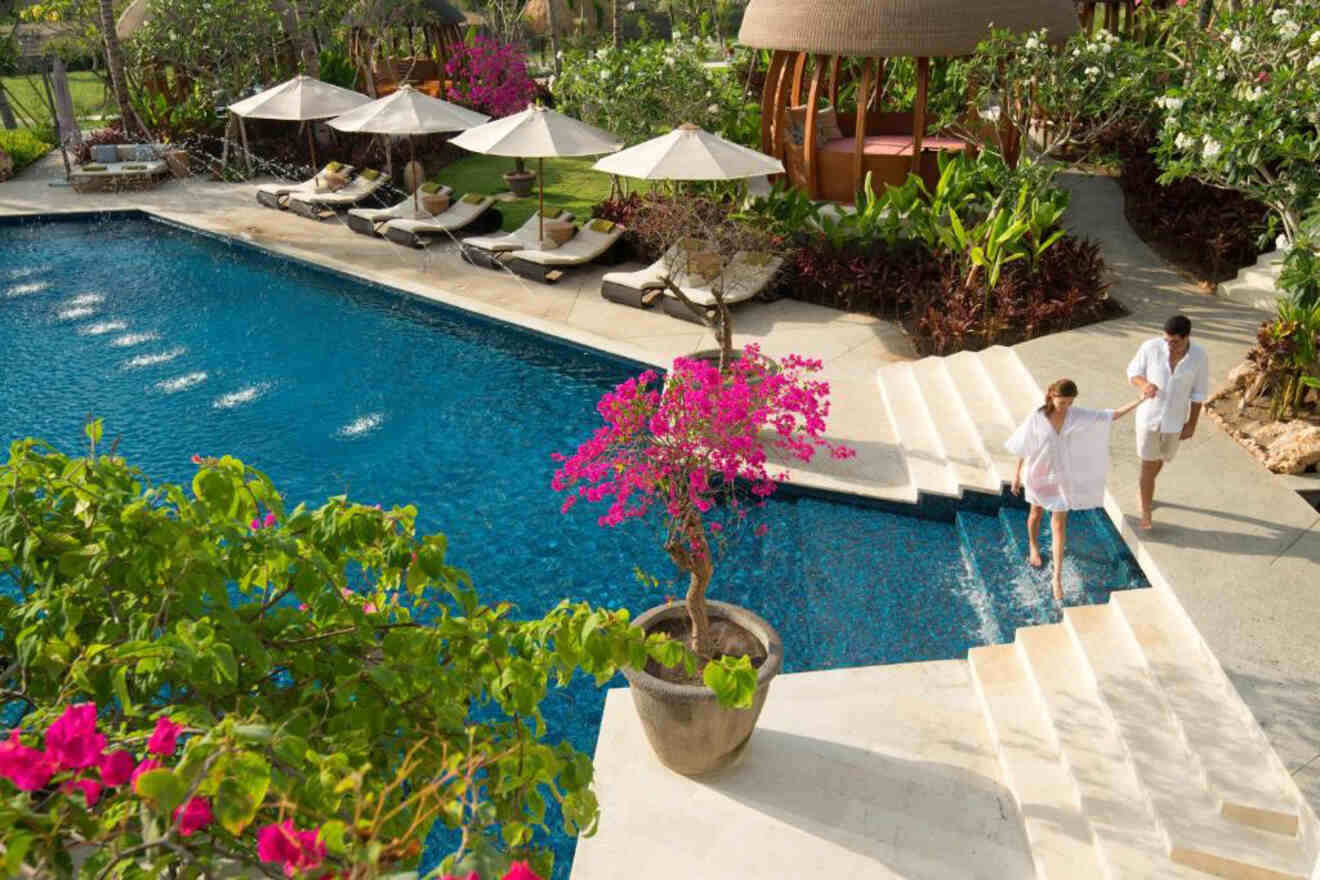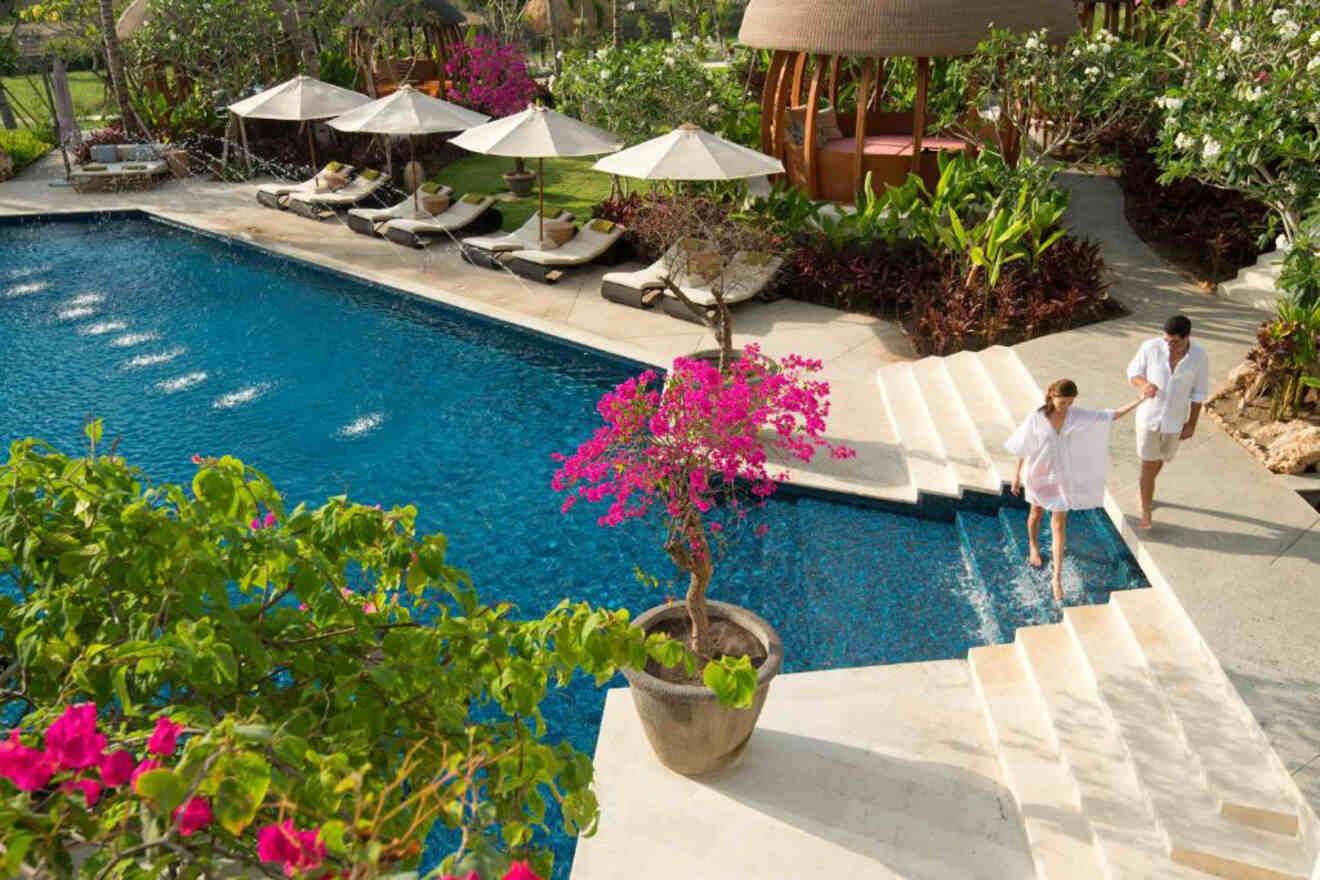 RIMBA by AYANA Bali – 5 star luxury? Oooh yes! Expect gorgeous views, private balconies, proximity to some of the best seafood restaurants around, and priority access to the famous Rock Bar!
La Cabane – Just a short walk away from Balangan Beach, this hotel has beautiful bungalows to rent, each with their own private terrace! Reviewers rave about the food here, so get ready for a culinary feast!
Anja Jimbaran – Free bikes!? Absolutely! Your wallet won't even know it's been touched at this affordable accommodation, complete with an on-site hammam and outdoor pool.
18. Enjoy an instagrammable breakfast while in Bali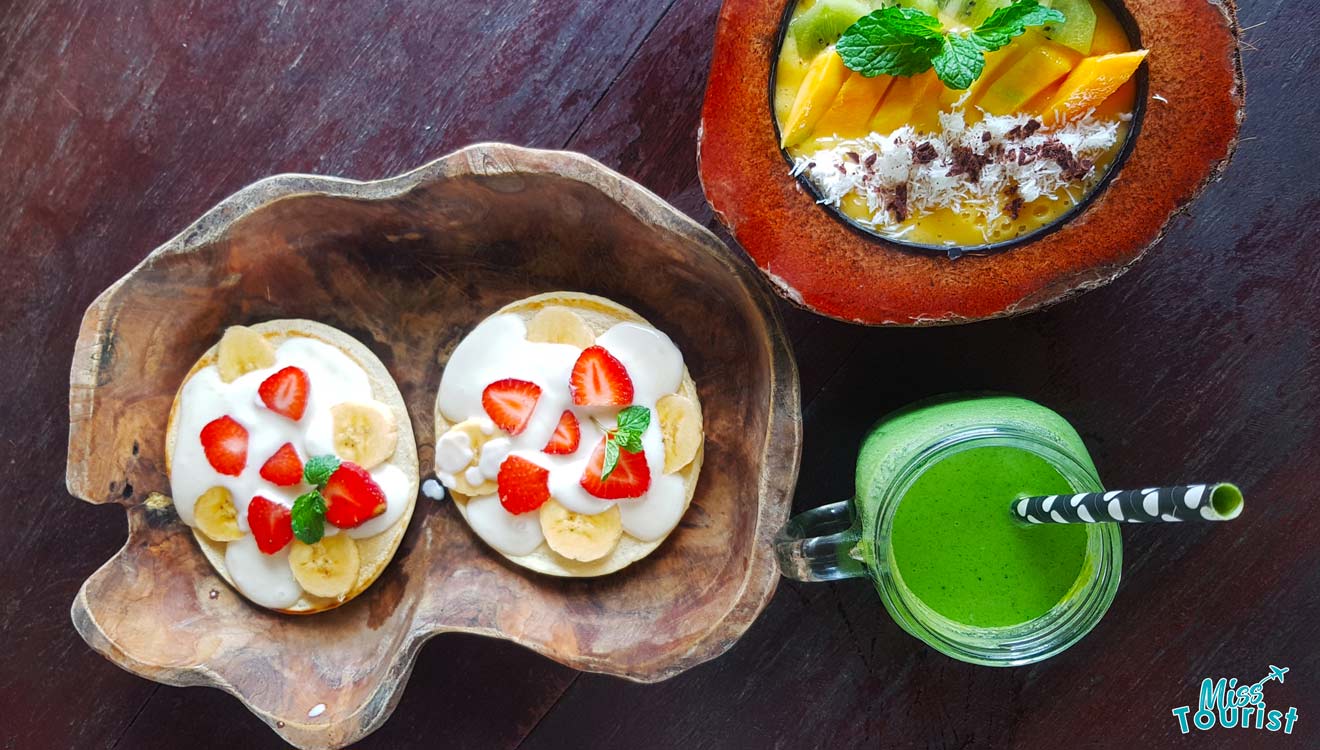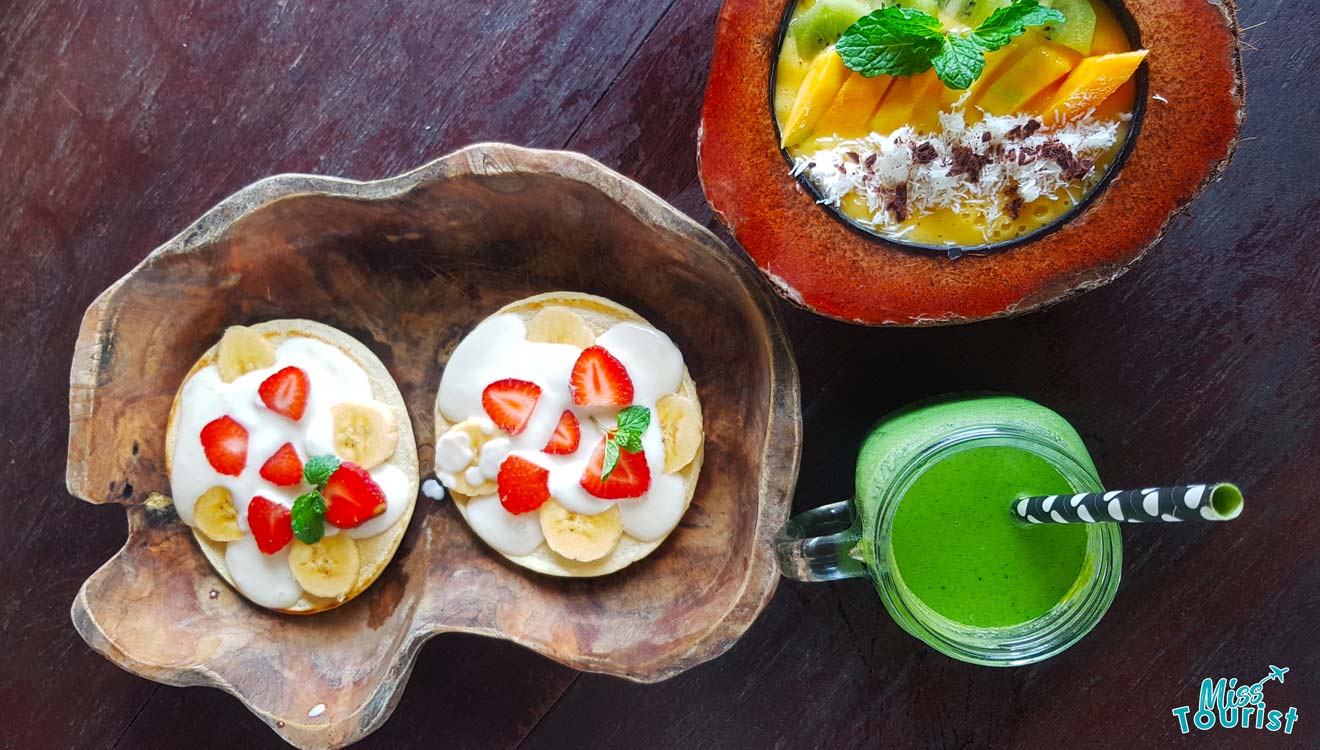 Get ready to snap some Instagram-worthy shots, because this island is home to a plethora of beautiful breakfast spots that will have your followers double-tapping in no time!
For starters, the number of chic and stylish cafes per square meter is more than anywhere else in the world! From acai bowls and avocado toast to pancakes and smoothie bowls, there's something for everyone. Aww, I am literally drooling while I am writing this!
Many of these cafes are located in beautiful outdoor settings, surrounded by lush greenery or overlooking the ocean.
Here are the best ones from my list (please note that I also have detailed posts on where to eat in Canggu and on best restaurants in Ubud):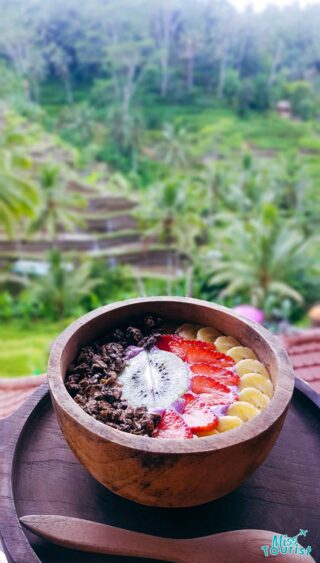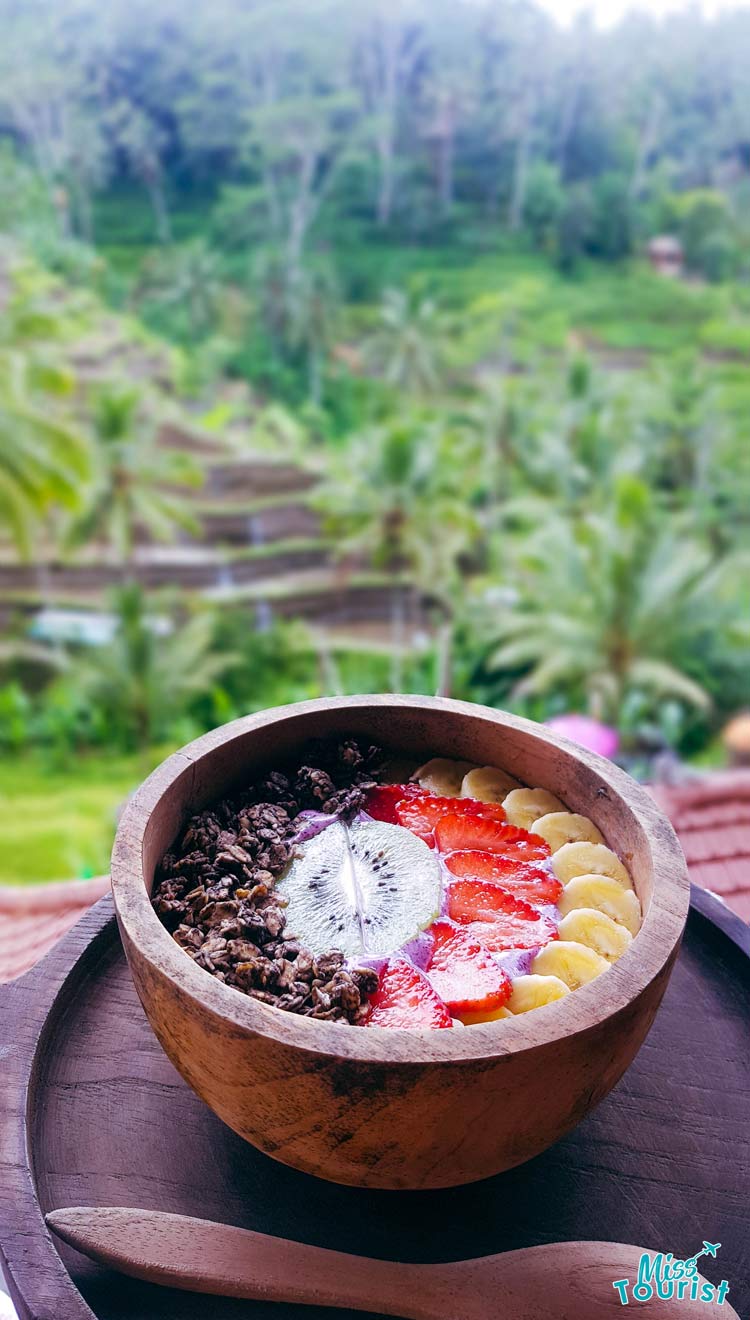 19. Treat yourself to a few nights in a jungle retreat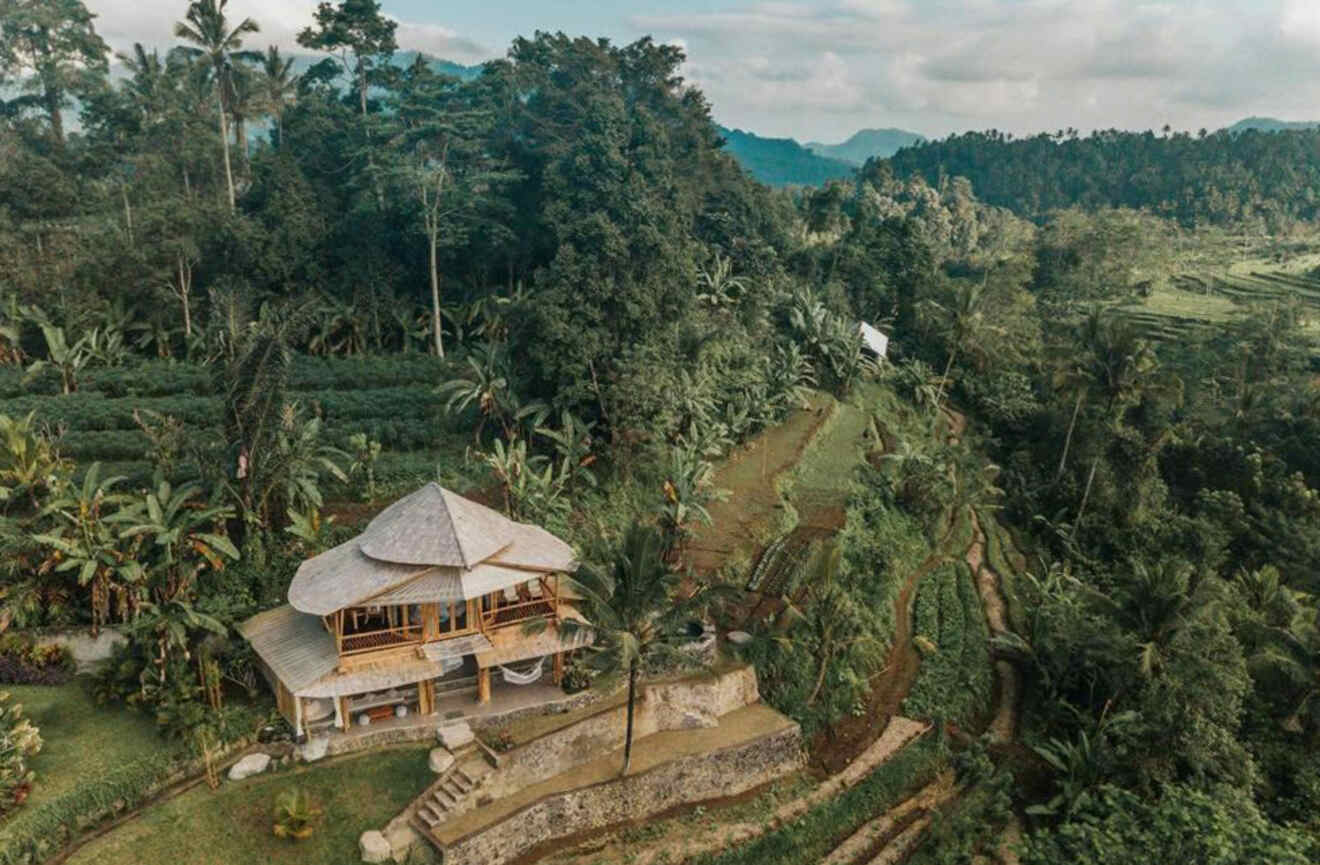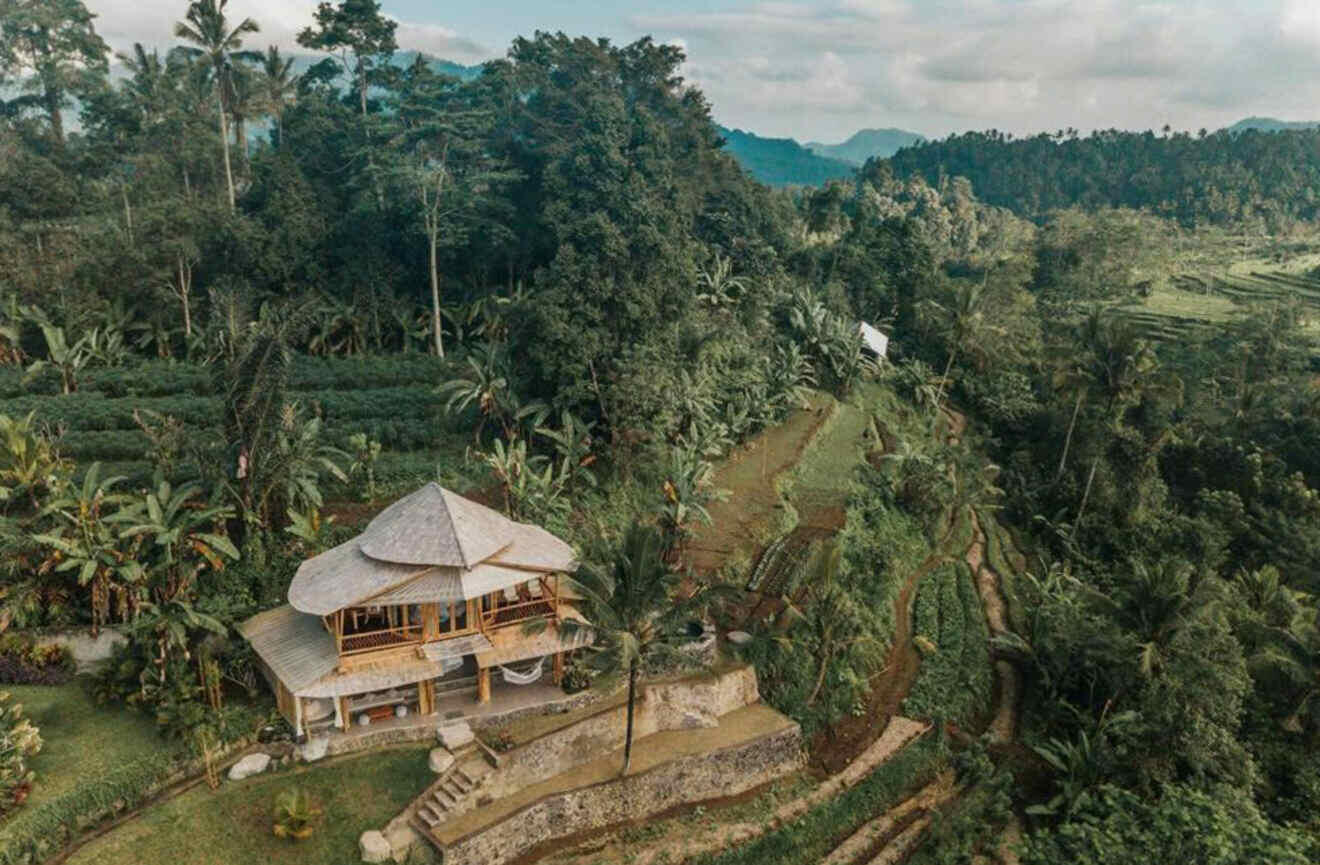 If you want to truly experience the magic of Bali, there's no better way than to spend a few nights in a jungle retreat!
Imagine waking up to the sound of birds chirping and the rustling of leaves in the gentle morning breeze, surrounded by lush greenery and the peaceful ambiance of the jungle.
Staying in a beautiful treehouse or secluded jungle bungalow is a once-in-a-lifetime opportunity to disconnect from the chaos of modern life and reconnect with nature.
Here are my top 5 retreats:
BONUS: Kid-friendly activities in Bali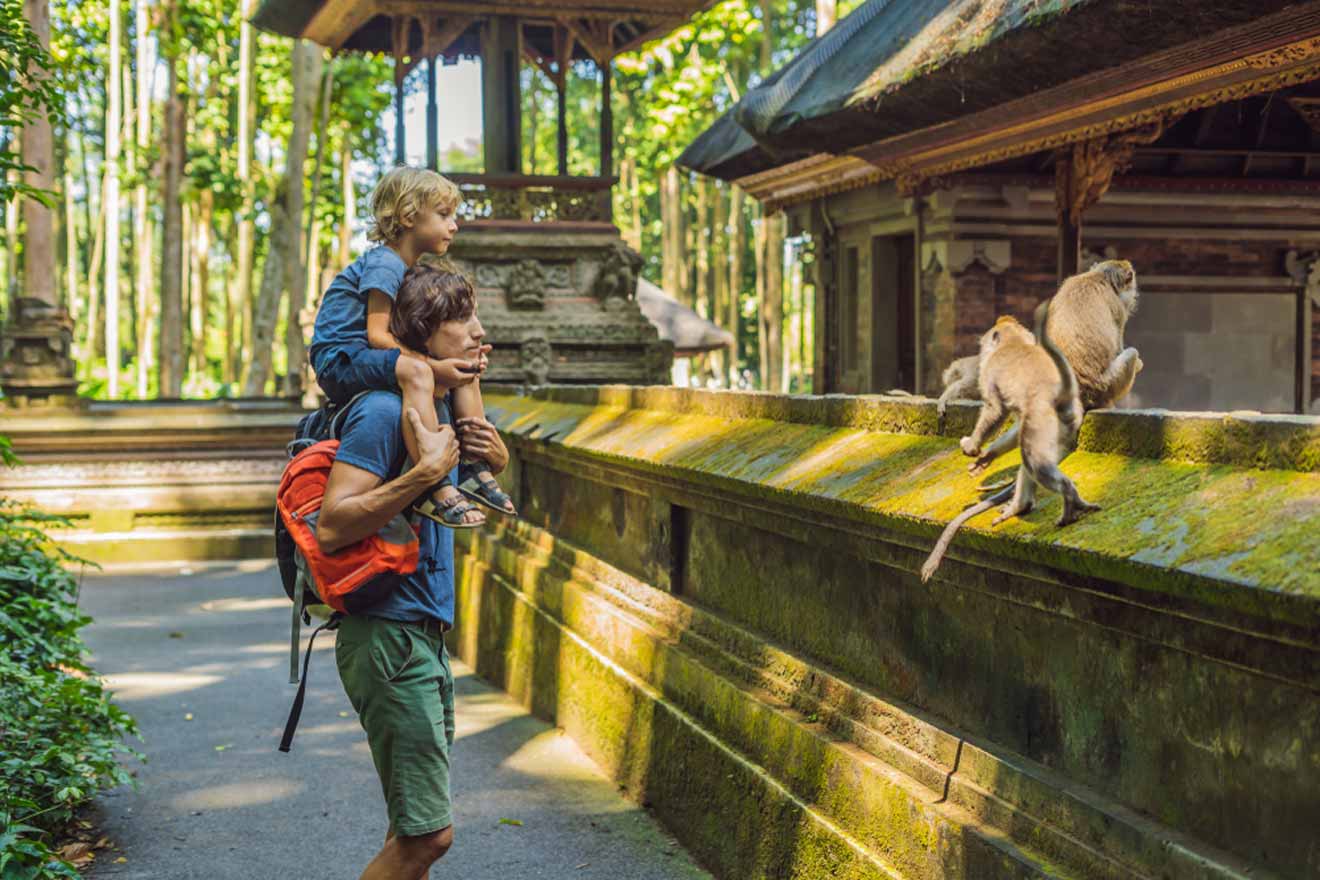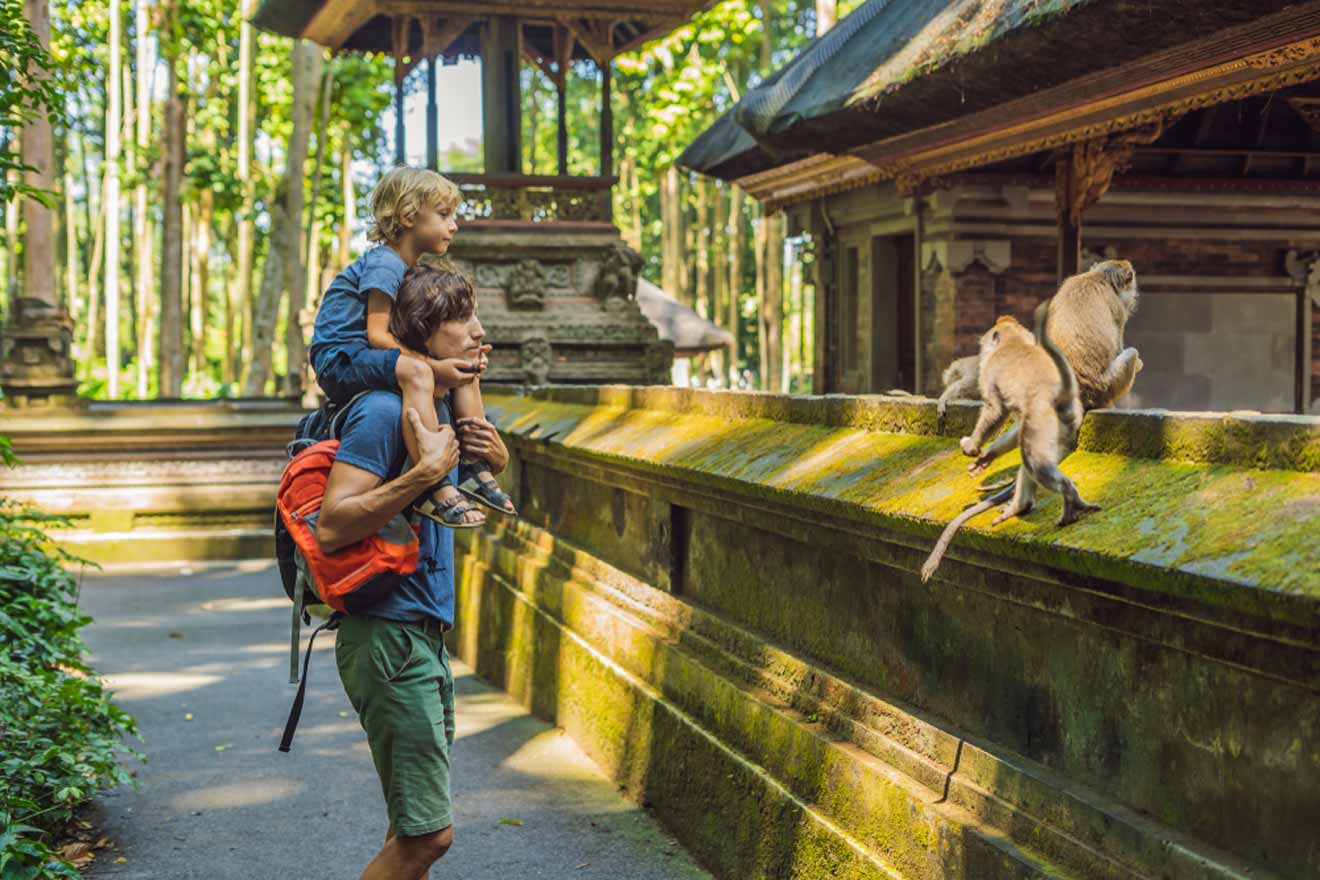 If you're traveling with kids, I've got some real gems for you! Here are a few of my favs:
FAQs about things to do in Bali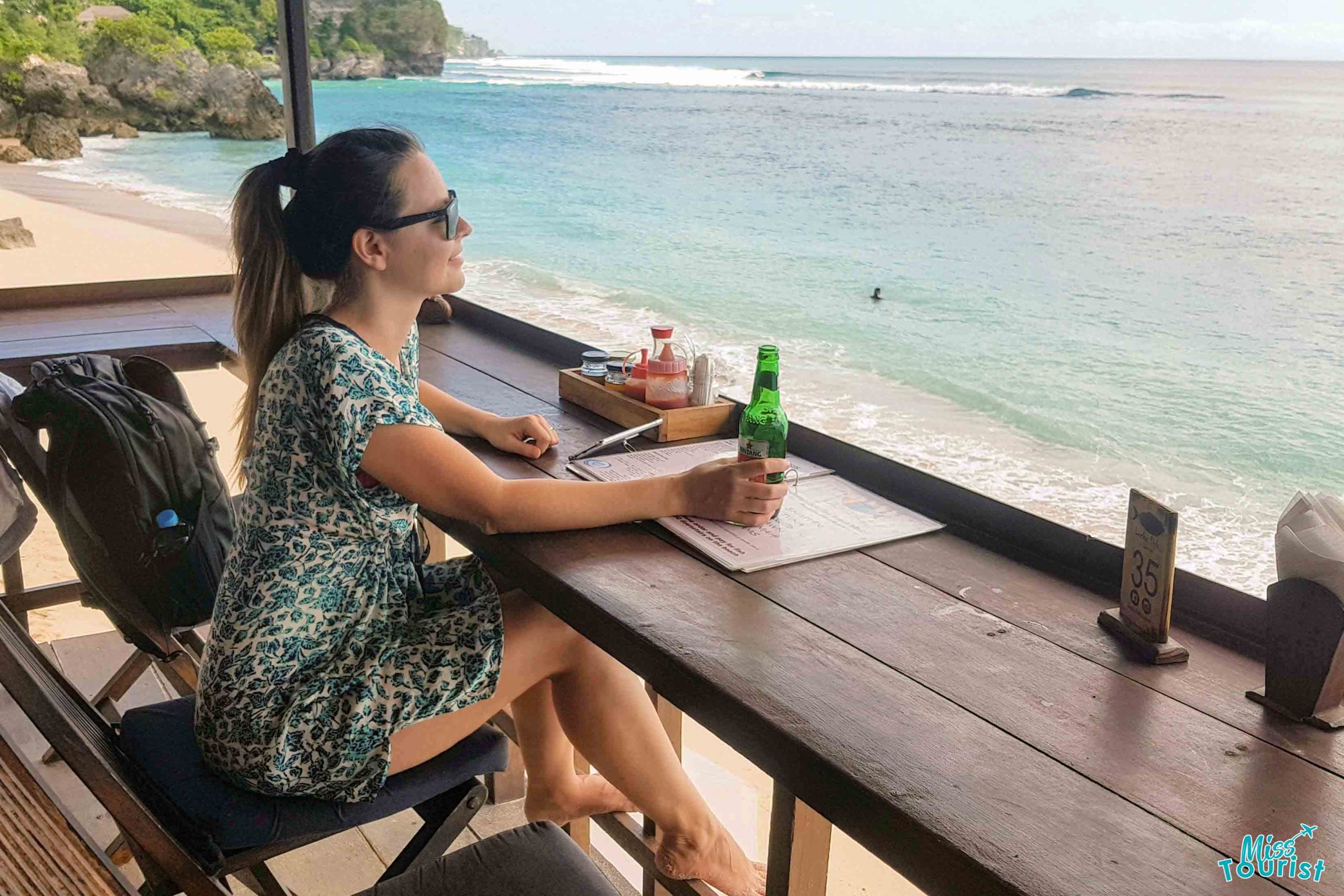 ⌛ When is the best time to visit Bali?
The best time to visit Bali is during the dry season from April to October, with May to August being the peak months for optimal weather conditions.
🛂 Do I need a visa to visit Bali?
Most nationalities, including the United States, can obtain a free 30-day visa upon arrival. However, always check your specific country's requirements before traveling.
🤑 What currency is used in Bali?
The Indonesian Rupiah (IDR) is the official currency of Bali. Check the current conversion rate for your currency here.
🚱 Is it safe to drink tap water in Bali?
No, it's not recommended to drink tap water in Bali. Always opt for bottled or filtered water.
Conclusion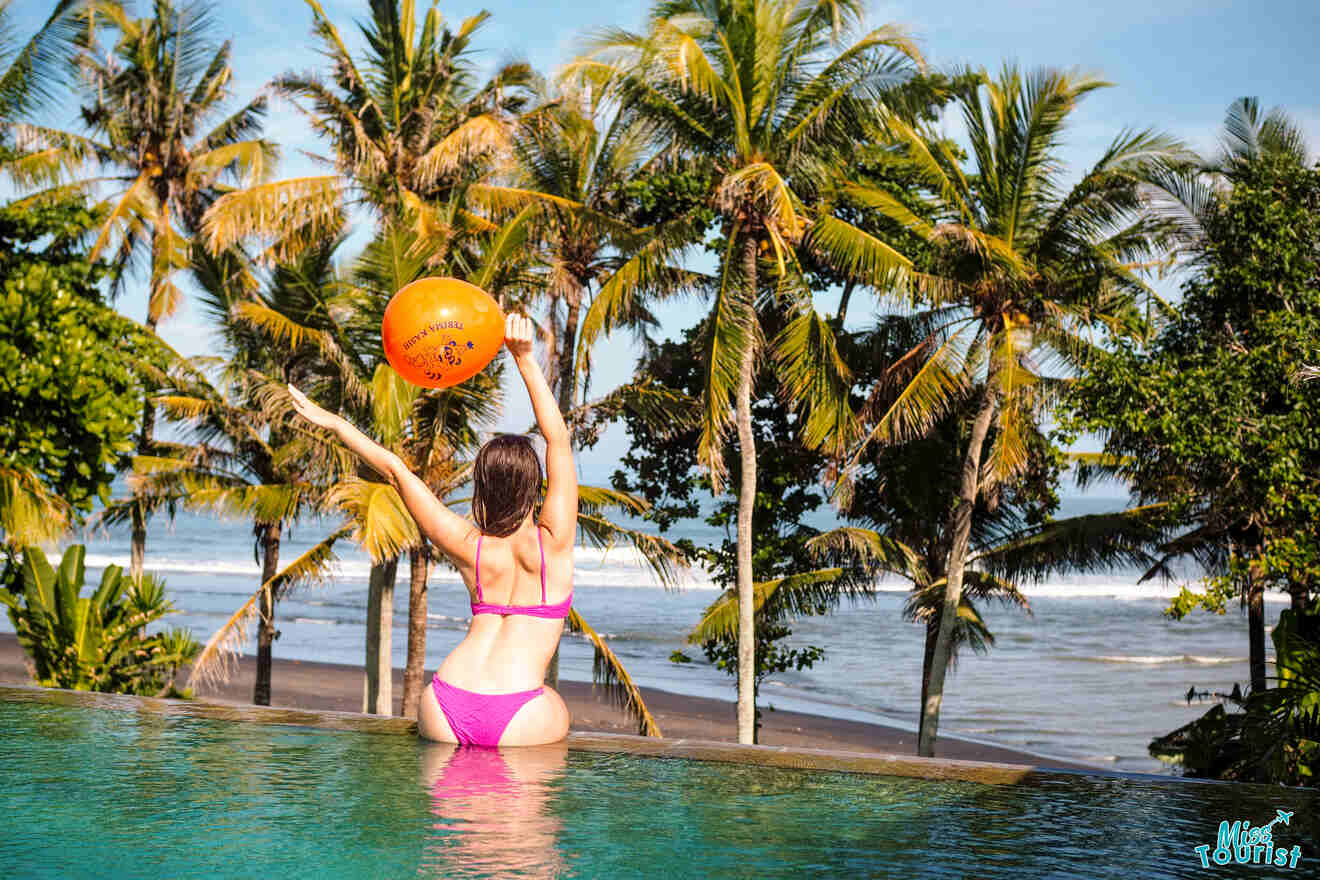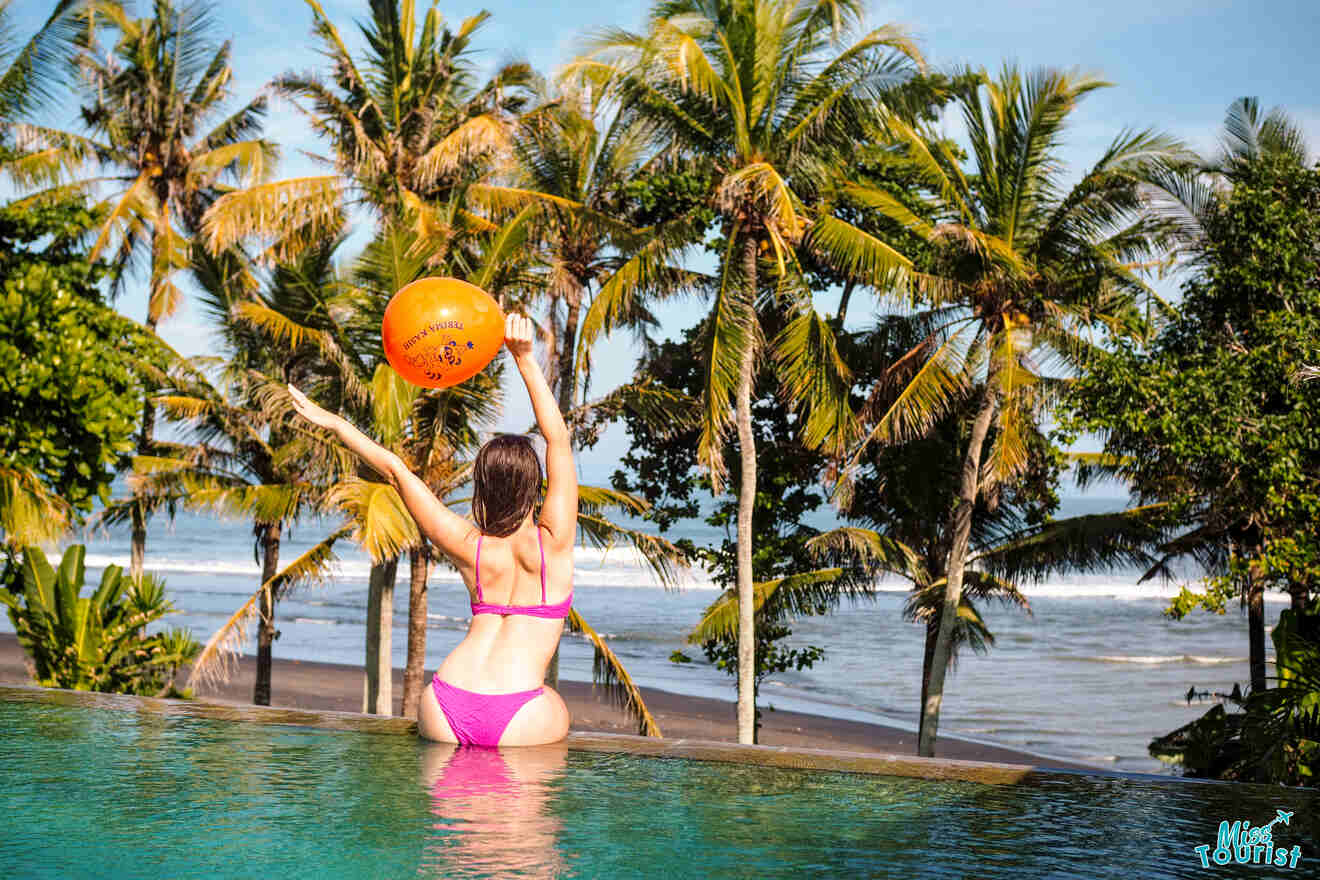 And there you have it, my dear wanderlust-driven amigos! I could go on and on about the mesmerizing sunsets, the devilishly good food, and the soul-stirring cultural experiences that make Bali the ultimate island paradise. There are so many awesome things to do in Bali, it's making me want to pack my bags again!
After all, I have been living on the island of Gods for a couple of years for a reason. Bali truly is a place that will steal your heart, captivate your senses, and leave you daydreaming about your return even before your tan lines have faded!
So grab your favorite travel buddy, pack those bags, and get ready to create memories that'll last a lifetime.
Cheers to good times and unforgettable experiences, my friends! Safe travels and see you on the other side of paradise! 🌴🌊✈️
Shoot me a comment if you have any questions, I am happy to help! 🙂
Yulia
---
Pin it for later!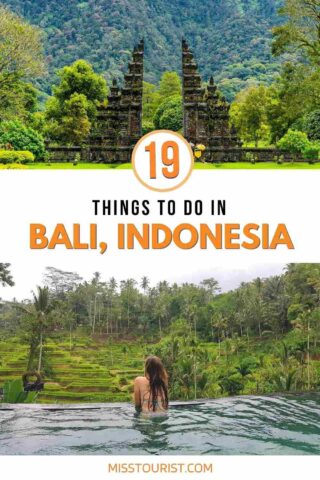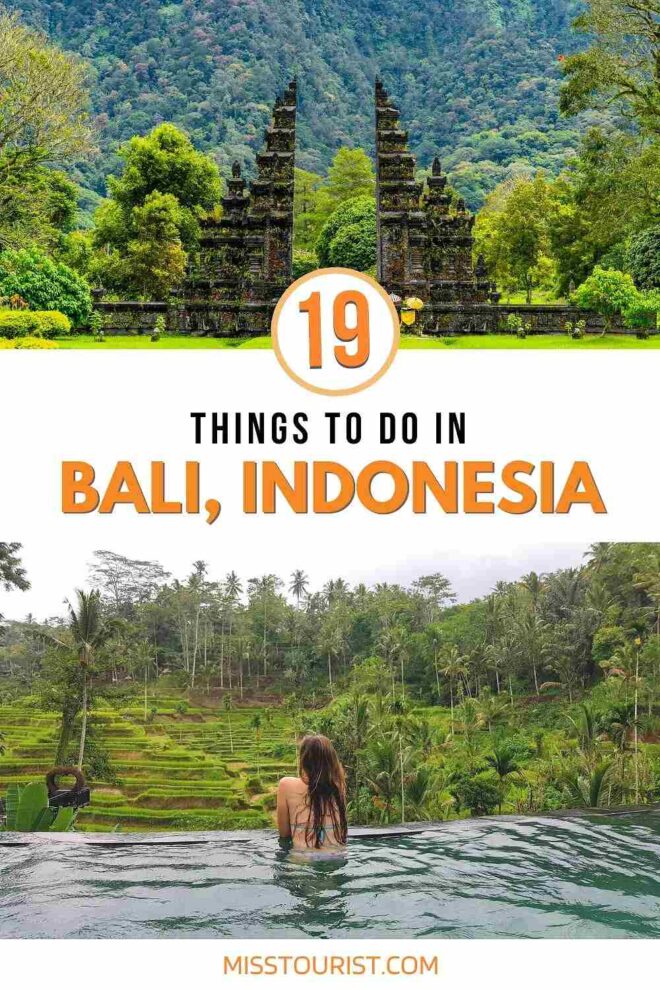 Pin it for later!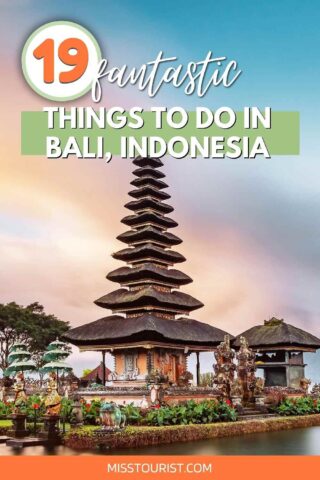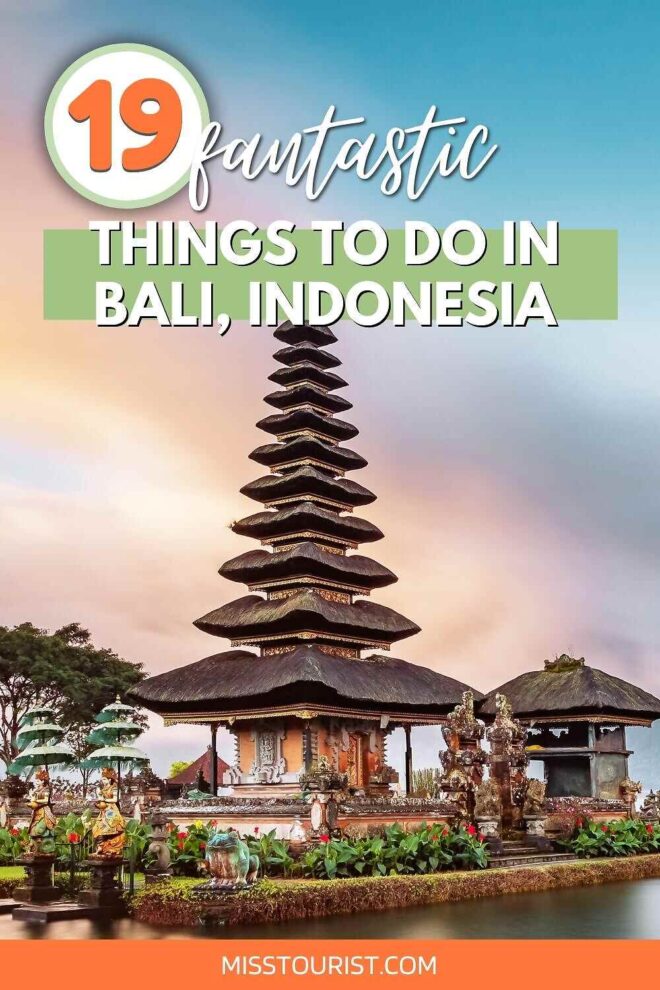 Products You May Like