20 AMAZING Things to Do in Fort Myers → Top 2023 Attractions
It doesn't get much more quintessentially Florida than Fort Myers, with its sandy beaches, laid-back attitude, and no shortage of fun in the sun. If you're looking for the best things to do in Fort Myers on your next southwest Florida vacation, you've come to the right place!
Florida's Gulf Coast is famous for its absolutely stunning beaches. As a local who has been to plenty of great beaches on Florida's east coast, they just can't hold a candle to those on the Gulf. Warm, welcoming water so clear that you can see straight to the bottom and miles of soft, sugary sand you just want to sink your toes into – Fort Myers has all of that and more.
Located about 2 hours south of Tampa by car, Fort Myers offers visitors countless opportunities to enjoy Florida sunshine, both at the beach and beyond! In this article, I'm sharing all the very best things to do in Fort Myers, FL: discover the area's rich history, get up close to extraordinary native wildlife, make a splash in the crystal clear water, and more adventures are up ahead.
NOTE: The Caloosahatchee National Wildlife Refuge in Fort Myers is permanently closed to visitors, and Centennial Park was mostly destroyed during Hurricane Ian and is now considered an unsafe area.  
Okay, now we're ready!
If you are in a hurry
Short on time? I've got you covered! A few of the attractions I talk about in this article fill up quickly, so you'll want to make sure to book those ASAP for your trip.
Here are the main things to book in advance:
1. Soak up the sun on one of the beautiful beaches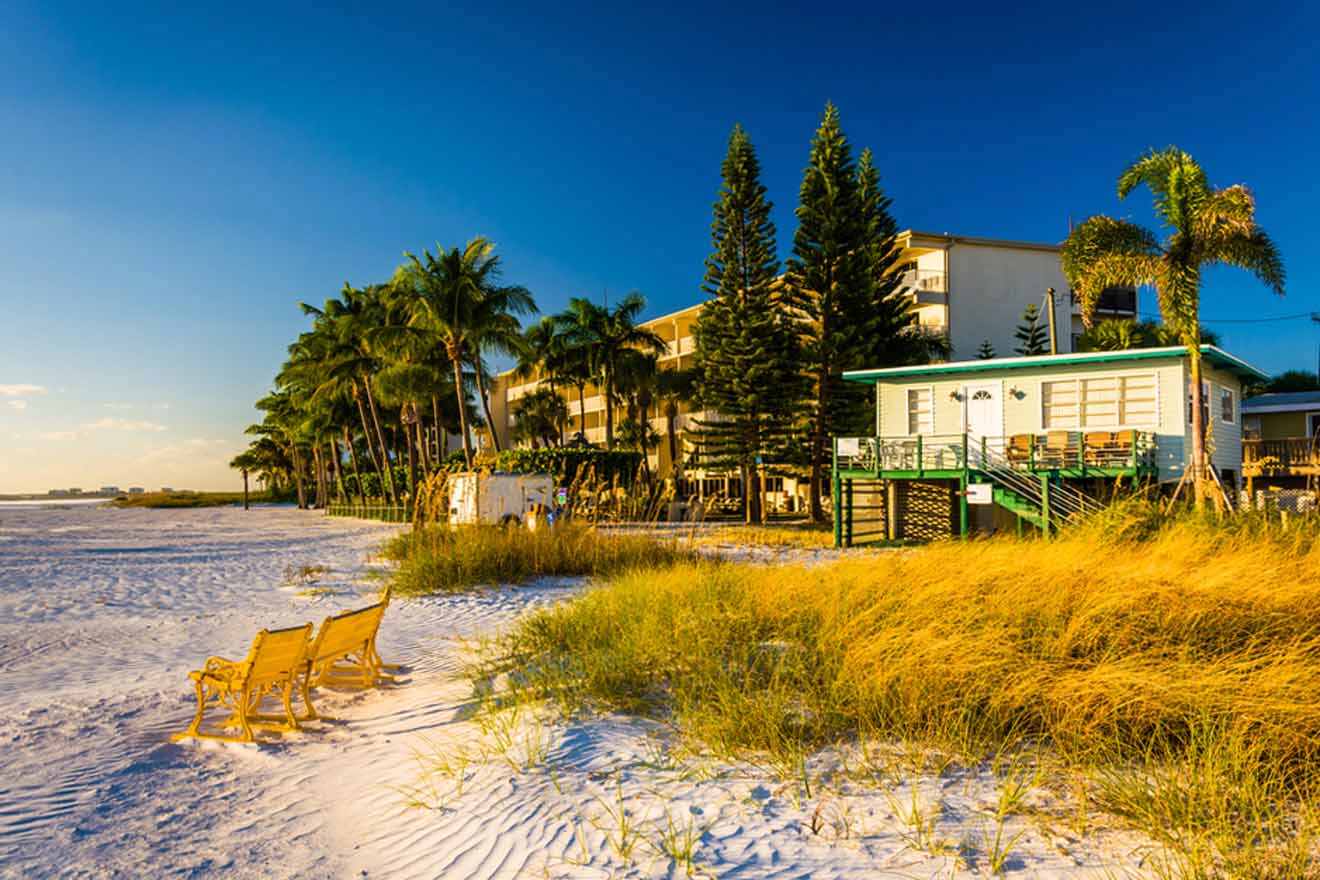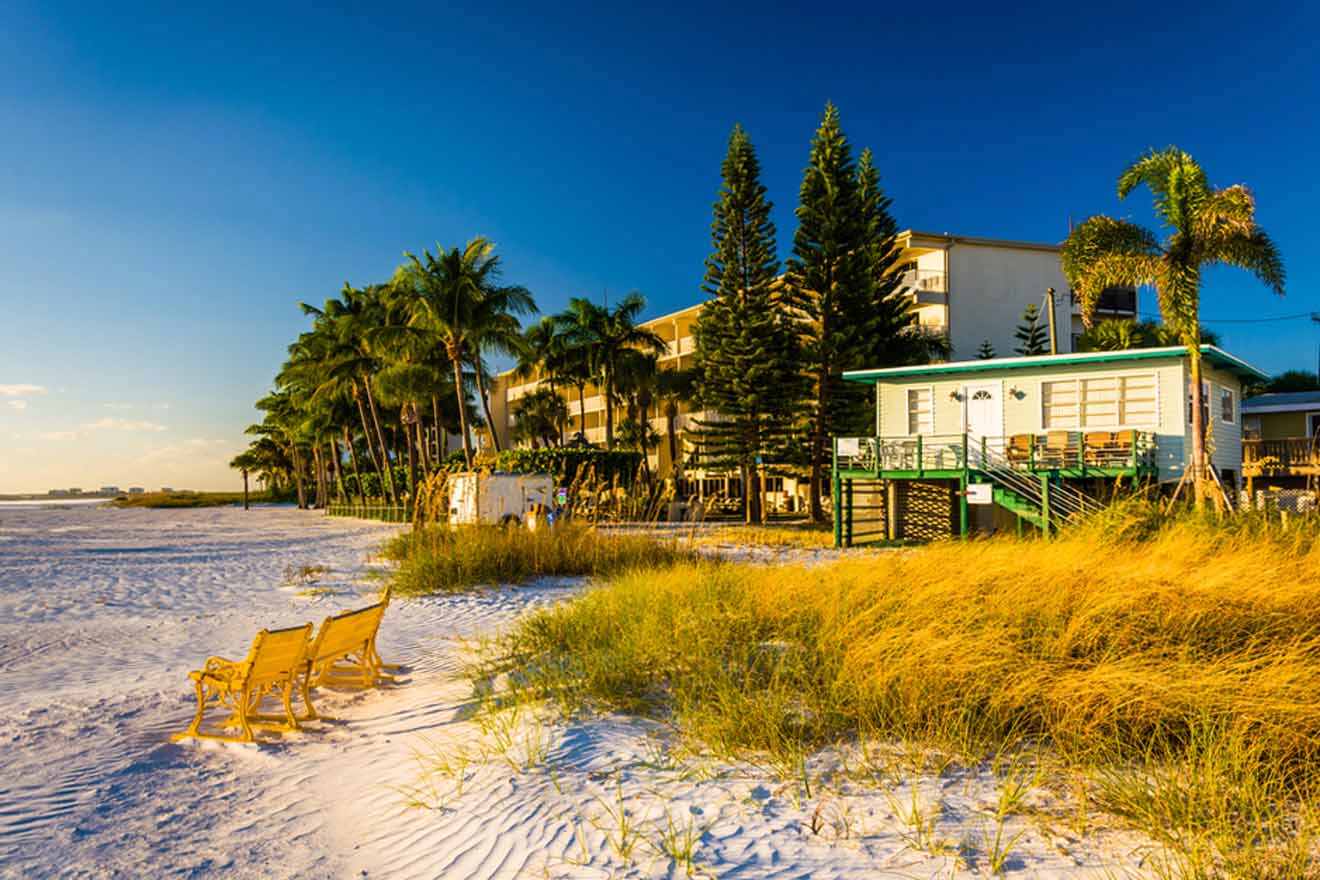 Even though I grew up in Fort Lauderdale, I am a huge fan of southwest Florida's beaches. Quite frankly, I think they're some of the best beaches in the entire Sunshine State. So it probably comes as no surprise that I'm kicking off our list of the best things to do in Fort Myers with its beautiful beaches.
You have quite a few choices when it comes to which beach to go to in Fort Myers but to make it easier, I've put together my top picks for you, depending on what you're looking to do at the beach.
1.1 Lynn Hall Memorial Park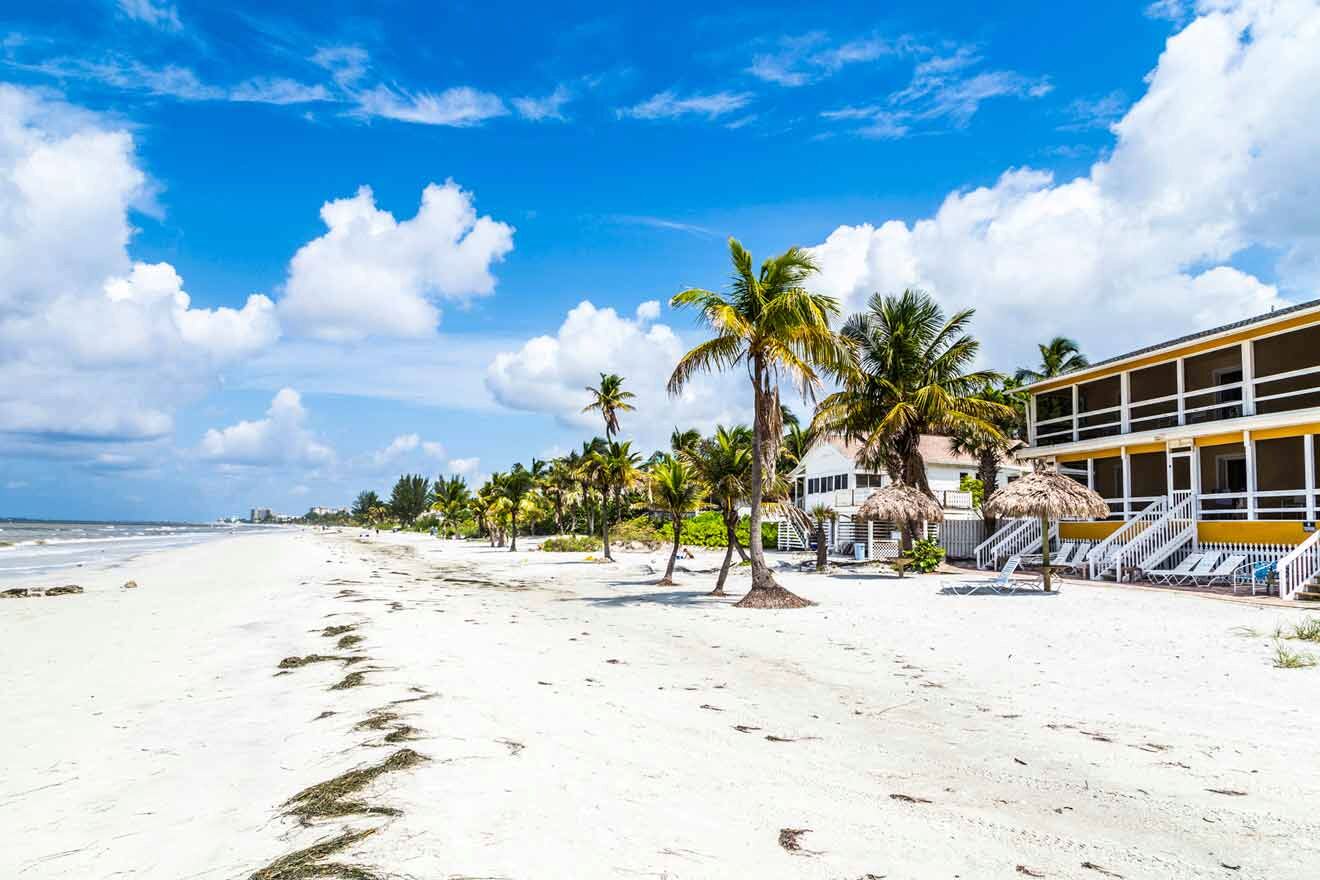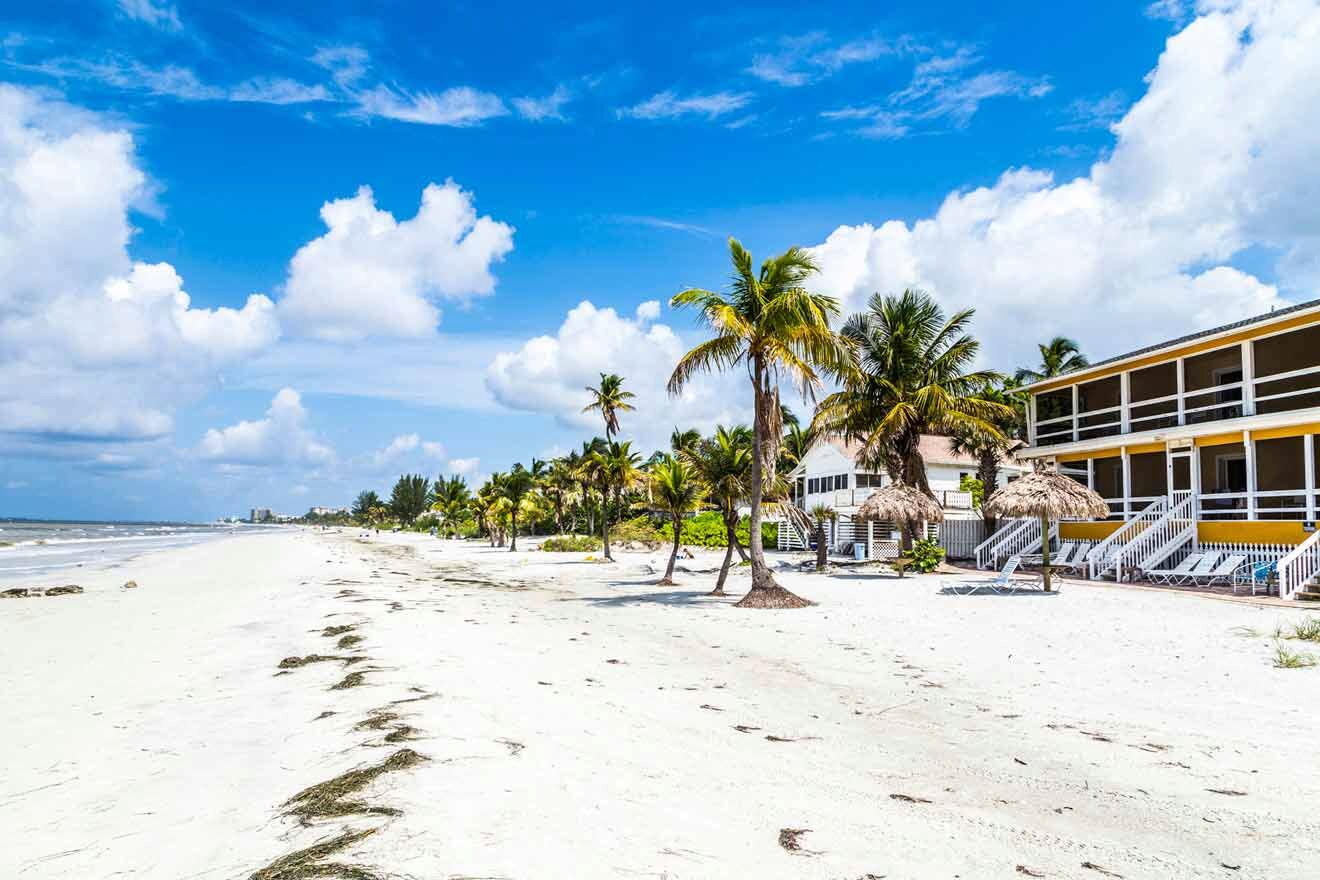 Located on Fort Myers Beach, this beachfront park is the spot for visitors who want a beautiful beach with a lot going on nearby! Lynn Hall Memorial Park is right next to happening Times Square in downtown Fort Myers, so there are plenty of places to shop, dine, and drink after a day on the sand.
You'll find all the amenities you need at Lynn Hall Memorial Park as well. There are changing rooms, restrooms, a huge playground, picnic shelters with grills, and outdoor showers – necessities for a stress-free day at the beach!
1.2 Lovers Key State Park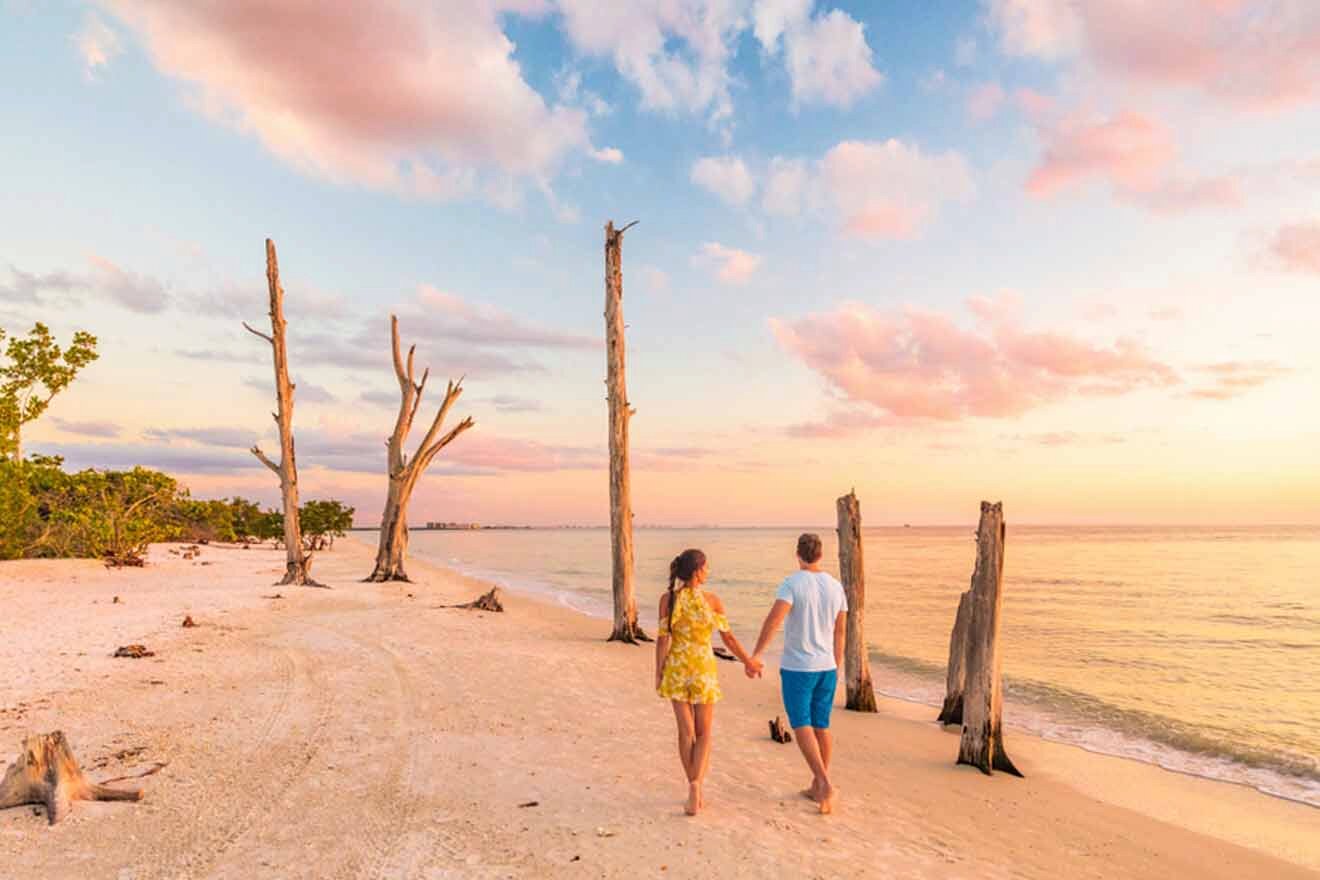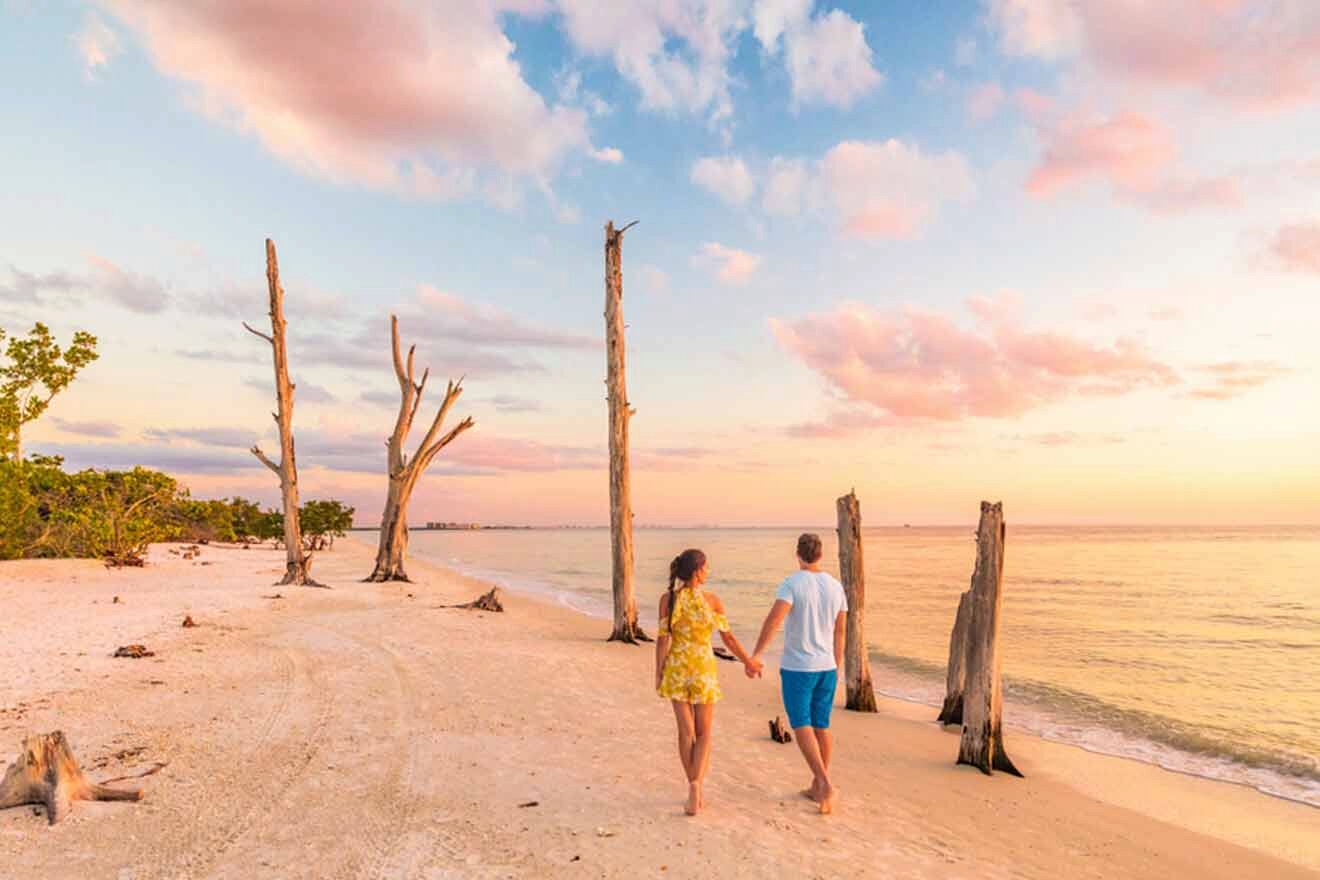 Once only accessible by boat, Lovers Key State Park protects a beautiful barrier island and boasts over 2 miles (3 km) of breathtaking, pristine beaches waiting to be explored!
Swimming, snorkeling, and shelling are all very popular at Lovers Key State Park, so it's a great choice for beachgoers who want to be immersed in nature. The estuaries of Lovers Key State Park are teeming with amazing wildlife, like West Indian manatees, dolphins, alligators, bald eagles, and over 40 different species of birds!
There are fantastic walking trails at Lovers Key State Park, but I also recommend getting out on the water and seeing it that way. This relaxing Lovers Key eco-tour takes you through the mangrove estuary on a paddle board, canoe, or kayak – it's up to you! Learn about the history and ecology of the area, and see the creatures who call it home.
PRICE: US$67 per person
1.3 Bunche Beach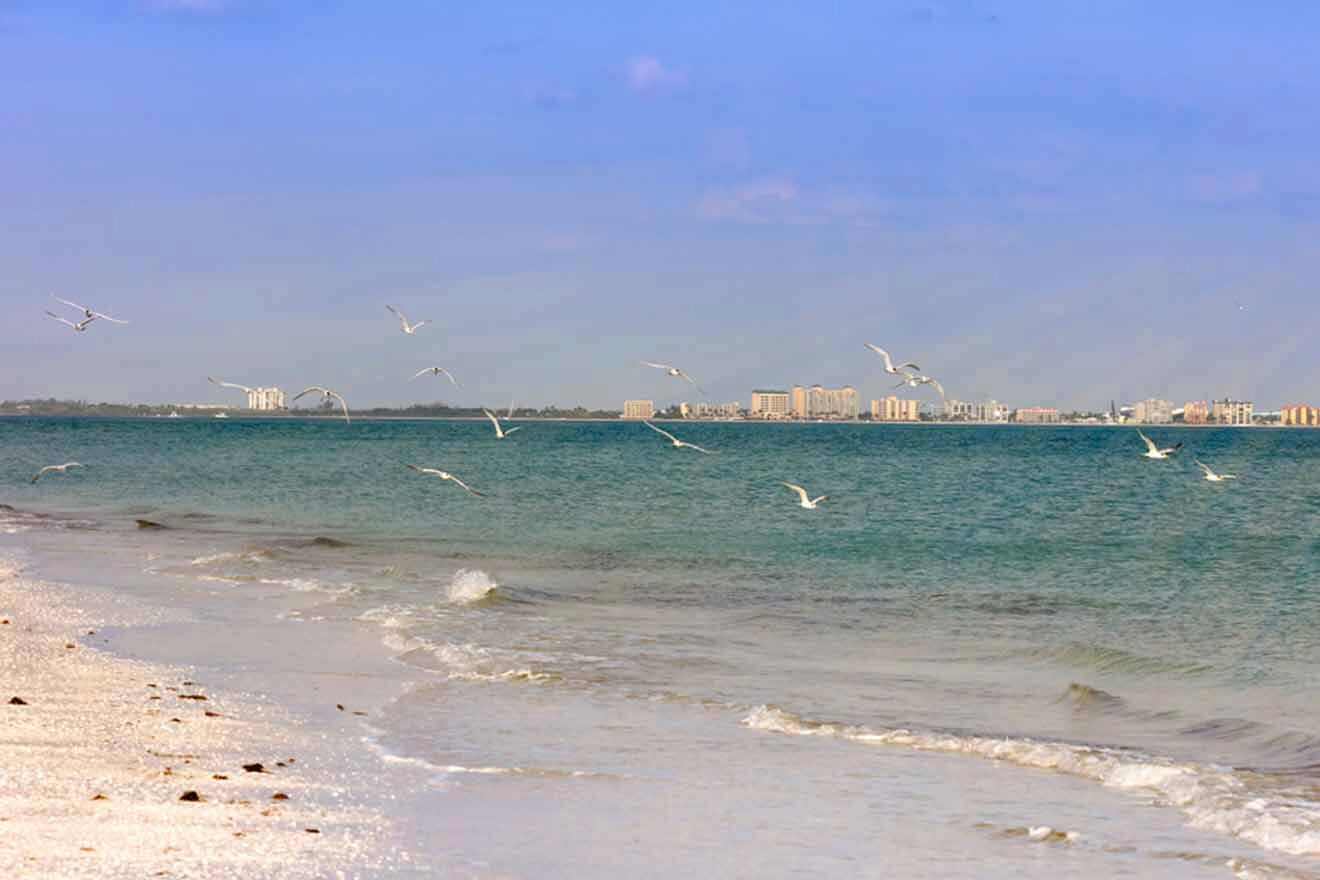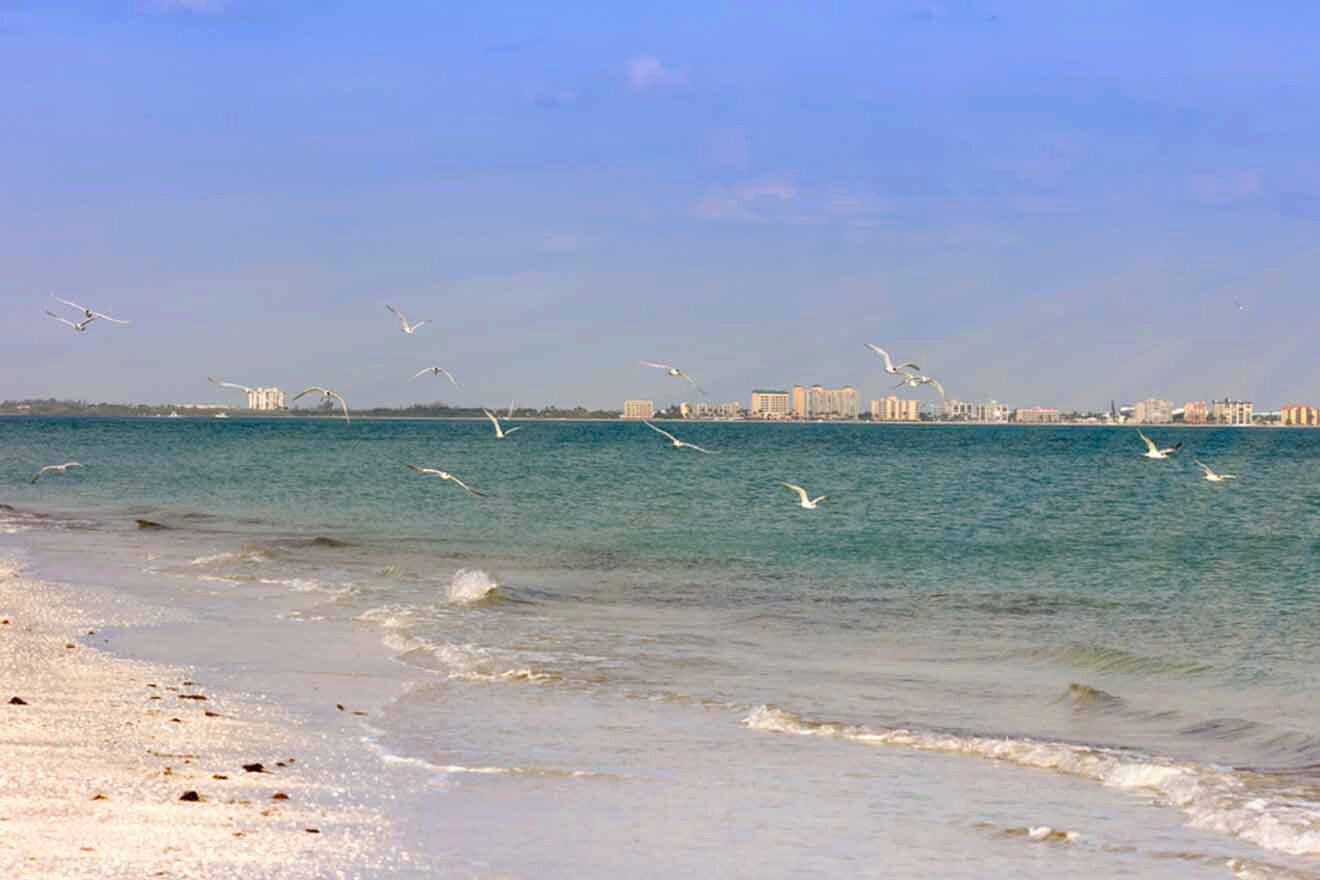 For those who prefer their days at the beach to be quiet and secluded, check out Bunche Beach. It's away from the hustle and bustle of other beaches in the area and is an undeveloped slice of paradise.
Bunche Beach is unlike any other beach I've been to. The landscape is so unique, and the water is very shallow, so it's ideal if you're visiting with little ones. You can also go kayaking through the mangroves there, and kayak rentals are available on-site. This beach is a hidden, natural gem that feels distinctly Old Florida.
2. Take a historic walking tour of Fort Myers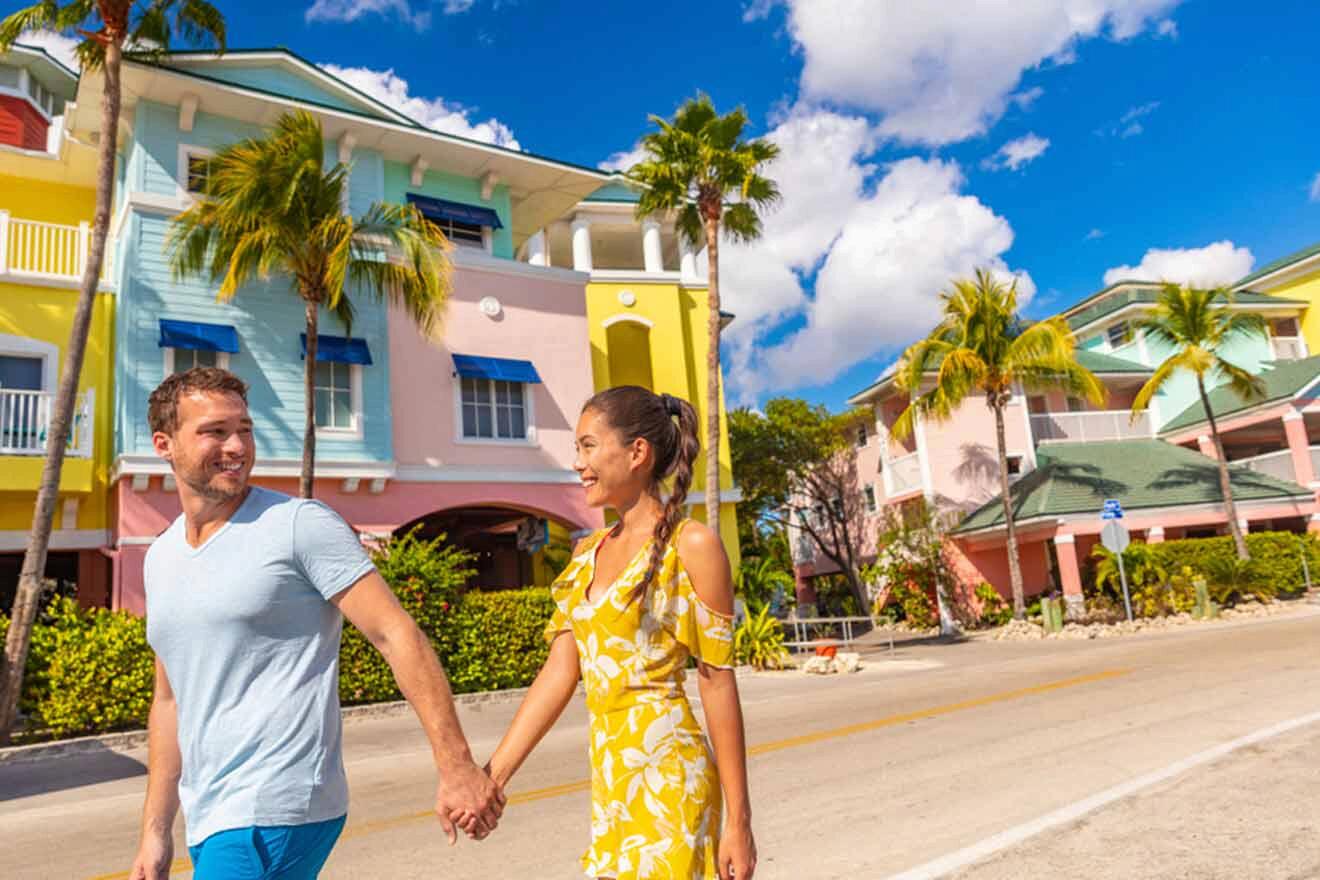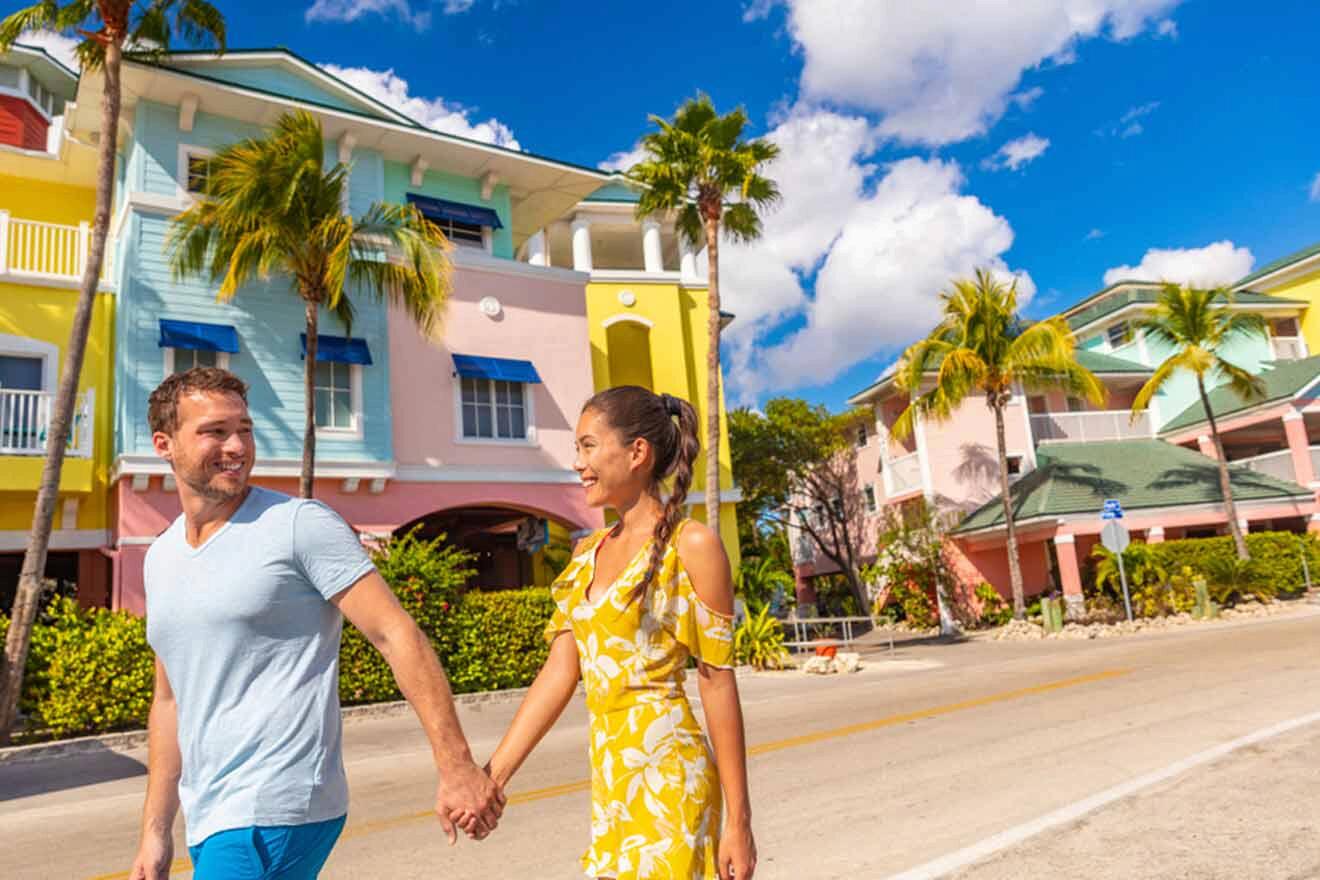 No first-time visit to Fort Myers is complete without learning about the city's fascinating history. In this historic walking tour of Fort Myers, you'll set out with an expert tour guide on a unique 1.5 hour-stroll through downtown Fort Myers.
This tour is a fantastic way to see the sights and get to know Fort Myers' storied past. Fort Myers native Cynthia A. Williams sums up much of what you'll learn in the title of her book on Fort Myers' roots: NARRATIVES of the Impossibly Romantic, Sometimes Comic, Often Improbable HISTORY OF FORT MYERS, FLORIDA.
Sounds like one heck of a tour, right? These tours are given only once a day at 10:30 AM, and they fill up very fast. If you're interested in taking this historic walking tour of Fort Myers, be sure to book ASAP!
PRICE: US$22 per person
3. Go paddle boarding with dolphins and manatees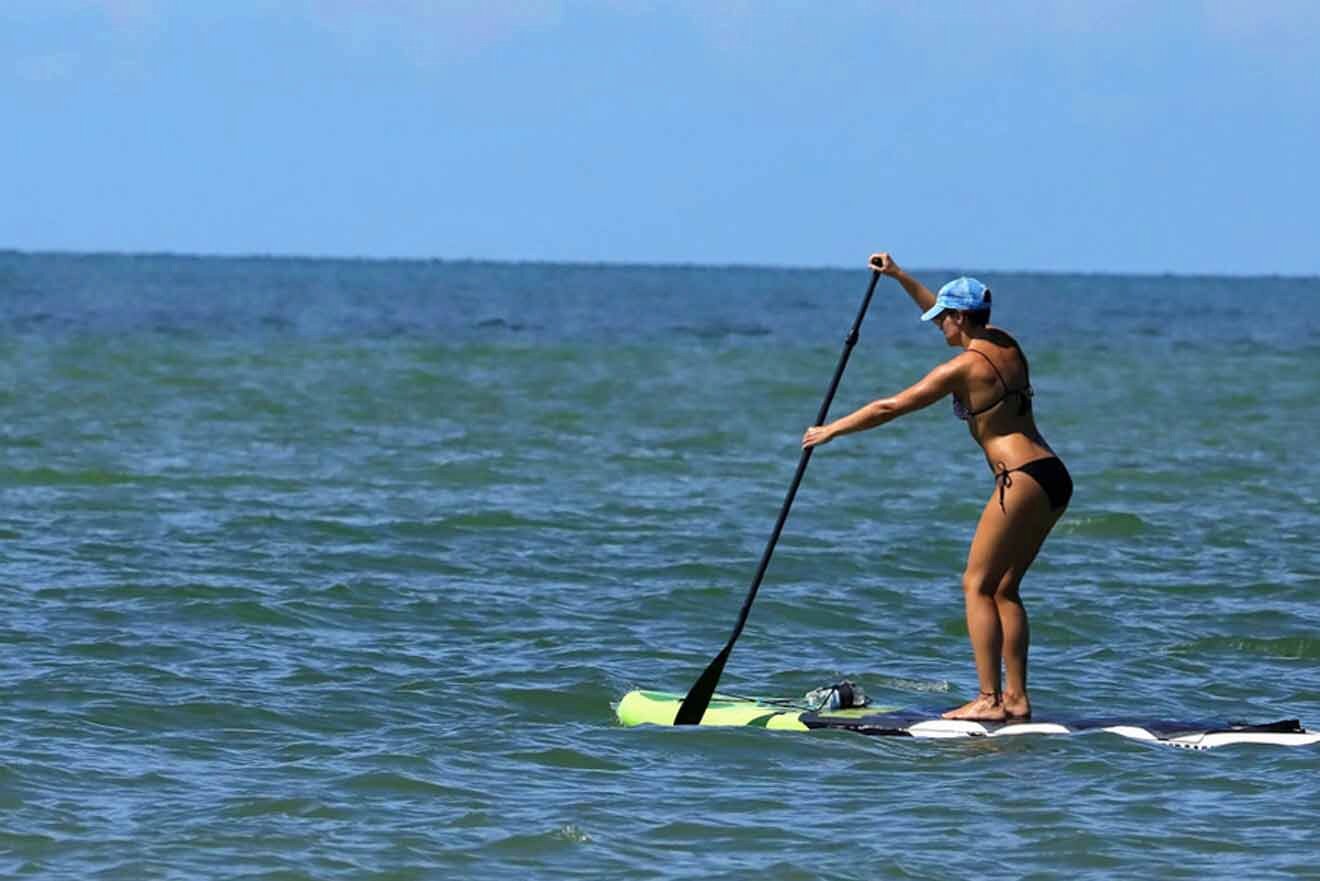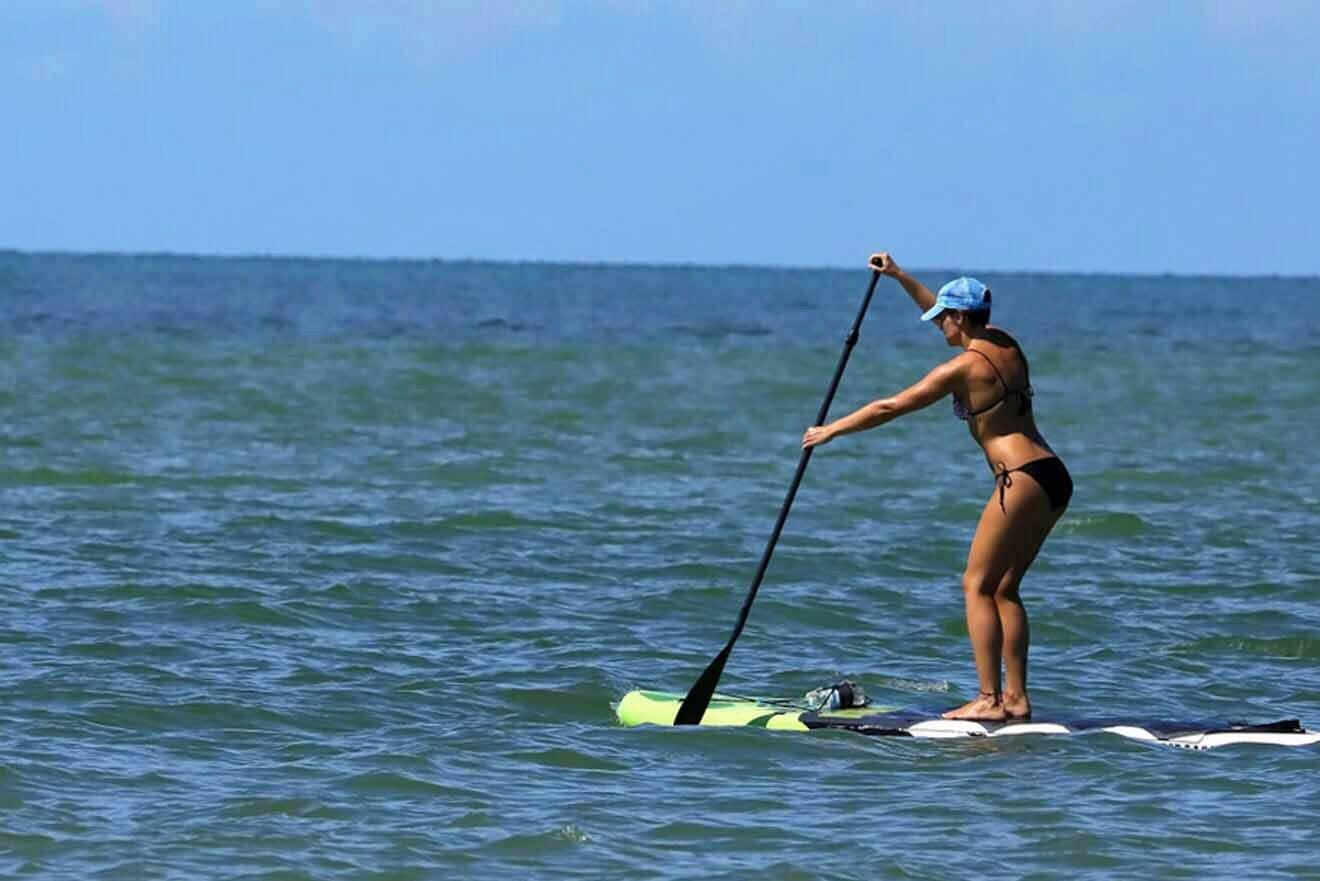 With its clear waters, Fort Myers is an amazing place to see Florida wildlife up close. And the best way to do so is to get out on the water yourself! This dolphin and manatee paddle board tour is ideal for anyone seeking adventure in the great outdoors with some of the most adorable animals around.
Immerse yourself in pristine nature as your tour guide guides you through the Fort Myers waterways. There are so many opportunities on this adventure to see truly incredible wildlife, like dolphins and manatees, sea turtles, starfish, and pelicans.
I've always loved paddle boarding because it's just so relaxing. The tour includes all the gear you'll need for the adventure, and it's beginner-friendly as well! There is a stop at the beach, so you'll have a chance to take a breather and take in the gorgeous surroundings.
Another place to spot manatees in Fort Myers is Manatee Park, where wild manatees are likely to be seen in the cooler months, from mid-December to March. If you have your own kayak, you can use the kayak launch here as well.
PRO TIP: The best time to see manatees in this area is from late December through February – I highly recommend visiting during those months if you can because observing these gentle giants is so worth it!
PRICE: US$65 for adults, US$33 for children
Book Dolphin & Manatee Adventure
4. Explore the Edison and Ford Winter Estates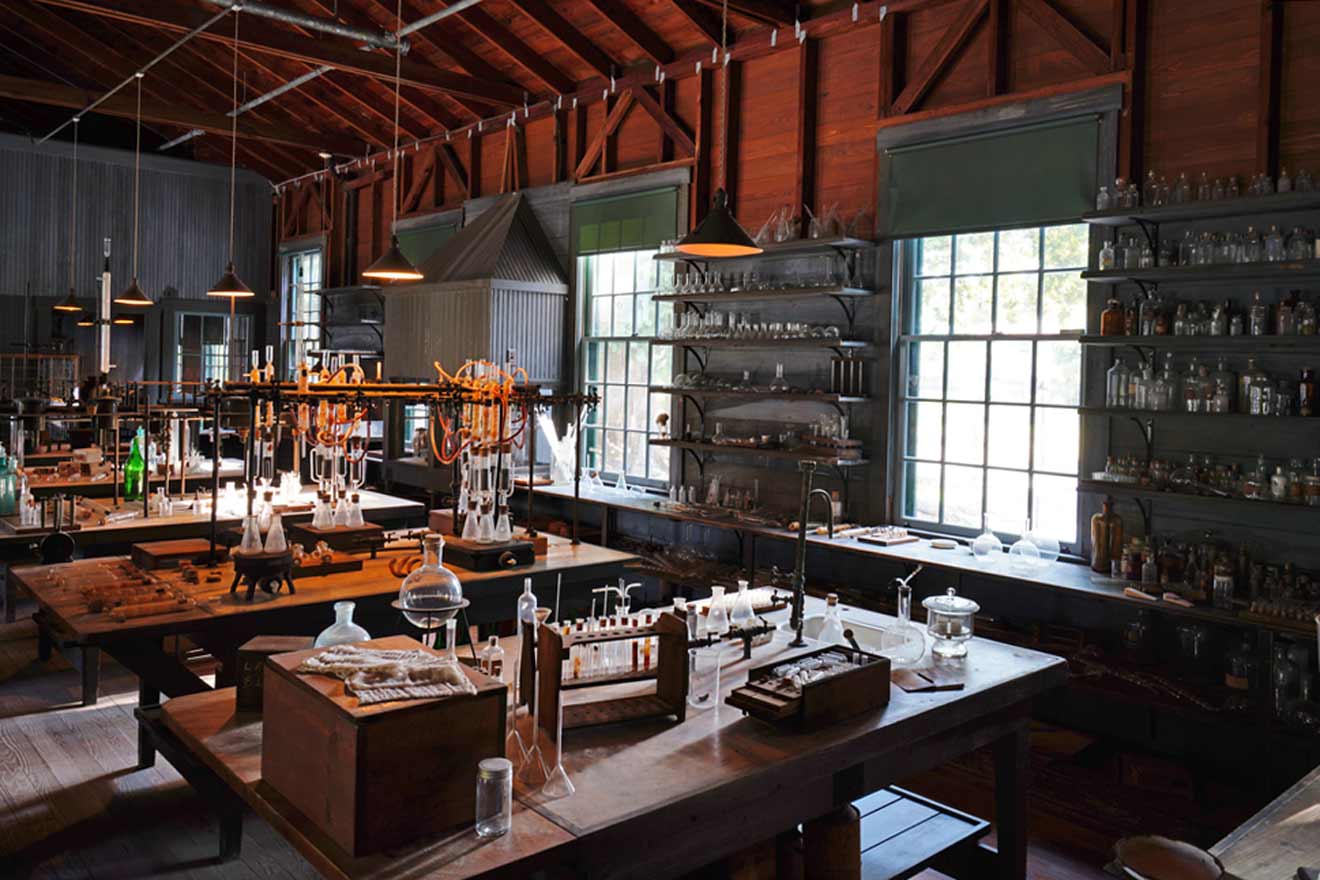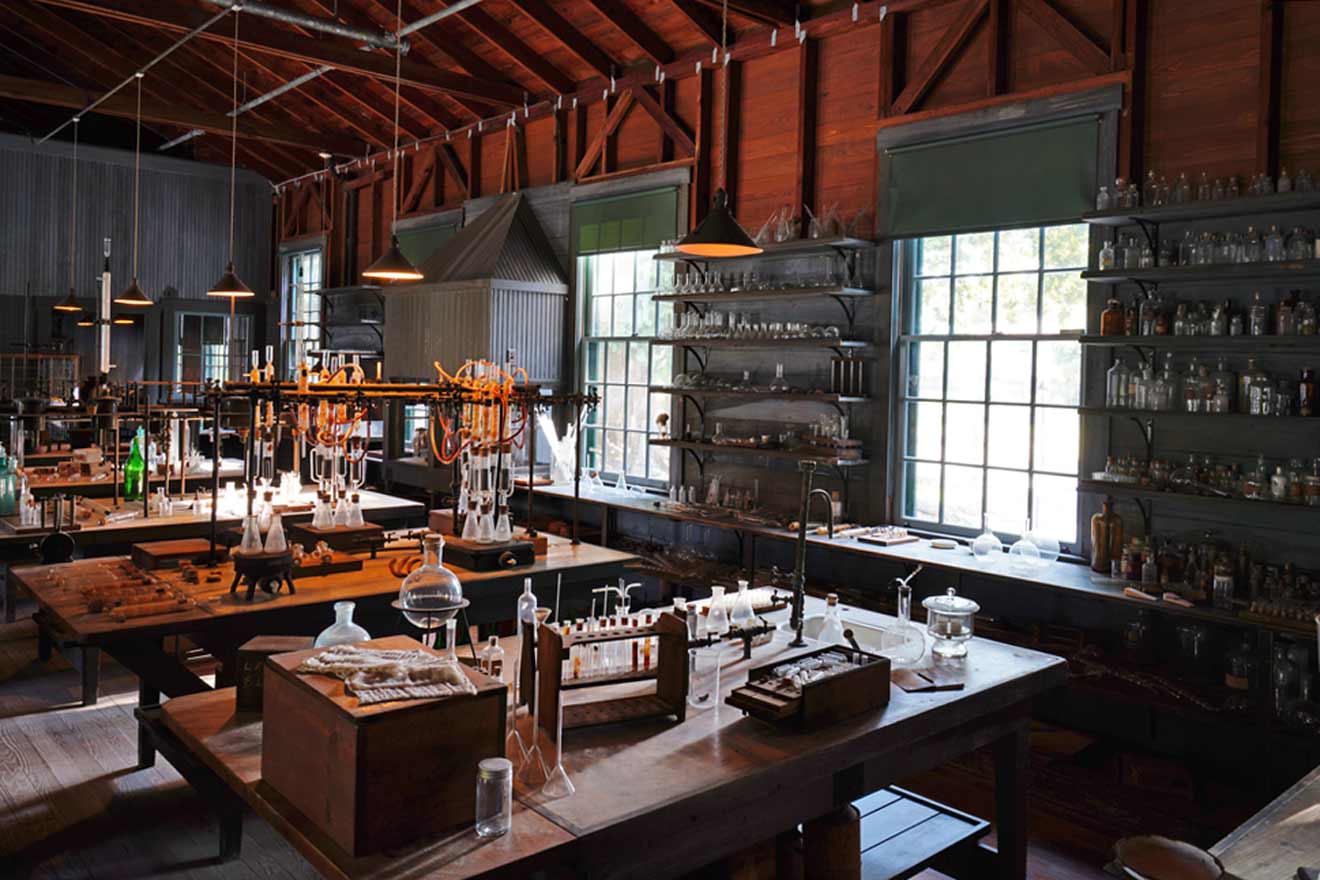 Fun fact about Fort Myers: both Thomas Edison and Henry Ford owned winter homes right next to each other here! The Edison and Ford Winter Estates are an extraordinary part of the area's history and one of the top Fort Myers attractions, whether you're a history buff, nature lover, or just want a unique experience when you're in town.
The Edison and Ford Winter Estates encompass the 2 historic homes, botanical gardens, 15,000 square ft (1,395 m²) Edison Ford Museum, the Edison Botanic Research Laboratory, Garden Shoppe, and museum store – there is so much to see and do on this gorgeous property, where the spirit of these innovative men who changed the world as we know it lives on.
There are a few ways to explore the Edison and Ford Winter Estates, including self-guided tours and more in-depth tours led by experts. The estates also host a variety of events, like concerts and cocktail classes. If you're into gardening, you should definitely look into attending one of their gardening workshop talks and classes.
PRICE: Tours start at US$25 for adults, US$20 for teens, and US$15 for children 5+
5. Have some fun in Fort Myers' Times Square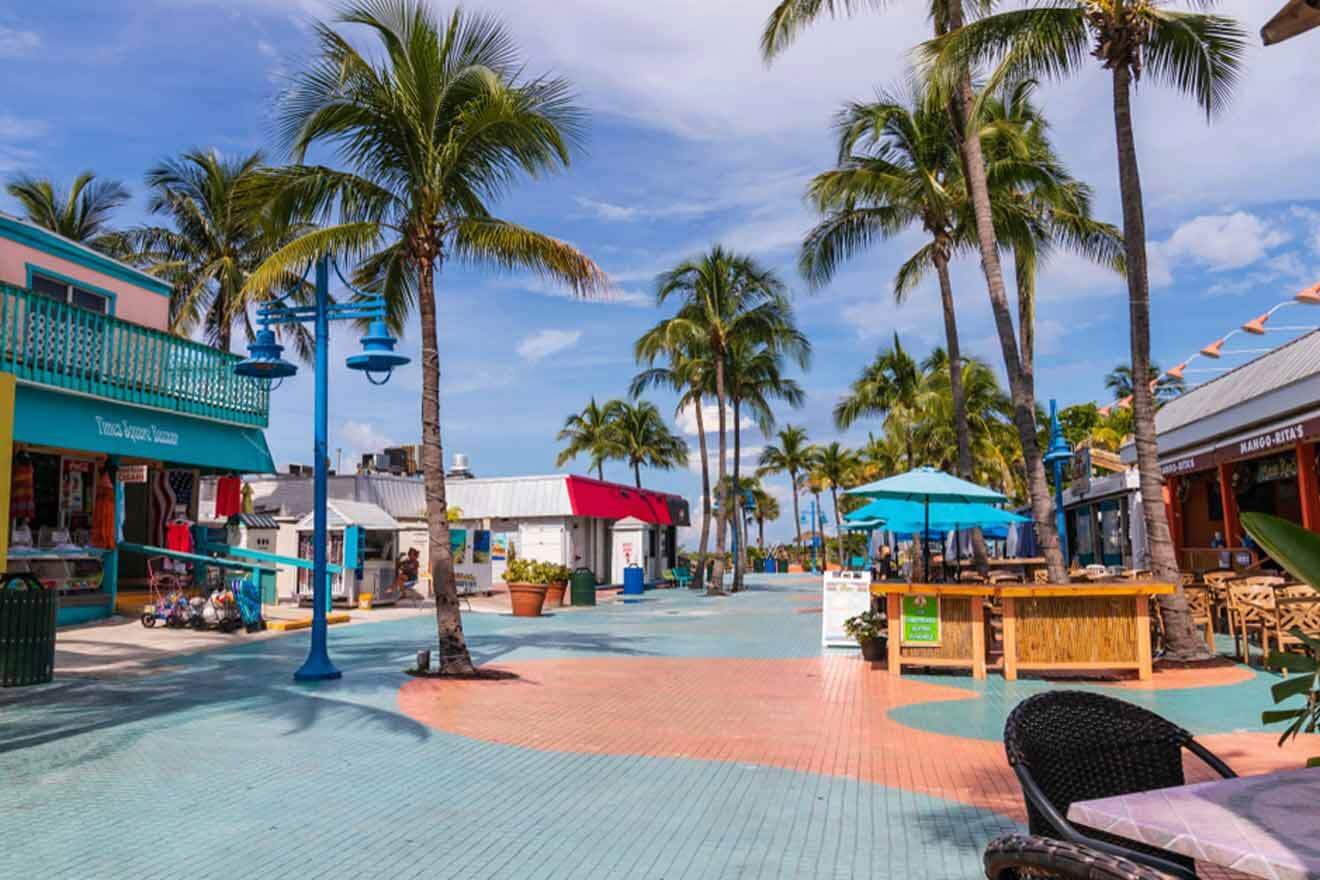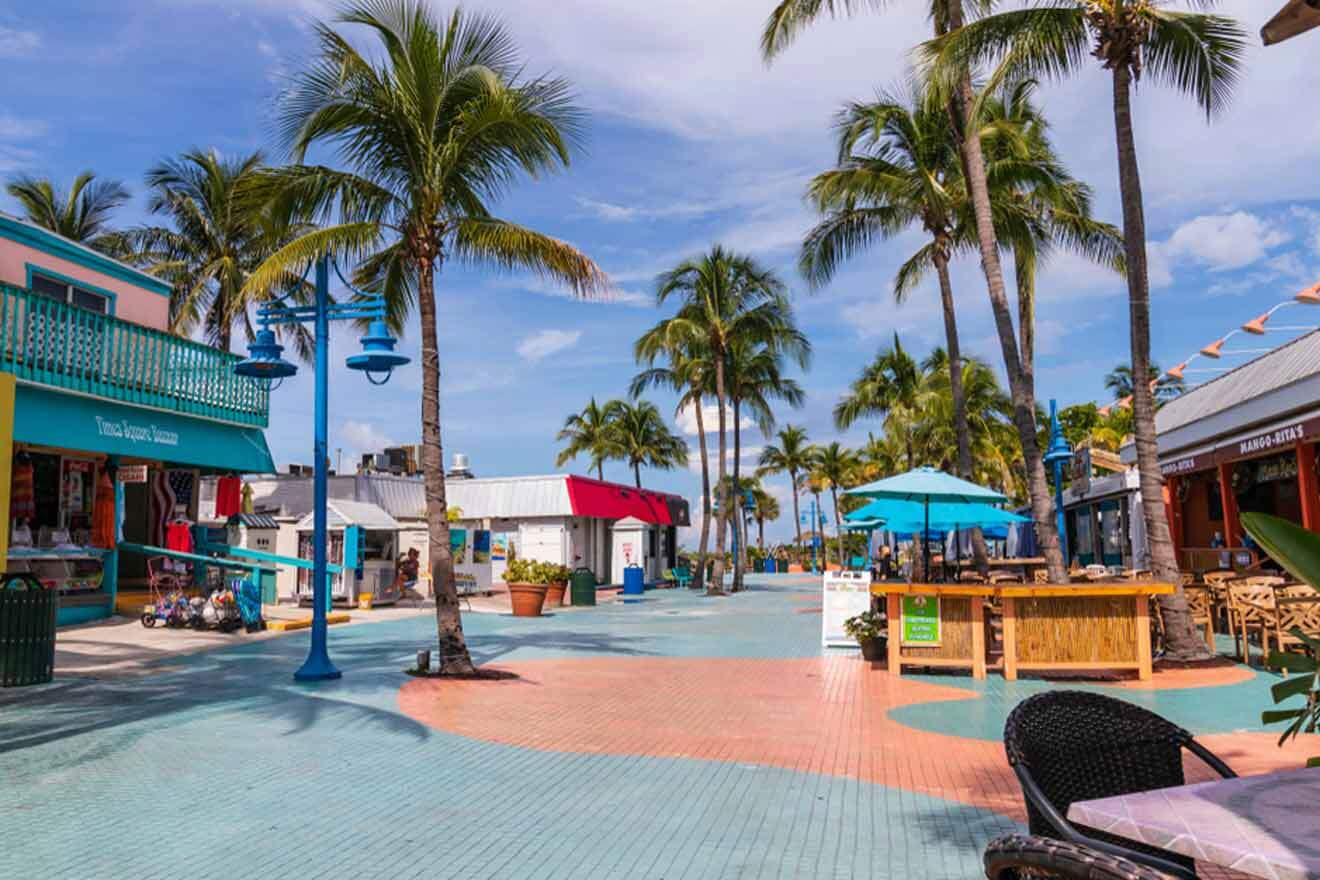 Times Square in Fort Myers is a hotspot for shopping, dining, and entertainment just steps from Lynn Hall Memorial Park, which we talked about at #1 on our list! Here, you'll find restaurants with plenty of outdoor seating, shops for beachgoers, live music, street performers, and lots of fun in the sun.
Fort Myers withstood heartbreaking devastation during Hurricane Ian, and Times Square is gradually rehabilitating after the storm took its toll. A lot of progress has been made over the past few months, and local restaurants and businesses are starting to reopen. Although Times Square is not the same as it once was, it's such an iconic part of Fort Myers I had to include it here.
6. Try locally crafted beer at Fort Myers Brewing Company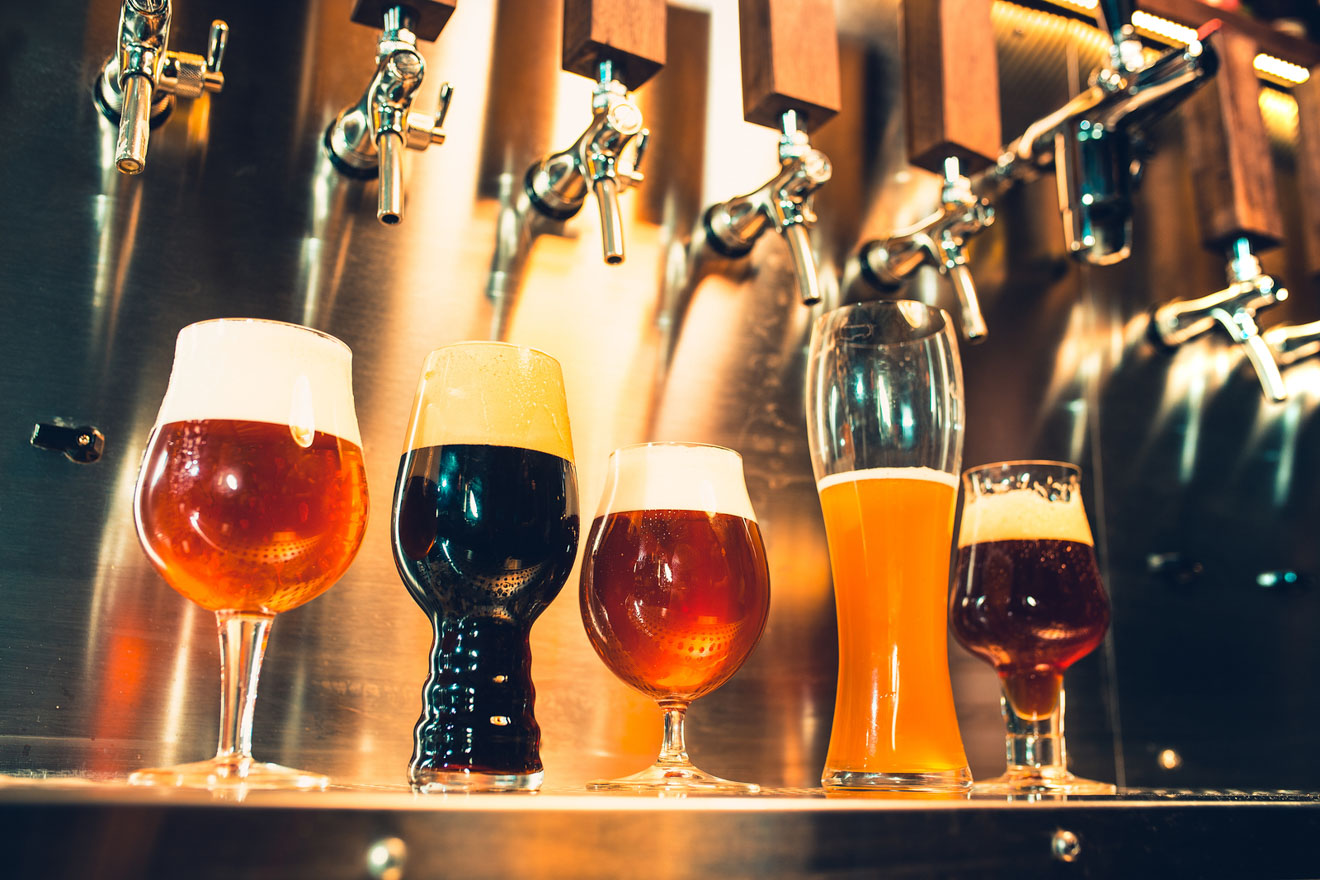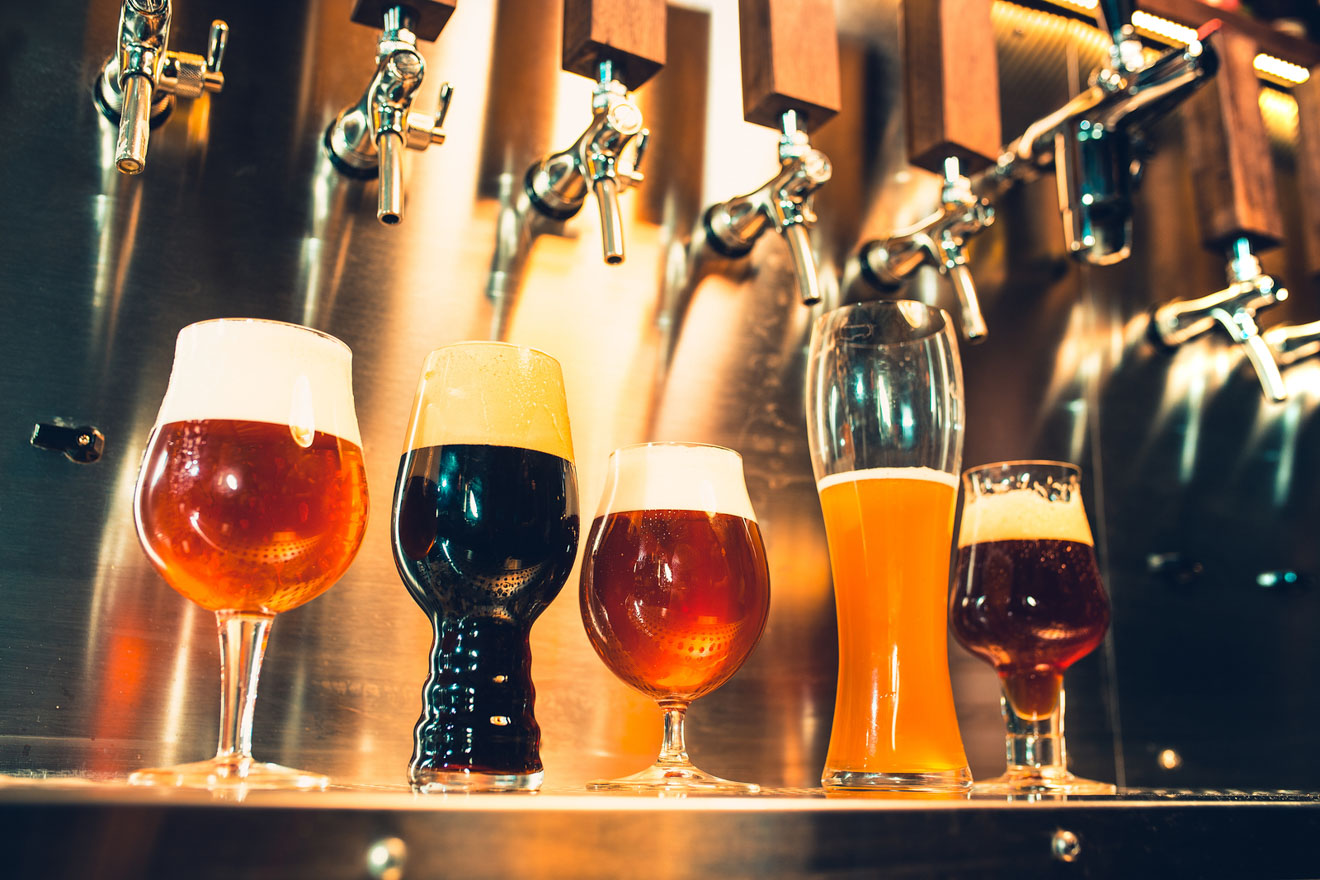 Loved by locals and visitors alike, Fort Myers Brewing Company is a must-do for craft beer enthusiasts visiting Fort Myers. Owned by a husband and wife team passionate about community and brews, it's the ideal place to kick back, relax, and enjoy some high-quality craft beer.
Fort Myers Brewing Company boasts a packed calendar of events, including food truck rallies, a weekly run club, and lots of live music, so there's always something fun going on there. You can check out their menu of award-winning beers online.
7. Catch a baseball game at JetBlue Park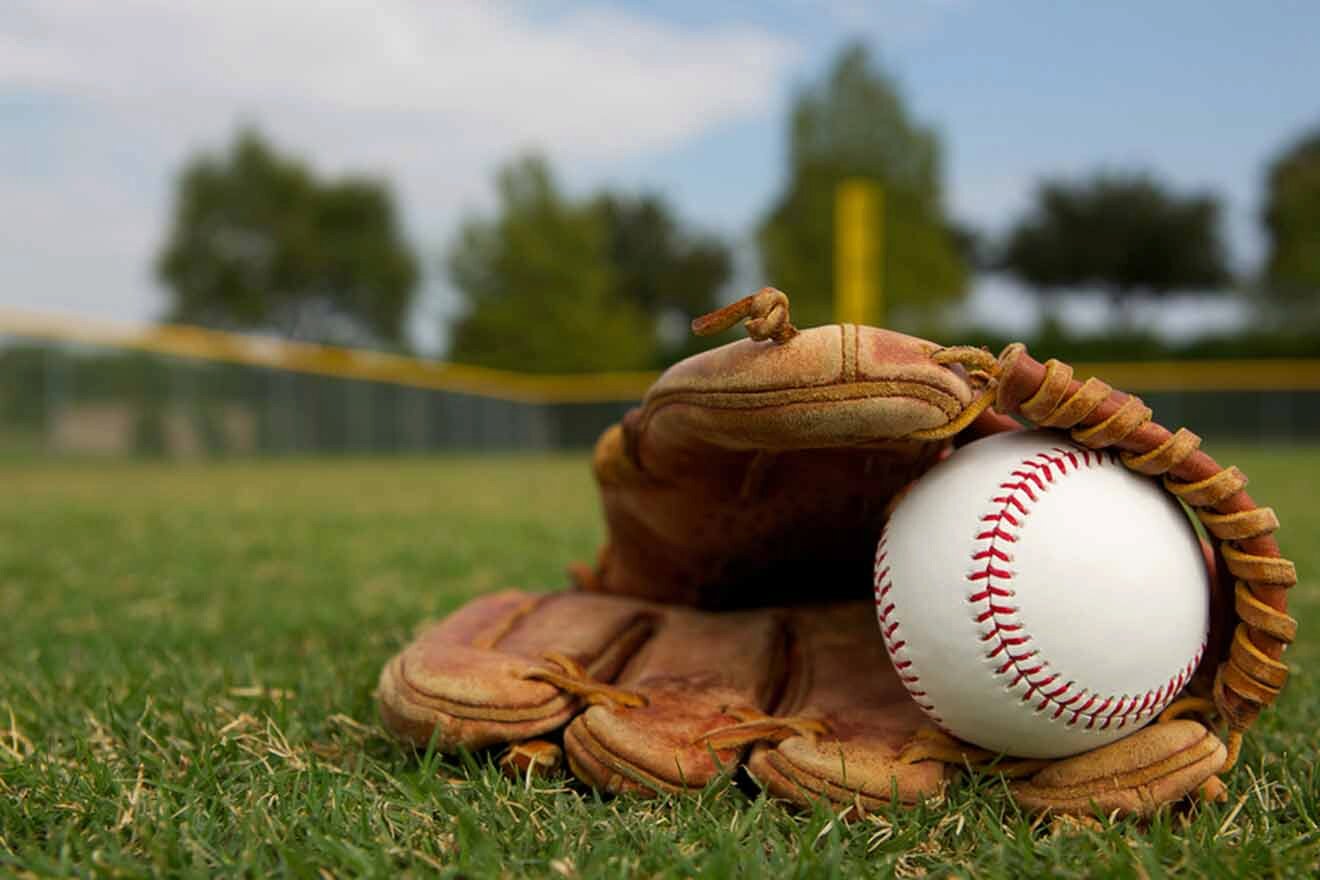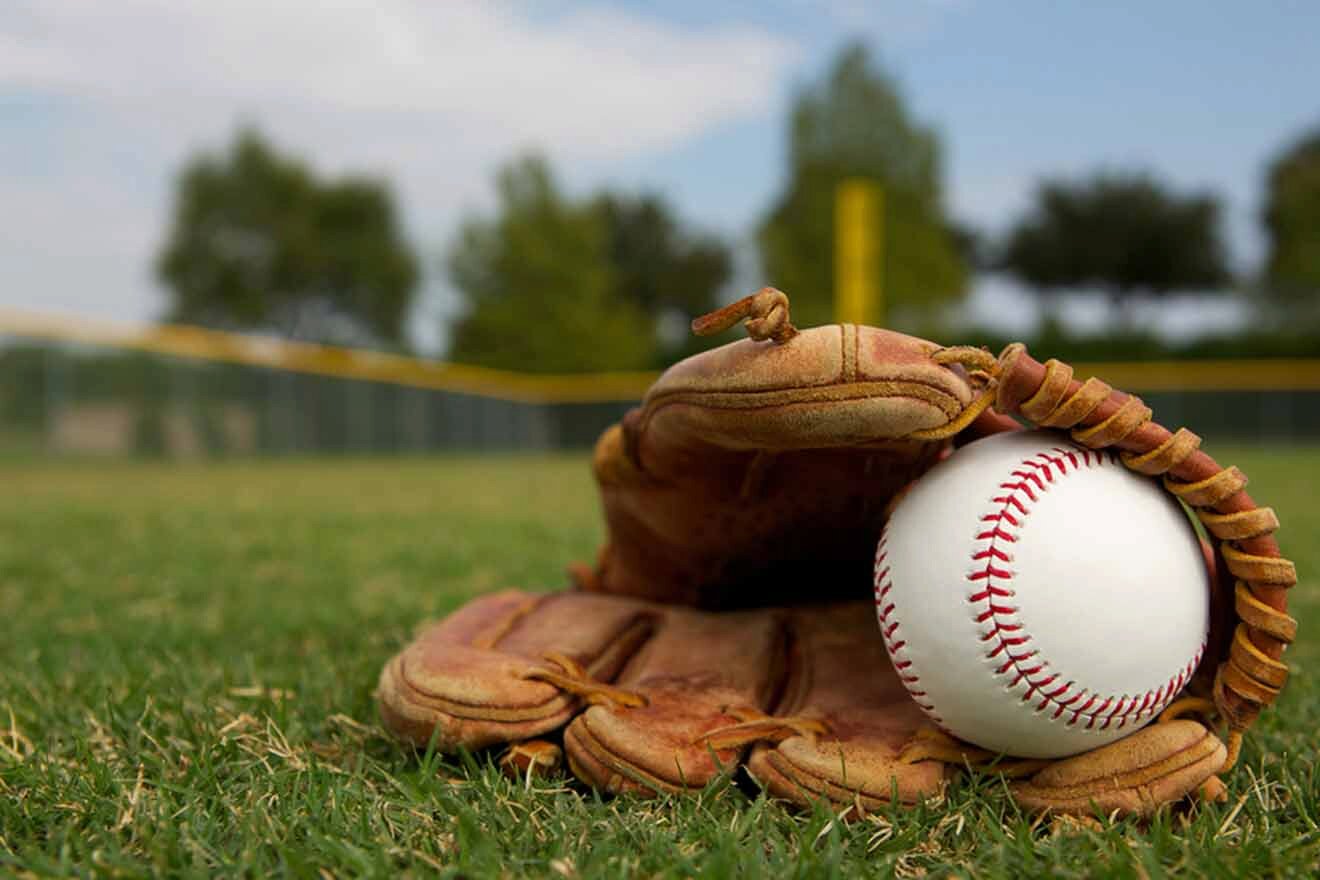 If you're in the mood to watch America's favorite pastime while visiting Fort Myers, you're in luck!
JetBlue Park is the spring training home of the Boston Red Sox, and Red Sox fans will be delighted to learn that some of its designs are directly influenced by Fenway Park – it even has its own "Green Monster." Truly a sight to see!
Even if your baseball loyalty lies elsewhere, a visit to JetBlue Park truly is the quintessential baseball experience right here in Fort Myers! Hot dogs anyone?
8. Connect with nature at the Six Mile Cypress Slough Preserve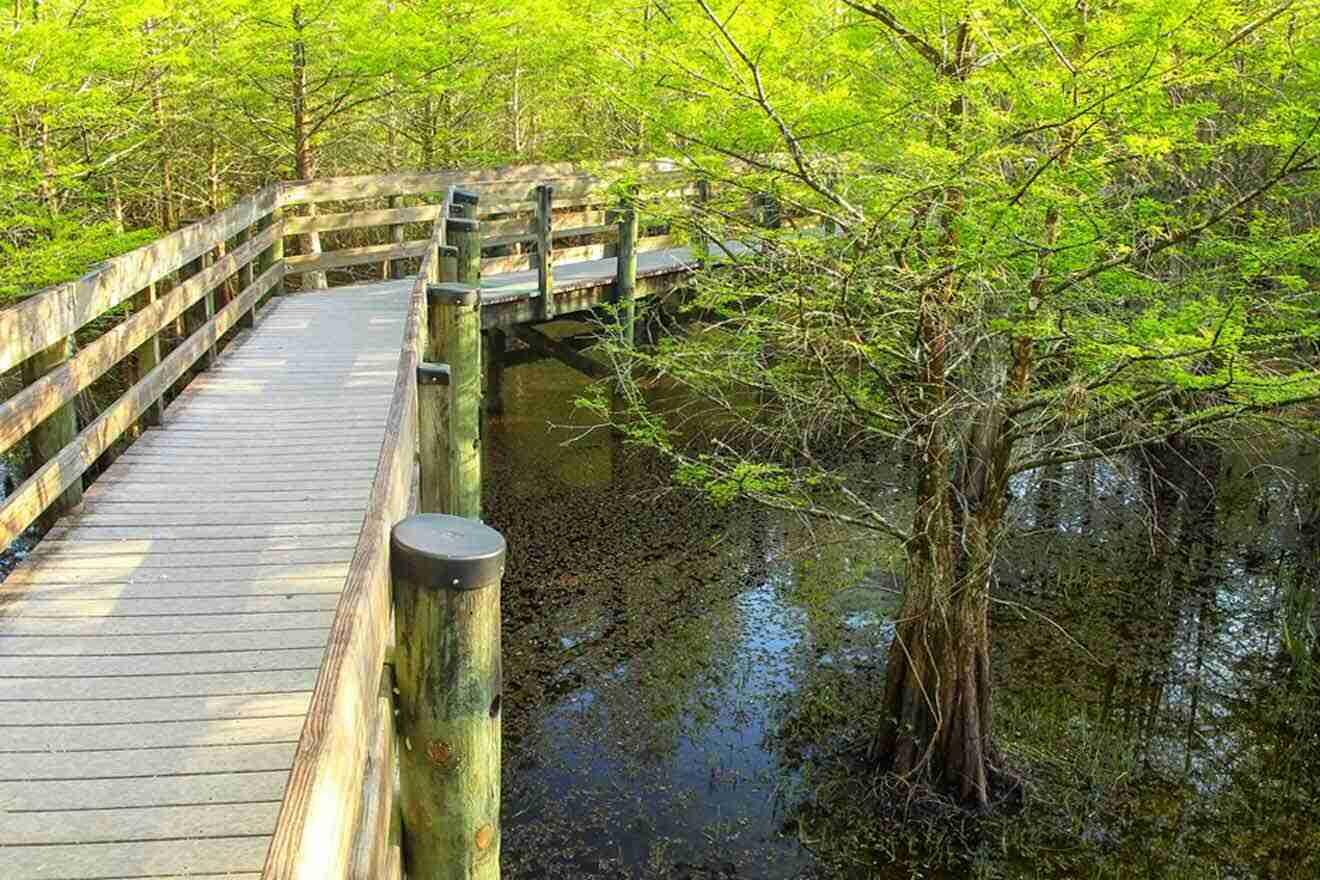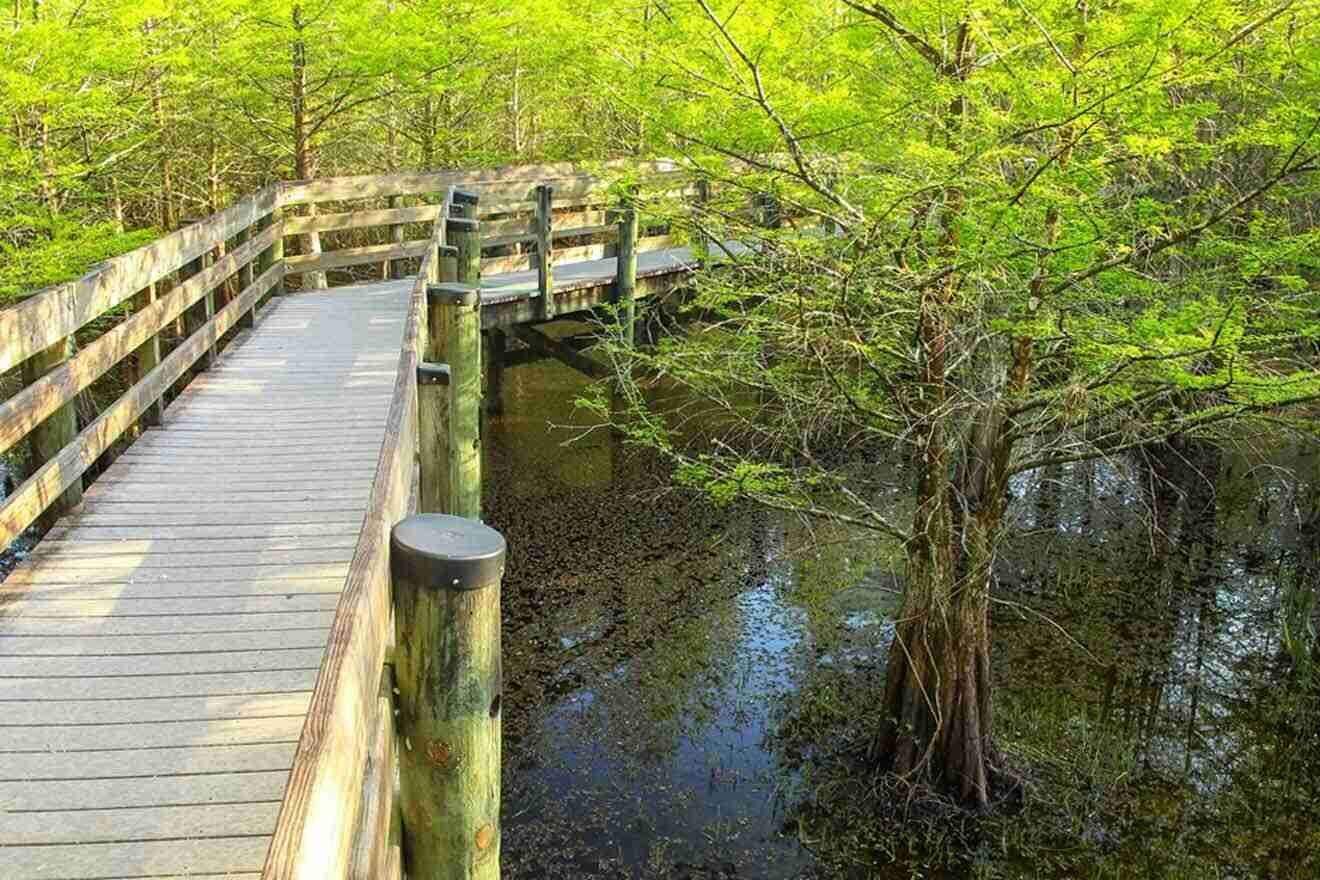 Encompassing over 3,400 acres (1,380 hectares) of wetlands, Six Mile Cypress Slough Preserve is a must-see for nature lovers visiting Fort Myers. This cypress slough (pronounced like slew) is 11 miles long (18 km) and ¾ of a mile (1 km) wide, and home to incredibly diverse flora and fauna, including some species on the endangered list.
You can visit this amazing place and explore it for yourself. You may spot some otters, turtles, alligators, or other animals who pass through this corridor. Take a stroll down the boardwalk, or join one of the guided tours and walks. You can even take a yoga class here, or participate in a guided meditation. How magical does that sound?
PRICE: Parking is US$1 an hour with a US$5 maximum. Admission is included with paid parking.
9. Have fun learning at the IMAG History and Science Center
If you're looking for family-friendly things to do in Fort Myers, you'll love the IMAG History and Science Center! Featuring over 60 hands-on, interactive history and science exhibits, and even wildlife encounters, the IMAG History and Science Center makes learning fun for kids of all ages.
Go for a virtual dive in the 3,200-gallon (app. 12,120 liters) aquarium and virtual diving experience, meet some undersea friends at the touch tanks, join an archaeological dig, and go back in time with a virtual reality tour of historic Fort Myers. There is so much to see and do at the IMAG!
To save time when you arrive, you can buy your tickets online in advance. College students can get a US$5 discount with a current college ID.
PRICE: US$20 for adults, US$15 for children
10. Shop unique finds at Fleamasters Fleamarket
You never know what you'll find at Fleamasters Fleamarket, and that's what makes it so fun. There are 900 stores in the whopping 400,000 ft² (37,000 m²) complex, and over 1,000,000 unique items, both old and new. It's a shopper's and thrifter's dream come true!
Apparel, home furnishing, fresh produce, handcrafted and artisan goods – these are just a few of what you'll discover at Fleamasters Fleamarket. I think it makes for a really fun, interesting outing, especially if you're on a girl's trip. They also have food stands there, kettle corn, ice cream, and coffee, so you can stay fueled up for your shopping spree.
11. Check out the Fort Myers local art scene
While thoughts of Florida conjure images of blue ocean and sandy shores, one of the best things to do in Fort Myers actually has nothing to do with the beach! Did you know Fort Myers is home to a spectacular art scene?
Every first Friday of the month, there's the Fort Myers Art Walk, which takes place in the Fort Myers River District. It's free to attend, and art lovers can experience local galleries, exhibitions, demonstrations, and performances! You'll also find delicious food, cocktails, and fabulous entertainment.
Not in town on the first Friday? No worries! In Fort Myers, you can easily gallery hope any day of the week. The DAAS CO-OP Art Gallery has a variety of incredible exhibitions featuring the work of extremely talented local member artists. Arts for ACT is a 100% non-profit art gallery owned and operated by Abuse Counseling and Treatment, Inc. in Fort Myers, and offers the opportunity to see incredible art while contributing to a worthy cause.
The Sidney & Berne Davis Art Center is one of the top attractions and things to do in Fort Myers. This state-of-the-art facility hosts innumerable arts-focused events throughout the year, such as concerts, galas, lectures, and exhibitions.
Stayed tuned for #14 on our list, as it's another hotspot for the arts in Fort Myers!
12. Spend the day at Lakes Regional Park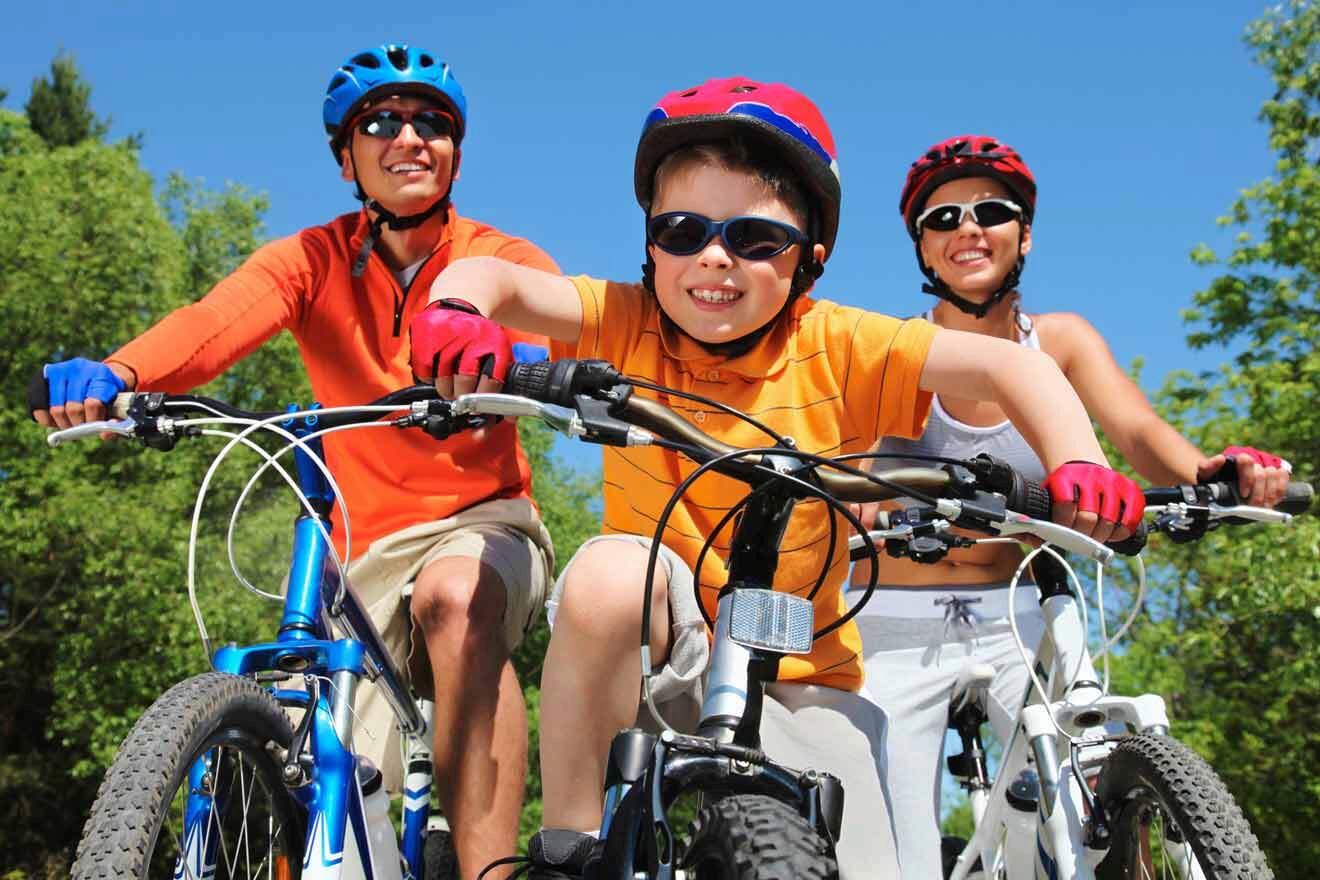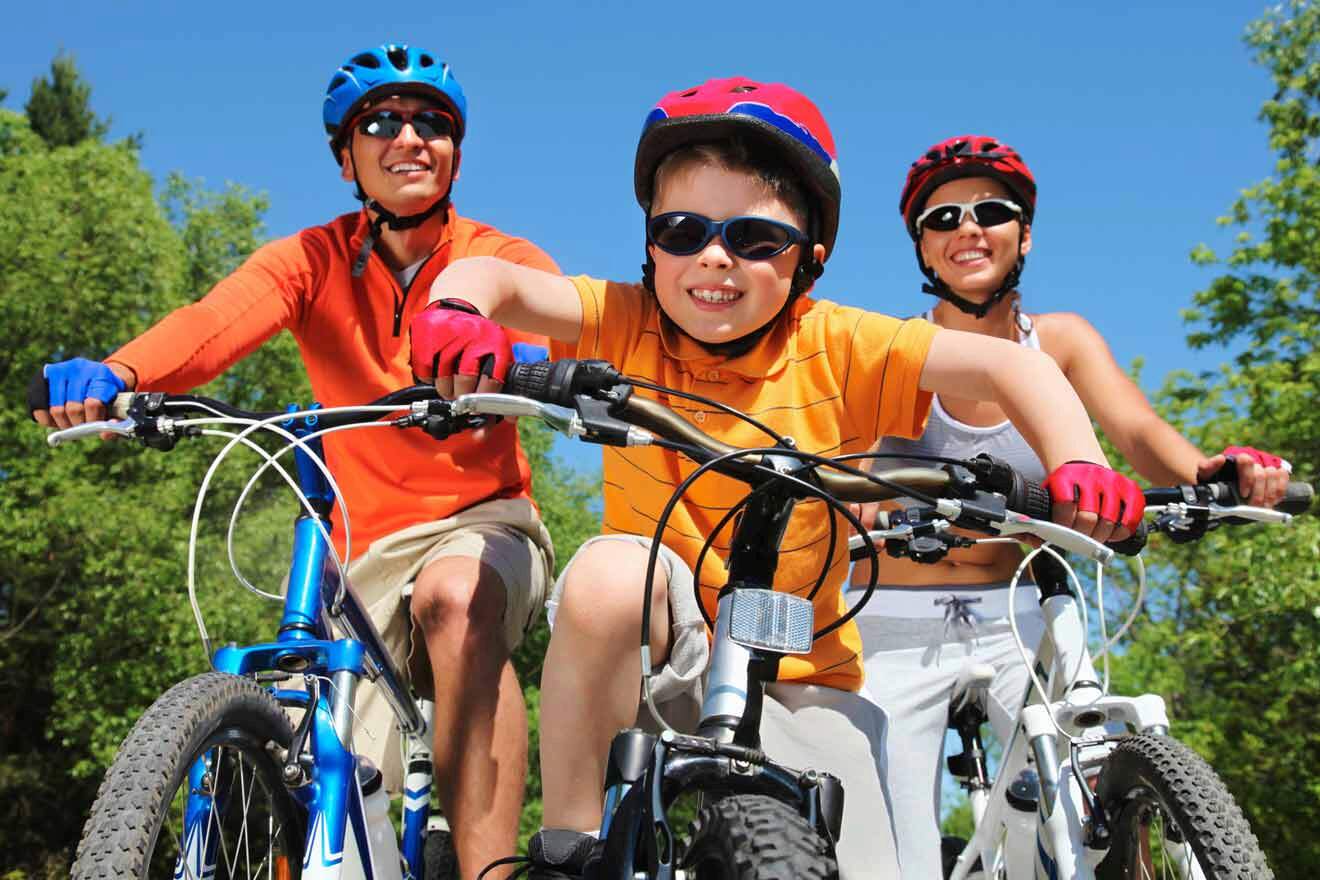 Lakes Regional Park in Fort Myers boasts a ton of fun activities that nature lovers and outdoor enthusiasts won't want to miss! It's also one of the best things to do in Fort Myers with kids, with an extra special attraction your little ones will love.
Hiking, biking, canoeing, kayaking, bird watching, and free guided nature walks are some of the most popular activities at Lakes Park. You can rent equipment for your adventure there on-site at one of the 2 Wheel Fun Rentals locations. You can even rent a boat shaped like a swan!
You'll also find the Railroad Museum of South Florida at Lakes Park, and there's even a miniature train you can actually take a 1.5-mile (2.5 km) ride along the lake and through a tunnel. Kids visiting Fort Myers love this unique experience, as well as the rock climbing wall, splash park, and playground.
Once you've worked up an appetite from all of that fun, head to The Whistle Stop Ice Cream Shoppe for lunchtime favorites like burgers and hot dogs and hand-dipped ice cream. With so many things to do and see here, Lakes Regional Park is ideal for a day out with the family.
PRICE: Parking is US$1 per hour or US$5 flat rate per day
13. Embark on an all-day safari in Everglades National Park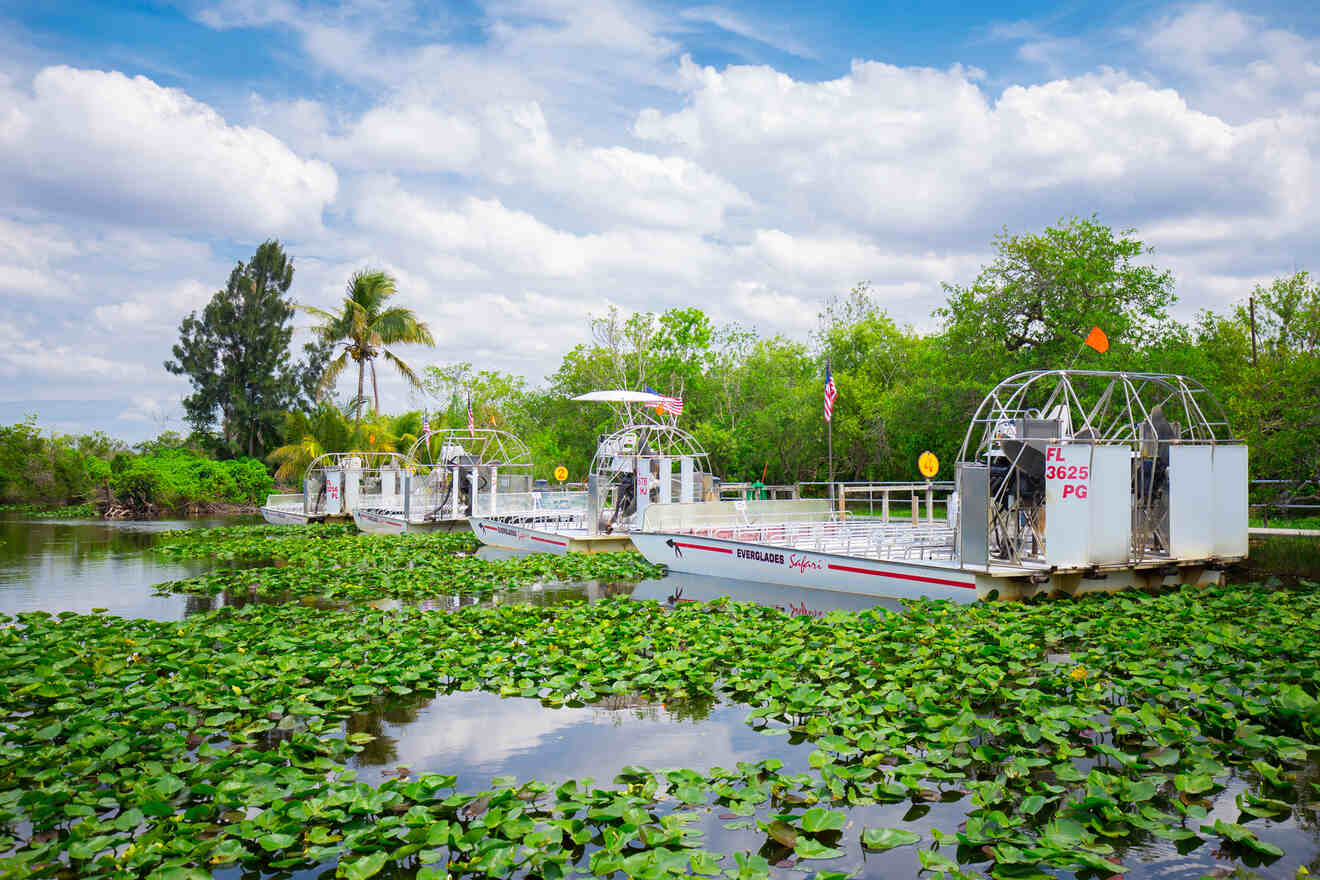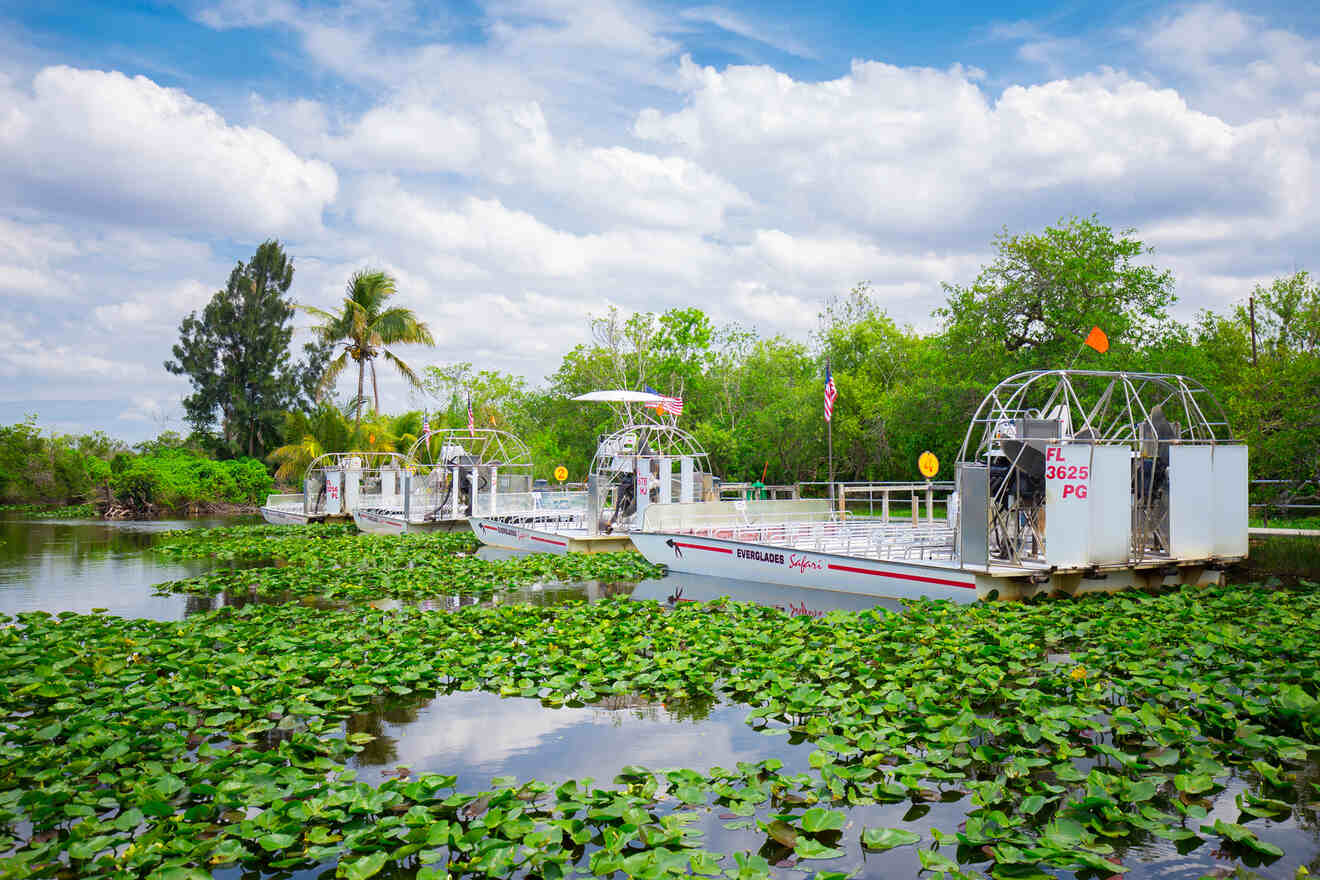 Everglades National Park is an absolute must-do when visiting South Florida. You simply won't find anything like it anywhere else! If you're staying in Fort Myers, this Everglades day safari takes care of everything from transportation to the exciting airboat tour, so you can sit back, relax, and marvel at the Sunshine State's natural beauty.
This unique tour combines exploration of Big Cypress National Preserve in a van and on foot, a thrilling airboat adventure through the wild Western Everglades, and a relaxing boat ride through the mangroves at Everglades National Park – the 2nd largest mangrove forest in the world! It also includes a stop for lunch.
Manatees, dolphins, birds, and alligators are just a few of the amazing creatures you'll see along the way. Space is limited, as tour groups are capped at 9 people. This keeps the experience really interactive and gives you plenty of time to ask your guide questions, but you'll definitely want to book this ASAP! The tour includes pick up and drop off at select Fort Myers area hotels.
PRICE: US$200 for adults, US$170 for children
14. Shop and dine in the downtown River District
The River District in downtown Fort Myers is a vibrant area full of shops, restaurants, bars, art galleries, and more. Funky vibes and rich history make the River District an unmissable stop when you visit Fort Myers!
Stroll the brick-paved streets, take in the stunning views, and enjoy all this awesome district has to offer. You'll find incredible dining, cool cocktail spots, and exciting events hosted here all year long.
For an extra special dining experience, make reservations for dinner at The Veranda, which is a restaurant housed in 2 historic homes that were joined together. It's the ultimate place for a romantic night out with your honey. The Veranda boasts an exquisite fine dining menu, a garden courtyard, and a piano bar, which is my favorite!
We covered the Fort Myers Art Walk in #6, which happens the first Friday of every month, but there's also the monthly Music Walk in the Fort Myers River District on the third Friday of each month. This event features live music on the street and inside participating venues, with musicians of a variety of genres there to perform.
I recommend checking out the River District's event calendar online and planning your trip around whatever you're interested in!
15. Try cloud ice cream at Best Ice Cream in Fort Myers
It's the millennial dream: Instagrammable food that tastes as good as it looks! Best Ice Cream in Fort Myers, FL, serves up some of the most unique ice cream I've ever seen: scooped right in the middle of a cotton candy cloud!
At Best Ice Cream, you'll find one-of-a-kind flavors as well as classic favorites. There are countless options for toppings too! You can even create your own flavor or try one of their over-the-top creations. It's an unmissable stop if you've got a sweet tooth. Nothing goes better with a day at the beach in the Florida sun quite like ice cream!
What really stands out to me about this place is its ability to accommodate food allergies, which is sometimes hard to come by in easy-going beach towns. If you or someone you're traveling with has a dietary restriction, you can call Best Ice Cream 24 hours in advance, and they'll make sure they're prepared to make you something you can enjoy.
16. Go on a haunted pub crawl in Fort Myers Beach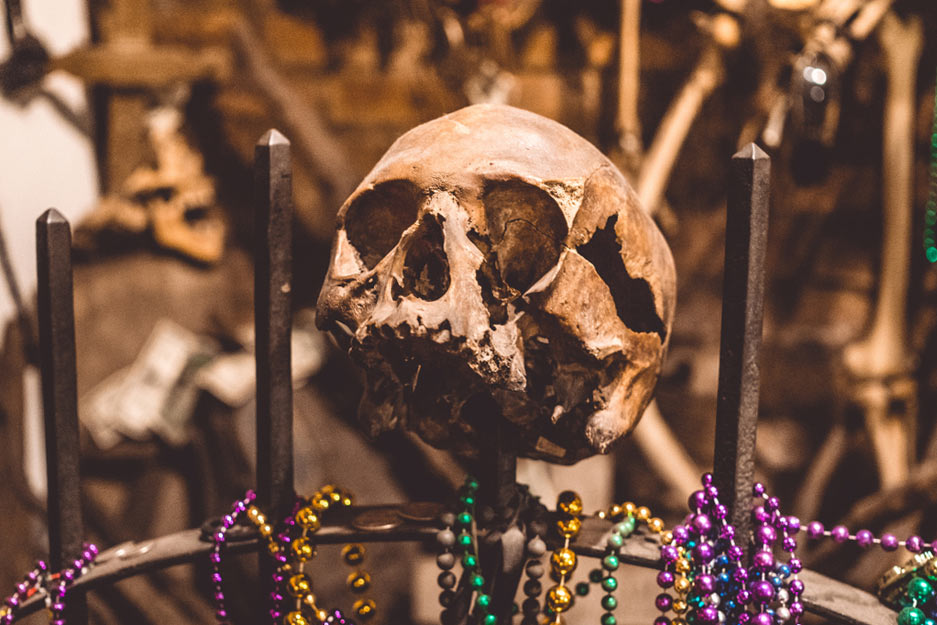 I've mentioned this in my previous articles, but I am a total sucker for ghost tours! I try to do one in every city I visit because it's just such an interesting and spooky way to learn about a city's colorful past. The haunted pub crawl takes your average ghost tour to a whole new level, and I highly recommend it to anyone 21+ looking for fun things to do in Fort Myers.
Stroll from bar to bar and learn about the paranormal side of historic Fort Myers on this tour that combines haunted places with magic and history. Your tour guide will delight you with magical illusions, history, legends, and lore!
I personally love activities like this on vacation – you get to meet so many interesting people visiting from all over. With tons of tasty drinks to enjoy and ghosts to spot, you're sure to have a very spirited evening. 😉
PRICE: Starts at US$25 per person, varies depending on the date
17. Go parasailing on Fort Myers Beach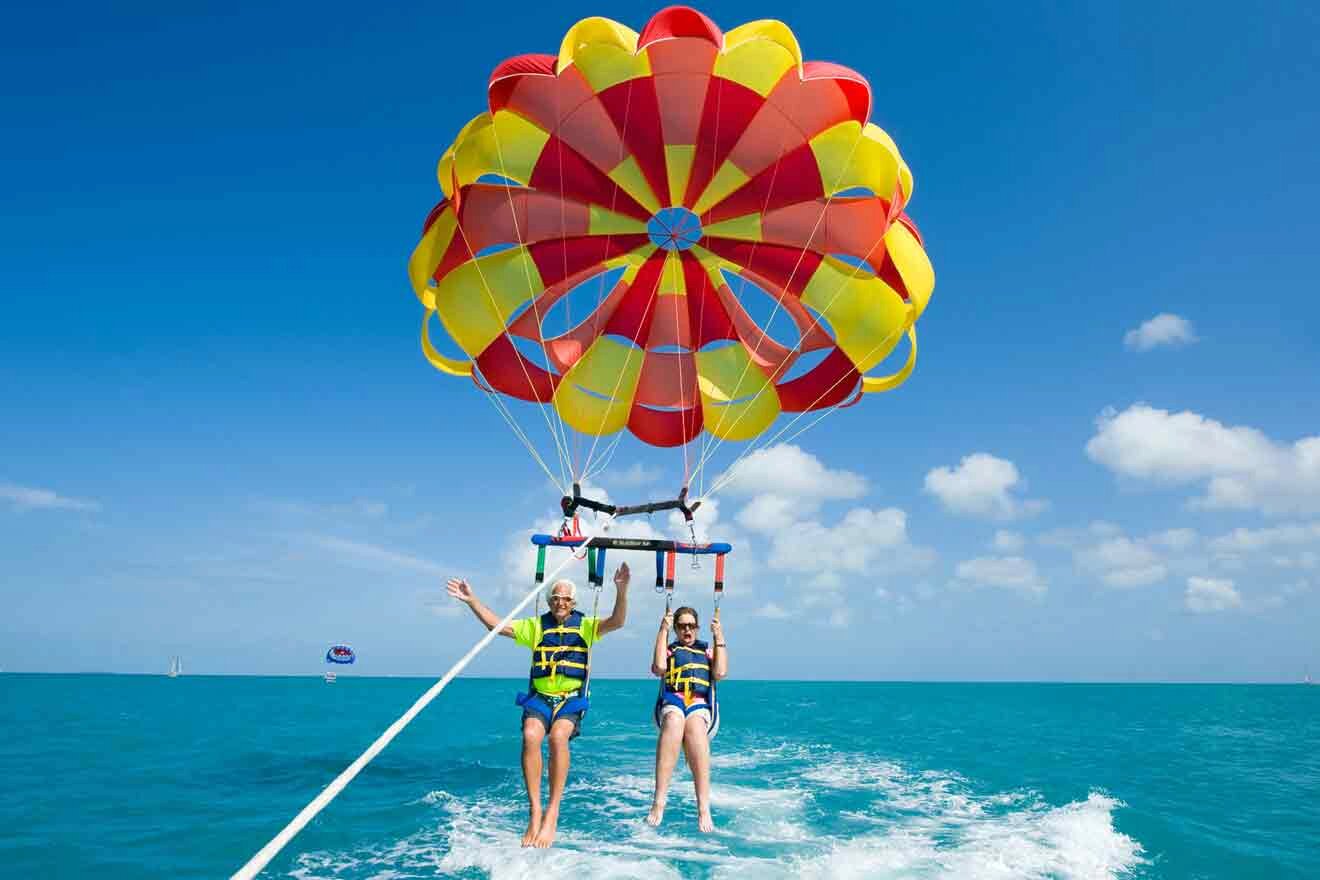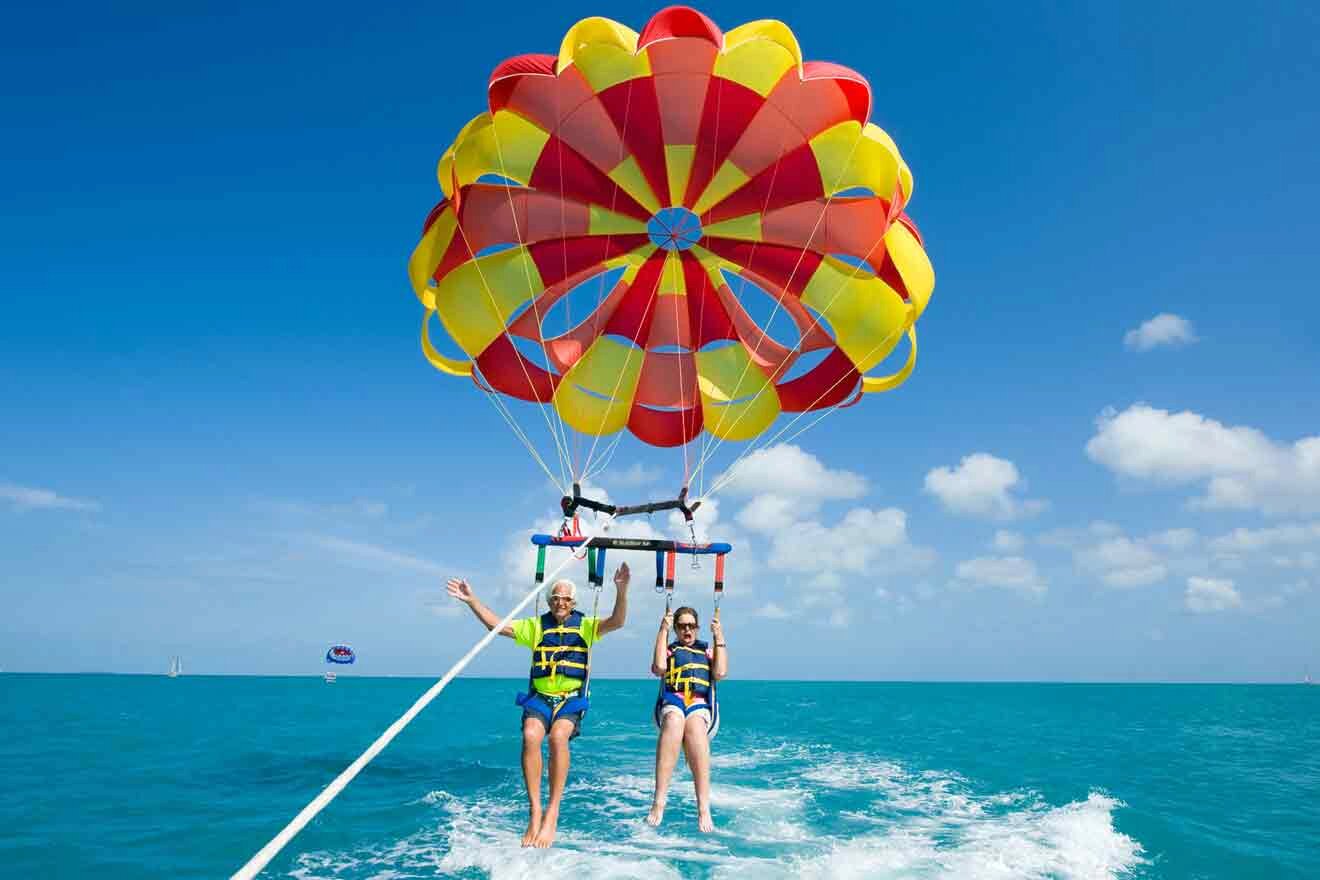 Thrill seekers, this one's for you! For an unparalleled view of Fort Myers Beach, see it from above on this parasailing excursion. If you've never parasailed before, you're missing out! I was always too afraid to try until one day on vacation, I finally worked up the courage, and I'm so glad I did.
This parasailing adventure on Fort Myers Beach takes you 400 ft (122 m) in the air, over the white sands and sparkling blue water of the Gulf of Mexico. This bird's eye view of the beautiful beach is absolutely amazing!
The company that runs the tour has over 30 years of experience in parasailing, so you know you're in good hands. You'll take off and land on a special parasailing boat, so you can enjoy the leisurely ride as others in the group go up.
PRICE: US$85 per person
18. Spend a few hours at Southern Fresh Farms
If you're looking for fun things to do in Fort Myers that are a little off the beaten path, you'll love visiting Southern Fresh Farms. This family-owned and operated farm is open to the public and includes a farmer's market, petting zoo, event venue, and brewery!
At Southern Fresh Farms, you can shop their selection of fresh, locally grown produce, meet some new animal pals at the rescued barnyard petting zoo, and feed fish and turtles from the pond deck.
There's even a brewery on-site at Southern Fresh Farms called Crazy Dingo Brewing Co. The ingredients for their small-batch beers are grown on the farm – how awesome is that?!
Southern Fresh Farms hosts a ton of fun events throughout the year, and there is almost always something going on there! You can check their Facebook page for the latest upcoming events.
19. Take a sunset sail on Fort Myers Beach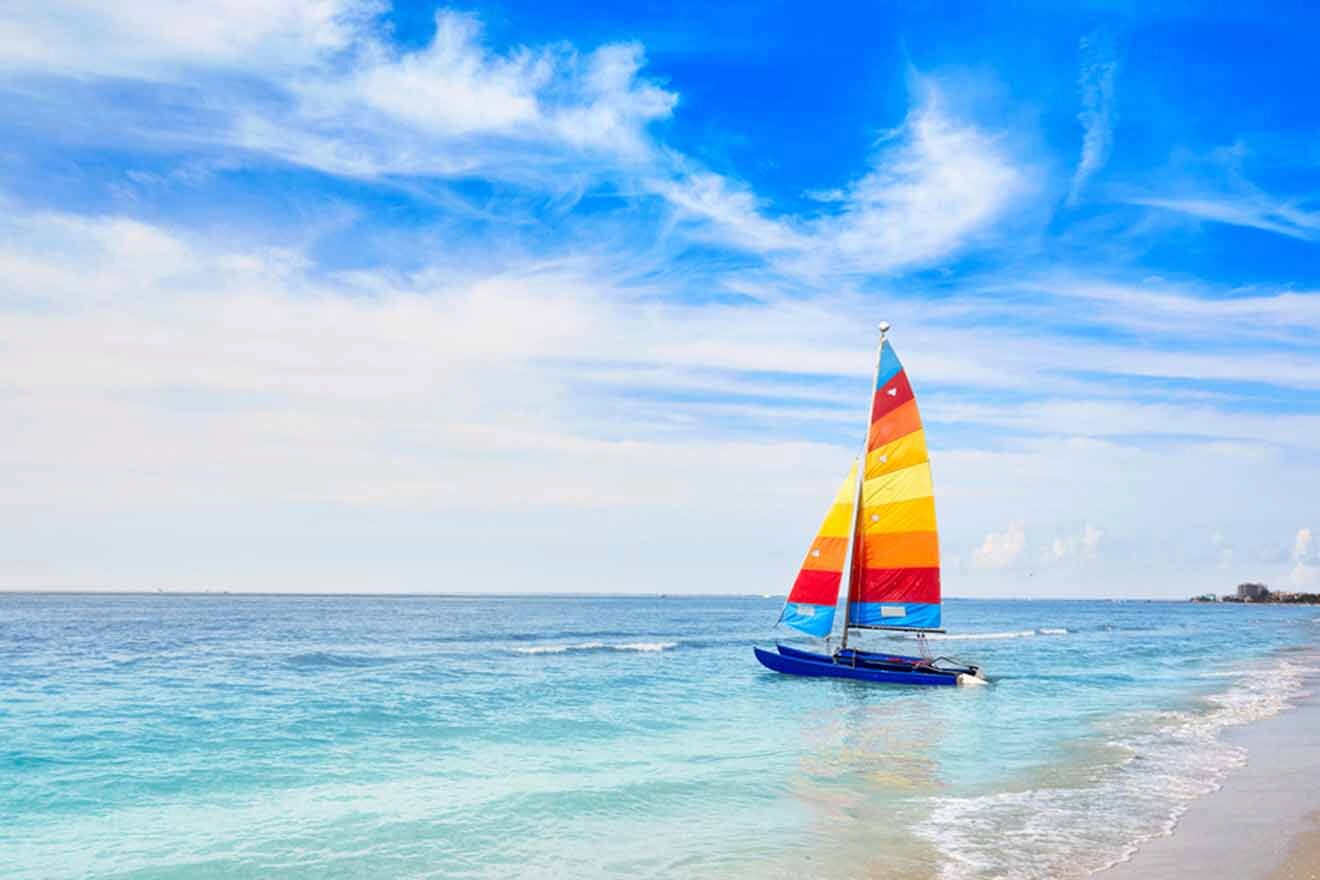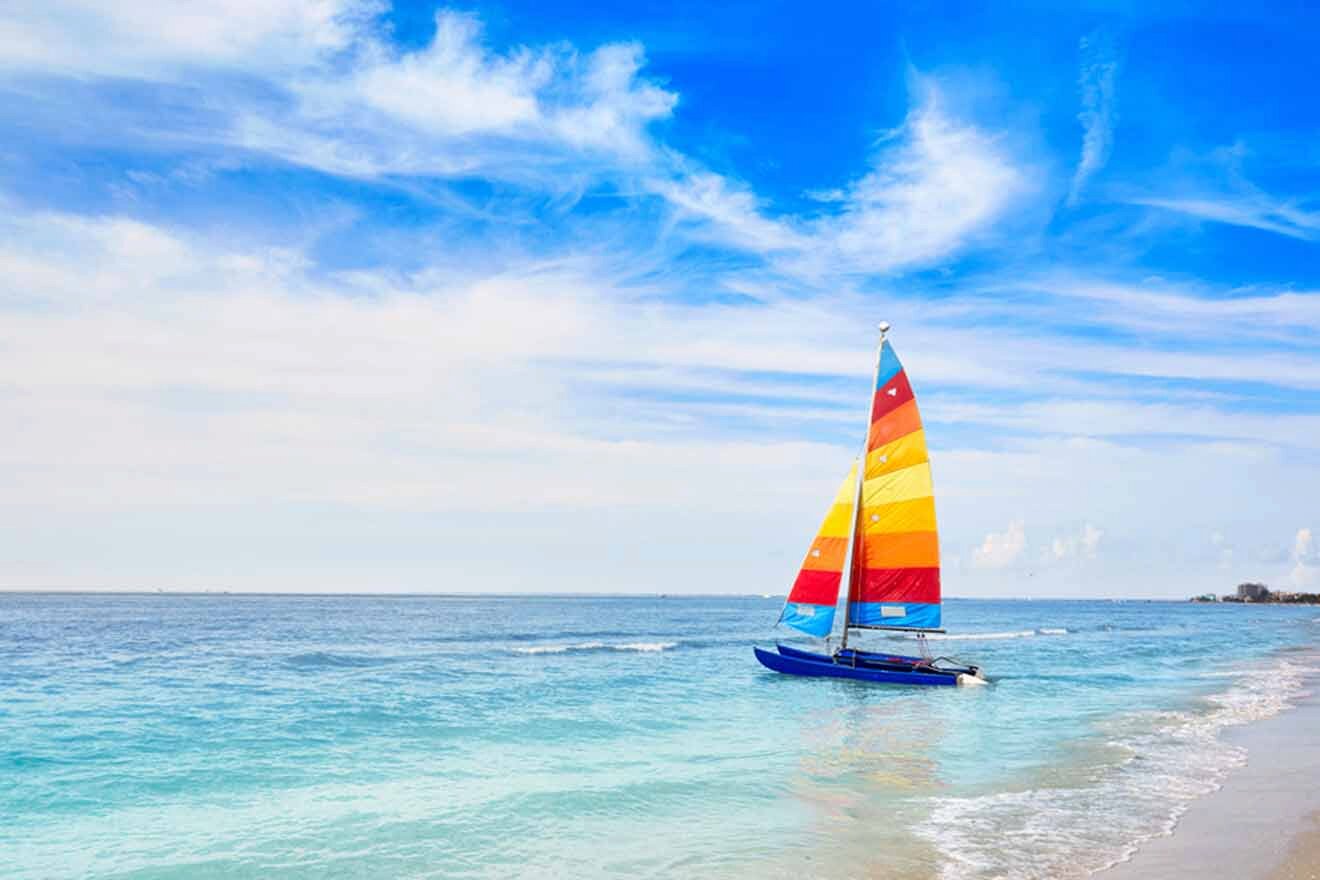 When you visit Fort Myers, you can't miss the stunning sunsets that Florida's Gulf Coast is known for! And, of course, the best way to watch the sunset is from the water.
This sunset sail along Fort Myers Beach brings you aboard the spacious Copacetic catamaran, where you can enjoy the spectacular sunset with a drink in your hand. This is a great option whether you're traveling with friends or family, as the excursion includes soft drinks, but there is beer and wine available to purchase on board.
Like a few of the other tours on our list of things to do in Fort Myers, the sunset sail does book up quickly – just a heads up if you're interested in adding this to your trip itinerary!
PRICE: US$70 per person
20. Enjoy dinner and a show on the Murder Mystery Dinner Train
This is by far my favorite thing to do in Fort Myers – I saved the best for last. All aboard the Murder Mystery Dinner Train for a night of dinner, drinks, mystery, and… murder!
You become part of the story as you try to put together the clues and solve the murder along with your fellow passengers, all while aboard an actual moving train. You'll enjoy a five-course meal prepared fresh on board while this comical murder mystery show plays out around you in the dining car. There's even a prize for the person who solves it.
The themes of the murder mystery dinner show change seasonally and include special events for holidays, like A Merry Little Murder during Christmastime. You can find the dates of upcoming themes on their website. It's a round-trip train ride, so you'll end up exactly where you started at the end of the evening.
The Murder Mystery Dinner Train is unbelievably fun and easily one of the most unique Fort Myers, Florida attractions!
PRICE: US$119 per person on Wednesdays, Thursdays, Fridays, and Sundays. US$125 per person on Saturdays.
FAQs about things to do in Fort Myers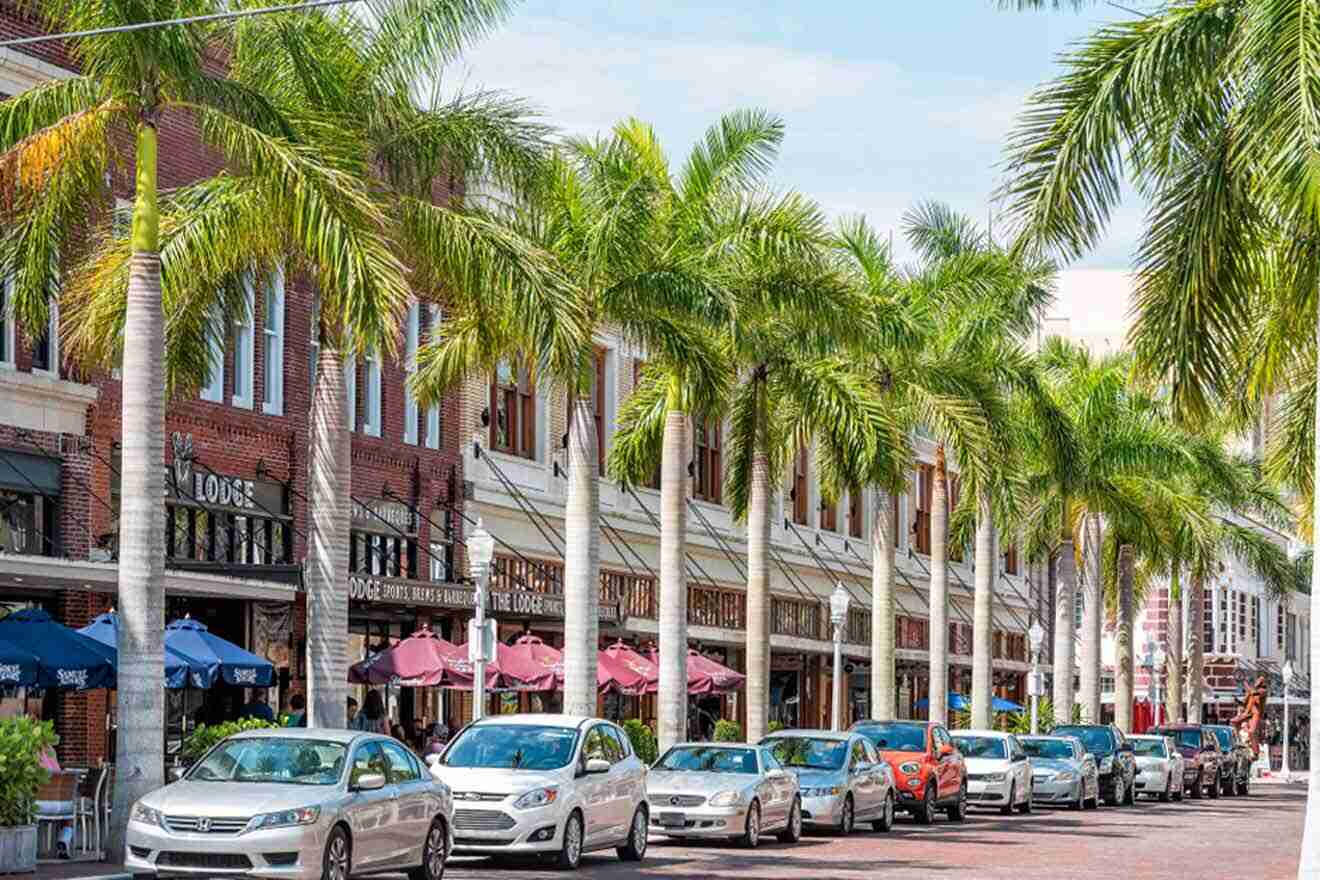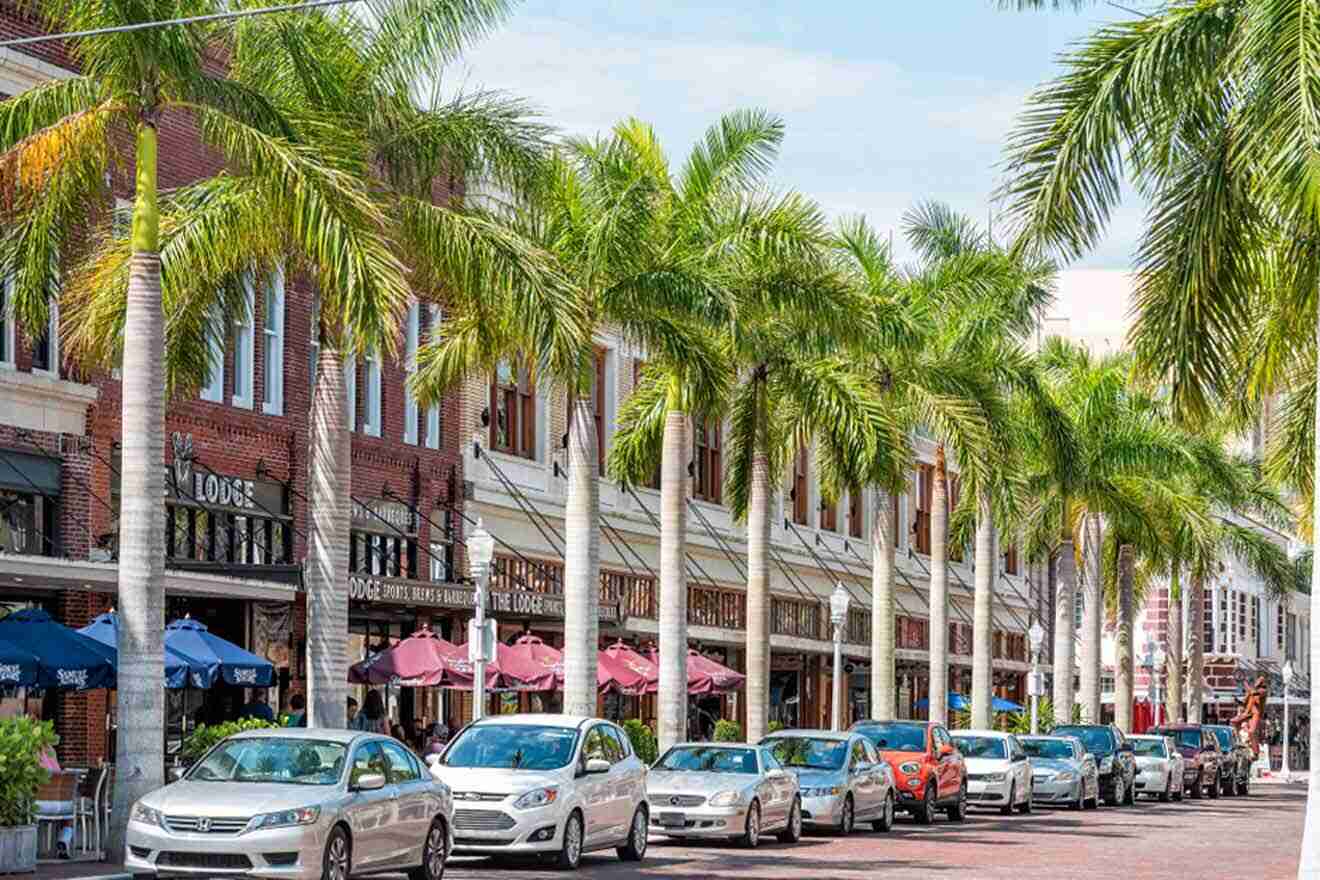 🐚 What is Fort Myers best known for?
Fort Myers is best known for its 271 days a year of sunshine, soft sandy beaches, crystal blue waters, and famous past-time residents, Thomas Edison and Henry Ford. The beaches of Fort Myers are located on a shallow water plateau, which makes this area ideal for finding seashells!
🧳 Is Fort Myers worth visiting?
Yes! Fort Myers is a fantastic place to visit if you want to have some fun in the sun on Florida's breathtaking Gulf Coast. There is so much to do and see in Fort Myers, from relaxing on the beach to exciting adventures on the water.
⛵ How do I spend a day in Fort Myers?
Start off with some time at one of Fort Myers' beautiful beaches, like Lovers Key State Park. In the afternoon, explore the vibrant Fort Myers River District, and wrap up the evening with a sunset sail along Fort Myers Beach for extraordinary views.
😱 What are some unusual things to do in Fort Myers?
Some unusual things to do in Fort Myers are the haunted pub crawl, where you'll hear ghost stories over a drink, and the Murder Mystery Dinner Train, where you'll get to solve murder mysteries on a moving train over dinner.
Conclusion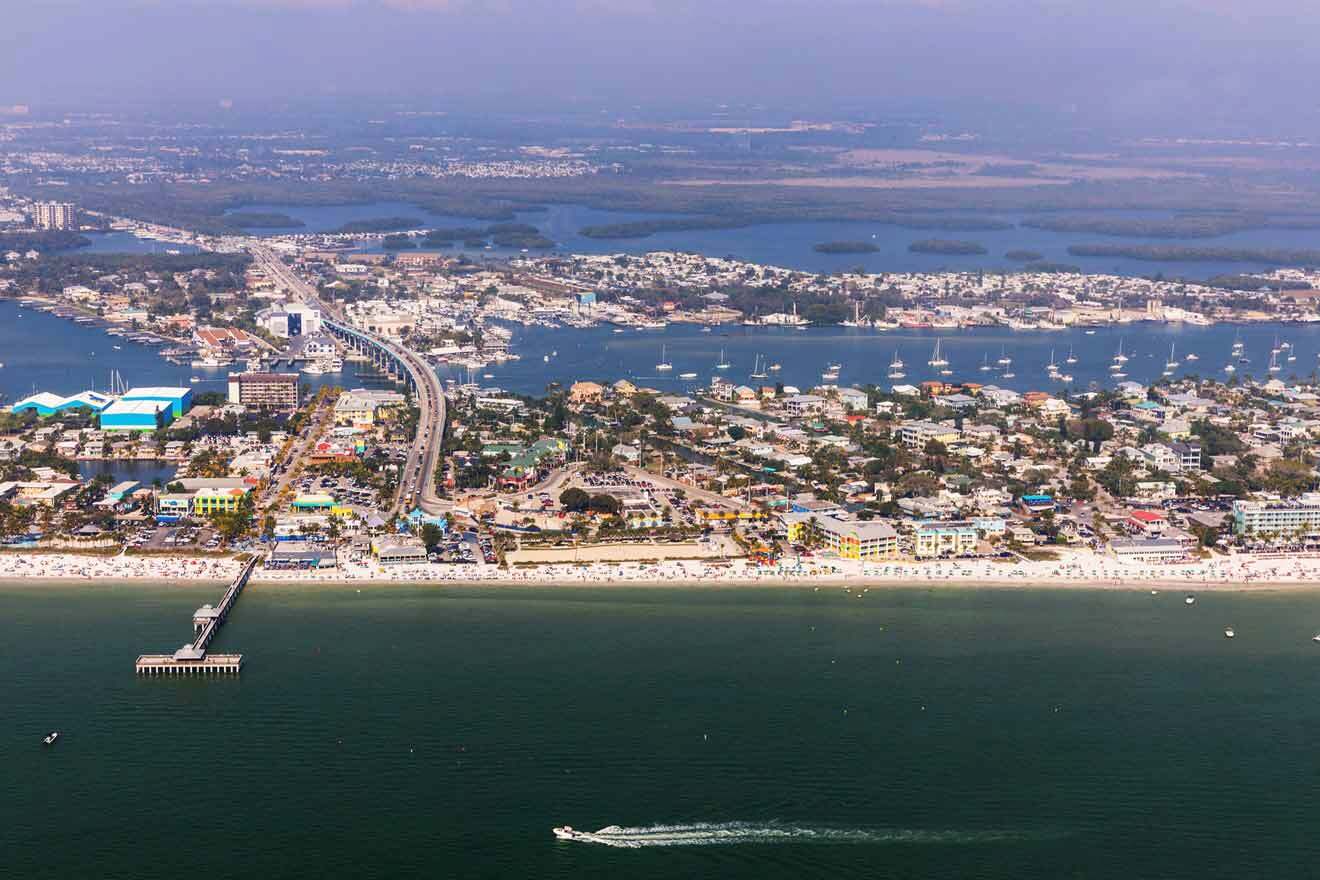 I don't know about you, but all this talk about sunny Fort Myers has me ready to book a trip ASAP! It really is such a cool place with some of the most unique activities, like the Murder Mystery Dinner Train and Thomas Edison and Henry Ford's winter estates. Fort Myers is so much more than just a laid-back beach town, but you'll have to experience it for yourself!
Just a reminder of my 2 favorite things on our list today that you'll want to book ASAP so you don't miss out:
Fort Myers happens to be the gateway to Sanibel and Captiva Island, and as someone who grew up in South Florida, I highly recommend including day trips to these stunning locales when you visit Fort Myers.
I hope you enjoy this list of fun things to do in Fort Myers and that it helped you in your vacation planning! You can always leave me a comment with any questions you have, and I'll help however I can.
Happy exploring!
Montana
---
Pin it for later!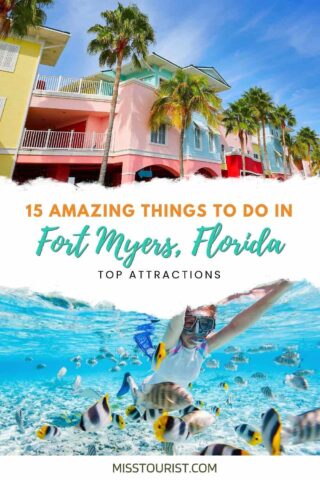 Pin it for later!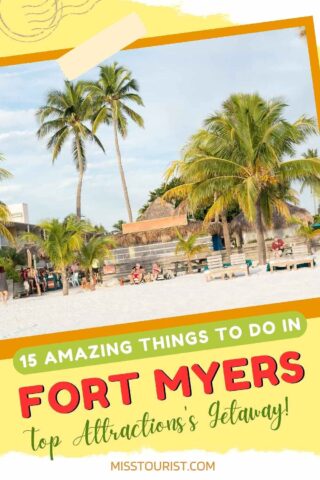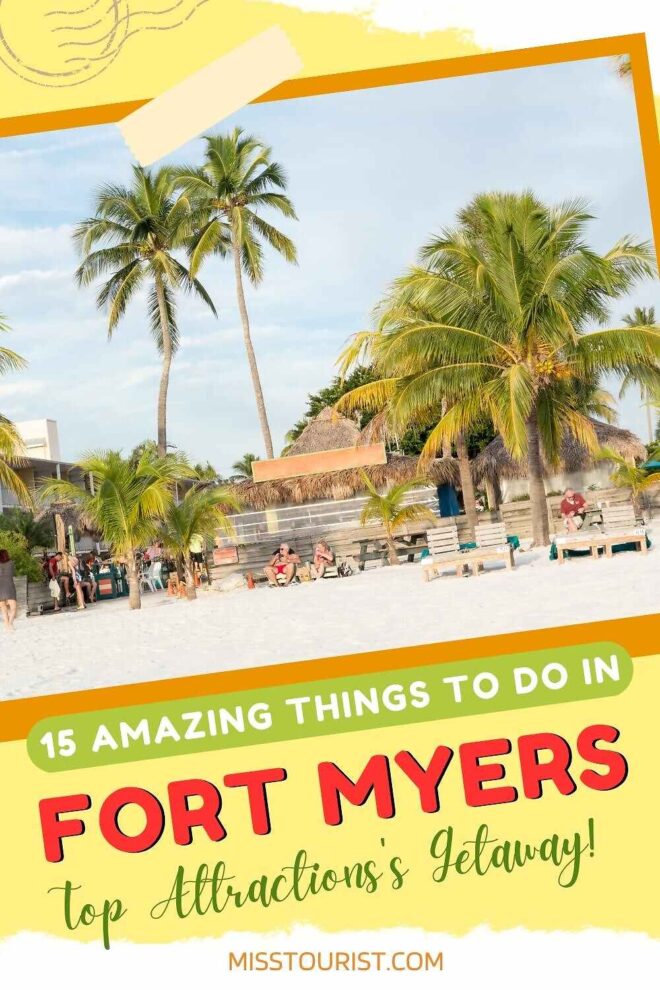 Products You May Like