20+ Best Hotels Alghero Has to Offer: for Every Budget
Are you daydreaming about traveling to Sardinia to spend the best summer of your life? That is wonderful, because I have been looking for the best Alghero hotels, and compared every single accommodation to the next, to make sure your stay in Alghero is memorable! To be completely honest, all the accommodation options in this article are wonderful, with great amenities, locations, and amazing staff!
This article is arranged by price, starting with the luxury options, followed by the mid-range hotels, and last but not least, the budget hotels! At the end of the article, I've added 2 bonuses with the best Villas in Alghero, and the best boutique hotels Alghero!
We all know Sardinia is and has always been one of the most popular winter and summer locations for people all over the world; that is why you must book your hotel room in advance to get the best deal and secure the room of your dreams!
Are you ready to check out the best hotels in Alghero?
Without further ado, let's dive in!!
If you are in a hurry
If you need to book your hotel room fast and don't have a lot of time to check the whole article, here are the best 3 hotels in Alghero, Sardinia:
Luxury (€230 and up)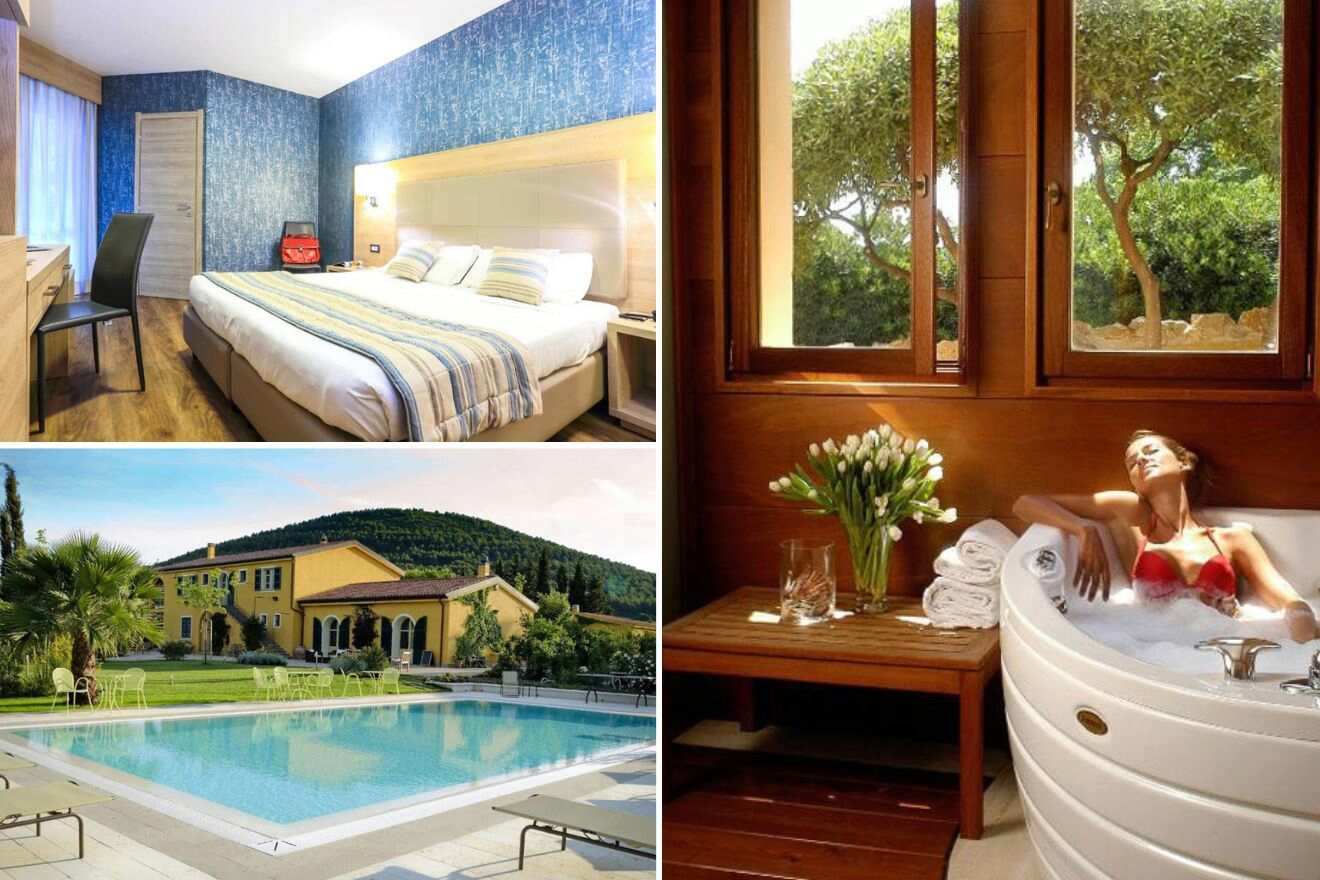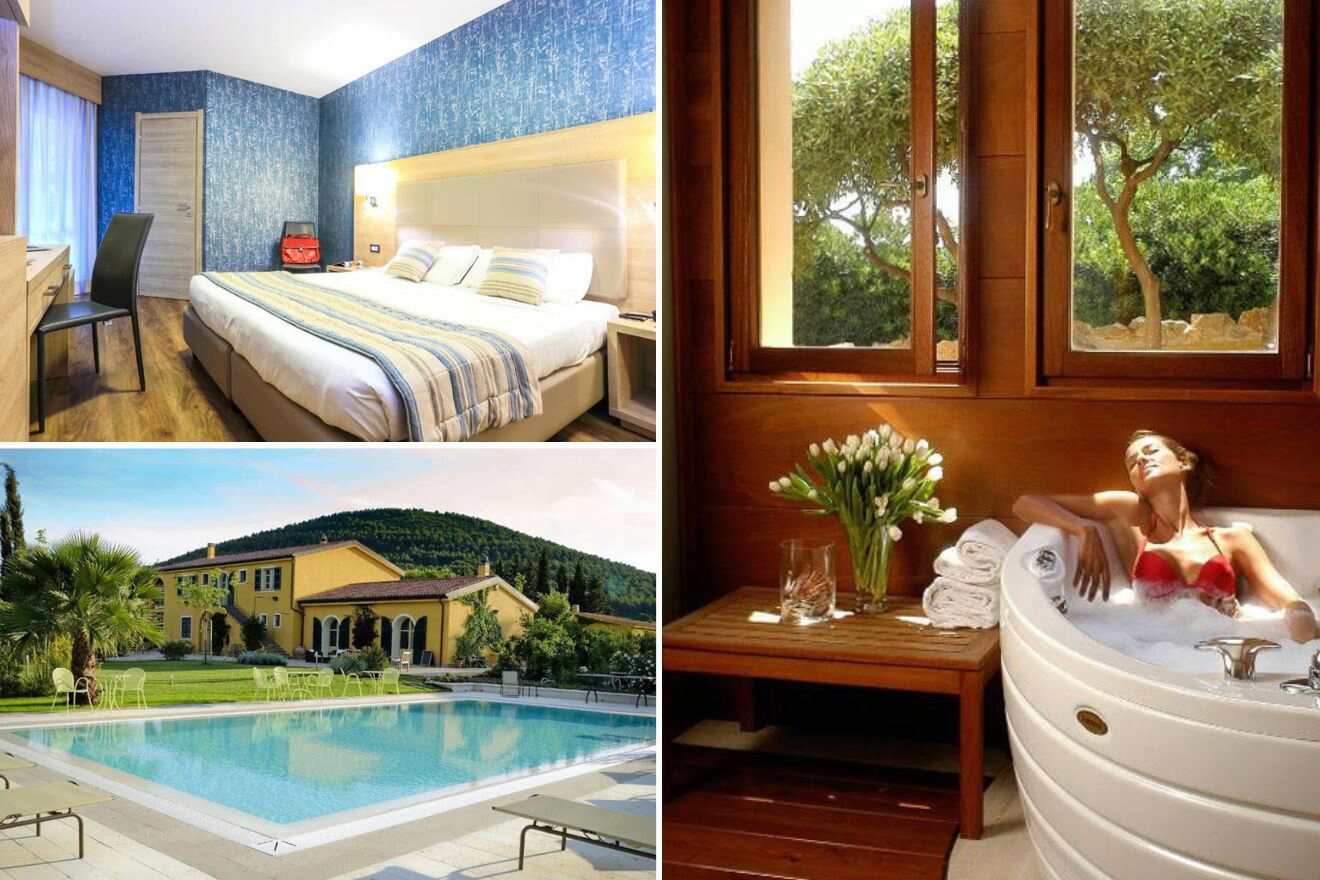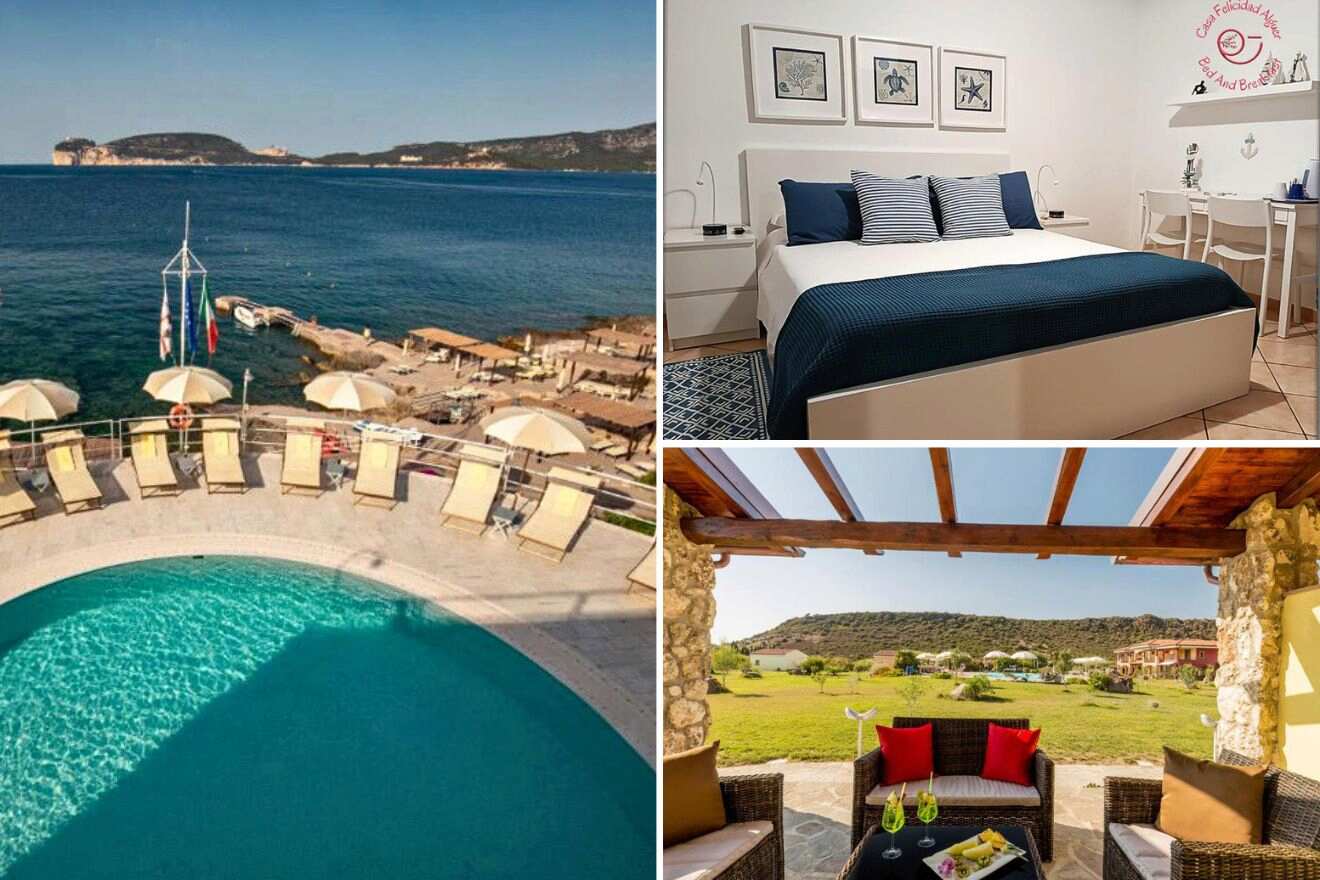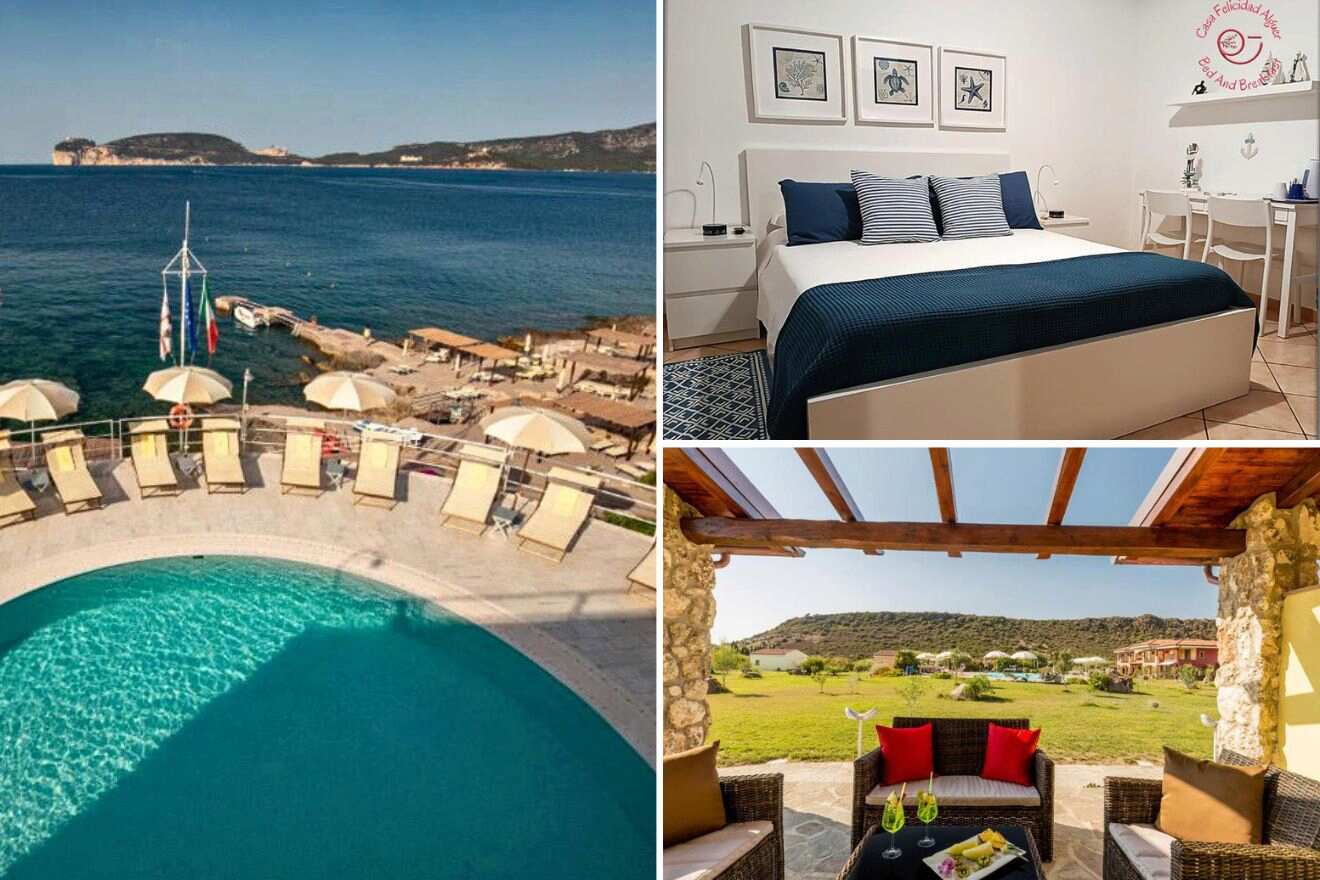 Mid Range (€200 – €230)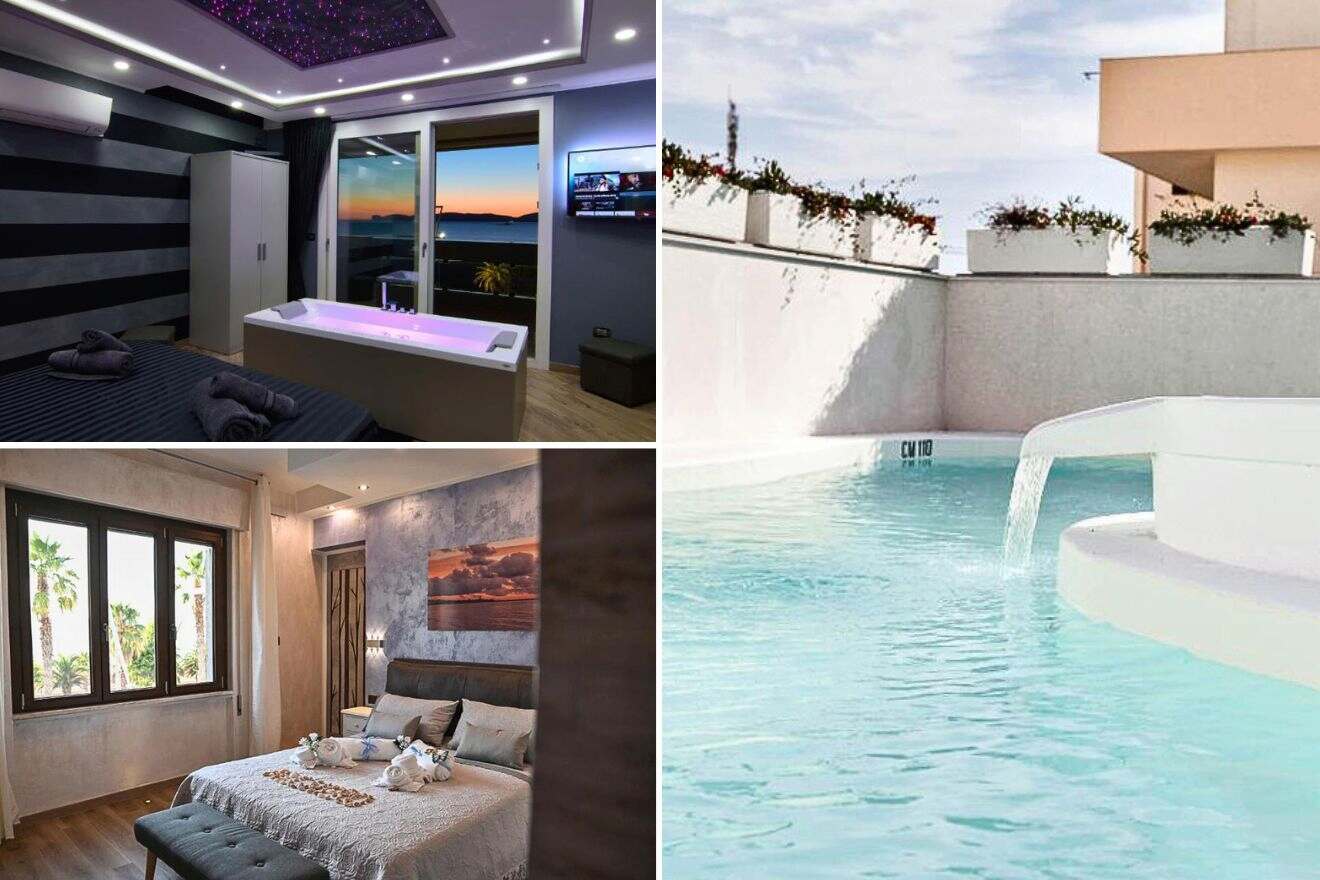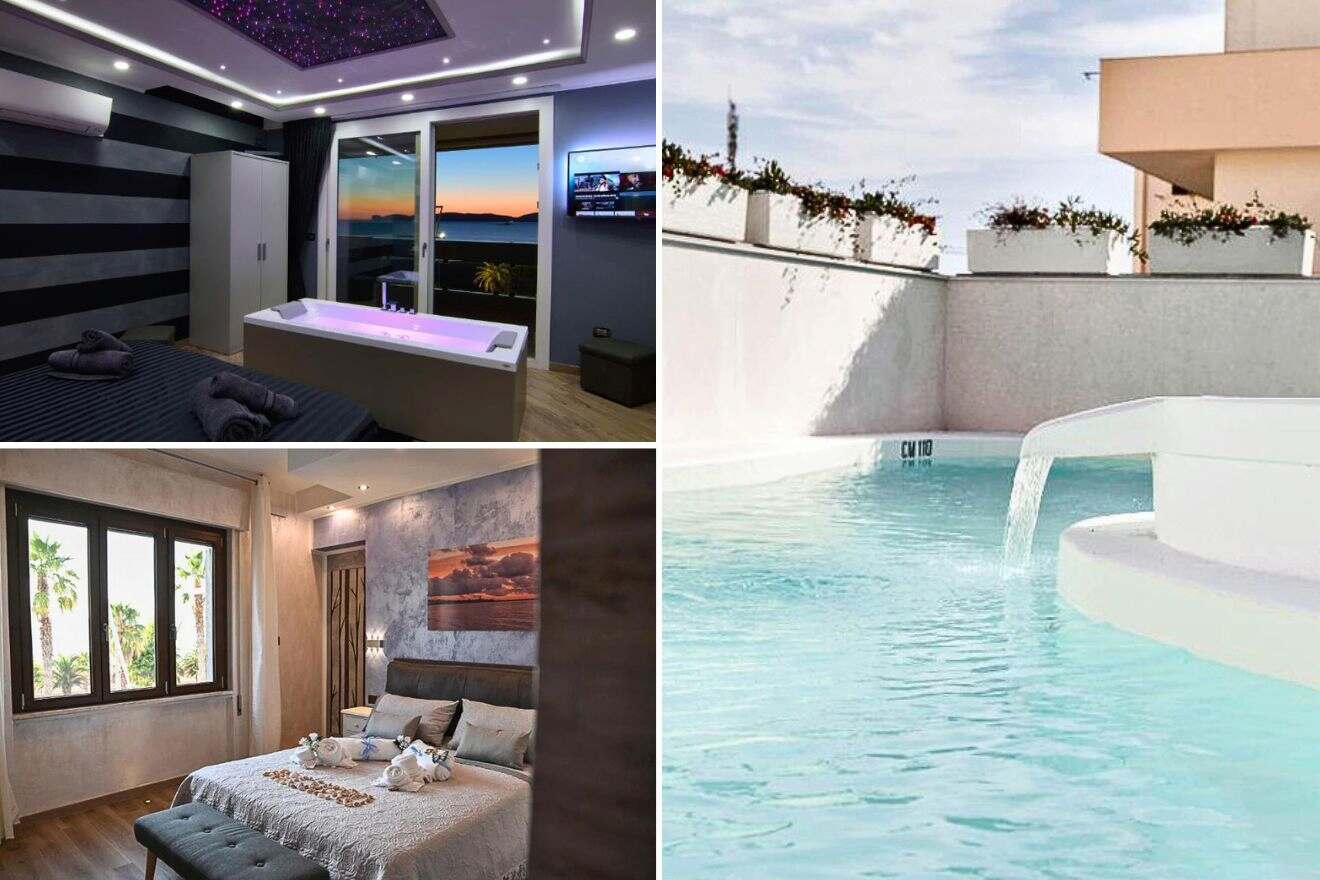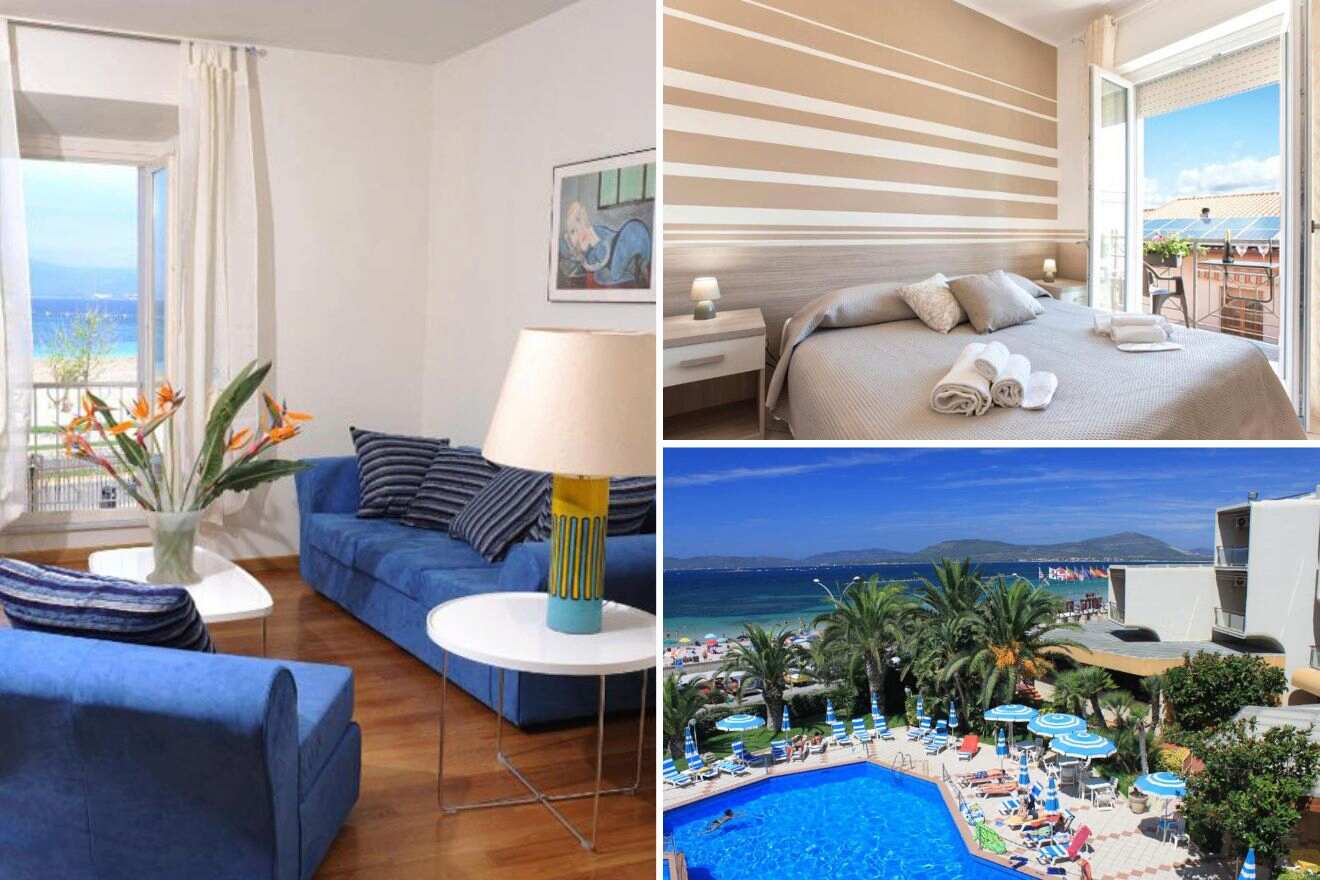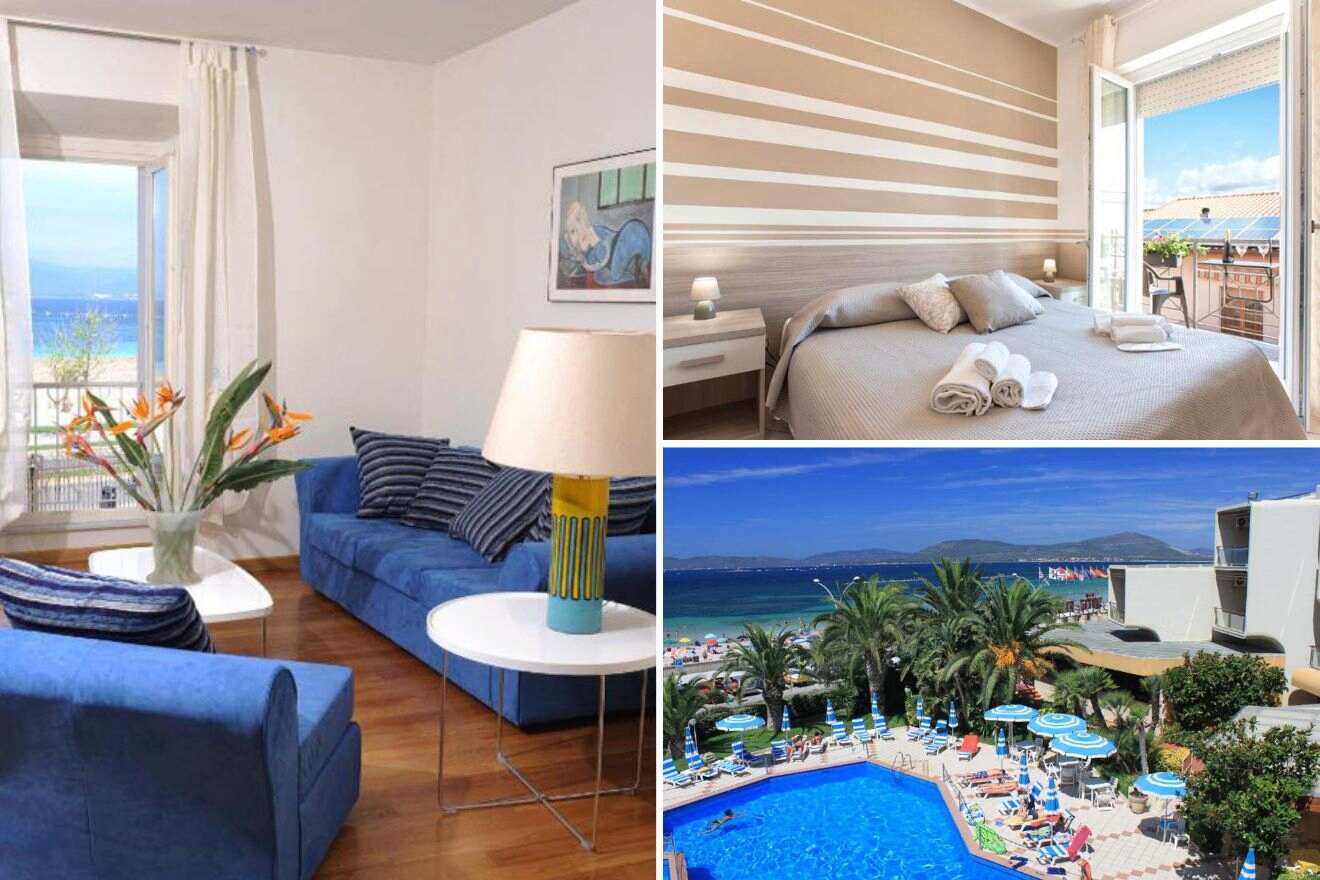 Budget (up to €200)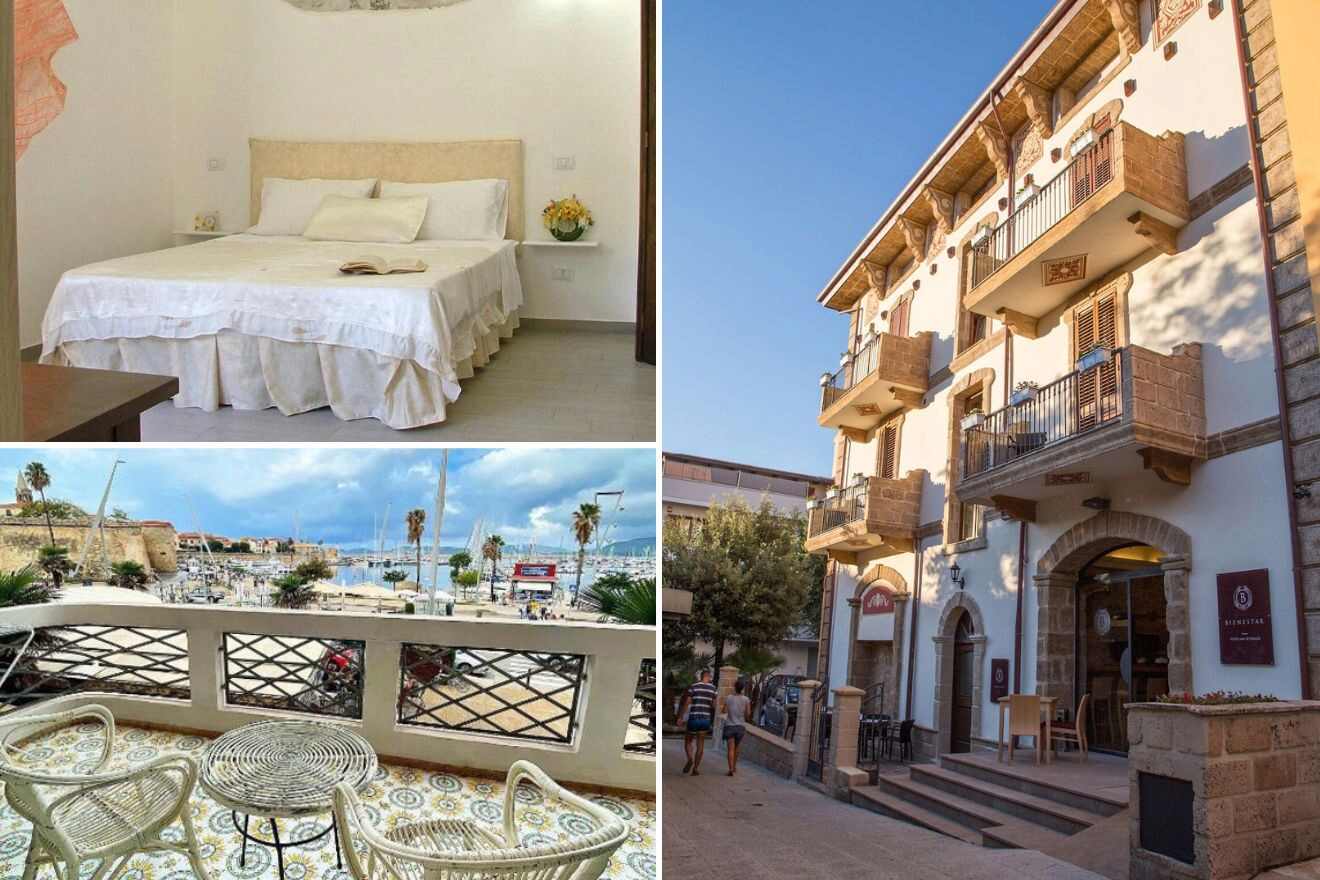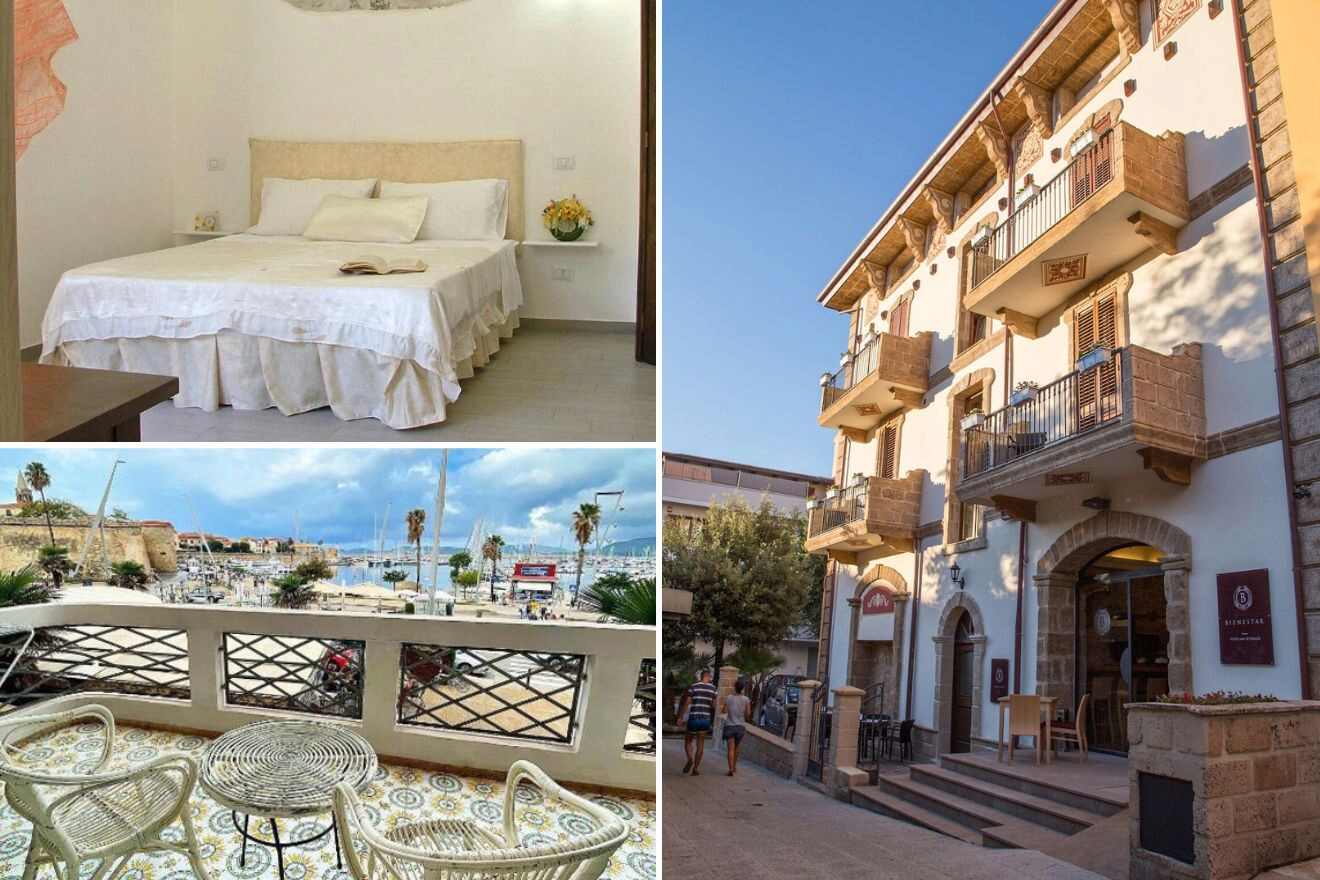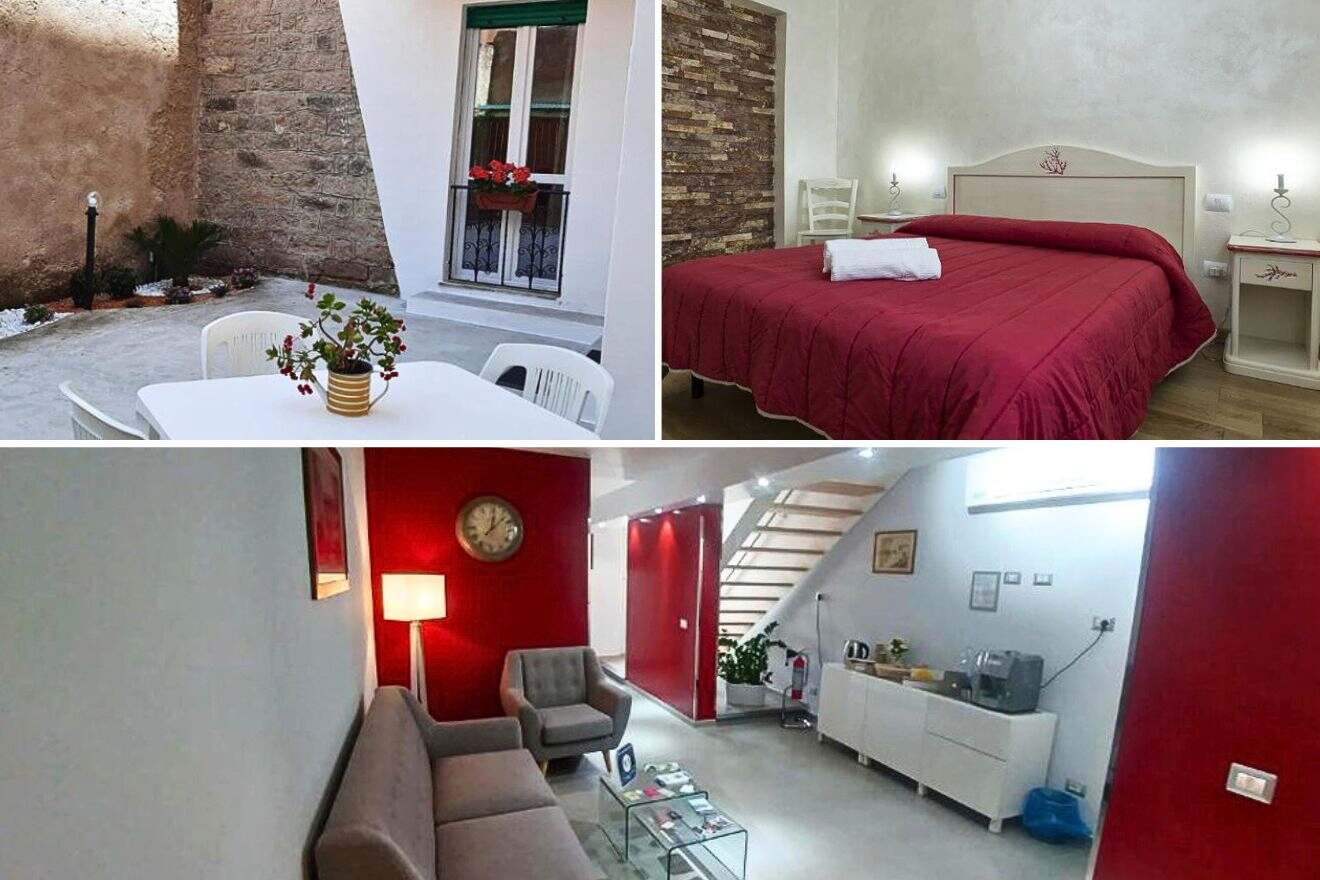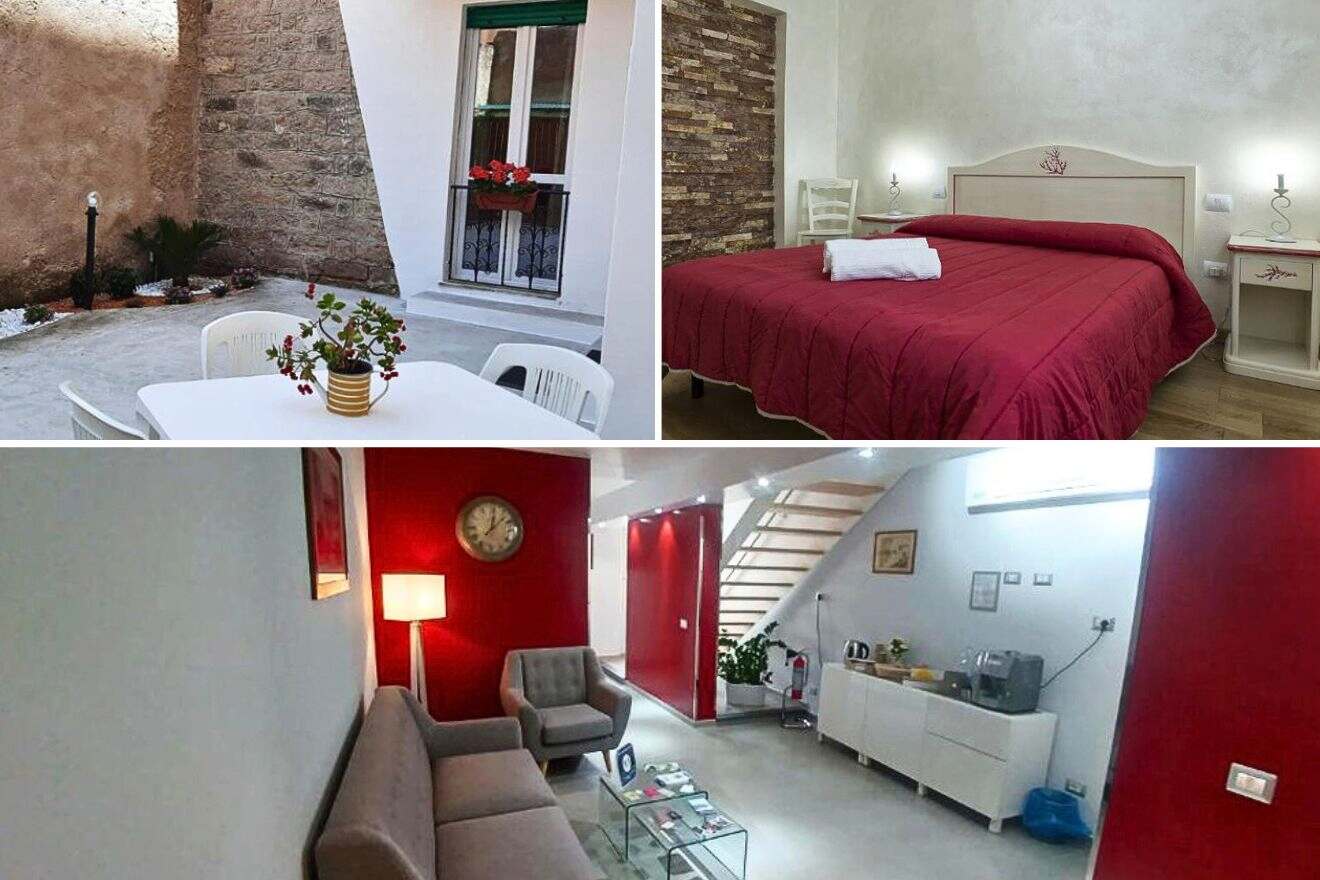 BONUS#1: Villas in Alghero
You know me! I couldn't end this article on the best hotels in Alghero without giving you a sweet bonus of the best villa in Alghero so that you can choose from even more amazing options in the beautiful Sardinian city!
The accommodations in this section go from €170 to €450 per night, and all of them look like a total dream! Let's check out these 6 amazing villas that will make you feel like you are having a vacation in a little piece of paradise!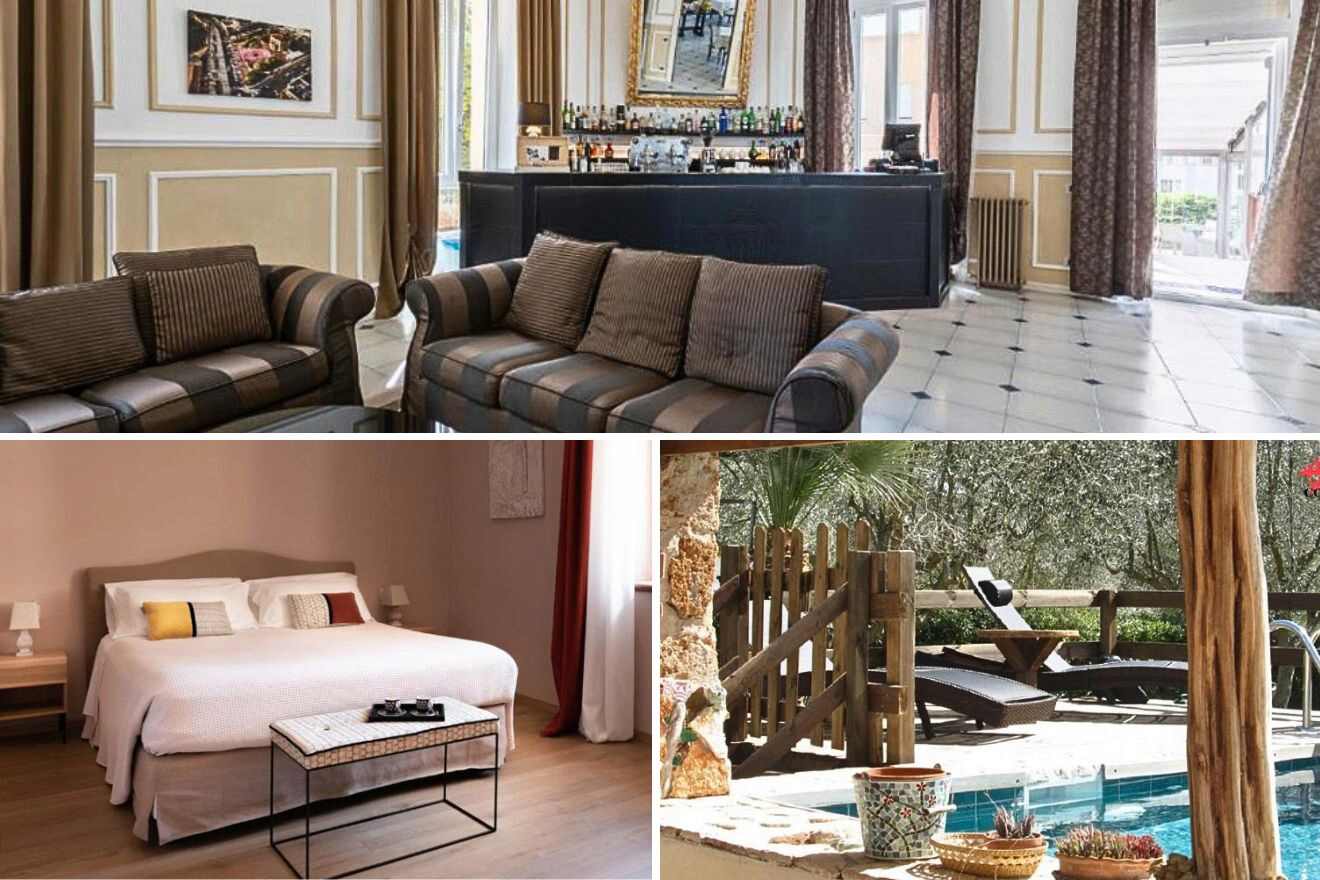 1. Villa Mosca Charming House
Stop everything! Is this place even real? The beautiful decoration with the chandeliers gives the whole property an old charm, there is a hot tub and an outdoor swimming pool overlooking the Mediterranean Sea. Some of the rooms have amazing views, and the studios come with a private kitchen. The location is amazing, right in the city center!
2. Casa Villamarina
Are you there, wine lovers? This beautiful hotel is owned by a winery and has amazing wine showrooms and tours available for guests for a price; the surroundings of the hotel are simply cinematic, it looks like a movie scenery came to life! The hotel offers a complimentary breakfast each morning with a variety of pastries, warm Italian specialties, and more. The hotel is located a 15-minute drive from Alghero.
3. Coral Riviera Sardinia Villa & Cottage
Such a cute little cottage and villa with a rustic charm that complements the natural landscape of the property. The private villa comes with a private pool and a barbecue area and can host up to 5 guests. The cottage comes with a private hot tub and can host 2 guests. The property is only a short drive away from Alghero city center!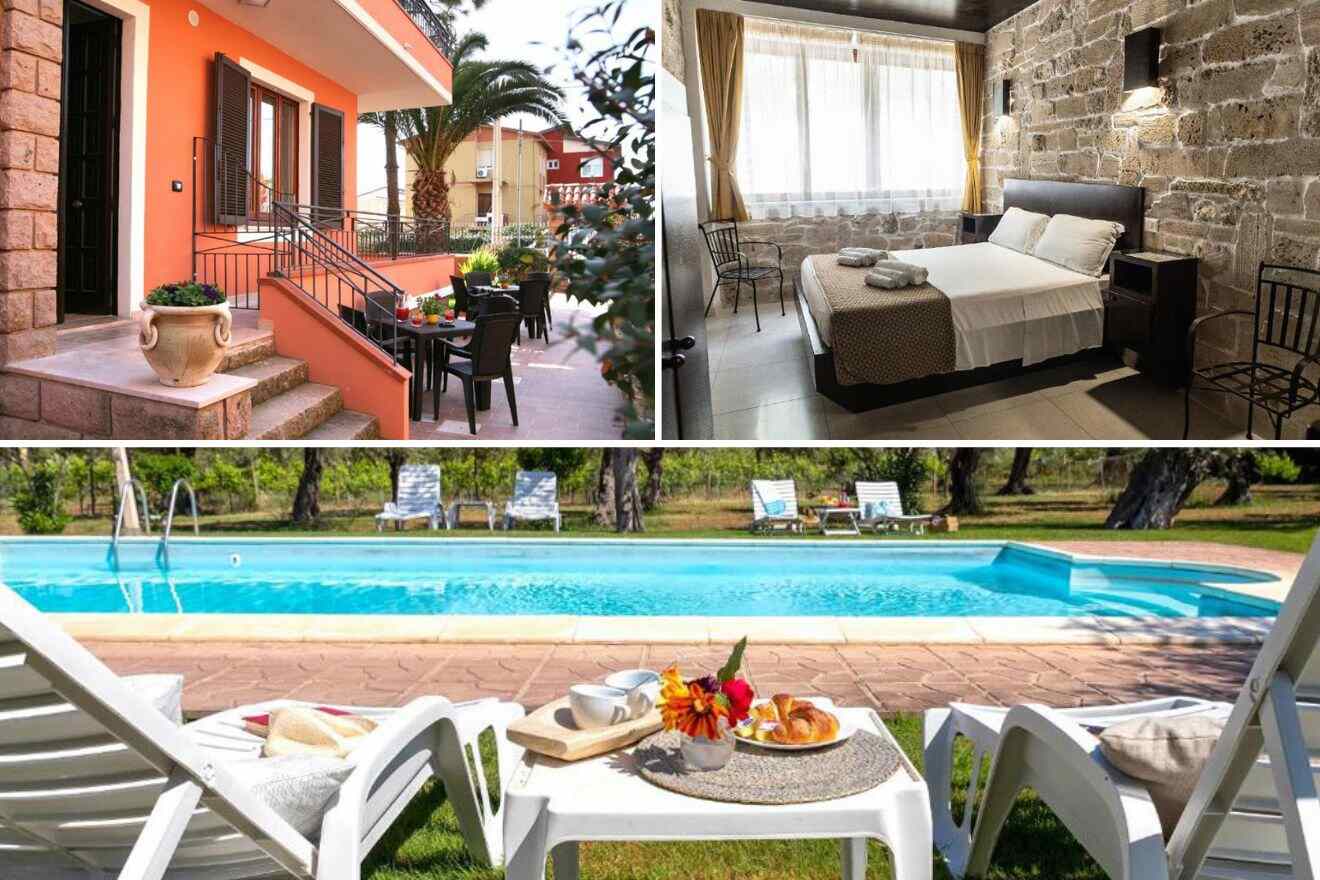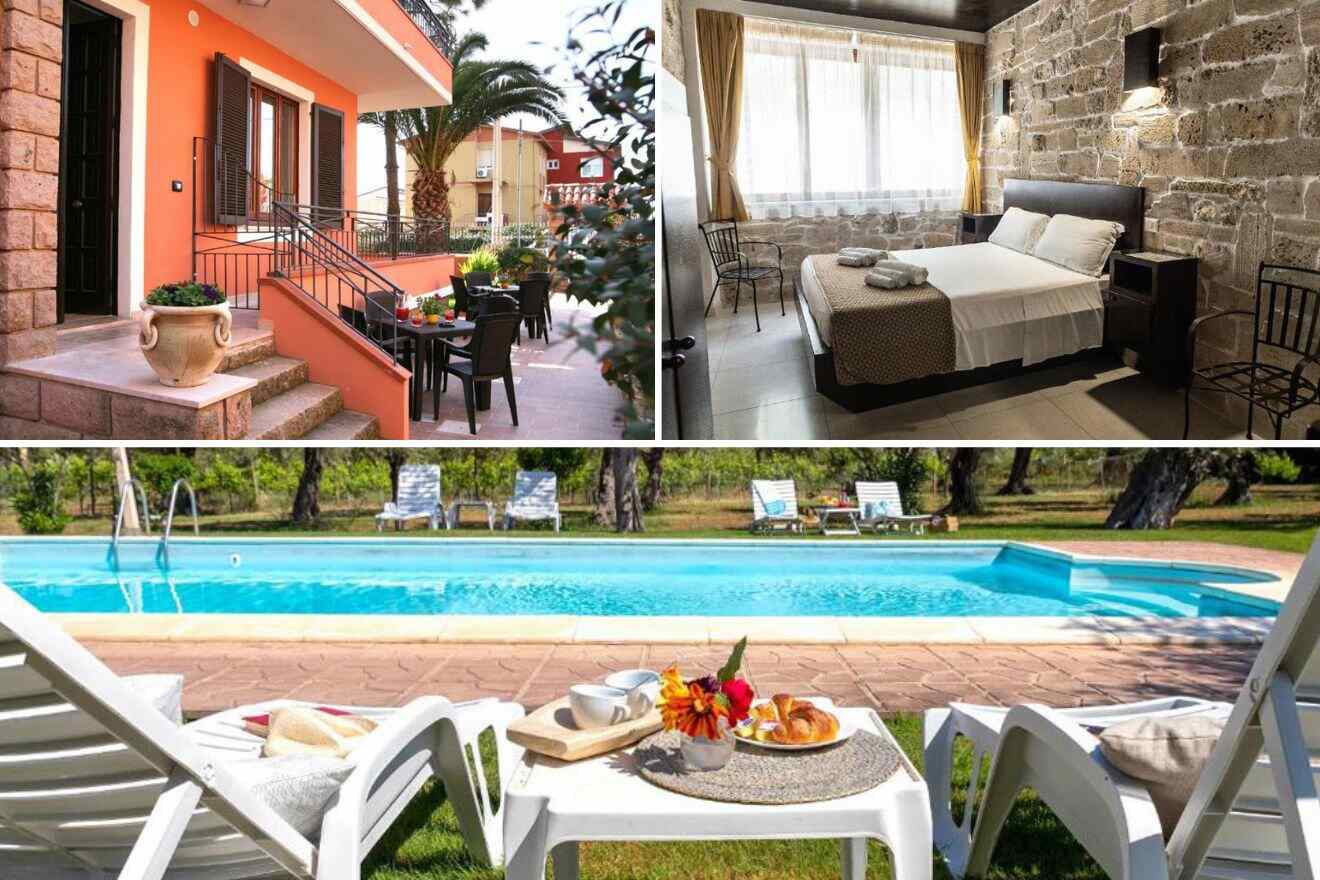 4. Villa Asfodelo Guest House & Relax
Located just a few minutes from the city center, this hotel looks so much fun! It offers double rooms with beautiful stone walls and playful wall paintings. I highly recommend the rooms with the spa bath, those look like you have a nightclub in the room! Neon lights, floors that glow in the dark, and loads of mirrors!
5. Villa Grazia
Located only a 20-minute drive from Alghero city center, this beautiful villa features the most astonishing views of the Sardinian landscape! This hotel comes with an outdoor swimming pool, a barbecue area for grilling a lovely lunch, and good vibes all around! Luckily, it offers a complimentary breakfast which is just the cherry on top! All the rooms can host up to 2 guests.
6. Villa Marogna
This picturesque villa is located in La Taulera, just a few minutes drive from Alghero city center. The hotel comes with a lovely terrace and a garden, a complimentary breakfast, and the rooms are nicely decorated and come with a minibar full of drinks and treats. The biggest room can host up to 6 guests!
BONUS#2: Boutique hotels in Alghero
You know how much I love to spoil you! So, let's recap: in this article, we have the best hotels in Alghero, a bonus with the best villa in Alghero, and now, I have for you another bonus with the best boutique hotels in Alghero!
The hotels' price ranges from €100 to €250 per night, and look amazing! So, I am sure you will find something you love here!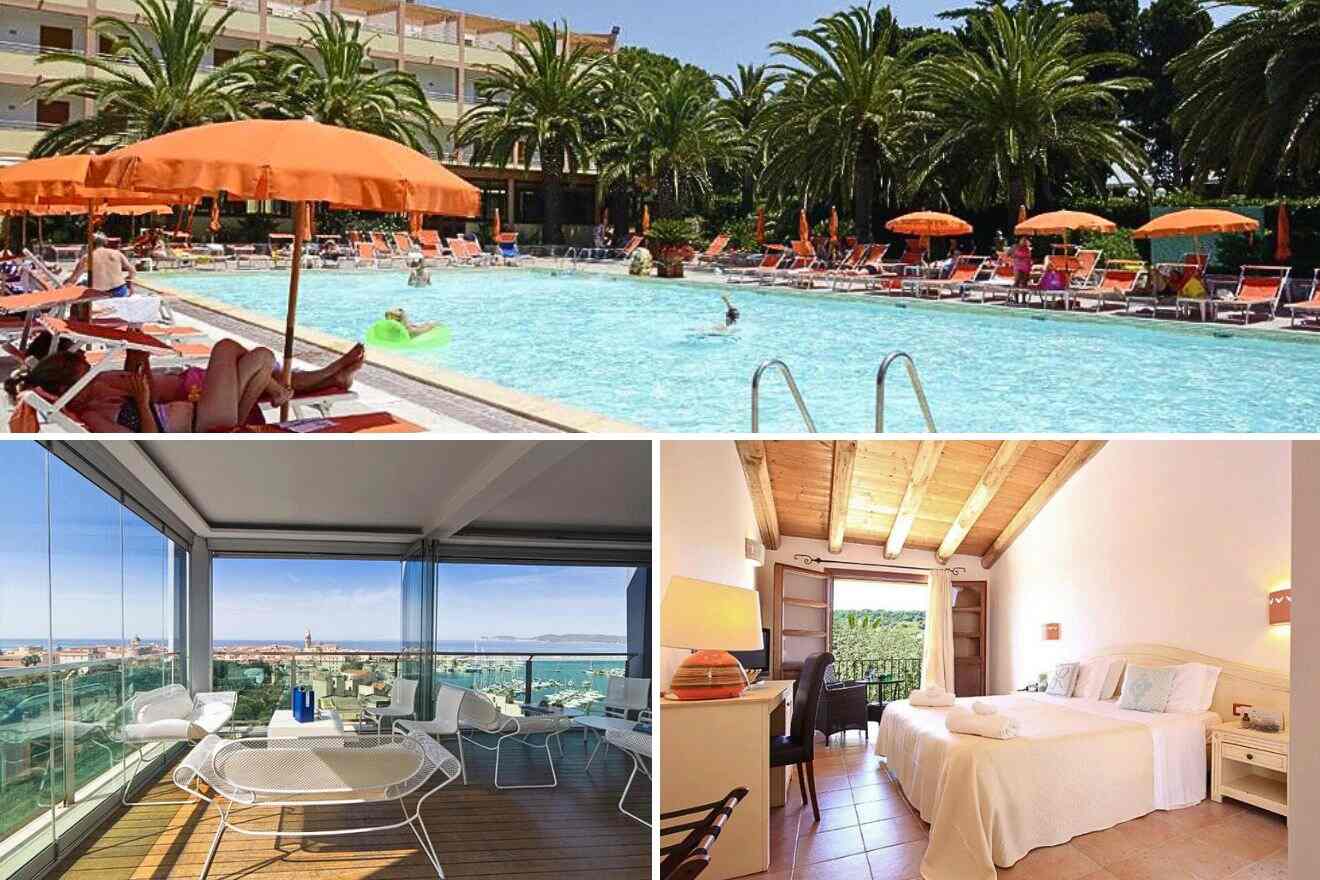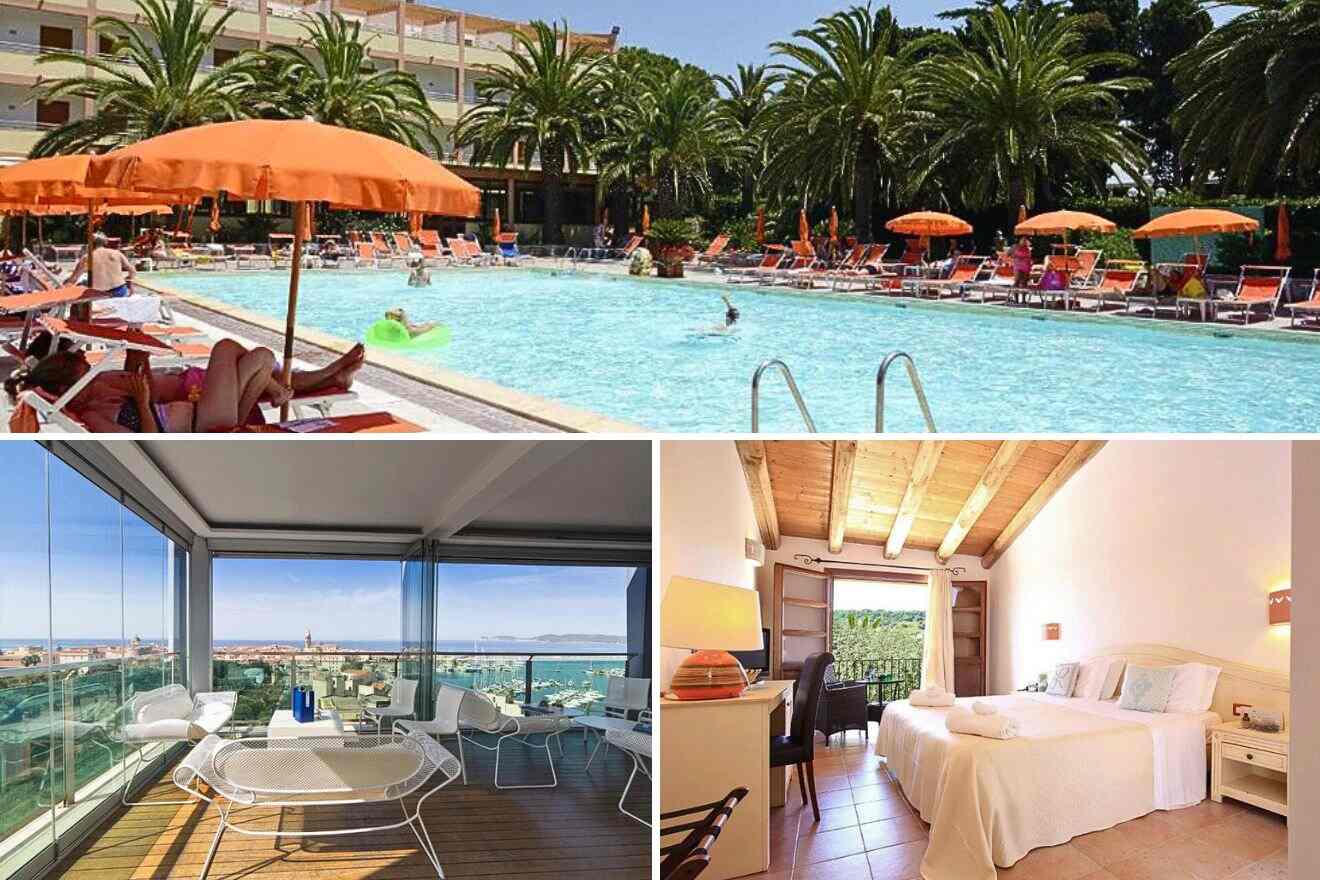 1. Hotel Catalunya
Looking for the best views in Alghero? Look no further! This hotel has the most stunning views of the city and the Mediterranean Sea from the terrace! Guests can enjoy the most delicious breakfast every morning, including the best Italian coffee, and many pastries and cakes! I highly recommend the Junior Suite for couples, as it comes with a private balcony with furniture, perfect to admire the sunset with a drink!
2. Alghero Resort Country Hotel & Spa
Located just outside Alghero, only a 10-minute drive away, this hotel offers the perfect landscape for relaxation with its natural surroundings combined with the hotel's amenities, wake up every morning to a homemade breakfast, then stroll around the garden, when it is warm enough jump into the pool, then head to the spa and wellness center for a relaxing massage, and then end the day with a dinner at the onsite restaurant.
3. Hotel Oasis
Wow! This hotel is massive, so big! It is located near Alghero, less than a 10-minute drive away, and there is a stunning beach just steps away. The hotel comes with a big swimming pool, and a pool bar, there are billiards and foosball tables to play with on the terrace, and tennis courts you can use for a fee. Plus, the onsite restaurant offers delicious Italian dishes!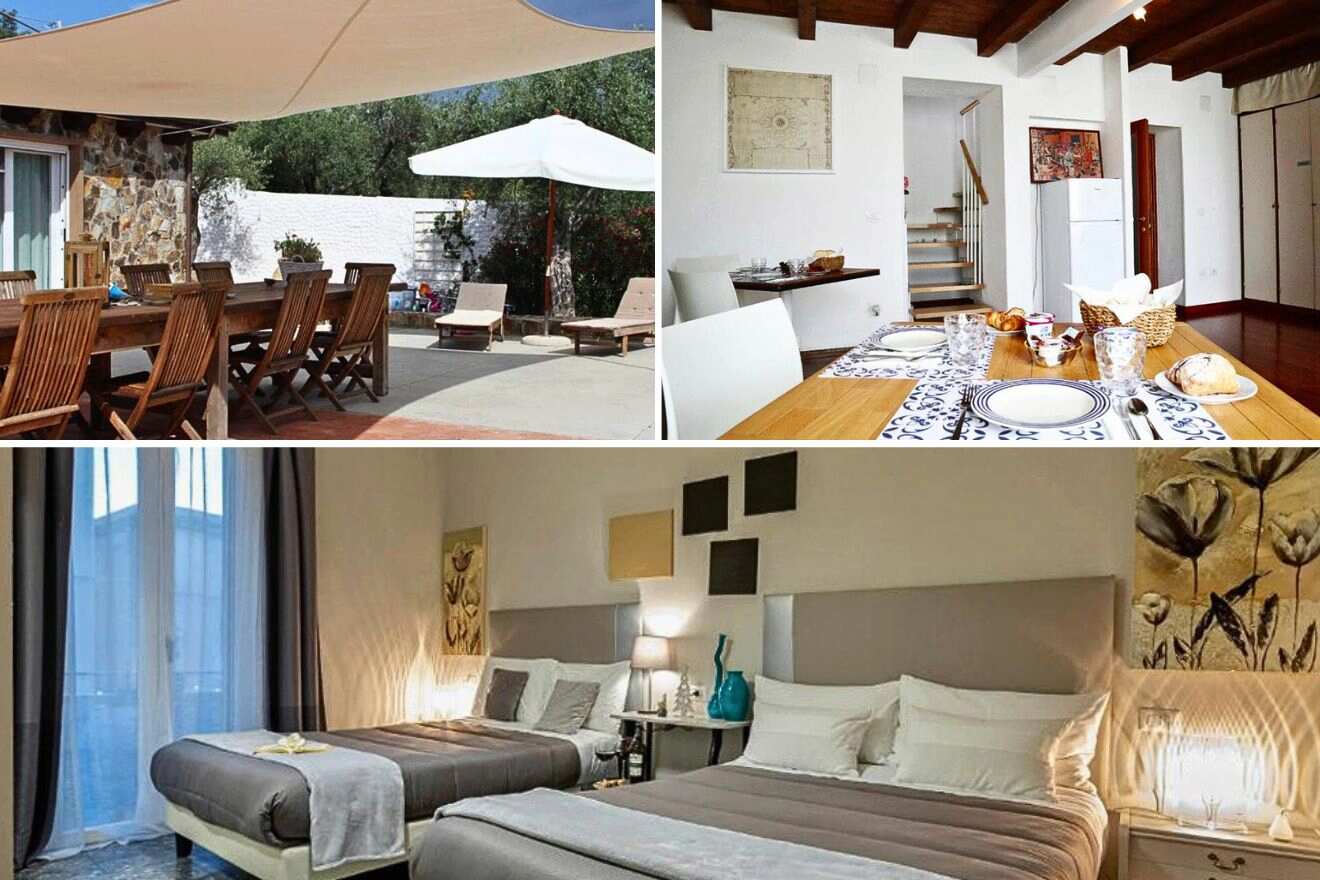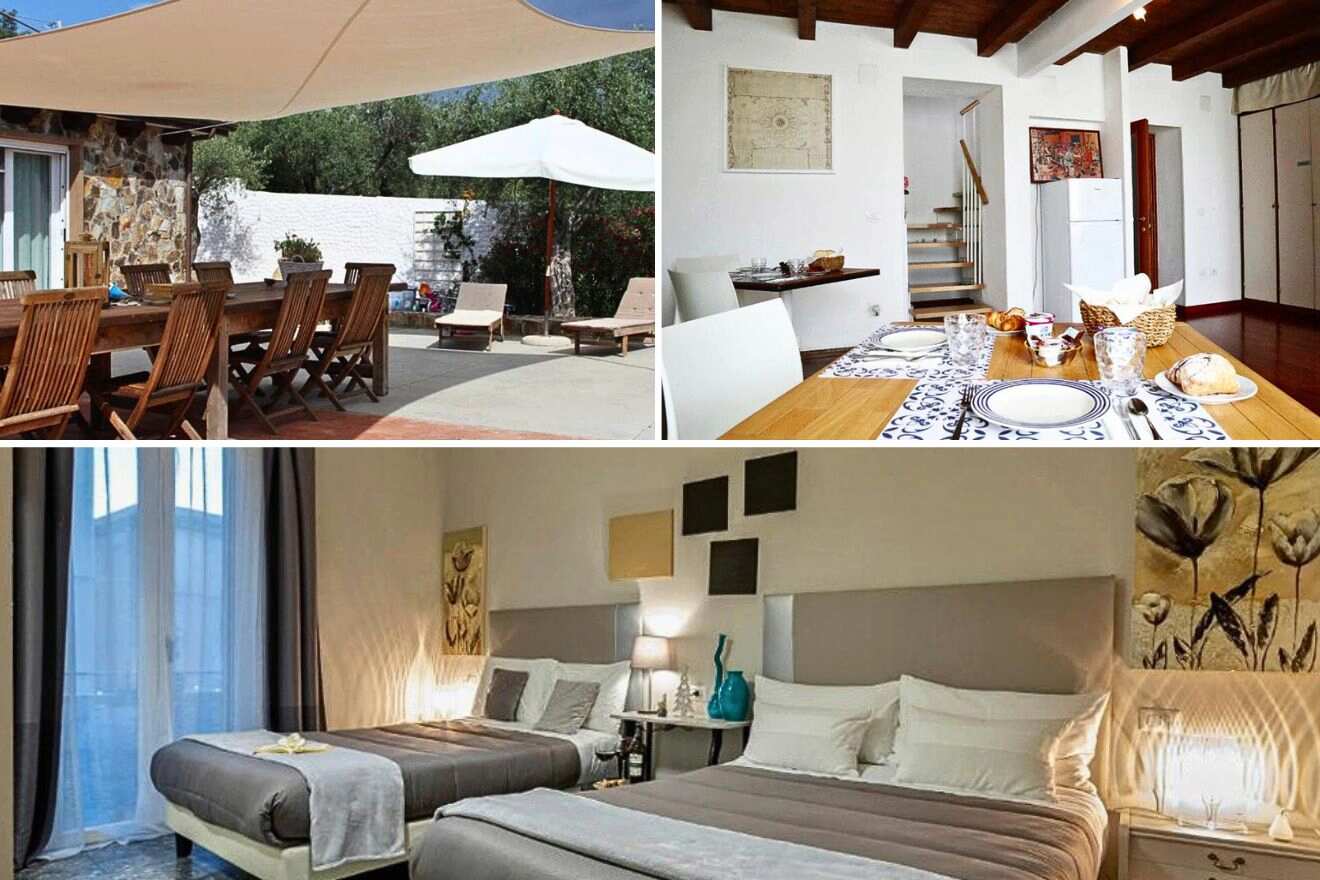 4. Musica Guest House
This cute little hotel is modest yet elegant, and it is located just outside the city center! The hotel offers a free breakfast which you can enjoy in the privacy of your own room! There is a bike rental service available for a fee for the hotel guests staying in any of the comfy and well-decorated rooms, some of them come with a private balcony.
5. Cuscino e Cappuccino B&B
This property is so charming! It will make you feel like a local, the rooms offered are completely stunning and have beautiful decorations, wooden floors, and picturesque tiles, and some of the rooms come with an amazing balcony where you can enjoy the hotel's complimentary breakfast! Alghero city center is only a few minutes walk away from the hotel!
6. BOUTIQUE DE CHARME
This hotel is perfect for all of those looking to let go of your everyday worries and give in to relaxation! This hotel comes with a lovely garden and furnished terrace where you can spend time reading while enjoying an aperitivo, and there is a shared outdoor kitchen on the property! All the rooms come with a terrace and a view!
FAQs about Hotels in Alghero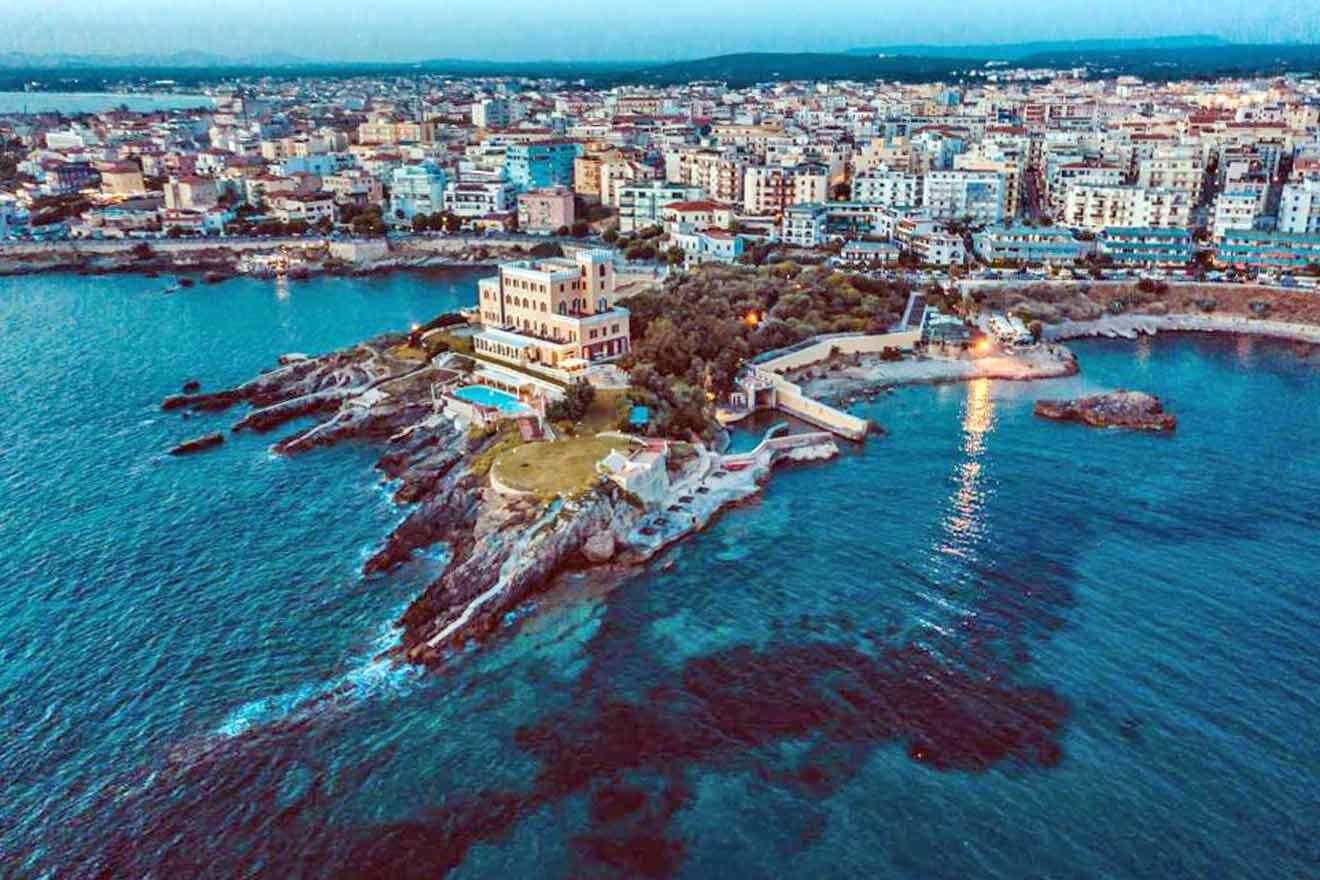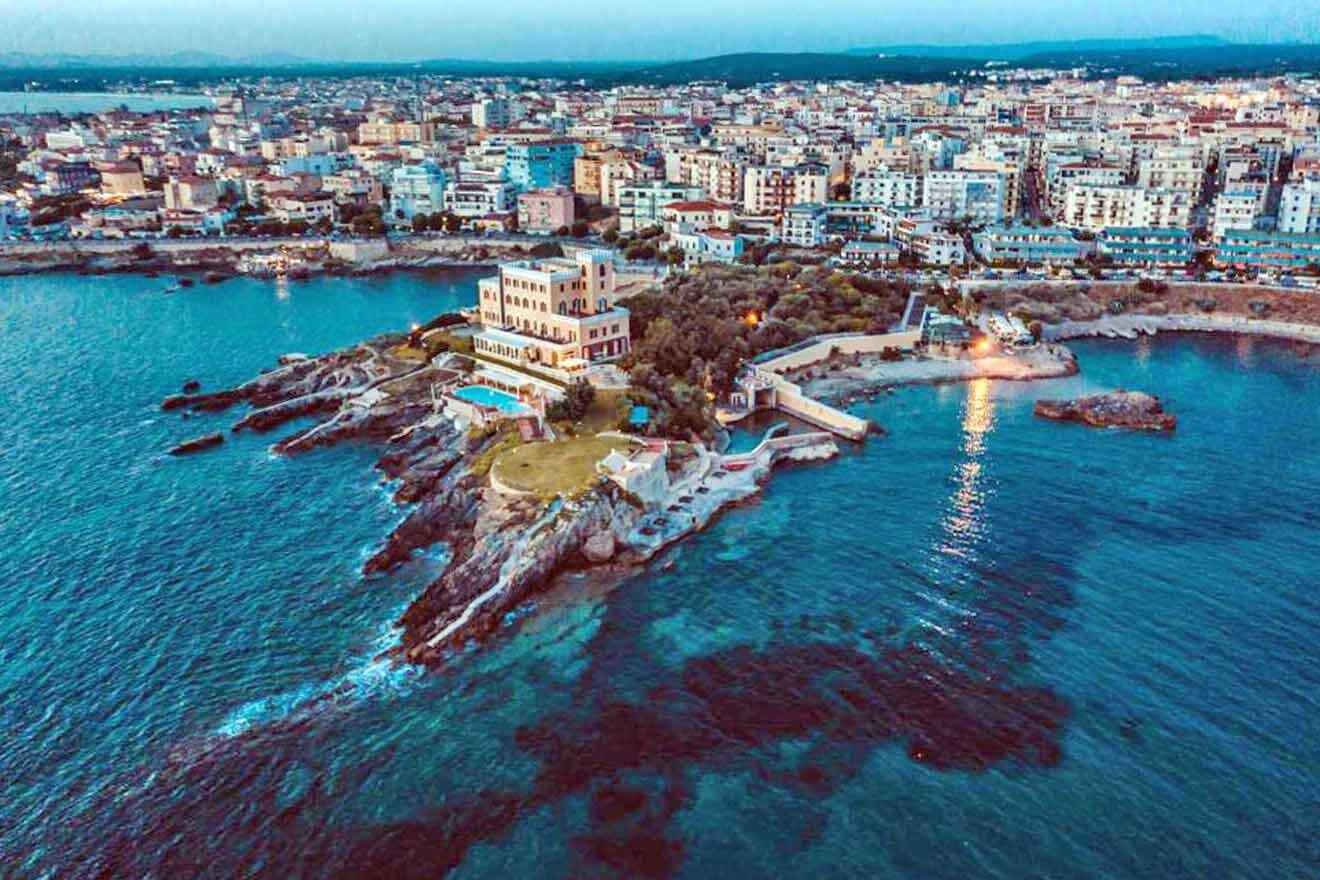 🌅 Is Alghero Sardinia worth the visit?
Of course, it is worth the visit! The old town is beautiful, and the beaches are stunning, with soft white sand and a deep blue sea!
🏖️ What are the best Alghero hotels near the beach?
🌆 Which are the best Alghero hotels in the city center?
🏊 Which Alghero hotels come with a pool?
Conclusion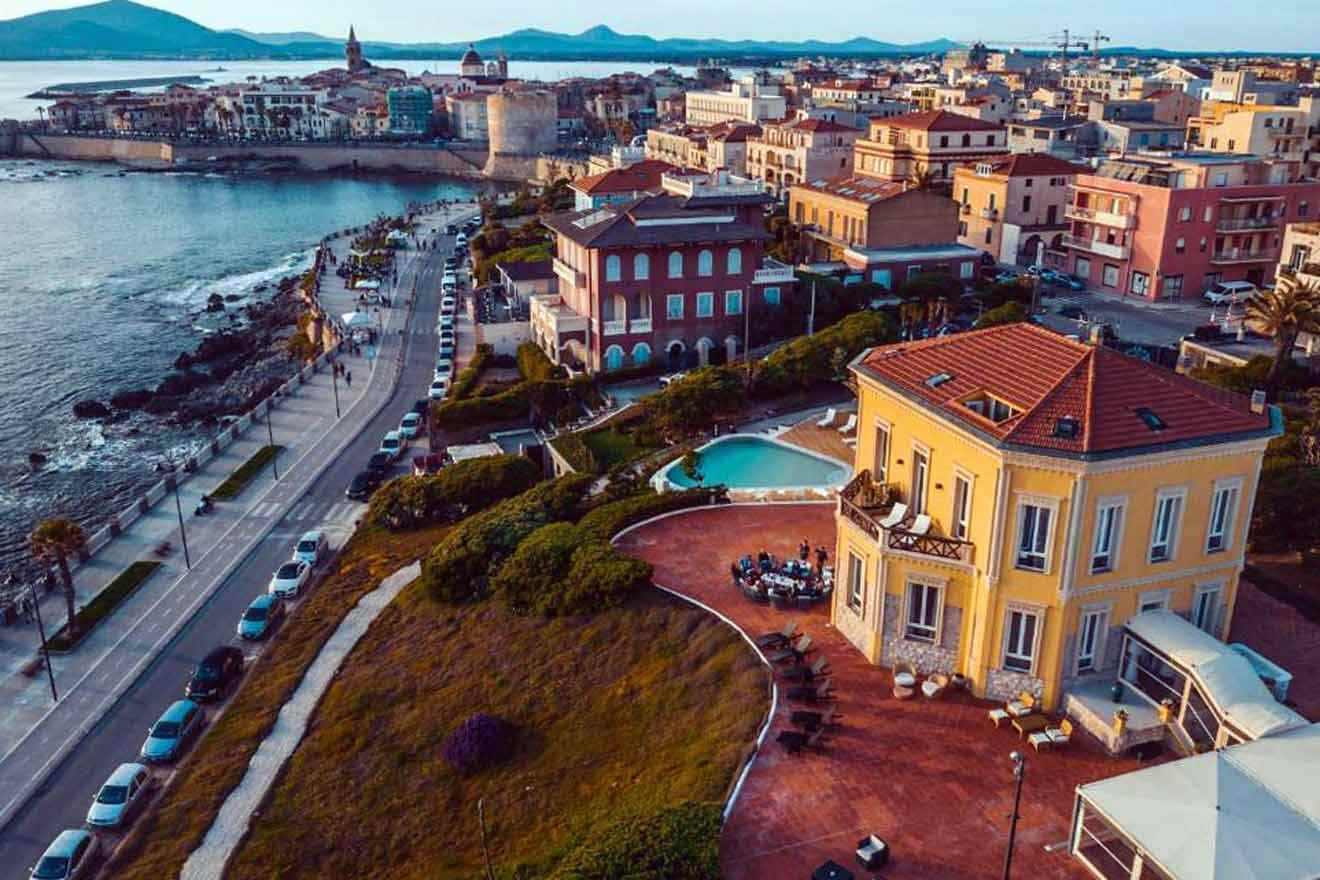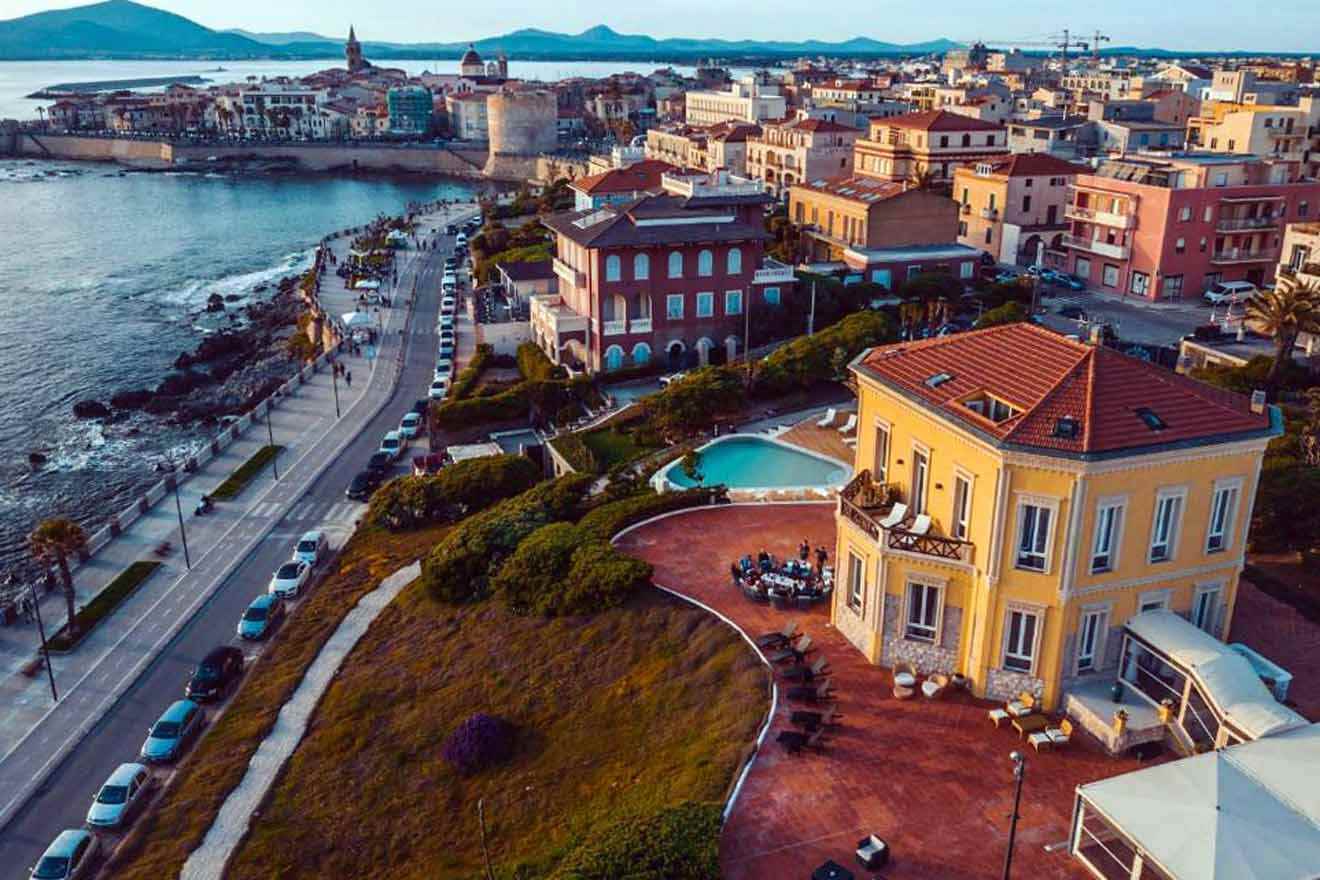 That is all for today, my lovely humans! Those were the best Hotels in Alghero, and you have a wide range of options to choose from for all budgets and all tastes! Plus, you have a lovely bonus of the best Villas in Alghero, and the best boutique hotels in Alghero!
To be completely honest, I am in awe with all the hotels featured in this article, but my top favorite hotels are:
This city is super popular amongst travelers from all over the world, so if you want to secure the hotel of your dreams and get the best deals, book in advance!
Which one of these hotels in Alghero is your favorite? Have you ever stayed in any of these? Let me know in the comments! and if you have any questions about the location or hotel, ask away! I am here to help!
Until the next trip,
Daniela
---
Pin it for later!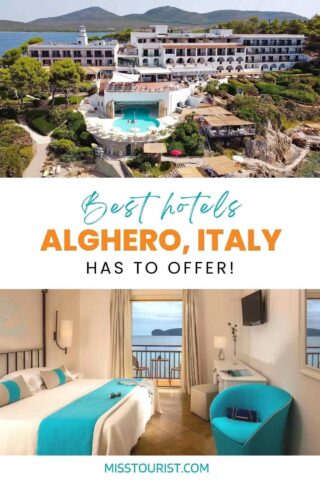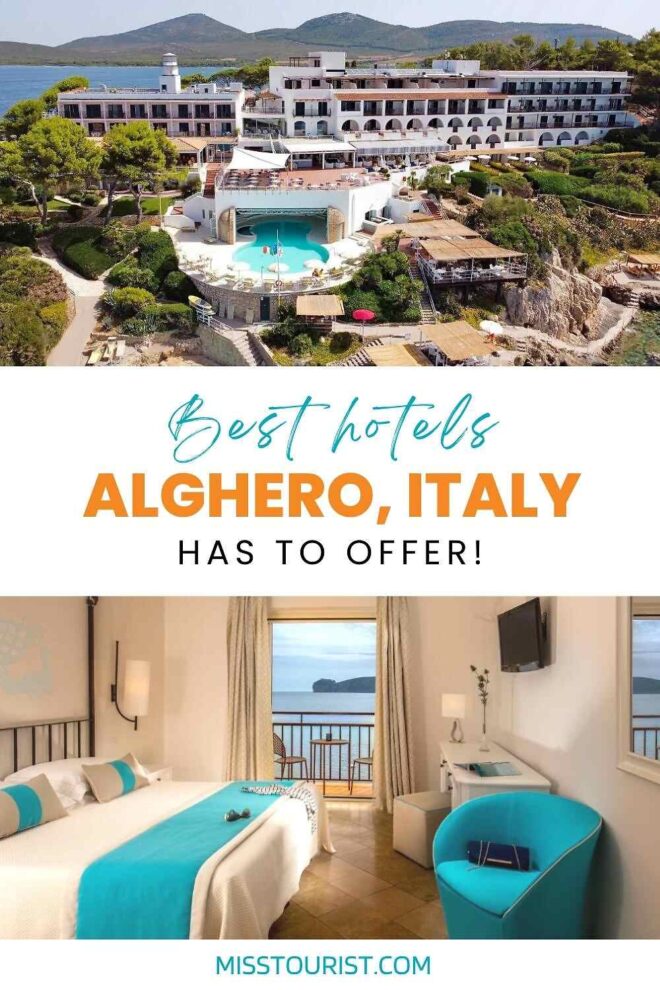 Pin it for later!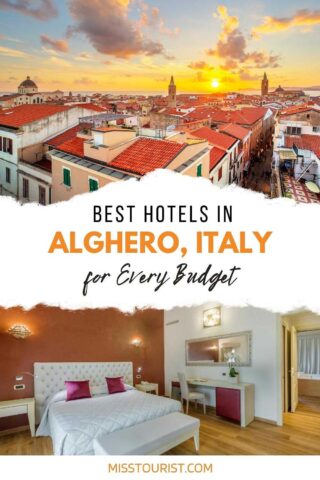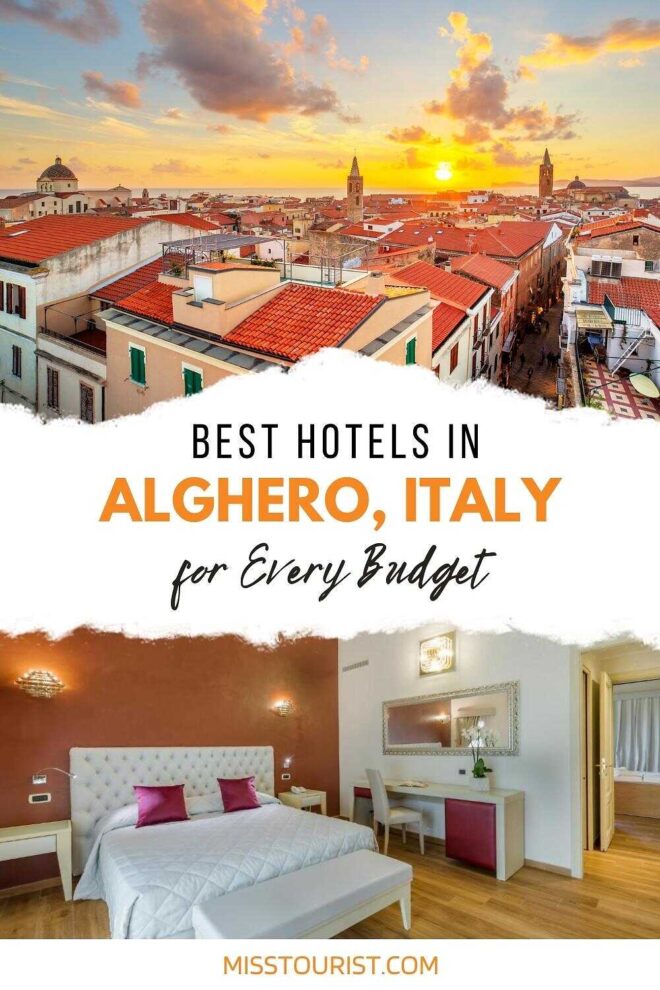 Products You May Like