22 AMAZING Things to Do in Key West, Florida → for Everyone!
I'm so excited to chat with you about the best things to do in Key West, Florida! Key West is not just one of my favorite spots in the Sunshine State – it's my favorite place in the entire world.
If you're looking for a vacation destination with breathtaking views, pristine nature, a vibrant nightlife and culinary scene, and history so wild, you won't believe what you're hearing, make Key West your next trip!
I've been visiting Key West annually since childhood and even hosted my wedding there in 2022. It really is that special!
There's something for everyone in this gorgeous island paradise. Nature enthusiasts can get up close and personal with incredible marine wildlife, while anyone in the mood to party can find a good time and live music at the many bars on and off Duval Street.
History buffs will love learning about Key West's colorful past, and beach lovers have no shortage of white sandy shores lined with palm trees to spend a day on.
Without further ado, let's get into 22 amazing things to do in Key West, Florida!
If you are in a hurry
Many of the experiences I'm sharing with you are designed for small groups. This means space fills fast, and you'll want to book the high-in-demand Key West, Florida attractions ASAP!
Here are the main things to book in advance:
I also recommend booking your lodging first thing, as there is only so much space on the island. And as a shortcut, we've prepared a whole post on the best places to stay in Key West, so you don't waste time researching the web!
Now, let's get back on track!
1. Catch a famous Key West sunset at Mallory Square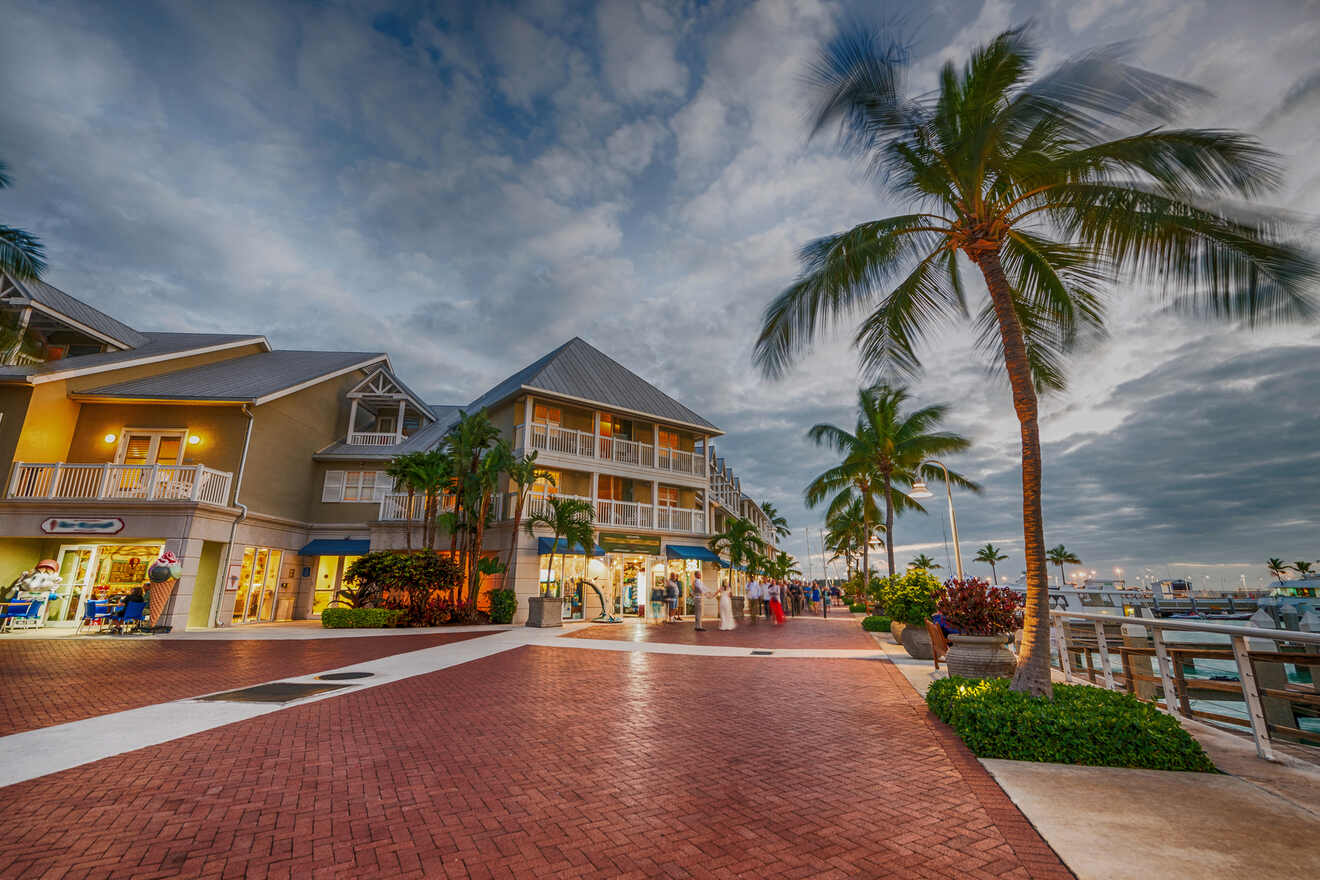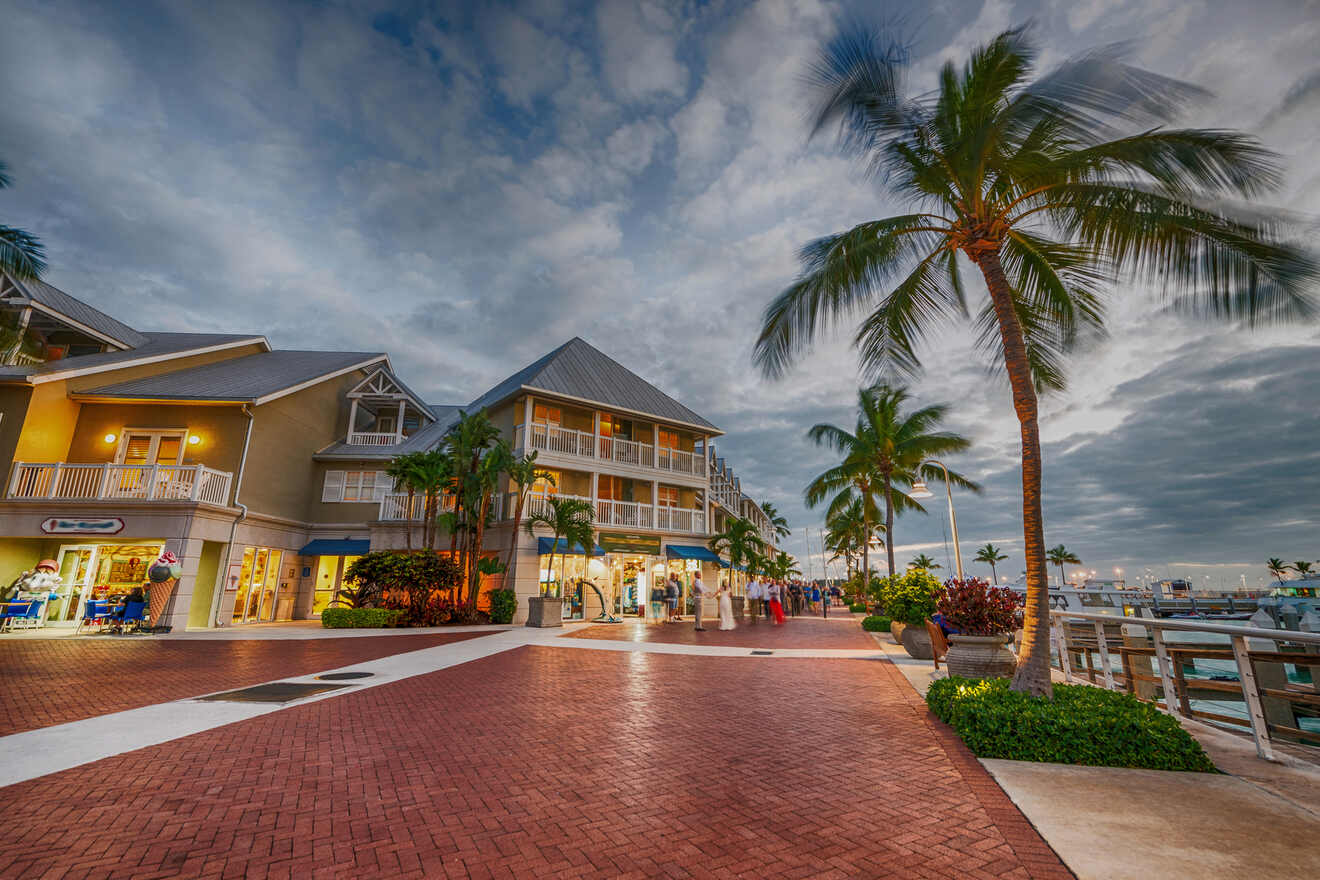 The #1 must-do, if you're visiting Key West, is to spend an evening at Mallory Square for the nightly Sunset Celebration. The lively atmosphere features unique vendors, artists, street performers, psychics, food carts, and a stunning view of the Key West sunset!
Stroll along the Mallory Square waterfront, shop locally made gifts, try some heavenly conch fritters (a Key West staple), and enjoy phenomenal live entertainment – all amidst the breathtaking sunsets Key West is famous for.
From Mallory Square, you may even get a glimpse of the legendary Green Flash, a natural phenomenon that, according to pirate lore, signals a soul returning from the dead.
Mallory Square is quintessential Key West, and no visit to the Conch Republic is complete without it. The Sunset Celebration starts 2 hours prior to sunset.
Of course, the only place better suited for sunsets than Mallory Square is on the water! If you're looking for something extra special, you can take a 2-hour sunset cruise on an exquisite 105 ft (32m) schooner, America 2.0, with live music, hors d'oeuvres, and a full bar!
PRICE: US$112 per person
2. Step back in time at the Hemingway Home & Museum
When I first visited the Hemingway Home & Museum at 13, I made a promise to myself I'd get married there one day. I kept that promise – in 2022, my husband and I tied the knot at this beautiful, historic home of a true literary legend, among its lush flora and 50+ resident polydactyl cats.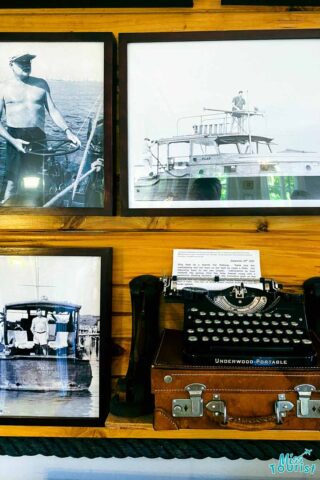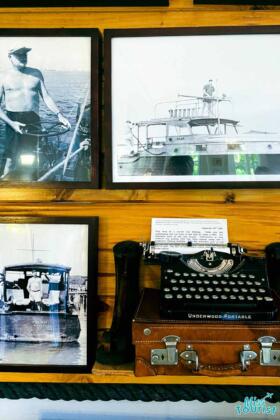 It's as breathtaking in person as it sounds, and taking the Ernest Hemingway home tour is one of the top things to do in Key West, Florida. Walk through the very rooms he once lived and wrote in, and explore the vibrant green gardens. Each tour is led by an expert on the author and his time in Key West, Florida, so it feels like an up close and personal look into Ernest Hemingway's life.
The Ernest Hemingway Home has a few inhabitants you should know about though. Around 60 six-toed cats live at this Key West museum, some of which are descended from Hemingway's polydactyl cat, Snow White. They enjoy free reign of the house, and most are incredibly friendly!
Admission to the museum costs US$18 for adults, US$7 for children, 5 and under are free. It's cash only, and tickets are only available for purchase at the front.
After your tour, head next door to Moondog Cafe & Bakery, one of my favorite places to eat in Key West, where they serve delicious, locally loved breakfast, lunch, and dinner!
PRICE: US$99 per person for the tour + the admission ticket
3. Stop by the Key West's iconic Southernmost Point Buoy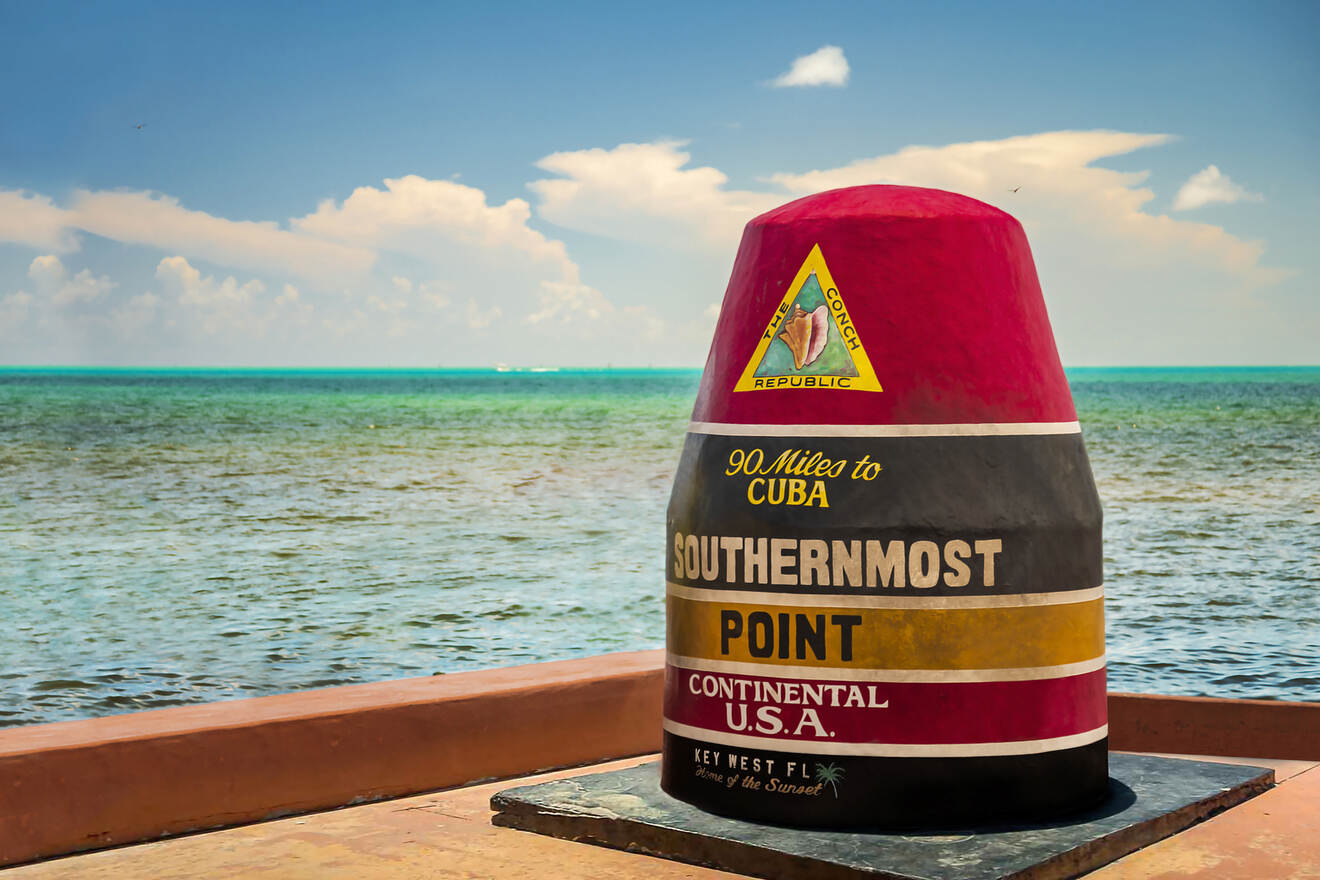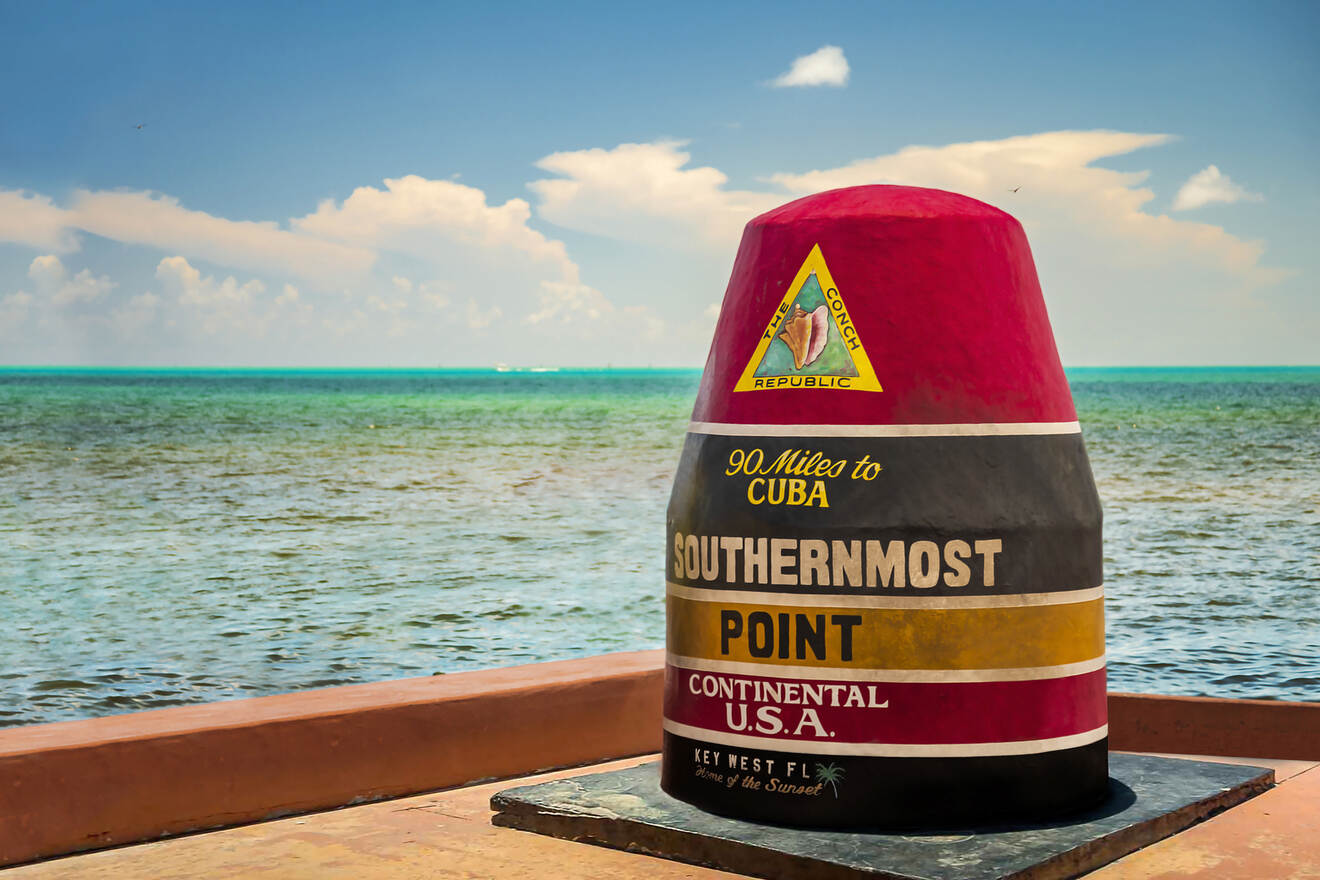 An essential stop on any Key West, Florida trip is the Southernmost Point Buoy, located where Whitehead Street meets South Street. 90 miles (155km) from Cuba, it once marked the southernmost point of the United States. Hawaii has since taken the title, but the buoy remains a pivotal part of Key West history.
It's also the ultimate photo spot. Did you even visit Key West if you didn't post the Southernmost Point Buoy on your Instagram story? 😆
There are several restaurants near the buoy, and there's one right on Duval Street that I seriously cannot recommend enough. Seaside Cafe at the Mansion is located in the Southernmost Point House, a historic private residence turned beautiful hotel. It's got laid-back beach bar vibes, life changing lobster pizza, the best mojitos I've ever had, and spectacular views of Key West's sparkling ocean.
4. Tour the island on a Key West Conch Train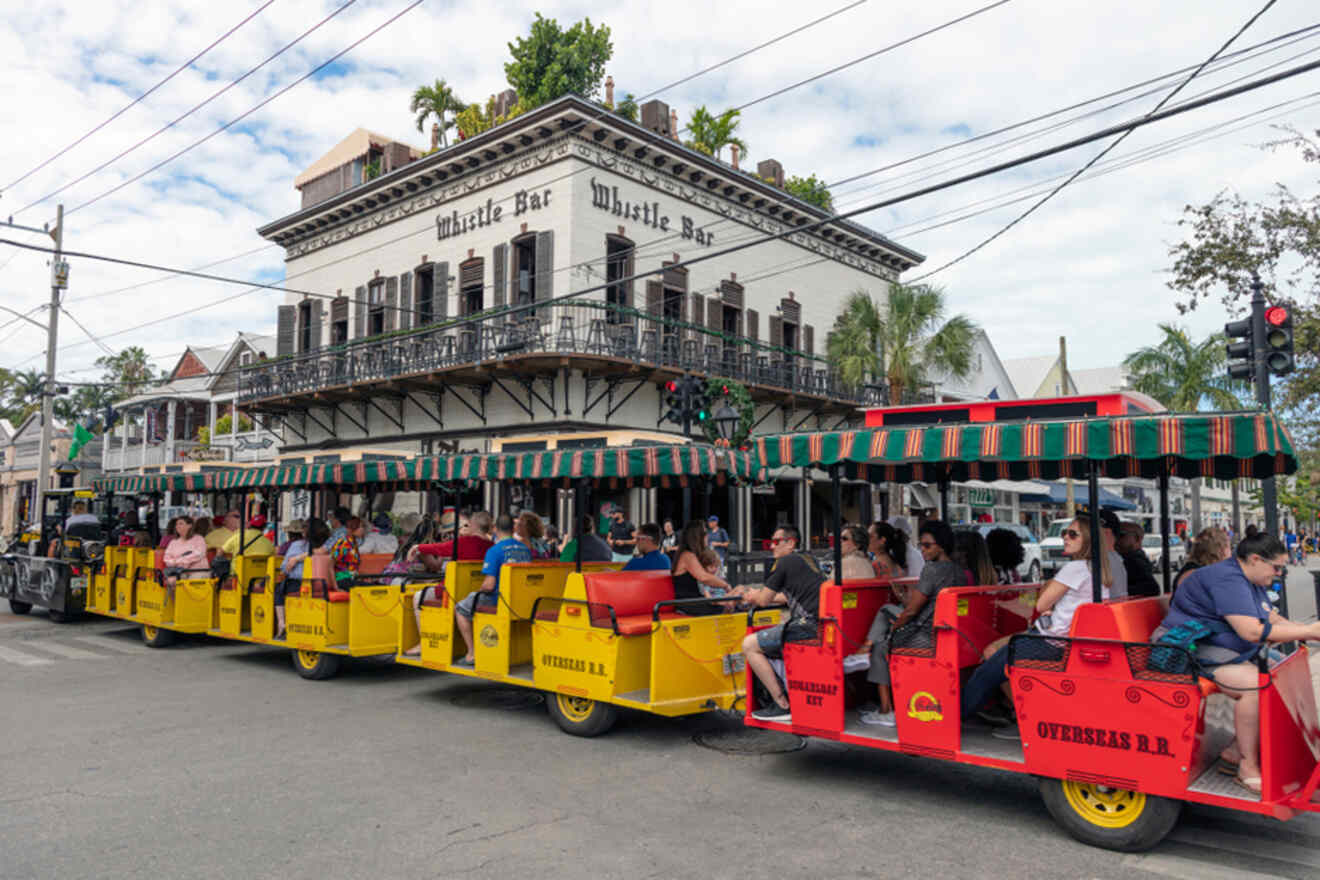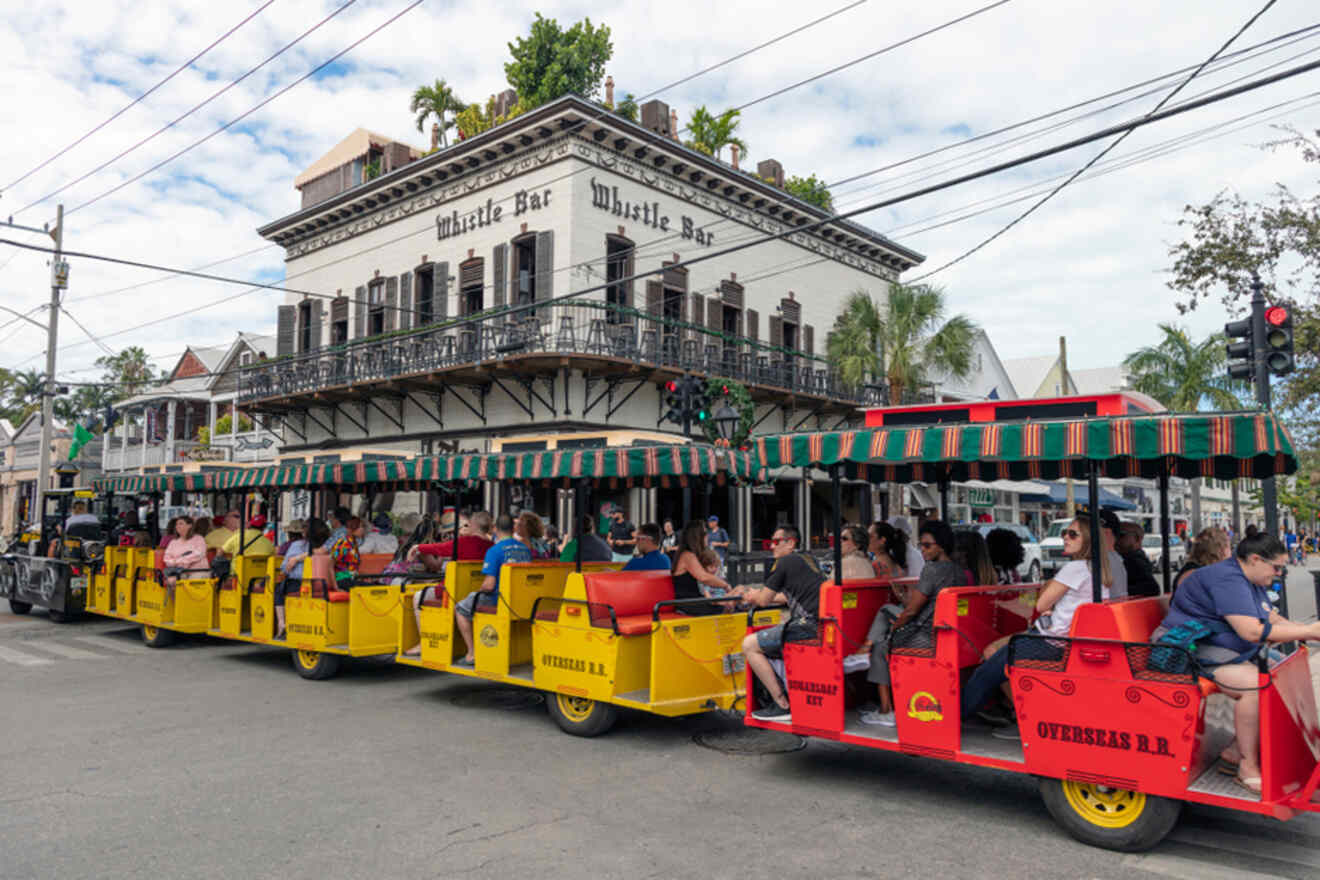 The Key West Conch Train is one of the most iconic Key West attractions and has been for over 50 years. This entertaining tour takes you to the best areas in Key West, while you enjoy a leisurely ride learning about the island's fascinating history.
You can hop off at the various stops, like Mallory Square, to explore further, and then hop back on when you're ready to go!
I love that in addition to getting from point A to point B, you're learning so many interesting things! There is history literally everywhere you go in Key West, and the island has some pretty wild stories and previous residents. It's wonderful having a Key West local tell you all about its past, people, and culture.
PRICE: US$40 per person
5. Go on a shark and wildlife viewing adventure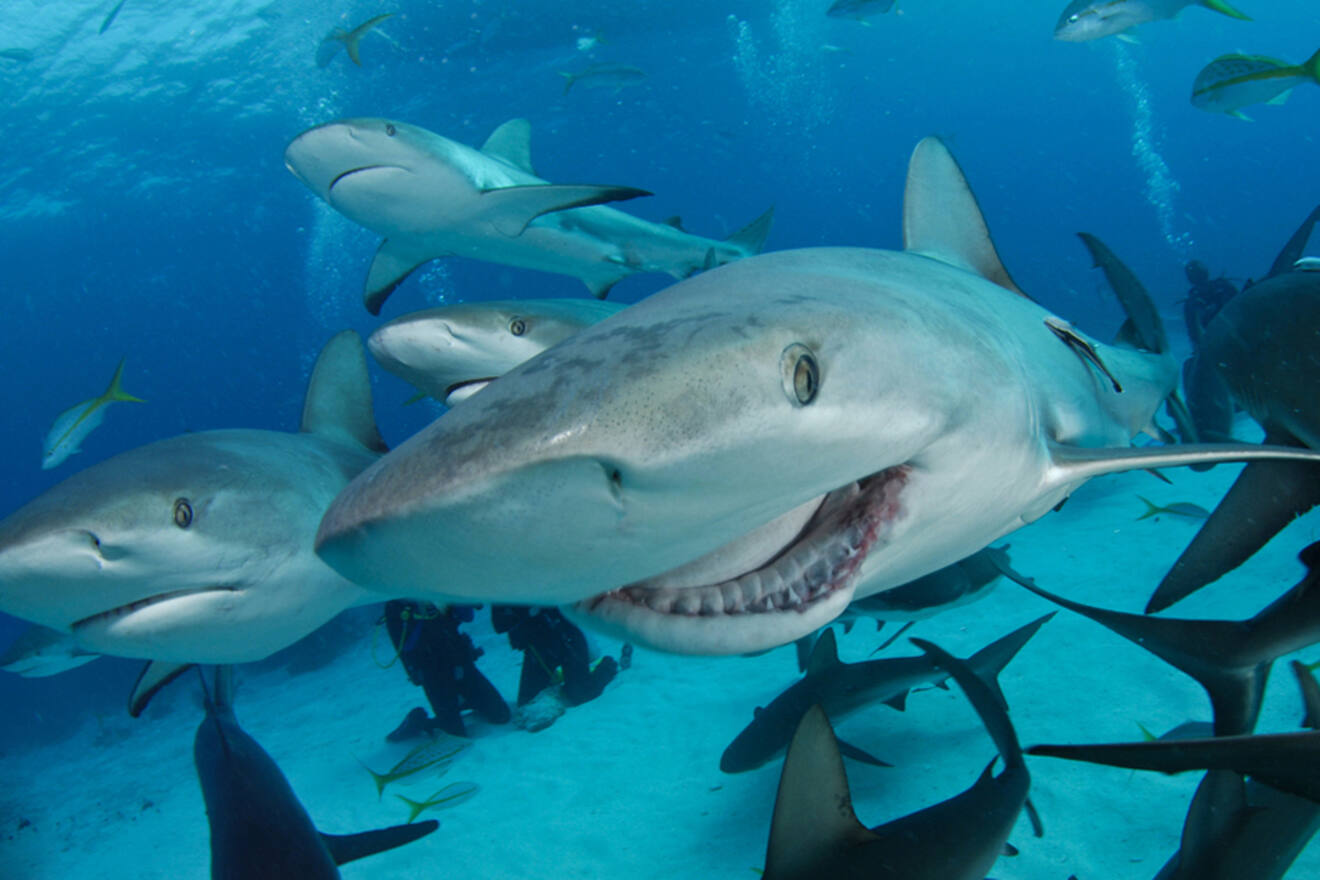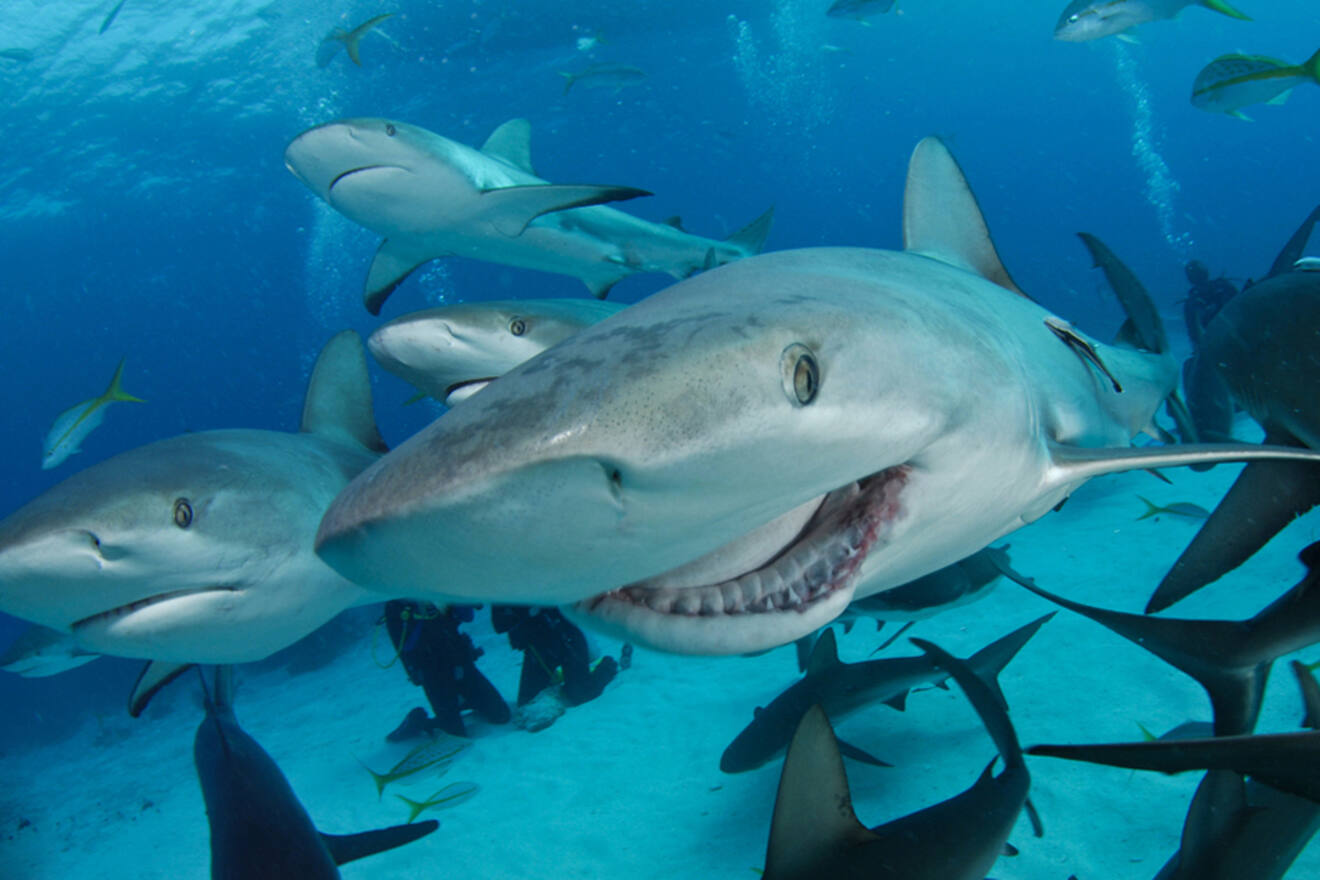 Calling all seekers and wildlife enthusiasts! This incredibly unique excursion takes you just a few miles off the coast of Key West via an eco-friendly catamaran, as you learn all about the local marine life, and see dolphins, stingrays, sea turtles, birds, and sharks up close. Yes, sharks! A lot of sharks.
You'll be taken to a special viewing area where the captain will lure the sharks over to the edge of the boat, so you can observe these magnificent, misunderstood creatures from the safety of the catamaran. It makes for one heck of a photo opp!
The Shark and Wildlife Viewing Adventure is a once-in-a-lifetime experience, and a must for anyone wanting a true adventure in Key West, Florida. It's very popular and fills up fast, so make sure to book this one ASAP.
PRICE: US$90 per person
6. Wander through the Key West Butterfly & Nature Conservatory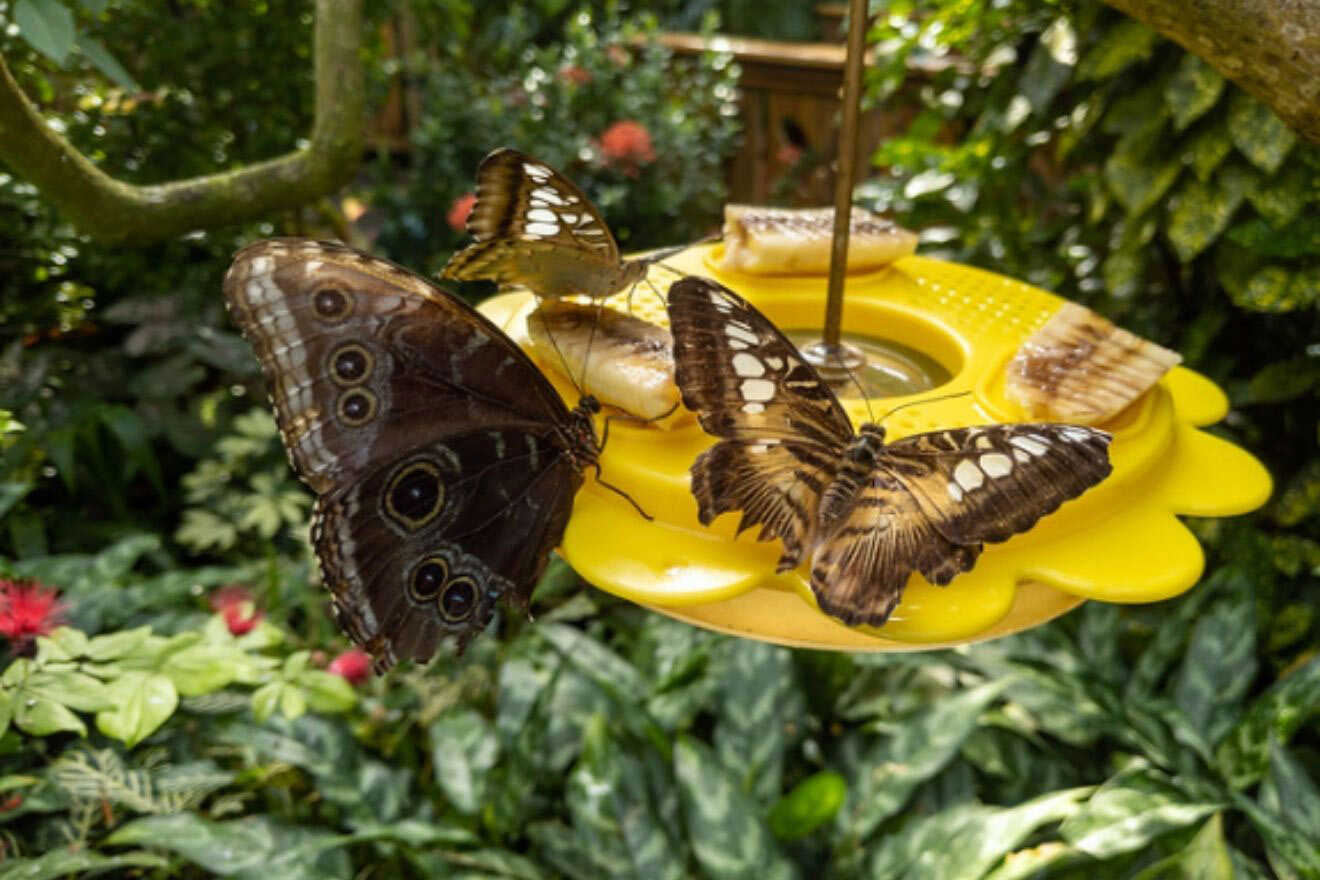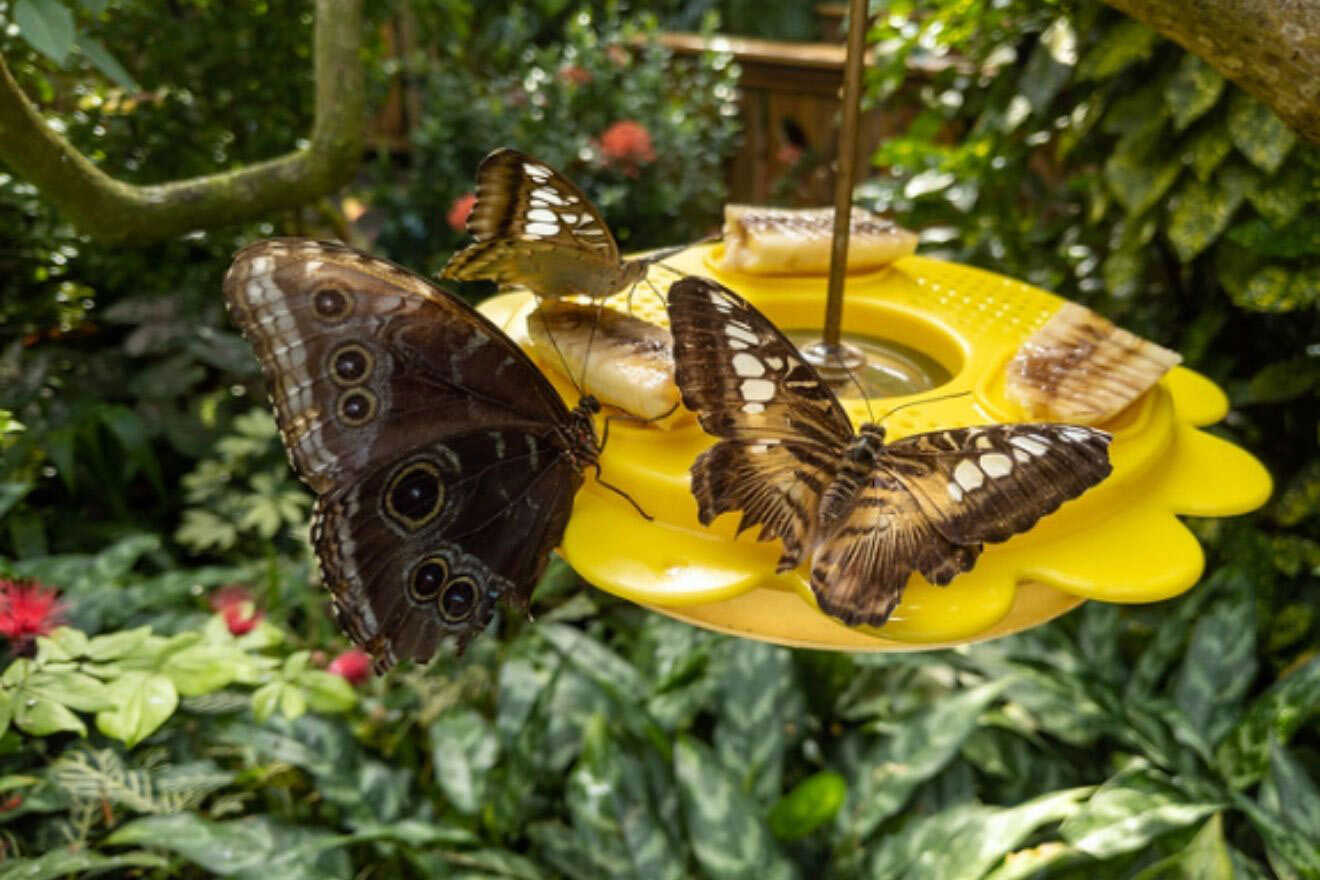 The only way to describe the Key West Butterfly & Nature Conservatory is pure magic! It's widely considered one of the best things to do in Key West, and I absolutely agree. No trip to Key West is complete without a visit here.
Stroll through the enchanting, tropical gardens as hundreds of butterflies, as well as some beautiful, exotic birds, fly around you. The Key West Butterfly & Nature Conservatory is home to over 60 different species of butterflies and over 20 species of birds. It's such a dreamy experience – I can't even put it into words. In fact, I think I may have teared up the first time I went…
There are ample opportunities to learn about the amazing creatures as you explore, so it's as educational as it is breathtaking! It's also a welcome break from the hustle and bustle of Duval Street, which we'll be talking about in #7!
PRICE: US$14 for adults, US$12 for children
7. Go on a pub crawl down Duval Street
What's unique about Key West is that your time on the island can be whatever you want it to be. There are plenty of family-friendly things to do in Key West with kids, but the 21+ crowd looking for the party definitely don't have to look too far!
Duval Street is an iconic part of Key West, FL, and one of the best Key West attractions in and of itself. Duval Street runs from one side of the island to the other and is jam-packed with shops, restaurants, galleries, and Key West's world-famous bars.
A pub crawl is the best way to experience Duval after dark! This 2.5 hour Duval Street pub crawl is a great value, as you can experience a variety of Key West watering holes and enjoy 5 different cocktails, included in ticket price! If you're social like I am, and like making friends on vacation, this is the perfect tour to do so!
PRICE: US$40 per person
8. Visit the Key West Lighthouse & Keeper's Quarters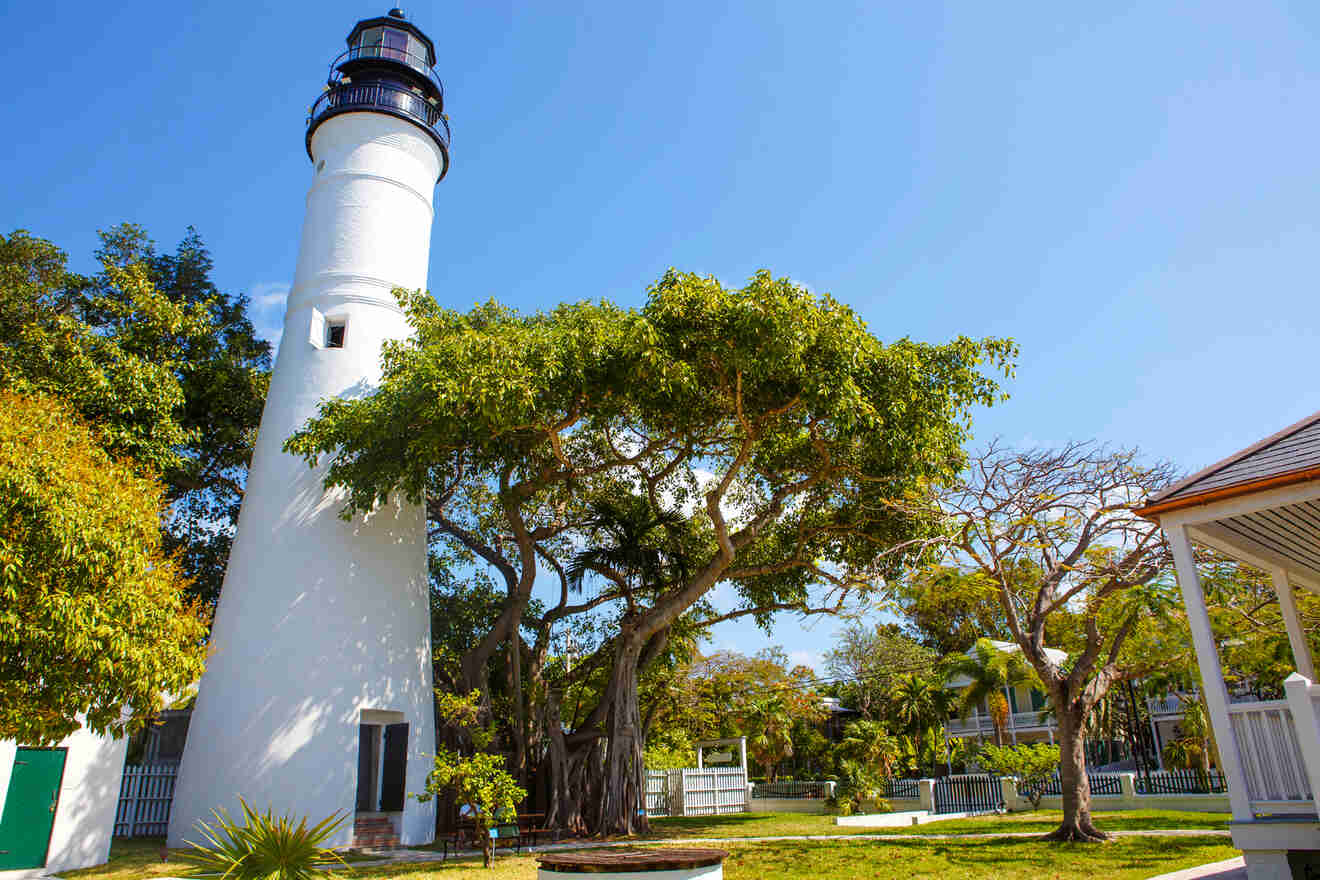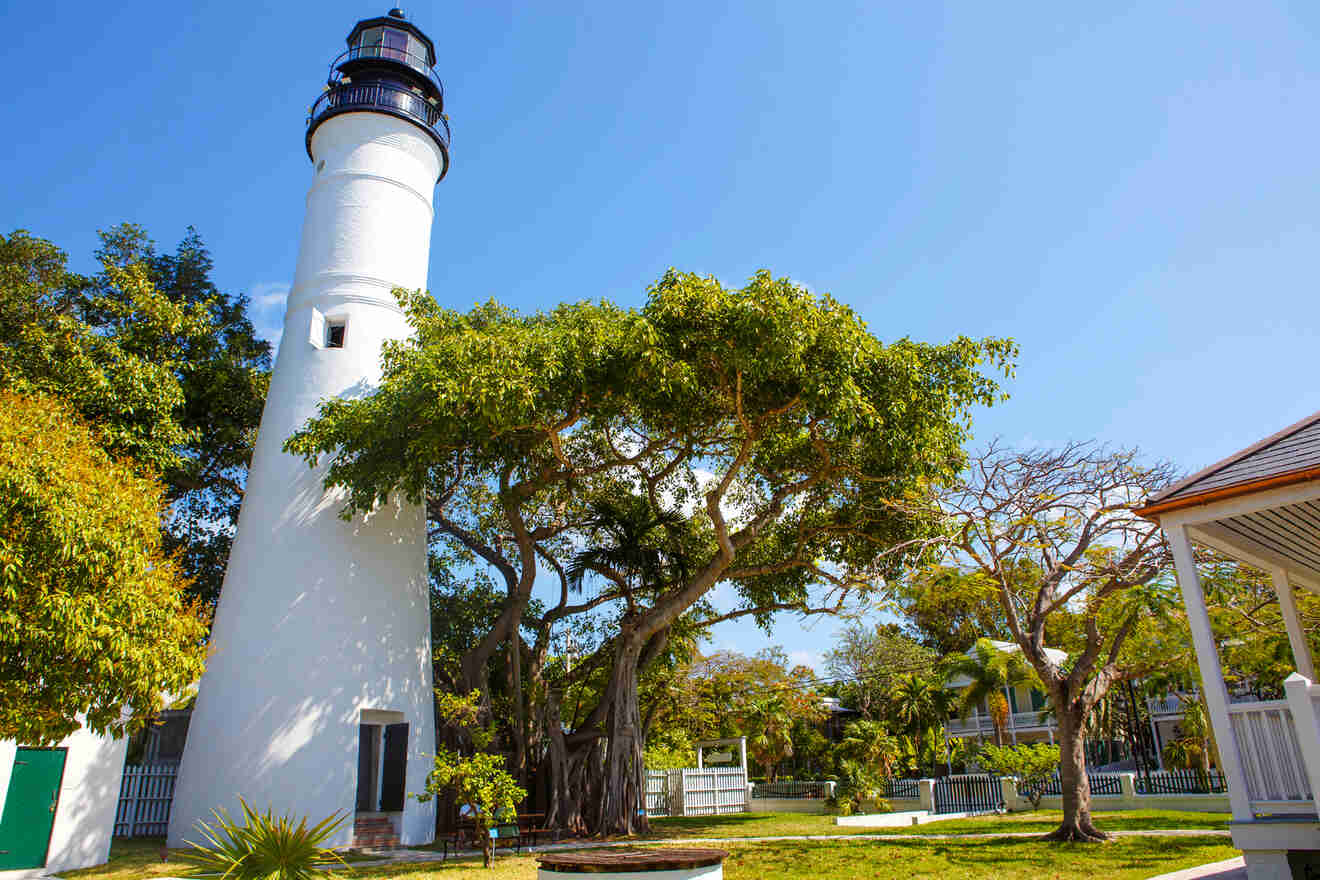 The Key West Lighthouse & Keeper's Quarters really is such a beautiful and interesting place. Hey, I like it so much, I had my wedding photos taken here! The lighthouse opened in 1848 with a woman as keeper – that was nearly unheard of at the time, and such a fun fact from Key West's colorful past.
It's been converted into a museum, celebrating Key West's bygone days and the brave men and women who kept the light burning throughout times of conflict. Climb the 88 steps to the top, and explore the rich history of the Key West Lighthouse through the photographs, words, and belongings of the keepers who lived here.
PRO TIP: Purchase your tickets online in advance for a discounted price!
PRICE: US$16 for adults, US$8 for children, under 8 is free
9. Try a slice of world-famous key lime pie
Of course, you've gotta try key lime pie when you're in the Florida Keys! This world-famous dessert is world-famous for a reason – it's unbelievably delicious.
There are a ton of variations of key lime pie in Key West, too. Gluten-free options? Check. Vegan options? Check. Dipped in chocolate and served on a stick? Check again!
You can pretty much find key lime pie for sale anywhere you look, but my go-to place for delectable key lime pie is Kermit's Key West Key Lime Shoppe!
10. Day trip to Dry Tortugas National Park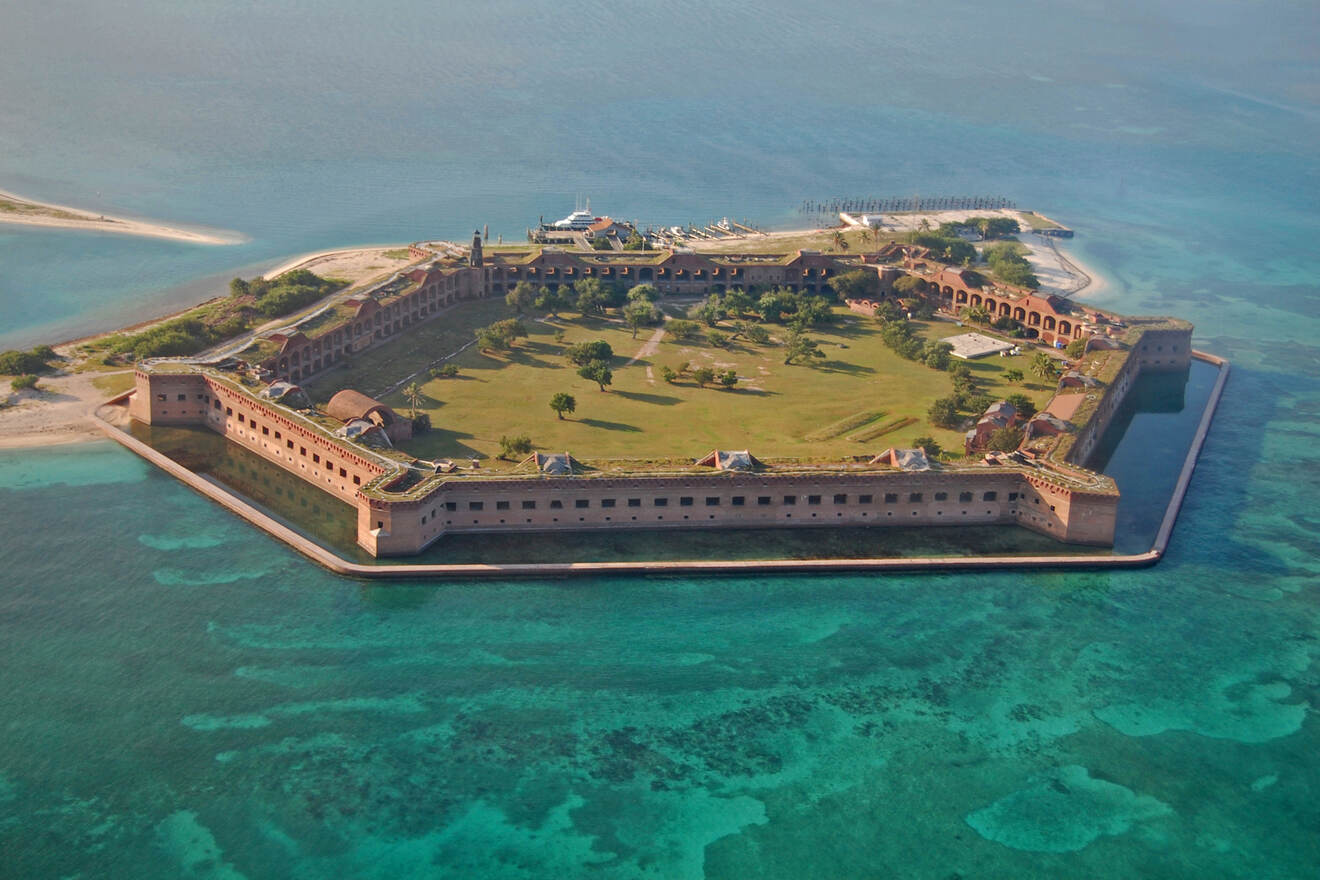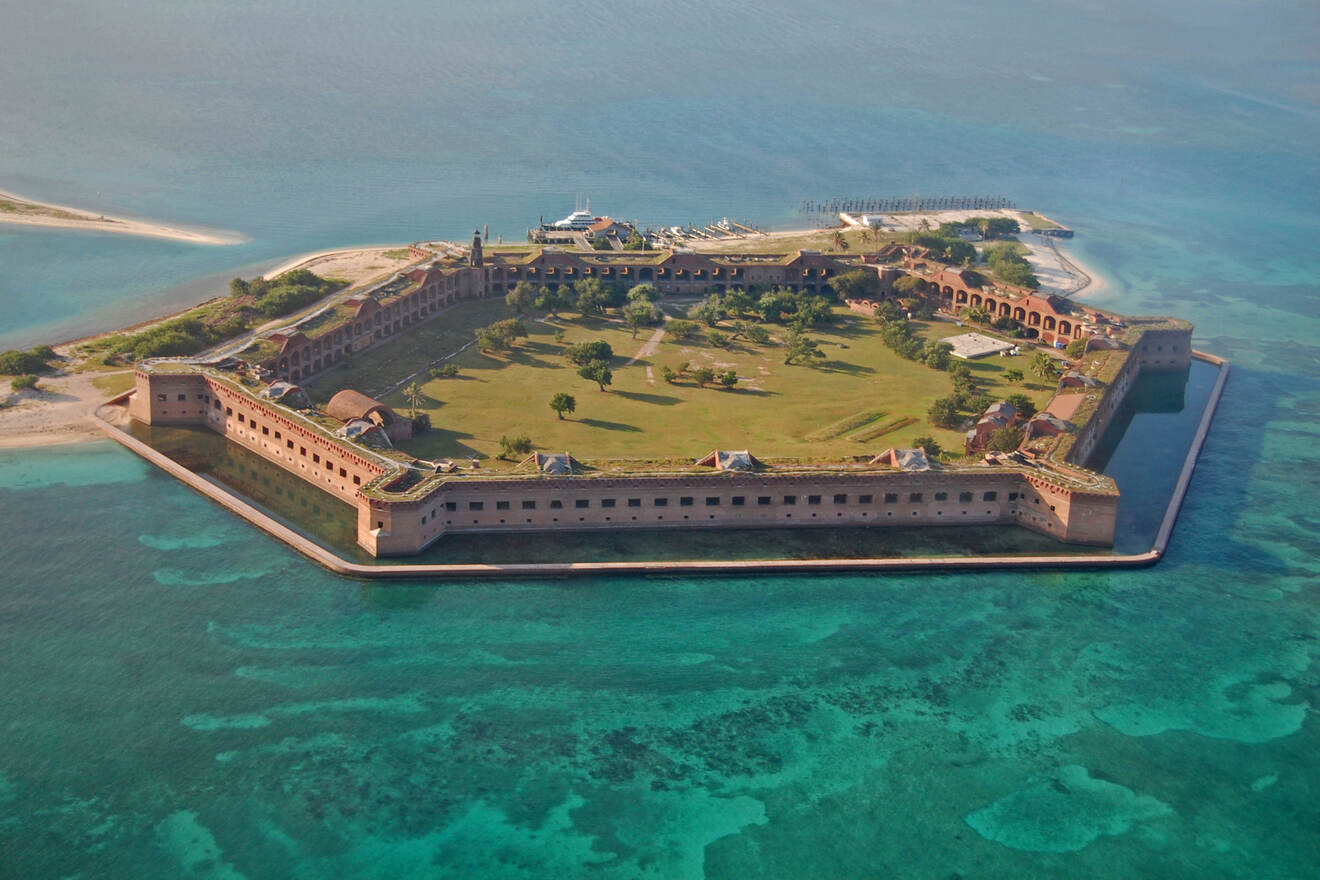 Getting to Key West's Dry Tortugas National Park may require a little extra planning, but it is 100% worth the visit! Like many of the things to do in Key West, it's an experience you won't find anywhere else!
This incredible 100-square mile (260 square km) park in Key West, FL is made up of 7 small islands with white sandy beaches that are surrounded by crystal blue water and one of the most vibrant, extraordinary coral reefs in the United States. It's a paradise for snorkeling, swimming, boating, bird watching, and having some fun in the sun!
History buffs will also want to put Dry Tortugas National Park at the top of their Key West, Florida to-do list. One of its islands, Garden Key, is home to the historic 19th-century Fort Jefferson, one of the country's largest forts from that era. Learn about its fascinating history on a guided tour offered by the park.
Dry Tortugas National Park is only accessible by boat or seaplane. Makes it all the more exciting, right? The easiest way to plan a day trip here is to leave the transportation to someone else. Key West Seaplane Adventures is the go-to company for seaplane transport to and from Dry Tortugas National Park, offering a variety of different tours depending on what you're interested in seeing!
11. Go on a culinary tour of the Key West Historic Seaport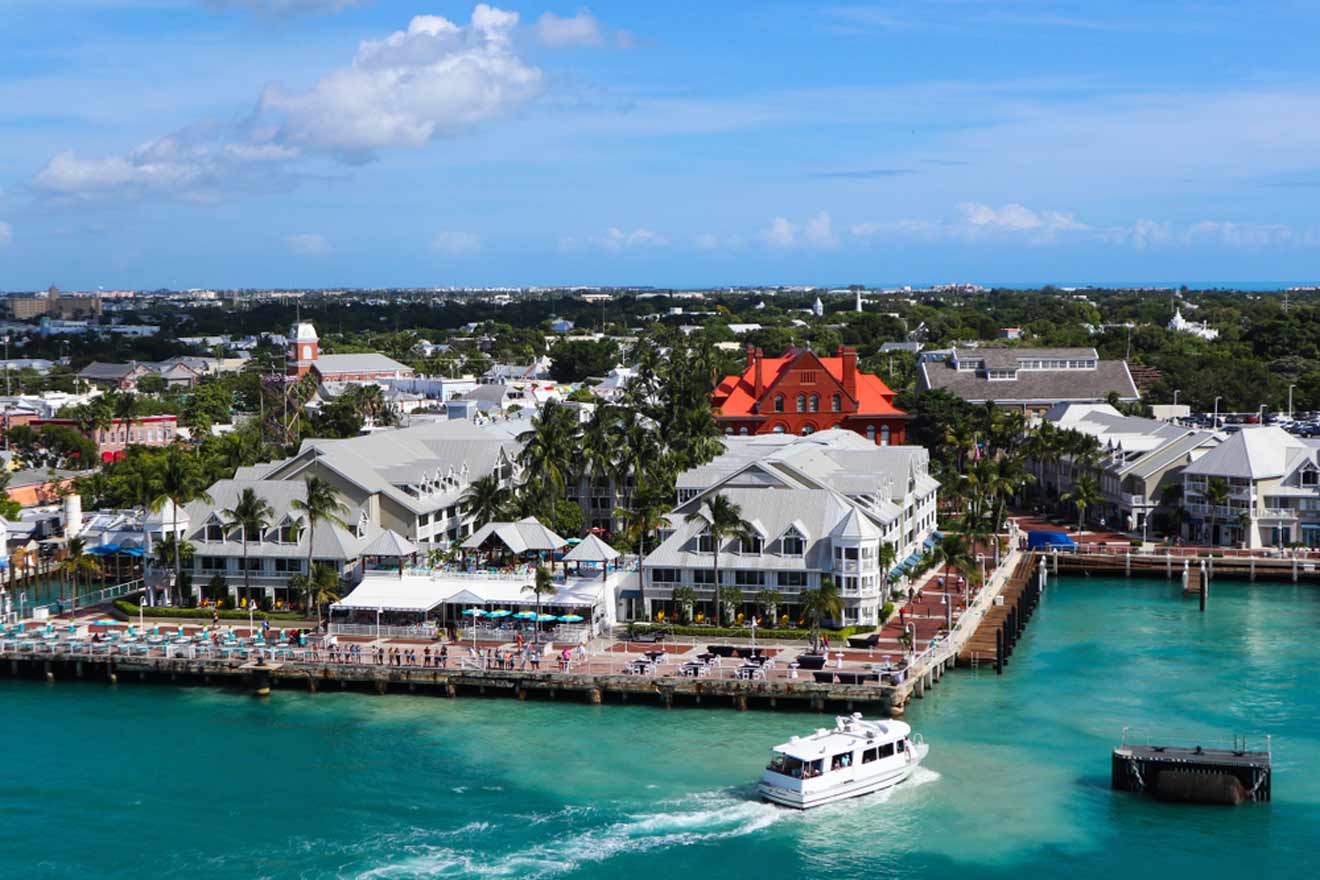 The Key West Historic Seaport is the epitome of Key West charm, with restaurants, bars, attractions, and one-of-a-kind shops selling wares made by local artisans.
It's a really cool area to walk around in and get a feel for the local culture, and especially the local cuisine. If you're a foodie visiting Key West, you're going to fall in love with Key West food. When I'm vacationing there, I like to dedicate as much time as possible to eating at locally owned-restaurants. From fresh caught seafood seasoned with island spices to creamy, dreamy key lime pie, Key West's culinary scene is basically its own attraction.
Taste a bit of everything by going on the Key West Food Tasting and Cultural Walking Tour in the Key West Historic Seaport. You'll sample 6 island specialties served at hidden gems while learning about the people, culture, and lore Key West is known for. This tour is limited to small groups, so be sure to book well in advance!
PRICE: US$80 per person
12. Kayak through the mangroves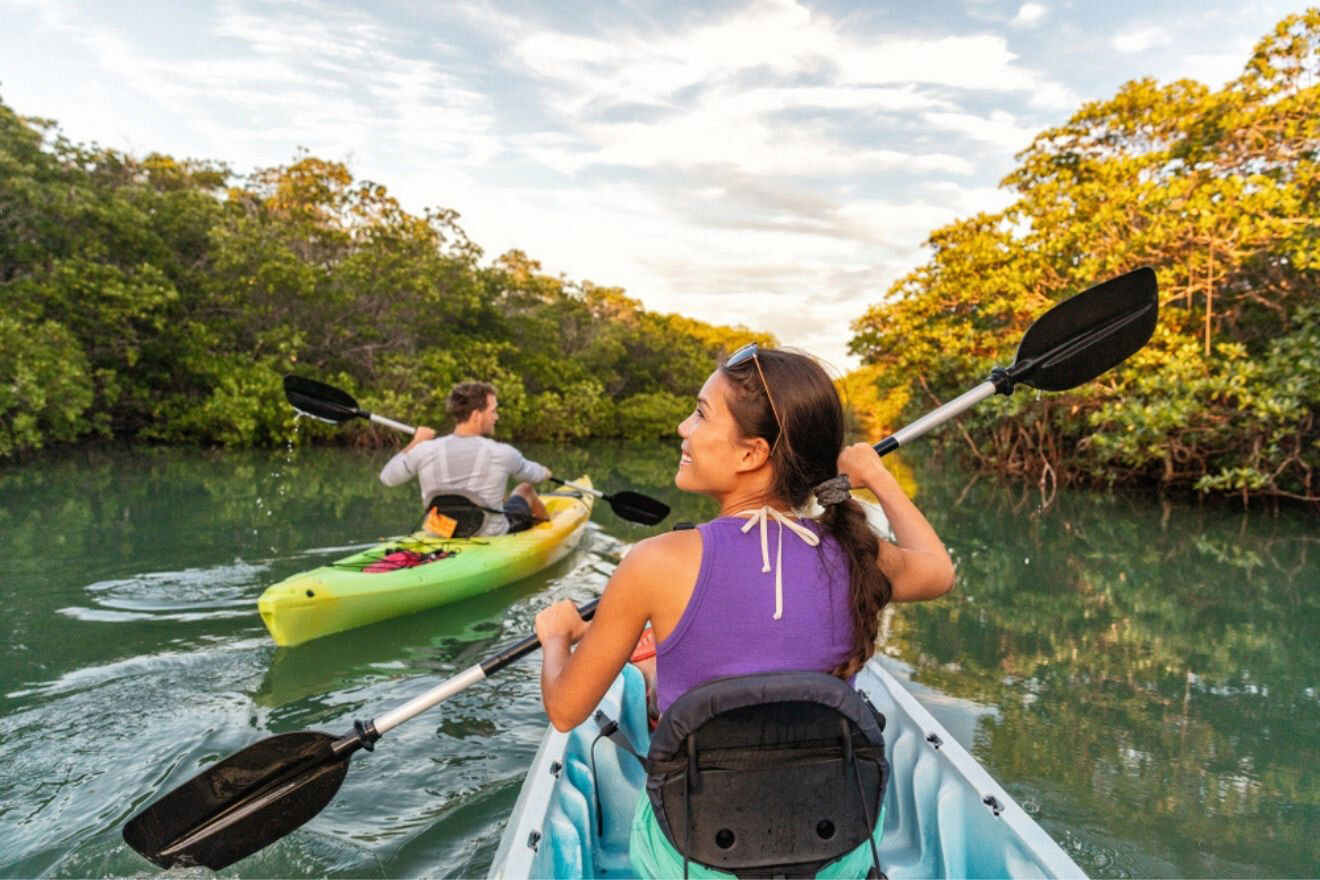 If you've never seen mangroves up close before, there is no better place than Key West! Key West's winding mangrove creeks are absolutely enchanting. Take a leisurely paced kayak tour of this unique coastal area, while learning all about its wildlife inhabitants.
Spot jellyfish, sea stars, vibrant tropical fish, crabs, sea cucumbers, sponges, and more creatures that call the Key West mangroves home, and marvel at the area's natural beauty.
The Mangrove kayak eco-tour is led by an expert guide, who can answer any questions you may have about Key West's unique landscape. Tours depart from Hurricane Hole Marina.
PRICE: US$55 per person
13. Explore Fort Zachary Taylor Beach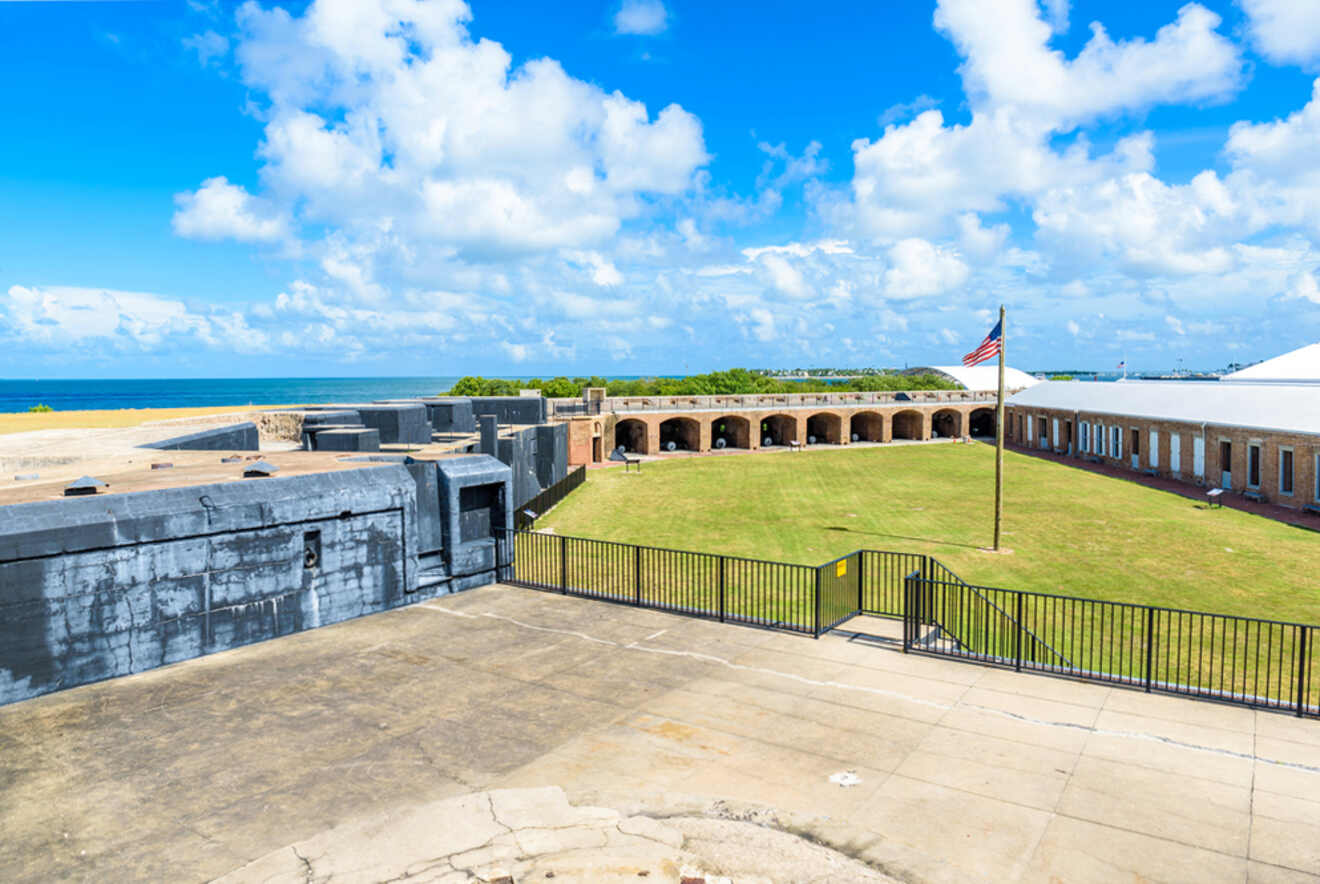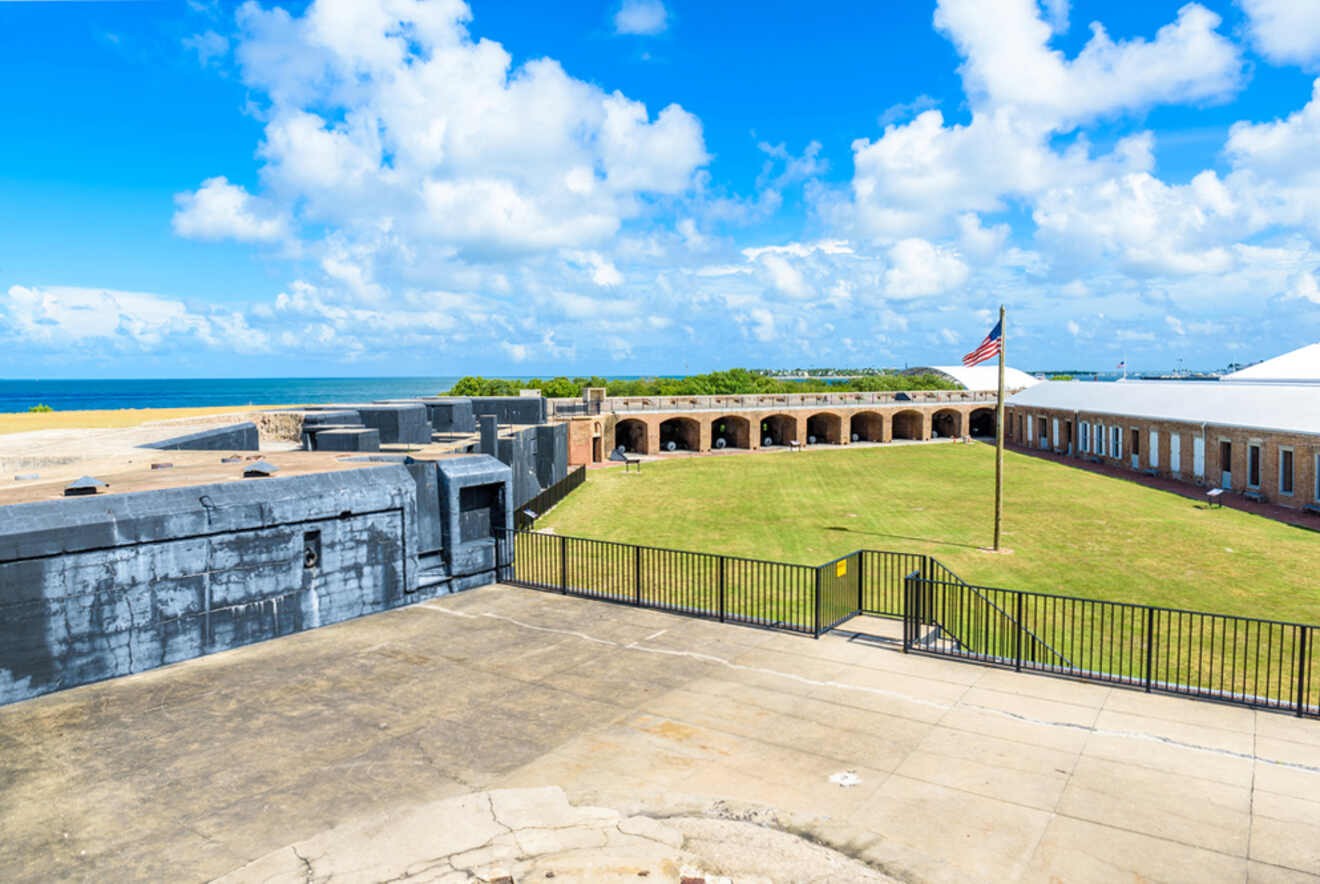 Visiting Fort Zachary Taylor Park is a must on any trip to Key West, Florida. This national historic landmark was built back in 1866, and played an important role in both the Civil War and Spanish-American War.
Today, you can explore the fort and learn all about its importance throughout history on a guided tour. While you're there, take a dip in the crystalline blue waters at Fort Zachary Taylor Beach, Key West's best beach, or lay out on the sand. Beach chairs, umbrellas, and snorkel gear are available to rent at Chickee Hut.
When you work up an appetite, head to the Cayo Hueso Cafe for bites and beverages on the beach.
14. Discover lost treasure at the Key West Shipwreck Museum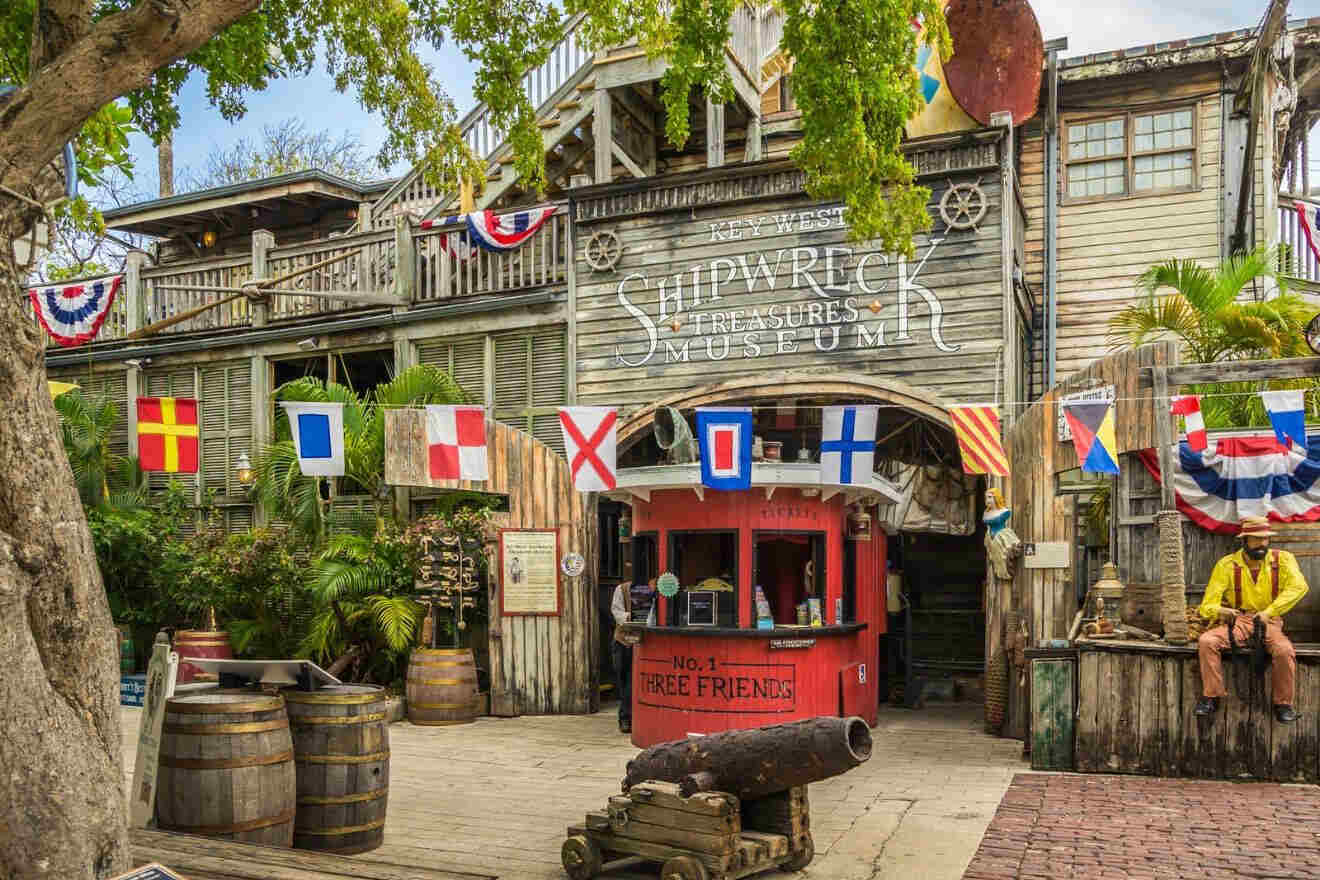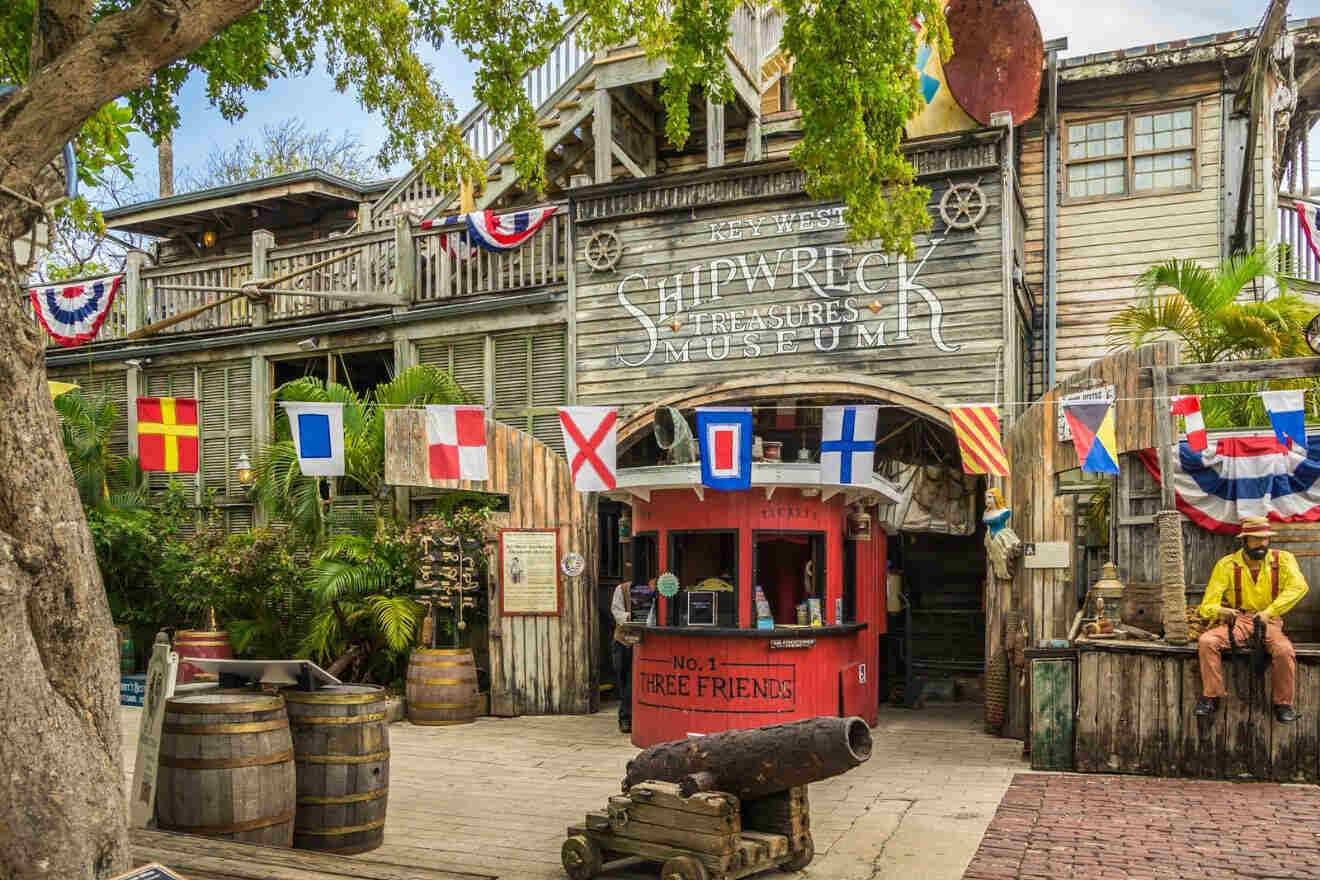 I never prioritized this one, assuming it was just a tacky tourist attraction, until my trip to Key West when my husband swayed me to give it a shot. Boy, was I mistaken! And now, I am obsessed with the Key West Shipwreck Museum! I was blown away, especially because I had no idea how wild the shipwreck "industry" was, or how prominent it was in Key West.
The museum is housed in a recreation of a 19th century wrecker's warehouse, where you can see real artifacts from shipwrecks, learn about this fascinating piece of Key West history, and engage with live actors there to tell their shipwreck tales!
You can also head 65 feet (20 m) up to the observation deck, with sweeping 360-degree views of beautiful Key West, FL!
PRICE: US$19 per person
15. Get breakfast at Blue Heaven
Blue Heaven is a longtime favorite eatery for Key West locals and visitors alike! It's the ultimate Key West dining experience: eat al fresco surrounded by lush tropical plants, funky art, and free range cats and chickens.
Breakfast is my favorite meal here, and their menu boasts Florida Keys classics like lobster and grits, and a Florida shrimp omelet. The wait does get pretty long, as it's a popular spot for breakfast, so arrive as early as possible to avoid the morning rush. They open every day at 8 AM.
Blue Heaven is located in Bahama Village, a really cool, laid-back area in Key West with shops, restaurants, and live entertainment. After breakfast, I suggest taking a stroll around the neighborhood to see what it's all about!
16. Visit the Harry S. Truman Little White House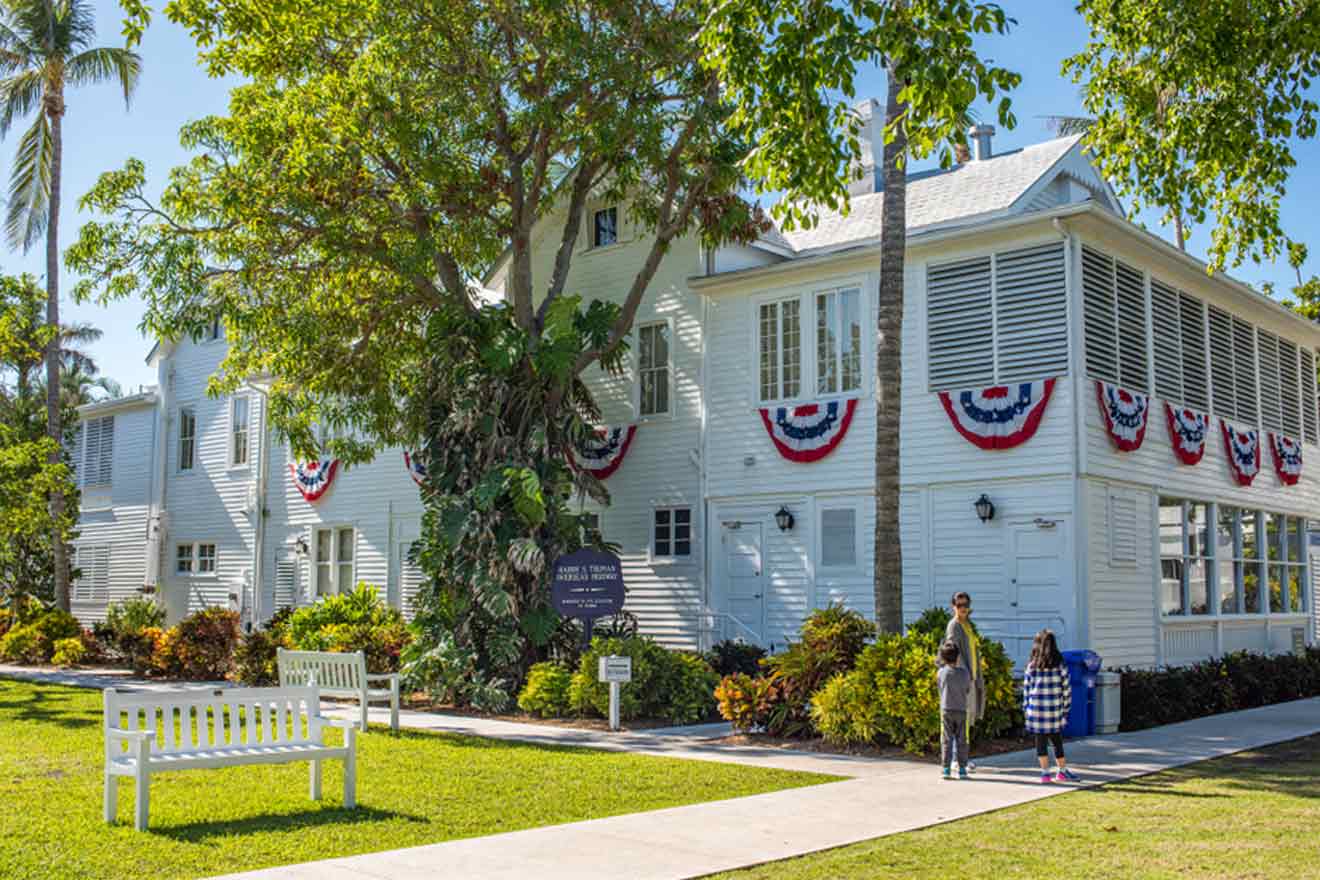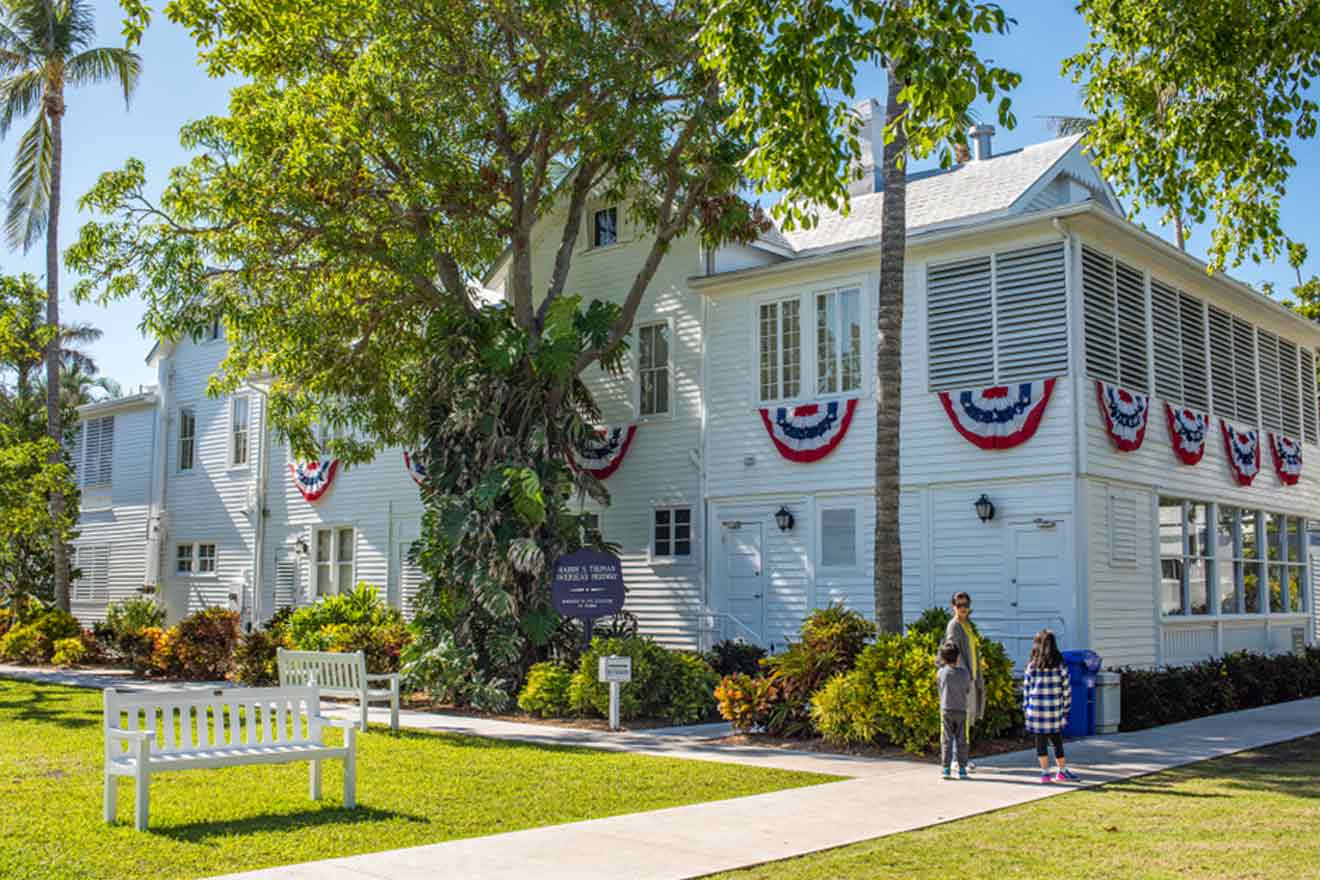 The Harry S. Truman Little White House is Florida's only presidential museum, and one of the most popular things to do in Key West! Step through time as you enter the former home of President Harry S. Truman, and explore the very rooms where he lived, worked, and played.
Thomas Edison also called the Little White House home during World War 1, it's where Eisenhower recuperated from his heart attack, and has been used by 6 total U.S. presidents. You'll learn all of this (and much more) in the guided tour on property!
The Little White House is a really fascinating piece of the vibrant fabric that makes up Key West and its history. You don't want to miss it!
PRICE: US$23 for adults, US$10 for children, under 4 free
17. Get up close to marine life at the Key West Aquarium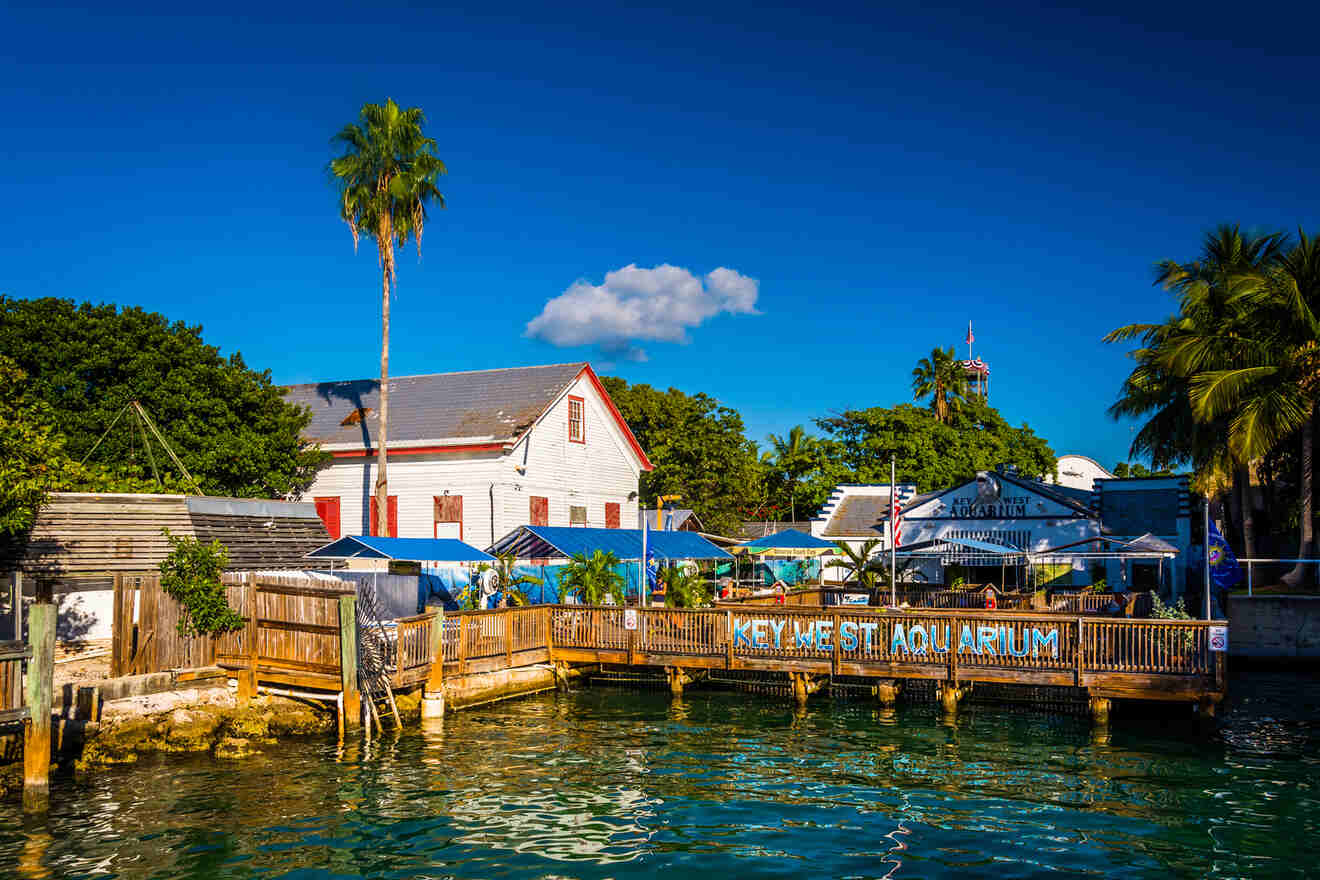 For family-friendly fun, check out the Key West Aquarium. It's one of the oldest aquariums in the Sunshine State, and a must-do on your next Florida Keys trip.
The Key West Aquarium boasts interactive exhibits that kids adore! The Touch Tank is especially popular, where you can have a hands-on experience with conchs, horseshoe crabs, sea stars, sea cucumbers, and more.
The Sea Turtles Conservation Tour is also a highly popular attraction at the Key West Aquarium. Learn about its sea turtle residents and how they've rehabilitated from their injuries at this special place.
Another favorite is the Atlantic Shores exhibit, a living red mangrove ecosystem with a captivating display of tropical fish and other marine life, as well as terrestrial animals both native and invasive to Florida. It's an awesome way to learn about this unique habitat and the importance of protecting it!
Be sure to also check out their shark feedings – that's not something you see every day!
PRICE: US$20 for adults, US$12 for children, under 4 free
18. Snorkel in North America's only living coral barrier reef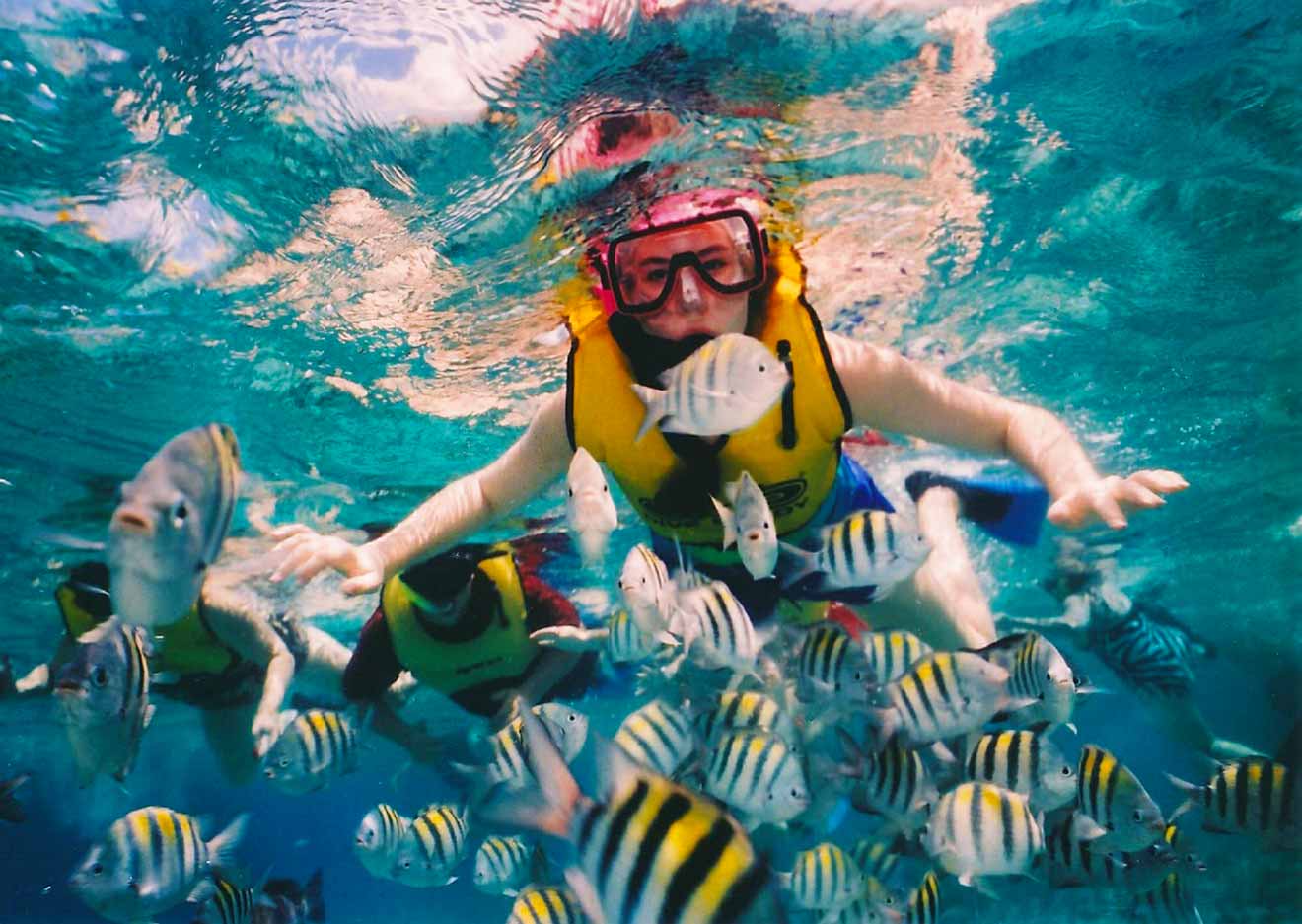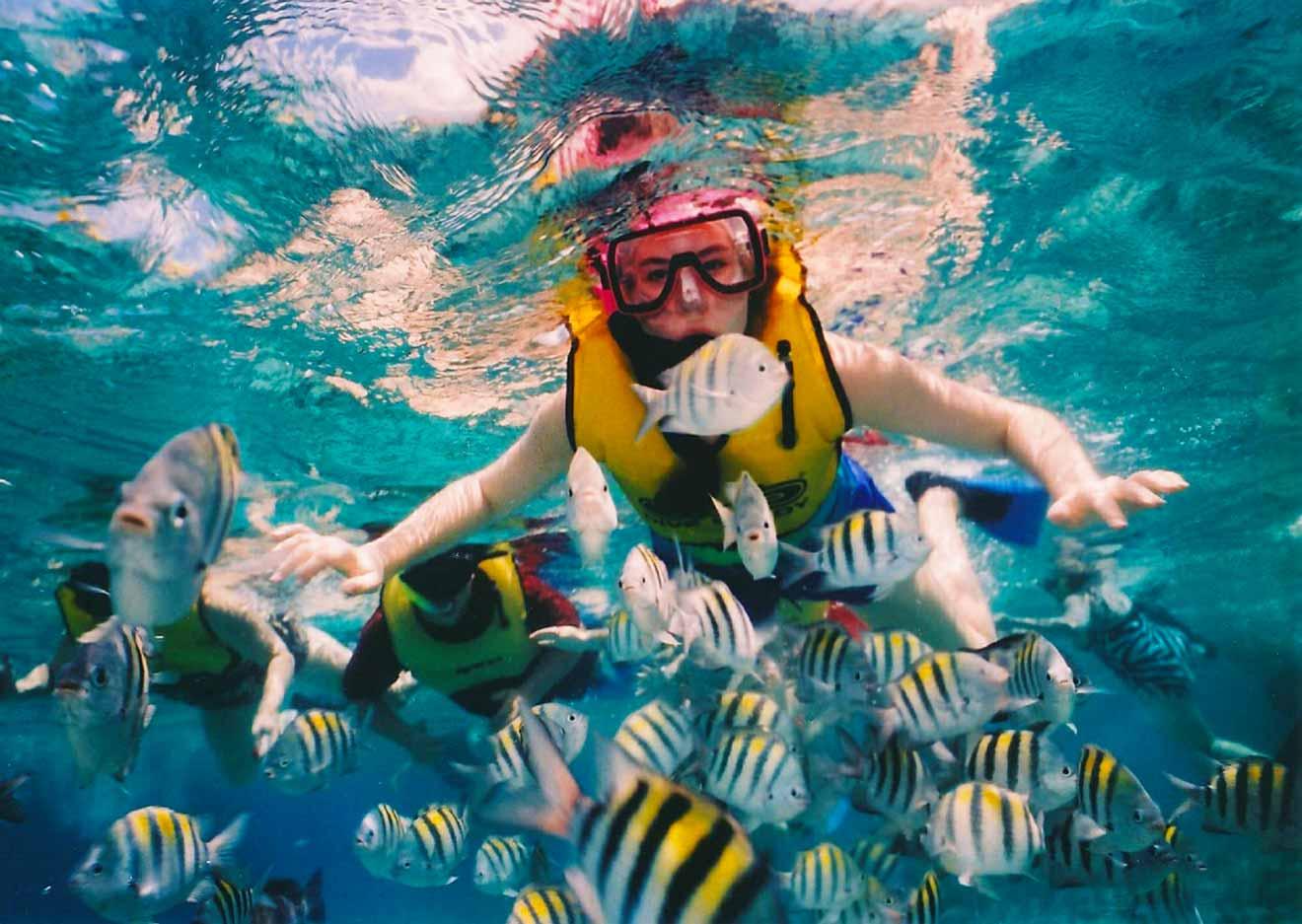 If you're on the search for one-of-a-kind things to do in Key West, you'll definitely want to add this unique experience to your list! The only living coral reef in North America is located just 7 miles (2 meters) offshore in Key West, Florida. It's the third largest coral reef system in the world, surpassed only by the Great Barrier Reef in Australia and the Belize Barrier Reef.
Forget dolphin watching from a boat – the Florida Keys Reef Snorkel & Sail Adventure takes you in the turquoise water to get an up close look at the reef's incredible marine wildlife. The captain and staff provide everything you need to safely snorkel, explore the coral reef, and have the time of your life on this Key West excursion!
PRICE: From US$89 per person
19. Go on a ghost tour in haunted Key West, FL
One of my personal favorite things to do in Key West is go on a ghost tour. Even though I've gone on countless ghost tours before (seriously, I know the stories by heart now), I still get excited to explore the creepy side of Key West. And with a city as old as this one, with such an interesting history – I like to believe there are all sorts of ghosts flitting about!
I've got two recommendations for you, depending on what kind of experience you fancy! The first is the Key West Ghost & Mysteries Guided Tour (US$32 per person), which is a 90-minute walking tour of one of America's most haunted cities… Key West, Florida! The guides bring dowsing rods to attract spiritual activity. I much prefer walking tours like this over trolley tours, especially when it comes to the paranormal.
The second option is great for travelers over the age of 21 who like their scary stories with a twist. The Key West Haunted Pub Crawl and Ghost Tour (US$26 per person) takes you to the eeriest bars on the island – one is even a former morgue! Learn the truth behind Key West's name, "Bone Island," and see how many spirits you can handle… pun intended. 😉
PRICE: US$33 per person for tour 1, US$27 for tour 2
20. Make a splash at Smathers Beach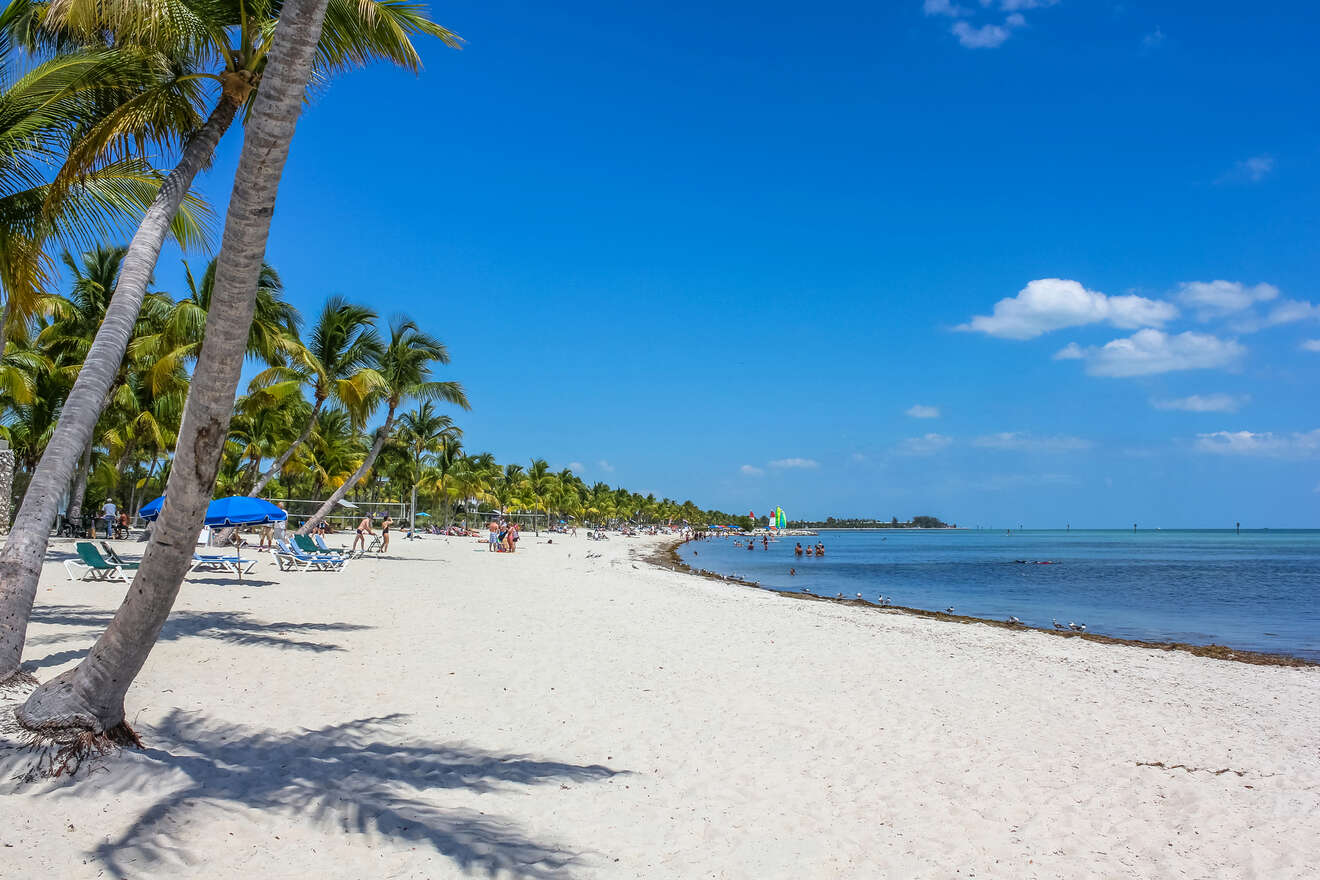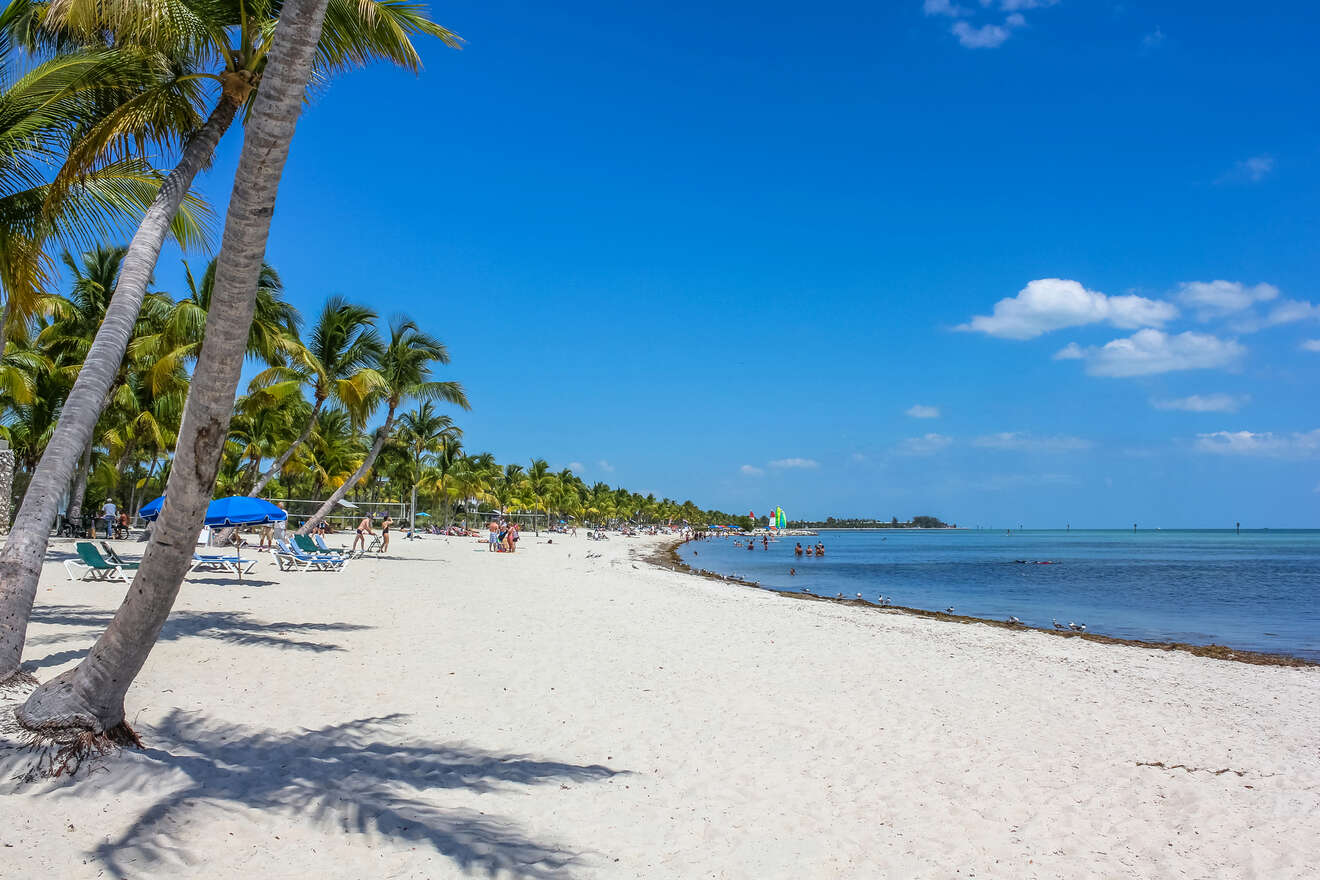 The best way to cool off from the Florida sun is a trip to Smathers Beach, one of the best beaches in Key West, Florida, and it's located on South Roosevelt Boulevard. It's completely free to go there, and you'll find everything you need for a perfect day at the beach.
There are chairs, umbrellas, and water sports equipment available for rent, and food trucks for when you're ready to refuel. The water at Smathers Beach is calm, so it's ideal for swimming. I'm a sucker for any beach lined with palm trees, as that really adds to the relaxed, tropical feel the Florida Keys are known for.
NOTE: Smathers Beach is a hot spot for partying college kids during spring break, so unless that's your scene, you may want to steer clear from March to April, and head to one of the other Key West beaches instead.
21. Explore the Florida Keys Eco-Discovery Center
The Florida Keys ecosystem is incredible: vibrant, living coral reefs, mangrove forests, beach dunes, flats, and one of the world's largest sea grass beds. Learn all about this amazing, unique region and the Florida Keys Eco-Discovery Center, located on East Quay Road at the Truman Waterfront in Key West.
There is so much to explore at the Florida Keys Eco-Discovery center – it boasts 6,400 square feet (600 square meters) of fascinating exhibits and displays! It's also one of the best things to do in Key West with kids, as your little ones can have fun in an educational, hands-on setting.
My favorite thing to see there is the interactive Mote Marine Laboratory Living Reef, with its 2,500 gallon (9,500 liters) reef tank! The best part? Admission to the Florida Keys Eco-Discovery Center and parking are both free!
22. Visit the Key West Garden Club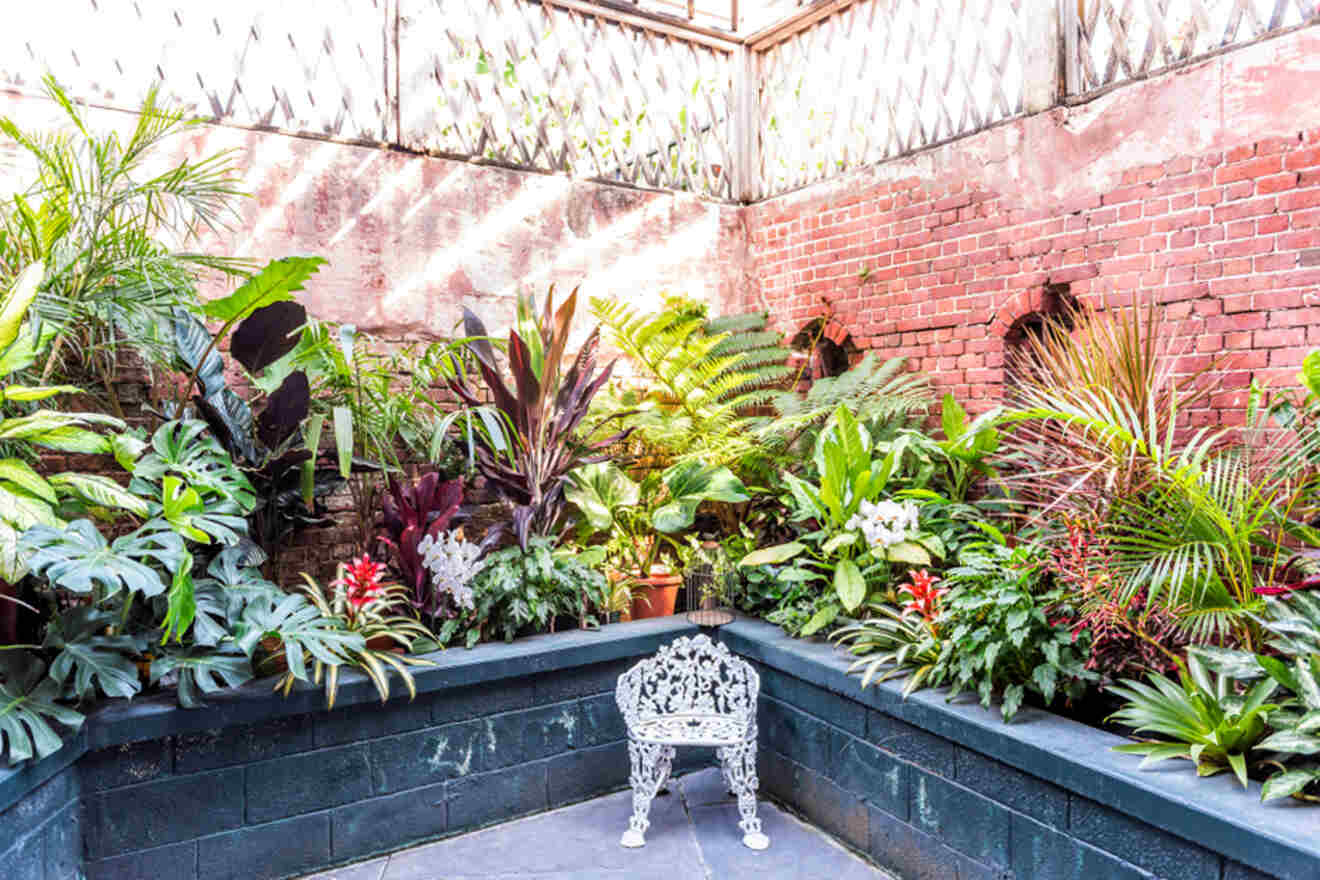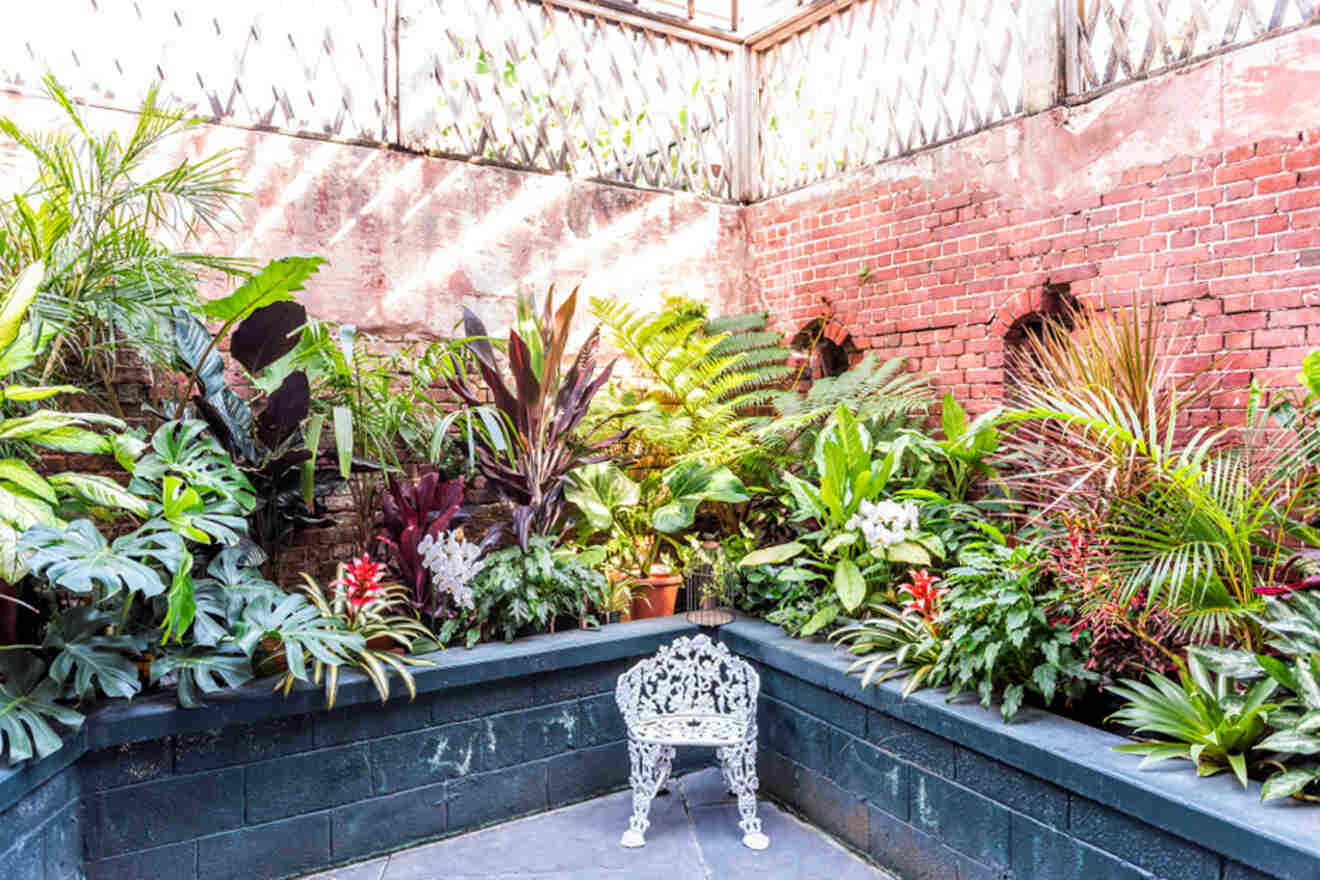 You've probably noticed by now that history is kind of a big deal in Key West, FL. Last but certainly not least on our list of things to do in Key West is the Key West Garden Club at West Martello Tower.
This tropical botanical garden is located on the site of an old civil war fort, so in addition to the stunning foliage and learning about tropical gardening, you'll also discover its fascinating history.
There is free entry, so you can stroll through the lush grounds at your leisure! The beautiful gift shop is definitely worth stopping in as well!
FAQs about Key West, Florida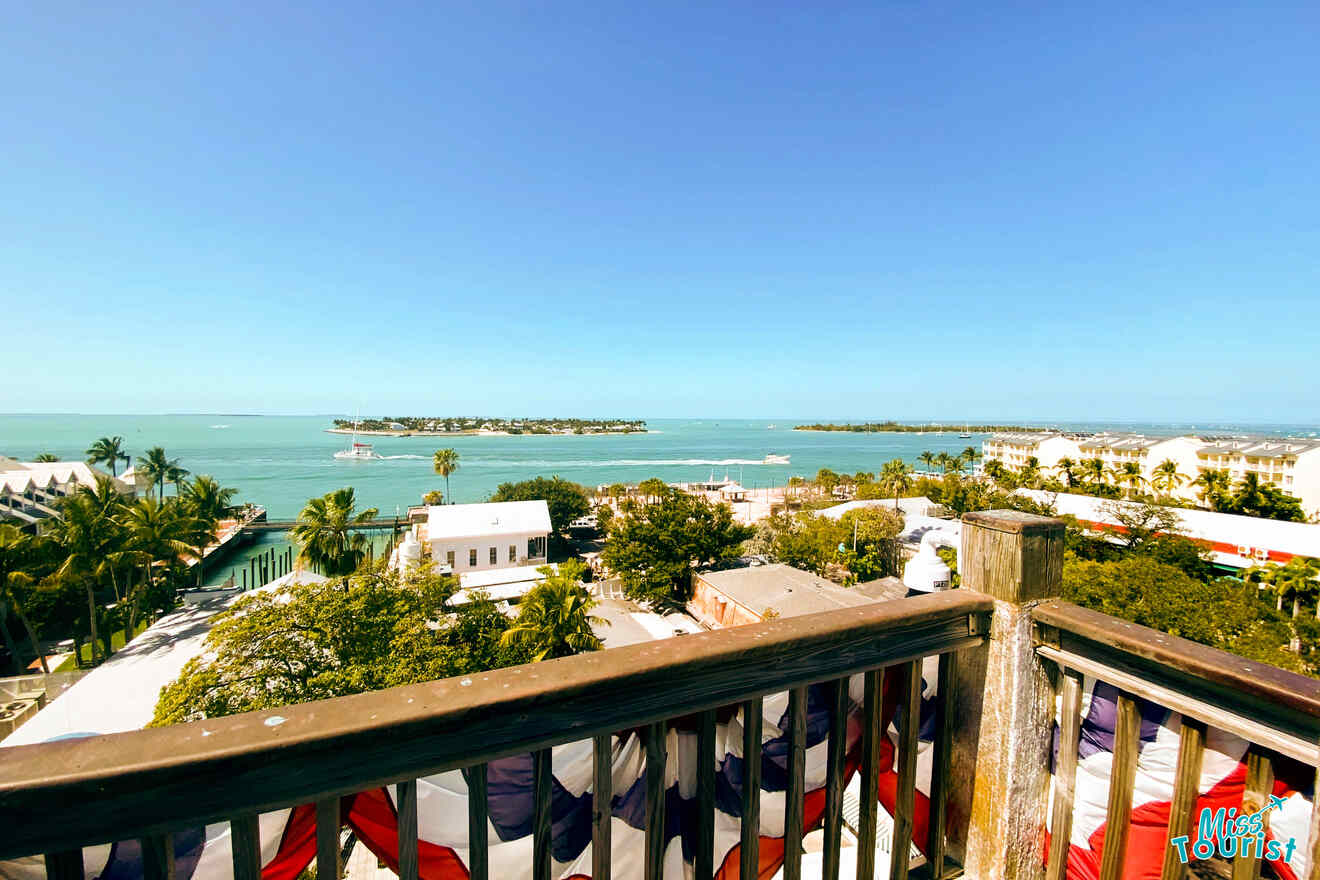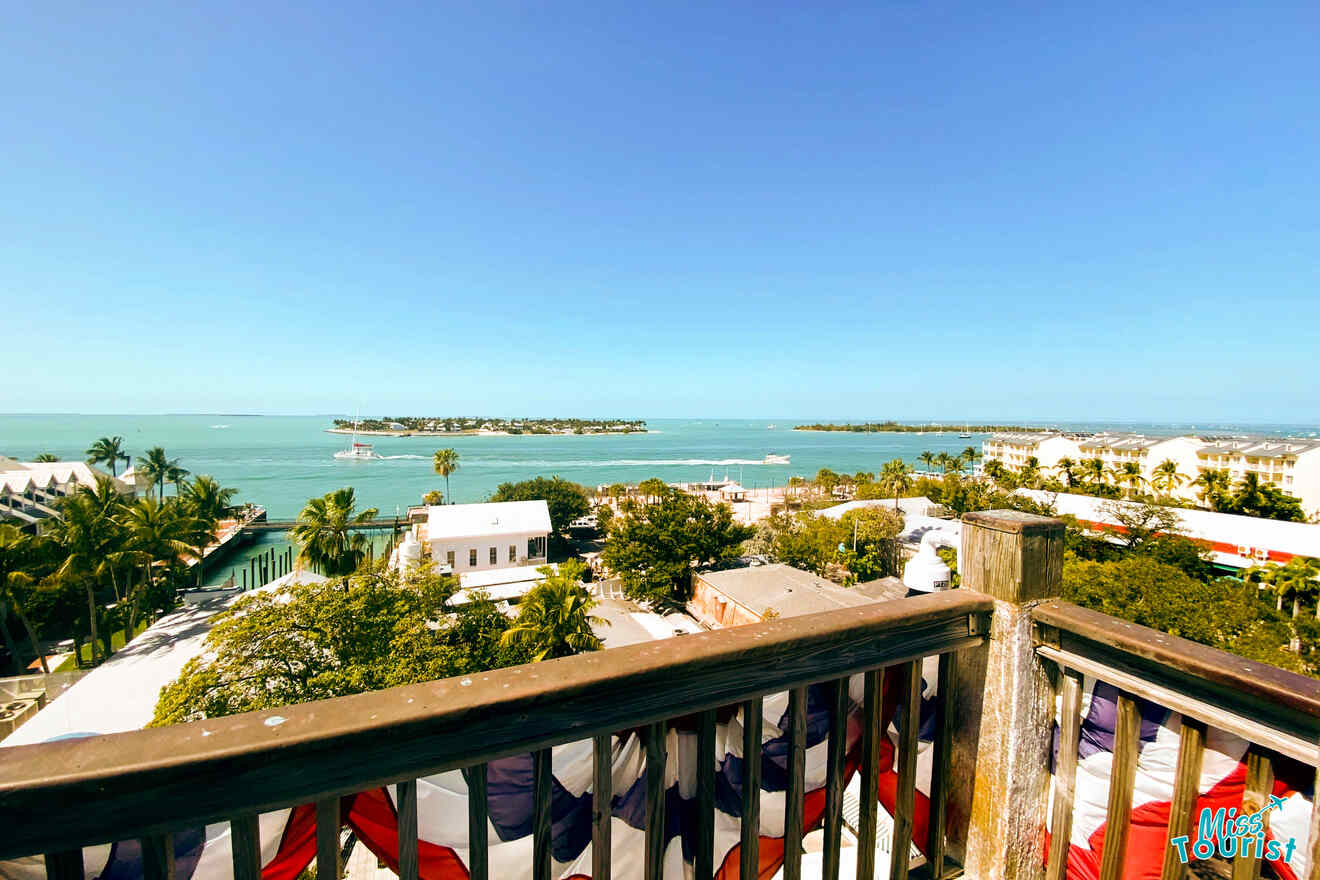 🏝️ What is Key West best known for?
Key West, Florida is known for being the southernmost city in the United States. Its beautiful beaches, pristine nature, lively entertainment, laid-back feel, and rich history make it a very fantastic destination year-round.
🚶‍♀️ Can you just walk around Key West?
Key West is a very walkable city, with many popular attractions concentrated downtown. Another transportation option I recommend is the Key West Conch Train Tour, as you can hop on and off at the various stops to continue exploring. Bicycling is also very popular.
☀️ How do you spend a day in Key West?
📅 What is the best month to go to Key West?
May! Spring break is over, so it's less busy, and the temperature is still mild before it skyrockets in the summertime.
Conclusion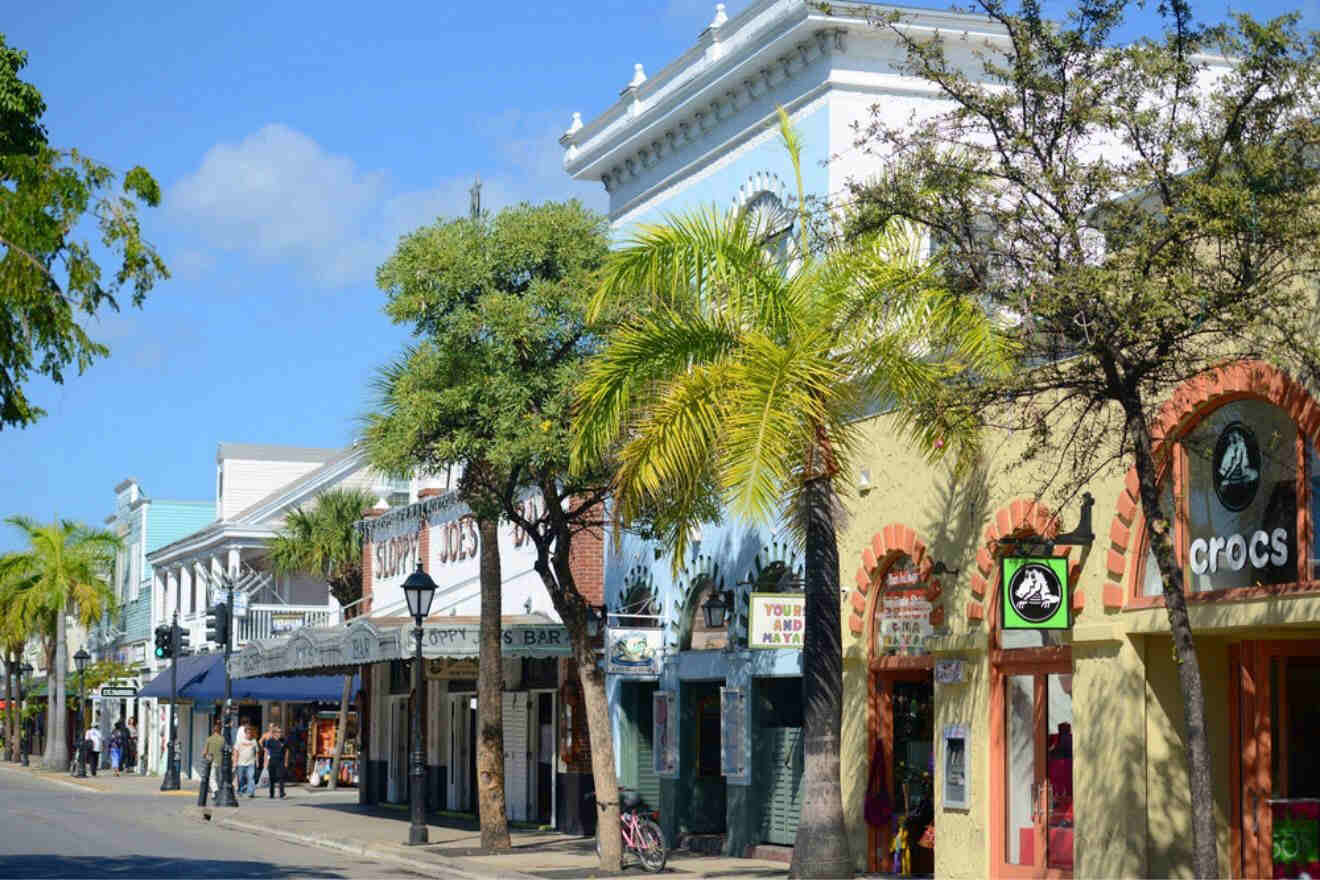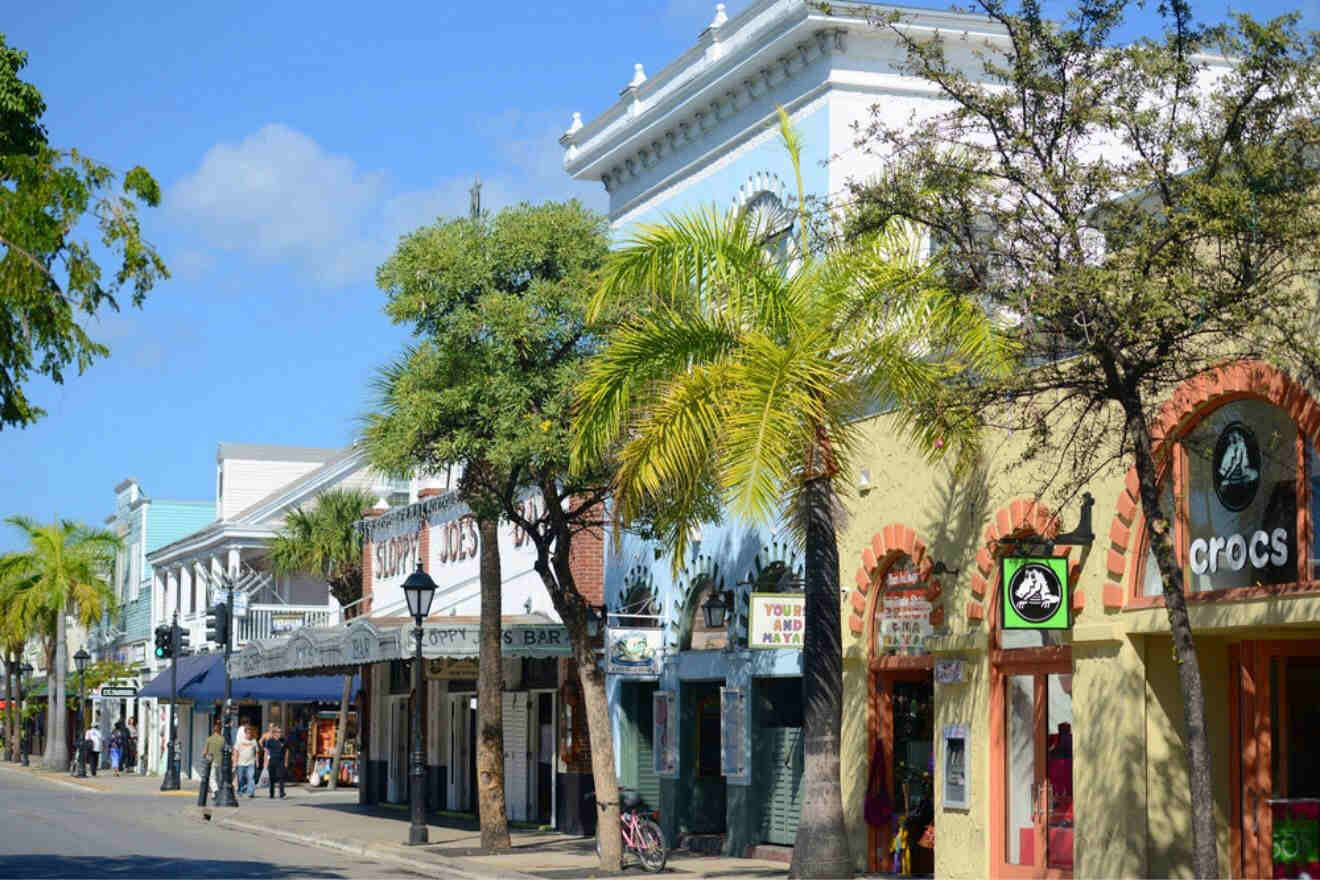 We discussed so many amazing things to do in Key West in this post – thanks for sticking with me to the end! If you're anything like me, you're probably bursting at the seams to visit Key West now. Once you go, I know you'll want to come back. It's just one of those places that finds a way into your heart and stays there!
What stands out about Key West, Florida the most to me is just how versatile a vacation there is. There are countless opportunities to get out on the water and explore, but if that's not your thing, there is plenty more for you.
My goal of this post is to share 22 things to do in Key West with no shortage of variety, so you can find exactly what you're looking for in your next adventure!
Don't miss out on my 2 favorite activities:
Be sure to book those ASAP before they fill up! Let me know if there's anything else I can help you with while you plan by dropping a comment below!
Happy travels!
Montana
---
Pin it for later!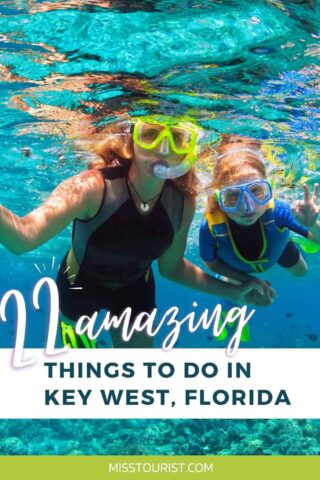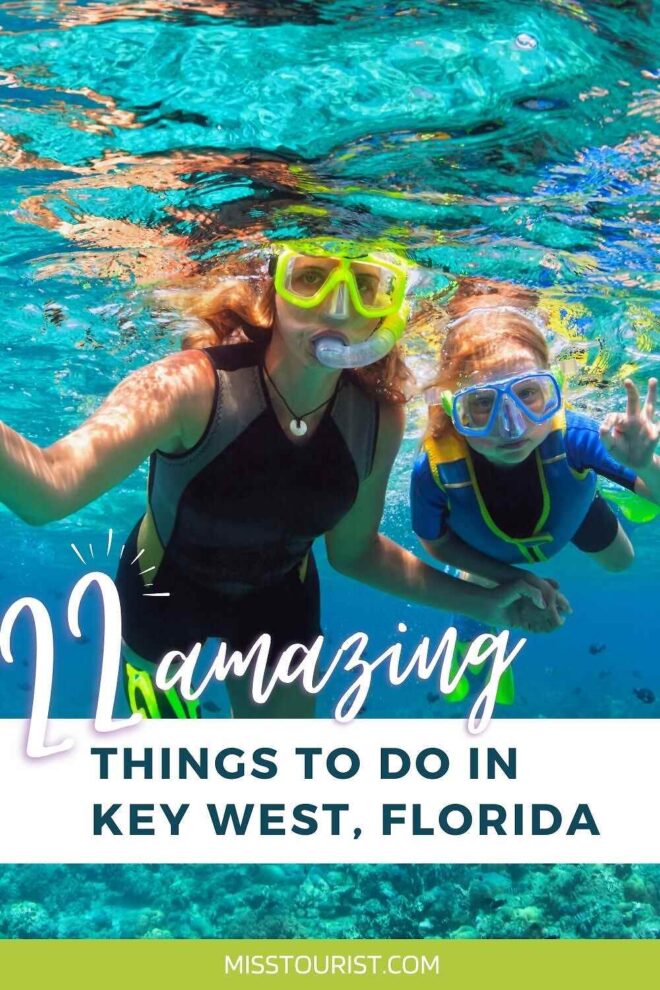 Pin it for later!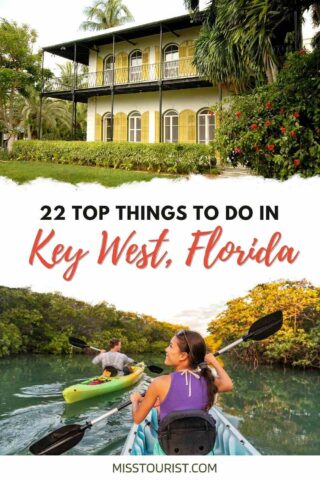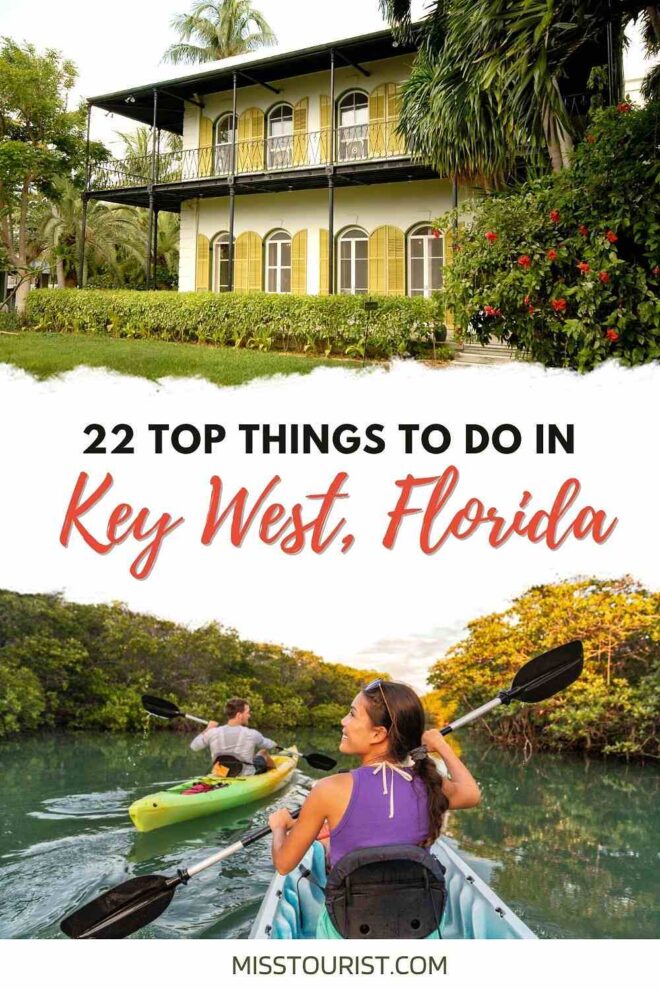 Products You May Like