22 Picks By a San Diego Native
Say hello to America's finest city, 2nd largest city in California, and my personal favorite city in the world – San Diego!
It is the city that Los Angeles locals escape to, San Francisco locals come to embrace the perfect weather, and people from around the world come to admire the marine life, bustling Gaslamp District, sandy beaches, the world-famous ComicCon convention, and so much more.
As a fellow San Diego native and current resident, I have 20-something years of experience under my belt and am here to share with you allll the best things to do in San Diego.
In this post, I'll be sharing some of my personal favorite activities, destinations, bars, and restaurants, along with tips and tricks along the way.
My biggest point of advice here, as you read through the post, is to remember that booking ahead of time is going to save you the most $$$ in the end. San Diego isn't a cheap destination, so do your part to avoid paying hefty hotel and ticket prices last minute!
Alright, let's get started! ☀️
If you are in a hurry
SD is a huge city with so many hidden gems to uncover. If you only have a day or two to explore San Diego, there are a few destinations and tours I recommend checking out!
Here are the main things to book in advance:
And here are the best hotels in San Diego: Fairmont Grand Del Mar (luxury), Tower 23 Hotel (mid-range), Staypineapple, Hotel Z, Gaslamp San Diego (budget)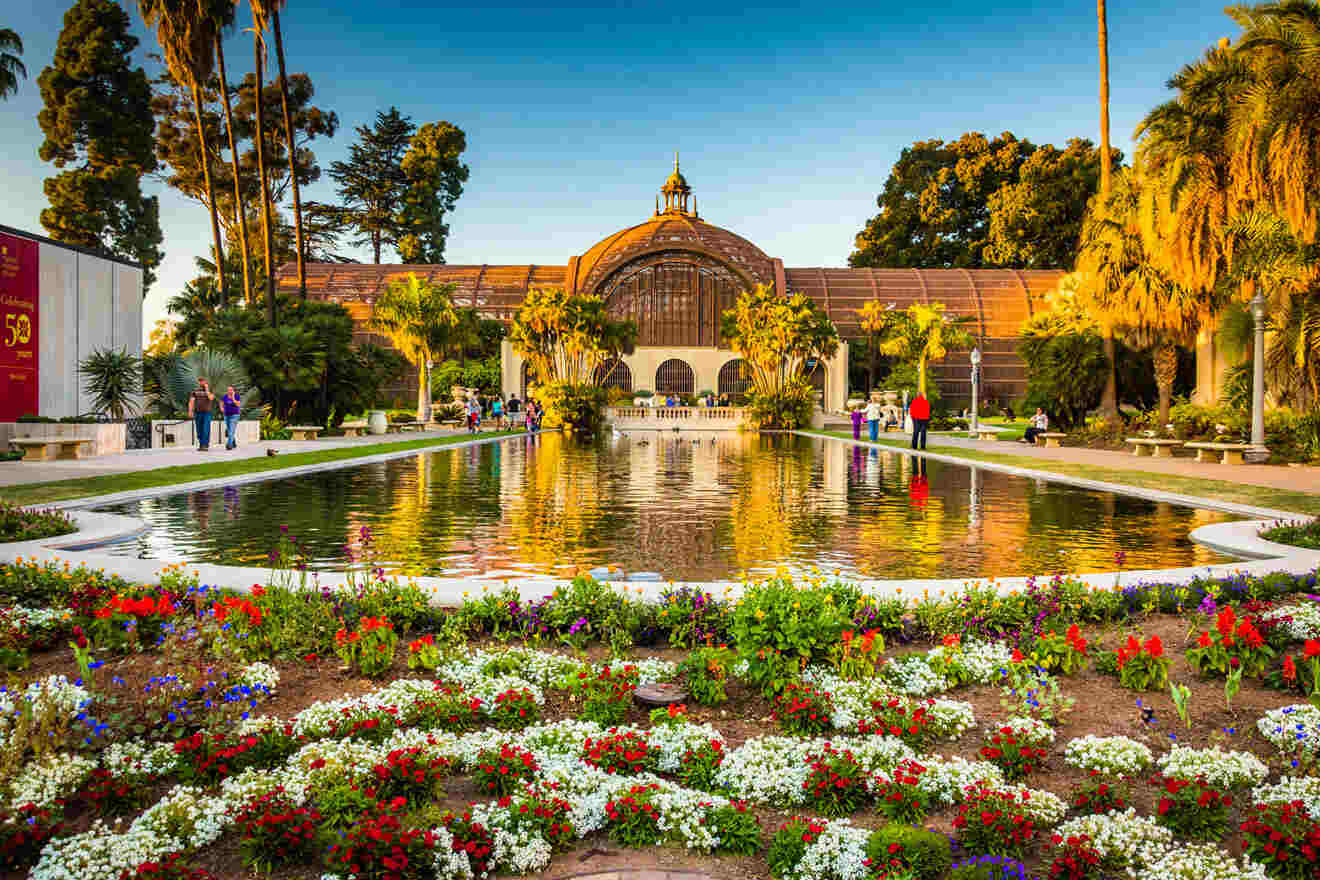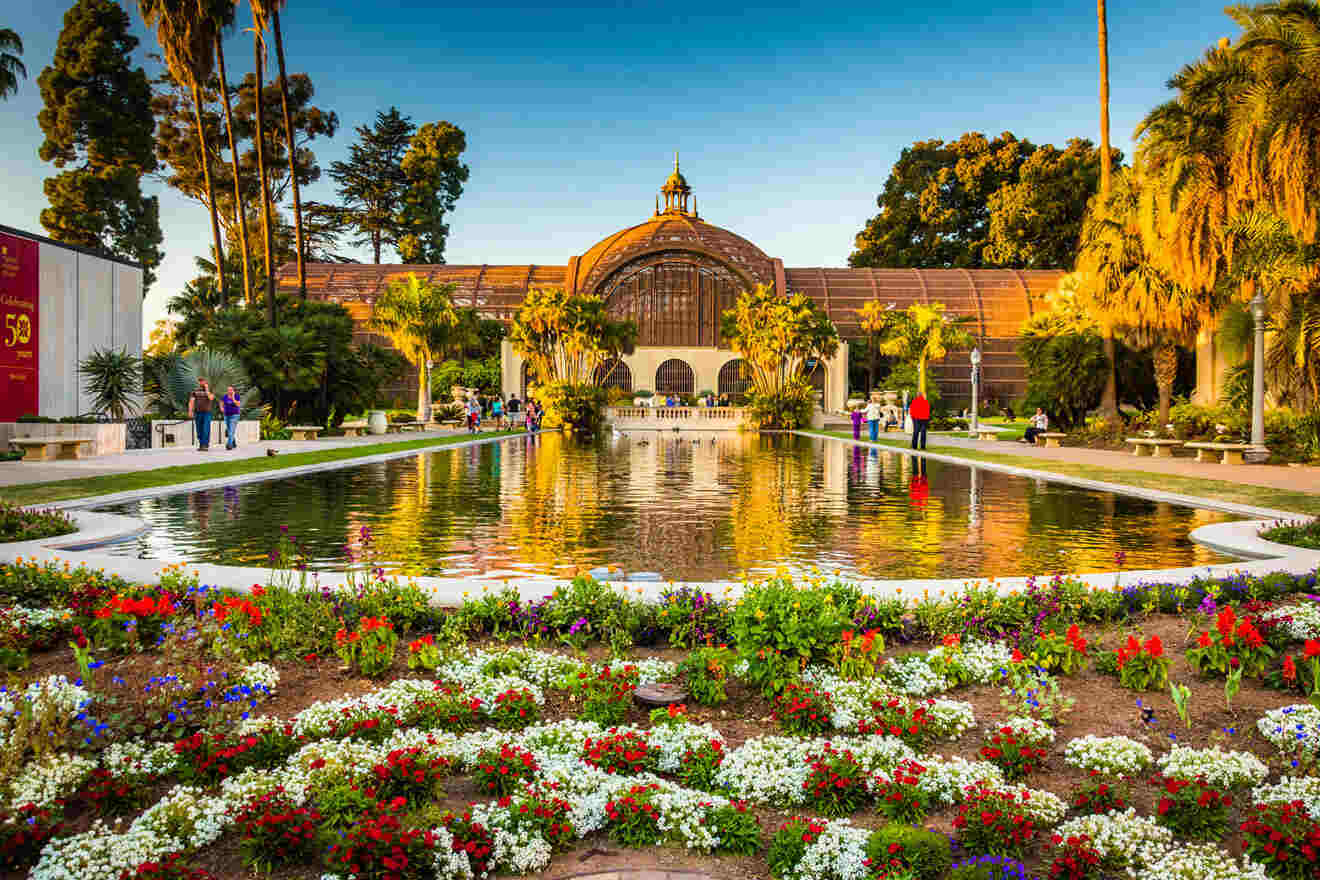 Balboa Park is a beautiful cultural oasis with a variety of museums, gardens, history, and architectural masterpieces to uncover! There are so many things to do that you might want to come back a few different days to go through the entire park.
Here are a few attractions and museums I recommend checking out:
Here are a few attractions and museums I recommend checking out:
Stroll around the Japanese Friendship Garden, smell all the flowers, and grab a quick bite at the Tea Pavilion, located right in front of the garden. 
San Diego Air & Space Museum: This San Diego Museum takes a look at how space, science, and aviation history intertwine. So interesting for the entire family!
Fleet Science Center is a unique science museum and planetarium holding interactive experiences and events great for kids and families!
Globe Theatre to watch Shakespeare and classic musicals in this historic theater!
San Diego Natural History Museum, where you can watch nature and extinct animals come to life!
To learn and explore all the best of Balboa, take a tour of Balboa Park's most famous landmarks and hidden gems.
2. Visit the San Diego Zoo and Safari Park with the family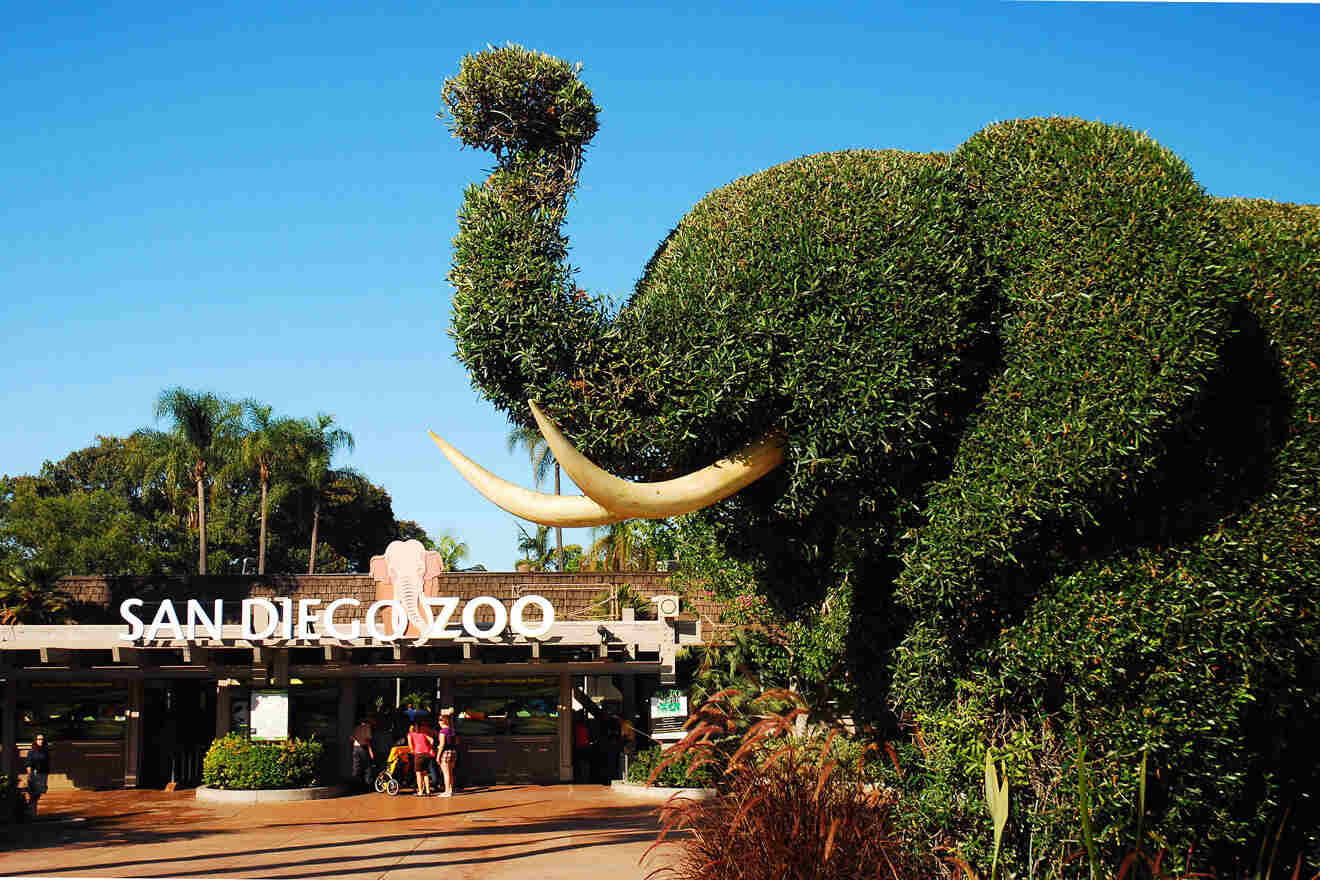 The San Diego Zoo is one of the best things to do with kids! It's home to over 700 species and 14,000 endangered animals and has been a popular San Diego destination for over 100 years. It's an absolute must-visit destination in San Diego and one of my favorite amusement parks in California!
Located inside the zoo, the San Diego Zoo Safari Park is also an excellent experience, with over 3,500 animals roaming and exhibits inspired by the African Serengeti and the Asian savanna. You really get to be up close and personal with the animals, which is truly an experience of a lifetime!
With over 100 acres (40 hectares) of land to explore, you can easily spend an entire day here, so come prepared to wear the right shoes.
PRO TIP: I 100% suggest getting a GoCity Pass (from US$94) while you're in San Diego! It's your pass for 2 – 7 San Diego attractions, with over 40 places to choose from, including the zoo. You end up saving more money this way!
Alternatively, you can buy a 1-day pass or check out our post on how to get the best deal on San Diego Zoo tickets – we have some real tips & tricks there.
PRICE: from US$69 per person
3. Visit the historic landmark Hotel Del Coronado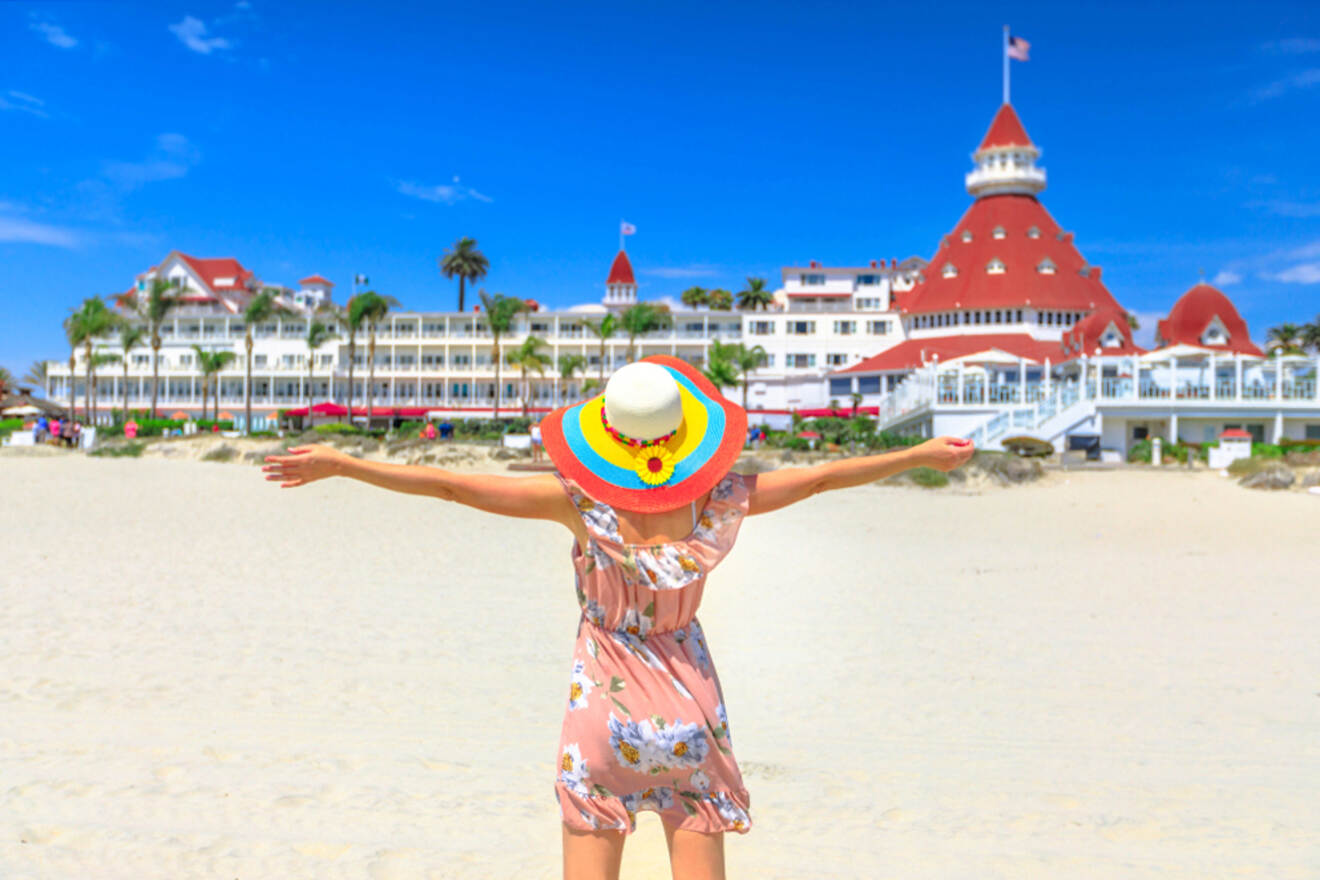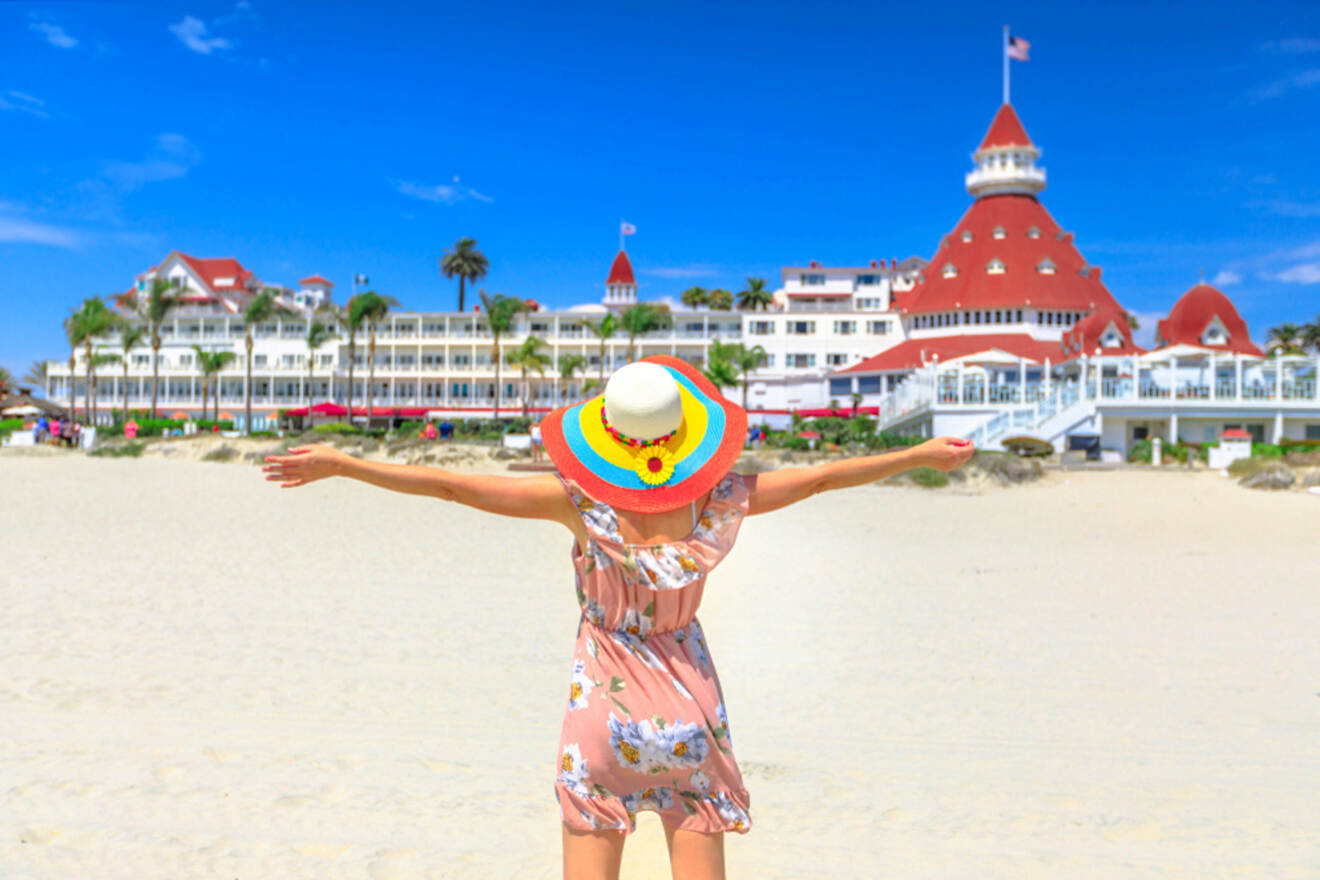 Coronado Island's Hotel Del Coronado is a living legend in San Diego, most famous for its stunning Victorian-style architecture built in 1888. There's a long history of famous names associated with the hotel (like Frank Baum and Marilyn Monroe), so it's pretty cool to step foot here knowing these legends have done the same before.
It offers seaside views and experiences for the entire family all year long. Here are a few things I recommend checking out at the Hotel Del Coronado:
Recreational activities: beach yoga, beach spin, Del Surf Academy, and beach bonfire – just to name a few of my favs!
Go ice skating: The wintertime is the most wonderful time of the year at Hotel Del Coronado. They have an amazing ice skating rink set up right next to the hotel, in front of the beach. Make sure to book tickets in the fall to get ahead.
Tour the historic hotel: There are quite a few options for how to tour Hotel Del Coronado. I suggest visiting the Ice Museum and uncovering the hotel's rich history at the original Legendary Tour.
Take a ferry from downtown San Diego to the island. You get stunning views of the Coronado Bridge and San Diego city skyline views along the San Diego Bay.
NOTE: The hotel is rated lower than I would usually recommend, but it is a historic site and a must-see attraction that you don't want to miss out on.
ROOM PRICE: from US$450 per night
4. Walk into America's longest-serving aircraft carrier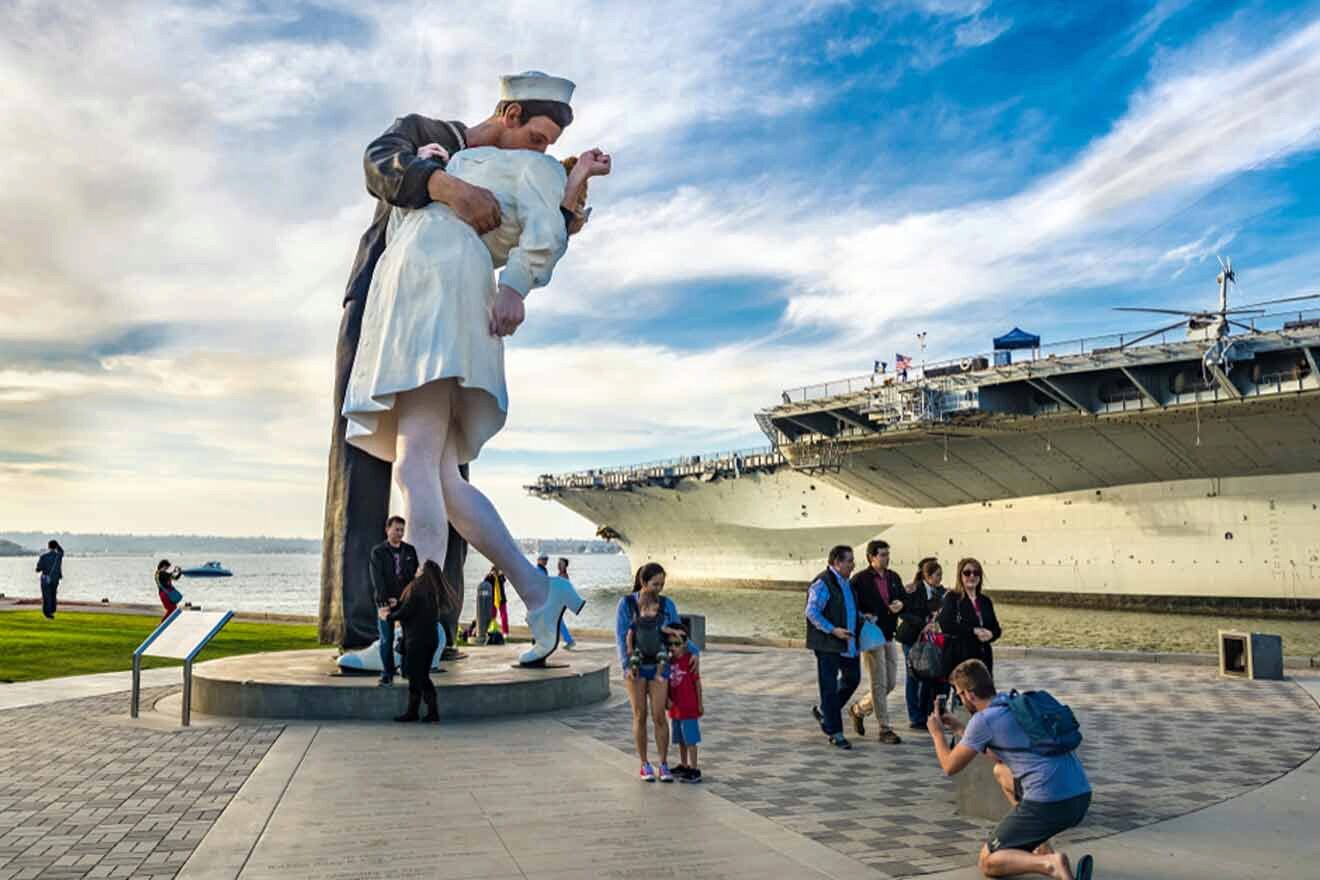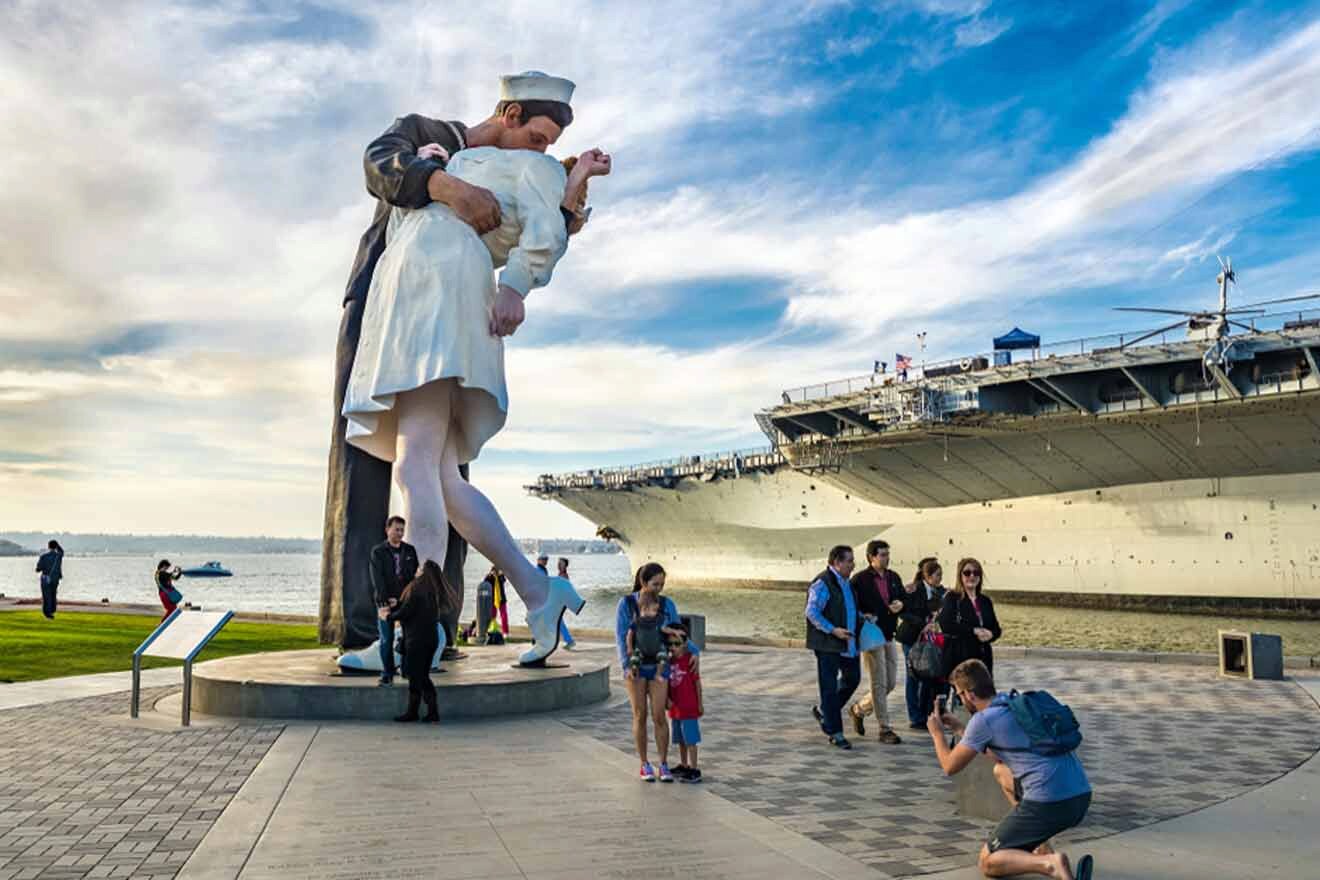 Take a visit to the must-see USS Midway Museum to explore a historical naval aircraft and learn more about America's longest-serving aircraft carrier of the 20th century!
This unforgettable experience allows you and the entire family to walk in the footsteps of hundreds of thousands of American men who rode the Midway.
Within this world-famous San Diego museum, there are self-guided tours (in English, Spanish, Mandarin, Japanese, French, and German), flight simulators, a theater, ejection seats and cockpits to explore, and so much more.
The USS Midway Museum is only an 8-minute drive away from the famous Balboa Park and a quick walk from Seaport Village along Embarcadero Marina Park, so I recommend doing all 3 within the same few hours!
5. Discover San Diego's nightlife hub: Gaslamp Quarter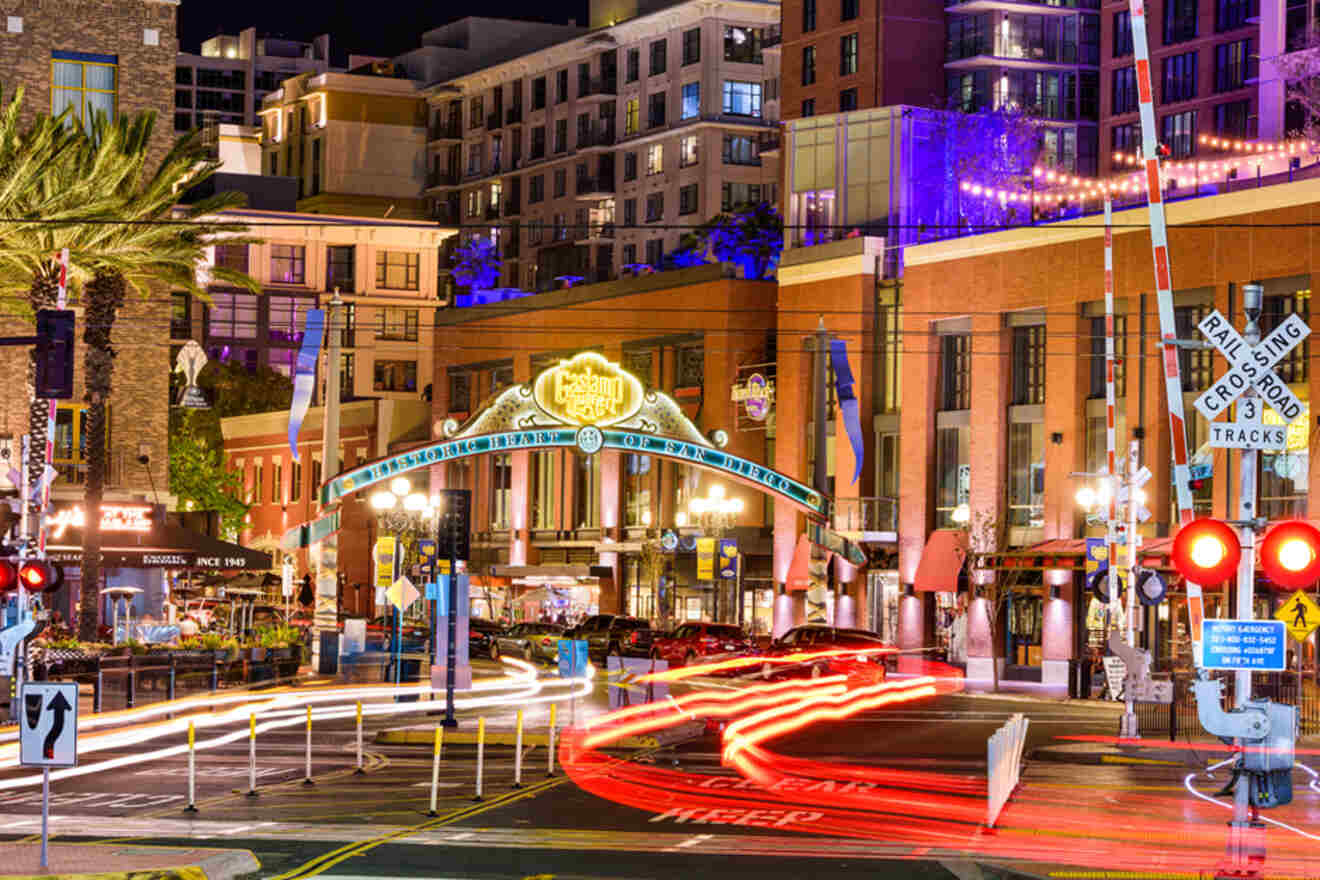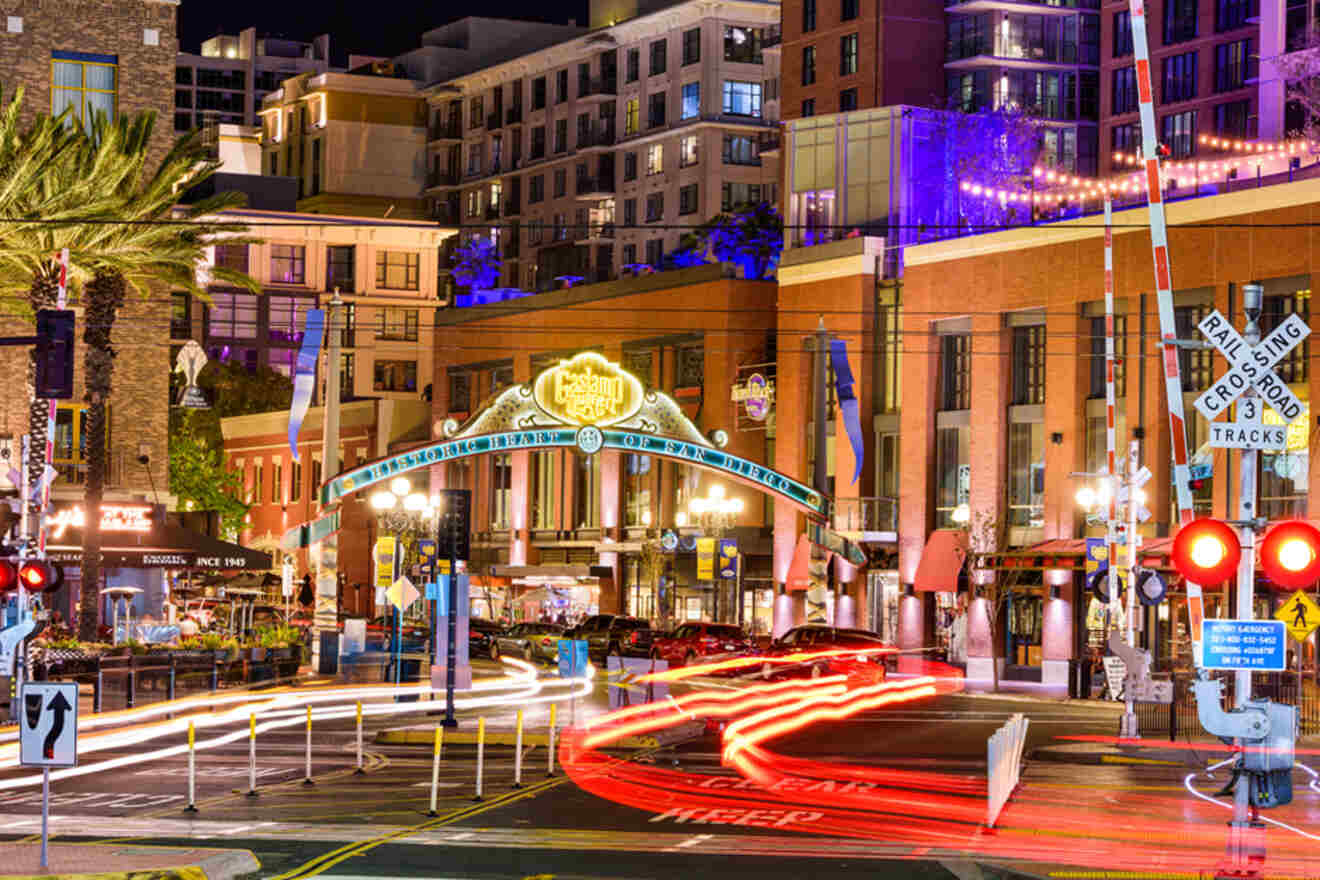 The Gaslamp Quarter is famously known for its bustling nightlife scene in Downtown San Diego. There are plenty of bars to hop around, live music, and nightclubs to enjoy a night with friends.
One of my favorite low-key bars (it's actually a speakeasy) is Youngblood – it's really a different experience with professional mixologists surprising you with 3 drinks based on your alcohol preferences. This is a fun one if you're trying to impress a special someone!
Altitude Sky Lounge and 5th & Sky are 2 amazing rooftop bars overlooking Downtown San Diego and San Diego landmarks. They're the most fun at night when you look down and see nothing but night lights!
Little Italy is nearby, so if you're not ready to end the night, I suggest taking a short Uber drive and hopping from Barbusa to Born & Raised (and grab an appetizer while you're here!).
NOTE: If you want a more comprehensive and educational tour of Downtown San Diego, check out this Brothels, Bites, and Booze tour. You'll get a historical tour of the Gaslamp District and a tasting of locally favored food and drinks.
6. Explore the city's history through San Diego's old town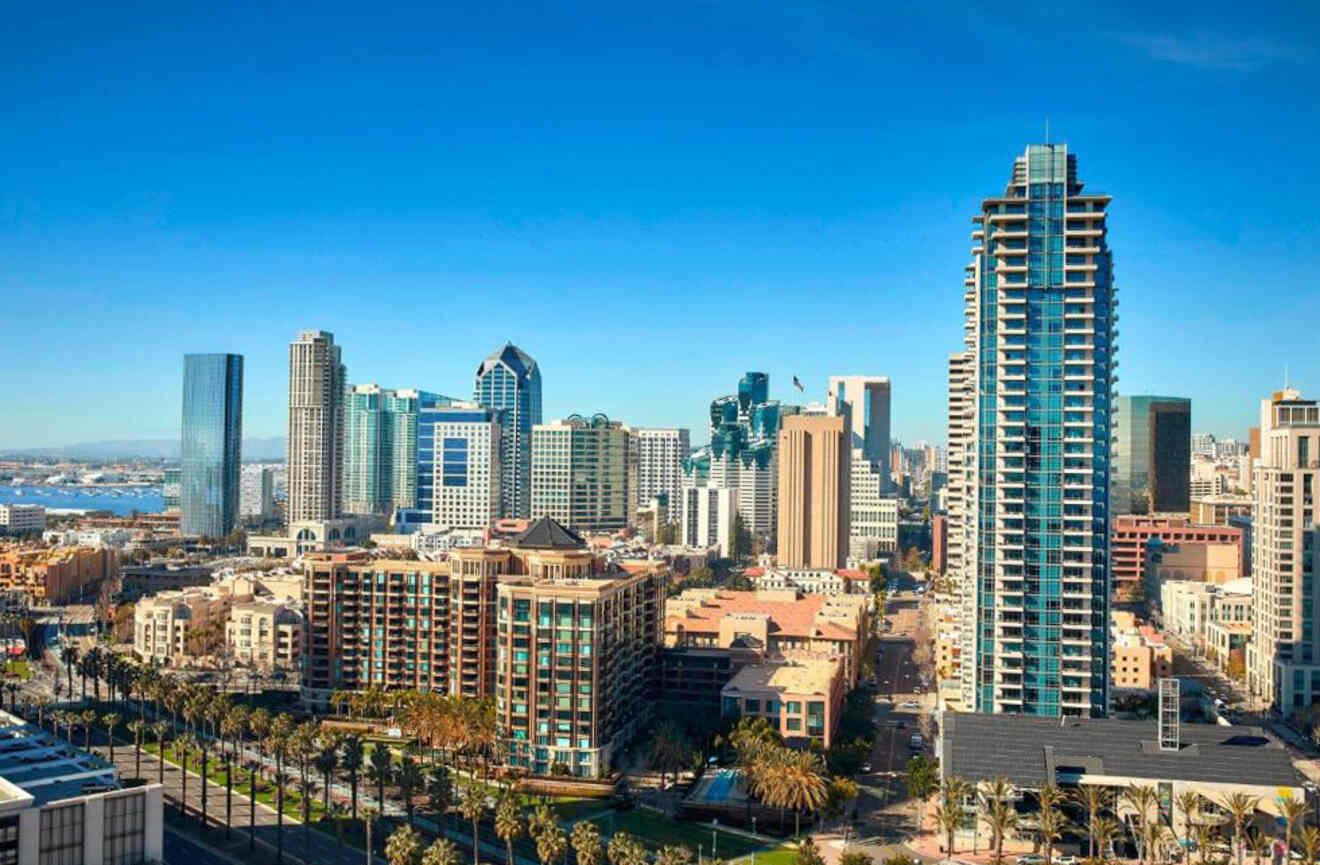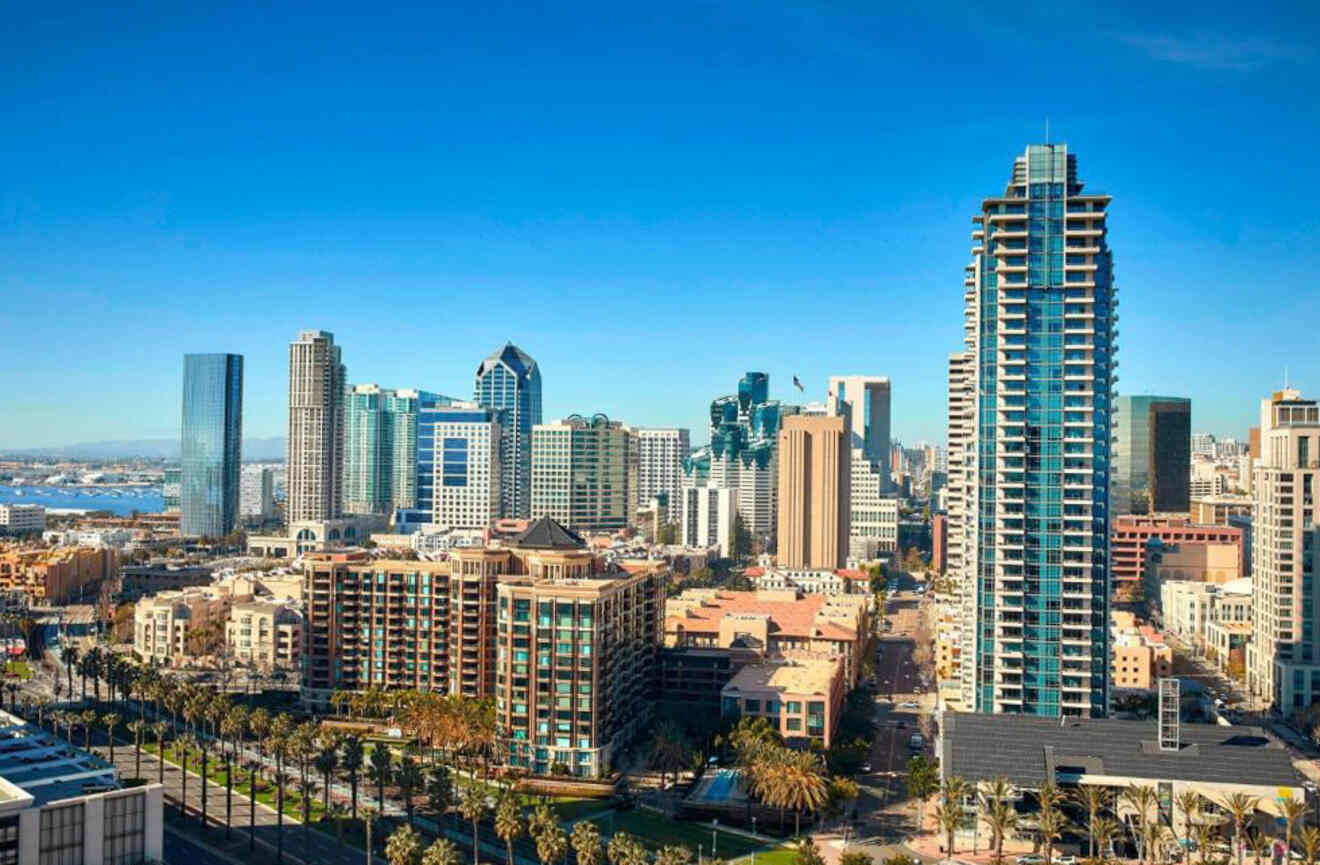 Old Town San Diego is the first European settlement and oldest neighborhood in San Diego. It is also one of the best areas to stay in San Diego on a trip. There are plenty of Mexican restaurants to enjoy, historical sites, attractions, shops, and rich history to explore.
Here are a few of my favorite things to explore in Old Town San Diego:
Cafe Coyote is my favorite Mexican restaurant in Old Town! They have the most amazing margaritas and huge portions!
Whaley House Museum is a real-life haunted house built in 1857! Take this self-guided tour if you dare…
Miner's Gems and Minerals is a cute hidden shop offering panning experiences so you can take home your own gems and minerals that you personally pan for!
7. Watch an MLB baseball game at Petco Park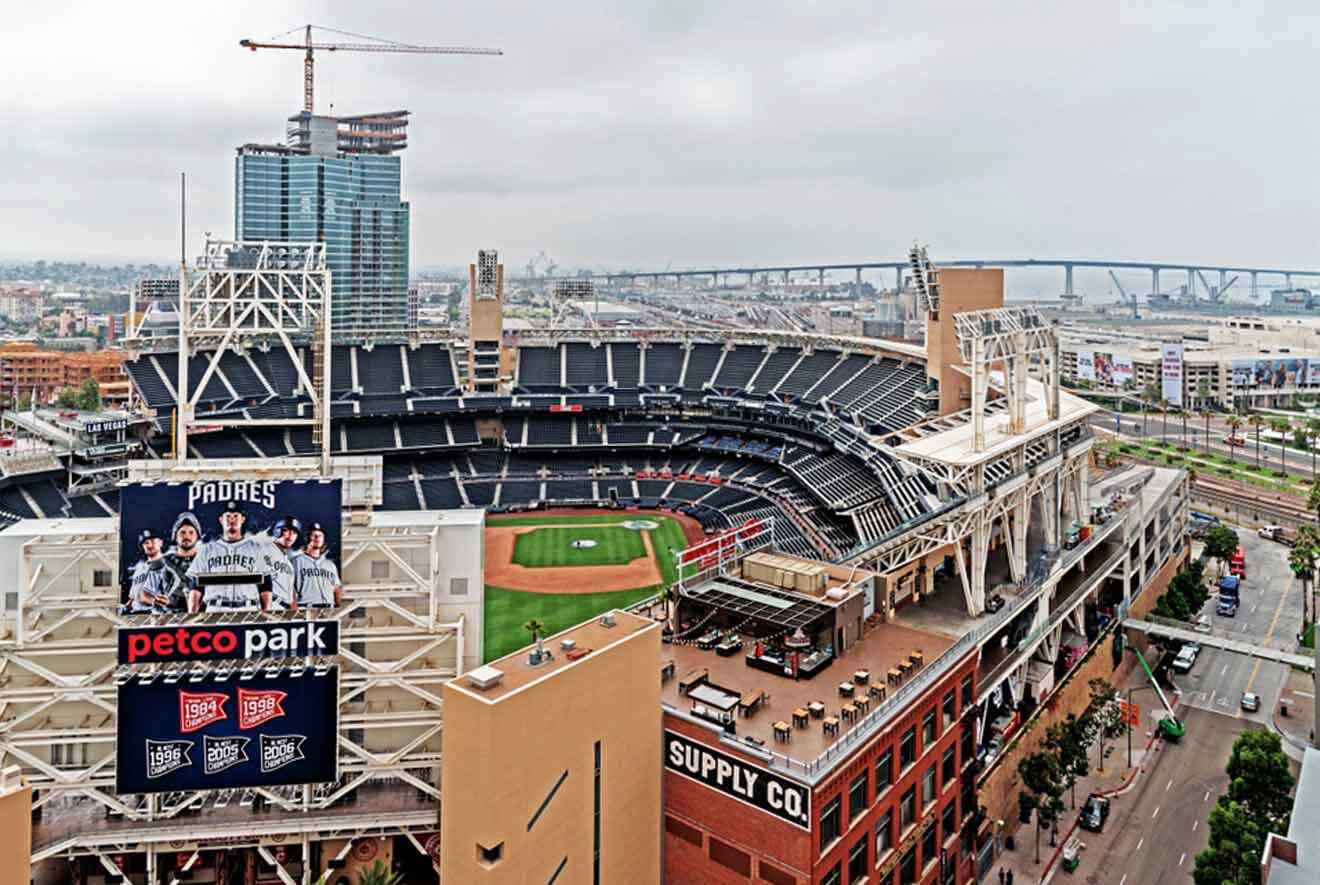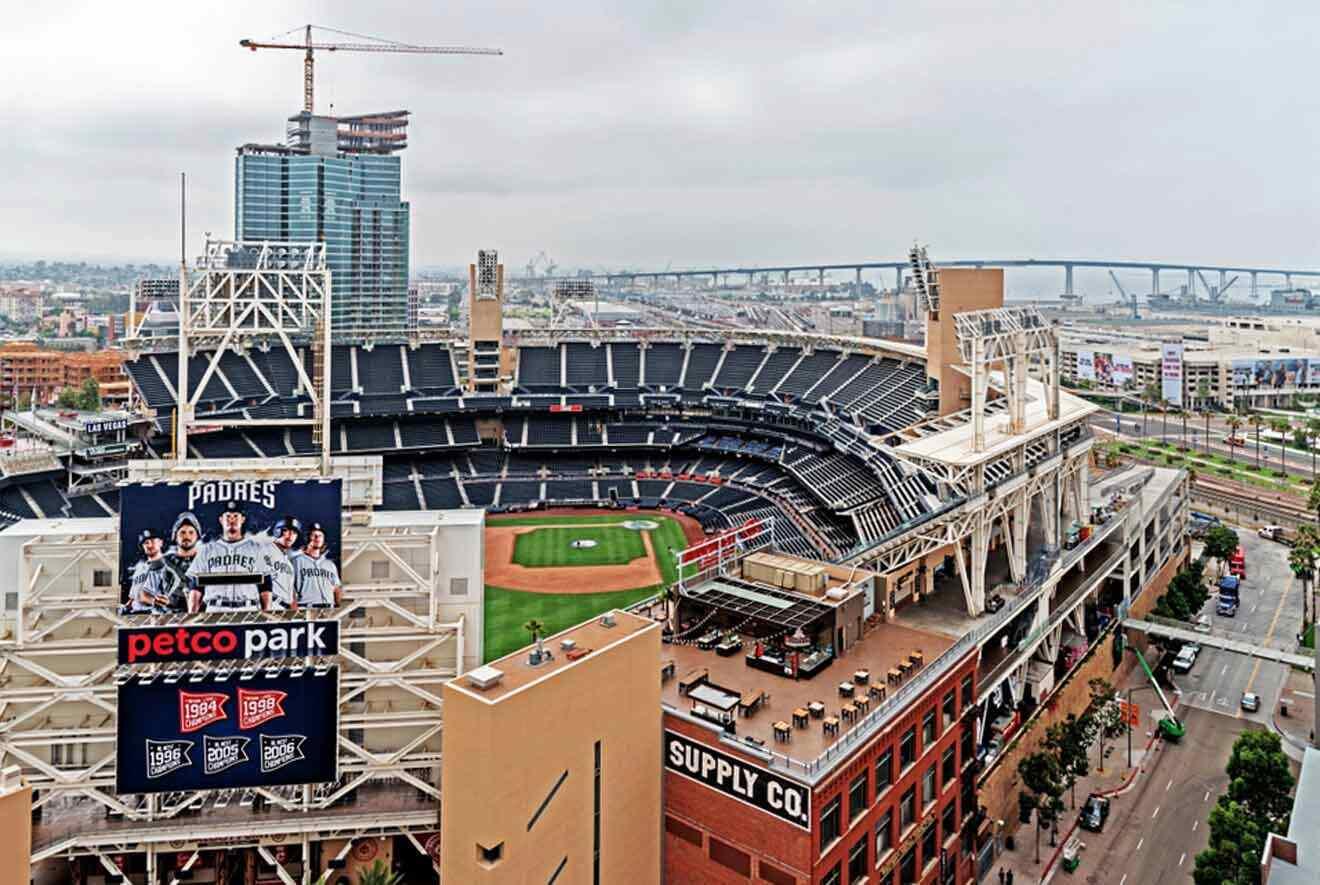 If you know anything about American sports, you know that baseball is a mega-popular sport in the States! The San Diego Padres are a professional baseball team (Major League Baseball) based in San Diego, with their home baseball stadium being located in Downtown San Diego's very own Petco Park.
The MLB season is about 162 games long between March and October, so there are plenty of games to watch if you're visiting San Diego. They also do guided tours of the stadium, so if you want to get behind the scenes, get your tickets easily here!
The games can last for several hours, so I suggest bringing a jacket or sweater! San Diego has perfect weather during the day, but it can get colder in the evenings.
PRO TIP: Don't forget to wear your San Diego Padres gear… every single person in the stadium reps the team, so get yours beforehand and support! The merchandise is pricier when you buy there at the stadium, so avoid the skyrocketing prices and  buy yours on Amazon.
8. Watch sea lions sunbathing in La Jolla Cove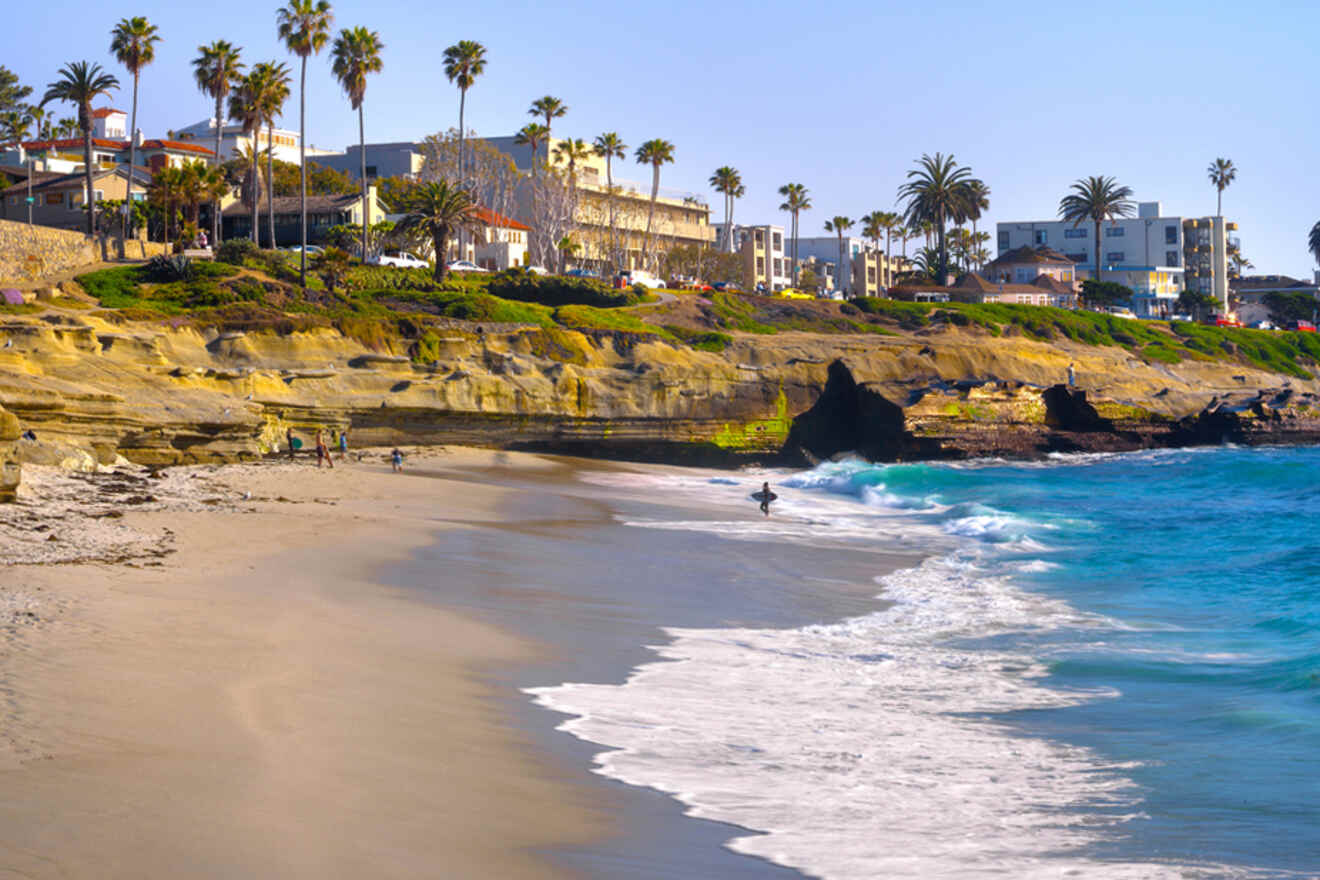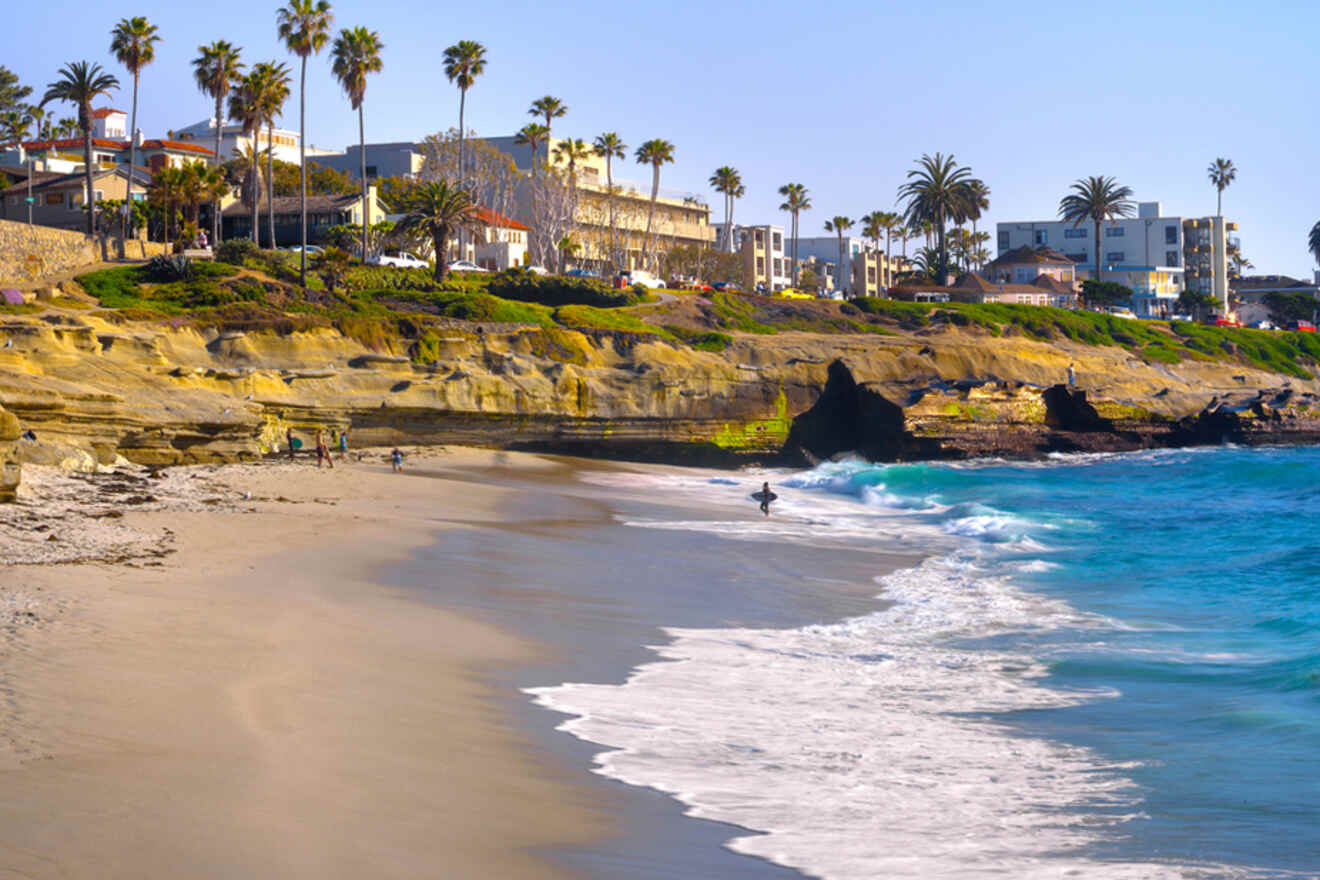 One of the most famous attractions and things to do in La Jolla is the sunbathing sea lions in La Jolla Cove, surrounded by cliffs, rocky bluffs, and sea caves that are home to various marine life in their natural habitats. Hundreds of visitors stop by to admire the animals every single day.
Because I was raised in San Diego, this is an activity I did a lot growing up. It's so much fun to walk here and snap photos along the way. However, there is one thing I should warn you about – there's an awful stench in this area. Because there are a ton of sea lions lying around, it's only natural and expected!
NOTE: Make sure you're doing your part and respecting the sea lion's homes, and protecting your own safety by not getting too close!
TIP: Visit the La Jolla Tide Pools while you're in the area and take a look at tiny crabs and fish!
9. Take a bike ride to Mount Soledad National Veterans Memorial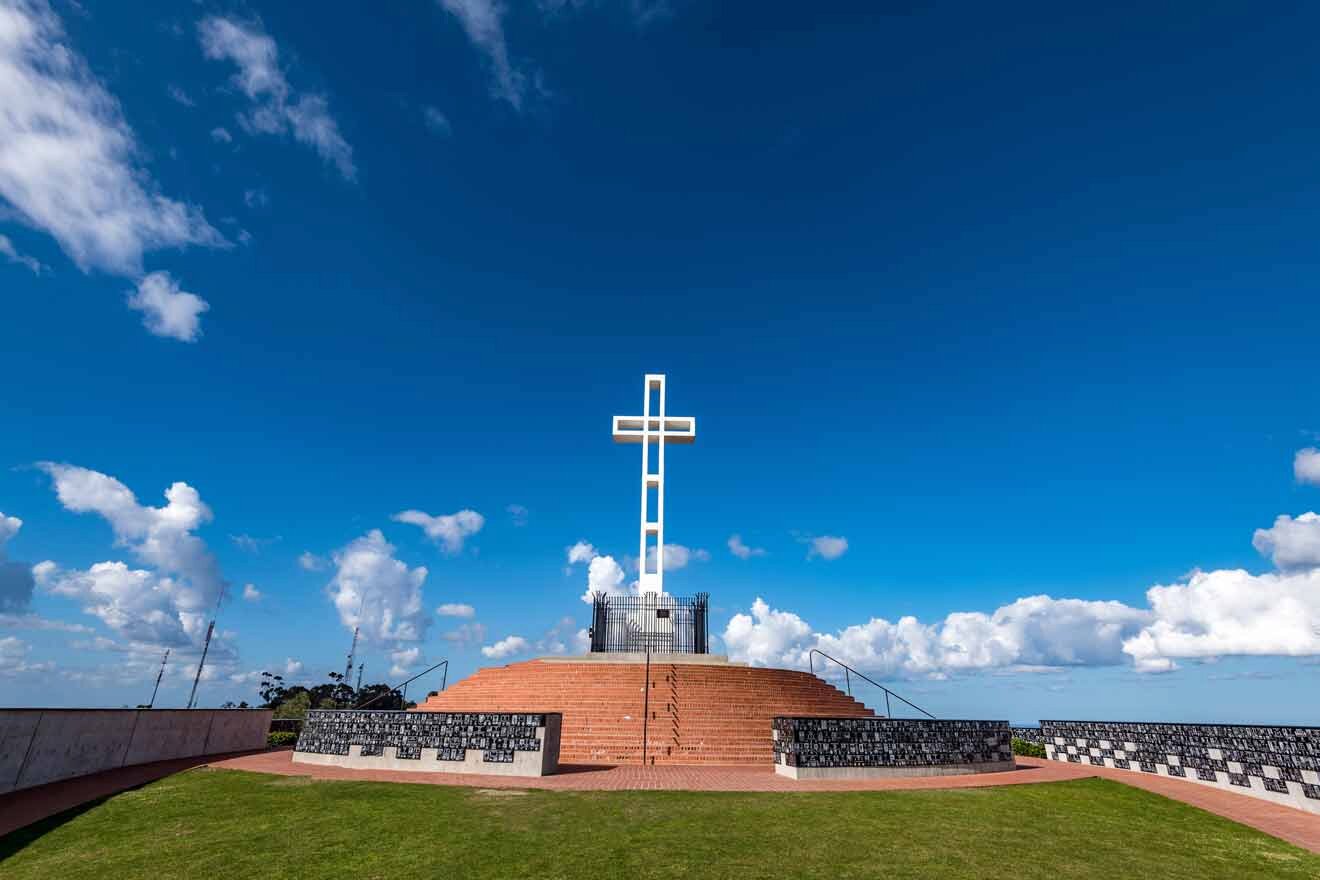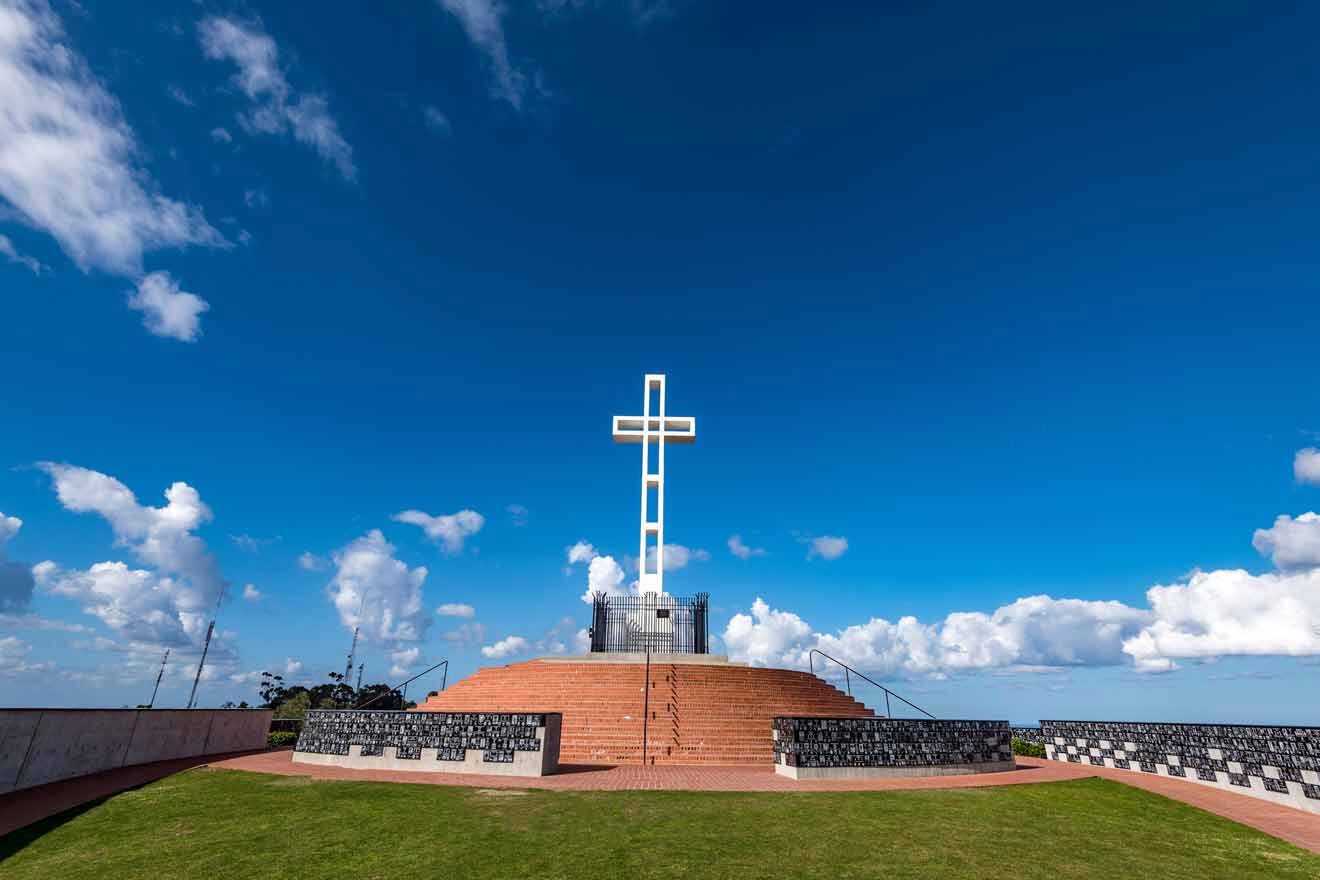 Mount Soledad National Veterans Memorial is an 822 ft (251 m) monument that overlooks the Pacific Ocean, Downtown San Diego, and other areas in the southernmost part of San Diego. It's unique and beautiful, being the only memorial to pay tribute to American military members living and deceased.
I suggest taking your time while you're up here and enjoying the view! There's a lot of history to uncover here, and it's worth taking a look. If you're up for an adventure, take a bike ride up to the summit of Mount Soledad (the highest point in San Diego). It's truly an unbeatable experience.
TOUR PRICE: from US$115 per person
10. Go on a hike at Torrey Pines State Beach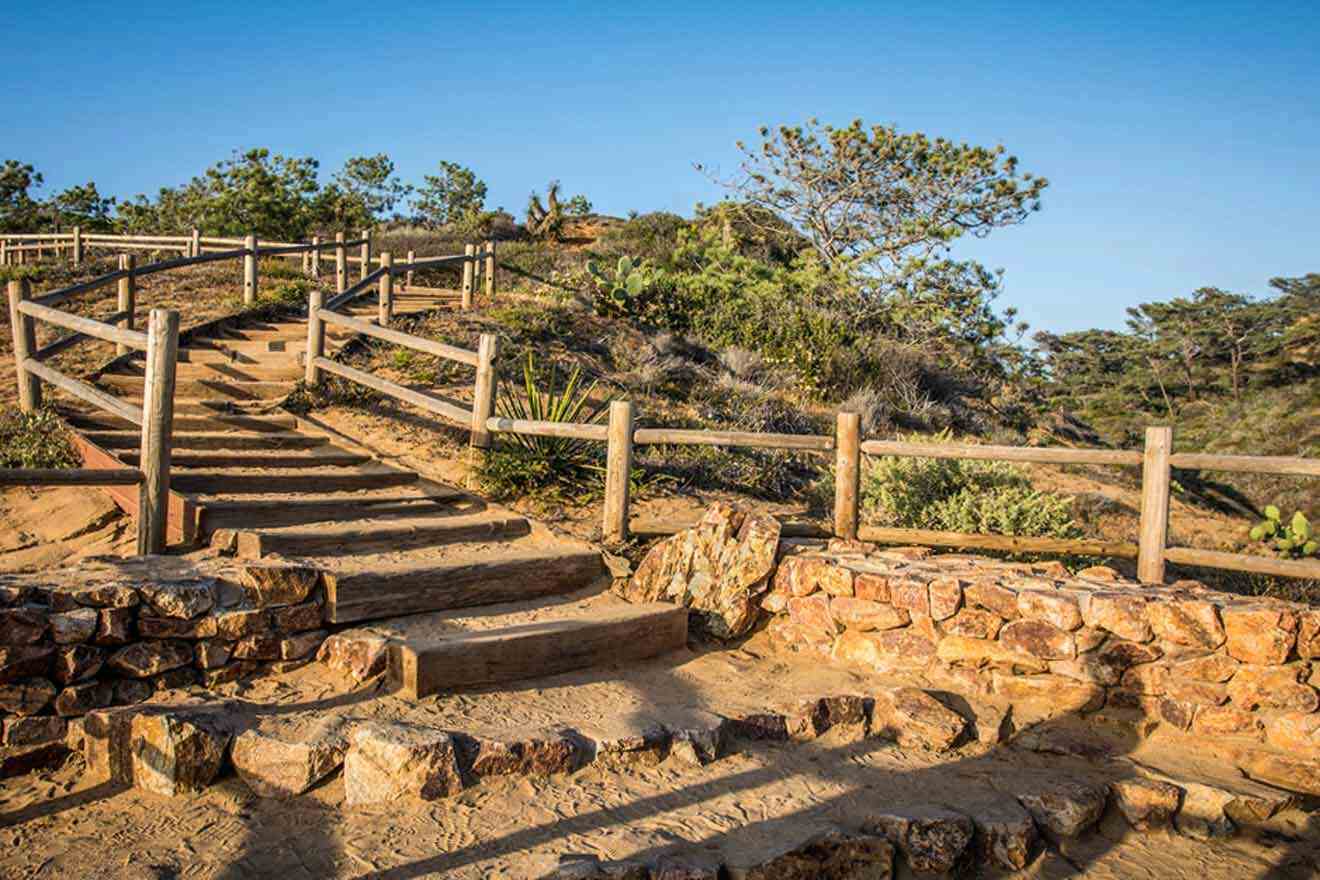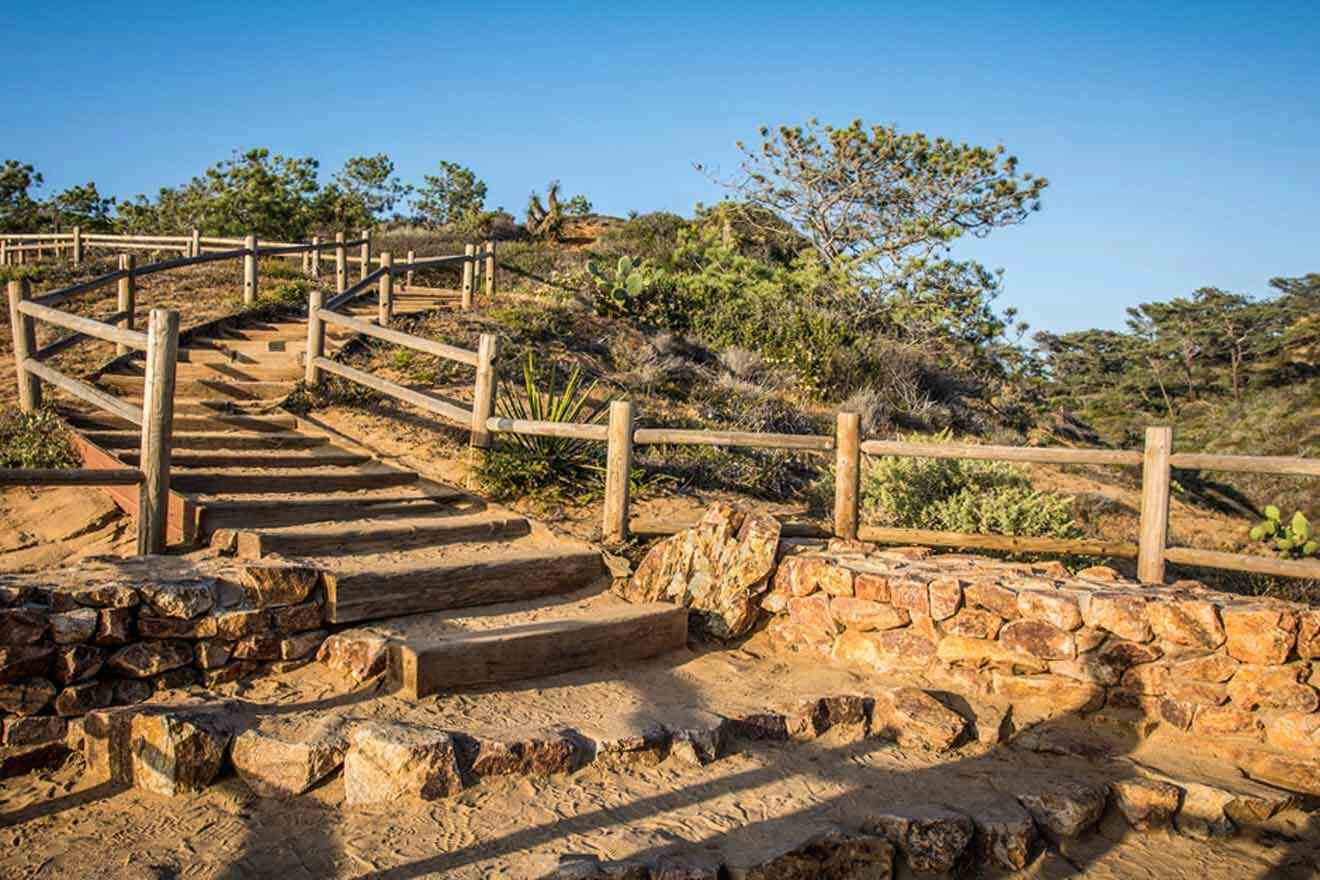 Torrey Pines State Beach, located between Del Mar and La Jolla, has one of my favorite hiking trails in San Diego! It's also among the best hiking trails in Southern California, with an easy stroll up a hill and flattens out towards the top, where you can enjoy stunning views of the Pacific Ocean. The easy hiking trail is suitable for the whole family.
My favorite time to come is during golden hour and catch the sunset. There's a variety of Torrey Pine trees (native to the area) and other unique plants that grow on the cliffside bluffs. I recommend walking up or even taking a bike ride up the hill! It's not a difficult hike, so you won't be too strained.
From here, I recommend taking a 30-min drive to Sunset Cliffs Natural Park near La Jolla Shores for some of the best views that San Diego offers. Snap photos and enjoy the view!
11. Kayak through the 7 La Jolla Sea Caves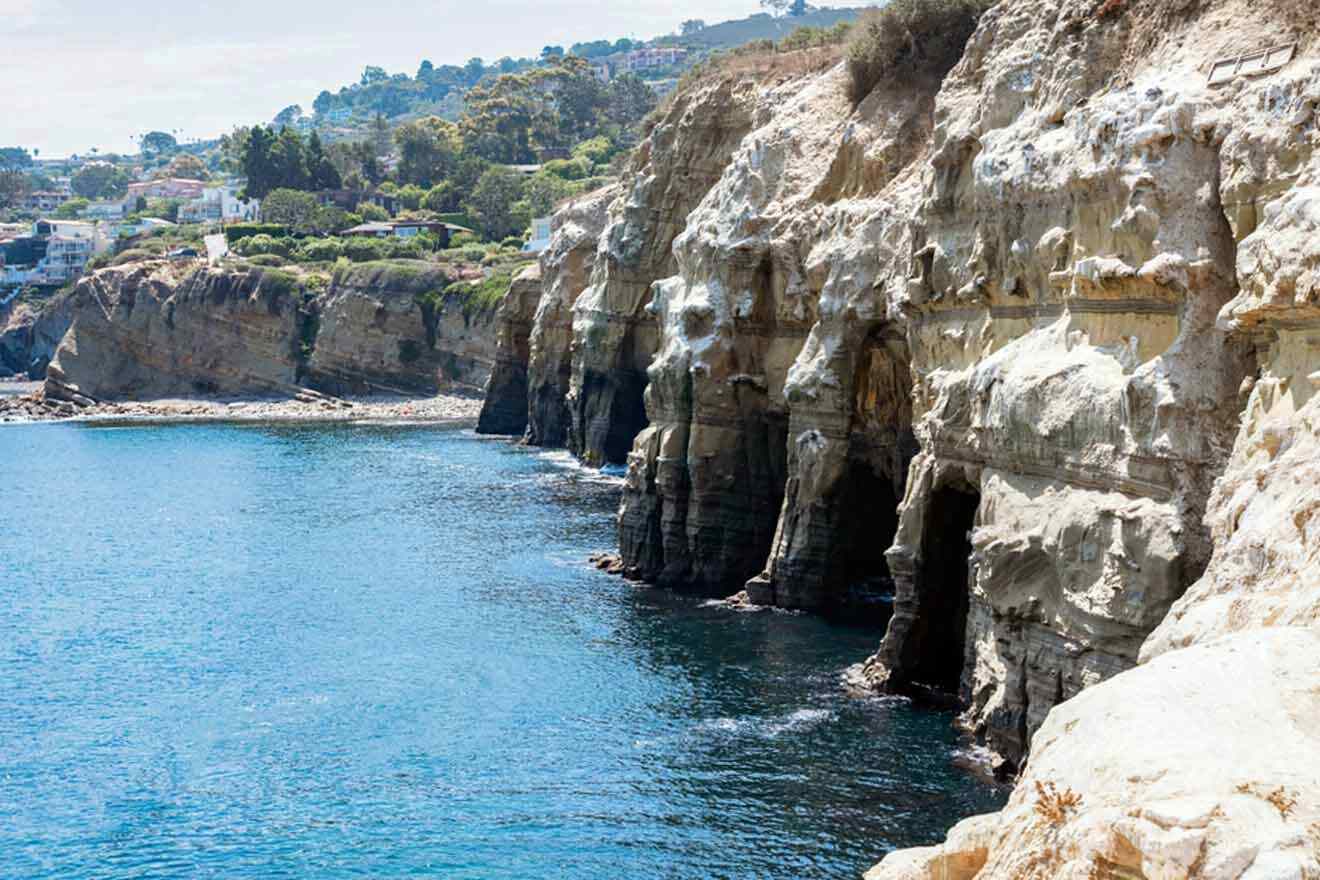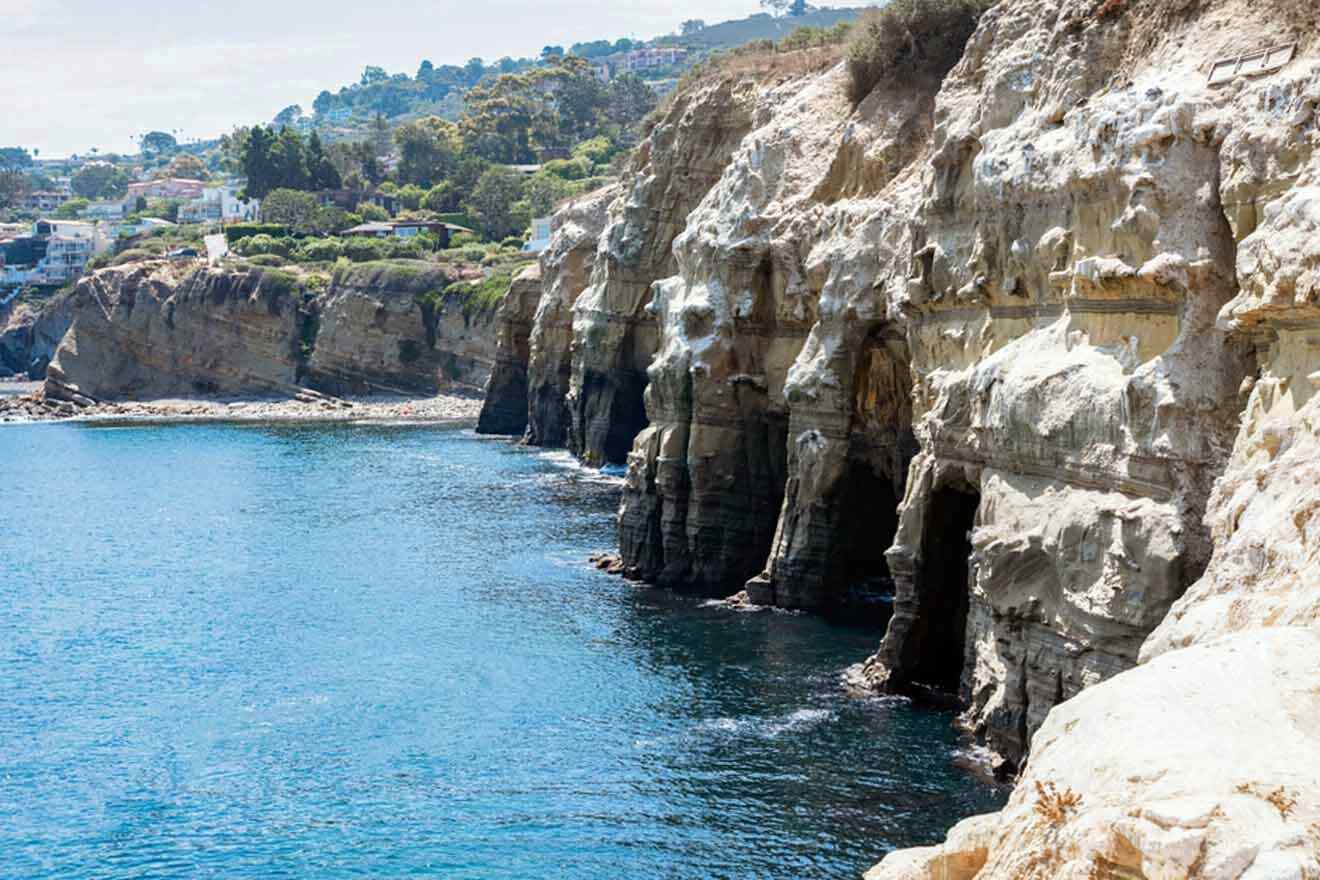 Ever heard of a sea cave? Well, La Jolla Cove has seven, all accessible by a kayak tour! On this tour, you get a chance to explore Sunny Jim's Cave, Arch Cave, The Clam's Cave, Little Sister, Sea Surprize, Shopping Cart, and White Lady. Each cave is unique in size and shape, and you'll find amazing marine life in each and every one.
The kayak tour is guided by a professional, who goes over everything, so you'll leave the tour learning new things and having all your potential questions answered.
In addition, no worries if you're not comfortable kayaking by yourself. You also get a life vest to ensure your safety on the kayak.
TOUR PRICE: US$100 per group of 2
Kayak Through La Jolla Sea Caves
12. Ride roller coasters at Belmont Park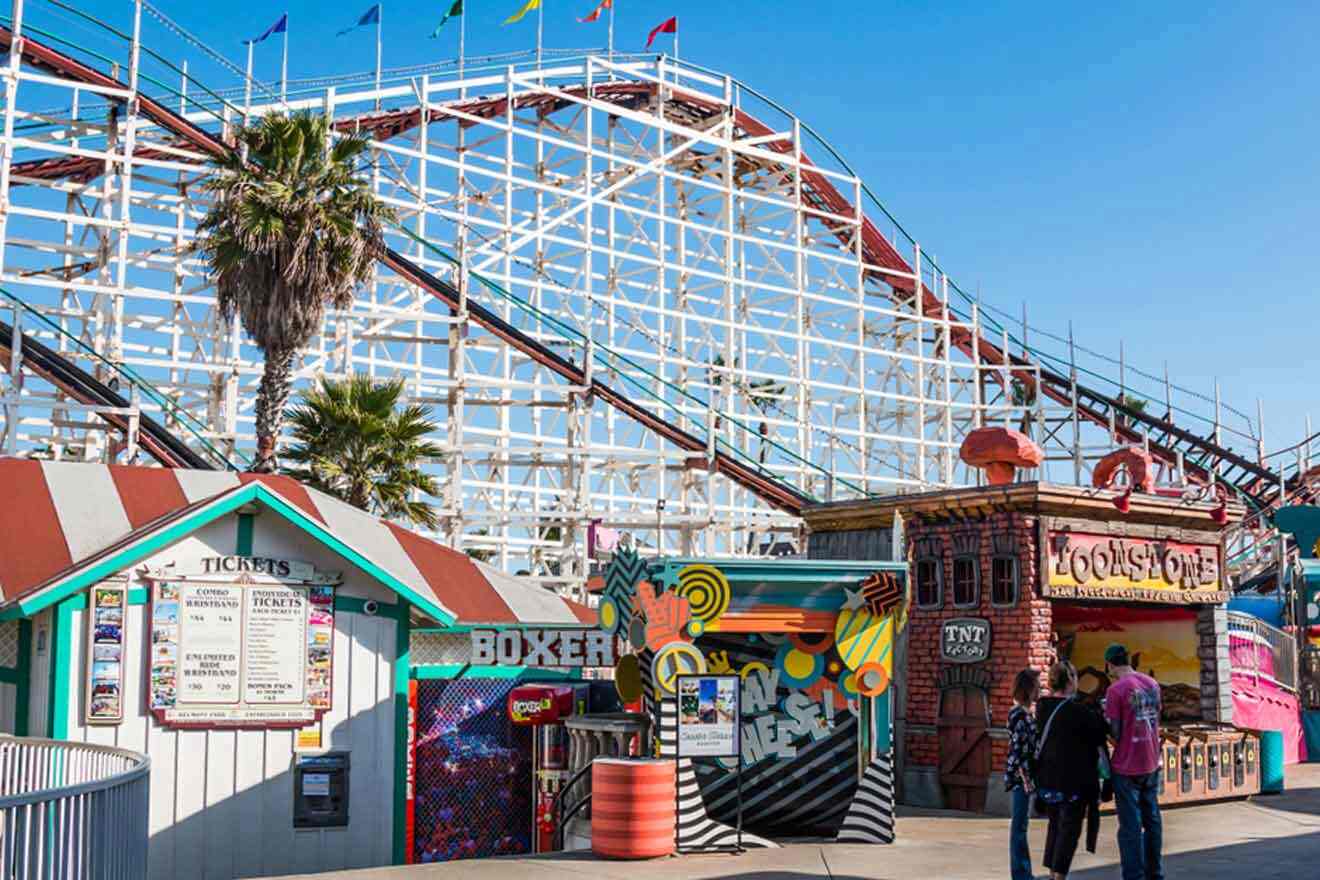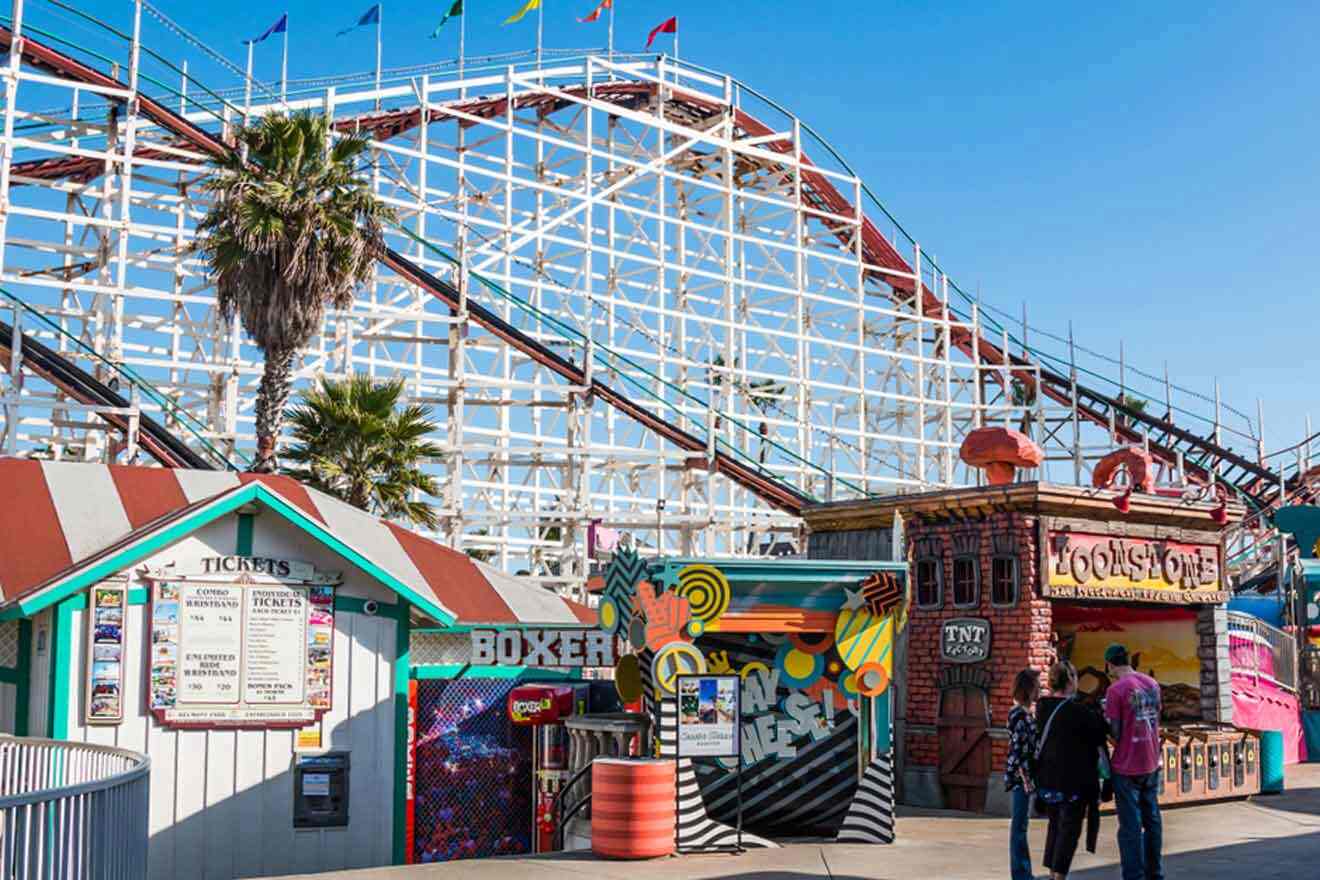 San Diego's iconic beachfront amusement park is located on Mission Beach, a 15-minute drive away from downtown San Diego. The park, Belmont Park, has been a staple location for visitors and locals to enjoy endless entertainment, carnival games, must-try fair foods, and a chill beach right outside the park.
There are 13 rides, making Belmont Park one of the most fun things to do in San Diego, California, with kids of all ages! My favorite ride that I recommend is The Big Dipper – the biggest, oldest, and most noticeable ride here. The wooden roller coaster was built in 1925 and stands as a San Diego icon in front of the park.
If you're planning to spend an entire day at the park, I recommend buying a Ride & Play Park Pass for unlimited rides.
PARK PASS PRICE: from US$55 per person
13. Discover San Diego's history at Cabrillo National Monument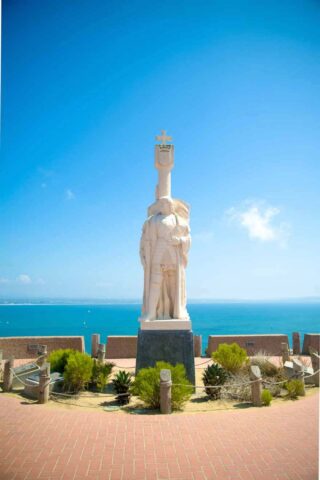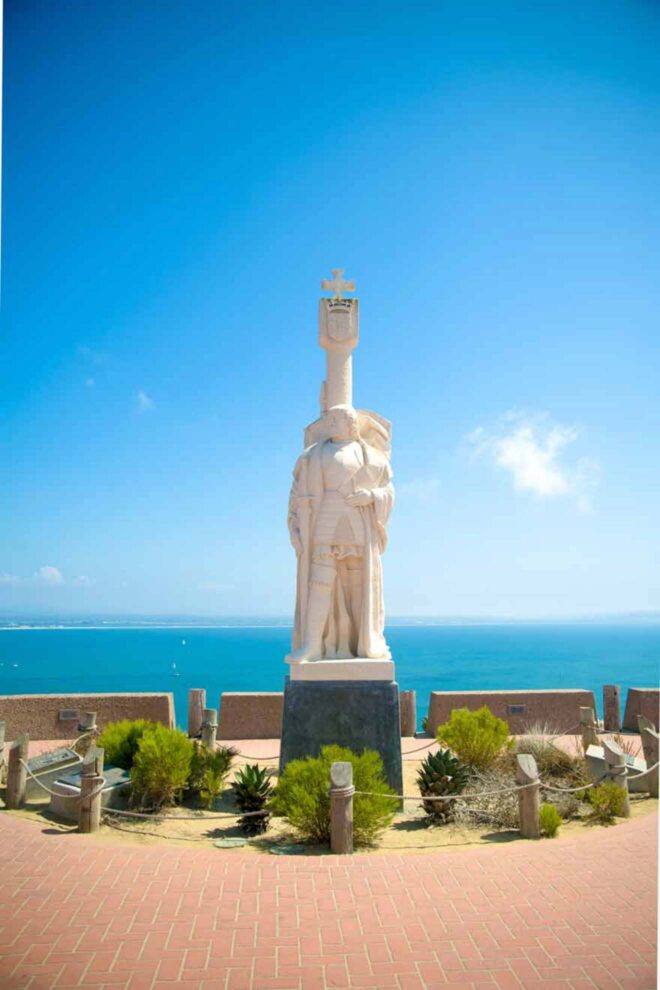 Juan Rodriguez Cabrillo made history in 1542 when he landed at San Diego Bay and first stepped foot onto the Western United States. The park tells a story of his exploration and discoveries, and it's an interesting piece of history to uncover while you're in San Diego.
The monument sits on top of a hill and gives you picturesque views of the Pacific Ocean, Point Loma, the San Diego Harbor, the skyline, and even farther views of Mexico on a clear day. I also recommend checking the Old Point Loma Lighthouse, located a short walk away – it's the highest point here at 422 ft (129 m) high.
PRO TIP: For a free whale-watching experience in the winter, watch the Pacific gray whales pass by the western side of the monument.
14. Lay back and enjoy the sun at Ocean Beach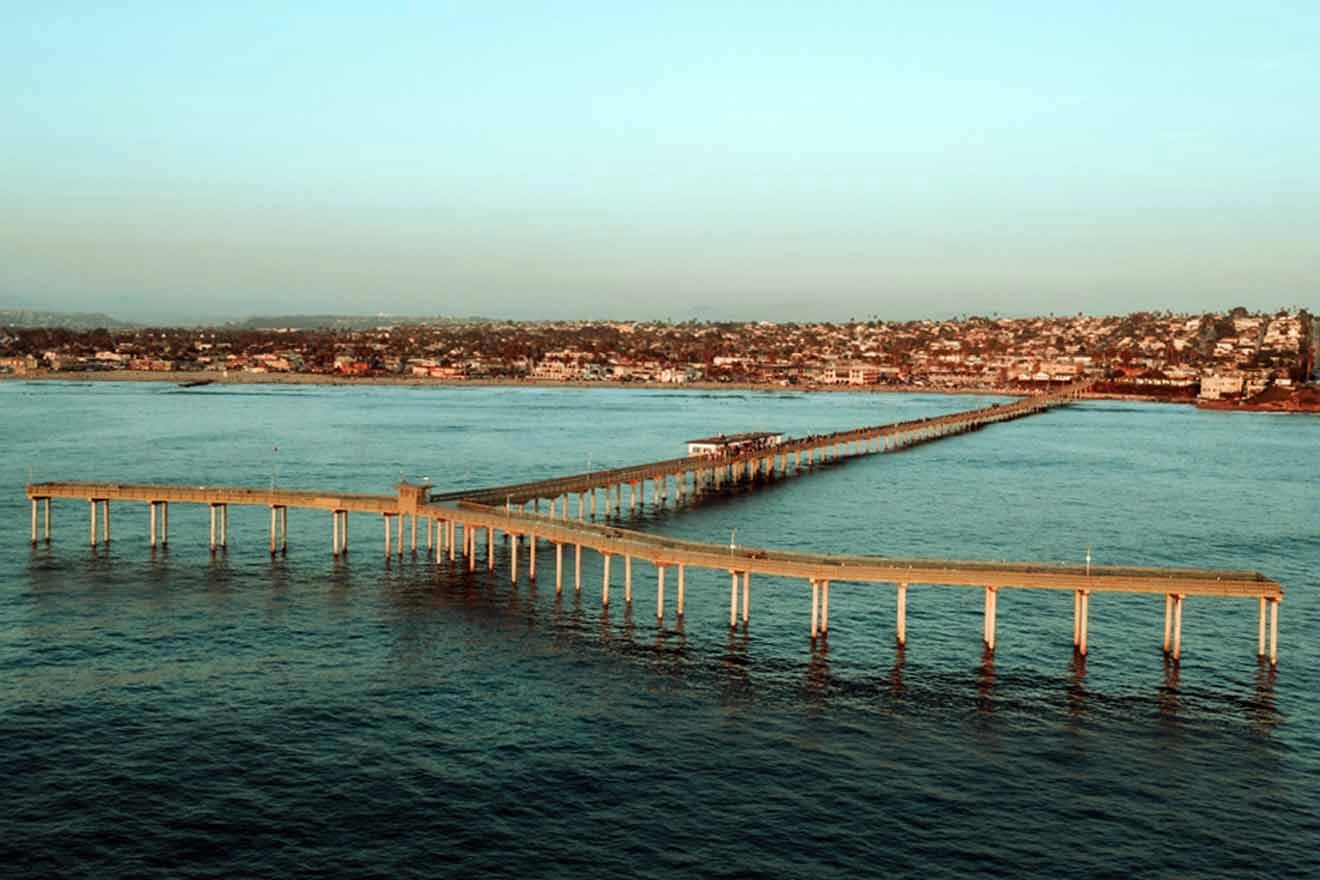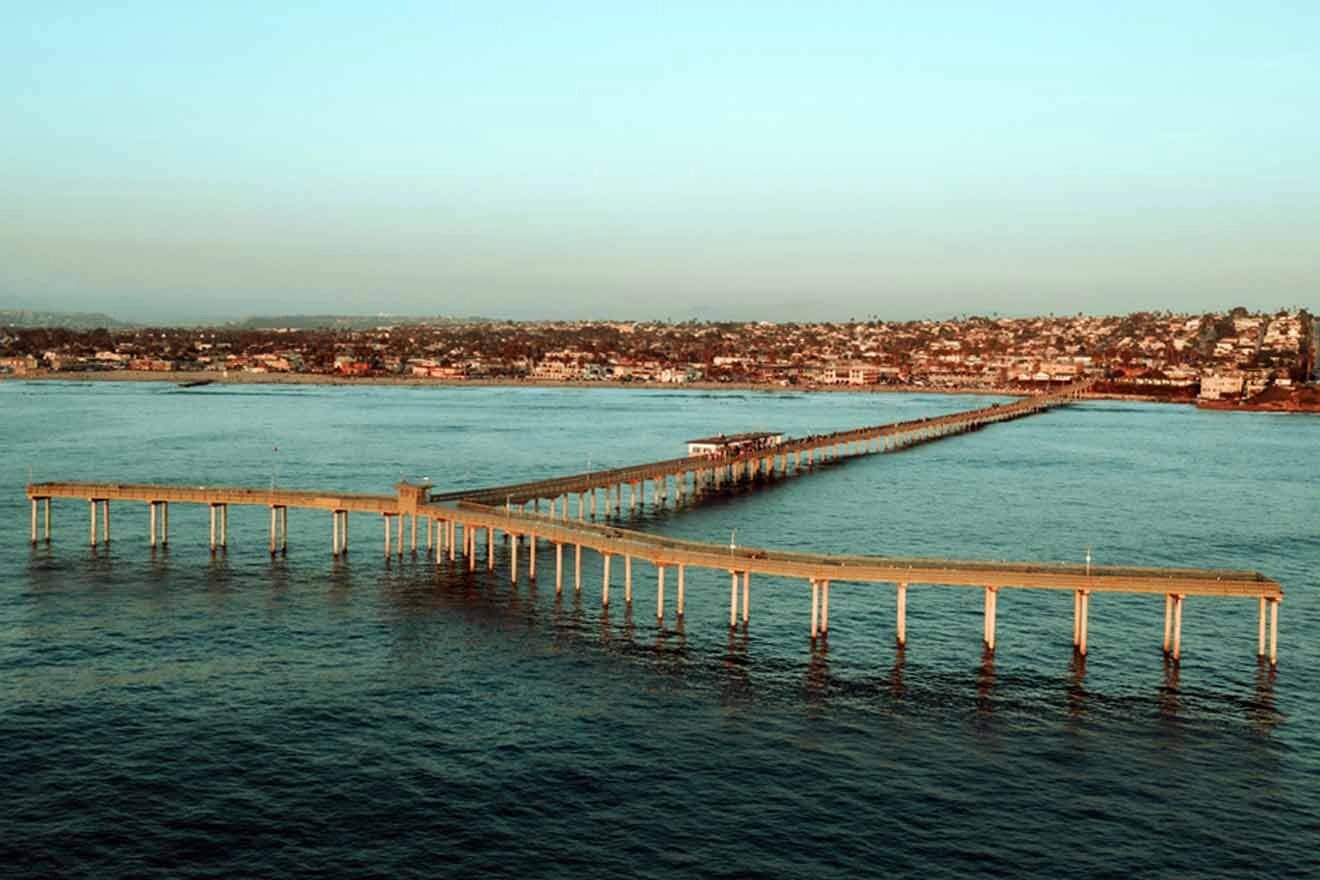 Ocean Beach, also known as O.B., is well-known for the laid-back, hippie beach feel on the Southern California Coast. O.B. is a local favorite beach town with a plethora of things to do if you're looking for a chill beach day in San Diego.
There are a few things I recommend checking out here:
The Ocean Beach Pier is one of the longest concrete piers in the world and one of the only places in San Diego where you can go fishing without a license! I recommend visiting and taking a walk down the beach.
O.B. Farmers Market to grab locally grown fruits and veggies every single Wednesday, from 4 PM to 8 PM.
PRO TIP: Stop by Mike's Taco Club for Ocean Beach's best tacos!
15. Grab a drink at PB Shore Club at Pacific Beach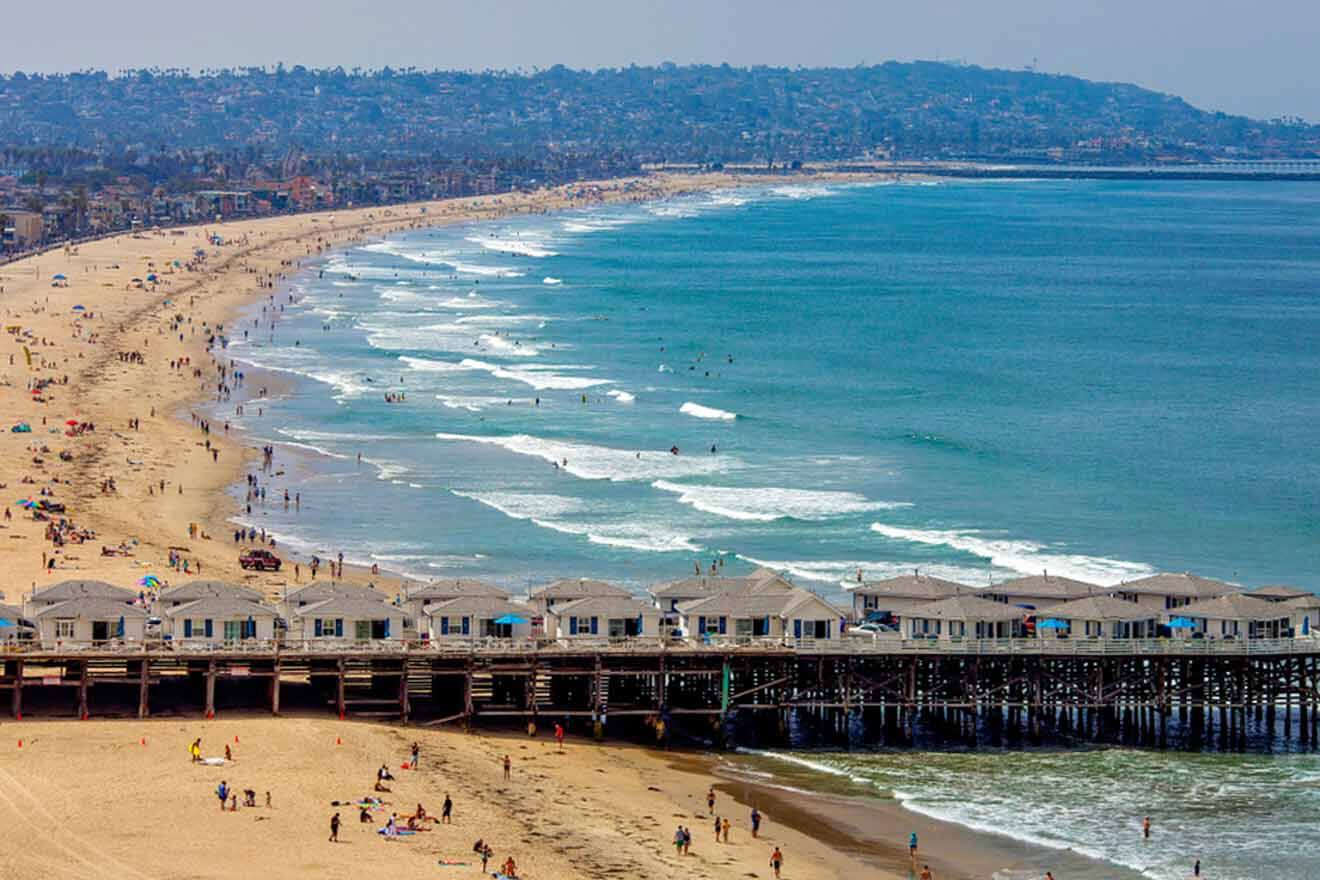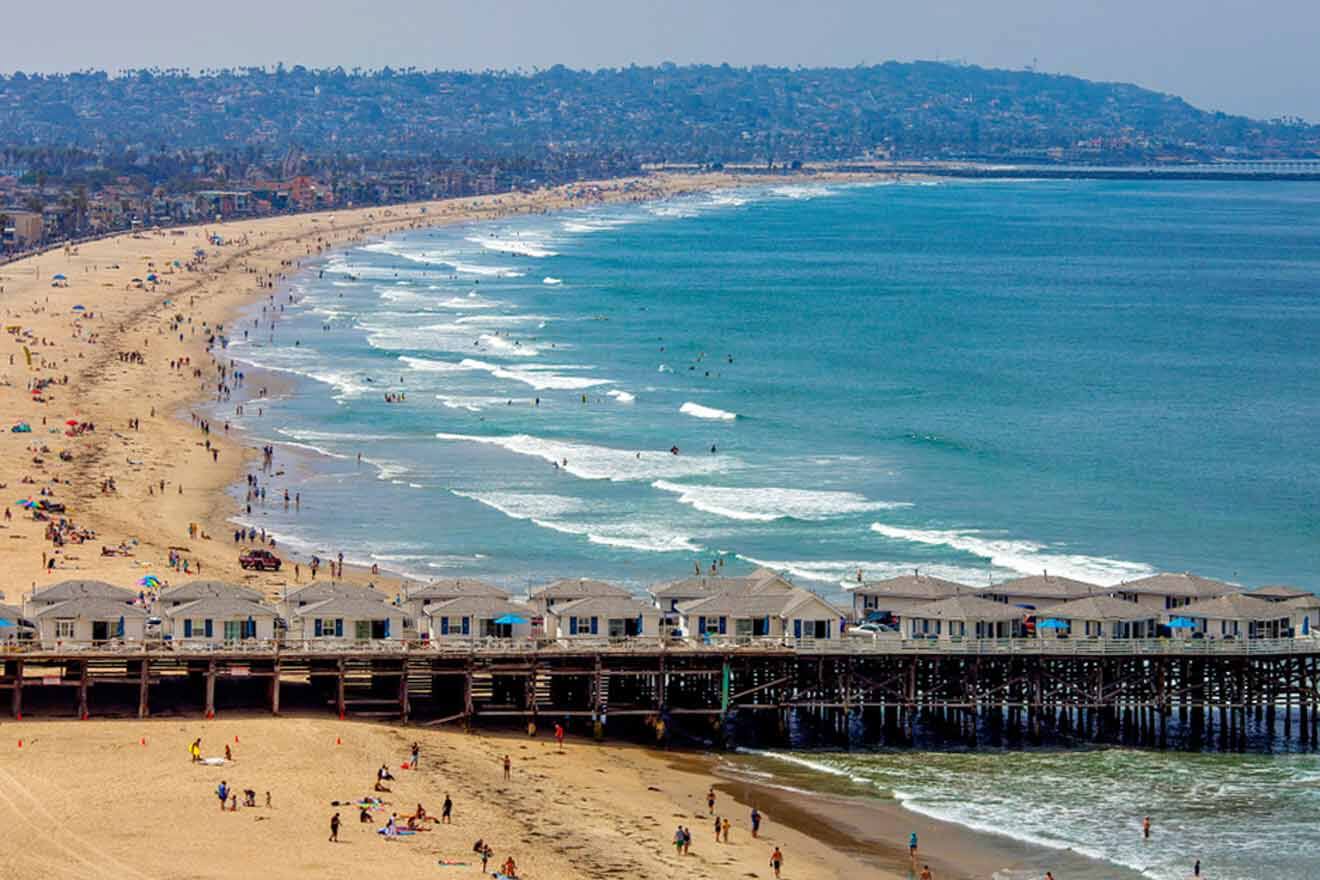 Pacific Beach (P.B.) is another laid-back beach town in San Diego that I absolutely love visiting! It is well-known for its bustling nightlife and bars surrounding the beach.
Check out PB Shore Club, located directly in front of the beach. They have an awesome rooftop bar overlooking the ocean, the boardwalk ahead, with live entertainment and a lively crowd. I like to come up here with friends and watch the sunset!
It gets super packed since it's a popular small bungalow, so walk in to put your name down and take a walk around the surrounding beach area to kill time.
TIP: Try the Michelada while you're here! Trying new Hispanic-inspired foods and drinks are all part of the San Diego experience. The Red Bull Vodka Slushy is one of the most popular drinks here, but it has a TON of sugar and caffeine, and on top of that – mixed with alcohol, so I usually like to stay away.
16. Admire dolphins up close at SeaWorld San Diego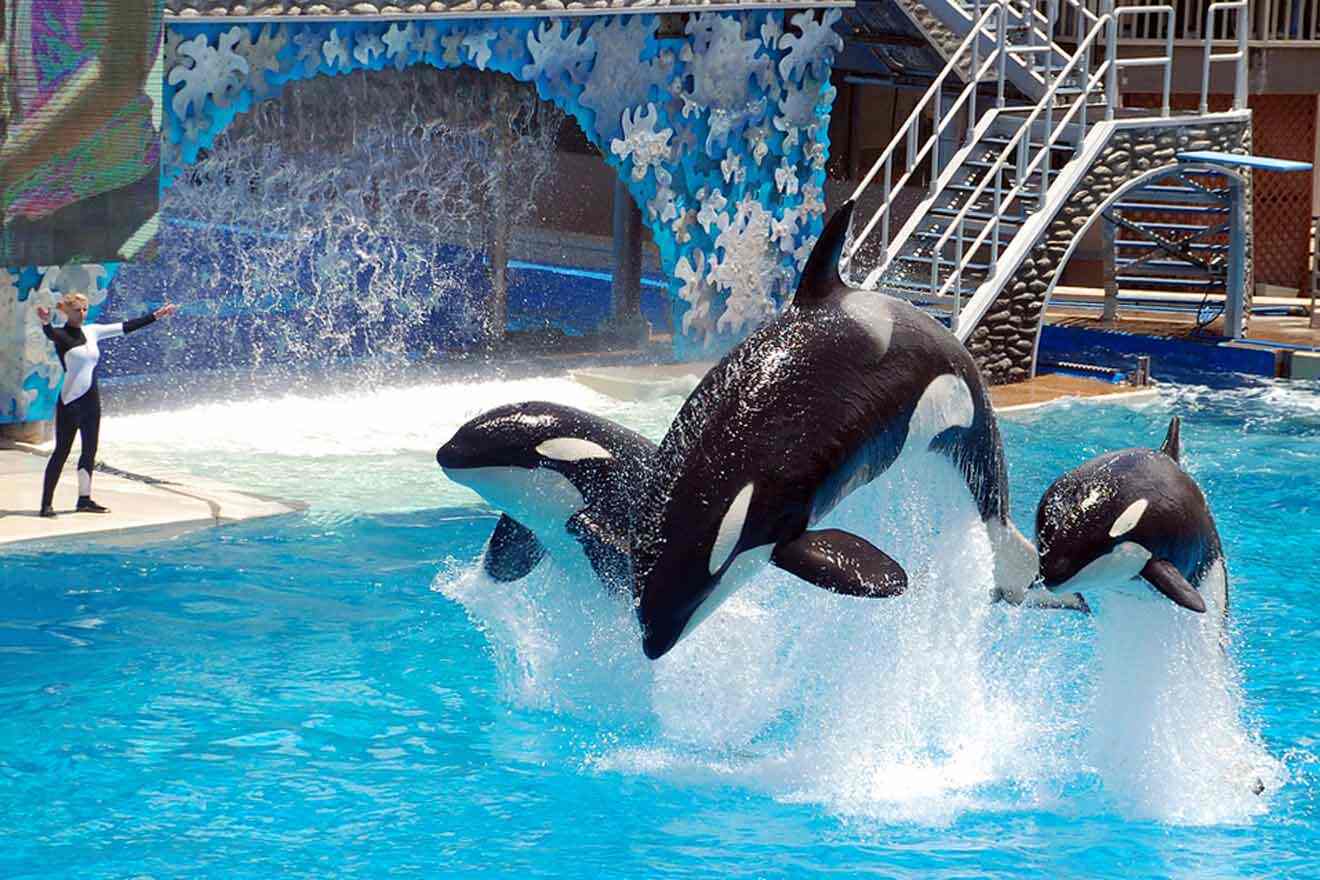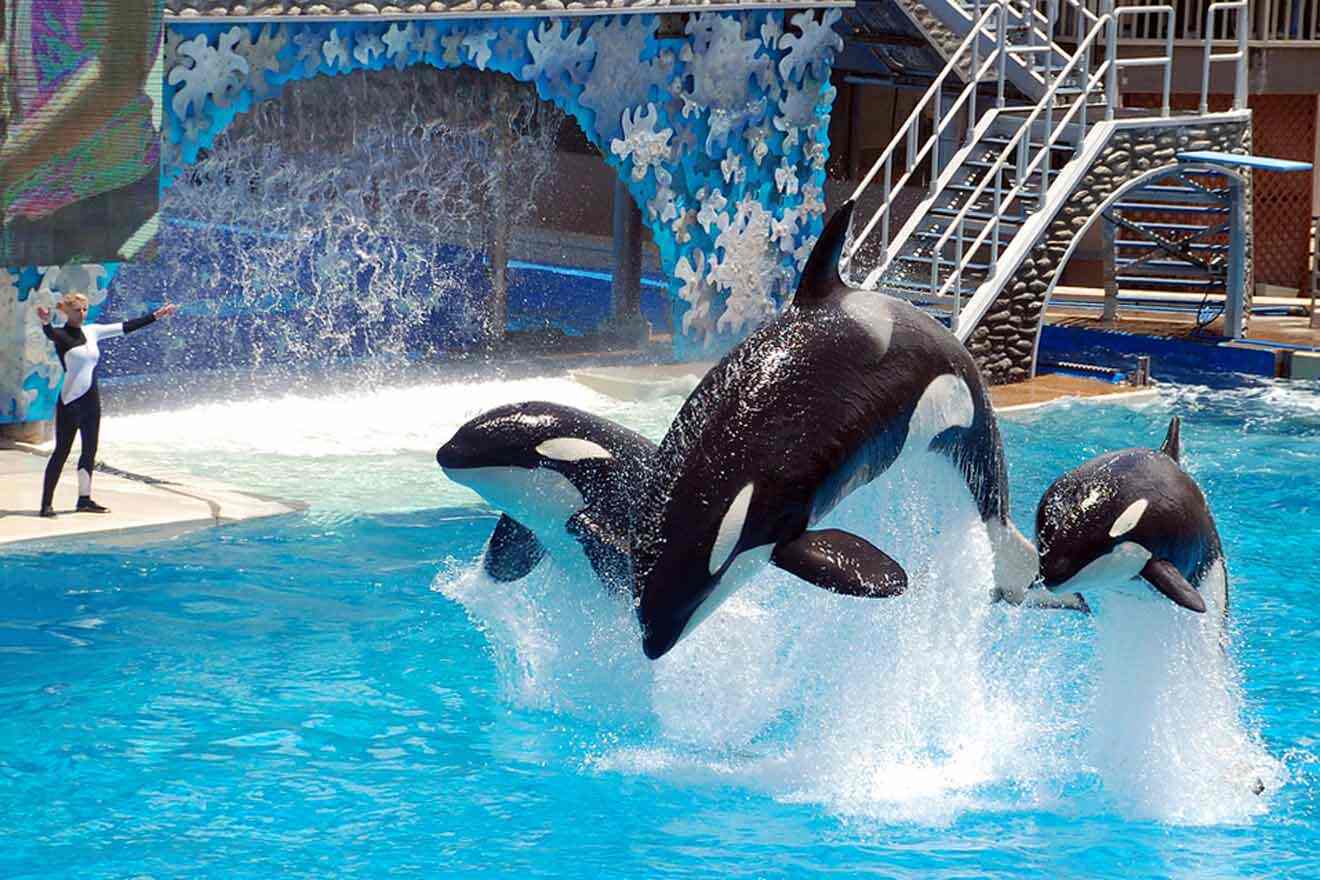 SeaWorld San Diego is another fun thing to do in San Diego with kids. Located near Mission Bay, this amusement park offers personal encounters with marine life, shows, exhibits, and more. I remember spending many summers here as a kid with my family's annual passes.
Single tickets are available, too, and you can buy them on the official website or via resellers.
As for shows, Dolphin Adventures is my favorite to watch! Friendly bottlenose dolphins put on a show and splash around with the SeaWorld professionals. It's so much fun for kids and families to watch, but be cautious of the splash zone in the front!
I suggest buying your tickets in advance, downloading the Mobile App for savings and park updates, starting your day earlier, and always going during the weekdays! The weekends get packed, and sometimes, the more packed it is, the less enjoyable the experience might be.
PRICE: from US$73 per person
17. Go on a boat cruise to Shelter Island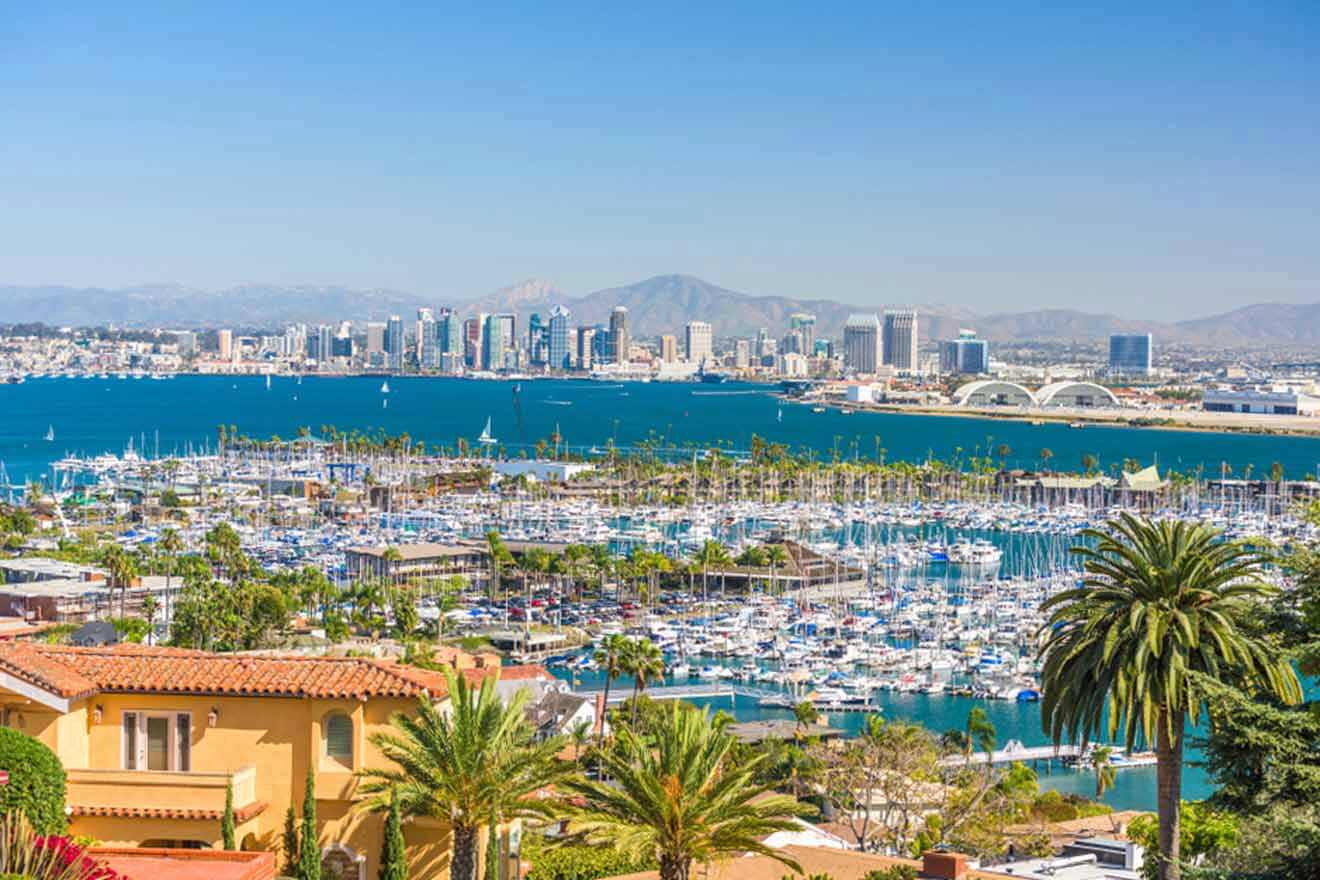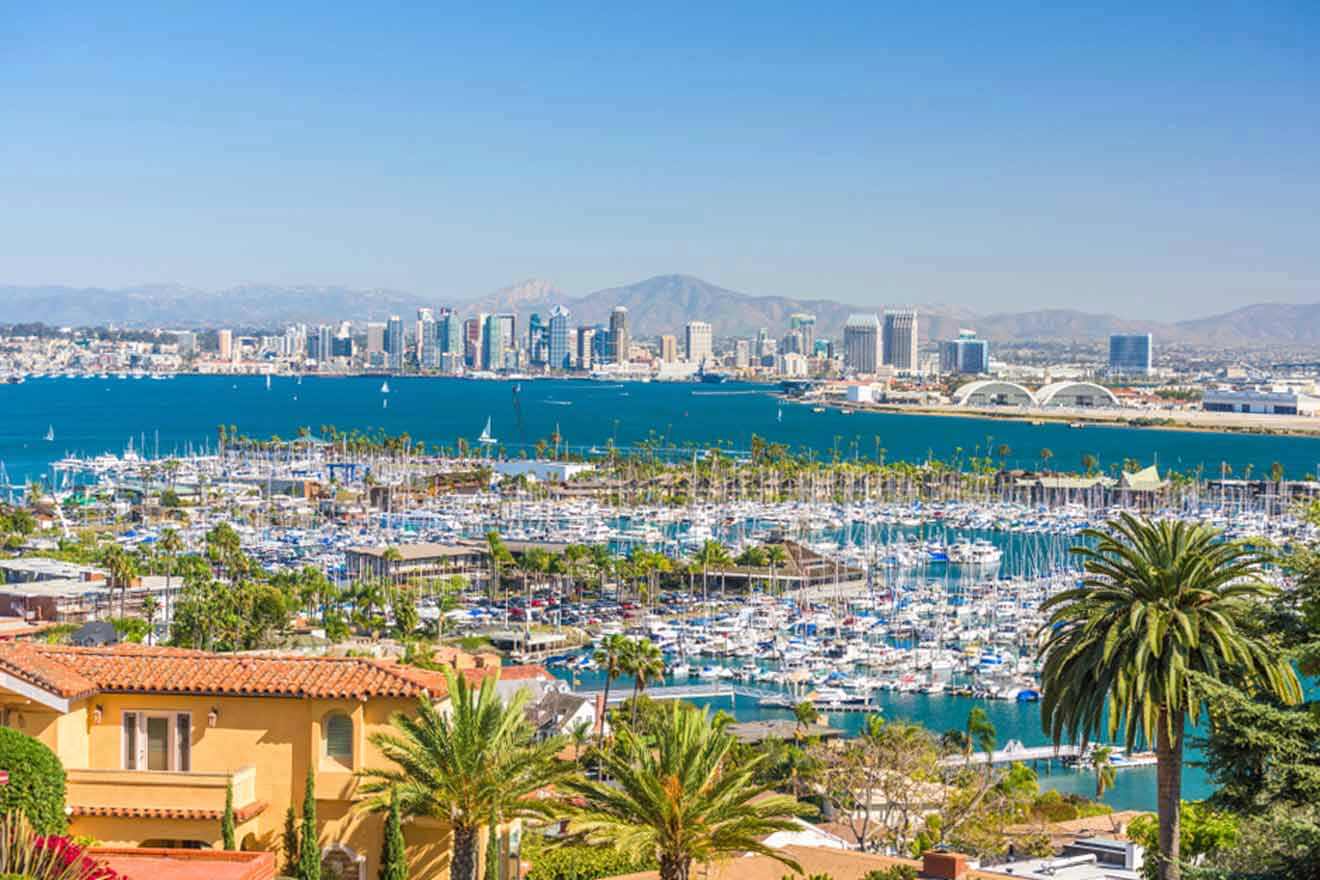 Shelter Island is a community in Point Loma where locals come to get away from the city! It's truly a hidden gem of a park that you have to see next time you visit San Diego.
A few things to do include watching concerts under the stars, taking a fishing trip on the San Diego Bay, relaxing by the water, having a picnic, biking, and so much more. Whether you want to unwind by the water, take a walk, or have an action-packed day, Shelter Island is the place to be.
If you'd rather be in the water sightseeing Shelter Island and other seaside San Diego communities, take a cruise along the San Diego Harbor for a 2-hour long experience. It's also SUPER affordable so totally worth the price!
PRICE: from US$40 per person
18. Hike up to Cowles Mountain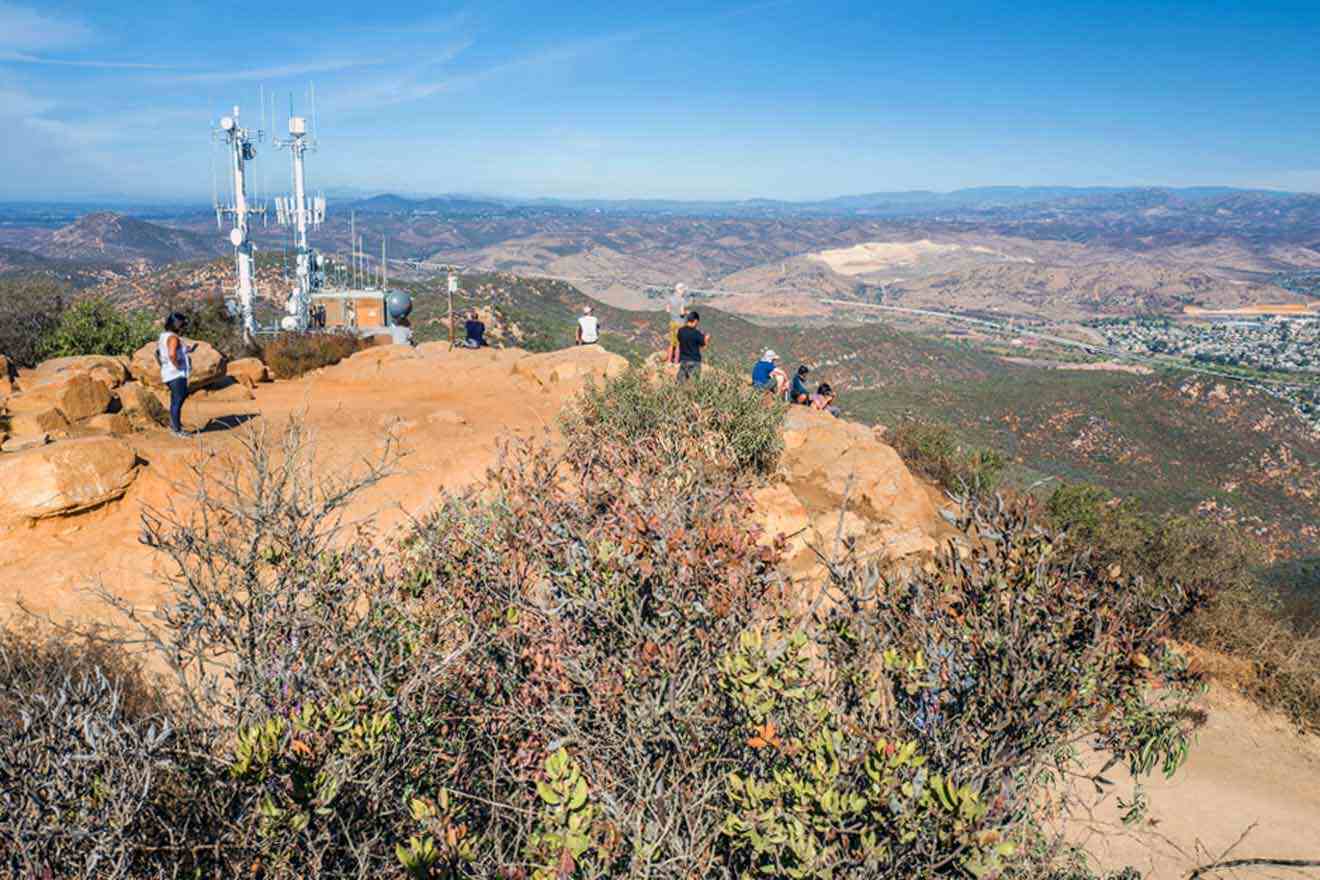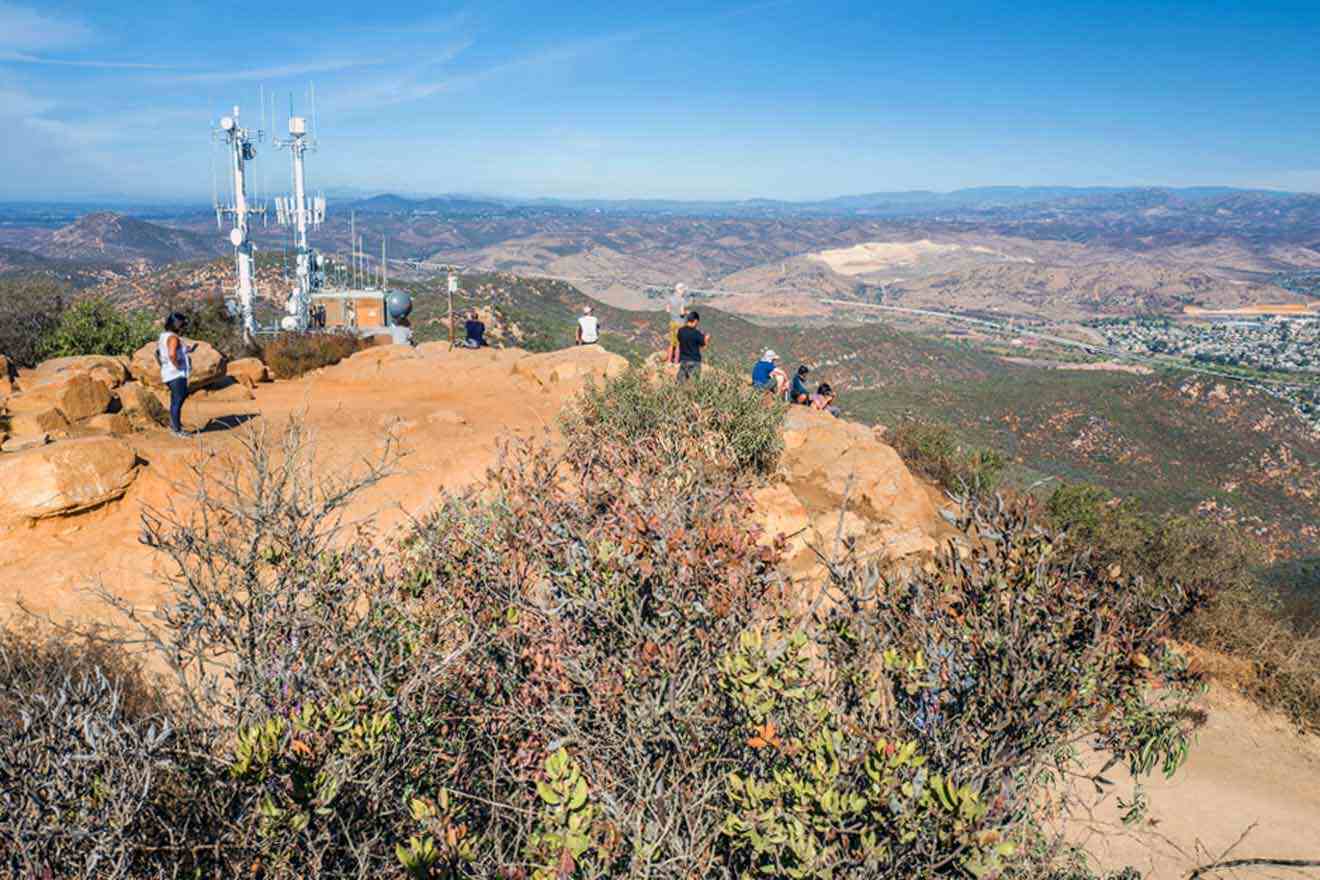 Cowles Mountain in Mission Trails Regional Park is a 3-mile (5 km) moderate hike up a steep mountain. As you make your way up the mountain, you get amazing views of the city, from the east and south San Diego region, El Cajon (the beginning of the trailhead) to Downtown San Diego, and even a peak of Mexico on a clear day.
The mountain is made up of rock, sand, and dirt on your way up, so be sure to wear shoes with a tight grip on the bottoms in order to avoid slipping and falling. It's not the easiest hike if you're a beginner because there's no shade, and it's pretty steep. I suggest listening to your body and taking as many breaks as you need on your way up!
Depending on how many breaks you take, it can take anywhere between 25 to 45 minutes to get to the top and 20 minutes coming down.
PRO TIP: I like to bring my headphones, baseball cap, water bottle (in my backpack), and sunglasses anytime I'm here. I suggest doing the same to get in the zone and prevent heat exhaustion.
19. Take an electric bike tour from Solana Beach to Encinitas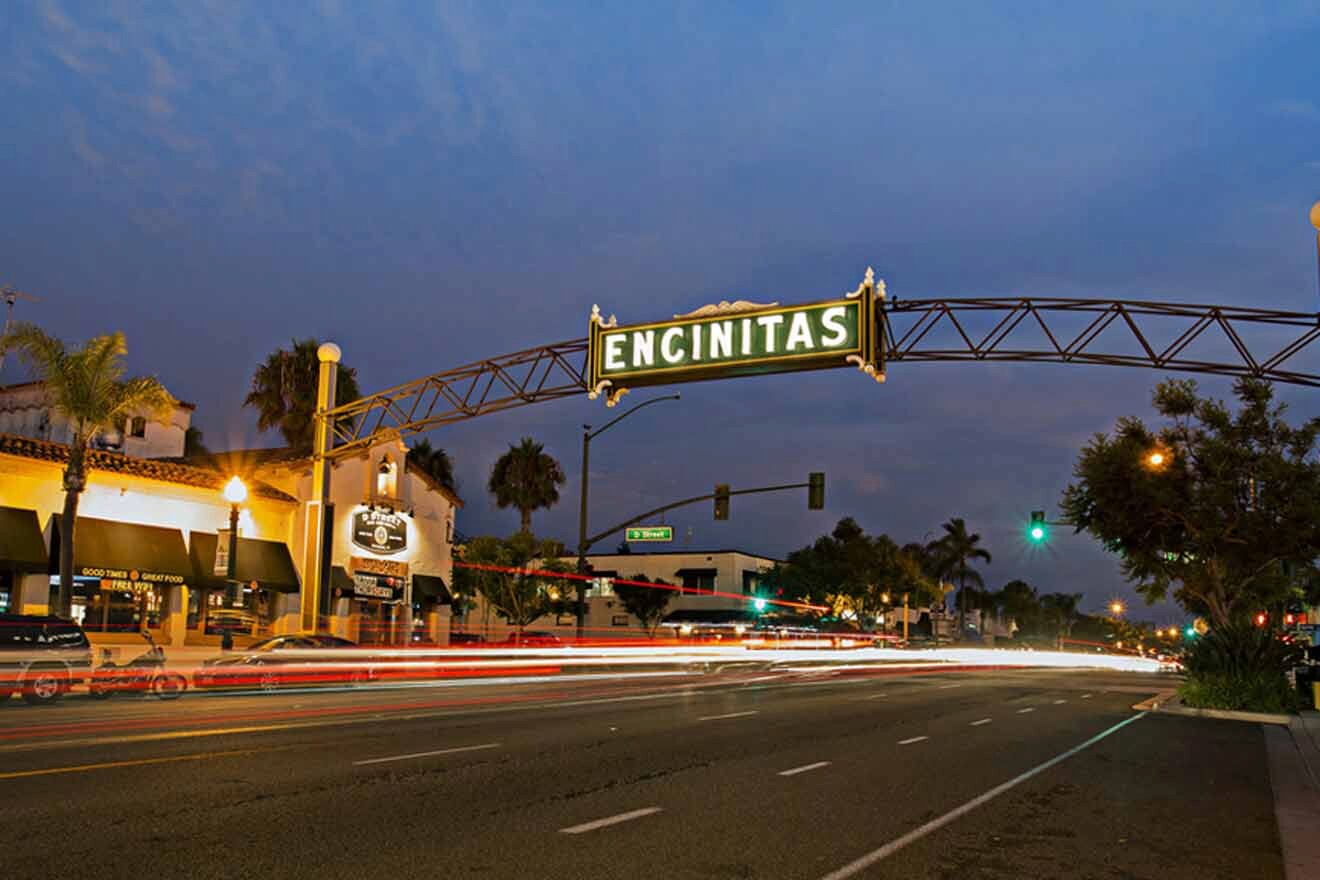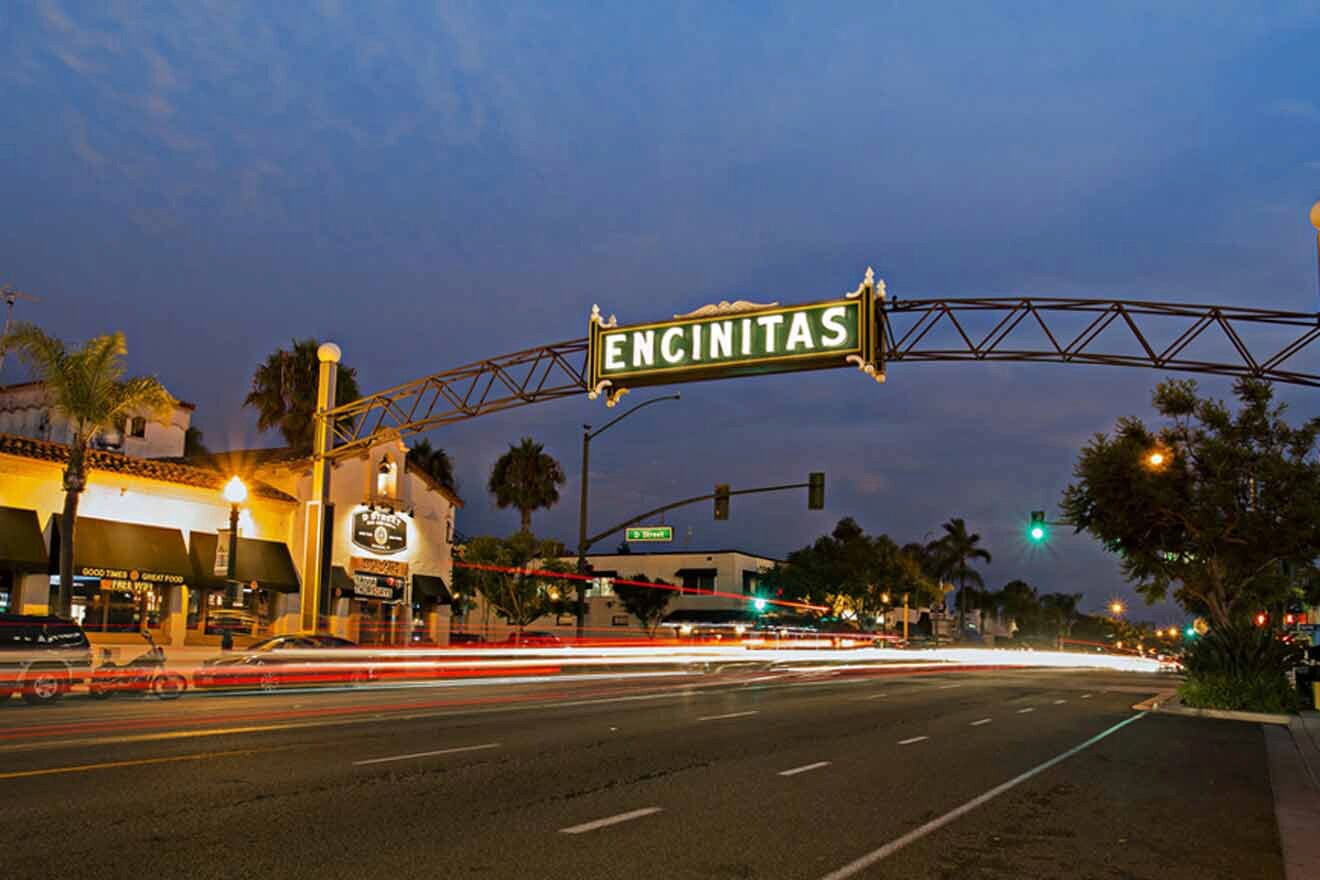 Solana Beach is located 22 miles (35 km) north of Downtown San Diego. It's a beach town with some of the most picturesque San Diego beaches.
What I love the most about Solana Beach is how low-key it is and not as popular among tourists. You'll find more locals walking their dogs and living their everyday life than tourists wandering around. You really get a peek into the life of a local in San Diego!
Explore Solana Beach and head up towards the other nearby beach town of Encinitas on a guided e-bike tour! You'll get a chance to explore other seaside communities like Del Mar and Cardiff-by-the-Sea on the way to get a personalized experience with a local guide.
PRICE: from US$95 per person
20. Watch a movie at Rooftop Cinema Club
The Rooftop Cinema Club Embarcadero at the Manchester Grand Hyatt is a hidden gem for the ultimate first date, casual movie day with the girls, or even to bring the entire family along for a fun movie night.
This outdoor movie theater overlooking the entire city is arguably the best place to catch a movie in all of San Diego.
The Rooftop Cinema Club is a San Diego experience that offers way more than your average theater. They feature throwback movies and specific theme nights like Y2K Tuesdays, "Summerween," and Villain Night in the summer months and even offer closed-caption movies for hard-of-hearing guests.
They give everyone headphones (so no worries about your neighbors talking through the film), and there's a snack bar offering all your favorite beverages and candy to munch on during the movie.
PRO TIP: Bring a blanket or thick sweater! It gets quite cold up on the roof at night (especially during the fall and winter months). They do offer blanket rentals, but that extra fee can be avoided if you come prepared.
21. Go shopping, ice skating, and dine in La Jolla's UTC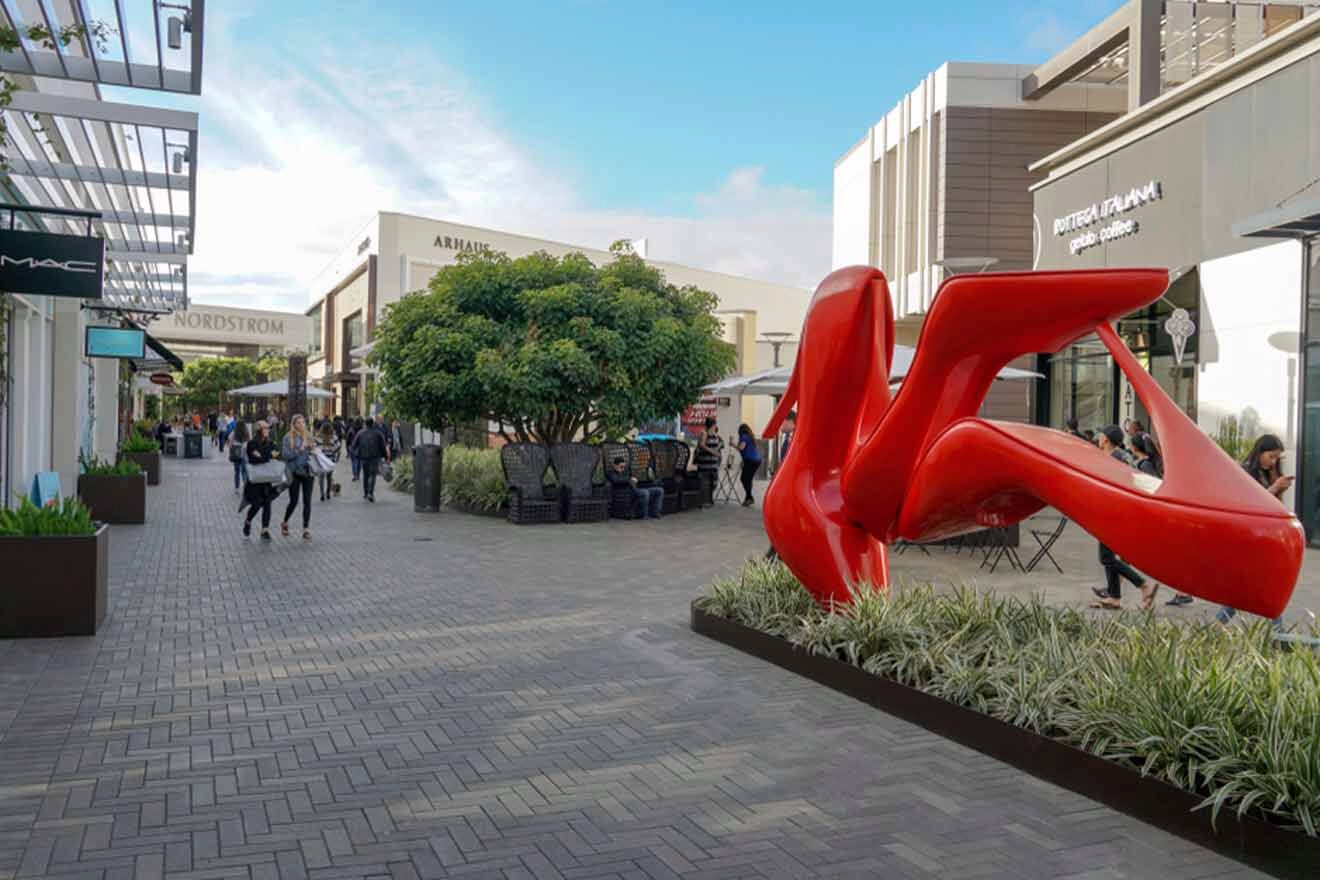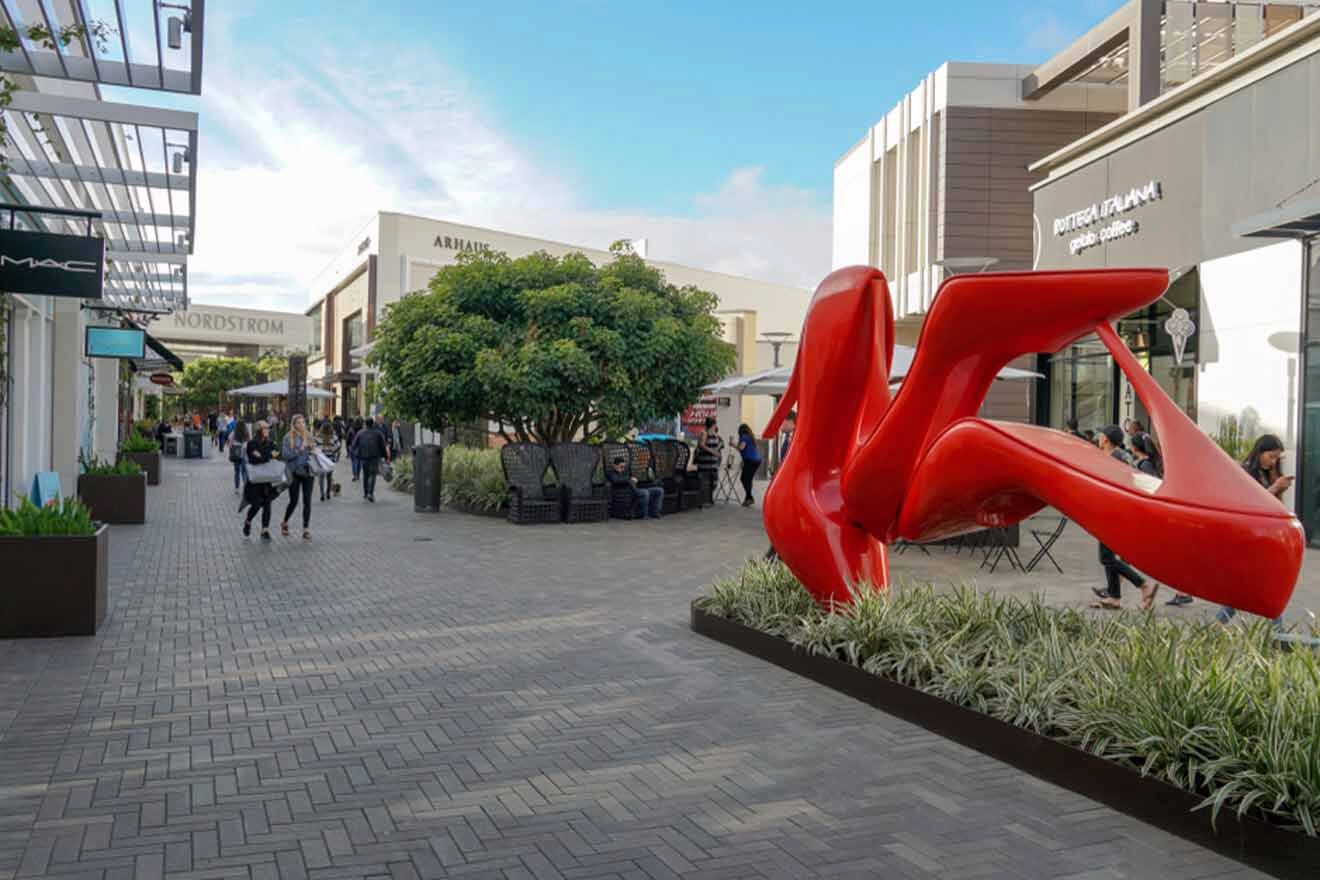 UTC is an outdoor shopping center in La Jolla that is known for its beautiful outdoor seating areas, upscale shopping stores, amazing restaurants, and entertainment with a movie theater and ice skating rink open to the public!
I absolutely love going to UTC anytime I'm in the La Jolla area. Regardless of what you're in the mood for, there's something for everyone.
Here are a few awesome spots to hit up next time you're in UTC:
UTC Ice Sports Center – This indoor ice skating rink is open to the public for visitors like you to enjoy! Unlike many other popular ice skating spots in SD, this one is open year-round. Admission with the skate rental is US$25 per person. Check their schedule and buy tickets here!
Din Tai Fung – My absolute favorite Thawainese food in all of San Diego. Seriously AMAZING and most popularly known for their soup dumplings. Get the Chocolate & Mochi Xiao Long Bao for dessert!!
Raised by Wolves – This is a moody speakeasy that will make you feel like you've been transported into The Great Gatsby. They're always packed so book ahead online!
22. Have a picnic at Kate Sessions Park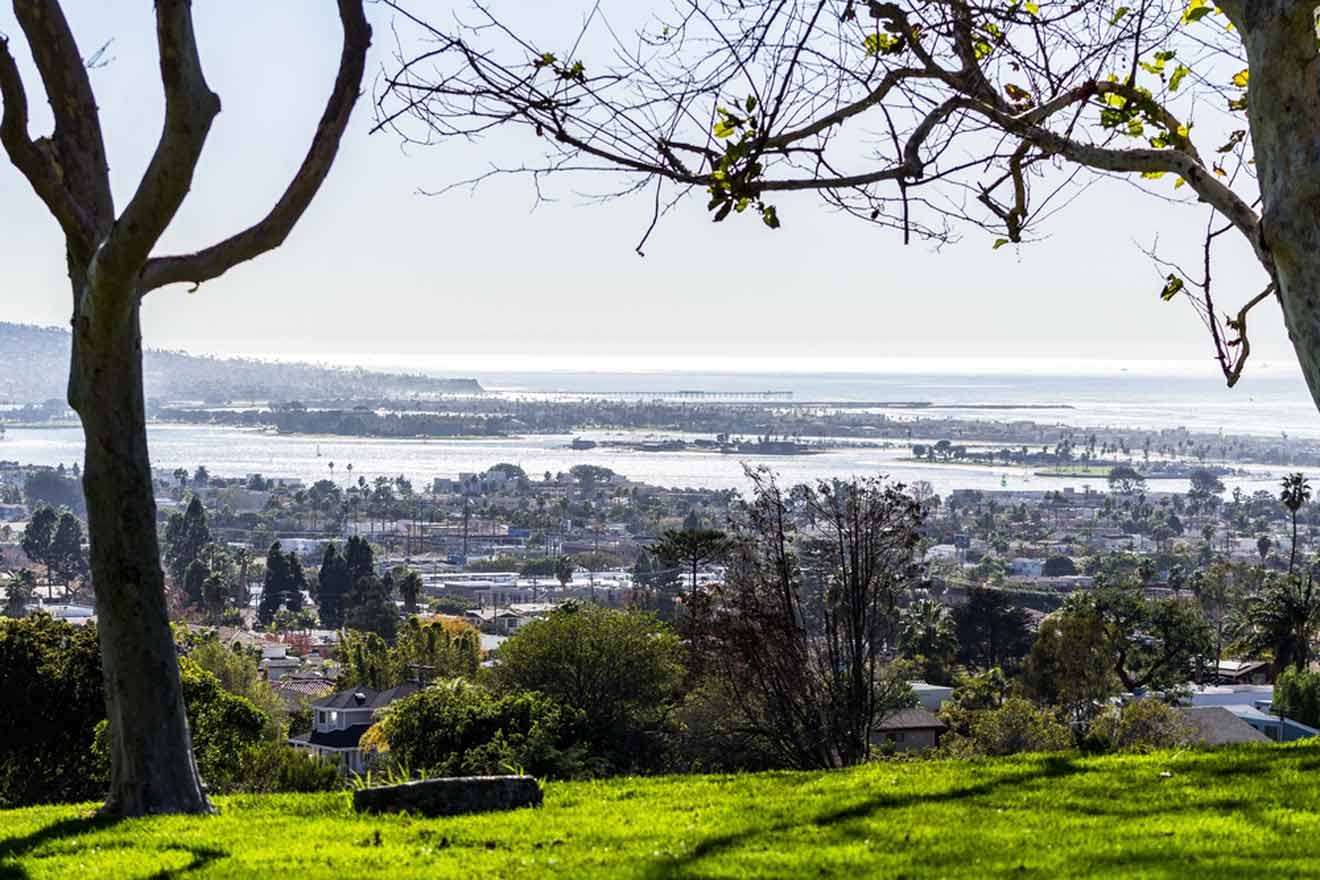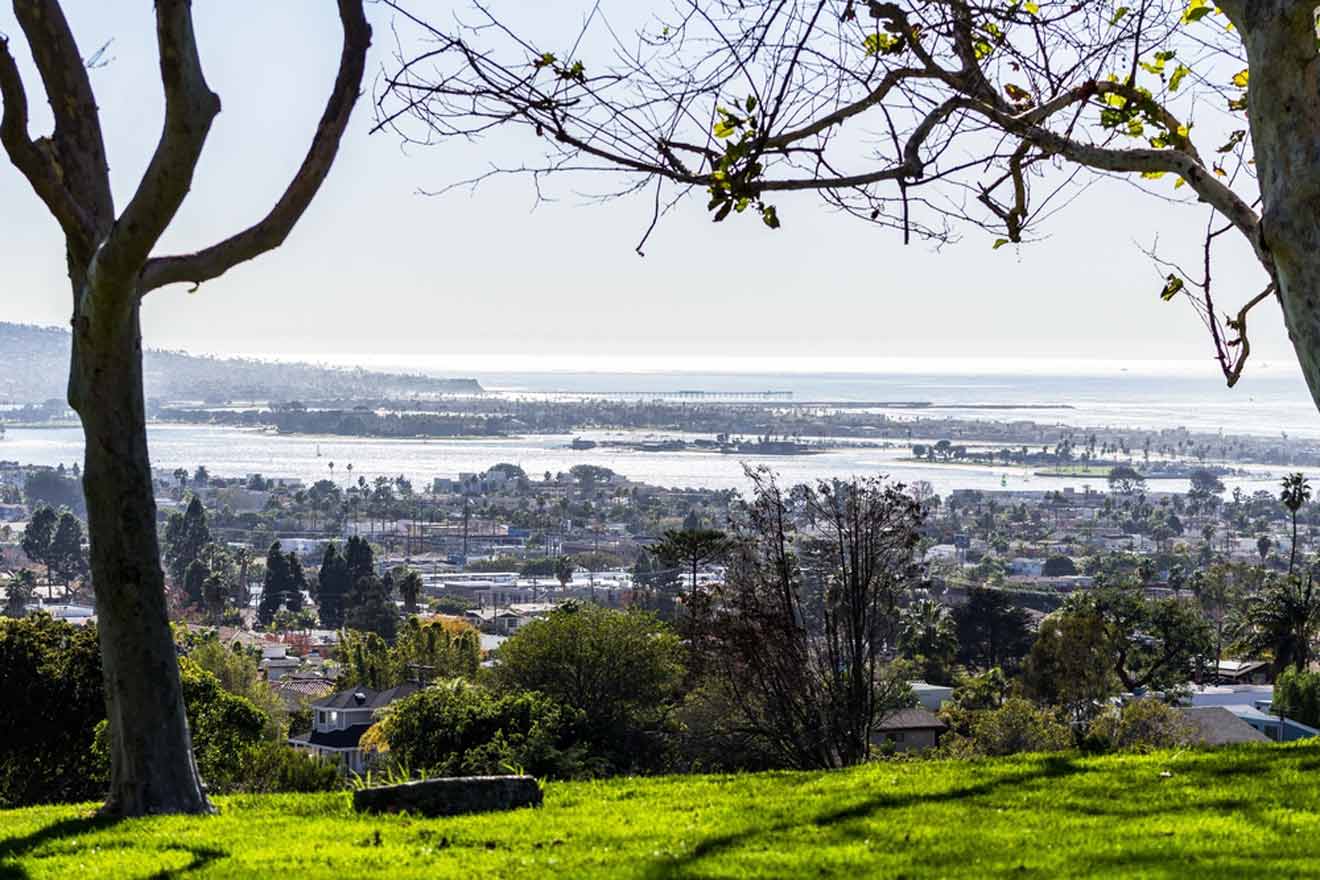 Kate Sessions Park is my absolute favorite park in San Diego! This park is filled with locals and visitors from around the world enjoying the beautiful San Diego skyline and hillside views, perfect weather, and a grassy field near Mount Soledad.
My favorite thing to do here is to unwind with friends (who always bring their guitar), along with a blanket, snacks, and beverages. It's the perfect weather during the spring, summer, and fall, so wear comfortable clothing for a warm, sunny day. And don't forget your sunglasses and sunscreen!
To avoid the heat (and the best experience, in my opinion), come during the golden hour and catch the sunset!
FAQs about things to do in San Diego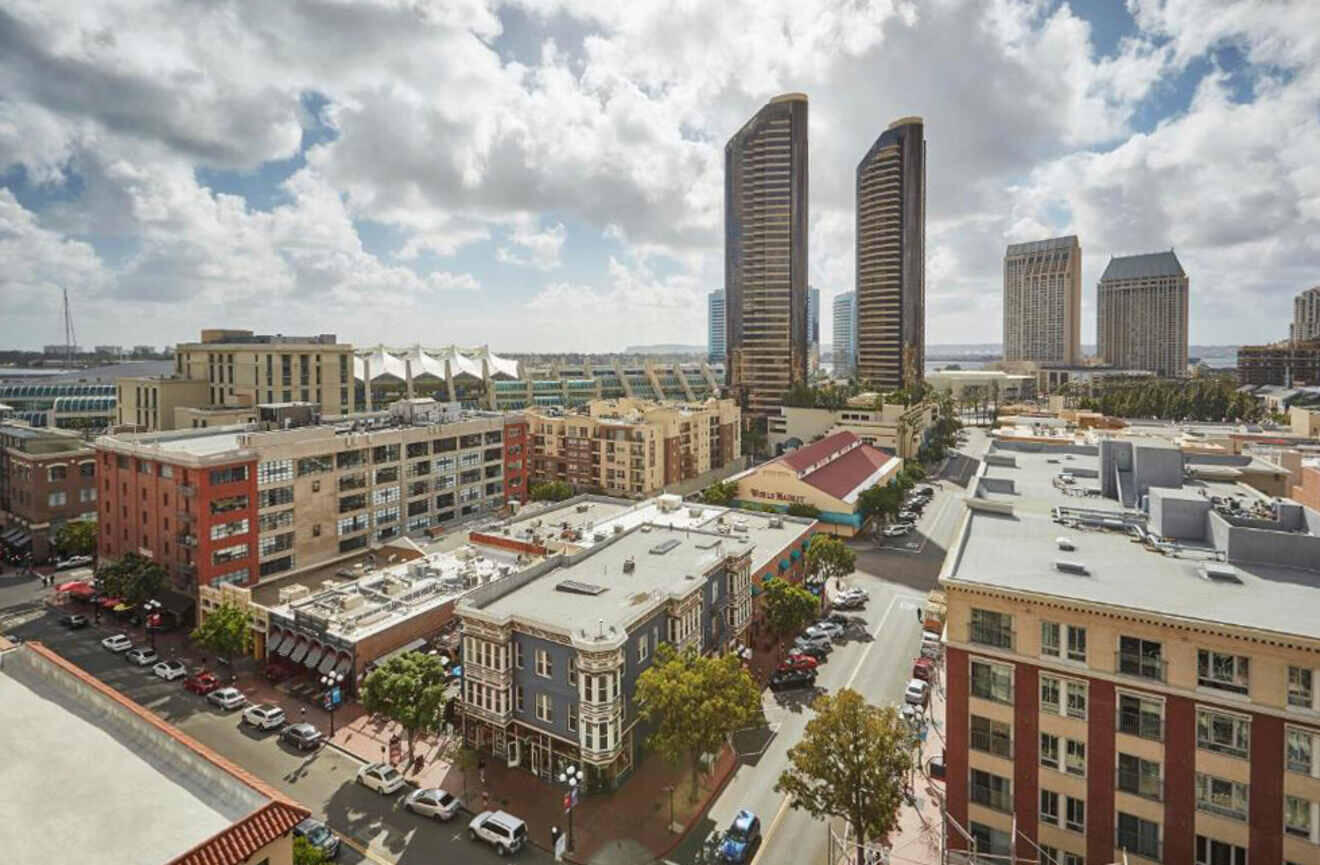 ☀️ What is San Diego famous for?
Sunny San Diego is most famous for its perfect weather, world-class amusement parks and attractions, and family-friendly activities.
🌇 What are the best things to do in San Diego?
⏰ How do you spend one day in San Diego?
You can spend one day in San Diego lying on world-class beaches, exploring gems like Balboa Park and Old Town San Diego, and ending the day with a drink at the Gaslamp District. If you don't know where to start, I suggest booking this Balboa Park Hidden Gems tour. 
👨‍👩‍👧 What are the best things to do in San Diego for kids?
The best things to do in San Diego for kids are to visit Belmont Park, San Diego Zoo, and SeaWorld San Diego.
Conclusion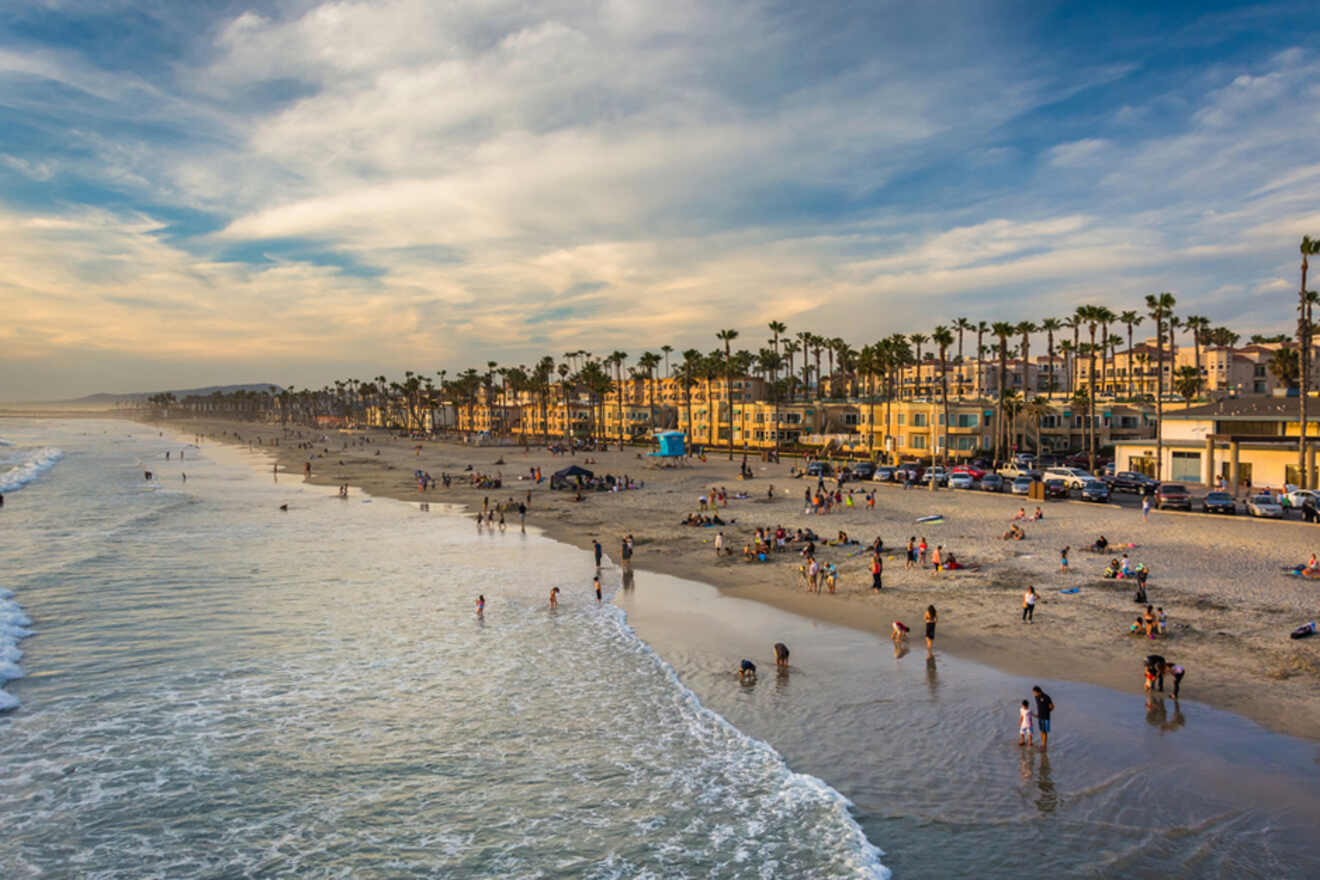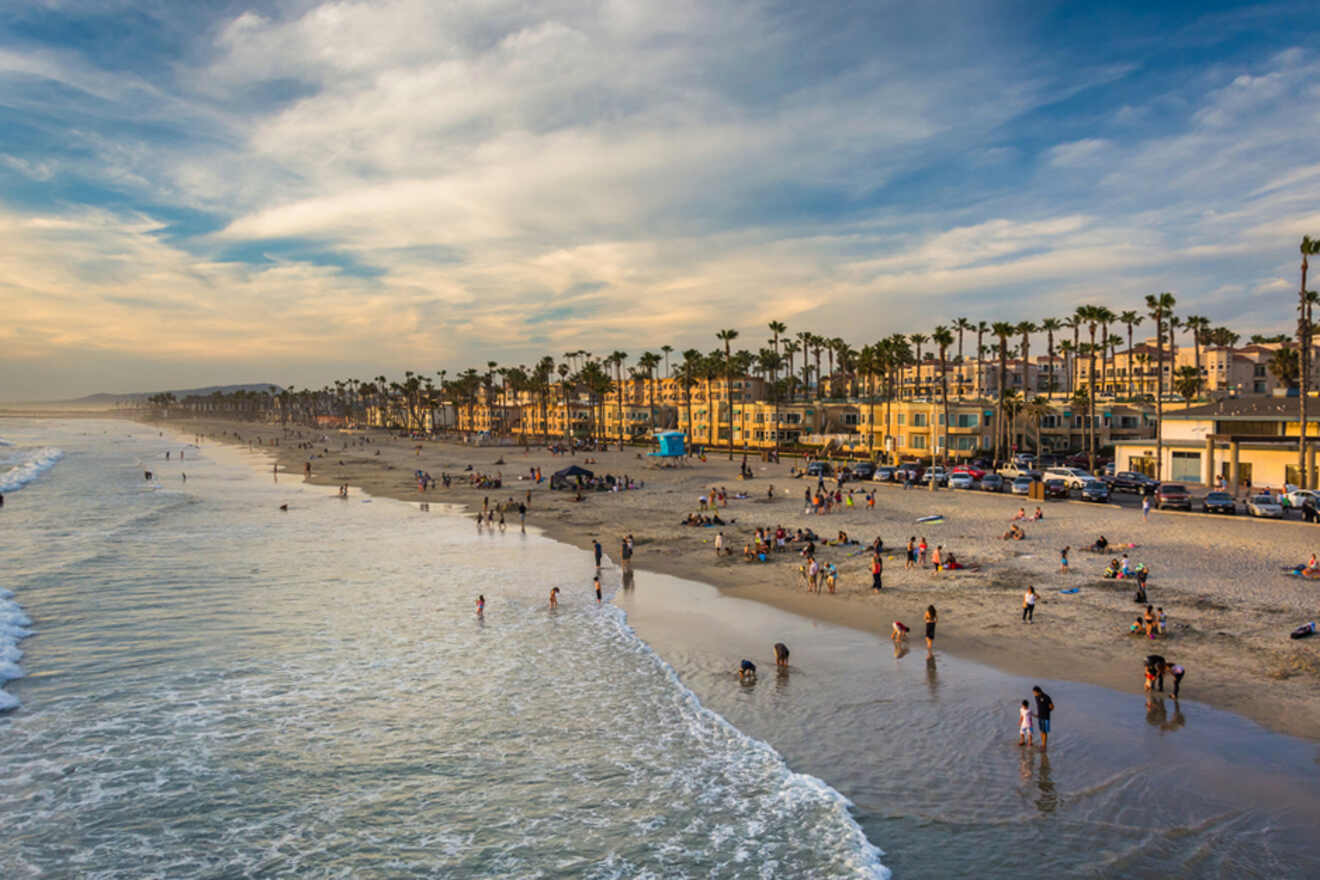 Well, there you have it! This post could go on and on if I wanted to list every single one of San Diego's landmarks, destinations, and must-visit attractions, but I had to narrow it down to the creme de la creme things to do in San Diego for you guys because we'd probably be here all day otherwise!
My favorites from this list are the following:
Belmont Park: I've spent countless hours playing around this theme park growing up – it's one of my favorites because it holds a special place in my heart and created great memories that I cherish! Don't wait and buy your tickets in advance.
Hotel Del Coronado: There are countless activities in Hotel Del Coronado, the stunning white-sand beach right next to it, and cute little boutiques everywhere you walk. It feels different from the rest of San Diego!
If you plan on visiting San Diego anytime soon, remember to book your tickets, hotels, and tours months ahead of time! The finest city in America is a major tourist destination (as you can imagine), so waiting until the last minute will only cost you $!
What are you most excited to do in San Diego?! Leave me a comment and let me know! In the meantime, safe travels! ✈️
Xoxo,
Esabel S.
---
Pin it for later!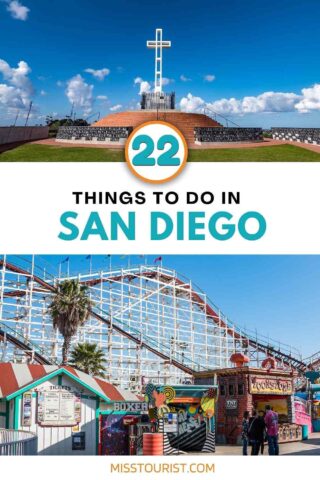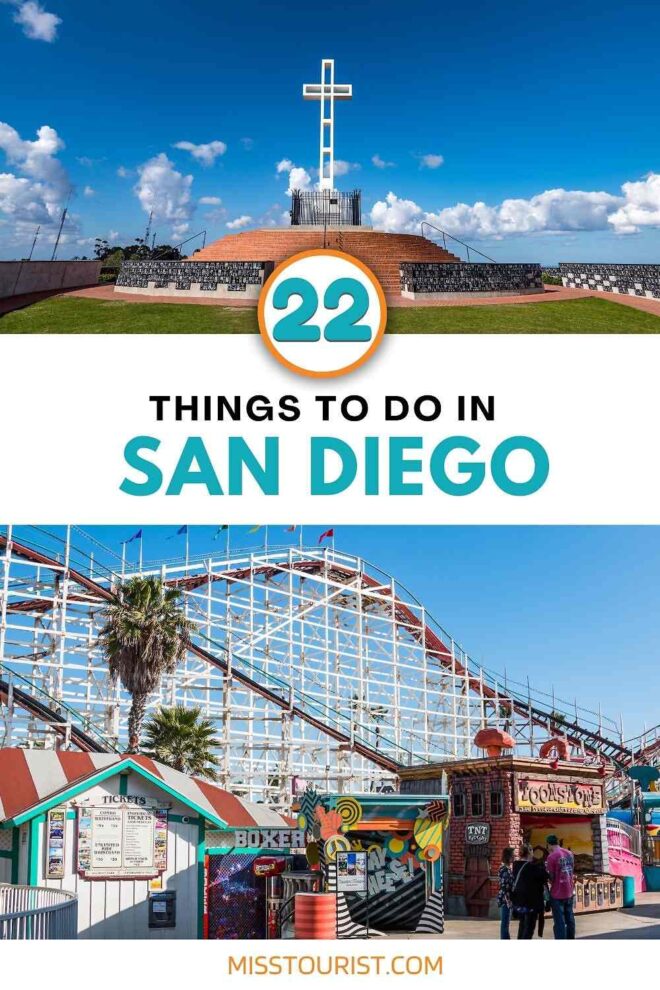 Pin it for later!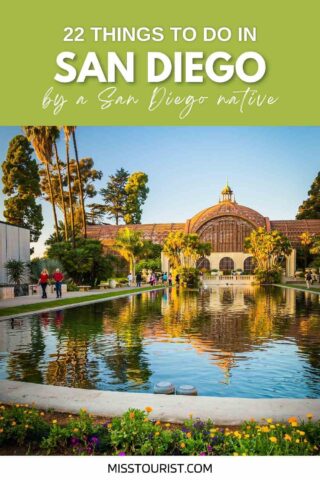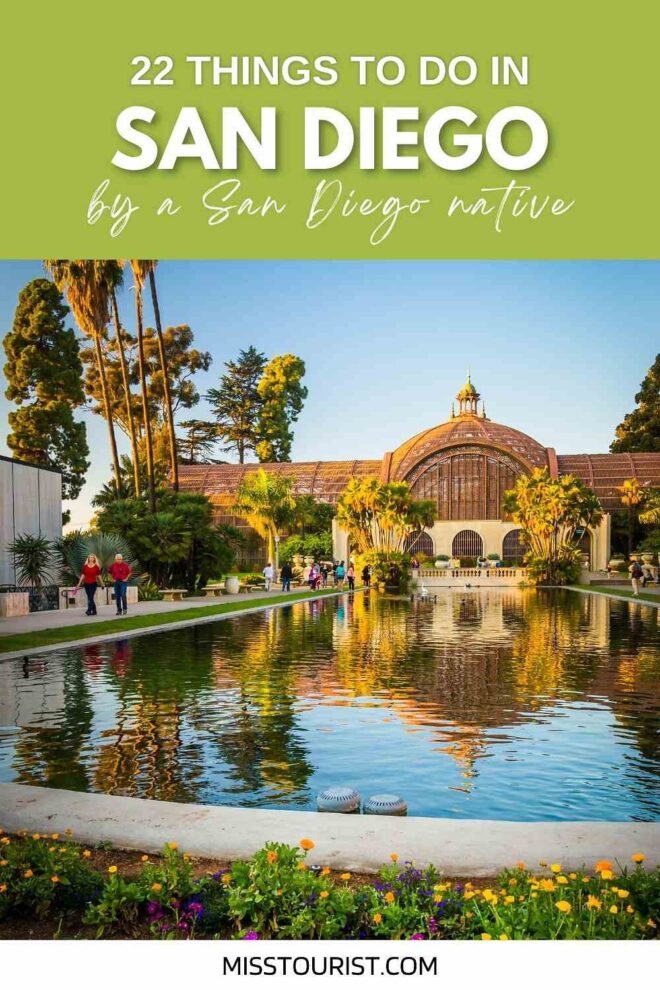 Products You May Like