26 Exciting Things to Do in Oakland: Your Local's Guide!
All too often, people confuse the great East Bay city of Oakland with its big sister, San Francisco, across the water. The thing is, Oakland – with incredible history, museums, and attractions is a worthwhile Bay Area destination all on its own.
This Northern California city is regularly referred to as "the town" by locals. If you're gearing up to explore the Bay Area, it is definitely worth adding Oakland to your list. There are so many exciting things to do in Oakland, you'll be able to pack your days and nights full of awesome activities.
So, let's head out on our exploration of Oakland! Oh, one thing before we leave, be sure to take care of your tour reservations and hotel accommodations by booking in advance!
I definitely don't want you missing out on saving $ or visiting popular attractions, so plan ahead and hit the ground running when you land in Oakland!
If you are in a hurry
When you get to Oakland, CA, you'll want to drop your bags and head out to explore, not do a bunch of planning. Trust me, book your hotels and activities in advance:
And here are the best hotels: Kissel Uptown Oakland (luxury), SpringHill Suites by Marriott Oakland (mid-range), AC Hotel by Marriott Oakland Downtown (budget)
1. Spend the evening in Jack London Square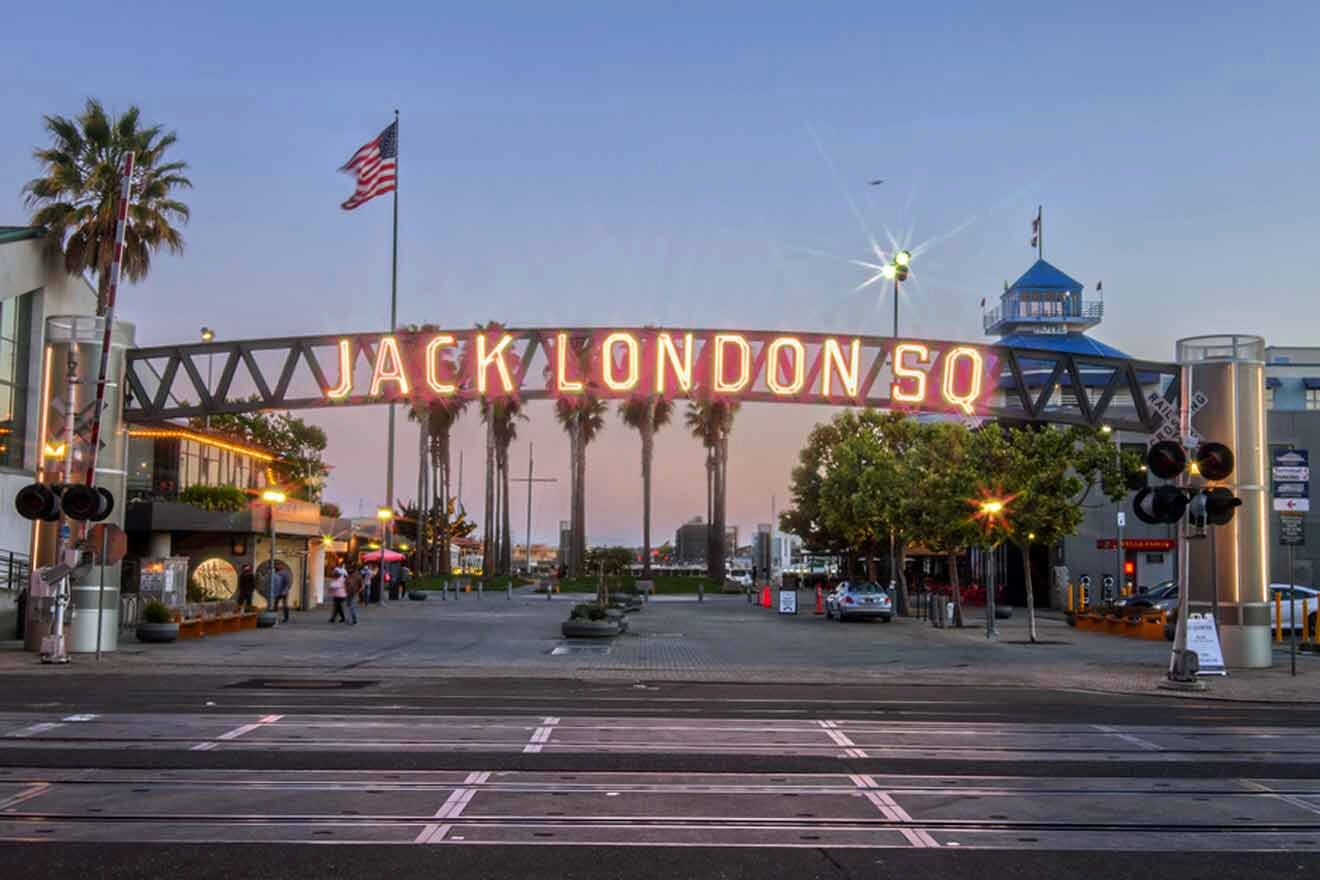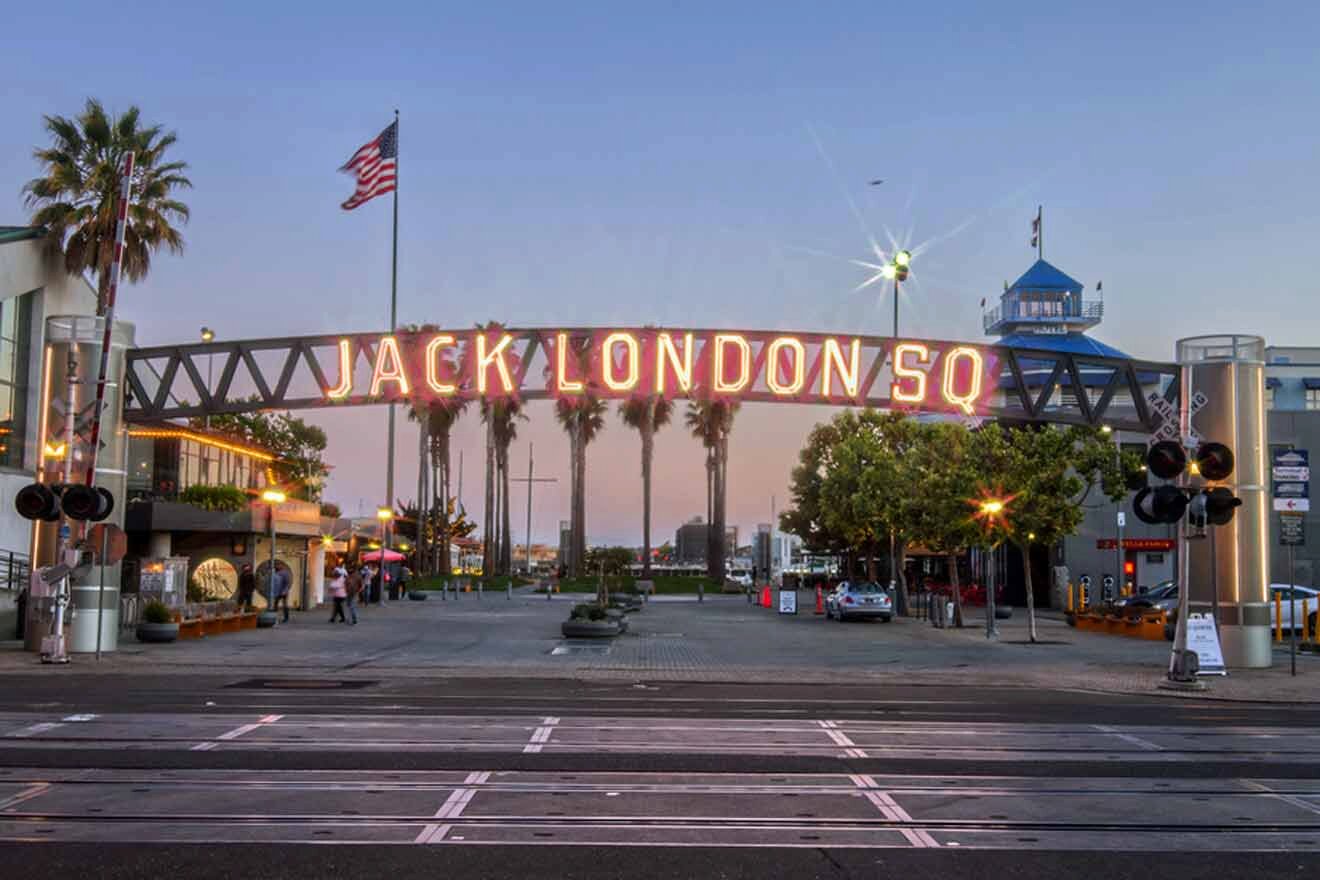 The place to be in the town, Jack London Square, is full of awesome things to do in Oakland.
Originally named after author Jack London, who penned greats like Call of the Wild, Jack London Square is filled with shops, dining options, waterfront views, and ops for people-watching.
The whole area exudes the ambiance of marine life. Boats line the waterfront of the estuary it sits on, with a beautiful walking trail to enjoy.
Don't miss the replica of one of London's log cabins he used to work from, displayed proudly in the center of the square.
PRO TIP: Can't get enough of being near the waterfront? Try this Bridge to Bridge Cruise that gets you a 1.5-hour boat ride under the Oakland Bridge and Golden Gate Bridge.
2. Enjoy the incredible wildlife at the Oakland Zoo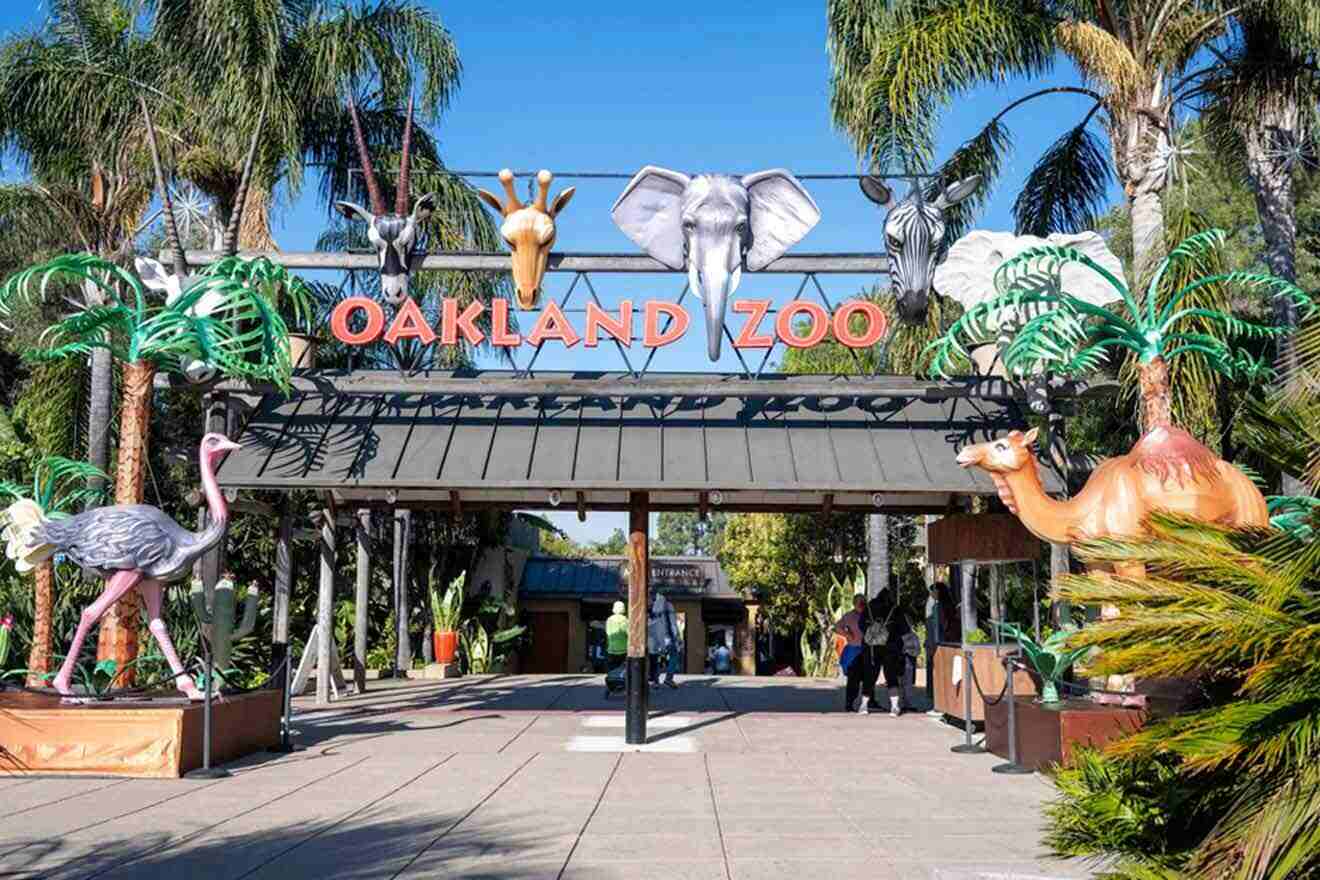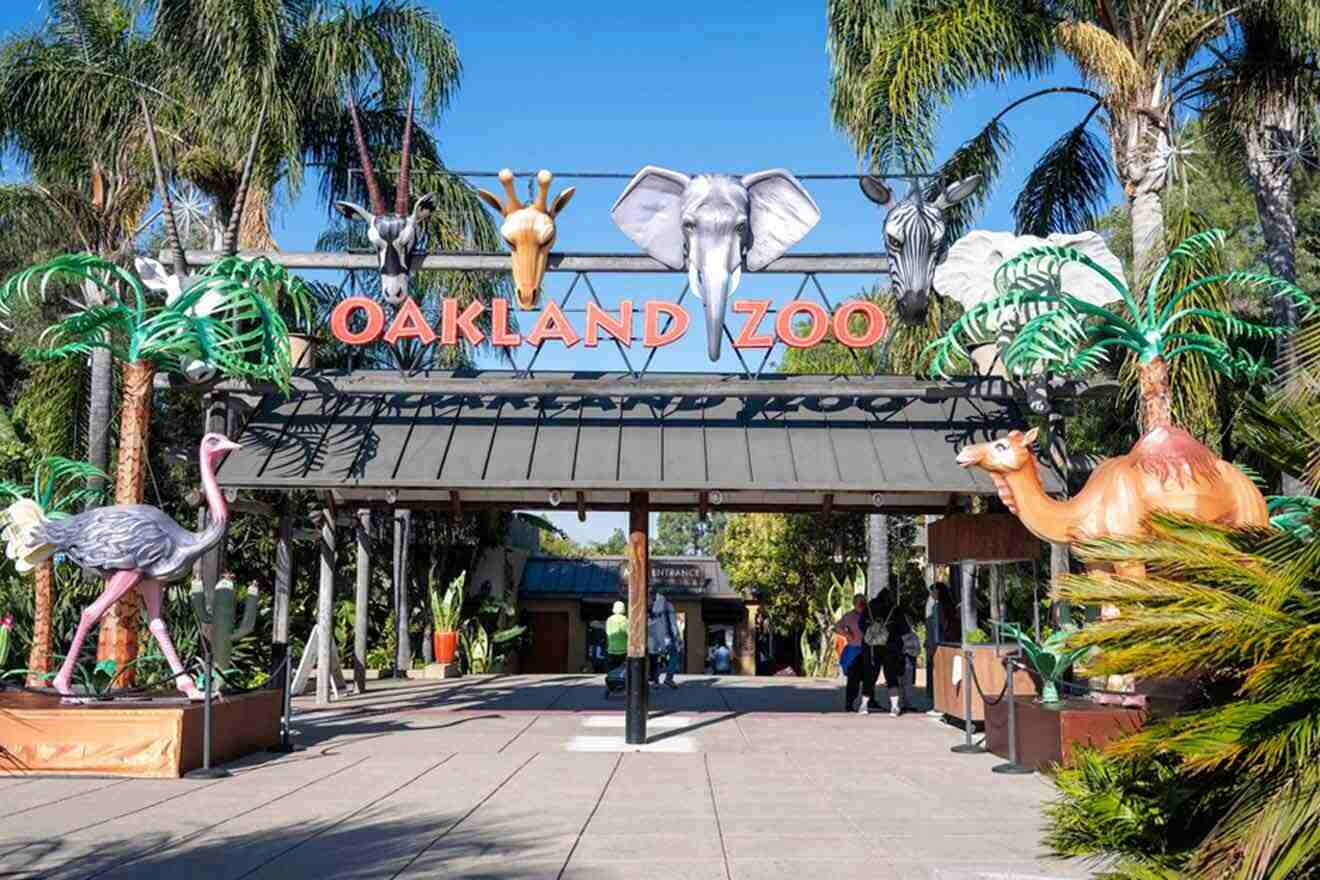 You won't believe how beautiful and gigantic this 100-acre (40 hectares) Bay Area wildlife park is, with so much to see and do!
The Oakland Zoo is conveniently divided up into continents, so you can enjoy seeing the animals in spaces and areas most specific to their natural habitats.
I think the most special thing about the zoo is the area specifically designated for children, the Wayne and Gladys Children's Zoo, which allows kids to get up close and personal with the animals, from petting zoos to educational presentations.
PRO TIP: Planning a trip during summertime? Receive 50% off your ticket price for afternoon entry.
PRICE: US$24 for adults, US$20 for children, US$10 for parking; Reservations required.
3. Stare at the stars at the Chabot Space & Science Center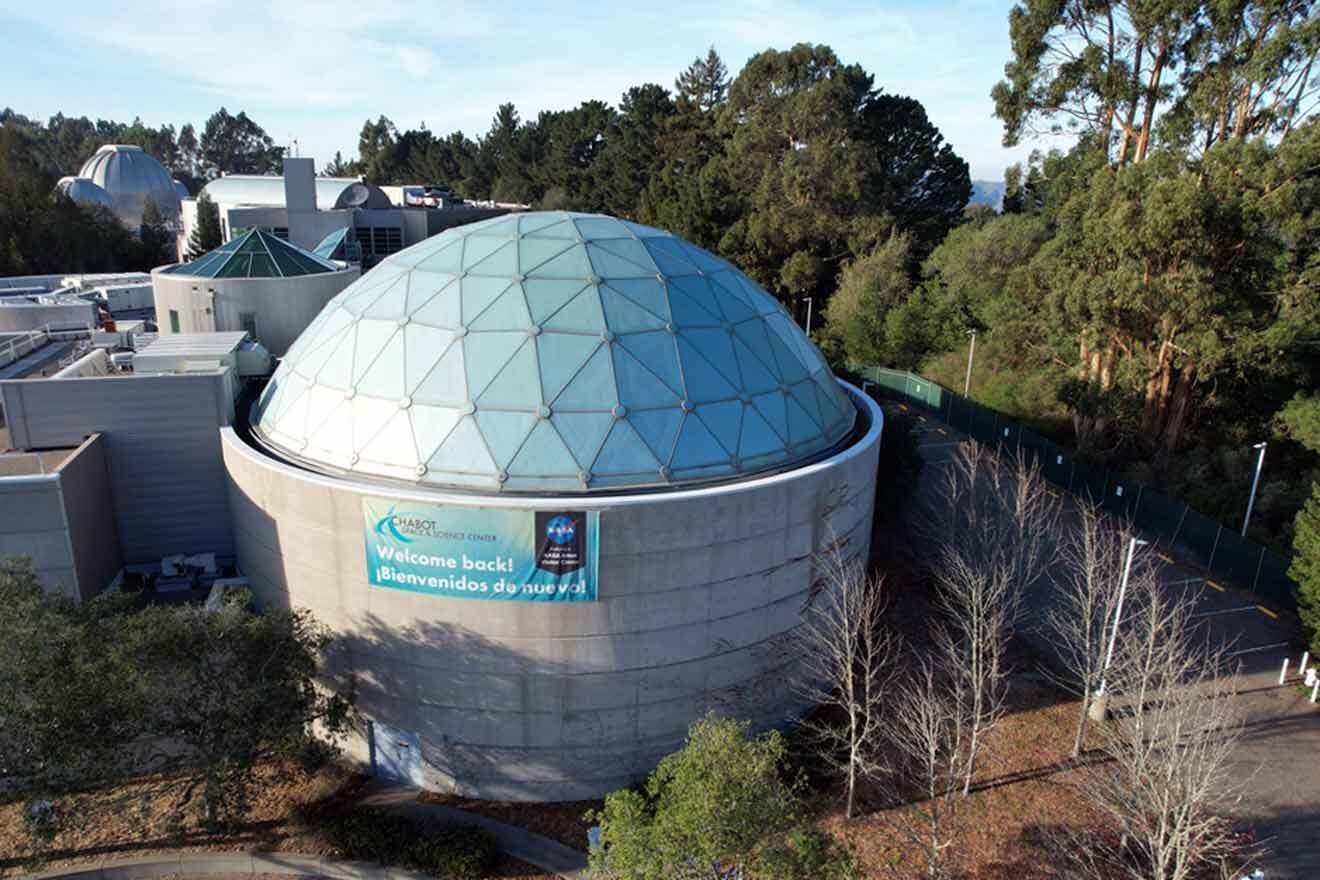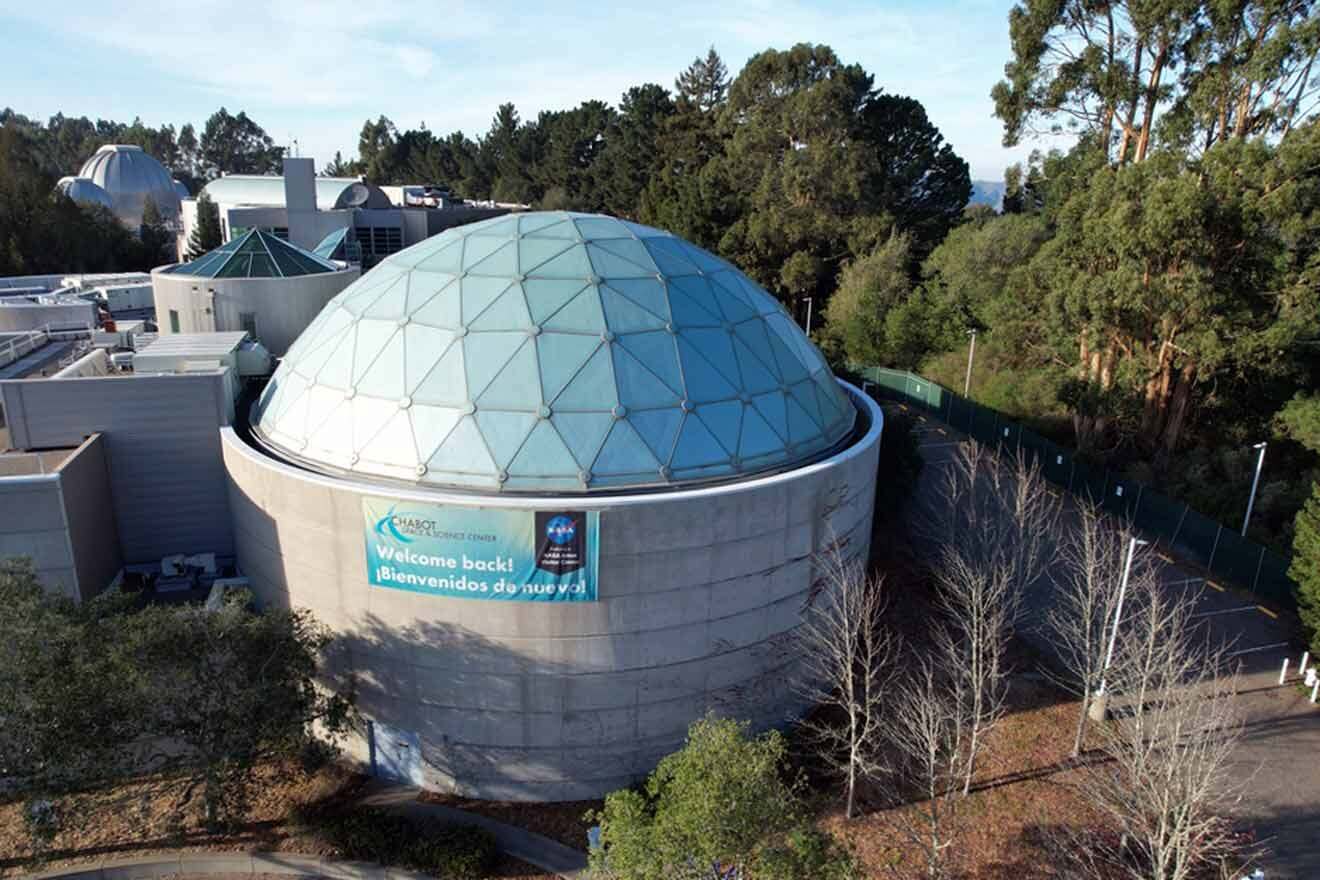 I love a good planetarium – there's something about staring up at the simulated stars and galaxies, you truly feel like you're in another world.
The Chabot Space & Science Center brings outer space and our solar system to life through animation, technology, and education.
Don't miss the planetarium, it's incredible stargazing!
PRICE: US$24 for adults, US$19 for children
4. Discover the birthplace of the Black Panther Party
Oakland is an incredible city brimming with history and the center of many of our country's progressive and counter-culture movements.
In the 1960s West Oakland, the Black Panther Party was born, and the revolution began. There is so much of Oakland's history to see downtown I highly recommend booking a tour. My favorite is the Black Panther Party Tour, which is a guided walking tour that stops at many of the famous sites and dedicated murals around the city.
The coolest part of the tour – it's led by one of the founding members of the Black Panthers!
PRICE: US$30 per person
5. Rub elbows with the elite of Rockridge & Temescal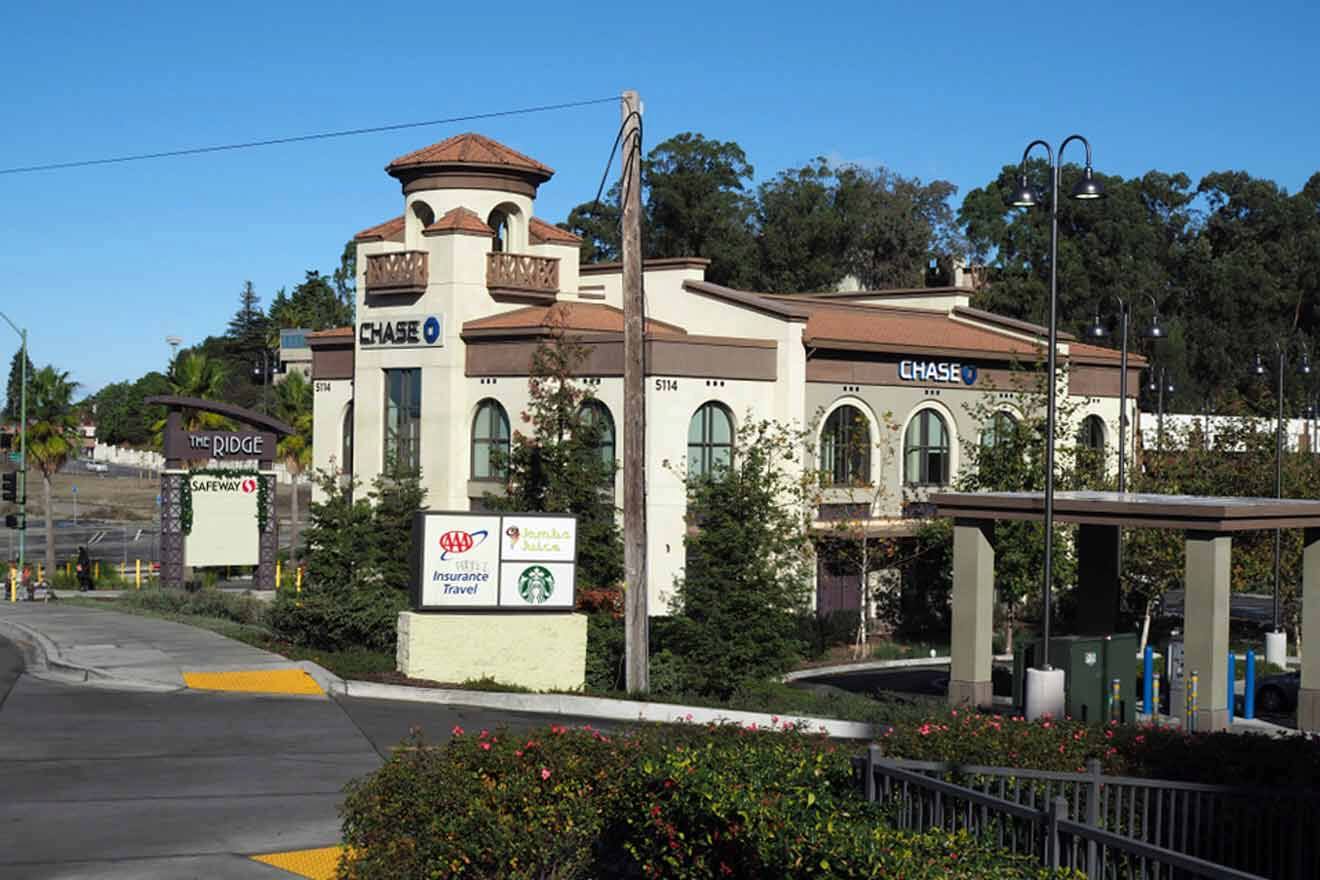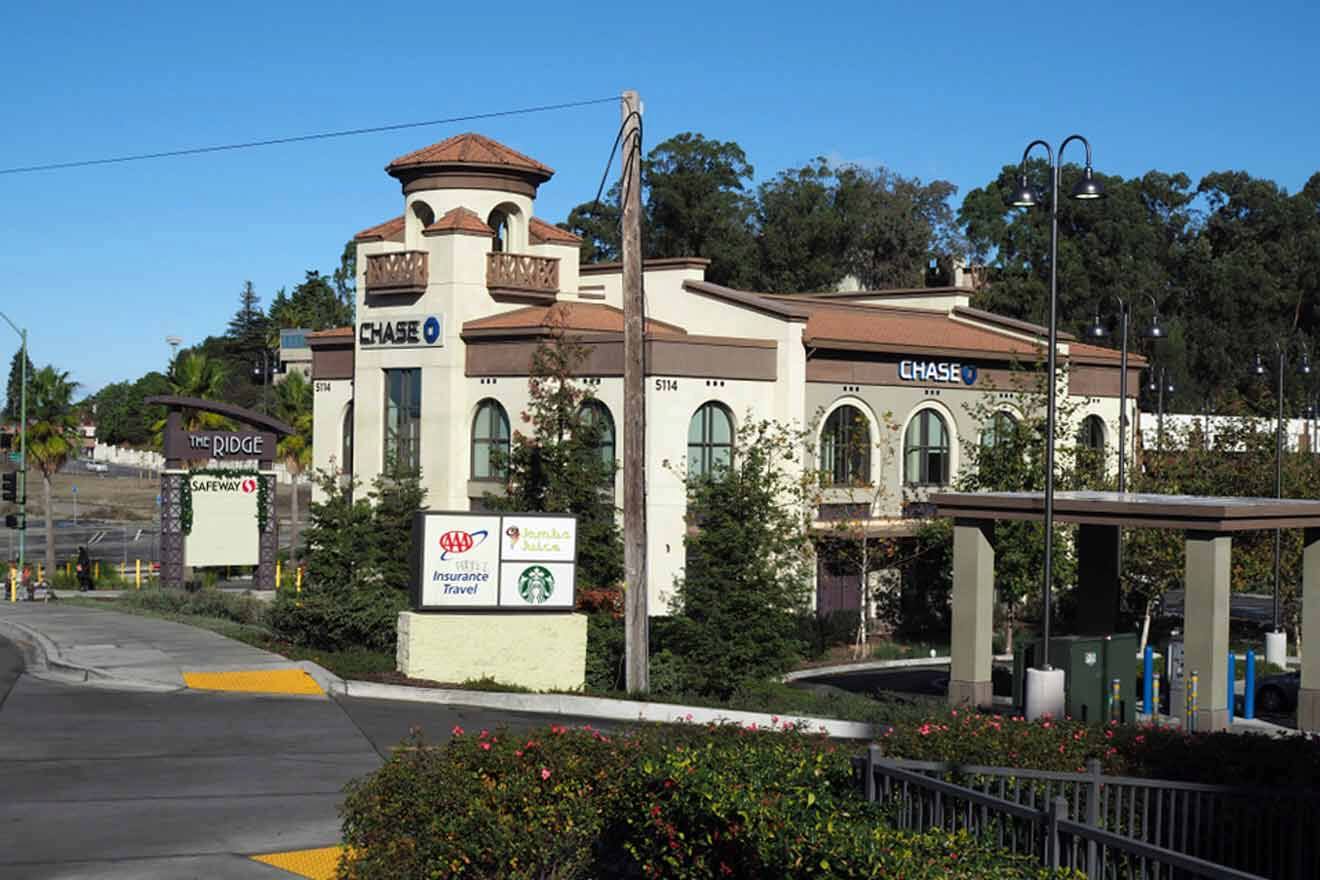 Two of the wealthiest and most luxurious areas in Oakland, visiting Rockridge and Temescal are great things to do in Oakland if you love to shop and dine.
Rockridge is known for its large homes, fancy cars, and walkable neighborhoods. Temescal, similarly, is loved for its quaint town charm, cute bistros, and locally owned boutiques. Check out Rockridge Market, a European-style food hall, or wander down College Avenue for additional trendy shops & eateries.
Don't miss Temescal Alley, with its adorable carriage houses and horse stables – it's like a real live storybook.
Telegraph Avenue is a must-stop during your time in this area. Lined with shops, breweries, and boutiques, you never run out of things to see and do around here.
If you're a fan of shopping and living the good life, this area is definitely worth checking out.
6. Stop and smell the flowers at Morcom Rose Garden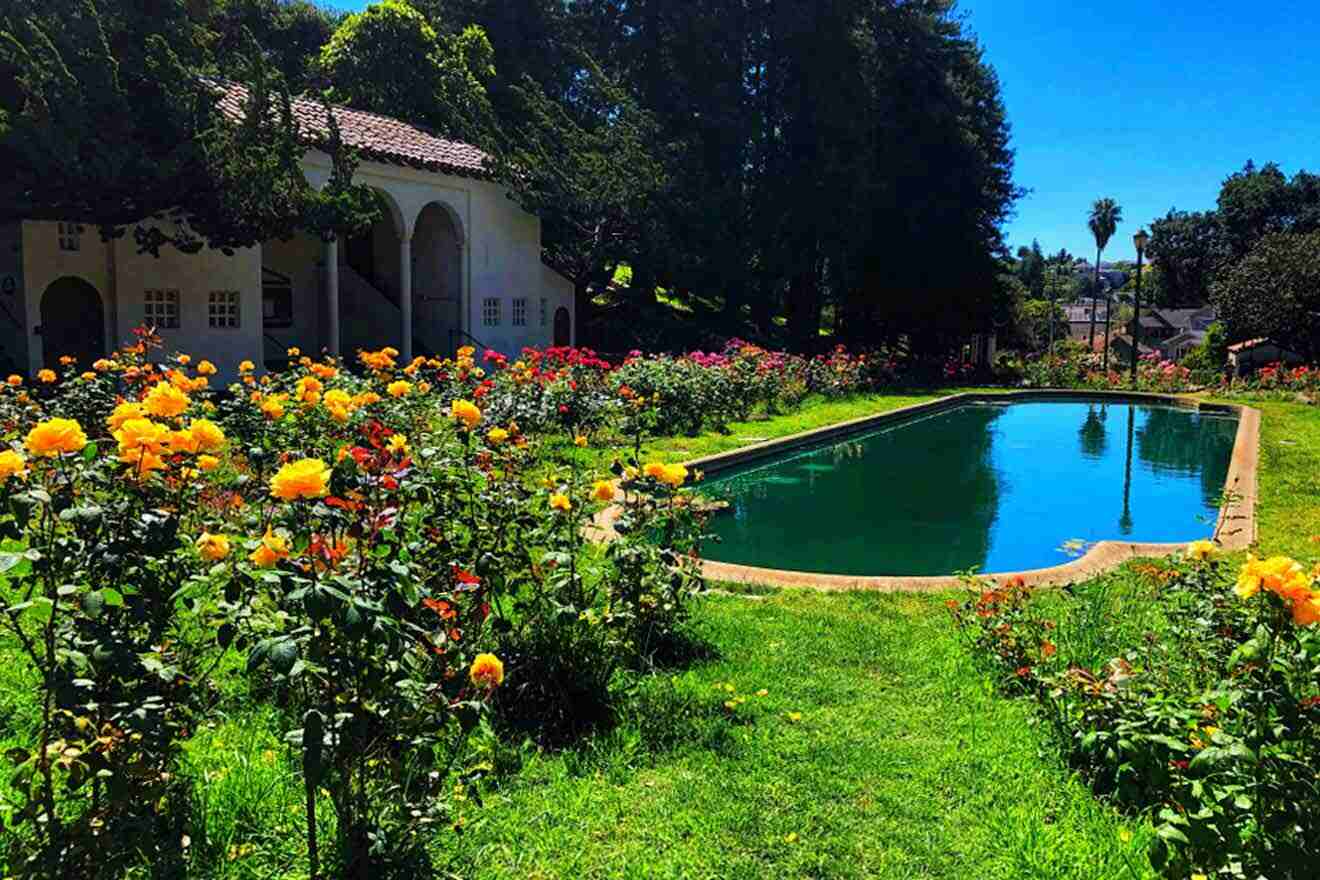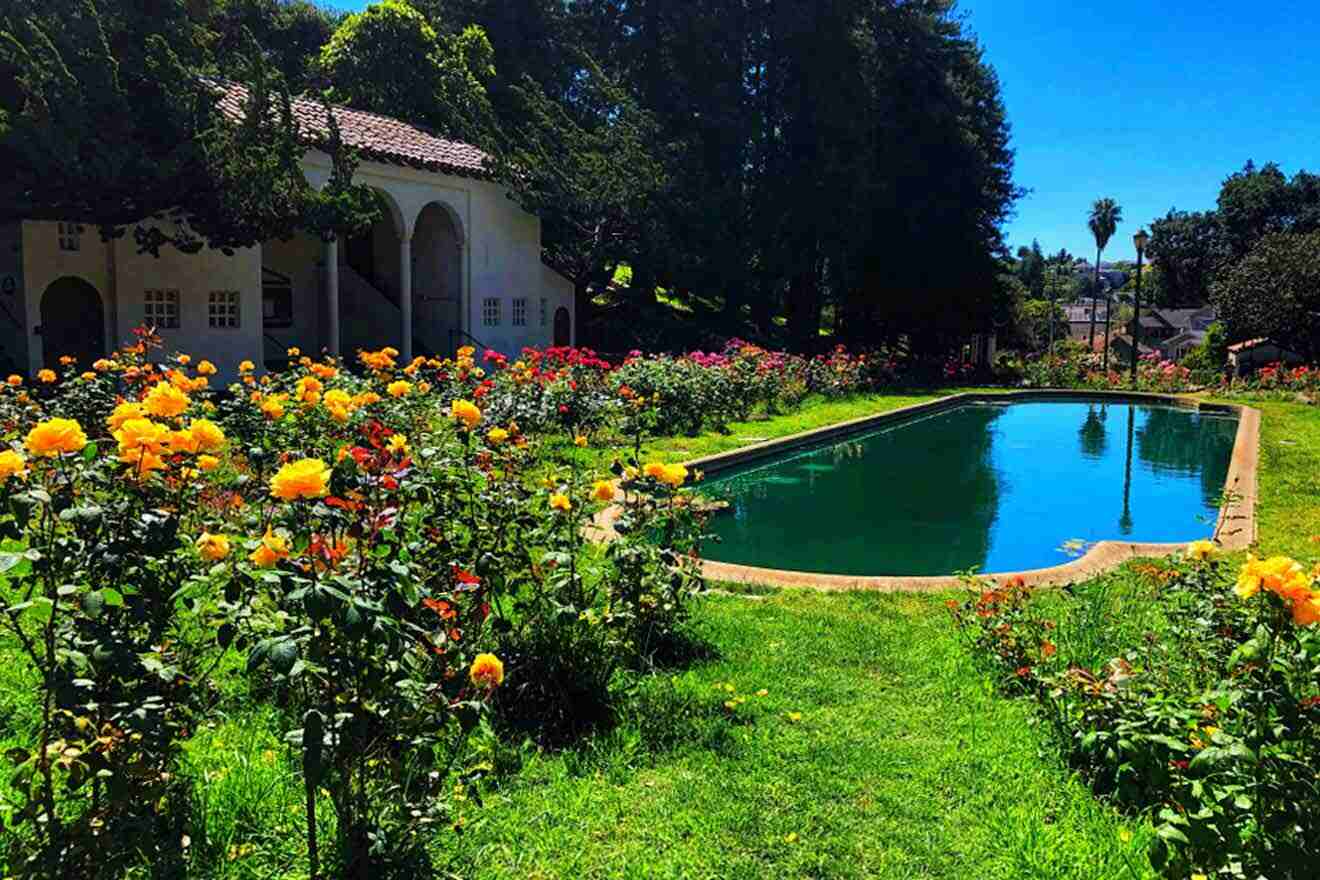 The garden began in 1933 when then-Mayor Frank Morcom planted its first rose.
A great way to spend the day in Oakland, CA is by stopping at the Morcom Rose Garden to take in the peace and tranquility the area offers.
With thousands of roses on-site, this public and city-owned garden is completely run by volunteers from the community. It's a beautiful communal effort to keep the grounds running smoothly.
PRO TIP: This Bay Area garden is the most picturesque from May through October.
PRICE: FREE
7. Visit the African American Museum and Library
This incredible Oakland museum is one of the best ways to get acquainted with the town and its deep history.
The African American Museum and Library houses over 12,000 African American works, such as from greats like Malcolm X, Martin Luther King Jr., and the Black Panther Party.
This museum offers students and forever learners an amazing opportunity to access online databases, media, newspapers, and videos from the archive. It is an important institution that is preserving the deep history of Oakland and its foundational past.
PRICE: FREE access & membership to Californians
8. Get spooky at the Dunsmuir Hellman Historic Estate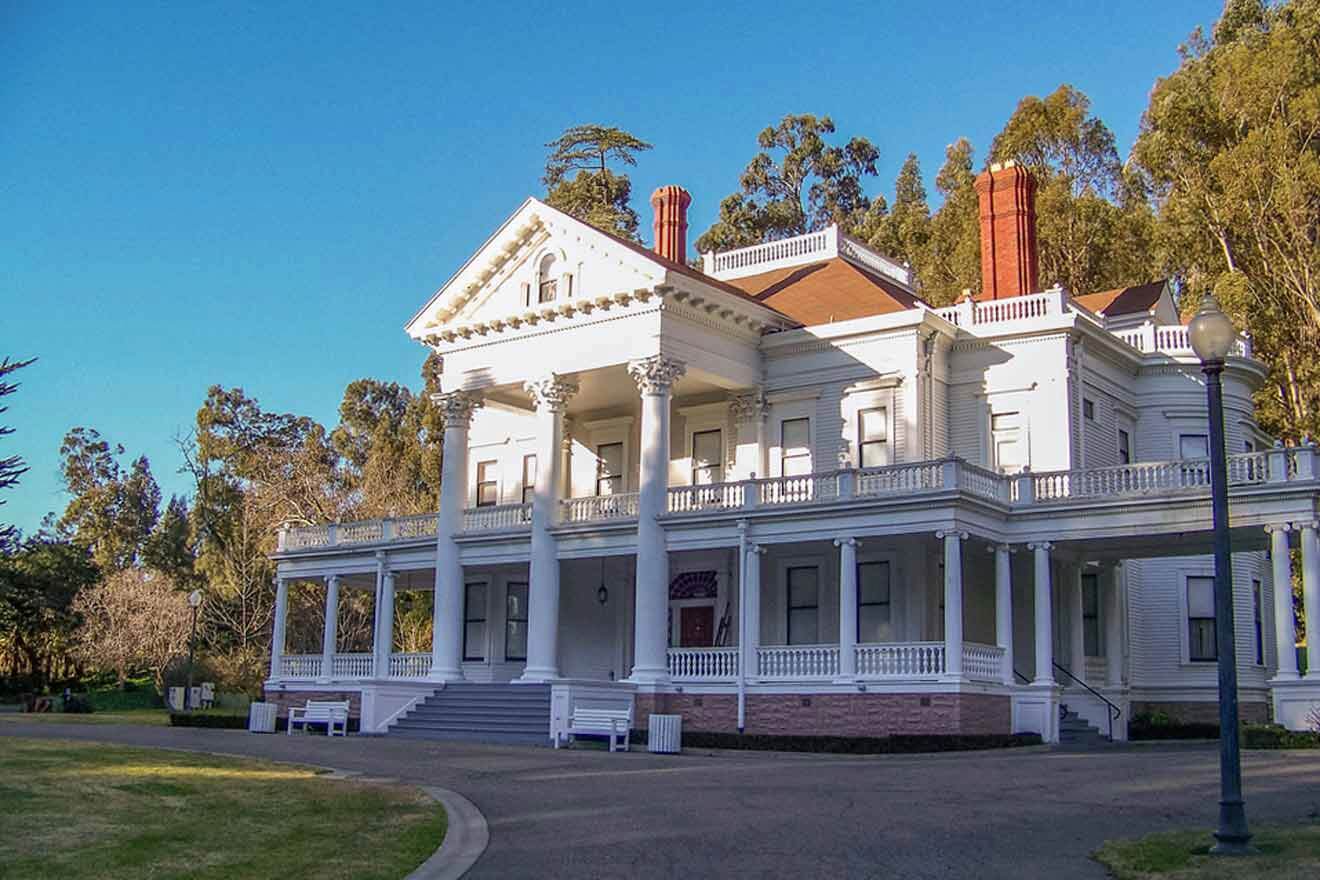 This stunning, Neo-Classical Revival mansion was originally the home to a wealthy coal miner, Alexander Dunsmuir, and later was adopted as the historical site it is today.
Used as the backdrop in many famous Hollywood horror films such as Burnt Offerings, Dunsmuir Hellman is ominously flanked by the Oakland Hills and exudes a spooky and grand demeanor.
Really fun to tour around, this estate has 50 acres (20 hectares) of green space and 37 rooms to explore!
NOTE: Closed on weekends
PRICE: FREE
9. Spend the day in Reinhardt Redwood Regional Park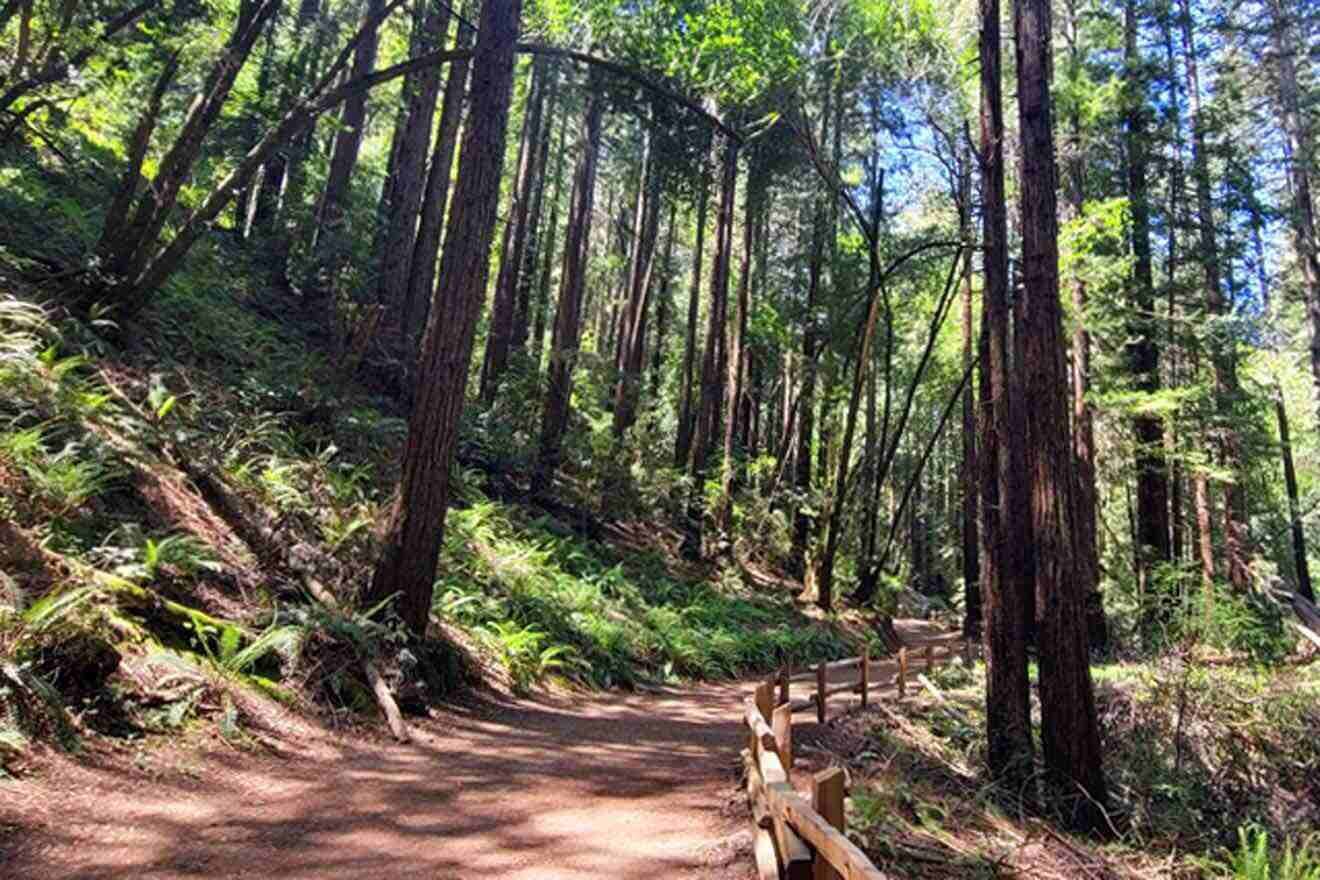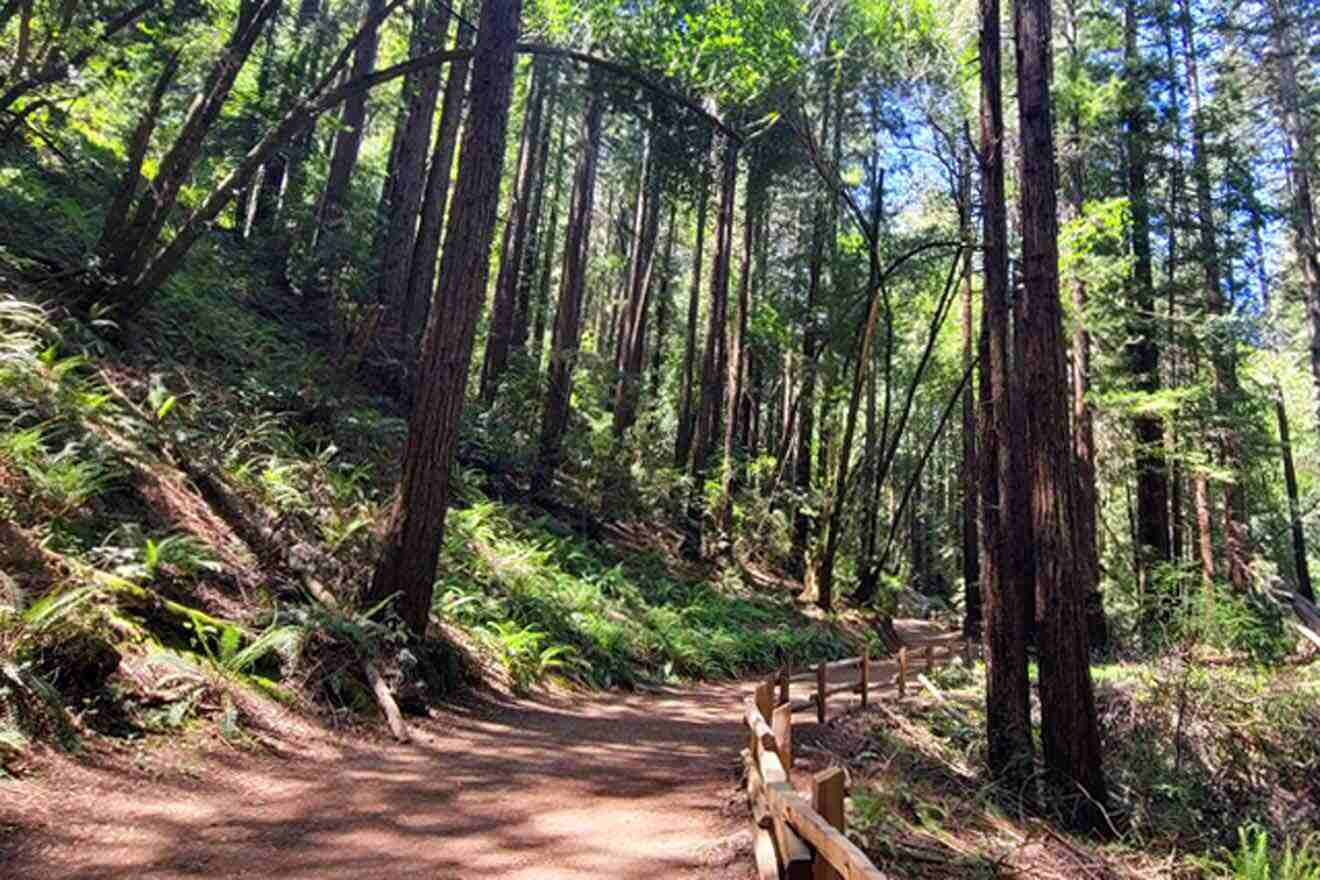 One of my favorite things to do in Oakland, Reinhardt Redwood Regional Park is a stunning second-growth redwood forest.
Named for the Sequoia sempervirens in this part of the Bay Area, the aptly coined redwood trees at Redwood Regional Park are towering giants that stretch up to the sky.
Enjoy scenic hikes among the stunning forest, or keep your eyes peeled for the abundant wildlife in the area, like the golden eagles!
Park entrance fees are only collected on the weekends and major holidays.
PRICE: US$5 per vehicle
10. Marvel at the Oakland California Temple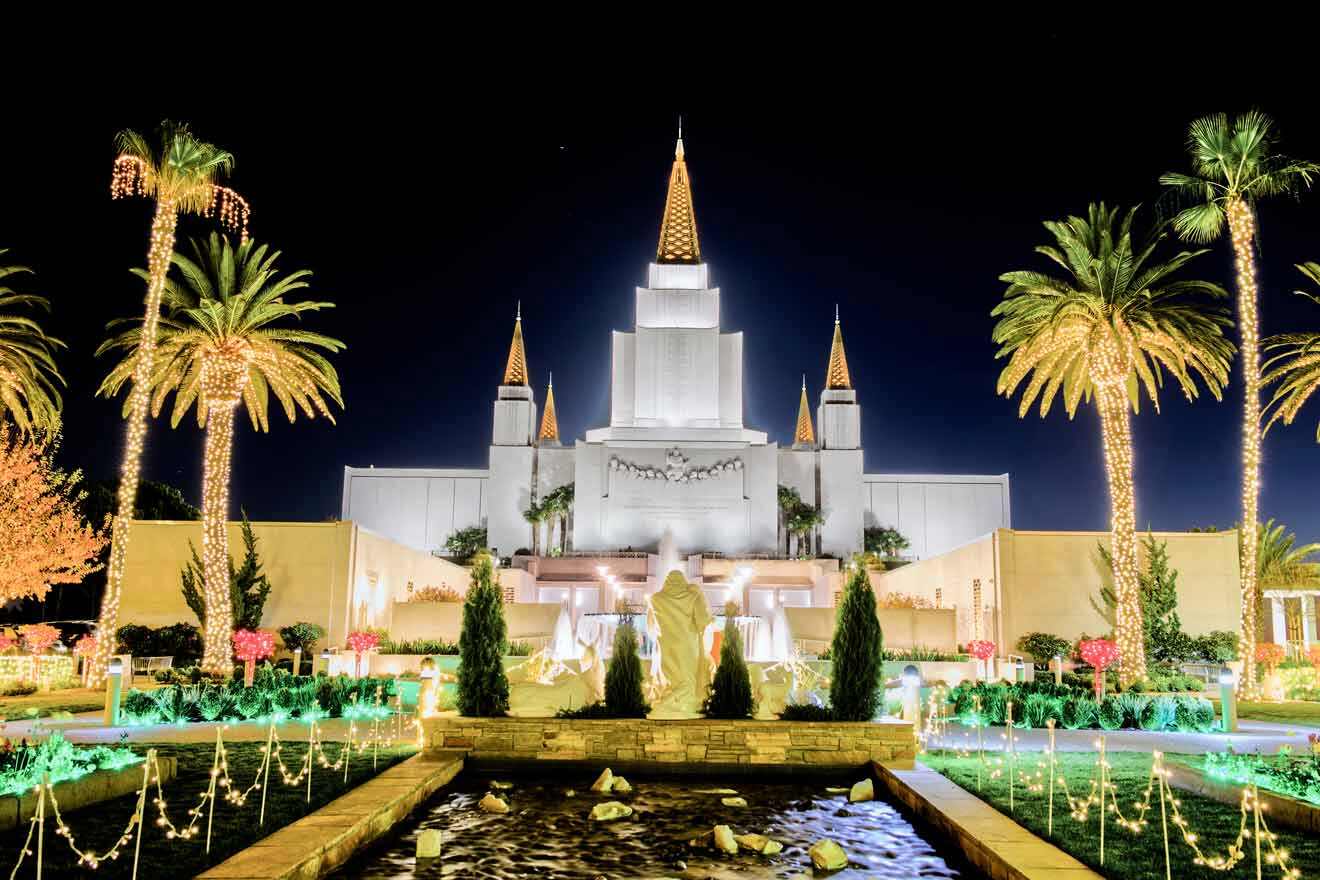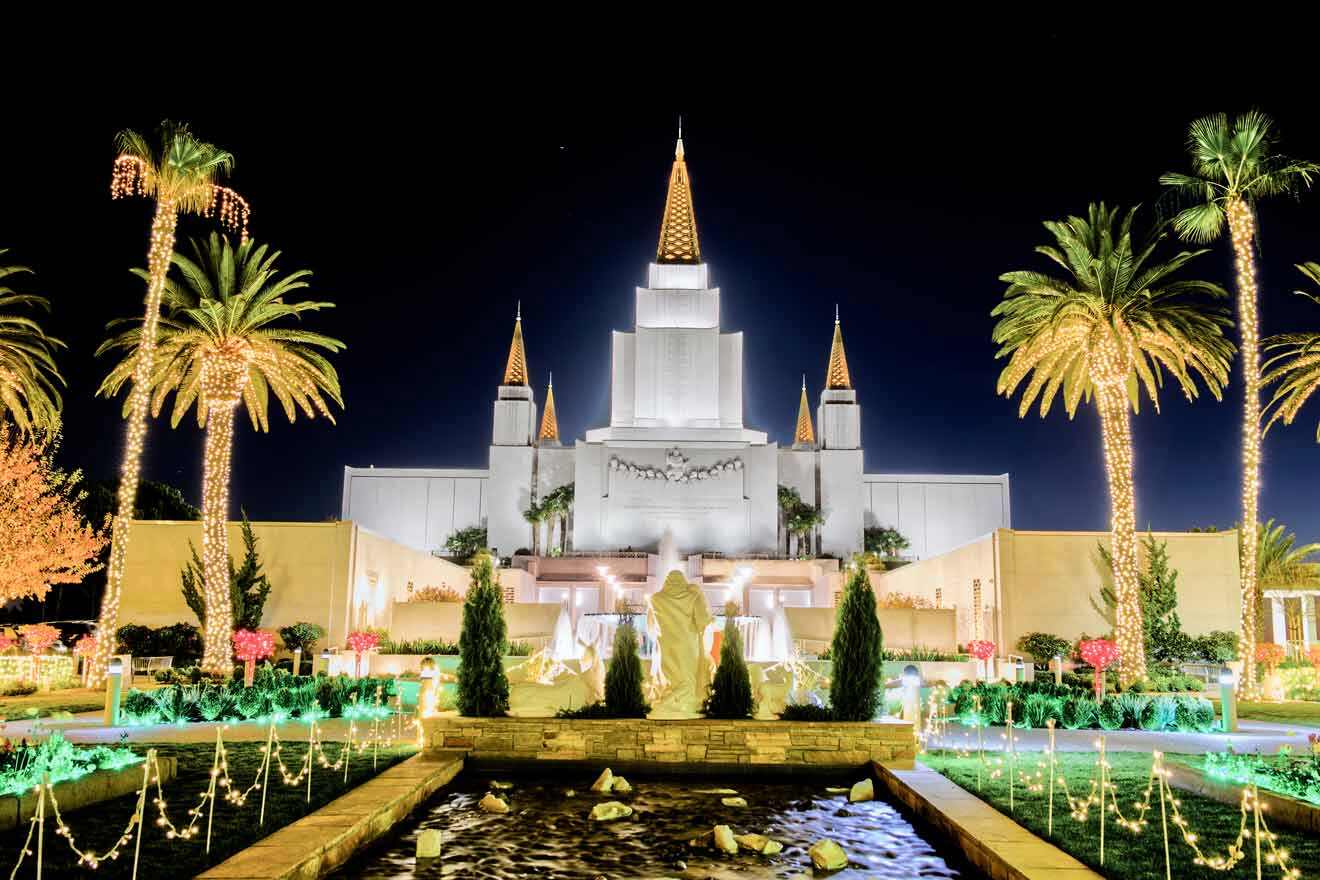 Only the second Church of Jesus Christ of Latter Day Saints to be constructed in the state of California, the Oakland California Temple is one of the most popular things to do in Oakland.
The Oakland California Temple has beautiful grounds and green space and reaches 170 ft (52 m) high. You'll be impressed by the 5-spire steeple design that has a Buddhist symbol on top.
NOTE: Inside is open only to those of the specific faith.
11. Catch a game at the Oakland Arena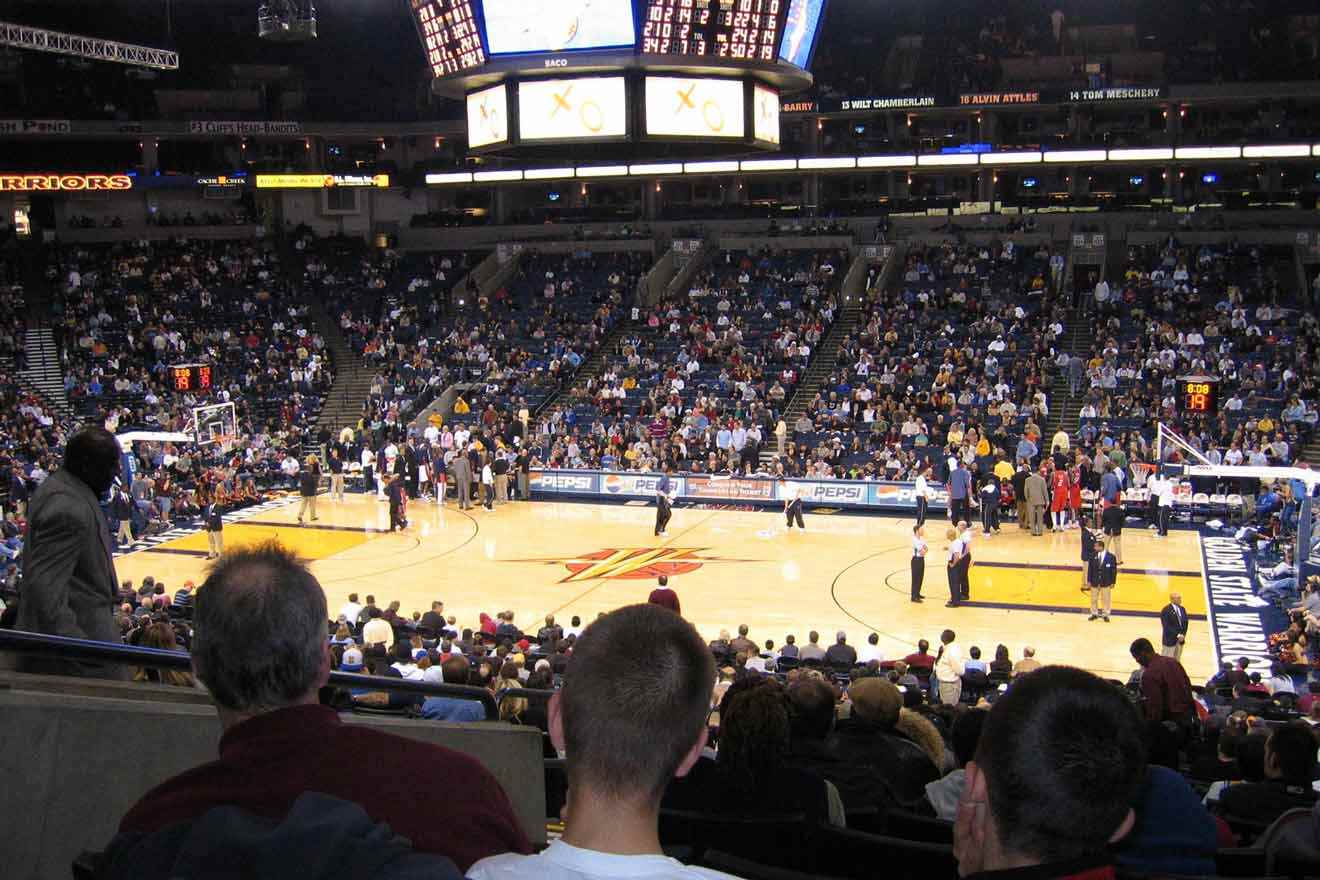 Previously known as the Oakland Alameda Arena and the Oracle Arena prior to that, the Oakland Arena has gone through many changes.
Today, Oakland Arena is home to the Golden State Warriors and hosts many high-profile concerts throughout the year. When you visit Oakland, catch a game or a pop concert in the 19,000-seat arena!
12. Explore the Paramount Theatre Oakland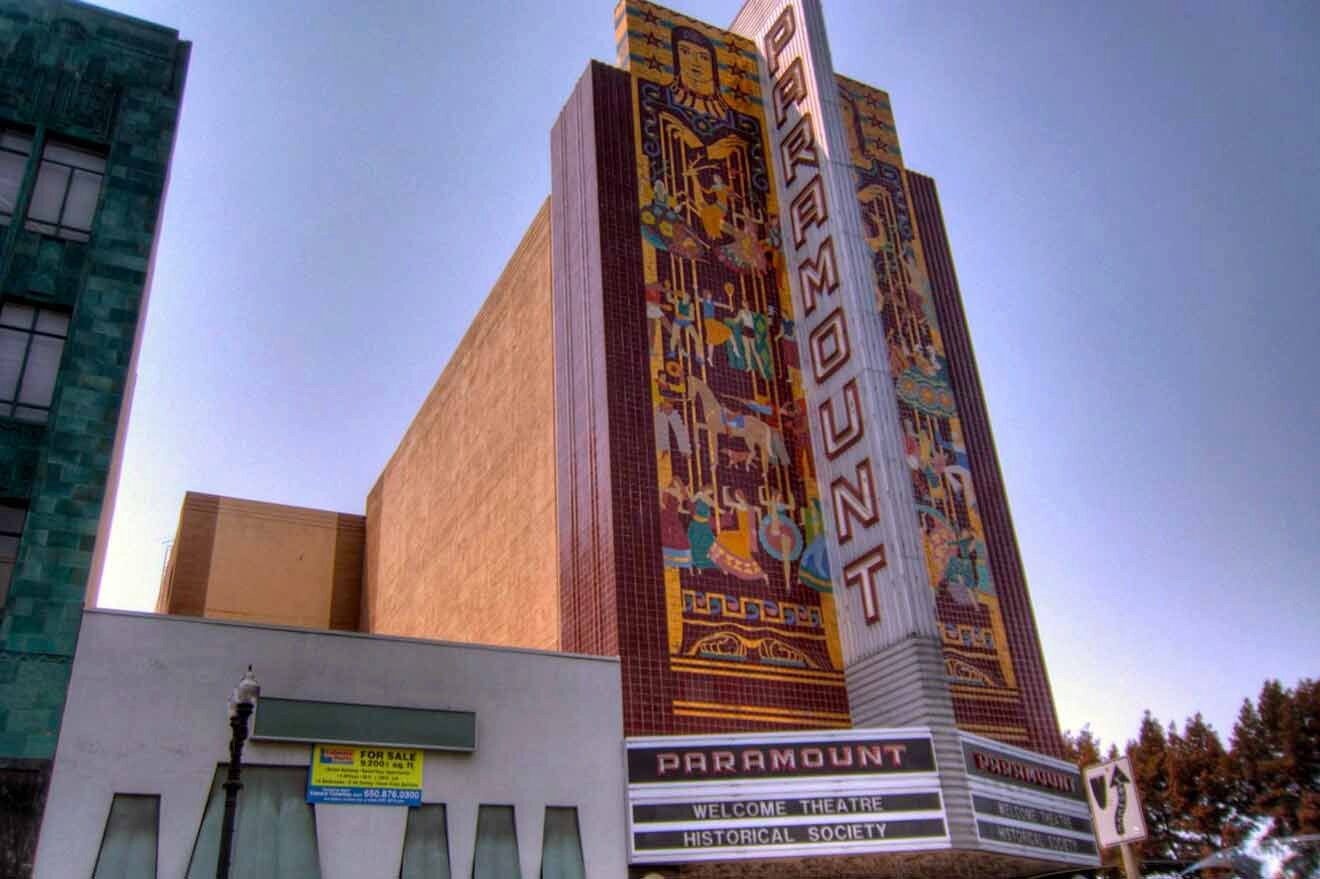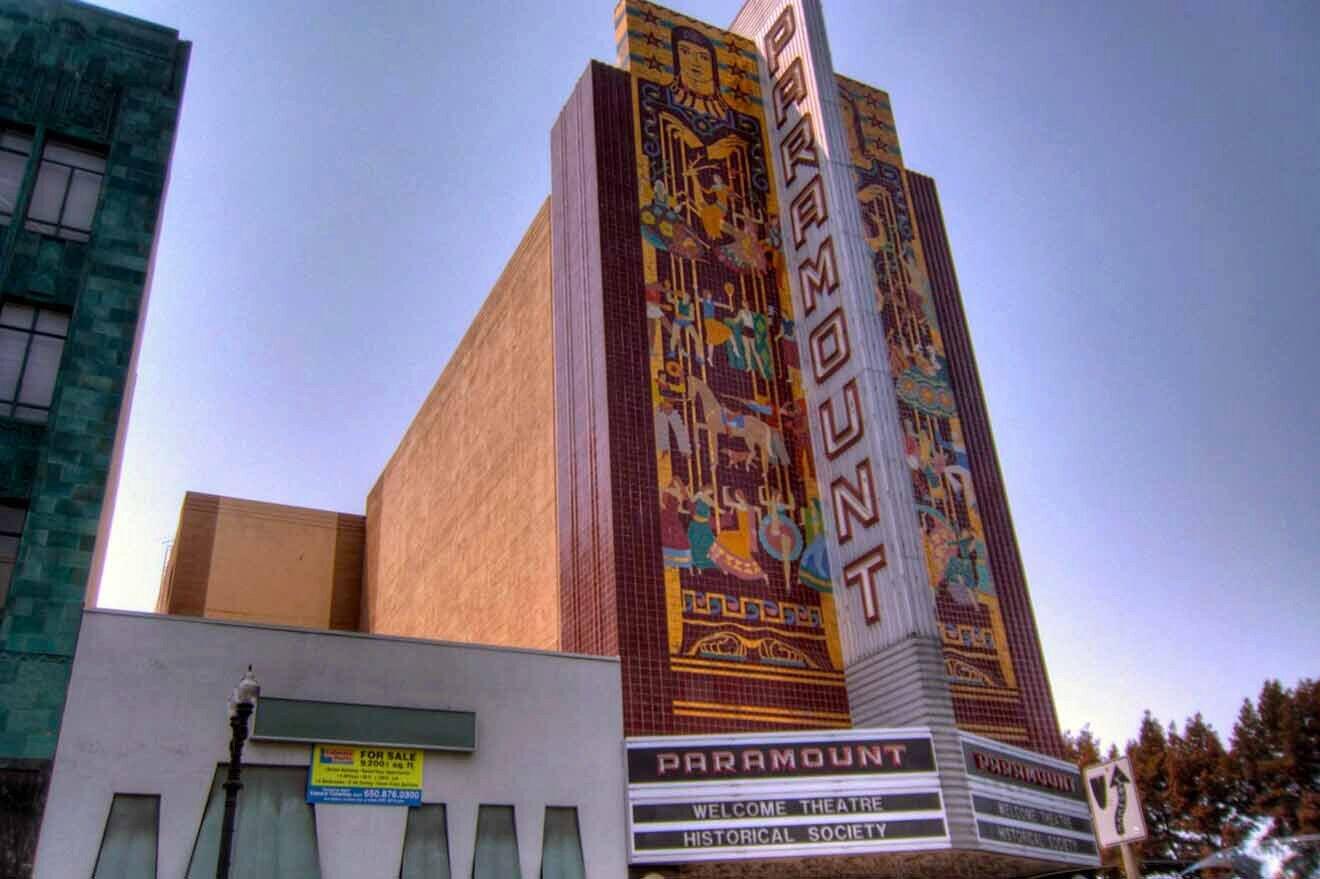 Once the largest theater on the West Coast, the Paramount Theatre Oakland is one of the neatest things to do in Oakland.
Enjoy the Art Deco style of this 3000-seat theater, and marvel at the intricacies of the architectural details. Home of the East Bay Symphony, this theater is worth passing by if you have the time.
13. Play the day away at Lake Merritt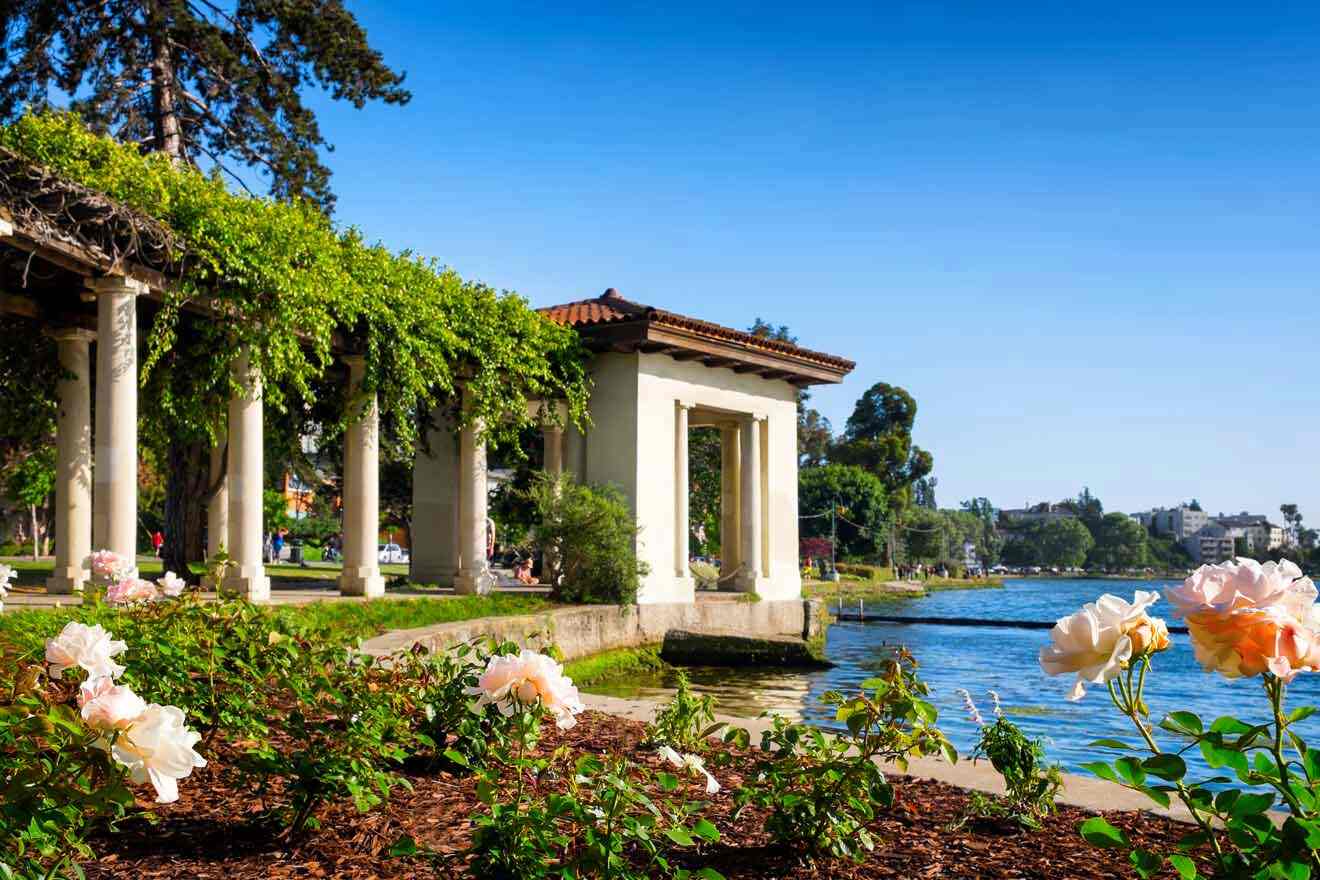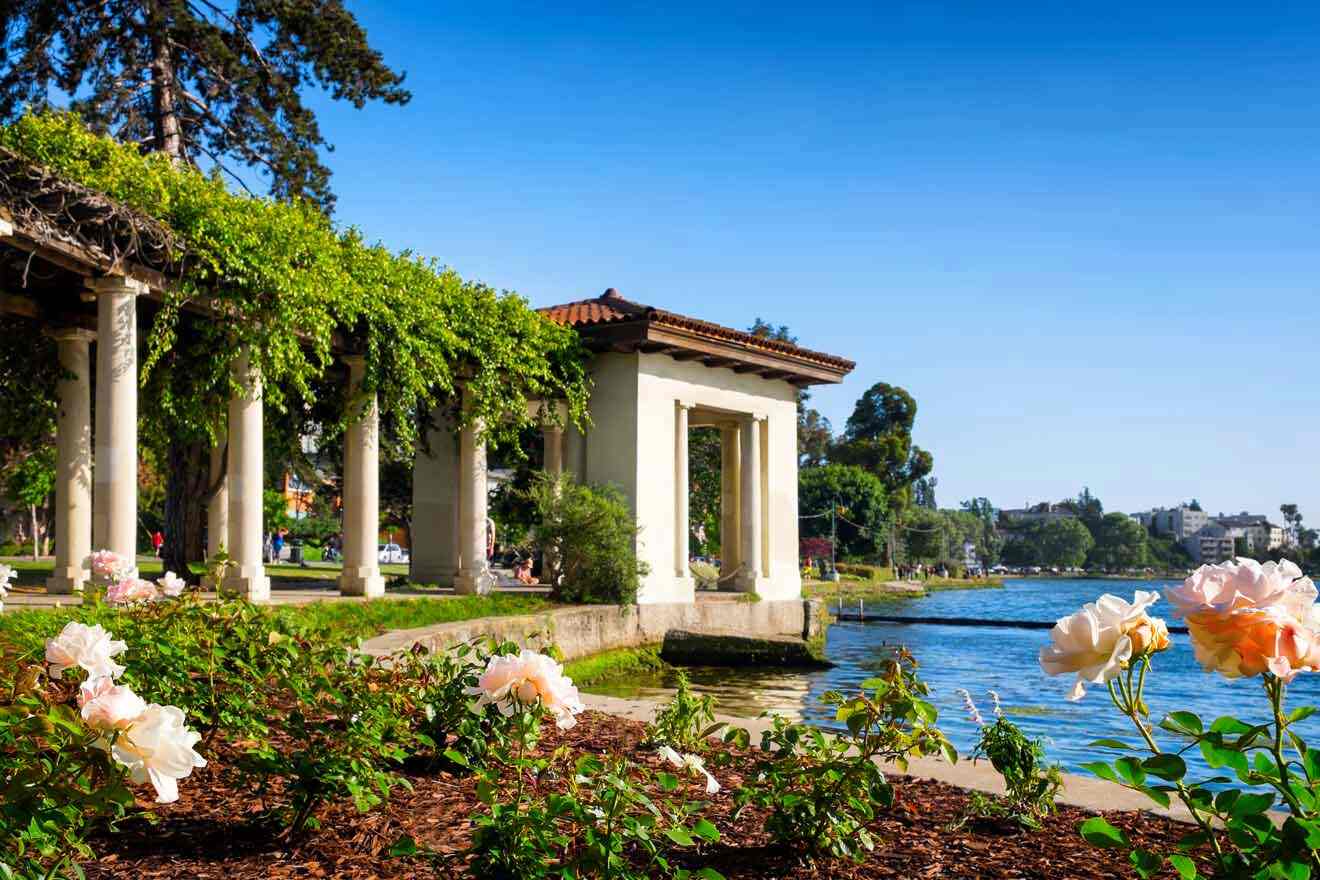 Lake Merritt in Lakeside Park is the USA's oldest designated wildlife refuge, founded in 1870.
There is so much fun to do and see at Lake Merritt within Lakeside Park, it's undoubtedly one of the best things to do in Oakland on your next trip.
Known for its incredible bird-watching opportunities, prepare to see the likes of pelicans and Canadian geese at this grand lake!
Don't miss the Sailboat House, where you can rent kayaks, pedal boats, or even take a gondola ride! If you find yourself hungry, Lake Chalet is a wonderful and convenient choice.
Pop into the Camron Stanford House, the first museum in the city of Oakland that sits on the banks of the lake. This beautiful Victorian-era mansion is only open on Sundays, and it offers tours, or you can even sit for some afternoon tea.
PRICE: Donations accepted at the Camron Stanford House.
14. Get enchanted at the Children's Fairyland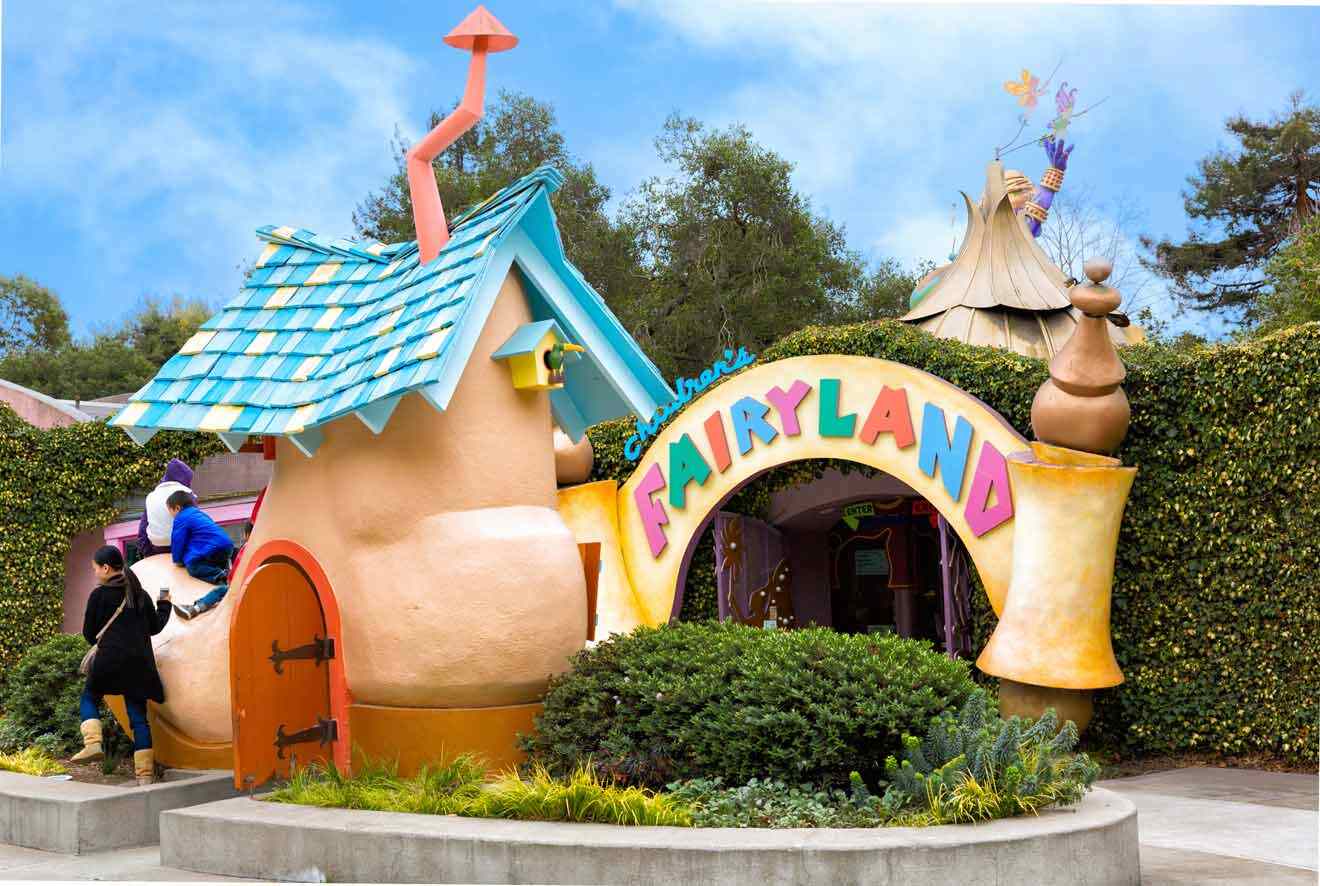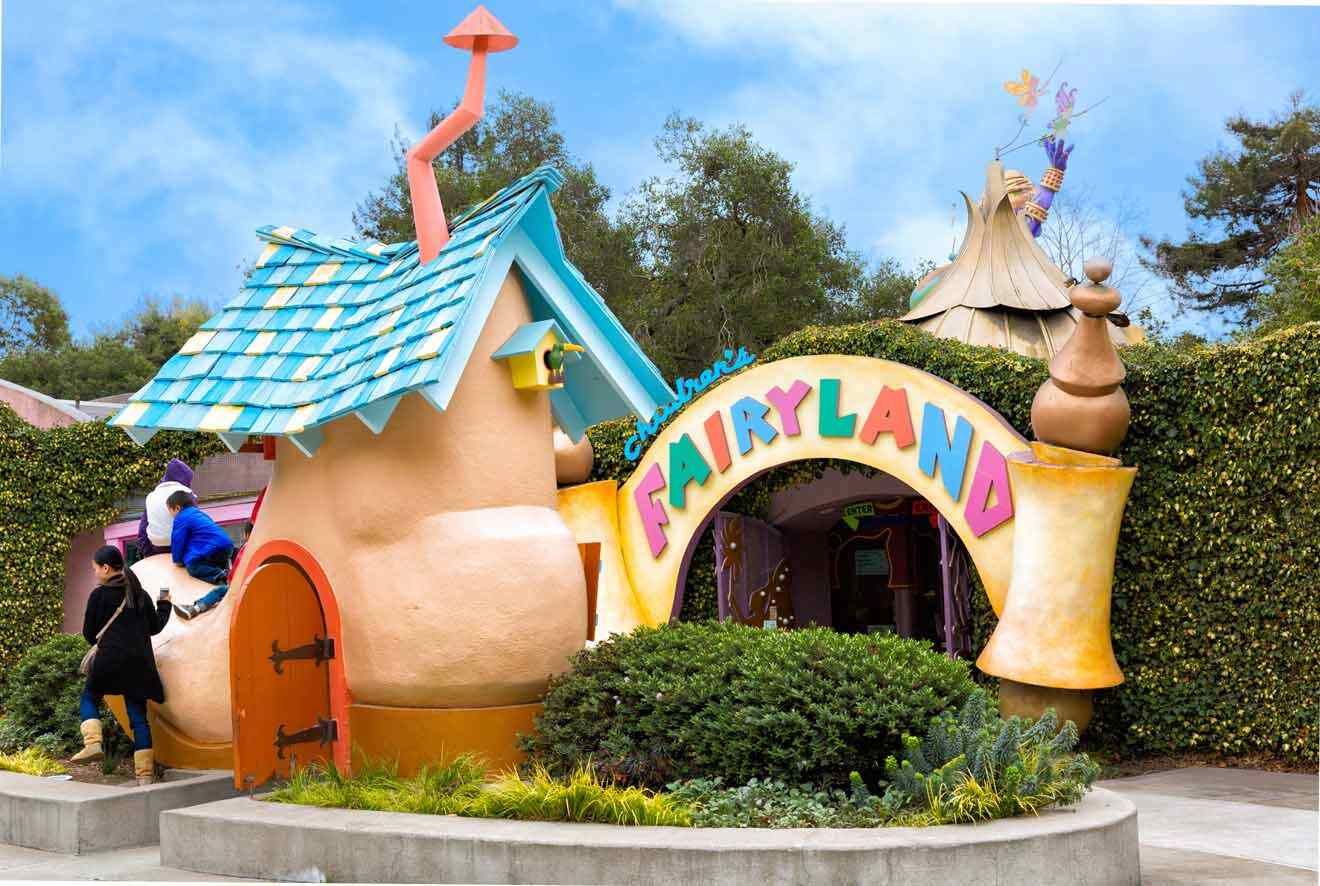 This wonderful amusement park holds the longest-running storybook puppet theater show in the country!
Some say Children's Fairyland, a mini whimsical amusement park built in the 1950s, actually became the inspiration for Walt Disney and Disneyland. 
Filled with amazing rides and interactive experiences, children can play the day away in their favorite storybooks come to life.
Don't miss Alice and Wonderland, or the Jolly Trolley, which takes the kiddos around the perimeter of the entire park.
PRICE: US$16 for adults and children
15. Explore the natural beauty of Joaquin Miller Park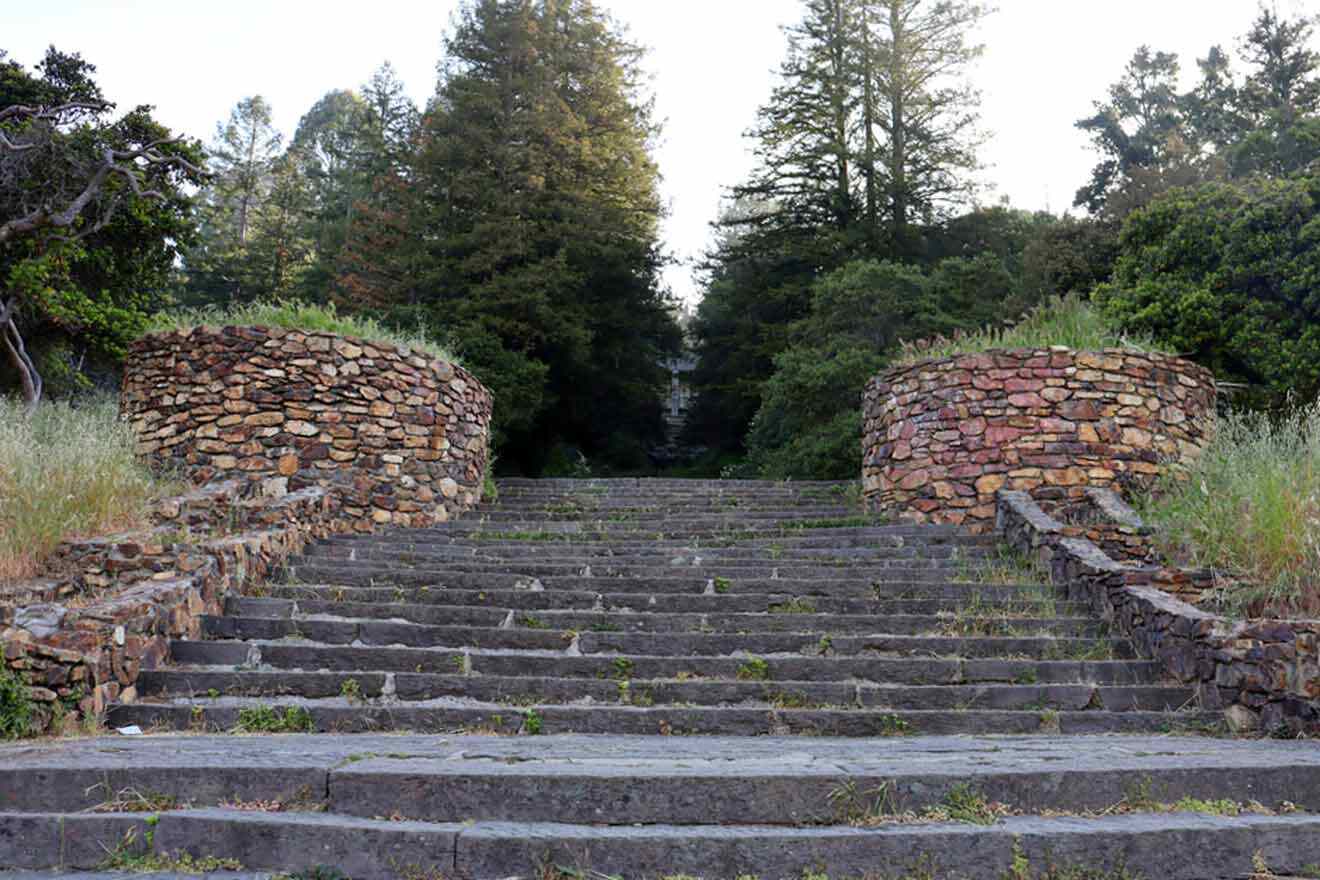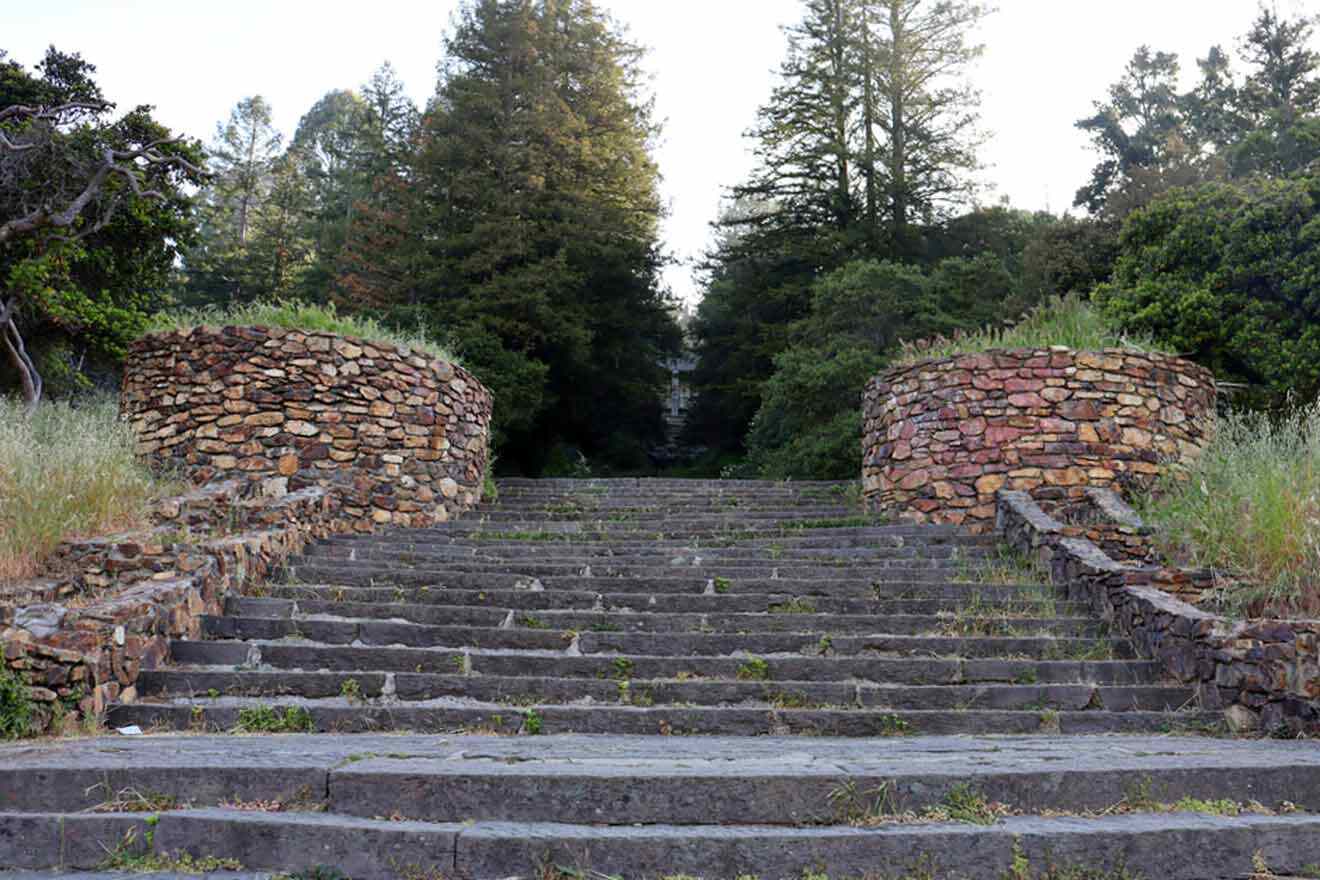 One of the most relaxing things to do in Oakland, Joaquin Miller Park is a natural oasis within this city that is definitely worth visiting for a few hours.
Named for the famous California poet of the same name, the park is filled with rustic trails, shady trees, and interesting art scattered about.
Keep your eyes open for some of the trees that Miller painted himself, or stop by his old Victorian home, surrounded by 4 quirky, odd statues that deserve time to appreciate truly.
16. Take in the entertainment of Fox Theater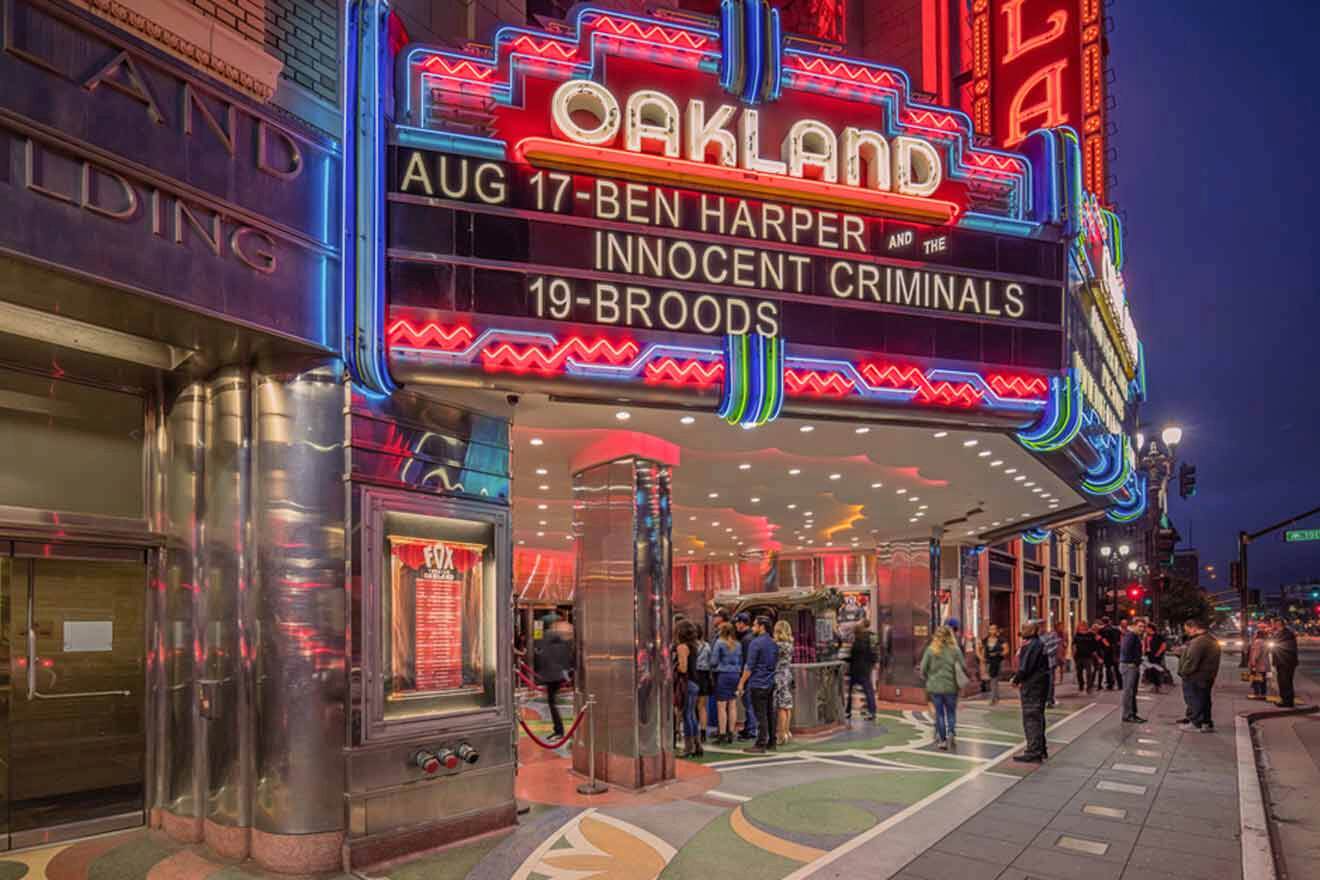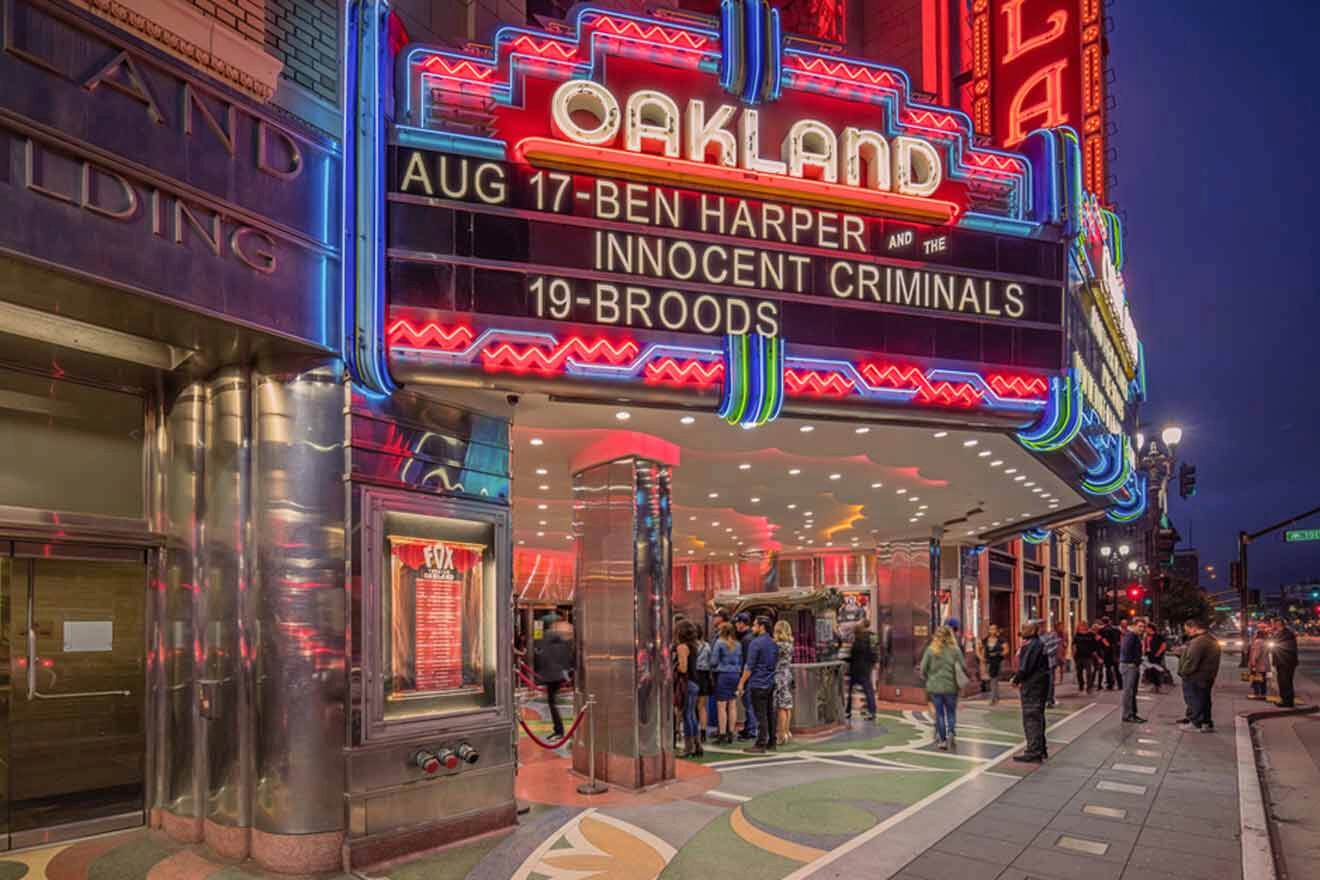 Originally opened in the 1920s, Fox Theater has gone through many different iterations over time.
Re-opening its doors in 2009, Fox Theater has since become the home of the Oakland School of the Arts, as well as being recognized on the National Register of Historic Places.
Don't forget to check the lineup and see if there are any performances you don't want to miss while you're visiting!
17. Fly high at the Oakland Aviation Museum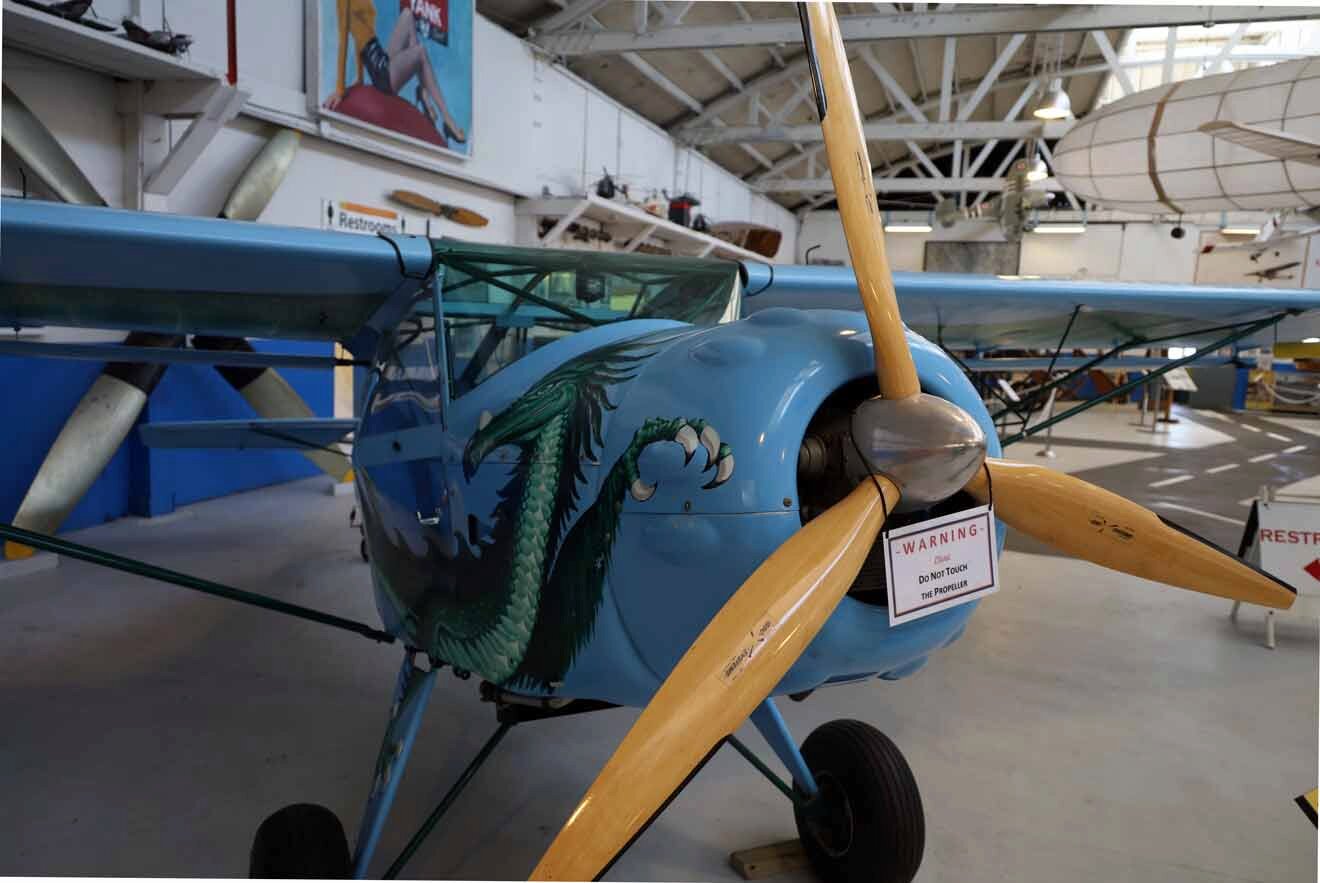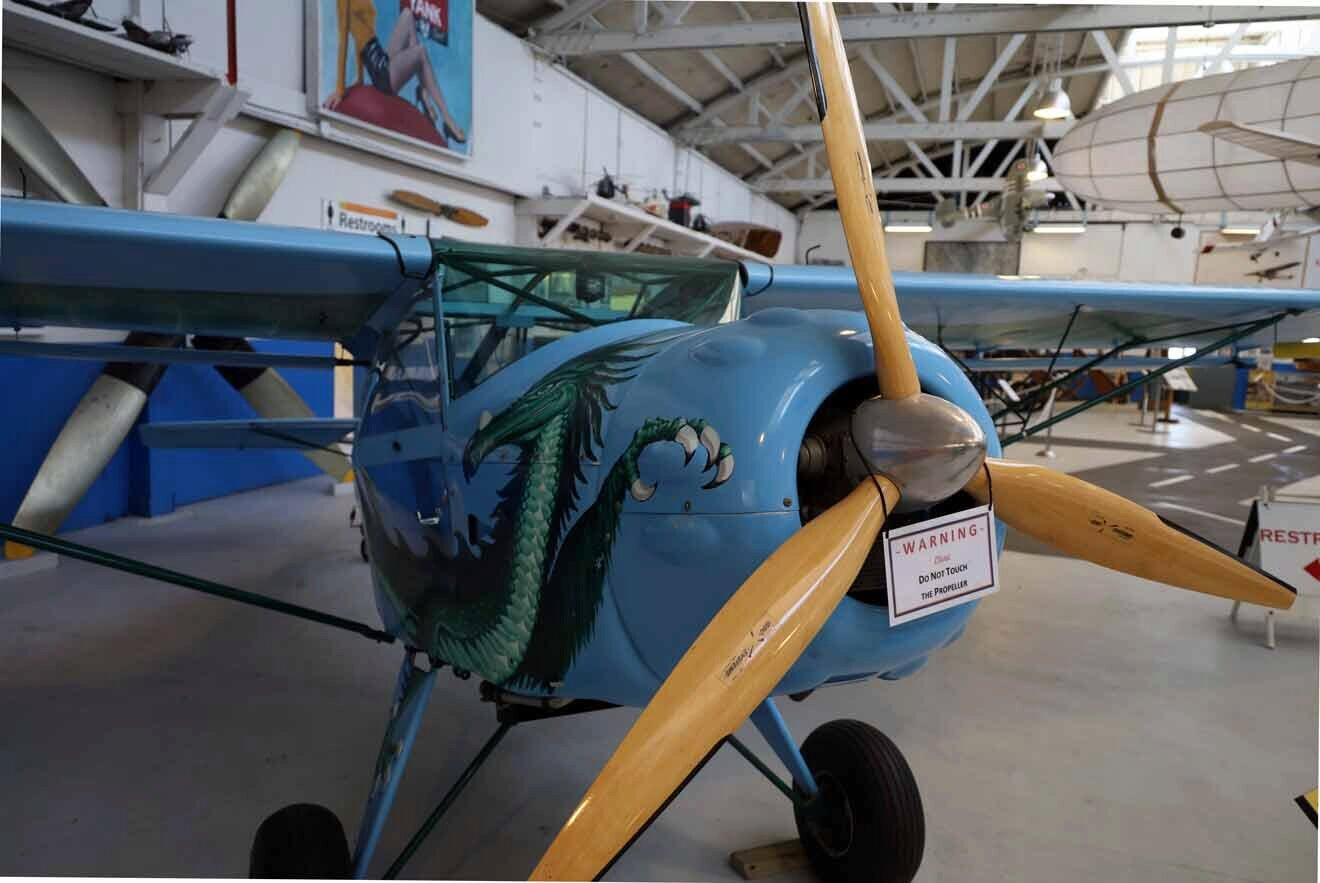 One of the most visited museums in Oakland, check out the Oakland Aviation Museum and learn about California's role in aviation evolution.
Formerly the aeronautics school in the region, the museum now works as an educational resource for the surrounding area, housing over 30 different types of airplanes from across the decades. This museum is filled with interesting facts and exhibits flying high in the sky.
PRICE: US$18 for adults
18. Visit a floating museum at the USS Potomac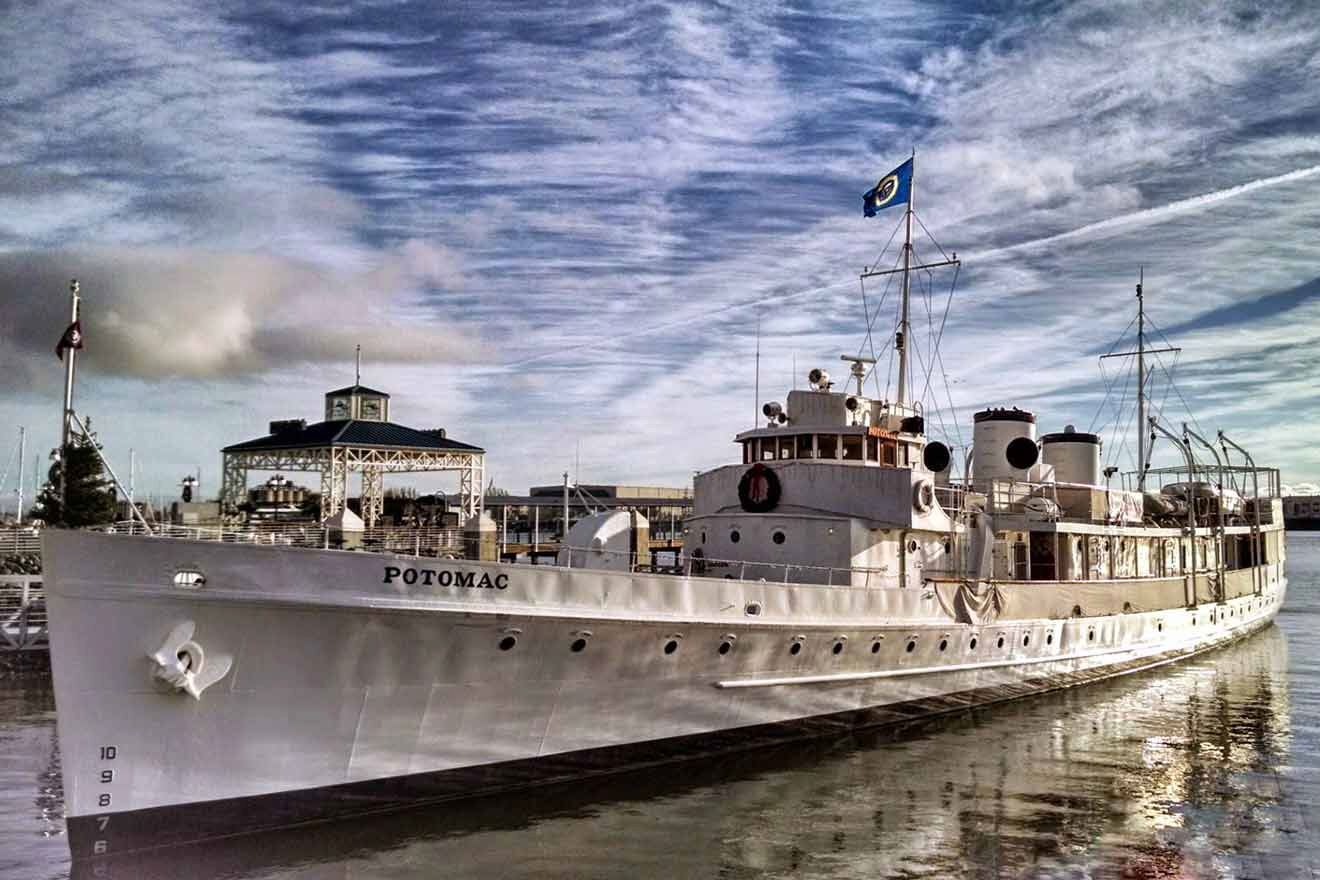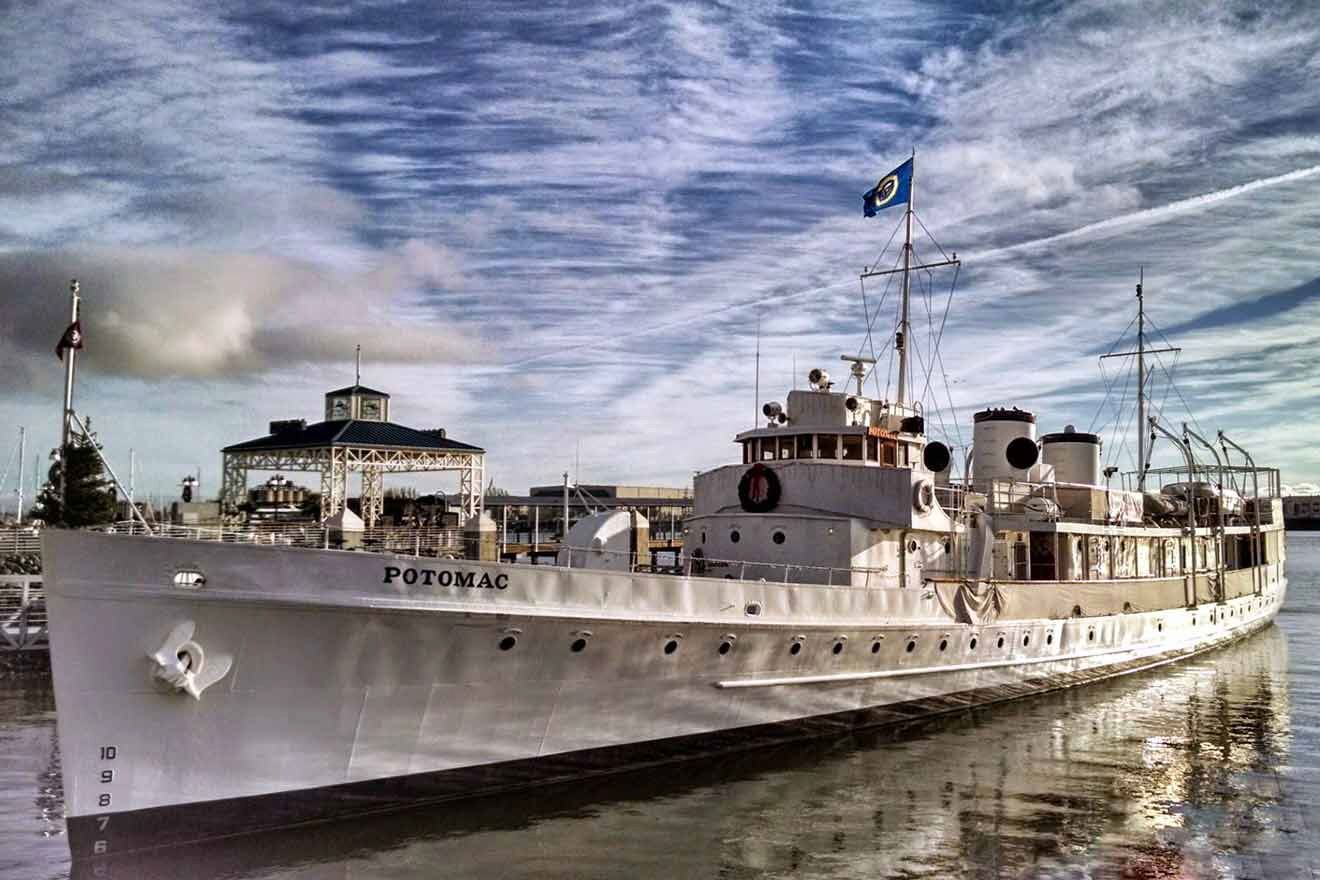 Once called the "Floating White House", this was the presidential yacht of former President Franklin D. Roosevelt.
In 1945, the USS Potomac was repurposed as a floating museum and later acknowledged as only 1 of 3 vessels to be named a National Historic Landmark.
Check out the great harbor tours offered, including historical and cultural experiences and tours through the bay.
PRICE: Tour prices vary by location
19. Attend the Art and Soul Oakland
The Art and Soul Oakland is a music and arts festival in Oakland in August. This lively cultural festival is so fun and entertaining for the whole family.
Enjoy live musical performances of blues, jazz, gospel, soul, and hip-hop during this 2-day celebration. It's been going strong for 2 decades now, and the festival just keeps growing year after year!
20. Catch the views from Mountain View Cemetery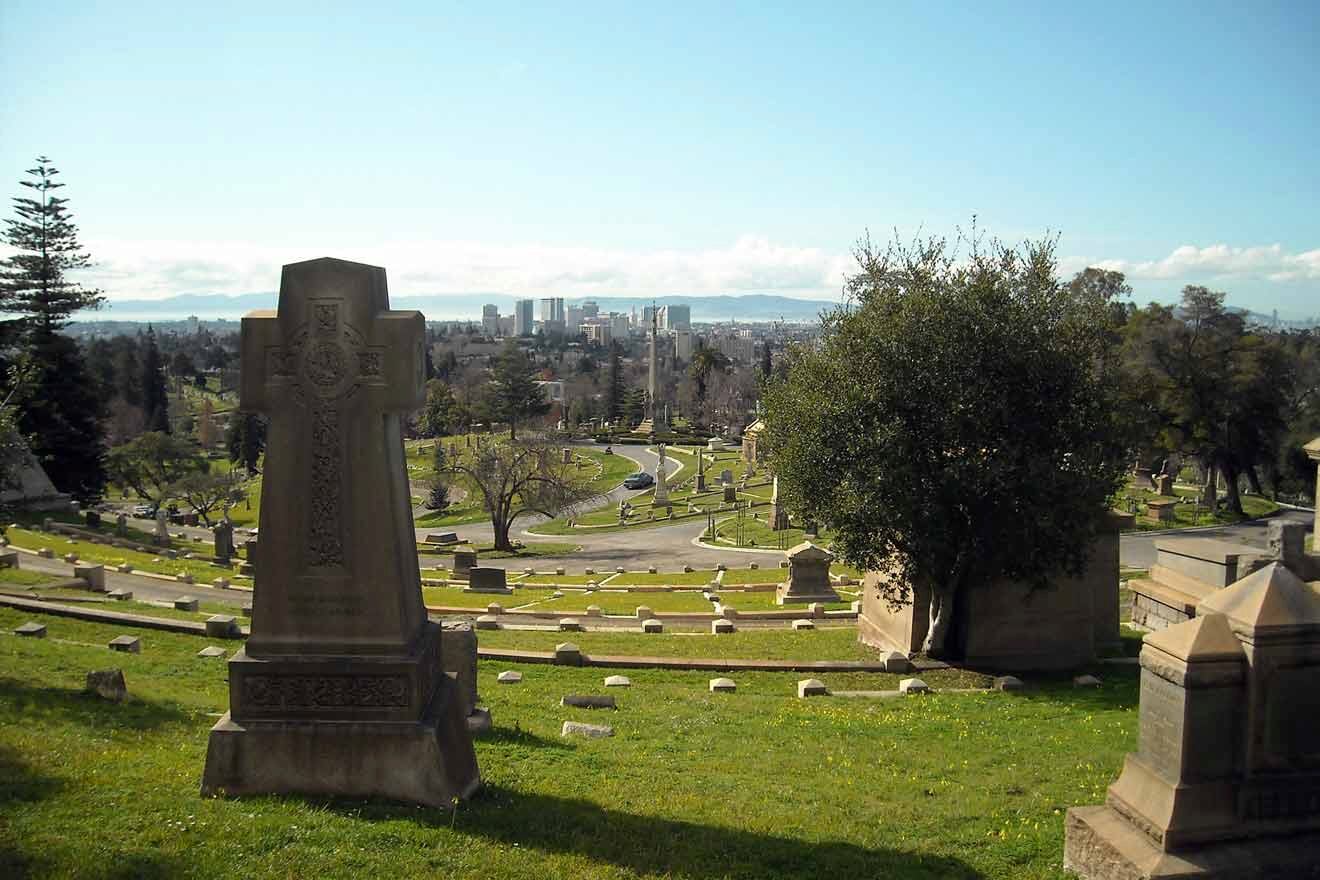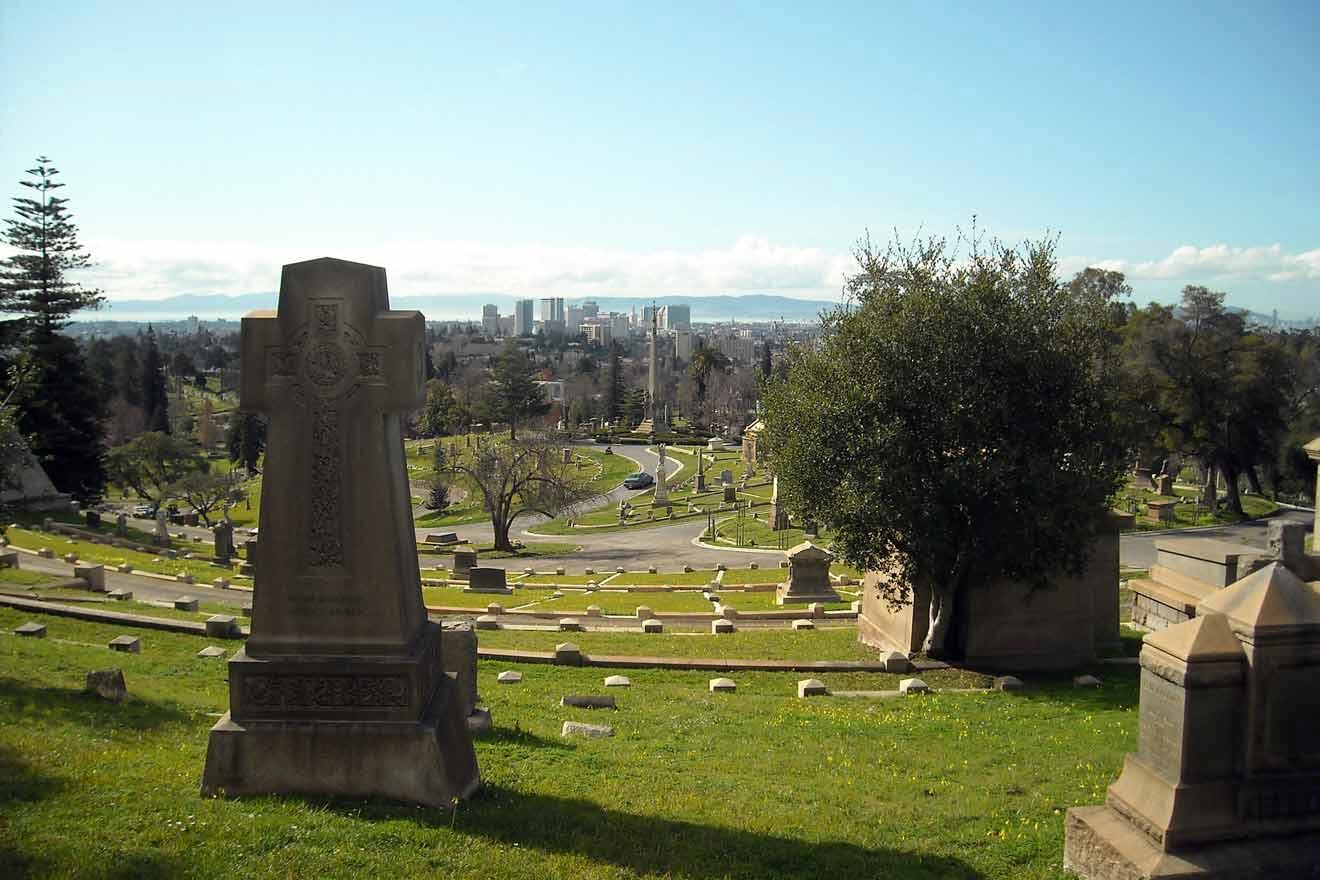 Undoubtedly not the first place that comes to mind when you think of fun things to do in Oakland, Mountain View Cemetery does actually have quite a bit to offer.
Of course, first and foremost, the resting place of many souls, notably famous persons like the chocolate heir Domingo Ghirardelli, Mountain View Cemetery is a fantastic spot to get sweeping views of the city below.
NOTE: This is a functioning cemetery, and it is prudent to be respectful of the dead.
21. Immerse in Oakland's Street Art
One of my favorite things to do in Oakland is, by far, walking around the city and looking at all the incredible street art.
Oakland has over 600 murals scattered throughout the city, expressing the artistic and creative nature of Oakland and its people. Try a self-guided walking tour around the city to appreciate all the incredible art. 
Check out the local, non-profit-run Oakland Art Murmur for the latest art performances or exhibits around the area, as well as East Bay-specific events.
Whether popping into an Oakland museum or catching a live street performance, Oakland offers artistic expression at every turn.
PRO TIP: Check out the Oakland Marriott City Center to spot a fabulous mural dedicated to Oakland.
22. Shop around the indigenous Red Market
Much of Oakland is built on Native American Ohlone Tribe's land, and the city holds a market to celebrate the roots of the indigenous people of the area.
Shop and buy incredible indigenous art, crafts, apparel, and trinkets you won't find anywhere else. Support the local tribes and enjoy a day shopping in the Oakland sun.
Open on the first Sunday of the month, don't leave without trying the famous and mouth-watering fry bread.
23. See a performance at The Flight Deck
Oakland is an artsy place, and The Flight Deck is the perfect example of that creative atmosphere and soul of the town.
Located in downtown Oakland, The Flight Deck serves as a performing arts theater, art gallery, shared workspace, and rehearsal grounds.
When you're in town, make sure to check their Facebook page for current shows playing, and support the local businesses of Oakland.
24. Catch a show on Sundays in the Redwoods
Could there be a cooler music venue than, say, the Redwood forest?! I think not. This epic venue offers live music in the incredible natural acoustics of the redwood forest.
Keep in mind, as you may have suspected, Sundays in the Redwoods only take place on, well, Sundays.
Check out their music and dance nights – so much fun!
25. Explore the food & history of East Oakland and Fruitvale
Not many visitors make it out to Fruitvale, and it's a shame, as this eclectic and vibrant Hispanic neighborhood is brimming with incredible food and history.
Eat the best tacos you've ever had at Tacos Sinaloa, and check out Jingletown, a waterfront area along the Oakland estuary lined with art galleries.
Don't miss Peralta Hacienda Historical Park and pop into the Peralta House Museum to find out more about Spanish colonization and indigenous land loss in California.
Can't get enough local food! I highly recommend booking this Black Food Tour, which takes you to 5 partnering restaurants for the most mouth-watering food you've ever tasted.
TOUR PRICE: from US$130 per person
26. Stroll the local vendors at Oakland First Fridays
Held on the first Friday of the month on Telegraph Ave, this popular monthly event is run by a local non-profit and brings together the community for a celebration of art and culture.
With a special focus on Black-owned, LGBTQ+-owned, and Asian-owned businesses and local vendors, Oakland First Fridays is a great place to enjoy great regional food and shop for unique and personal gifts.
Where to stay in Oakland
There are so many great places to stay in Oakland. See below for my top picks for every budget.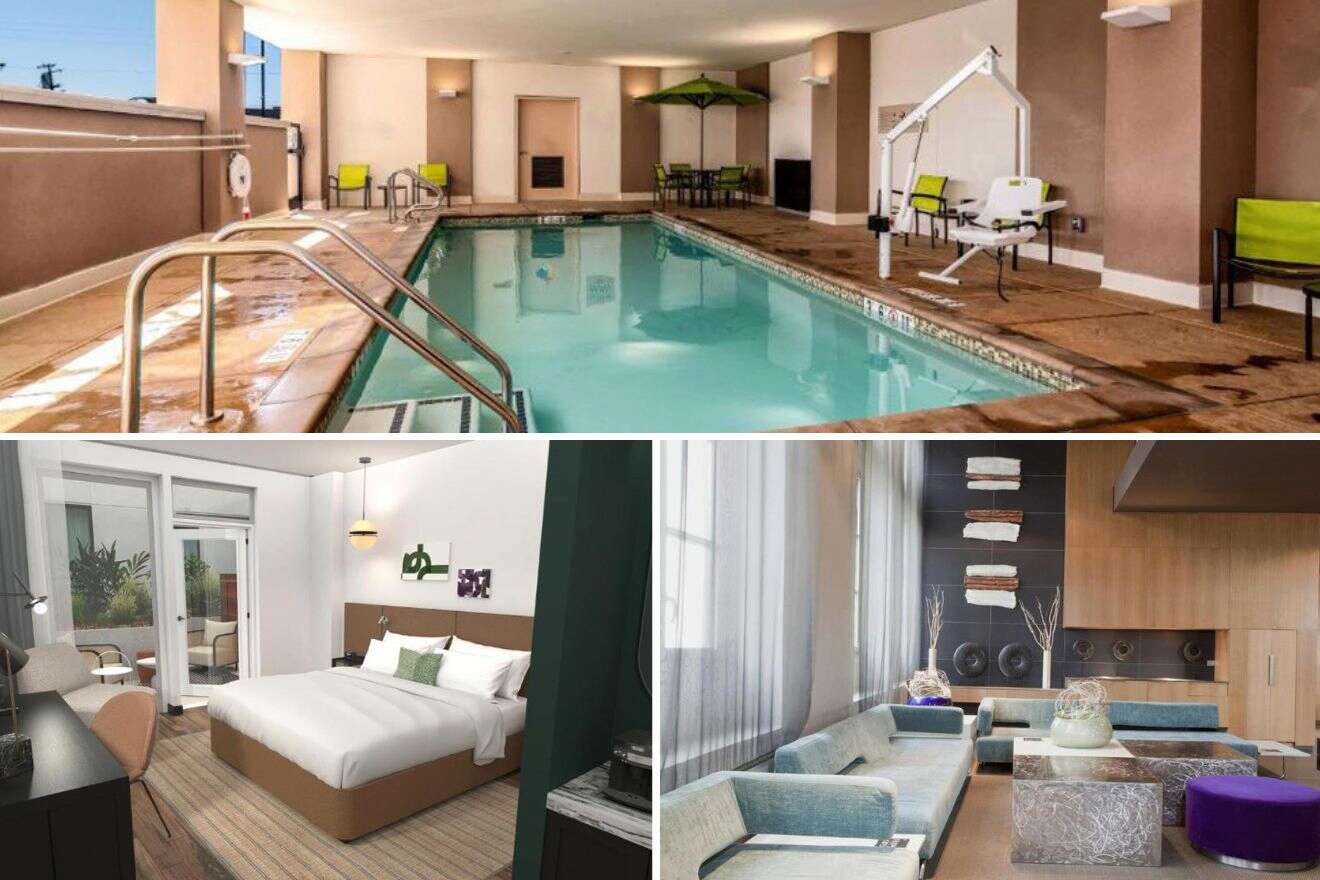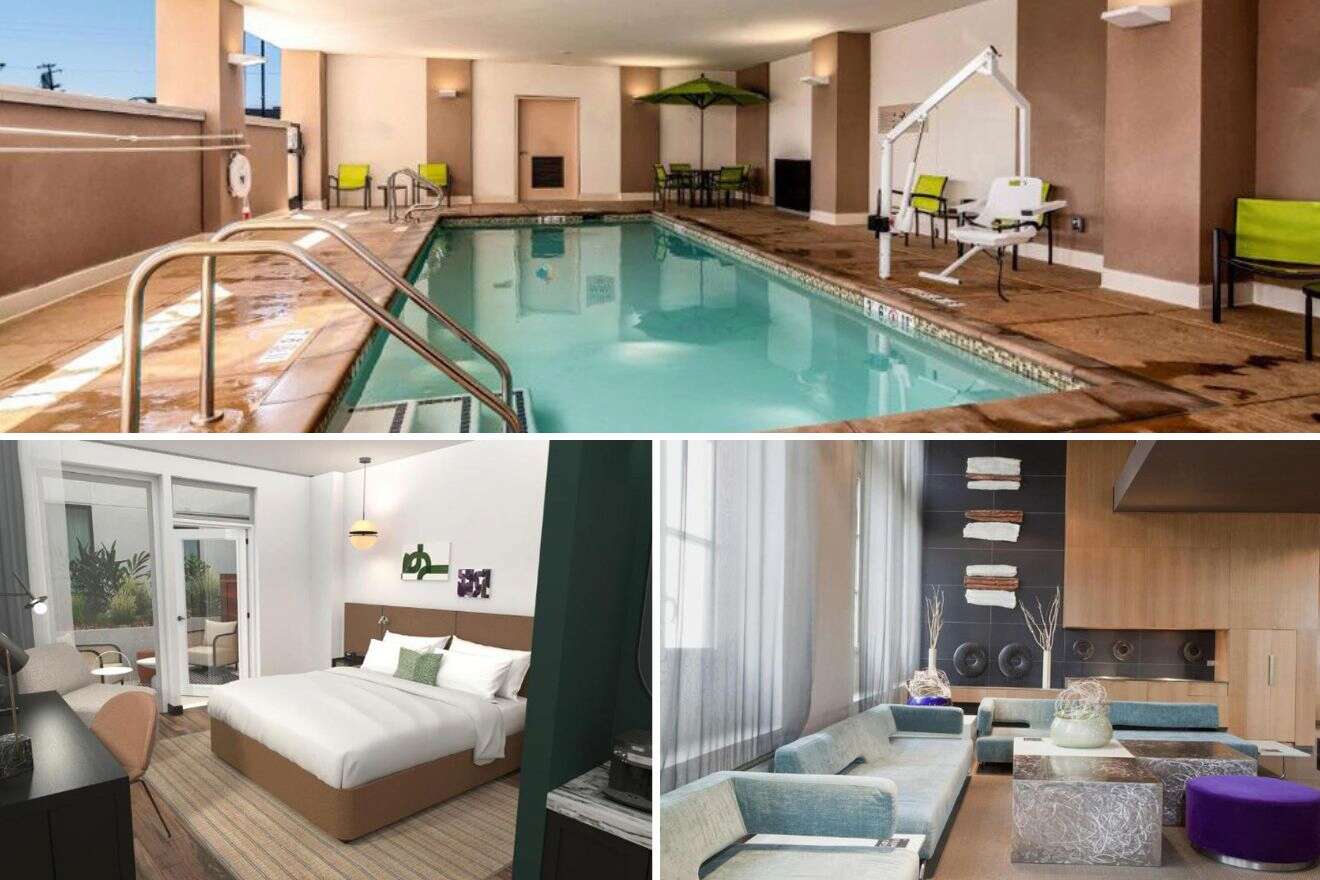 Luxury (US$300 and up)
Kissel Uptown Oakland – This Hyatt-branded luxury hotel is located only a 6-minute walk from the Paramount Theatre, as well as other local attractions. Top amenities include a great fitness center and spacious rooms.
Oakland Marriott Civic Center – Known for its convenient location and comfortable Marriott amenities, this luxury option is a great choice if you want to commute to and from San Francisco, as it's across from the BART train station.
Mid-Range (US$150 – US$300)
Budget (up to US$150)
FAQs about things to do in Oakland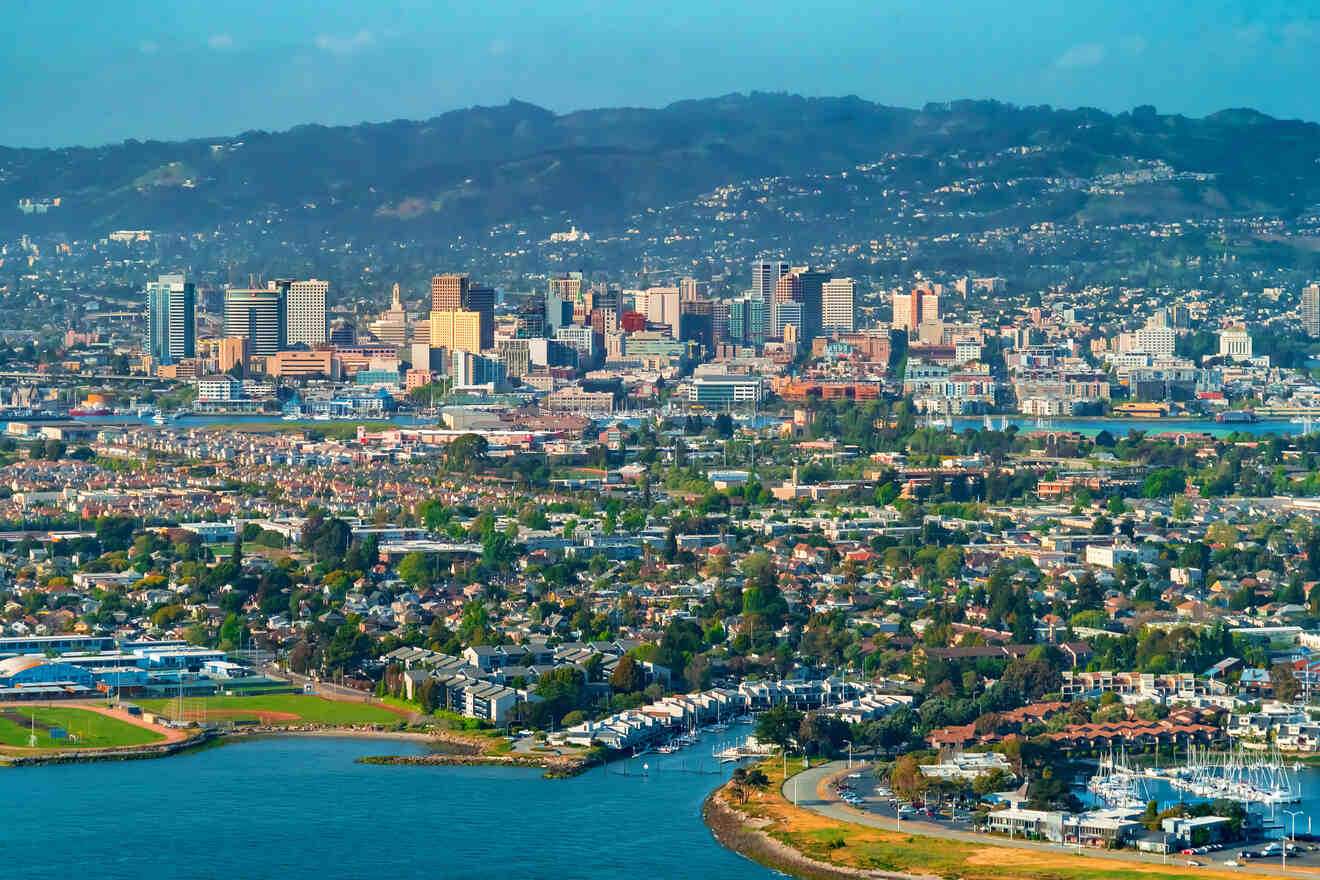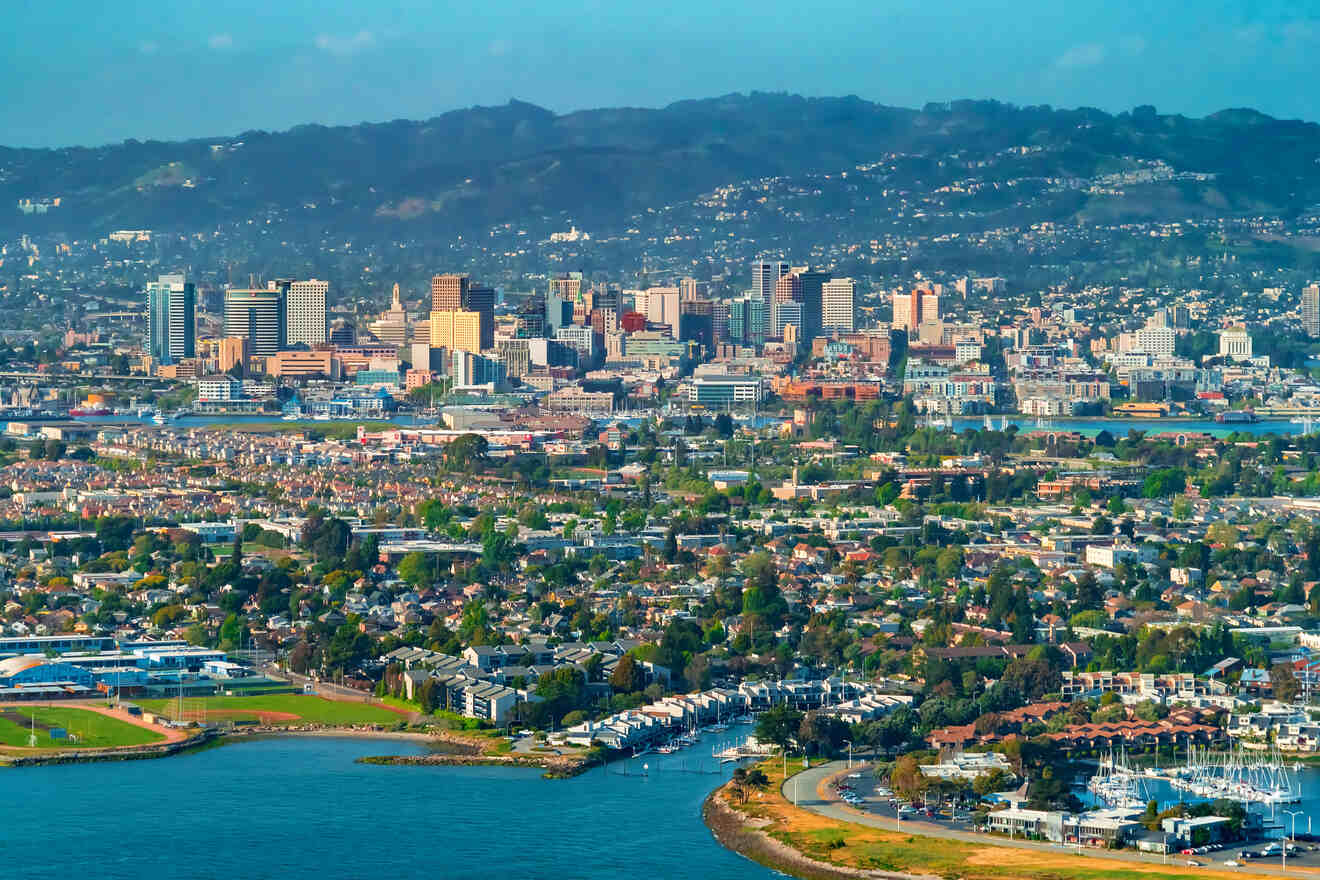 🏀 What is Oakland known for?
Oakland is known for cheering on the Golden Gate Warriors at Oakland Arena, traipsing through the towering redwoods at Reinhardt Regional Park, and spotting wildlife at Oakland Zoo.
✈️ Is Oakland, CA, worth visiting?
Yes, Oakland, CA, is definitely worth visiting! It has a rich history, vibrant culture, and an amazing arts scene.
🚶 Where can I walk around in Oakland?
Great places to walk around in Oakland include Jack London Square, Telegraph Avenue, and Lake Merritt.
💎 What is the nicer part of Oakland?
Conclusion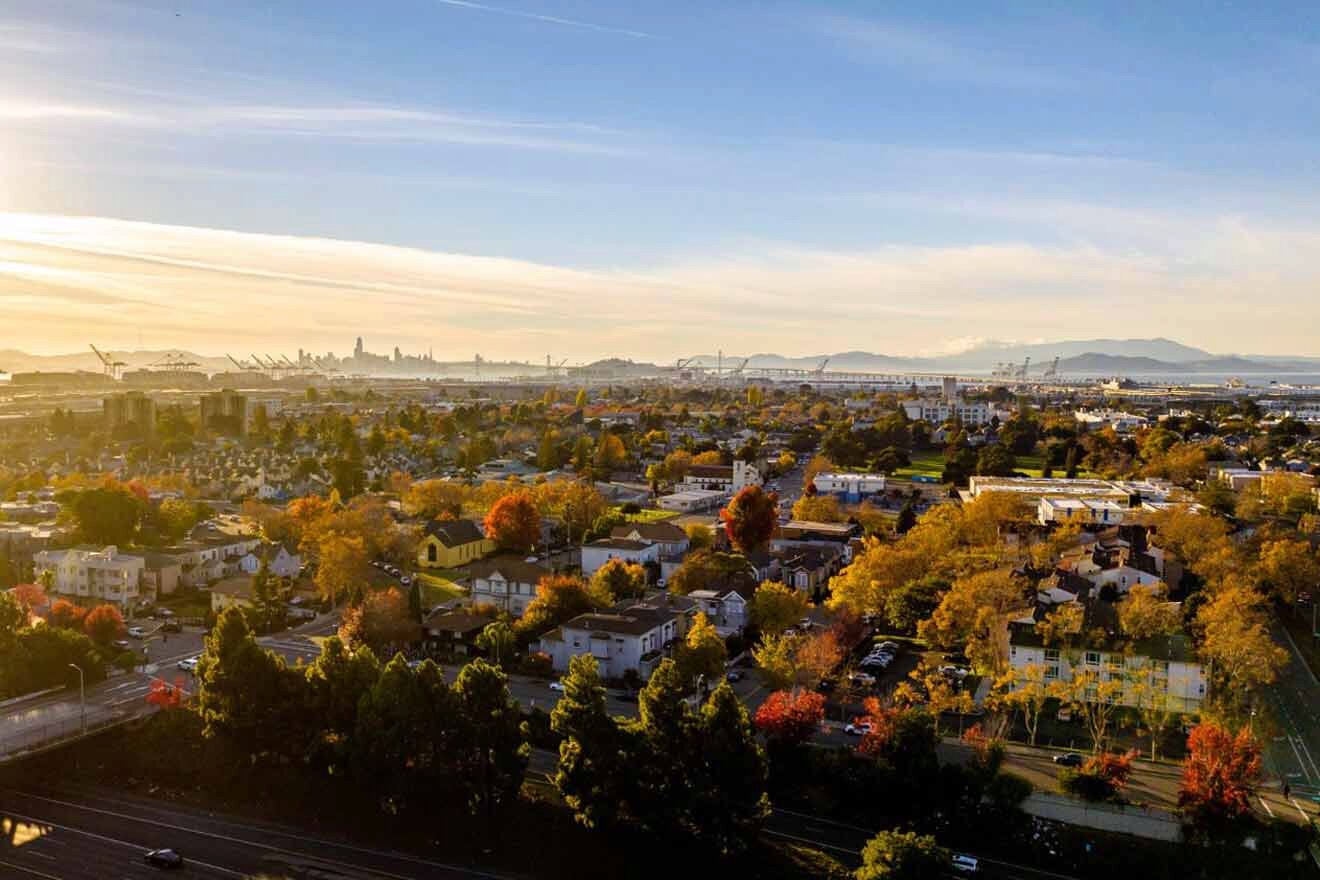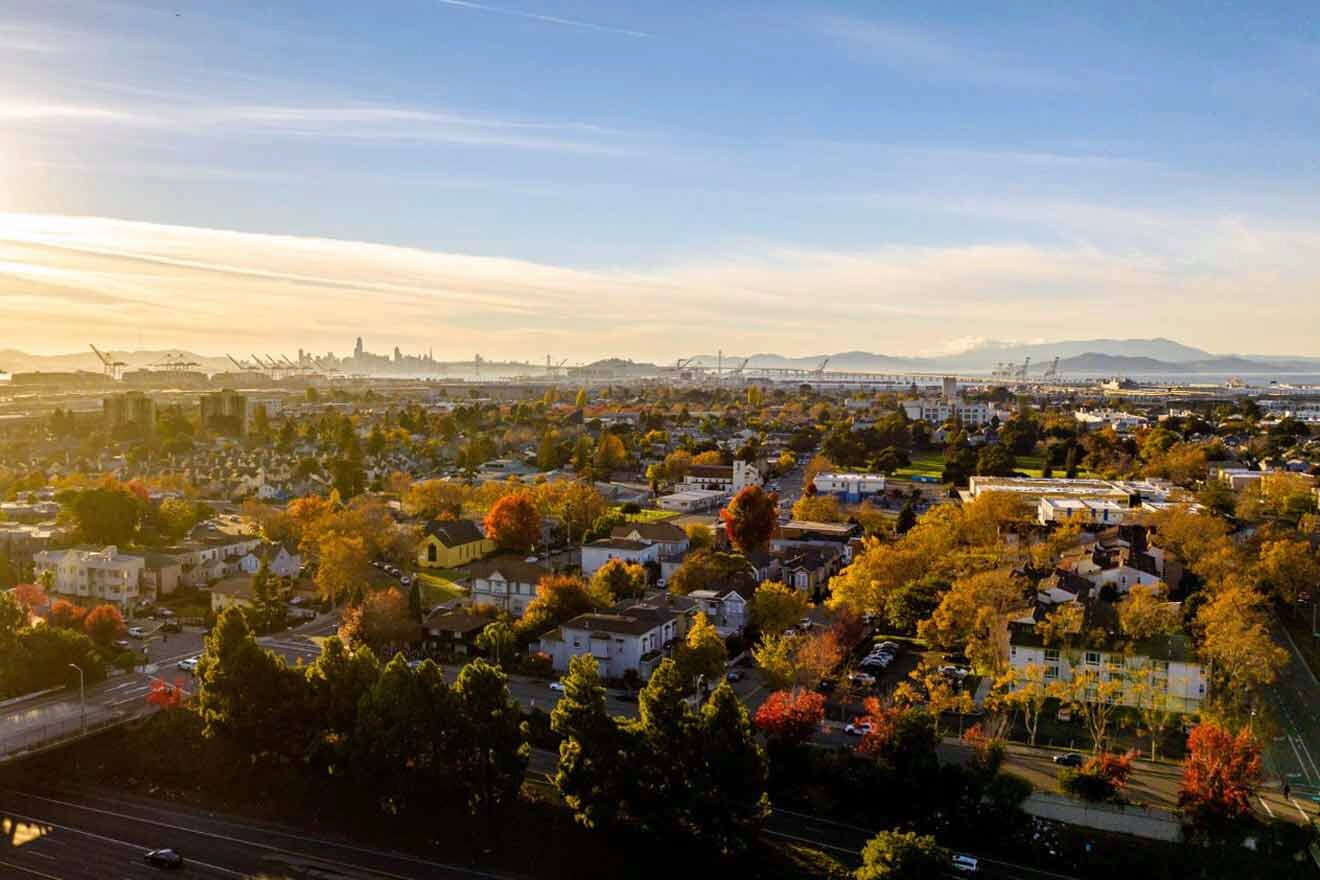 As you can see, Oakland is a bustling city and artistic haven built to support social and political organizations, multicultural celebrations, and a wealth of history.
If you're planning to visit this and explore things to do in Oakland, make sure to have all of your activities and hotels booked in advance!
You know I love to hear about your adventures. Leave me a comment below!
Aloha & safe travels,
Hayden G.
---
Pin it for later!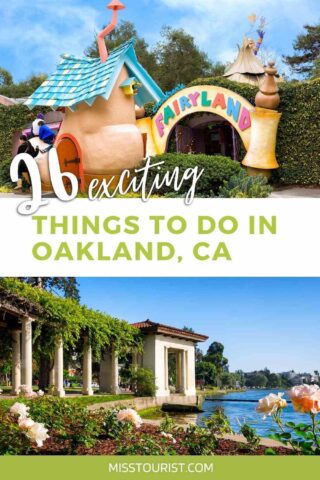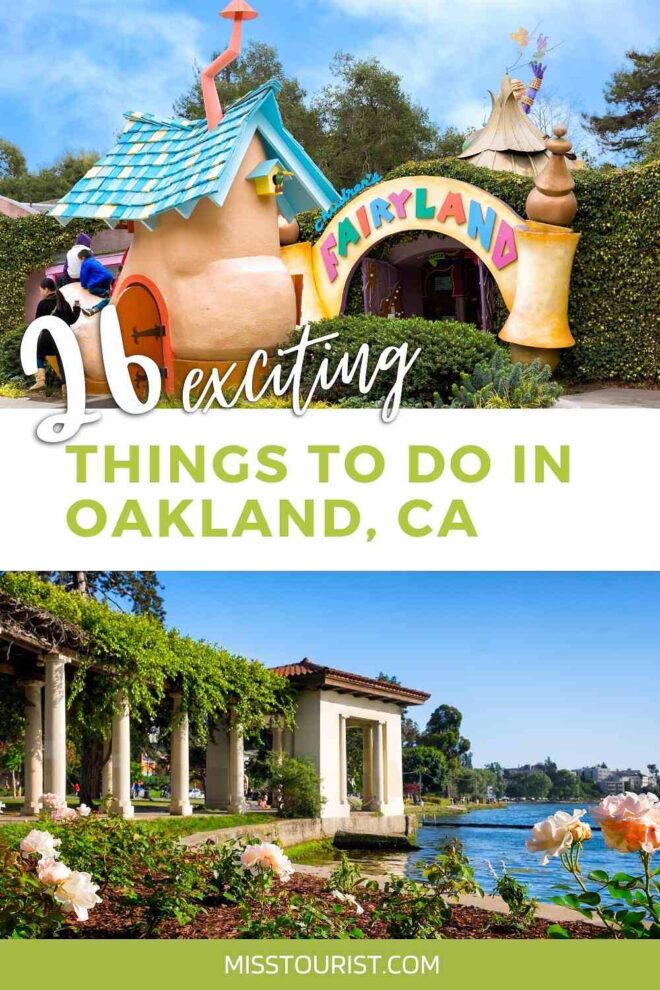 Pin it for later!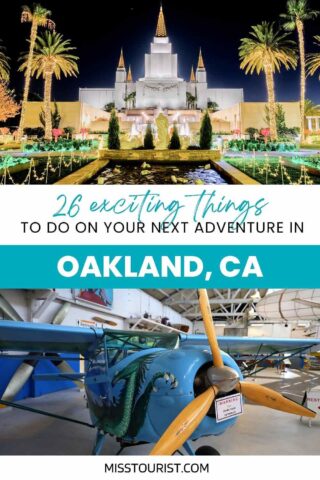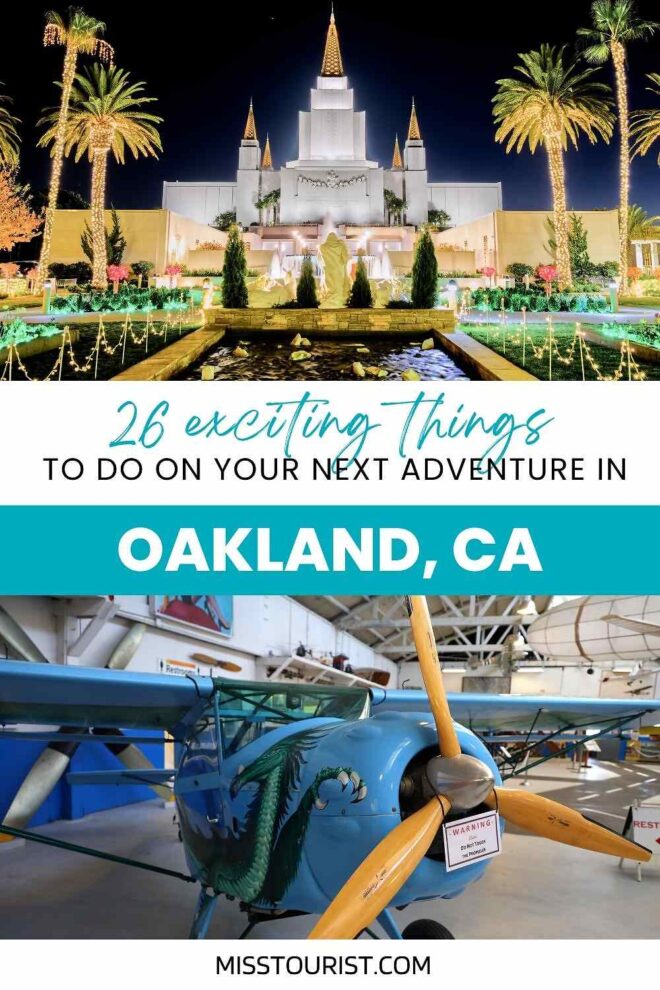 Products You May Like