8 Best Beaches in Pensacola → For Fun in the Sun!
You know those postcards of beaches with pristine white sand and water so blue-green you swear it's photoshopped? That's Pensacola for you. Situated on Santa Rosa Island along Florida's Emerald Coast and known for its unbelievably beautiful beaches and laid-back lifestyle, Pensacola is a real-life slice of paradise – a heaven for beachgoers, sun seekers, and history buffs.
If you're looking for the best beaches in Pensacola, you won't have to search far. It's the westernmost city in the Florida Panhandle, surrounded by miles and miles of postcard-worthy coastline.
With so many amazing beaches to choose from, you may be wondering how you're ever going to choose. That's where I come in! Although I live in Central Florida, I love exploring different parts of the Sunshine State, and Pensacola's beaches are some of the most exquisite!
In today's article, I'm sharing the 8 best beaches in Pensacola and what you need to know about them, so you can find the perfect beach for your next getaway.
Ready for some fun in the sun? Let's go!
1. Casino Beach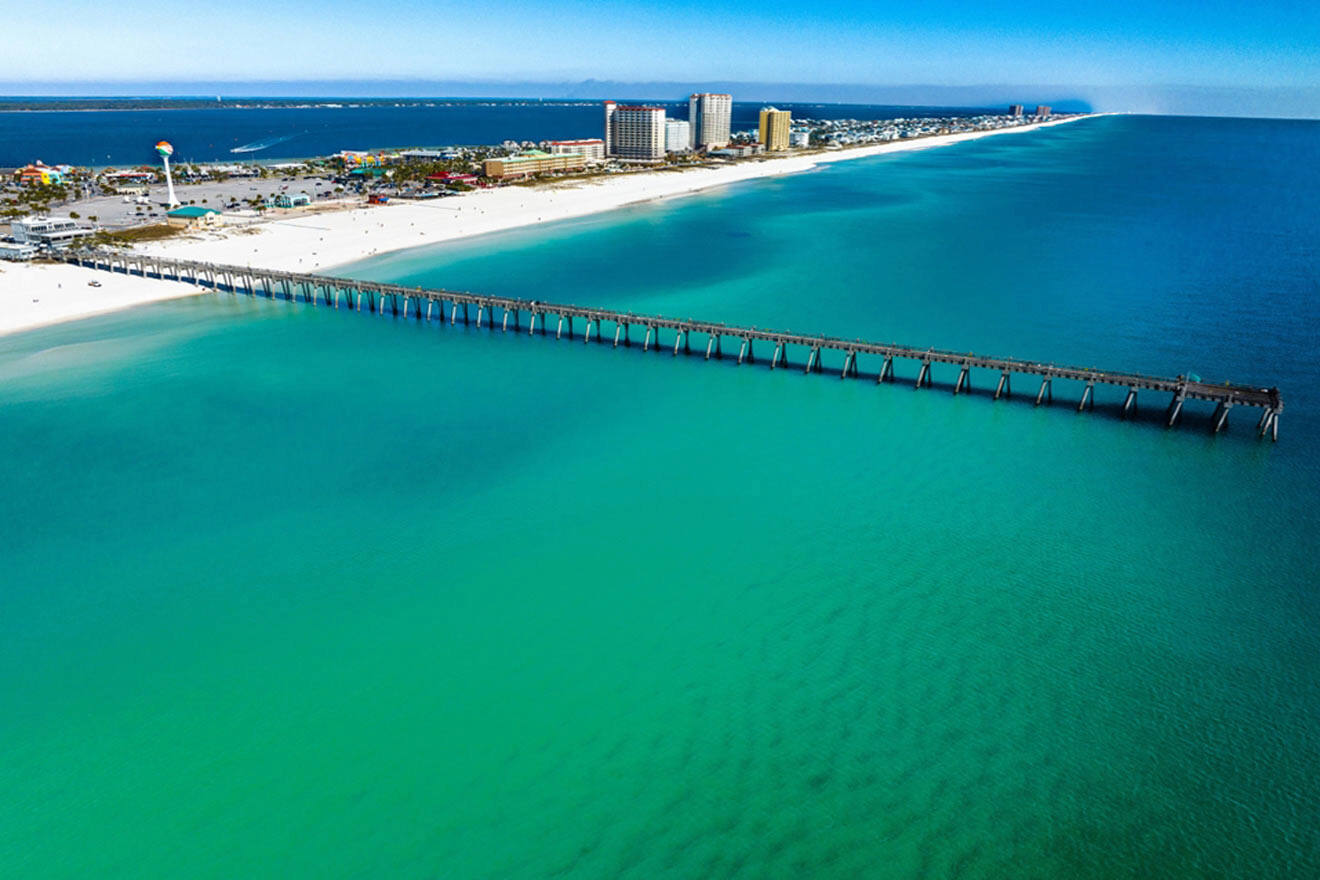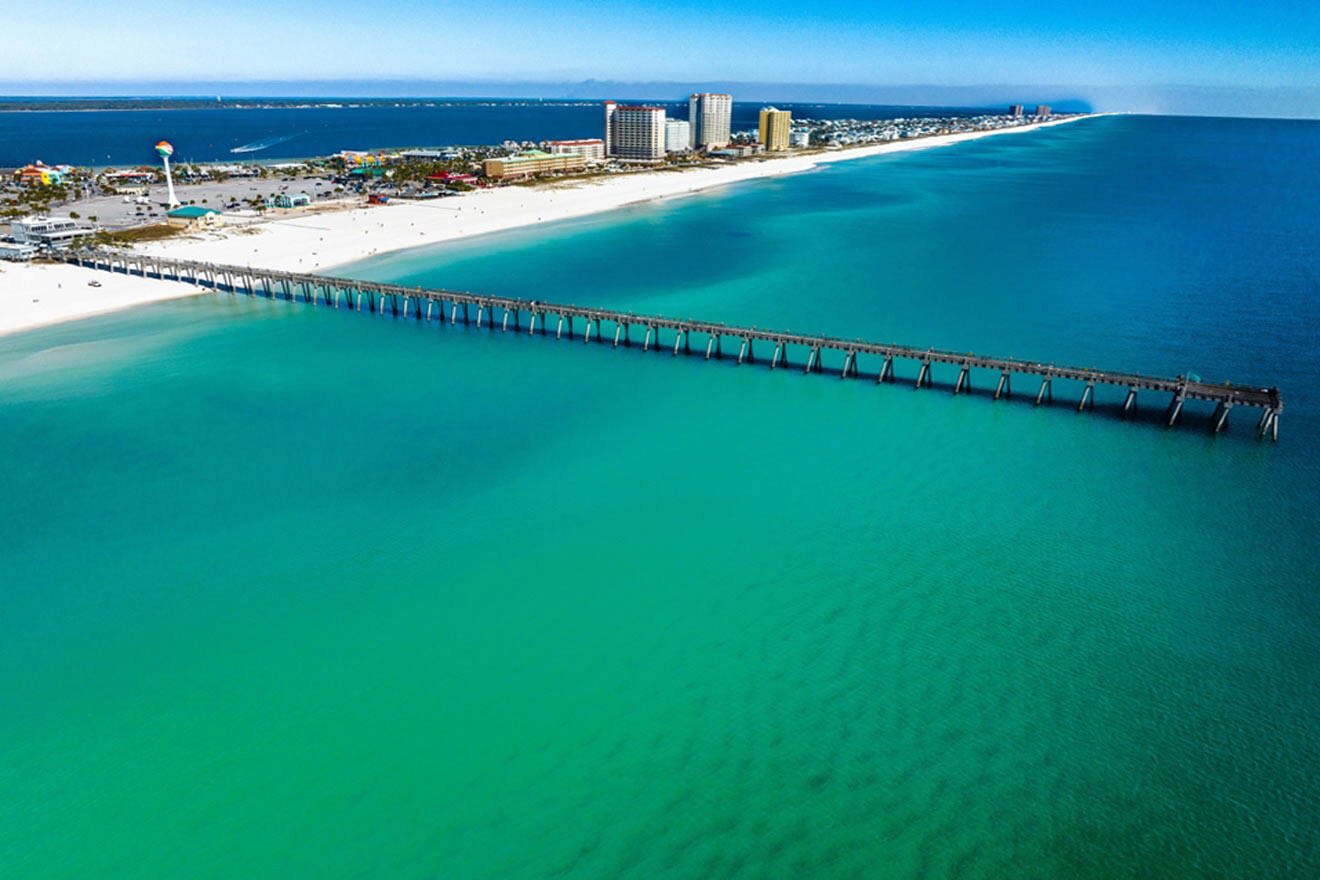 Pensacola Beach stretches 8 breathtaking miles (13 km) with the Santa Rosa Sound on one side and the Gulf of Mexico on the other. There are 2 beach parks on Pensacola Beach, and we're kicking off our list of best beaches in Pensacola with one of them: Casino Beach.
Marked by an iconic water tower painted to look like a beach ball, Casino Beach is the hub of Pensacola beaches, boasting a central location on the Gulf side with incredible shopping, dining, and entertainment just steps away.
If you love lively beaches where there's always something going on, Casino Beach is for you! You can even BYOB to Casino Beach, but there's also an alcohol-free zone that's perfect for family-friendly fun.
You'll find all the amenities you need for a stress-free outing here, including restrooms, concessions, showers, and picnic tables. There are plenty of beach vendors around, too, if you need to rent beach chairs or stock up on beach essentials.
Casino Beach is also the home of the Pensacola Beach Fishing Pier. And while there are plenty of places nearby for delicious seafood, you can head to the 1,471 ft (about 450 m) long pier and catch dinner yourself if you prefer!
2. Quietwater Beach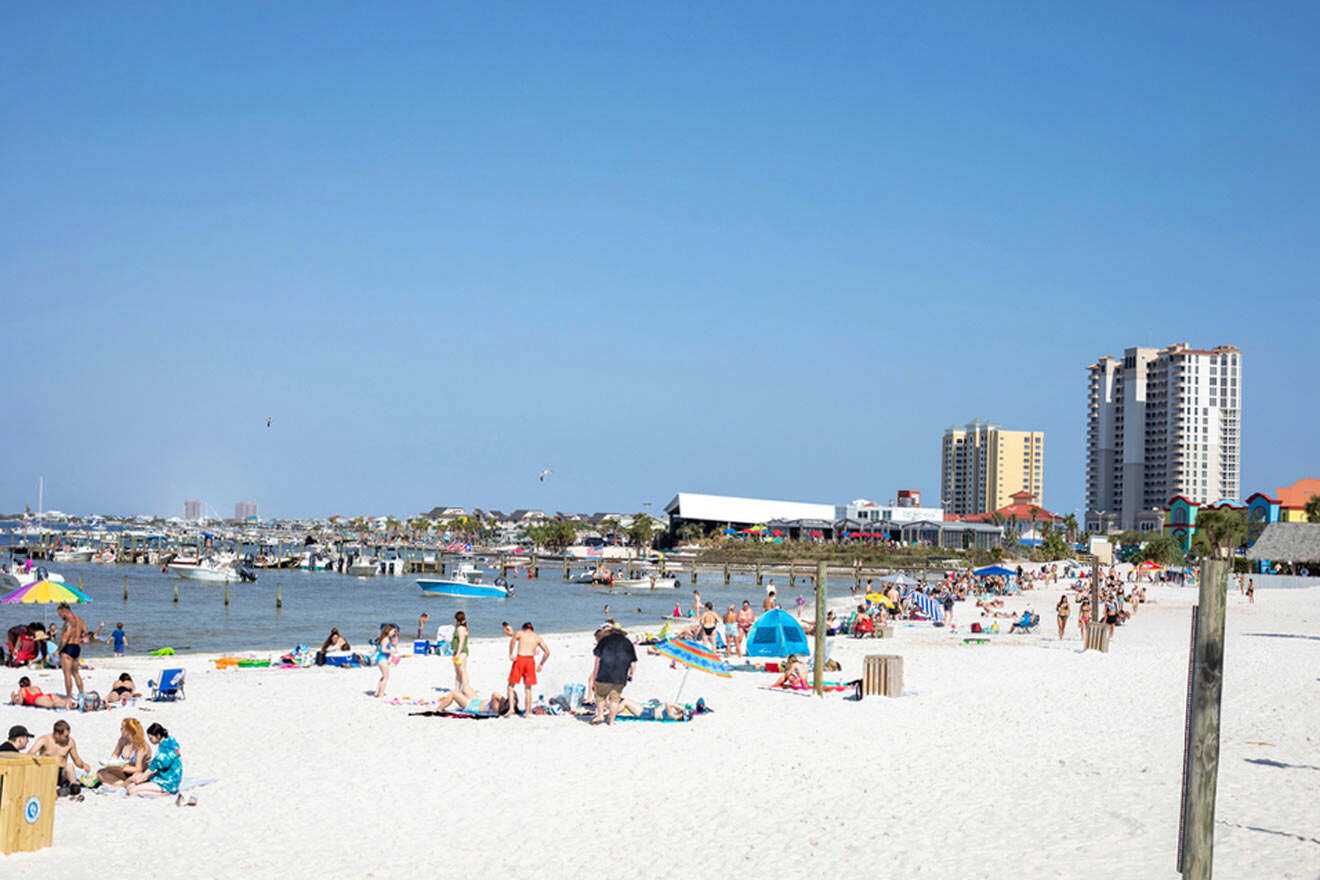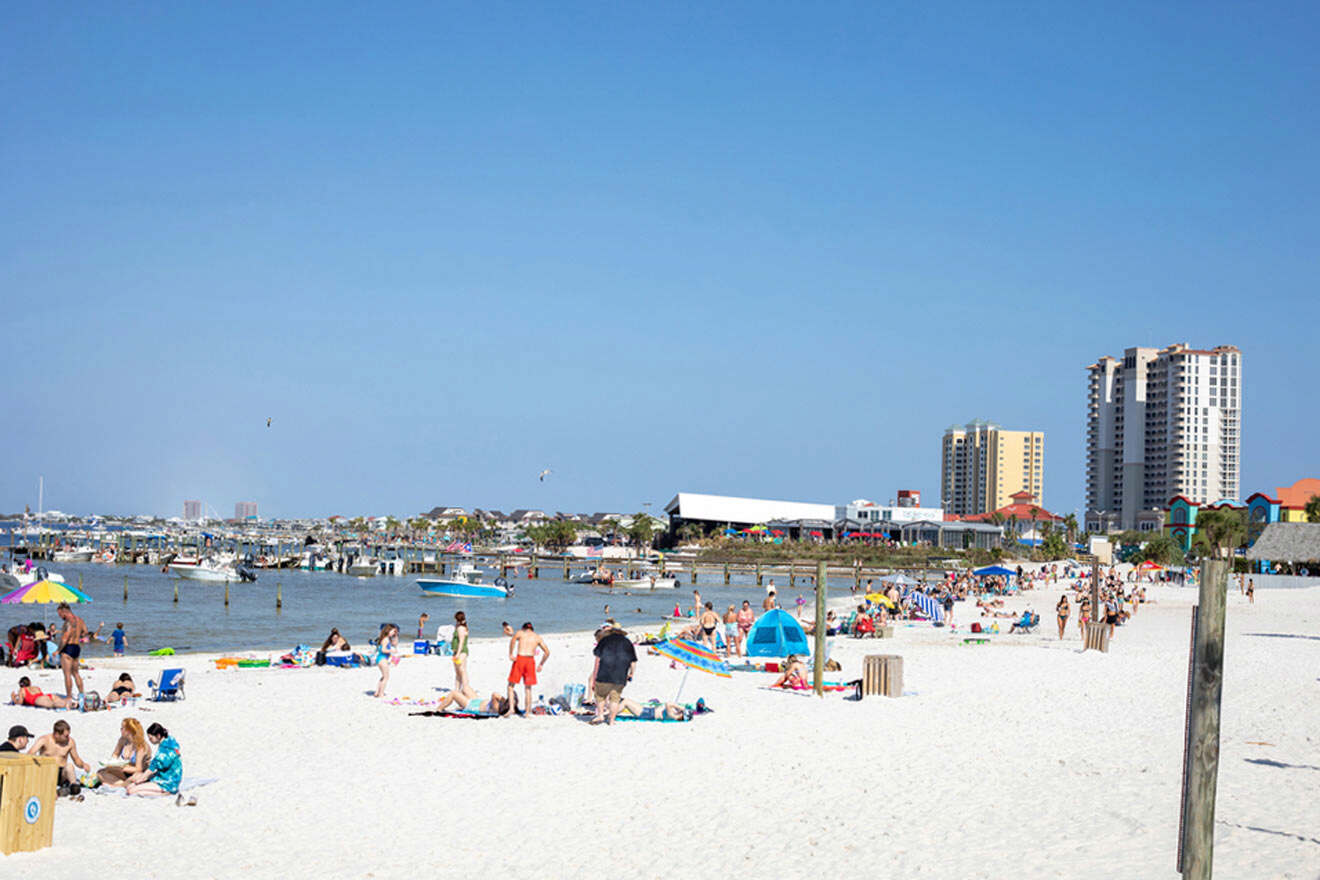 Quietwater Beach is the other beach park in Pensacola Beach, and it's one of the best beaches in Pensacola, Florida, if you're traveling with kids! Quietwater Beach faces the Santa Rosa Sound, so the water here is shallow and safe for your little ones to swim to their hearts' content!
Although Casino Beach may be known as the livelier of the 2, don't let the name Quietwater fool you. There is no shortage of things to do and fun to have on Quietwater Beach, from waterfront dining and shopping at the Pensacola Beach Boardwalk to scenic boat tours.
Kayaks, wave runners, boats, and other beach gear are available to rent nearby, so those who want to kick the adventure up a notch will have no problem doing so near Quietwater Beach!
You can also leave the navigation to someone else and join a boat tour instead – this dolphin tour takes you on a relaxing cruise where you can spot the local marine life, including dolphins, turtles, fish, and more. It sells out quickly, so I recommend booking ASAP if you're interested!
PRICE: US$30 per person
3. Opal Beach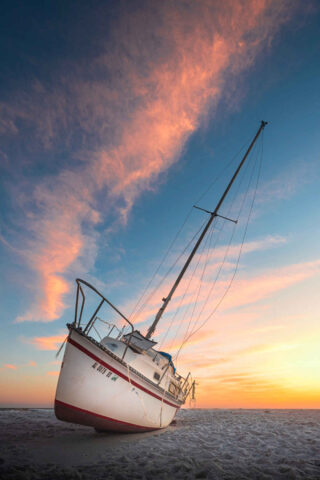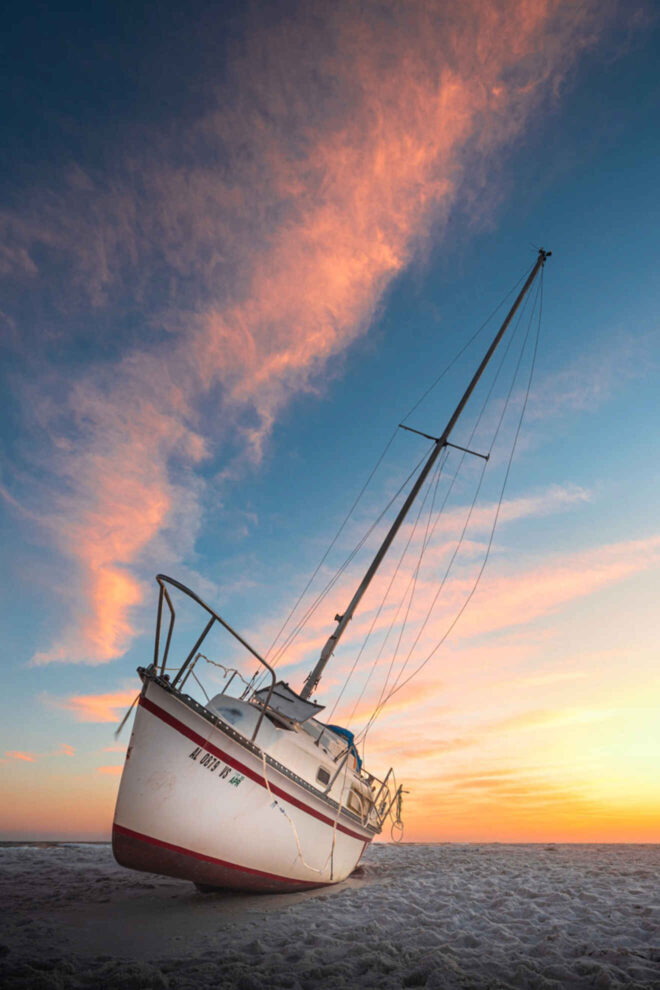 If you've never heard of Opal Beach, you're not alone. It's one of the best beaches in Pensacola, FL, but very much a hidden gem. It got its name from the 1995 hurricane on that Pensacola coast that flattened the sand dunes in the area, creating the pristine beach you'll find there today.
Opal Beach is part of the Gulf Islands National Seashore, which protects nearly 6,000 acres (2,430 hectares) of public land and just shy of 19,000 acres (7,690 hectares) of water. Because of this, you won't find buildings, powerlines, or anything else spoiling this pristine paradise – just a glittering horizon where the sun meets the sea.
There are flush toilets, outdoor showers, picnic shelters, and drinking water available at Opal Beach, so you don't need to sacrifice convenience to spend the day at this natural wonder.
Since Opal Beach is protected by the Gulf Islands National Seashore, you will need to pay an entrance fee to visit, but I promise this beach is worth the splurge. Your entrance pass will work at other beaches along the Gulf Islands National Seashore as well, and it's valid for 1 – 7 days. Trust me, after you go once, you'll want to go back!
PRICE: US$25 per vehicle, US$15 per pedestrian or cyclist
4. Langdon Beach at Fort Pickens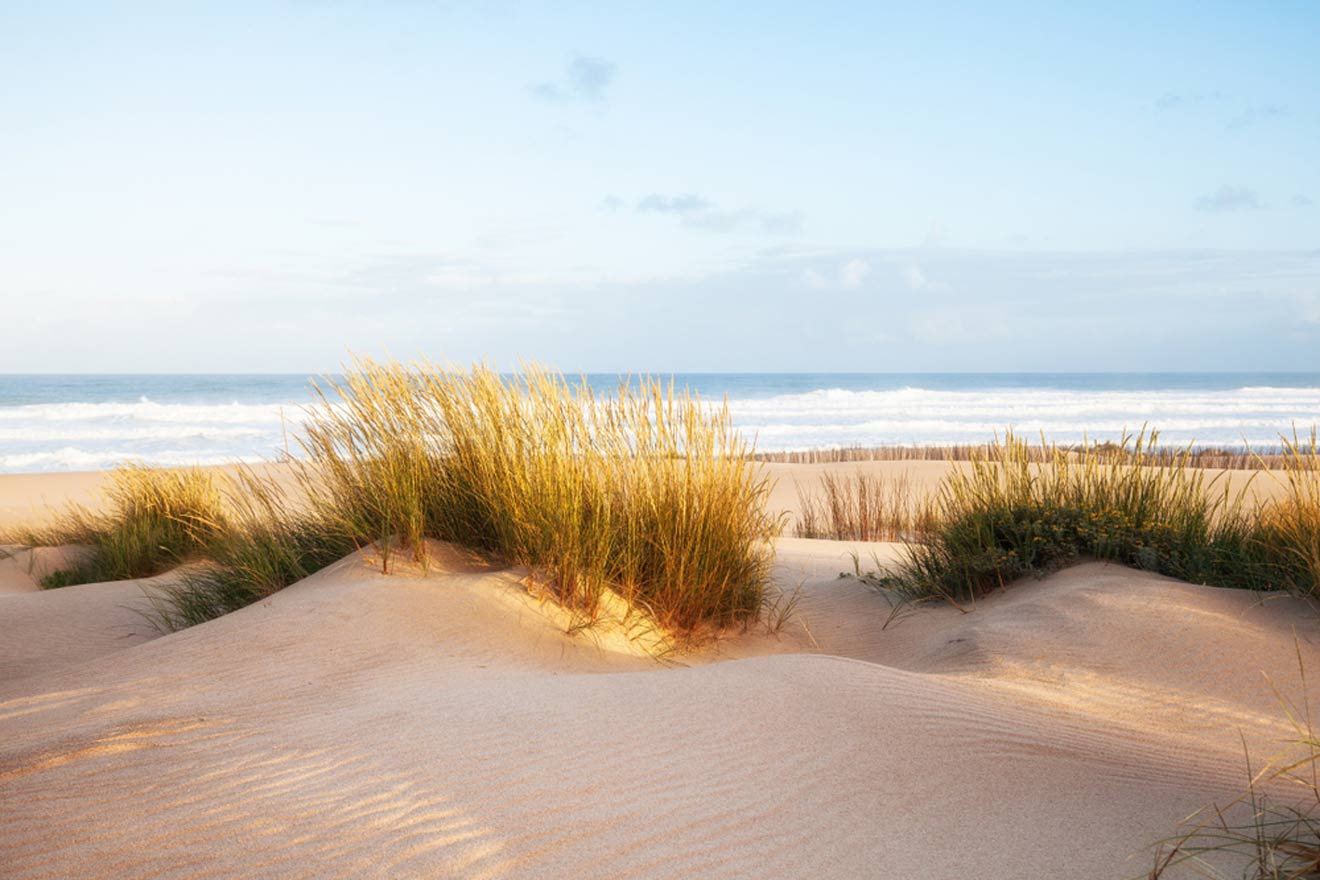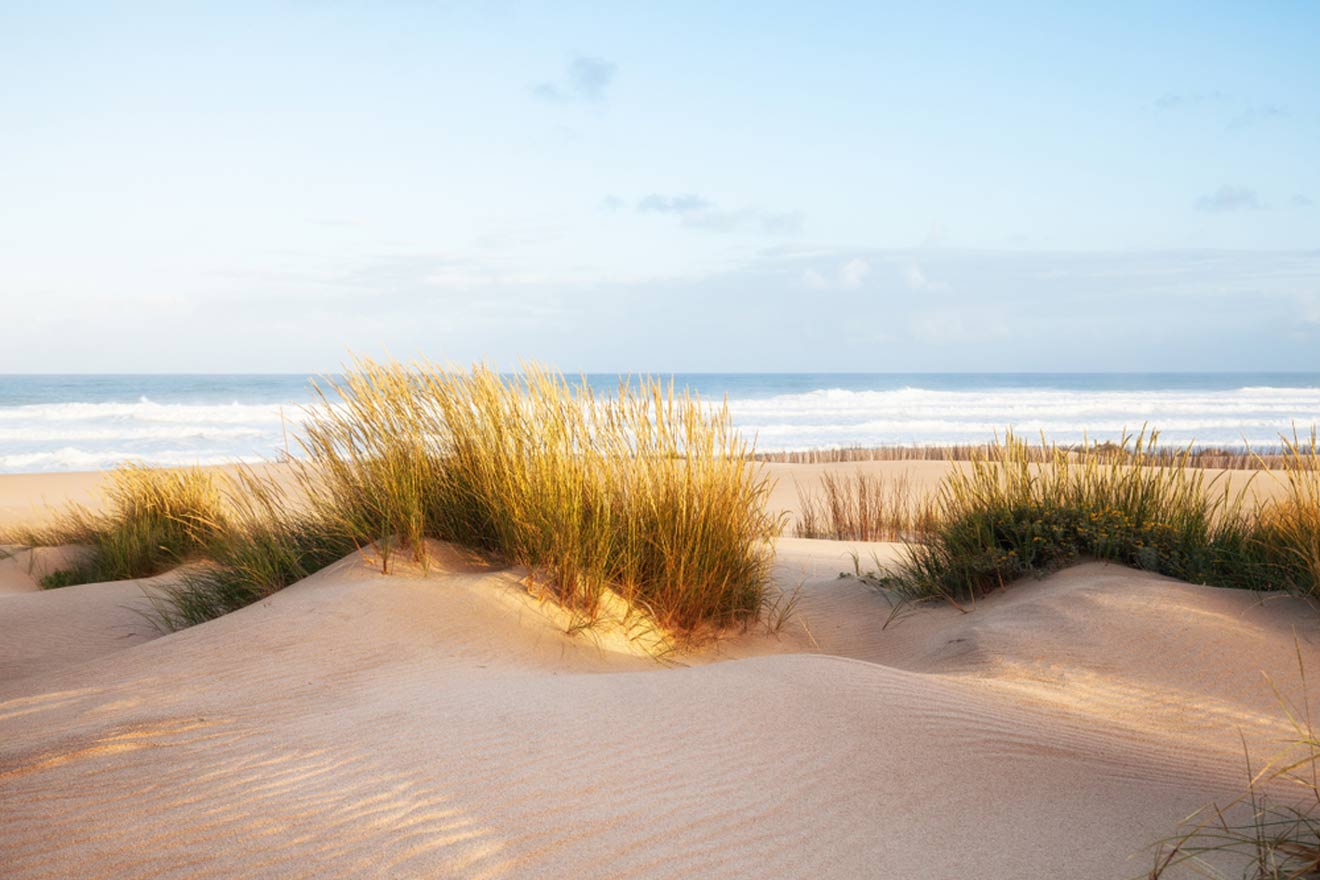 Next up on our list is also part of the Gulf Islands National Seashore, and it's a must-do beach for history buffs visiting Pensacola! Langdon Beach is located at Fort Pickens, named for Brigadier General Andrew Pickens, a patriot who fought in the Revolutionary War and was built by the United States Army in the 1800s to protect Pensacola Bay.
The coolest part of Fort Pickens is that it went on to become a destination on the Underground Railroad, helping those seeking freedom during and after the Civil War! You can tour Fort Pickens, as well as other historic structures in the area, like the Fort Pickens Batteries, on a self-guided adventure or through one of the Gulf Islands National Seashore ranger-led programs.
Langdon Beach is the swimming area of Fort Pickens, where you can relax on the soft powdery sand or make a splash in the welcoming water. Langdon Beach is an excellent choice for anyone looking to be immersed in storied history and Florida sunshine.
Like #3 on our list, Fort Pickens does charge an entry fee, but the pass is good at the other Gulf Islands National Seashore beaches for up to 7 days.
PRICE: US$25 per vehicle, US$15 per pedestrian or cyclist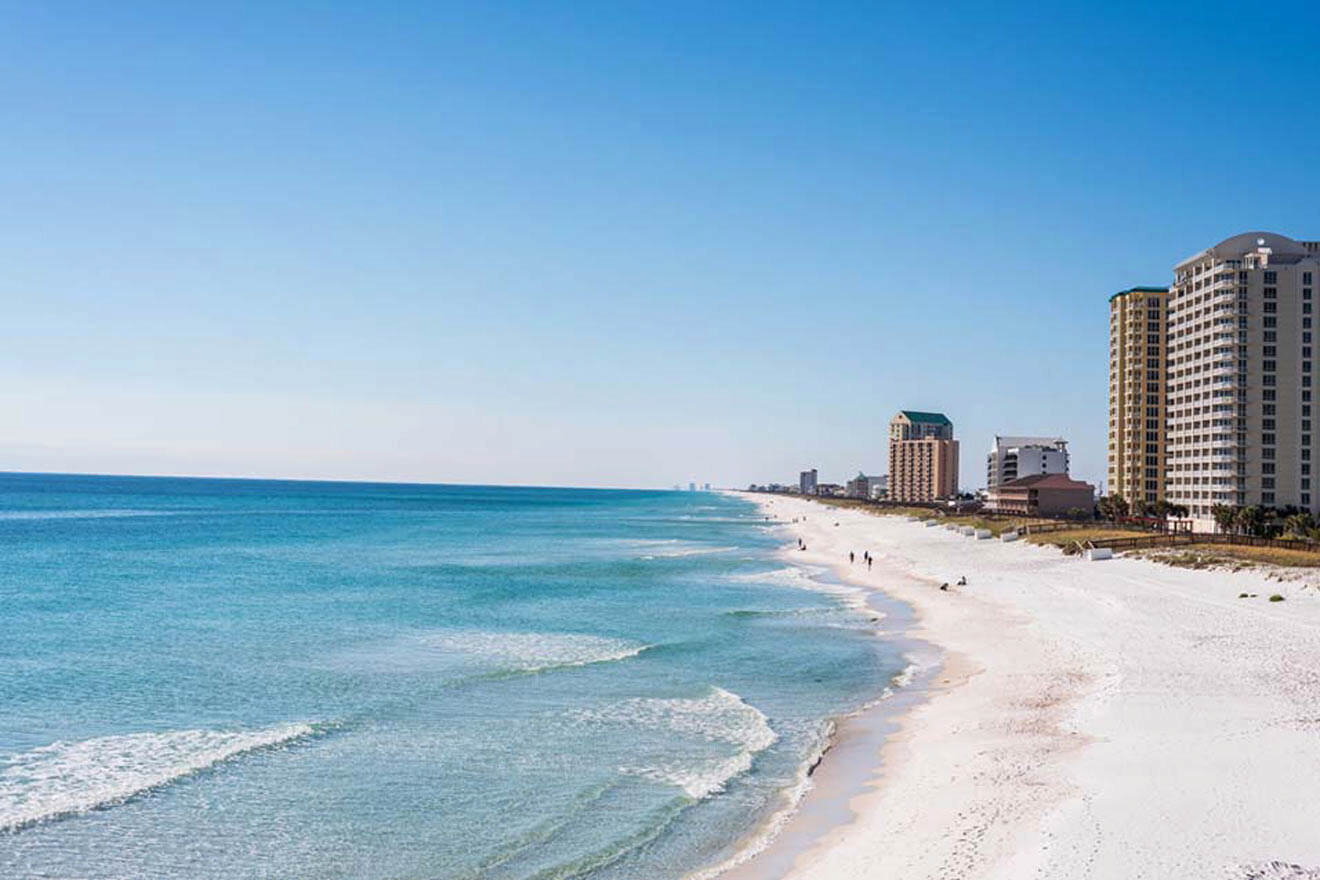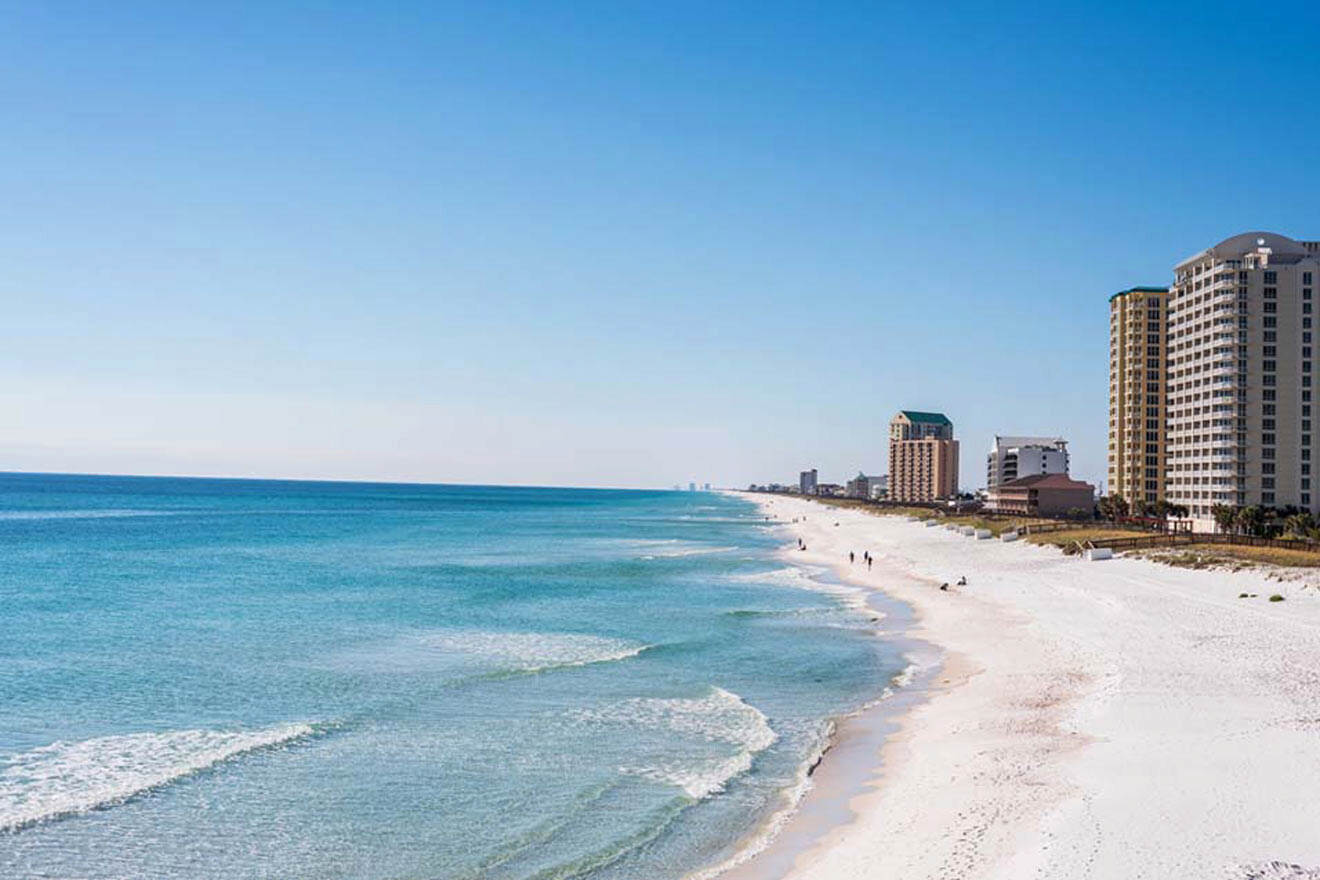 The slogan of Navarre Beach is "Florida's Most Relaxing Place," and that's enough for me to pack my bags and run to this beach community! Its snow-white sand and emerald green waters have landed Navarre Beach a continuous spot as one of the most beautiful beaches in the country.
Navarre Beach is about a 30-minute drive west of Pensacola Beach on Santa Rosa Island, and the journey is absolutely stunning, with glittering water on both sides of you.
Relaxation is what Navarre Beach is all about, so sit back in your beach chair, relax, and listen to the waves as you soak up the sunshine. If your idea of something fun to do on a Florida beach vacation is doing nothing at all, you'll have no complaints about Navarre Beach. But if you'd like to get out and explore, you'll find plenty of opportunities to do that here as well.
There are 3 artificial reefs here, making Navarre Beach a hotspot for snorkeling and seeing amazing marine life. The nearby Navarre Beach Marine Park connects the Santa Rosa Sound with the Gulf of Mexico and boasts must-do attractions for nature lovers visiting Pensacola. The best part is that it's free of charge!
Don't forget to make a stop by the Sea Turtle Conservation Center at Navarre Beach Marine Park, where you can meet the resident green sea turtle named Sweet Pea!
If you want to try surfing for the first time, you can even take family-friendly surf lessons on Navarre Beach! The calm waters on Florida's Gulf Coast are perfect for beginners to learn.
6. Perdido Key Beach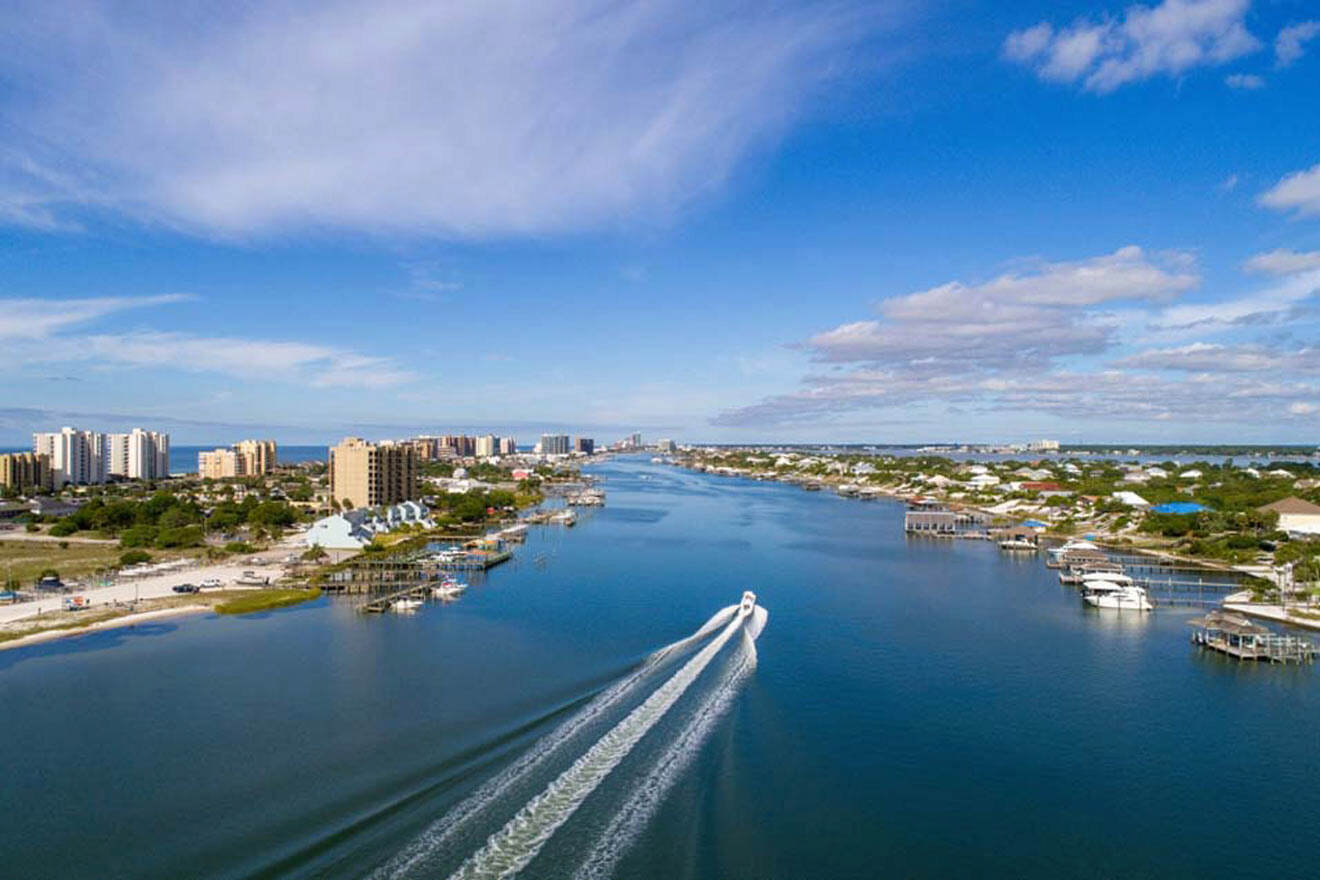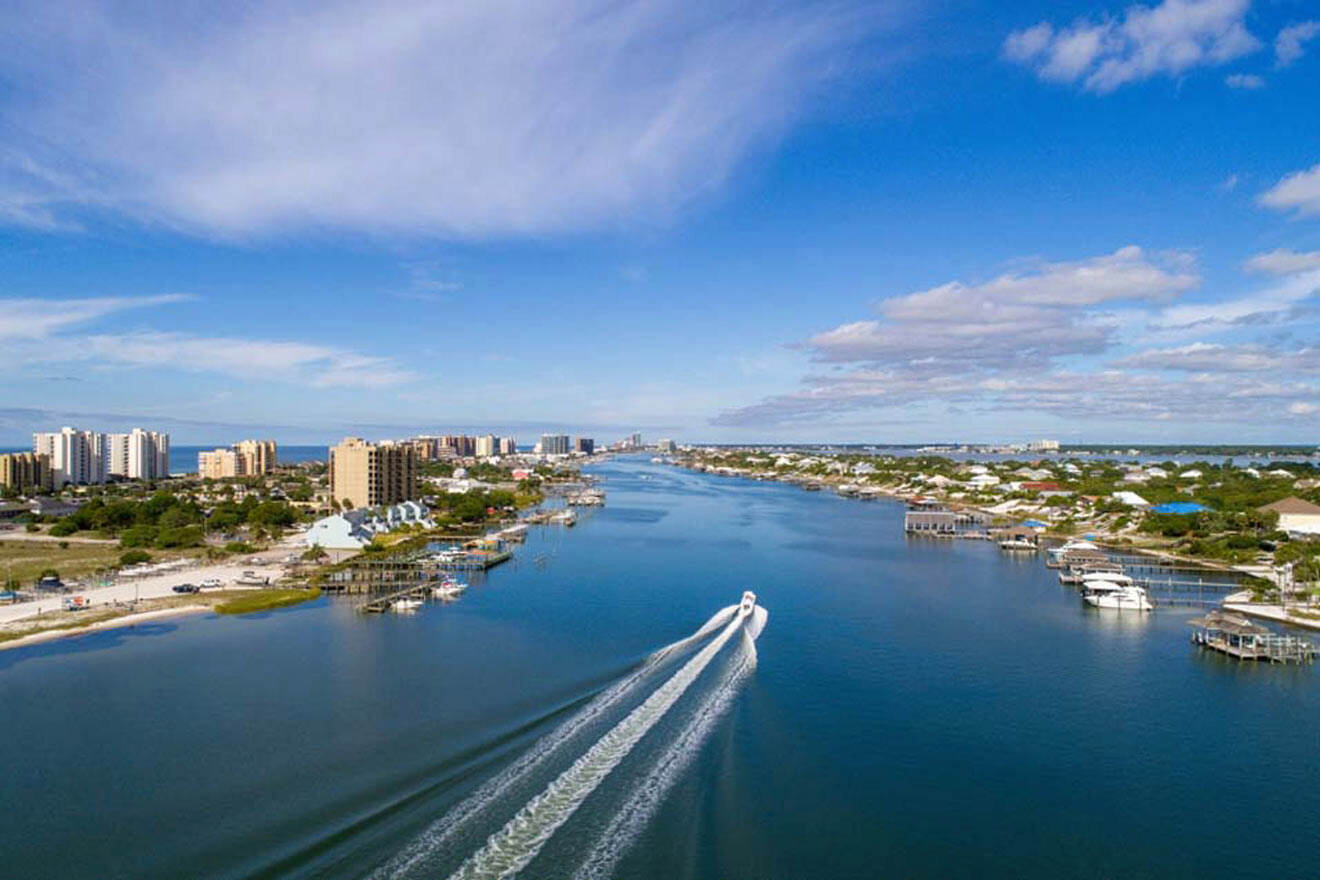 A thin strip of pristine beaches in the very northwestern corner of the Sunshine State, Perdido Key is quite literally a slice of paradise – the majority of it is no more than a few yards wide!
Perdido Key translates to "lost island," which is the perfect way to describe it. A barrier island located west of Pensacola and east of Orange Beach, AL, Perdido Key has the stunning Gulf on one side and wetlands and estuaries on the other.
Some of the most pristine beaches are on Perdido Key, including Perdido Key State Park, Big Lagoon State Park, and Johnson Beach, which is part of the Gulf Islands National Seashore. If you're looking for a free beach on Perdido Key, there are several public beach access points along Perdido Key Beach.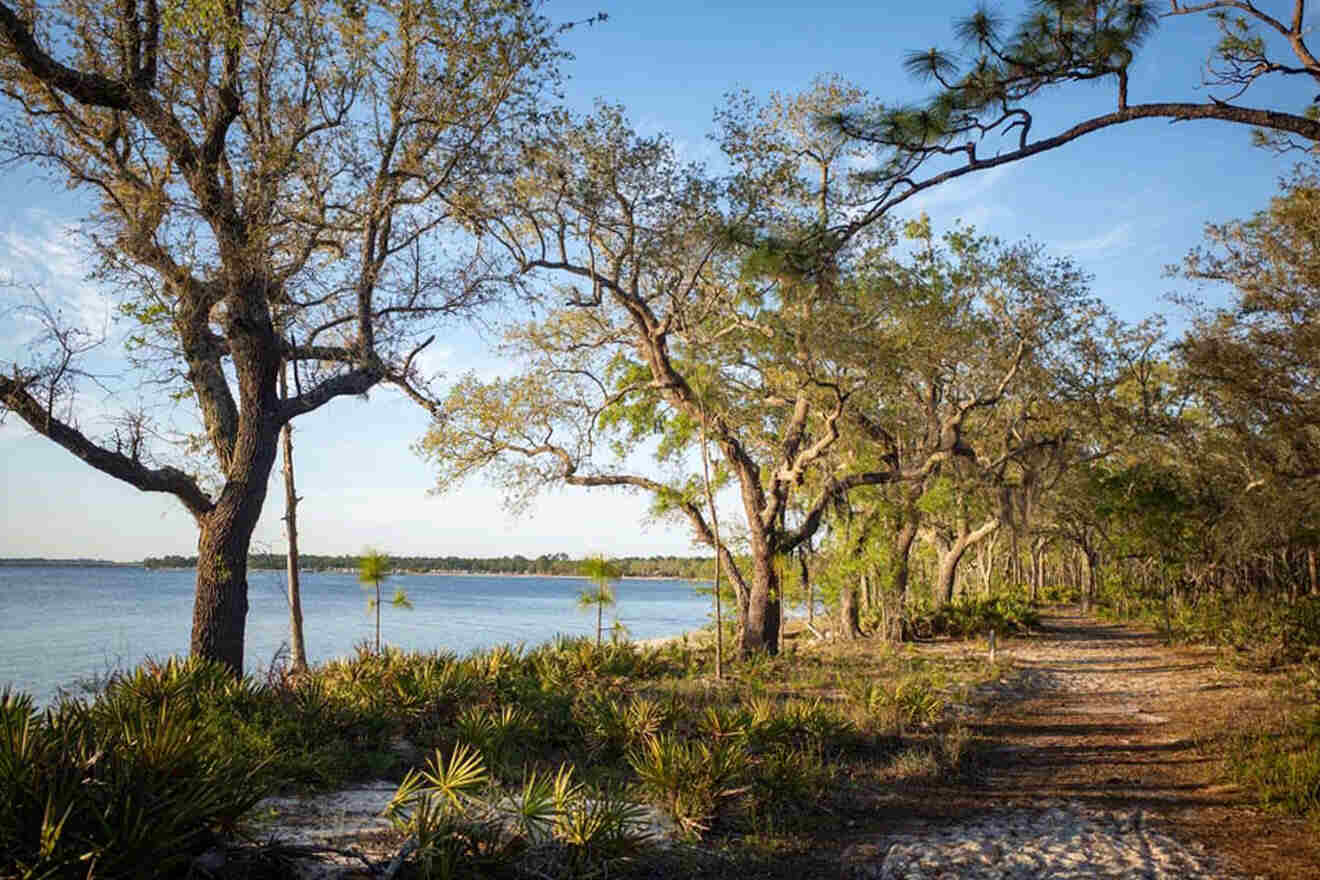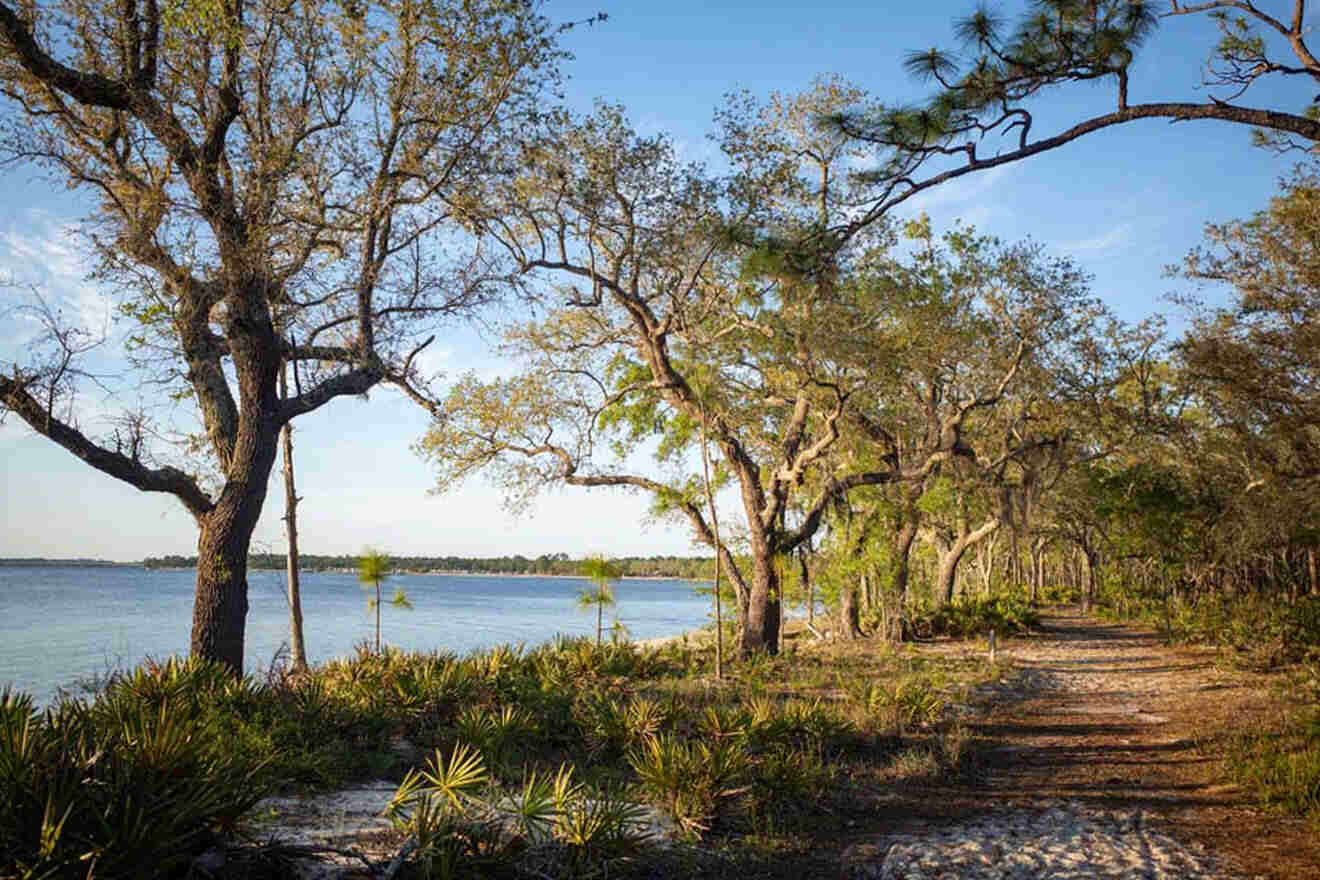 Outdoor enthusiasts, this one's for you! The Naval Live Oaks Nature Preserve is a hiker's dream come true, boasting over 7 miles (11 km) of scenic nature trails through one of the country's oldest federally protected forests. The towering live oaks here provided valuable wood for shipbuilders in the 1800s, so the area is ripe with history and natural beauty to explore.
The preserve is the place to go if you like long walks on the beach, but there are lots of other activities there as well. You can go swimming, kayaking, and paddle boarding on the calm waters of the Santa Rosa Sound.
There are picnic tables and pavilions available on a first-come, first-served basis, and other amenities include grills and restrooms as well, although you'll need to bring your own food and drink since there are no concessions on the property.
8. Dog-friendly beaches in Pensacola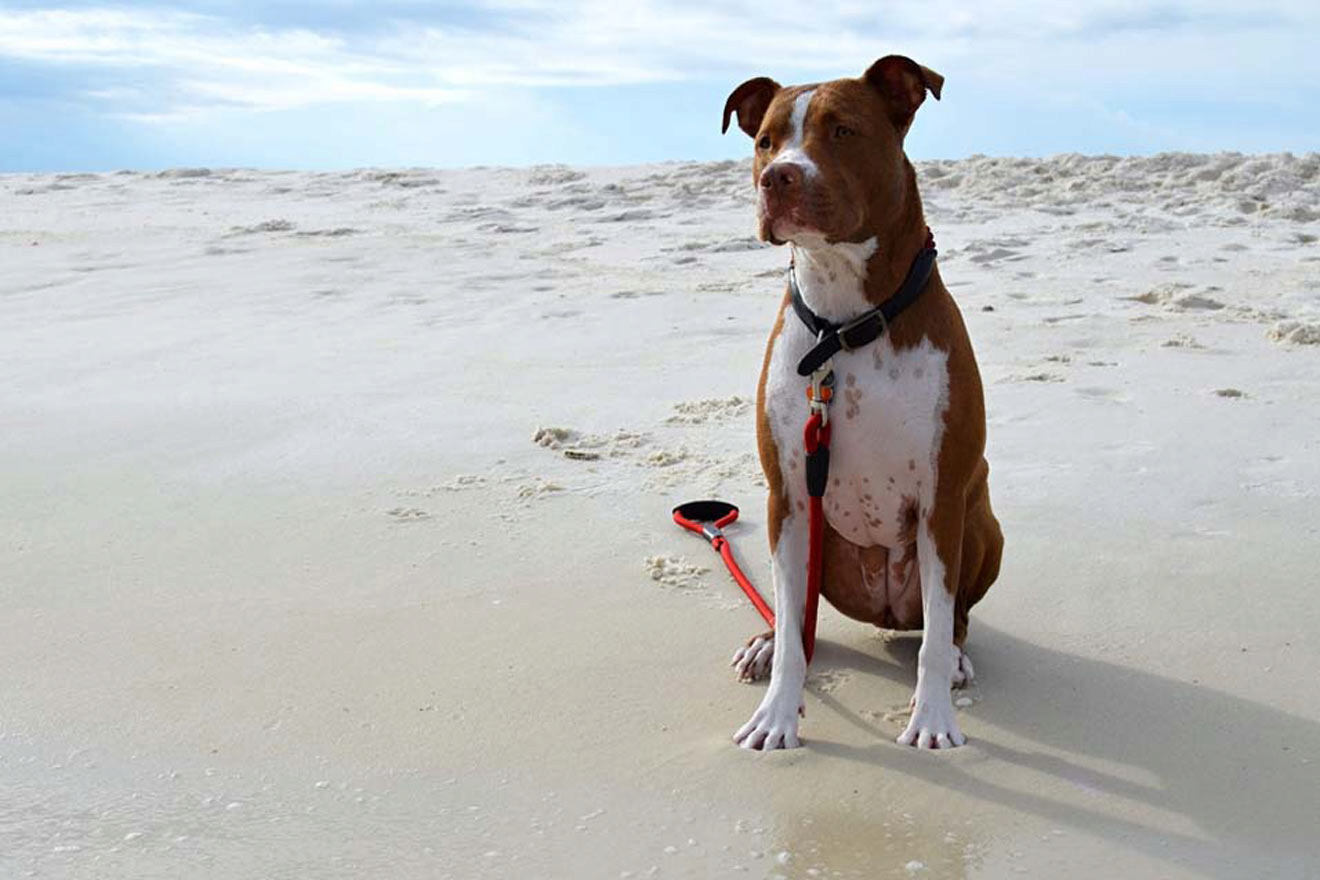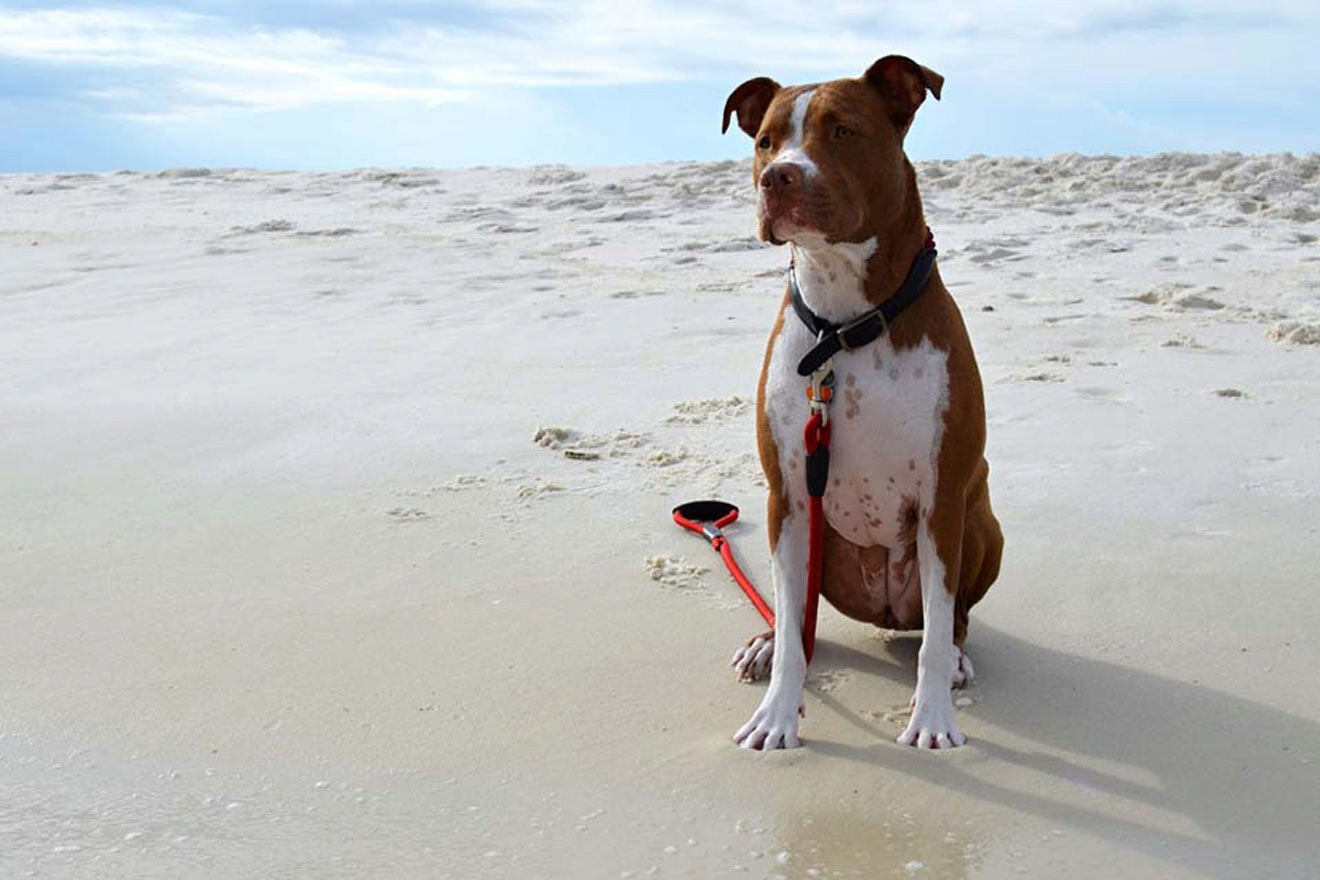 Of course, we couldn't exclude our furry friends from this list of best beaches in Pensacola! If you're traveling with your dog, you'll want to check out the Pensacola Bay dog beaches, which are designated areas on Pensacola Beach where dogs are allowed.
Pensacola Dog Beach West and Pensacola Dog Beach East are named for the side of Pensacola Beach on which you'll find them. There are signs on the main road that will direct you there. Please note that dogs do need to be leashed when visiting the dog beach and must be wearing their up-to-date rabies tags.
FAQs about beaches in Pensacola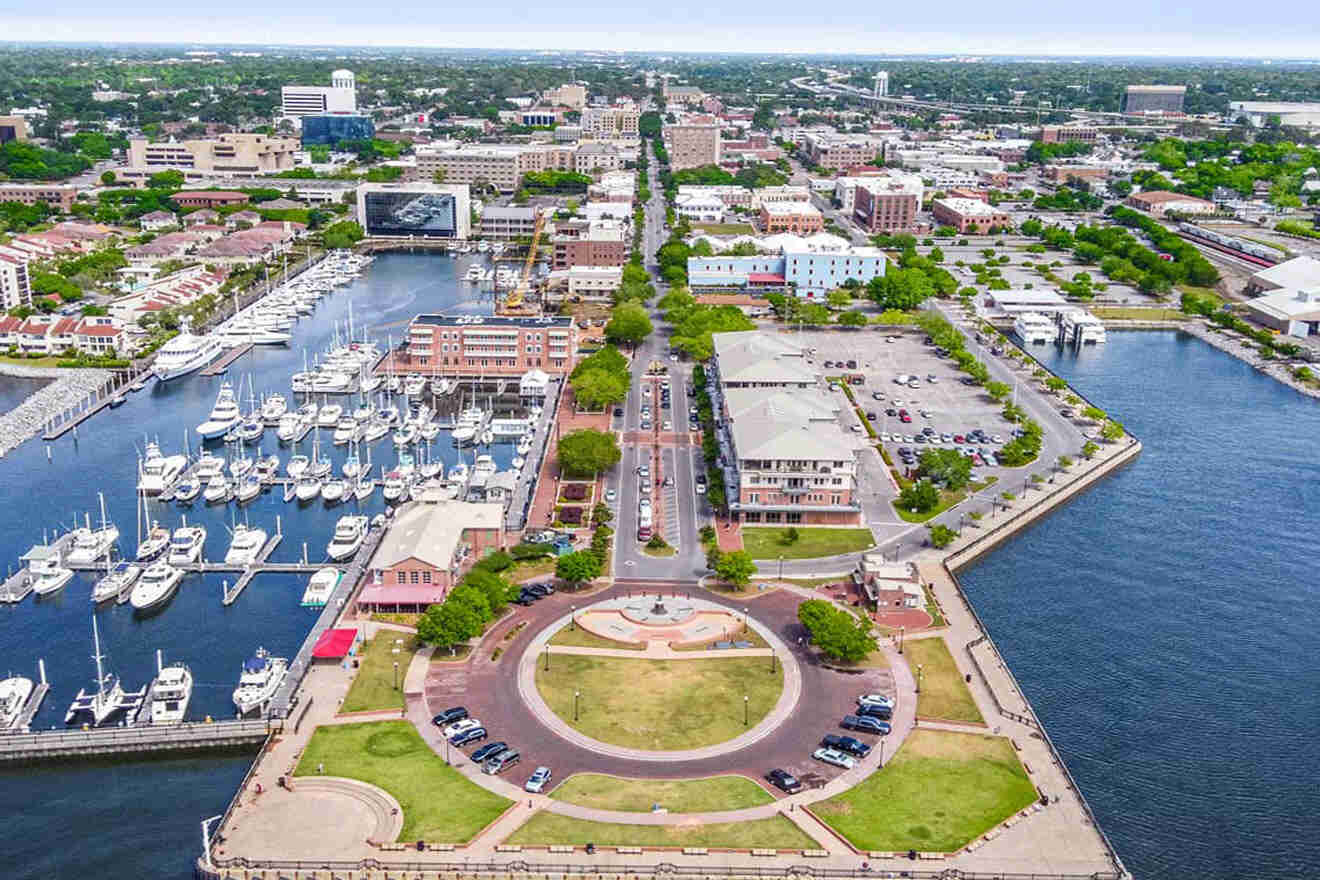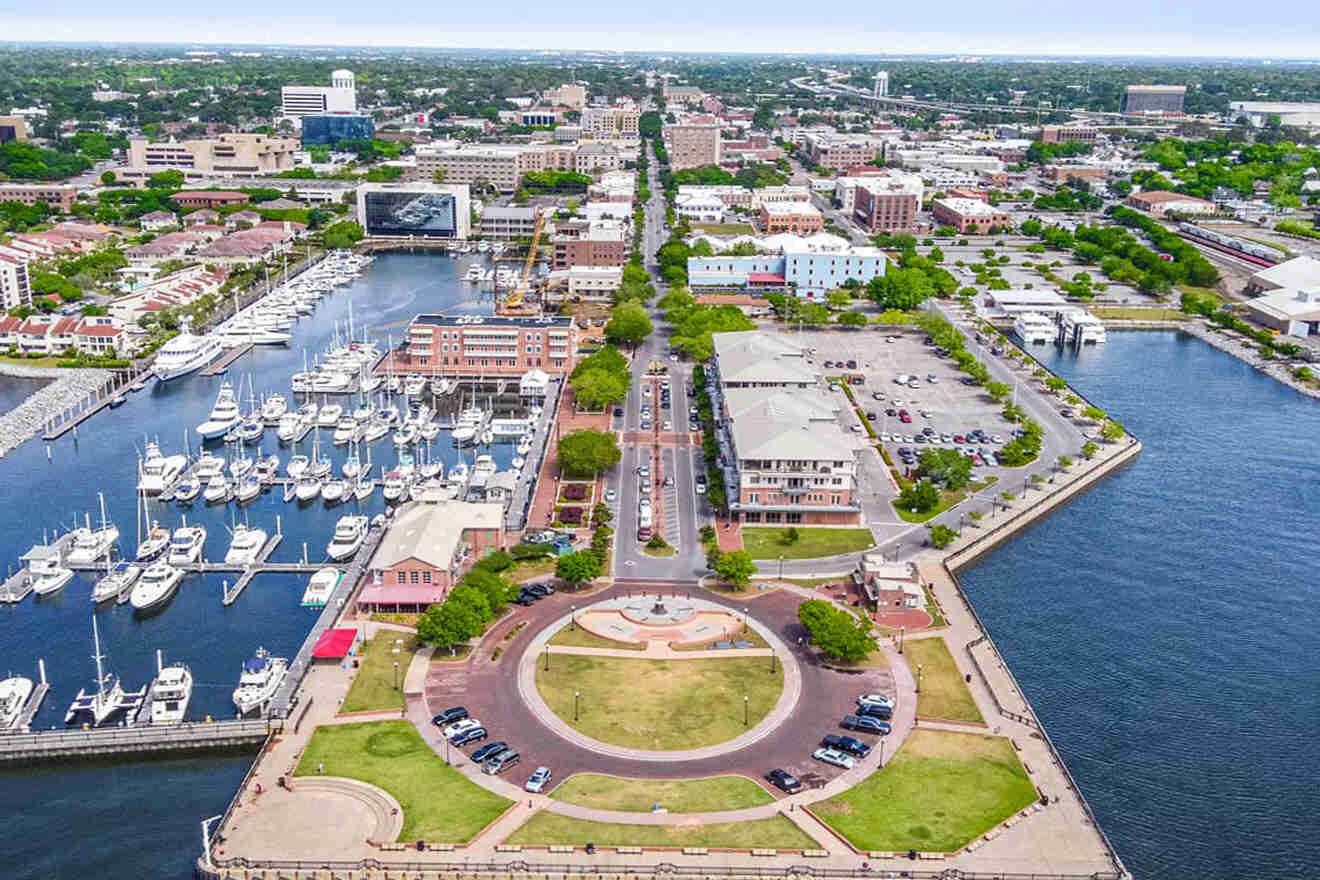 ☀️ Does Pensacola have a nice beach?
Absolutely! Pensacola is known for its beautiful beaches, especially the stunningly emerald water and white sugary sand, perfect for relaxation and adventures in the sunshine.
🏖️ What is the least crowded beach in Pensacola?
For a serene beach experience with fewer crowds than neighboring beaches, check out Navarre Beach. Its tagline is "Florida's Most Relaxing Place," and that's exactly what you can expect to find there.
🌊 Is Pensacola Beach as nice as Destin?
Pensacola Beach offers all the beauty of the beaches in Destin, boasting the postcard-worthy white sand and vibrant emerald green water the Emerald Coast is known for, but with fewer attractions and tourists, it is a quieter vacation destination.
👩‍👧‍👦 Does Pensacola have public beaches?
Yes, Pensacola boasts many public beach access points for visitors, including Casino Beach and Quietwater Beach.
Conclusion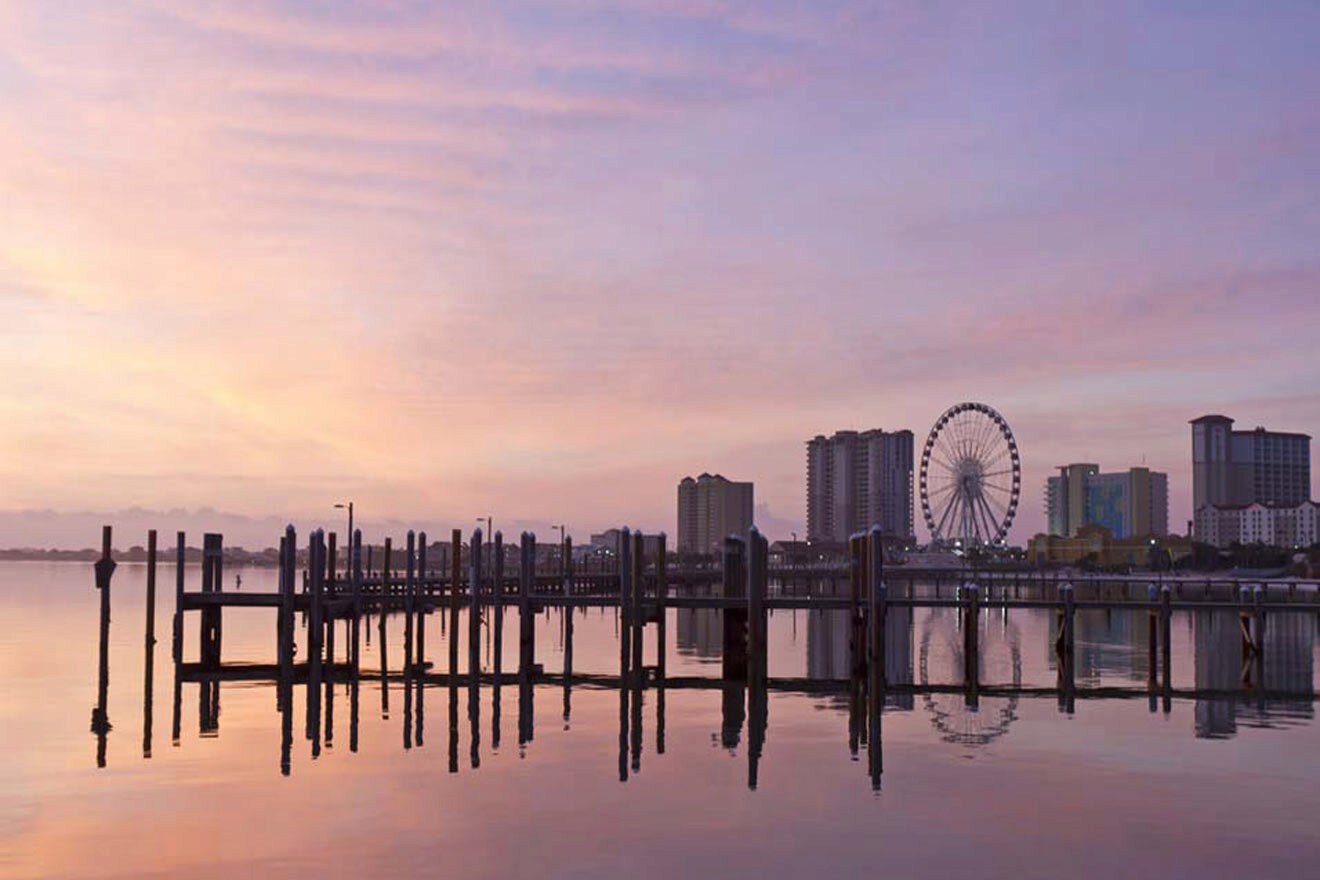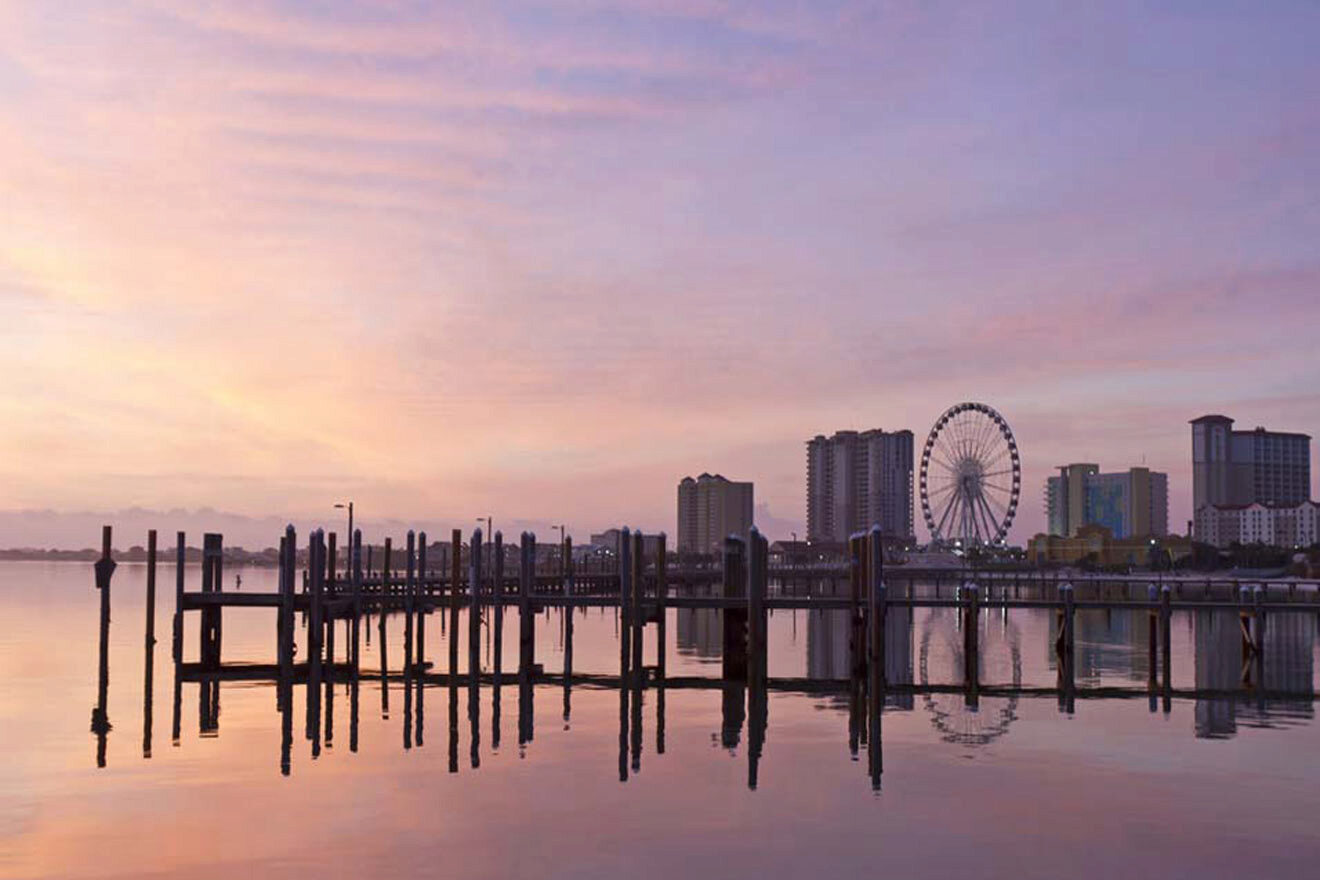 Pensacola is such an underrated vacation destination in Florida. There's no denying that places like Miami and Key West deserve the hype they get, but if you're looking for postcard-worthy beaches that tend to fly under the radar, you're going to love Pensacola as much as I do!
You really can't go wrong with any of the best beaches in Pensacola, Florida, on our list – they all offer something unique for visitors, from lively and welcoming Casino Beach to the relaxing shores of Navarre Beach Park.
Let me know if you have any questions about the beaches in Pensacola, FL, we chatted about today in a comment! 😊
Happy exploring,
Montana
---
Pin it for later!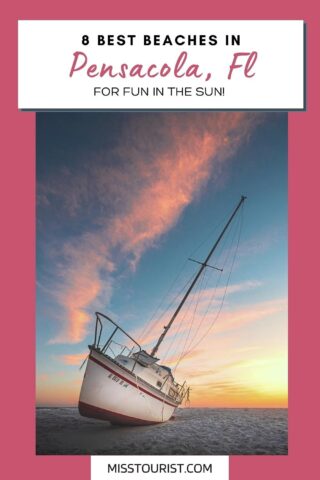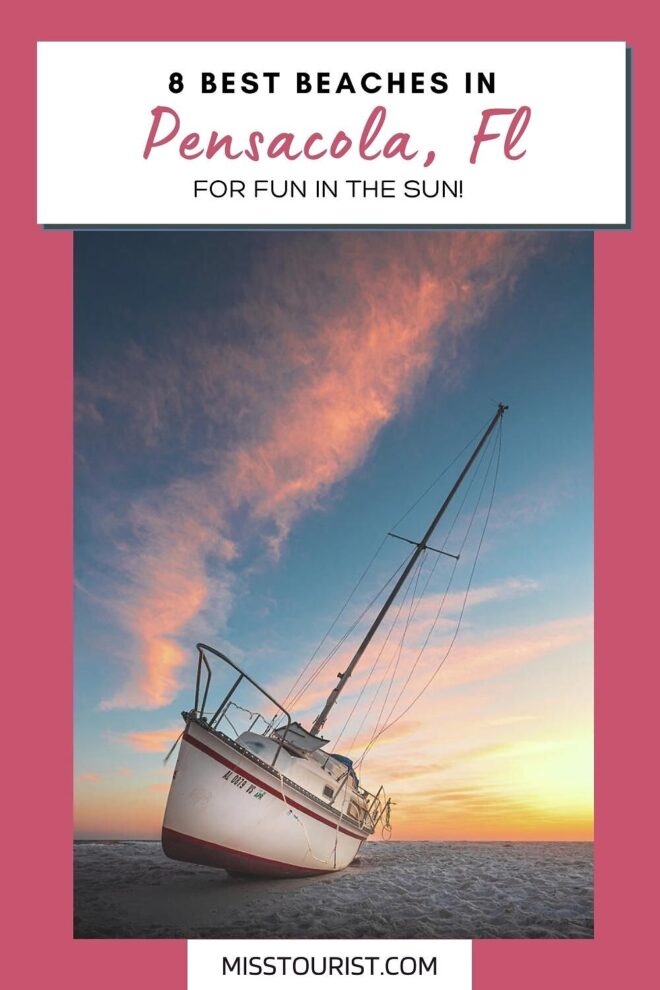 Pin it for later!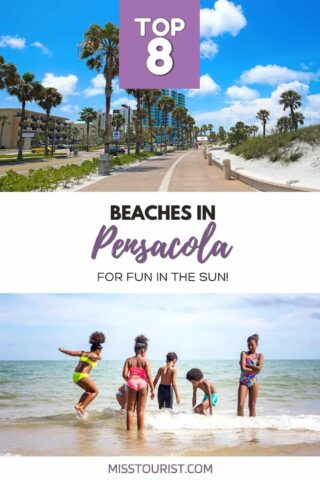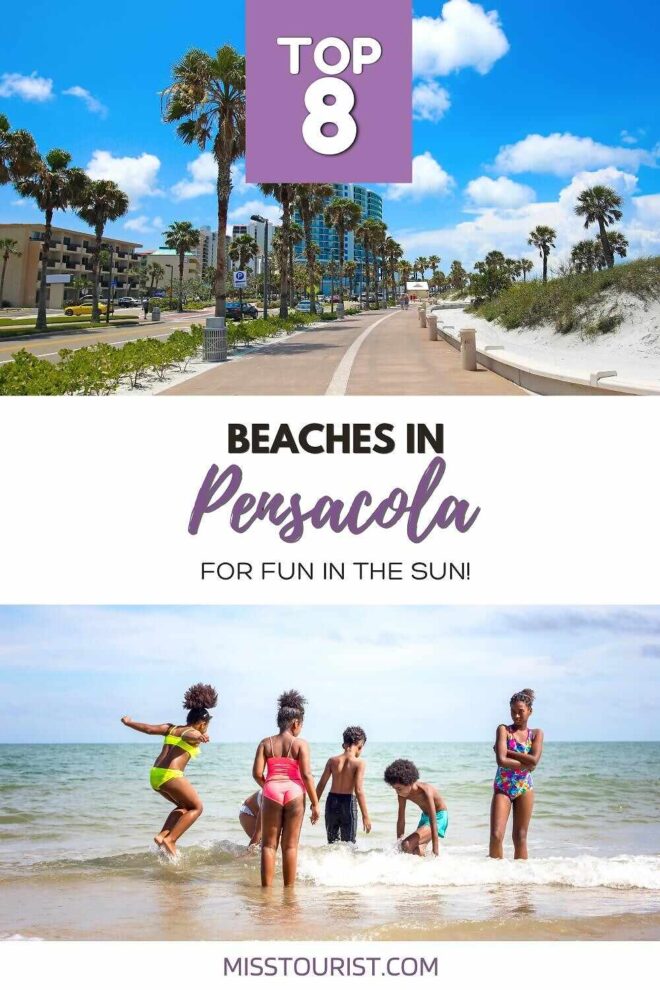 Products You May Like