Alaska All-inclusive Resorts ✔️ 9 Perfect Nature Escapes!
Mesmerizing landscape, an abundance of wildlife, and great lodging options! Yep, I'm talking about Alaska, a place that every tourist should see at least once!
In this post, you'll find the best Alaska all-inclusive resorts! I've searched the web for hours and come up with a short but fabulous list of accommodations! And I've also thought I'd add a bonus with some luxurious hotels.
As you'll see, there aren't many resorts that offer all-inclusive packages. That's why I recommend booking your favorite resort or lodging in advance, otherwise, you may miss your spot!
Alright, are you ready to go fishing and hiking in the most crazy-looking places?
Then let's go!
If you are in a hurry
Don't have time to go through the whole post? Then check out the list below, it has the top all-inclusive resorts in Alaska:
Since we're talking about the whole state, I thought I'd make a map with all the all-inclusive resorts that I'll talk about in this post so you can easily check them out:
1. Kenai River Lodge – for a tranquil getaway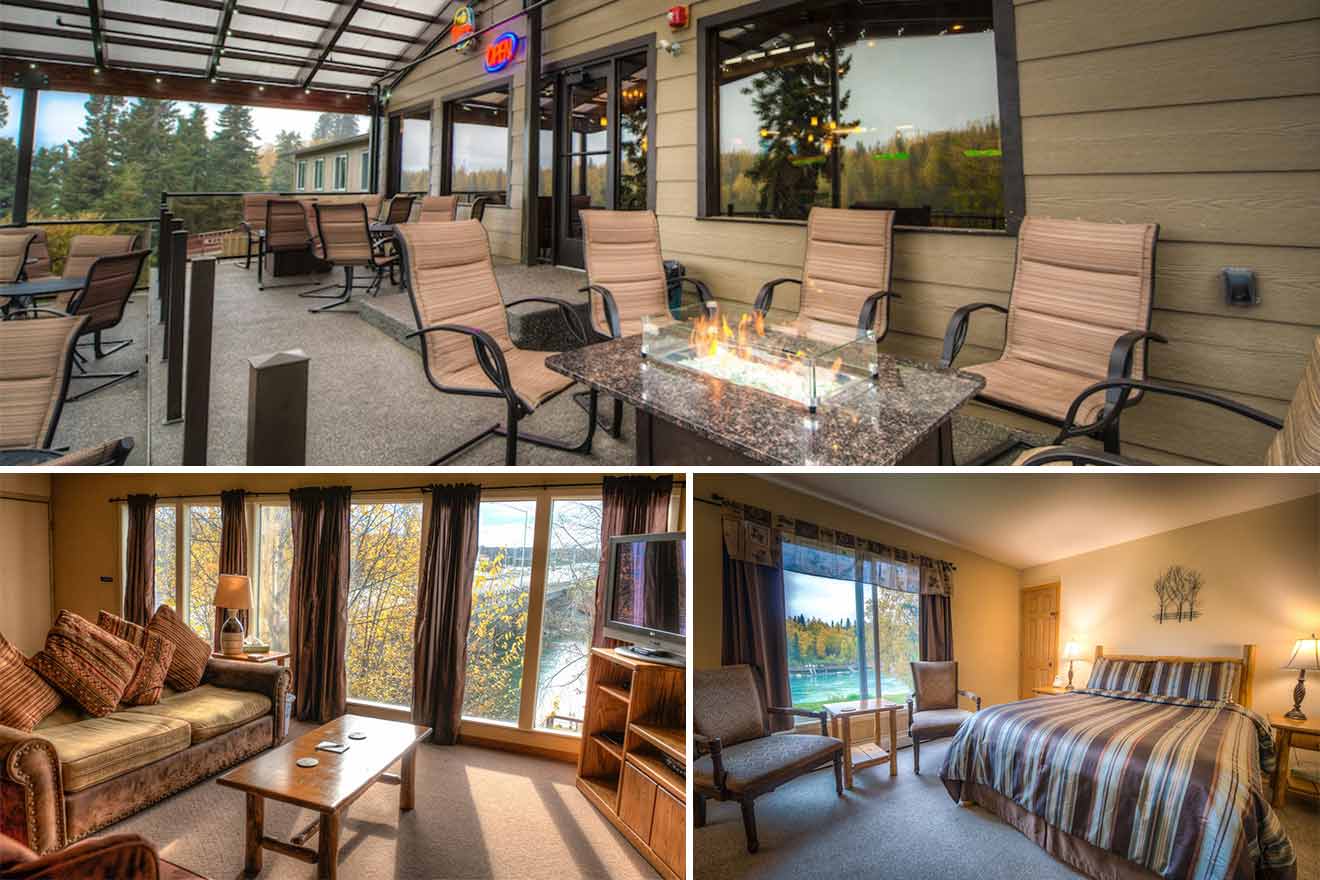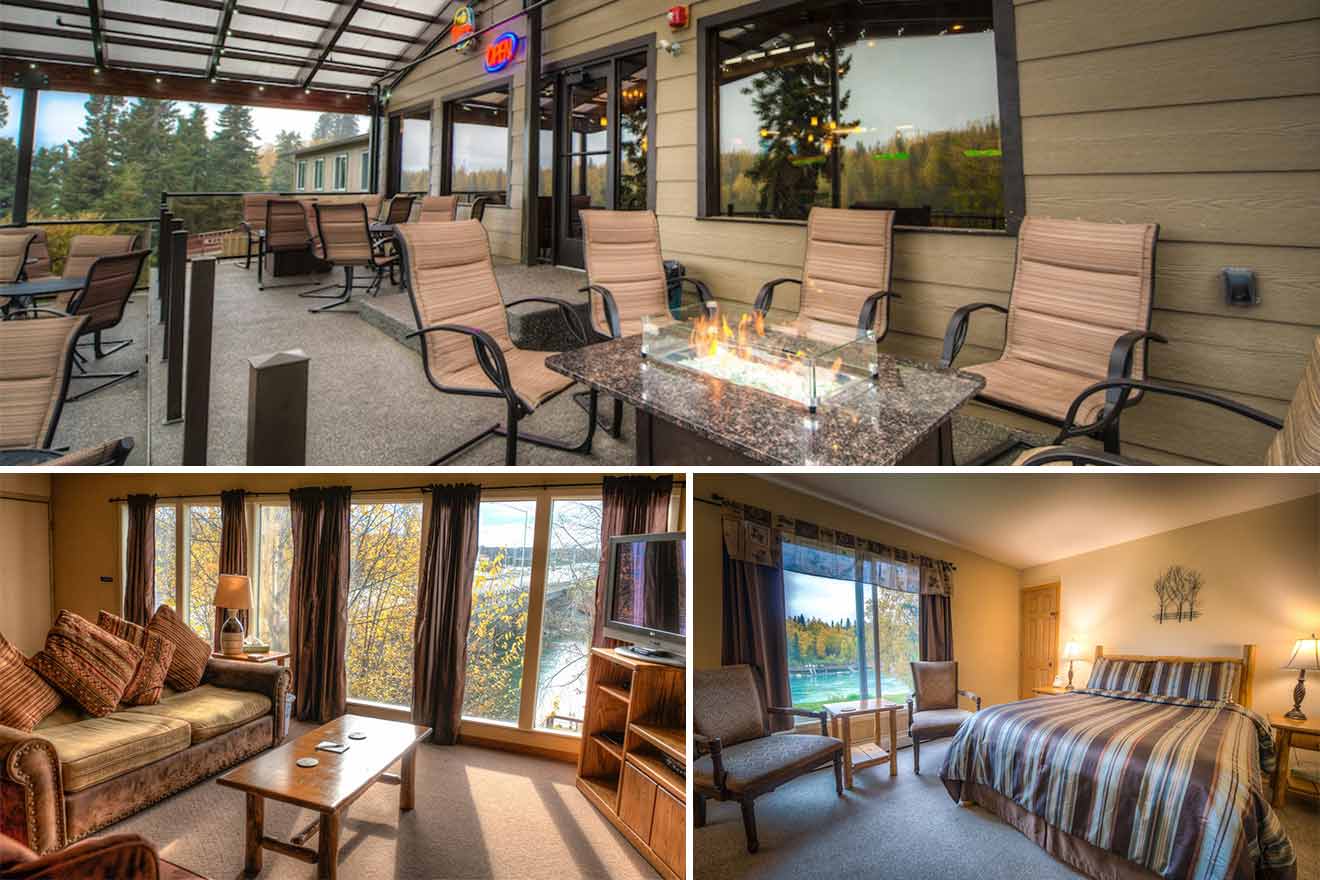 Wake up to a stunning view of the Kenai River while staying at this Alaska all-inclusive resort in Soldotna during your Alaska vacation! The accommodation has family rooms with large windows that overlook the stunning scenery and free Wi-Fi.
When you're not out trying the many activities or tours found here, you can relax in the lounge, go fishing near the accommodation or enjoy a sunny day in the picnic area. There is a museum just a short walk away from the lodge, plus a few parks where you can go and spend the afternoon admiring the breathtaking views! There are only a handful of all-inclusive resorts in Alaska, so make sure you book yours early!
2. Stillpoint Lodge – with amazing views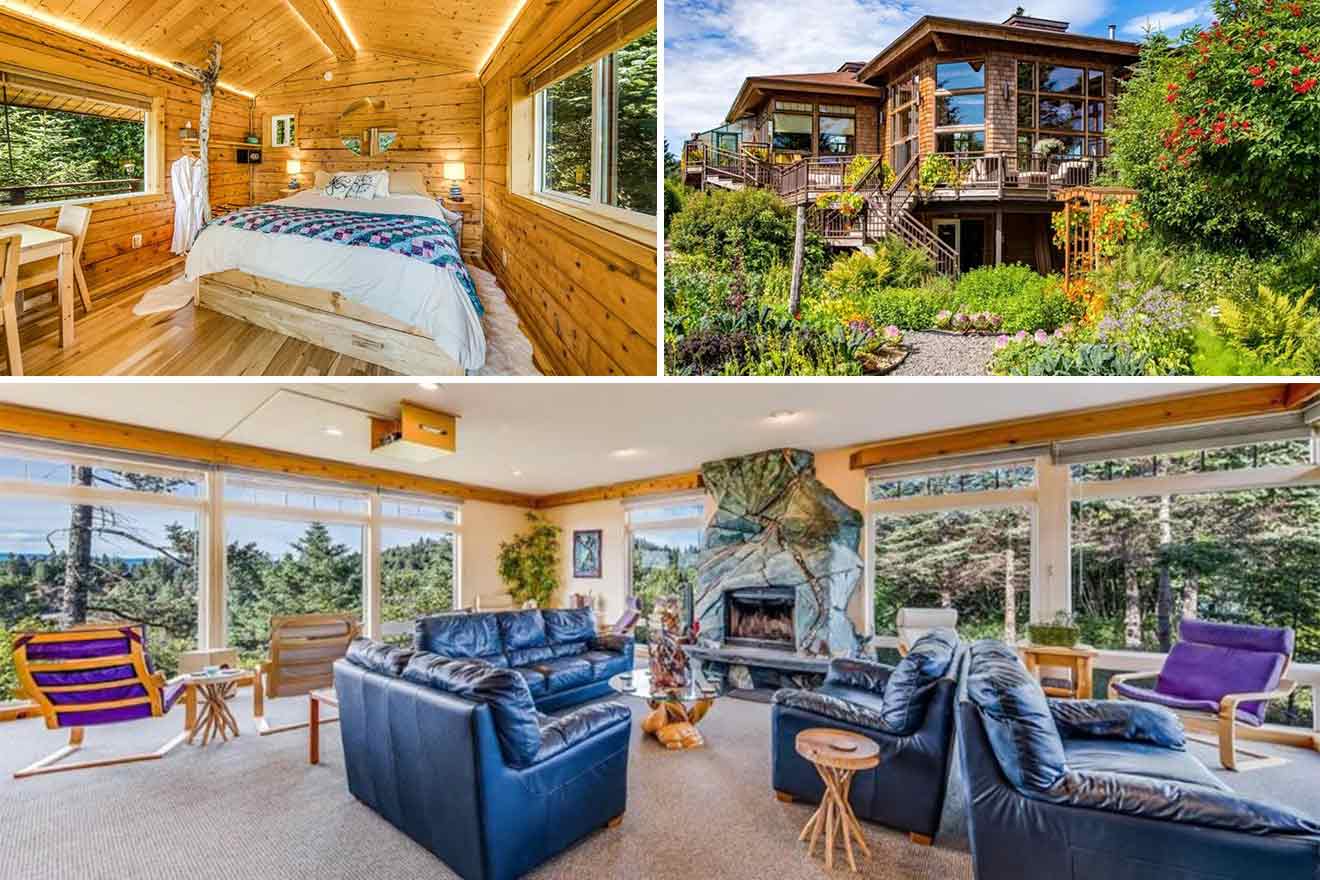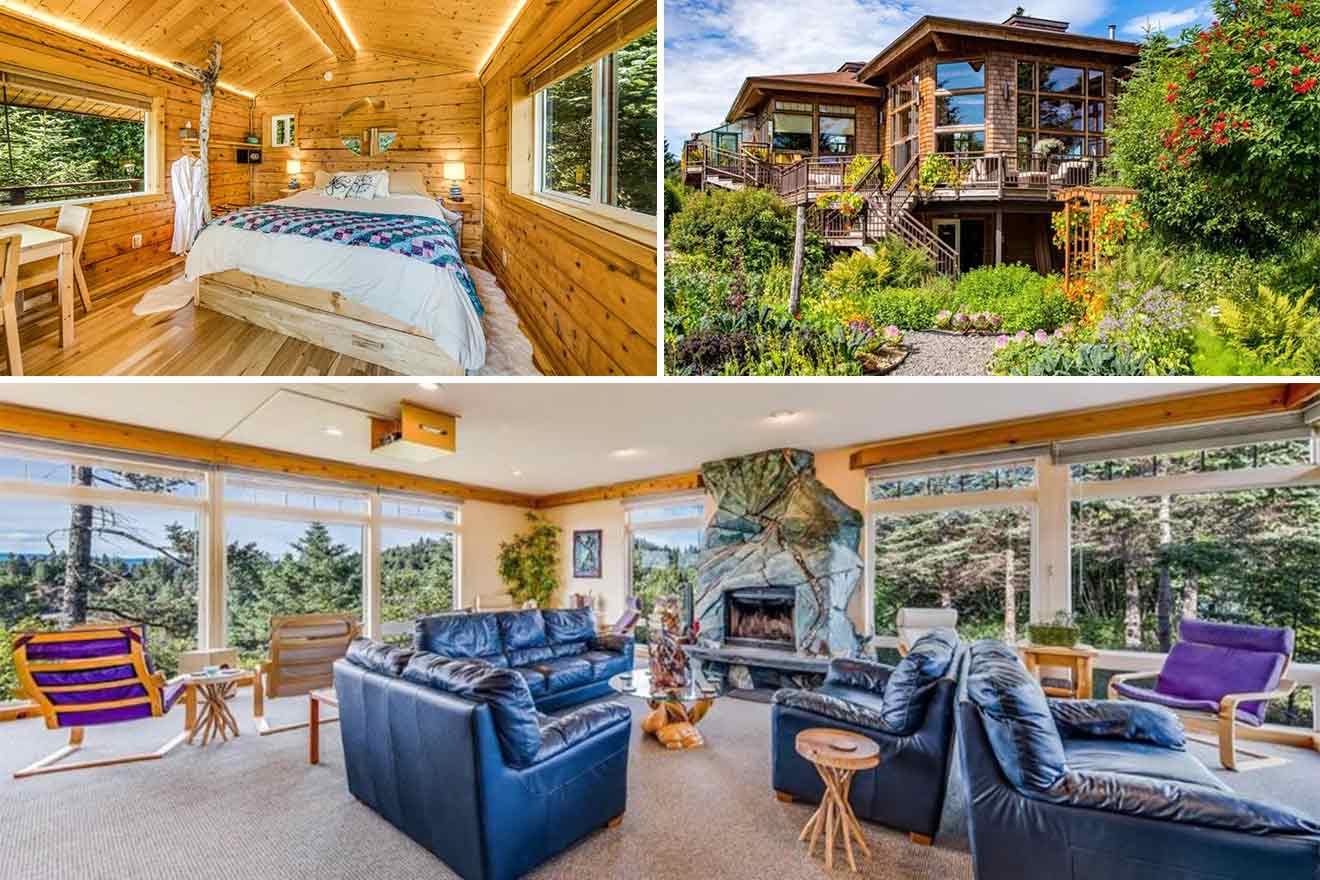 Are you ready for the adventure of a lifetime? You better be because you'll get to try so many cool activities like hiking, fishing, and kayaking! The accommodation is set in Halibut Cove, tucked away between stunning scenery and overlooking the Cove!
Made mostly out of wood and stylish furnishings, the lodge has rooms for families with lots of space and a balcony overlooking the water. You'll also find a restaurant on-site where you can indulge in all the yummy food (you'll probably be famished after a mountain biking sesh or after going on a wildlife viewing tour! And if you want to relax, just head over to the spa center and relax in the hot tub!
3. Alaska SeaScape Lodge – waterfront cozy place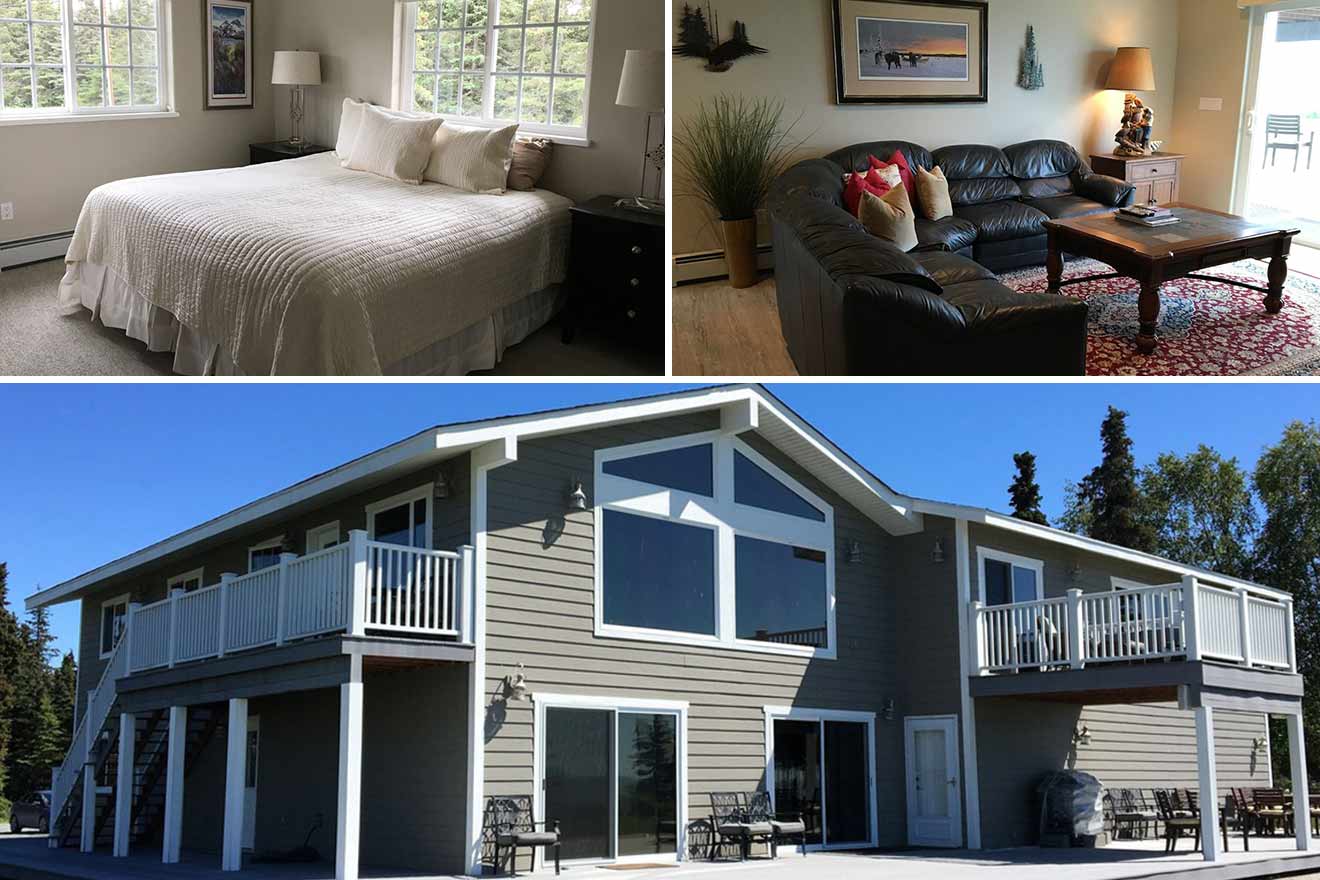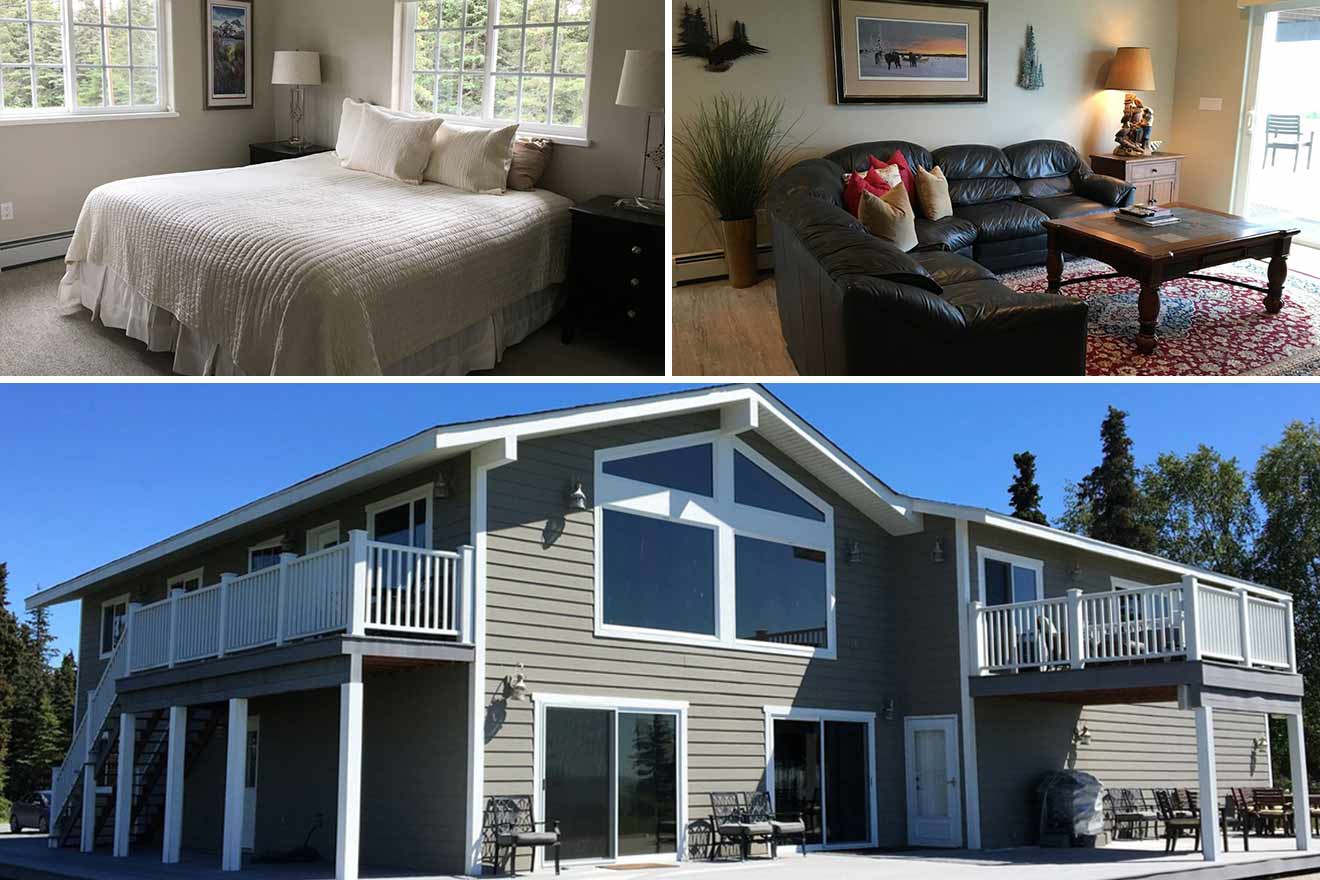 Feel right at home in this amazing lodge in Kenai that offers some incredible views! The accommodation offers a tranquil setting so you can relax on the days when you're not going on wildlife viewing tours or kayaking!
The rooms are super cozy and equipped with everything you need for your stay like free Wi-Fi and a private bathroom. Start your morning with a yummy free breakfast (definitely eat some nourishing food as you'll need lots of energy)! They've got a restaurant on-site, too, so you can grab something for dinner as well. All the guests get a free parking space.
4. Gold Creek Lodge – great for animal lovers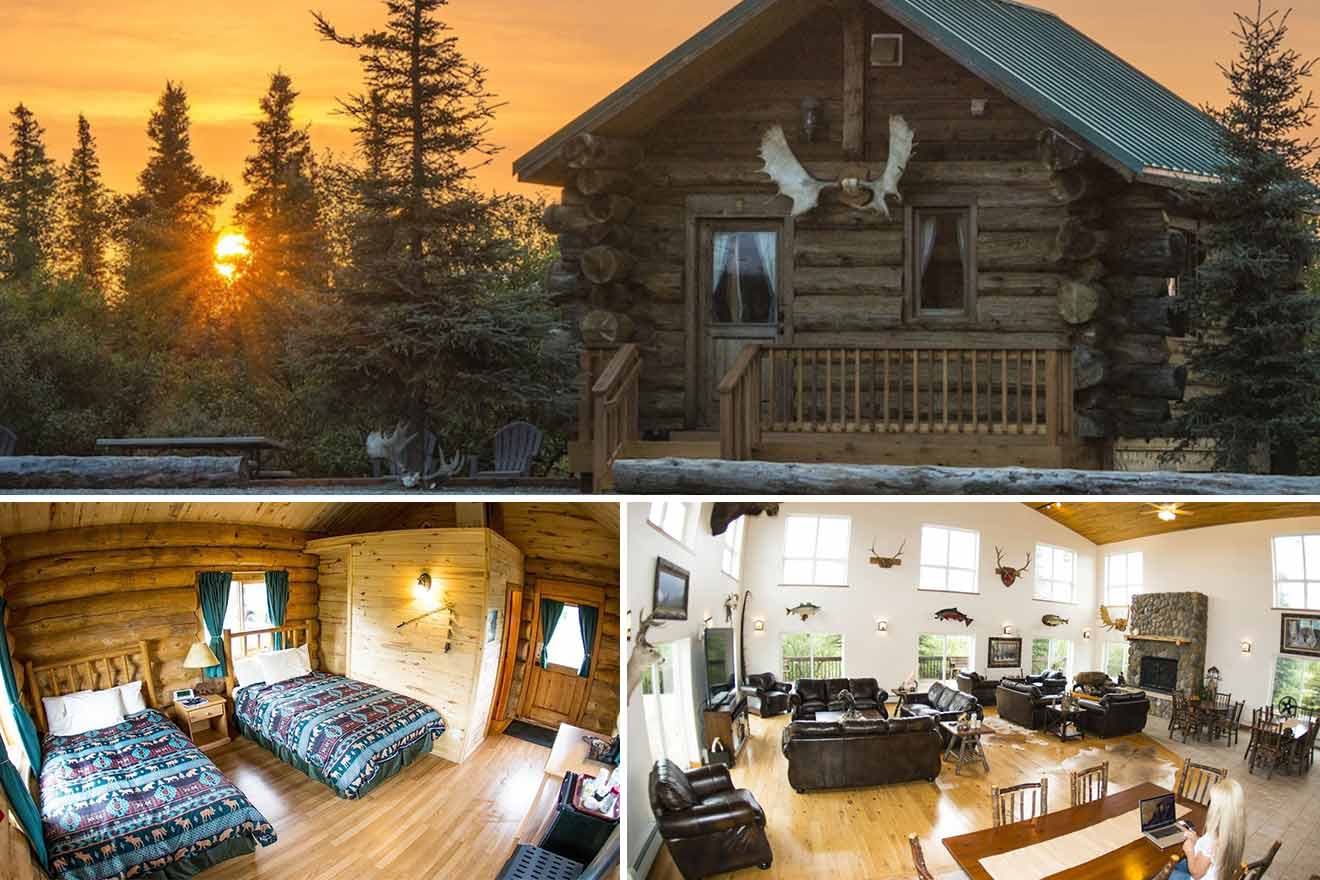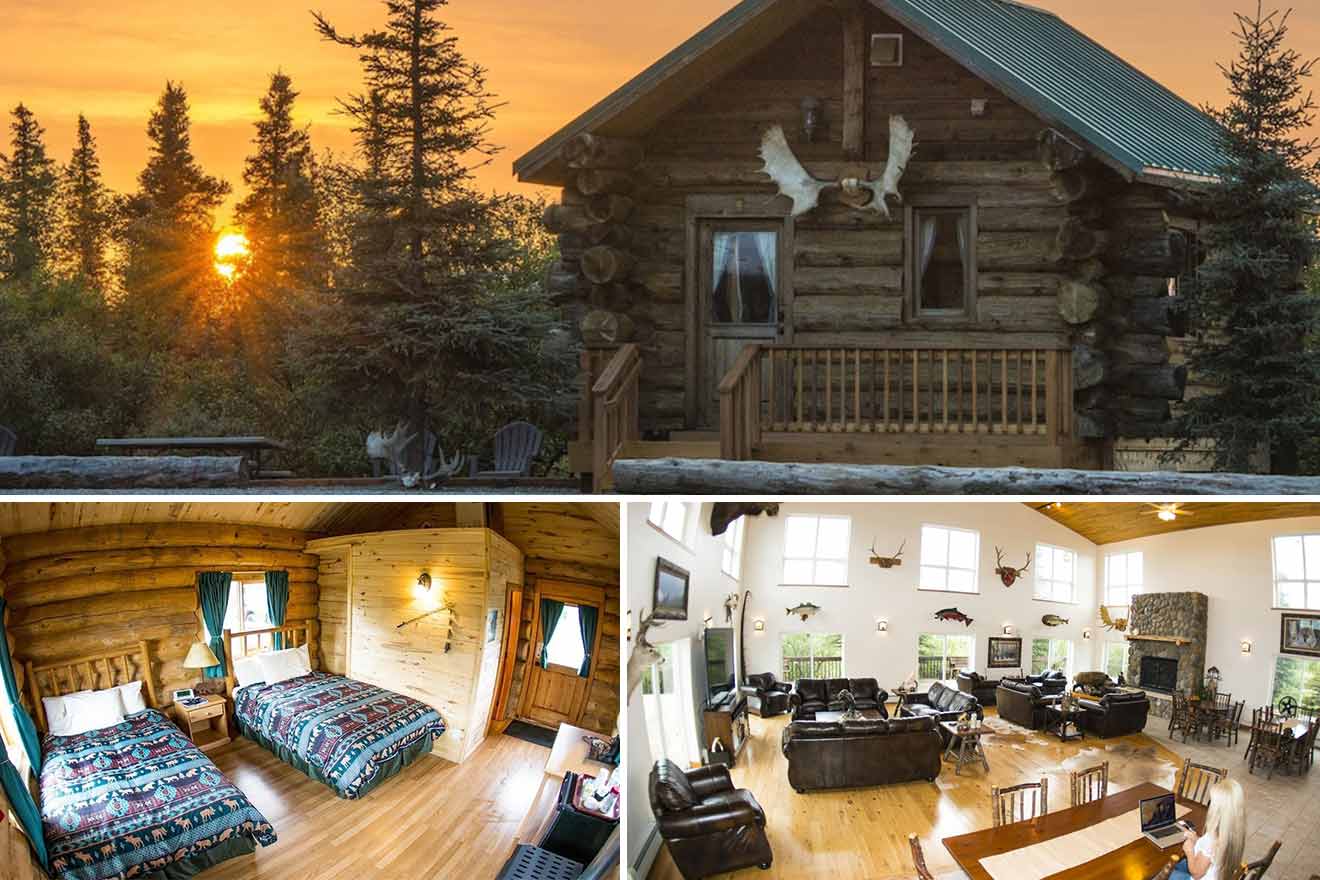 Located in the King Salmon area, this log lodge offers different cabins that have comfortable beds and a small terrace where you can enjoy your coffee in the morning! During this Alaska vacation, you'll get to see bears and other cute animals in their natural habitat, even around the accommodation!
All the guests will get a free roundtrip airport shuttle, a free breakfast, and help with any wildlife or kayaking tours that you'll want to book! It does sound like the perfect trip, and just wait until you see the cozy lounge area with a fireplace where you can get all warm after going whitewater rafting or fishing!
5. Waterfall Resort Alaska – for a relaxing holiday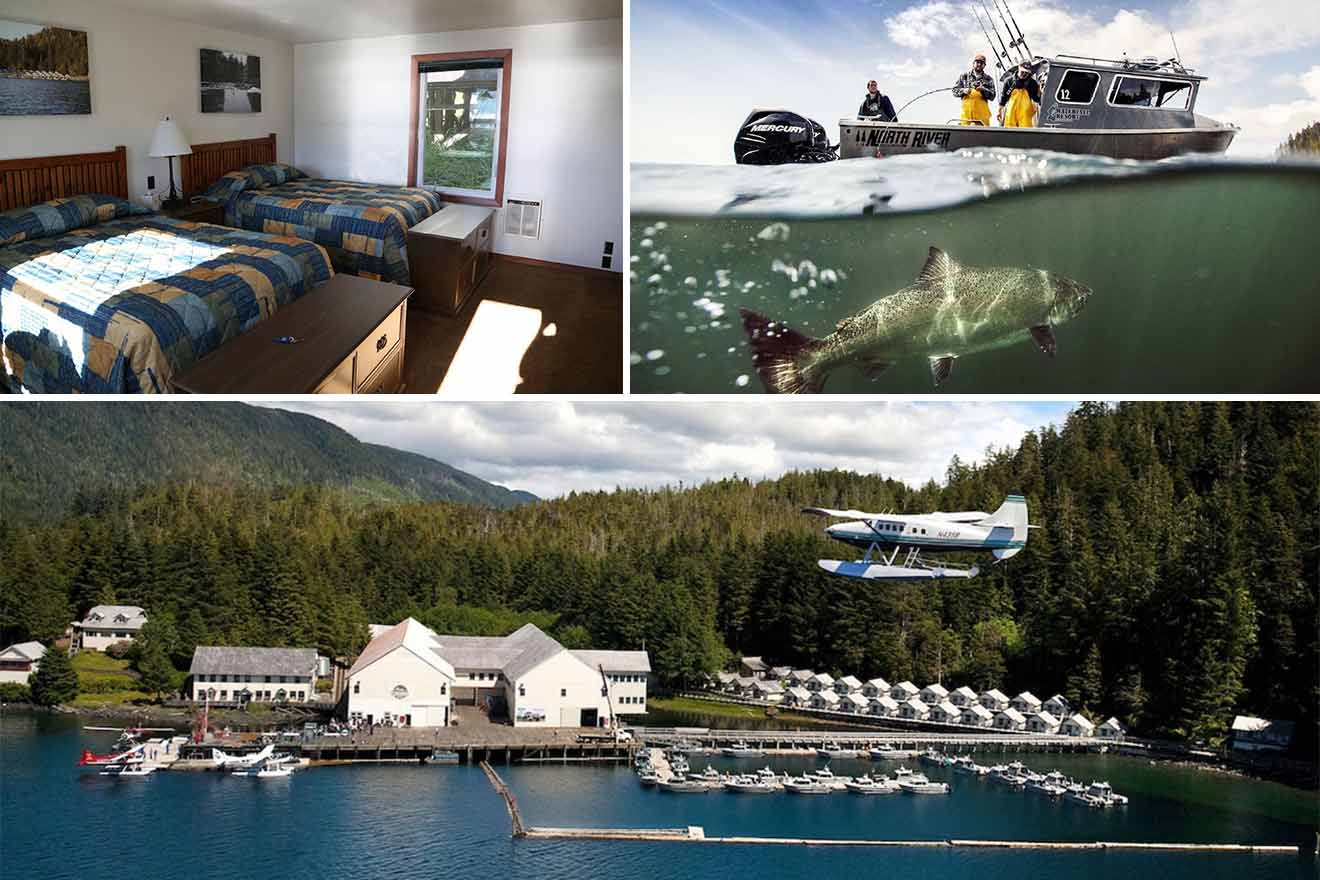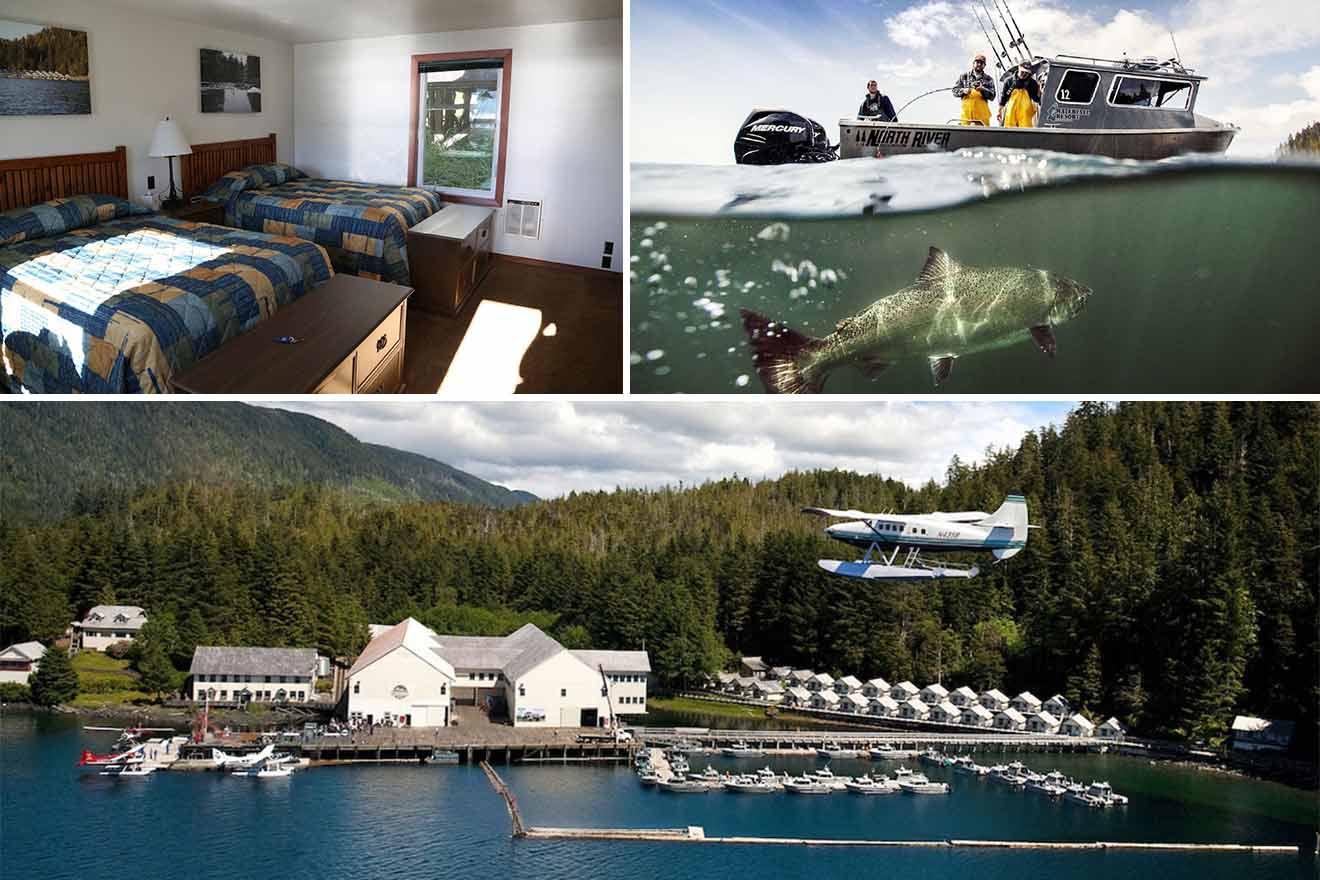 Alaska is such a magical place, filled with breathtaking landscapes and fun things to do, like whale watching or hiking on the beautiful trails! You'll definitely need a proper place for your trip there, and I've got an amazing one that's located in Hydaburg!
Start your days with a yummy (free) breakfast at the accommodation before hopping on a new adventure! The rooms are pretty spacious, and they offer a private bathroom and coffee-making facilities. On the days when guests just want to relax, they're invited to enjoy the spa facilities or just chill in the picnic area. The resort can also help you with bear viewing or wildlife tours!
6. Trail Lake Lodge – great for outdoor adventures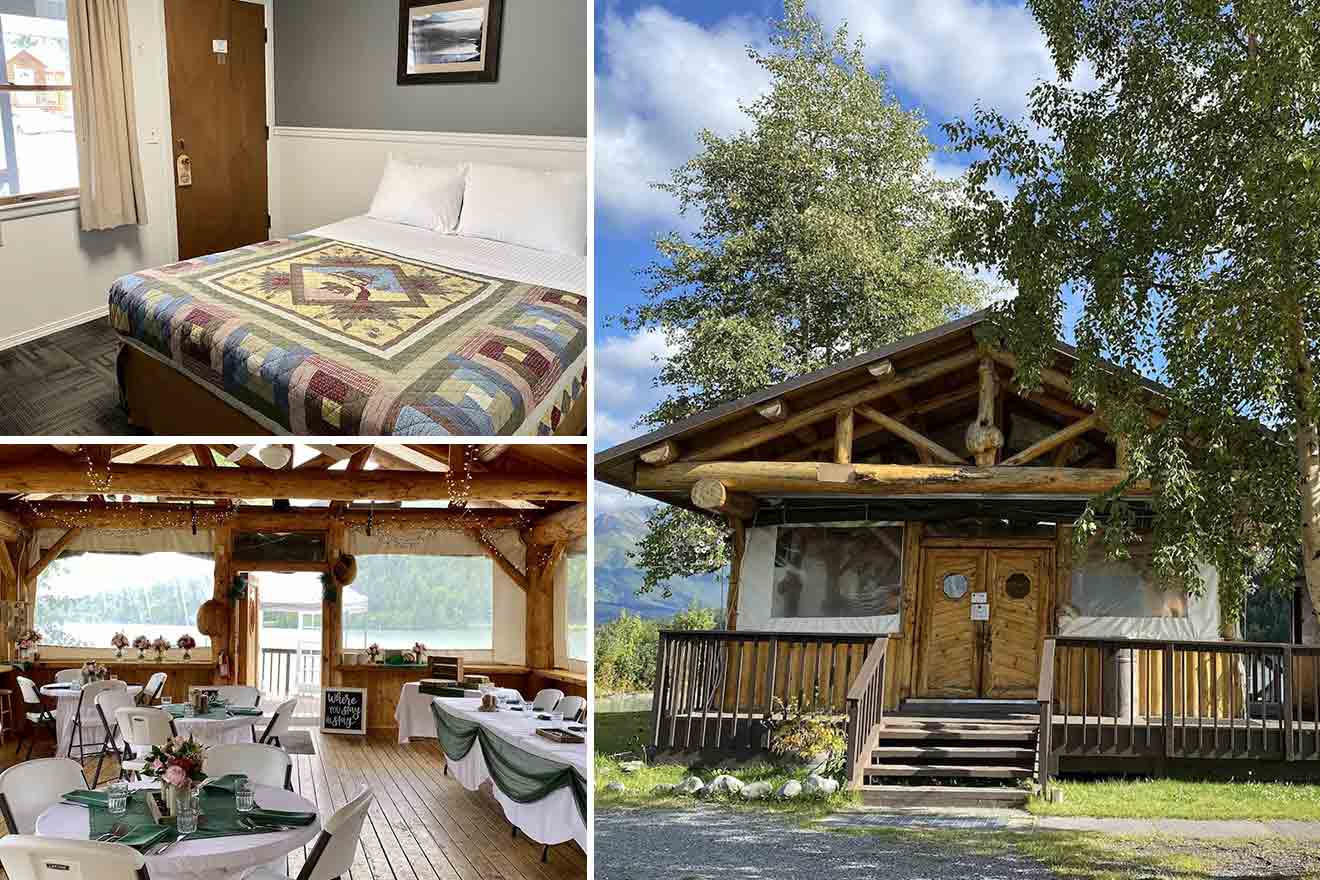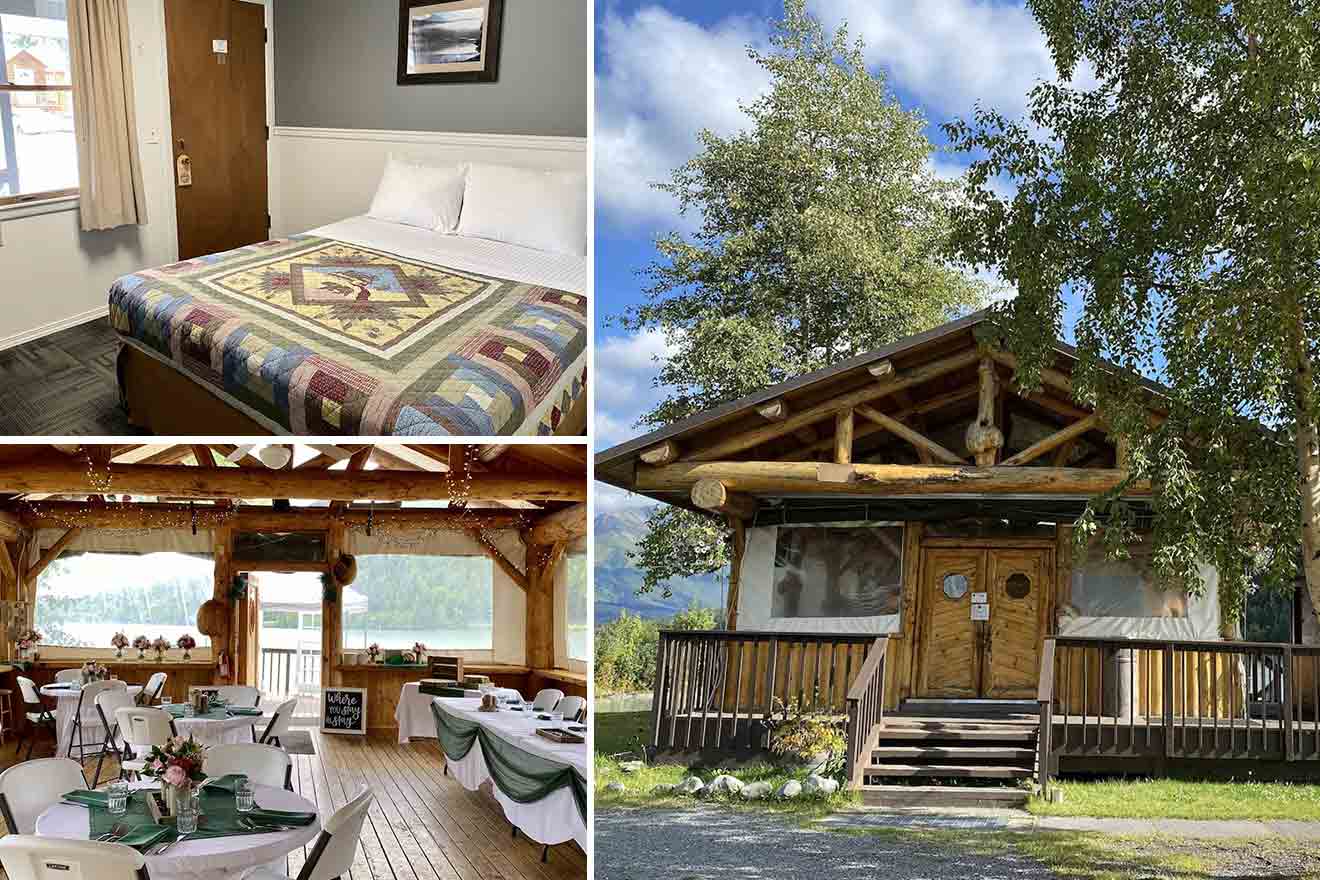 Nature lovers and adventure seekers, you've picked the perfect vacation destination! Alaska is absolutely packed with incredible activities, from rafting to hiking and visiting places like Denali National Park! And if you need the perfect place to stay there, then check out this lodge which is located in Moose Pass, just a 30 min drive from Seward Airport!
Surrounded by mountains and trees and with access to wildlife, this lodge offers rooms for families, a restaurant, and a bar. The accommodation is pretty simple, but it has all the necessary facilities. Plus, I doubt you'll spend much time indoors when you've got so much land to discover and even catch a fish or 2 during a boat ride!
7. Afognak Wilderness Lodge – a stylish rustic place
Kodiak Island is known as Alaska's jewel! This beautiful place is so abundant in marine life and world-class fishing, and of course, it has some incredible all-inclusive resorts like this one! You'll find different cabins here, which are tucked away between the trees and have a rustic design, rooms for families, and free Wi-Fi.
Guests can also use the sauna and, of course, eat some yummy food in the main lodge! They even make packed lunches for the days you are going on whale-watching or kayaking trips! Pack your fishing gear and suitable clothes, and get ready for a fabulous adventure!
8. Kachemak Bay Wilderness Lodge – a secluded resort
Set in the heart of Kachemak Bay State Park and offering so much wildlife, marine life, and unique sites, this remotely located lodge is perfect for your stay in Alaska! The accommodation offers only 5 cabins which means that you'll get to enjoy the peacefulness and tranquility of these lands in a proper way!
Each cabin offers breathtaking mountain and ocean views and has stunning decor made with local Alaskan art and stained glass. I'm sure all the guests will love the gourmet meals here, especially after a day of hiking, kayaking, and fishing!
9. Kenai Fjords Glacier Lodge – for nature lovers
Welcome to the only lodge set within the Kenai Fjords National Park! I hope you're ready to start your adventure in this incredible place that you'll never want to live! This destination is perfect for those who want to be out all day long hiking, kayaking, and admiring mesmerizing wildlife like the playful sea otters.
The lodge offers access to all that, plus different cabins where guests will stay during their trip. In the main lodge, you'll find the dining room (where you'll get to try all the yummy gourmet meals), a lounge area, and a bar. And there's also a sauna where you can relax after a day filled with activities!
BONUS: Best luxury resorts in Alaska
As you've seen there are only a handful of all-inclusive resorts in Alaska (more reason to book yours in advance) so that's why I thought to also look for some luxurious hotels for your trip! Although they don't offer all-inclusive packages, these places have more or less the same facilities.
I've ordered them from most to least expensive, and prices start from US$250 to US$500: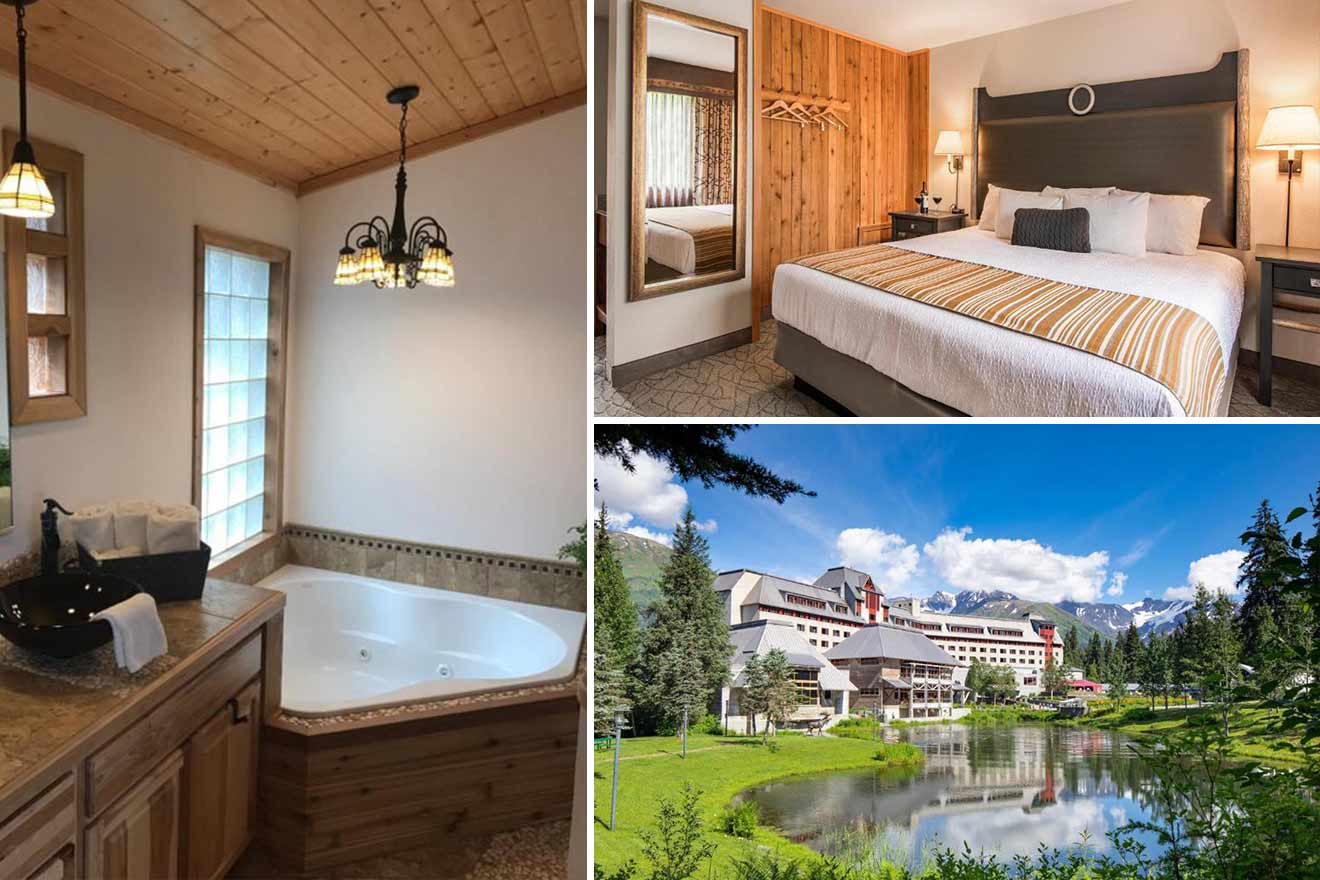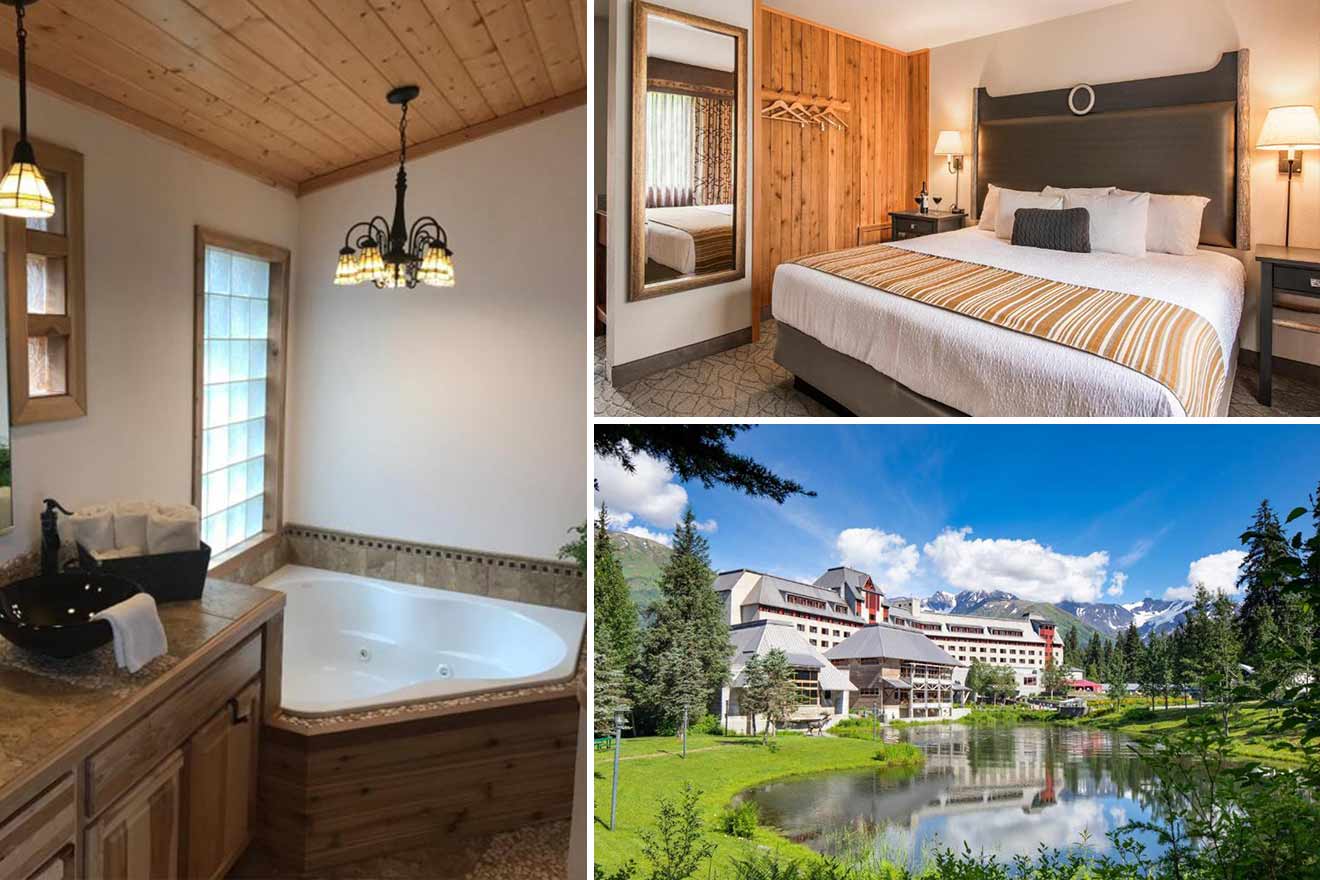 FAQs about Alaska All-Inclusive Resorts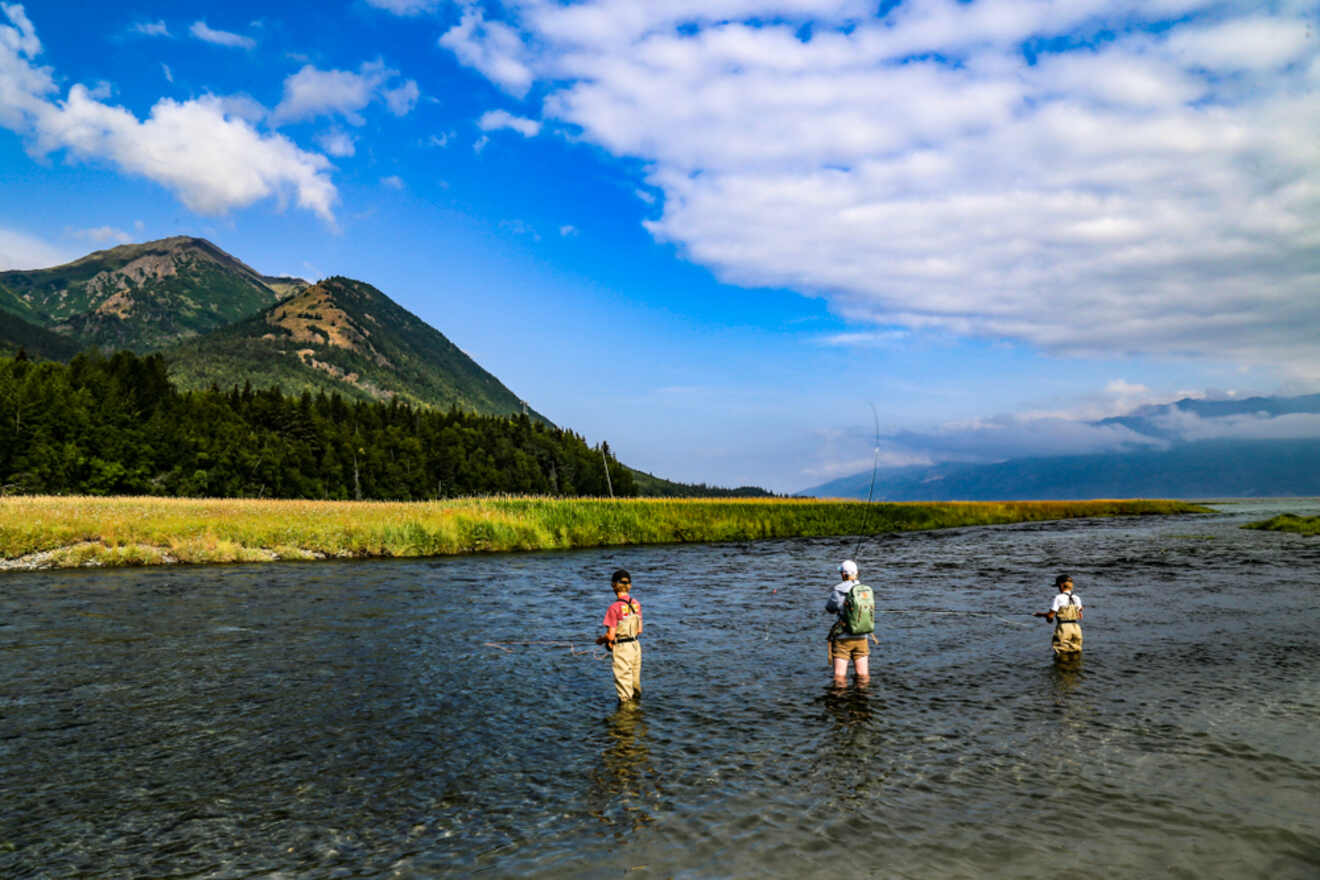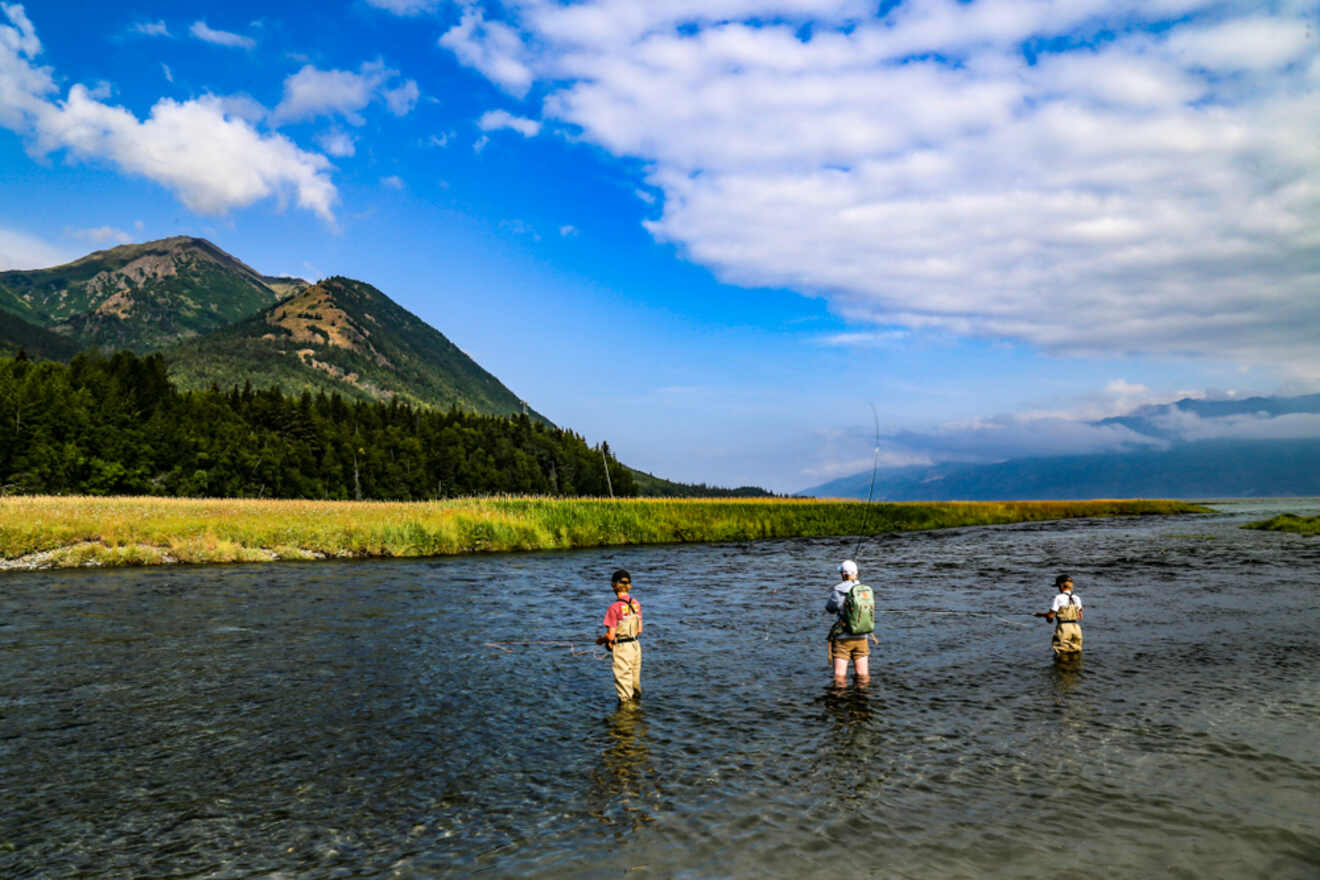 🏩 Which are the best all-inclusive resorts in Alaska for couples?
🤔 Where do people vacation in Alaska?
👪 Which are the best family-friendly all-inclusive resorts in Alaska?
Trail Lake Lodge and Afognak Wilderness Lodge are some of the best all-inclusive resorts in Alaska for families. Each place offers spacious rooms for guests, many things to do, and all the amenities you'll need!
🧊 Should I visit Alaska in the winter?
Yes! There are so many things to do in Alaska during winter, like going on Northern Lights tours, skiing, admiring the snowy landscape, and many other cool activities.
Conclusion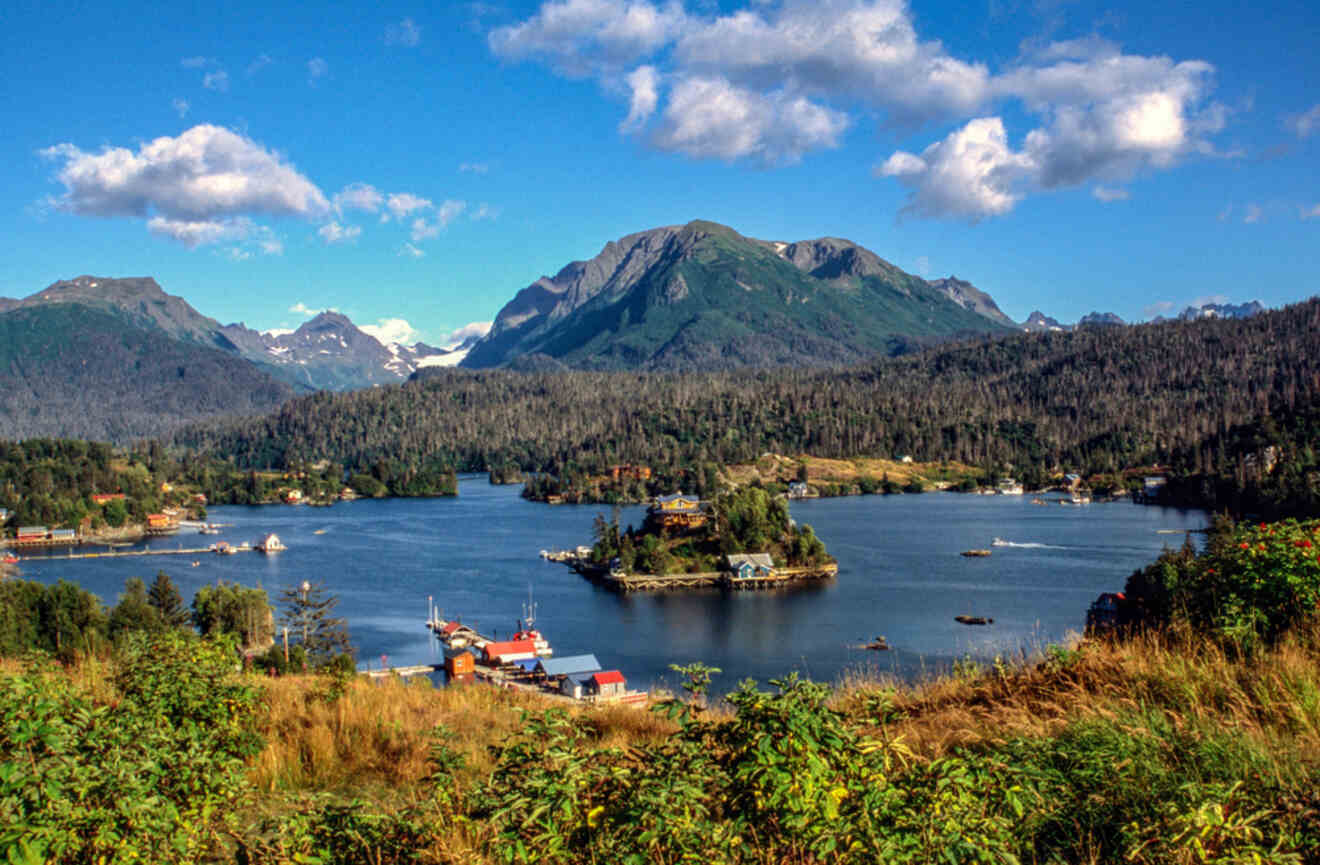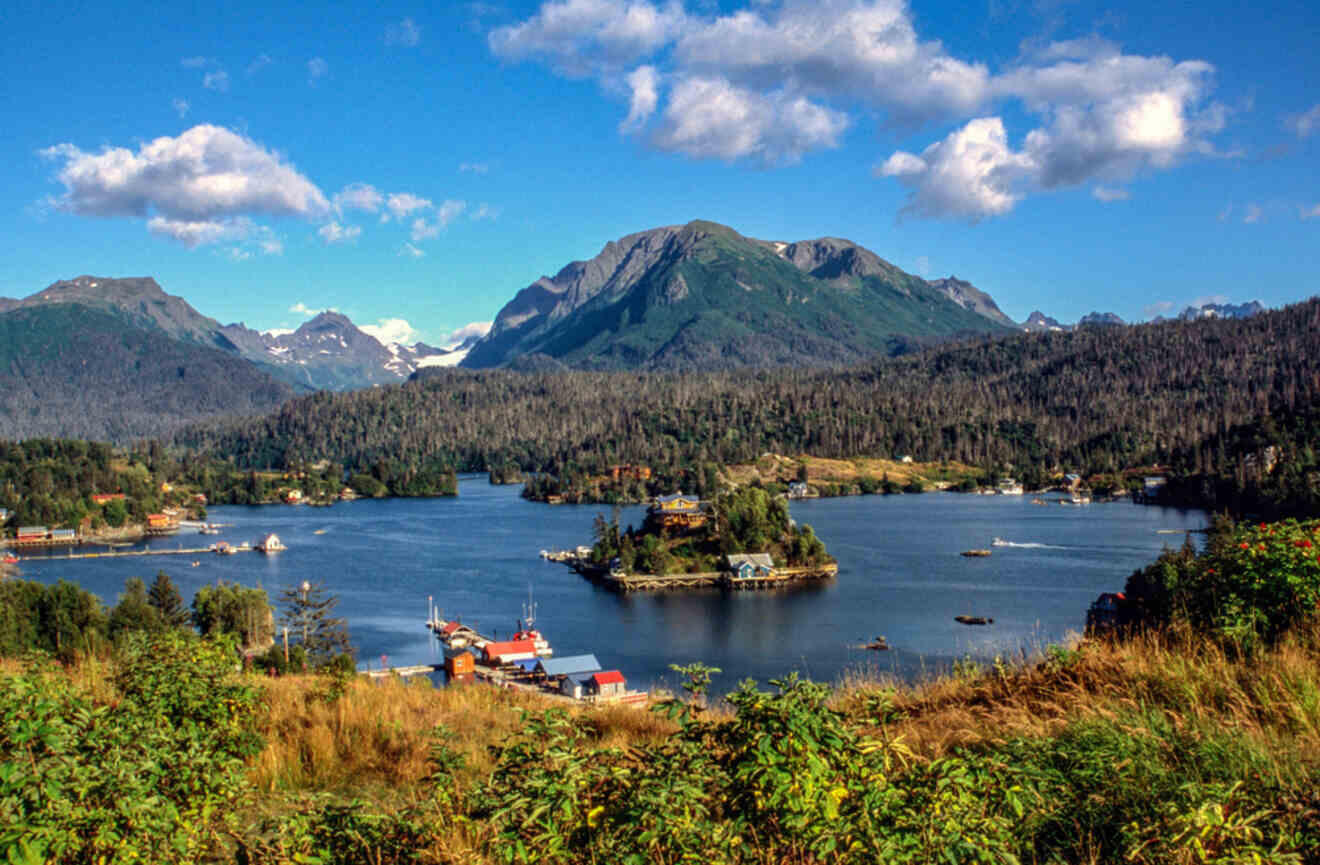 Alaska sure is one of the most beautiful places on planet Earth!
And now that we've seen the best Alaska all-inclusive resorts plus some great luxury hotels, I think you're more than ready to start your trip!
But don't forget that it's super important to book your resort in advance. Because there are only a few places that offer all-inclusive packages, it's super likely that all the great ones will sell out early. So, better to be safe than sorry!
On that note, if you're someone who's struggling to make a decision and pick a resort (don't worry, it happens to everyone), then check out my 2 favorite lodging options in Alaska:
Stillpoint Lodge – A fabulous resort in Alaska that has rooms with sea views, an outdoor fireplace, and a spa center
Trail Lake Lodge – This family-friendly resort offers comfy rooms, a restaurant, and a great location
There you go!
It's been such a thrill to tell you all about Alaska and its best resorts. But if I missed anything, don't shy away from leaving me a comment below with your question. I'll be happy to answer as soon as I can!
Safe travels,
Victoria
---
Pin it for later!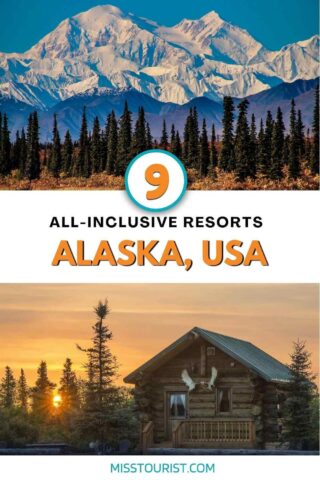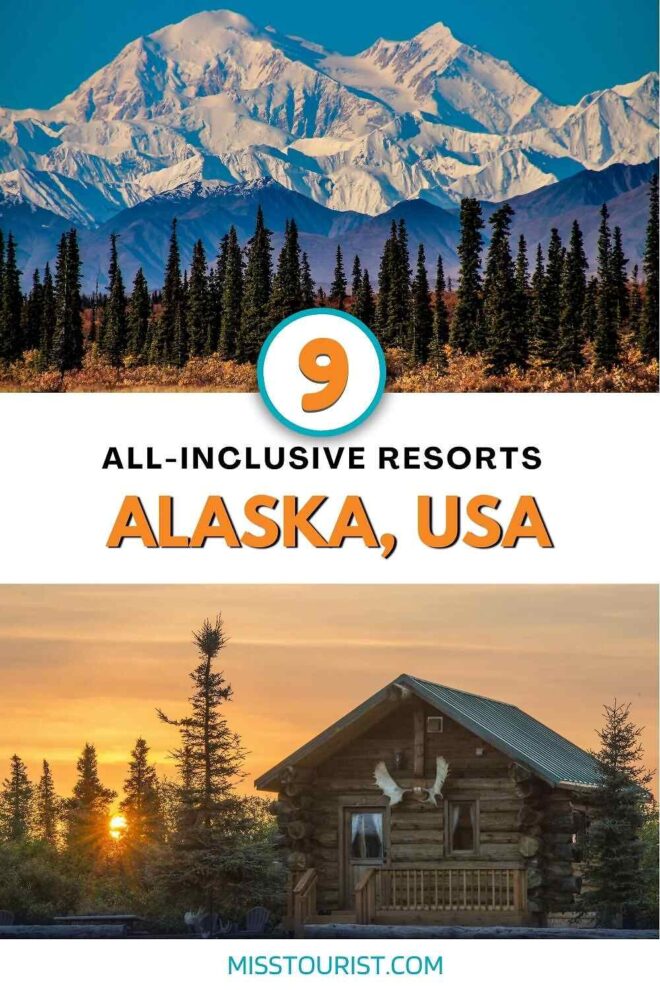 Pin it for later!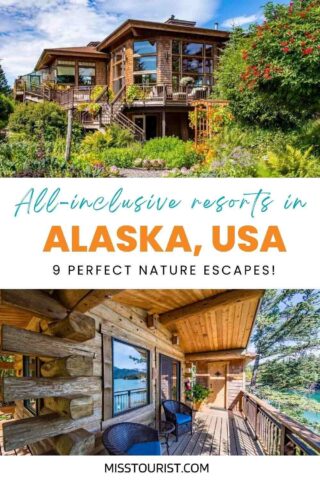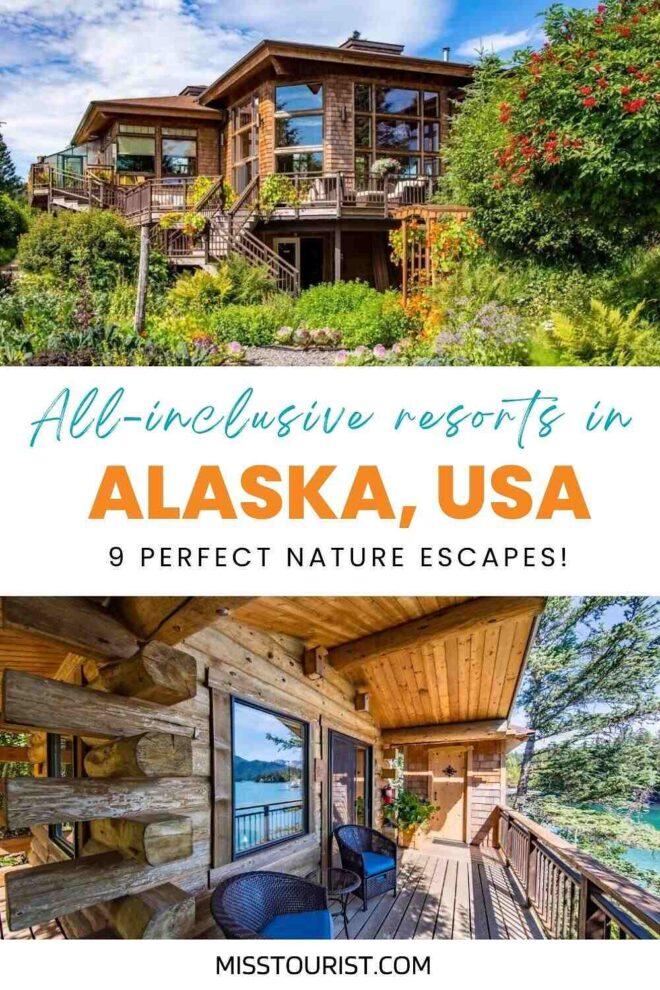 Products You May Like