All-Inclusive Resorts in Michigan • 13 Picks for Every Taste
Planning your holiday in Michigan? You're in for a treat! This state is filled with incredible landscapes, fun college towns, and countless activities!
But first, you'll probably need a great place to stay! And in this post, I'll help you find the best all-inclusive resorts in Michigan! I've spent quite some time researching and came up with an incredible list that I ordered from most to least expensive!
NOTE: Before we start our post, you should know that Michigan doesn't have the typical all-inclusive resorts (except one) where you pay a big sum for an entire package. But don't worry because the accommodations that you'll find below offer the same facilities that you'd pay for in an all-inclusive resort, like spas, restaurants, golf courses, and many others.
Last but not least, remember to book them early, as these resorts won't be on the market for too long!
Who's ready to start this adventure?
Let's roll!
If you are in a hurry
If the post is way too long and you don't have time to read it, then check out the list below, which has the top resorts in Michigan with all-inclusive facilities:
Check out the map below if you need some help visualizing all the resorts in Michigan that I'll talk about in this post:
1. Inn at Bay Harbor – beachfront resort with a pool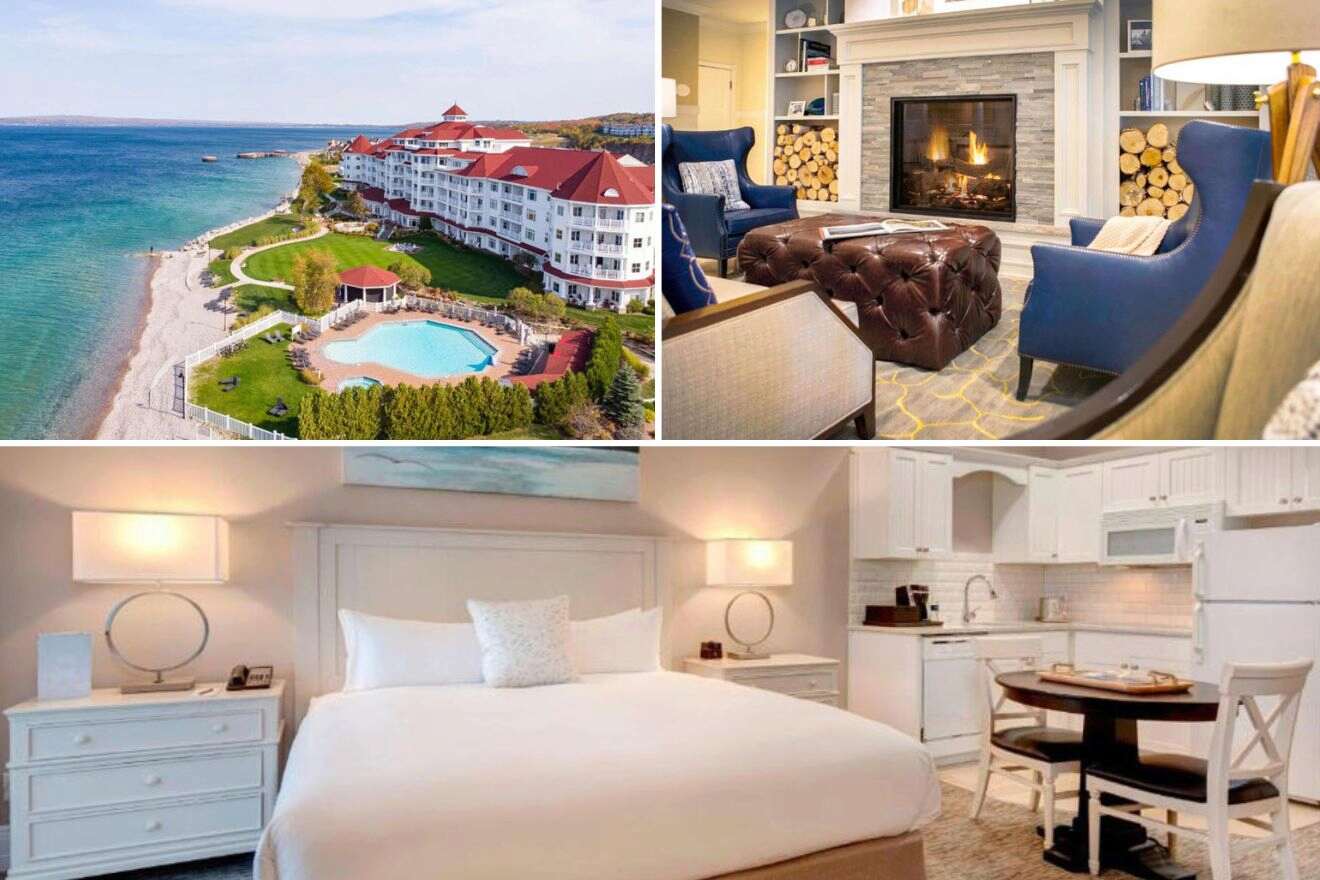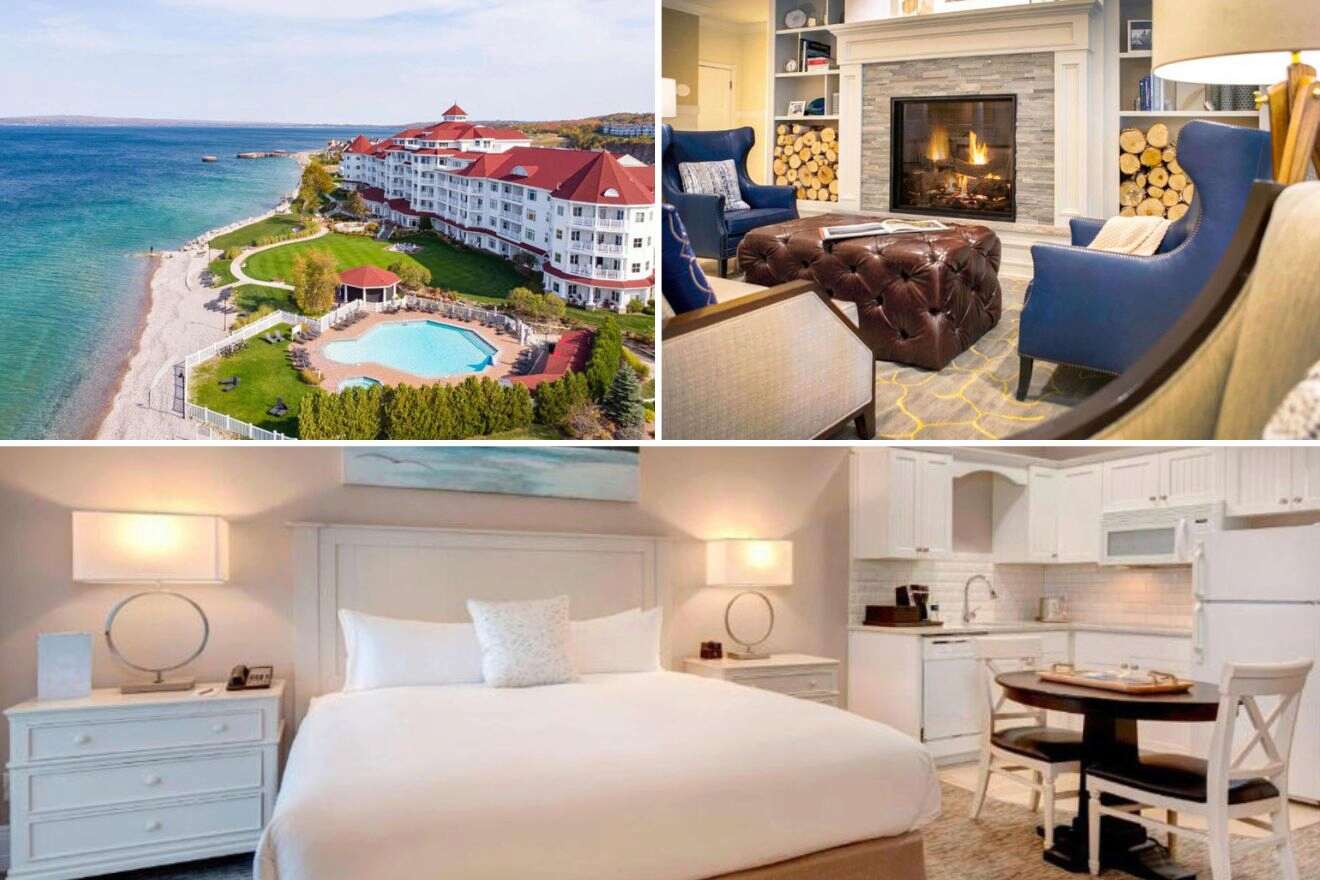 Wake up every morning to the sound of the waves crashing the shores at this resort that's located in Petoskey and offers a view of Traverse Bay! Featuring elegant decor (simple yet chic), the accommodation offers spacious rooms with a fireplace, balconies, and a flat-screen TV, plus a wide range of outdoor activities and a shuttle service!
For sure you'll never have a boring moment here! You'll either be enjoying the sun by the outdoor pool, relaxing in the hot tub, or renting one of the bikes and exploring the area! There are many things to see! And once you're back, you'll probably be famished, so definitely check out the 2 dining options on site!
2. Mission Point Resort – a stylish place with a spa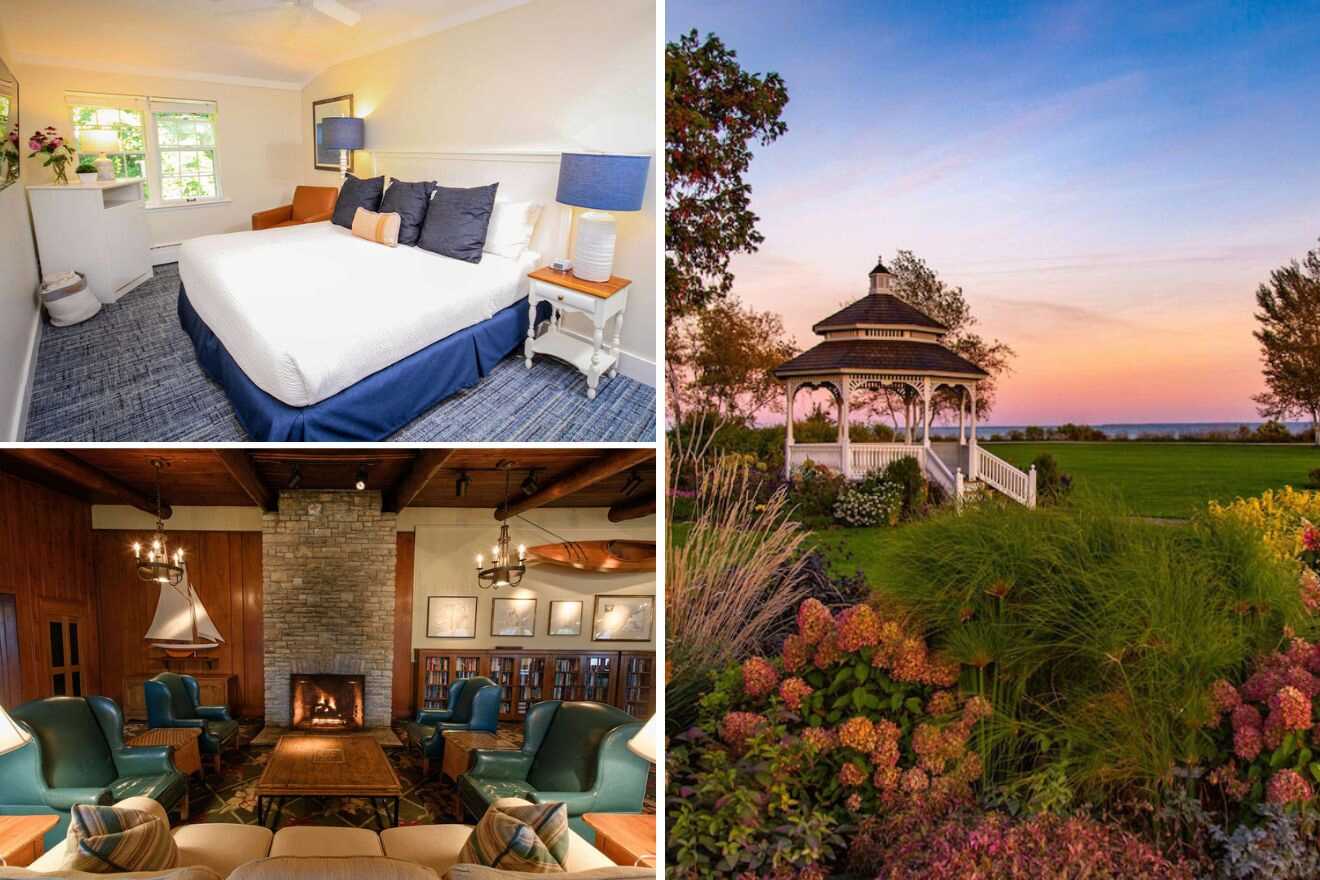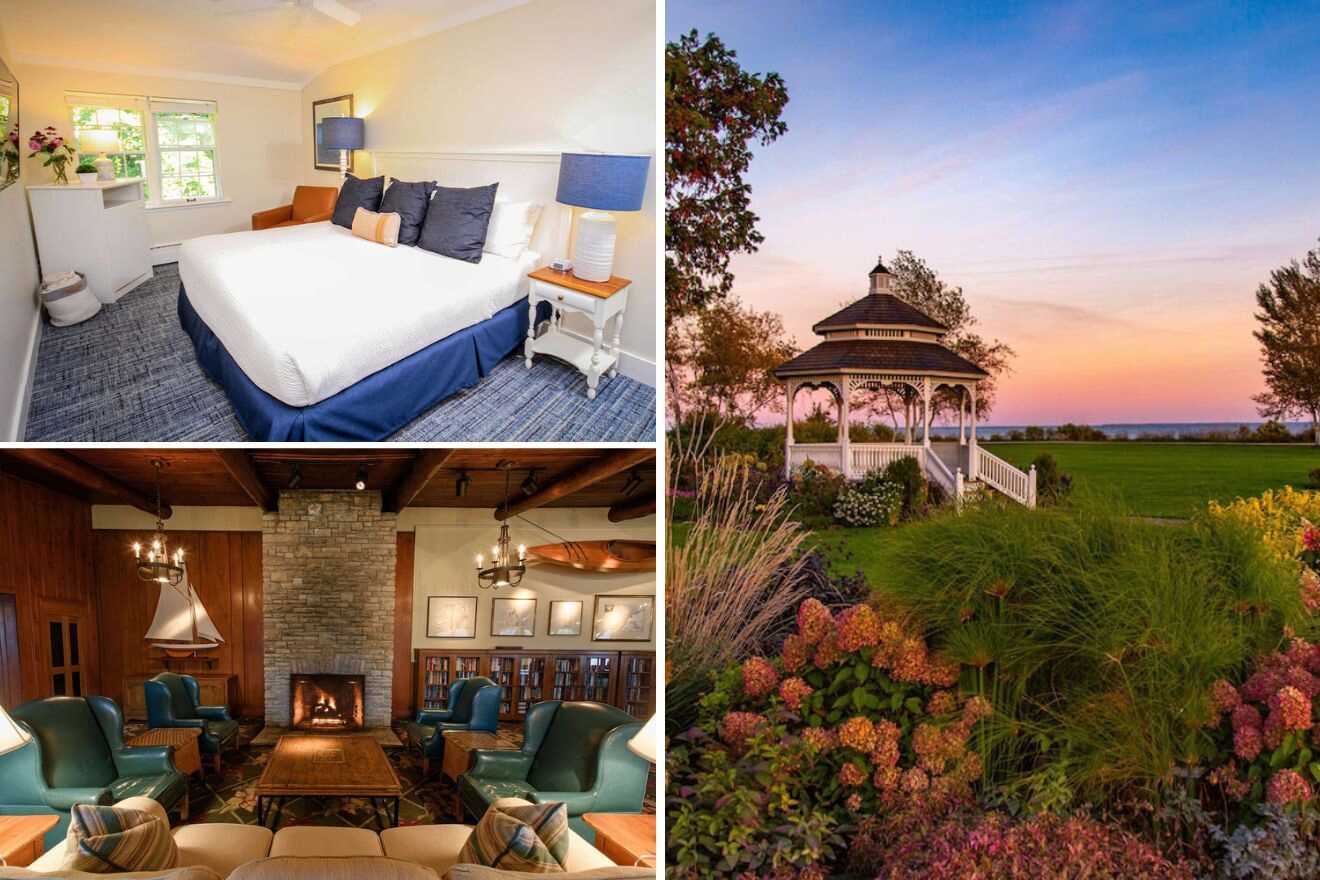 Mackinac Island is one of the most visited places in the US, and once you see it, you'll understand why! This magical place is so serene and pretty that you'll want to add a few days extra to your trip! And I've found the perfect hotel on the island that has a waterfront location, colorful gardens, room service, and a spa center.
The resort is perfect for a tranquil getaway! Of course, there are lots of things to try as well, from mini-golf, playing in the arcade room, swimming in the outdoor pool, and using the half-day bike rentals to explore the island and visit places like the Mackinac Art Museum! The list is endless, and at the end of the day, you can enjoy a delicious dinner at one of the 3 restaurants on site.
3. White Birch Lodge – a great hotel for families
If you were looking for the perfect family resort in Northern Michigan, then I've found the perfect spot! This historic lodge is located in Elk Rapids on the shores of Elk Lake, and it offers so many activities, a beautiful setting, and a great atmosphere!
The family-owned Elk Rapids resort offers a different lodge with family rooms, cabins, and a dining hall. During their stay, guests are invited to try as many activities as possible, from kayaking to playing volleyball or basketball or spending some time with the kids in the special recreation room. At night gather up by the bonfire with the other guests while frying some marshmallows!
4. The Inn at Harbor Shores – great views of Lake Michigan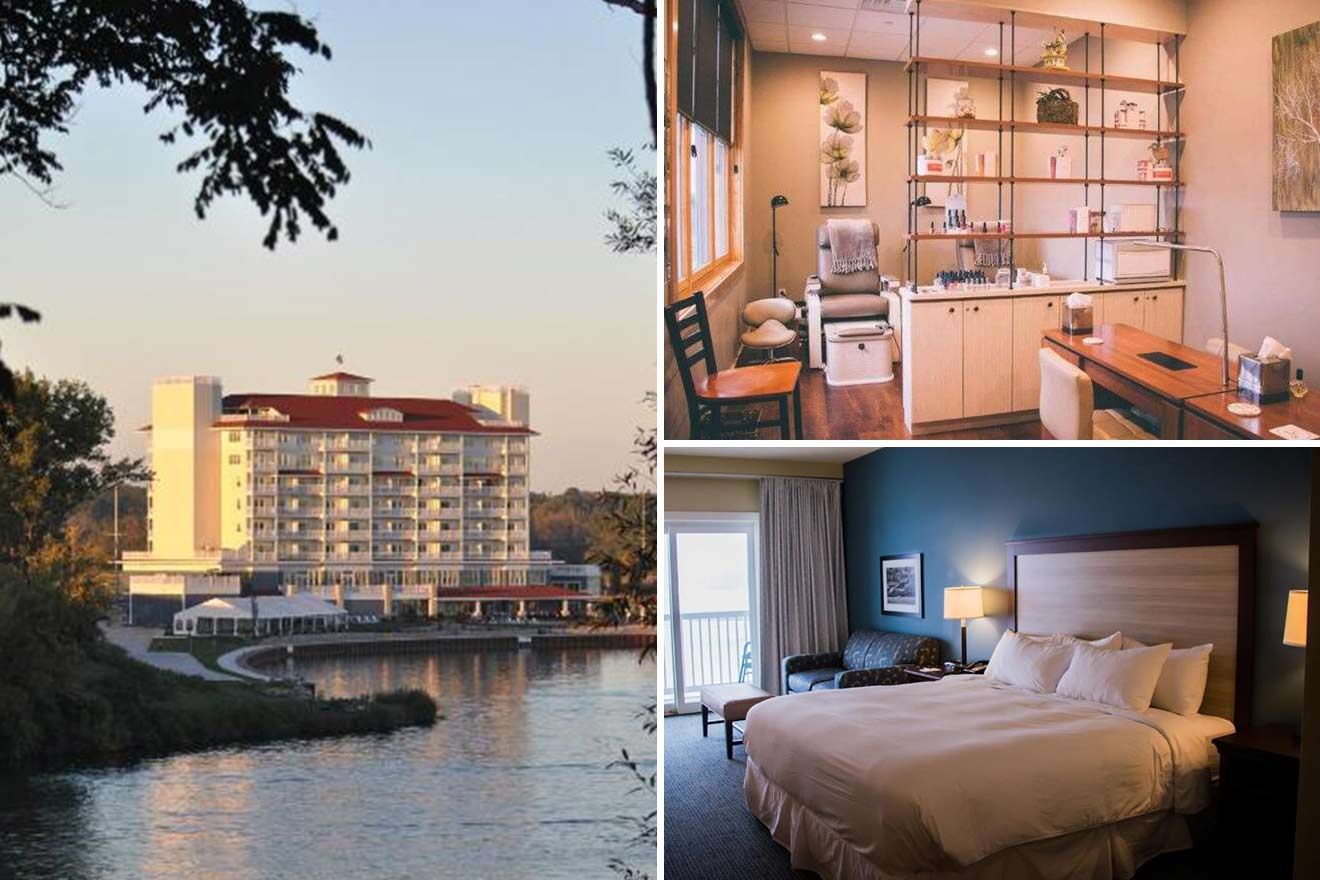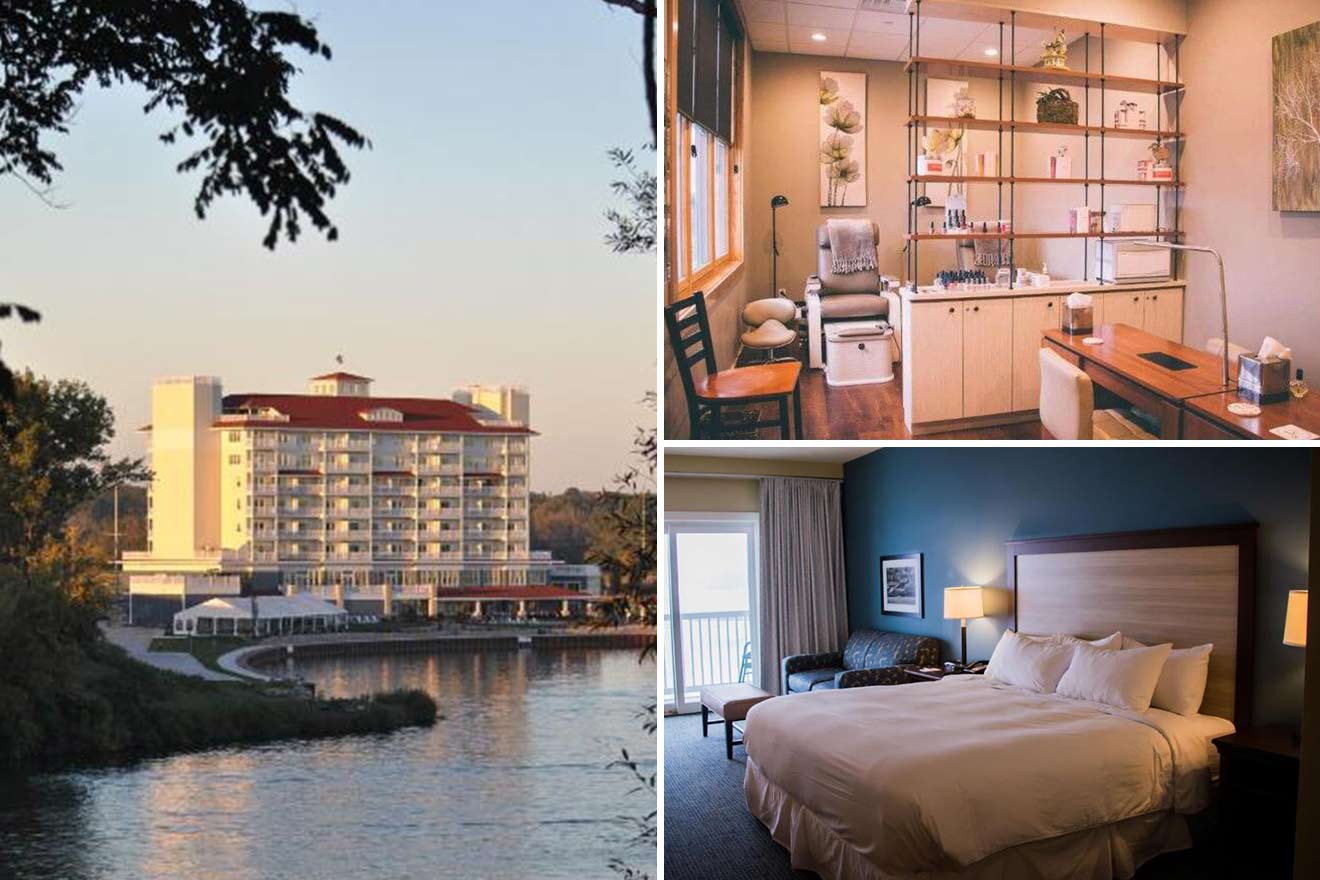 Enjoy the sun by the outdoor pool of this accommodation in Michigan, situated on the shores of Lake Michigan! The accommodation has rooms with balconies where you can enjoy your morning coffee, a flat-screen TV, and private bathrooms.
They also have an indoor pool (in case the weather isn't on your side) and a spa center where you can enjoy massages, different body treatments, and beauty services. During the day, you can rent bikes from the hotel to explore the areas, go on tours, take cooking classes, and try many other things! And don't worry, they've got stuff prepared for the nighttime as well, from movie nights to live music performances!
5. Crystal Mountain Resort – for a tranquil holiday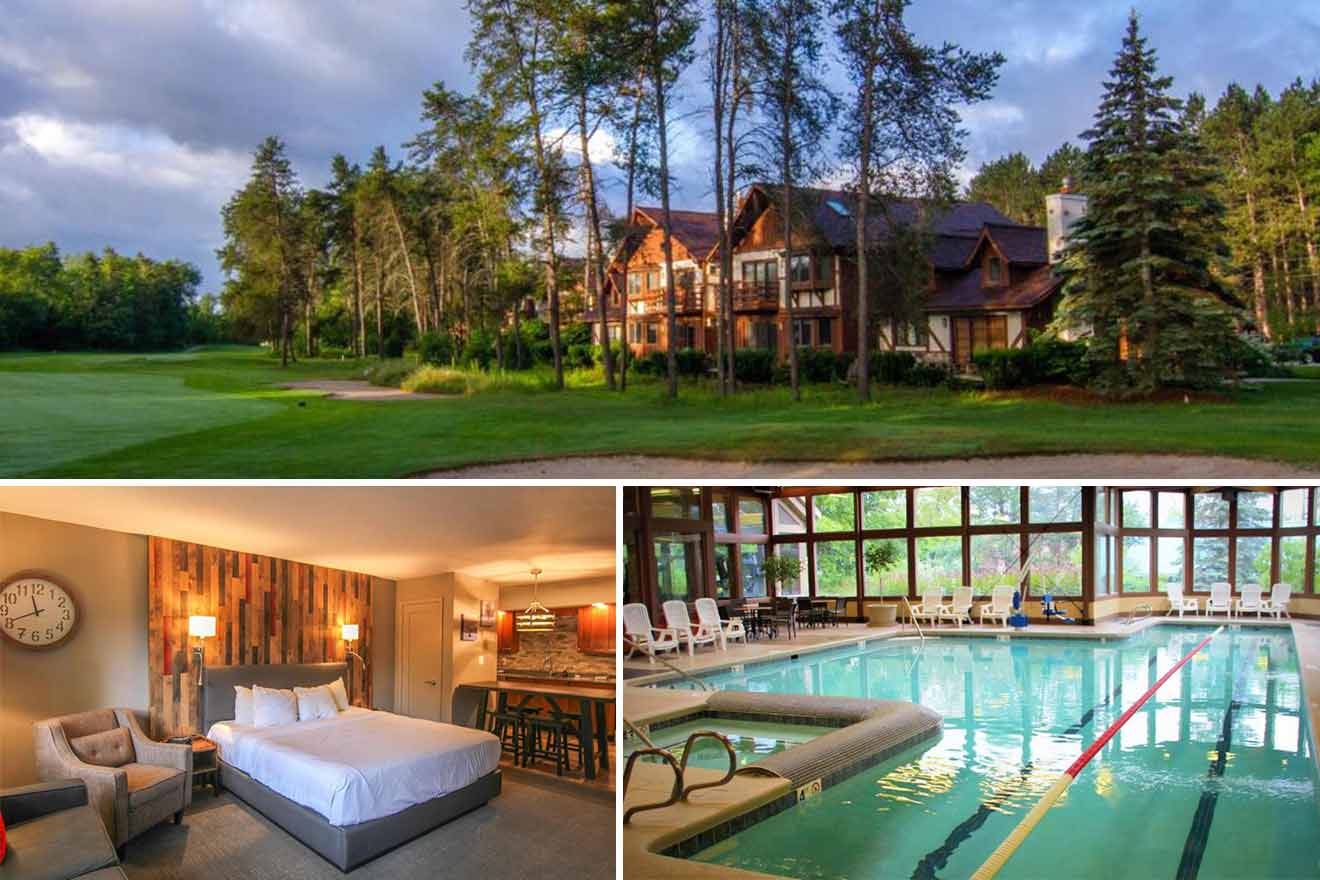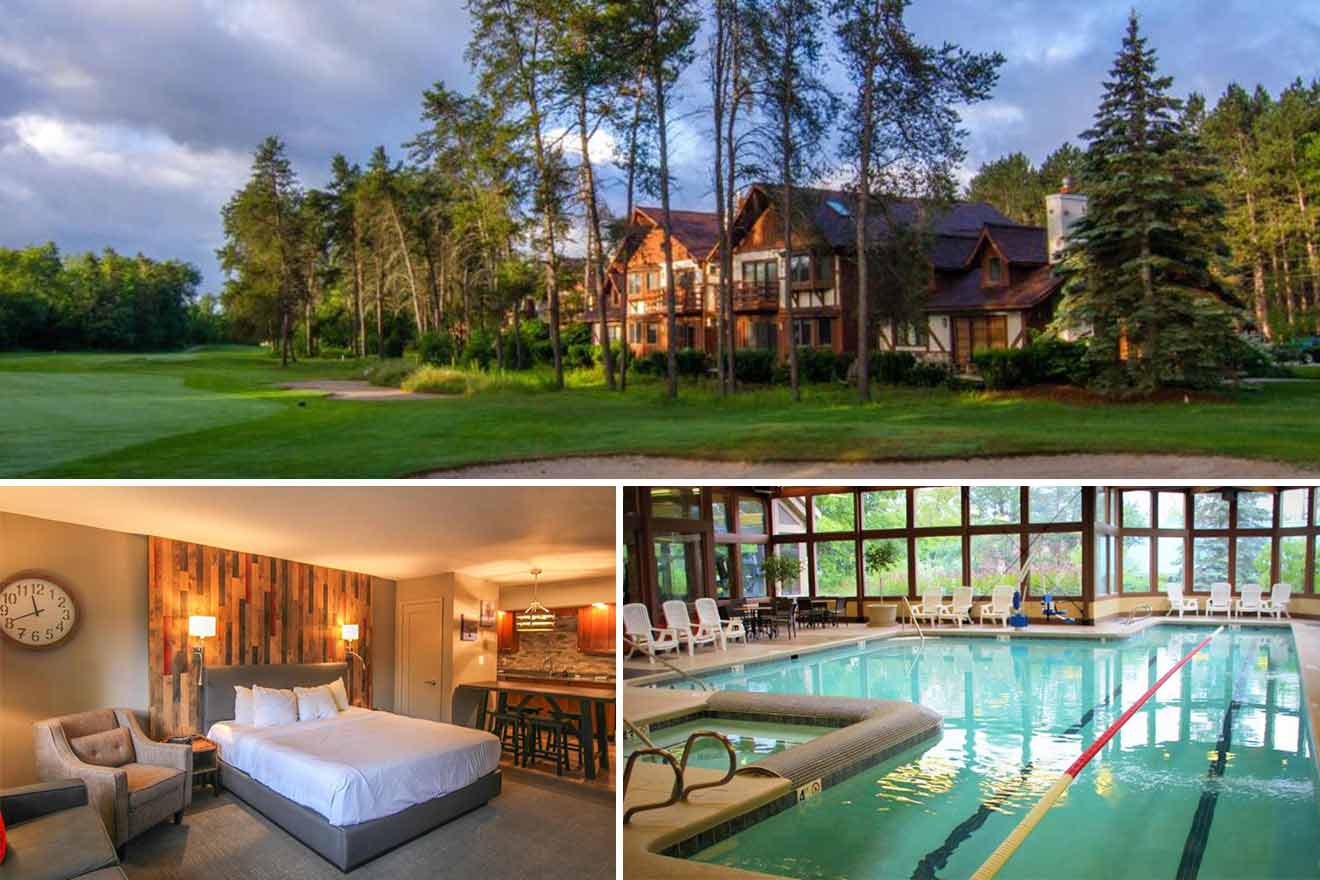 Skiing during the day, relaxing in the spa afterward, and dining at the fancy restaurant to end the day? Sounds like the perfect day to me! This resort in Thompsonville is an oasis of tranquility, and it offers an unlimited golf package with unlimited access to the Practice and Learning Center and golf course.
Their suites are beautifully decorated and come with a small kitchenette and great views! Although skiing is one of the major things to do here, you'll find that the resort offers activities all year round, from playing on the tennis courts to hiking, canoeing, and archery! On cold days you can warm up by the fireplace alongside a glass of wine!
6. Ann Arbor Marriott Ypsilanti – for outdoor enthusiasts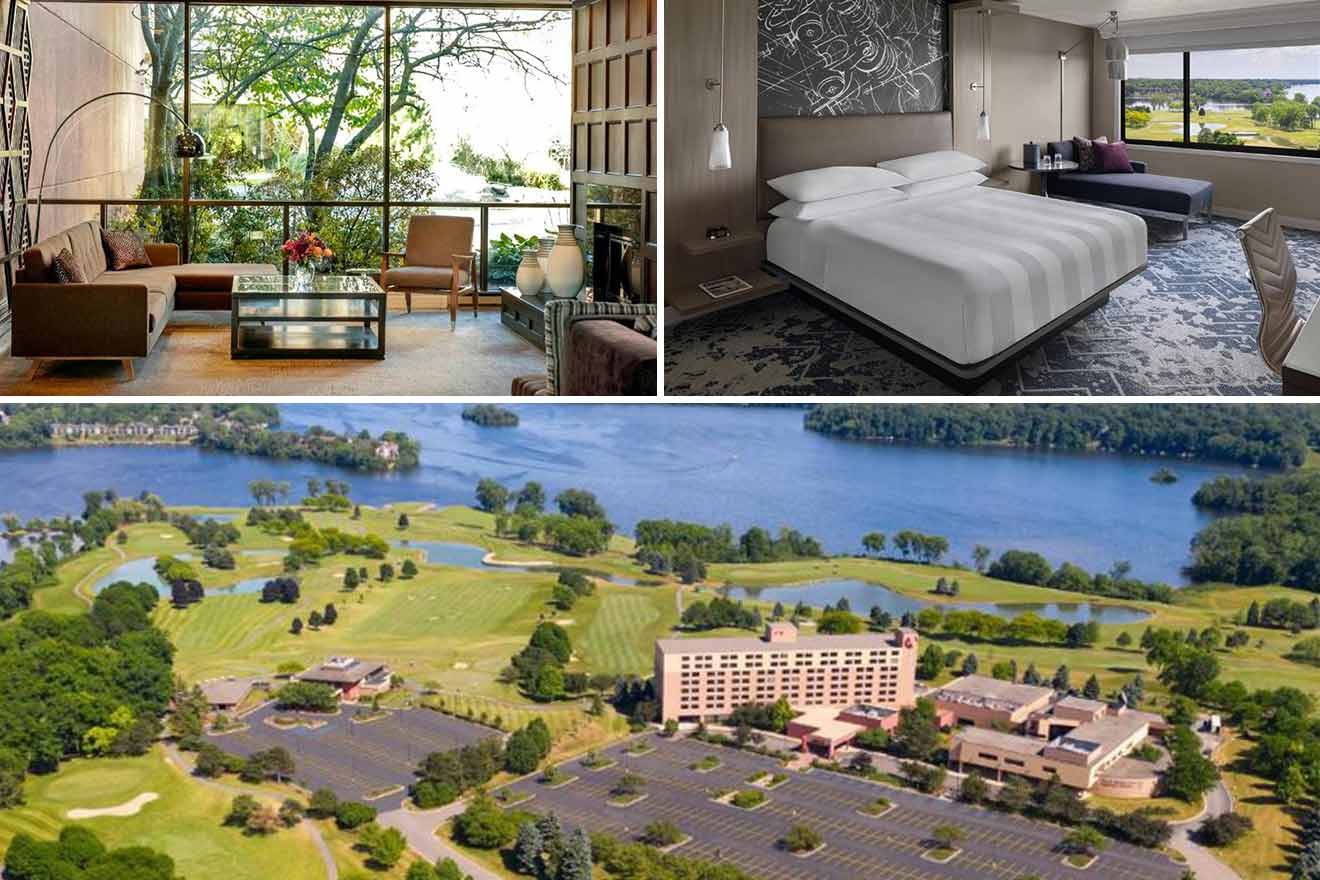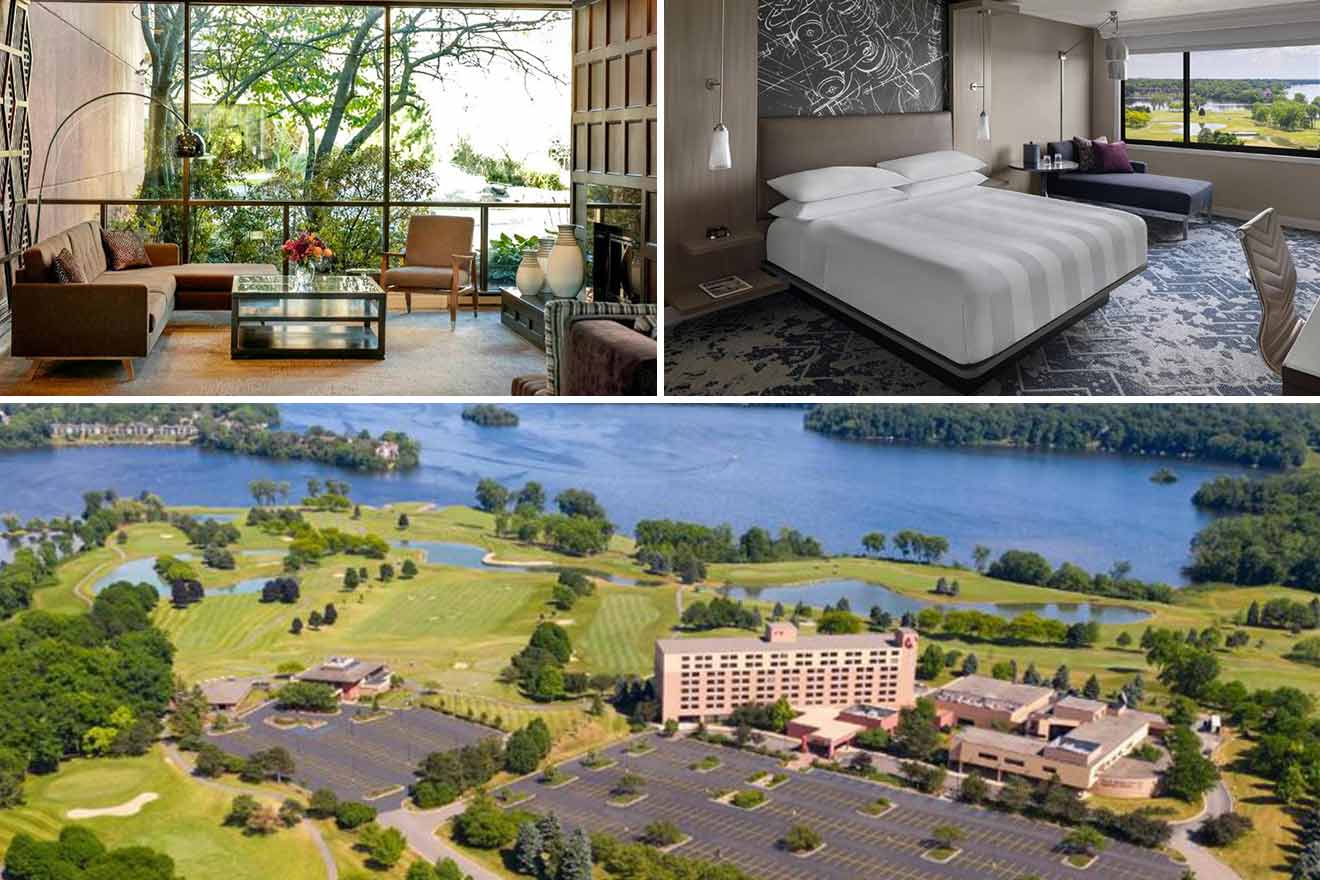 Green land all around you, lake views, and fresh air! Yep, this resort is definitely a keeper! Whether you're coming with your family or friends, the accommodation offers something for everyone! The suites are simple yet super chic and have a flat-screen TV and a private bathroom.
And by the way, if you enjoy golfing, you'll be happy to know that they've got an 18-hole Eagle Crest golf course on-site where you can spend hours playing! You may want to check out the tennis court and games room. As for the evenings, you can spend them at the 2 on-site restaurants or by the outdoor firepits!
7. Bay Pointe Inn – a charming inn with a great view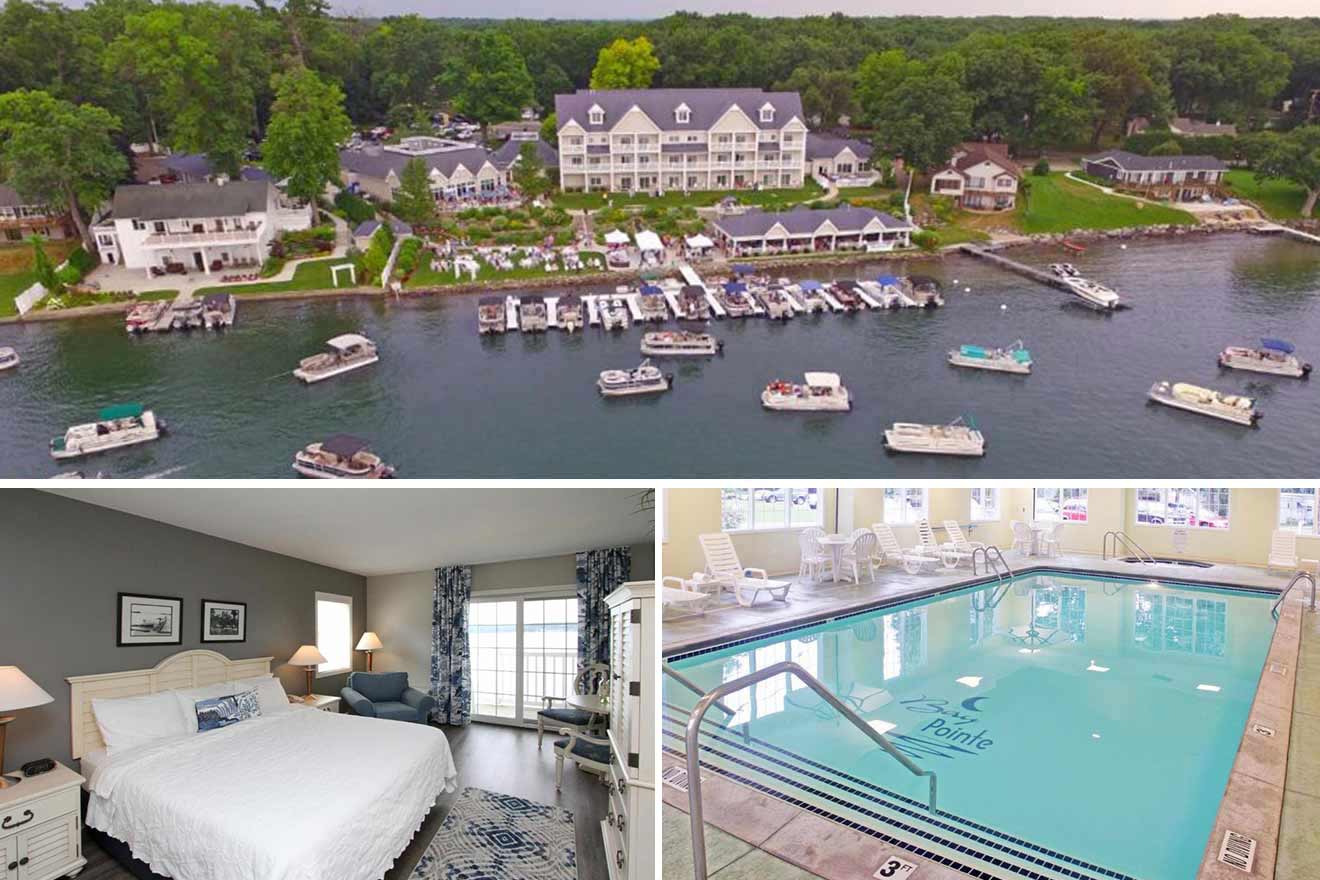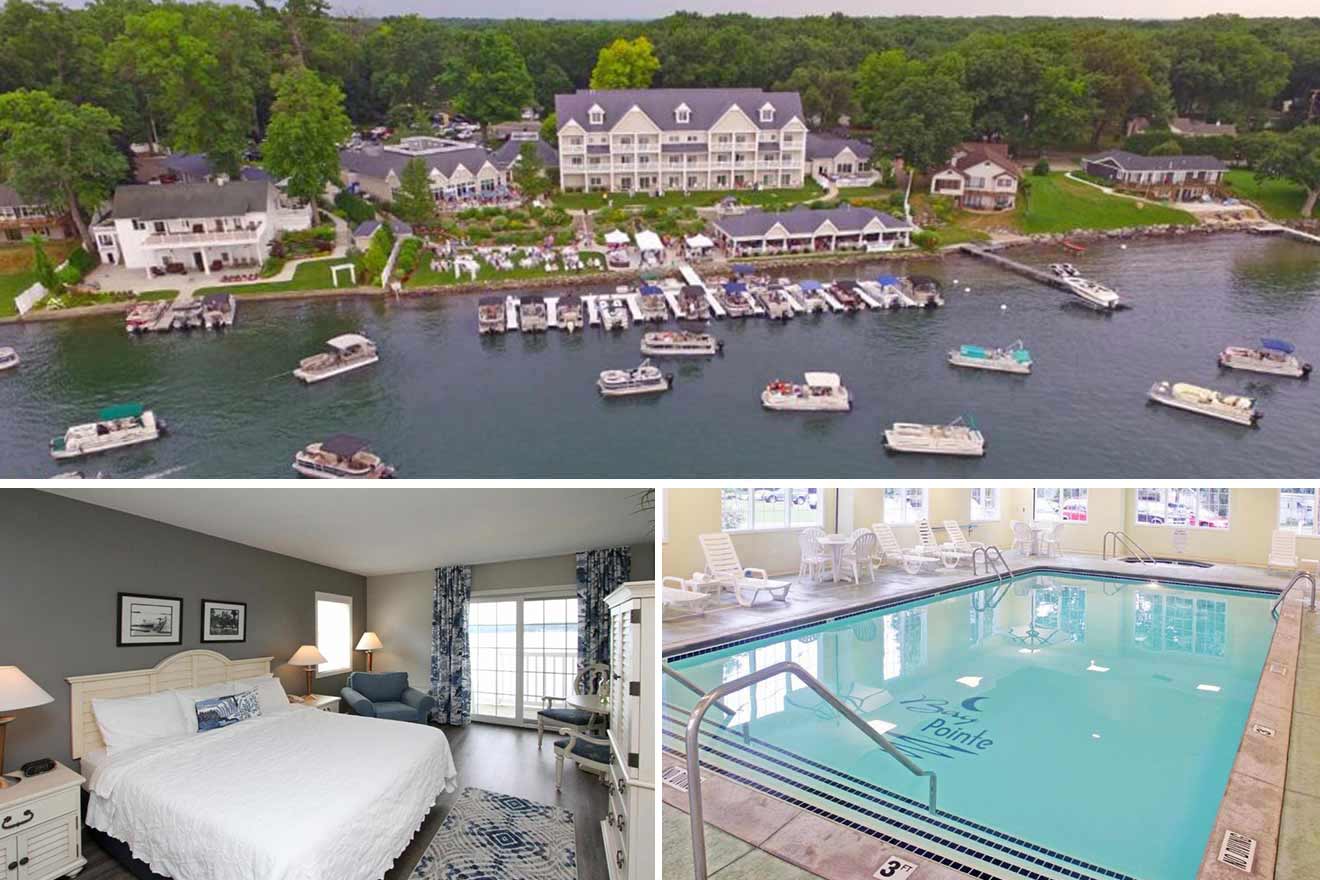 Are you ready for an unforgettable holiday in Orangeville, Michigan, where you'll get to relax, eat yummy food and spend time in nature? Let me hear a loud yes! I'm sure you are, and once you see this fabulous accommodation that's set waterfront and offers unlimited use of range facilities, you won't think twice before booking!
The inn is so charming, and it offers spacious suites with comfy beds! You can start your day with room service and then head to the pool for a quick wake-up swim! There are lots of outdoor activities that you can try here, from cycling, hiking, and skiing! At night, relax by the outdoor fireplace or enjoy a fun night with live entertainment!
8. Clear Lake Resort – for nature lovers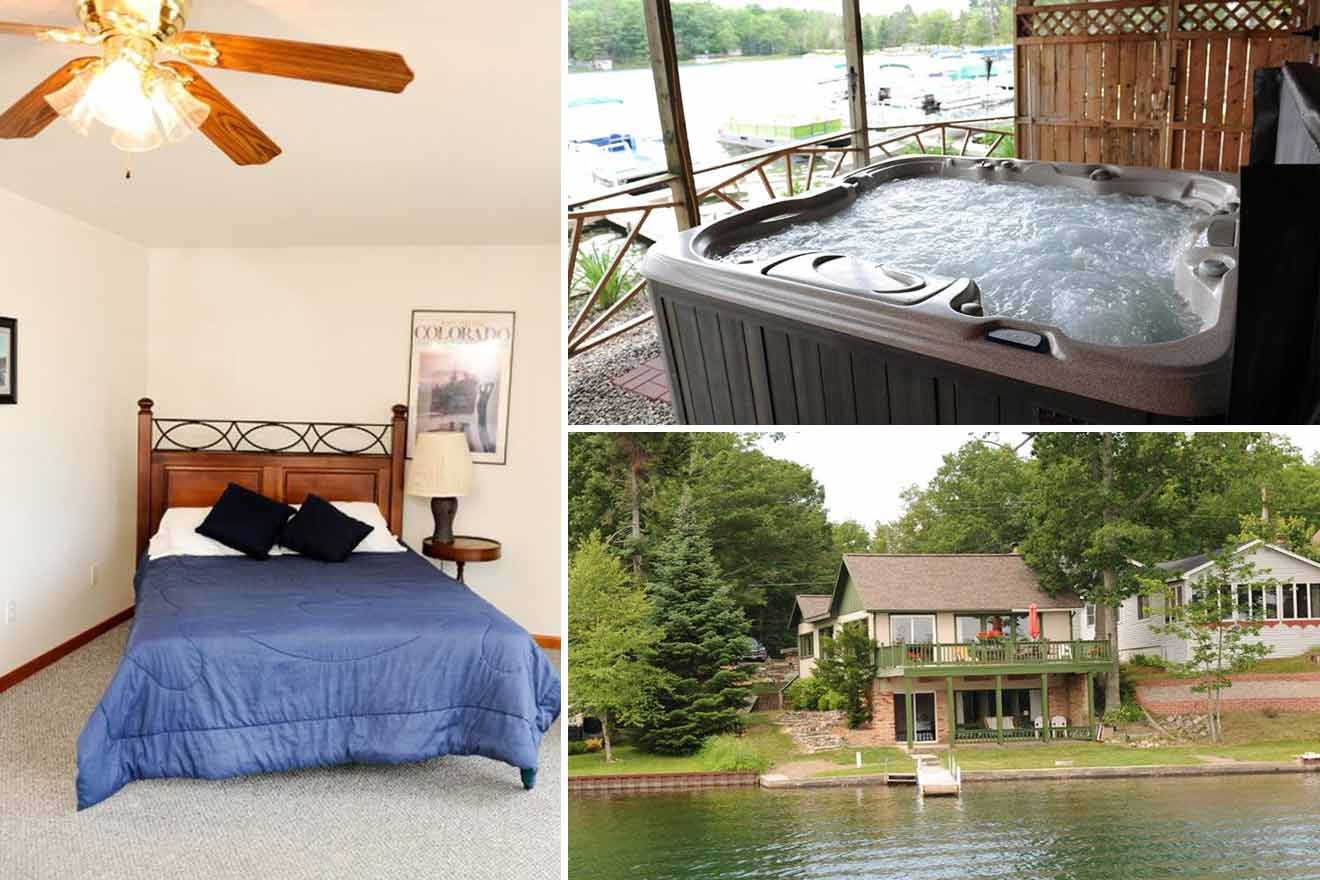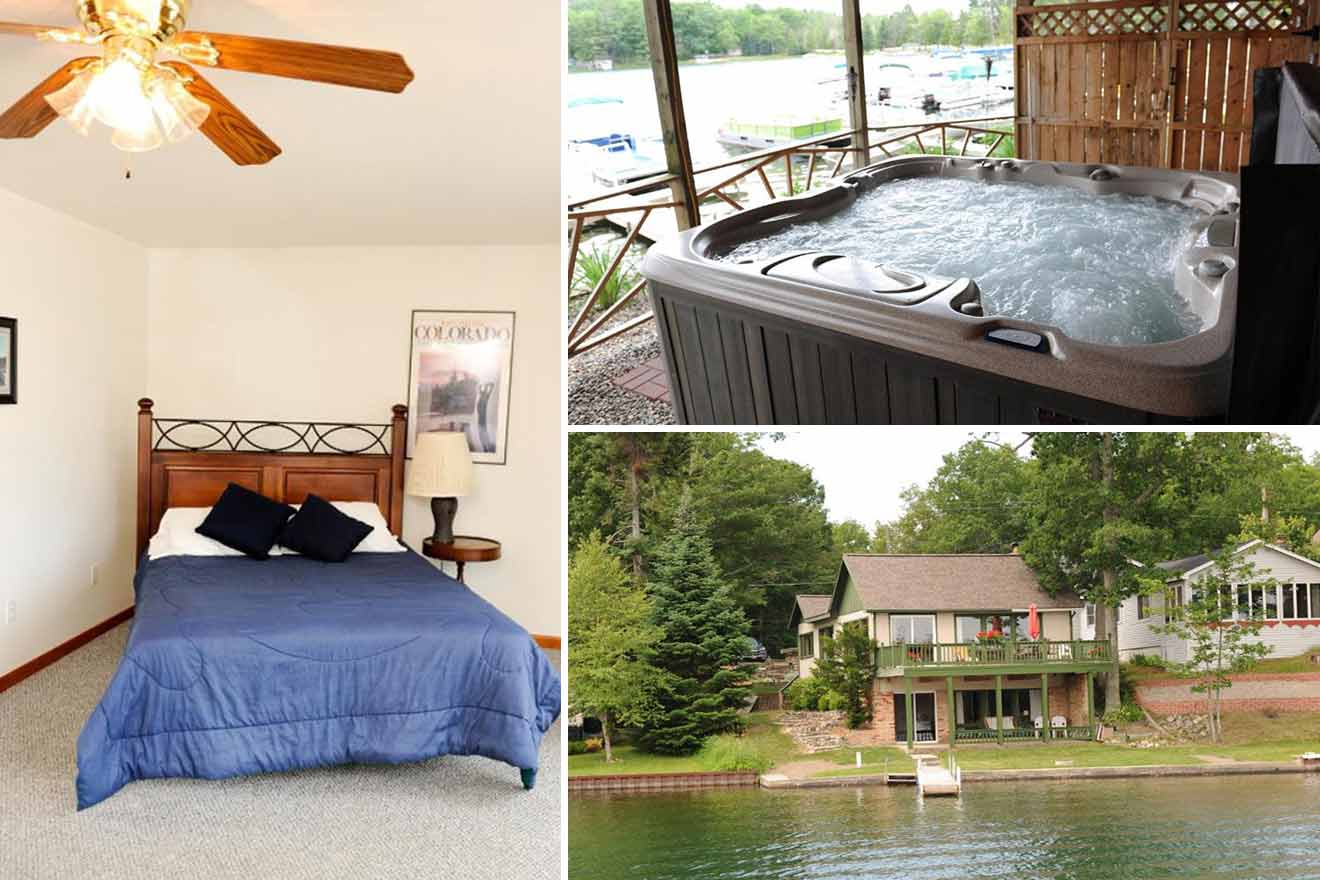 Nature lovers, this place is surely for you! Set in West Branch, this resort offers spacious family-friendly cabins, which are equipped with lots of facilities, including a private kitchen, barbecue facilities, and a small patio where you can enjoy your morning coffee while admiring the lake views.
Also, if you're into outdoor activities, then you've hit the jackpot because here, you can hike, try different water sports, and even go skiing when the weather allows it. Make sure you book your resorts in Michigan in advance, as these are some of the best ones, and they won't be on the market for too long!
9. Drummond Island Resort – with a great location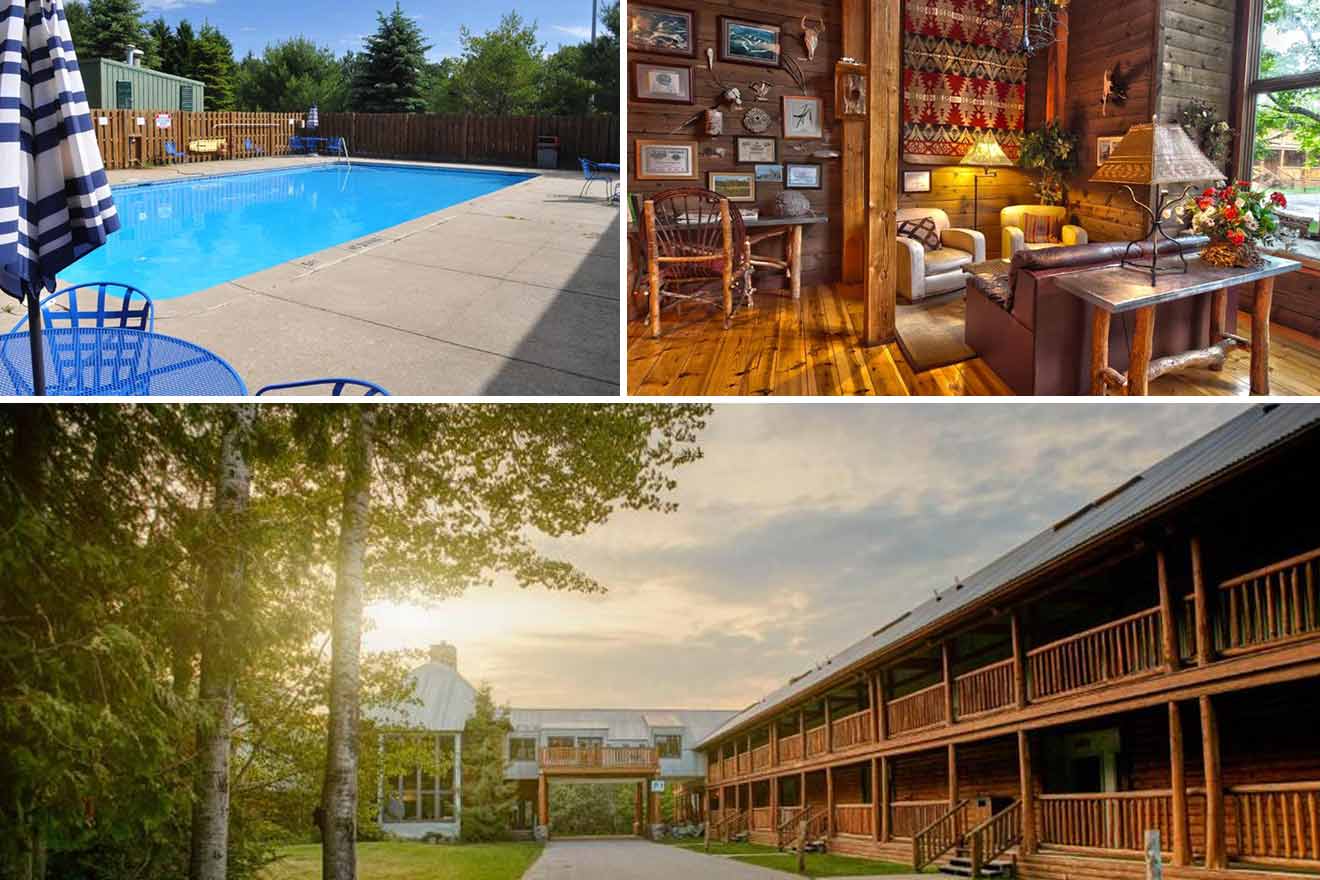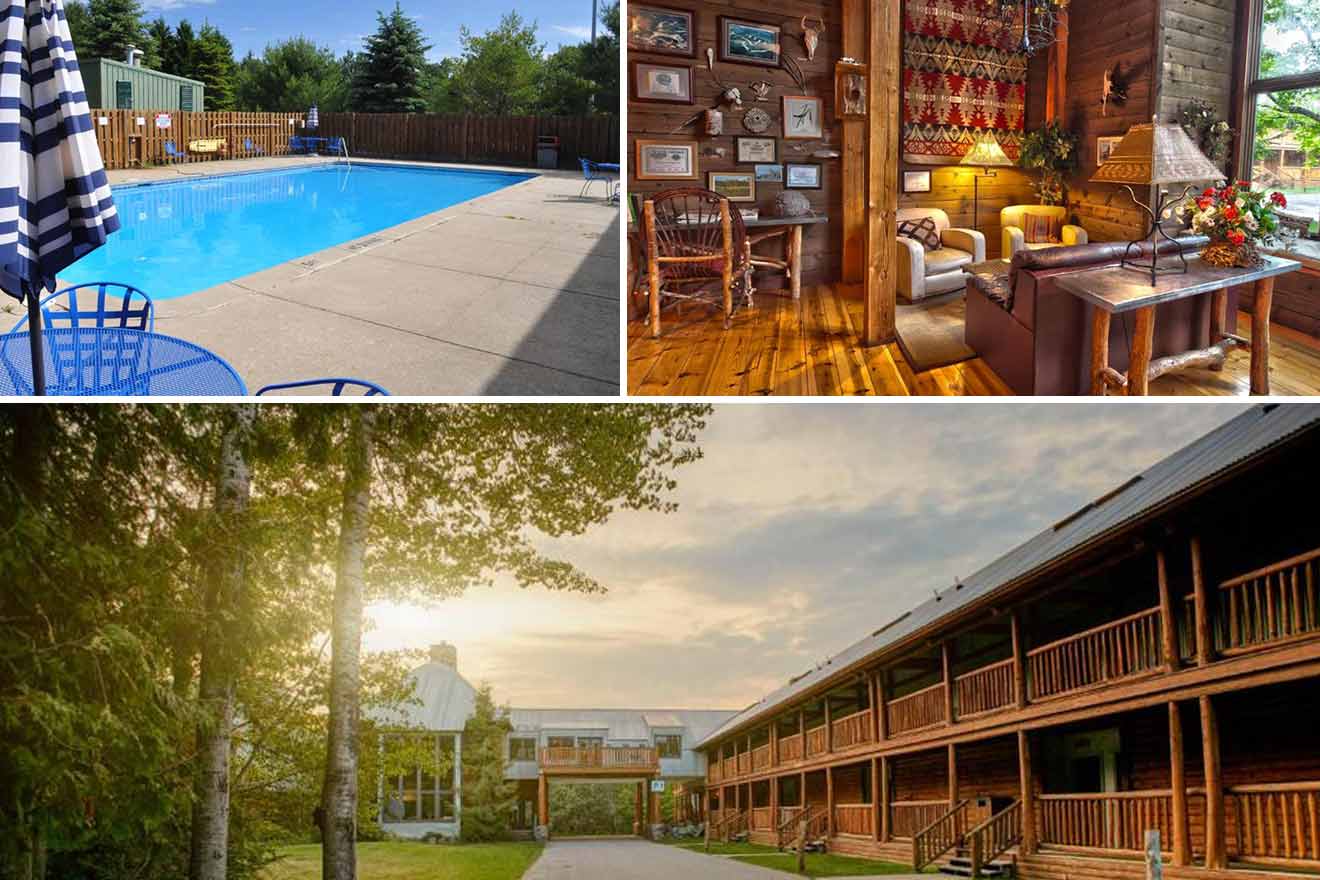 This Michigan resort is surrounded by trees, lakes, and some incredible views! Located in Drummond, this accommodation is perfect for an outing in the woods where you can do nothing but relax and enjoy all the fun outdoor activities.
Get some bikes out of the hotel and explore around, try water sports, go hiking, or play in the game room all day long! The list is so long, but I'll let you discover the rest. There's also a fitness centre for those who don't want to miss gym day, an on-site restaurant, and free parking for all guests. At the resort, you'll find different bungalows and cabins that have family rooms and all the facilities you'll need.
10. Great Wolf Lodge – for a fun family holiday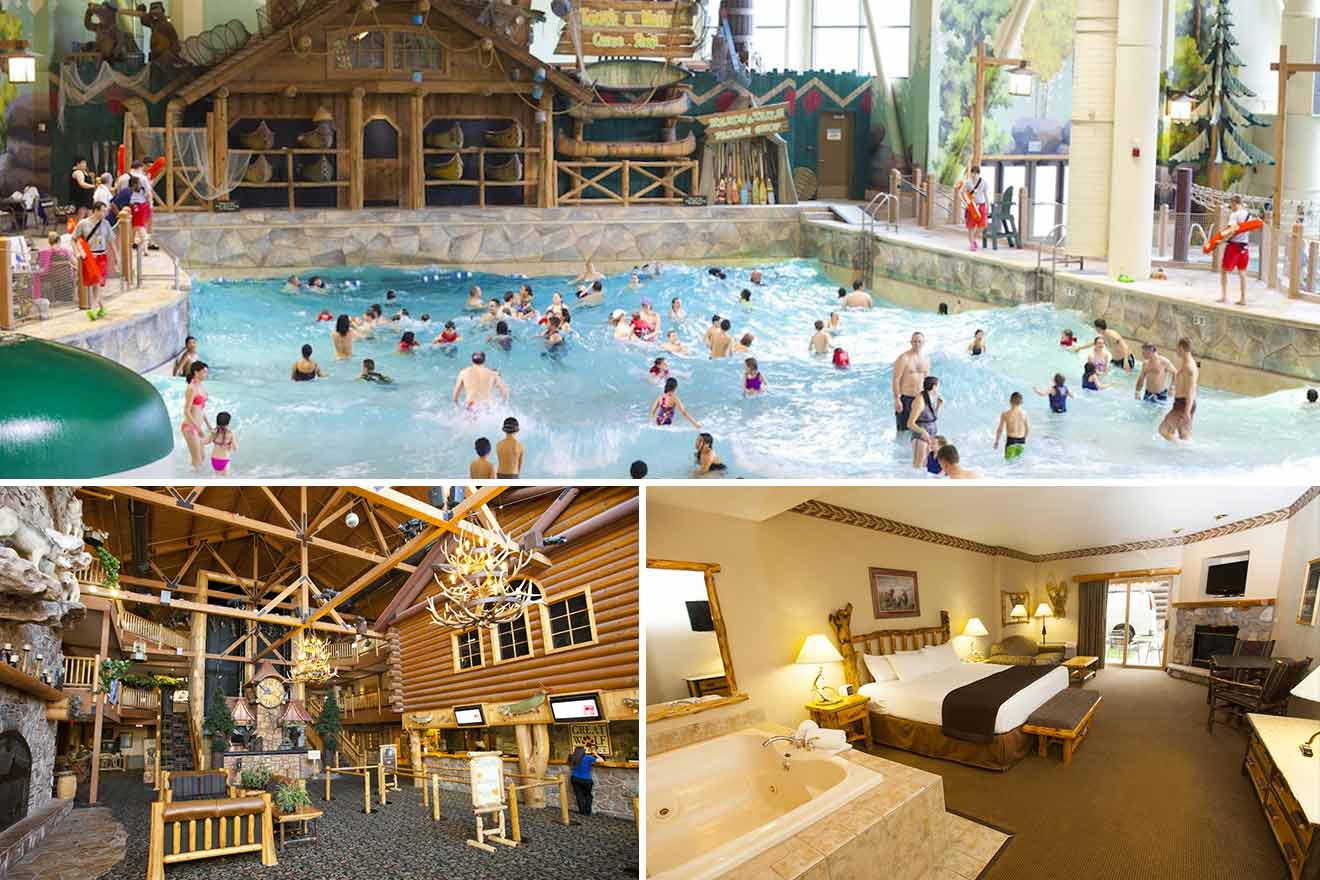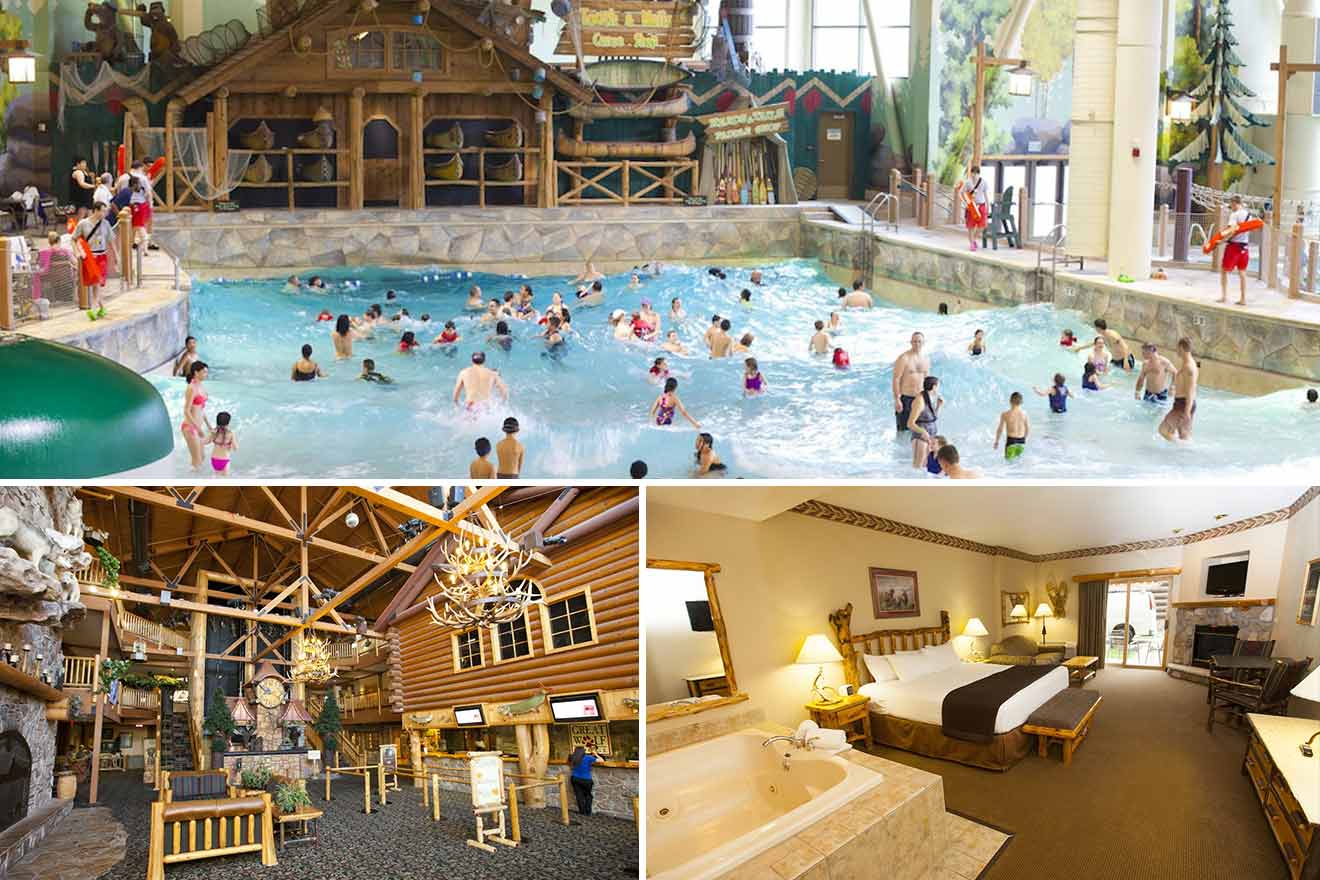 Looking for a place to stay in Traverse City? Well, there are many, but I think you'll really like this resort which (drum roll please) even offers water park access (where you'll find water slides and lots of other cool facilities)! Yep, this is definitely a place where you can bring your family! 
The suites are pretty spacious and come with a TV and private bathroom. But I doubt you'll spend time there since they also have a game room, a children's area, and bowling! Guests will have access to all four pools and to the mini-golf course as well. Once you get hungry, run down to the 3 restaurants, they serve super yummy food!
11. Village Suites Bay Harbor – for the beach lovers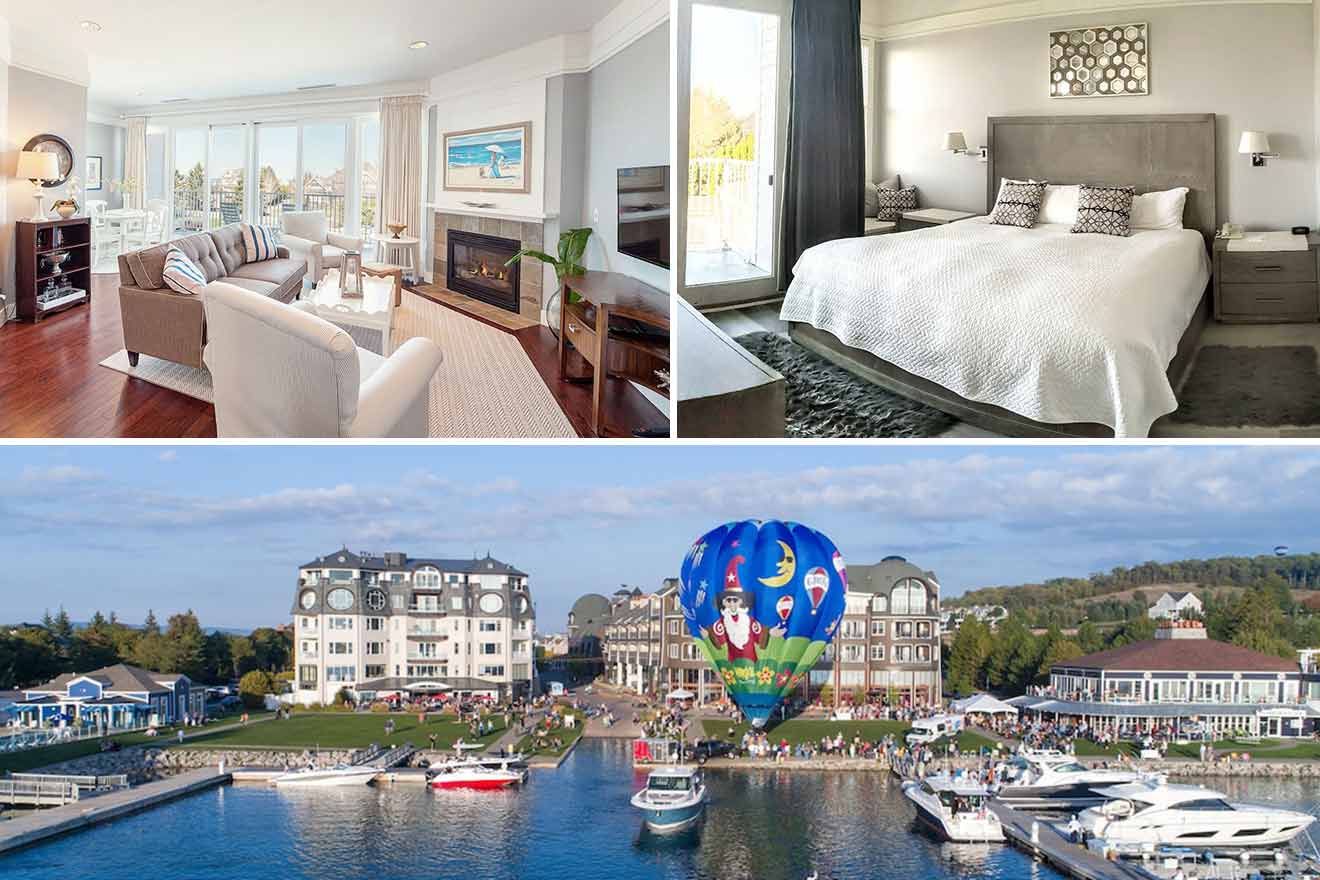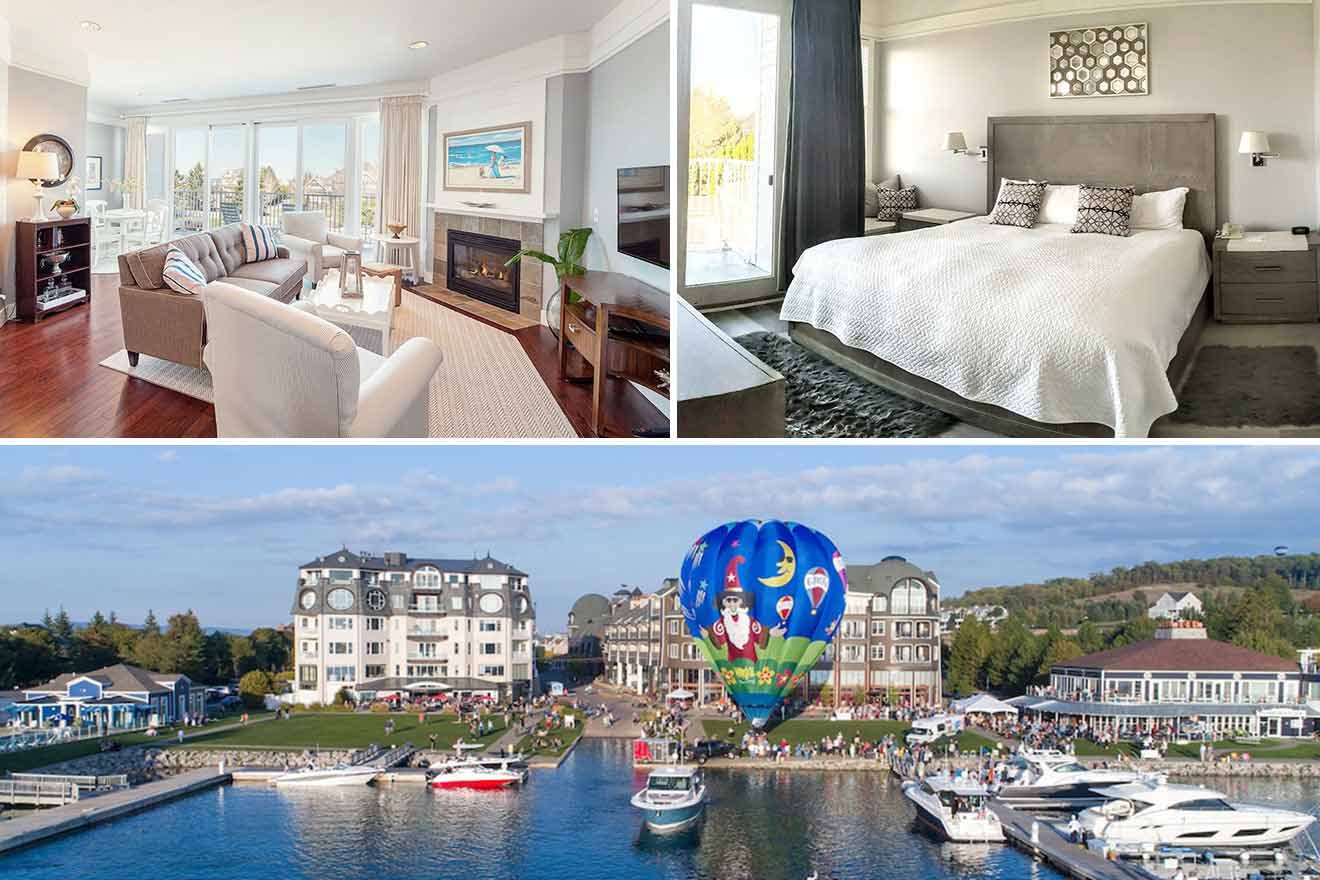 Bright spacious rooms with large windows and fireplaces? Oh yes! Sounds like the perfect place! And indeed it is! Located in Petoskey near the beach, this resort has 3 dining options and is perfect for your holiday!
When you're not relaxing by the outdoor pool, make sure you check around the hotel as there are lots of cool attractions nearby, like a golf course, a casino, the town's shopping area, and the marina. And for the days when you don't feel like doing anything, definitely head down to the spa for some massages.
12. Boyne Mountain Resort – a great place for skiing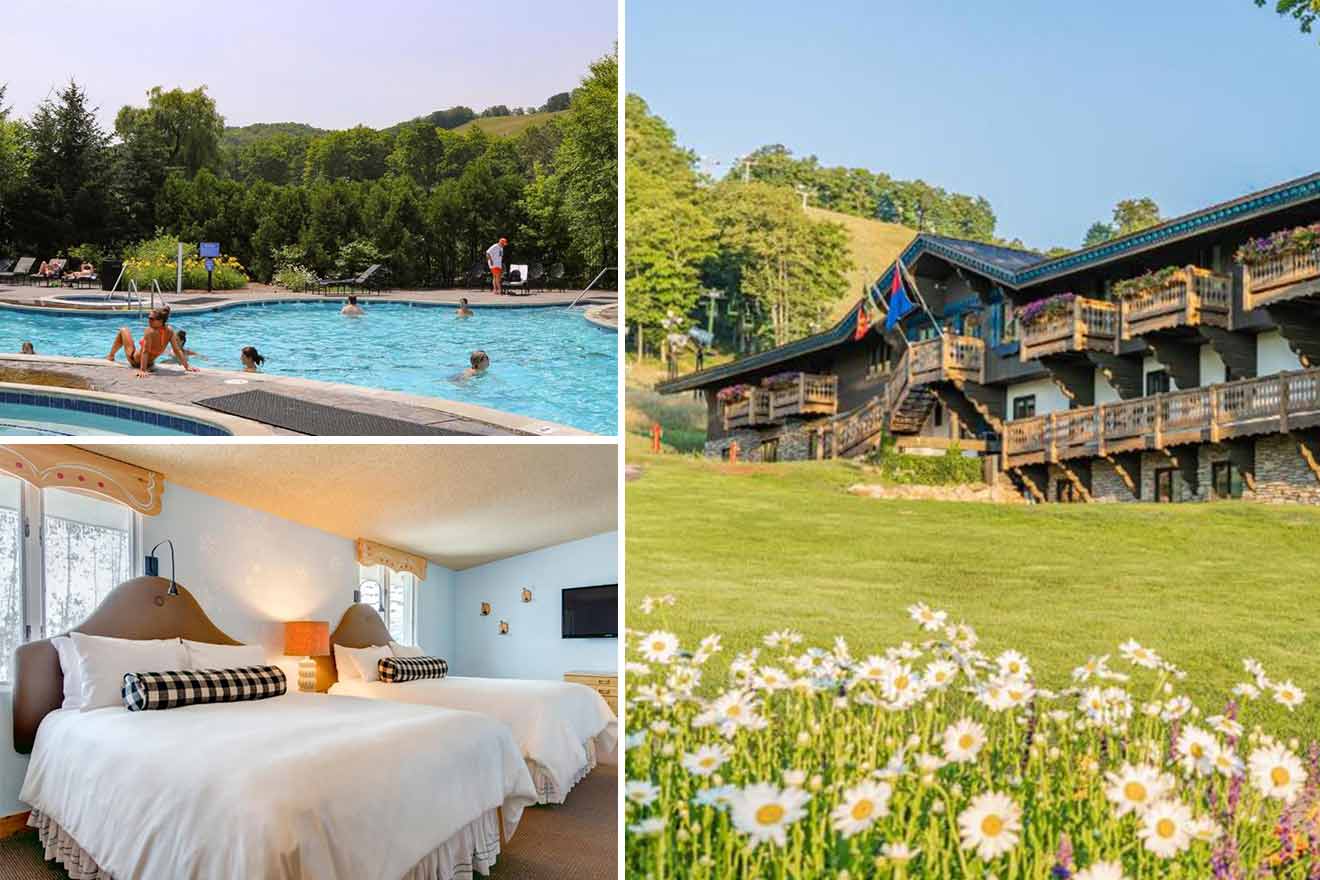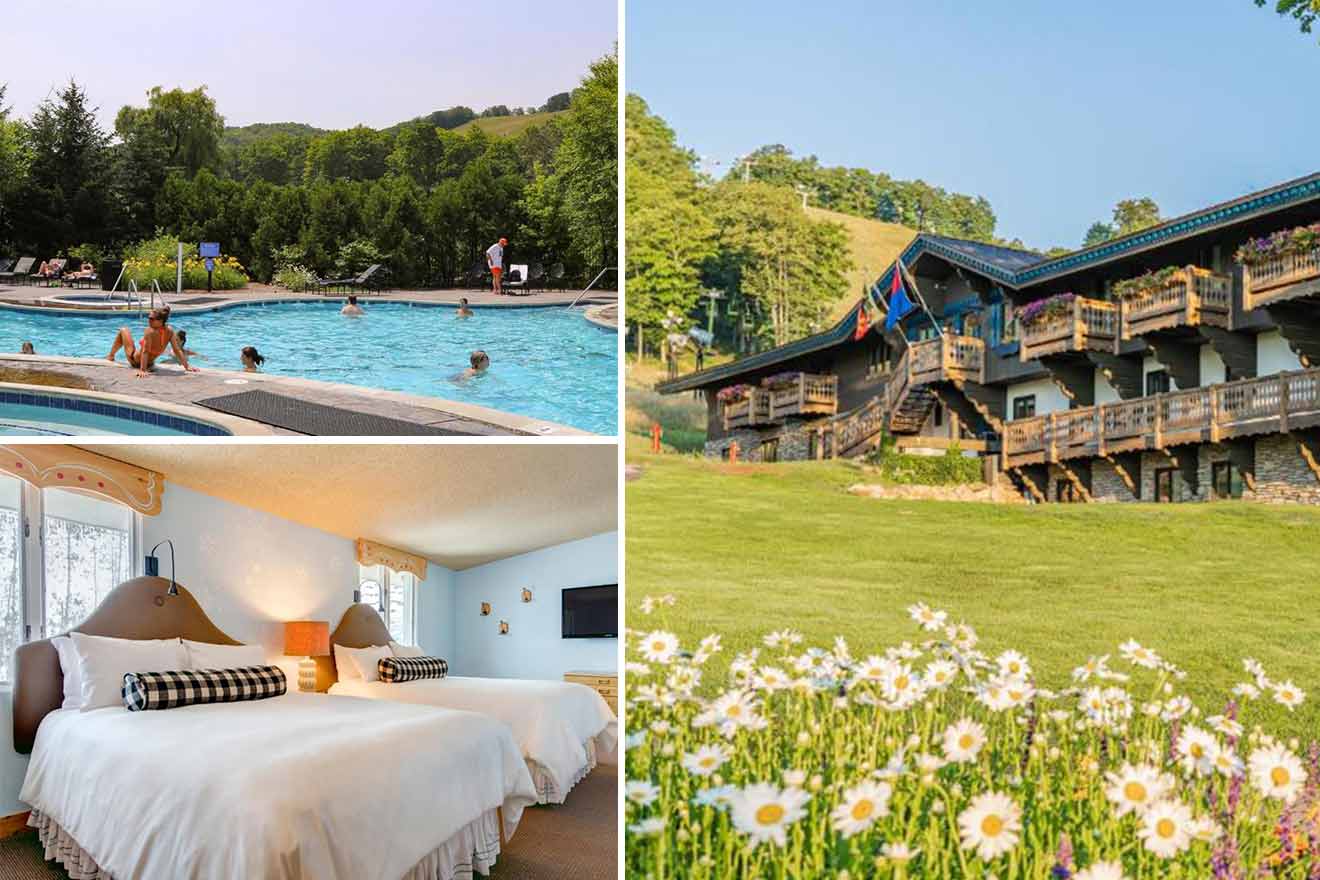 Sunshine and good vibes! That's what you can expect at this resort in Boyne Falls, which offers ski lift tickets, bike rentals, and many more things to do, like horseback riding, hiking, and ice skating. If you're coming with the family, then you'll be happy to know that they also have a kid's club and some board games too.
When you're not out and about trying all these entertaining activities, you can relax at the spa center on-site with a massage, a body scrub, or some beauty treatments. They also offer 2 outdoor swimming pools, a fitness center, water park access, and 5 restaurants on-site.
13. Mackinac Island Grand Hotel – a historic resort
Dating back to the 1880s, this hotel will definitely offer you the Mackinac experience you'd be looking for! If you have a proper look at it, you'll see that it resembles so much those fairytale castles that you see in the movies! And even the rooms look so beautiful with their vintage furnishings, and some even have lake views.
Definitely plan your days in advance here as there are so many things to do, from going on horse-drawn carriage rides to visiting the Mackinac Art Museum, relaxing at the spa, playing golf, working out in the fitness center, or listening to some live music in the lounge while enjoying your cup of tea!
FAQs about all-inclusive resorts in Michigan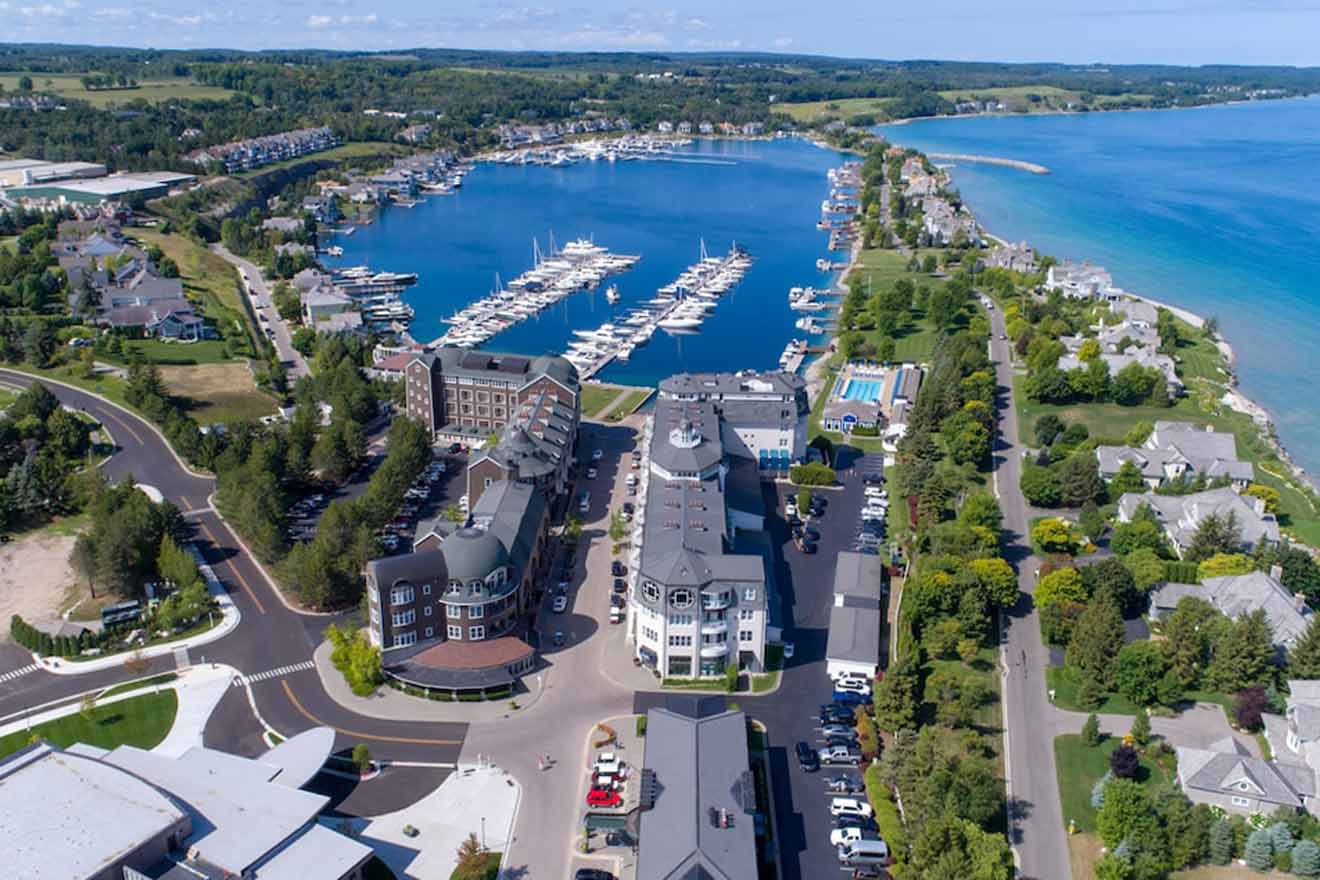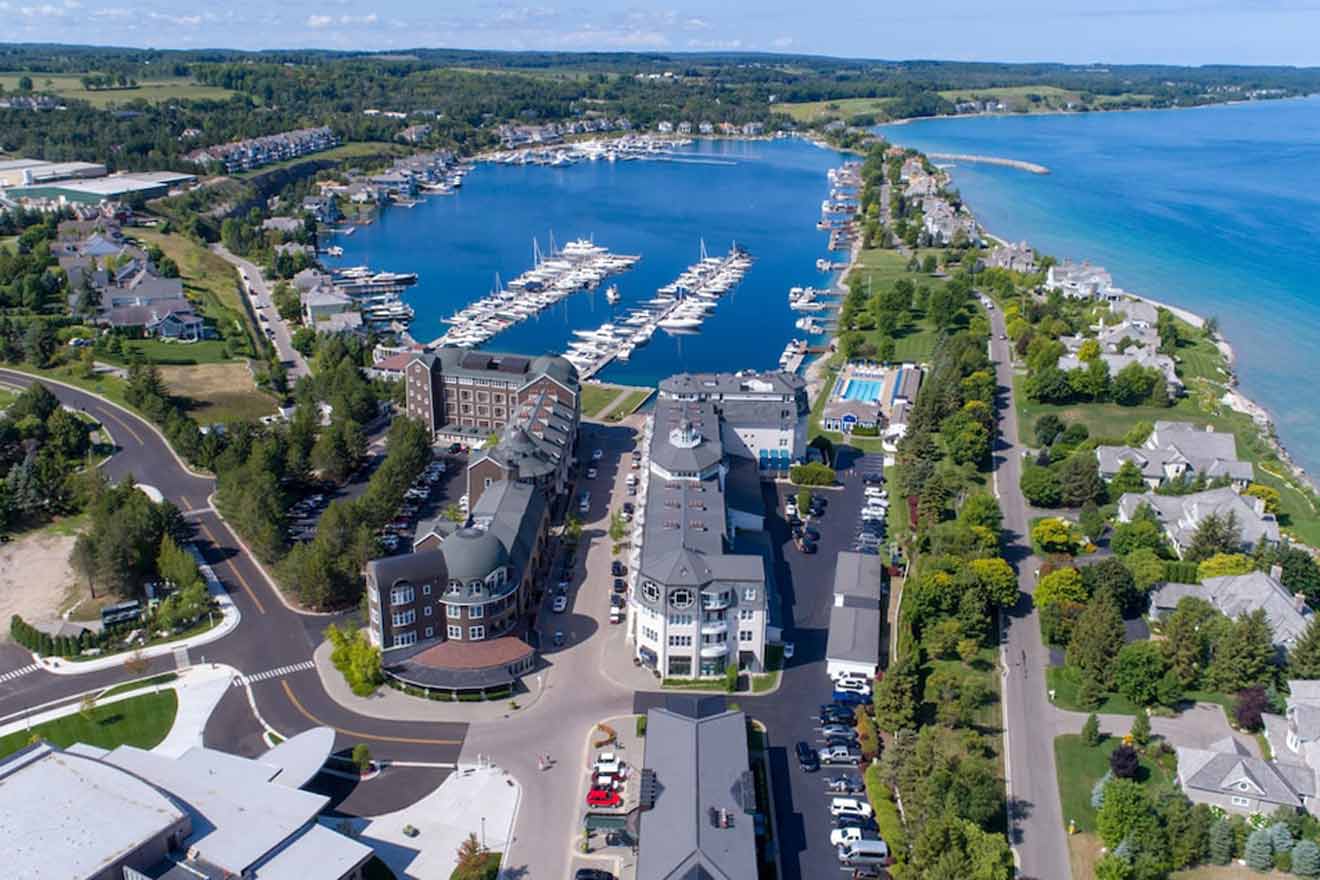 🤔 Are there all-inclusive resorts in Michigan?
Yes, but not the typical ones. The only classical all-inclusive resort is White Birch Lodge in Northern Michigan. The other ones are a bit different as they don't include the typical all-inclusive packages, but they still offer the same kind of amenities that you'd find in an all-inclusive resort.
👪 Which are the best resorts in Michigan for families?
Great Wolf Lodge and Drummond Island Resort are some of the best resorts in Michigan for families! Both accommodations have amazing facilities for guests, like a water park, games rooms, and many fun activities.
🌞 What is the best time to visit Michigan?
The best time to visit Michigan is between May and October. That's when the weather is perfect for all outdoor activities.
🏩 Which are the best resorts in Michigan for couples?
Inn at Bay Harbor and Bay Pointe Inn are some of the best resorts in Michigan for couples. The accommodations offer great rooms and privacy and have amazing reviews.
Conclusion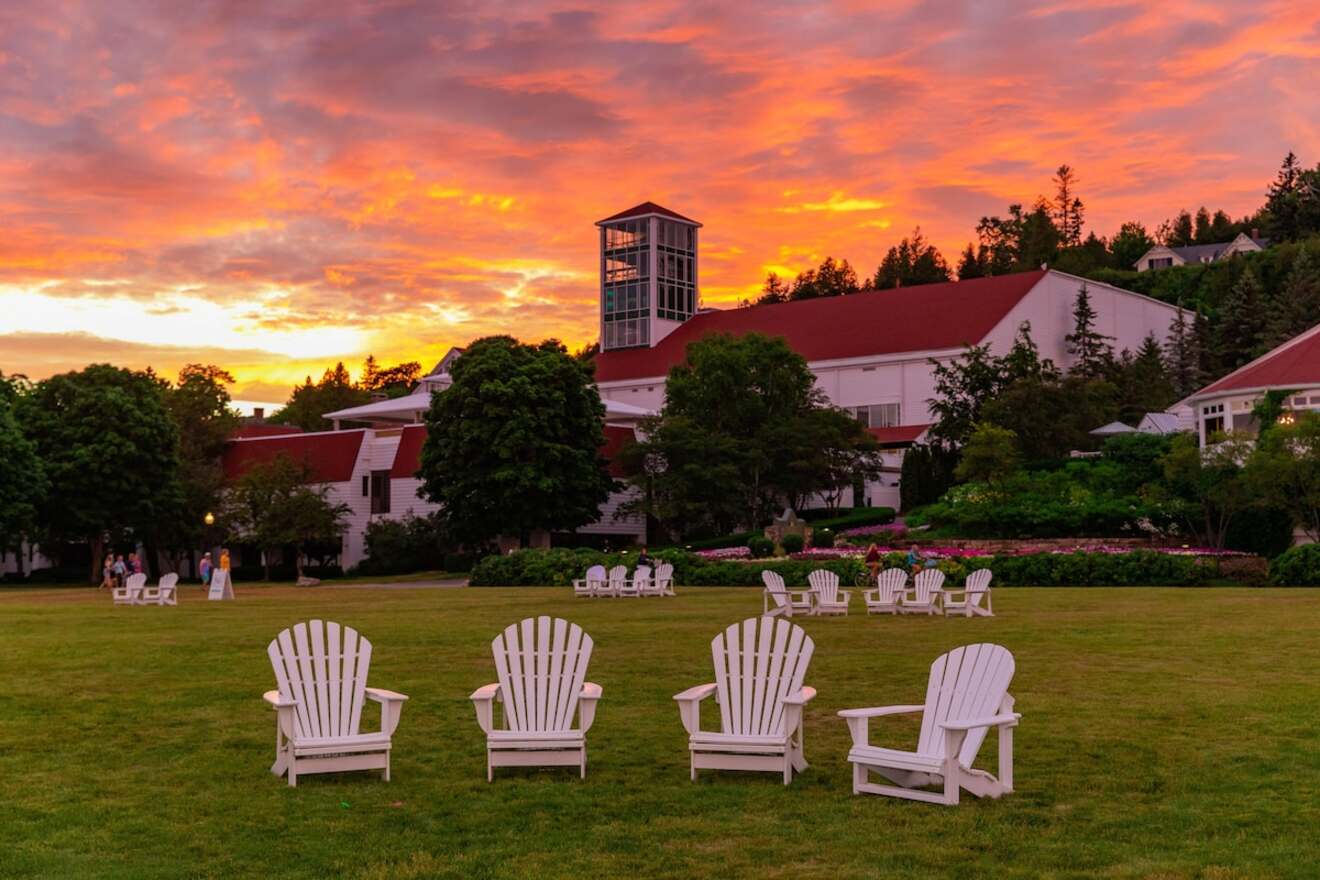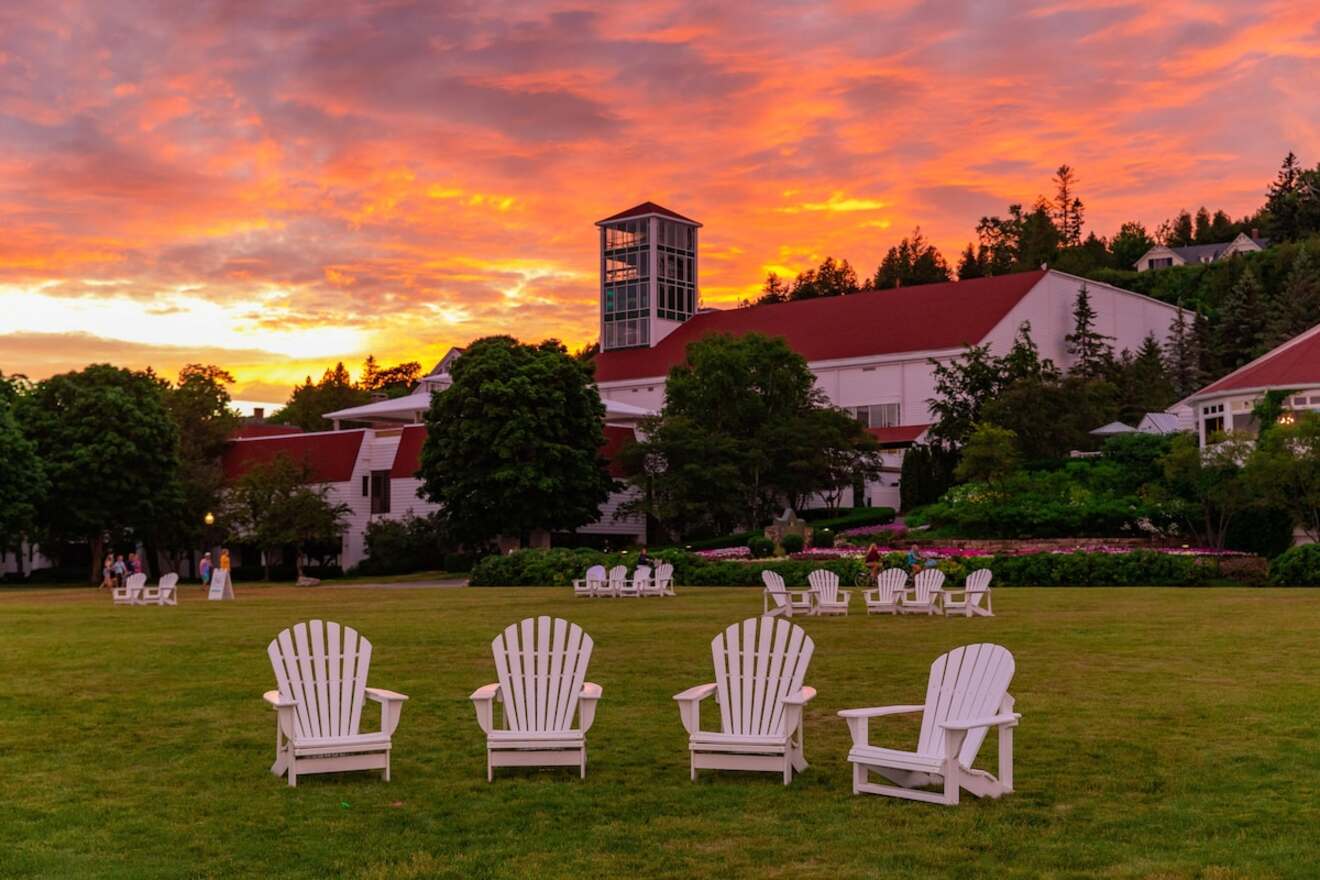 Can't beat the Michigan magic!
This state is filled with fun places to visit, and luckily, now that we've gone through this list of the best all-inclusive resorts in Michigan, you'll know where to stay during your holiday!
I know I've offered you a wide range of accommodations but trust me, it's better to have a longer list rather than a short one! Still, if you need a bit of help with picking your resort, then check out my 2 favorite options below:
Inn at Bay Harbor – A beachfront resort where you can relax all day long at the spa, swim in the pool, and work out in the fitness center
Drummond Island Resort – This great place offers so many activities, an outdoor pool, a fitness center and a few spa facilities
Don't forget what I mentioned about booking early! These resorts are some of the best ones, and most likely, they will sell out fast!
Enjoy your trip to Michigan, and if you have any questions, you can always drop a comment below, and I'll make sure to answer them as soon as I can!
Safe travels,
Victoria
---
Pin it for later!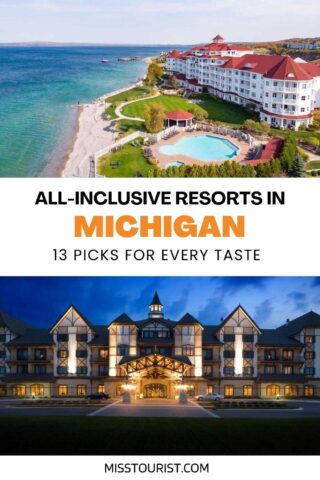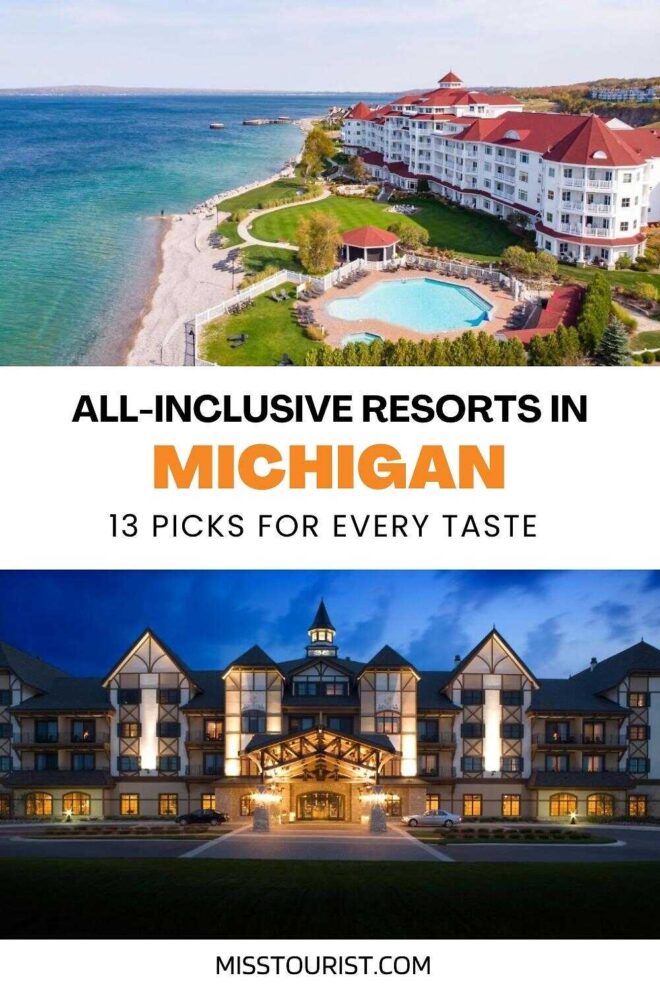 Pin it for later!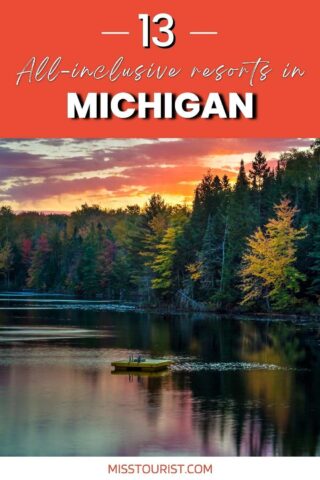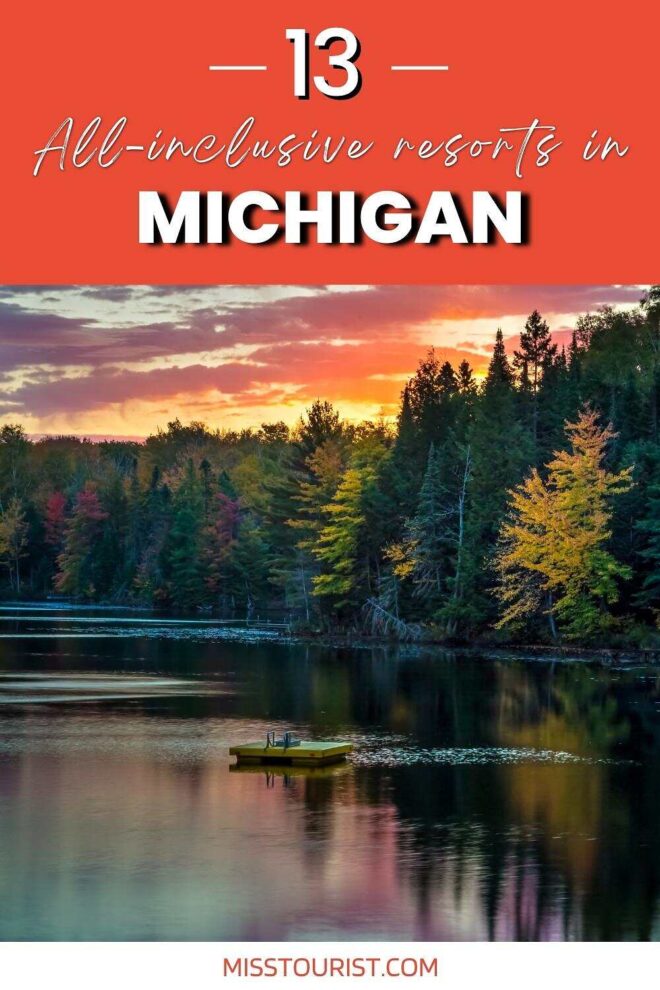 Products You May Like