Best Places to Eat in Orlando ✔️ 25 Tasty Local Favorites
When it comes to the best places to eat in Orlando, there are so many amazing options! Since this Central Florida city is an international hub for tourism and theme park goers, the food scene is constantly growing and expanding. I'm a local, so I know all about the best places to eat in Orlando – from the most popular to the hidden gems!
From Michelin mentions, Michelin Stars, celebrity chefs, and other award-winning restaurants, Orlando's food scene is one well worth checking out.
Whether you are looking for an upscale eatery or you're more into hidden gem-type spots where you can get some really delicious food from a hole in the wall, Orlando has something to offer everyone!
Stay tuned if you want to find the best place to eat no matter what you're craving in Orlando!
Let's dive right in!
If you are in a hurry
If you are in a hurry, no worry! These are the top 3 places you don't want to miss out on for anything (and you'd want to book them in advance!):
1. Try some mezcal at Reyes Mezcaleria
For all you Mezcal fanatics out there, Reyes Mezcaleria is the place to go for an extensive Mezcal selection as well as INCREDIBLE food!
With over 150 different agave selections, Reyes Mezcaleria is THE place to try mezcal and fill your tummy with some delicious and authentic Mexican cuisine.
Located in Downtown Orlando, this restaurant is centrally located, serving up some of the best high-end Mexican food in Orlando. Best of all? The prices are really affordable! My partner and I go for happy hour all the time and grab some delicious craft cocktails and food off of their happy hour menu.
The executive Chef, Wendy Lopez, does an immaculate job at curating a mouthwatering menu filled with high-end culinary spins on classic Mexican dishes. Paired with the unique bar experience and expertly crafted craft cocktails, Reyes Mezcaleria is an EXPERIENCE.
The ambiance is rustic yet inviting. With tons of plants dappled all throughout the inside and outside of the restaurant and a 'living room' area with traditional and artistic Mexican style furnishings and high ceilings, the interior decor is off the charts in this Downtown Orlando restaurant.
PRO TIP: Definitely make sure you try the empanadas. They're too good!
2. Grab some modern southern comfort food at Se7en Bites
This delicious modern southern food gem in Orlando's hip downtown Milk District is one of the best places to grab brunch in Orlando. Se7en Bites has a killer breakfast with all your favorite Southern fixings!
If you love Southern food, this is the spot for you! This local favorite has extensive bakery options as well as a classic selection of southern comfort food with a modern and high-end twist.
They are most famous for their buttermilk biscuits, pimento cheese, and other southern classics.
If you're in Orlando's Milk District and you're looking for a place to eat, you should totally check out this INCREDIBLE food and walking tour, where you'll learn all about the area and try the best food!
3. Check out Winter Park's Prato
Just 10 minutes north of Downtown Orlando, you will find Prato, one of the best Italian restaurants in the Orlando area!
Their menu is inspired by all sorts of Italian food across various regions of Italy. Prato is also well known for their incredible drink menu and mixology.
Since Prato is a popular destination loved by locals from all over Orlando, I definitely recommend making a reservation in advance.
The contemporary design paired with rustic elements makes for an inviting yet elevated environment that is perfect for grabbing dinner with a loved one!
PRO TIP: Prato is centrally located on Park Ave, the most popular and happening street in Downtown Winter Park. There are plenty of other restaurants, boutique shops, as well as a park with a rose garden right across the street. Definitely walk off some of your food down Park Ave when you're done eating and have the quintessential Winter Park experience!
4. Delicious French Cuisine at the Financier Bistro & Bar
Get ready to have the best burger you have ever had in your life!
I know burgers are not the first thing that comes to mind when you imagine French cuisine. However, I had the best burger of my life at the Financier Bistro & Bar!
This Winter Park gem, located about 10-15 minutes from downtown Orlando, provides the best of both worlds. Part bar, part restaurant, part cafe, this is one of Orlando's best restaurants for delicious food, wine, and cocktails.
While it's a casual neighborhood eatery, it also offers the luxury of top-tier French cuisine and quite the accompanying wine list. Not only is this a great dinner option, but they also offer a killer brunch that you don't want to miss!
This is another popular destination in Orlando and Winter Park, so I recommend making a reservation if you plan to go on a weekend or busy night.
While you're in Winter Park, you should definitely check out this Flavors of Winter Park tour! You'll taste lots of different cuisines as you explore the area – plus you'll get discounts on the food!
PRO TIP: Definitely don't miss out on their incredible Bistro Burger that comes with caramelized onions and gruyere—the perfect combination of classic burger elements with a French Flair.
Book Your Winter Park Food Tour
5. Get some of the best ramen in Orlando at Domu
East End Market's Domu is hands down one of the best places to get ramen in Orlando. With a craft cocktail menu for the books and an incredible selection of ramen and other delicious menu items, Domu takes the cake for being one of the best places to get some good food in Orlando.  
The best part? All of the noodles are handmade in-house. So you can trust that you are having one of the most authentic ramen experiences in Orlando!
Domu is also one of the only restaurants in Orlando to get a Michelin mention! Their ramen is seriously some of the best ramen you can get in Orlando. The ambiance is also really enjoyable.
Located in East End Market, a neighborhood market and incredible culinary hub, there are also tons of other vendors to check out and places to get unique, handmade, local Orlando/Florida-based goodies.
6. Grab some wine at Wine Bar George
This Orlando food and wine gem, Wine Bar George, is a wine bar first and a restaurant second. So if you're looking for a good spot to enjoy some delicious wines and a large selection, this is your spot.
Wine Bar George is the perfect place to go for those who consider themselves wine and cheese enthusiasts! (Count me in!)
Located in Disney Springs, they are most famous for their delicious charcuterie boards and even better wines to pair with different cheeses and meats.
Their artisan cheeses make for the perfect pairing with their extensive wine list. Grab some friends or a loved one, and head out to this awesome wine bar in Disney Springs.
7. Head to Disney Springs to Chef Art Smith's Homecomin'
Homecomin' Kitchen is one of the best places to get local Florida-style and southern cuisine. Featuring local Florida produce and fresh catch, celebrity Chef Art Smith brings some of the classics from his Florida upbringing into this modern twist on southern food and Florida-specific cuisine.
The restaurant's mantra is "Welcome Home!" As you enter, you will get the feeling you just entered your grandmother's house, and your body is preparing to eat really well!
Known as "Upscale Down South," this southern homestyle cuisine is elevated with an upscale feel that still rings true to its original comfort food roots. In other words, enjoy your favorite southern comfort food with a high-end twist at this delicious Disney Springs restaurant.
Chef Art Smith is a two-time James Beard award-winning chef, appeared on Top Chef Masters, has cooked for Oprah, opened four restaurants nationwide, and cooked for former president Obama, but he wanted to pay homage to his roots and bring farm fresh Florida meals to his home state!
Even with all of his accolades, he knows better than anyone that you can't go wrong with some fried chicken, hush puppies, chicken pot pie, baked mac and cheese, grits, and other Florida and Southern classics.
This is the perfect place to take the family as it is a very family-friendly destination, and the food is perfect for all palates, even picky kiddos! After a long day exploring the theme parks, if you want to escape the madness, check out this awesome restaurant with elevated classic American cuisine.
8. Grab a beef Wellington at Kres Chophouse Orlando
Kres Chophouse Orlando is an upscale steakhouse centrally located in Orlando's Downtown area. Both the food and cocktails at this restaurant are next-level.
When I went, I got beef Wellington, and to this day, I think it's the best meal I've ever had in my life. Not to mention, their grilled oysters are to die for!
With a creative and modern approach, Kres reinvents and elevates what your typical steakhouse entails. Yes, there is still plenty of steaks, and it's cooked to perfection, but they have also turned a lot of traditional dishes on their head in an inventive and innovative way.
This is the perfect place to eat in Orlando for couples or those looking to take a loved one out on an intimate and delicious date!
9. Satisfy your taco craving at Hunger Street Tacos
Out of all the places to get tacos in Orlando, Hunger Street Tacos is definitely one of the best places to go.
The first thing you will most likely notice is the vibrant murals and wall art. While there are quite a few Mexican restaurants in Central Florida, and we already named Reyes Mezcaleria, Hunger Street Tacos is the best place to go to satisfy that taco craving.
Hunger Street Tacos is a local favorite among other taco spots in Orlando. Their tortillas are homemade and 100% delicious.
10. Get some delicious Laotian food at Laos Sticky Rice
Laos Sticky Rice is a little-known spot for tourists, yet a local favorite. I would argue it's one of the best-kept secrets of Orlando!
Laotian food is pretty rare in the US. However, you're in for a treat because I'll be the first to tell you how delicious it is!
This place is small, so it fills up quickly. However, the line goes pretty fast, so don't worry if it's packed when you show up.
PRO TIP: Order the Lao Ramen, their classic sticky rice, and their yummy cucumber salad.
11. Grab some Pho at City Pho & Grill
While Orlando has a little Vietnam area and dozens of places to get some authentic Vietnamese pho and cuisine, City Pho & Grill is a local favorite.
Even though City Pho & Grill is located in Maitland, not in the traditional Little Vietnam area, it's well worth the trip (around a 20-minute drive) because their pho is seriously next level.
They also have one-of-a-kind menu items such as their spicy ramen noodles that come with your preferred protein and salad, as well as a spicy ramen noodle banh mi sandwich that combines a French baguette with authentic spicy ramen noodles.
They have all of your favorite Vietnamese dishes as well as some fusion dishes. Their pho is consistently delicious and always exceeds my expectations!
12. Indulge your Indian food cravings at Tabla Indian Restaurant
Another Winter Park gem, centrally located on Park Ave, this is a famous Indian restaurant loved by locals and visitors alike. If Winter Park is out of your reach, you're in luck because they have three locations across Orlando.
Tabla Indian Restaurant is one of the best restaurants in Orlando to experience authentic Indian food.
If you're looking for authentic, aromatic, and delicious Southeast Asian cuisine Tabla Indian Restaurant is an excellent choice!
13. Get some good eats at the Ravenous Pig
Aside from Domu, The Ravenous Pig was also one of the Michelin Bib Gourmand Award recipients for their incredible menu.
This elevated gastropub was created by two James Beard nominees, Julie and James Petrakis, who happen to be Winter Park natives!
The Ravenous Pig is your classic American cuisine elevated to a high-end culinary experience. With their in-house cured meats, New York Strip Steak, whole truffle chicken, charcuterie platters, and more, you will surely find the perfect meal for you here.
Prioritizing local ingredients and produce, their menu is subject to change depending on what is seasonally available.
The gorgeous dining room, combined with the delicious menu offerings, makes the Ravenous Pig the perfect environment for a memorable date with a loved one!
14. Devour craft tacos at Black Rooster Taqueria
I know I mentioned Hunger Street Tacos already. However, Black Rooster Taqueria is definitely one of the best taco spots in Orlando, in my opinion!
This Mexican restaurant is the perfect place to grab some killer and unique tacos. They also have an outdoor patio in the back that is just lovely for chowing down on some of their incredible tacos while enjoying the gorgeous Floridian weather!
From their smoked meats, brisket, spices, and flavor profiles, their tacos are seriously next-level and reasonably priced. Bring a friend here or just stop by to grab a quick (and delicious) bite!
15. Experience Celebrity Chef Richard Blais' Four Flamingos
Four Flamingos is one of the best restaurants in all of Orlando. Hands down.
This is another Florida-style restaurant inspired by the lush Florida tropical flora and fauna, as well as the Hispanic and Latino influence on Florida's cuisine.
Highlighting local farms, local freshly caught seafood, and game, Four Flamingos is an honest (and delicious) representation of Florida.
Since the restaurant is founded by Chef Richard Blais, a Top Chef winner, the menu is absolutely exquisite, with some of the most innovative and creative dishes I have ever seen.
Combining Florida classics, Spanish, Latino, and tropical Caribbean cuisines, the food at Four Flamingos is next-level delicious. Keep in mind this is an upscale restaurant, and the prices are on the more expensive side, but it's definitely 100% worth it if you can swing it.
Not to mention, their craft cocktails are a beautiful feat of mixology and some of the best-mixed drinks you will ever have!
16. Try some bao buns at King Bao
This quick-service restaurant deserves way more credit. While it is not famous in the culinary scene in Orlando, it is one of Orlando's most underrated Asian restaurants!
First things first, let's get on the same page about what a bao bun is! It's not a wrap or a taco. It's a traditional Chinese version of a sandwich bun and is a very popular street food in East Asia.
If you're on a budget, King Bao is one of the most delicious yet affordable restaurants in Orlando.
With an incredible spice profile and complex flavors, the baos are cooked to absolute perfection with your choice of filling. King Bao offers gourmet steamed buns in a modern and aesthetically pleasing environment.
They have vegan options, pescatarian options, and lots of different meat options. They even have a delicious kimchi-style fried chicken bao bun!
17. Experience upscale dining at Kadence
Kadence was one of the ONLY restaurants that actually received a Michelin Star!
In fact, Miami and Orlando are the only two cities in all of Florida with Michelin Star restaurants and Michelin Mentions.
If you are looking for an absolutely immaculate and exceptional Omakase experience, Kadence is the perfect place for you. Both the owners and chefs have years of experience working in Michelin restaurants and kitchens, and it is glaringly apparent when you step into this incredible restaurant and try the exquisite cuisine.
Kadence is on the pricier side, so be sure to keep that in mind when booking a reservation.
One of the coolest and most exciting aspects of eating at Kadence is the exclusive and mysterious tone of the whole experience. The menu is undisclosed, and it is located in a black-and-blank building with nothing but a single sign in the front.
While the menu changes daily (to add to the mysterious allure of the whole experience), visitors are constantly raving about how they had the best sushi of their life here!
18. Grab some pizza at Pizza Bruno
Pizza Bruno is a local fav, casual restaurant, and one of the best Orlando restaurants to get some classic yet delicious pizza.
Chef and owner Bruno Zacchini opened Pizza Bruno after successfully operating a food truck for years at popular local spots.
The best part? The pizza is wood-fired, so it has that delicious smokey flavor that makes for the best pizza. While Orlando is no New York when it comes to pizza, Pizza Bruno does a pretty excellent job!
The menu is pretty extensive and has all sorts of creations. You can go with a classic cheese pizza and choose your toppings.
If in doubt, pizza is always a safe and yummy option!
19. Have some fresh catch at Knife & Spoon
This surf and turf restaurant located in the Ritz Carlton Orlando Hotel is the best of both worlds. For those of you who love your steak and seafood, this is the perfect Orlando destination.
Knife & Spoon is the perfect destination for those looking for an elevated and luxurious dining experience with Michelin-star cuisine.
This is the perfect place to celebrate a special occasion with a loved one or take yourself out on a special date! While the menu is simple, the food speaks for itself. Sometimes simplicity is key when it comes to this level of quality dining.
20. Get some classics at the Strand
Known for featuring a contemporary interpretation of classic American-style cuisine, the Strand takes the cake for one of the best restaurants in Orlando.
Located in a funky art deco building, the ambiance has a vintage feel to it, yet the food has some really incredible modern twists and innovations when it comes to your stereotypical American-style restaurant.
Always made from scratch with seasonal and local ingredients, the Strand is really one of Orlando's hidden gems.
They also have an incredible craft beer and natural wine selection that pairs perfectly with their menu.
Situated in the funky and historical Mills 50 district, the Strand highlights this vintage, art deco aesthetic and pairs it with elevated classic cuisine.
21. Grab some crave-able food at Kai Asian Street Fare
Opening their doors in 2018, two best friends conjured up the perfect Asian street food restaurant that brings customers back day after day. Kai Asian Street Fare is the lovechild of two foodies (which is what makes it so good!)
With roots in Thailand and Vietnam, after traveling across Asia, these two best friends decided to put their knowledge of Asian street fare together to create a delicious experience.
Their mantra for their style of food is Creativity + Authenticity + Craveability (with an Asian twist).
Between their Korean-style crispy wings, loaded fries, Vietnamese garlic noodles, ramen Thai tea, and more, I am sure you will find something on their menu that will just make your mouth water.
22. Go classic at Luke's Kitchen & Bar
At Luke's Kitchen & Bar, you can find elevated American cuisine and some seriously scrumptious dishes.
With a hyper-focus on locally sourced ingredients, all dishes are made from scratch in-house, and eating at Luke's Kitchen is always a special experience. Food always tastes better when it's locally sourced!
From small plates and seafood to succulent steaks, Luke's Kitchen has something for everyone at this classic local cuisine-centered restaurant.
The vibrant atmosphere paired with the open-air kitchen gives a special and connective vibe to your dining experience. Located in Maitland, just a few miles north of Orlando and bordering Winter Park, Luke's Kitchen is the perfect place to get a casual yet delicious dinner.
23. Enjoy elevated hyperlocal Filipino cuisine at Kaya Orlando
Known as "Inspired Filipino Cuisine," this brand-new Orlando gem provides a luxurious take on Filipino cuisine with a focus on hyperlocal ingredients.
Sourcing from local farmers' markets and farmers directly, Kaya Orlando brings eating local to a whole new dimension.
Kaya is Orlando's first casual fine-dining Filipino restaurant. Located in Orlando's Mills 50 District, the owners showcase vibrant and mouthwatering flavor profiles paired with an intentional beverage program.
Serving vegetable-forward and seafood delights with craft cocktails specially crafted by their in-house sommelier.
Reservations are highly recommended as this is a new and sought-after destination in Orlando! Taking a low-waste, community-oriented approach, Kaya is truly an experience, not just a restaurant.
24. Get some Japanese cuisine at Seito Sushi Baldwin Park
Seito Sushi Baldwin Park is an excellent place to enjoy some delicious and authentic Japanese Cuisine in Orlando.
Seito Sushi Baldwin Park is an award-winning sushi and contemporary Asian cuisine hot spot. Founded by two Florida natives of Asian descent, these masterminds created the perfect Japanese and contemporary Asian cuisine experience!
From signature rolls, sashimi, and nigiri to oysters, scallops crudo, fresh catch, and all sorts of entrees, there is truly something for everyone at Seito Sushi Baldwin Park.
This is an authentic and elevated Asian fusion restaurant with endless options that make for the perfect recipe for a memorable night out.
PRO TIP: Don't miss out on their incredible Sake options!
25. Dine at Salt & The Cellar at Ette Hotel
Salt & The Cellar at the Ette Hotel is a next-level dining experience in Orlando. Located in a wellness hotel, the Ette Hotel is alcohol-free. However, they make up for it with some of the most incredible mocktails you have ever seen in your life!
With Michelin star-winning executive chef Akira Back, the food here is beyond exquisite. A truly elevated dining experience with food concepts that are innovative and inventive (while tasting absolutely delicious)
This was one of my favorite meals I have ever had in my life. No lie.
The food is unlike anything I have ever seen before. Once you learn that the executive chef has a Michelin Star, it all begins to make sense! Chef Akira Back deserves all of the accolades.
Their mocktails are a trip for the senses. I mean, prepare to reimagine what you imagined a cocktail to be AND question if you ever need an alcoholic cocktail again! With fresh botanical ingredients, extremely unique flavor profiles, and aromatic experiences, they create in-depth scenes and art pieces with each drink made.
If you can't bear to enjoy a meal without the booze, don't worry; they have a BYOB option!
Located in Kissimmee right near all of the major theme parks, if you happen to find yourself in that area, do not miss out on this once-in-a-lifetime experience.
Check out their Instagram to get a special peek into their incredible mocktails and unforgettable dishes.
| | |
| --- | --- |
| 🥙 Best food tour: | Winter Park Food Tour |
| 🥐 Best brunch food: | Se7en Bites |
| 🍕 Best pizza: | Bruno's Pizza |
| 👧 Best restaurant for kids: | Chef Art Smith's Homecomin' |
| 🍣 Best Asian food | Wave Mount Dora |
| 🥟 Must try food: | Four Flamingos |
FAQs about Best Places to Eat in Orlando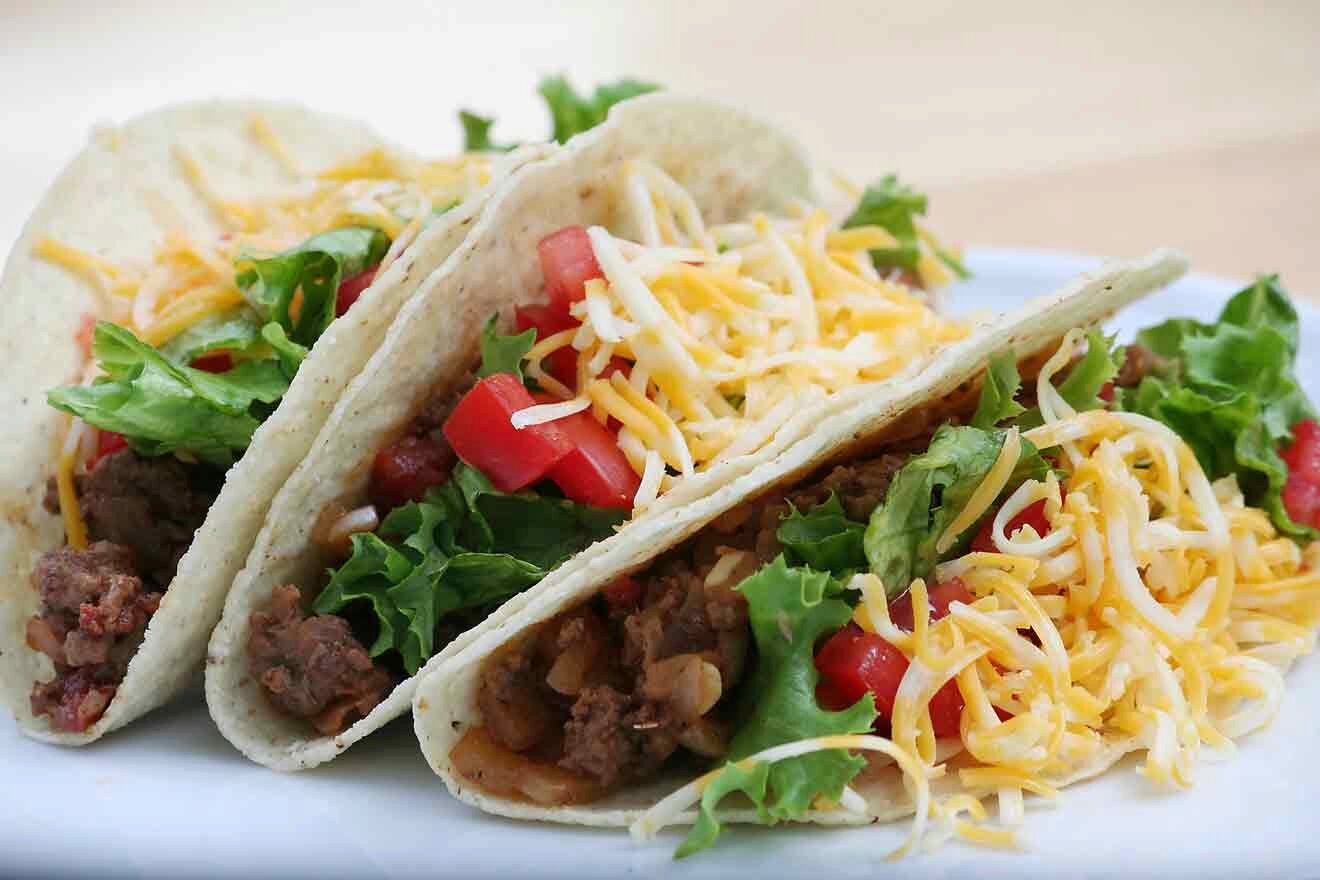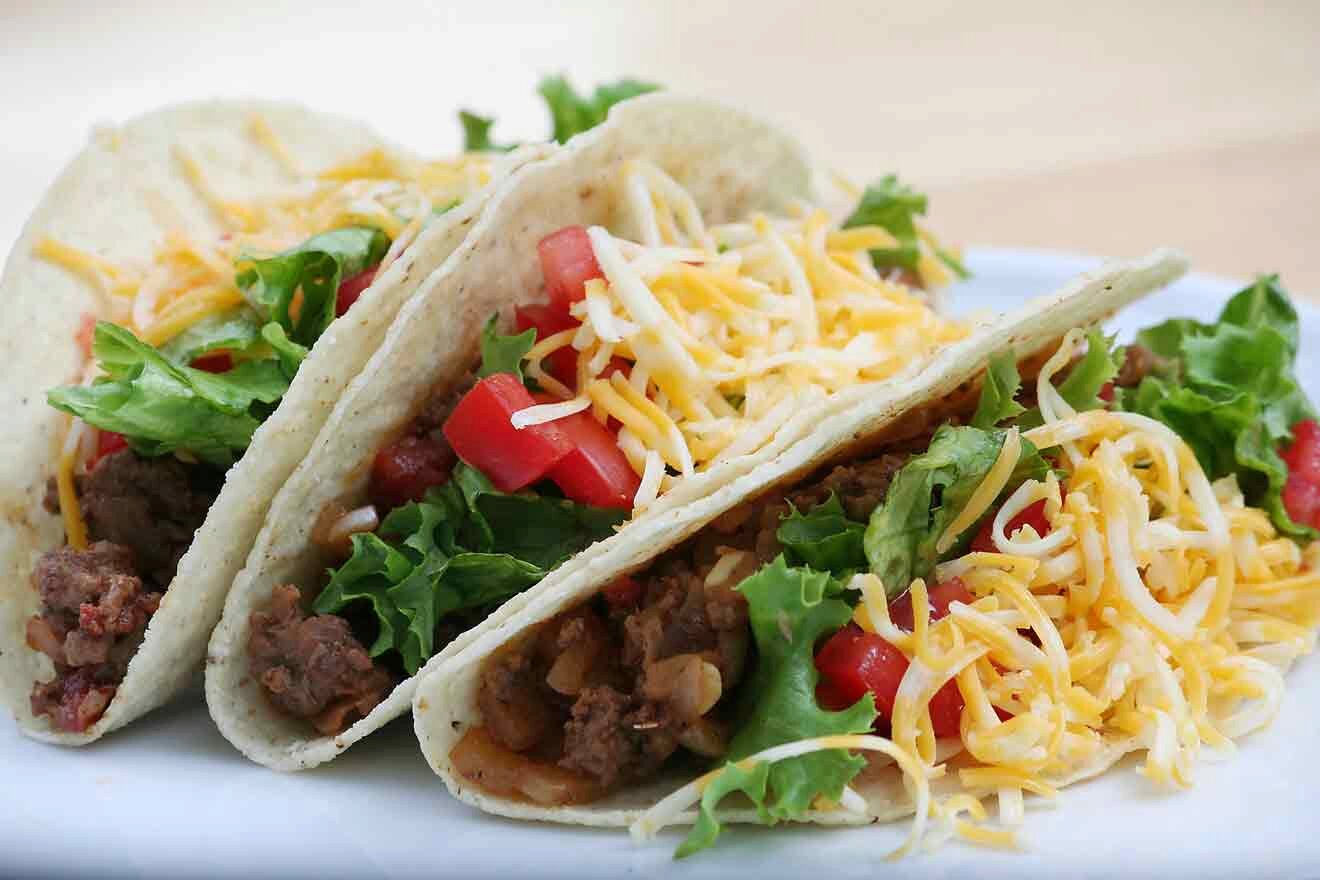 🍽️What are the most popular restaurants in Orlando?
🥘What food is most famous in Orlando?
Orlando has some iconic food that you most definitely do not want to miss on your next trip. Be sure to try some fresh stone crab, Apalachicola oysters, gator, Florida strawberries, Florida citrus, and conch.
🍲 Is Orlando a foodie city?
Orlando was voted the second-best city in the nation for being one of the best foodie cities! There is so much variety in Orlando cuisine that you will truly never tire of trying new places to eat. You have your classics, and then you have your unsung heroes or 'hole in the wall' places that boast some of the best food you can find.
👪 What are the best places to eat in Orlando for families?
Conclusion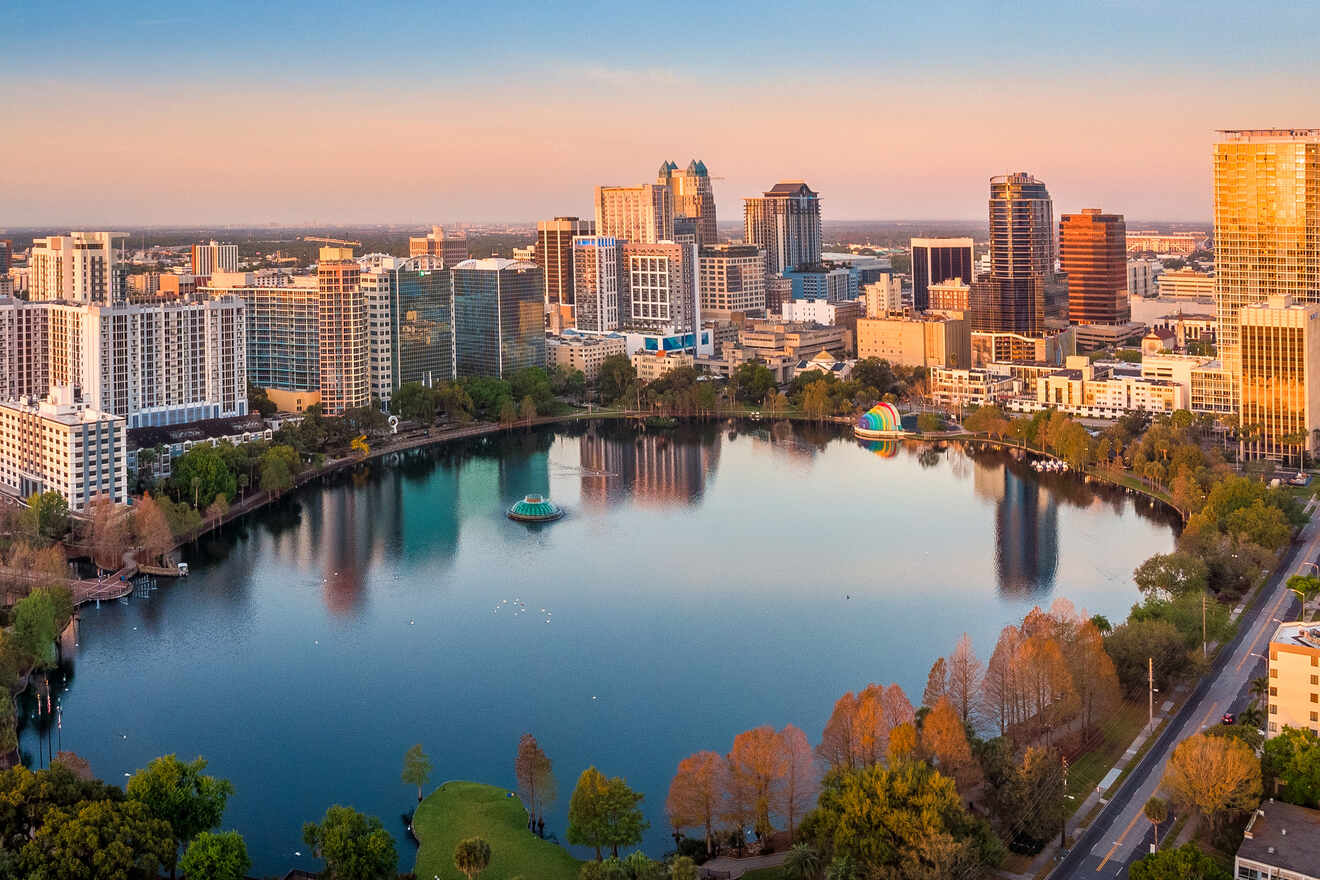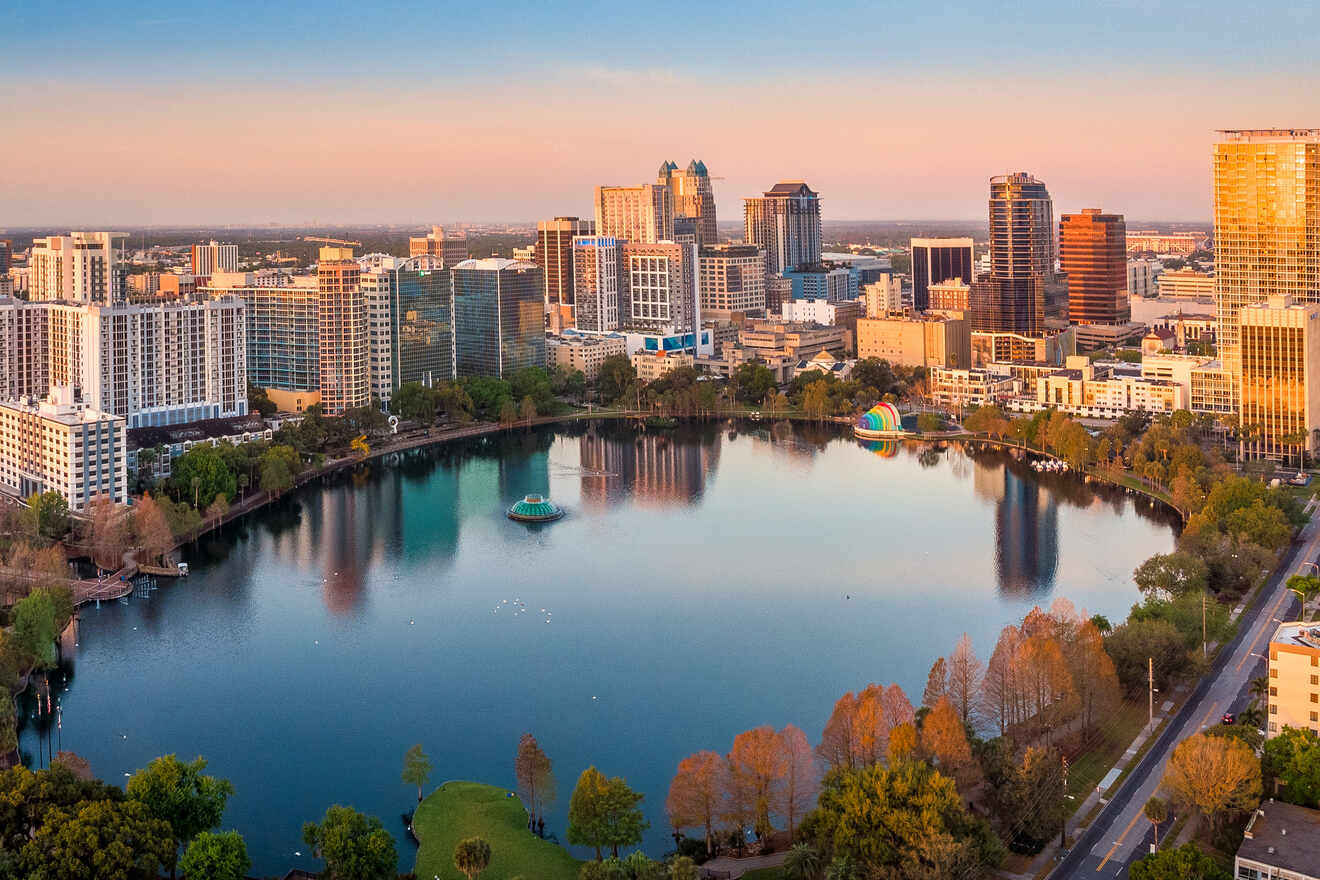 Foodies unite!
Orlando was voted #2 in the entire nation for being one of the best foodie cities. So you can imagine, it was hard to pick from the plethora of delicious restaurants that Orlando has to offer. But this list contains all the best places to eat in Orlando – and there's something for everyone!
If you're going to go out and spend money, you might as well go to the best of the best! Orlando has so much to offer when it comes to delicious eats. I know you will find an incredible place to dine and create some unforgettable memories.
With love and gratitude,
Amira G.
---
Pin it for later!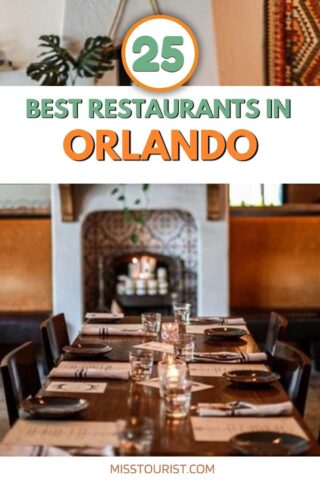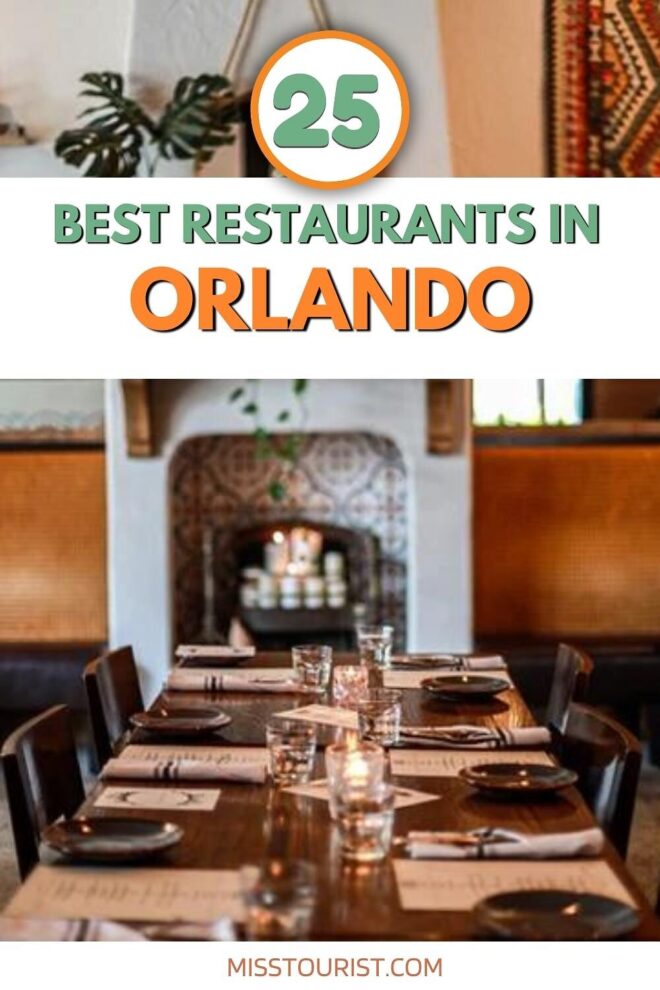 Pin it for later!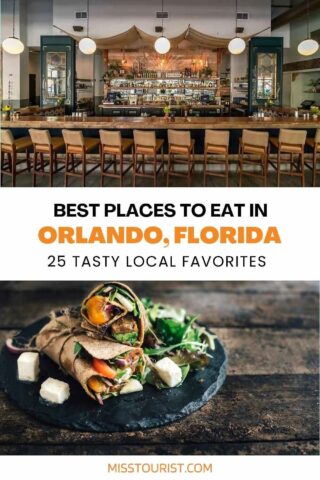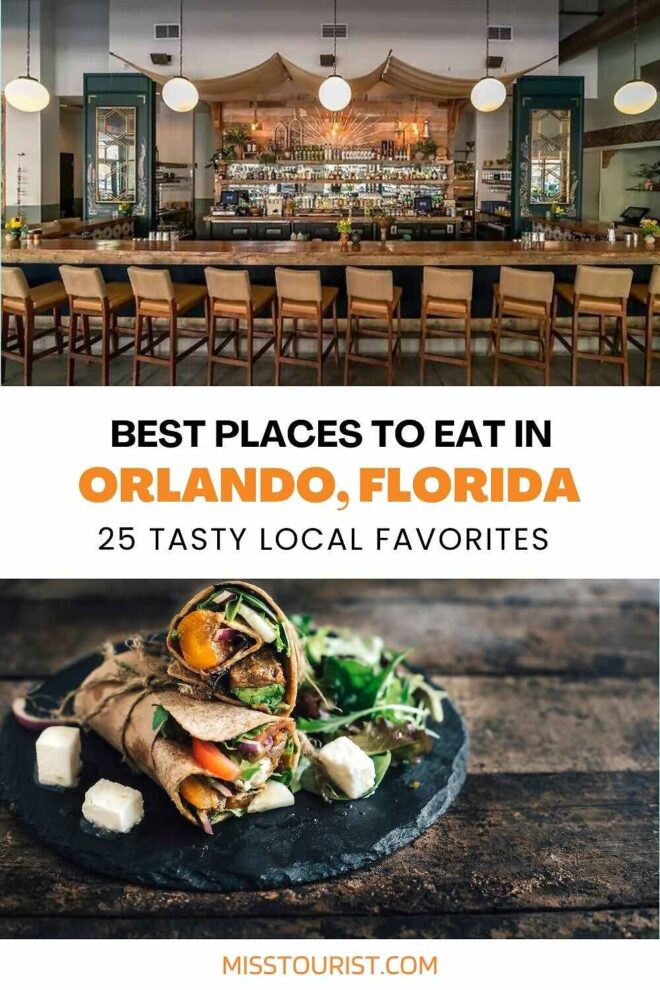 Products You May Like