Best Wine Tours in Fredericksburg TX ✔️ 8 Options
Texas Wine Country is one of Fredericksburg's most popular attractions, and it's no wonder that if you are planning a trip to the area, you would be looking for the best wine tours in Fredericksburg TX.
So, to make your quest easier, I have searched and searched through the tour sites for hours, and collected a variety of tours to enjoy Texas's countryside, planned and executed by the best wine tour operators! It doesn't matter if you are looking for big group, private, or party tours – this blog has something for every taste!
You should bear in mind, though, that you need to book your Texas wine tours in advance to save yourself a spot and not miss out on the experience! Fredericksburg is the top destination in Texas for winery tours and the epicenter of the best Texas wines! So, yes, these tours are very likely to sell out fast!
Now, pour yourself a glass of wine, and let's explore the best Hill Country wine tours in the charming town of Fredericksburg in style!
If you are in a hurry
Here for a grab-and-go? Worry not, as here's a wrap of the very best Texas wine tours in Fredericksburg!
1. Immerse yourself in Fredericksburg, TX with this winery tour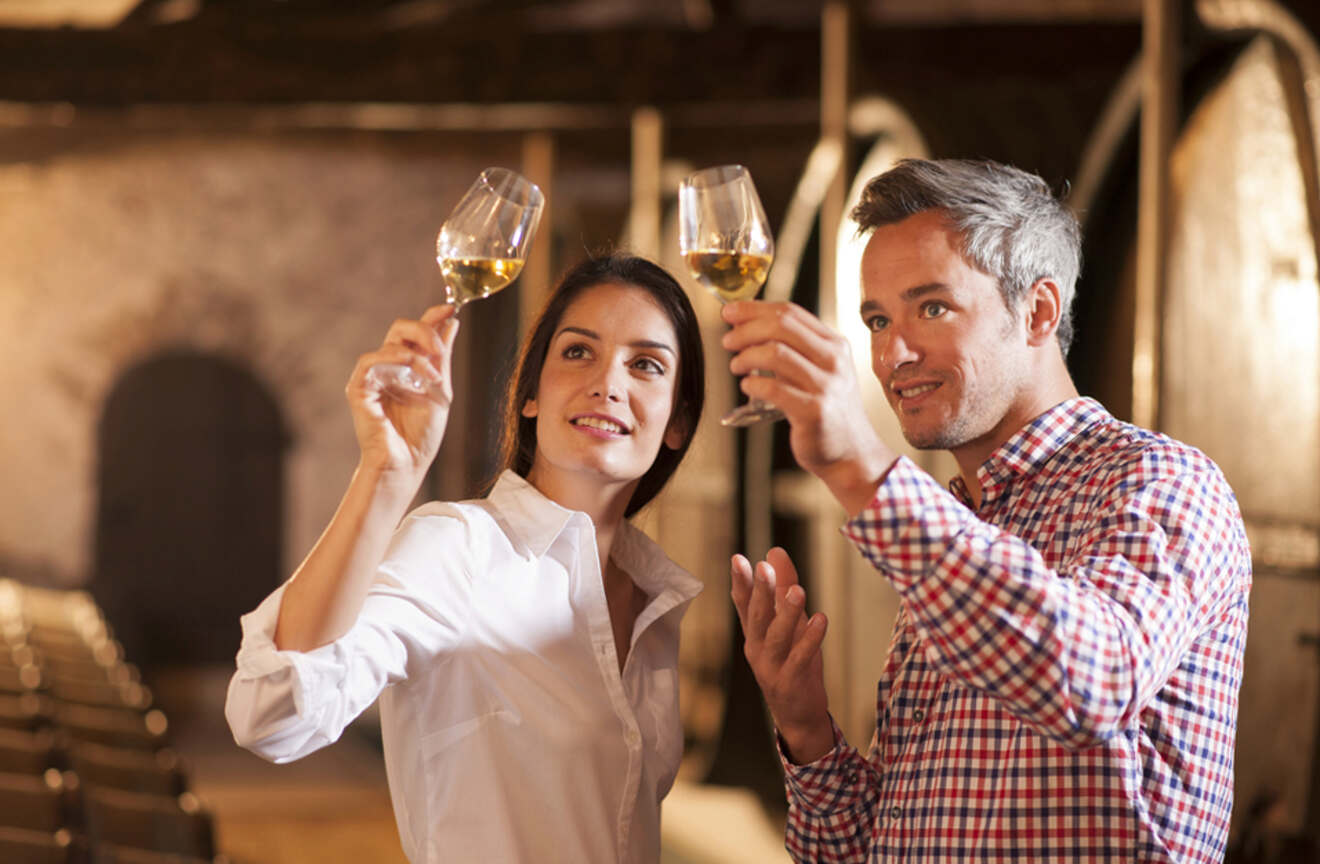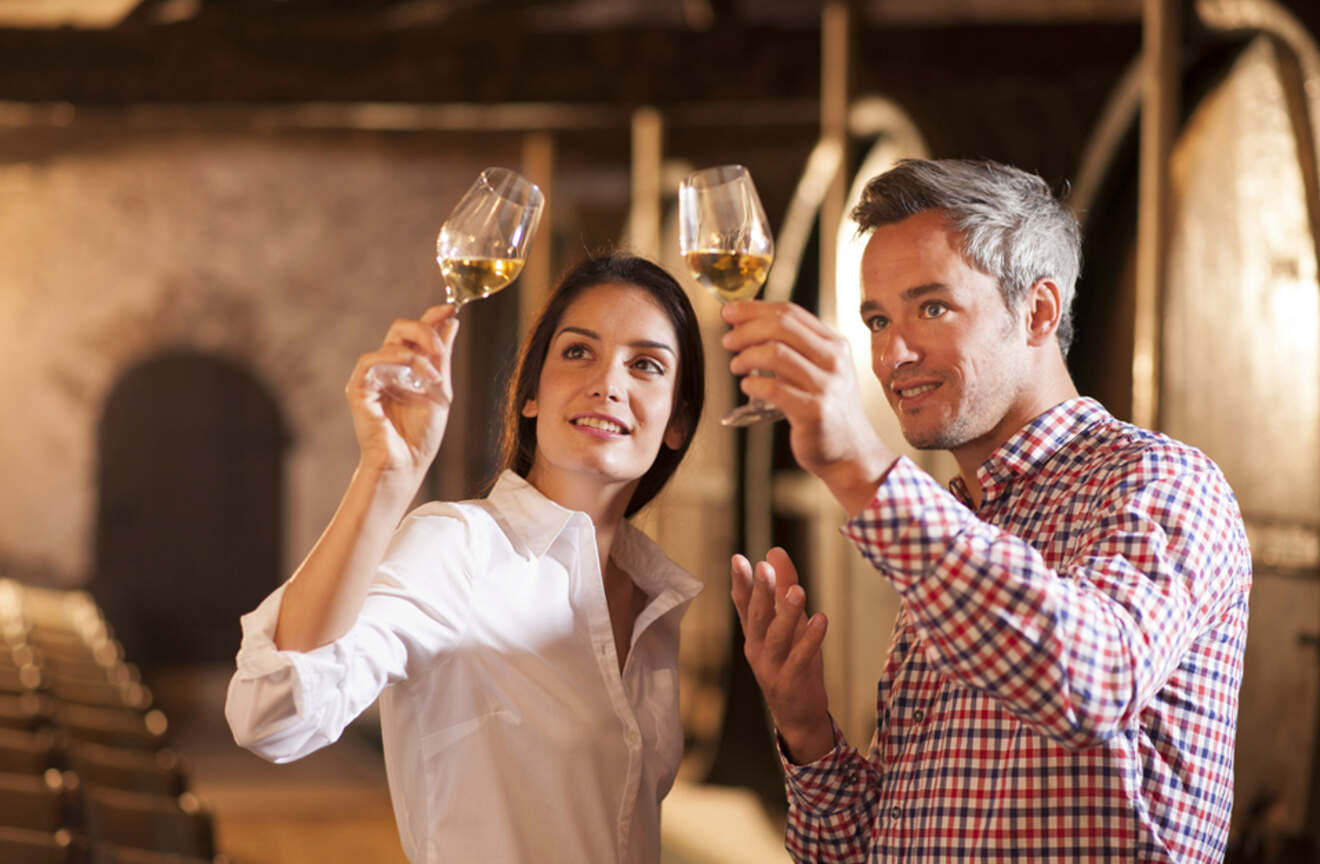 Duration: 5 hours
Price: from US$200
Why you should take it: Most complete winery tour in the area, with great prices!
Join this outstanding tour for a visit to three Hill Country wineries (they choose the wineries closer to the date of the tour), where you will learn about Texas grapes wine! This tour is an all-immersive one, so your tour guide will share knowledge about the history of Fredericksburg and teach you how to taste wine properly!
Lunch will be served during the tour, but if you have any food restrictions, you can call the tour company to ask for a special menu which they will be happy to accommodate. There is also wine tasting during lunch at no extra fee!
Complimentary snacks and bottled water will be available for travelers at all times, and at the end of the tour, you will get a souvenir glass as a keepsake from this wonderful experience!
2. Enjoy a romantic day in the Texas Hill Country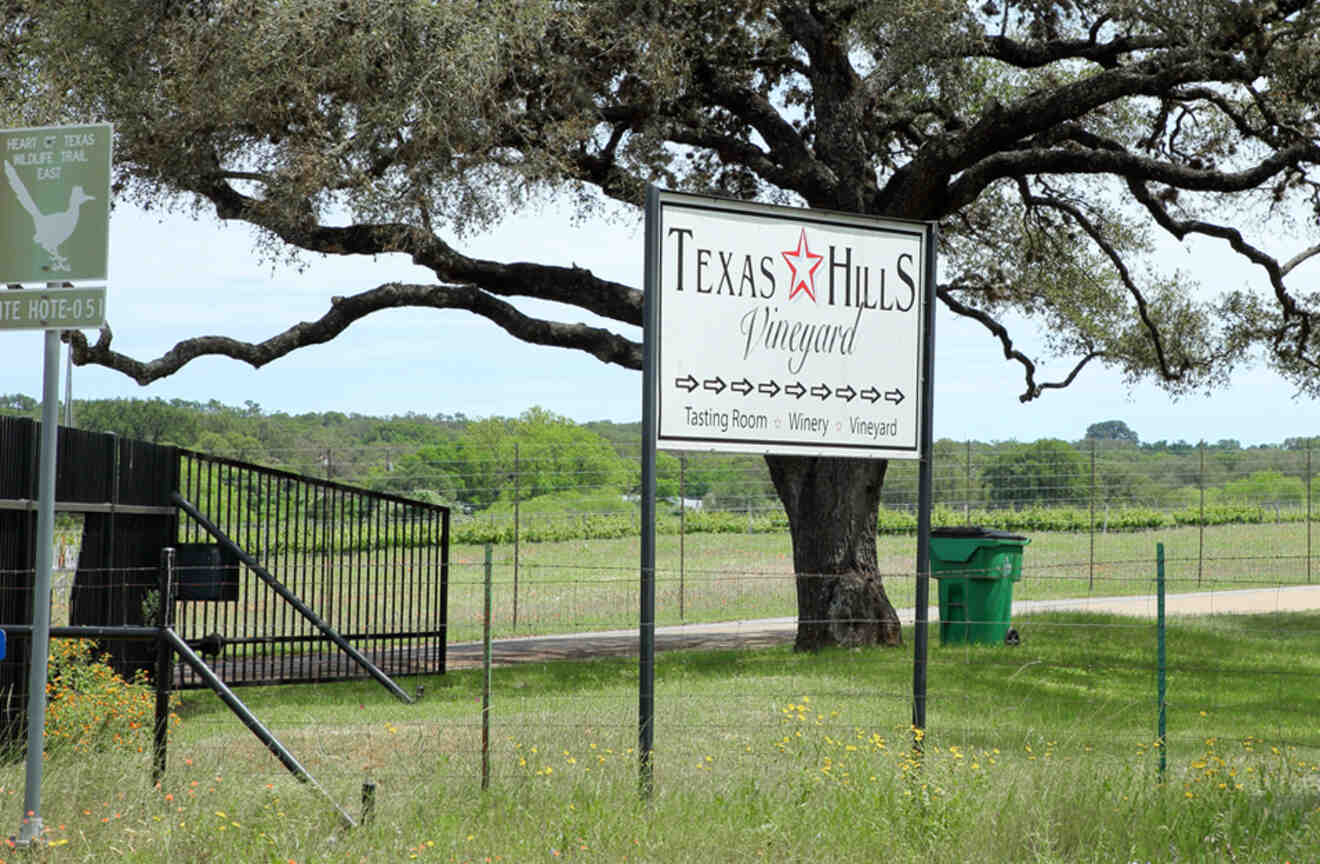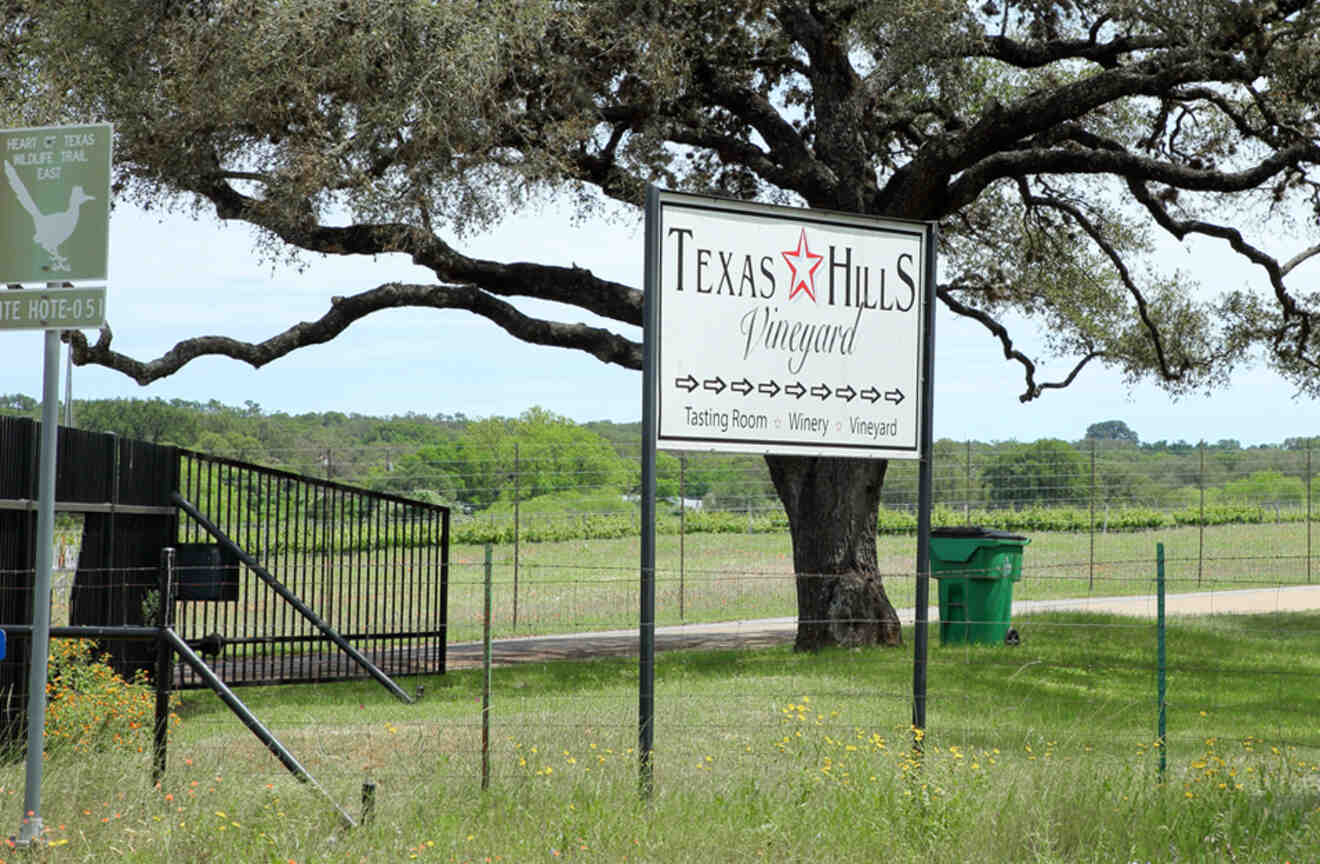 Duration: 5.5 hours
Price: from US$230
Why you should take it: it's the most romantic tour for couples
If you want to surprise your special one with a romantic getaway to the Texas Hill Country for a wine-tasting tour, this boutique tour is ideal for you!
You will visit several wineries, where wine experts will educate you about wines – you don't need any prior knowledge to enjoy the tour, only love for wine! Set yourself for a lovely day with your partner and enjoy scenic Fredericksburg, Texas, while your tour chef prepares a tasty lunch for the travelers.
Pickup from any Fredericksburg accommodation is available upon request once you book your tour but at an additional fee!
3. Hop on a Texan wine trolley tour
Duration: 5 to 6 hours
Price: from US$190
Why you should take it: a special experience
This Fredericksburg wine tour is great for a fun and relaxing encounter with the Texas Hill Country wineries! So hop on this trolley and taste the finest Texas grapes and gain knowledge about winemaking!
This tour is open for a minimum of 8 travelers and a maximum of 22! You will visit three local wineries (they rotate the wineries) and try different wines in their main tasting rooms. You will be accompanied by a tour guide who will give you tips to make it an unforgettable wine-tasting experience!
Once you book this tour, the tour operator will contact you to share all the lunch options available and arrange everything for a smooth visit to Texas Wine Country!
4. Join a small group tour in Texas Wine Country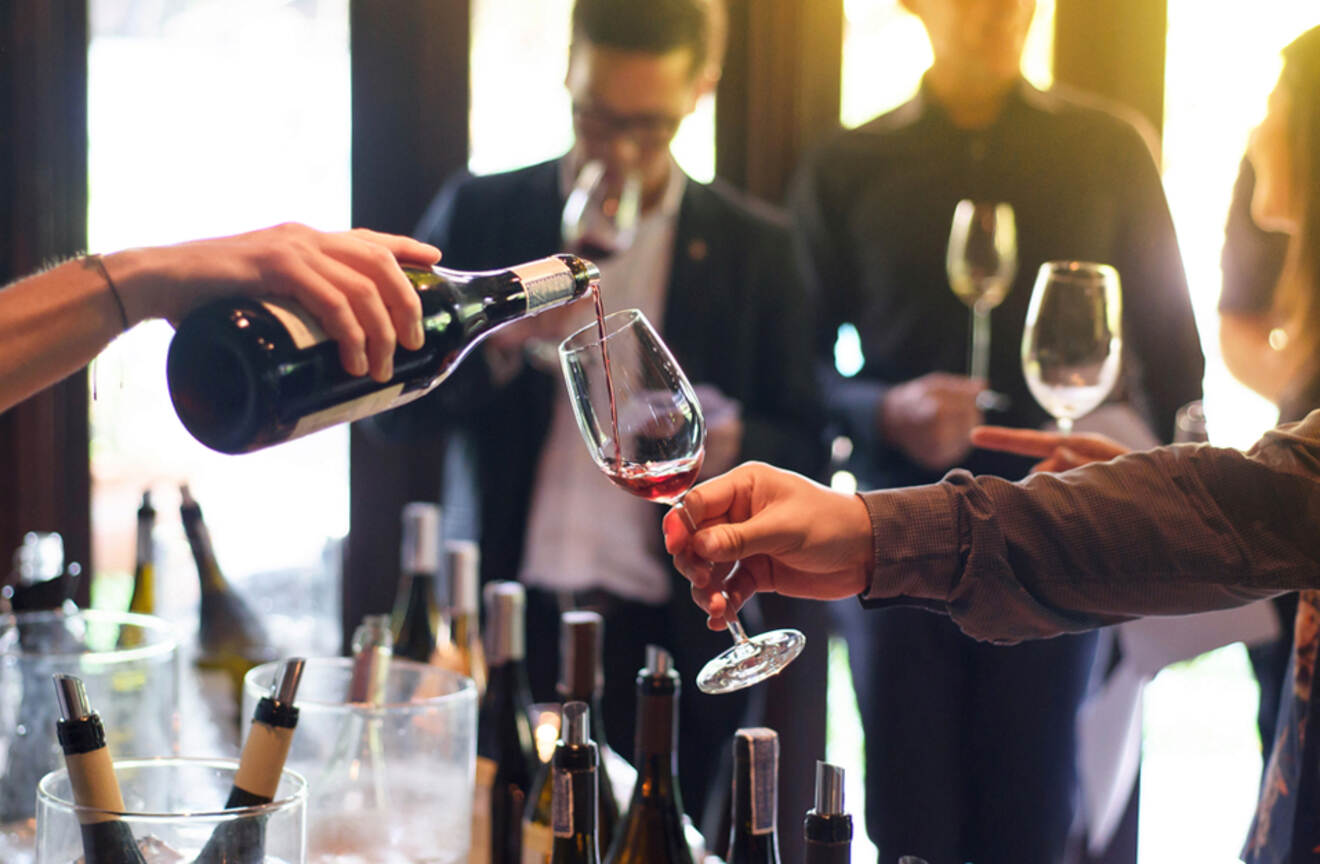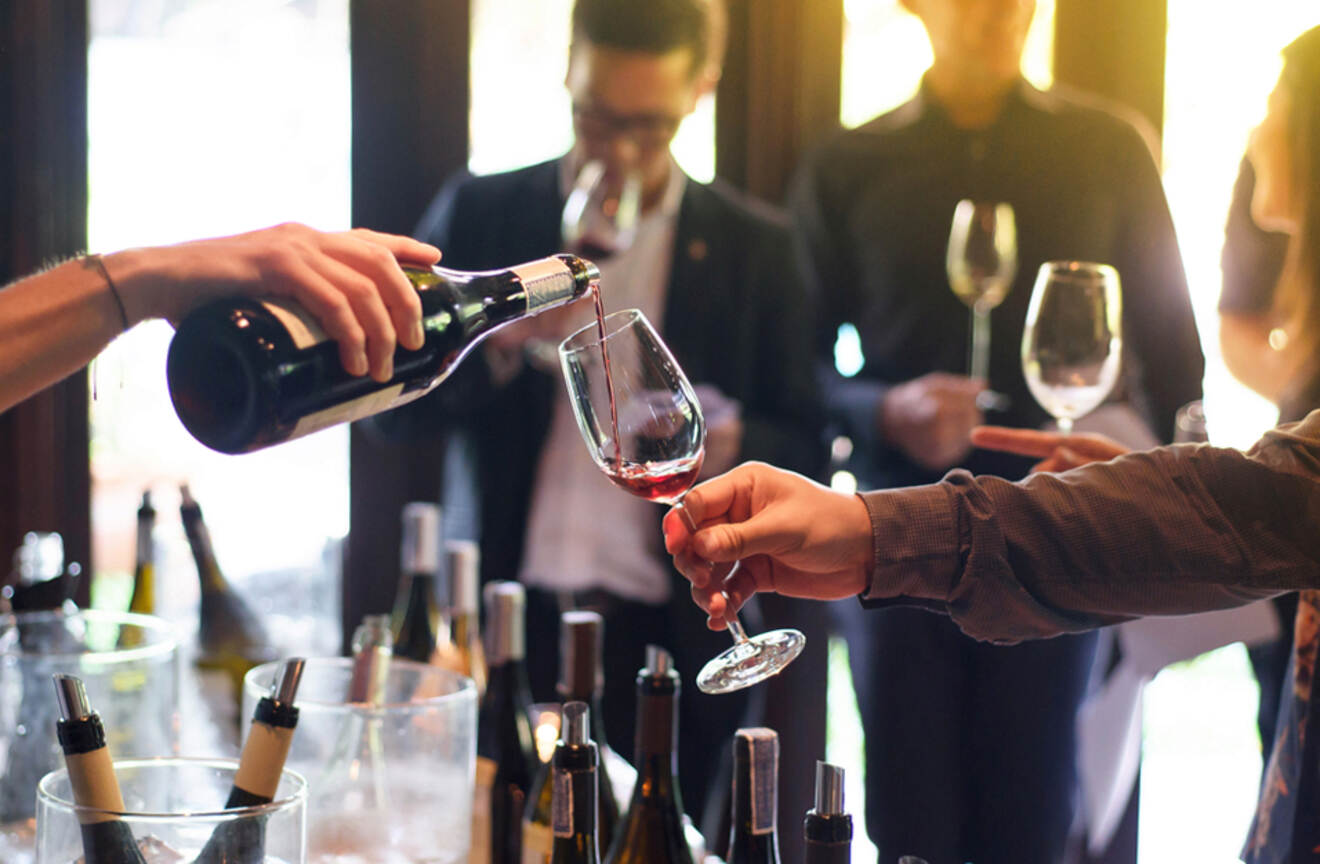 Duration: 5 hours
Price: from US$190
Why you should take it: Experience for only 12 travelers, a chance to make it a private tour upon request!
Discover the best 3 Hill Country wineries and learn the secrets behind the wine-making process! Sip wine and have complimentary snacks while an expert shares all their knowledge with you!
In this all-inclusive experience, you will enjoy the best wine made in Fredericksburg, Texas. But that's not all! You will meet amazing people, and your taste buds will thank you when you eat lunch made by a chef! It is possible to book this tour for private parties of 6 passengers, and for smaller parties, you must contact the tour operator personally to arrange the details!
NOTE: They choose 3 local wineries closer to the tour's date and depending on availability.
5. Be bold and join a wine, brew, and spirits tour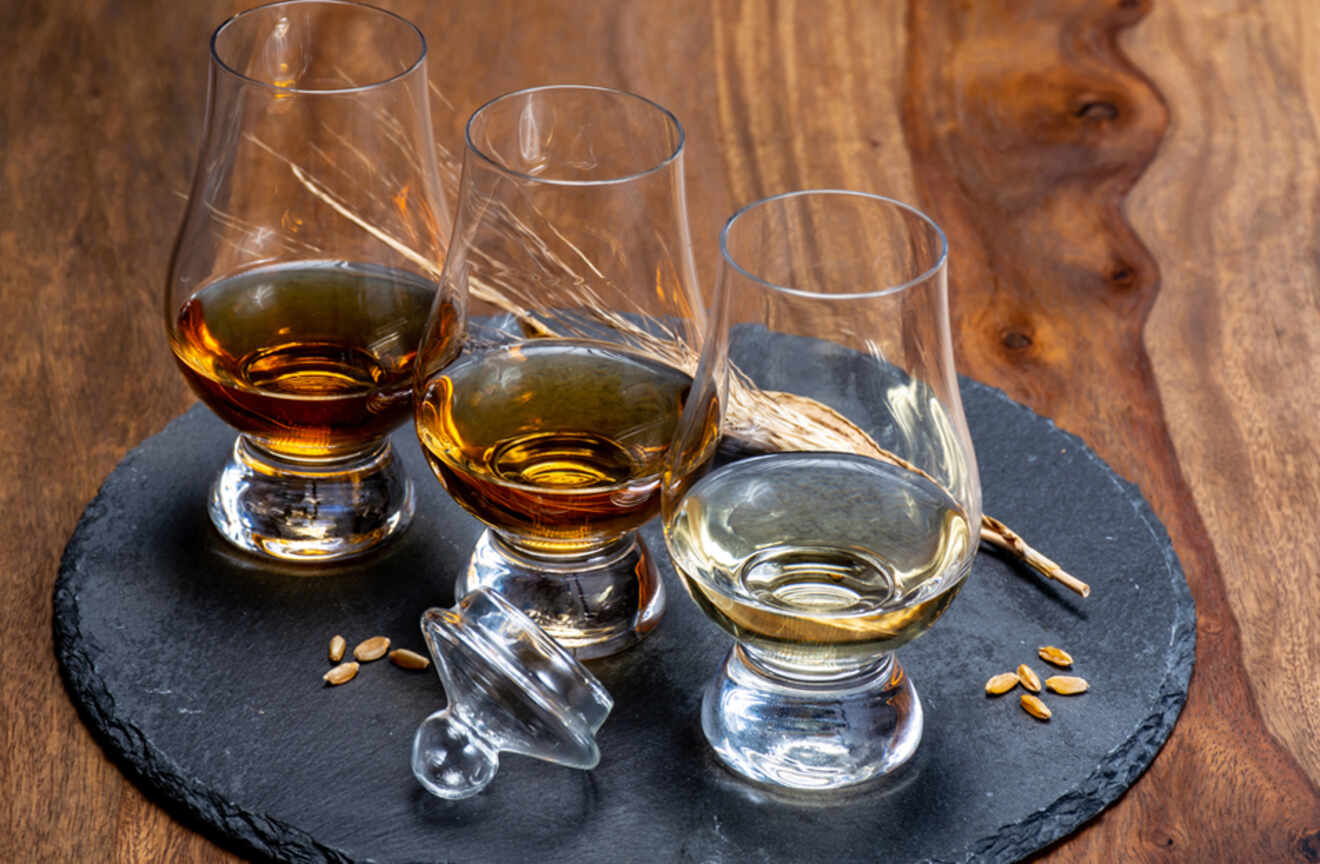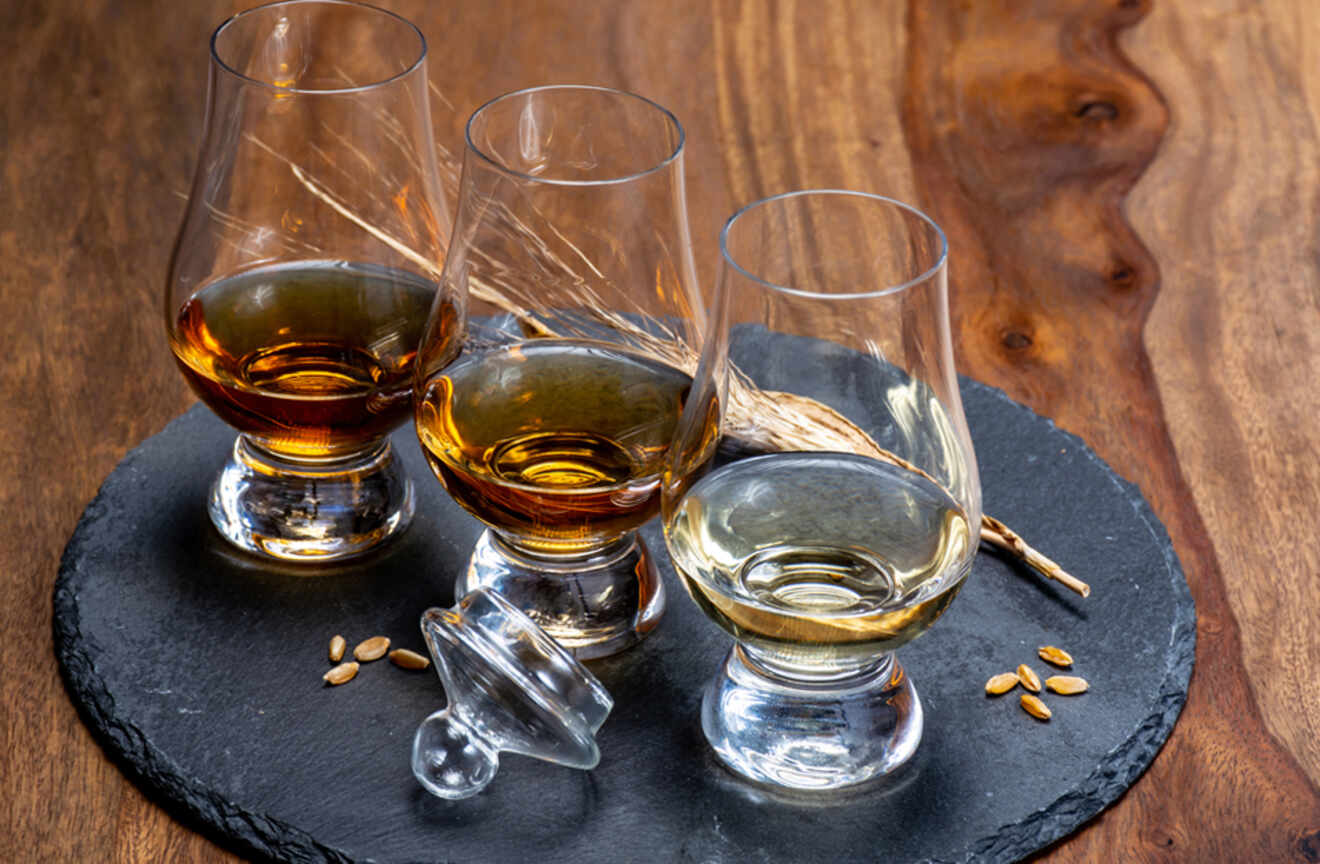 Duration: 5.5 hours
Price: from US$221
Why you should take it: for the mix of local wineries, breweries & distillers!
If you like wine, but your drink of choice is a beer or spirit, then this combo tour may be just what you're looking for. Join this tour in the beautiful Texas Hill Country for visits to brews, distillers, and wineries, with all tasting fees included!
This tasting tour is perfect for those who want to expand their horizons and learn about the different types of alcoholic beverages offered in Fredericksburg, Texas! In addition, complimentary lunch will be served to the travelers.
Remember to contact the tour operator to arrange your lunch options. If you have any food restrictions, they will accommodate everything so you can enjoy a tasty lunch!
Book This Wine, Brew & Spirits Tour
6. Relax with this flexible winery tour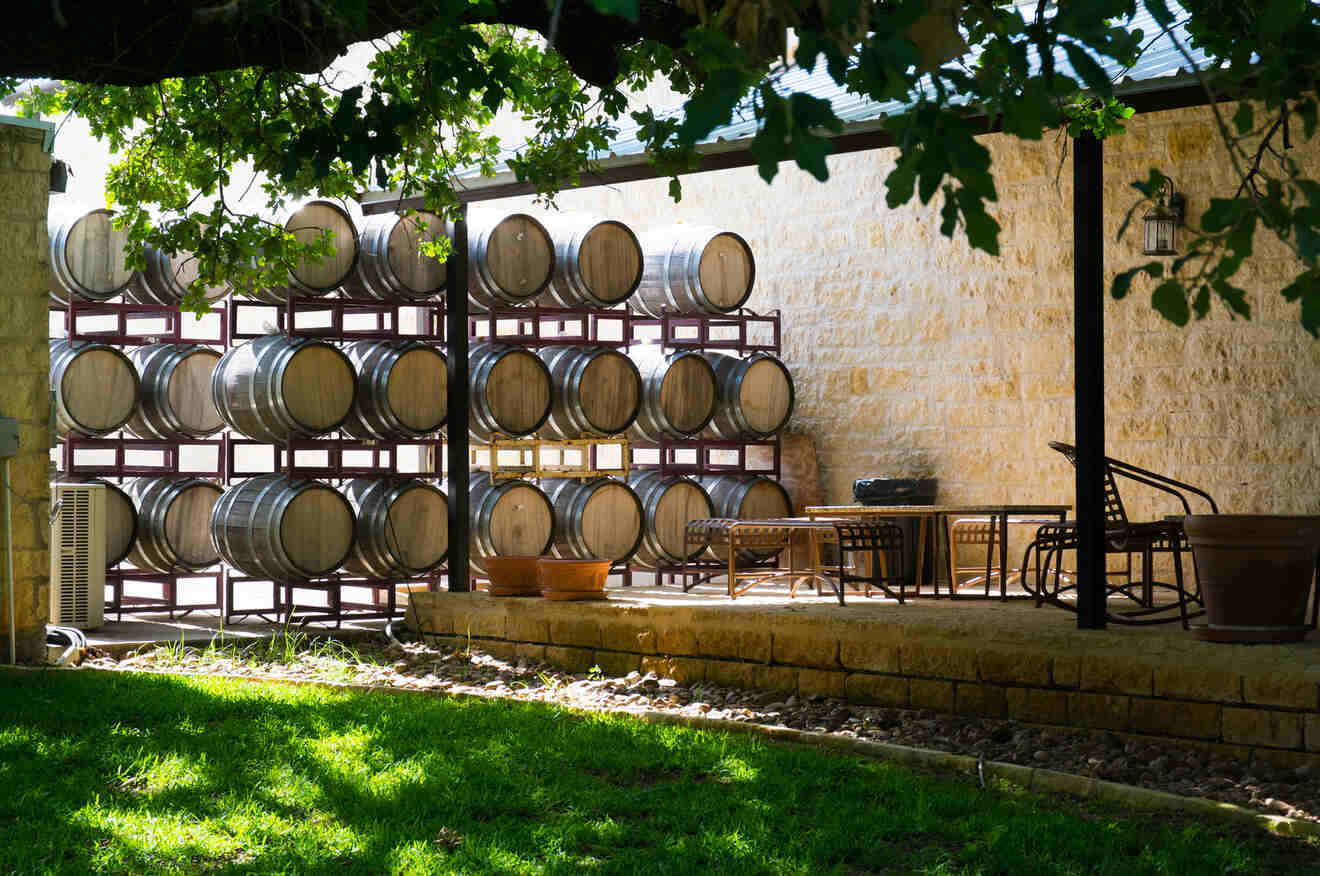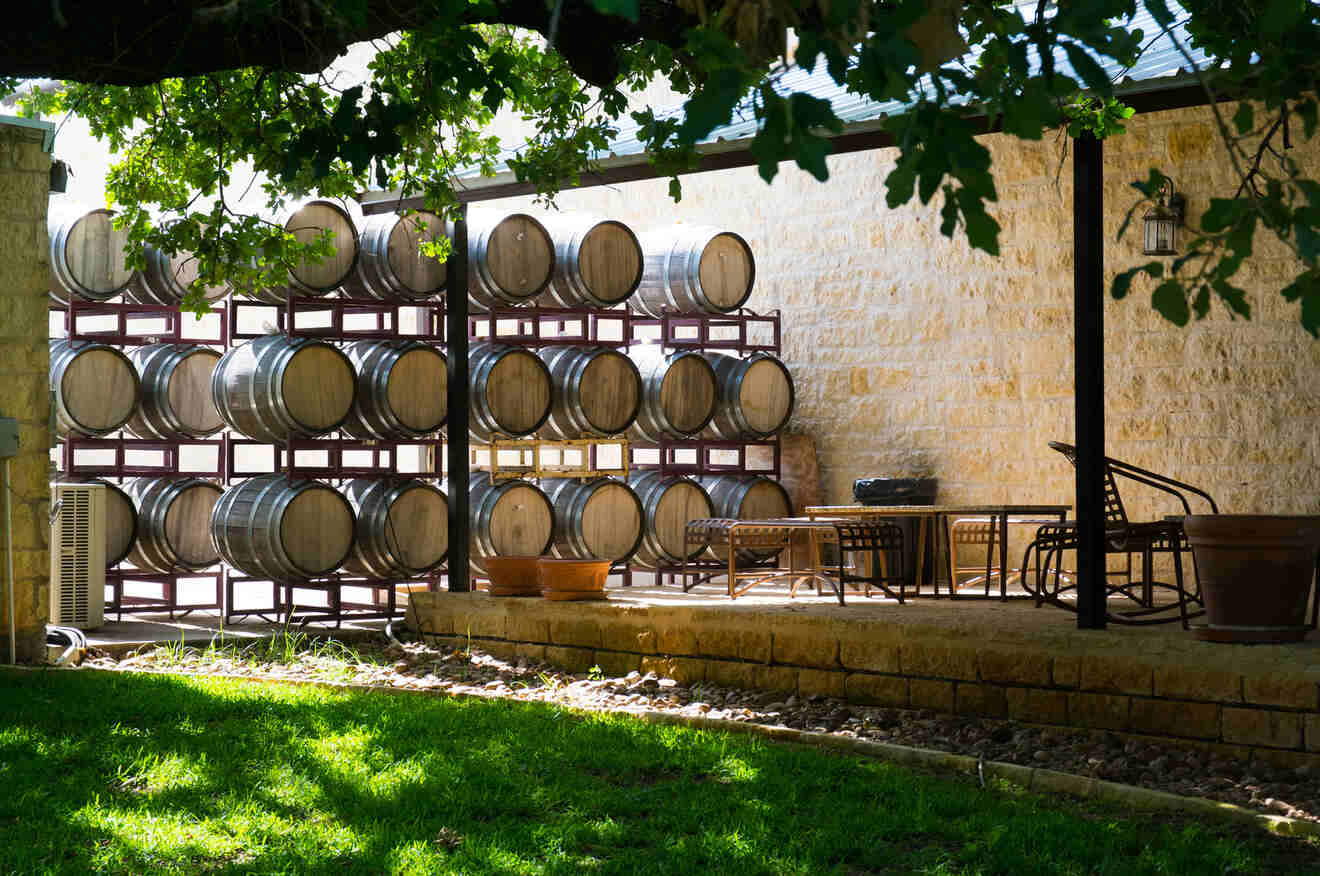 Duration: flexible
Price: from US$325
Why you should take it: no hidden fees or expenses!
Book this premium tour if you want to spend a day visiting the Texas wine trail, going into the tasting room of 4 different wineries, and enjoying a savory lunch with more tastings and no extra tax and tasting fees!
This all-inclusive tour will take you to premium wineries to taste only the best wine! On top of this, pickup from your hotel in Fredericksburg is available, and it is complimentary!
This tour is flexible, meaning you will visit the wineries (to be chosen) at your own pace! With no schedules, you will relax and absorb all the beauty Texas has to offer!
7. Plan a private bachelorette party
Duration: 5 hours
Price: from US$200 per person
Why you should take it: Specially crafted for fun and wild times!
Do you want to plan a bachelorette party and make it an event no one will ever forget? With this private tour, it is possible! You can book it for a maximum of 10 or 20 travelers. The excursion includes 3 local wineries (depending on availability) and 5 wine tastings in each location!
You will be traveling in style with these pink limousine tours! Lunch is not included in the final price, but you can add it on request! Pickup is available inside downtown Fredericksburg and is included in the final fee!
Inside the limousine, you can drink champagne (you have to bring it!) and play your own music! Pink surprise bags will be handed to everyone! So, if you're ready to have a wild bachelorette party in style, then book this tour for a memorable experience!
8. Book a hop-on/hop-off shuttle to wineries
Duration: flexible
Price: from US$40
Why you should take it: doesn't include the tour and wine tasting, but the ticket price is US$40!
This shuttle service is operated by 290 Wine Shuttle. This is how it works: you will buy a day pass, the fee per person is US$40, and you can visit all of the Hill Country wineries with this pass!
The shuttle will pick you up and drop you off at different wineries every 10 minutes, and you can hop on and off as many times as you like! This is not a guided tour, and tasting fees are not included, but booking this shuttle will allow you to explore Fredericksburg wineries for a low price at your own pace and as you choose!
The starting point of the shuttle is Barons Creek in Fredericksburg!
So, what are you waiting for?! Save your spot and make a list of which wineries you want to visit.
FAQs about wine tours in Fredericksburg, TX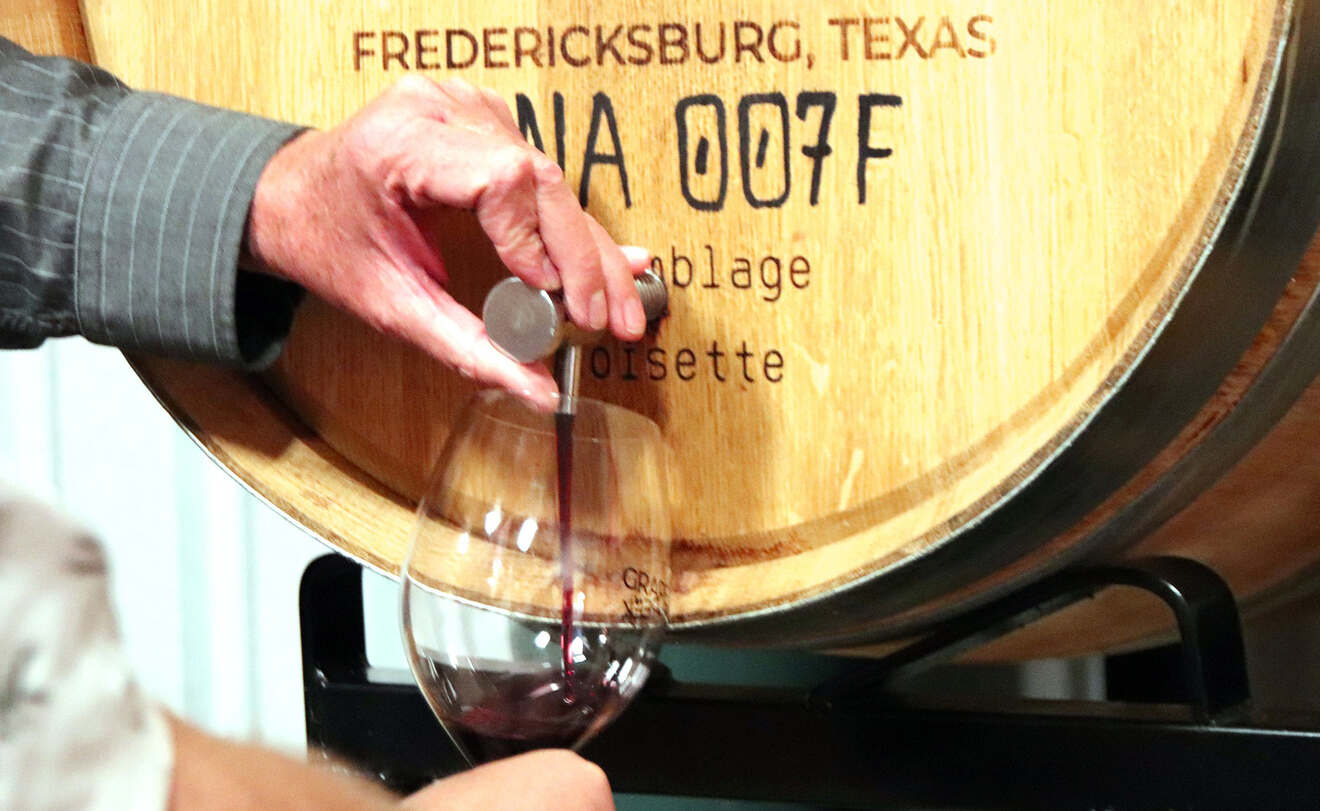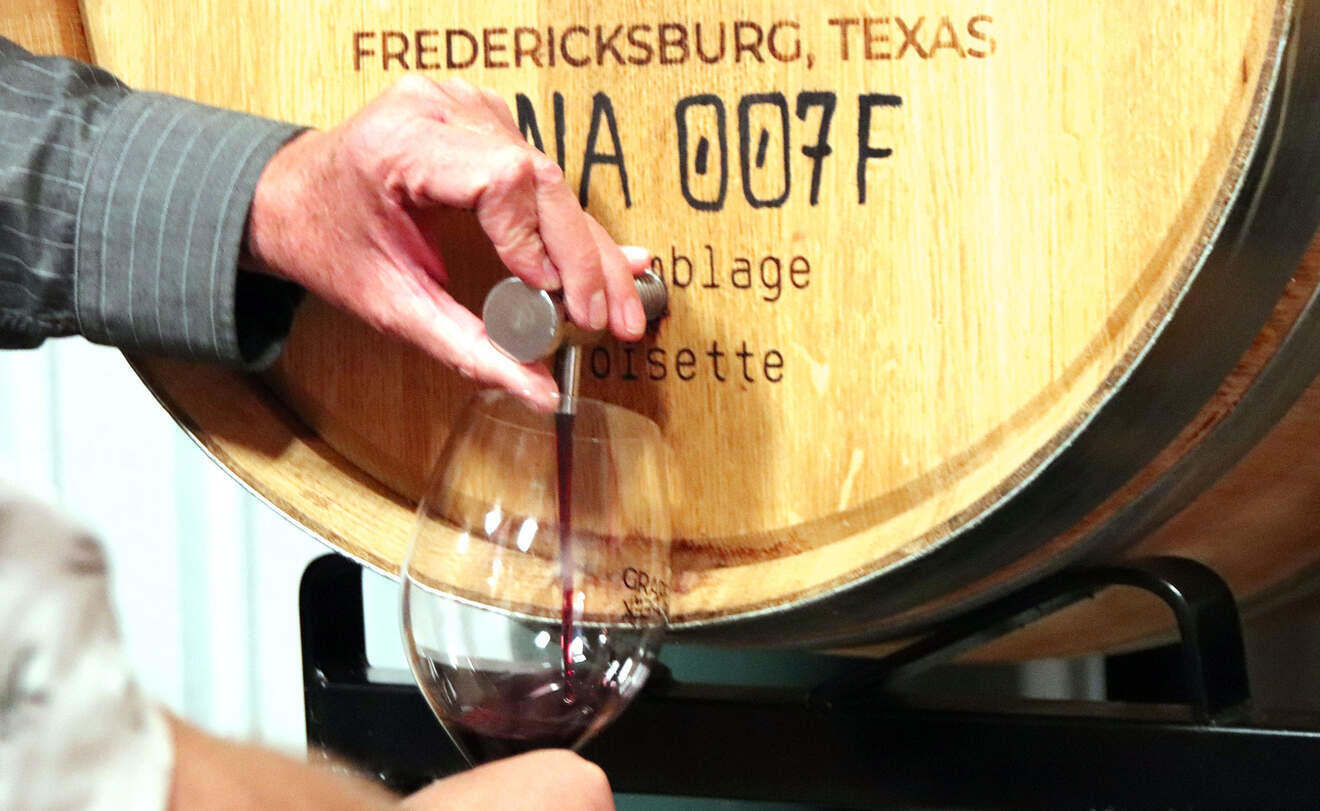 🌻 What's the best time to visit Fredericksburg?
Anytime is a good time to visit Fredericksburg! But the weather and nature in the countryside are especially stunning during summer with all the bluebonnets and wildflowers! The fall is a great time to visit as well!
🍇 When does Fredericksburg wine tours' high season take place?
Fredericksburg wine tours are available and open all year round! Most of the tour operators have vehicles with air conditioning for the summer and heating for the winter. However, grape harvests take place from August to September, and many festivals take place during the month of October.
🤠 How many wineries are located in Fredericksburg?
Fredericksburg has over 50 wineries! It is the hub of Texas Wine Country. And just in case you were wondering, the Texas Hill Country has a total of 100 wineries!
💡 Which one is the best winery in Fredericksburg, Texas?
Conclusion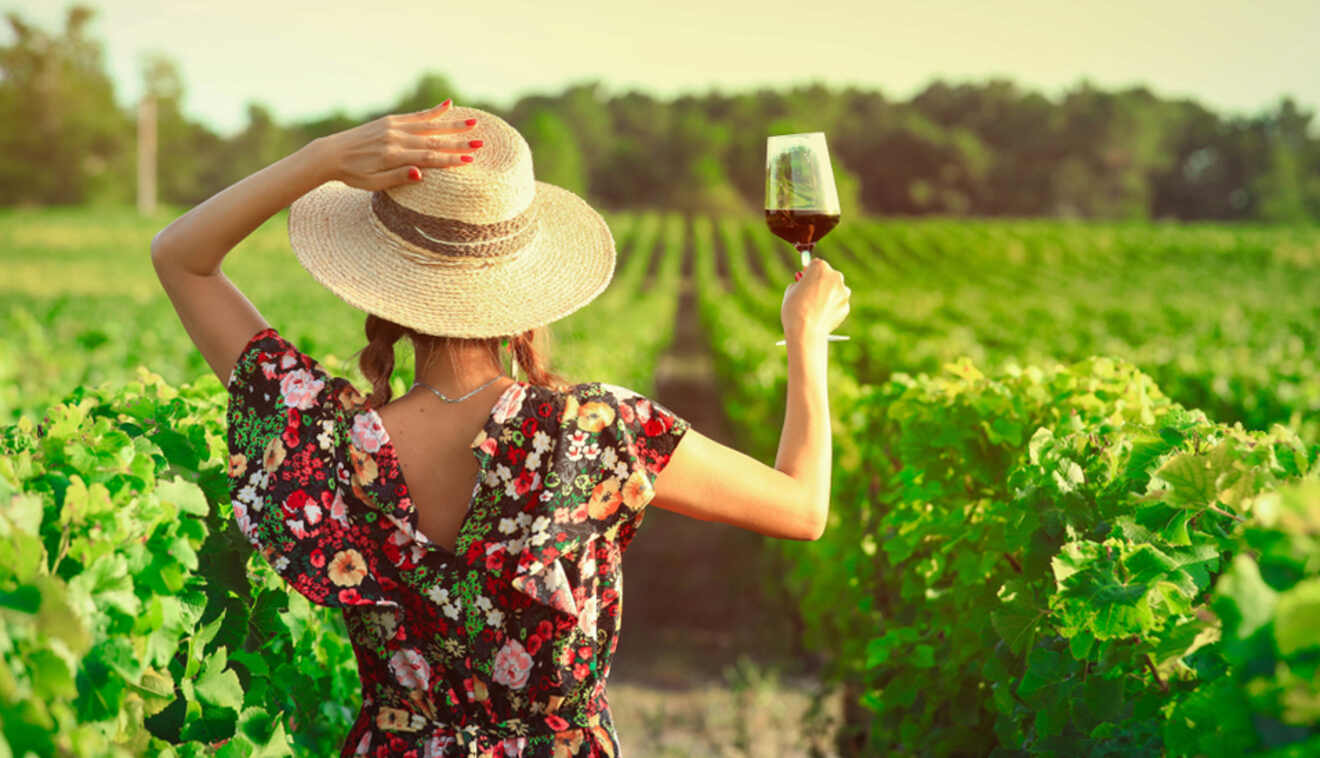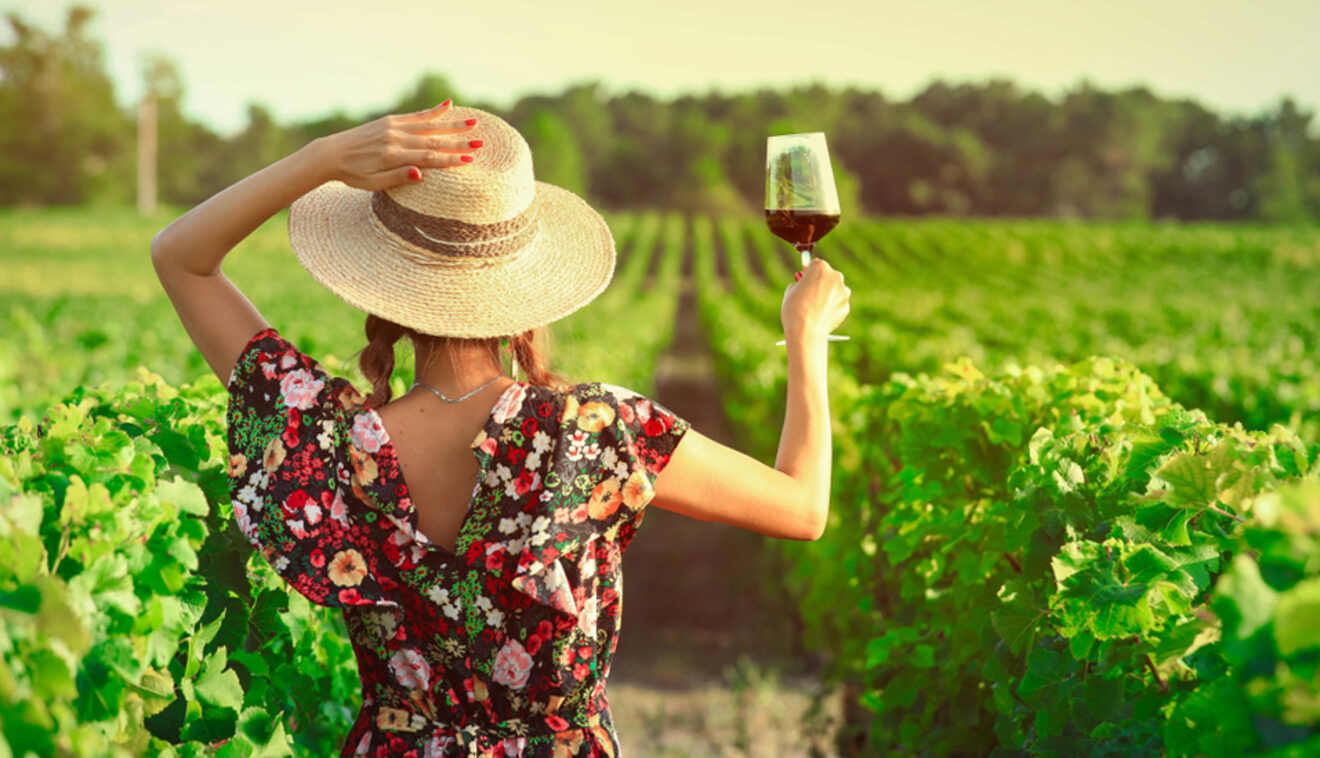 That is all for today, folks! I hope you enjoyed your glass of wine on this exploration through the best wine tours in Fredericksburg!
I know there are just so many good options that it's not easy to decide which of these winery tours to book, but on the bright side, there is no way to go wrong with any of them! So, don't think too much, book one right away!
And if you have any questions about the tours I covered or if there are any other Fredericksburg tours you would like to know about, let me know in the comments below, and I will answer at the speed of light!
Cin-Cin!
Daniela
---
Pin it for later!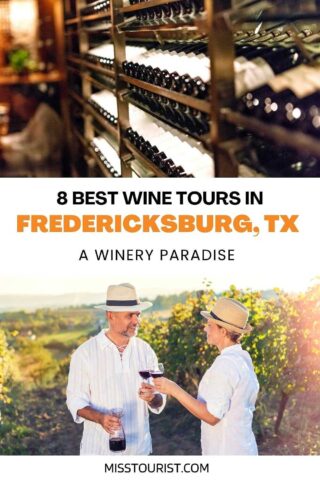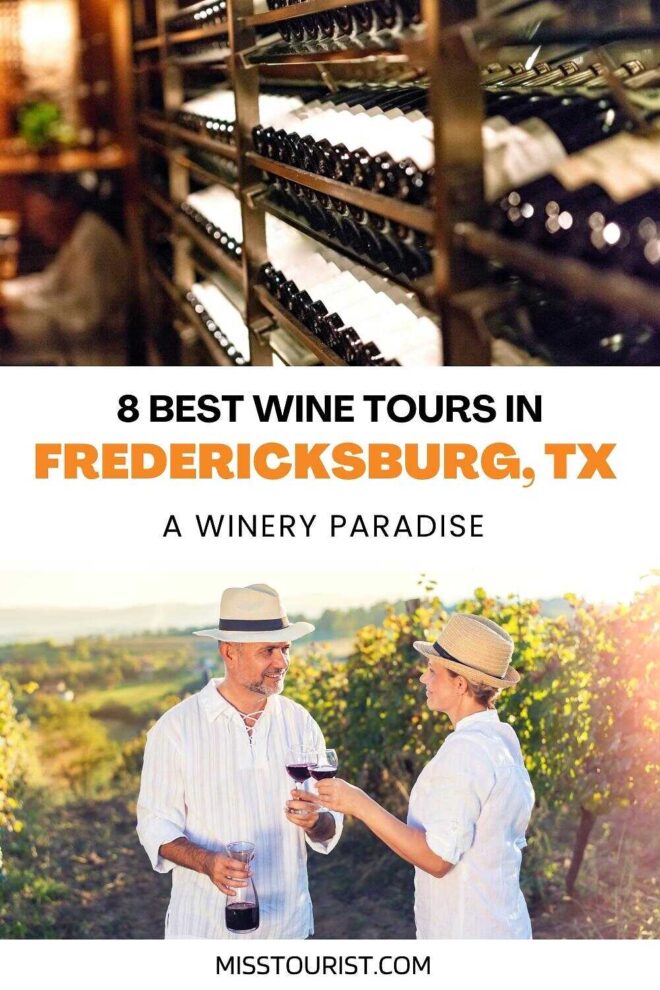 Pin it for later!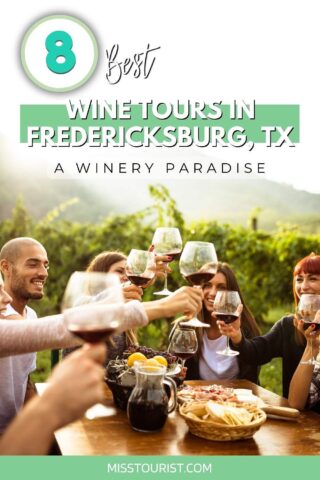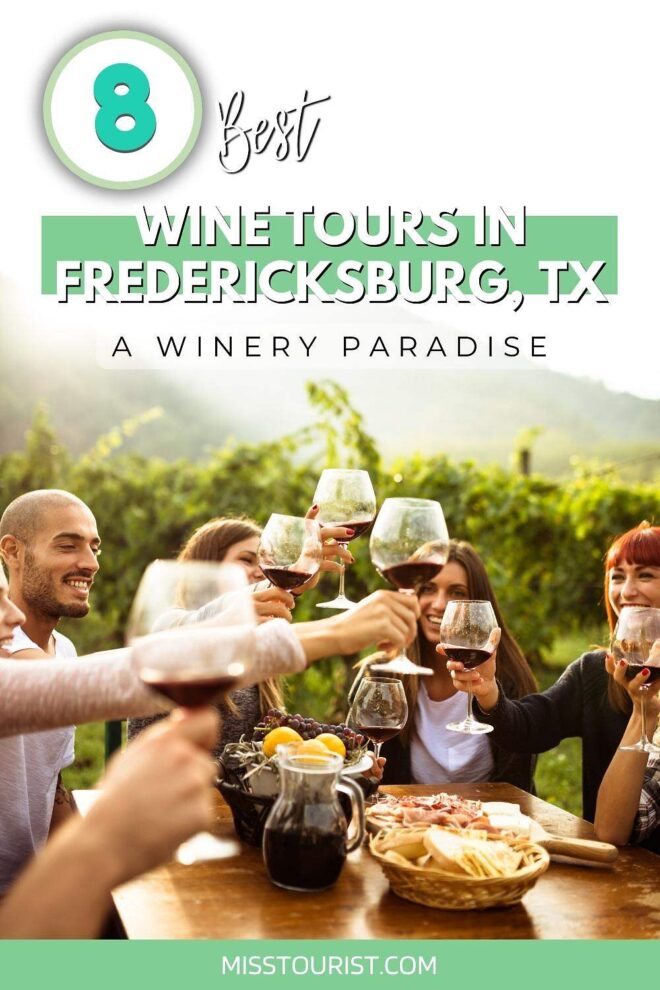 Products You May Like