Canggu Restaurants → The Best Spots to Eat Not to Miss!
Canggu is like a dream come true for any foodie who's in Bali! I mean this place is just packed with fabulous restaurants and today you'll find out which are the top ones!
Follow me and let's discover the best Canggu restaurants! I've compiled a list of some of my favorite places that I've been to and absolutely loved plus some others which have incredible reviews.
Canggu is Bali's boho culinary capital! And that means you'll find anything you want here from local produce to Italian restaurants and other incredible culinary delights. 
Combine that with the incredible scenery, waves, and stunning rice paddies and you've got the perfect tourist destination! Oh yes, you'll never want to leave Canggu, once you arrive here.
Warning: I hope you're ready to make many kitchen trips while reading this article!
If you're in a hurry
It's super easy to find your favorite place while having a quick read through the post but if you're in a hurry, check out the list below which has the best restaurants in Canggu:
Best spots to hit for breakfast & lunch
Looking for the perfect breakfast spot in Canggu? Or maybe a restaurant where you can eat a tasty lunch and get some work done on your laptop? If that's the case then follow me and let's discover the best restaurants in Canggu!
1. Baked – best pastries spot
A great day starts with a great breakfast! Right? This place is one of the best bakeries in Canggu and it has such a nice contemporary design and yummy food! Croissants, sourdough bread (which you must try if you haven't as it's so delish), creamy poached eggs, you name it!
Here you can find the perfect breakfast and of course some strong coffee to set you up for the day! You can order at the cash register and then head up as there is also a second floor where you'll probably find more tables!
Location: Jl. Pantai Pererenan No.118
2. Mostly by Zest – best sushi spot 
Your taste buds will go crazy once they try the sushi at this Canggu restaurant! And don't worry if you're vegetarian, they've got some interesting options for you as well that I've tried and really liked!
I would definitely mix and match and try the sushi as well as some dumplings, and even the cauliflower BBQ. Great food, a cool vibe and of course and some refreshing drinks will make your lunch date at Mostly an unforgettable experience! 
Location: Jl. Pantai Pererenan No.114
3. Two Moods – great international cuisine
Who doesn't love a good old Instagrammable place to eat? You'll find many places in Bali like that and this Canggu restaurant is one of them. Perfect for breakfast or lunch they serve super fresh food including mouth-watering pancakes and Russian dumplings!
Of course, they also serve great coffee and some refreshing drinks which you can enjoy on their little terrace or inside where you can admire the whole decor better. 
Location: Jl. Tanah Barak No.47
4. Cinta Cafe – amazing rice fields views
Lunch with a view of the Balinese rice fields? Yes, please! This famous cafe offers such a beautiful setting and a great vibe! Oh yeah and such good coffee that you'll want to come back for more! 
If you're coming with your little ones then you'll be happy to know there's a kid's playground! But coming back to the food, I think you should definitely try their smoothie bowl if you're craving something sweet. I also hear their hummus is also pretty fantastic (and a great dish if you need some grounding)! 
Location: Jl. Pantai Berawa No.69
5. Woods – cool place with live music 
If you like live music then definitely pay a visit to this cool Canggu restaurant this weekend as they play jazz music! What I liked about this place was the natural wood aesthetic and its vibrant atmosphere!
Of course, the fact that they had an amazing choice of high-quality teas (they even call it a library) was a big plus! They also had lots of healthy goodies including a yummy shakshuka, lots of colorful fruit bowls and other tempting dishes. 
Location: Jl. Dalem Lingsir No.8
6. Honey – for a sweet breakfast 
Start your morning with some quality food at this awesome restaurant! Whether you order their smoothie bowl, ricotta pancakes, avocado toast, or anything else from the super appealing menu, it'll be a good choice!
And yes, the coffee is strong. You can enjoy it inside, as they have a nice decor, super simple and modern or take it to go and head to Echo Beach if you're too eager to sit on the sandy shores. 
Location: Jl. Pantai Pererenan No.132
7. Rize – best vegan restaurant 
Having a hard time finding the best restaurants in Canggu that serve vegan dishes? Well, I think you should give this place a try! They kind of serve a Western cuisine with an Indian twist which will throw your taste buds over the roof!
Definitely give their dosa masala a try, and if you're in the mood for something fruity their dragon bowl is also a must, or the pancakes for those who have a sweet tooth! 
Location: Jl. Pantai Pererenan No.150
8. Sensorium – great fusion restaurant 
I know no one likes to wait in the morning for anything, especially food! But trust me, this place is so worth it even though there is a small waiting time if you're coming in during rush hour. 
What I liked about this place was the super interesting Asian twist to the food, like Korean scrambled eggs and other interesting dishes. I think you should also give their ice cream sandwich a try especially if you dig the combination of sweet and salty!
Location: Jl. Pantai Batu Mejan
9. Touché – tranquil spot
I'm a major foodie, but I always like to have healthy meals that are prepared fresh! If you feel the same then check out this cafe in Canggu that is famous for its fluffy soufflé pancakes and yummy salads!
Perfect for an early breakfast or a long lunch while you're catching up with some work, this cafe has charmed people with its yummy drinks and delicious food. Another plus is that the entire menu is diverse so if you're a picky one I'm sure you'll find something you'll like here. 
Location: Jl. Pantai Pererenan No.104
10. Manggis – great for vegans
Whether you're a vegan or not you're going to love this place! Featuring an Asian-fusion plant based cuisine, this Canggu restaurant offers so many yummy dishes from sweet potato fries to curry, smoothie bowls, and burgers! 
And trust me, once you have a bite you'll want to come back and try more! Manggis is a great spot to get some work done as it's super cozy and not too loud.
Location: Jl. Pemelisan Agung No.7
11. Livingstone – for pastries lovers
Offering a great location in the Petitenget area, this place is just perfect for pastries lovers! Their croissants and pain au chocolate are so yummy and go perfectly with a coffee. 
Still, if you're not a fan of a sweet bite in the morning I'd recommend trying their Benedict eggs with Hollandaise sauce. And maybe freshly-made cold pressed juices? Sounds so delicious that I might eat that really soon!
Location: Jl. Petitenget No.88X
12. Clear Cafe – delicious smoothie bowls
Just like its brother in Ubud, this place in Canggu really cares about the food quality and you can see that in every dish they prepare! Smoothie bowls, pad thai, you name it, they make everything taste and look absolutely delicious!
It's not a rule for all food served at a restaurant, but most of the time you can really tell by the color of each plate and dish how fresh or good the food is. Definitely give that a try and tell me your opinion! 
Location: Jl. Pantai Batu Mejan No.34
13. Crate Cafe – for veggie lovers
Where are all my vegetarian people? I've found one of the best restaurants in Canggu for you! This place serves the most nutritious meals ever! They're so good that you'll either ask for their recipe or come back here over and over again!
Their vegetable bowls look so mouth-watering, and don't even get me started on the smoothie bowls and juices! Whoever said veggies are not fun or yummy should definitely check out this place! 
Location: Jl. Canggu Padang Linjong
14. Yema Kitchen – a stylish place
Gotta love a restaurant with nice aesthetics and designs! It's like it creates this whole new atmosphere and if the food is good then you can be sure that the next time you'll come here it is going to be full of people!
Just like this place, which serves various dishes including an insanely good falafel wrap that you should try! Plus some fabulous cocktails that I'm sure you'll enjoy even if it's lunchtime. 
Location: Jl. Tanah Barak No.31
15. Machinery – for a cheap & tasty breakfast 
Although spacious restaurants and terraces are some of the best ones, every now and then I feel like everyone feels the need to head somewhere small and cozy, where you can eat something super tasty!
And if it's affordable then even better! I mean who doesn't like a breakfast at just US$3? Delicious smoothies, wraps, eggs and lots of other dishes are waiting to be tried at Machinery, one of the best restaurants in Canggu!
Location: No, Jl. Pantai Batu Bolong
16. The Falafel Temple – for Middle Eastern dishes
We've got to give credit where credit is due! And the Middle Eastern cuisine is surely one of the best ones! There's something about how they combine the ingredients and dishes that make my taste buds go crazy! 
If you're a fan as well, then I recommend this place in Canggu! They serve a 10/10 Baba Ganoush as well as other dishes like hummus and yummy salads! 
Location: Jl. Pantai Berawa No.35
17. Avocado Factory – perfect for avocado lovers
If you like avocado in every shape, form, and size then definitely pay a visit to this cool place in Canggu! Besides the amazing food you'll also get a pretty stunning view of the typical Balinese rice fields!
Now, who's ready to try some avocado hummus? Or maybe something a bit fancier like a truffle smashed avocado? Take your pick, but just know there are lots of other incredible dishes that you should try here!
Location: Jl. Tanah Barak
18. I Am Vegan Babe – for all vegans
I guess the name of this place speaks for itself! And if you were looking for a cool place to have your banana bread and coffee in the morning or something a bit more nourishing like club sandwiches stuffed with plant turkey, then check out their menu!
And views! This place offers some nice views of Canggu and insanely good vegan cakes and french toast, which goes so well with some maple syrup and a flat-white! Am I right?
Location: Jl. Tanah Barak No.49
19. Shady Shack – for a nourishing vegan lunch
I didn't want to leave all our vegan readers with just a few options! So here's another amazing restaurant in Canggu that serves fresh and tasty vegan food.
Perfect for a quick (or long) bite before hitting the beach, the Shady Shack offers lots of delicious veggies, wraps, and coffee that will set you up for the day!
Location: Jl. Tanah Barak No.53
Best restaurants for dinner
Now that we've seen the best restaurants for breakfast and lunch in Canggu, it's time to move on to the next part of the day. I mean night! Follow me and let's see where you can enjoy a fantastic dining experience after sunset in Canggu! 
1. Shelter Pererenan – best for Mediterranean food
Who's a fan of Mediterranean cuisine? I'm sure there are many hands raised behind the screen! And that's great because I've found one of the best restaurants in Canggu that serves such unique dishes with authentic flavors that will make you feel as if you've landed somewhere in Europe!
The menu is super diverse and they've got everything from calamari, to chicken skewers all cooked in a wood-burning brick oven! I would definitely recommend this spot for a romantic meal!
Location: Jl. Pantai Pererenan No.133
2. Luma – hip restaurant with a cool design
Perfect for a night out, this restaurant has a really nice design, and we just loved the food! They change their a la carte menu every day, so there's always an element of surprise! We bookED in advance through Whatsapp, which I recommend you do as well. 
The service was good but not fantastic, however the food definitely makes up for everything. Their inspired Mediterranean menu offers options for every taste! 
Location: Jl. Pantai Batu Bolong No.91
3. Yuki – cool Japanese place
End a day spent at the beach or visiting some of the best attractions in Bali with a yummy dinner at this Japanese restaurant that serves insanely good sushi! They also have this pleasant ambiance that will make you never want to leave and just keep ordering!
As I mentioned, you could start with sushi but if you're not a fan or craving something else, you could also go for the truffle tuna or smoked octopus. Combine that with some cocktails and you've got the perfect dinner! 
Location: 84RH+RM2, Canggu, Kuta Utara
4. Skool Kitchen – best place for an oceanfront dinner
Dinner with an ocean view? Yes, please! This amazing restaurant offers the perfect set up for an unforgettable meal in Canggu! Order some wine or cocktails and browse through the menus.
By the way I recommend booking your table in advance here as it is usually packed with people! Their menu is pretty diverse which means that you'll most definitely find something that you like! And if you don't really know where to start I'd recommend the oysters and octopus entrees.
Location: Jl. Pura Dalem, Canggu
5. Mosto – cool spot with unique dishes
This place offers an interesting mix of local food and Italian dishes. Now that's something to try! And I'm sure you'll leave the buzzing atmosphere and extensive natural wine list that everyone raves about! 
Maybe you could do a mix and match when you go there and order a few dishes to share. I think that's the perfect way to try the food when trying a new place!
Location: Jl. Pantai Berawa No.99
6. Zali – great Lebanese place
Craving some Lebanese food? I hear ya! It's definitely one of my favorites too! And I love themed dinner nights! So head over to this restaurant for a Lebanese night filled with shawarma, rice, and salads!
Sounds so tasty! This would also be a place where you could mix and match different dishes and get a chance to have a bite of everything! 
Location: Jl. Pantai Pererenan No.152
7. Baracca – for the best Italian pizza
Another great restaurant that you will also find in the Ubud area as well, that serves the best pizza and other yummy Italian dishes! 
If you need a break from Indonesian food and you're craving a pasta dish I think you need to pay a visit to Baracca! They've got this intimate atmosphere that you usually find in Italian restaurants, and oh my the food is simply deliziosa! 
Location: Jl. Tanah Barak No.55A
8. Cibo! Cucina-Deli-Gelateria – fun spot with live music
Since we're on this chapter (Italian food) I thought I'll offer you one more place besides the one above, since I'm sure there are many of you who like Italian cuisine!
Again, you'll find the typical Italian restaurant coziness here, plus a wide range of pastas and pastries! Sometimes they even play live jazz music which definitely goes well with the whole vibe of the place!
Location: Jl. Subak Sari No.8
9. Kong – Asian-fusion restaurant with a cool vibe
Leave the fried chicken and loaded fries for the night and head to Kong, an Asian-fusion restaurant where you'll get to try some fancy and yummy dishes (and cocktails of course)! 
Perfect for a romantic night out or a dinner with friends, Kong has this nice ambiance that will make you feel super comfortable and welcomed. Their menu is super diverse and I trust you'll leave feeling full and happy! 
Location: Jl. Pantai Berawa No.14B
10. Si Jin – the best Korean food
Although it's set in Seminyak, this restaurant isn't too far from Canggu and trust me, the distance is worth it! Firstly, you should make sure to book your table in advance, because this place is always packed.
Everyone raves about their food, but it's the whole experience that makes the place so unique! If you like Korean high-end cuisine then Sin Jin will become your favorite spot!
Location: Jl. Lebak Sari no. 18 Petitenget
11. Berawa's Kitchen – affordable spot with stalls
If you're craving some Japanese bites, then head to this cool food court where you'll not only find that but many other stalls that offer good food!
This is a great spot to hang out with your friends, get something to eat and listen to some live music. You can also try some of the local dishes or some simple french fries and chicken wings here and know for sure that you won't pay a fortune!
Location: Jl. Raya Semat No.8
12. Mason – stylish place with a terrace
If you want to treat yourself to a fancy dinner then head over to Mason and eat some tasty gourmet dips and good food! 
You can really tell when they use fresh ingredients at a restaurant, and at Mason you'll get to feel that! Their pulled beef burger is a customer favorite but there are many other dishes like the tuna carpaccio and broccoli salad that you should give a try! 
Location: Jl. Pantai Batu Bolong No.39a
13. Ji Terrace restaurant – oceanfront spot with fresh sushi
Sushi and wine (or maybe their signature cocktails)? Yes, please! This awesome restaurant is set on the oceanfront so you'll get to enjoy your dinner with a really nice view.
Everything is super fresh at Ji restaurant Bali, and of course there are many other dishes besides sushi like baby back ribs for anyone who's a meat lover and some salads as well!
Location: Jalan Pantai Batu Bolong
14. The Lawn – Indonesian food with a twist
You'll love the location of this spot! It's definitely one of the best beach clubs in Canggu which specializes in international cuisine inspired by the best Indonesian food! Sounds interesting right?
Now hear this: beef burgers prepared with all sorts of spices (yum) or pizza with peanut sauce and shallots! Everything sounds mouth watering and these are just 2 of their dishes. 
Location: Jl. Pura Dalem, Canggu
15. Moana Fish Eatery – great place for seafood lovers
Ahoy friends! Who's in the mood for some yummy seafood because I've found a great spot near Batu Bolong beach! Their platters look so appetizing and you can mix and match according to your tastes! 
Everything is super fresh and flavored, which I think it's super important when it comes to seafood or fish. Make sure you don't leave before trying their fish tacos and tuna sashimi!
Location: Jl. Pantai Batu Bolong No.28
16. Neighbourhood Food – casual spot with tasty food
Looking for an affordable spot to grab dinner with a friend? This is one of the best restaurants in Canggu and it offers some yummy dishes and a super varied menu.
Salmon, pasta, salads, you name it! Neighbourhood Food is all about serving super comforting food that delicious drinks that will make your night out in Bali unforgettable! 
Location: Jl. Pantai Berawa No.99 BB
17. Garden Canggu By Pizza House – for a unique set-up
Don't you have days when all of the sudden you're really craving some pizza? If so, then check out this great restaurant in Canggu that serves a really tasty pizza!
They have this garden concept going on, which will make you feel as if you've landed in someone's backyard! Love that! Although pizza is their main attraction there are many more choices on the menu! 
Location: Jl. Batu Mejan Canggu
18. Uni Restaurant – nice Japanese place
More seafood spots? I know, everyone likes to have a long list of choices! Definitely one of the best restaurants in Canggu where you can eat fish and seafood!
Uni Restaurant has a nice tasting menu which you can try if this is your first time here. But do give a try to the other dishes as well. 
Location: Jl. Pantai Berawa No.99
19. Santanera – fancy spot with live music
Delicious food, good service, and live music! Those are the elements that make-up a perfect night out in Canggu, and you'll find all that and more at one of the best restaurants in Canggu!
The concept was inspired by tapas – you are going to share your food with your friends and hey, this way you will try a lot of dishes, I absolutely loved the food there! This is also one of the only places in the world where they bring you a special vegetarian menu if you are vegetarian (it is the same, but you don't need to sort it out – simple, but pretty nice!)
This place has such a great atmosphere and a diverse menu which includes sushi, duck dishes and octopus prepared in a very fancy way!
Location: Jl. Tanah Barak No.55-57
20. Bottega Italiana – unique spot with handmade pasta
Fancy cooking your own pasta dish? Then head over to one of the best restaurants in Canggu and give it a try! This restaurant offers you the chance to pick from a wide range of fresh hand-made pasta types and sauces made there.
Of course you'll also get to choose if you want some meat, or (my favorite) which type of cheese you want on your yummy pasta! You'll love this experience!
Location: Jalan Pantai Batu Bolong, No. 77
| | |
| --- | --- |
| 💰 Restaurant prices: | Low |
| 🍽️ Dinner for 2 with wine: | ~US$30 |
| 😋 Best breakfast spot | Cinta cafe |
| 💵 Tipping: | 10% |
| 🍳 Best lunch: | Revolver |
| 🍷 Top Dinner spot:  | Santanera |
| 🌱 Vegan/Vegetarian food: | Manggis |
FAQs about Canggu restaurants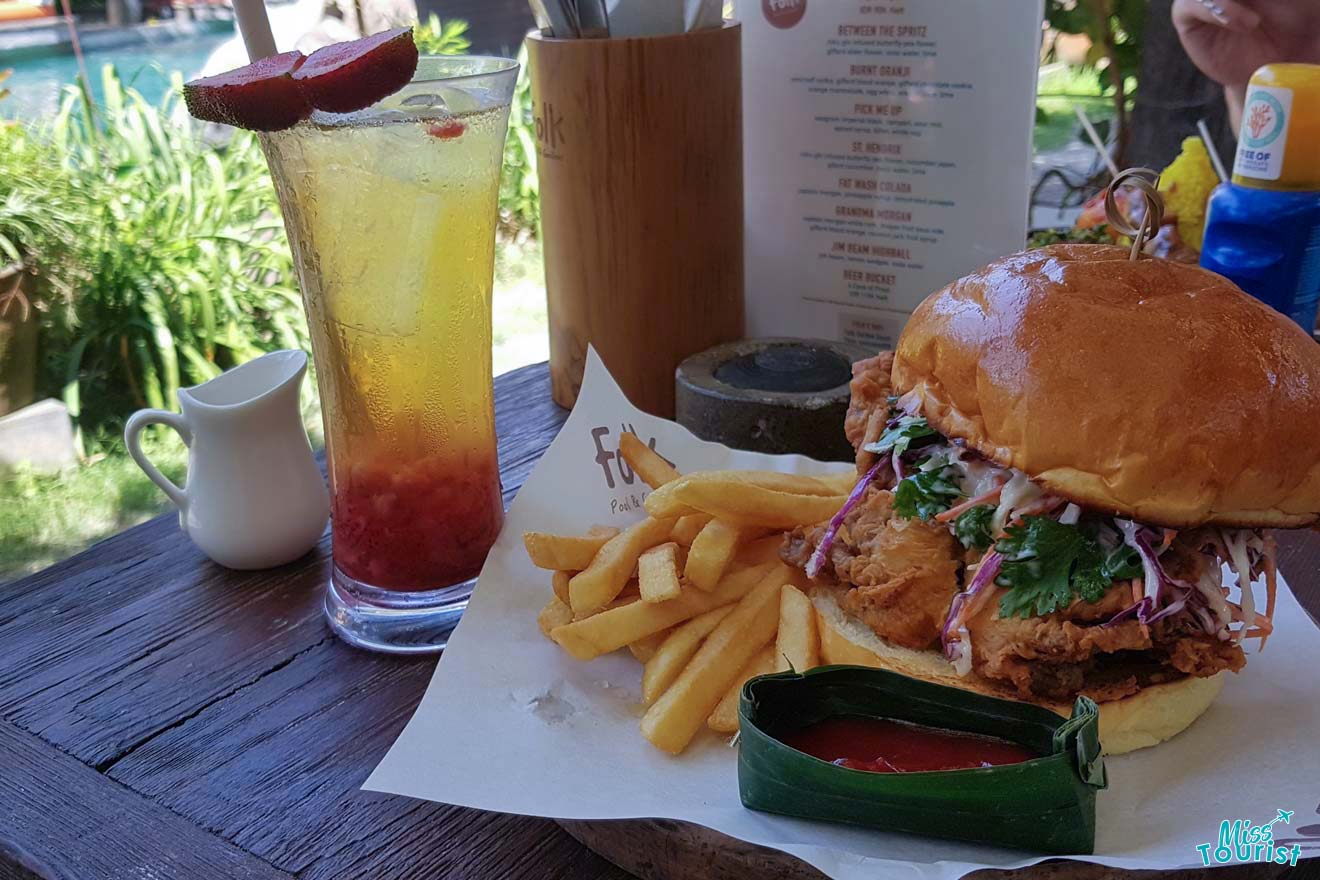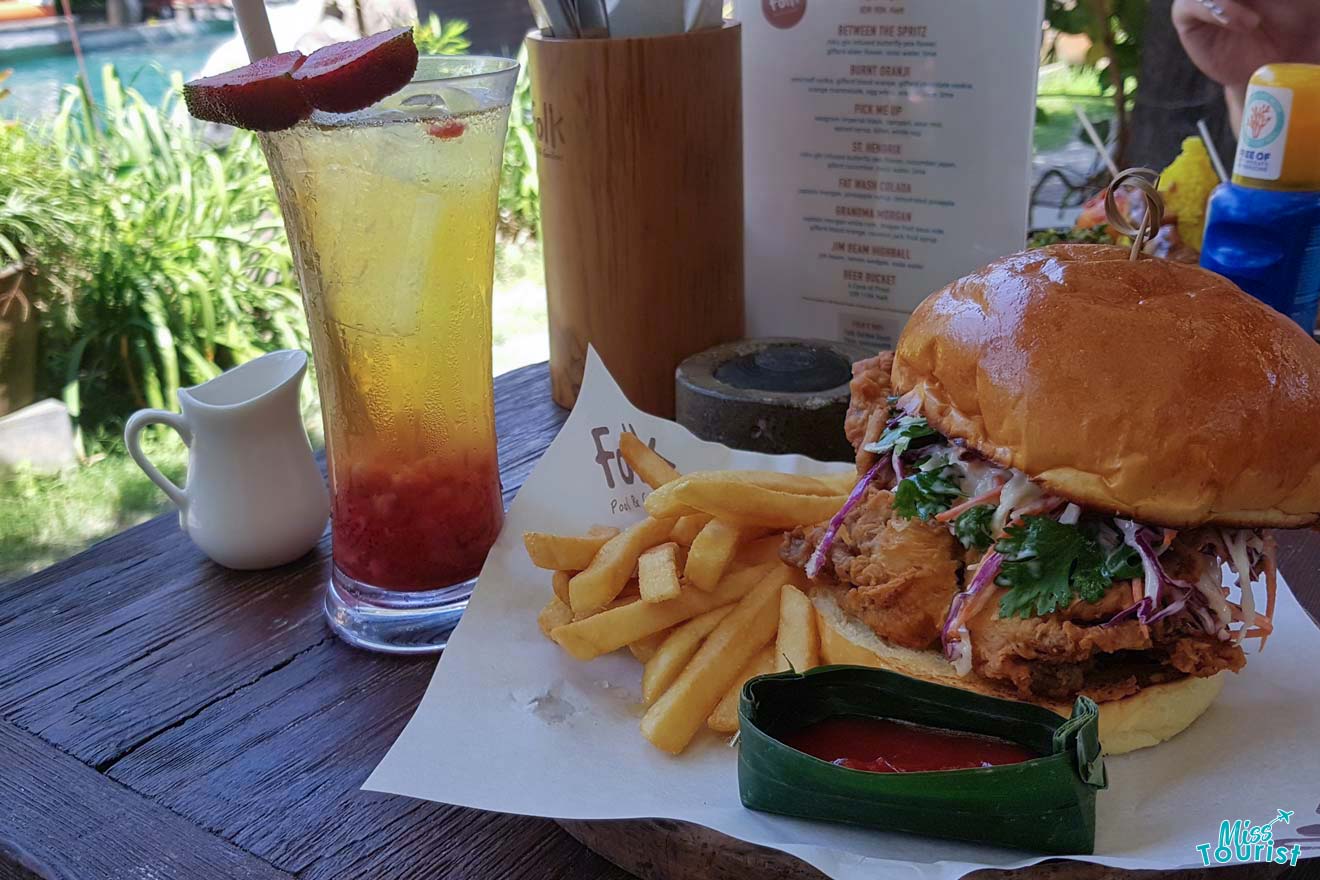 🍝 Which are the best Italian restaurants in Canggu?
Baracca, Cibo and Fabbrica are some of the best Italian Canggu restaurants. All places have great reviews and offer a wide range of delicious dishes.
🍣 Which are the best Japanese restaurants in Canggu?
Yuki, Uni Restaurant and TYGR Sushi are some of the best restaurants where you can eat Japanese food in Canggu. 
🍴 Where can I enjoy a fine dining experience in Canggu?
Luma and Santanera are 2 amazing Canggu restaurants where you can enjoy a fine dining experience and eat unique and delicious dishes. 
🌟 What is the best beach restaurant in Canggu?
Como Beach Club is one of the best beach restaurants in Canggu. It offers some yummy dishes and a fabulous ocean view! 
Conclusion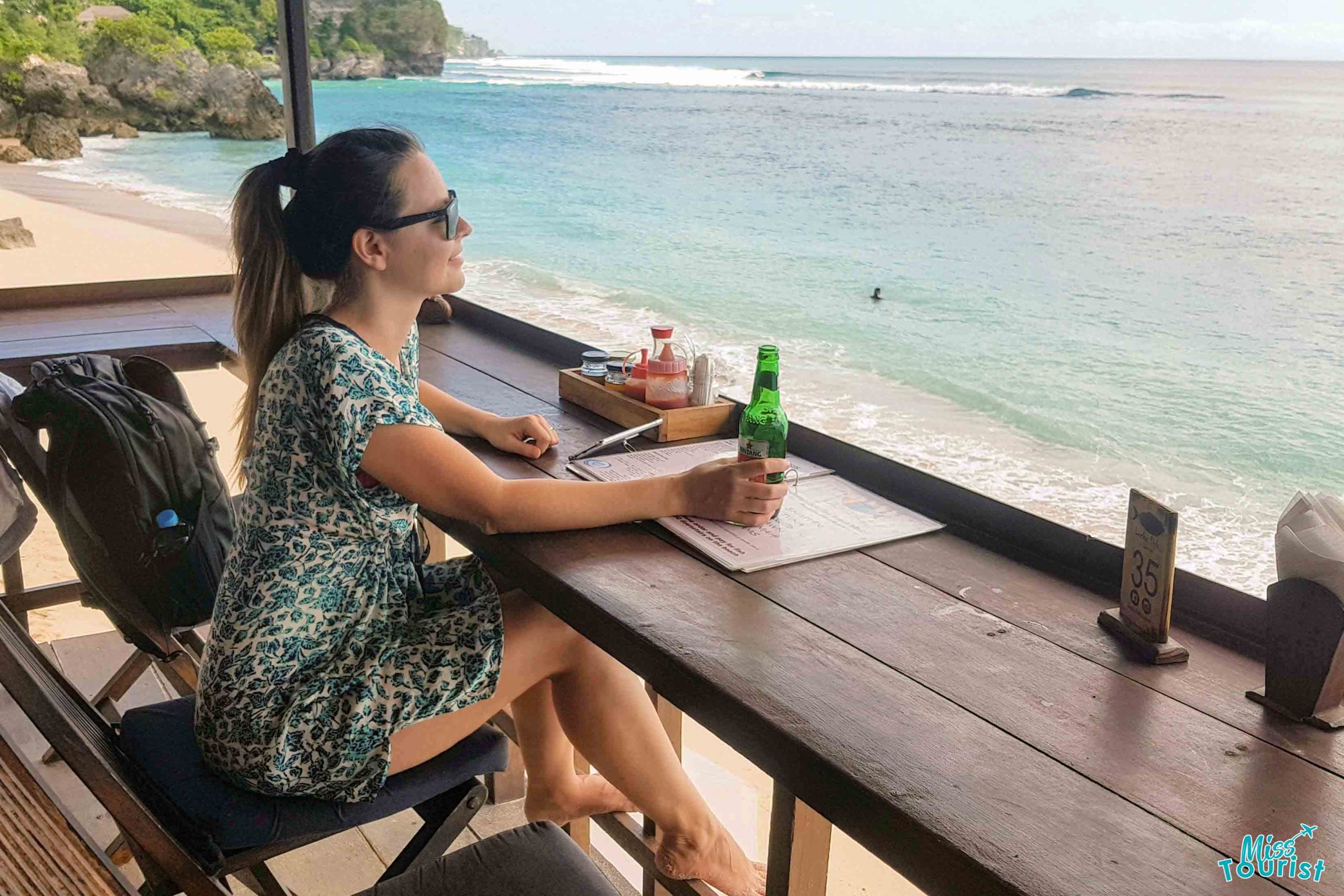 What did I tell you? The Canggu restaurant scene is like no other one in Bali! And now that we've done all the homework, you're ready to hit the best restaurants there!
It was a long one, but today we went through a long list of the top Canggu restaurants!
You're more than prepared to go there and amaze everyone with your skills of finding the most amazing places to eat and hang out!
I always enjoy leaving my 2 favorite options, especially for anyone who needs a bit of inspo, so have a look below:
Alright everyone! I hope I didn't make you too hungry, but hey don't forget you'll soon get to eat in these popular restaurants!
Enjoy your holiday in Bali, I'm sure it'll be an adventurous one! And by the way, I'm always around if you've got any questions! So just leave me a comment below and I'll make sure to answer as soon as I can. 
Safe travels,
Yulia
---
Pin it for later!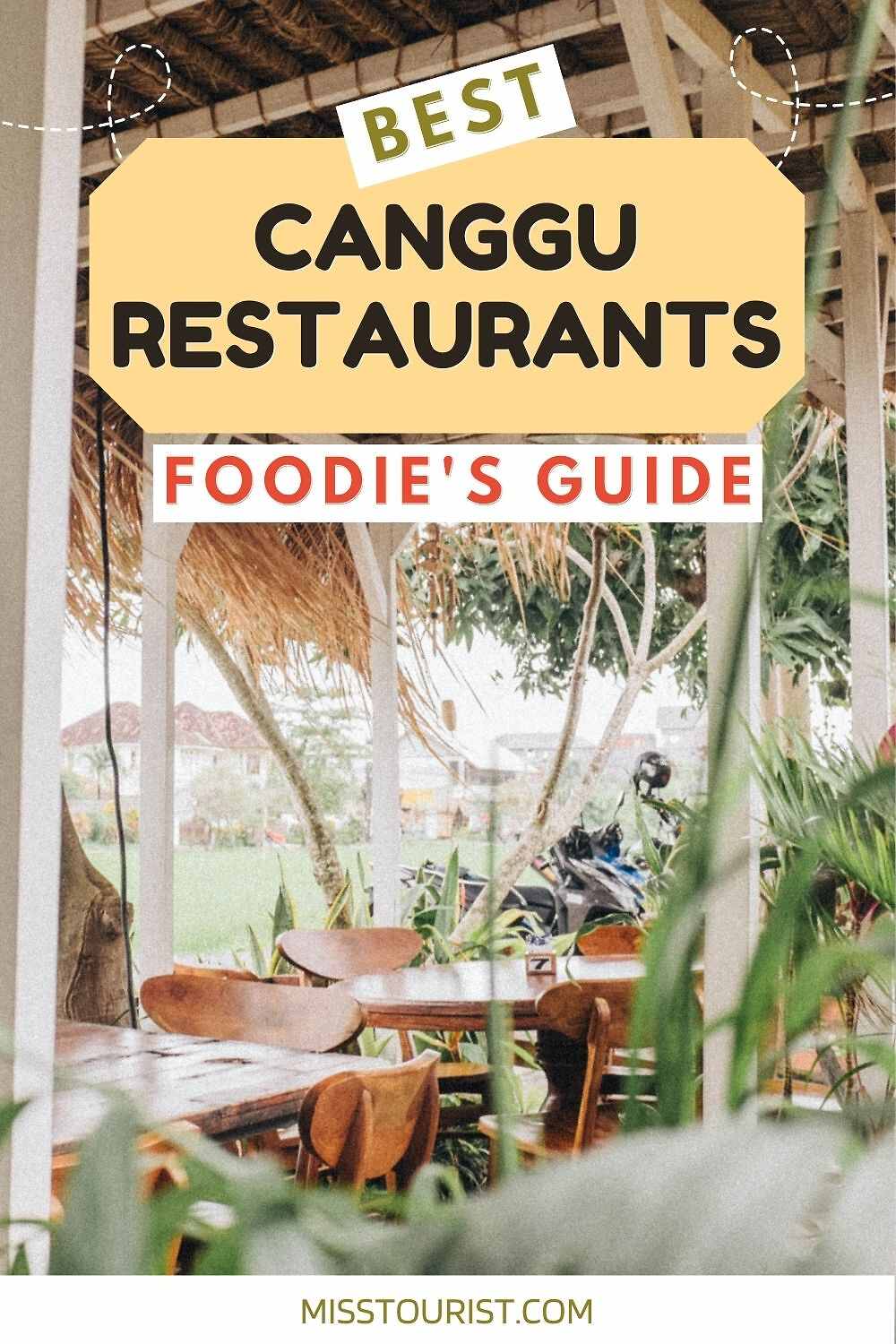 Pin it for later!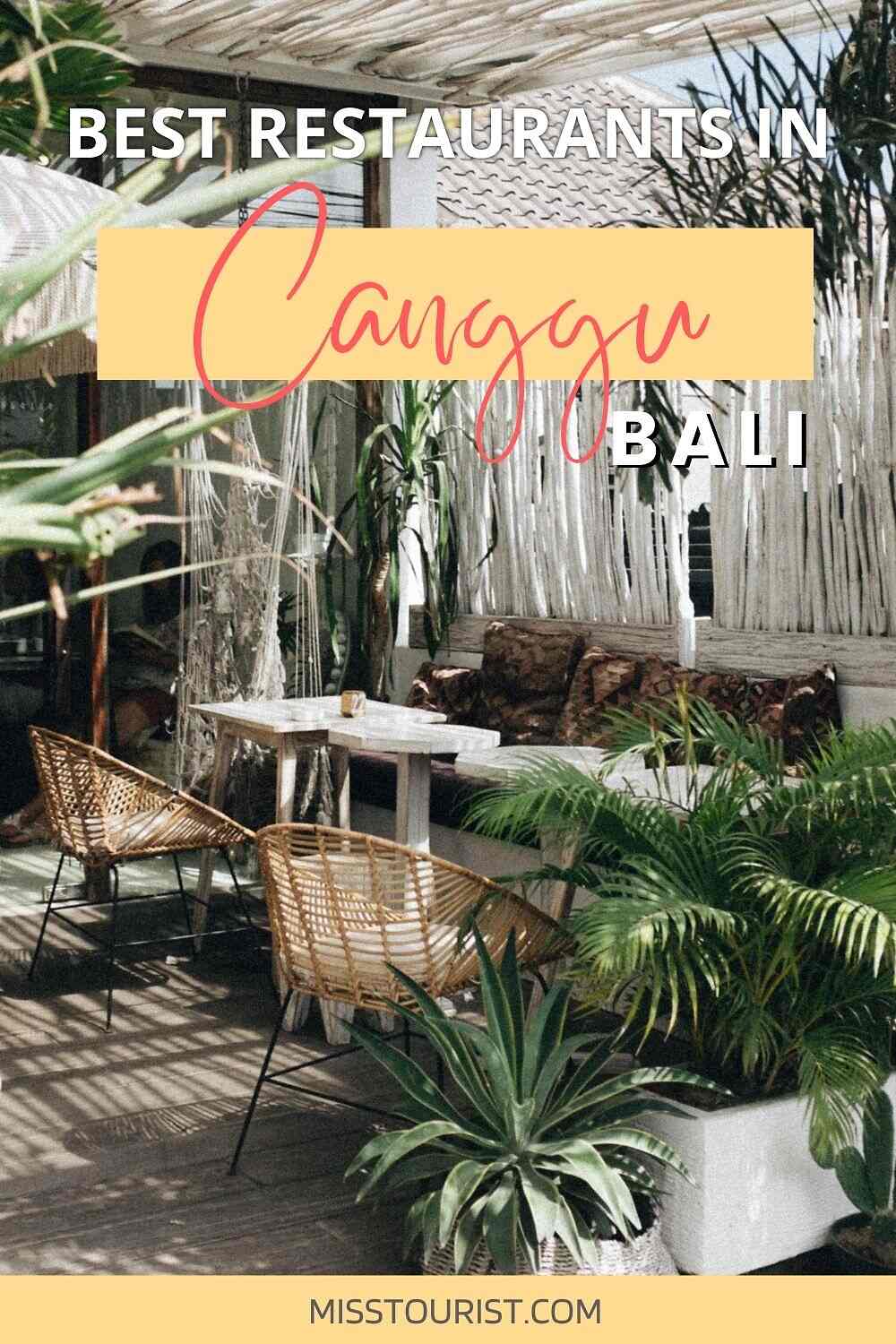 Products You May Like