Don't Miss the 16 Top Overwater Bungalows in the Maldives
Get ready to enter a whole other dimension! Oh yes, the turquoise lagoons and underwater world with unique coral reefs in the Maldives will turn your world upside down, but in the most amazing way!
If you've arrived here then you're trying to find the perfect Maldives overwater bungalow for you! And you've clicked on the right page, as in this post you'll find a long list with the best resorts. Plus 2 bonus sections with great all-inclusive resorts and some other overwater bungalows in the Maldives perfect for couples.
A short warning: there's a lot of content, but trust me, when planning this trip you'll want to have all the options you can get!
Don't forget that the Maldives islands are some of the most famous ones in the world. Which means that all the best overwater bungalows will sell out super fast! So book yours super fast as you'll also need some time to plan this trip properly!
I think we're ready to jump straight on!
If you are in a hurry
If you're just here to see which are the main best overwater bungalows in the Maldives, then check out the list below:
1. The St. Regis Maldives Vommuli – private island resort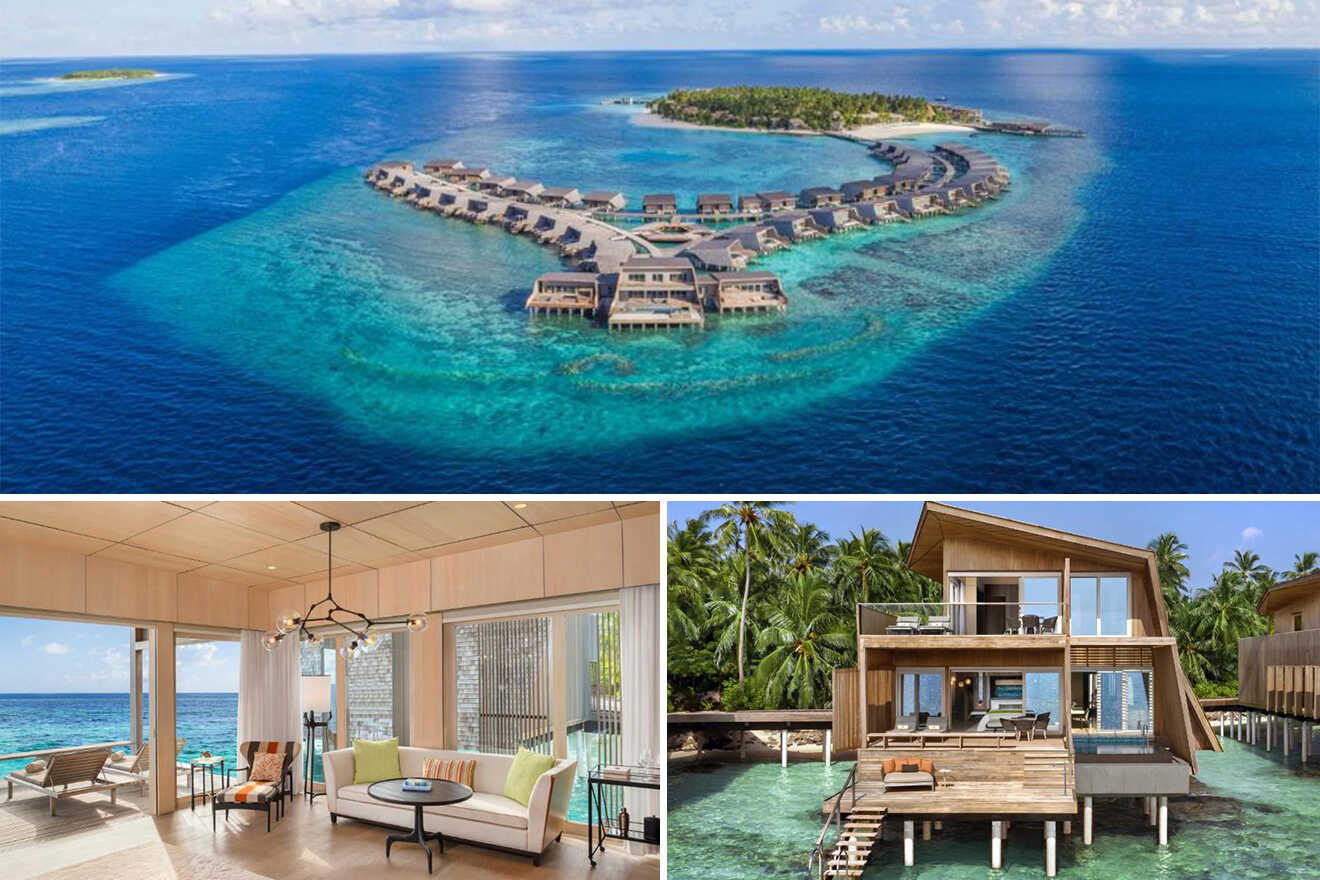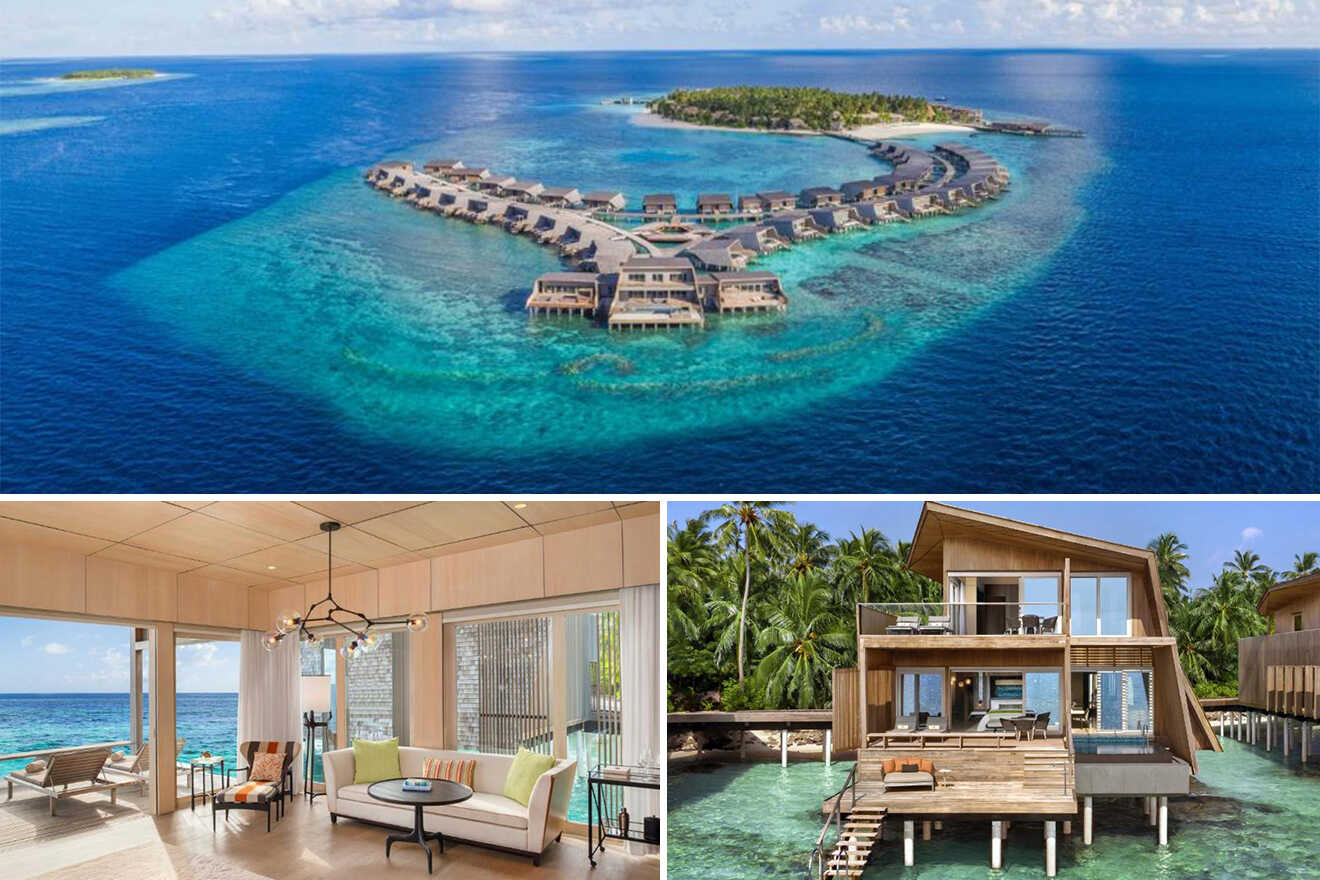 Ever got that feeling that the world is your oyster? That you can just flow with the rhythms of the universe? Well, once you arrive in the dream-like Maldives islands I'm pretty sure you may experience that feeling!
Set on a private island between lush tropicals and surrounded by a sparkling turquoise lagoon, this resort offers the world-famous overwater bungalows that everyone dreams of! These island villas come with private pools, a private terrace, and some incredible views!
Once you escape the mirage and you're ready to leave your overwater villa you'll probably be famished! Well there are 6 dining options on-site that offer international cuisine and other choices as well. And you'll also find many spa facilities and lots of water sports!
2. Waldorf Astoria – scenic resort with private pools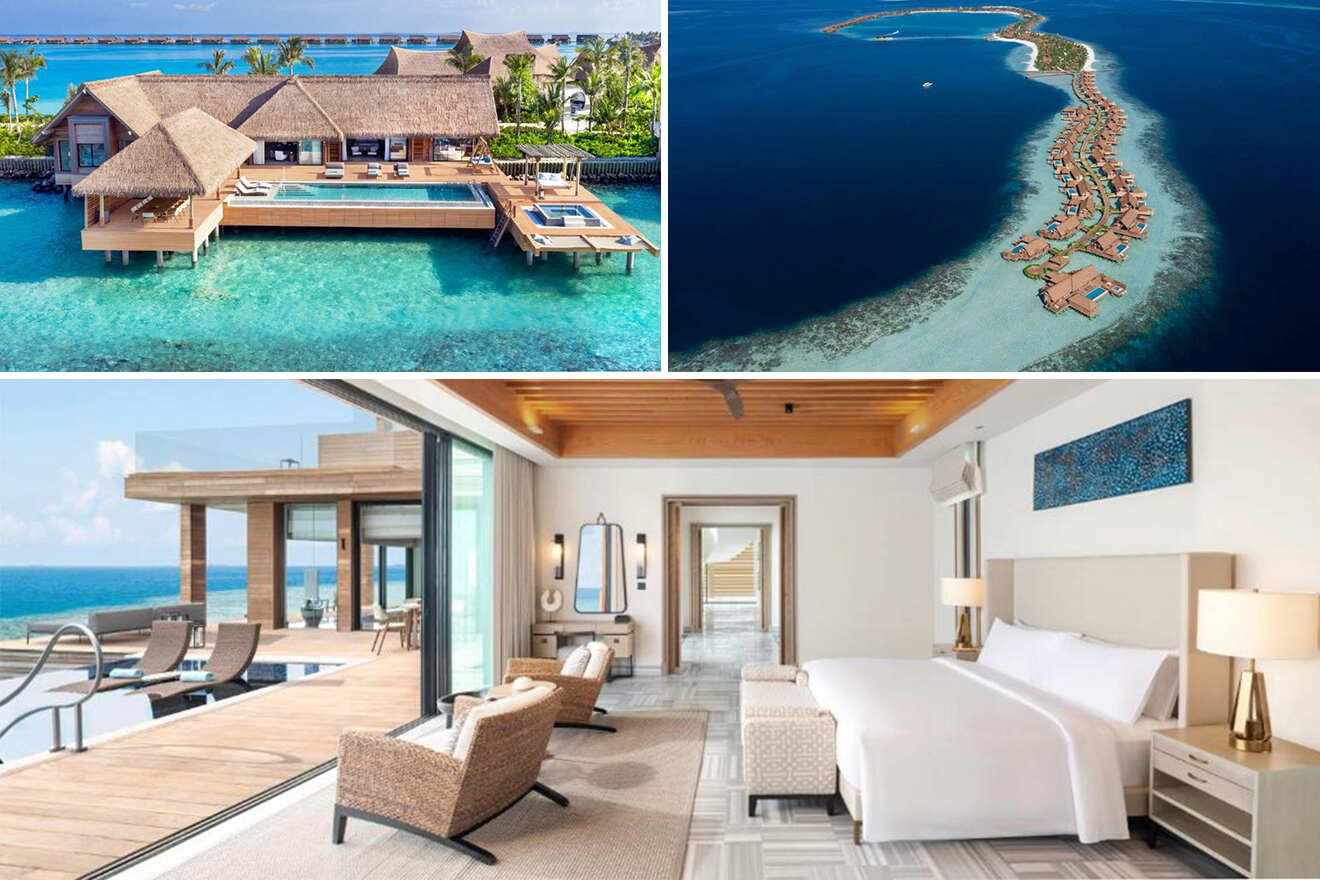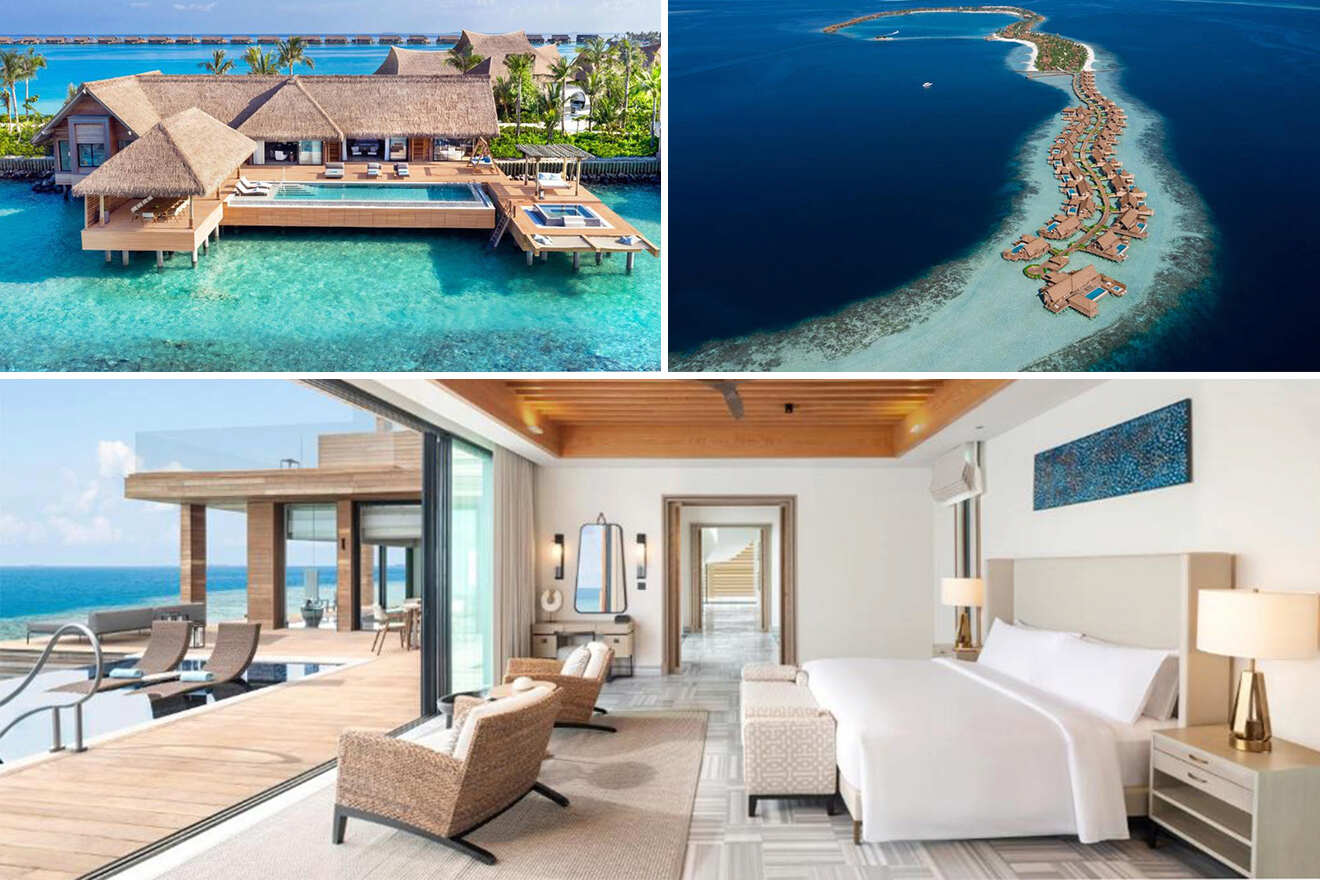 Are you ready to enter a world like no other where you get to wake up every morning with a view of a crystal clear lagoon in a fabulous overwater villa? I'm sure you are!
Each overwater villa at this resort offers an ample space that's beautifully decorated and has a contemporary style. It also comes with a dressing room, a private infinity pool, an outdoor shower, and a deep soak oval tub!
Oh yes you'll never want to leave your overwater bungalow, but I think you'll be persuaded to check the rest of the resort as well! You'll be pleasantly surprised by 11 restaurants (including a signature tree top restaurant), a spa center set across 10 villas, tennis courts, and naturally lots of water sports!
3. Joali – stylish resort with an infinity pool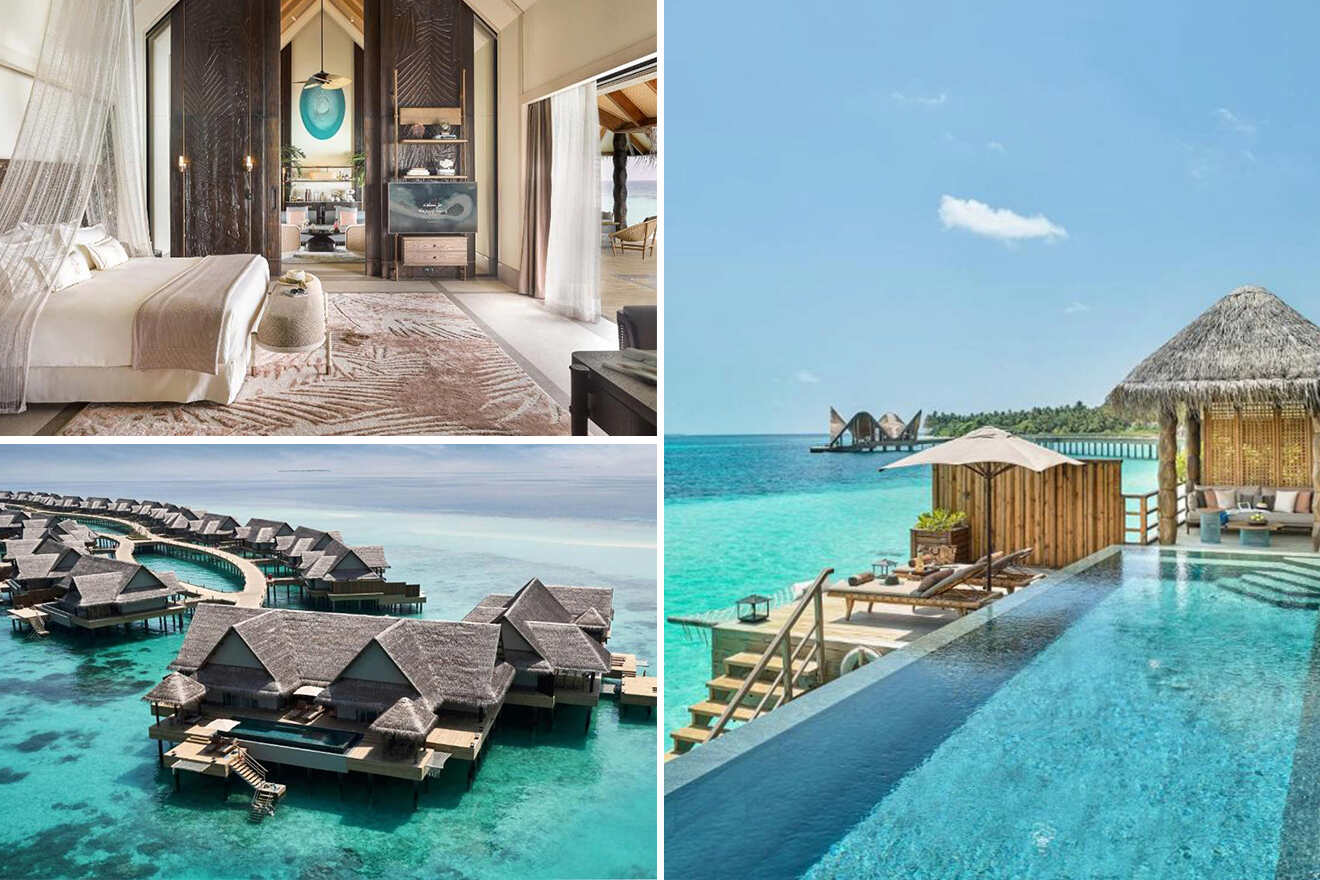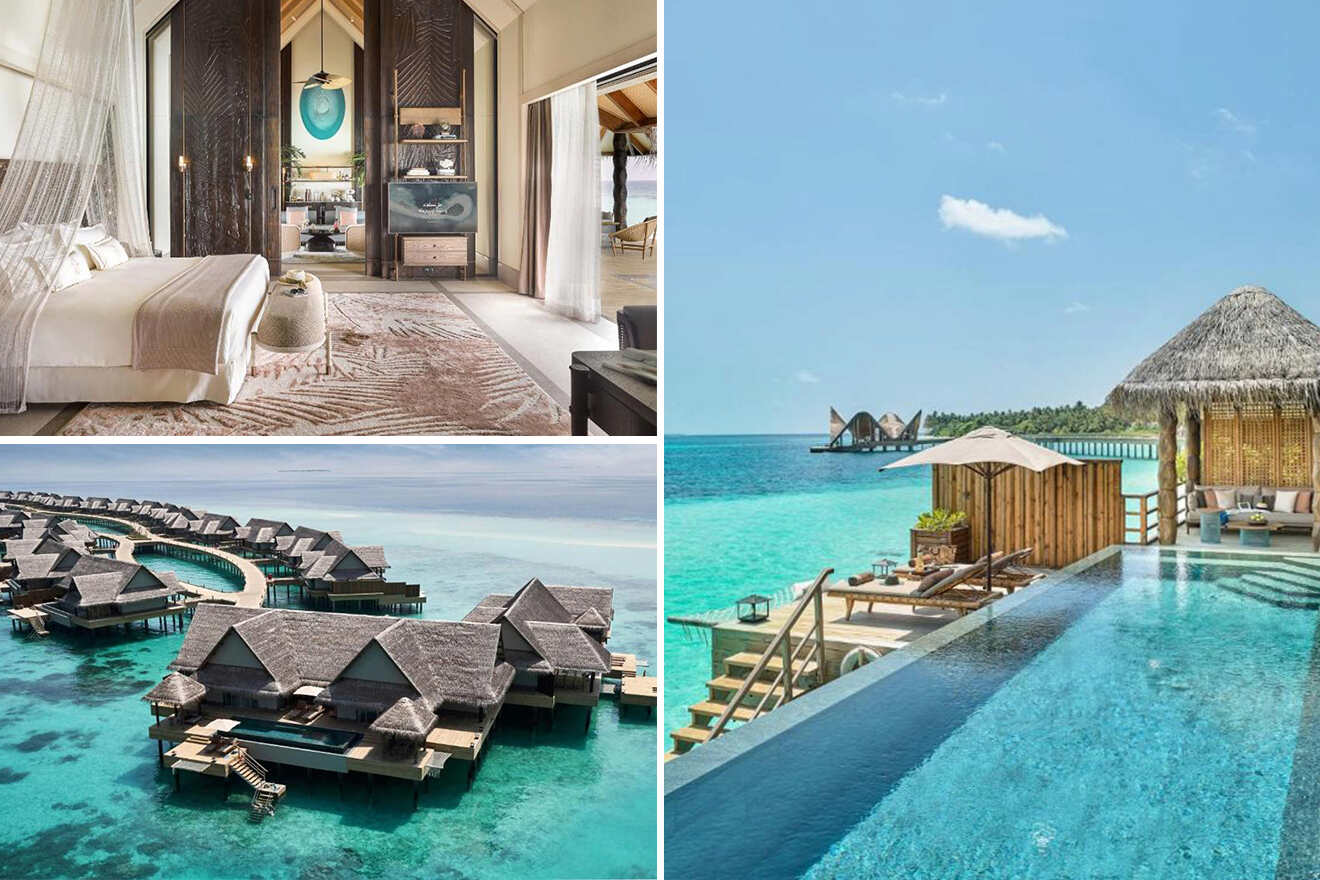 The Maldives islands are indeed some of the most spectacular places on planet earth! And luckily, all the resorts built here managed to keep that magic alive and built these iconic overwater bungalows just like the ones at this resort!
Start your morning with a dip in your own private pool, and engage in a serious sesh of sunbathing on your outdoor deck while sipping your coffee! All the overwater villas are super stylish and come with outdoor showers and a spacious bedroom.
As all the best resorts in the Maldives, Joali offers lots of activities for their guests from various water sports, live performances, cooking classes, and many others.
4. Anantara Kihavah – modern resort with an infinity pool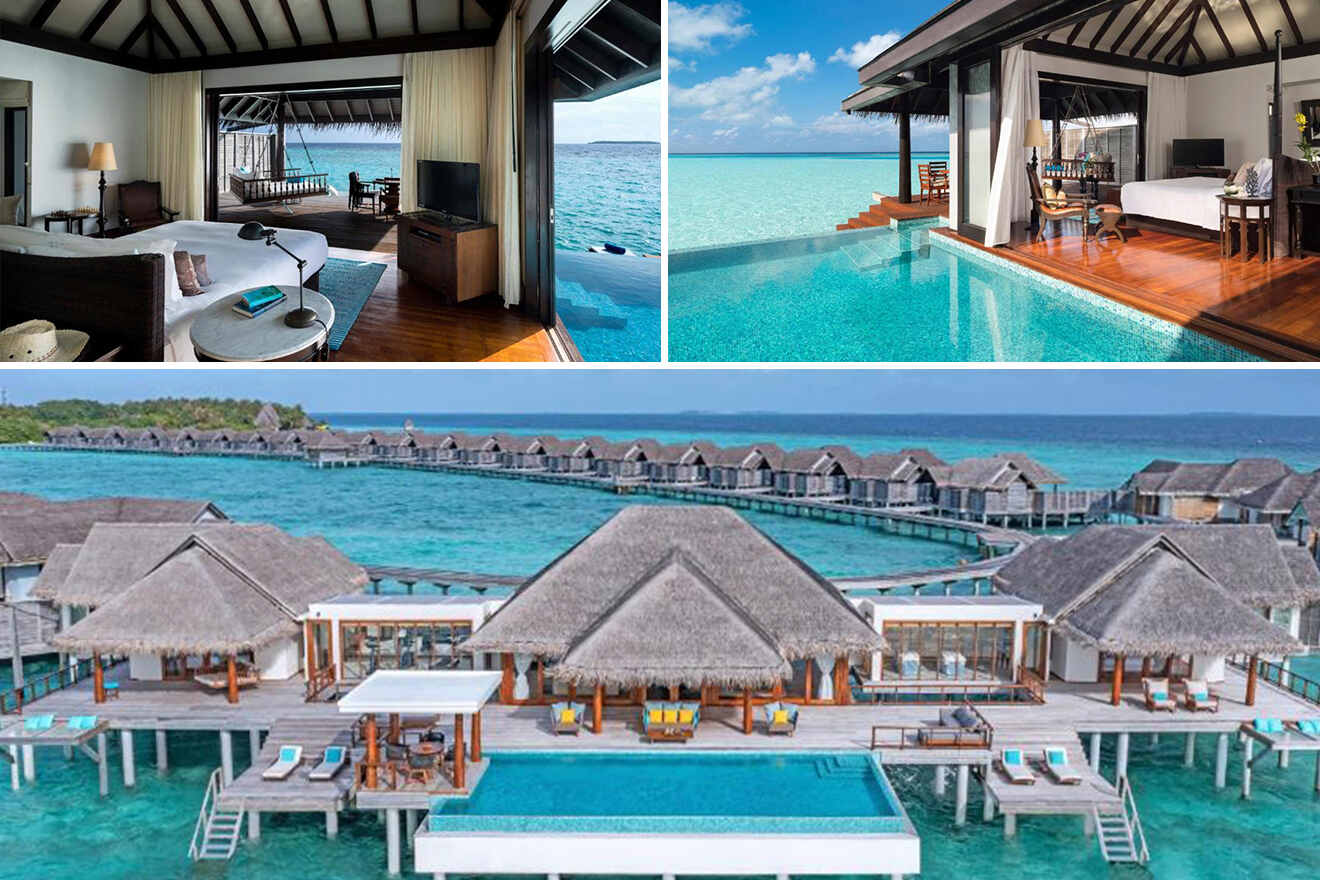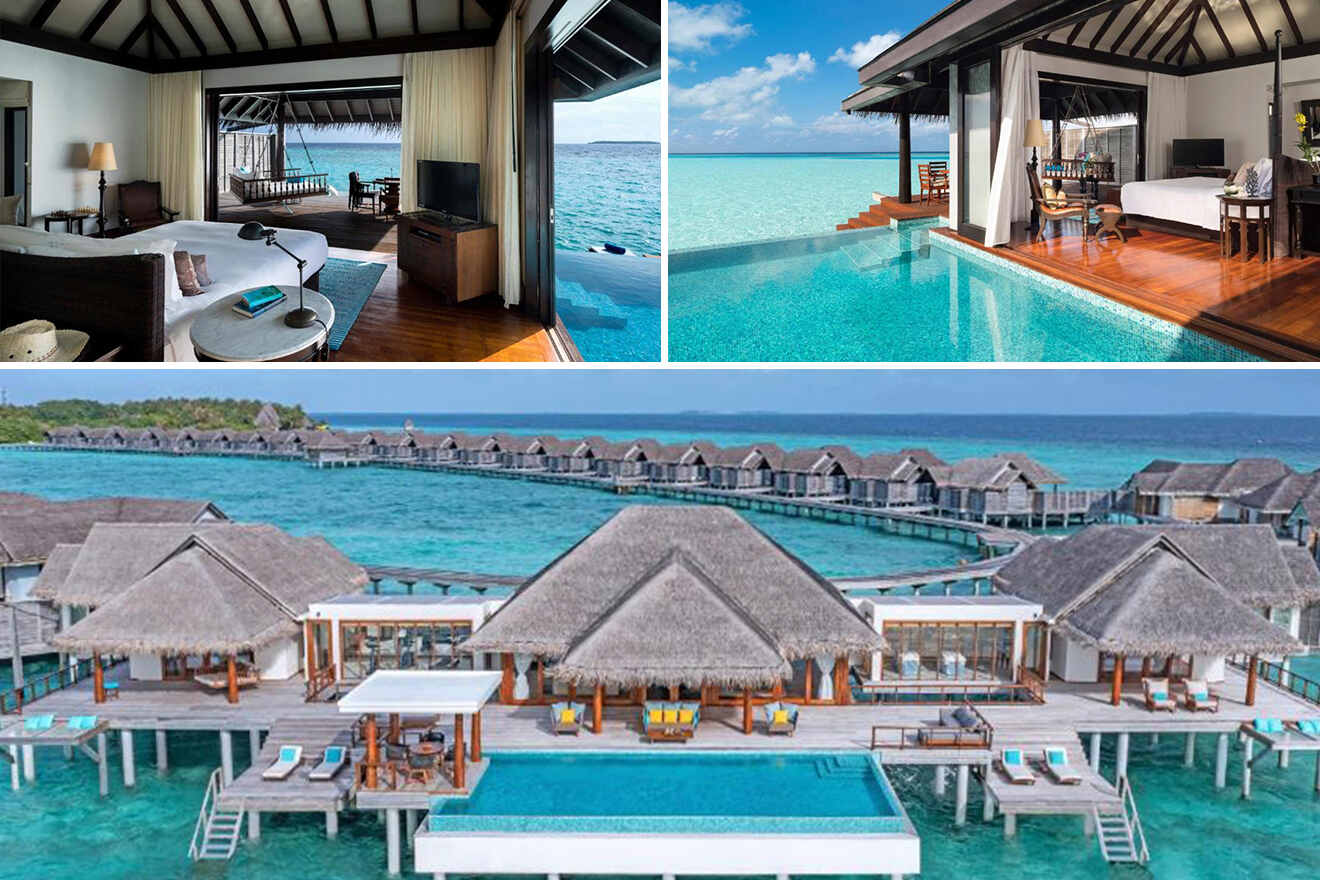 Be one of the lucky individuals who'll get to stay in an overwater bungalow that comes with a private infinity pool, an overwater hammock (which is just perfect for a quick afternoon nap), and all the amenities that you'll need for your stay!
In the morning you can jump from the bed straight into the sea as the overwater bungalows offer ocean access! They also have a beautiful design completed with wooden furnishings, premium cotton bedding, and an entertainment area too.
Whether you want to go ahead and enjoy all the action on-site from snorkeling, scuba diving, or hitting the fitness center, everything will be at your disposal! And there are also many child-friendly amenities on-site from a kids club and even an over-water spa (if you want to start them young on how to relax!)
5. W Maldives – cool resort with private infinity pools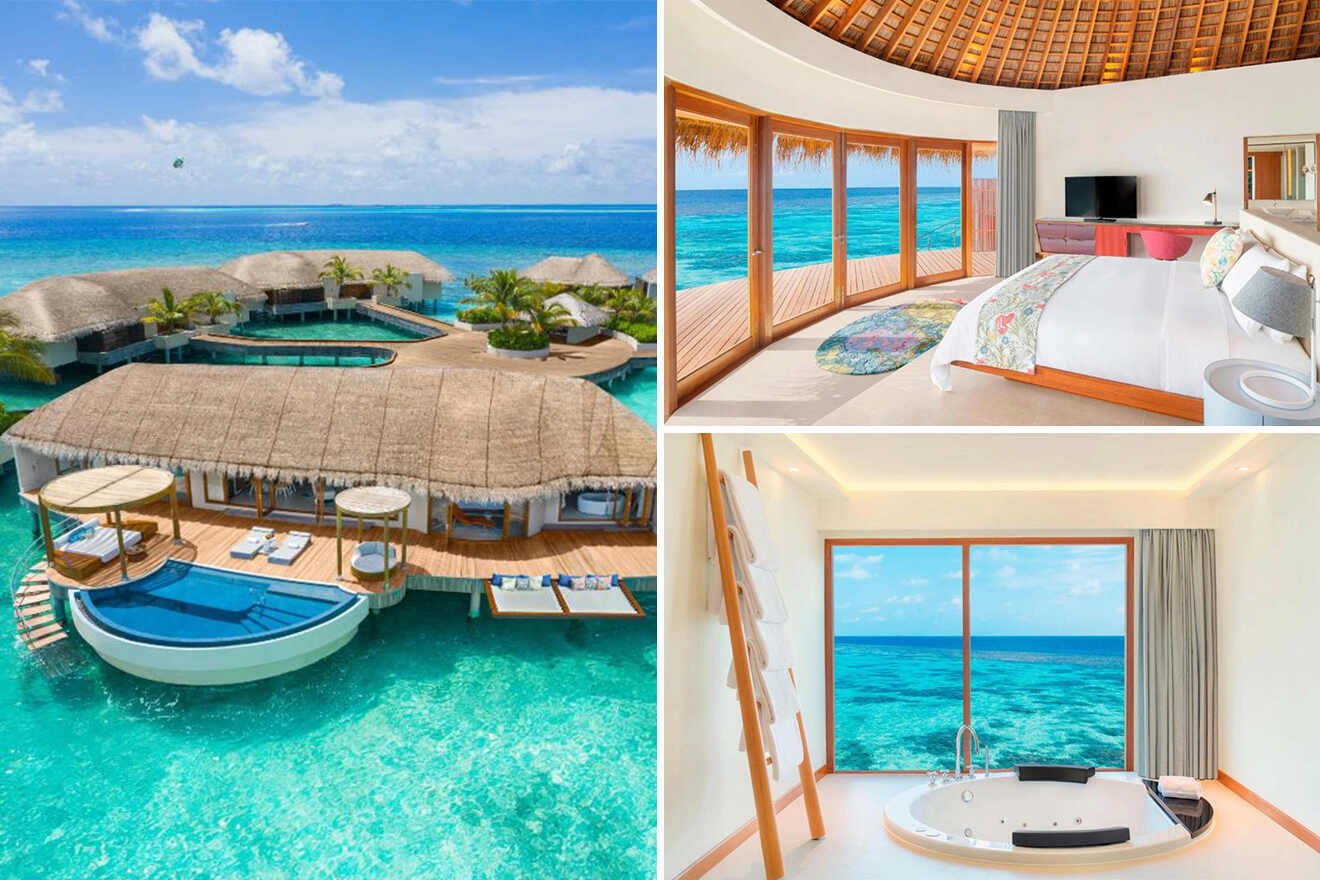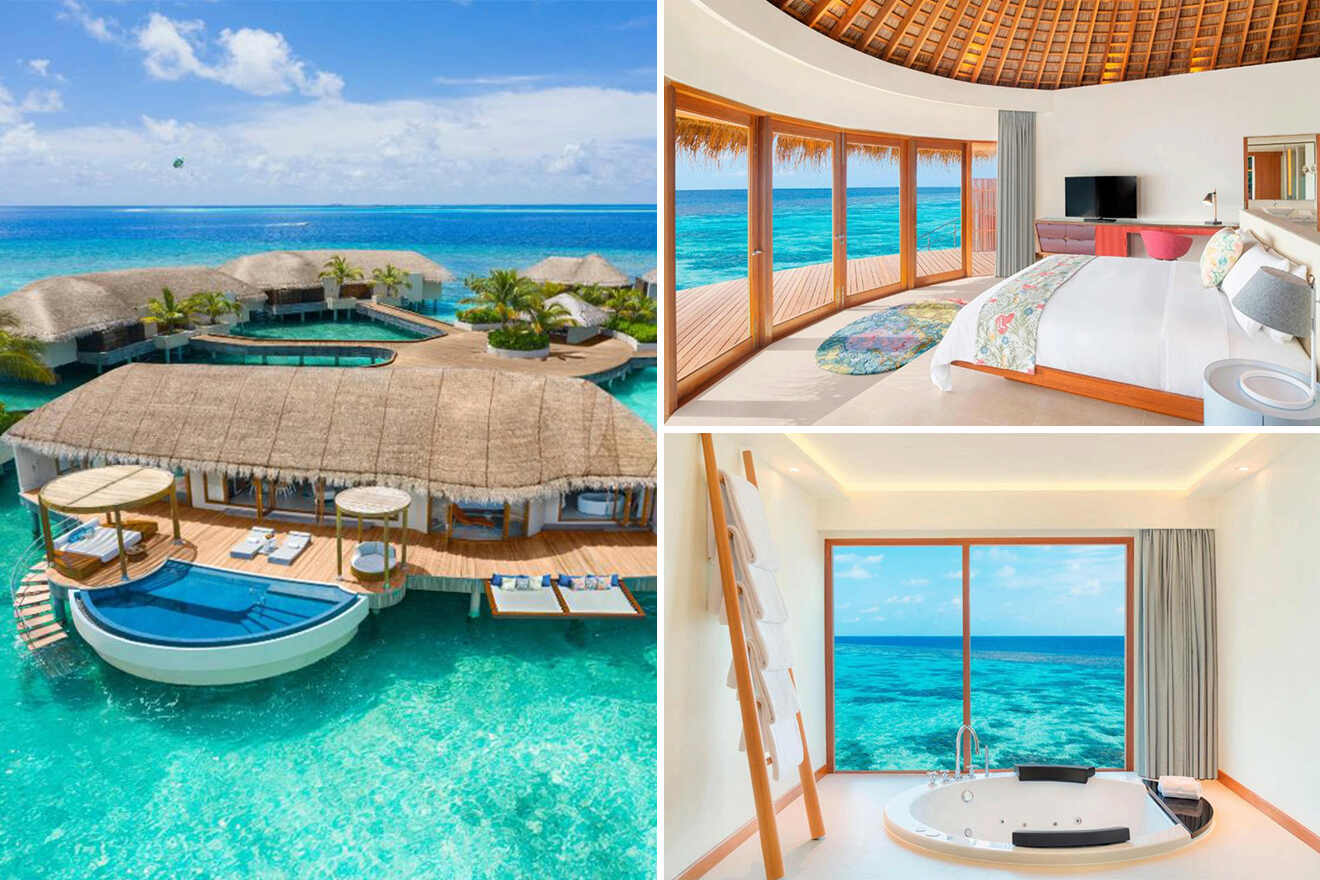 Finally booked that holiday in one of the most famous destinations in the world? Yay! Now it's the time to pick a fabulous resort that has overwater bungalows! And I think you'll really like the vibe of this one!
Featuring a dive center, a spa center with a long menu of amazing Ayurvedic treatments, a library, and many other cool amenities, this resort will become your favorite spot! And you haven't even seen your overwater bungalow!
The water villas offer direct access to the Indian Ocean, a private plunge pool, outdoor beds where you can relax all day long, and an indoor rain shower.
6. The Nautilus Maldives – perfect for nature lovers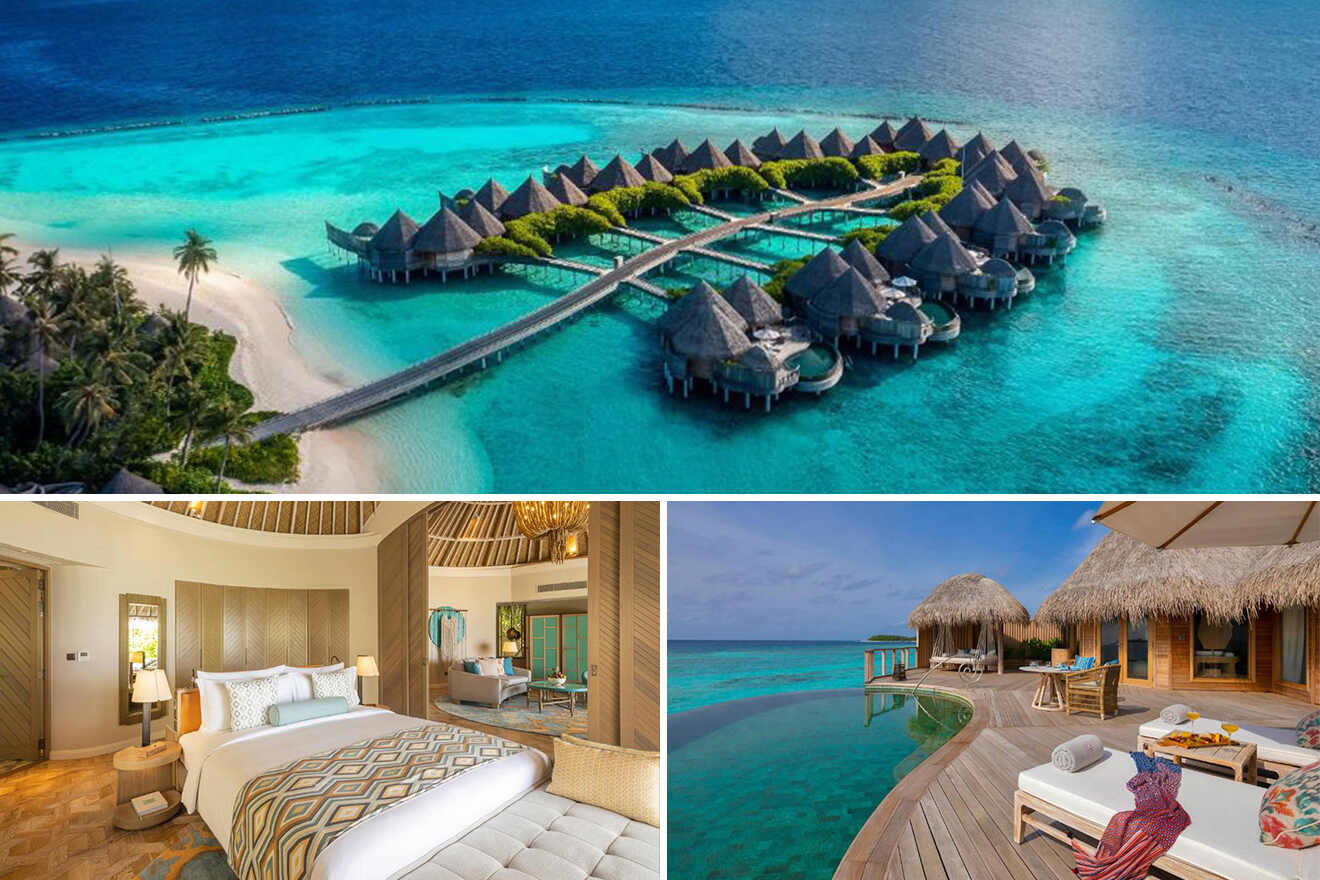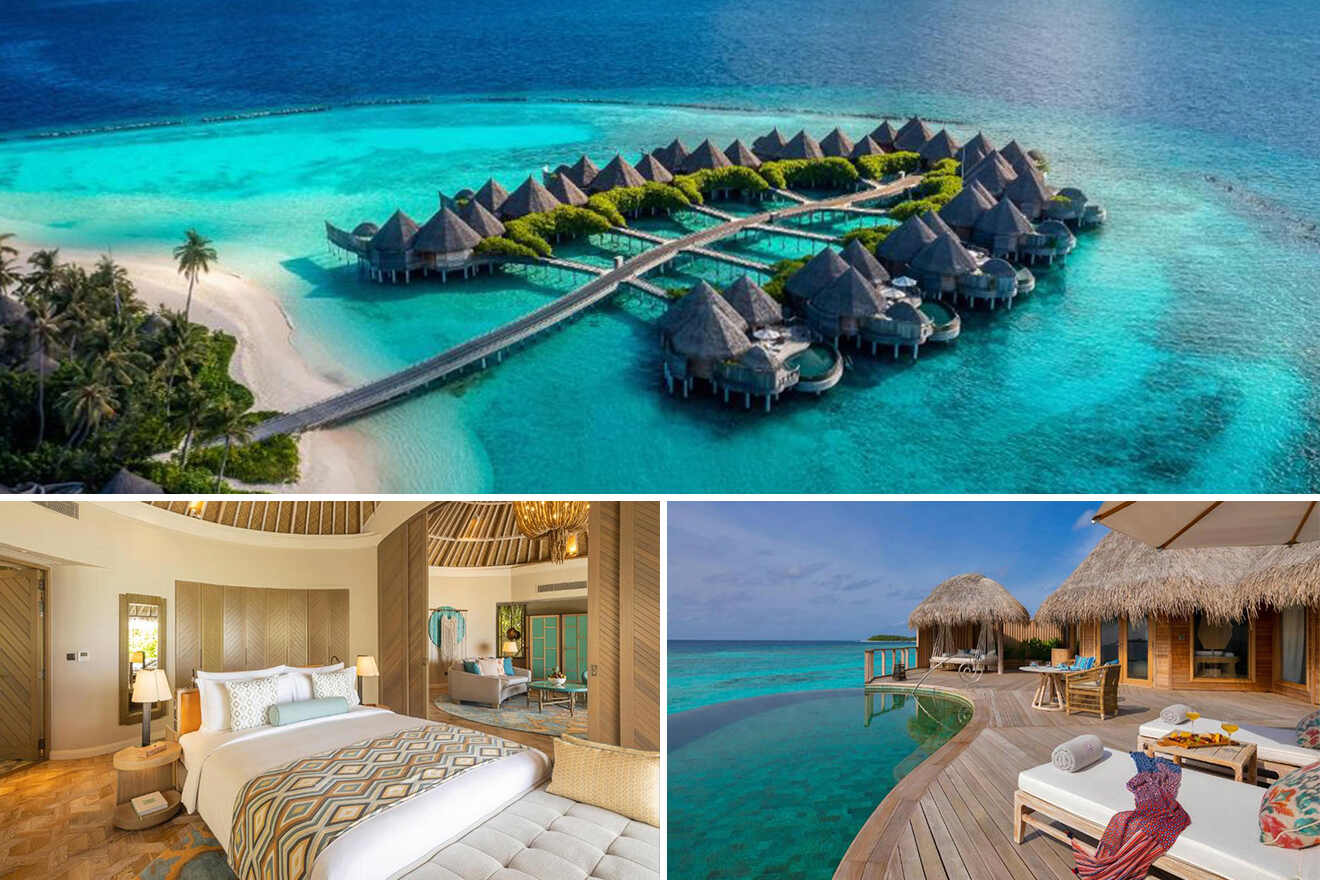 Set in the Baa Atoll UNESCO biosphere reserve near Hanifaru Bay (where by the way you can swim with manta rays), this incredible resort has 26 overwater bungalows that come with lots of facilities!
These include a personal butler, a walk-in shower, a private pool, and some even come with glass floors in the living room! I'd definitely go for that one!
The Maldives are like a paradise for nature lovers, and here you'll be surrounded by the stunning sights of the Indian Ocean, white-sand beaches, and lush vegetation! And the island even has its own coral reef not too far from the beaches!
7. Soneva Jani – trendy resort with a dive center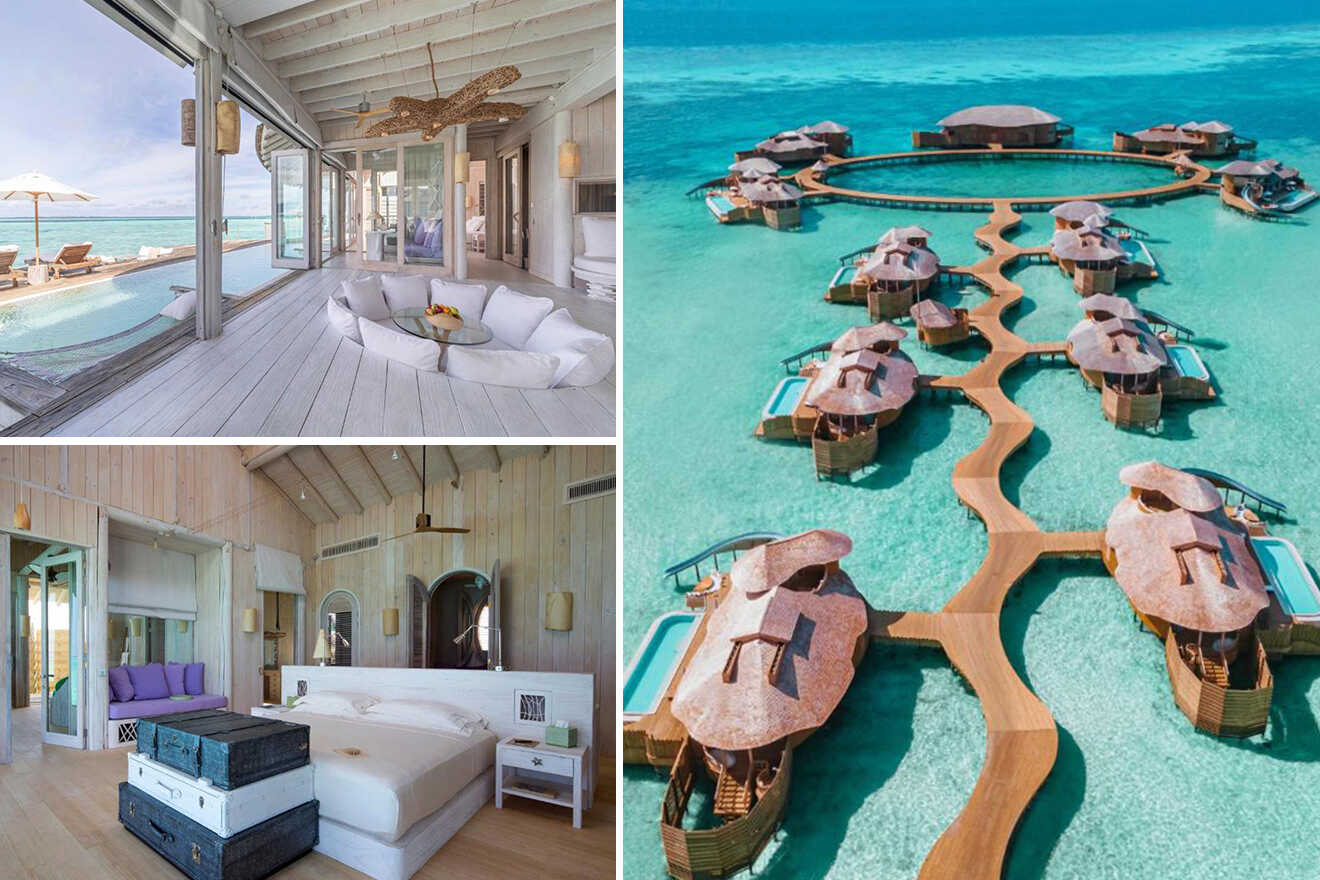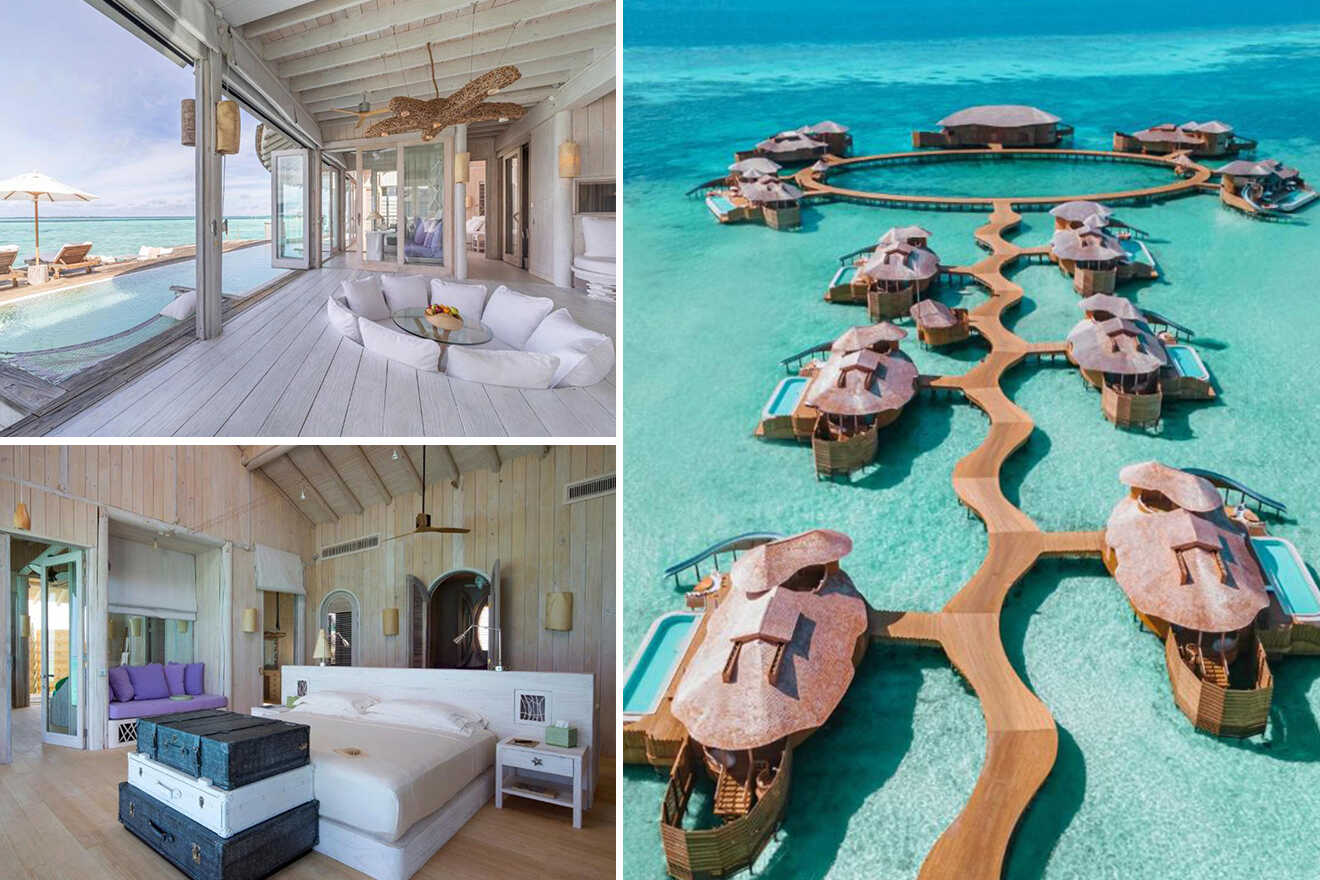 How would you like to spend your nights stargazing from the master bedroom of your water villa? Very much, right? This resort offers overwater bungalows that have retractable roofs, which means you'll get to do that whenever you like!
Each overwater bungalow is decorated with sustainable materials and have an outdoor bathroom with direct access to the lagoon!
You'll find there are many things at the resort that will keep you as busy as a bee. I know some of you will want to be as productive as possible! There are tennis courts and a dive center, but the coolest thing has to be the overwater silent cinema!
8. Four Seasons Resort – for a private retreat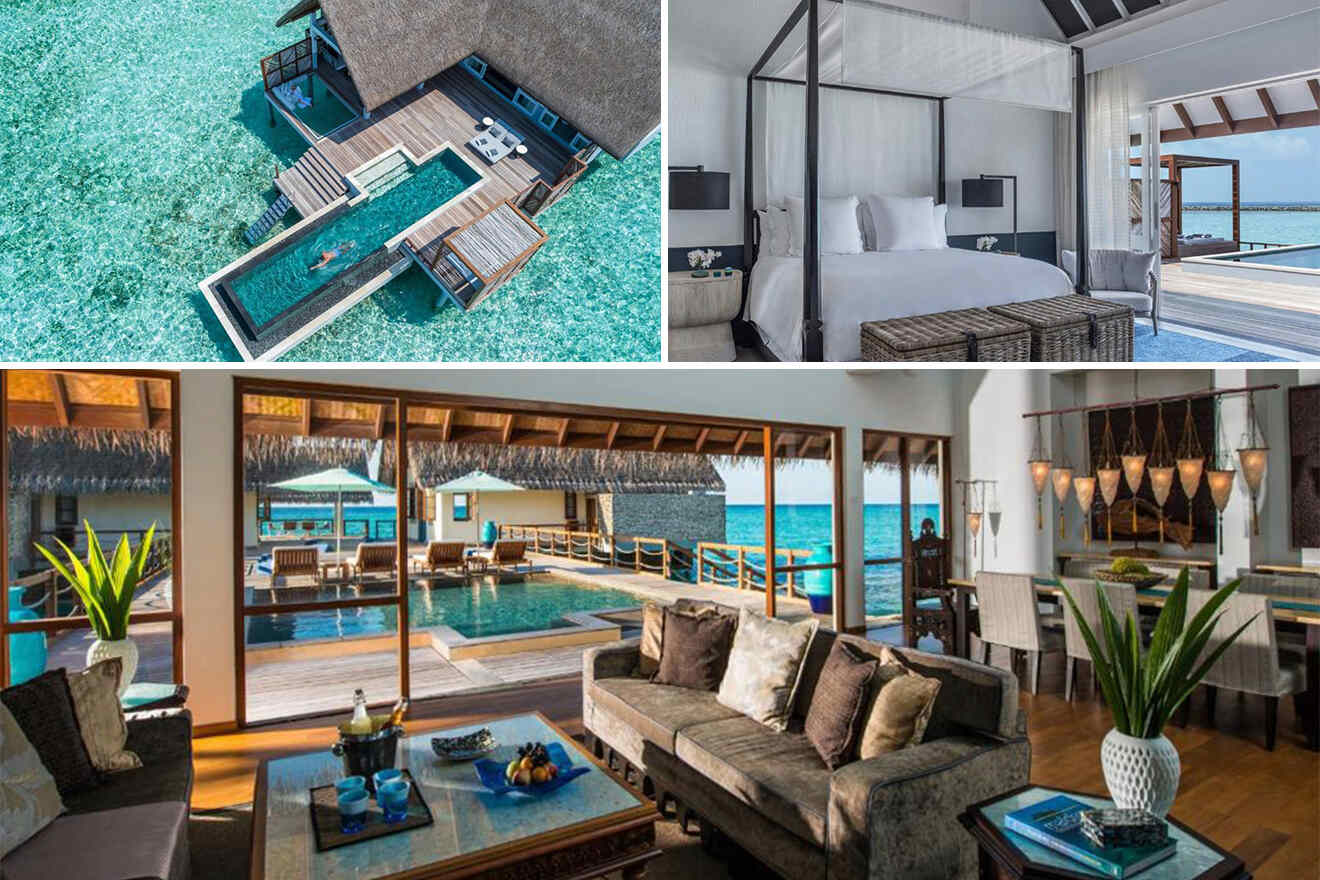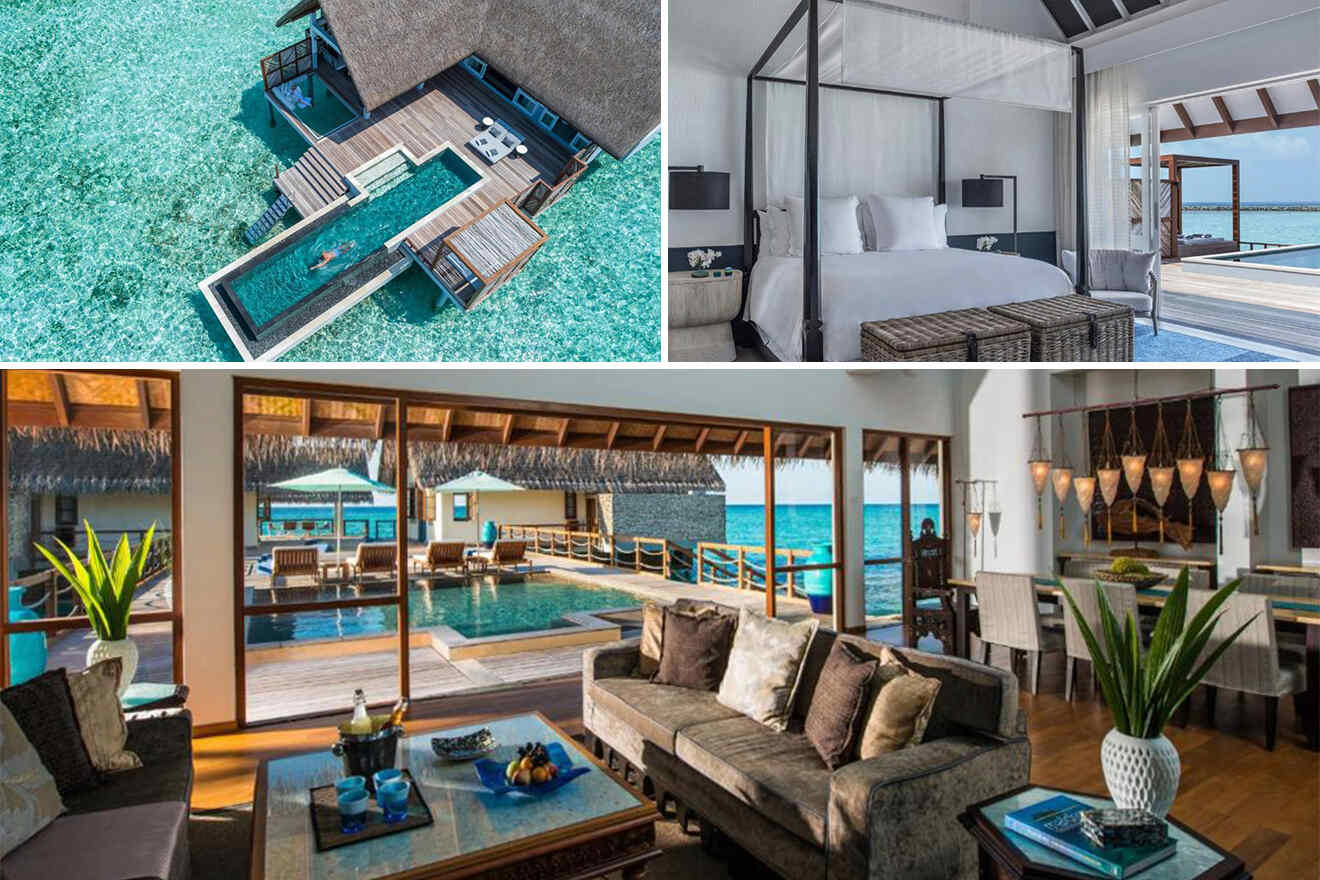 Located just a 30-minute seaplane flight from Male International Airport, this resort with overwater bungalows in the Maldives is all about offering you an unforgettable experience that you'll cherish forever!
You'll get to stay in your own little cocoon where no one can disturb you! Yep, every overwater bungalow offers all the privacy you need, plus some cool facilities like private pools, an outdoor deck, private gardens, and mesmerizing views of the Indian Ocean.
While you're here you can immerse in a journey of healing your body and mind with lots of practices and treatments, like yoga, a night spa, and other Ayurvedic delights.
9. Como Maalifushi – for a relaxing getaway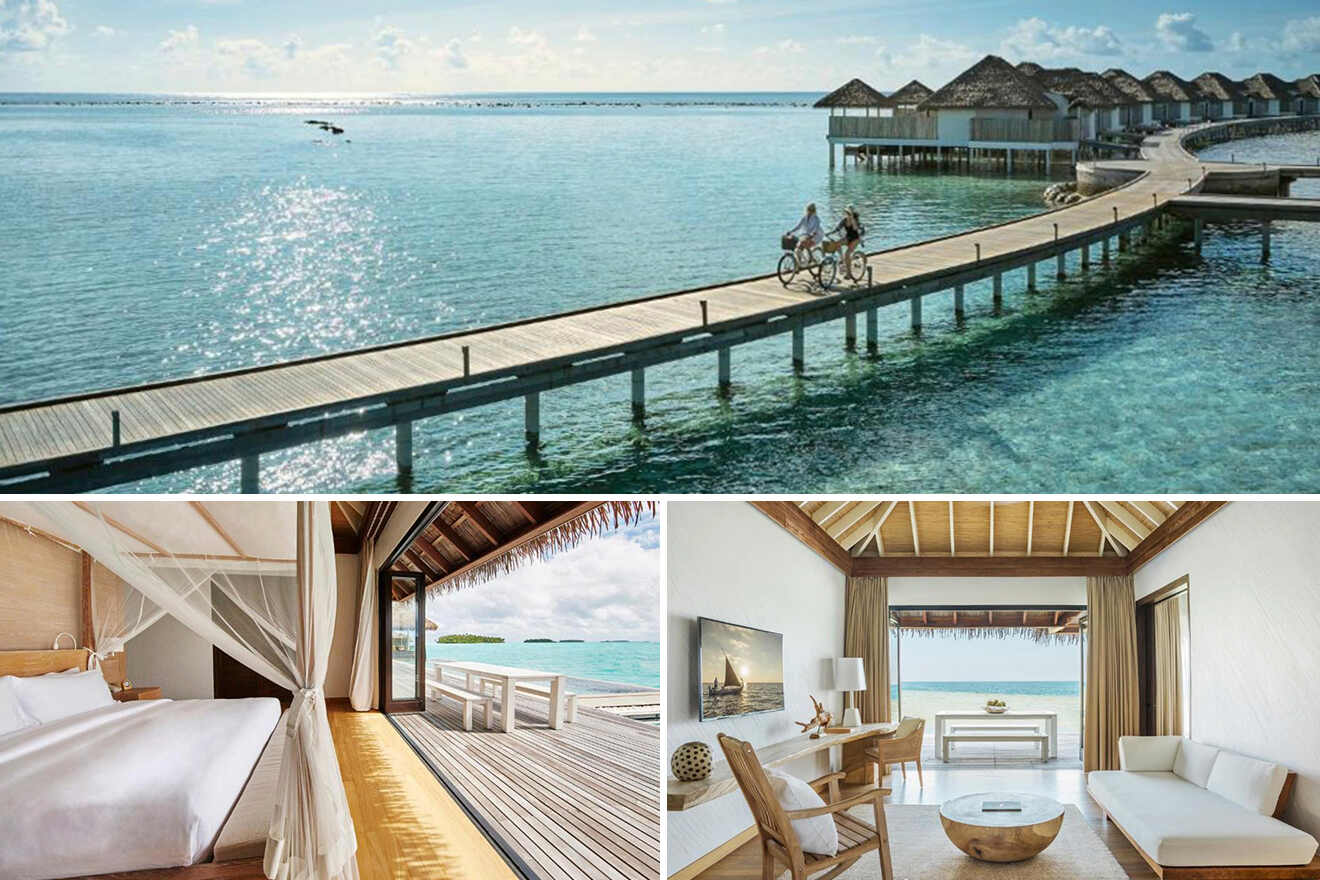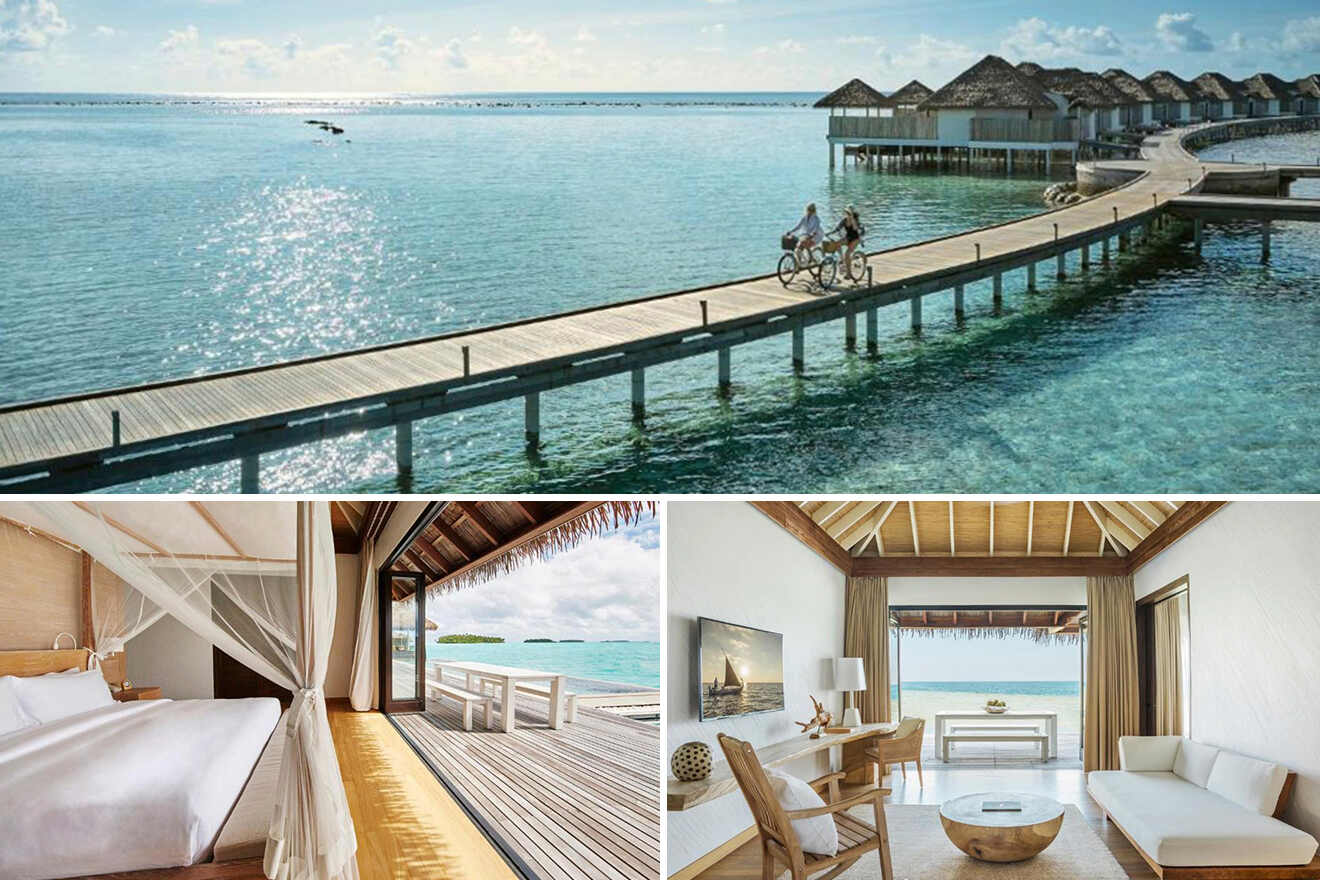 Pack your bags and bring lots of swimsuits because you'll want to swim in these turquoise waters from morning until dawn! Welcome yet another incredible resort that offers overwater bungalows in the Maldives!
Equipped with the usual Maldives packages like a private plunge pool, an outdoor deck, and beautiful designs, these overwater bungalows are all so comfortable and offer you all the amenities you'll need!
When you're not out going on whale shark excursions, you can chill on the private beach area, move your body in the fitness center, or head to the spa where you can dive into some amazing Asian-based therapies, yoga, and many other things!
10. Jumeirah Maldives – unique resort with glass floors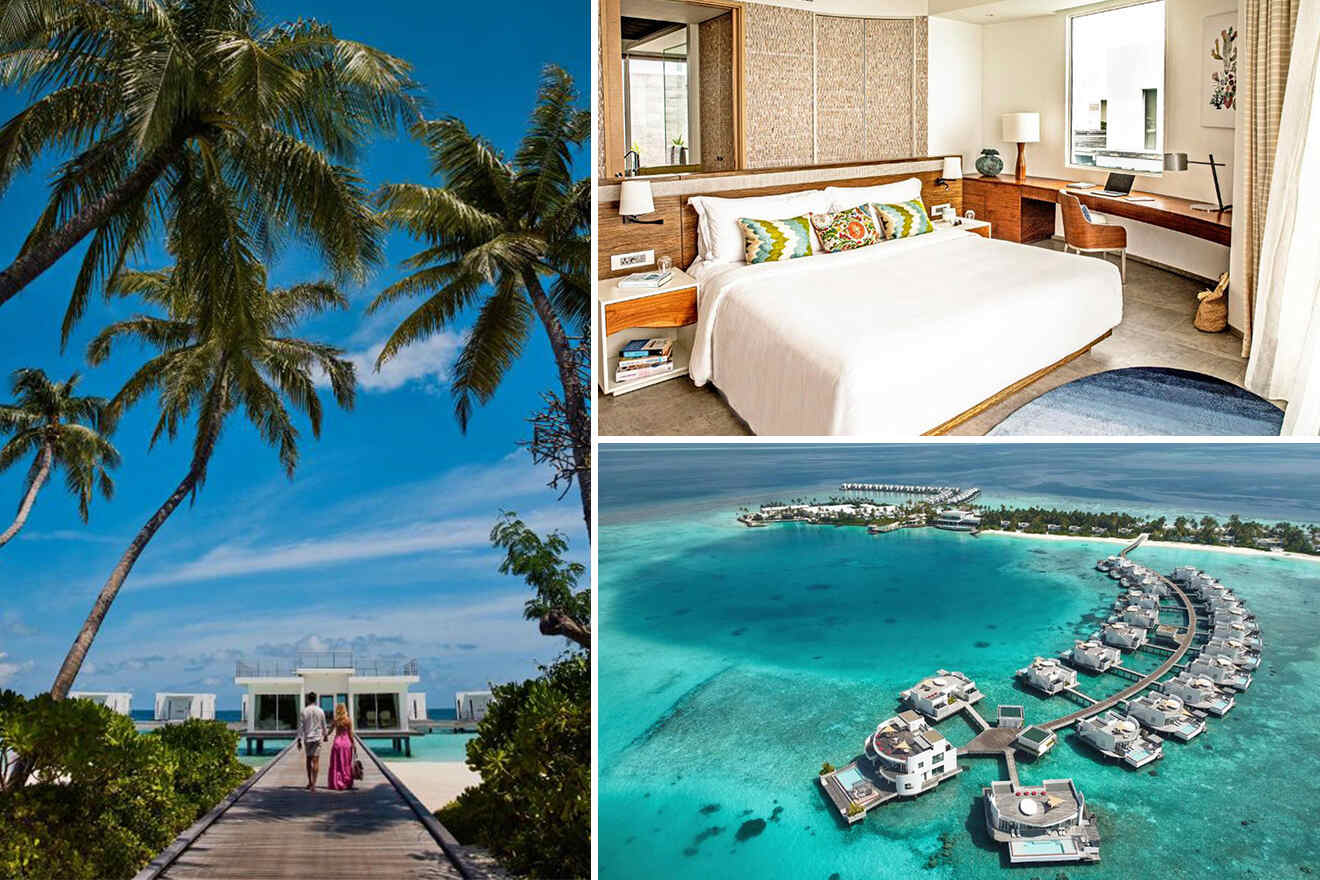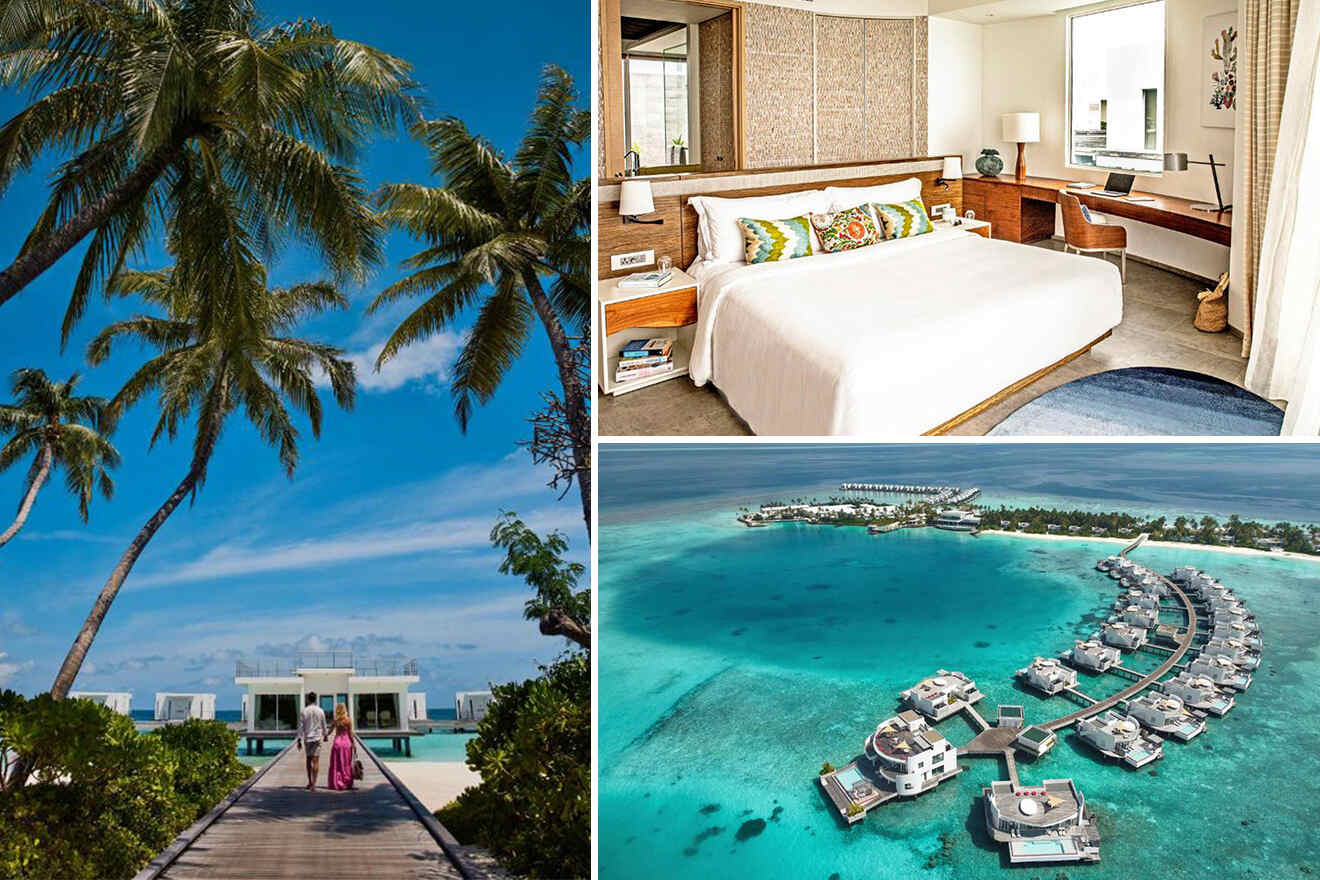 I don't know about you but whenever I see a long stretch of water and sand I get in a relaxed mood just like that! It's like a switch that turns on and I'm all for that feeling! This island resort is perched across the white-sandy shores of the Maldives and is offering some amazing views!
And of course, the world-famous overwater bungalows! Each water villa at this resort located on
North Male Atoll comes with glass floors which give you a peek of the underwater world in your own bedroom water retreat, rooftop areas where you can admire the Indian ocean, and outdoor showers!
During your stay you can go on private yacht voyages, practice yoga in some incredible places, and go snorkeling in the private lagoon that has an accessible house reef.
11. Ayada Maldives – unique resort with a spa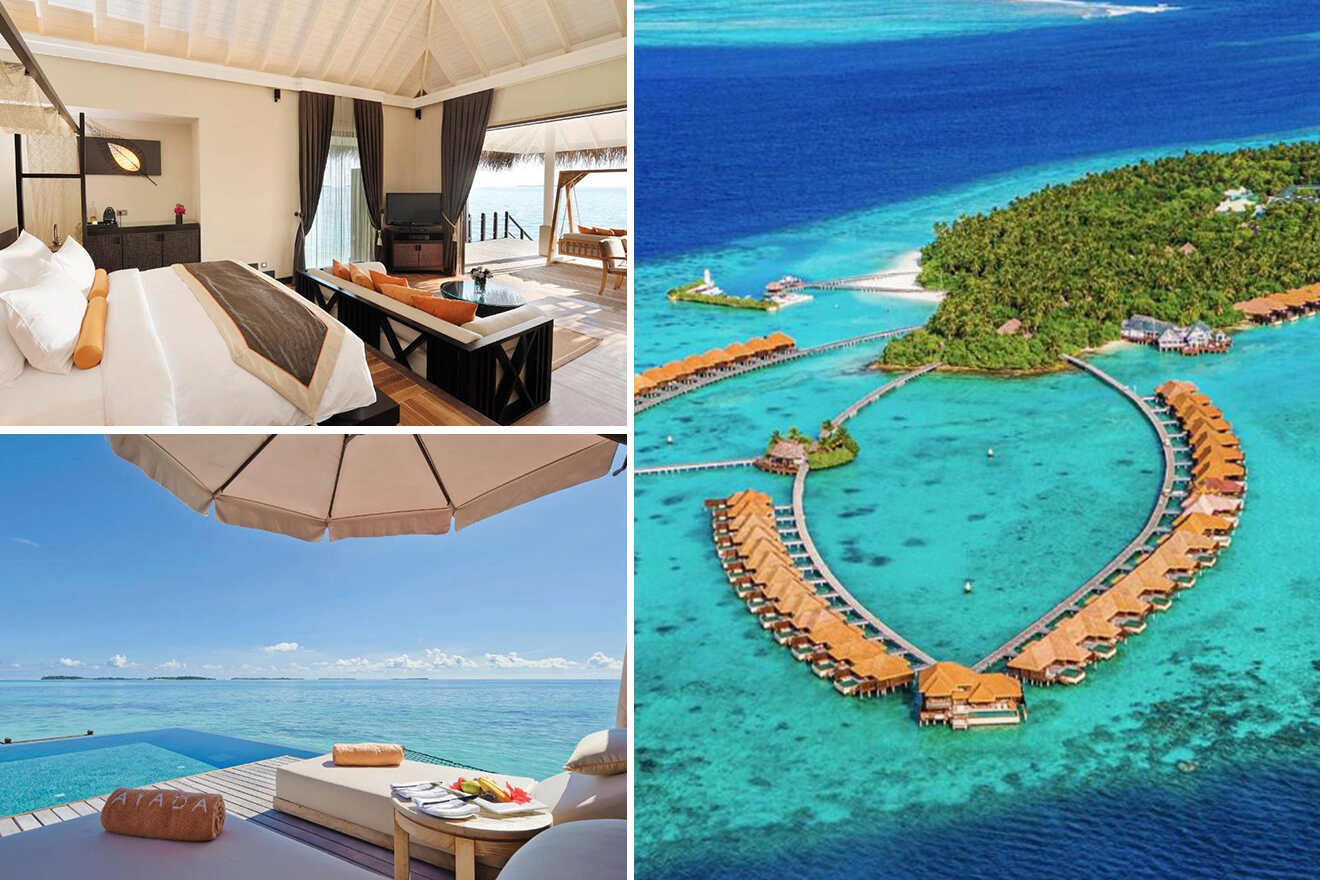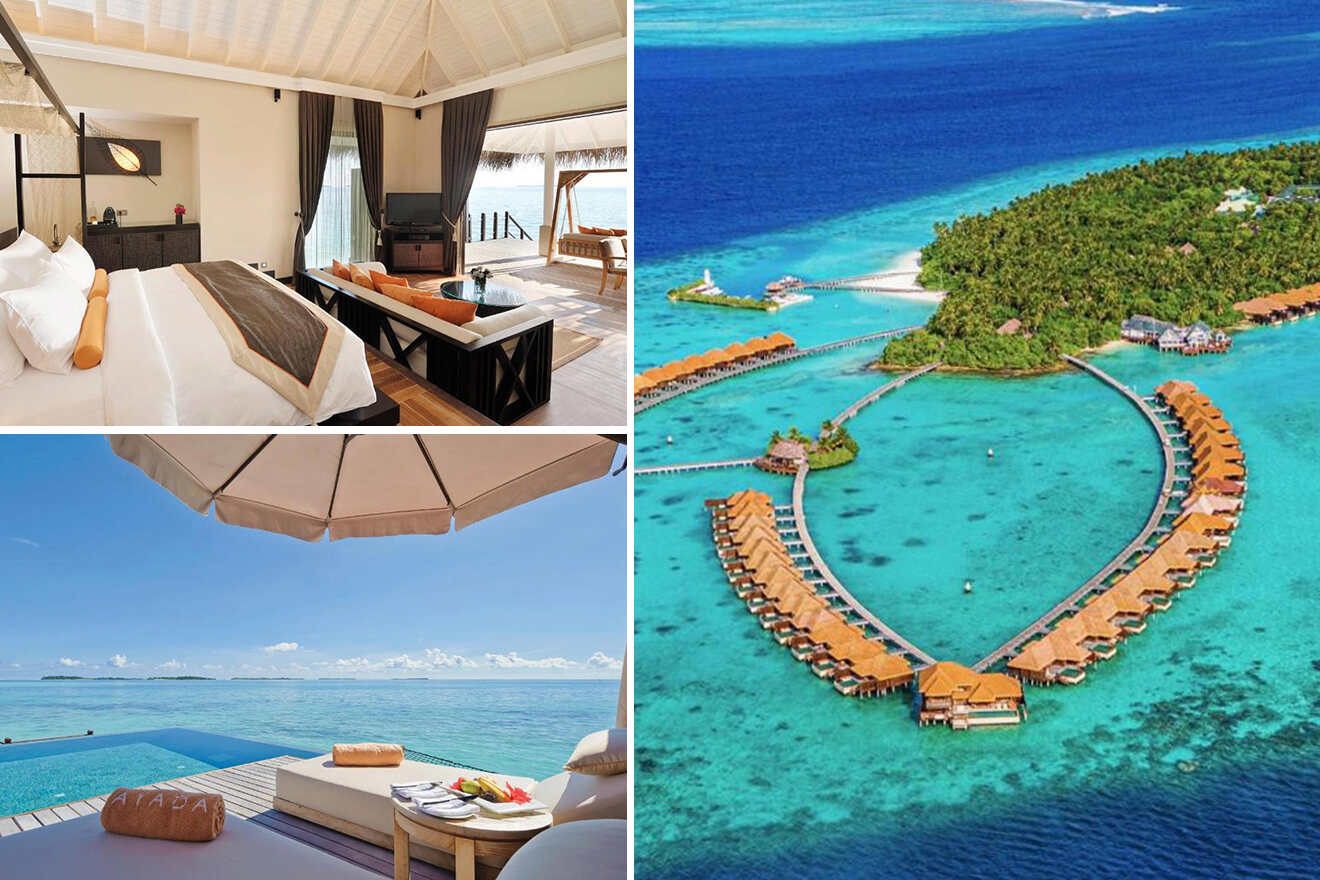 Located amidst a pristine reef within the southern rim of the Gaafu Dhaalu Atoll in southern Maldives, this really cool resort offers the trendiest water villas!
Their overwater bungalows are decorated with Middle-Eastern and Maldivian elements, and they come with a private deck, a personal pool, and an outdoor shower! Plenty of amazing facilities that will make you want to never leave your water villa!
But don't forget, there's a whole other world outside and lots of things to try from swimming in the coral waters, to relaxing in the spa center, and indulging in all the yummy dishes offered at all 6 restaurants!
12. Gili Lankanfushi – cozy water villas with infinity pools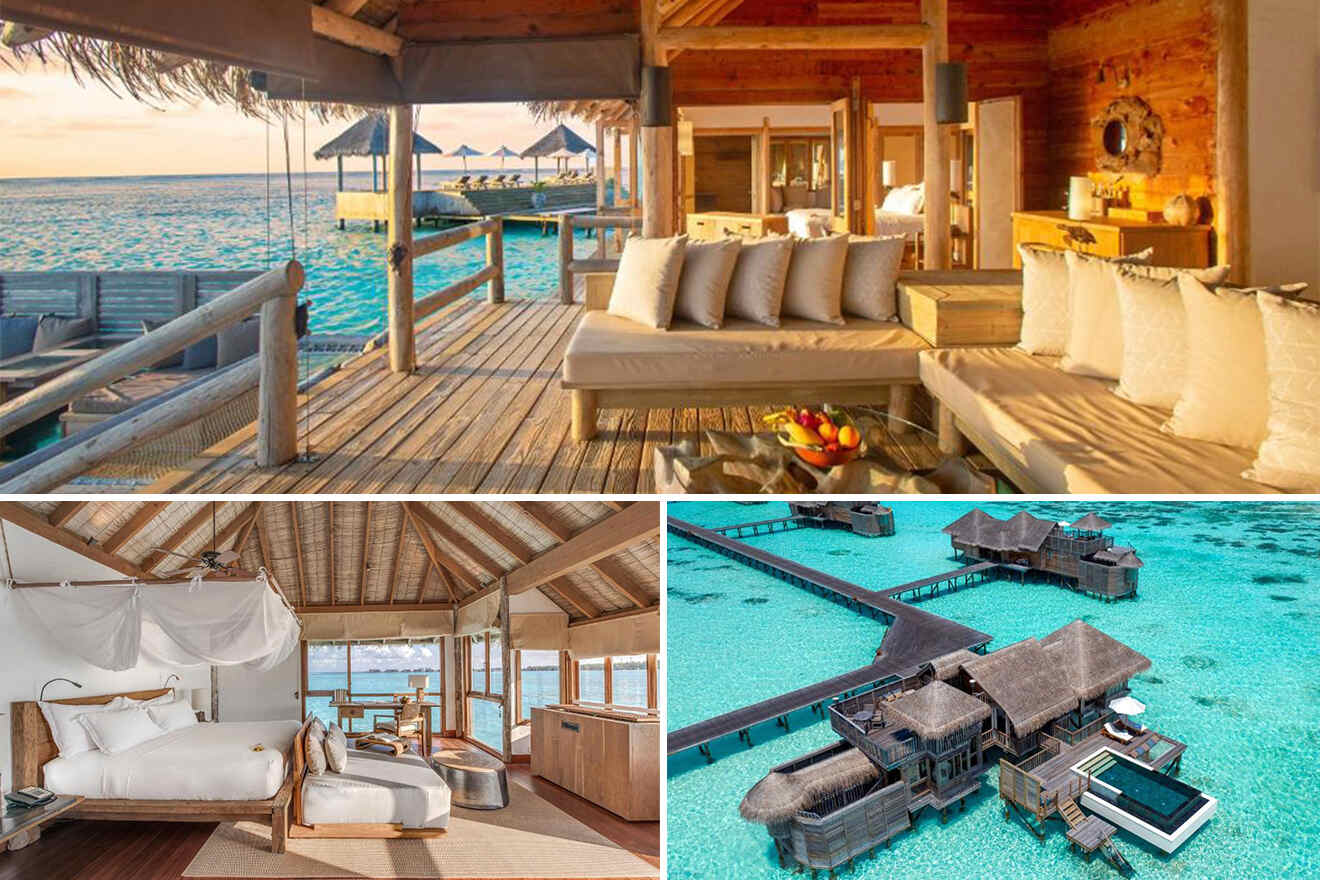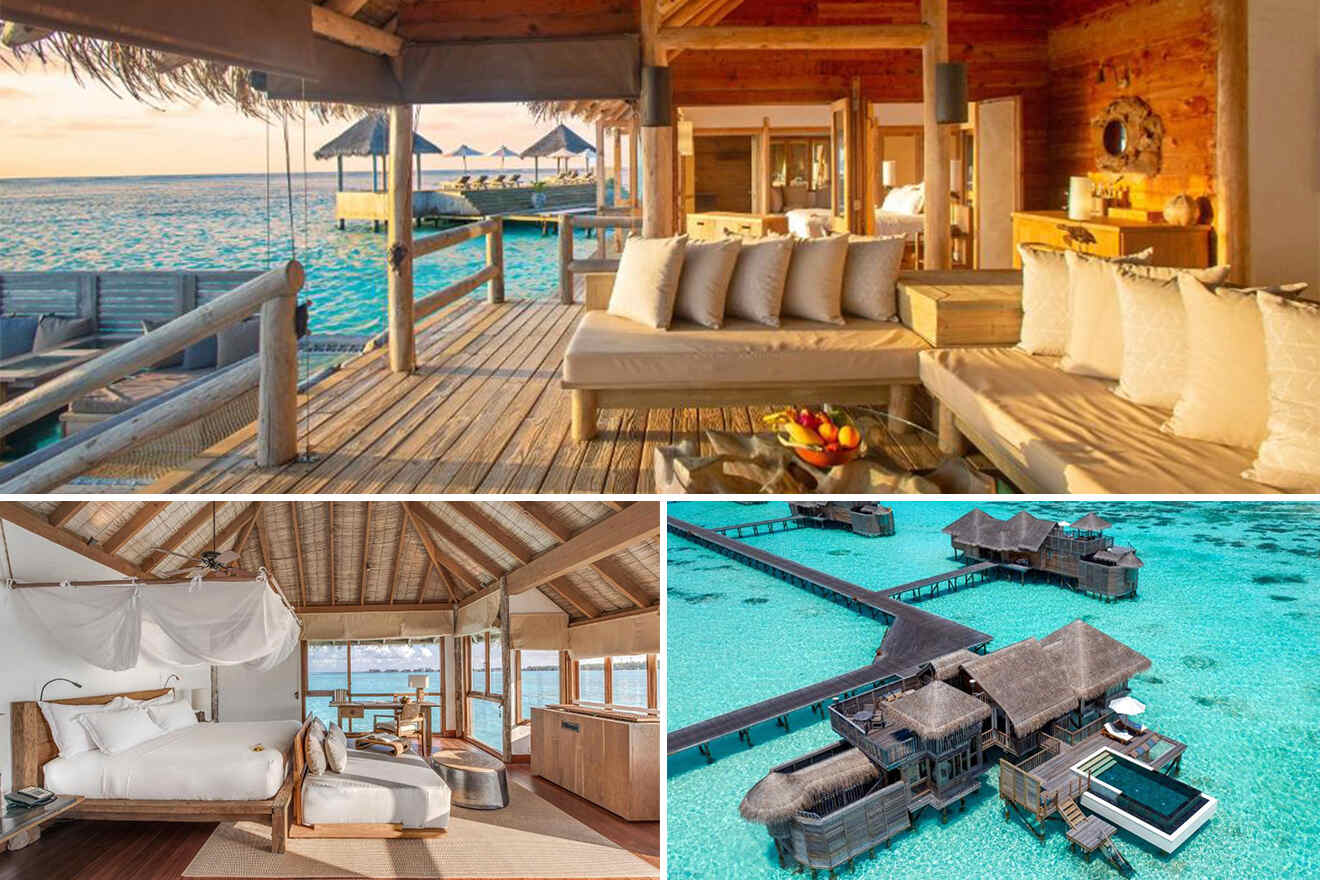 Wake up in your dream-like overwater bungalow and jump in the private pool for a quick wake-me-up swim at this resort in the Maldives! All the overwater villas are eco-friendly and they come with sun decks, a water garden, and a mini-bar!
During your holiday you can get pampered all day long at the on-site spa that offers Ayurvedic treatments and yoga classes! You can also engage in other fun activities like cooking classes, bike tours, and movie nights.
The resort also offers 3 dining options, where you can indulge in all their dishes!
13. Vakkaru Maldives – villas with an outdoor shower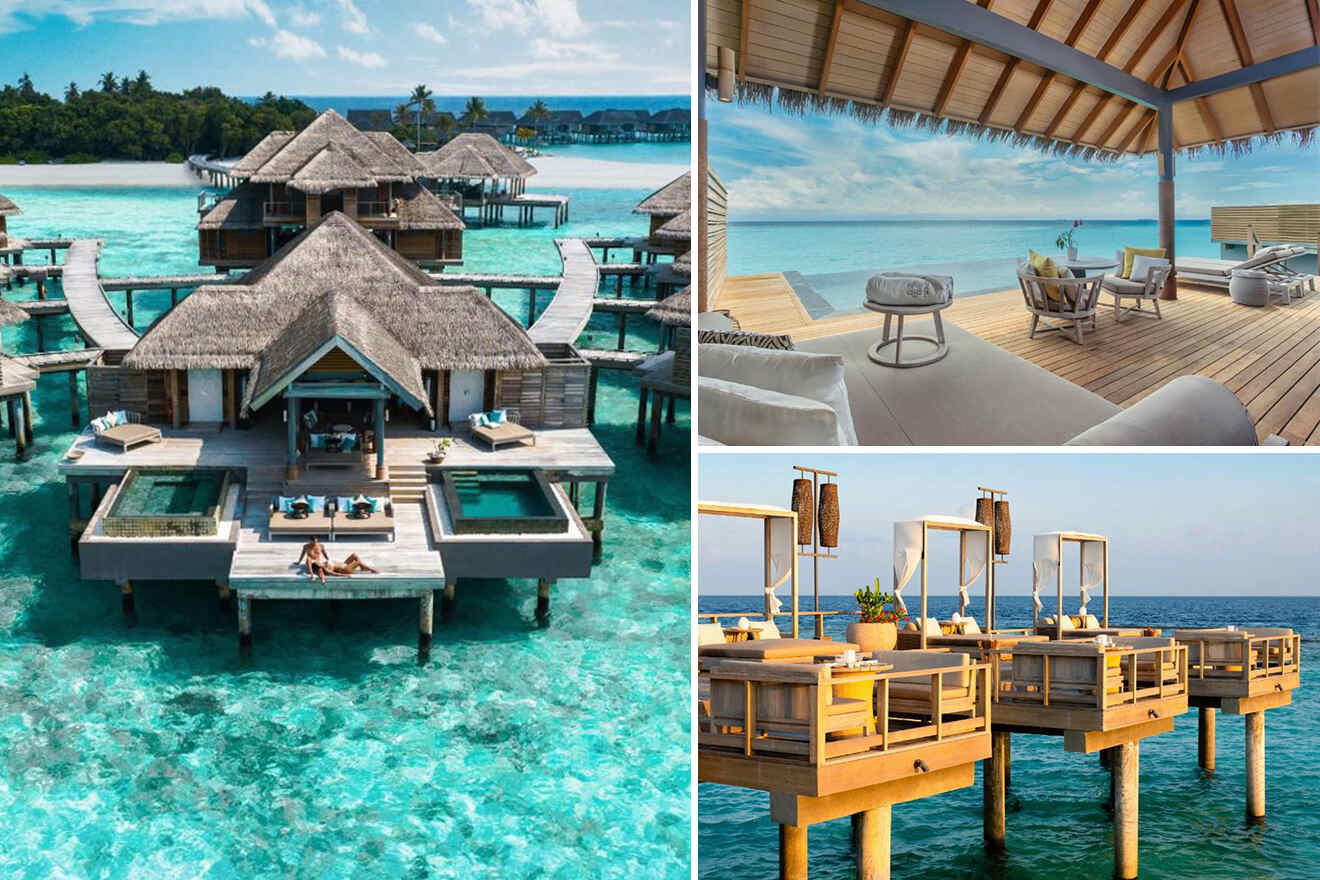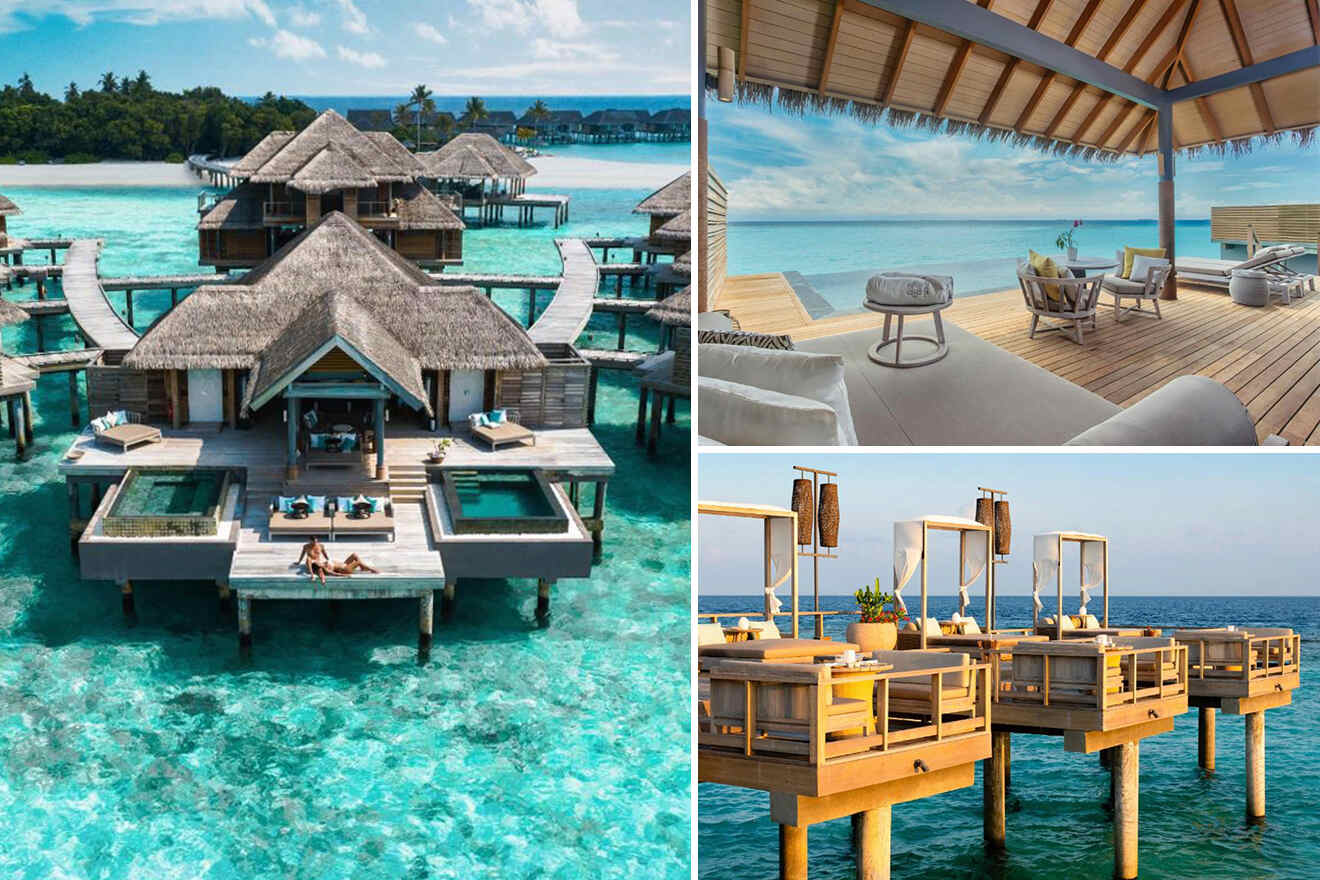 As you've seen by now, all the overwater bungalows in the Maldives are pretty unique! It's definitely up to you to decide which resonates the most! For example, this resort is tucked away between the crystal clear waters of the UNESCO Biosphere Reserve in Baa Atoll!
All the overwater villas have a beautiful infinity pool, an outdoor shower, and are decorated with Maldivian motifs!
After your long airplane journey I recommend booking a session at the spa center on-site where you can try different treatments, relax with a long massage, and let all that airplane fatigue melt away in the sauna!
14. Amilla Maldives Resort – for a family holiday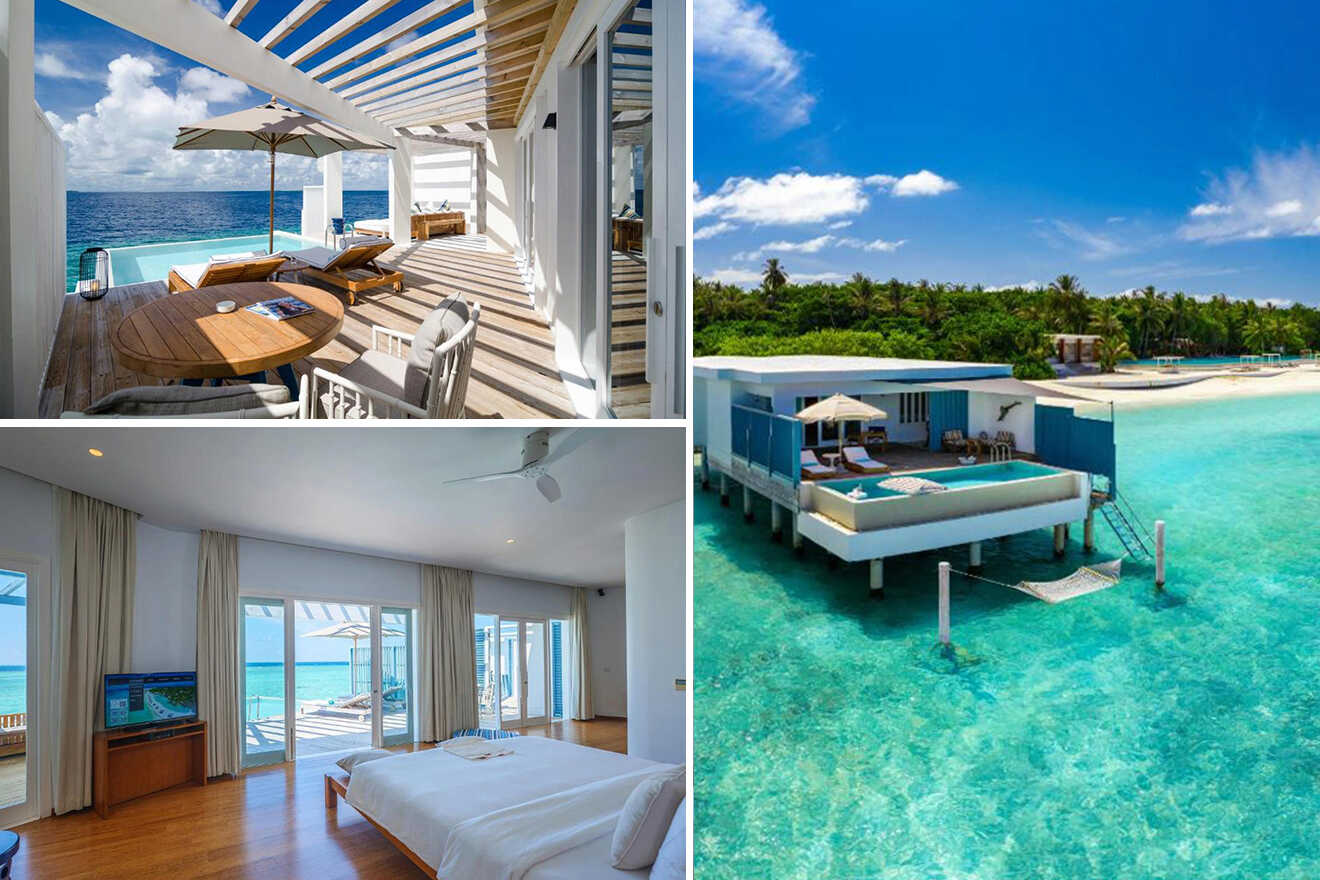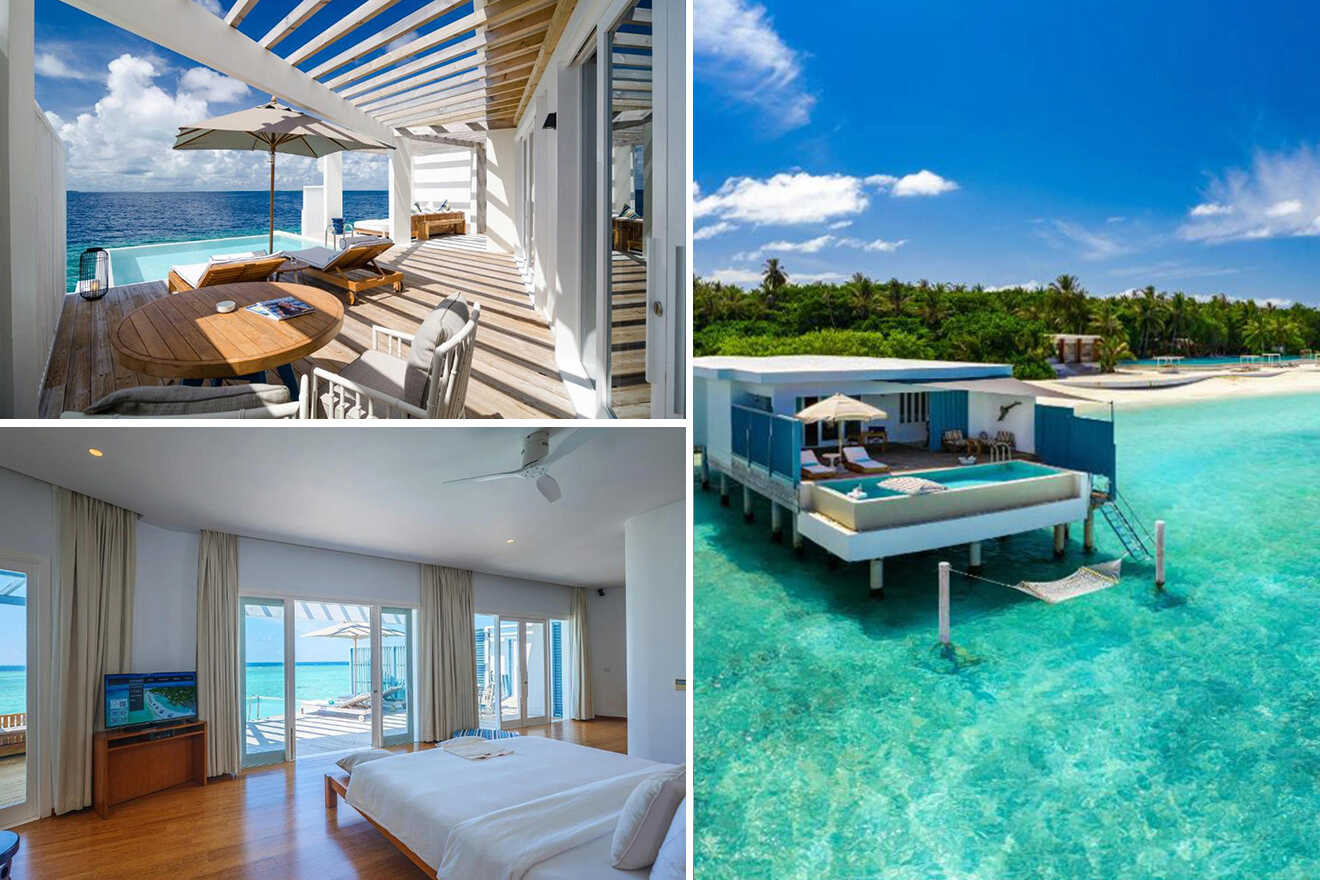 I hope you're ready for a few days (or weeks) of laying in the sun, swimming in the crystal clear waters, and taking long beach walks while staying at one of the best resorts with overwater villas in the Maldives!
Each water villa comes with its own private pool, a sun deck, and direct private access to the ocean so you can go for early swims or late-night swims, or both!
The resort offers 8 restaurants (each offering a different cuisine), and lots of fun activities like movie nights, water sports, and kid-focused things as well (plus there's even a playground for the little ones!)
15. Kandolhu Maldives – with a plunge pool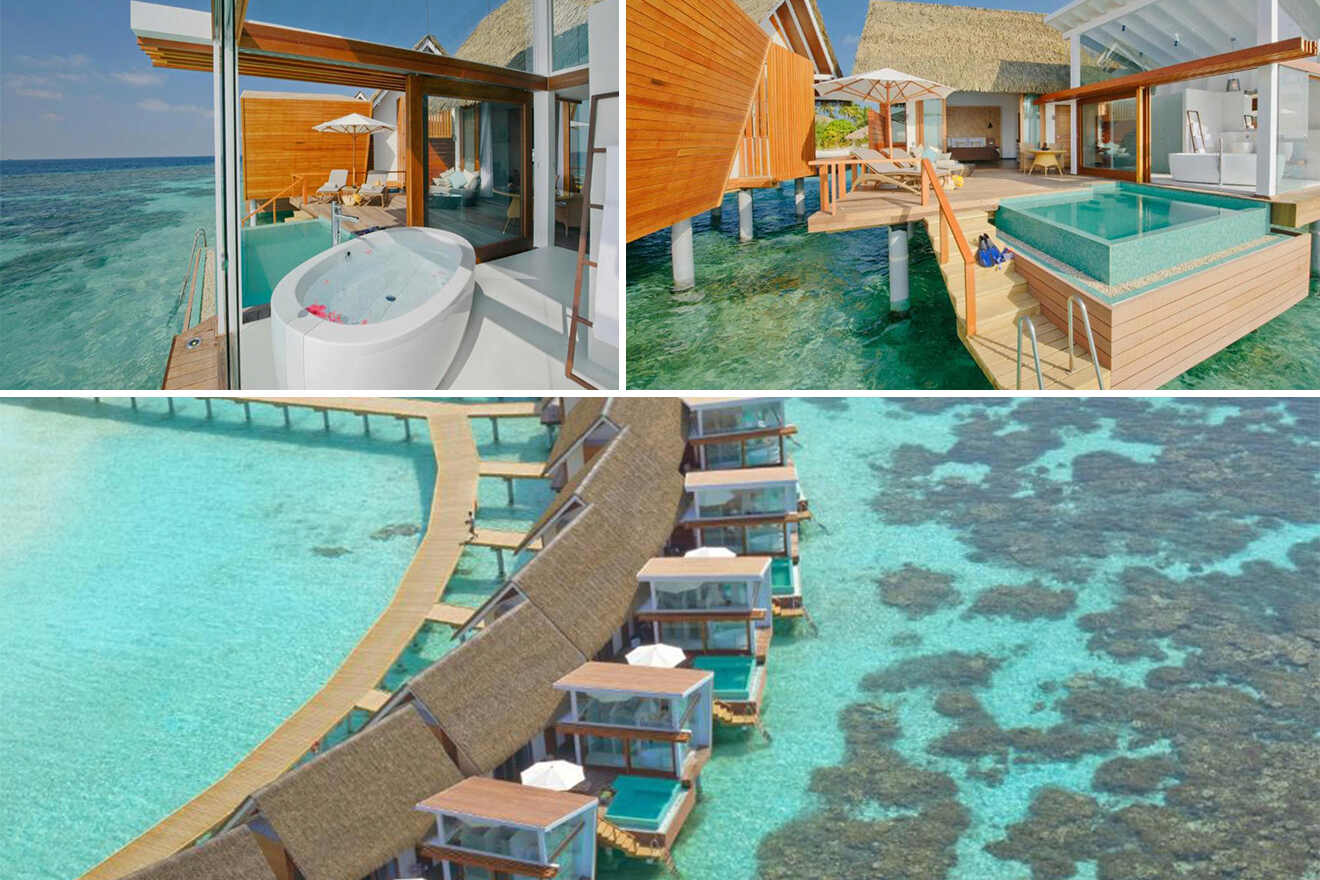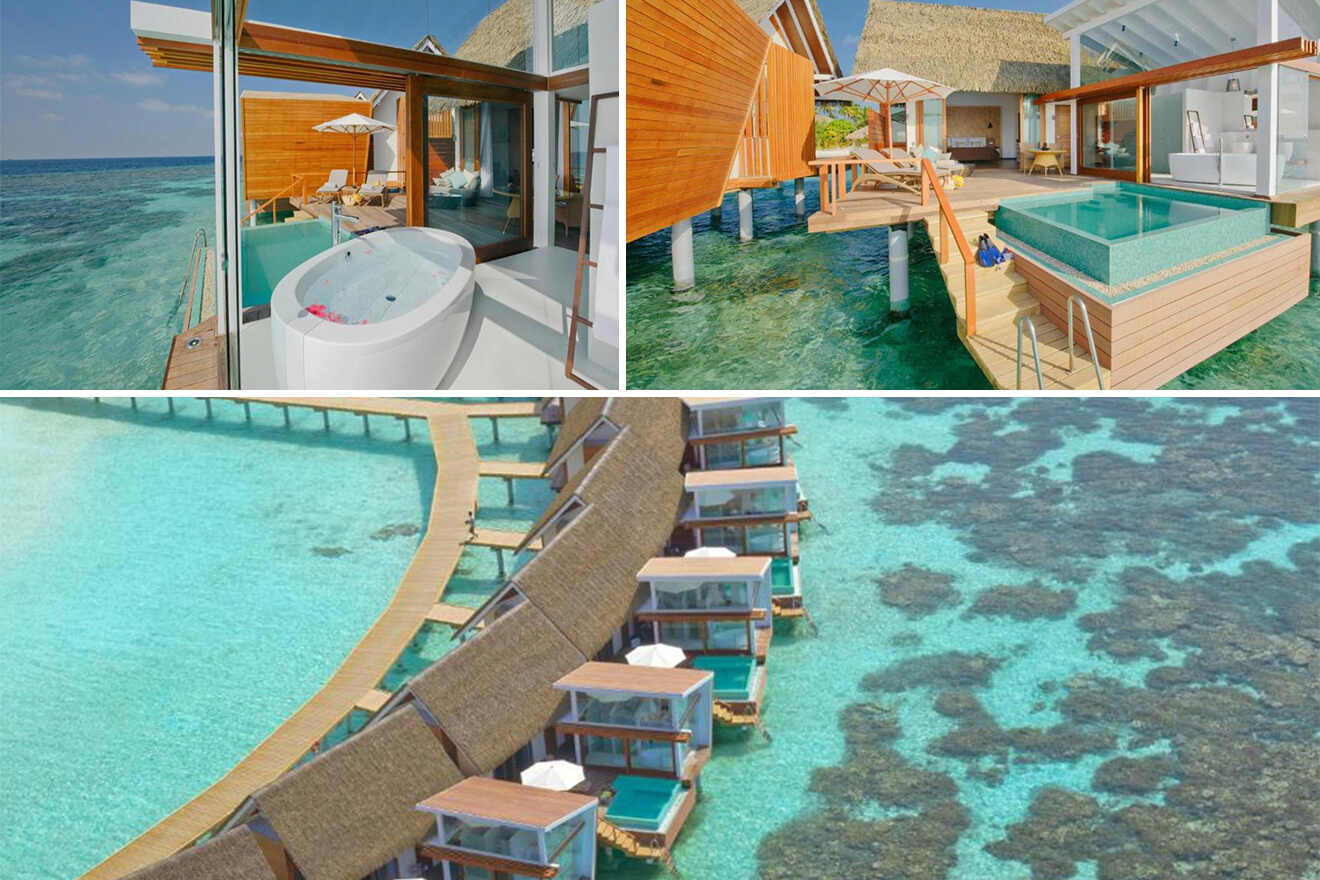 Settle down in your villa, have a look around, and get ready to be amazed by all the beauty that will surround you for the next few days!
Like most of the overwater bungalows in the Maldives, the ones at this resort located in North Ari Atoll offer a plunge pool, a deck with sun loungers, and lots of space! You'll also get a stunning ocean view from your bed (goals)! You can order room service up in your room, or head to the restaurant and enjoy it there.
And I hope you're ready to spend as much time in the underwater world as possible! There are many things you can try like snorkeling, windsurfing, and diving.
16. Kandima Maldives – great for families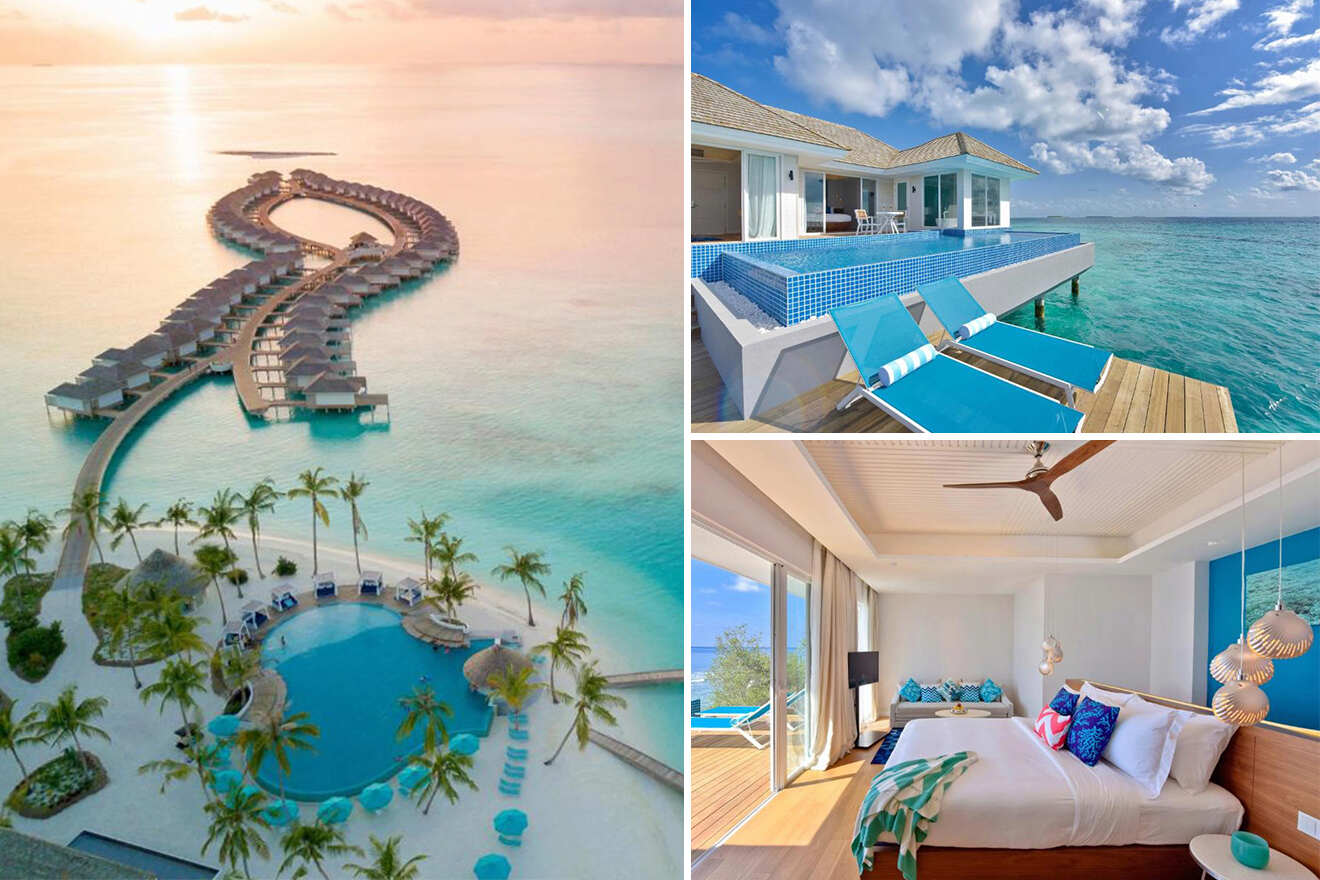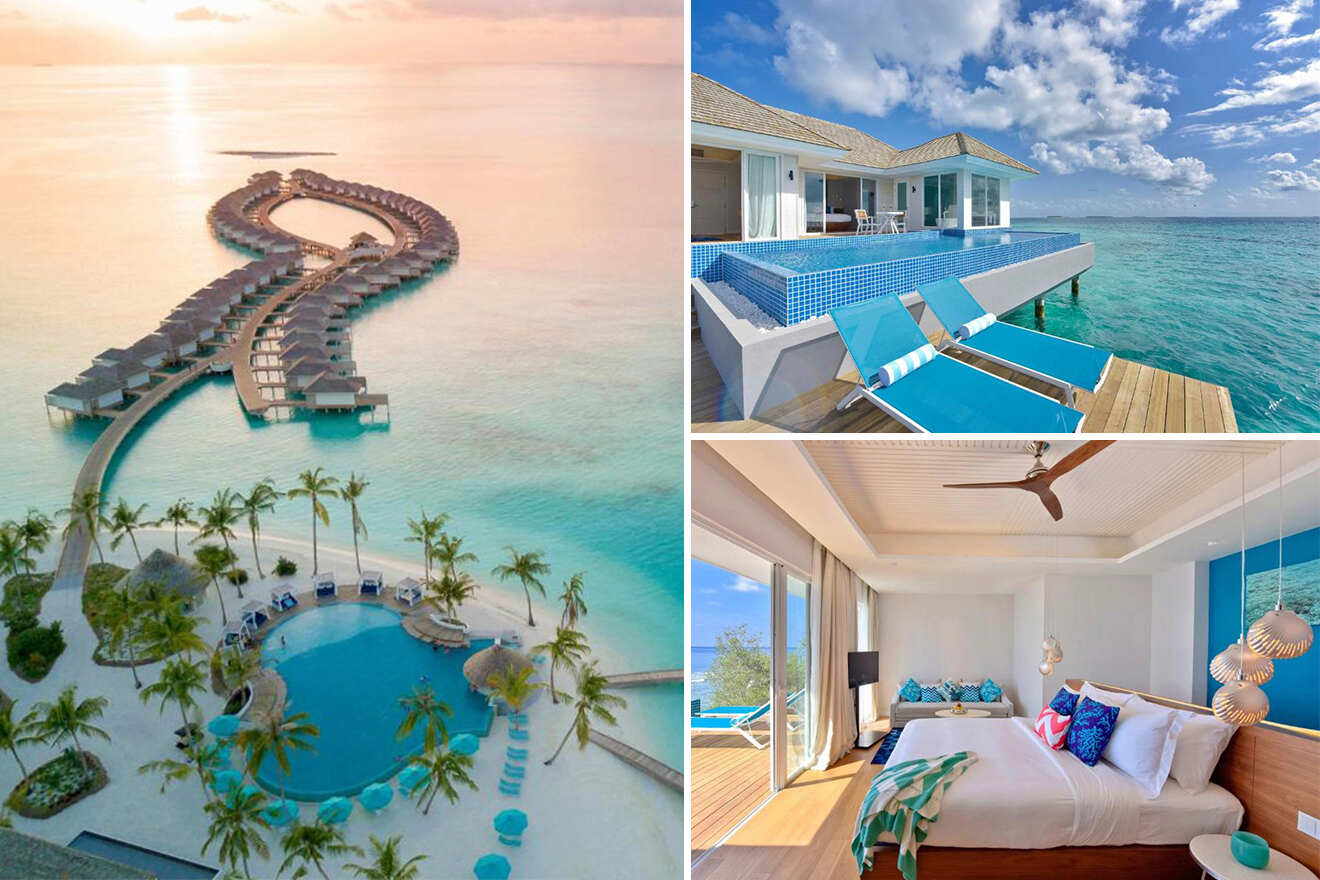 Whether you're getting ready for a romantic getaway or a fun family trip, this resort with overwater villas in the Maldives has everything you need for your stay!
And by that I mean many restaurant options (around 10), a spa center where the parents or couples can relax after days of traveling, and of course many activities! Windsurfing, snorkeling, you name it, they have it all. Plus some things for the kids as well like a playground and a game room.
There are different overwater villas that you can book. They have a few made-specially to fit families, studios, or pool water villas for those who want the full Maldives experience!
BONUS 1: Top all-inclusive resorts in the Maldives
Well, now that we've looked at all the unique overwater bungalows in the Maldives, I thought I would offer you a nice bonus section with some all-inclusive resorts.
Maldives is filled with incredible accommodations, and although I gave you a pretty solid list of over-the-water bungalows, I couldn't keep all the options to myself! These resorts are luxury and mid-range with prices from US$400 to US$4000, and I've listed them from most to least expensive.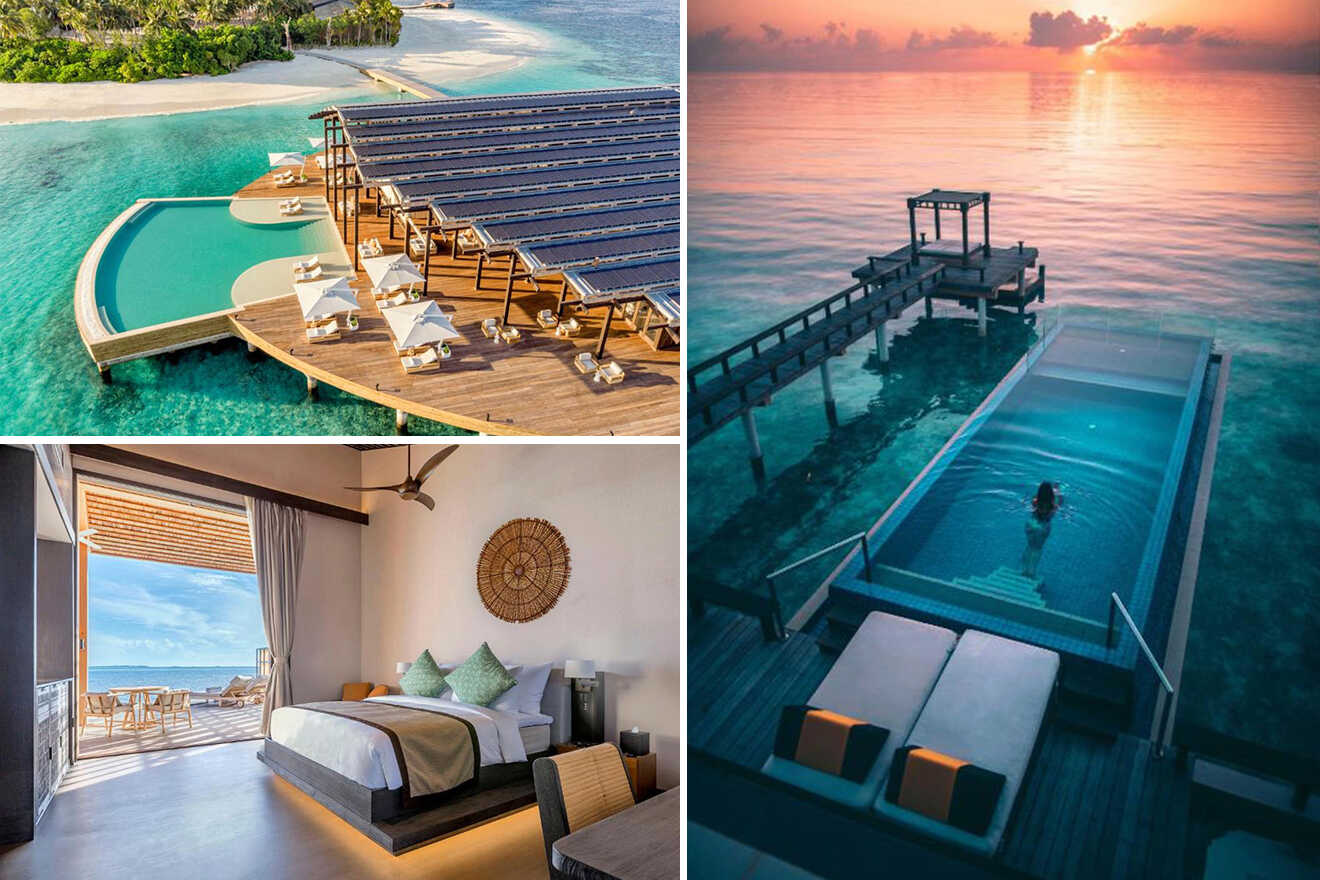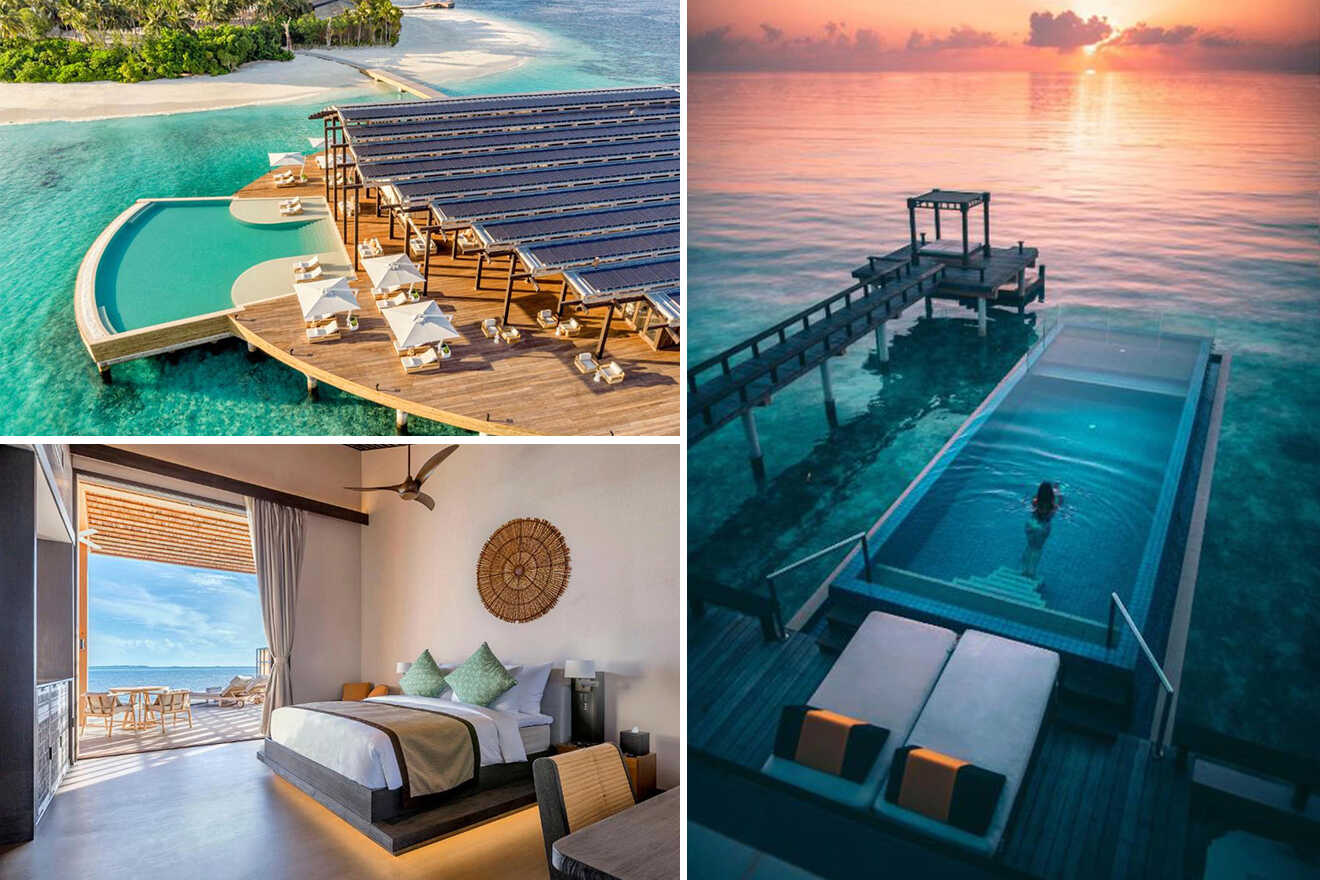 Kudadoo Maldives – This fabulous all-inclusive luxury resort set on a private island will offer you an unforgettable experience during your stay! Inspired by traditional Japanese architecture, the accommodation has a spa center, some incredible overwater bungalows with private terraces, and personal butlers!
Lily Beach Resort and Spa – Located a 25-minute seaplane ride away from Male International Airport this resort has so many cool facilities including a nightclub, a dive center, and of course the amazing overwater bungalows! It also offers its own house reef coral garden so get ready for some fun underwater adventures.
Angsana Velavaru – Relax by the infinity pool of your private villa, at this resort on Velavaru Island. All the beach villas come with unique facilities like an outdoor rain shower, and offer direct access to the beach and ocean. If you're planning to come with your family then you'll be happy to know that they also have an outdoor kids' club.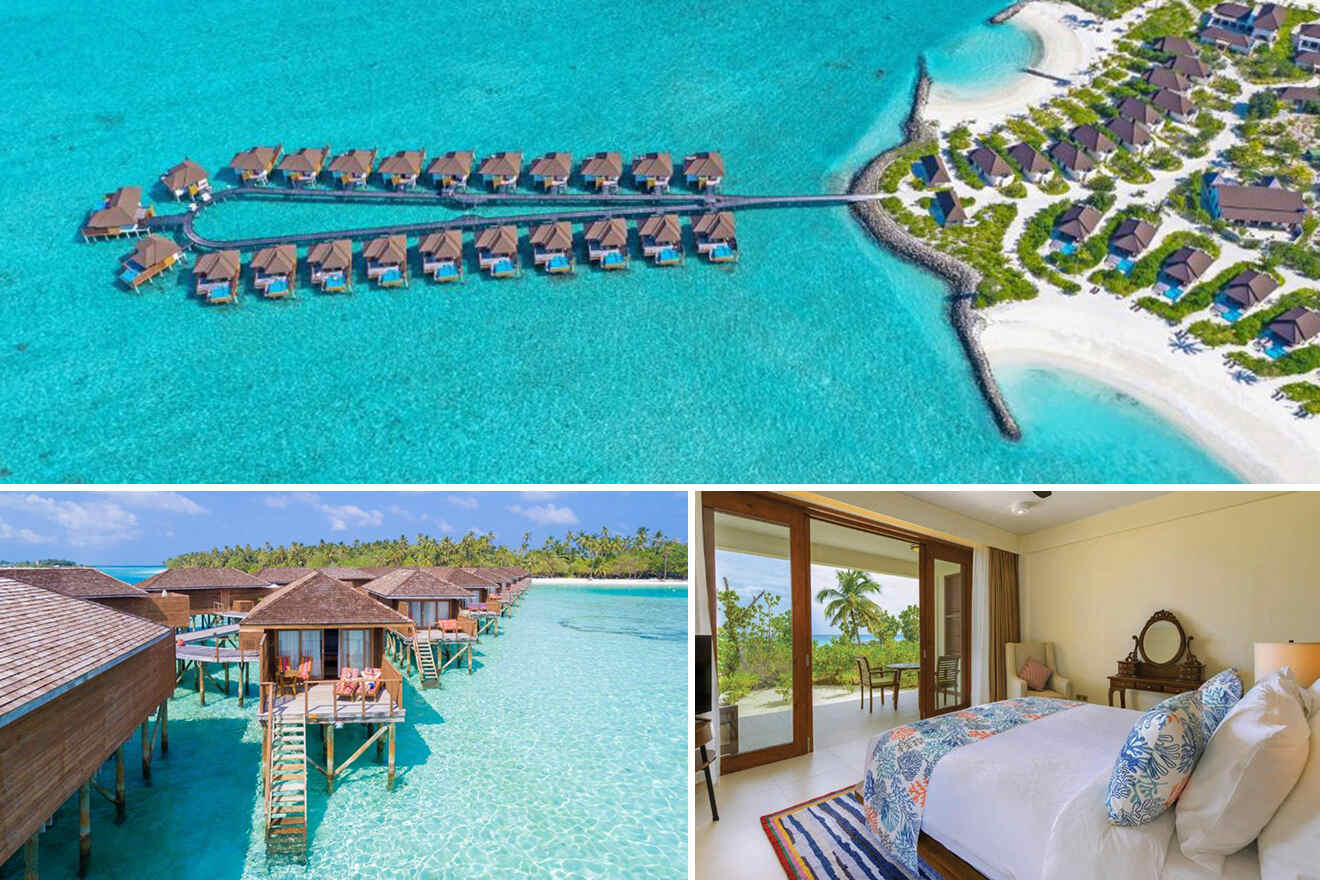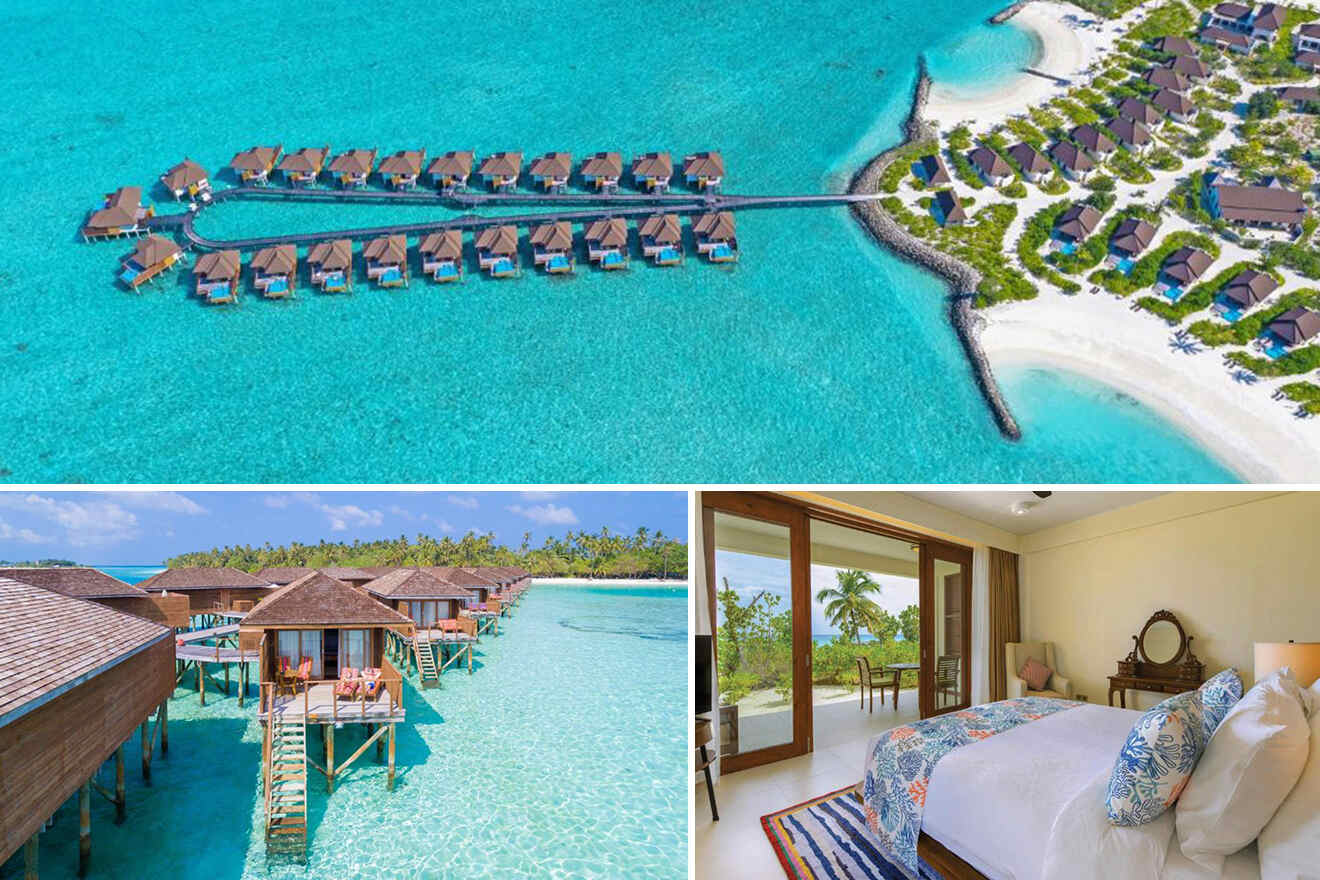 Varu by Atmosphere – Wake up and enjoy your coffee with a sight of the turquoise lagoon at this all-inclusive resort that has water villas, a spa center, 4 restaurants, and lots of things to do that will keep you as busy as a bee! You can go snorkeling, diving, play tennis, or spend a whole day with your little ones at the kid's club!
Meeru Island Resort & Spa – If you were looking for something a bit more affordable, then check out this resort that has freshwater pools, 3 restaurants, and lots of other amazing amenities for both parents and kids! Yoga classes, cycling, movie nights, you name it! Here you'll find everything you need to make this holiday perfect!
BONUS 2: Most romantic resorts in the Maldives
Maldives is the ultimate holiday destination for couples and honeymooners! And we can't wonder why! These idyllic beaches, turquoise waters, and overwater bungalows are so perfect for a romantic getaway.
That's why I thought I'd make a bonus with the best resorts for couples! The accommodations are luxury and mid-range with prices from US$300 to US$1500: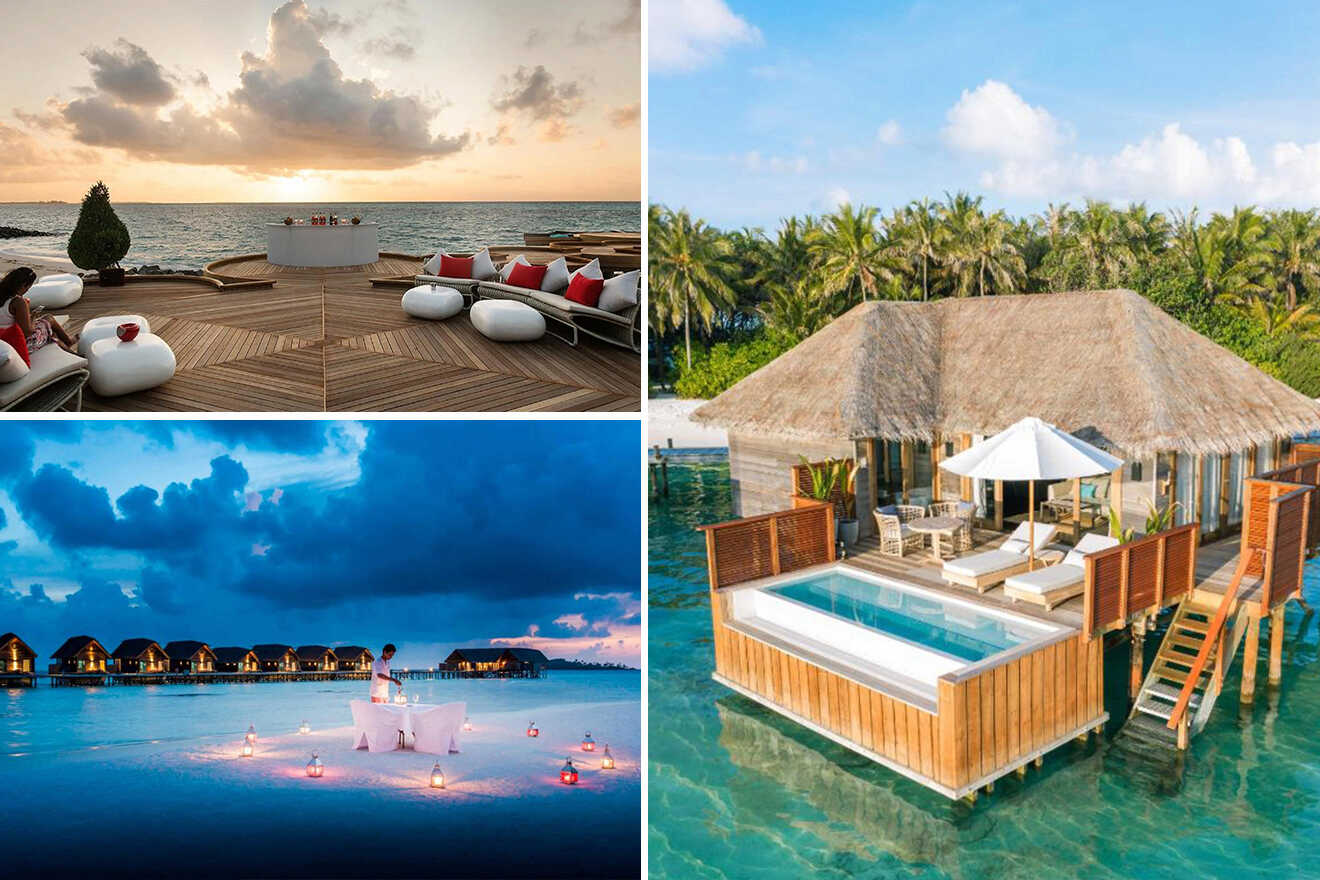 Como Cocoa Island – Enjoy a few days of relaxing with your partner in your own private villa that comes with a plunge pool, an outdoor deck with sun loungers, and a beautiful view of the ocean! During the day you guys can go to the spa and enjoy some massages, a bit of time in the sauna, and at night enjoy a nice romantic dinner at the restaurant on-site that serves yummy international dishes!
Conrad Maldives Rangali Island – Set on 2 separate islands that are connected by a bridge, this resort is so dreamy and perfect that you'll never want to leave! Perfect for any couple who needs a break from the outside world, the accommodation offers overwater villas, 11 restaurants, spa treatments, and cooking classes that you can take together!
South Ari Atoll Resort & Villas – Book a couple's massage the minute you arrive here and get ready for a few days of non-stop spoiling! Late, romantic breakfasts in your overwater bungalows, fun trips around the island, and discovering the underwater world together!
FAQs about Maldives overwater bungalows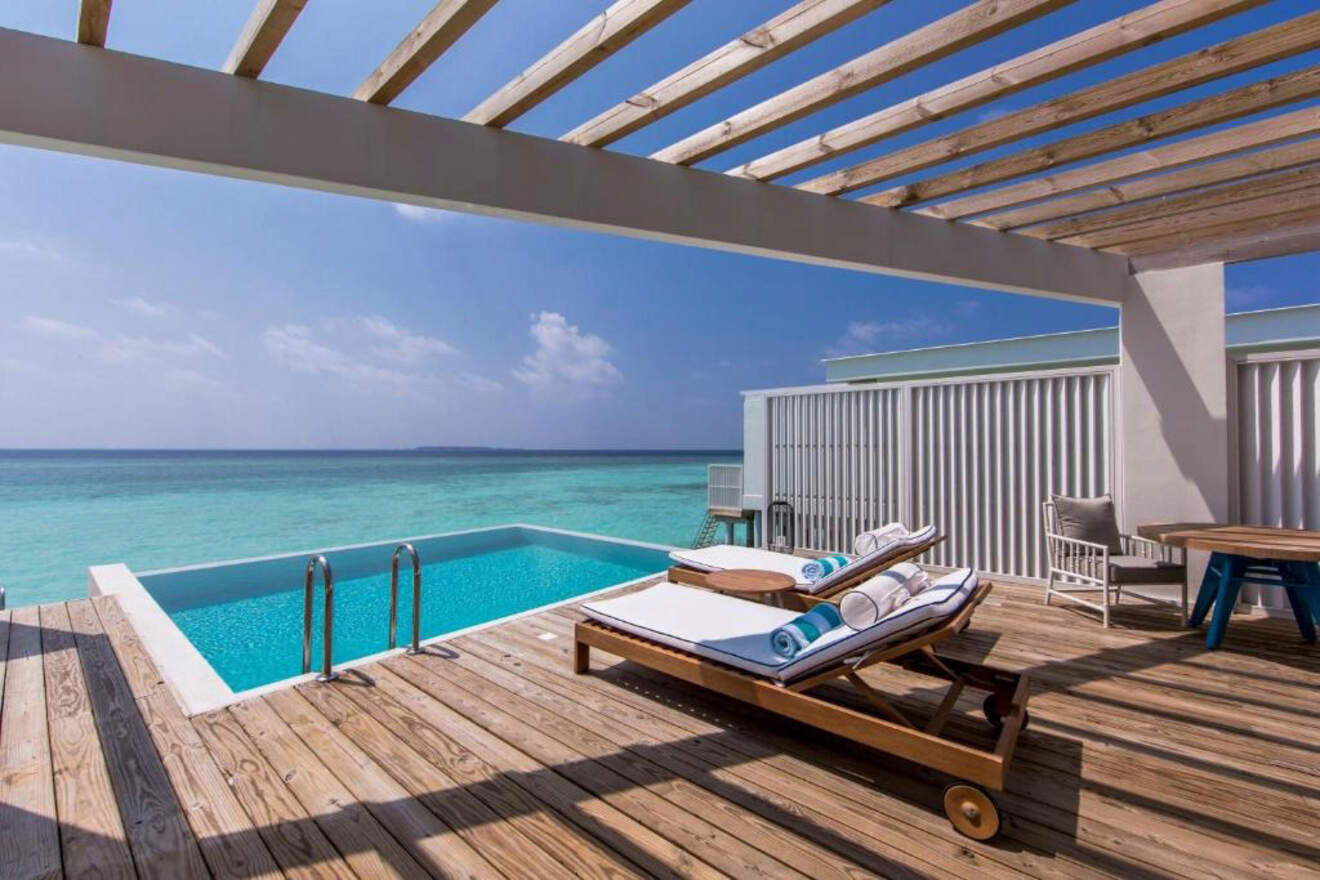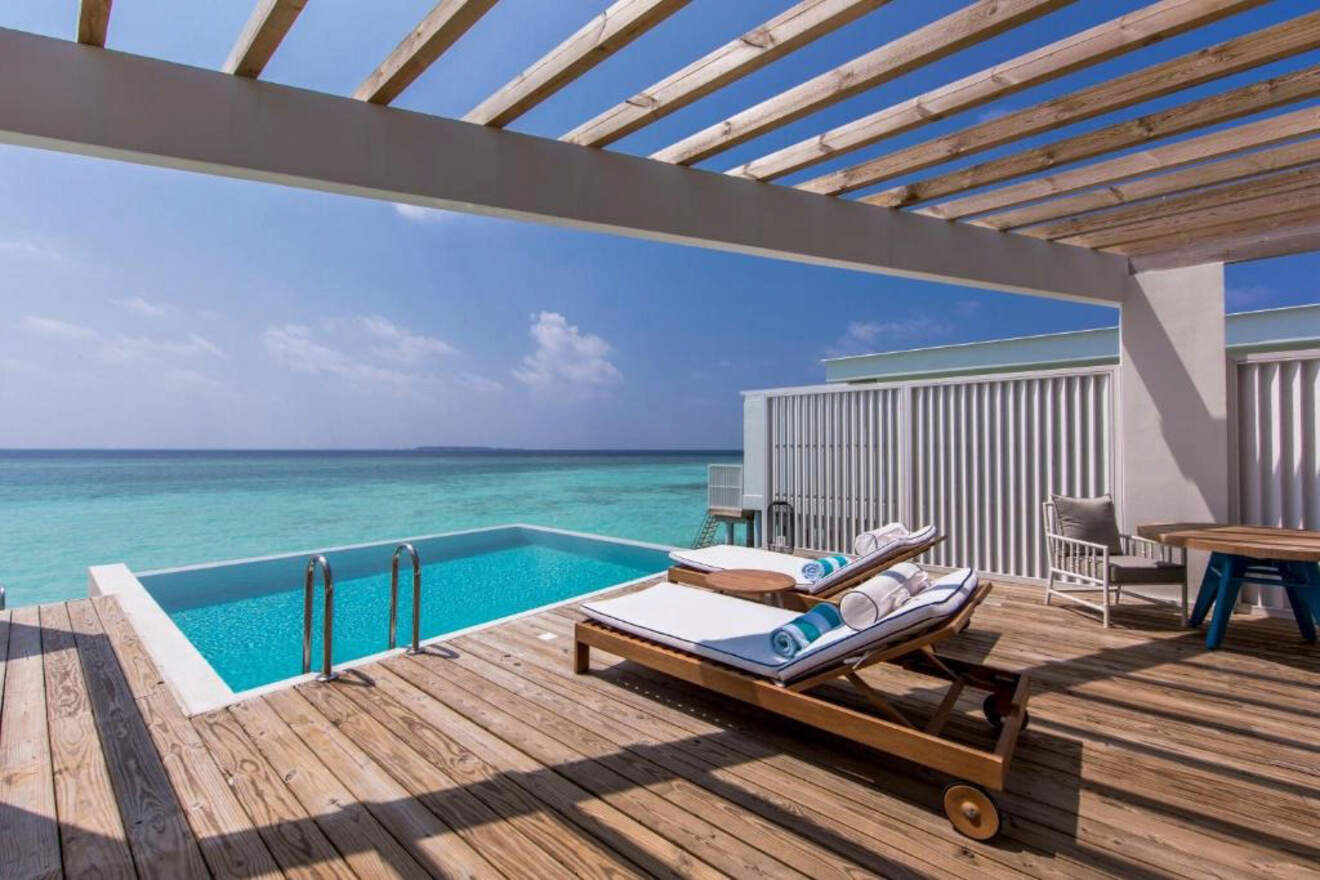 💰 How much does it cost to stay in an overwater bungalow in the Maldives?
Prices for a great overwater bungalow in the Maldives start from US$750 and they can go as high as US$3500.
💸 Which are the best affordable overwater bungalows in the Maldives?
🤔 Are the overwater villas in the Maldives worth it?
Yes! The hype is real! These overwater bungalows are so amazing as they offer cool facilities like an overwater hammock, private butlers, direct ocean access, and lots of other facilities!
🌊 Which are the best all-inclusive resorts with overwater bungalows?
Conclusion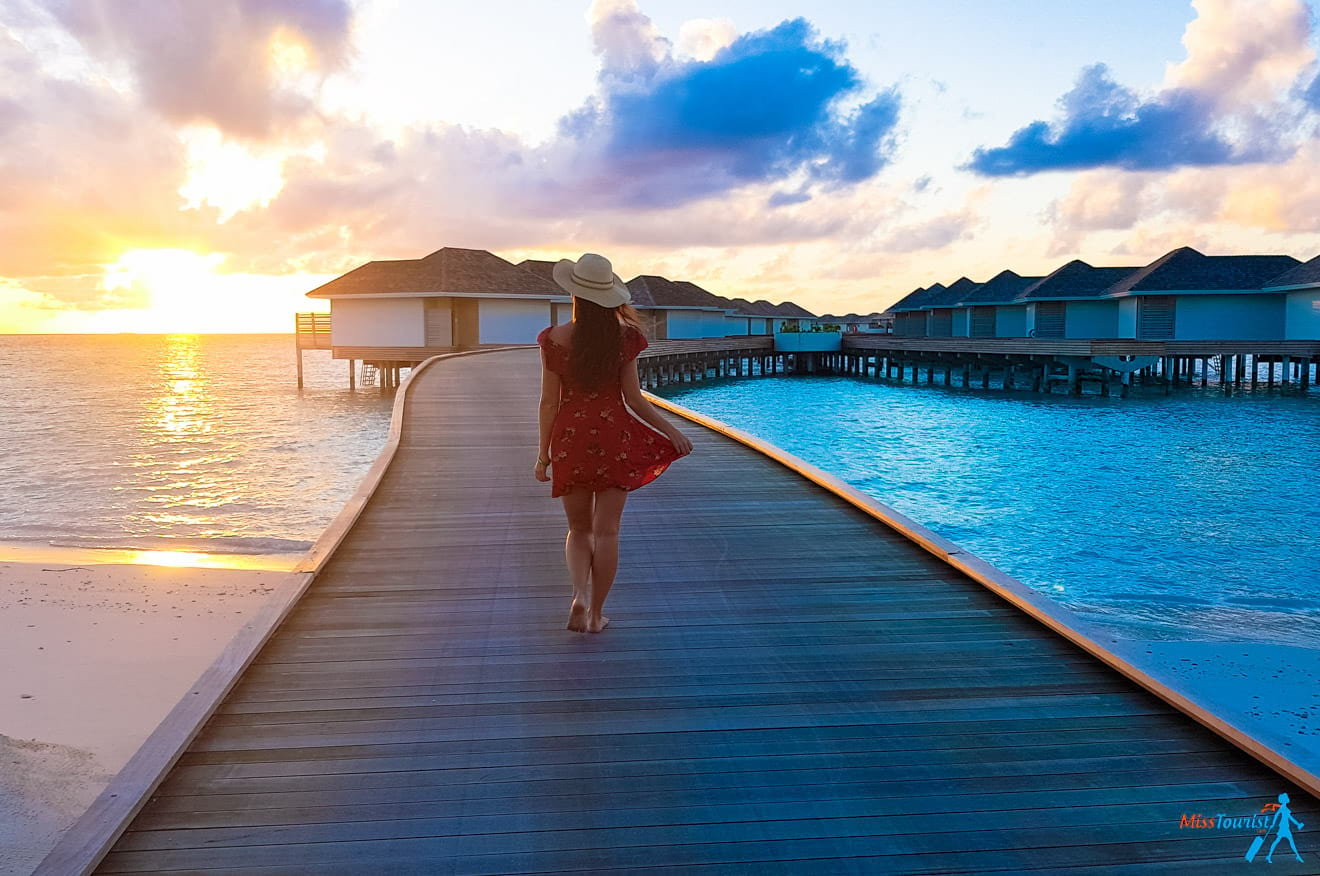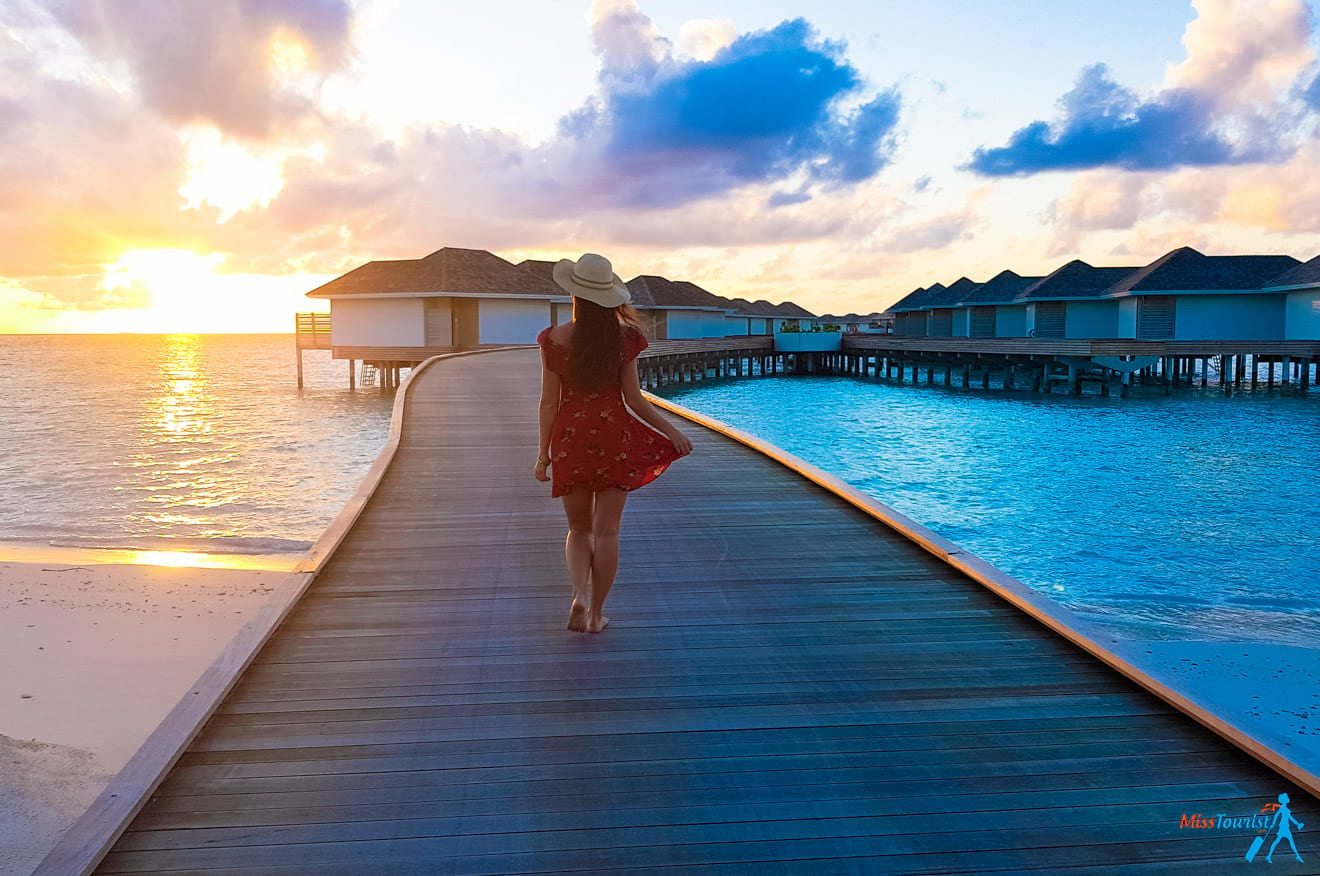 Who's already found their favorite Maldives overwater bungalow? It's a tough choice, I know!
But now that we've gone through this list of the best overwater bungalows in the Maldives and the 2 bonus sections with the top all-inclusive resorts and some more overwater villas for couples, you've basically become a wizard when it comes to information about these accommodations!
On the other hand, all this knowledge comes with a price and I guess some of you are feeling a bit overwhelmed by all the information. So here are my top 2 favorite overwater resorts:
The St. Regis Maldives Vommuli – Some of the best overwater bungalows set on a private island that come with private pools, an outdoor deck, and a rainforest shower
Waldorf Astoria Maldives – You'll love the master bedroom in these incredible bungalows that have an infinity pool and outdoor showers
There you have it! The best overwater bungalows in the Maldives! As I mentioned, booking early is super important in this location so make sure you do that, otherwise, you may miss your chance at your favorite resort!
Have an unforgettable trip and don't forget that if you've got any questions you can just drop a comment below and I'll answer ASAP!
Happy exploring,
Victoria
---
Pin it for later!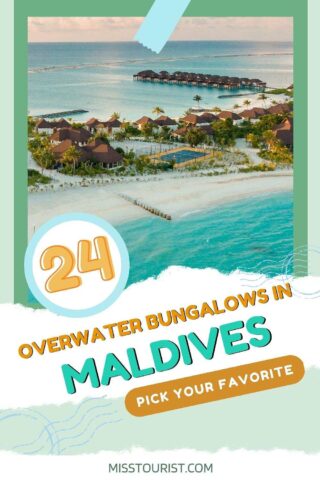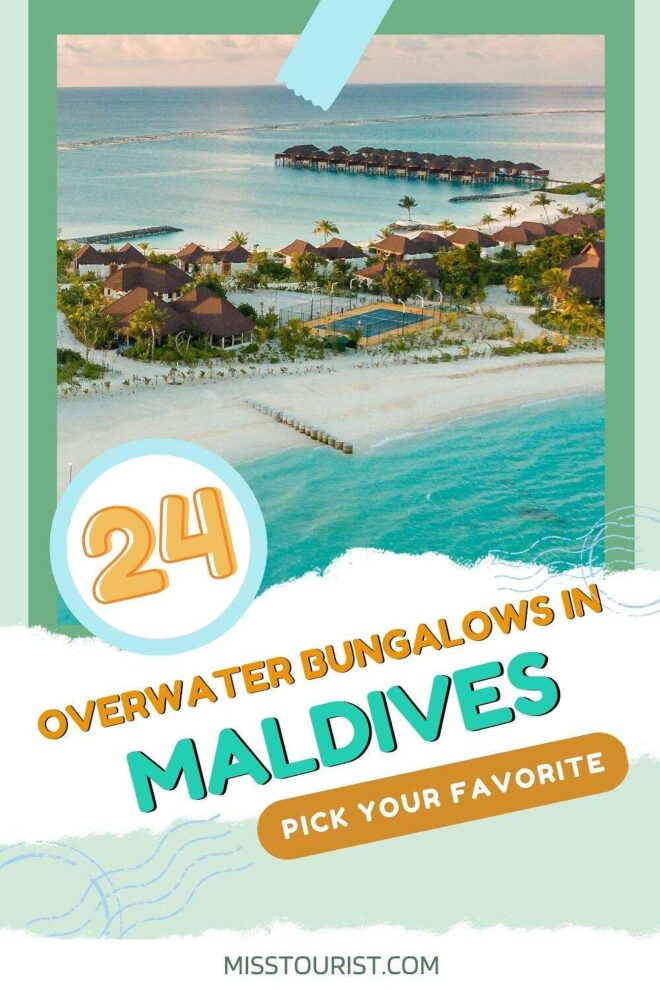 Pin it for later!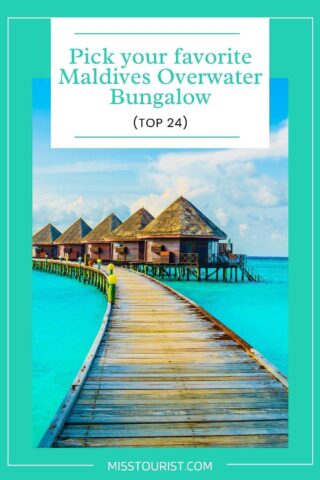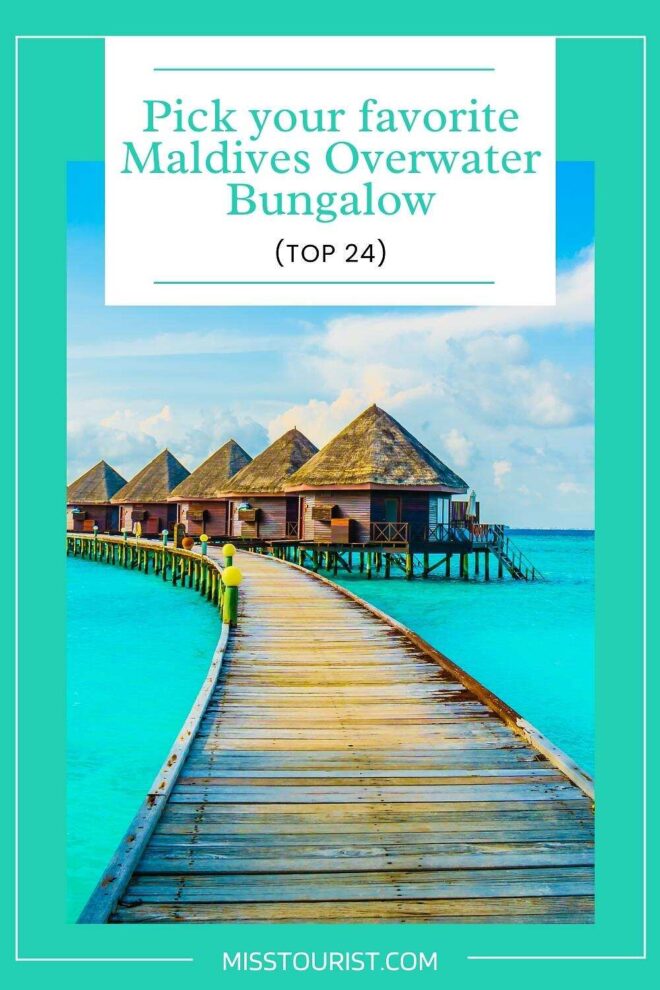 Products You May Like