Epic 2-Day Palm Springs Itinerary • A Local's Guide!
Palm Springs is a popular resort town with a stunning desert landscape, mid-century modern architecture, and home to dozens of festivals, resorts, and spas to enjoy for a perfect weekend in the desert.
Whether you want to explore the natural wonders of the San Jacinto Mountains or lay out by the pool soaking up the SoCal sun, a weekend in Palm Springs is the perfect little getaway for everyone.
As a Southern California native, I've visited Palm Springs quite a few times for a weekend trip and have had a chance to make a productive itinerary that visits the best of Palm Springs. In this post, I'll be sharing it with you, along with some advice along the way.
Since Palm Springs is such a popular tourist destination, I suggest booking all my recommendations in advance to avoid missing out on anything! If you have any questions, leave me a comment, and I'll get back to you ASAP!
All right, let's get started on the ultimate weekend in Palm Springs itinerary!
If you are in a hurry
Only have a weekend in Palm Springs? Here are a few tours and experiences I recommend booking ahead of time to make the most of your trip:
And here are the best hotels: L'Horizon Resort & Spa (luxury), Holiday House Palm Springs (mid-range), Arrive Palm Springs (budget)
Day 1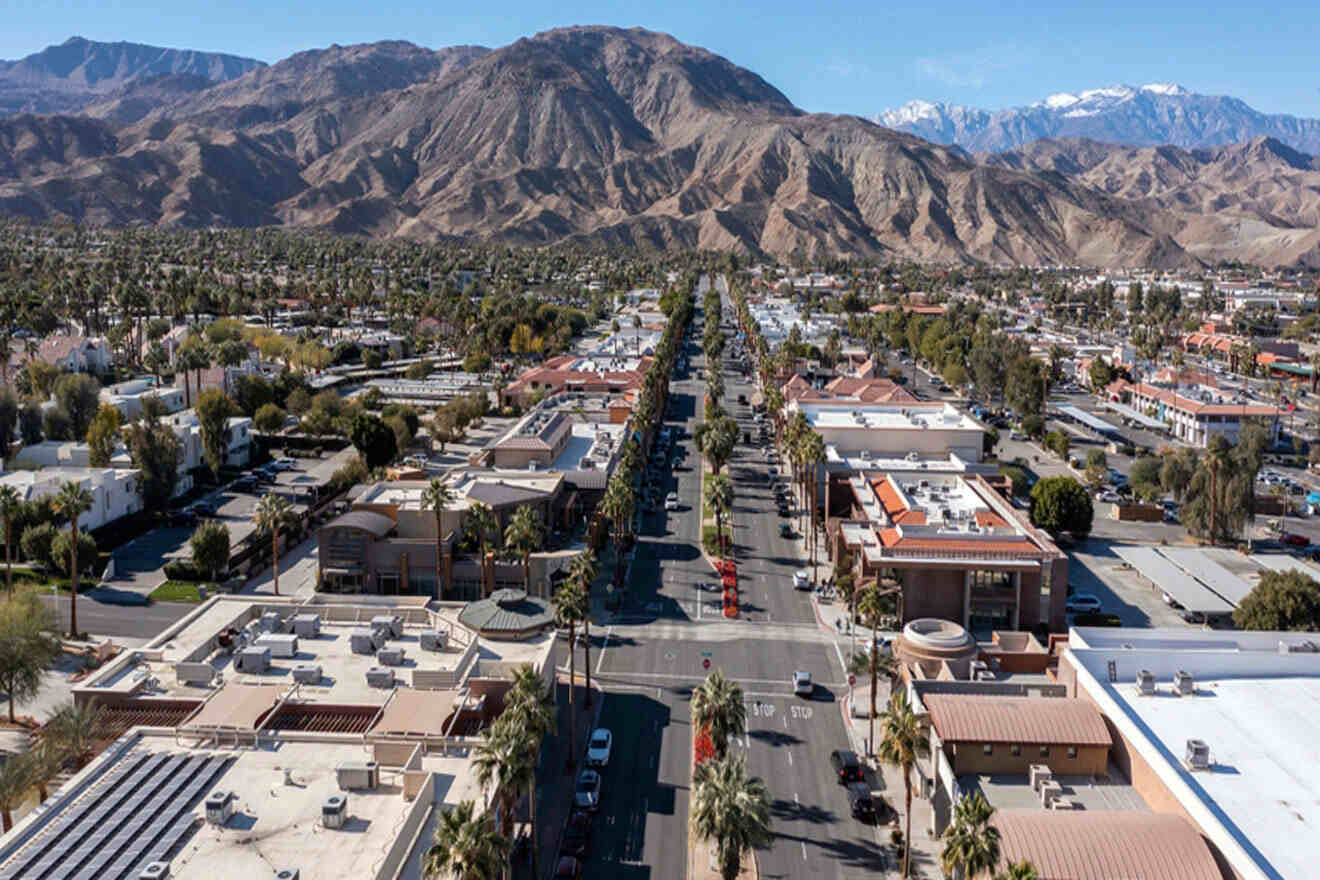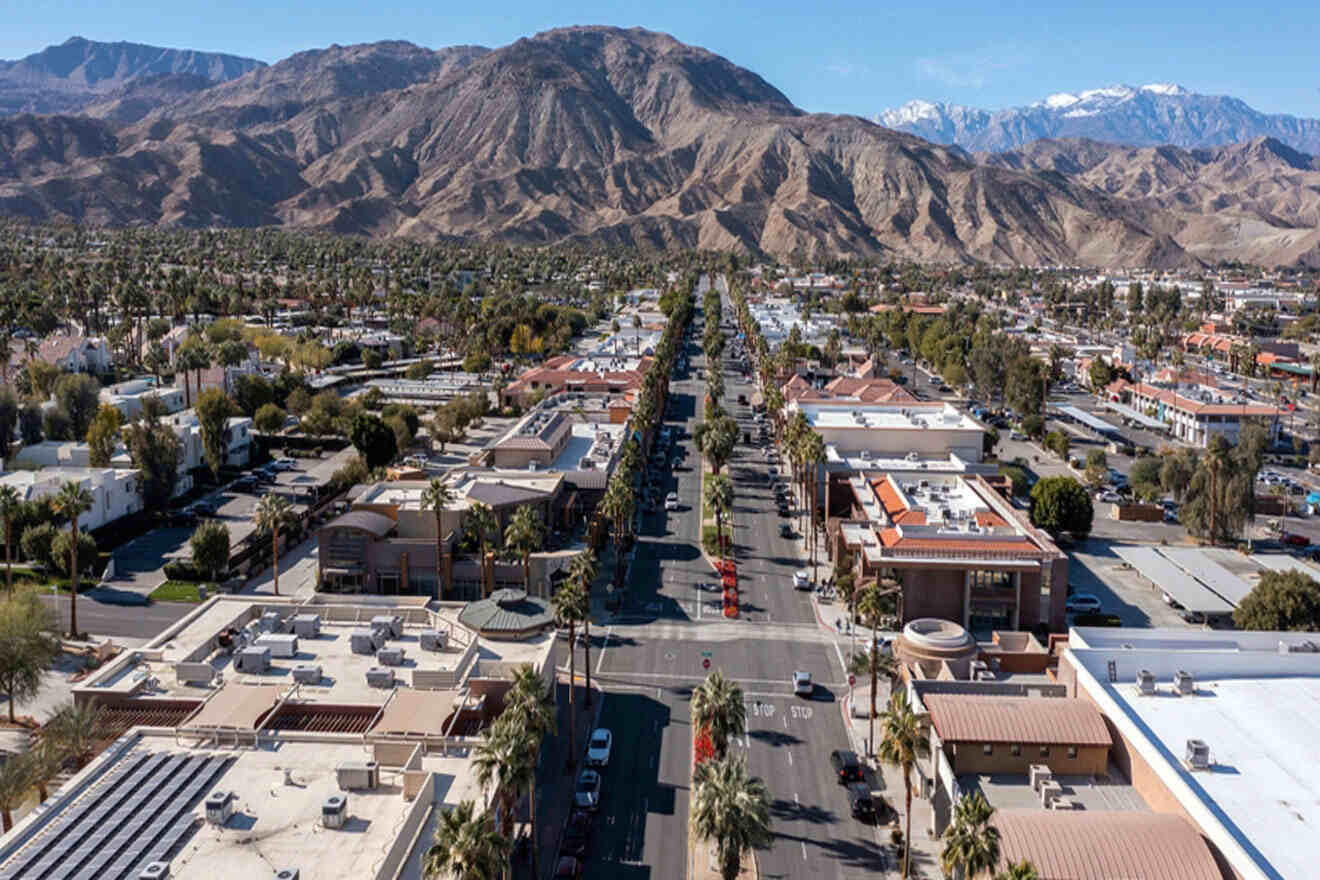 Your 1st day on this Palm Springs weekend itinerary is going to be action-packed with some of the best scenery, natural wonders, and museums in all of Palm Springs. Here's a map to see where everything is located:
We're starting from the very northernmost part of Palm Canyon Drive and heading down as we get through the weekend. Don't forget your wide-brimmed hat for sun protection because it's going to be HOT out there!
1. Start your day with museums and delicious Mexican food!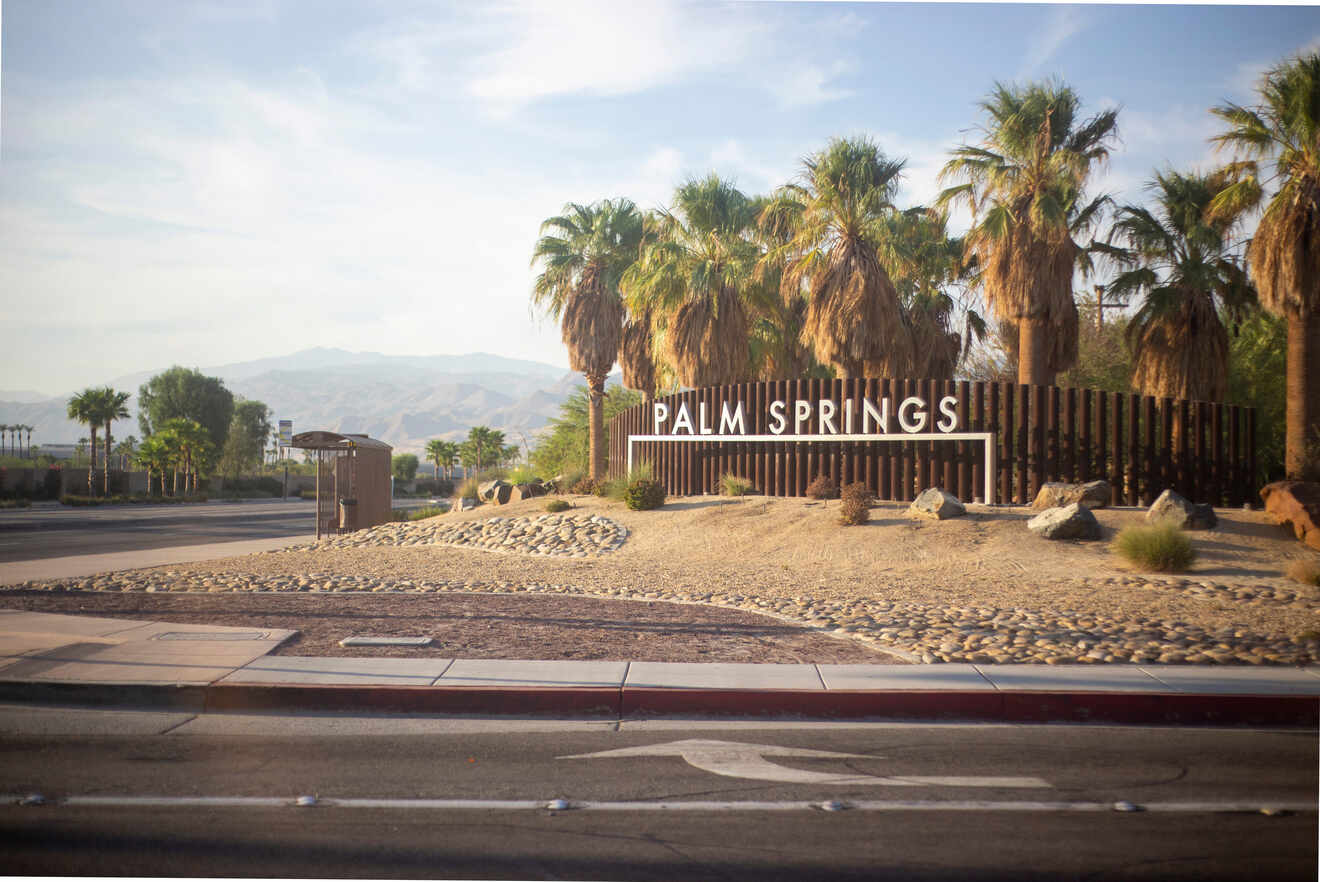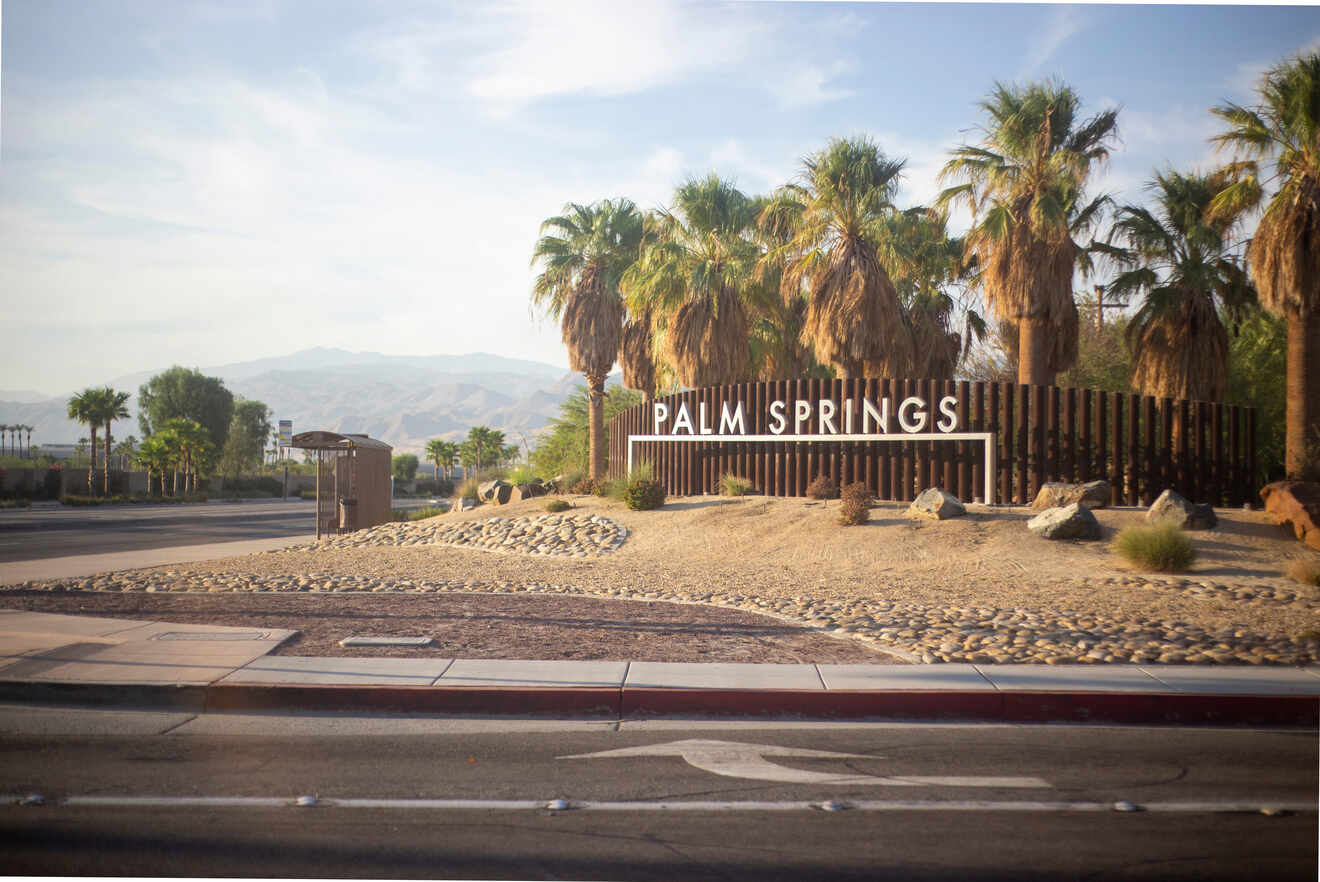 After grabbing coffee and cinnamon rolls at Rick's Restaurant and Bakery (map), stop by the Palm Springs welcome sign for a photo and head over to the Palm Springs visitor center located on North Palm Canyon Drive.
Here, you'll find a team of people dedicated to making your weekend trip the best it can be! So ask all your local insider questions and pick up a map while you're there. The visitor center is also a great spot to stop at first because there are exhibits showcasing the town's history and culture. You can really appreciate the city if you understand its history before exploring it!
Alright, now it's time to make your way to the heart of downtown Palm Springs to check out the vintage shops, mid-century modern architecture, and hottest tourist attractions.
First, head to the Palm Springs Art Museum for a diverse collection of modern art, Native American artifacts, sculptures, and more. If you visit Palm Springs on a Thursday night instead of a weekend, you can get in for free if you make reservations in advance and get a free tour! Even if you're not coming on a Thursday night, reserve your tickets ahead of time.
If exploring the art exhibits doesn't sound like your cup of tea, take flight at the Palm Springs Air Museum instead! This is such a fun thing for kids and adults, showcasing aircraft throughout history, from World War II fighters, bombers, and trainers, as well as more modern aircraft from later periods. Buy your tickets ahead of time.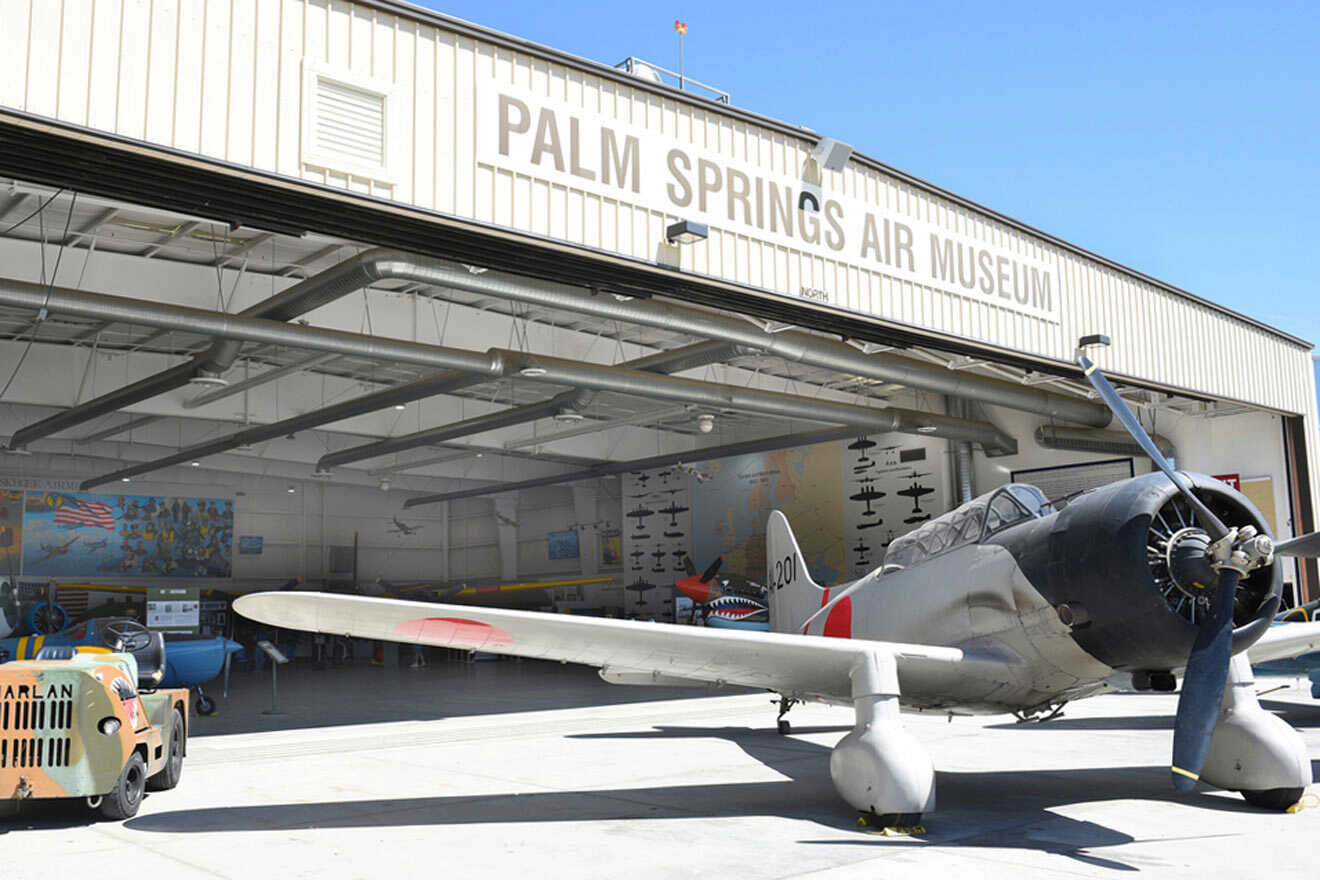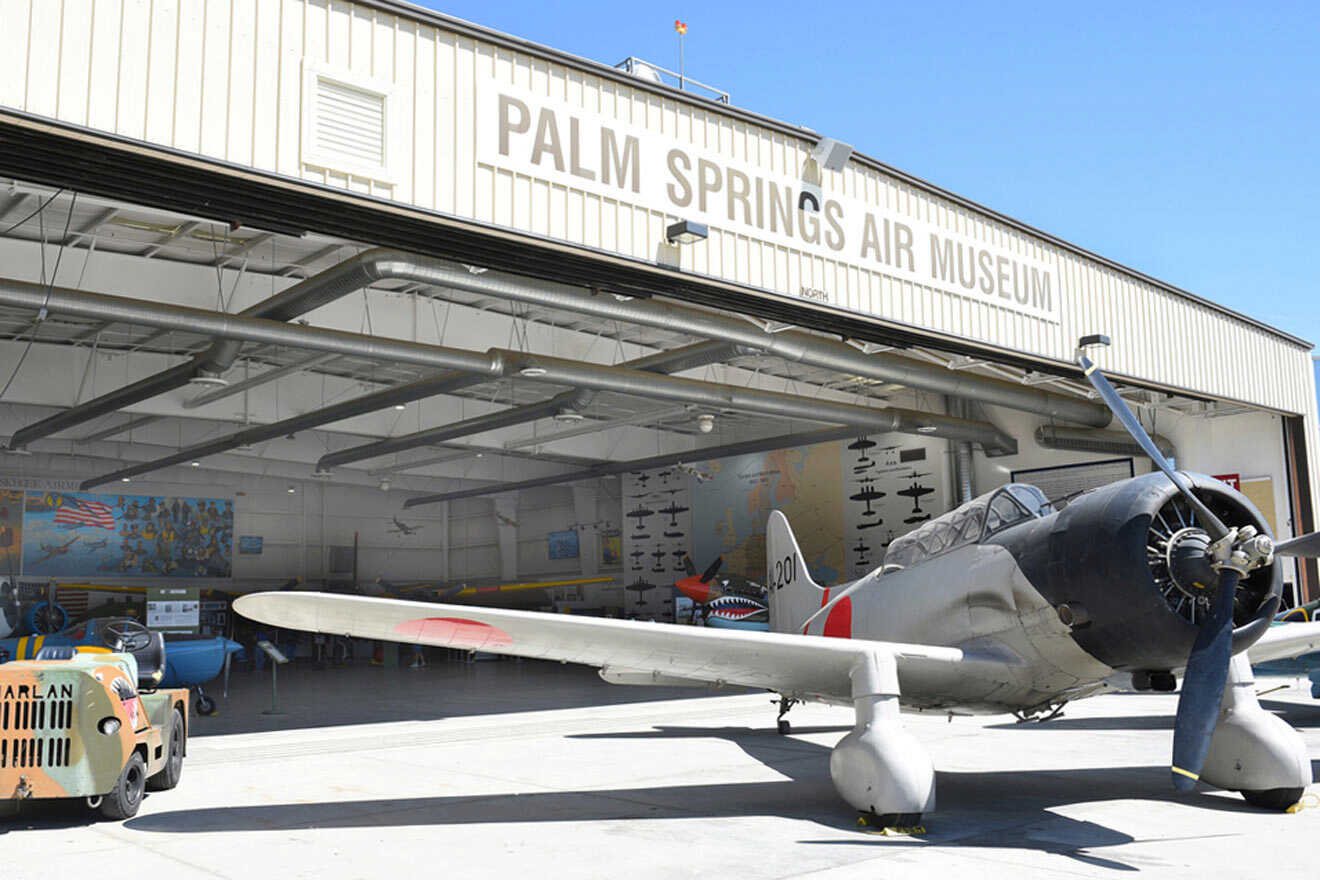 Here are a few other places to stop by while you're in the area (and if you have time to spare):
Agua Caliente Band – Respectfully explore the tribal land of the Cahuilla Native Americans at the Agua Caliente Band. Learn about the culture and history here, and check out the natural hot springs!
Desert Hot Springs – Explore the many hot springs located in Desert Hot Springs! I suggest visiting Two Bunch Palms and El Morocco In & Spa for the ultimate and most relaxing hot springs experience.
Now that you've explored the art and/or aviation exhibits, it's time to stop at Las Casuelas Terraza (map) for the best Mexican food in Palm Springs. The family-owned business' amazing food has been serving the area for 4 generations now! Get yourself a Chimichanga and margarita, and chill out for a minute before embarking on your next stop in the greater Palm Springs area.
TIP: if you'd rather skip the museums and visit one of the most rare geology phenomena in the world, take this San Andreas Fault Line tour from Palm Springs instead! It's about a 3-hour experience of a lifetime. You'll see the San Andreas Fault line from up close and have a local guide sharing their expertise along the way!
2. Head on over to the Palm Springs Canyons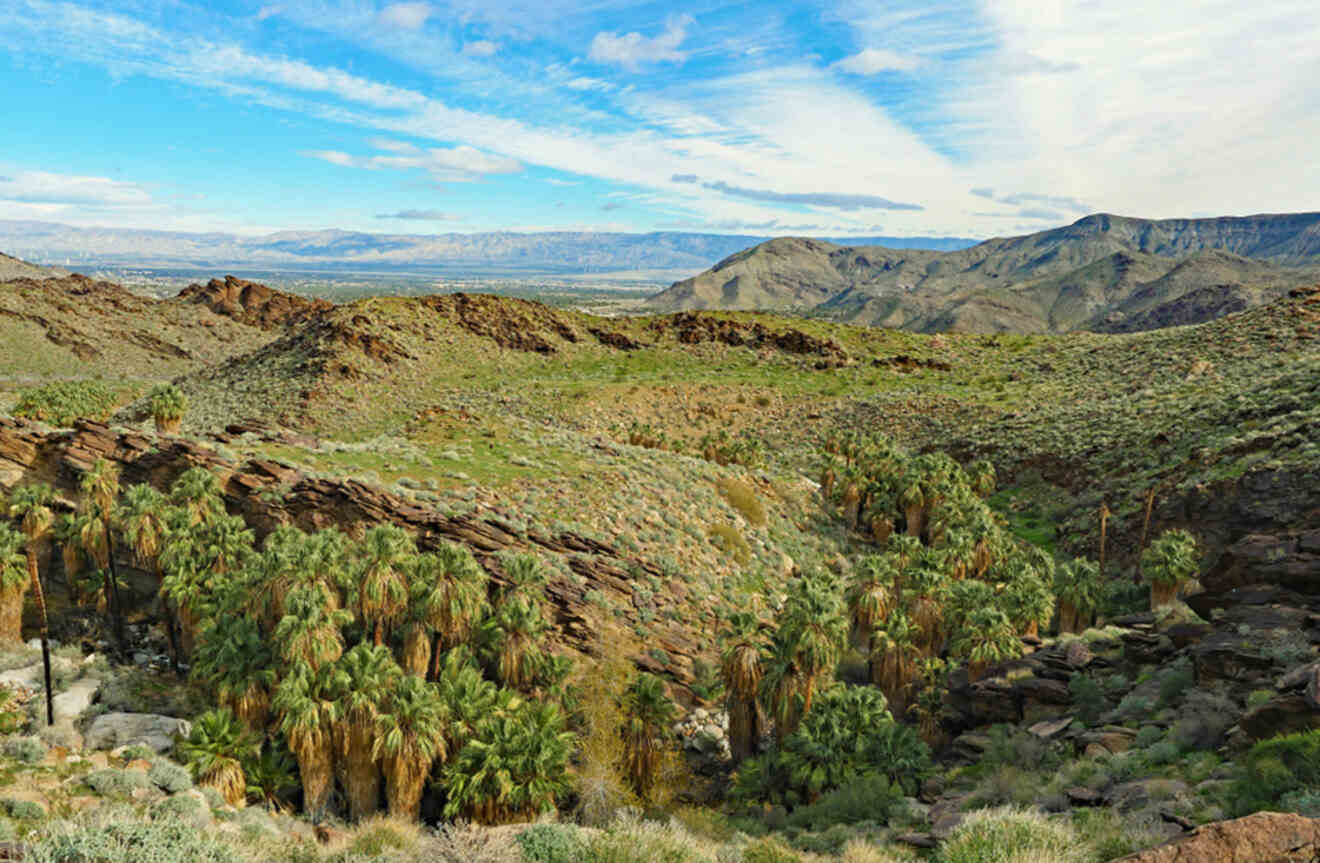 Otherwise referred to as the Indian Canyons, the Palm Springs Canyons comprise 3 canyons: Palm Canyon, Murray Canyon, and Andreas Canyons. They hold a huge cultural significance of the Cahuilla tribe – very interesting to see and learn about while you're in the area.
Believe it or not, many people spend their weekends in Palm Springs relaxing by their resort swimming pool and hot tubs, but I recommend getting outside and exploring natural treasures like these instead.
Pools and hot tubs can be found anywhere, but you won't find history and natural wonders like these anywhere in the world. (I recommend having that same mindset anywhere you go!)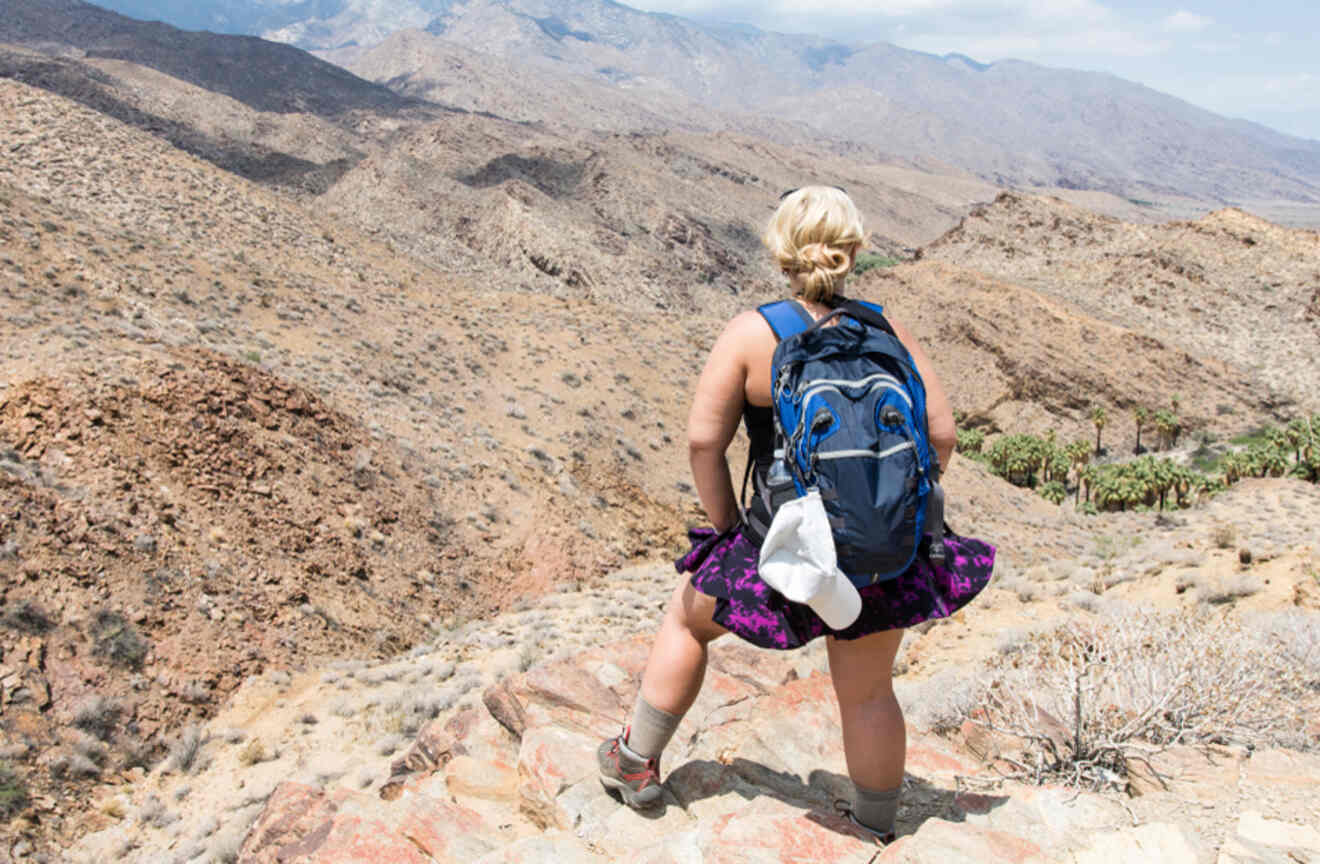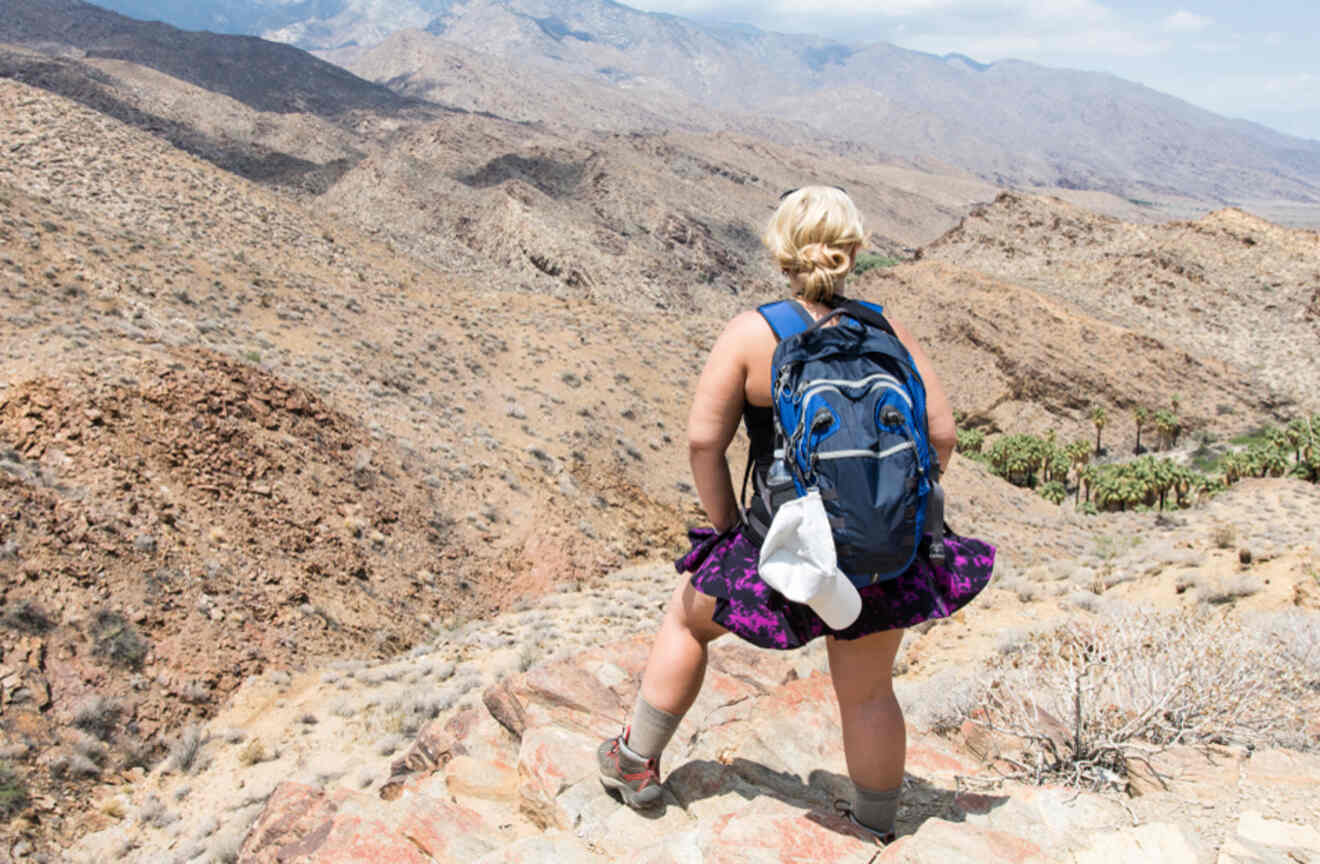 Here's a little bit more about each of the canyons:
Palm Canyon is the largest palm oasis in the country! It's mostly known for its awesome grove of palm trees and the hiking trails that lead to the beautiful palm oasis. It reminds me of a similar hike (Fortynine Palms Oasis Trail) in Joshua Tree (that you can also check out while you're in the area – more on that later!)
Andreas Canyon lies along the Andreas Creek and is filled with a mix of different plants and amazing rock formations. It's the perfect area to hike and bird-watch if you have extra time! Hike the Andreas Canyon Trail for an easy 30-minute loop and breathtaking views of the valley.
Murray Canyon is another oasis with waterfalls, streams, and a ton of native plants surrounding the area. So peaceful and stunning!
Don't forget to bring the proper clothing and footwear! It is very hot during the summer (since Palm Springs is a desert), so be aware and don't go on strenuous hikes during that time of year. I really suggest visiting Palm Springs in the fall and winter time to avoid the extreme heat!
3. Get sunset views on the Palm Springs Aerial Tramway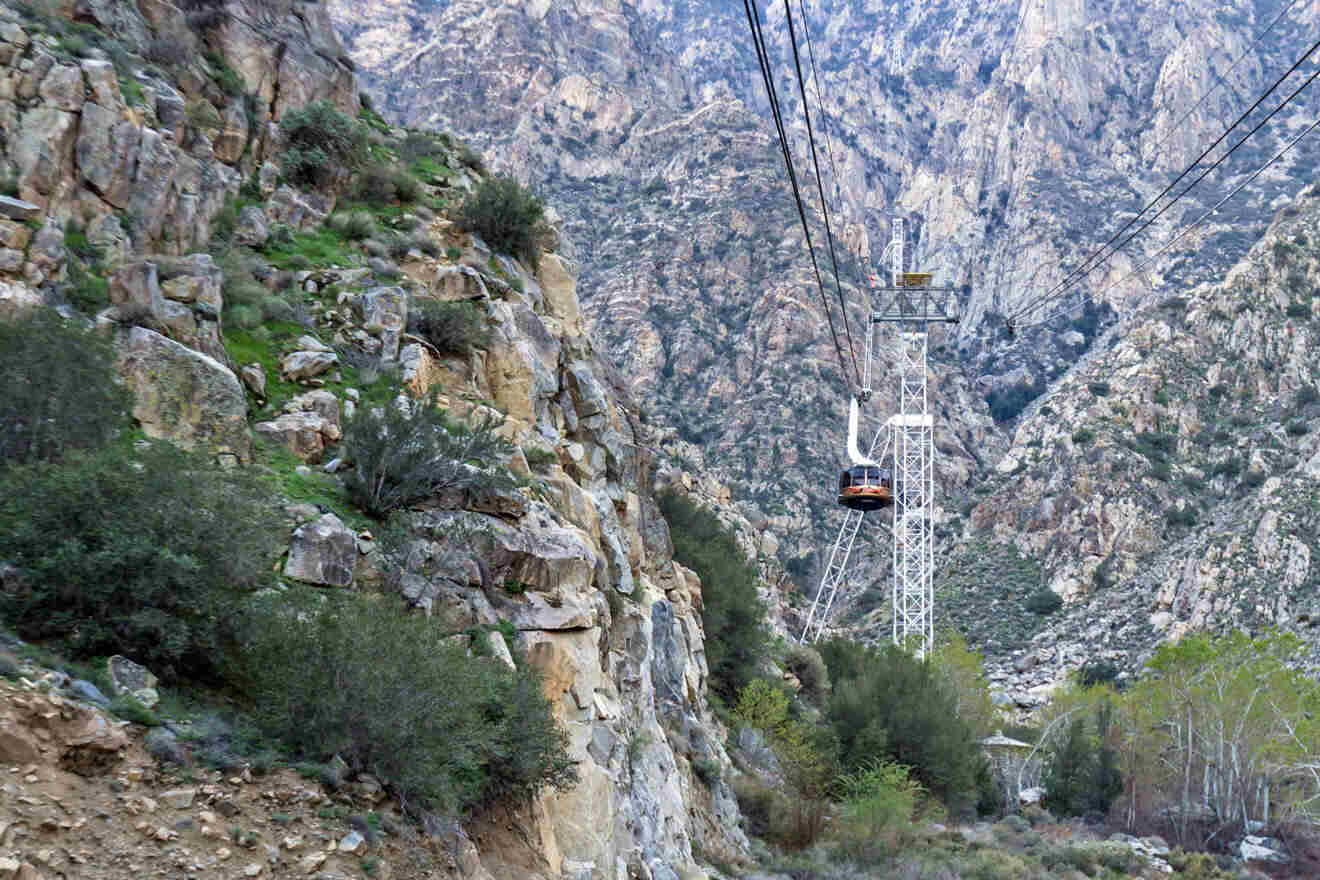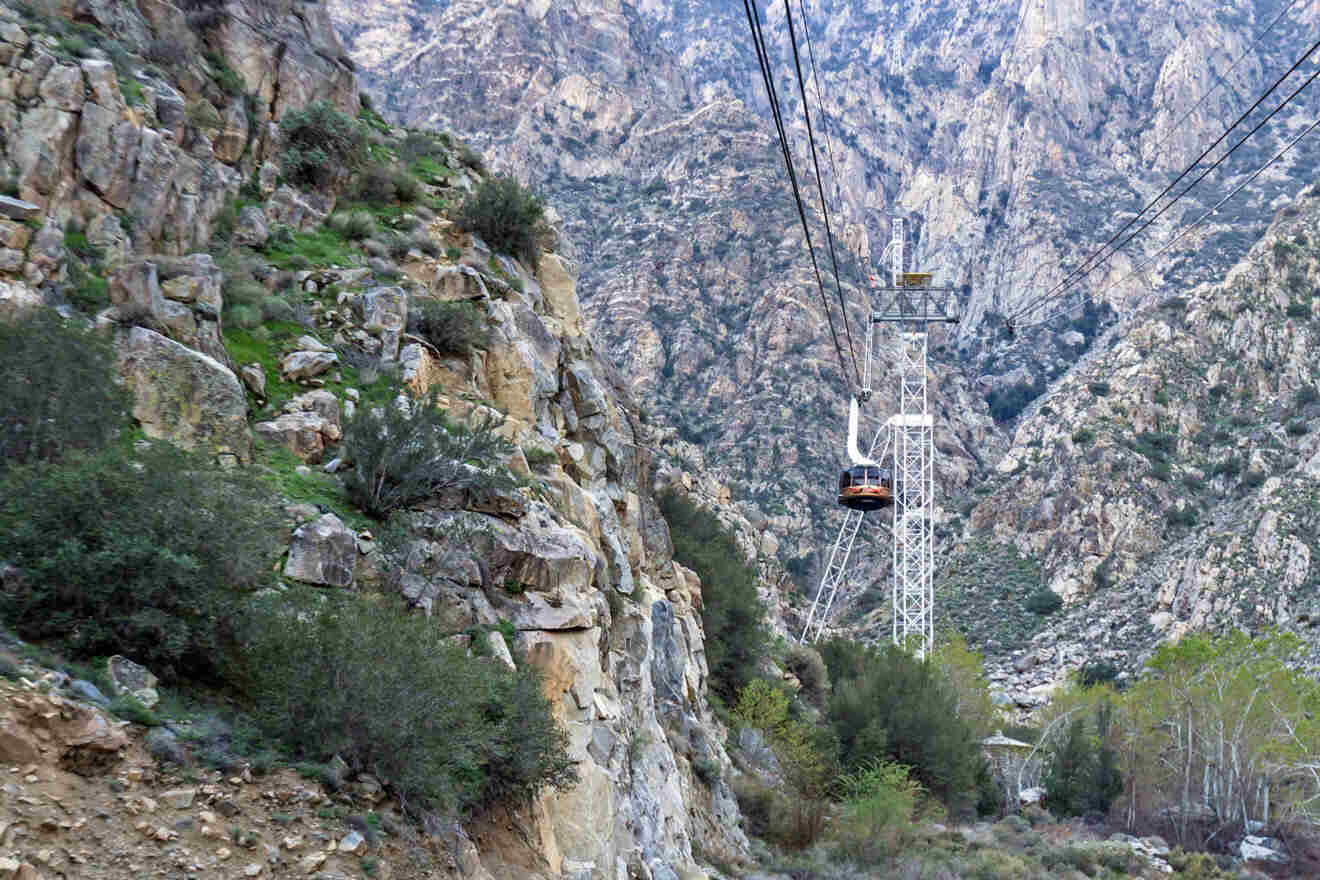 After your hike, it's time to head on over to the Palm Springs Aerial Tramway, known to be the largest rotating tramcar system in the world! You'll get an experience of a lifetime by ascending from the desert floor all the way up to Mount San Jacinto. It's a surreal experience and a nice way to relax and enjoy the view after spending the last few hours exploring the canyons.
The aerial tramway starts at Valley Station, about 2,640 ft (800 m) above sea level, and ends up at the peak of the San Jacinto Mountains at Mountain Station at 8,516 ft (c. 2,600 m) up in the clouds! If you look down, you'll see views of the entire Coachella Valley, Chino Canyon, San Jacinto State Park, and the entirety of Palm Springs. It's an absolute must-see when you're here! Plus, going during the sunset hour is the absolutely perfect way to do it.
If you're visiting in the winter, it's important to keep in mind that the peak of the mountaintop can get pretty cold. Bring a jacket to stay warm!
PRO TIP: after your aerial journey to the top of the mountain, head over to Lulu California Bistro (map) for the best dinner deals and outdoor dining area in downtown Palm Springs.
PRICE: from US$30 per adult
Book your aerial tramway tickets
Day 2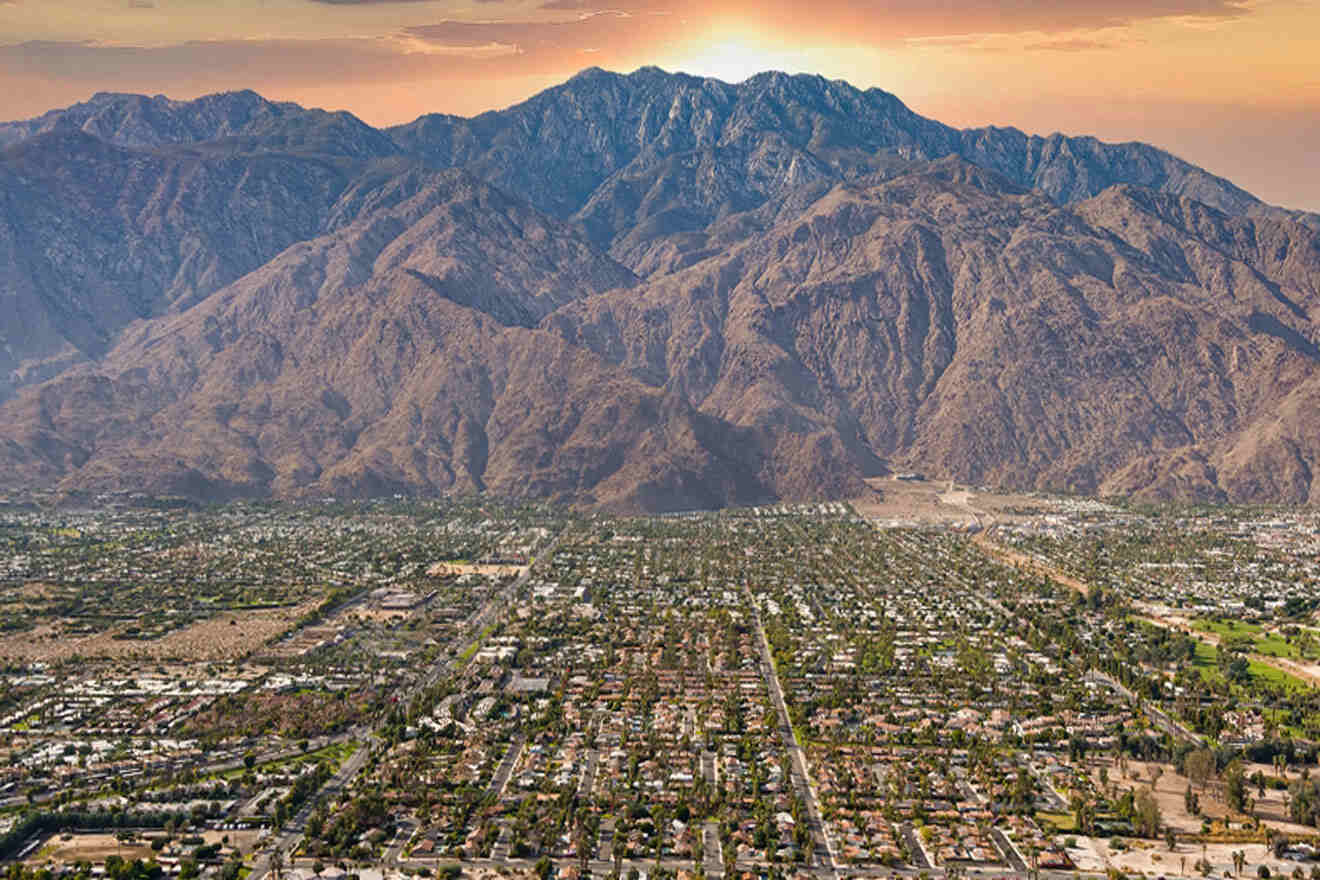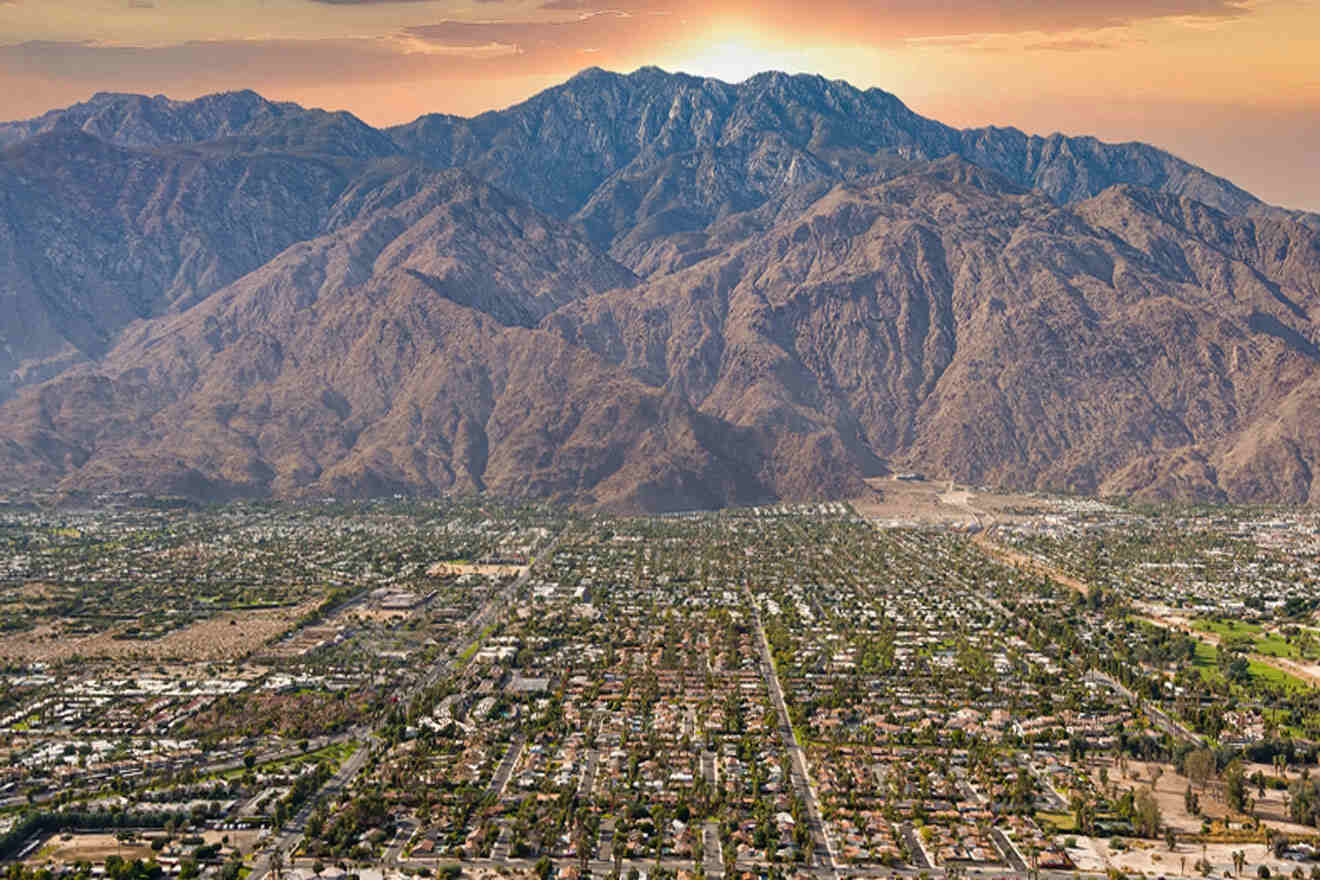 You made it to day 2 of your Palm Springs Itinerary! Woohoo! Your 2nd day is going to be filled with even more exploration outside of the downtown Palm Springs area. See our stops on the map below:
Make sure you get some rest and pack your sun protection essentials before embarking on day 2 because you'll be spending the day out in the sun again, and it can easily get super draining.
1. Head on over to the gardens and zoo of Palm Springs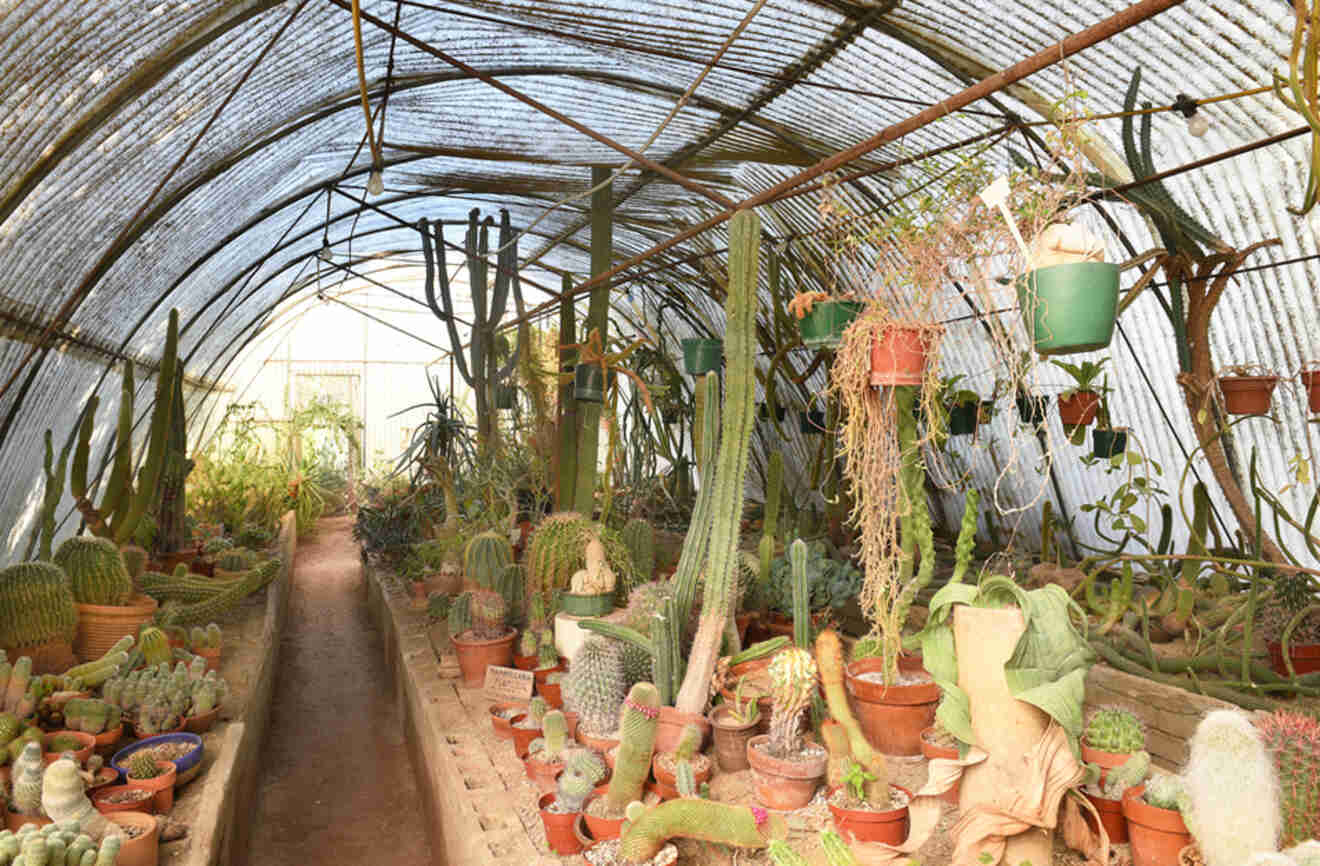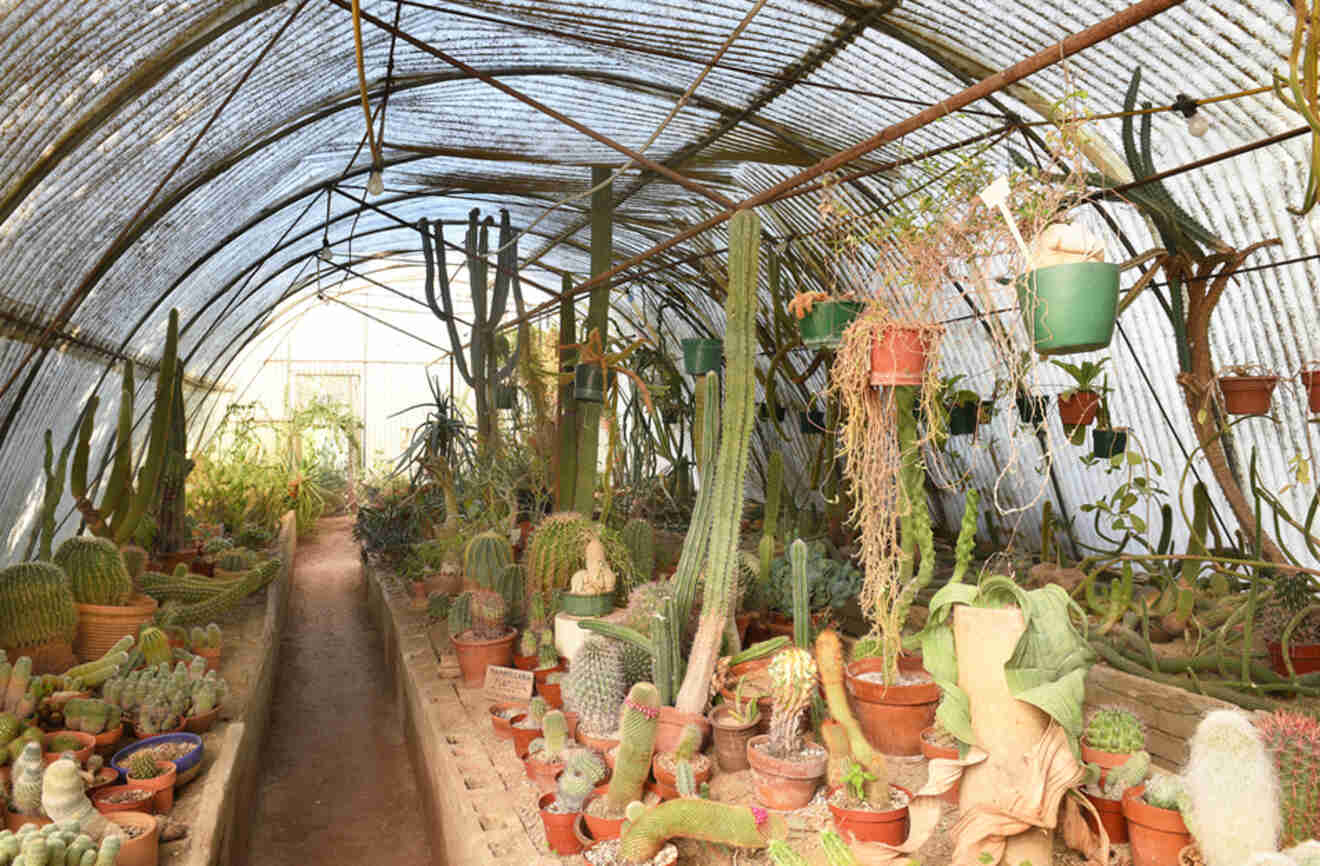 After grabbing a cup of joe and a delicious cinnamon roll at Rick's again, head on over to Moorten Botanical Garden to start your day with a desert well-known for its collection of desert plants including cacti and succulents from all over the world!
You'll get a chance to explore and learn all about the fascinating world of desert plants with their educational resources. Admission is only US$5 for adults and US$2 for children, making this an awesome, affordable experience for everyone.
After you explore Palm Springs' most famous desert garden, take a pit stop at Warnock Fine Arts for a charming little art museum and WFM Coffee Bar for an energy booster before you arrive at the Living Desert Zoo and Gardens, located about 24-minutes away from the botanical garden, nearby Palm Desert.
Similar to the Moorten Botanical Garden, The Living Desert Zoo and Gardens showcase and preserve desert flora and fauna found in the USA. This park is also a zoo – but it's totally different from your traditional zoo!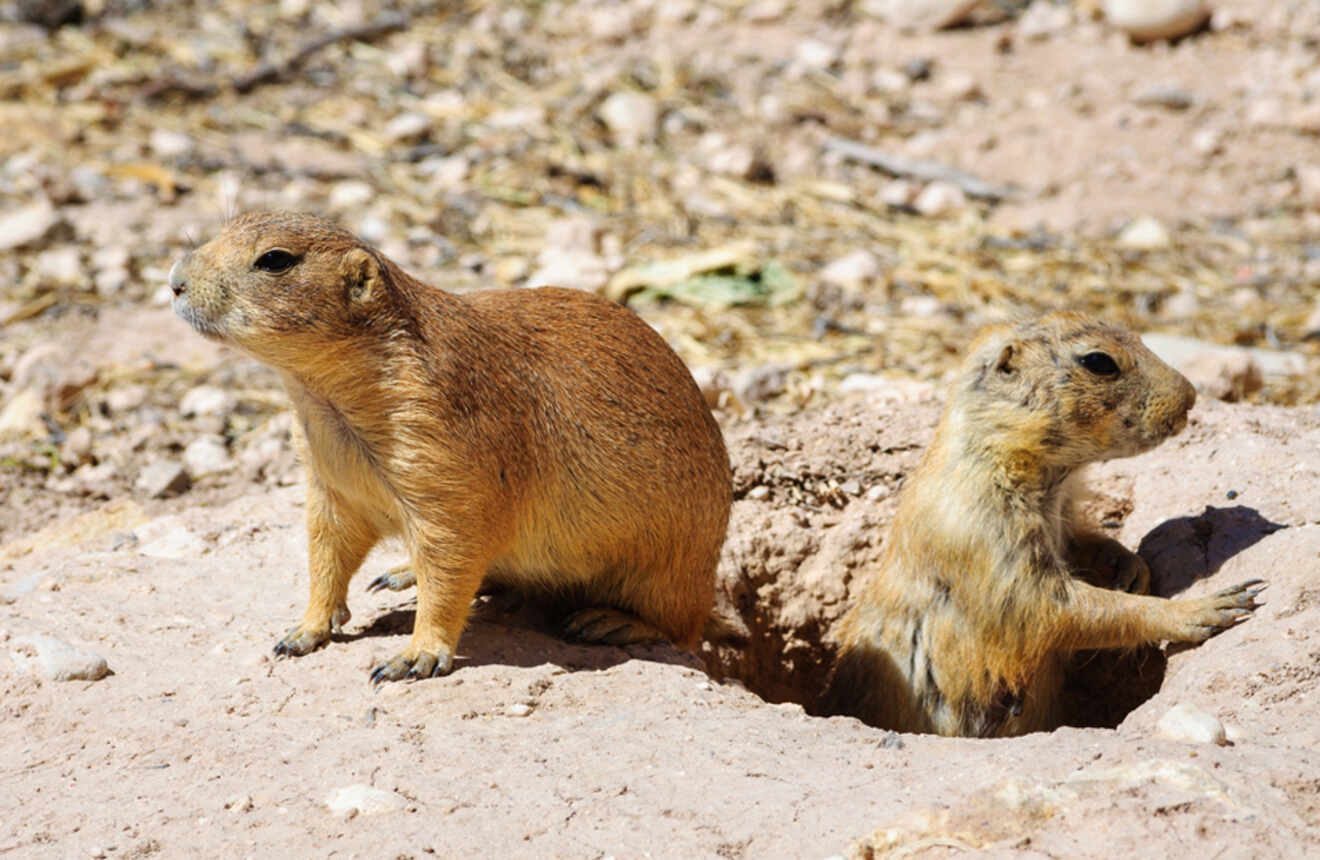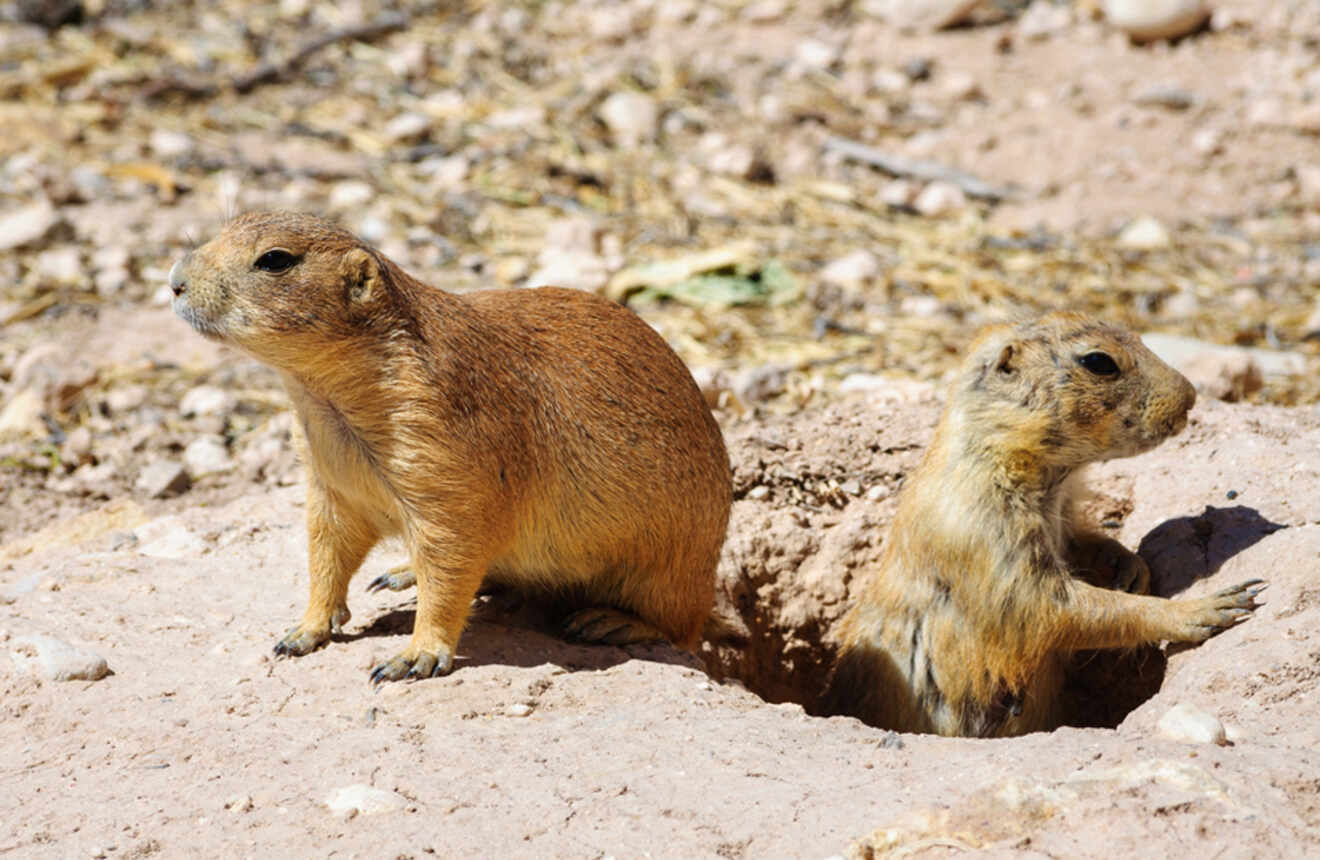 It focuses on a wide variety of animals like birds, reptiles, and insects that call the desert their home. With over 1,200 acres (486 hectares) to explore at the Living Desert Zoo and Gardens, it's so tempting to spend the rest of your day here!
However, we need to make the most out of your weekend in Palm Springs, so it's time to make your way over to the next location!
TIP: Palm Desert is home to one of the most famous music festivals in the country, Coachella! I suggest visiting outside of the festival season to avoid traffic and inflated prices all around. Check their website for the festival calendar!
2. Drive down to Salvation Mountain or Anza Borrego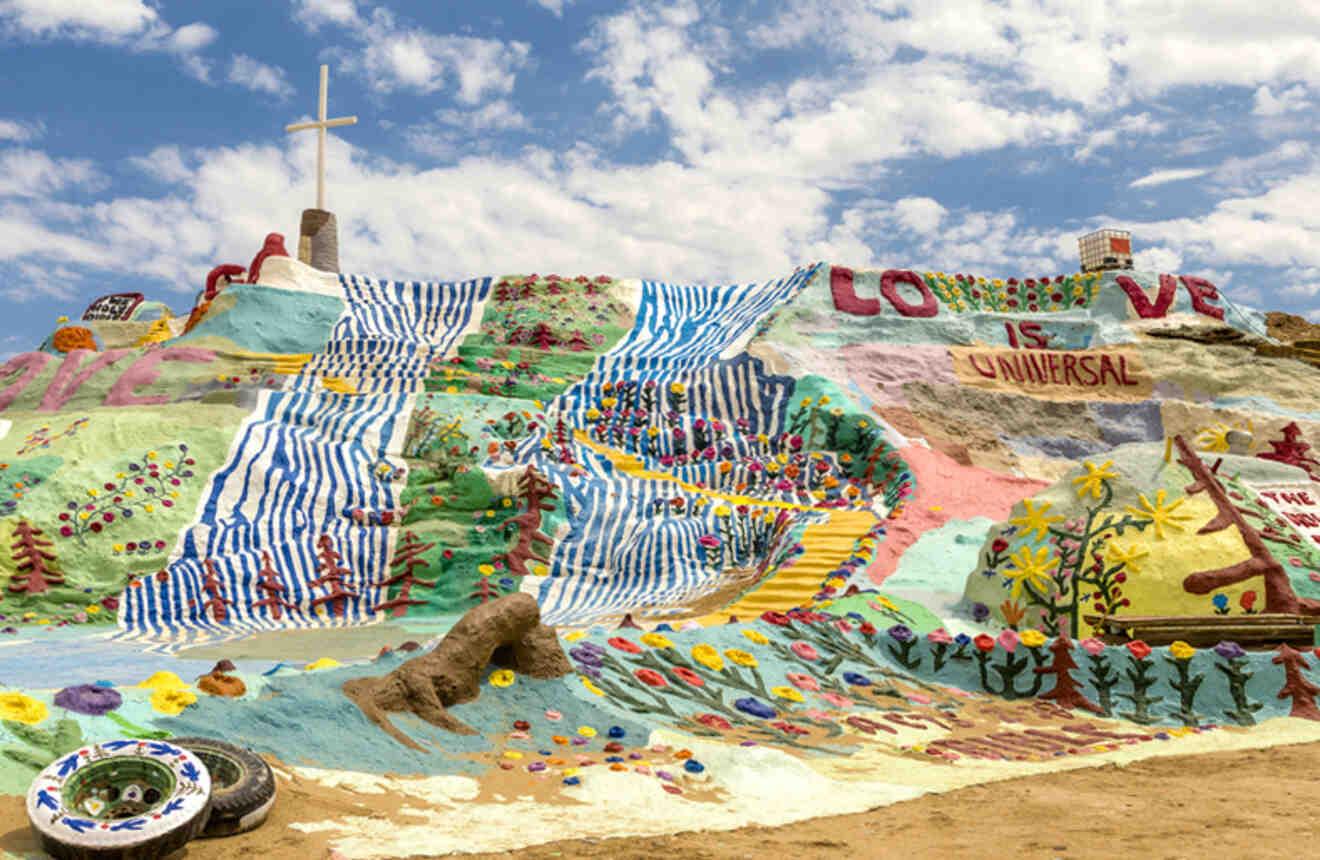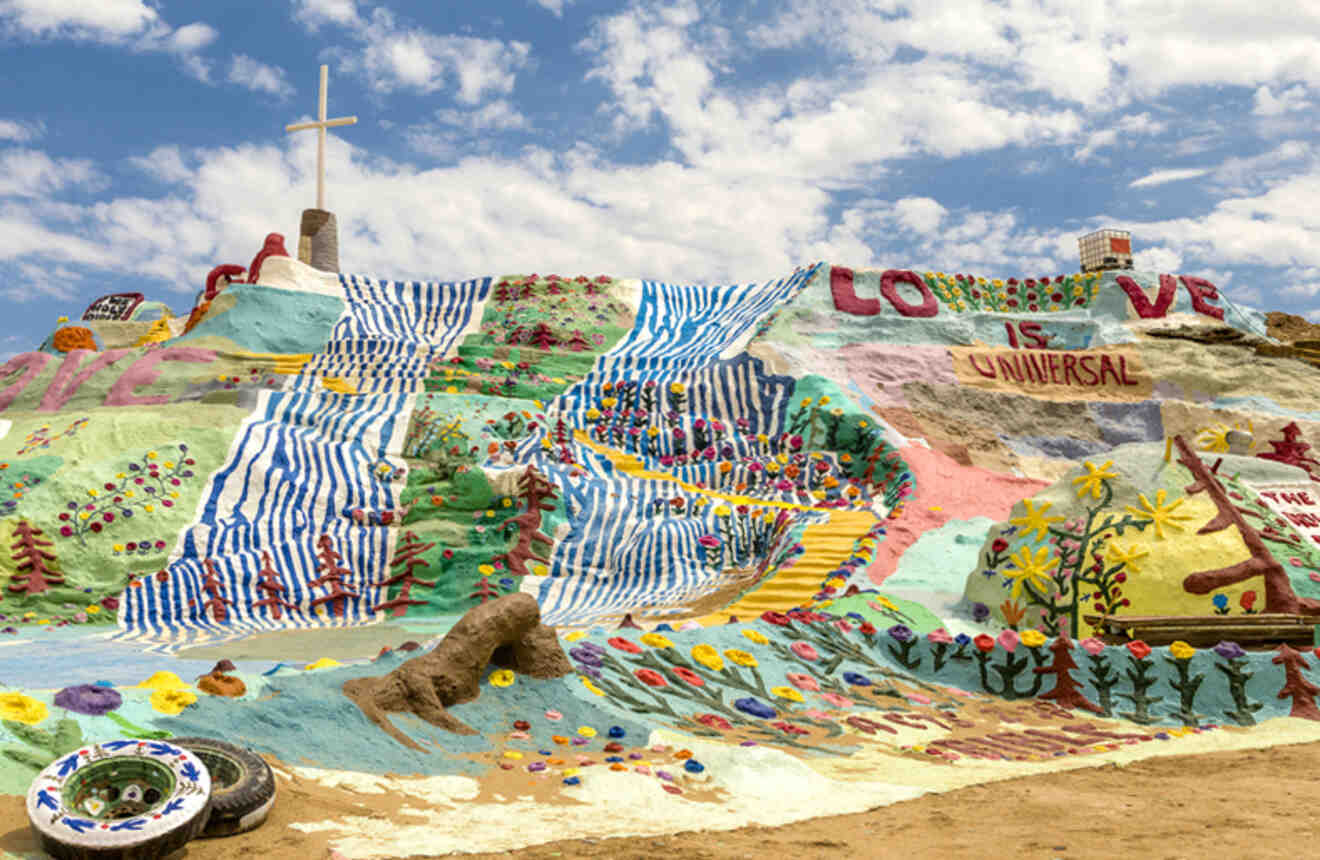 Salvation Mountain is one of the coolest attractions I've ever seen (and also quite literally in the middle of nowhere). You'll take a drive from Palm Desert, down from Coachella Valley, passing the Salton Sea, and ending up at Slab City, which is a whole off-the-grid adventure to explore on its own.
I recommend bringing your camera and exploring the ins and outs of the painted canyon. You'll find all sorts of memorabilia left over by visitors from around the world, colorful artwork covering the mountain and canyon walls, and religious Christian messaging everywhere you turn.
It's an important symbol recognized around the world and created by artist Leonard Knight. The last time I was there, it was dead quiet (because, again, it's quite literally in the middle of nowhere). Be quiet and tread lightly as you and other visitors explore the mountain.
If Salvation Mountain doesn't sound like your thing, I suggest exploring the largest California state park, Anza-Borrego Desert State Park, instead! There are about 600,000 acres (240,000 hectares) to explore throughout the Colorado Desert area, closer to San Diego and just west of the Salton Sea. It's about a 1-hour drive from the zoo, but it's well worth it!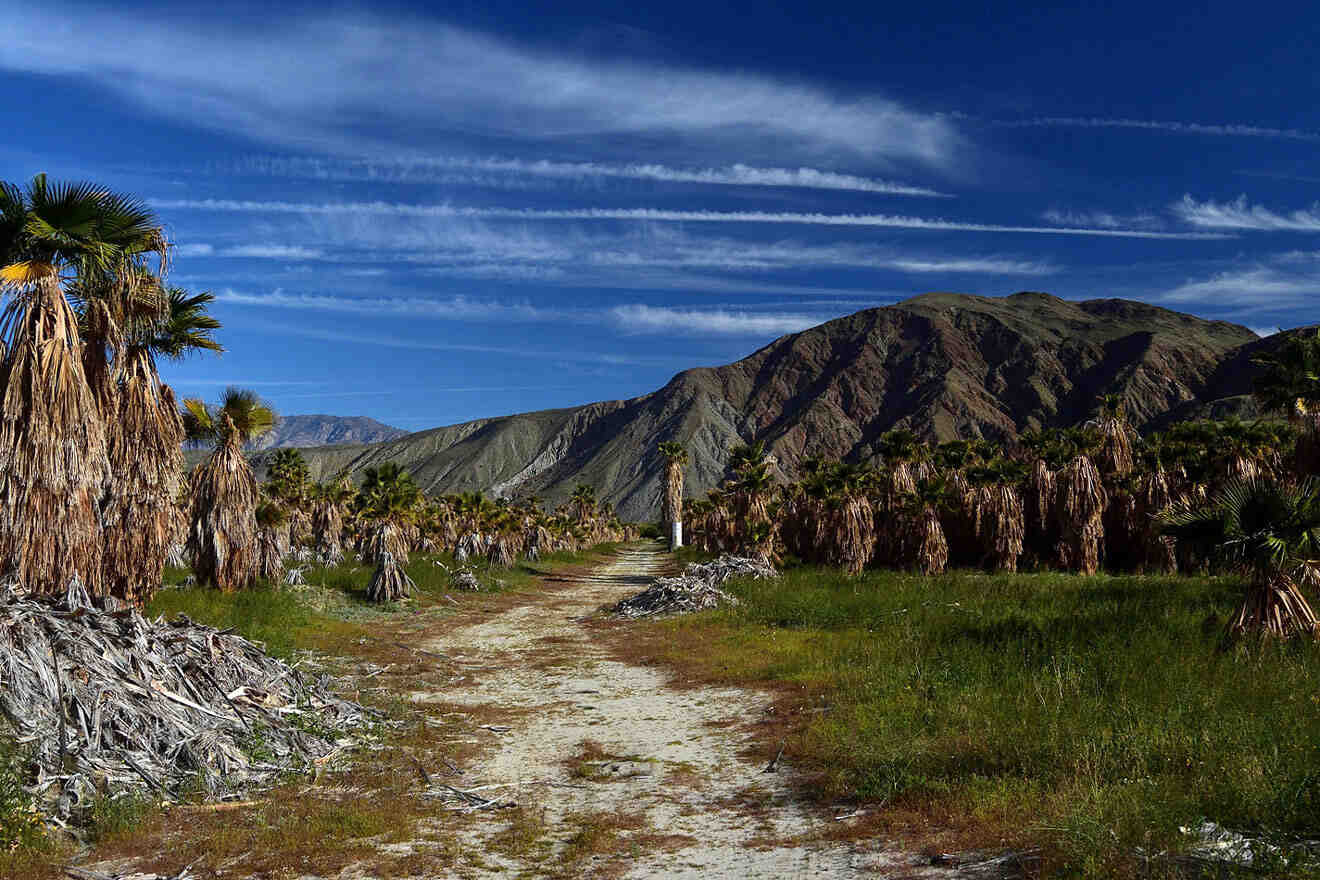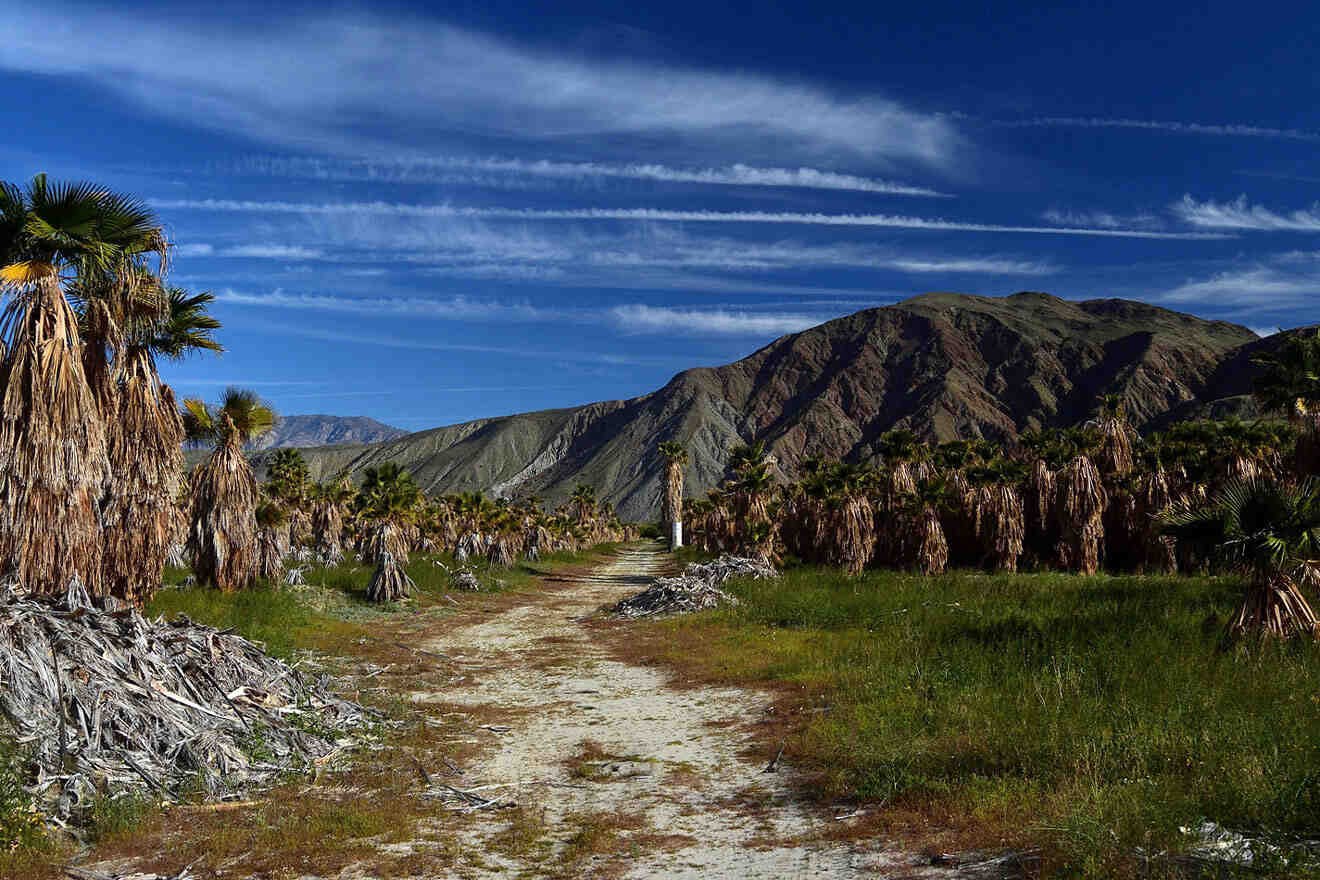 You'll find awesome desert wildlife like bighorn sheep, roadrunners, foxes, and unique bird species that you can only find in the desert, along with unique desert wildflowers in the spring and Native American cultural artifacts located throughout the park.
I do NOT recommend coming in the summer – it's way too hot and dangerous. Instead, come in the spring and catch their famous "Superbloom" seasonal natural occurrence.
Since you're out here in the middle of nowhere, there's a limited amount of places you can stop to eat. I suggest buying a light lunch (a sandwich is always a good idea) from a grocery market in Palm Springs beforehand and packing it in a cooler.
After exploring Salvation Mountain or Anza Borrego Desert State Park, it's time to drive back to your resort and unwind for the last thing on this Palm Springs itinerary: relax by the pool 👙.
3. Unwind by the pool before saying goodbye to Palm Springs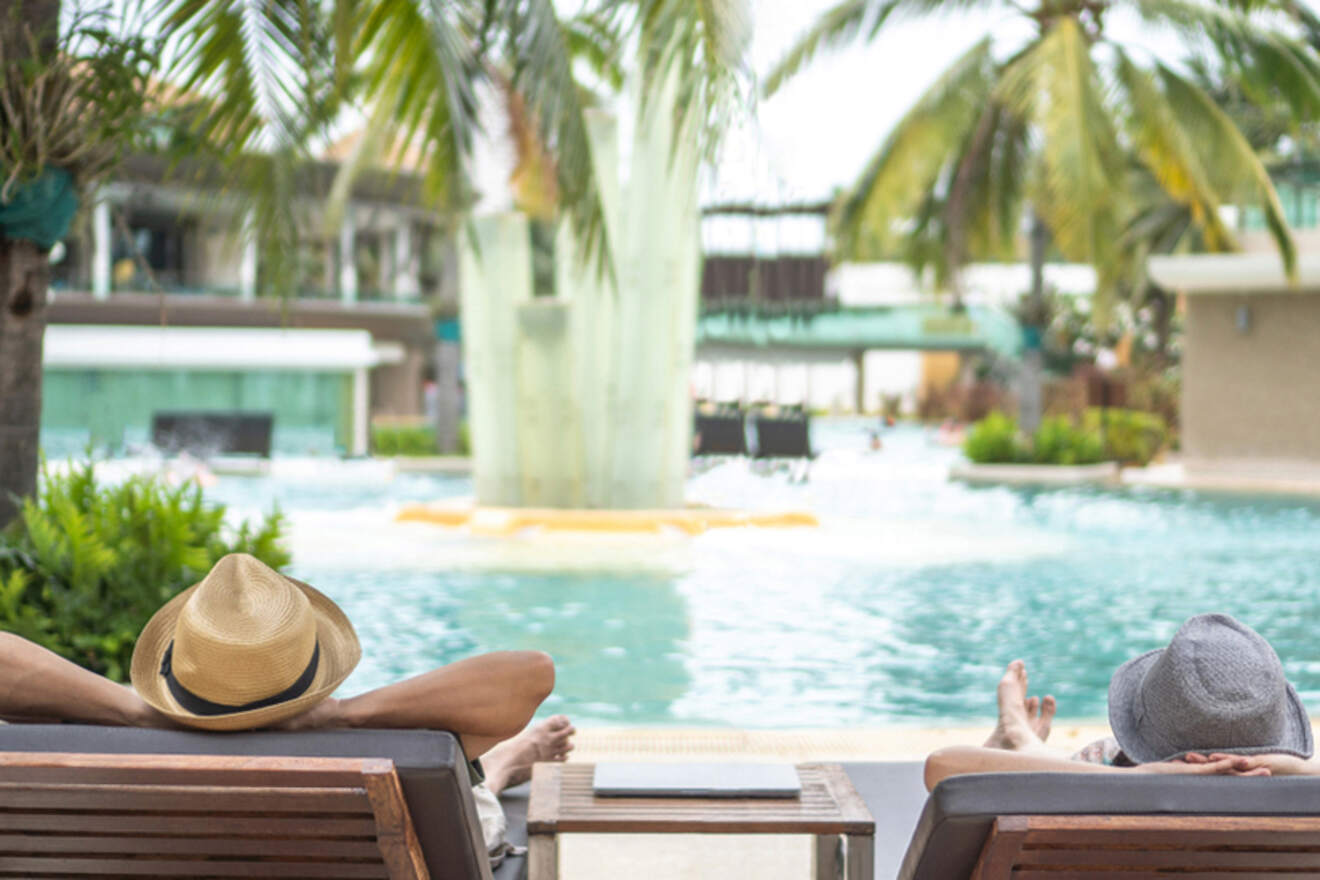 Last but not least, Palm Springs is well known by SoCal natives and locals to be the ultimate pool-time-relaxing spot. I wanted to make the perfect Palm Springs itinerary by adding all the outdoor must-see spots and giving you options to choose what you please.
However, if you want to spend 2 days having solo pool time or having pool parties with the kids without a care in the world to see anything in Palm Springs – all glory to you!
It's always a good time to swim in Palm Springs, which is why you'll find almost every resort or hotel has a swimming pool and hot tub for you to relax in. See our top picks on best hotels with a lazy river, and top hotels with water slides. Sounds amazing, doesn't it?!
Just note that the sun is blistering hot, so be sure to slap on that sunscreen every 30 minutes or so to avoid getting sunburned.
If you're in the mood to party, there's one huge music and pool party event held every year in Palm Springs called Splash House. It's known for the EDM performances by popular world-renowned DJs, the vibrant pool party atmosphere, and both daytime and nighttime parties held for multiple weekends during the summer. I suggest planning your trip according to the festival if this sounds like your thing!!
Can't get enough of the desert views and feel? I don't blame you! If you decide to spend an extra day and have a long weekend in the greater Palm Springs area, I suggest taking a day trip to Joshua Tree National Park!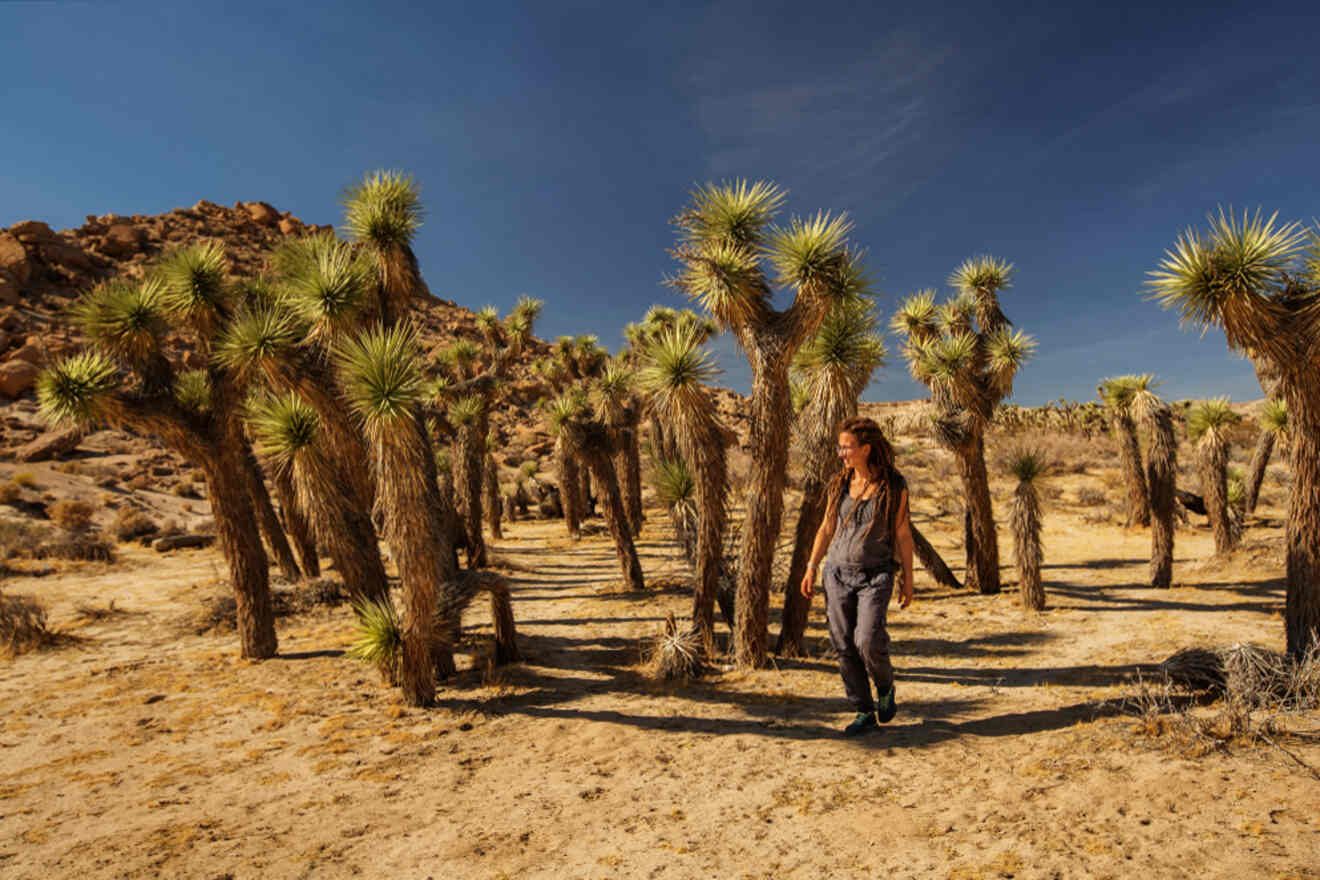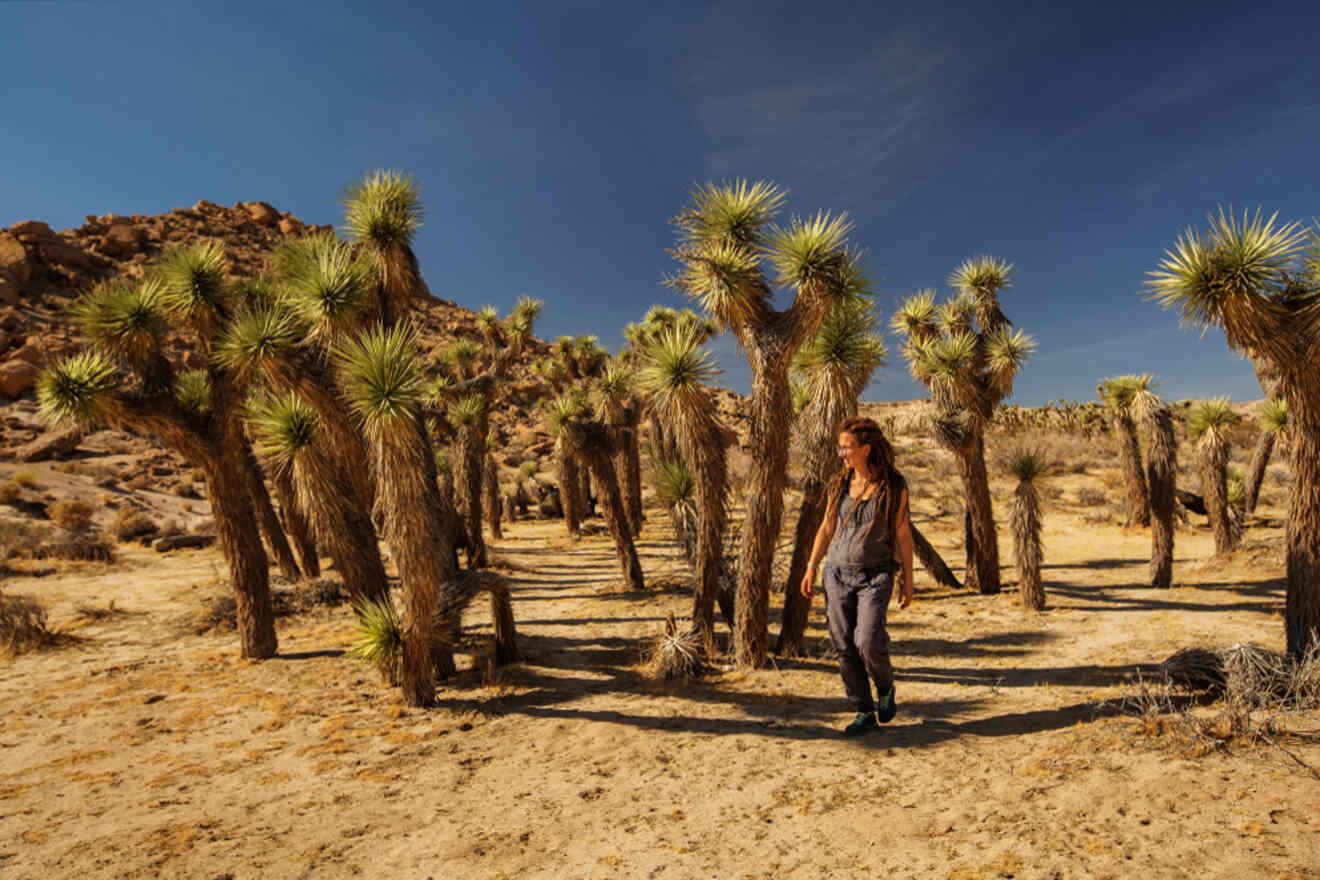 Joshua Tree is east of Palm Springs, heading towards the famous Colorado Desert. It's a bucket-list location that you absolutely need to see at least once in your life.
I recommend checking out the Cholla Cactus Garden for a variety of desert plants, cacti, and wildflowers during spring and checking out all the amazing rock formations via hiking trails that you can find all about in our dedicated post on the top-rated hiking trails in Joshua Tree National Park.
(Psst! There is this Red Jeep tour that I recommend if you're spending the entire day there!)
FAQs about your Palm Springs itinerary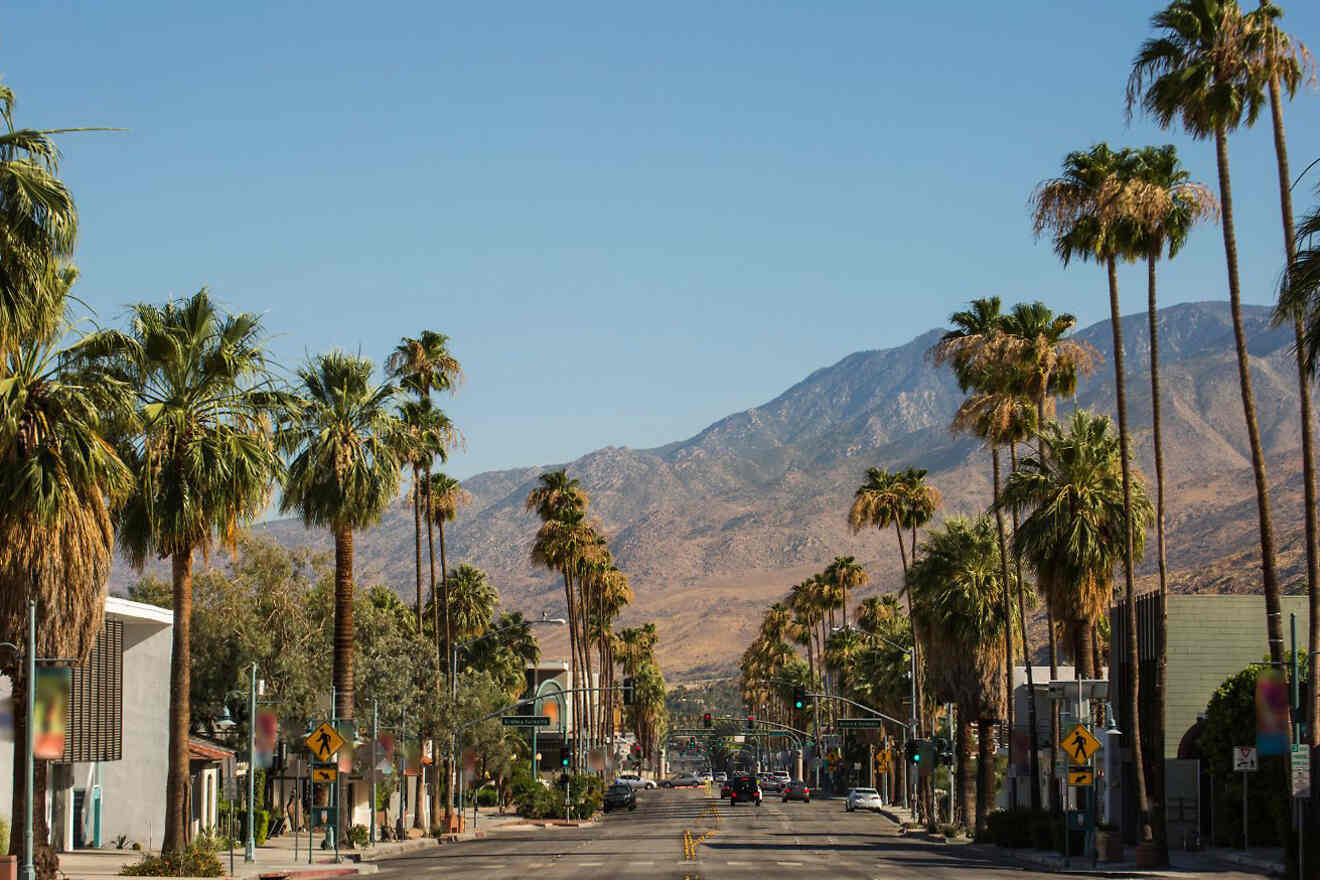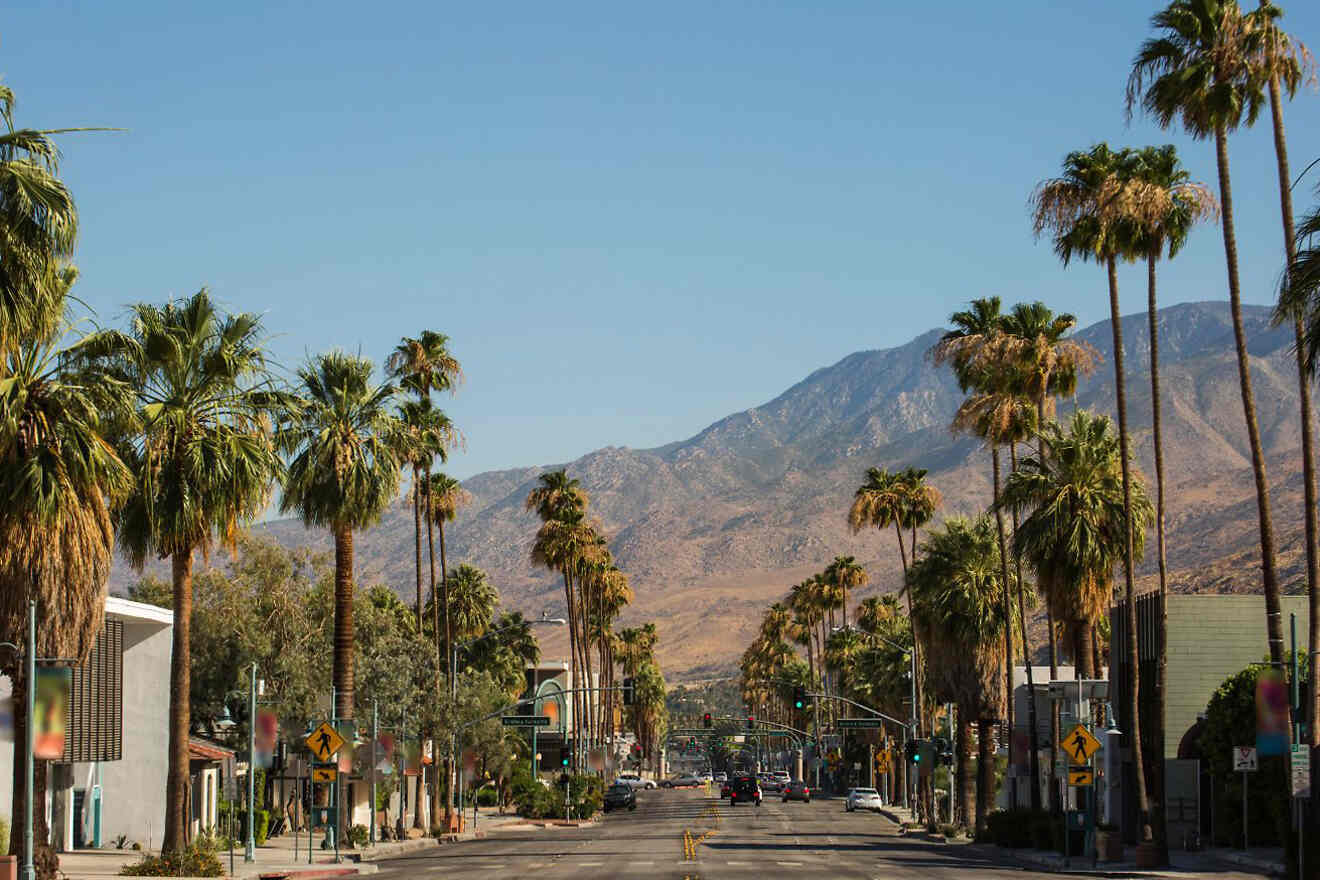 🌵 What should I do for 2 days in Palm Springs?
I suggest exploring the nature located all throughout the greater Palm Springs area, but if you want a more chill, laid-back weekend, explore the golf courses, hot springs, and stay at the resorts by the pool. Saguaro Palm Springs and Sands Hotel are 2 majorly popular choices to pick from.
🏜️ What are the best outdoor landmarks in Palm Springs?
The best outdoor landmarks to explore in Palm Springs are the Palm Spring Canyons, Salvation Mountain nearby, Joshua Tree National Park, and the San Andreas Fault. 
😅 How can I explore the best of Palm Springs stress-free?
The perfect weekend getaway to the desert oasis of Palm Springs can go super smooth if you plan your trip in advance, make sure you book everything on time and consider booking guided tours to avoid headache.
✔️ What should I bring on my trip to Palm Springs?
Bring a wide-brimmed hat, sunscreen, sunglasses, and your bathing suit! If you plan on going on hikes around the area, wear your best hiking boots and bring a reusable water bottle to stay hydrated!
Conclusion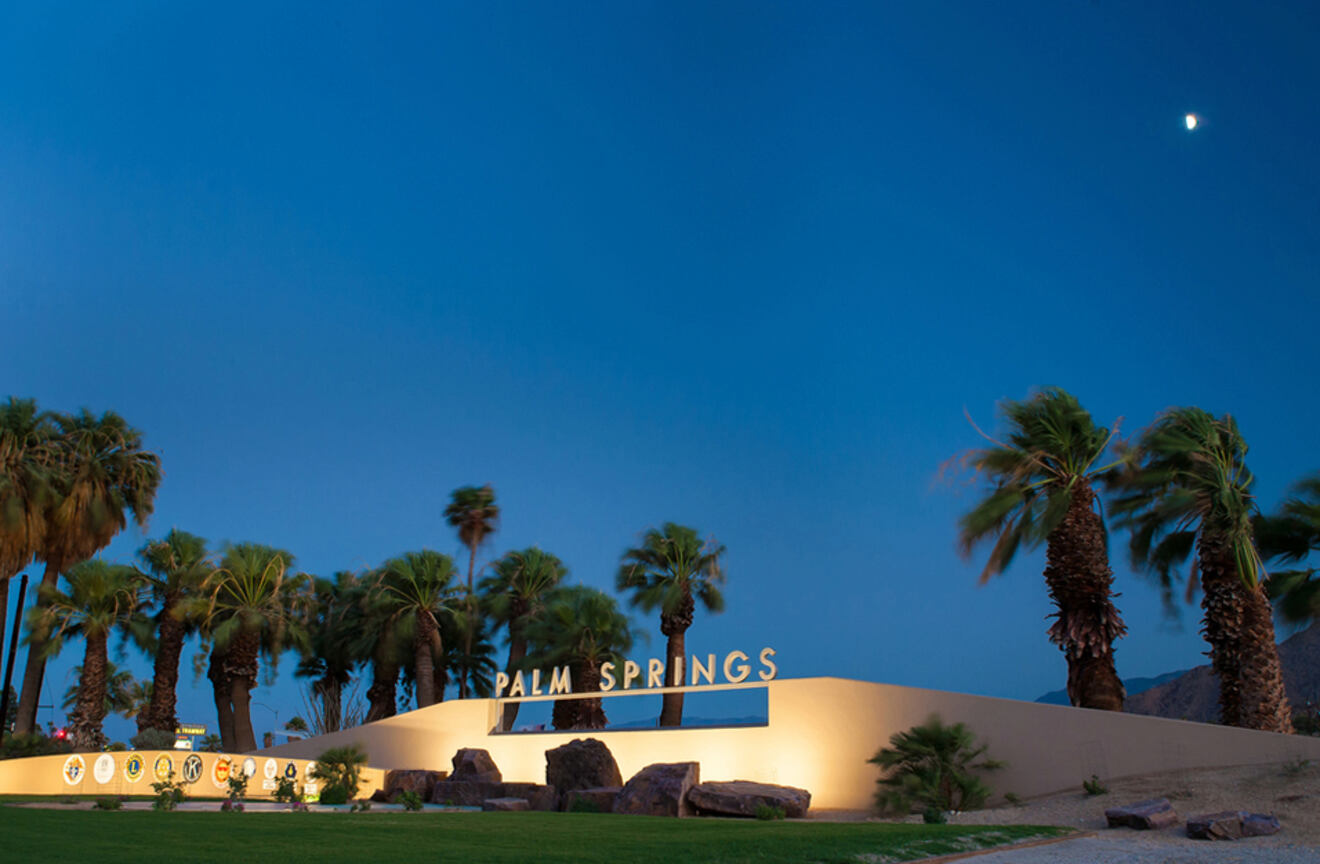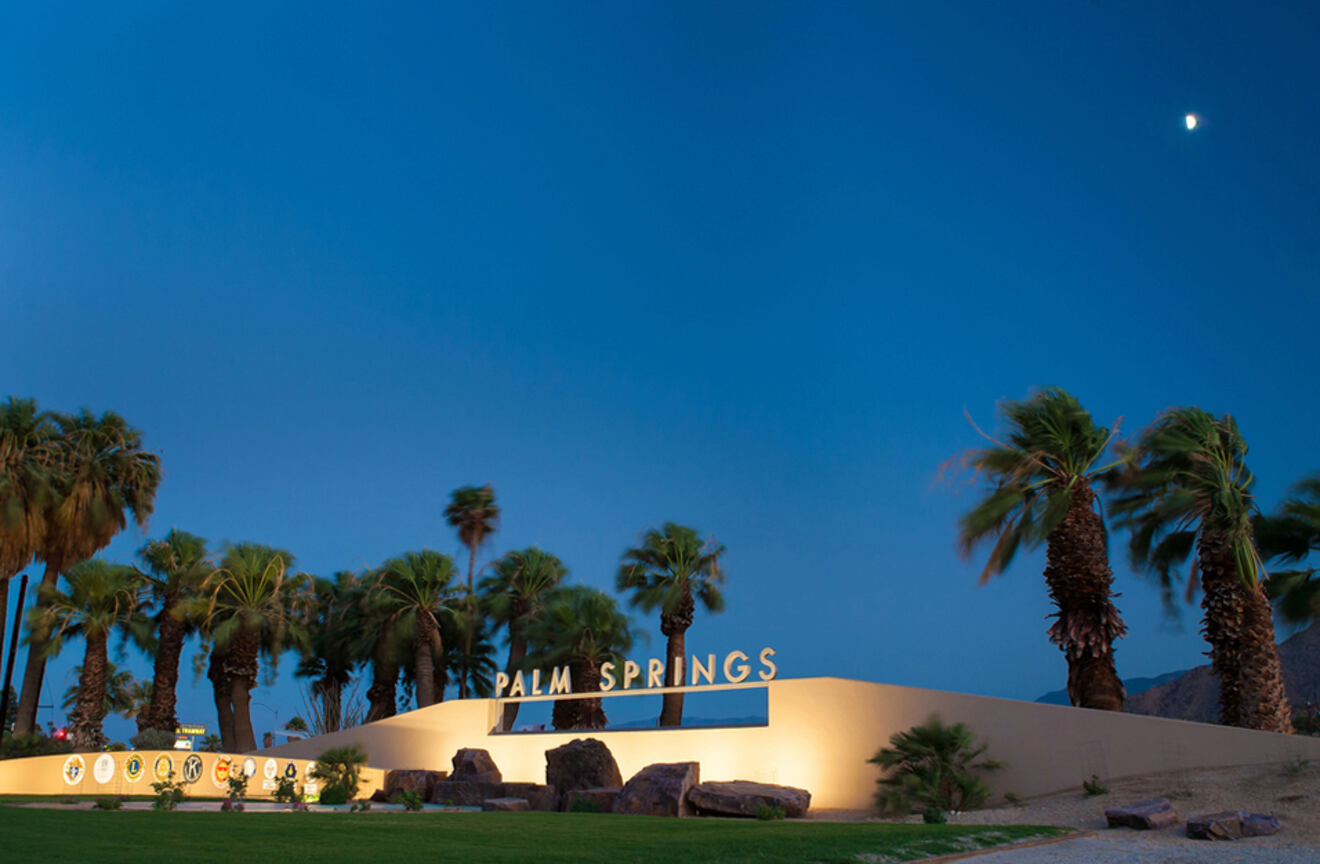 Now you're ready to visit Palm Springs! I hope you enjoyed reading this Palm Springs weekend guide as much as I enjoyed writing it.
Here are a few of my favorite things I mentioned:
Salvation Mountain – It's simply one of the coolest things to see! I took plenty of amazing photos while I was here and really admired the inspiring artwork left on the walls.
Joshua Tree National Park – I love going to Joshua Tree anytime I'm around the Palm Desert/Palm Springs area. I've been so many times and made great memories over the years that I had to choose it as one of my favs!
As always, you can leave me a comment below if you have any questions, and don't forget to book your activities and accommodation in advance! Remember, you only have 2 days on this Palm Springs itinerary, so you don't want to waste them looking for what to do or where to stay!
Xoxo,
Esabel S.
---
Pin it for later!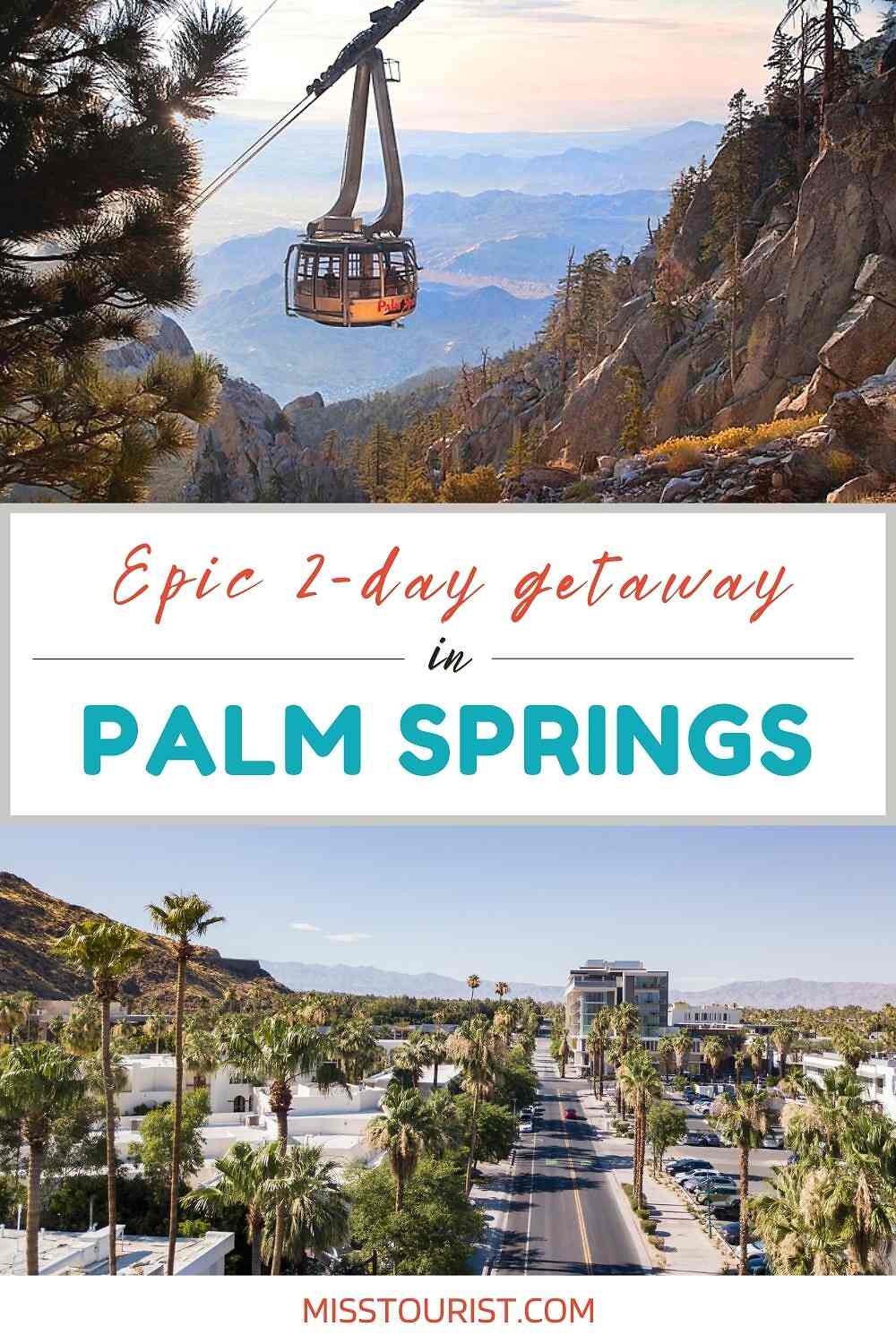 Pin it for later!
Products You May Like