Experience Japan With a Takayama Ryokan: 16 Epic Options!
Are you looking for Japanese-style rooms in Takayama? That is great! I am more than happy to hear that you are visiting this stunning Japanese culture and happy to let you know I have been looking and looking for hours for the best Takayama ryokan out there, with a private open-air bath and the coziest tatami flooring. I have to say, I have found 16 incredible options!
This post was arranged to start with the most luxurious hotels at the beginning. To be fair, all the hotels mentioned here are 10/10; they all have amazing amenities and an incredible traditional Japanese style!
Takayama is such a popular destination for travelers all around the world, in the wintertime and the summertime, so if you want to be able to book the hotel room of your dreams and have the best vacation, you need to book in advance before someone else does!
Are you ready to see the best Takayama ryokan out there?
If you are in a hurry
If you don't have a lot of time on your hands and need to book fast, here is a list of the top 3 hotels in the article so you can click and book!
To help you plan your stay, here's a map with all the ryokans in Takayama:
1. Wanosato – a Takayama ryokan for nature lovers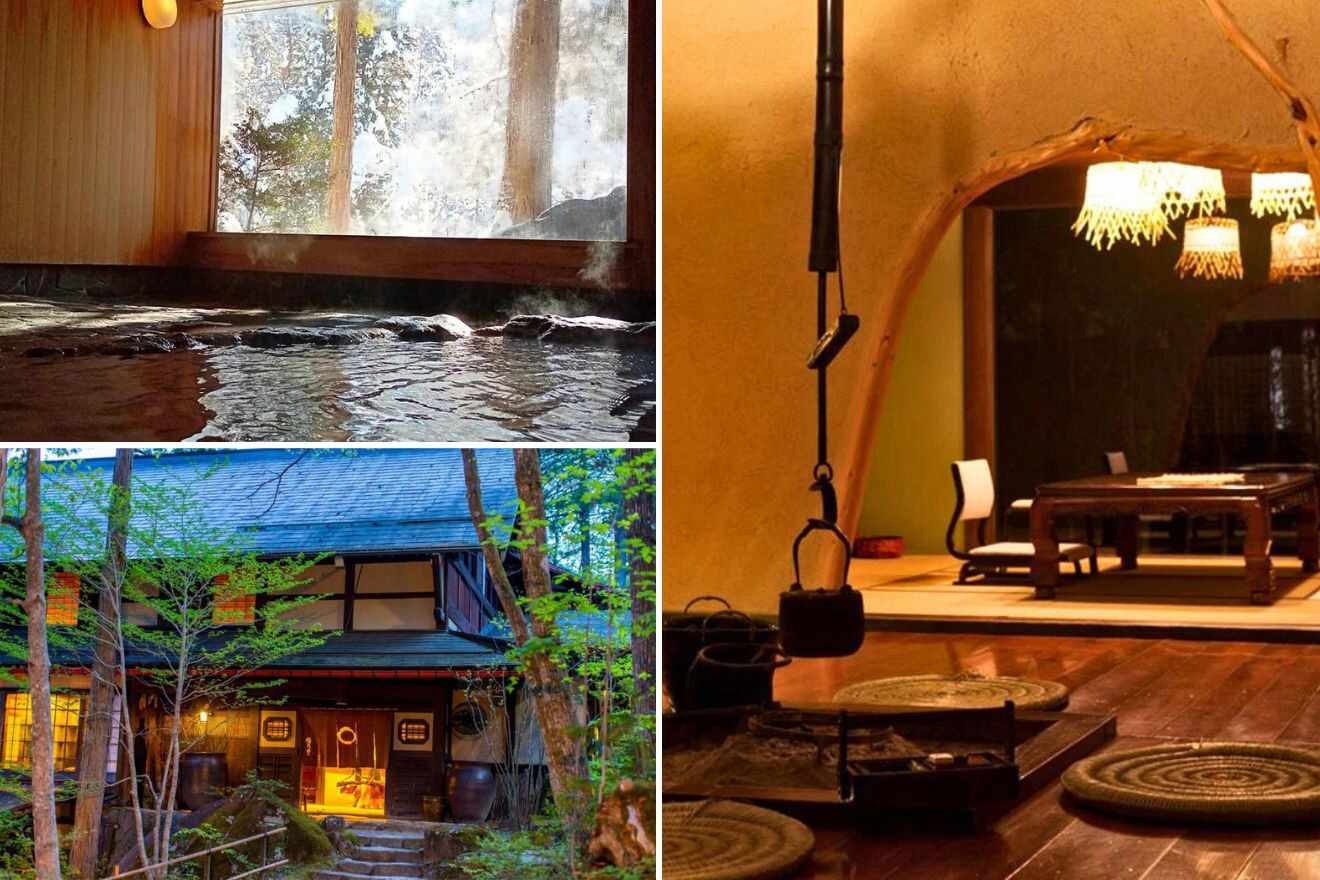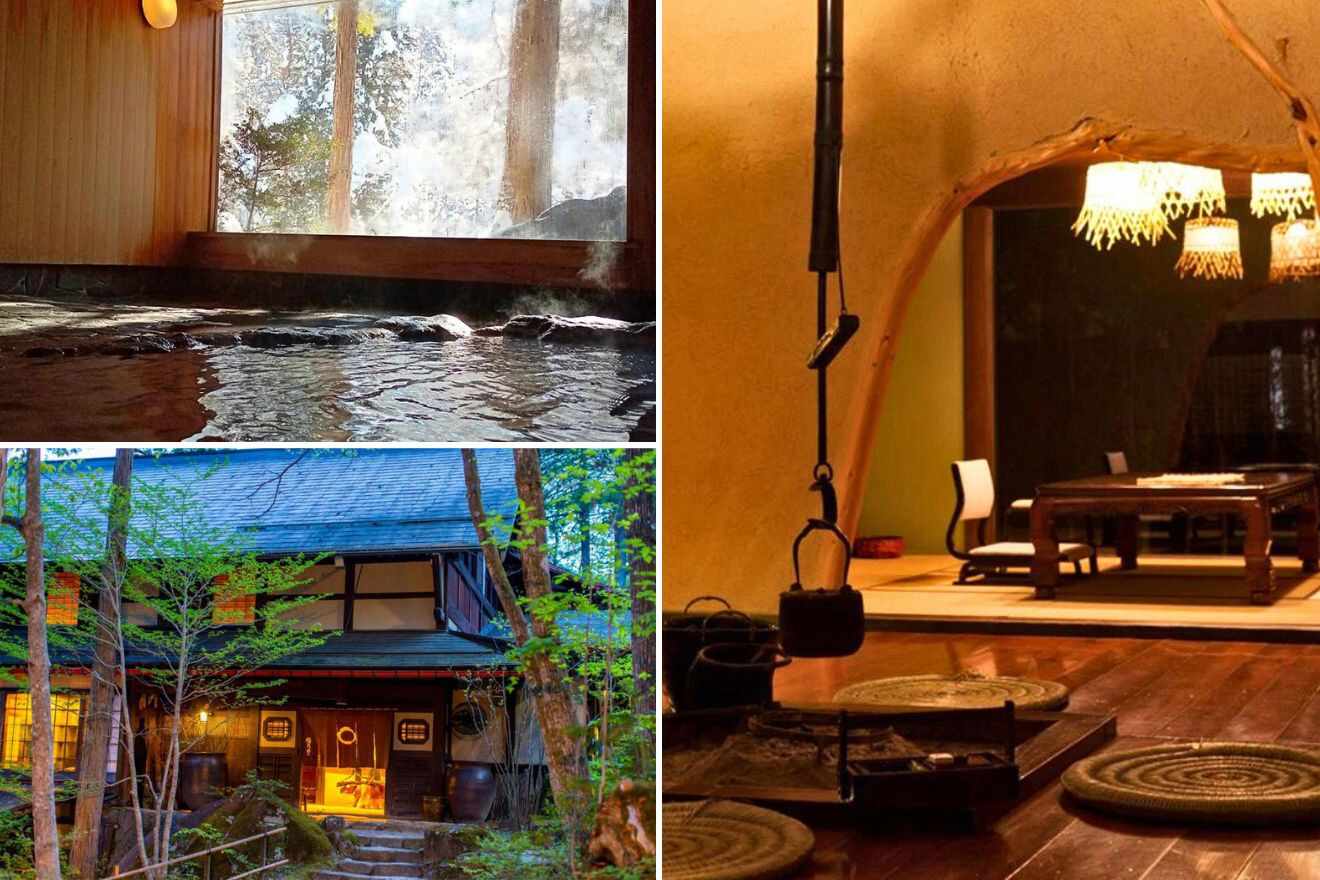 This beautiful traditional Japanese accommodation is located in the woods, 20 minutes drive away from Takayama train station. The amazing surroundings provide a tranquil and relaxing vibe and the most amazing views. The accommodation offers free parking and a public hot spring bath, and all guests can have a Japanese breakfast or enjoy carefully prepared Japanese meals when staying in any of the rooms.
All the Ryokans feature traditional Japanese designs, with tatami mat flooring and Japanese futon bedding, so you can follow the Japanese traditions while staying at this luxurious Japanese-style Ryokan! All the rooms come with an electric kettle for your tea and coffee needs!
2. Honjin Hiranoya Kachoan – with free pick-up shuttles!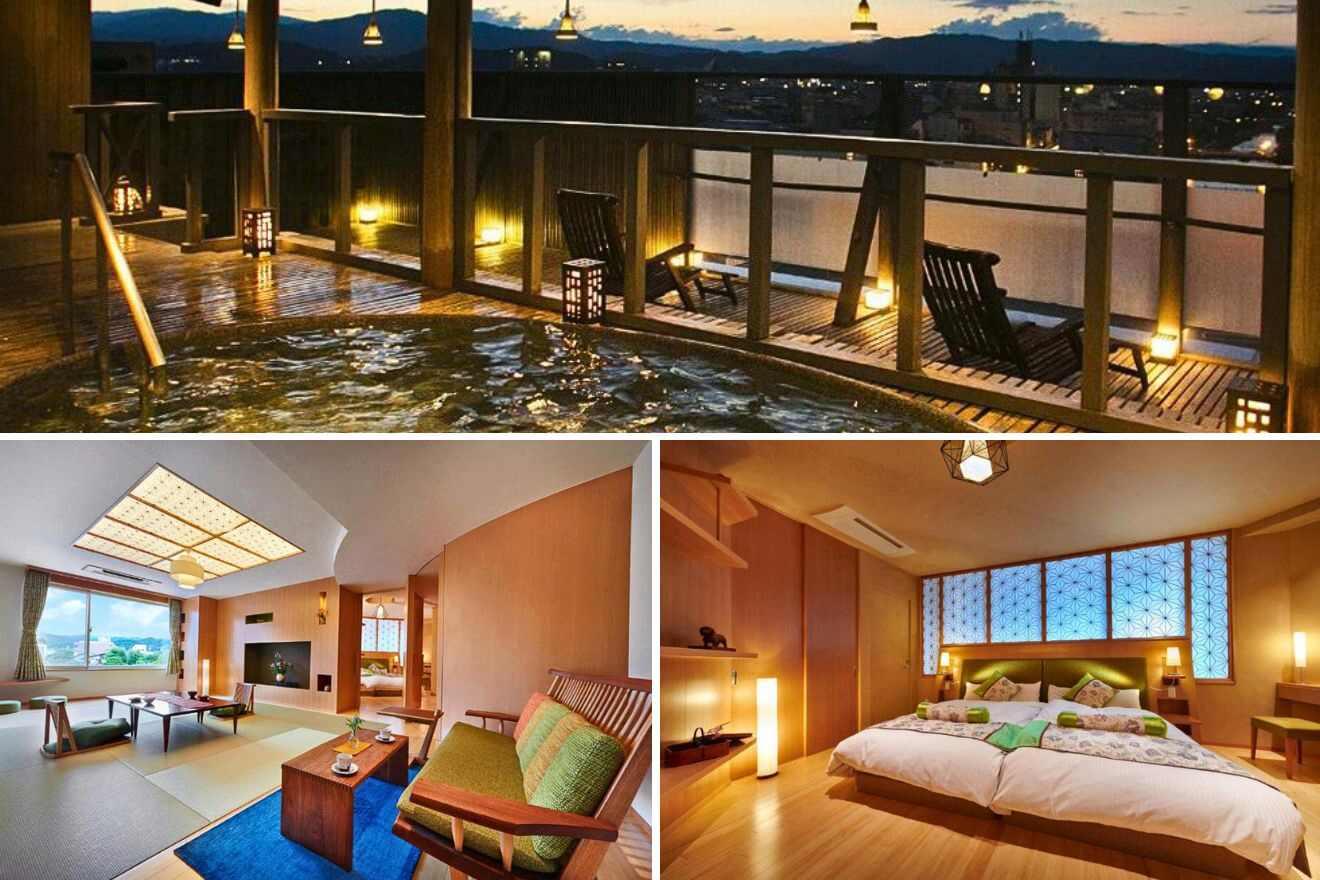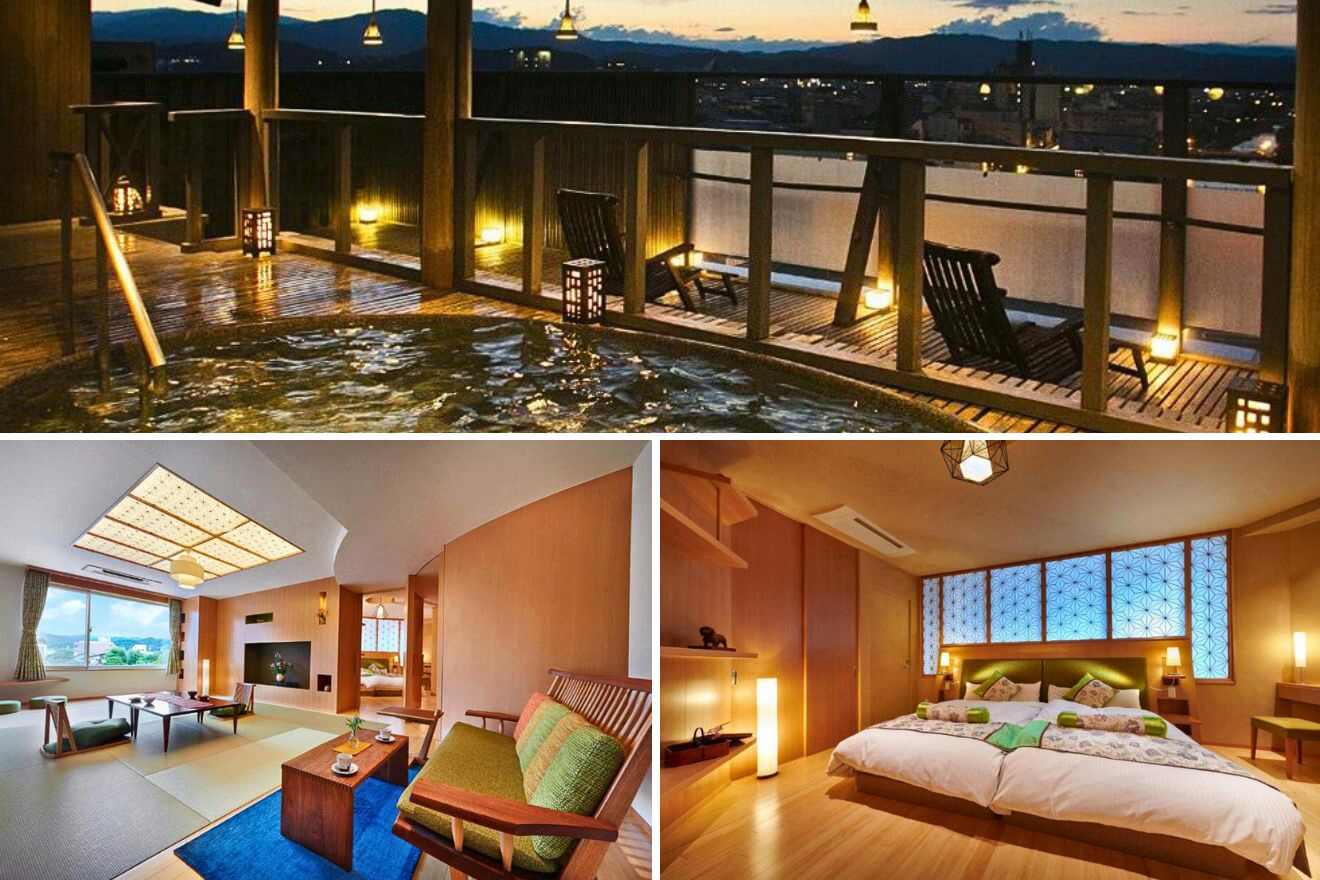 This ryokan features a contemporary Japanese design, and it is just a 10-minute walk from Takayama station, where you can get a free shuttle from the hotel. Apart from the many city restaurants and cafes, you can have an absolutely delicious Japanese-style meal. All guests can enjoy the public hot spring baths and the free private parking.
Do you want to find and spend time in other amazing Japanese cities? Here you have a guide to unique places to stay in Japan.
All the modern-style Japanese rooms come with free Wi-Fi, a flat-screen TV, and a private bath, and some come with a hot tub. Plus, you can have yukata robes for a fee!
3. Ryokan Tanabe – in the historic Takayama old town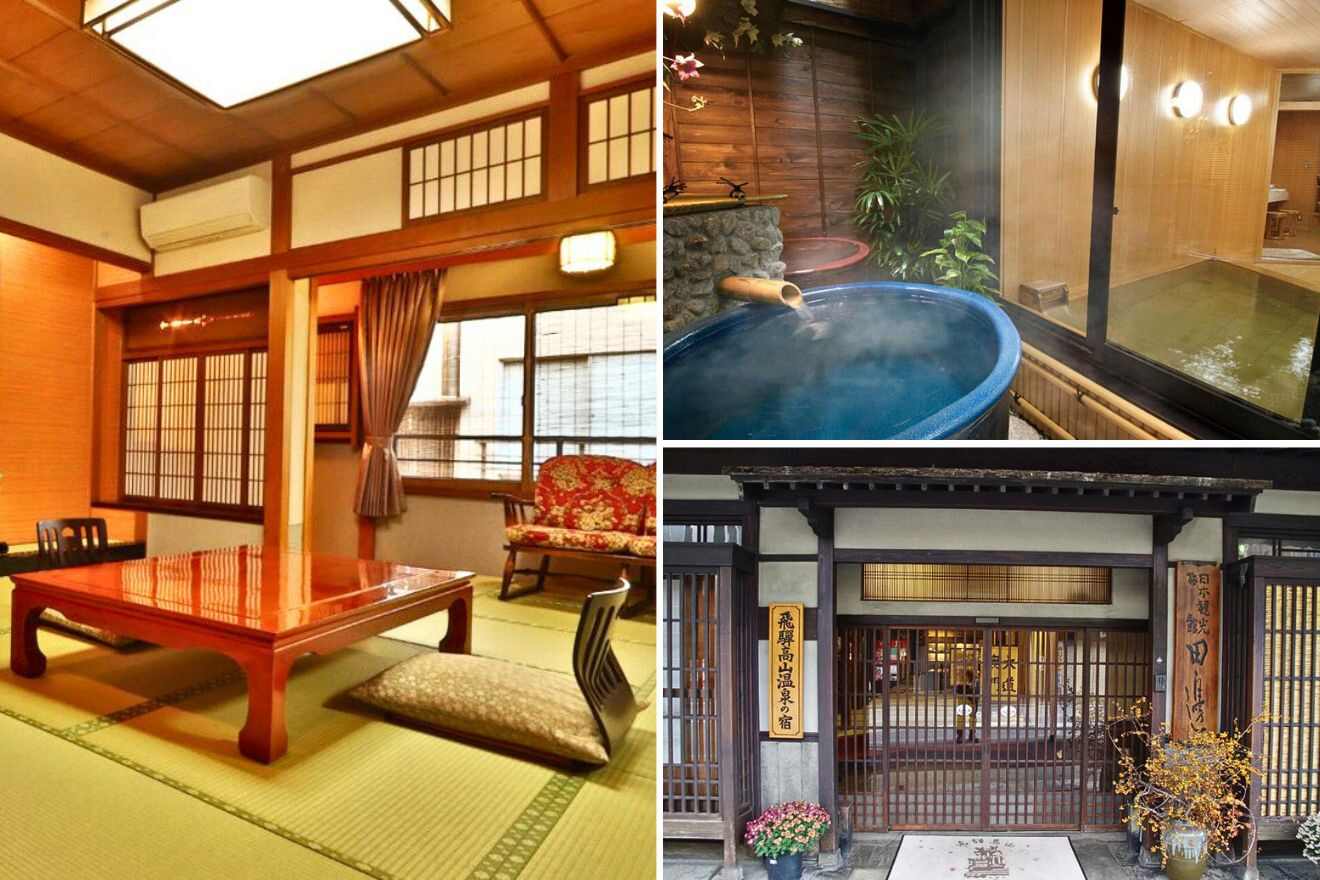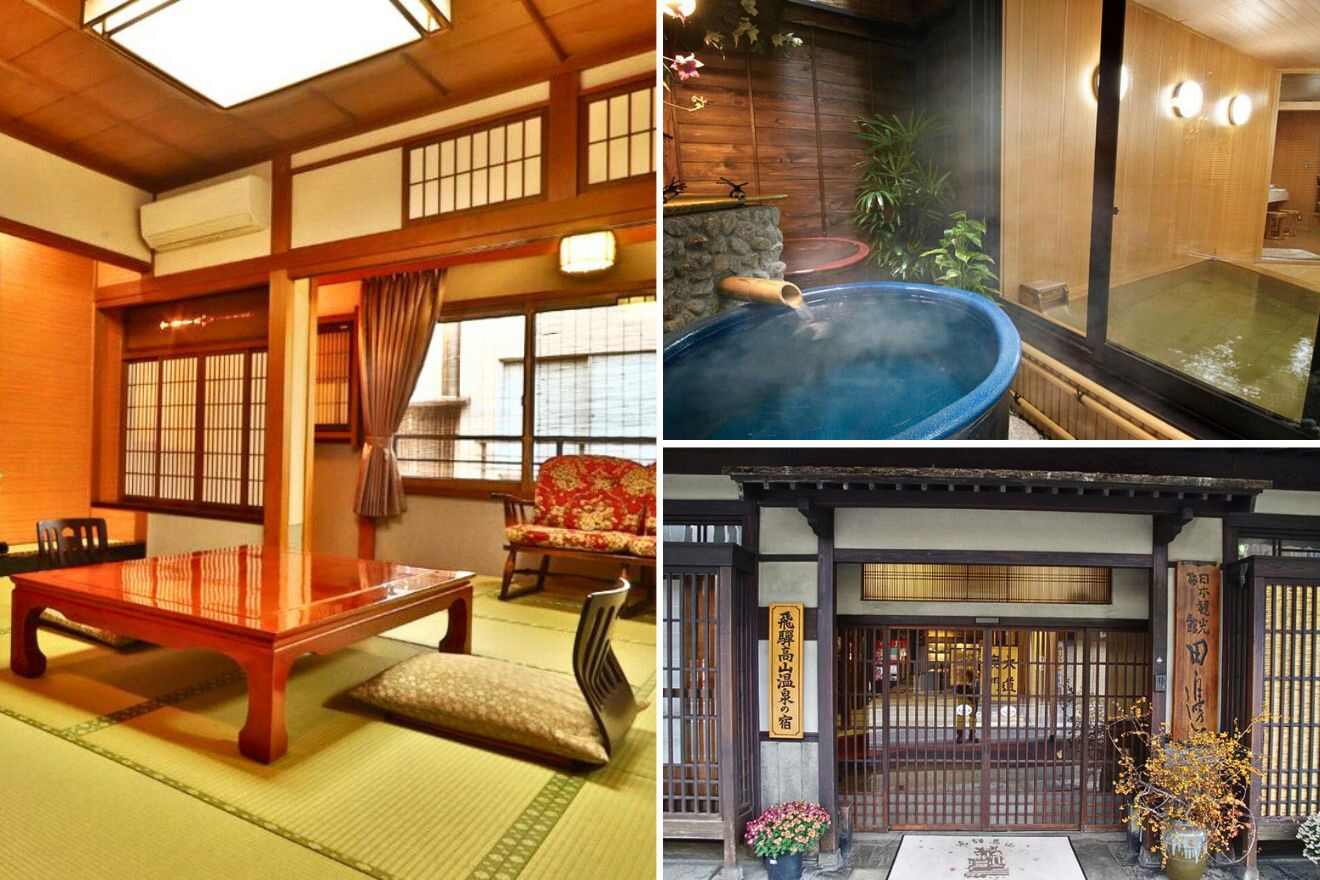 Wow! This Ryokan is a great option for all travelers looking to stay in traditional Japanese inns! This hotel features traditional Japanese architecture and comes with a shared indoor hot spring bath and an outdoor hot spring bath! If you have any questions, the helpful and charming staff will be there to help you with anything you need!
Every morning you can enjoy the most delightful traditional Japanese-style breakfast in your private dining room! All the Ryokan traditional guest rooms come with a private bathroom, a spacious living room area, and the most beautiful traditional Japanese decorations and tatami flooring, perfect for connecting with a new culture!
4. Ryokan Seiryu – with traditional Japanese meals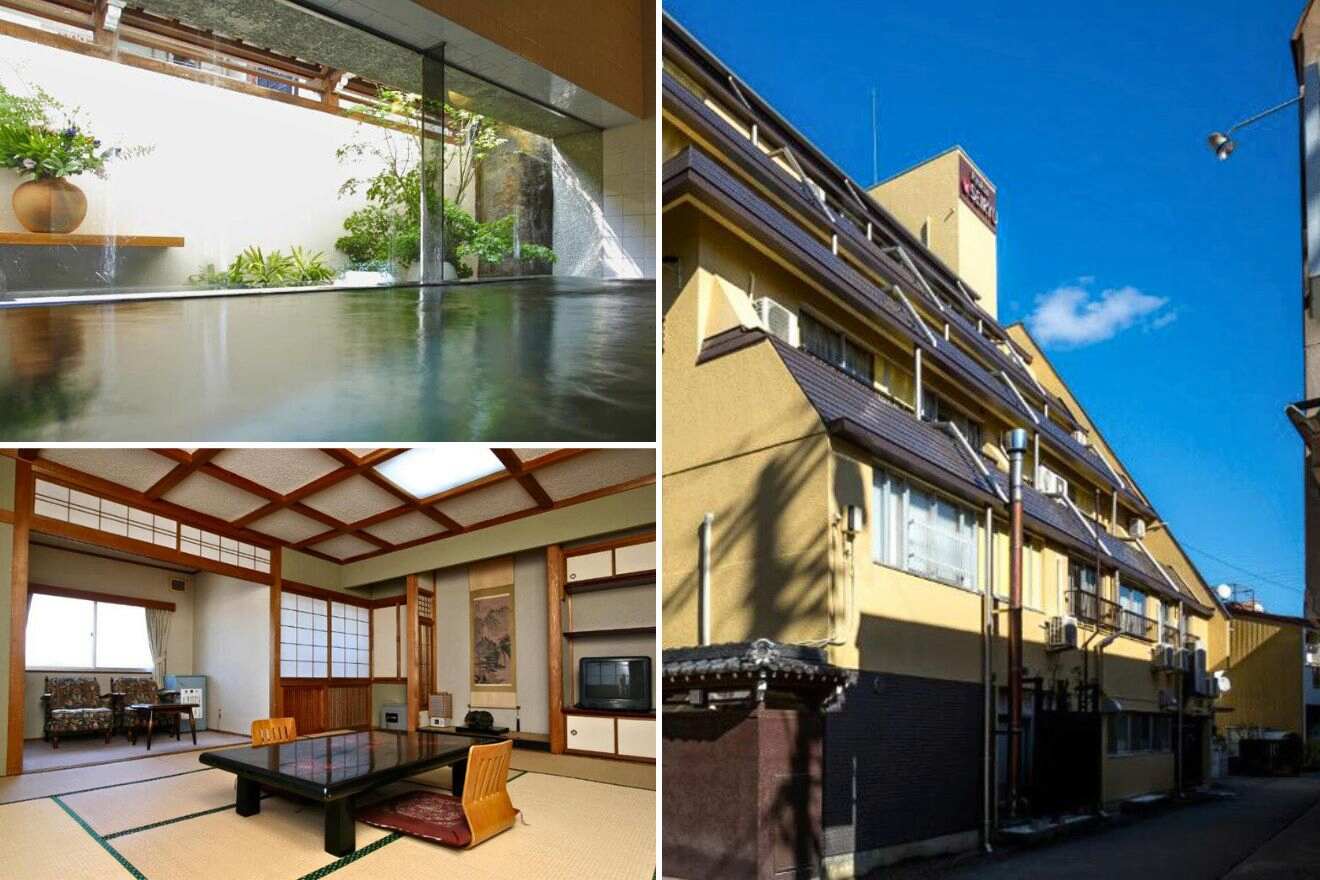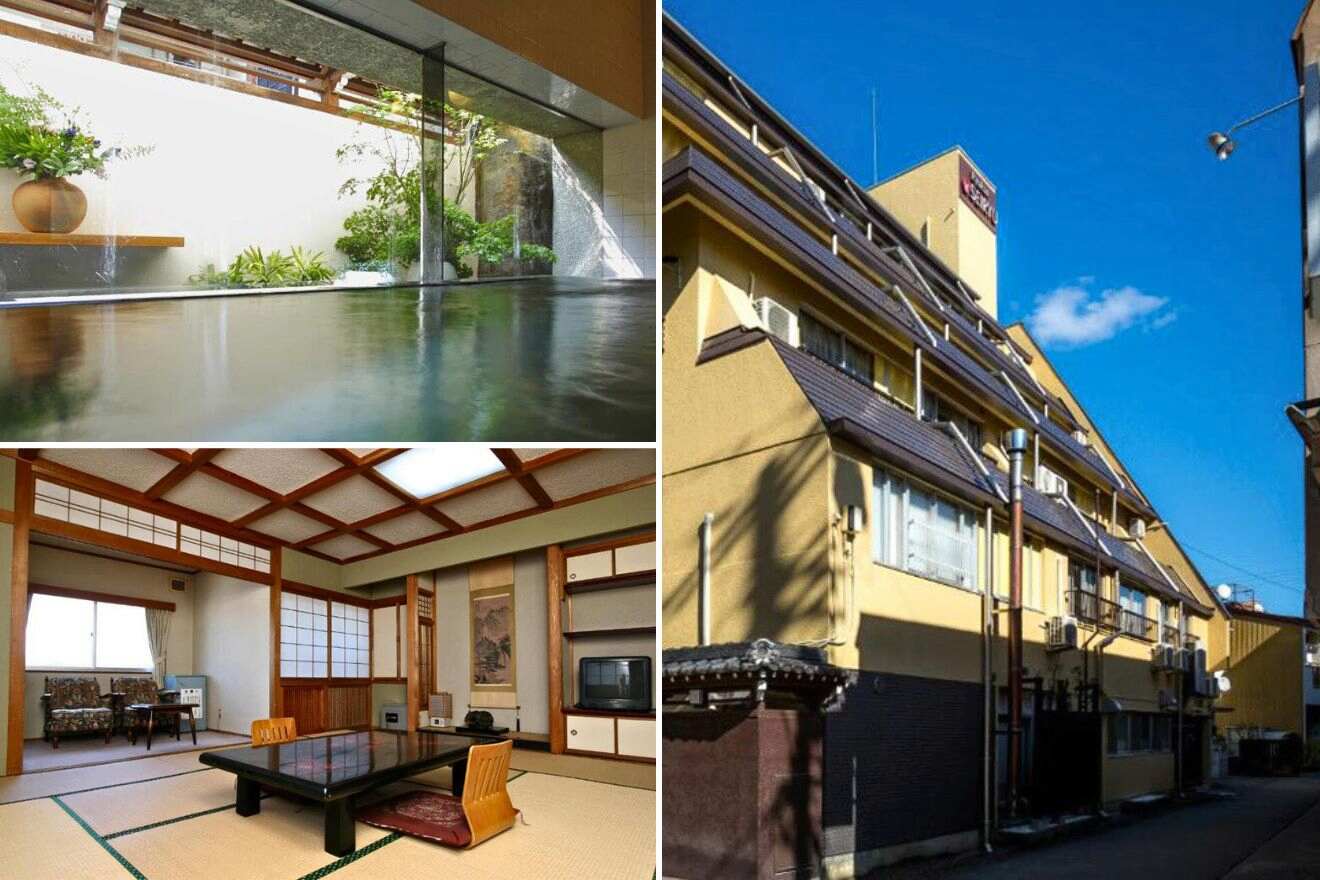 This property offers its guests a large traditional Japanese breakfast and dinner, which will leave you so satisfied! There are hot springs available onsite, but if you wish, you can visit Spa Alpine for free and relax in their outdoor hot spring baths with city views! All the Ryokans come with traditional futon bedding and an LCD TV. Their family room can host up to 5 guests!
This traditional ryokan is located in an amazing area! Takayama bus station and JR Takayama station are less than a 10-minute walk away, and the historic old town with all the main attractions is only a 5-minute walk away!
5. Honjin Hiranoya Annex – with bike rentals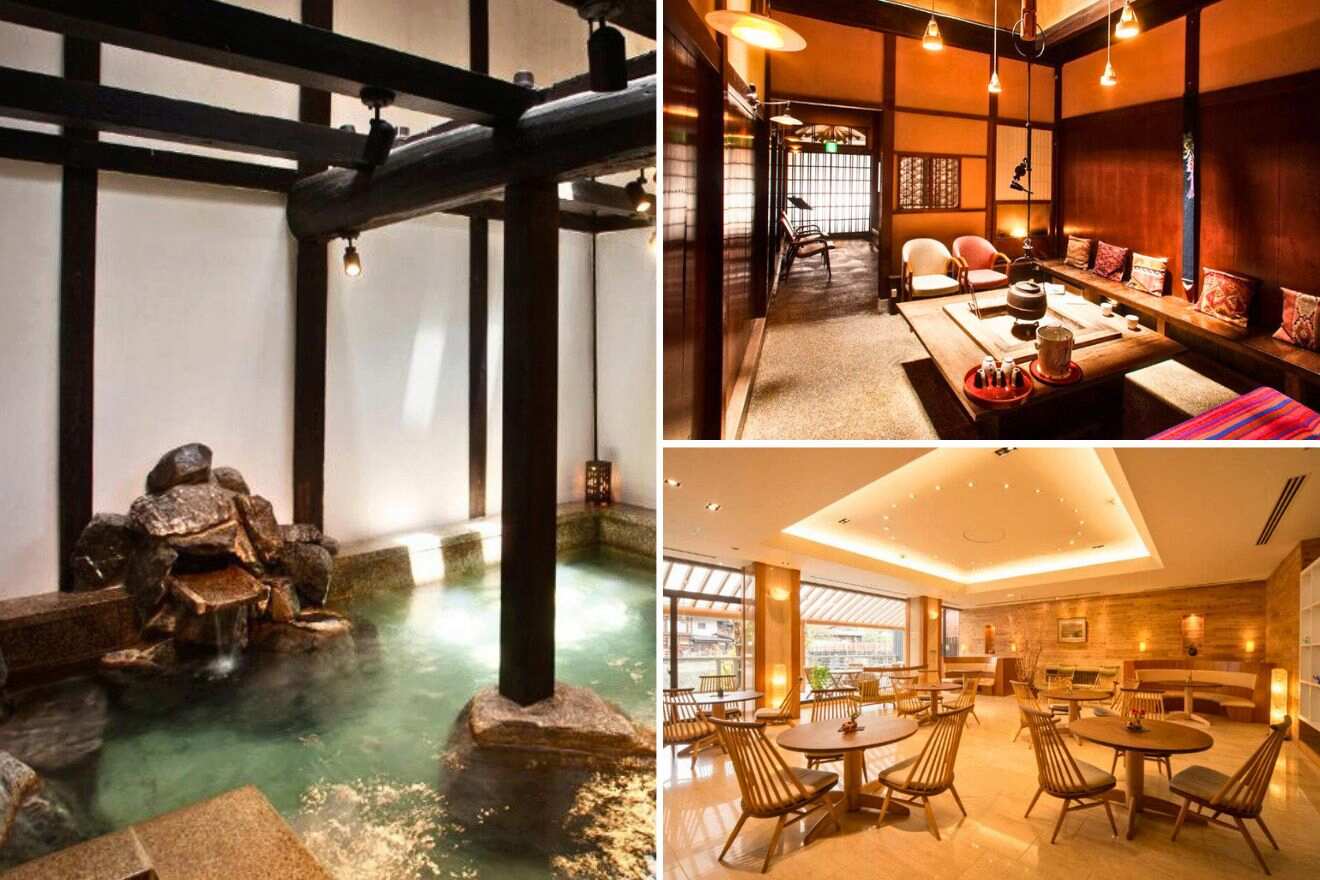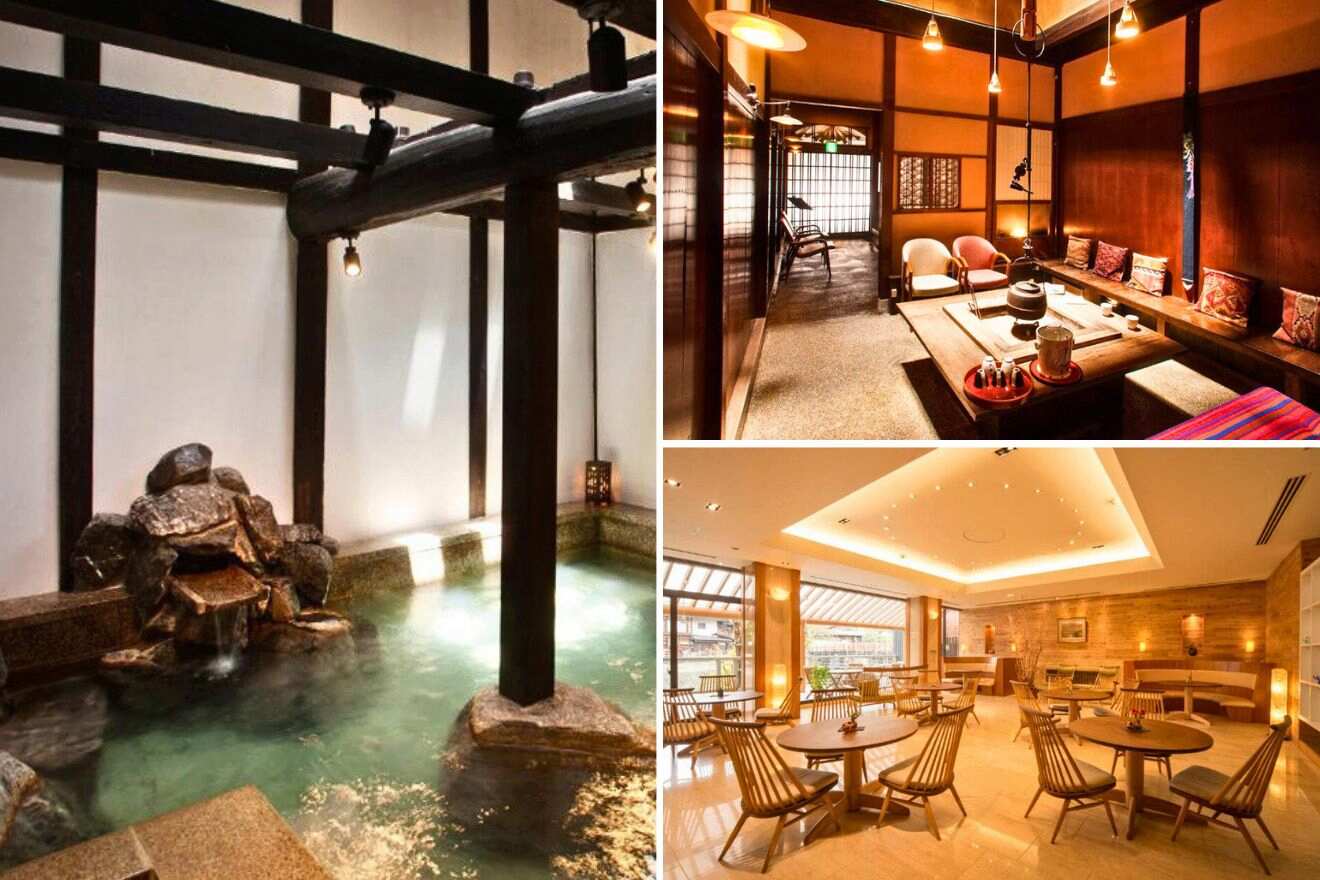 This amazing ryokan is located in the historic old town, a few minutes walk to the train station and the Hida-no-Sato Folk Village, and its beautiful untouched nature is only a 10-minute bus drive away! There are bicycle rentals available to guests in this property, so it is perfect for exploring the city in style!
This accommodation offers traditional Japanese rooms and Western-style rooms, all of them with an en-suite bathroom, tatami flooring, and tea makers to indulge in green tea! There are outdoor hot spring baths open to all guests and featuring amazing views! The biggest room has 5 futon beds and can host 5 guests!
6. Hida Takayama Onsen – with a Japanese garden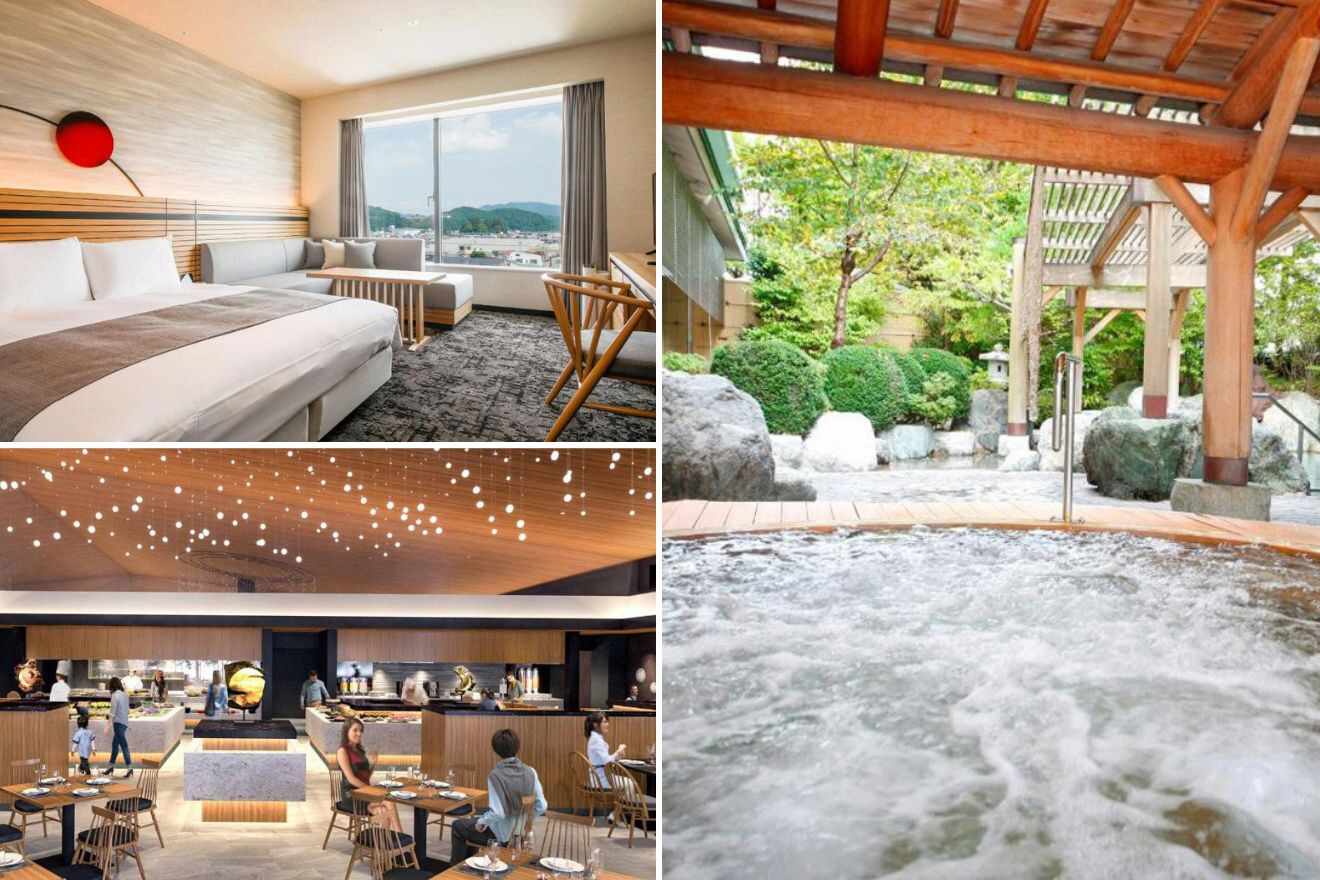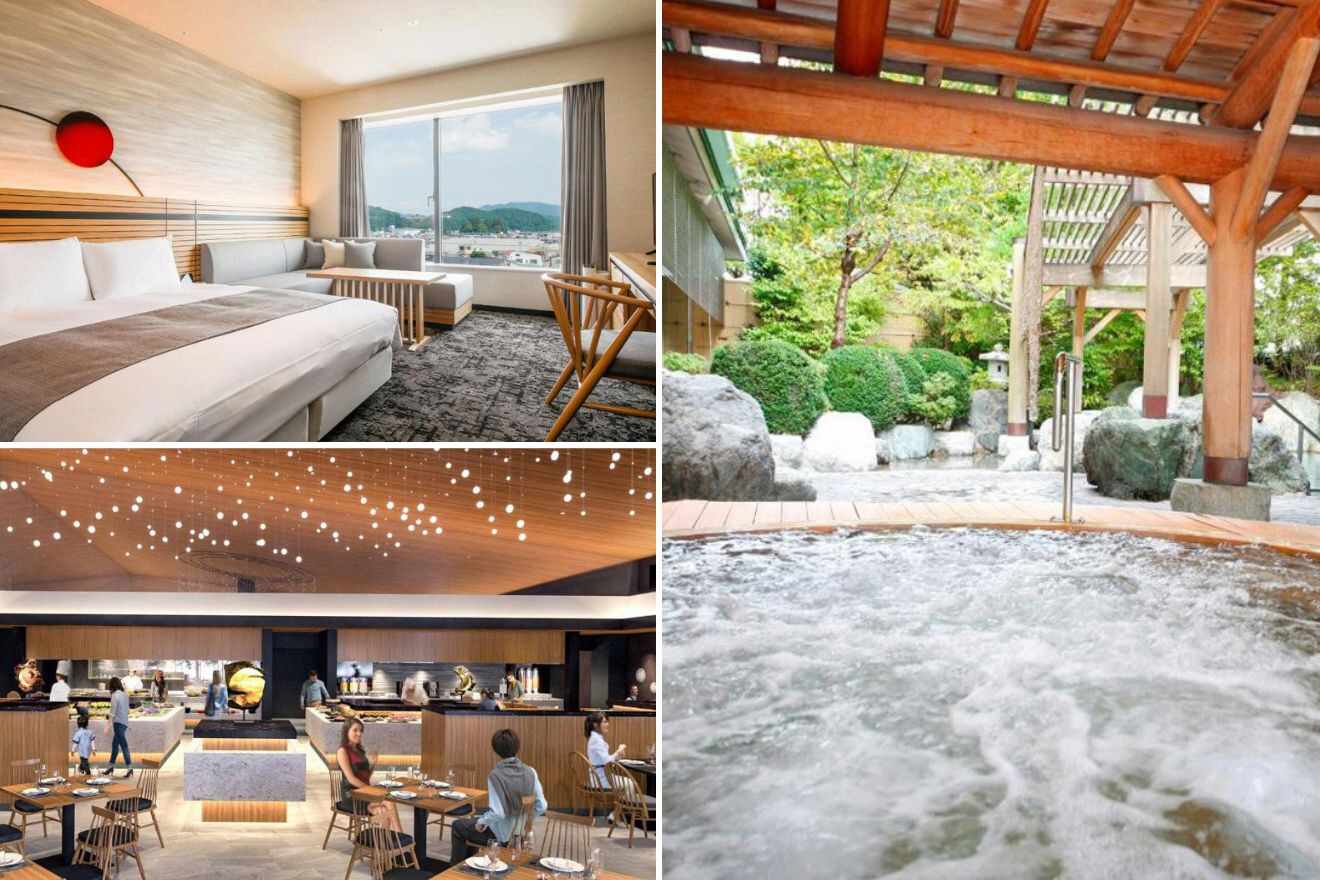 This property features an amazing mix of beautiful Japanese traditions with some touches of the Western style. The hotel is located less than a 20-minute walk away from the old town center, where you can find amazing restaurants and cute cafes, and the Okuhida hot spring area is a 40-minute car drive away!
There is a beautiful Japanese garden onsite with bonsai trees and koi fish, and of course, there are hot spring baths available to all guests. The spacious rooms are decorated modestly, with a private toilet and complimentary green tea bags, and you can choose between a Japanese futon bed or a Western-style bed.
7. Ryokan Asunaro – with traditional Irori hearth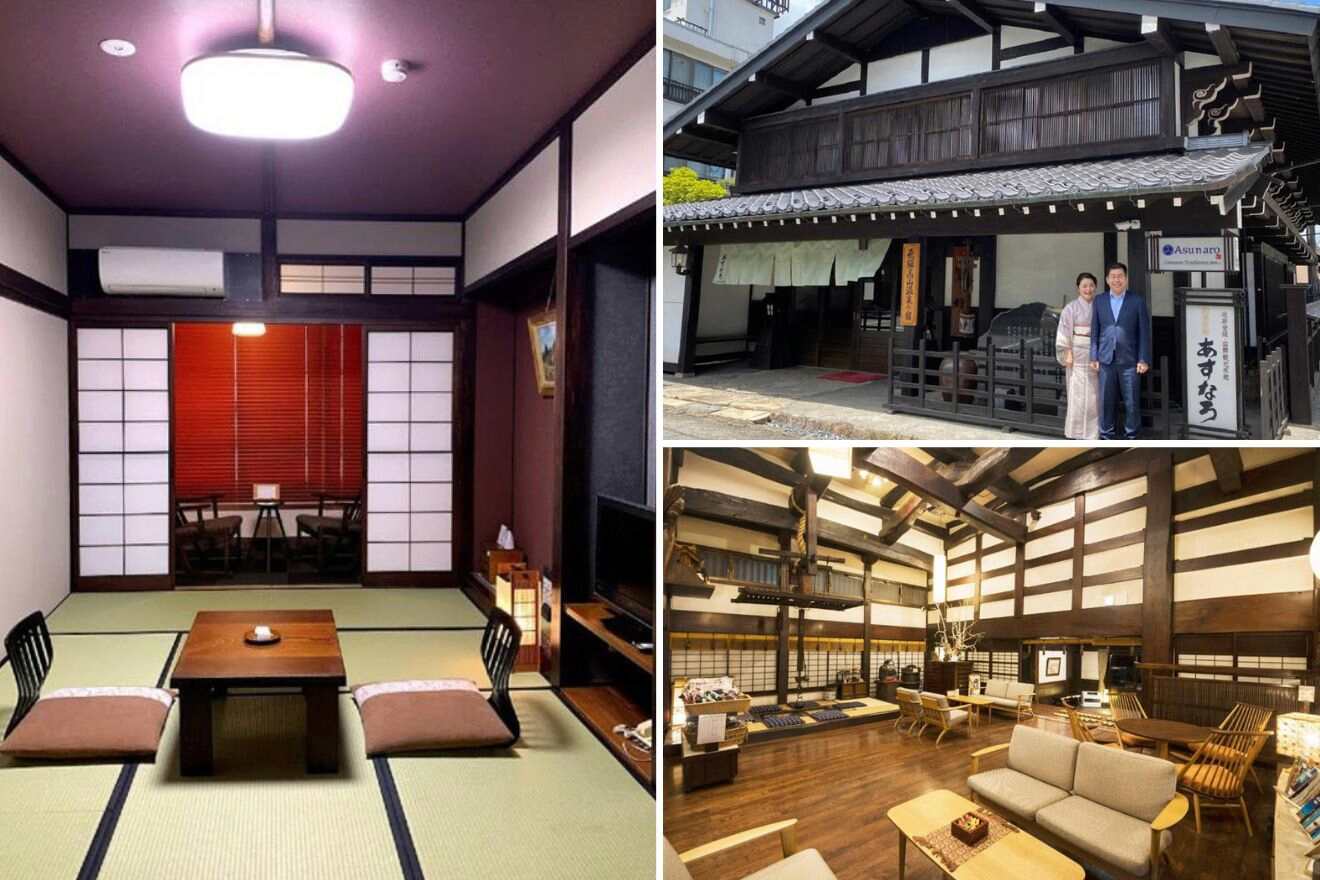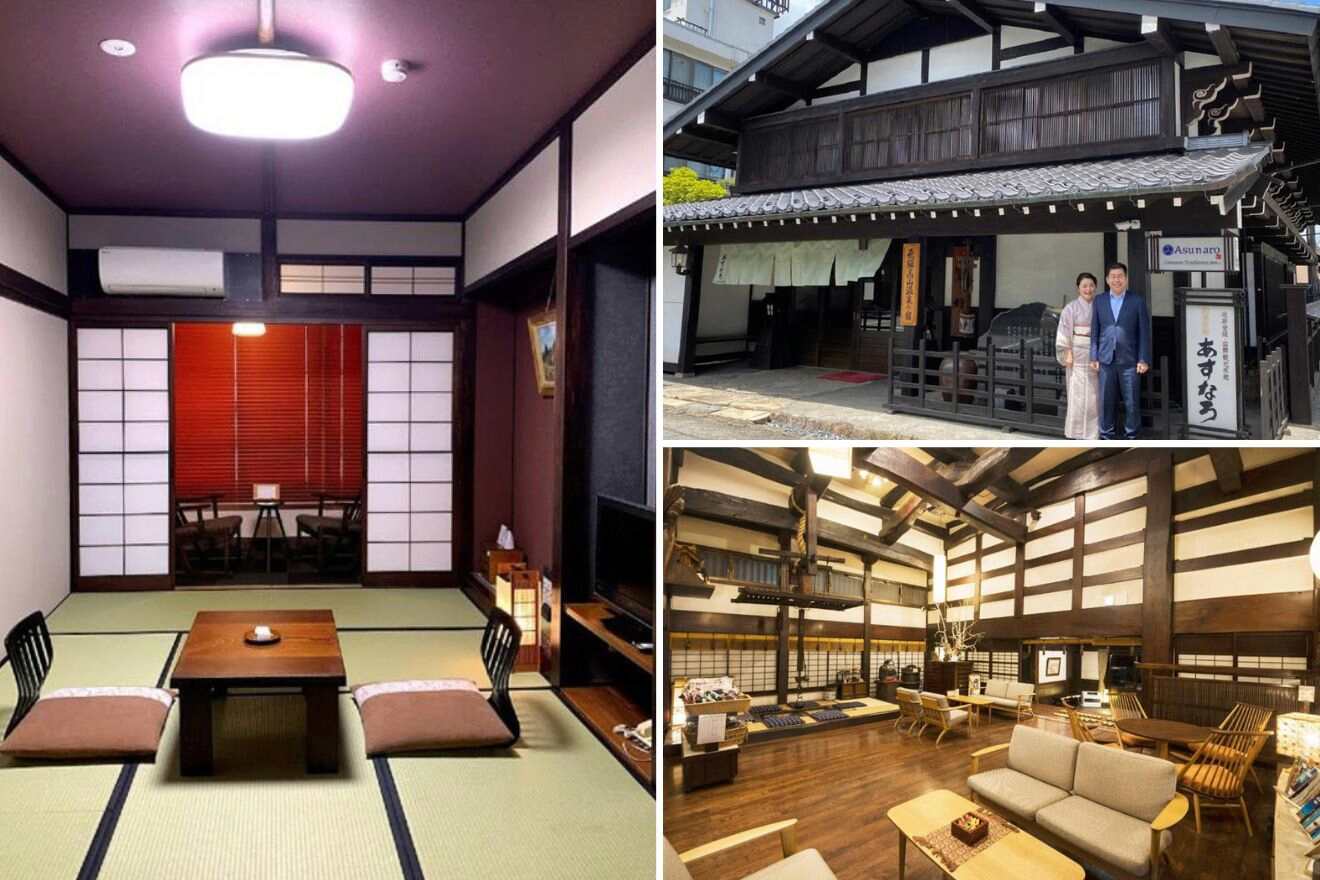 Featuring a delightful Japanese style with paintings and decorations made by local artists, this hotel will make you feel part of the Japanese culture, and the staff will make you feel pampered and taken care of. The hotel features a common dining area with a restaurant serving breakfast and dinner! There is a hot public bath onsite and complimentary Yukata rentals for women, and a gift shop and drinks vending machines!
All the rooms look stunning and will make you feel like you are staying in a real Japanese traditional room! Some of the rooms come with a shared bathroom, so check this at the time of booking!
8. Ichinomatsu Japanese Modern Hotel – with private onsen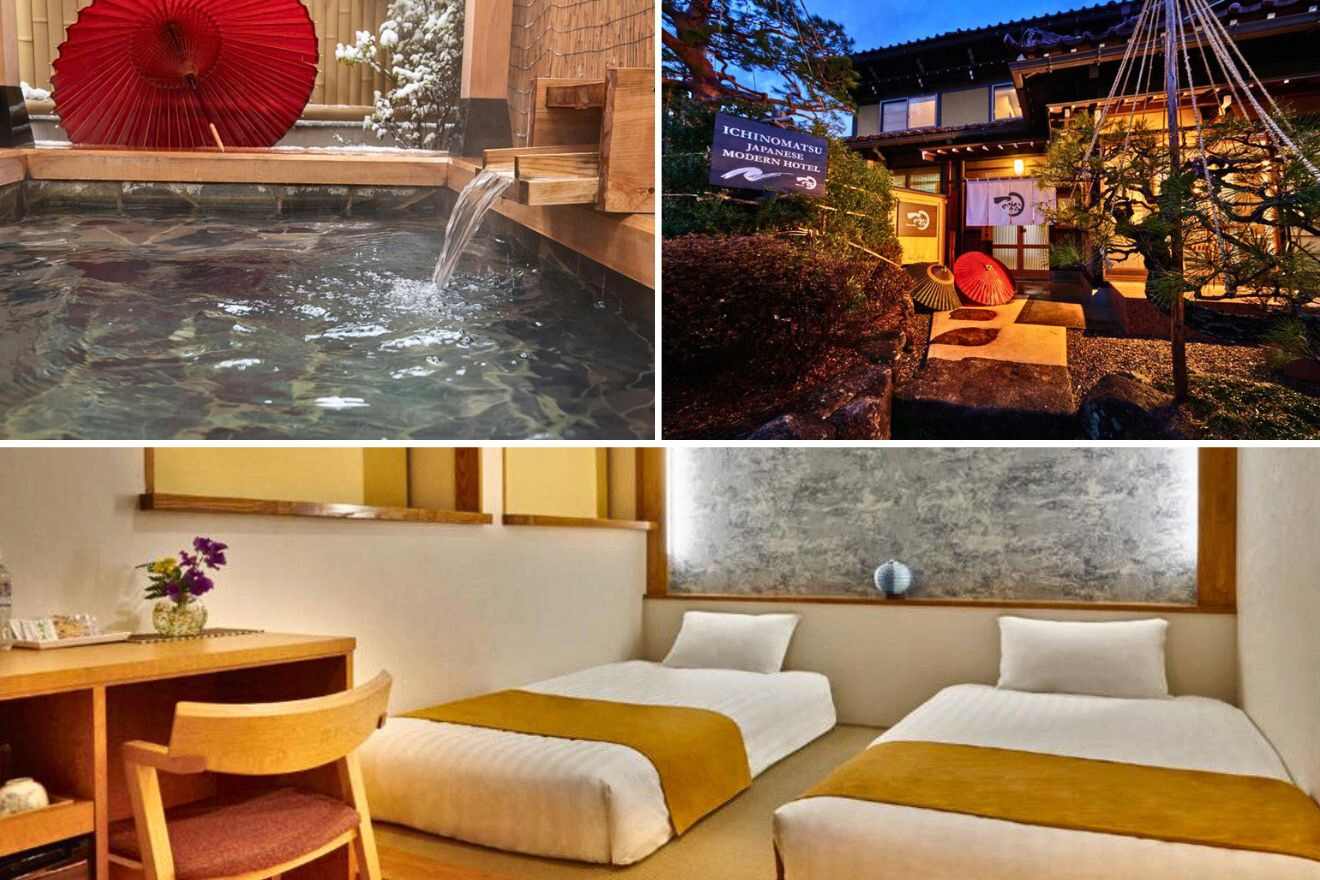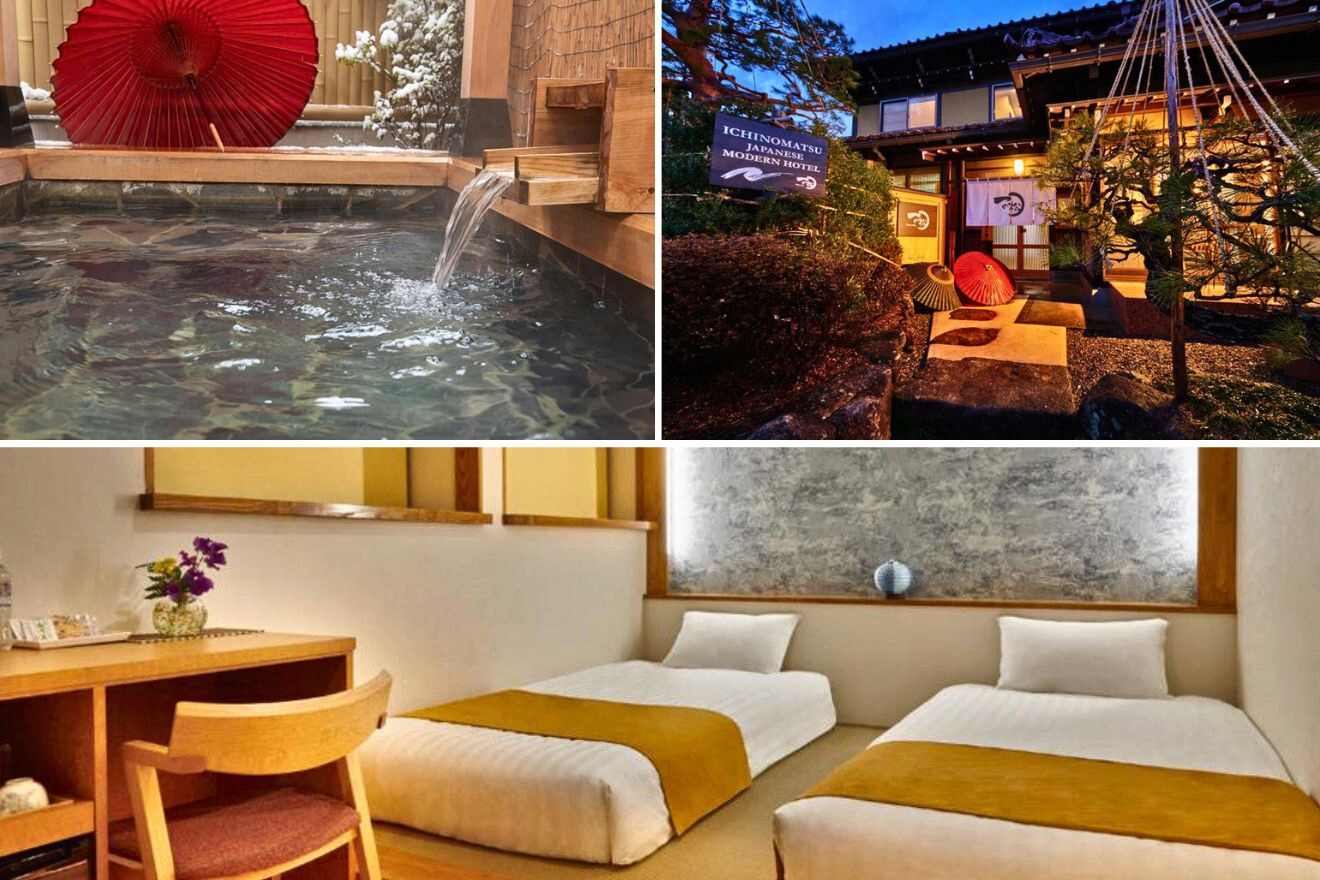 What a cute and cozy Ryokan! This amazing hotel has the most delightful and modern Japanese style that will make you feel at home! It is a short walk away from the old town center and all the cute shops and attractions, and it features the most stunning small Japanese garden open to all guests!
All the rooms are nicely decorated; I highly recommend staying at the suite with futon bedding and tatami, with a beautiful view of the garden to enhance the entire experience! There are private hot spring baths available to guests upon reservation. Once you check in, you can book a time to use it!
9. Takayama Ouan – free nightly ramen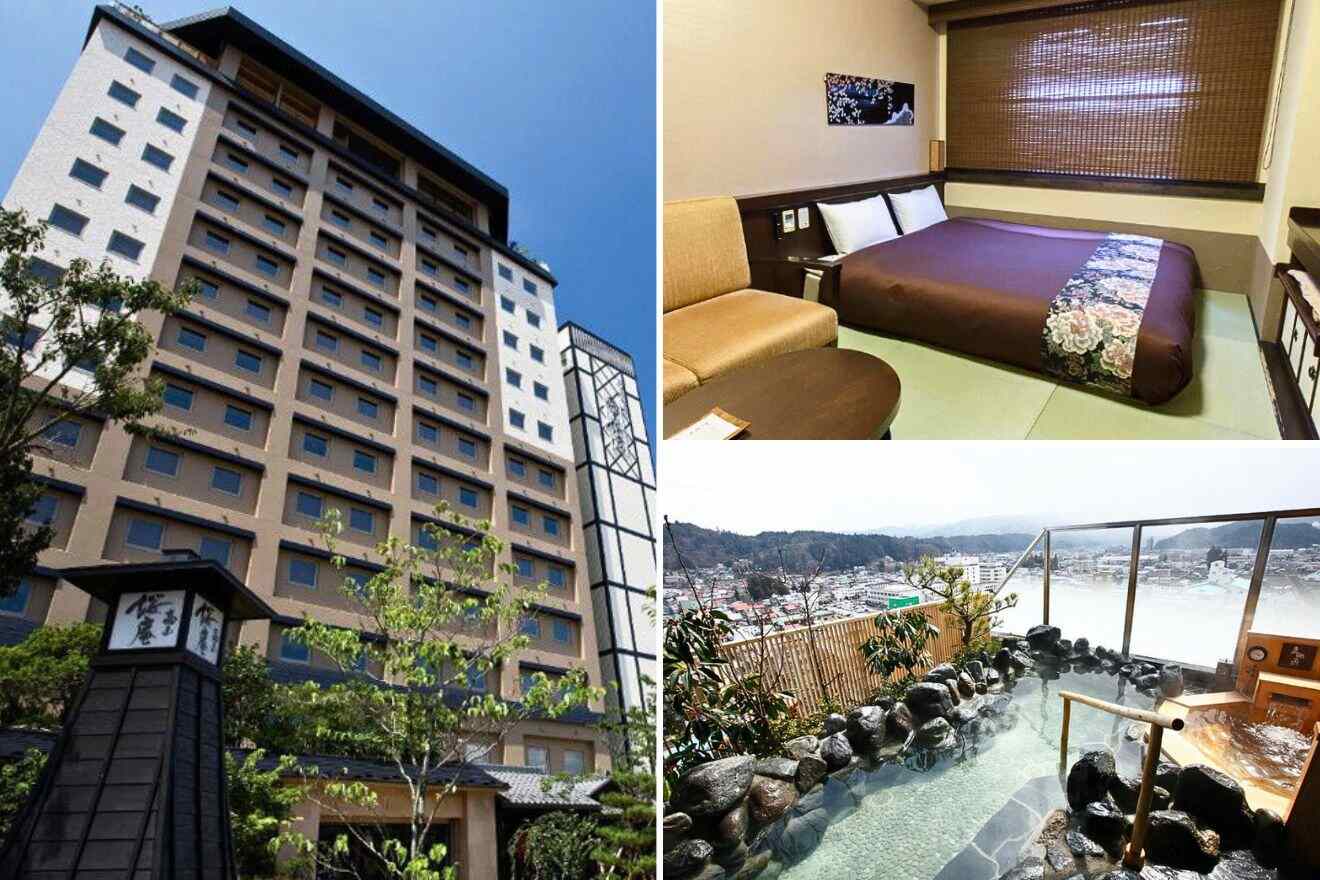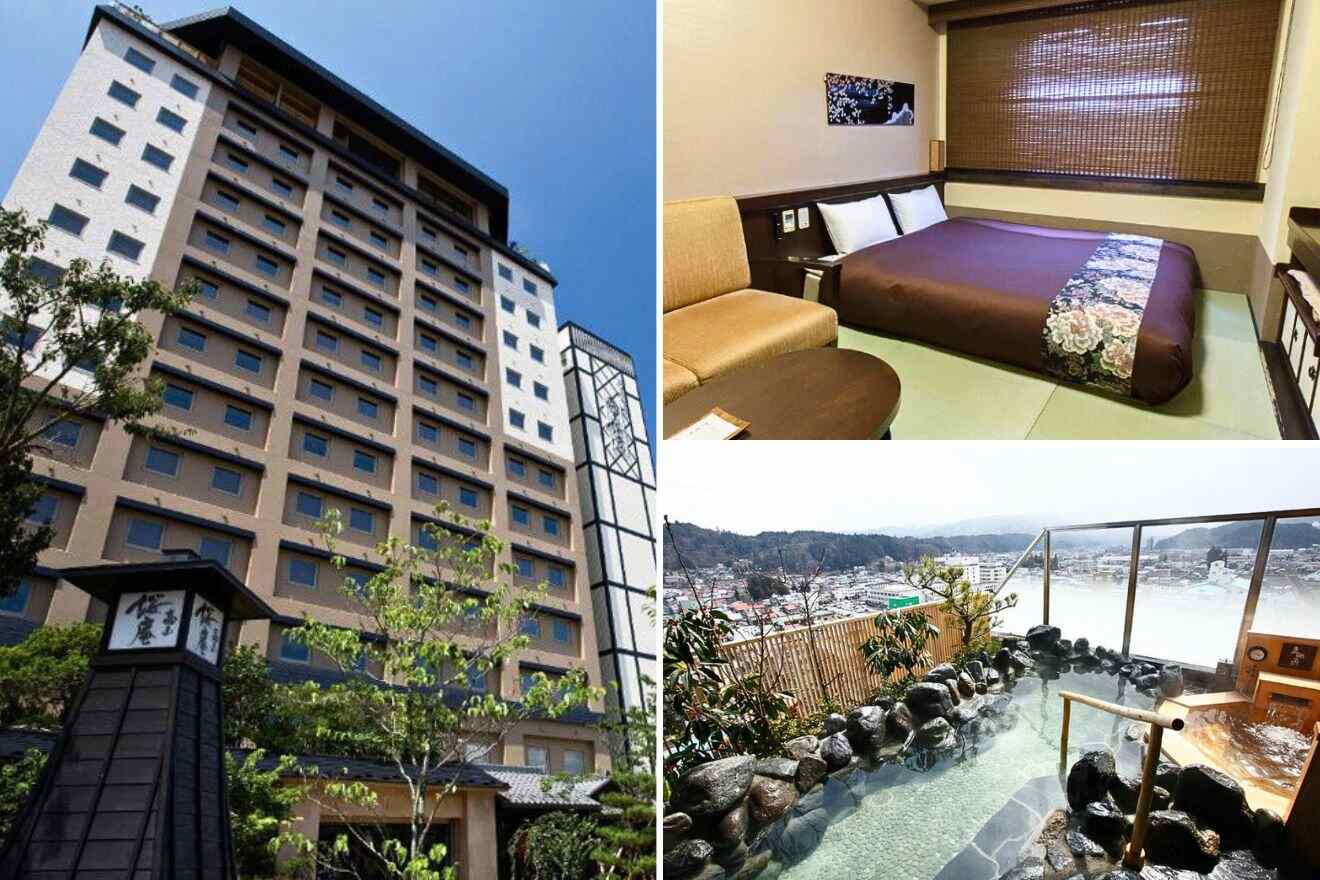 Oh my god! That outdoor hot spring bath is incredible. The view from it is stunning, you can see the city and the mountains. I cannot think of a better way to make your trip to Takayama more memorable! On top of this, there is a complimentary homemade breakfast every morning, so you can start the day in the best way there is!
The onsite restaurant serves traditional dishes, and every night guests can have free ramen at the hotel, which is such a treat! All the rooms come with traditional tatami flooring, and they can host from 1-2 guests each!
10. Oyado Yamakyu – for historical charm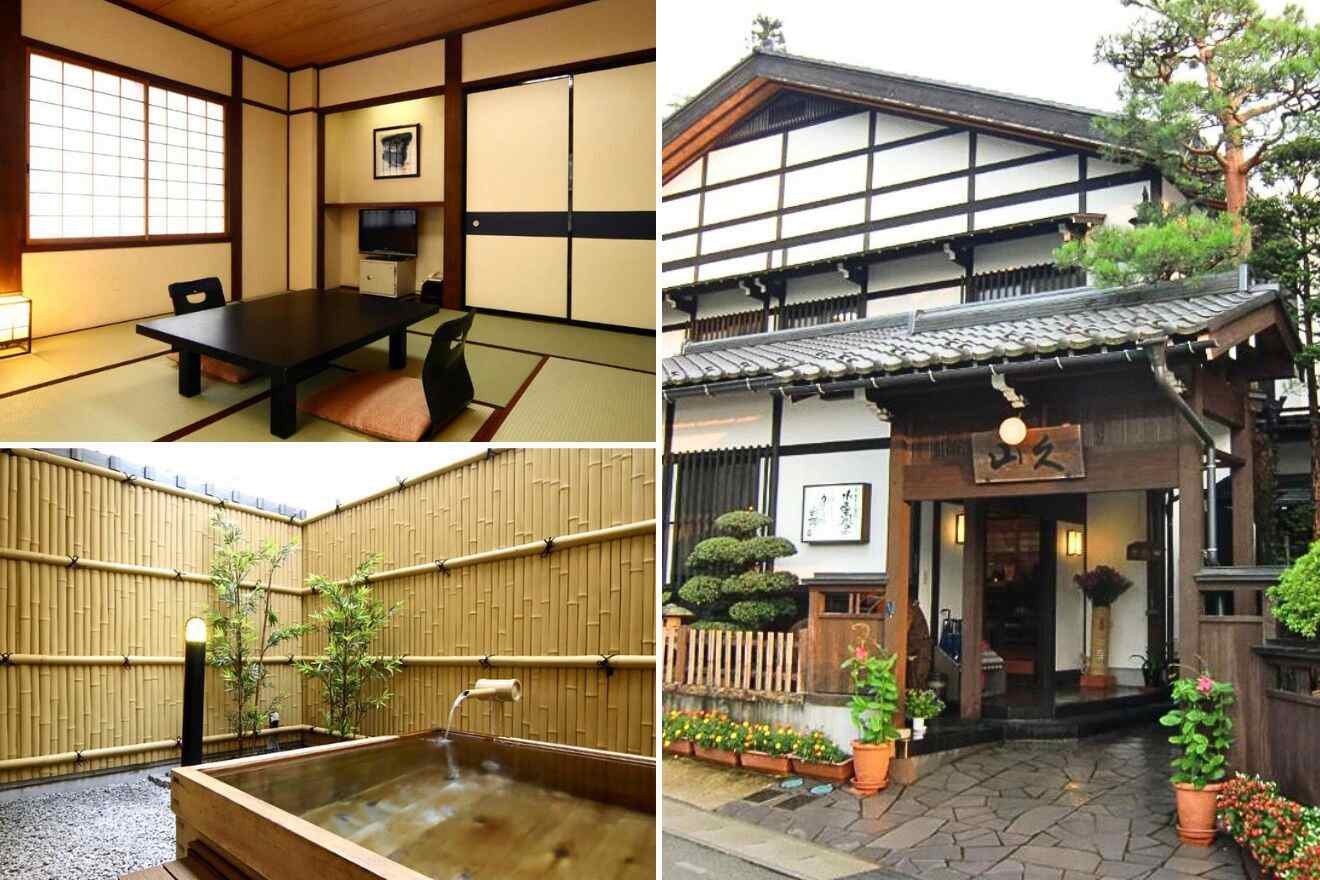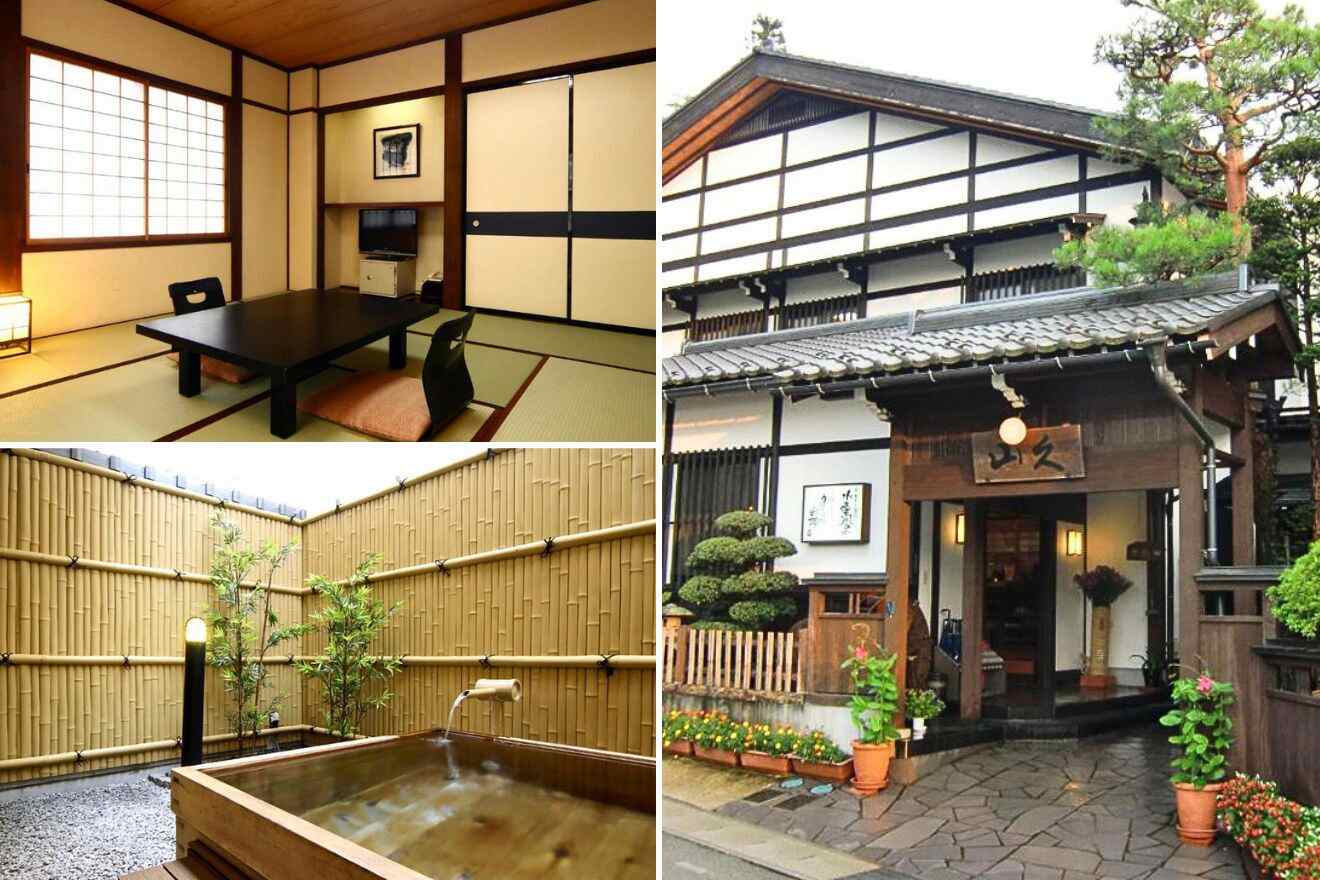 This lovely ryokan is only a few steps away from the beautiful Takayaka historic old town, all the main attractions and temples, and Takayama train station; if you want, you can use the hotel's shuttle service from the station to the property. This hotel features a classic traditional style that has a special old charm; all the furniture and art look full of history!
There is an indoor hot spring area and an outdoor one, so relaxation is guaranteed regardless of your preferences; a traditional Japanese breakfast will be served to all the guests staying in any of the rooms. If you wish to have a private bathroom, check that option at the time of booking!
11. Ryokan Murayama – steps away from Hida Folk Village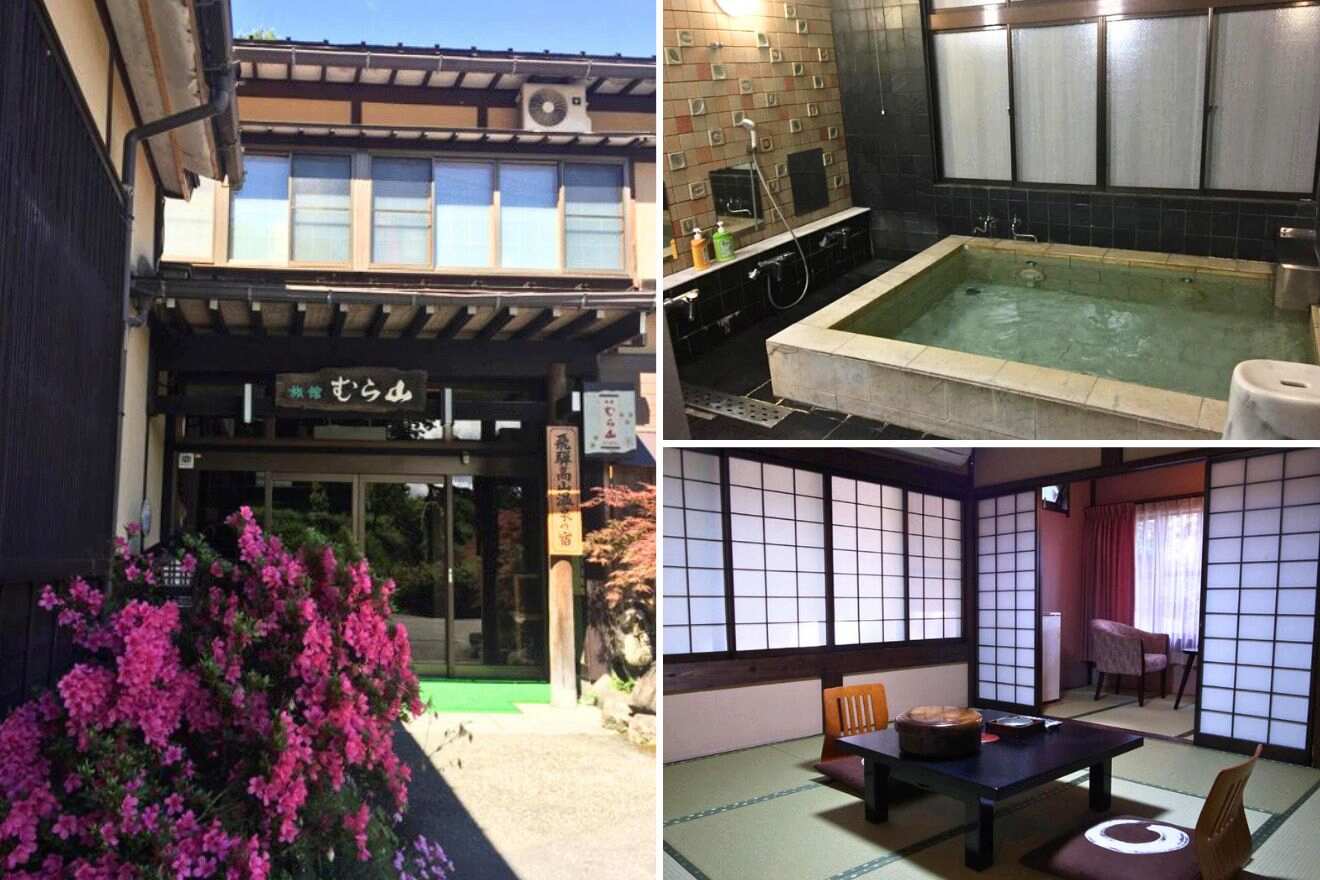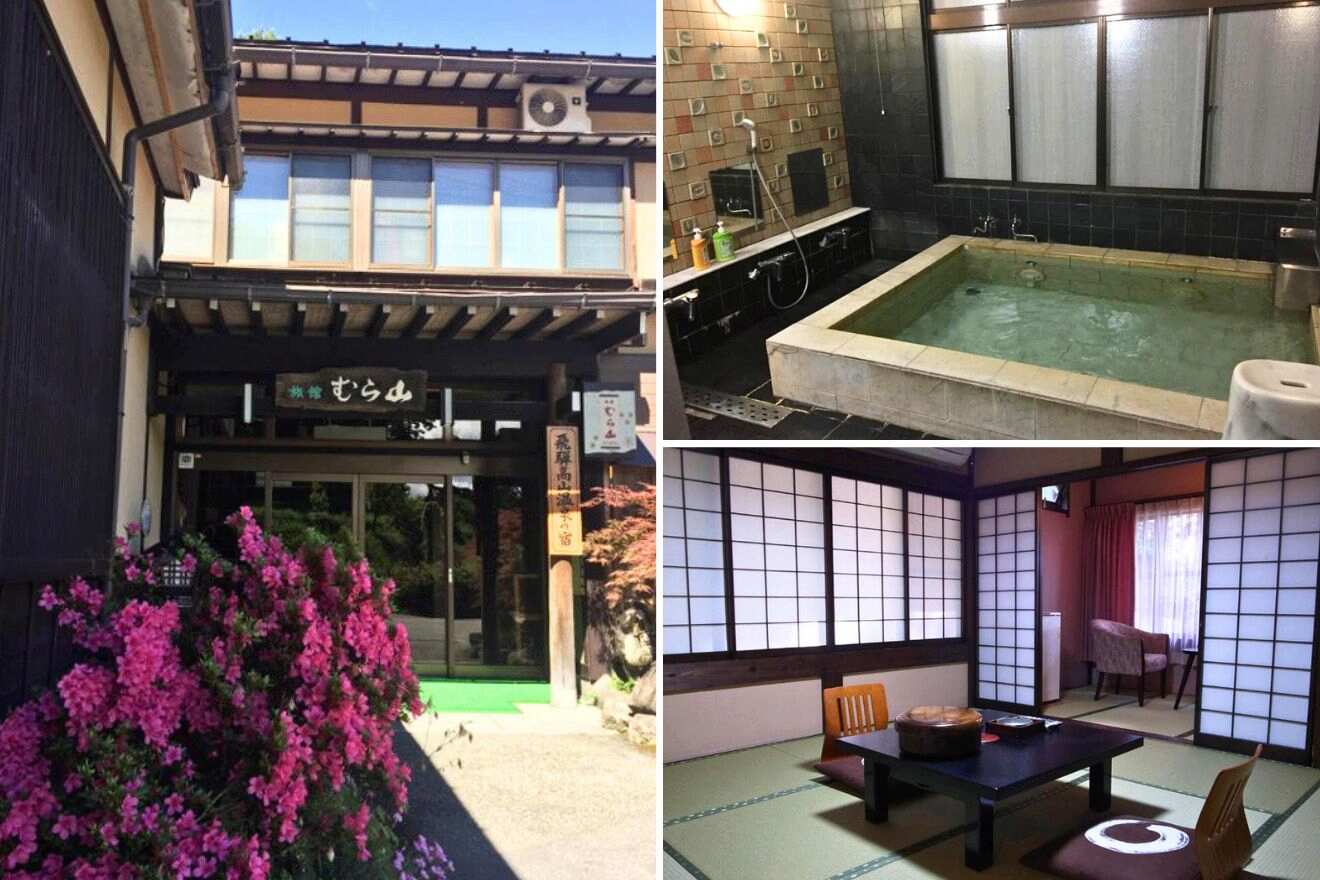 What a cute little ryokan located in the beautiful area of Nishinoisshikimachi and just a short 10-minute walk from Hida Folk Village, a stunning open-air museum showing traditional farming architecture! The style of the hotel is super traditional, which will make your whole experience even more special
Dinner can be served in-room, but for this, you need to make a booking, the same with the private onsen. All the rooms are super spacious and even come with a cute little furnished balcony where you can relax after exploring all the amazing attractions! Some rooms come with a private bathroom.
12. Ryokan Kaminaka – incredible location!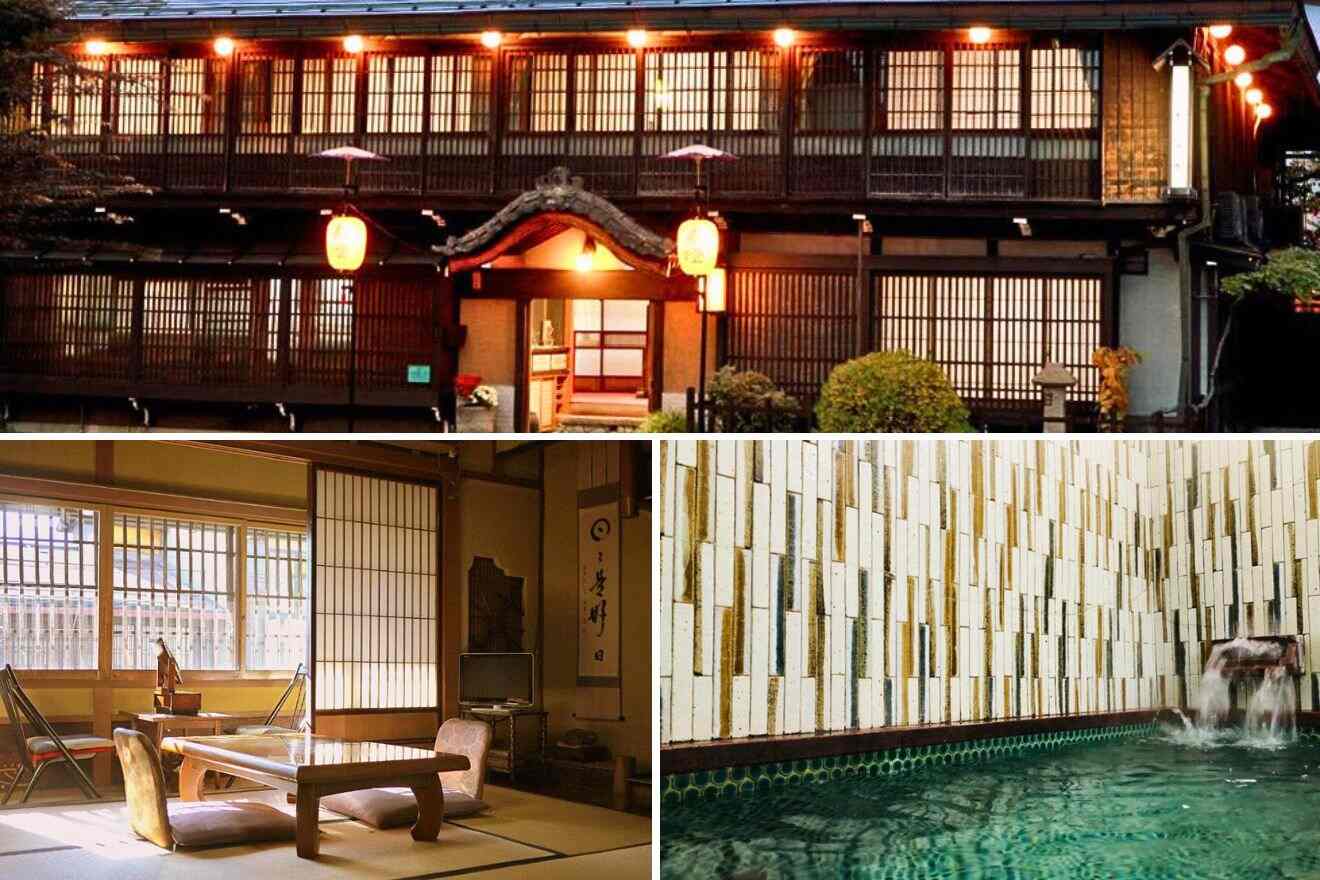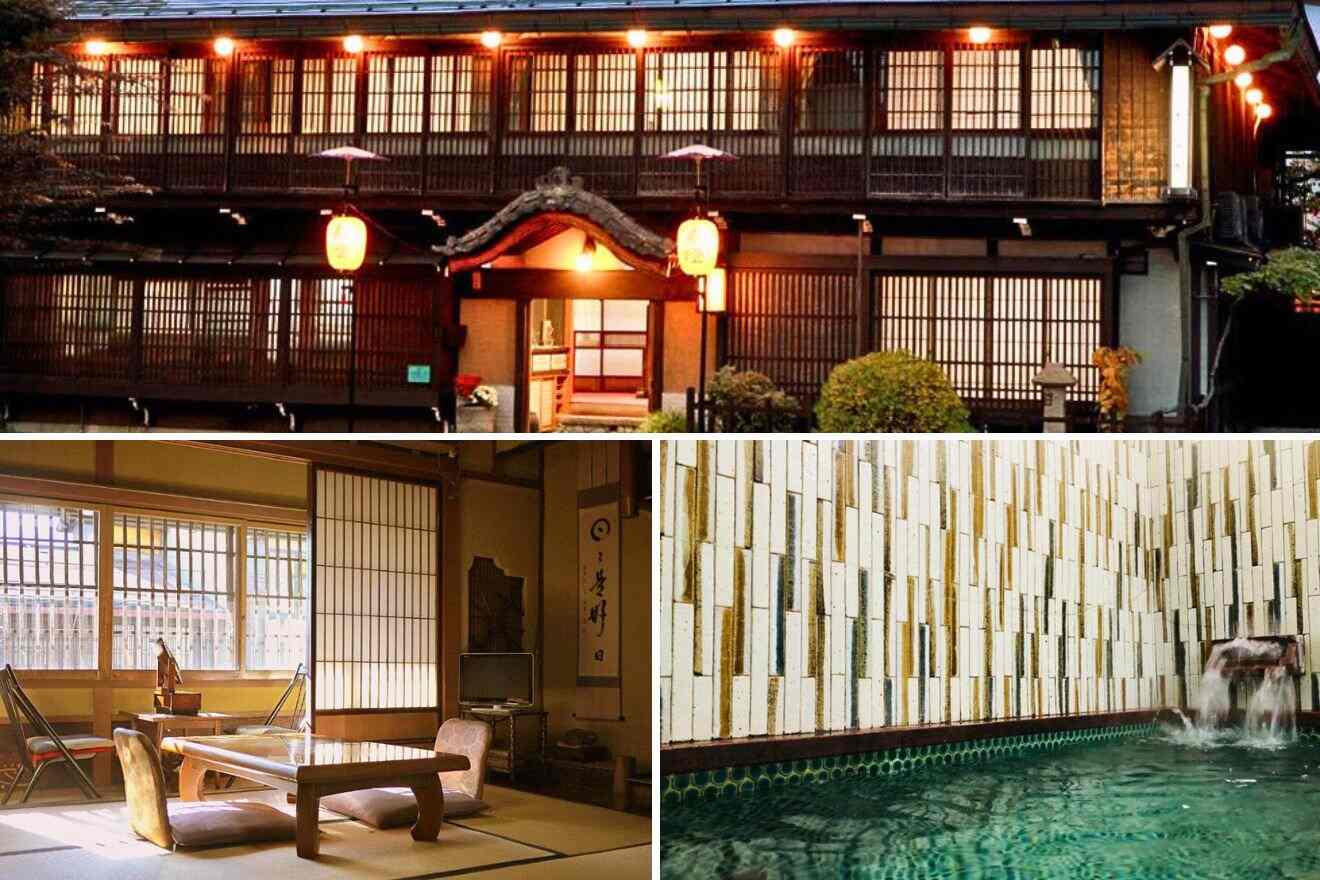 This Ryokan location is simply unbeatable, right in the middle of the city center, with all the amazing cultural and culinary options the old town of Takayama has to offer! Everything about this hotel looks beautiful; it feels like you are walking inside a museum, all the decoration and traditional architecture are spotless, and the Japanese garden is simply a treat!
All the guests can enjoy a relaxing time in the public baths, and they can have a traditional breakfast and an in-room multi-course kaiseki dinner with Hida beef! Nothing better than relaxing with delicious food after spending the entire day walking around in the city! Keep in mind there is only 1 type of room in this accommodation with a private bathroom!
13. Sumiyoshi Ryokan – for an authentic experience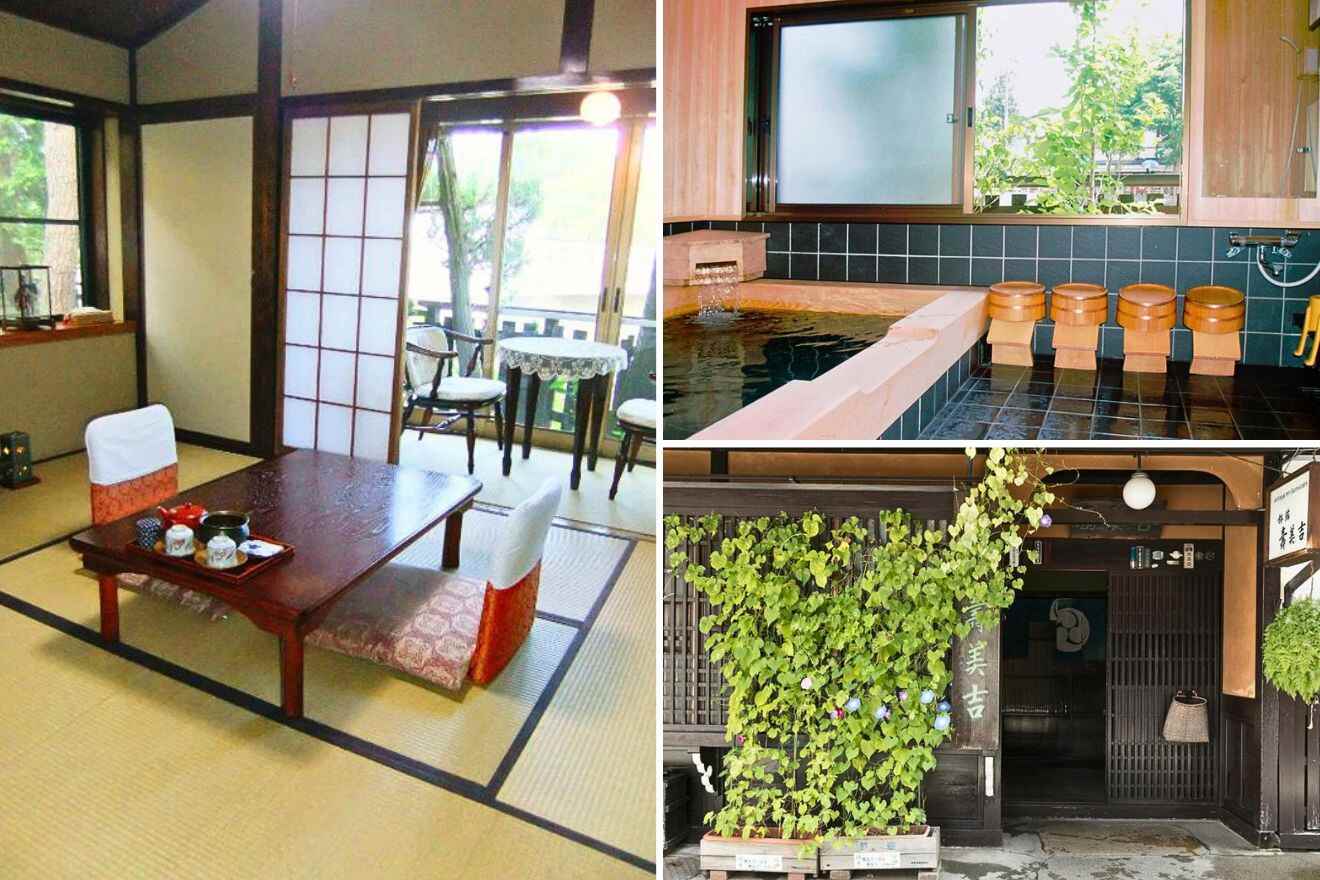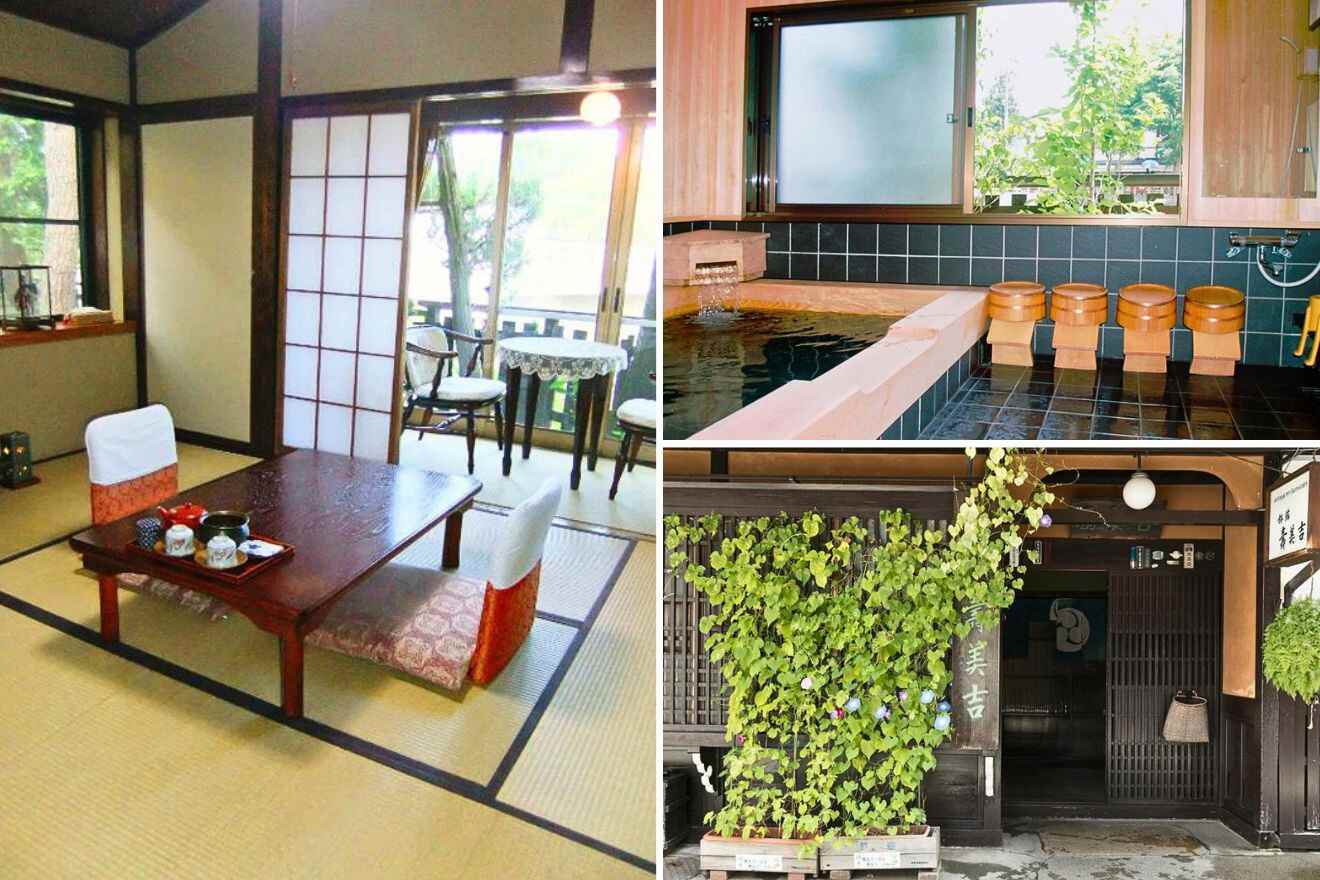 Want to feel pampered and taken care of during your trip to Takayama? Staying at this hotel, the charming staff will help you out with everything you need and give you the best recommendations in town, and will welcome you with matcha tea when you check in at the hotel! The traditional Japanese breakfast and dinners will warm your heart and give you energy during your stay in Takayama!
The hotel has a public bath and a beautiful little Japanese garden. The rooms are beautifully decorated with antiques; some come with a stunning view of the river and a private bathroom. Complimentary yukata are available to use!
14. Hidatakayama Futarishizuka Hakuun – stunning property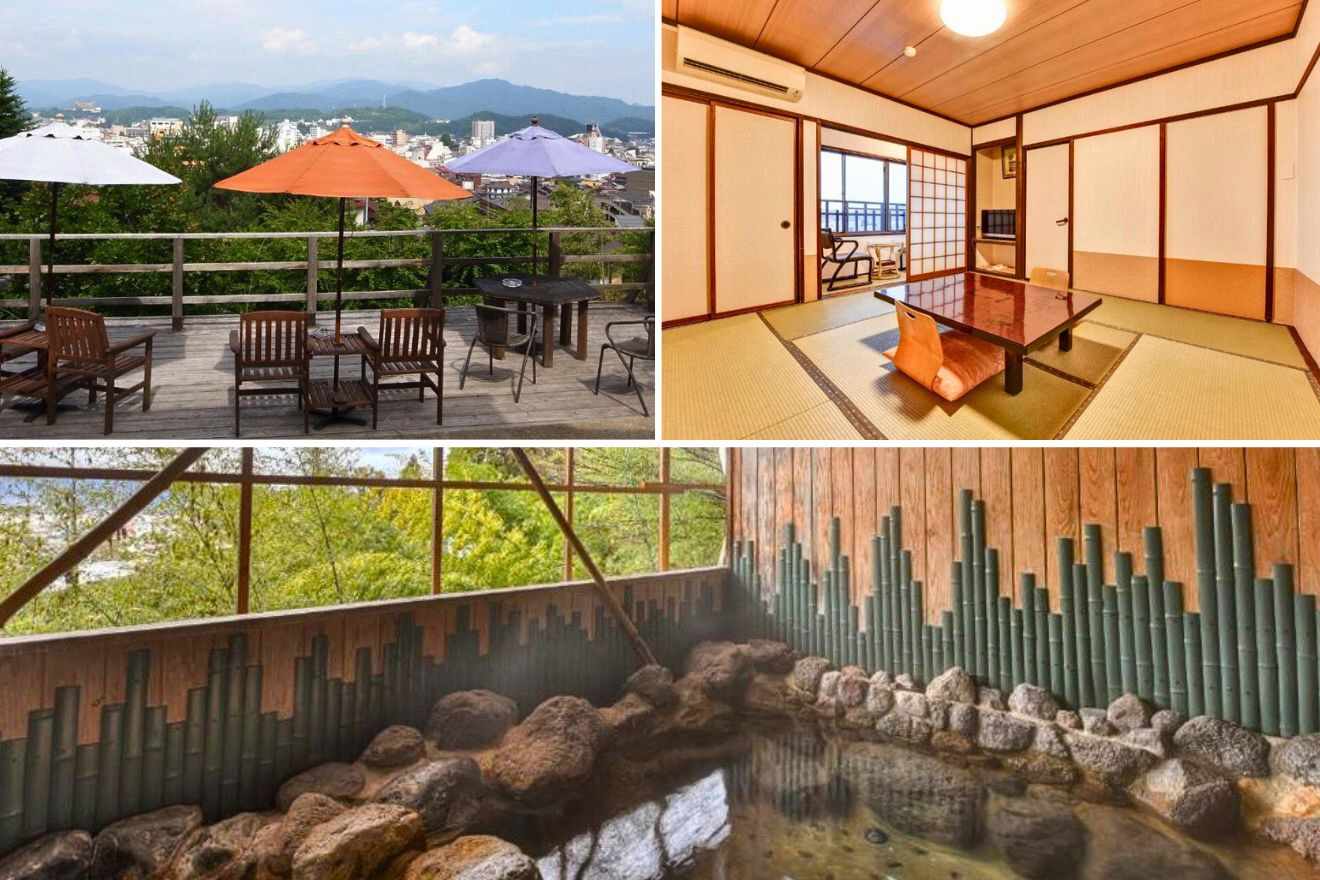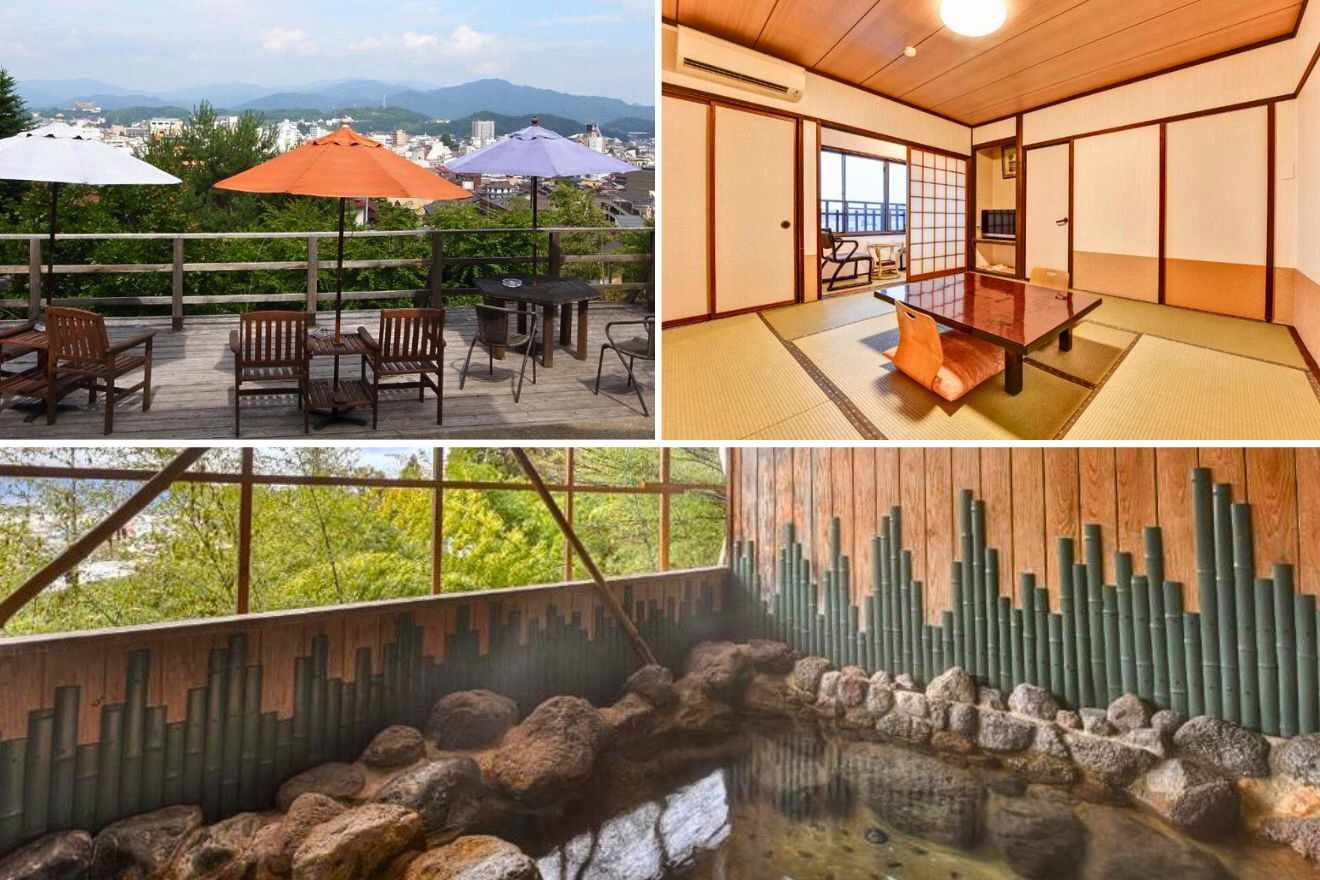 Oh my god! This ryokan looks absolutely fabulous! It is a few minutes' walk from the historic old town and up on a hill, which means that the views of the Alps mountains and the city are a complete dream! There are public baths available, and you can book a private onsen if you wish, of course, yukatas will be available for guests!
This property offers 2 types of rooms, one for 2 guests and the other for groups of 6 guests, with private bathrooms with bathtubs, traditional tatami flooring, and futon bedding; there is also a nice covered balcony in each room and tea with treats.
15. Shitanda – stunning natural landscape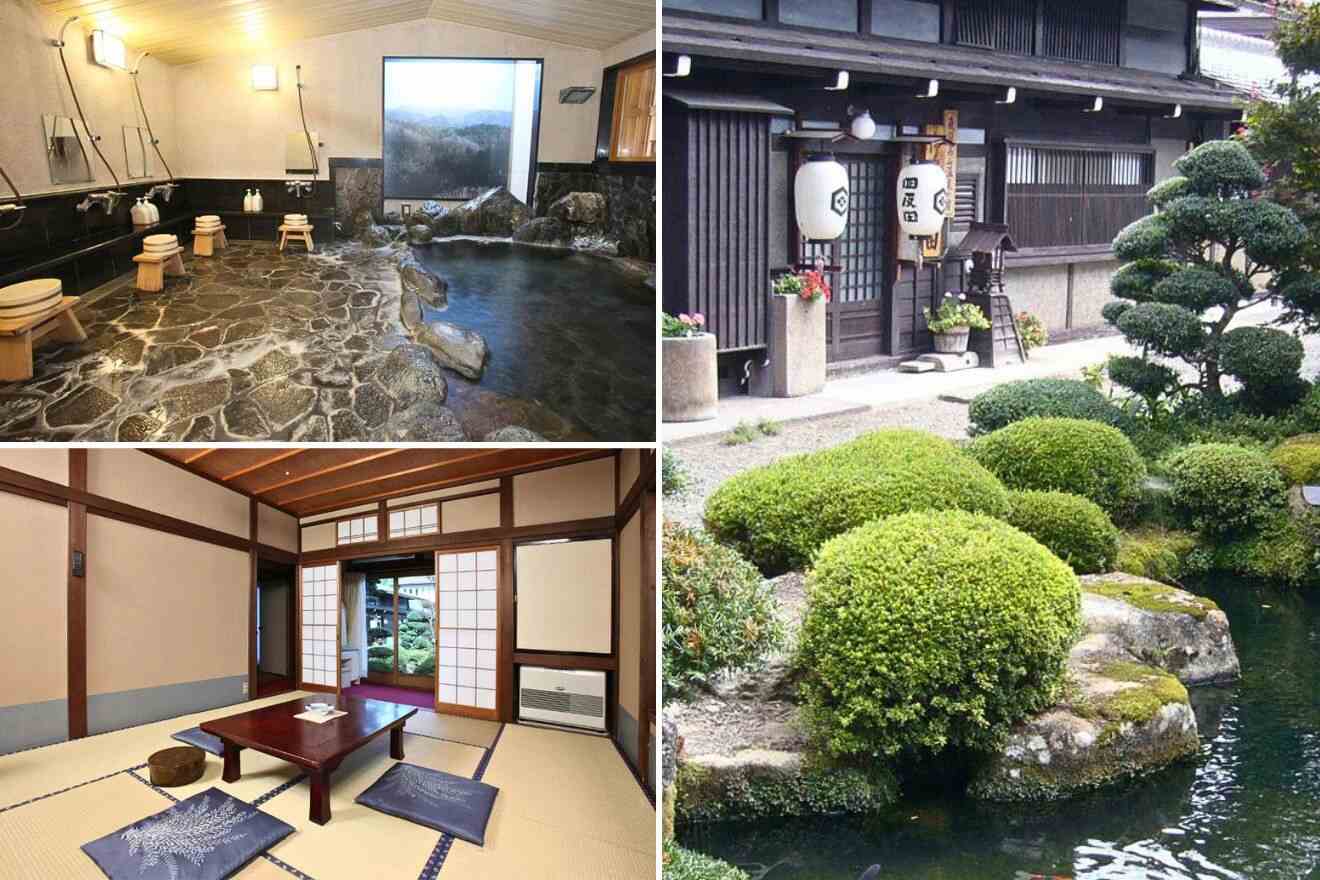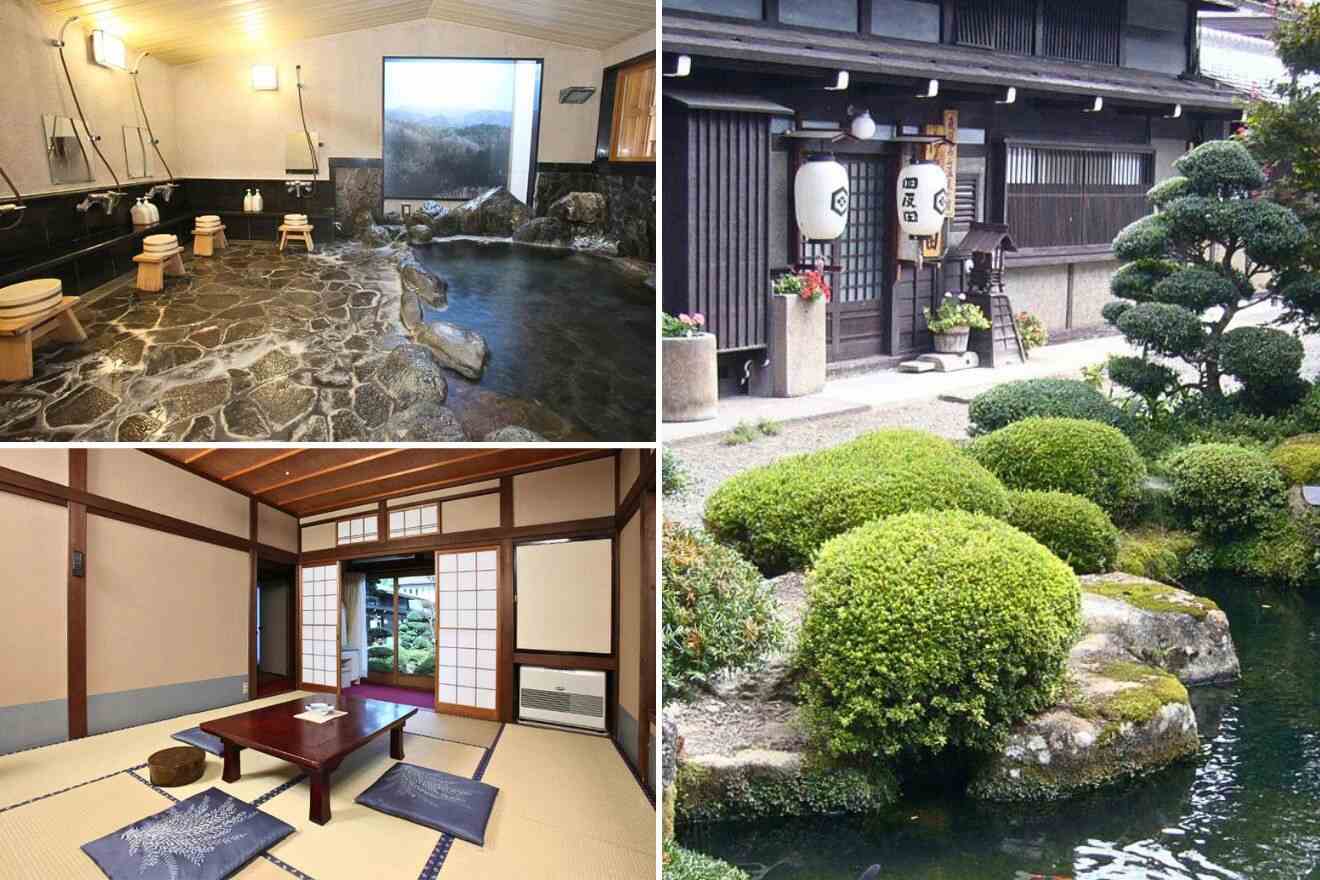 This beautiful hotel is located in Newkawacho Kitagata, near Hida Airpark, and just a 20-minute drive to Takayama's historic old town. The natural surroundings of this hotel are a complete dream, it is like being part of an idyllic film about life and love! The hotel features a public hot spring bath and free bike rentals, and in some spaces of the hotel, you can find an irori hearth and a heated kotatsu table!
The rooms are spacious and great for big groups since they can fit from 4 – 6 guests each! All of them come with traditional tatami flooring and futon bedding; some of them come with a private bathroom, and others with a shared bathroom!
16. Workation Guest House – for a strategic stay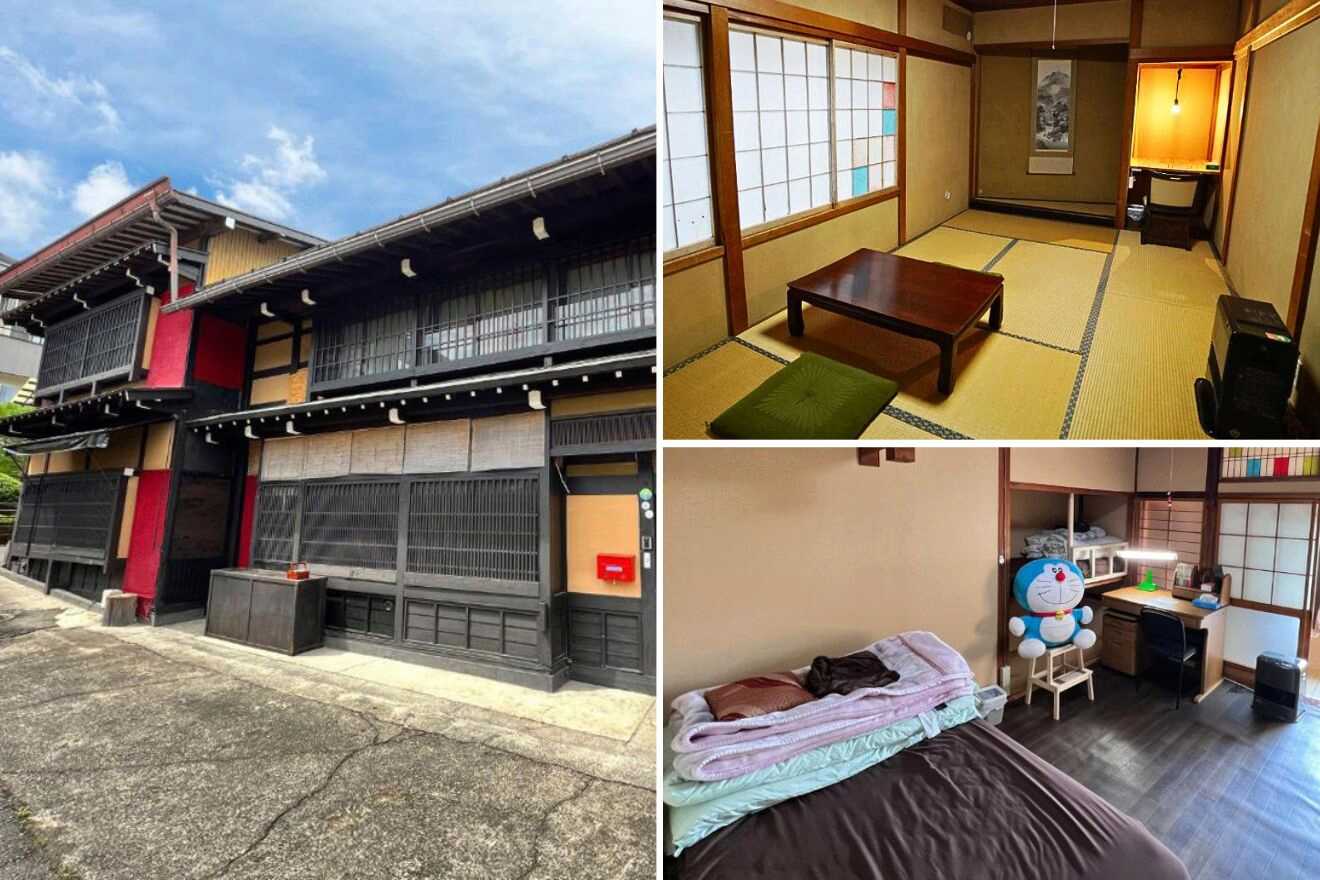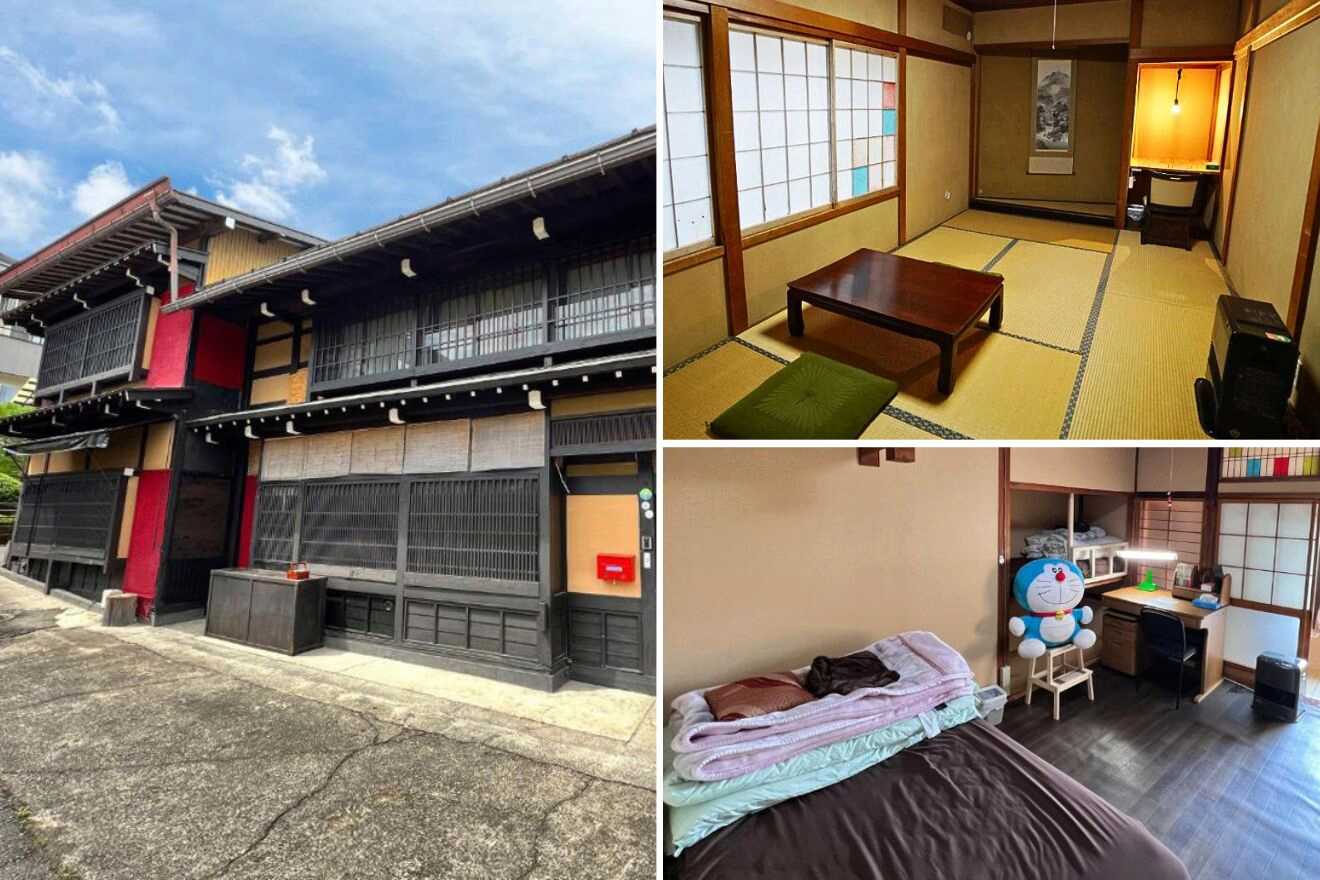 What a beautiful, traditional hotel located minutes away from the main train station! The staff is super kind and will be happy to talk to you and share all the amazing Japanese traditions! There are free snacks available in the lobby, vending machines with drinks, and a shared kitchen where you can put your culinary skills to the test!
This hotel is a great option if you are traveling on a budget; they offer private rooms for up to 4 guests and single beds in shared dormitories. Something to keep in mind is that this property only comes with shared bathrooms!
FAQs about your Takayama ryokan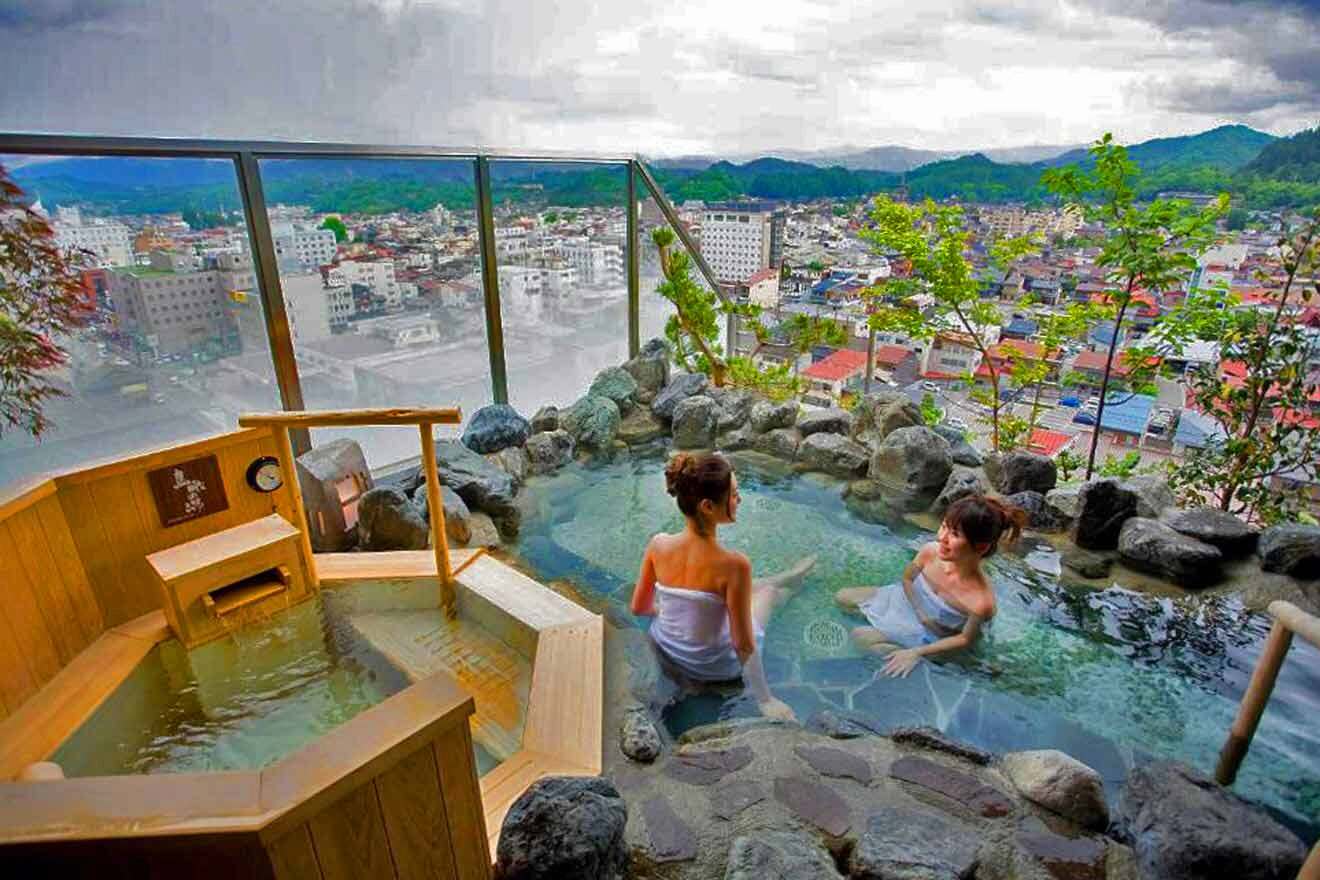 🛏️ What is the difference between a ryokan and a hotel?
The ryokan is the traditional Japanese room, and hotels usually have Western-style rooms; some properties in this article feature both, so if that floats your boat, check out Hida Takayama Onsen and Honjin Hiranoya Annex.
♨️ Which Takayama ryokan comes with private onsen?
⛩️ How many days do I need to visit Takayama?
I would say 5 days are ideal to get to see the old town and some amazing nearby towns!
💑 Which is the best Takayama Ryokan for couples?
Conclusion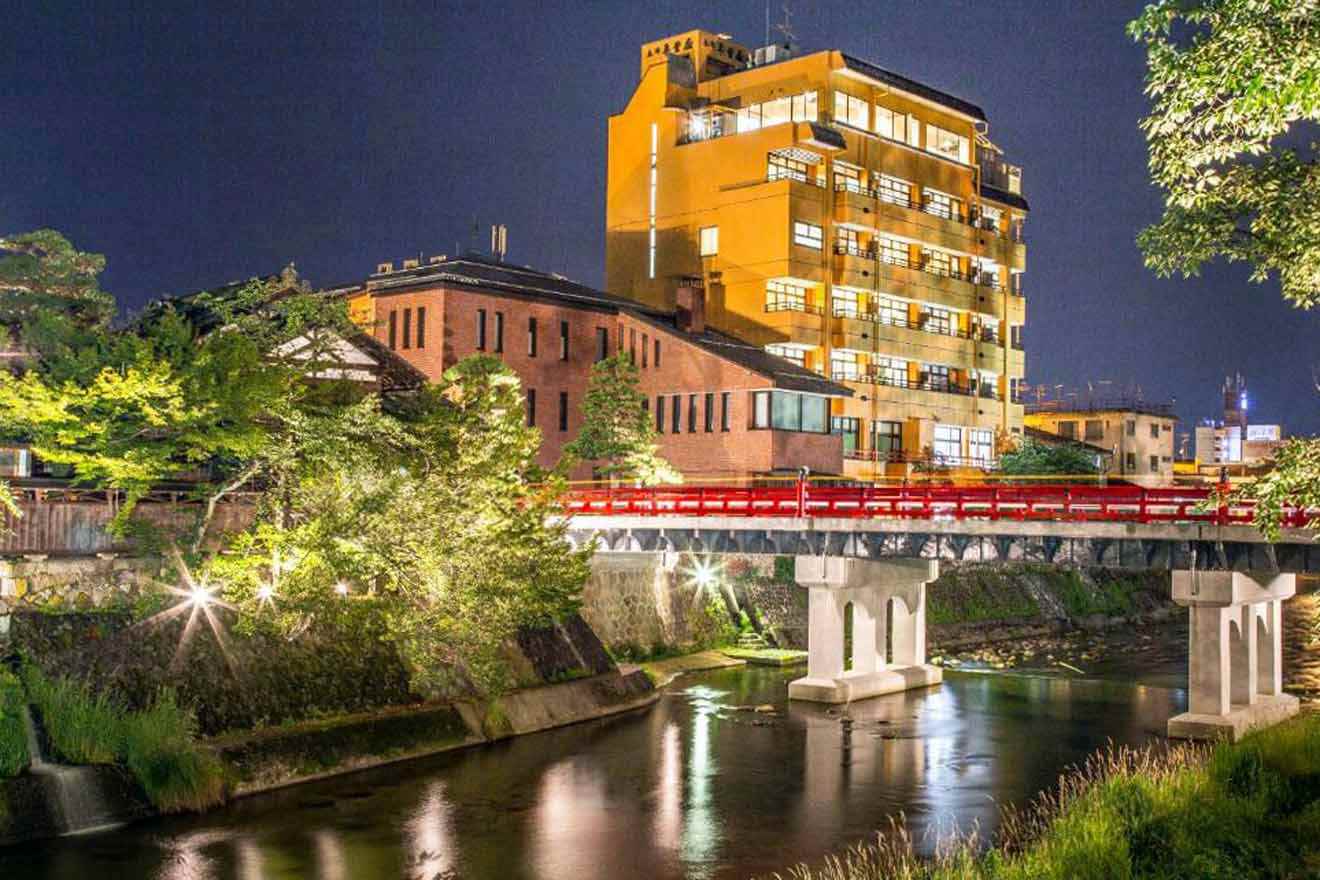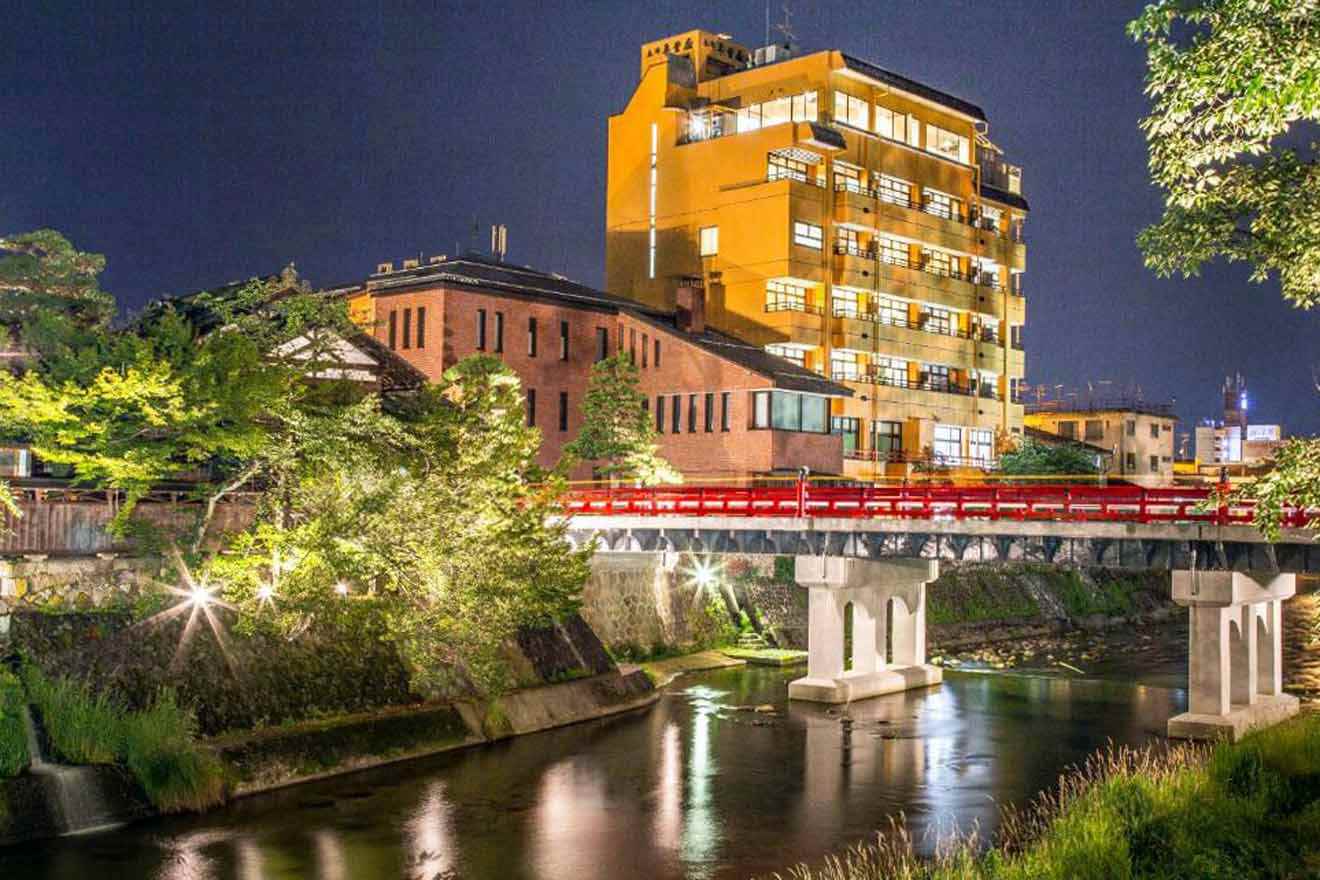 That is a wrap for today, my lovely people! Those were the best Takayama ryokan! You have 16 amazing options of the best ryokans to choose from! Takayaka is such a beautiful place, full of culture and tradition, so you are a very lucky one traveling to this amazing destination!
To be honest, all the ryokan featured in this article are simply stunning, and I would be more than happy to stay in any of them, but if I had to choose my top 2, I would go with:
Ichinomatsu Japanese – I want to stay in the Japanese-style room with a view of the garden; it is stunning!
Takayama Ouan – the hot springs located outdoors feature the most amazing views of the city and the mountain. I am obsessed!
Which of these hotels was your favorite? Have you ever stayed in any of those? Let me know in the comments, and if you have any questions about the location or the hotels, ask away; I want to help you! If you want to get the best deals and actually book the room of your dreams, it is vital you book in advance!
Until the next exciting adventure!
Daniela
---
Pin it for later!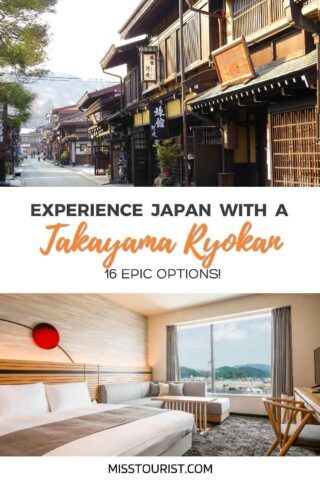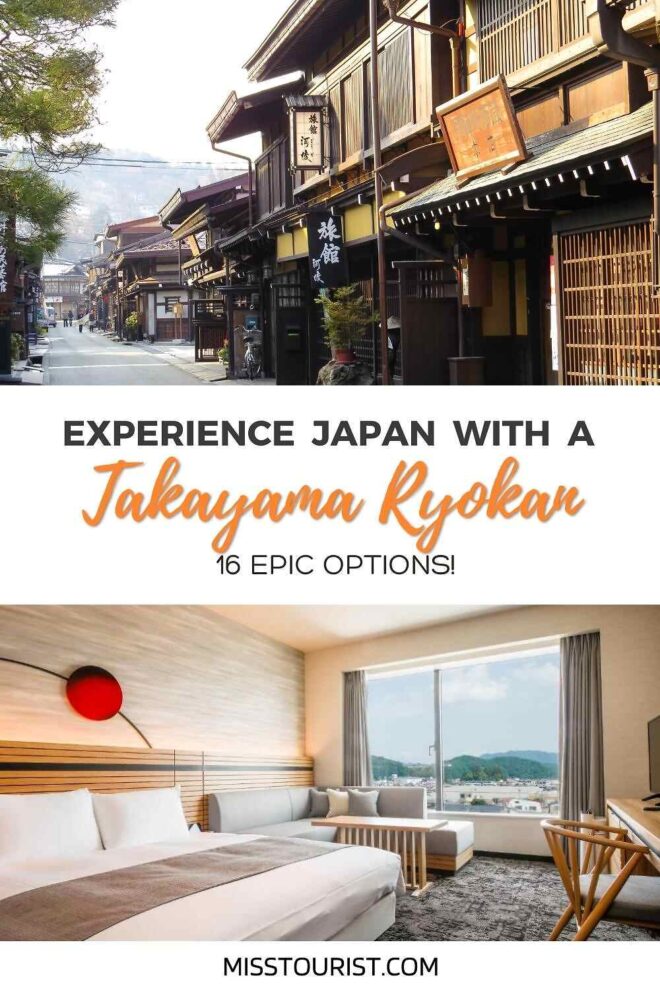 Pin it for later!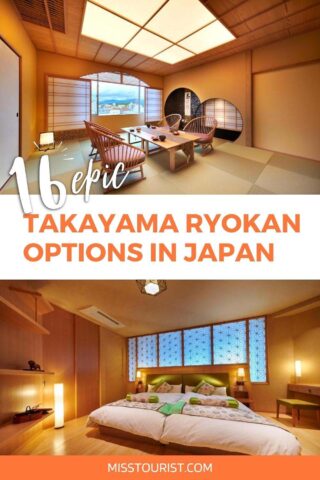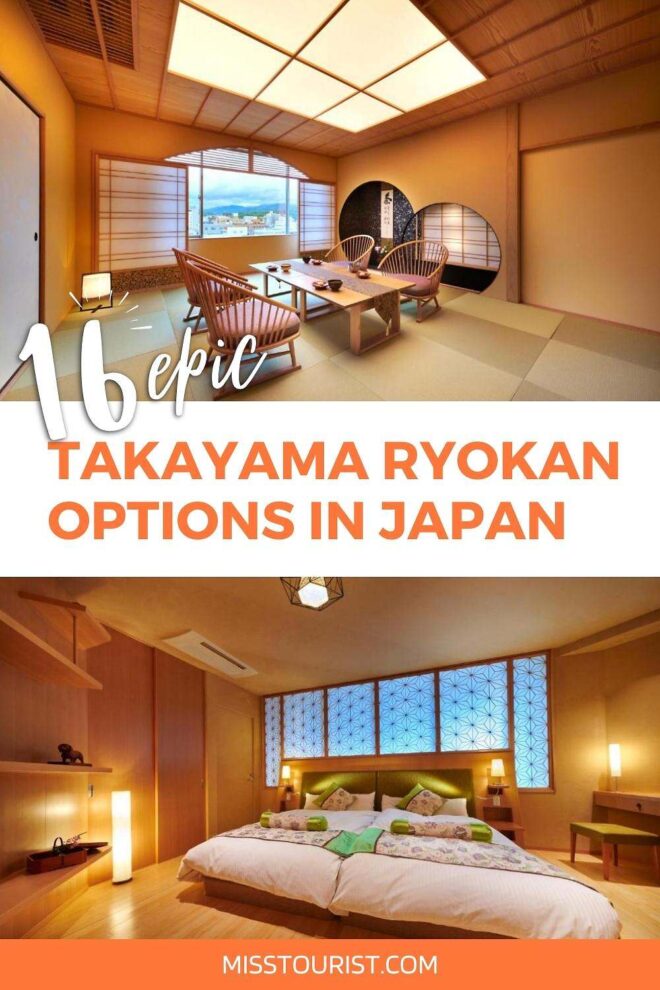 Products You May Like