Helicopter Flight, 12 Apostles in Australia → My Experience
Hey there, fellow travel enthusiasts! If you're anything like me, you're always on the lookout for extraordinary experiences to share with your loved ones.
Well, let me tell you about the time I surprised my husband with the most amazing Christmas present ever: a 12 Apostles helicopter ride in Australia! I couldn't wait to see the look on his face when he unwrapped that voucher.
This experience was nothing short of magical, and I'm here to share it with you. So, buckle up and join me as we relive this incredible adventure together!
Below I will share all the nitty-gritty details, like prices, how to organize the trip, whether the flight is worth the investment, and other practical info you'll need to plan your own unforgettable helicopter adventure.
So, let's begin!
12 Apostles helicopter ride overview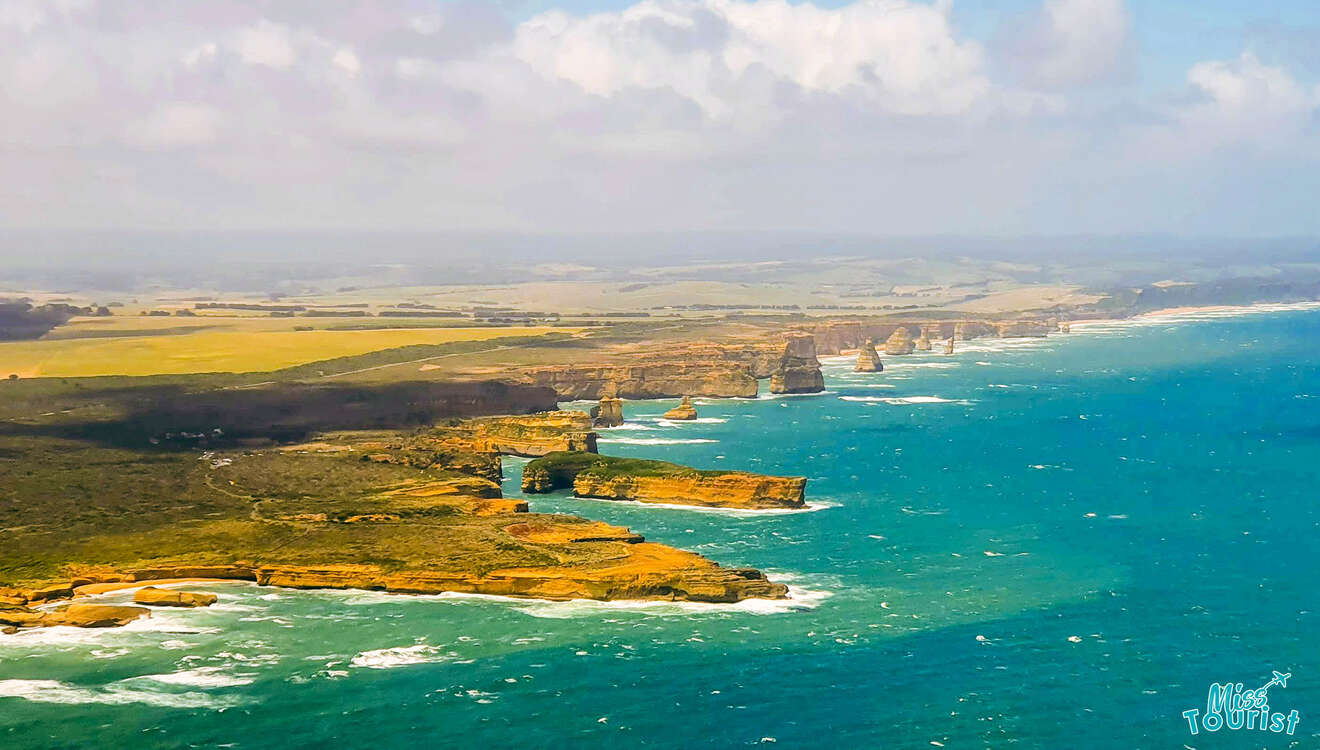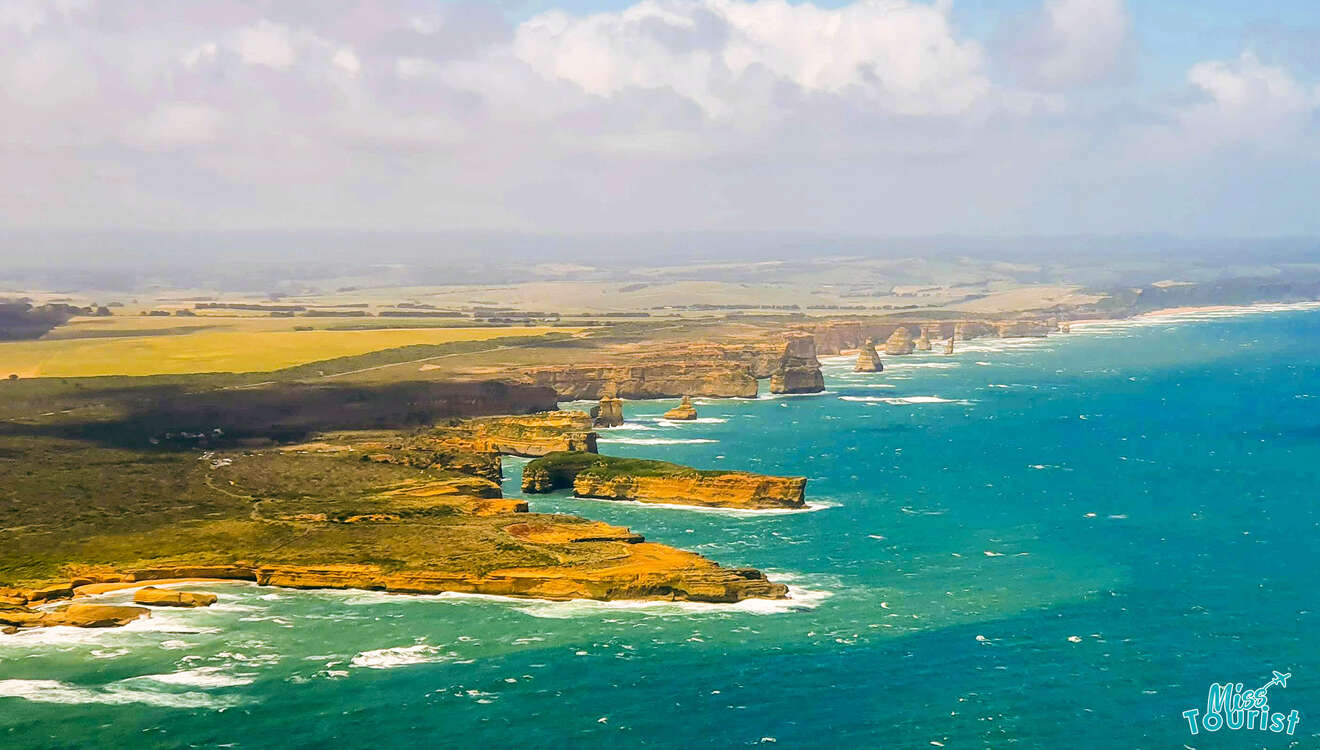 From what I know, there is just 1 company (this one) organizing the flights over the 12 Apostles, so we did not have much of a choice in terms of the company. However, they do have different routes options:
16 min (AU$165/US$115)
25 min (AU$245/US$170)
60 min (AU$585/US$405)
The longer the flight, the more sights you are going to see, obviously.
Here is the map of the longest available flight: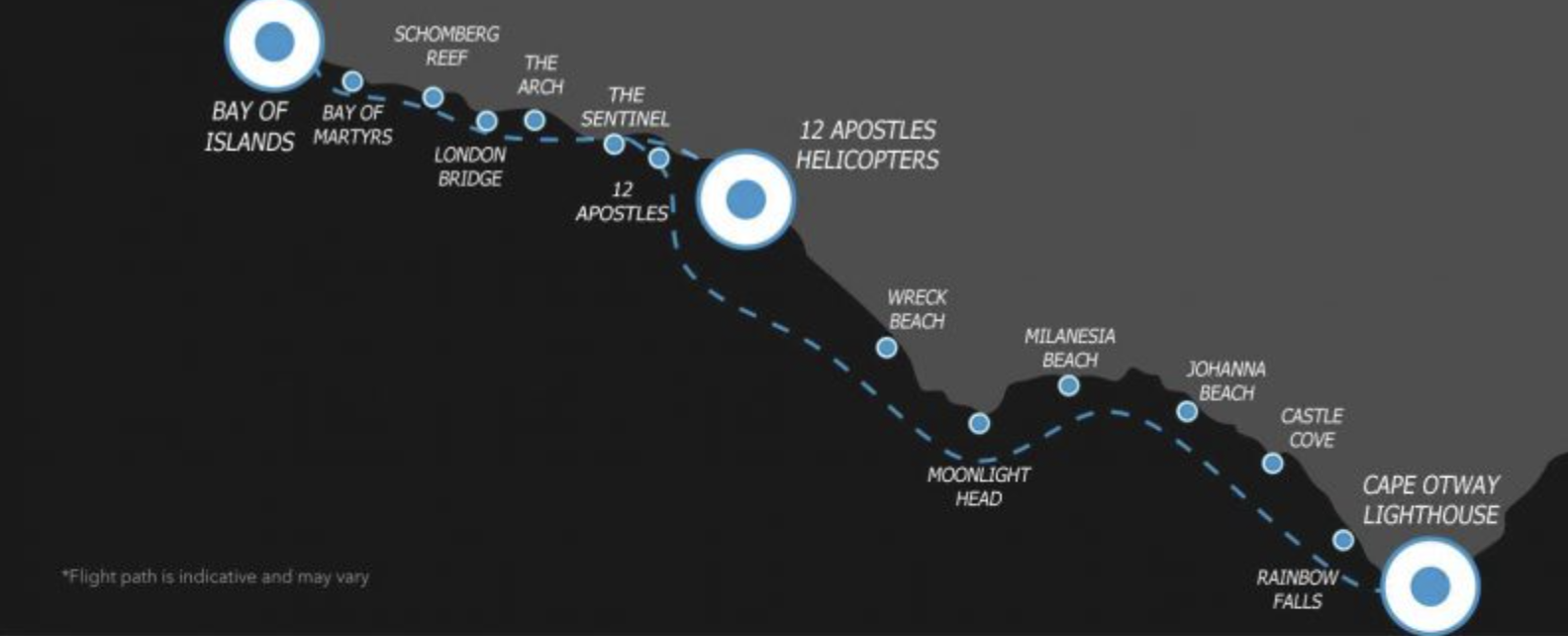 We opted for the one that goes from the Bay of Islands to London Bridge and back. It is their shortest (16 min) and cheapest (AU$165/US$115) option, called the 12 Apostles to London Bridge.
The helicopter ride took us over the awe-inspiring 12 Apostles, a collection of limestone stacks off the shore of Port Campbell National Park. It was quite short, true, but definitely enough to get the thrill of the breathtaking coastline and its natural wonders!
What you will see
If you choose the option I chose, you will see the 12 Apostles from the bird's eye view, Loch Ard Gorge, the Sentinel, the Arch, and London Bridge. It was truly a feast for the eyes and an experience I will never forget!
You can see what the other 2 options cover in the picture above. 
We had commentary and explanations from the pilot at all times. He was really funny and entertaining and definitely made the flight even more exciting for us!
Was it worth it?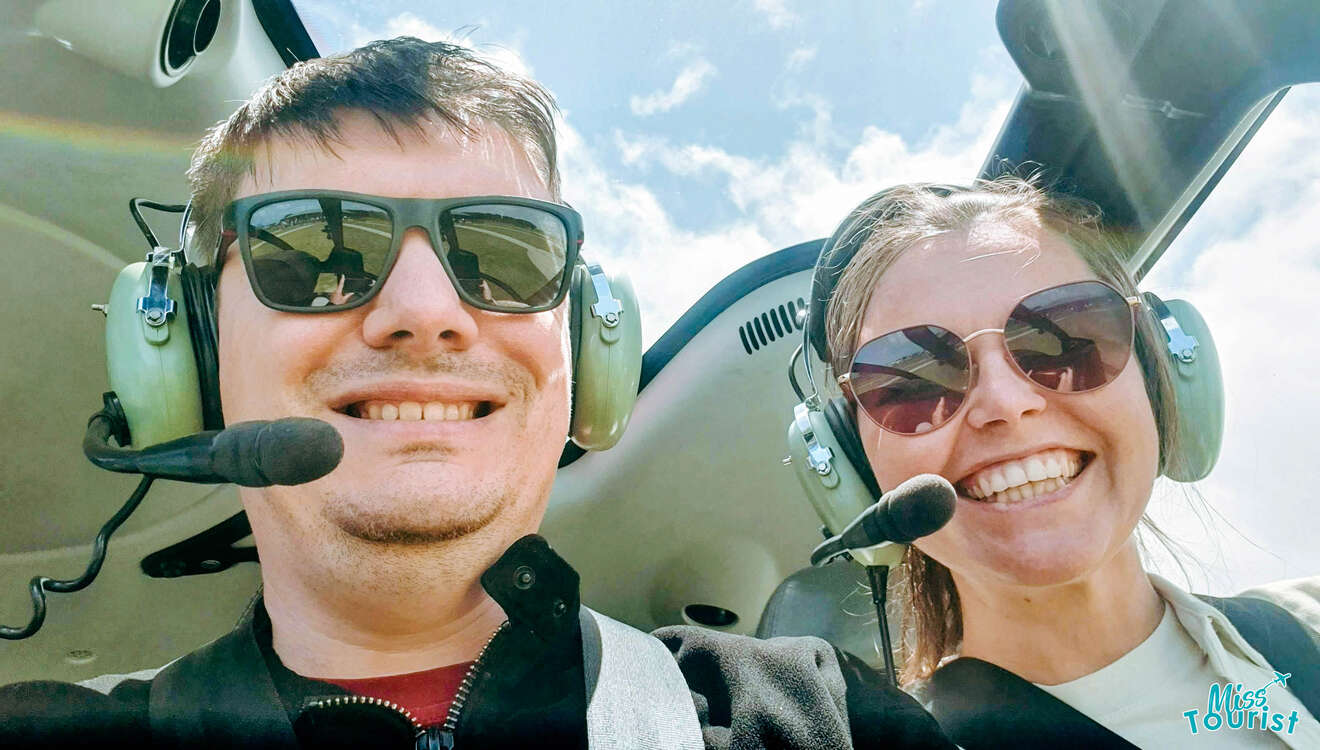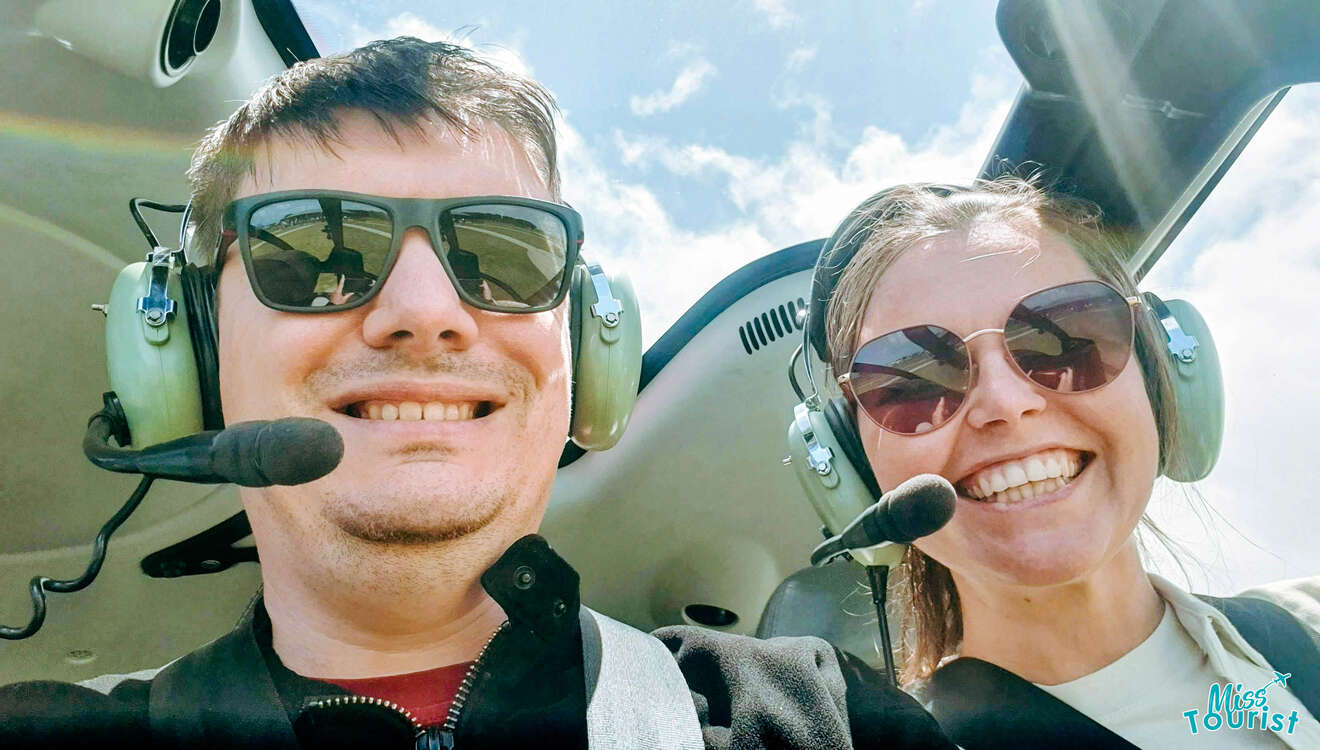 Short answer – yessss. As I said, this was my Christmas present to my husband, and he loved it!
Long answer – as always, it really depends on your individual budget. If you can comfortably afford it, it could be a fantastic experience. But if it's too pricey, you might want to explore other options for sightseeing.
The 12 Apostles helicopter ride starts at AU$165 (US$115) for the cheapest route per person, which covers all the must-see sights along the coast. There are more expensive options available if you want to extend your flight time or explore additional areas, but I found the 16-minute option to be the perfect introduction to this magnificent region.
How to book your helicopter tour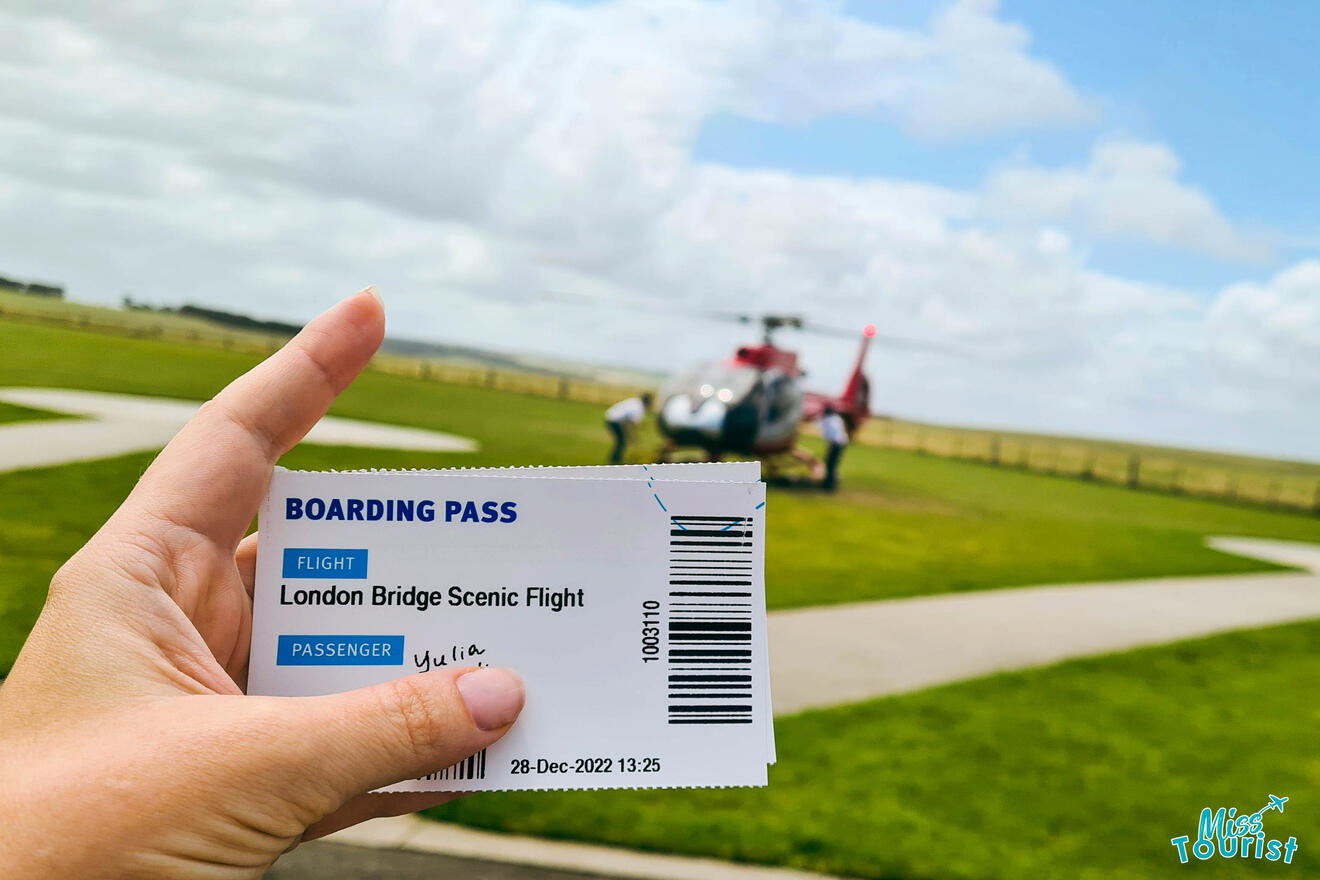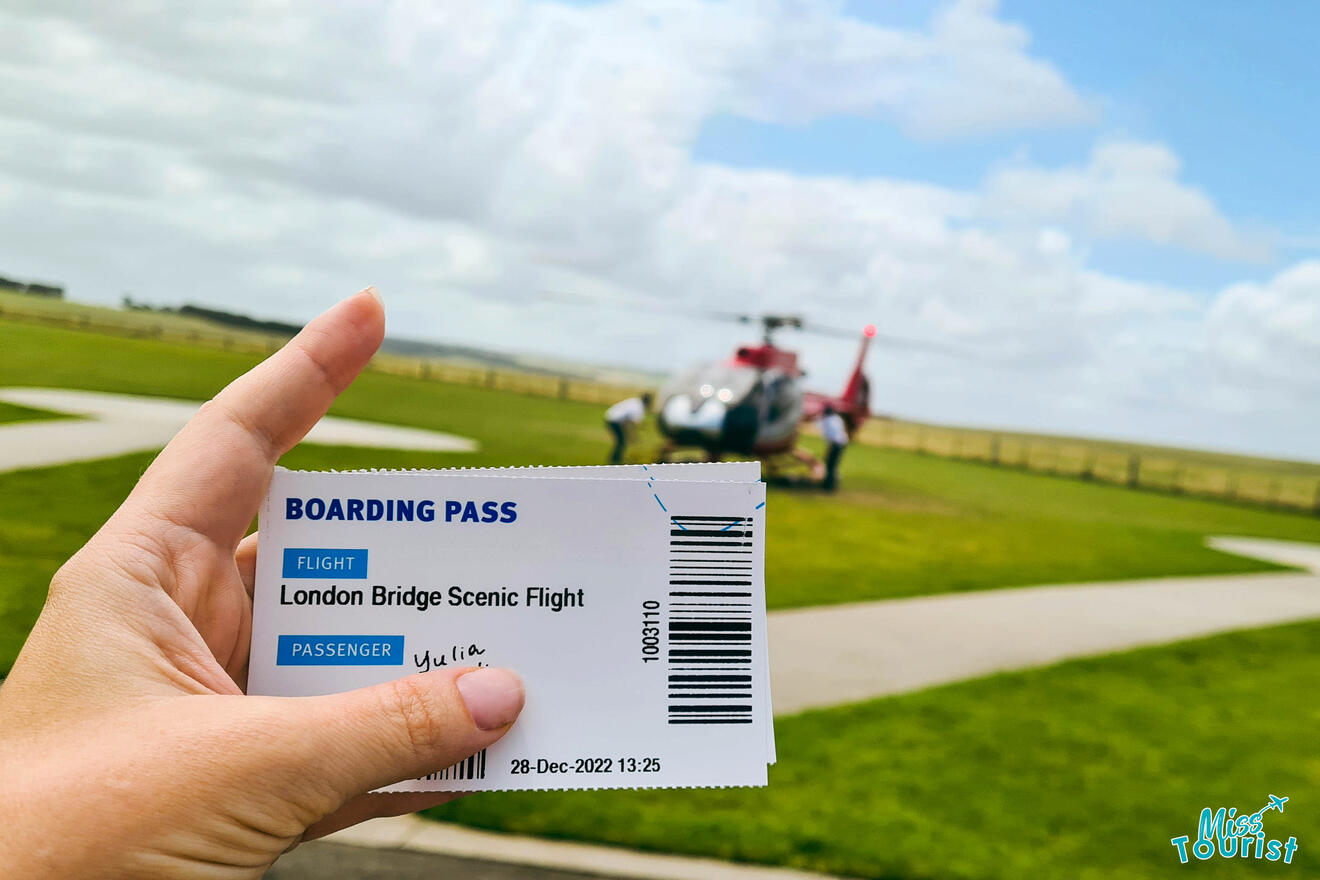 You can book online in advance or at the entrance on the day, the only difference is that you will skip the line to buy your ticket if you have a spot reserved in advance.
Since I had a gift voucher, we booked the day in advance online. I decided not to book the time slot exactly since I was not sure when we would reach the spot, so we still needed to queue up, which was only 5 mins (but they say the wait time can be up to 30 mins in peak season).
Practical info about helicopter flights over the 12 Apostles
Here are some important points that I could not find the info about when it comes to helicopter flights over the 12 Apostles in Australia. So here you go:
When to do the tour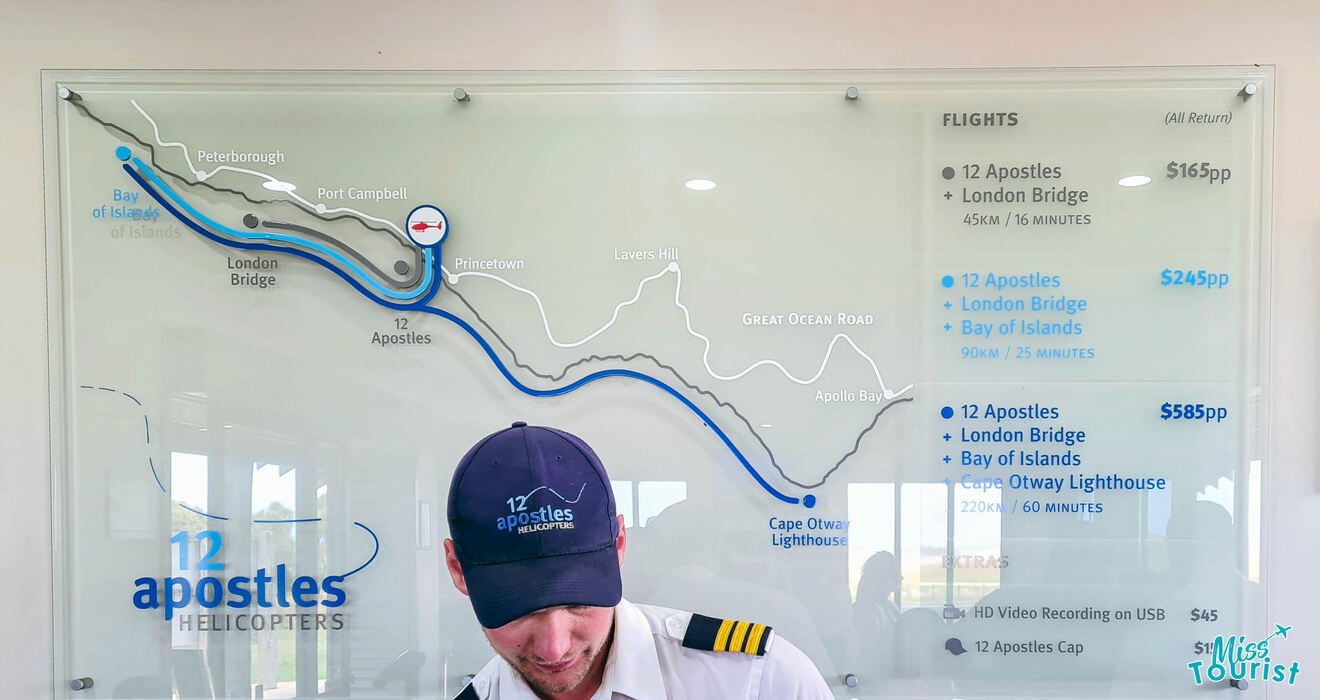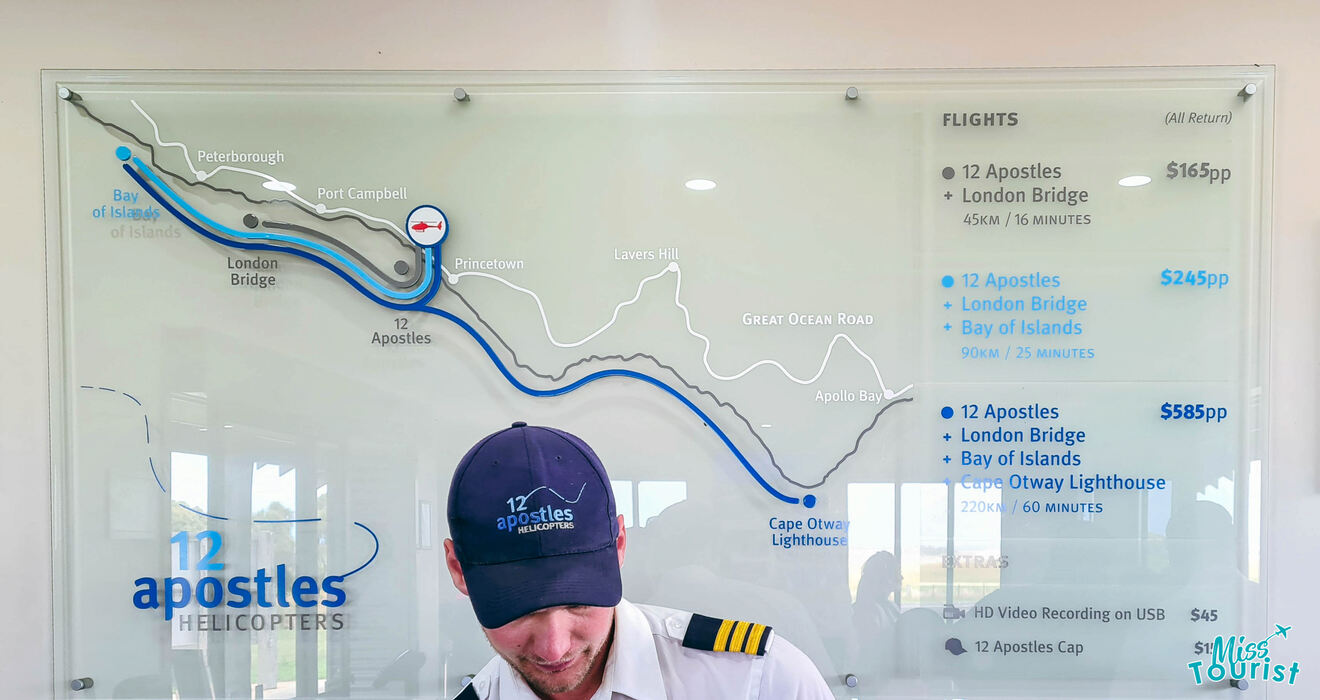 The 12 Apostles helicopter ride is available year-round, but the best time to go depends on your personal preferences. If you're looking for the most picturesque scenery and comfortable weather, consider visiting between November and April, when the temperatures are mild and the days are longer.
When it comes to the best time of the day for the tour, I'd recommend going in the morning/early afternoon. This way, you can enjoy the mesmerizing morning light as it casts a warm glow over the landscape, not to mention there will be less people in the morning, too.
Please note that the company does not do sunset flights as Parks Victoria does not allow it.
How to make sure you get a window seat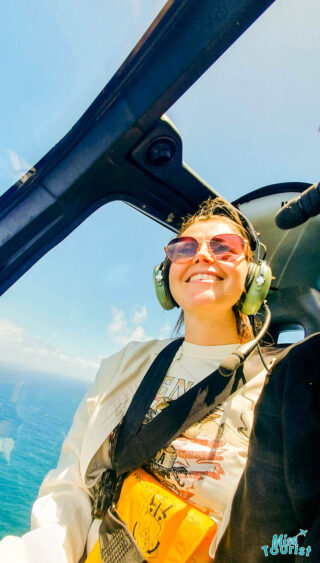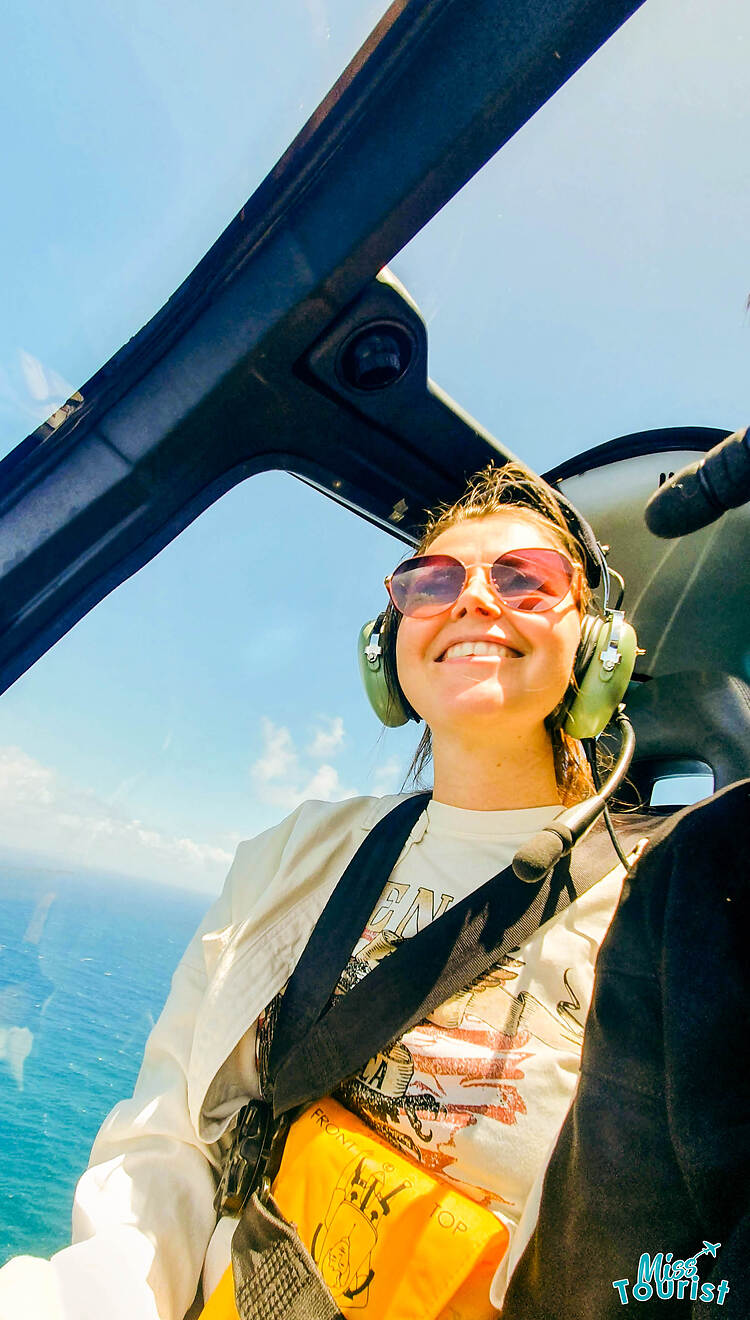 I know we all want to sit near the window, be it either for an epic shot or just in order to enjoy the view. I totally get it. That is why you want to get the helicopter flight in the first place, right?
Let's see, the helicopter capacity is 7 people, and from what I understand, they usually fly, not full (this is what happened to us at least, and there was quite a line of people).
In my experience, we were 5 people + the pilot. I sat in front near the window, my husband sat in front between me and the pilot (he had the same amazing view, though!). So, the only seat I would want to avoid (though you still see everything very well, even from there!) is the middle seat in the back.
Another little trick would be to go in the morning when there are less people so probably the seats are not going to be full and maaaaybe the staff who manages the line at the helipad, who boards, will have a little more time and you can actually ask them nicely to sit you in your preferred seat. Keep in mind, however, that it is going to be extremely noisy and windy out there, so it will be quite hard to communicate.
Please remember that the only way you can guarantee that you will have a window seat is to book a private flight option over the 12 Apostles.
Who can (and cannot) take the tour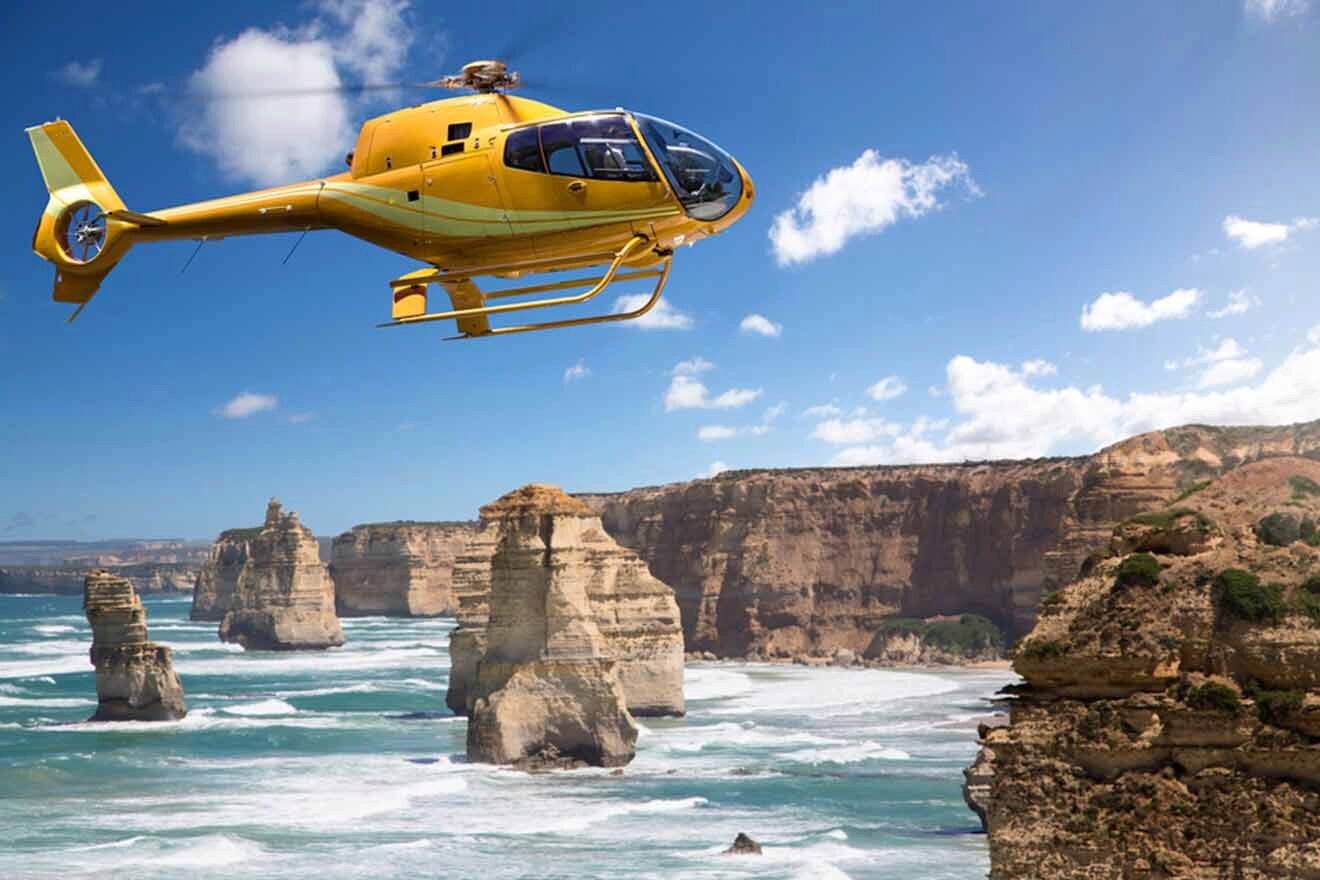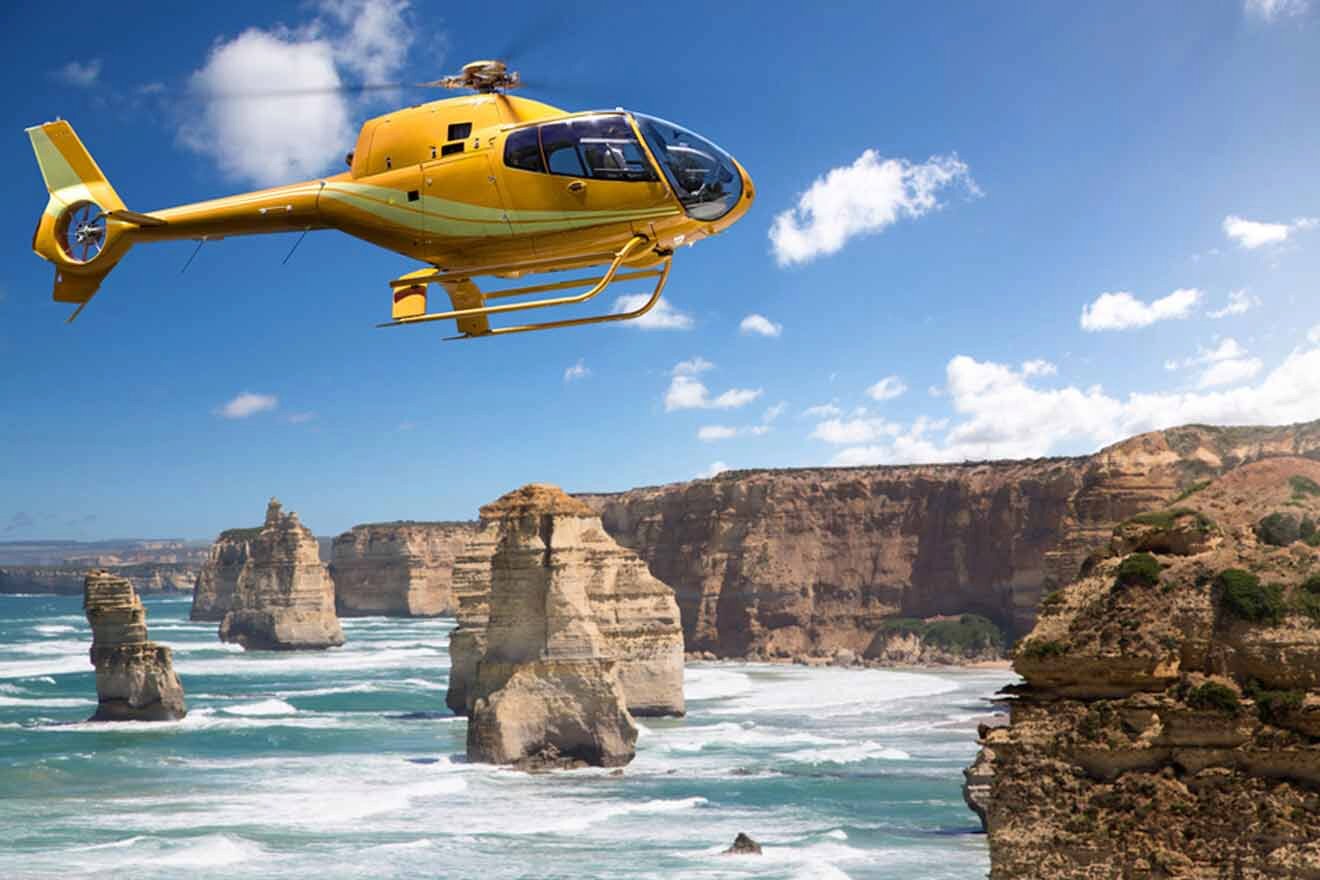 Don't worry, pretty much anyone can go on this helicopter tour – there are no particular limitations!
Pregnant ladies are welcome (it was important because I was actually 7 months pregnant at that point).
It's open to all ages, with kids under 2 being free and everyone else paying the full price.
There's no weight limit, but if you're over 136 kg (300 lbs), they'll need to make some special arrangements (there are scales at the check-in counter to help with that).
Single passengers are allowed, but only for walk-ins. They do not allow bookings in advance because they would not be able to guarantee the flight for just 1 person.
Cancellation policy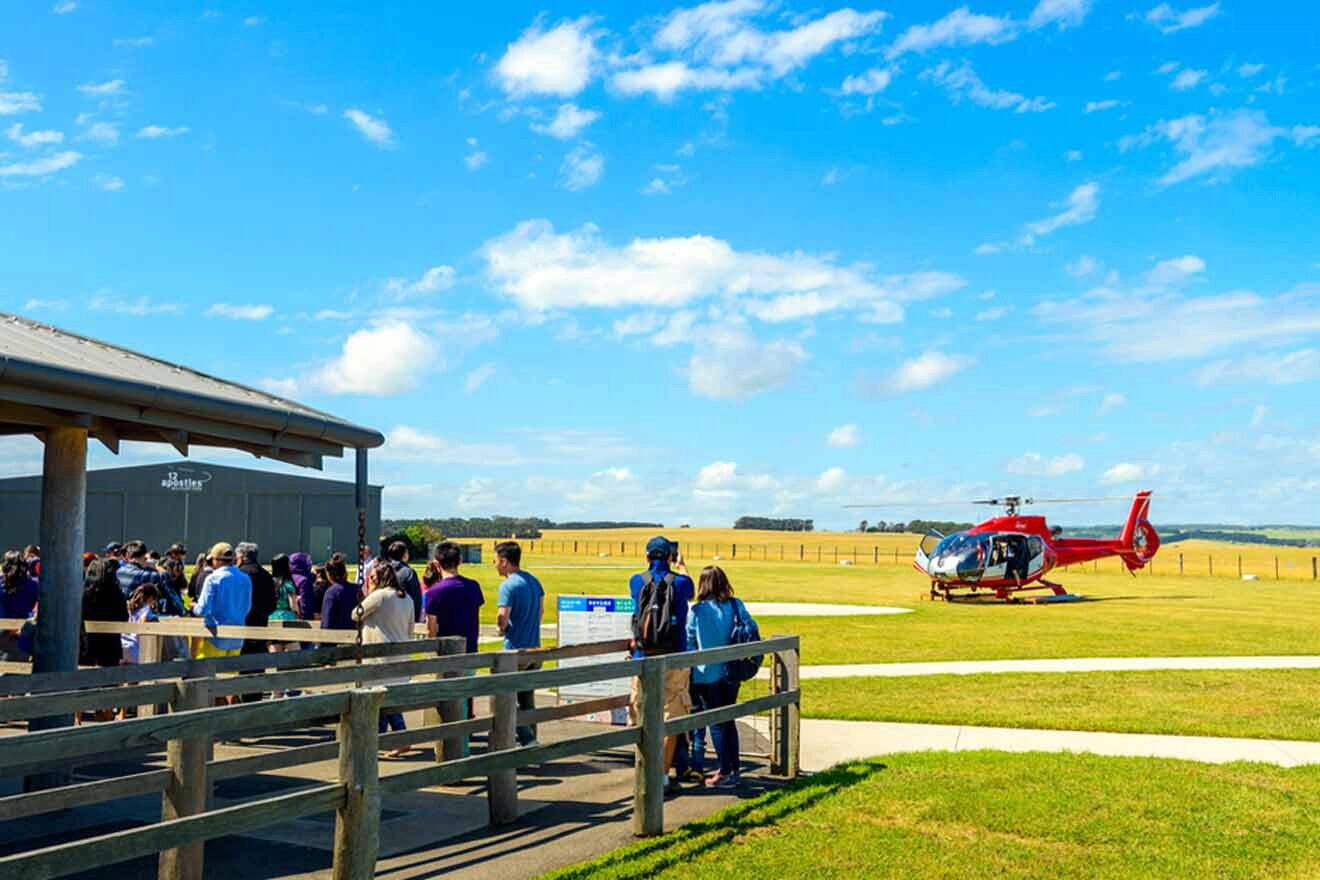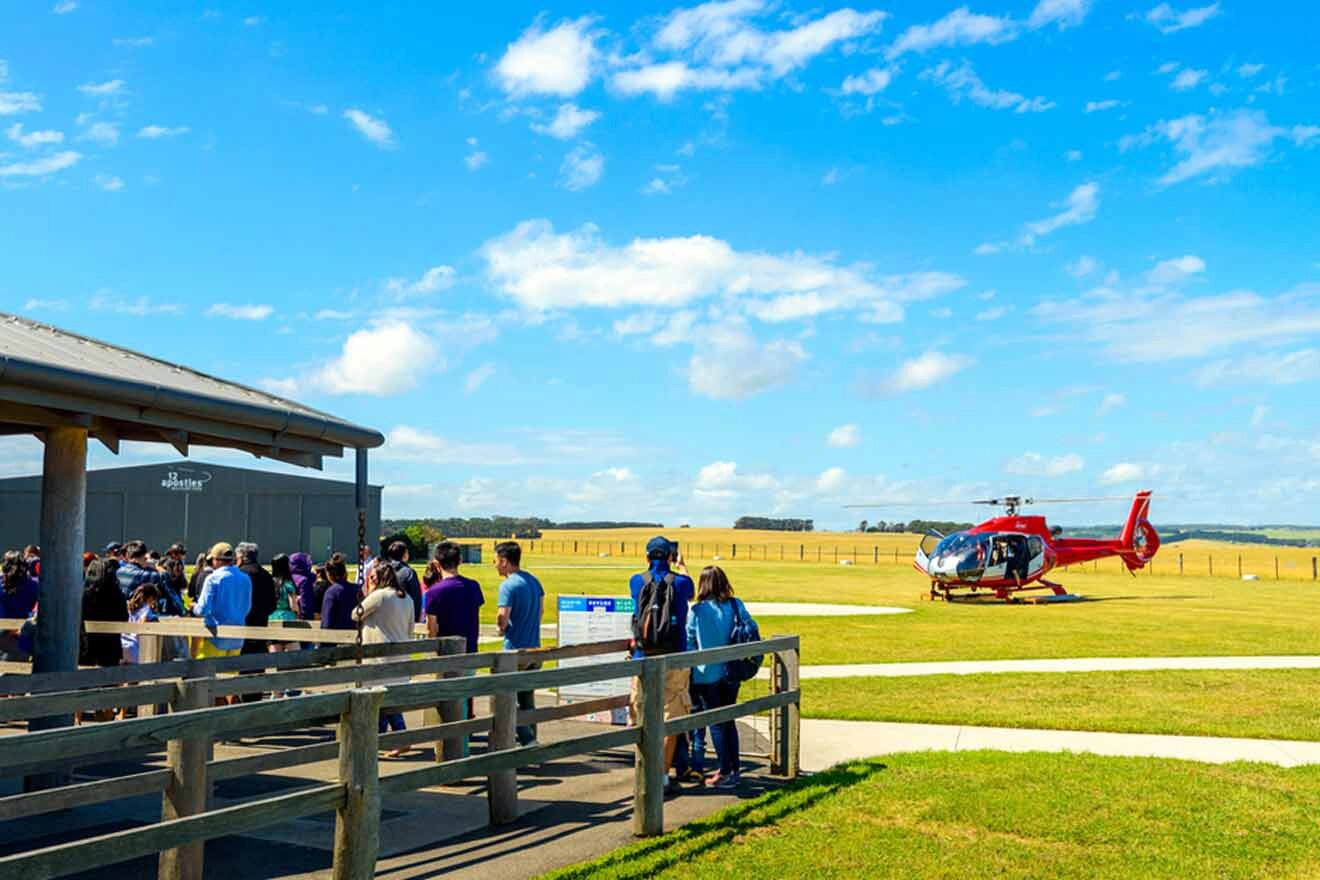 The cancellation policy is described in detail here, but these are the main points:
The company gives you a full refund:
If they cancel the flight due to bad weather or other stuff, they can't control, or
If they can't get you on a flight within 30 minutes of your booking time
If you cancel more than 72 hours before the flight, you'll get all your money back, but if you cancel within 72 hours, you'll lose half the fare. If it's within 24 hours, you'll lose it all.
Gift vouchers are non-refundable but good for 3 years. 
How to take amazing pictures of your flight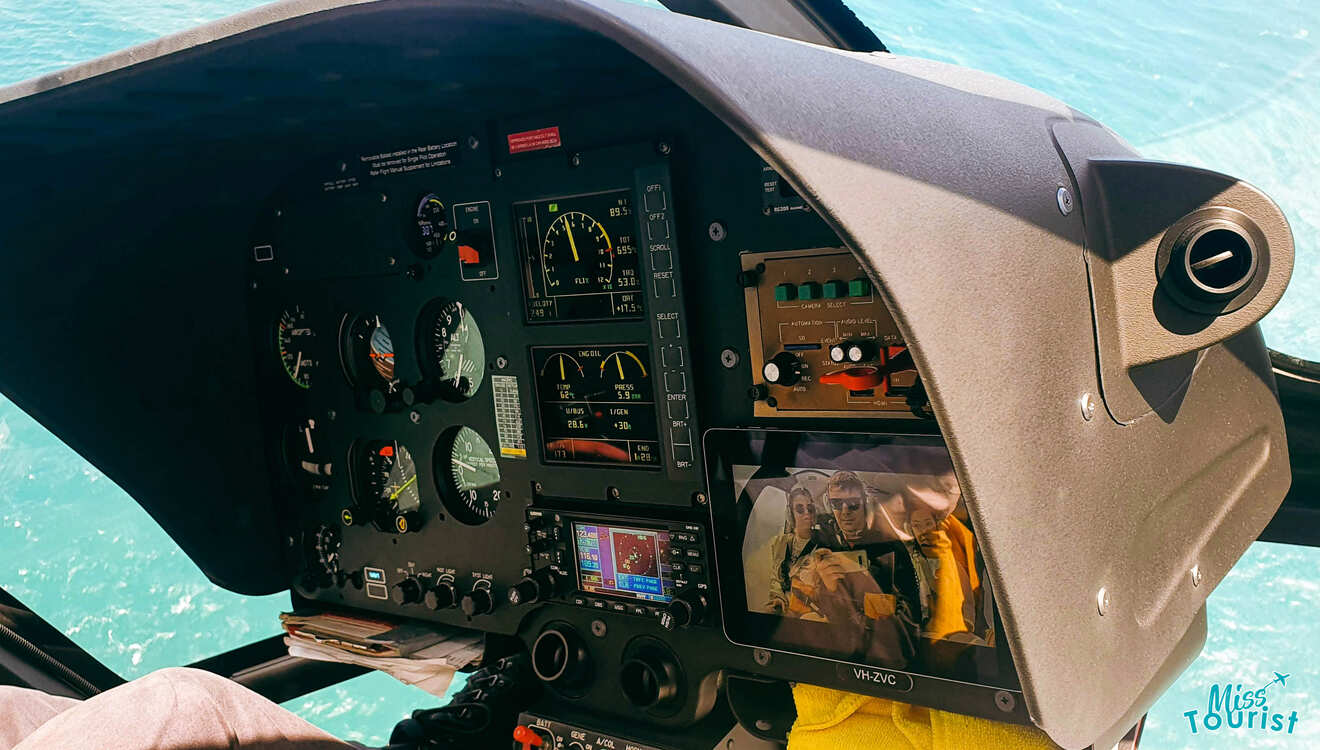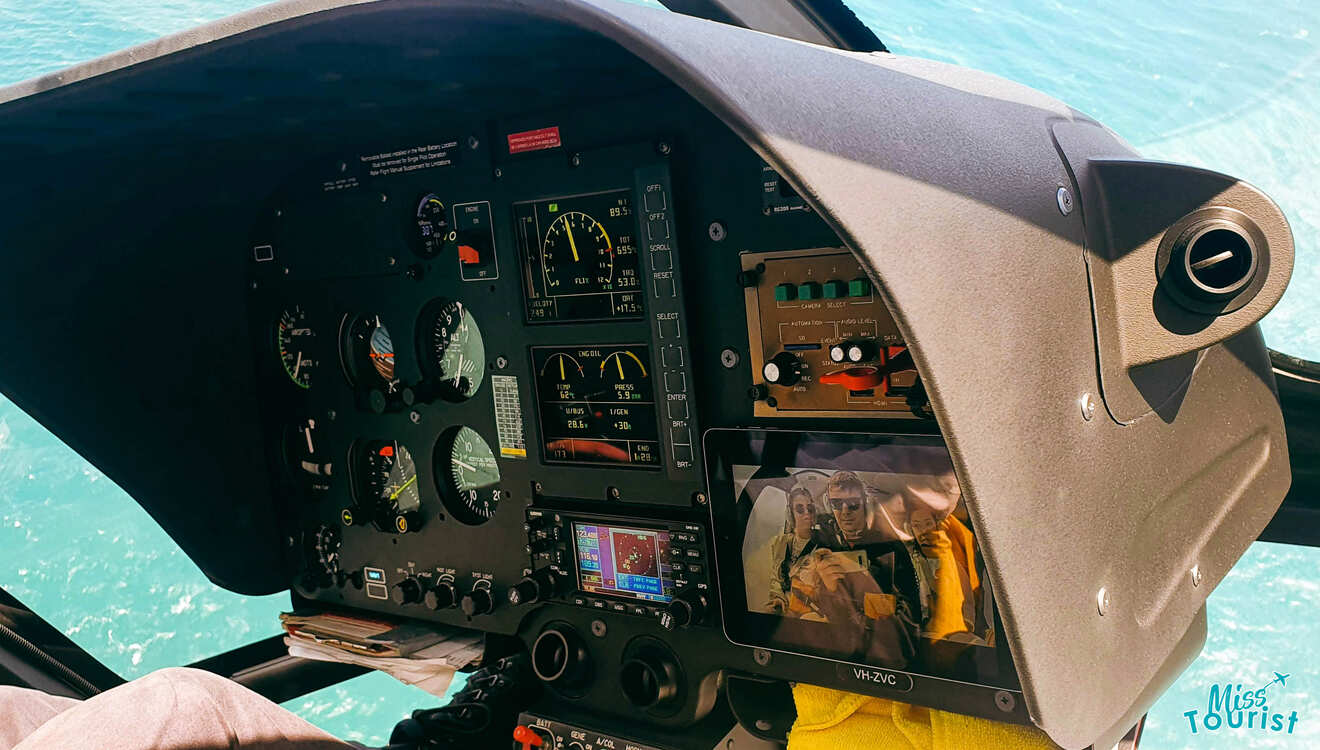 During the whole mess of boarding, I actually lost my phone (I took pictures with my husband's phone!). It must have fallen out of my pocket as I was getting in. The staff found it on the ground and gave it back to me when we landed!
So yeah, the moral of the story: for starters, if you want to take some nice pics, do not lose your phone 🙂 But honestly, I was so sooo excited about the view that I decided to be present and enjoy the experience and think about the phone when we are back.
The pictures you see throughout this blog post were all taken with a phone. Here are my main tips:
Steady your hand: To minimize blur, keep your phone steady by resting your elbows on a stable surface or using both hands to hold it.
Use the rule of thirds: Imagine your screen divided into a 3×3 grid, and place points of interest along the lines or intersections.
Adjust exposure: Tap on your screen to focus on your subject, and then swipe up or down to adjust the brightness for a well-lit shot.
Please note that you will not be able to open windows during the flight, so no need to bring action cams like GoPro (or you can, but only to use them inside the helicopter).
If you do not want to be bothered with this at all and want to rely on professionals, 12 Apostles Helicopters actually have an extra add-on for this – you can get an HD video recording of your flight on USB for AU$45 (c. US$30).
Where to stay near the 12 Apostles
When looking for accommodation, do not confuse this one with 12 Apostles in Cape Town 😉
There are several accommodation options (generally house rentals) near the 12 Apostles, ranging from budget-friendly hostels to luxurious hotels, with prices between AU$120 to AU$1,800 (US$80 – US$1,300).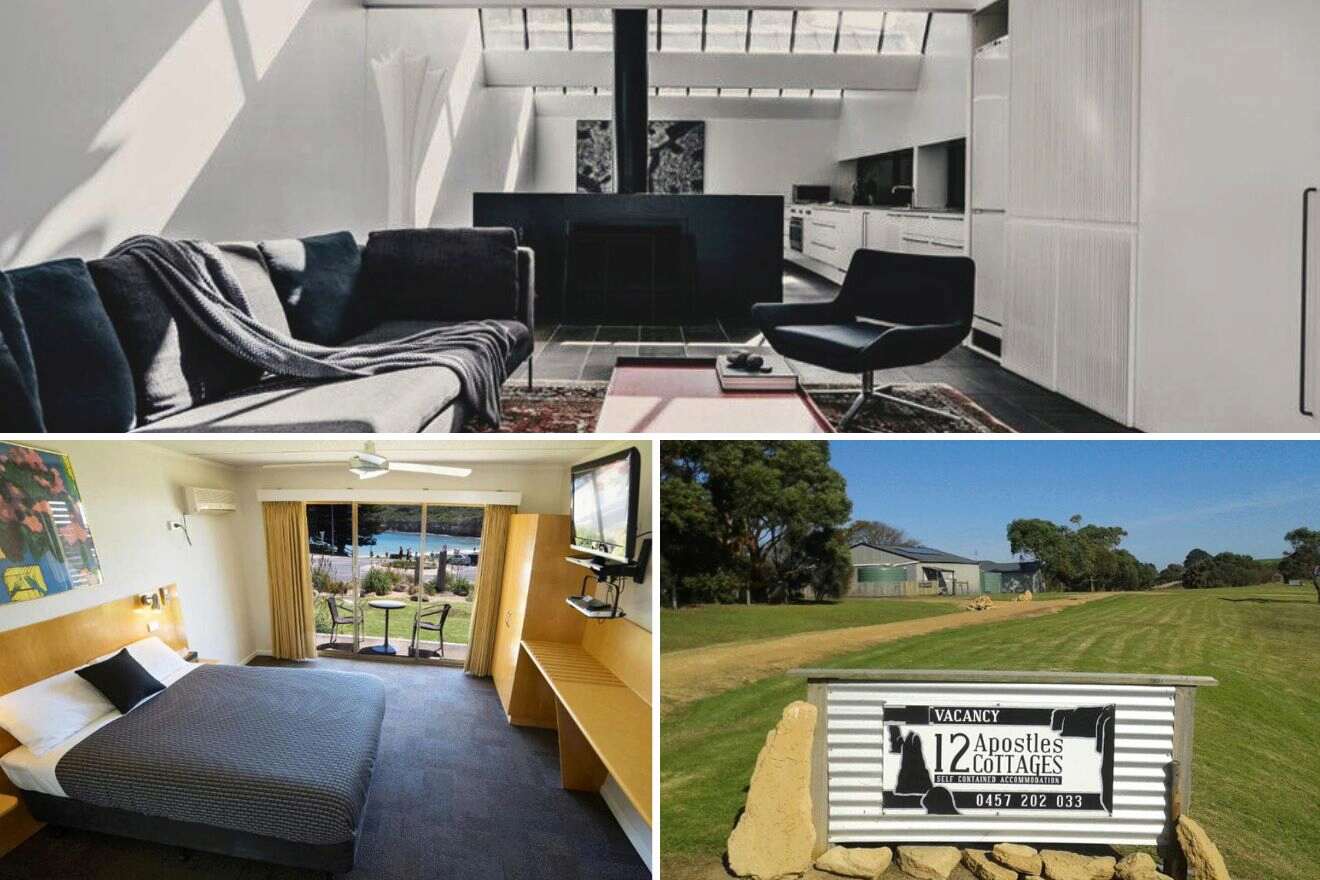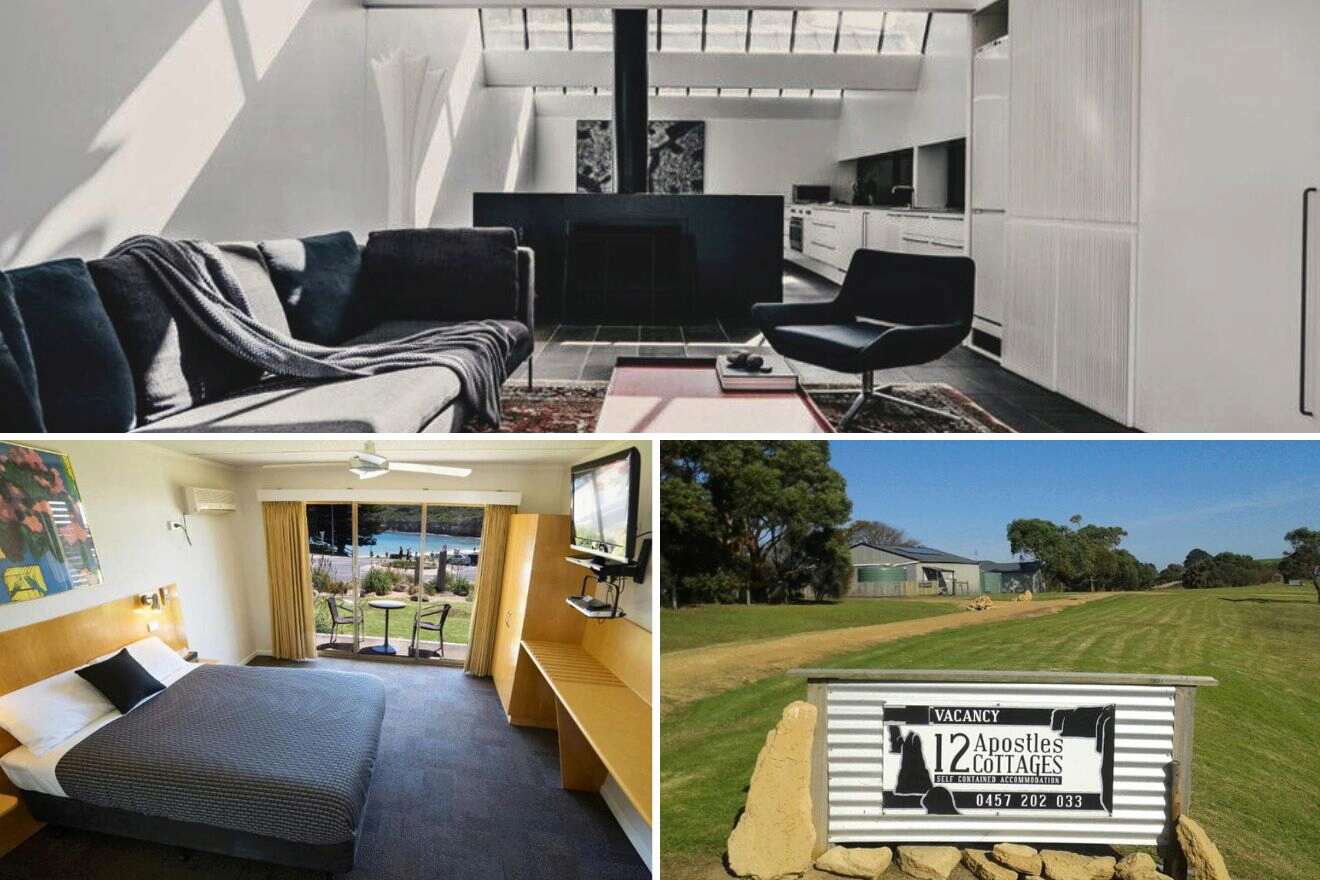 Some popular choices include:
Luxury: Alkina Lodge – Only 20 min drive from the 12 Apostles, this luxe accommodation has spacious rooms and large balconies overlooking the ocean and the forest.
Mid-Range: 12 Apostles Cottages – Have the most relaxing stay at these cottages that are a 7-min drive from the 12 Apostles and can accommodate up to 6 people.
Budget: Loch Ard Motor Inn – This cozy inn has comfy rooms with a fridge, microwave, and kitchenware. It's also a 10-min drive from the 12 Apostles.
If you want to see all options available, check out our article on the best places to stay on the Great Ocean Road.
Other exciting tours you can take
If you liked the idea of flying over the 12 Apostles in a helicopter, you might also like these: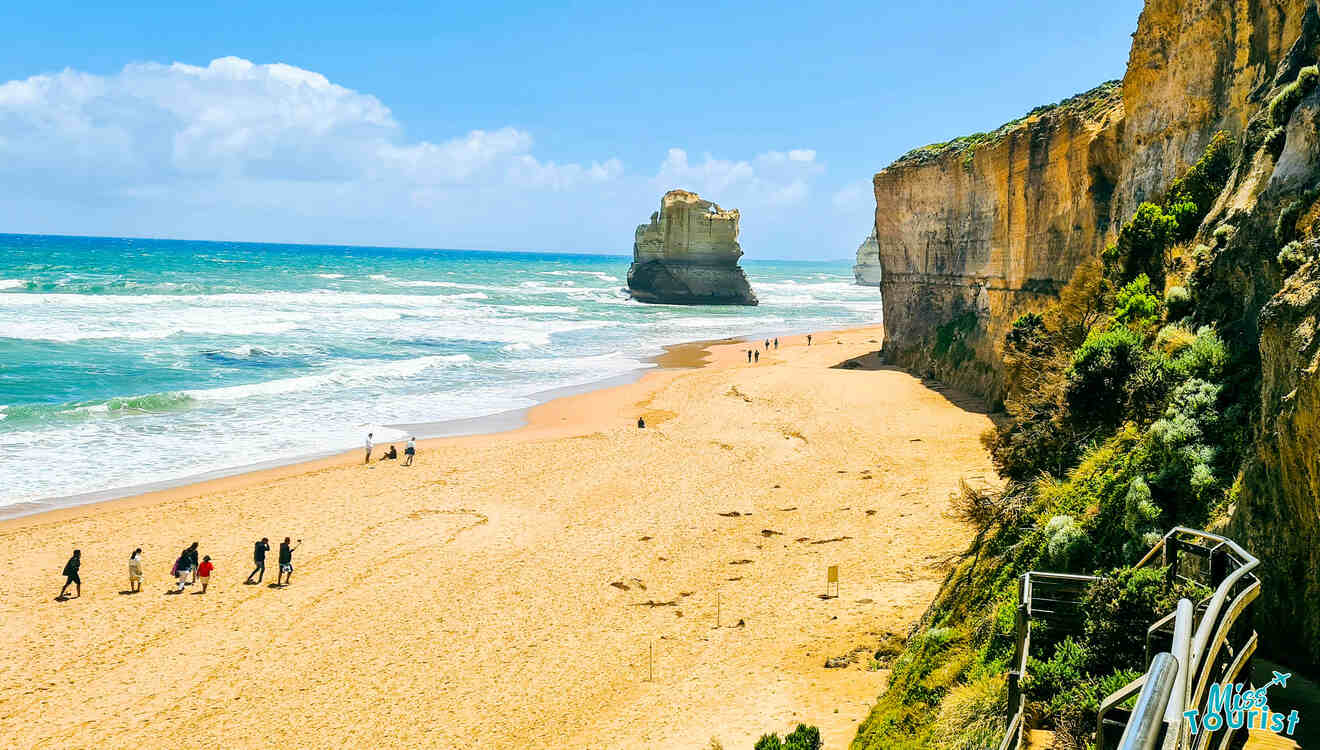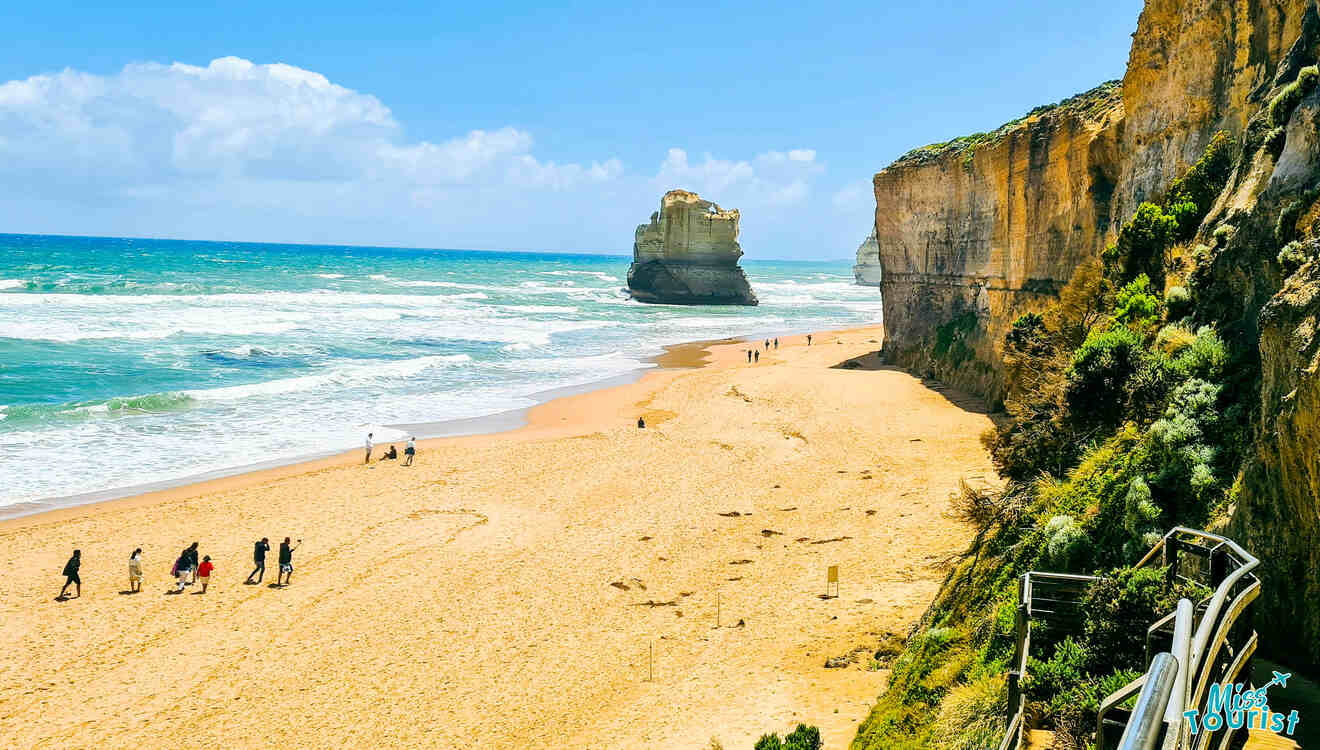 | | |
| --- | --- |
| 💵 Starting price: | from AU$165 |
| 🚁 Capacity: | 7 people |
| ⌛ Flight time: | from 16 min |
FAQs about the helicopter flight, 12 Apostles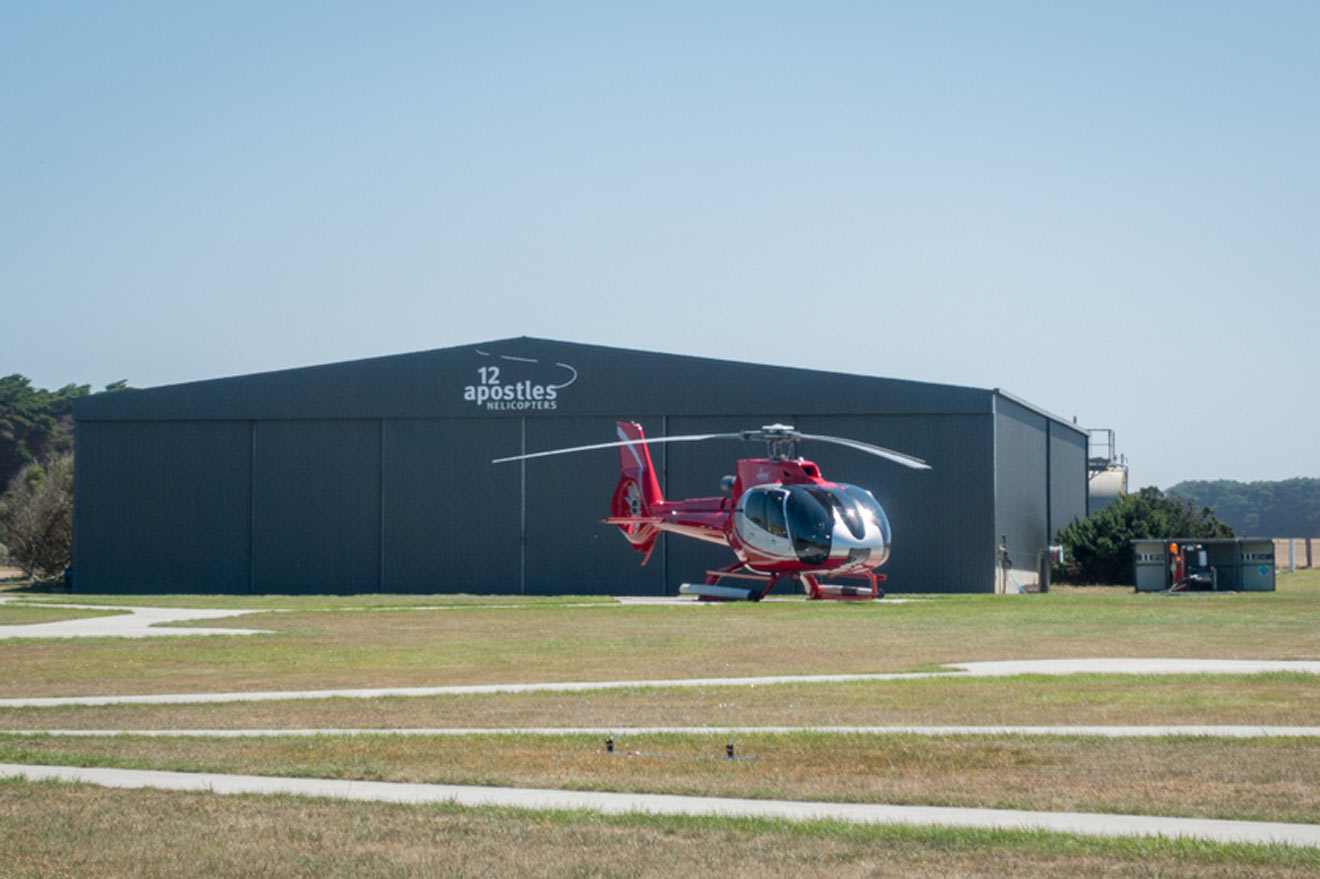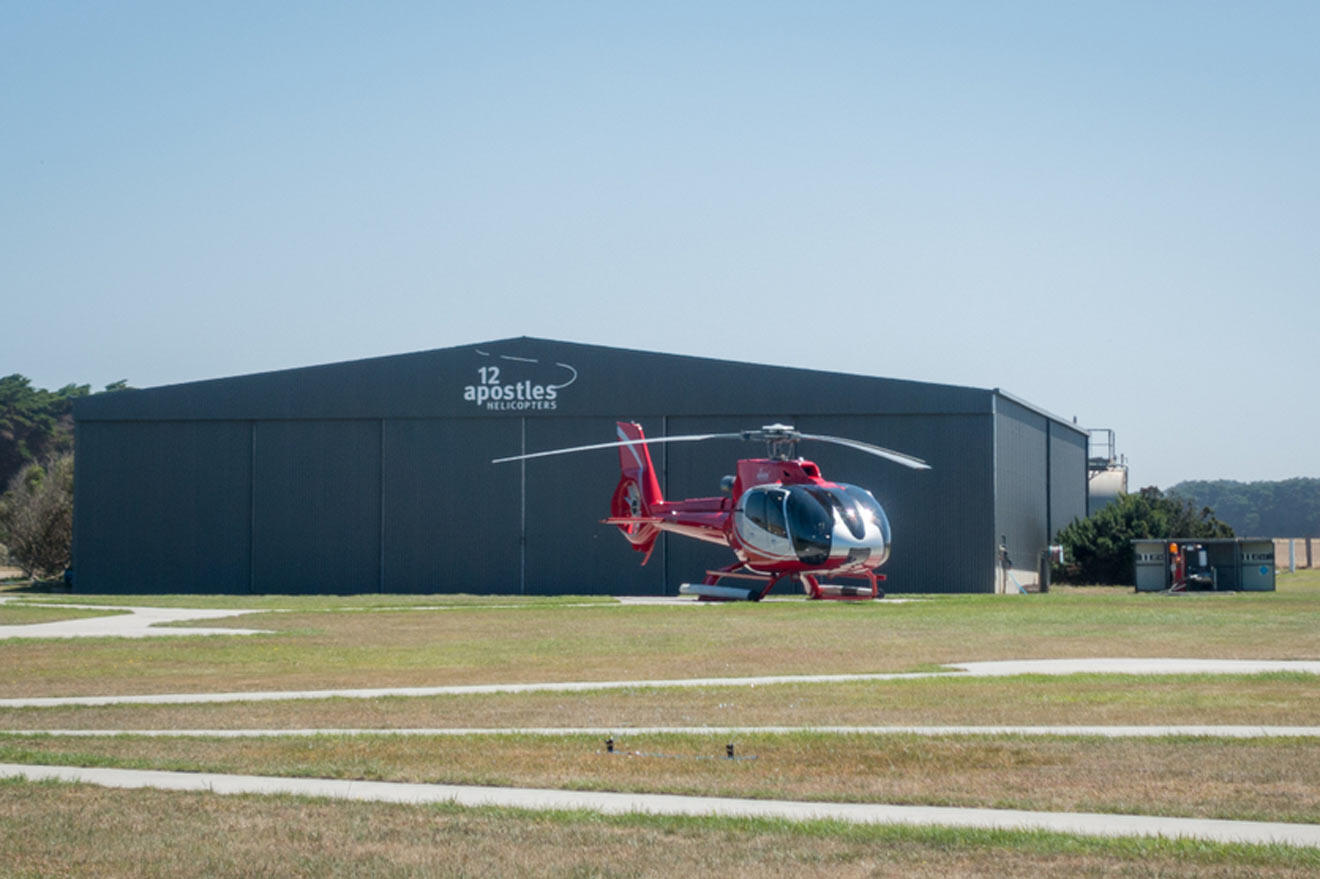 👴 Is the 12 Apostles helicopter ride suitable for people of all ages?
Absolutely! The 12 Apostles helicopter ride is an experience that can be enjoyed by people of all ages, from children to seniors. As long as you are in good health and have no serious medical conditions, you should be able to take part in this unforgettable adventure.
👍 Is it safe to take a helicopter ride over the 12 Apostles?
Yes, helicopter rides over the 12 Apostles are safe. The pilots are highly trained professionals, and the helicopters are regularly maintained and inspected to ensure the highest safety standards.
🤳 Can I take photos during the helicopter ride?
Definitely! You are encouraged to capture the breathtaking scenery with your camera or smartphone. However, it's important to remember that some devices may not be permitted during take-off and landing, so be sure to check with your pilot beforehand.
⚙️ Do I need any special clothing or gear for the helicopter ride?
There is no specific dress code for the helicopter ride, but it's recommended to wear comfortable clothing and closed-toe shoes. Additionally, you might want to bring a light jacket, as the temperature can be cooler at higher altitudes.
🚁 How do I book a 12 Apostles helicopter ride?
Booking a helicopter ride over the 12 Apostles is easy. You can either make a reservation online through the tour operator's website or contact them directly via phone or email. It's a good idea to book in advance, as the tours can fill up quickly, especially during peak travel seasons.
🍲 Is there a restaurant in 12 Apostles?
There is a tiny kiosk offering snacks on the premises. It's a convenient spot to grab some refreshments while exploring the area, but it is not a restaurant with a variety of prepared food options.
Conclusion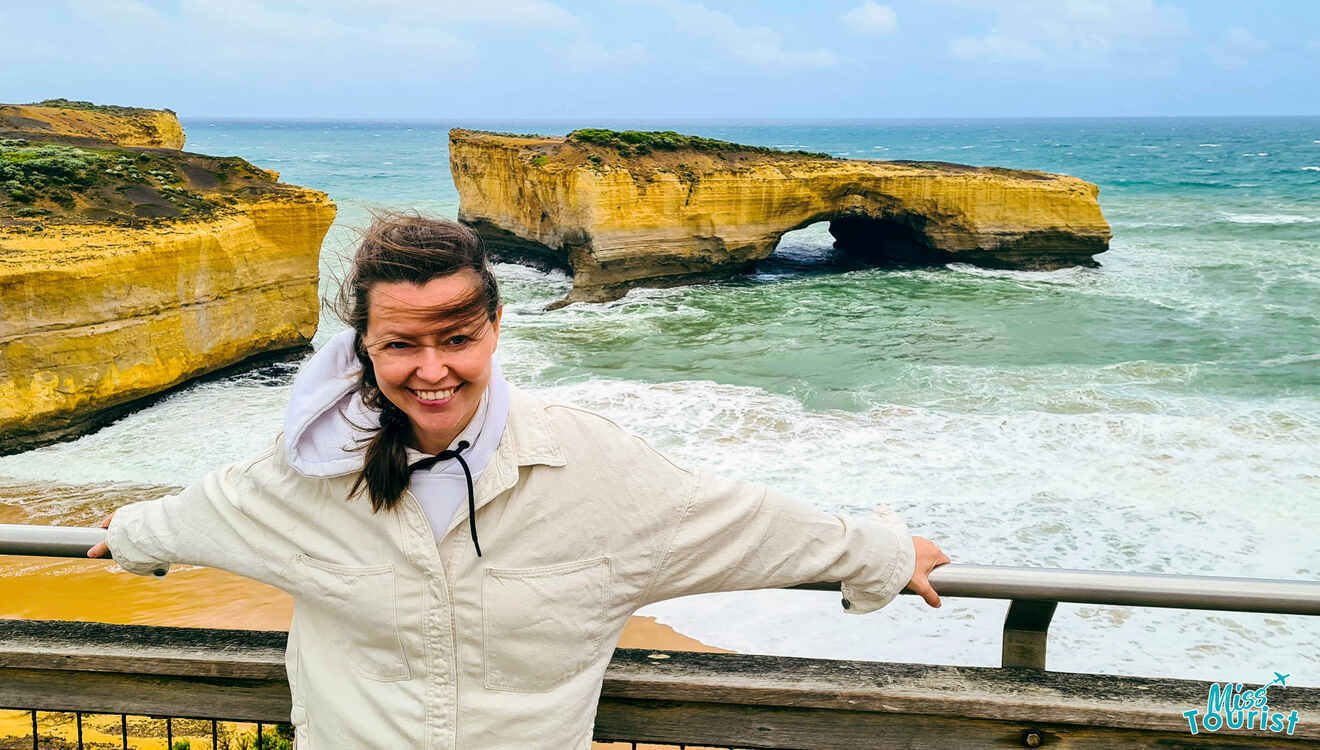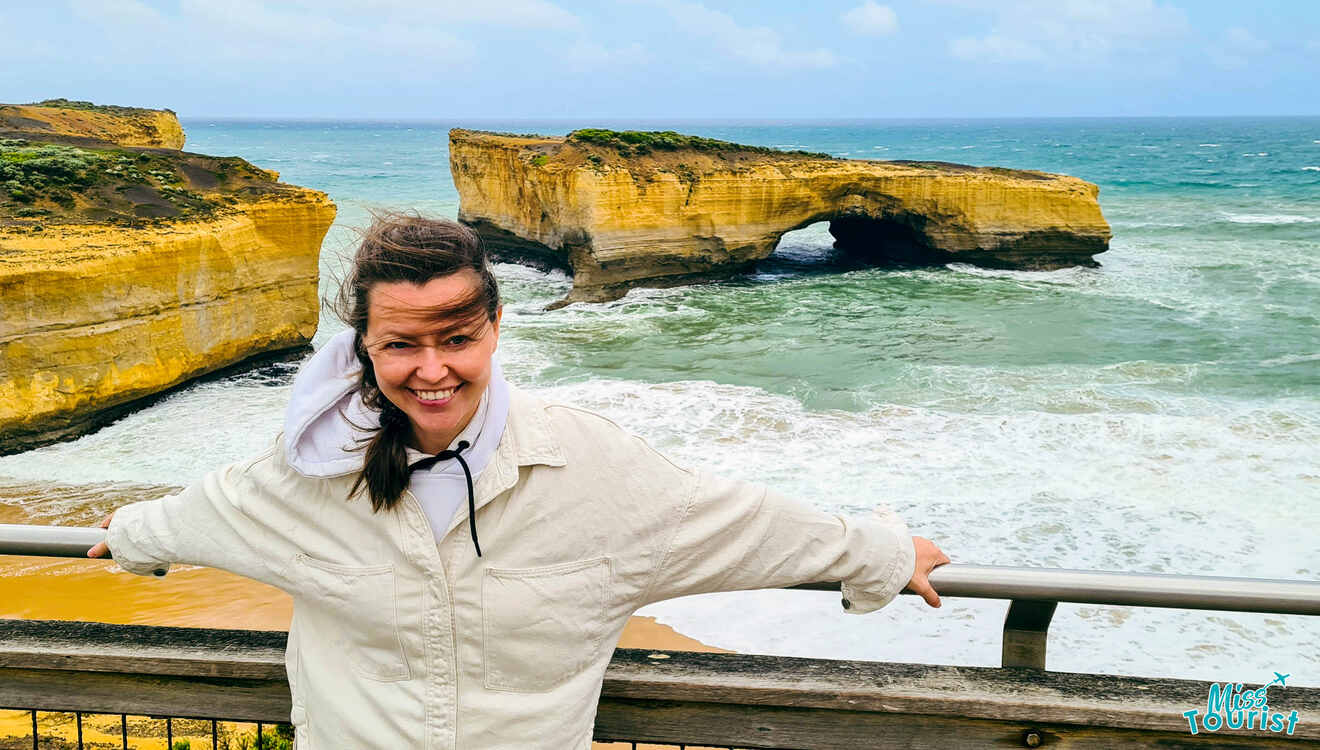 The 12 Apostles helicopter ride in Australia was an experience I will cherish for the rest of my life. I am all about spending money on experiences, not material things, and this is a perfect example of it!
The breathtaking views, the adrenaline rush, and the magical moments shared with your loved ones are completely worth the investment!
If you ever have the chance to visit this awe-inspiring part of the world, I cannot recommend the helicopter tour highly enough. You'll be left with memories that will last a lifetime and a newfound appreciation for the beauty of nature.
Be sure to check all of our posts on Australia, and do not hesitate to ask me any questions in the comments below if I left something out!
Enjoy your flight,
Yulia
---
Pin it for later!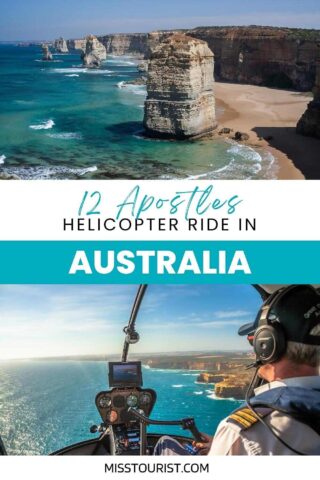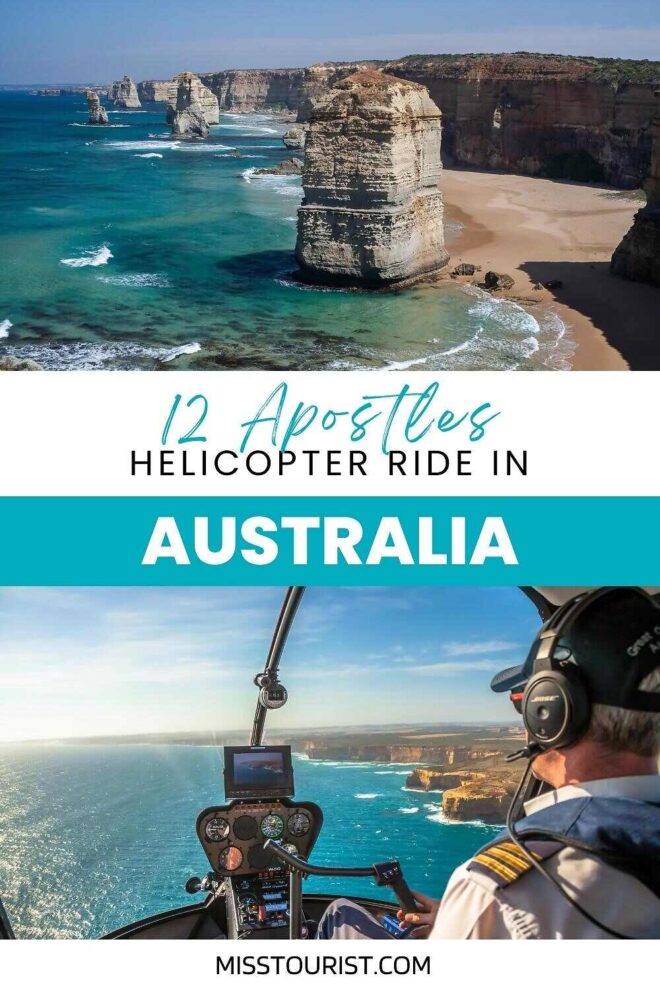 Pin it for later!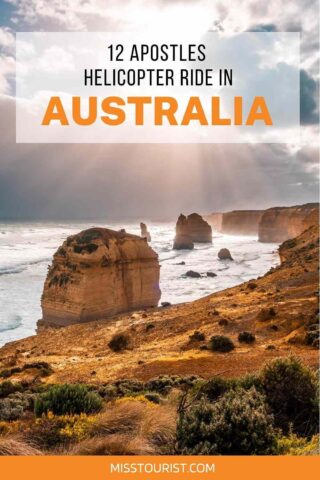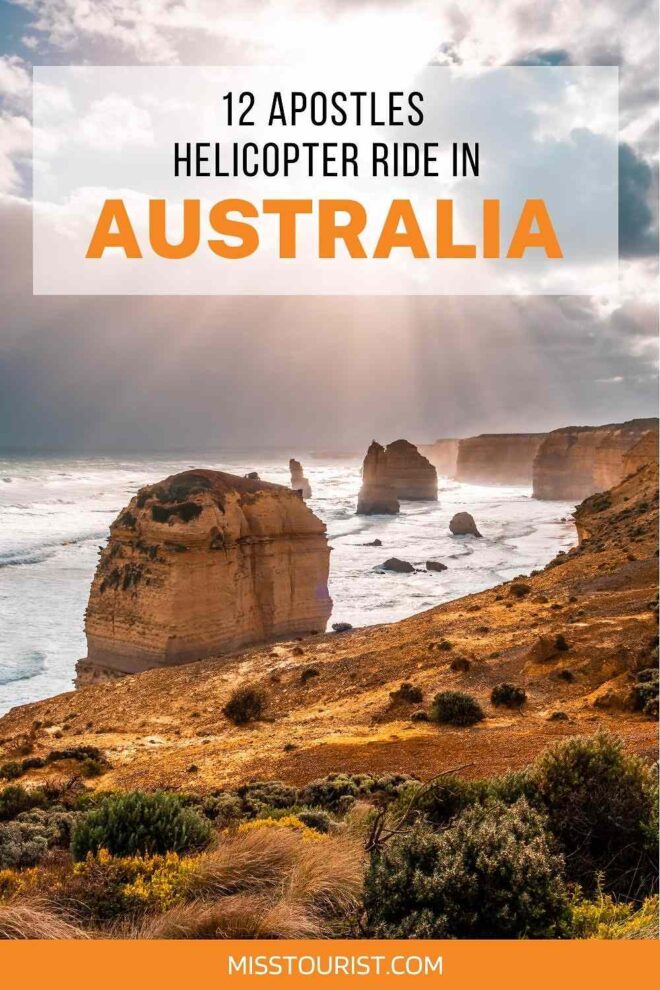 Products You May Like