Places to Stay in Durango, Colorado ✔️ 10 Fantastic Options
Are you looking for hotels in Durango? Then this is your lucky day! If you are visiting Durango, I have something to tell you: I have been looking and researching the best Durango hotels in this lovely mountain town so you can stay in the most amazing hotel during your vacation!
This city, located in Colorado, is such a gem, the natural landscape is just stunning, and there are a lot of outdoor activities travelers can practice at this destination!
This post is arranged starting with the most luxurious Durango hotels first, and at the end, you can find cheaper hotels. But whether you stay in a luxury hotel or a budget hotel, you will be staying in one of the best hotels in the area, so rest assured your trip will be fantastic!
This destination is super popular among travelers from all around the globe, so if you want to secure the room of your dreams, book it as soon as possible, don't wait until the last minute!
Let's jump into the best places to stay in Durango, Colorado!
If you are in a hurry
If you don't have the time to go through the entire post, here are the top 3 places to stay in Durango, Colorado, so that you can click and book!
1. The Rochester Hotel – a stay in downtown Durango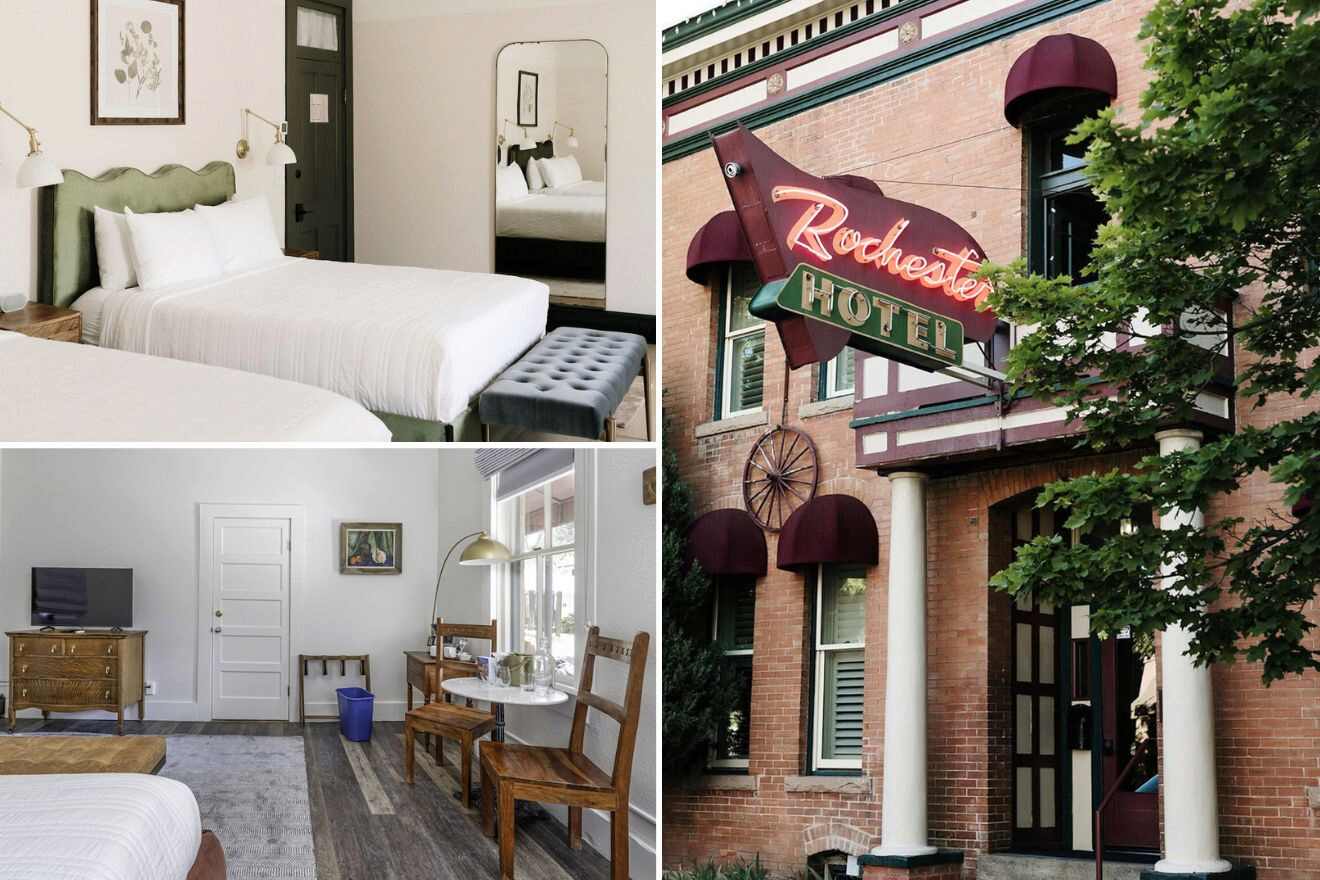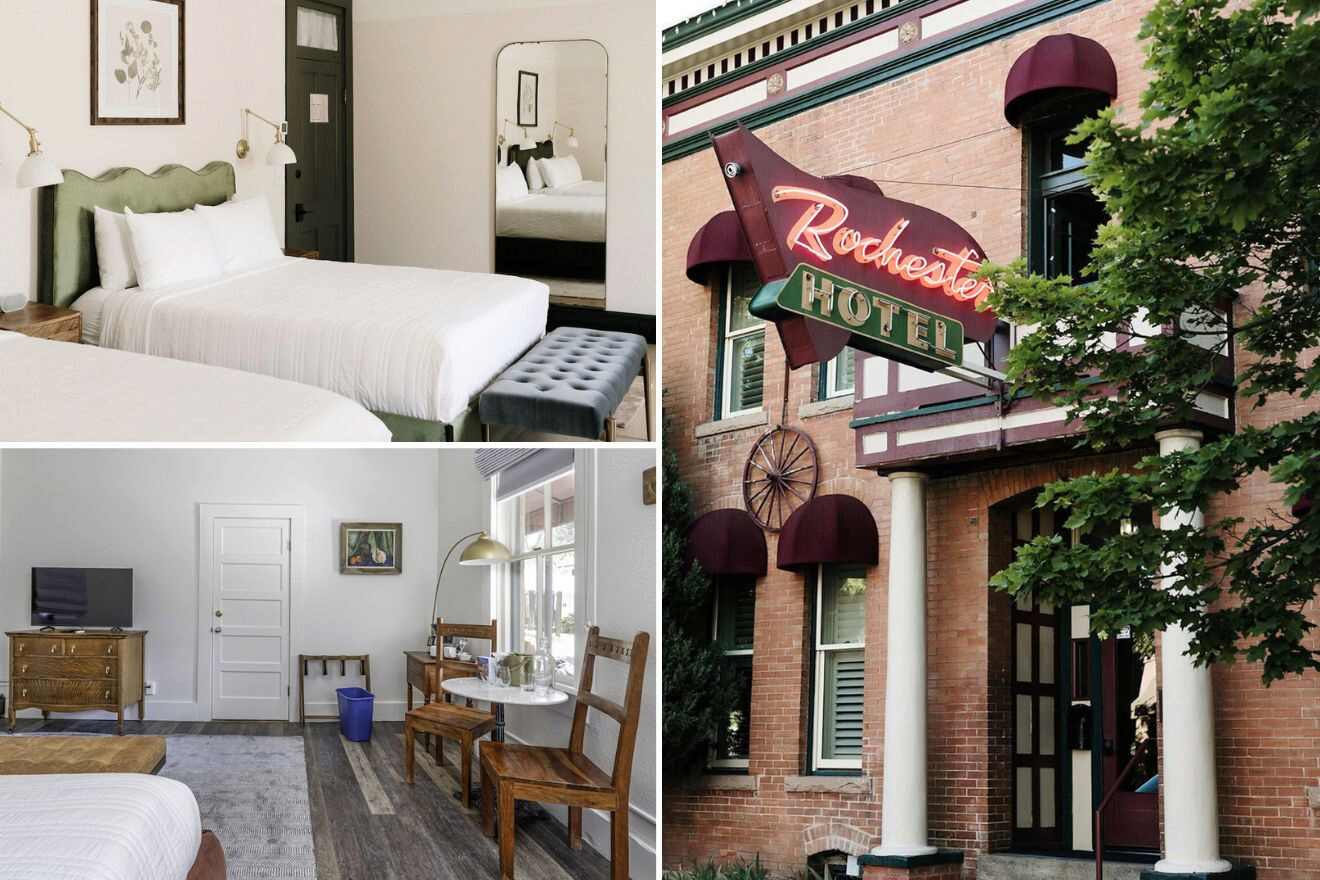 Don't let the sign on the facade with a lovely 70's vintage vibe fool you; inside, you'll find modern amenities and a nice clean, minimalistic style decorated with upscale furniture and designer toiletries. The location is unbeatable in historic downtown Durango! You've got Durango Silverton Narrow Gauge Railroad and Diamond Belle Saloon within walking distance, as well as lovely bars and restaurants.
The hotel comes with a lovely garden for picnics, and breakfast is available for a fee. The rooms are beyond comfortable and spacious; every single one of them has an exquisite style that will make you feel like a celebrity! The rooms can host from 2 to 5 guests, making it perfect for couples, families, or friends!
2. DoubleTree by Hilton Durango – for star treatment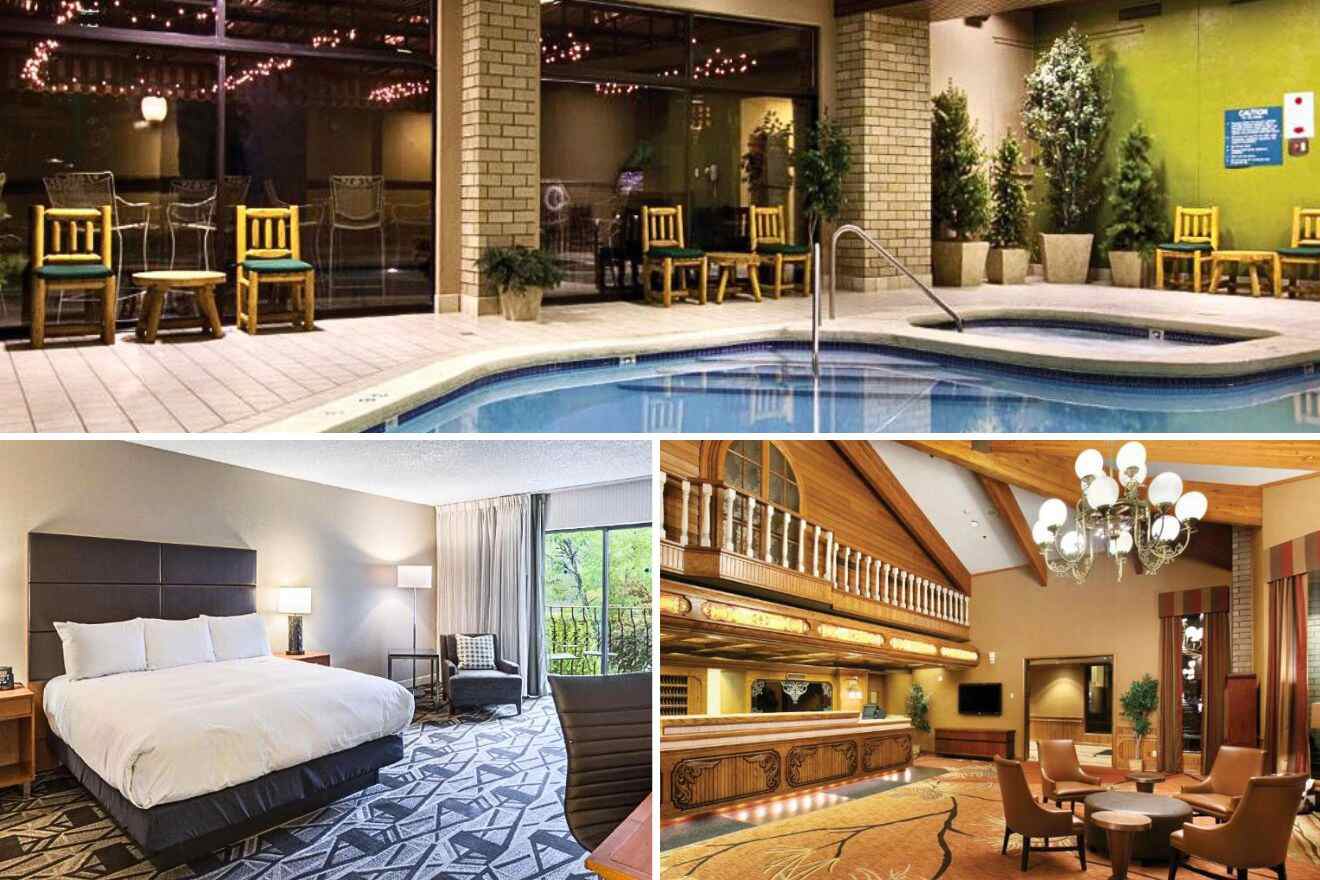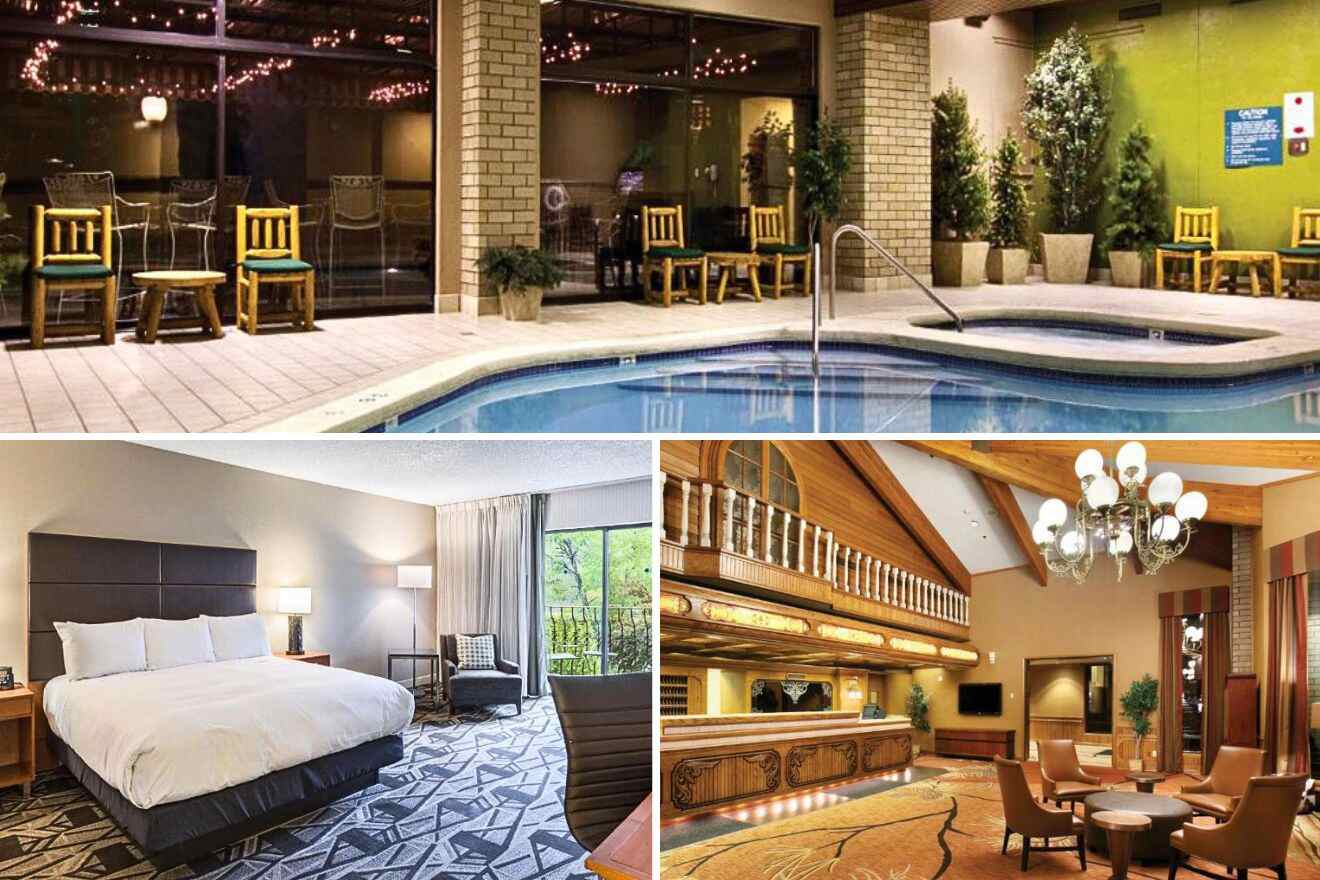 WOW! I honestly don't know where to start! This hotel is simply stunning; the elegant decor and furniture make the property feel unique. You'll find a business center, a fitness center, and the wellness center has a hot tub! The views of the mountains and the river are to die for, and historic Durango downtown is a few minutes away from the hotel.
If you are traveling by car, Durango and Silverton Narrow is a 30-minute drive away from the hotel, and Mesa Verde National Park is just an hour's drive away! The rooms are perfect for big groups and groups of 2 people. Some of the rooms come with a jetted tub and a view of the river!
3. Hampton Inn Durango – for complimentary breakfast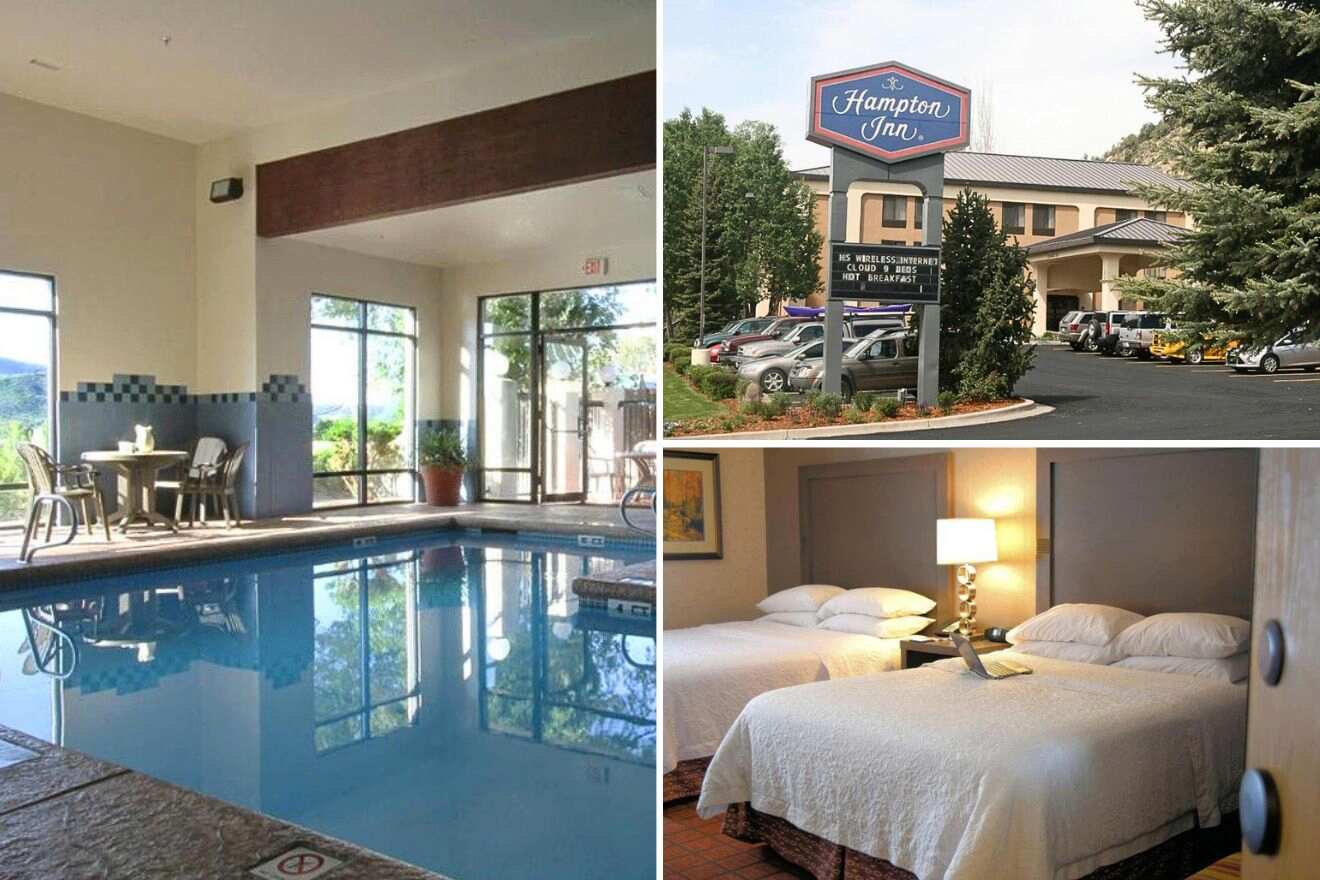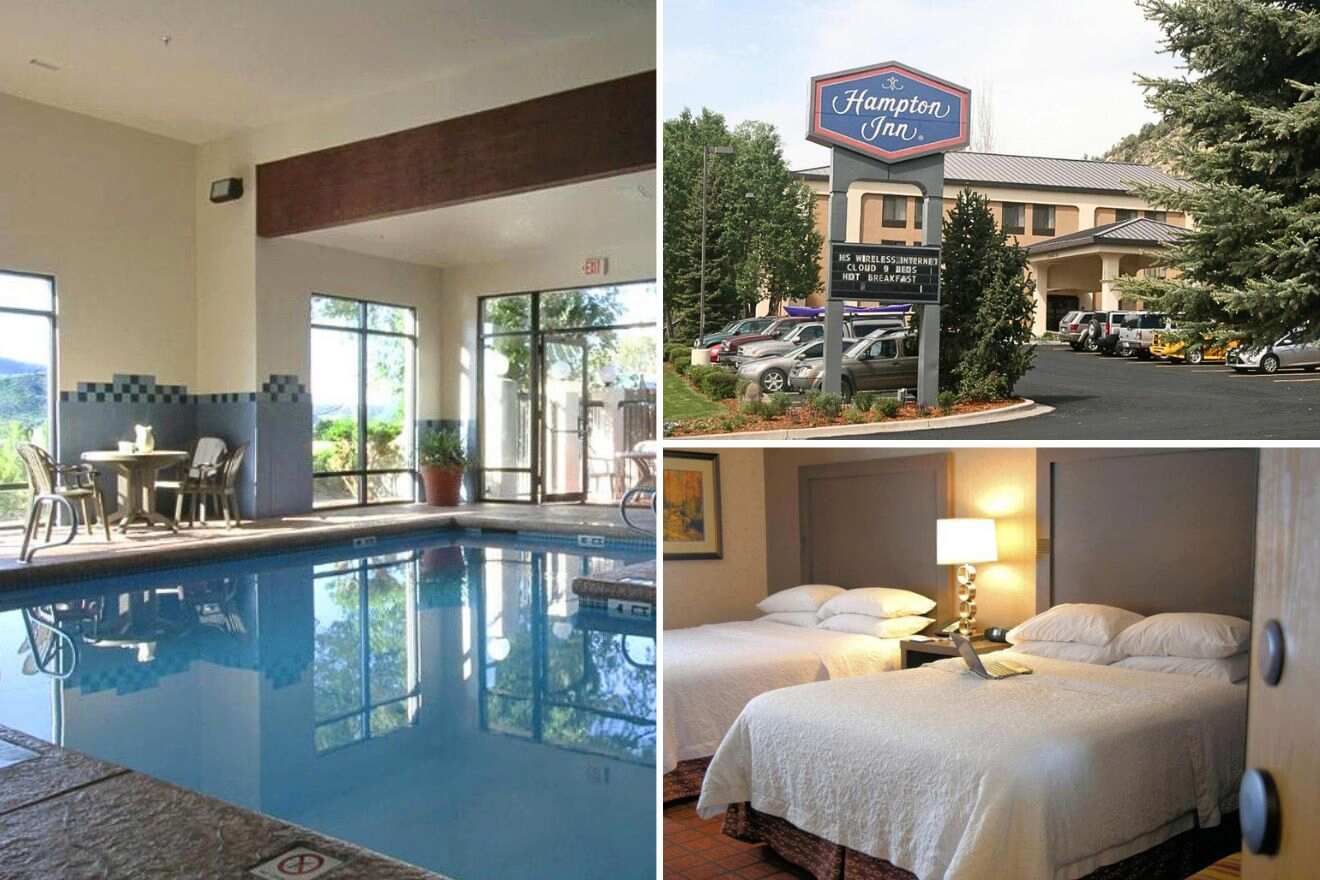 This hotel has a lovely classic vibe that will make you feel right at home if you travel, regardless of the season you are traveling! It is located only a 6-minute drive to the downtown area and the main street and close enough to nature so that you can take advantage of all the outdoor activities available in the area!
It's just 3 hours from another amazing mountain city, Albuquerque – if you're in that area, I highly recommend these amazing neighborhoods and hotels!
The facilities are another treat! It comes with an indoor saltwater pool, a hot tub, and a continental breakfast will be served to all guests every morning! The rooms are super comfortable, and the bathrooms have a bathtub so that you can indulge in a bubble bath after a long day exploring all of Durango's popular attractions!
4. Holiday Inn Express, Animas River – for amazing views!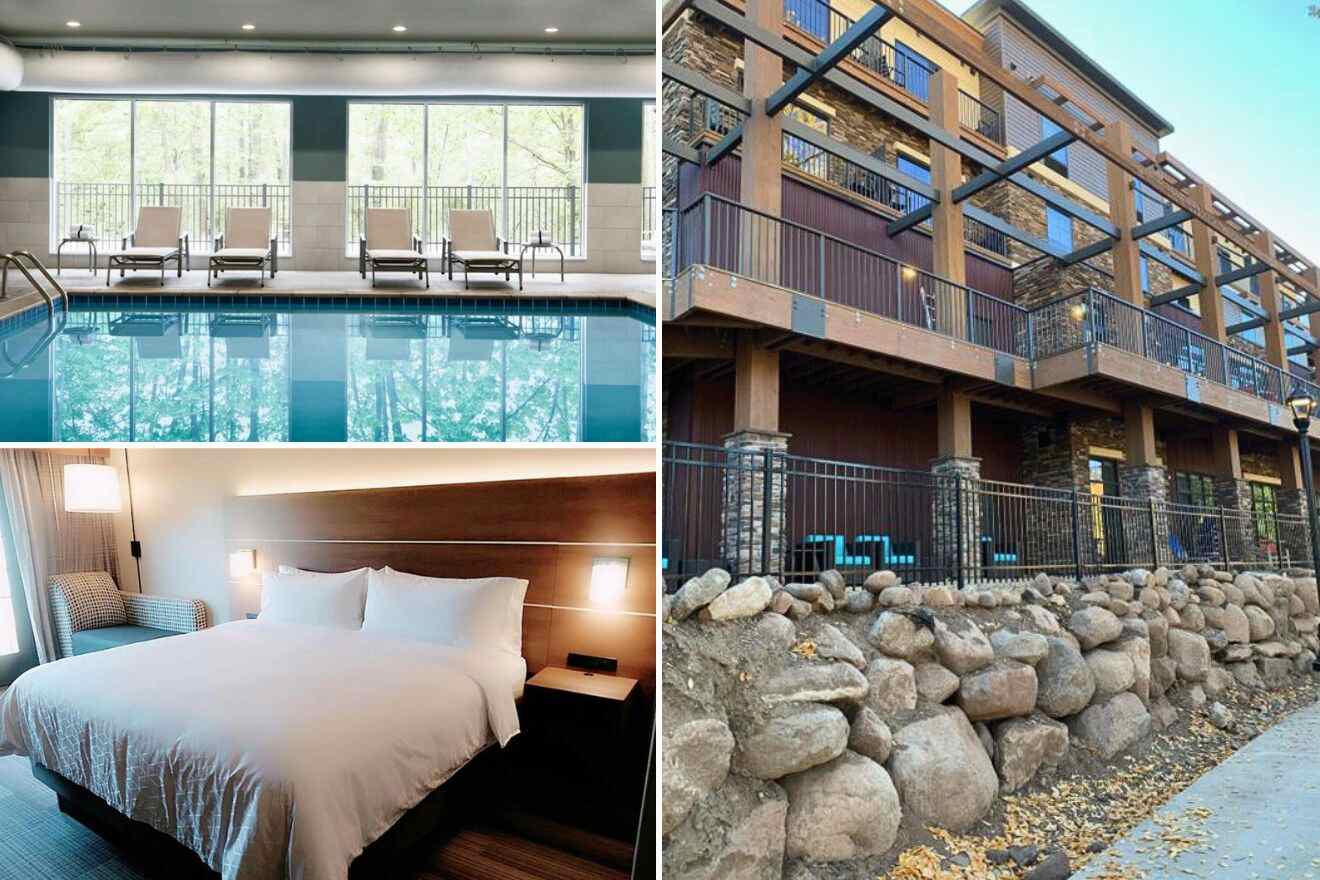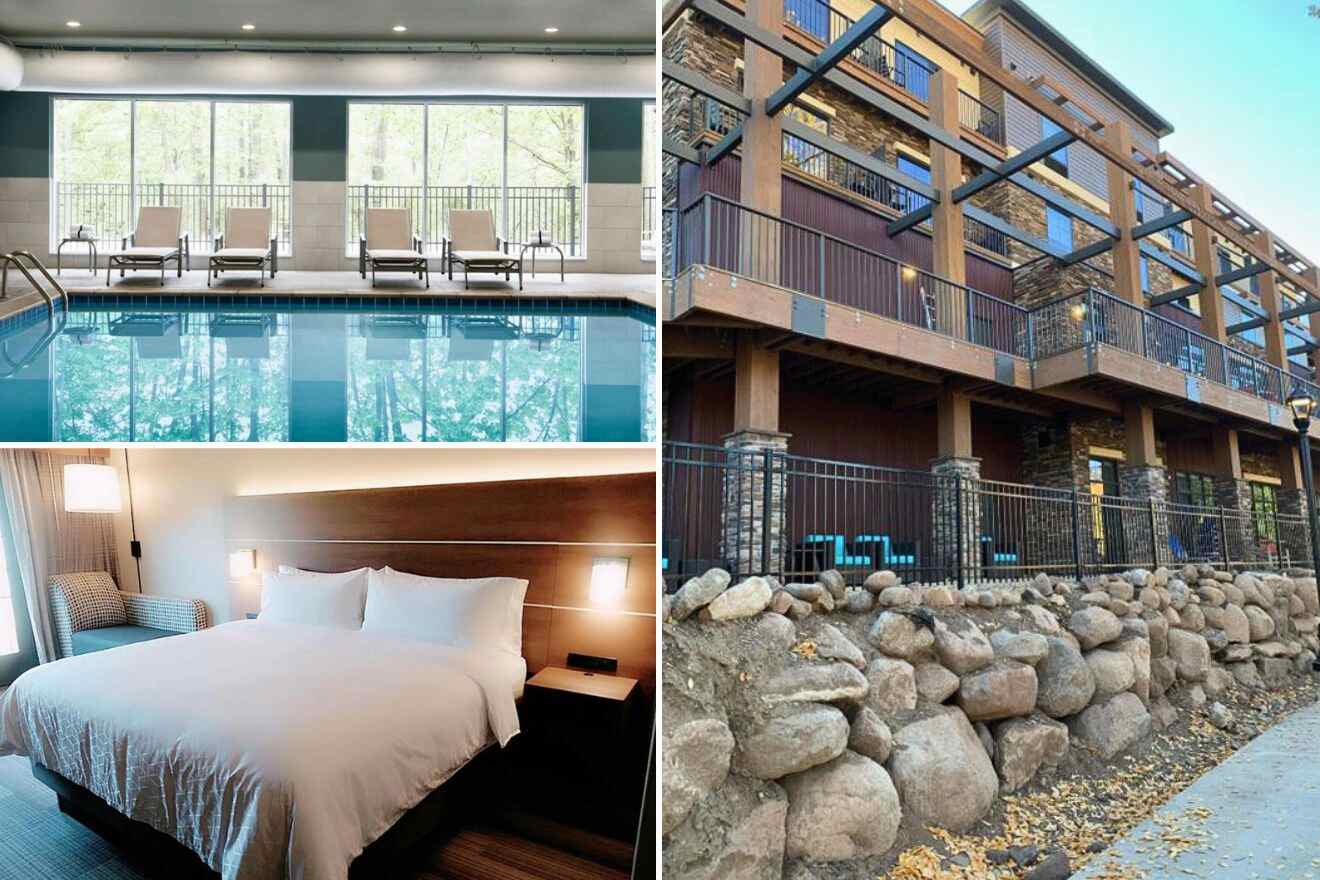 What a perfect combination between modernity and a classy style! Located in Camino del Rio, in downtown Durango and with Fort Lewis College just a 30-minute drive away, this hotel has direct access to Animas River and the most astonishing mountain views that can be appreciated in all its splendor from the hotel's terrace!
The hotel's facilities are just incredible, super modern and convenient. It comes with a 24-hour front desk, a fitness center to keep training even if you are far from home, an indoor swimming pool, and a complimentary breakfast to have all the energy to do these things! All the rooms come with super comfortable beds, and some of them come with a room and separate living room!
5. Holiday Inn & Suites Durango Downtown – for a cozy stay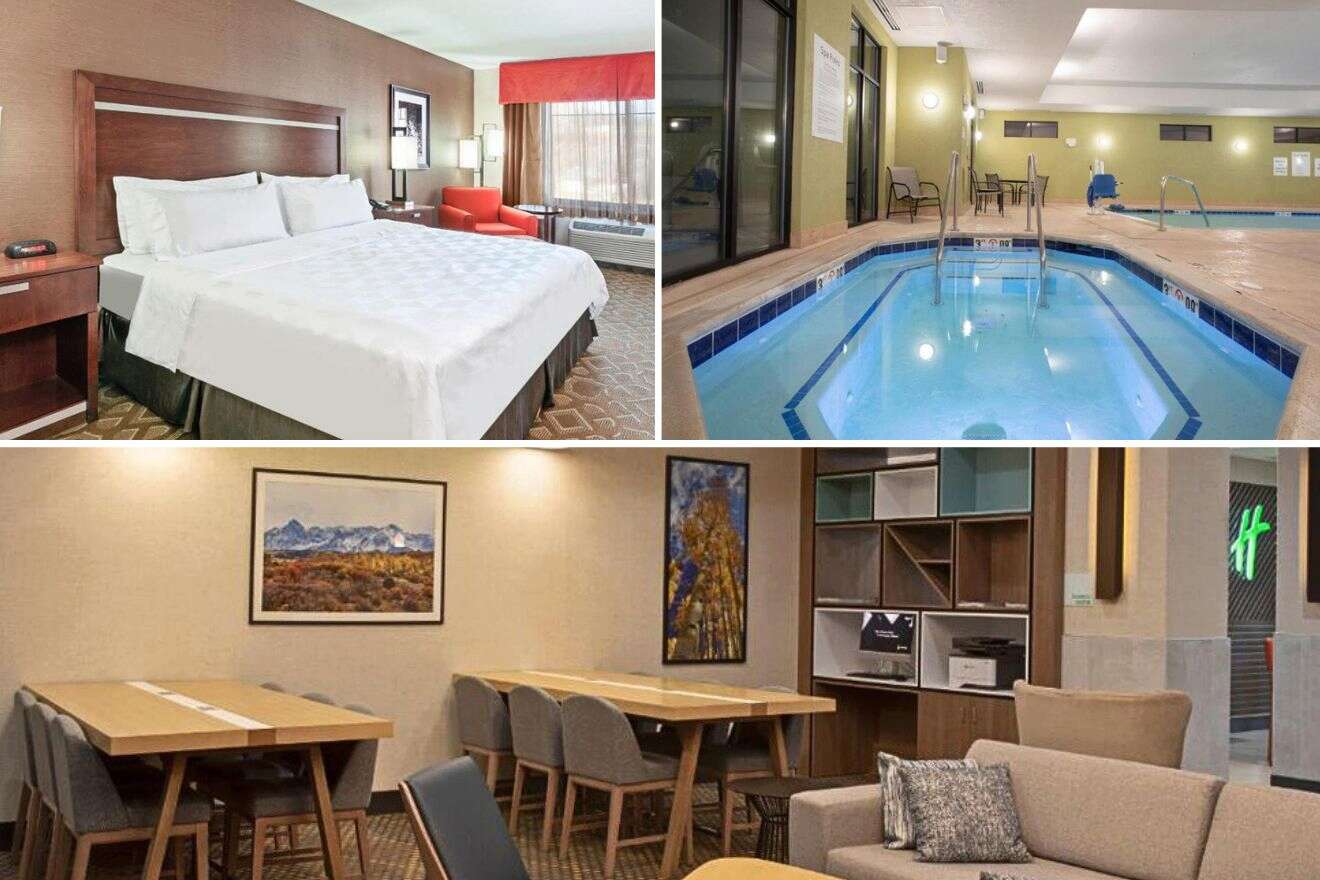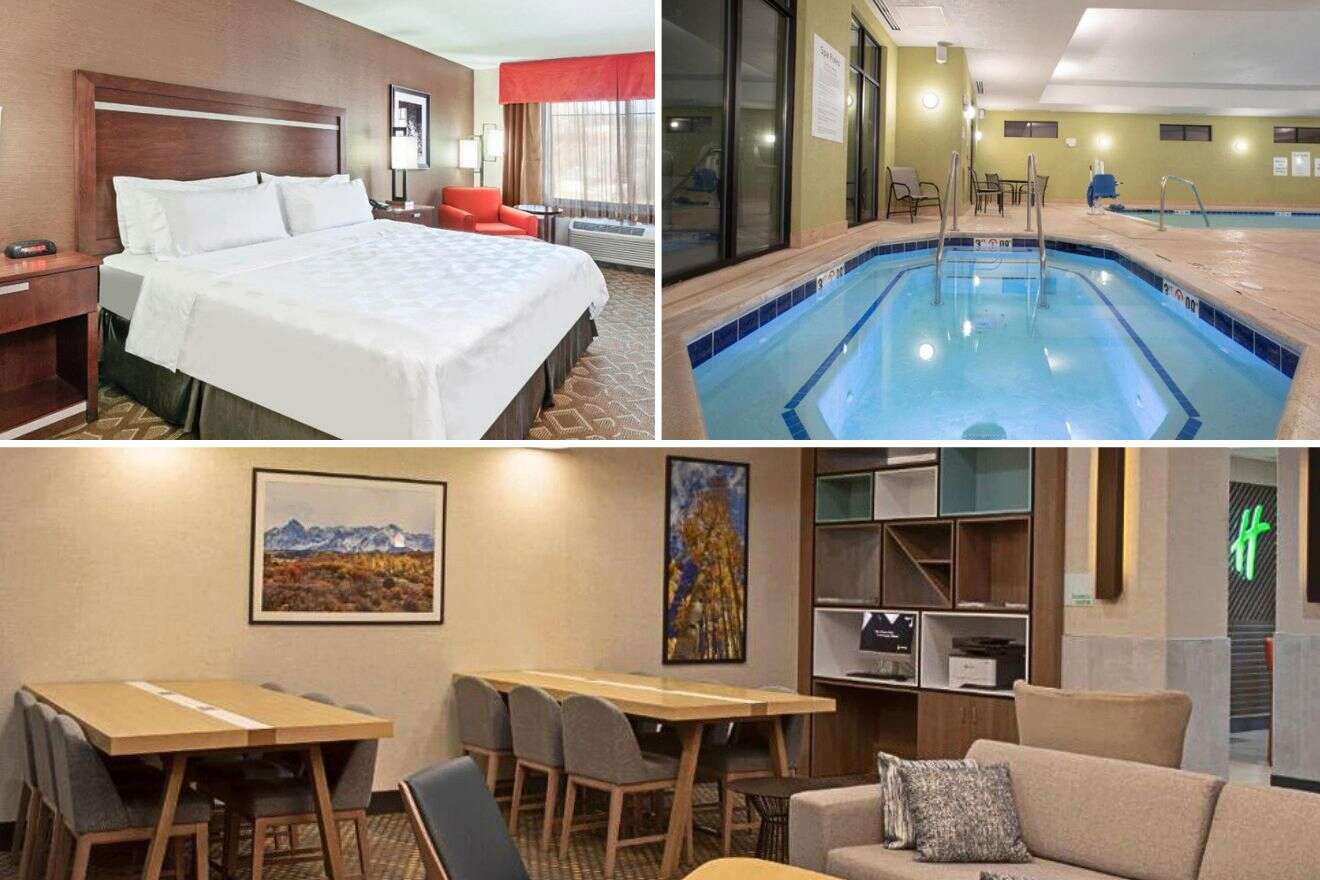 Located at the bottom of the mountains and with a nice view of downtown Durango, this hotel will provide you with everything you need for a perfect stay. The hotel's style is classic and packed with amazing amenities, such as a heated indoor pool open until midnight, which is a great feature! A fitness center with a hot tub, an onsite bar and restaurant, and laundry facilities you can use for an extra fee!
Breakfast is served every morning for the hotel guests staying in any of the rooms. The rooms can host from 2 to 4 guests, and some of them come with a balcony with views, a cozy fireplace, or a bathtub!
6. Fairfield Inn & Suites – for a peaceful stay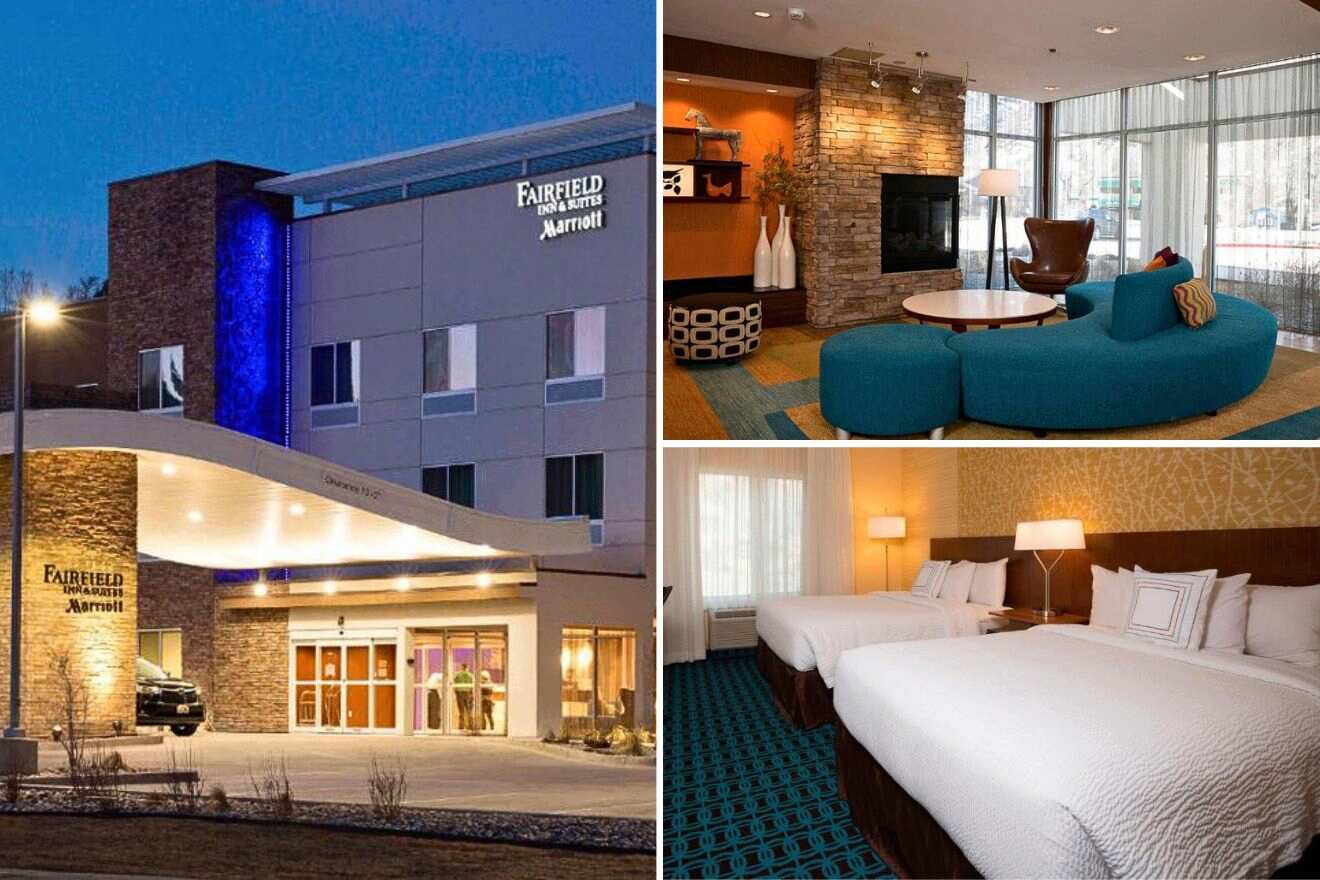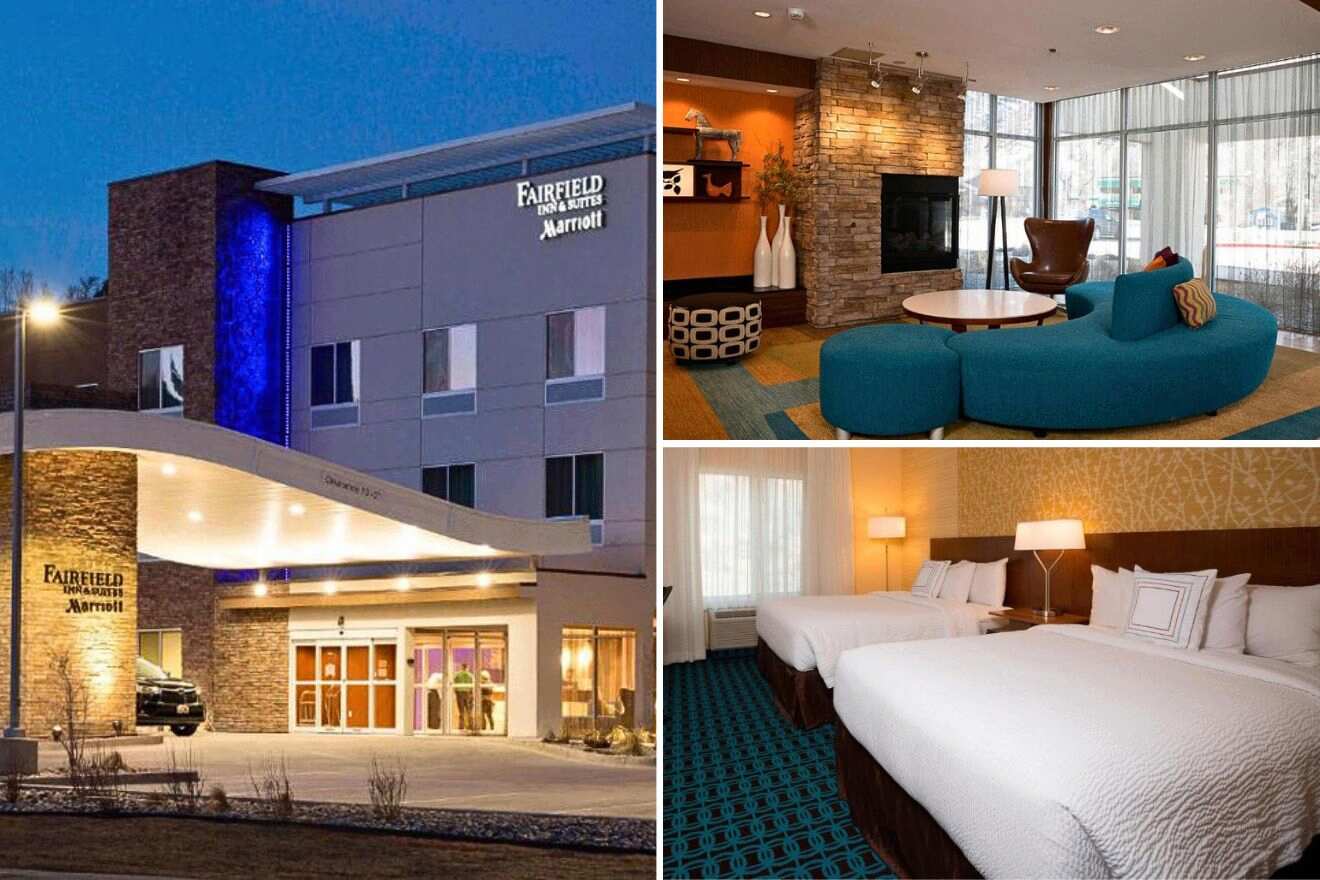 This hotel is perfect for a peaceful stay whatever the season! Located just outside Durango downtown and with Animas River just minutes away, this hotel comes with an indoor swimming pool, a hot tub, and a complimentary bicycle rental service to explore the beautiful surroundings. If you are traveling by car, there is free parking available, and it doesn't require any type of reservation!
The rooms are super cozy and have everything you need for the perfect stay, a flat-screen TV with cable channels, complimentary Wi-Fi, a coffee station, and air conditioning. The biggest room is the queen suite, which can host 6 guests.
7. The General Palmer Hotel – for Victorian style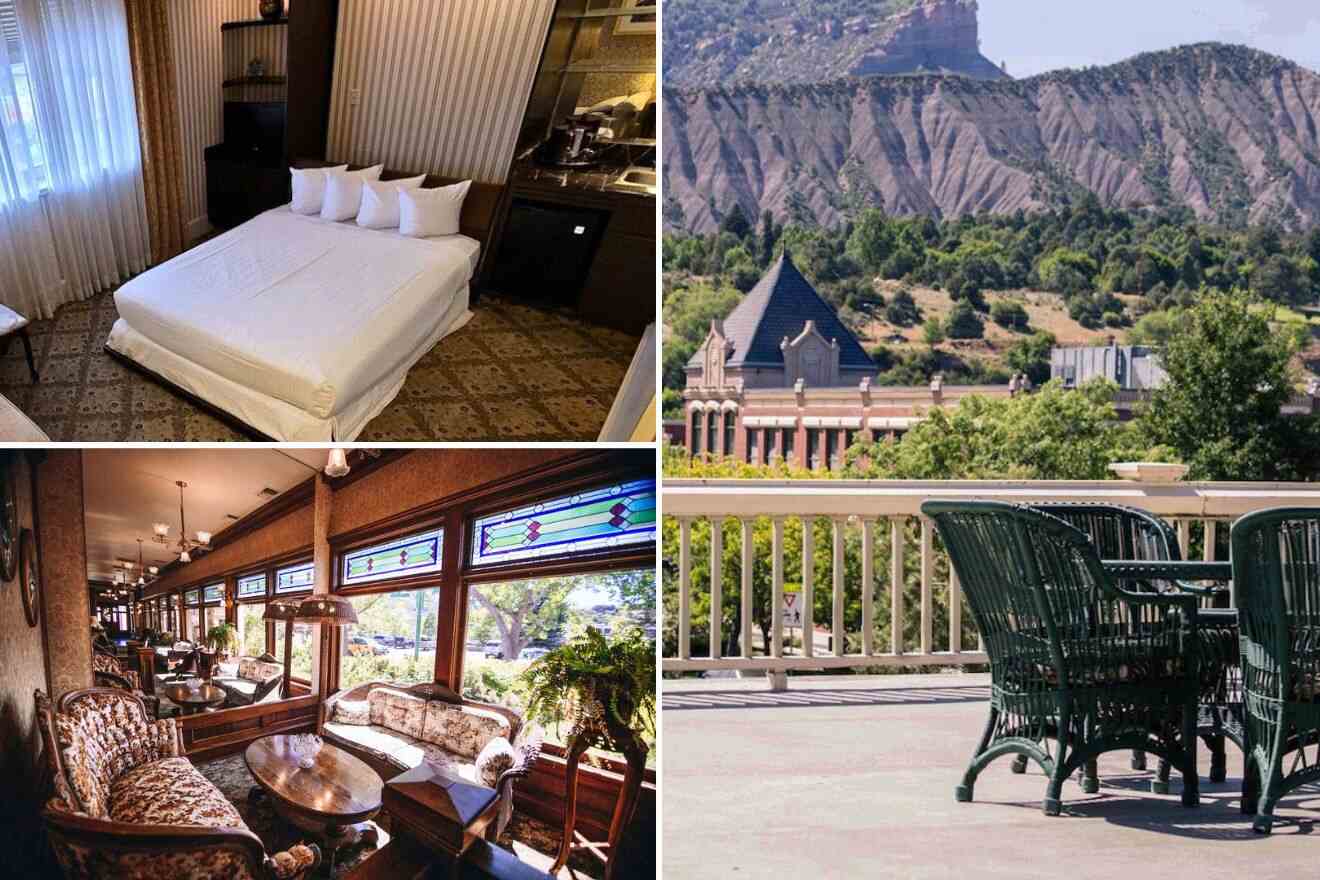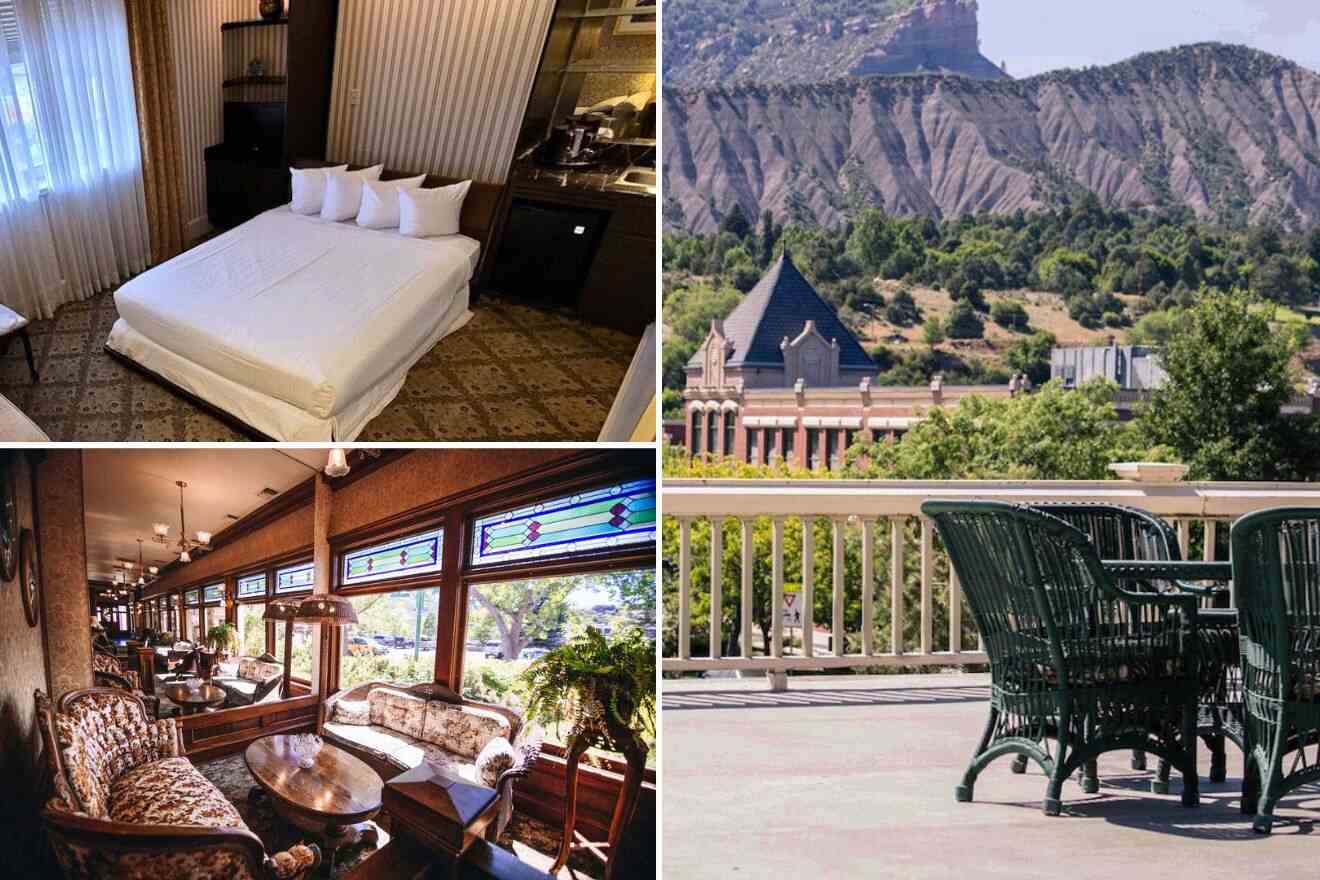 Oh me, oh my! Who doesn't love a Victorian-themed hotel? I know I do! Vintage furniture, detail in every piece of furniture and decorations, velvet everywhere, and elegant wallpaper! The common areas of the hotel, such as the lobby, have a certain splendor that will make you feel like you are in a movie. Fun fact? The hotel was named after a general that helped with the development of the railways in the USA!
It is located in the downtown area, so bars and restaurants are just steps away! Some of the rooms, like the presidential king suite, have a wet bar, and all the rooms are spacious.
8. The Strater Hotel – for history lovers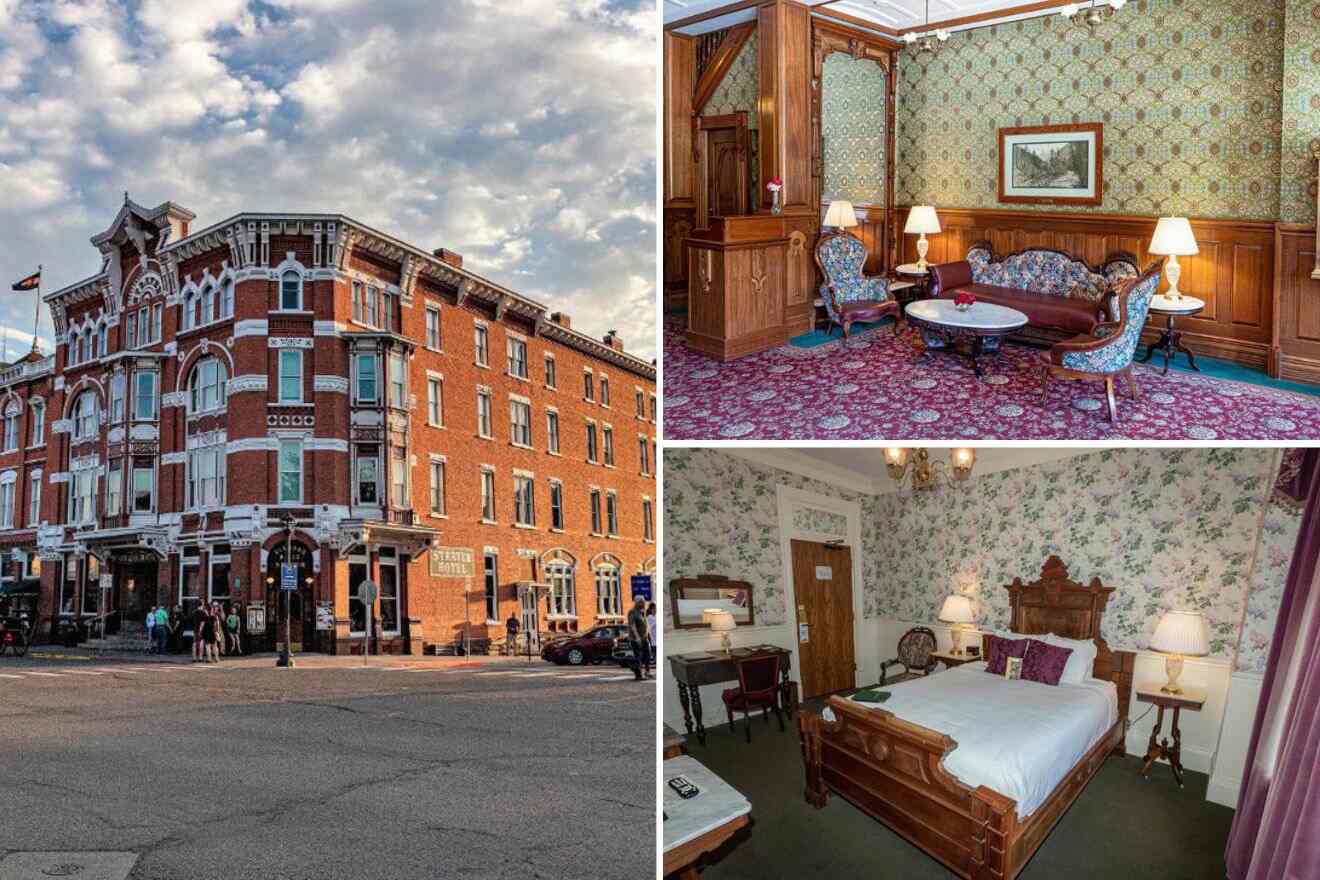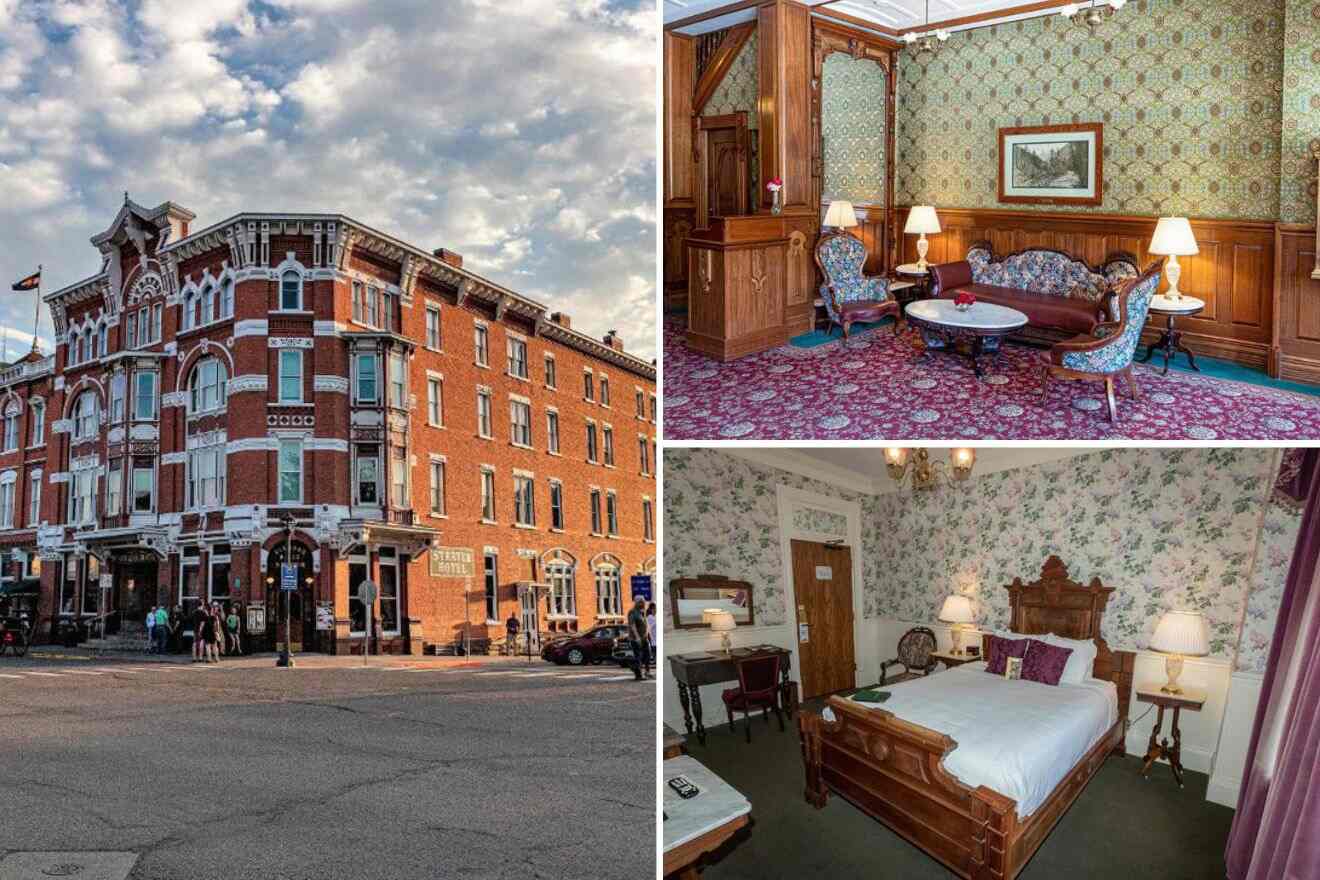 Well, this is your lucky day, another hotel with Victorian aesthetics! There is something special in The Strater Hotel, and it reminds me of the movie Stardust; the hotel is just as charming and romantic as the movie! The hotel comes with evening entertainment, live performances, and there is a hot tub available to all guests onsite. It is located in the downtown area, but if you don't feel like leaving the hotel, there is an onsite restaurant and bar!
There are 2 types of rooms in the hotel, the classic triple room for 3 guests, and the queen room, which can host up to 2 guests. Both rooms come with a flat-screen TV, complimentary Wi-Fi, and the most exquisite Victorian-style decoration that will make you fall in love!
9. La Quinta by Wyndham Durango – for a convenient stay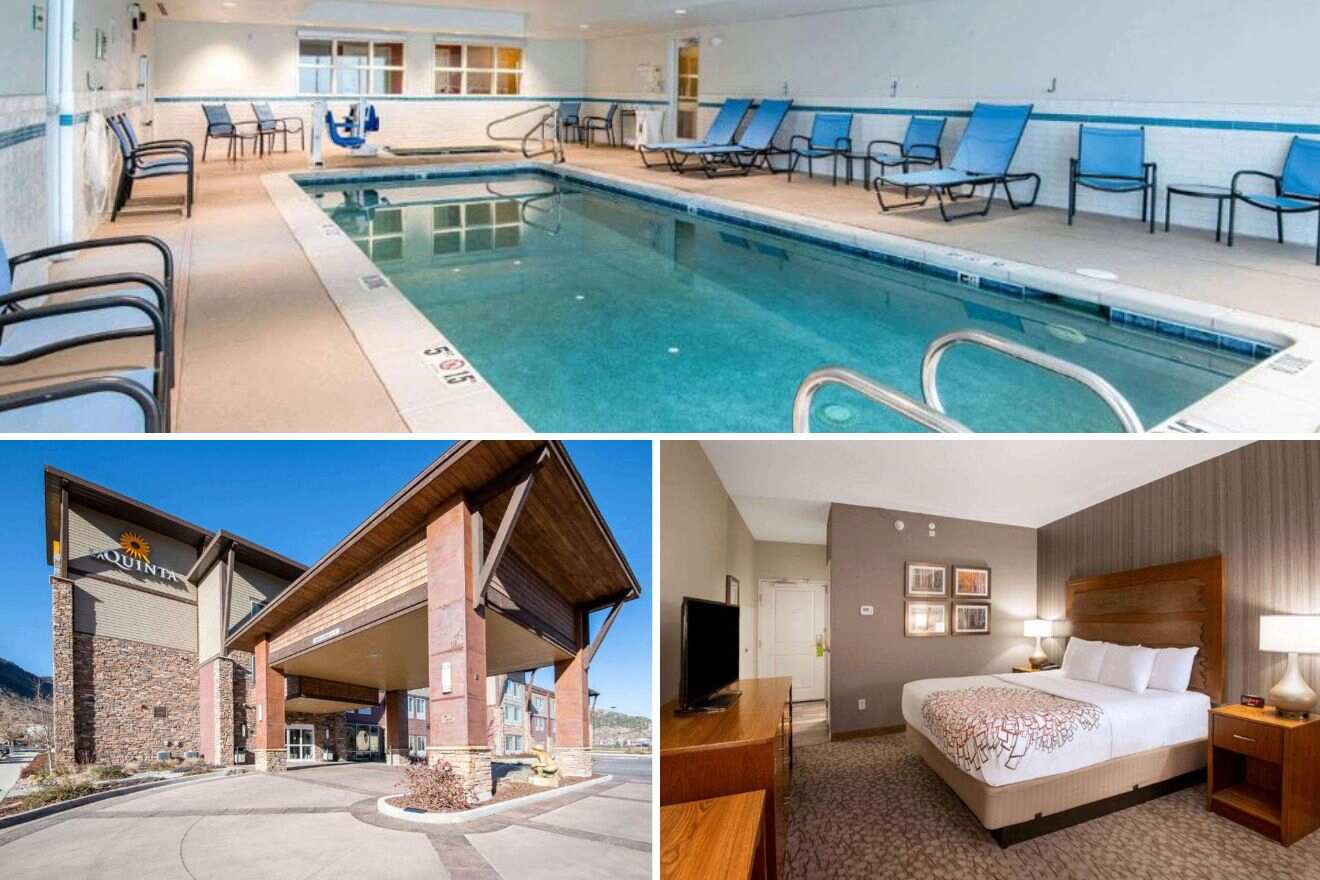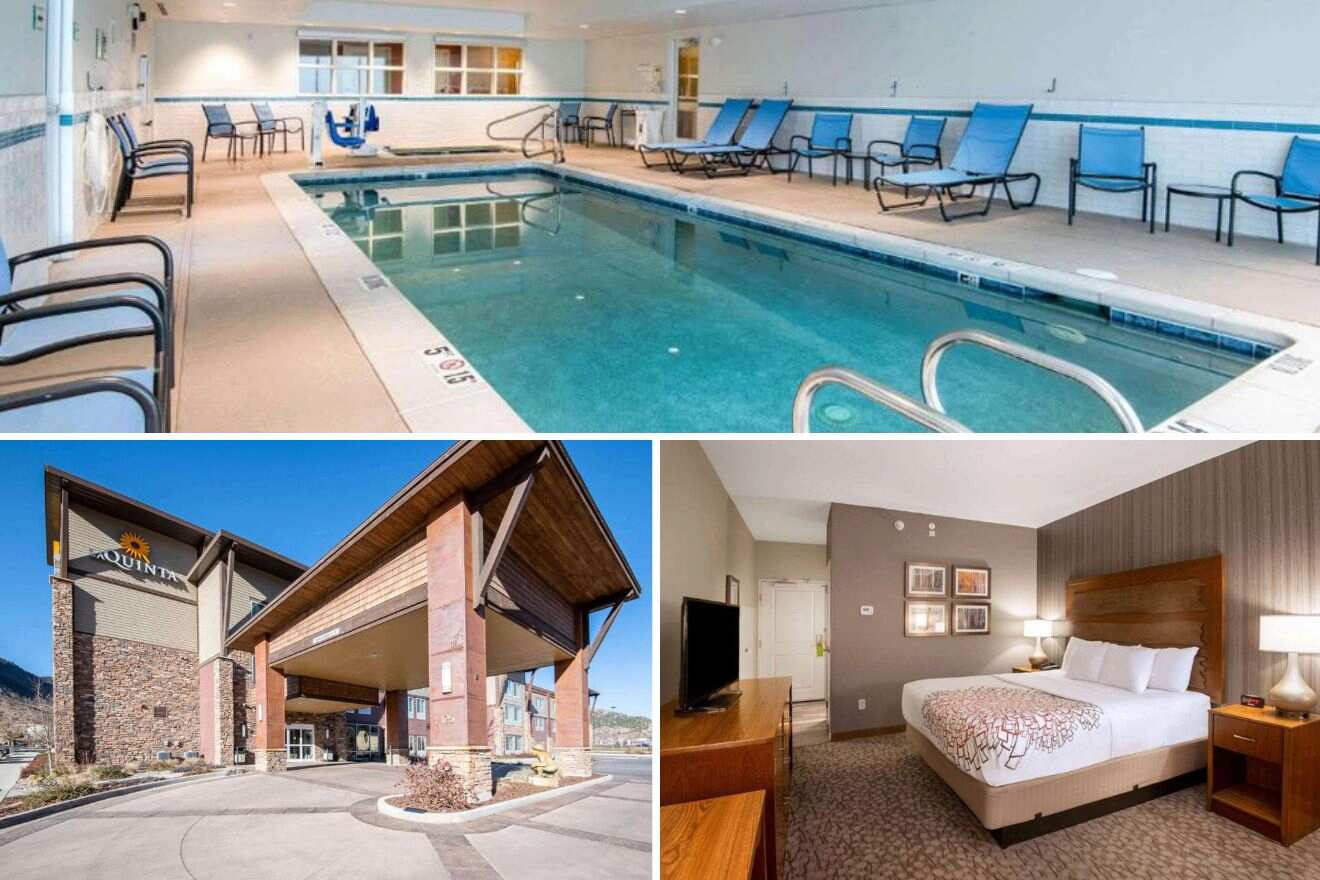 Located just 15 minutes away from the downtown area by public transport and less than 10 minutes away by car, this hotel has modern amenities that will make your stay in Durango a breeze! It offers a complimentary breakfast every morning, it has an indoor pool and jacuzzi, and a fitness center.
The rooms are super spacious, and all of them come with a flat-screen TV with satellite channels, a tea and coffee maker. The biggest room comes with 2 large double beds and a sofa bed, making it perfect for families of 5!
10. MainStay Suites – for modern comfort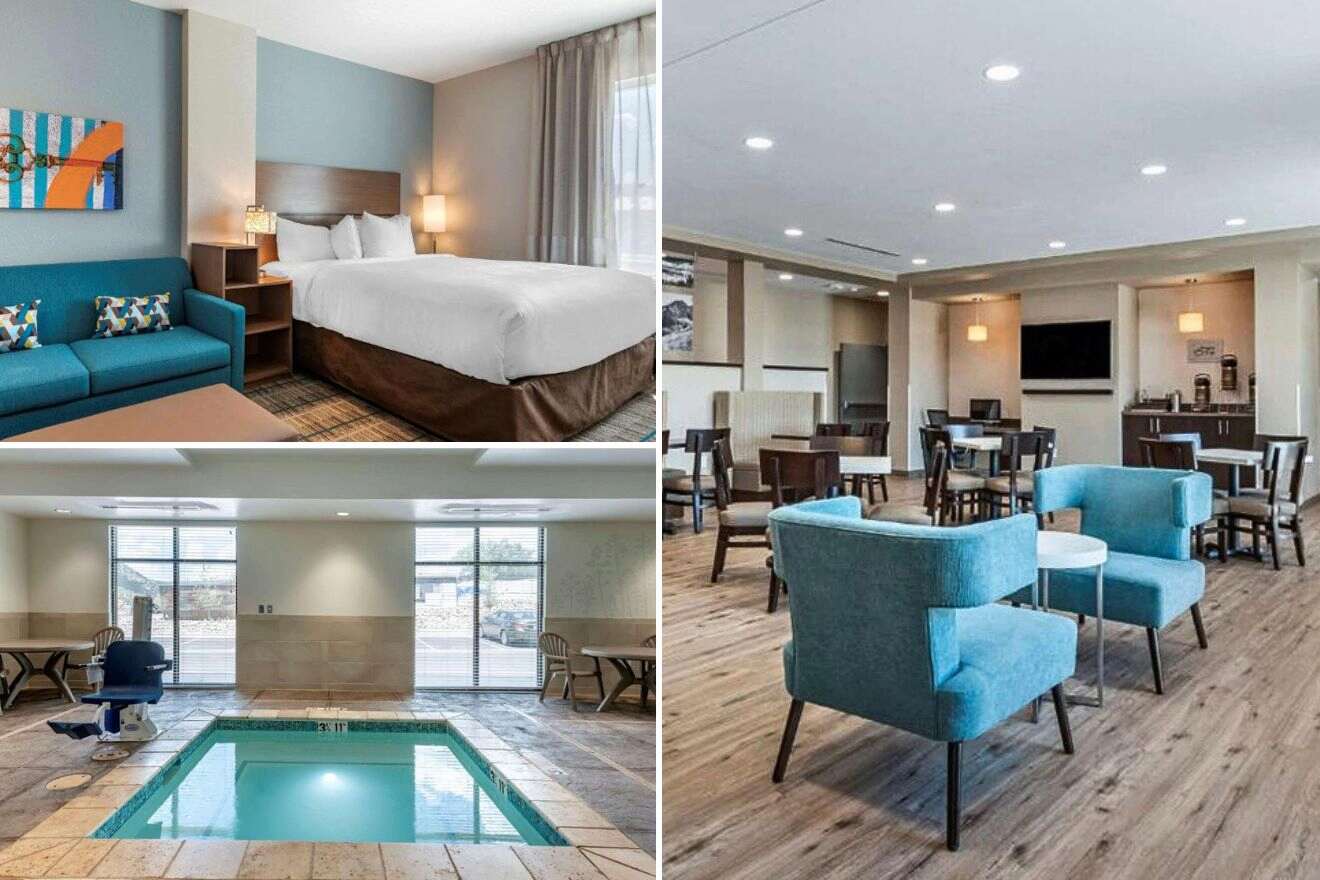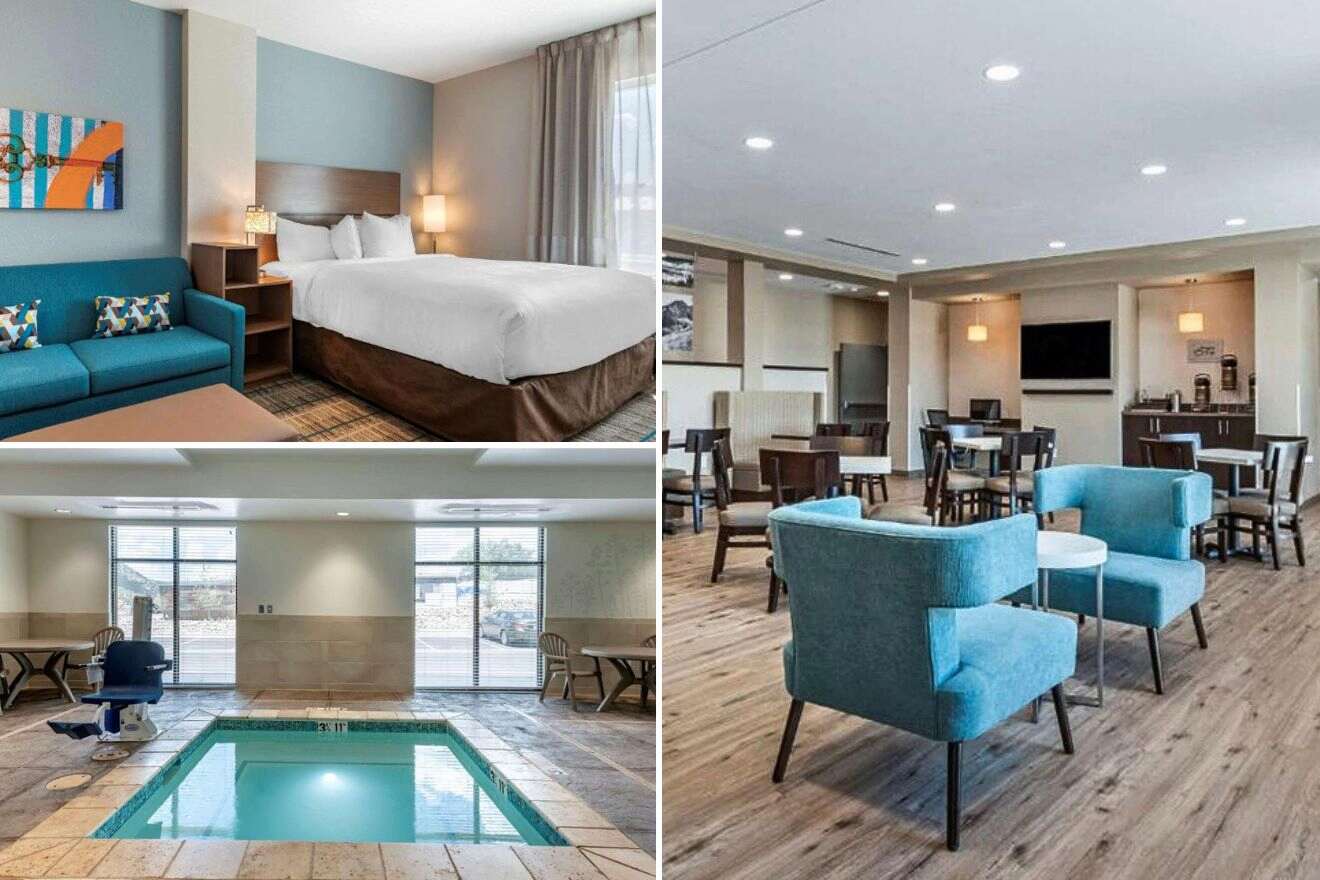 This convenient hotel is located only a 10-minute drive from Durango city center, and just a few minutes walk away you have Dallabetta Park, which features a river and beautiful mountains! MainStay Suites offers amazing amenities to its guests, from free continental breakfast to the indoor swimming pool, jacuzzi, and fitness center!
All the rooms offered by this accommodation come with their own private kitchen with a refrigerator, which is a great plus if you are looking to eat in and have homemade meals! Some of the rooms can host 4 guests, so I recommend these rooms to families! The rooms are simple yet modern, which makes them perfect for a comfy stay!
FAQs about places to stay in Durango, Colorado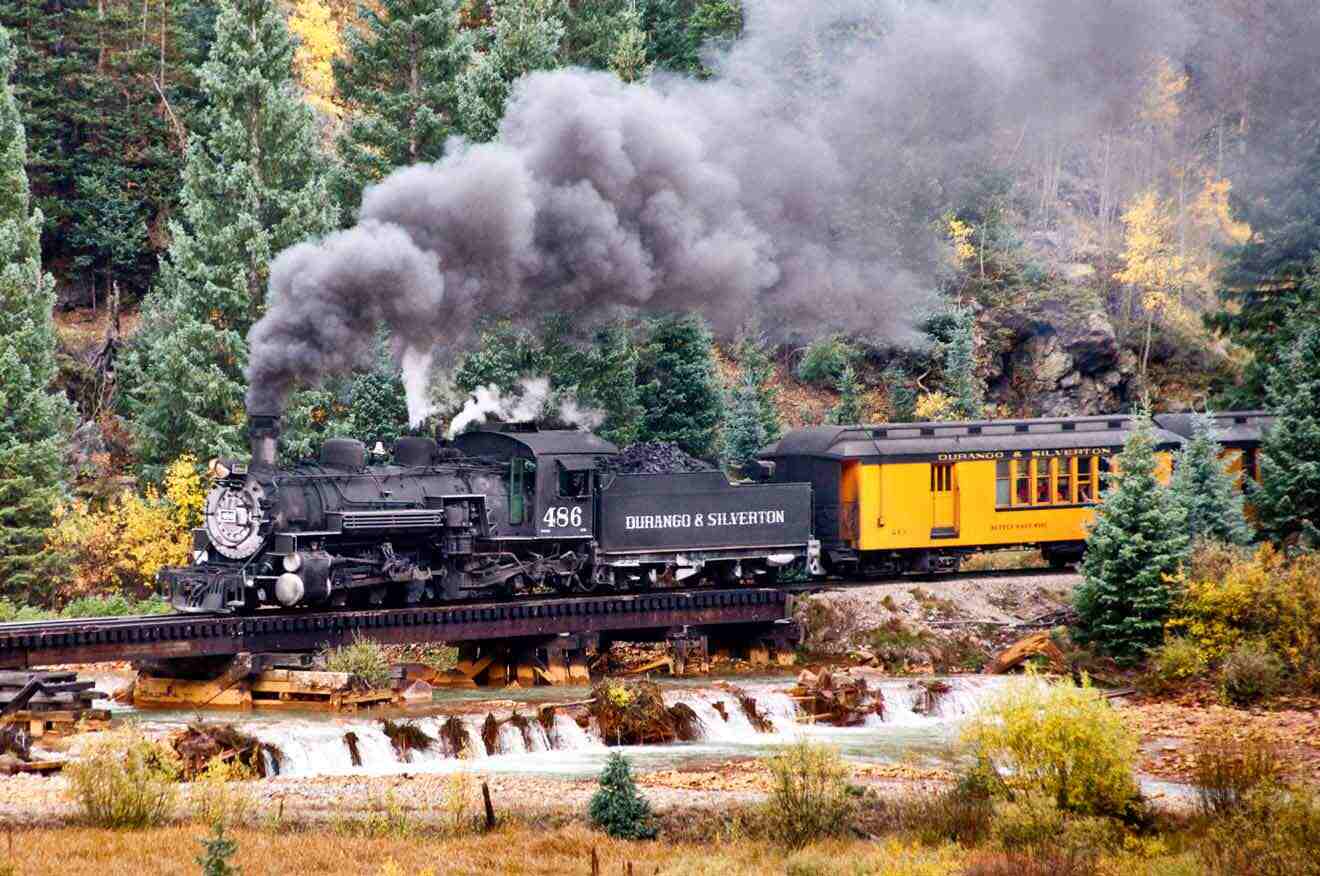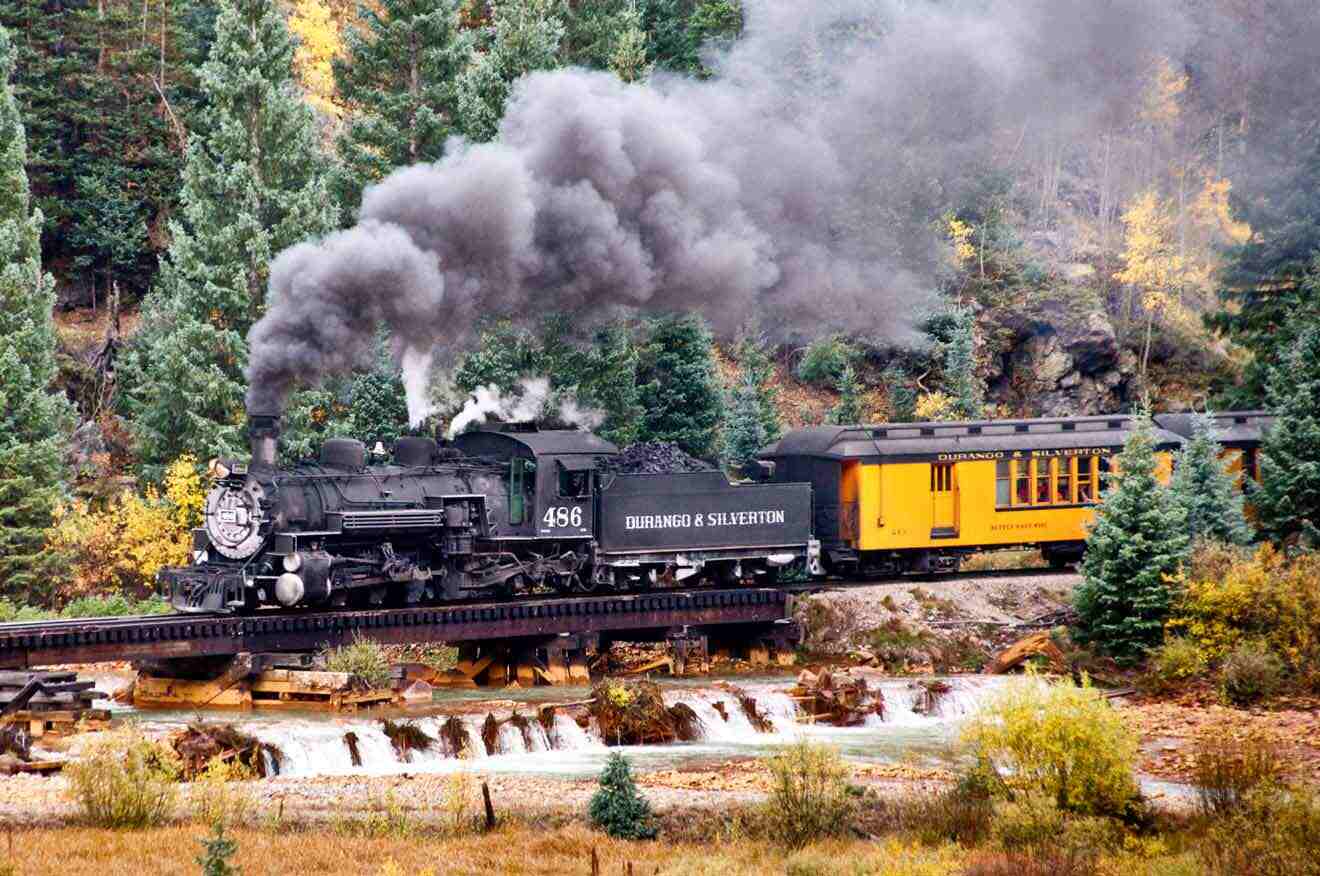 🌲 What is the best season to visit Durango, Colorado?
It truly depends on your taste, any season is just great! In the winter, you can go skiing, and during the warmer months, you can spend time outdoors and go for hikes!
🐶 Which hotels in Durango are pet-friendly?
🏊 Which hotels in Durango come with a heated indoor pool?
🚂 What is Durango, Colorado, famous for?
Durango has amazing skiing facilities and is home to the historic Narrow Gauge Railroad!
Conclusion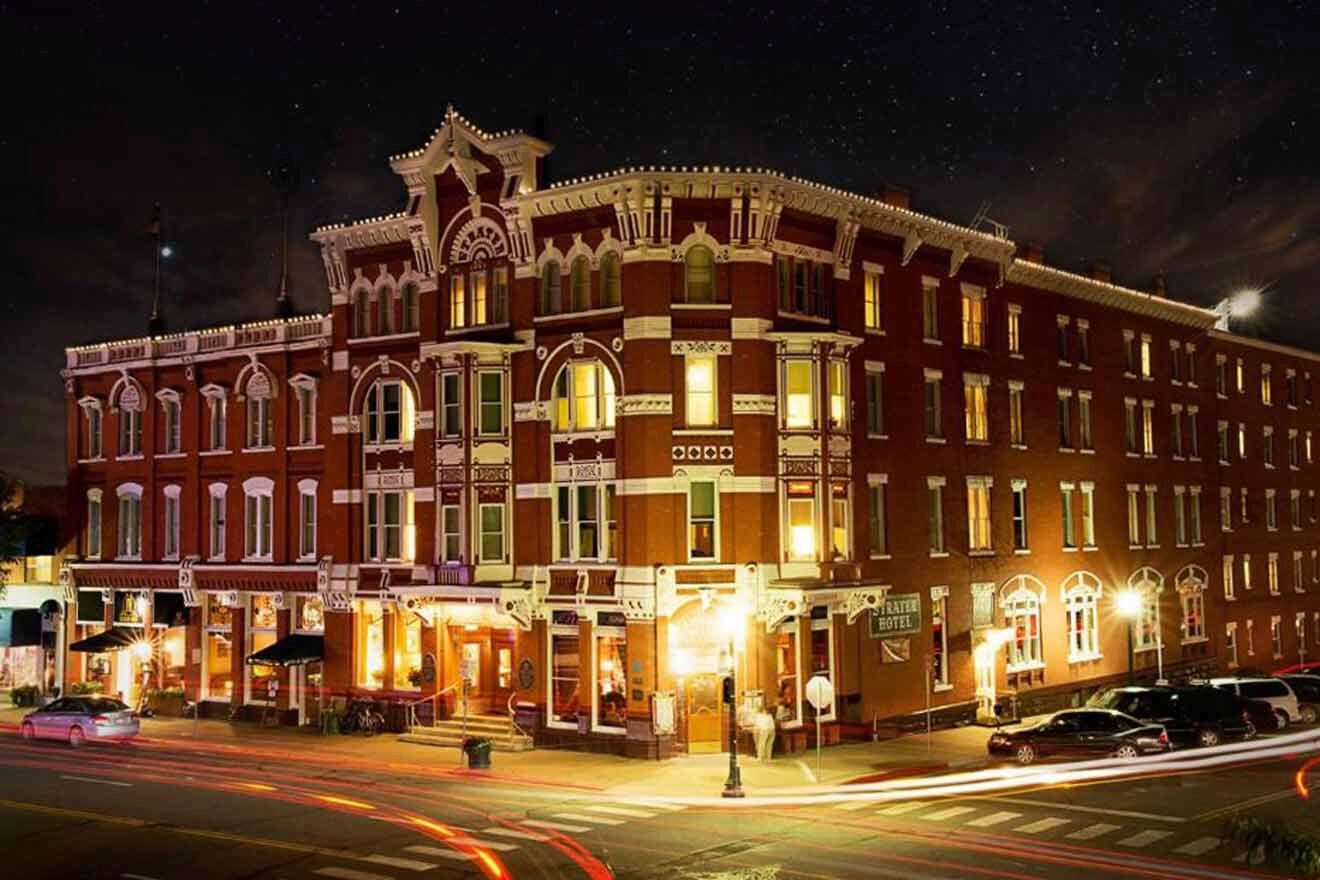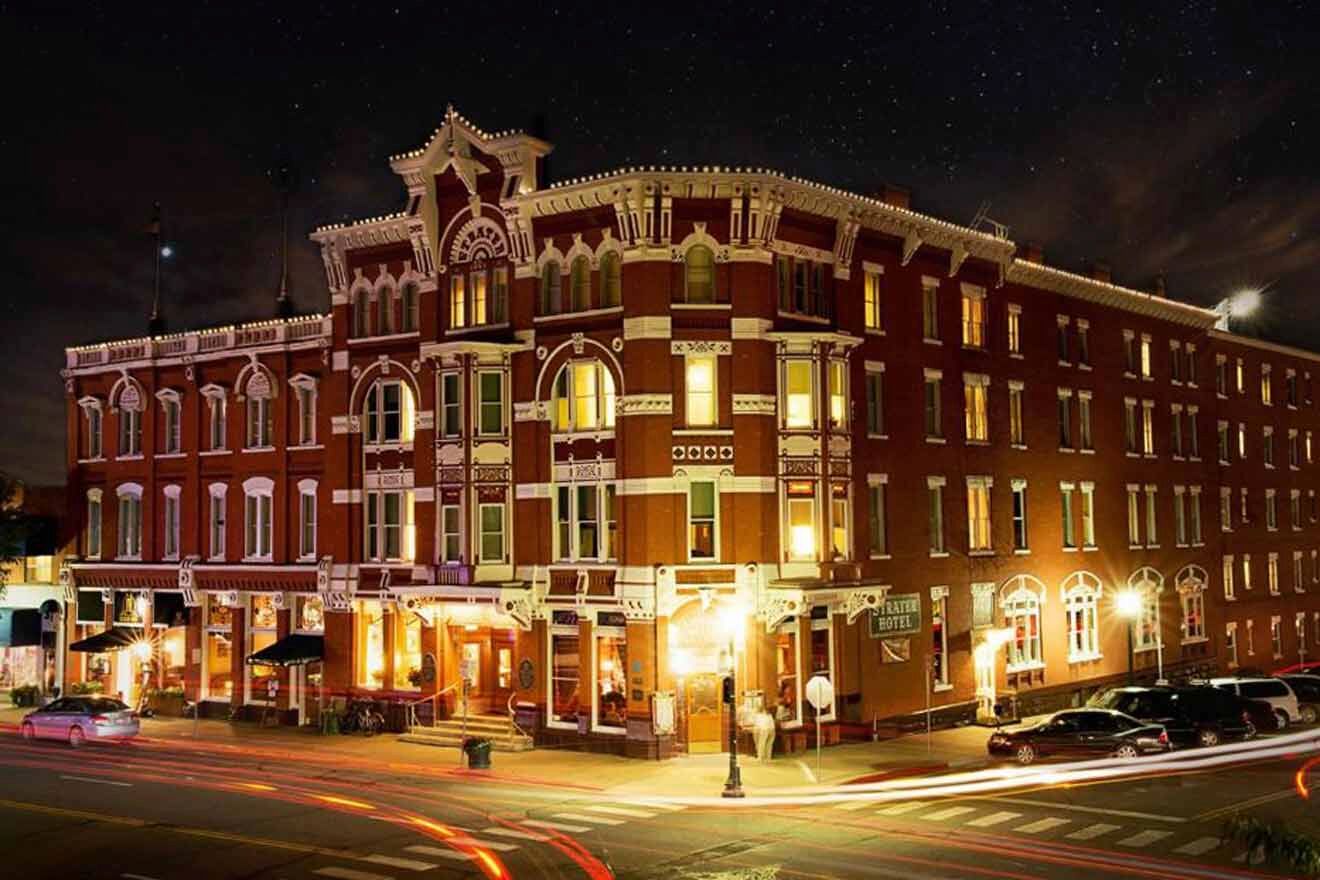 That's a wrap, my lovely people! These were the best places to stay in Durango, Colorado. I have covered a wide range of options for all tastes and budgets, so I am sure you will find the hotel of your dreams in this article! This lovely mountain town is truly beautiful, so I am super happy that you are traveling to such a location, and I love contributing to helping you choose the best hotel for your needs!
Honestly, all the hotels are simply amazing, and I would be more than happy to stay in any of these, but if I have to name my 2 top favorites, I would go with:
DoubleTree – I love that it is located in front of the river and that it has amazing views of the mountains, and the decor is just fantastic!
The Strater Hotel – I am obsessed with Victorian times, so this one checks a big box for me with its style and amazing location!
Which of these hotels is your favorite hotel in Durango? Have you ever stayed in any of them? Let me know in the comments, and right after, go and book the room of your dreams before somebody else does! If you have any questions, let me know and I'll get back to you!
Until the next adventure,
Daniela
---
Pin it for later!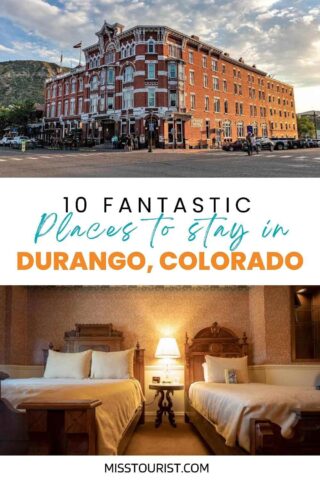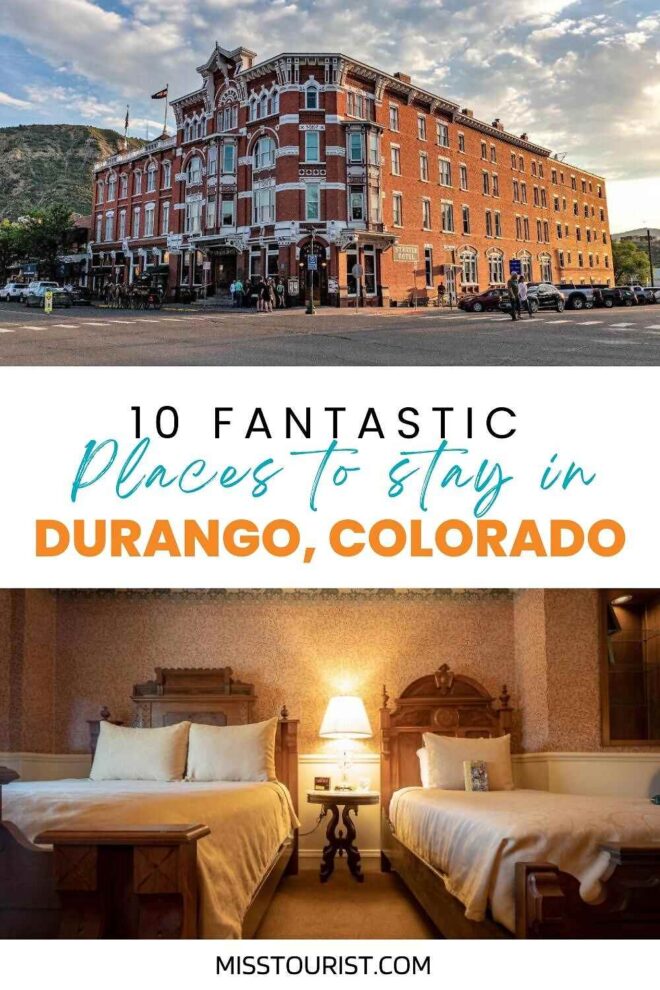 Pin it for later!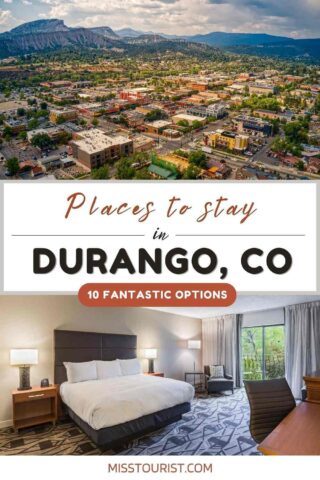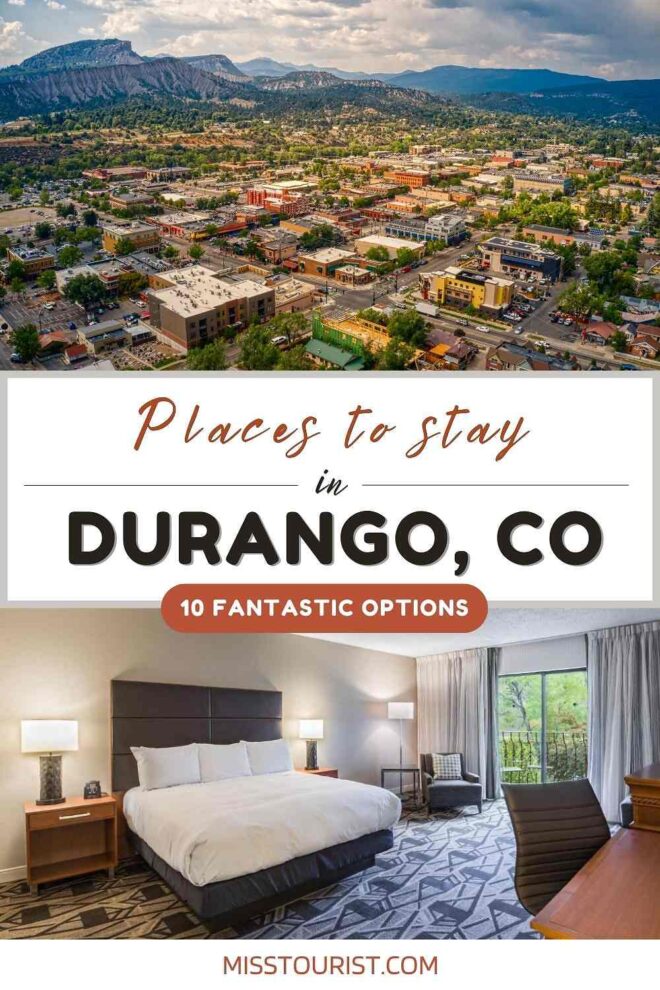 Products You May Like