Renting a Car in Australia → for a Smooth Ride Down Under
G'day, fellow adventurers! Are you dreaming of a trip to the 'Land Down Under,' where you can experience breathtaking landscapes, vibrant cities, and unique wildlife? If so, you're in for a treat!
To truly make the most of your journey, renting a car in Australia is the way to go. It not only gives you the freedom to explore at your own pace but also allows you to uncover hidden gems off the beaten path.
I myself recently rented a car and did quite a trip around Australia, so I am happy to share my tips and findings with you! In this post, I'll share all the essential information you need to rent a car in Australia and embark on the road trip of a lifetime.
Australia is a vast and diverse country, with cities and attractions spread far and wide. Trust me, the freedom to set your own itinerary and discover secluded beaches, quaint towns, and stunning national parks is well worth it, but you do need to book your car in advance!
So buckle up and get ready to hit the road, my friends!
Here are the main details you need to know when renting a car in Australia:
| | |
| --- | --- |
| Age | 21 – 25 (depending on the company) |
| Documents needed | Passport, driving license (domestic or international) |
| Driving license requirements | in English or International Driving Permit |
| Speed limit | 110 kph on highways, 50 kph in cities, and 100 kph in rural areas |
| Which side of the road | Left |
| Children rules | Children under 7 y.o.: appropriate child restraint mandatory based on age, weight, and height |
| Alcohol allowed | BAC less than 0.05% |
| Metric or imperial system | Metric (speed in kph, fuel in liters) |
| Toll roads | Electronic and cashless; ensure the rental car has an e-tag or create an e-toll account yourself |
| Where to book | Click here for the lowest price |
1. Car prices & choosing the best car type for you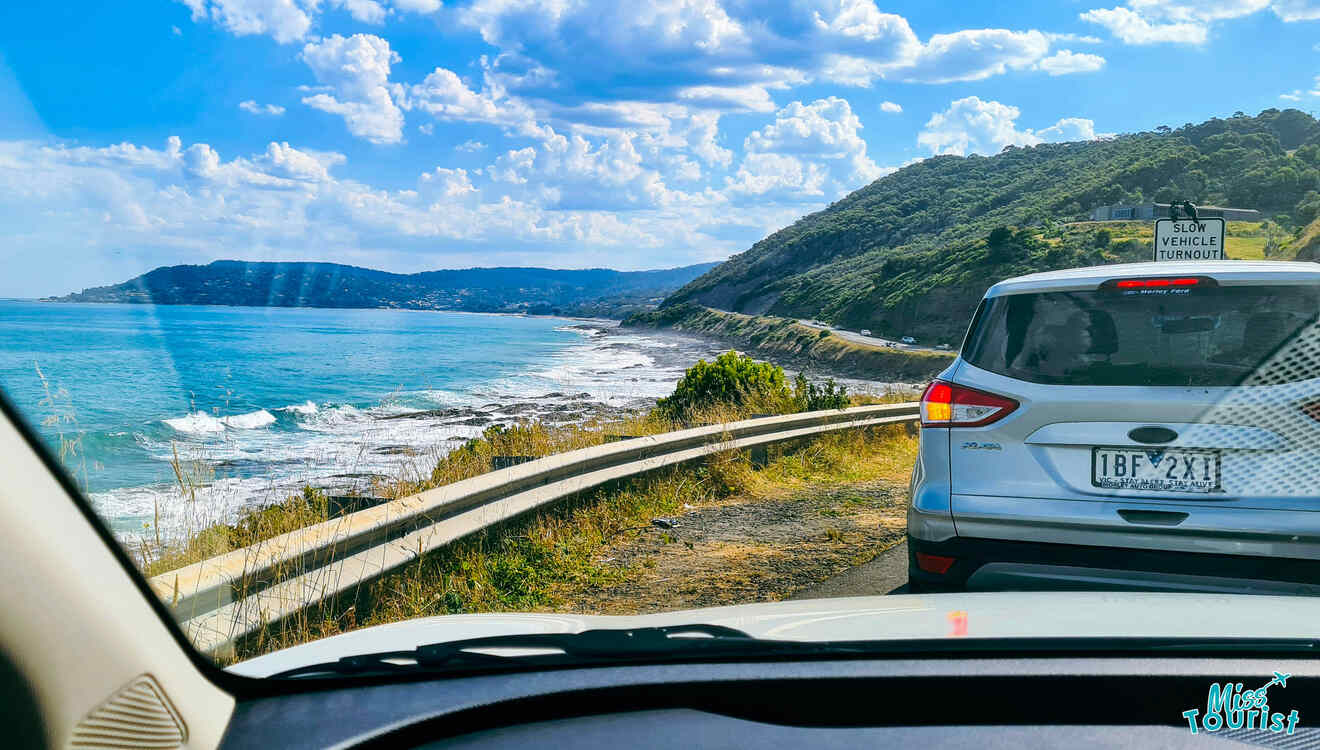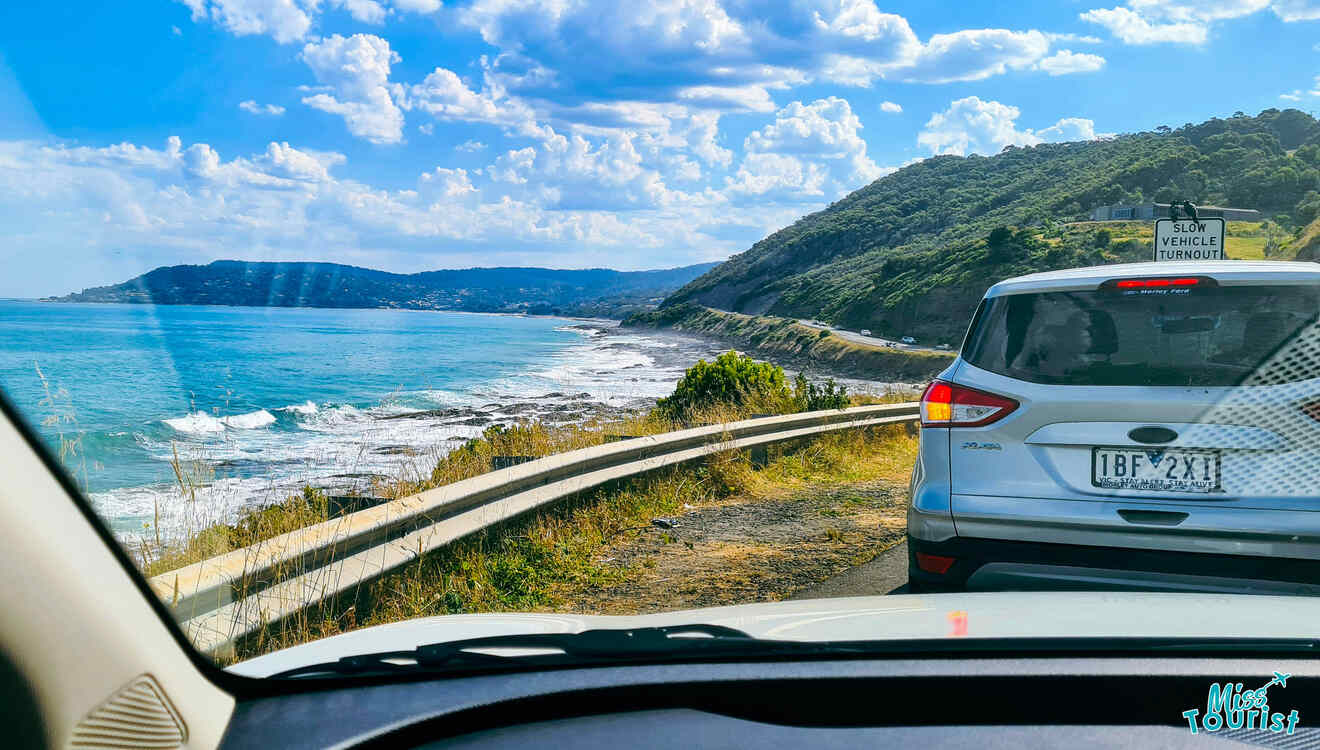 Prices can vary depending on the season, the type of car, and the rental company. To help you navigate this landscape, I've put together a handy guide on what to expect when it comes to car rental prices in Australia.
1.1 Prices by season
First things first, let's talk about the 2 main travel seasons in Australia. The high season typically runs from December to February (that's when I visited!), coinciding with the summer holidays and peak tourist traffic. During this time, car rental prices are the highest, and if you learn only 1 thing from this post, it should be: book your car well in advance!
On the other hand, the off-season, generally from May to August, sees fewer tourists and milder weather. This period offers lower car rental prices and more availability, making it the ideal time for budget-conscious travelers to hit the road.
1.2 Prices by car model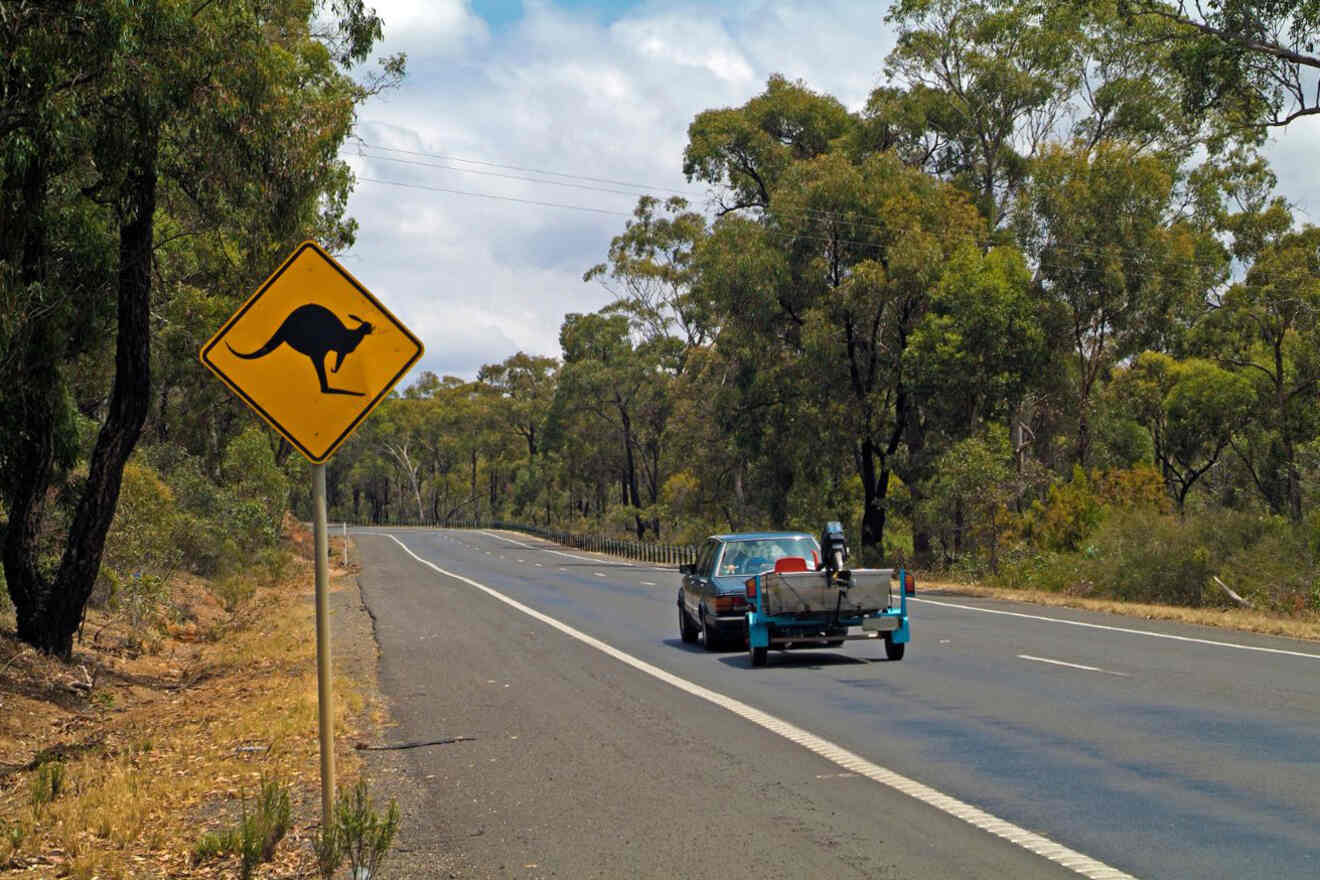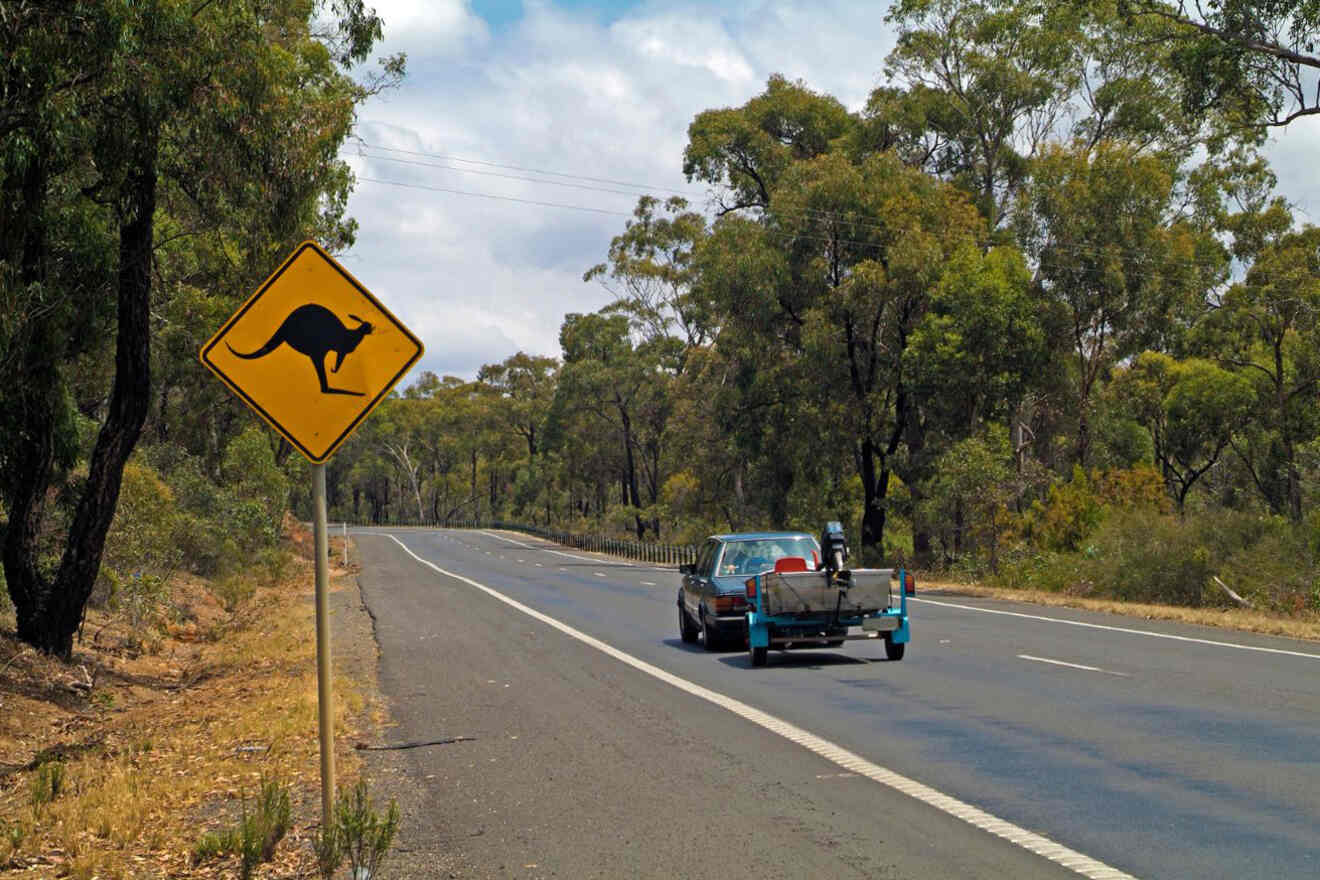 The type of car you choose to rent will greatly impact the cost of your rental. Here's a rough breakdown of what you can expect to pay for different car models in Australia (considering you only take the compulsory insurance):
| | | | |
| --- | --- | --- | --- |
| Type/Price per day | Low season | High season price | |
| Compact/economy | US$30 – 50 | US$40 – 60 | Best deals |
| Sedan | US$40 – 60 | US$50 – 70 | Check the rates |
| SUV/4×4 | US$50 – 90 | US$70 – 100 | Book here |
| Minivan/campervan | US$70 – 110 | US$100 – 160 | Explore more |
1.3 How to choose the perfect type of car for you?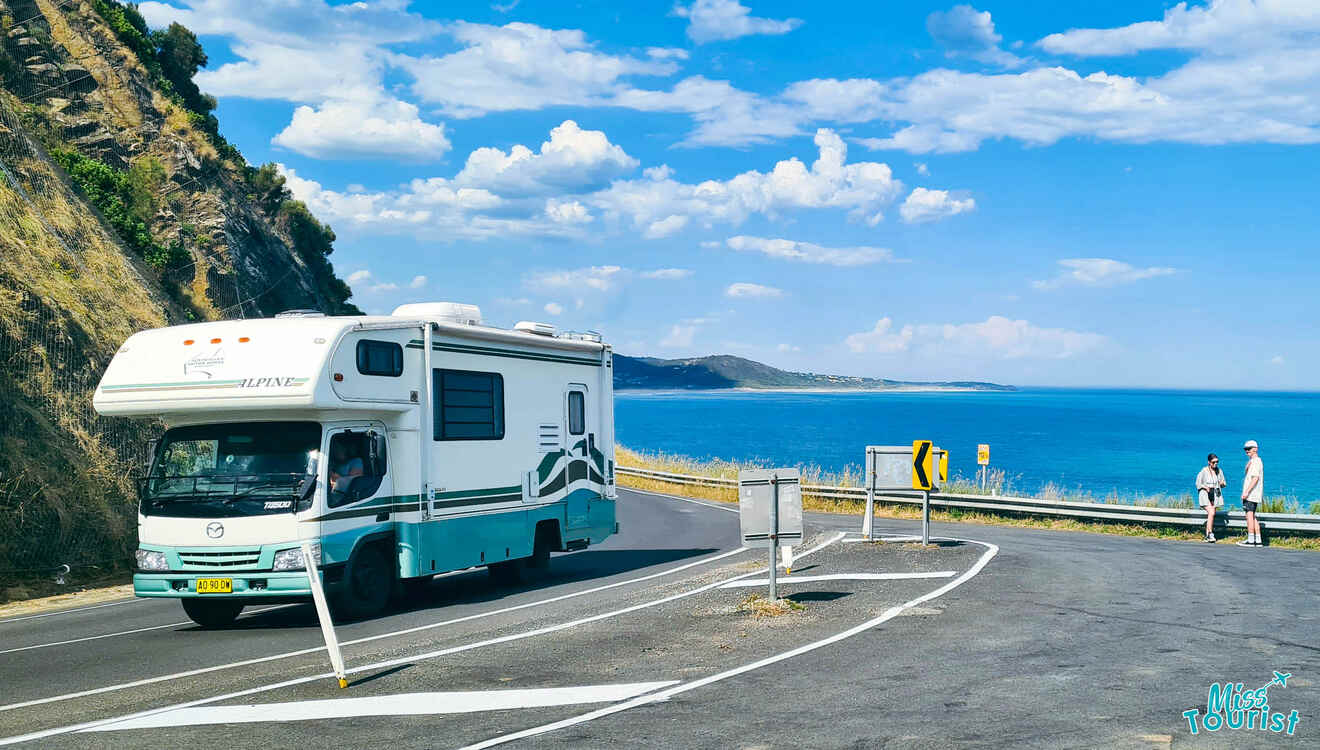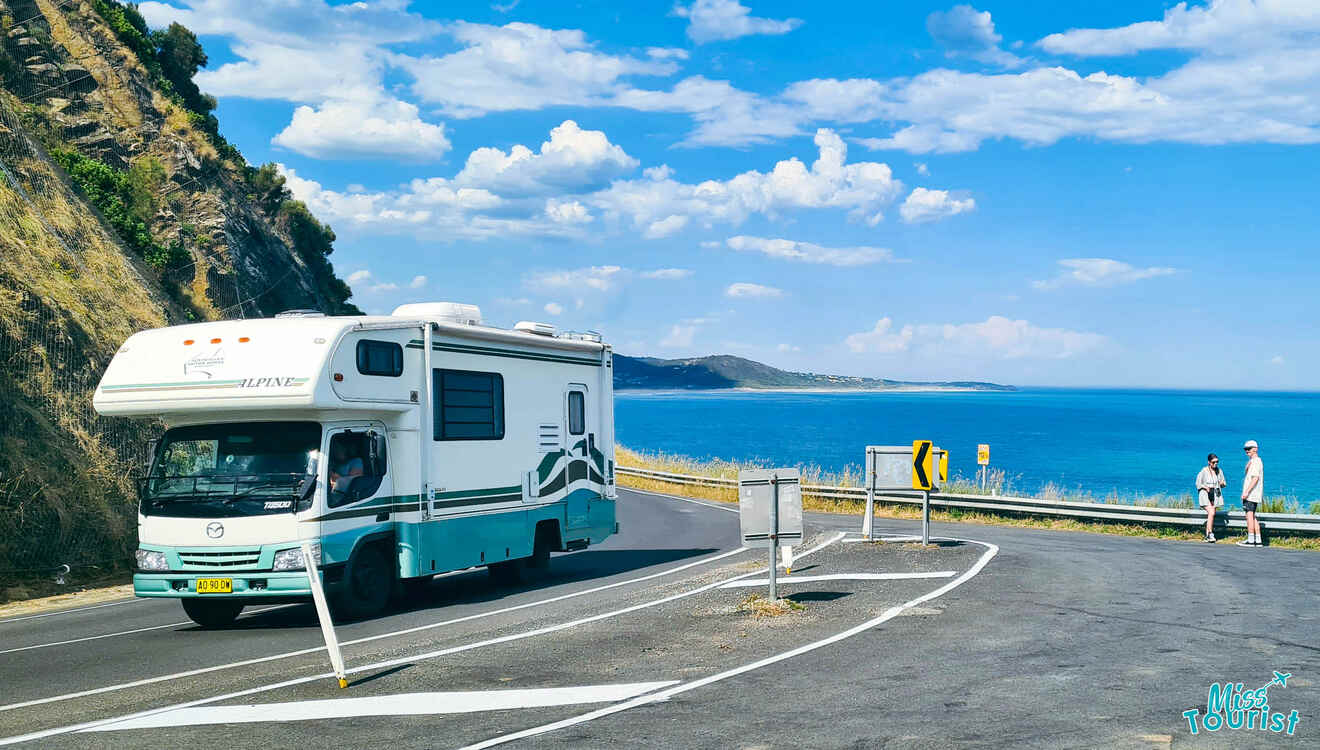 Economy/Compact Cars – These smaller, fuel-efficient vehicles are perfect for solo travelers or couples on a budget. You can opt for Hyundai i30, Toyota Corolla, or Mazda 3, to name a few.
Mid-size/Sedan Cars – Offering a bit more space and comfort, mid-size cars are suitable for small families or groups. Good cars are Kia Carnival, Toyota Kluger, or Mitsubishi Pajero Sport.
SUVs/4WDs – If you're planning an off-road adventure or need extra space, an SUV or 4WD is the way to go. Get Toyota RAV4, Subaru Forester, or Mitsubishi Outlander.
Campervans – For those who want to combine accommodation and transportation, a campervan is a popular choice such as Toyota HiAce or Mercedes-Benz Sprinter.
Electric car – Great for environmentally conscious travelers. Many companies offer that option nowadays. There are many charging stations around the country. Here is the map to help you plan your route.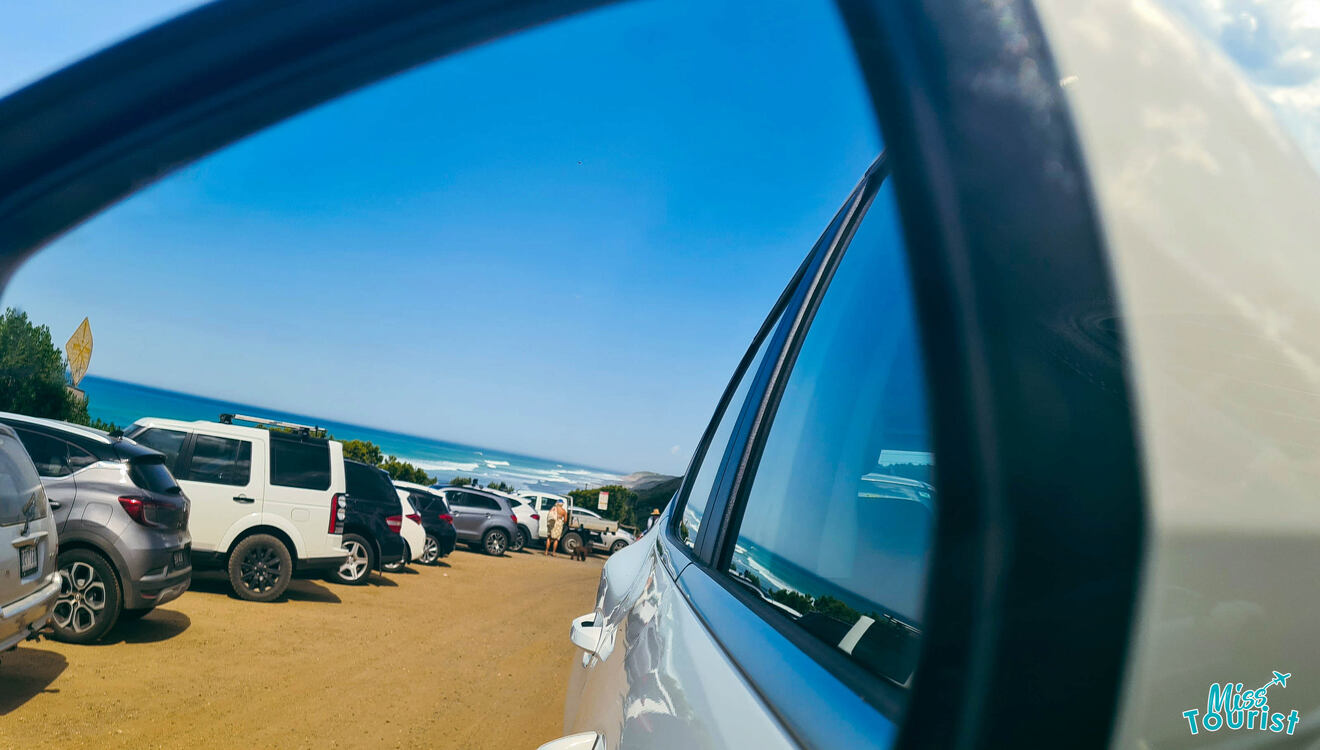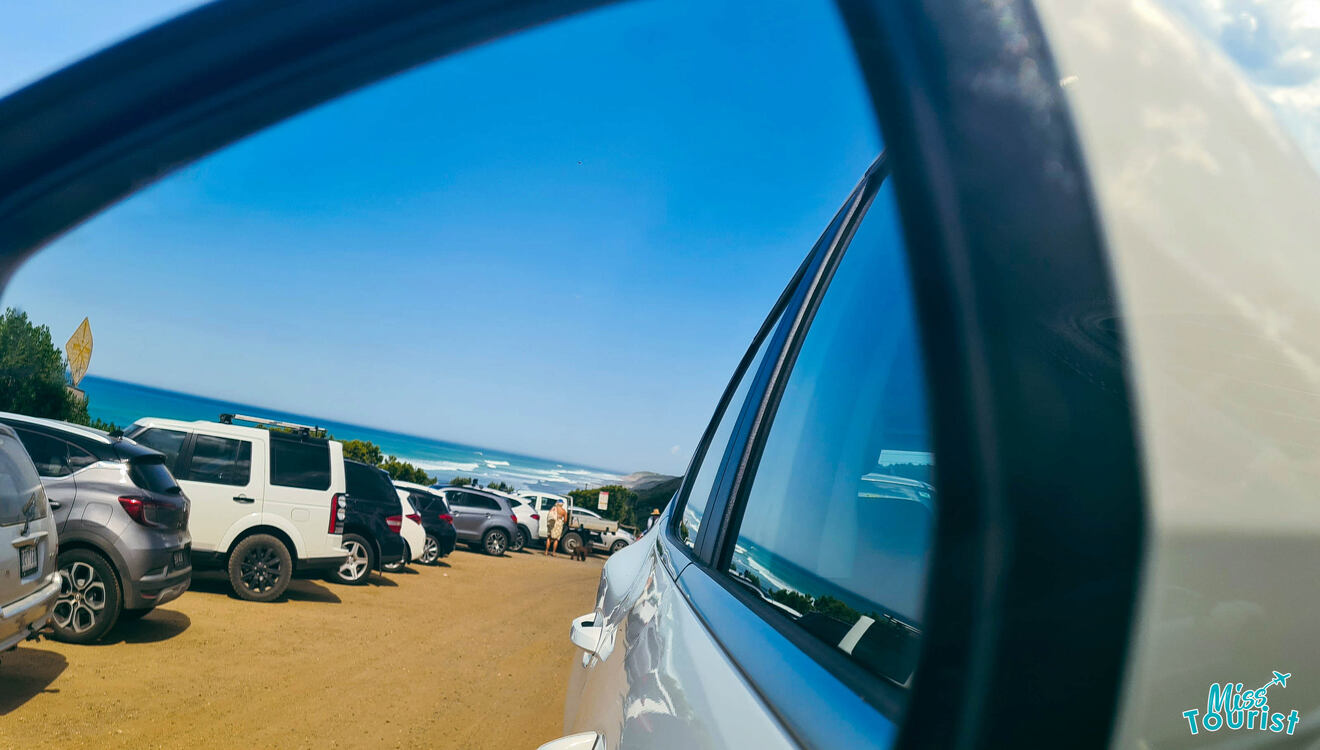 PRO TIP: Whatever car you choose, please remember to leave space for the luggage, too. Ex: if you are a group of 4, each with a large suitcase, an economy car with a small trunk will not suffice.
Keep in mind that these prices are approximate and may vary depending on factors like rental duration, pickup location, and additional features (e.g., GPS, child seats). To find the best deals, compare prices from different rental companies (I highly recommend this site and this site) and book as early as possible.
MY EXPERIENCE: We rented a car a couple of times in Australia. Here are some of the examples:
SUV (Kia Sportage) from Rentalcars with full insurance in December during Christmas (super high season) was AU$570 for 3 days or AU$190 per day (US$380 for 3 days or US$126 per day) pickup from Melbourne, drop off in Melbourne.
SUV (Toyota Rav 4) from Rentalcars with full insurance in January was AU$1,275 for 7 days or AU$182 per day (US$850 for 7 days or US$121 per day) pickup from Sydney, drop off in Brisbane (there was no one-way fee because we rented a car for longer than a week, so that was the discount).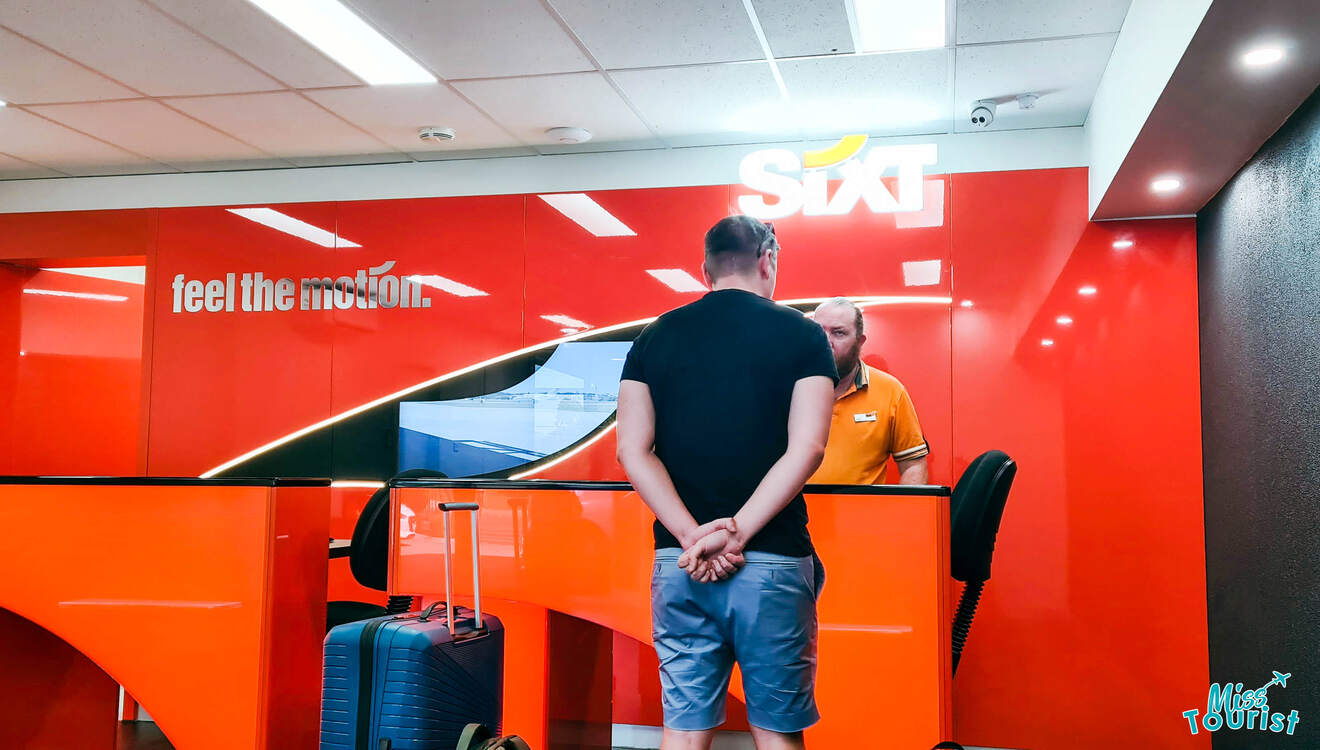 Each time we rented cars from big companies like Avis and Sixt, going through a reseller was always much better for some reason compared to going to them directly.
PRO TIP: Your rental might try to offer you an MG car as an upgrade, claiming it is European (it's actually Chinese), DO NOT go for it! It is a very user-unfriendly car that takes 3 touch screen clicks just to adjust the AC. Just go for whatever you ordered before. You will thank me later!
1.4 Tips on how to save on your rental car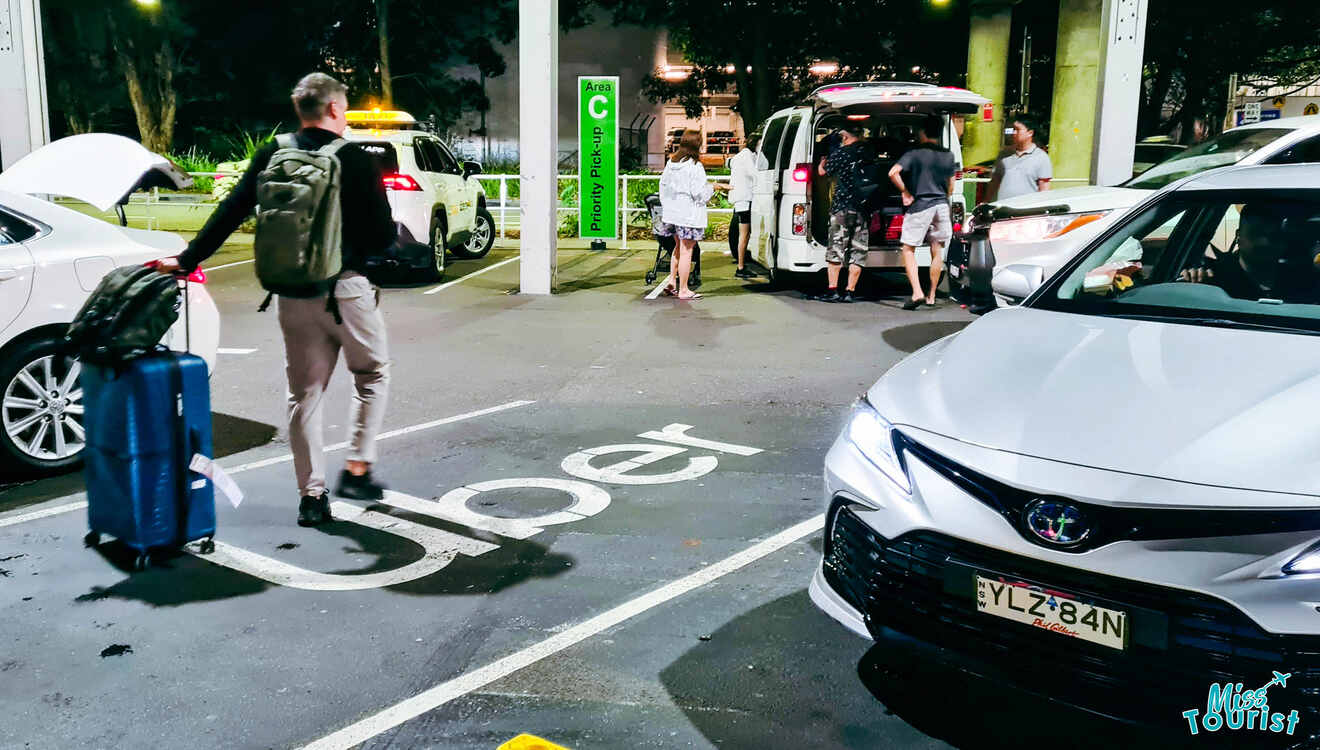 Here are some ways you can save:
Book as much in advance as you can
Opt for longer rentals
Use price comparison sites to see all the prices
Go in a shoulder season
Prepay for your rental (usually they offer a discount for that)
Share the cost with your friends
Do not rent a 4×4 unless you really need it
Check rentals in different locations – at the airport/in the city center, etc.
2. Other costs: insurance, fuel, etc.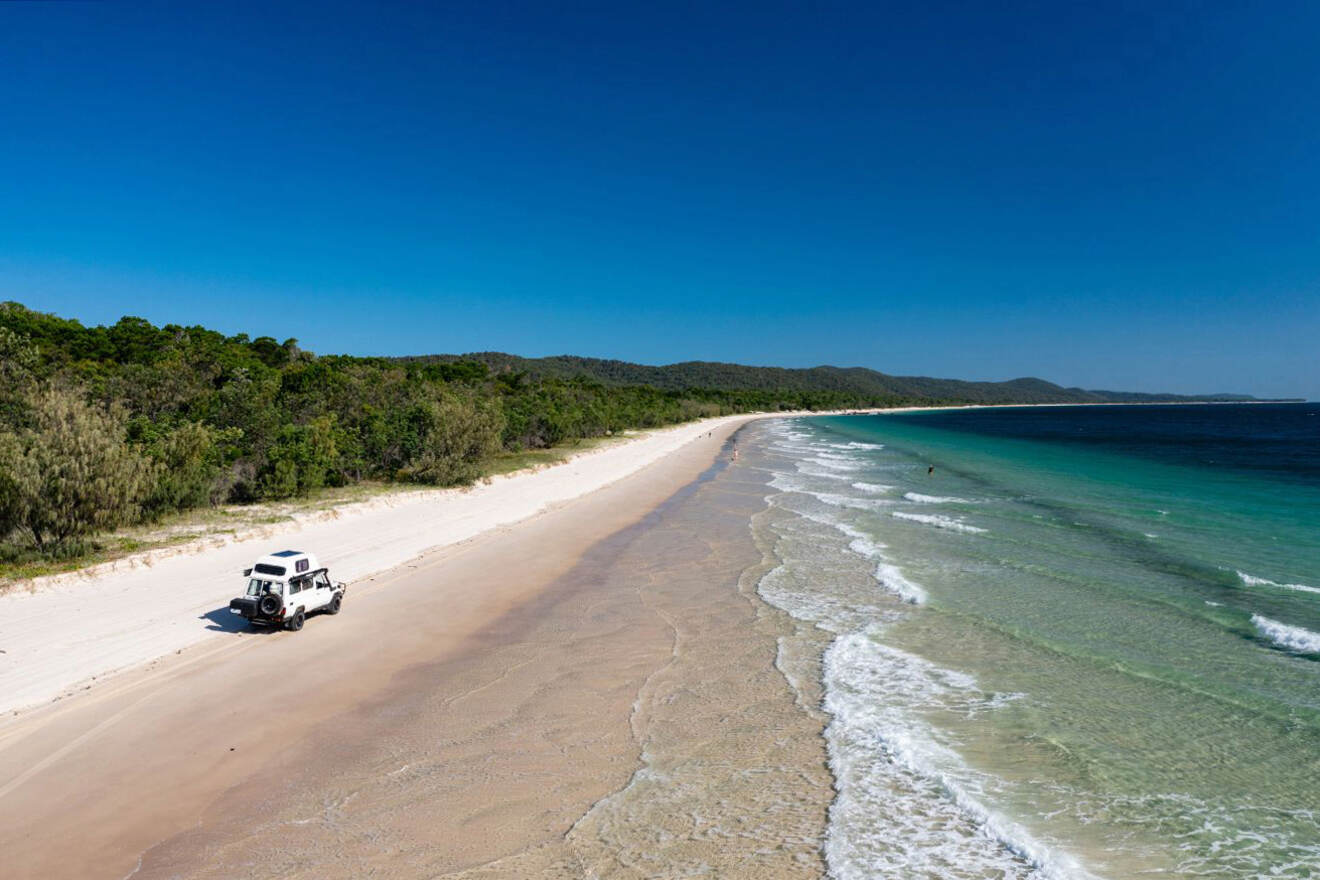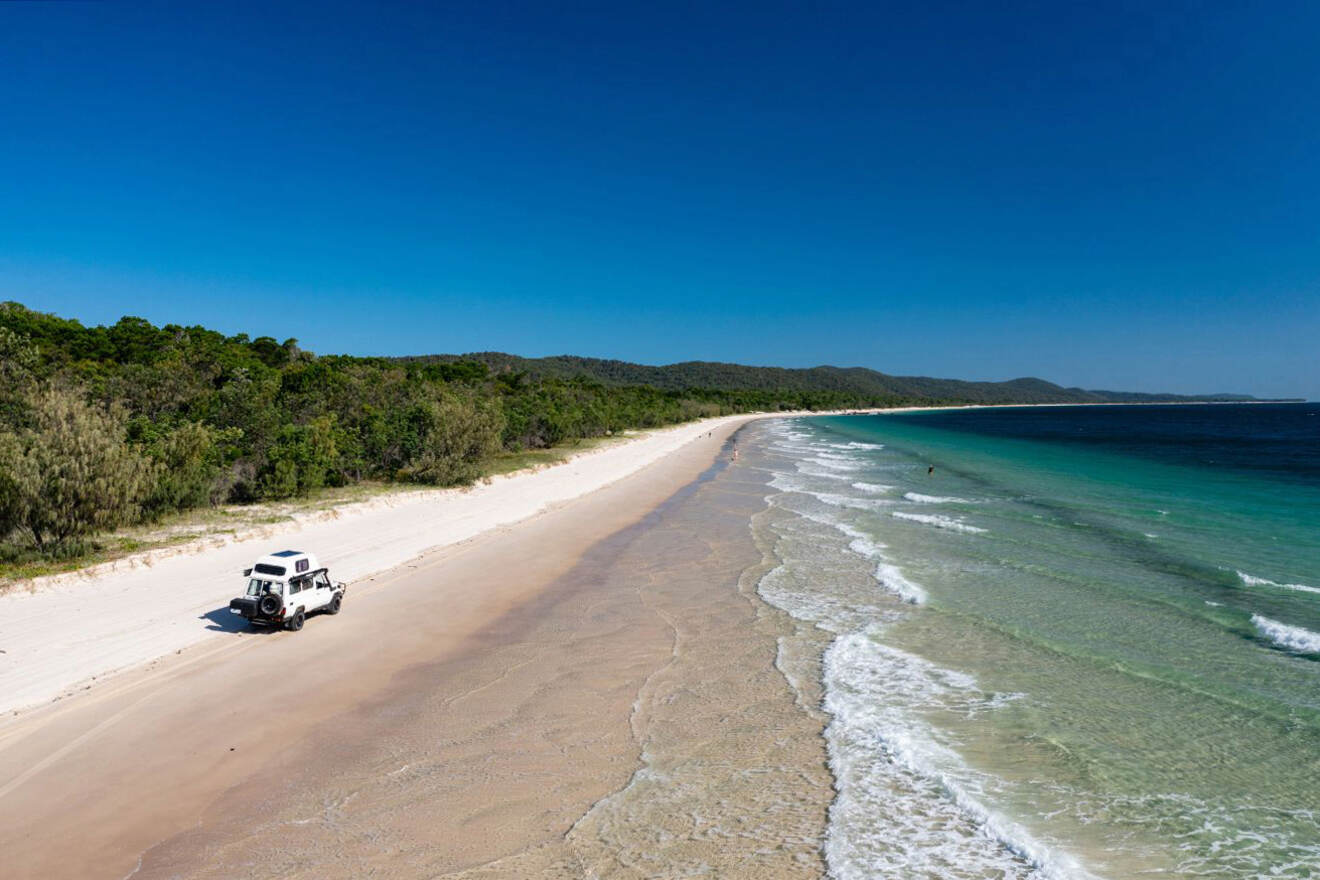 In this section, you will learn everything about pricing for your rental car in Australia (other than the actual car cost that we discussed above).
2.1 Car insurance types & prices
Before hitting the open road in Australia, it's crucial to understand the ins and outs of car insurance. I know that this topic is always hard to understand because they make it so difficult, but I will try to break it down for you in detail below.
Here are the main insurance types when it comes to car rentals:
Collision Damage Waiver (CDW)
In case of an accident, if you choose to get a CDW, the rental company agrees that they won't make you pay the full cost of the damage. Instead, they'll only ask you to pay a smaller, predetermined amount (called an "excess" or "deductible"). It's like having a safety net that helps you avoid a huge bill if something goes wrong with the car.
Loss Damage Waiver (LDW)
If you choose to get LDW, the rental company promises not to make you pay the full cost of fixing the car or replacing it if it gets stolen. Just like with CDW, you'll still need to pay a smaller, predetermined amount ("excess") if something happens to the car, but the LDW will cover the rest.
Excess, also known as deductible, is the amount you're required to pay out-of-pocket before the insurance or waiver coverage kicks in to cover the remaining costs.
Here is a pretty good video explanation of how it works:
Excess amounts can vary depending on the rental company, car model, and the type of coverage you have (CDW or LDW). Make sure to read the rental agreement carefully and understand your liability in case of damage or theft. Some rental companies also offer an option to reduce or eliminate the excess by purchasing additional coverage or "excess reduction," though this may come at an extra cost.
Full insurance
Usually about AU$12 – 15 (US$8 – 10) per day. This all-inclusive policy offers maximum protection and peace of mind, covering repair or replacement costs beyond a deductible amount. The best part – no deposit required! That is the insurance we went with as well.
Please note that in case you are not going for full insurance, your deposit (the amount of money blocked by the rental company) will be anywhere from AU$500 to AU$2,000 (US$300 to US$1,400). The sum will be returned to you (unfrozen) in a couple of days after you return the car.
NOTE: Keep in mind that most full insurances will not cover expenses if 1) you were not complying with the rules and 2) the damage was to the car's interior. In short, please always read the T&C of the insurance to know what is covered exactly.
2.2 Fuel prices & types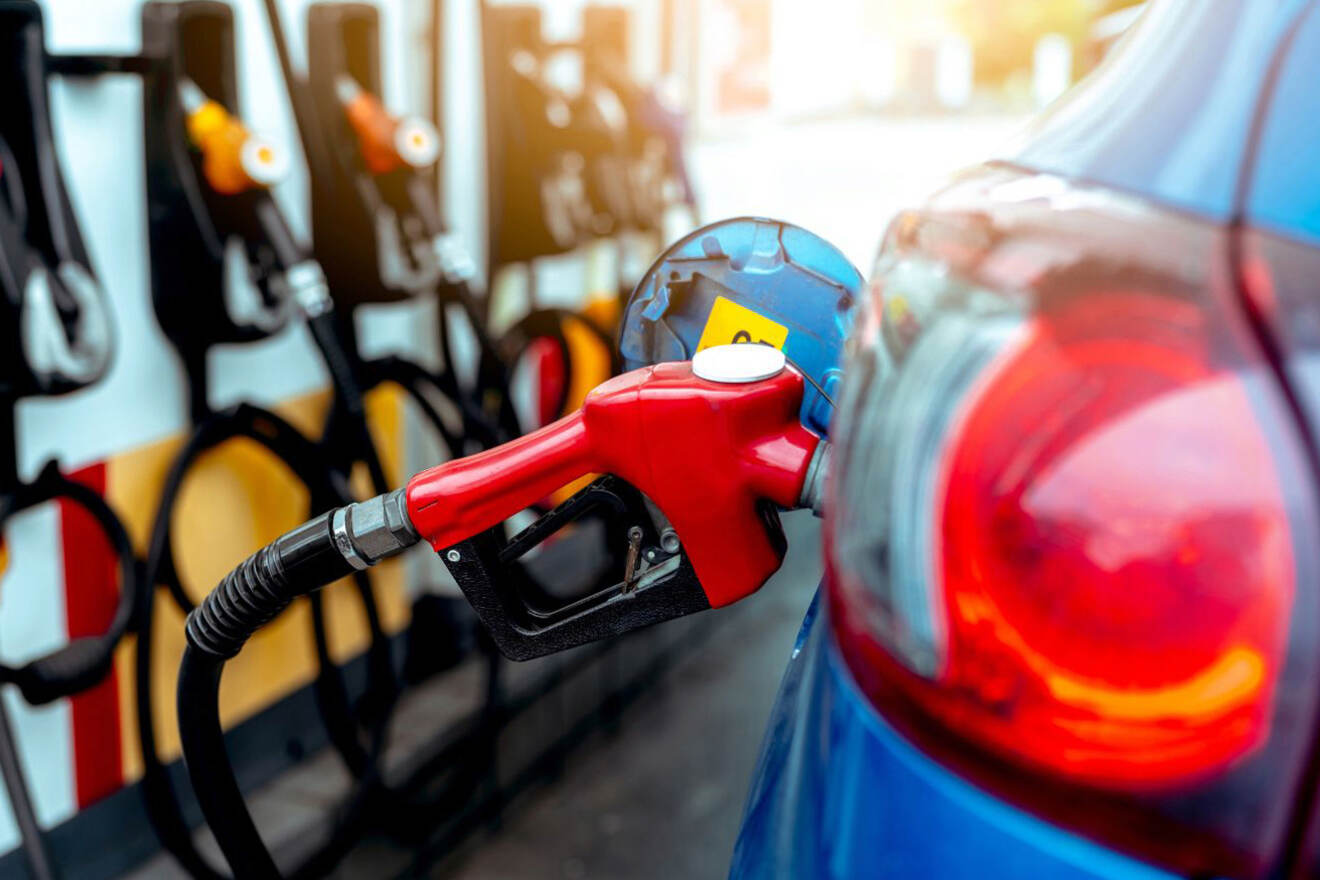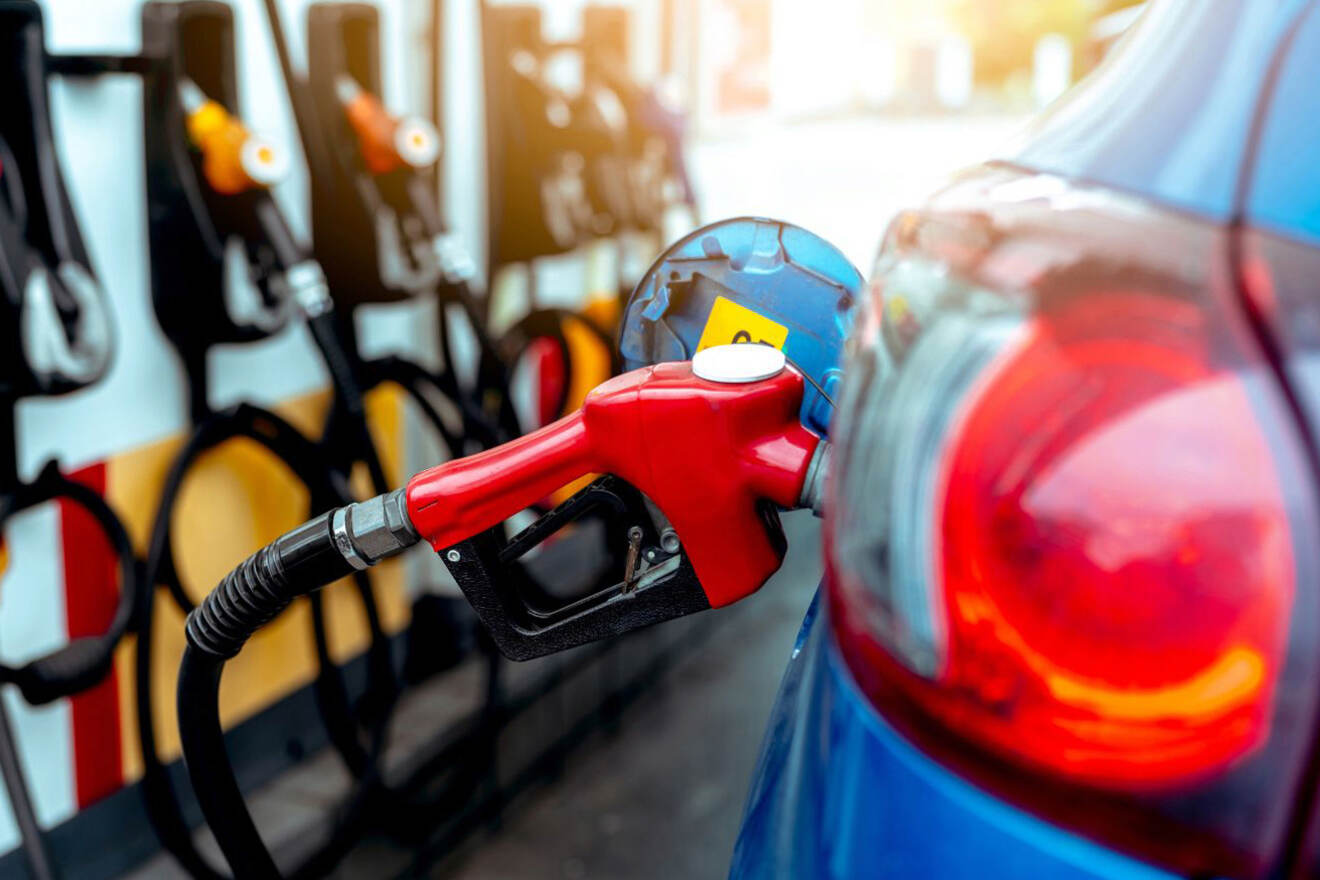 The current gas price is (check updated price here):
AU$1.7 (US$1.2) per liter or
AU$6.5 (US$4.4) per gallon 
How much will you spend: Considering you will drive more or less 1,000 km (620 mi) in a week (which is average a typical tourist would do), you can expect to spend about AU$120 to 150 (US$80 – 100) per week on gas.
Types of fuel
Regular Unleaded (91) – The most affordable and commonly used fuel, suitable for most rental cars in Australia.
Premium Unleaded (95 or 98) – A higher-quality fuel, offering better performance and efficiency for certain car models.
Diesel – popular for SUVs and luxury European cars.
PRO TIP: if you ask Australians about "gas," they will probably think you are inquiring about LPG (Liquefied petroleum gas), so just say "petrol" instead.
3. Road tolls and fines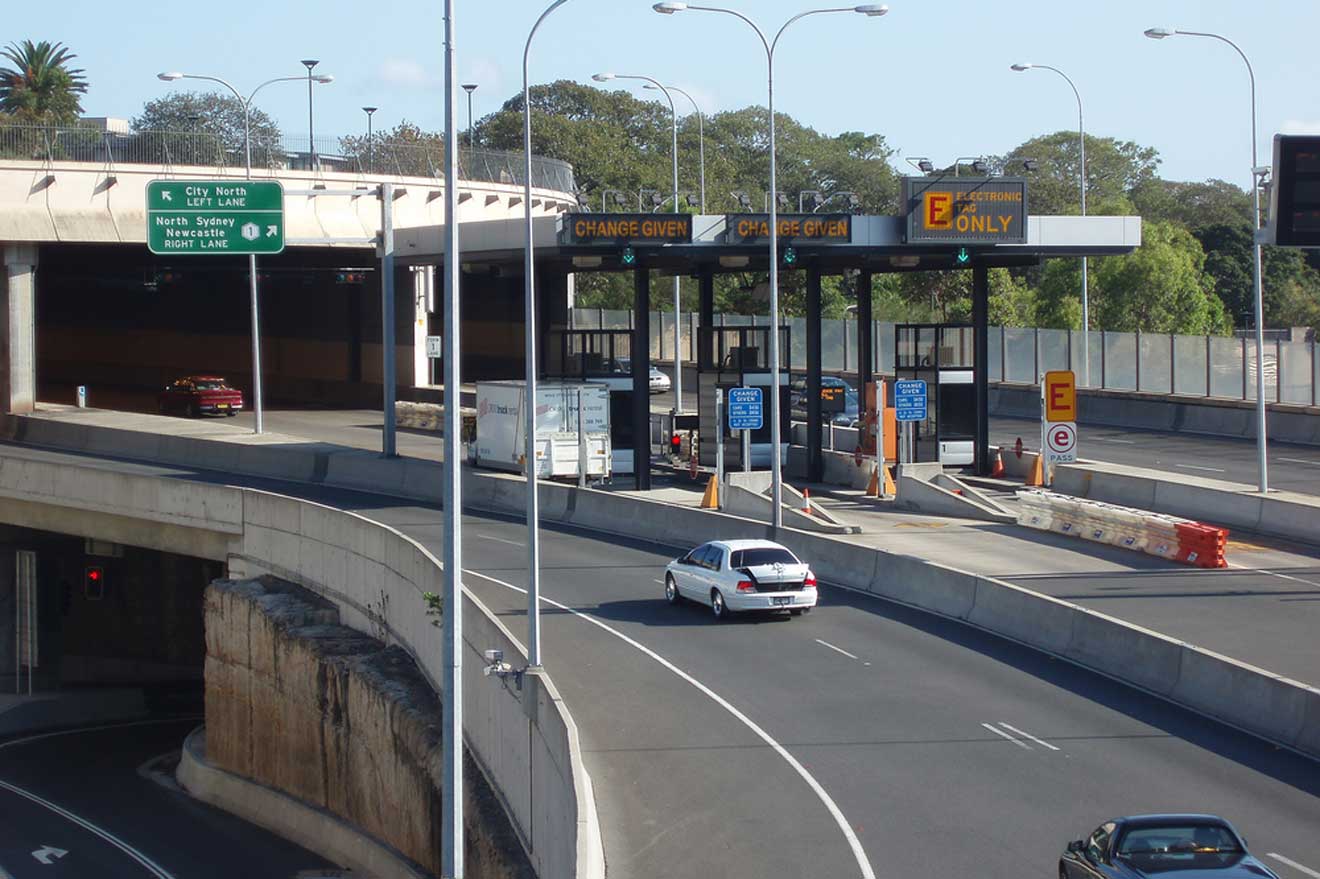 Here's what you can expect to pay for tolls and fines in Australia.
3.1 Tolls in Australia
Toll roads are found in major cities like Sydney, Melbourne, and Brisbane, with costs ranging from AU$1.50 (US$1) to AU$8 (US$5). Electronic systems make payment a breeze, so no need to "brake" for toll booths!
Most rental cars come with an electronic tag (e-tag). If not, purchase a pass or set up an account online through providers like Linkt or EastLink (double-check with your car hire company first).
3.2 Fines for driving in Australia
I've put together a handy list of common traffic fines to help you stay on the right side of the law while enjoying your Australian road trip.
Here is the list of things you can be fined for and the "price menu":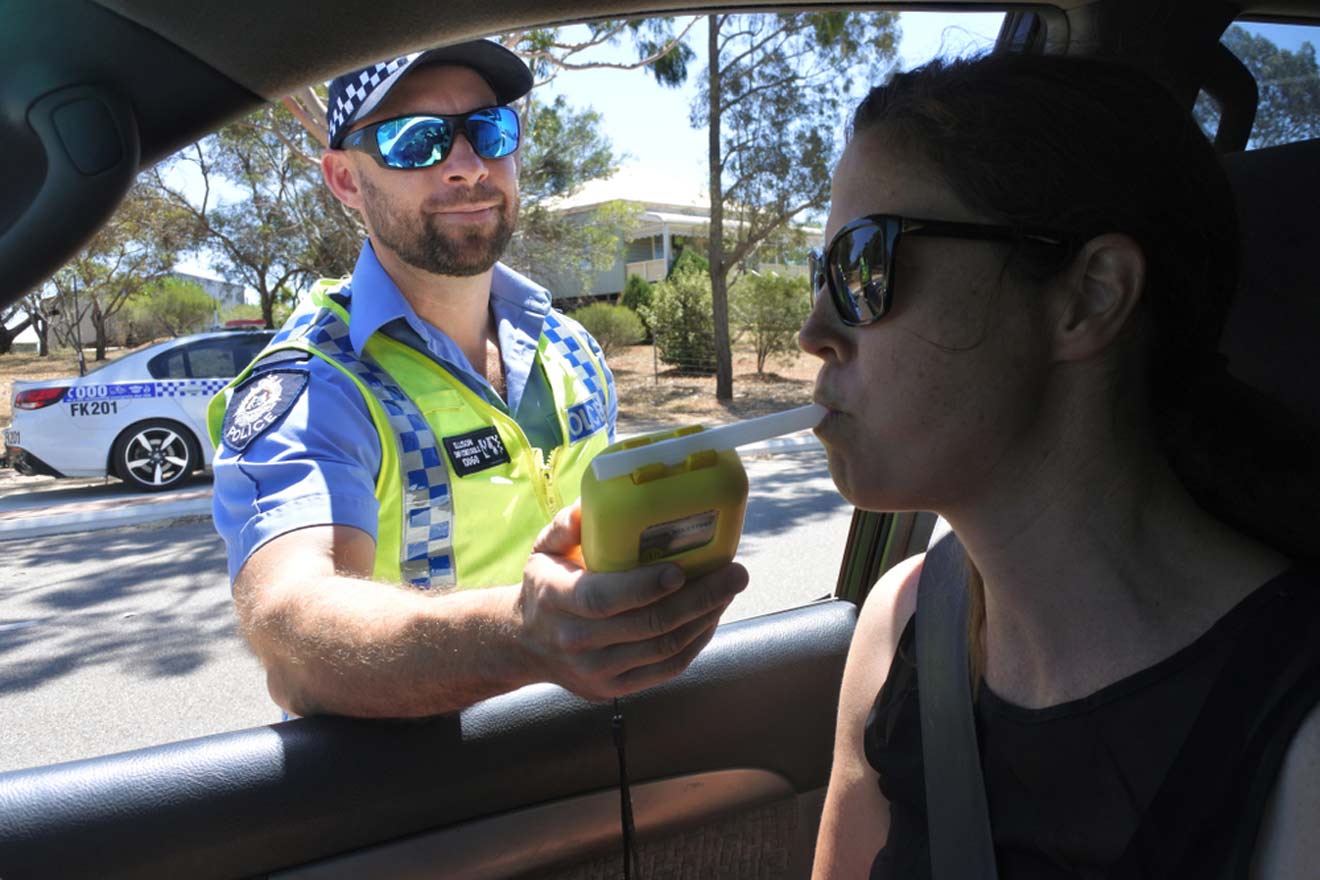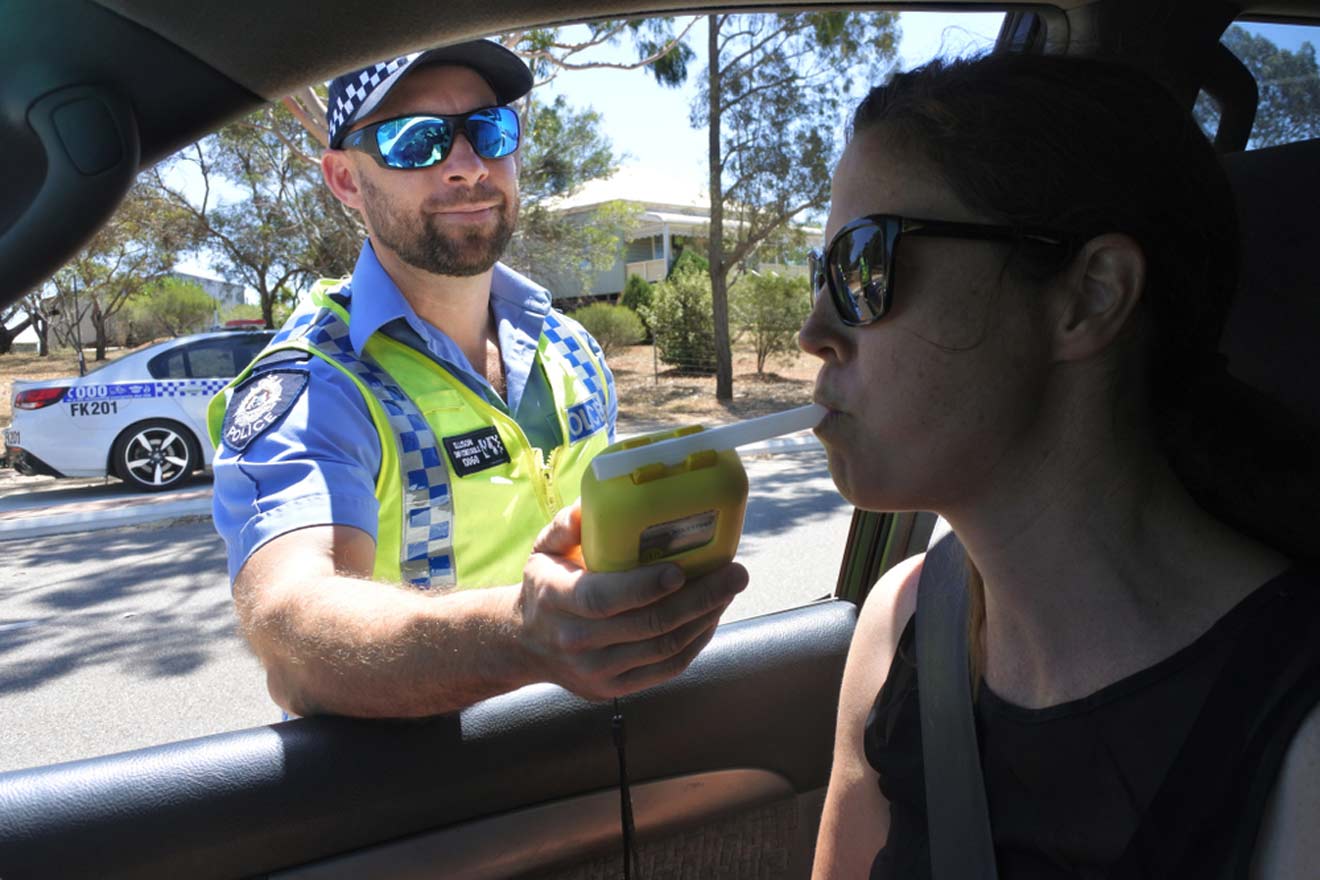 Speeding – Fines for speeding in Australia vary depending on the state and the severity of the offense. They can range from AU$100 (US$70) to over AU$1,000 (US$700), so it's crucial to stick to the speed limits and keep an eye on road signs.
Using a mobile phone – Using a handheld mobile phone while driving is completely illegal and will be AU$300 – 500 (US$200 – 300), depending on the state.
Not wearing a seatbelt – Everyone in the car should be buckled up. Fines for not wearing a seatbelt can range from AU$150 to AU$350 (US$100 – 200).
Parking violations – Parking in prohibited areas, overstaying time limits, or parking in disabled spaces without a permit can result in AU$50 – 200 (US$30 – 130) in fines, and you are risking your car being towed, too (we are going to talk about parking in details in section 4 of this post)
Running a red light – Running a red light can result in fines ranging from AU$300 to AU$500 (US$200 – 300), so always stop at traffic lights when required.
Driving under the influence – Driving under the influence of alcohol or drugs is a serious offense in Australia, with fines ranging from AU$1,000 to AU$3,000 (US$700 – 2,000)or more, depending on the severity of the offense and the state.
Child restraint violations – Failing to secure children in appropriate car seats or booster seats can result in fines from AU$300 – 500 (US$200 – 300).
PRO TIP: The speed cameras are everywhere in AU, so if you are speeding, you are 100% bound to get a fine. We have used Waze, which has info on the speed limits at any given time, so it would blink red if we exceeded it. Also, our car had a speed control setting, so it helped to stay within limits.
4. Road conditions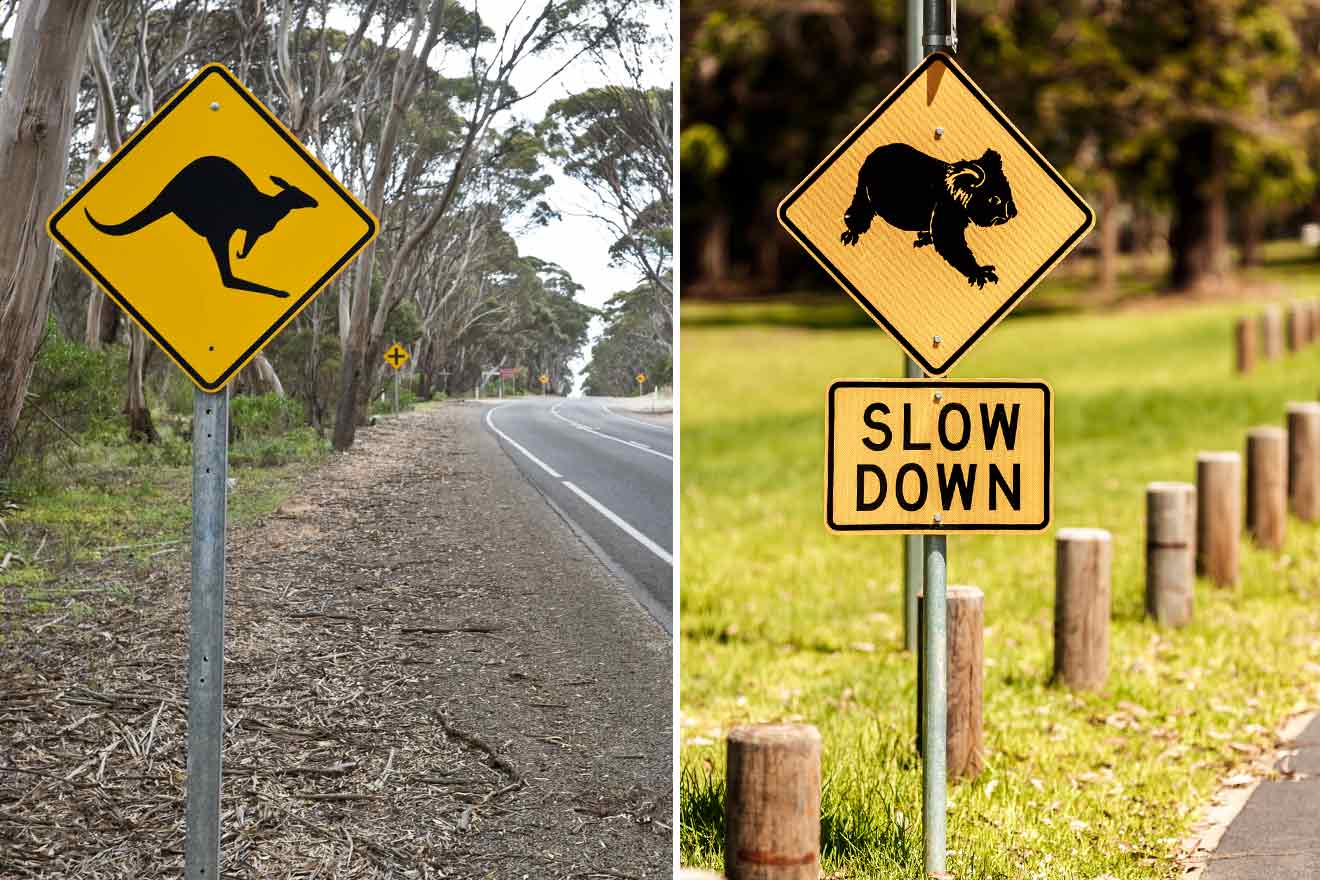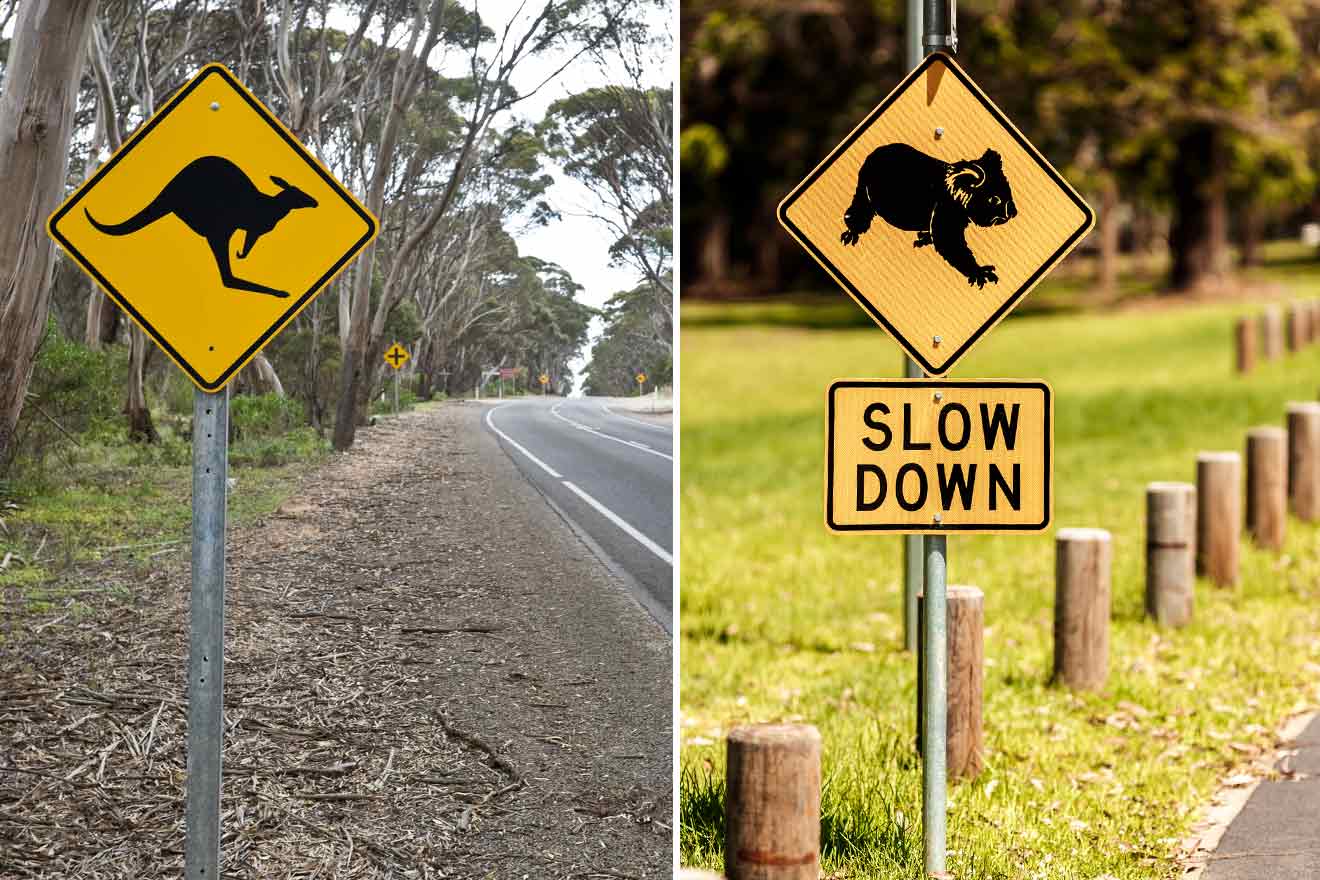 Australia's roads are top-notch, perfect for exploring cities and landscapes, it will be an absolute pleasure to drive! Even in rural areas, roads are generally good. And the views?
Great Ocean Road is definitely one of the most beautiful road trips I have ever done! If you know you are going to go off-road, just grab a 4WD and check weather conditions before heading out.
PRO TIP: Stay safe by keeping an eye out for wildlife like kangaroos and wombats, especially at dawn and dusk. When overtaking road trains in remote areas, be extra cautious. Follow these tips, and you're all set for an amazing Aussie road trip!
Statistically, 5% of all road accidents happen because of animals on the road, and a staggering 90% of those involve kangaroos. Sadly, I actually saw a couple of dead kangaroos on the road, so please be very careful, especially when you see signs similar to those above. 
5. Parking rules and prices
Here are some essential rules you'll need to know when driving in Australia!
5.1 Parking rules
Honestly, it feels like you need a Ph.D. degree just to understand those signs for parking. There are so many "ifs" and variables!
Let's get that Ph.D. degree in Australian parking, shall we? Here are some basics: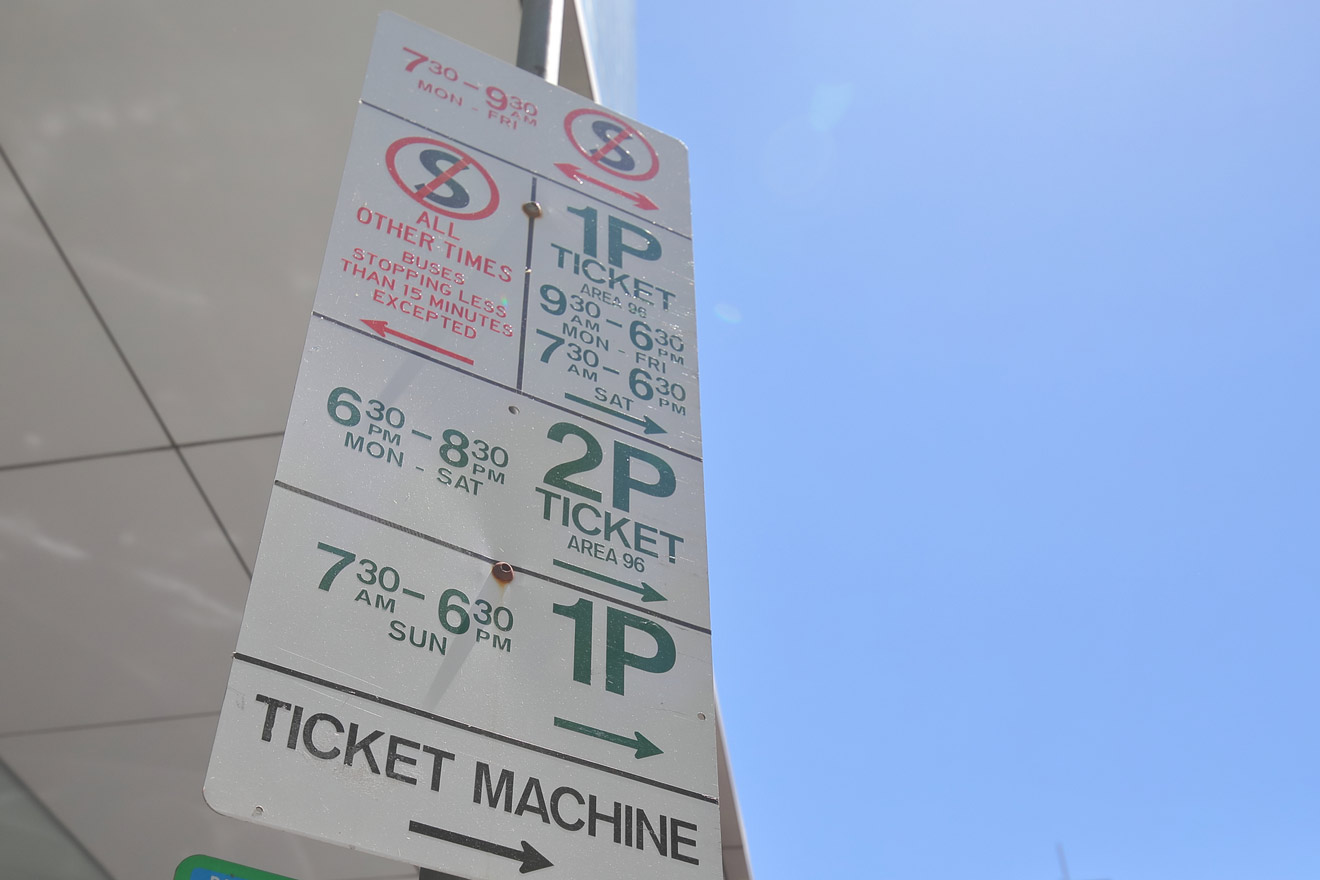 2P means that you are allowed to park for a maximum of 2 hours, but only in the time frame indicated (1/2P is half an hour and so on).
P (on its own) means that there is no time limit.
Crossed S means that no stopping is allowed here during the time indicated (stopping allowed outside those times).
To learn more about all possible signs and their meanings, check out this page.
For instance, the sign above means:
You cannot stop from 7.30 to 9.30 AM Mon – Fri on the right and on the left from the sign. You also cannot stop on the left of the sign at all other times, too (unless you are a bus, then a 15 min stop is allowed on the left).
From 9:30 AM to 6:30 PM, Mon through Fri; 7:30 AM to 6:30 PM on Saturday, and you can park your car on the right of the sign but for a maximum of 1 hour (paid).
You can park your car on the right of the sign from 6:30 to 8:30 PM for a maximum duration of 2 hours, ticket required.
Lastly, if you want to park your car on Sunday anytime from 7:30 AM to 6:30 PM, you can do so on the right of the sign but for a maximum of 1 hour for free, no ticket needed.
Outside these times, you can park for free with no time limit.
I also made a comprehensive table that shows you if you would be allowed to park at any given time (so you can practice before you go!). Spreadsheet here.
5.2 Parking fees in Australia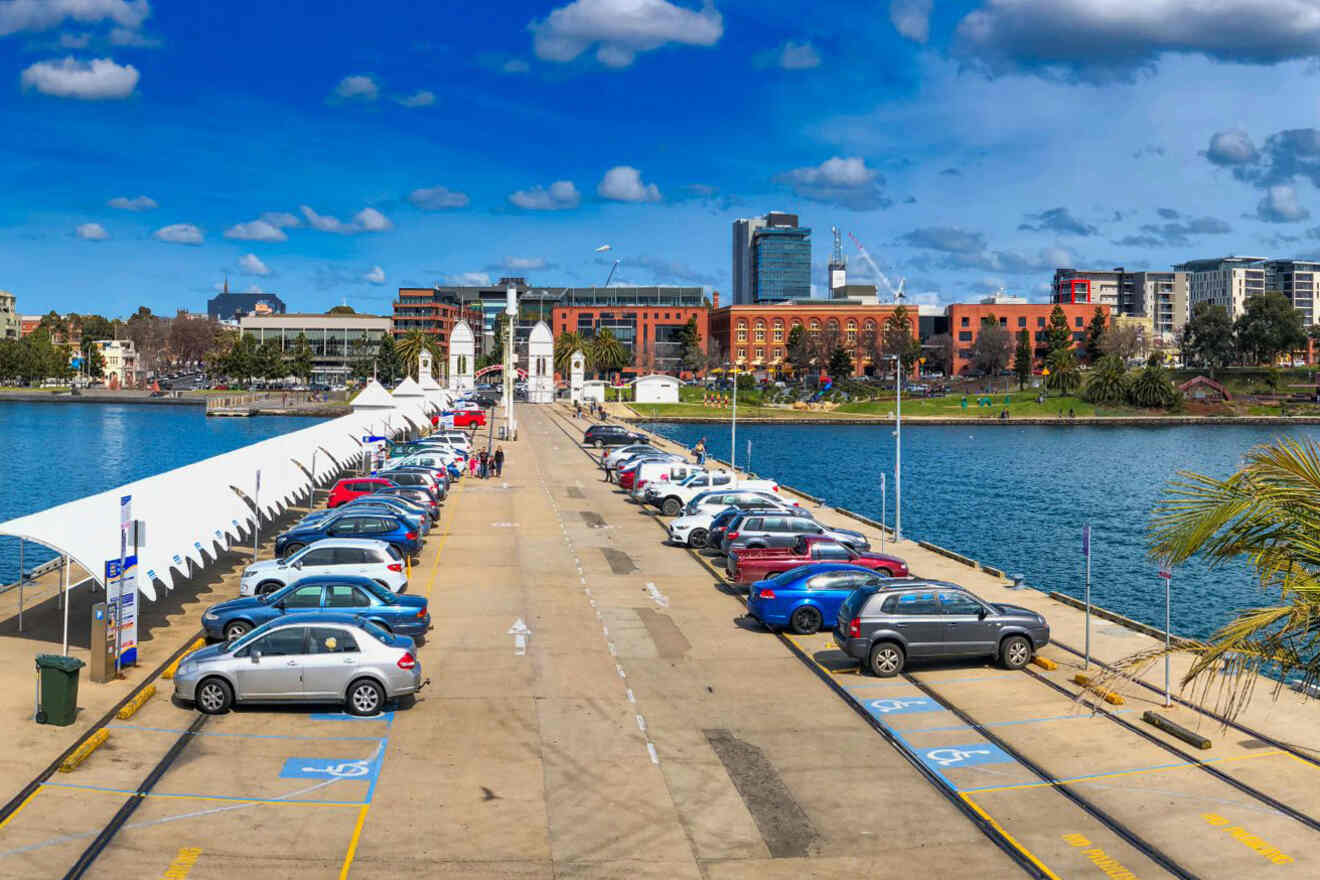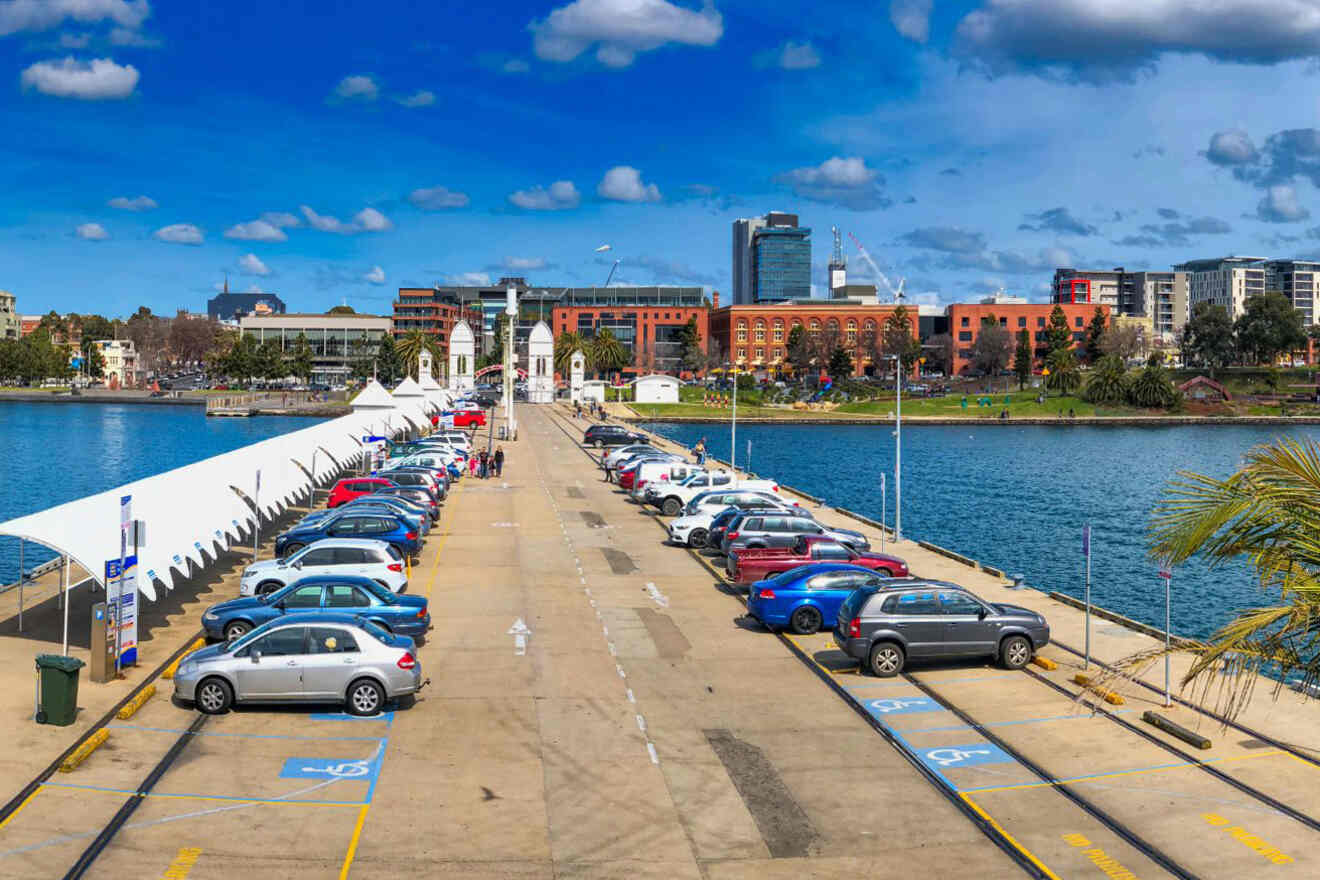 Brace yourselves, mates! Apparently, Australia is the most expensive country in the world for daily parking in absolute terms.
Parking fees in Australia vary based on factors such as location, time of day, and duration. In busy city centers, you might pay between AU$7 (US$5) and AU$15 (US$10) per hour (with prime locations being AU$20/US$14 or even more!).
Suburban areas and smaller towns typically have lower rates (AU$2 – 4/US$1 – 3). Some locations offer free street parking, but check the signs for time limits to avoid fines.
MY EXPERIENCE: I don't think we paid so much for parking, to be honest, because at the end of the day, you will mainly use your car in smaller towns where most of the time parking is free. The real challenge is to find a spot.
Here are the most popular apps for parking in Australia. This will help you find all the parking in the area and see the prices, too!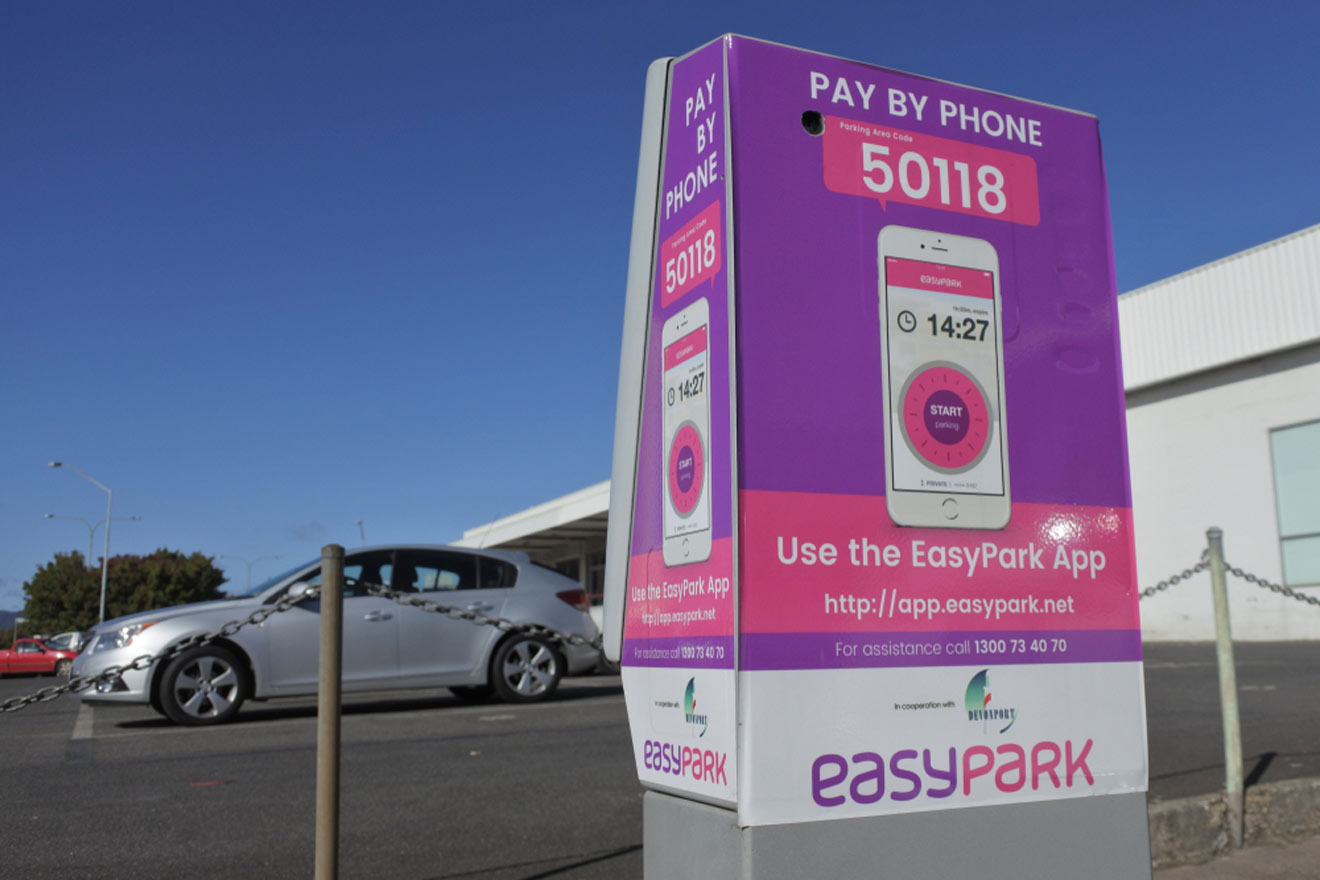 PRO TIP: If you are going to a city center with a rented car and you are going to do some sightseeing, check the site of the attraction you are going to, they will probably have a special deal with a couple of parkings nearby.
P.S. It should go without saying that you should follow the rules, pay for the parking, and do not park in disabled places – the system works pretty well, and you will get a hefty fine for sure.
6. Hidden fees and add-ons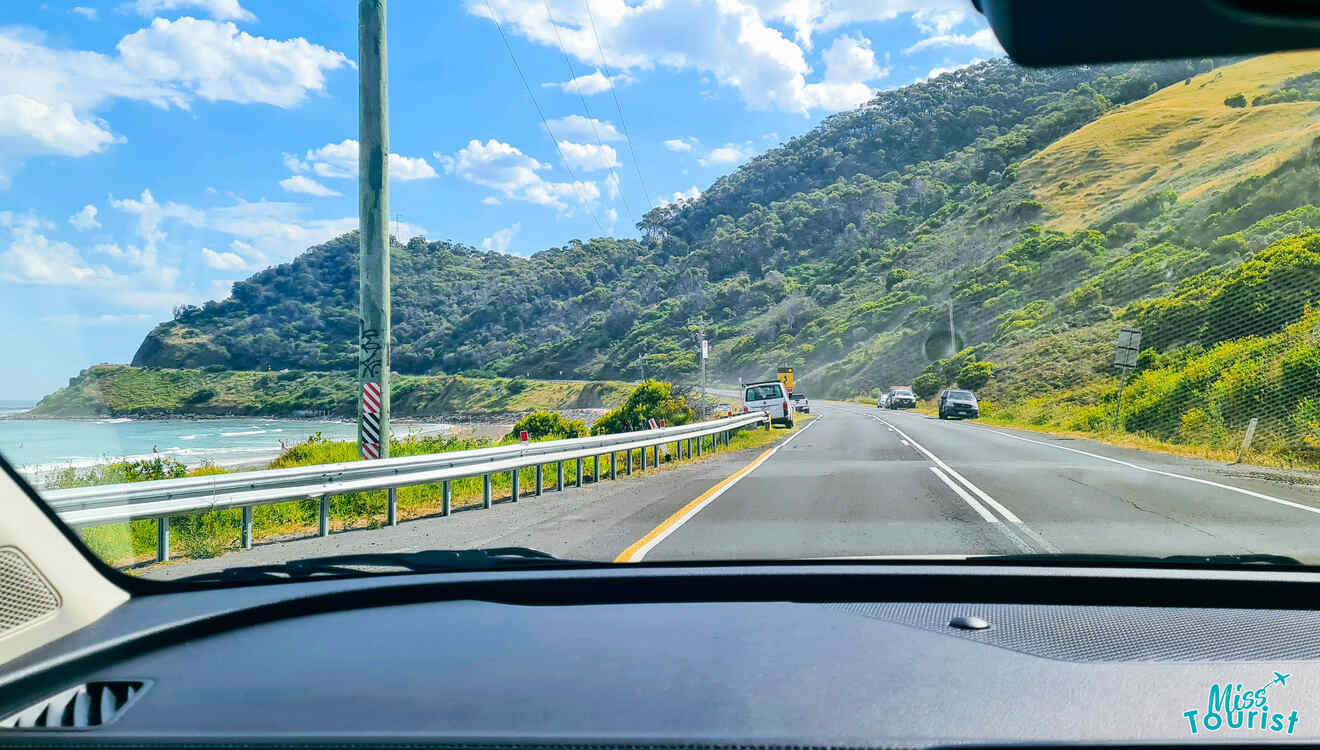 While Australia is not so famous for its sneaky hidden fees like some other countries, it makes sense to mention some things that you should be aware of:
GPS costs AU$9 (US$6) per day. Buy a USB adapter in advance so you can use your phone all the time as a GPS. If you can bring your car phone holder, that would be awesome, too!
One-way rental costs AU$30 – 300 (US$20 – 200), and it is not possible to organize at all with some companies. Please ask beforehand, as the price heavily depends on the location.
Administrative fee – I am not sure what the fee is for (check-in staff?), but it is quite common, and there's not much you can do about it tbh (can be up to 3.5%).
Fuel if you don't return a full tank – There is definitely a fee, and the company will charge you way more than a gas station would.
Extra mileage – It is very rare to have limited mileage in Australia, I've only heard about it in North Australia like Broome, but worth checking the T&C just in case.
Young/senior driver fee – Most companies charge extra if you are 21 – 24 years old; some companies will also charge a "senior fee" for people older than 75.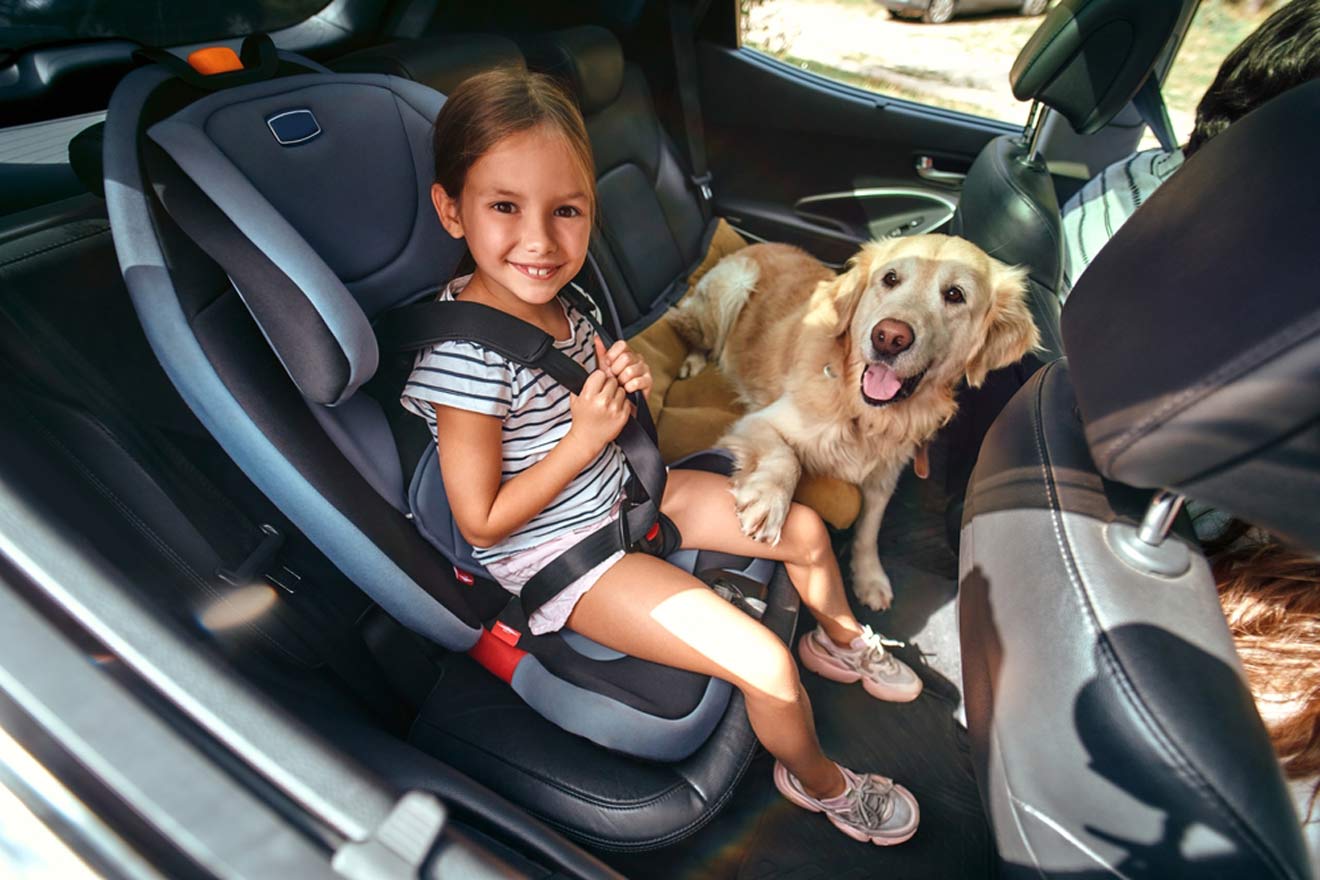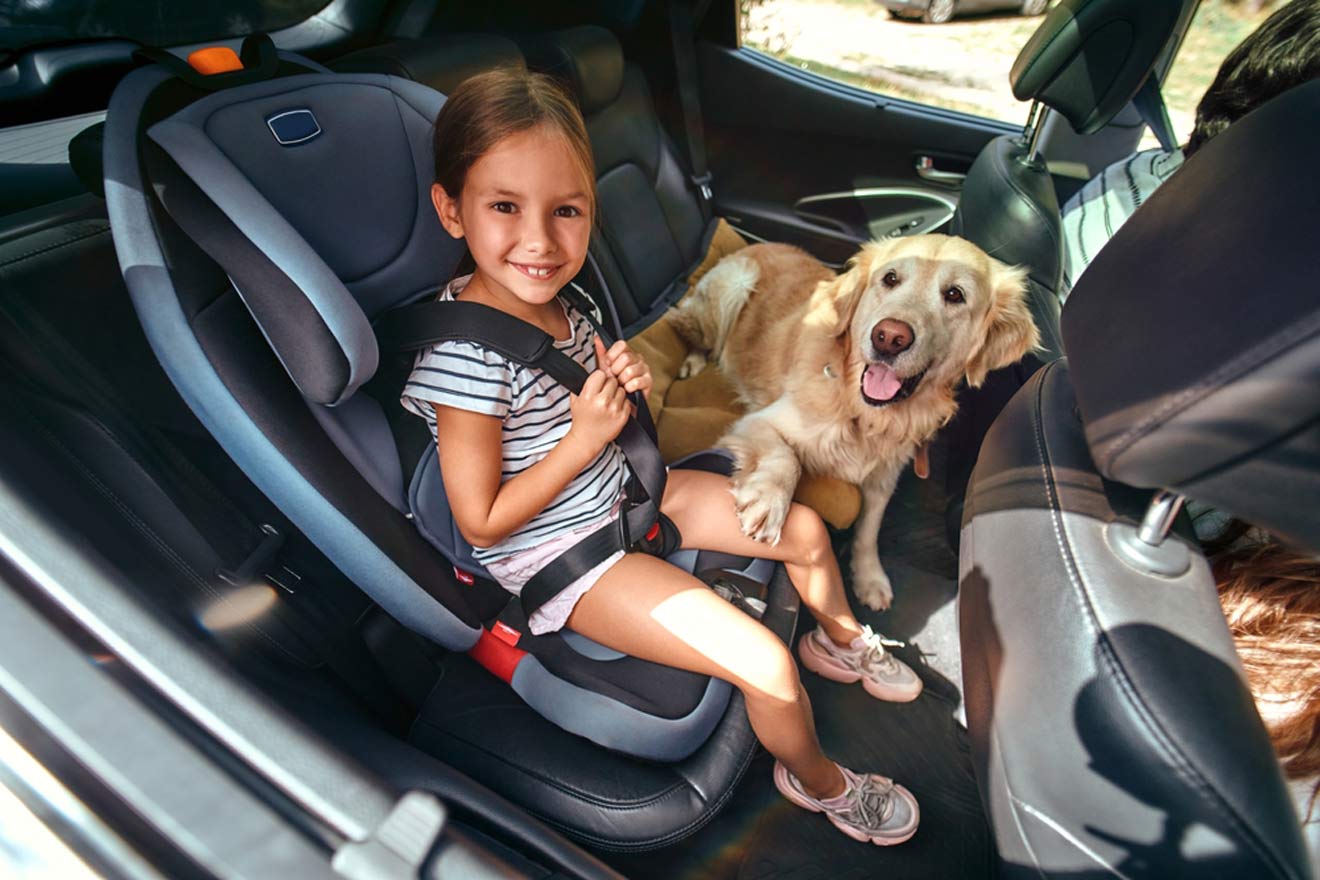 Child seat – Kids under 7 are required to have a baby seat which costs AU$11 (US$7). You can get your own car seat with you, I can recommend this one.
Car cleaning costs AU$105 to 150 (US$70 – 100). If you know the car will need proper cleaning (sand on the seats, etc.), I recommend doing the cleaning yourself before. It will cost you about US$10, while rental companies would charge you way more.
Smoking fine is AU$150 (US$100). Do not smoke in your car, this is forbidden in all companies in the country.
Wi-Fi router costs AU$15 (US$10) per day. PRO TIP: You can just buy SIM cards instead. They are about AU$18 (US$12) per month! Even better, if your phone supports eSIM, that's the best solution! I used Airalo and could not be happier with it.
Second driver is AU$1.50 – 15 (US$1 – 10) per day for an extra driver. This depends on the company, sometimes, it is free of charge.
7. Other things to know about renting a car in Australia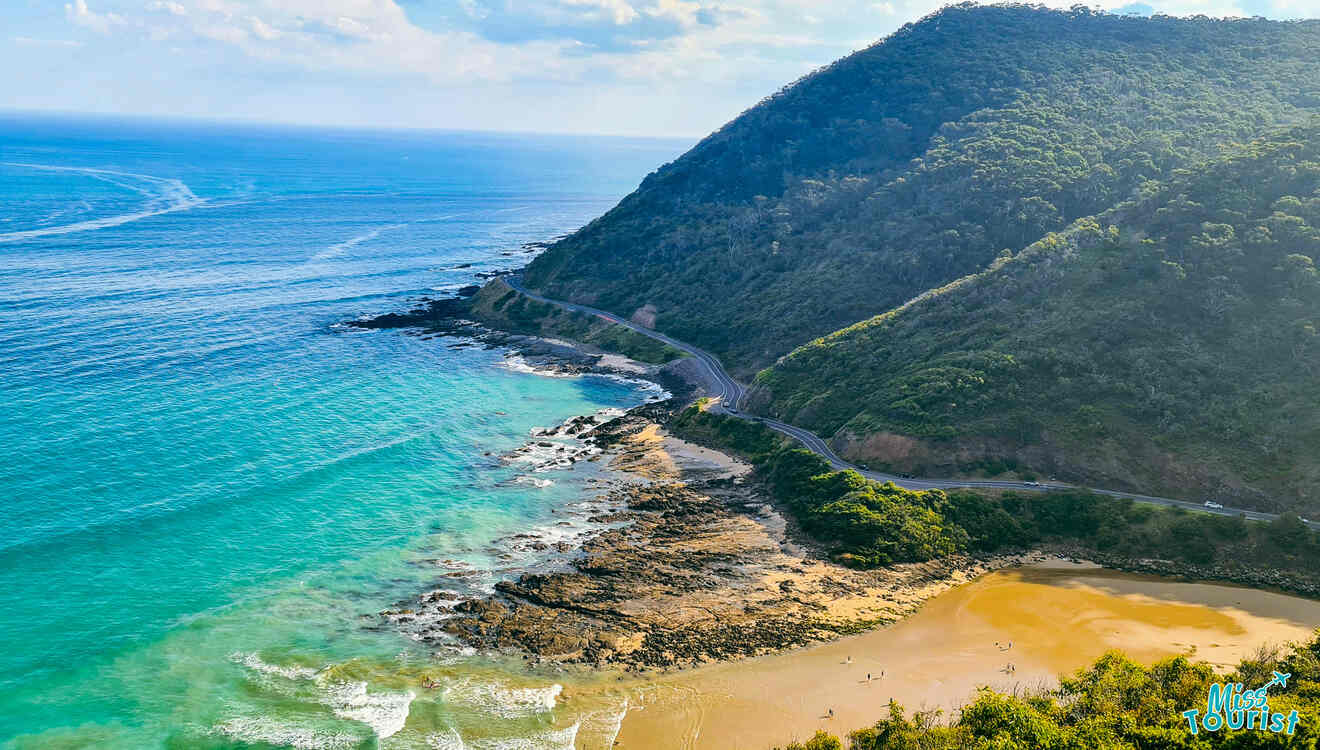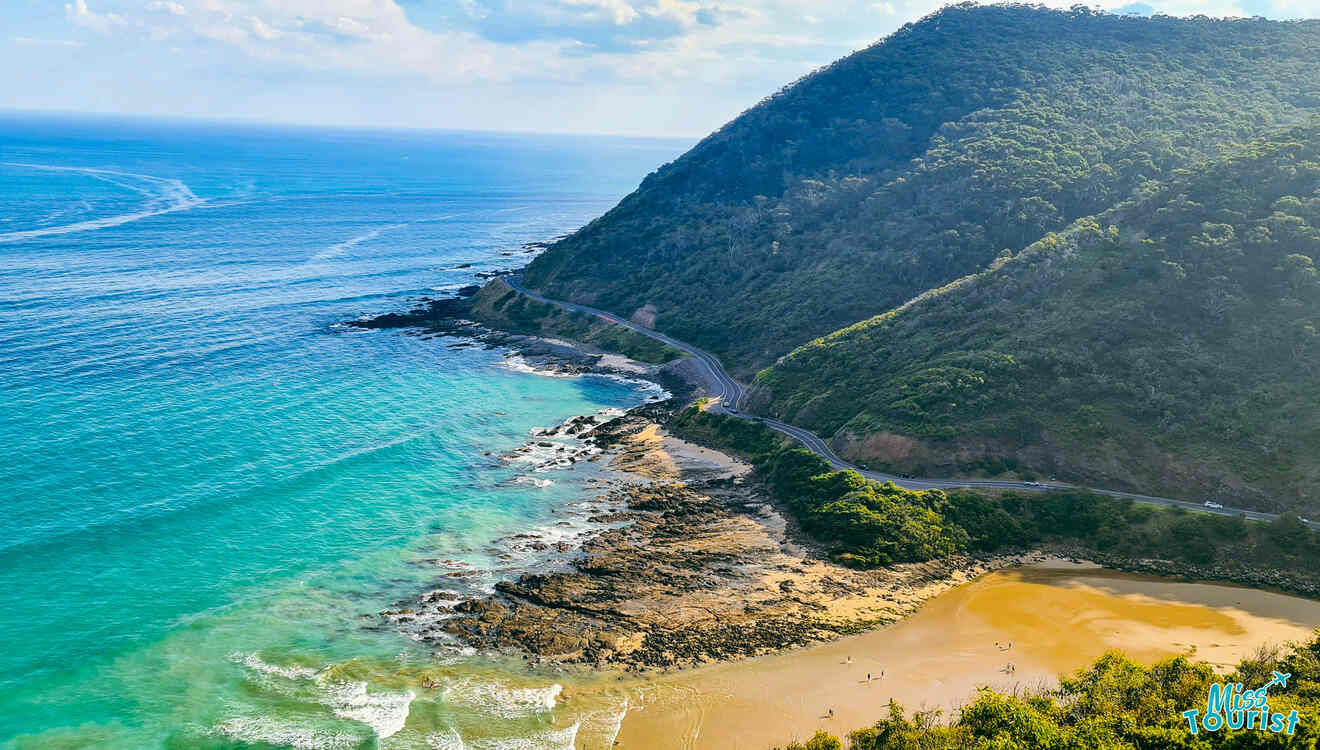 Here are some things that did not fit in previous sections, but I want you to know them anyway:
No car docs needed – The car rental company did not provide us with any docs for the cars, everything is online both the contract and the car docs! If the police stop you, they can access all necessary information from their database.
Ferry restrictions – You might not be allowed to take your rental car on ferries, so double-check with your rental company if that was in the trip plan.
Best photo ops – Driving from Melbourne to the

12 Apostles

 along the Great Ocean Road offers stunning coastal views. There is a way to cut the road in half to reach 12 Apostles faster, but you will miss out on SO MUCH natural beauty, don't do that!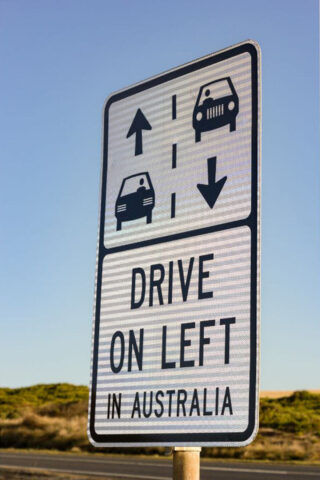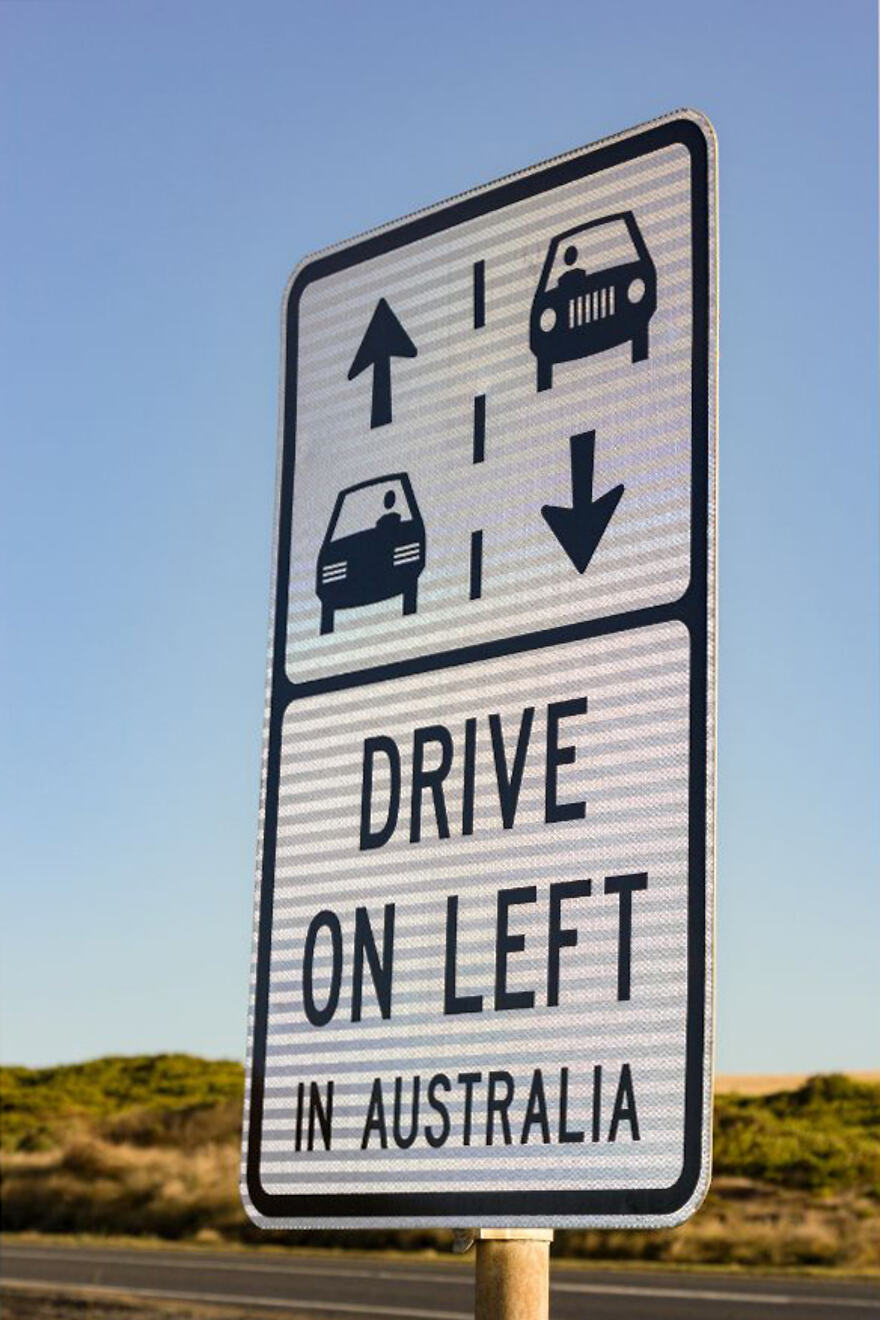 Drive on the left – Here is one more reminder that Aussies drive on the left side of the road, and you'll see plenty of reminders at parking exits.
No left turns on red – You can only turn left on a red light if there's a specific sign permitting it.
Headlight rules – The general rule is: use your headlights between sunset and sunrise, not during daylight hours or if it is too dark to see a person wearing something dark 100 m (330 ft) away from you.
Electric cars – You'll find electric cars available for rent, perfect for eco-conscious travelers. There are charging stations available all over the country, too.
A car with an "L" on it – An "L" sign on a car indicates a learner driver.
Pickup spots – If you are taking a taxi/being picked up by a friend, stick to designated pickup locations or risk hefty fines. Our Uber driver almost got fined AU$850 (US$1,275) because he stopped to pick us up 10 m (c. 30 ft) away from the correct spot (we did not know).
Bank charges – Keep an eye on your bank statement for extra charges and follow up with your rental company if needed. Our company actually ended up charging us a one-way fee even though it was supposed to be free. Four weeks and maaaaany emails later, they have returned the money.
One-way fees – These vary based on distance, so be prepared for potentially hefty charges on long one-way trips.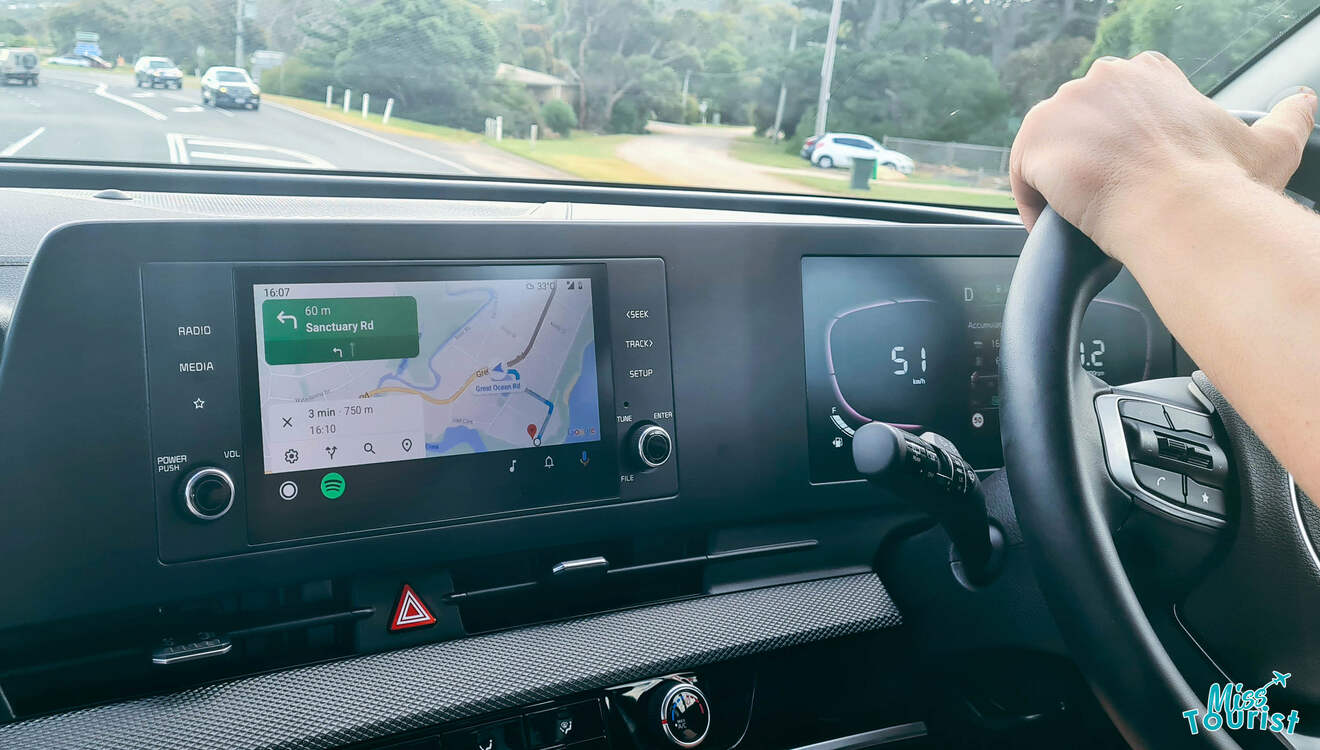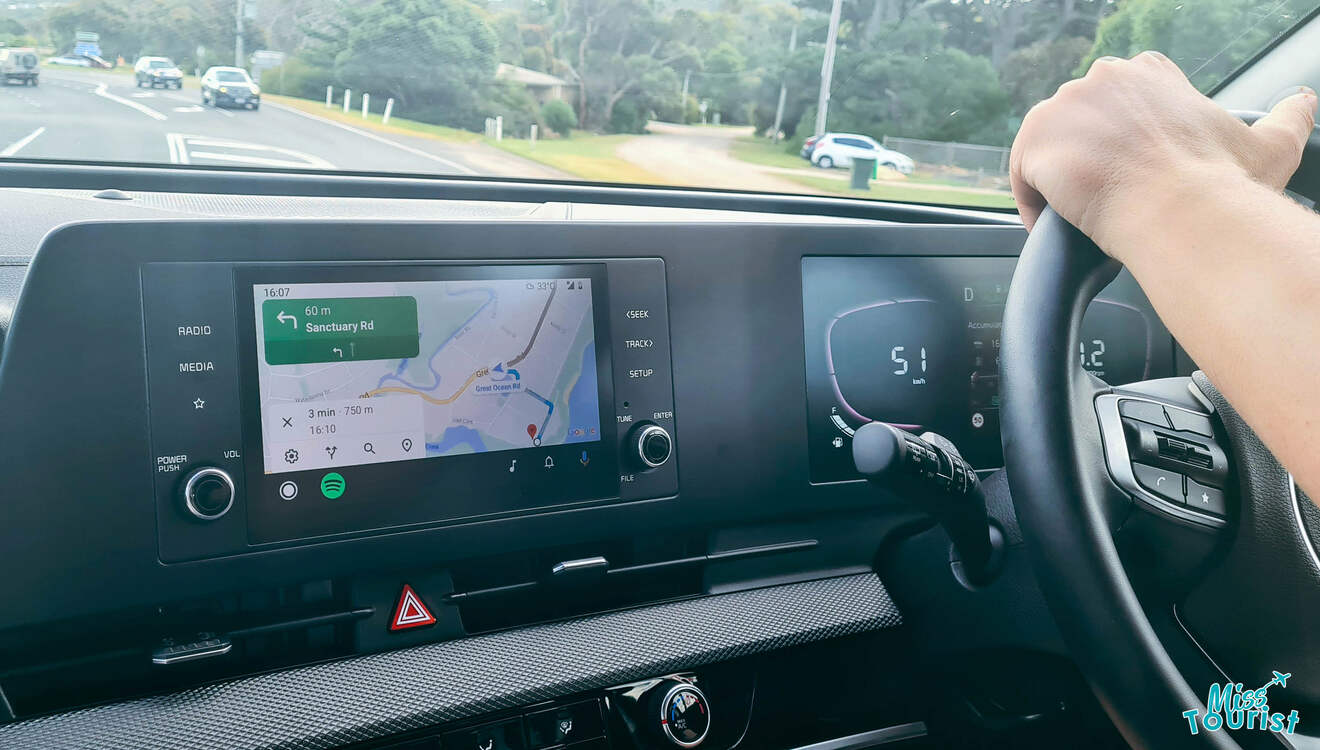 To make your driving experience in Australia as smooth as possible, here's a list of must-have apps that were highly recommended by locals:
Waze
Many taxi drivers recommend Waze for its accurate directions, real-time information on police locations, road conditions, and traffic. The speed limit feature, as I mentioned earlier, can help you to understand what is the current speed limit and if you are exceeding it.
(Android | Apple)
Fuel Map Australia
Keep track of nearby fuel stations and their prices to find the best deals on petrol. 
(Android | Apple)
EasyPark
Locate and pay for parking spots with ease using this convenient app.
(Android | Apple)
WikiCamps
Discover campsites, caravan parks, and points of interest, along with real reviews and photos from users.
(Android | Apple)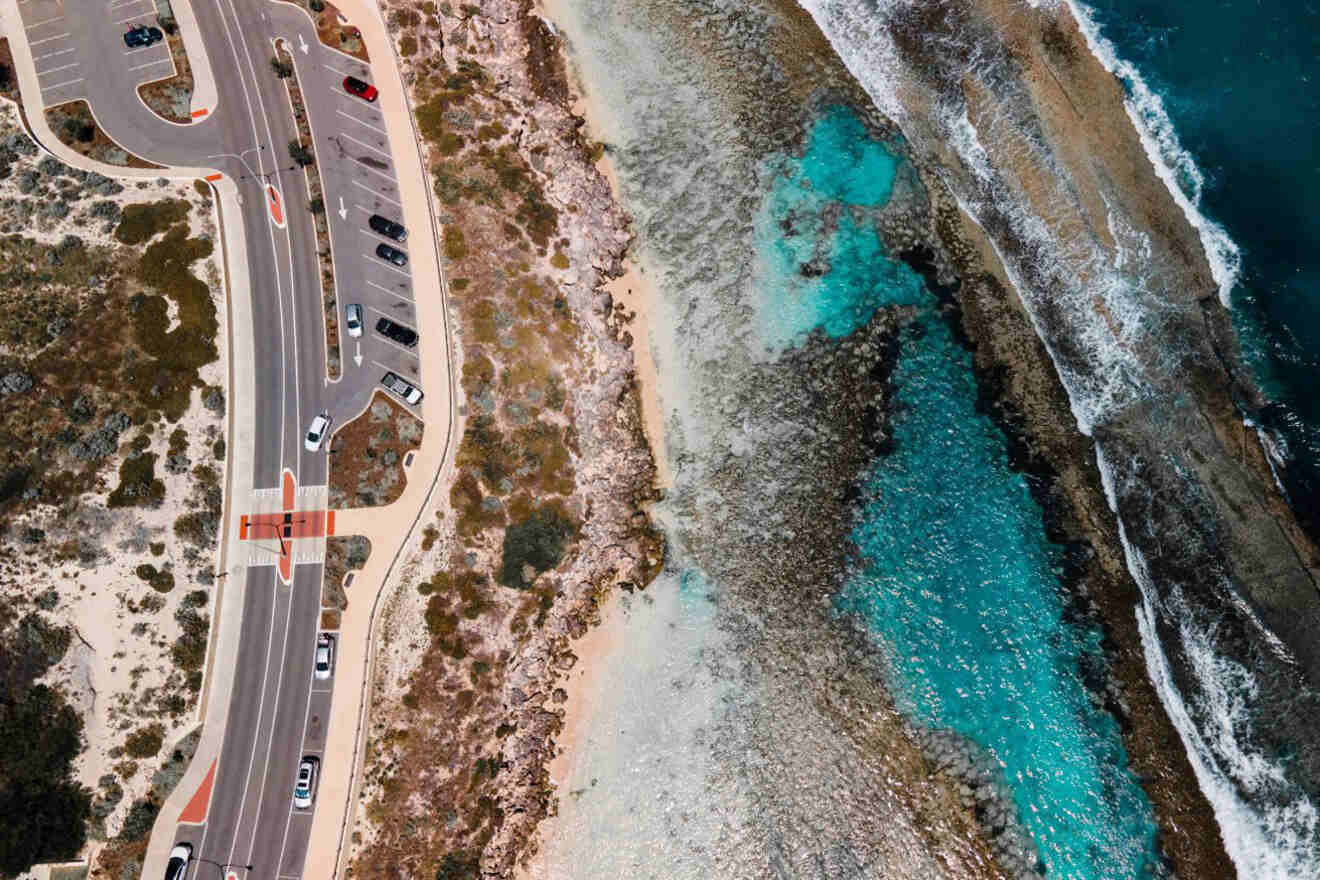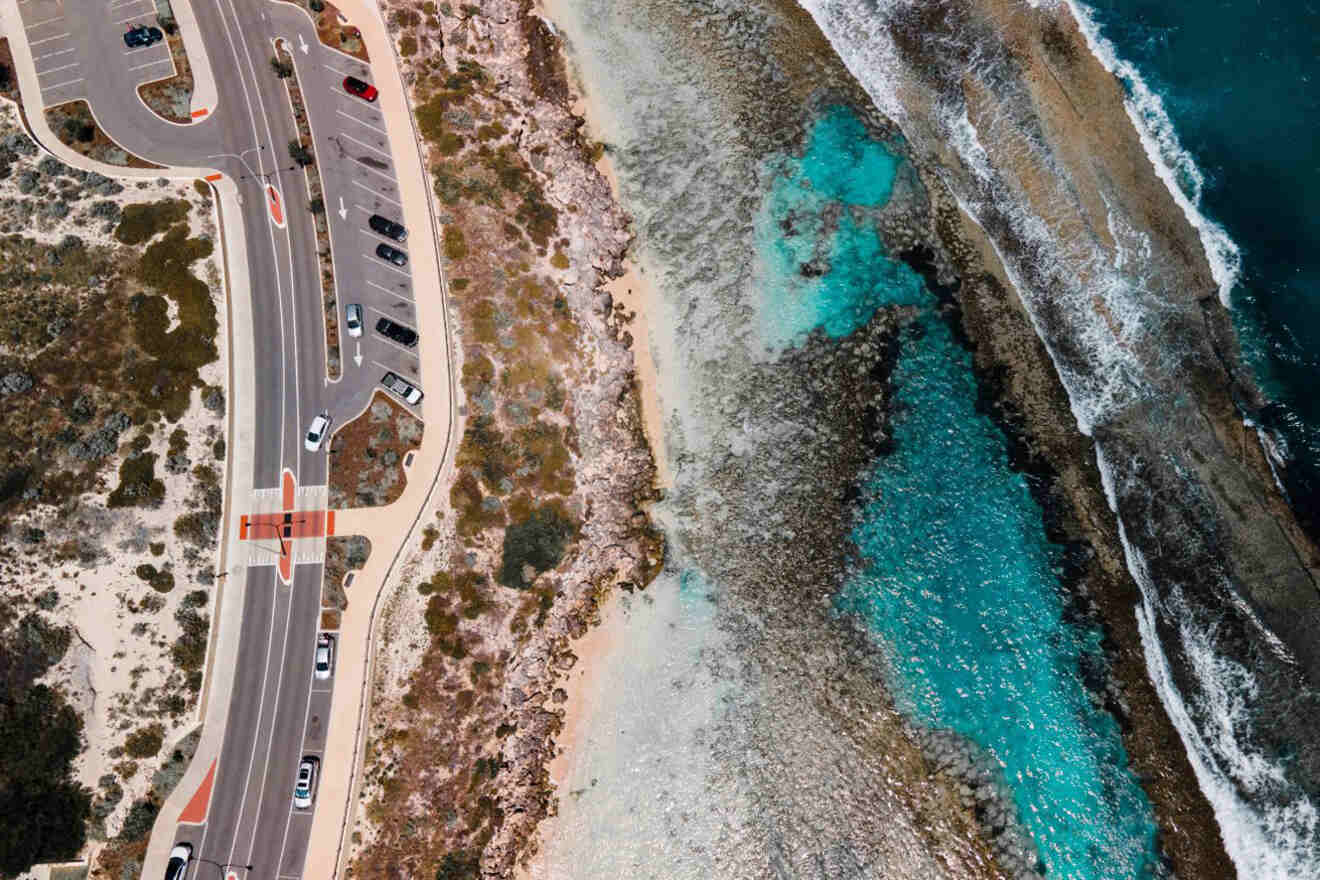 Emergency AUS
Stay informed about potential hazards, such as bushfires, floods, and storms, to ensure a safe journey.
(Android | Apple)
Toilet Map
Locate public restrooms nearby with this handy app, making pit stops a breeze (public toilets were never an issue during my trip, and they were sparkling clean, yay!)
(Android | Apple)
PRO TIP: Not sure if you already know this tip, but you can actually download Google Maps of an area/country to be available offline. Here is how.
PRO TIP 2: Even though not an app, this site (Main Roads) is pretty useful because it reports all road closures, so in case you are traveling in bad weather conditions, it will help you build your route accordingly.
9. Tips for when you receive the rented car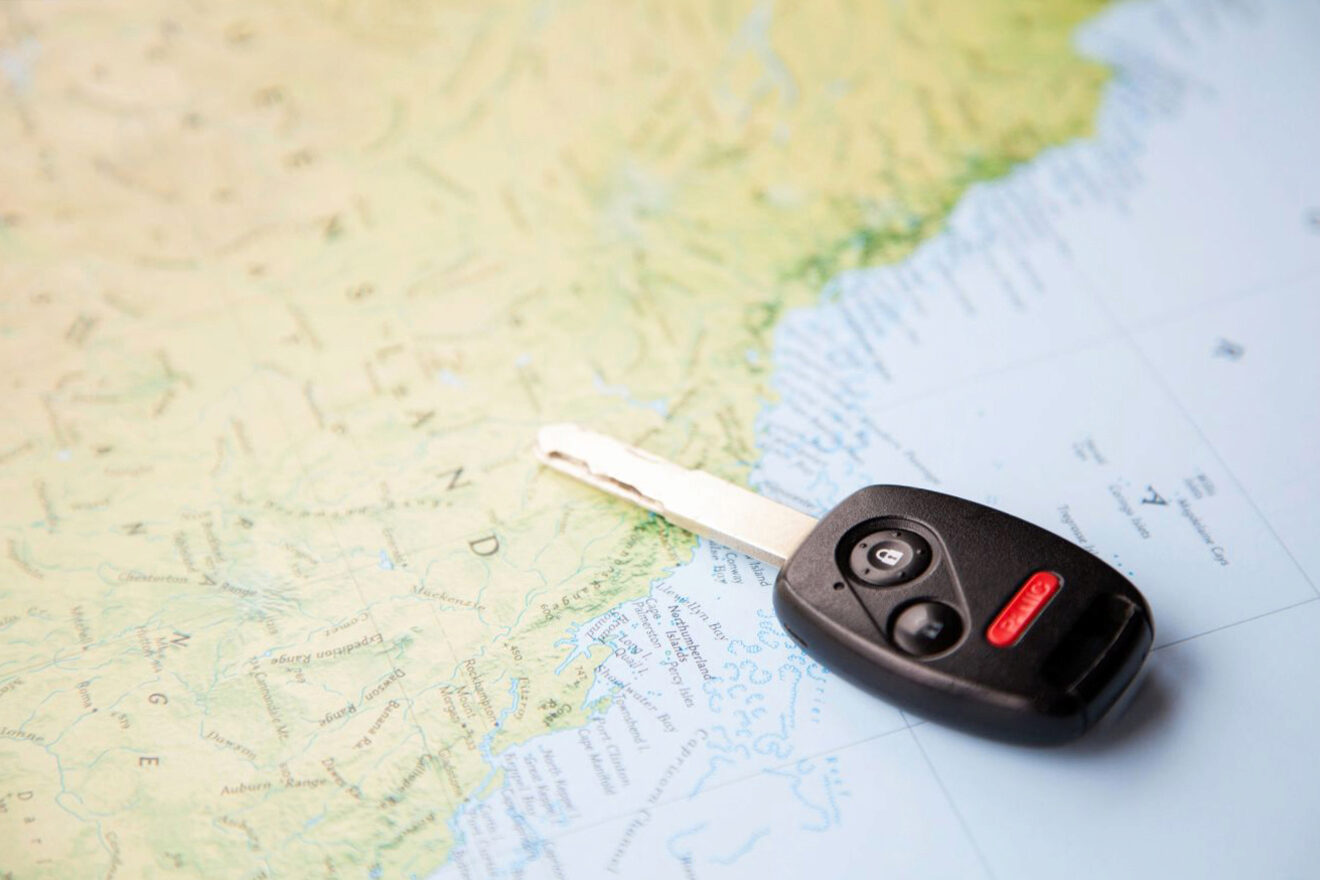 Here are the things you need to check before you take your rental car from the rental office (I do it all the time, does not matter which country I am renting a car from):
Check for possible damages and take pictures/videos of the car. Use a flashlight if there is bad lighting. Some small companies MIGHT want to charge you for some damages you did not do, but it will be much harder if you have proof it was done before you started driving it.
Check that you have all the necessary info about the car – What fuel the car uses, which number to call in case of an accident, how to switch on cruise control/AC/connect your phone to the car if you did not figure it out yourself.
Check the condition of the car from the inside – Is the AC working, is your phone connecting for music, is there enough gasoline, etc.
Check your GPS – If you don't understand how to use it, make sure to ask the company representative before you leave.
10. What to do in case of an accident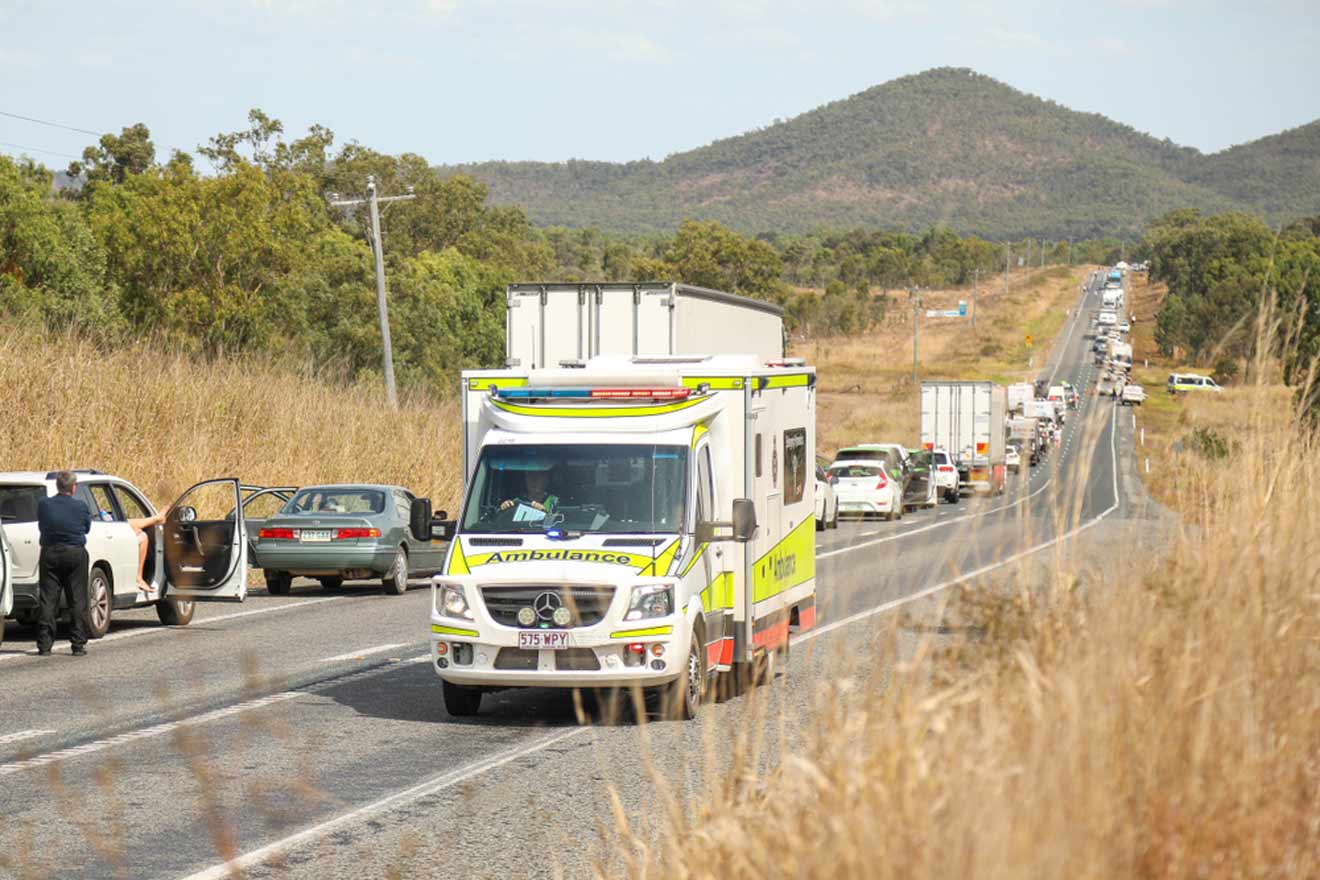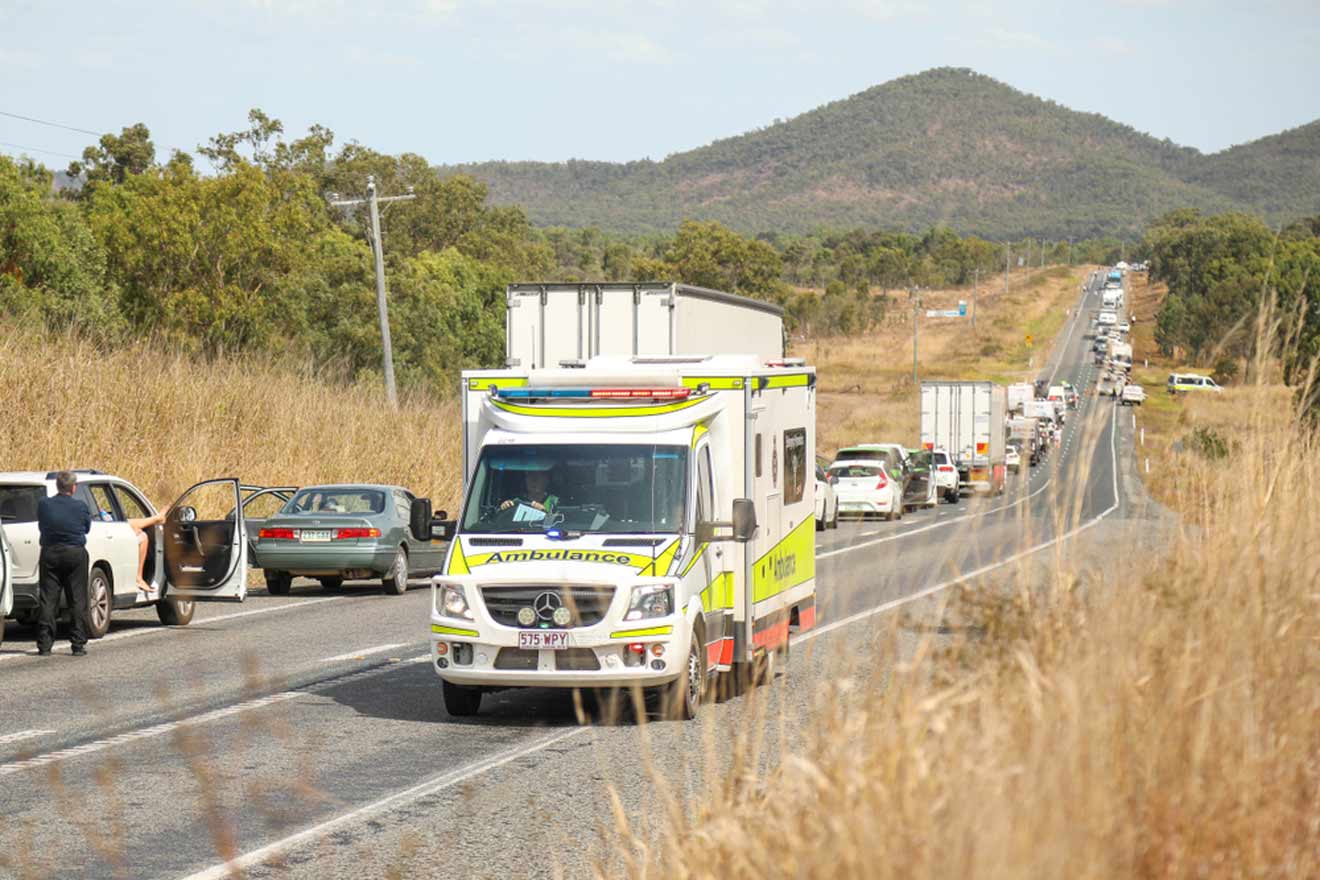 Call for help – Dial 000 if anyone needs medical assistance or if there are injuries.
Move the car – If it is safe to do so. Move the car off the road and document everything beforehand. Take pictures and videos, just in case.
Swap details – Exchange names, contact info, and insurance details with the other driver, including their rental company, if applicable.
Contact your car rental – Reach out to your car provider for guidance on handling vehicle damage. Typically, they will be able to guide you with the next steps.
| | |
| --- | --- |
| 🚗 Economy car: | US$30 – 50 |
| 🚜 4×4 price: | US$60 – 70 |
| 🚐 Campervan price: | ~US$80 |
| 👶 Driving age: | 21 |
| ⛽ Gas price: | US$1.1 per l. or US$4.5 per gl. |
| ✈️ Cost of traveling: | Medium |
| 👍 Most popular car: | Toyota Corolla or similar |
| 🚙 Top rental company: | Rentalcars |
FAQs about renting a car in Australia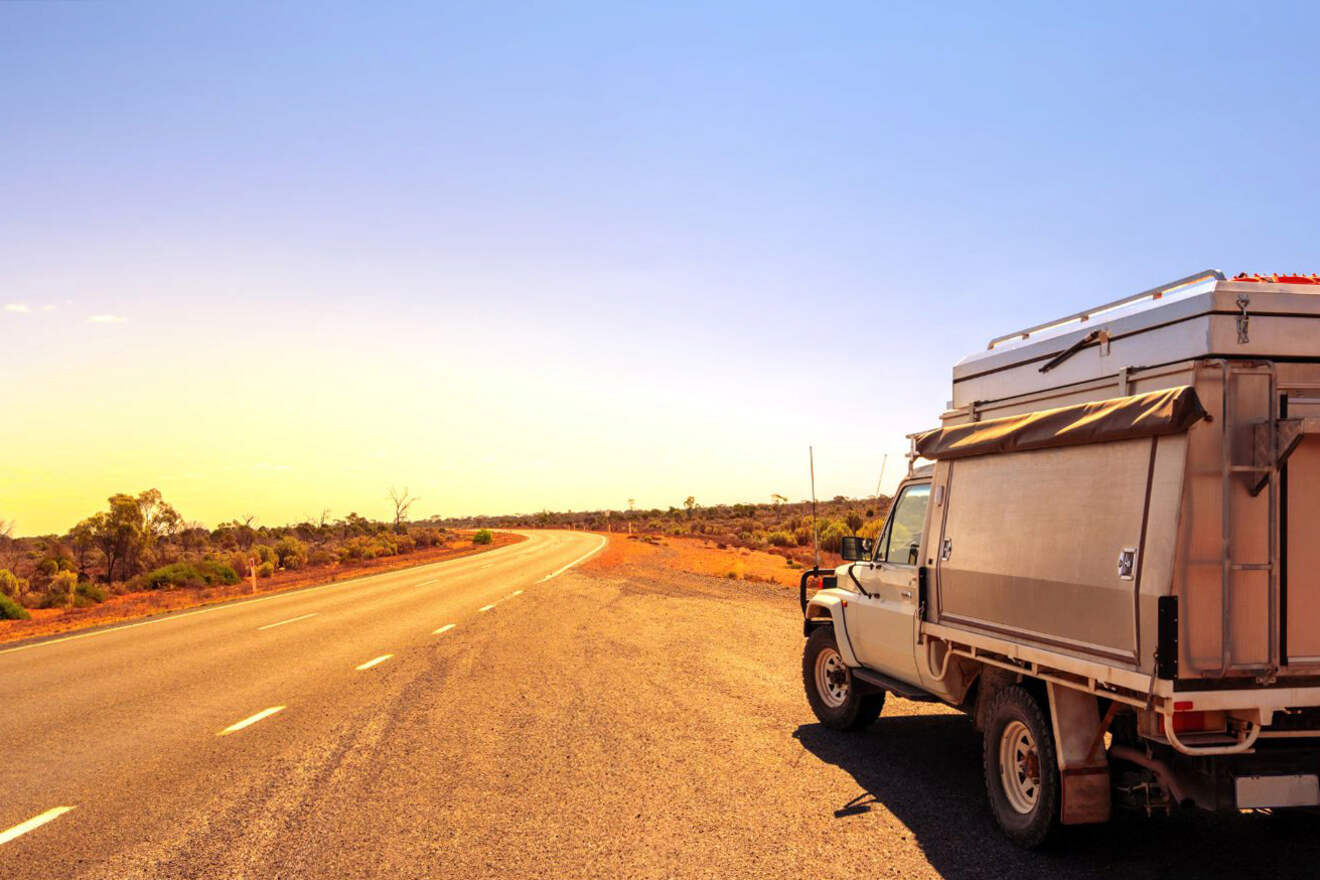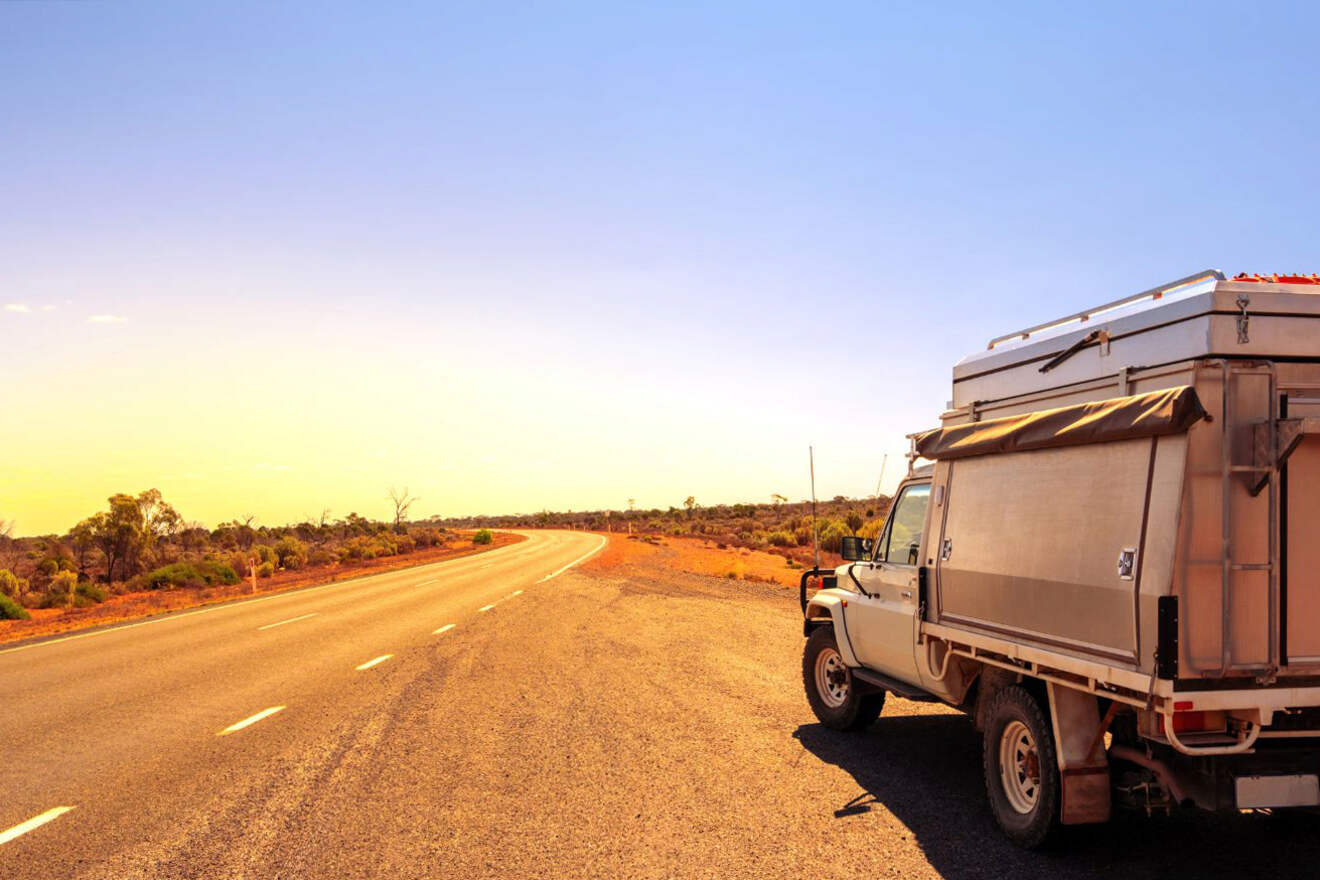 🗓️ What is the best time to rent a car in Australia?
The best time to rent a car in Australia depends on your travel preferences and desired destinations. The high season (December to February) offers warm weather and a bustling atmosphere, and higher prices. For more affordable options and milder weather, go for the shoulder seasons (Mar to May or Sep to Nov).
🚗 Do I need an International Driving Permit to rent a car in Australia?
As long as your driver's license is in English and uses the Roman alphabet, you don't need an International Driving Permit. However, if your license is in another language, obtaining one is recommended.
👶 What is the minimum age to rent a car in Australia?
The minimum age to rent a car in Australia varies by rental company, but generally, it's between 21 and 25 years old. Additional fees may apply for drivers under 25.
💸 How much is it to rent a car in Australia?
The cost of renting a car in Australia varies depending on factors like the car model, rental duration, location, and season. Prices can range from AU$30 (US$20) per day for a compact car to AU$150 (US$100) for luxury or large vehicles.
👍 Is it better to book your car in advance or on the spot?
I definitely recommend booking your car in advance, especially during high season or for specific car models. It not only ensures availability but can also secure better rates (trust me, there will be no last min promos!).
Conclusion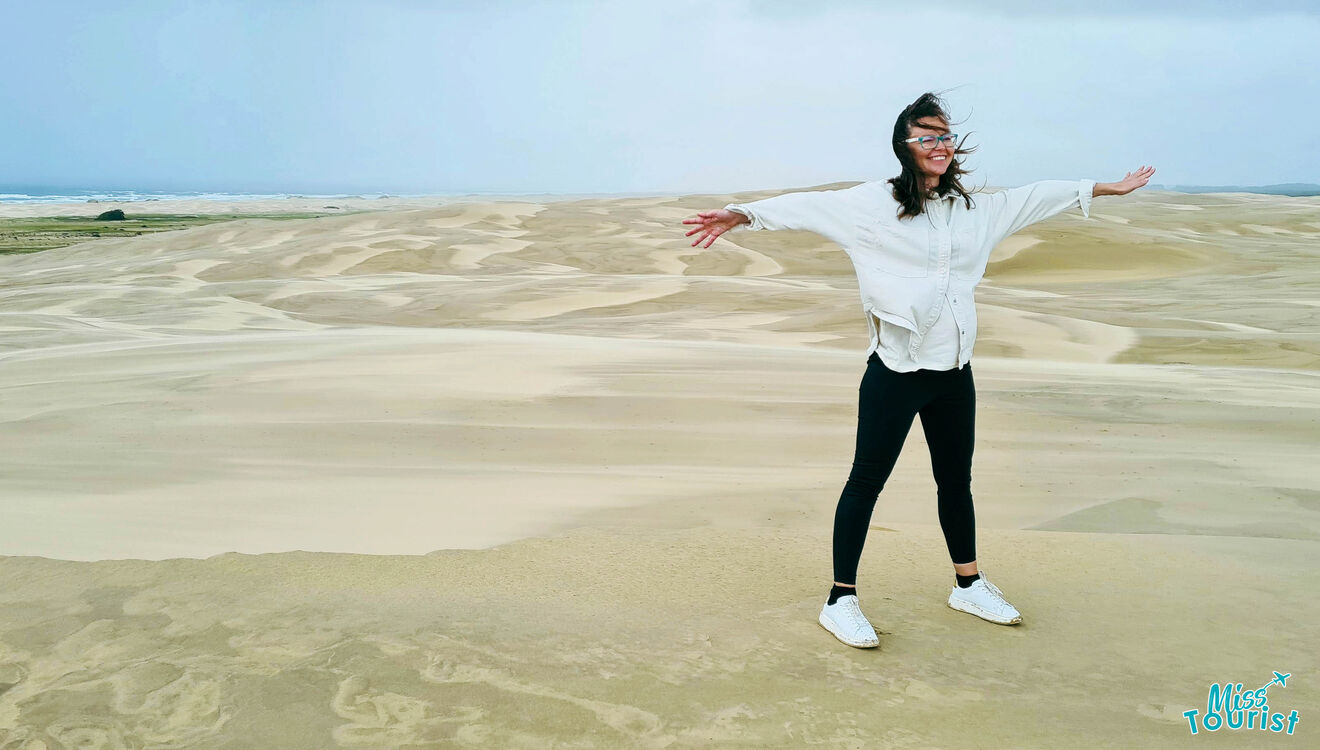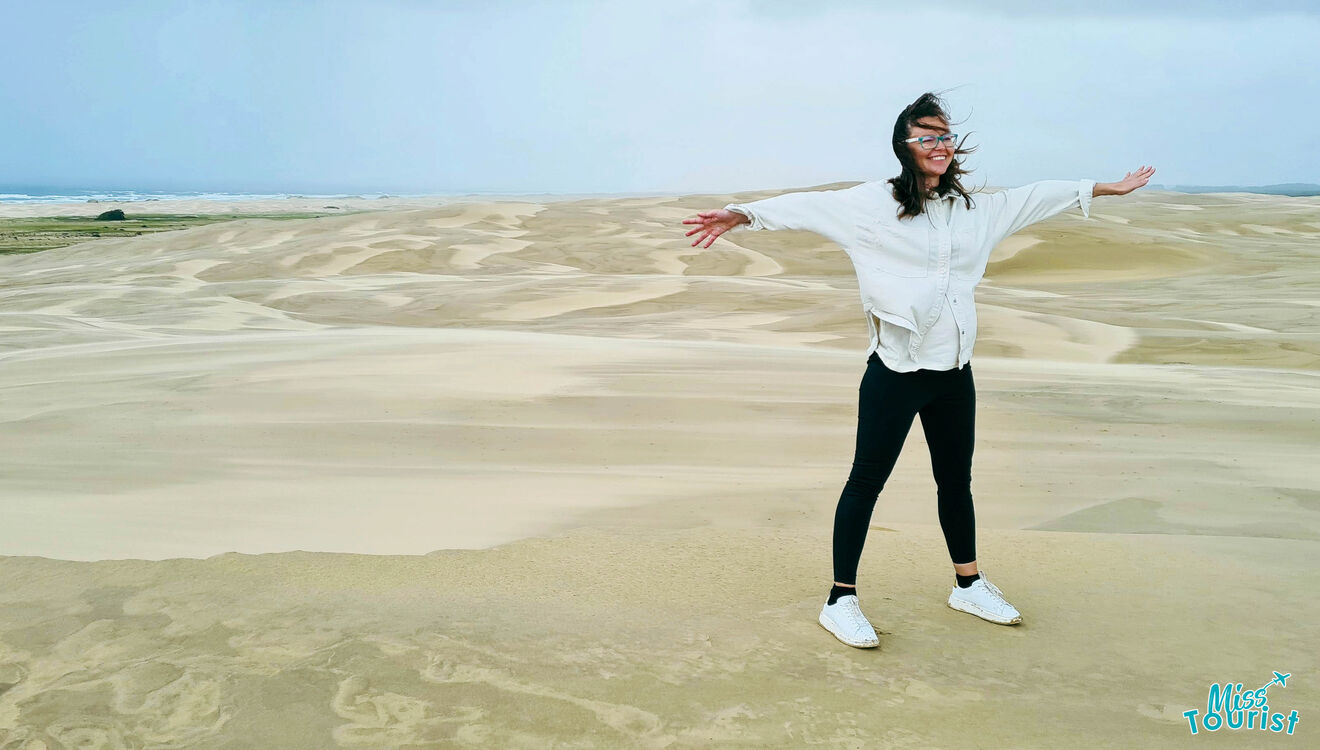 And there you have it, mate! Whether you're cruising along the Great Ocean Road or venturing into the vast Outback, renting a car gives you the freedom to uncover Australia's hidden gems. So, rev up your engine and get ready to put the "roo" in "adventure" – because it's time to embark on a journey you'll never forget.
I wanted to make sure you have the best Aussie road trip ever, so I really tried to include ALL the info you may ever need on the topic of renting a car in Australia.
Did I miss anything? Let me know in the comments if you still have any questions! And, of course, don't forget to book your car in advance!
G'day and happy travels,
Yulia
---
Pin it for later!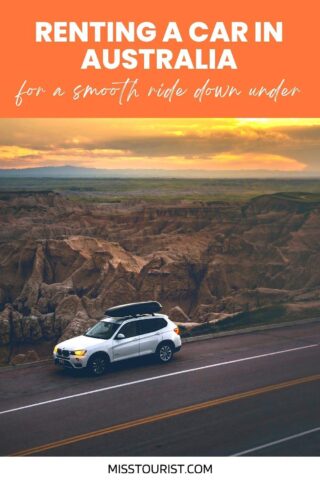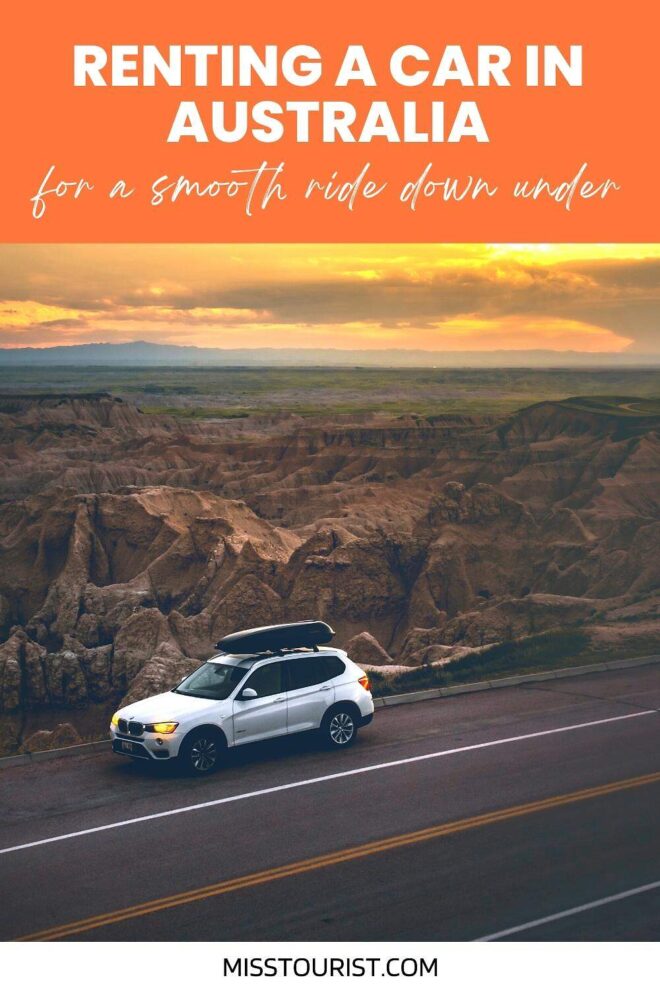 Pin it for later!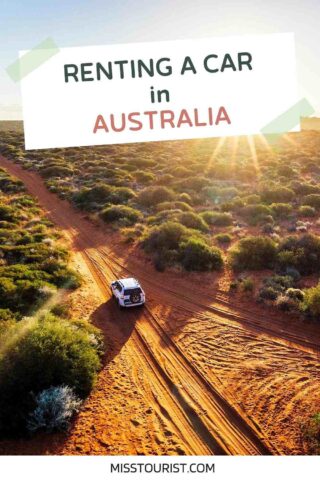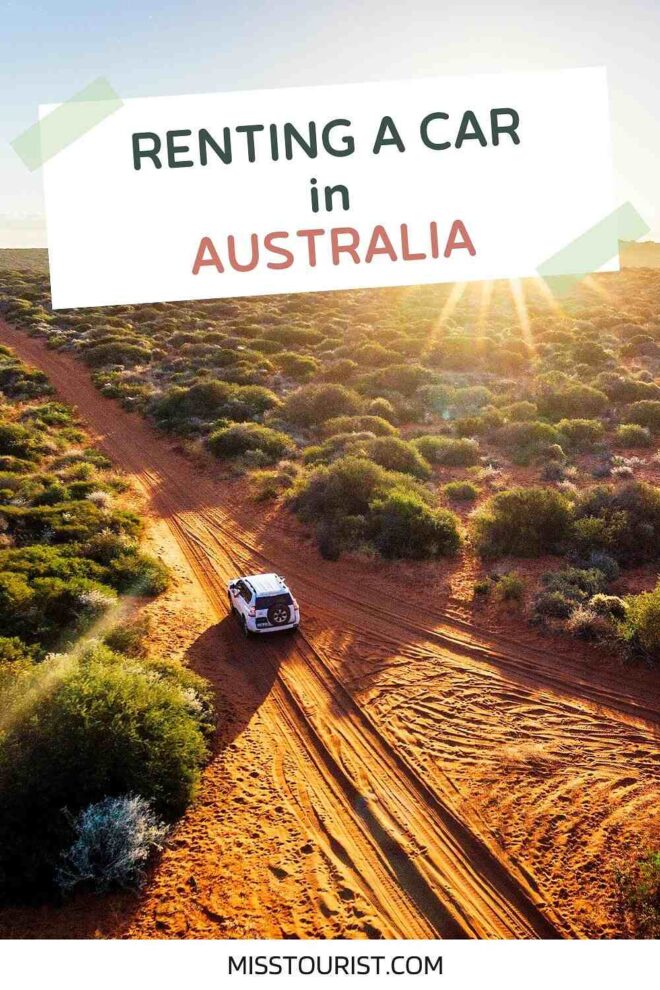 Products You May Like