The 6 Best Naples Resorts on the Beach & a Bonus!
Sunny sandy shores and the salty wind blowing are the best remedies, and in Naples, Florida, you get to enjoy them whenever you want! If you're headed there, then you need to check this post!
This article has the best Naples resorts on the beach, which I ordered from most to least expensive after a lot of time spent on the web searching for the top options! And I didn't stop there!
Since there aren't many fabulous hotels right on the beach in Naples, I've decided to add 2 extra bonuses with some great vacation rentals on the beach and the best hotels near the beach.
For the same reason I added bonuses, I highly advise you to book your favorite Naples resort on the beach super early, otherwise, you may miss your chance!
Now we're ready to hit the road!
If you are in a hurry
I know we're all so busy these days! So if you don't have the time to check the whole post, just have a look at this list of the best beach resorts in Naples:
1. Edgewater Beach Hotel – with spacious Gulf view rooms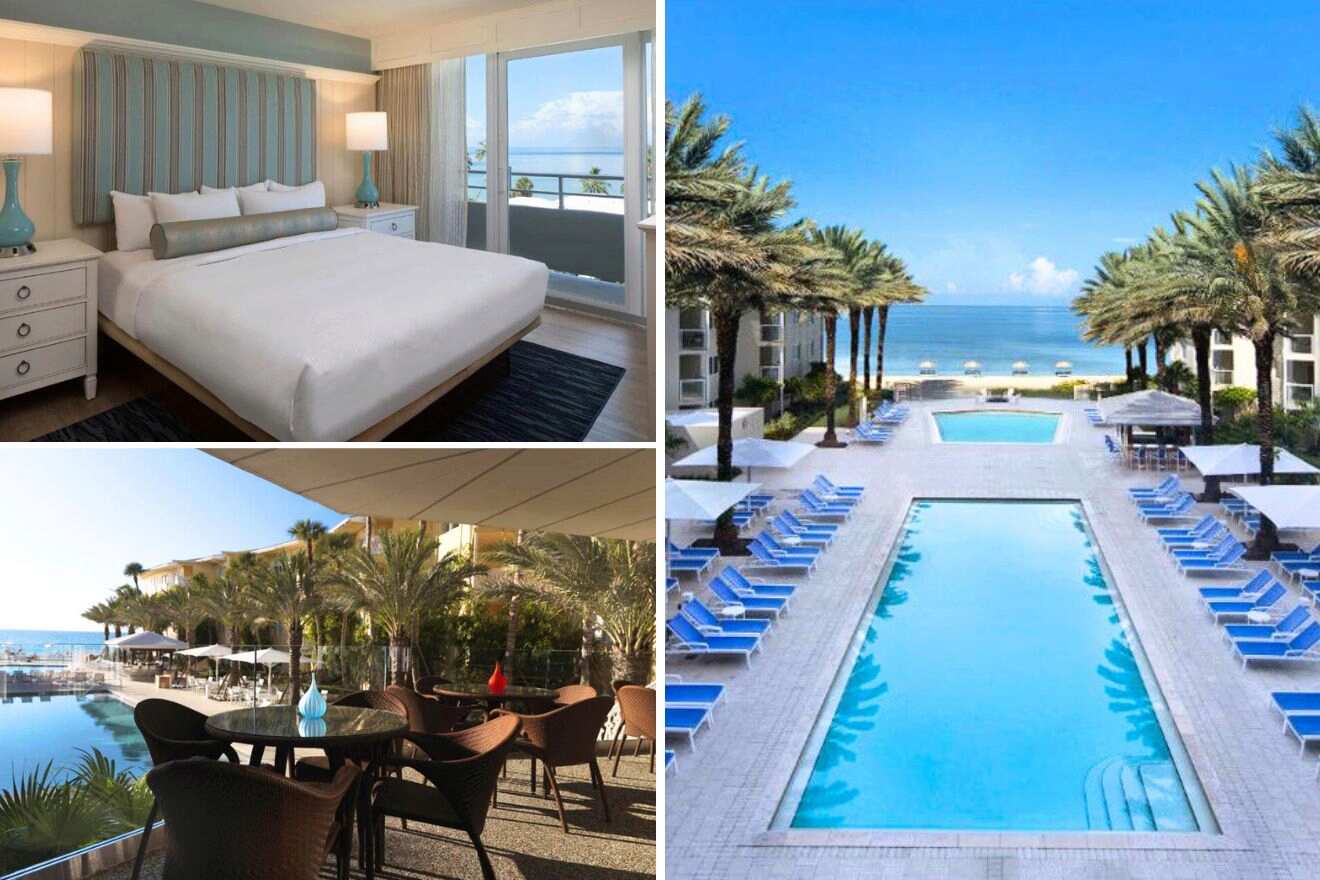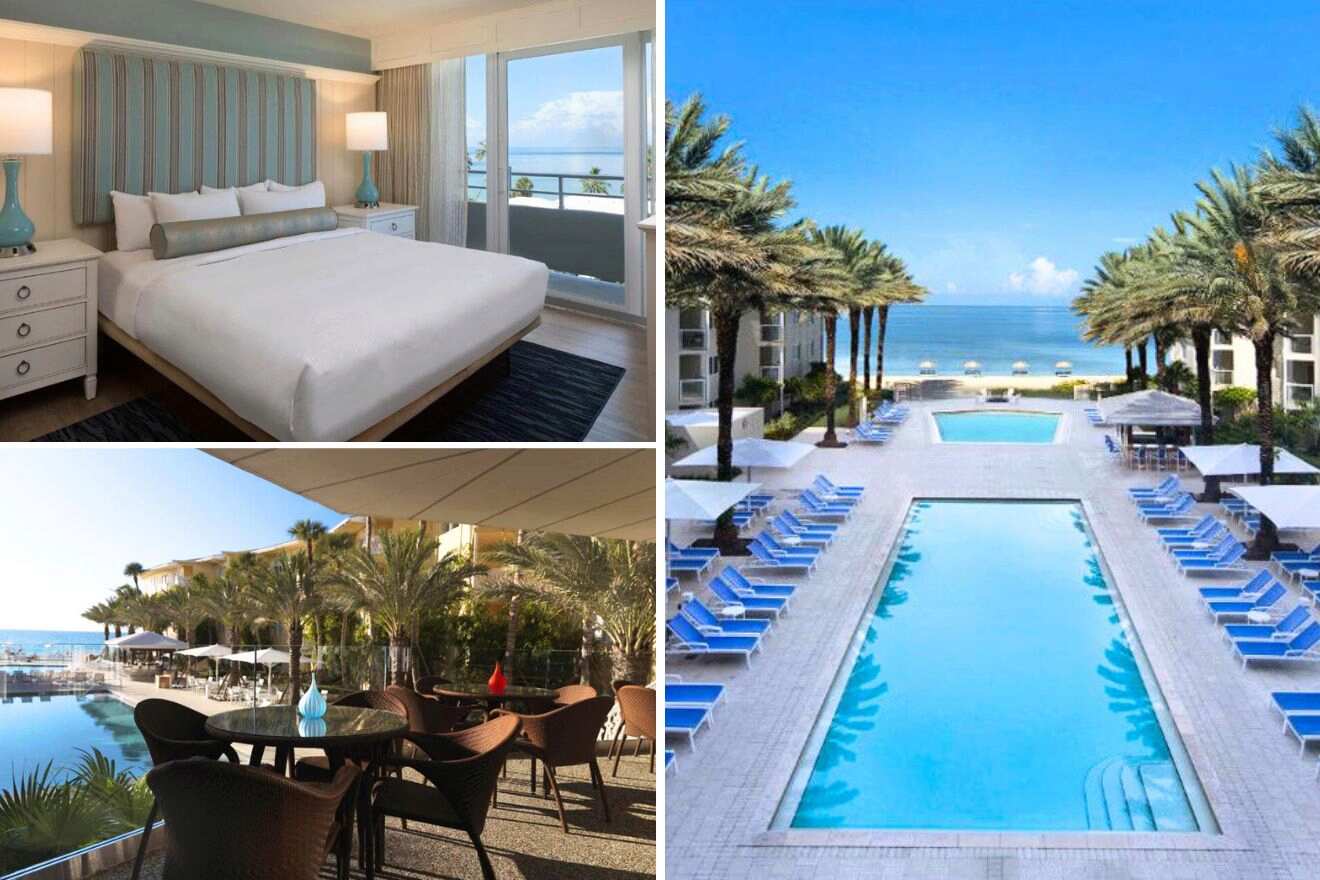 Ready to relax on a white sand beach in Naples? But not the Italian Naples, though, today we're talking about the town of Naples in Florida, known for its incredible beach hotels! This is a luxury one, set on Gulf Shore Boulevard North, which has a swimming pool, an on-site restaurant, concierge services, a fitness center, and other great amenities.
The suites at this beachfront hotel are super spacious, and most of them come with a kitchenette and a private balcony that overlooks the Gulf of Mexico or the city. When you're not exploring the town and all its incredible restaurants, you can play golf on a world-class golf course, relax by the swimming pool or go for a swim in the ocean!
2. Naples Grande Beach Resort – for a fun getaway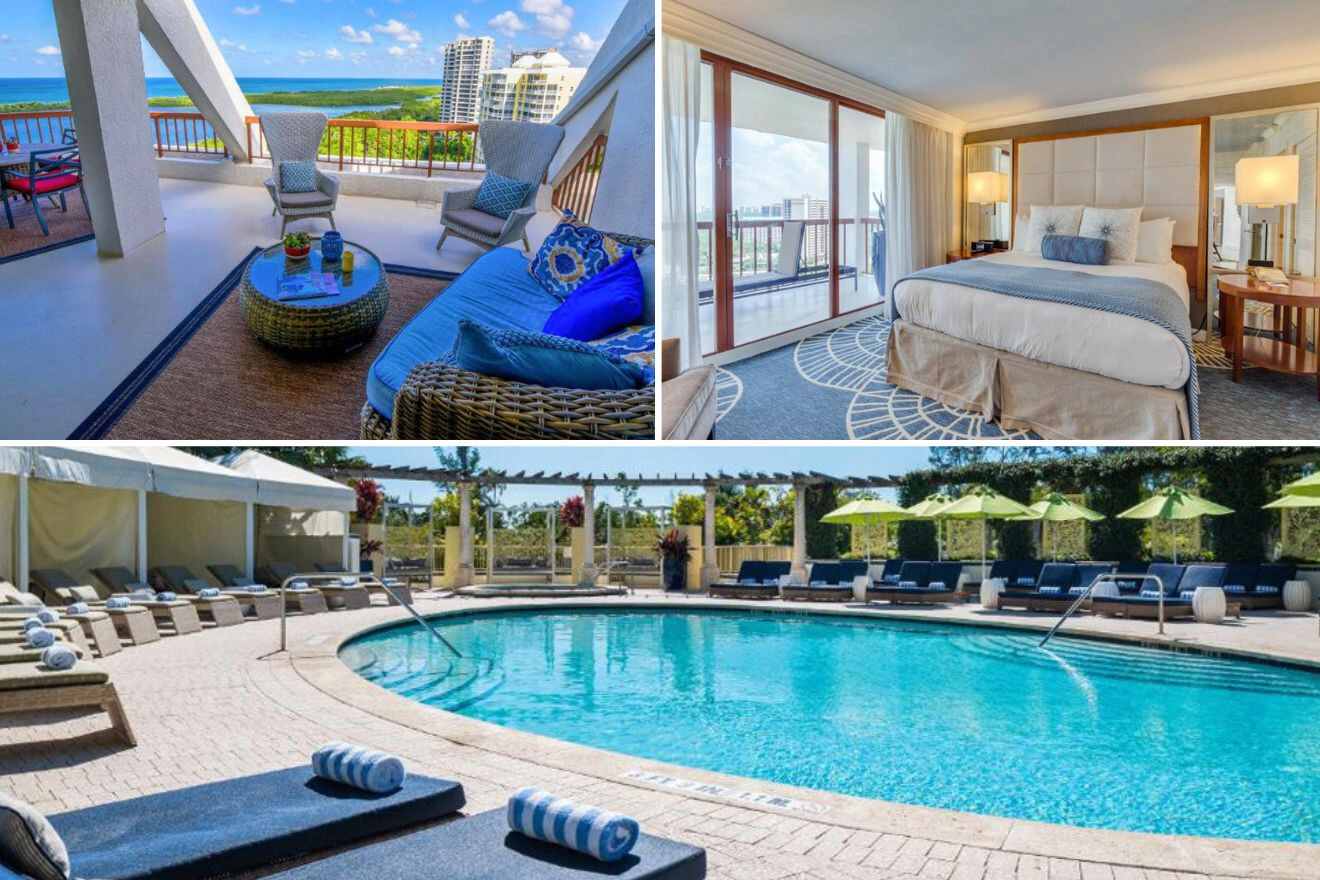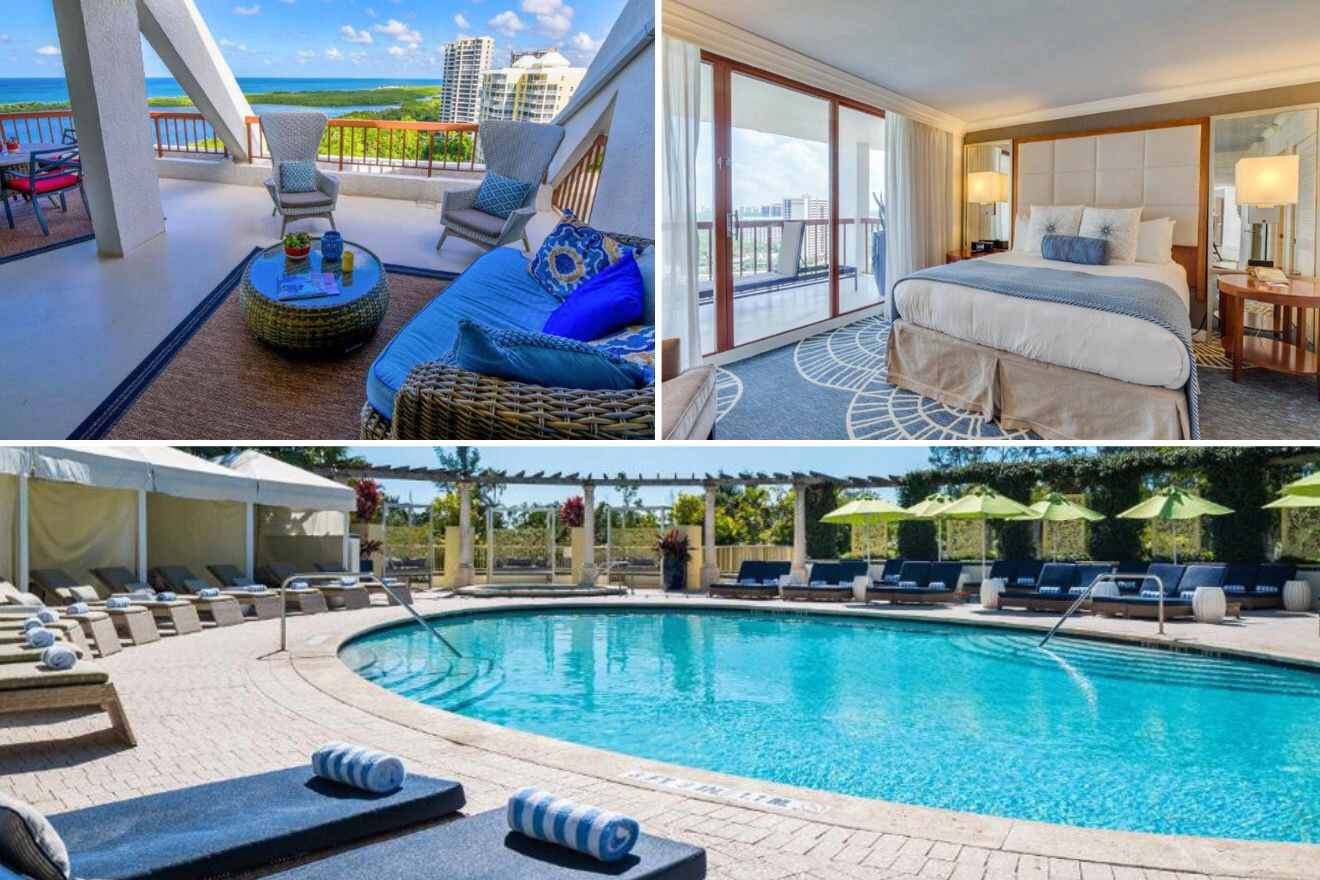 If you want a beach resort that has it all, then definitely check out this one in Pelican Bay which is packed with fabulous amenities! With over 15 tennis courts on-site, 3 swimming pools, an 18-hole championship golf course, and a full-service spa, this place is definitely a keeper!
It's not only about the facilities, the surroundings are also incredible and super tropical that you'll never want to leave! There are some Gulf view rooms and other suites with a garden view, but all of them have modern interiors and private balconies where you can enjoy your coffee in the morning. Make sure you rent out some bicycles from this luxury beach resort and head out to explore Naples, Florida!
3. The Ritz-Carlton Naples – an elegant beach resort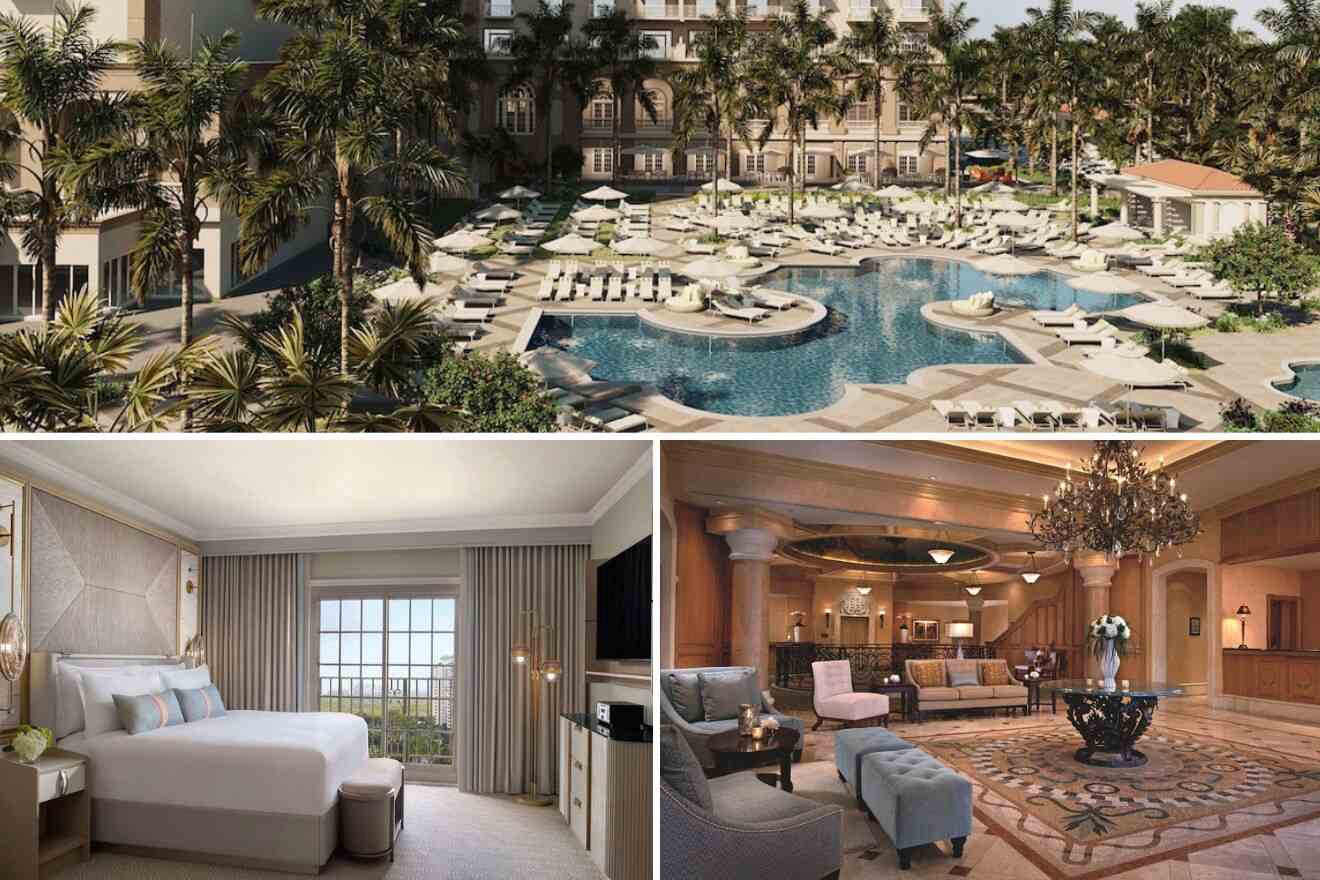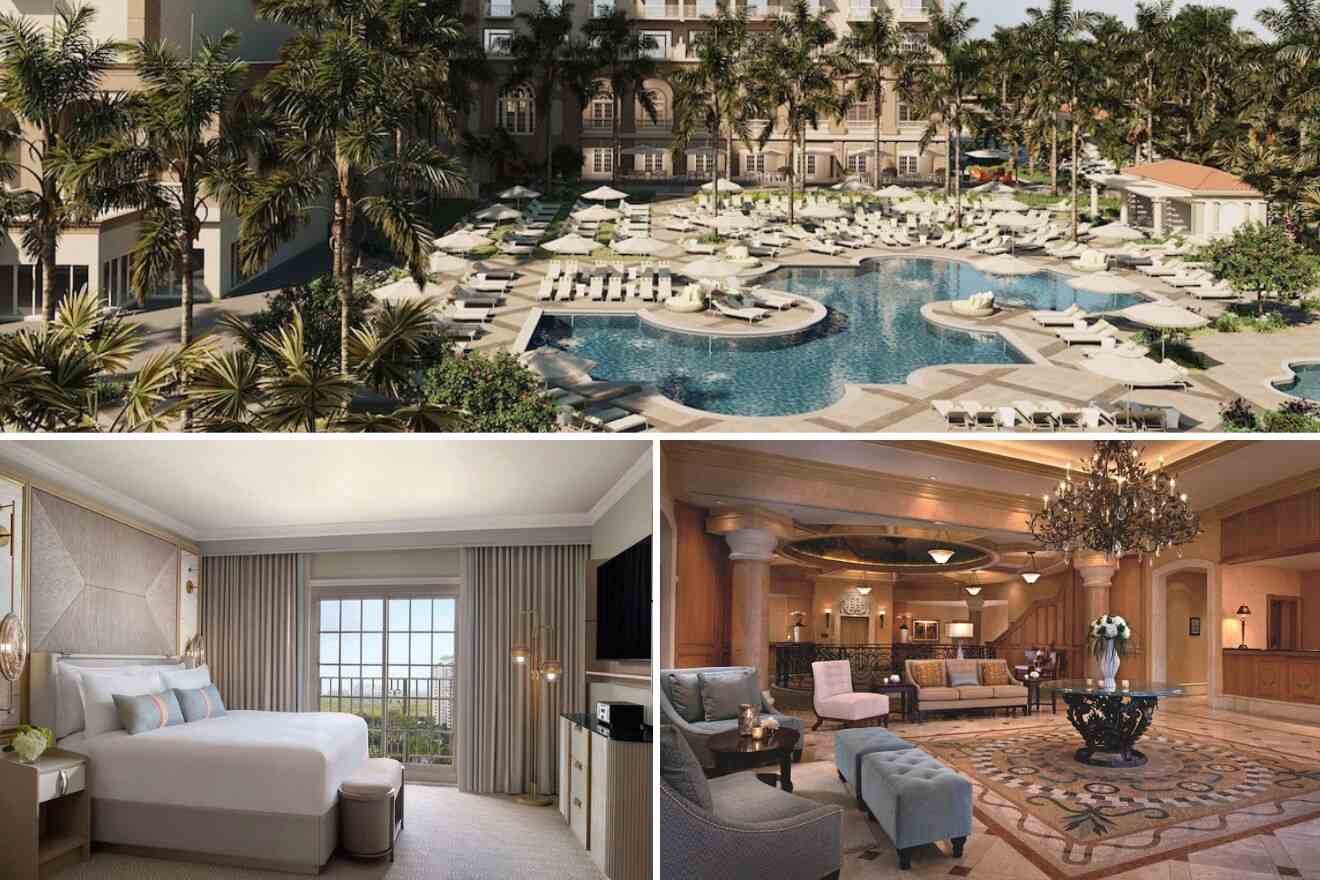 This one is a luxury beach resort in Pelican Bay where guests can enjoy their holiday in Naples, Florida, to the fullest! I know you'll be busy roaming around the town's streets but definitely make some time to enjoy all the fabulous amenities here because, trust me there are many! Let's not forget the fancy club lounge and the incredible suites with views of the Gulf of Mexico!
Start your mornings with a yummy breakfast at one of the 5 restaurants on-site, and then head to the full-service spa to enjoy a nice, relaxing massage. If you want to move your body a little, you can play tennis (there are 4 courts), hit the golf course, or take some fitness classes, followed by a steam sesh and dip in the swimming pool.
4. Vanderbilt Beach Resort – a great place for families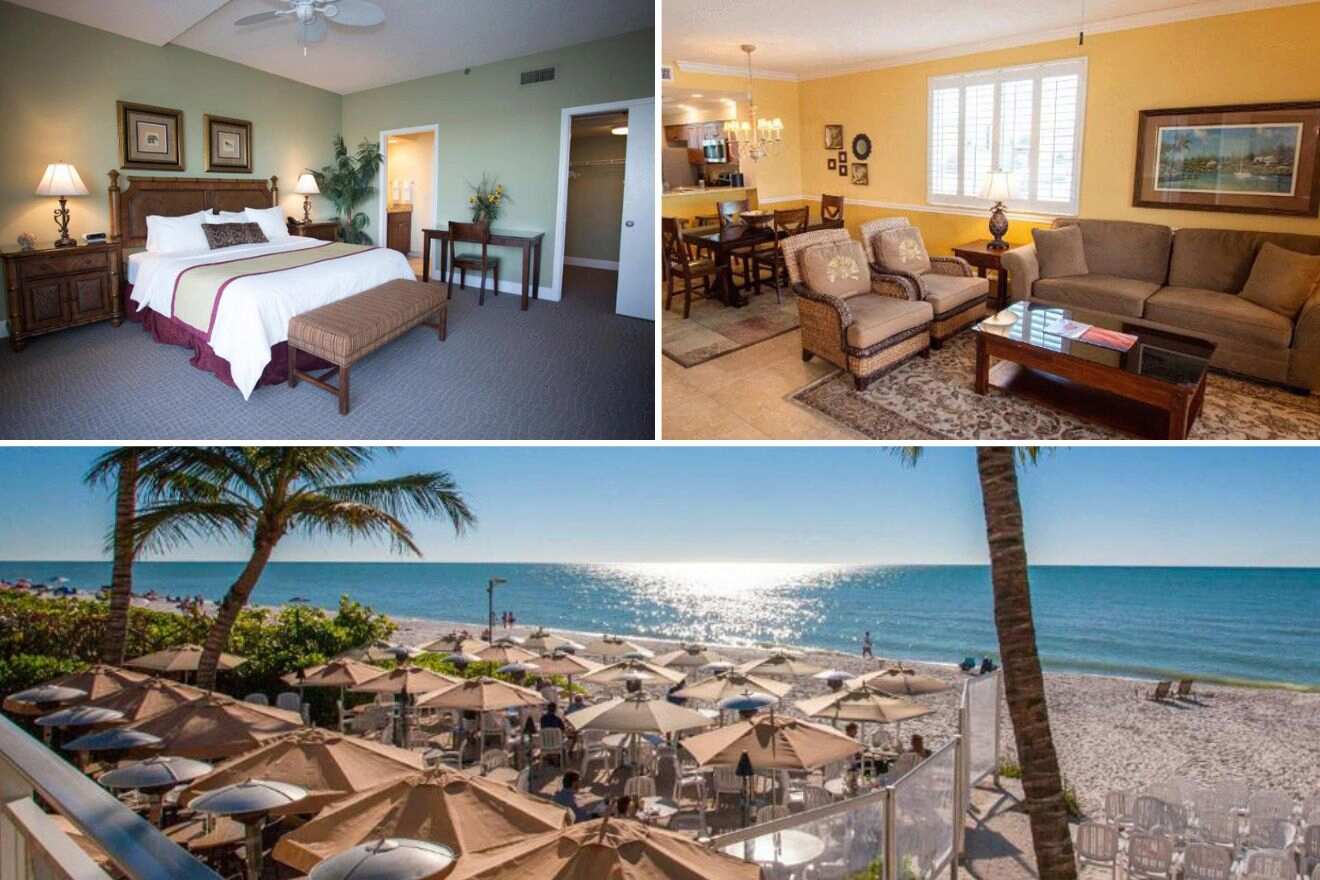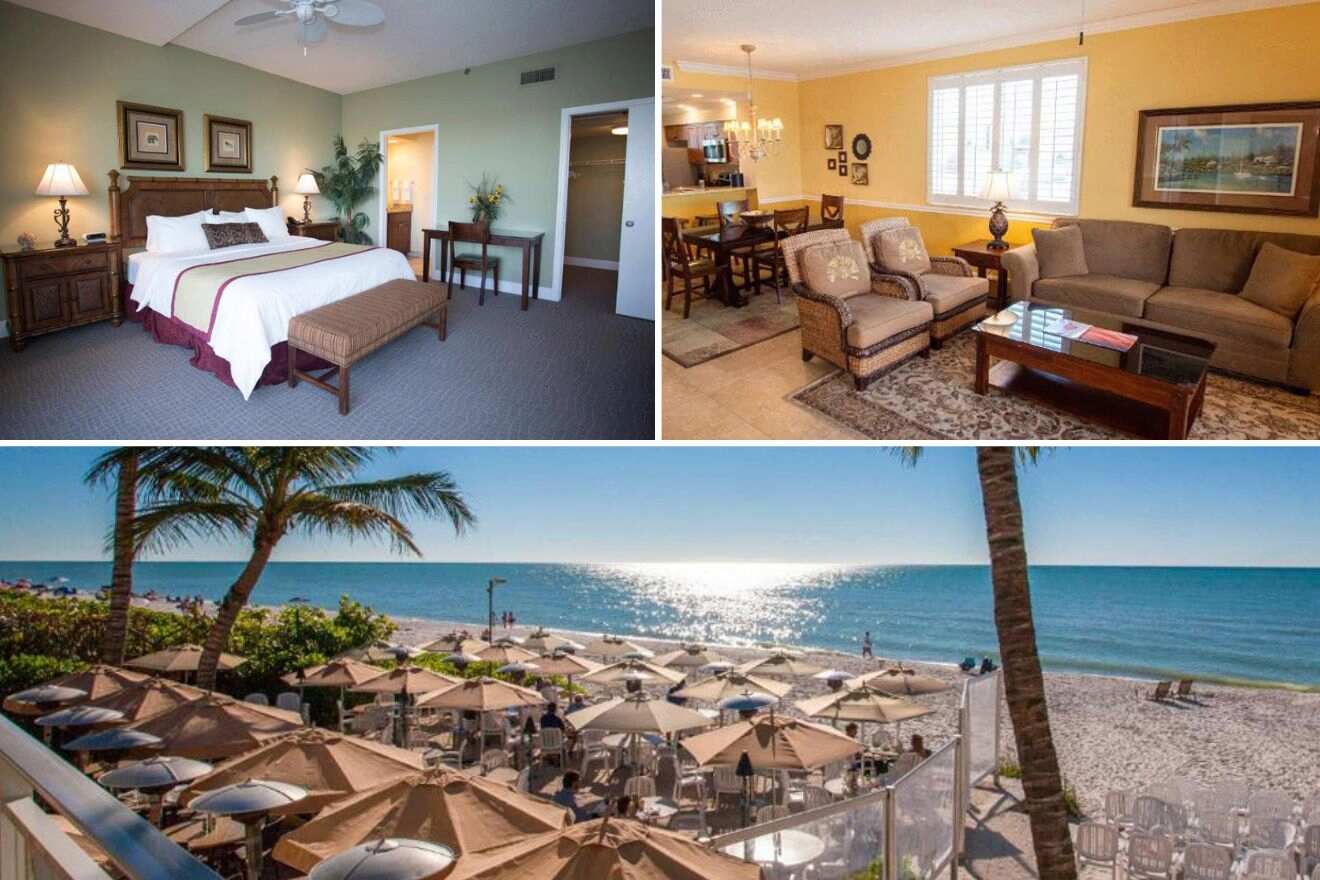 Perfect for families traveling to Naples, FL, this luxury accommodation set in Gulf Shore Drive North near Vanderbilt Beach is comfy, modern, and so cozy! It features different suites with lots of space for you and the kids, and some even have a Gulf view.
This beach resort in North Naples offers other amenities as well, such as a restaurant on-site, a heated pool, and a tennis court where you can play with your little ones, and guests will even have access to a private beach area! If you're up for some adventure, the beach resort also offers fishing and boat excursions. Don't forget to book your Naples resort fast, as there is only a handful of them set right on the beach!
5. Hotel Escalante – for a tranquil holiday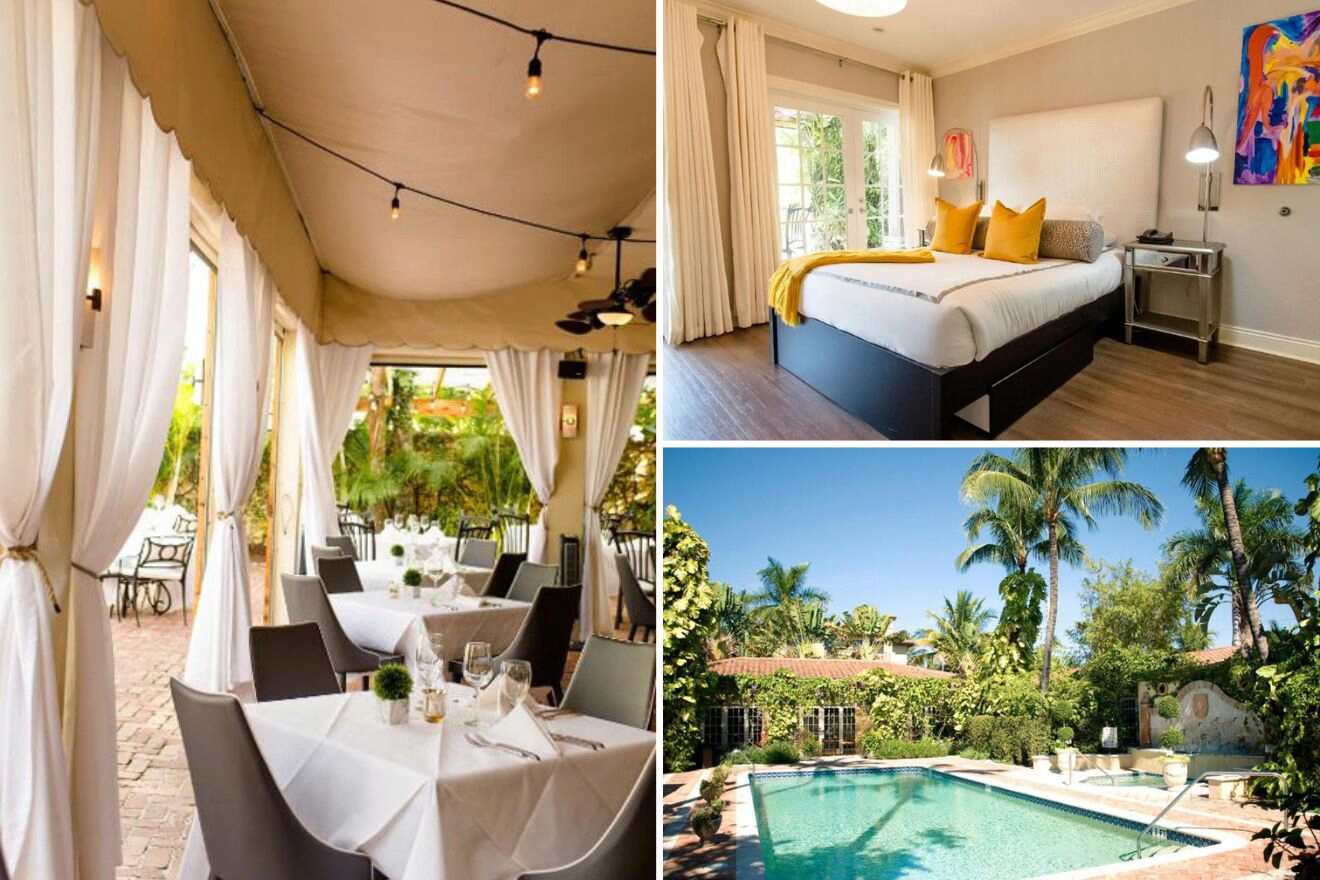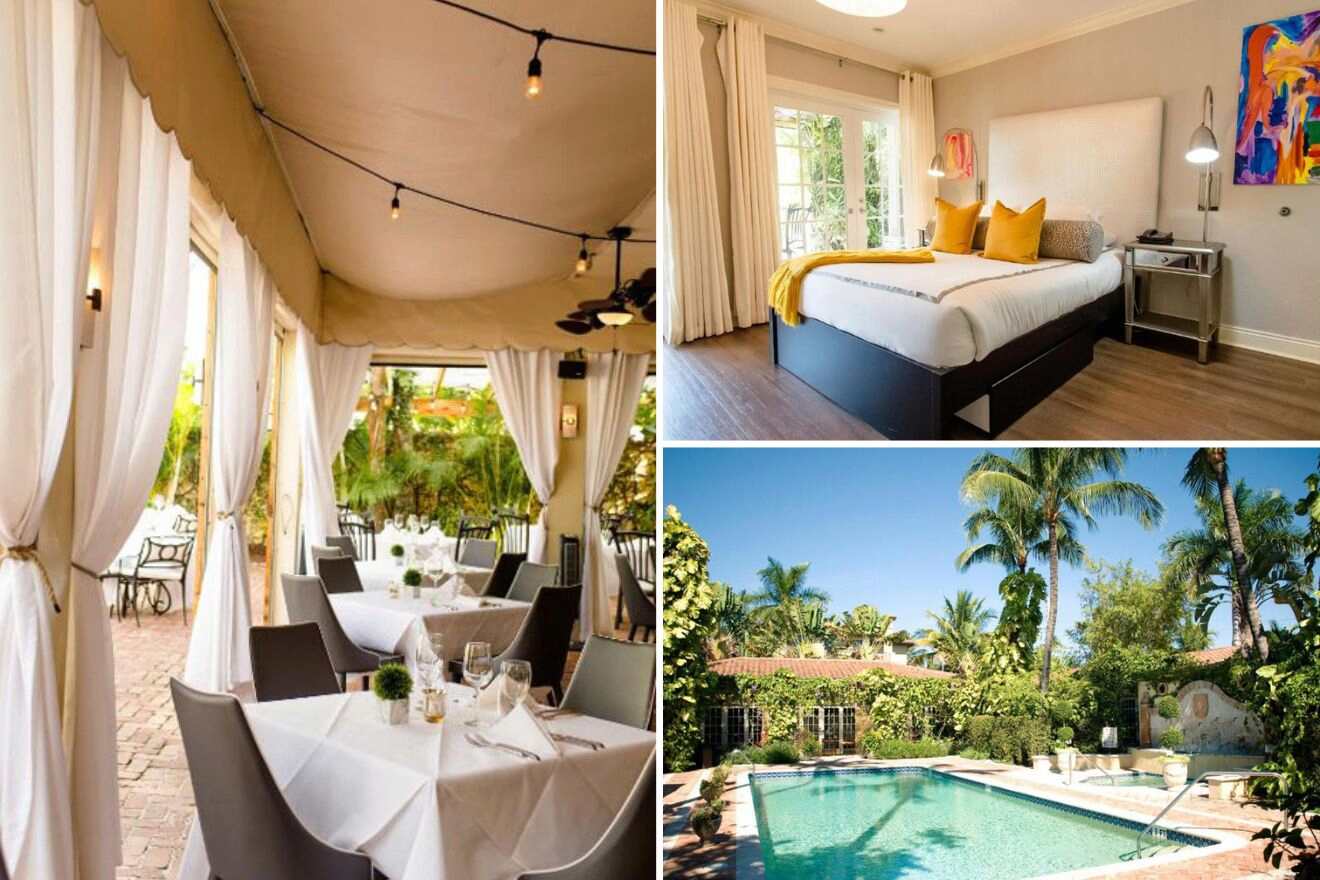 Naples is a magical place filled with so many breathtaking beaches and hotels with Gulf views, Including this luxury beach resort set in Old Naples at 4 minute's walk from 5th Avenue Naples Beach offers such lush, Floridian surroundings and great amenities.
All the suites come with a flat-screen TV and a private bathroom and are open to a furnished shared patio where you can relax after enjoying the fabulous in-room spa services that the beach resort offers. Guests can also use the outdoor swimming pool for some fun in the sun or take the complimentary golf cart shuttle service to visit other beaches and local shopping areas.
6. La Playa Beach & Golf Resort – a stylish hotel with a spa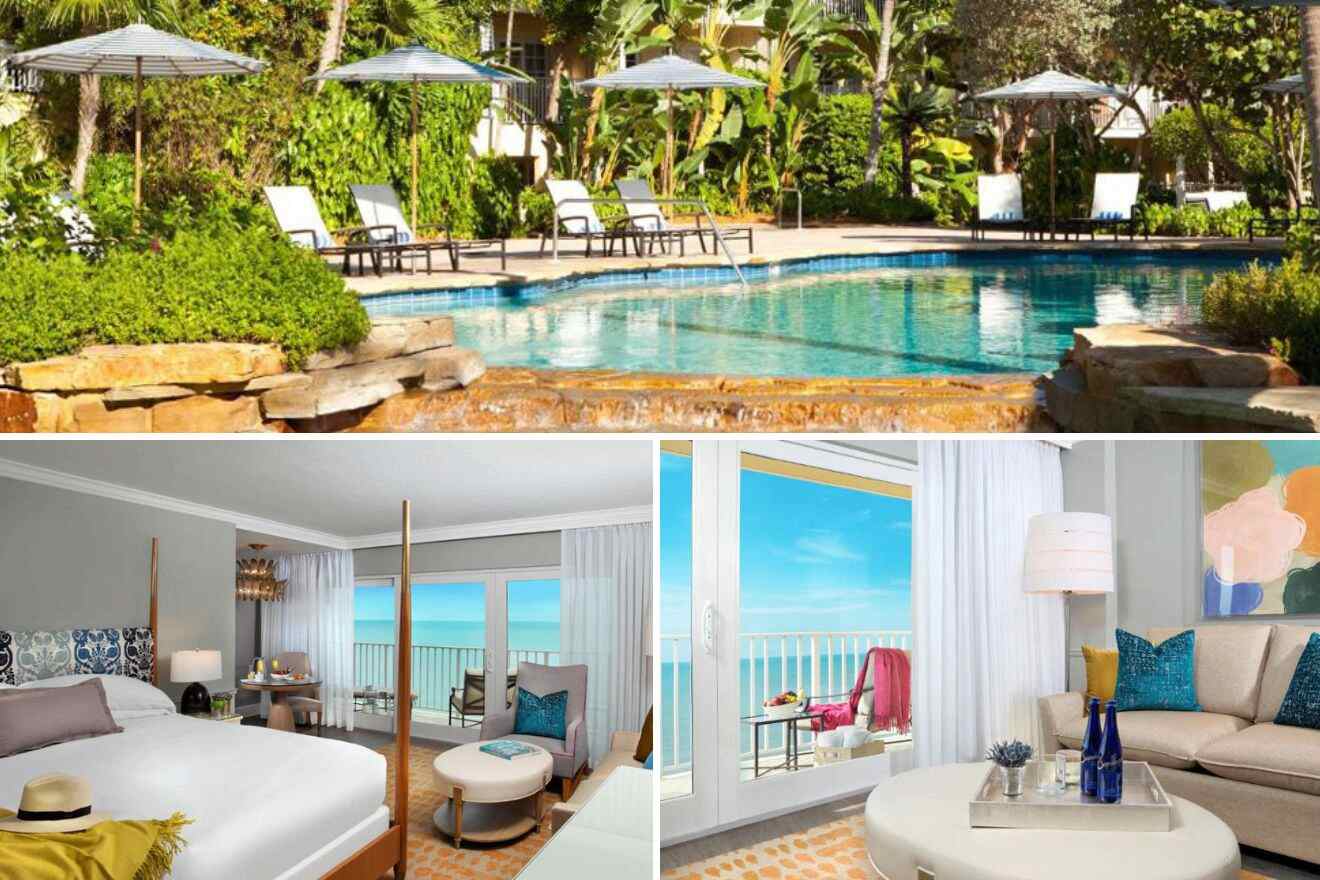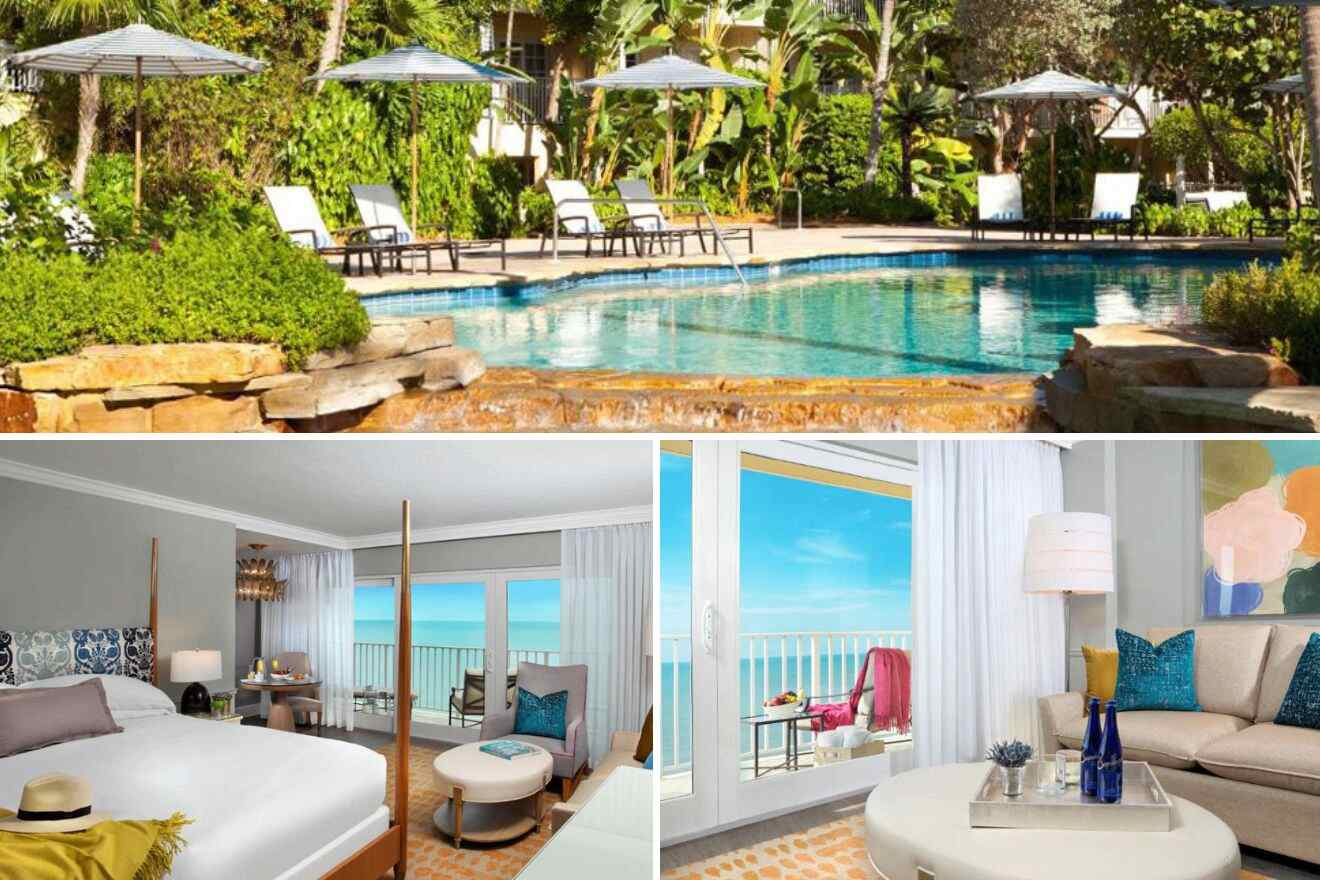 Have you packed your bags? Because the white sandy beaches in Naples, FL, are waiting for you, as are the rooms at this luxury hotel which has such a great style and an amazing location on Gulf Shore Drive.
Start your morning with a cup of coffee while enjoying the amazing Florida sun on the furnished balconies of this beach resort that has suites with a seating area and Gulf of Mexico views. During your stay, you're welcome to use the fitness center on-site, take advantage of all the spa facilities, and sunbathe by the four swimming pools! They also offer some activities like bike tours and water sports!
BONUS 1: Top VRBOs near the beach in Naples, FL
If you got up until this point you've probably seen that there are only a handful of hotels on the beach in Naples, FL (more reason to book the best beach hotels really early). But luckily, I've found the solution for some of you who already missed your favorite rooms at the beachfront hotels above.
I've made a list with the top vacation rentals in Naples, Florida, just a few steps from the beach which I ordered from most to least expensive! The prices start from US$200 to US$1000: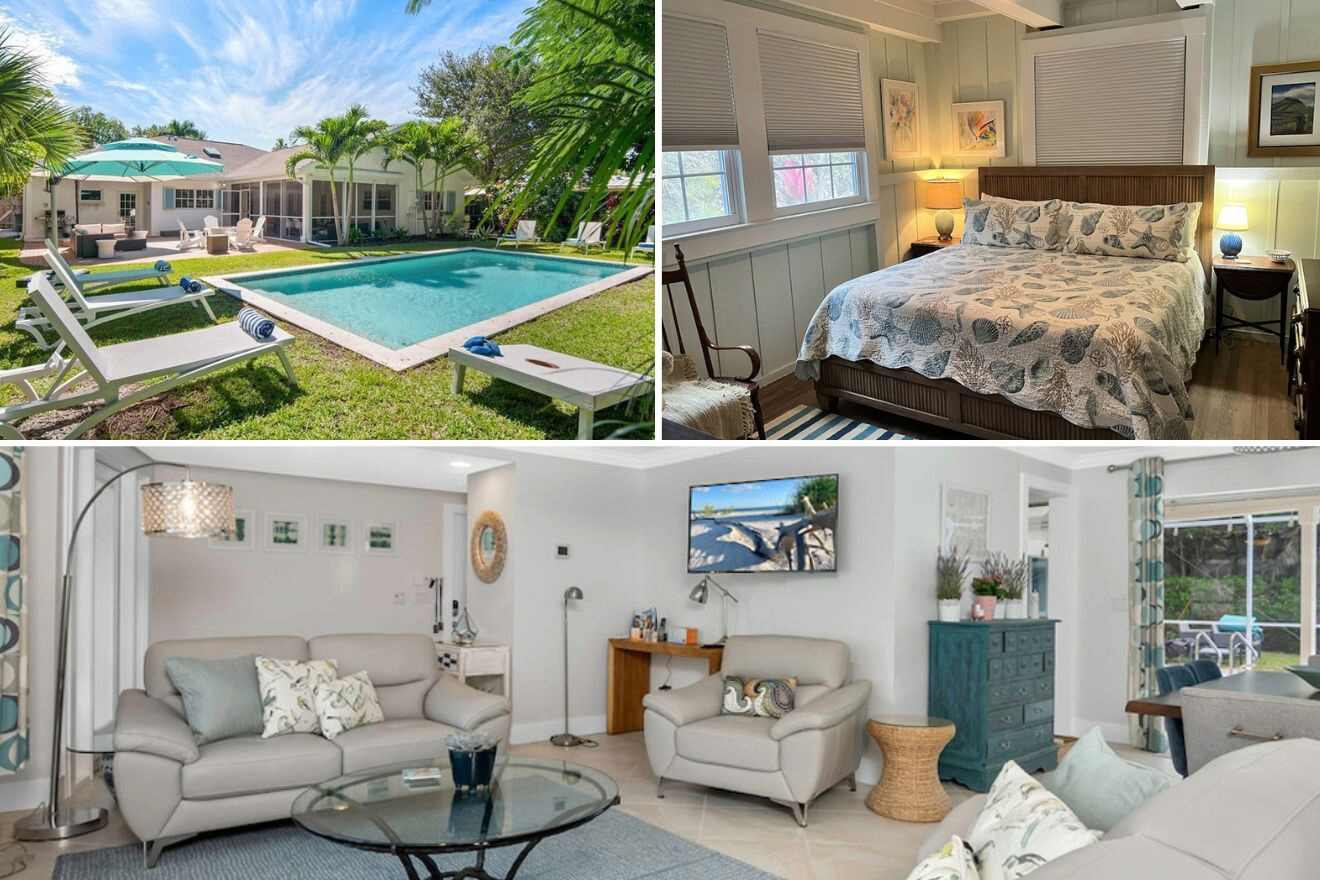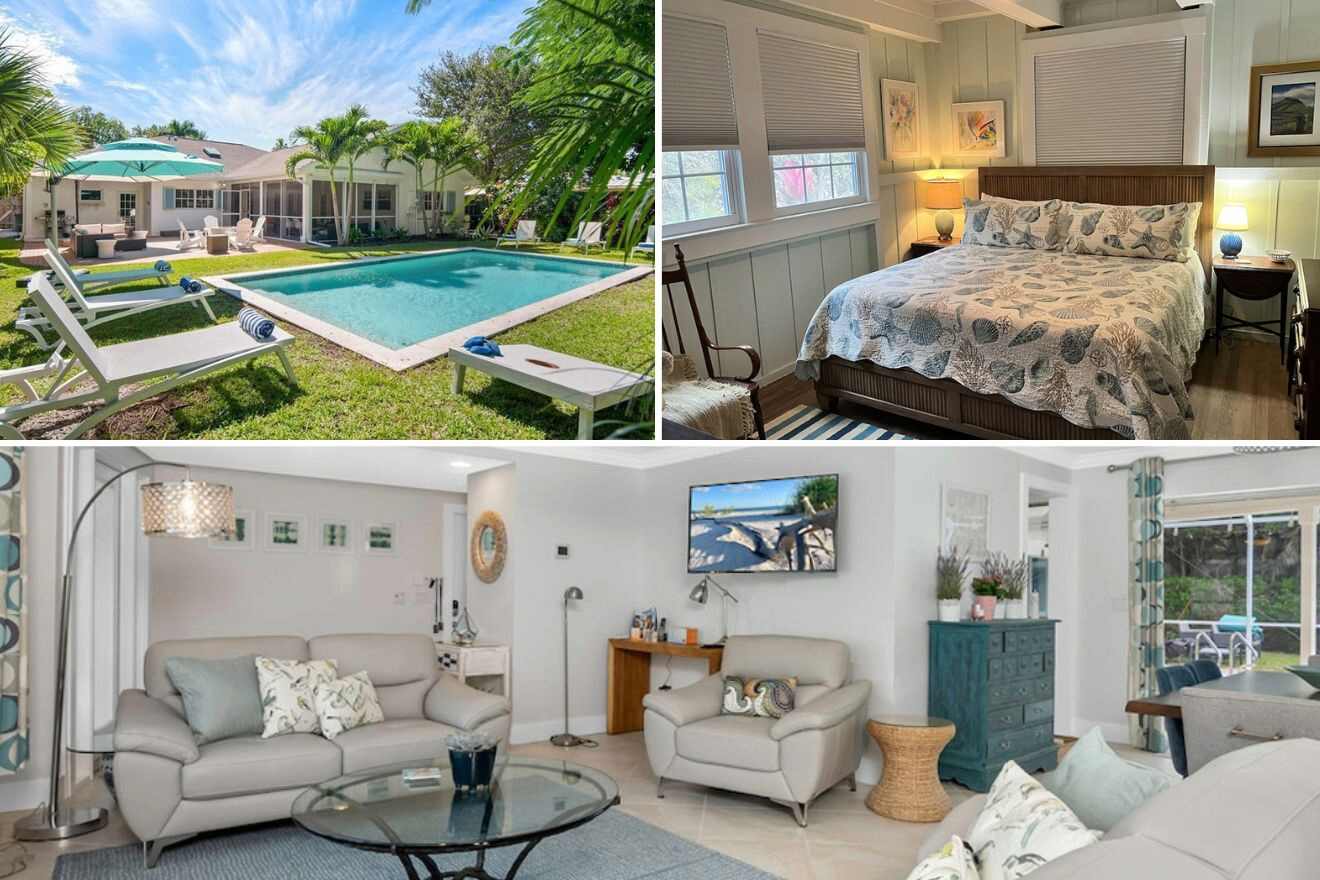 Old Naples Beach Home – Spacious, modern, and featuring all the amenities you'll need for your stay! This great home in Naples, Florida, has room for 8 guests, and it has a kitchen and a living room area, plus a backyard with an outdoor pool where you can sunbathe on the loungers and enjoy some peace and quiet.
Historic Cottage – Set less than 1 mile (1 km) away from the beach, this accommodation in Naples, Florida, beats any hotel as it has that cool vintage charm and some really cool features like a piano! The cottage has room for 6 people, and it comes with a kitchen and a furnished backyard.
Pool Villa – Super cozy and so spacious! This accommodation is located less than a mile (1 km) away from the beach, and its amenities include an outdoor pool, a kitchen, and some bicycles to rent out! With room for 8 people, this place is surely a keeper!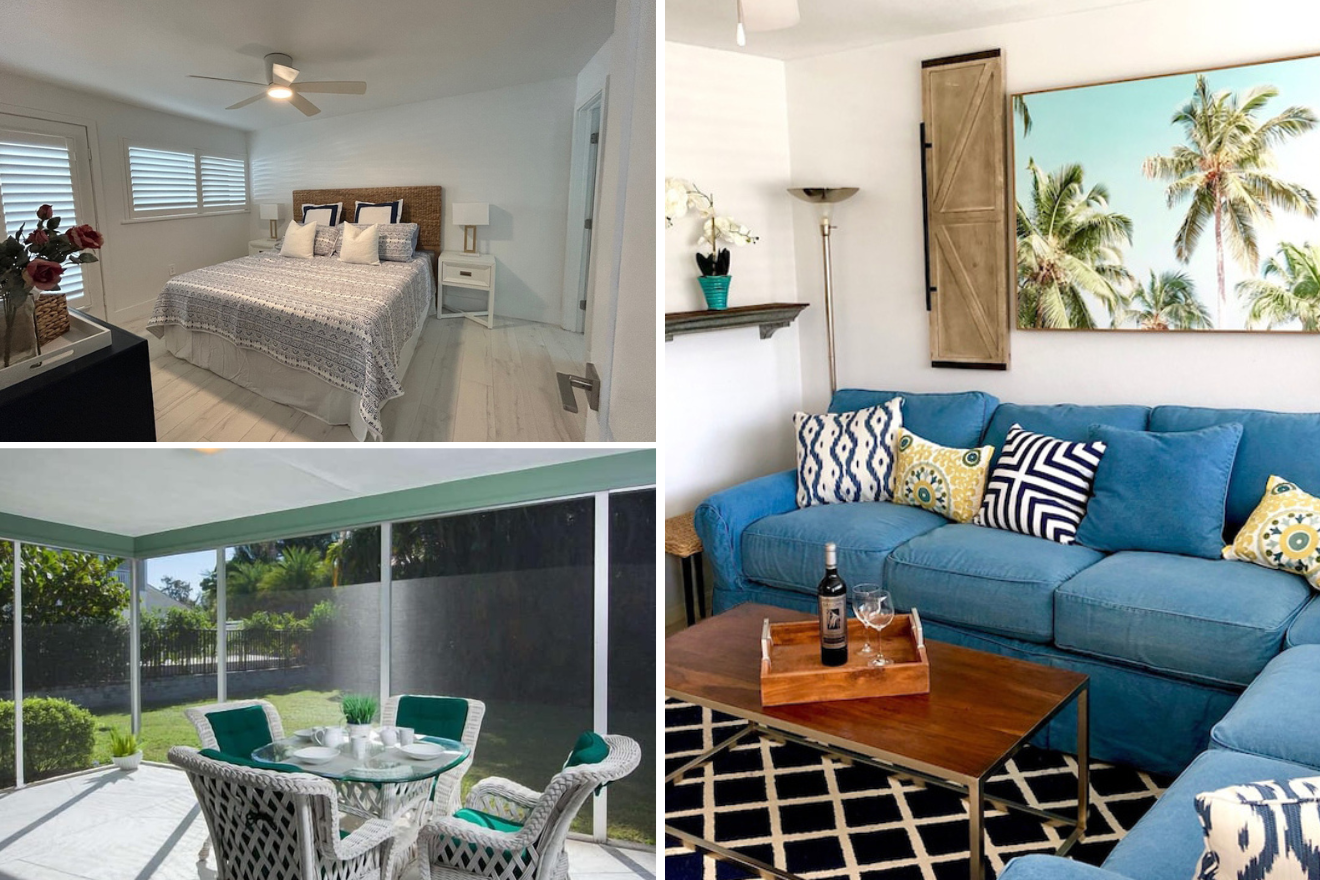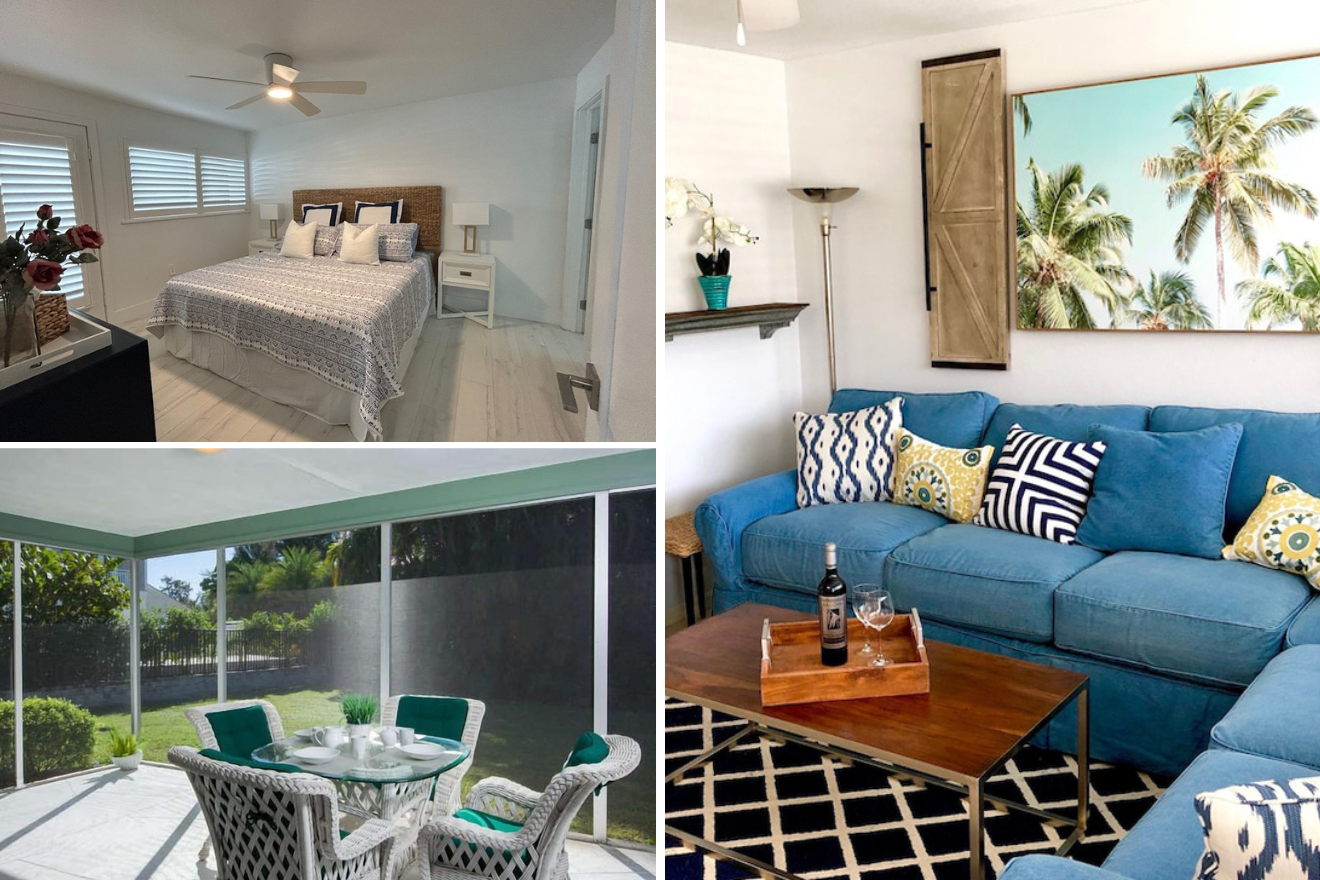 Naples Beach House – Head from your bed straight on the sandy shores to sunbathe at this accommodation that has many amenities. The house is located less than a mile away (1 km) from the beach, and it has room for 4 guests. During your stay, you'll have access to an outdoor pool, a tennis court, and boat rentals.
Modern Home – Perfect for a family getaway, this accommodation which is set less than 1 mile (1 km) away from the beach, has space for 6 people. It features a lot of space and facilities like free Wi-Fi, a flat-screen TV, and a kitchen.
Stylish Condo – Loving the colorful designs! This accommodation will put you in a holiday mood the minute you arrive! With room for 6 people, the condo is well-equipped, and it features a pool and a kitchen.
BONUS 2: Best Naples hotels near the beach
Although houses offer more privacy, I know that some of you will want to stick to hotel rooms, especially if it's you and one more person. That's why I thought I'd make a second bonus. This one has the best hotels in Naples, Florida, which are super close to the beach.
I've ordered them the same, from most to least expensive, and the prices start from US$200 to US$370: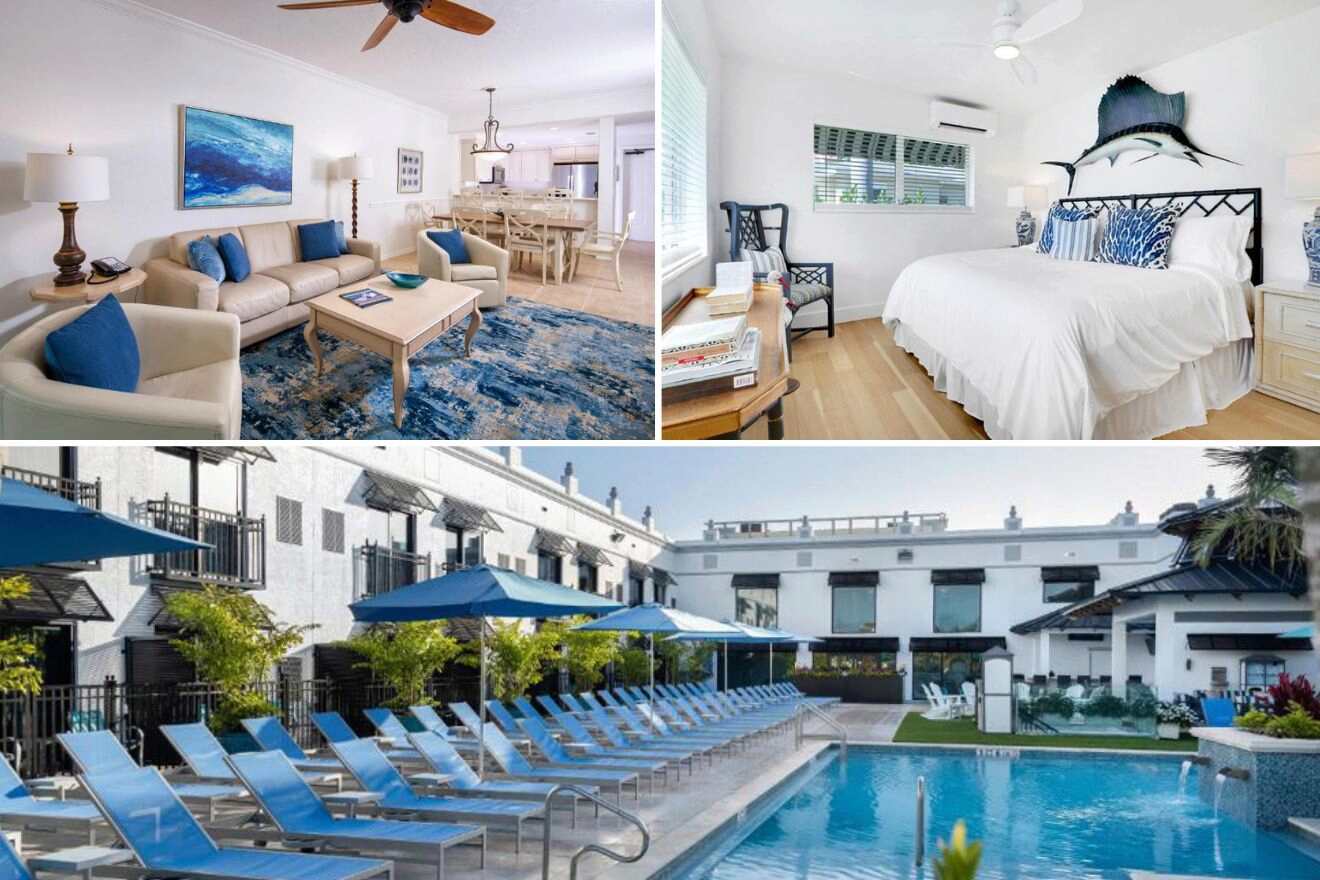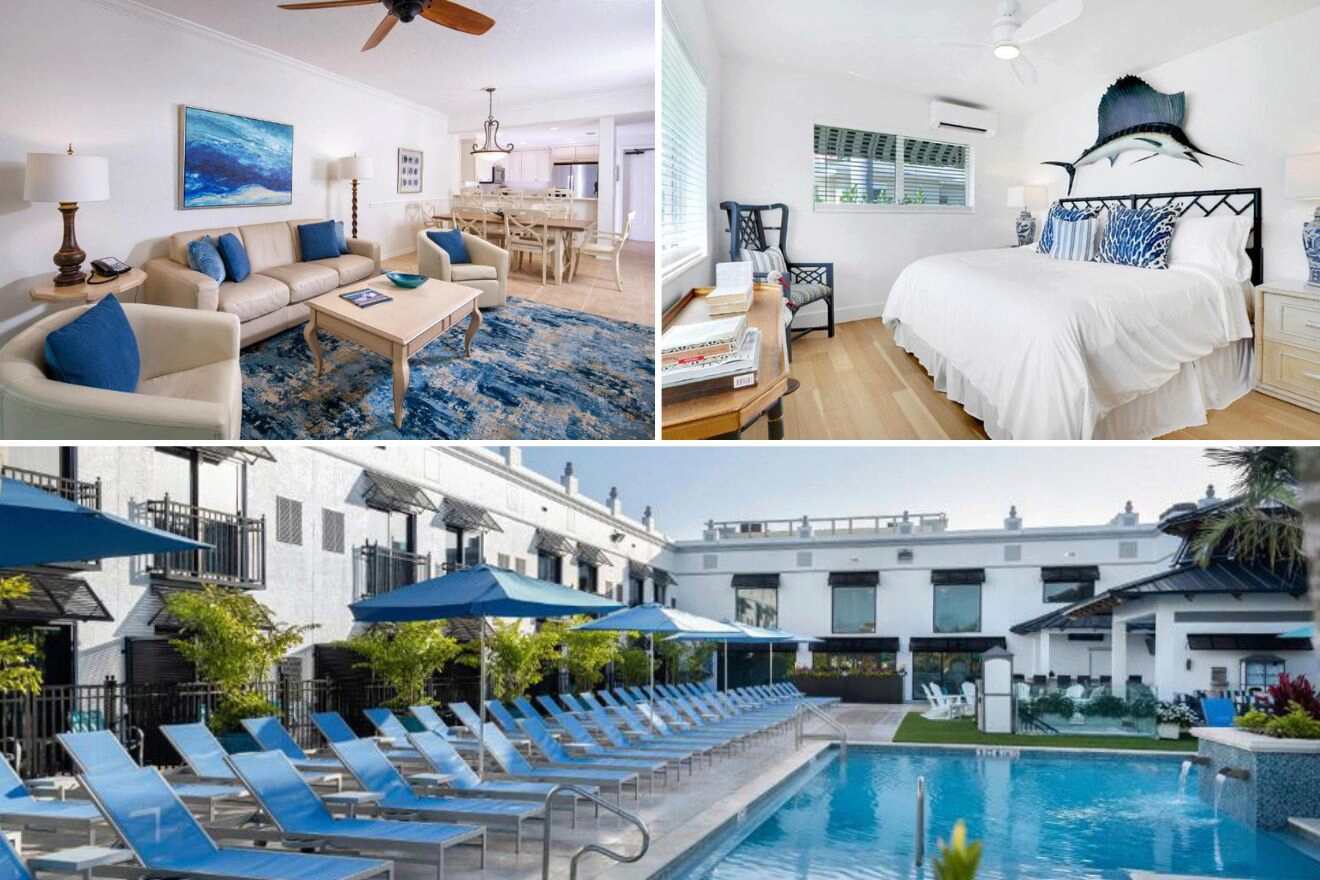 The Gondolier Inn – Wake up, enjoy some yummy breakfast, and then head to Naples Beach (which is only a 20 min walk away) for a swim in the ocean! This hotel has rooms with all-white decor, a patio, and free Wi-Fi.
Bellasera Resort – Gotta love the Florida weather! And while staying at this hotel which has family rooms, you can enjoy it all day long by the outdoor pool or head to Naples Beach, which is a 30 min walk away. This accommodation also offers suites with private balconies, a fitness center, and a restaurant.
Inn On Fifth – Featuring a Mediterranean-inspired style, this hotel that's located a 20 min walk away from the beach comes with a spa, an outdoor swimming pool, and 2 restaurants where you can indulge in the most delicious dishes. The rooms are beautifully decorated and have free Wi-Fi.
FAQs about Naples resorts on the beach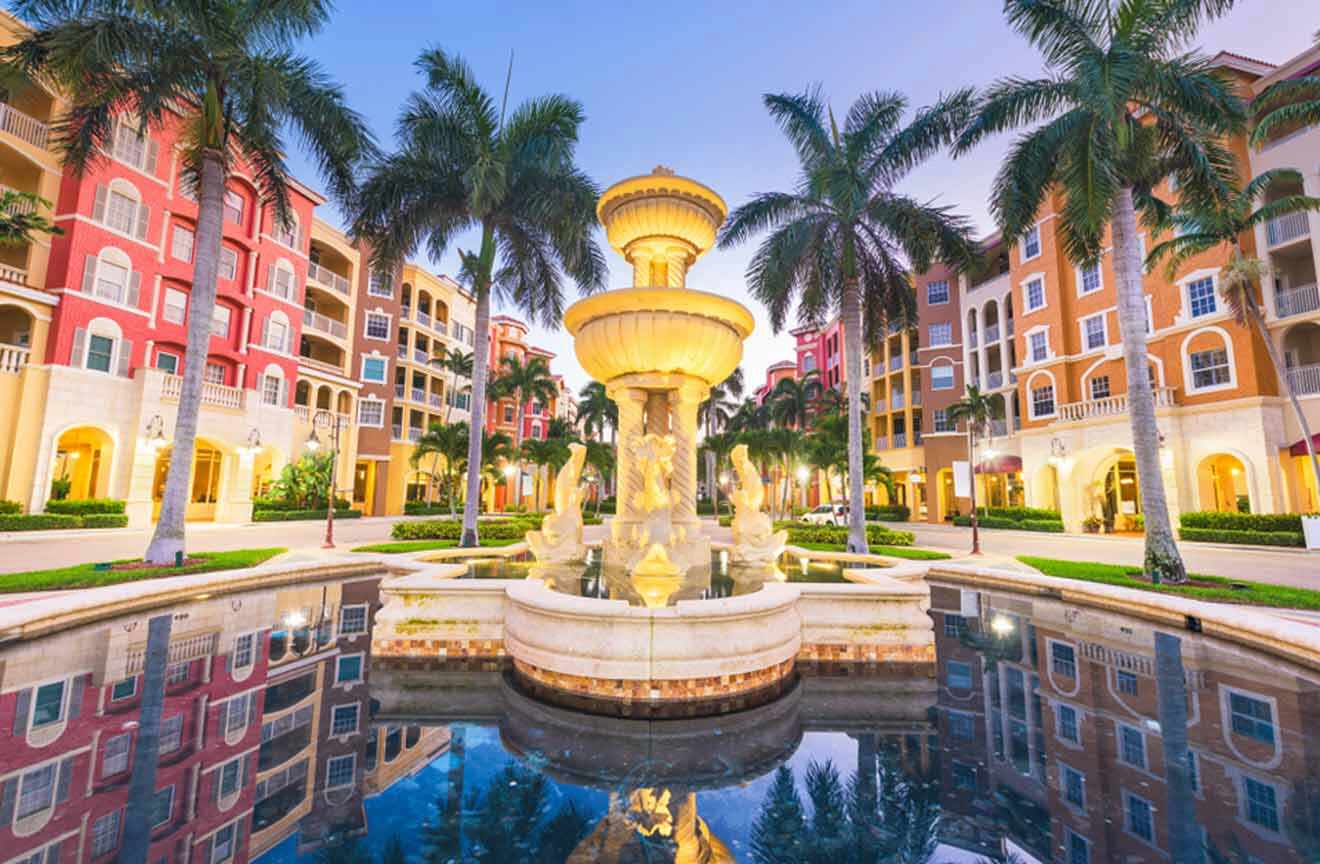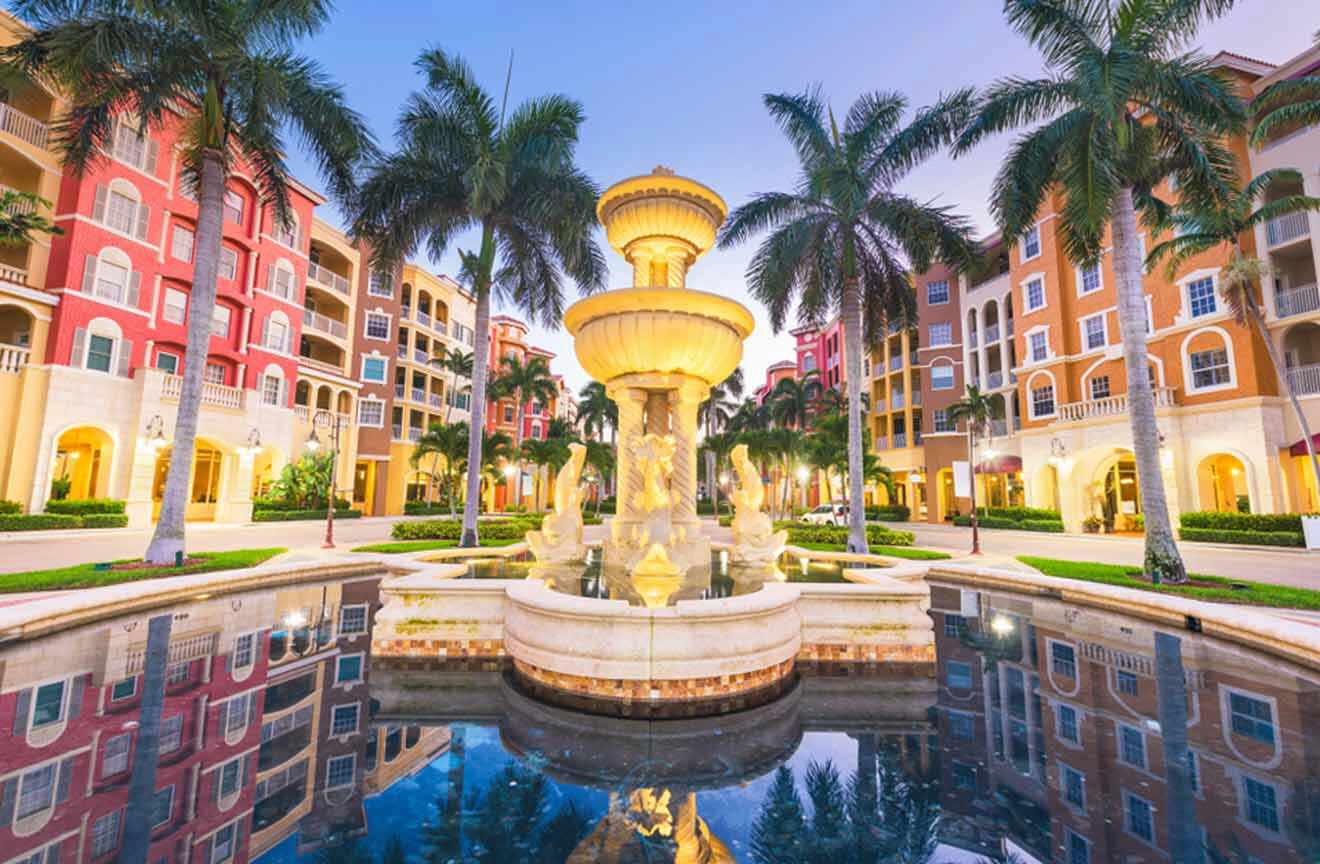 🤔 What part of Naples, Florida, is the best to stay in?
Old Naples is one of the best areas to stay in Naples. You'll find many great resorts here, great architecture, fancy restaurants, and shops!
💌 Which are the best resorts in Naples, Florida, for couples?
🏖️ What is the best beach to go to in Naples, Florida?
The beach at Naples Pier is one of the best ones, as it has some nearby restaurants and a great vibe. But I'd also try Lowdermilk Beach and the beach at Clam Pass Park.
🌊 Which are the best Naples resorts on the beach?
Conclusion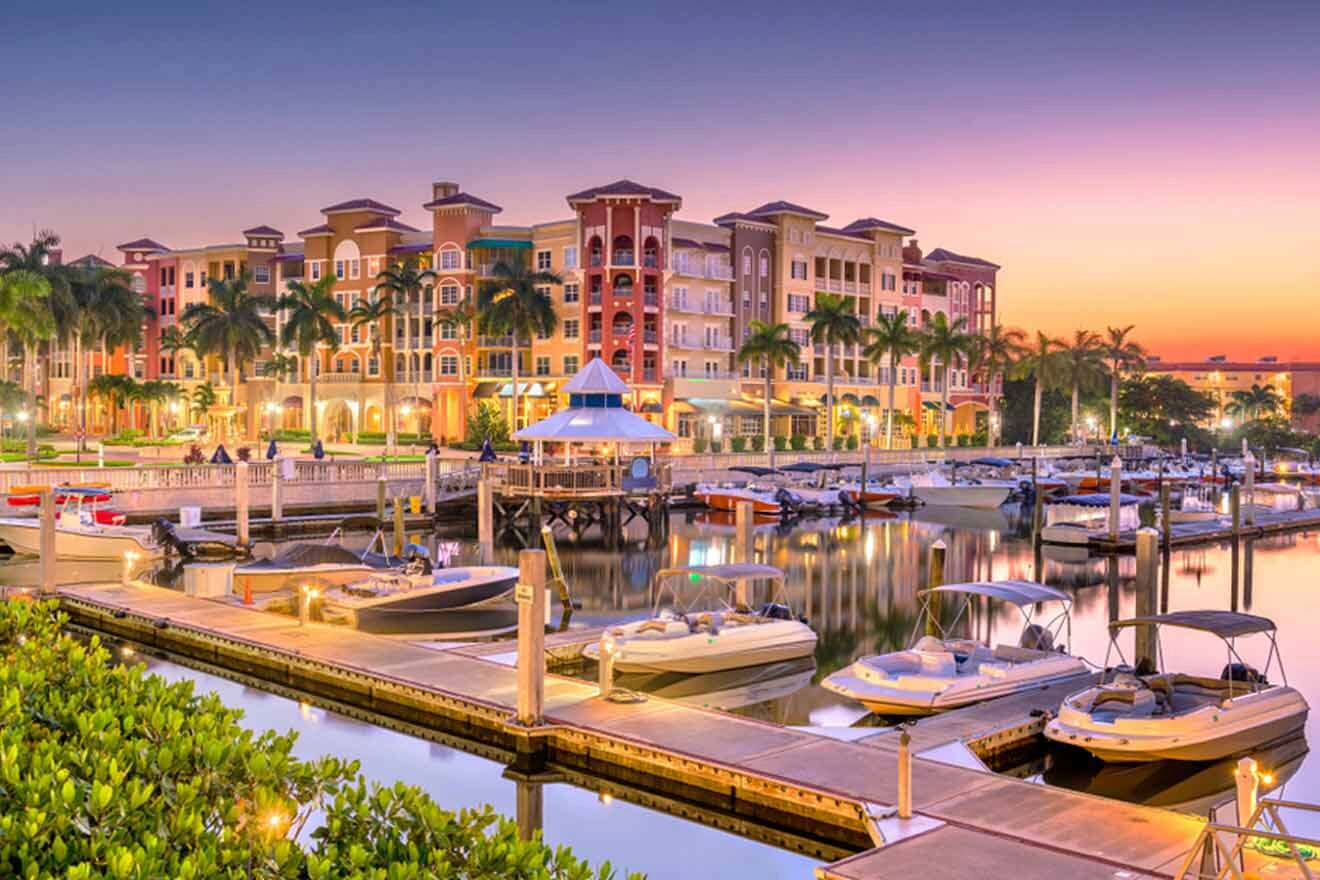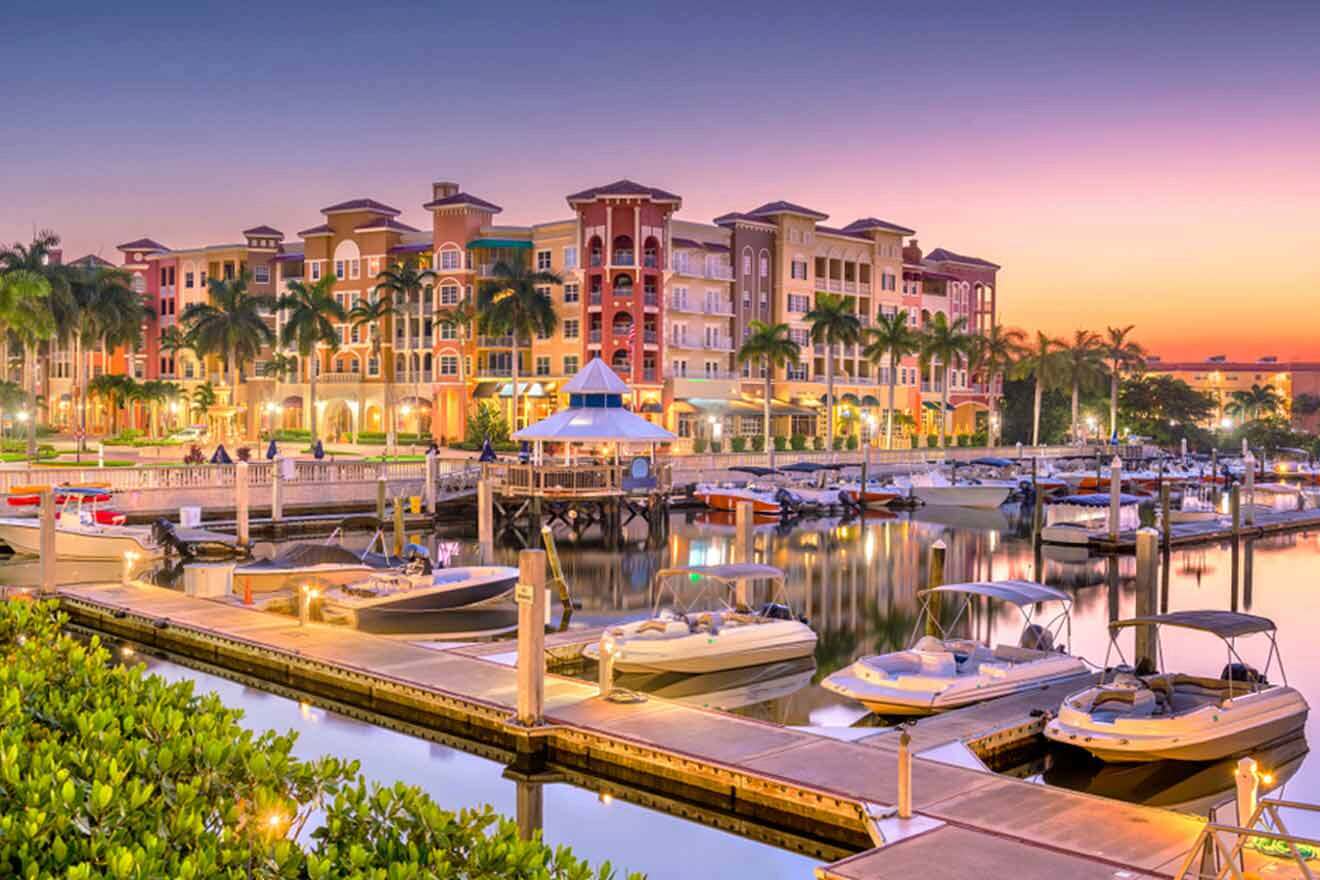 Already daydreaming about these sandy beaches and the resorts in Naples with Gulf views? Me too! This place is so amazing, and you haven't even seen the championship golf courses yet!
And now that we've seen the best Naples resorts on the beach, plus the top vacation rentals and some amazing hotels on the beach, I think you're ready to plan this trip!
Just remember what I said about booking these beach resorts early. As you just saw, there are only a few top resorts, which means that they'll sell out super fast!
On that note, if you're still struggling to pick a hotel, then definitely have a look below where I left my 2 favorite beach resorts in Naples:
Edgewater Beach Hotel – This beachfront hotel is so incredible, and it offers lush surroundings, an outdoor pool, rooms with a private balcony, and a restaurant
Vanderbilt Beach Resort – One of the best beach resorts in Naples that comes with spacious rooms, an outdoor pool, a tennis court, and attentive staff
As always, it's been a pleasure to tell you all about these resorts in Naples, FL and if I missed anything by mistake, just drop me a comment below, and I'll make sure to answer it as soon as I can!
Safe travels,
Victoria
---
Pin it for later!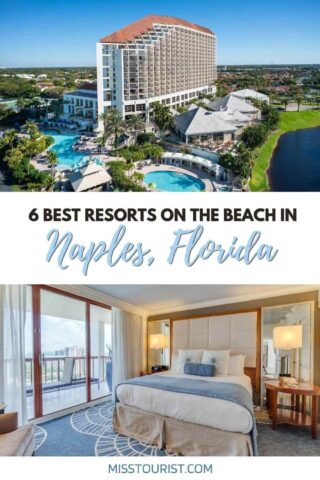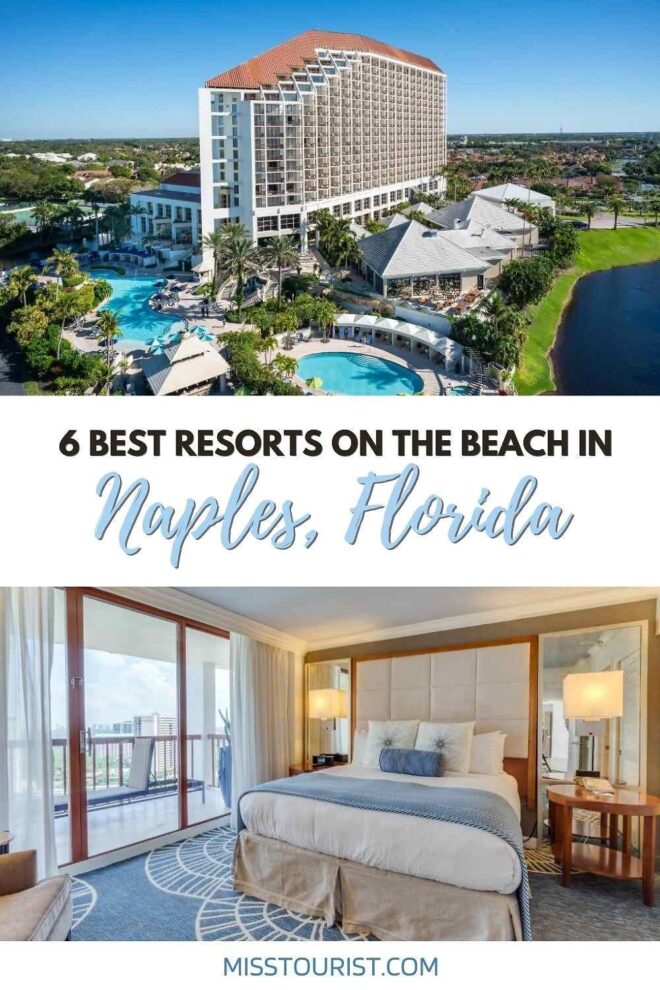 Pin it for later!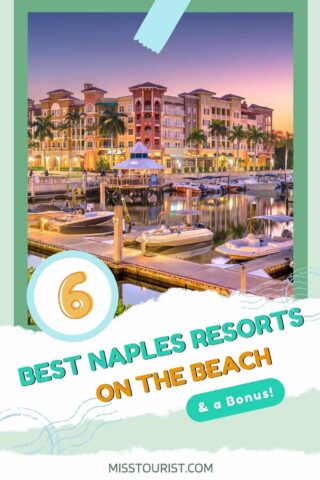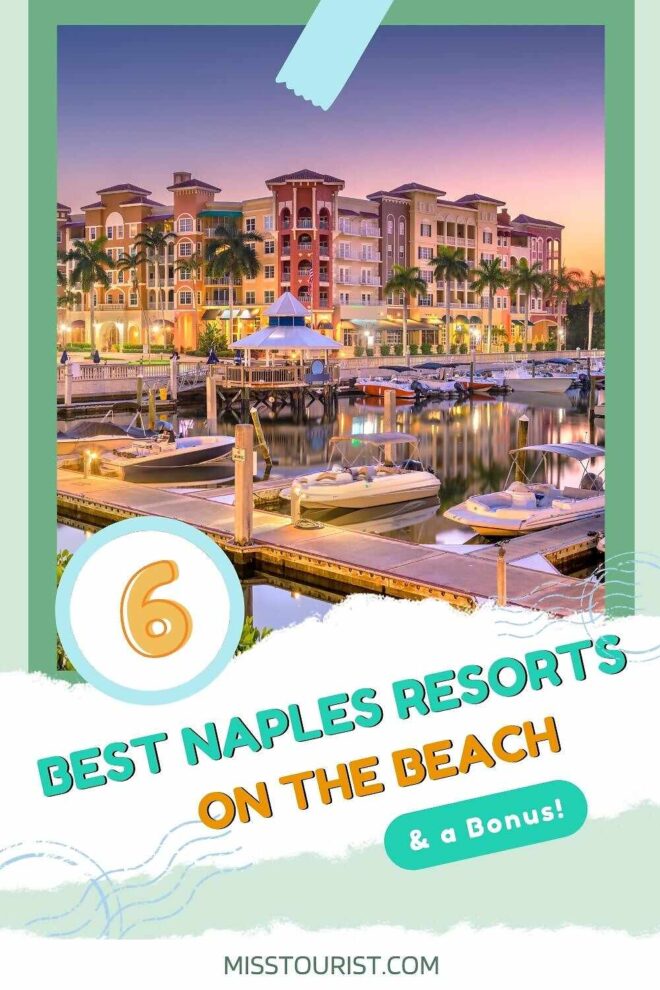 Products You May Like