The ULTIMATE Osaka Ryokans: 16 Traditional Stays!
Are you planning an amazing vacation in Osaka? Then you should stay in one of the best ryokan out there! Luckily for you, I have been looking and searching up and down, left and right, so you can choose your favorite Osaka ryokan!!
Truth be told, I am a little jelly you are going to such an amazing country with such a rich culture, and all the hotels down below look like they were taken out of a beautiful film.
I have arranged this article starting with the most luxurious hotels first, but all of them are top-class! And at the end, I added 2 bonuses with the best hotels in Osaka and traditional Osaka apartments so you have plenty of options to choose from!
Ryokans in Osaka are super popular, and people from all around the world travel all year round to stay in hotels with these typical Japanese rooms, so if you want to book the room of your dreams, book in advance!
Are you ready to see the best Ryokan rooms in Osaka?
Let's dive in, my dears!
If you are in a hurry
If you don't have a lot of time to read the whole article, here are the top 3 hotels in Osaka Ryokan rooms, so you can just click and book!
To help you better understand the area and where each hotel is located, here you have a map with all the specific hotels' locations!
1. Konjaku-So Osaka Castle South – with private onsen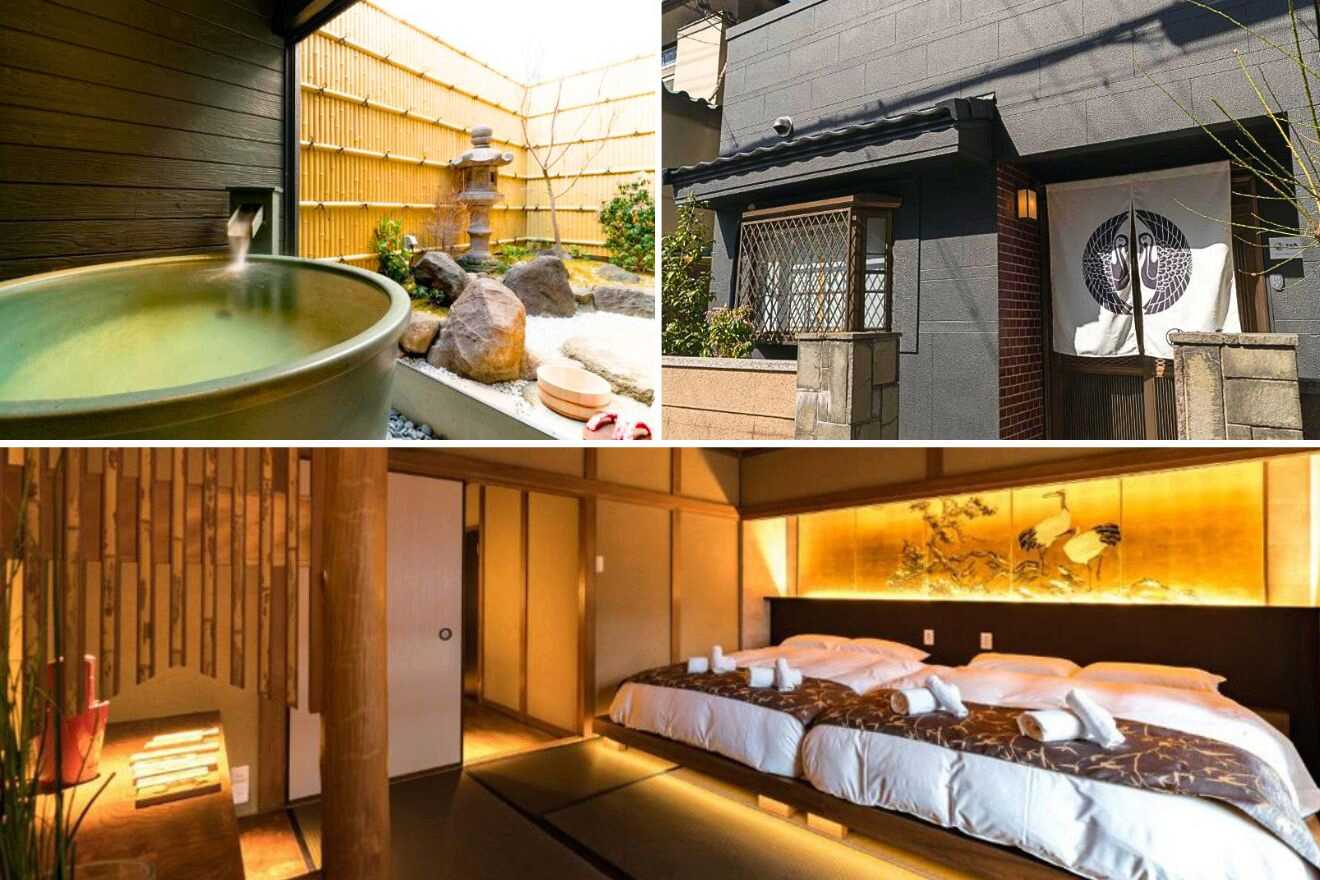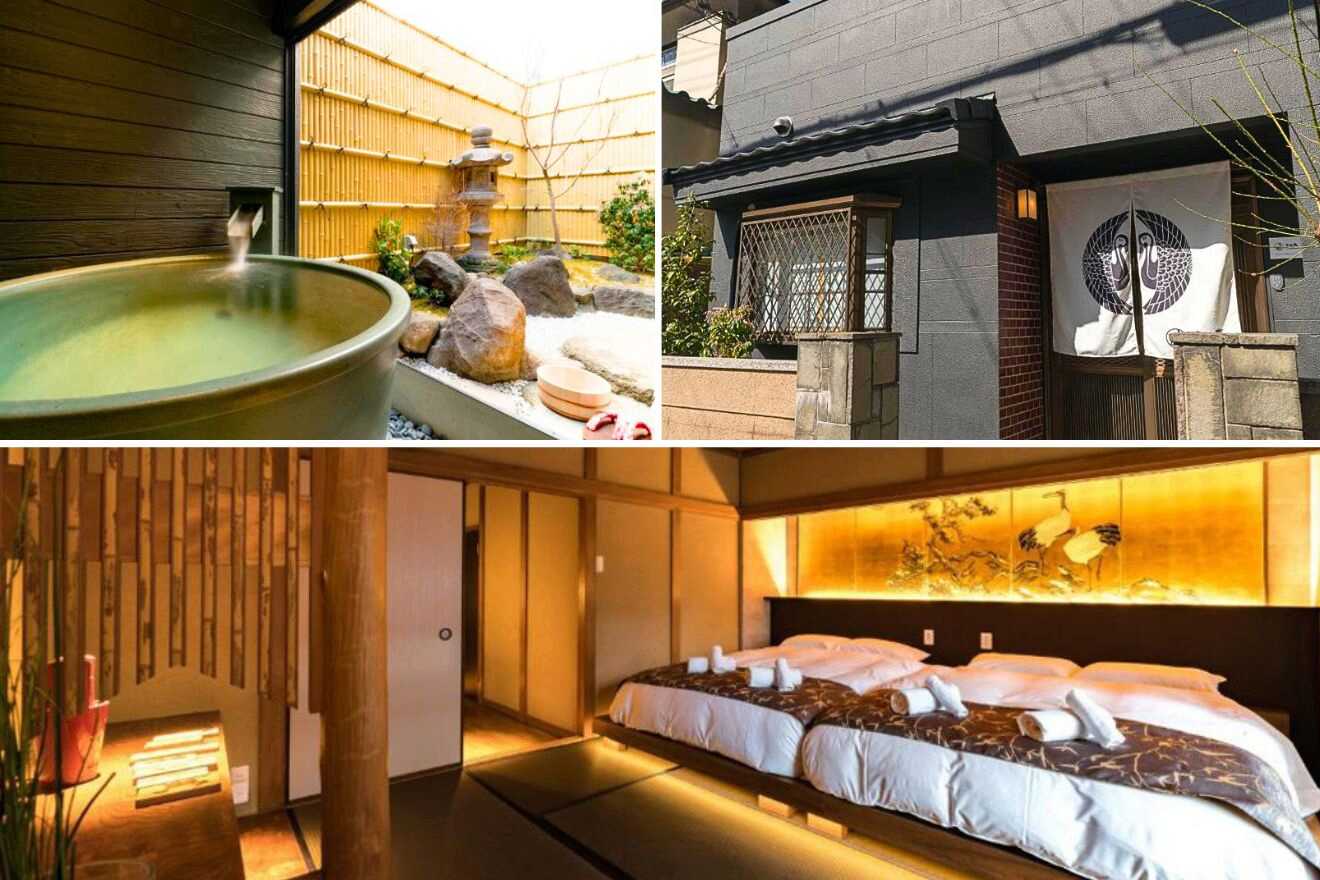 Wow! This hotel looks so luxurious and relaxing, the dim lights really set you up for a comfy time and great sleep. These ryokans come with traditional Japanese-style rooms that have the typical Japanese tatami mats, and hot spring open-air baths overlooking your own private Japanese garden. The rooms also feature amazing flat-screen TVs with streaming services such as Netflix, a private bathroom, and free Wi-Fi.
The ryokans can host up to 12 guests and have a laundry service. The very accommodating staff speak English and will make sure you have a comfortable stay! The hotel is located in Higashinari-ku, Osaka, and Imazato Station is less than a mile away (1 km) from the property, with Hoan Ji temple less than an hour's drive away! If you're looking for more options, check out our post with the best areas to stay in Osaka!
2. Konjaku-So Shinsaibashi Rooftop – centrally located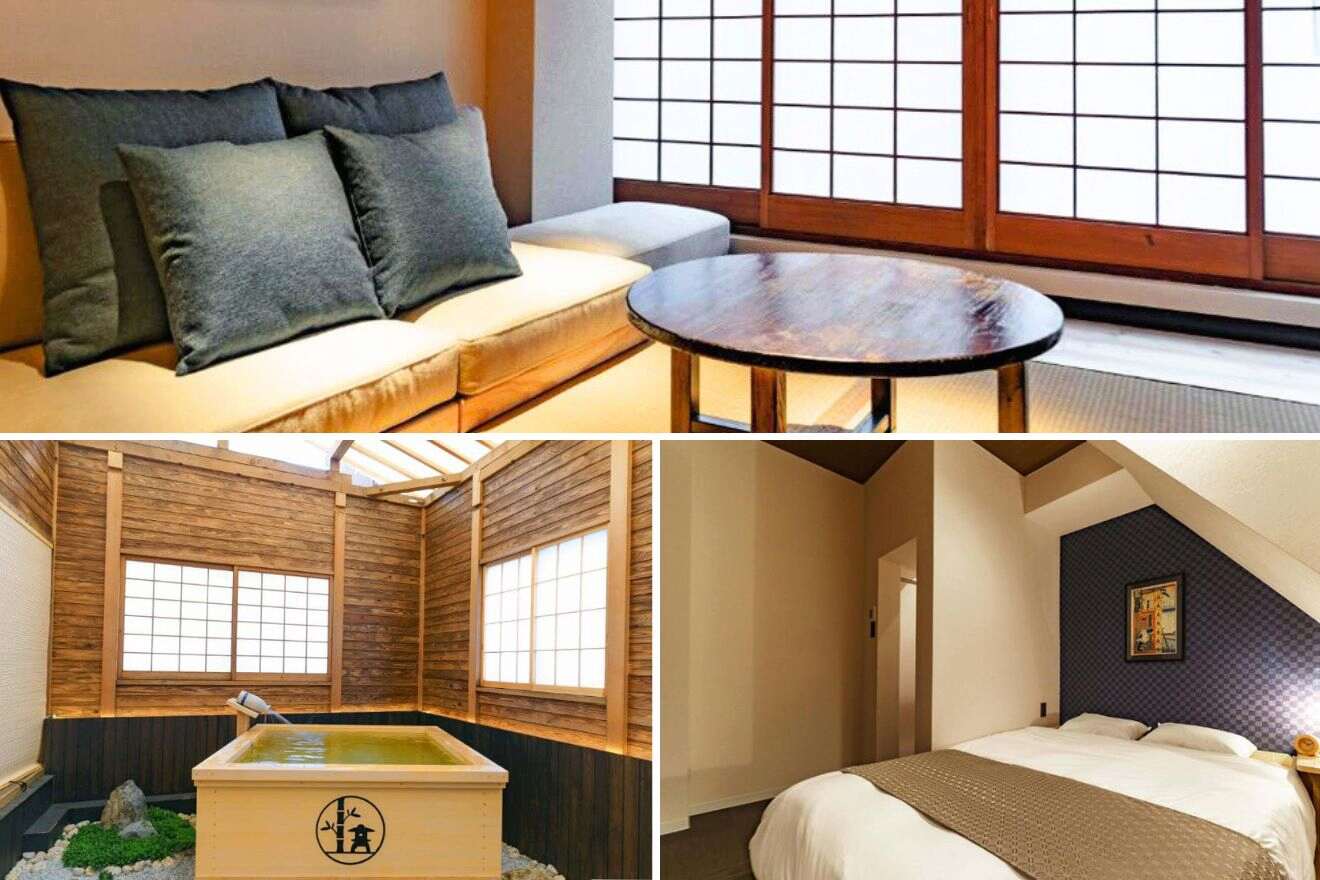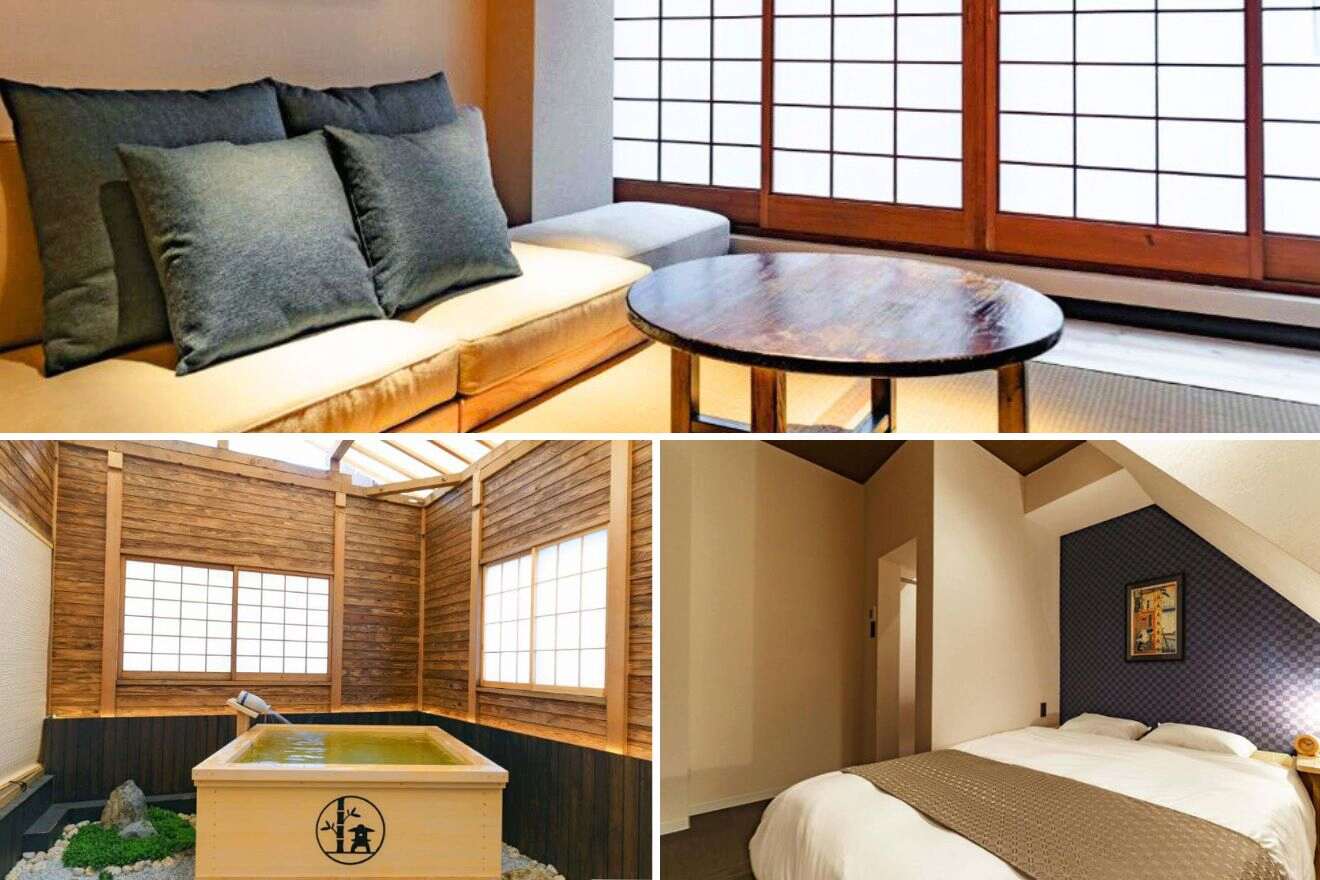 What a beautiful hotel; it's the perfect setting to immerse yourself in Japanese culture! This hotel offers 4-bedroom houses with private bathrooms that will make you feel like you are in a Studio Ghibli Film! The house comes with space for 14 guests, which is perfect for a large group, a lovely private garden with hot springs and a projector where you can stream movies, and a living room area with a big flat-screen TV and a nice collection of sake.
The hotel's excellent location is ideal for first-timers in the city, Nipponbashi subway station is within walking distance, and there are a lot of restaurants and bars in close proximity! The hotel's helpful staff is there for you if you have any inquiries!
3. Ryotei Jyusouya – discover Sango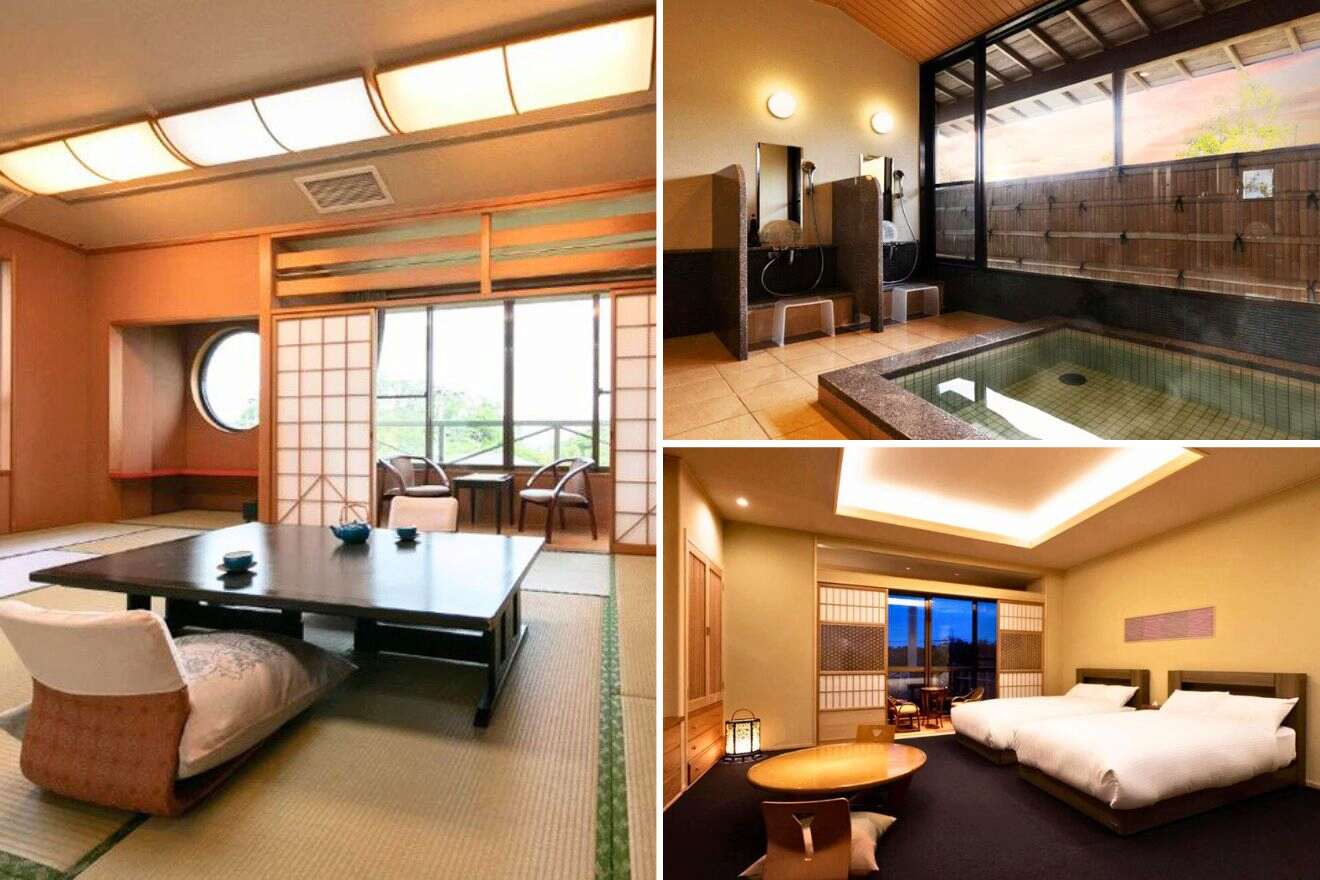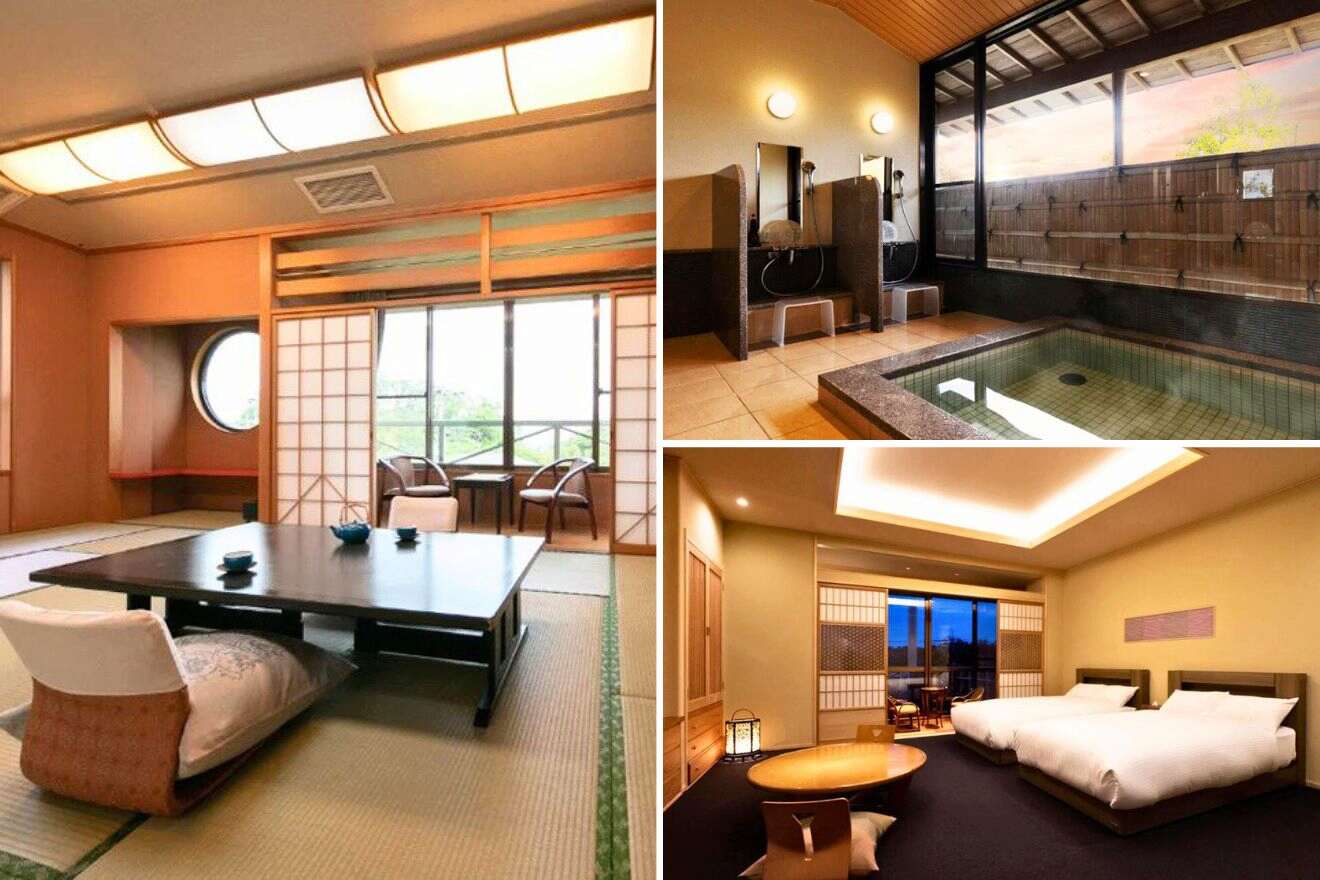 How stunning is this amazing property! Located in Sango, just a 40-minute drive from the city of Osaka and approximately a 1-hour drive away from Kyoto. The closest train station is also just 1 mile (1.5 km) away, so it's super convenient. Without a doubt, this accommodation will make you feel pampered with its friendly staff and fabulous amenities!
They feature spacious traditional Japanese rooms with tatami flooring, which is such a treat to experience, together with the delicious complimentary Japanese breakfast, and if you wish, you can enjoy a lovely dinner at the onsite restaurant! And don't miss the experience and join the traditional Japanese public baths and relax!
4. Konjaku-So Dotonbori Garden – close to attractions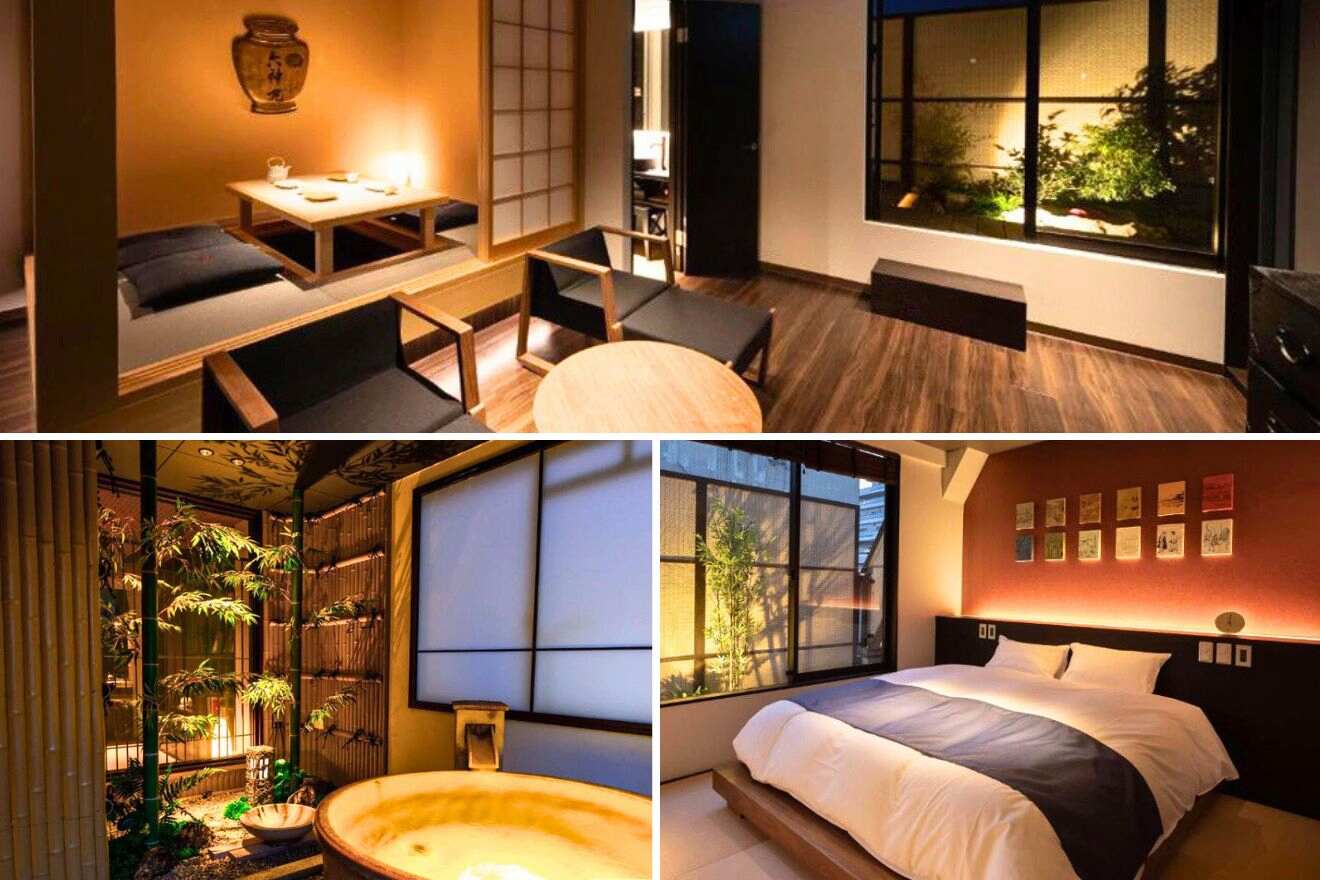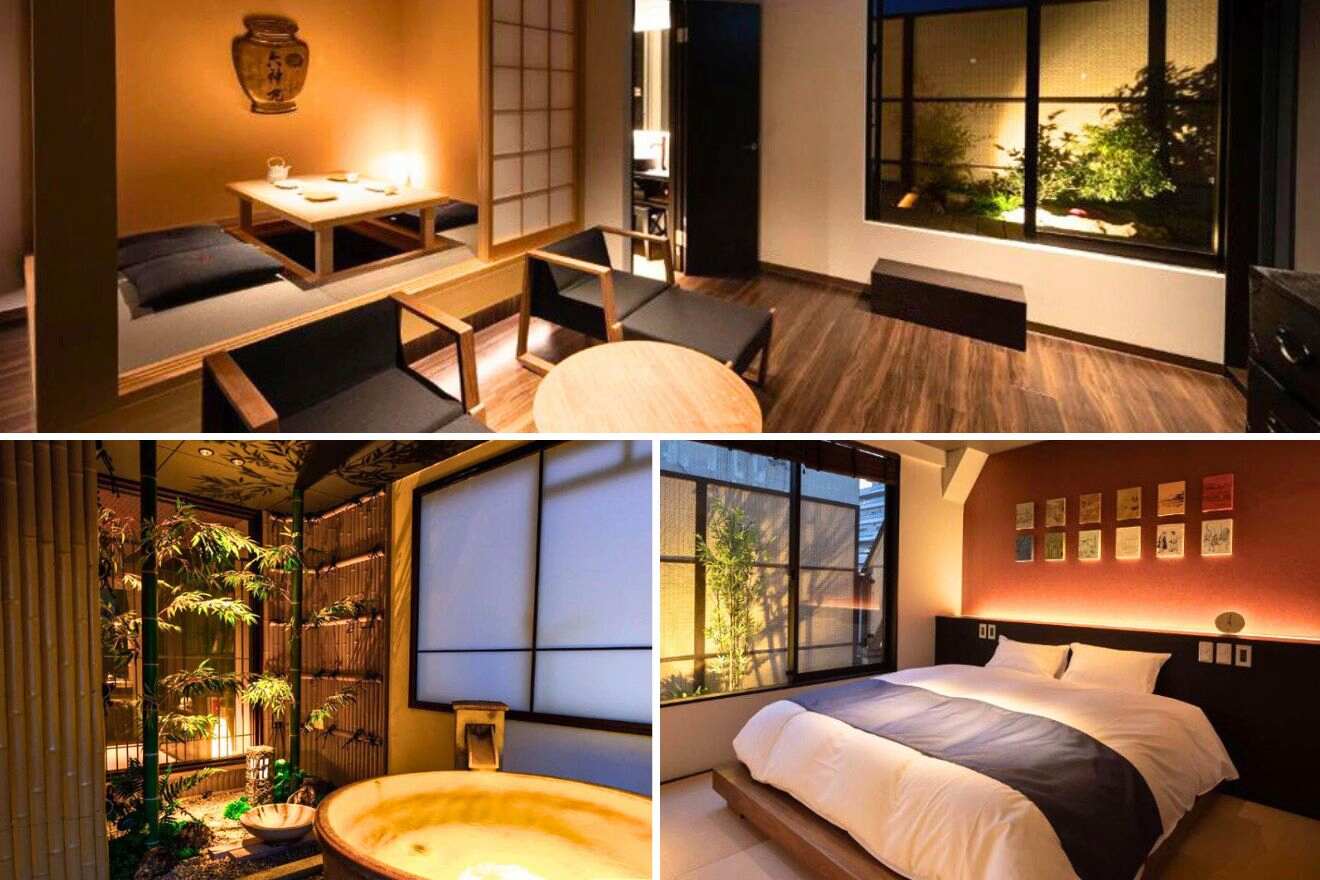 I am completely obsessed with this hotel! First, the location cannot be better, right in the middle of Osaka and with many dining and attractions, Namba Station is a 10-minute walk away, and Nipponbashi Station is only a minute away from the hotel. This means easy access to other attractions, such as Osaka Castle. Imagine visiting in the cherry blossom season – such a dreamy image for the perfect vacay!
Staying at this hotel, you will get to live through the true ryokan experience; first, the soft lights that are typical in this type of Japanese room will make you feel at ease, accompanied by tatami flooring! There are 2 types of rooms in this property hosting between 4 and 8 guests; some of the rooms have futon bedding.
5. Fudouguchikan Ryokan – for a spa experience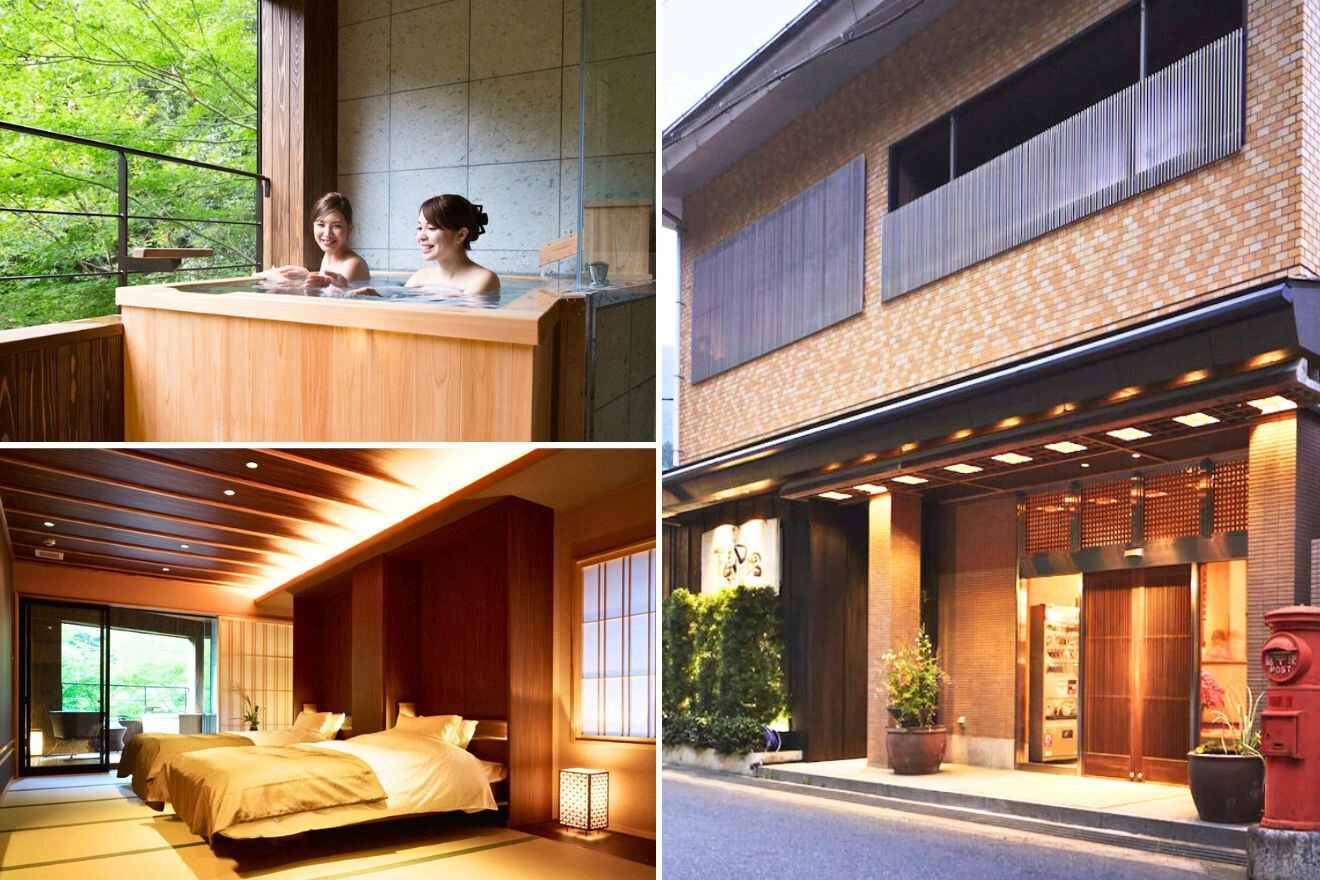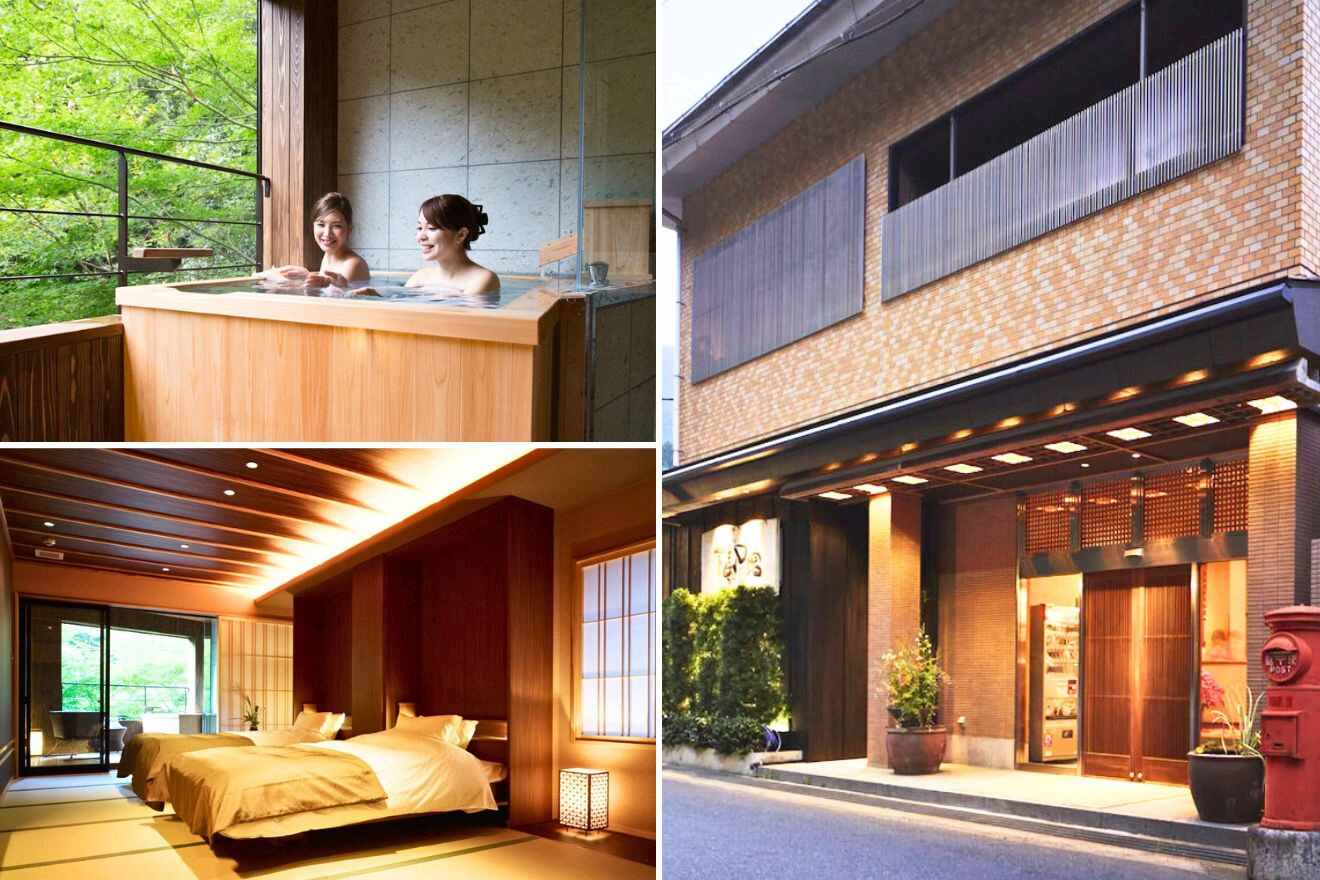 This cute hotel located in Izumisano is surrounded by mountains and little rivers and streams; you will feel like you are in a different universe! Osaka is only 1 hour away by public transport, so you will have the perfect combination between quiet relaxation and busy city life!
There is a front desk in the lobby where staff can help you out if you need anything. The accommodation features great Ryokan rooms perfectly decorated following a delightful Japanese style; the guests love the open bath with hot springs located on the balconies and featuring a wonderful view. The hotel spa has public baths, and yukata robes are provided there!
6. Okumizuma Onsen – with a huge outdoor pool!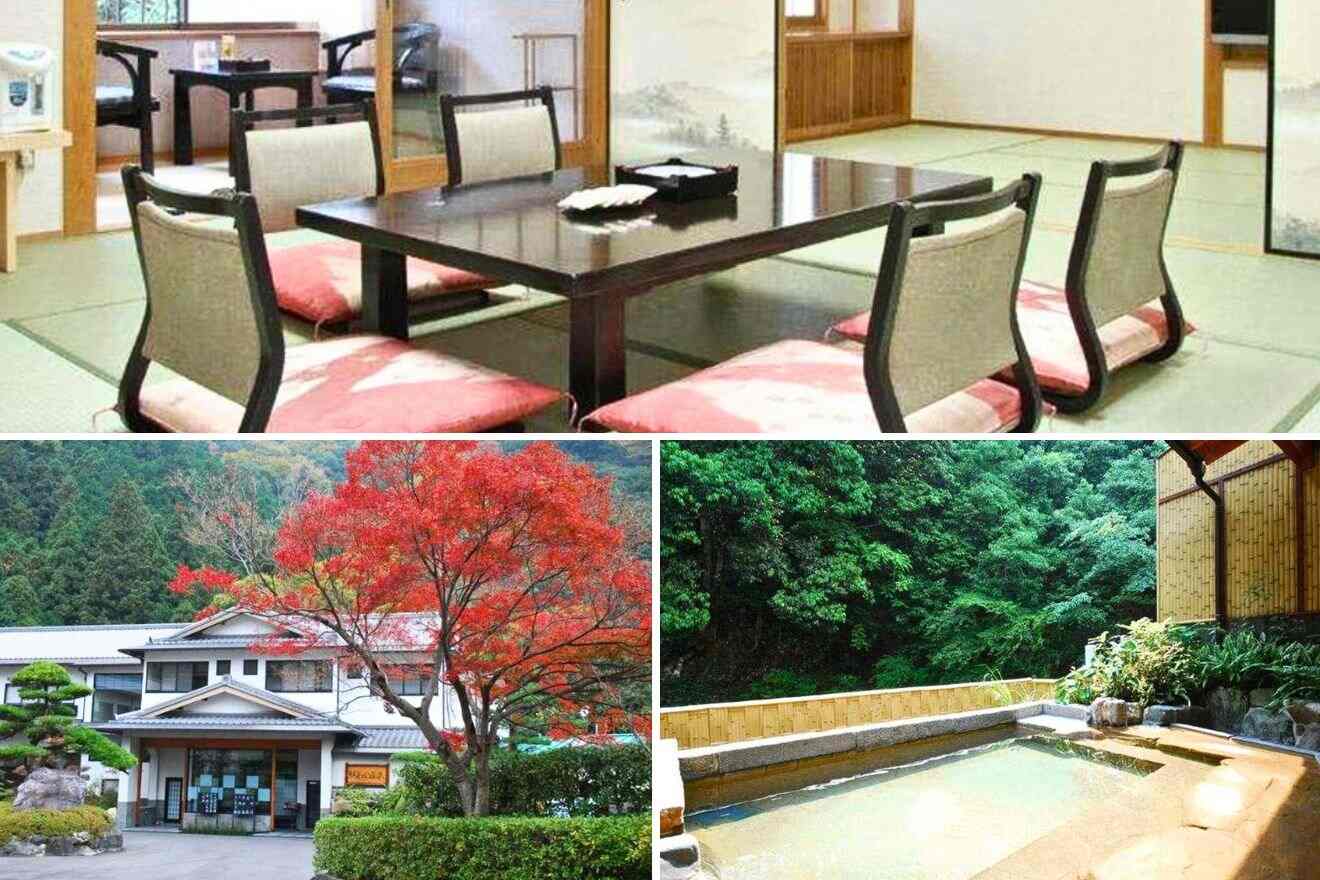 How beautiful, I am in awe! This fantastic hotel is located in Kaizuka, which is only a 50-minute drive away from Osaka City Center and has many temples a few miles away, including Mizuma-dera and Kon-Ji Temple. The accommodation offers a shuttle service, and there is free parking available on-site, so it's great if you love convenience!
The hotel is super big, and there is a stunning Japanese garden surrounding it. You can also enjoy the outdoor pool open to all ages, and there is a traditional breakfast buffet available for a fee. Some of the rooms come with an open bath with hot springs, and there is a public bath that is shared with other guests.
7. Nanten-En – for beautiful scenery!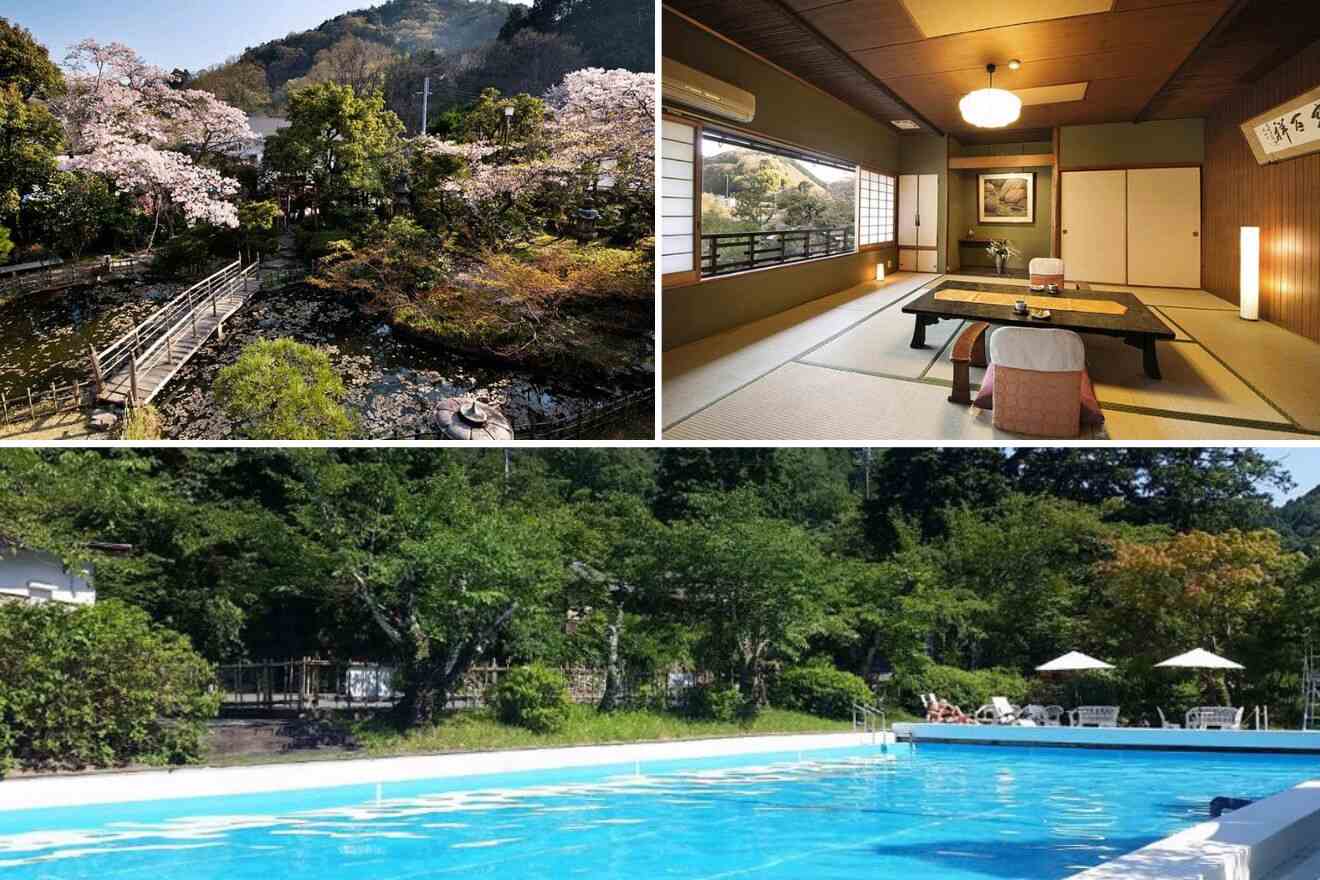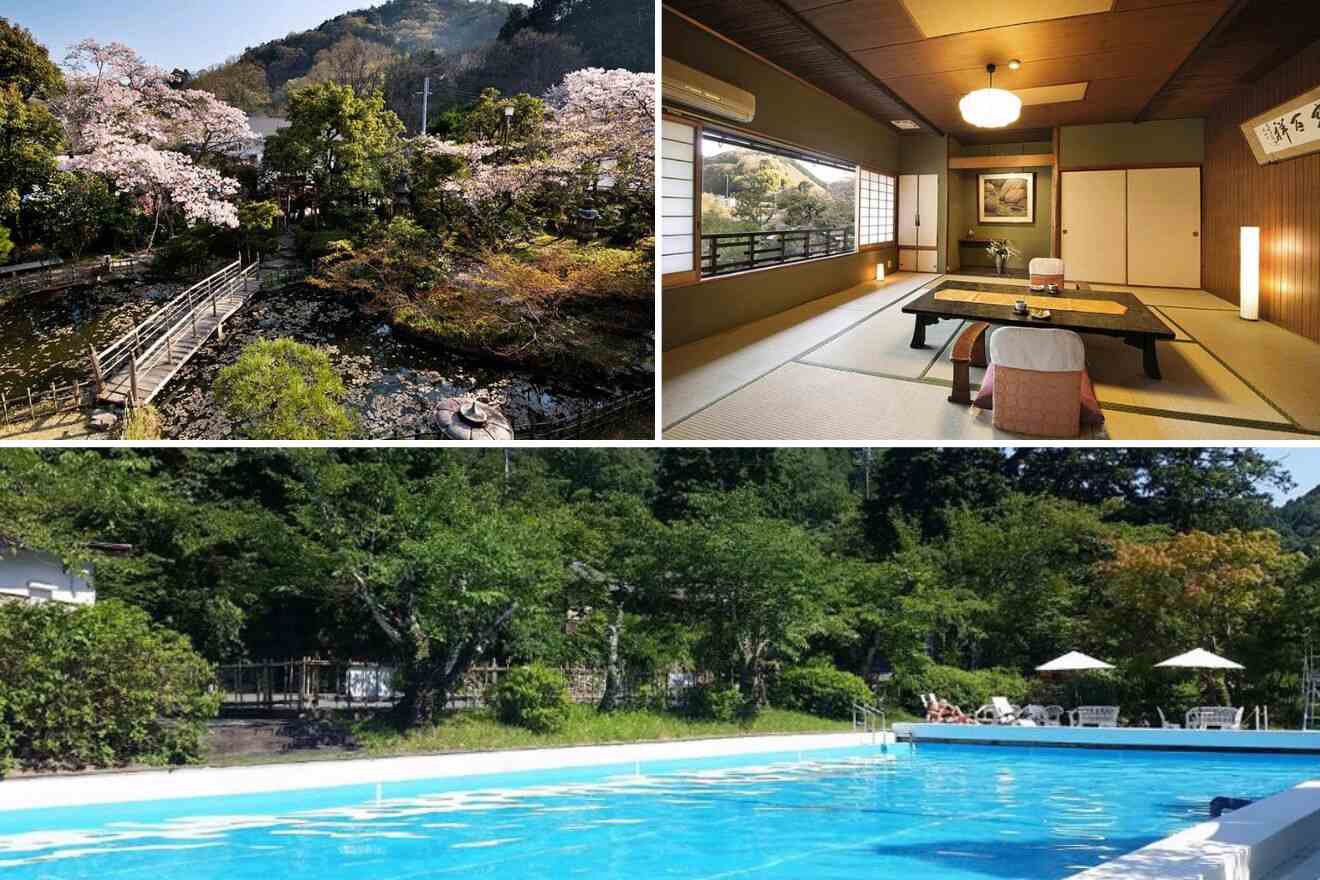 I neeeeed to stay in this hotel! The beautiful natural landscape surrounding this property is simply beautiful; those lush Niwaki trees and cherry blossoms remind me of the film The Tale of the Princess Kaguya, so dreamy! It is located in Kawachinagano, just an hour's drive from Osaka city center.
The hotel has great amenities, such as an outdoor pool open in the summer season, an onsite restaurant serving breakfast and multicourse meals, and lovely private rooms with shared bathrooms and public baths. The family room can host up to 8 guests and comes with a private bathroom and open-air bath.
8. Gyokuzoin – feels like a movie!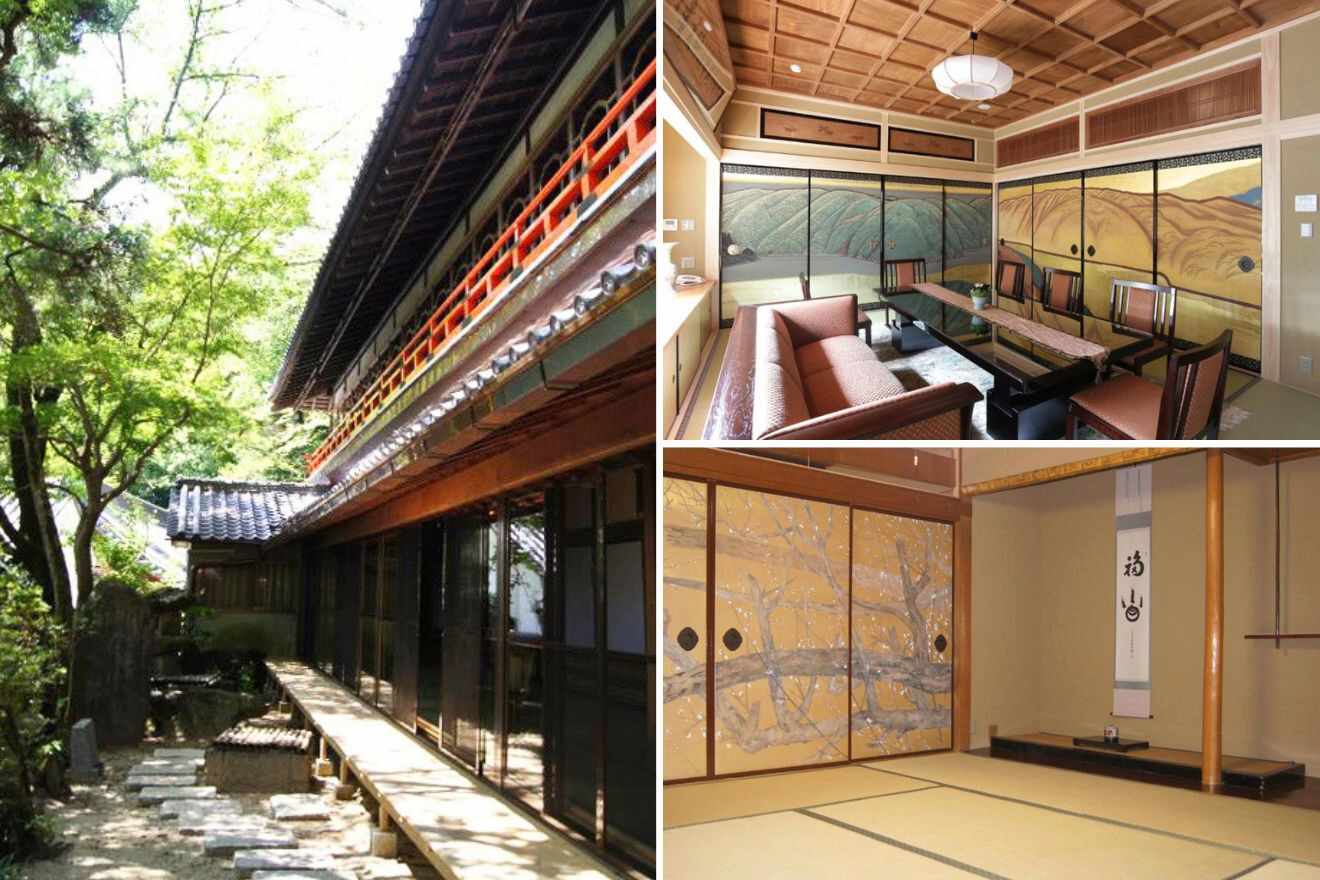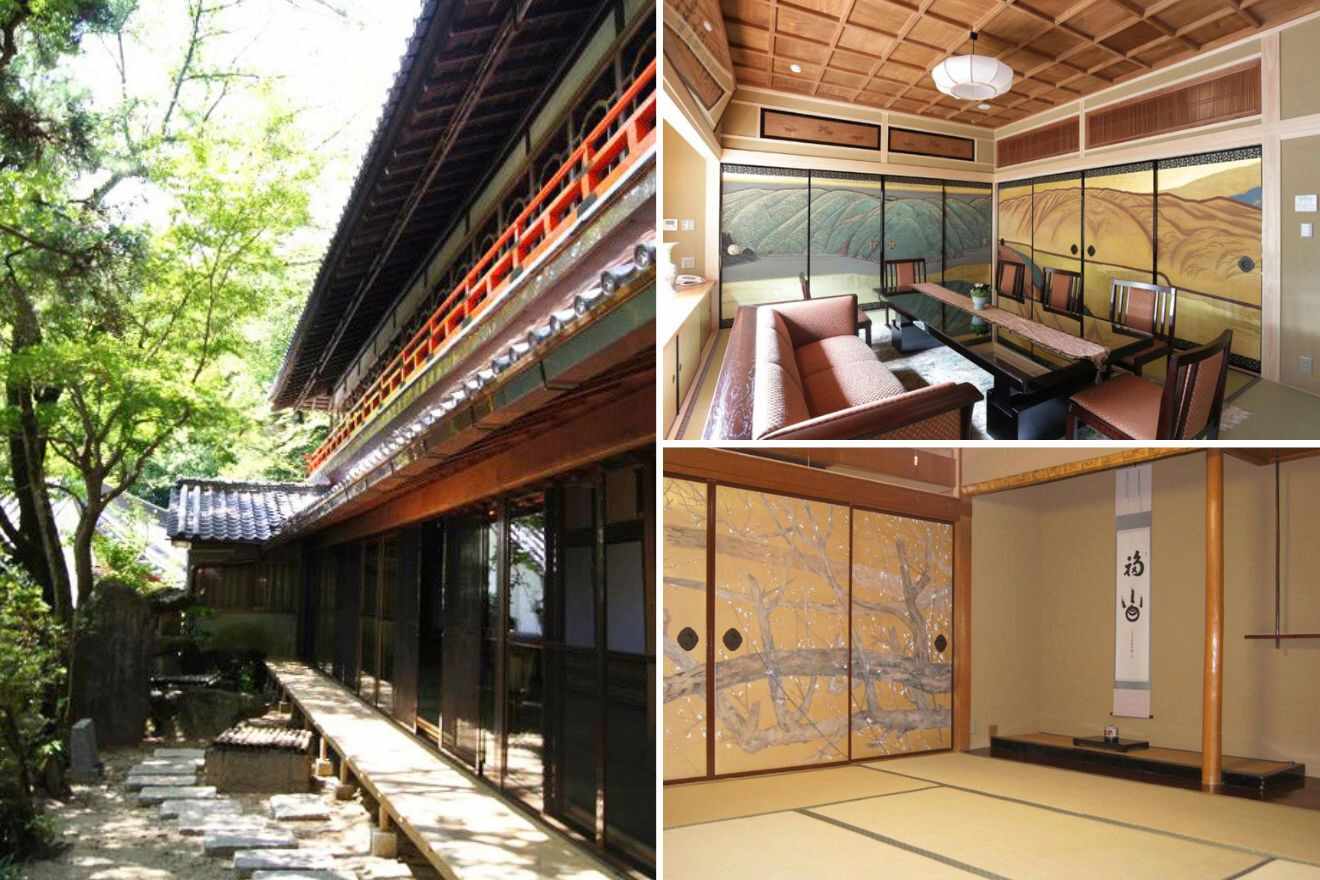 Located in Mount Shigisan, less than an hour's drive from Osaka, this beautiful temple will provide the perfect setting to make you feel part of something special and unique! Wander around in the beautiful temple's garden, let go of all your worries, and immerse yourself in this memorable experience!
The temple comes with a public bath open to all guests staying in any of the rooms, which come with futon beds, and most of the rooms have a shared bathroom. If you wish to have a private bathroom, look for this option when you are booking the room. You can have breakfast and meals in the hotel for an extra fee.
9. Harper House – explore Nishinari Ward district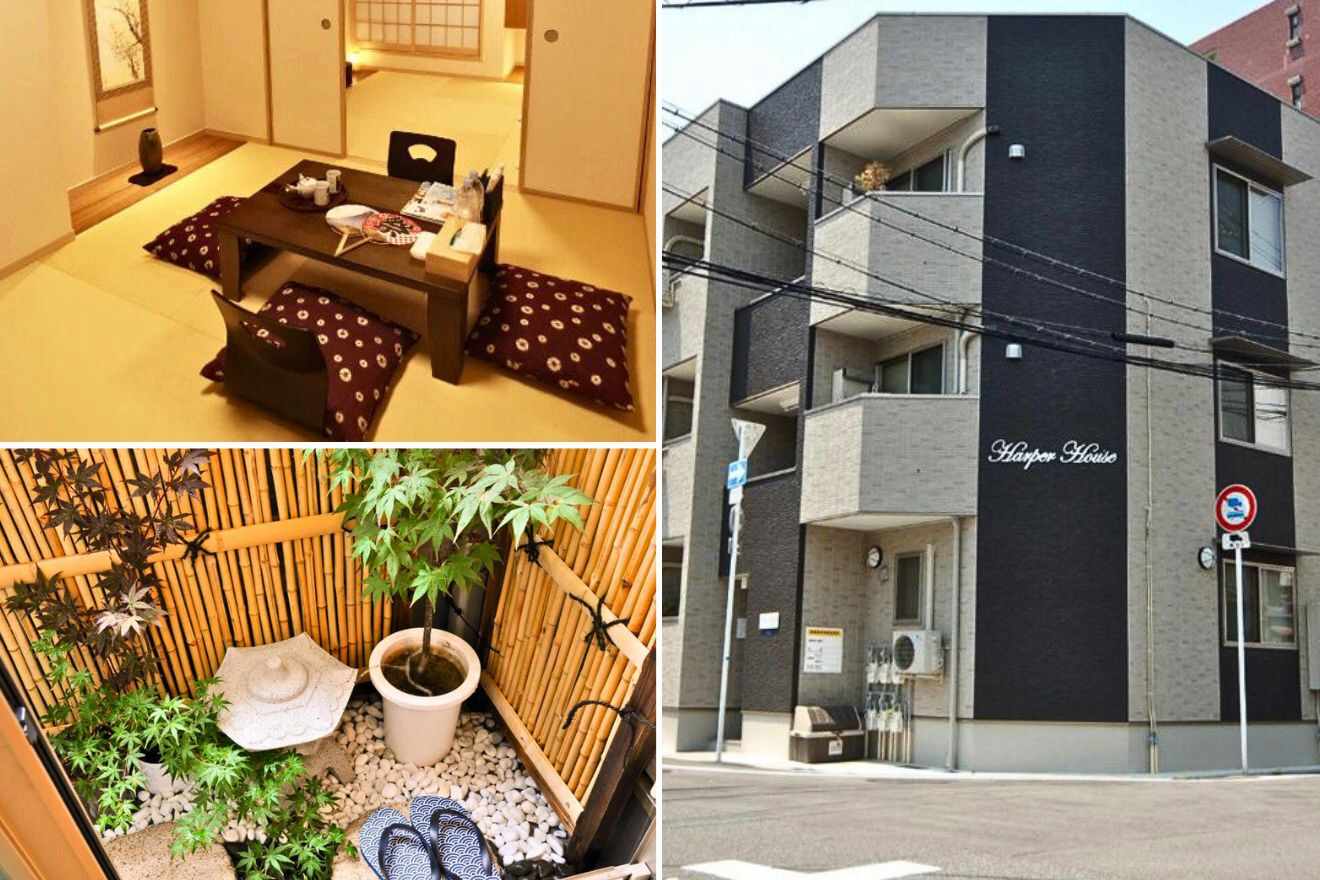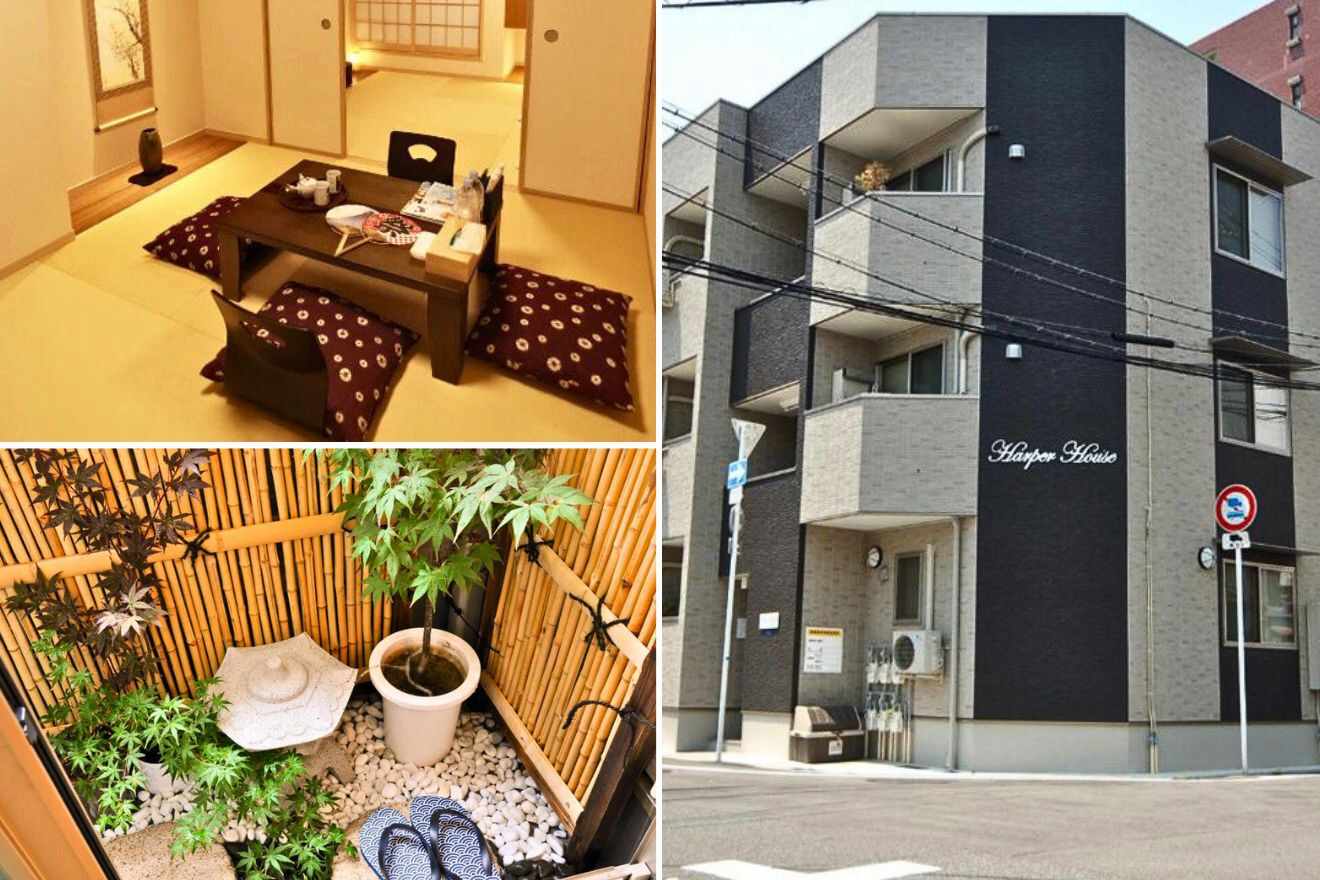 This cozy little hotel was built in 2018, so all the amenities featured in the hotel are super modern! They offer 2 different types of family rooms, both hosting 4 guests each. The bathrooms are super modern and controlled by electric panels, and each room has 4 futons extended on tatami flooring. Each room has a private kitchen which is super useful if you are looking to dive into Japanese cuisine and cook your own Miso soup!
The hotel is located in the Nishinari Ward district, which is only a 20-minute drive from the city center. There are many supermarkets and convenience stores just around the corner from this hotel, which is very convenient when you want to gather all the ingredients you need for that Miso!
10. Hotel Yu-shu – modern and comfortable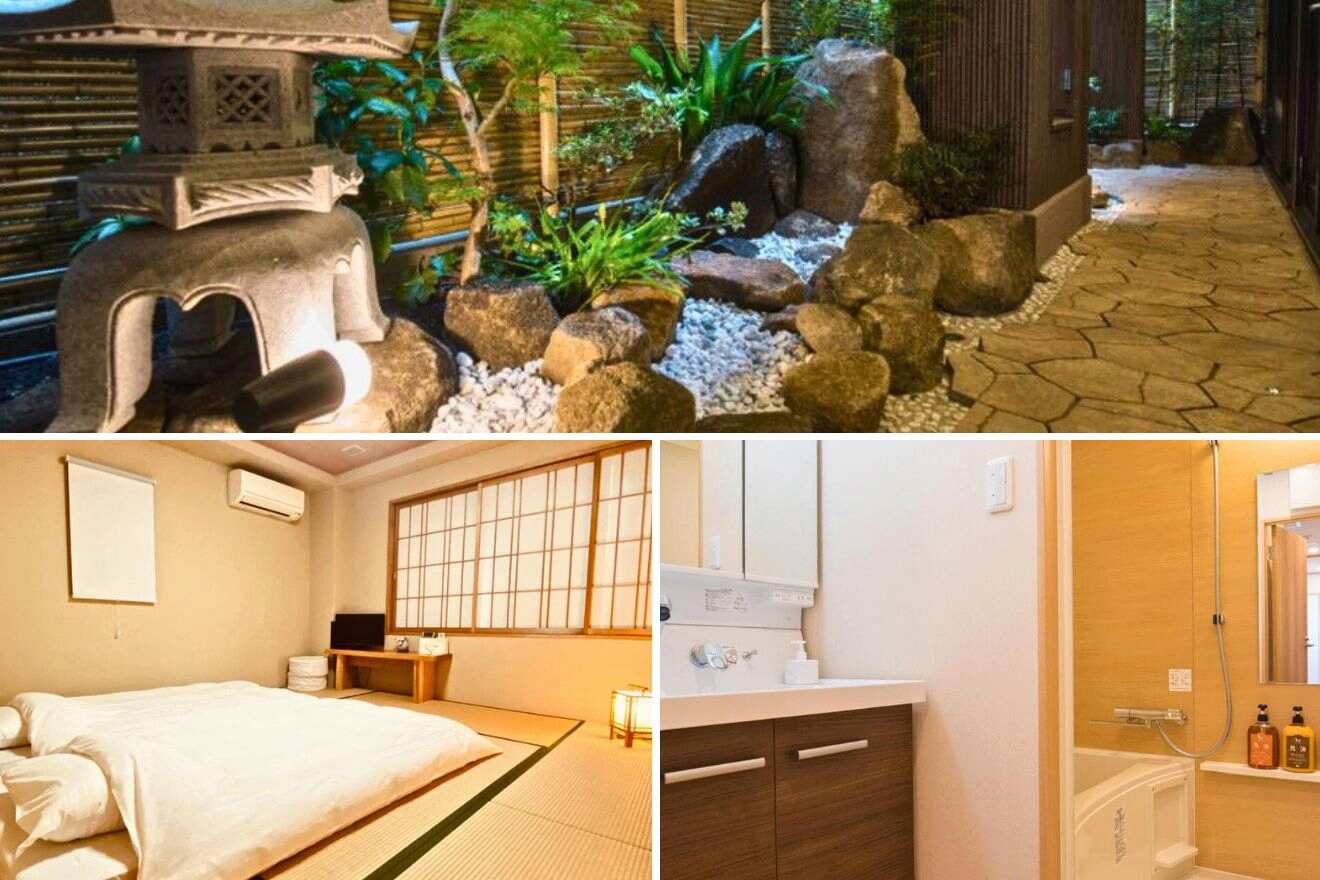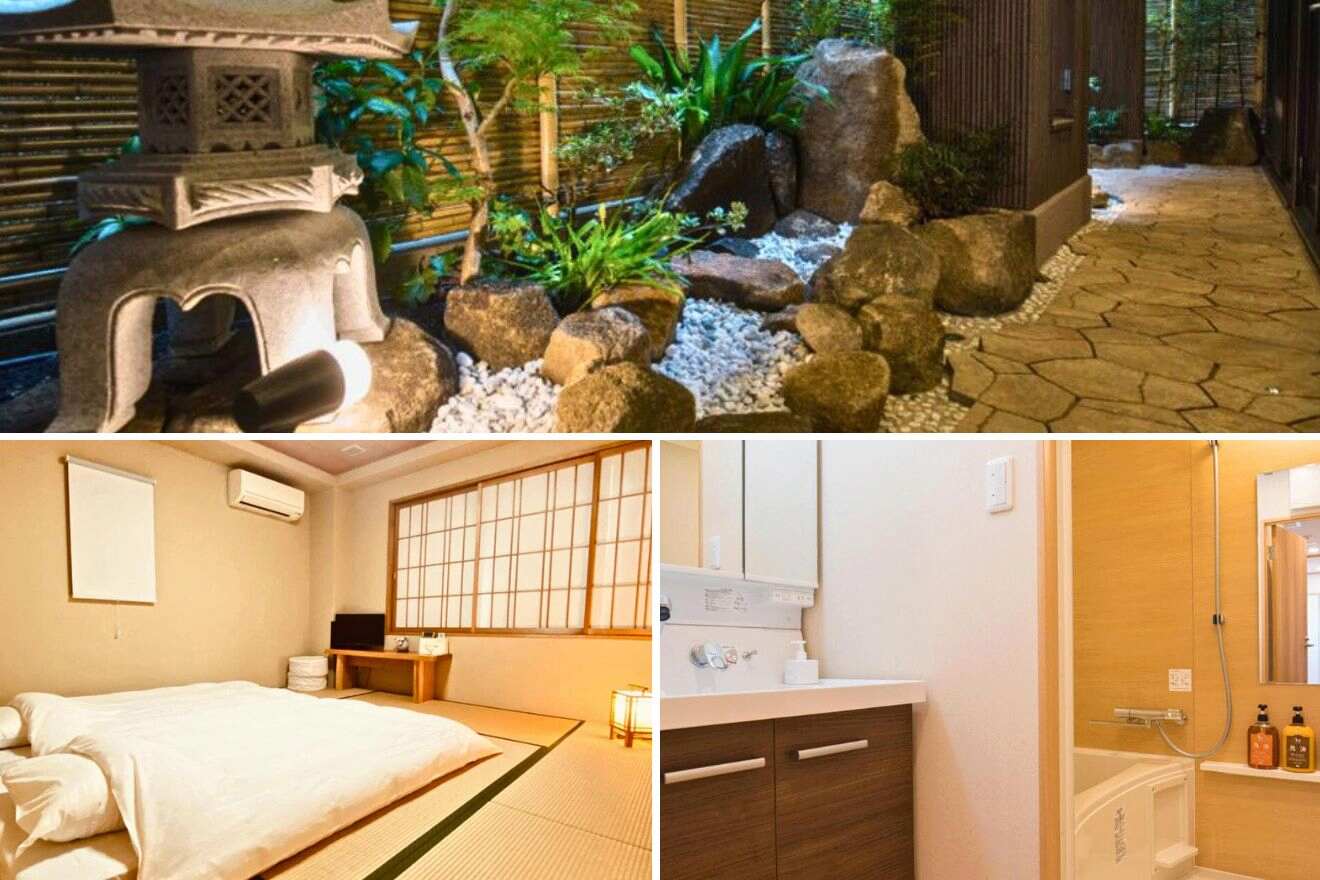 Located in Osaka city center, this homey hotel has everything you need for a perfect vacation in Japan, starting with the excellent location and easy connection to other parts of the city by public transport; for example, Nippombashi Station is only a few minutes away from the property and so is Hoan-ji Temple.
The ryokan looks amazing inside; super modern rooms with all the amenities you could wish for, comfy futon bedding on tatami flooring, bathrooms with bathtubs, and a kitchen with a stove and mini fridge. All guests can use the complimentary night suit that is provided in the room. There is also an onsite traditional garden that will make your stay feel wholesome.
11. Ryokan Fushioukaku – for amazing views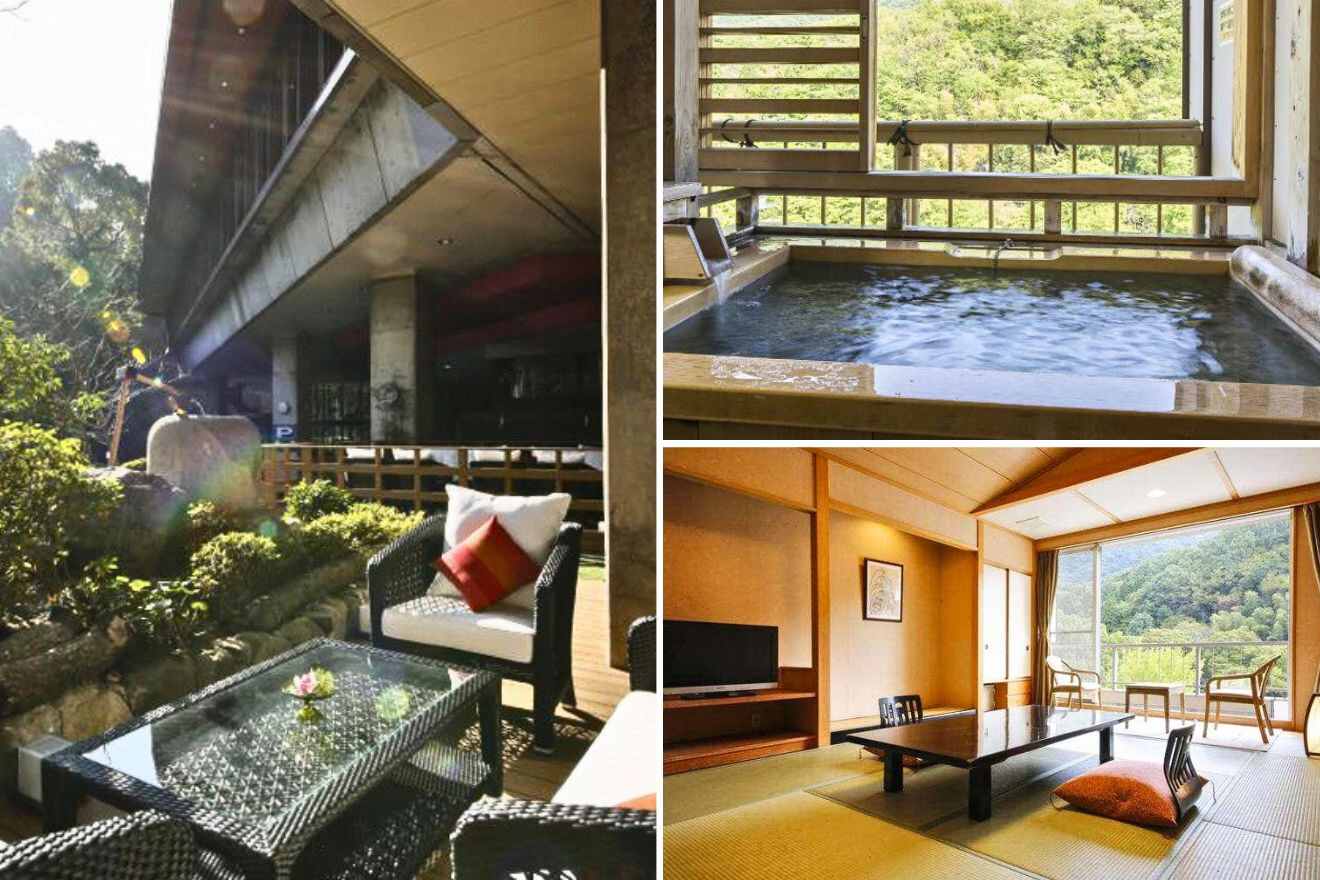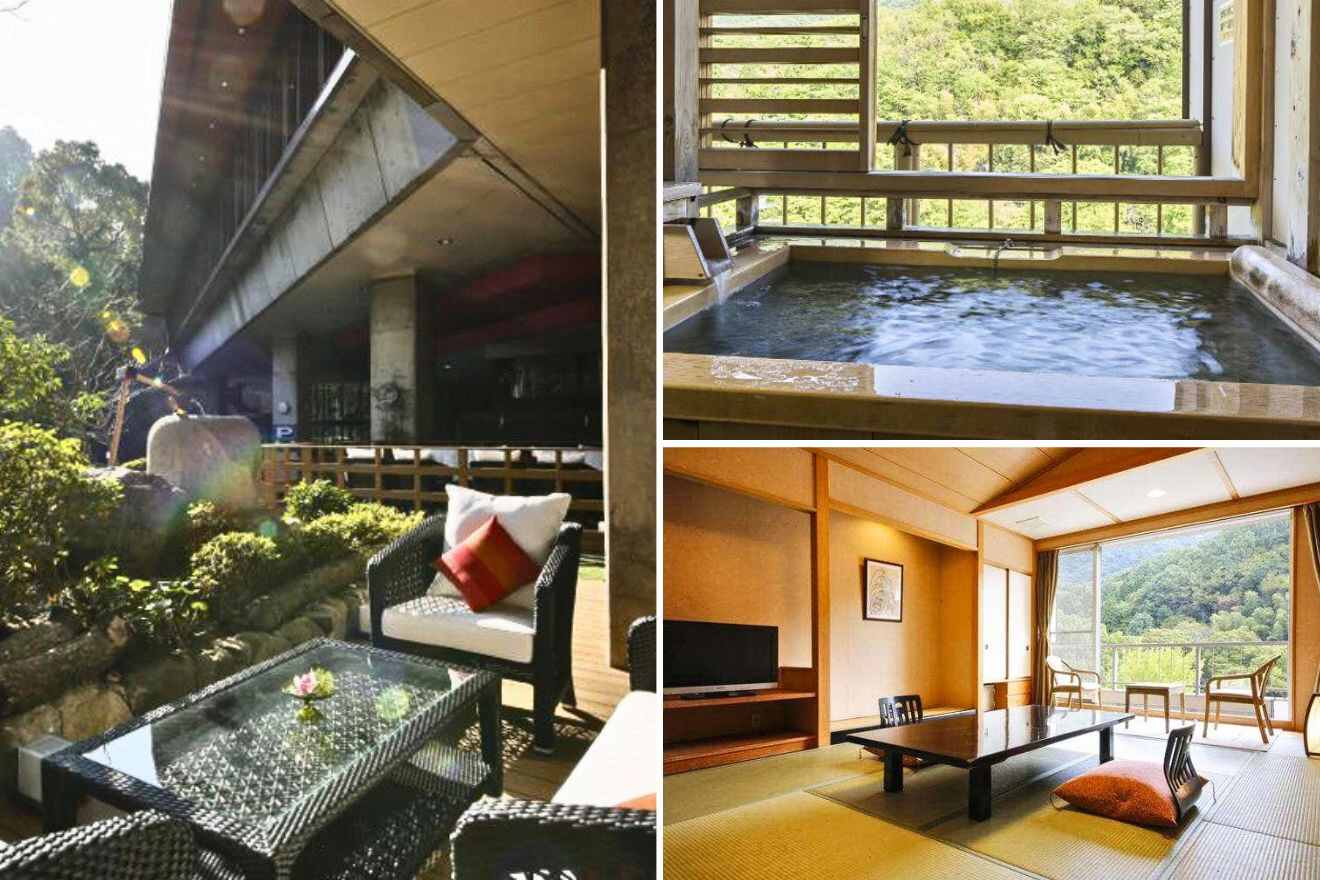 Wow! This hotel is truly beautiful, and most of the guests were completely amazed by the views you can admire from this property located in Ikeda (only a 30-minute drive to Osaka). The view features beautiful woods and mountains that will enhance your entire vacation in Japan.
The hotel features an outdoor pool with a slide, which kids will definitely enjoy, a complimentary buffet breakfast for all guests, a spa center with public baths and sauna, a game room, and karaoke which you can enjoy for a fee. There is also a free shuttle service available, so you don't need to worry about transport!
12. Kaneyoshi Ryokan – for a great breakfast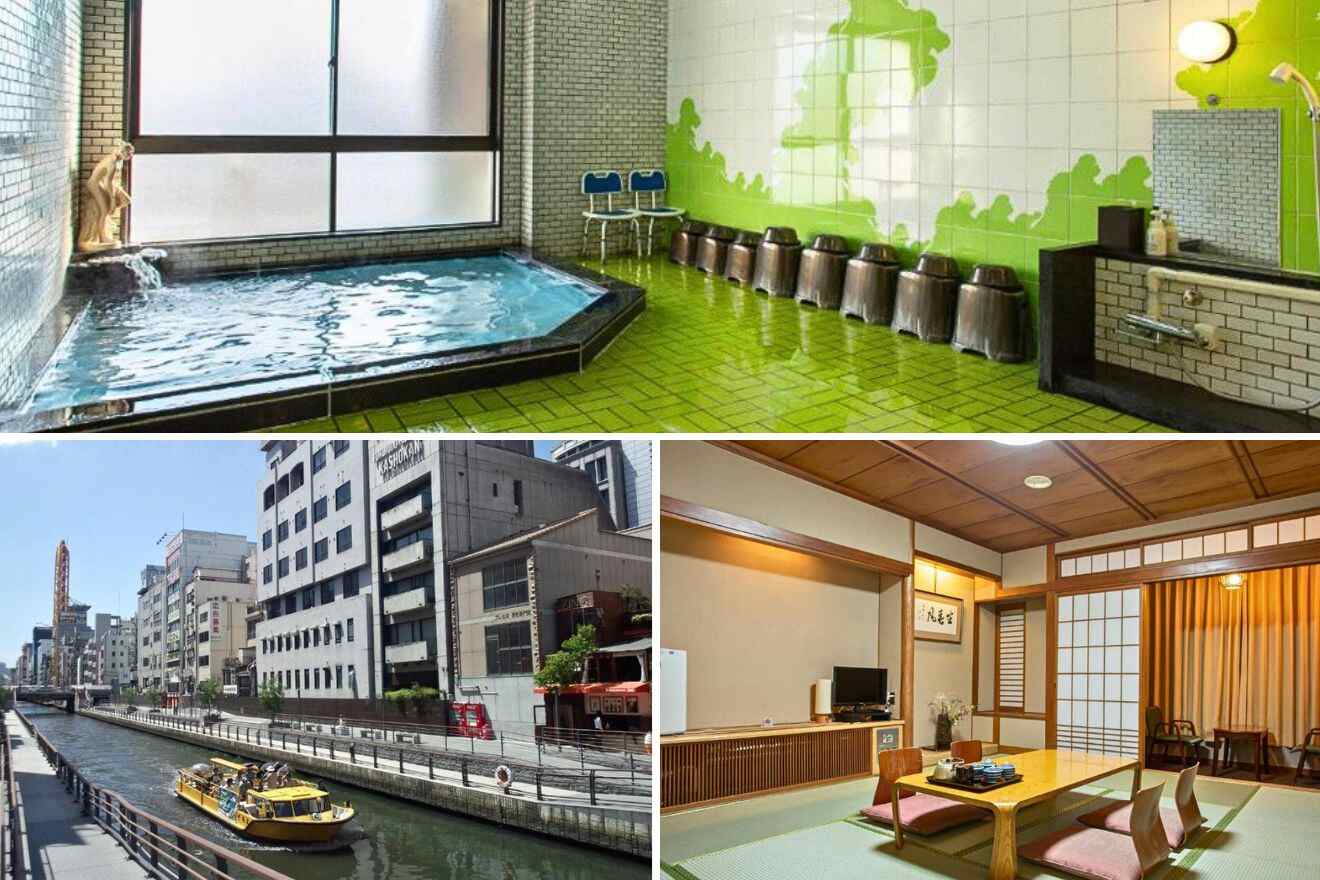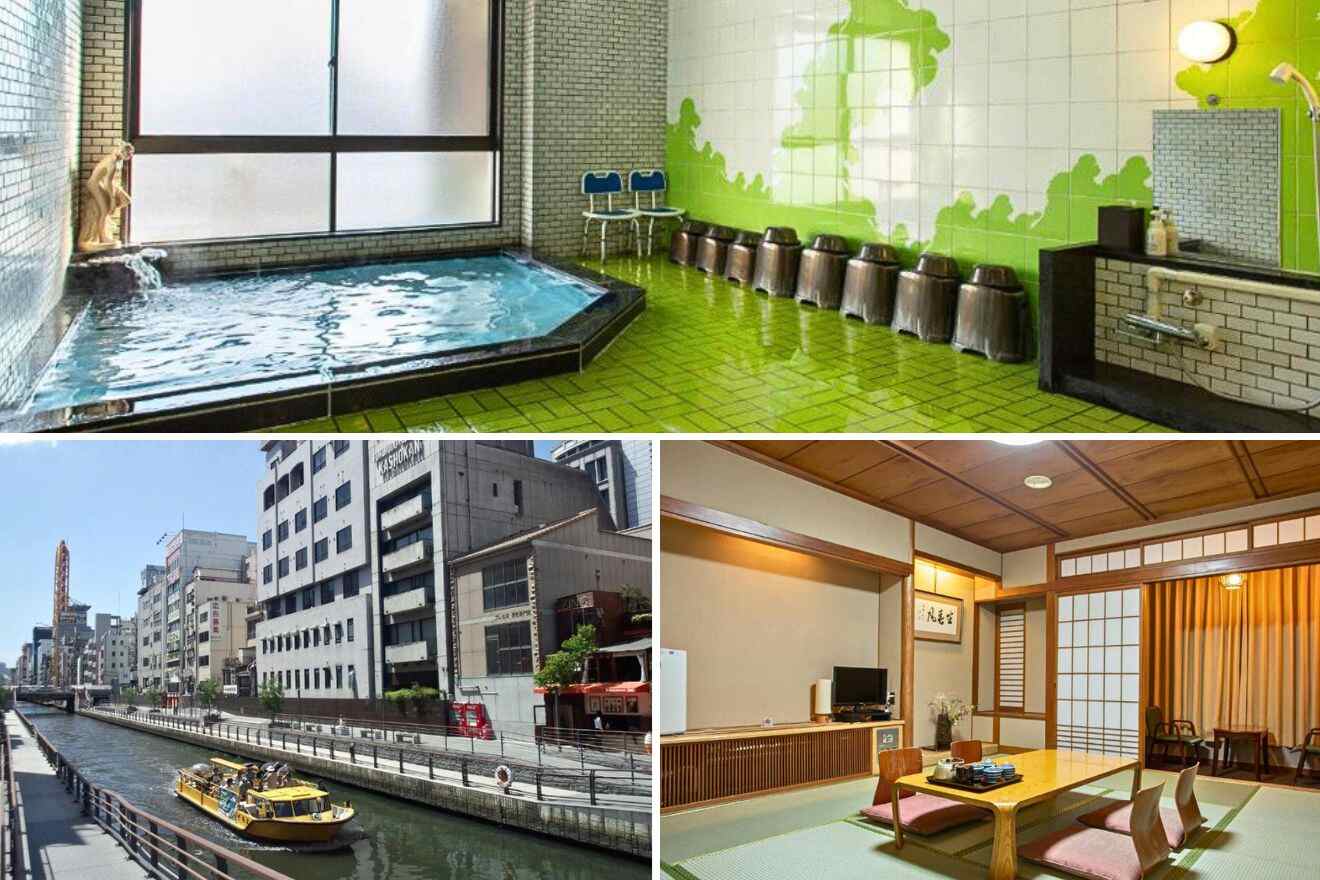 Do you want to feel taken care of? Pampered? Then this cozy hotel is the right one for you, the staff will make you feel just at home, and they will help you out with anything you need! The property is located in Osaka city center, which means you will have anything you could possibly want just steps away from your room!
The hotel features a public bath, and rooms with traditional tatami floors, futon beds, air conditioning, and the comfiest night set, so you can sleep like royalty during your stay here! The hotel has complimentary Wi-Fi throughout the whole property, and a traditional breakfast is served every morning!
13. Yamatoya Honten Ryokan Osaka Hotel – for an easy stay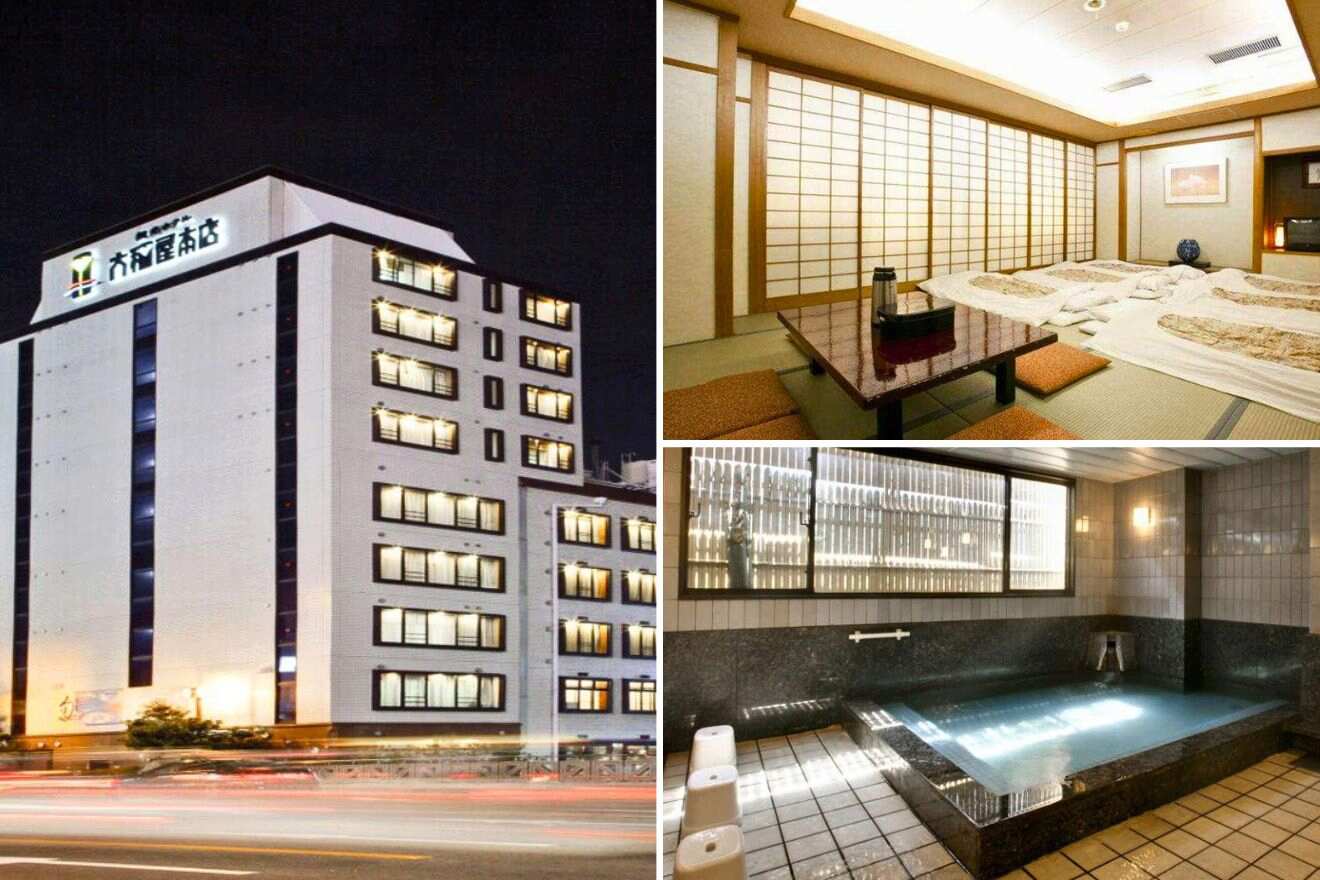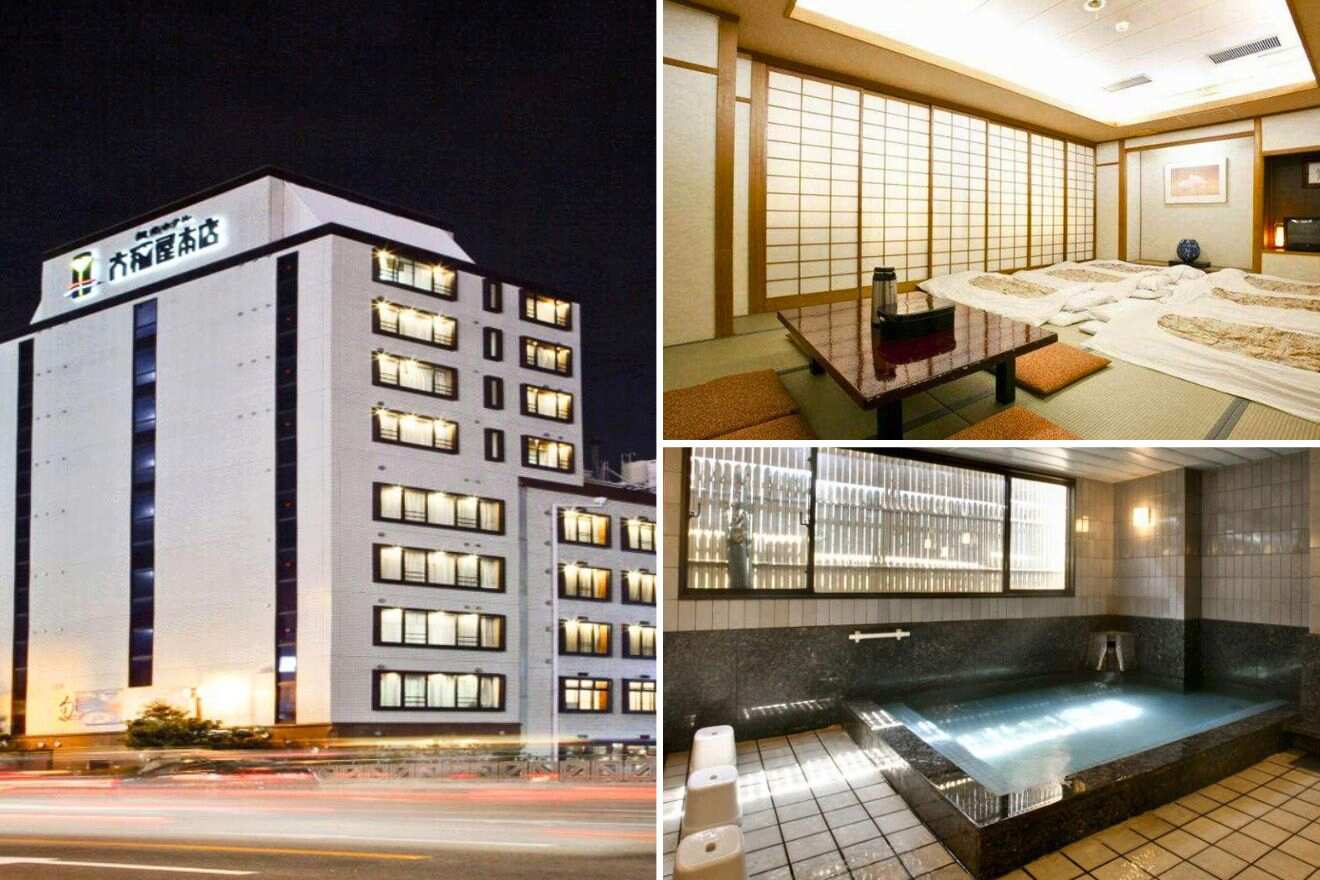 This hotel is located right in the middle of Osaka! Is there anything better than having all the cool attractions and the best restaurants and bars nearby? I know, simply amazing! Besides the great location, this hotel has a convenience store onsite, so in case you need anything, they've got you covered! Don't know which restaurant or bar to choose? The 24-hour front desk service will help you out and give you the best spots to visit loved by locals!
The hotel comes with hot springs and a sauna, onsite restaurants with kid meal options, and a shared kitchen in case you feel like exploring your culinary gifts! They offer a wide range of rooms, some of them with shared bathrooms, some with private bathrooms, so book according to your preferences!
14. Osaka Ryokan Kuramoto – for welcoming treats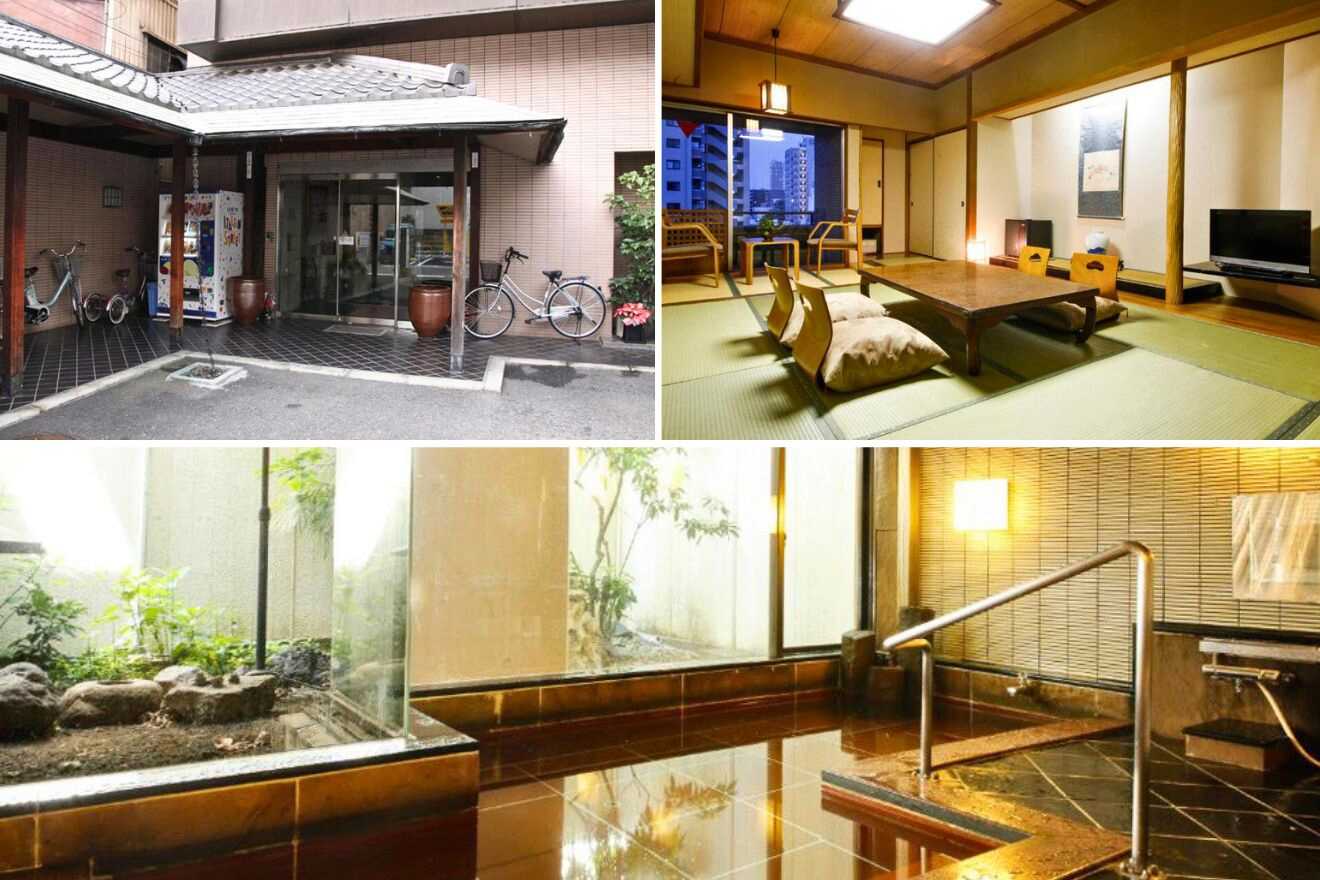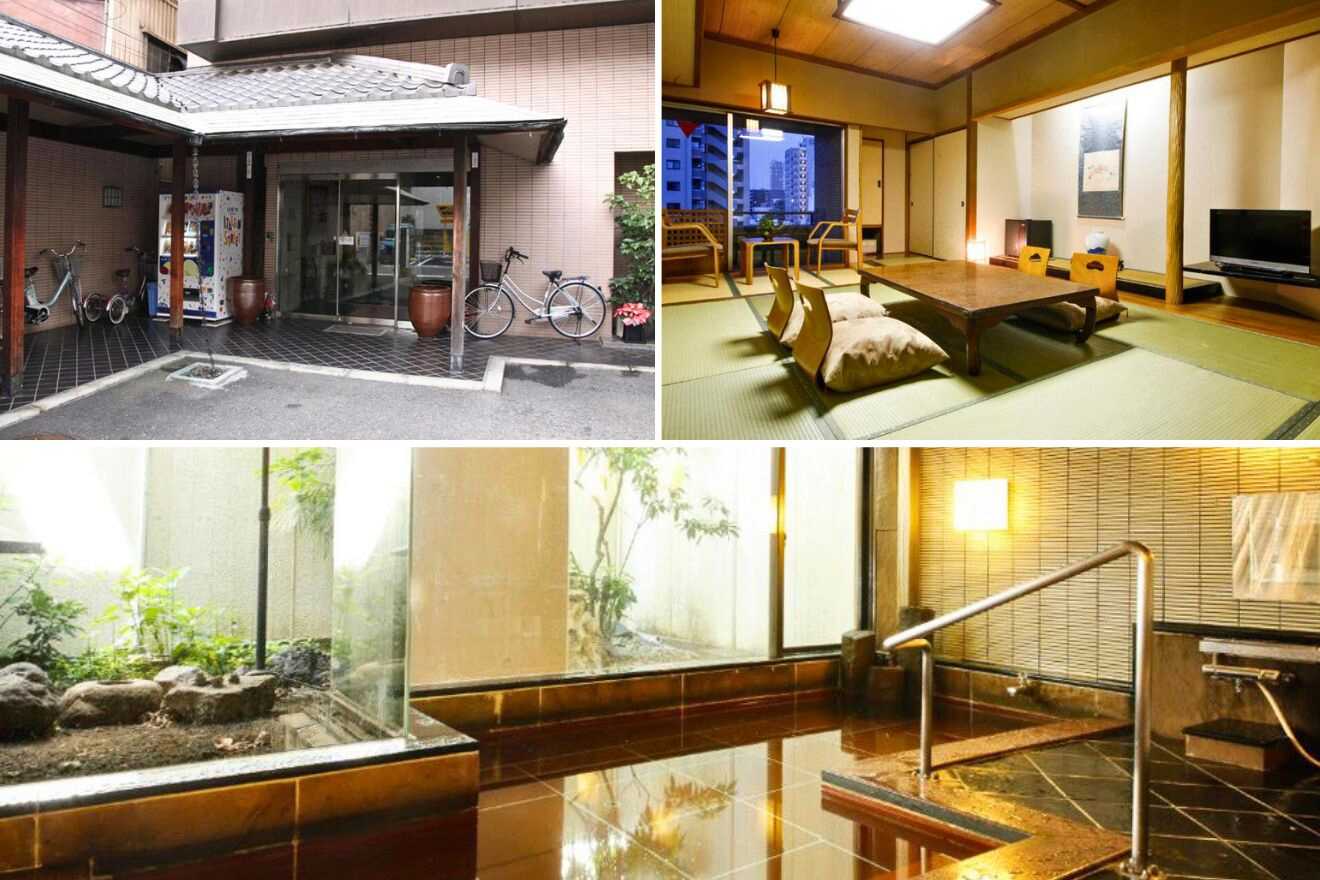 Located in Osaka city center, and with all the cool spots in the city just steps away, this hotel is loved by guests because of the amazing staff, they are super accommodating! The hotel is absolutely spotless and the yukata, slippers, and green tea welcoming treats will have you relaxing in no time!
If you are traveling with your family or a big group, I recommend staying in the Japanese-Style Family room! It comes with room for up to 5 guests, a private bathroom with shower and bathtub, a flat-screen TV, and access to the public bath!
15. Imazato Ryokan – simple and cozy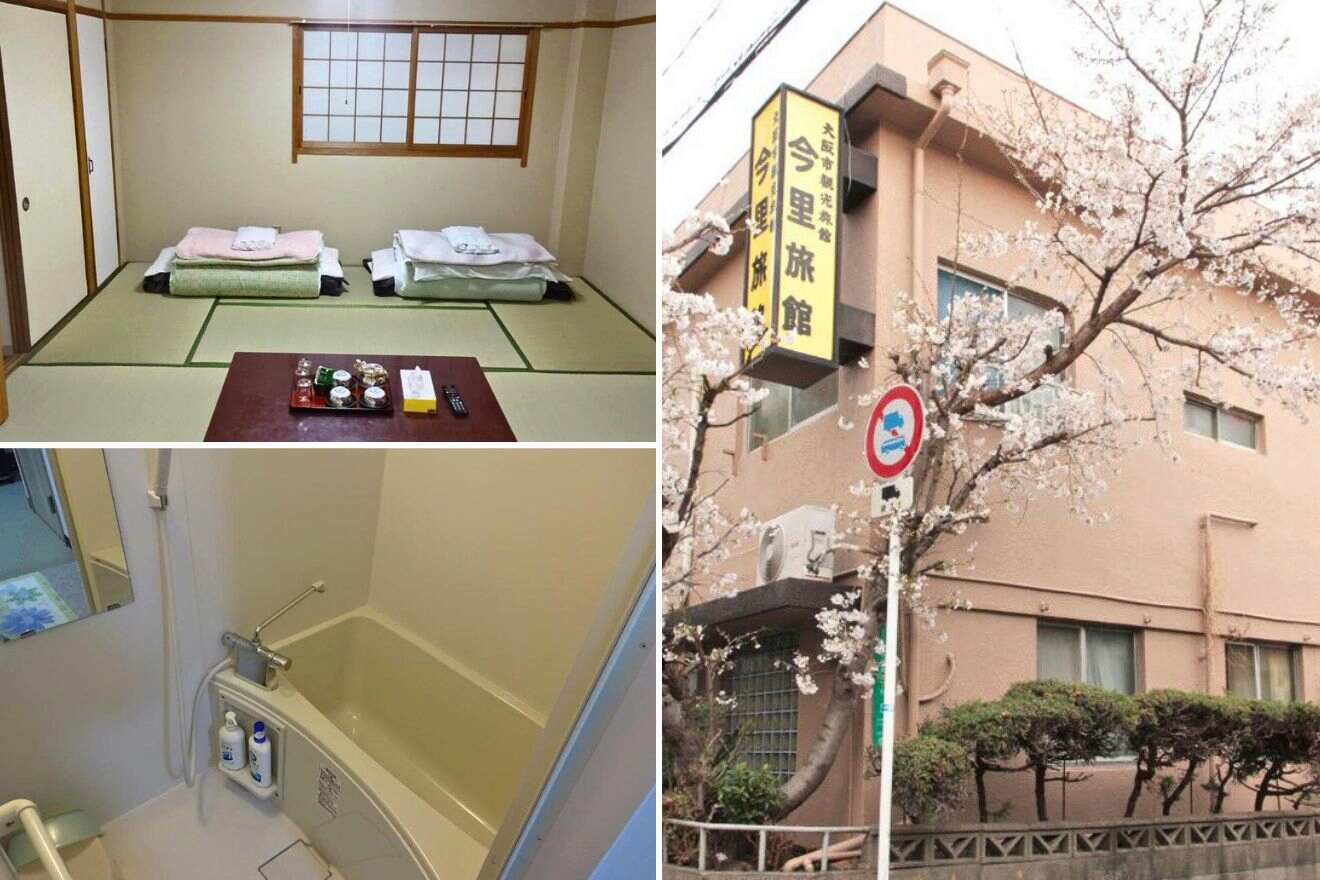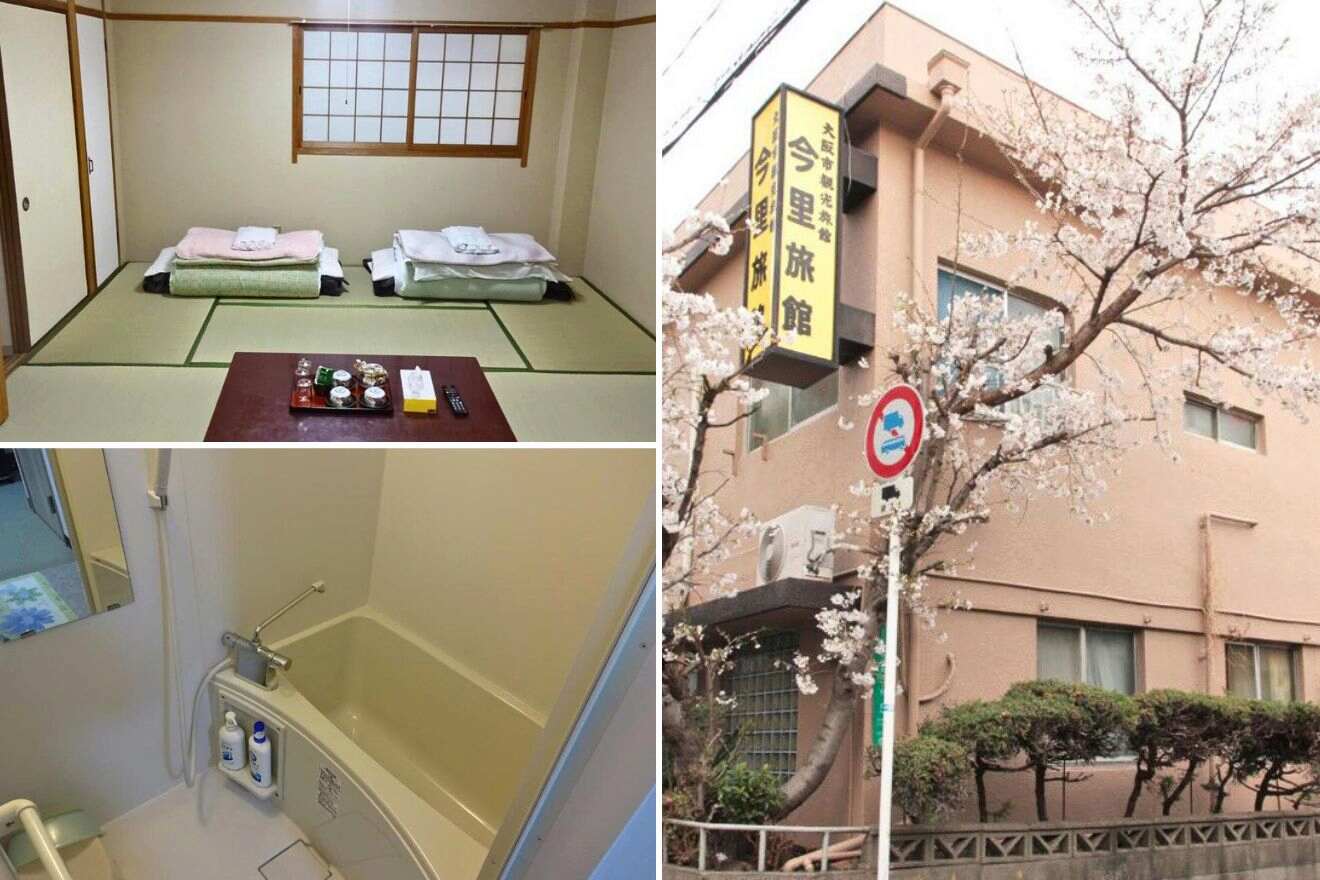 Located just outside Osaka city center, this hotel has a cute pink facade with cherry trees surrounding it, which is super dreamy. Osaka Castle is located only 2 miles (3 km) away from the hotel! There is a breakfast service every morning, which you can enjoy for a fee.
The hotel rooms are super simple but have everything you need for a comfortable stay, beautiful tatami flooring, futon beds, a tea set with green tea, and a flat-screen TV. Some of the rooms come with a shared bathroom, but it is possible to book a room with a private bathroom; check the right option when you are booking!
16. Wafu Ryokan Uehonmachi – value for money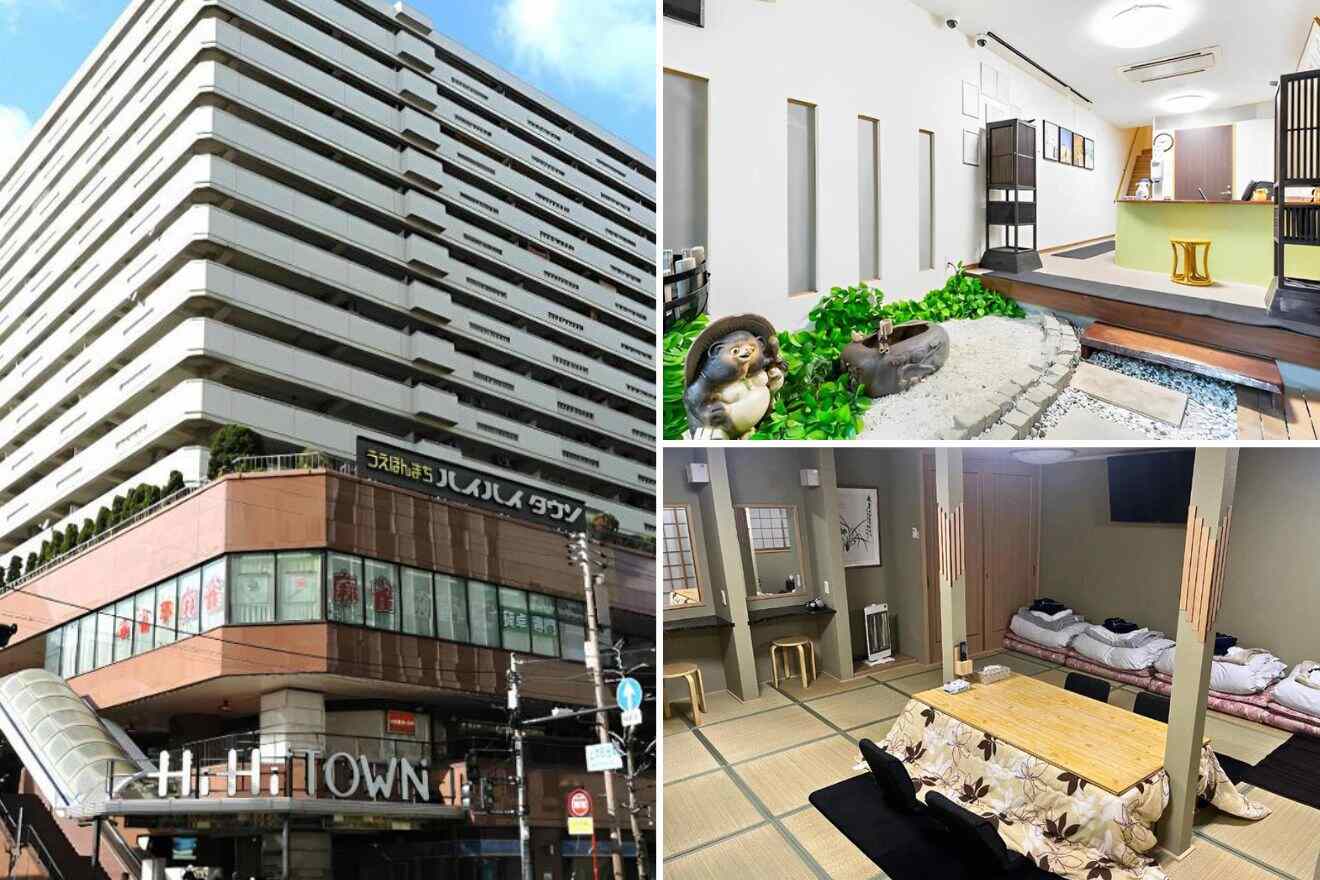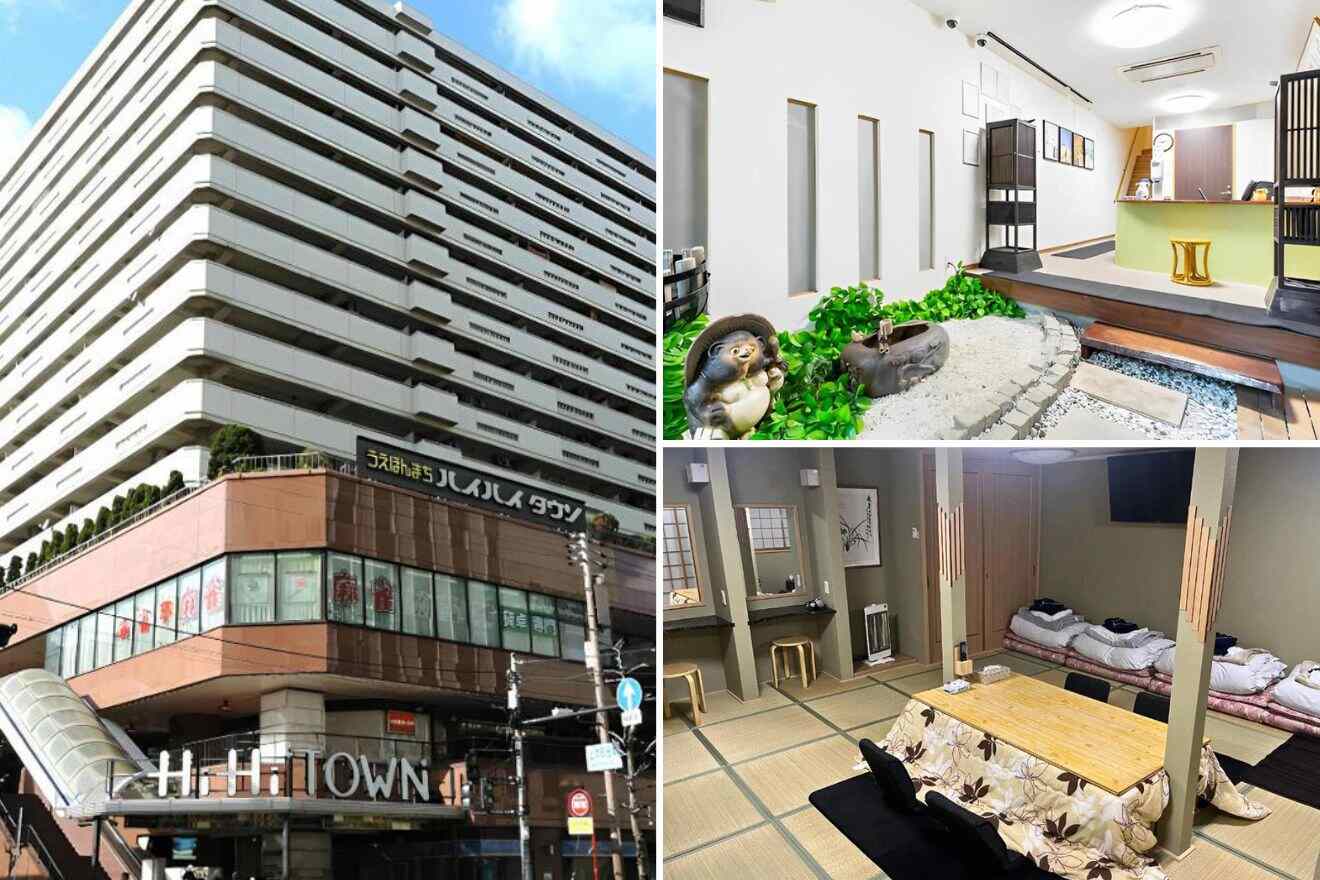 This hotel is really amazing! It is traditional but feels very modern and taken care of, which translates to you having a great time during your stay! It is located near Osaka city center and has most of the main attractions and monuments less than a mile (1 km) away!
All the rooms at this hotel come with a private bathroom with a shower and bathtub, tatami flooring, a welcoming bag with sweet treats, a flat-screen TV, and a kettle to have all your tea needs covered! Their biggest room is the Japanese-Style Quadruple Room which can host up to 4 guests!
BONUS#1: Best hotels in Osaka
You know me! I love giving you endless options, and since we have the best Osaka Ryokan hotels covered, I thought I'd treat you to the best hotels in Osaka!
All of the hotels featured here are super luxurious and have great amenities! The prices per night here go from US$200 to US$600 (27,741 to 83,223 Japanese Yen).
Let's check them out.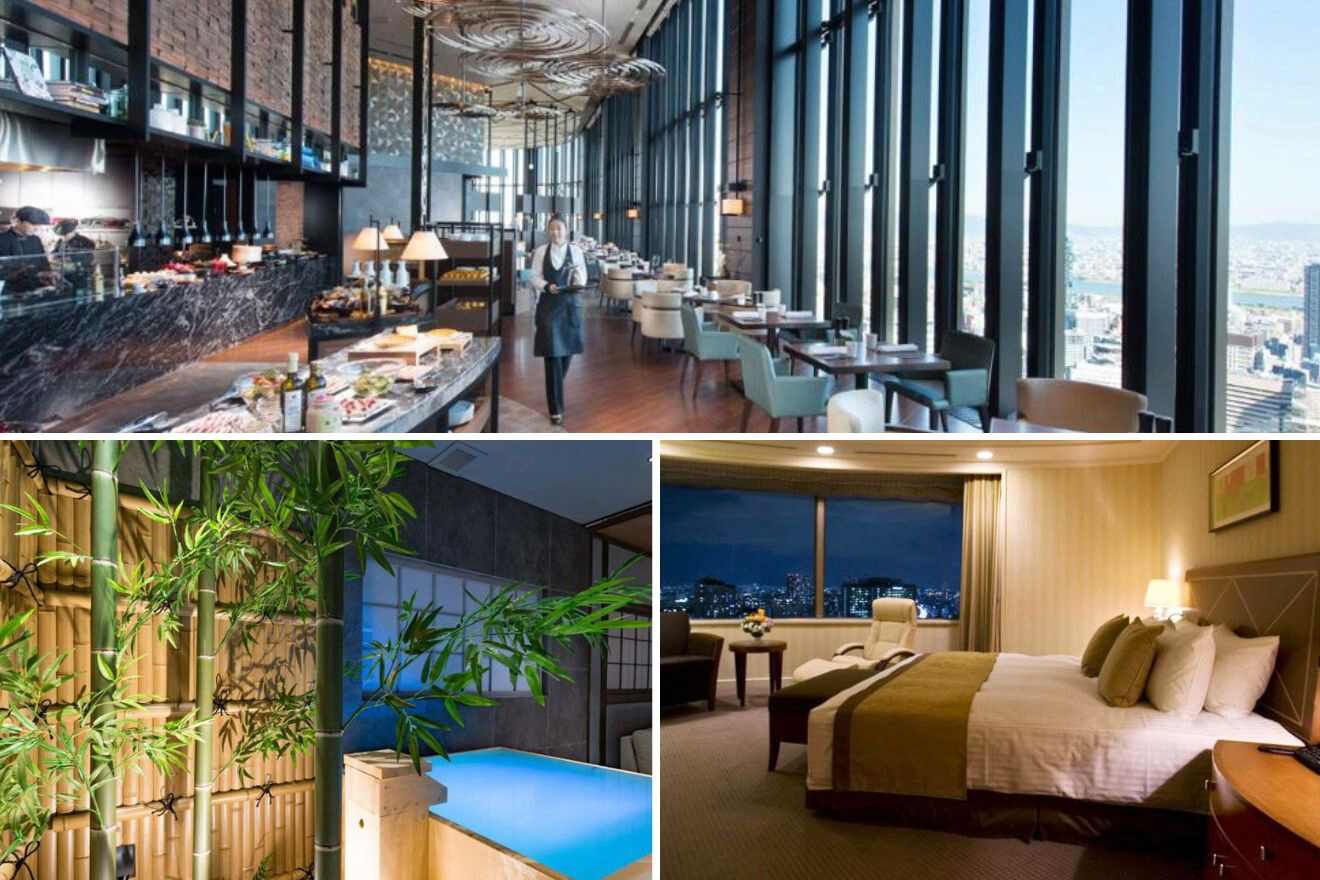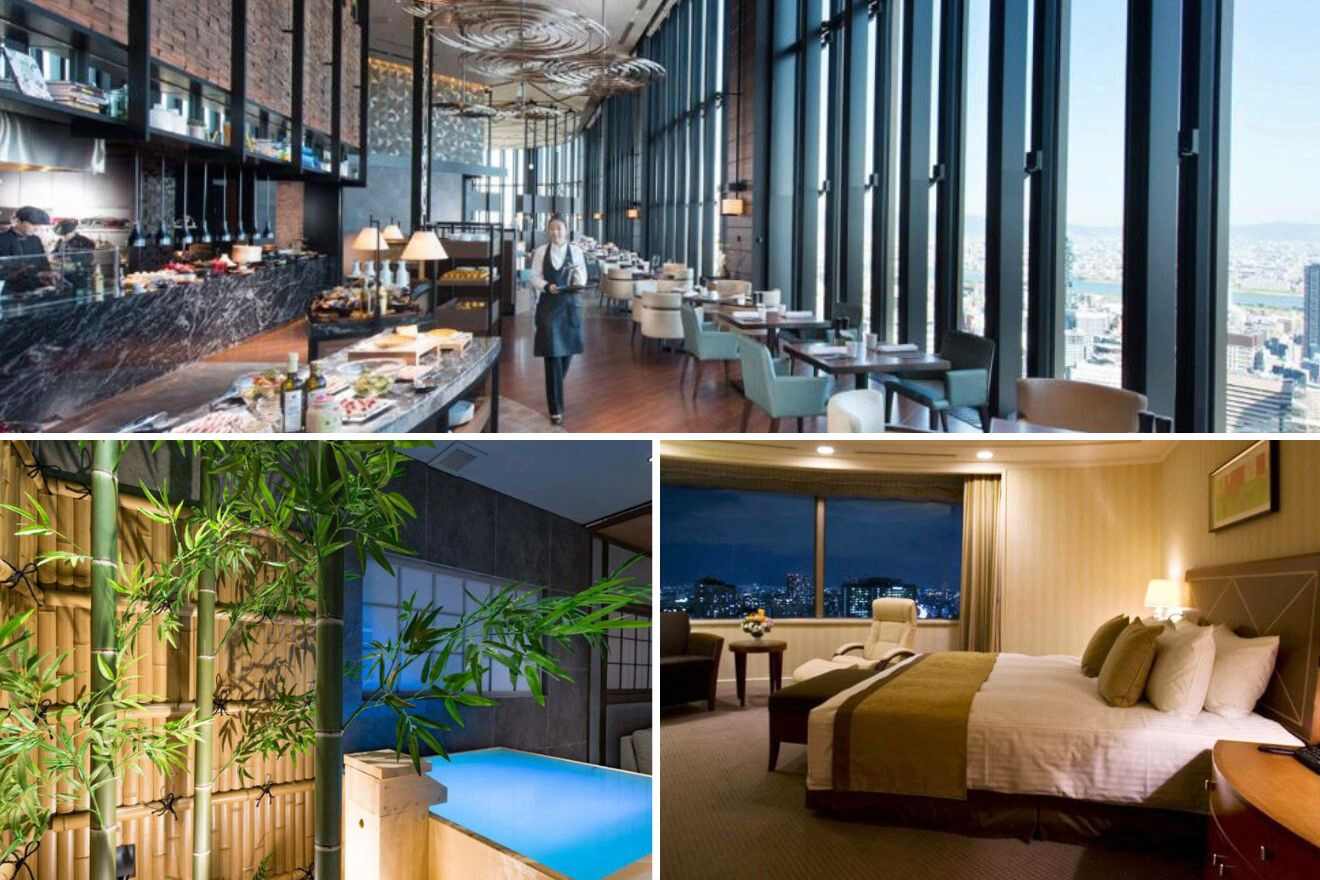 1. Conrad Osaka
Oh, la la! What splendor! This hotel is truly a gem, it features amazing views of this delightful city which you can enjoy from the rooms and the common spaces. There is a spa center offering all sorts of treatments, an indoor pool, and 4 onsite restaurants offering local and international cuisine! The rooms are elegant and modern and feature floor-to-ceiling windows.
2. Konjaku-So Bentencho Osaka Bay
Located in Minato-Ku, this hotel took the traditional Japanese to the next level with its deluxe amenities. The open bath with hot springs in each of the rooms is to die for! All the rooms are super spacious and come with elegant furniture that will make you feel like a royal!
3. Imperial Hotel Osaka
A classic vibe with a Japanese touch! This hotel comes with amazing deluxe amenities such as indoor swimming pools, a spa and wellness center with a sauna and jacuzzi, which you can have access to for a fee, and 7 onsite restaurants, so you can try many different cuisines during your stay!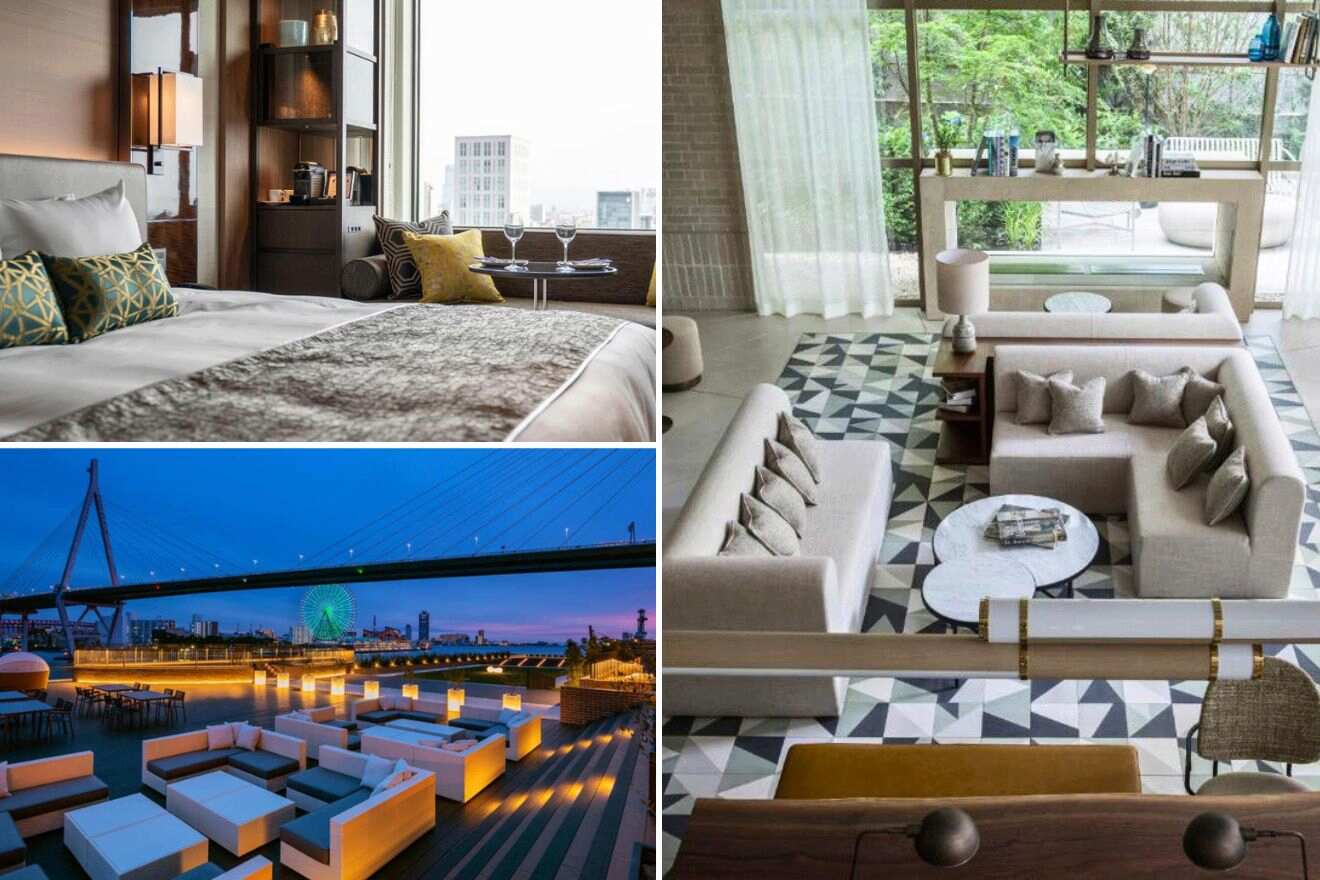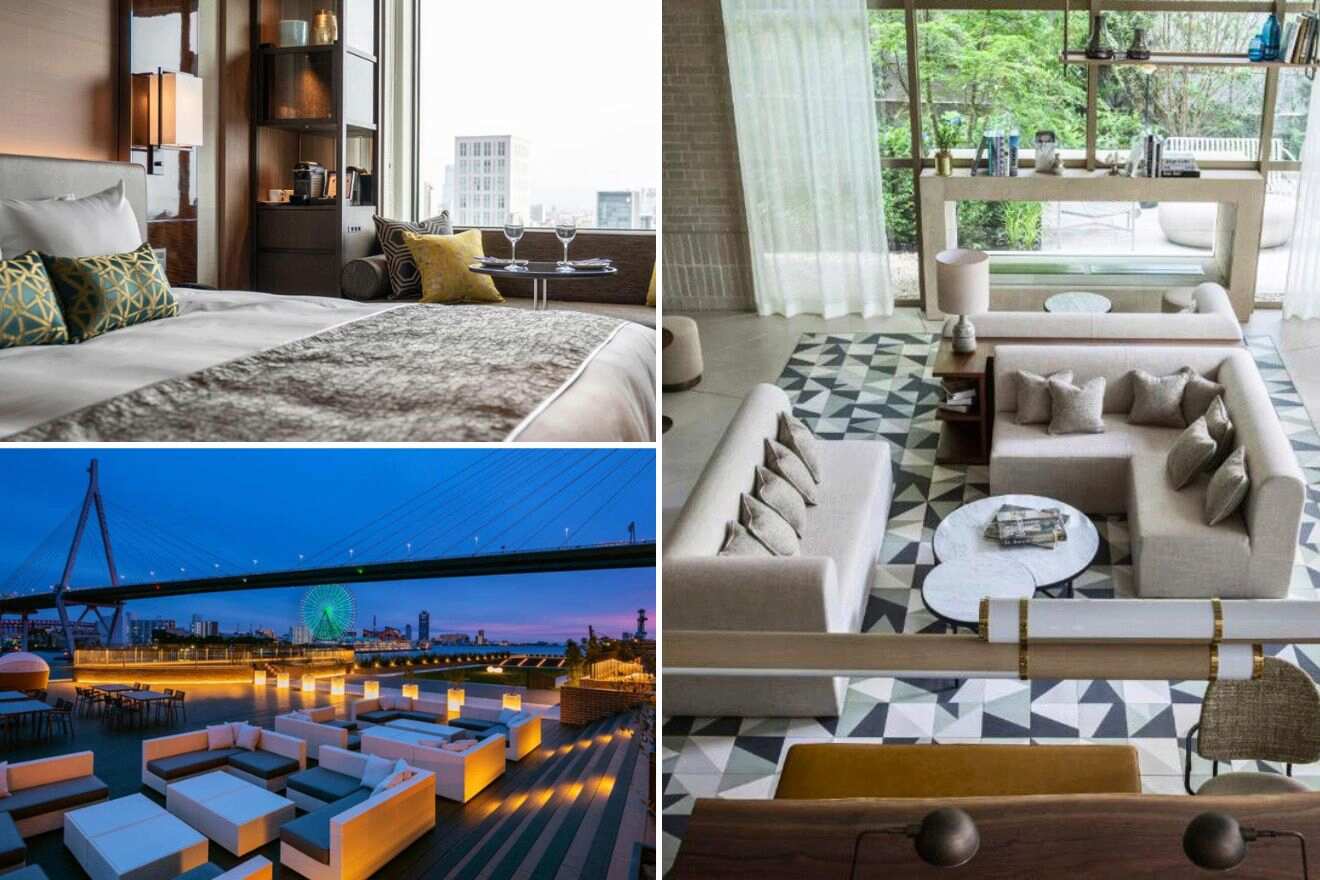 4. LIBER HOTEL AT UNIVERSAL STUDIOS JAPAN
The coolest thing about this hotel is its proximity to Universal Studios Japan and the amazing hip and modern ambiance it has! There are 2 onsite restaurants in the hotel, and the rooms come with upscale furniture and complimentary toiletries!
5. Zentis Osaka
I love this hotel style! It is minimalistic, and the design is simply fabulous. If I stayed here, I would definitely go to the onsite restaurant; the dishes are exquisite, and the decor in it is stunning! The rooms have floor-to-ceiling windows, so natural light and views during your stay are guaranteed!
6. The Royal Park Hotel Iconic Osaka Midosuji
If you want to relax like no other and let go of all your worries, I recommend staying at this hotel. The rooms feature a lovely bathtub, and some of them come with amazing city views. What is better than a bubble bath after walking all day discovering the amazing city of Osaka?
BONUS#2: Traditional Osaka apartments
Listen, I have yet another bonus for thee! After covering Osaka Ryokan and the best hotels in Osaka, why not give you some traditional Osaka apartment options?
These properties' prices per night range from US$100 to US$500 (13,870 to 69,352 Japanese Yen) and are, frankly, quite exceptional!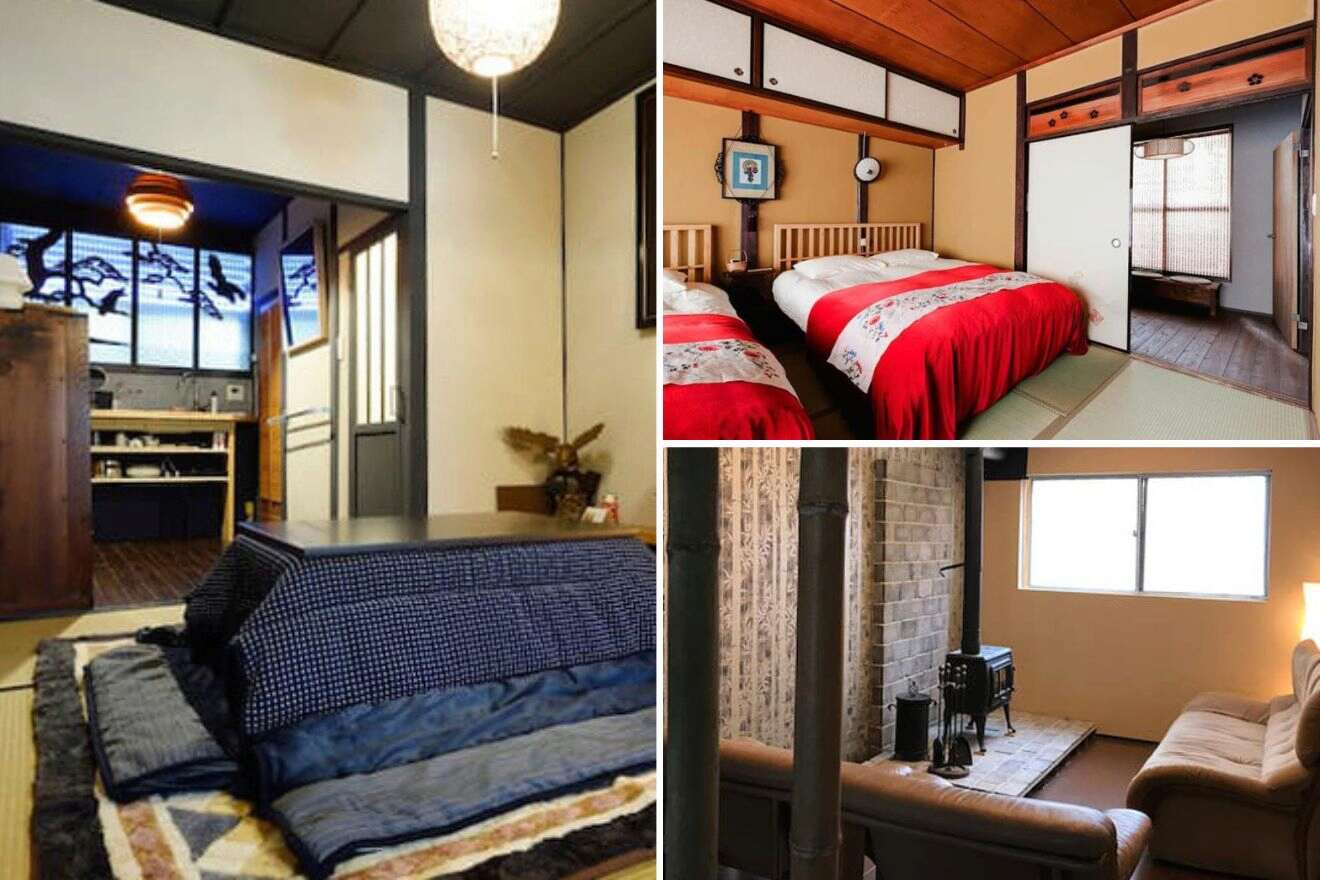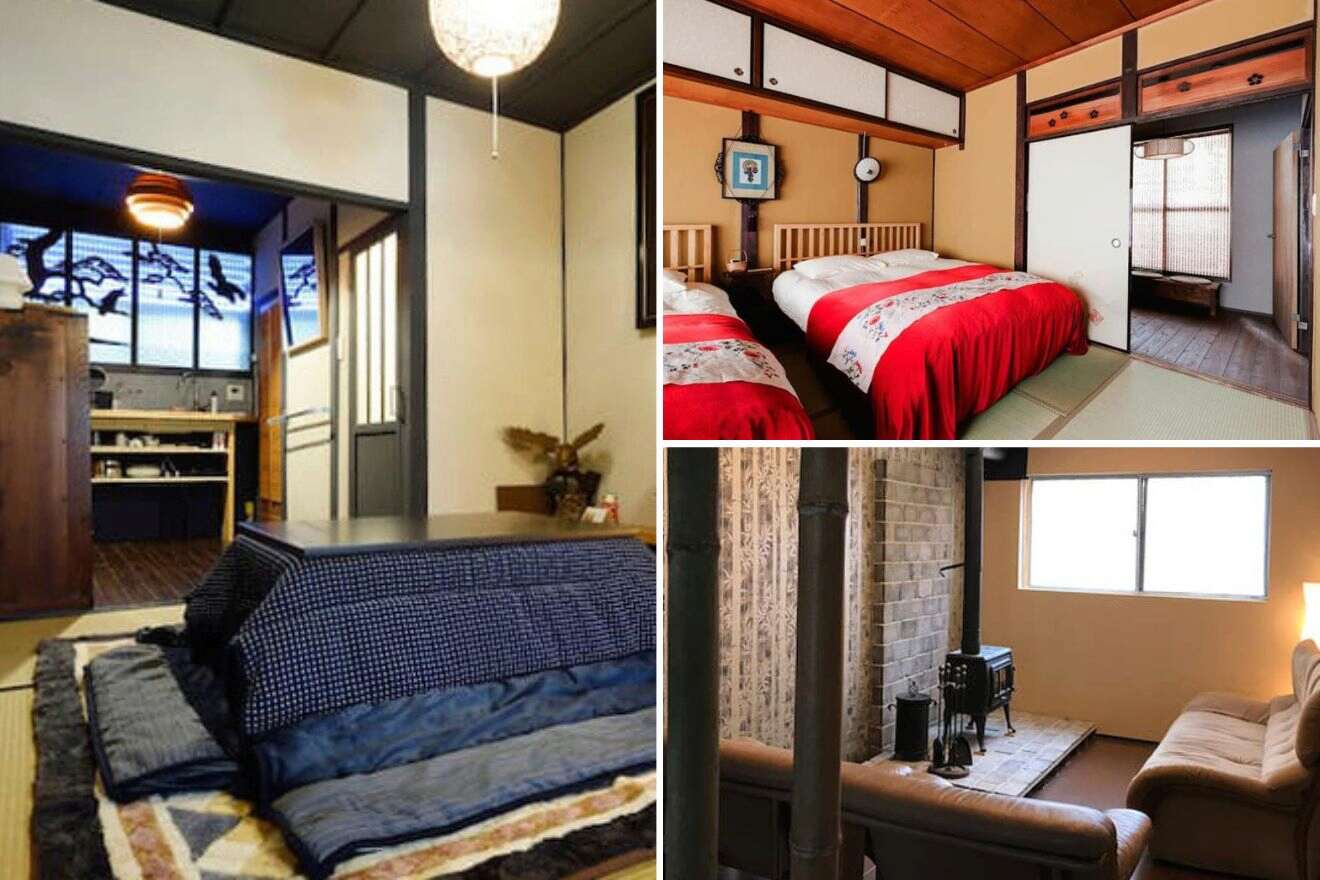 1. TSUDOYA
Oh my god! How cute is this apartment? It is everything you need to feel like a local! It comes with traditional tatami floors, decorations that only a true Japanese house can have, and an amazing tea set! The location is also superb, right in the city center!
2. Direct KIX
What a lovely home! It comes with the most delightful Japanese style, traditional decorations, and beautiful art hanging on the walls. There is a terrace available for guests, and the private bathroom comes with a bathtub. In the living space, there is a super cute iron fireplace!
3. 6-minute walk from Shin-Osaka East Exit "Matsuko"
This apartment is so artsy! In the kitchen window, there is a carved piece of art that looks stunning, there is a WC and a separate shower, and the house is big enough for 3 guests! The apartment is located right in the city, so you can have everything you need just steps away from the property!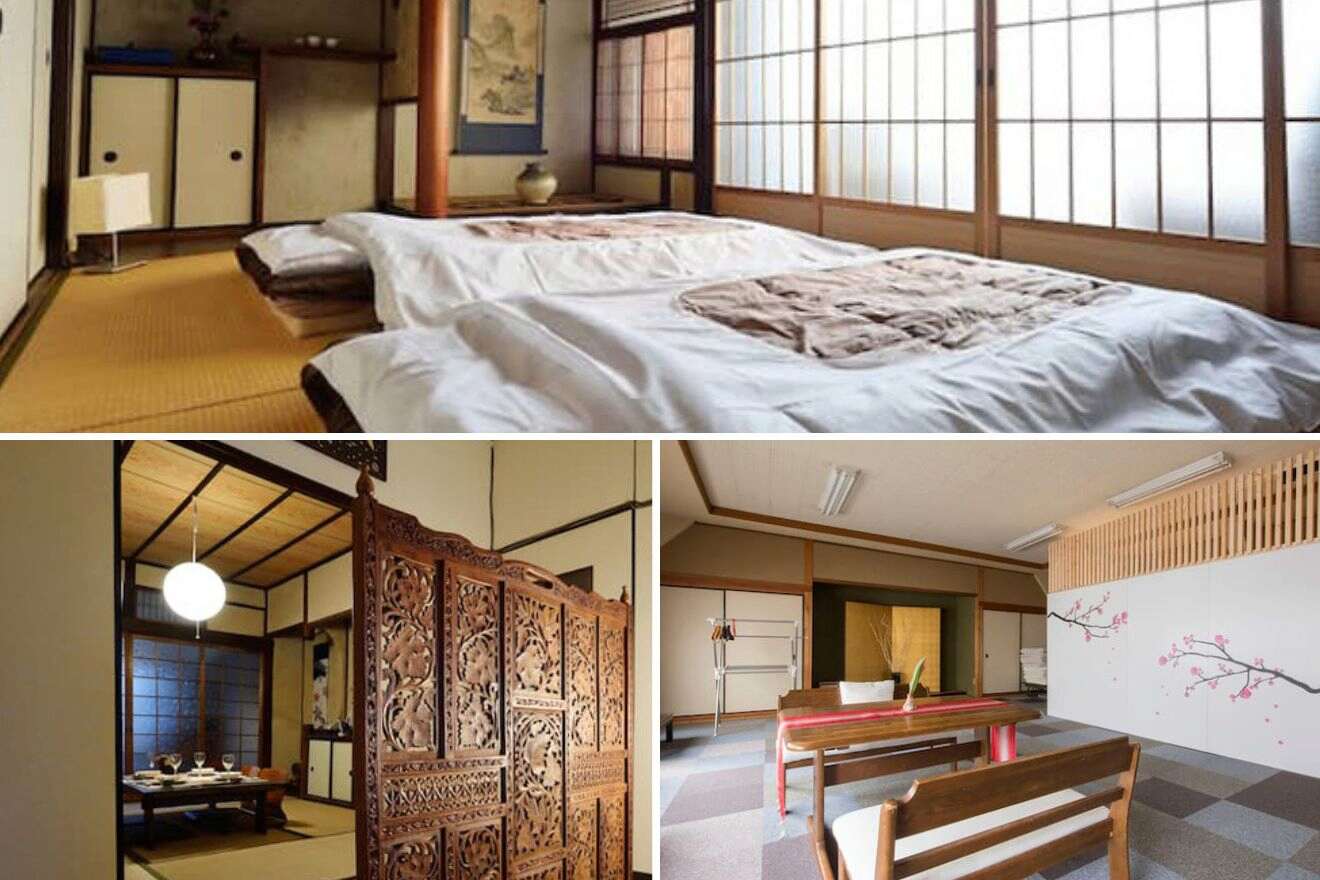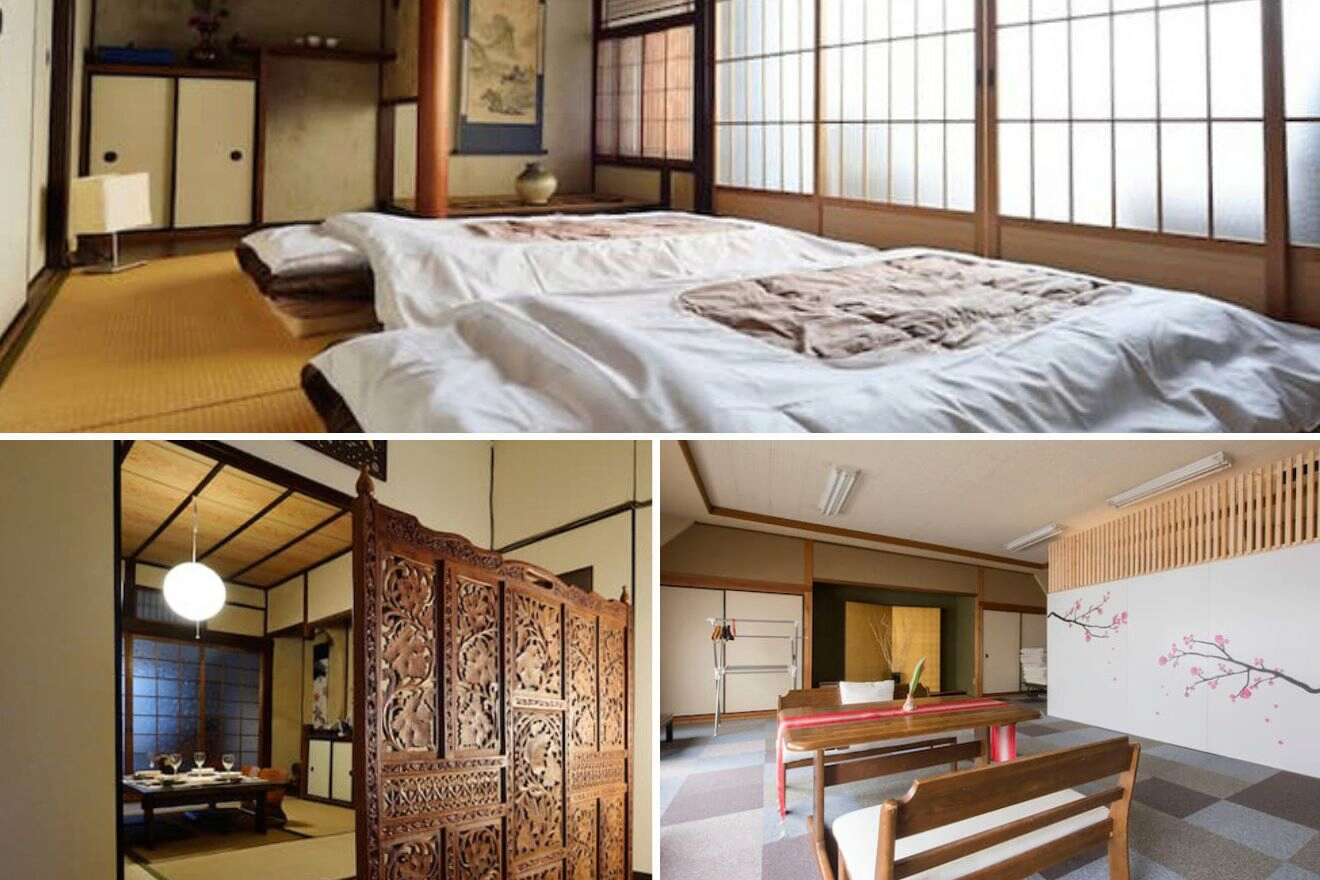 4. KORIN house
Wow! What a beautiful home! You can see the owner of this house was thinking of every single detail when decorating it! My favorite thing about the property is the small Japanese garden and the carved art pieces! This accommodation would be great for families of 5 members.
5. ZEN house
This traditional Japanese house is super spacious! There is room for a total of 6 guests, and the property features an amazing style and tatami flooring. The apartment is located in the Kaizuka city residential area (so expect many cherry trees around), and Osaka city center is only a 40-minute drive away!
FAQs about your Osaka Ryokan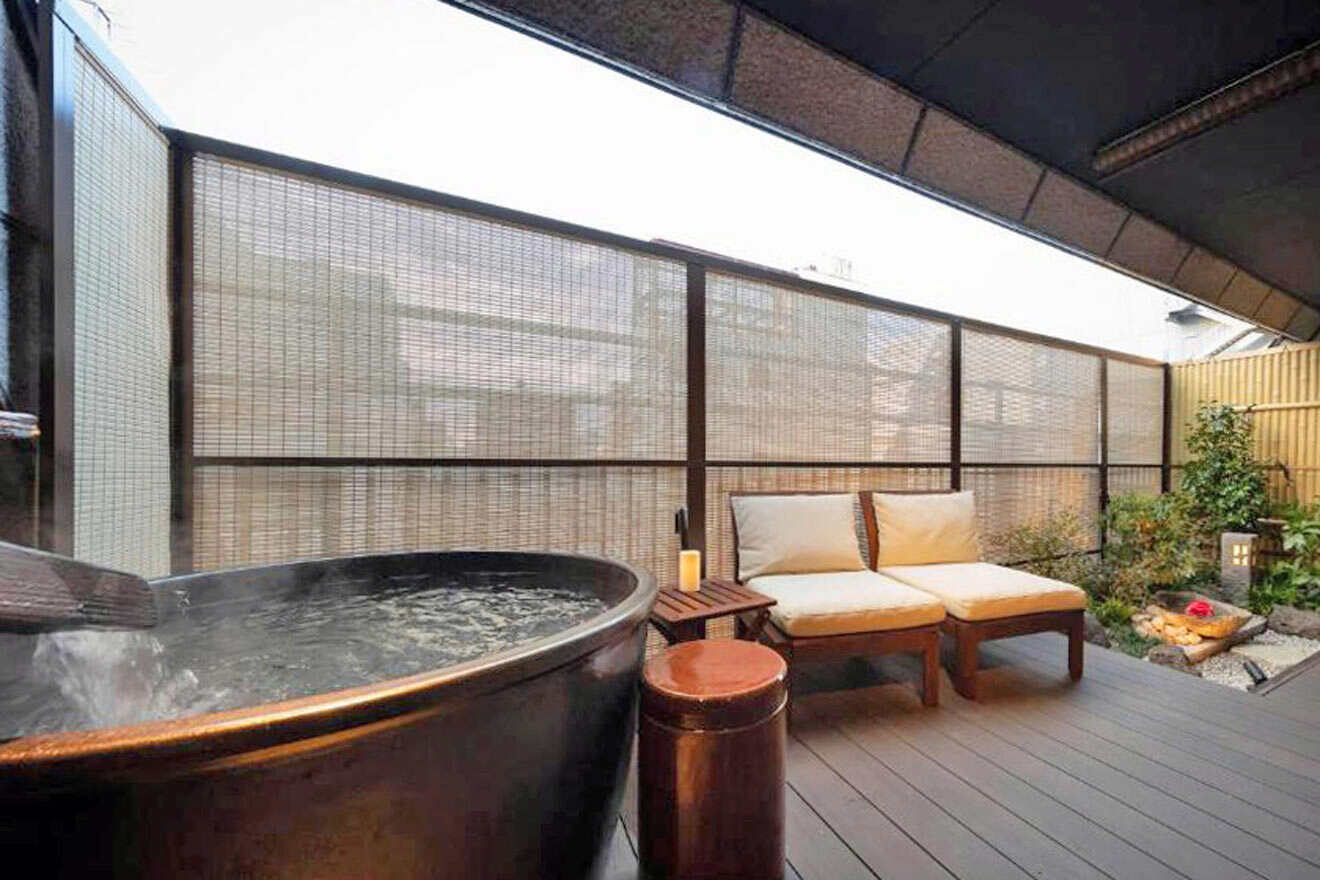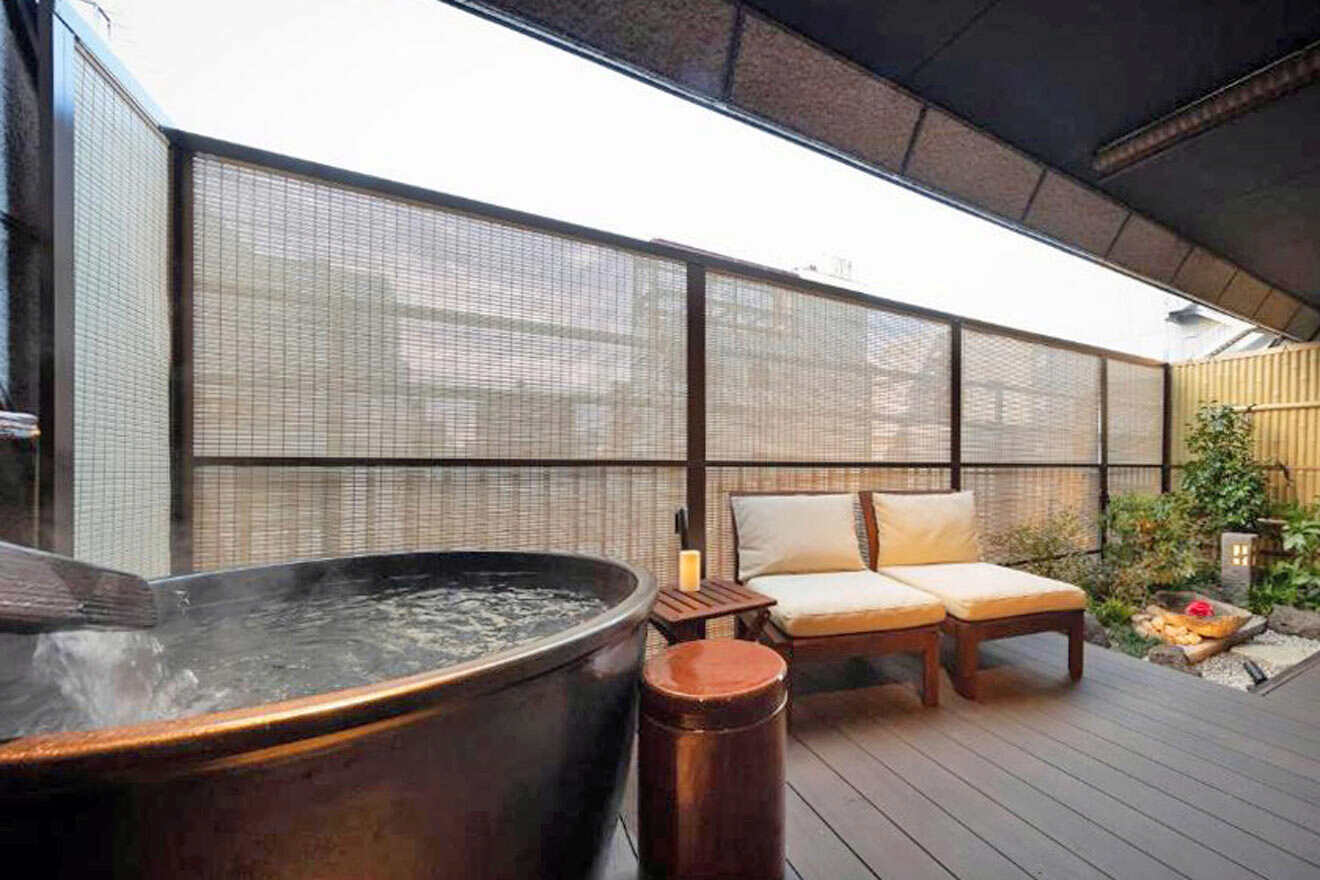 ♨️ Which ryokan in Osaka comes with a private onsen?
🌆 Which Osaka Ryokan hotel comes with a view?
💑 Which is the best hotel for couples?
One of the best hotels for couples is definitely Konjaku-So Dotonbori. This hotel has the perfect romantic setting, and is amazing for those on a honeymoon in Osaka!
🏊 Which hotel comes with an outdoor pool?
Conclusion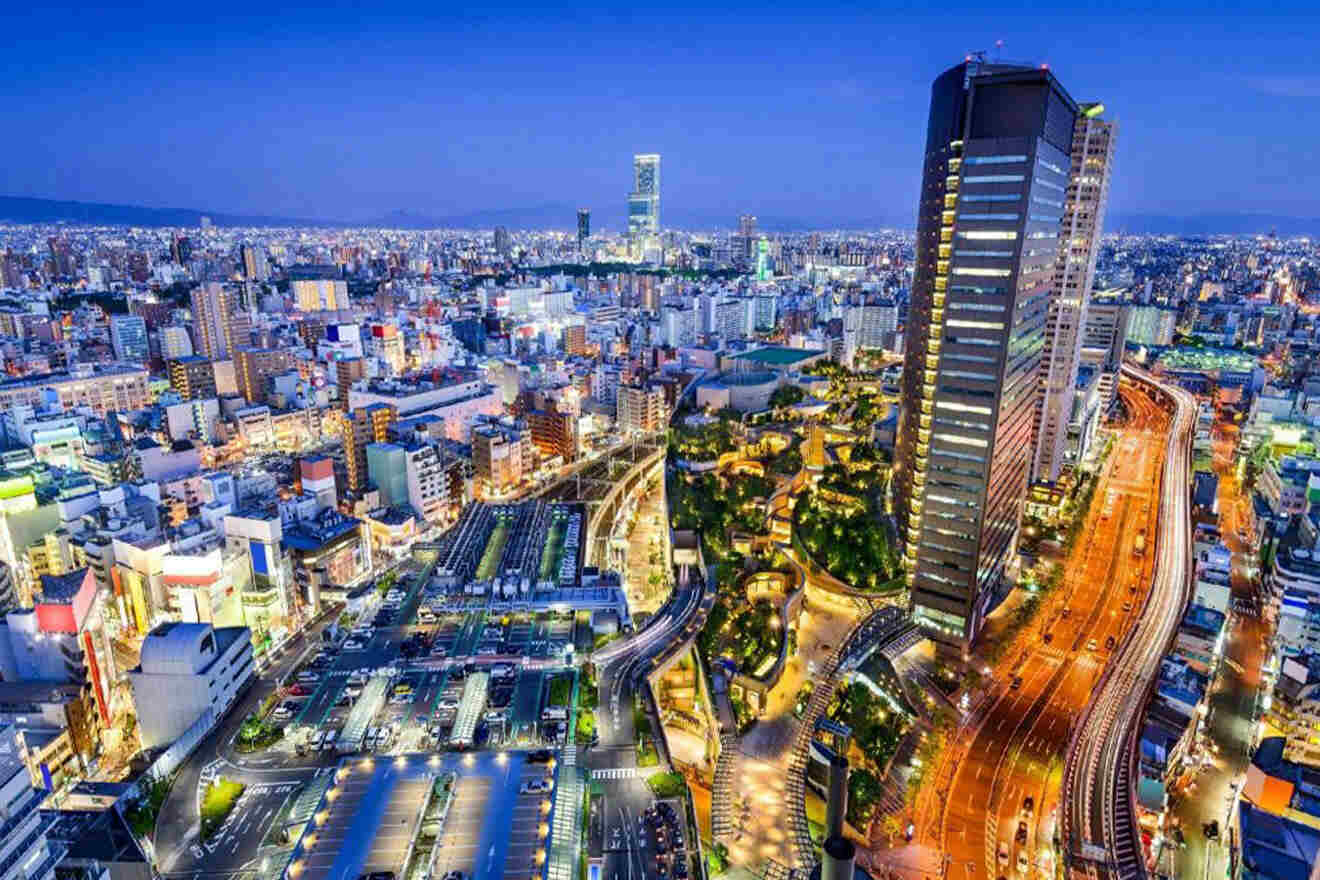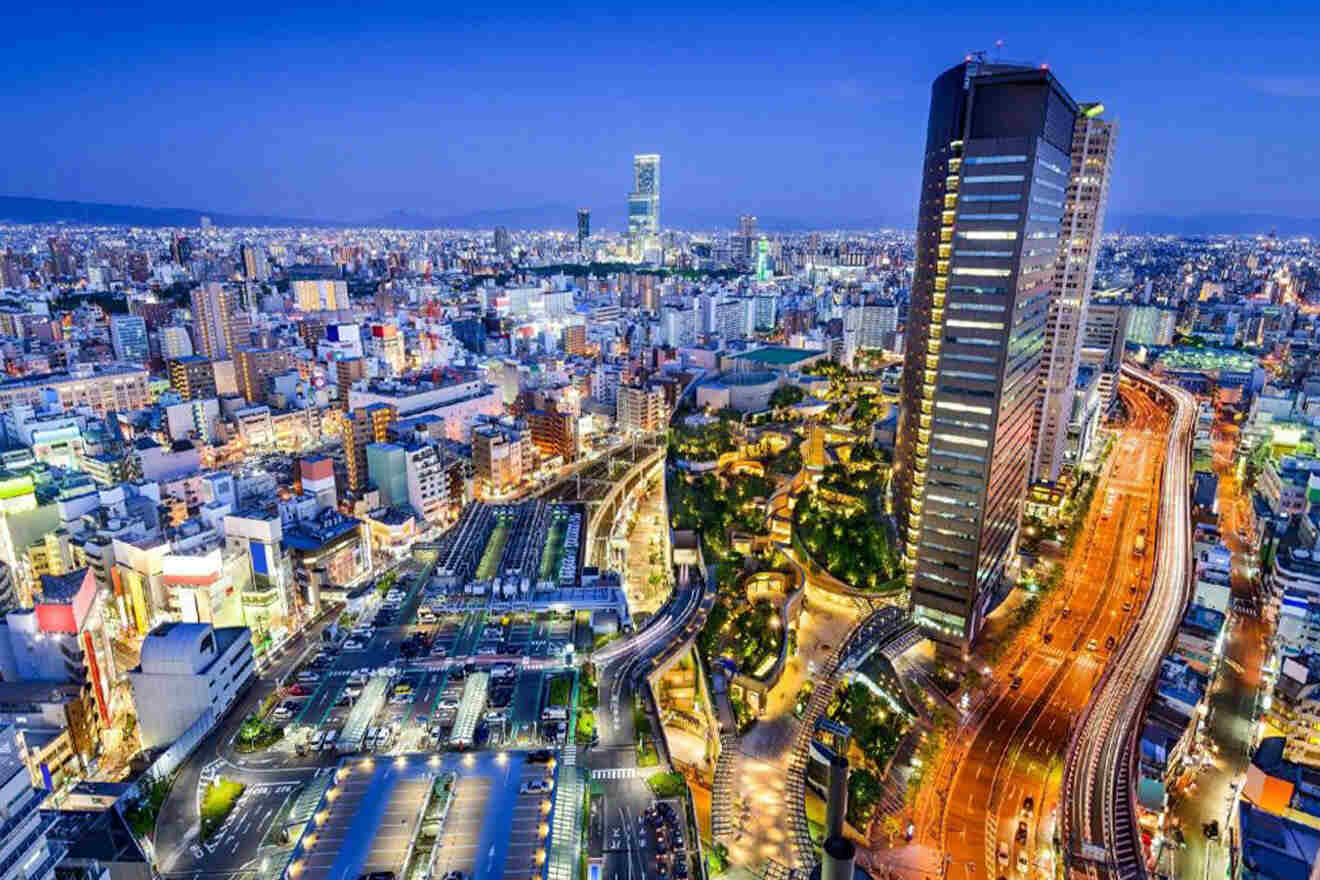 That is it for today, my lovely people! You'll be able to pick your favorite Osaka Ryokan, plus 2 amazing bonuses of the best hotels in Osaka and traditional Osaka apartments. There is something for everyone on this list, so I am more than sure you will find something that fits your preferences!
Honestly, all the hotels are amazing, and I would be more than happy to stay in any of them, but if I had to choose my fav 2 I would go with:
Konjaku-So Osaka Castle – I love a luxury option, and this one is simply amazing! My favorite thing? The open bath in the garden!
Nanten-En – This place really feels like it is part of a movie! I would love to stay here and romanticize life!
Which of these hotels was your favorite? Have you ever stayed in any of these? If you haven't, now's your chance! Let me know in the comments if you have any questions, and right after, go and book the hotel room of your dreams before somebody else does!
Until the next adventure,
Daniela
---
Pin it for later!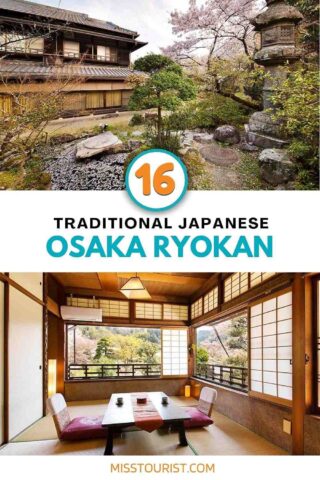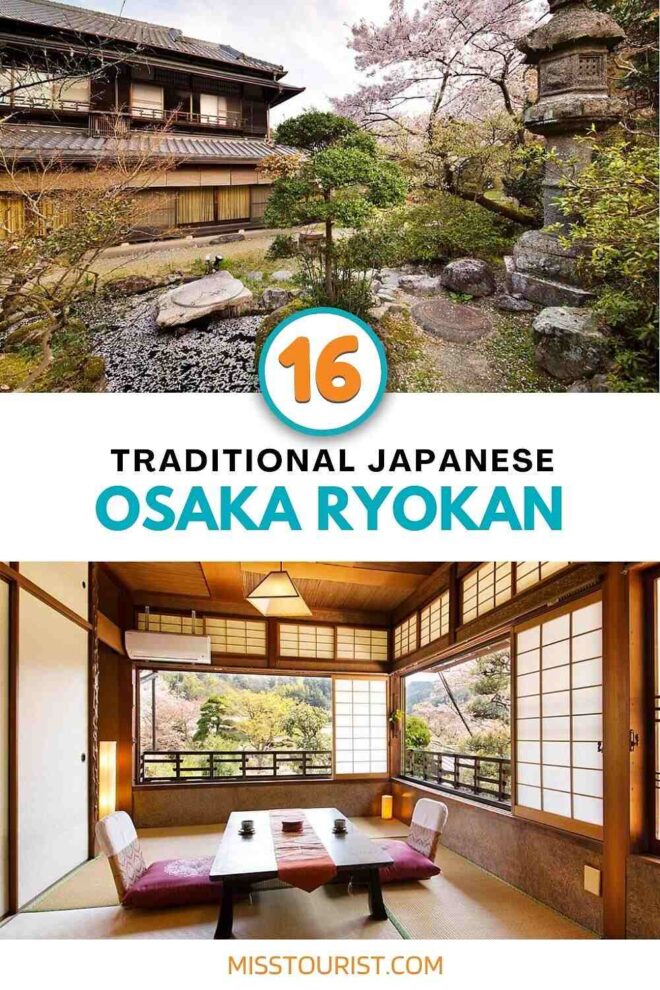 Pin it for later!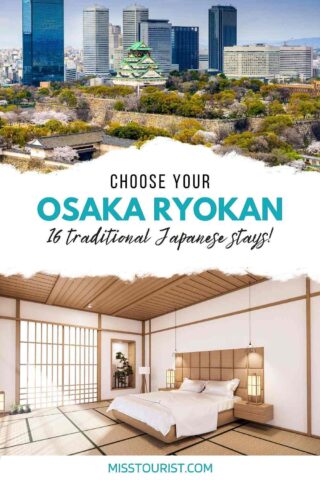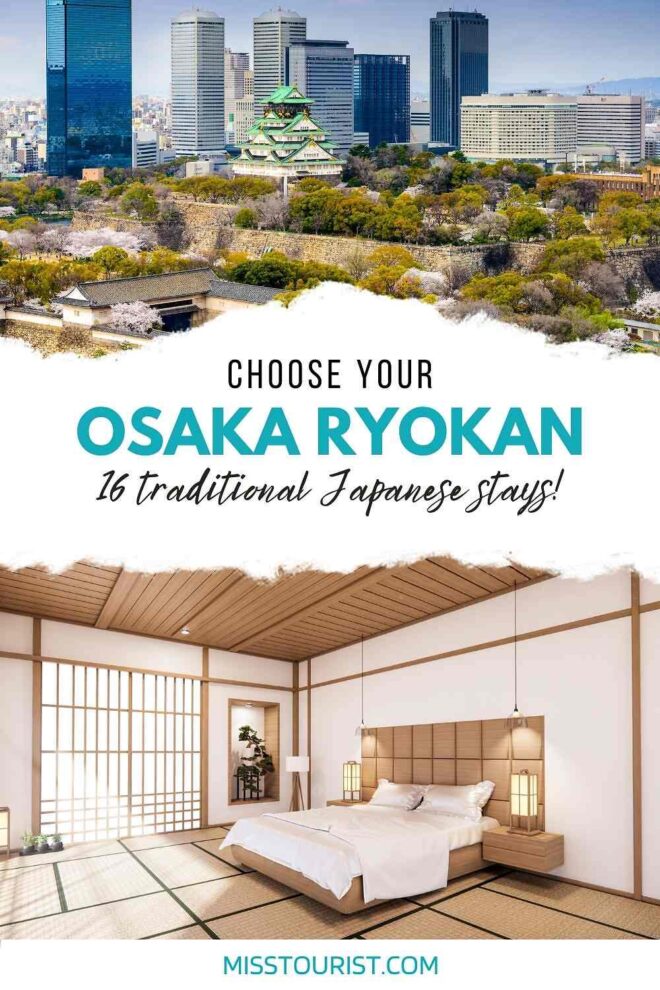 Products You May Like