Things to Do in Carmel, California: Artists & Writers' Mecca
Welcome to Carmel, California!
Otherwise known as Carmel-by-the-Sea, this picturesque coastal beach town is about a 2.5-hour drive south of San Francisco, home to over 100 art galleries, beautiful white-sand beaches, a romantic fairytale-like village, and all kinds of recreational activities that tourists from all over the world come to admire.
As a California native, I've visited Carmel-by-the-Sea a few times and have really gotten a grasp of what the Northern California beach town offers (with completely different vibes than the beach towns in SoCal)!
In this post, I'll be sharing some of the best things to do in Carmel, California! I'll also be recommending some of my personal favorite things, so take note!
P.S. Book all your tours, hotels, and experiences ahead of time to get the best deal and secure your spot.
Alright, let's get started!
If you are in a hurry
There's so much to do in Carmel-by-the-Sea, I totally understand if you don't have time to do everything on this list. Here are a few things I recommend checking out (and booking in advance) if you're running short on time.
And here are the best hotels: L'Auberge Carmel, Relais & Chateaux (luxury), Le Petit Pali at Ocean Avenue (mid-range), Coachman's Inn, A Four Sisters Inn (budget)
Carmel, CA, by itself, is not a big town, so many of the things here stretch over to Monterey (which is only a 10 min drive) and the surrounding areas. So, here's a map to pinpoint the locations of everything I'll be covering in this post:
1. Take a drive to Carmel Mission Basilica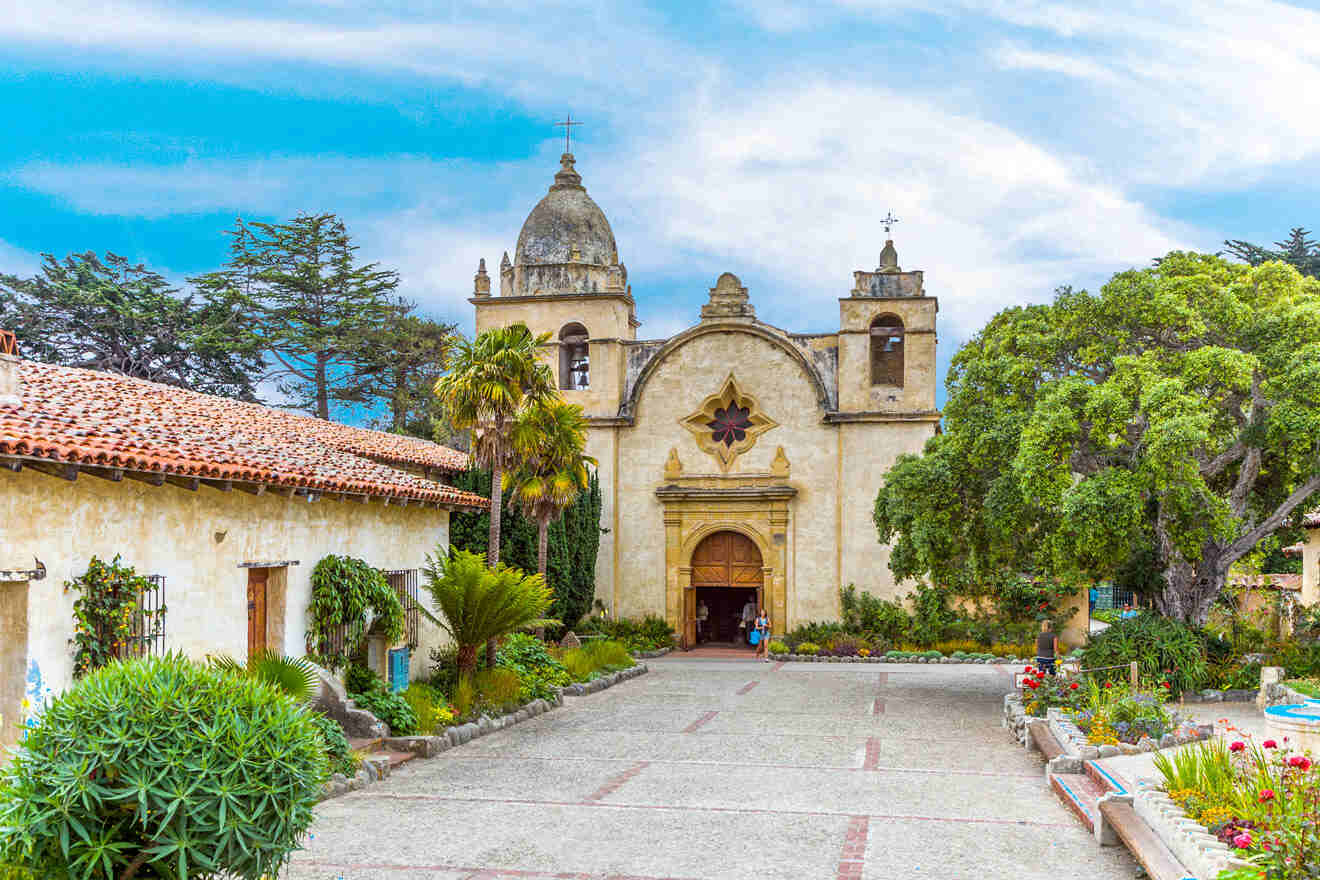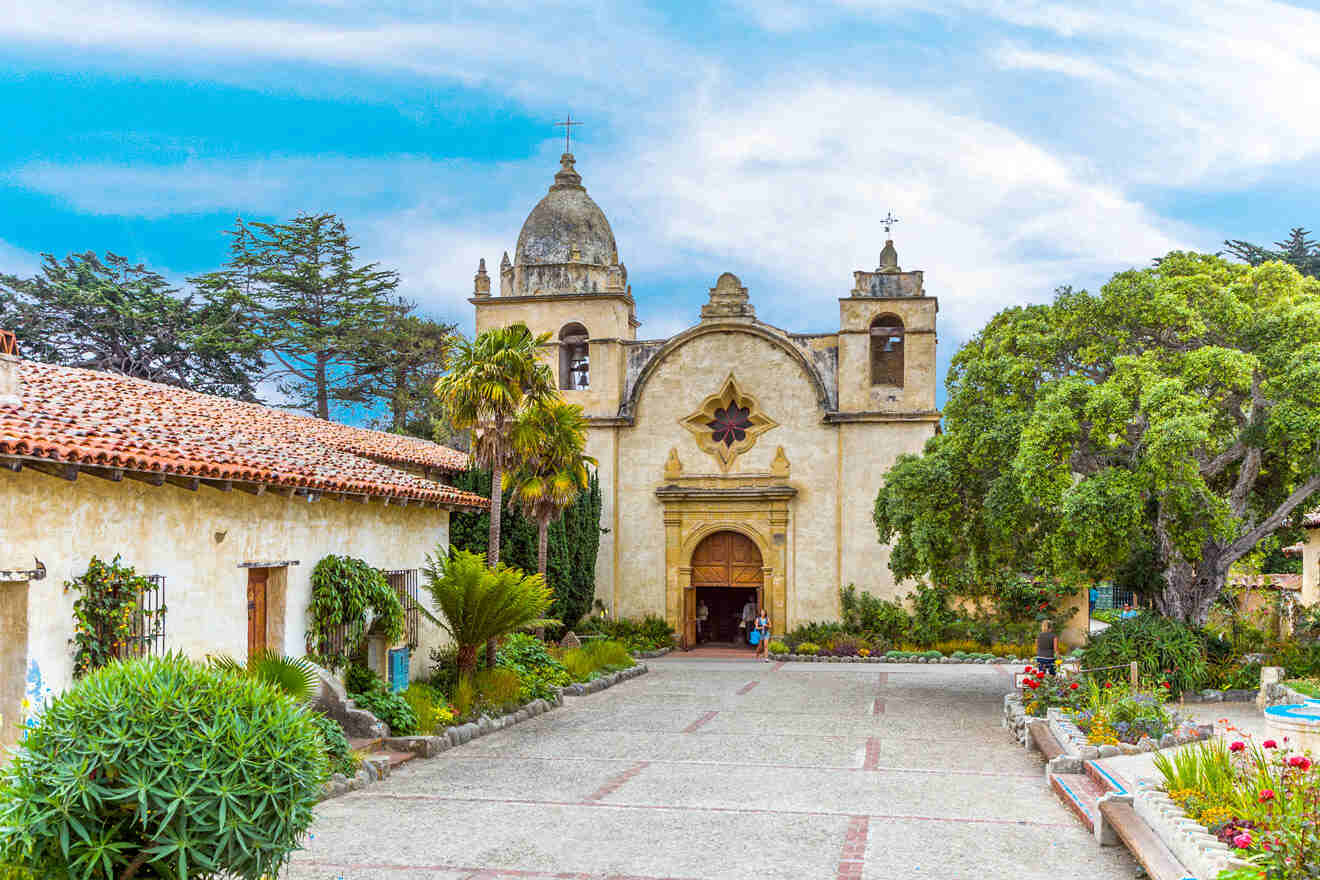 Step foot in one of California's 21 missions! The Carmel Mission Basilica is a National Historic Landmark that's well worth the visit while you're in the area. Founded in 1770, there's a long history that comes with it, so you're in for a real treat and lesson when you visit.
Visitors are welcome to explore the Carmel Mission museum, store, and grounds! I suggest wearing the proper church attire and being respectful and quiet as you tour the premises since the mission is still an actively running church.
The mission is open Wednesday and Thursday from 10 AM to 4 PM, Friday and Saturday from 10 AM to 5 PM, Sunday from 11:30 AM to 5 PM, and closed on Monday and Tuesday. I suggest coming during a weekday to avoid large crowds unless you plan on joining mass on Sunday. See the church mass times here if you're interested!
PRICE: US$13 for adults, US$7 for youth
2. Go bird watching at Carmel River State Beach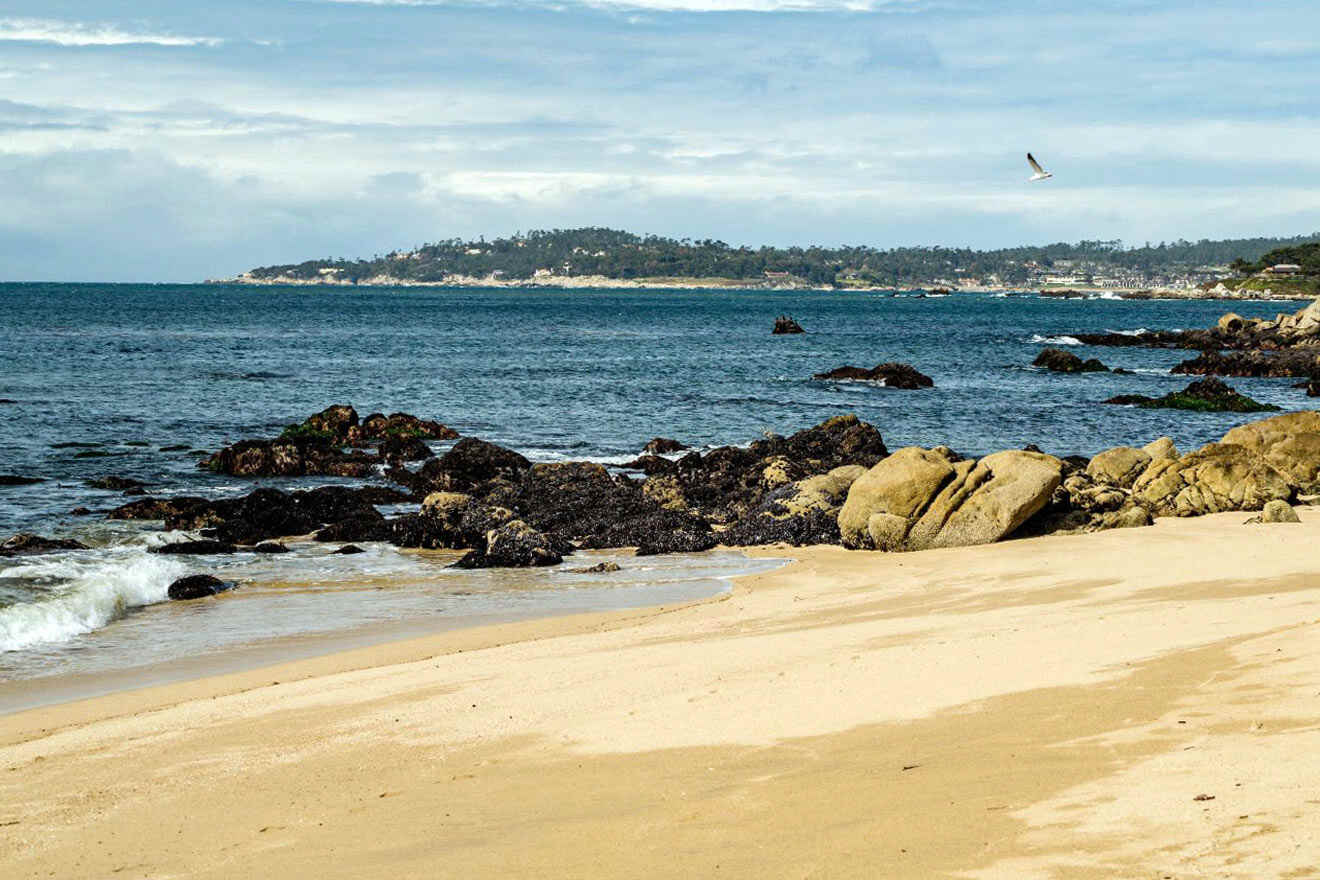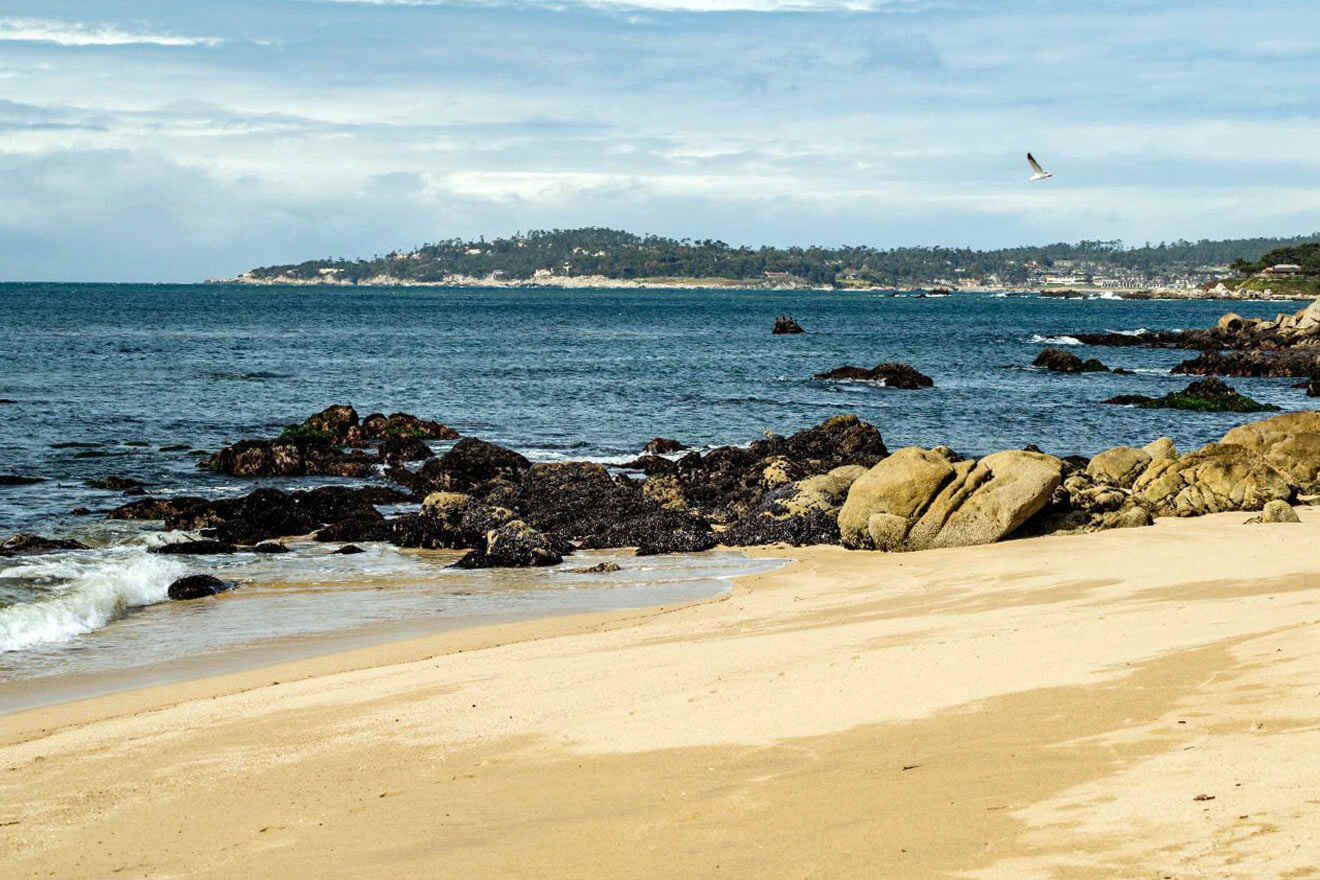 Carmel River State Beach is located in Carmel Bay, stretching about 1 mile (less than 2 km) long. The best part about this beach is the nature reserve Carmel River Bird Sanctuary, where you'll find a lagoon with a variety of birds and scenic views of the Monterey Bay National Marine Sanctuary.
There have been over 350 bird species recorded in this area, which is the highest in the state! So, bring a pair of binoculars and a snack and spend the afternoon birdwatching.
NOTE: I do NOT suggest swimming at the Carmel River State Beach due to dangerous currents.
PRO TIP: Stop by the historic Forge in the Forest near the Carmel Visitor Center for a few cocktails! Famous writers like John Steinback and Henry Miller used to meet here with other local writers – how cool is that?!
3. Have dinner at Clint Eastwood's Mission Ranch Restaurant
The historic Mission Ranch has a rich history dating back to the early 1800s. Today, it is a hotel resort and one of the best local restaurants with views of the Monterey Peninsula, Santa Lucia Mountains, and Point Lobos in the distance, and even sheep walking around their property.
Former mayor and Carmel local Clint Eastwood rescued this landmark from property developers back in 1986 and turned it into a resort for people to enjoy!
I suggest coming to the Mission Ranch restaurant for a spectacular evening with your loved one. They offer a classic American cuisine with a fine dining experience and service you're really going to love. The restaurant has a first come, first served policy, so you won't be able to book this one in advance, so come in on a weekday to avoid long wait times.
4. Bring the dogs to white-sand Carmel Beach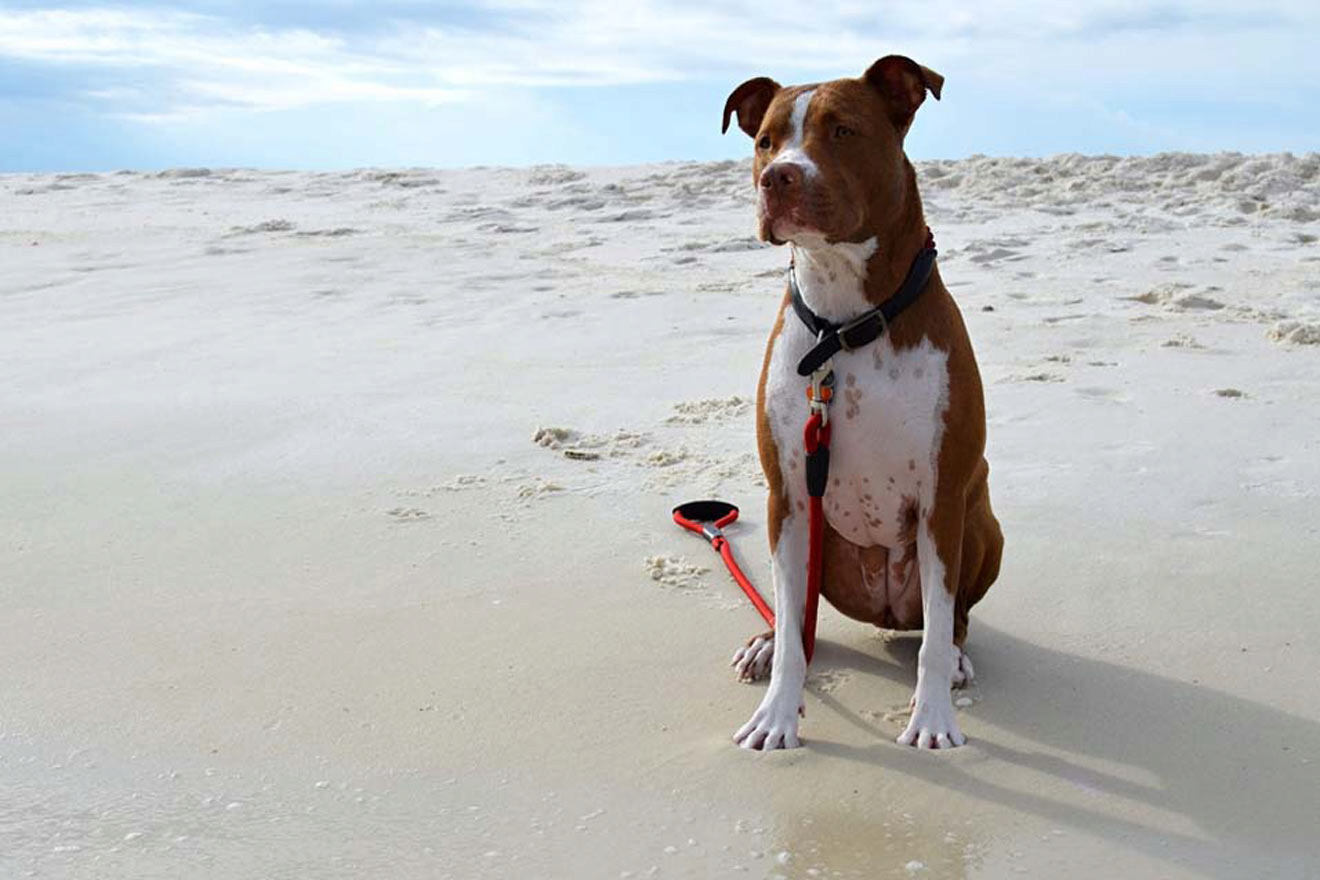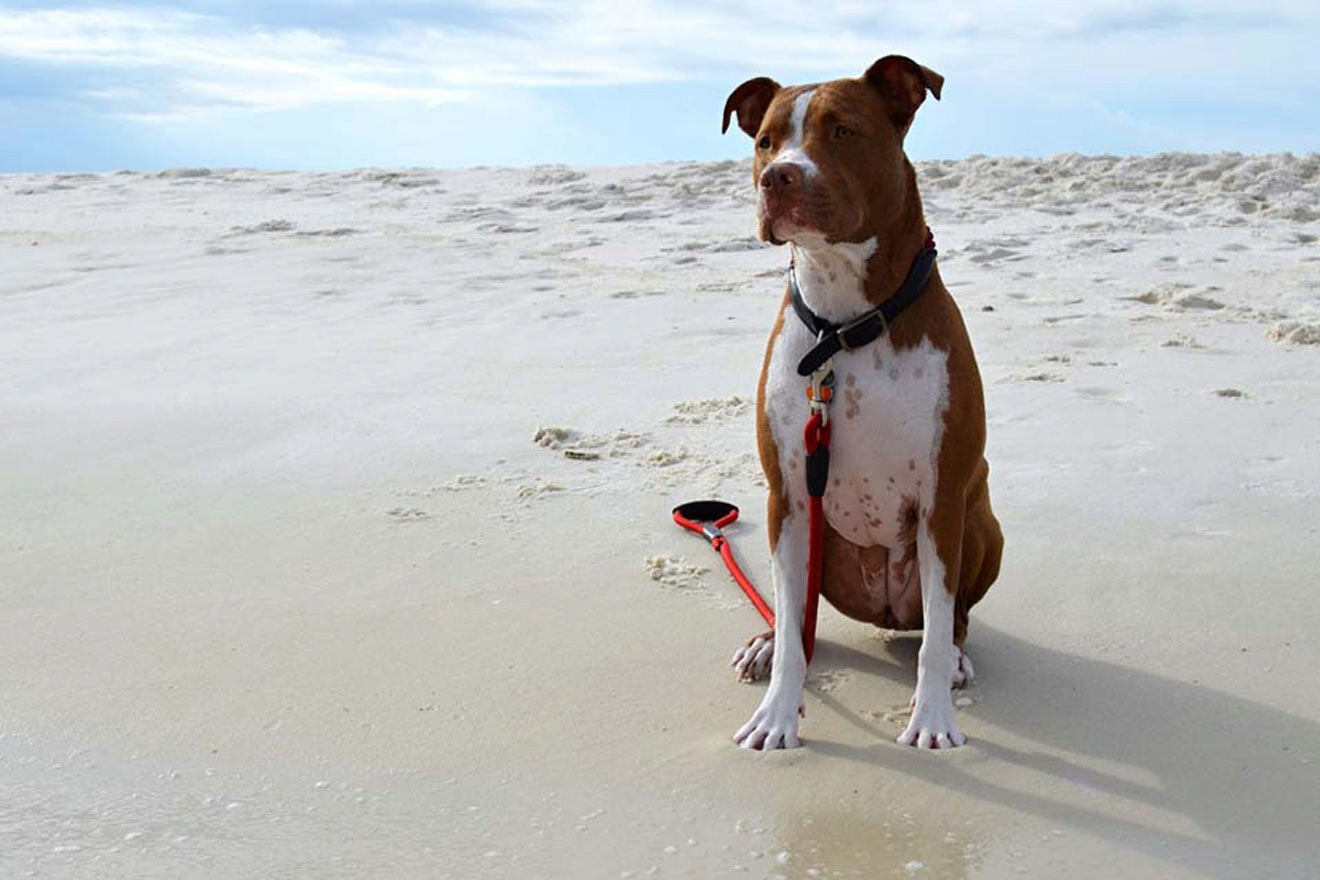 Located at the end of Ocean Avenue, Carmel Beach is one of the most beautiful beaches I've ever visited in Northern California. The white sand beach is majestic in comparison to the SoCal beaches that I'm used to seeing. It's a relaxing spot for families and couples to unwind with the salty Pacific Ocean breeze.
An important note about this beach and all beaches in Carmel-by-the-Sea is that it doesn't get quite as sunny during the summer months as you'd expect. In fact, it's always a little gloomy outside during the summer, so bring a jacket or sweater to stay warm.
The best time to visit Carmel is in the fall! The sky begins to clear up of fog, the days get sunnier, and the evenings are a cooler temperature. Carmel Beach allows dogs off-leash, so bring your furry friends and let them roam around with you!
NOTE: Parking is free on-site, but street parking can get overwhelming and chaotic since the streets are pretty narrow, so better come early to secure a spot.
5. Explore the romantic Carmel Village for an afternoon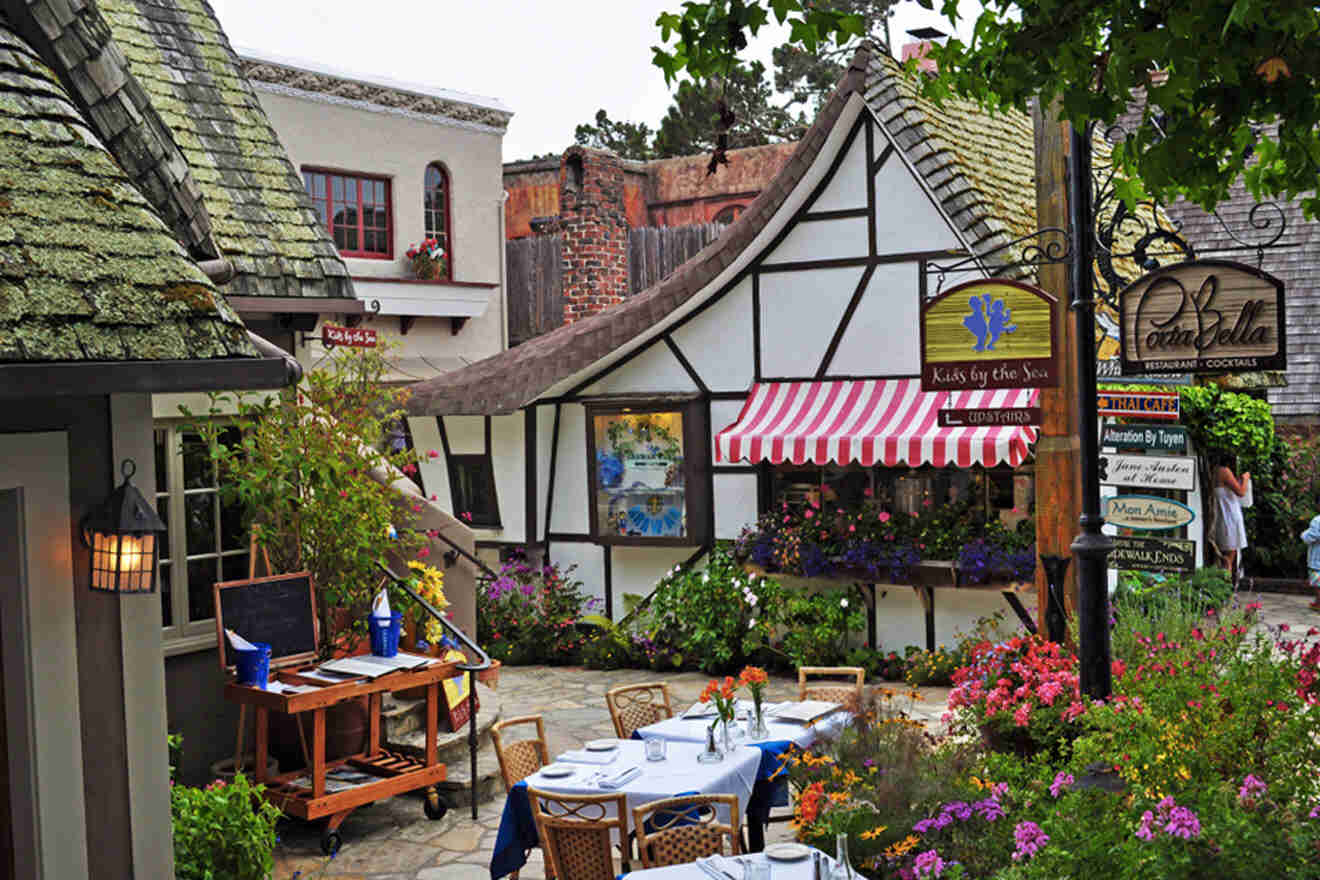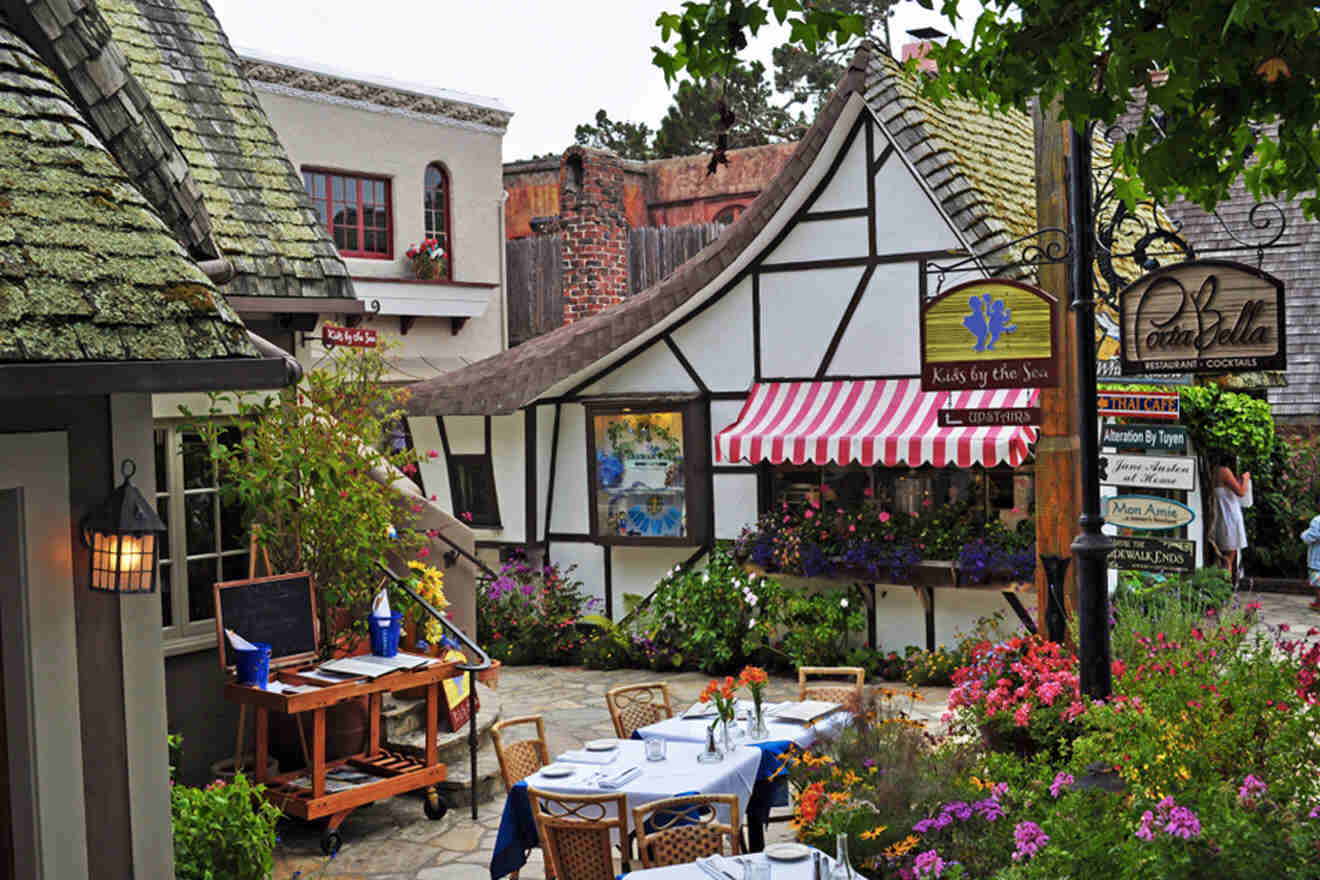 Carmel Village (also known as Downtown Carmel) is well-known for its 1920s-inspired fairytale architecture, a plethora of world-class art galleries featuring local artists and fine art photography, scenic ocean views, wineries, with local shops, restaurants, and boutiques that make for an excellent day in Carmel, California
The best way to explore Carmel Village is by taking a walking tour, where the tour guide will take you to some of the best local attractions like the First Murphy House, Church of the Wayfarer, Tuck Box, Hog's Breath Inn, and more.
The guide will uncover all the fascinating history of Carmel-by-the-Sea, and you'll get a chance to stroll around the charming, walkable Downtown Carmel without having to stress or worry about where you're going (these are personally my favorite kinds of tours).
After the 2-hour tour, I suggest walking through a handful of the 100+ art galleries. Gallery by the Sea Carmel, Carmel Art Association, Weston Gallery, and Steven Whyte's Sculpture Studio and Gallery are some of the top-rated galleries that are working taking a look at.
PRO TIP: For lunch or dinner, stop by Carmel Plaza and check out 400 Degrees for the best burger in town or the Flying Fish Grill for salmon, lobster, and a higher-end ambiance.
TOUR PRICE: US$35 per person
6. Admire the famous Clinton Walker House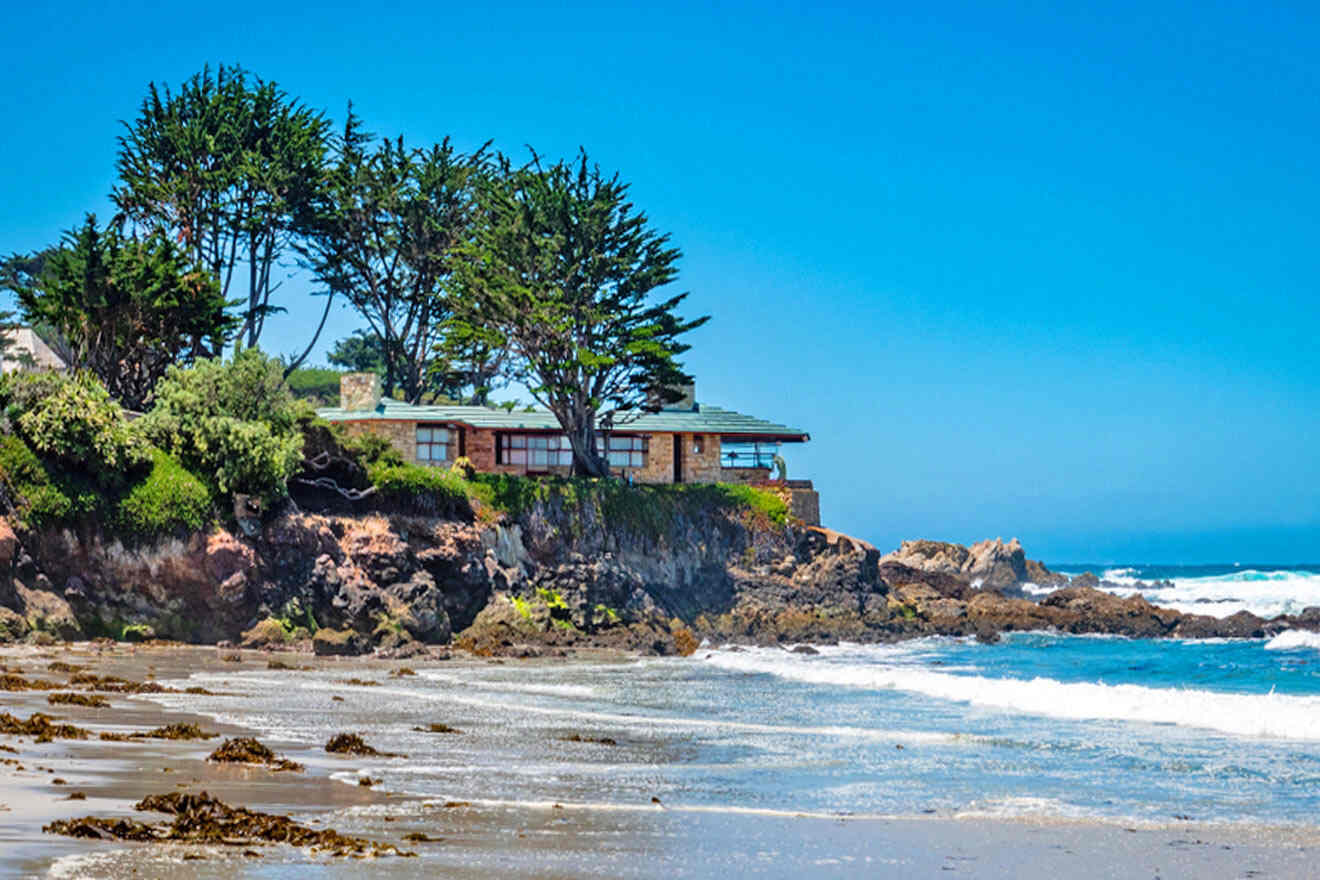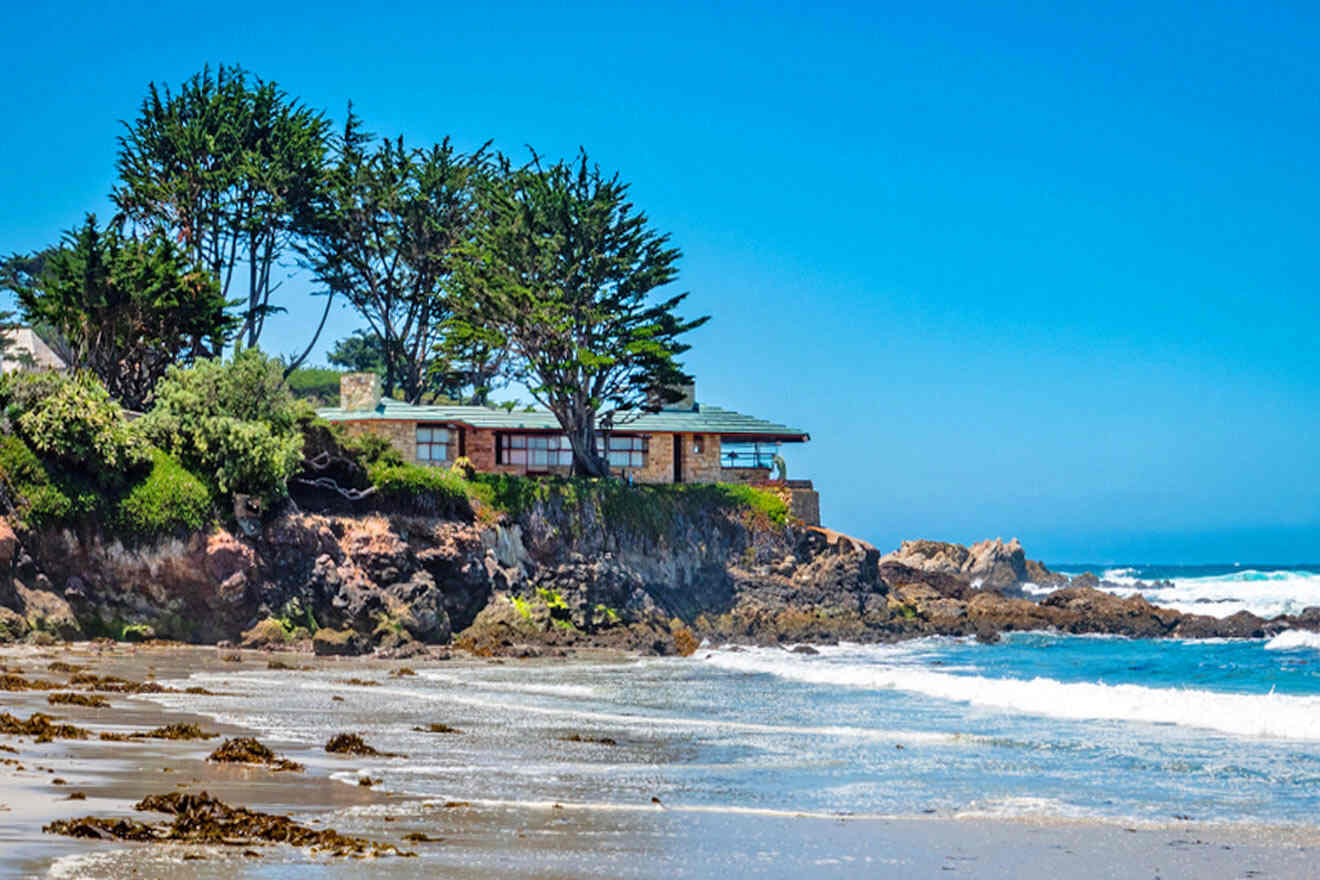 Famous American architect, Frank Lloyd Wright, was well-known for his 1,000+ designed structures over the course of his 70-year career. One of them (and the only one sitting on the coast) happens to be in Carmel-by-the-Sea!
Clinton Walker House was designed for a widow who wrote the famous architect a letter and requested his help. He was moved by the letter, accepted the challenge, and created one of the most unique homes in all of Carmel-by-the-Sea.
The house is about 1,200 ft² (c. 110 m²) and overlooks the Pacific Ocean, and resembles a ship's bow cutting the ocean. The house is now considered a cultural landmark and was sold in early 2023. Unfortunately, it isn't open to the public for tours.
However, you can drive by the scenic road and admire the architecture on a self-guided GPS audio-driving tour at your own pace. The drive highlights the Clinton Walker House, the scenic Ocean Avenue, Carmel Cottage Inn, and more.
PRICE: US$8 per person
Book Your GPS Audio Driving Tour
7. Explore the Carmel Valley wine country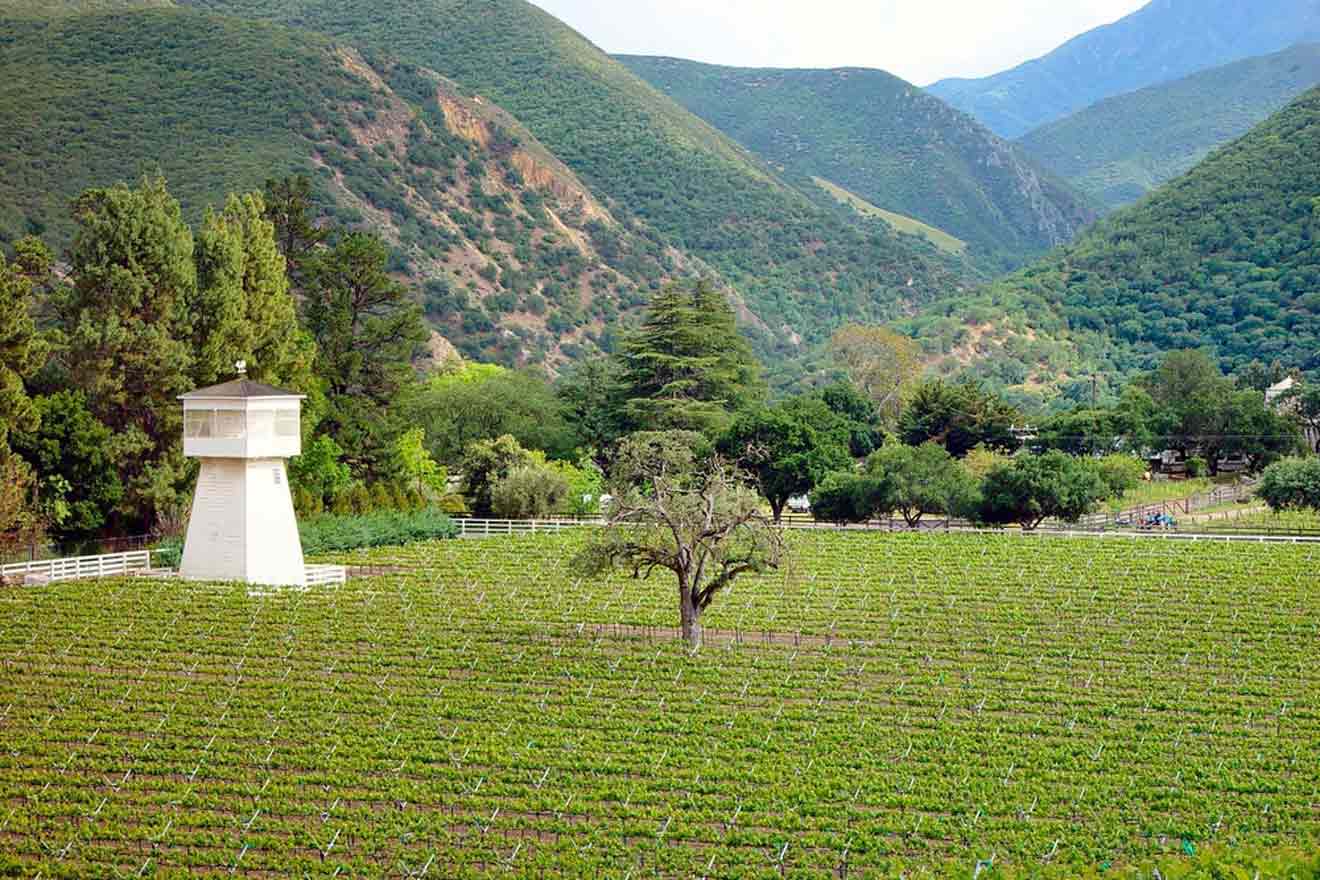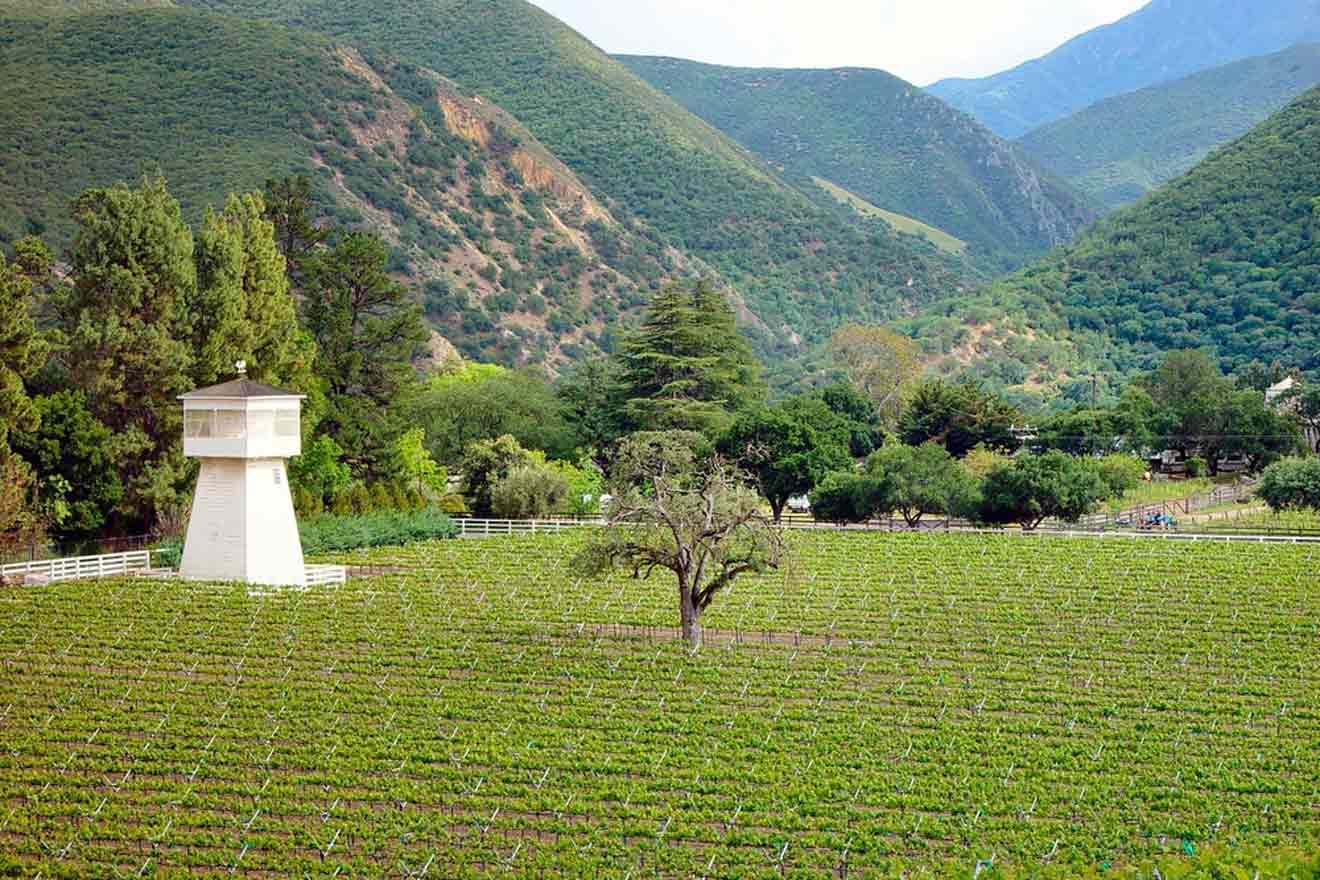 Take in the stunning scenery of Carmel Valley and sip on a glass of locally produced wine in the Carmel Valley countryside. I suggest booking a wine-tasting tour to really get a glimpse of the countryside, learn about local wine production, and tour one of the largest premium grape producers in California (in Monterey County).
Make sure to eat a full meal or at least a snack before heading to the tasting room! You really don't want to feel sick and/or hungover after drinking a couple of glasses of wine. The tour guide will conveniently pick you up and drop you off at your Monterey accommodations, so no need to worry about getting home. They've got you covered!
PRICE: from US$160 per adult (21+)
8. Tour a famous American writer's home: Tor House & Hawk Tower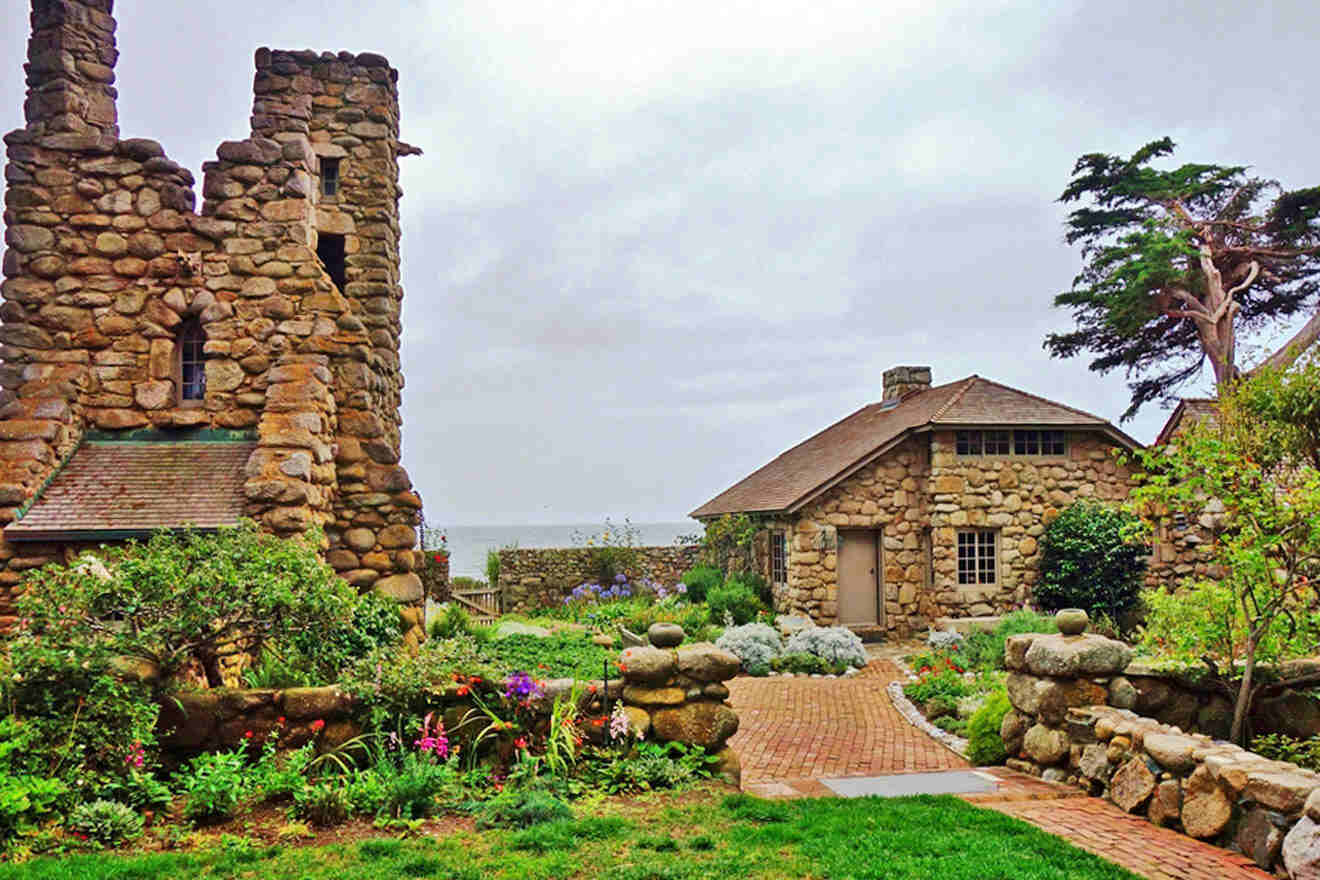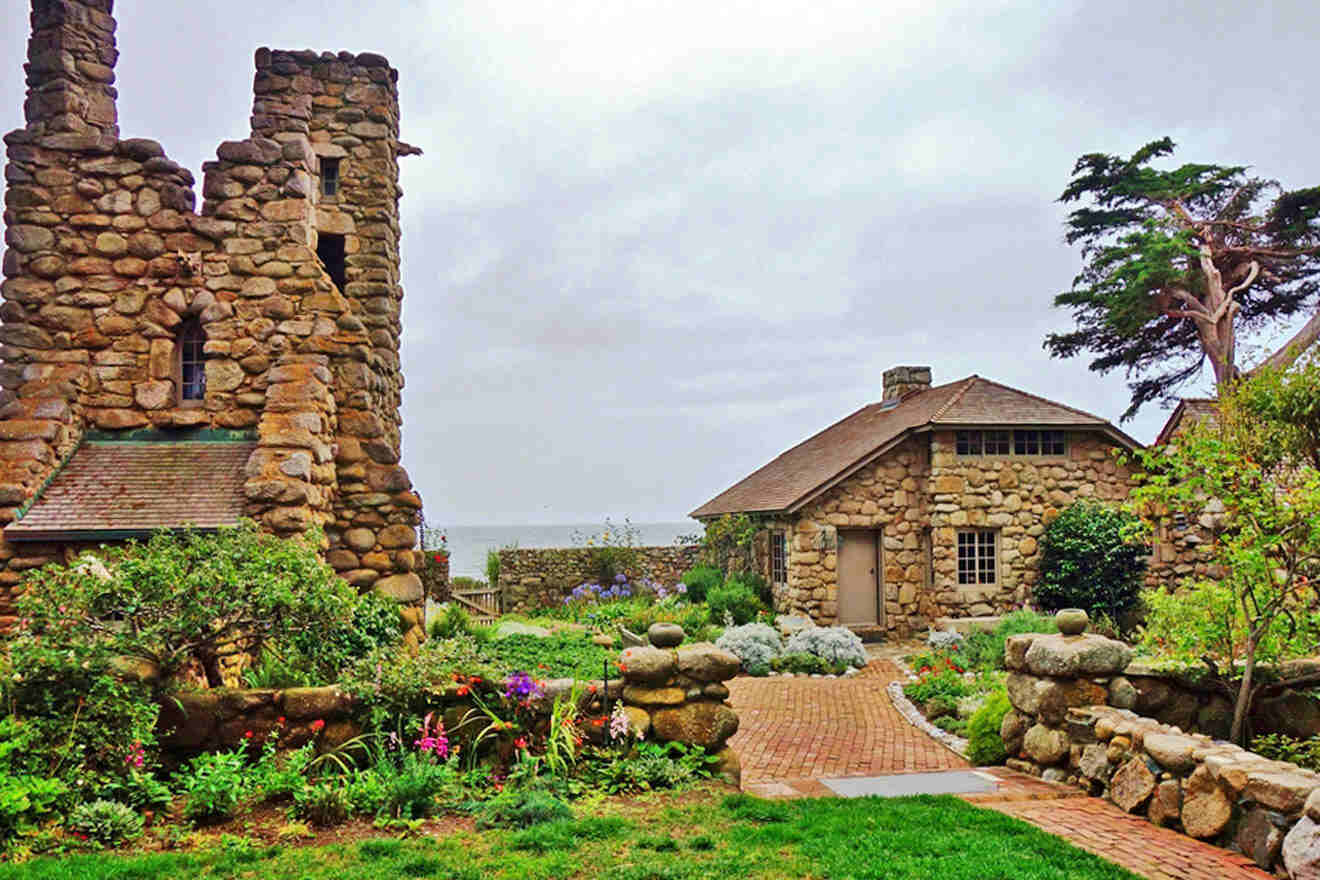 The Tour House and Hawk Tower are home to Robinson Jeffers, the famous American poet. He discovered the untouched beauty of Carmel-by-the-Sea and Big Sur areas and was inspired to build a home for himself and his family. The home he built with his own two hands has left a lasting legacy in Carmel-by-the-Sea.
Today, the Robinson Jeffers Tor House Foundation does everything in its power to preserve the cultural legacy and educate others on the history of the land by providing tours of the Tor House, Hawk Tower, and all its surrounding gardens for visitors.
The foundation offers a few different tours around the property. Here are a few I recommend checking out:
Guided Tour of Tor House & Hawk Tower: This classic guided tour will take you around the property for about 1.5 hours. You'll hear some of Robinson Jeffers' famous poetry and step back in time with the old brick buildings.
Musical Tour of Tor House: Enjoy live performances of poetry and music in the cottage after exploring the surrounding gardens. The performances are stories based on the family of Robinson Jeffers – rather than a traditional tour, it's a more fun way to learn the history of this place!
9. Uncover the jewel of Carmel: Point Lobos State Park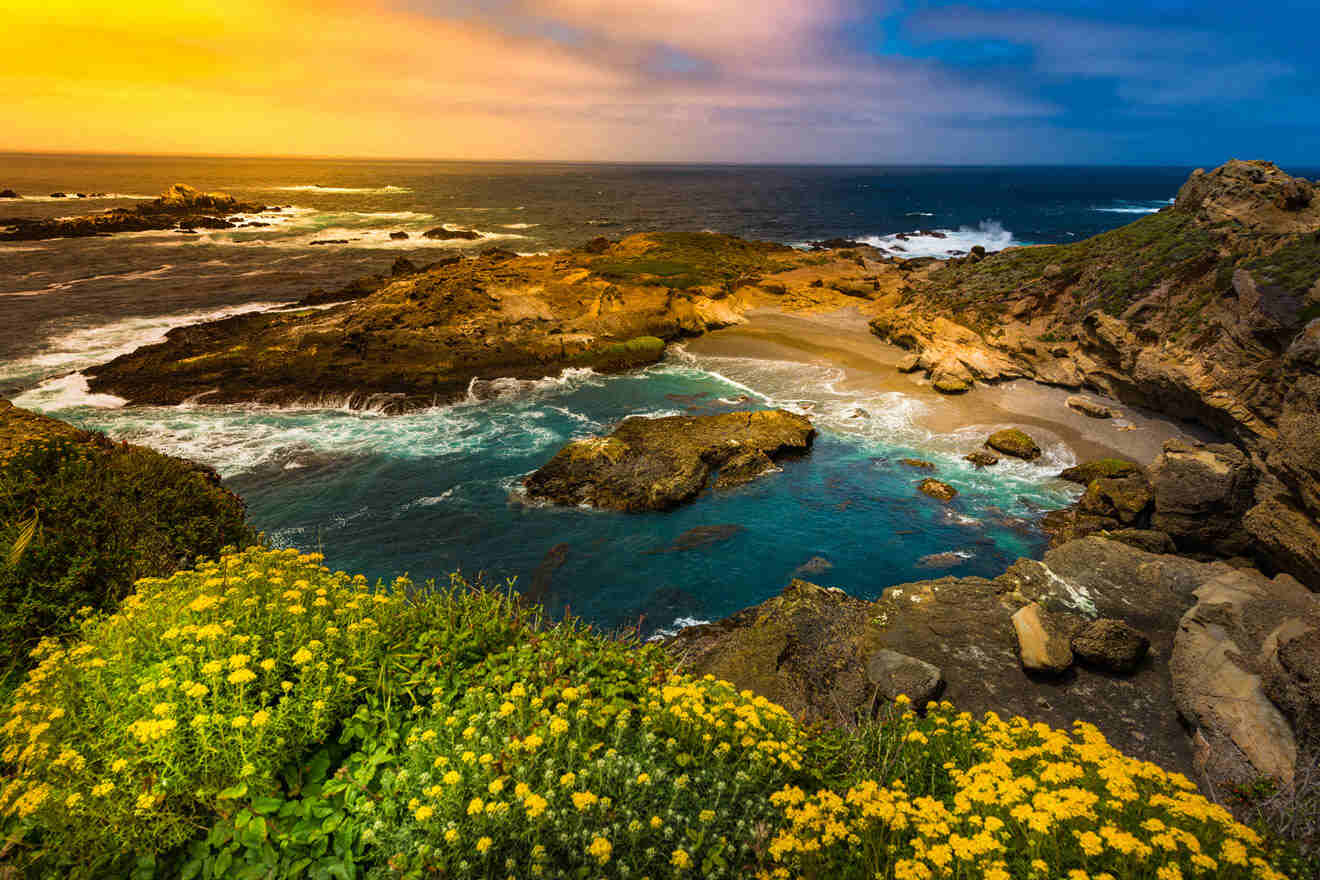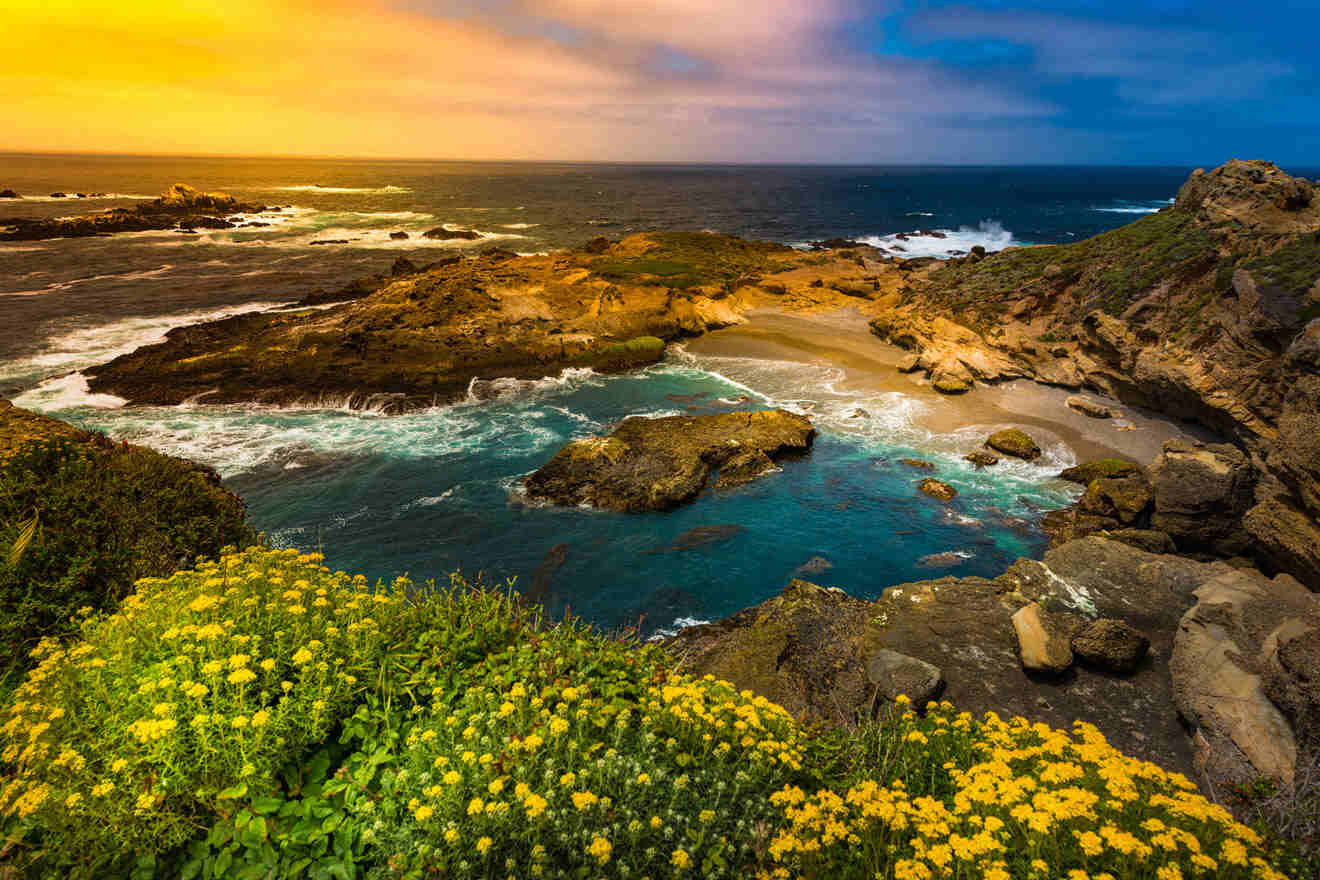 Point Lobos State Natural Reserve is known as the "crown jewel of the California State Park System," and is one of the most sacred places to visit in Northern California and a must-visit California destination. It is only 3 min away from the famous Carmel Highlands and 2.5 hours south of San Francisco.
People come from all over the world to visit the natural beauty and recreational activities available at this natural reserve! I suggest bringing a camera to take stunning photos, preparing for a day of sightseeing, hiking trails (Bird Island Trail, Sea Lion Point Trail, or Cypress Grove Trail are the best), then snorkeling through the underwater habitats at the beaches.
If you prefer taking a simple nature walk through Point Lobos, I recommend booking a guided tour to avoid getting lost and having a professional guide lead you toward the best spots at the park. This is a good option if you're traveling with older family members who aren't quite as able to snorkel or do strenuous hikes.
NOTE: Gibson Beach and China Cove are forbidden for snorkeling! You'll need to make a snorkeling or scuba diving reservation in advance for Whalers and Bluefish Coves.
TOUR PRICE: from US$50 per person
10. Devour the best foods and create your own macarons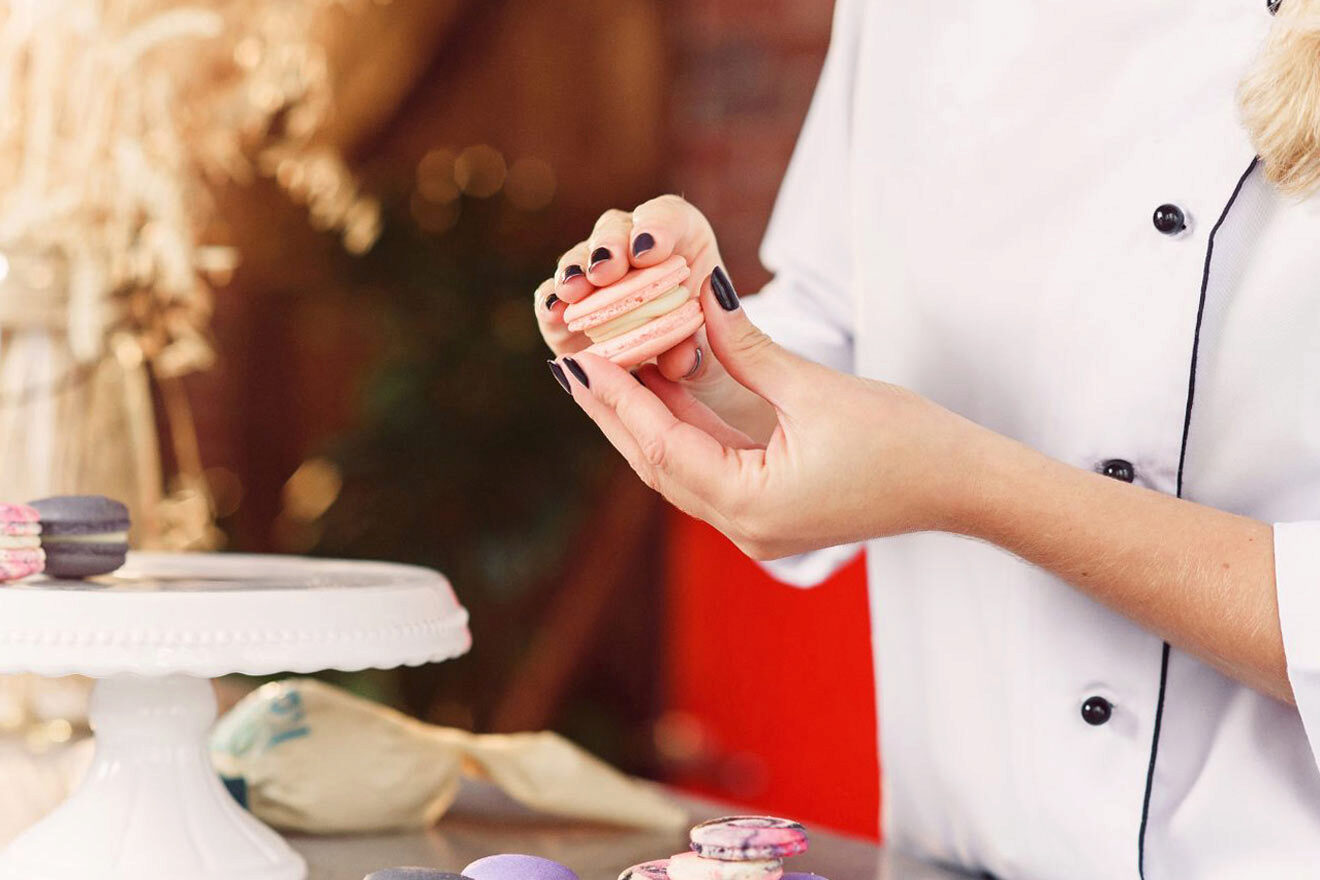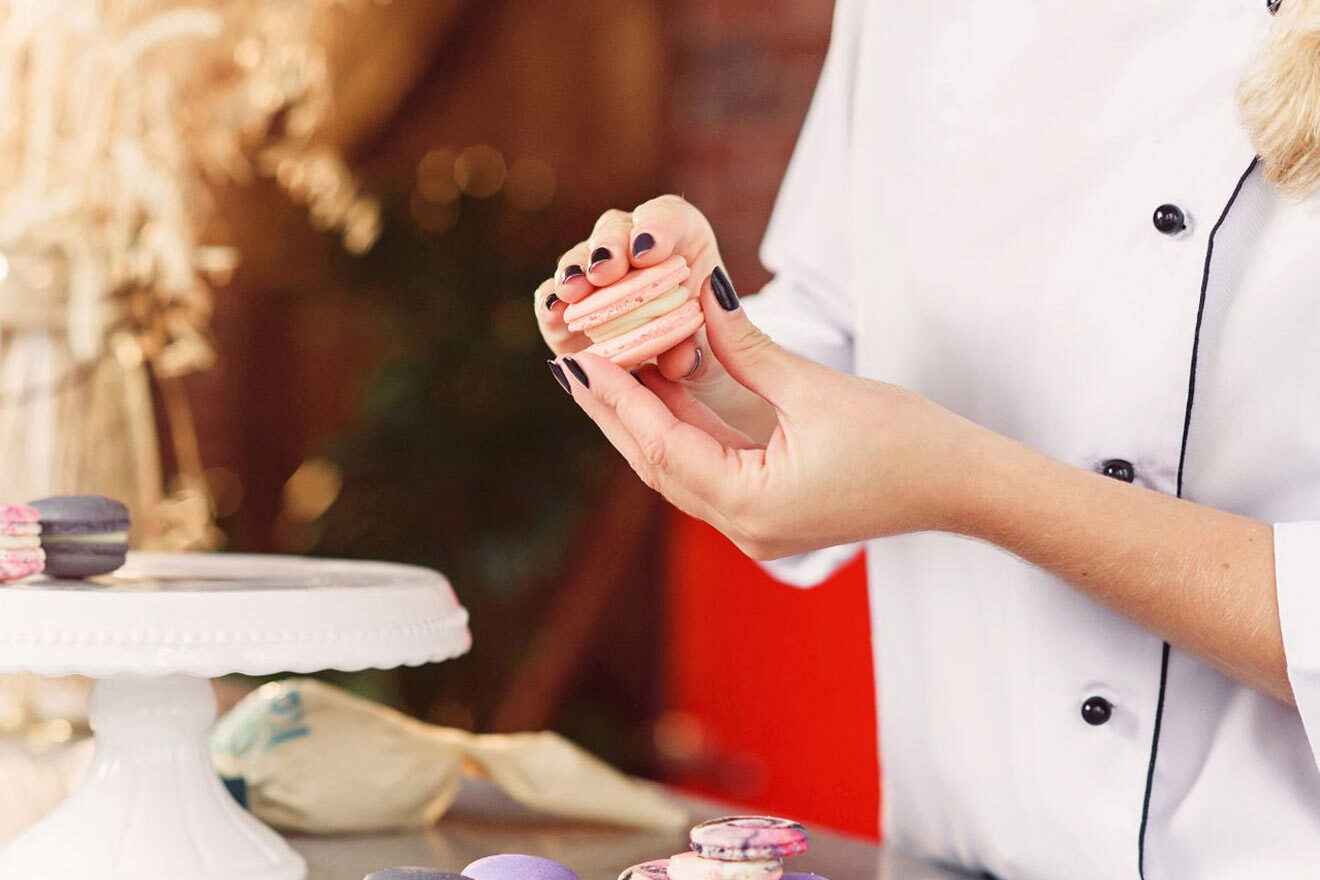 Next up, spend the afternoon indulging in all the best foods and Carmel, and make your own macaroons with a master chef! One of my favorite things to do in a new city is dine at the best food places around.
This small group tour will allow you to do just that! The professional foodie tour guide will take you through the coast from Monterey through Carmel-by-the-Sea and teach you all about the history and gourmet culture of the area. You'll eat at the best local hubs and even get a taste of the best wine around town.
For an interactive dessert option, check out this "Macaron Making" class! Macarons are a delectable treat that is difficult to master. You'll get a chance to try it out for yourself through this class! The "master chef" will teach you the ins and outs of macaron making within 2 hours, and you'll leave with a dozen macarons to devour on your own time. This is a fun, unique experience, and you go home with a bag of goodies!
PRICE: from US$140 per person
11. Witness art in the making in Carmel
Carmel-by-the-Sea is an artistic hub filled with art galleries and a history of creative souls that still rule the city today! If you're looking for a place to admire the artwork, this is the place to be.
The downtown area is only 1 square mile (less than 2 km), but it's comprised of about 100 art galleries within that tiny space. About 21 of them are artist-owned, where you'll see the artist activity working inside their galleries. Not only do you get a chance to admire the art, but you also get a behind-the-scenes look into how these artists work in real-time and meet in person!
The oldest gallery in Carmel is the Carmel Art Association, founded in 1927. I suggest taking a walk in here if you don't know where to start! The gallery features over 100 local artists' work, so take your time and enjoy!
12. Discover the most famous Carmel attractions in Pebble Beach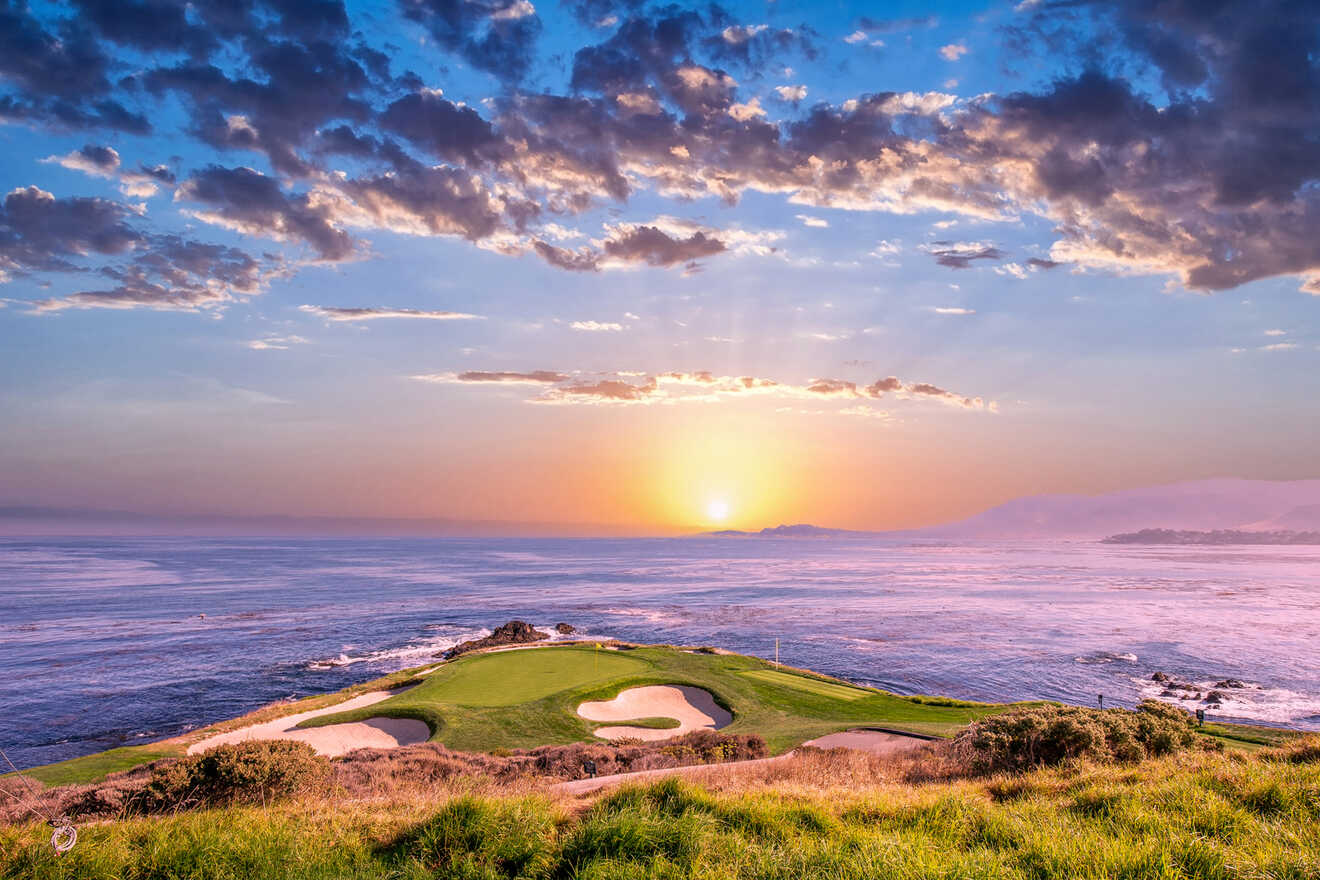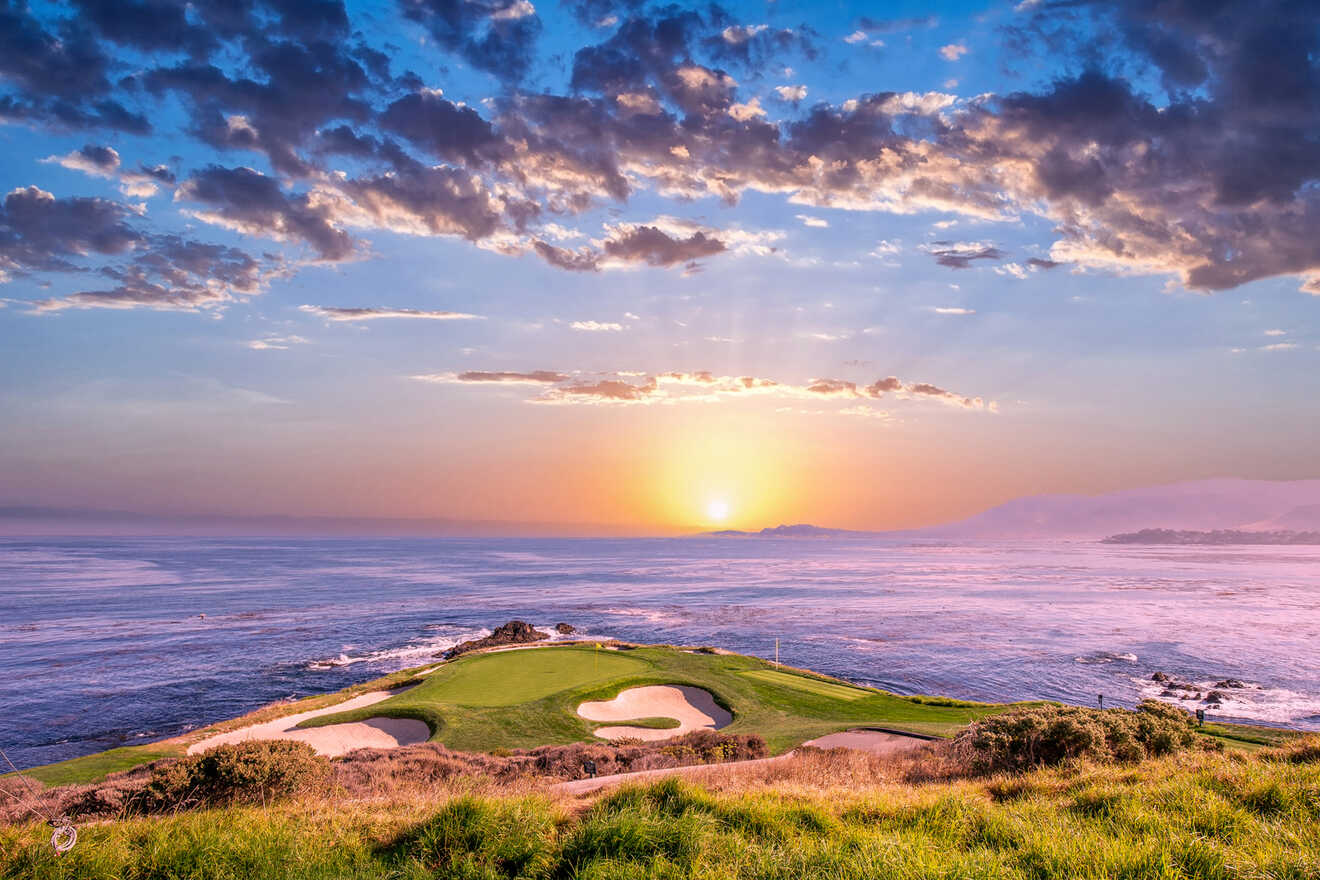 Pebble Beach is a small community between Monterey and Carmel-by-the-Sea, filled with destination landmarks worth checking out.
Here are a few I suggest visiting:
Lone Cypress Tree: The world-famous standing cypress tree has withstood all forms of intrusion for the last 250 years and stands alone as one of the most photographed trees in the country! Take out your camera and snap a photo for yourself.
Bird Rock Vista Point: This is the most beautiful viewing point you can easily hike up to!
Seal Rock Creek Beach: This is a small sandy beach near Bird Rock. I suggest visiting this beach and going up to the vista point after!
Del Monte Golf Course: One of the oldest golf courses on the West Coast and an iconic destination for professional golfers.
Spanish Bay Beach: One of the most famous stops en route 17 Mile Drive in Pacific Grove! Spanish Bay is a small white sand beach, ideal for surfers.
Pebble Beach Golf Links: This is another must-visit course! The famous Pebble Beach Golf Course is one of the highest-ranking golf courses in the country!
If you plan on spending a lot of time in Pebble Beach, I suggest staying at the Pebble Beach Resort for easy access to all these activities and the best all-inclusive resort in the area!
PRO TIP: You can also easily stop by Pebble Beach if you're going through the 17 Mile Drive or on a road trip going down California's central coast!
13. Visit an octopus at the Monterey Bay Aquarium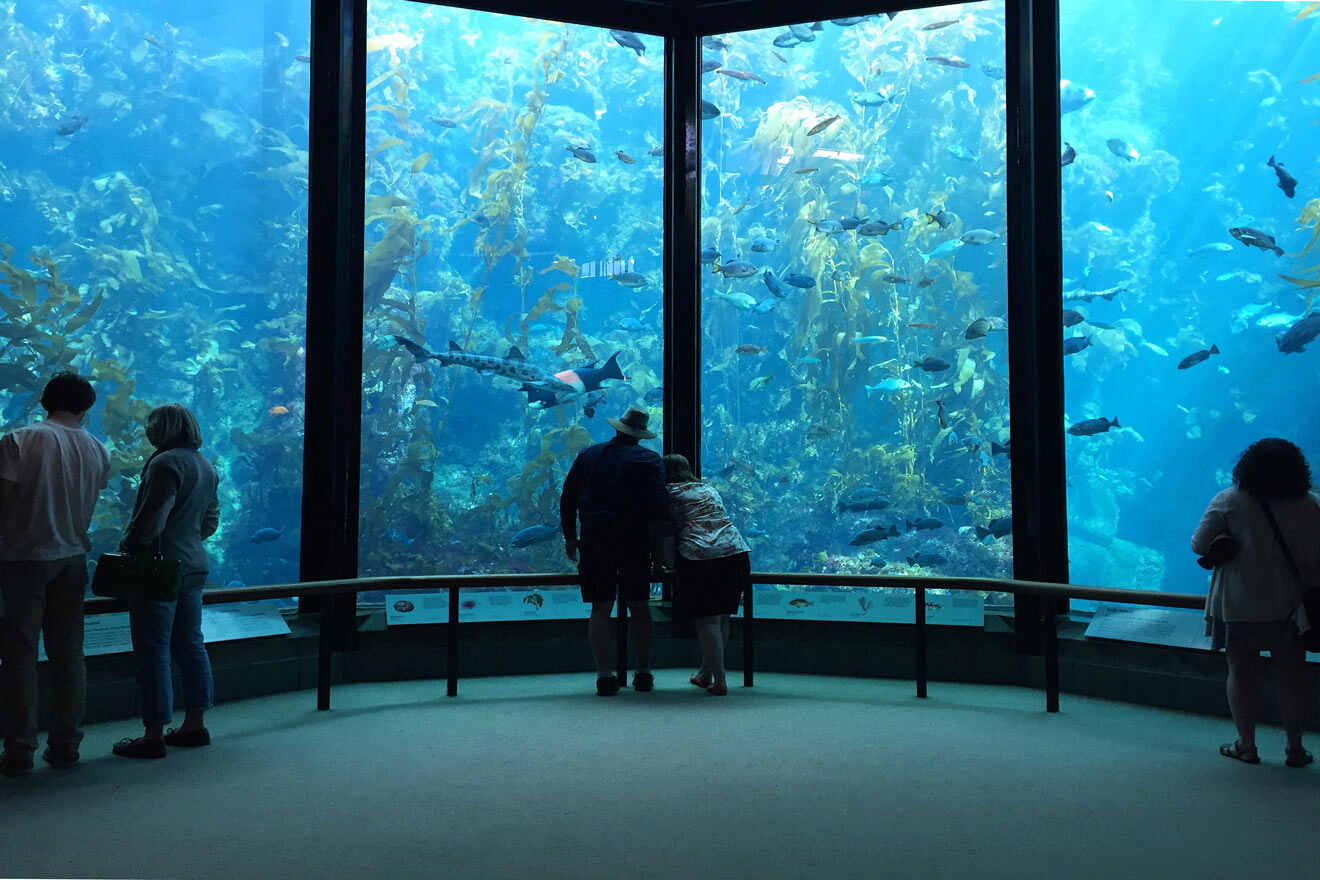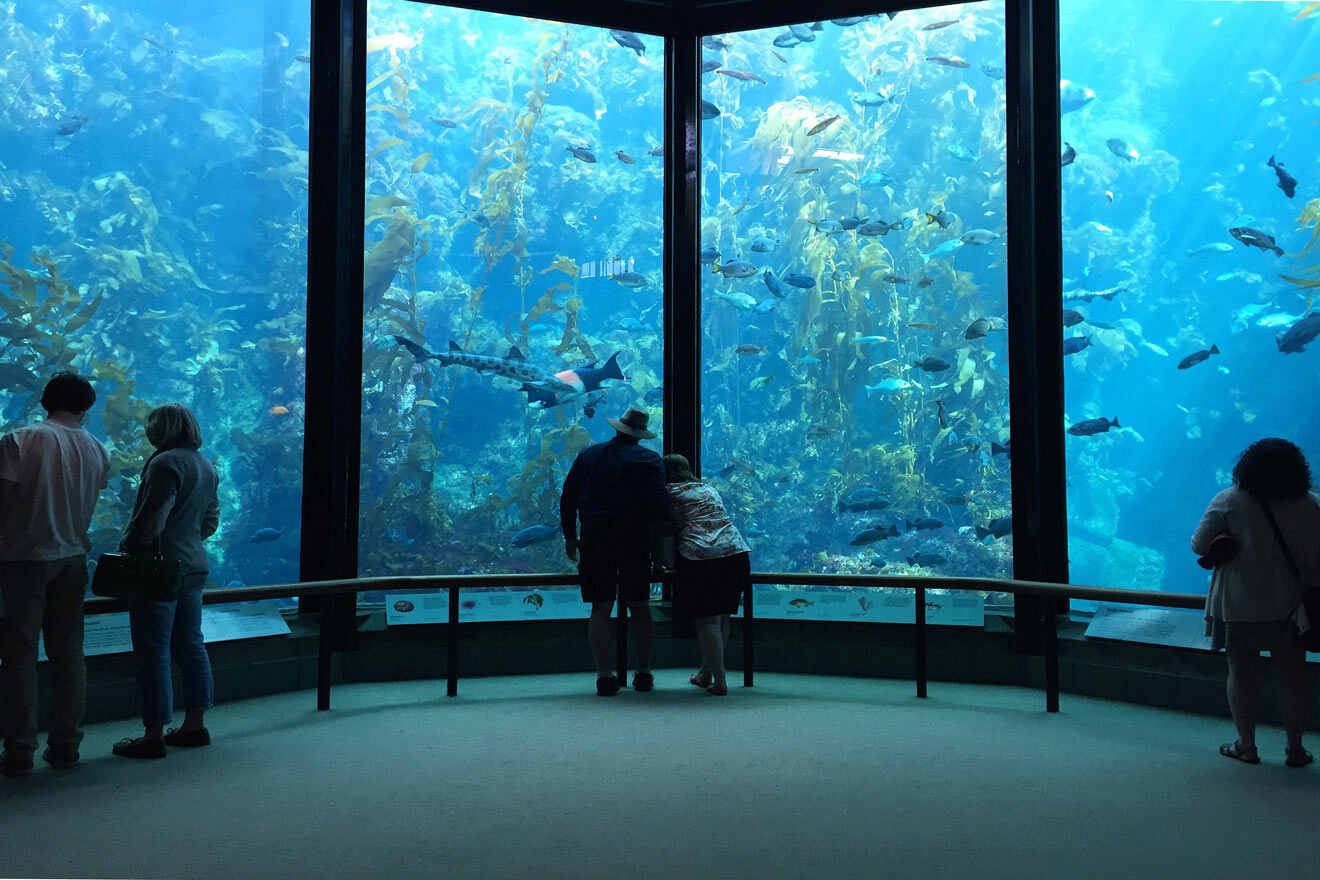 The Monterey Bay Aquarium in Monterey (a short drive away from Carmel-by-the-Sea) is an excellent theme park with over 200 exhibits and 80,000 varieties of flora and fauna to admire!
The aquarium has a ton of interactive exhibits, great for children and families and partners with efforts that help care for the ocean, reduce plastic pollution, and educates others on the importance of clean energy. So the aquarium is a great place to enjoy and learn something new!
Here are my favorite exhibits:
Giant Pacific Octopus: This octopus is a complex creature with its own exhibit at Monterey Bay Aquarium, particularly interesting because it's not as common to find octopuses in your local aquariums because they have higher standards of living.
Open Sea: This is the largest exhibit in the aquarium, being a 90-foot (27 m) long window where you can admire all kinds of marine life like tuna, sardines, sea turtles, and more.
NOTE: You can even book a behind-the-scenes tour for the whole family or a diving exploration tour for kids aged 13 or under to get a sneak into the underwater world!
PRICE: US$60/person for adults, US$50/person for ages 13 – 17, US$45 for children 5 – 12
14. Go hiking at Garland Ranch Regional Park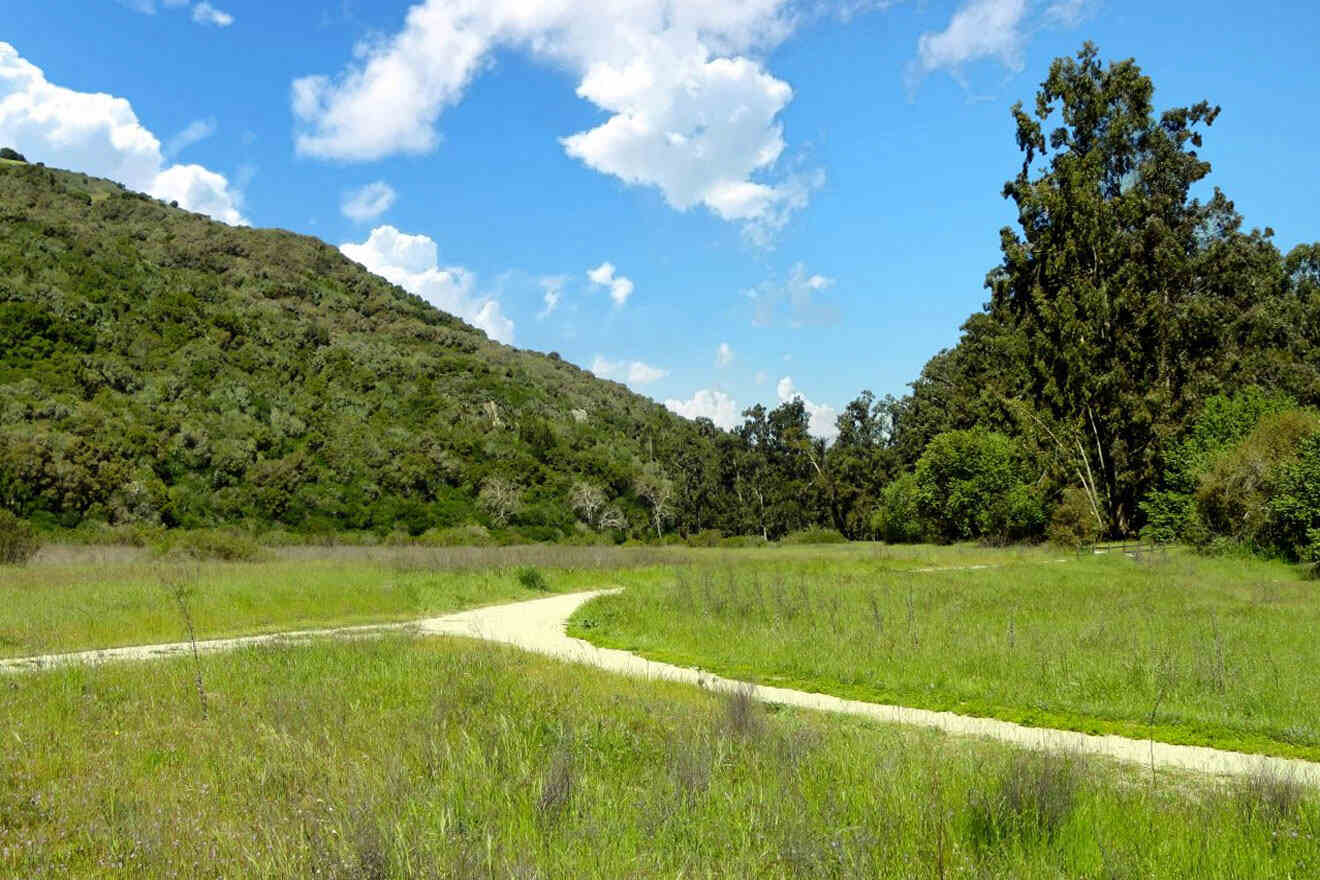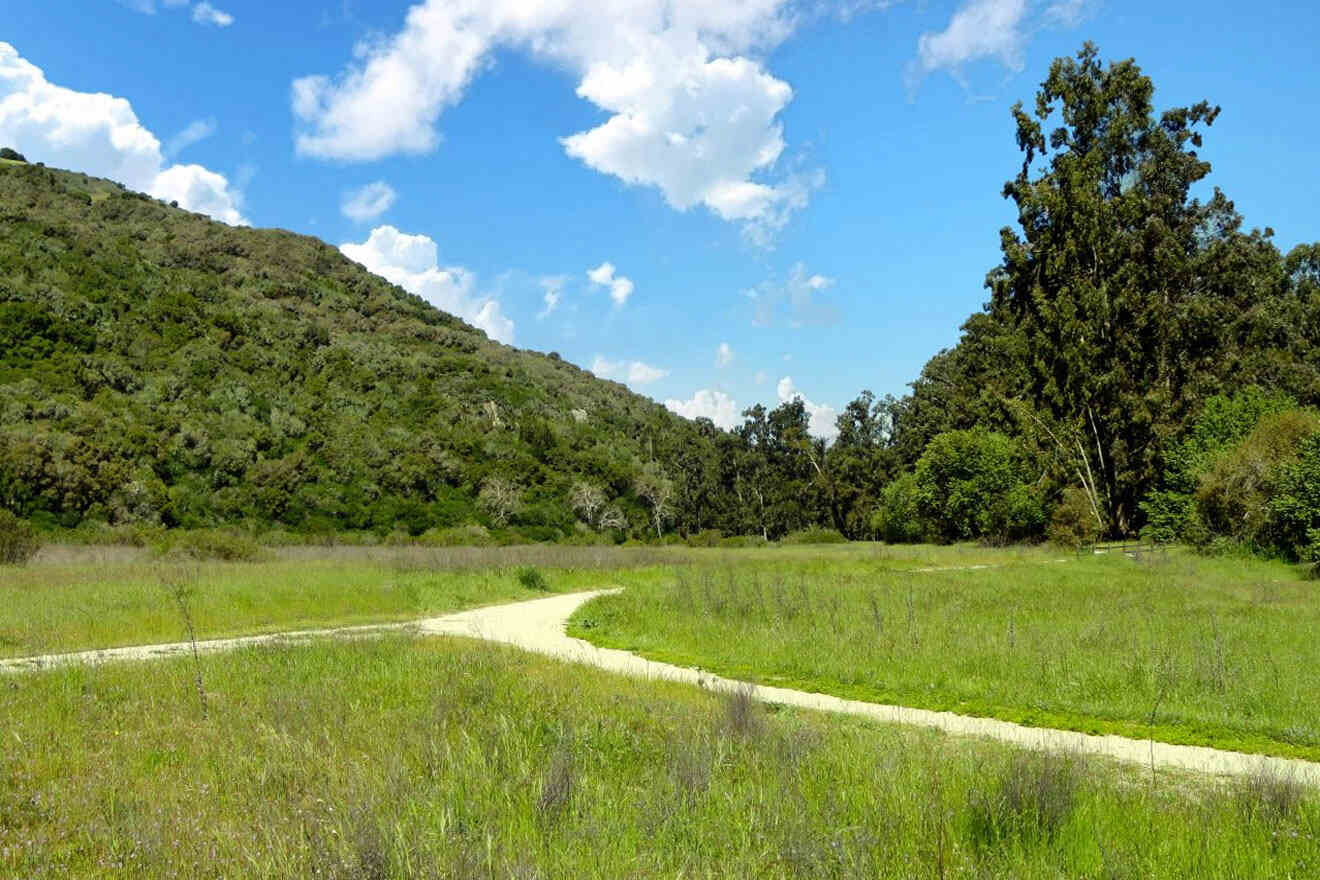 Garland Ranch Regional Park is home to landscapes ranging from the Carmel River through the crest of the Santa Lucia Mountains and trails in between that are loads of fun to stroll. There's also a wide variety of birds, plants, and animals that are native to the park. There's so much natural beauty to be admired!
You'll also find bits and pieces of history scattered throughout the park, such as Rumsen Indian habitation sites, livestock trails, hunting, and logging remains, and remains of the Don Juan Ranch. There are rangers throughout the park to help answer any questions you might have about the history here!
Here are a few hikes I suggest doing at Garland Ranch Regional Park:
Lupine Loop Trail: Get to the Garland Ranch Waterfall on this 2-mile (3-km) hike. This is a super popular hike for locals to go horseback riding as well!
Redwood Canyon Trail: This is considered a moderately challenging 3.4-mile (5.5 km) hike through a canyon towards the world-renowned redwood trees.
For more outdoor adventure and diverse wildlife, I suggest taking a visit to Palo Corona Regional Park and having a picnic!
15. Watch marine life passing by Garrapata Ranch Regional Park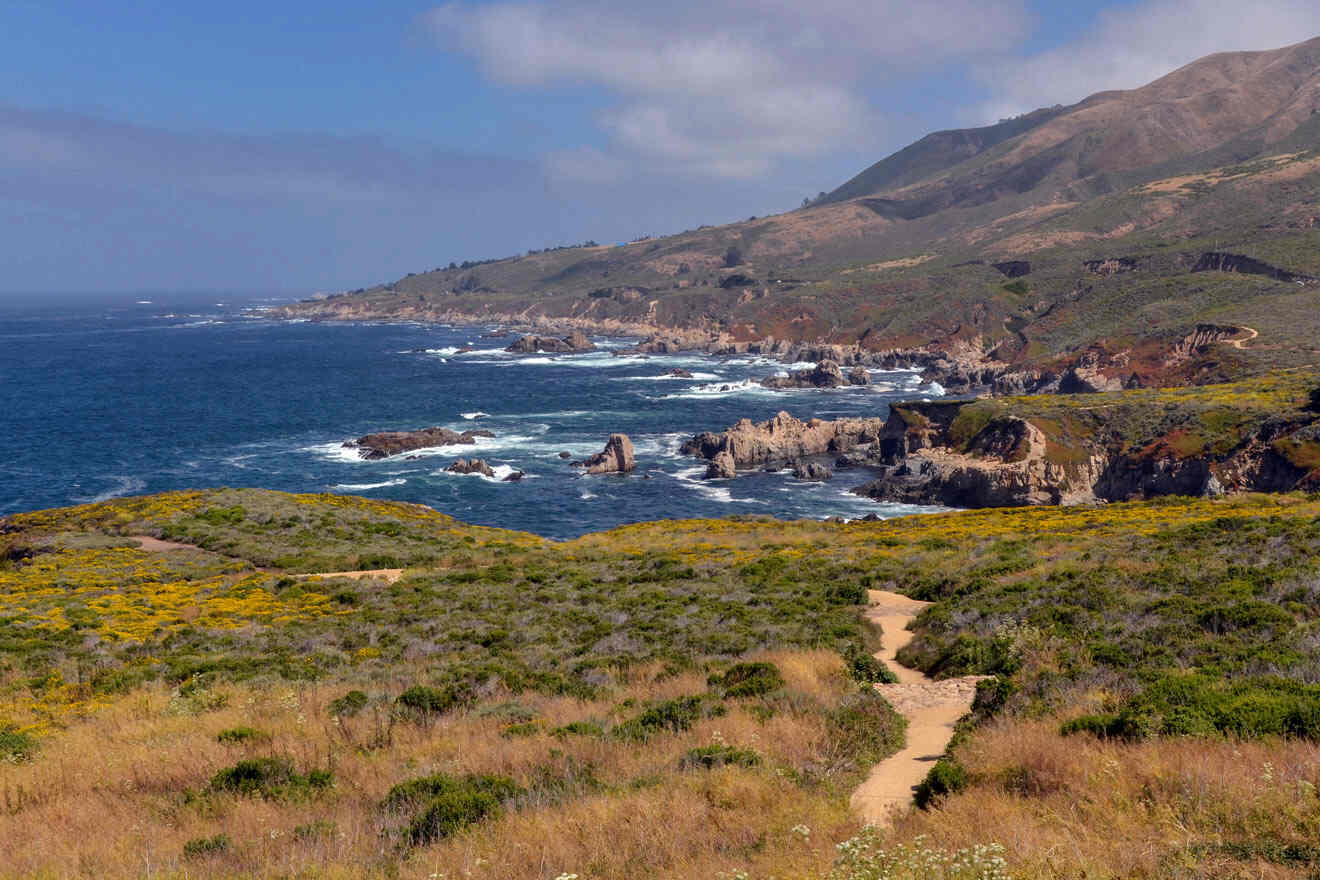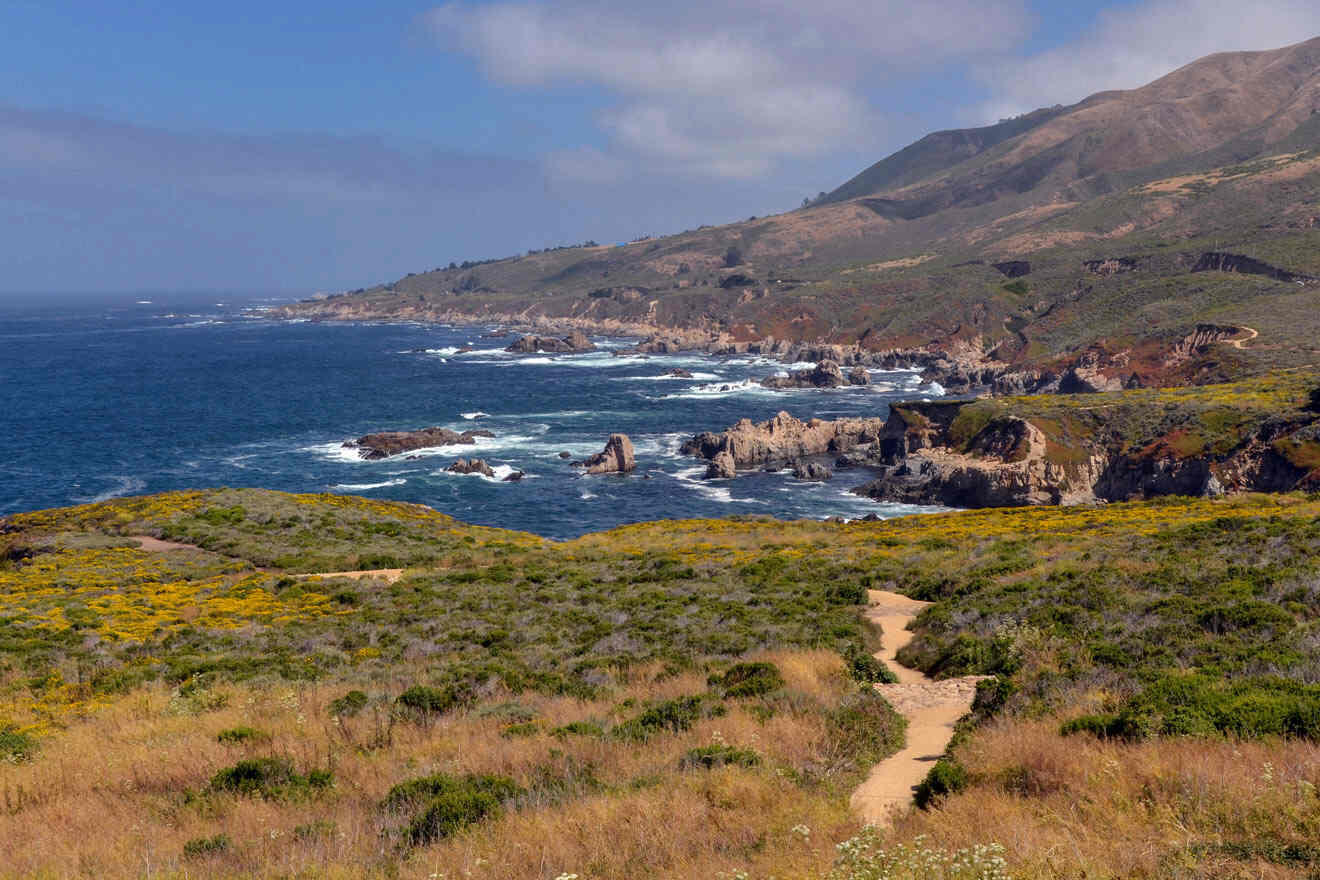 Garrapata State Park is 2 mi (3 km) of seaside views, with a 50-foot (15 m) climb to a beautiful view of the Monterey Marine Sanctuary and plenty of hiking trails scattered throughout the park for every type of hiker. You'll find all kinds of vegetation here, ranging from redwood groves to oceanfront beaches.
I suggest keeping an eye out for sea lions, seals, sea otters, and even gray whales passing by at Soberanes Point – it's a really amazing sight to see and not as busy as other oceanfront parks near Carmel, California!
Soberanes Canyon Trail starts at the east end of Highway 1 on a gated trailhead. The main hike is about 2 miles long (3 km), taking only about 1 hour to complete. This is the trail that will lead you to the scenic Soberanes Point. I suggest bringing tons of water and snacks so that you can enjoy yourself at the top while you watch for marine life.
NOTE: Be careful of the poison oak on this trail! I suggest wearing a long sleeve top and long pants to avoid any accidental skin contact.
16. Go on a whale-watching adventure in Monterey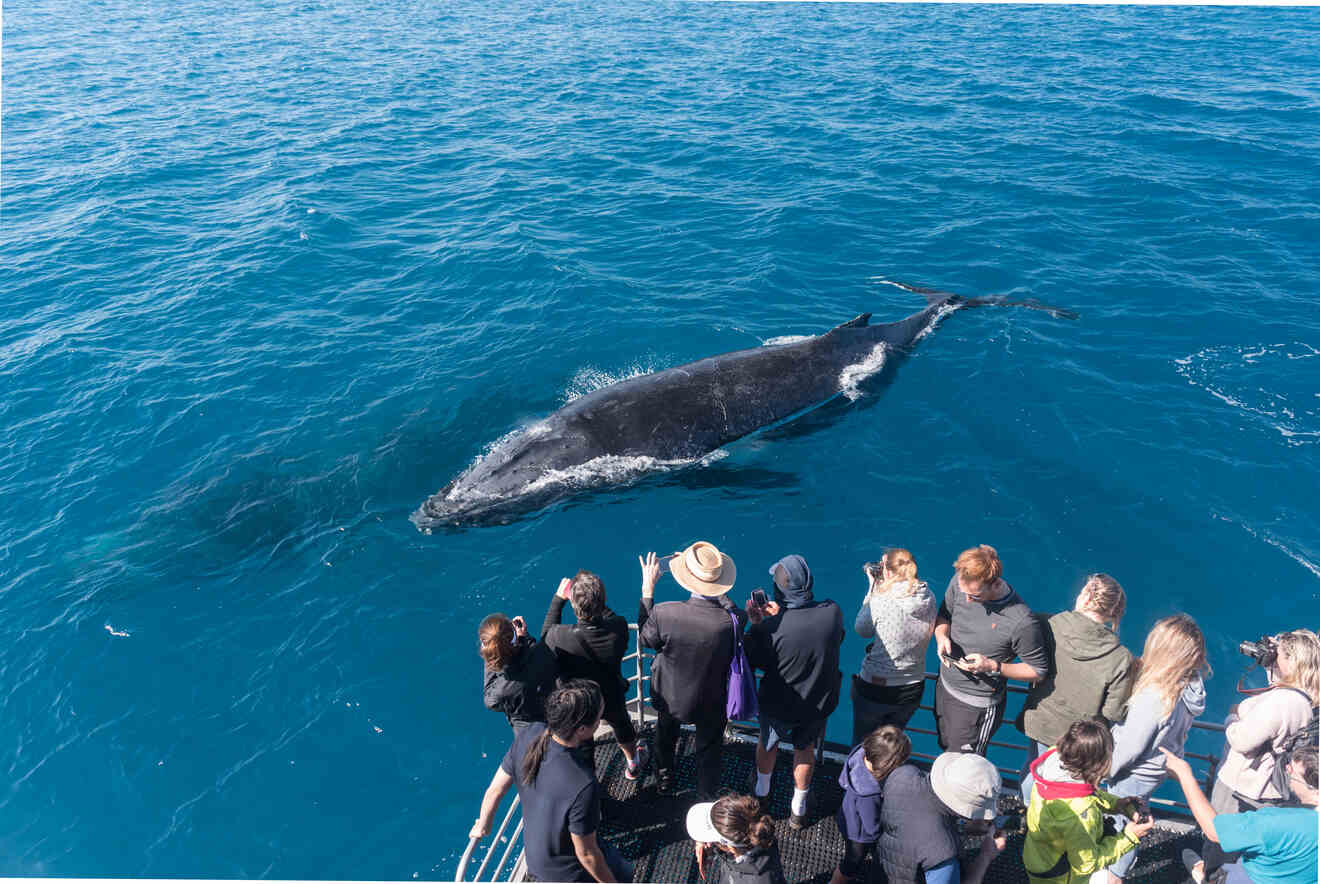 The nearby city of Monterey (a 12-minute drive from Carmel-by-the-Sea) is famous for the Monterey Bay whale-watching cruises! If you have a few days in Carmel, I suggest taking a drive to Monterey (or staying there) and spending a few hours discovering some of the planet's largest and most mysterious creatures.
The best time to visit is during the winter and early spring (January to March) because this is when the gray whales are migrating down south to Baja, California. I suggest booking a tour with Discovery Whale Watch, one of the highest-rated experiences in Monterey. The last time I went whale watching here, I seriously had the time of my life.
PRO TIP: You can easily get seasick if you're not prepared and/or you've never been on a rocking boat for this long. You can avoid the nauseous feeling by bringing ginger mints to help calm down your nauseous stomach.
If you don't have a car, I suggest taking public transportation. It's a super short busy ride and well worth the time since it's not as convenient having a car in Carmel-by-the-Sea since it's a small beach town.
PRICE: From US$70 per person
Book Your Whale Watching Adventure
FAQs about things to do in Carmel, California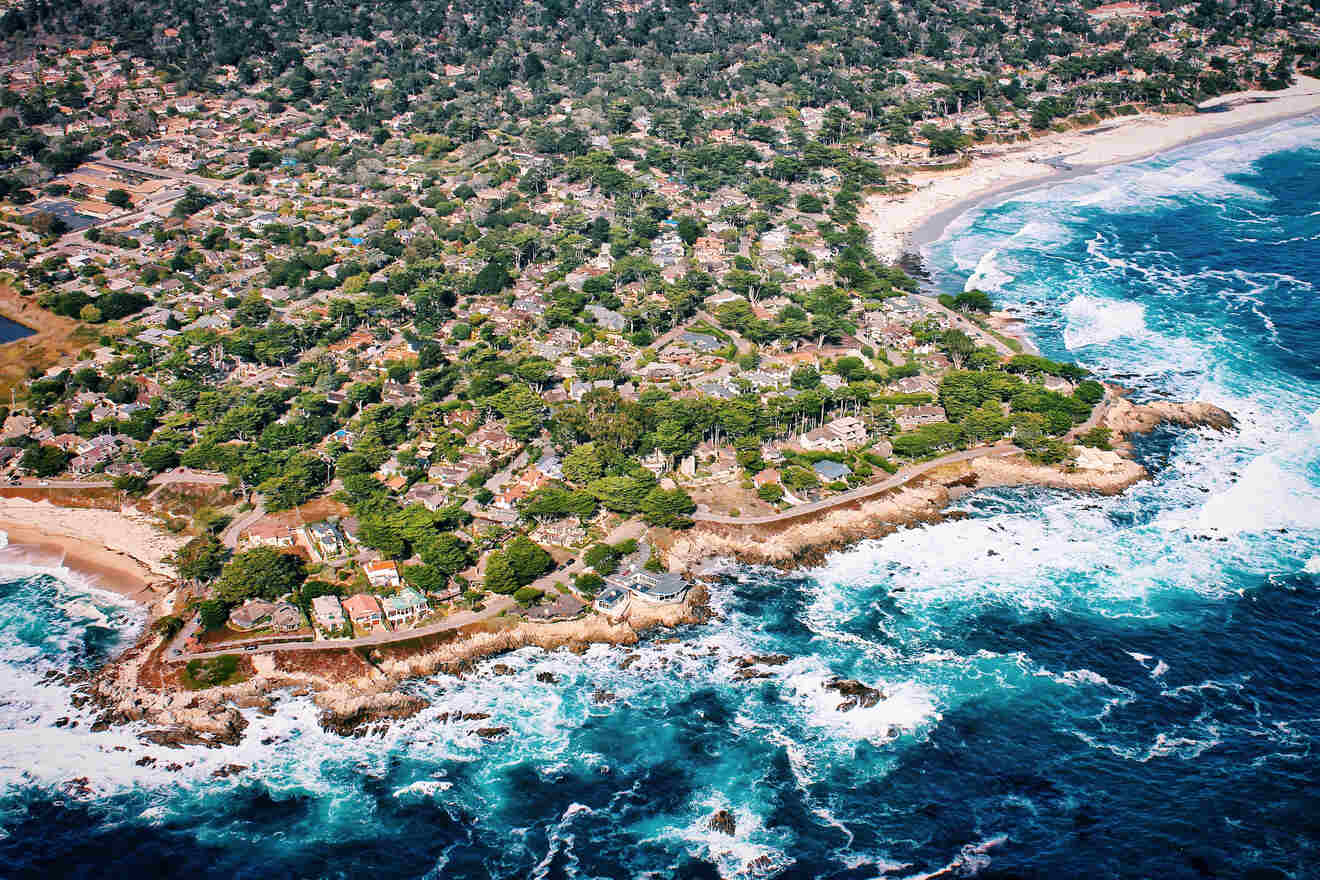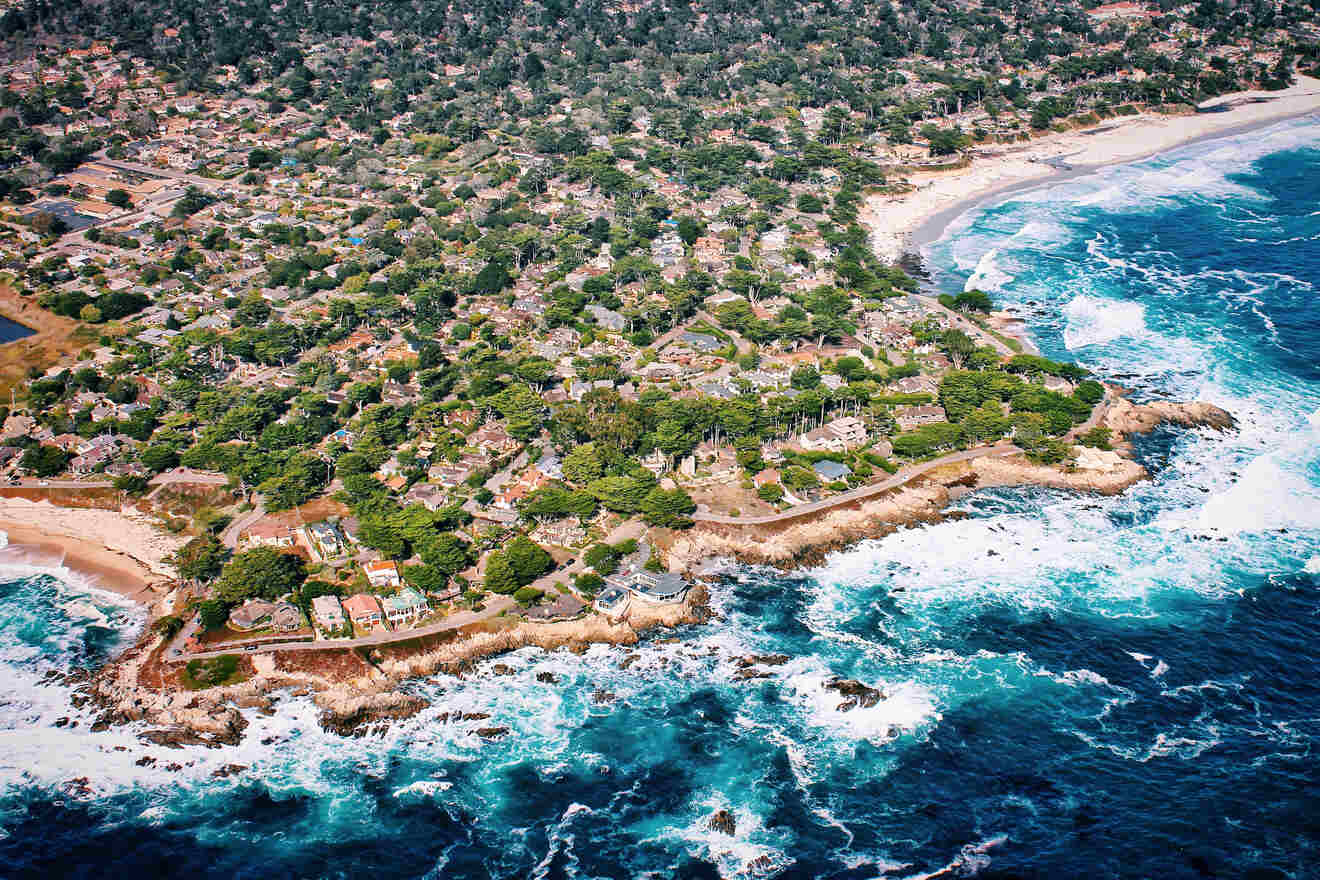 🧚 What is Carmel, California known for?
Carmel, California, is best known for its beautiful Carmel Beach, 1920s fairytale-inspired architecture, small beach town feel, and its 100+ art galleries.
🏖️ How do you spend a day in Carmel?
You can spend a day in Carmel driving through the Point Lobos State Natural Reserve and Pebble Beach, going on a walking tour around Carmel Village (aka Downtown Carmel), and ending the day at Mission Ranch for dinner with a view.
📅 What is the best time of year to visit Carmel?
The best time to visit Carmel is actually in the fall months (September – November) because it gets gloomy in the spring + summer and colder in the winter.
💌 What are the most romantic things to do in Carmel, California?
A few of the most romantic things to do in Carmel are stroll hand in hand through downtown Carmel-by-the-Sea (because you'll feel like you're in a Disney movie), take a scenic road GPS-lead drive, and go on a wine-tasting date with your significant other in Carmel Valley.
Conclusion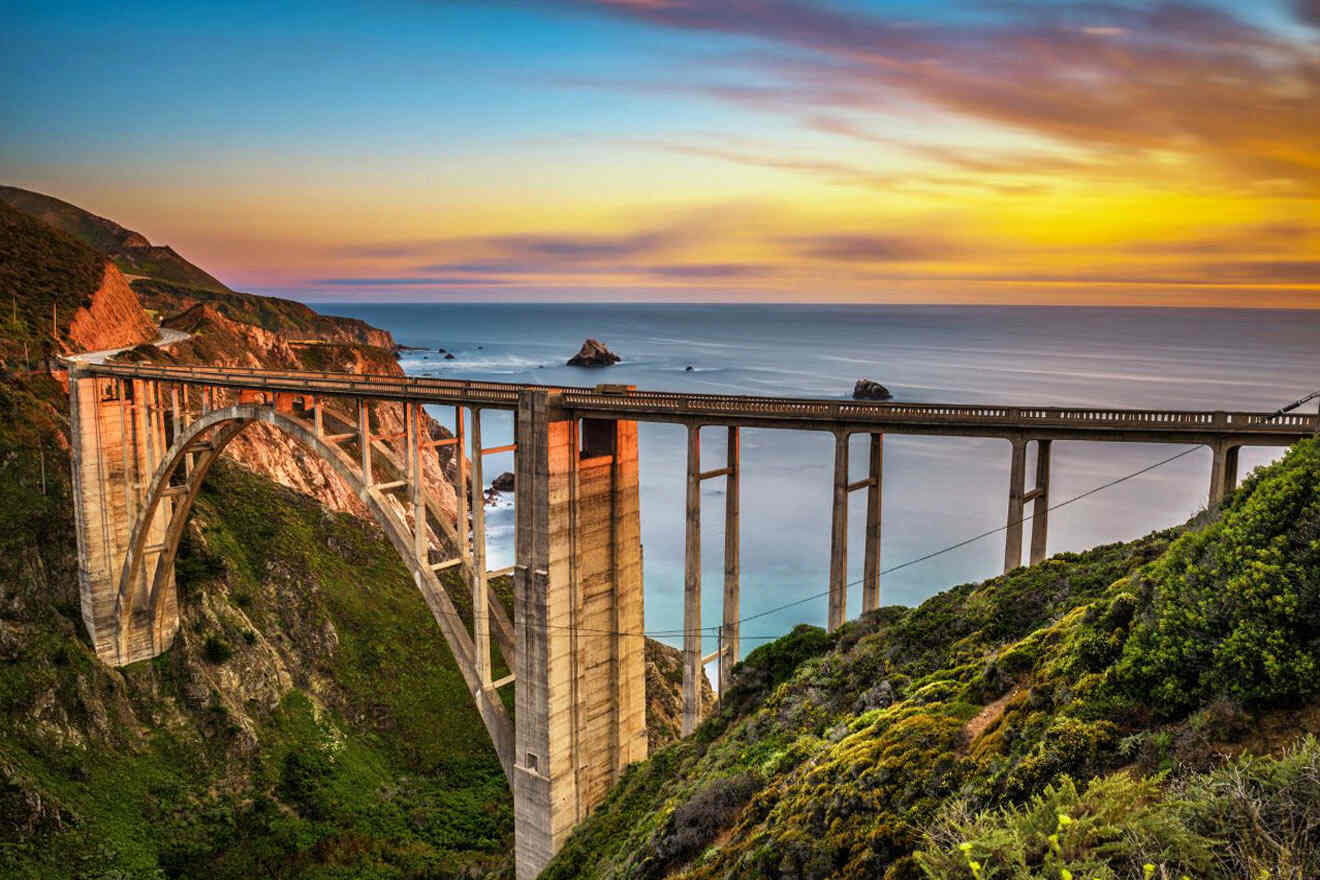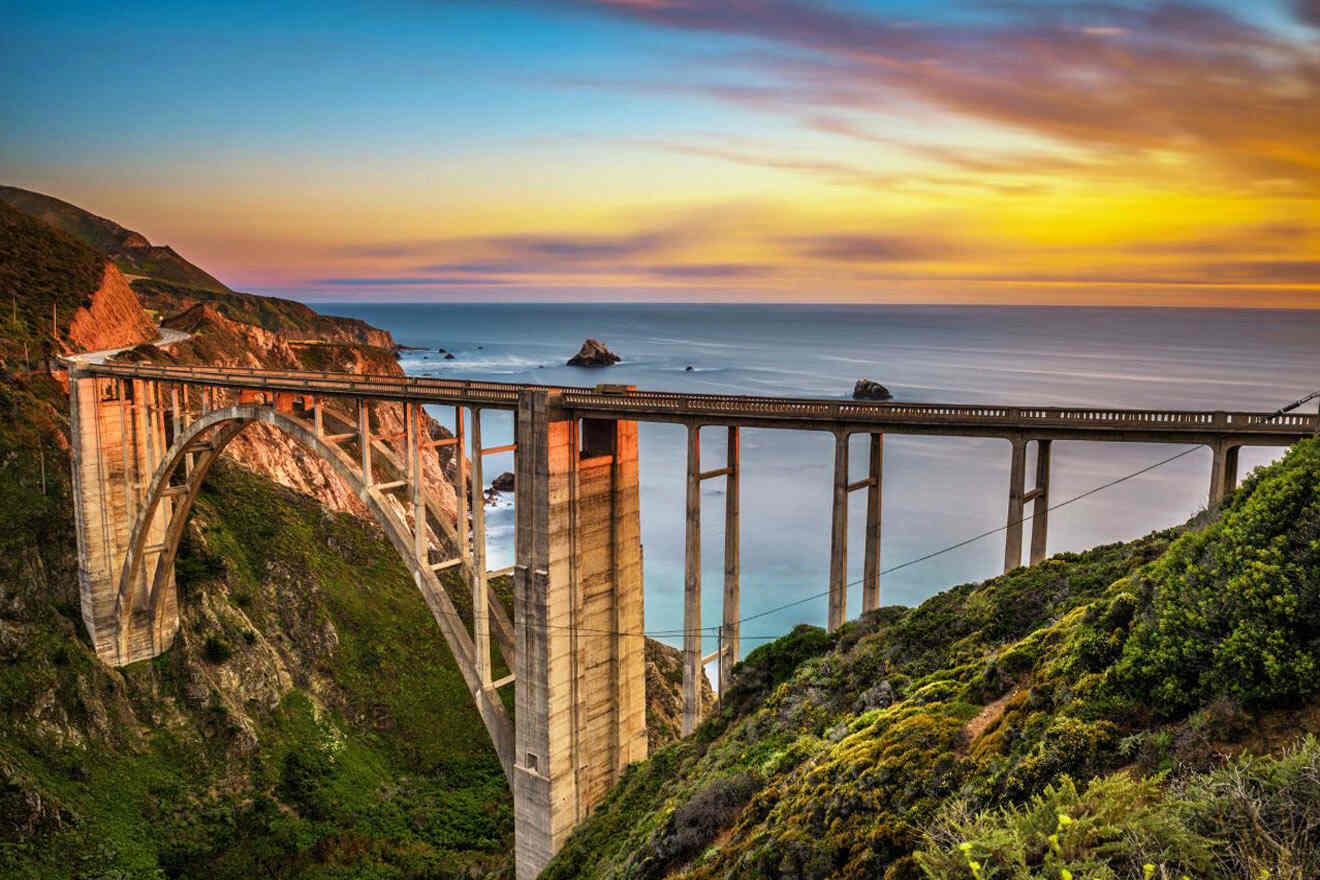 Well, there you have it! Carmel-by-the-Sea is my personal favorite beach town in Northern California because I'm in love with the romantic village feel of it all. There are so many things to do while you're here, and I'm confident you'll have a splendid time doing anything on this list.
If I absolutely had to pick favorites, I'd say the whale-watching excursion and exploring all the natural beauty in Pebble Beach are pretty up there. The whale-watching tour was something I had never seen before, and it was one of the most memorable things I've done in all of California.
Pebble Beach is my second favorite because I'm a sucker for trees – the Lone Cypress Tree is a living legend anyone would be lucky to see.
If you happen to visit any of these places, make sure you plan all your bookings and reservations in advance! My trips always go much smoother when I come prepared, so I recommend doing the same!
Enjoy your trip to Carmel-by-the-Sea and safe travels!
Xoxo,
Esabel S.
---
Pin it for later!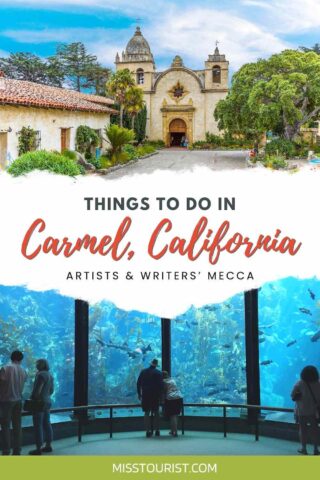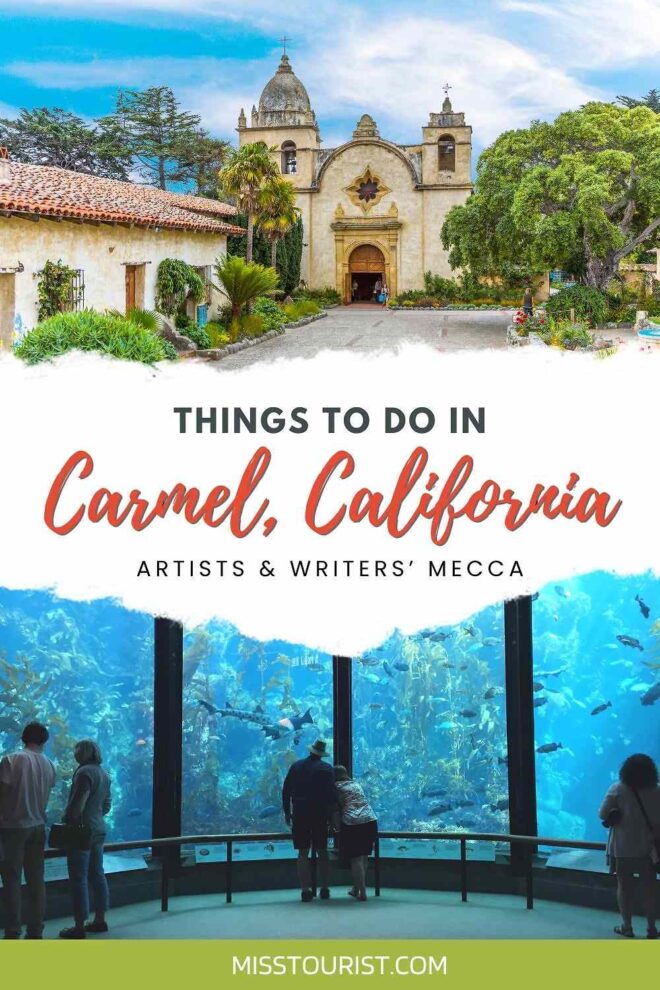 Pin it for later!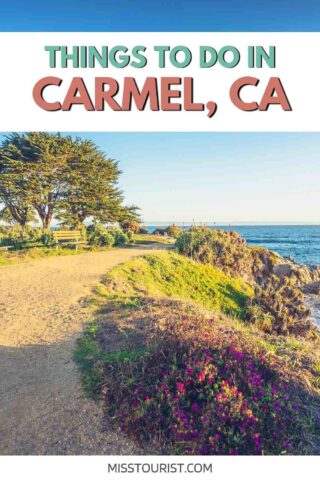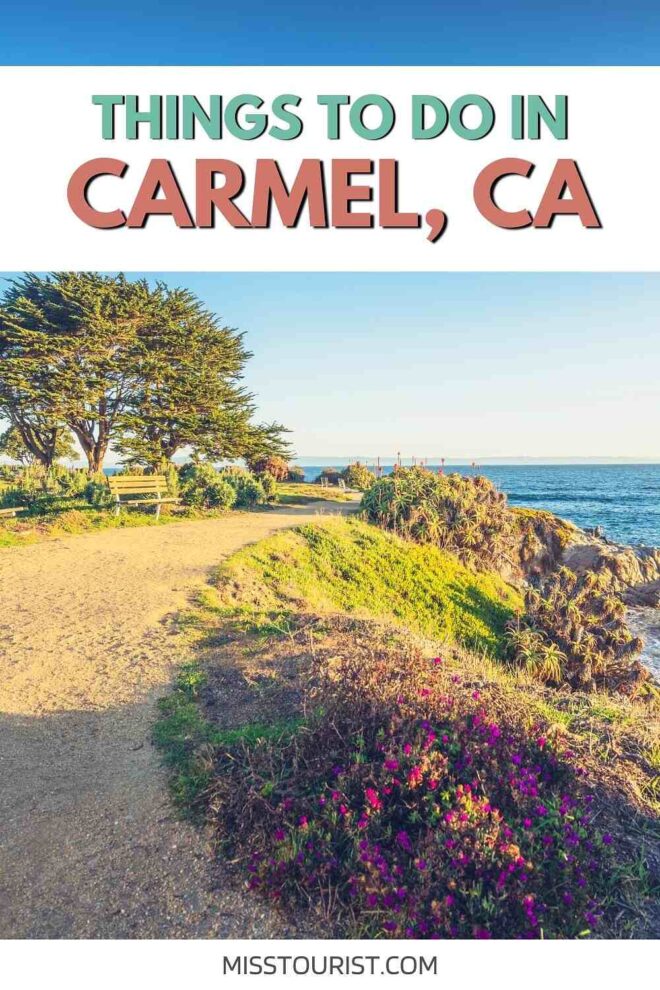 Products You May Like