Things to Do in Madeira Beach • 18 Fun Adventures
Florida's Gulf Coast is dotted with idyllic beach towns boasting white sands, glittering blue water, and plenty of sunshine. Madeira Beach, across Boca Ciega Bay from St. Petersburg (another picture-perfect Florida destination), has all of those things – plus Old Florida charm reminiscent of simpler days and a fascinating pirate past!
As a Florida native and local, getting the charm with the view is one of my favorite combinations.
Also known as "Mad Beach," this Gulf City on Florida's West Coast has long white sand beaches, hundreds of cute local businesses, and unique shops.
Without further ado, let's get into the best things to do in Madeira Beach!
If you are in a hurry
Here are some super fun adventures that are likely to sell out!
Here are the main things to book in advance:
1. Explore John's Pass Village & Boardwalk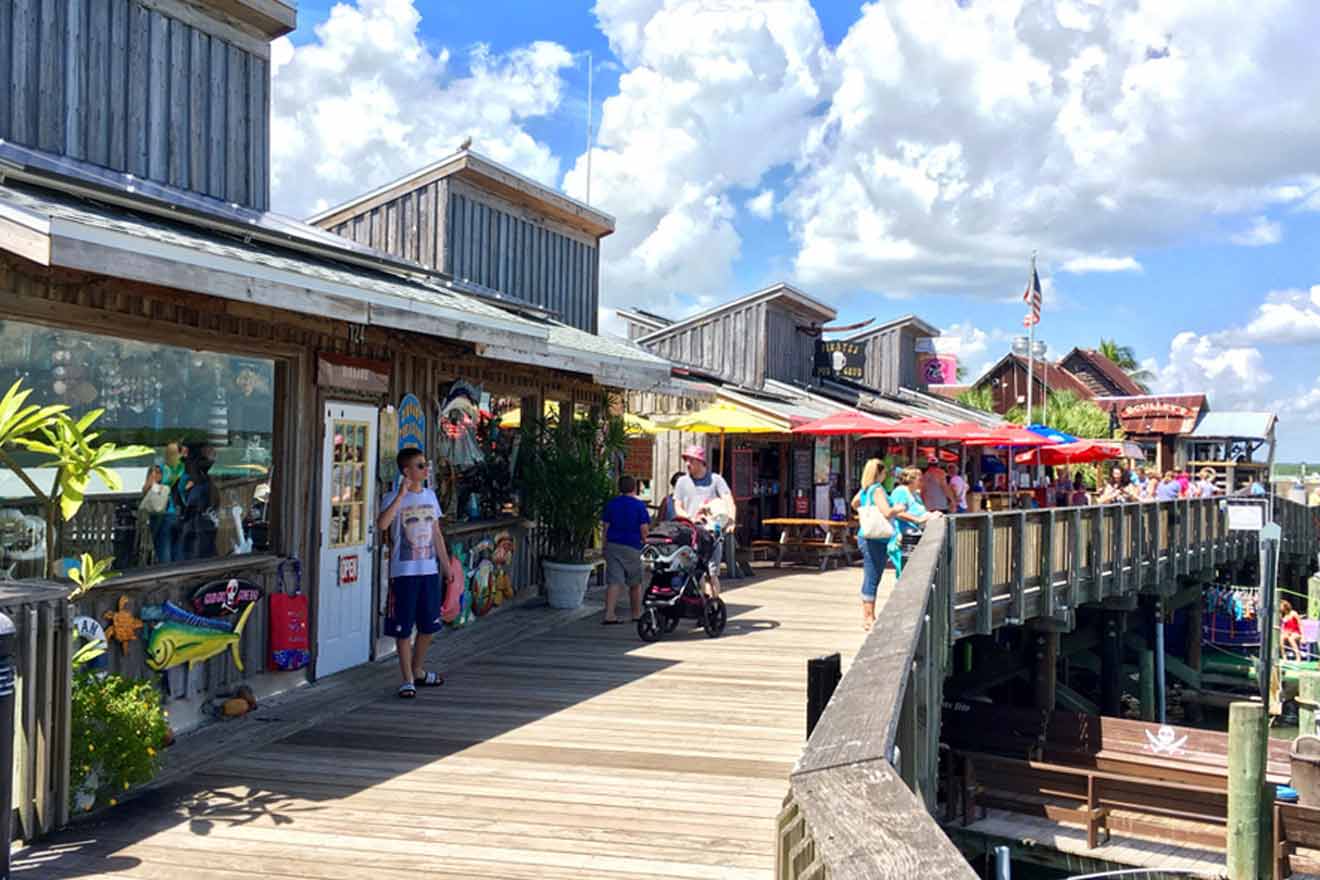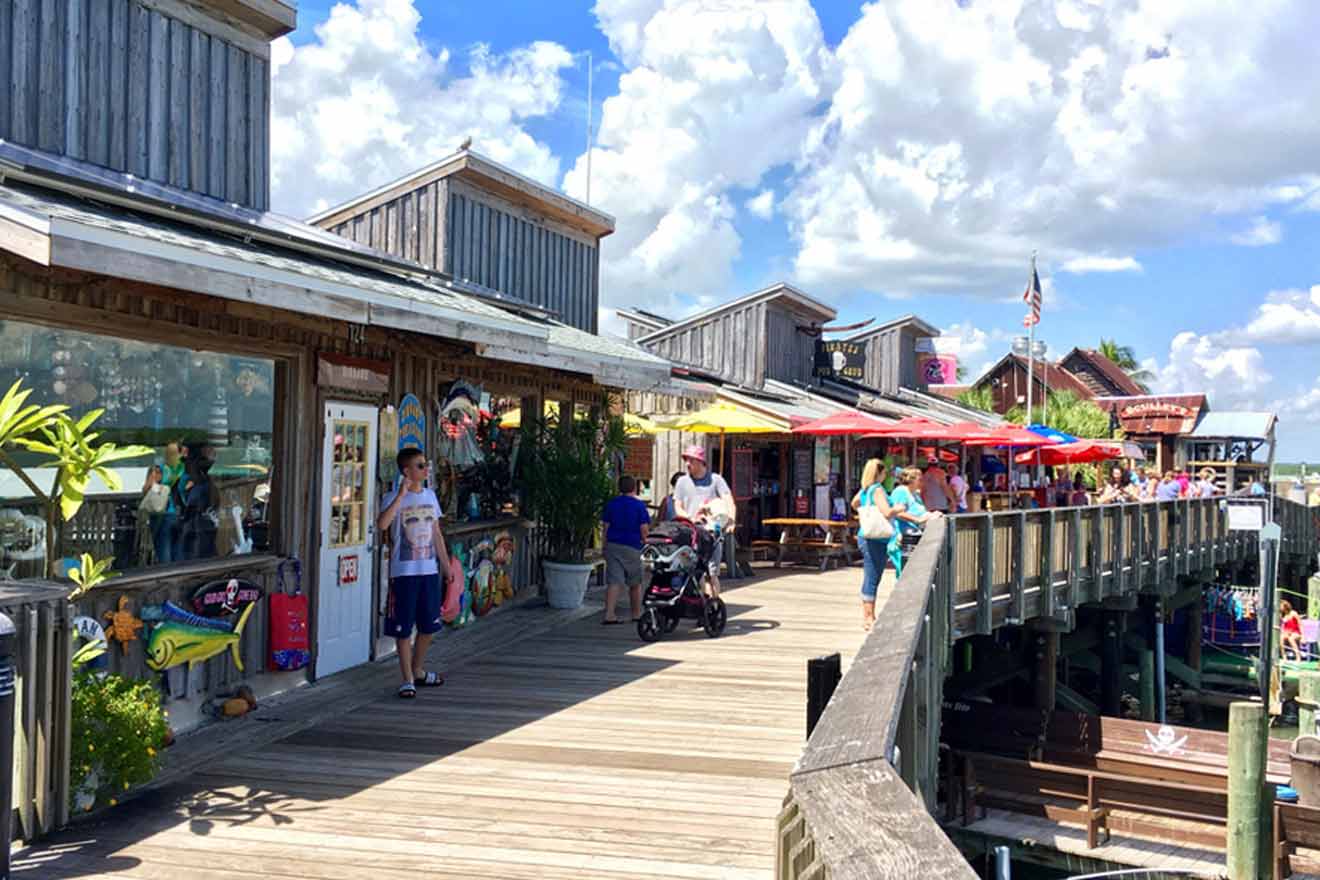 Ranked the #1 attraction in Pinellas County, John's Pass Village & Boardwalk offers some of the best sightseeing tours in all of Florida!
Located near St. Petersburg, another Gulf Coast Florida City with gorgeous white sand beaches, Madeira Beach is the perfect location to visit with family or with a loved one.
Florida residents and visitors love visiting this beach for the tranquil vibe, powdery white sand beaches, and breathtaking sunsets!
Level up your experience at John's Pass Village & Boardwalk and take an eco-tour dolphin cruise! On my trip to Madeira Beach, I enjoyed this Dolphin Quest Cruise eco-tour tremendously and was lucky enough to see some dolphins! You'll meet on Hubbard's Marina which is where most of the fishing cruises dock.
PRICE: US$29
2. Sunbathe at Archibald Beach Park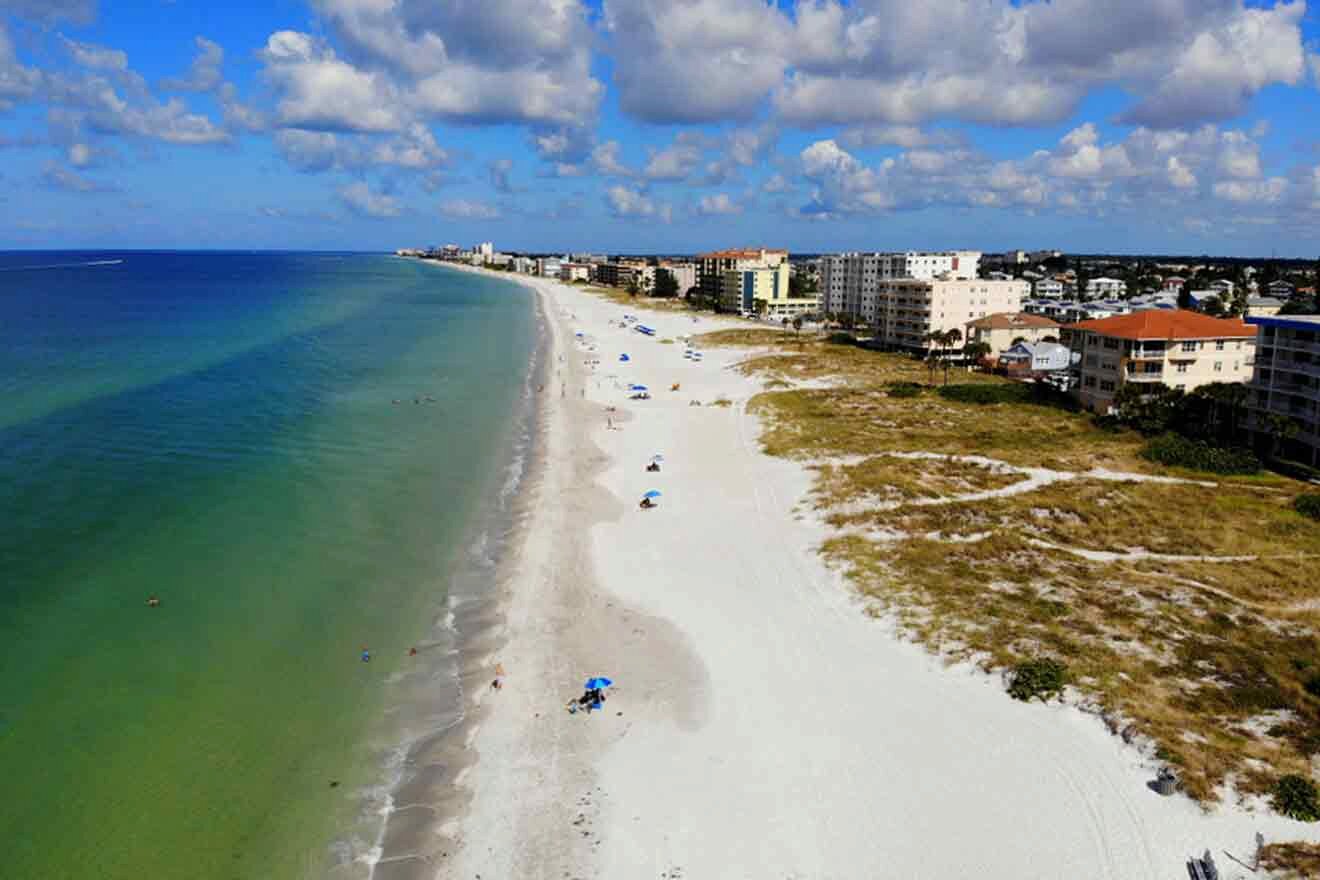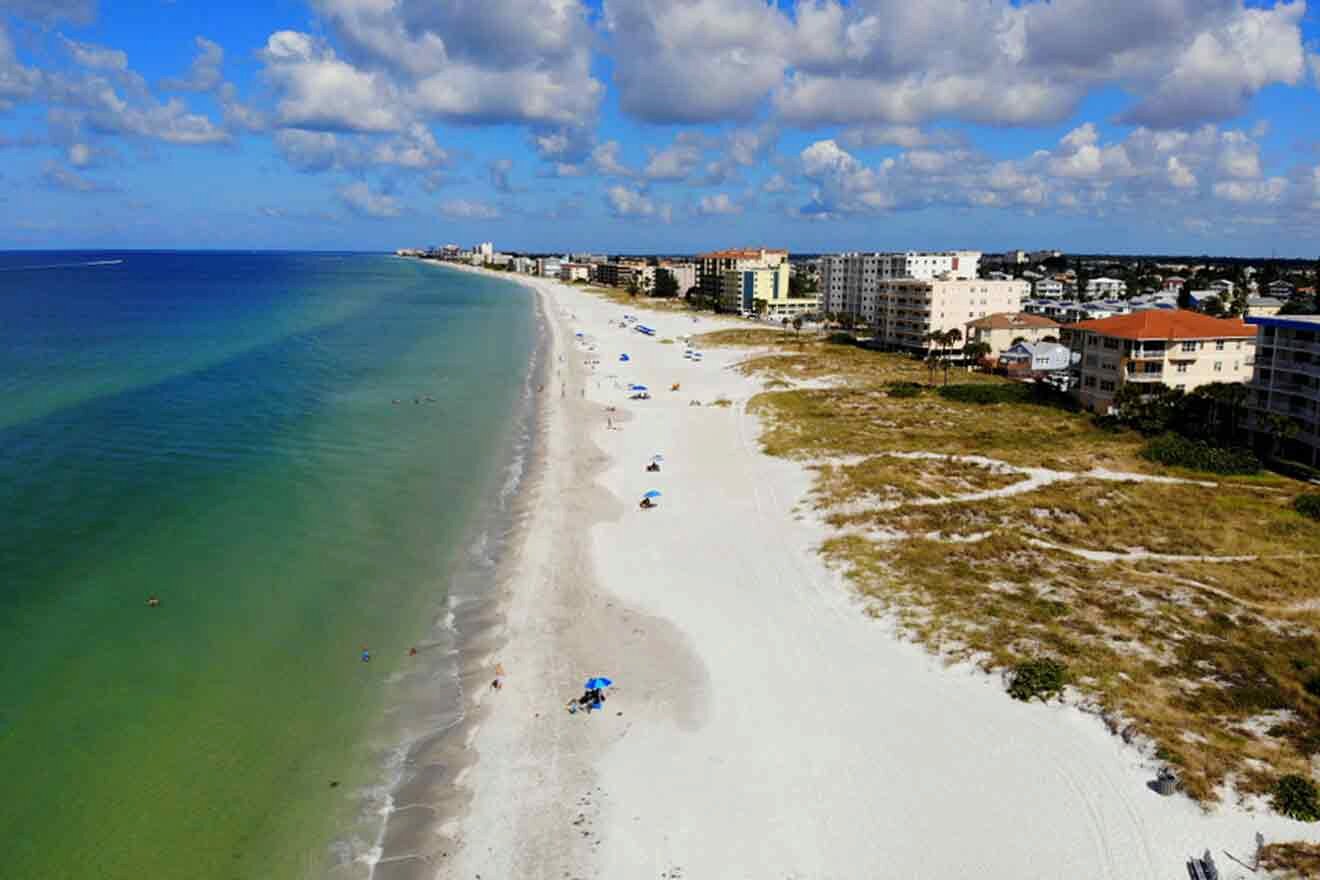 This is one of the best beaches in Madeira Beach. This Mad Beach hot spot gets super busy on weekends and is a super happening spot for locals and visitors alike!
Archibald Beach Park is such a beautiful destination. It is often used for weddings! Sit back and relax at this gorgeous destination and read a book or listen to some tunes.
The water at this beach is nice and warm and feels like you are stepping into a cozy yet refreshing embrace.
Located right off of Gulf Boulevard, this is one of the most prominent beach destinations in Madeira Beach. Archibald Beach Park has showers, bathrooms, a snack shack, and a covered picnic area.
NOTE: Keep in mind that there is metered parking at this beach.
PRICE: Free
3. Take the kids to the Alligator & Wildlife Discovery Center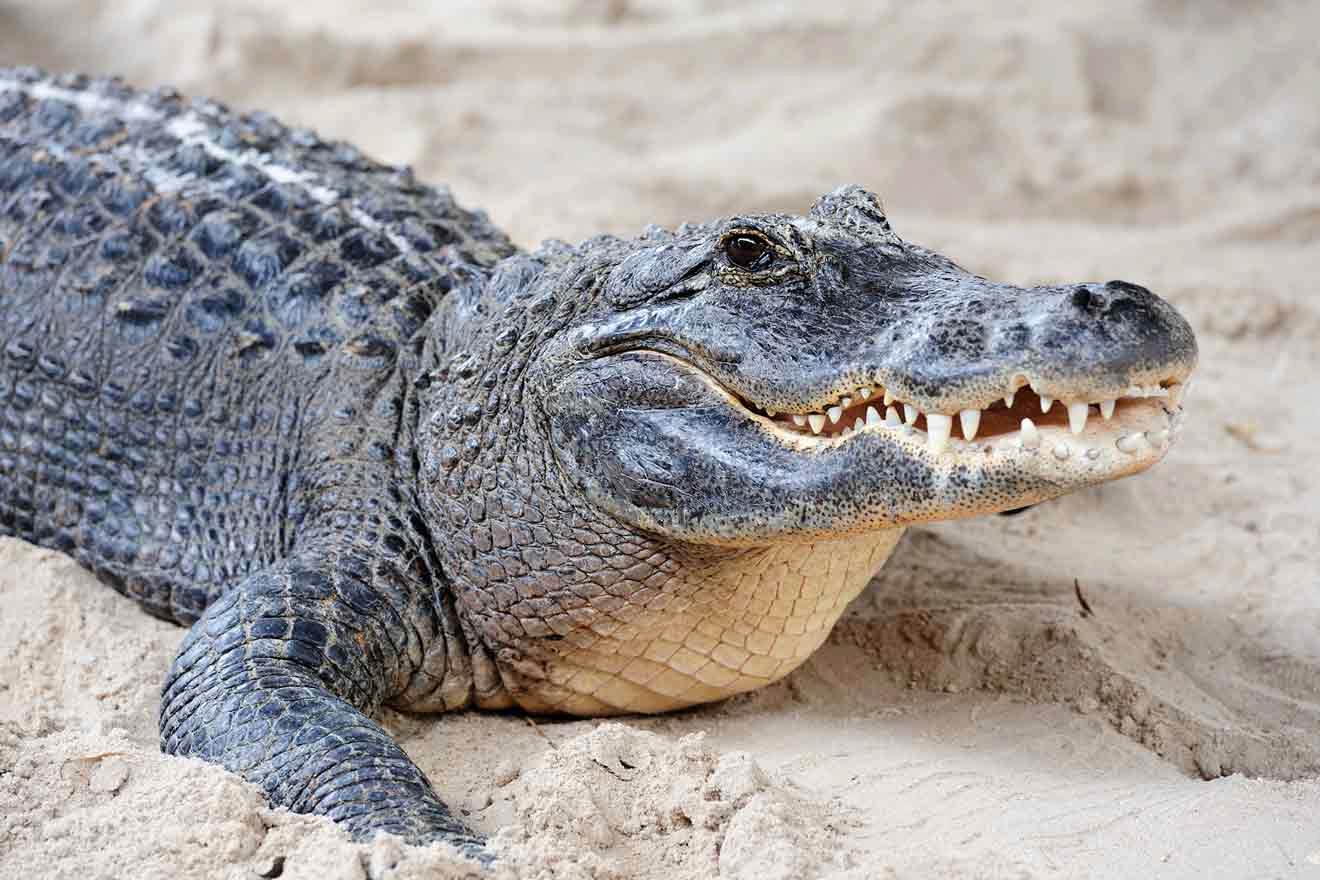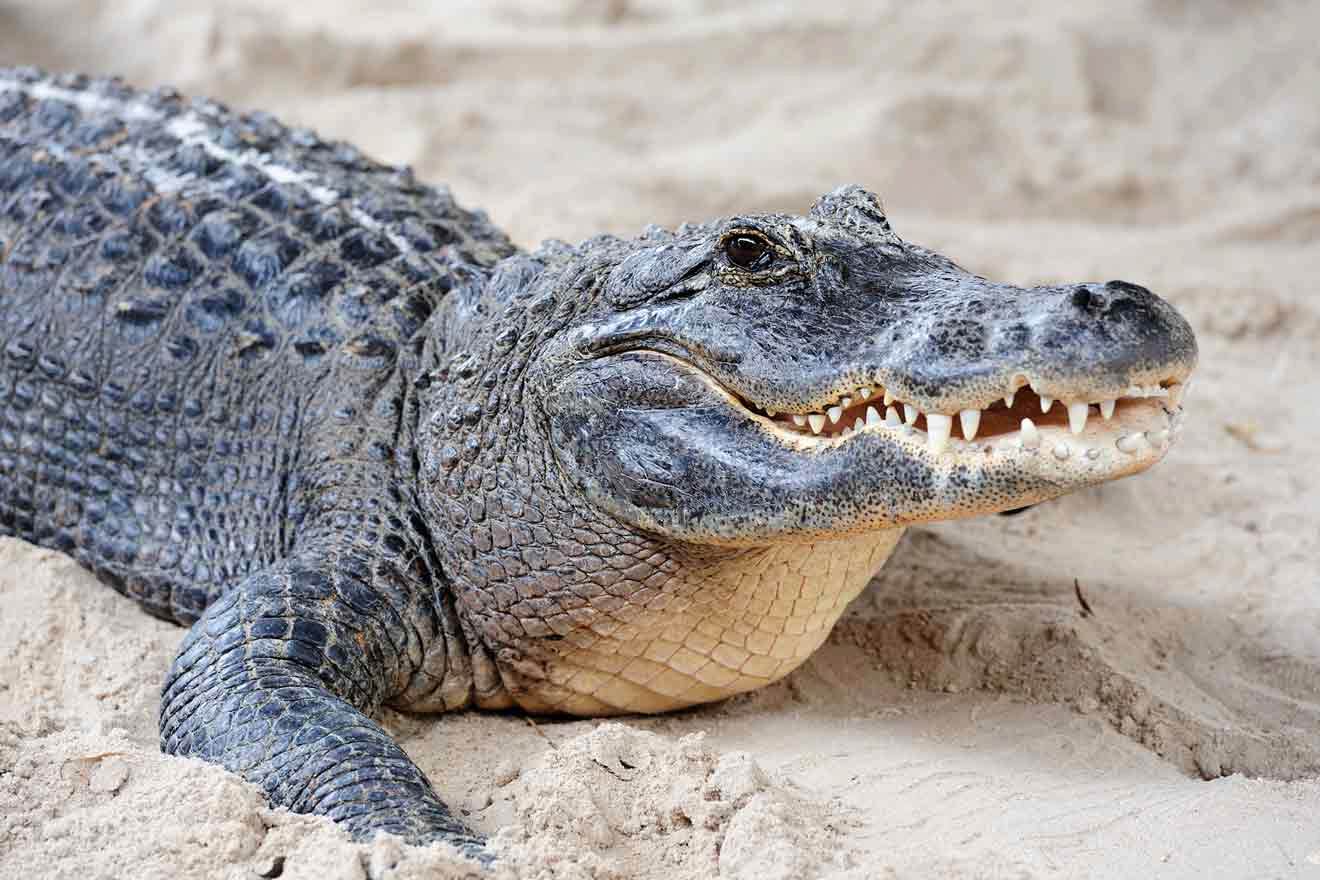 Let's be honest, who doesn't love learning about alligators?
They're literally living dinosaurs! I don't know about you, but I enjoy interacting with and learning about alligators just as much as any kid out there.
In Madeira Beach, the Alligator & Wildlife Discovery Center boasts hands-on experiences with all sorts of Floridian animals! This Discovery Center does really incredible work by offering humane care for surrendered exotic pets and other wild animals that otherwise wouldn't make it on their own.
You will be able to meet extraordinary reptiles like alligators, turtles, snakes, lizards, and even mammals like sloths, lemurs, and pigs! They also have a super incredible aquarium with all sorts of marine life.
Both kiddos and adults will be educated on all sorts of information about the animals, including their history, biology, unique habitats, and how we can support wildlife for generations to come!
4. Get some grub at Mad Fish Beach House
Mad Beach Fish House is right on the waterfront! You'll get the most AMAZING seafood here and the food will never disappoint!
They have a little outdoor deck where you can enjoy classic Floridian weather while you chow down on the incredible food, and the vibe is just so fun and friendly. The service is great as well which always helps!!
This is a real local favorite – definitely make a pit stop here on your trip to Madeira Beach.
NOTE: This place is currently under renovation but will reopen soon!
5. Enjoy small-batch wine at The Florida Winery
The Florida Winery is an extraordinary destination for those who appreciate craft wines!
A small-batch winery with absolutely mouth-watering selections of fine wines, this is one of the best things to do in Madeira Beach for couples!
Quite impressively, they produce over 20 varieties of wines each year, and they have won more than 50 regional and international awards for their high-quality vinos.
All the bottling here is done by hand in-house yearly. The care and mindfulness that goes into creating these wines are really something else and are felt in the flavor profile of these delicious wines.
This spot is a favorite of residents and visitors alike to visit the tasting room and try all their different varieties throughout the week. They also have free tastings of some of their award-winning favorites!
PRICE: Free
6. Grab a craft beer at Mad Beach Craft Brewing Company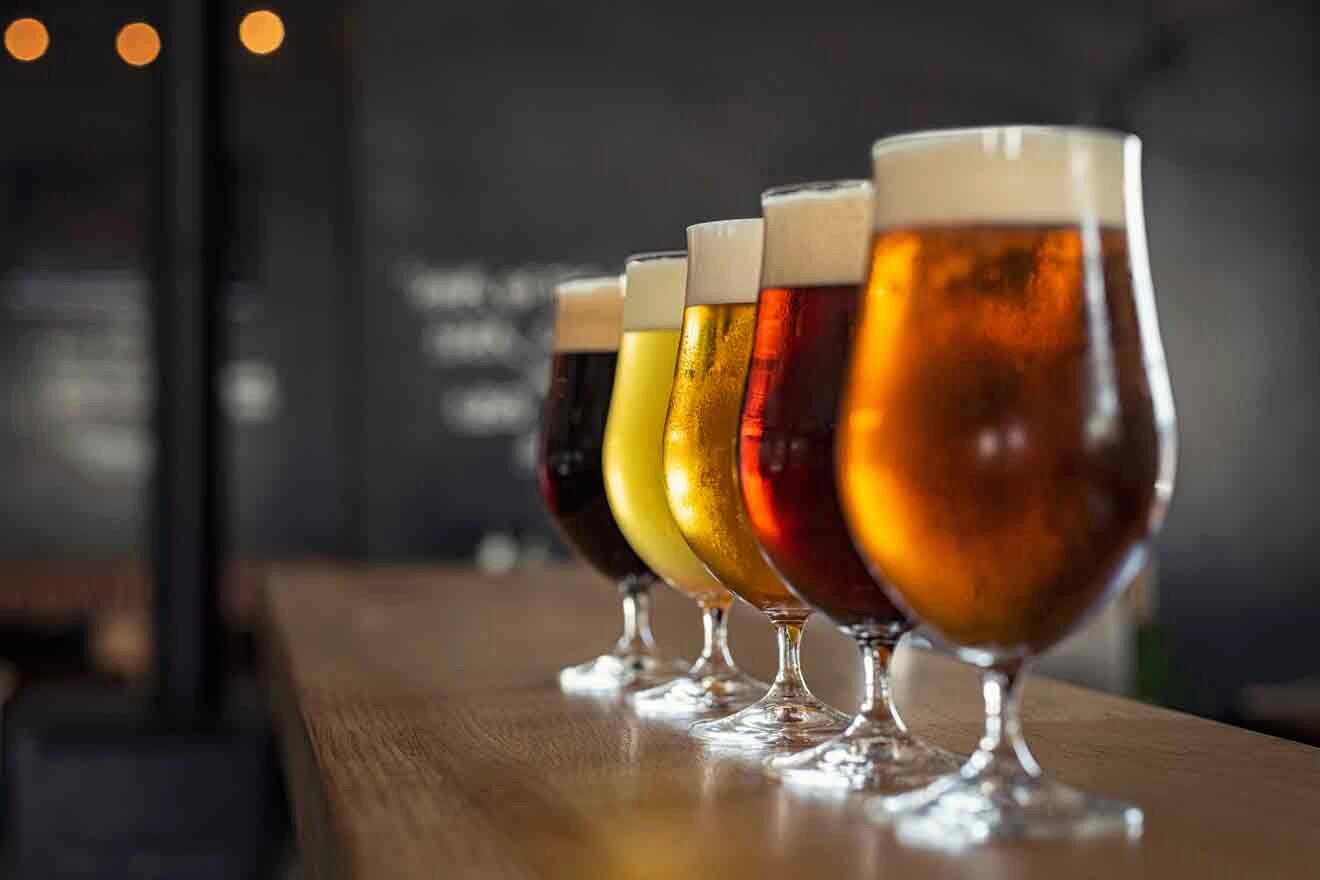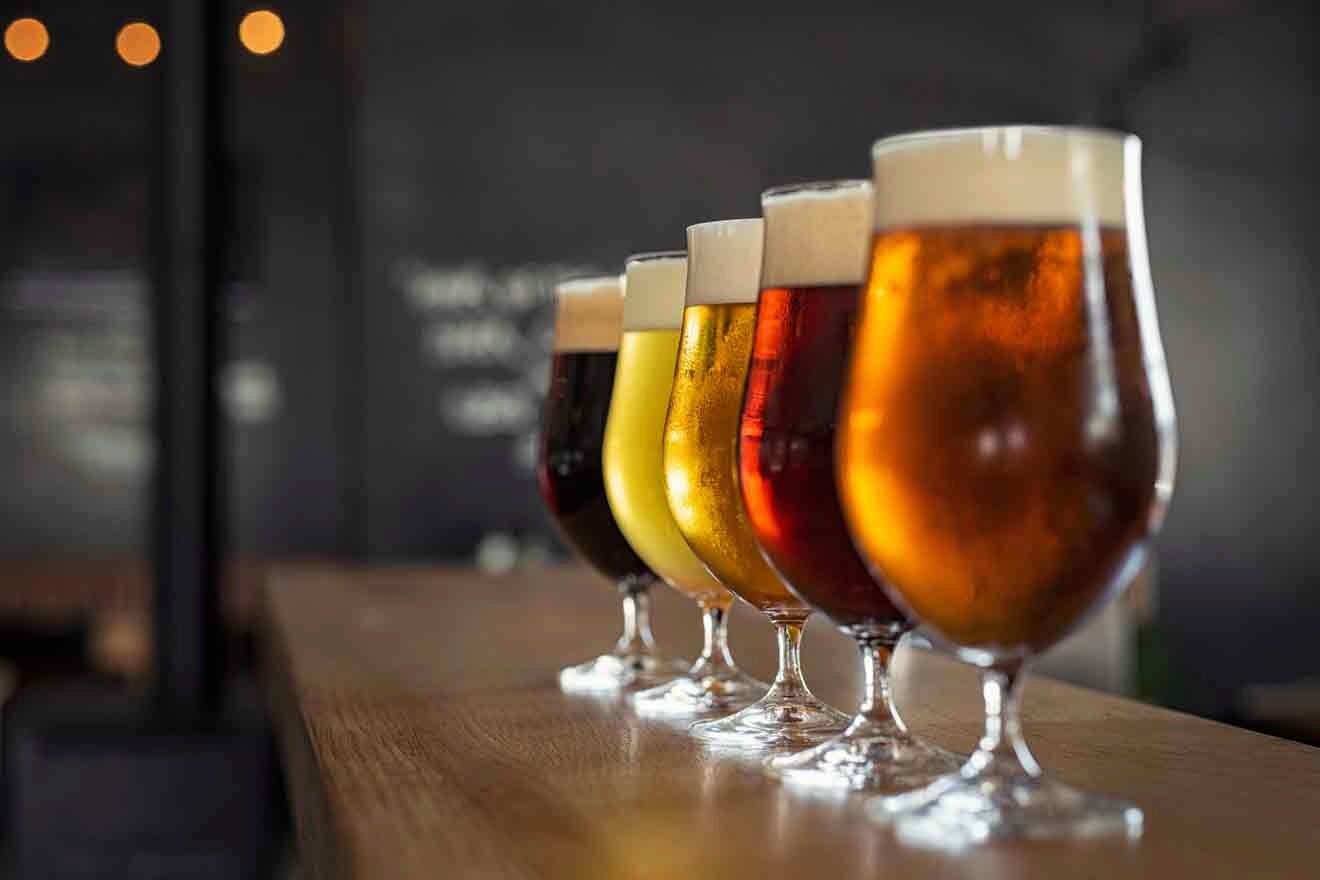 This Madeira Beach gem is an absolute favorite among Floridians and visitors alike. If you loved the Florida Winery, there is no doubt you will love the Mad Beach Craft Brewing Company!
Mad Beach Craft Brewing is a super fun date for couples! Some favorites are their Kalypso Key Lime Cider, Polyjuice Potion Fruited Milk Blonde, Banana Hammock Hefeweizen, I Yam What I Yam Spiced Ale, and Cinnamon Maple Toast Crunch Red Ale.
Mad Beach Craft Brewing also offers higher-gravity by the pint or growler, which makes the perfect pairing with their restaurant's delectable Caribbean and Southern-inspired cuisine! Some of their menu offerings include Cajun favorites such as gumbo or alligator po'boys, to some of their more classic items such as gourmet burgers, shareable appetizers, and sandwiches.
7. Enjoy the views at R.O.C. Park
This beautiful waterfront memorial park, formally known as Remember Our Children Park, is an awesome place to visit on your trip to Madeira Beach, Florida.
This park was originally established in the loving memory of the area's children who have passed on due to illness or other tragedies. This park has a public pier and lusciously landscaped areas for visitors to relax and unwind. Plus, there's a beautiful butterfly garden that the kids will absolutely love!
The beautiful public pier is excellent for fishing, and also hosts the famous annual King of the Beach Fishing Tournament.
PRICE: Free
8. Rent a jet ski at Woody's Watersports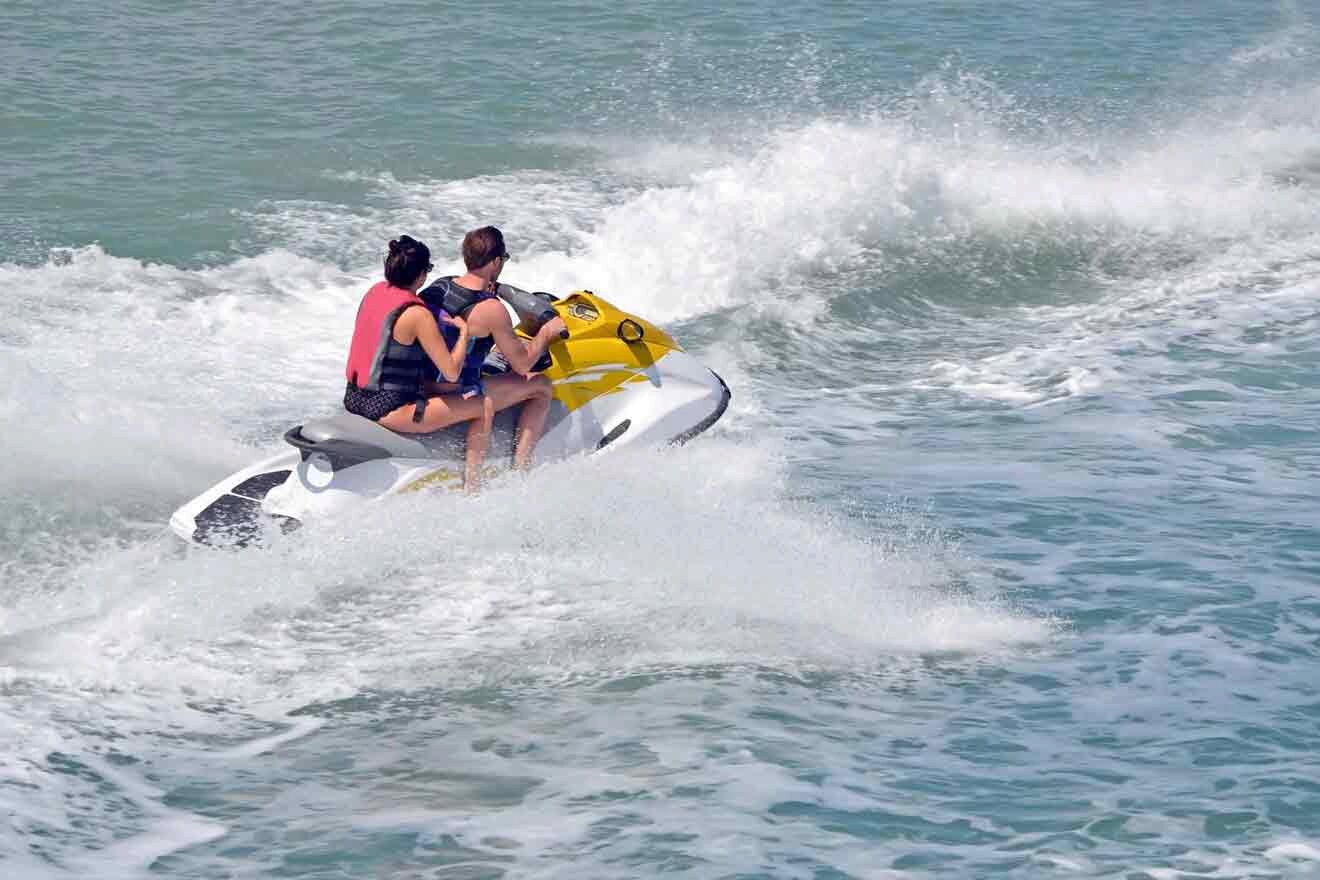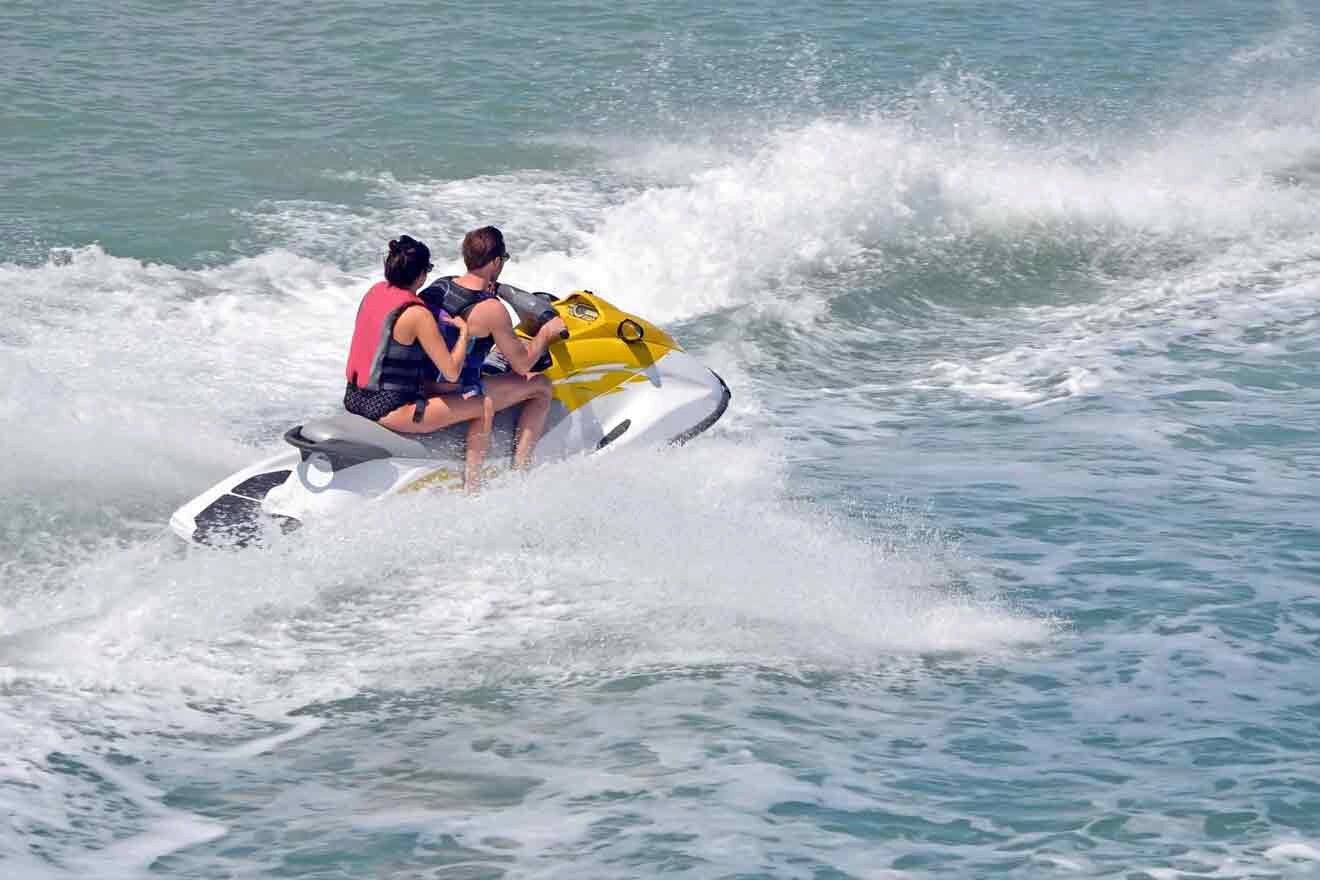 Fancy a day of jet skiing with the whole family? Woody's has you covered! If it's your first time, don't worry, they're super friendly and they'll explain to you how it works. You can take your jet skis out into the quieter part of the ocean for the most AMAZING day out!
Once you're out on the water, keep your eyes peeled for dolphins, turtles, and manatees! Reviews are consistently fabulous for Woody's and they've become a staple of Madeira Beach life!
NOTE: You must be 14+ to rent a jet ski from Woody's
PRICE: US$70 per hour
9. Go parasailing!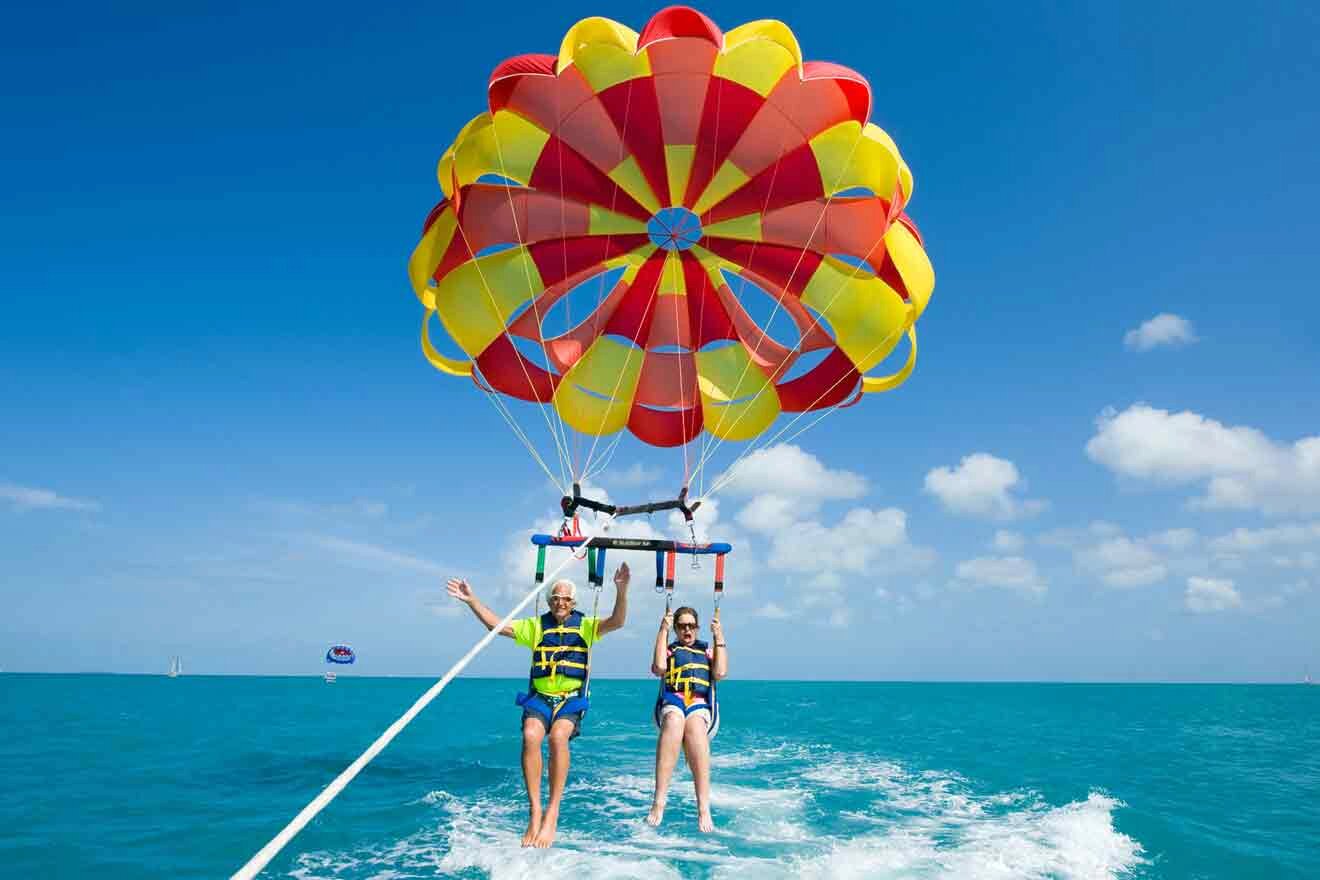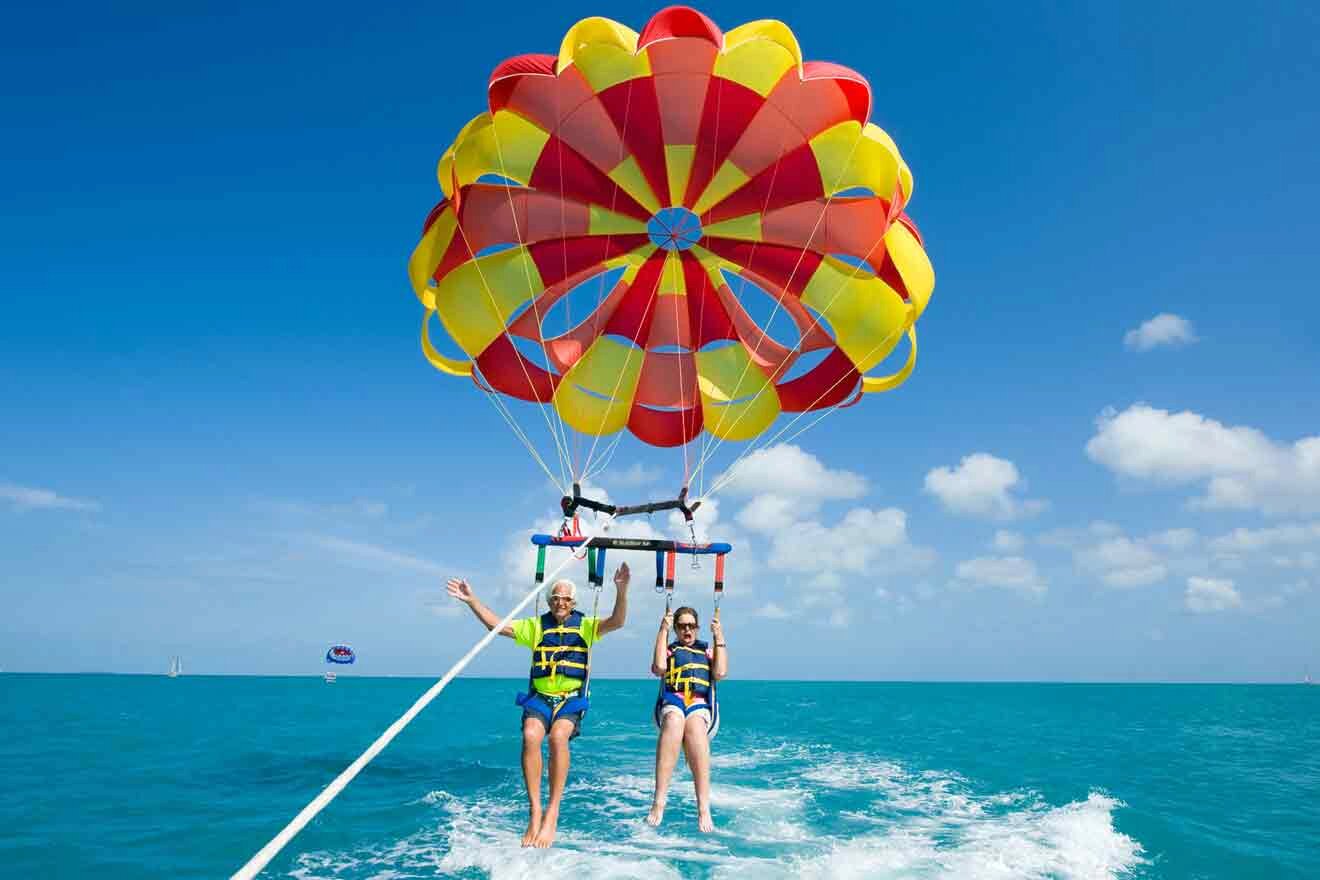 Looking for something to tick off your bucket list? This is honestly one of the most fun activities on this list of things to do in Madeira Beach! With this parasailing tour you'll have everything planned for you and your only job is to turn up and enjoy your day!
You'll get all the equipment you need and you'll be able to spot all kinds of incredible wildlife from 400 ft in the air! The crew is super friendly so don't worry if you're nervous – they've been doing this for years so you're in safe hands.
PRICE: US$110
10. Have the best tacos of your life at Coastal Taco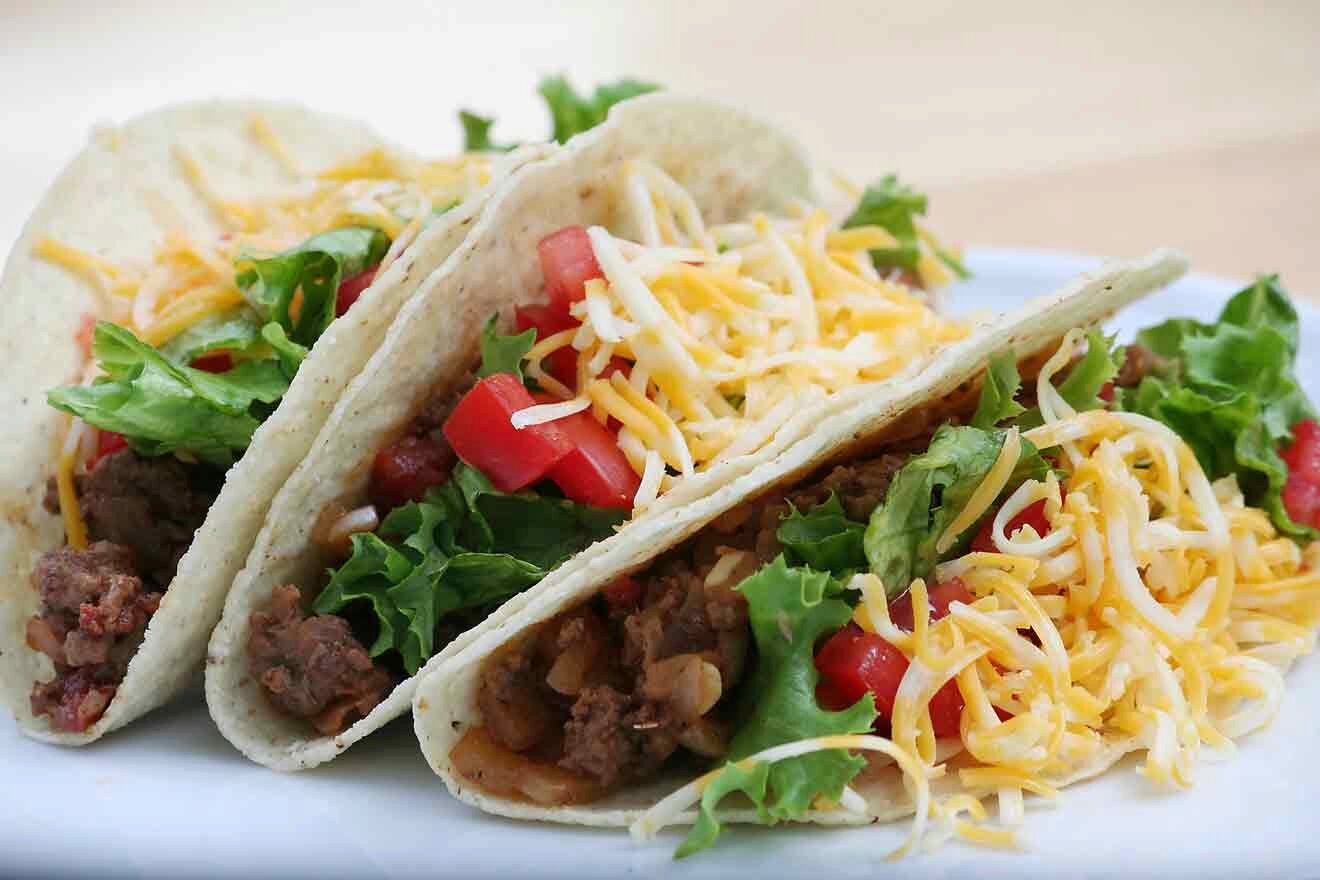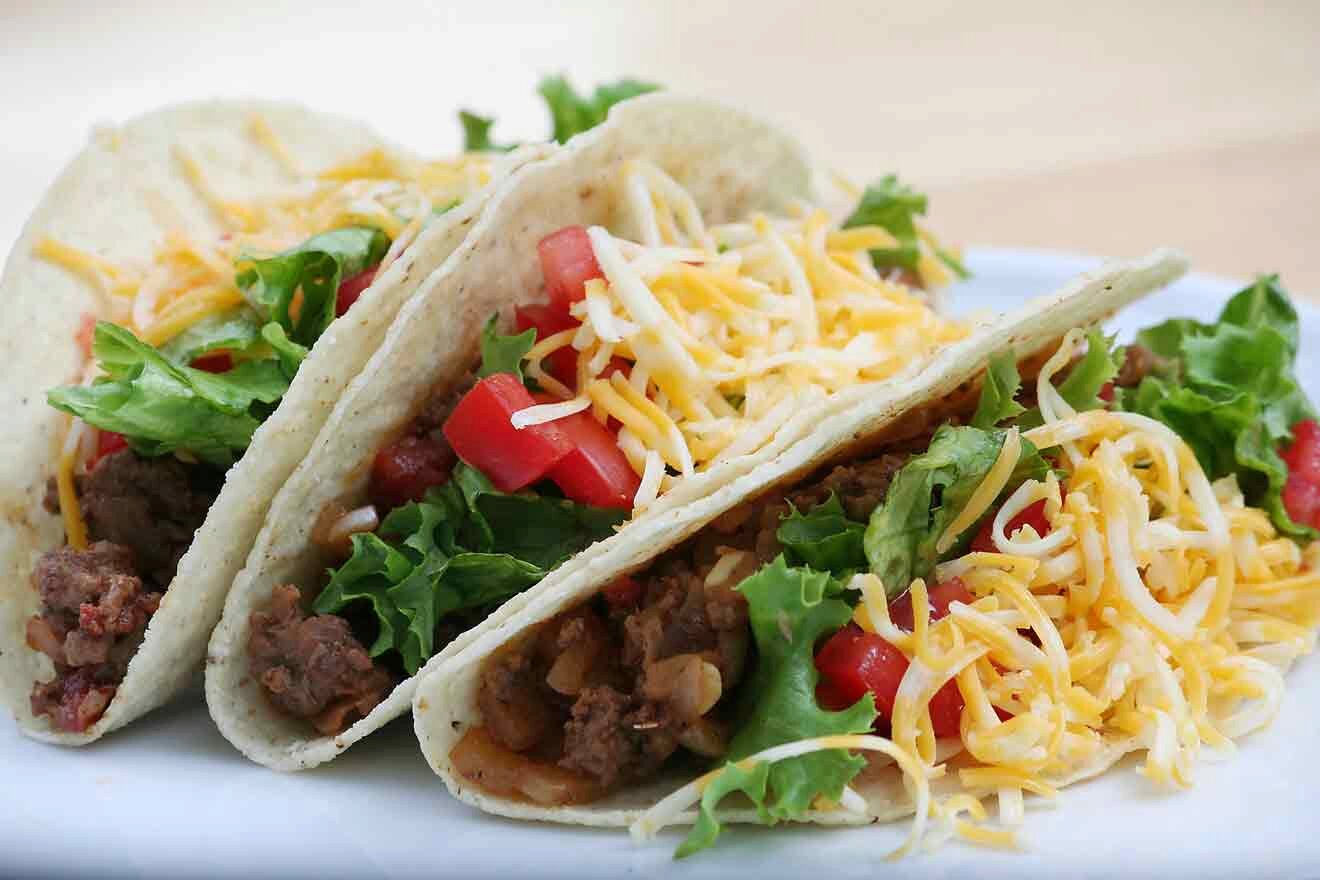 Coastal Taco is one of the best restaurants in Madeira Beach, and you are not going to want to miss out on the deliciousness!
Famous for creating "gourmet street tacos," founders Amy and Chip did not want to create just another taco shop. They wanted to create the best taco restaurant in Madeira Beach for locals and visitors alike to enjoy. And boy, did they do that!
These were the best tacos I have ever had in my life! This place is truly the definition of where gourmet meets street tacos, in the absolute best way.
Madeira Beach is not known for its street tacos, and Coastal Taco is here to change that! Just a short drive from John's Pass, this is the perfect place to visit in Madeira Beach.
11. Get some ice cream at The Sand Bar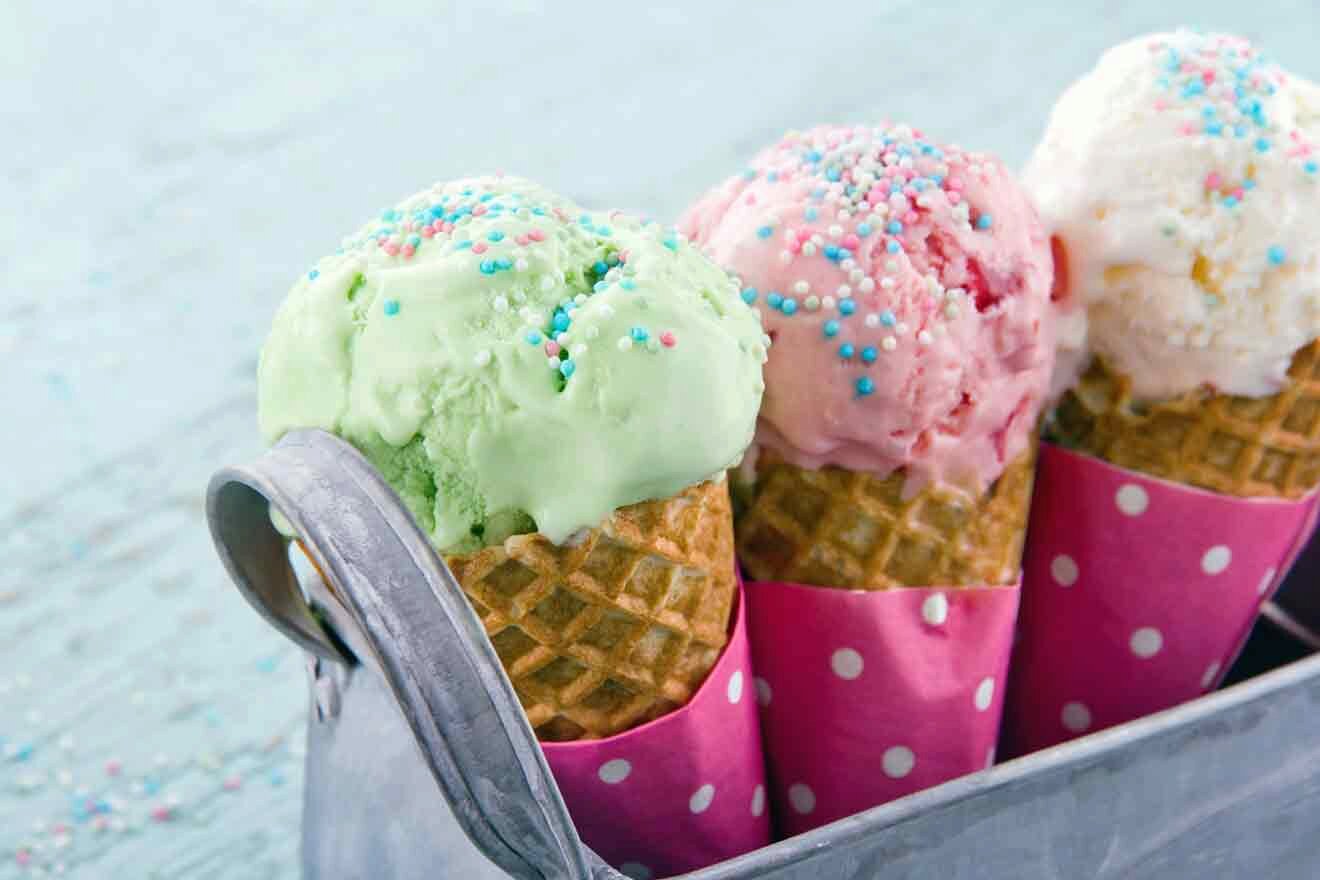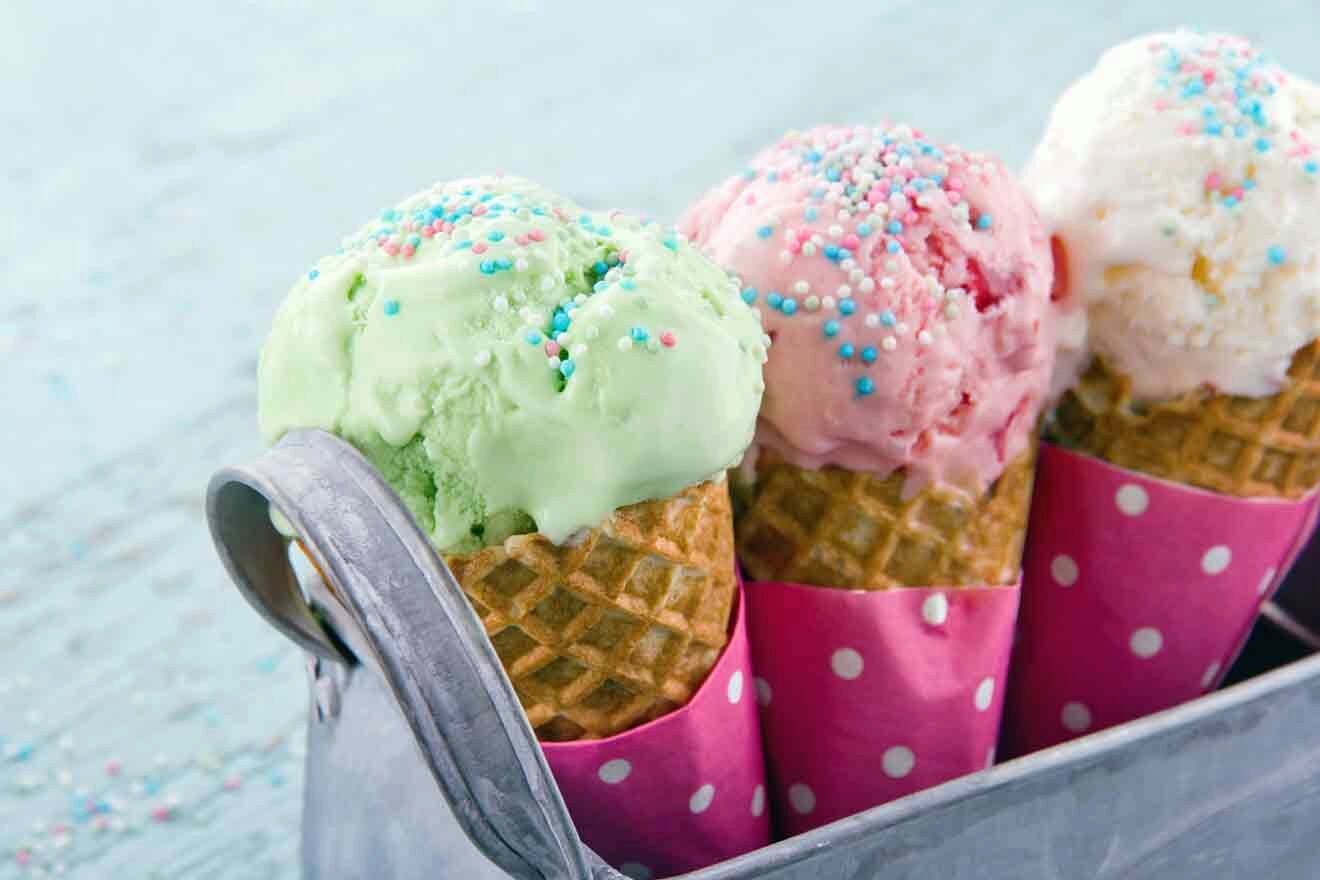 The Sand Bar in John's Pass is the best place to get ice cream in Madeira Beach! While you're spending the day exploring John's Pass Village, make sure you stop by the Sand Bar and get the best ice cream in town!
This local spot is well-loved by locals and visitors alike.
They offer unique ice cream, shaved ice, and soda floats! This is a super fun activity to do with kids!
12. Sail away on a Pirate Adventure Cruise
Your kids will absolutely love this experience! Climb aboard this pirate ship and be whisked away to a time of seafaring stolen treasure!
You can board this two-level pirate ship in John's Pass and enjoy a beautiful sail around the pristine Gulf waters. This is an extremely entertaining experience!
By the way, this Madeira Beach adventure is not just for the kiddos! Adults will love this experience as you get to sail away into antiquity and feel like you are in Pirates of The Caribbean.
Another thing the adults will love is this Pirate Adventure Cruise comes with complimentary drinks!
PRICE: US$40
Book Your Pirate Adventure Cruise
13. Mini-golf with gators at Smugglers Cove
Feeling in the pirate mood? Smugglers Cove Adventure Golf is so fun! At Smugglers Cove, you can mini-golf to your heart's content! What makes this experience at Smugglers Cove Adventure Golf so unique is that you can actually mini-golf alongside alligators!
No matter how old you are, this is a super fun adventure in Madeira Beach for all to enjoy. On this unique course that goes through caves, waterfalls, and pirate ships, you will have the adventure of a lifetime!
The Smugglers Cove Adventure Golf course is suitable for beginners and intermediate players. Perhaps the most intriguing aspect of this entire experience is that you can feed baby alligators while you're playing golf!
PRICE: $17 for adults, $15 for children
14. Grab a Slyce at Slyce Madeira Beach
Your trip to Madeira Beach is incomplete without visiting Slyce Madeira Beach. This local favorite should definitely be high up on your list of things to do in Madeira Beach! Loved by both locals and residents alike, this artisanal, stone-baked pizza spot is one for the books.
Slyce Madeira Beach is really one of the best places to get pizza in all of Florida! Well-known for its wholewheat and gluten-free pizza varieties, this pizza joint in Madeira Beach Florida takes grabbing a slice of pizza to a whole new level!
Slyce Madeira Beach also has incredible calzones, stromboli, and meatball subs.
15. Lori's Soap and Sponge Market
Located in John's Pass, Lori's Soap and Sponge Market is a must on your trip to Madeira Beach!
This natural and handmade soap and sponge market is a really unique and special thing to do. All of their soaps and products are made from the highest quality ingredients including herbs, oils, salts, and various other top-tier ingredients.
When you walk in and take a deep breath, your senses will be overwhelmed by the incredible herbal smells that put you in a state of utter relaxation. I absolutely loved the soaps I got at Lori's Soap and Sponge Market!
PRICE: Free
16. Indulge your sweet tooth at Candy Kitchen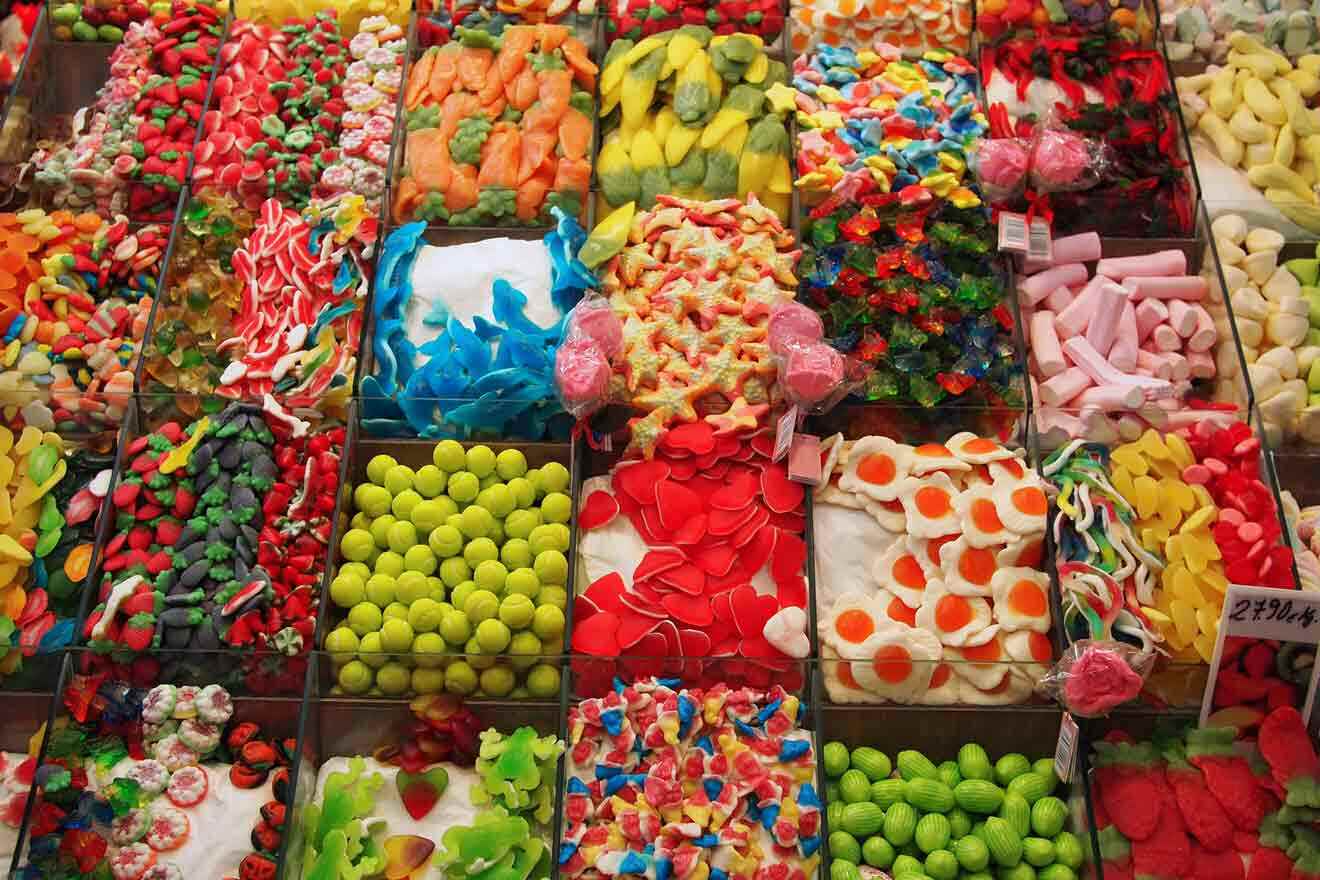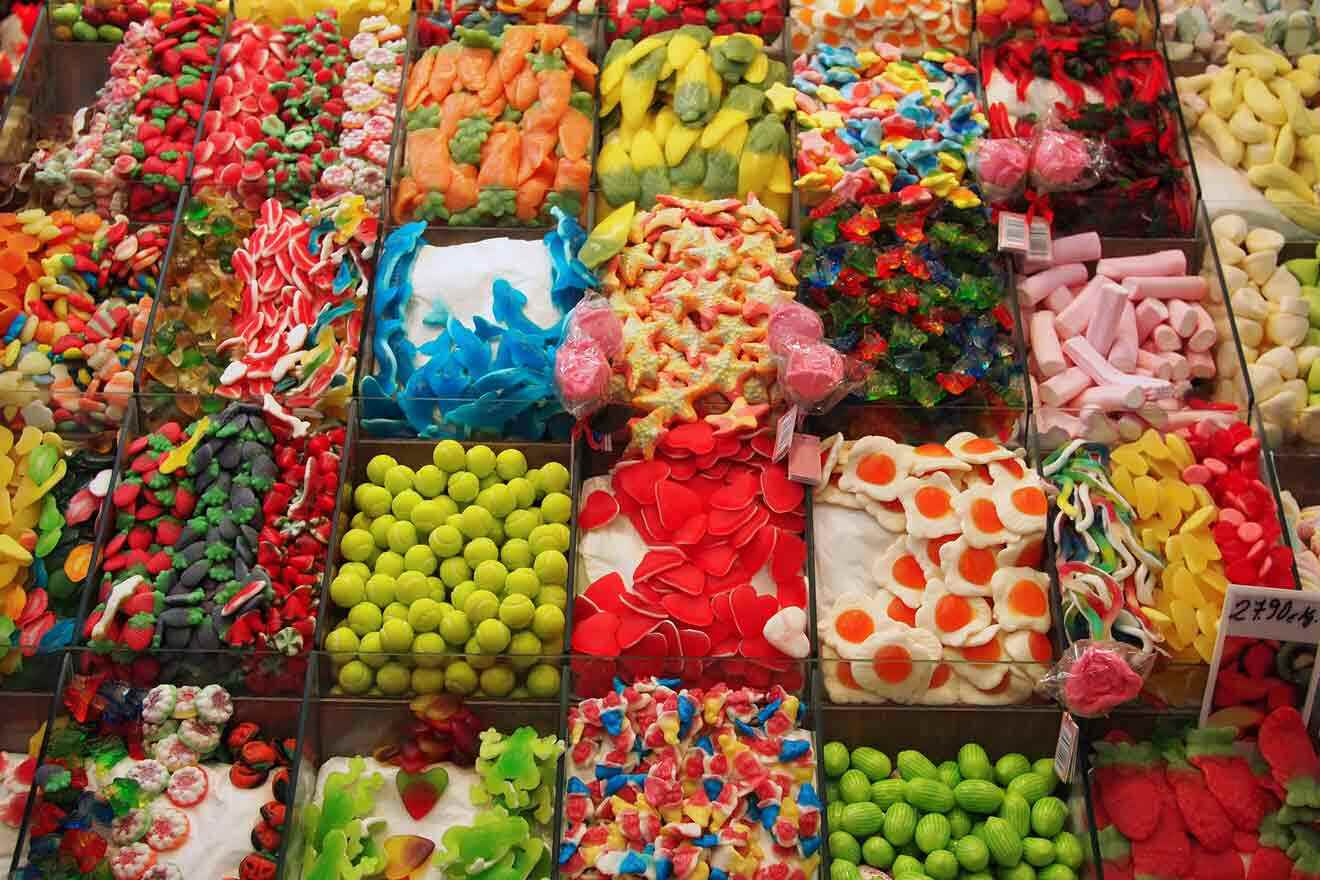 This sweet spot in Madeira Beach has been a staple since 1950! This is one of the best things to do for kiddos and adults alike who have a sweet tooth!
Don't forget to try their delicious homemade fudge ice cream, one of their most popular offerings! They offer all kinds of sweet treats, from ice cream to fudge, and all different kinds of candy!
PRO TIP: If you're looking for something decadent, be sure to try their "Big Mouth," a mouth-watering ice cream sandwich featuring vanilla ice cream wedged between two brownies and then dipped in chocolate!
17. Get some serious R&R at the beach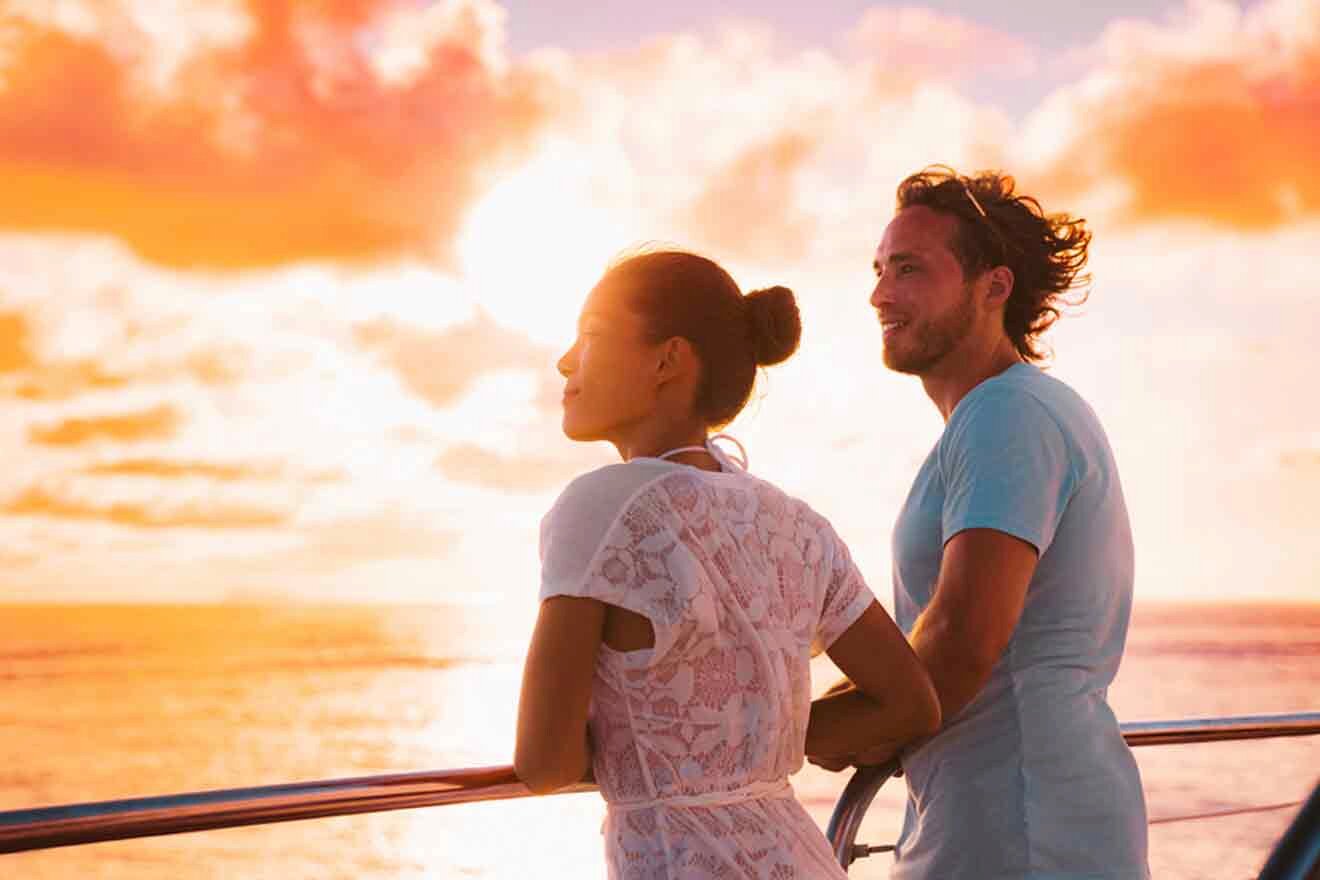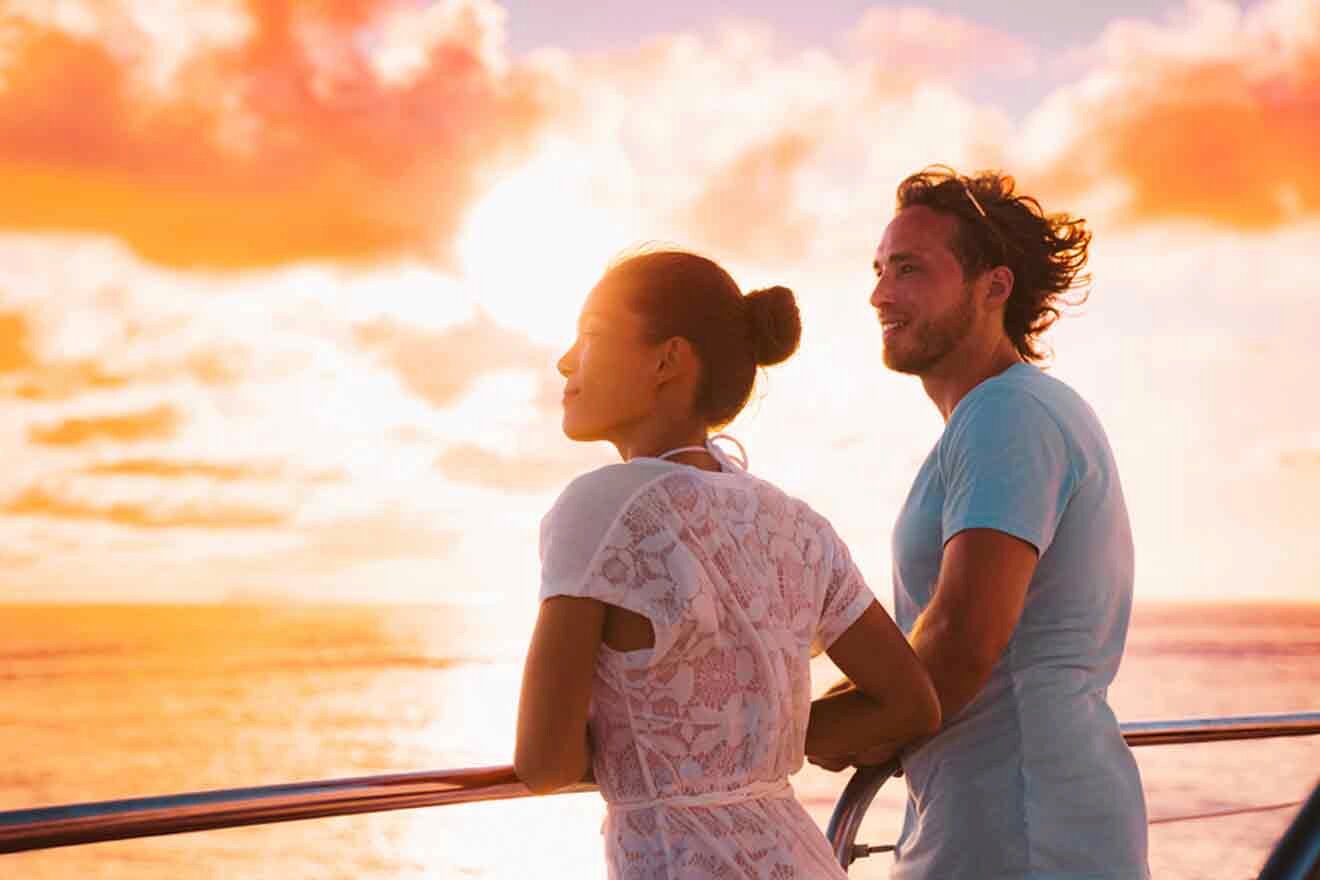 Of course, your trip to Madeira Beach is incomplete without a visit to the beach! This may be quite obvious. However, there are so many fun things to do in Madeira Beach that it can be easy to forget one of the best things to do, go to the beach!
Sprawling white sand beaches, gorgeous pristine blue waters, incredible views, and marine life – this is the perfect place to relax on your trip to Madeira Beach.
While you're there, you can take this awesome sunset cruise after a day of sunbathing – and keep your eyes peeled for dolphins while you relax and listen to music!
PRICE: US$67
18. Visit the Chicken Church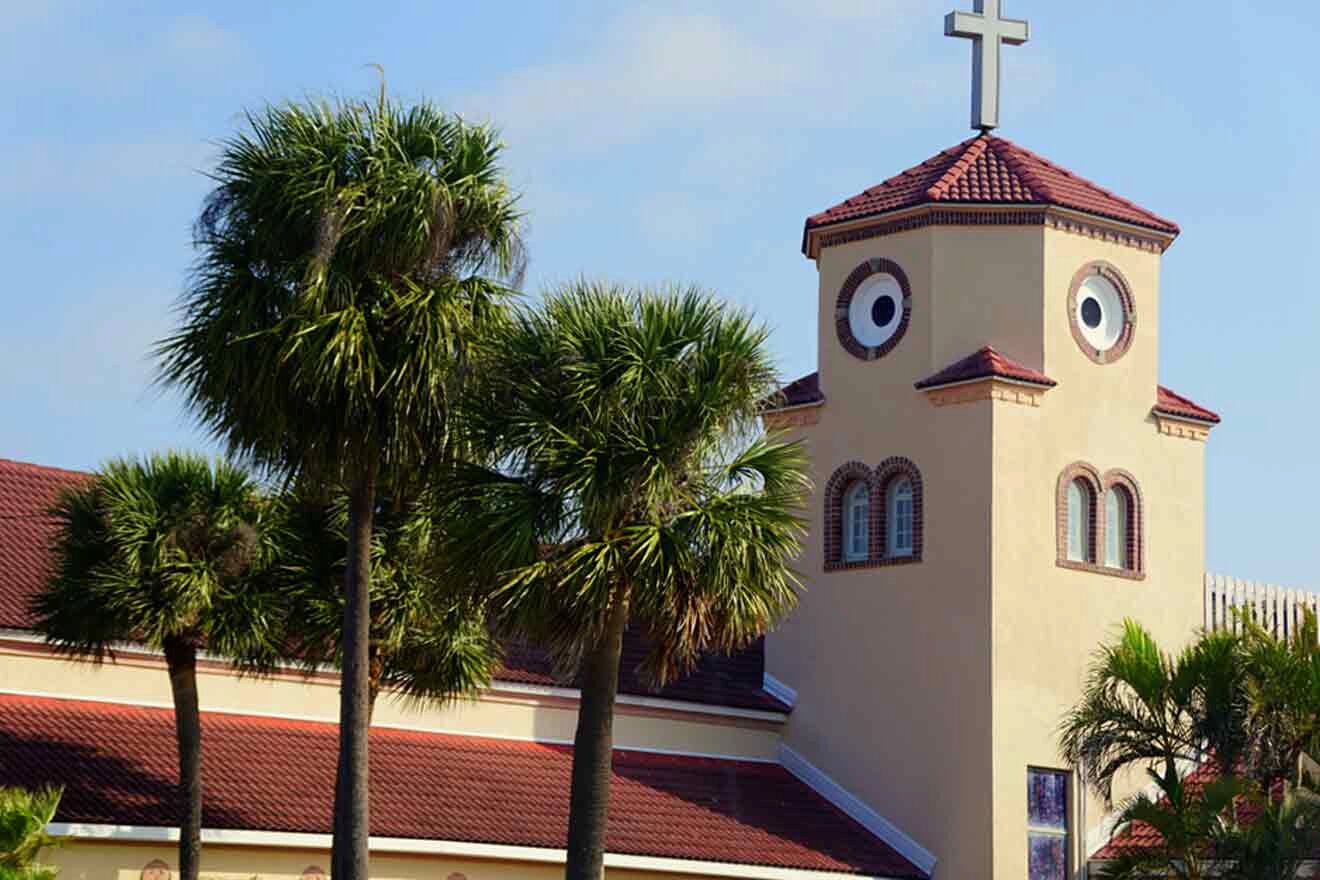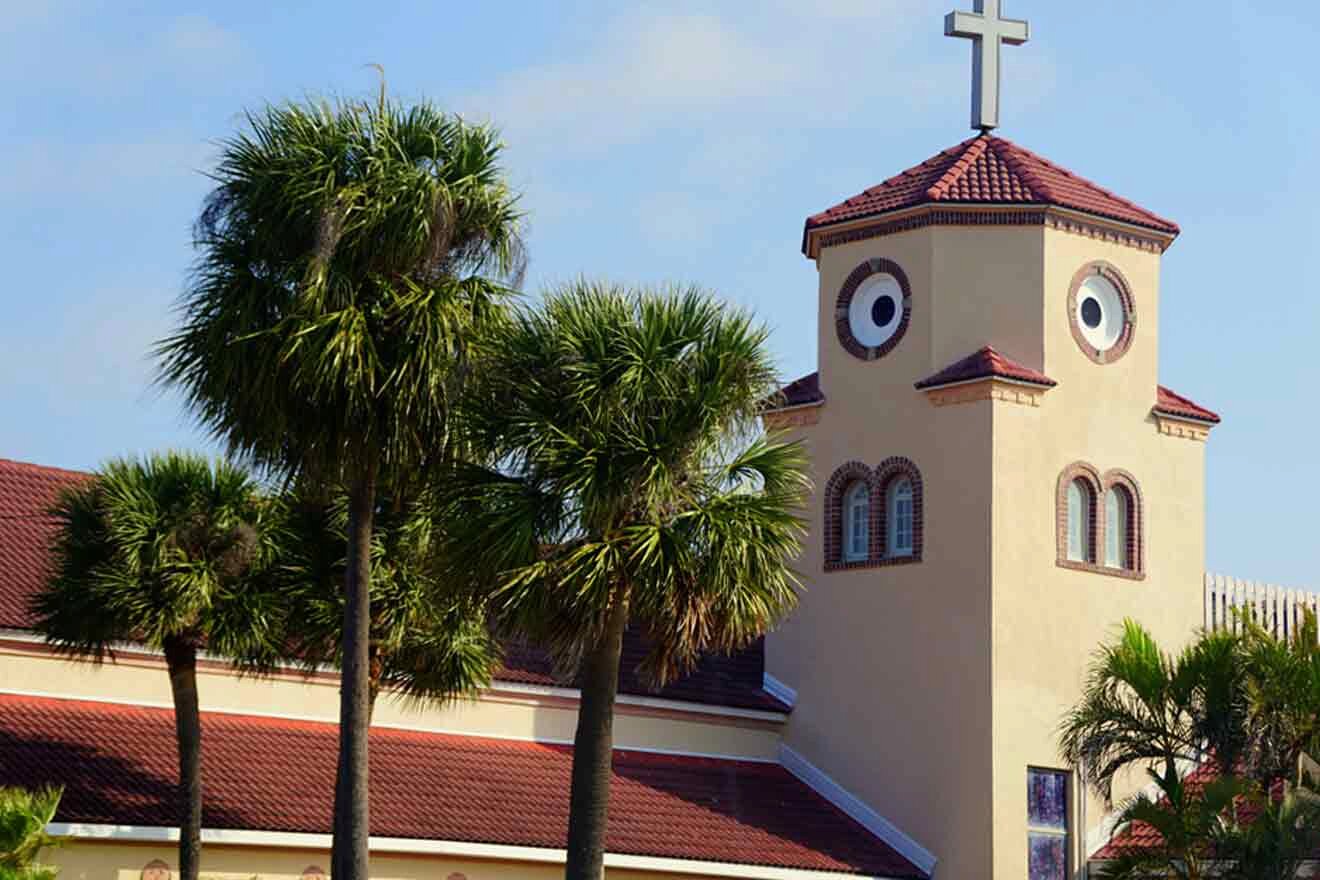 This is by far one of the silliest things to do in Madeira Beach, but a staple nonetheless! While Chicken Church is the affectionate name the locals use, the actual name is Church By The Sea!
This beautiful Spanish-era church features Spanish-style architecture and a huge tower. The reason why it has acquired the name Chicken Church is because, from certain angles, the tower looks like a chicken!
PRICE: Free
| | |
| --- | --- |
| 🤩 Range of activities: | Large |
| 👪 Family-friendly score: | High |
| 🎢 Top paid attraction: | Pirate Adventure Cruise |
| 🚶🏽‍♂️ Best free activity: | Visit John's Pass Village |
| 👧 Best attraction for kids: | Smugglers Cove Adventure Golf |
| 🥟 Must try food: | Slyce Madeira Beach |
Where To Stay in Madeira Beach
Here are some of the best places to stay in Madeira Beach!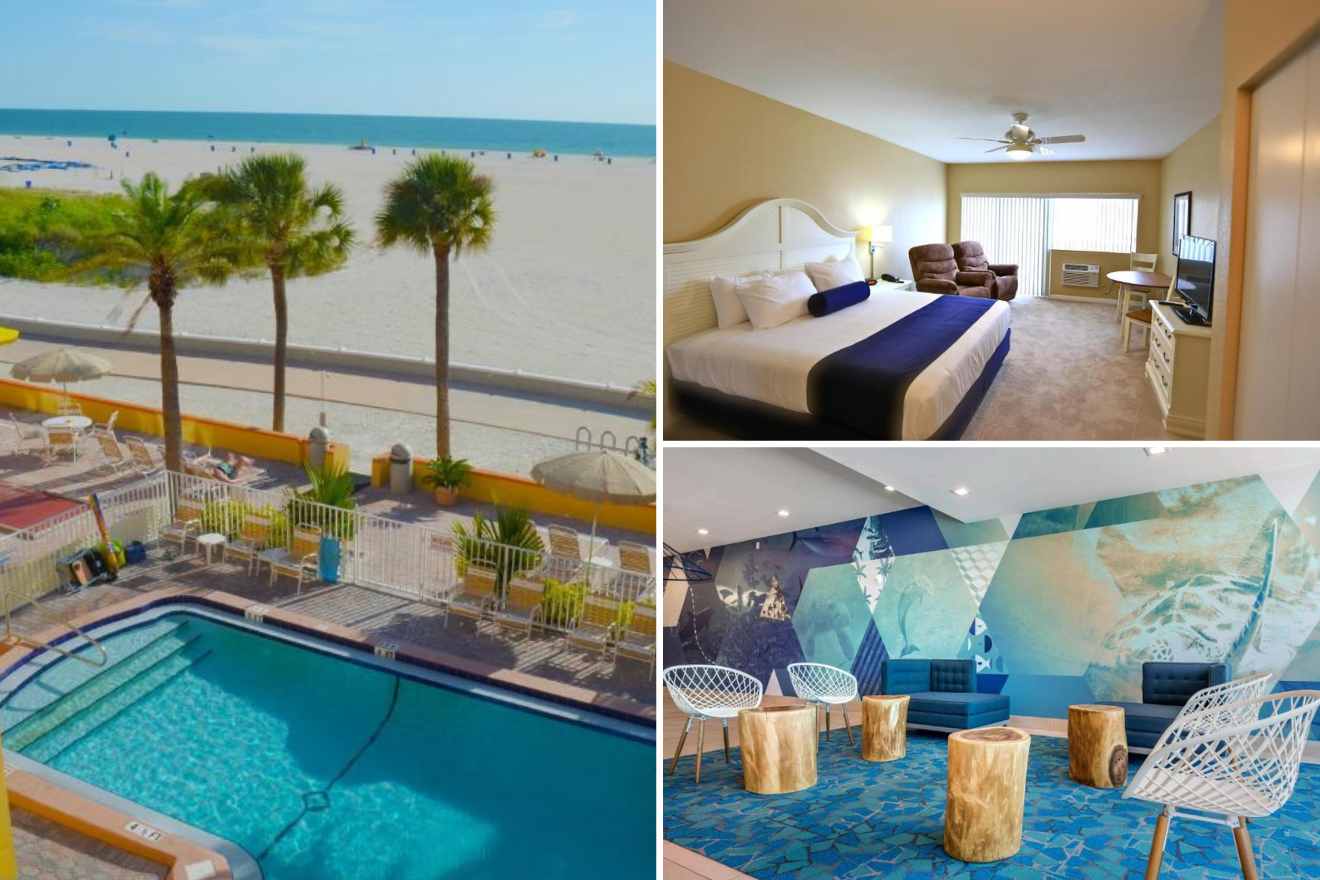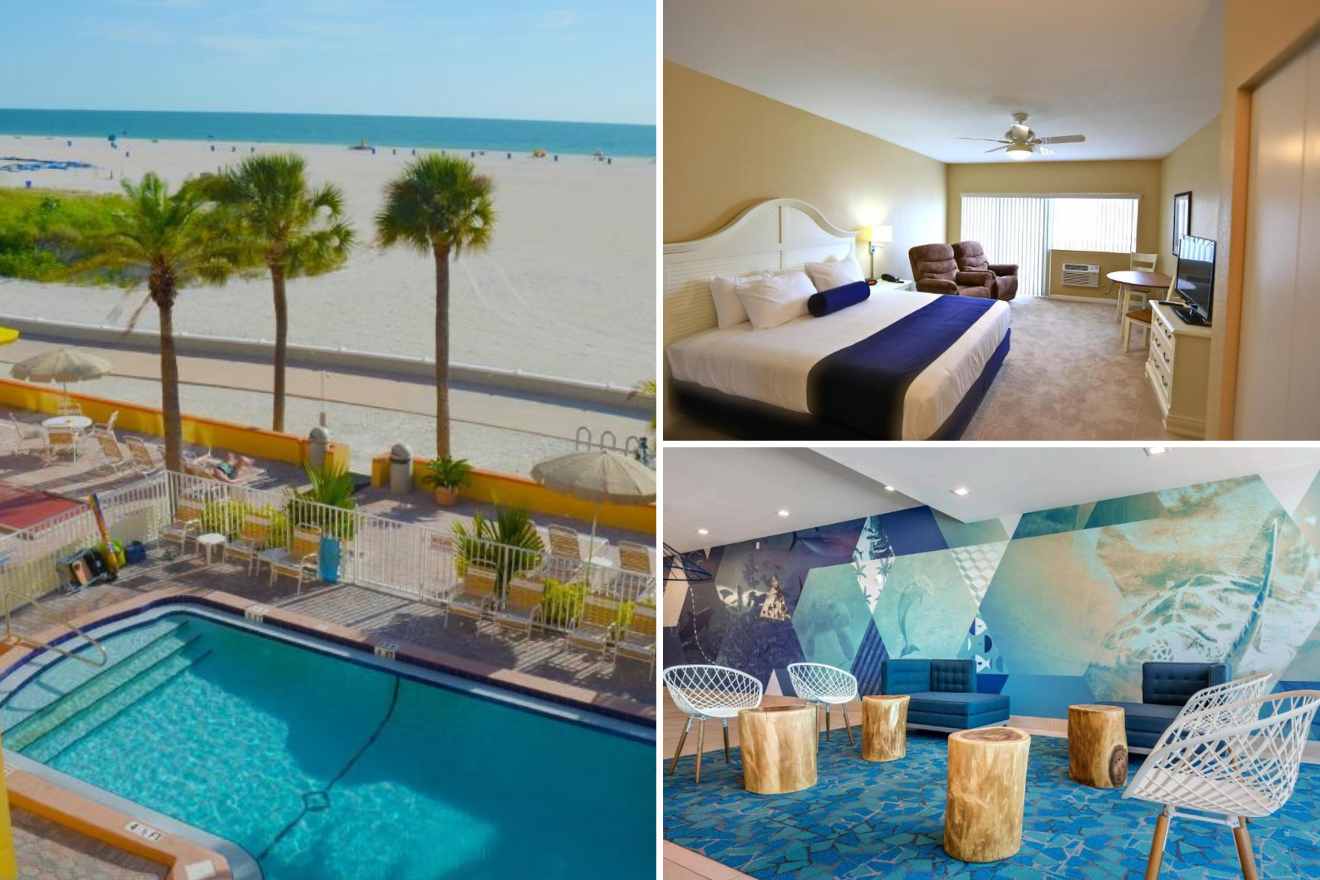 FAQs about things to do In Madeira Beach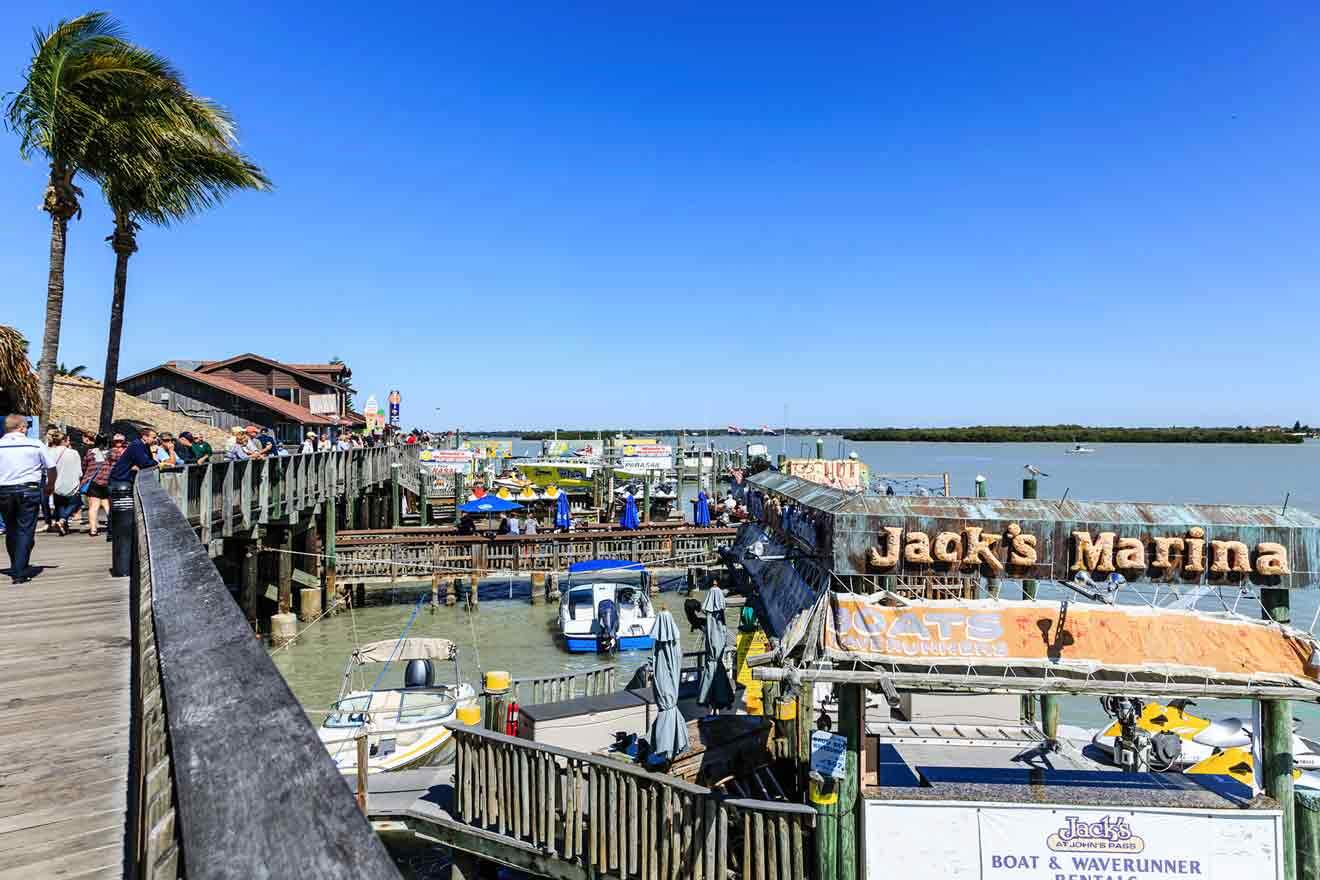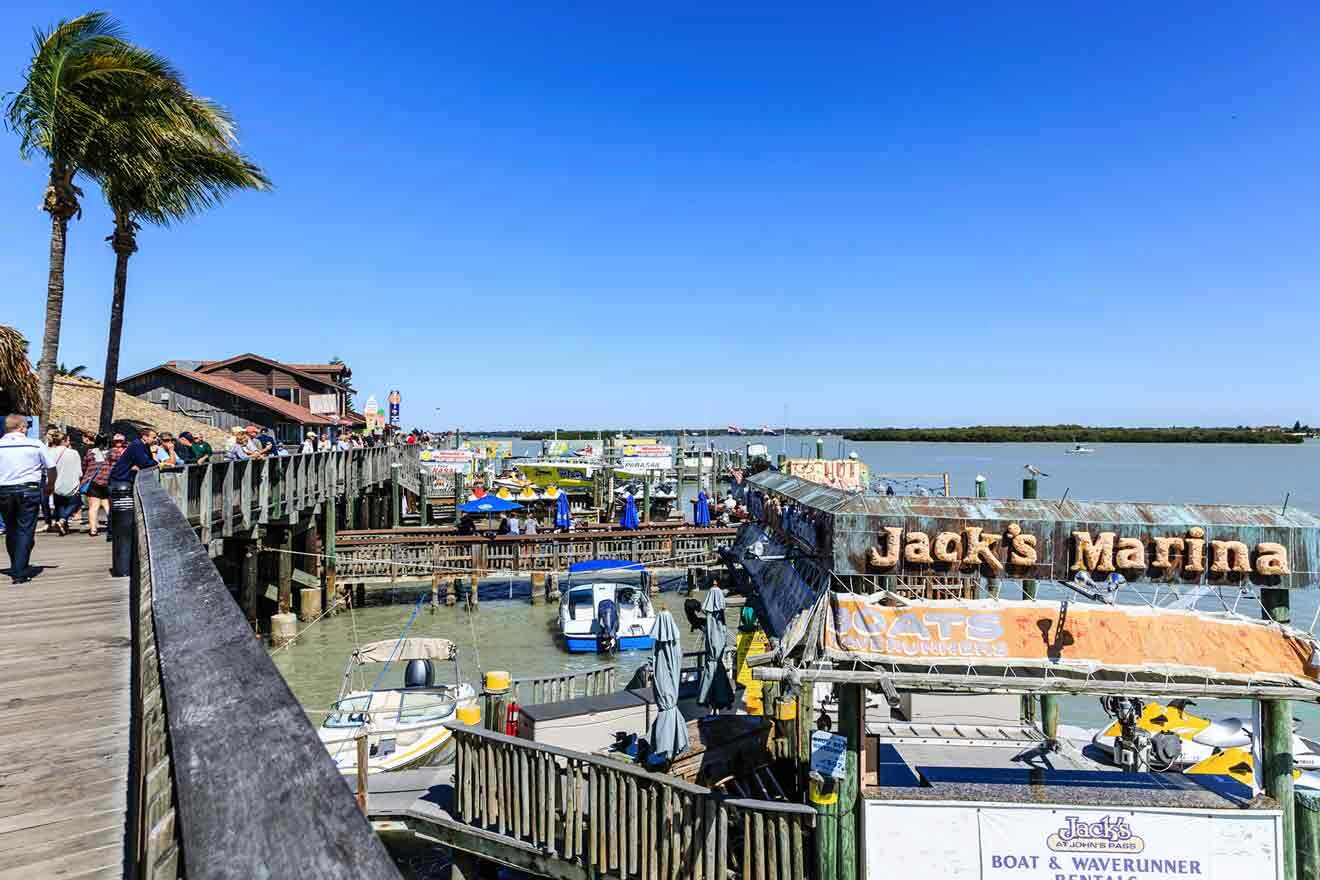 🌹 What are some romantic things to do in Madeira Beach?
🌃 What are the best things to do in Madeira Beach at night?
Head on over to Slyce Madeira Beach, the Florida Winery, grab a beer at the Mad Beach Brewing Company, or hit up the Bamboo Beach Bar!
🏖️What are some free things to do in Madeira Beach?
Head to the beach! You won't have to spend a dime and you can spend the day soaking up the sun with the whole family!
👪 What are the most family-friendly things to do in Madeira Beach?
Conclusion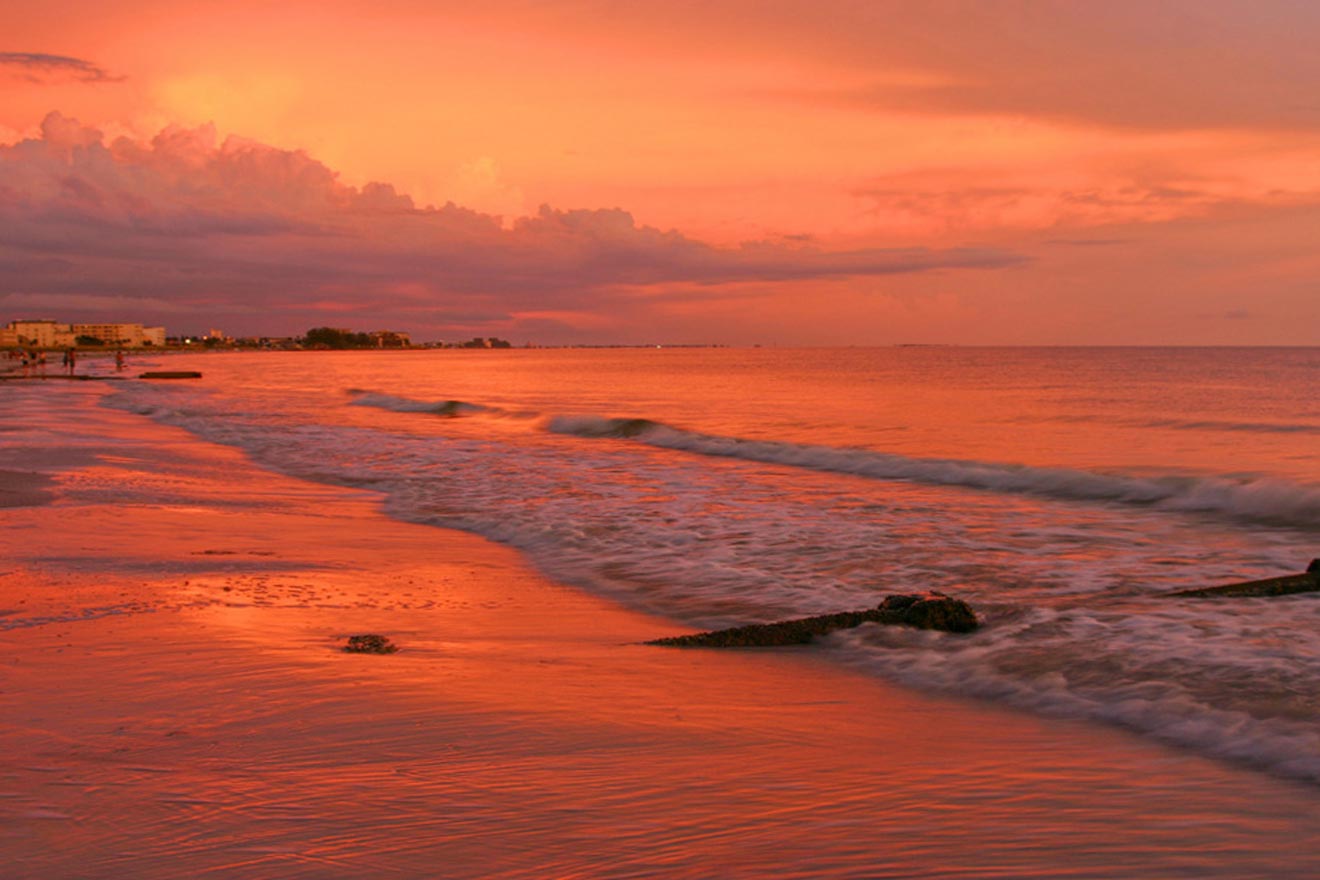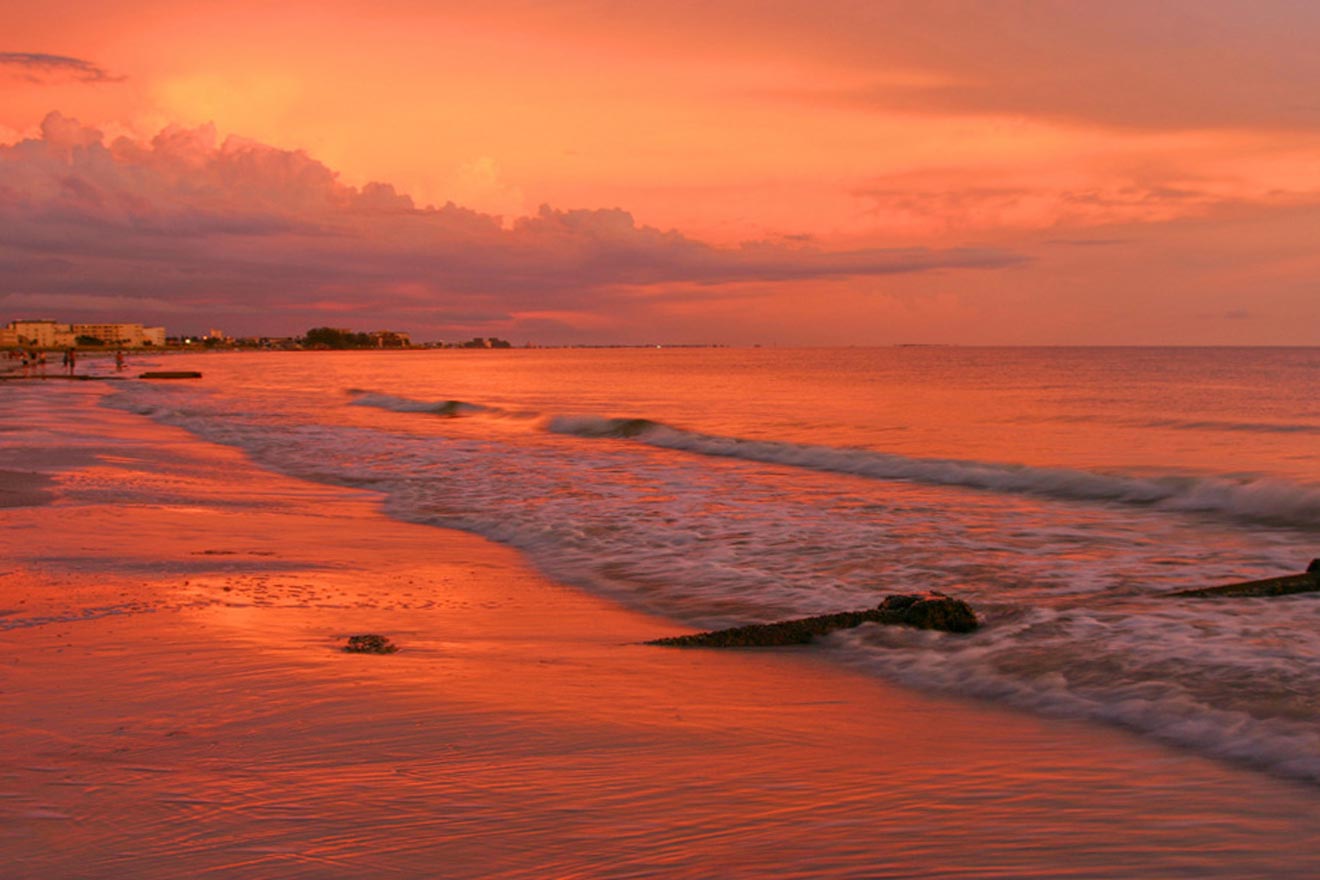 There you have it! The best things to do in Madeira Beach.
I hope you enjoyed reading this article as much as I enjoyed my trip to Florida's gorgeous Gulf Coast. This Gulf Coast beach gem is a really special treat to enjoy as a solo traveler or with the family.
You will never run out of things to do in this charming little beach town, and there is so much good food for you to enjoy and beautiful nature to sightsee!
With love and gratitude,
Amira G.
---
Pin it for later!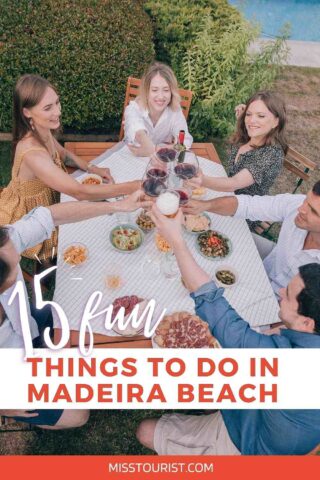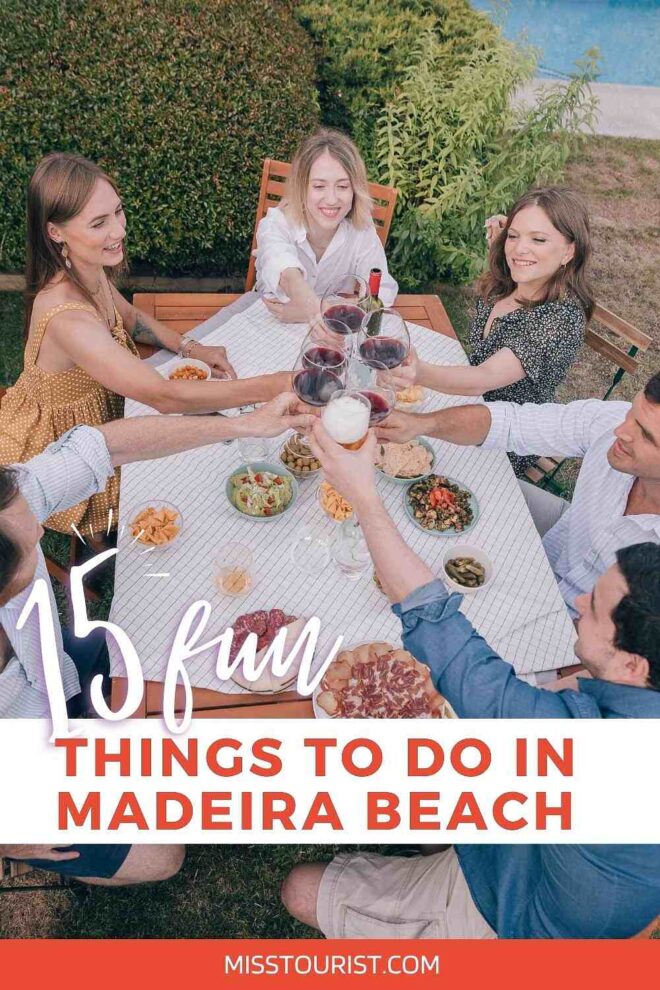 Pin it for later!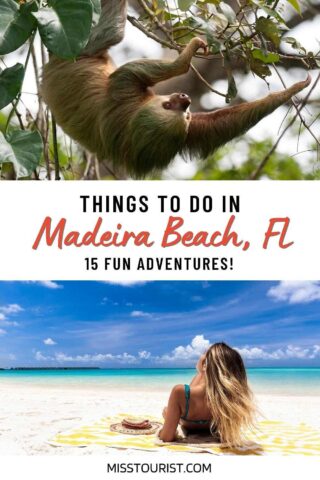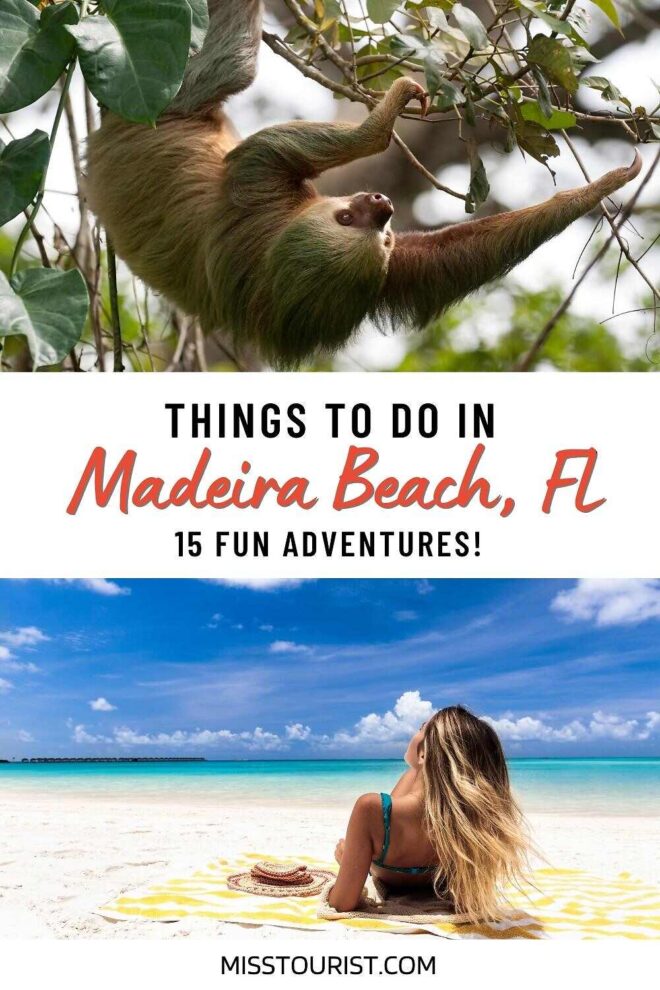 Products You May Like