Ahh, Miami.
At the top of everyone's bucket list lies this fun-filled, radiant, glittering South Florida city with endless fun adventures.
Whether it is your first time visiting Miami, or you're a seasoned Miami visitor, this unique list of things to do in Miami will have something for you!
Known as the Magic City, Miami truly does have a magical ambiance to it. Between the incredible skyline views and the turquoise blue waters of Miami Beach and South Beach, Miami is one of the best places to visit in the US!
As someone who has lived in Miami for a few years, I am going to let you in on all of the local secrets when it comes to the most unique and fun things to do in Miami, FL!
If you are in a hurry
Check out these most amazing things to do in Miami that you can book in advance!
1. Explore Fairchild Tropical Botanic Garden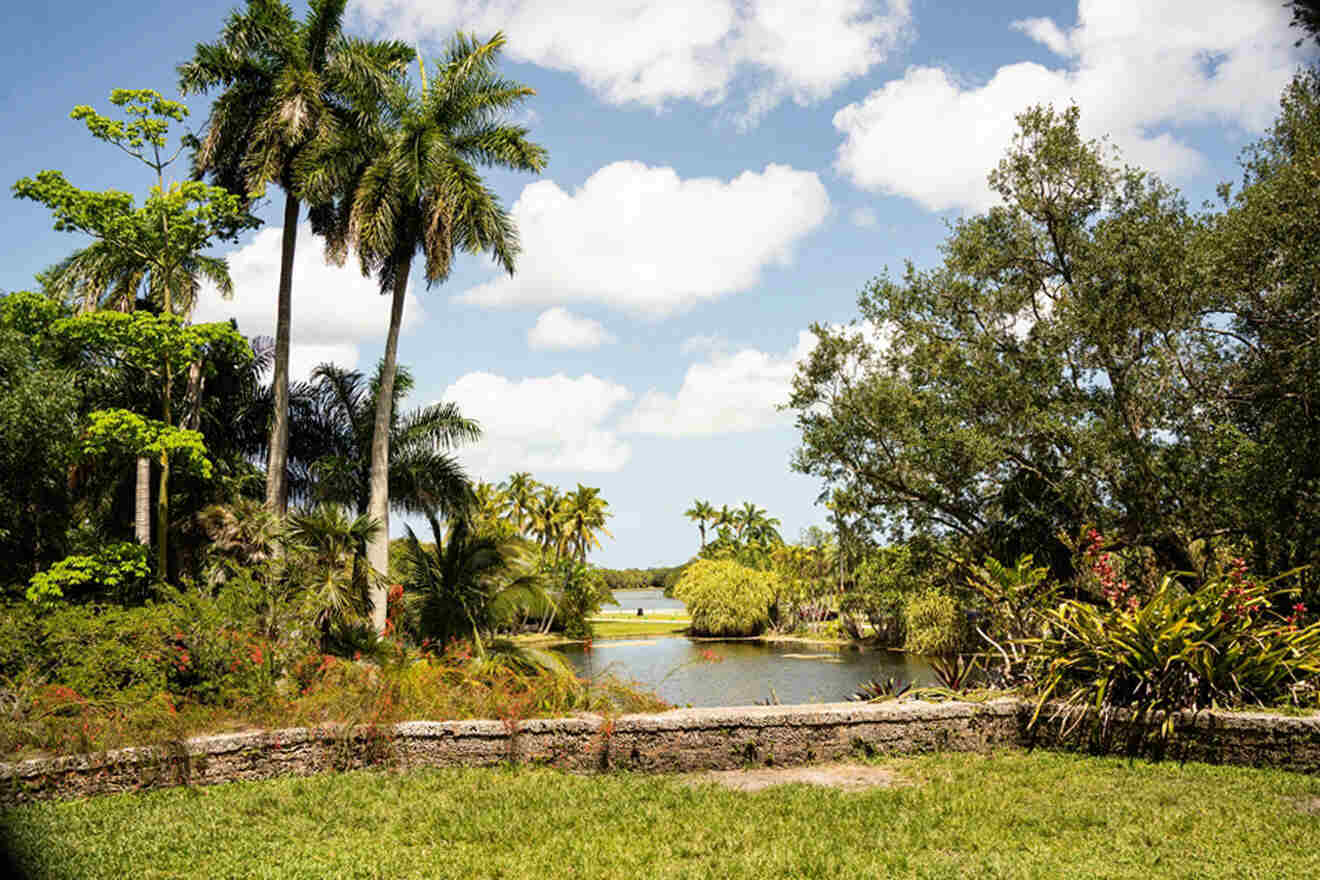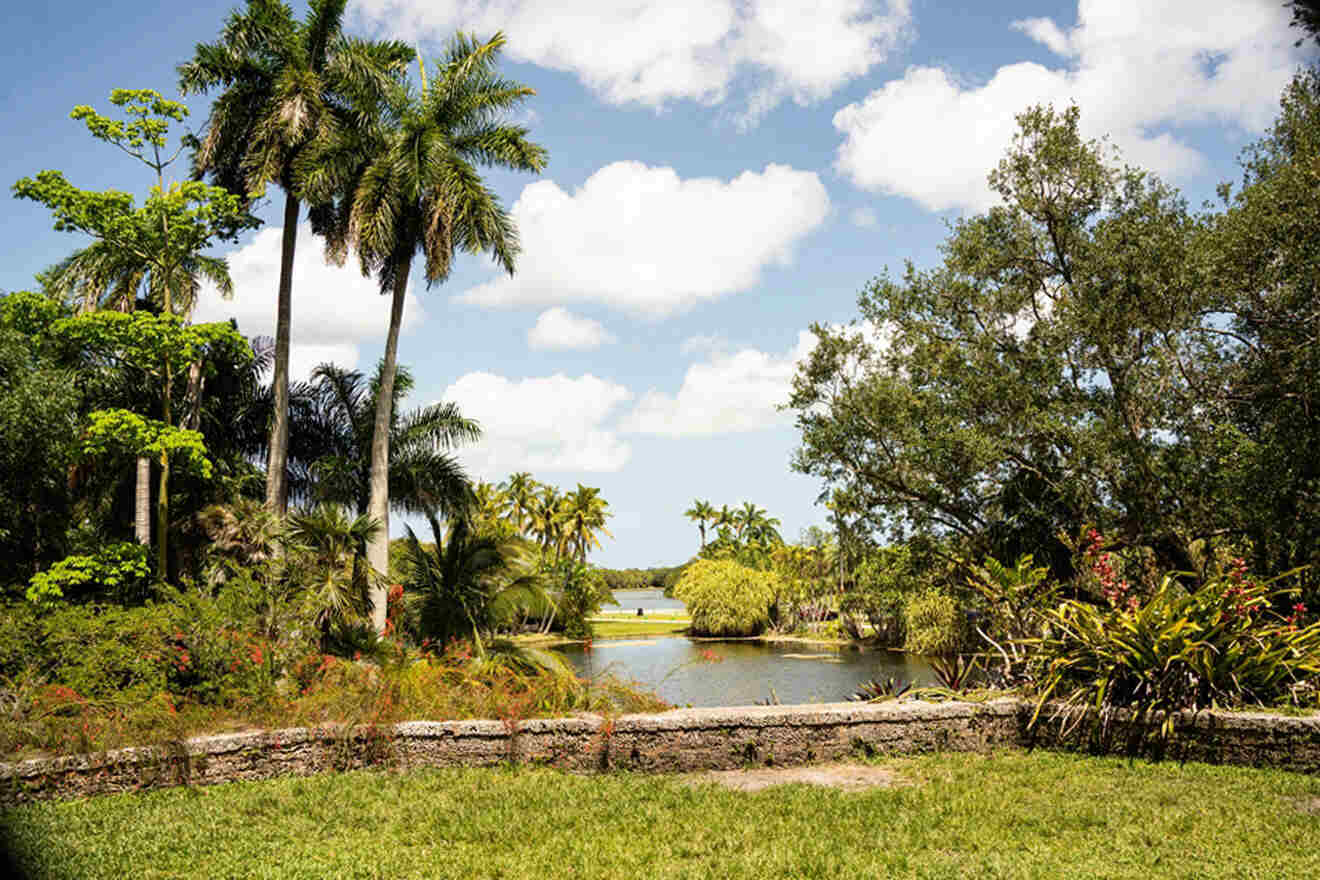 Fairchild Botanic Garden is high on my list because I believe it is one of the most magical places in all of Florida.
Started by a group of horticulturalists back in the 1930s, this 83-acre tropical botanical garden has an incredibly vast collection of tropical plants, unique and rare varieties, and an incredible atrium/butterfly garden.
If you want to be transported to a tropical oasis and feel like you are walking through the jungle, definitely make sure you check out Fairchild Tropical Botanic Garden!
Your senses are in for a treat as you stroll around the incredible installation of tropical plants, such as hundreds of lush orchids, huge tropical fruit trees, the incredible (my personal favorite) cannonball tree, tropical palms, rare cacti, and so much more.
This is definitely a once-in-a-lifetime experience, as Fairchild Tropical Botanic Garden is home to the only rainforest in the entire continental USA!
Escape the hustle and bustle of Miami and experience the soft misty atmosphere that these lush tropical plants create in this stunning botanical garden.
PRICE: US$25
2. Walk around Wynwood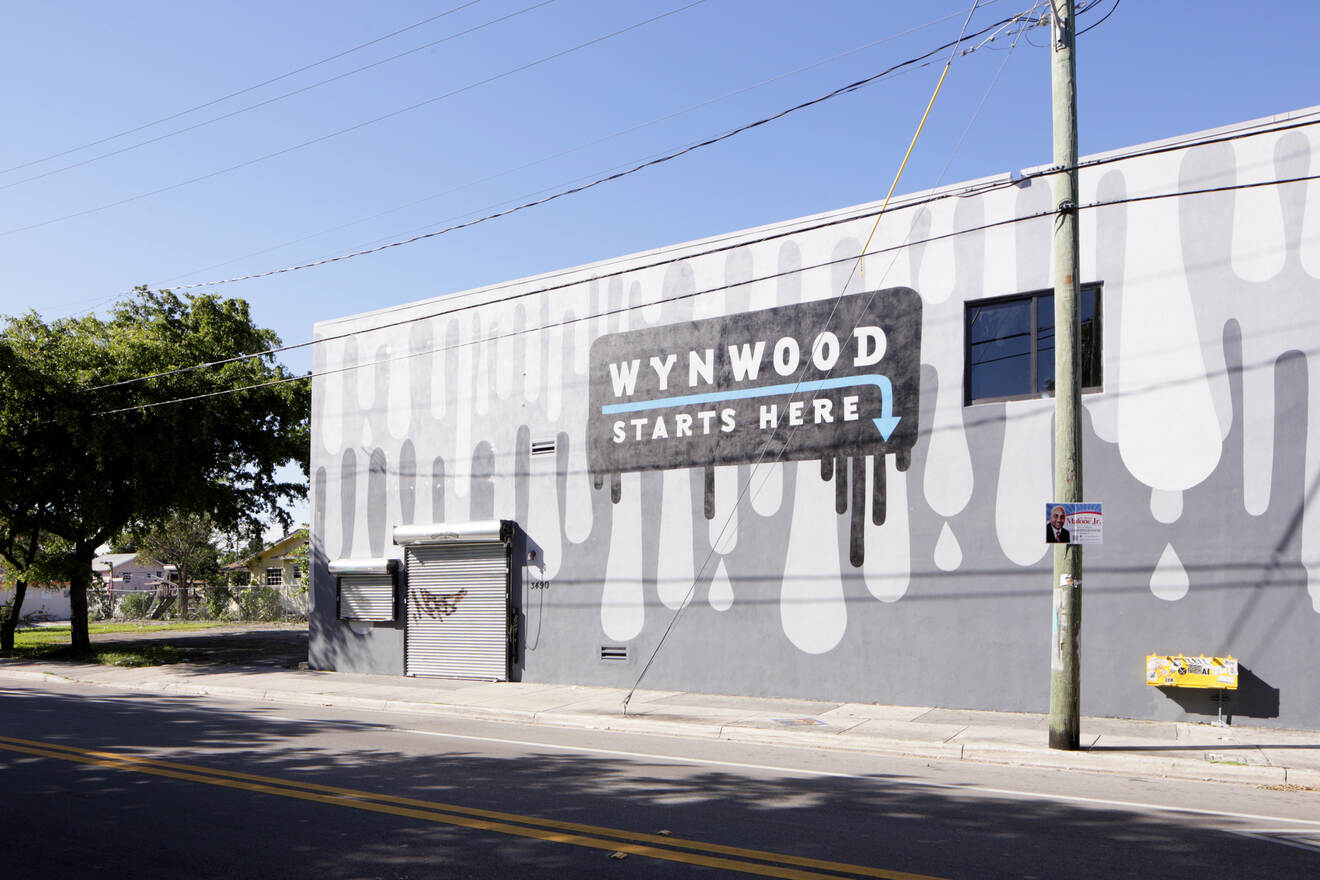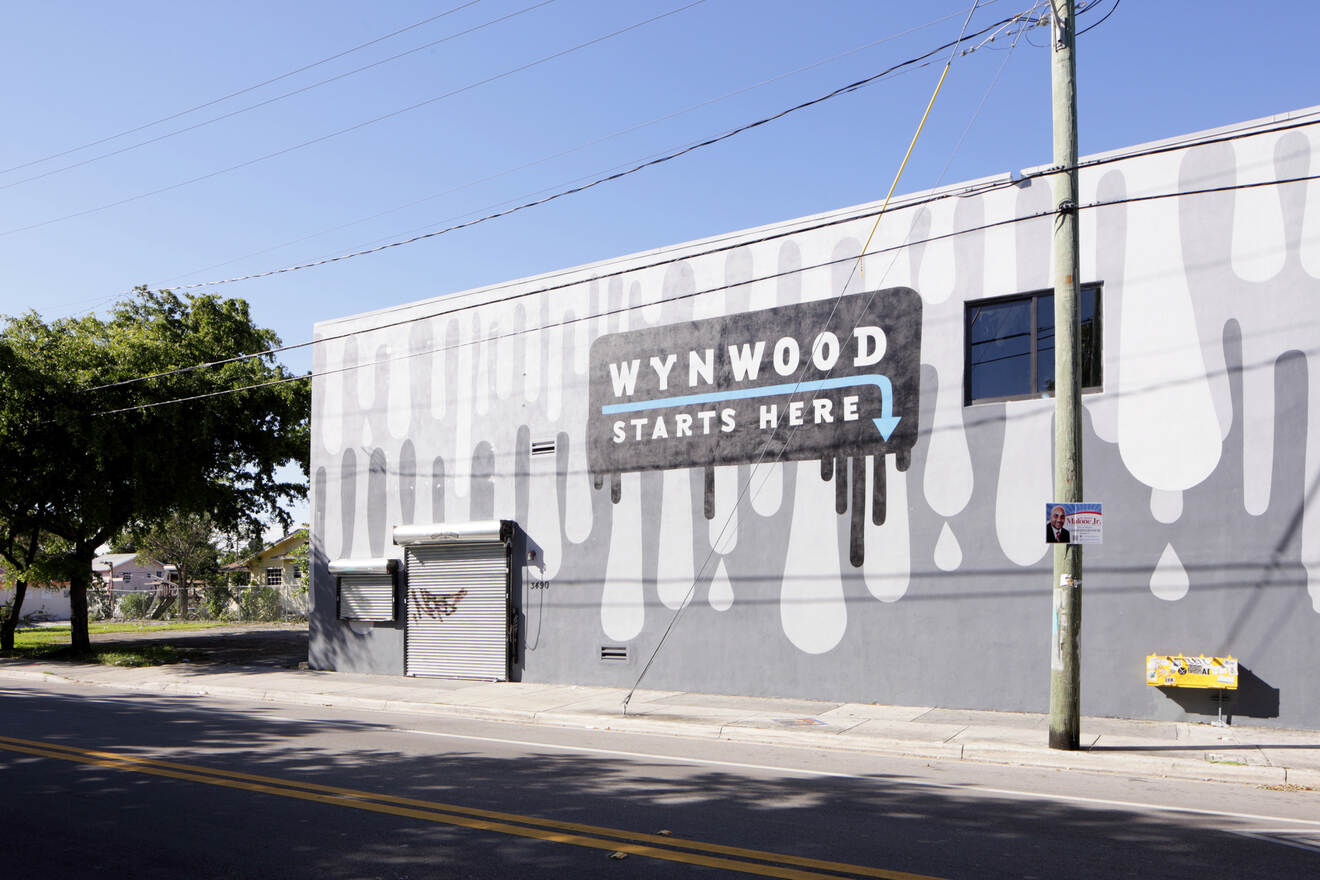 Wynwood is one of the most famous Miami attractions. Known for its bustling street art culture and numerous art galleries, it is home to some of the world's most famous street art murals.
Originally a place of rebellion and artistic expression, the city has now turned it into an official tourist destination and commissions artists to create more art on buildings in the area!
This is the perfect place to visit in Miami if you are looking for some of the local street art cultures and to get to know the grassroots, artistic side of the city.
You can check out Wynwood yourself on foot by walking around the many art-covered buildings encompassing a few blocks.
Or, you can purchase a ticket to see the Wynwood Walls Museum, which is a globally renowned street art museum that gives you a more in-depth experience of Wynwood.
Alternatively, you can also book this awesome golf cart graffiti tour, where you can see the street art of Wynwood in style in a golf cart!
PRICE: US$45
3. Relax on South Beach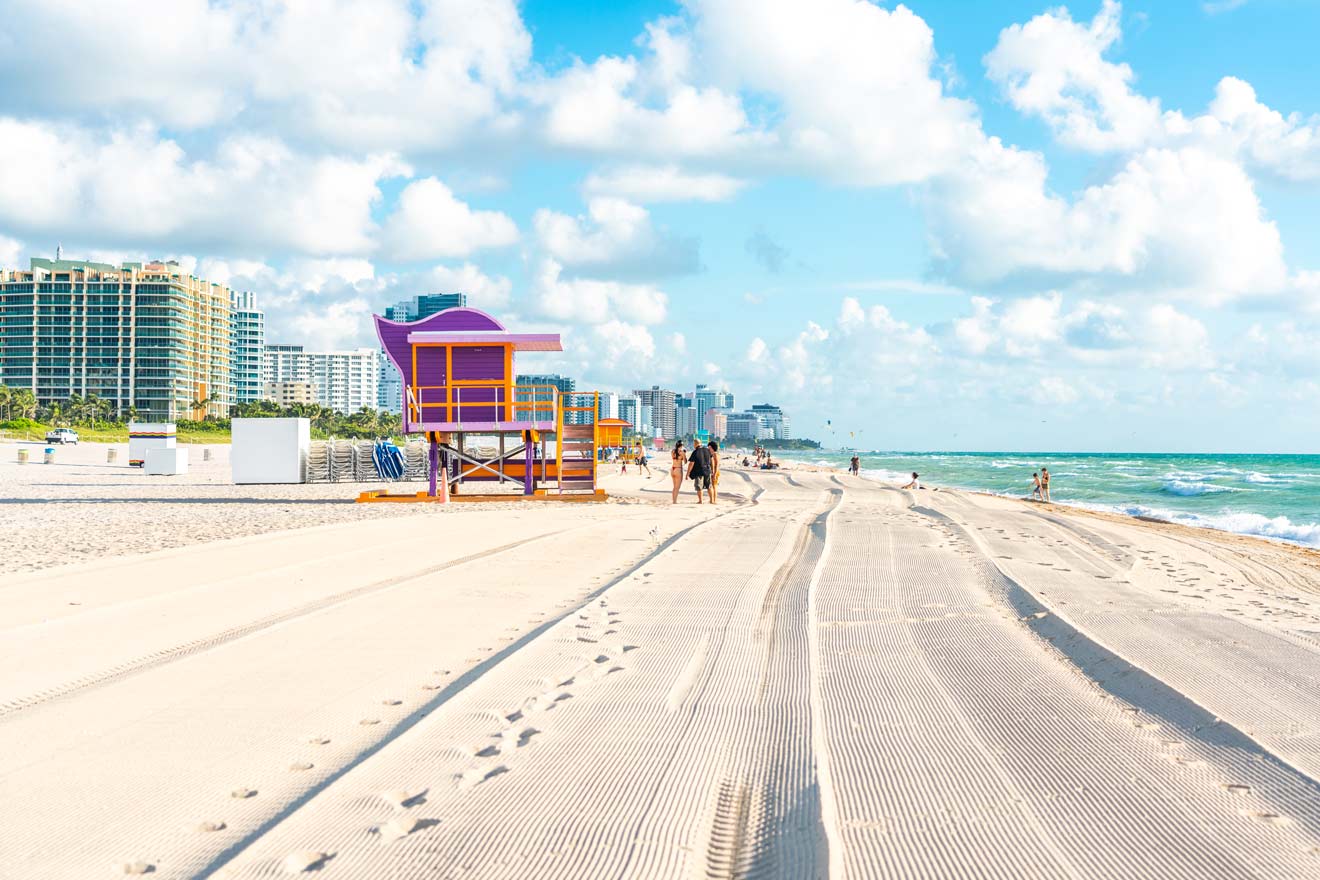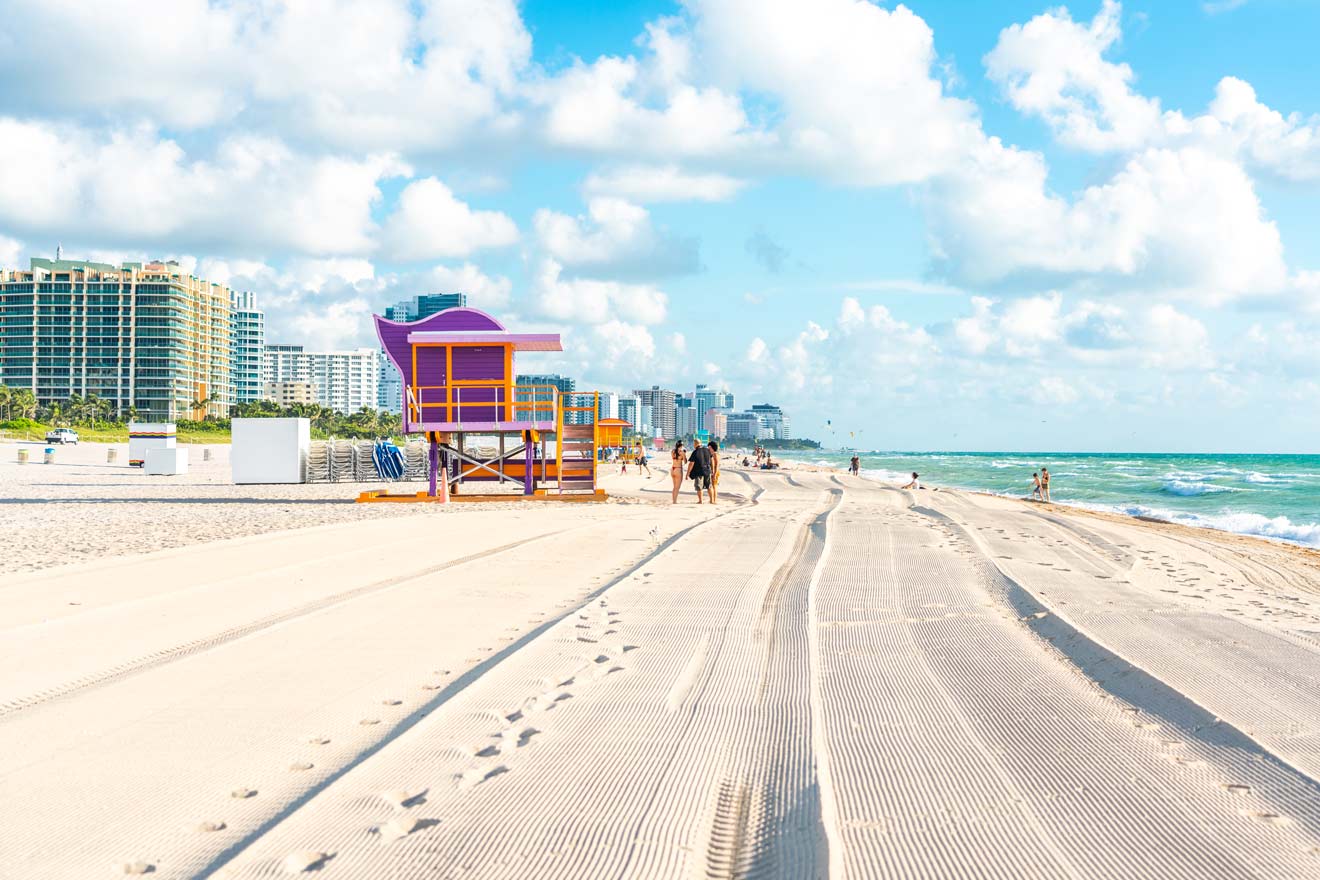 Whenever you see anything on TV in Miami (like Miami Vice!) it is usually in South Beach.
South Beach is one of the most famous parts of Miami, and it's not hard to see why! With a vibrant nightlife, incredible beaches, delicious food, and an unbeatable art deco museum vibe, South Beach is filled with super fun activities and unforgettable memories!
South Beach (and Hollywood Beach further up in North Miami) is THE tourist destination for solo travelers, groups of friends looking to party and have a good time, and people who enjoy a lively environment!
The beach is picturesque, tropical, and filled with a vibrant and lively energy that will put anyone in the mood for some adventure!
Between people selling fresh coconuts and fresh fruit on the beach, incredible places to eat, and just gorgeous beachy views, your South Beach experience is bound to be super memorable!
Feel the ocean breeze as you unwind on this ultra-tropical beach that doesn't even feel like you're in the US! Then, head out to get some incredibly delicious food, or go dancing at one of the many nightclubs South Beach and Miami Beach have to offer!
If you want great nightlife when you visit Miami, South Beach is the place for you! Head out to a disco reminiscent of Studio 54, or show off those salsa moves! South Beach comes alive at night, be prepared to hear and feel the music through the air that just puts you in a dancing mood!
PRICE: Free
4. Discover Bill Baggs State Park/Key Biscayne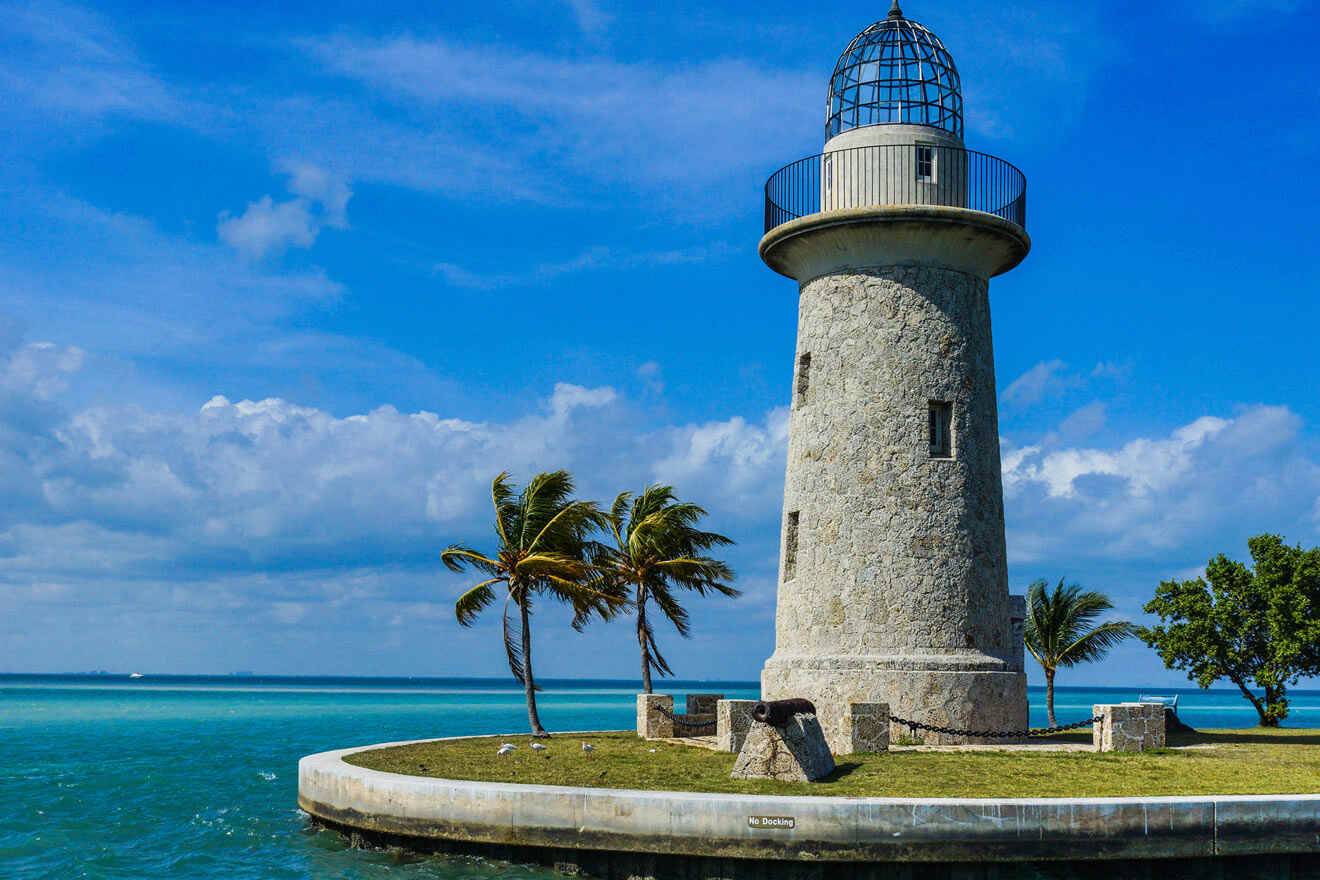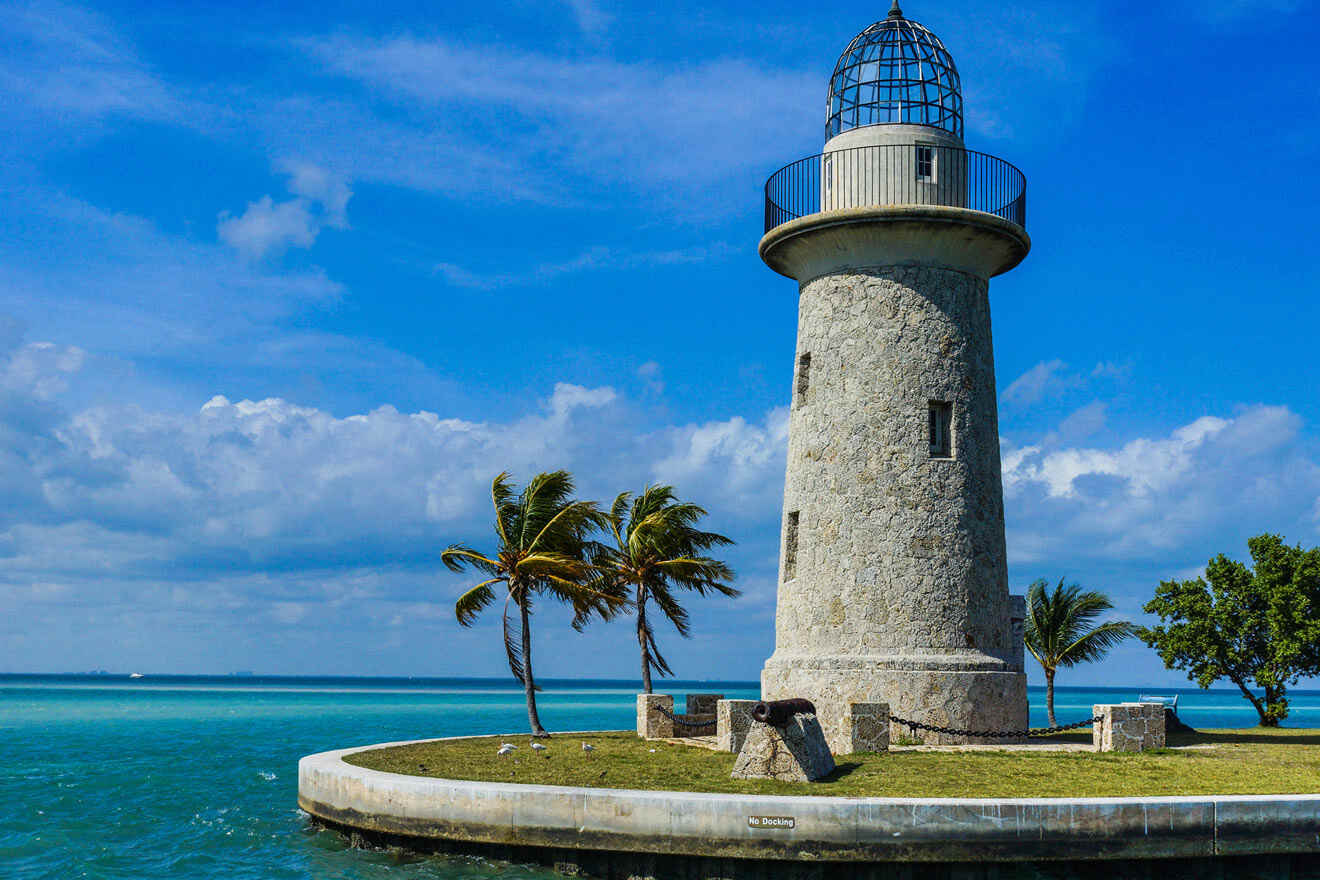 En route to the Florida Keys, Key Biscayne is Florida's Southernmost barrier island!
Only a 15-minute drive from Downtown Miami, Key Biscayne is one of the most beautiful places to see some untouched nature while you're in town. Biscayne National Park is a true natural wonder!
This tropical island paradise spans four miles and is filled with nature preserves, gorgeous sandy beaches, tons of bike paths, and even some beachside restaurants.
The main attraction is the village of Key Biscayne, located in the heart of the island. The bayfront park Bill Baggs State Park is located to the south of the village of Key Biscayne, and the historic Miami-Dade Crandon Park is to the north.
Crandon Park has an 18-hole golf course, as well as 27 tennis courts. There are also plenty of water activities to enjoy, from kayaking and canoeing to kiteboarding, scuba diving, windsurfing, and snorkeling!
Bill Baggs Cape Florida State Park can get pretty crowded on weekends. However, it is well worth checking out.
This is an excellent place to explore for nature lovers and people who are looking for a more immersive experience in Miami aside from the typical nightlife and Miami Beach.
You can rent bikes at Bill Baggs and bike along a 1.5-mile paved path as well as some unpaved paths that meander through mangrove forests.
Oh, and possibly the most popular aspect of this Miami park is the Cape Florida Lighthouse, where you can get an incredibly magnificent view as a reward for climbing 109 spiral steps to reach the top!
End the day by having dinner and drinks at the Rusty Pelican while getting a view of the incredible sunset over the gorgeous tropical beaches of Key Biscayne!
PRICE: Free
5. Check out the incredible Vizcaya Museum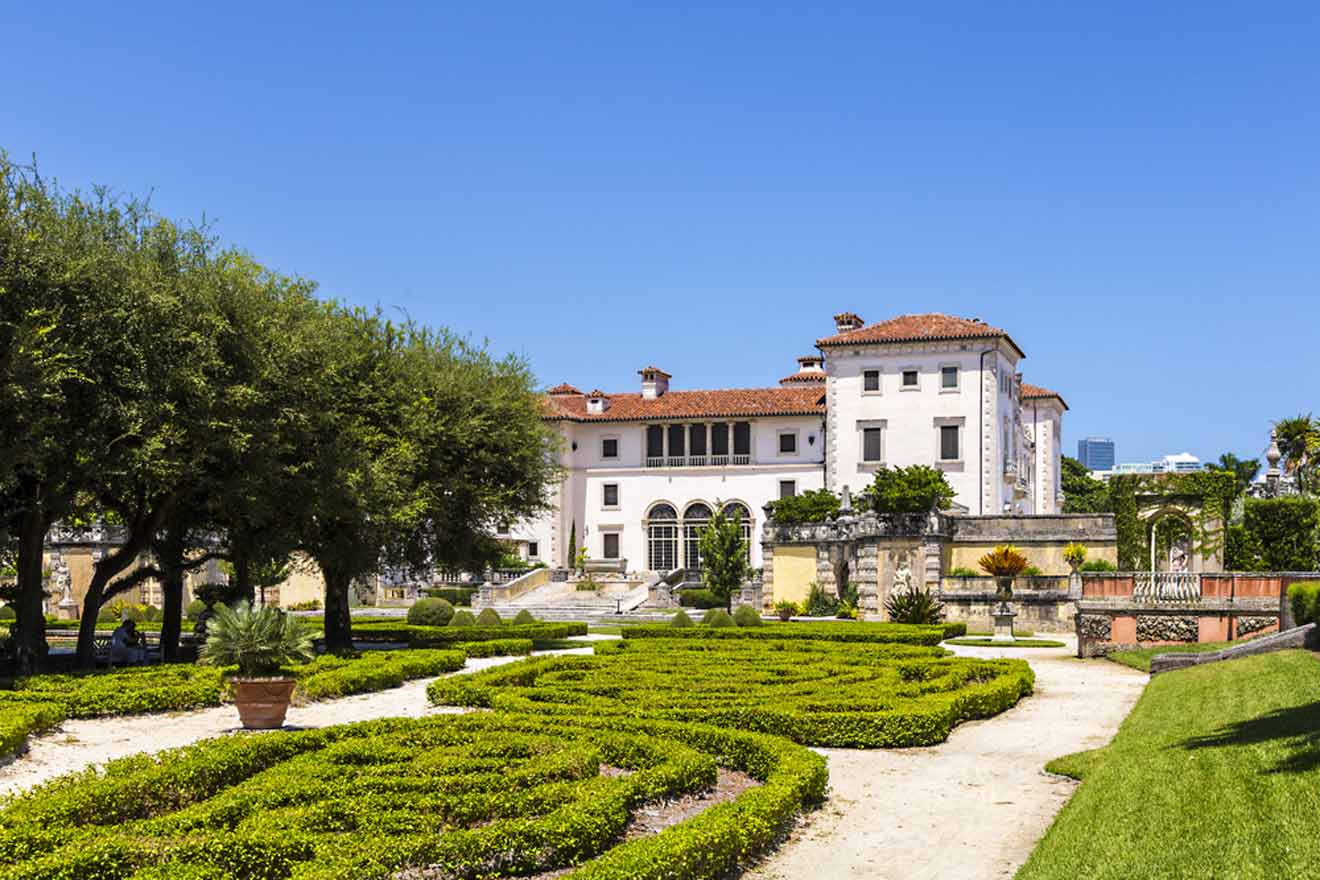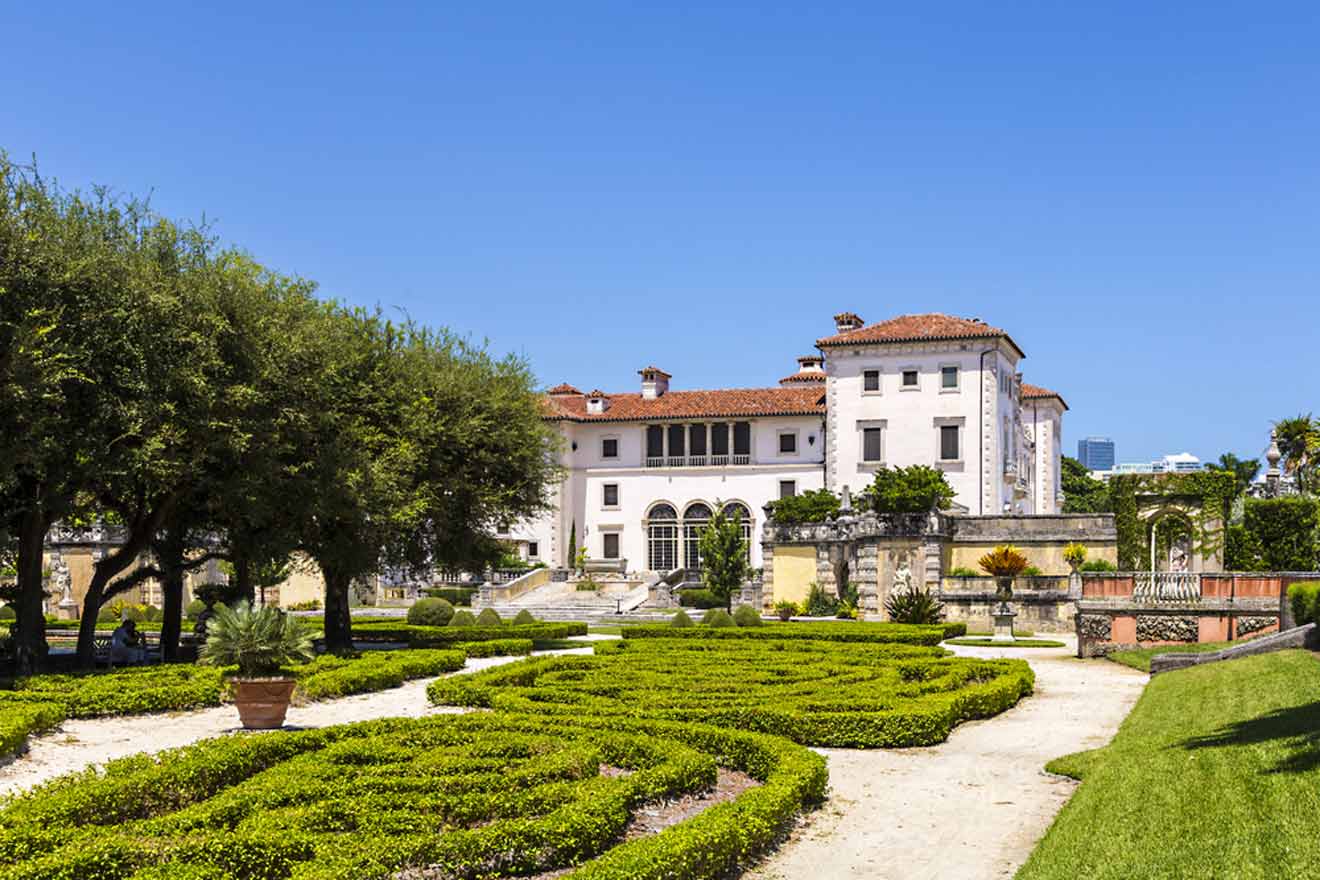 Named after the gorgeous Spanish Coastlines, the Vizcaya Historical Museum provides visitors with an elegant experience where you can see some European grandeur and extravagance right here in Miami!
The Vizcaya Museum & Gardens is a Renaissance-inspired mansion surrounded by extravagant and complex gardens, incredible statues and structures covered in seashells, and incredible artistic talent.
In the context of a tropical Miami paradise, the European-style mansion creates a unique contrast of landscape and architecture that is not commonly seen in the US or Europe.
They offer walking tours and you can easily spend hours exploring the many different gardens, mazes, and incredible property that the Vizcaya mansion lies on. It is also located right on the ocean, providing an even more incredible overall view and experience.
Surrounded by lush tropical plants, a rose garden, and native mangrove forests (with a crocodile warning sign!) this is one of the most beautiful places to visit in Miami. Hands down!
This is the perfect place to bring the family for an informative getaway in a gorgeous environment. It is also one of the most romantic places in Miami to go on a date!
Once a mansion, now a museum, this incredible piece of architecture has so much to offer visitors. Explore the royal halls, a vestibule with original hand-painted wallpaper, an amazing pool, a music hall with unique instruments, and a butler's storeroom with antique glassware from 1916!
After you explore the museum, check out the statue garden, complete with waterfalls, ponds, and grottos.
This famous mansion turned museum – is a star. Quite literally. It was featured in Ace Ventura: Pet Detective, the Bad Boys movies, and Iron Man 3 and hosts a number of special events as a performing arts center and cultural hub in Miami!
NOTE: Vizcaya is wheelchair accessible, with wheelchairs available for rent.
PRICE: US$25
6. Take a refreshing dip at the Venetian pool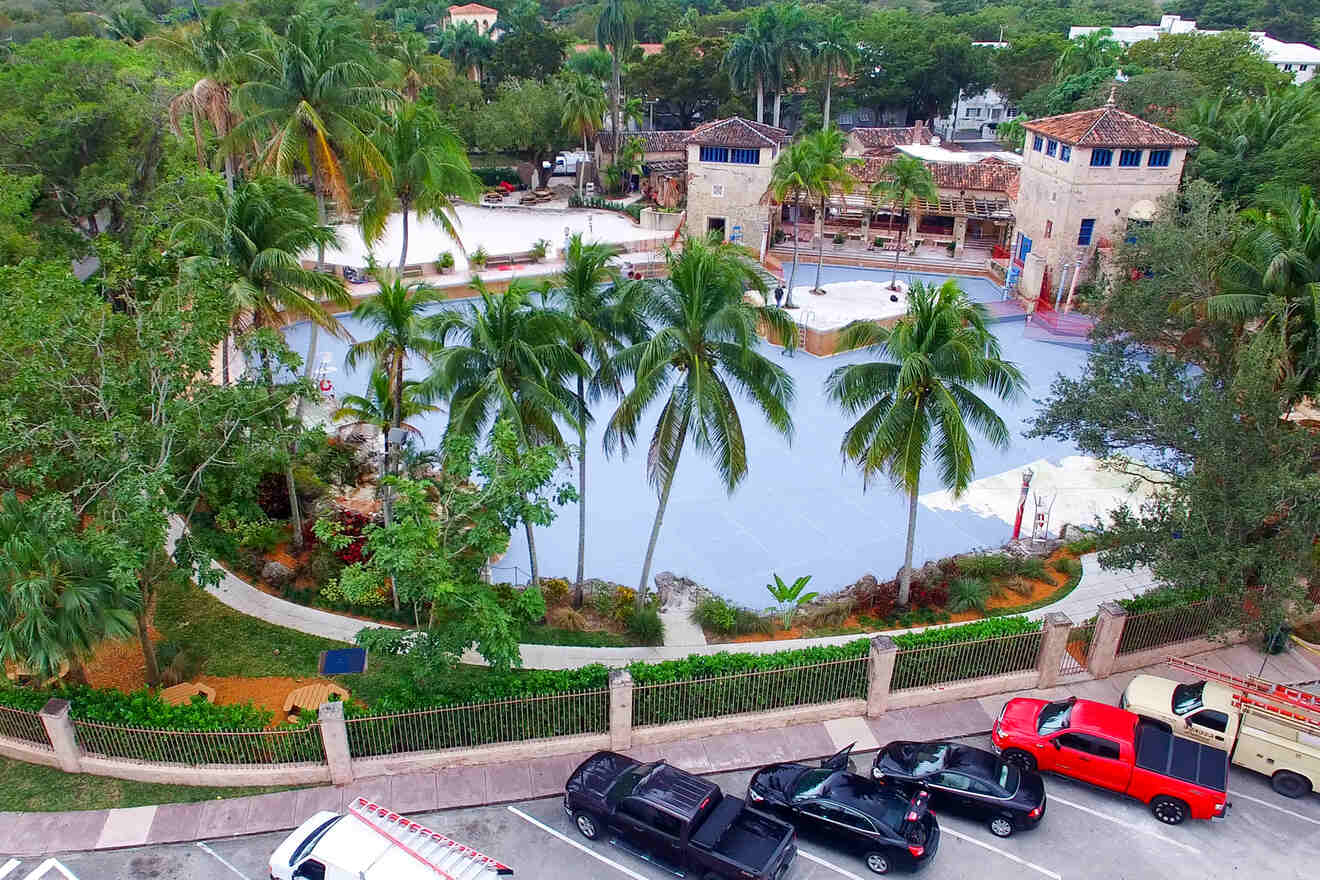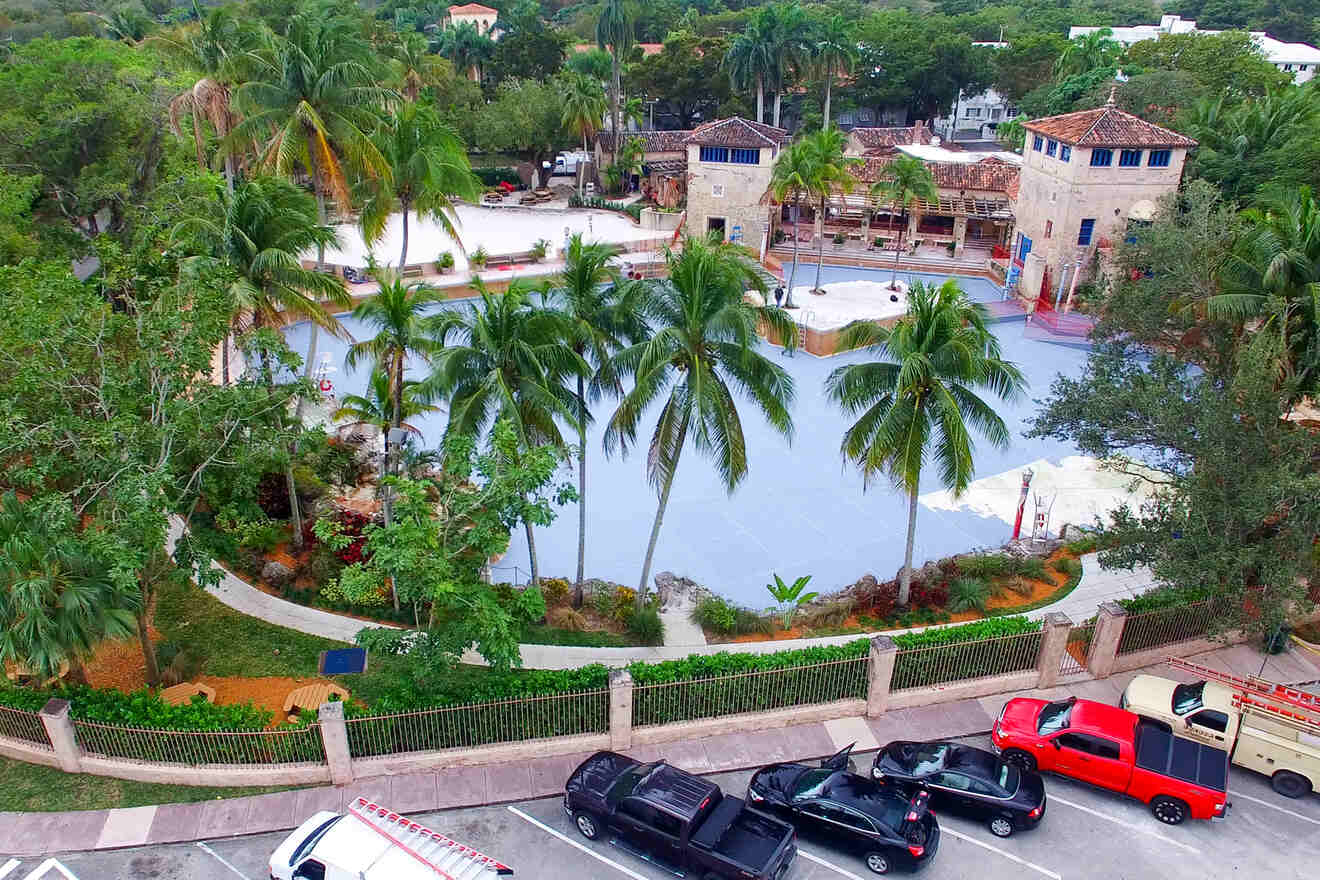 While Miami is an incredible place to visit, it can get really hot! What better way to cool down than to take a dip in a Venetian pool?
Located in Coral Gables, the Venetian Pool is stunning. Carved out of coral rocks, this Venetian-style lagoon is a historic relic of Miami, being open since 1914!
This incredible pool offers visitors the opportunity to take a dip in a huge historic freshwater pool.
PRICE: From US$5.50
7. Check out the Deering Estate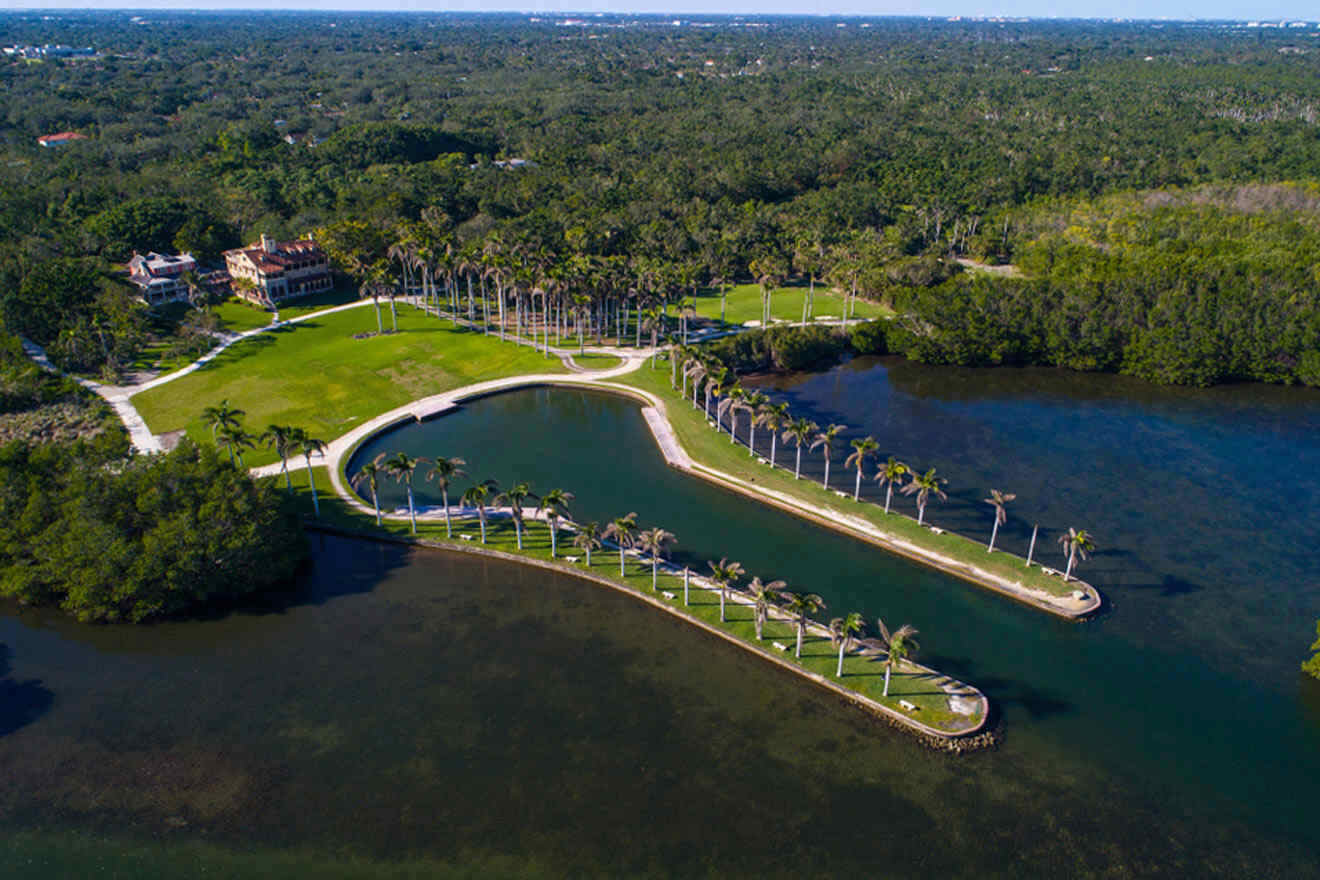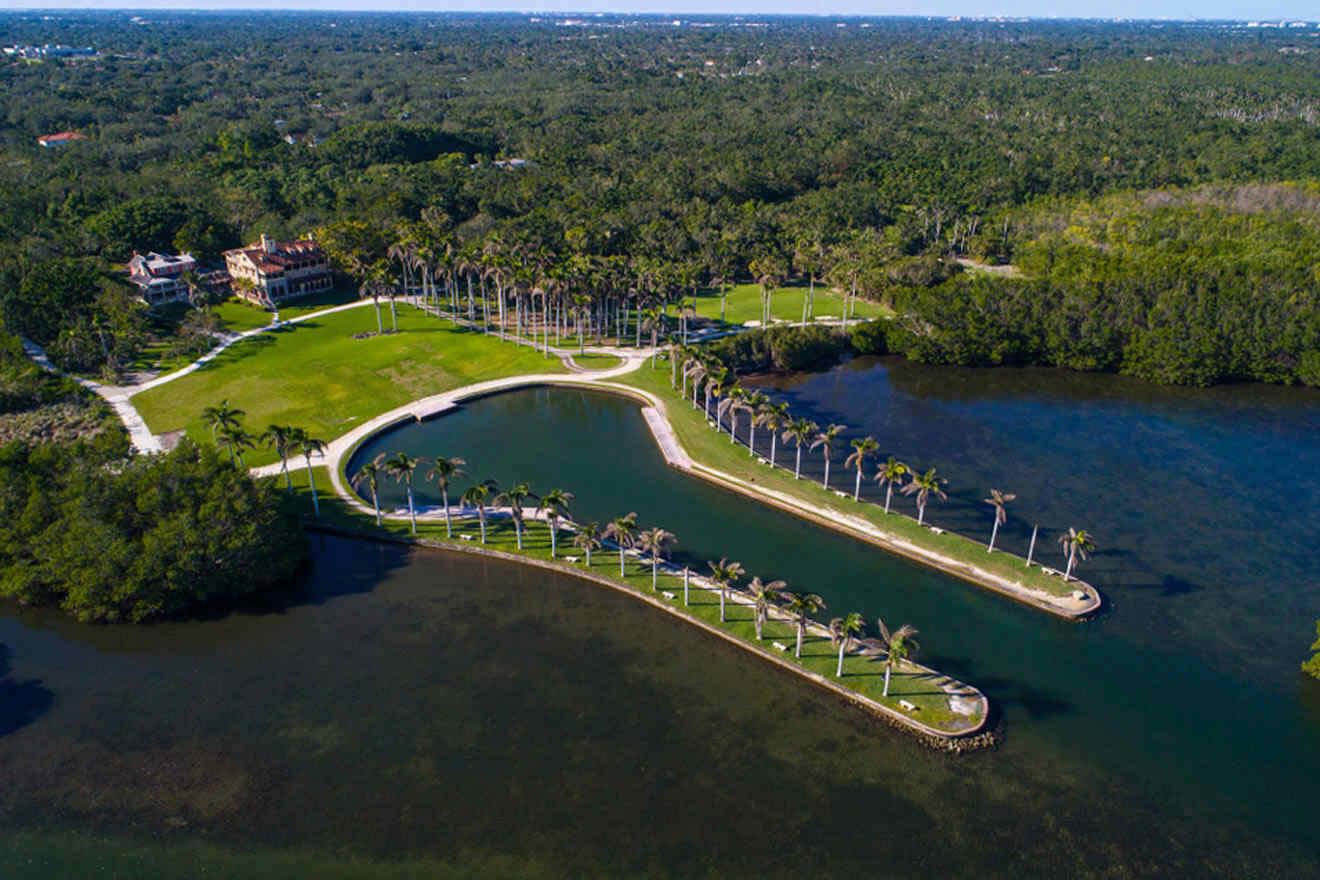 The Deering Estate is an incredible environmental and archaeological preserve sprawling 444 acres on Biscayne Bay.
With historic houses, incredible outdoor activities, gorgeous nature hikes, kayaking, paddle boarding, and a robust arts center with concerts, movies, and a theater.
This estate is an excellent way to get to know the history of Miami while also supporting a devout initiative towards environmentalism and conservation.
Deering Estate is a preserved example of Miami during the 1920s. Home of Charles Deering, a famous Chicago environmentalist, philanthropist, and art collector, Deering played a significant role in the humble beginnings of Miami.
This is an excellent place to explore for some fun outdoor activities with the family or with friends and to see some incredible architecture paired with some enchanting views of Biscayne Bay!
8. Learn about Miami's culture and heritage in Little Havana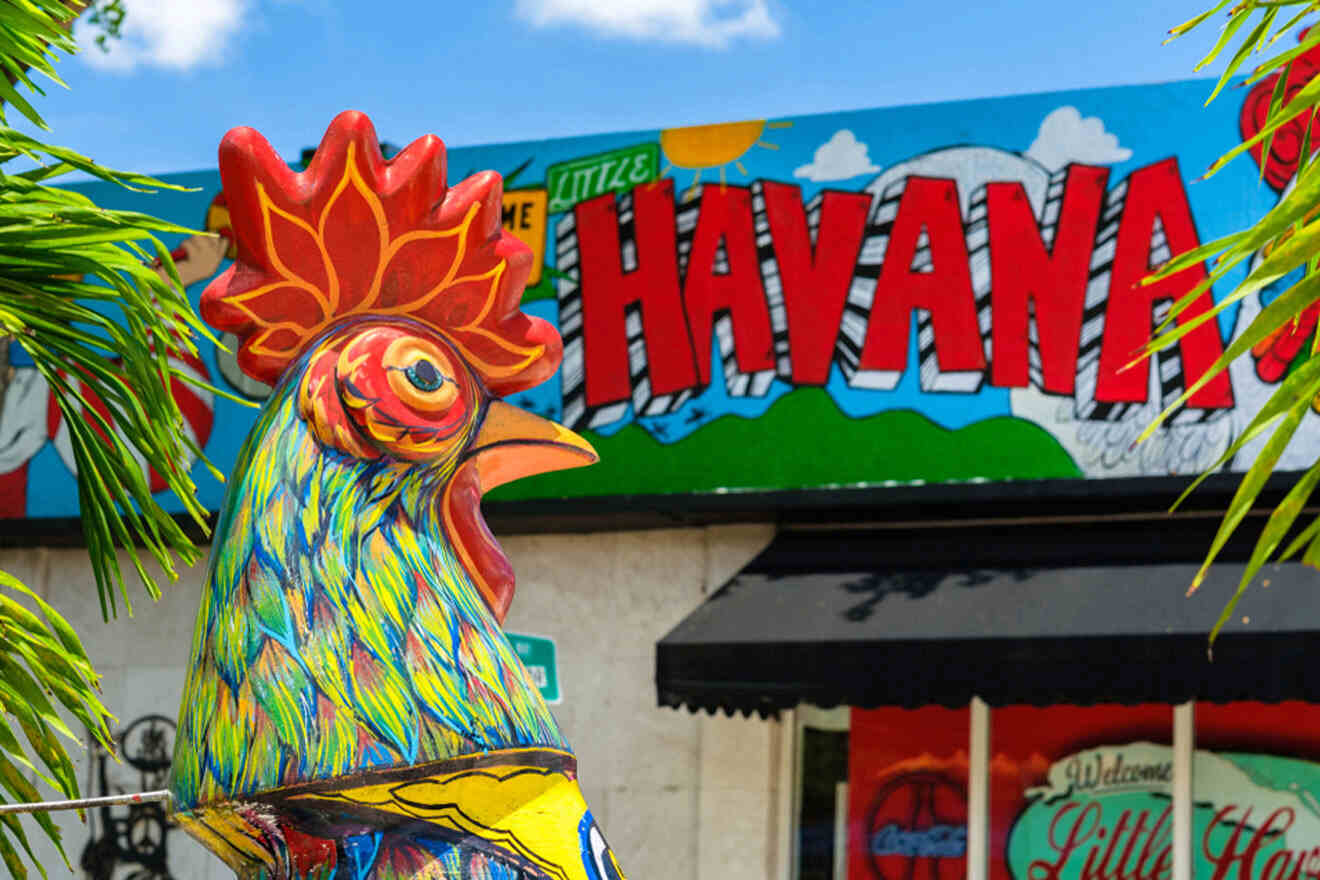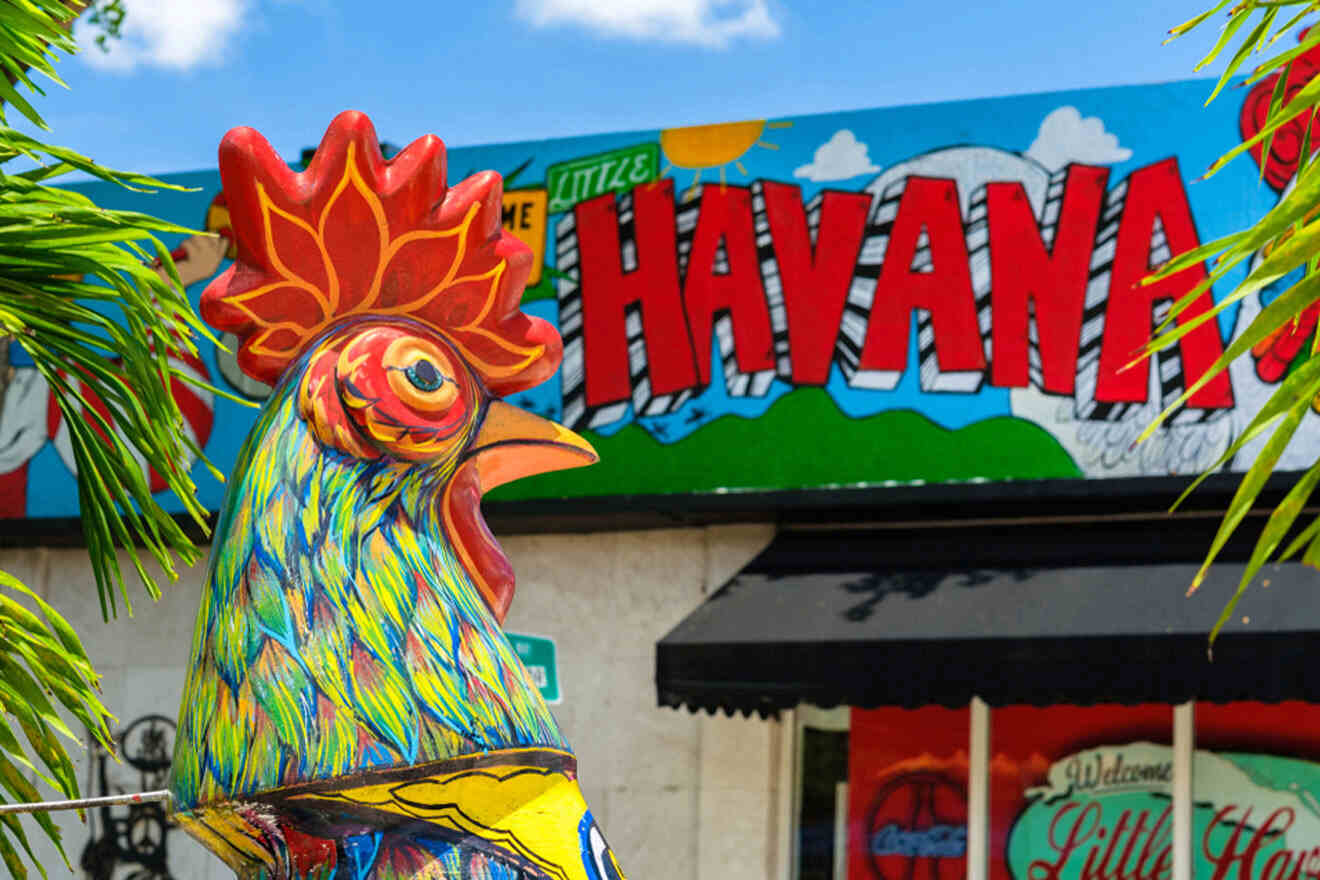 Little Havana is an ode to the rich Cuban history and heritage that makes Miami what it is today.
Cuba has had a massive influence on Miami, and to not learn about Cuban history and its impact on Miami is to not truly experience Miami.
From the Afro-Caribbean roots of Cuba to the Spanish settler influence, Cuban culture is a mosaic of different cultures, cuisines, and incredible soul-stirring music.
Feel the undeniable lively beat of the vibrant streets of Calle Ocho and Little Havana, and feel like you are being transported to Cuba! You can also visit Marlins Park and take a tour if you fancy a bit of Miami Marlins action!!
Try some incredible Cuban food, have a Cuban coffee and hit up a famous Cuban restaurant, listen to salsa music and other incredible musicians like Celia Cruz, see some fresh cigars being rolled, and feel the infectious energy permeating the streets of this Cuban gem in Miami! For an amazing Cuban restaurant, definitely check out Versailles Restaurant – the food is incredible!
To learn about the history of this lively district, I highly recommend taking a walking tour. This food and cultural tour will give you an in-depth experience with an expert, where you can learn so much more about the local historical significance that you would just not pick up on by yourself.
There are 10 different stops at cafes, shops, and restaurants paired with local knowledge of the area. This is the best way to experience Little Havana and Calle Ocho!
PRICE: US$69
9. Head over to the Perez Art Museum Miami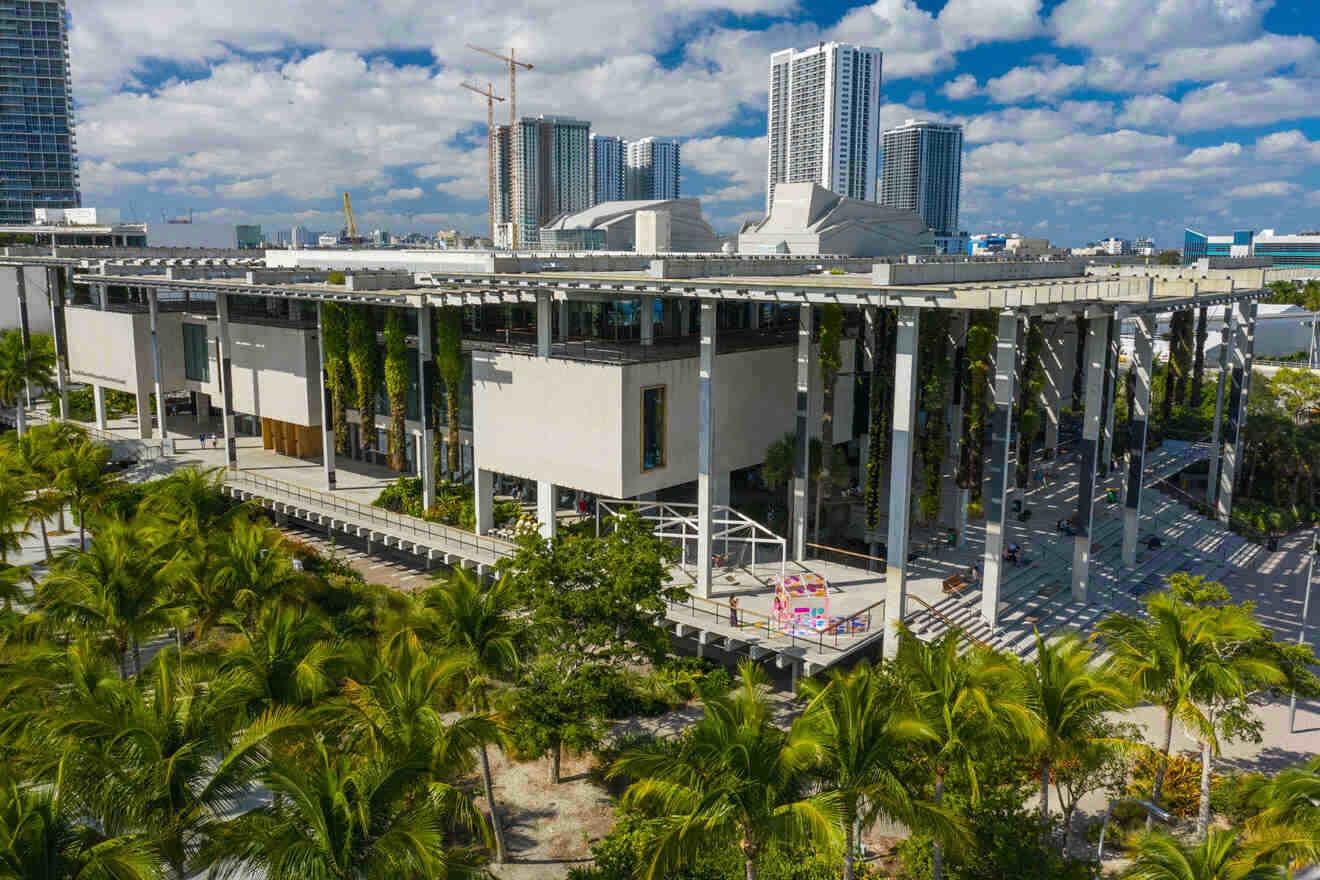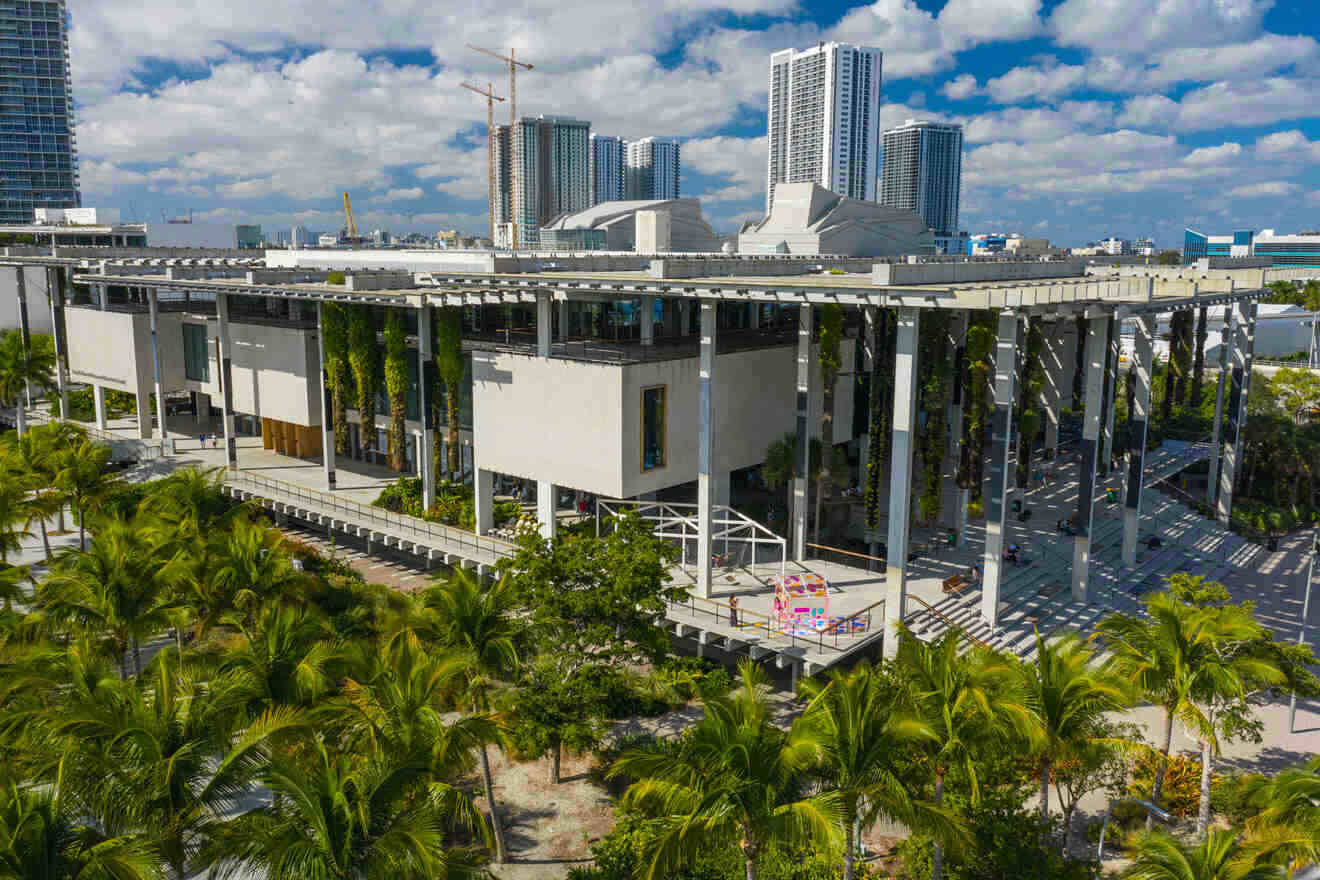 The Perez Art Museum Miami is a gorgeous example of unique 20th-century architecture with stunning contemporary art exhibitions.
Designed by the world-renowned, award-winning Herzog & de Meuron of Basel, this incredible feat of architecture also features gasp-inducing views of Biscayne Bay.
With modern indoor event spaces, grand outdoor plazas, and stunning hanging gardens, the Perez Art Museum is definitely one of the best places to visit in Miami.
Plan to spend a few hours viewing the diverse international contemporary art, as well as some permanent installations that highlight Florida's diverse community, which is known as the "Crossroads of the Americas."
The Perez Museum of Art Miami features over 3,000 pieces of art from Mexican, South African, Cuban, African, and European artists from all over the globe.
The museum is open Thursday – Monday from 11 AM to 6 PM. For visitors with disabilities, parking is free!
PRICE: Free
10. Wander around Bayside Marketplace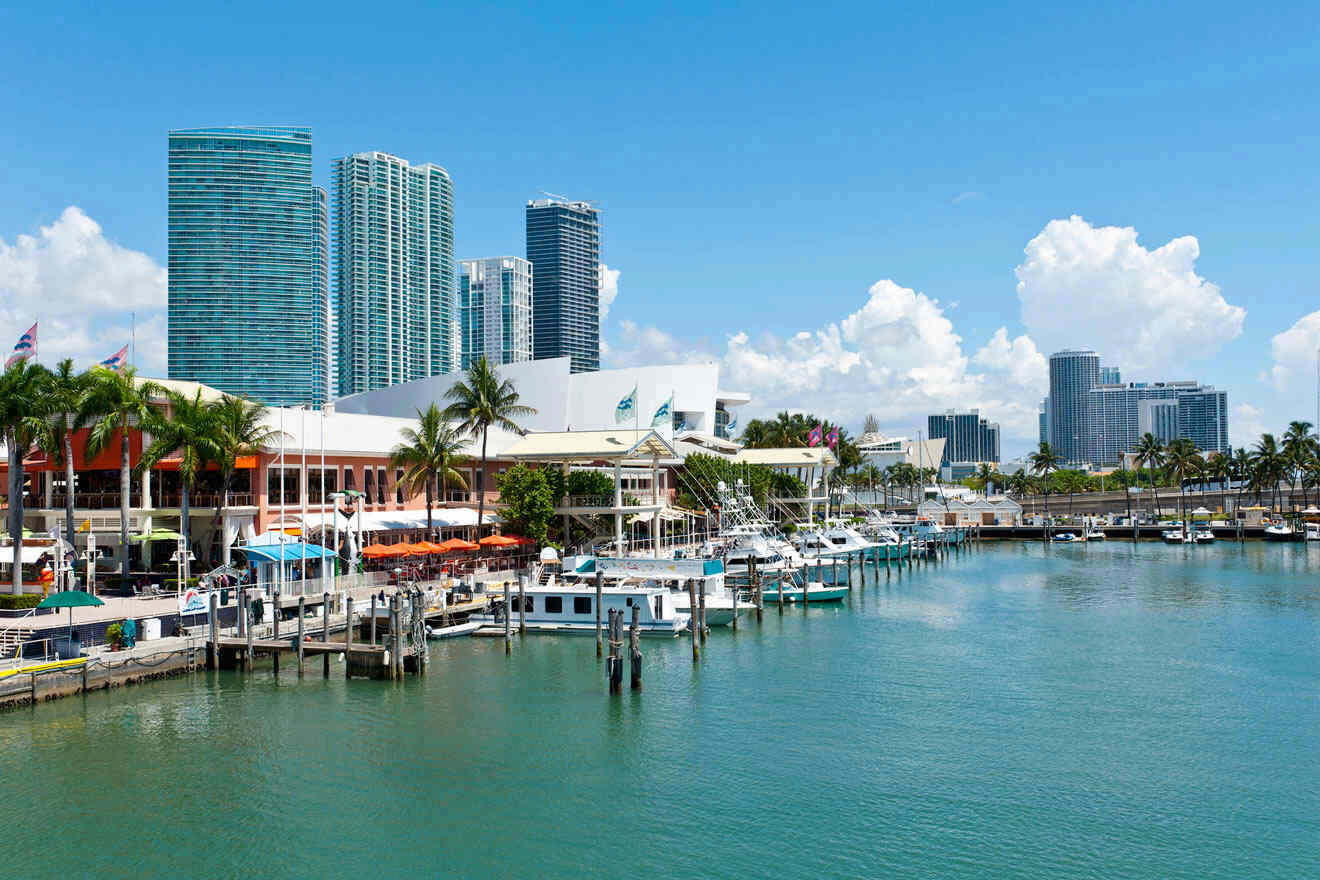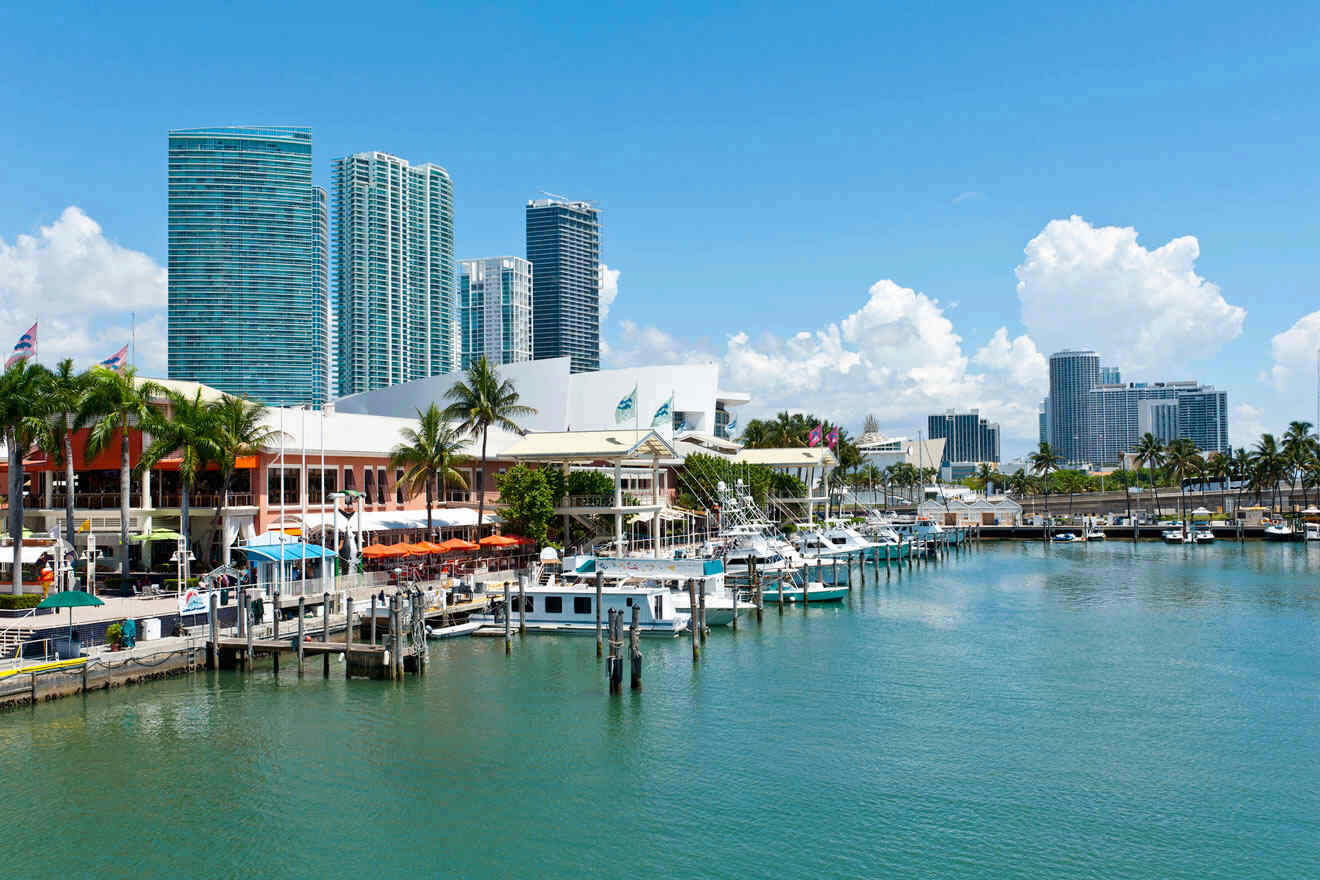 Bayside Marketplace is one of the best free ways to explore Miami. For those shopaholics out there, Bayside Marketplace is the place for you!
One of the most popular attractions in Miami, this is a great place for entertainment and unique shopping featuring live music and fun family events!
Shop around over 100 boutique shops, restaurants, and more while being surrounded by the gorgeous views of Biscayne Bay.
Grab a bite or a drink and watch the boats pass through the bay. Then head over to one of the many different shops and peruse all sorts of unique items!
Who doesn't love an open-air mall? All the fun of a mall without the claustrophobia of being inside a giant building. Definitely check out Domino Park for some great vibes!
This two-story open-air mall is the perfect destination for shopping, entertainment, good views, and delicious drinks! Be sure to check out this iconic Miami spot! You can also head over towards South Beach and visit Lincoln Road Mall as well if you really want to shop til you drop!
PRICE: Free
11. Learn about important history at the Holocaust Memorial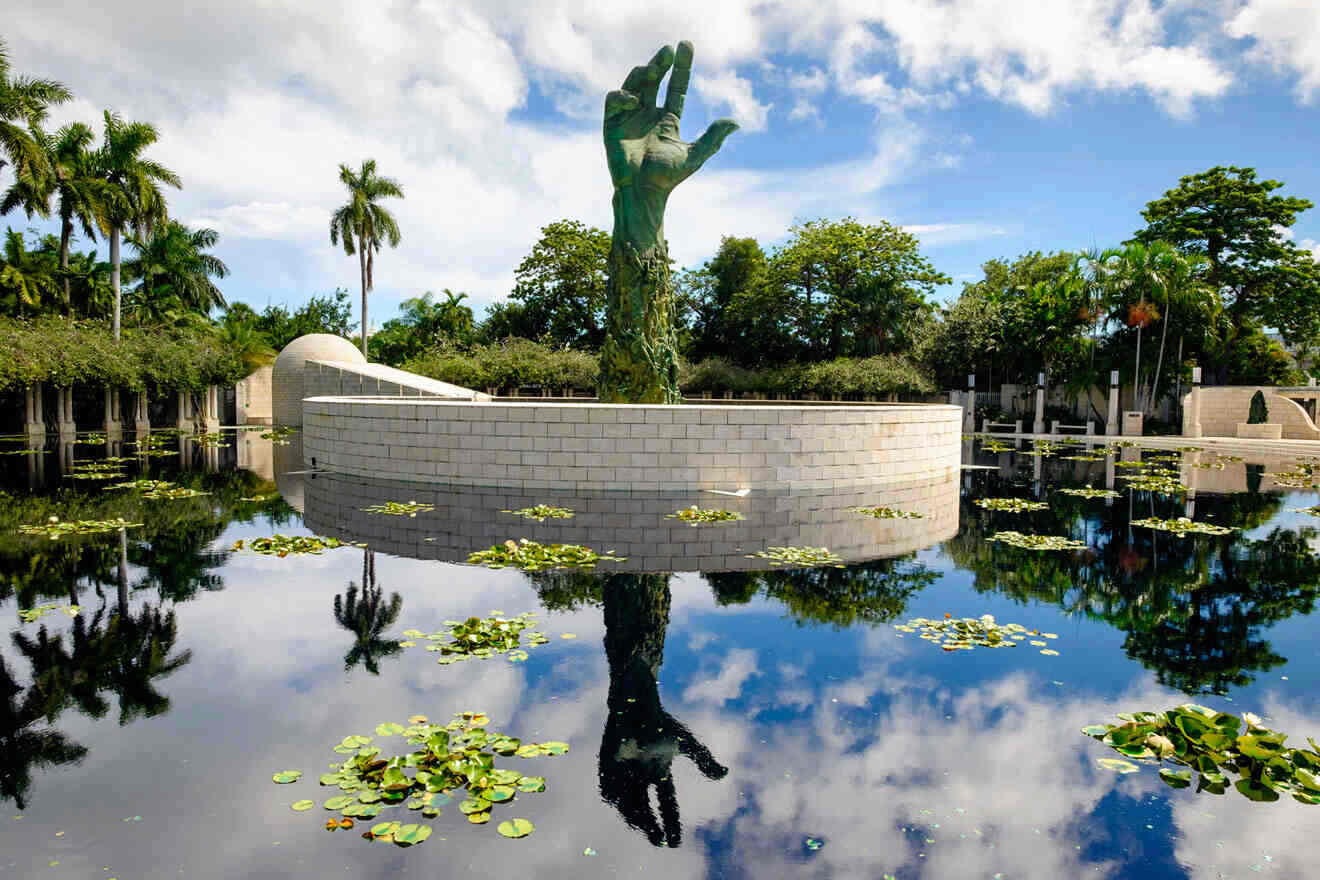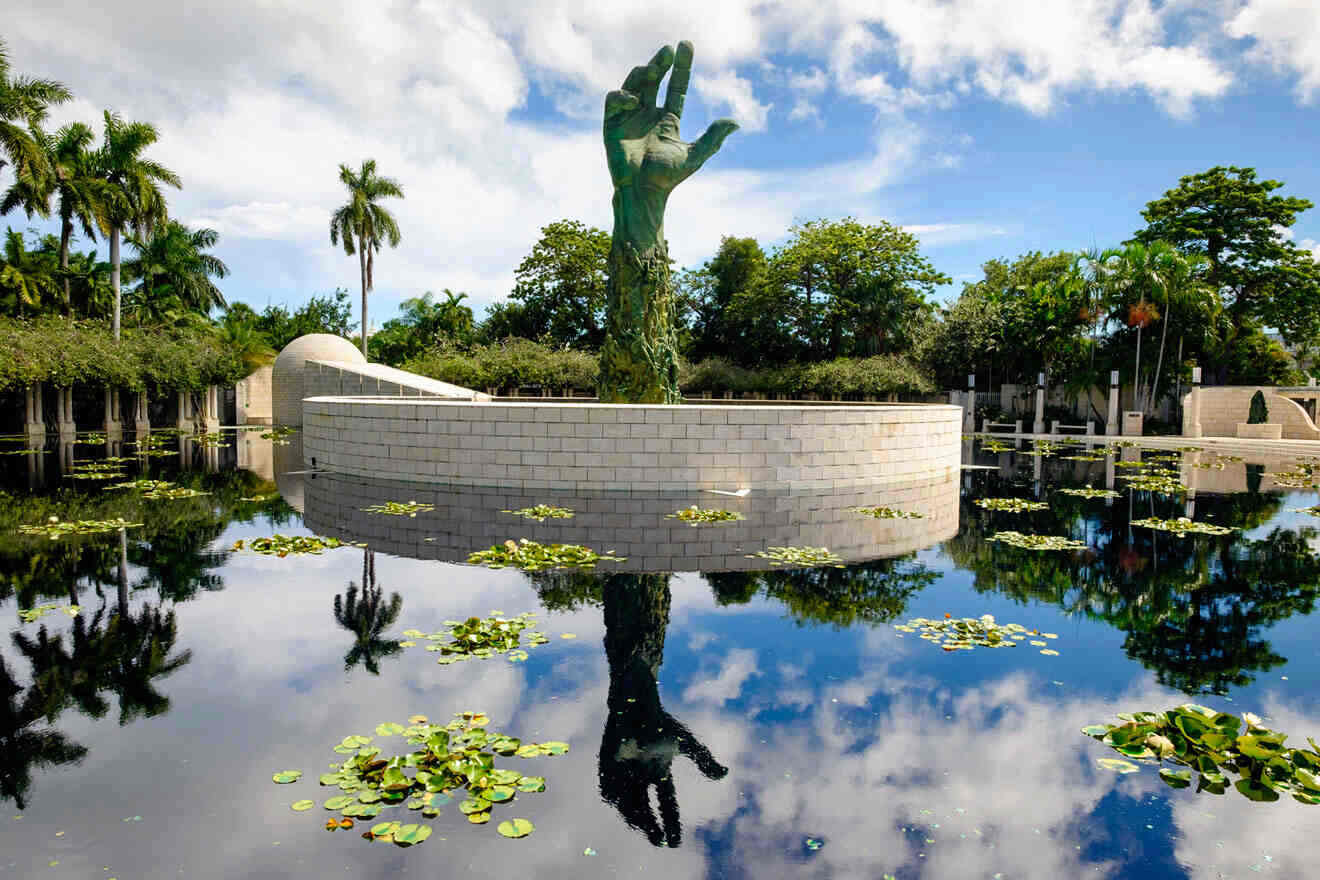 Opened in 1990, you will be greeted by a piece of artwork called the Holocaust Memorial of Greater Miami by American sculptor Kenneth Treister.
Originally home to the Loeb family, holocaust survivors who immigrated from the Netherlands, the Holocaust Memorial Miami Beach is an educational site showing the strength of the Jewish community and the perseverance of justice in an unjust world.
During your time touring the memorial, you can find trees that the Loebs planted in the 1920s and 1930s. With several outdoor installations, visitors will be able to partake in a somber yet educational experience of an important part of history that should be remembered and respected.
Reaching skyward, you will find the centerpiece of the entire memorial, a hand with a visible Auschwitz tattoo created by the American sculptor Kenneth Treister.
There are several other structures depicting survivors of the Holocaust, as well as a memorial wall where people can pay tribute to those lost to the horrendous genocide.
A visit to this memorable place is surely unforgettable and a touching experience overall.
PRICE: Free
12. Bring the family to Zoo Miami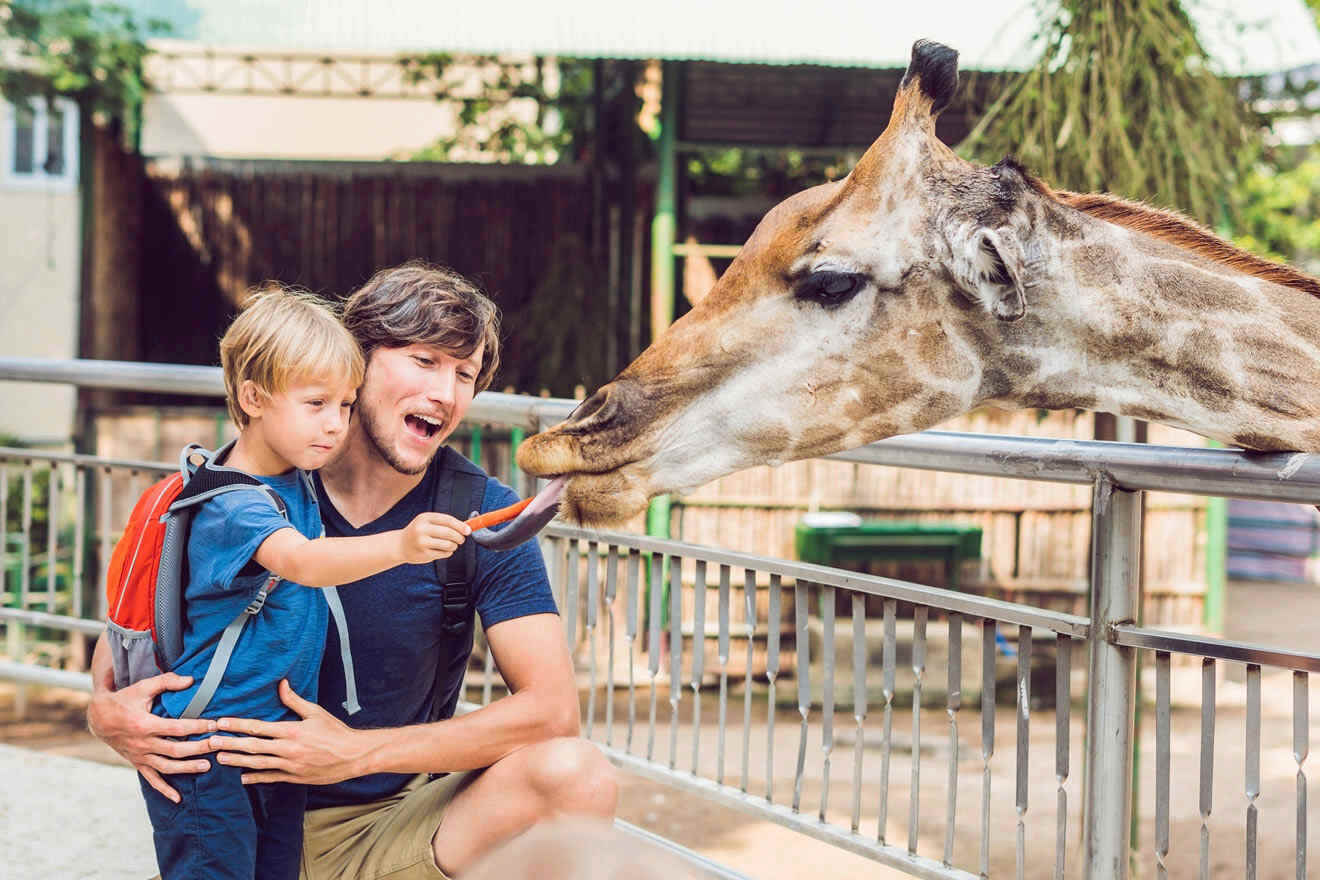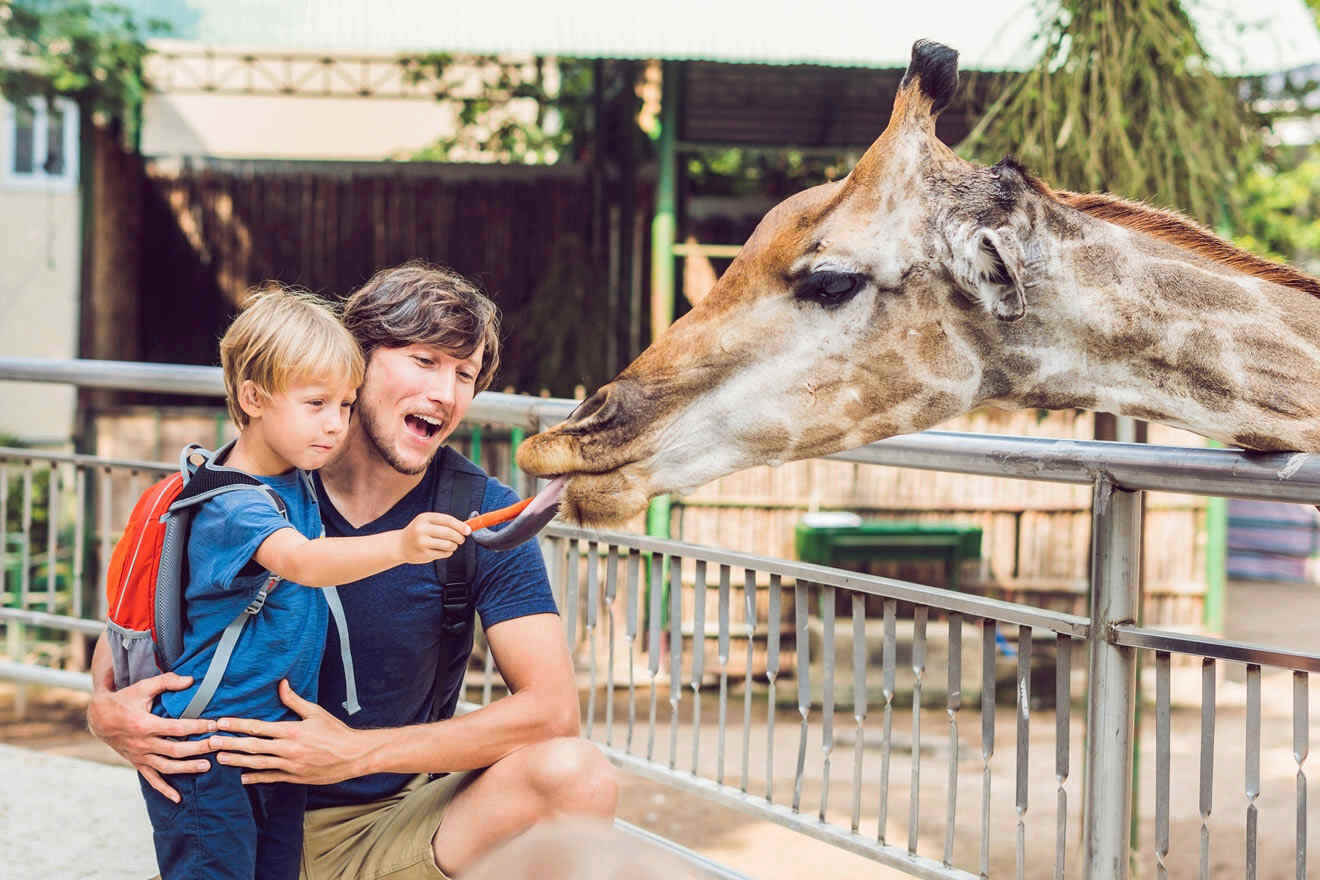 Zoo Miami is the largest zoo in Florida and the fifth-largest zoo in the entire United States!
This is one of the best things to do in Miami for families and people looking for a unique experience.
Since Zoo Miami is the only subtropical zoo in the country, the unique subtropical climate makes for the perfect conditions to host a wide variety of wildlife from Asia, Australia, Africa, and the Americas.
The animals are grouped together based on their native geographic territories, making for an experience close to home for many of these animals.
The trees, flora, and even the soil are matched as close as they can get to the native environment that these animals inhabit in the wild.
The lush tropical and open-air habitats are made to replicate the animals' native homes, making for an authentic and humane experience for both the wildlife and visitors alike!
Zoo Miami's history can be traced all the way back to 1948 when it was Crandon Park Zoo on Key Biscayne. Back then, the zoo was only on 48 acres, and now, it encompasses a whopping 740 acres with miles of walkways and is home to more than 2,500 animals!
PRICE: US$23 for adults, US$19 for kids
13. Explore the wild Florida Everglades!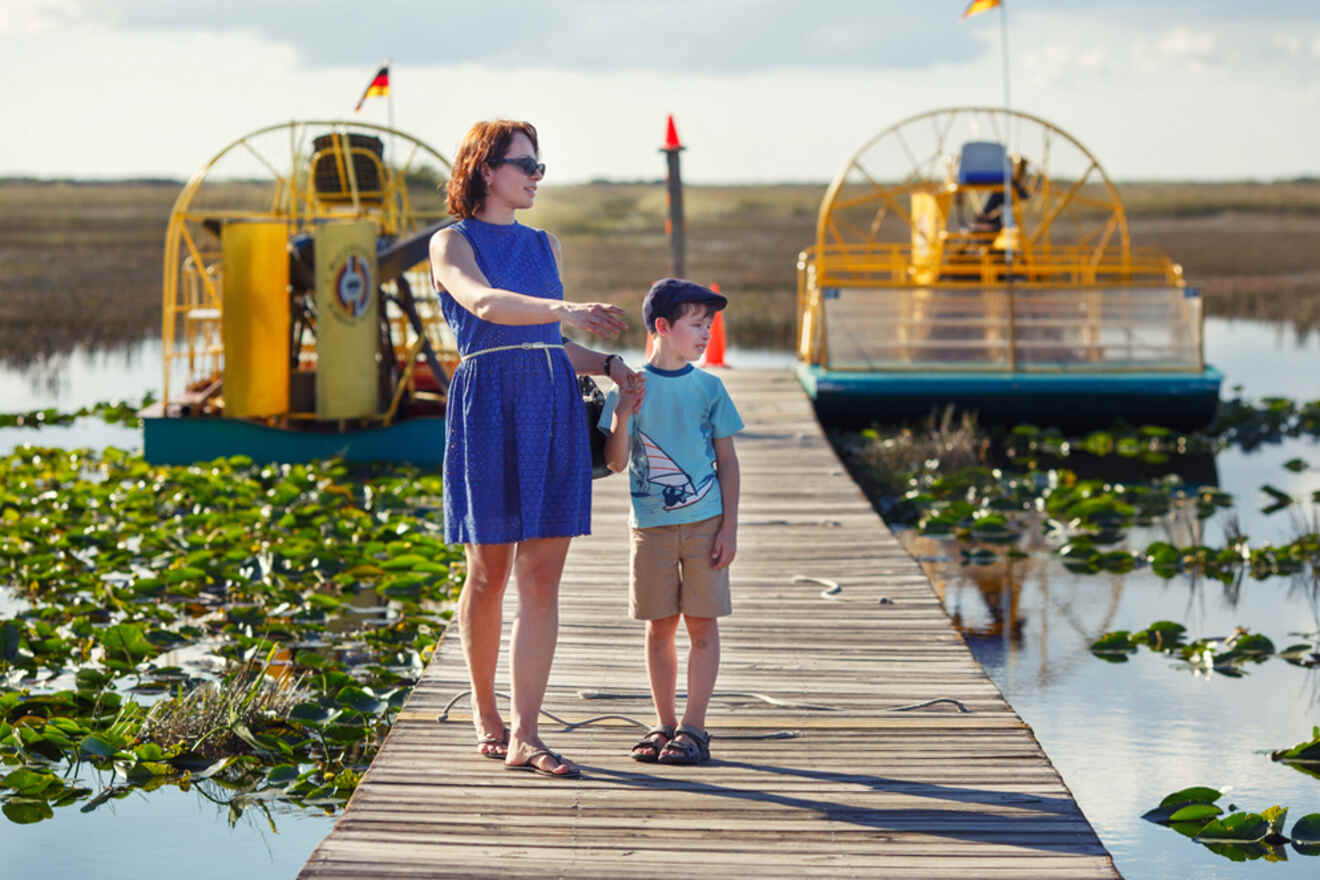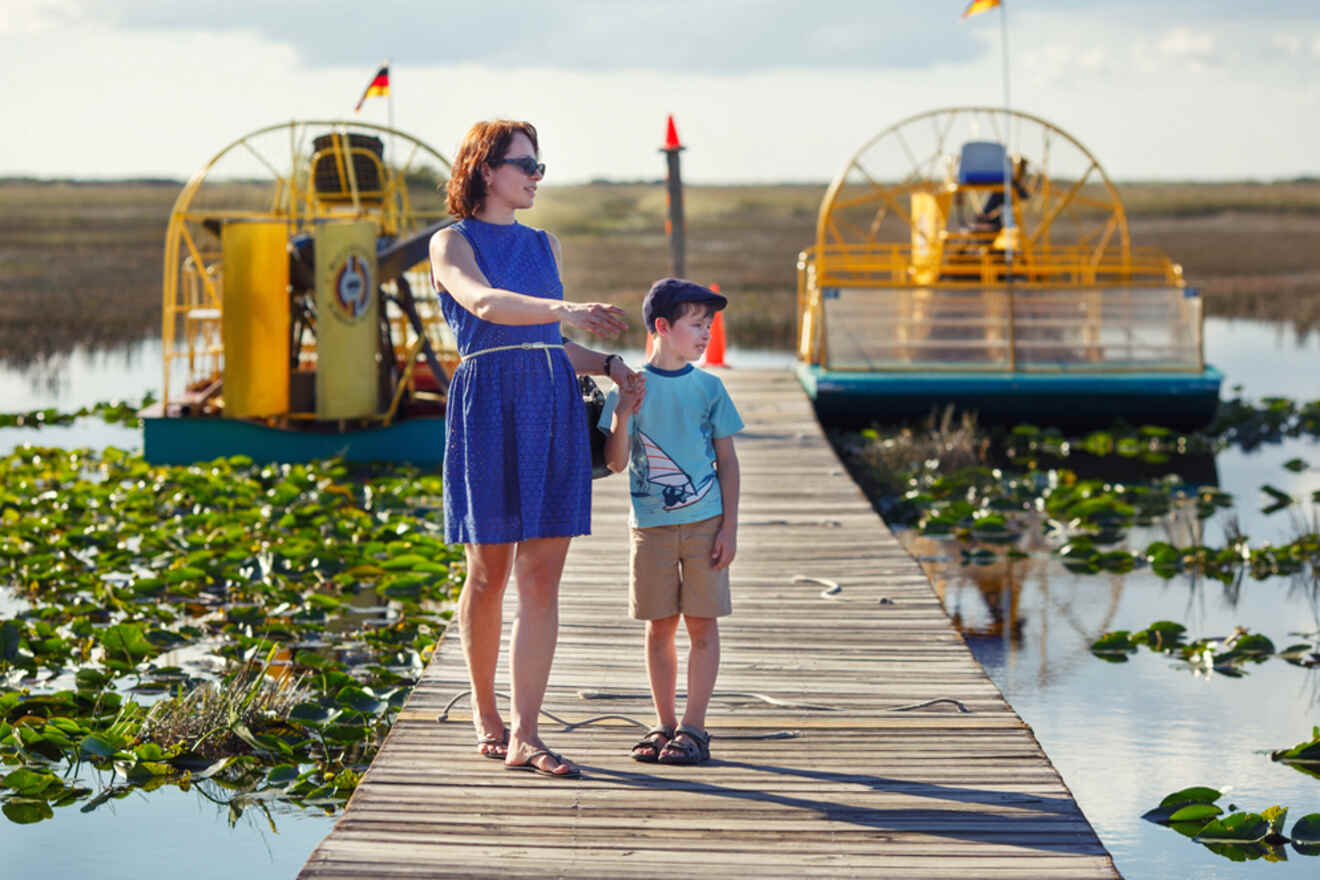 Everglades National Park is one of the most fascinating, biodiverse landscapes in the United States, encompassing over 1 million acres of protected land!
Visiting the Everglades National Park is the quintessential Florida and Miami experience. It is not something you want to miss out on! Whether you just want to scratch the surface with an airboat ride or you are looking for more in-depth and rigorous exploring either on foot or via kayak, the Everglades has so much to offer visitors!
A living legend, the Everglades National Park lives rent-free in people's minds and hearts all over the world.
A unique landscape, and the only place in the world where crocodiles and alligators coexist, this slow-moving river encompassing many different habitats is truly an incredible feat of nature. This is an excellent learning experience for the young ones, but truly, anyone at any age will be fascinated with the prehistoric wild wonder of the Everglades!
Check out Shark Valley for a more hands-on experience in the Everglades, or book an airboat tour and take to the wetlands!
This tour takes you from Miami into the Everglades on a small group adventure. See all sorts of wildlife you've never seen before in its natural element! On this tour, you can hop on an airboat and get the quintessential Floridian experience!
PRICE: US$29
14. Go on a Miami Skyline Cruise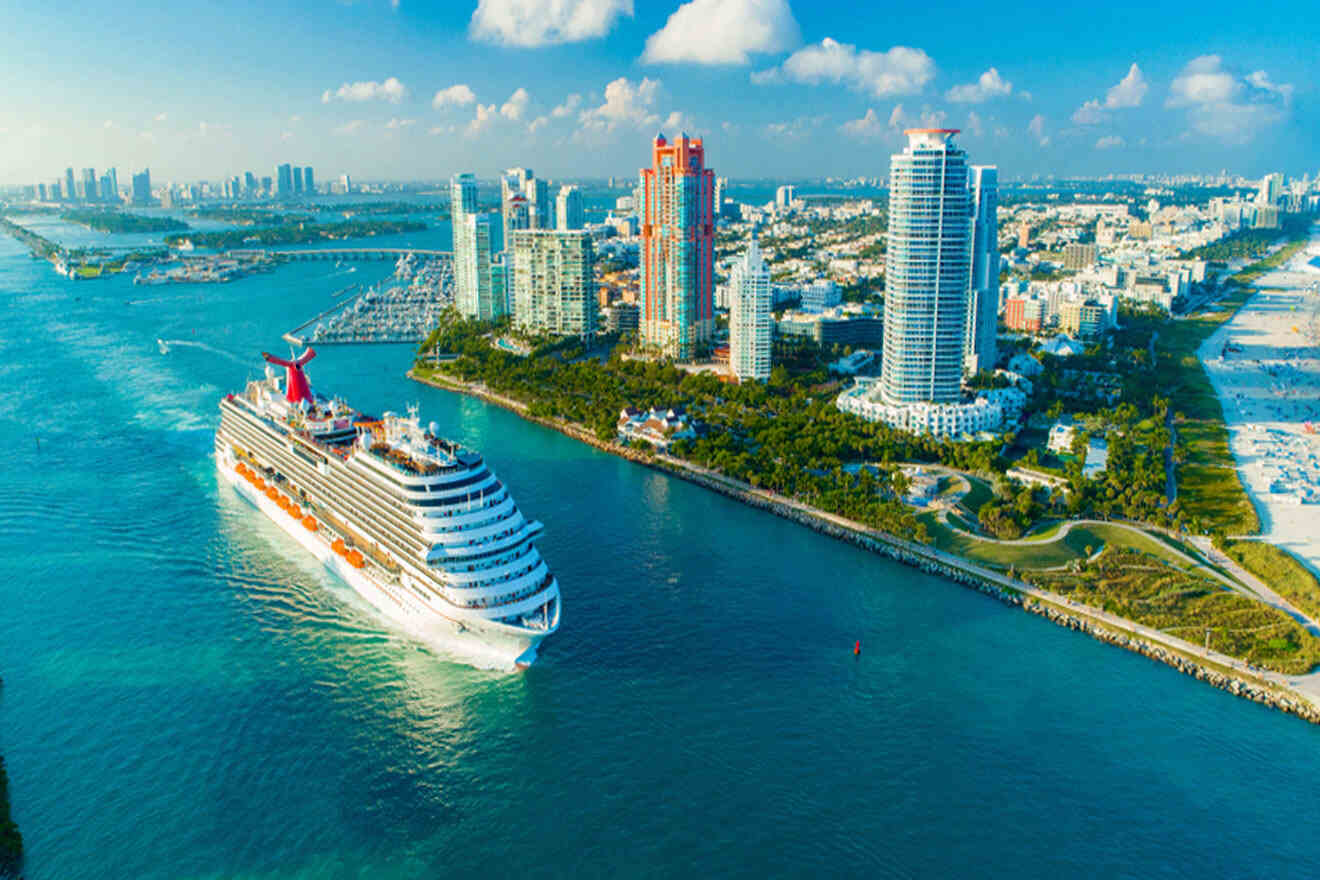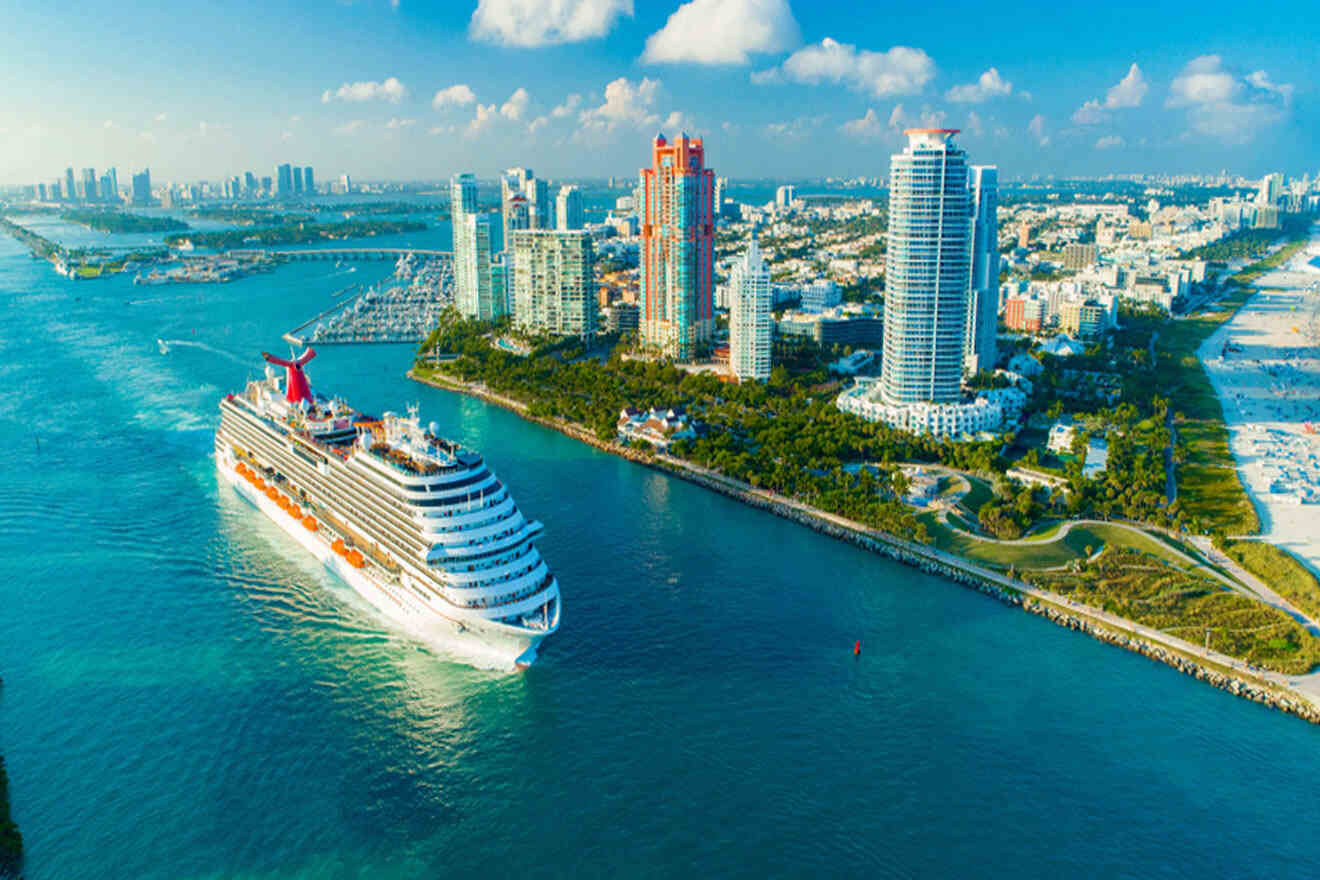 See the beauty of the glistening Miami Skyline from the ocean! This is by far one of the best things to do in Miami, coming from a local!
On this 90-minute cruise, you can see South Beach millionaire homes, Venetian Islands and canals, and of course, a panoramic view of the Miami skyline!
Nothing compares to being able to soak up the spirit of this city from the water. There is also a bar with small bites and drinks so you can sip your favorite cocktail while taking in the view!
This is one of the best and most romantic things to do for couples in Miami.
Departing from Biscayne Bay, the views you will get to see across the Atlantic Ocean on this cruise are unparalleled and well worth it!
I love going out on the water in Miami. The views of the skyline are just breathtaking and give you an entirely new perspective than you get when walking around or driving around this Magic City.
PRICE: US$39
Book Your Miami Skyline Cruise
15. Relax in the sun on Miami Beach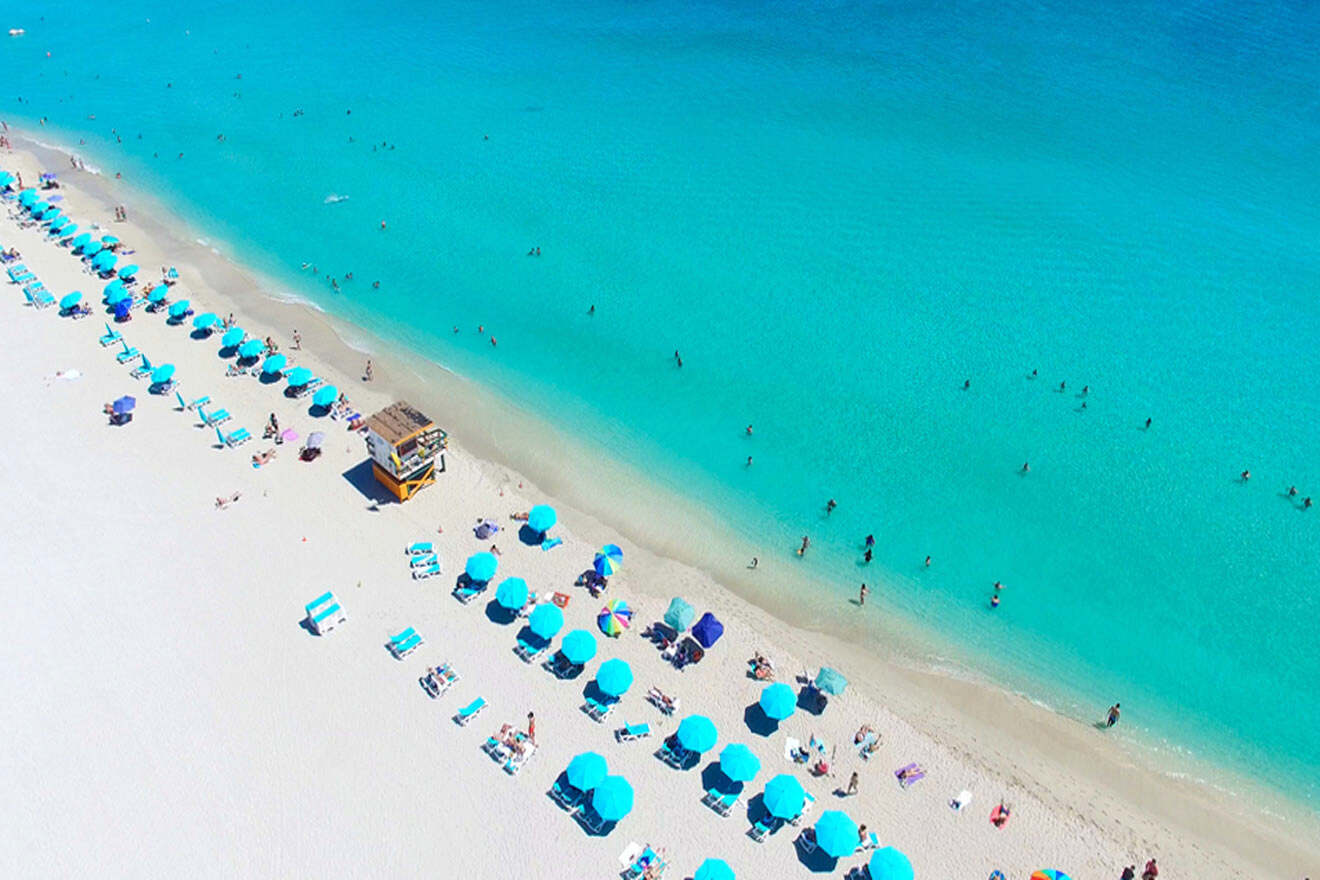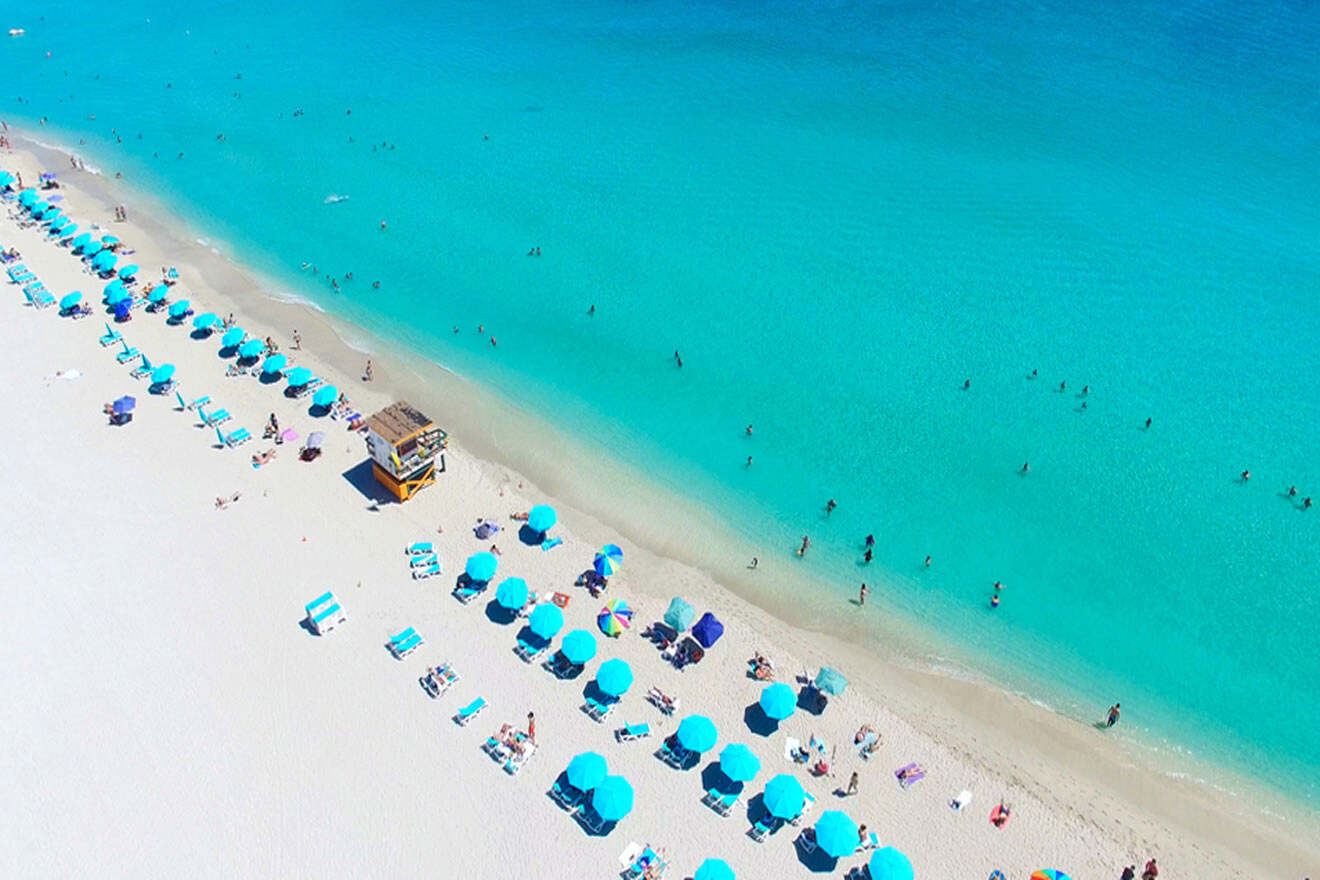 A trip to Miami is incomplete without a visit to Miami Beach! The quintessential Miami experience is heading to one of the Miami Beaches.
A gorgeous barrier island with miles of coastline, turquoise tropical waters, incredible places to eat, nightlife, and so much more!
Lounging about on the beach while soaking up the Miami sunshine (possibly with a tropical cocktail in hand?) is the perfect recipe for your tropical beach getaway!
Not to mention, Miami Beach is THE hotspot for nightlife, so once the sun goes down, the beach comes to life in a whole new way!
Between the art deco buildings, the art deco district, the incredible scenery, and swaying palm trees, Miami Beach is the quintessential spot to explore in Miami.
While you're there, you should definitely check out the New World Center! They have some amazing orchestral events!
PRICE: Free
16. Explore Downtown Miami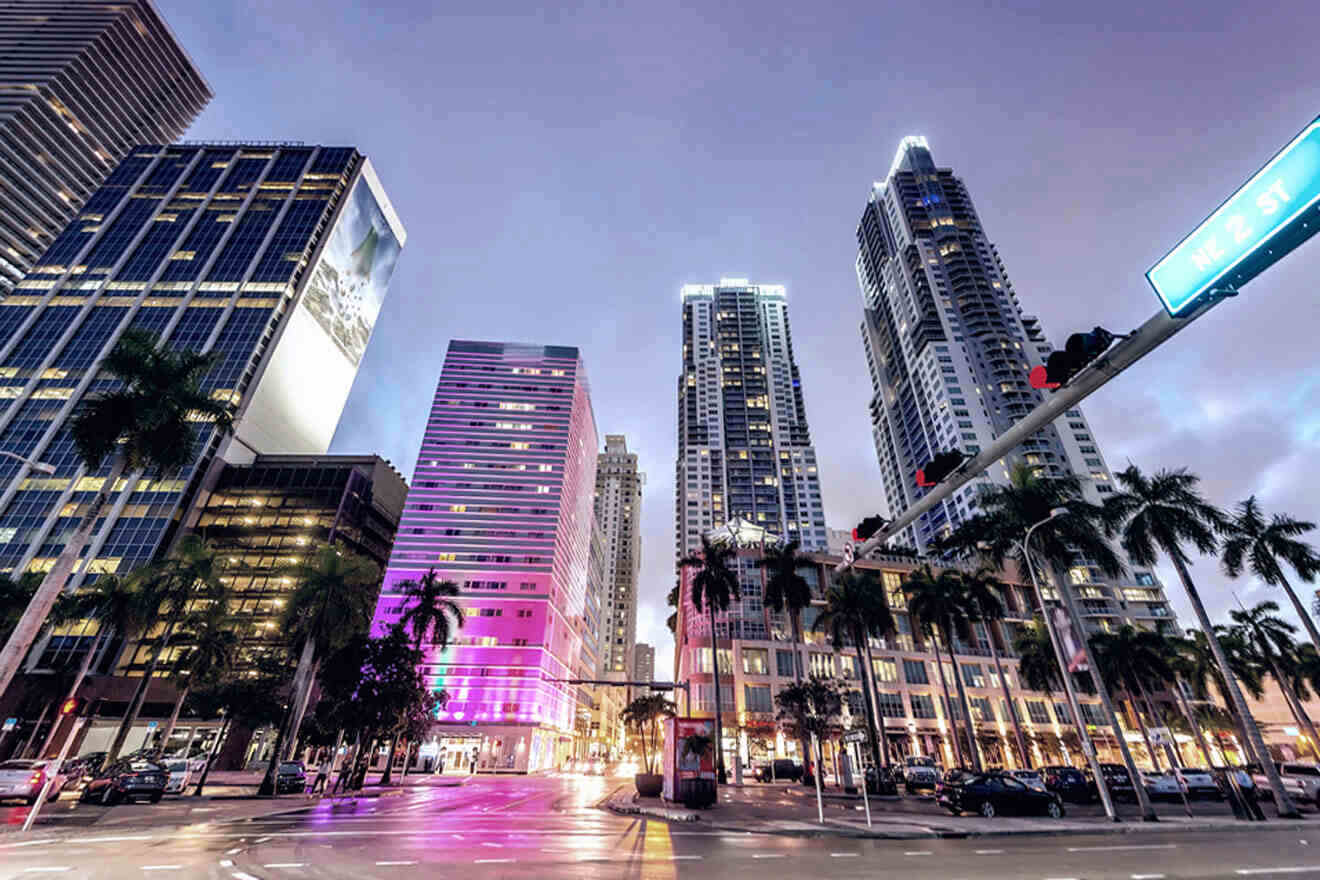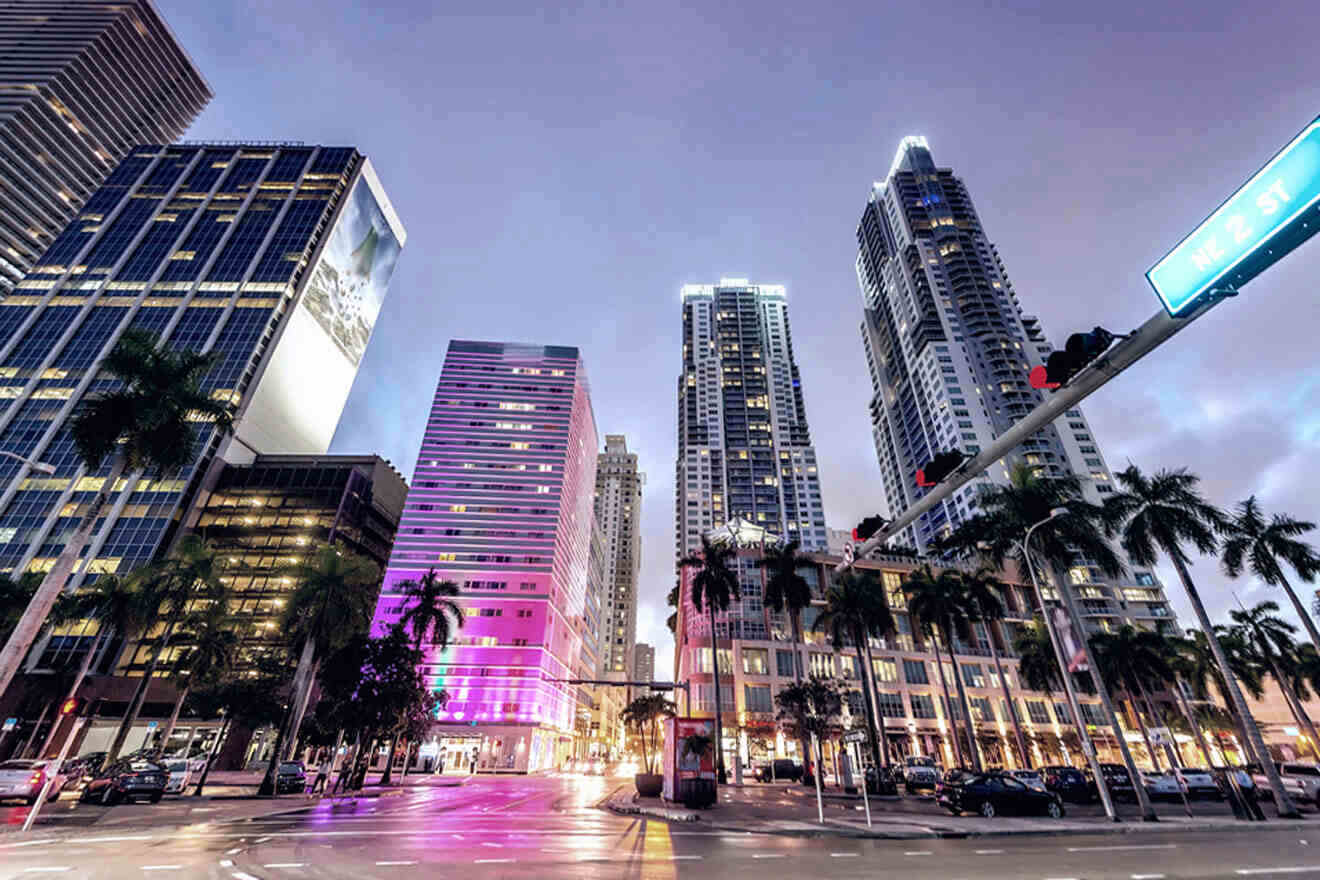 Downtown Miami is where Miami comes to life (outside of Miami Beach!) This is the perfect place to grab dinner with friends, grab a drink, peruse the streets, and find some awesome nightclubs to dance the night away!
Downtown Miami is teeming with life. If you're looking to get into the heart and soul of this city, look no further than Downtown.
While you're at it, check out The Wharf, Miami. With live music, shopping, boating, and races, there is truly something for everyone at The Wharf. They have arcade games, delicious drinks, and so much to offer!
This incredible 30,000 ft open-air event space, teeming with life, is an excellent place to get a taste of Miami's local food scene. From local seafood to Cuban cuisine to pizza, this is a great all-in-one destination for a super memorable night in Miami!
17. Visit the Miami Children's Museum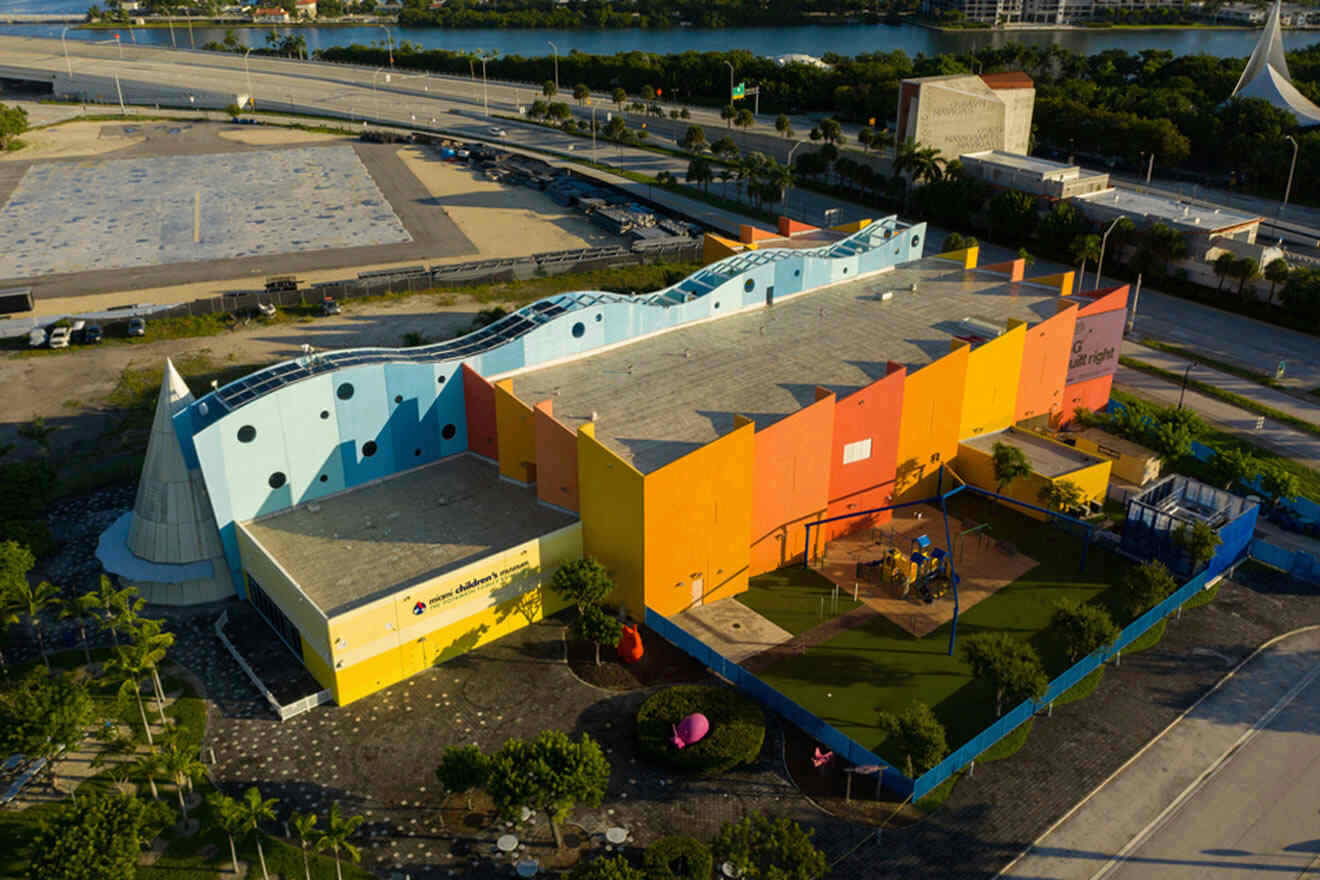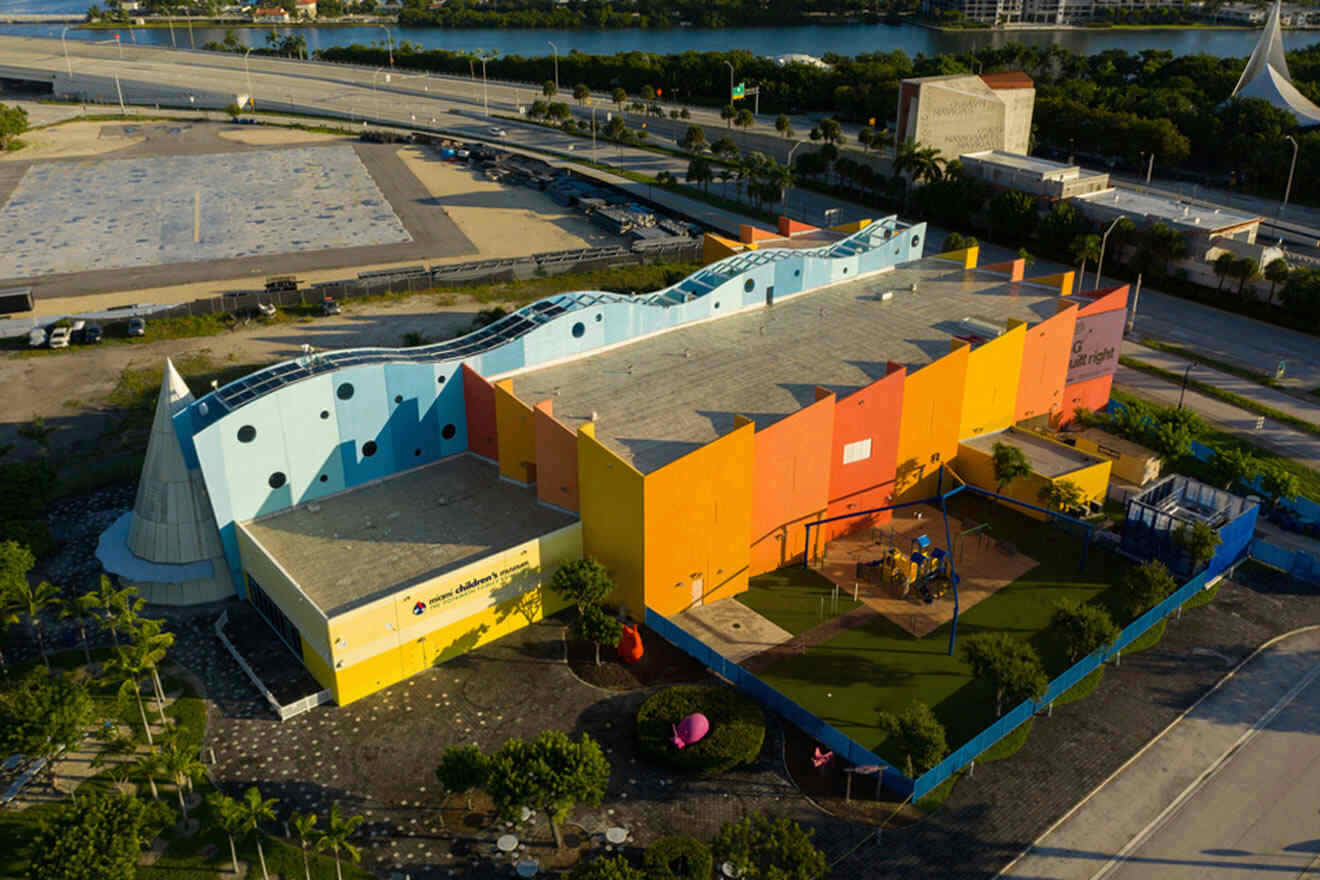 The Miami Children's Museum is an awesome place for children and adults alike to visit!
Appealing to the childish wonder and imagination of little ones, this interactive and dynamic museum emphasizes perception and expands the minds of kiddos who visit the museum.
The exhibits are both interactive and highly educational, providing an enriching experience for youngsters and adults alike!
Offering endless exploration and lots of fun for the little ones, the Miami Children's Museum is a super fun experience for the whole family!
Museums are usually not super fun for kids. Well, this Miami gem is an incredible exception.
PRICE: US$24
18. Check out the Miami Design District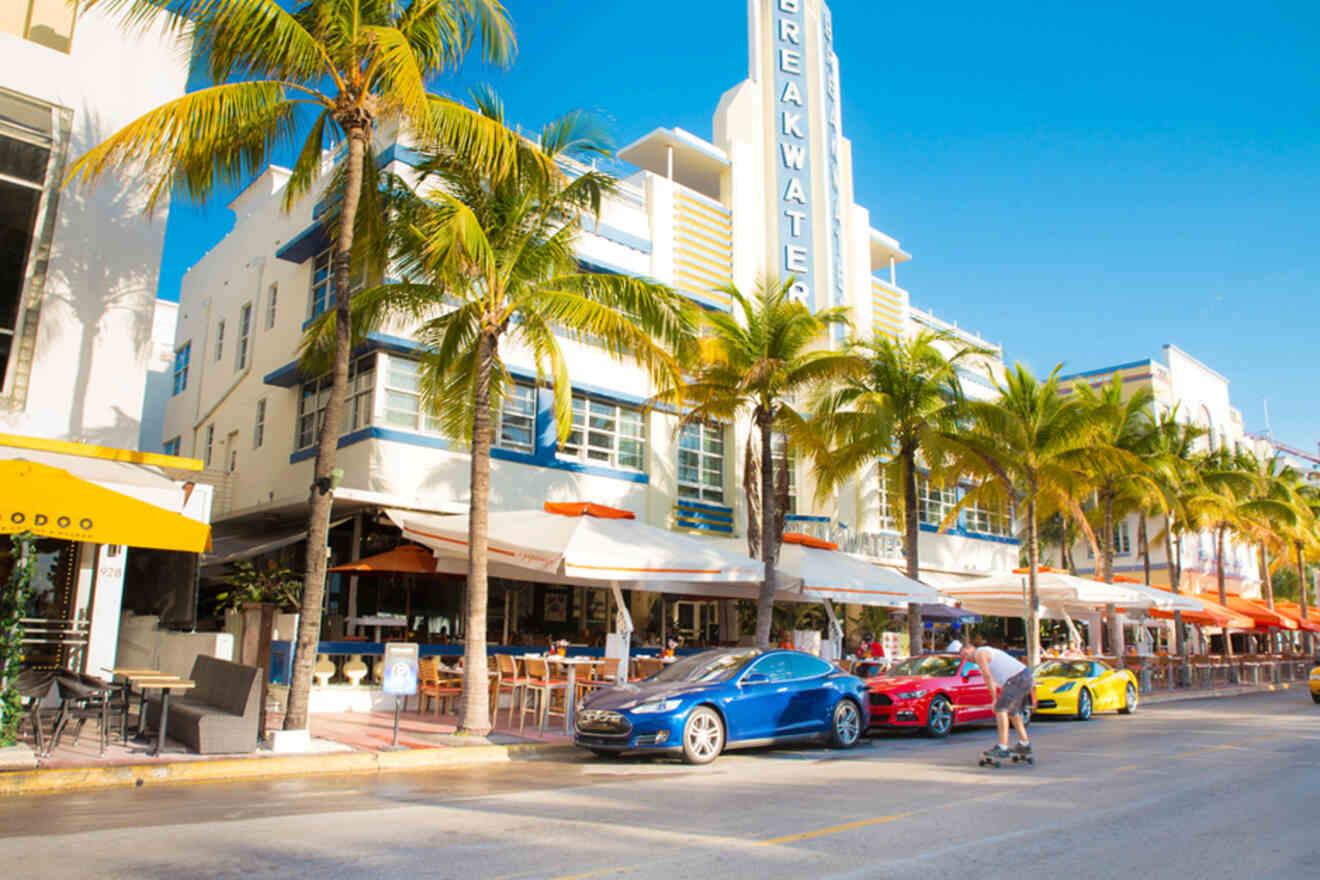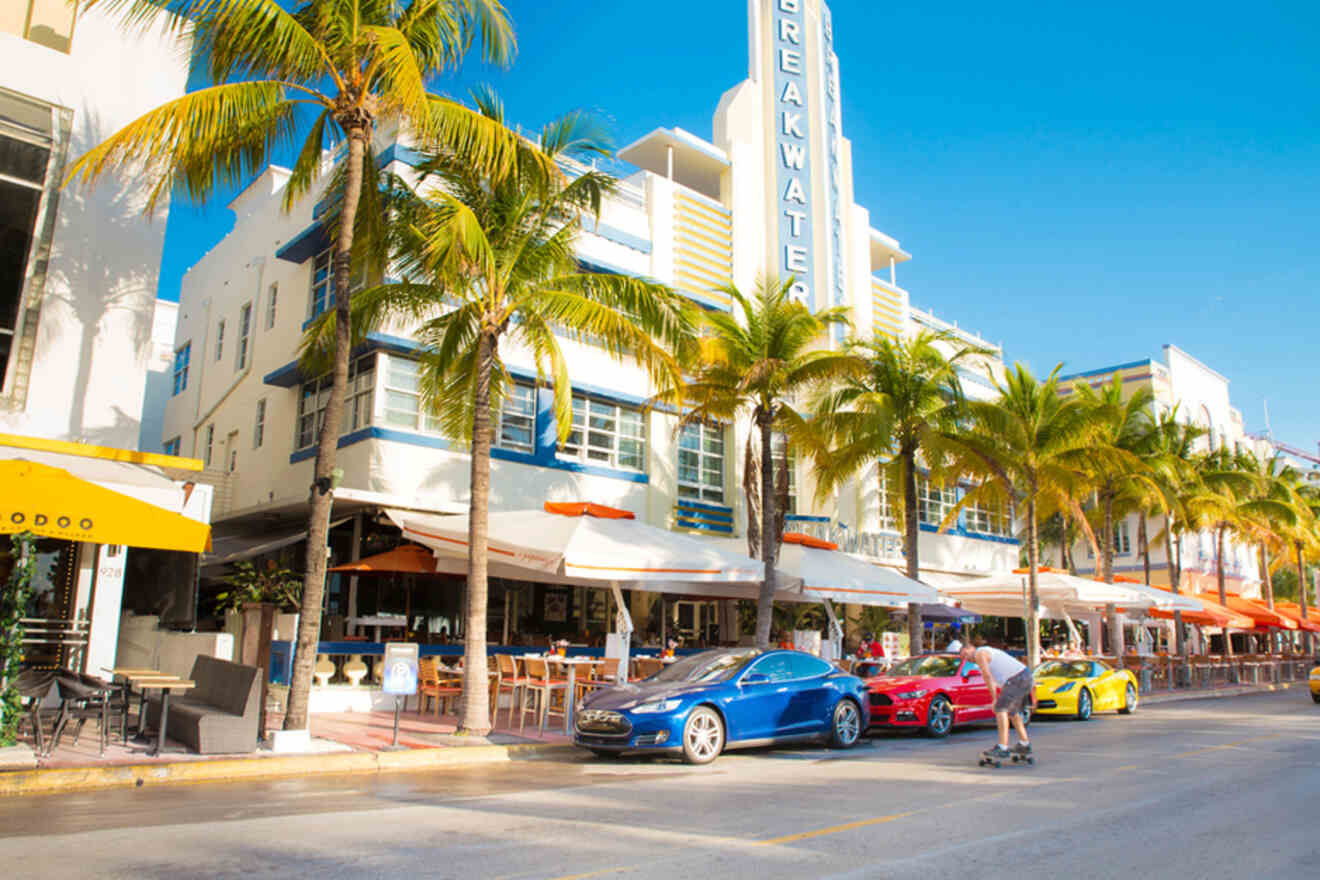 Miami has so much to offer people interested in the arts or art deco architecture. The Miami Design District is no exception.
Known for its sleek and modern architecture, the design district is a super cool place to explore on your trip to Miami, Florida!
With upscale interior design stores, cutting-edge art galleries, luxury fashion and boutique jewelry shops, celebrity chefs, cafes, and so much more!
This is the perfect place for those looking to explore the high-end design aspect of Miami. Plenty of incredible public art is dappled throughout the area, such as a geodesic dome, the Fly's Eye Dome, and more!
Don't forget to check out The Institute of Contemporary Art in an ultra-modern building offering incredible modern art for visitors to enjoy.
PRICE: Free
19. Throw a line at South Pointe Park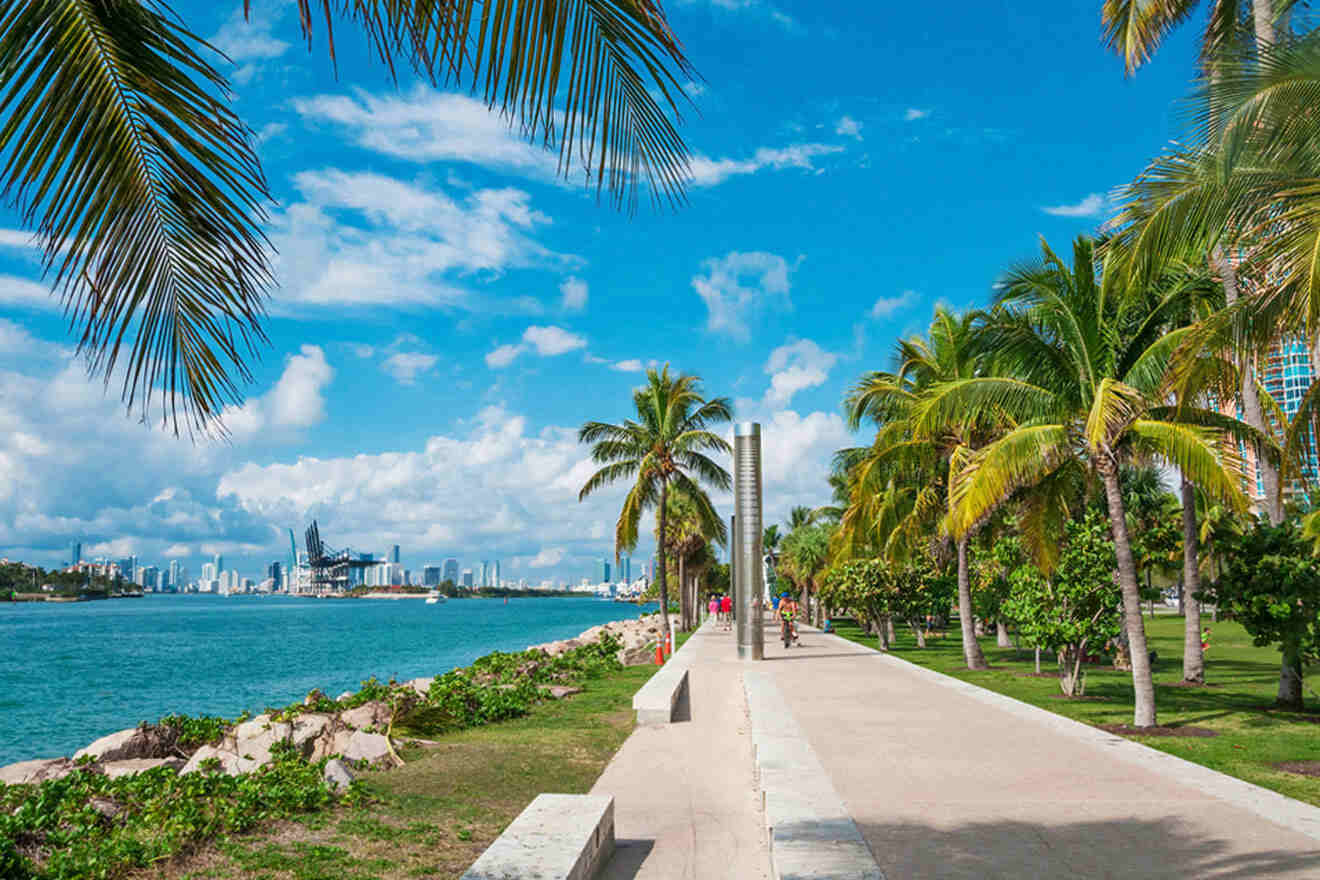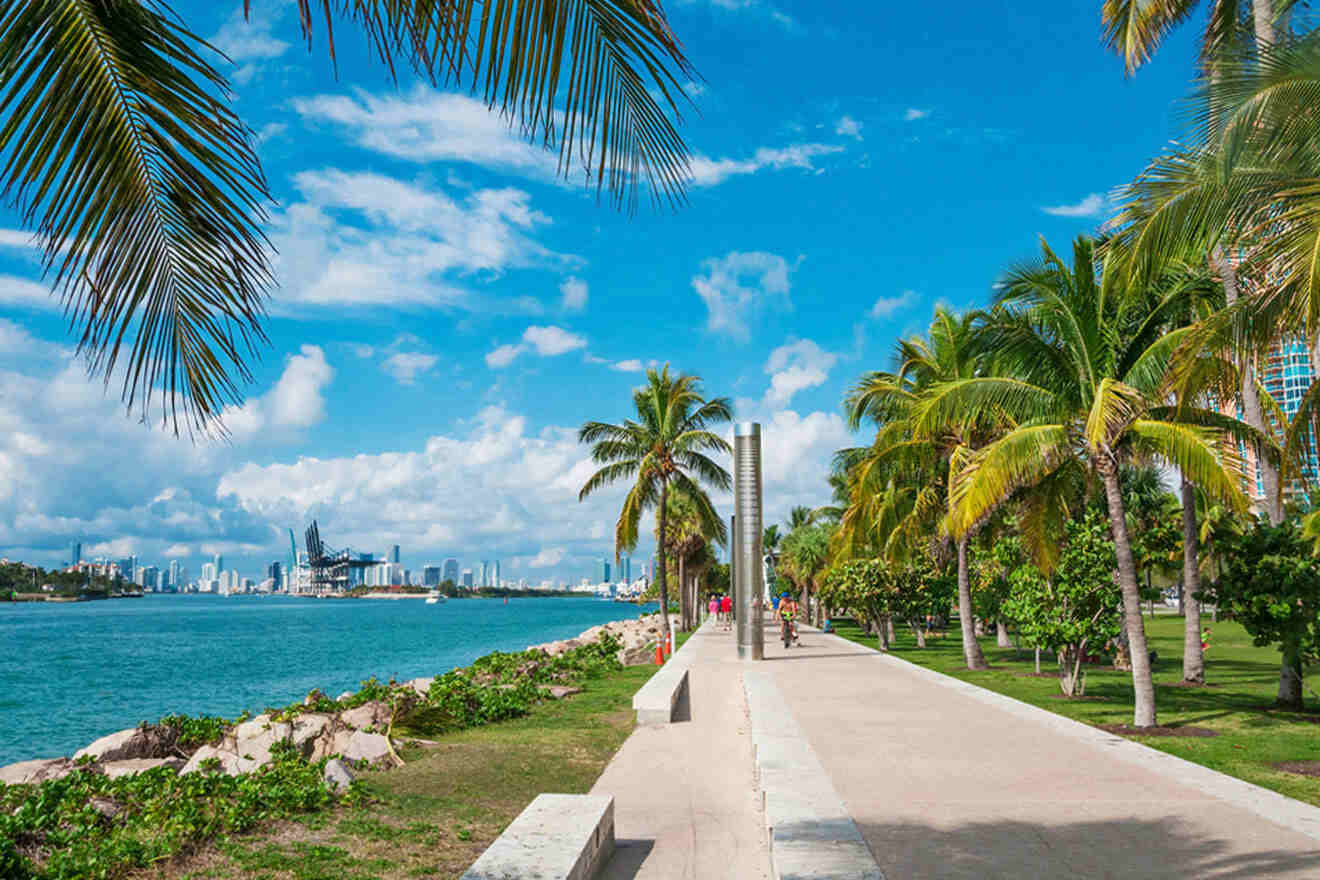 This is one of the best free things to do in Miami. There are many places to go fishing around Southern Florida and Miami. However, one of the best places, without a doubt, is South Pointe Park.
Located on the southern tip of Miami Beach and offering some incredible views, this park is excellent for fishing and enjoying the view. Plus it's just across the bridge to Fisher Island!
This is a famous fishing pier with many amenities, such as places for cutting bait, cleaning fish, and recycling bins specifically for fishing lines. You can also go out from here to do some deep-sea fishing!
If you get lucky, you can catch some marine fish such as snapper, Spanish mackerel, and flounder.
This is also a perfect spot for spotting dolphins and manatees, as the water is super clear and blue!
With views, an ocean breeze, and a beach for swimming, this is the perfect place to spend a day in Miami.
PRICE: Free
20. Explore the Marjory Stoneman Douglas Biscayne Nature Center
This incredible nature center offers visitors the unique opportunity to see some super unique flora and fauna that you can only see in Florida!
The intriguing and vastly diverse nature that makes Florida so enchanting awaits at the Marjory Stoneman Douglas Biscayne Nature Center.
Not only will you be able to see some incredibly beautiful subtropical flora and fauna, but at the Center, you will be able to see an aquarium filled with seahorses, coral, jellyfish, tropical fish, and more!
This educational center offers a super unique opportunity to explore a mangrove aquarium where you can see pufferfish, mollusks, and other incredible marine life that calls mangrove forests home.
There is also a touch tank, where you can have hands-on experiences with all sorts of marine life. This is an excellent opportunity for adults and kids alike. You will be able to feel the texture of a sea cucumber and even hold a sea urchin!
On display, you will also find incredible local art showcasing the wonders of the native ecology of South Florida.
There are also exhibits where you can learn about the harms that plastics and microplastics play in our oceans and day-to-day lives.
The commitment to connecting the community to their local environment and conservation is truly inspiring, and everyone who visits Miami should check out this incredible Miami gem.
PRICE: Free
21. Have a one-of-a-kind experience at Superblue Miami
This super fun and family-friendly activity is a super unique and unbeatable Miami experience. Superblue Miami is an extraordinary immersive art installation where visitors will undoubtedly have an unforgettable experience.
Superblue Miami has incredible interactive exhibits where visitors can interact and influence the art on display!
As you walk through this exhibit, experience the exciting thrill of changing the art all around you and creating a masterpiece with your family or friends!
This is a great experience for a group of friends or family to experience the art scene in Miami in a unique and memorable way!
PRICE: US$36
Book Your Superblue Miami Tickets
22. Check out the Miami Beach Botanical Garden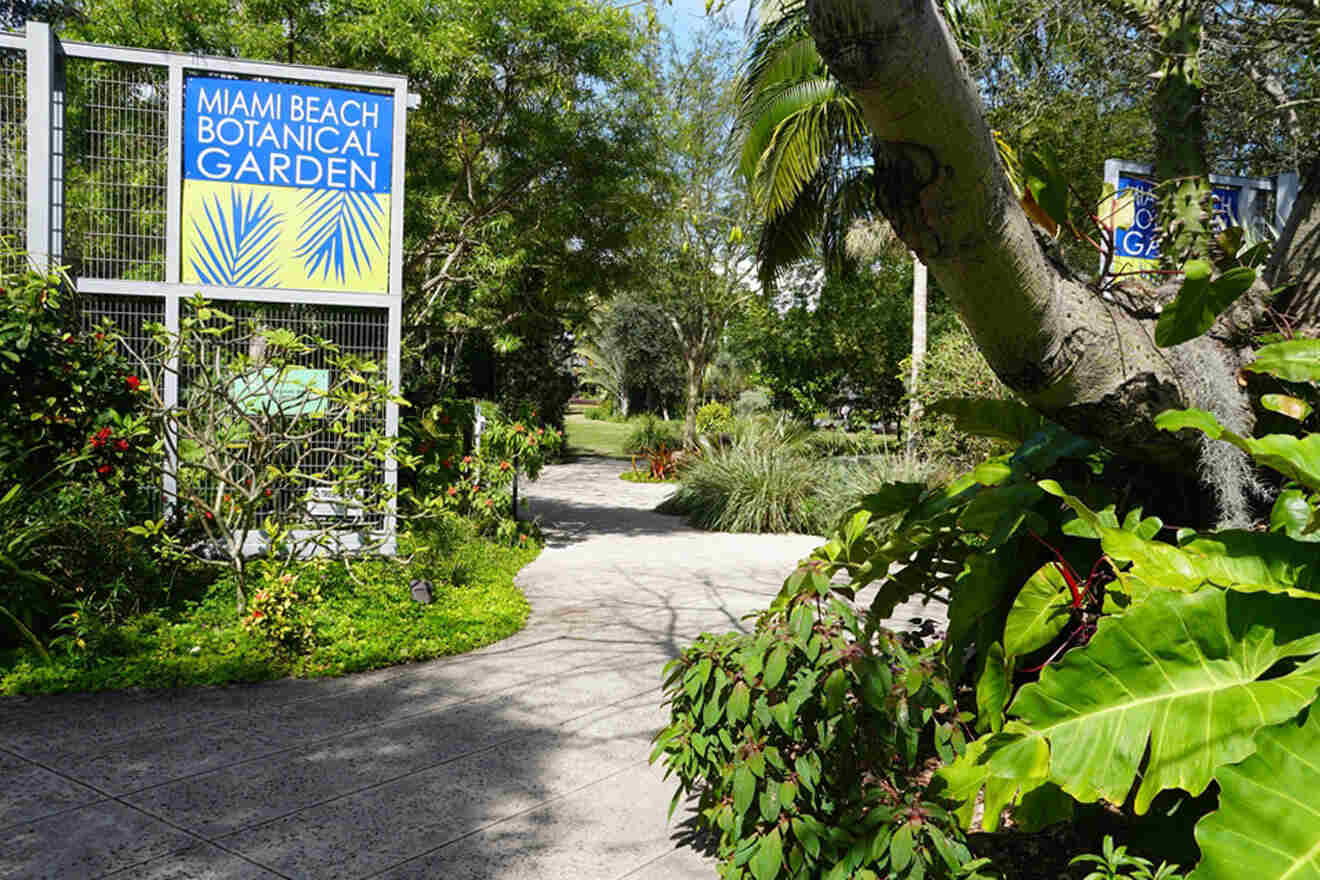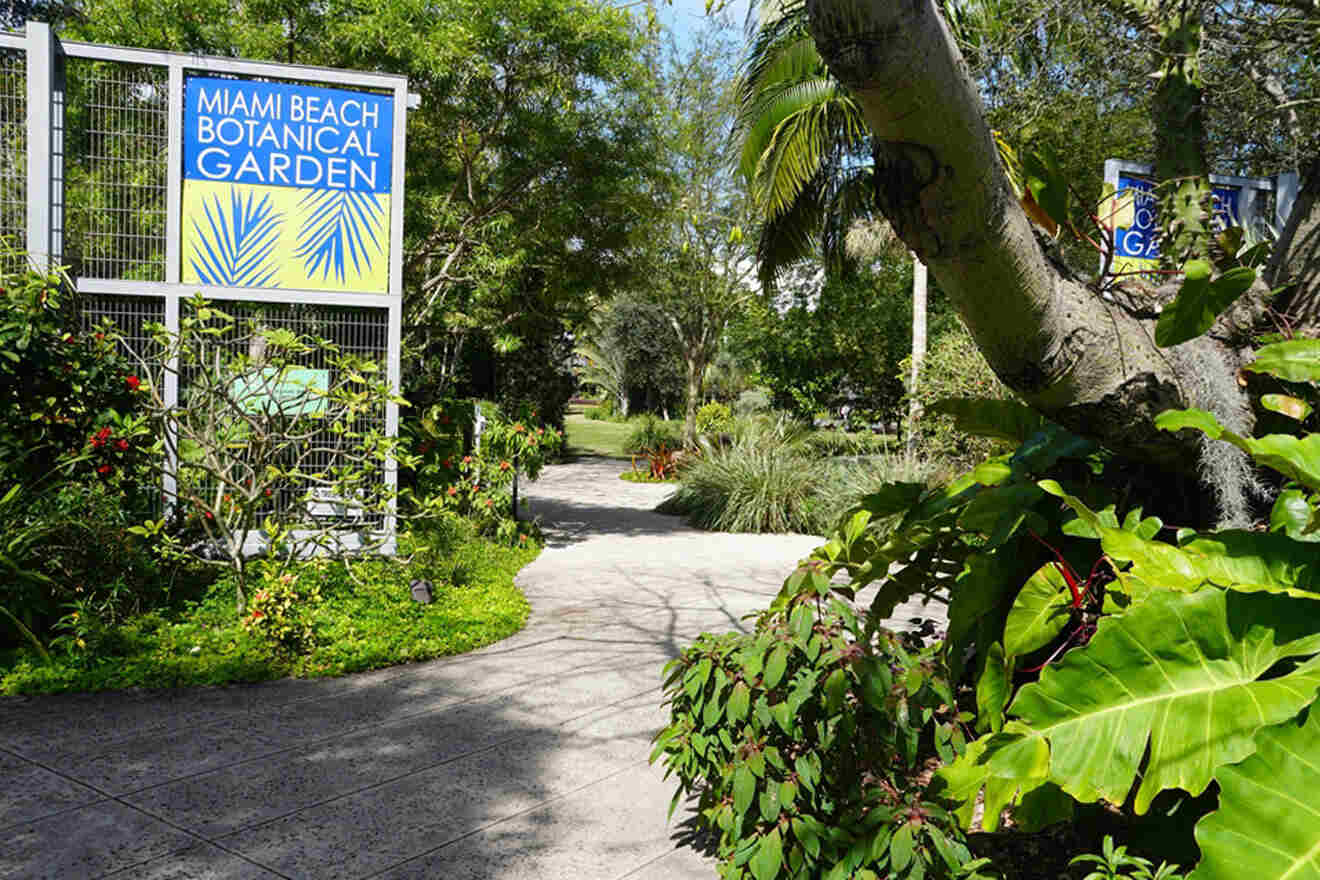 The Miami Beach Botanical Garden is one of the best things to do in Miami Beach. I absolutely love visiting this botanical garden. It's 100% free and has gorgeous tropical fauna and lush vegetation to explore.
Located in the heart of Miami Beach, this tropical oasis is perfect for couples and families who need a break from the beach and are looking for a different kind of adventure!
Created back in 1962, the history behind the Miami Beach Botanical Garden is quite fascinating. Miami Beach used to have the world's largest mango and avocado groves. However, the agricultural scene in Miami was short-lived.
Tourism took over the island, and a group of residents approached the city to conserve and restore the garden.
Now, decades later, we have a gorgeous botanical garden that preserves a bygone era of what Miami once was before rapid development.
PRICE: Free
23. Bal Harbour Beach in North Miami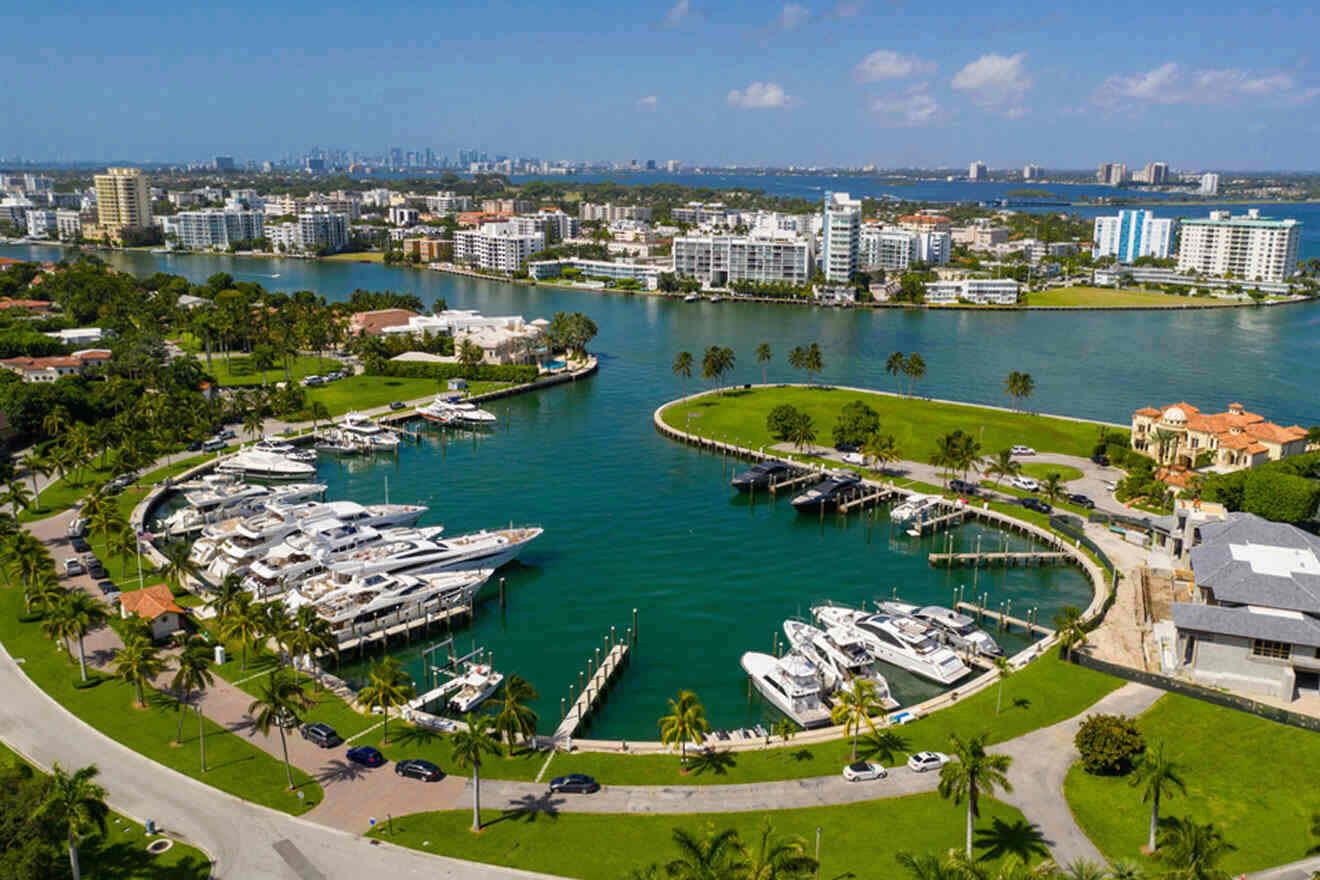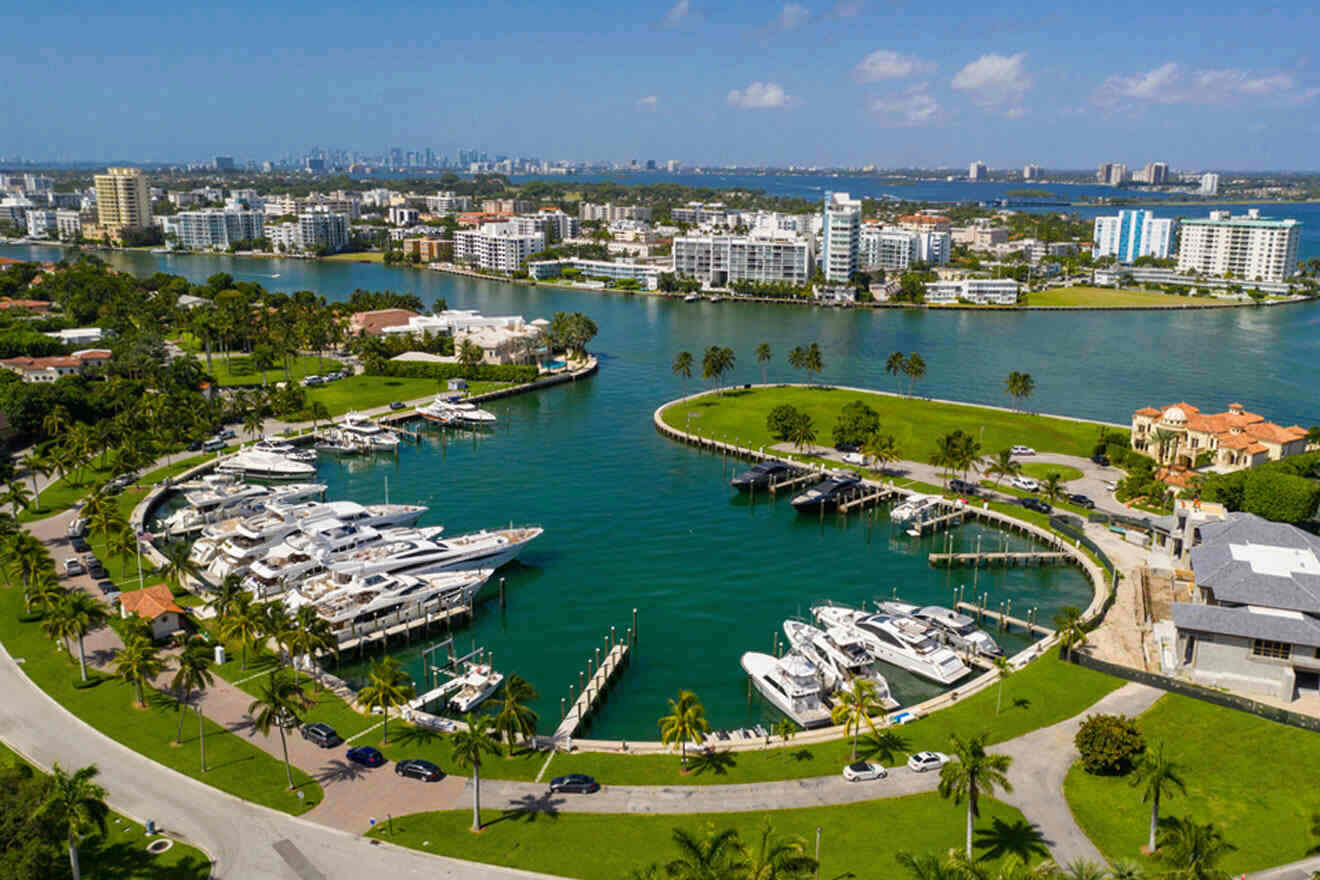 Bal Harbour is a gorgeous North Miami beach for those who are looking to escape the crowds of Miami Beach.
This pristine mile-long white sand beach frames the city's skyline in a gorgeous and aesthetically pleasing way as you splash around in the waves.
One of the cleanest beaches in the US, this beach offers breathtaking views and fun outdoor activities.
Walk or bike down the paved walkway, lounge about in the sand, or go fishing from the pier. I love this beach. I am not big on crowds, so I loved going to the beach in Bal Harbour!
Cool off in the aquamarine water, go snorkeling, and explore the vibrant underwater world of Miami's beaches.
PRICE: Free
24. See one of the wonders of the world at the Coral Castle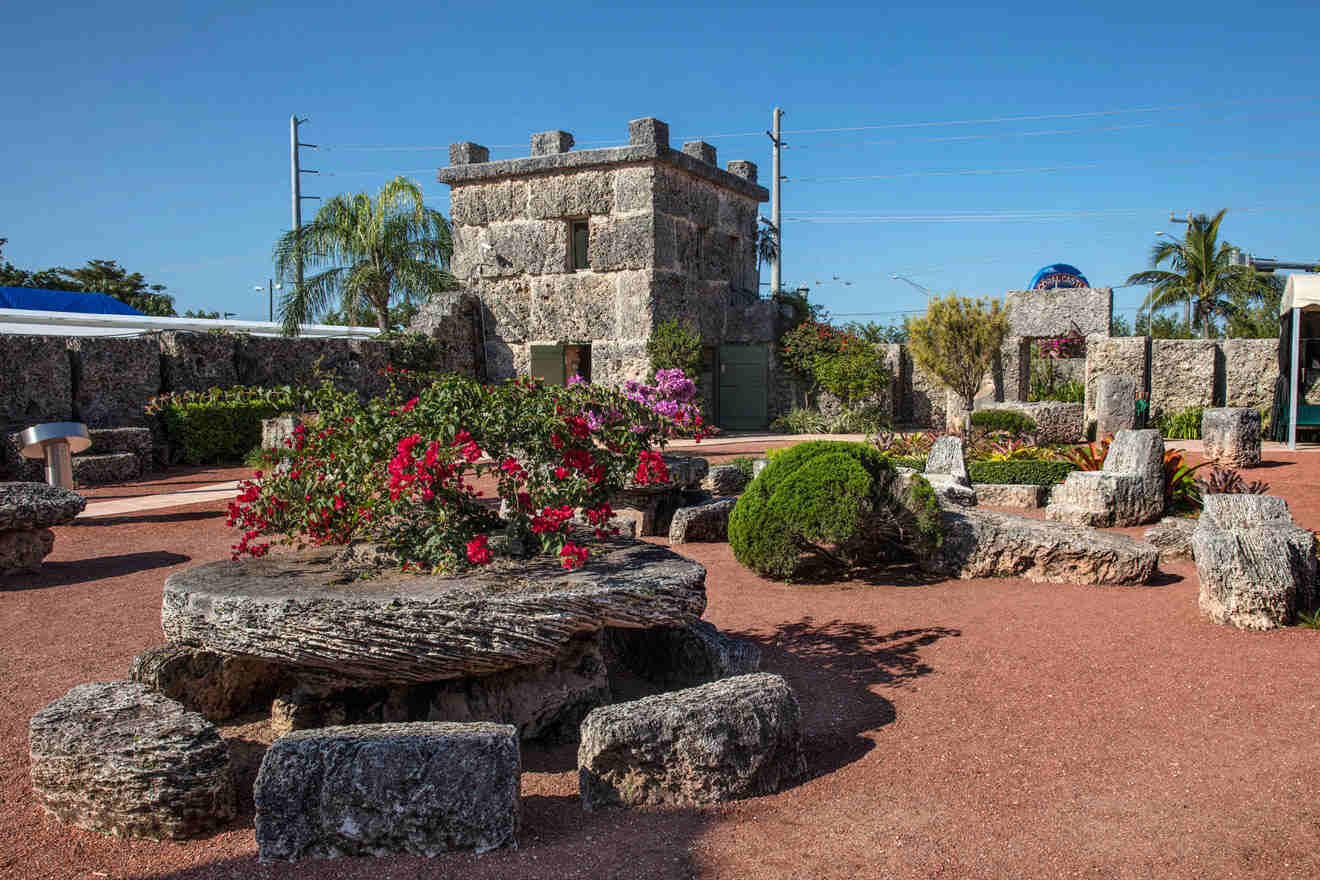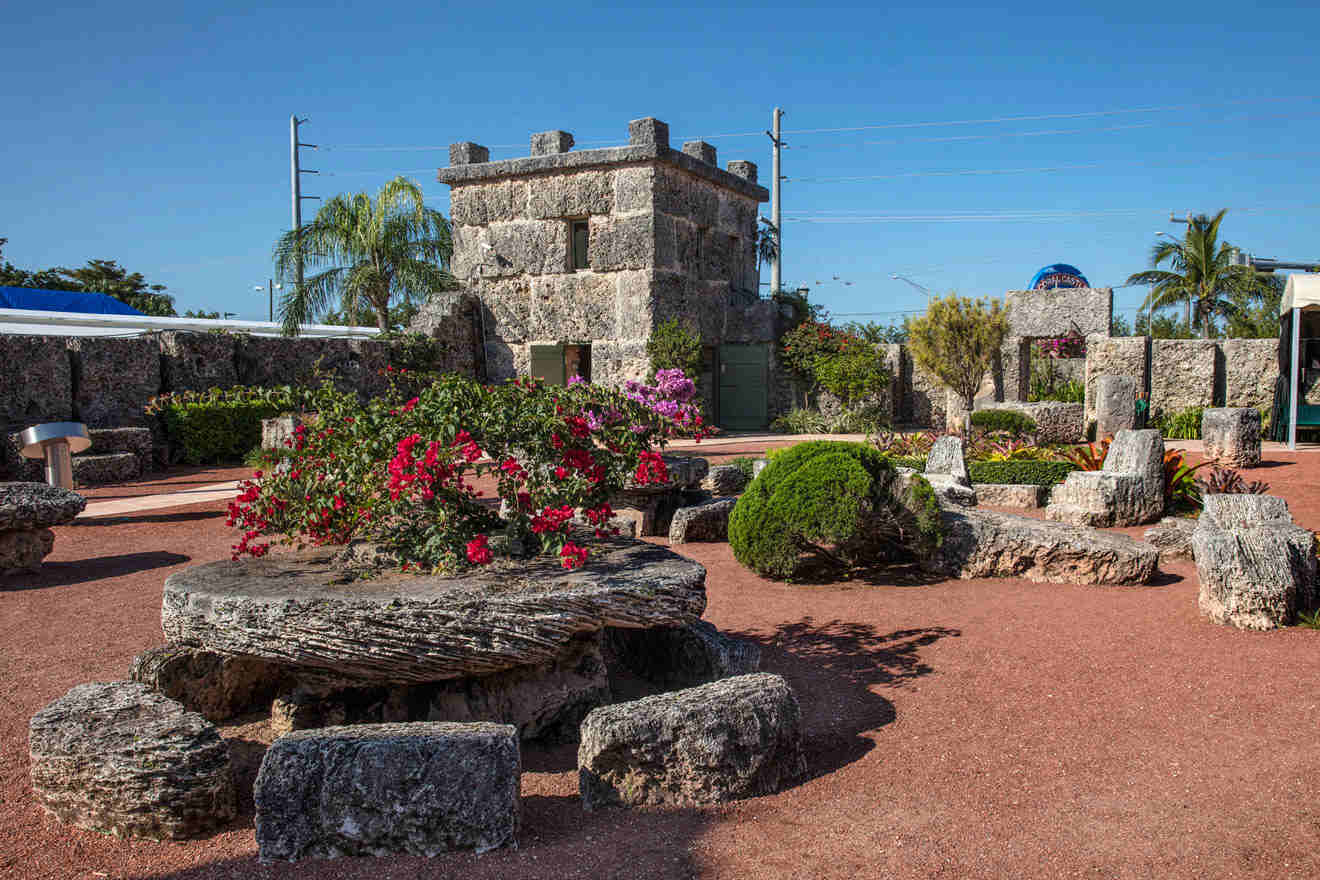 This is a lesser-known destination in Miami. However, it is well worth checking out. One of the many wonders of the world, akin to the Egyptian pyramids, lies Miami's Coral Castle.
Created by a hopeless romantic at the beginning of the 1900s, Coral Castle is an archaeological treasure and mystery. Architects still wonder how this incredible castle was built, made entirely out of coral and oolite with no help from machines.
This tiny man, who weighed around 100 pounds, is famous for unlocking the secret to how the pyramids were built when he created this castle!
An absolute marvel to behold, this coral castle is entirely made of incredible rock formations, carved limestone, and enormous stones set atop one another without the use of mortar!
While no one witnessed the creation of this castle, as the castle was built in secrecy until revealed to the public in the 1950s, the architect claims that he formed the structure through reverse magnetism.
One of the many reasons this castle is an absolute wonder is that most of the arranged stones weigh around 14 tons, which is an insane amount of weight for one man to move without any machinery or equipment.
This is definitely a one-of-a-kind experience that is far out of the ordinary when it comes to tourist destinations in Miami. In fact, this is a local secret that most tourists don't know about.
This is one of the best things to do in Miami for those looking for a unique experience as well as an incredible photo op.
PRICE: US$18
25. Check out the Patricia Frost Museum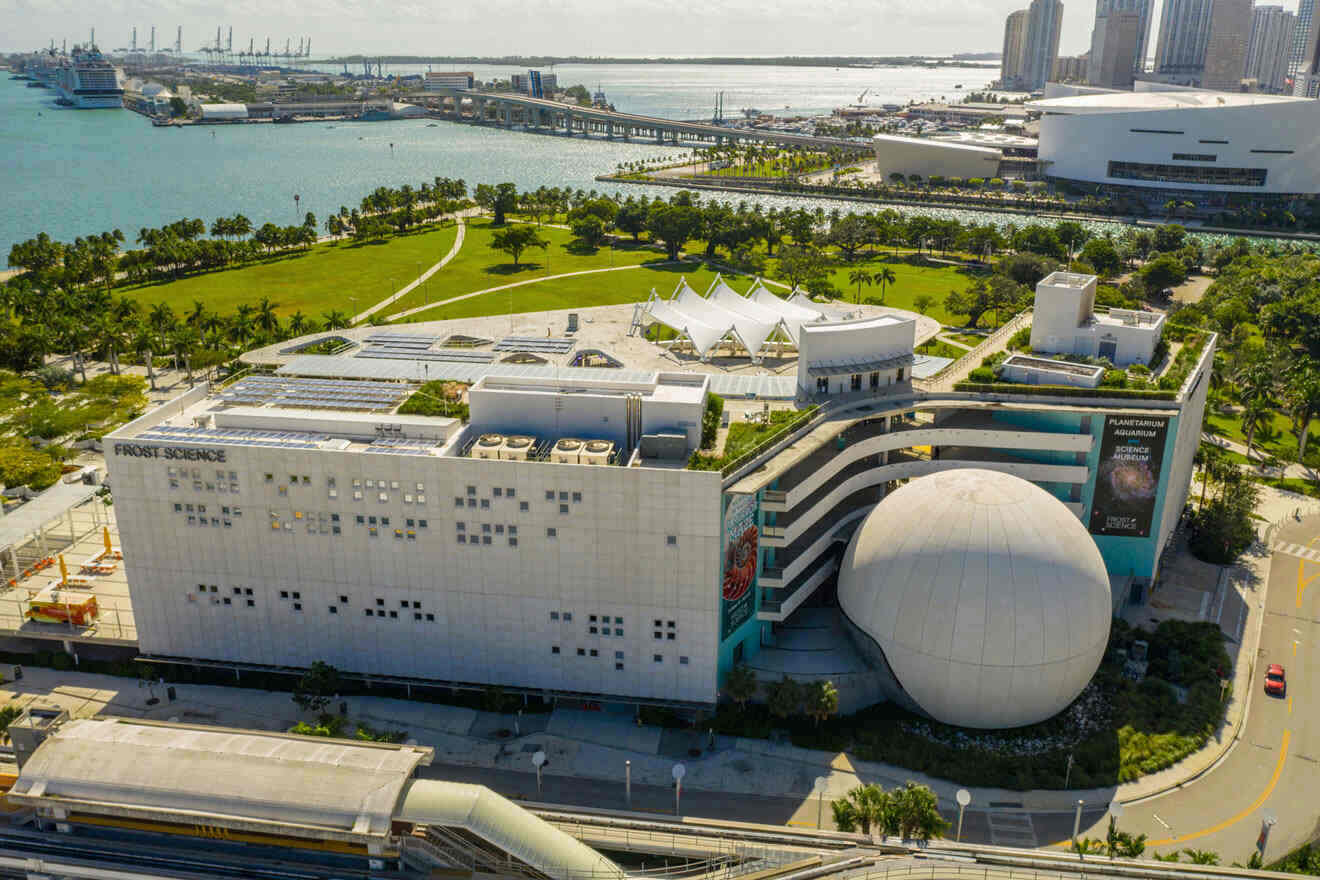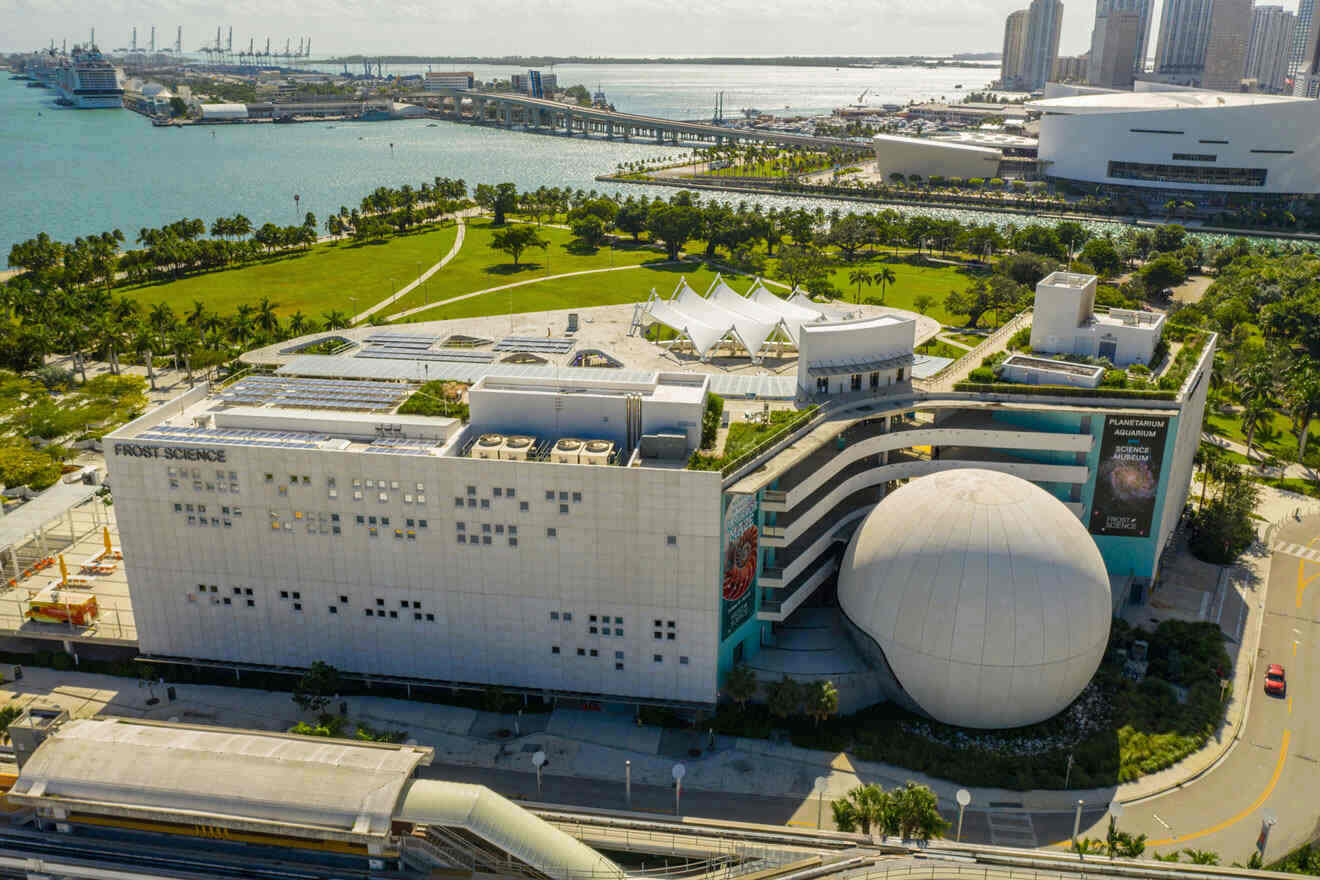 Looking for cultural and educational activities in Miami? The Patricia and Philip Frost Museum of Science is an excellent way to spend the day.
There are numerous activities and entertainment for families and youngsters. While this museum has your typical museum exhibits, it also has a planetarium, science demonstrations, and an aquarium!
Your family can experience the exciting thrill of a touch tank while you learn about the incredible ecosystems present in Florida!
The Patricia Frost Museum also has an interactive experience in the aquarium. Here you can learn about the Gulf Stream and some incredible facets of the marine life that exists in Florida.
The planetarium is one of the most fascinating parts of the Patricia Frost Museum.
You and your family can learn about the thrill of space, state-of-the-art laser shows, and the mysterious beauty of our coral reefs.
There is so much to experience at the Patricia Frost Museum. There is no doubt you and your family will have a memorable time.
PRICE: Free
26. Take a day trip from Miami to Key West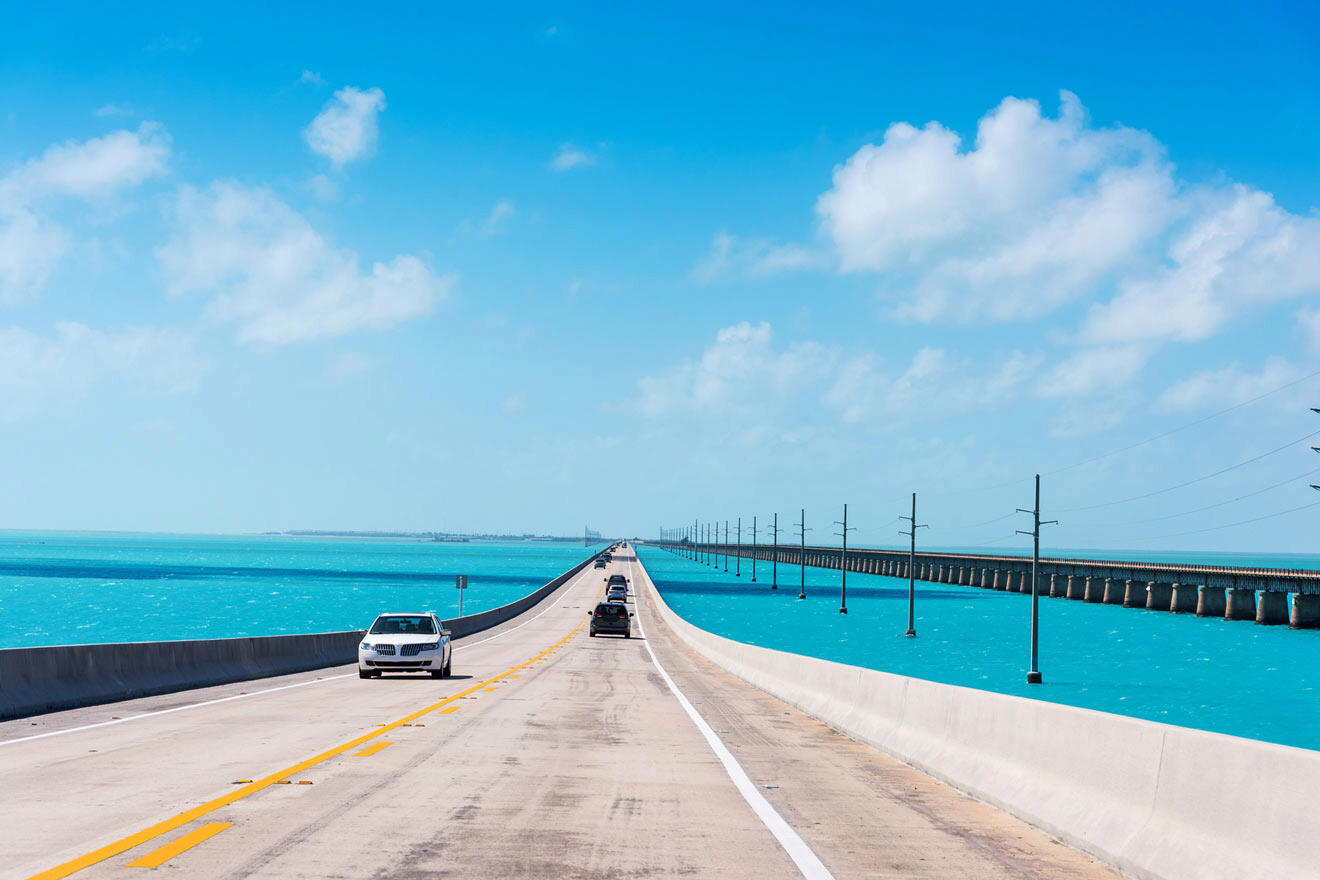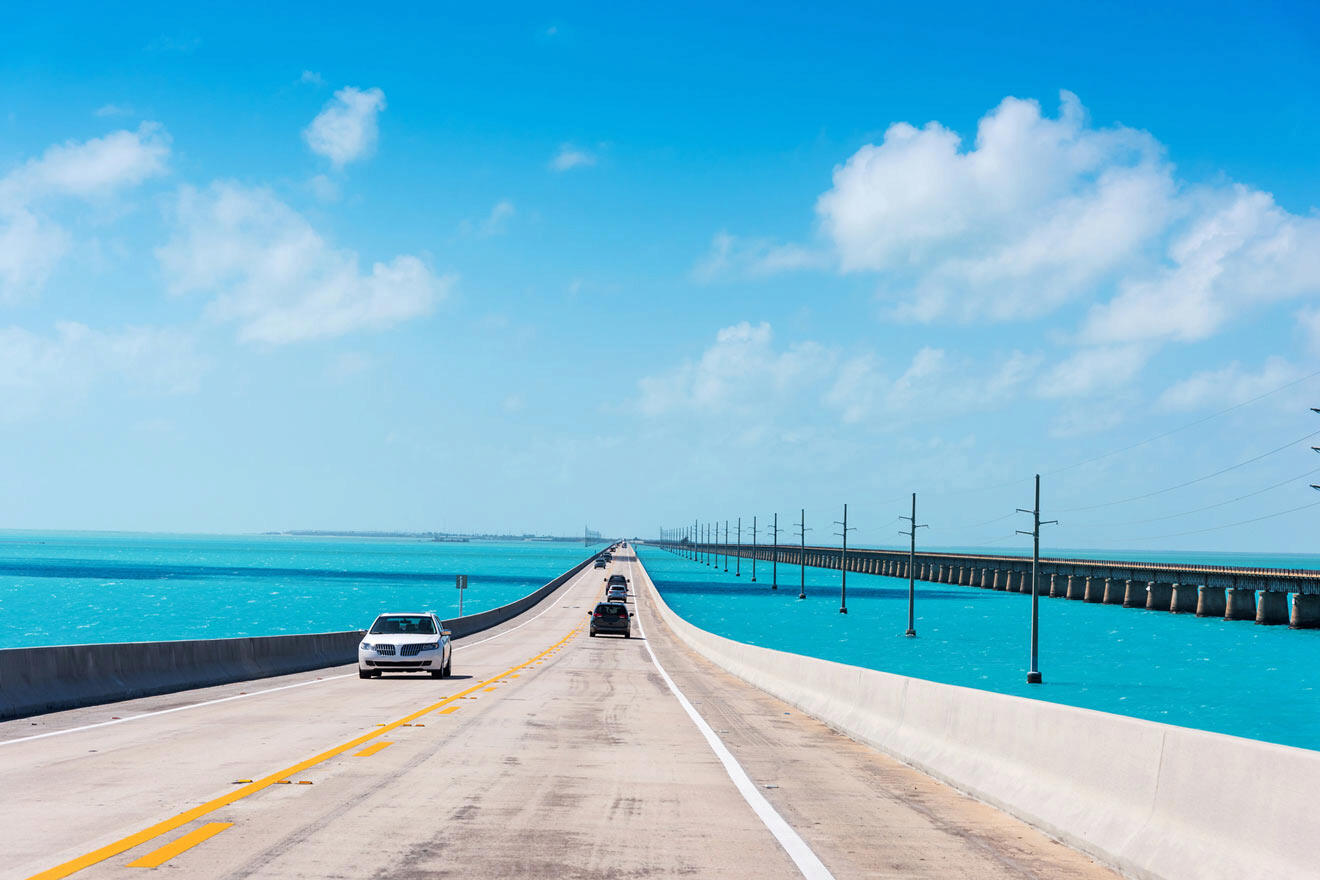 One of the most sought-after and exciting parts of Florida is the Florida Keys. With Key West just being a few hours away from Miami, this is definitely one of the best things to do in Miami.
It turns out Key West is actually closer to Cuba than it is to Miami!
Taking a trip throughout the Florida Keys is a super fun and memorable experience, with so much to enjoy along the way.
There are endless things to do as the Florida Keys are literally thousands of islands compiled into an archipelago!
You can feed the tarpon at Robbie's in Islamorada, visit tons of national parks, see some tiny deer that only live in the Keys, drink local beer and wine, and so much more!
There are endless water activities and fun adventures awaiting you in the Florida Keys. This is a great activity to do with the family or with a lover or friends in Miami.
If you're not in the mood to drive, check out this awesome tour that takes you all the way to Key West and back in one day!
Book Your Miami To Key West Adventure
27. Visit the Gold Coast Railroad Museum
Miami's Gold Coast Railroad Museum is an amazing place driven by the Miami Railroad Historical Society, and they're dedicated to preserving incredible historical equipment! A great place to take the kids, they have a model railroad room which is a super exciting activity for the whole family!
If you're a history buff, this is the place to go! Just a 30-minute drive from central Miami, it's well worth the visit!
| | |
| --- | --- |
| 👪 Family-friendly score: | High |
| 🏛️ Best museum: | Patricia Frost Museum |
| 🎢 Top paid attraction: | Miami Skyline Cruise |
| 🚶🏽‍♂️ Best free activity: | Go to the beach! |
| 👧 Best attraction for kids: | Miami Children's Museum |
| 🕺 Nightlife: | Downtown Miami |
| 🥟 Must try food: | Boia De |
FAQs about things to do in Miami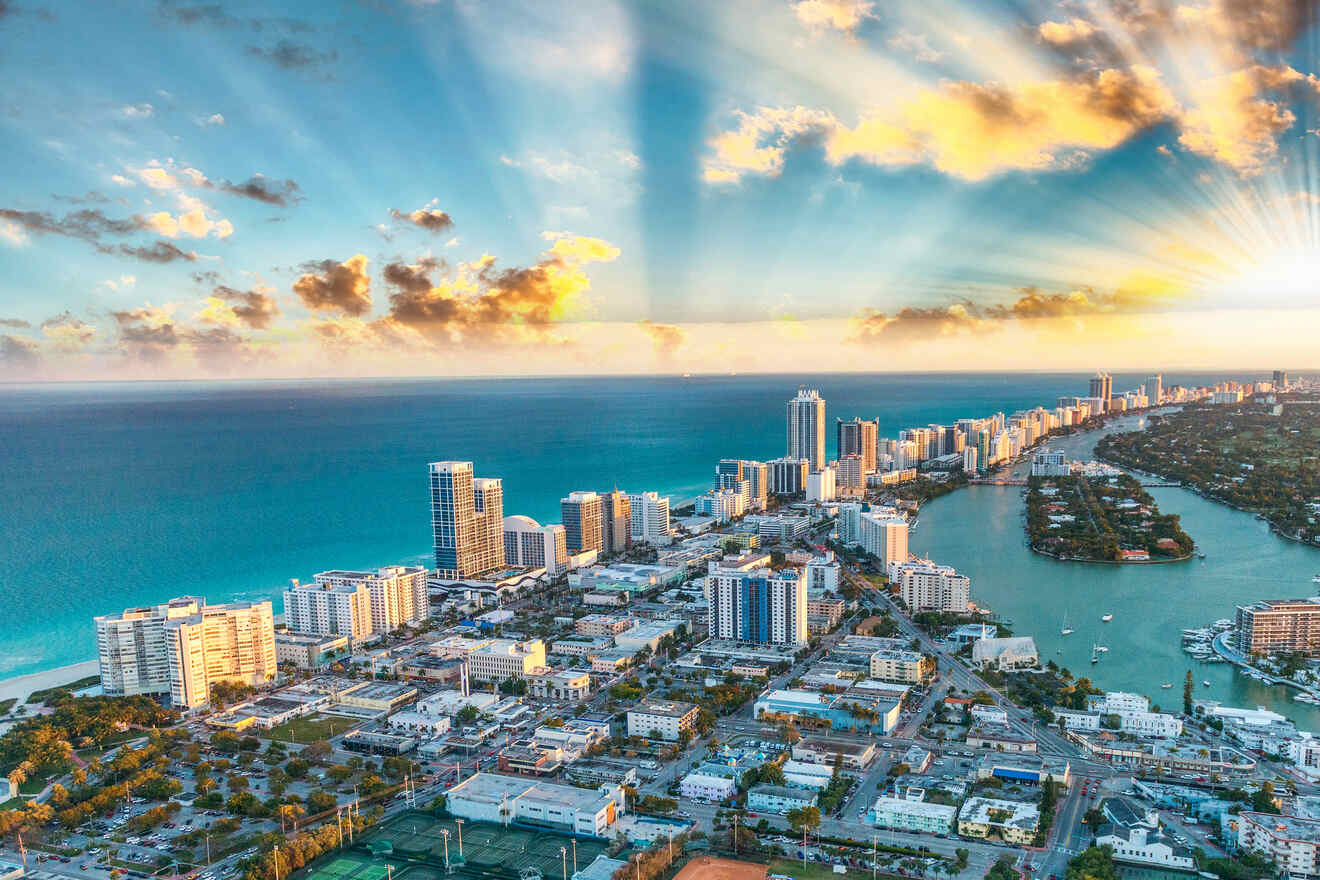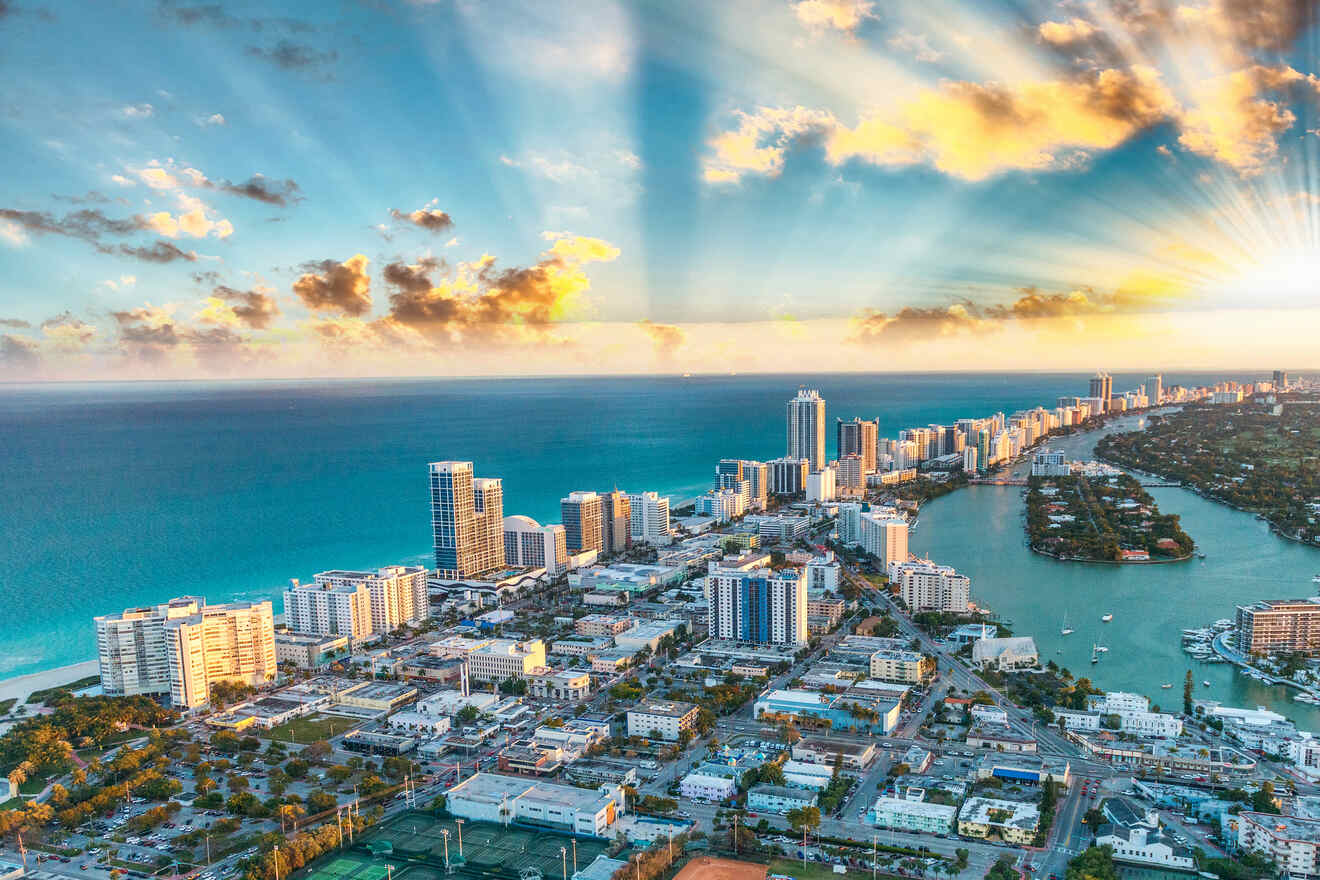 Conclusion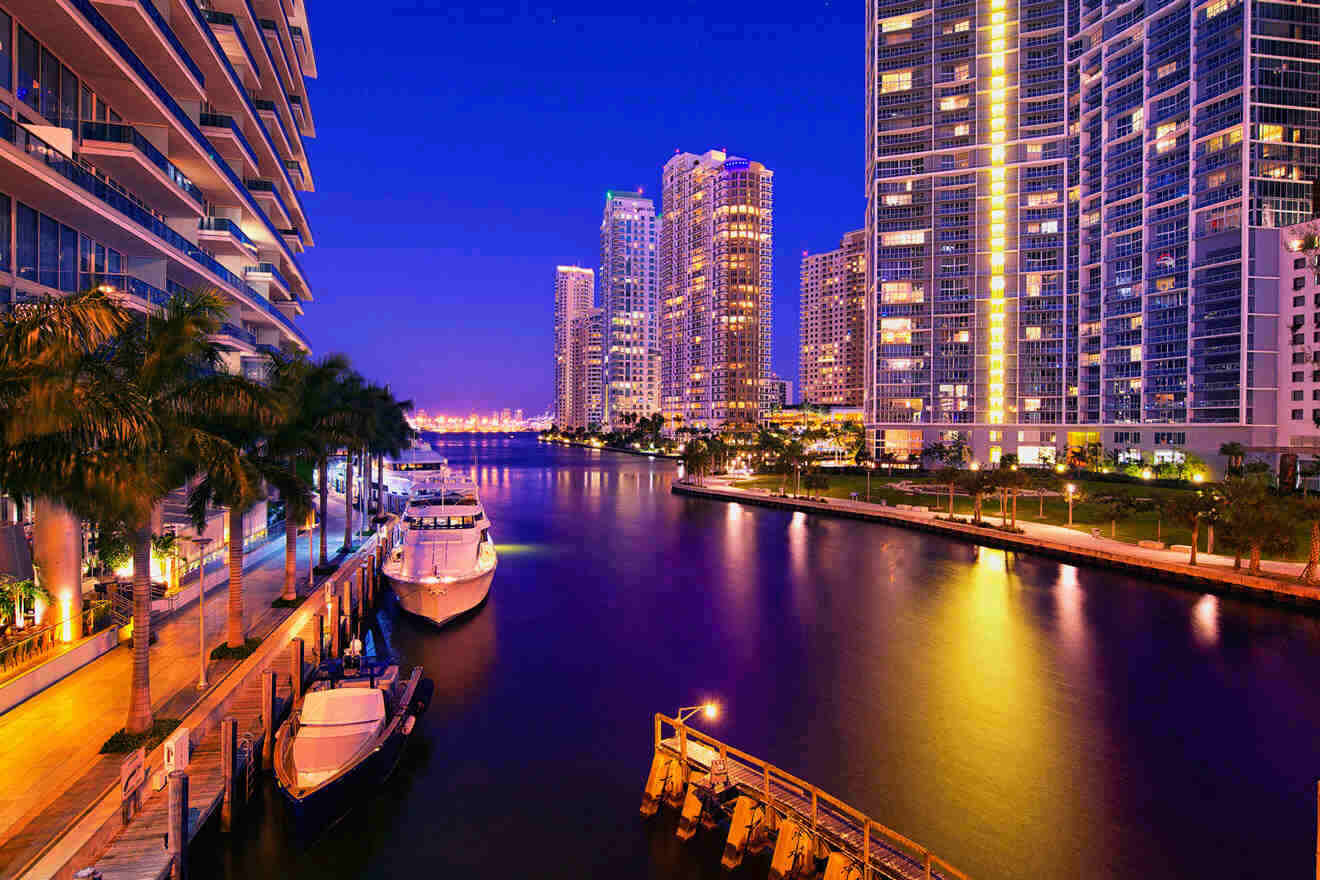 Truly, anywhere you go in Miami is going to be a fun time. Any boulevard you walk down is bound to have delicious food, lively energy, and fun things to do! Miami Beach is undoubtedly a super fun place to visit, but Miami has so much more to offer.
Here are my favorite things to do in Miami:
Miami is really a magical city, and I know that whatever you end up doing, you are going to have a fantastic time. Between the glittering skyline, the aquamarine turquoise water, and the lively culture, Miami is an unforgettable experience and well deserving of the name, The Magic City!
With love and gratitude,
Amira G.
---
Pin it for later!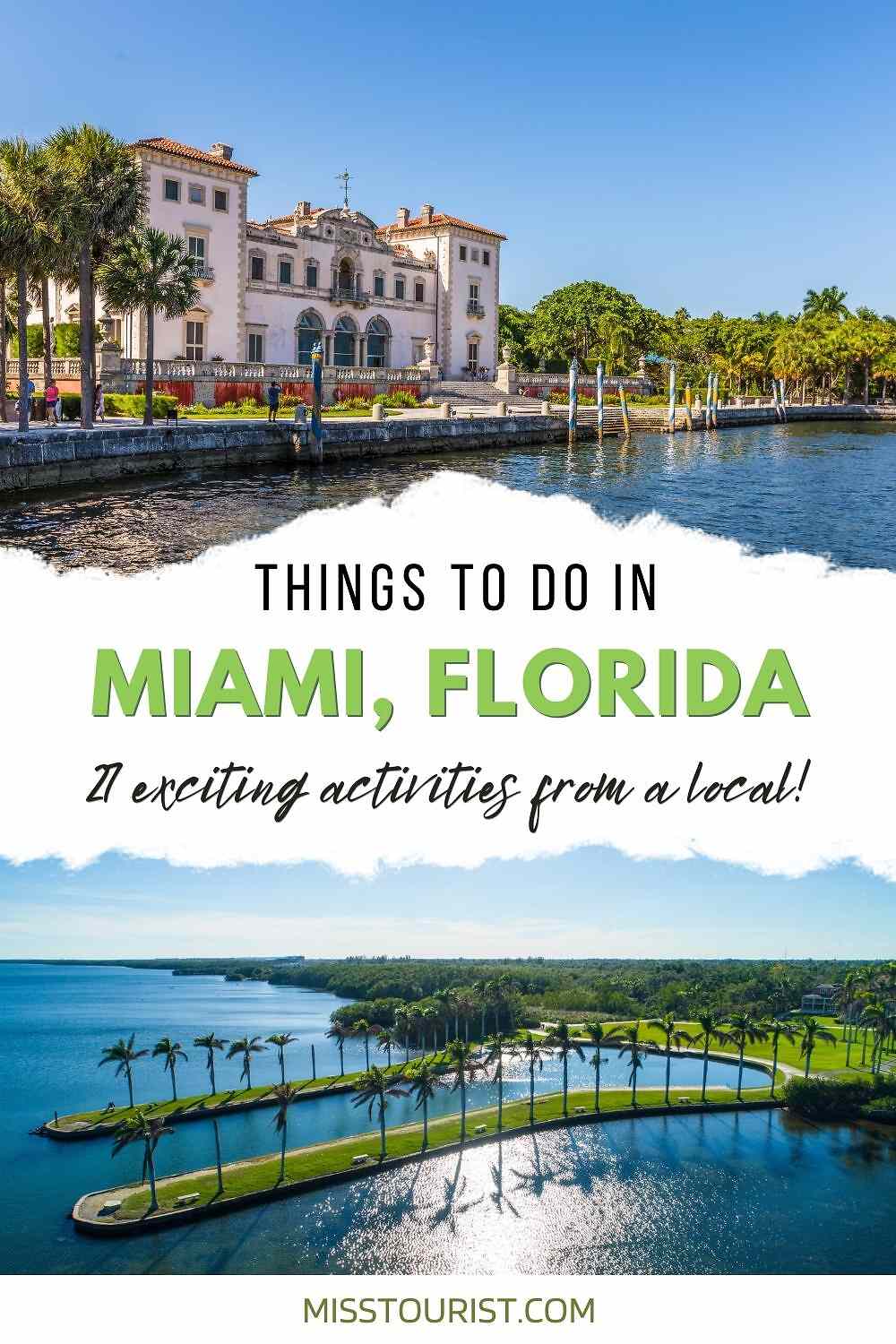 Pin it for later!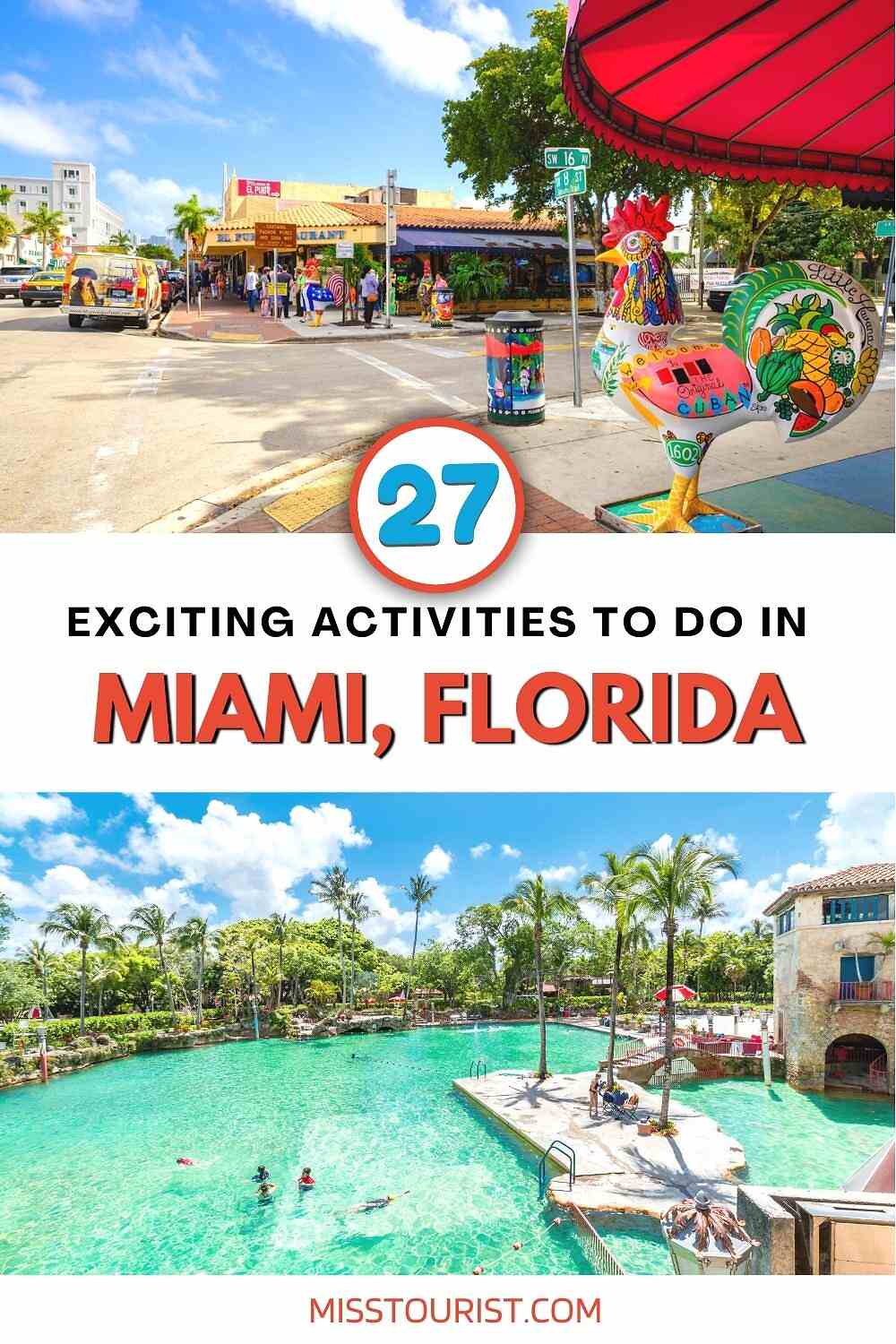 Products You May Like