Things to Do in Palm Beach → 24 Must-Dos & Hidden Gems
If you're planning a trip to Palm Beach, Florida, you're in for a real treat! This picturesque coastal city will absolutely charm the socks off of you. Beautiful beaches, magnificent architecture, outdoor activities, warm hospitality, and a storied past make it the unique vacation destination it is today.
It's no secret that Palm Beach is known for its rich and famous residents, but there is a lot more than meets the eye, and I am talking from personal experience as a Florida local.
In this article, I'm talking about all the best things to do in Palm Beach, from the sophistication and luxury of the Palm Beach, the barrier island on the Atlantic Ocean that many celebrities, socialites, and A-listers have called home, to the hip and lively vibes of neighboring West Palm Beach, which is just a short drive over the Intracoastal Waterway.
Whether you're traveling with kids on a family vacation or interested in a romantic getaway with your better half, I've included something for everyone on this list.
Without further ado, let's jump and explore Palm Beach, Florida!
If you are in a hurry
Need to book ASAP? I've rounded up the best activities for you that you'll want to book soon to ensure a spot.
1. Step into the Gilded Age at Henry Morrison Flagler Museum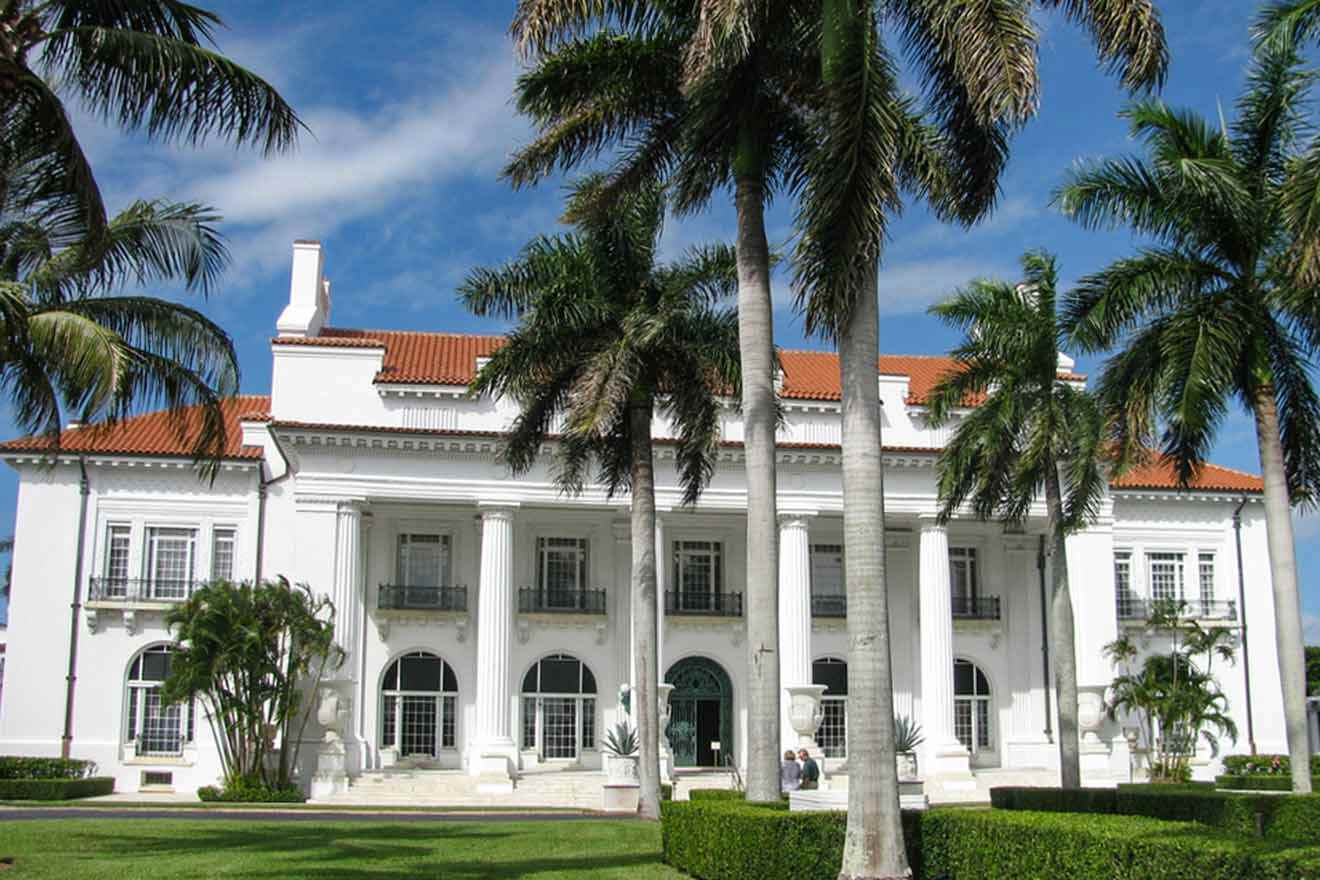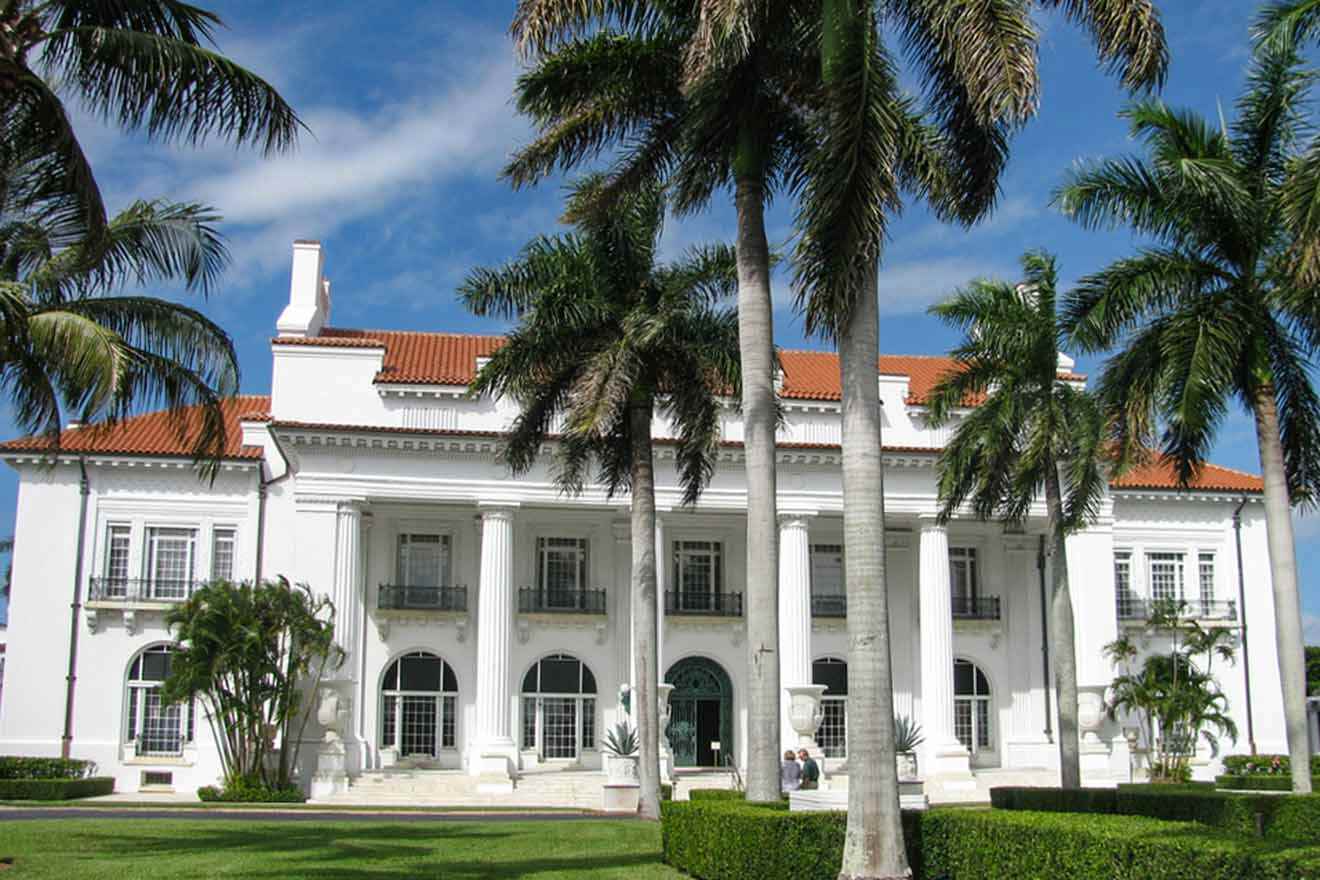 Opulence is synonymous with Palm Beach, FL, so it makes sense that #1 on our list of must-dos on the island is the 75-room, 60,000 ft² (5,575 m²) Gilded Age mansion that Henry Flagler built for his wife as a wedding present.
When this breathtaking home, named Whitehall, was completed in 1902, the New York Herald famously described it as "more wonderful than any palace in Europe, grander and more magnificent than any other private dwelling in the world." With praise like that, you know this place is well worth the visit.
Today, Whitehall serves as the Flagler Museum and is open to the public for self-guided and docent-led tours. Explore the house and the grounds, and see Flagler's private Railcar No. 91. You can even enjoy seasonal Gilded Age-style tea service at the museum's Café des Beaux-Arts.
PRICE: US$26 for adults, US$13 for children ages 6+
2. Enjoy galleries & gardens at the Norton Museum of Art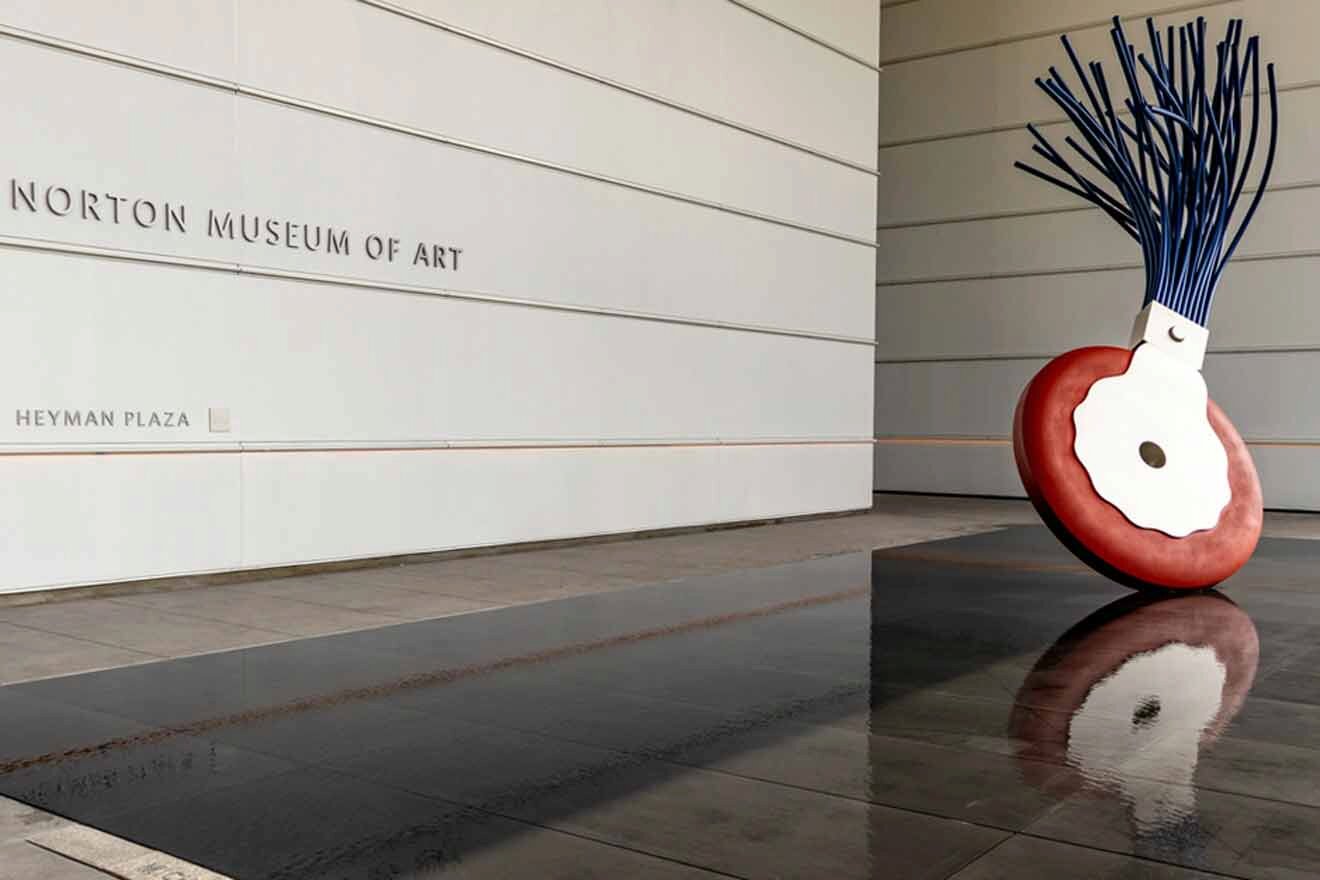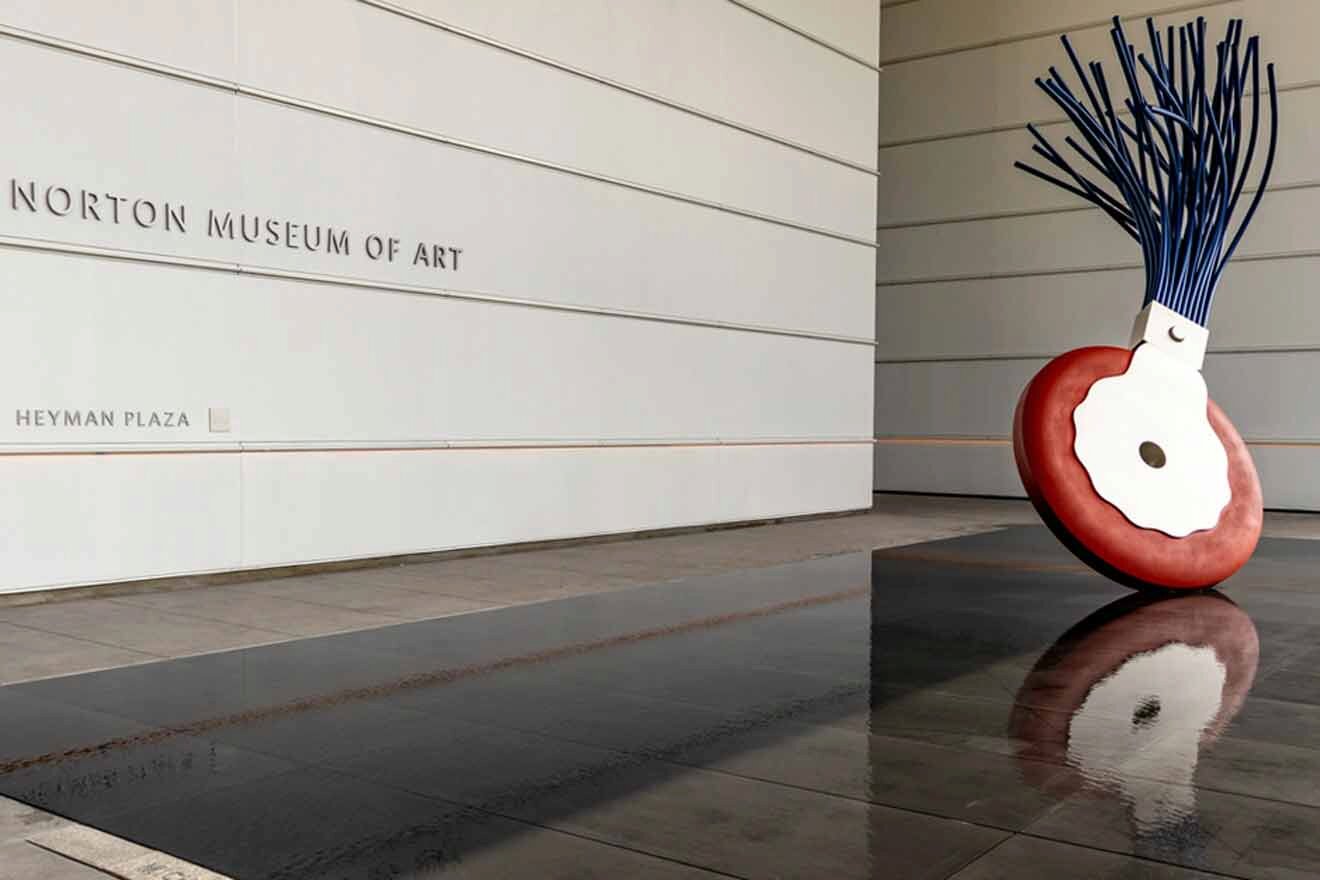 Art lovers will not want to miss out on the Norton Museum of Art, the largest museum in Florida and easily one of the best things to do in Palm Beach.
The Norton Museum of Art boasts a permanent collection of 8,200 works in 5 departments: European, American, Chinese, Contemporary, and Photography, in addition to special, limited-time exhibits. You can continue your exploration outdoors to the 37,200 ft² (around 3,460 m²) Pamela and Robert B. Goergen Garden, which is teeming with sub-tropical foliage and features outdoor sculptures by renowned artists.
Every Friday night, the Norton Museum of Art hosts Art After Dark, an after-hours event with live entertainment, art workshops, film screenings, docent-led and artist-led tours, and more! It's the perfect way to kick off a weekend in Palm Beach.
PRICE: US$18 per person, ages 12 and under are free
3. Bike along the scenic Lake Trail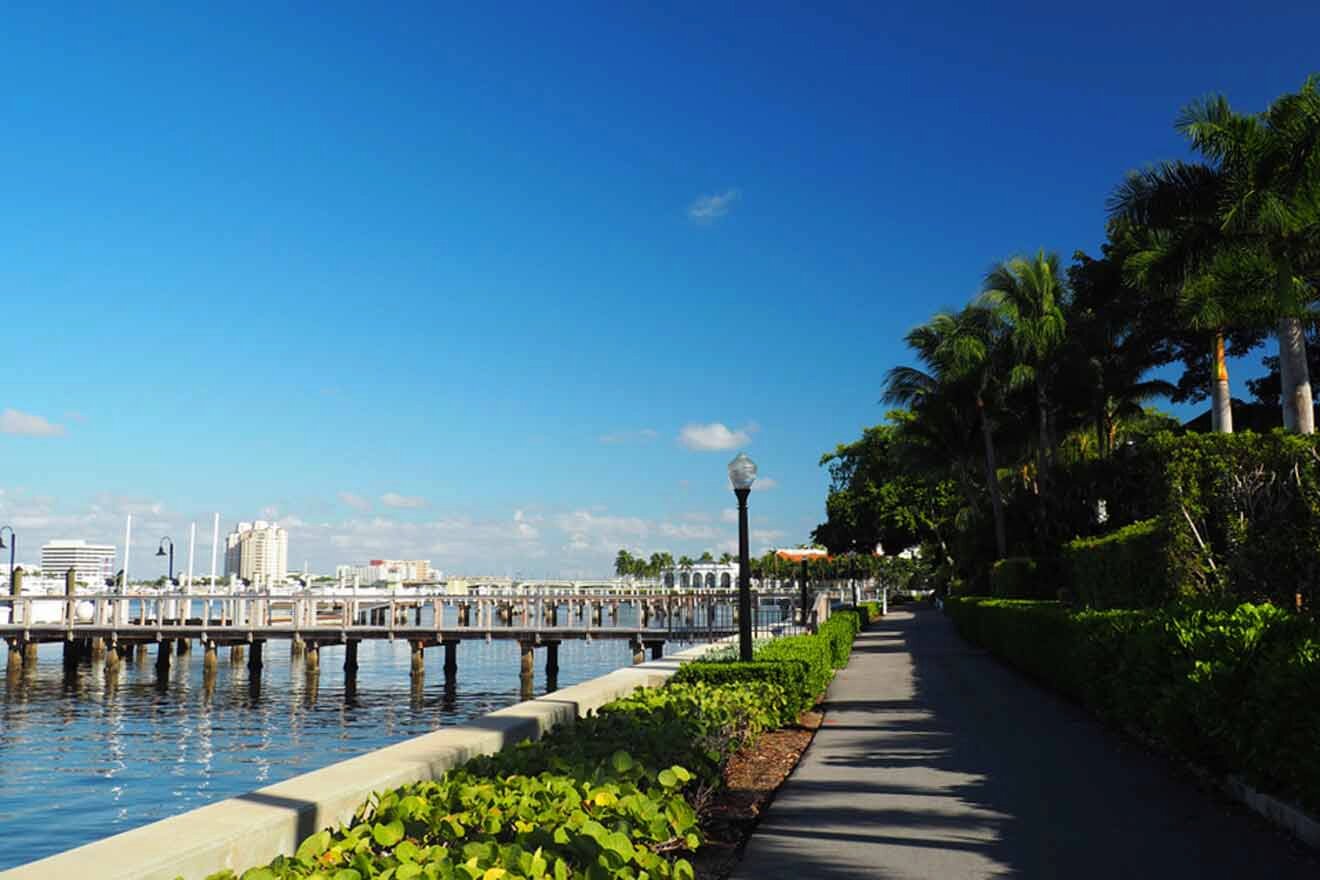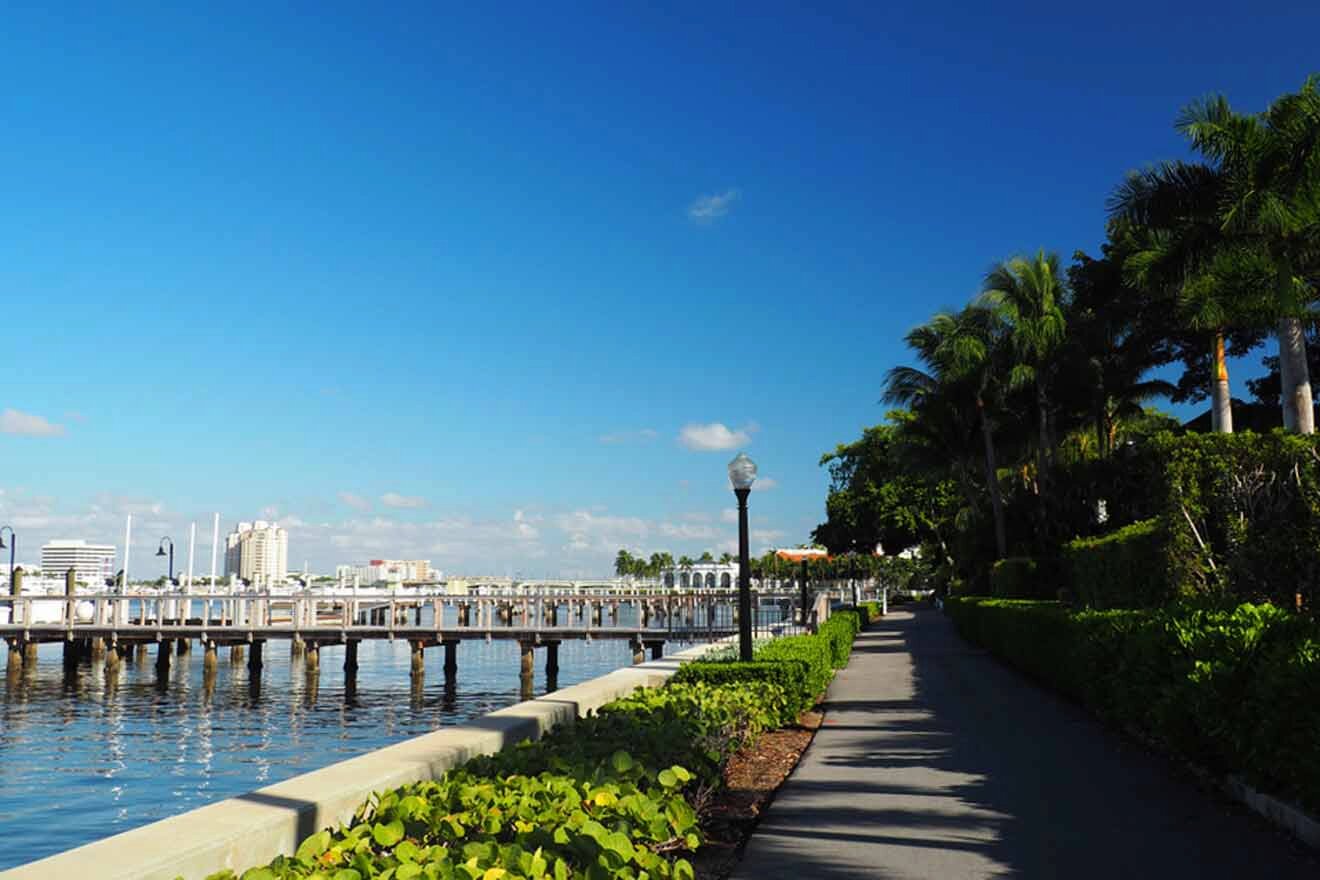 See Palm Beach like a local by biking the beautiful Lake Trail, which stretches around 6 miles (app. 9 km) along the Intracoastal Waterway and offers unparalleled views of the Lake Worth Lagoon and West Palm Beach.
Along this picture-perfect trail, you'll pass palatial homes and historic sites, like the Henry Morrison Flagler Museum, Sea Gull Cottage, the famous Sailfish Club, and the original Bethesda-by-the-Sea Church, which is now a private residence. It's a glimpse into the exclusivity of Palm Beach via tree-lined neighborhoods and charming pathways.
Palm Beach Bicycle Trail Shop offers a variety of bikes for rent, including beach cruisers, e-bikes, electric bikes, and surreys. If you're military or a first responder, you can get a discount with ID!
4. Stroll down iconic Worth Avenue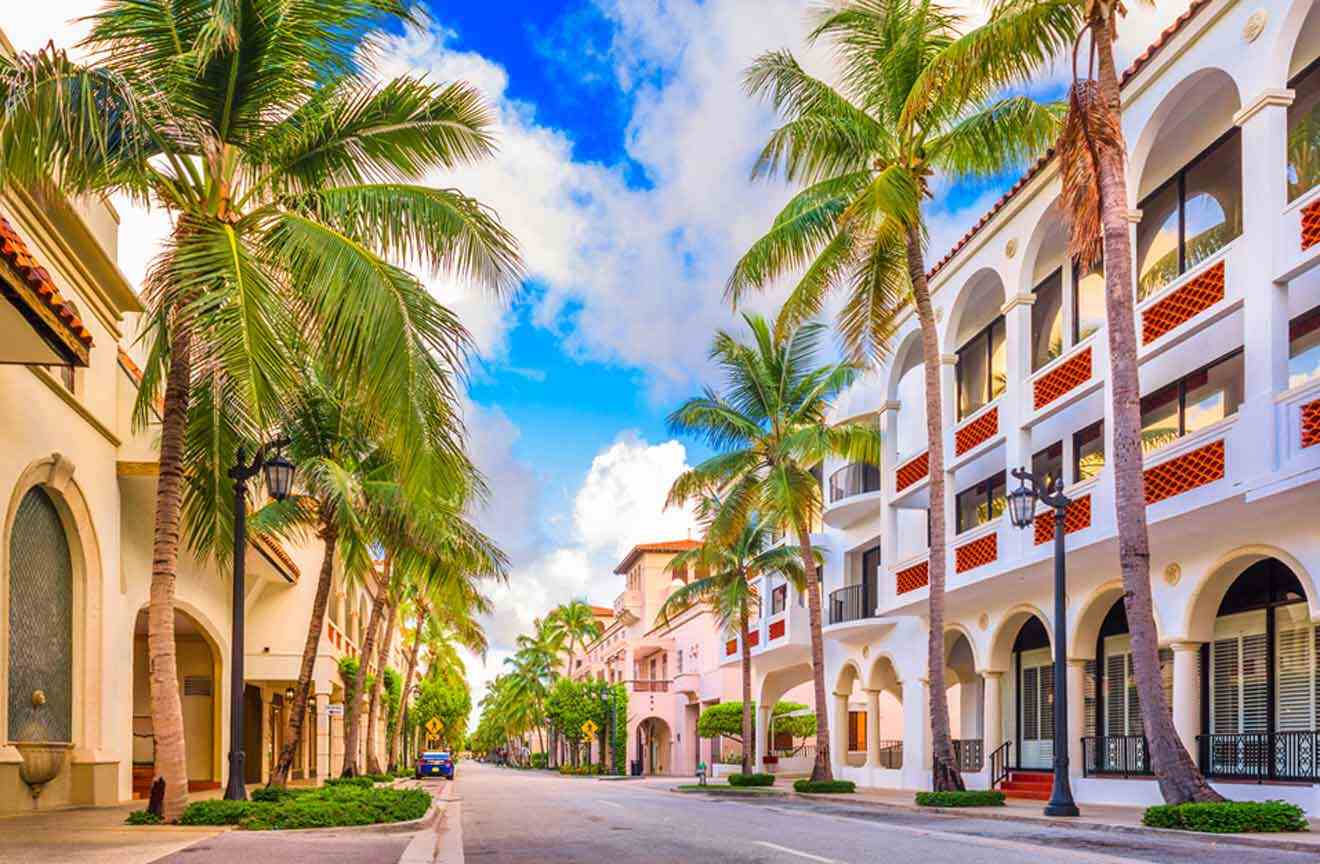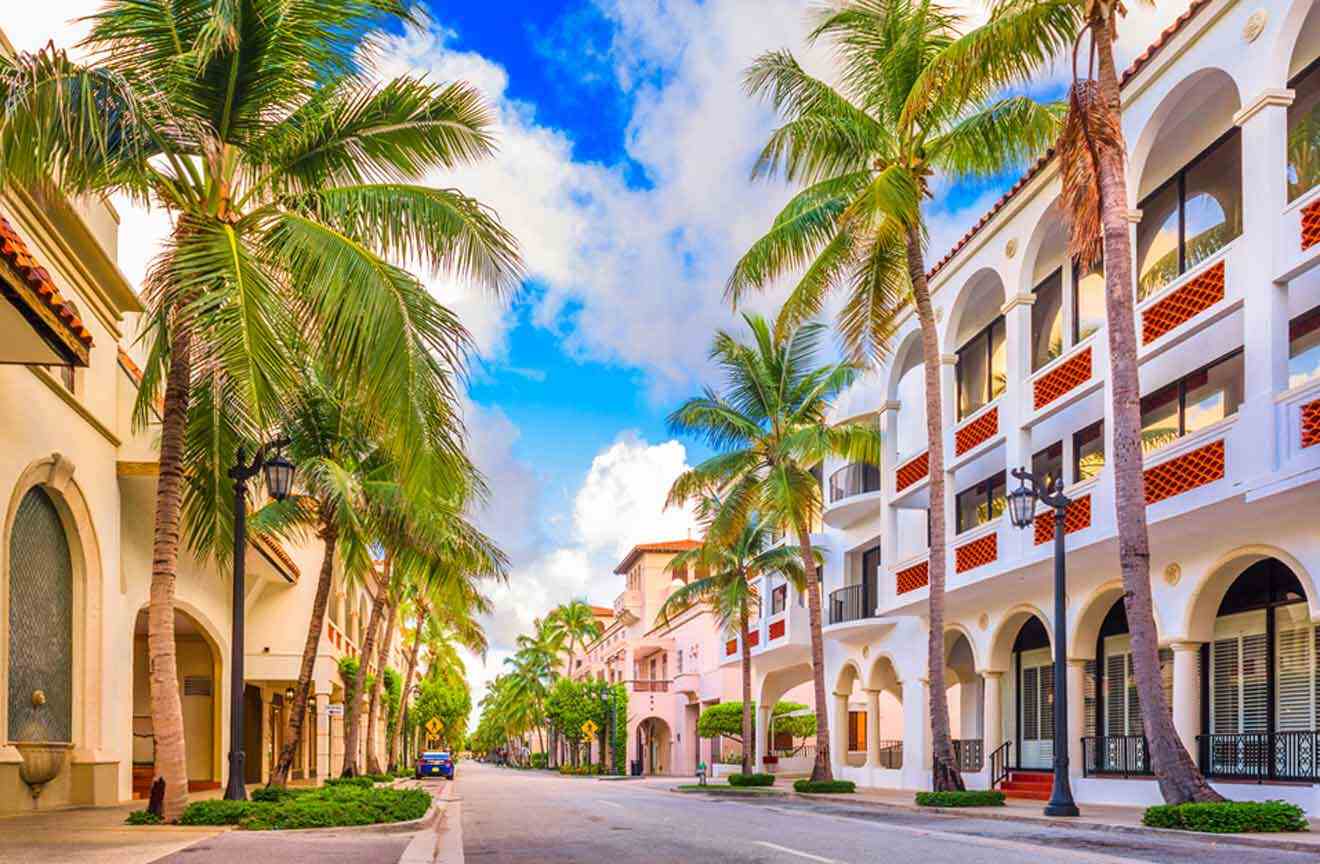 Worth Avenue is an iconic street in Palm Beach just steps away from the beach. Take some time to discover at your own pace over 250 luxury shops, like Chanel, Gucci, Max Mara, Lilly Pulitzer, Louis Vuitton, and many more, including art galleries and one-of-a-kind specialty shops where you can find the latest trends in apparel, art, and home decor.
And that's not all – Worth Avenue boasts an incredible culinary scene, ranging from beachfront dining al fresco at Breeze Ocean Kitchen to a quintessentially Palm Beach experience, dinner at Swifty's in Palm Beach's iconic pink hotel – The Colony.
If you love luxury, Worth Avenue is the ultimate destination for you. But even if upscale shopping and menus without prices listed aren't your cup of tea (no judgment here – I'm more of a dive bar, buy everything on Amazon girl myself), I still recommend checking it out because the area's beauty and history are unmatched.
You can also take a historic walking tour of Worth Avenue. They're offered every Wednesday from the end of November to the end of April, in addition to Worth Avenue's other exciting events and happenings.
TIP: Book lovers should stop by Raptis Rare Books to check out their amazing collection of rare, first-edition, signed, and inscribed books by literary greats.
5. Take in the beauty of Bethesda-by-the-Sea Church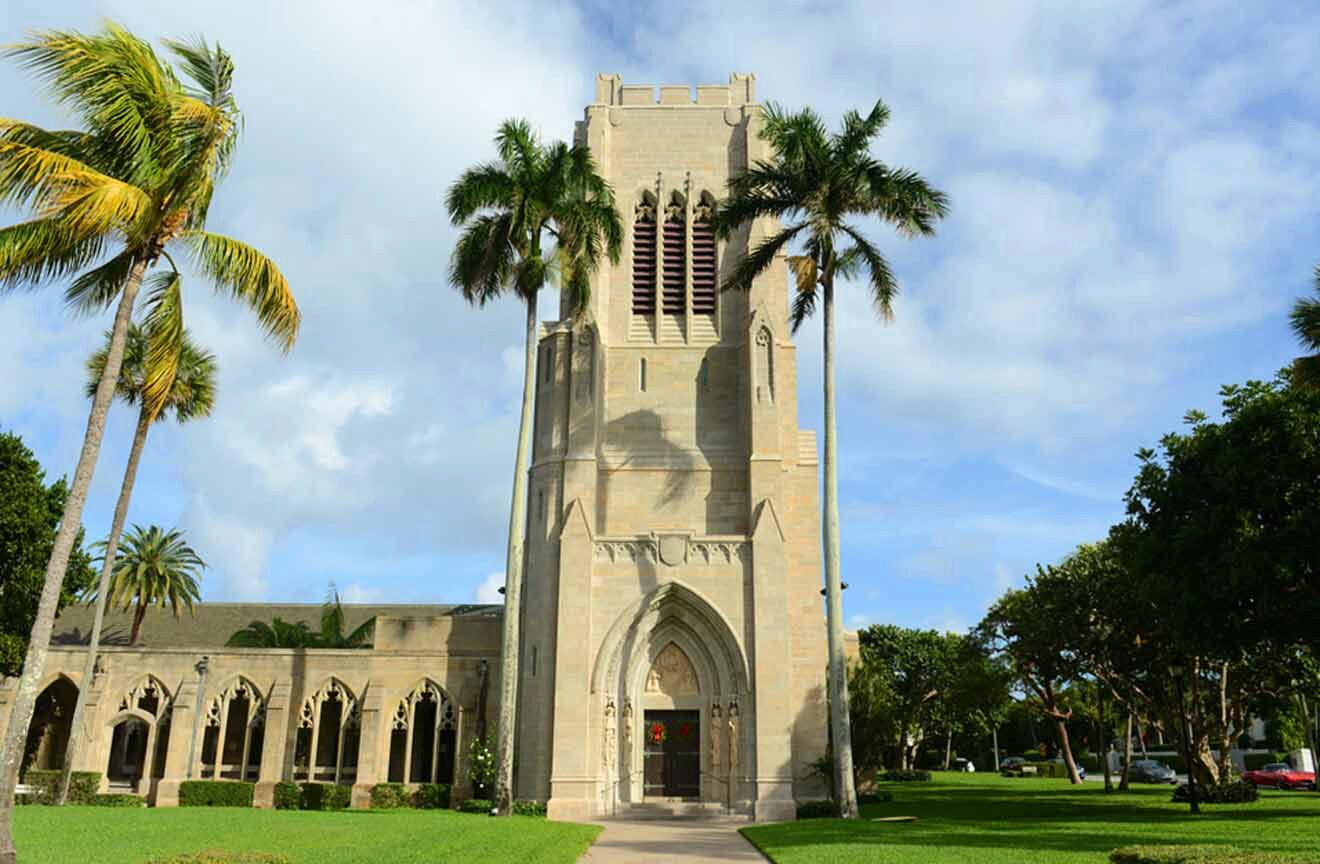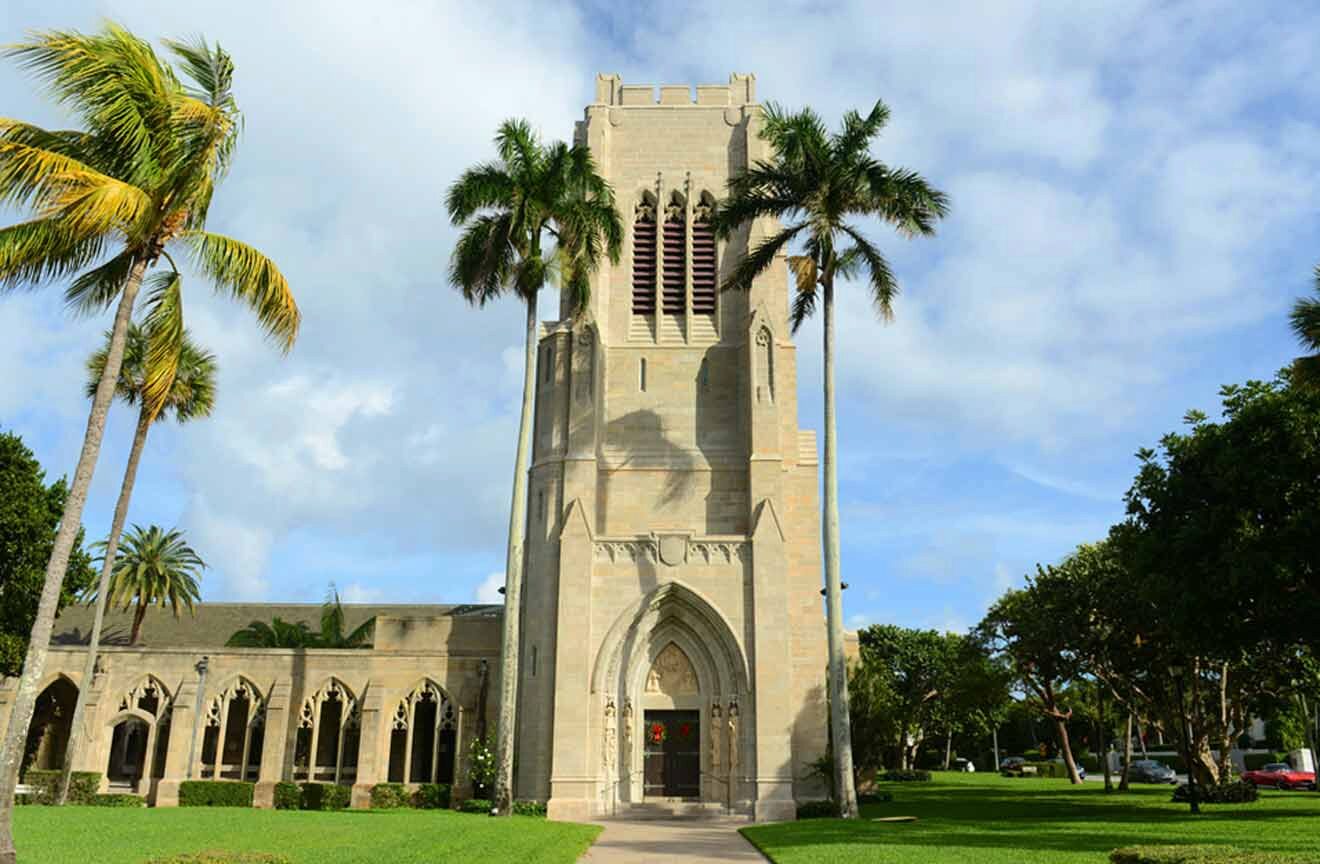 It's not every day that you find a church recommended as one of the best things to do in a vacation destination, but stopping by the Bethesda-by-the-Sea Church really is a must-do on your next trip to Palm Beach.
Built in 1925, the beautiful church structure is known for its stunning Tiffany windows and Gothic revival architecture. It also hosted several celebrity weddings – Michael Jordan got married there in 2013!
You'll even find a pond on the lush grounds of Bethesda-by-the-Sea Church, filled with koi! I could stare at a koi pond for hours and get lost in thought, so it's a wonderful space for moments of peace and tranquility. But as splendid as the exterior is, the interior is even more jaw-droppingly gorgeous.
Of course, you can attend services at Bethesda-by-the-Sea Church as well, and worship times are listed online. You can also take a free, docent-led tour of the church offered on various days throughout the month.
6. Shop like a local at Amici Market
#6 on our list of best things to do in Palm Beach for all you foodies out there! Loved by locals and visitors alike, Amici Market is a family-owned and operated gourmet grocery store in Palm Beach. It's the perfect place to stock up on food for your vacation, and they boast an impressive selection of fine deli meats, seafood, cheese, fresh produce, olive oils, pasta, desserts, wines, and more.
Try something delicious and refreshing from the Amici Market Juice Bar, or order some of their gourmet meals to go and bring back to your hotel with you. My favorite thing about Amici Market is that they're very consistent when it comes to high quality – you always know you're getting the best each and every time!
7. Take a sightseeing cruise of historic Palm Beach
Like I always say, the best way to experience the beauty of Florida's coasts is from the water. You can discover Palm Beach's storied history aboard a 50 ft (15 m) catamaran on this Historic Sightseeing Cruise.
The tour takes you on the Intracoastal Waterway in Palm Beach, where you'll see and learn all about local landmarks, like Peanut Island, the Henry Morrison Flagler Museum, and the picturesque homes and beaches that Palm Beach is known for. I'd recommend this cruise, especially for first-time visitors to Palm Beach, as it's a great introduction to the island's historic sites, fascinating past, and stunning views.
This historic sightseeing catamaran cruise of Palm Beach fills up fast, so you'll definitely want to book it ASAP to secure your spot!
PRICE: US$50 for adults, US$20 for children
8. Ponder at Mounts Botanical Garden of Palm Beach County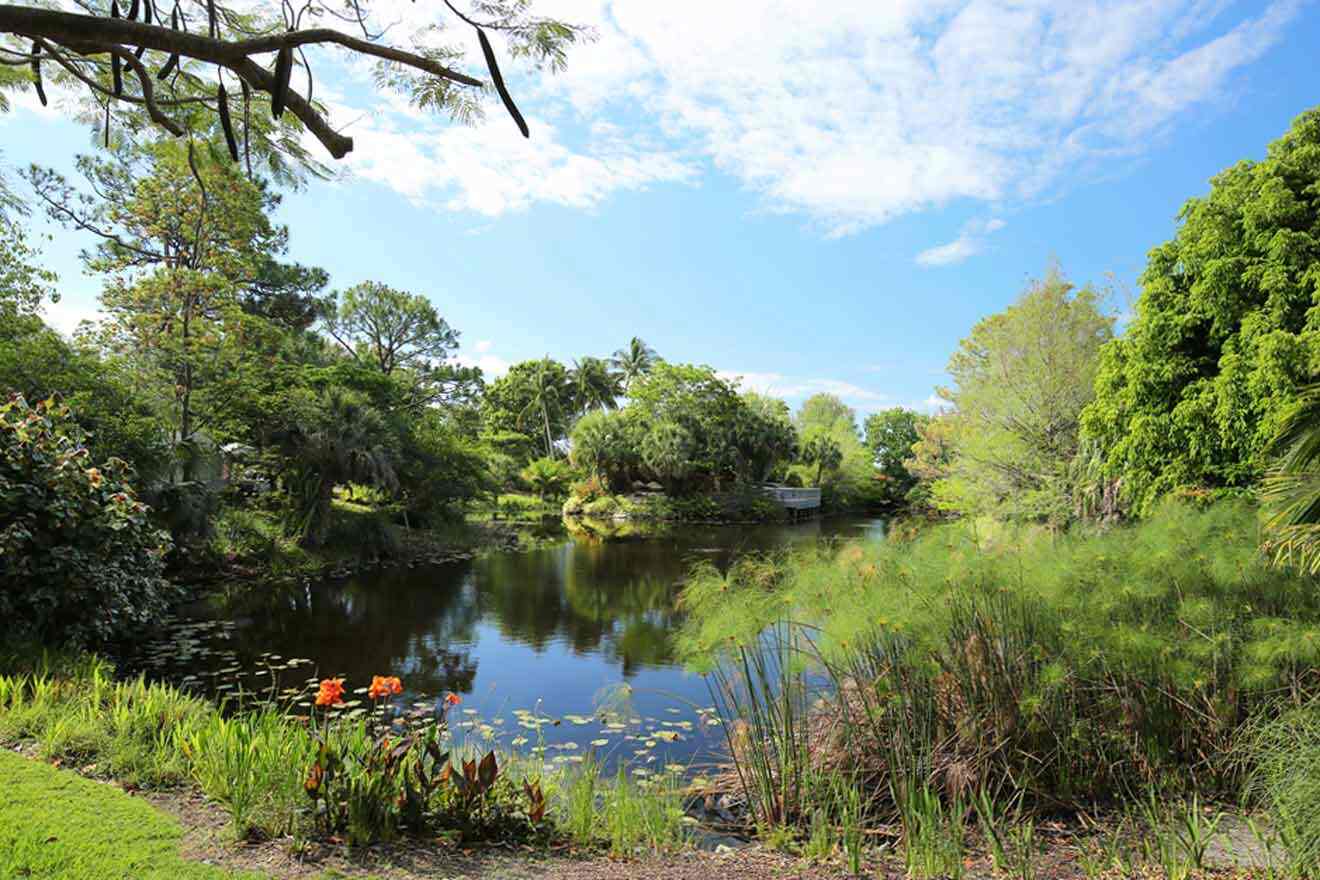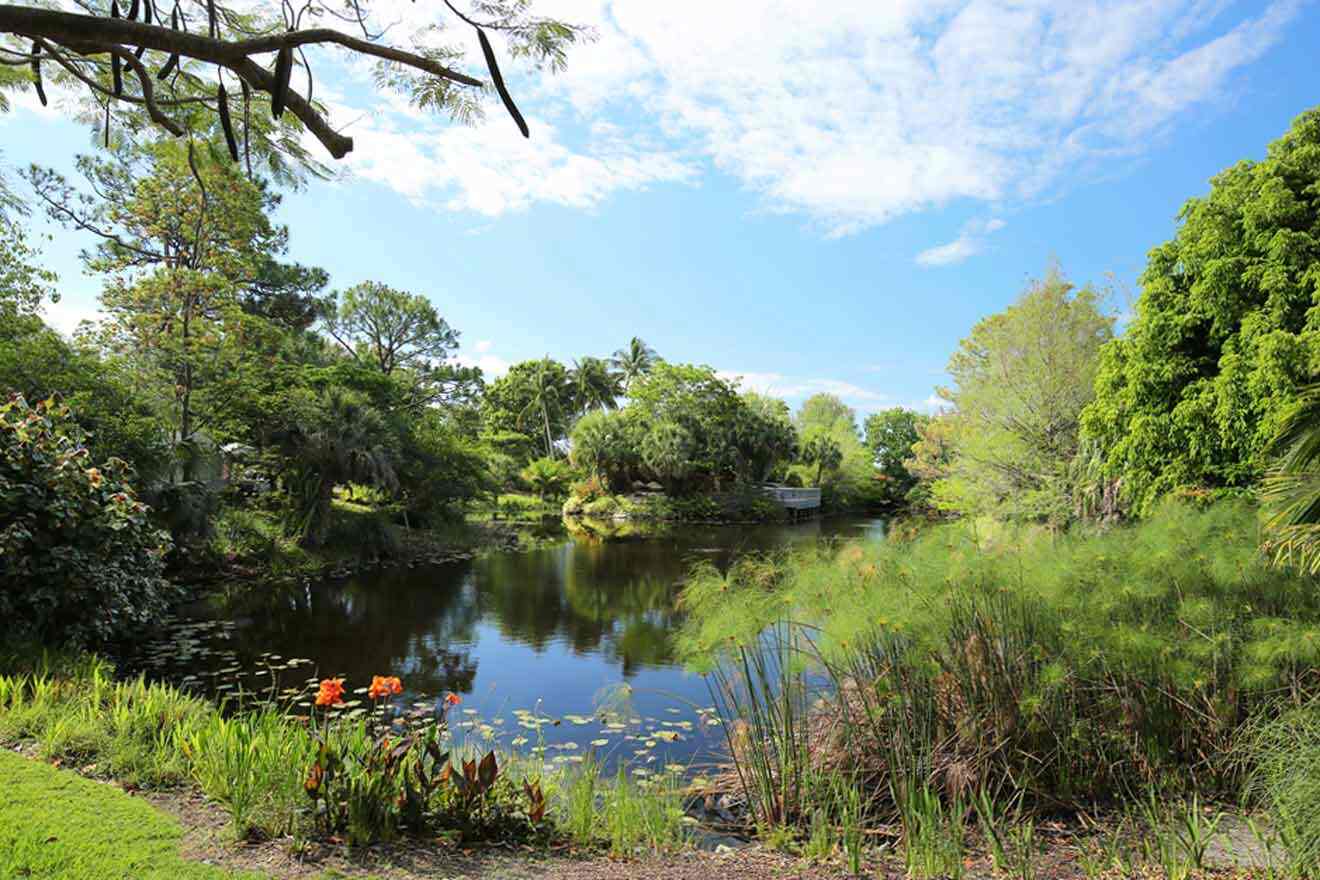 The oldest and largest among botanical gardens in Palm Beach County, Mounts Botanical Garden is not to be missed! Although it's located in West Palm Beach near the Palm Beach International Airport, this tropical oasis feels worlds away from reality.
You'll find upwards of 7,000 tropical and subtropical plants throughout 20 beautiful acres (8 hectares) of unique gardens, including the Rose and Fragrance Garden, the Butterfly Garden, and the Garden of Tranquility, among many more.
Mounts Botanical Garden is something the whole family will love, as it offers plenty of kid-friendly fun, like a treasure trek, a giant maze, koi fish feeding, and the largest outdoor fort in Palm Beach County!
There are always interesting events happening here as well, from art classes and festivals to yoga and tai chi. The second Sunday of each month is Dogs Day in the Garden, where you can bring your furry friend on a leash to enjoy this special place as well.
PRICE: US$15 for adults, US$7 for children ages 7+
9. Make a splash at Phipps Ocean Park
The Palm Beaches boast nearly 30 beautiful beach parks stretching 47 miles (75 km) along the Atlantic Ocean, so you don't have to go far to find a spot on the sand! While the local beaches do tend to get pretty crowded, Phipps Ocean Park, a locally loved spot in Palm Beach on the barrier island, is perfect for anyone looking for a relaxing and laid-back day at the beach.
Phipps Ocean Park has everything you need for a wonderful beach day, including amenities like restrooms, picnic tables, and grills. The north side of Phipps Ocean Park is very popular among swimmers and snorkelers, as the rocky shoreline beneath the ocean surface is home to amazing marine life.
On the south side, you'll find the tennis center, where you can drop in for tennis games, as well as explore the 19th-century Little Red Schoolhouse. There is a stunning nature trail here as well, with stunning views!
10. Check out The Breakers Palm Beach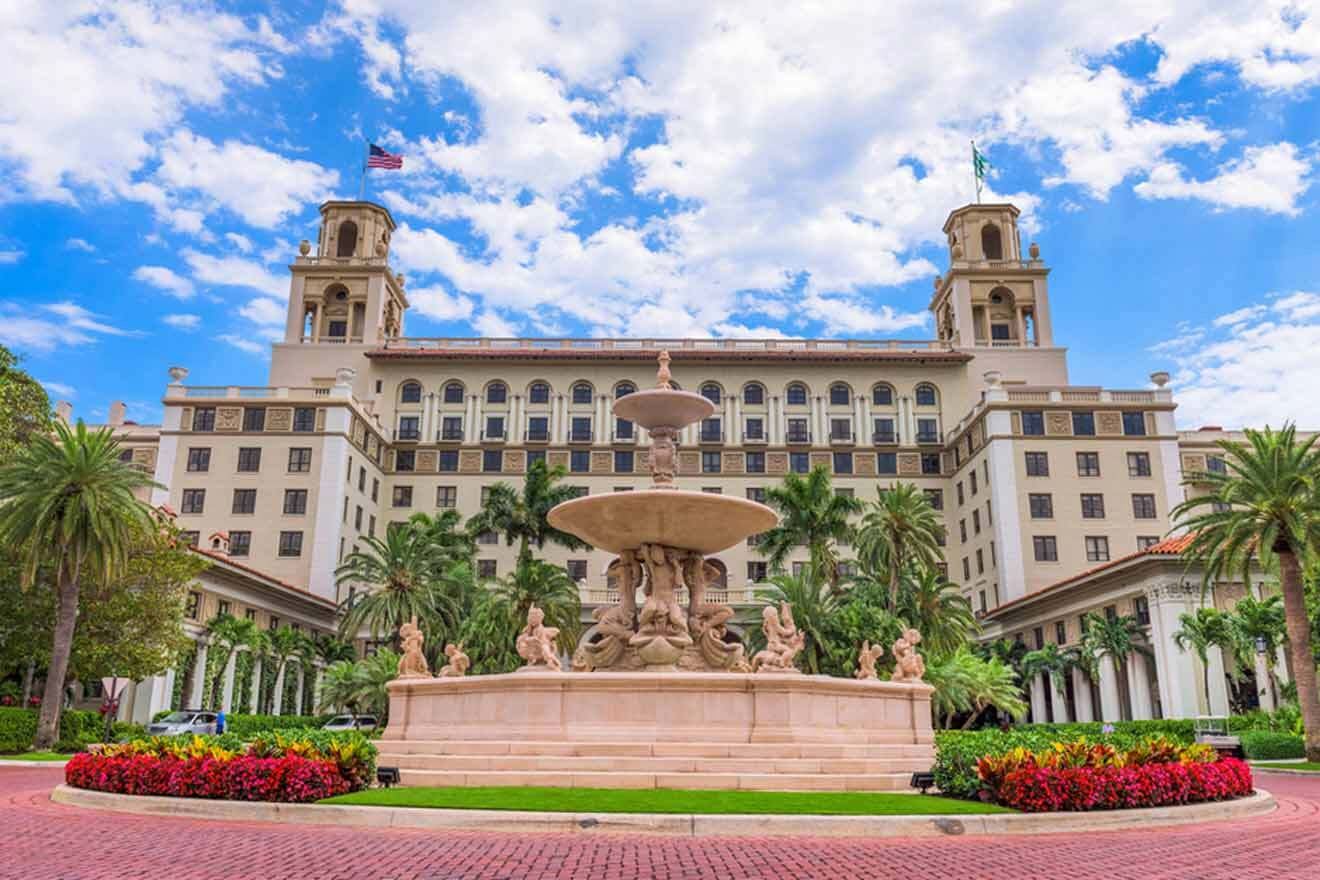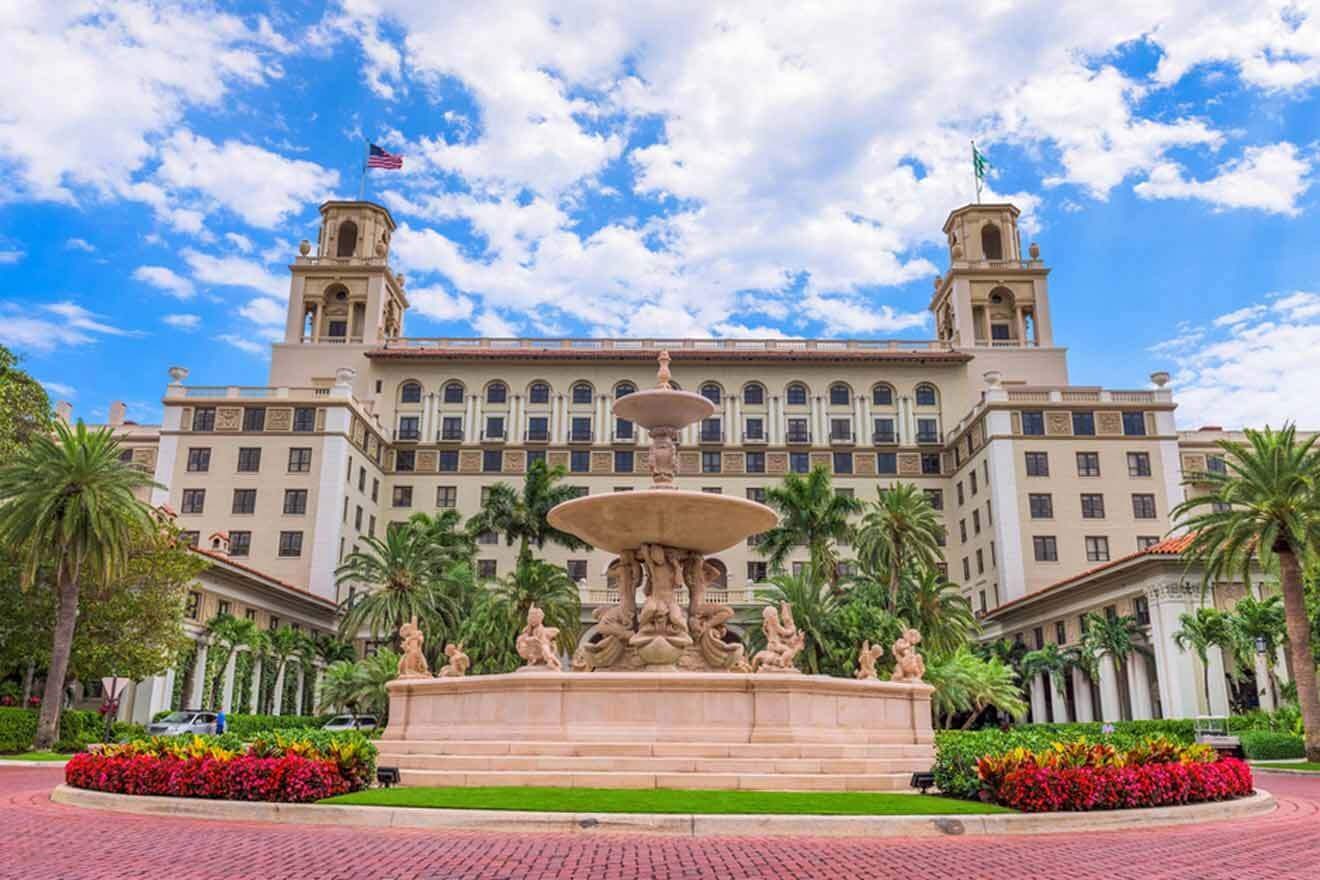 The Breakers Hotel has been a Palm Beach icon since 1896, founded by Henry M. Flagler himself! Its rich history, Italian Renaissance-style architecture, and unparalleled luxury have made The Breakers Palm Beach one of the most iconic resorts in the entire US.
The resort is situated on 140 acres (57 hectares) of oceanfront on the barrier island of Palm Beach, and it's listed on the National Register of Historic Places. While staying here is definitely a splurge, you can still check out this breathtaking property, even without the high price tag for a room. Stop by for drinks or a meal at one of the celebrated restaurants.
Get booking for a stunning historical stay!
11. Meet the animals at Palm Beach Zoo
I had an absolutely life-changing experience at the Palm Beach Zoo & Conservation Society, so of course, I had to include it on our list of best things to do in Palm Beach! Home to hundreds of animals representing 190 different species, many of which are endangered, the Palm Beach Zoo is a fantastic family-friendly attraction and a must-do for animal lovers.
See and learn about the incredible creatures that live there, including tigers, panthers, alligators, jaguars, monkeys, giant anteaters, otters, sloths, and many more! Stop by the Nature Play Pavilion, an interactive, outdoor play space that's fun for all ages to explore. Little ones love the Palm Beach Zoo Play Fountain and the Wildlife Carousel as well.
What really makes Palm Beach Zoo & Conservation Society so special is their unforgettable animal experiences, available for an additional price (starting at US$55 for non-members). A few years ago, I did the sloth encounter there where I met Wilbur, the resident Hoffman's two-toed sloth. Yes, I cried tears of joy getting to know this sweet girl, and we even got to take a selfie together!
There are several unique animal experiences offered there: sloth, tiger, koala, capybara and flamingos, otter, and Aldabra giant tortoise. If any of those stand out to you, I can't recommend it enough! They sell out quickly, though, so definitely book the experience in advance.
PRICE: US$28 for adults, US$22 for children ages 3+
12. Spend the evening on Clematis Street
If you're looking for a lively night out on your Palm getaway, look no further than Clematis Street. Located in the heart of downtown West Palm Beach, Clematis Street is a hotspot for dining, drinking, and live entertainment.
You'll find no shortage of restaurants, bars, clubs, and historic landmarks on Clematis Street, as well as the surrounding areas. From hole-in-the-wall eateries to fine dining, there is something for everyone here.
In the mood to dance? Clematis Street boasts unique nightclubs, like the 3-story Banko Cantina with its rooftop bar and Roxy's Pub, an Irish-themed tavern loved by locals and tourists alike.
13. Have a blast learning at the Cox Science Center and Aquarium
Traveling to Palm Beach with children? I've got a great family-friendly attraction for you: the Cox Science Center and Aquarium, one of the best things to do in Palm Beach with kids. Visitors of all ages love this hands-on, interactive experience that brings science to life.
At the Cox Science Center and Aquarium, you'll discover over a hundred unique exhibits, a 10,000-gallon (38,000 liters) aquarium, an observatory, a full dome planetarium with state-of-the-art video presentations, and even an 18-hole miniature golf course that made its way to the list of "Top 13 Miniature Golf Courses in the Nation," according to Travel Magazine.
The Cox Science Center and Aquarium in West Palm Beach is a one-stop destination where learning meets fun, and the whole family will enjoy it!
PRICE: US$21 for adults, US$17 for kids. Planetarium shows are an additional US$5 per person.
14. Grab a bite at Green's Pharmacy & Luncheonette
Whenever I visit somewhere new, I love researching where locals go – those places are always the best, and usually without the tourist upcharge. Green's Pharmacy & Luncheonette in Palm Beach is just that – a neighborhood staple since 1938, once frequented by President John F. Kennedy whenever he was in town.
Serving up classic diner favorites like pancakes, eggs, burgers, sandwiches, soups, and salads, this iconic establishment is a must-do on your trip to Palm Beach. Green's isn't a pharmacy just in name only – it's an old-fashioned pharmacy still in operation today, so it's not uncommon to see locals enjoying a bite or a milkshake while they wait for their prescriptions to be filled.
There's also a store inside Green's Pharmacy where you can pick up various conveniences and odds and ends. It's a great place to stop if you forgot to pack something!
15. Have fun in the sun at John D. MacArthur Beach State Park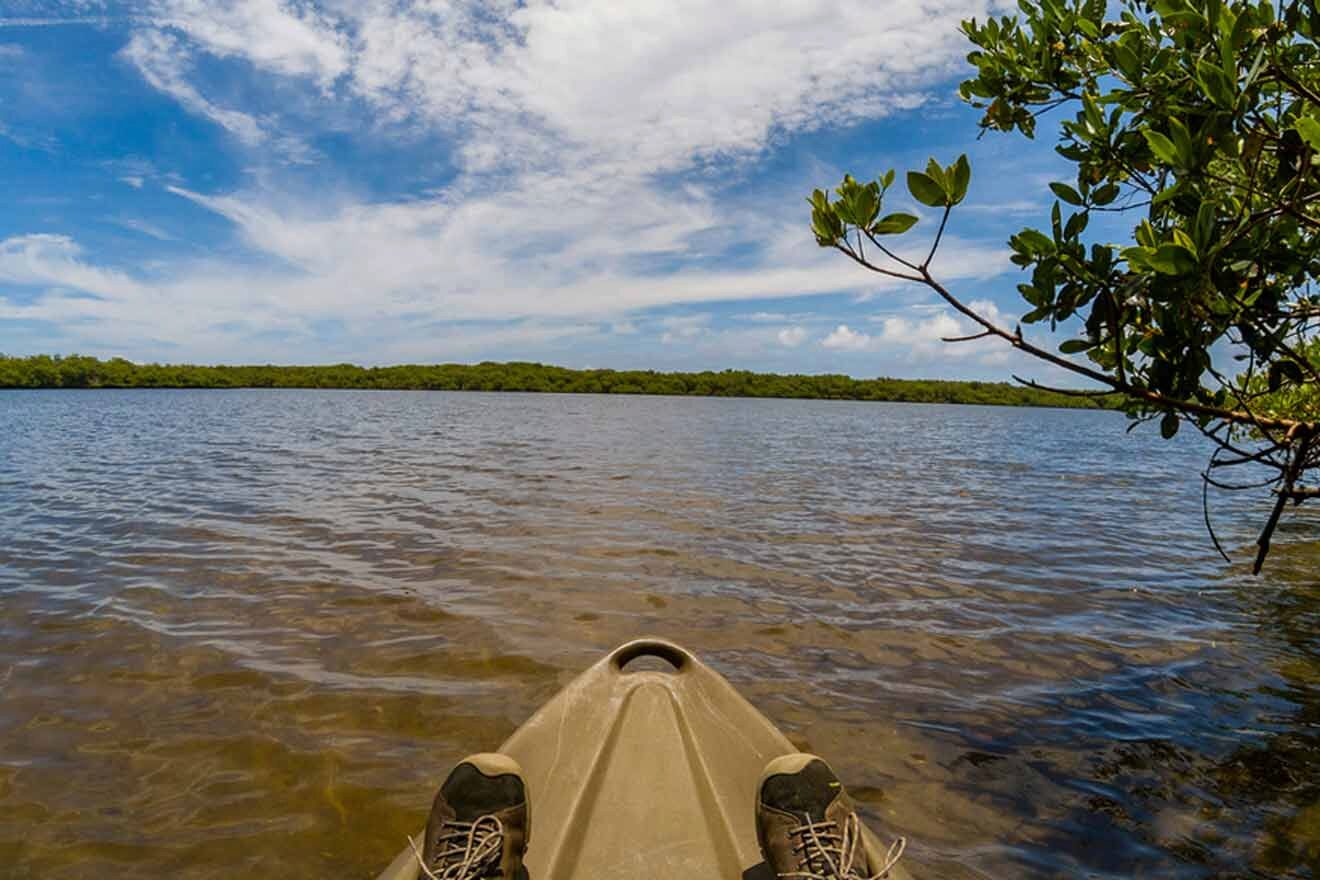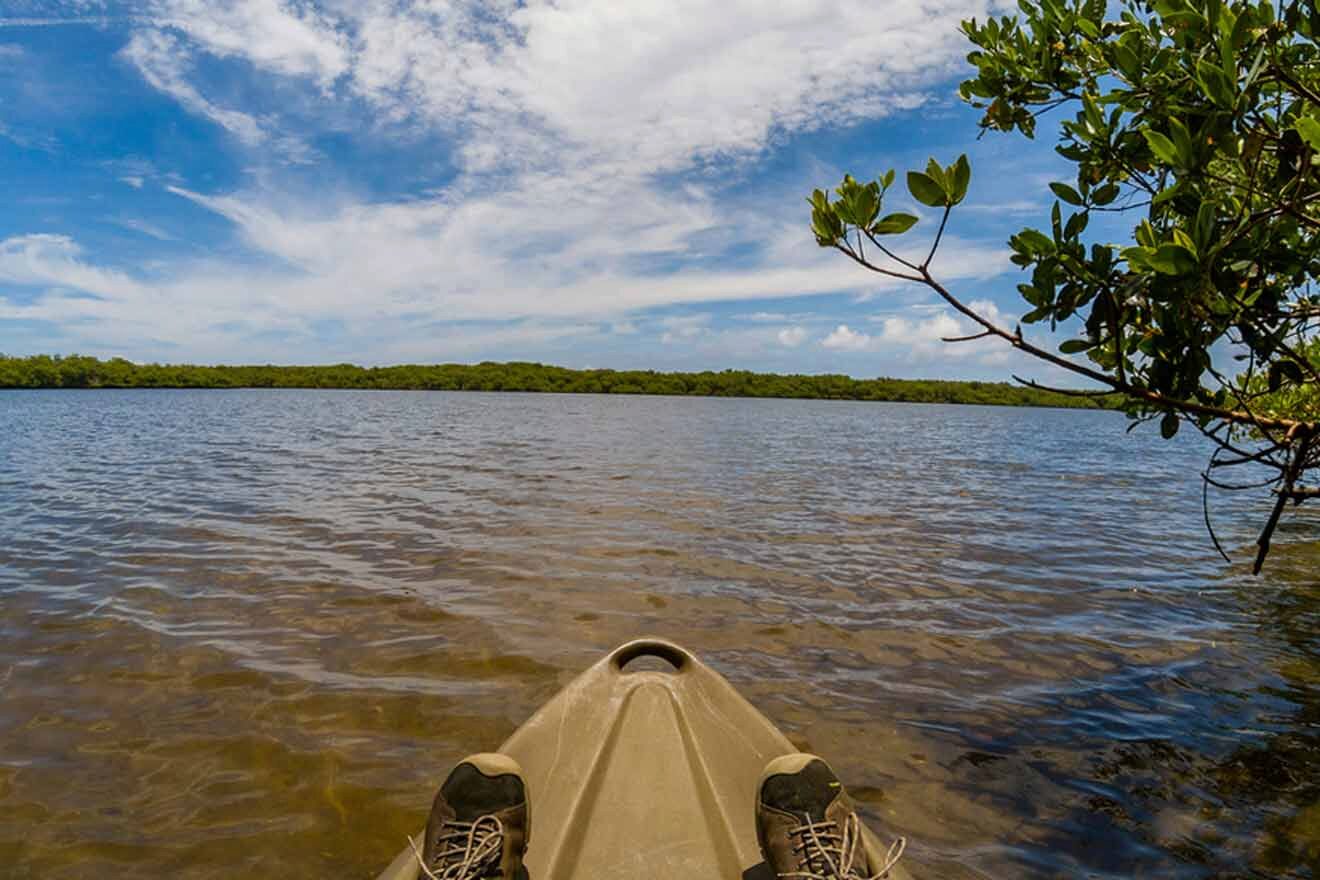 There is only one state park in Palm Beach County, but when it's as spectacular as John D. MacArthur Beach State Park is, who needs any others!?
Situated on a barrier island in North Palm Beach, MacArthur Beach State Park boasts nearly 2 miles (3 km) of beautiful beaches, perfect for snorkeling, swimming, and exploring. Stroll down the 1,600-foot (app. 490 m) boardwalk and right into the soft sand for some fun in the sun.
Kayaking is super popular here, and visitors can rent kayaks on-site. You can also rent a stand-up paddleboard if that's more your thing!
Embark on a paddling adventure through the estuary or into Lake Worth Lagoon over to Munyan Island, an incredible mangrove habitat accessible only by boat. Getting out on the water allows for some amazing wildlife observation, too – you may see manatees, dolphins, rays, snook, and a variety of birds.
MacArthur Beach State Park has all the amenities you need for the perfect day at the beach: restrooms, showers, refillable water bottle stations, picnic pavilions, grills, a playground, and beach wheelchairs.
Outdoor and nature enthusiasts will definitely want to check out the Nature Center, where you can learn all about the park's habitats and the animals who call this protected area home! There are also 2 nature hiking trails to explore on a self-guided tour, and you can download checklists of the local flora and fauna to spot online.
PRICE: US$5 per vehicle
16. Hit the links at the Palm Beach Par-3 Golf Course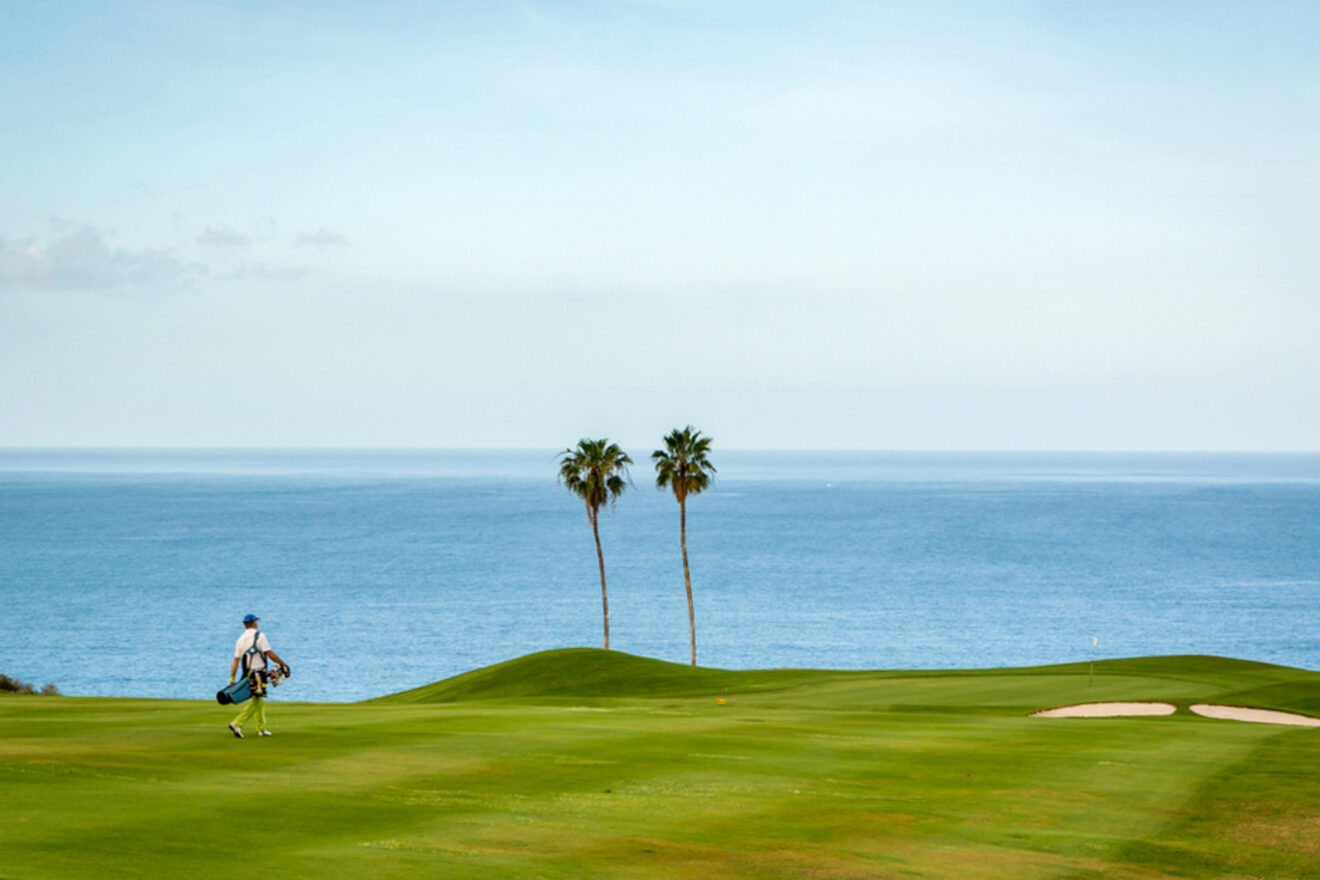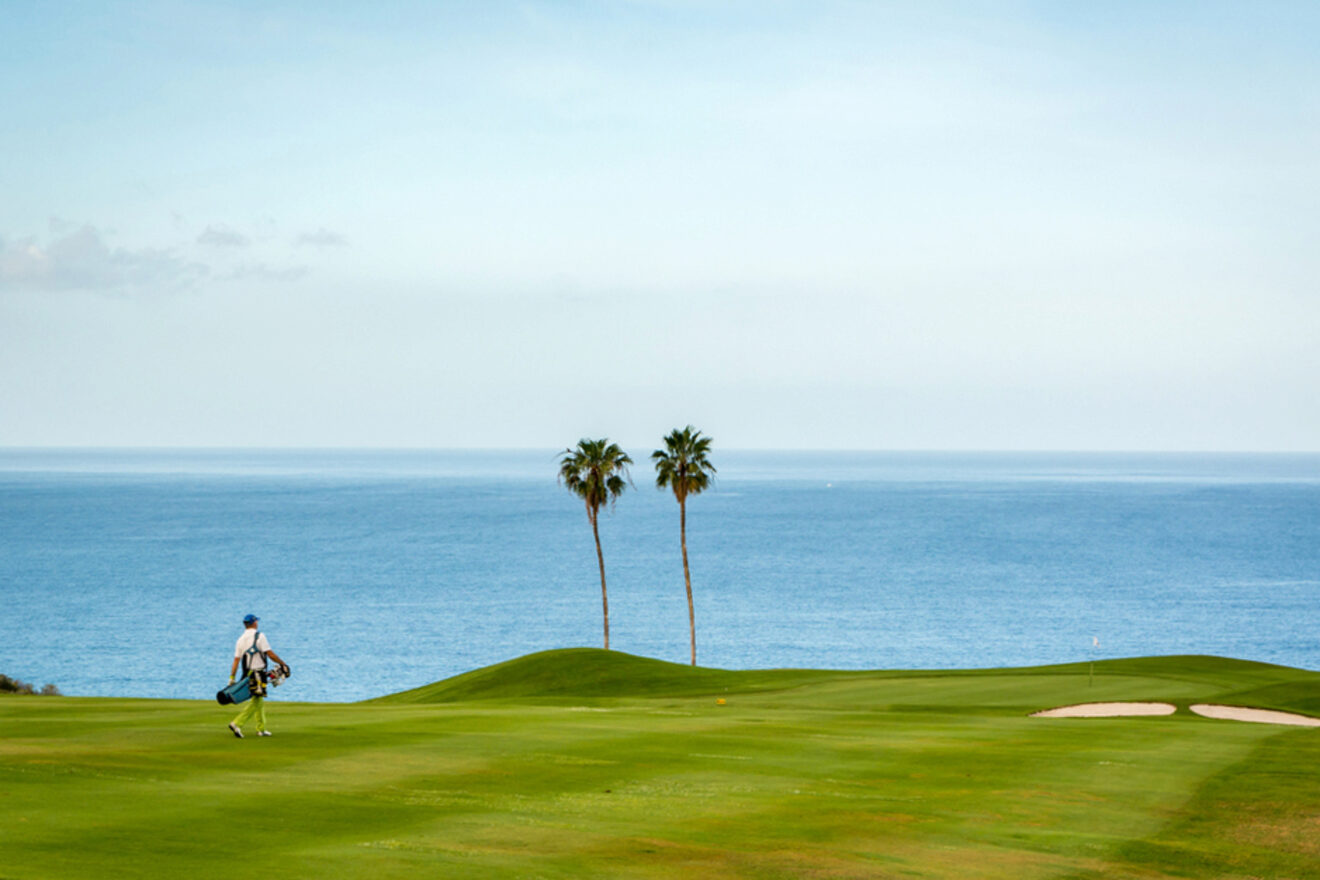 It comes as no surprise that the Palm Beach Par 3 Golf Course was named "The Best Par-3 in the U.S." by Golf Digest magazine. After all, golf just might be the most popular pastime in Palm Beach, and this stunning waterfront course is loved by pros and casual golfers alike.
If you love golf, a visit here is a must. The Palm Beach Par-3 Golf Course is open to the public, and you can book your tee time online. In addition to the extraordinary 18 holes, you'll want to check out the gorgeous Key West-inspired clubhouse, home to a fully-stocked pro shop.
There's no better place to brush up on your swing, either. Palm Beach Par-3 offers adult and junior clinics at an affordable price (US$40 per person), where you can learn in a fun, social setting. Private instruction is available as well.
You're going to work up an appetite out there, but not to worry – there's a fantastic restaurant on site, Al Fresco, that serves up delicious breakfast, lunch, and dinner. Reservations are available by calling (561) 273-4130.
17. Get inspired at the Society of the Four Arts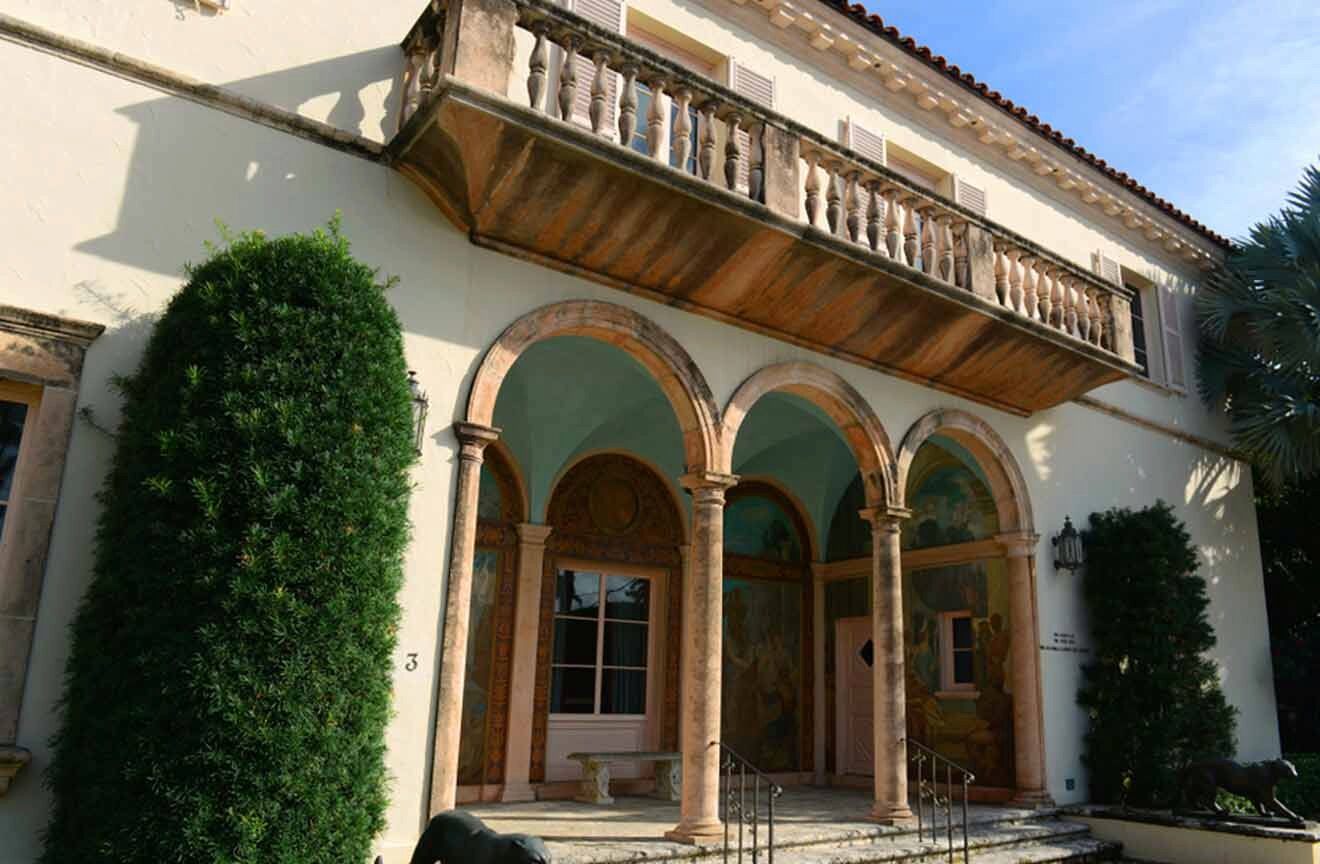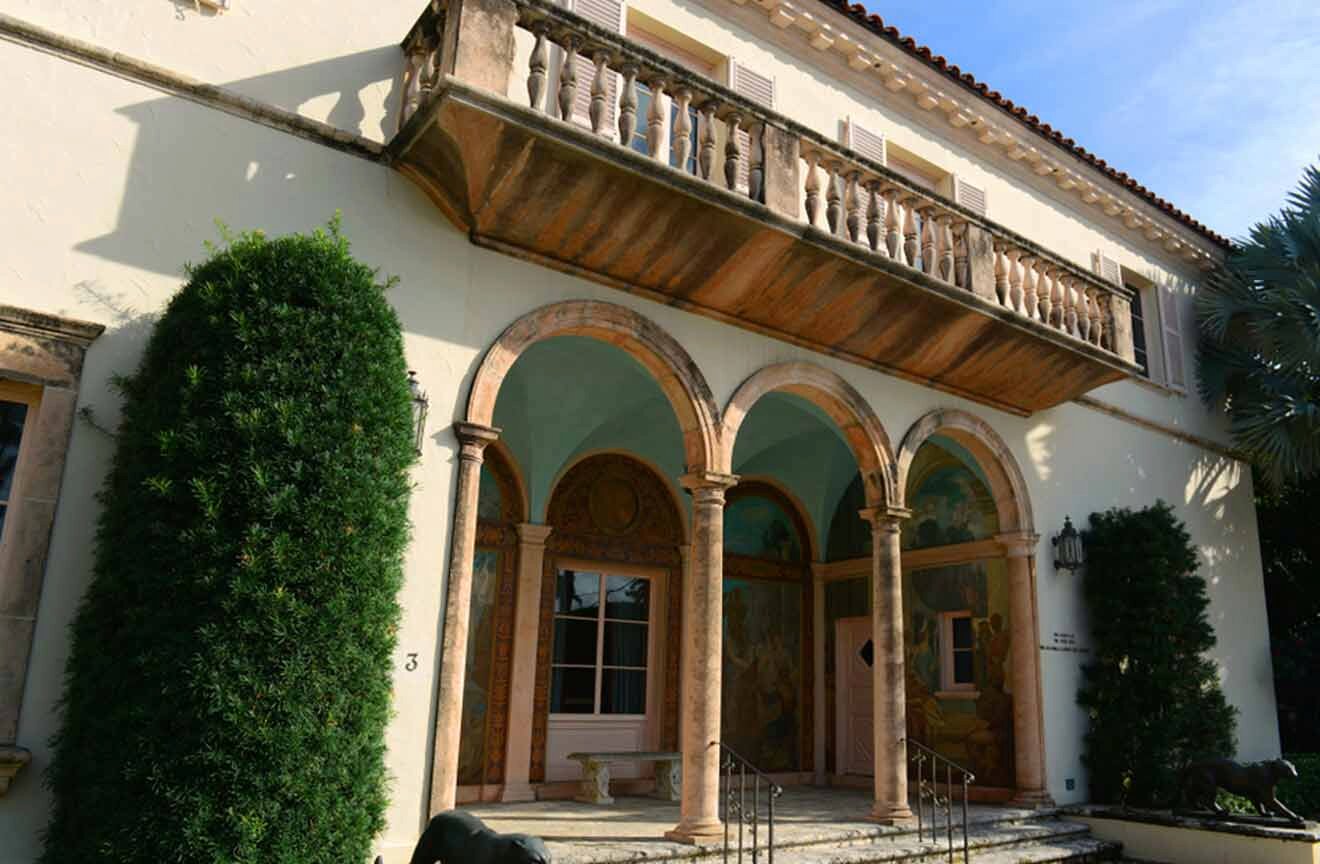 Gardens, libraries, art exhibitions, concerts, workshops, and films – these are just a few of the amazing things to see and do at the Society of the Four Arts, one of the premier destinations in Palm Beach for arts and culture.
Since 1936, the Society of the Four Arts has been committed to inspiring and engaging visitors with its extraordinary artistic programs. The beautiful 10-acre (4 hectares) campus is set against the Intracoastal Waterway and hosts countless events and happenings from November through April.
Check out the event calendar for a list of upcoming programs. You can also purchase your tickets in advance online.
FUN FACT: The number 4 in the name represents music, art, drama, and literature, AKA the "four arts"!
PRICE: Varies depending on the event
18. Experience paradise on Peanut Island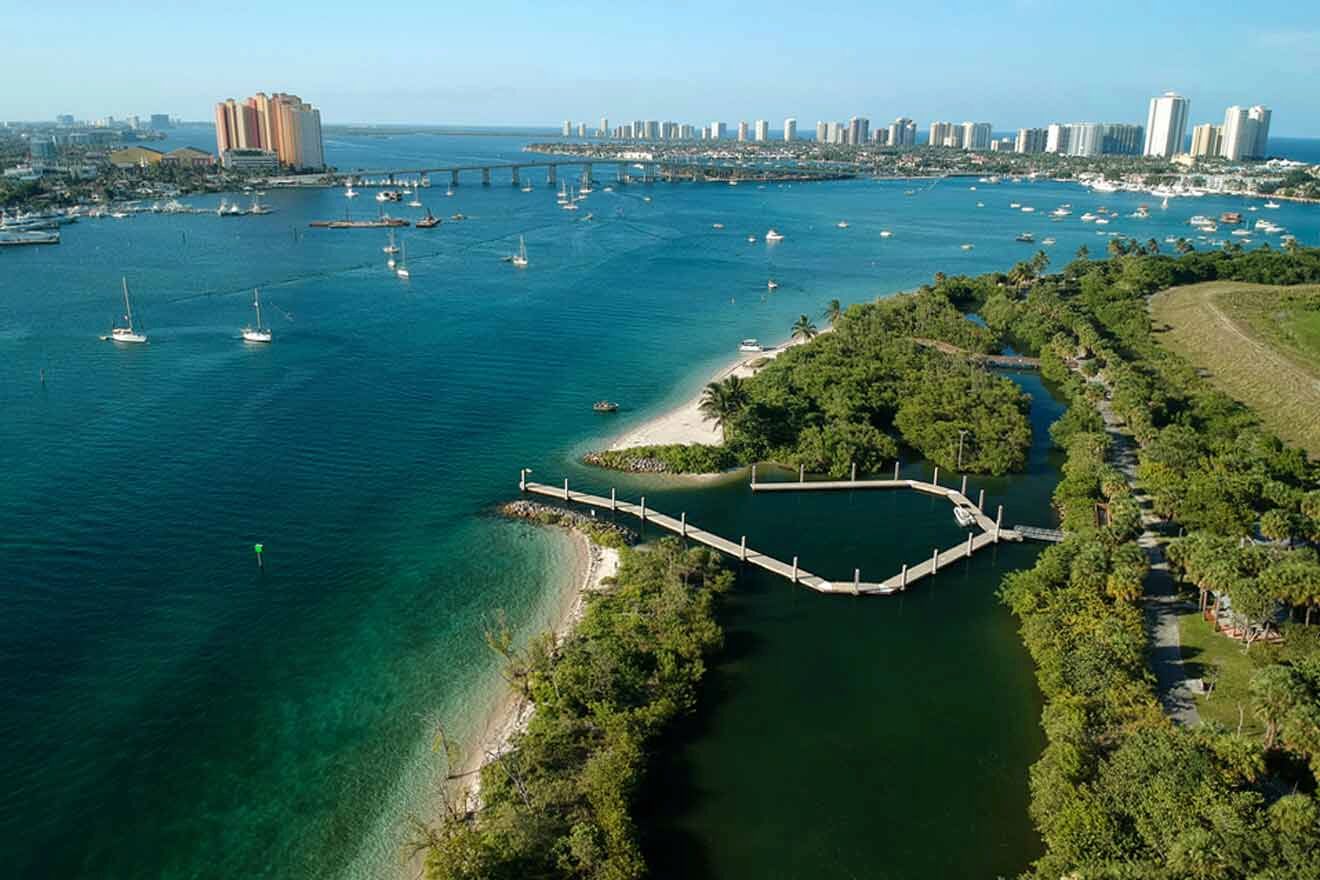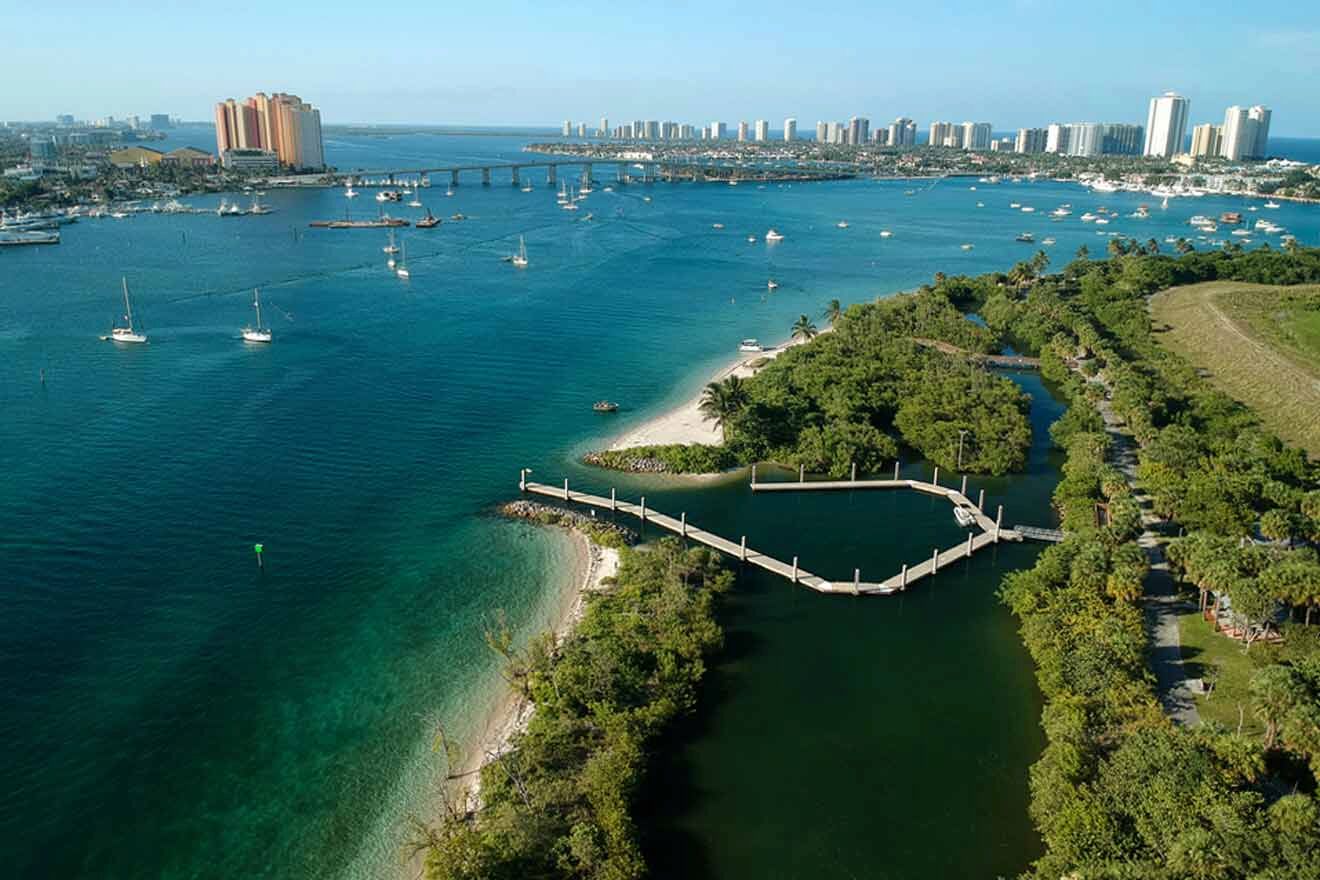 Peanut Island may be a small island in the Lake Worth Lagoon, but it's got a big history, making it one of the most unique things to do in Palm Beach. This hidden gem, 80-acre (32 hectares) county park features postcard-worthy beaches with clear blue water that's ideal for snorkeling or swimming in.
There are plenty of tropical fish to spot, and in the wintertime, you may even see manatees! You'll have access to all the amenities you need while on Peanut Island as well: bathroom buildings, outdoor showers, picnic cabanas, and seasonal lifeguards on site.
As Peanut Island Park is only accessible by boat, you'll need one to get there. If you don't happen to have your own, there is an affordable ferry that makes day trips out to Peanut Island. Both the ferry and the park are dog-friendly, so feel free to bring your furry friend! Roundtrips are US$18 for adults and US$19 for children.
There is a bit over 1-mile (a bit less than 2 km) walkway around the island, where nature lovers can connect with flora and fauna, and history buffs can step into the area's past by walking through John F. Kennedy's presidential bunker – built in just 7 days during the Cuban Missile Crisis.
Peanut Island is such a special place, and I highly recommend exploring it next time you're in Palm Beach!
PRICE: Admission to the island is free
19. Explore Antique Row Art & Design District
Prepare to be charmed by this shopping district made up of over 40 unique antique shops selling 17th to 20th-century antiques. Antique Row Art & Design District is a dream come true for antique hunters and thrifters – you never know what gems you'll find there!
Antique Row Art & Design District in West Palm Beach is far from your typical tourist attraction. In fact, you won't find much around here other than antiques, but that's what makes it so fascinating to explore. The district has been recognized nationally for its world-class collection, including fine art and both vintage and modern home furnishings. Condé Nast named it the #4 best shopping in the entire US.
There are some fantastic restaurants nearby the Antique Row Art & Design District! Stop by Belle & Maxwell's to eat at a local favorite or experience one-of-a-kind dining at the whimsical Rhythm Café, housed in a converted 1950s drugstore.
20. Go wild at McCarthy's Wildlife Sanctuary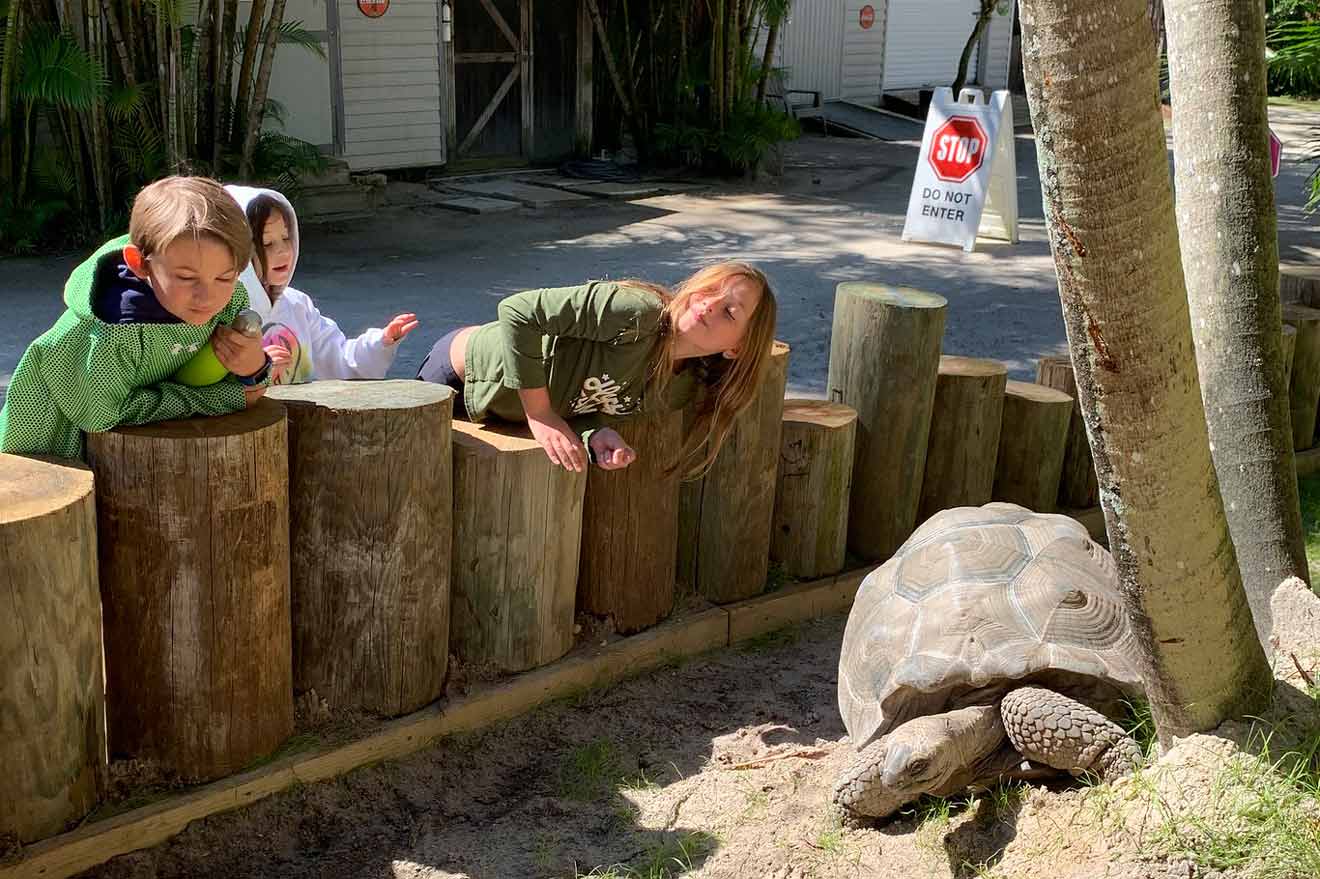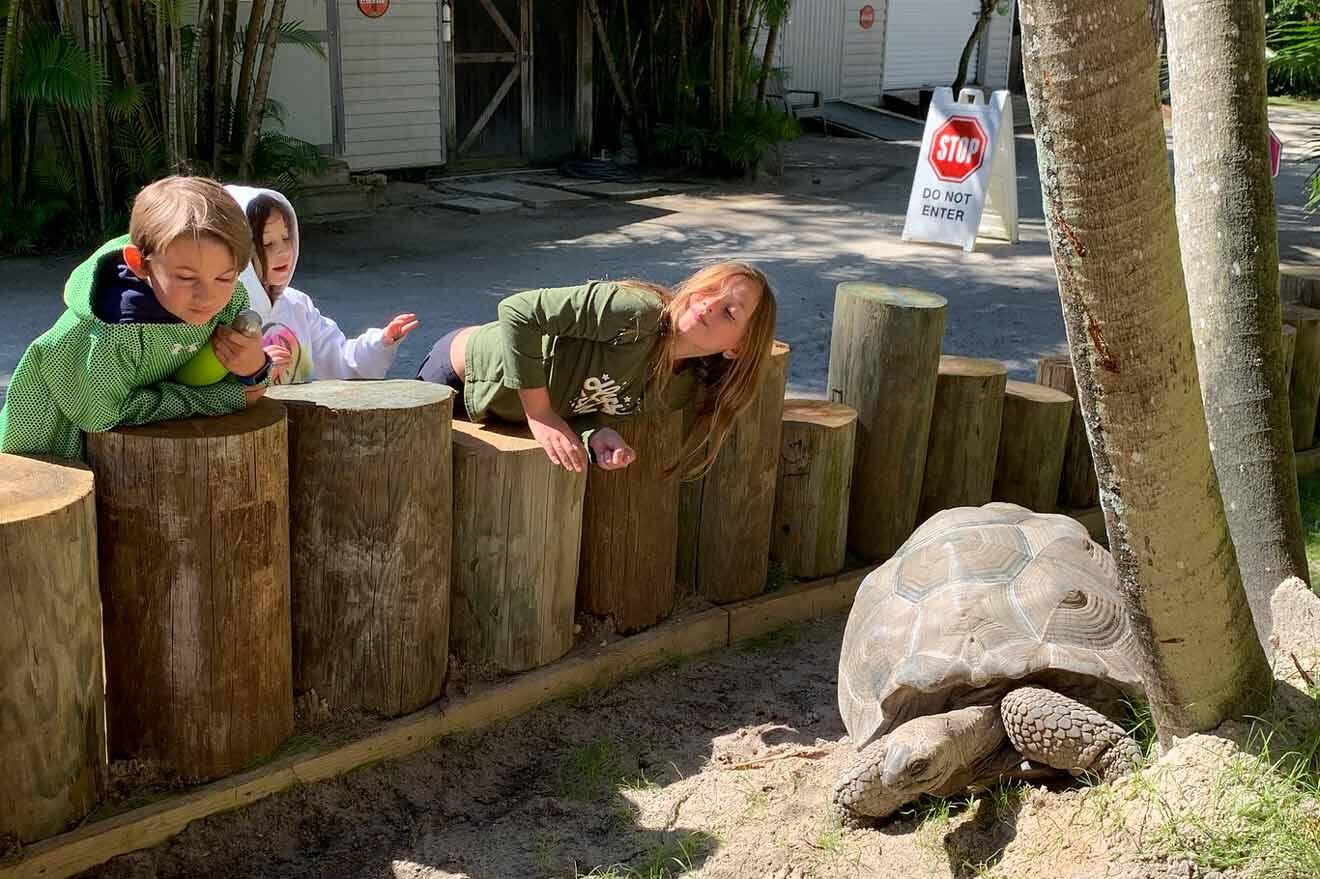 Named the top attraction in West Palm Beach, McCarthy's Wildlife Sanctuary is an adventure unlike any other. Here, you'll find endangered wildlife roaming, surrounded by a botanical garden in a palmetto and pine forest.
As a non-profit wildlife rescue, McCarthy's Wildlife Sanctuary takes in animals that are sick, injured, or orphaned. There are over 200 animals that call this sanctuary home, including tigers, lions, leopards, lemurs, alligators, and so many more.
The only way to visit McCarthy's Wildlife Sanctuary is by booking a guided tour, and the tour costs go towards the amazing rehabilitation work they're doing there. A limited number of visitors are allowed on each tour, so if you'd like to explore McCarthy's Wildlife Sanctuary, you'll want to secure your spot ASAP by calling (561) 790-2116.
HOURS: Tours are offered Thursdays, Fridays, and Saturdays at 11 AM, 12 PM, and 1 PM.
PRICE: US$40 for adults, US$30 for children
21. Bring the whole family to Okeeheelee Park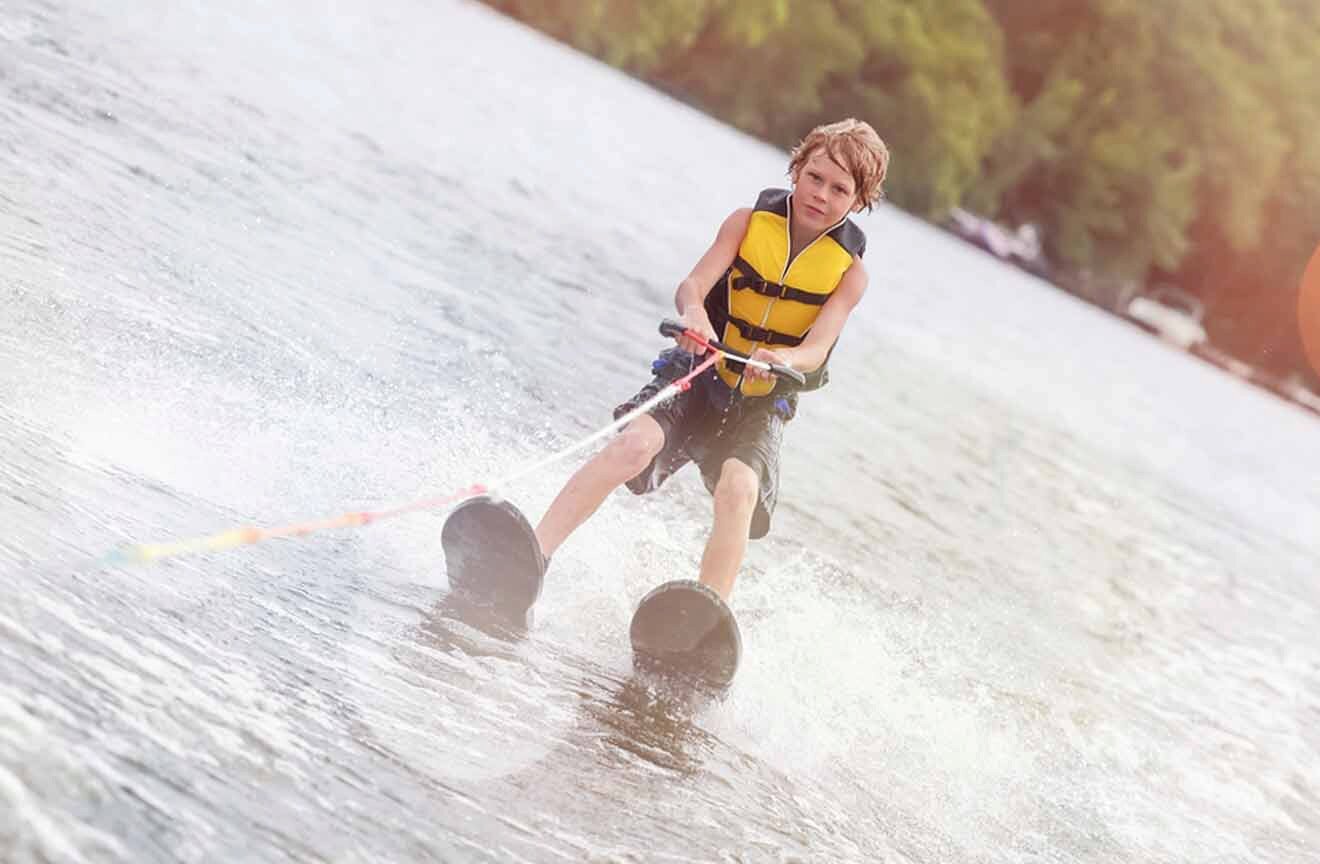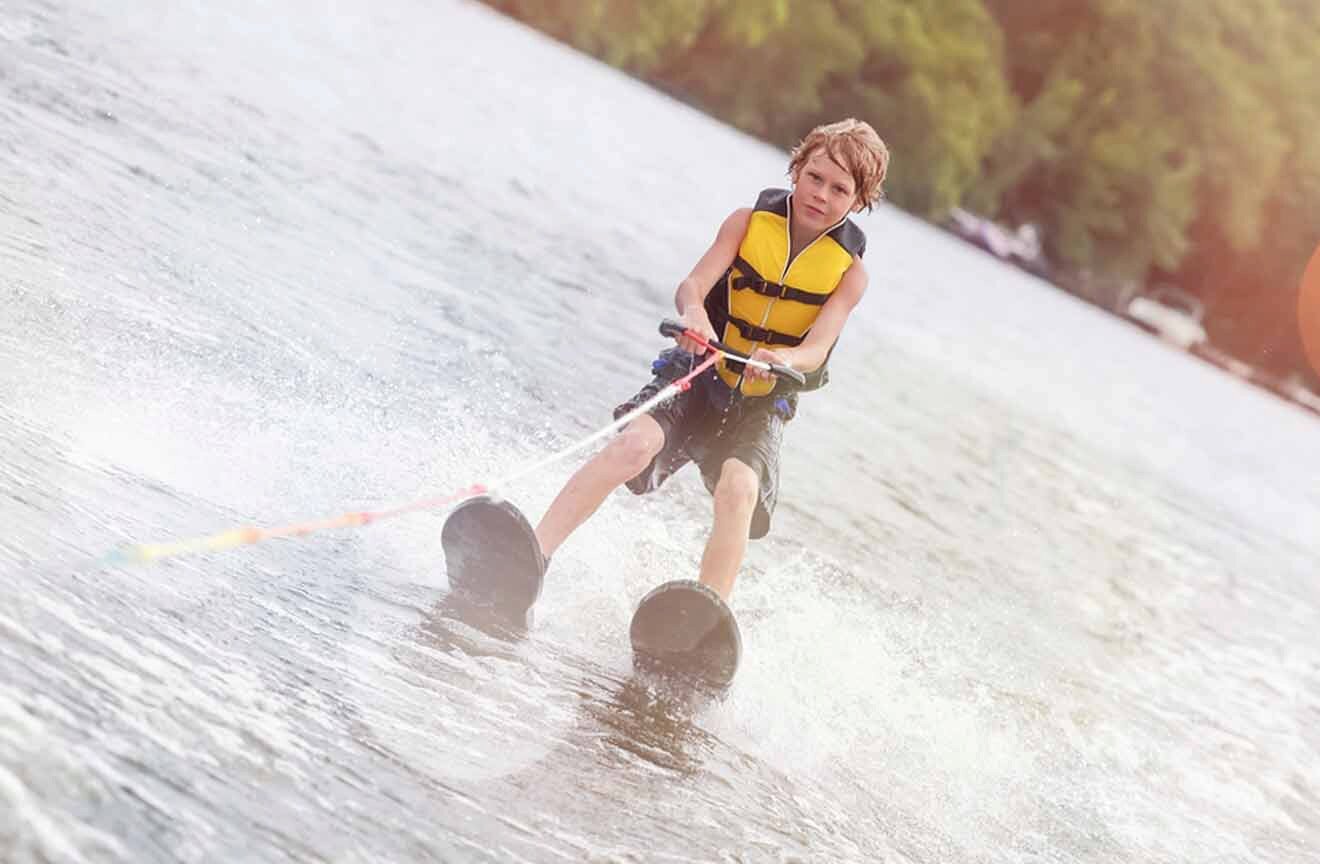 The largest part of South Florida, Okeeheelee Park in West Palm Beach encompasses a whopping 1,700+ acres ( over 60 hectares) of fun in the sun.
A BMX track, the Okeeheelee Golf Course, water skiing lakes, disc golf, and a Pooch Pines dog park are just a few of the awesome activities you'll find at Okeeheelee Park, so there's something for everyone here, and it's a great place to bring the whole family.
At Okeeheelee Nature Center, learn about the history, flora, and fauna of this amazing area, and from them, you can adventure down the app. 3 miles ( 5 km) of wooded trails that will take you through the woodlands. Okeeheelee Park is also home to the world-class Jim Brandon Equestrian Center and beautiful riding trails.
22. Take a food tour around West Palm Beach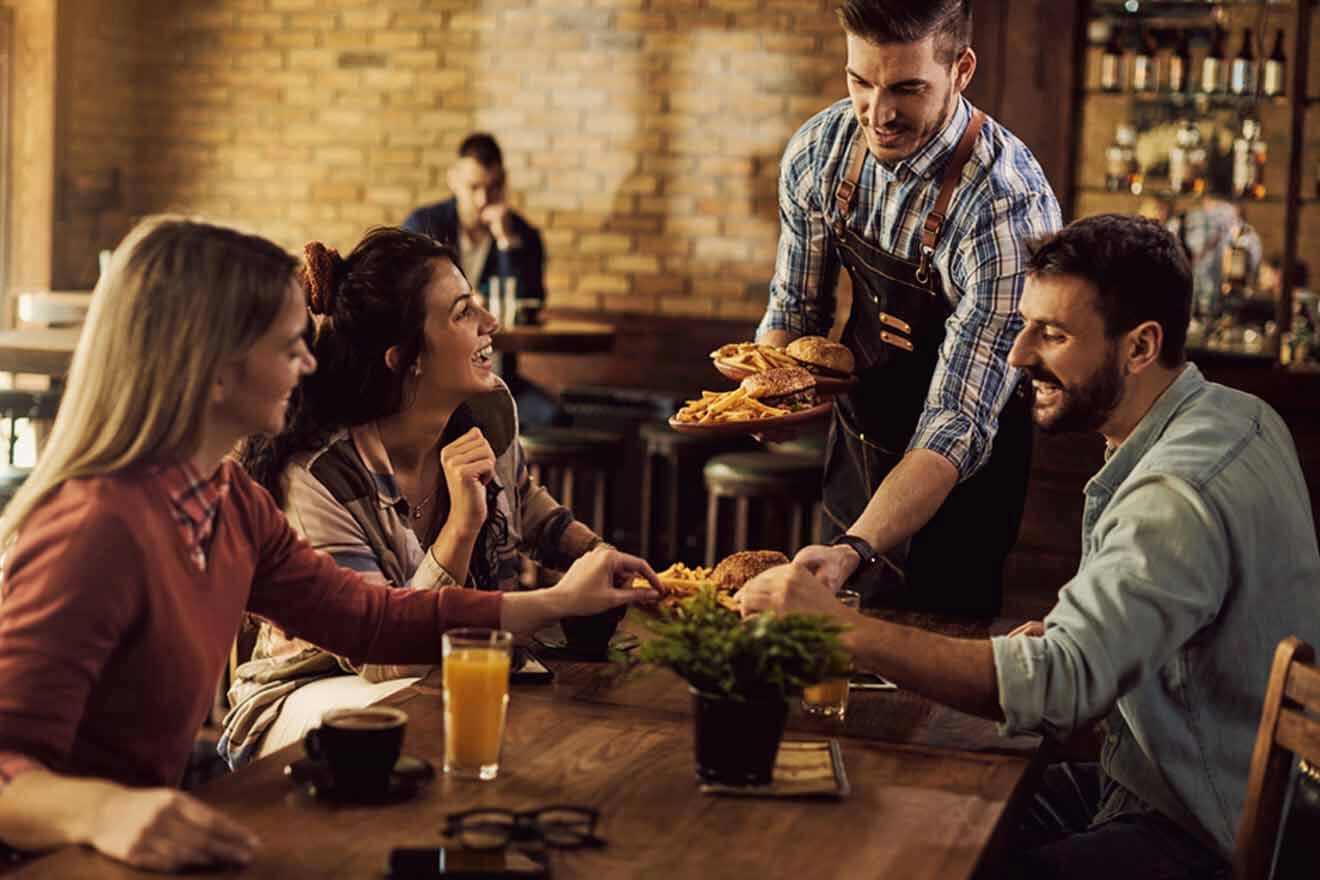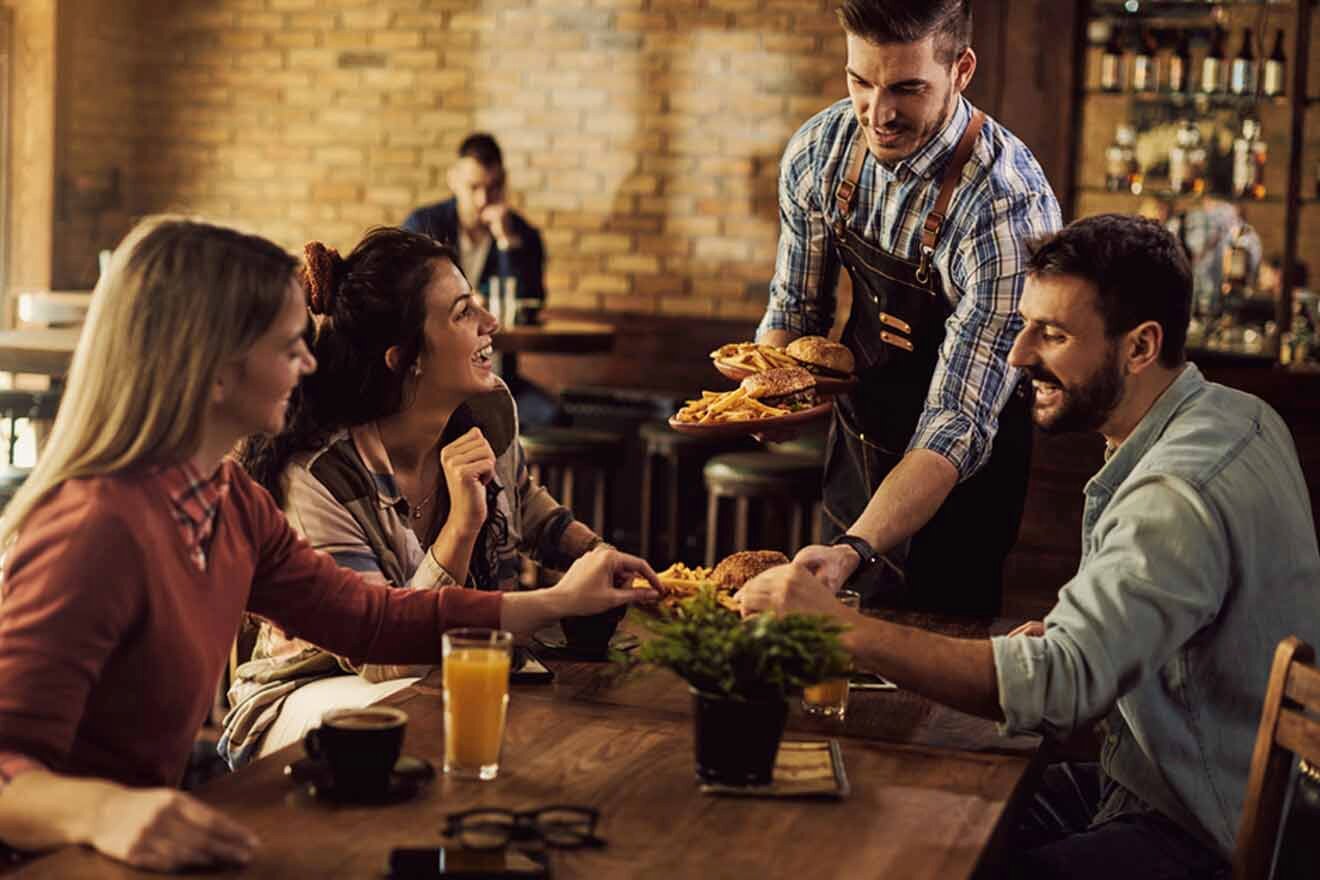 I am a huge advocate for food tours when visiting someplace new. There's no better way to try locally-loved cuisine and discover the area's hidden gems. This downtown West Palm Beach food tour takes you to 5 different restaurants, each offering something special.
In addition to the food tastings, enjoy adult beverages included in the price, as well as an interesting and informative tour of the area you walk through! There is so much to uncover in West Palm Beach, and I can't think of a better means of doing so than eating your way through. Foodies, I know you agree!
I don't want to spoil anything, but I will say the food tour wraps up with the most iconic of all Florida treats, a scrumptious slice of key lime pie. It books up quickly, so this is another activity on our list of best things to do in Palm Beach that you'll want to book in advance.
PRICE: US$85 per person
Book West Palm Beach Food Tour
23. Get up close to wild animals on Lion Country Safari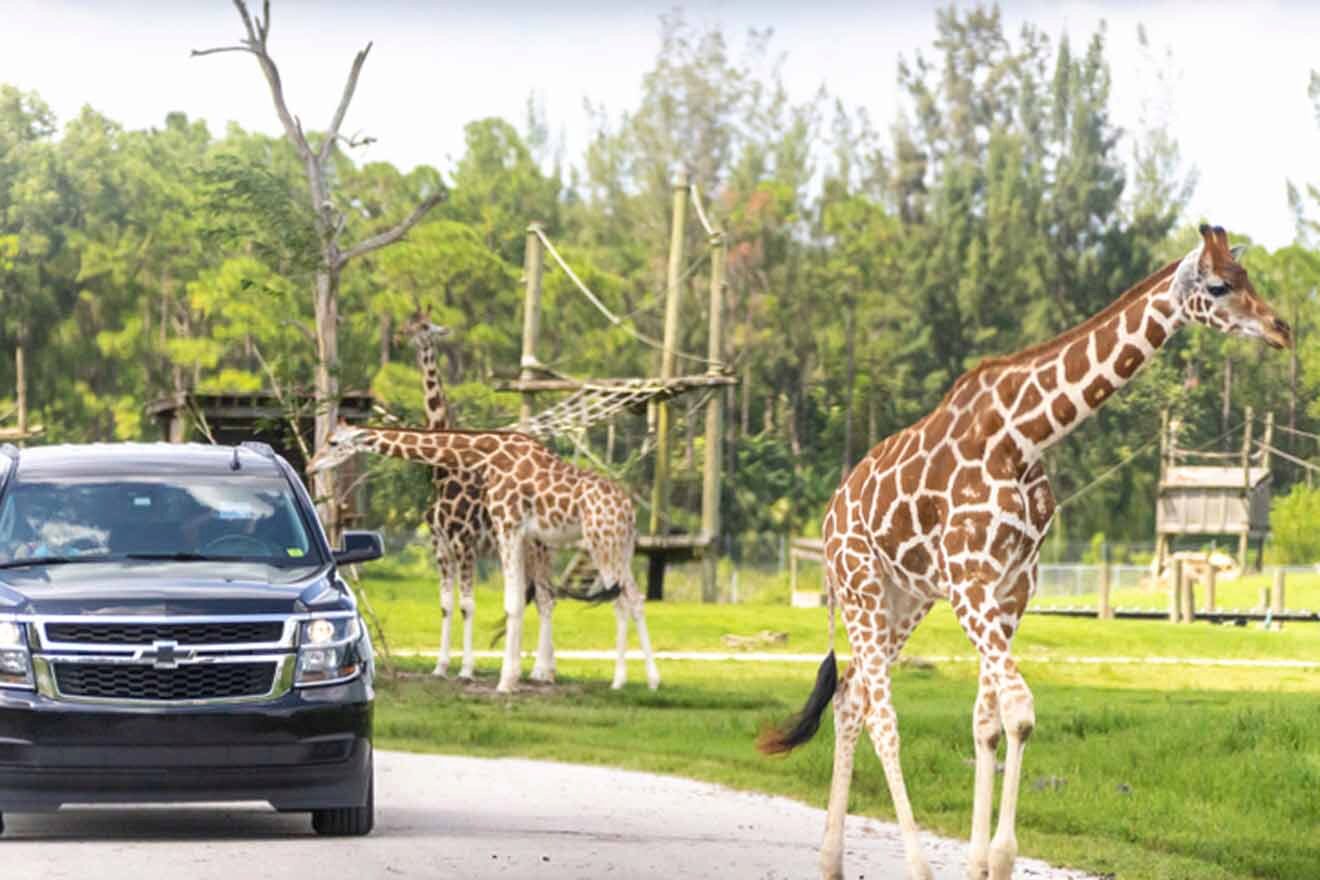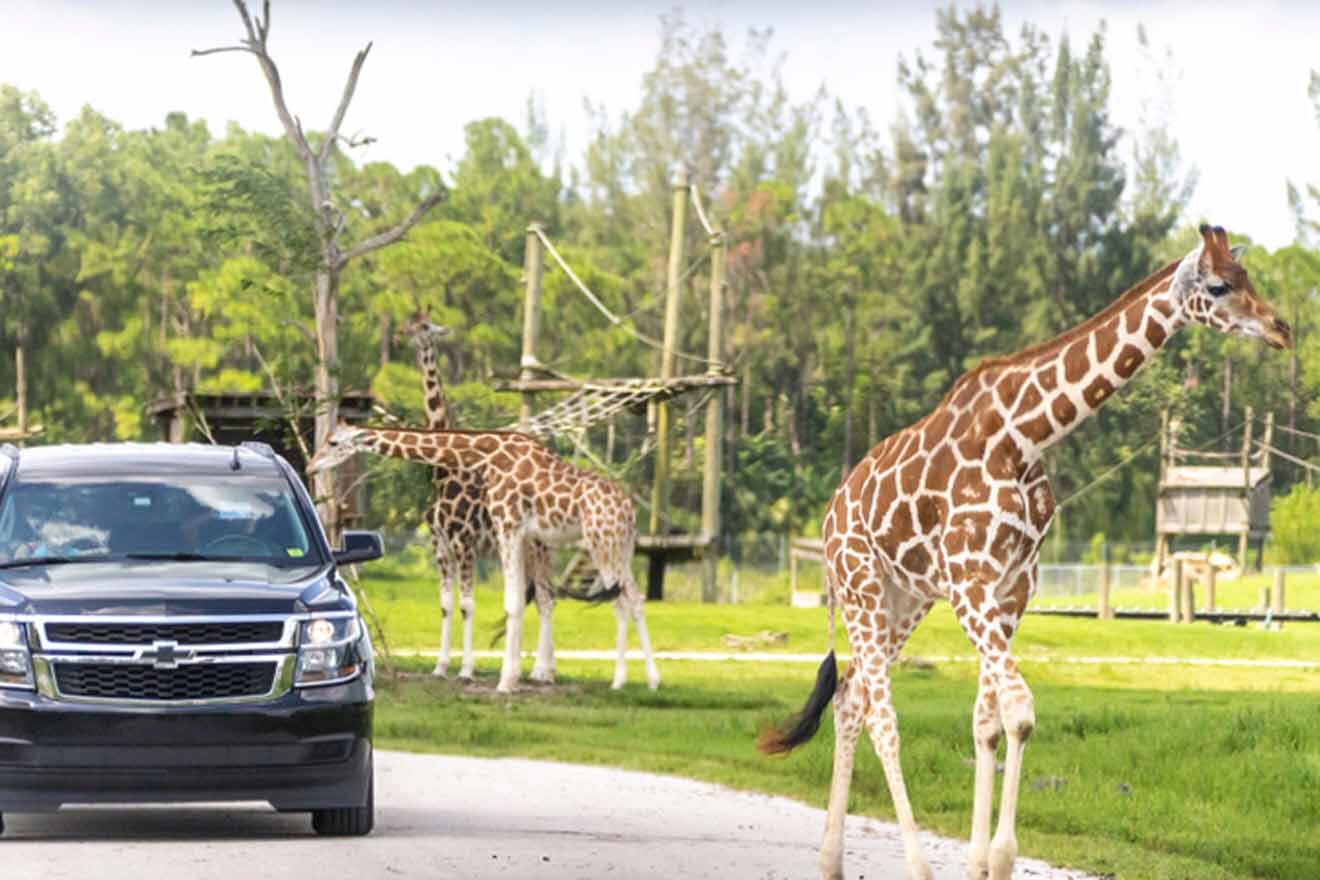 Another one of the more unique things to do in Palm Beach is Lion Country Safari. You won't find anywhere else quite like it! Encompassing nearly 600 acres (243 hectares) just 20 miles (32 km) west of West Palm Beach, this kid-approved attraction is a must-do for visitors of all ages.
Embark on a drive-through safari world in your own vehicle, where you can see some of the largest herds of giraffes, zebras, and rhinos in the country! The safari is made up of 7 main habitats, each home to some truly incredible creatures.
At the Lion Country Adventure Park, explore 44 acres (18 hectares) of family-friendly fun. Rides, a water park, animal feedings, a petting zoo, a maze, a mini golf course, and gem mining are all part of this exciting area. You can also take a complimentary pontoon boat tour aboard the Safari Queen, which takes you around Lake Shannalee for even more wildlife views.
PRICE: US$45 per person over the age of 10, US$34 for ages 3-9
24. Spend the day in Delray Beach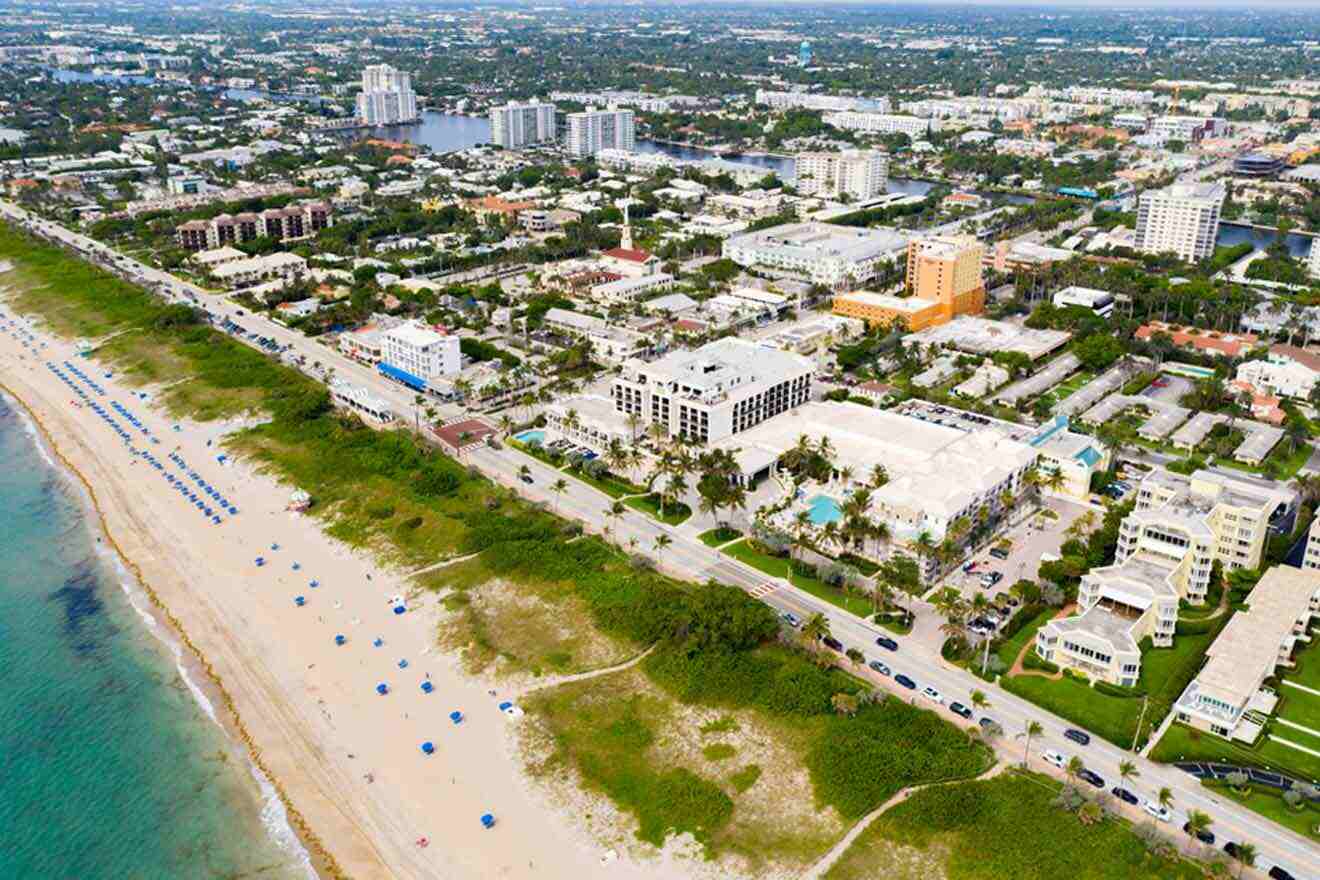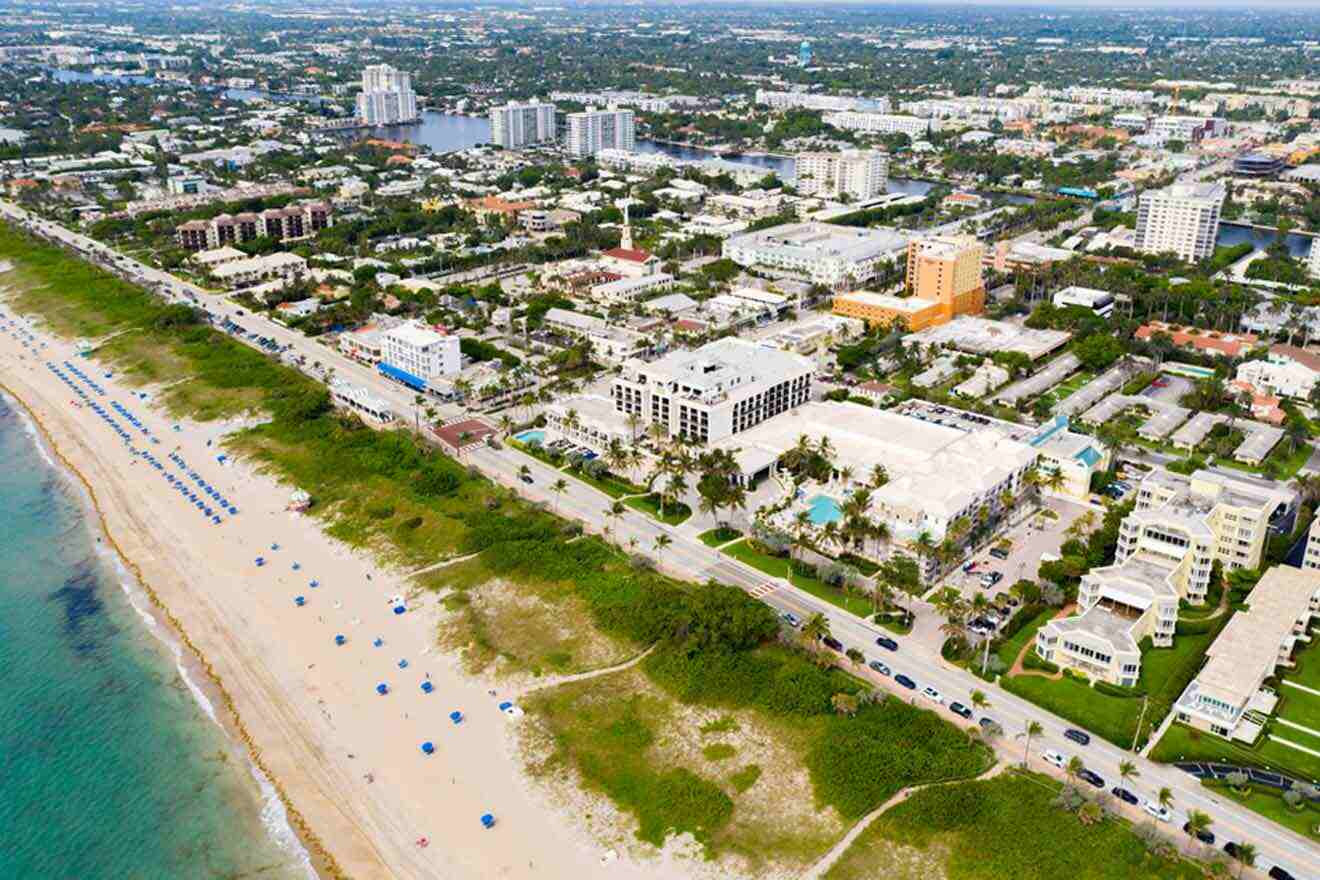 Less than 30 minutes south of Palm Beach Island in Palm Beach County is Delray Beach, one of my favorite beach towns on the Atlantic coast, and a must-see if you're visiting South Florida!
If you love dining, shopping, live music, and tropical libations, you're going to love Delray Beach. It's a hotspot for all of the above, with amazing restaurants, bars, and boutiques all along Atlantic Avenue. Shopping here is a mix of both upscale and casual, popular brands and locally owned shops. When the sun goes down, Delray Beach becomes a lively spot for nightlife.
For some of the best seafood in town, head to City Oyster & Sushi Bar or Mussel Beach, 2 fantastic restaurants right in the middle of the action. If beach bars are more your scene, check out Sandbar Delray, a funky, laid-back, waterfront tiki bar that transforms into a lively club at night.
FAQs about Palm Beach, Florida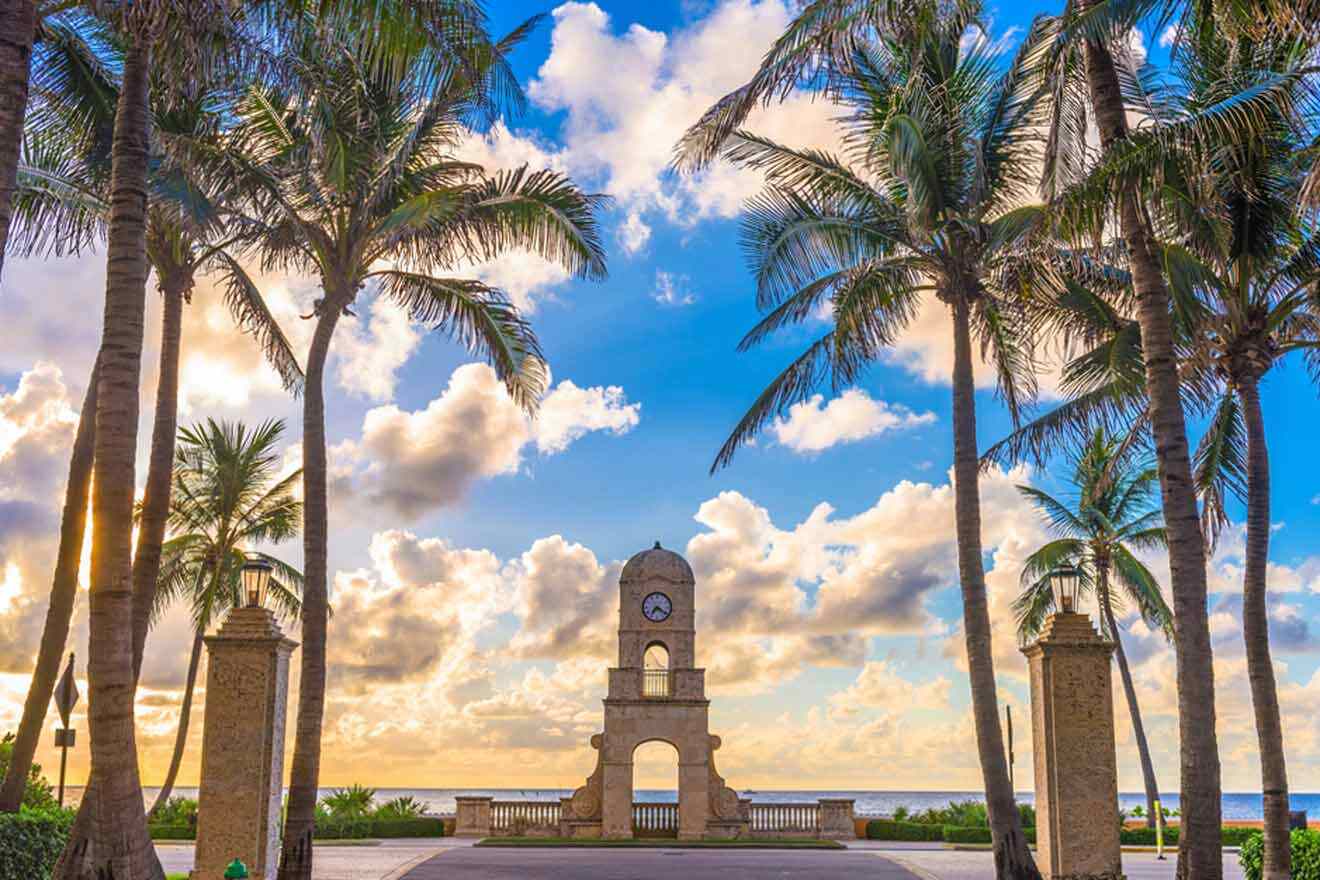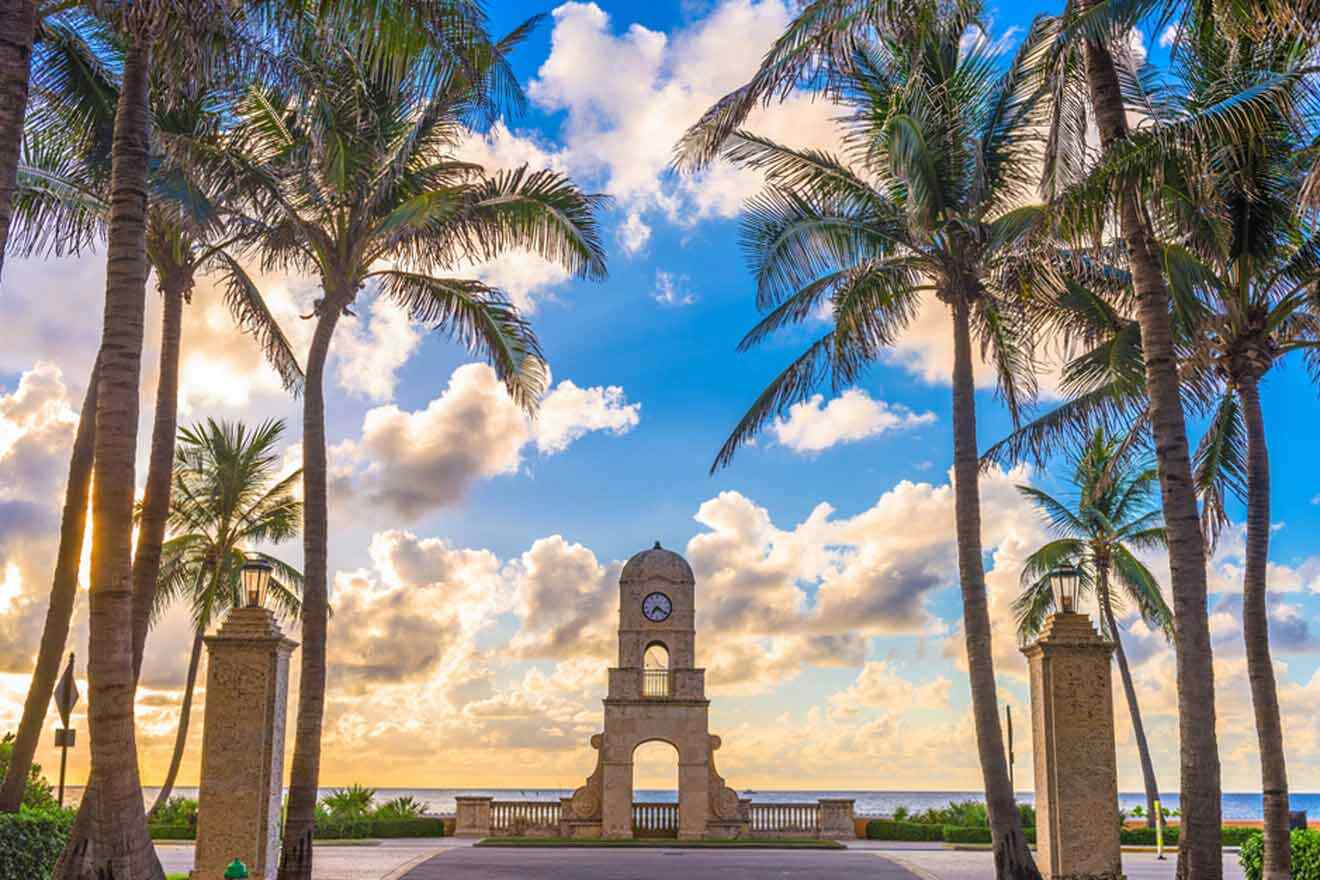 🌴 What is Palm Beach known for?
Palm Beach is the ultimate luxury vacation destination in South Florida and is internationally known for its beautiful beaches, upscale shopping, exquisite architecture, and historic landmarks.
✈️ Is Palm Beach a good place to go?
Absolutely! Palm Beach is a one-of-a-kind coastal town with plenty to do and see, including world-class shopping and dining, adventures on the Atlantic Ocean and Intracoastal Waterway, and lots of fun in the sun.
🛍️ What is the most famous street in Palm Beach?
Worth Avenue in Palm Beach is a famous, iconic street where you'll find high-end designers, art galleries, and upscale boutiques stretching across the barrier island from Lake Worth to the Atlantic Ocean.
🌊 Does Palm Beach have clear water?
Yes! The water in Palm Beach is some of the clearest and bluest you'll find in the Sunshine State, so it's perfect for swimming and snorkeling.
Conclusion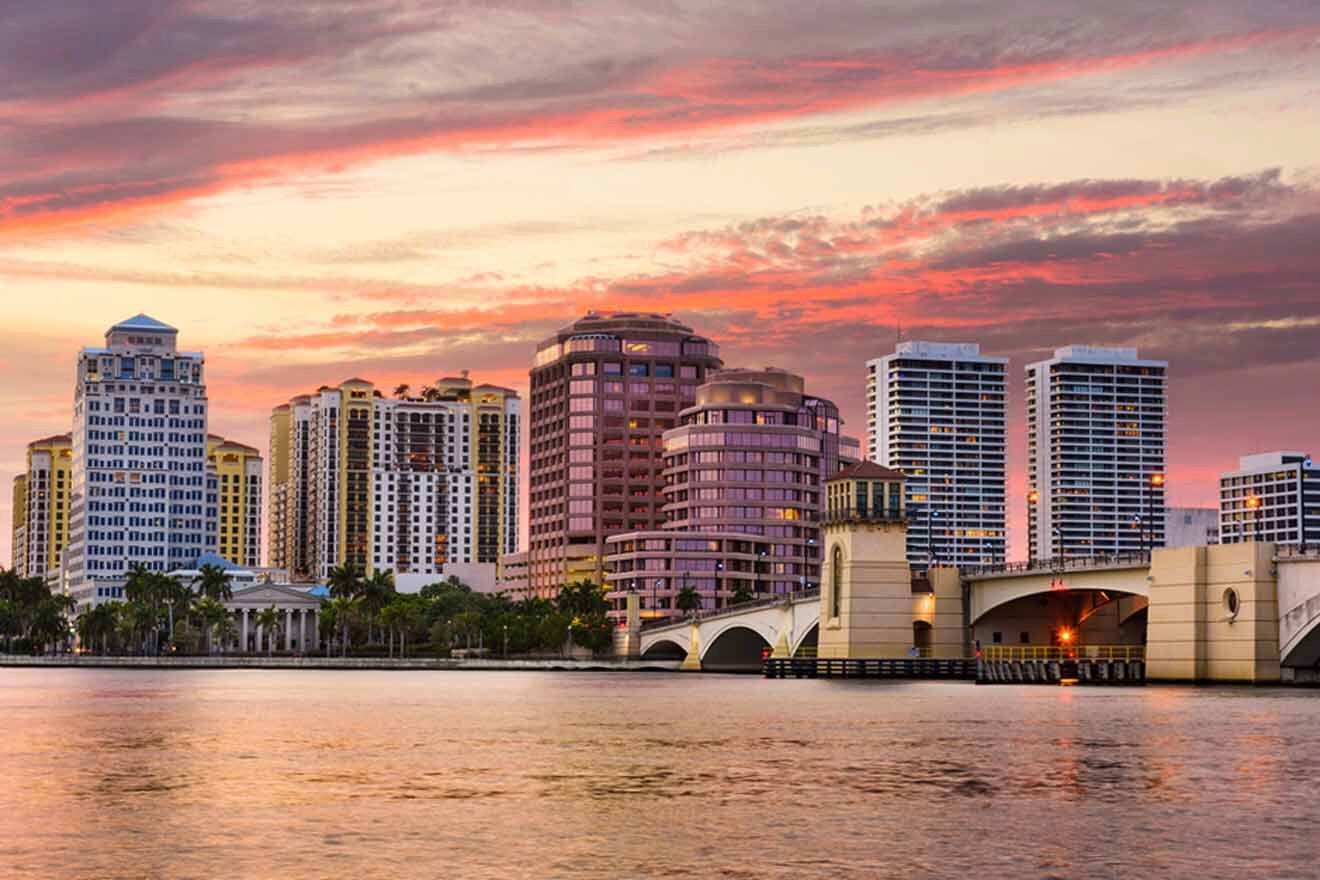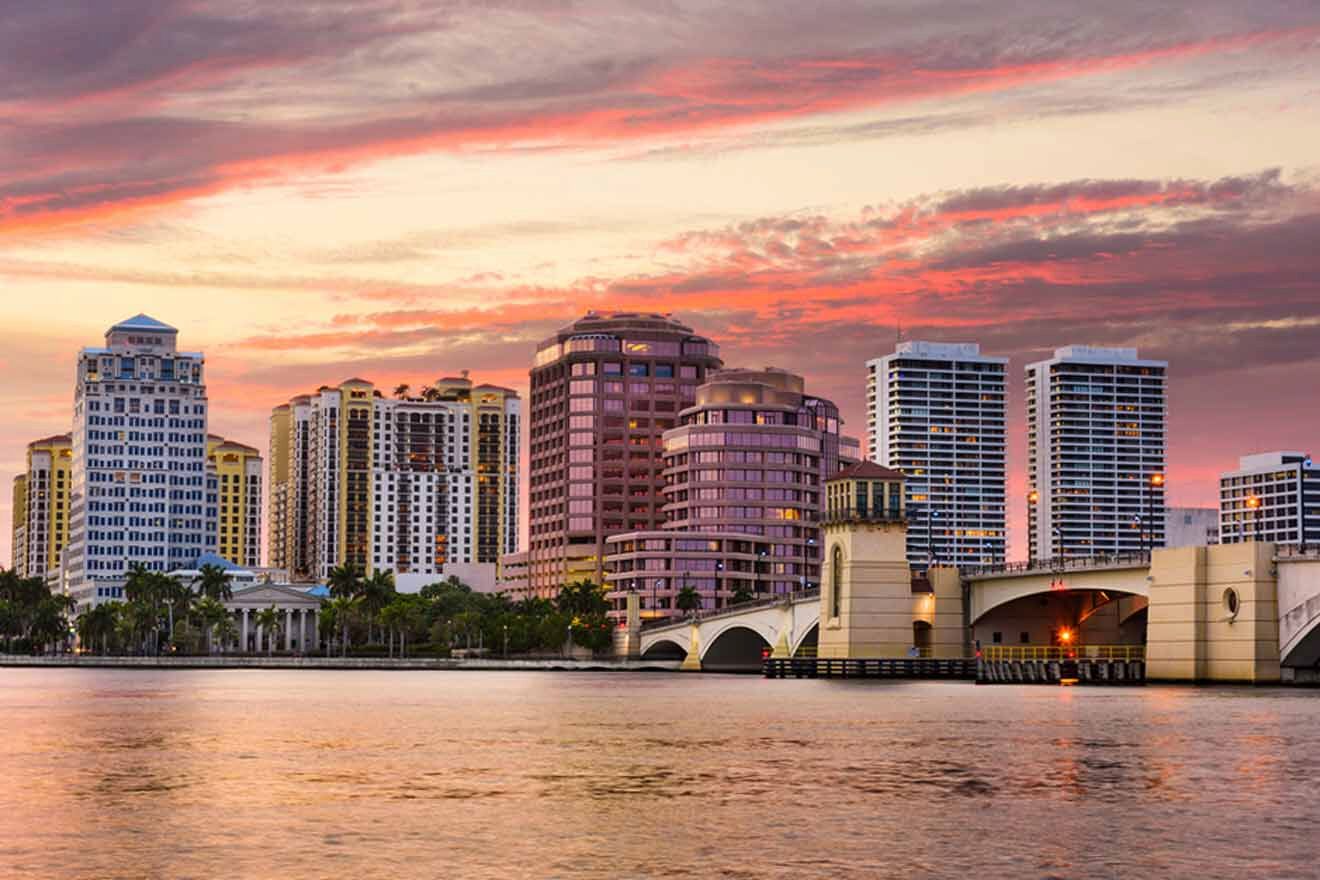 That wraps up my top picks for the best things to do in Palm Beach! I'm so excited for you to visit this magical place and see it for yourself. Between Palm Beach Island and West Palm Beach, there is so much to explore under the sunny skies. I know we went over a lot, so thank you for reading all the way through!
Here's a quick reminder of my 2 favorite things to do there:
I hope this article helped you in your planning! You can always reach out via comment, and I'll get back to you with any questions you have.
Happy travels!
Montana
---
Pin it for later!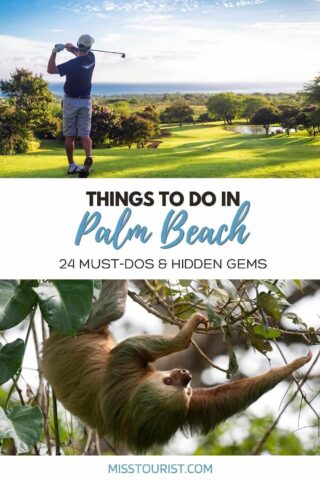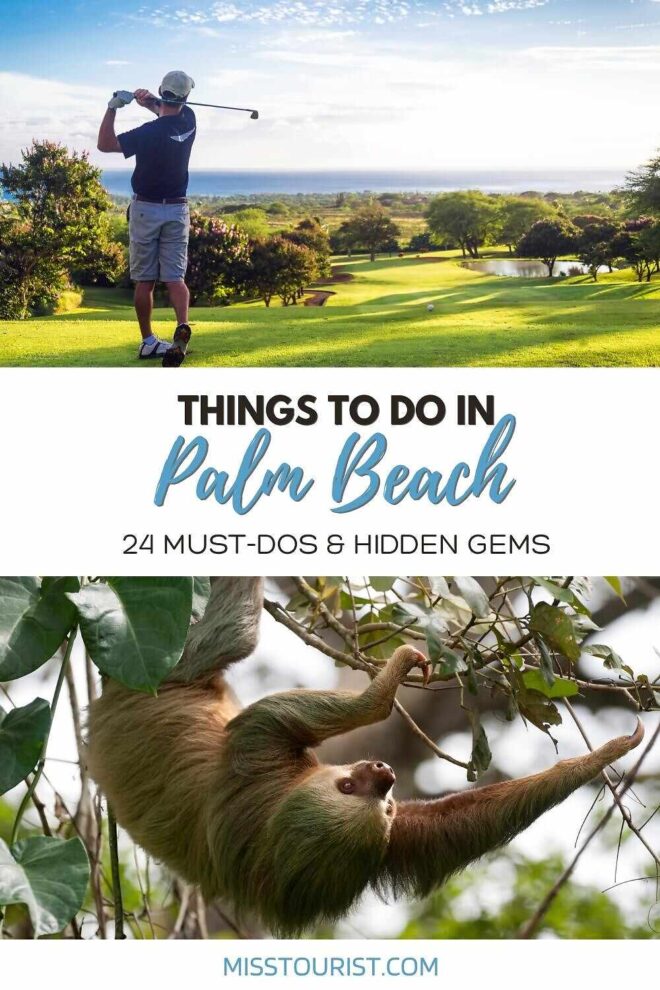 Pin it for later!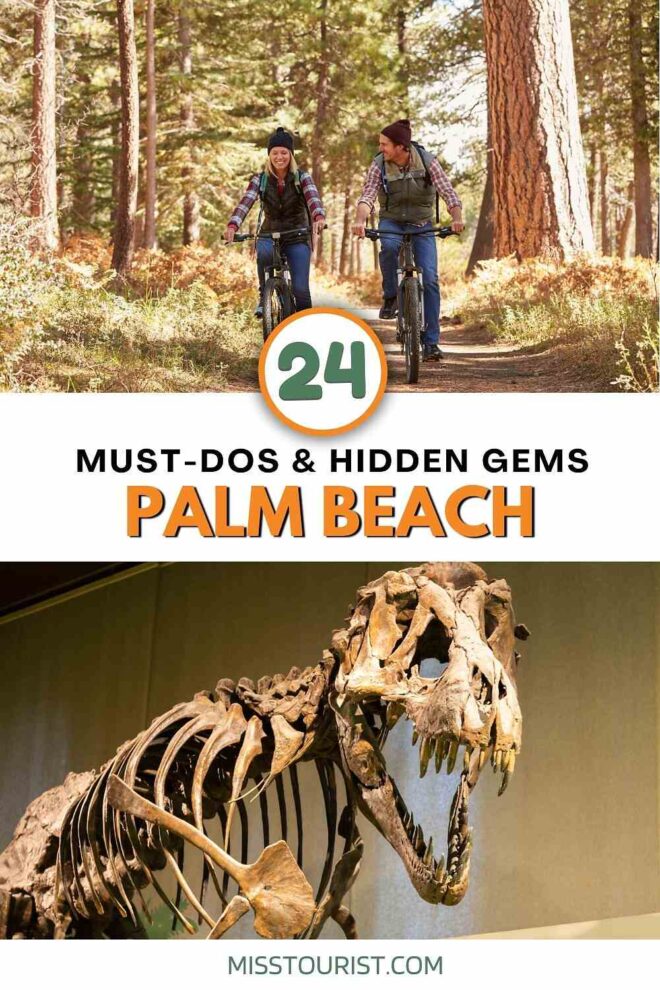 Products You May Like