Top 11 Poconos Hotels With a Jacuzzi in the Room!
Planning a weekend getaway where you don't want to do anything but relax and unwind? Well, what better way to do that than to have your own spa tub in your hotel room? Am I right?
Follow me as today you'll find the best Poconos hotels with jacuzzi in the room. I've spent a while looking on the web and came up with some fabulous resorts which I ordered from the highest to the lowest score, so you can easily spot the top ones.
As I was doing my research, I noticed that many rooms were already taken, especially mountain view suites that had a spa tub. That's why I recommend booking your hotels with hot tubs in advance, as many people will go after these ones first!
Well, let's check them out!
If you are in a hurry
If you're on the run, then you can just quickly check out the list below which has the best Poconos hotels with a private whirlpool tub:
Today we'll cover a big region so I thought I'd make this map for you, to easily see all the Poconos hotels that I'll talk about in the post:
1. Brookview Manor Inn – for the perfect romantic retreat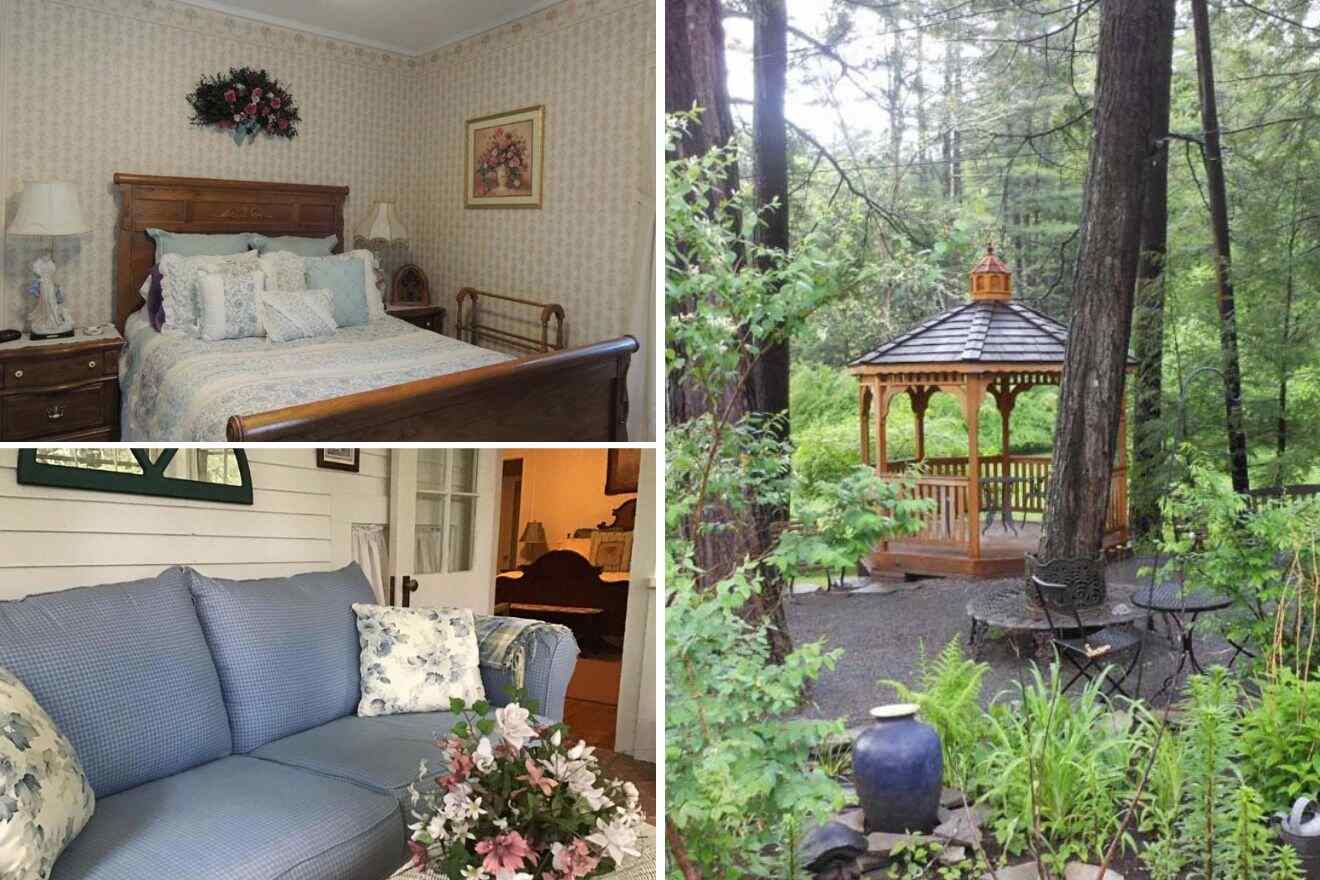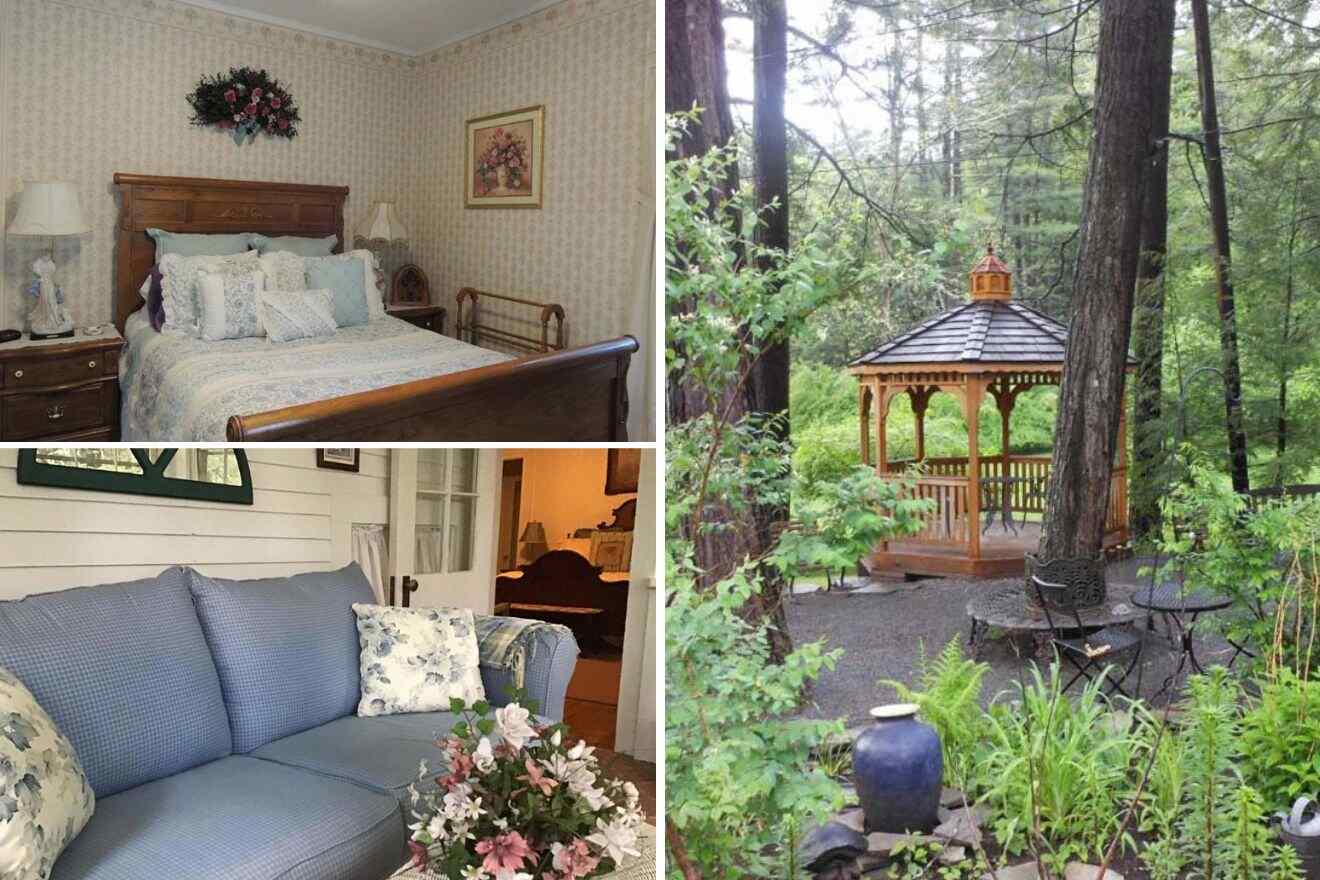 This historical house is tucked away between the trees, and it has some fabulous queen rooms with a spa bath and a cozy fireplace! Located in Canadensis, 2h away from Philadelphia, the Victorian home has lovely decor and a nice little gazebo where guests can relax when they're not out and about exploring the area.
Perfect for a romantic escape, the accommodation also has a restaurant and a library (definitely a great fit for any book lovers out there). On the days when you just want to enjoy a quiet day in, you can borrow some board games from the staff and play in the lounge area by the fireplace.
2. The Inn at Jim Thorpe – a stylish hotel with a gas fireplace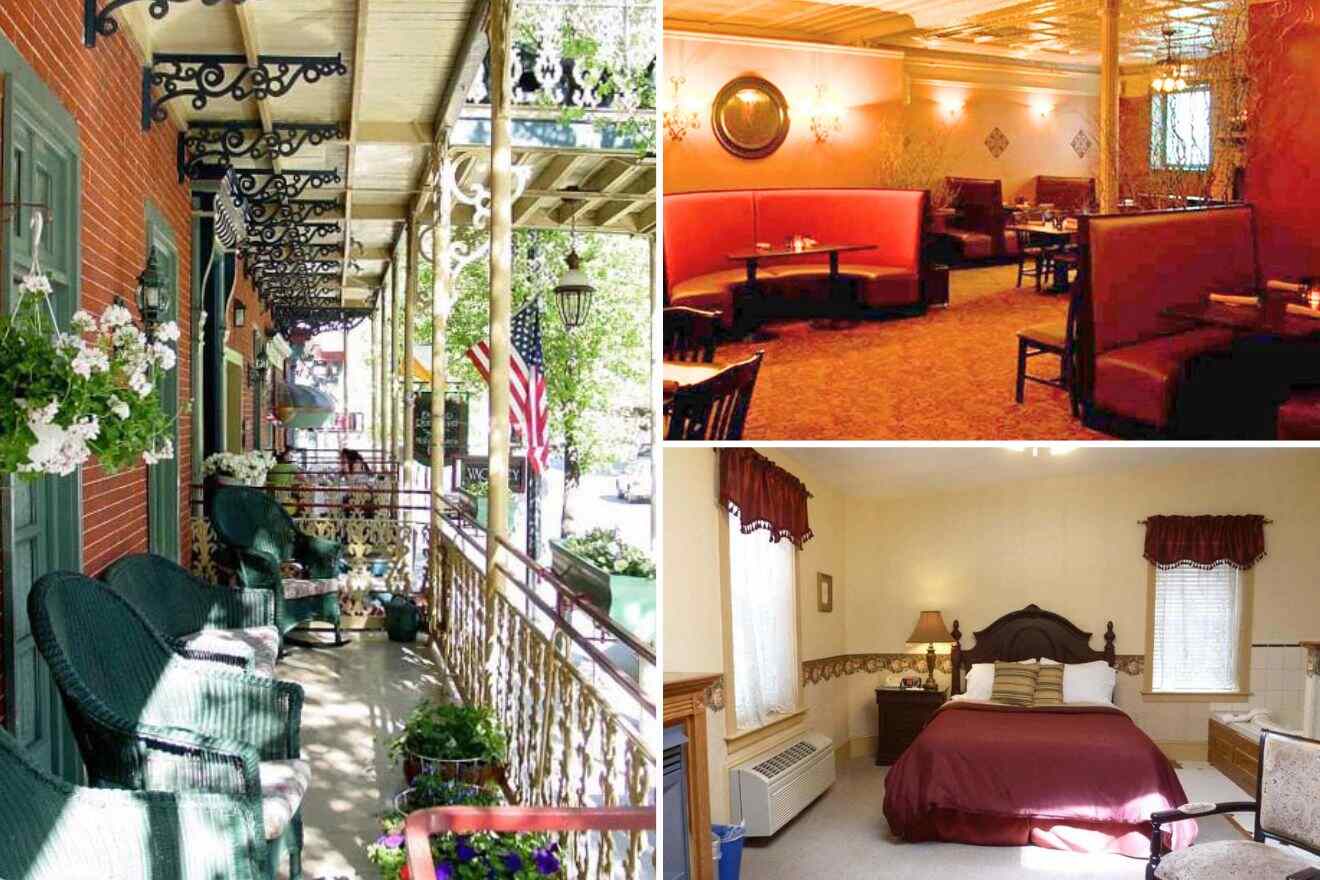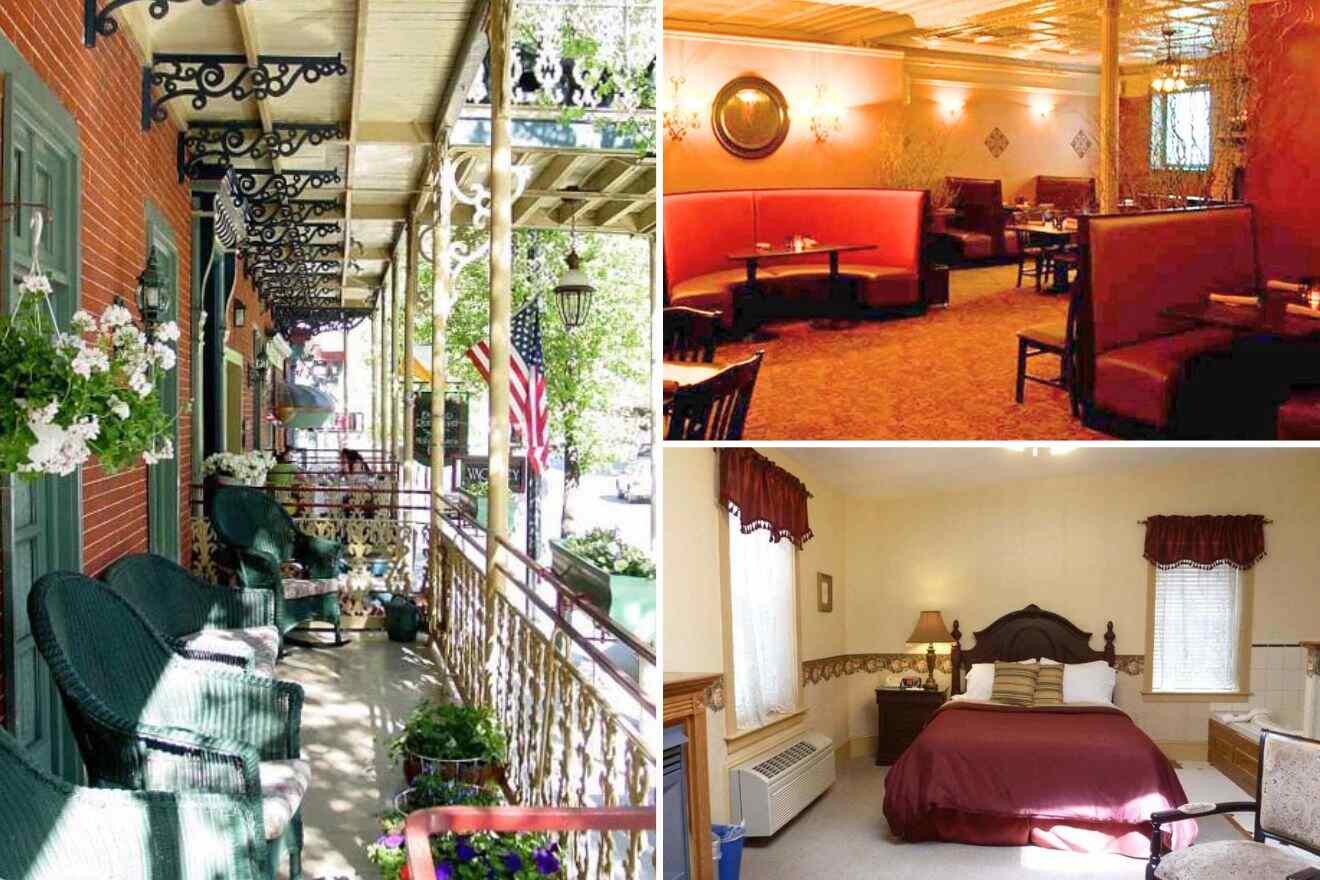 Gotta love these charming inns! Just like this place dating back to the 19th century, located in Jim Thorpe's Downtown area. Featuring spacious suites with a spa bath, a flat-screen TV, and a gas fireplace, this place is surely a keeper!
After a day of exploring the town, you can enjoy a bit of "me time" in your private hot tub or head downstairs to enjoy the hotel's spa services! There's nothing like a long massage to make your day a lot better! Their on-site restaurant is pretty classy, and it has a fireplace and really lovely decor. Make sure you book your Poconos hotels with a private whirlpool tub in advance, as these places will sell out super fast!
3. Settlers Inn – for outdoorsy people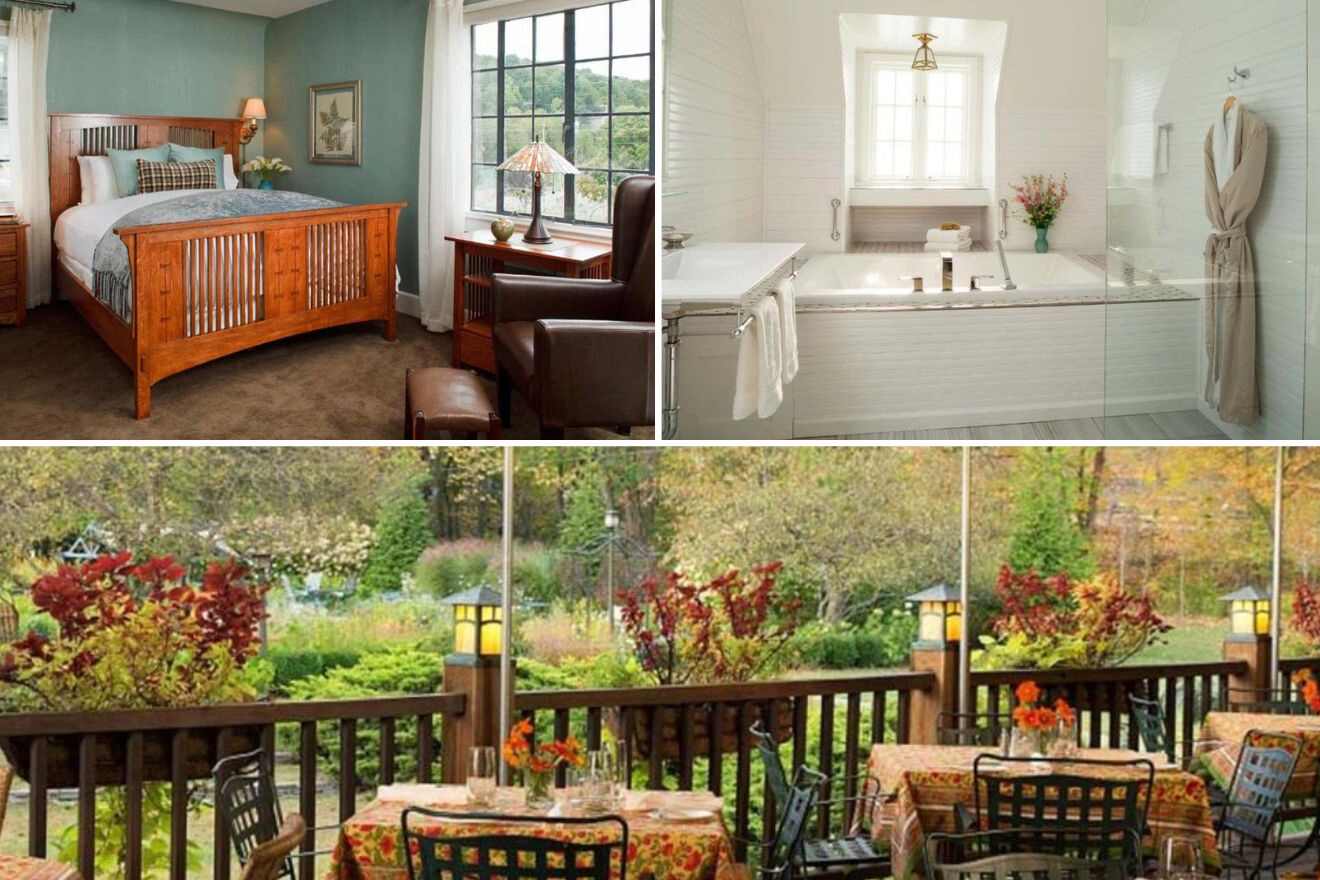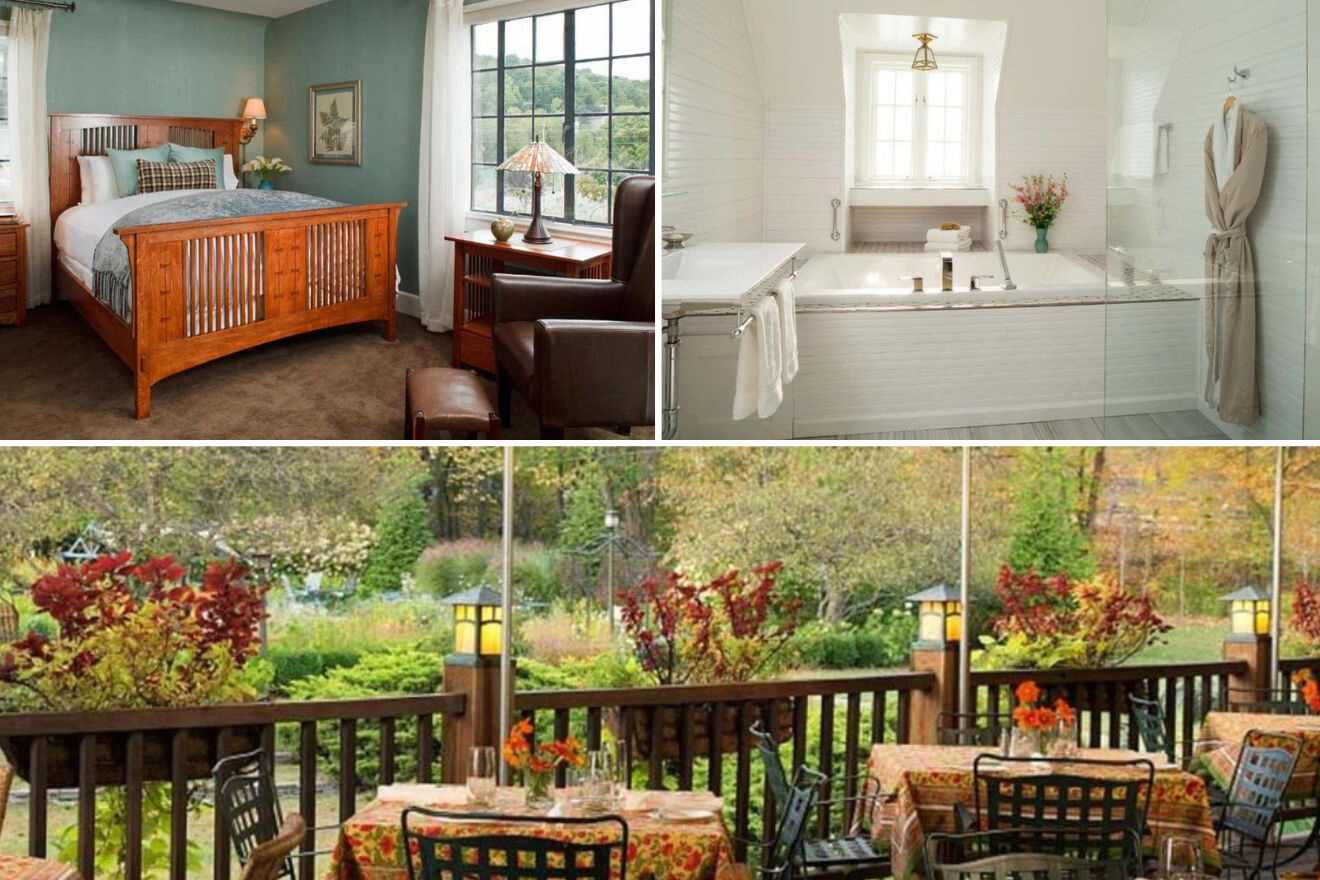 Feel just like home in this unique inn that's located in Hawley, Pennsylvania! The accommodation has guest rooms that are beautifully decorated with dark-brown furniture and come with a private hot tub and a fireplace where you can spend some relaxing nights after a day of visiting the attractions.
Start your first morning on holiday with a complimentary breakfast at the restaurant on-site, and then enjoy your coffee and the sun on the terrace! This inn also offers bike rentals plus some fun walking and hiking tours!
4. Carriage House Country Club – for a fun family holiday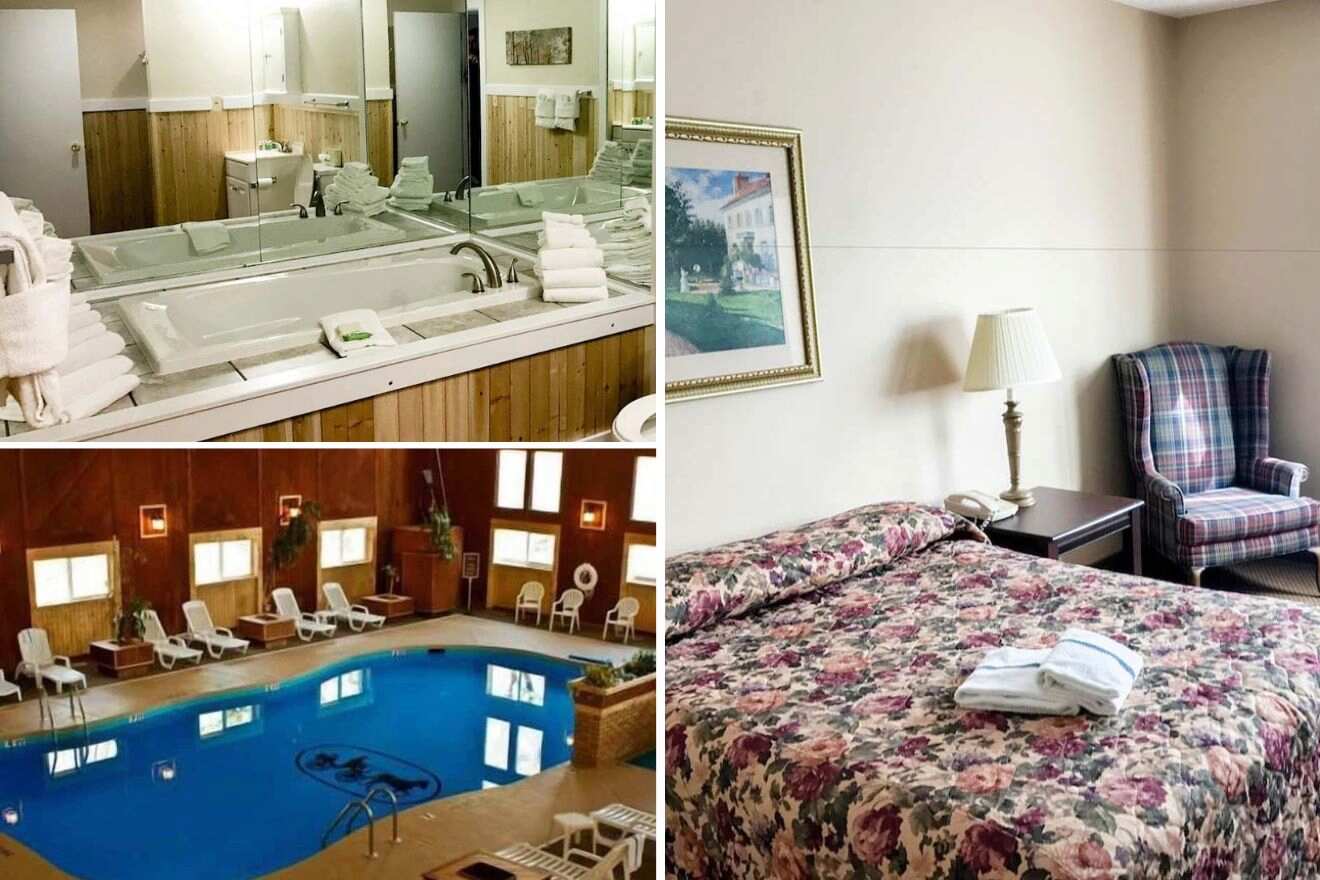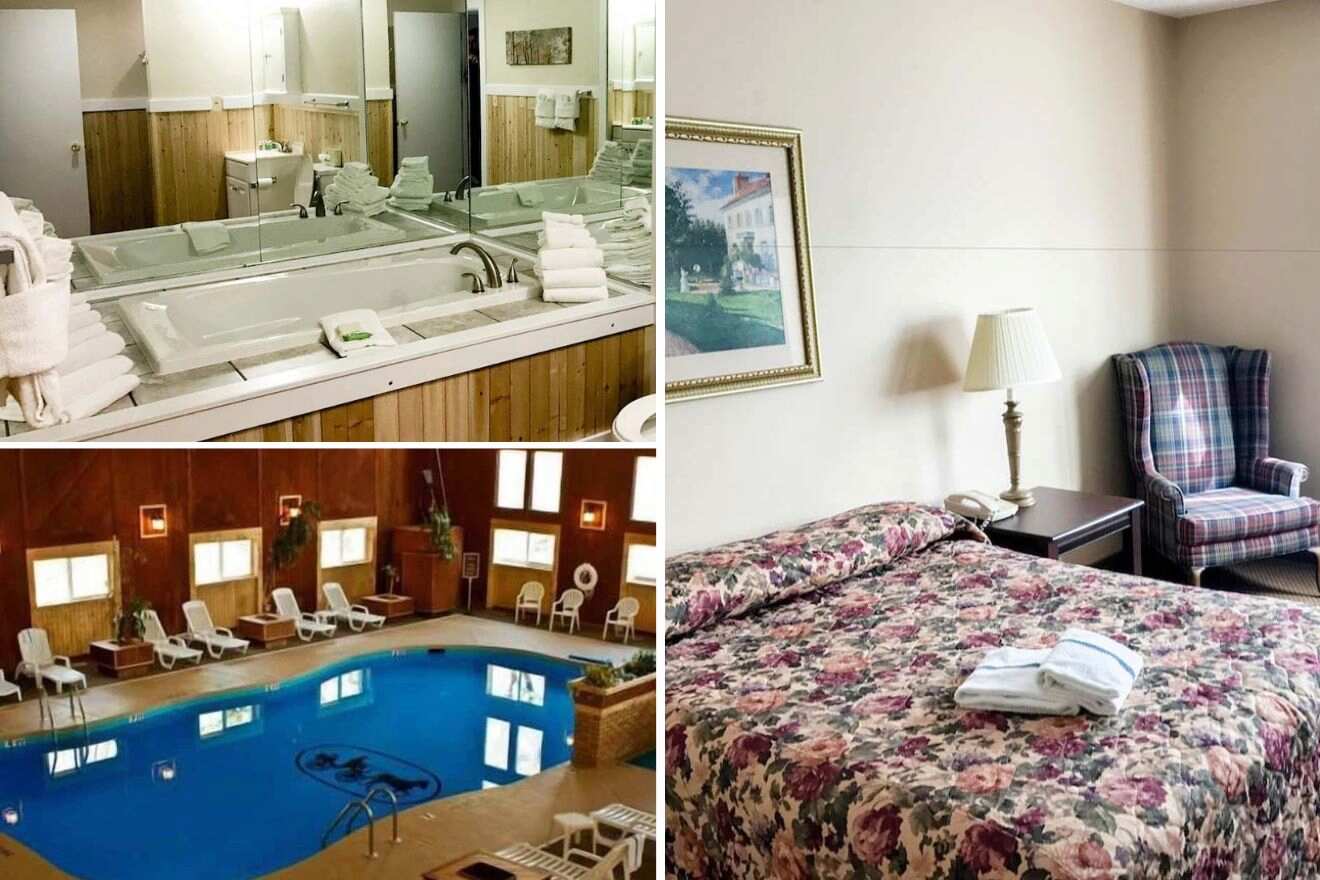 Book the royal suite at this hotel located in Pocono Manor and enjoy your own private hot tub! This suite also comes with a balcony and a living area with a flat-screen TV. Perfect for families or even romantic getaways, the accommodation comes with an indoor pool, a game room, and play areas.
Guests will also have access to a fitness center! At night you can gather up by the outdoor fireplace with a cup of hot cocoa and admire the starry skies, or you can catch a movie in their mini-theater!
5. Mount Airy Casino Resort – with a great mountain view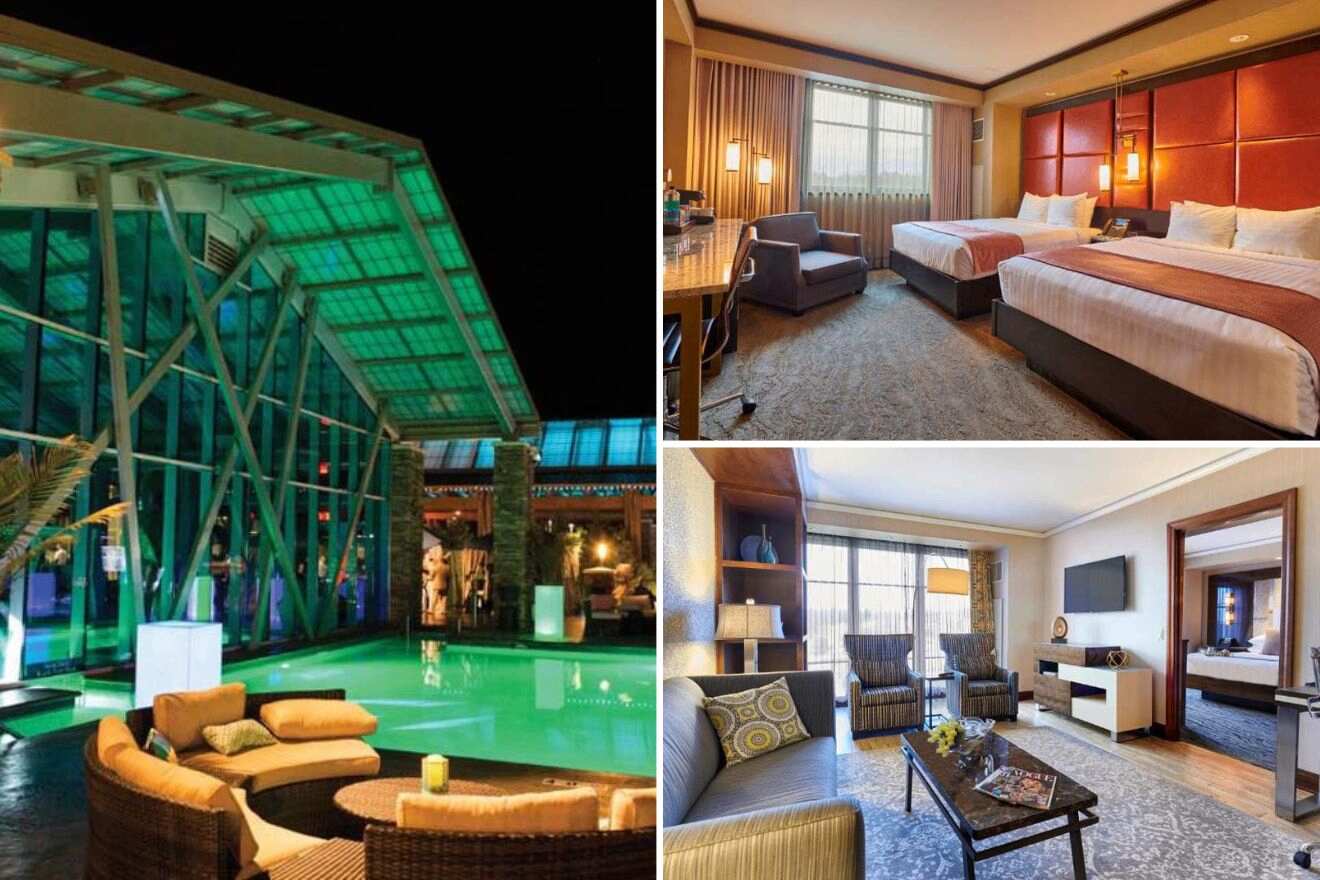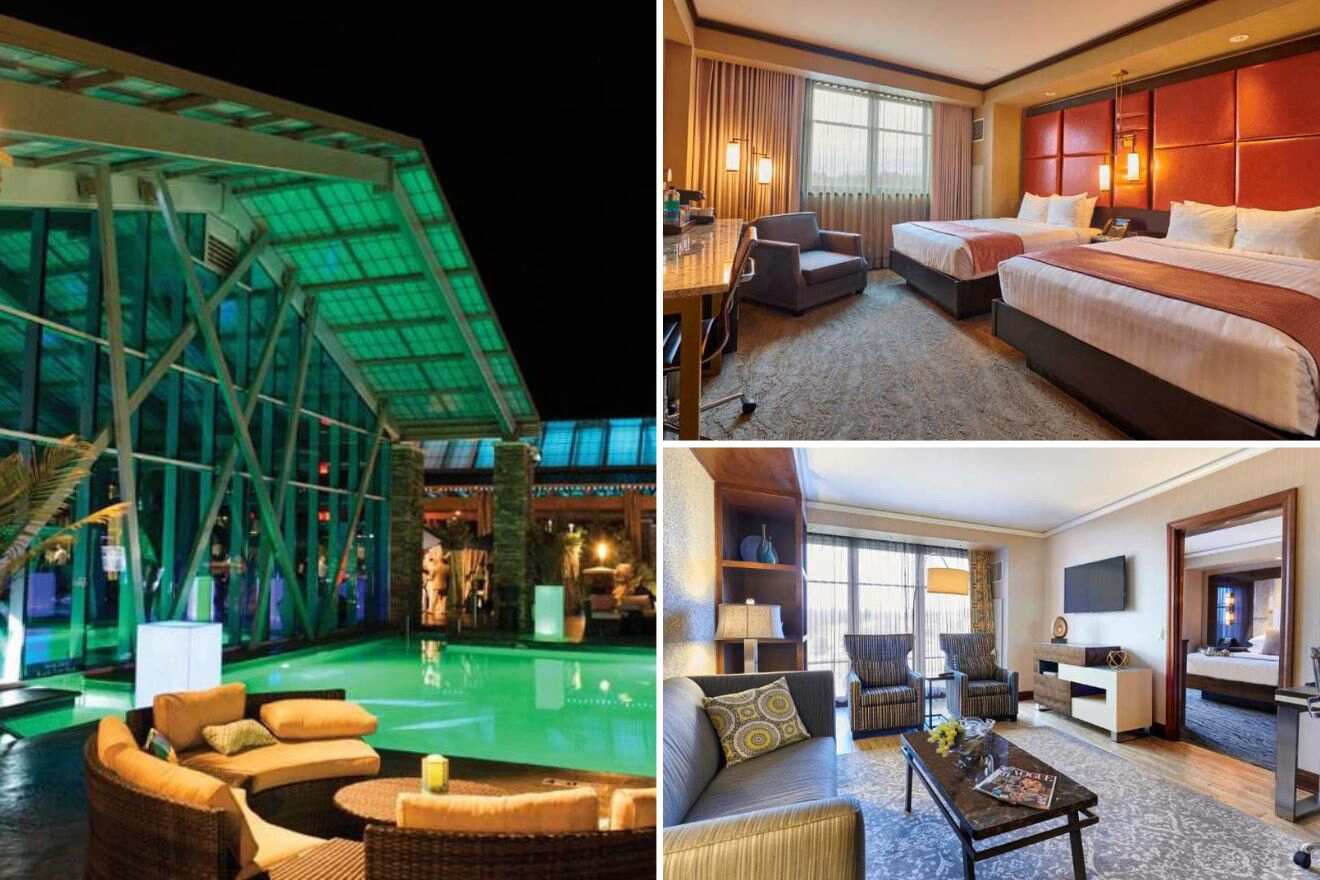 Planning a romantic getaway? Then check out this adults-only hotel set in Mount Pocono, which has so many cool facilities like indoor and outdoor pools and some incredible mountain view suites! If you want your own private hot tub, book the King Suite, which is super comfy and comes with free Wi-Fi and a coffee maker!
Start your day with some coffee in bed in your little private cocoon and then maybe go for a swim in one of the pools, or book some spa treatments for both of you! There are 5 restaurants on-site (one for each day) and a casino where you can try your luck and have some fun!
6. Hilton Scranton & Conference Center – a modern hotel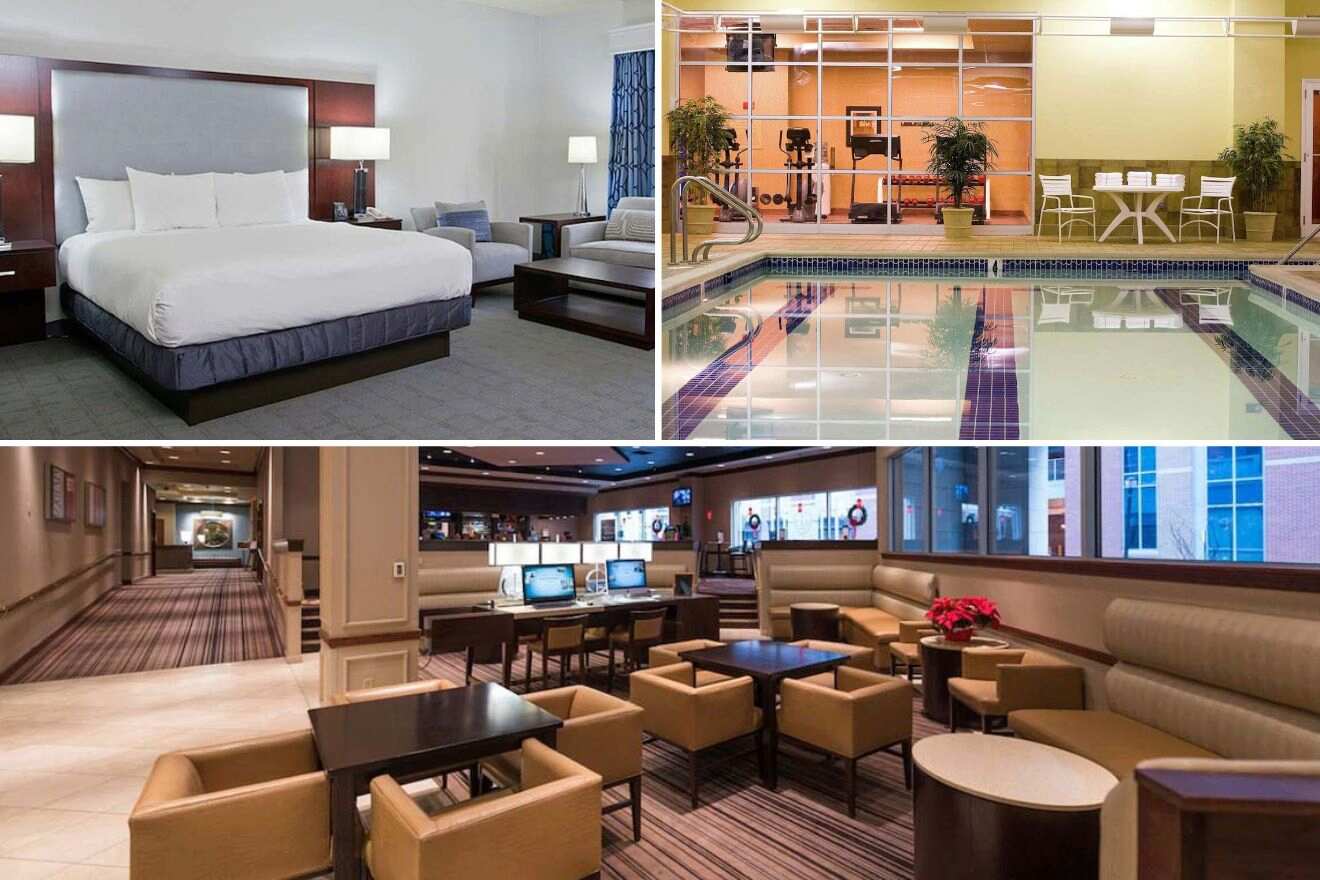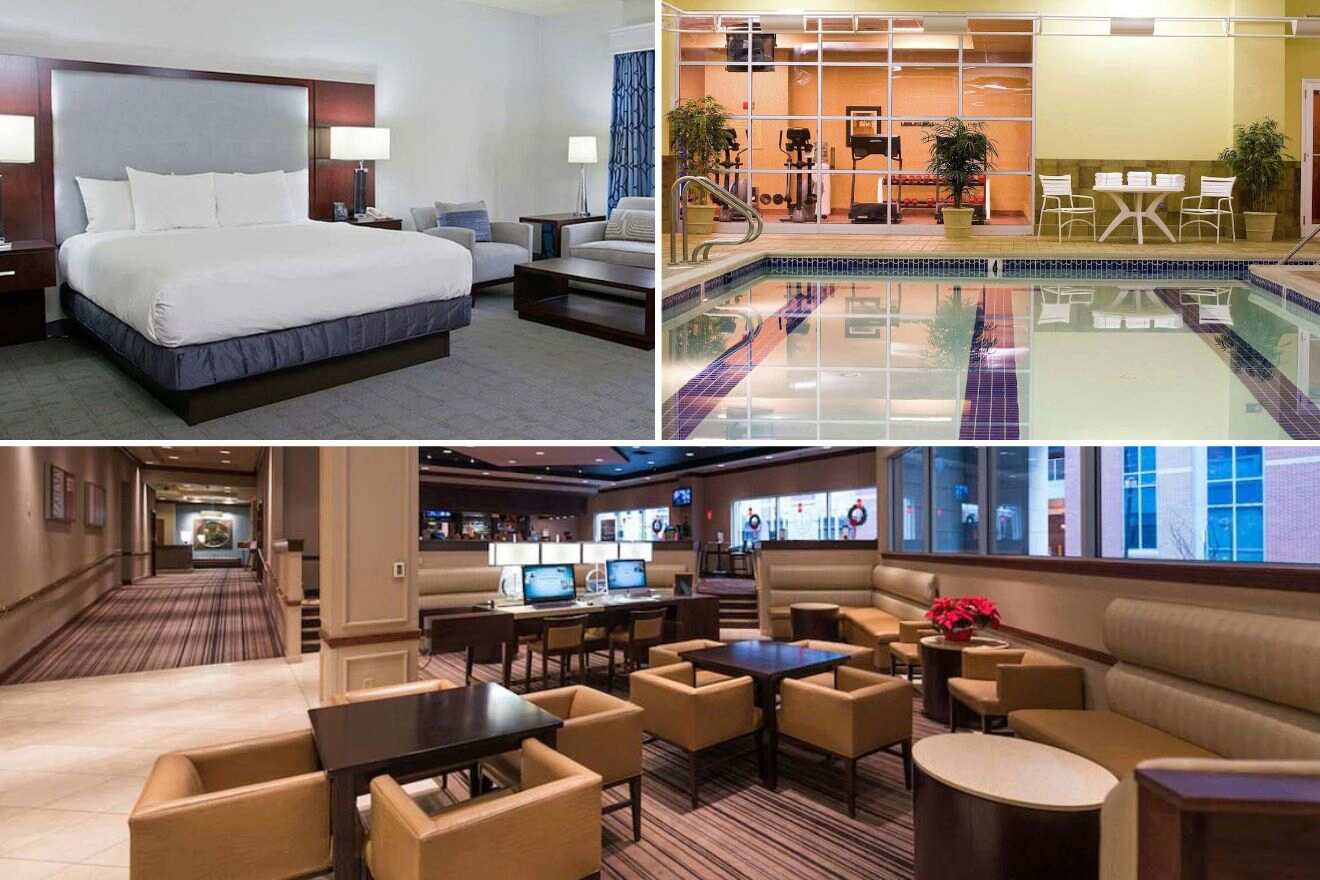 Located in Scranton, this elegant hotel offers modern rooms with private bathrooms that have private hot tubs. Not all of them, though! You'll have to secure the King Suite to enjoy that perk. And trust me, there's nothing better than relaxing in a hot tub without anyone bothering you!
Offering lots of fun activities in the area nearby, like hiking, whitewater rafting, and skiing, the hotel comes prepared with all the facilities you'd need for your stay, including 2 restaurants, a bar, and a fitness center. And there's also an indoor pool which all guests can use!
7. Silver Birches Resort – great place with sea views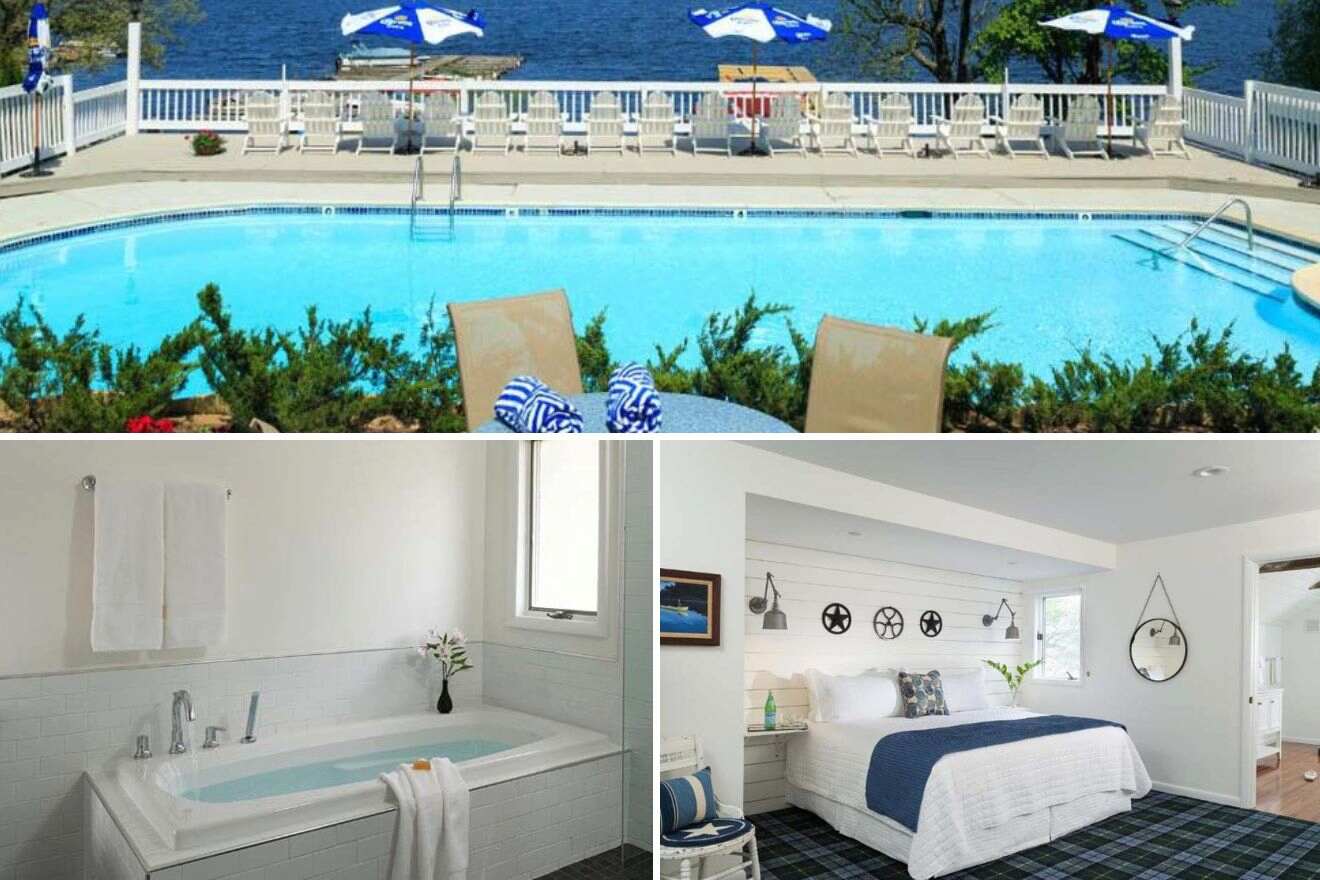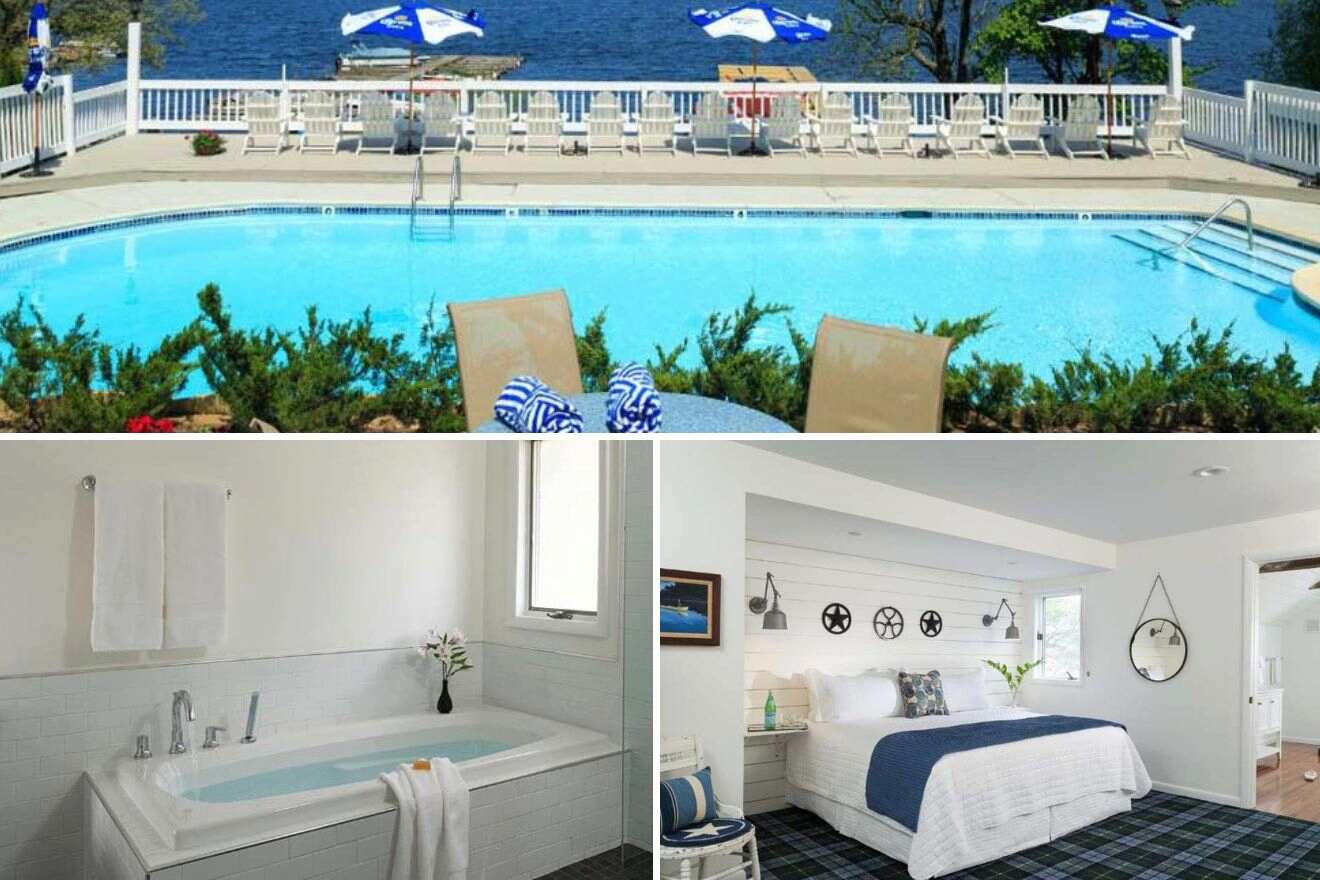 Romantic nights by the fireplace, tranquil mornings on your private balcony enjoying a cup of coffee and admiring the waterfront views, what more can I say, except that this place is just perfect for a romantic getaway! Set in Hawley, Pennsylvania, the accommodation is super cozy and offers free parking.
Their Deluxe King Suite comes with a hot tub, a flat-screen TV, and a stunning sea view! You'll also find an outdoor swimming pool and a restaurant that serves delicious food! They also offer lots of fun activities like bicycle rentals and tours.
8. Radisson Lackawanna Station – for all the big foodies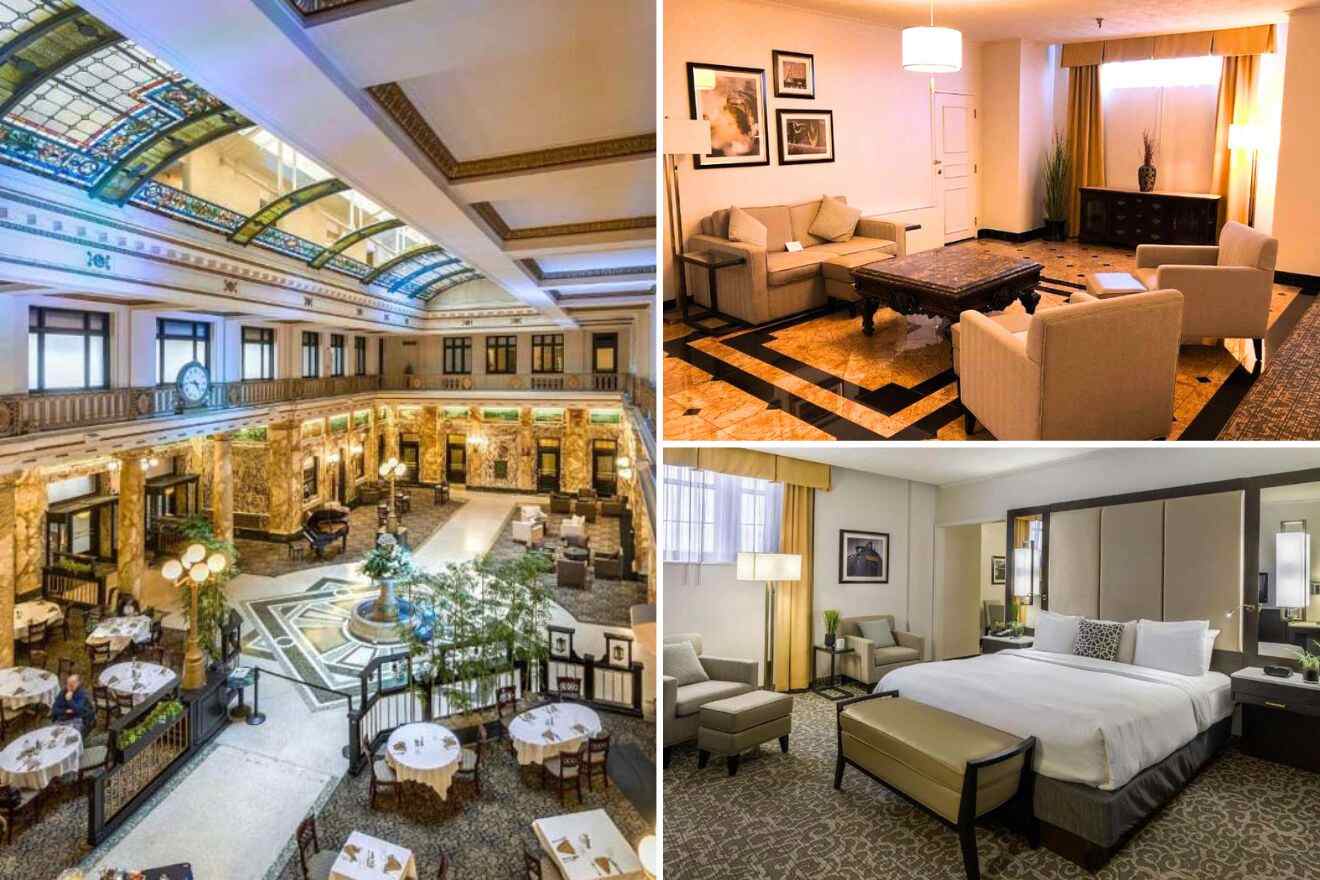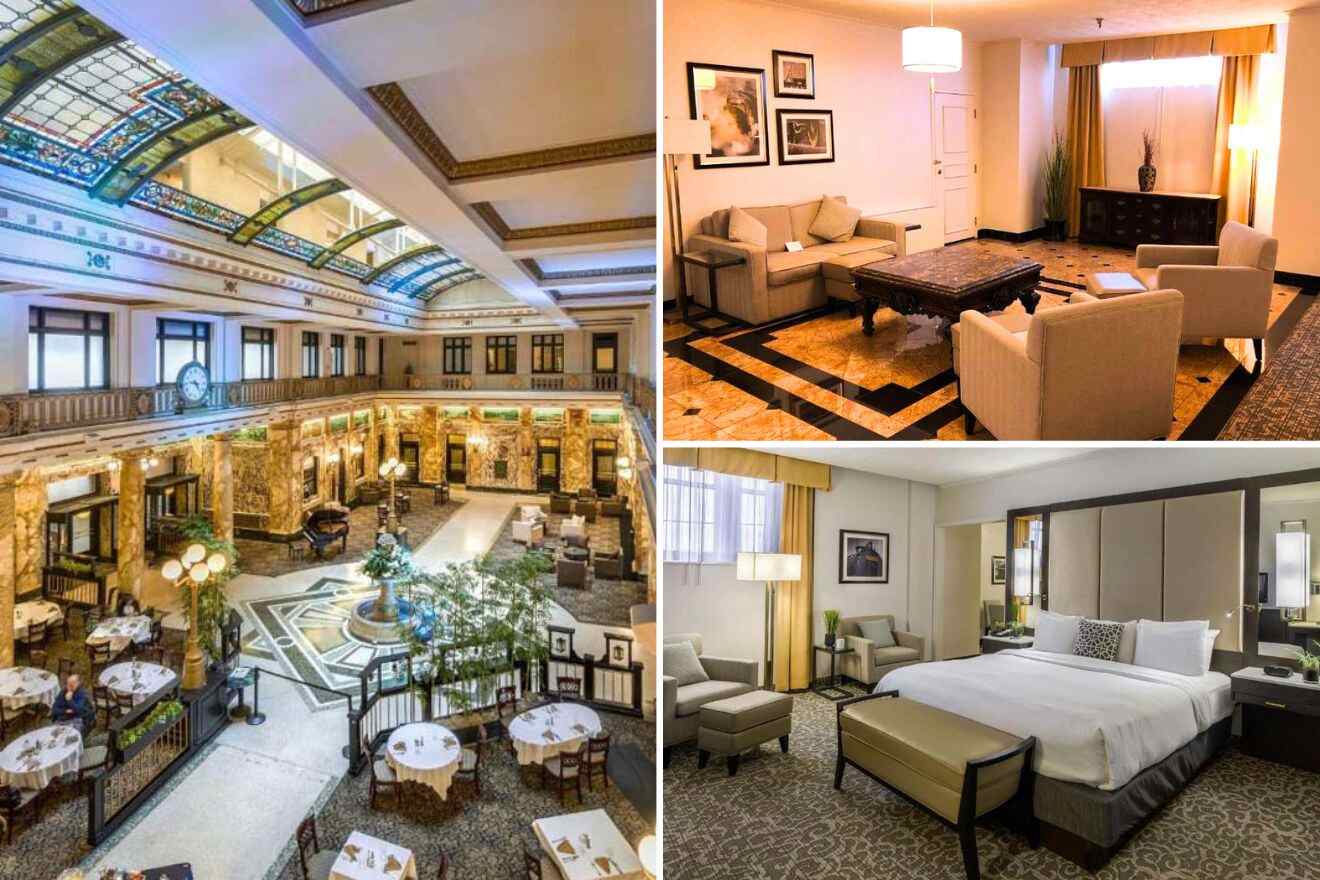 Ready for an unforgettable holiday where you'll get to relax, recharge your batteries and enjoy a few days of peace and quiet? You'll also need a hotel, and I've found a great one that's located next to the University of Scranton.
Get the King Suite and enjoy the perk of having your own private hot tub at your disposal 24/7! The accommodation also comes with a fitness center and a gift shop. Their restaurant is pretty fabulous, too, and it serves fresh seafood, homemade pasta, and a large wine list! Nothing compares to a good glass of wine after a day of shopping and exploring a new location!
9. Pocono Palace Resort – adults-only entertainment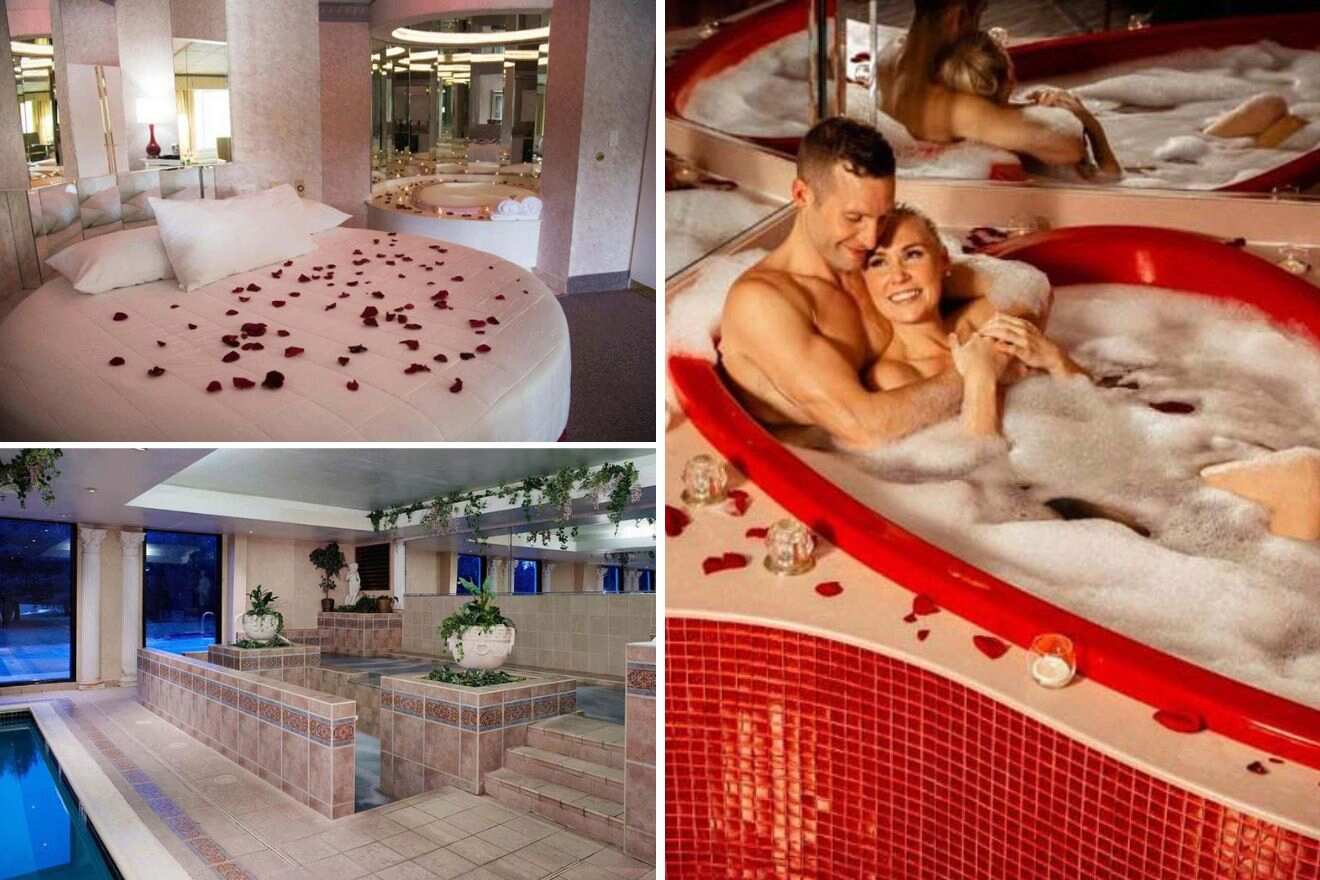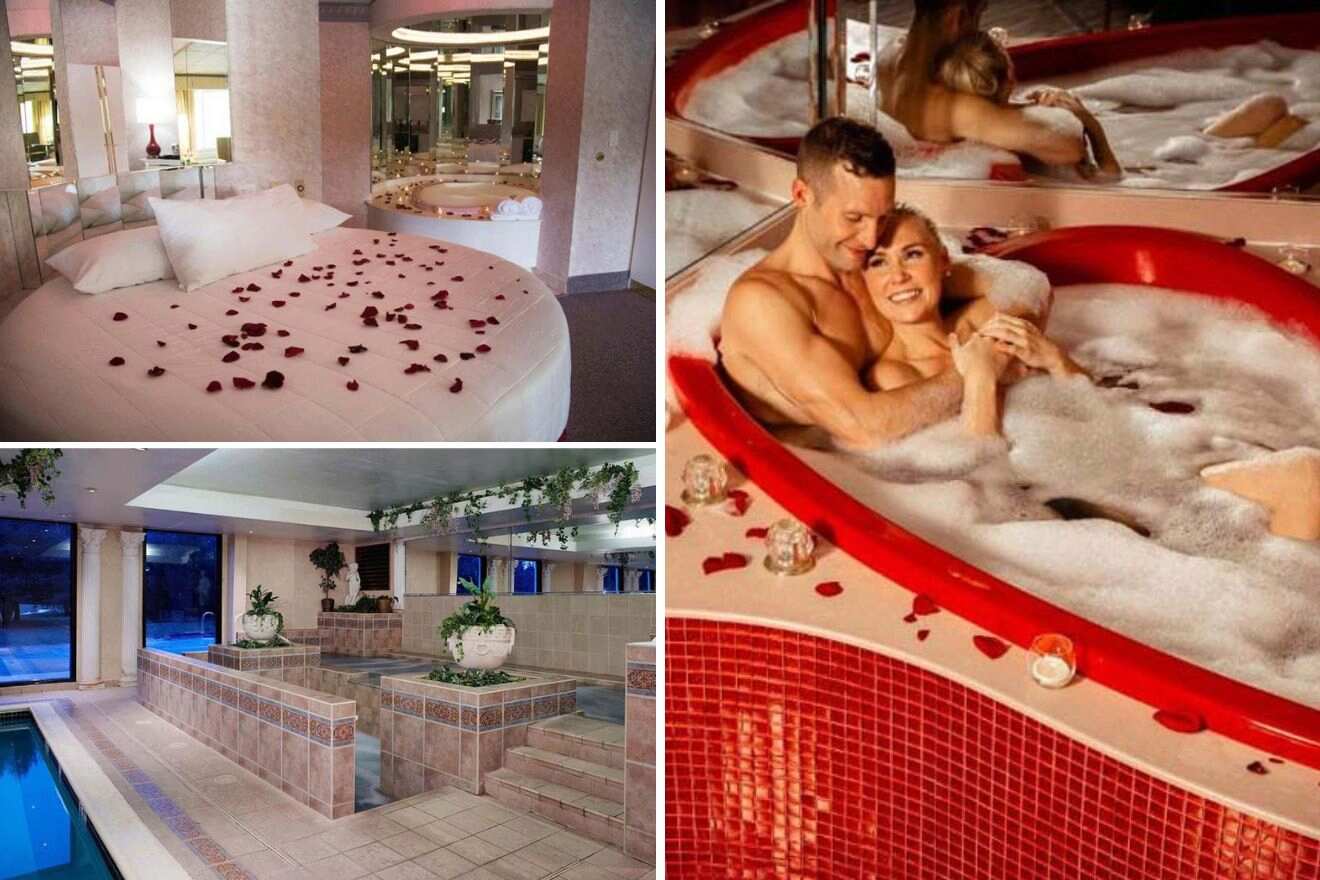 Still searching for the perfect romantic hotel? Then check out this adults-only hotel which is located in East Stroudsburg! Featuring rooms with heart-shaped beds, a hot tub, and a fireplace, this hotel is surely a keeper! Endless entertainment options await as well!
During your stay, you can chill by the outdoor pool, explore the area, borrow some paddleboards, and of course, enjoy some of the spa services together. There's nothing like a massage after your drive or flight to get to the hotel. You can end your day with a romantic dinner at the restaurant on-site!
10. Stroudsmoor Country Inn – for all golf lovers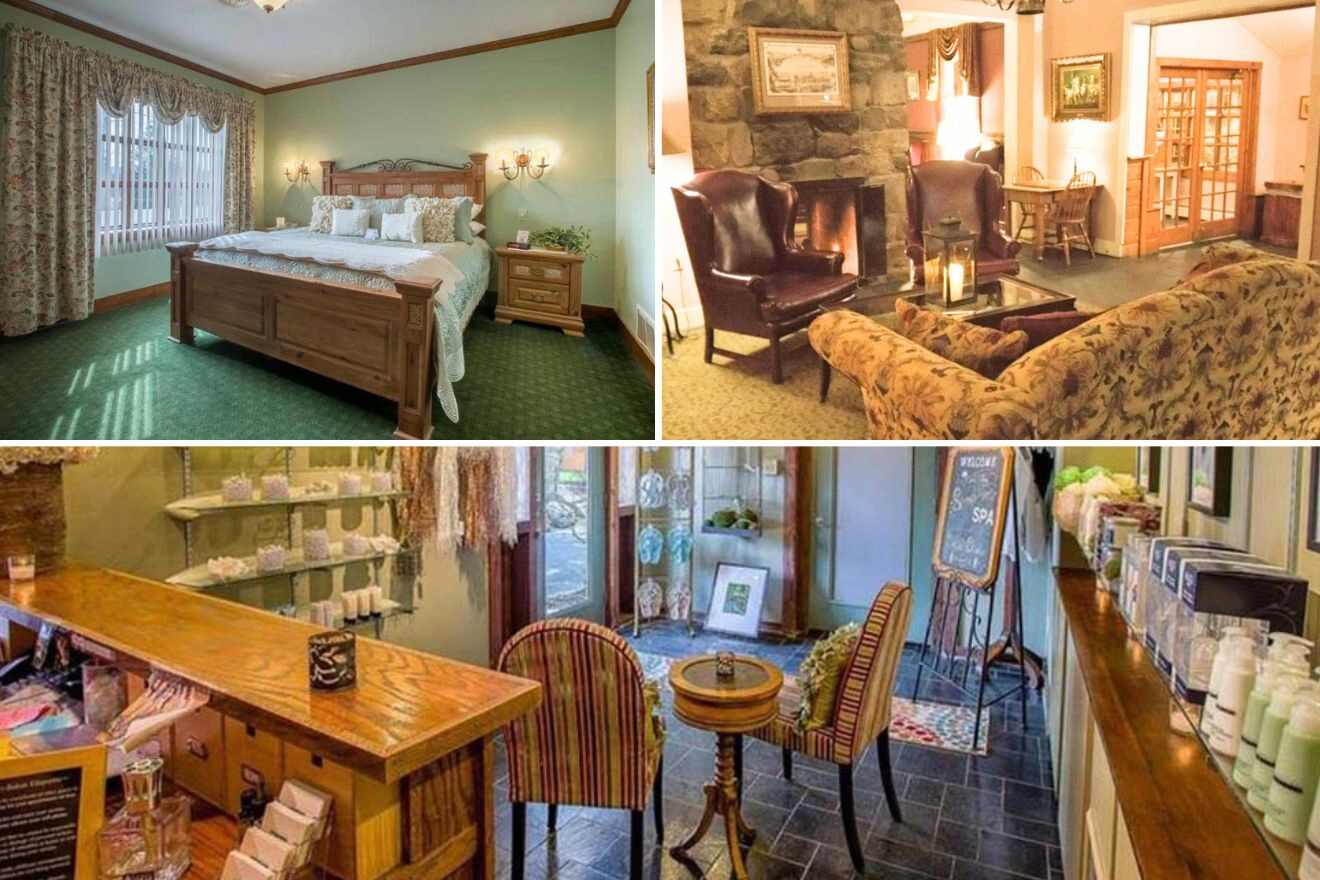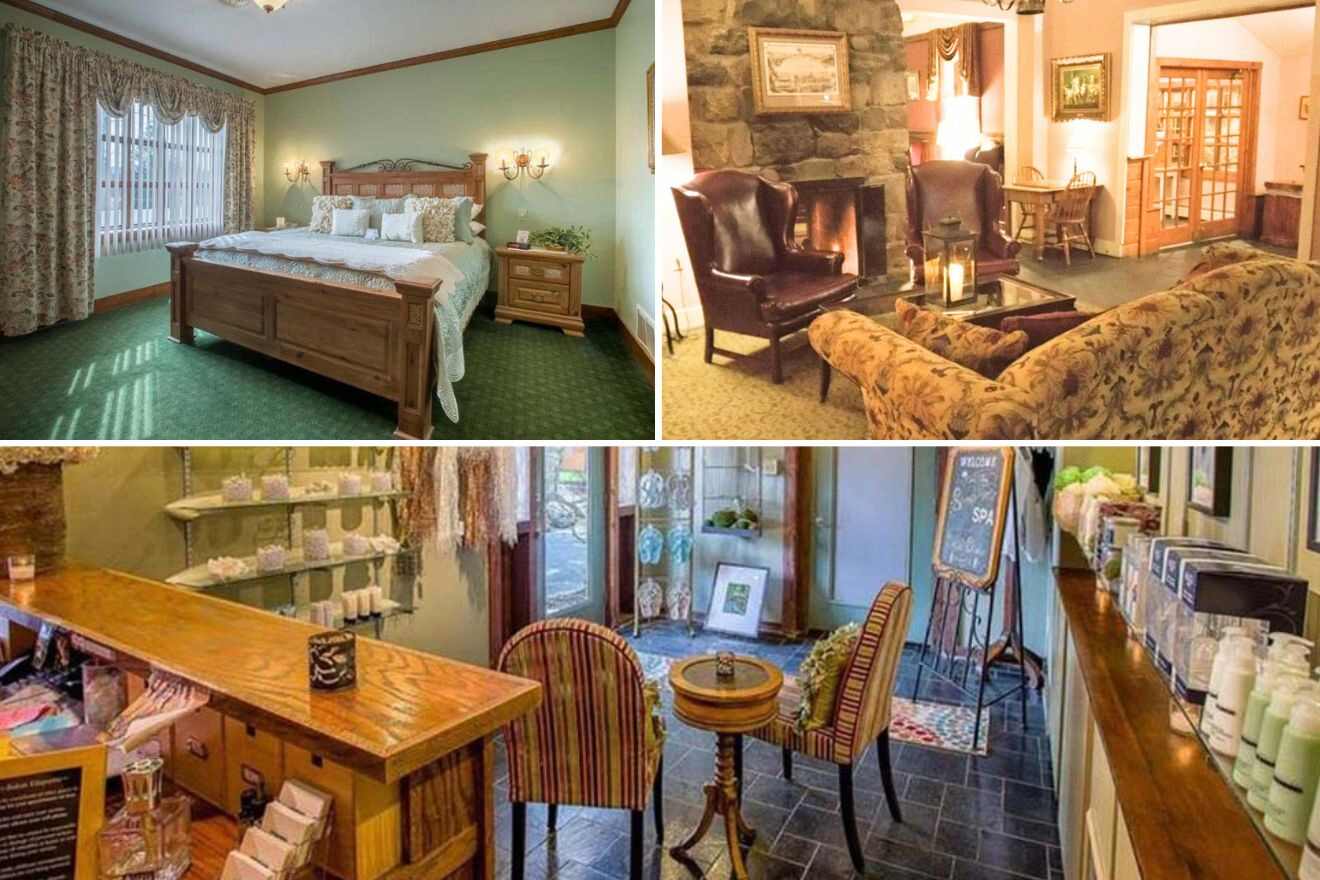 If you like vintage furniture and decor, then this hotel is perfect for you! Located in Stroudsburg, right near a golf club, the accommodation has a beautiful lush garden, a bar, an indoor heated pool, and a business center.
Their rooms offer some beautiful period furnishings and, of course, a hot tub where you can relax after a day out! Start your mornings with a yummy breakfast served in bed (tastes better, right?), and then head downstairs to get a massage at the spa center! The accommodation also has a fine dining restaurant that serves American and Italian cuisine.
11. Paradise Stream Resort – a classy hotel with a nightclub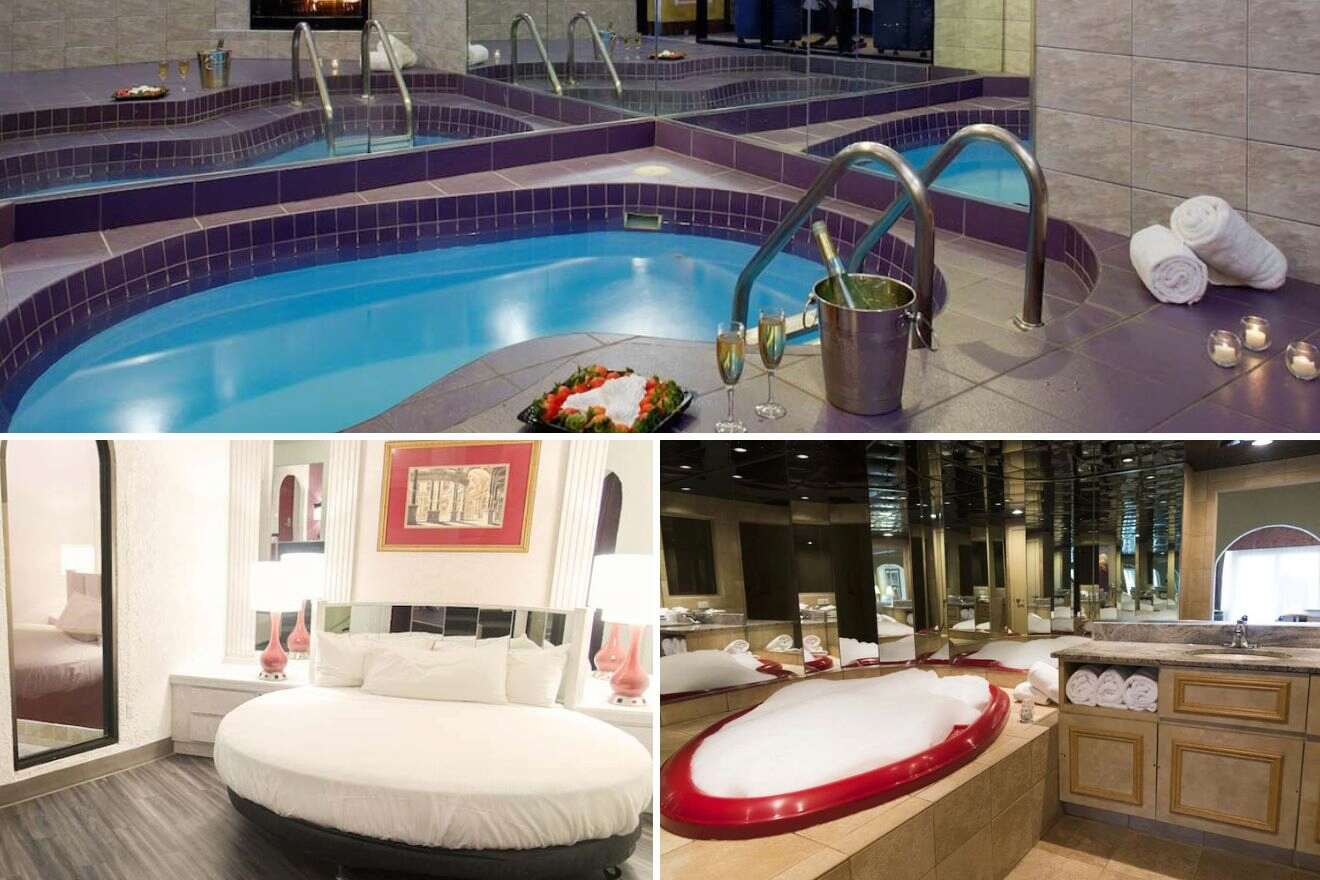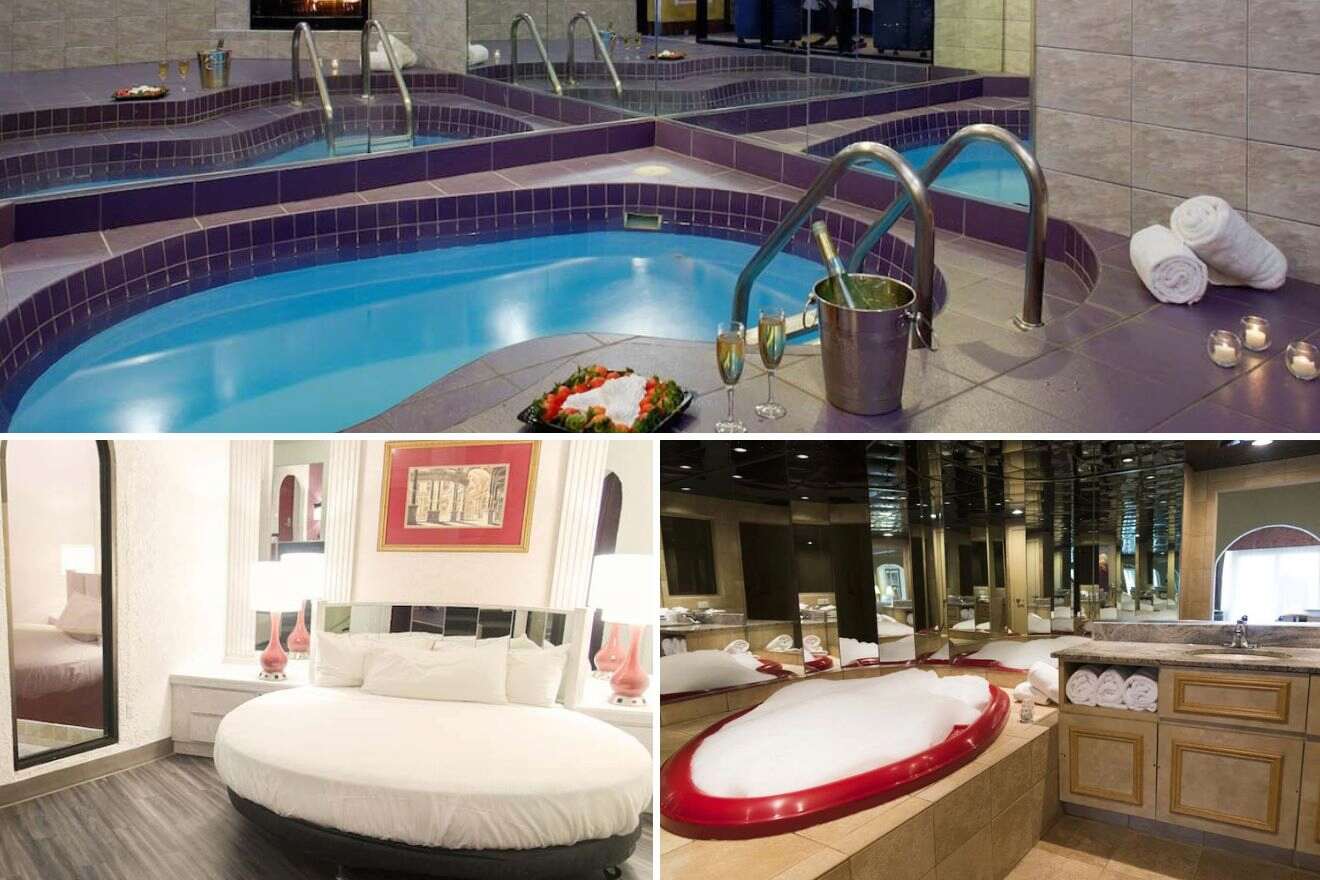 I know that romantic getaways are usually hard to plan, but luckily I'm here to help with the hardest part: picking a hotel! This adults-only hotel looks so great, and it has the most amazing rooms with a private hot tub and fireplace.
It's not only the Garden of Eden Apple Suite that makes the accommodation so cool, but it also offers lots of fun activities for you and your partner like spa dates, outdoor adventures, playing mini-golf, and romantic candle-lit dinners! This sounds like a holiday you'll never forget!
FAQs about Poconos hotels with jacuzzi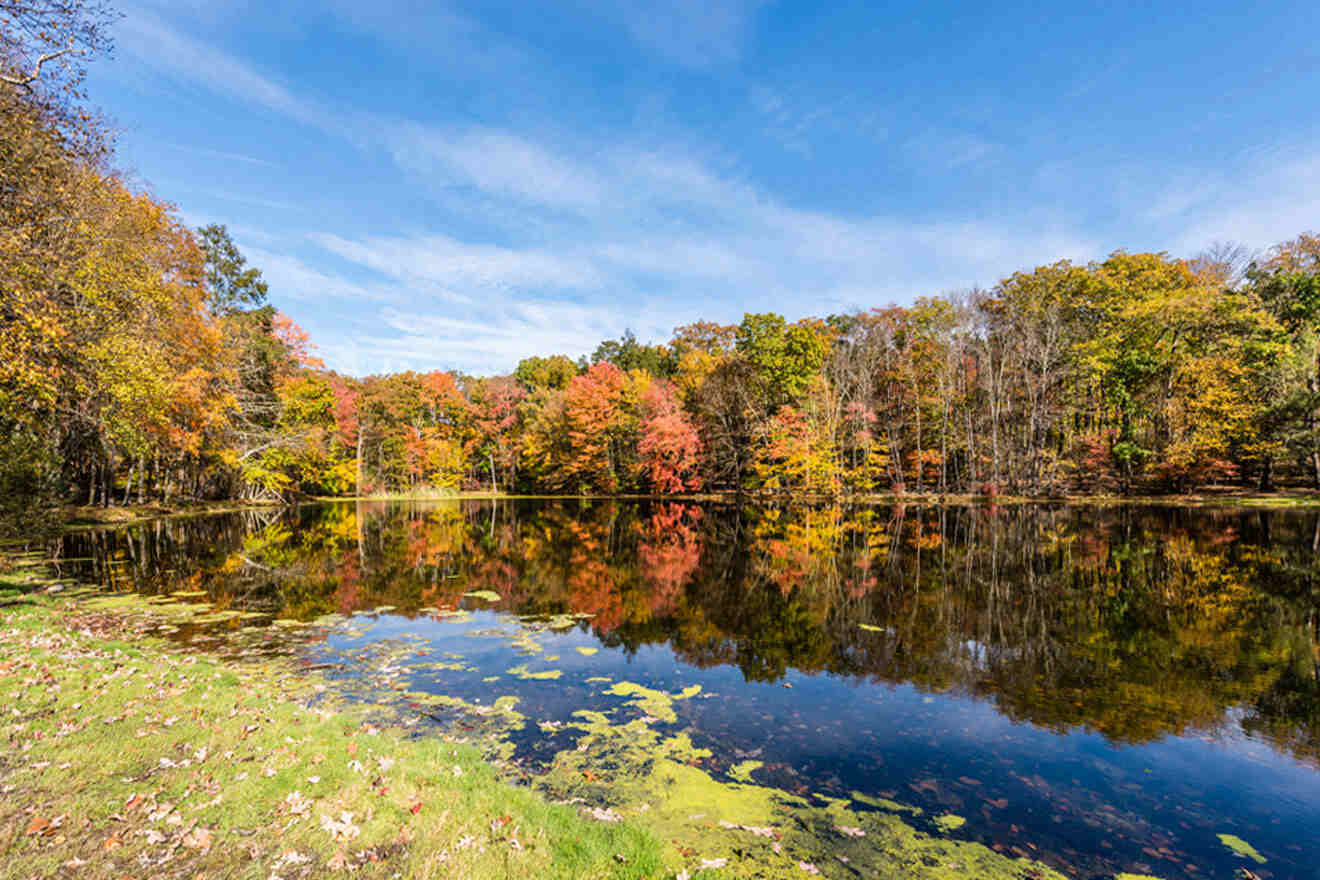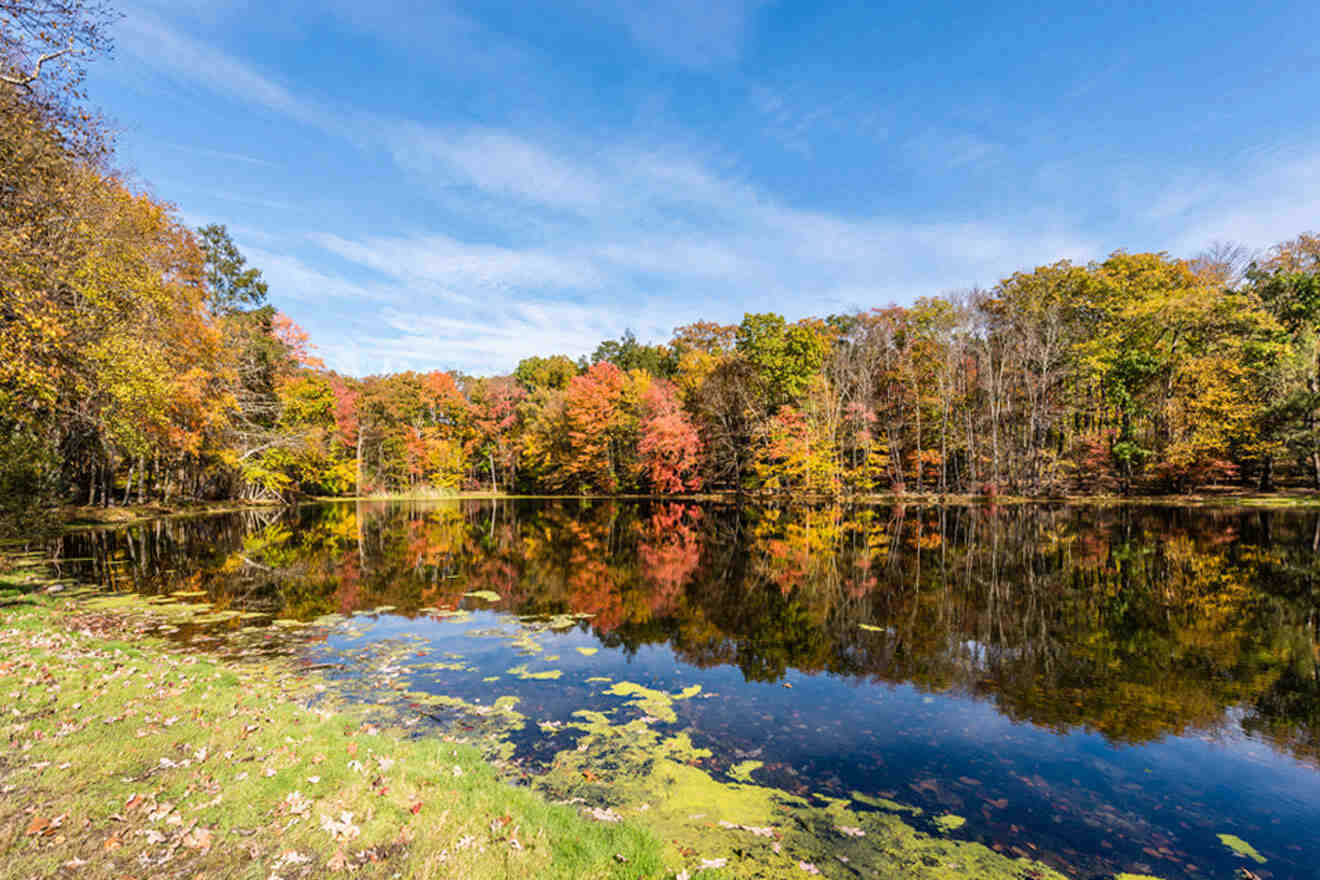 🏩 Which are the most romantic Poconos hotels?
🛀 What are the best hotels with room hot tubs in the Pocono Mountains region?
Brookview Manor Inn and The Inn at Jim Thorpe are some of the best hotels Pocono Mountains hotels with a jetted tub in the room. Both places have amazing locations and great facilities like restaurants.
🥞 Do any hotels with hot tubs in the Pocono Mountains Region offer free breakfast?
🌞 What is the best time to visit Pocono Mountains region?
The best time to visit the Pocono Mountains region is between June and August, that's when the weather is at its best, and tourists can try lots of fun activities like horseback riding, hiking, and whitewater rafting.
Conclusion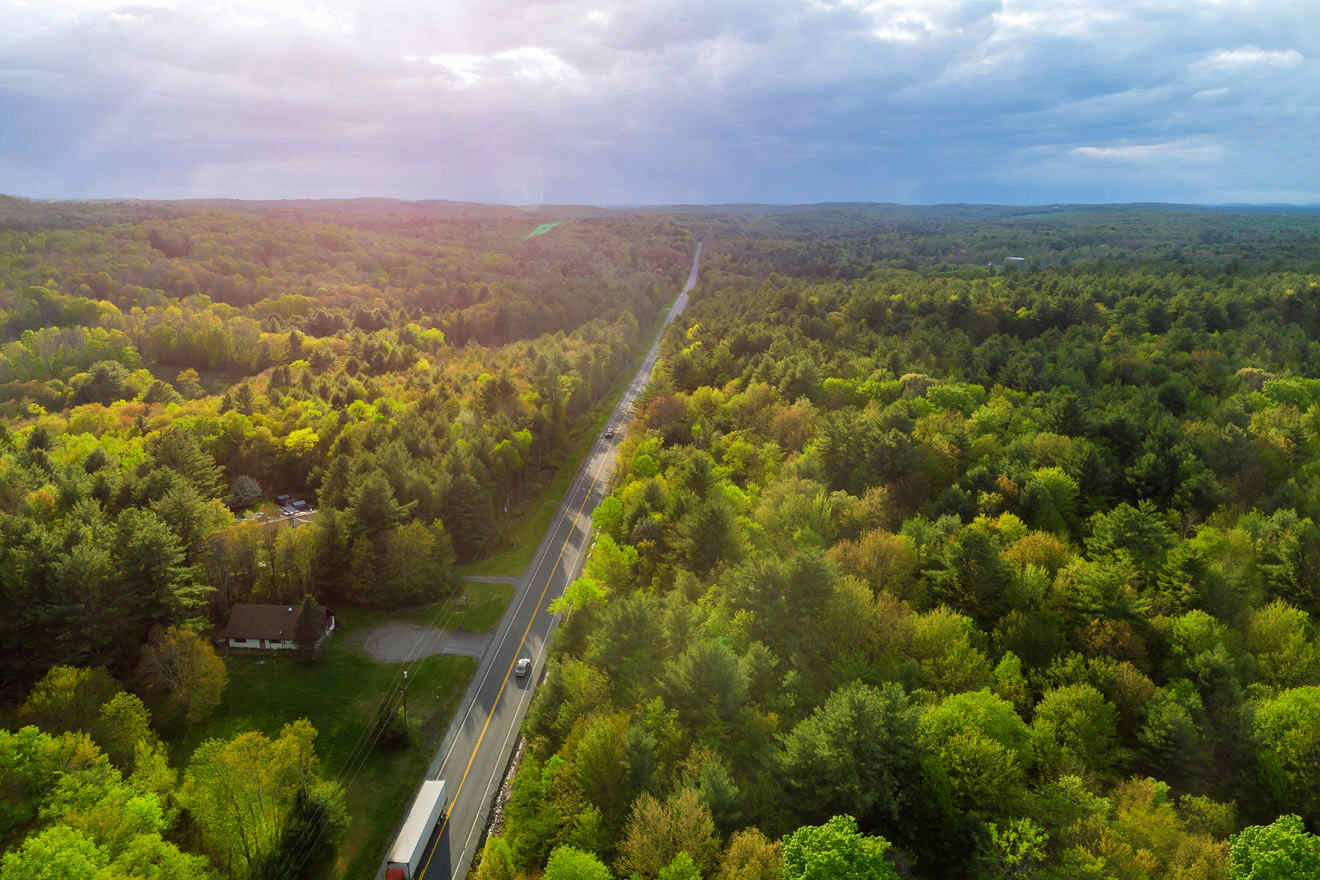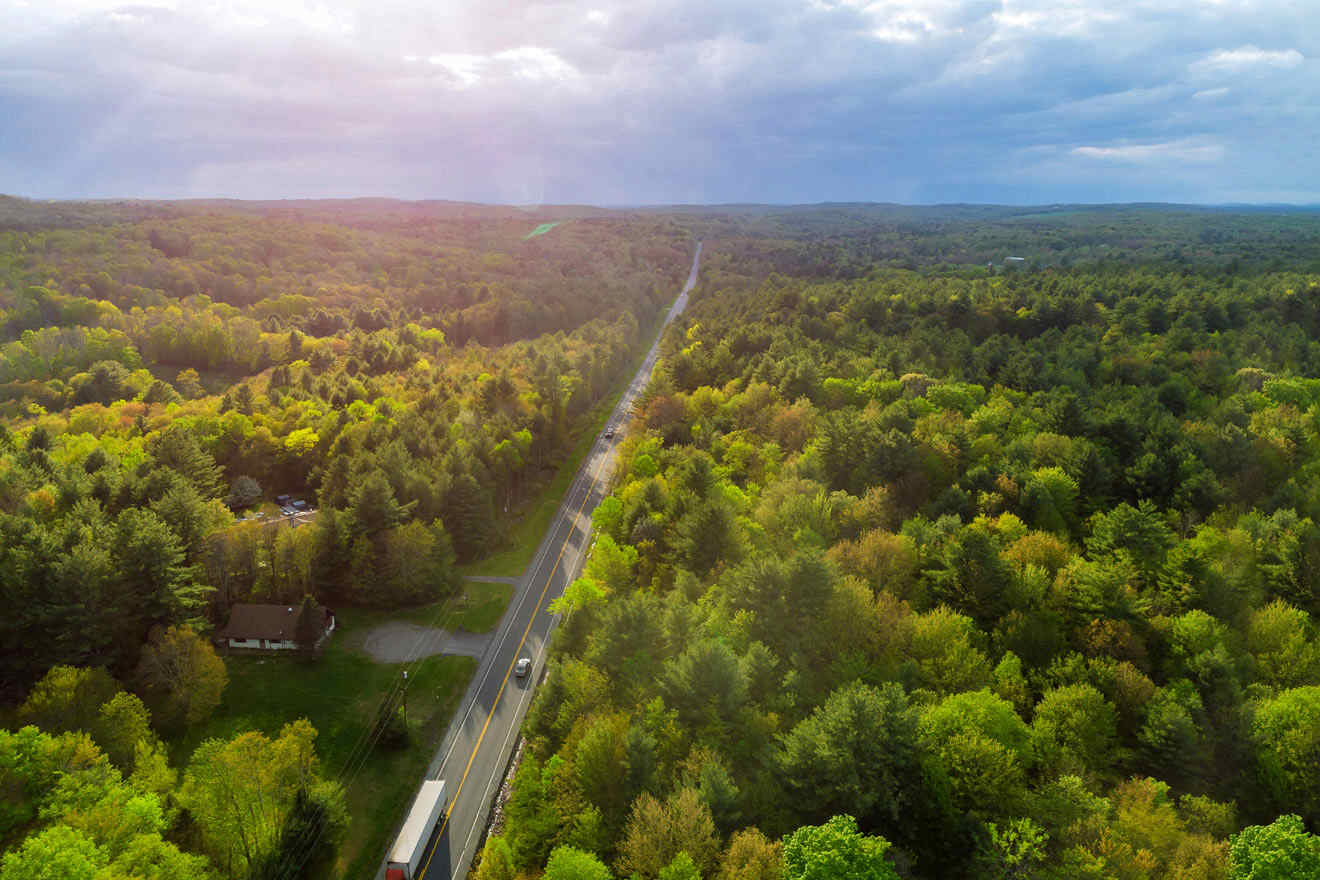 This region has some of the most beautiful landscapes I've ever seen, and of course, some top-notch hotels with hot tub suites, too!
And today, we've seen the best Poconos hotels with a jacuzzi in the room! These guest rooms and romantic hotels are always booked out, so I highly recommend making your reservation in advance so that you can secure your spot!
I always like to leave my readers with something, and today I'll offer you my top 2 favorite Poconos hotels:
Brookview Manor Inn – One of the most romantic Poconos hotels that has a stunning location, a lush garden, and a lovely gazebo
The Inn at Jim Thorpe – This 19th-century inn has such a great style, and it offers spa treatments, a restaurant, and fancy rooms
It's been a pleasure to write about all these incredible romantic hotels! As always, I'm still around, so if you've got any questions, just drop them below in the comment section, and I'll make sure to answer ASAP!
Safe travels,
Victoria
---
Pin it for later!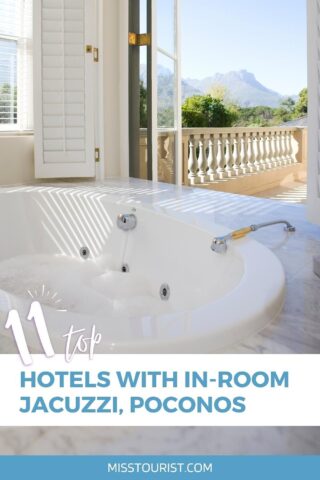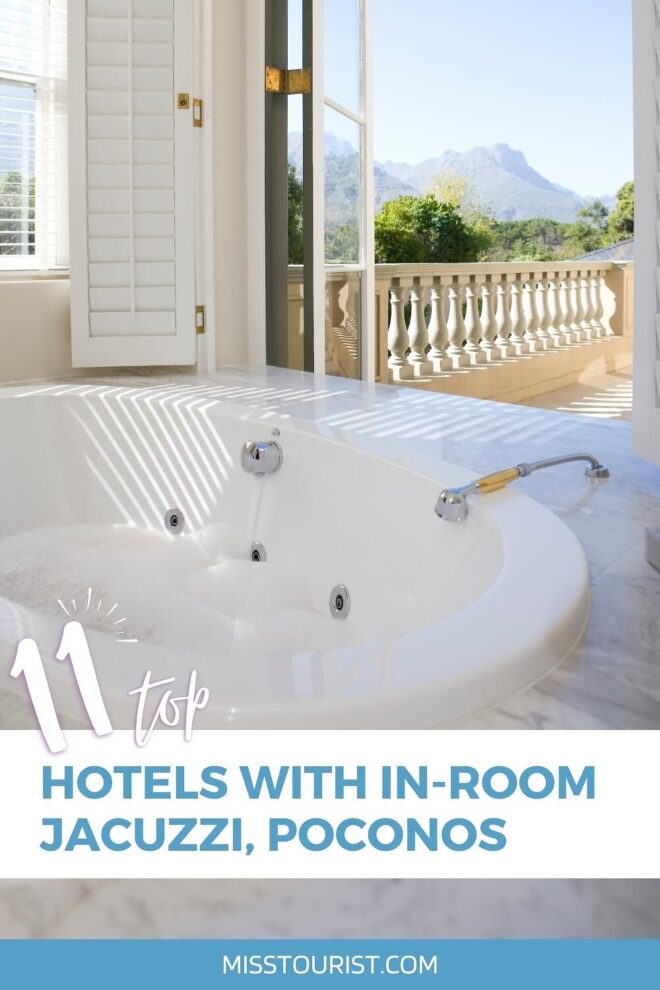 Pin it for later!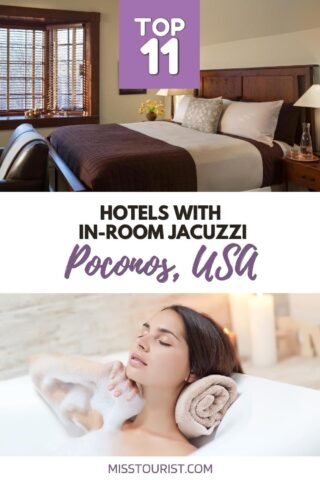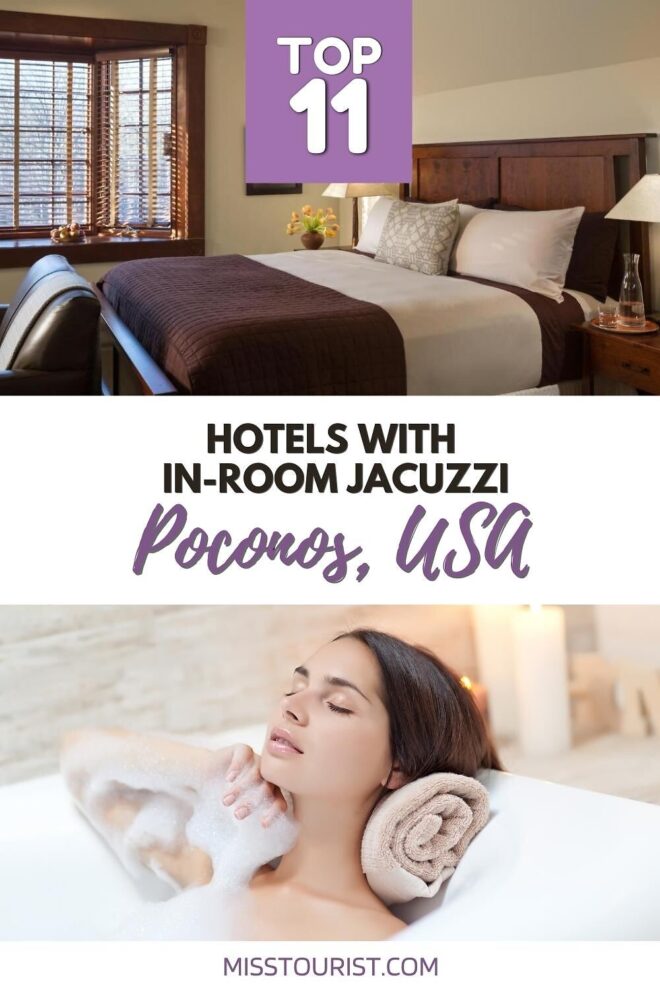 Products You May Like