Ultimate Guide to Rainbow Springs ✔️ a Local's Tips & Tricks
Are you ready for your escape into a magical and mystical Florida oasis? In this ultimate guide to Rainbow Springs, this Florida local will dive deep into everything you need to know to make the most out of your trip!
Prepare to immerse yourself in profoundly healing and cleansing, mineral-rich waters. Rainbow Springs is an ancient springhead with dozens of small springs spread all throughout the crystal clear waters.
In this article, I dive into everything you need to know about Rainbow Springs to make your trip effortlessly unforgettable. I'll go over a brief history, prices, entrances, activities, and more so you can make the most out of your trip!
This freshwater Florida oasis highlights the unique landscape that Florida has to offer. Let's dive right in!
Know before you go – important info Rainbow Springs
Here's some super important information you'll need for your trip to Rainbow Springs!
Where is Rainbow Springs State Park?
This absolutely gorgeous state park is located in Marion County in Dunnellon, Florida. Situated only 100 miles Northwest of Orlando and about 20 miles Southwest of Ocala, Florida.
Rainbow Springs State Park comprises about 1,459 acres that include the Rainbow Spring's springhead that flows into the Rainbow River. The springhead basin consists of multiple smaller springs producing around 400 to 600 gallons of fresh spring water daily. The gorgeous crystal clear water from the rainbow river eventually merges with the Withlacoochee River.
What's the water temperature of Rainbow Springs?
You will be pleased to learn that the springs stay at a steady 72 degrees Fahrenheit year-round!
However, keep in mind that the depth within the swimming hole varies, and the deeper the water, the colder it is.
Even in the winter months, you can expect the water to be a steady 72 degrees! That is also why the manatees migrate to the springs in winter to enjoy the warm waters.
Are there alligators in Rainbow Springs?
When it comes to the natural springs of Florida, one of the most common questions visitors ask is, "Are there alligators in Rainbow Springs?"
In short, the answer is yes!
It is a naturally occurring river with tons of different wildlife, and in Florida, reptiles are a part of the ecosystem.
However, the gators usually steer clear of the swimming areas. Mostly because they don't like being around a lot of humans, and they also prefer dark and murky waters. However, if you do decide to kayak down the Rainbow River, you will most likely see a gator or two.
Always remember to be respectful of wildlife. This was their home first! Definitely do not feed any alligators or harass them, that is a recipe for disaster.
You have nothing to worry about as long as you keep your distance and respect them as an ancient part of this ecosystem.
Does Rainbow Springs get crowded?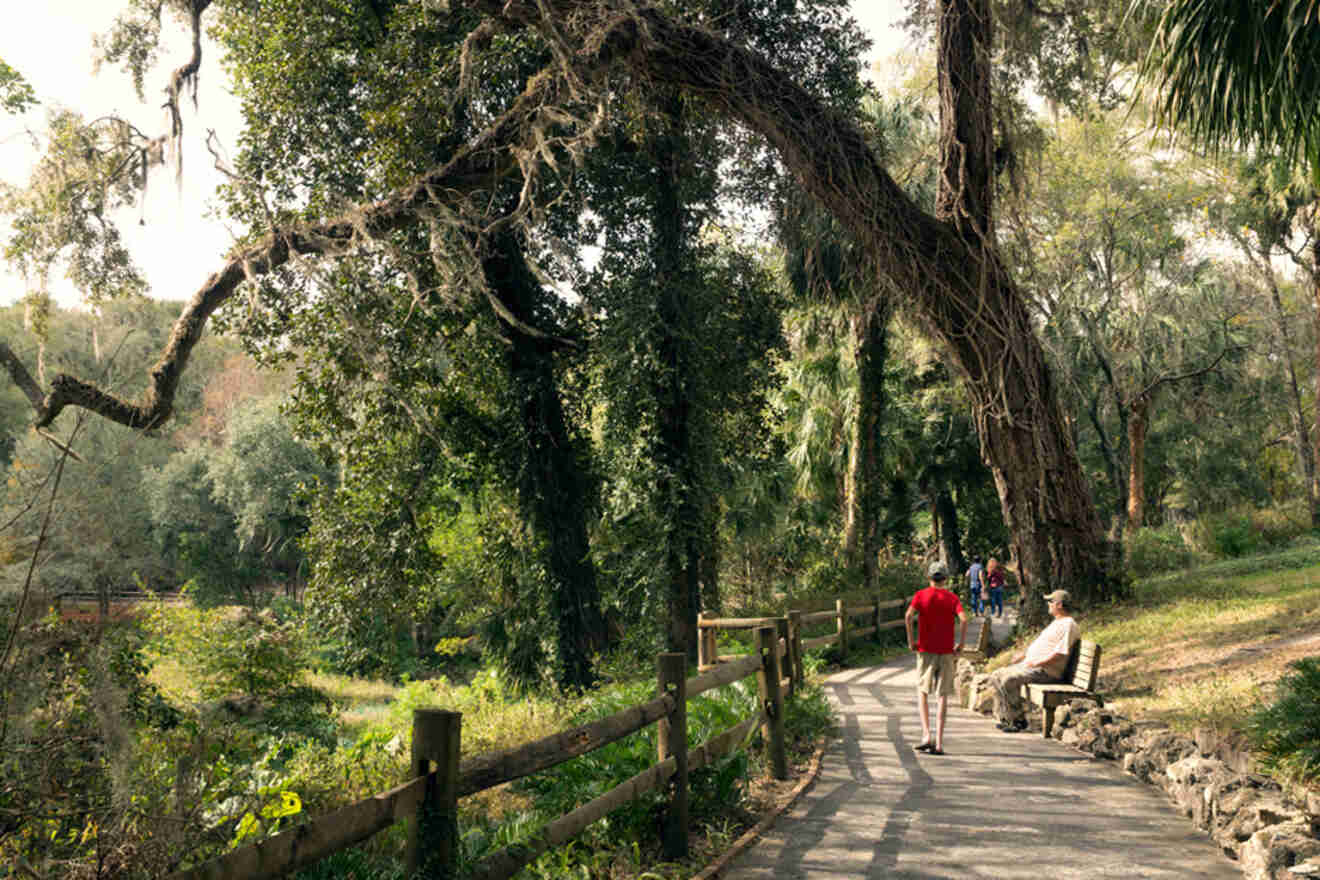 Rainbow Springs gets very crowded and has high visitation, especially on weekends and the holidays.
The park reaches capacity quickly on the weekends. So, what many people do is get there super early and wait in line to make sure that they can get into the springs before they close their doors due to capacity.
Once the park reaches capacity, no visitors will be allowed in, whether they are pedestrians, in vehicles, or even campers! Furthermore, it is essential to plan accordingly.
Even if you can't go on a weekday and your only day off is on the weekend, don't worry. You can avoid crowds by getting there super early, and as you begin to float down the river in a tube, or kayak, the crowd will slowly but surely dissipate, and you will get that peaceful relaxation you were looking for.
Crowded or not, a visit to Rainbow Springs State Park is well worth it!
PRO TIP: If you want to avoid the crowds, get there as early as possible or go on a weekday! I prefer going on a weekday to avoid the massive crowds.
NOTE: Keep in mind that if you leave the park at full capacity, you will not be able to re-enter until the next day.
1. Cost to enter Rainbow Springs State Park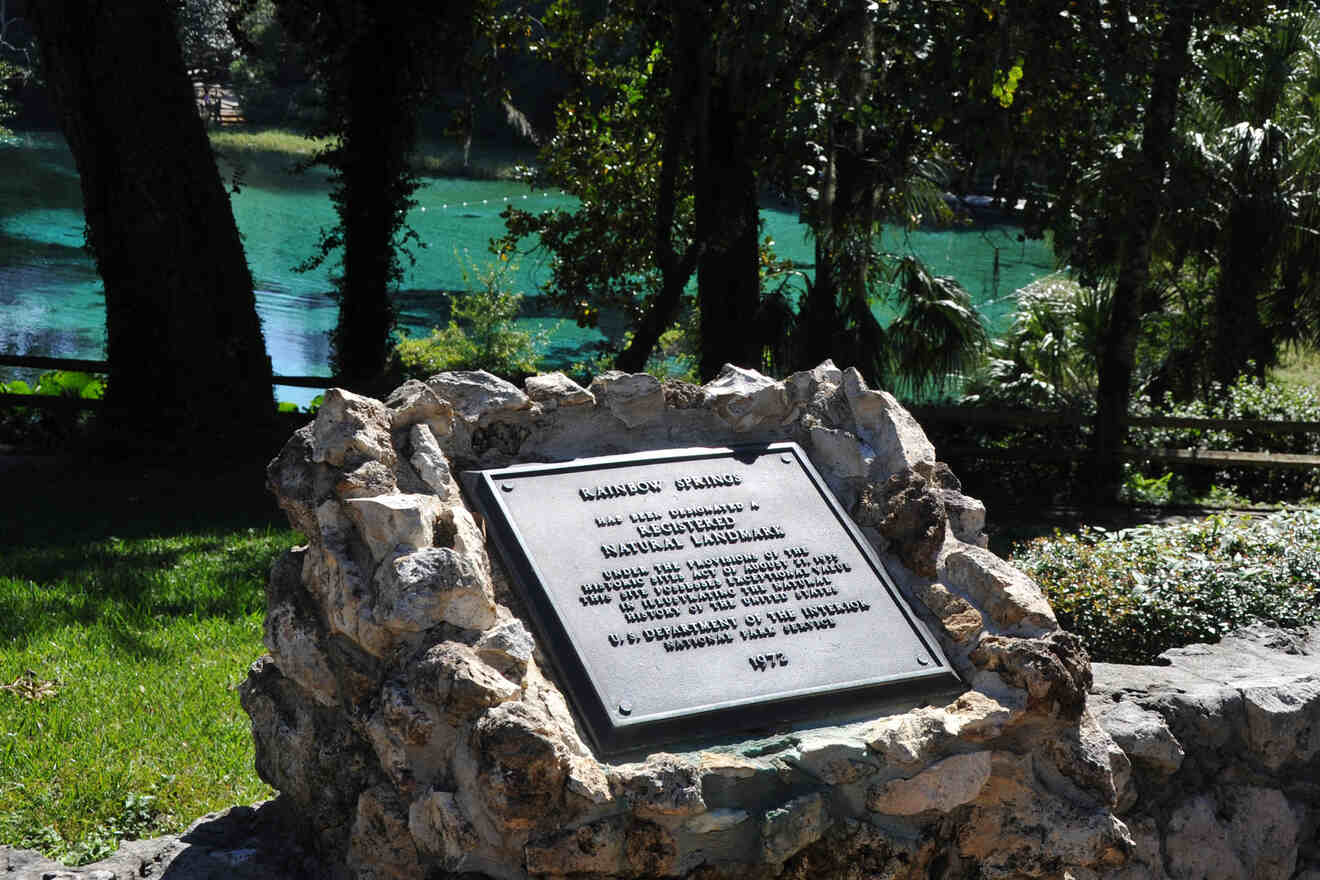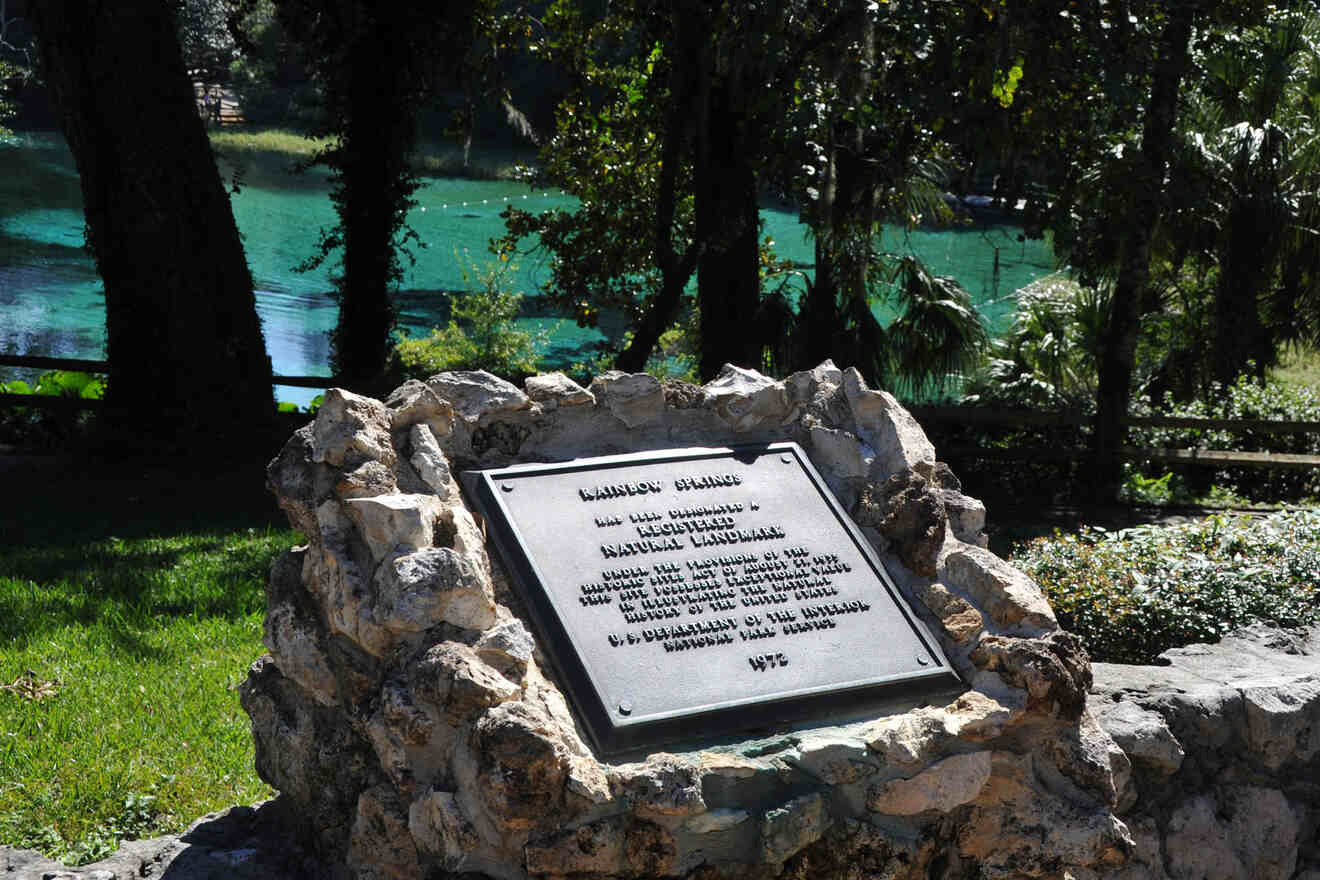 When visiting Rainbow Springs, it is important to know how much you can expect to pay to enter. It costs US$2 per person to get into the park, and children under 6 years old are free!
While the entry fee is low, there are some other fees that you should consider on your trip. For example, going tubing down the Rainbow River costs US$20. The US$20 cost covers your two-hour lazy journey down the river and the tram that brings you back to where you started.
If you don't want to go tubing, consider renting a kayak. From my personal experience, it is definitely worth it to rent a kayak. It allows you to do so much and explore the ins and outs of this stunning aquatic preserve!
You can rent a kayak for 1 hr for US$16, or you can rent one for the entire day for US$50. I recommend the whole-day rental, that way you can explore the springs and Rainbow River at your own leisure without any pressure to return it in an hour.
You can also rent a canoe for US$22 an hour and US$60 for an entire day. I would likewise suggest opting for the entire day rental so as to make the most out of your rental. If you want to go snorkeling, you should check out this amazing snorkeling tour along the river! All the equipment is provided for you which is perfect for families without their own equipment.
On weekends, you can enjoy a new feature that provides sandwiches, snacks, and ice cream at the main headsprings of Rainbow Springs. While this is a totally optional cost, I wanted to include it so you can plan accordingly!
Book Your Snorkeling Experience
2. Entrances to the Rainbow Springs State Park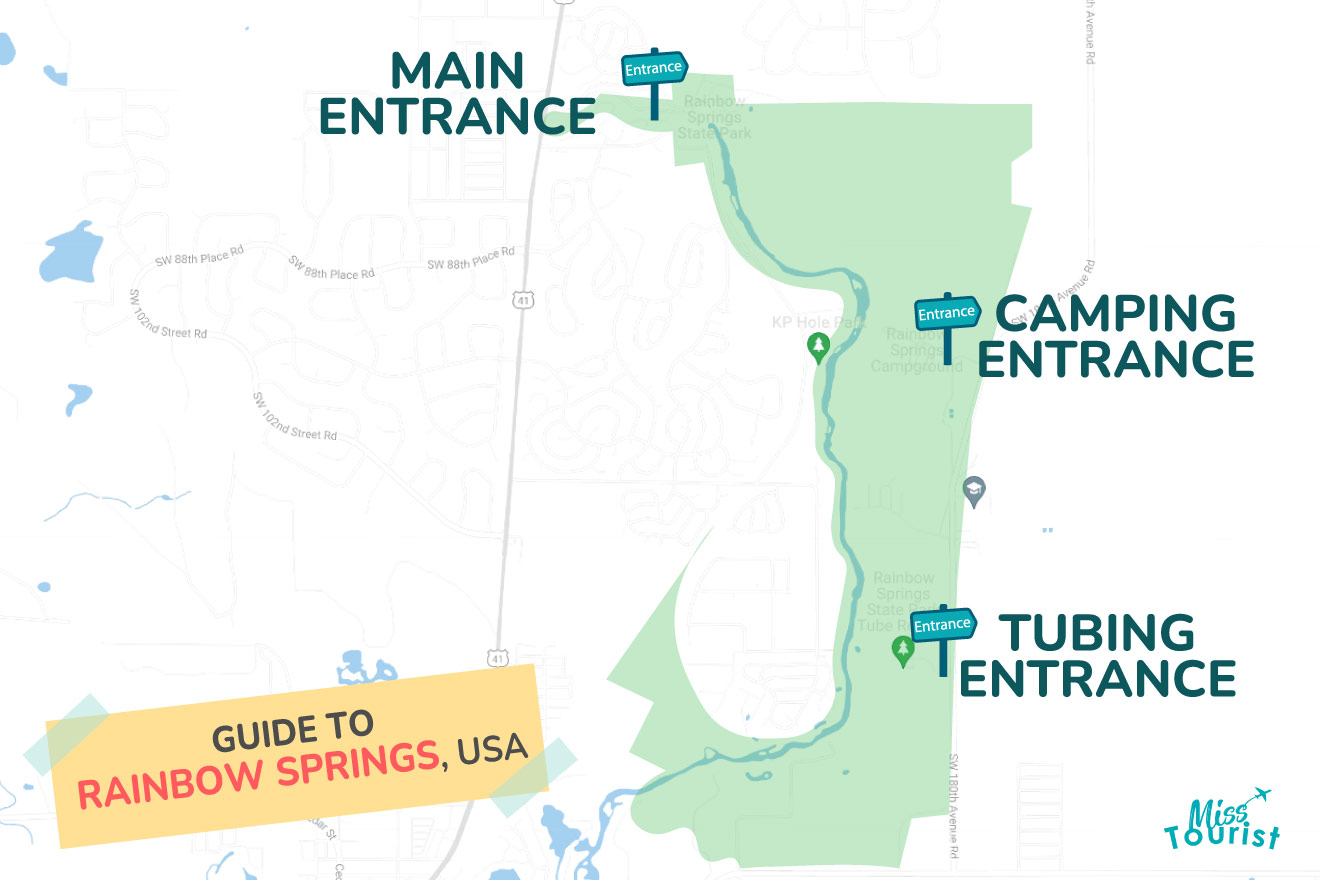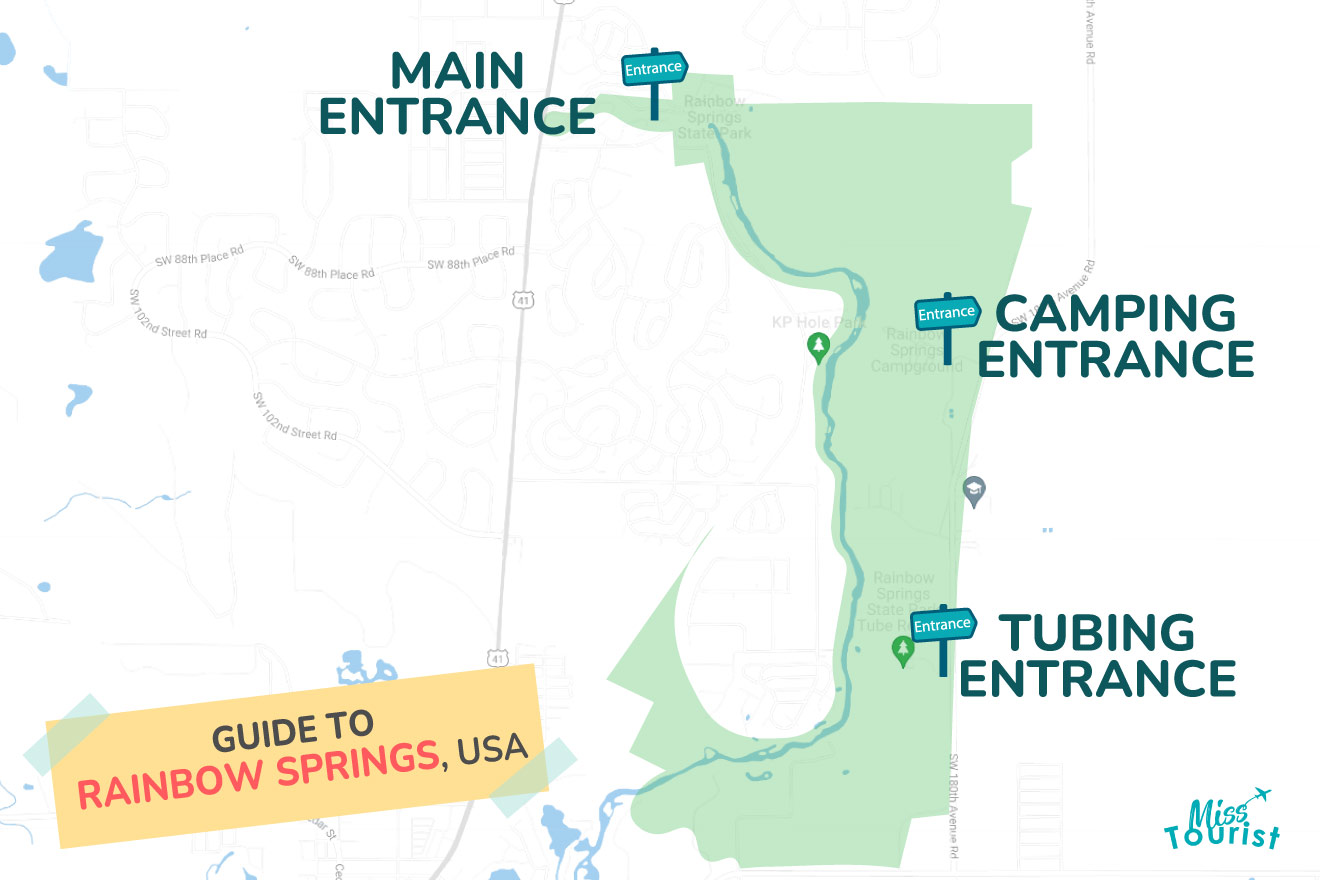 Things can get quite confusing at Rainbow Springs. Unlike most state parks, Rainbow Springs State Park has three separate entrances!
Knowing which entrance is for what attraction will help you have a smooth and easy trip to Rainbow Springs.
2.1 Main Entrance
The main entrance includes the headsprings and is situated on the west side of the river. This is the best place for swimming, and snorkeling is at Rainbow Springs. Here you can also launch a canoe or a kayak (either a rental or your own.)
At the main entrance, you will find a concession stand, a gift shop, and access to the numerous nature trails. On the nature trails, you can walk through the relics of "Old Florida."
Address: 19158 SW 81st Place Rd., Dunnellon, FL 34432
2.2 Tubing Entrance
If you are looking to specifically rent tubes to go tubing, you are going to have to enter the park from the tubing entrance. After you park your car and rent your tubes, you will then be transported via tram to the campground river access.
Address: 10830 SW 180th Avenue, Dunnellon, FL 34432
2.3 Camping Entrance
This entrance is located on the east side of the Rainbow River. It is only accessible to registered campers with a gate code. In addition to access to the campgrounds, the campers will have access to all the rentals, kayaks, canoes, paddleboards, and tubes, as well as the swimming area, nature trails, and more!
Address: 18185 S.W. 94th Street, Dunnellon, FL 34432
3. Rainbow Springs swimming area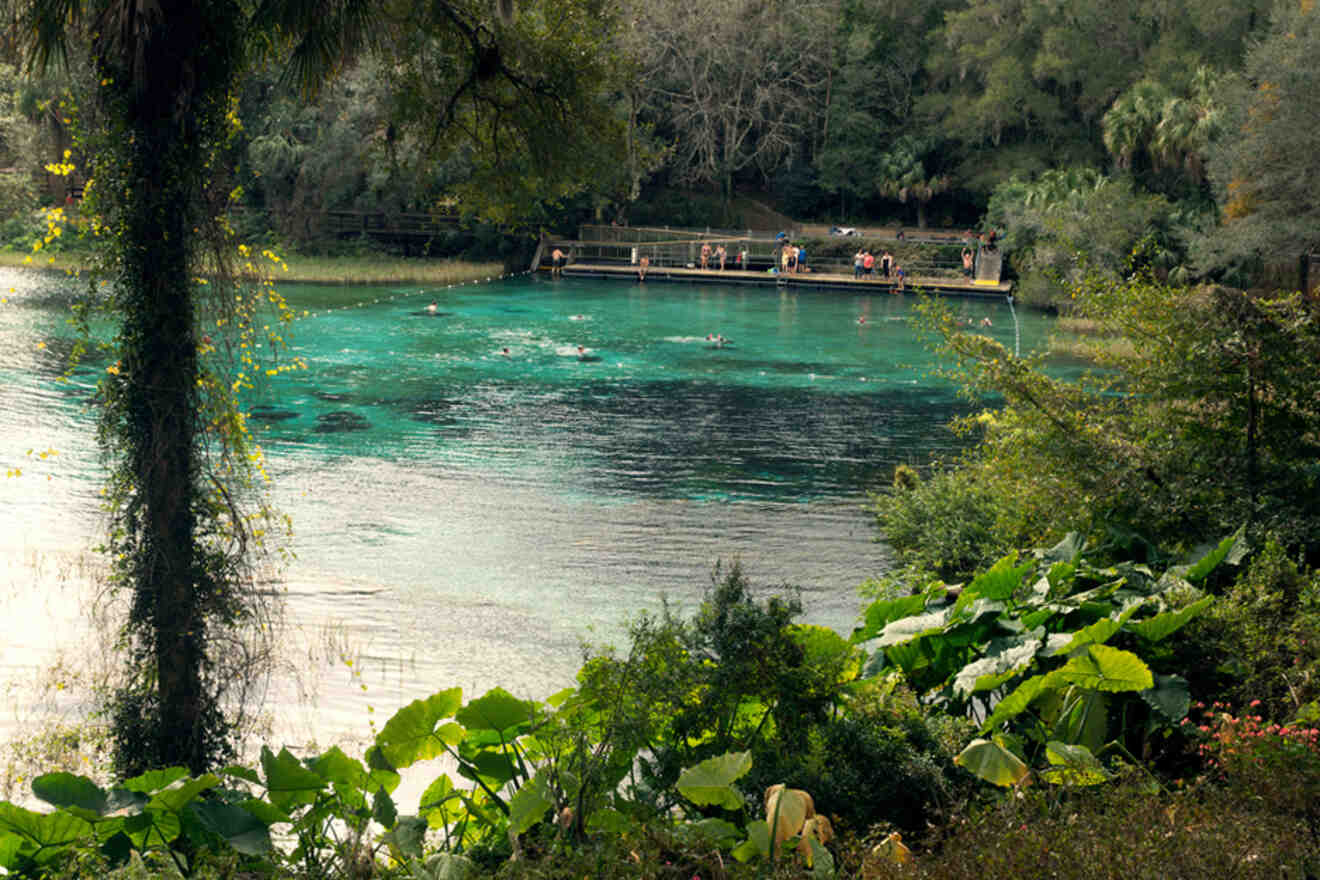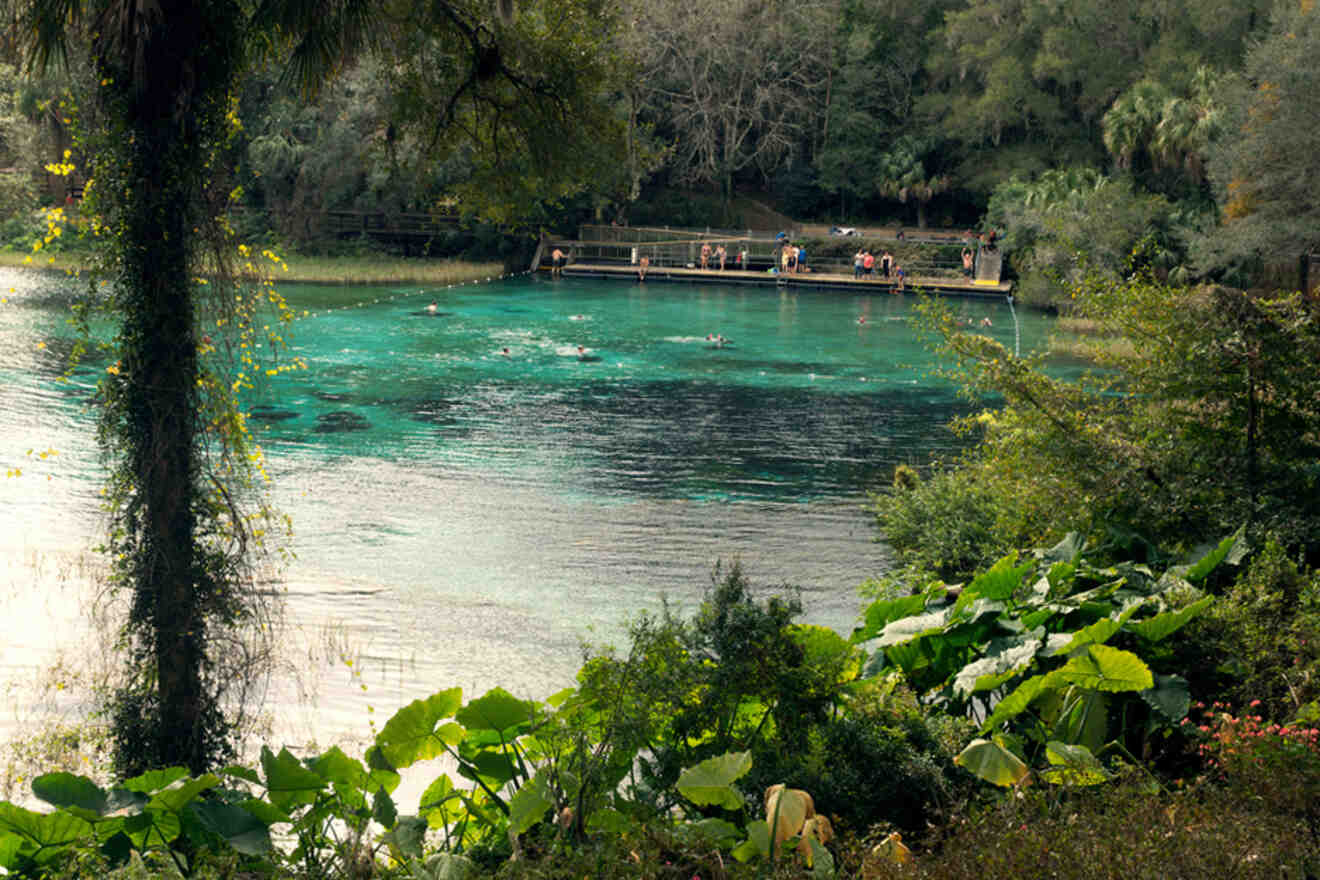 You will find the swimming area at the main entrance. The swimming area at Rainbow Springs State Park features some of Florida's clearest and bluest waters. The water clarity at the springhead is absolutely unbelievable!
When it comes to swimming, the headsprings really are the best place to swim. The water is super clear and blue, making for an incredible experience. Make sure everyone in your group is a strong swimmer. As mentioned earlier, there is no lifeguard on duty, and the depth ranges from 5 to 18 feet.
Please note that tubes, kayaks, and other water sport rental equipment is not allowed in the headspring swimming area for the safety of the swimmers. As I mentioned above, the tubing is a totally different entrance than the main entrance! You can find the address above.
There is a dock available where swimmers can launch themselves into the water. Snorkeling is also a super fun activity that is only allowed in the swimming area. I definitely recommend bringing some goggles!
NOTE: Keep in mind that the swimming area's depths range from 5-18 ft., which is way over most little one's heads. If your kiddos will be doing more swimming than just jumping off the dock and swimming right back, I recommend using some lifejackets.
4. Explore the waterfalls at Rainbow Springs State Park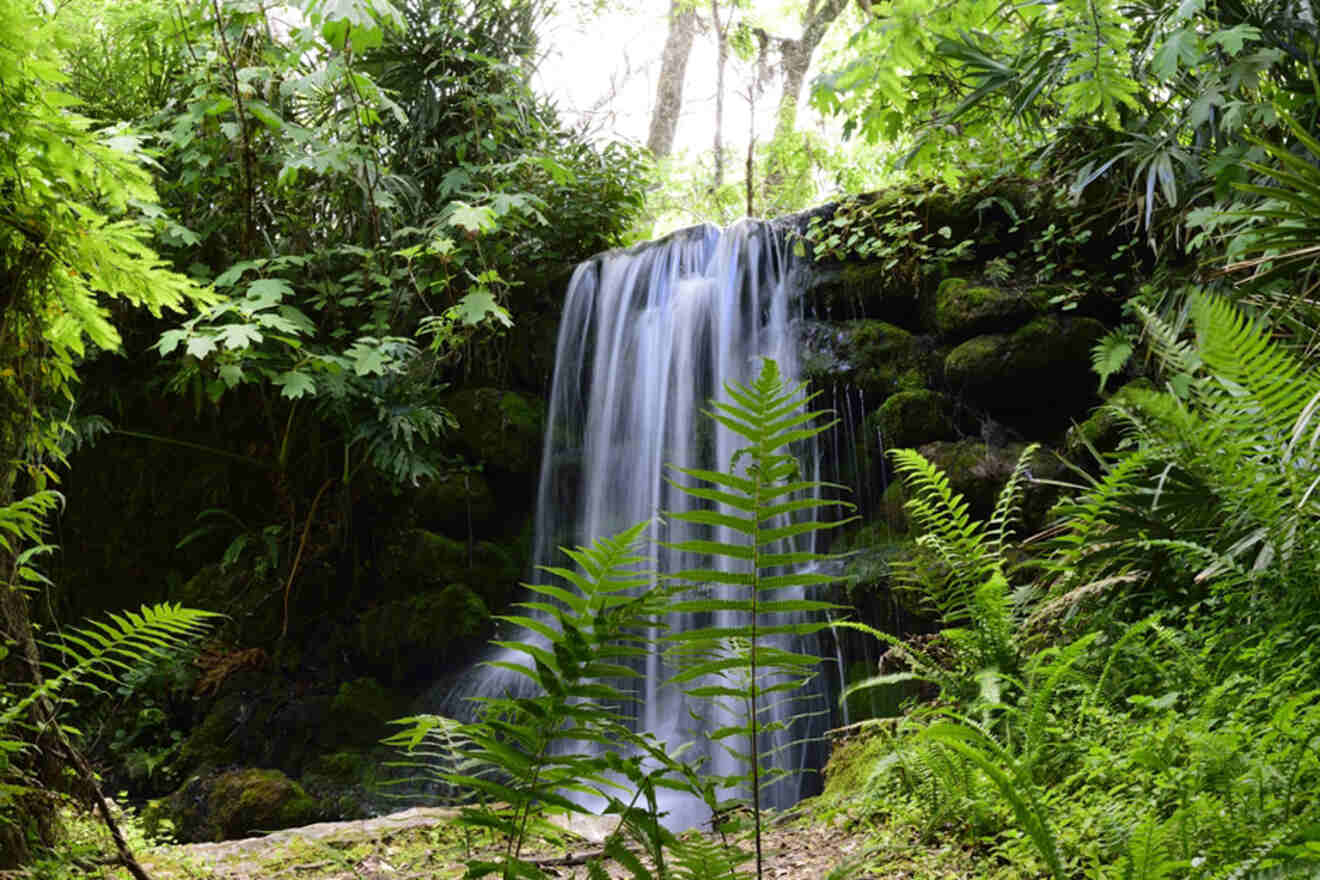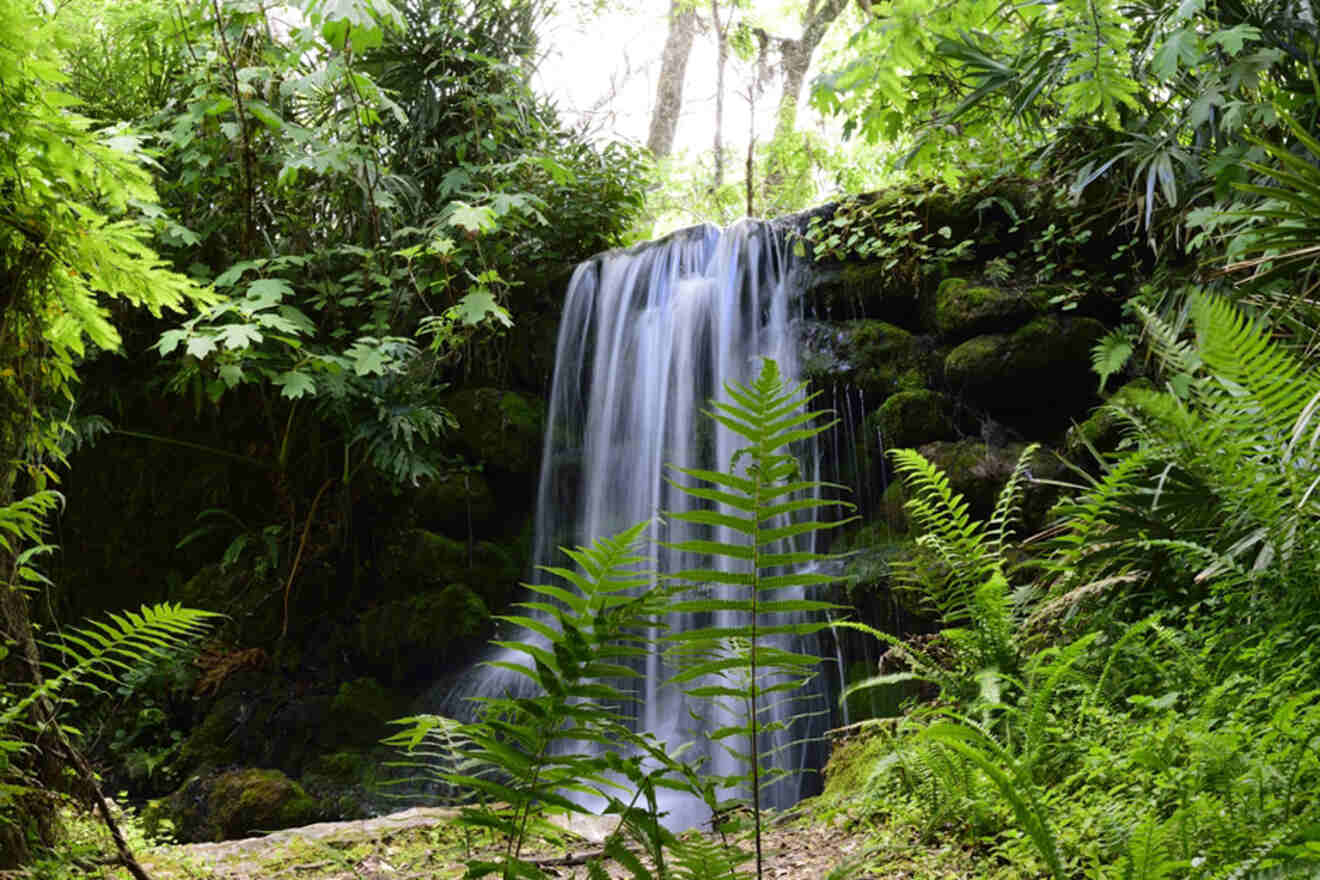 The waterfalls at Rainbow Springs are what sets it apart from other springs in Florida.
They were built back when Rainbow Springs was a privately owned attraction by recirculating the water from the springs through man-made waterfalls. Even though they are man-made, they are still really beautiful and add a certain level of magic to the whole experience!
Three waterfalls and a gorgeous butterfly garden are on the way to the visitor center. The waterfalls are easy to see on this beautiful 2.5-mile hiking trail that takes you around the enchanting forest surrounding the Rainbow Springs springhead. Walking these trails and viewing the waterfalls is a great way to explore wild Florida and even get a taste for "Old Florida."
5. Go tubing down Rainbow River
The tubing trip down the river is about 4 miles long in total. In a kayak or canoe, it can take up to 2-3 hours. However, in a tube, it can take up to 4 hours to reach the end!
IMPORTANT NOTE: Please remember that the tubing entrance is closed from October through March during winter. The tubing entrance reopens on the first Saturday of April until the end of September. They do this to allow manatees space to migrate without any disturbances.
6. Tips for Camping at Rainbow Springs State Park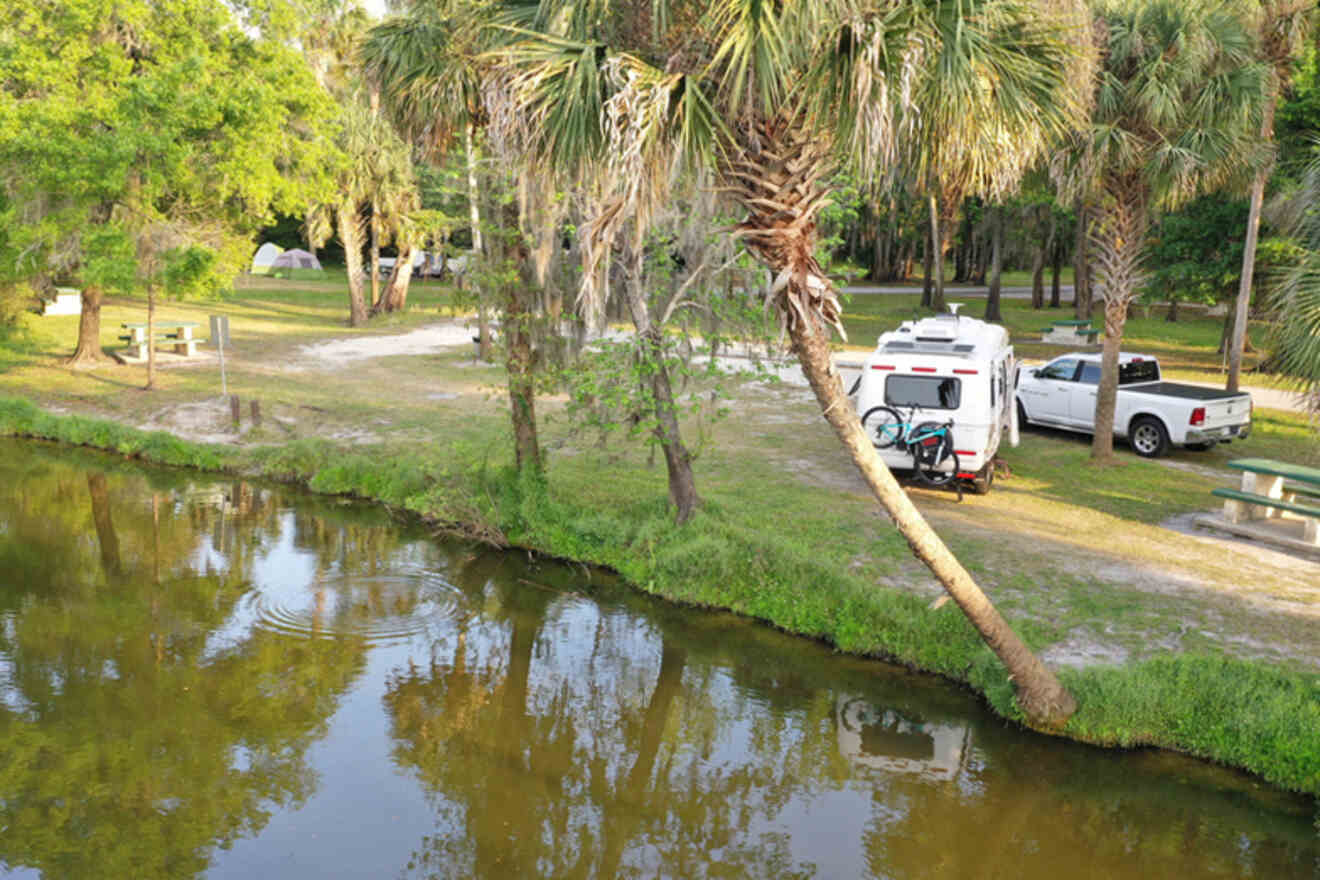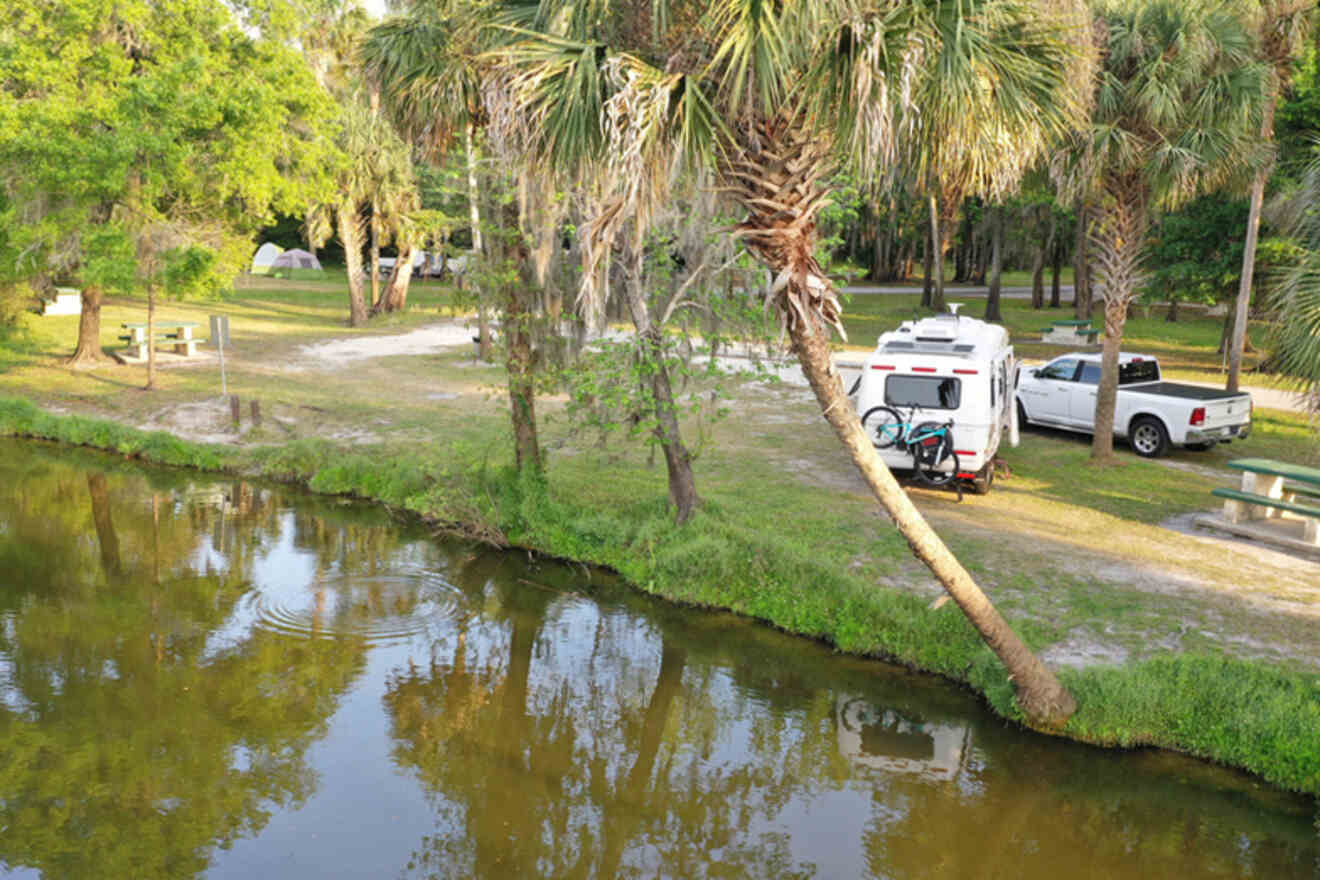 As I mentioned earlier, the camping entrance differs from the other entrances and is an entirely separate facility.
The camping area is only a few miles down from the headspring. You can rent or reserve a spot to set up a tent or park up your RV.
If you're looking to set up your RV, you have access to numerous amenities, such as electricity, sewer hookups, and water. Pets are also allowed!
For the tent-only site, it's a hike-in site. The amenities at the campground include showers, restrooms, a place to do laundry, and a campground store. They also offer some water and some electric services.
During your camping stay at Rainbow Springs State Park, you will have full access to the river and you are also permitted to fish! You can also swim, paddle, kayak, hike, and just enjoy the beautiful natural abundance that makes up Rainbow Springs and Rainbow River.
Just so you know, you can rent your paddle equipment from the campground office. To reserve your campsite, call here: 800-326-3521.
NOTE: Vehicles are not allowed at the tent-only site, but you can access it on foot.
7. Watersports rentals at Rainbow Springs State Park
When it comes to Rainbow Springs, there are endless possibilities and things to do. You will never get bored on your visit to Rainbow Springs!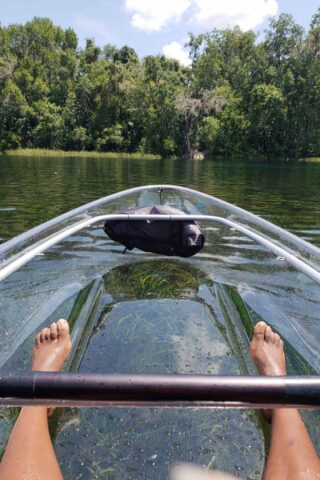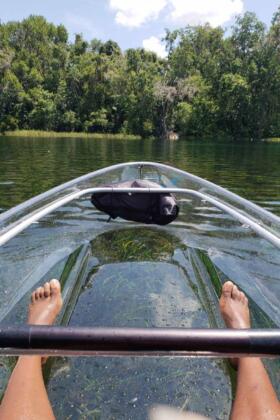 You can go hiking, birding, snorkeling, swimming, rent a kayak, paddleboard, canoe, or tube, and just float down the river and feel all your worries melt away.
You can go fishing, geo-seeking, plant identifying, picnicking, camping, and so much more! It's totally a choose your adventure moment!
If you choose to paddle, kayak, or canoe, prepare to see huge cypress trees draped in stunning Spanish moss towering over you, with all kinds of wading birds and other wildlife surrounding you! If you get lucky, you may see some of Florida's incredible river otters! You can also expect to see some manatees!
If you fancy taking a glass bottom kayak tour, you should definitely check out this eco tour! You'll have a 2-hour trip to experience the true beauty of the springs and the spectacular wildlife beneath the water!
NOTE: Snorkeling at Rainbow Springs is only allowed in the buoyed swimming area. Additionally, disposable food or drink containers are not allowed either!
PRICE: US$69
Book Your Glass Bottom Kayak Tour
Tips & tricks for your visit to Rainbow Springs State Park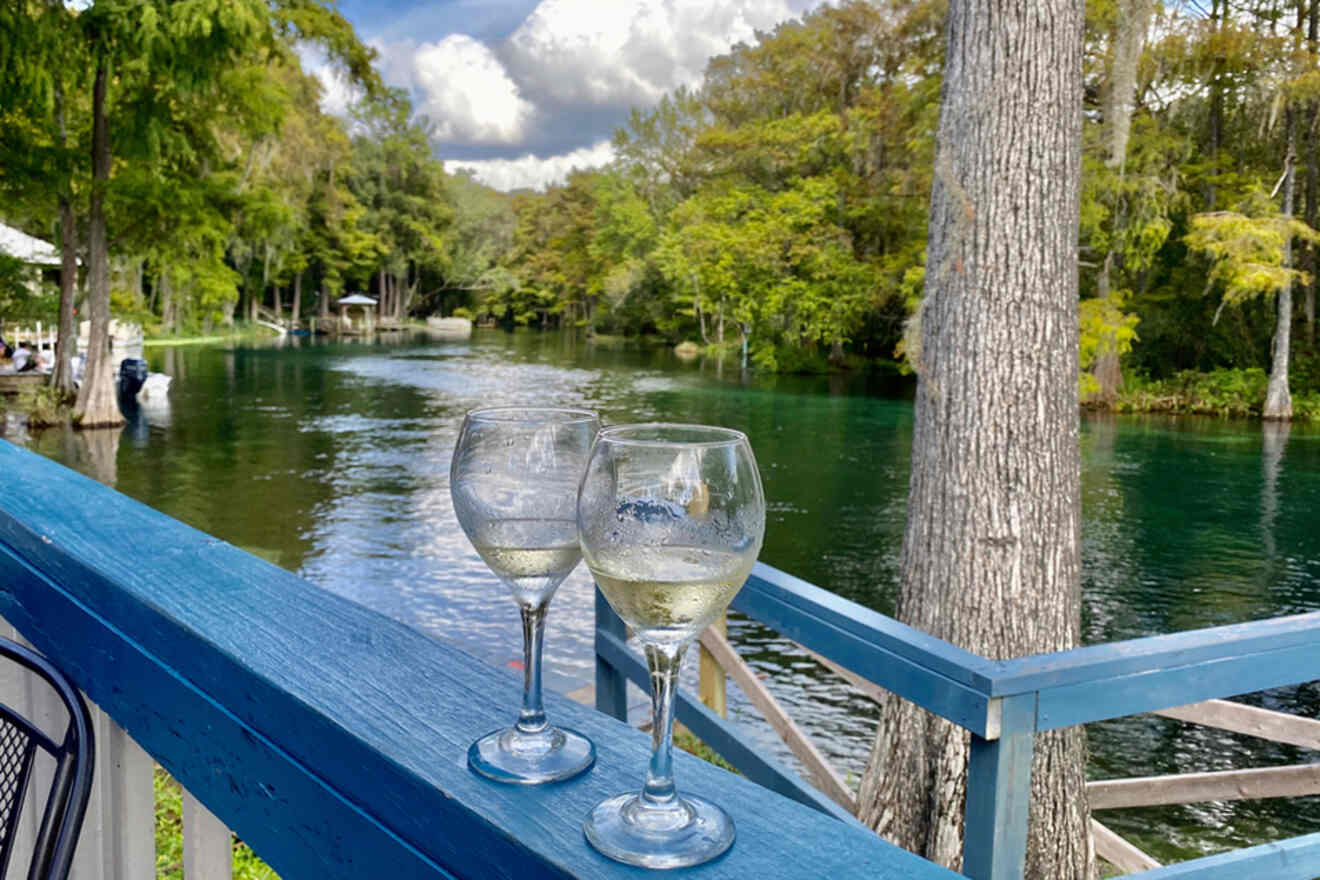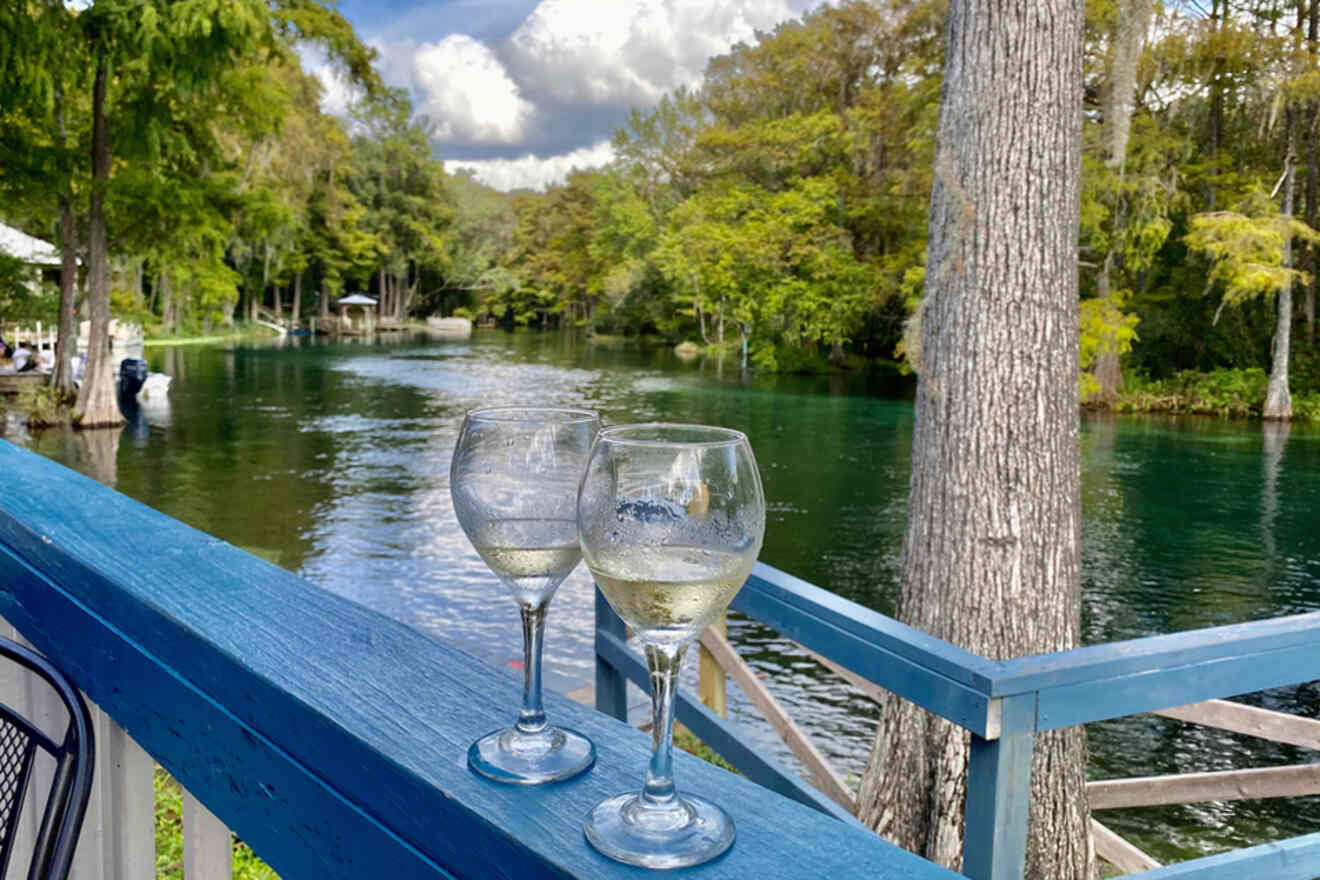 Rainbow Springs State Park is one of the most incredible Florida oasis experiences you will ever have. This is why I want to make sure that you are prepared so that you can have the best possible trip ever!
When visiting Rainbow Springs State Park, there are quite a few things you should keep in mind to ensure that your trip runs smoothly and you make the most out of your visit to Rainbow Springs State Park.
Entrances! Make sure you read the section above about the entrances. It is easy to get turned around when there are three different entrances to enter Rainbow Springs State Park.
Disposable food or beverage containers are not allowed. This is an effort to keep our springs clean and allow generations to come to enjoy this beautiful feat of nature.
The upper mile of the river is the only place where fishing is not permitted. You can fish in the other parts of the river!
Bring your own tube to save money on a rental. Keep in mind it has to be less than 60 inches both ways!
When snorkeling, it is advised to use a snorkeler's flag. This is just for safety purposes.
Be sure to plan ahead. If you plan your trip for a weekend or a special holiday, get there as early as possible. Opt to go on a weekday if possible to avoid the crowds.
If you take sunscreen, make sure it is entirely natural. It shouldn't have any chemical additives to keep the springs clean and avoid poisoning any of the wildlife or affecting the natural cycle of the ecosystem.
Take a mesh laundry bag! It helps to keep your things in there, so they don't float away. A waterproof phone case is also super helpful! This waterproof pouch from Amazon keeps your phone safe from water damage so you don't have to worry about a thing while you're swimming.
Bring water shoes if you have them! It is not necessary but some people prefer it!
Definitely do not park outside of the park. Only park in designated areas or you may be towed!
| | |
| --- | --- |
| 🤩 Range of activities: | Large |
| 👪 Family-friendly score: | High |
| 🎢 Top paid attraction: | Glass Bottom Kayak Tour |
| 👧 Best attraction for kids: | Swimming, hiking, or kayaking |
FAQs about Rainbow Springs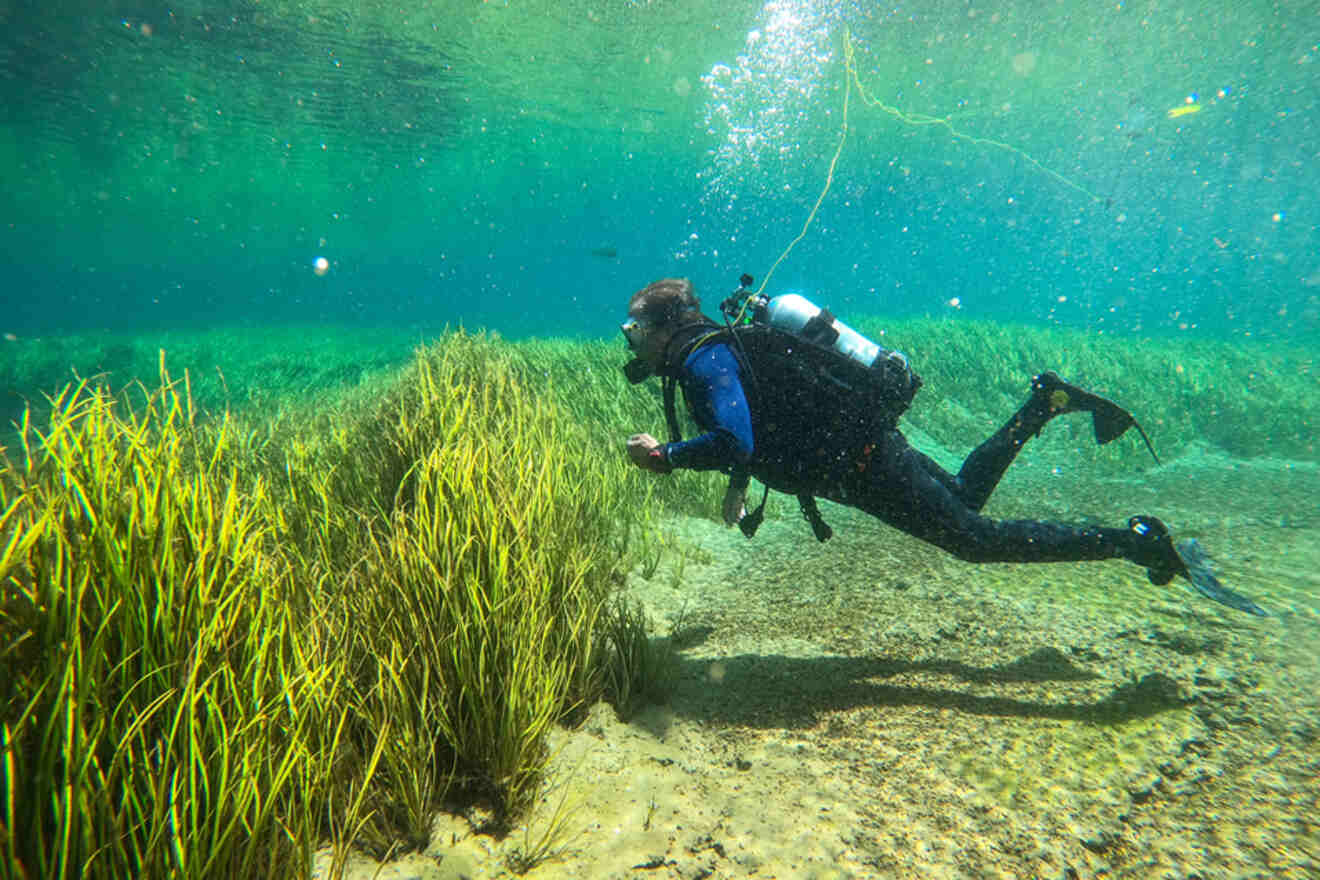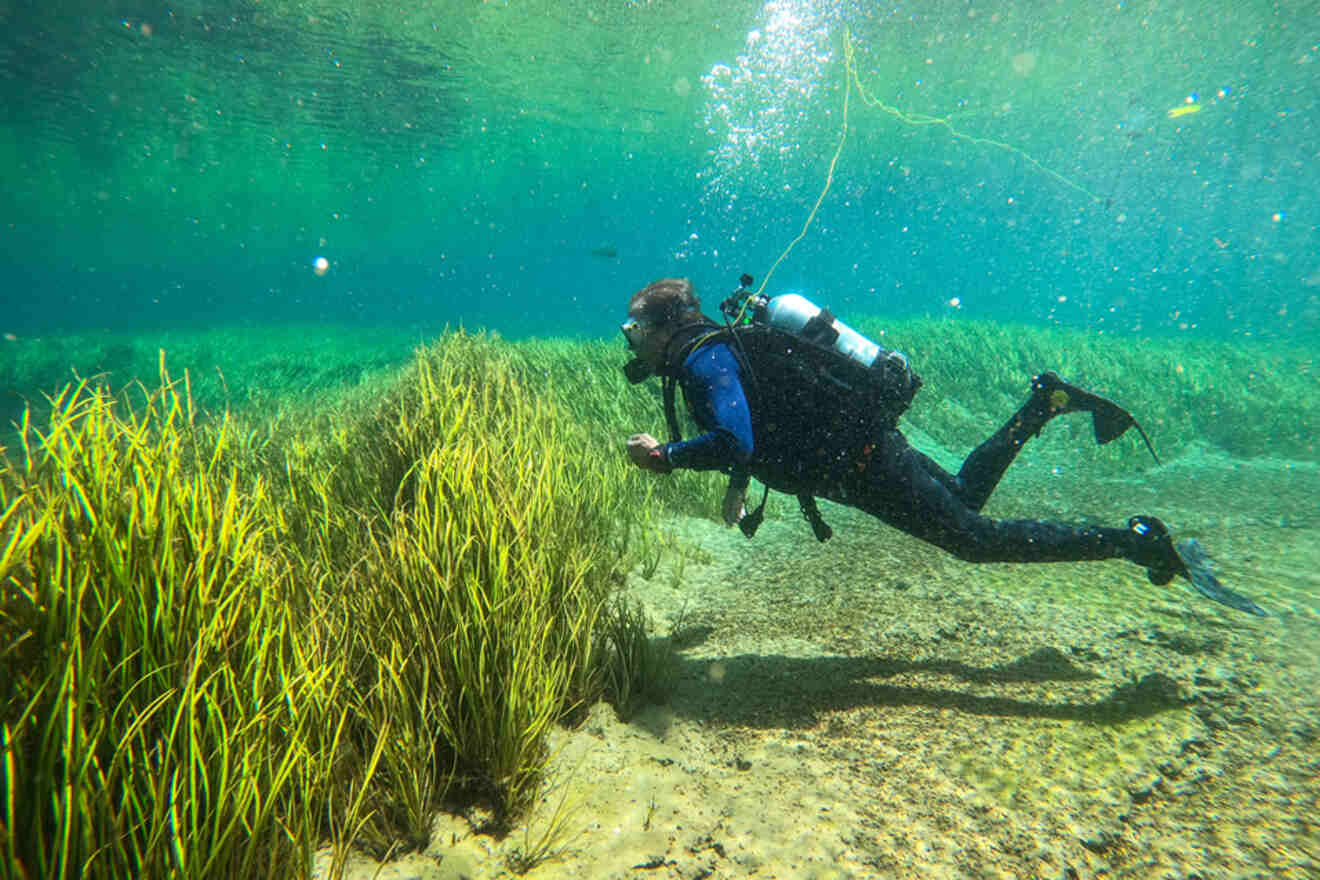 ⏰ How early should you get to Rainbow Springs?
The best way to make the most out of your trip and avoid being turned away due to full capacity is to get there before they open around 7:30 AM because many people have caught onto this, and there will most likely already be a line at 8 am.
🌊 Can I bring my own tube or flotation device to Rainbow River?
To rent a tube there is a US$20 fee. However, you can bring your own tube and only pay US$12 for admission and the shuttle ride back
🏊 How much does it cost to swim at Rainbow Springs State Park?
If you are just looking to take a dip and go swimming at Rainbow Springs State Park, the only fee you have to worry about is US$2 which is the cost of admission. Other rentals will come at an additional cost.
🏞️ Are there manatees at Rainbow Springs State Park?
Yes! There are manatees in Rainbow Springs year-round. The high season to see manatees is in the winter. However, in the winter you cannot go tubing down the river because the park is closed to make space for the manatees.
Conclusion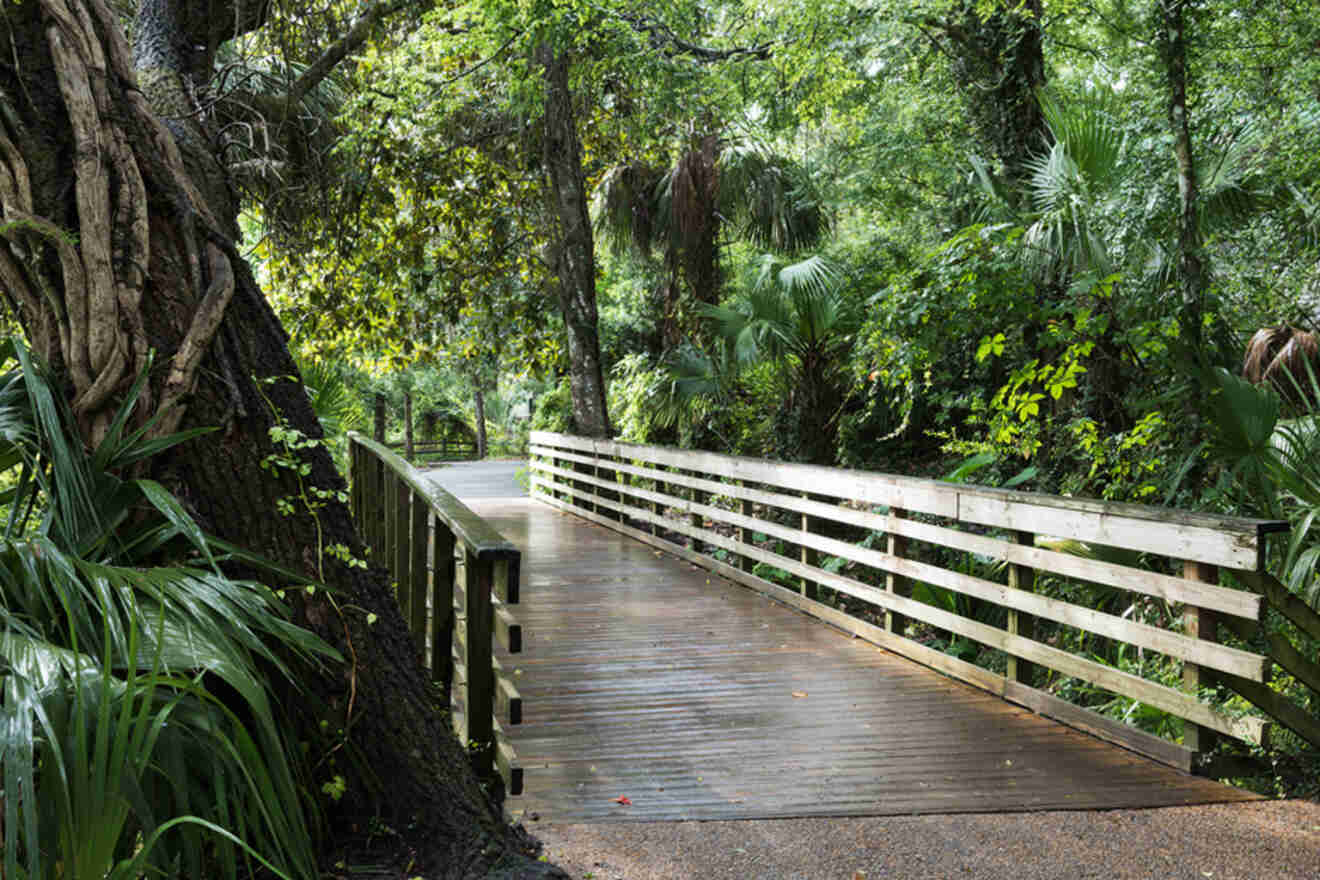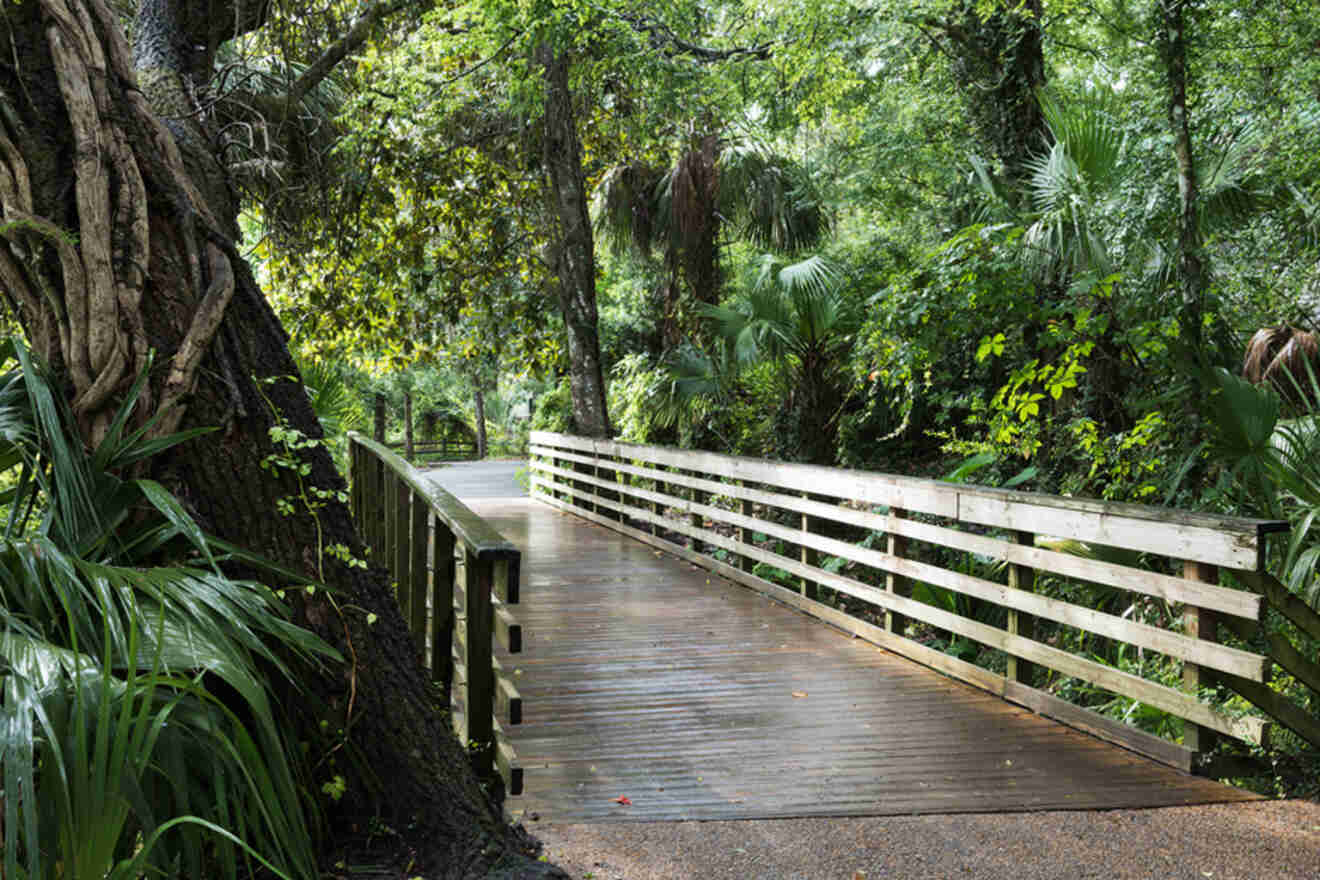 There you have it! All the essential tips and tricks that will make your trip to Ocala one for the books! Rainbow Springs State Park is a super popular destination where you can witness Wild Florida's ancient and unique beauty. Because it's such a popular tourist destination and such a big state park, there are lots of little quirks that you should know about to make your trip easy peasy.
This ultimate guide to Rainbow Springs is bound to set you up for success on your trip to Rainbow Springs State Park! I wish I had had this ultimate guide when I planned my trip!
Until next time,
Amira G.
---
Pin it for later!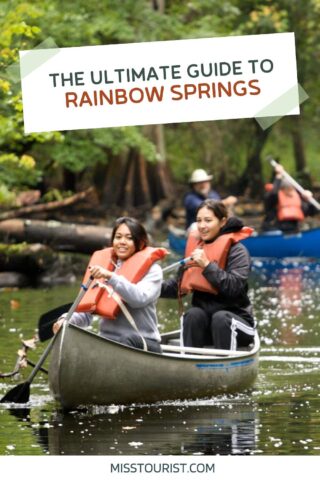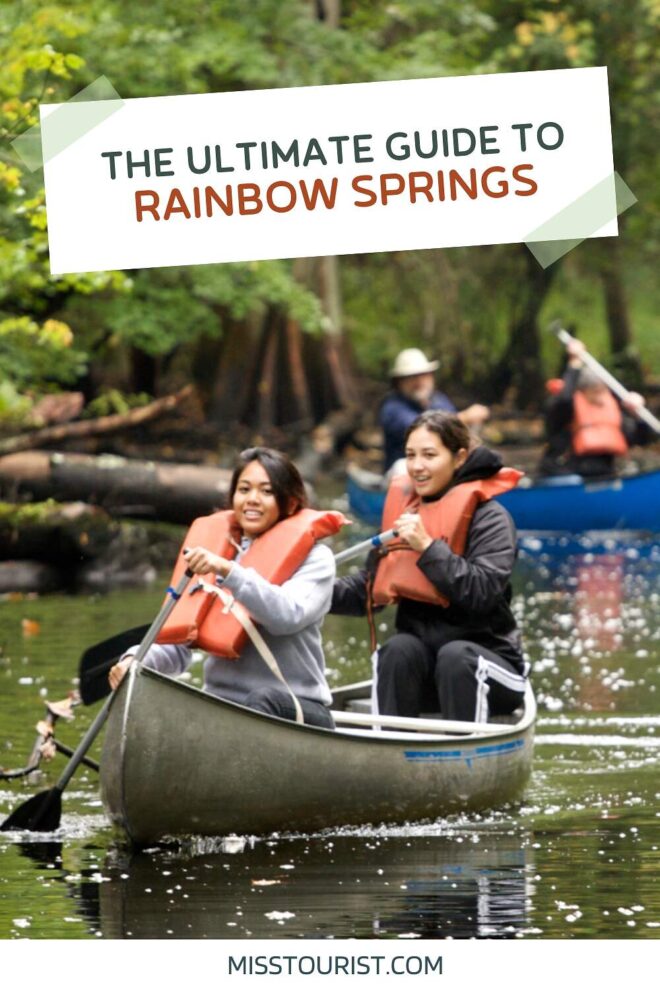 Pin it for later!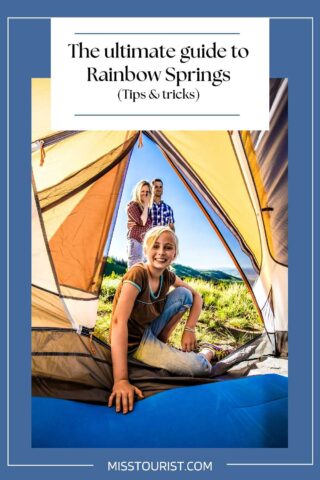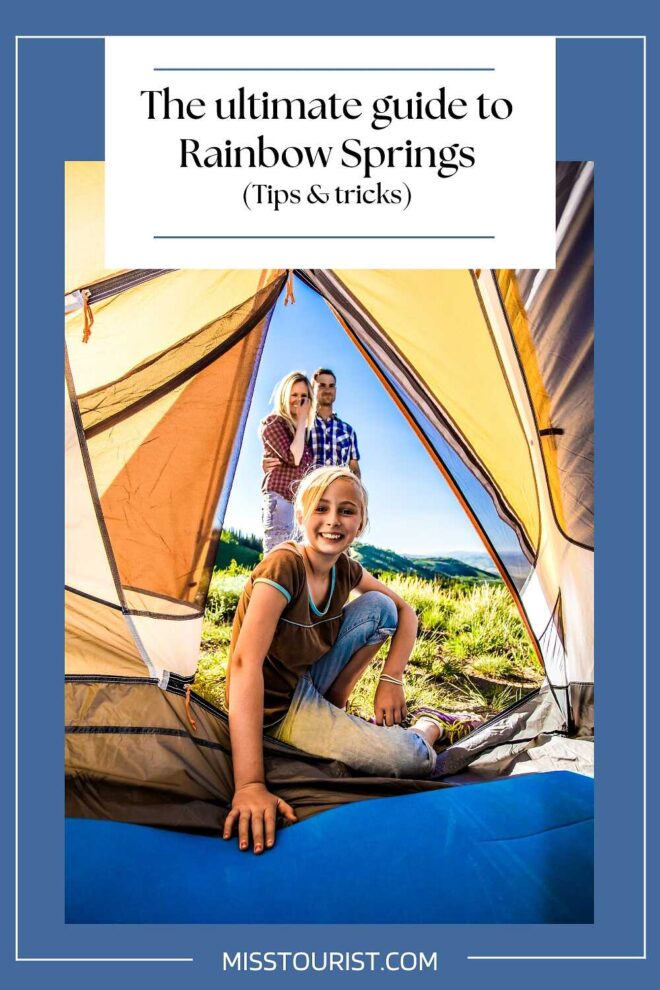 Products You May Like