Unique places to stay in Florida ✔️ 20+ Memorable Options!
Looking to spend some time in the sunshine state? Well, if you are looking for a memorable vacation there, I have been looking and looking for unique places to stay in Florida!
What do you want? Floating houses with a private deck? Palm trees and the great outdoors? You name it! There is a hotel or accommodation here that will check all your must-have boxes!
This article is arranged by price, so the luxury hotels are first on the list, followed by the mid-range options, and last but not least, the budget options. There are 2 bonuses at the end: fun places to stay in Florida on the beach and romantic places to stay in Florida!
Florida is such a popular destination, and people from all around the world travel to the state, so if you want to book the room of your dreams, book it as soon as you make a decision. These accommodations are super unique and book fast!
Are you ready to check out the hotels?
Let's dive in!
If you are in a hurry
If you don't have enough time to go through the entire post and you need to click and book, here are the top 3 unique places to stay in Florida!
Since we are talking about the entire state of Florida, here you have a map of the area so you can check out the different areas! And if you're looking for the BEST areas to stay, check out our other post on all the areas to consider!
Luxury (US$400 and up)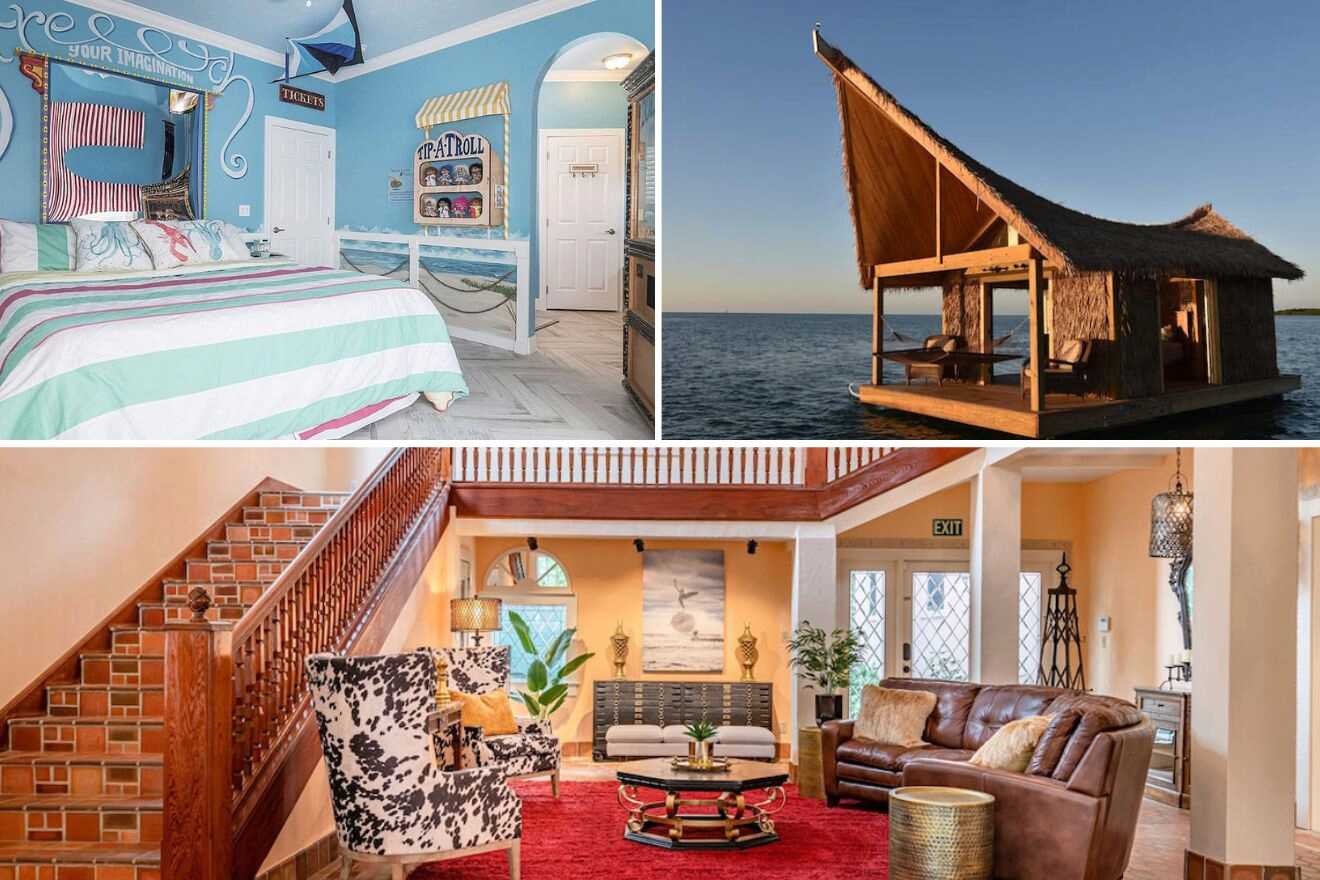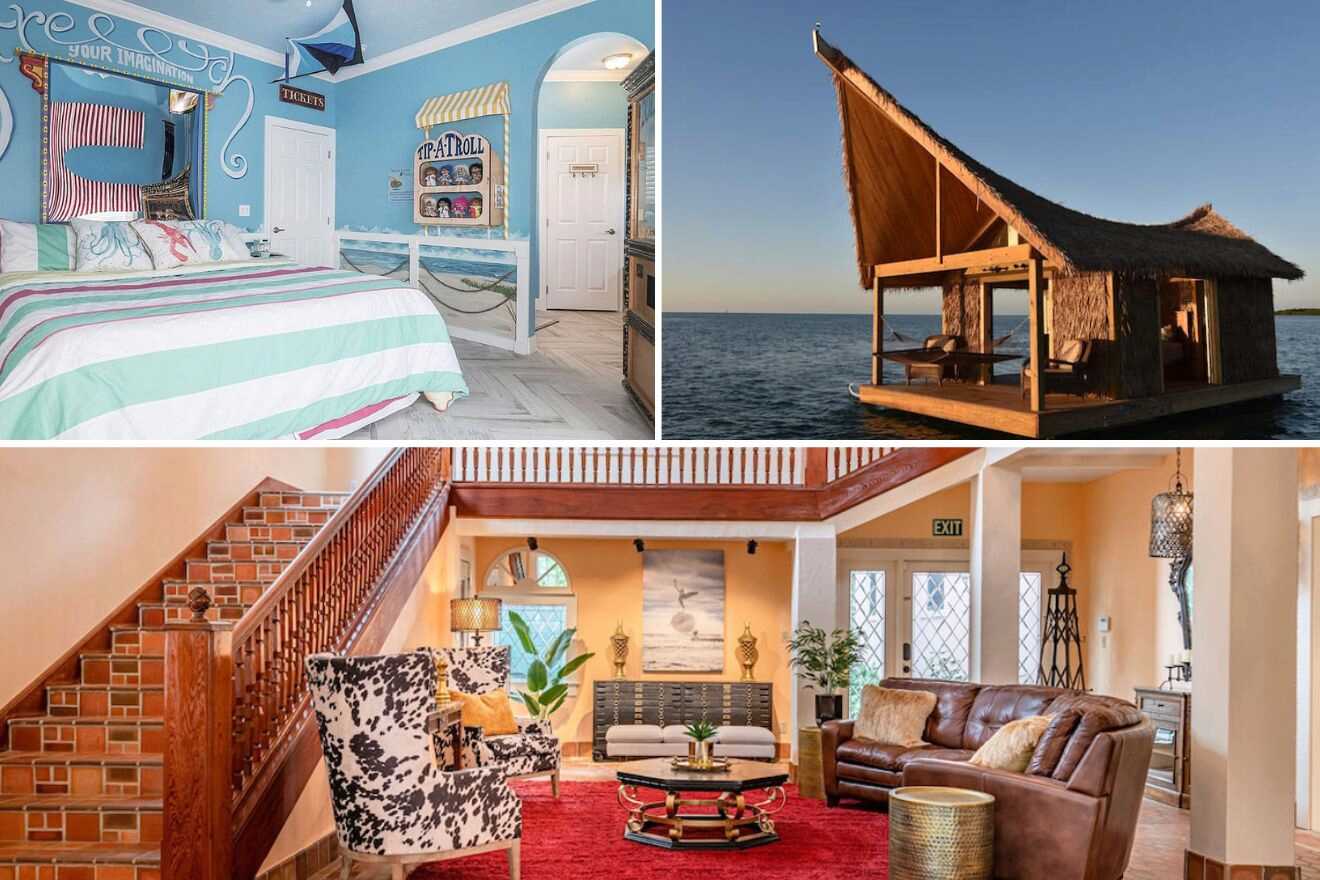 The Great Escape Lakeside – Is this place even real? Located in Clermont, Florida, this property can host 46 people, and it is literally a mansion, and you will feel like you are staying in a theme park! You can sleep in the Pac-Man room, enjoy a movie in the Jumanji theater, or indulge in the vast pool, which comes with slides and a lazy river! Its proximity to Lake Wash will give you the chance to take the vacation at your own pace!
Luxury Castle – OMG! What an impeccable property; it feels so luxurious, and the style and decoration will make you feel like royalty! The location is perfect in St. Augustine; you can see the Atlantic Ocean from here, which makes it perfect for spotting marine life, there are theme parks nearby, and St. Johns River is less than an hour's drive away! This is for families looking for fun and natural landscapes for the perfect getaway!
The Grand Tiki Suite – Just WOW! Located in Key West, this floating tiki house with a deck and hammock will set you up for the perfect vacation! Can you believe this property has a flat-screen TV, a coffee maker, a mobile hotspot, and a king-size bed? Amazing, I know! The fact that it is located in the middle of the Gulf of Mexico makes it perfect for practicing water sports, such as snorkeling and paddle boarding!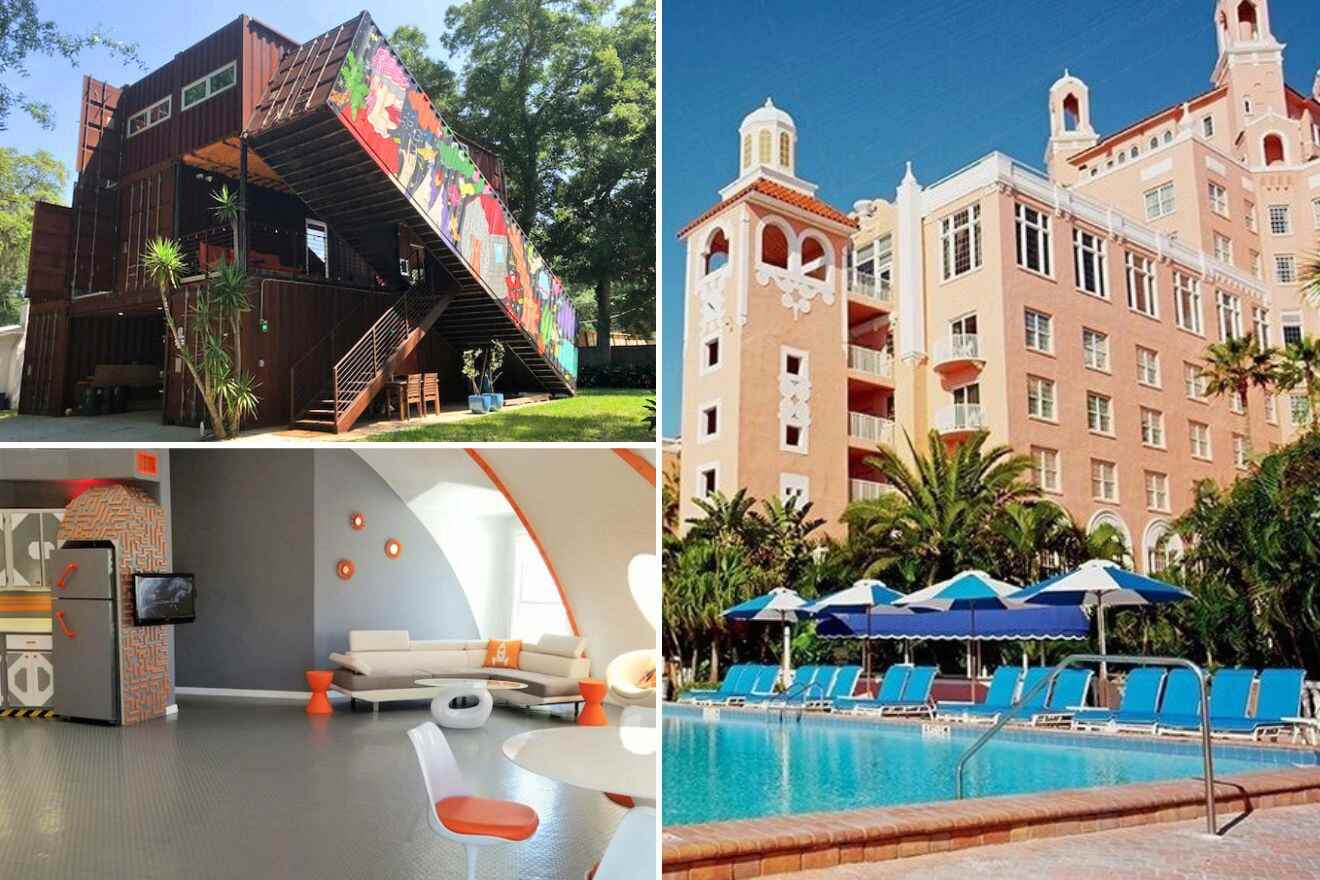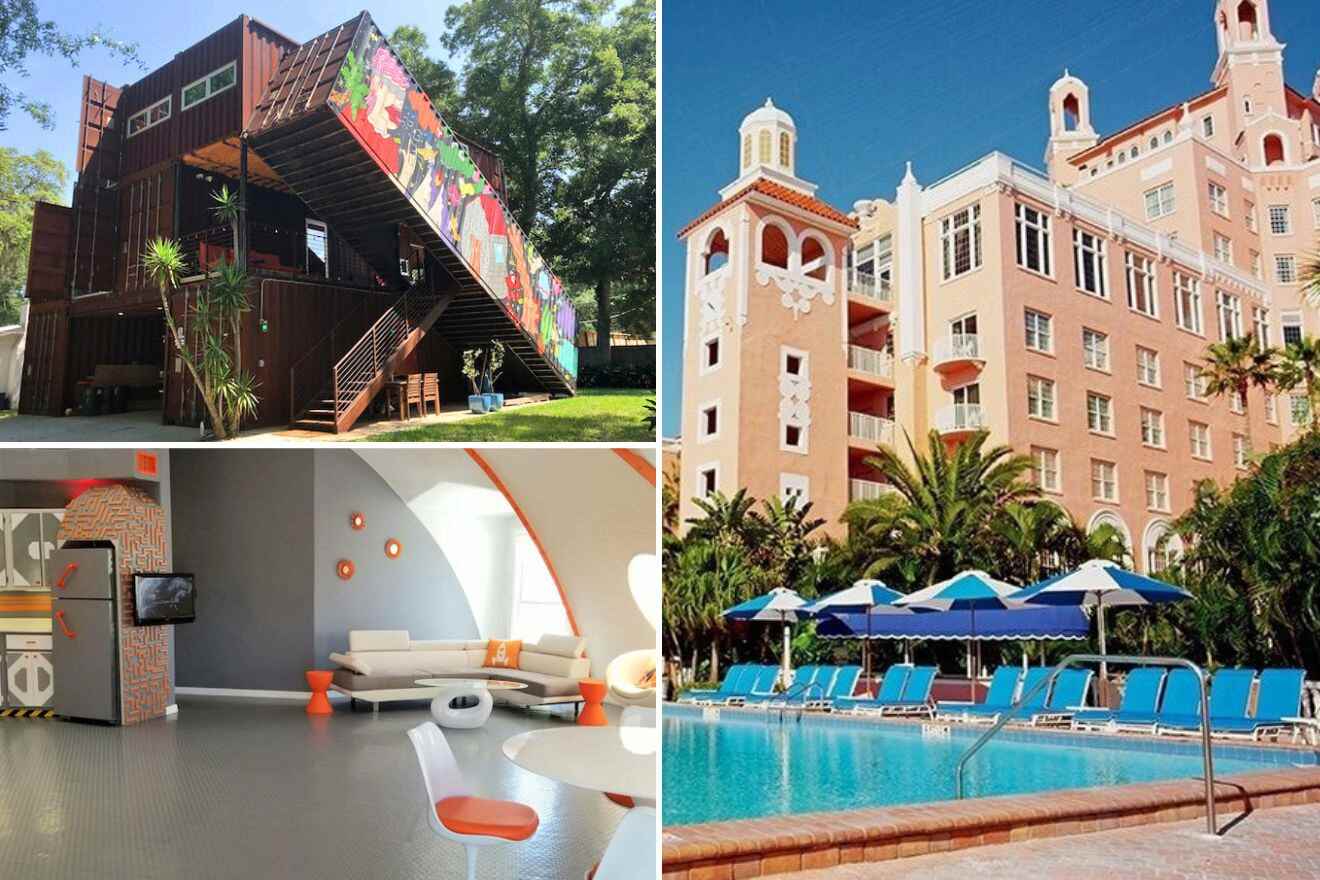 Prince Road Container House – Amazing! This house is so artsy, super colorful, and full of fun gadgets, like a vintage jukebox! There are a total of 4 guest rooms on the property, all of them with a fun industrial and designer style, all of them with air conditioning, and some feature wall-to-wall windows! The location is ideal in South St. Augustine, and the waterfront is just a short walk away!
The Don CeSar – Located right on St. Pete Beach, this hotel is perfect in case you want to scuba dive or try other water sports! The hotel comes with an onsite upscale bar, an outdoor pool, a game room, and 2 fine dining options in the building! All the rooms have coffee makers, so you can have your morning coffee before heading out! On that note, looking for things to do in St Pete? Check out this post!
The Spaceship House – Do you want to have a real Star Wars experience?! Then this house located in Navarre is perfect for you! The beach is just a short walk away, and there are nature and hiking trails by the beach you can enjoy! The area is great for moving around by bike, and the property can host up to 10 guests. This property would be great for families looking to spend a fun vacation.
Mid Range (US$250 – US$400)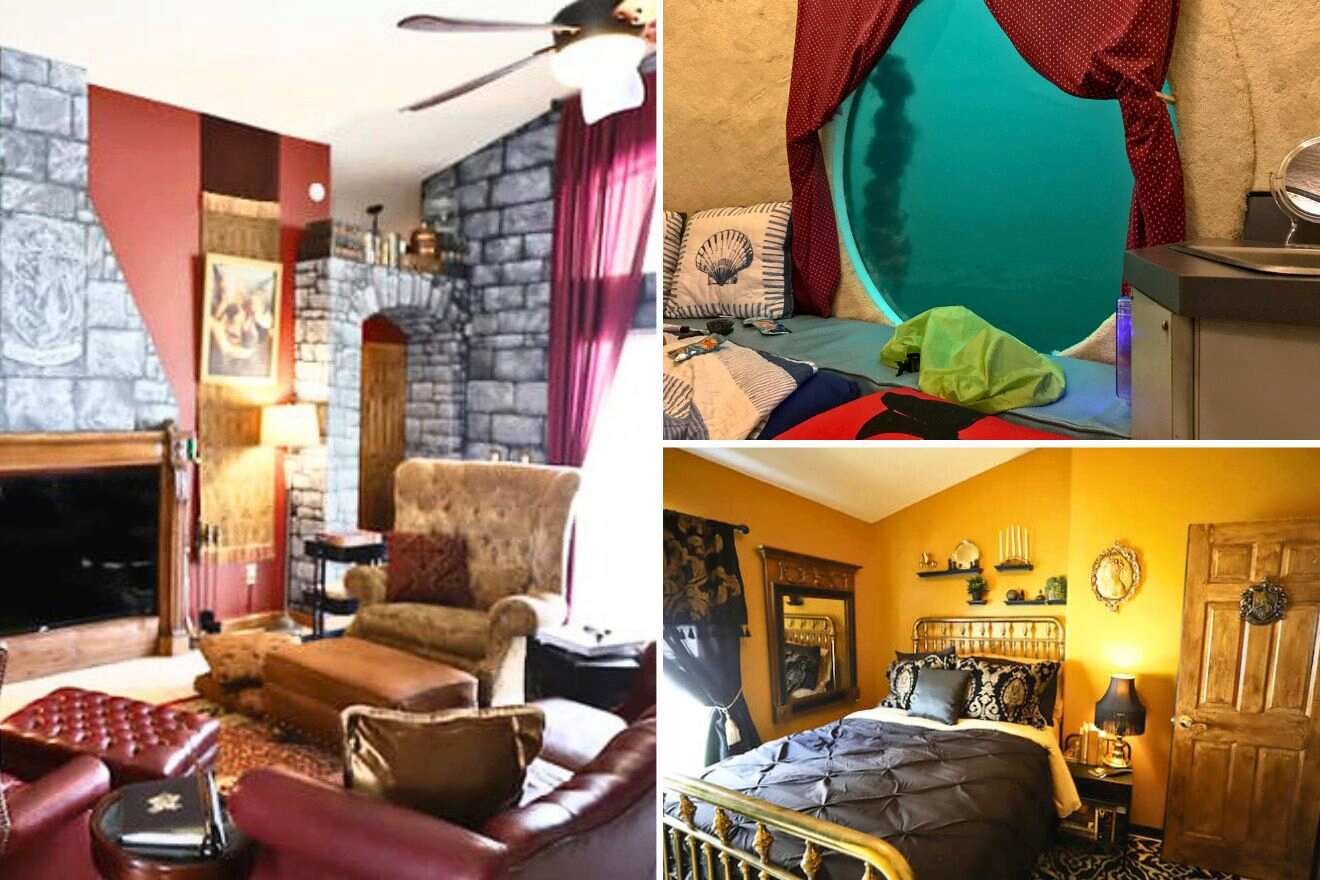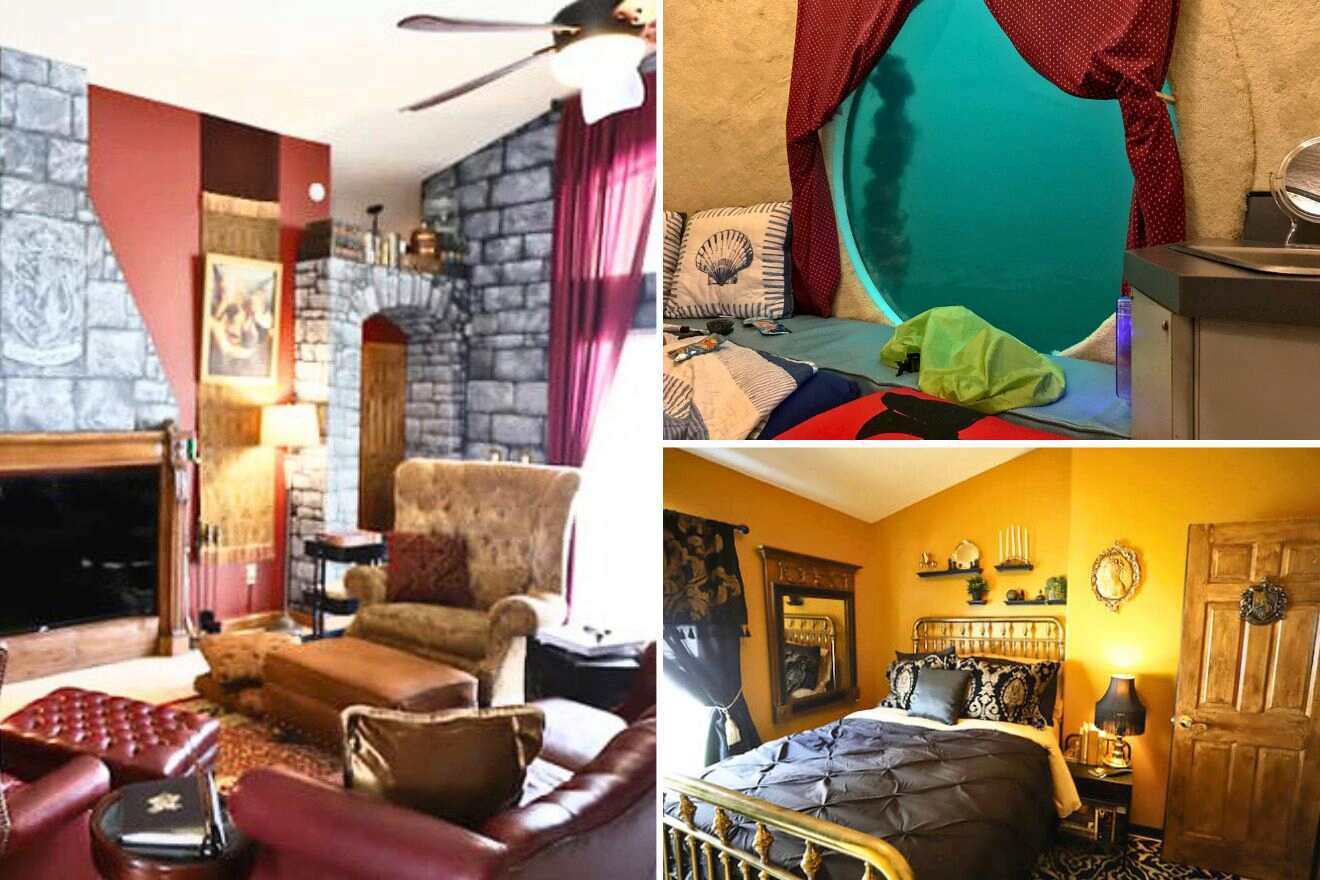 Disney's Animal Kingdom Lodge – Who wouldn't like to stay in Disney World in central Florida?! This hotel is safari themed and comes with a swimming pool and a natural area, there are wild animals in the facilities, and all the rooms come with a fun design that will make you feel like the adventure never ends on this trip! Don't forget to check out our guide to Disney World if you're planning a Disney adventure!
Jules Undersea Lodge – Don't you wanna stay in the only underwater hotel in Florida? Don't you want to feel like you are staying in a Yellow Submarine?! Staying at this underwater lodge is a unique experience, and you can choose between cool packages, all of which include underwater pizza delivery! The aquanaut package includes scuba diving, and if you are curious, you can take the labs in the lodge excursion!
Harry Potter Wizarding Home – If you are traveling to Florida to explore Universal Studios and the Wizarding World of Harry Potter, then this house will make you feel like you are in Hogwarts! The property can host up to 12 guests and comes with 5 amazingly decorated rooms that will make you feel like a real wizard! Planning your trip to the Wizarding World of Harry Potter is a breeze with our ultimate guide!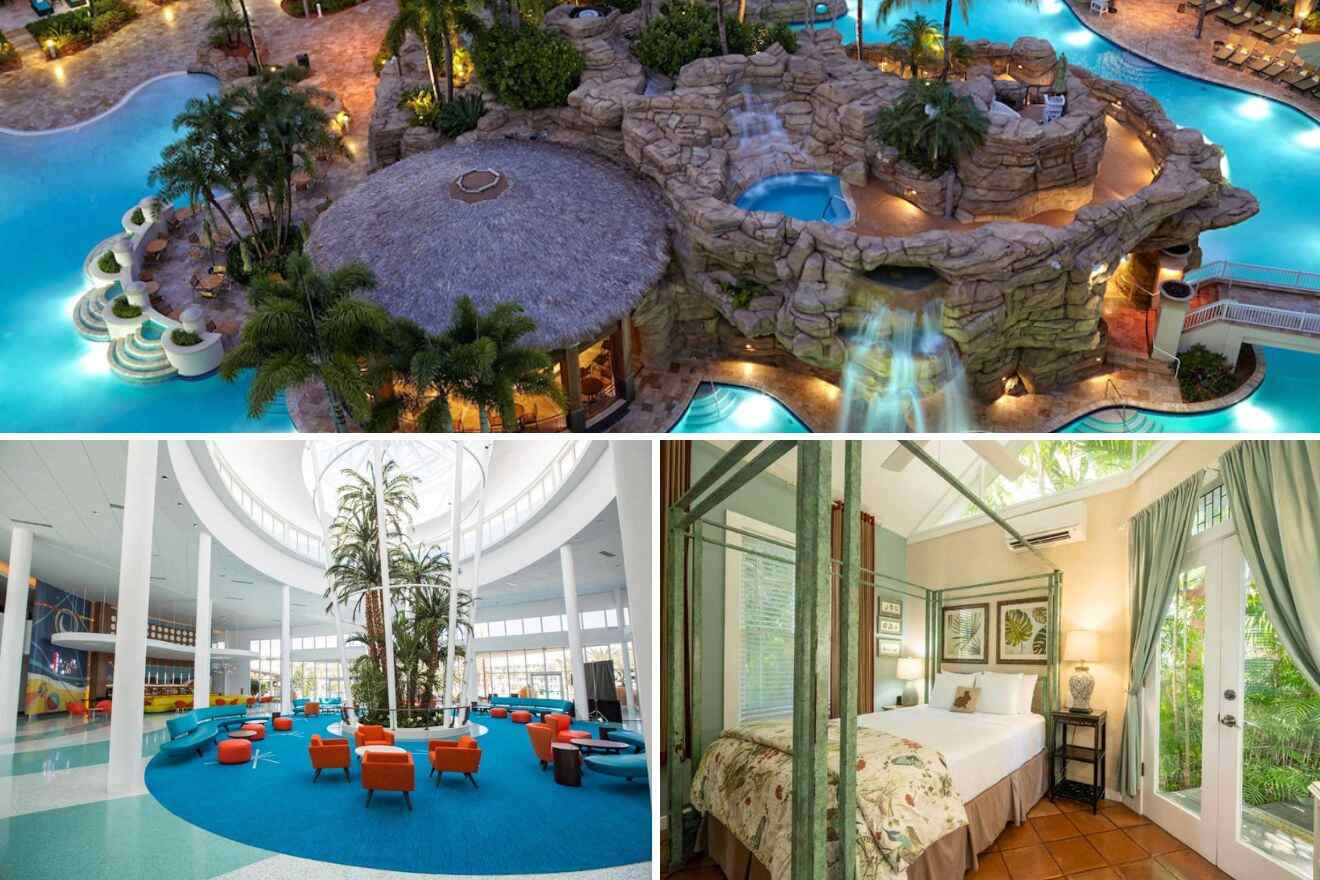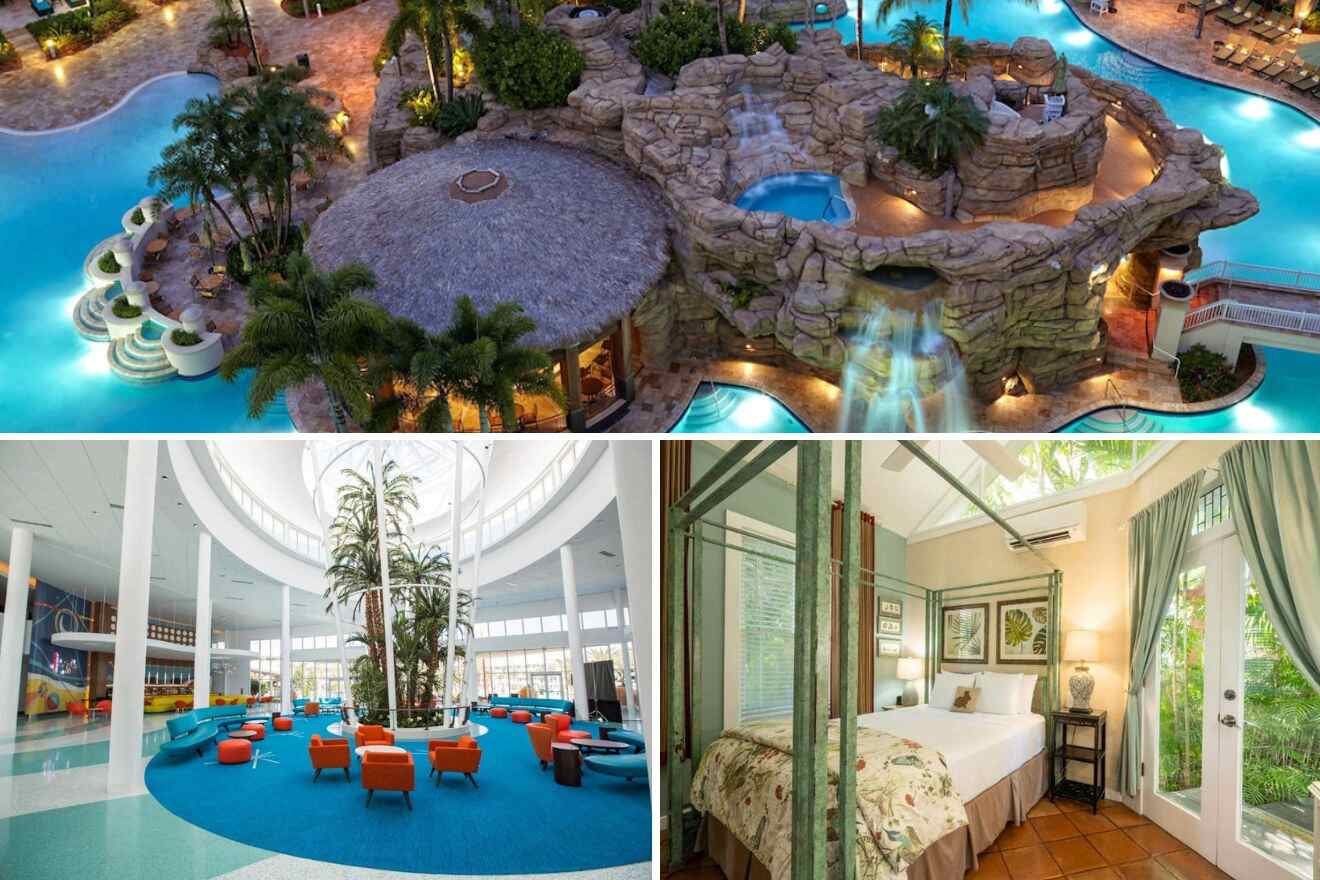 The Mermaid & Alligator – This boutique hotel looks modern, fun, and tropical; I love it! It is located in Key West in the Florida Keys and South Beach is just minutes from the property. There is a hot tub available to all guests and a complimentary breakfast every morning! I recommend staying in the treetop room; it is super cozy and comes with a bathtub and a lovely view, perfect for enjoying a bubble bath after a long day!
Seminole Hard Rock Hotel and Casino – Do you wanna feel like a real rock star? I know I do! This hotel is located in Hollywood, 2 hours from Key Largo, and has live events and concerts on-site, a spa, a fitness center, amazing restaurants, and an amazing swimming pool area with cabanas that will make you feel relaxed. I recommend this hotel to groups of friends looking to have an amazing time!
Universal's Cabana Bay Beach Resort – Do you like themed hotels? What about staying in a fun 50's rockabilly-themed hotel in Orlando? The hotel's design is so cute, and you can see rockabilly style in every detail! This accommodation offers free transfer to Universal Studios as well! They offer big and spacious rooms, and the biggest one hosts 6 guests.
Budget (up to US$200)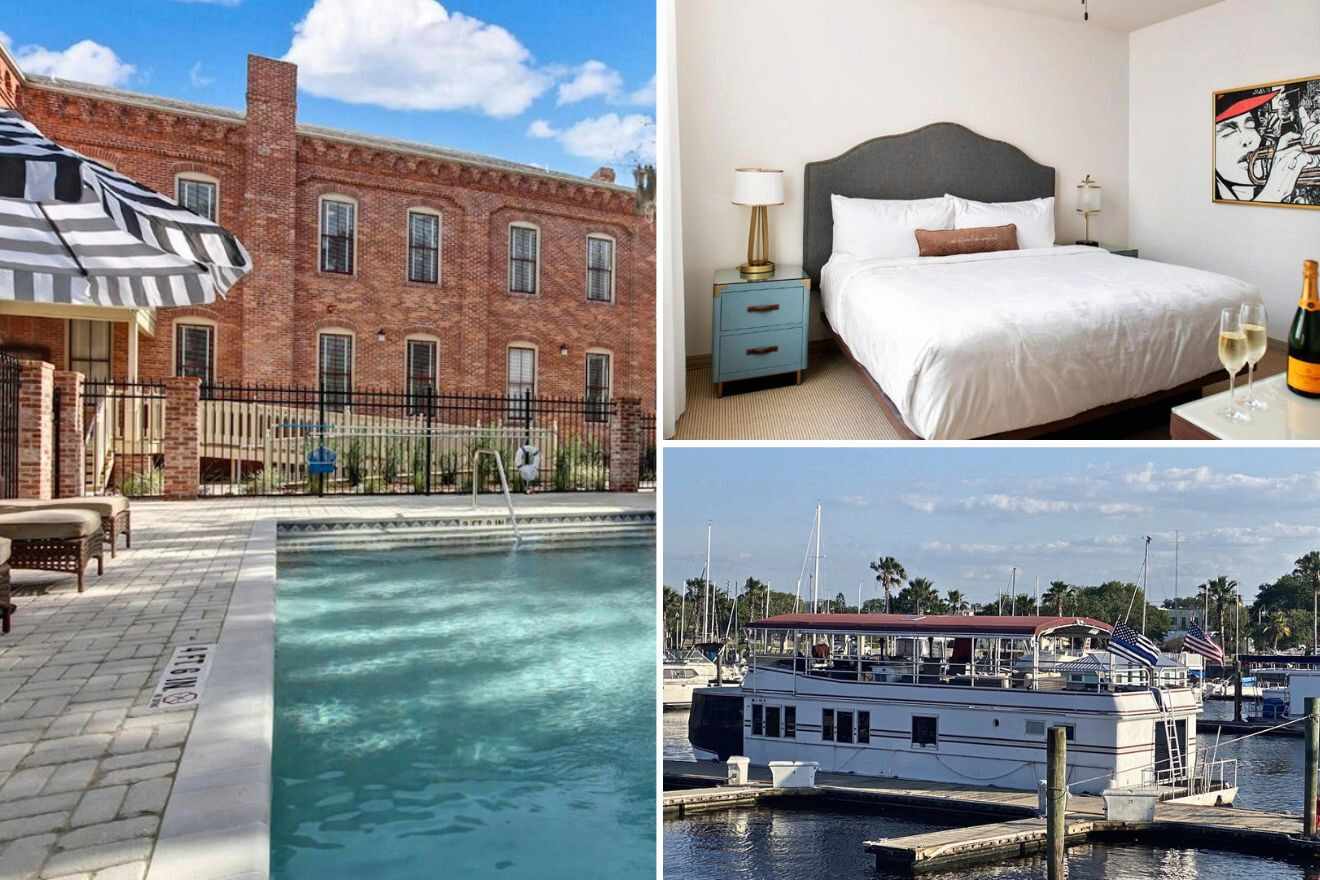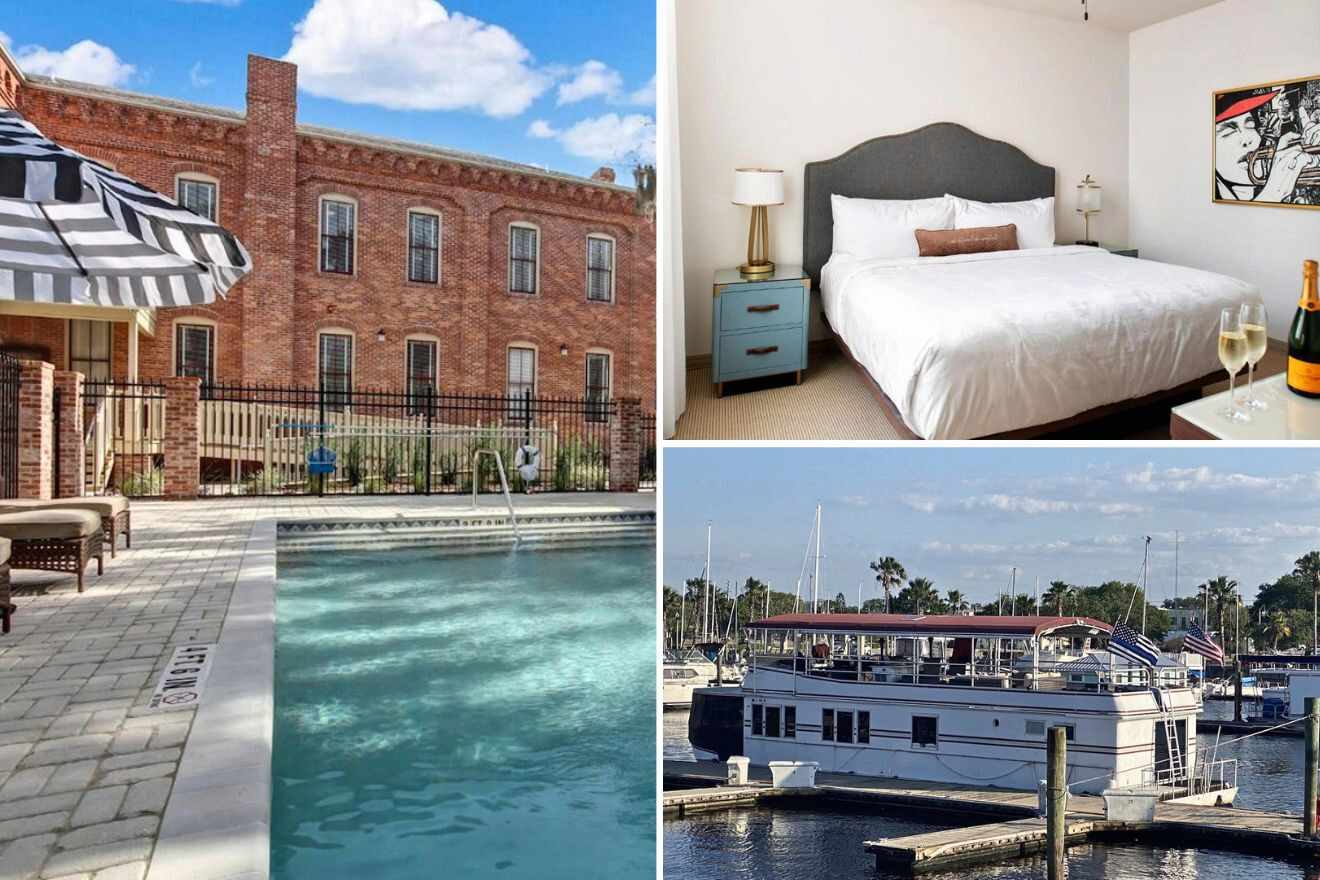 Fenway Hotel, Autograph Collection – This hotel feels like an Andalusian palace! Maybe it's the golden paint all over the facade or the beautiful tiles decorating the bathroom. This hotel comes with an outdoor swimming pool and mini golf courses on-site, which you can use for a fee! The onsite restaurant is open from breakfast to dinner and even for cocktail hour! I recommend their king room with a view for 2 guests!
Not Your Typical Houseboat – If you are going to Stanford, Florida, why not stay in a houseboat?! This property has 2 bedrooms, a fully equipped kitchen, and a deck area to have dinner or sunbathe! If you feel like dining out, there are many restaurants just steps away in the town center. This accommodation would be perfect for those looking to relax in a cozy space and enjoy the amazing views Lake Monroe offers!
Amelia Schoolhouse Inn – Located in Fernandina Beach on Amelia Island, this beautiful hotel will make you feel pampered and completely relaxed! As the name of the hotel suggests, this accommodation really feels like a cool modern schoolhouse, it reminds me of Madeline! There is an onsite swimming pool, a bar, and 24-hour desk service onsite.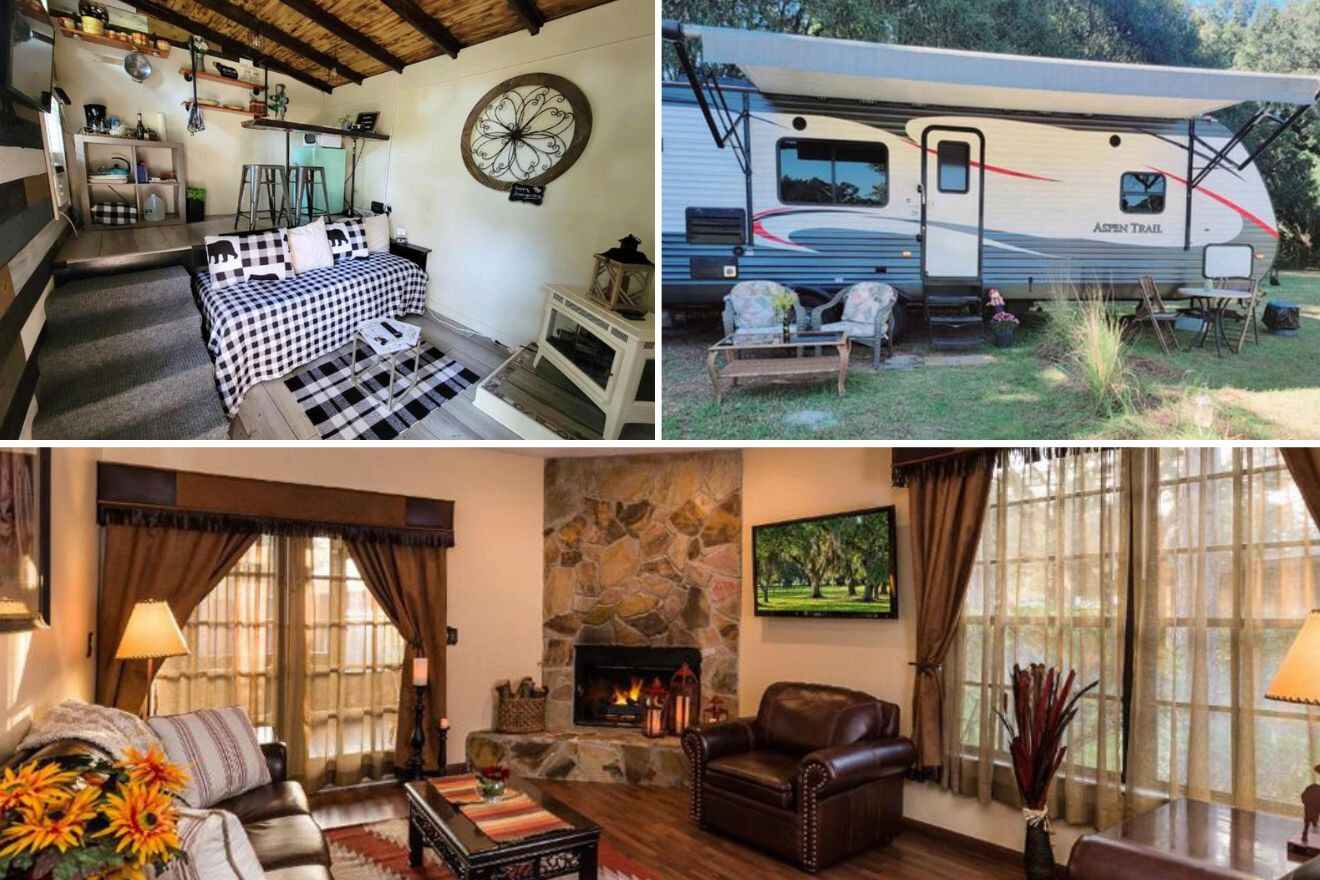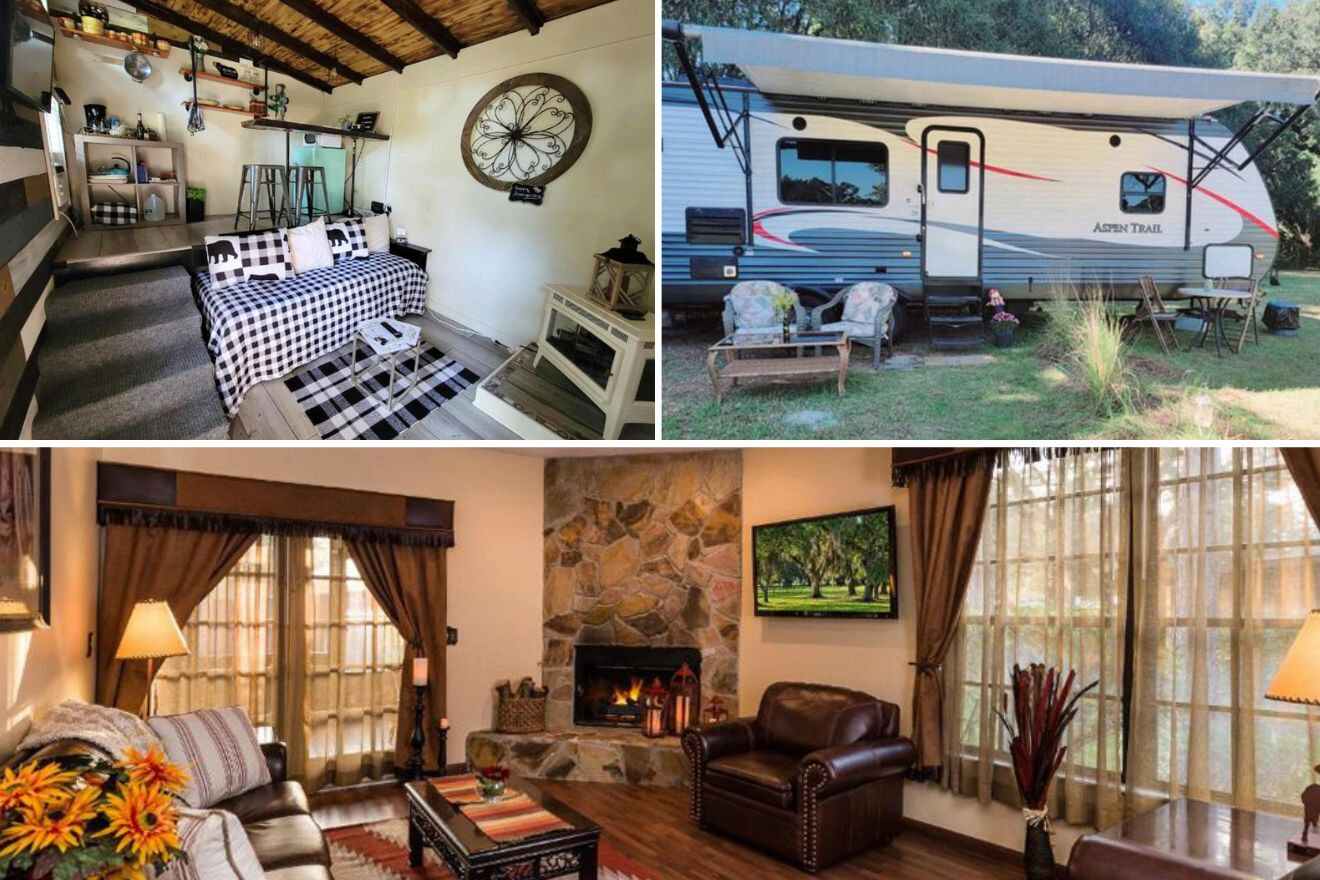 Westgate River Ranch Resort & Rodeo – Why not stay in one of the largest dude ranch resorts out there?! Located in River Ranch, this property offers all its guests the chance to go horseback riding, play tennis, and eat a traditional meal in the hotel's restaurant. The rooms can host a maximum of 6 guests, and you have traditional options or fun options like camping or glamping!
Covered Wagons at Keystone Heights – Travel back in time and have a one-time-in-a-lifetime experience staying in a covered wagon! Located in Keystone Heights, these covered wagons were designed to guarantee the traveler's comfort, you have everything you need inside them, amazing decorations that will make you feel like you are in a Western movie, and you will have your own private bathroom!
Kokomo Farms – This place is simply wonderful, an amazing way to relax and enjoy a beautiful landscape. On the farm, you can choose whether you stay in a cottage, studio, bungalow, or caravan. Some of your neighbors will be friendly chickens and horses! The farm is set outside Live Oak, just a 10-minute drive away from the town center, and Jacksonville is less than 2 hours away!
Find More Unique Hotels in Florida
BONUS #1: Fun places to stay in Florida on the beach
Let's be real, it wouldn't be cool to end the article of unique places to stay in Florida without mentioning some unique hotels in Florida near the beach! Florida has a varied range of landscapes, and the ocean is one of those, so here you have 6 fun places to stay in Florida on the beach!
The hotels are arranged by price, starting with the most expensive first. The prices are per night and go from US$1100 to US$300.
Let's check them out!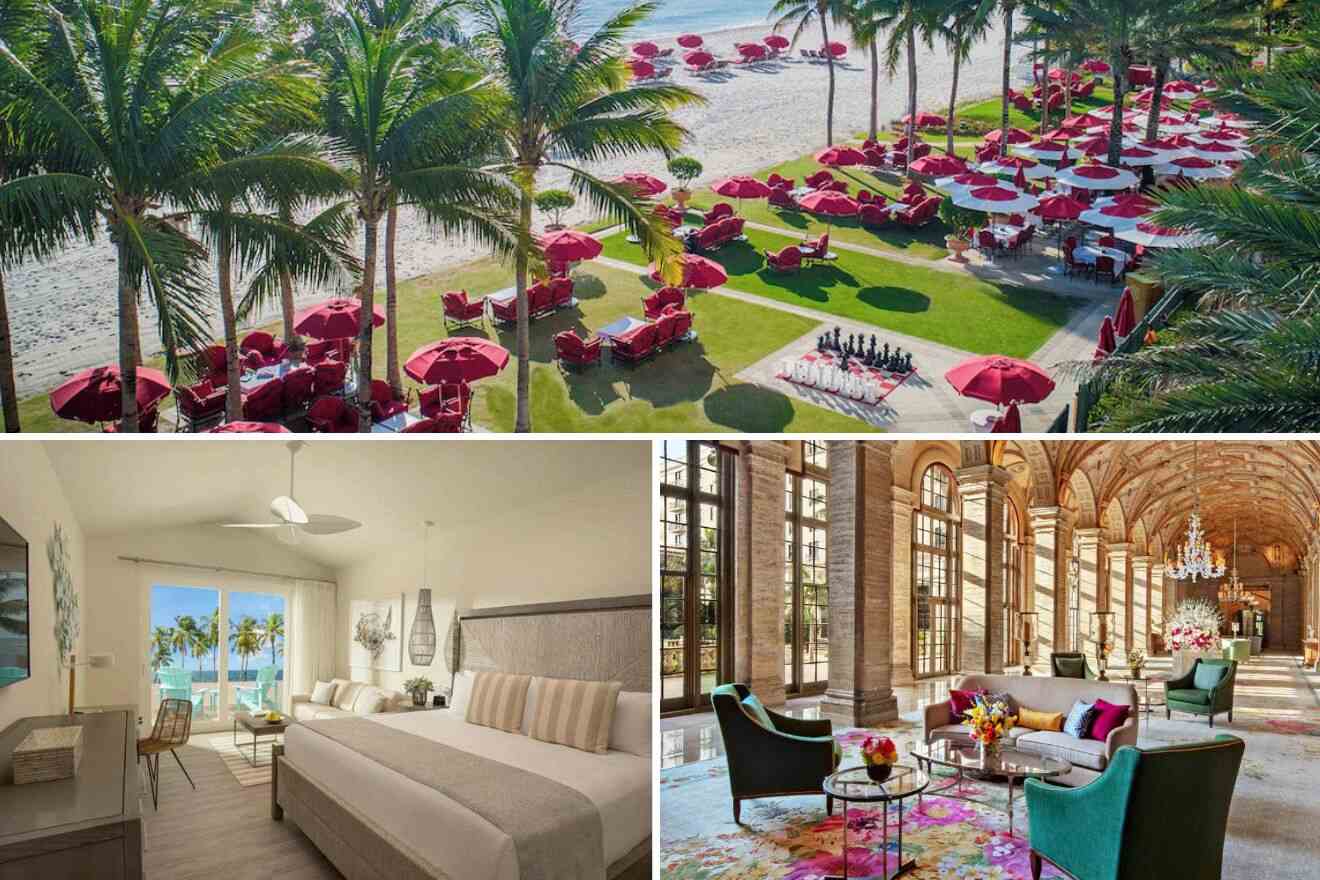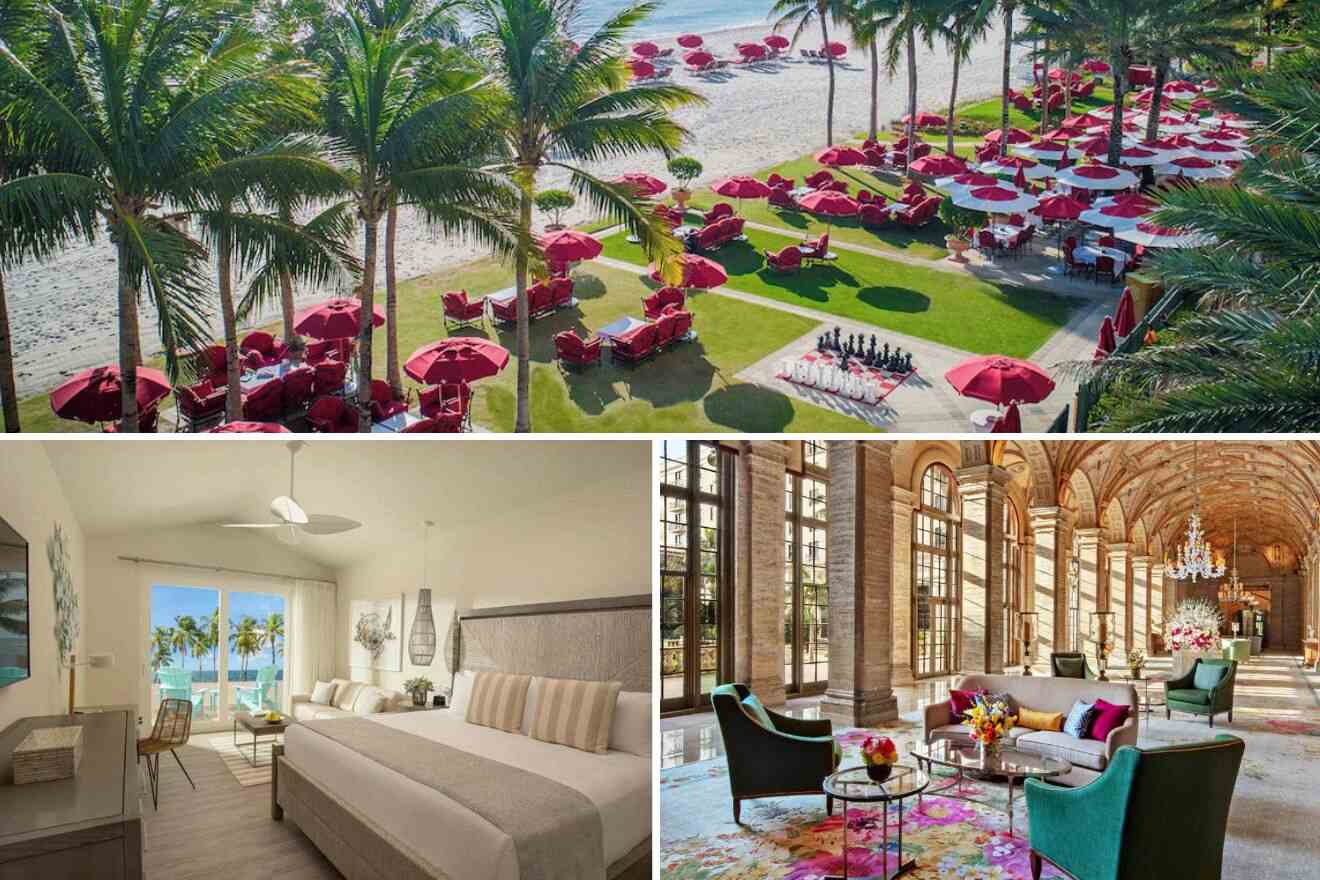 1. Bungalows Key Largo – All Inclusive
What a treat it would be to stay in this adults-only and all-inclusive hotel in Key Largo, right by the beachfront and with a private beach area! The hotel is just amazing, the rooms are modern and luxurious, but you still have that natural touch that will make you feel completely relaxed! The hotel comes with 2 outdoor swimming pools, and its beachfront location makes it perfect for practicing water sports like kayaking and paddle boarding!
2. Acqualina Resort & Residences On The Beach
Located on Sunny Isles Beach, this hotel will make you feel like a celebrity! I love how luxurious this property looks, it comes with 3 swimming pools, a hot tub, and 4 different restaurants serving a wide range of cuisines. If you wish, you could have a romantic dinner by the ocean. Some of the rooms come with a balcony, and an amazing view of the ocean, and their biggest rooms can host up to 9 guests.
3. The Breakers Palm Beach
Located in Palm Beach, with luxury shopping stores just a short walk away and just a 30-minute walk away from West Palm Beach, this hotel will make you feel at the top of the world! Everything in this hotel is luxurious and up-scale; you will feel like you are living in a mansion by the beachfront with your own private beach area!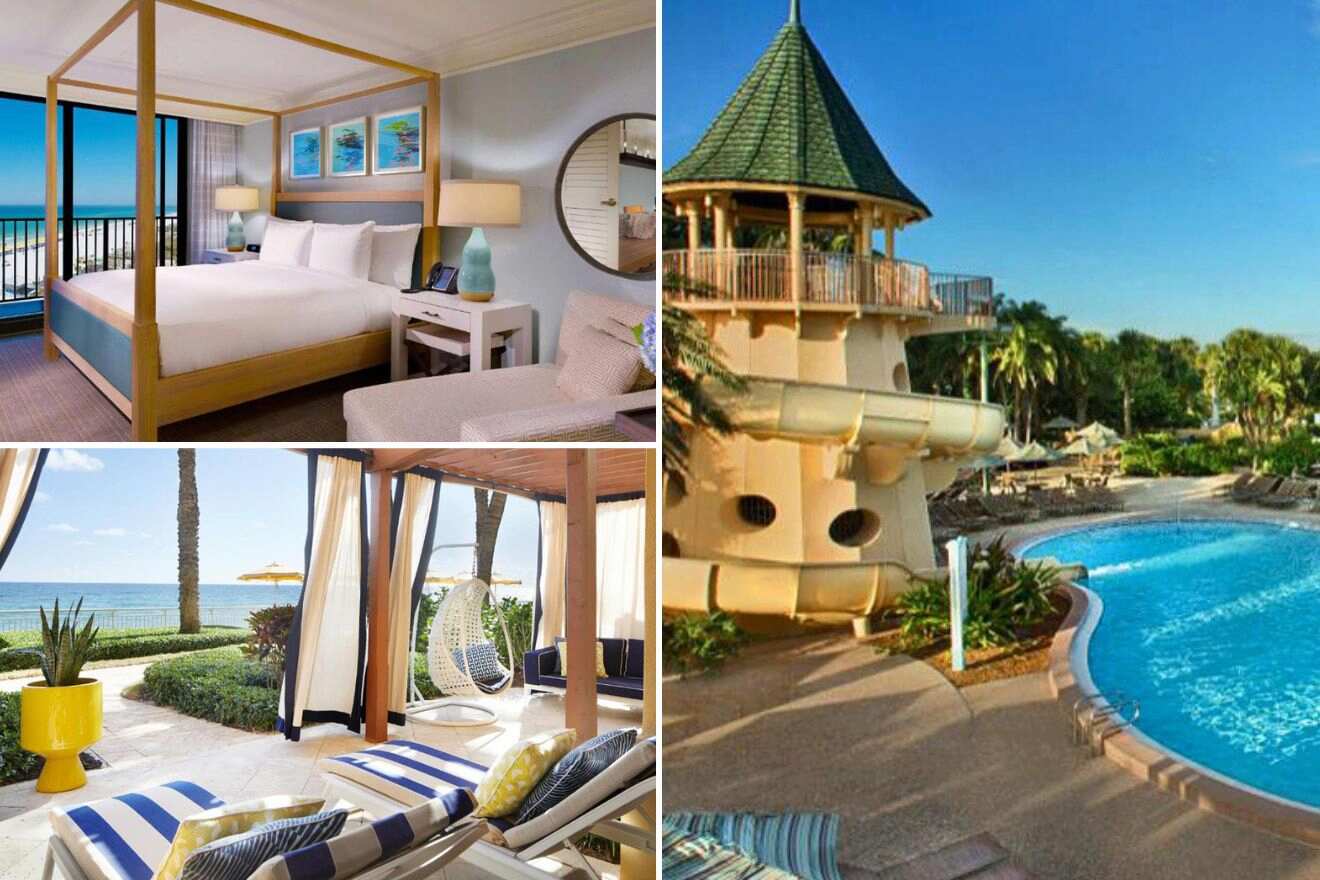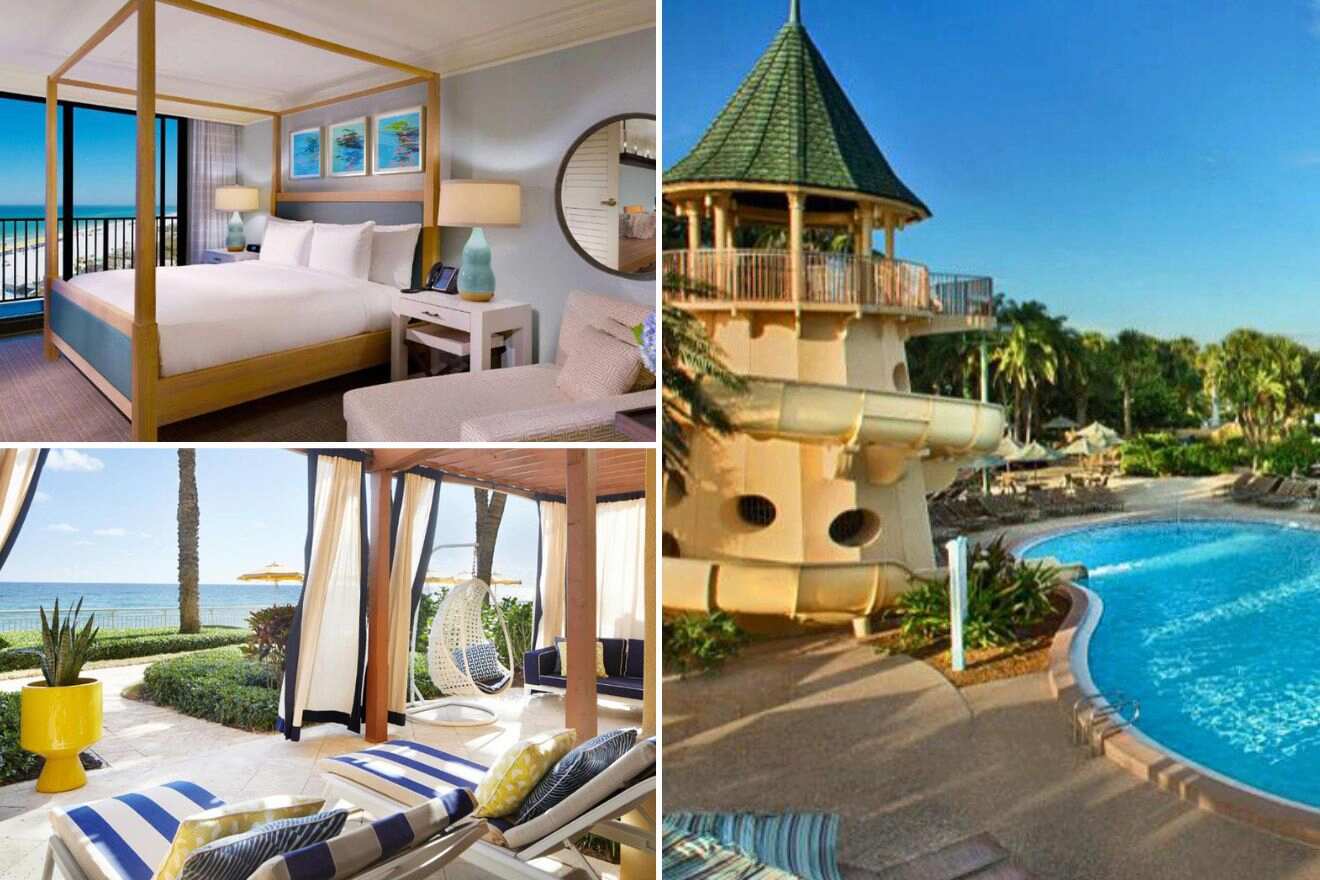 4. Eau Palm Beach Resort & Spa
I am in awe! Just looking at this hotel, I feel like a queen! What a style! This hotel would be perfect for couples. There are many restaurants on-site, a spa with massage services, and a jacuzzi, and the beachfront is super romantic. But if you are traveling with your family, there are teens and kids clubs available for guests.
5. Hilton Sandestin Beach Golf Resort & Spa
This hotel on Miramar Beach feels super neat, everything is impeccable! I love the color theme, golden and blue, truly stunning! The beachfront location is great for relaxing in the sun like a gecko, playing beach volleyball, or playing water sports! The hotel offers 6 different restaurants, so your cravings will be covered during your vacation!
6. Disney's Vero Beach Resort in Vero Beach
Wow! This hotel, located in Vero Beach, is truly stunning! It feels somehow secluded but with all the amenities you need. From onsite restaurants and swimming pools with slides to golf courses onsite! This hotel would be perfect for families looking to spend a wholesome family vacation playing in the sun and enjoying all the magic Vero Beach has to offer!
BONUS #2: Romantic places to stay in Florida
Okay, so we have unique places to stay in Florida, fun places to stay in Florida on the beach, but I feel like it is missing a few places! That is why I've searched for romantic places to stay in Florida, so if you and your plus 1 want to go on a romantic getaway to the sunshine state, I've got your back!
The accommodations in this section are around US$300 to US$600 per night and are simply wonderful! Let's check them out!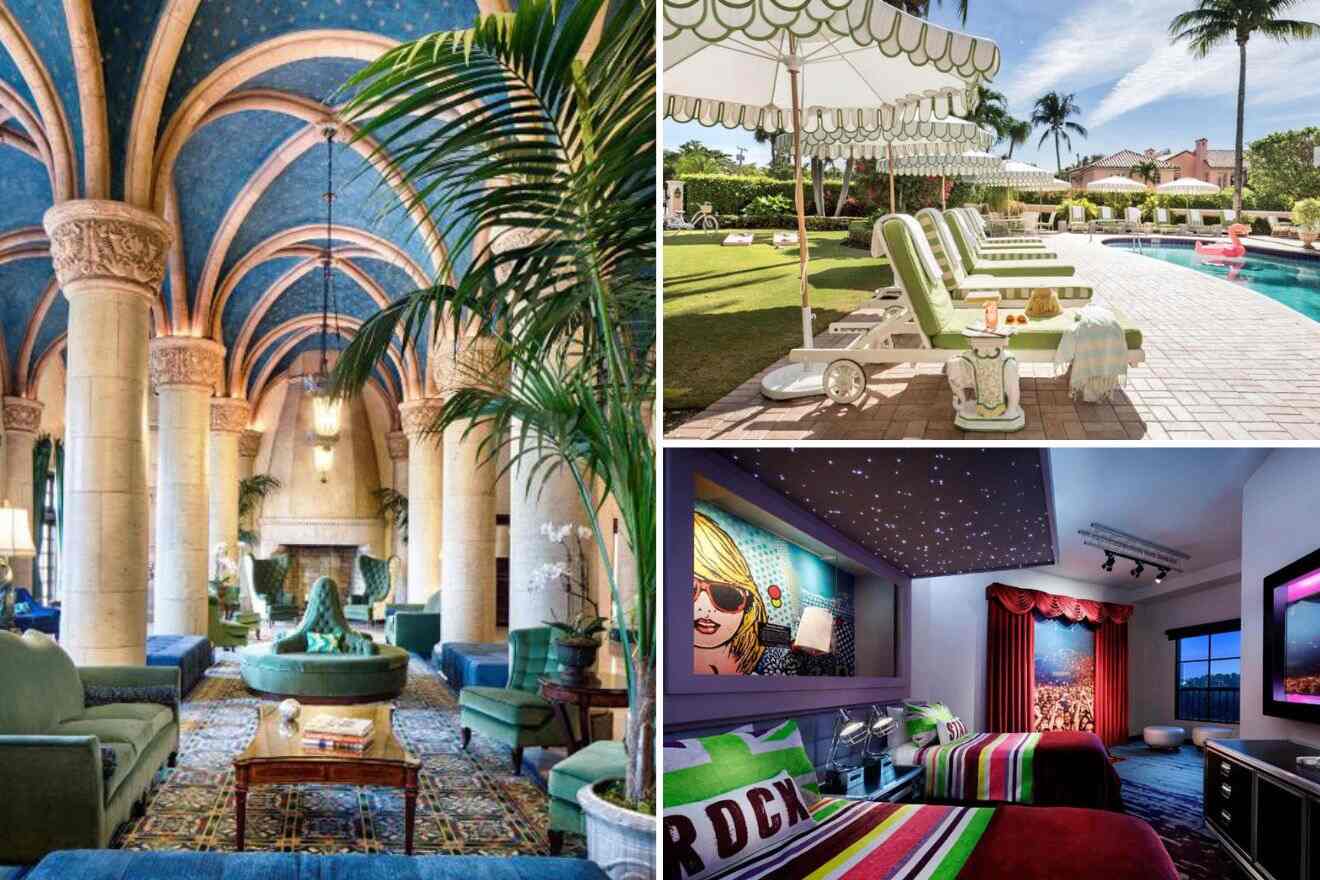 1. Universal's Hard Rock Hotel
This hotel is located in Universal Studios Orlando, which means you will have a lot of fun there, but on the other hand, the hotel has a lot of relaxing and romantic amenities, like a spa center with a sauna and jacuzzi to indulge with your partner, onsite restaurants for a romantic dinner! Speaking of which, don't forget to check out our post on all the best things to do at Universal Studios!
2. The Colony Hotel
This must be one of the most beautiful boutique hotels I've seen! There is nothing more romantic than spending time in a place that exudes charm and elegance. And since it is located in Palm Beach, you know you'll have amazing dining and shopping options right around the corner, as well as stunning beachfront views!
3. Biltmore Hotel
Located in Miami and with Miami Beach just a 30-minute drive away, this hotel is just beautiful, it has many different levels and a tower that looks just so pretty. In the common areas, the ceilings resemble a French architectural style! The rooms feature amazing chandeliers and marble bathrooms that make you feel like a royal!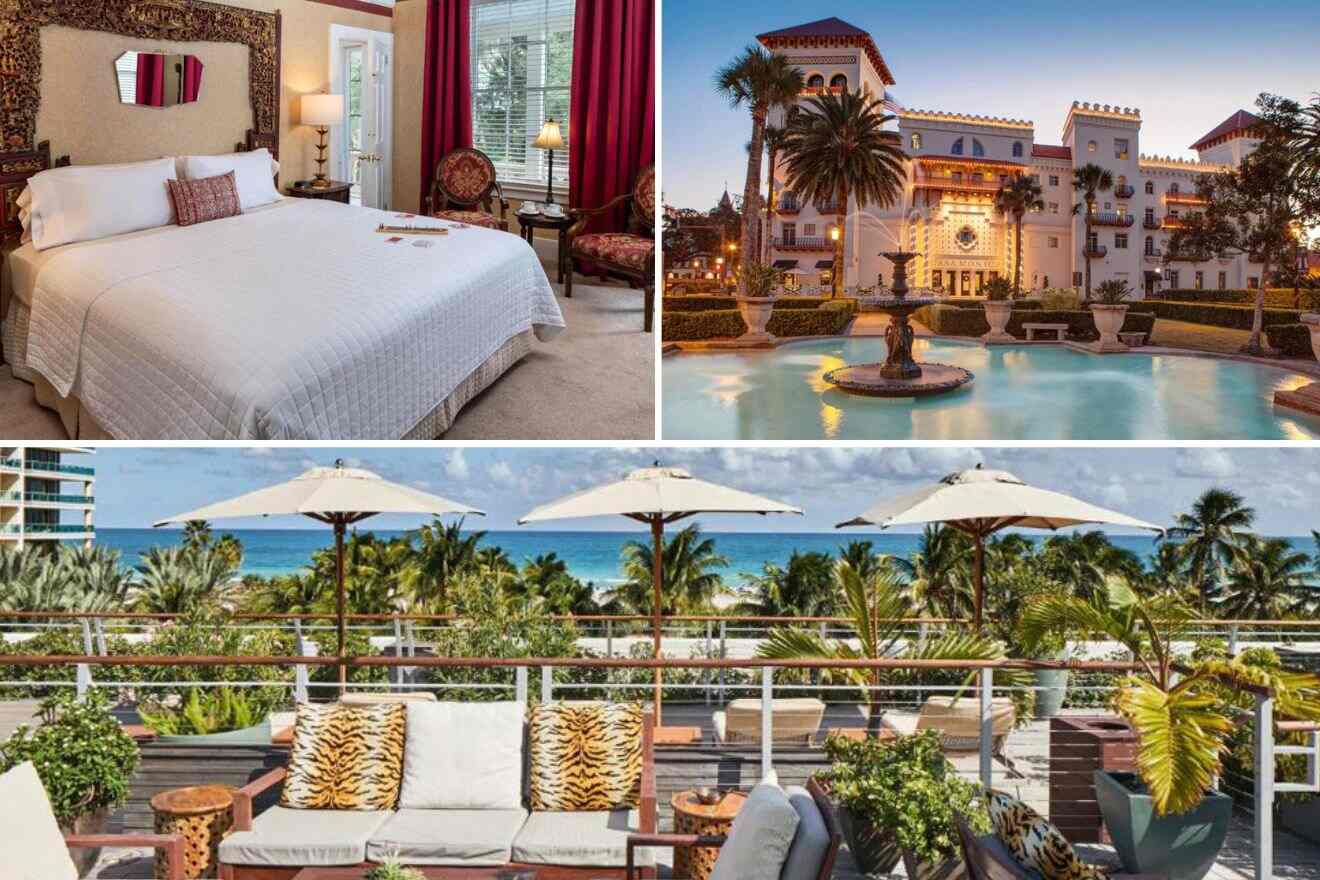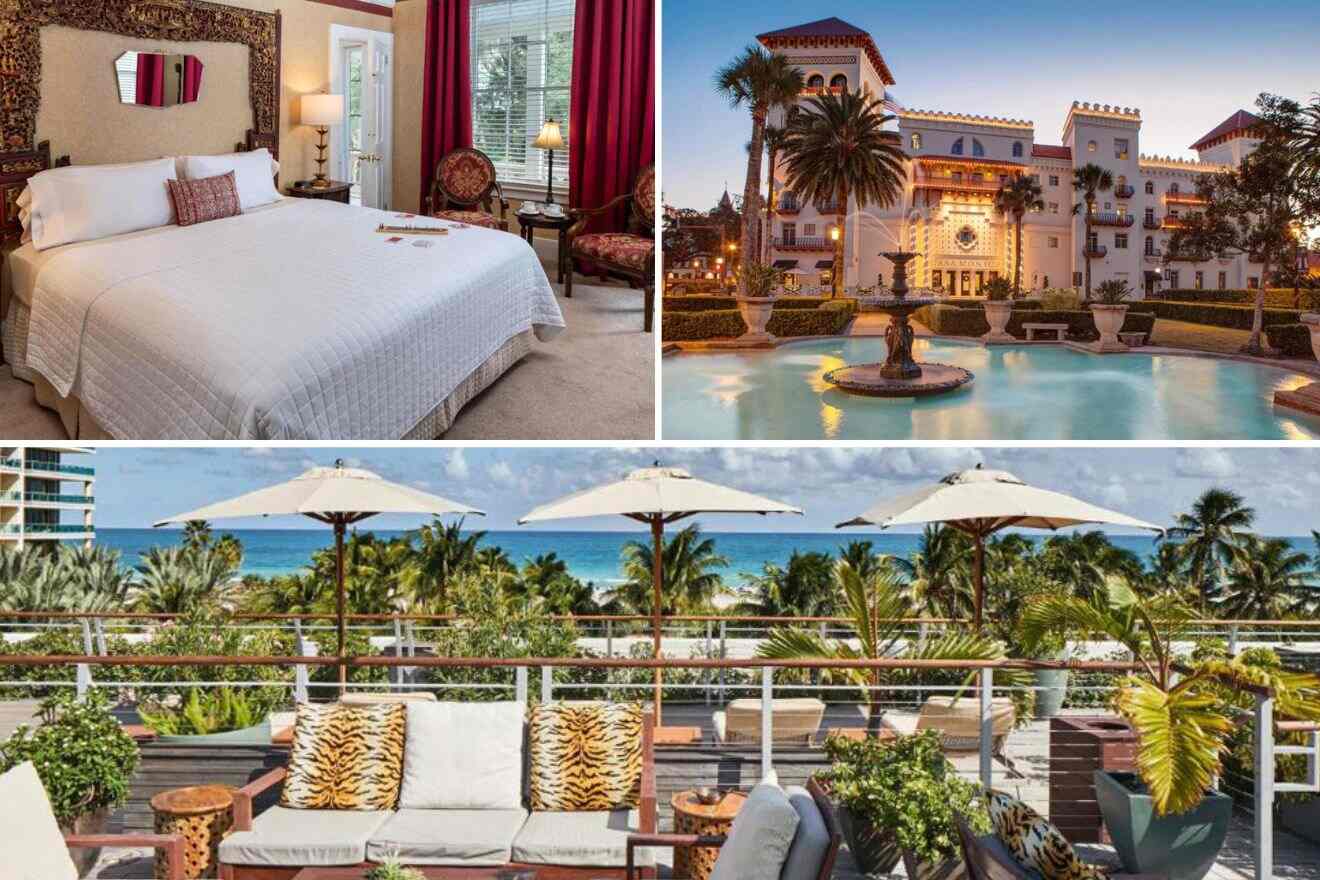 4. Amelia Island Williams House
This cute hotel has a real Victorian vibe going on! I love it! It is located in Fernandina Beach and has everything you need to pretend you are in the Regency era in Pride and Prejudice. The property offers a complimentary breakfast to all its guests with vegetarian and vegan options. Some of the rooms come with a bathtub which is so inviting for bubble baths and sipping wine! 
5. Casa Monica Resort & Spa, Autograph Collection
Located in St. Augustine, this hotel has a really luxurious vibe, all that velvet, and those beautiful rugs – the attention to detail is amazing! The hotel comes with an outdoor swimming pool to swim and sunbathe on hot summer days and a spa center to relax like no other with your partner!
6. The Betsy Hotel, South Beach
I need to call this hotel's designer and ask them to decorate my entire apartment! Oh my lord, what a style, so modern and hip; I imagine young couples would love to stay in this hotel located in South Beach, with the beach just steps away. You have swimming pools, restaurants, and a spa center offering a wide range of beauty treatments!
FAQs about unique places to stay in Florida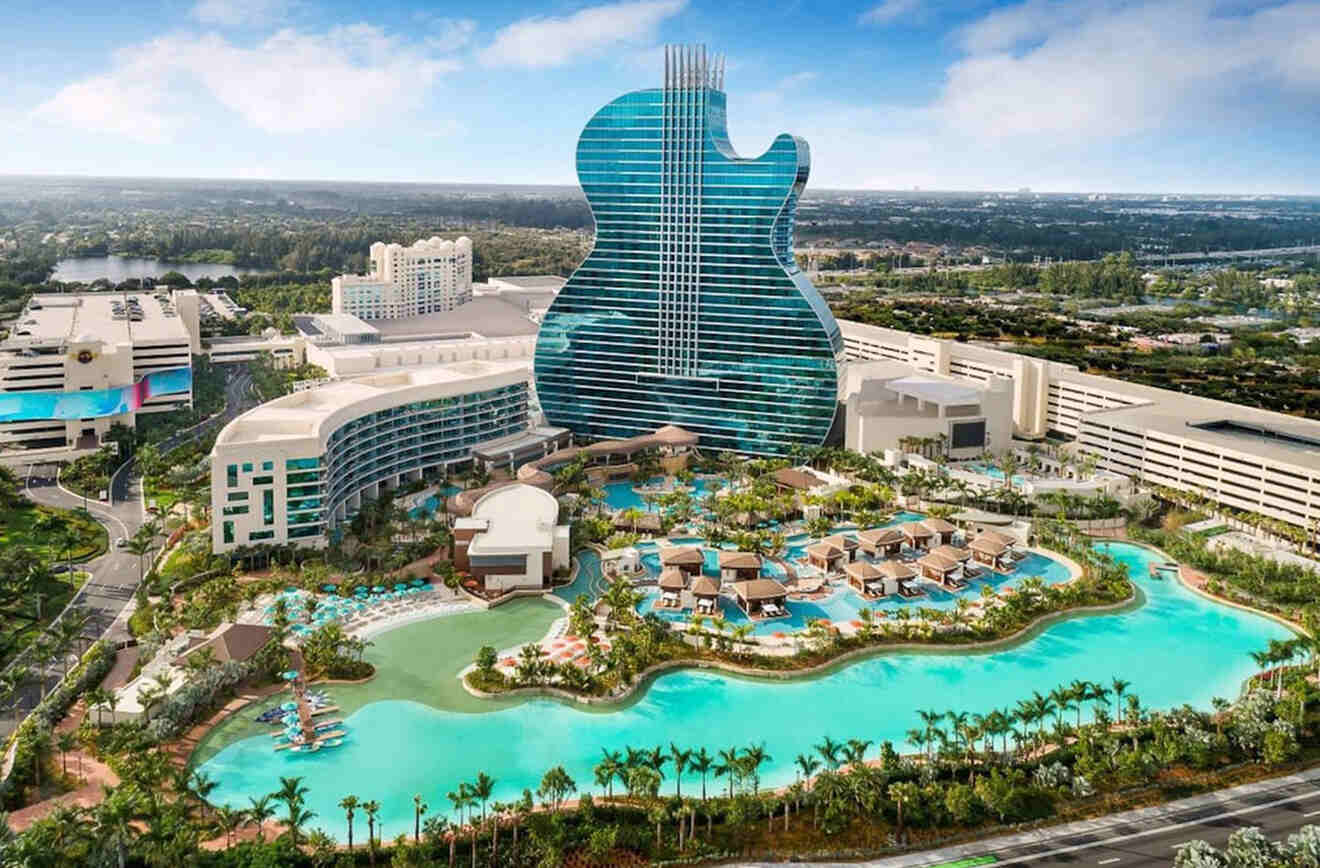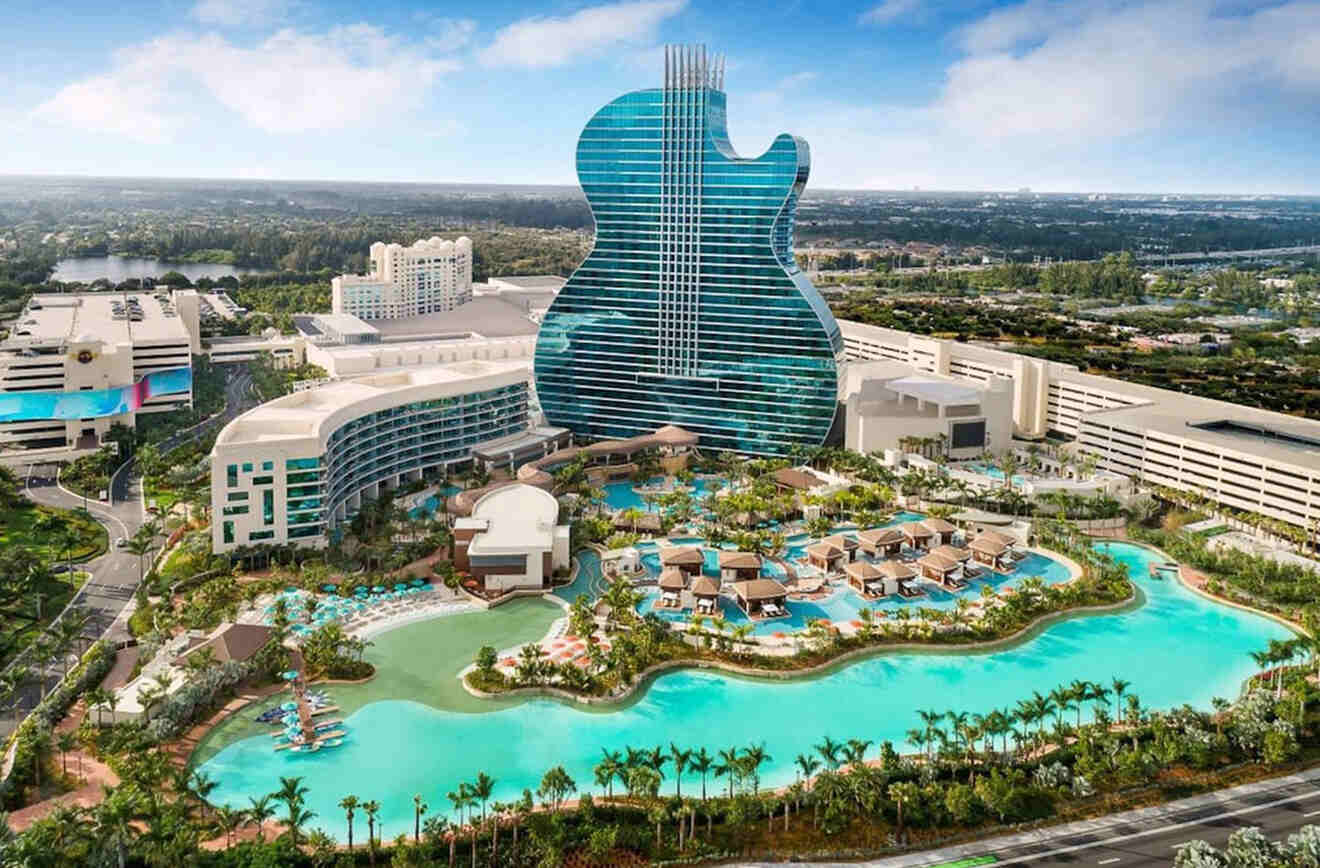 🏖️ Which are the best beach accommodations in Florida?
👪 Which is the best hotel for families in Florida?
💑 Which is the most romantic hotel in Florida?
👒What is the best hotel for a weekend getaway in Florida?
Conclusion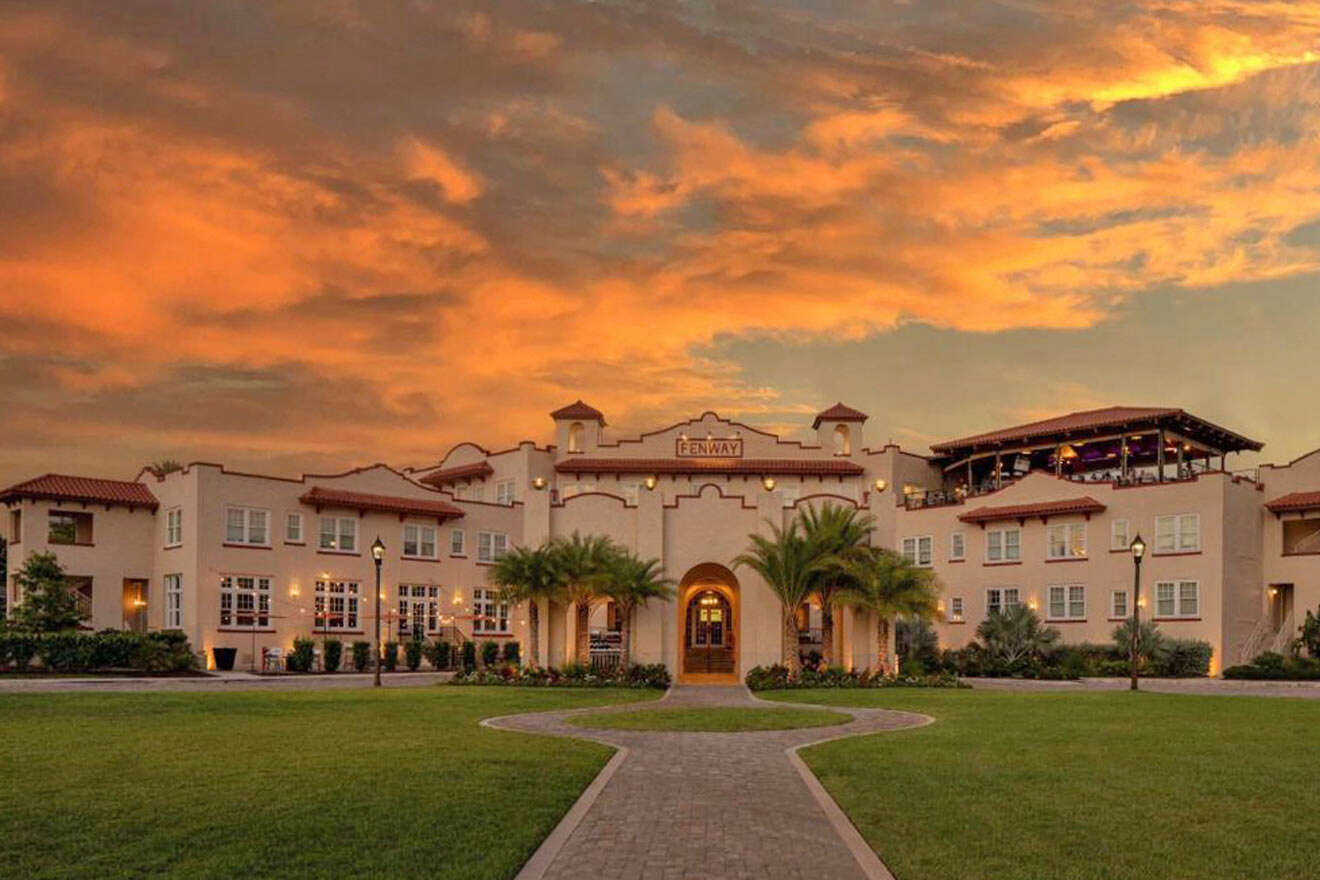 It's a wrap, my friends! Those were some of the most unique places to stay in Florida! Plus, fun places to stay in Florida on the beach and romantic places to stay in Florida as bonuses! Florida is such a fun place, I am super happy you are taking this amazing trip!
Honestly, I loved all of the hotels and properties mentioned here, but If I had to choose my top 2, I would go with:
The Don CeSar – I think this is one of the coolest hotels in this article and one of the most unique accommodations; it feels like a dream!
The Grand Tiki Suite – I think it would be such an amazing experience to stay in a floating house; super relaxing and romantic!
Which one was your favorite hotel or accommodation in this article? Have you ever stayed in any of these? Let me know in the comments, and right after, book the hotel of your dreams before someone else does!
Until the next adventure,
Daniela
---
Pin it for later!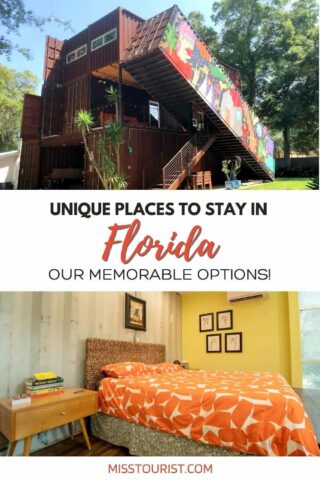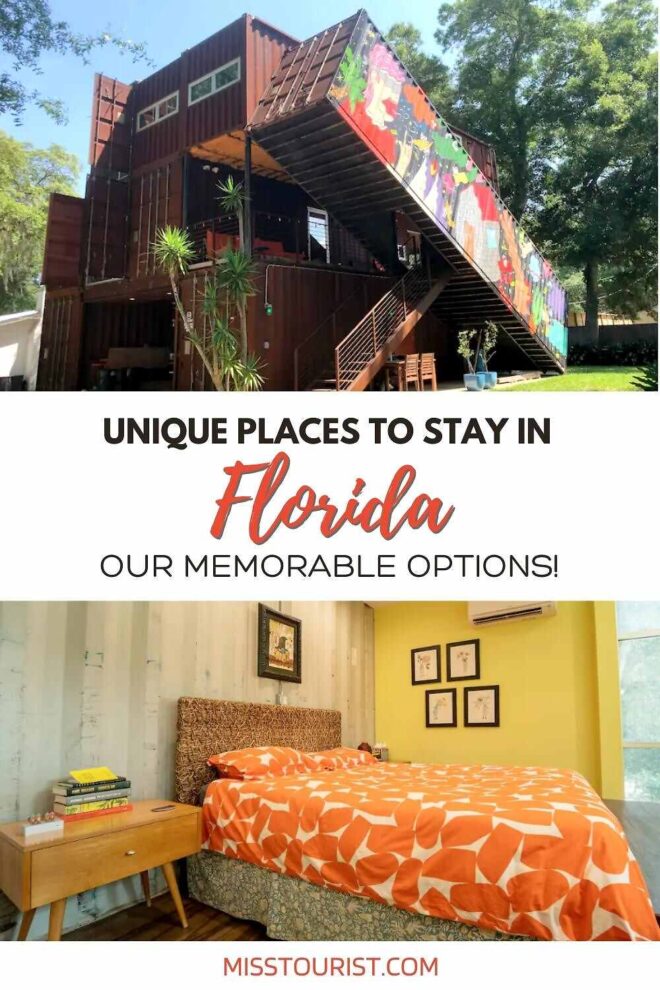 Pin it for later!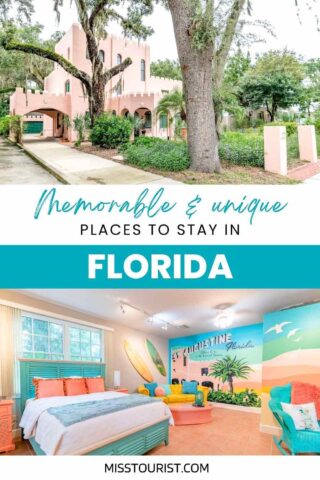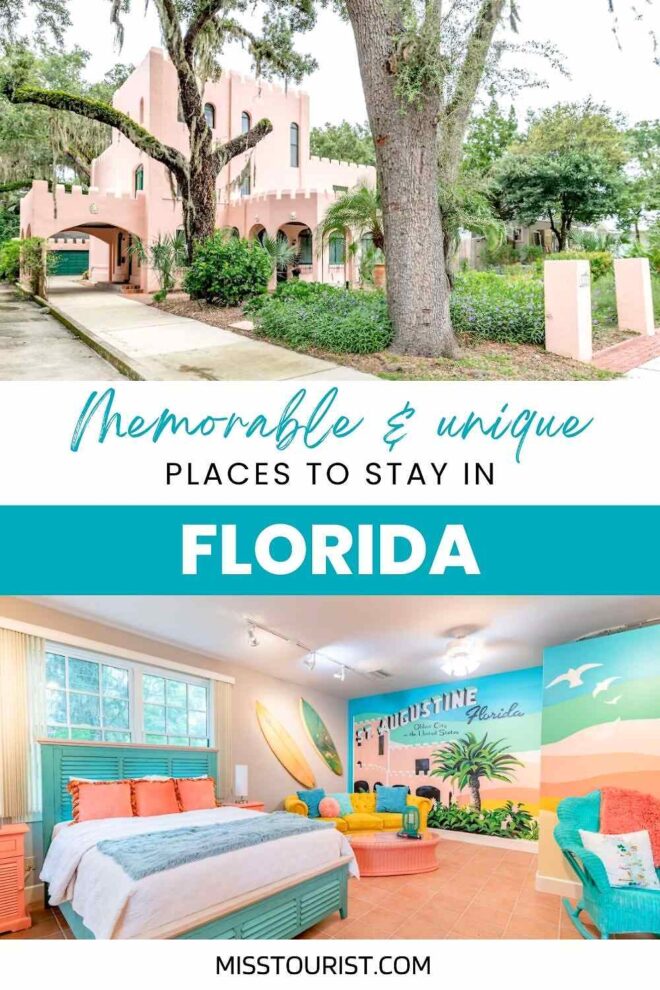 Products You May Like