Weekend Getaways in Florida • 18 Amazing Trips (+ Hotels!)
Florida is one of the best states in the U.S.A. for weekend getaways. Floridians always joke about how Florida is the only state where locals take vacations in their own state!
Nobody knows how to staycation like Floridians, that goes for this local too! And it makes sense since Florida is a huge peninsula with a diverse array of landscapes offering all different types of experiences!
Wherever you are in Florida, you are only a few minutes away from your next adventure!
Whether you are looking for a beachside getaway, a trip to the Everglades wilderness, a tropical paradise oasis in the Florida Keys, a trip to the pristine and tropical waters of the Gulf Coast, exploring one of the many artesian freshwater Florida Springs, Florida has an incredible getaway waiting for you.
The world is really your oyster in Florida. Each part of the state has something unique and adventurous to offer. You can spend years vacationing in different parts of Florida and be confident that you will always have a new and exhilarating experience!
As a hardcore Florida adventurist and a true local, I am going to give you all the fun insider tips for the best weekend getaways in Florida!
If you are in a hurry
Here are the best tours you should book in advance for your weekend getaway in Florida!
Here are the main things to book in advance:
And here are the best hotels: The Betsy Hotel in South Beach (luxury), Spacious Retreat House in Deland (mid-range), Beautiful Condo in Fort Myers (budget)
Since we'll be talking about places dotted all over Florida, here's a map of all the destinations!
1. Enjoy an Atlantic Coast getaway at Amelia Island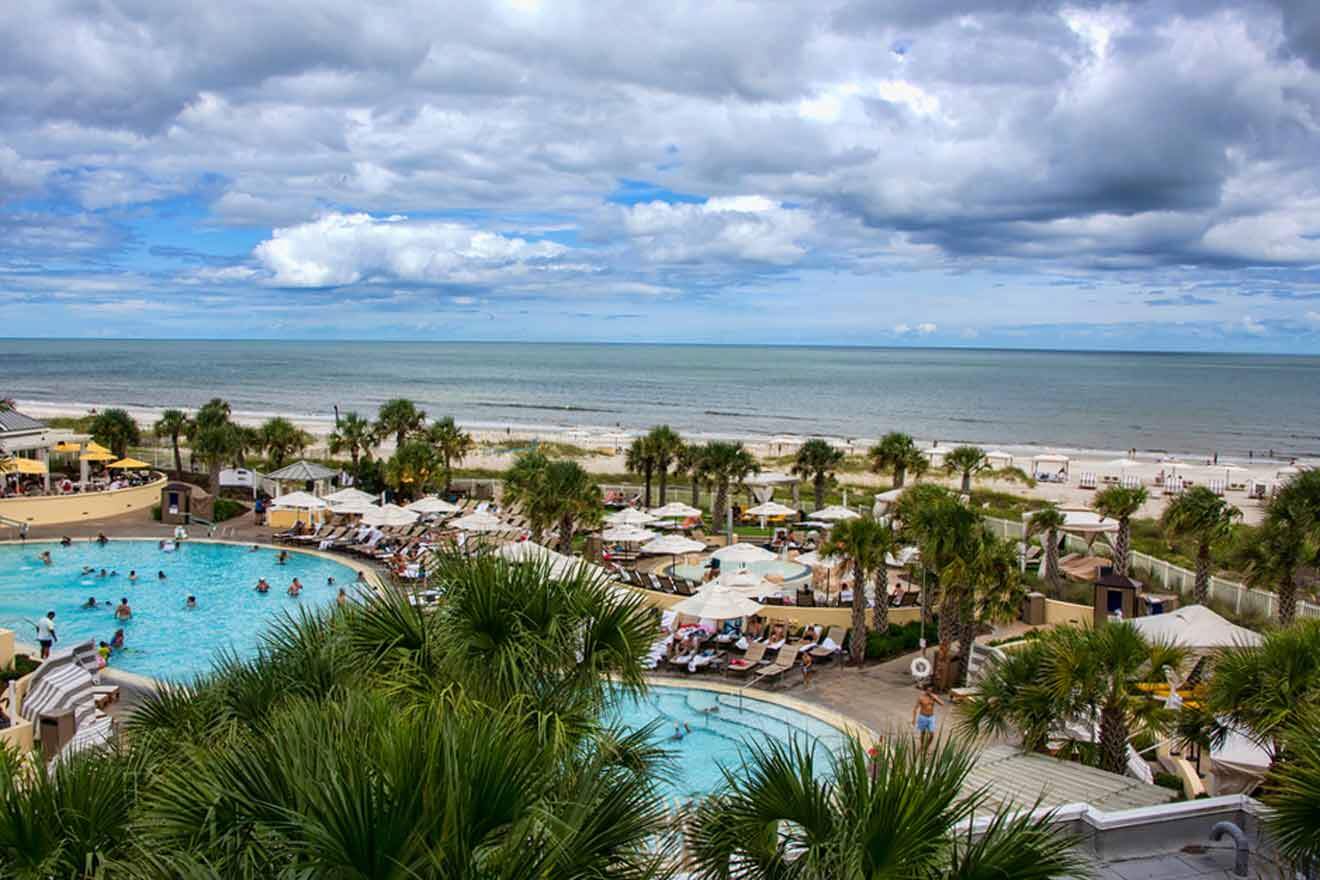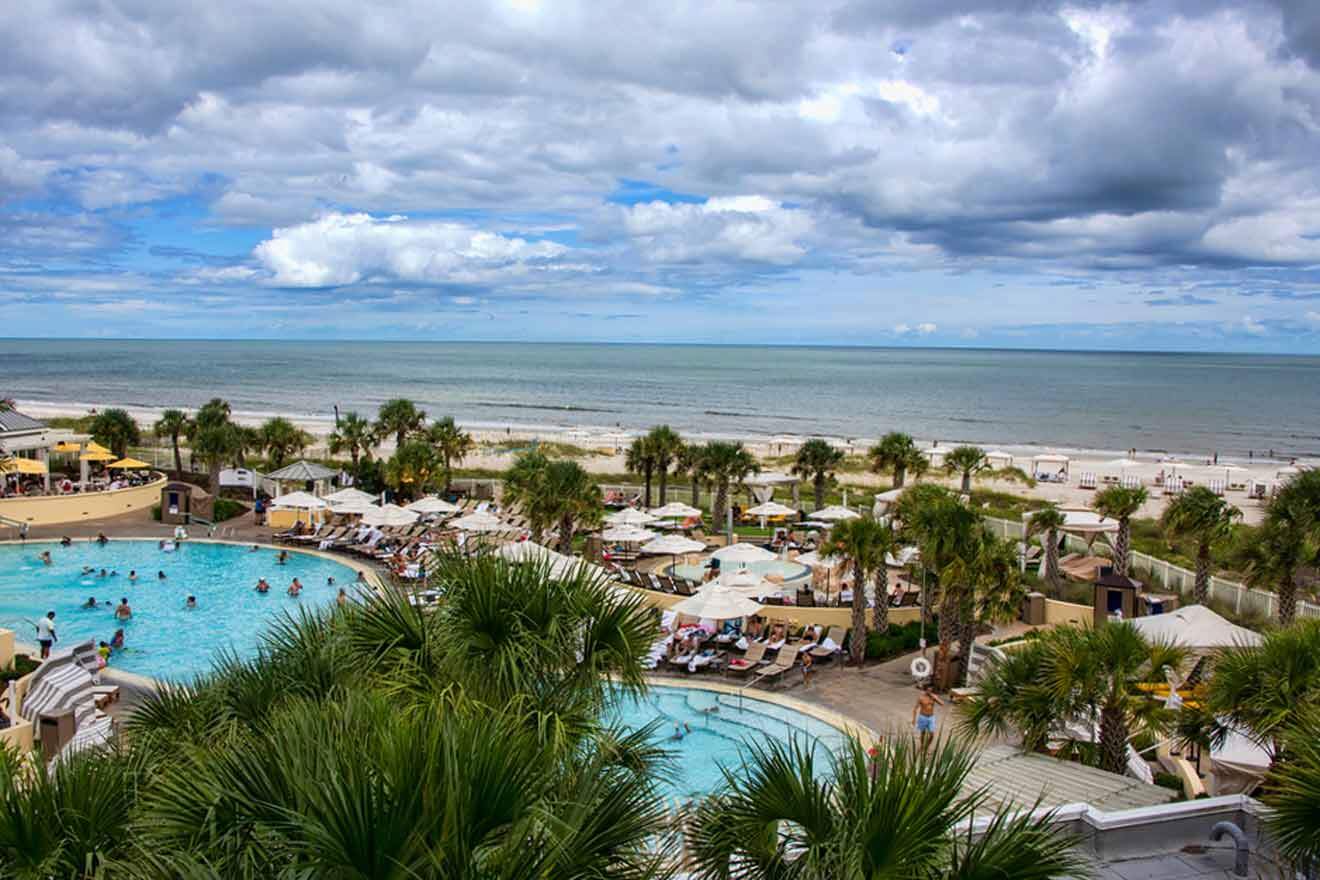 Super popular among families and couples, this is a lovely and beautiful weekend getaway off the Atlantic Coast in Northern Florida.
You can enjoy a picturesque boardwalk, amazing restaurants and shops, and a laidback North Florida island vibe! One of the coolest things to do on your weekend getaway in Amelia Island is to ride horses on the beach!
What makes this adventure so special is that Amelia Island is the only place in Florida where you're allowed to ride horses on the beach!
Amelia Island has a historical beach town charm that is sure to draw you in. Make sure you check out the Fernandina Historic District for a taste of the authentic Old Florida beach vibe!
The best place to stay on Amelia Island is at the gorgeous Ritz Carlton. It truly levels up the whole experience! This stately hotel is SO beautiful and even has a luxurious spa center to top your weekend off! Perfect for a weekend getaway!
To make your weekend getaway even MORE amazing, you should take advantage of this AWESOME guided kayak tour, where you'll be taken from Lofton Creek to Fernandina Beach! It's so much fun for the entire family and at the end of the day you can retire to the Ritz for a pampering!
2. Explore the wonders of Ocala National Forest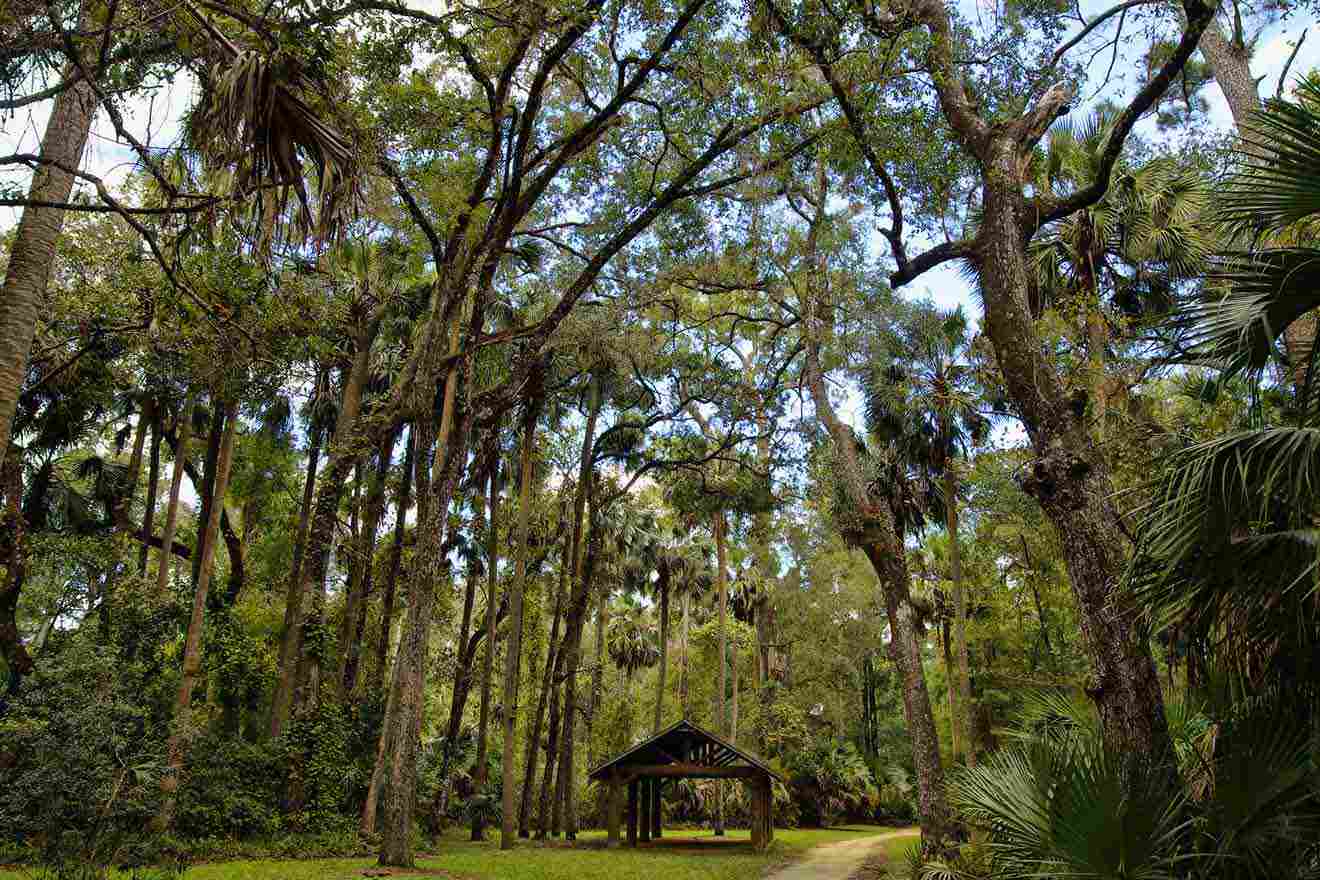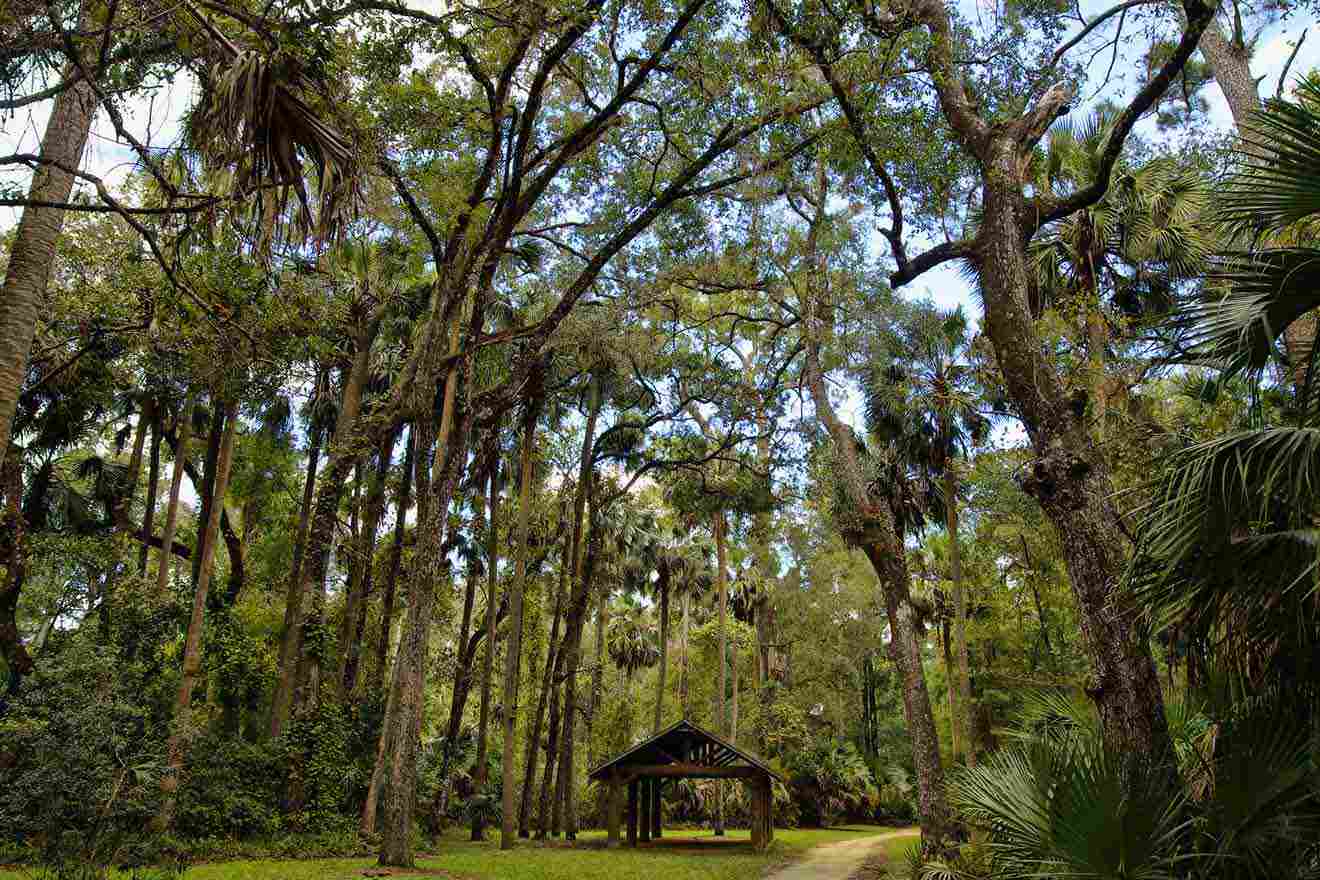 Honestly, I believe that everyone should visit the Ocala National Forest at least once in their lives.
The Ocala National Forest has so much to offer! Between the vast wilderness, diverse flora and fauna, and various freshwater springs located within the park, this park is truly one of Florida's hidden gems. When people think of Florida, more often than not, they think of theme parks and the beach. Little do they know, Florida has SO MUCH more to offer!
Ocala National Forest is located in Central Florida and makes an excellent escape from the madness of theme parks and the hustle and bustle of city life.
At this stunning National Forest, you can find the once-named 'Fountains of Youth,' Alexander Springs, Juniper Springs, and Salt Springs. Visiting the springs is one of my top recommendations for weekend getaways in Florida!
If you prefer to stay dry, there are miles of hiking trails through this lush tropical forest for your enjoyment! And if you're looking for a place to stay, this GORGEOUS family forest retreat is the perfect getaway for you and your loved one! Set right in nature, it'll definitely help you have a calm and peaceful weekend 🙂
On my trip to Ocala, I went horseback riding through Ocala National Forest, and it was seriously one of the most magical experiences of my life!
Book Your Horseback Riding Experience
3. Visit the Sea of Grass – Everglades National Park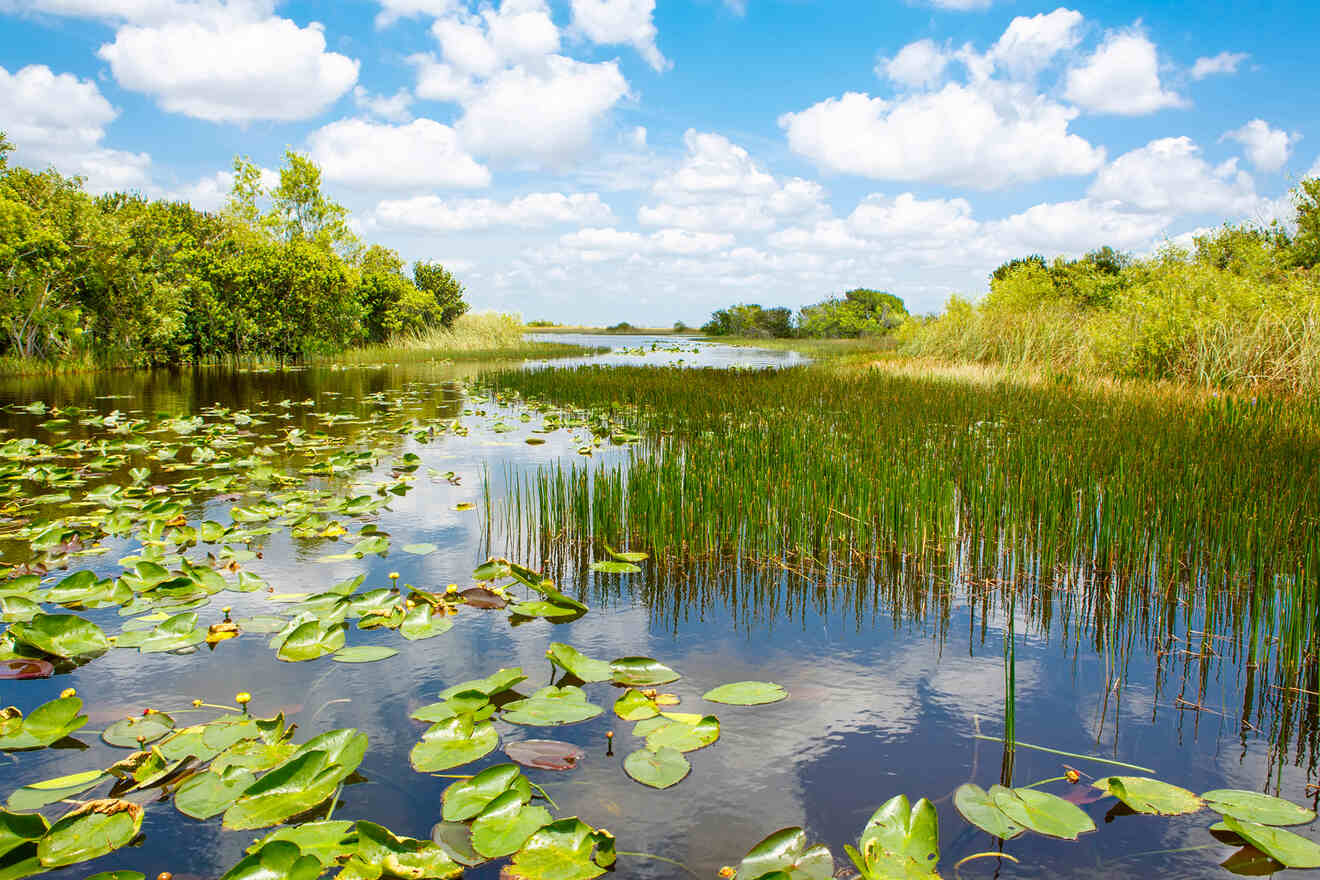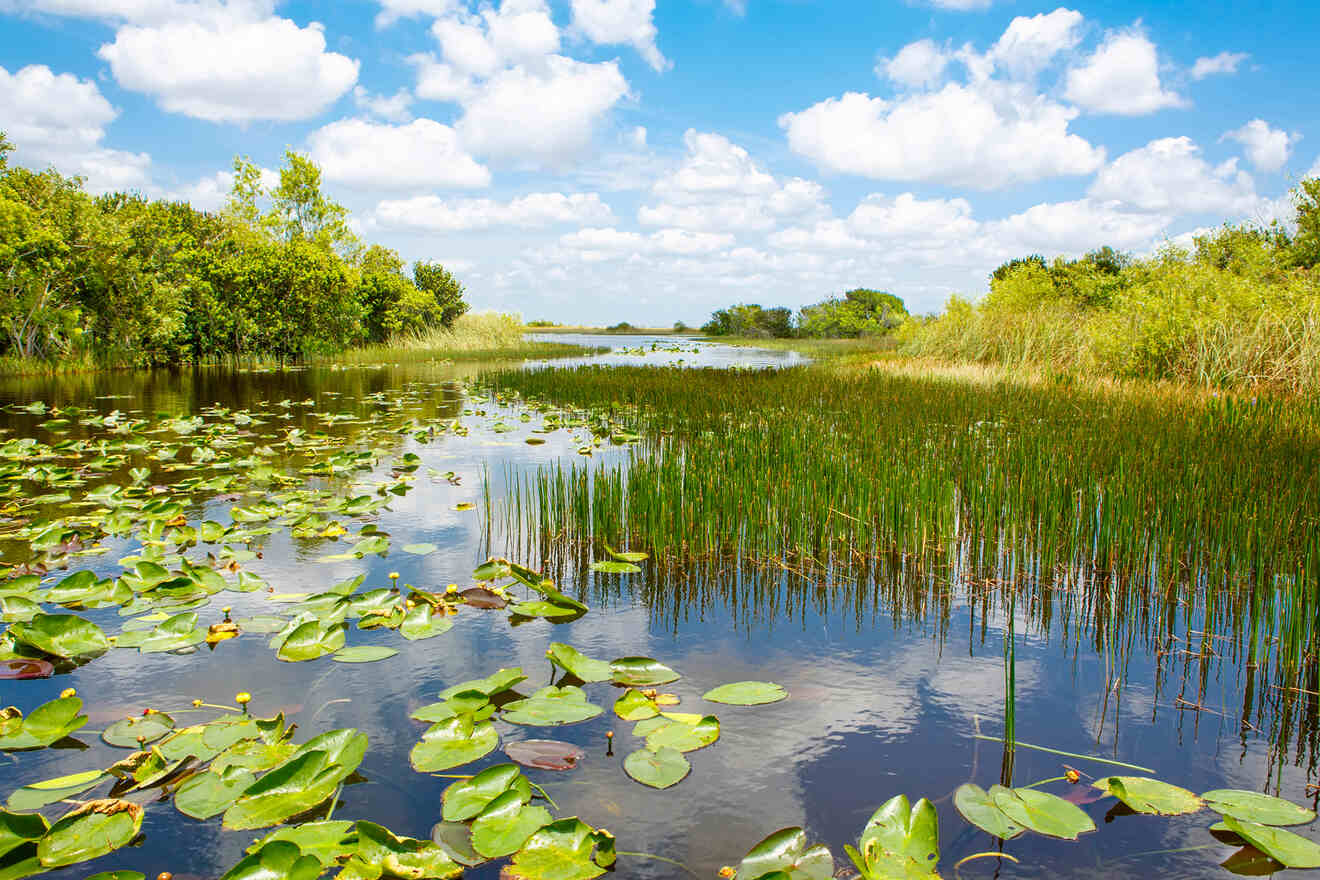 The Everglades National Park is easily one of the best places to go for a weekend getaway in Florida. The Everglades are huge! There are so many entry points, places to visit, and things to do!
One airboat ride is not enough for you to truly get a taste of what the Everglades are all about. I remember when I first visited Everglades National Park, I felt like all of a sudden, I was transported to Africa. I had never seen a landscape like the one in the Everglades, and I truly did not feel like I was in the U.S.!
It was such a life-altering experience that it actually was a catalyst for me to decide to move to Florida many years ago.
On this airboat tour, you'll glide across the water in one of Florida's famous airboats and be whisked away to a whole other world. Prepare to see all sorts of wildlife, from alligators to the endangered Florida panther, deers, bears, wading birds, and so much more!
If an airboat is just not enough for you, you can also camp in the Everglades! For a super cool experience, you can stay in this beautiful cabin rental that truly serves as the PERFECT escape!
One of the coolest parts of the Everglades is where the Sea of Grass meets the ocean. There, you have a totally different ecosystem and the colliding of two worlds.
If you're looking for a change of pace from your average airboat ride, check out this super awesome kayak tour through the mangrove forests of the Everglades and get a totally unique experience on your weekend getaway in Florida!
4. Hang out with wild manatees at Blue Springs State Park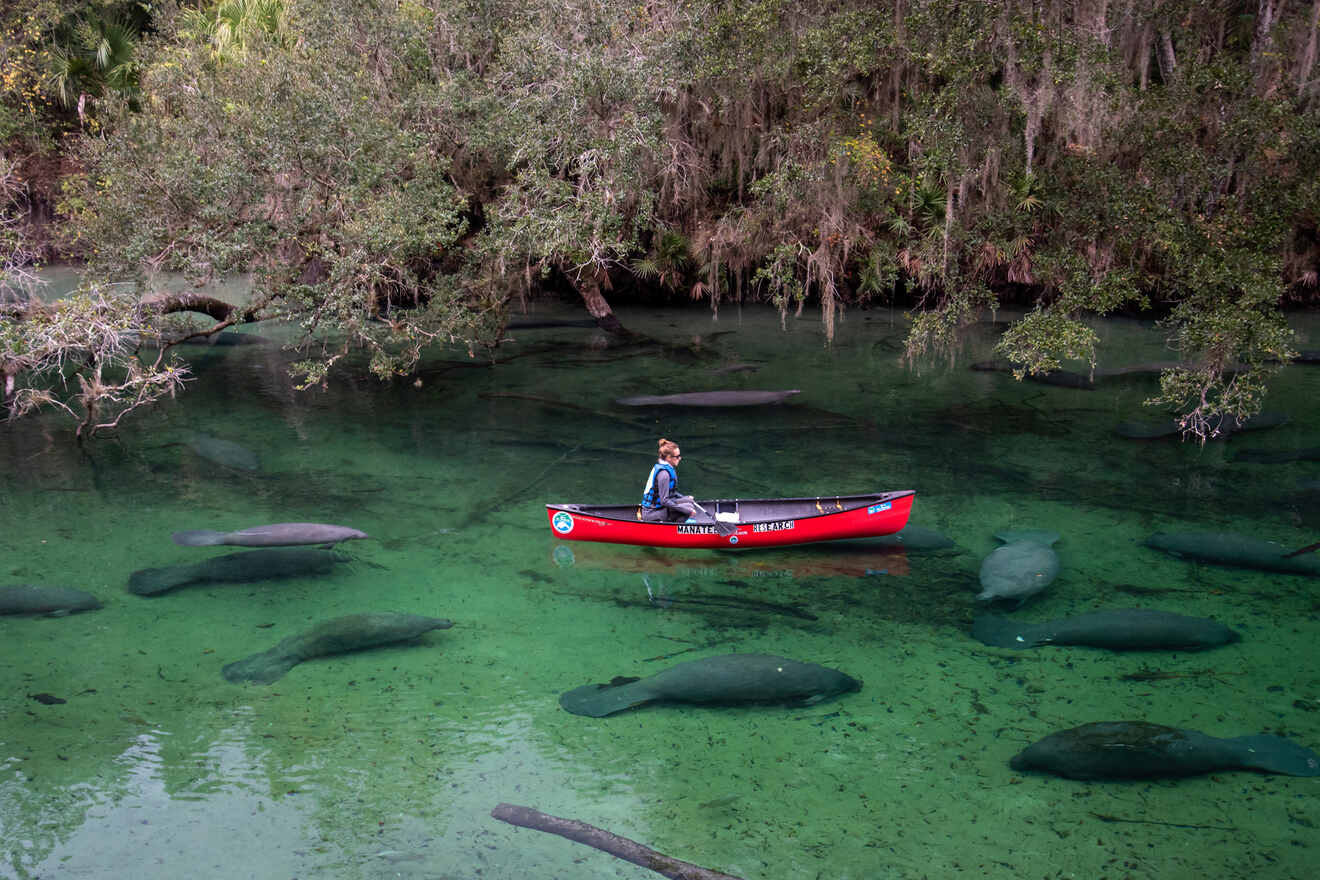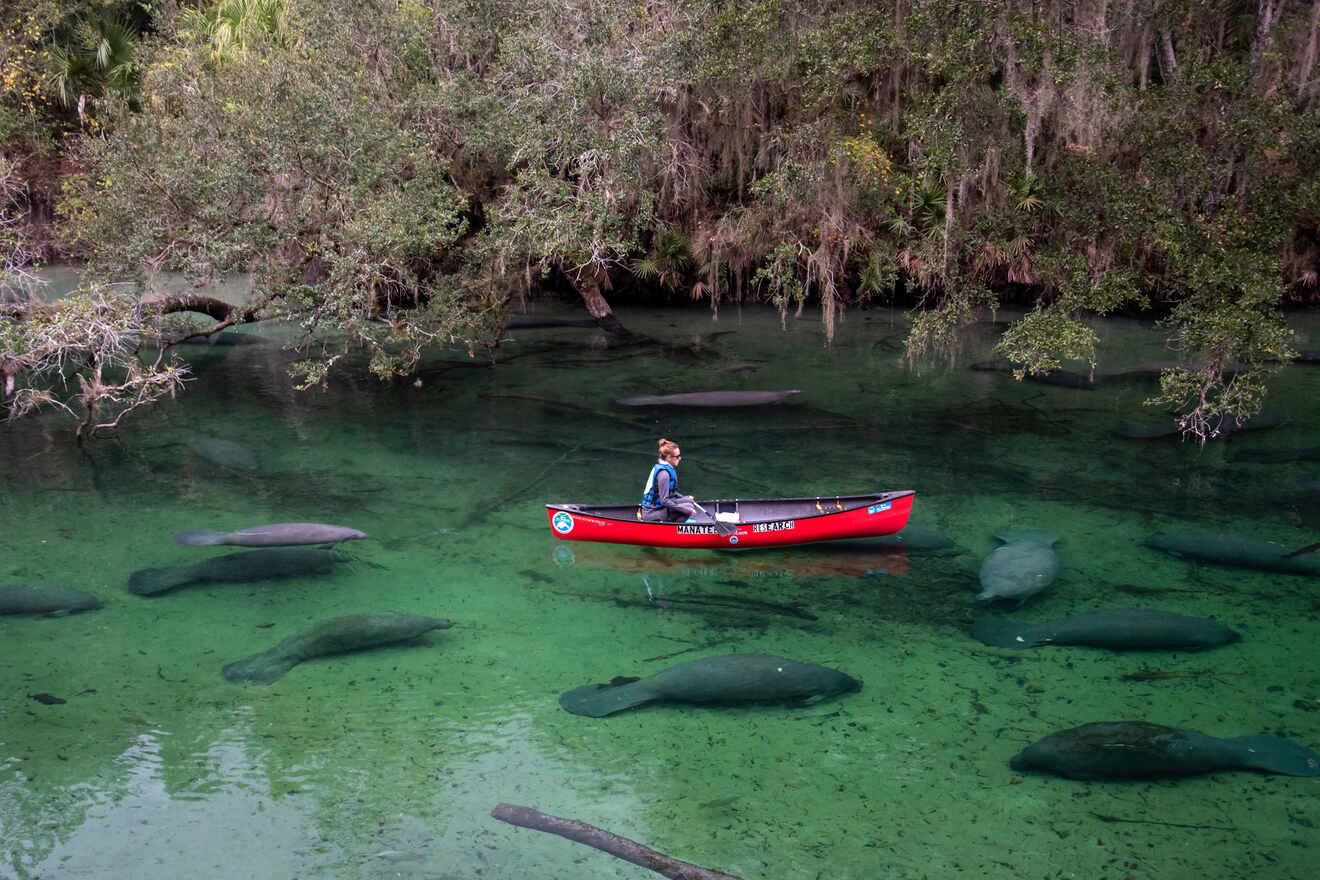 Blue Springs State Park is by far one of the best weekend getaways in all of Florida! Located in Central Florida, this state park is truly one of the best Florida has to offer.
Here, you can swim in bright blue, crystal clear artesian spring water surrounded by lush tropical Florida vegetation.
Blue Springs State Park is most famous for its yearly visitors of manatees. During the winter months, Manatees migrate inland to the springs to stay warm. Staying at a steady 72 degrees F year-round, the springs provide the perfect oasis for these gentle giants.
Staying near Blue Springs is vital when exploring this gorgeous area, so why not stay in this beautiful 3-bed dream house?! It's private, spacious, and stunningly decorated – and only a 10-minute drive from the Springs!
Even if you happen to be there when no swimming is allowed, you can still rent a kayak and have a great day out with this amazing tour, exploring the surrounding areas where the spring meets the St. Johns River! You'll get to hang out with the manatees and have a grand day out 🙂
NOTE: Since the park is filled up with manatees in the winter, there is no swimming allowed. However, between April and November, you should be good to swim. Keep in mind, this is the natural home of alligators, so always remain aware and proceed with caution when swimming in any body of water in Florida.
Book Your Blue Springs Manatee Tour
5. Explore the Islands off Florida's West Coast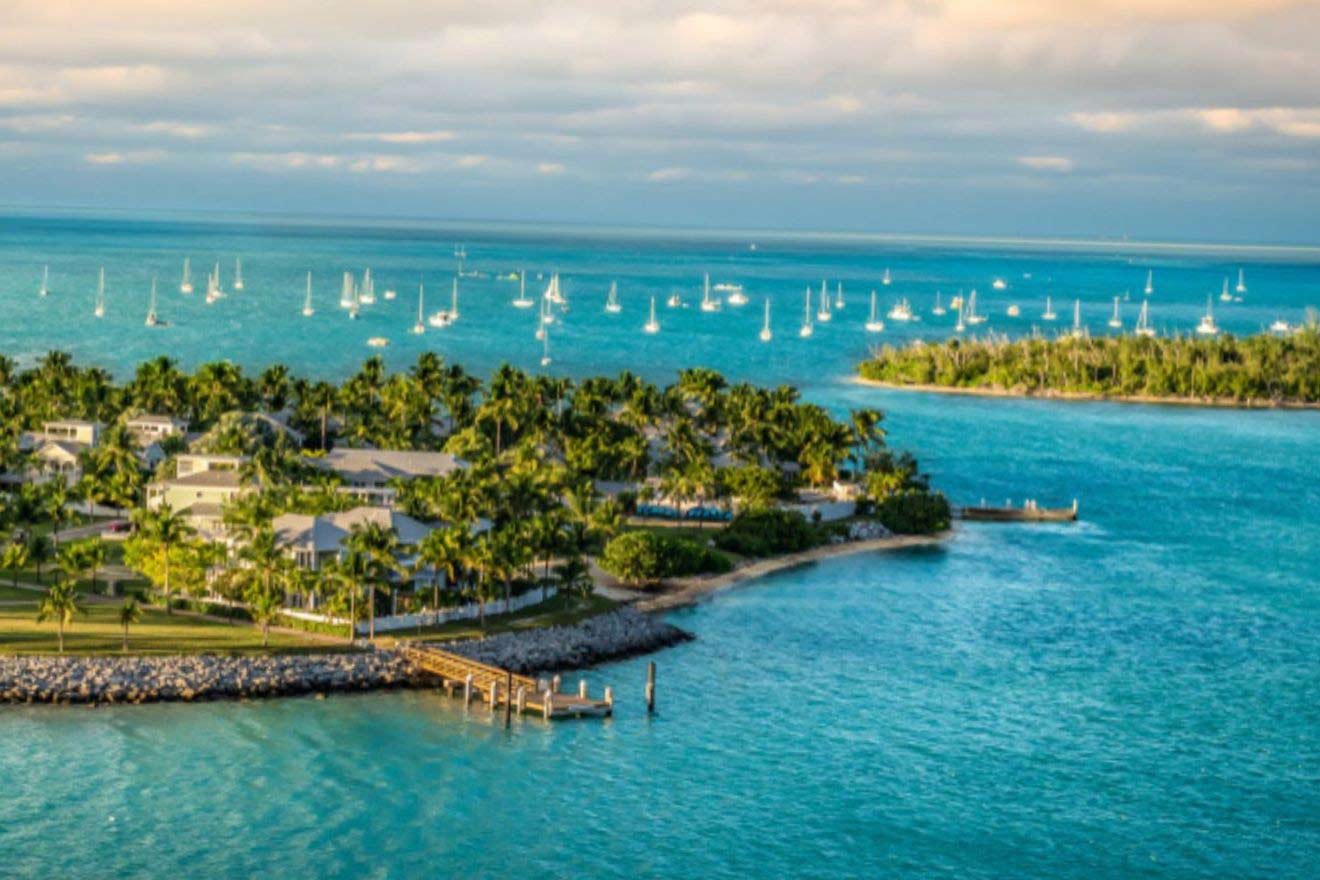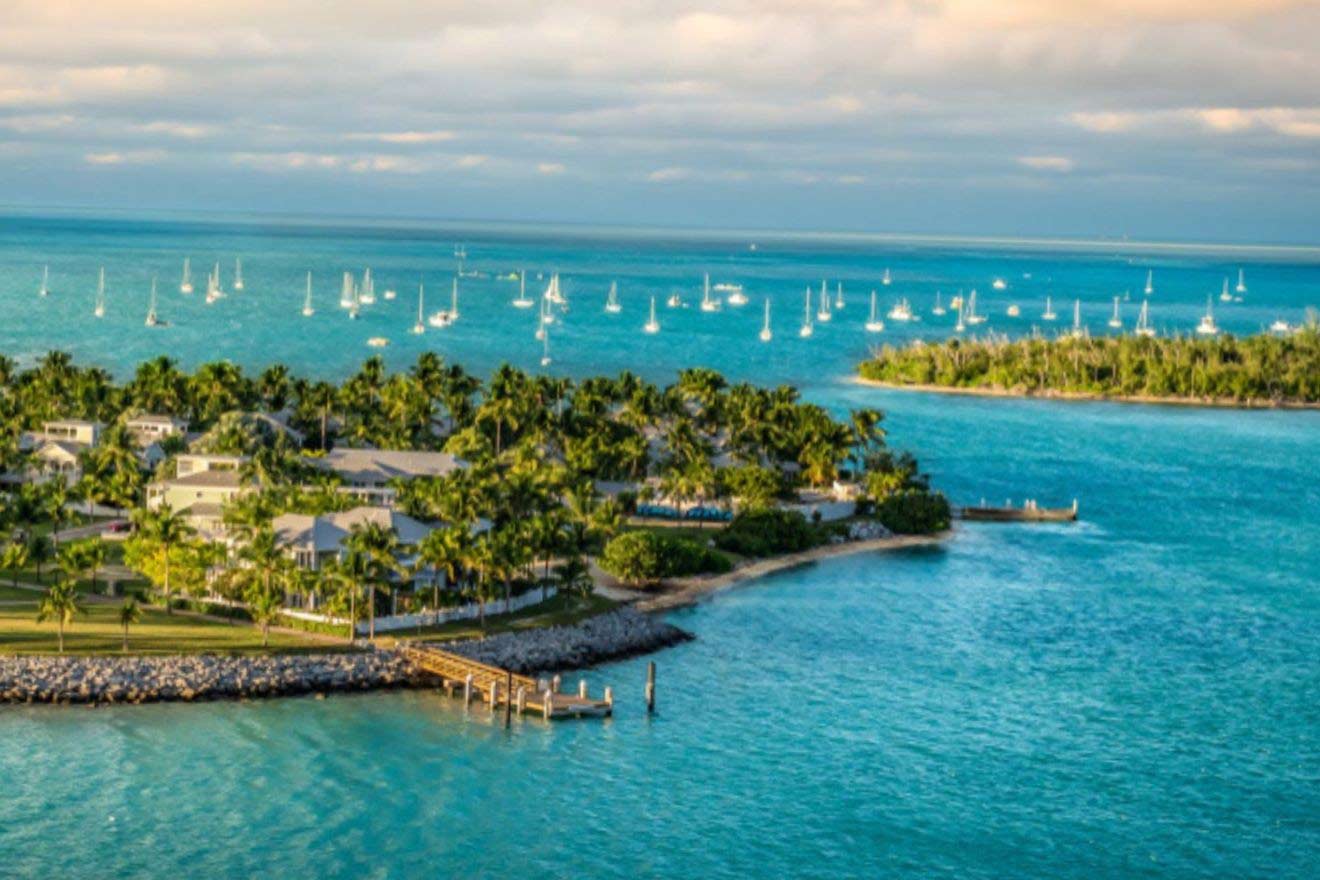 The West Coast has a totally different vibe than the East Coast. For one, the West Coast is embraced by the Gulf of Mexico, while the East Coast is along the Atlantic Ocean.
The Gulf is famous for its warm, shallow, and protected waters, while the East Coast of Florida has the vastness of the Atlantic Ocean that is not protected by a Gulf.
All of the islands off of the West Coast are really special to visit for a weekend getaway with loved ones. Marco Island, Sanibel Island, and Anna Maria Island are some of the most popular West Coast destinations for a weekend trip. I highly recommend checking out some of these islands for their small-town charm and incredible nature and beaches.
If you're looking for somewhere to stay on Anna Maria Island, I recommend this cute little stay right in Anna Maria! It's so beachy and relaxed, and it's perfect for getting around on your weekend getaway! You'll be an easy walking distance from Anna Maria Island's beaches and the pier, too!
Book Your Stay in Anna Maria Island
6. Take a weekend trip to the Palm Beaches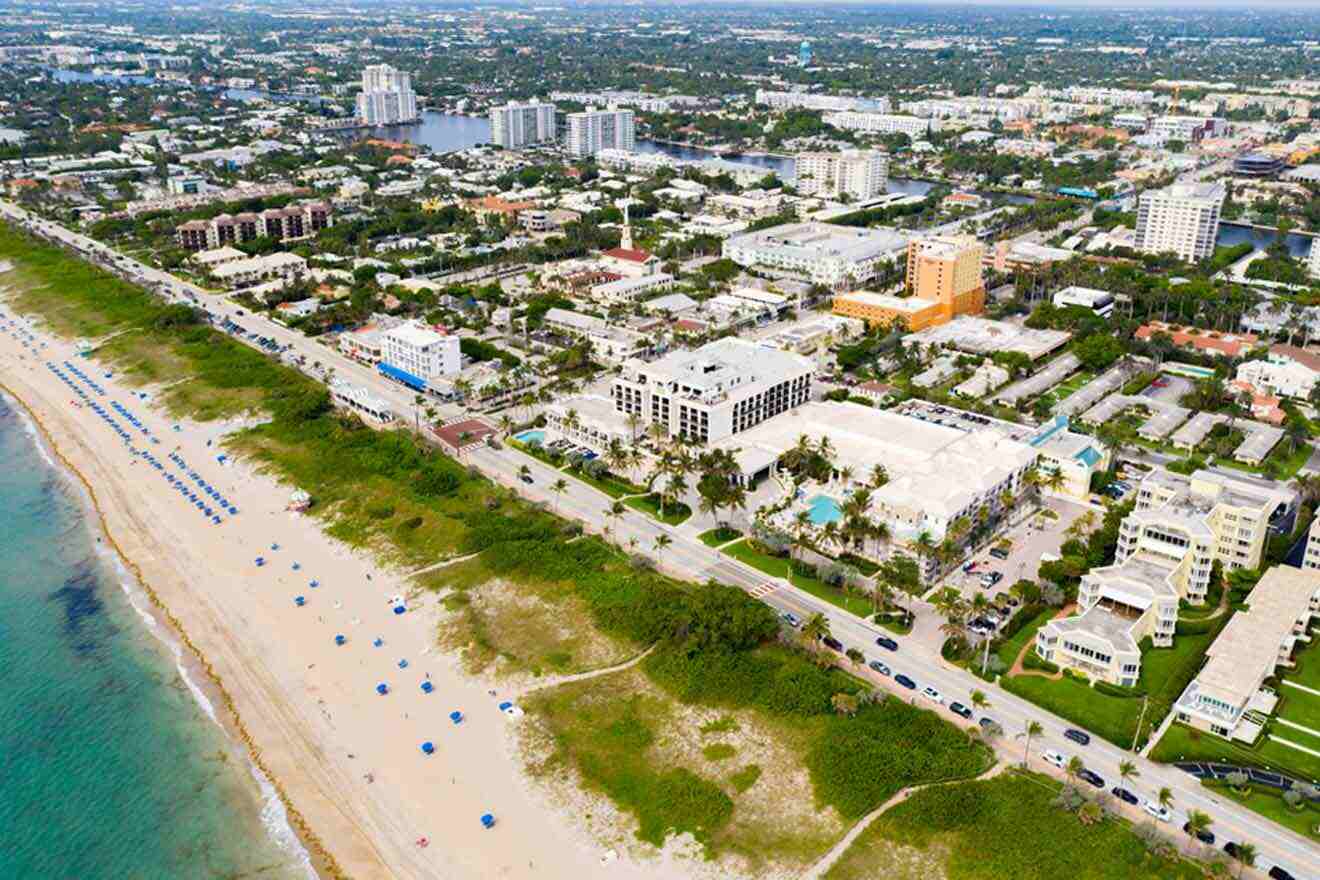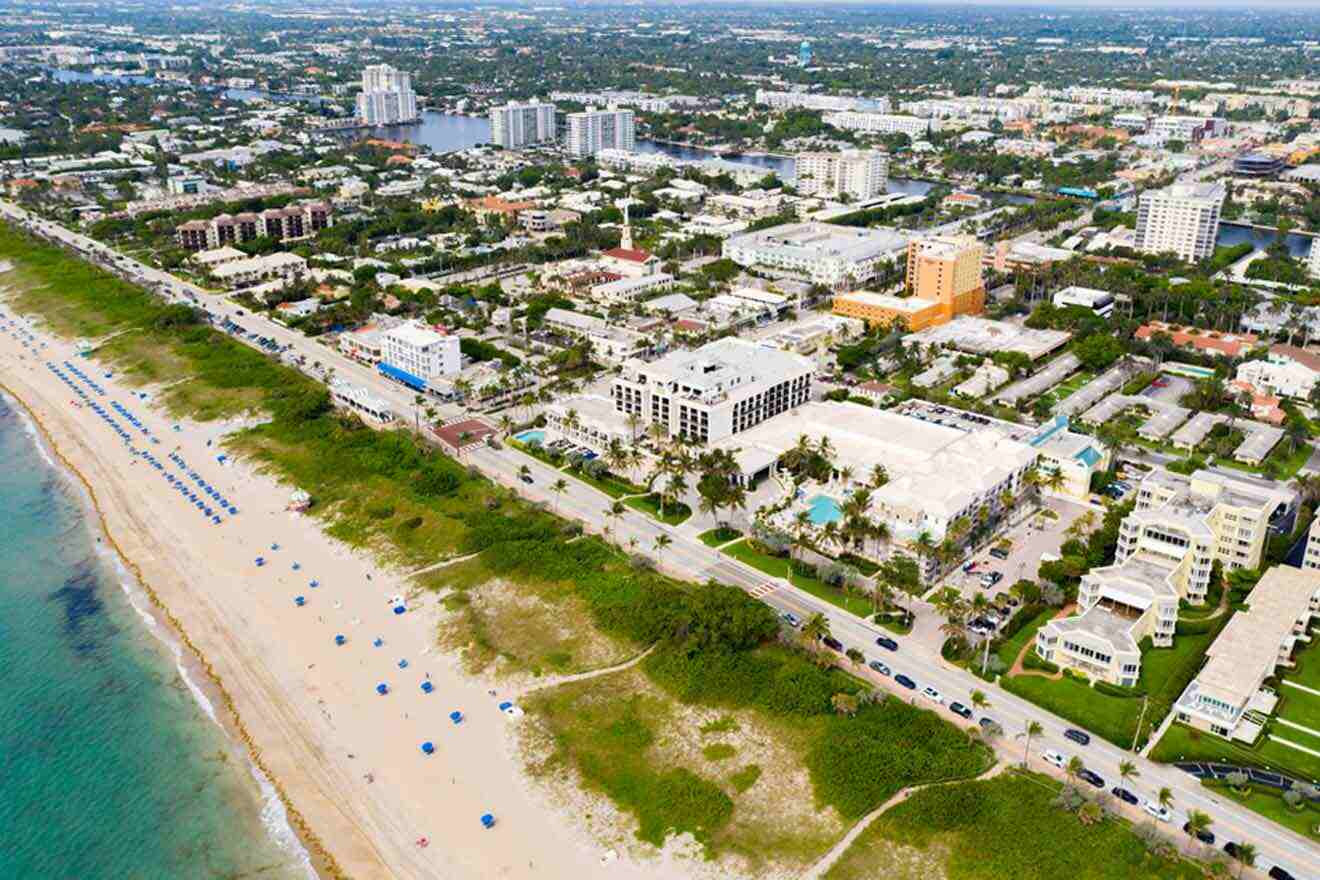 Located in Palm Beach County, there are so many beautiful beaches that make for a wonderful weekend getaway in Florida. You can choose from Palm Beach, West Palm Beach, Jupiter, and Boca Raton.
All of these destinations make for a memorable and romantic weekend getaway. Lined with coral reefs, the beaches in Palm Beach County are some of the clearest and brightest on the East Coast!
All of the Palm Beach cities have different things to offer. However, the common thread through them all is the pristine beaches.
There are also endless water activities available for locals and visitors alike to enjoy. There is such a diverse array of activities you can do in Palm Beach County. You will never tire of things to do!
Among some of the fun things to do in Palm Beach County are catching the impeccable sunrise at Delray Beach, diving for eels at the Blue Heron Ridge, and getting your adrenaline going at the Rapids Water Park!
My favorite place to stay in West Palm Beach is the Mediterranean-style Grandview Gardens. This picturesque and super romantic stay is perfect for both the solo traveler and couples!
Book Your West Palm Beach Stay
7. Get the classic Miami experience on Miami Beach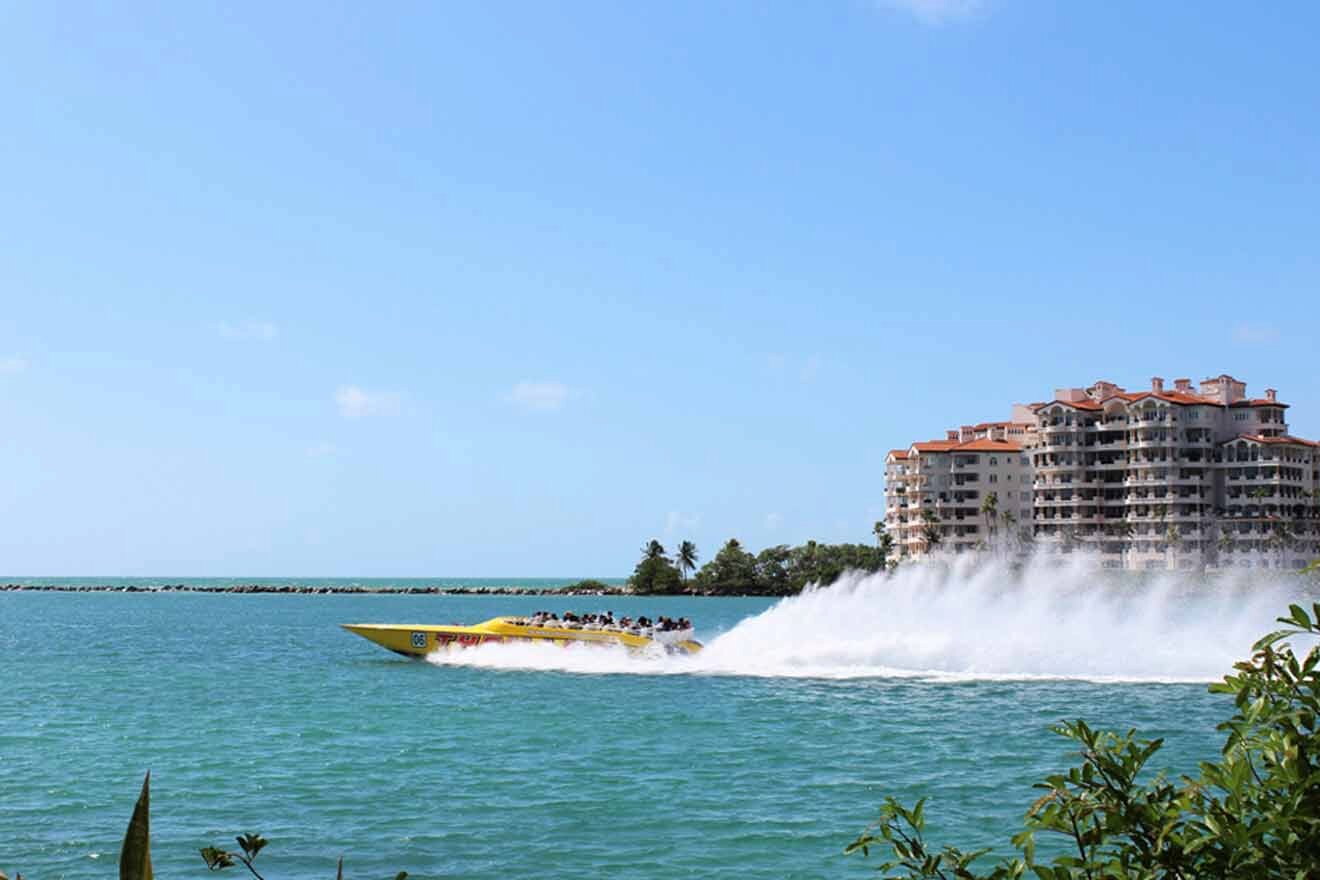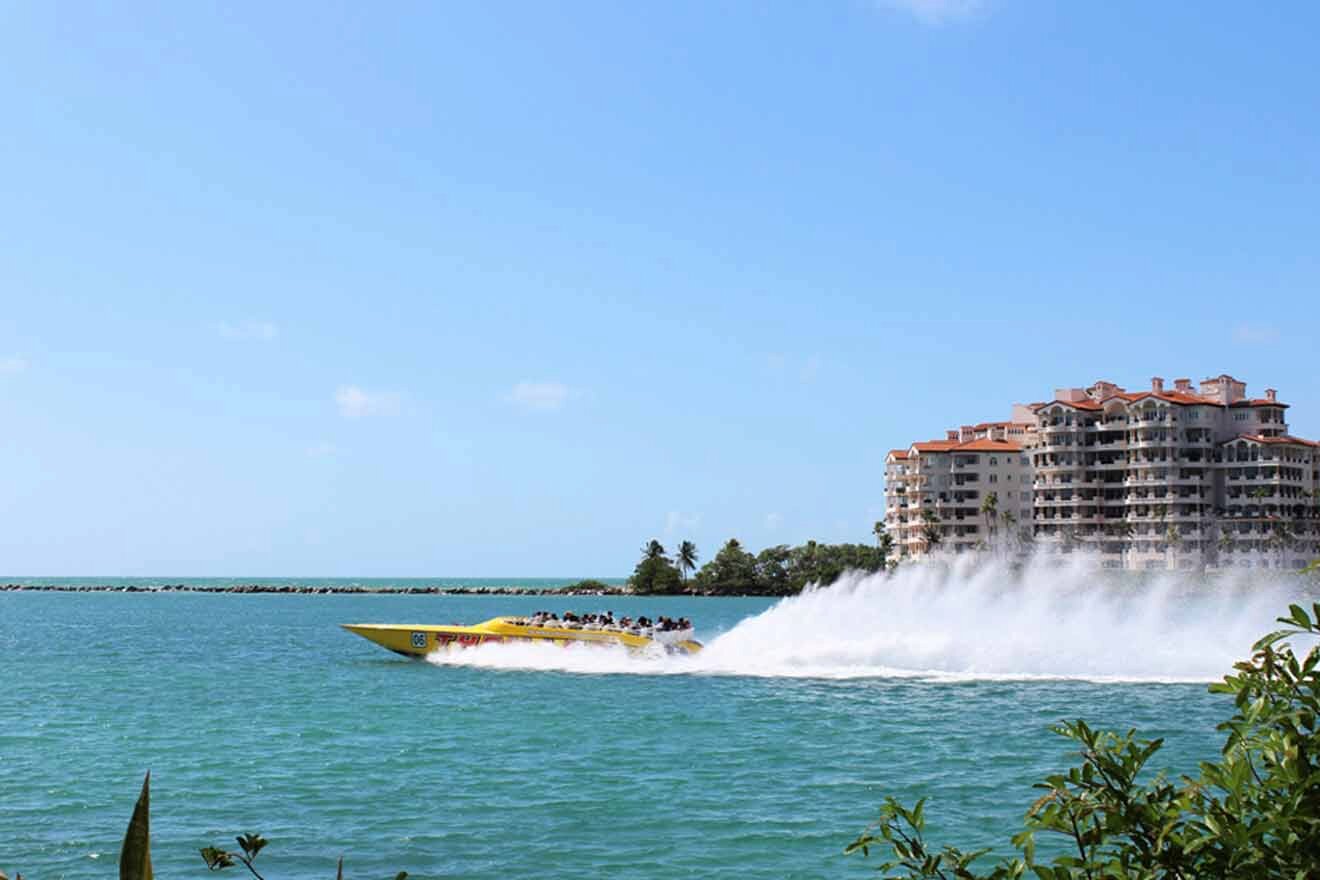 Miami Beach is one of the best weekend getaways in Florida for those looking for a nice beach getaway and to get a taste of Miami!
If you've never been to Miami, a weekend trip to Miami Beach should be on your bucket list.
This is a great weekend getaway for couples and solo travelers who are looking to indulge in some romance and experience the magic of the Magic City!
I love visiting Miami Beach because it is walkable, and you're always only a few steps from the beach. You can expect incredible ocean views, amazing food, and a vibrant nightlife scene.
My favorite part of this Florida weekend getaway is waking up and walking to the beach.
I also love how lively the beach is! There are coconut and other tropical food vendors, places to get a drink on the beach, and so much fun to be had. And how about a speedboat sightseeing tour? There's no better way to see the sights!
Not to mention, the water is always absolutely gorgeous, and the vibe is so much fun. You can also visit the Miami Beach Botanical Gardens on your trip, which is a really special and beautiful experience.
Last time I went with my partner, we stayed at THE BEST hotel, right on the beach, Hotel Croydon! It is literally steps from the beach and has a lovely and charming aesthetic and restaurant/bar, as well as incredible rooftop views!
8. Take a road trip to the Florida Keys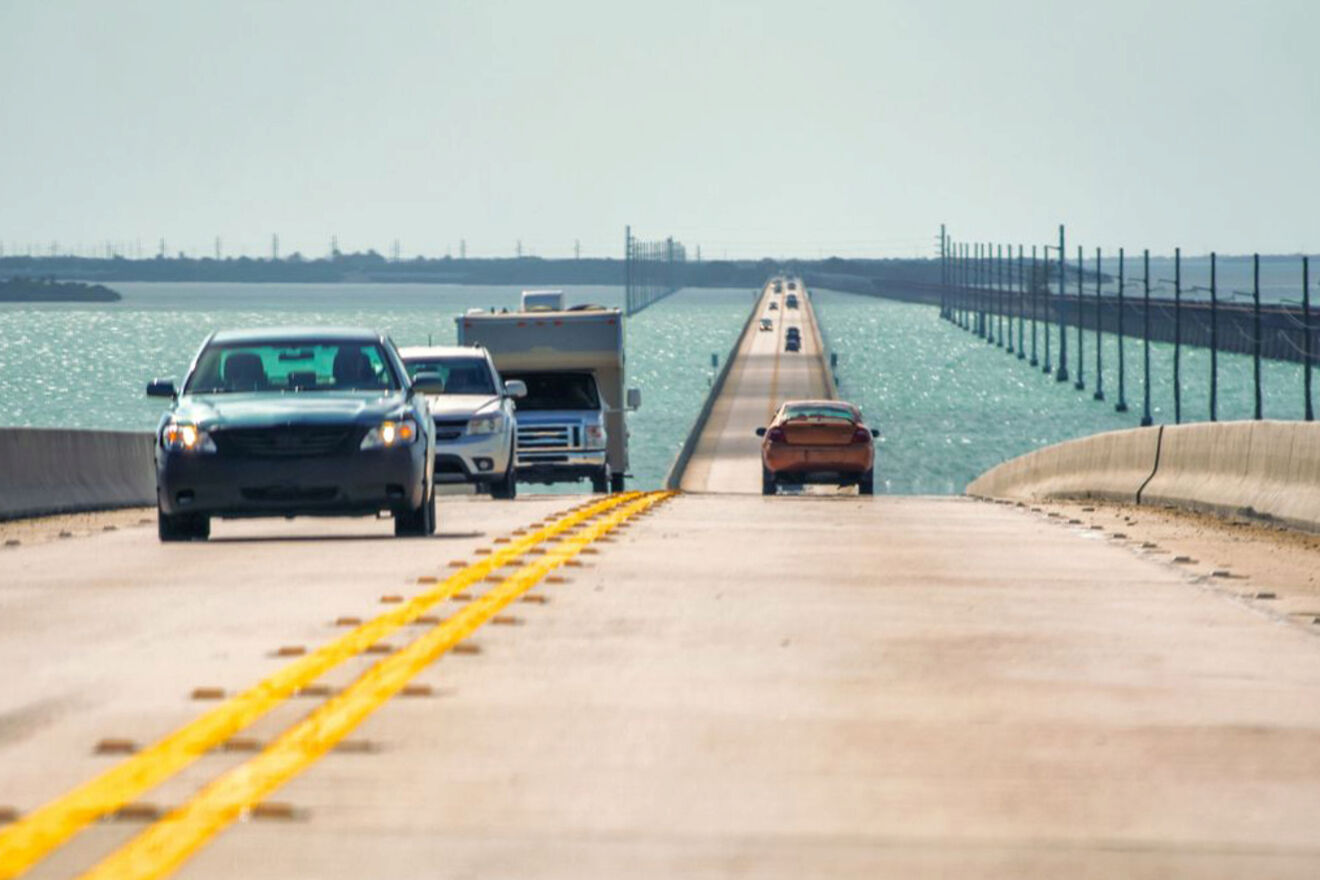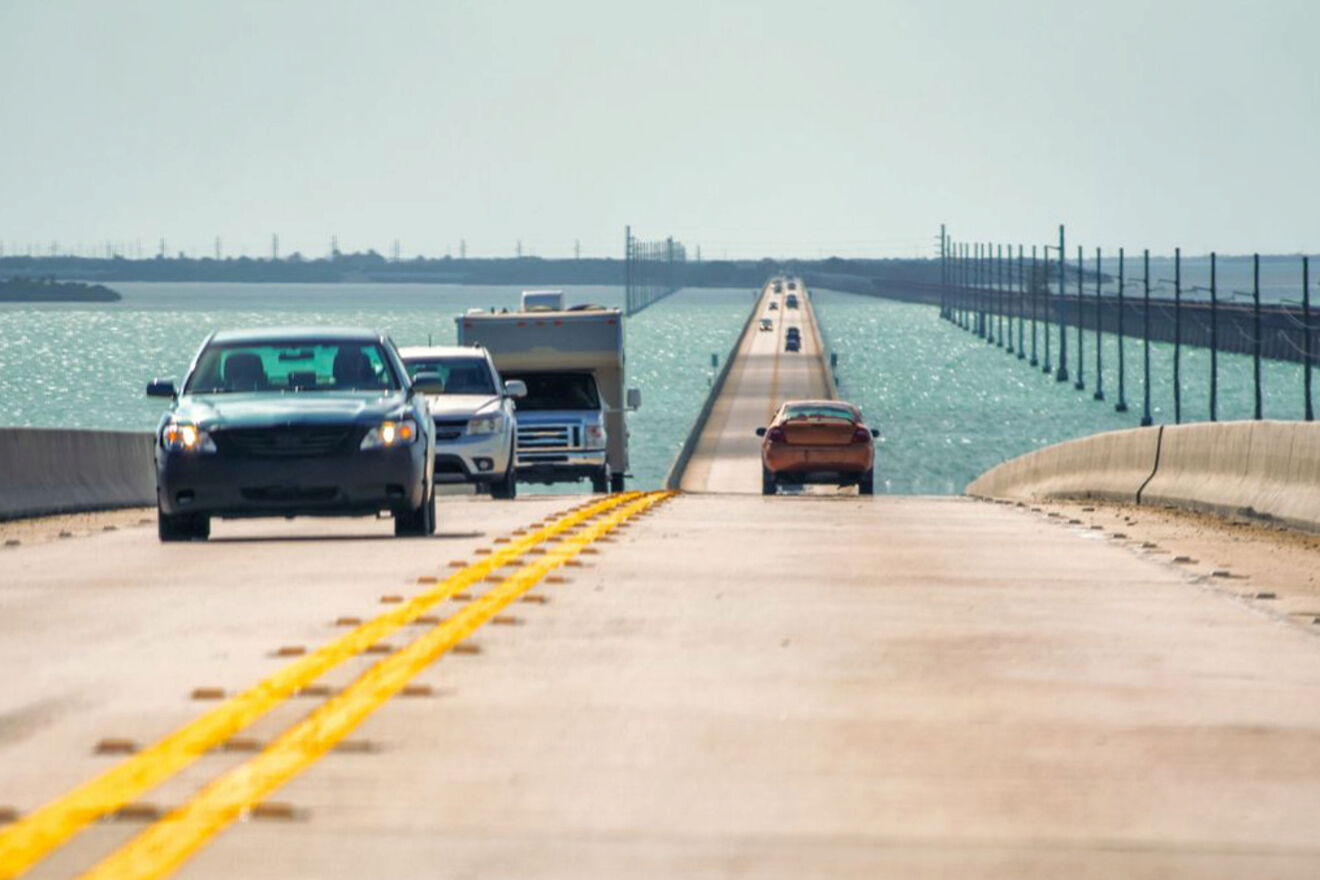 This list of weekend getaways in Florida would not be complete without mentioning the famous Florida Keys!
The Florida Keys are probably one of the most popular weekend getaway destinations in Florida. This is primarily due to their impeccable beauty and Caribbean feel. After all, Cuba is only 90 miles from Key West! In fact, Key West is actually closer to Cuba than it is to Miami!
The Florida Keys are made up of hundreds of small islands scattered about off Florida's southern coast. There are so many islands to enjoy, places to see, places to eat, and adventures to be had in the Florida Keys.
The Florida Keys make for an excellent getaway with the family, with a loved one, or by yourself for some relaxation and reflection.
The Keys have so much to offer all sorts of different travelers. Key West has so many different beaches, tours, restaurants, and things to do even though the island is only about 7 miles long in total!
From every water sport you can imagine to adventurous nature tours, seaplane adventures, camping, hiking, and so much more, the Keys are just filled with potential for unforgettable memories! A great example is this AMAZING sunset sail with a full bar (!!!) in Key West!
The Truman Hotel, a trendy boutique hotel located in downtown Key West, is the perfect place to stay for couples and families alike! There's a calm poolside area where you can relax and have a drink after a day of sightseeing 🙂
Book Your Key West Boutique Stay
9. Take the family to Walt Disney World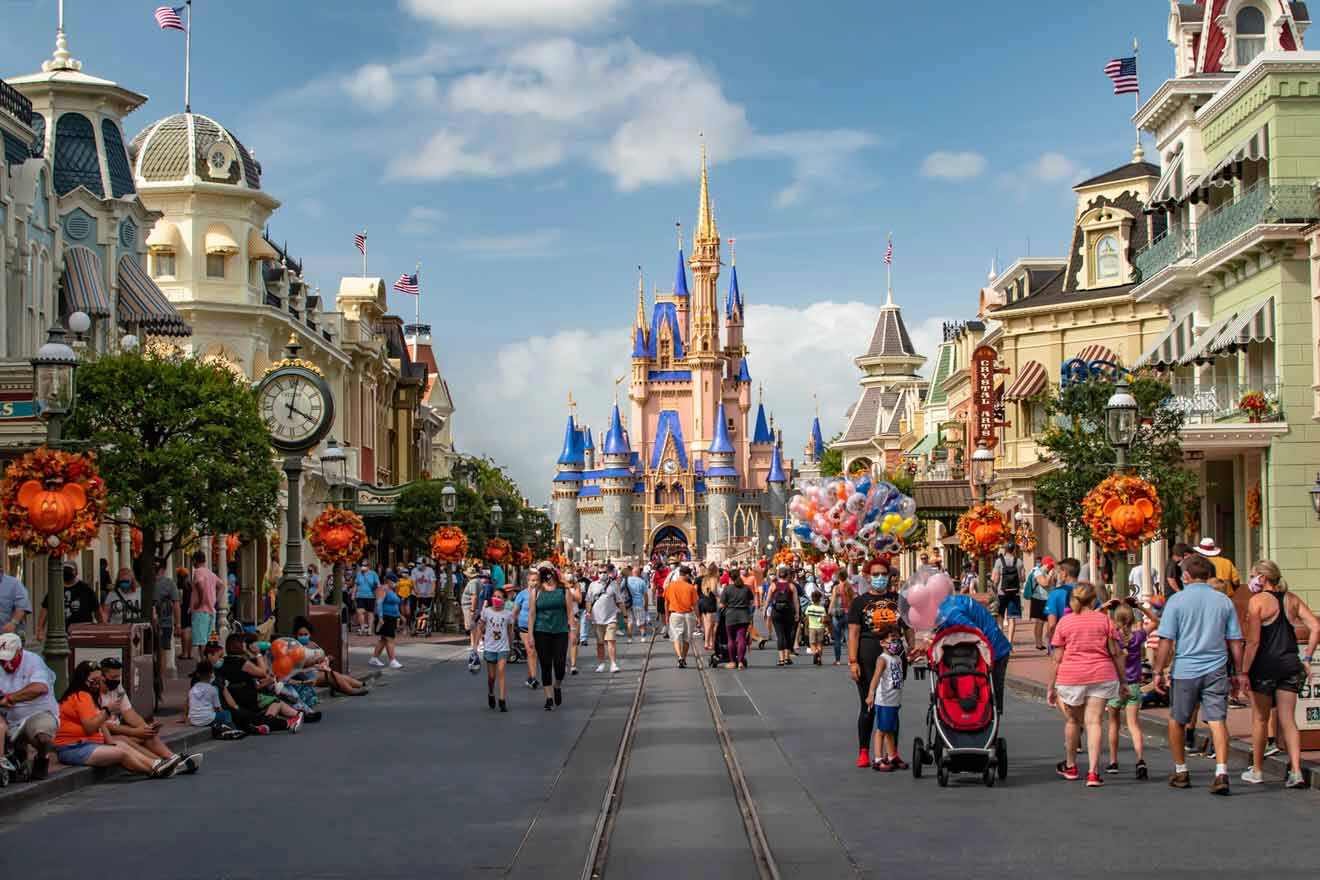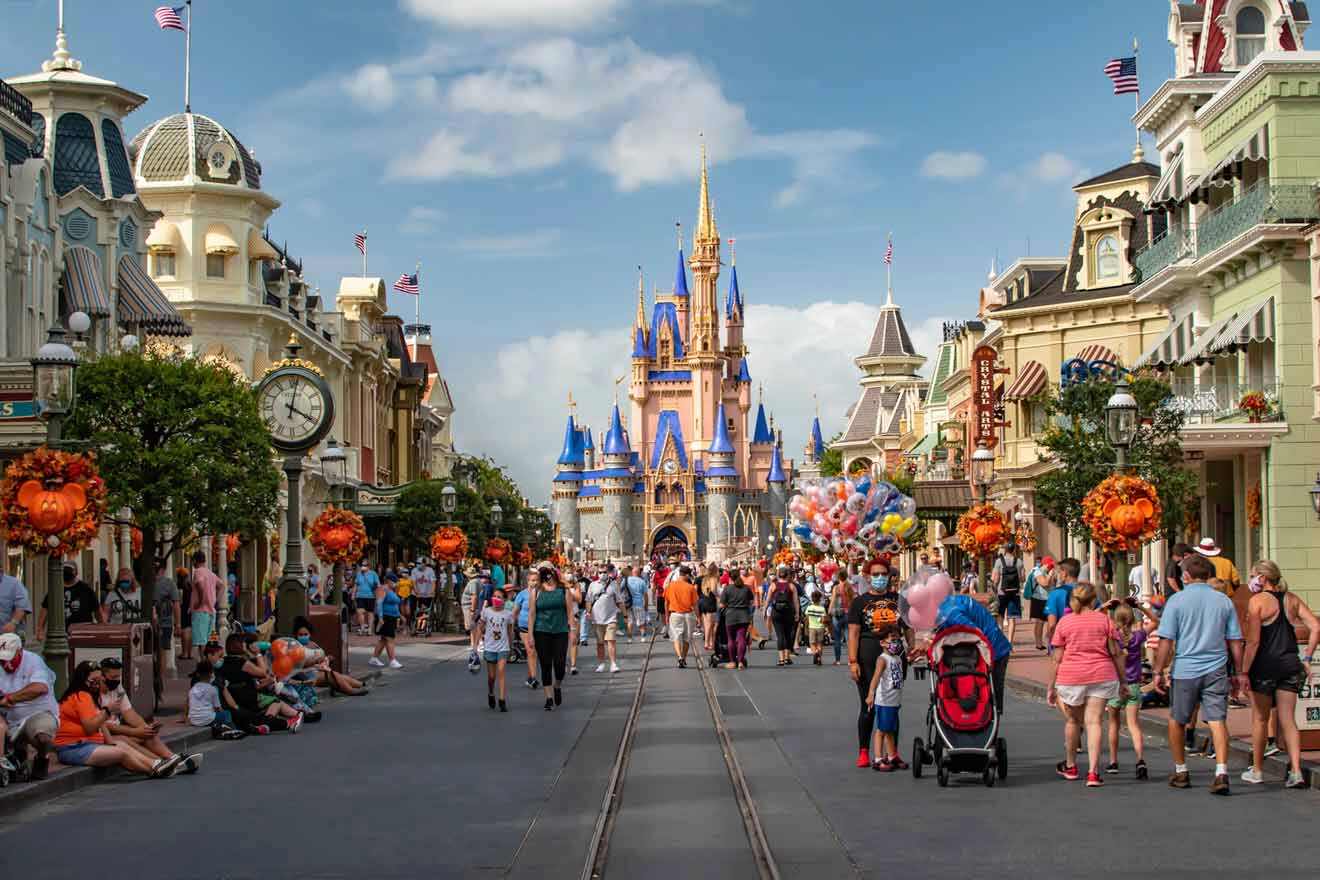 Your family will absolutely love taking a weekend getaway to Walt Disney World!
There is so much to do at Disney, your family will never run out of fun things to do! From rides to interactive experiences to shows, meeting your favorite Disney characters, and so much more.
Not to mention, Disney has some great food options for all those foodies out there!
Even if you don't plan on going to Walt Disney World for the rides, you can enjoy more adult activities at Universal Studios and Epcot! If you're planning your trip to Disney World, you should definitely check out our ultimate guide to make your journey as smooth as possible!
Don't forget to book your tickets, you'll want to be as prepared as possible if you're going to Walt Disney World!
The Walt Disney World Dolphin is one of the best places to stay near Disney in Orlando. Located in the Disney World Resort, you can access Epcot, Disney's Hollywood Studios, and Disney's Boardwalk by water taxi! This is the quintessential Disney resort hotel with over five different outdoor swimming pools, a spa, and four different hot tubs.
Book Your Walt Disney World Tickets
10. Be one with nature at Wekiwa and Rock Springs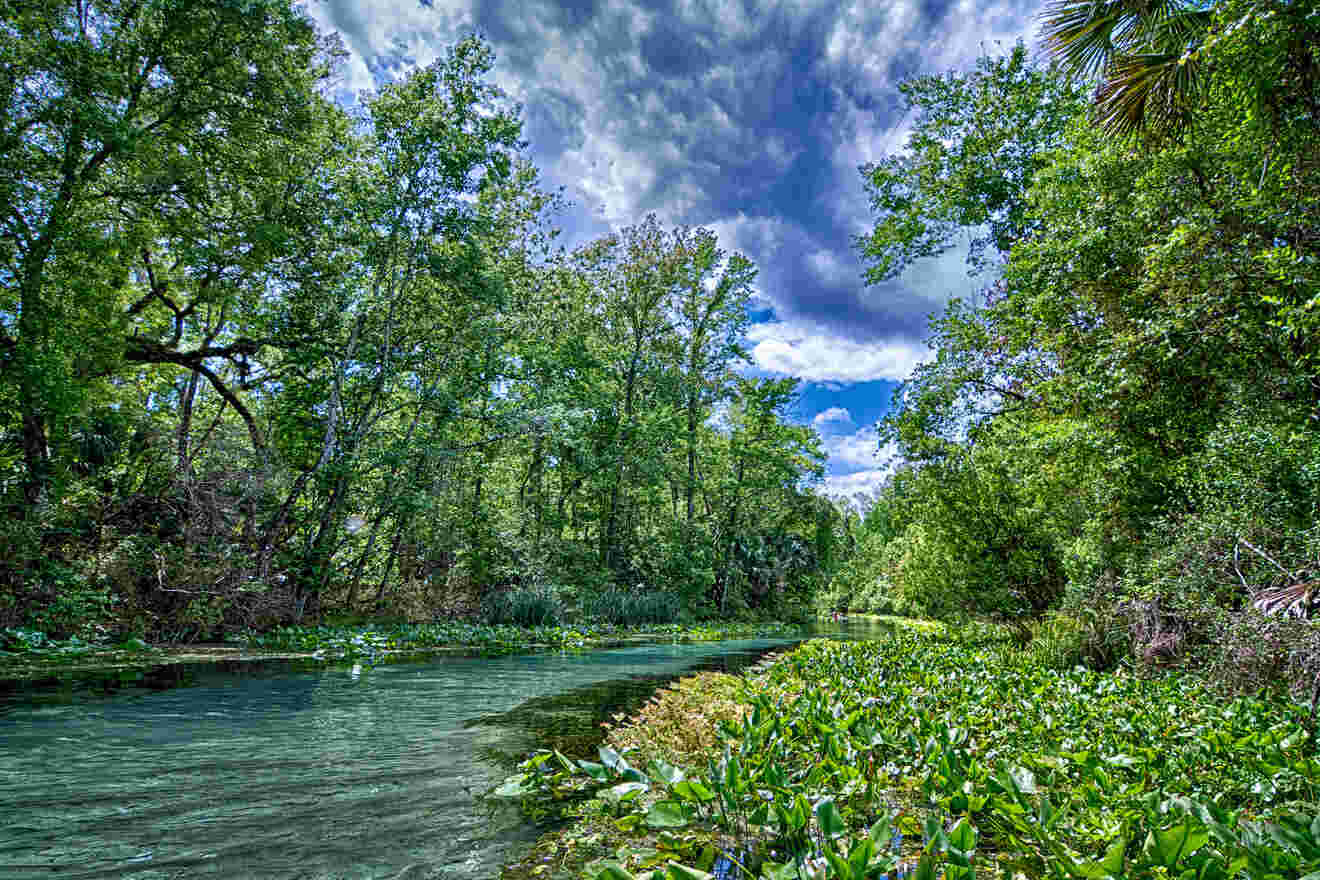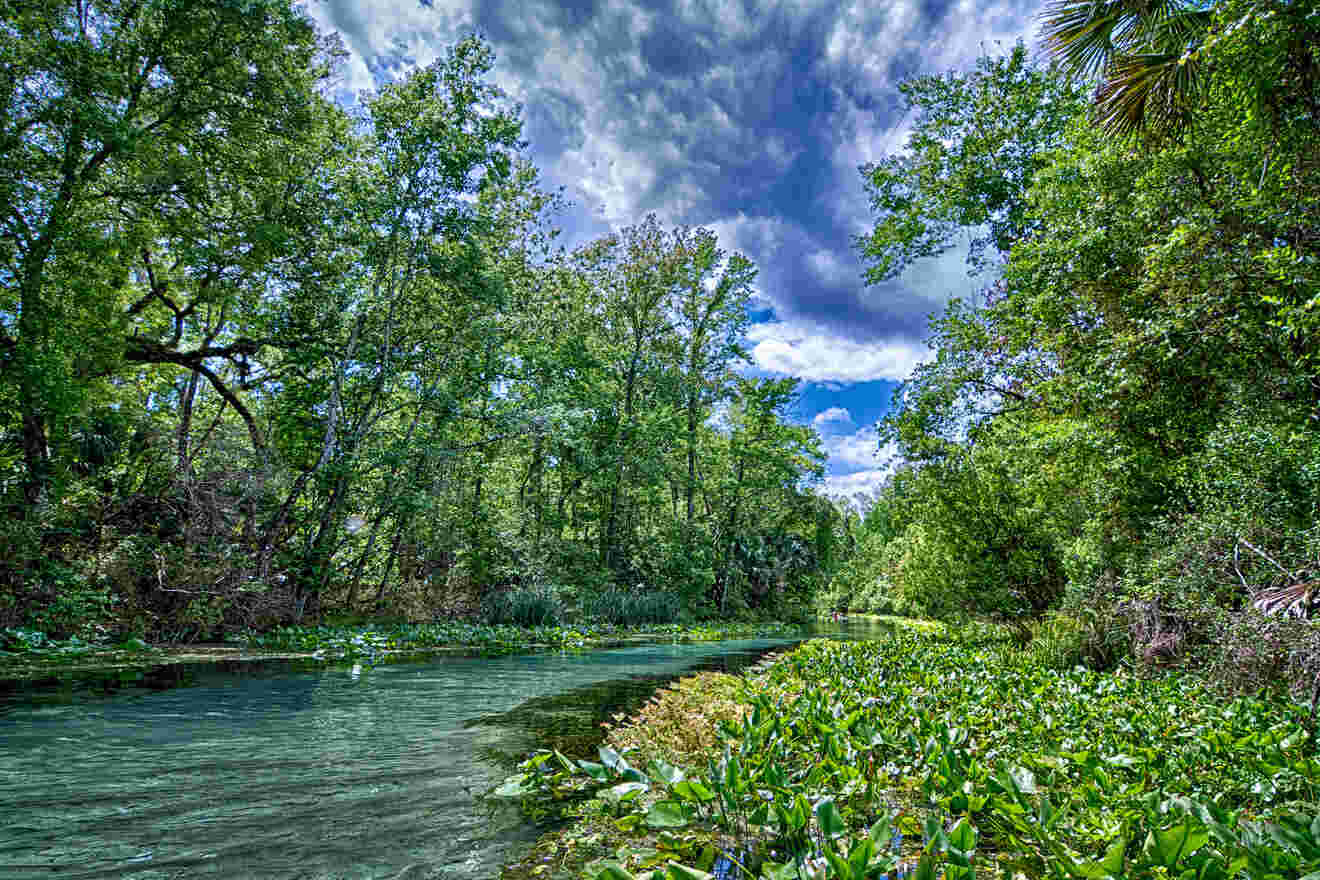 Orlando has so much more to offer than the usual theme parks! Orlando is surrounded by national parks and natural artesian springs that are absolutely breathtakingly beautiful.
While Orlando is inland, it is no stranger to the tropical water vibe. Between the crystal clear blue water lined with palm trees and other tropical ecology and the varying species of birds and other wildlife, you will feel like you have been transported to a serene and tranquil tropical oasis.
Wekiwa and Rock Springs are both the perfect places to plan a romantic getaway with your lover in Florida.
As a local, the springs are my favorite place to unwind and be one with nature. The fresh crystalline water paired with the jaw-droppingly beautiful nature makes for a truly incredible once-in-a-lifetime experience.
If you want to be close to the springs, I recommend staying at the Hilton Garden Inn in Apopka, which is centrally located right where all the springs near Orlando are. There's a pool AND evening entertainment after a day at the springs!
Book Your Florida Springs Stay Here
11. Go shelling on Sanibel Island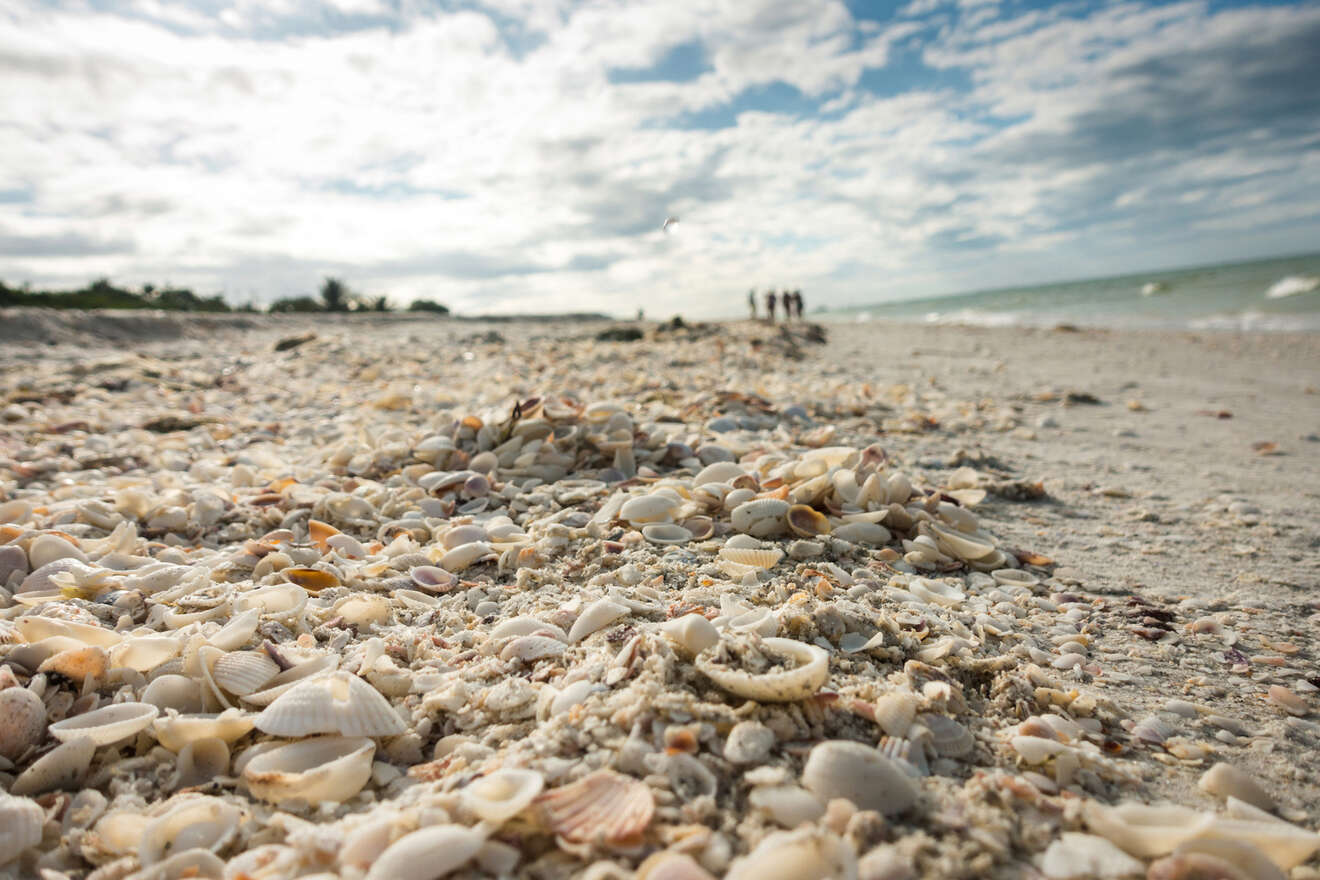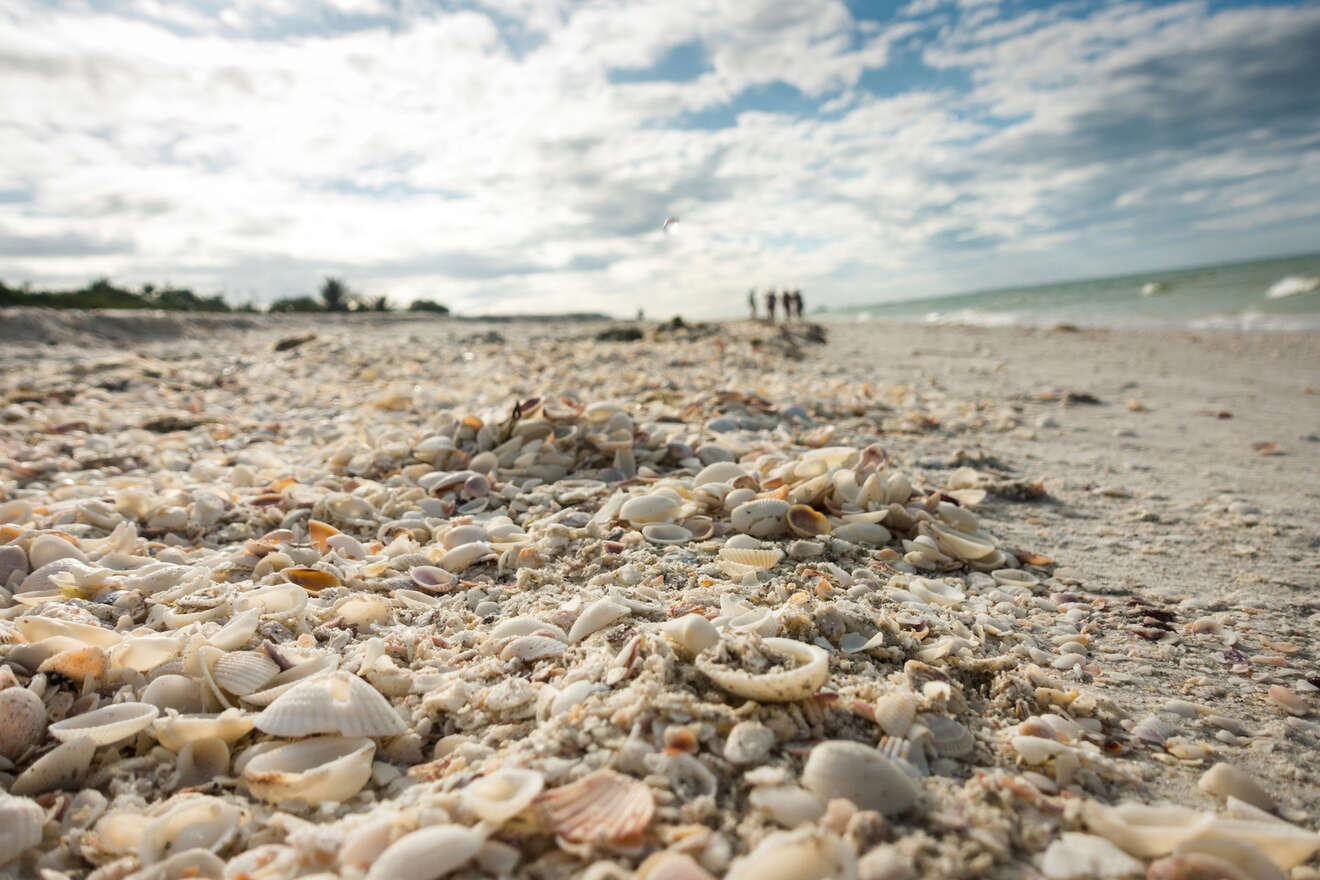 Sanibel and Captiva Islands are some of the best places to go shelling in all of Florida. The West Coast of Florida is well known as one of the shelling capitals of the world. You can find some of the most unique and beautiful shells in Sanibel and Captiva Island, so don't miss out on doing some shelling while you're there!
Visiting Sanibel and Captiva Islands, sometimes called the sister islands, is one of the best weekend getaways in Florida. Charming islands with an even more charming beach town surrounded by clear tropical waters sounds like the ideal weekend getaway to me!
Captiva Island even has a Christmas-themed restaurant!
So where should you stay on Sanibel and Captiva Island? Check out our post on the 3 most amazing areas and hotels to choose from!
12. Adventure to Key Biscayne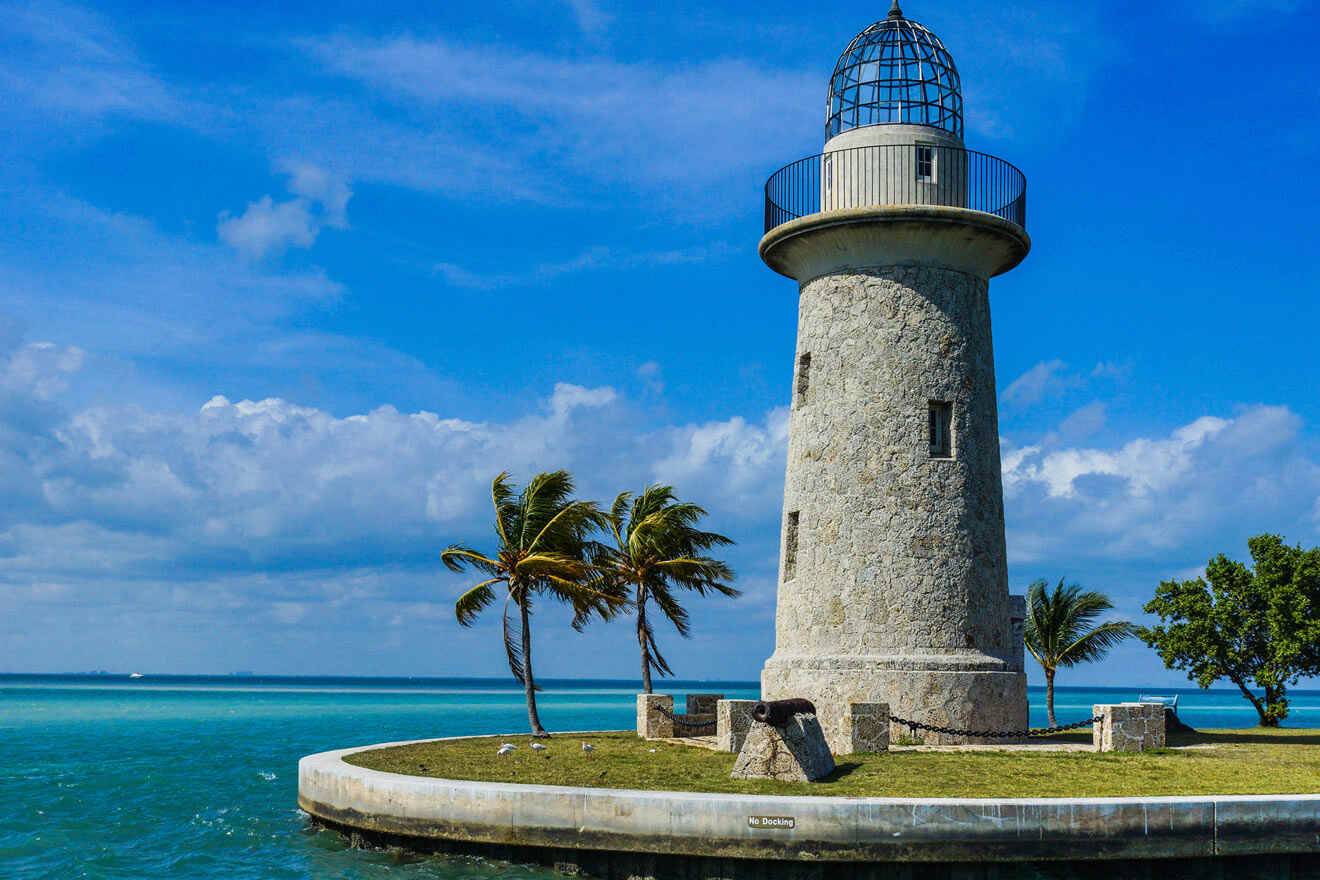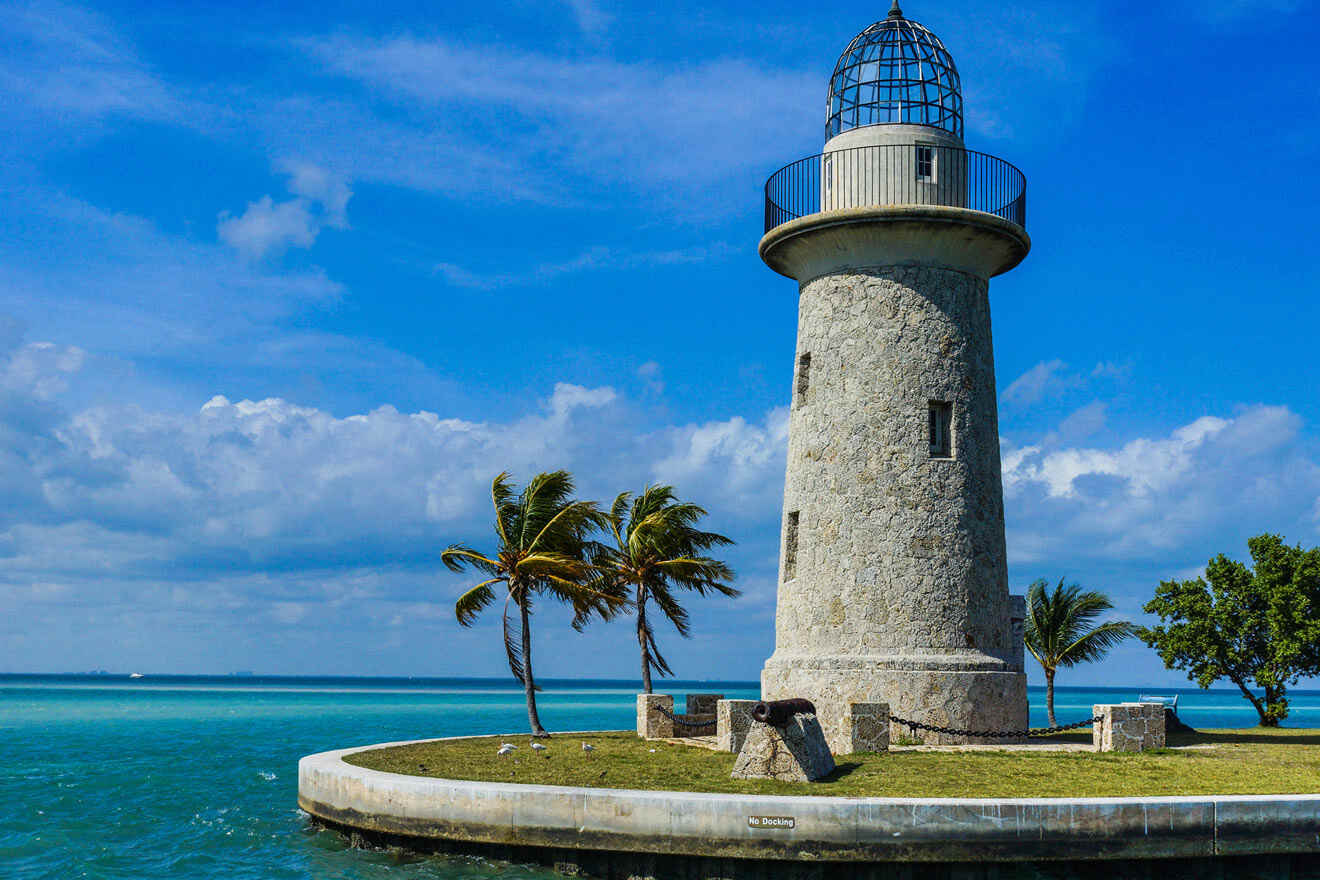 Key Biscayne should definitely be on your list of the best weekend getaways in Florida. Despite the name, Key Biscayne is not in the Florida Keys and is in fact located only 25 minutes outside of Miami.
Key Biscayne has some really incredible untouched nature that showcases what Miami may have looked like before development and colonization.
Make sure that you check out Bill Baggs Cape Florida State Park on your trip to Key Biscayne for some impeccable wild Florida beauty!
Alternatively, if you are into golf, be sure to check out the Crandon Golf Course on your trip to Key Biscayne.
Another gorgeous place to see the untouched Miami wilderness is Crandon Park. You can totally spend the day exploring Key Biscayne and finding cute little beaches and islands to splash around and soak up the sun.
Looking for a place to stay for your weekend getaway? Beach Haus is perfect! You get your own apartment AND there's a pool!
Book Your Stay at the Beach Haus
13. Visit Naples for the weekend
Naples, Florida, is a wonderful place to visit and should be high on your list of weekend getaways in Florida!
Naples is located on Florida's southwestern coast and has all the best things about the west Coast while not being too far from Miami.
Naples has gorgeous ocean views and some of the best beaches in all of Florida! One of the best things about visiting Naples is driving down Alligator Alley from the East Coast to the West Coast. Alligator Alley is famous for being an excellent gator-watching spot on the way to either coast.
When I visit Naples, I love to stay at the Cove Inn on Naples Bay. It's a beautiful little hotel with incredible views and a central location!
I've also stayed on the sweetest little farm in Naples through Airbnb. They had a forest, lush, abundant nature all around, horses and goats, and a pool and sauna. This was the perfect place to stay for my partner's birthday. We were immersed in nature and got the luxury of being poolside and taking a sauna!
If you happen to go for a special occasion like a birthday or otherwise, the host at this Airbnb stay is a Michelin-star chef and he made the most incredible vegan birthday meal for my partner and me!
Fancy a cool boat tour while you're in Naples for the weekend? This sightseeing boat tour takes the cake! You'll see all sorts of wildlife and see Naples from the water, which is the best way to travel!
14. Have a quintessential beach getaway in Destin, Florida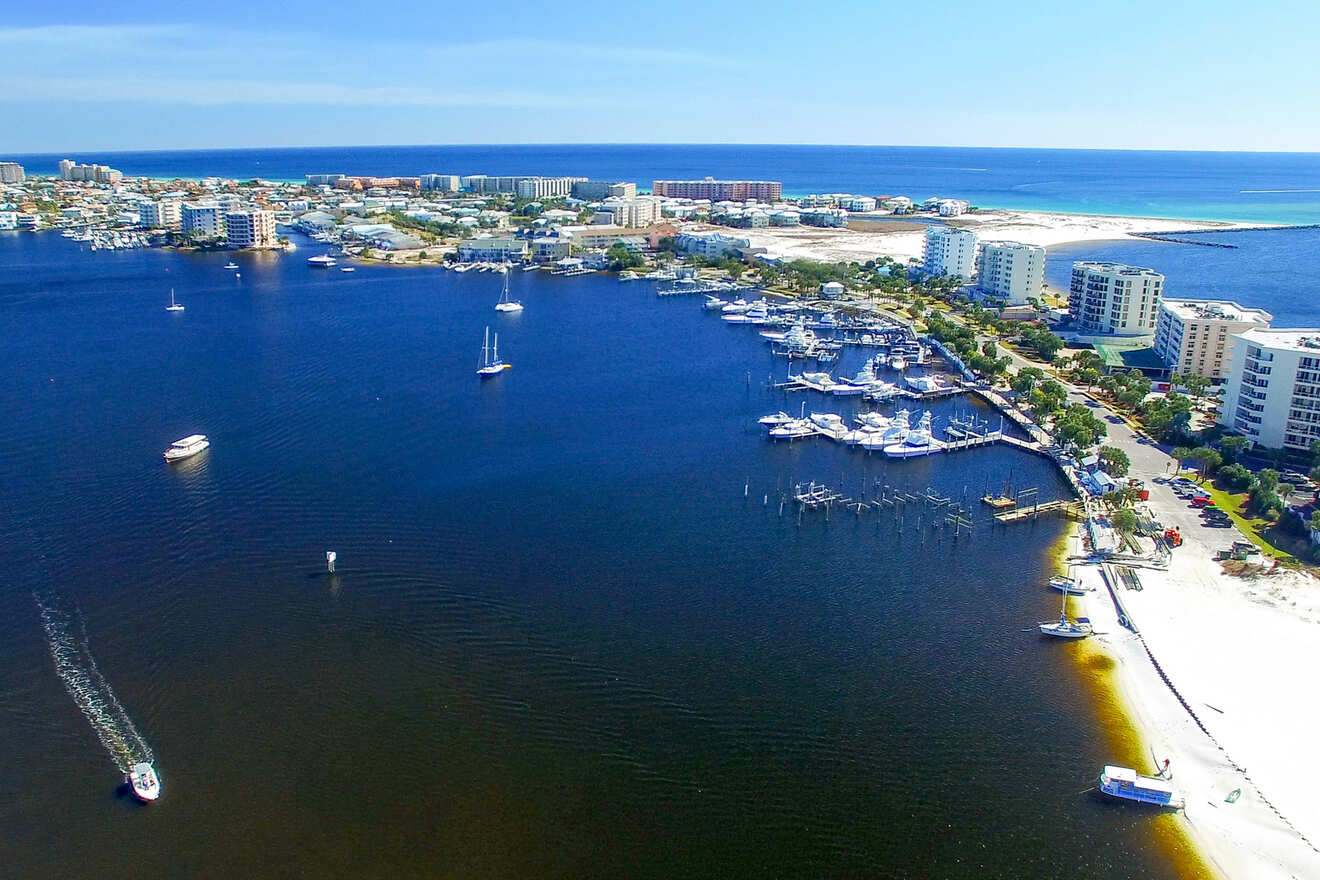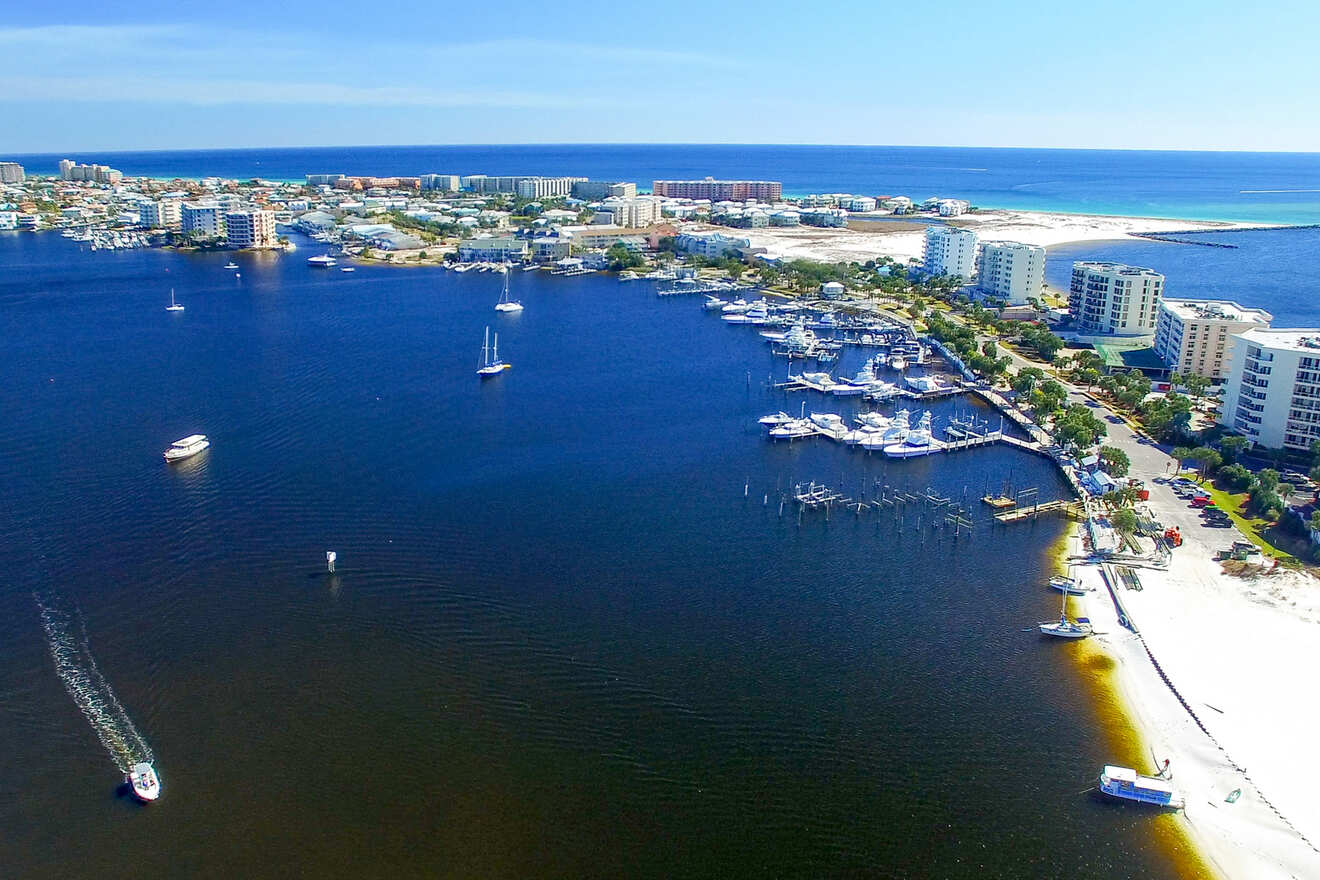 Destin is easily one of the most magical and beautiful places in Florida and should be high on your list for weekend getaways in Florida!
Destin is the creme-de-la-creme of beaches in Florida. Tucked into Florida's Gulf Coast, where the West Coast meets the Panhandle, this gorgeous Florida oasis is not one you are going to want to miss.
Lined with sugary white sand and crystal-clear warm waters, Destin is home to incredible restaurants, ocean views, state parks, and so much more.
Destin Beach has all the water sports you could ever dream of, as well as tons of different tours and fun activities to do with the whole family or with a loved one.
There are also a lot of sandbars in Destin that make for an excellent time to just lay back and relax in gorgeous shallow waters. Or, you can rent a boat and post up at one of these luscious sand bars!
You can stay in this absolutely gorgeous hotel while you're in Destin! It's so luxurious and even has a private beach area! I promise you won't want to leave!
15. Visit the manatee capital of the world in Homosassa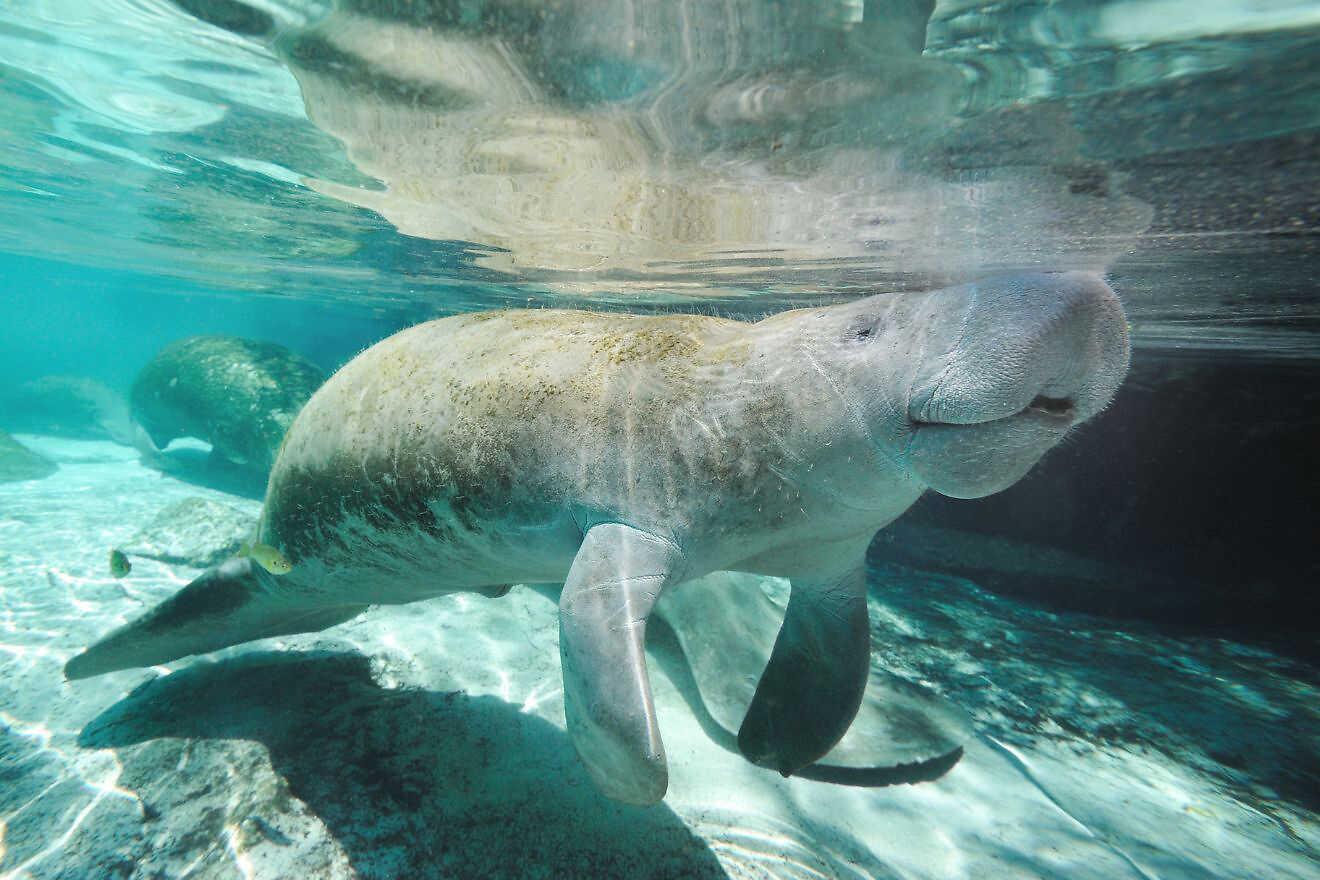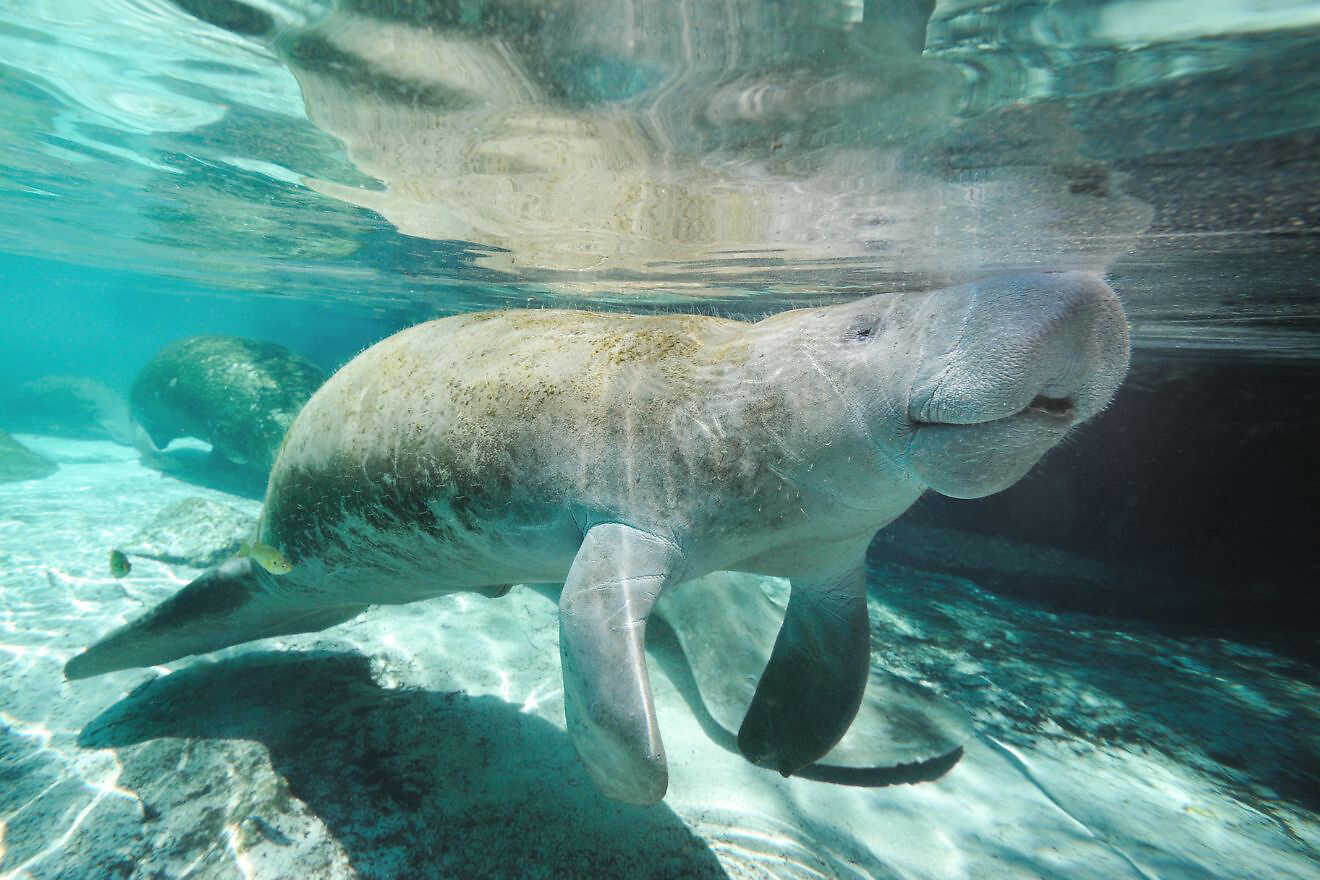 Homosassa is such a fun location and is definitely one of the best weekend getaways in Florida. There is so much to do in Homosassa, however, one of the most famous things to do is see manatees!
Homosassa is near Crystal River, which is one of the best places to see manatees in Florida! There are also multiple springs in Homosassa, like Three Sister Springs and the famous mermaid show springs, Weeki Wachee!
Weeki Wachee is one of the coolest things to do in Florida by far. This old-time Florida attraction is one of the only places with a live mermaid show and a gorgeous spring to splash around in.
The Homosassa Springs Wildlife State Park has an underwater manatee observatory where you can witness these gentle giants up close.
For your weekend stay you can book this super cool treetop bungalow! There are even barbecuing facilities and canoeing nearby!
16. Take your lover to Lovers Key State Park and Fort Myers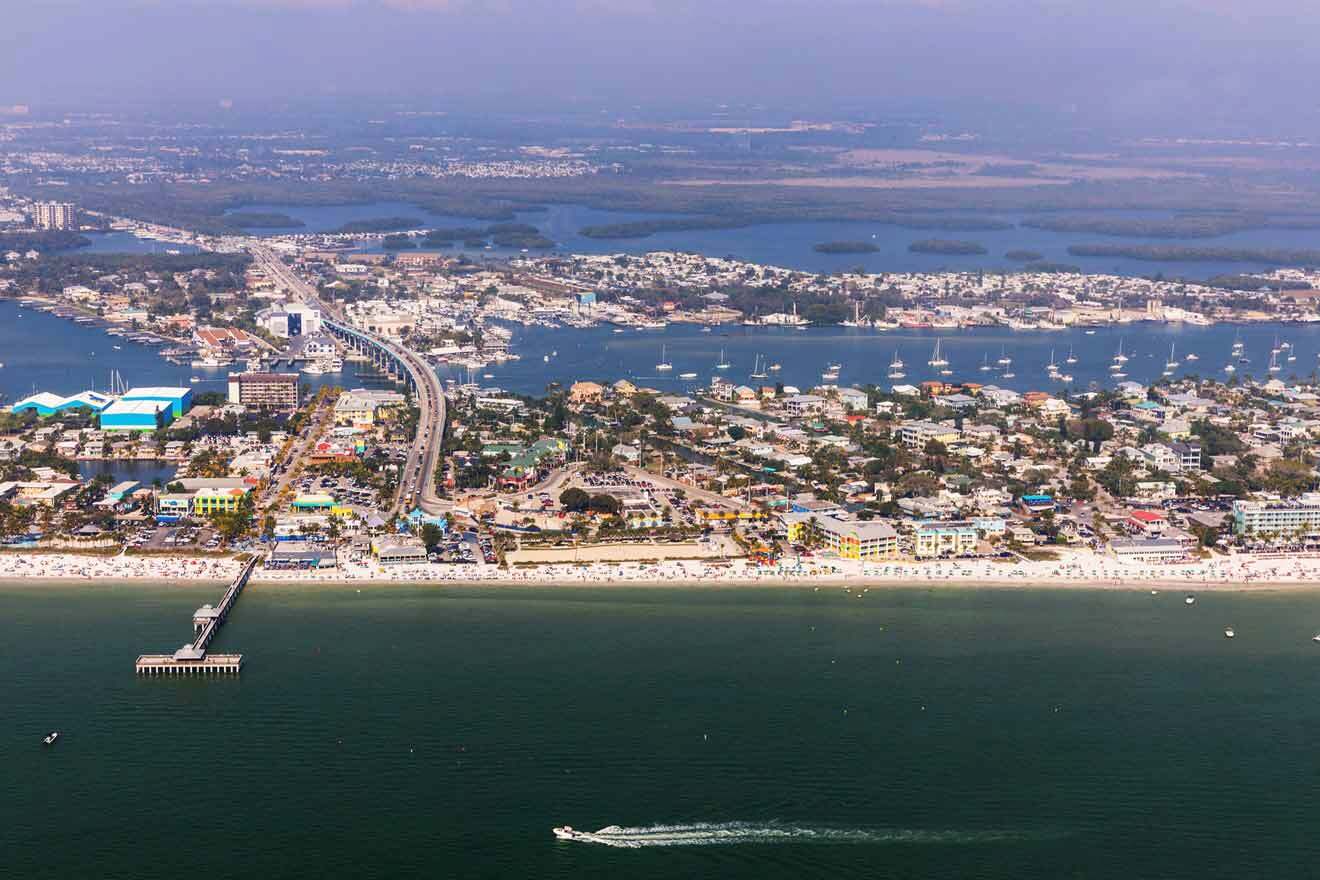 This weekend getaway paradise has endless seafood restaurants and incredible ocean views. Fort Myers is truly an incredible Florida oasis located on the West Coast.
Fort Myers also happens to be home to historic Edison and Ford estates which are now historic landmarks honoring some of the nation's greatest inventors!
Just around the corner from Fort Myers is Lovers Key State Park. Another place where freshwater meets saltwater, this is a heart-stirringly beautiful destination for lovers in Florida.
A truly romantic getaway, Lover's Key and Fort Myers make excellent destinations for a weekend getaway. Spot dolphins, manatees, wading birds, alligators, and so much more!
Fancy a heated waterfall pool? No problem, this amazing condo is just an 8-minute walk from Lovers Key! It's the perfect place to stay during your lovely weekend getaway!
For a little something extra during your stay at Lovers Key, you can take this amazing eco-tour of the Mangroves! You can choose between kayak, paddleboard, or canoe, and it's just the best day out for your weekend getaway!
17. Get the Miami experience in South Beach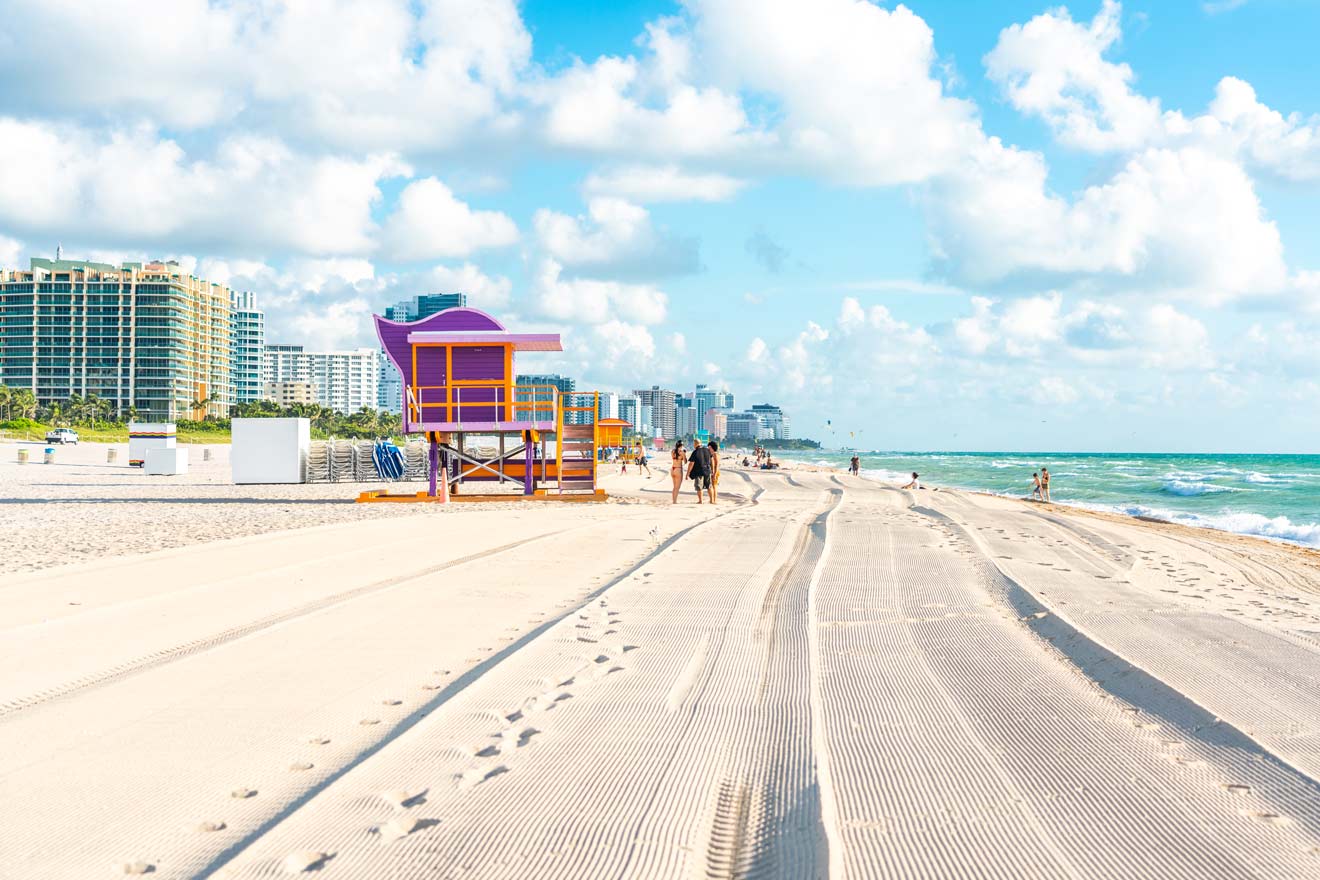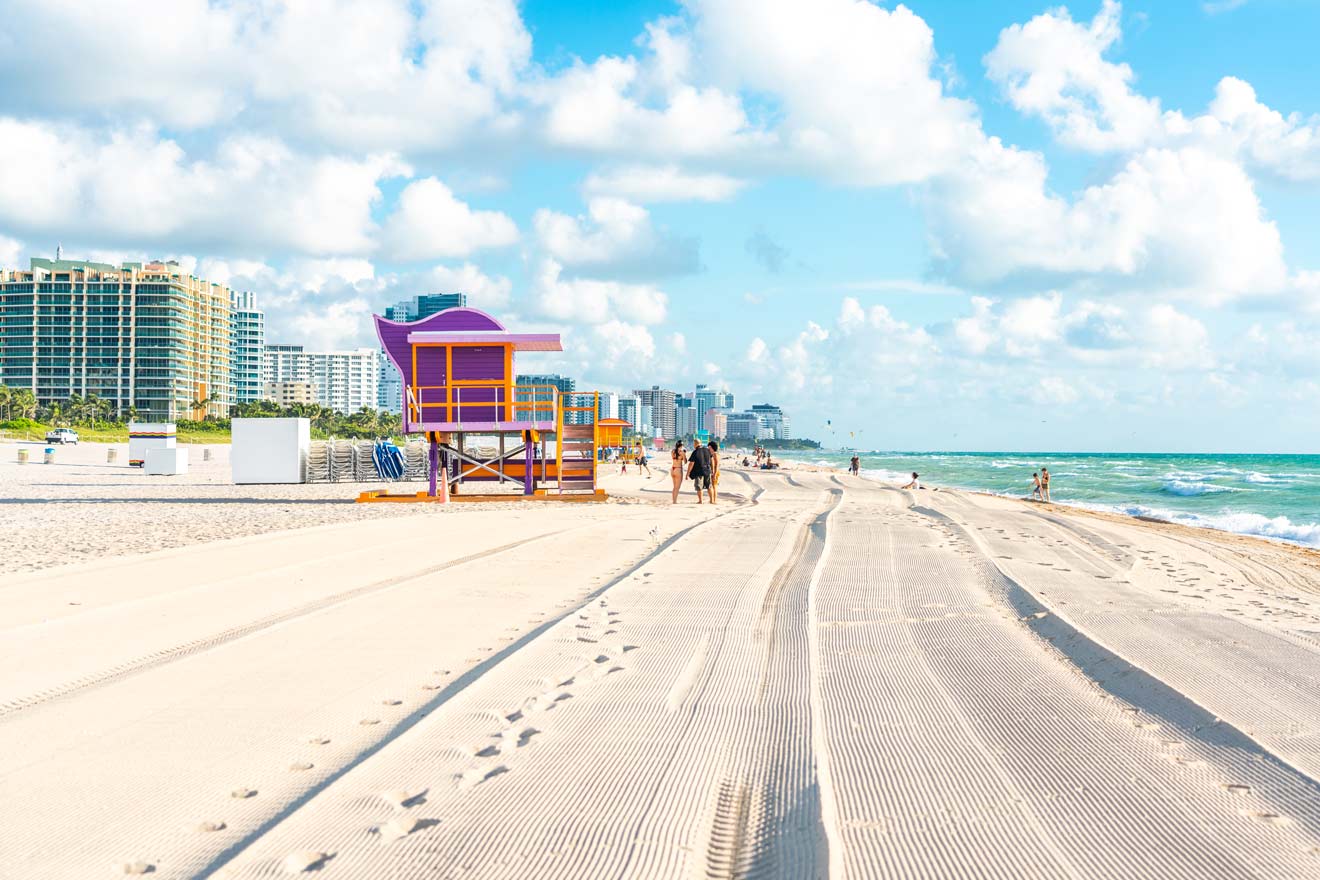 South Beach is arguably one of the most popular places in Florida. Famous for its gorgeous beaches, lively nightlife, and sky rises, South Beach is an experience everyone should see at least once in their lifetime.
When you see Miami in the movies, it almost always shows South Beach. This is the quintessential Miami experience that is well worth the trip!
You can enjoy a day at the beach with turquoise blue waters, and gorgeous ocean views, grab some food at some of the best restaurants in Miami and just soak in that Miami Vice vibe.
South Beach is the perfect place for a weekend getaway, especially if you are trying to get away from a small-town vibe and experience beach city life.
South Beach is extremely walkable, and you can find all sorts of fun things to do here. From boutique restaurants and shops to galleries, water sports, setting sail on a sunset cruise, and so much more!
The Betsy Hotel on South Beach is by far the perfect place to stay for your weekend getaway. Pull out all the stops and enjoy luxury while you're there! There's even a library, rooftop pool, marble bathrooms, and so much more – I promise you won't regret it!
See Prices for The Betsy Hotel
18. Visit historic Cocoa Beach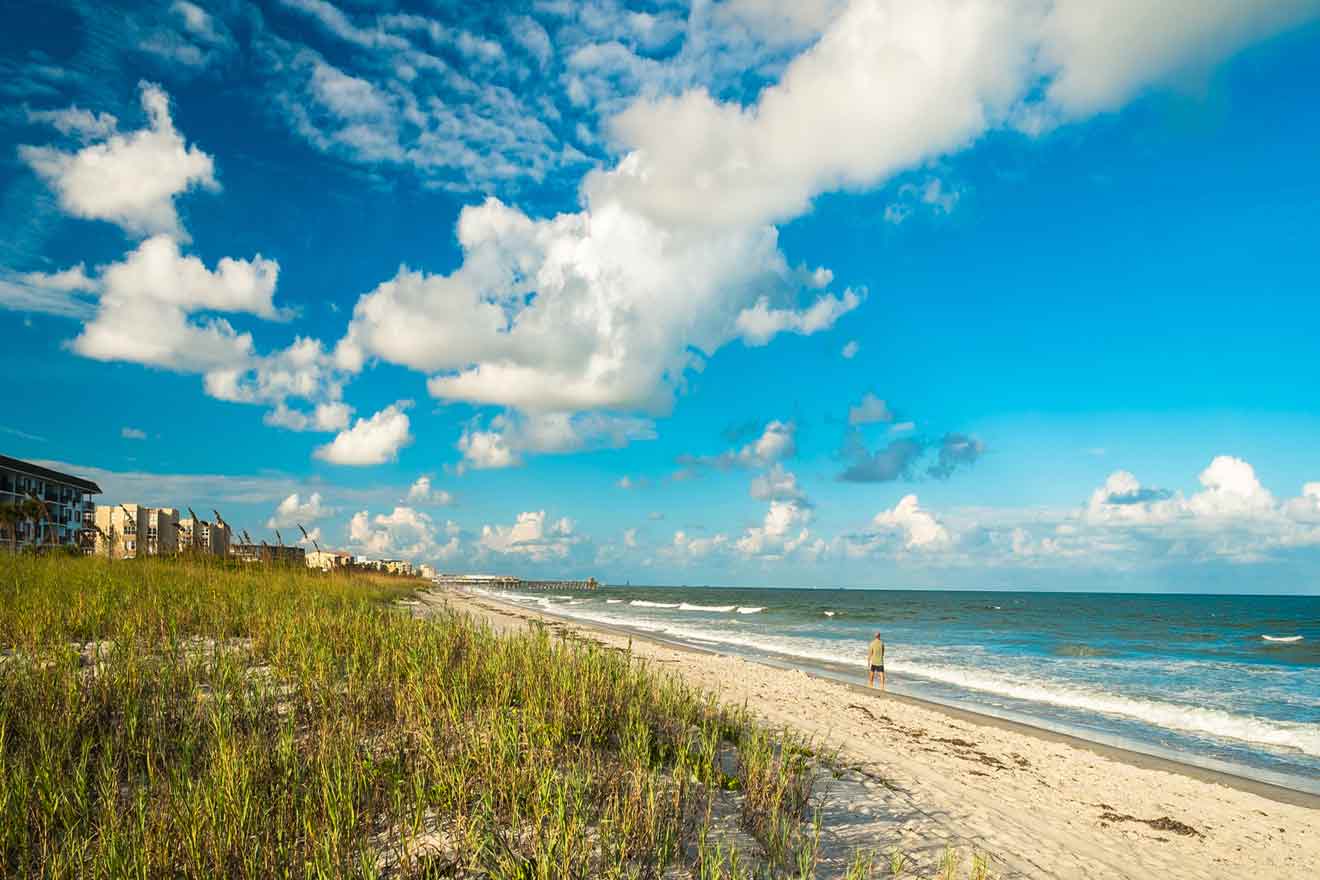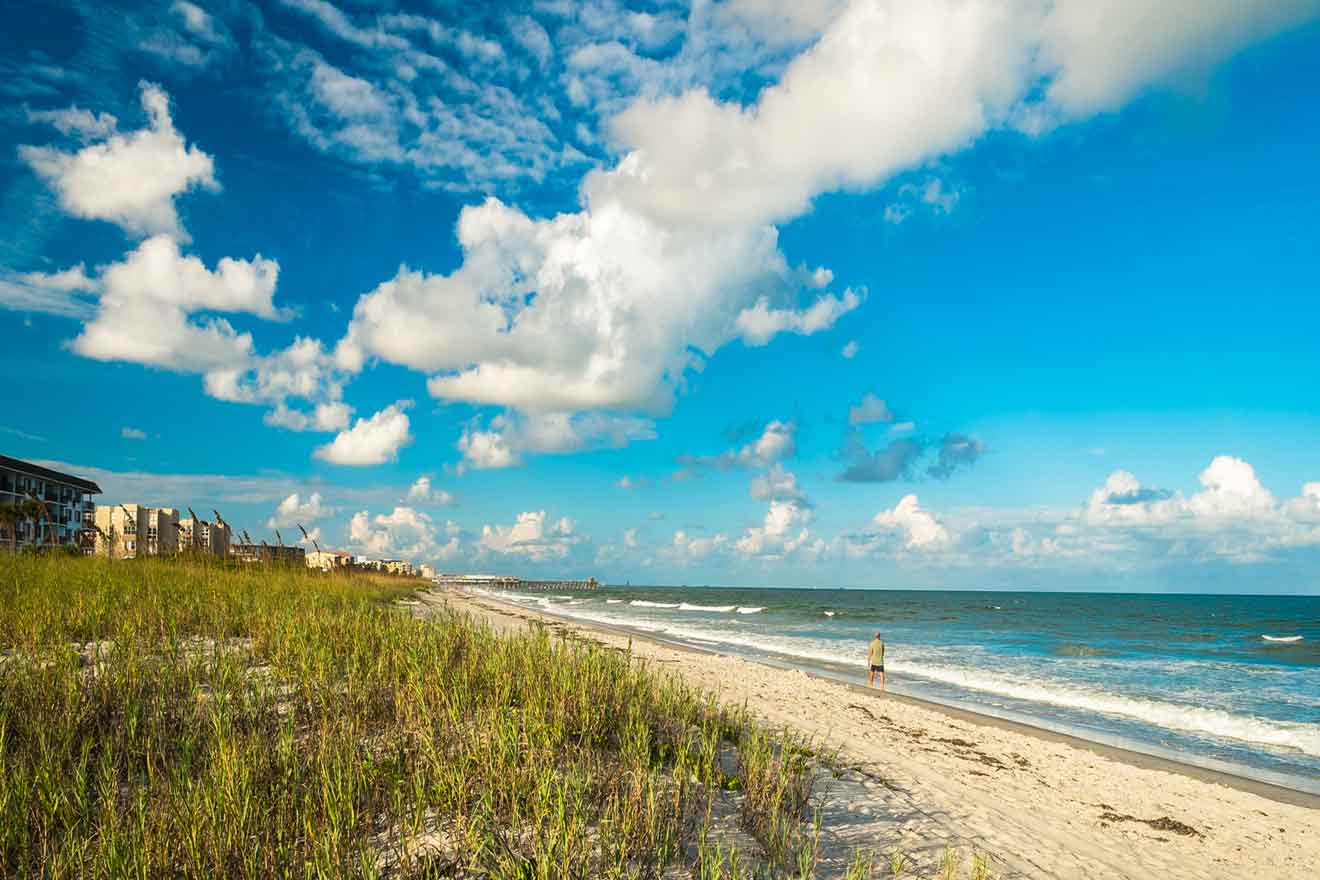 Cocoa Beach is well known as one of the best beaches in Florida! It has one of the oldest piers in all of Florida, so it comes as no surprise that Cocoa Beach is one of the best places for a weekend getaway in Florida.
There are tons of local restaurants and a charming downtown area to enjoy. Cocoa Beach is also one of the best surf destinations in all of Florida. There is a huge surf scene that people come from all over to enjoy!
Make sure you check out the famous Ron Jon Surfshop. It's the largest surf shop in the world!
Cocoa Beach is only an hour from Orlando and has so many fun activities to offer for a weekend getaway.
With miles of sandy coastline and only minutes from the Kennedy Space Center, this is one of the best places to get away for a few days. You should definitely get your Kennedy Space Center tickets in advance if you're heading to Cocoa Beach, they book out fast!
Here's an awesome beachside guest house where you can stay in Cocoa Beach! There are hammocks, fireplaces, and the quintessential Floridian vibe. What more could you want?
Get Kennedy Space Center Tickets
FAQs about weekend getaways in Florida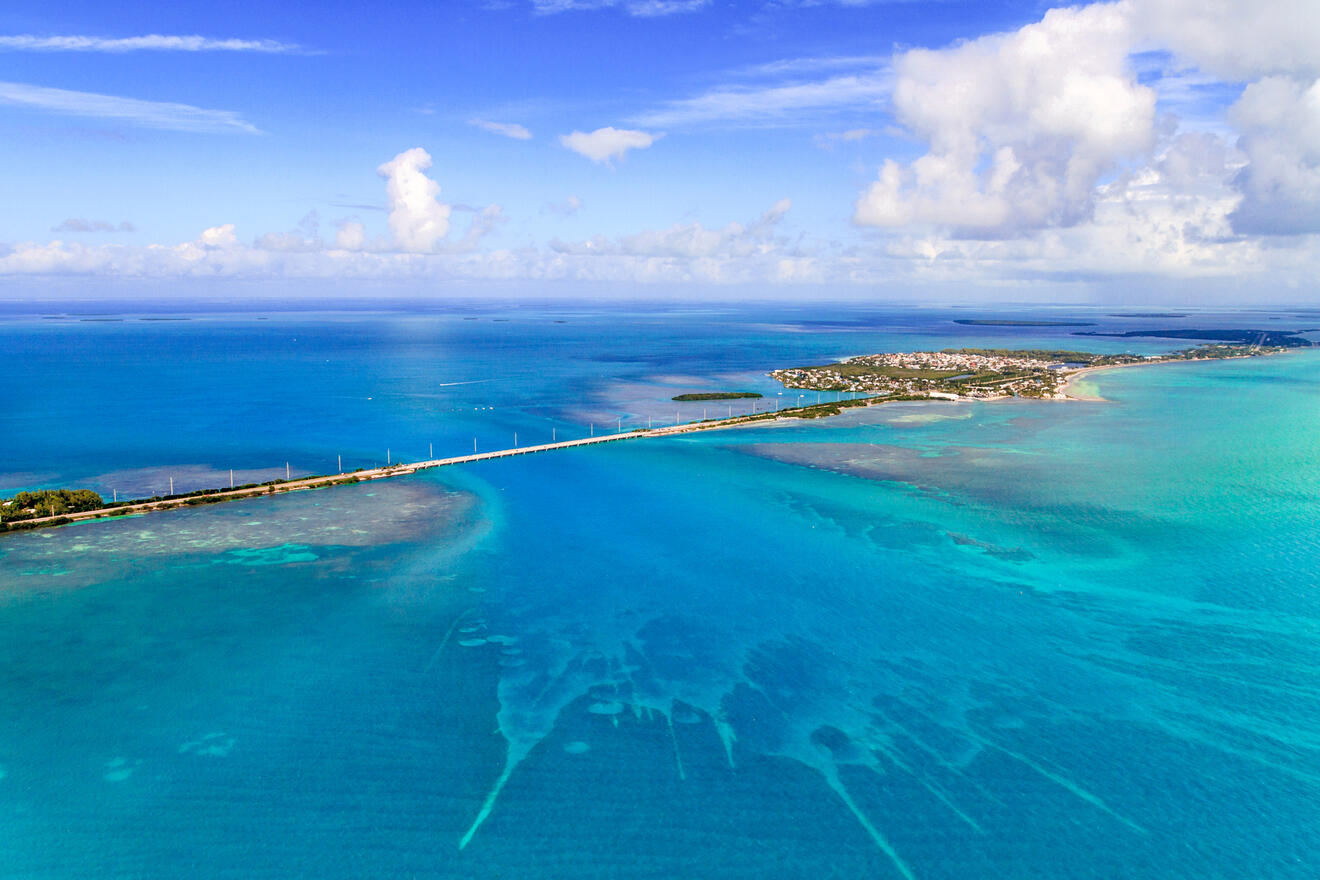 🏝️ What are the best weekend getaways for families in Florida?
Florida has so many family-friendly weekend getaways it can be hard to choose! You can visit Walt Disney World, Blue Springs State Park, go to Cocoa Beach, and so much more!
💋 What are some hidden romantic getaways in Florida?
💲What are the cheapest getaways in Florida?
There are so many places to take a cheap getaway in Florida! You can head to the West Coast or panhandle and stay in a quaint beach town, or head to Cocoa Beach, Jacksonville, or Amelia Island!
🚘 What are the best weekend getaways in Florida for singles?
You can go to Clearwater Beach, Tampa, and Sanibel Island for a nice beach getaway, go to the Keys, or take a day trip to one of Florida's many springs!
Conclusion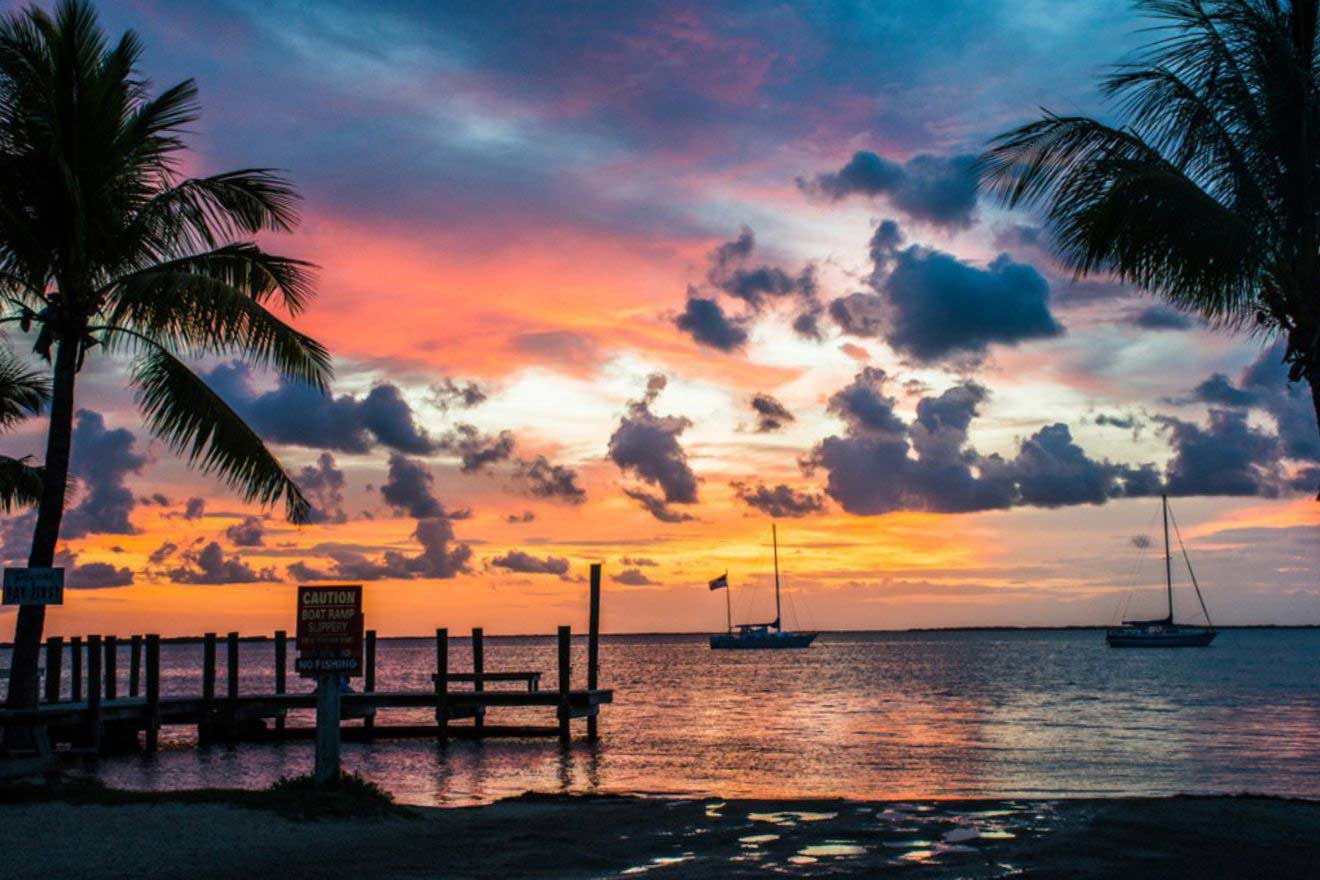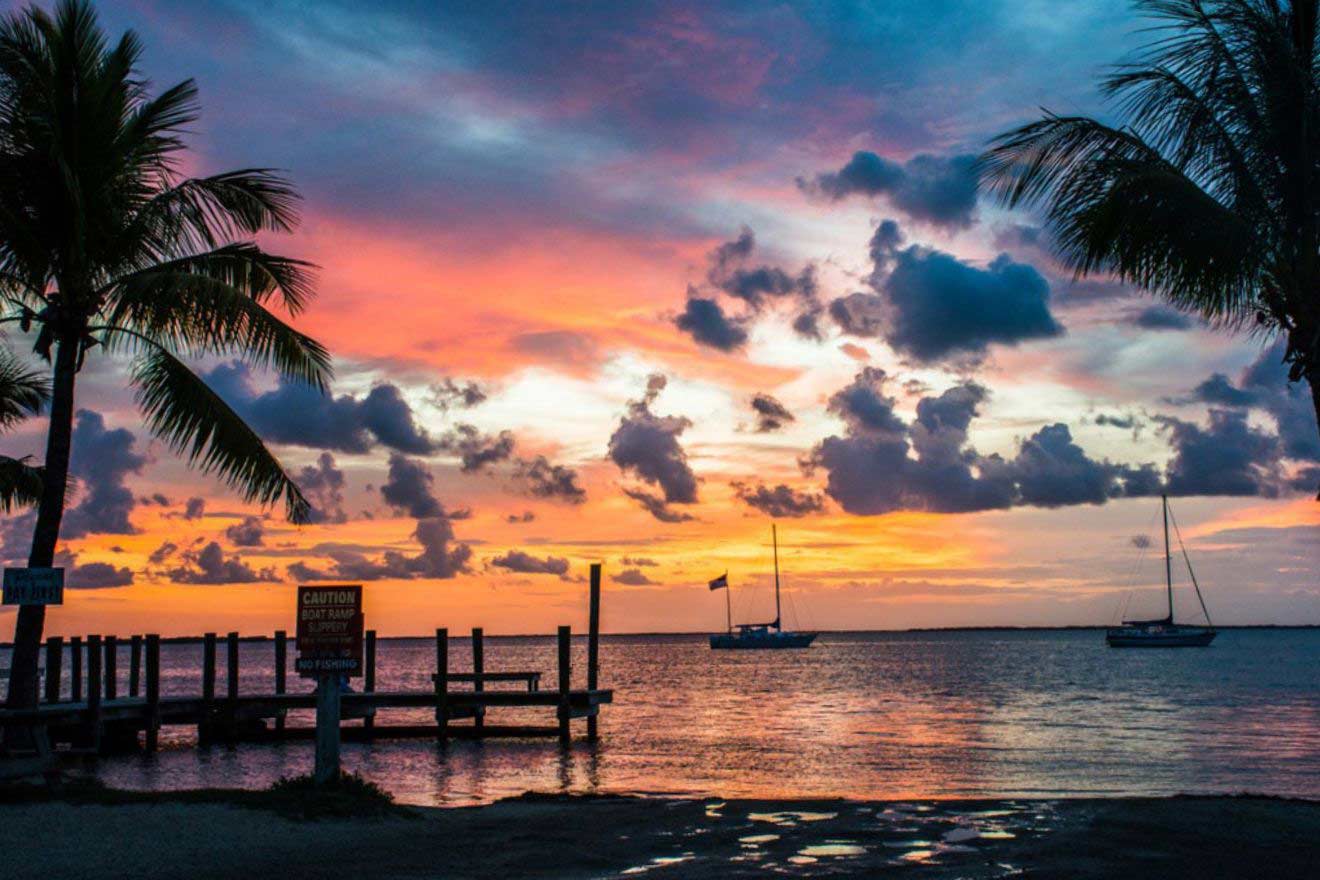 There you have it! The best weekend getaways in Florida. As a Florida travel enthusiast, these are all of my favorite places to go for a weekend getaway. I absolutely love taking staycations in Florida because there are so many options to choose from and places to go.
The possibilities are endless when it comes to taking a weekend getaway in Florida!
With love and gratitude,
Amira G.
---
Pin it for later!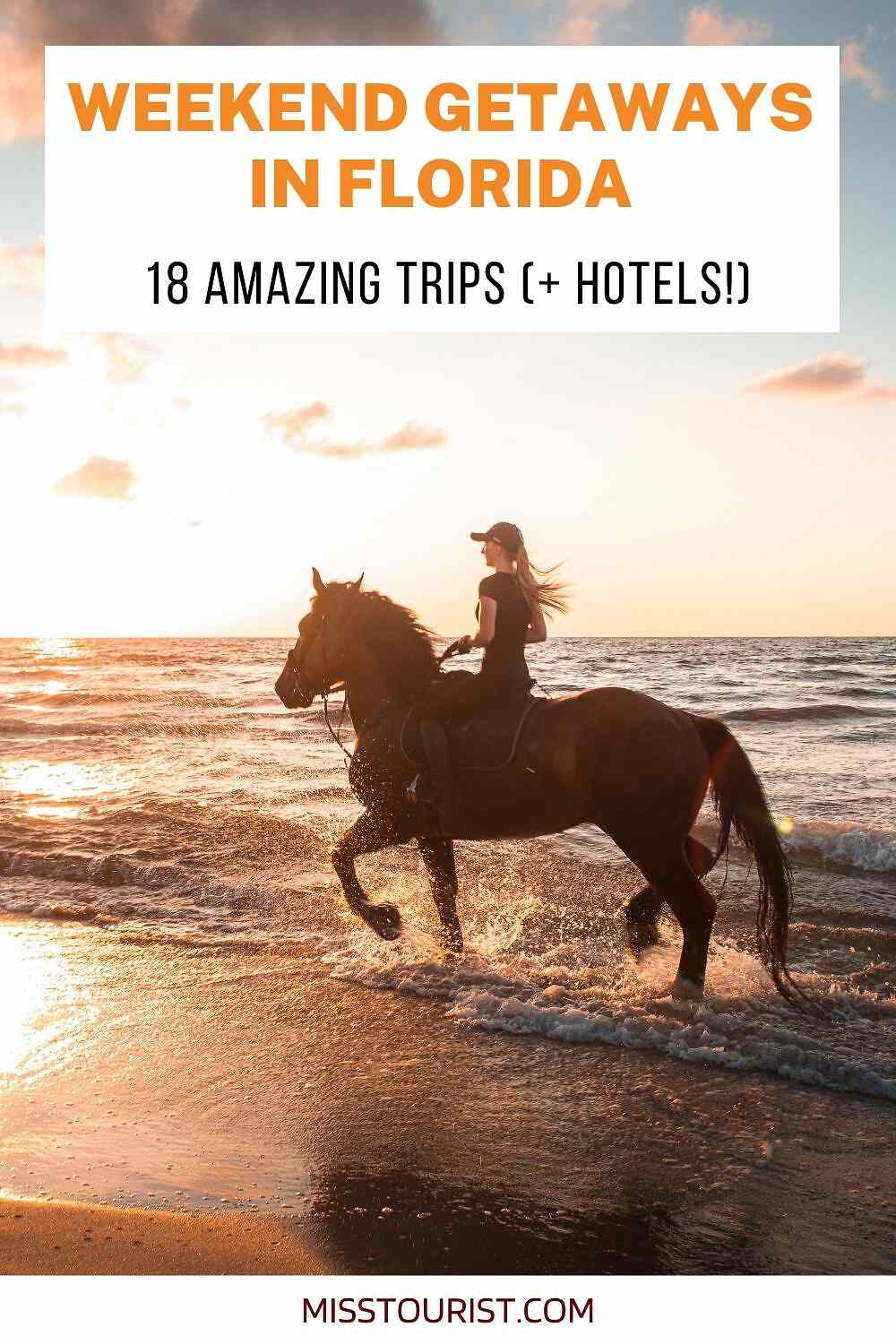 Pin it for later!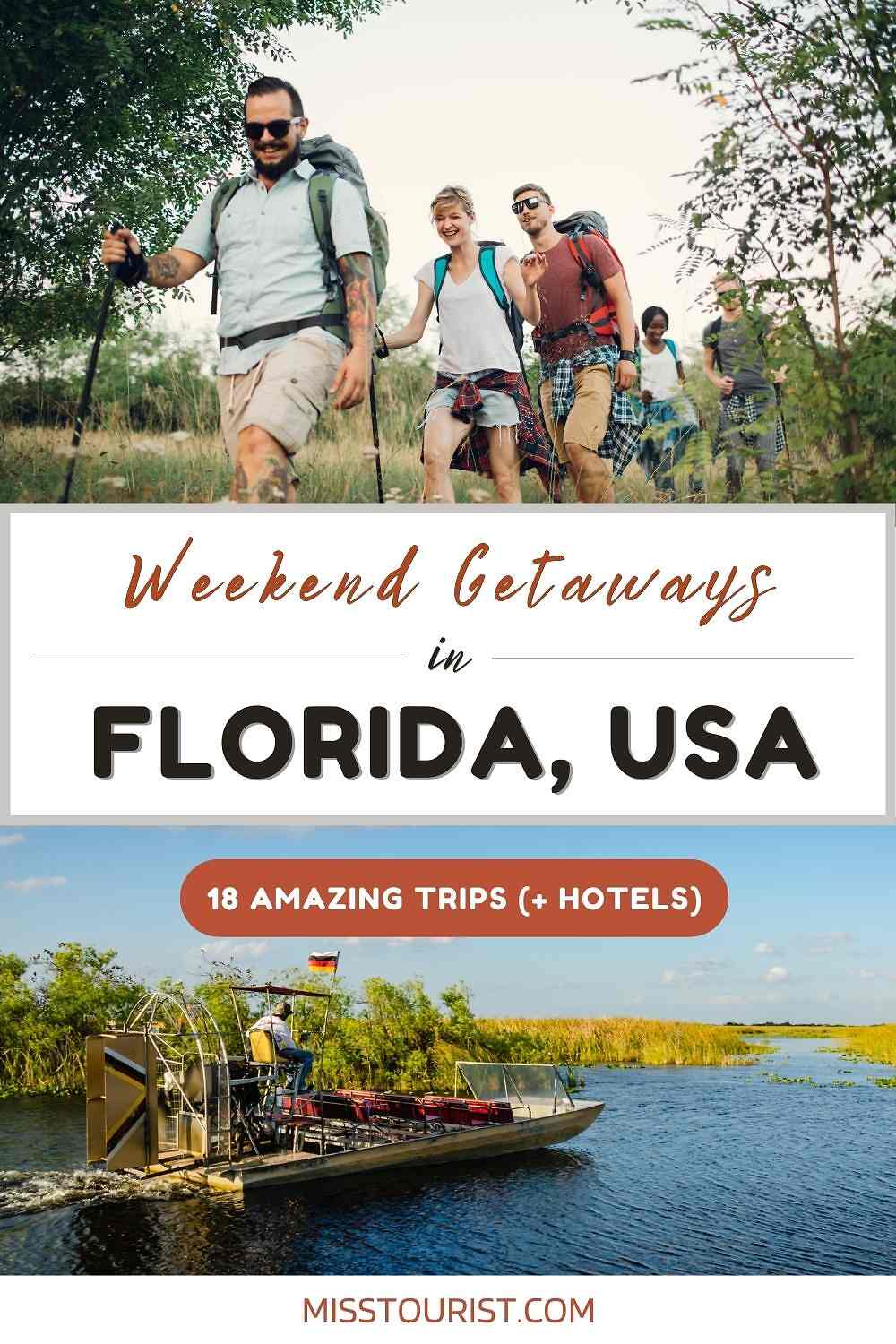 Products You May Like