Your DREAMY Cave Hotel in Santorini: 18 Top Options
Santorini is so much more than its exclusivist appearance! This Edenic island is drenched in so much history, culture, and myths! If you're headed there, you can't miss the chance to stay in one of these cave hotels!
I've looked everywhere and come up with a list that will help you find your favorite cave hotel in Santorini! You'll see that I've arranged the accommodations from most to least expensive so that you can pick your favorite based on your preferred price range.
Since the island is so abundant in one-of-a-kind accommodation, I've also wanted to make a bonus with some of the best cave houses that you can rent out entirely!
NOTE: Make sure you book all the cave hotels in advance, as during the high season (June to September), the prices double or can go up by €200!
I'm sure you're eager to see everything!
So let's go!
If you are in a hurry
Here's a short list of the best Santorini cave hotels for anyone who can't read through the whole post:
Luxury (€500 and up)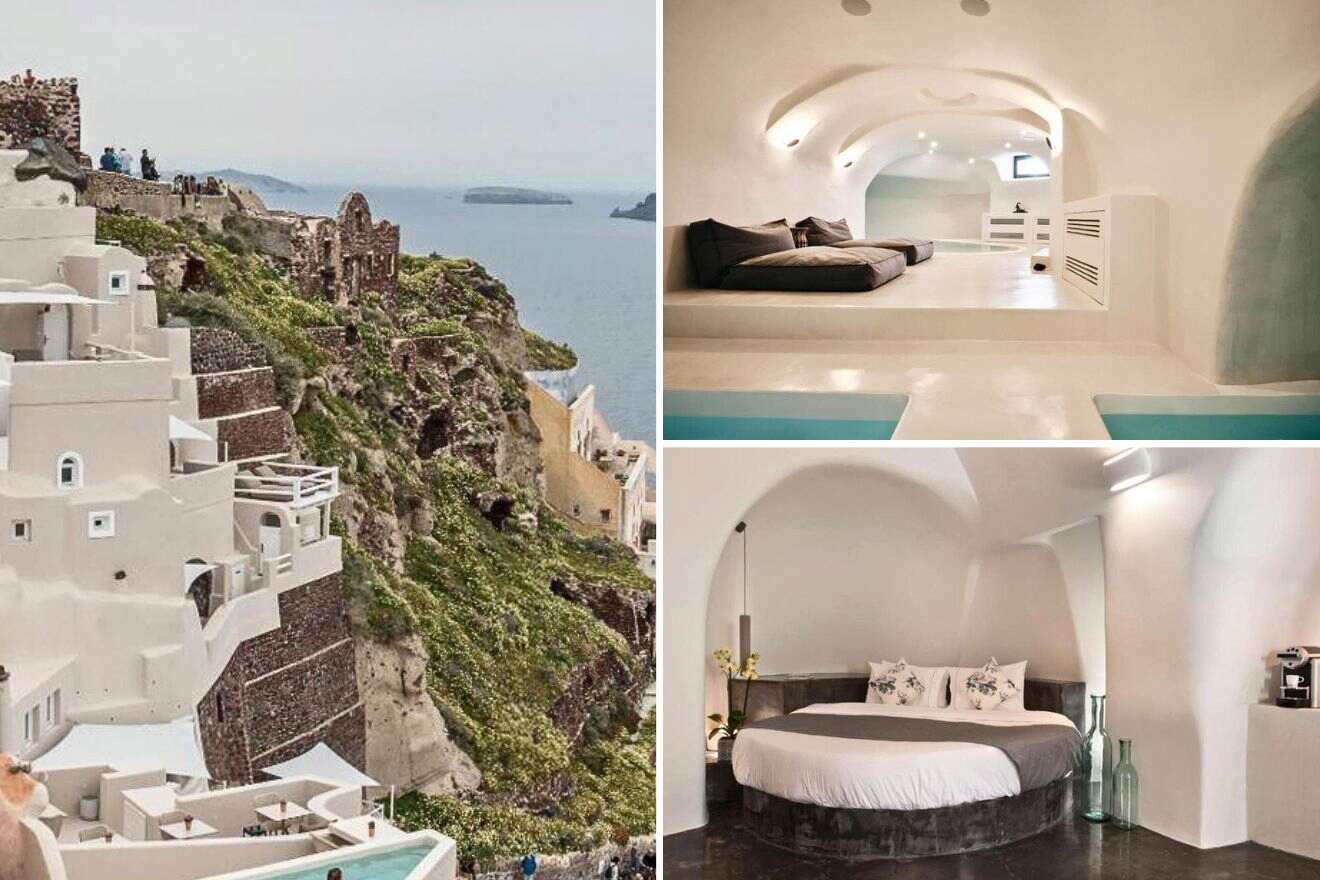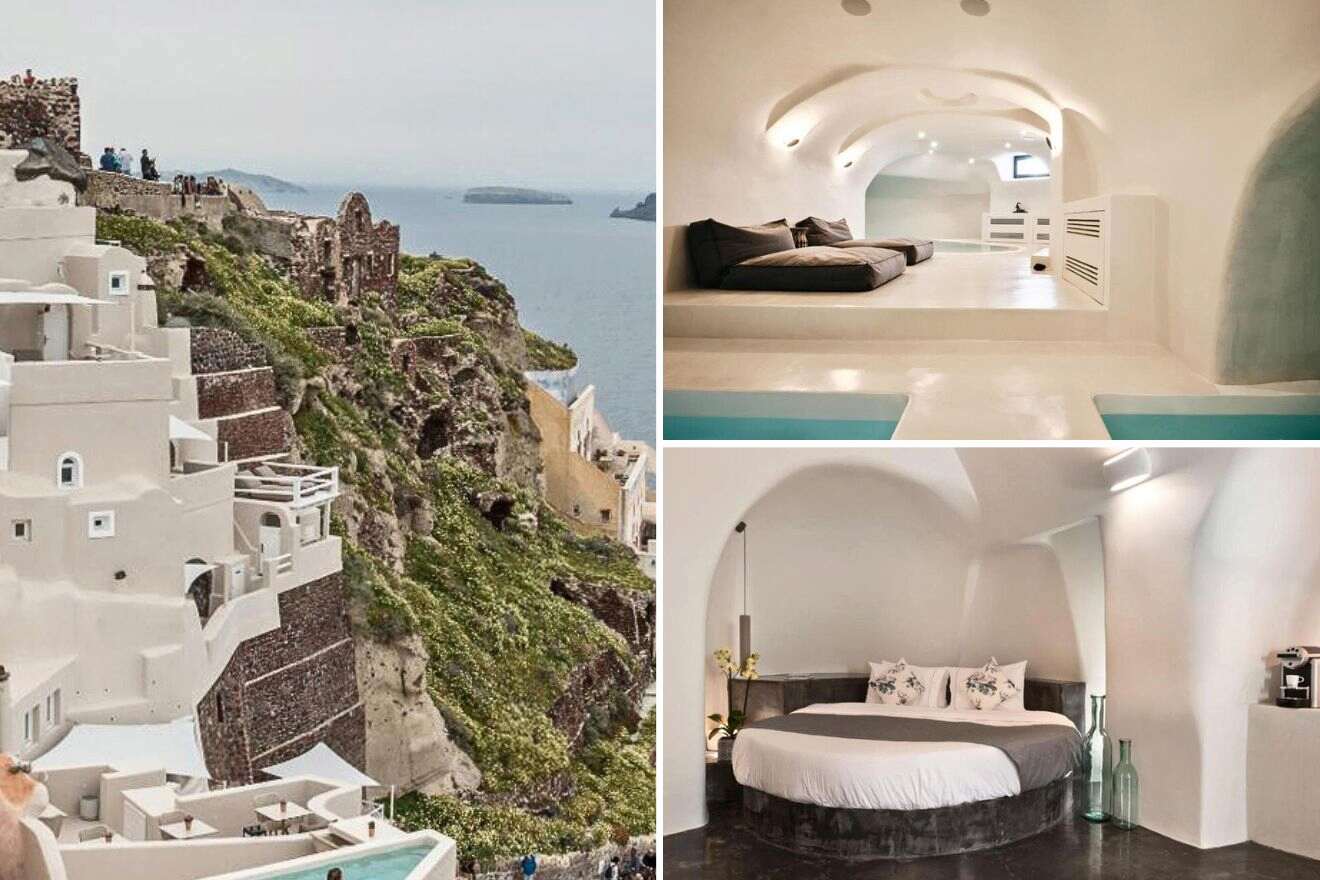 Andronis Luxury Suites – Wake up to the most breathtaking views of the deep blue sea while staying at these luxury accommodations nestled in the caldera cliff in Oia. The apartments feature a private plunge pool overlooking the caldera, an infinity pool, or hot tubs. The hotel serves food prepared only with bio-organic ingredients, which you can enjoy on the terrace! They also have a fabulous spa center where you can relax!
Art Maisons Oia Castle – With an incredible location right on the edge of the caldera in the cliffside town of Oia, this iconic Santorini cave hotel offers luxurious suites with such a unique design and a private balcony from where you can admire some spectacular sunsets! When you're not out and about exploring all the areas in Santorini, you can enjoy some of the spa services and relax!
Abyss – Fancy staying in a cave suite in Santorini? Then check out this incredible hotel in Oia that will make you feel like you've landed on a different planet! Featuring some panoramic views of the Aegean Sea, this accommodation comes with an indoor plunge pool, cave rooms, an outdoor hot tub, and a terrace where you can catch the famous Santorini sunset.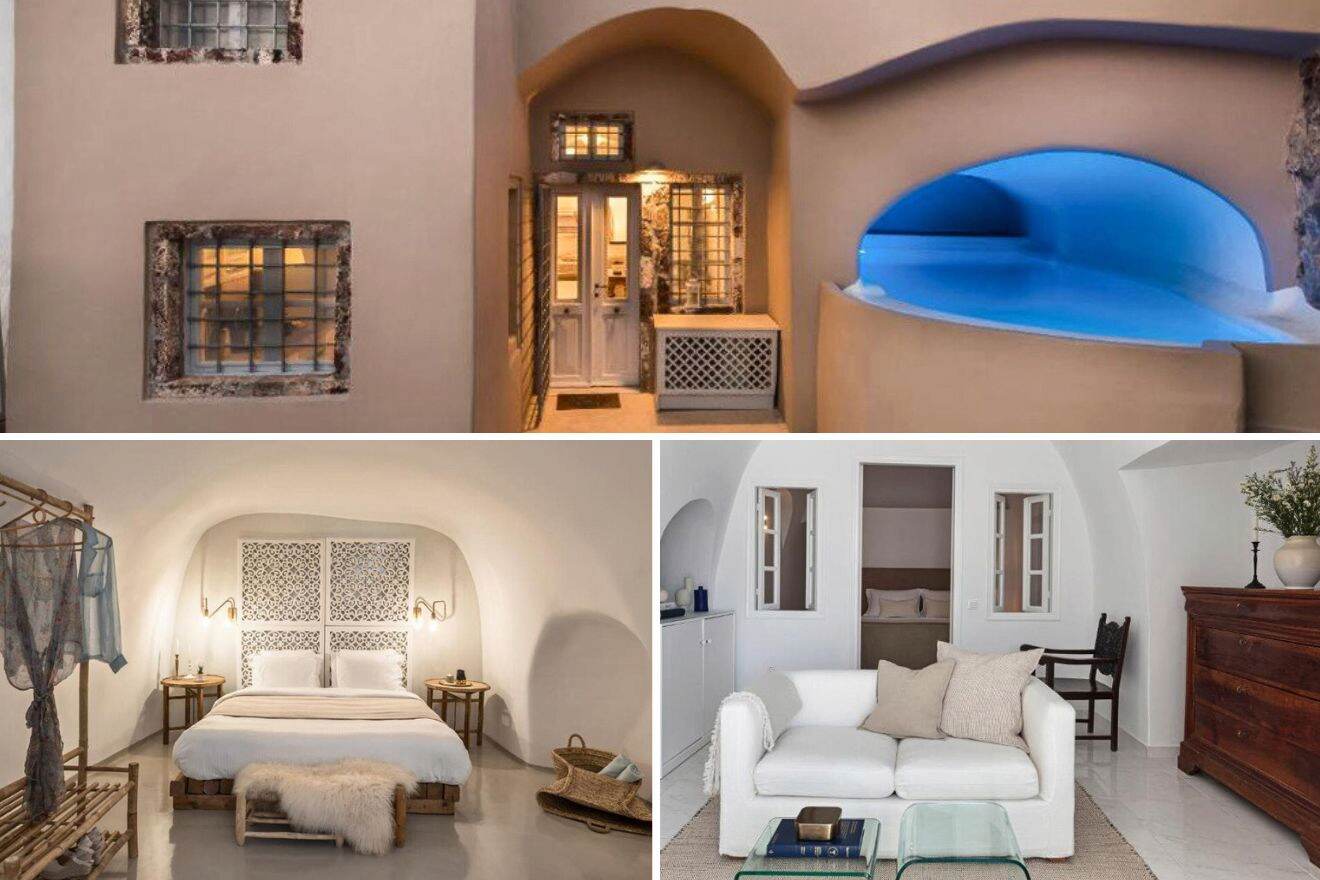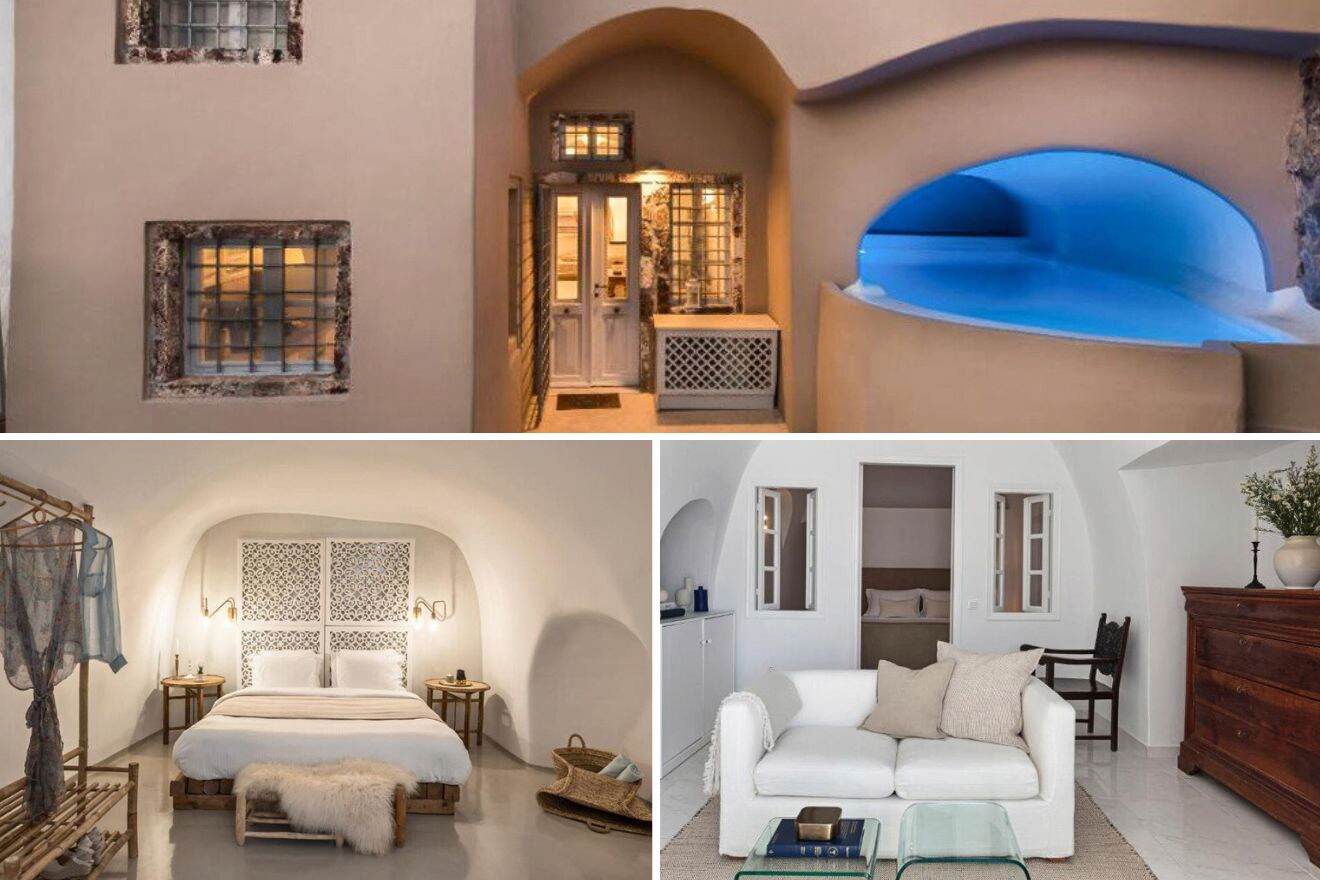 Armeni Luxury Villas – Feel like you've arrived in Paradise while staying in these gorgeous cave suites in Oia that are beautifully decorated and come with private hot tubs or cave pools! While here, you'll get to admire the breathtaking caldera and Aegean Sea views, enjoy some spa treatments and sunbathe under the Greek sun all day long!
Cocoon Suites – The private cave pools at this hotel in Imerovigli are out-of-this-world! All the rooms here are individually decorated with stylish furnishings and soft colors. All the elements create an incredible atmosphere (perfect for a romantic getaway)! Enjoy some candle-lit dinners (prepared with local produce) and some of the spa treatments that they offer!
Canaves Oia Boutique Hotel – Built on the side of a cliff, this Oia hotel offers spectacular views of the caldera and the Aegean Sea. Each cave suite here has private terraces and private plunge pools and is decorated with antique furnishings and artwork. Start your morning with a yummy breakfast in the outdoor spaces, and then go for a swim!
Mid-Range (from €400 to €500)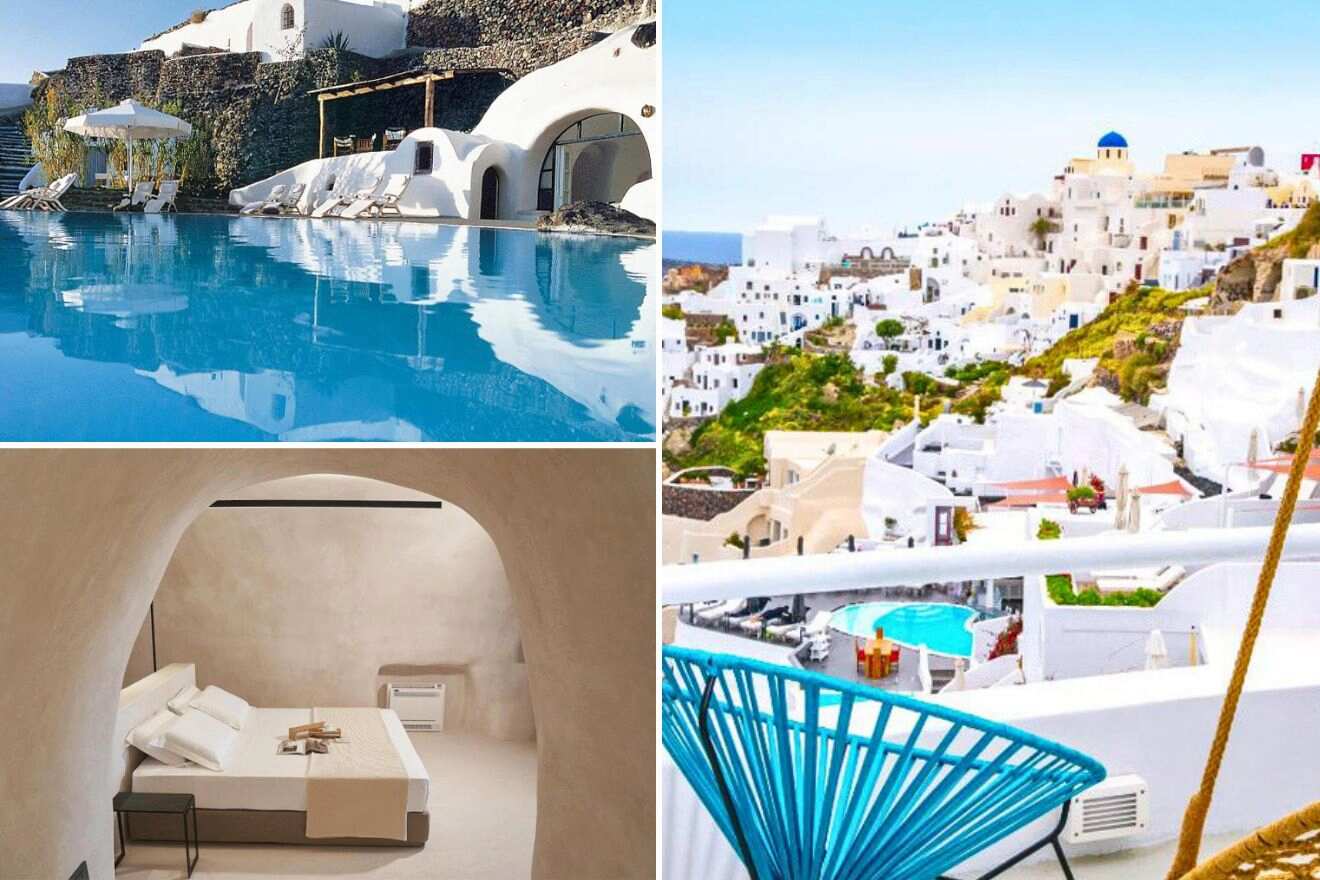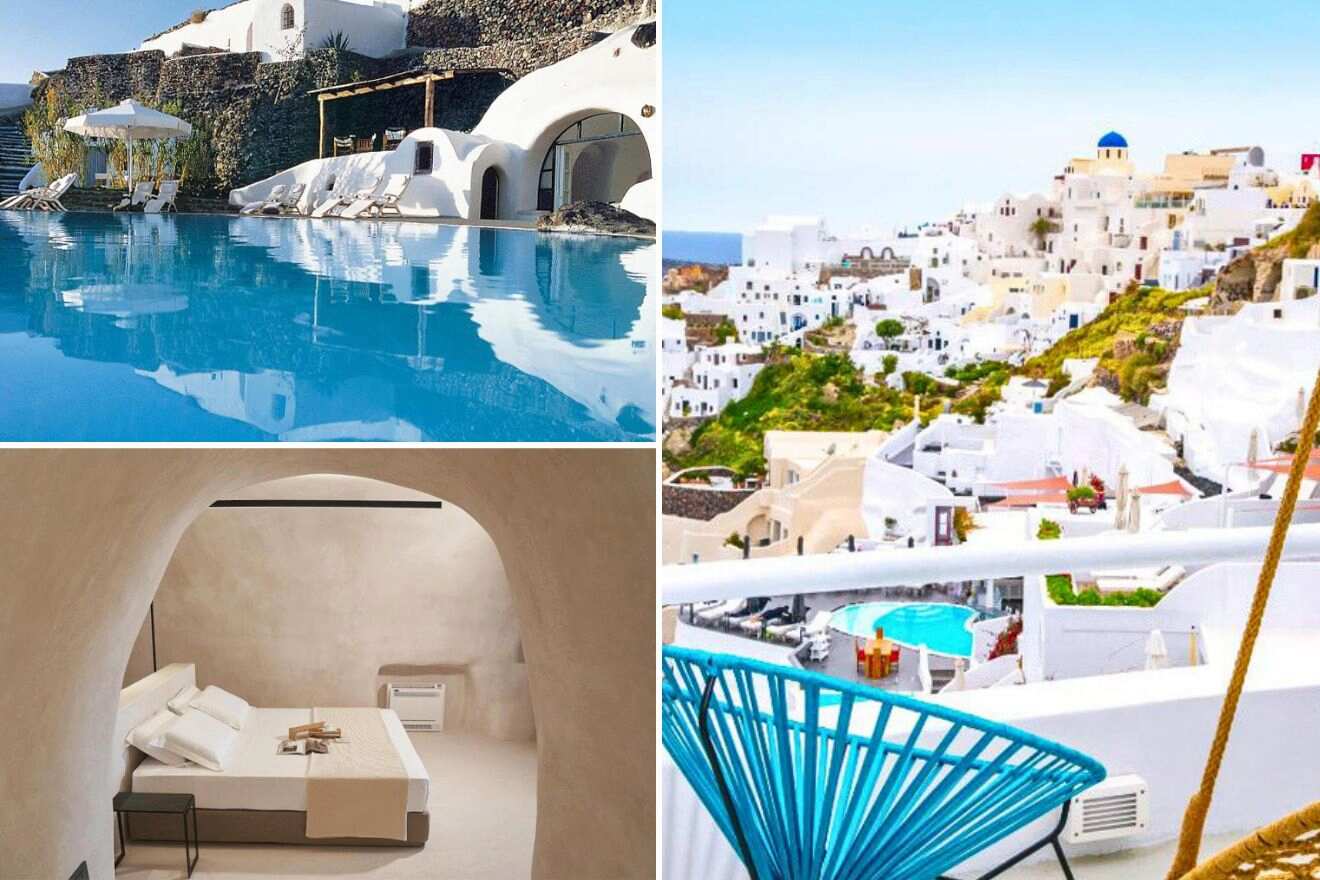 Perivolas Hotel – Private houses set in 300-year-old caves? Oh, how magical Santorini Island is! These cave suites in Oia come with a private pool, air-conditioning, free Wi-Fi, and of course, fantasy-book sea views! The hotel also has an infinity pool where you can catch sunsets, a fitness center, a spa, and a restaurant where you can enjoy candle-lit dinners by the sea.
Divine Cave Experience – All these cave hotels in Santorini offer a unique experience, and their architecture is so incredible! Here's another one set in Imerovigli which has gorgeous rooms (where you'll probably sleep like a baby), a private cave pool, and air-conditioning. The hotel also has a shared outdoor swimming pool, a spa center, and a restaurant, a gorgeous sunset spot on the cliff edge.
Kaleidoscope Cave Houses – I love that these cave hotels are located in serene settings, you can really enjoy the peaceful and tranquil environment! Just like this one in Oia, which offers rooms with a flat-screen TV, free Wi-Fi, a private patio, and your own private pool! What can beat that? Guests can also join yoga classes and book some time at the spa center.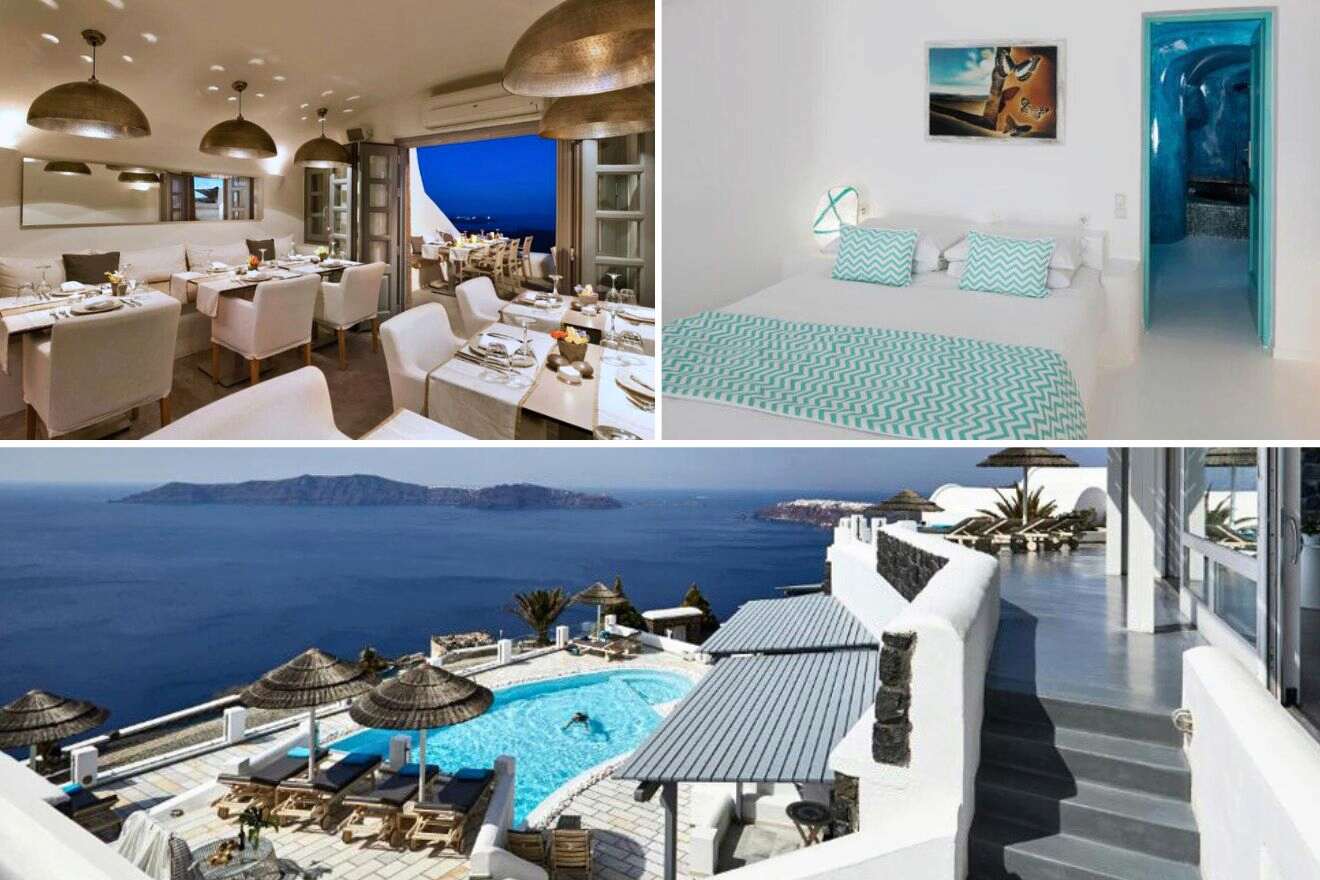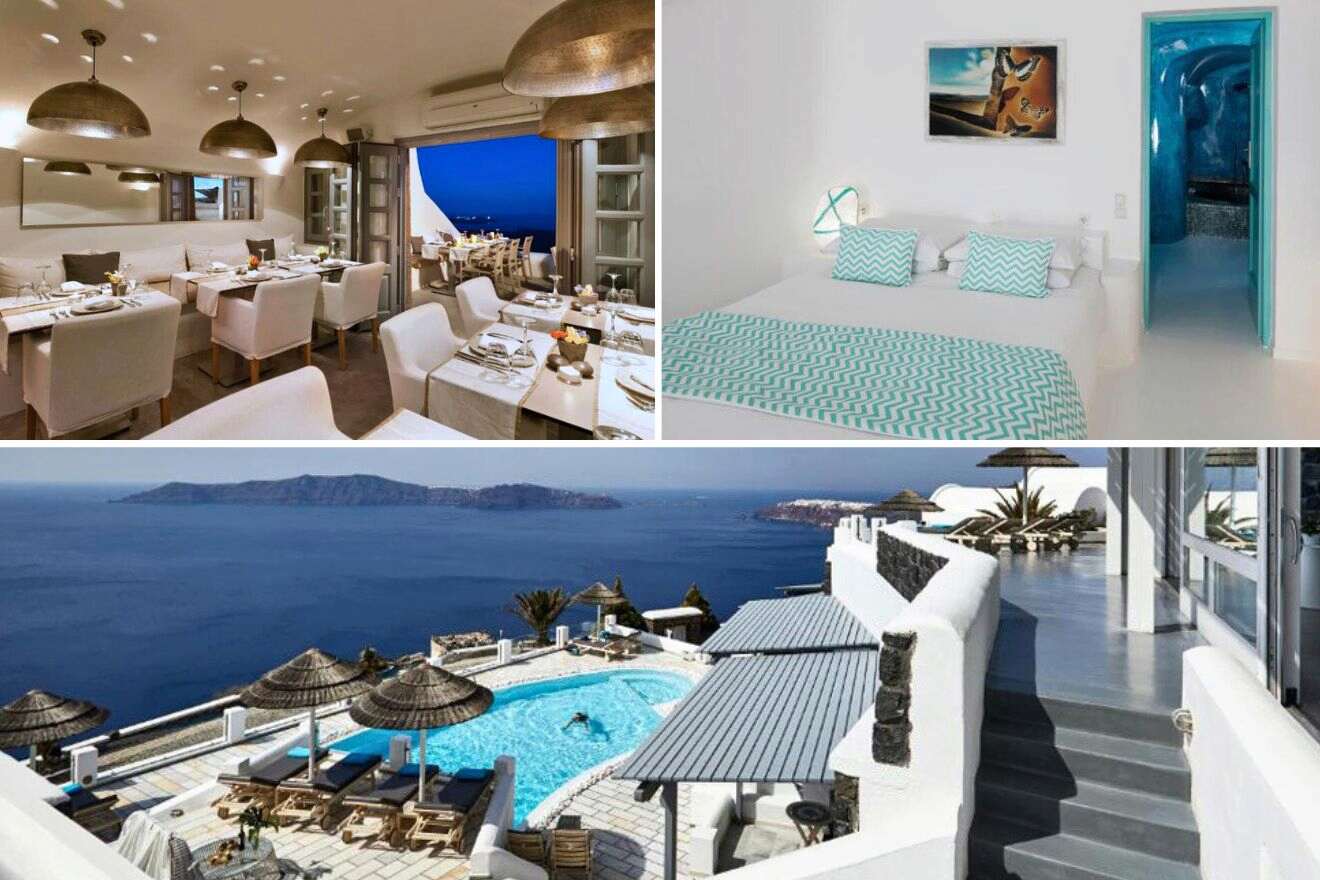 Kapari Natural Resort – The best thing about a cave hotel experience is that all the rooms offer such a secluded and intimate atmosphere! This place in Imerovigli is so unique and has such an authentic style which is present everywhere! Their rooms feature views of the Aegean Sea, the restaurant serves Mediterranean dishes based on homemade recipes, and their swimming pool is pure perfection!
Santorini Princess Spa Hotel – Located in Imerovigli, this hotel offers a spa center, a restaurant, and a swimming pool. I'm sure you'll love your cave suite, which is super charming and has traditional Cycladic architecture and elegant design! Start your mornings with a Greek breakfast at the restaurant or up in your room (which, by the way, has a heated pool), and then head out to explore this scenic village. 
Dreams Luxury Suites – Gotta love these cave hotels that allow guests to experience the authentic charm and culture of Santorini and the Greek Islands! This one is set in Imerovigli, and it has rooms with a cave pool, a private terrace where you can admire the panoramic views and the iconic Santorini sunset, and gorgeous decor! I especially like their private bathroom, which is super colorful and very Instagrammable!
Budget (up to €400)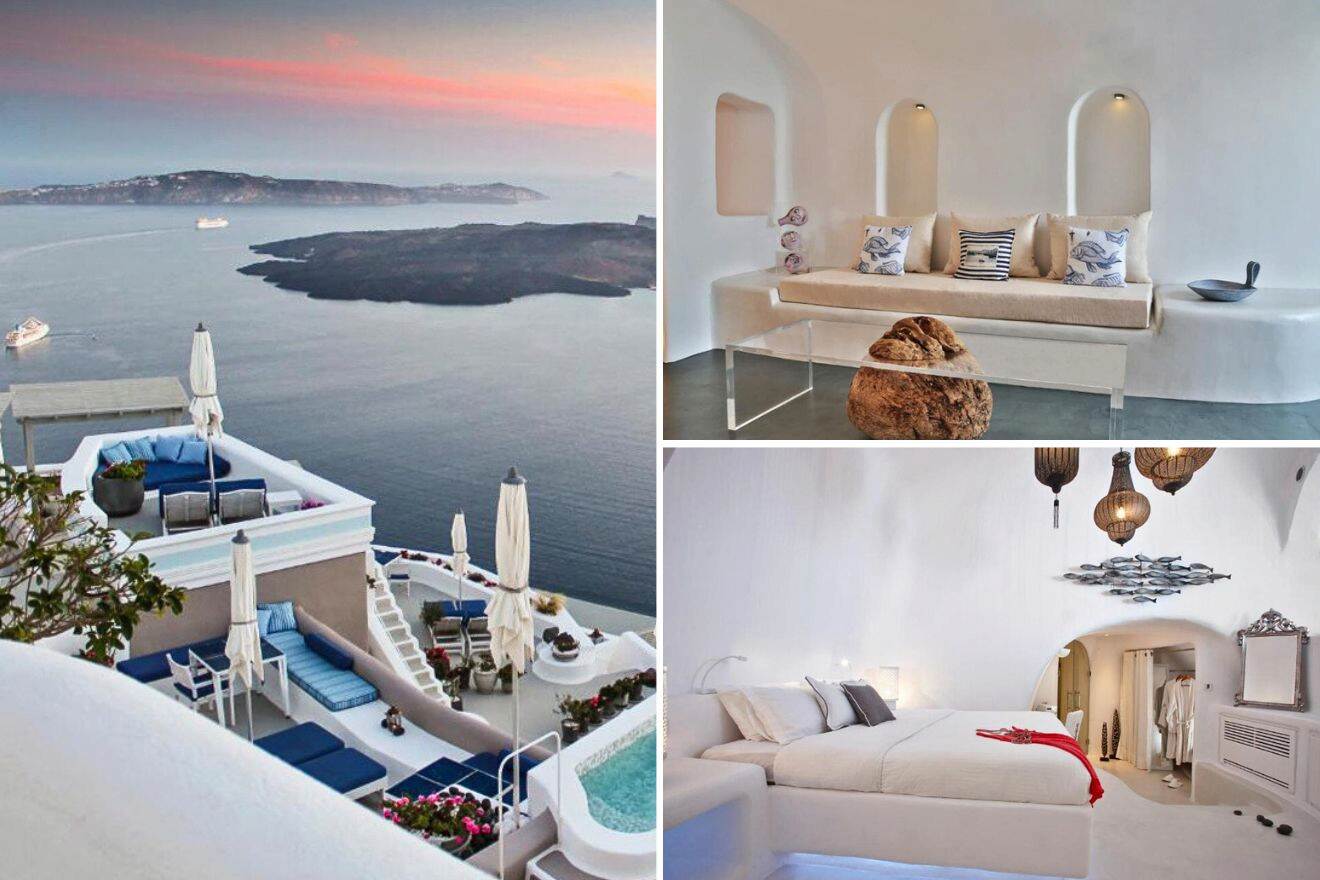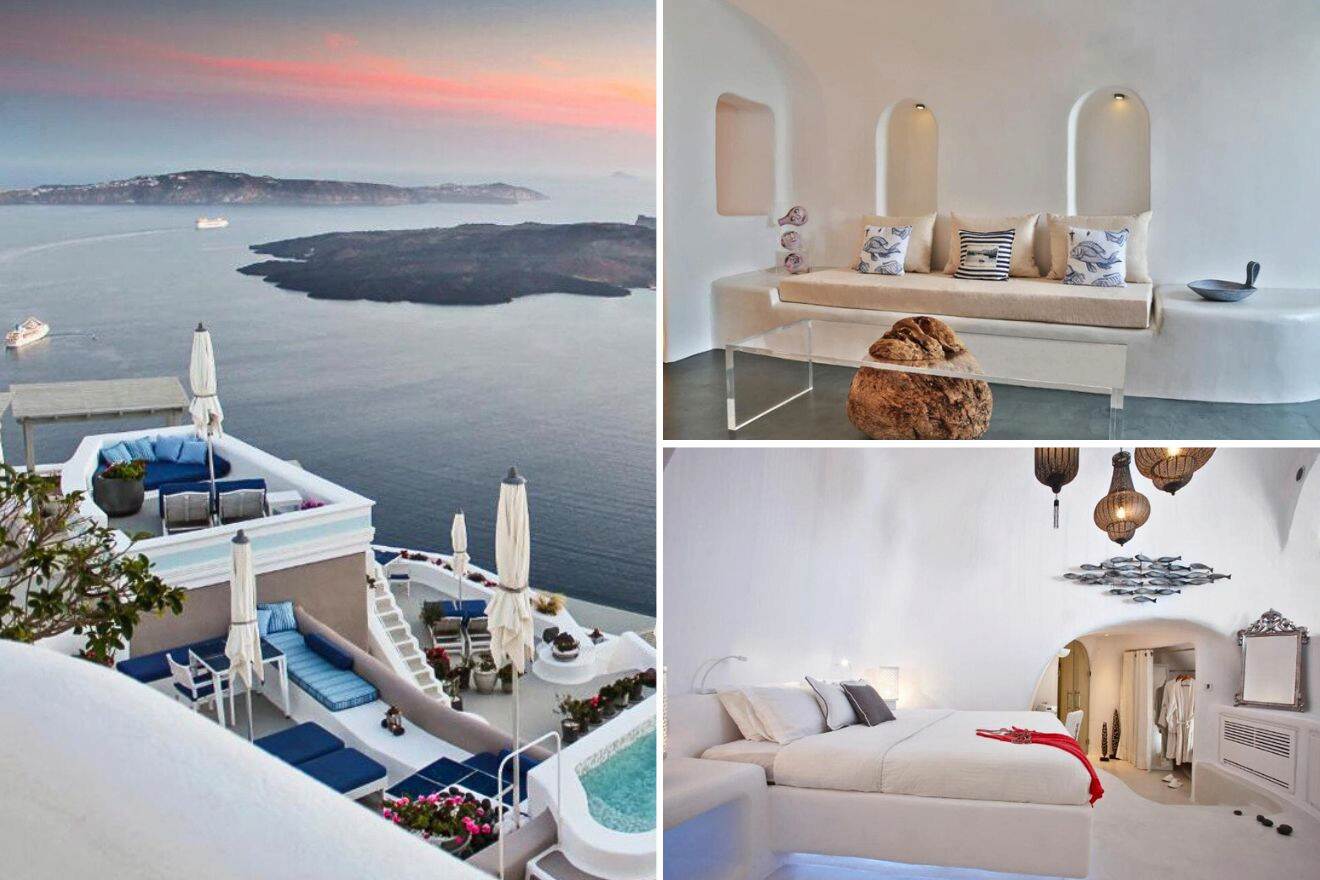 Iconic Santorini, a Boutique Cave Hotel – If you're looking for some cave rooms that are a bit more affordable, then check out this place! Located in Imerovigli, this Santorini cave hotel has an outdoor infinity pool (where you can catch an iconic Santorini sunset), a spa center, and a restaurant that overlooks the sea, where you can dine under the stars! Most of their rooms have outdoor plunge pools, a patio, and a flat-screen TV.
Lava Caves – Visit Santorini and immerse yourself in the Greek culture (and yummy food) while staying in a cave suite at this hotel in Oia! This accommodation boasts a mixture of Cycladic architecture and some modern designs. Relax in your own cave pool while here, and start your mornings with a coffee on the private patio that will make you feel as if you're almost reaching the sky!
Dana Villas & Infinity Suites – Cave hotels in Santorini are known for their romantic ambiance! So if you're looking for a place to stay on your next getaway, check out this cave hotel in Firostefani that has the most gorgeous suites with dreamy private patios and some with an iconic cave pool. Each morning you can enjoy a romantic breakfast in your little sanctuary and book some time at the spa for a nice pamper date!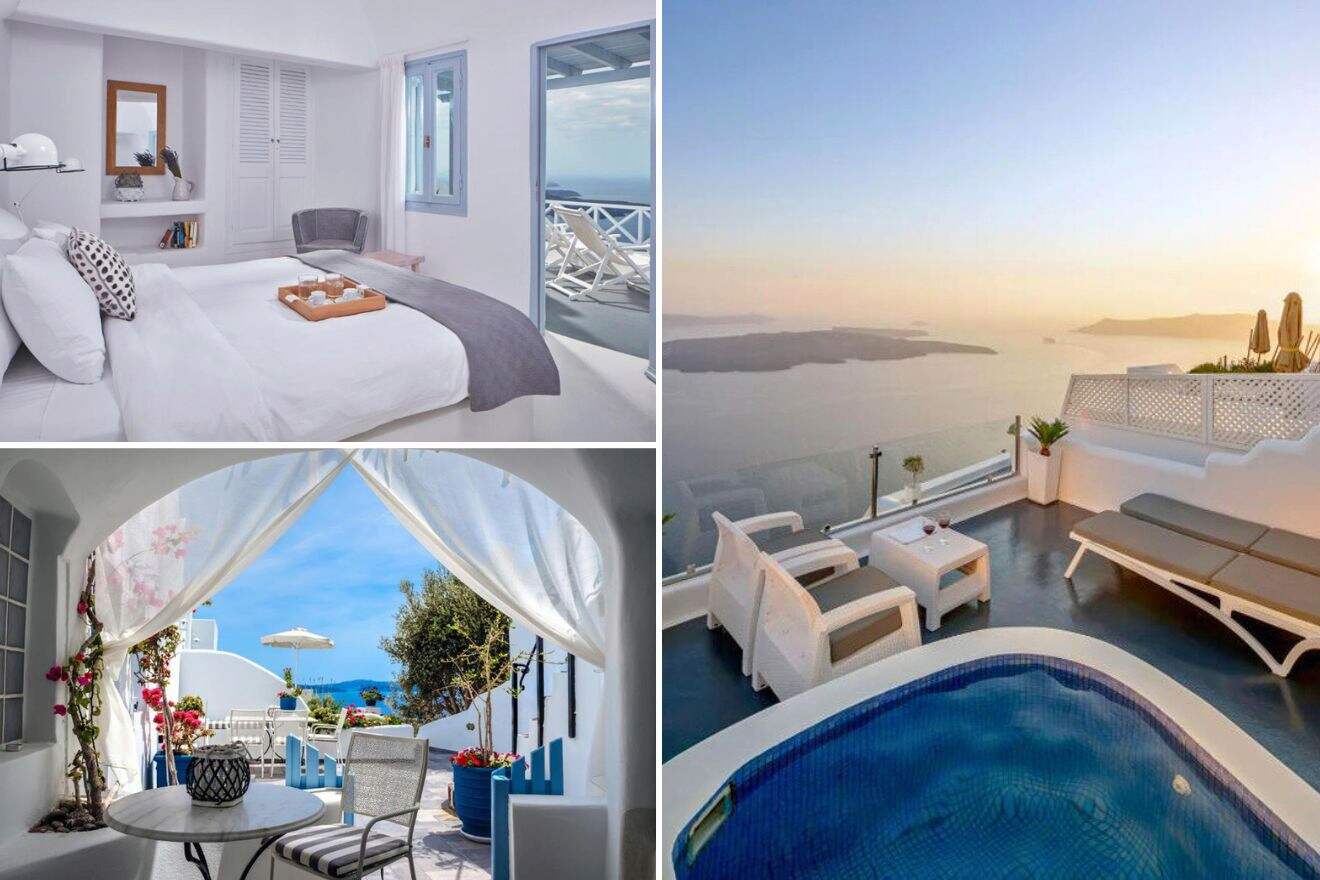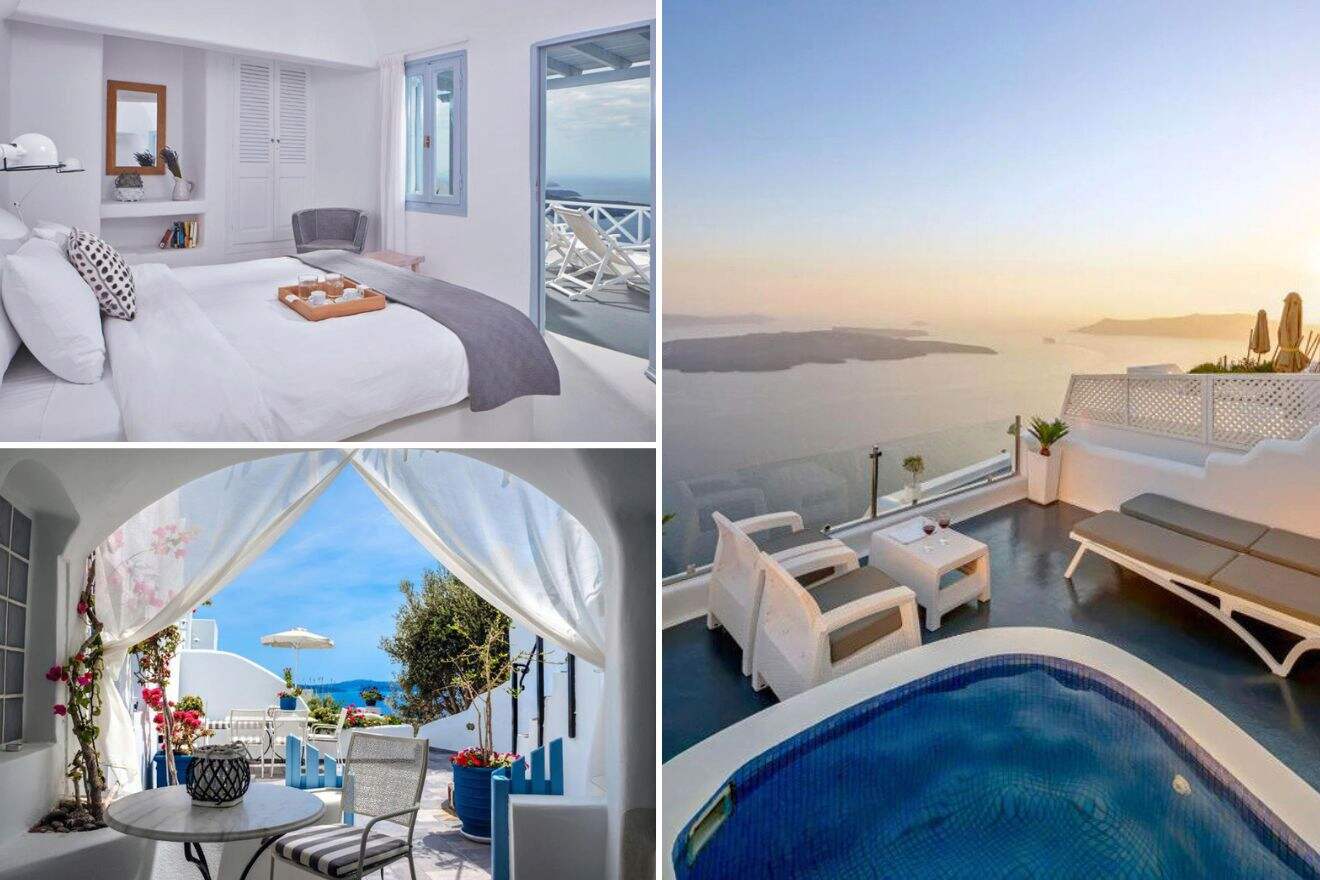 Pegasus Suites & Spa – The traditional Cycladic architecture of these cave hotels is so charming! This one has a pretty minimalistic design, blending both modern and traditional designs, and it comes with cave suites that usually have a hot tub and a plunge pool, or one of each. You can rent bikes from the cave hotel and explore the island, which I highly recommend doing, as it's such a fun activity!
Cliff Side Suites – Spend a night under the starry skies of Santorini, breathing in all the history and myths of the Greek Islands while staying in the cave rooms of this hotel in Firostefani that has beautifully designed rooms which feature a traditional decor but also modern elements. Wake up early and head for a sunrise swim in their gorgeous swimming pool that overlooks the caldera.
Aris Caves – Carved into volcanic rock, this fabulous hotel offers some of the juiciest, iconic Santorini sunsets! Featuring an all-white decor, this Santorini hotel comes with spacious rooms that have all the amenities you need, a spa center, and a terrace where you can relax!
Check the Rates for Your Dates
BONUS: Best cave houses in Santorini
I know I've included a bunch of amazing luxury hotels and lots of affordable ones in the first section, but I really wanted to offer those of you who maybe want more privacy or to feel more connected with the history of these cave houses a list with some amazing houses that you can rent out entirely!
These are great places for groups of friends or families, and I made sure to order them from most to least expensive. The prices start from €130 to €400+: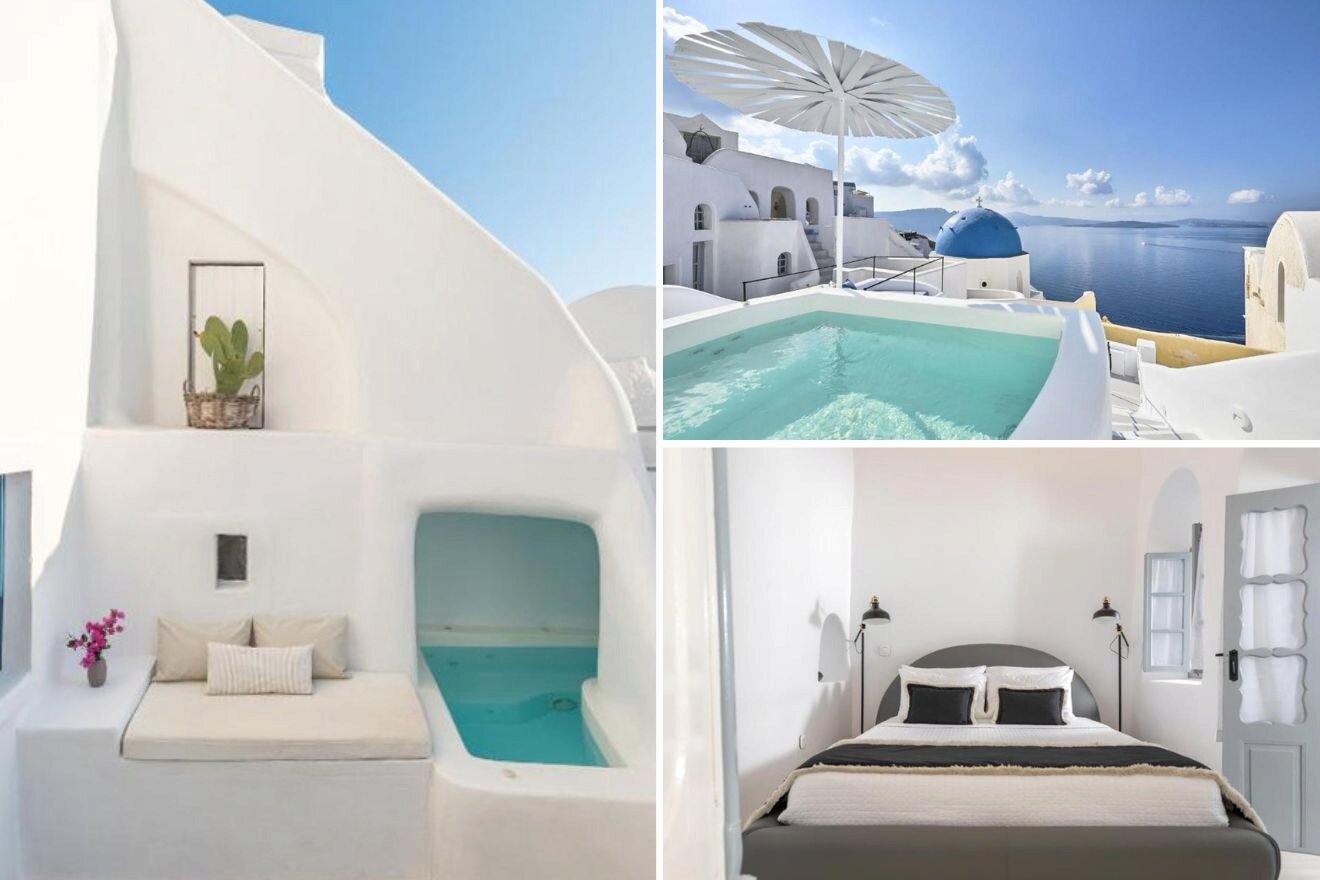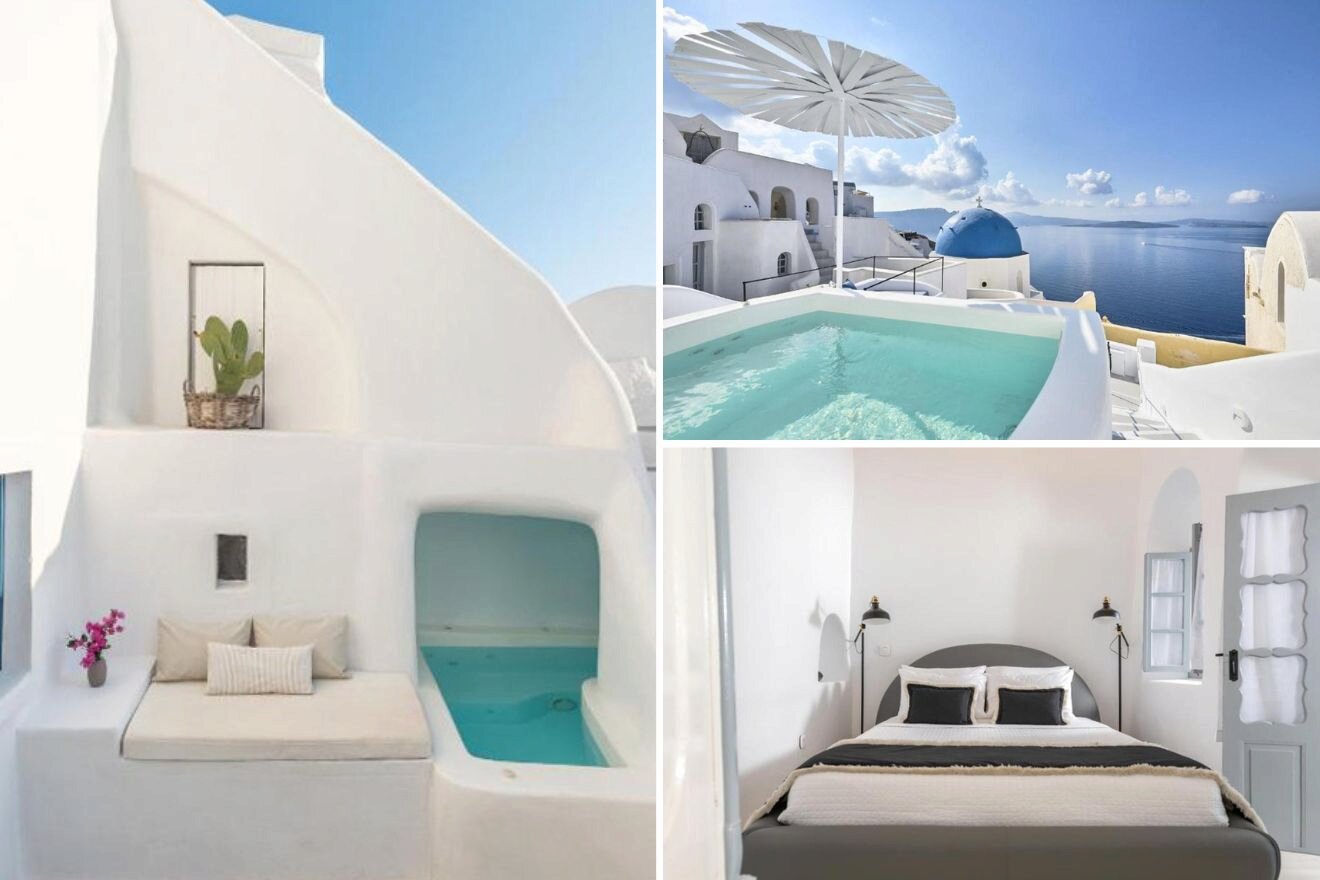 White Cellar Cave Houses by Cycladica – These converted traditional cave houses really preserve the island's rich history and cultural heritage! This white cave house can fit up to 4 people, and it features a great location in Oia, a balcony with sea views, a fully-equipped kitchen, and a hot tub!
Cave Suite Oia – A great white cave house for 4 guests or less that's located in Oia and which comes with a rooftop pool and a balcony where you can enjoy your morning coffee and a delicious breakfast!
NK Cave House Villa – With a central location in Fira, an area that it's known for its horse riding adventures and wine tasting, this cave house has room for up to 6 people, and it features a terrace, a hot tub, and an outdoor dining area.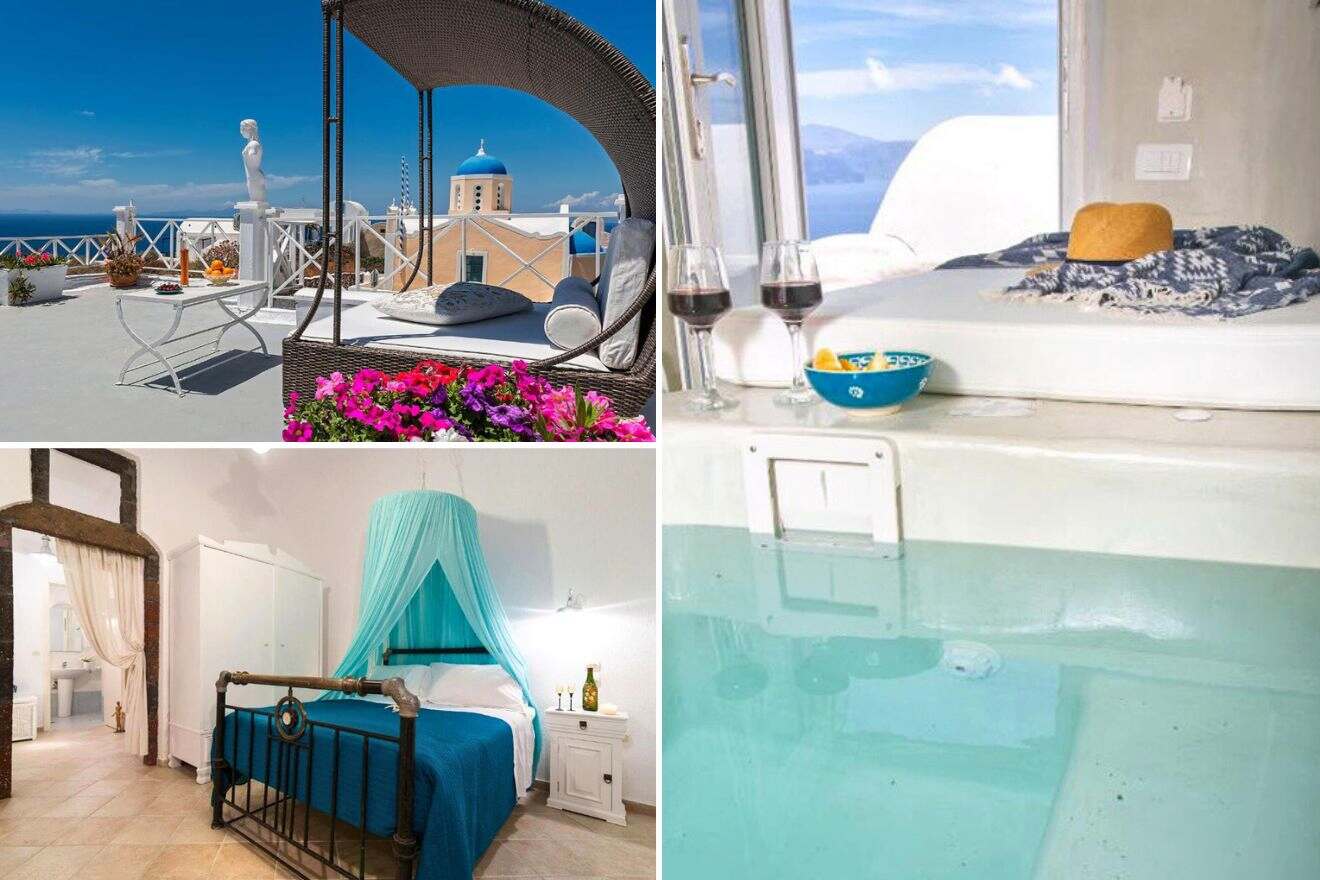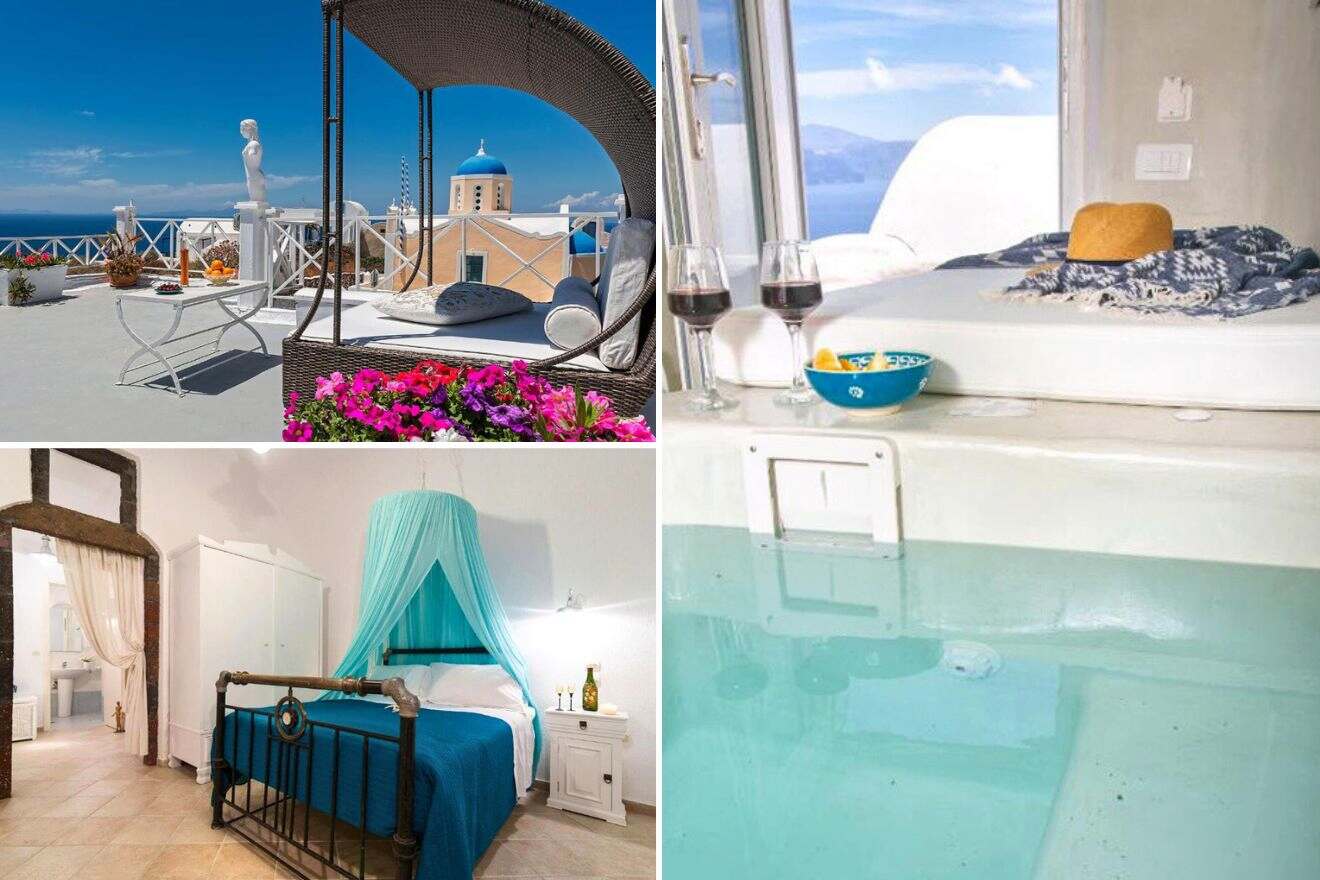 Santorini Paradise Cave Houses – Set in a beautiful location below the castle of Oia, this amazing cave house offers panoramic views over the caldera and the sea! Each villa has room for 7 people or more, and it includes rooms with built-in beds, a private hot tub, and original artwork!
White Cave House – This one-bedroom house is perfect for a romantic getaway! With room just for 2 people, the accommodation is set in Oia, and it offers a patio with sea views, room service, and free parking.
FAQs about cave hotels in Santorini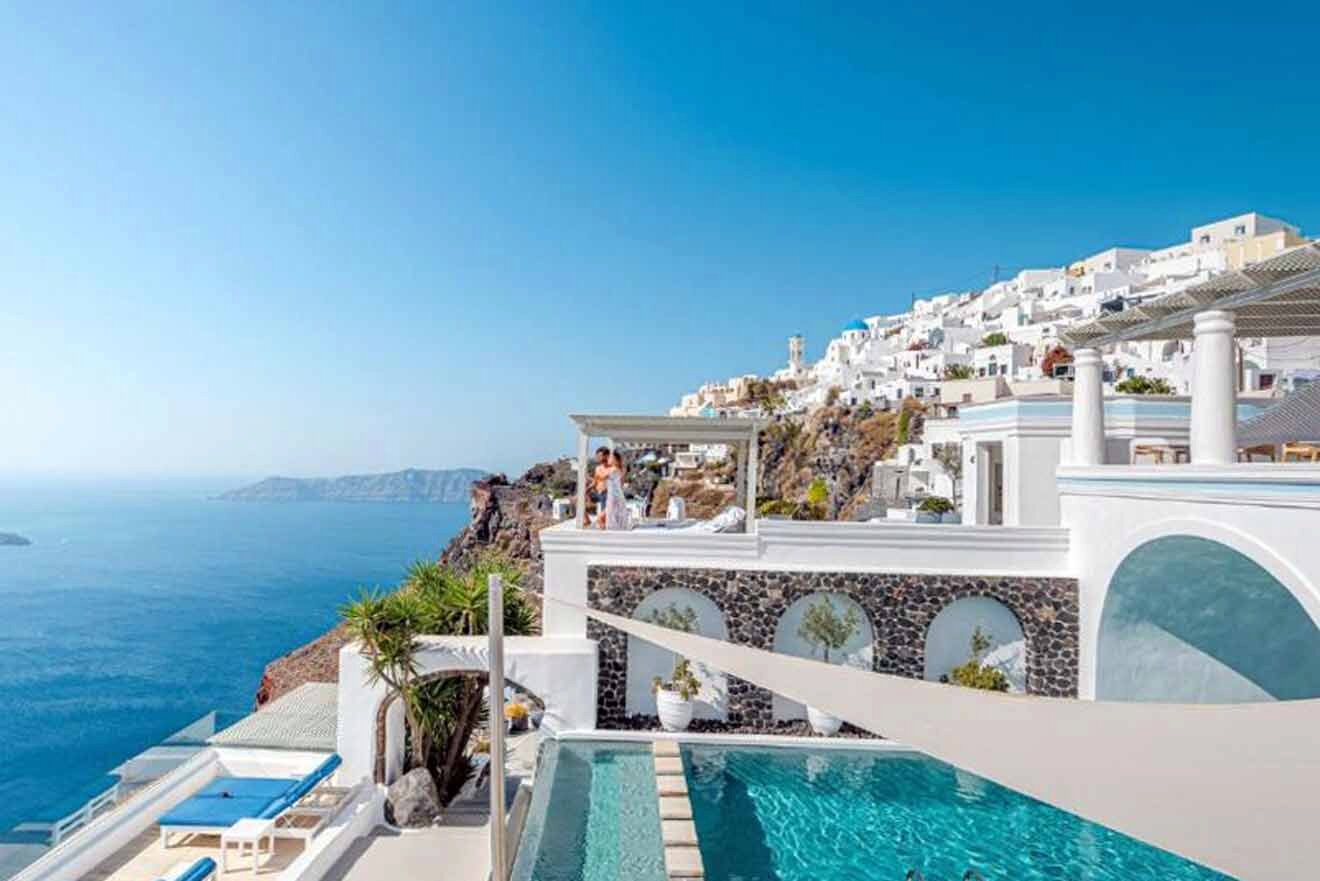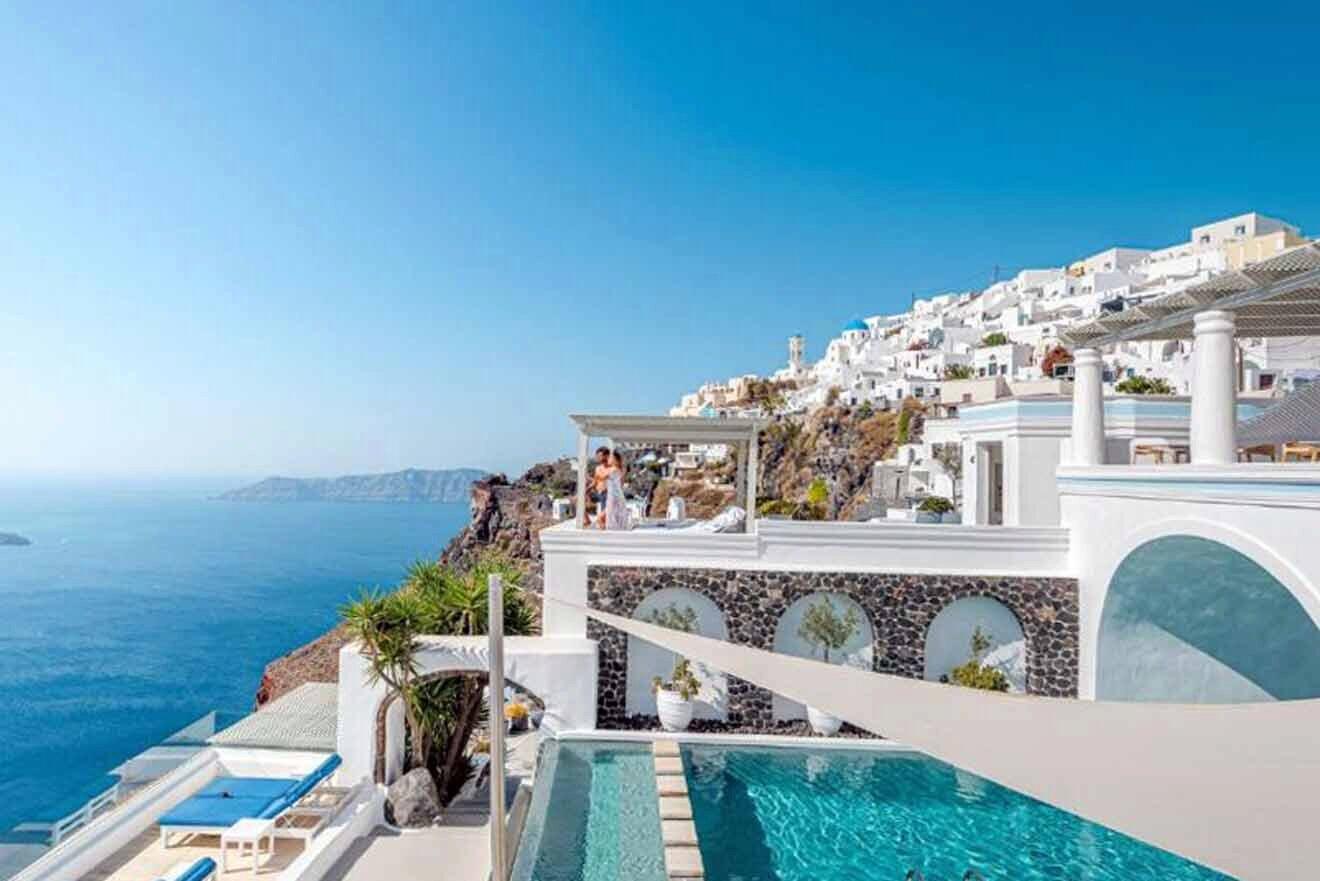 🇬🇷 When were Santorini cave houses built?
Most of the cave houses were built 4 centuries ago by the locals, who were mostly mariners, farmers, and workers who wanted to build solid houses that would withstand the frequent earthquakes.
🔝 Which are the best cave hotels in Santorini?
📸 Where did Kim Kardashian stay in Santorini?
The Kardashians stayed at Celestia Grand, a luxurious villa located south of Fira!
💙 What is the oldest village in Santorini?
Akrotiri is one of the oldest villages in Santorini and the top archaeological site on the island!
Conclusion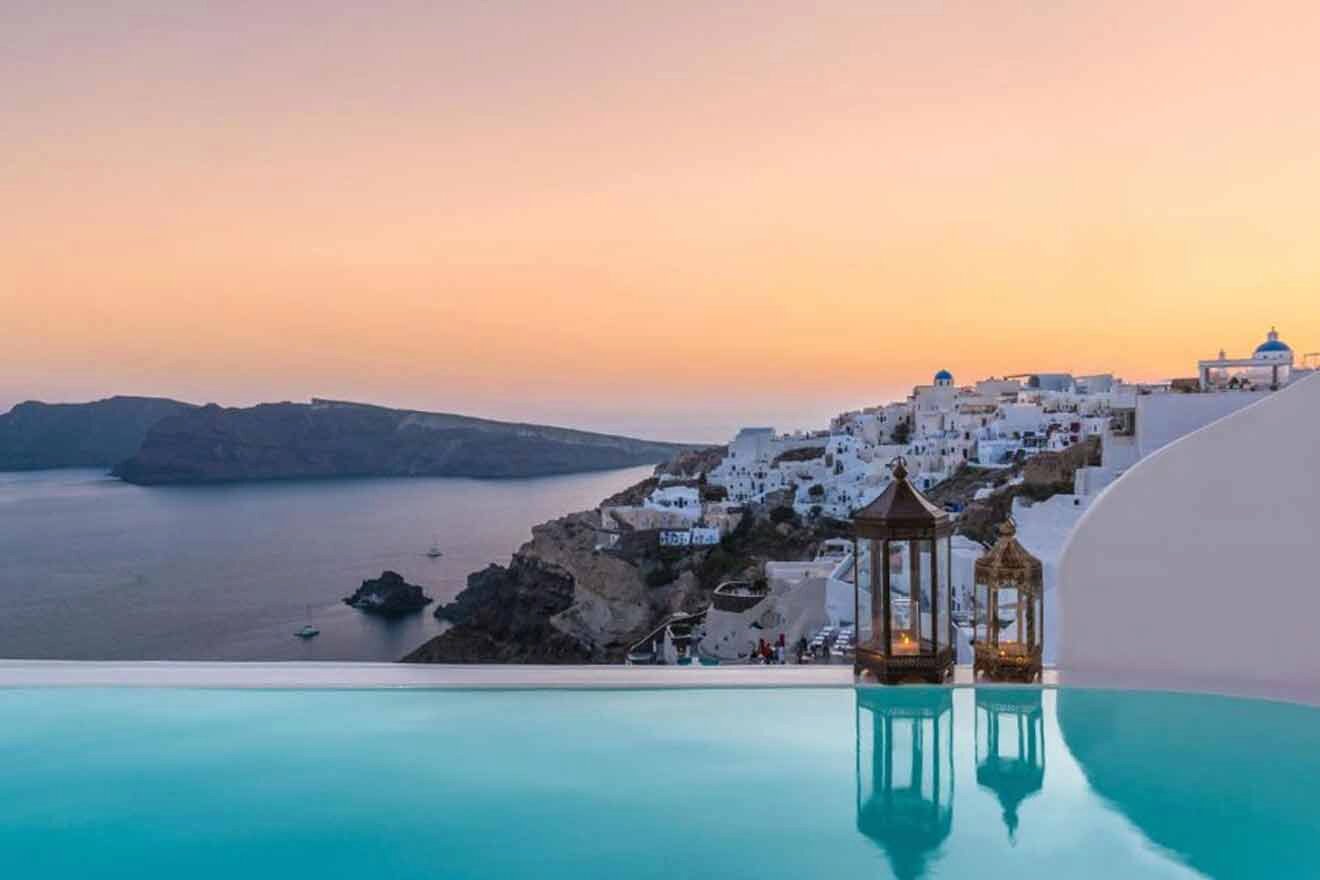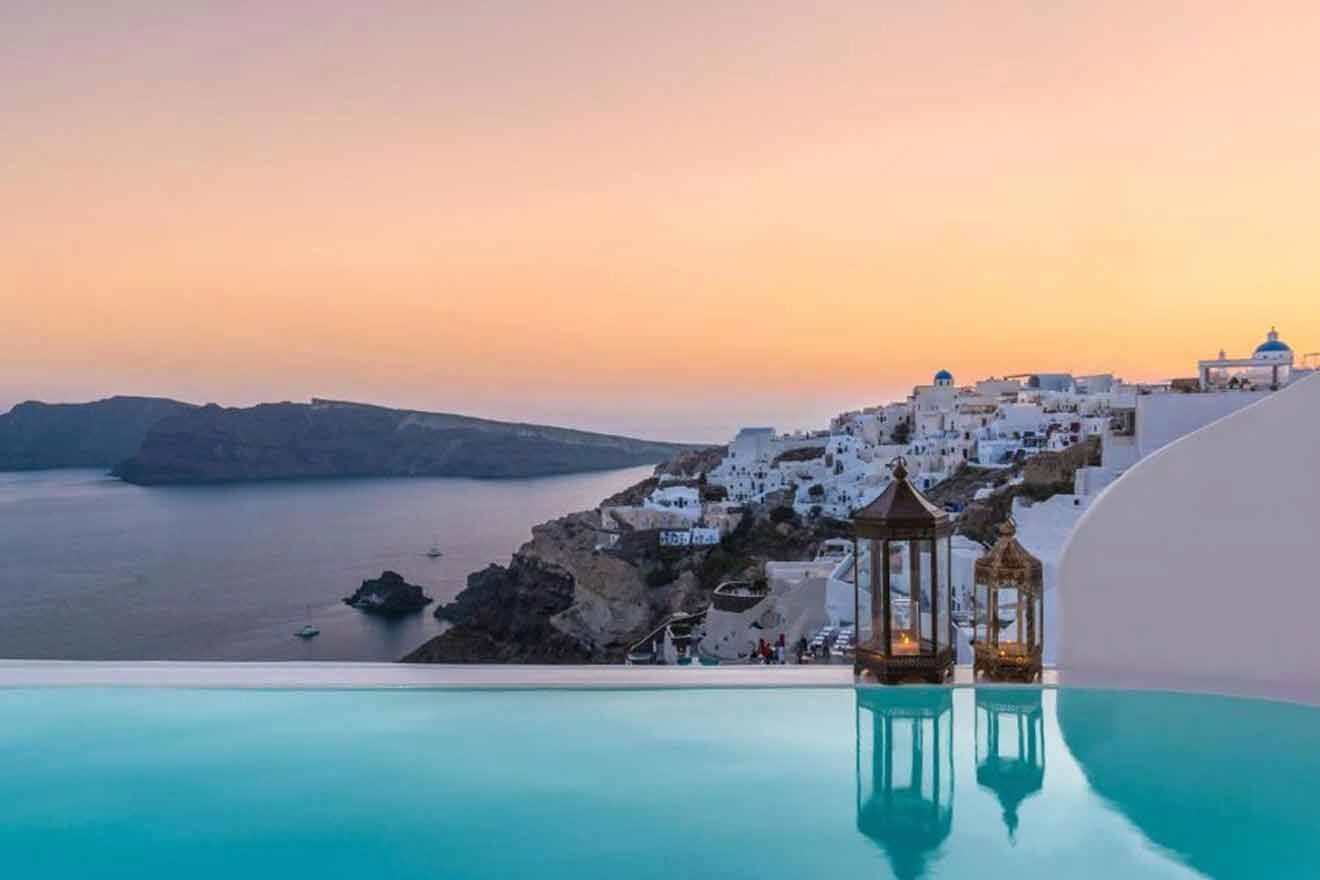 Isn't Santorini one of the dreamiest islands that you've ever seen? White cave houses everywhere, infinity pools, iconic Santorini sunsets, it all looks so incredible!
I hope this post helped you find your favorite cave hotel in Santorini. All the hotels in this post offer breathtaking views of the Santorini caldera and the Aegean Sea and fabulous facilities! As do the cave houses in the bonus section, which you should definitely check out!
As I mentioned in the intro, prices can double during the high season (June to September); that's why I recommend booking your favorite cave hotel in advance!
If you're still not sure which one to pick, then check out my 2 favorite Santorini cave hotels below:
Andronis Luxury Suites – Nestled in the caldera cliff, this hotel offers views of the volcano, suites with cave plunge pools, and a spa center.
Perivolas Hotel – A gorgeous Santorini cave hotel that offers cave rooms with a hot tub, an infinity pool, and a wellness center.
Don't you just feel like moving to Greece?
Well, if you do or not, let me know in the comments what you think, or drop me a question there if you've got any!
Safe travels,
Victoria
---
Pin it for later!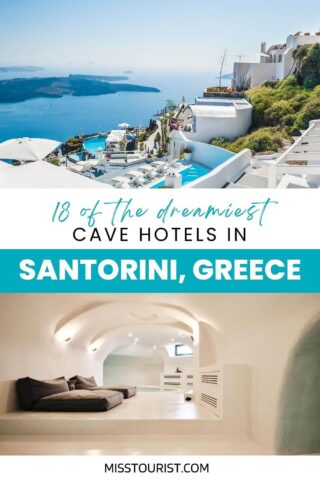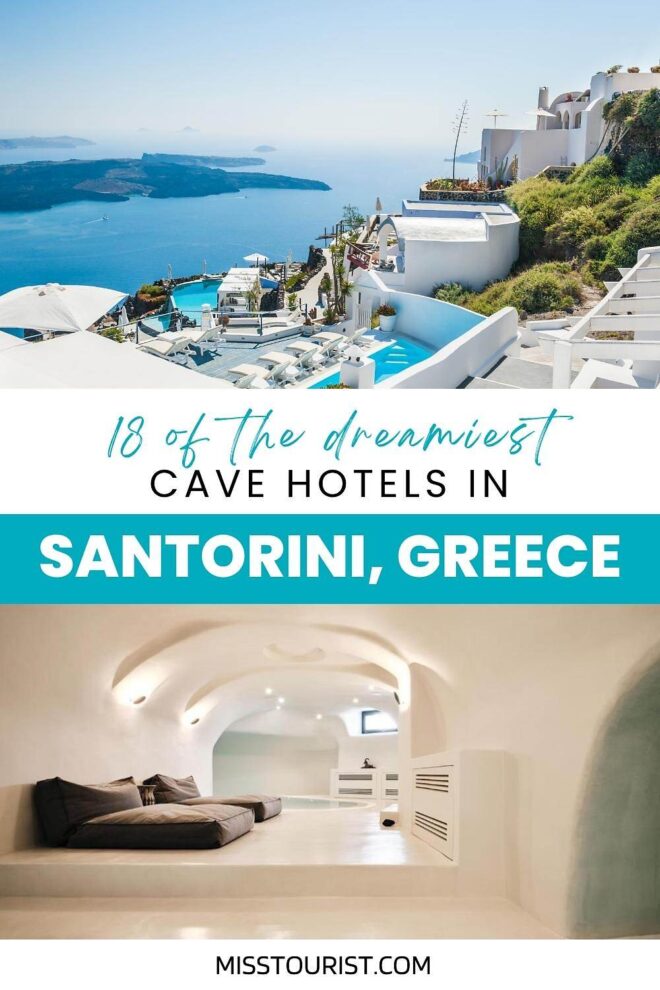 Pin it for later!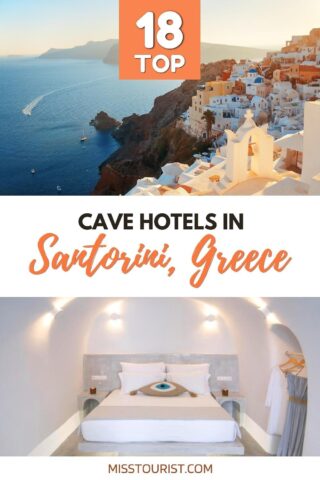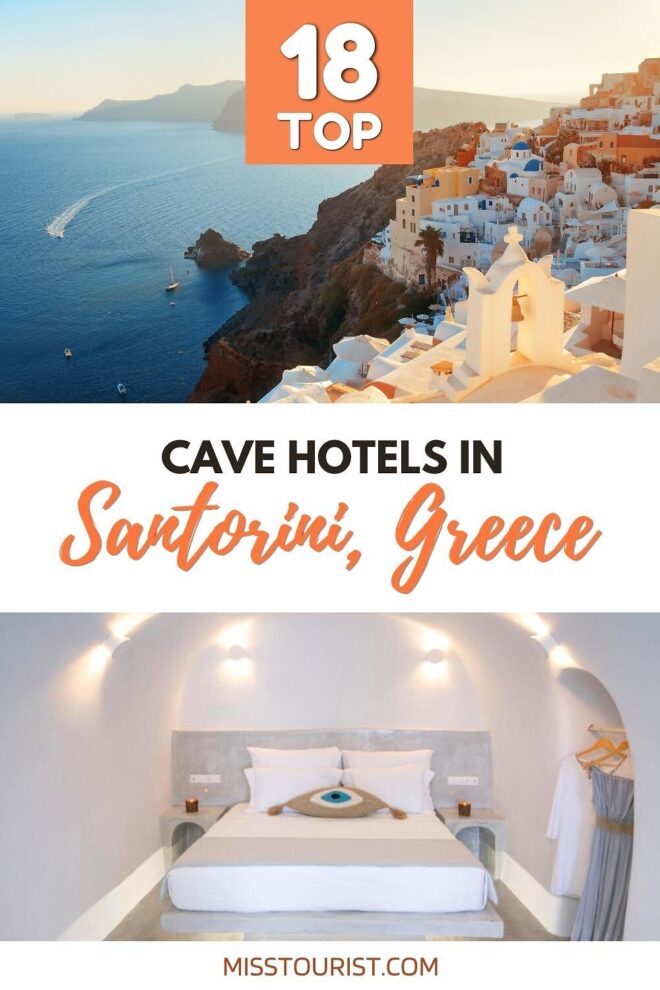 Products You May Like