Your San Diego Harbor Cruise ✔️ 9 Epic Options
Choosing the perfect San Diego Harbor cruise might be a tedious task for busy travelers. As it's a very popular destination, a lot of tour companies decided to include it in its offering. But fear not, I've got you covered!
There is something special and deeply relaxing in seeing some of the city's top landmarks from the comfort of a boat. Add up some champagne and delicious snacks on top of that, and it's an even better experience. To help you achieve this ultimate bliss, I decided to dig deep into the San Diego boat tour offers and compile a list of the very best options that are all approved by the traveler's reviews!
You'll find many different options, there are offerings for adrenaline junkies, history buffs as well as hedonists who like to feel the ultimate comfort.
One tip before we start: make sure to book your boat tours in advance, as they are extremely popular and can fill up quickly!
Let's dive in!
If you are in a hurry
Here only for a peek? These are the top cruises in San Diego Harbor that you don't want to miss out on:
1. Take a downtown San Diego cruise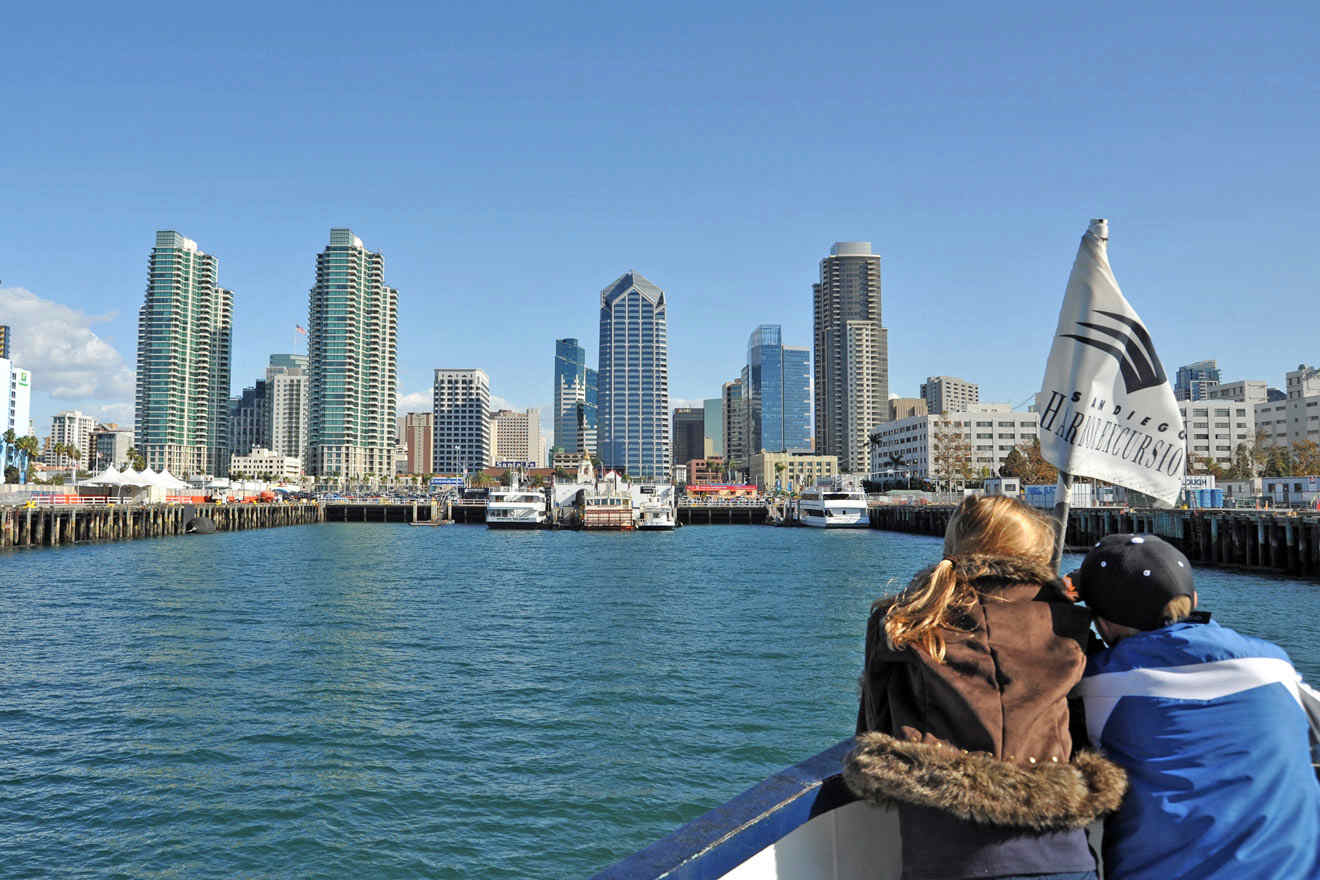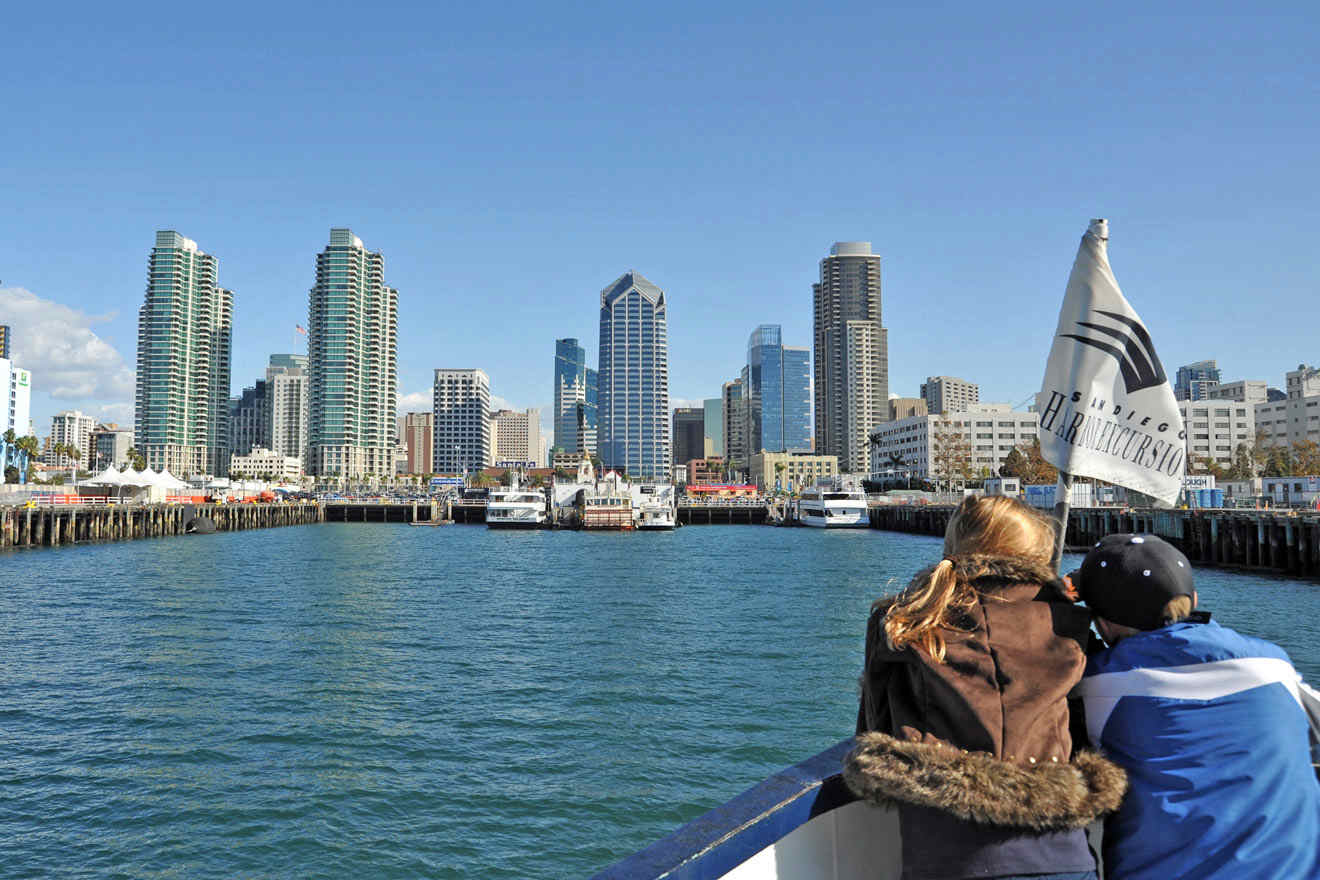 Duration: 2 hours
Price: from US$40
Why you should take it: the most popular San Diego harbor tour
Looking to experience San Diego's scenic beauty in a whole new way? Look no further than this awesome cruise of the San Diego Bay. You'll get to unwind with a relaxing narrated boat tour that takes you beneath Coronado Bridge, past USS Midway Aircraft Carrier, where you may even catch sight of dolphins and sunbathing sea lions.
The boat boasts both indoor and outdoor seating from which you can admire the San Diego skyline views. There is also an onboard snack bar where you can enjoy some delicious treats as you travel through waterfront landmarks, but they aren't included in the tour price!
You can choose between the 1-hour or 2-hour tour option. The 2-hour one gives you a full itinerary, while with the 1-hour cruise, you get to choose between seeing the North Harbor or the South Harbor.
2. Explore the marine life on a whale-watching tour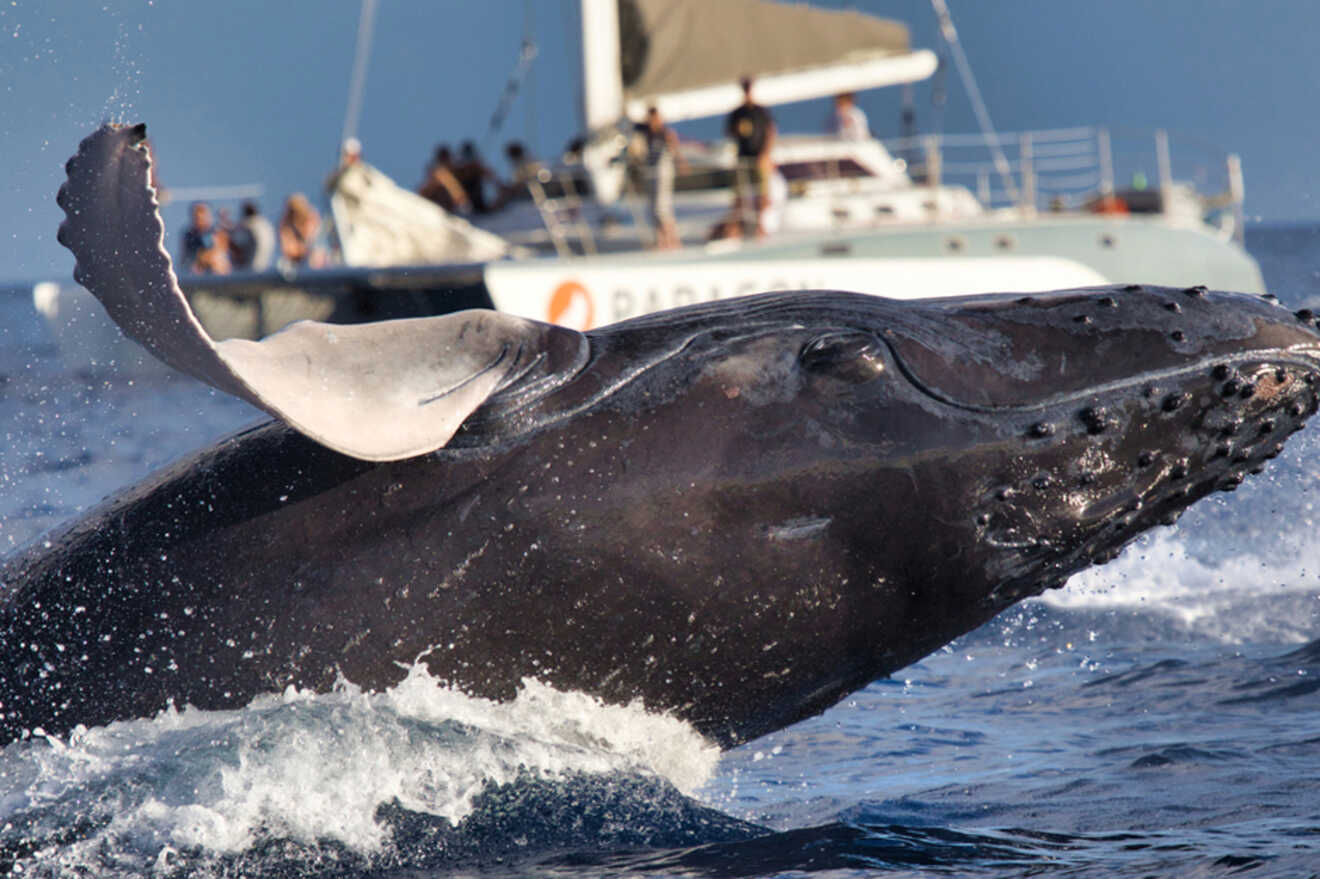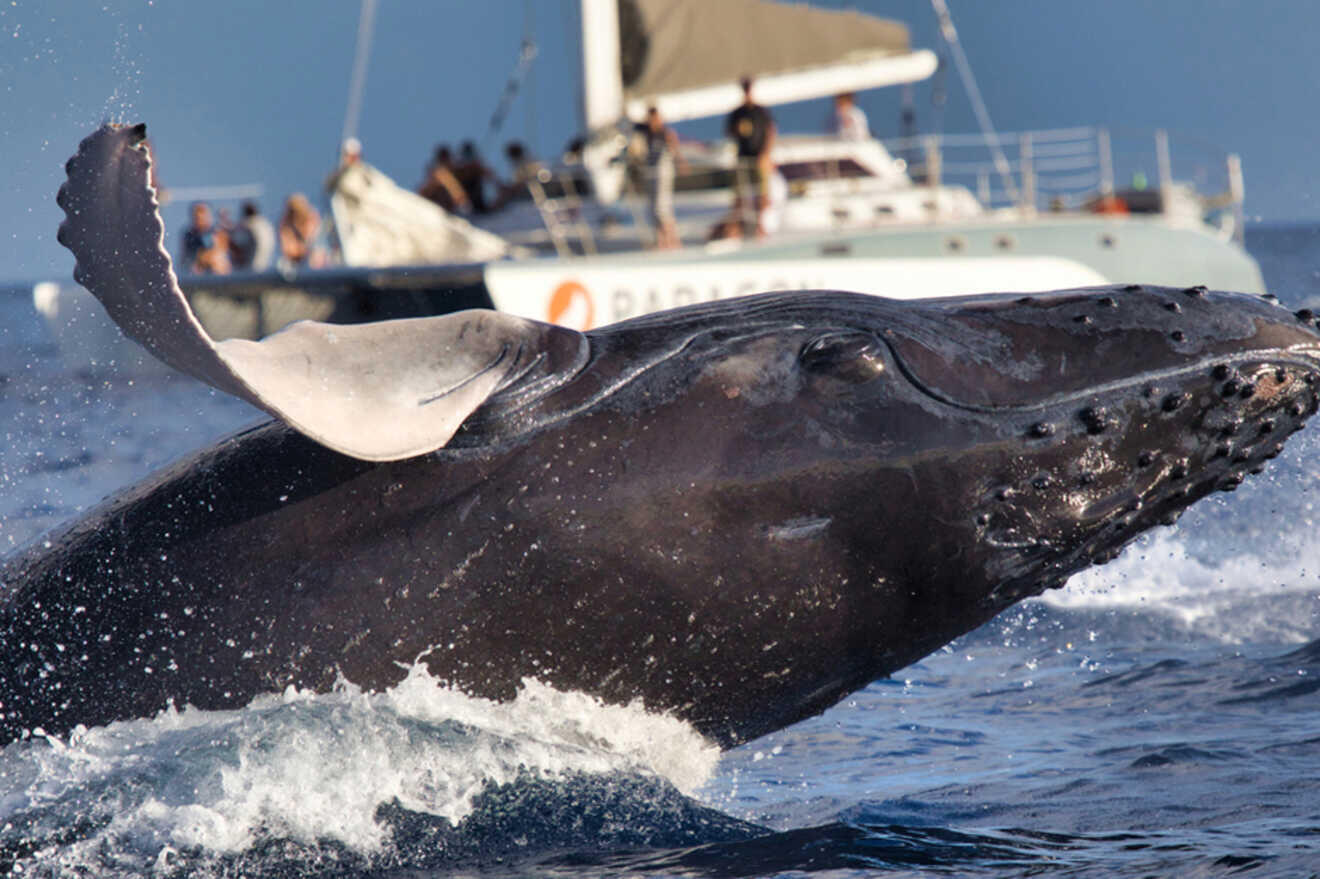 Duration: 4 hours
Price: from US$85
Why you should take it: admire marine life with a professional guide
Whale-watching tours are some of the most popular types of boat tours California has to offer, and we have compiled a whole list of the very best whale-watching tours in CA.
But this tour is special because you'll ride in a replication of the sailing ship that famously conquered the first America's Cup. This classic boat moves nearly silently, powered by wind alone, granting your captain unrivaled access to marine life without scaring them away.
You won't just get a tour of San Diego Harbor Island with highlights such as Coronado Bay Bridge and Naval Base San Diego, but you'll also get the whale and dolphin watching experience. Of course, an expert marine guide will be there to tell you all the interesting details about these cool animals.
You can also save money with this tour as they offer a free cruise or a full refund in case you don't get to see the whales.
3. Drive the speedboat through San Diego Bay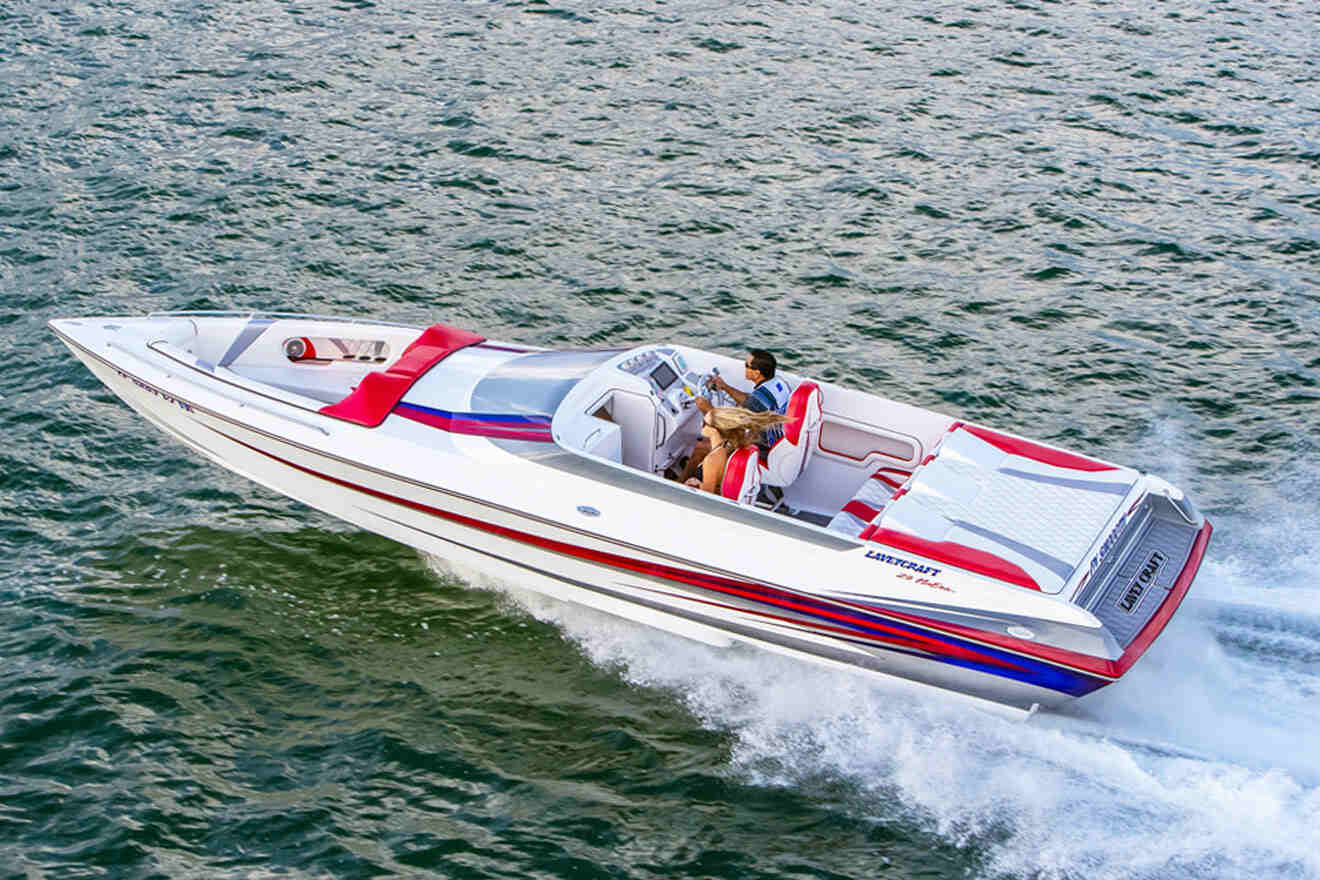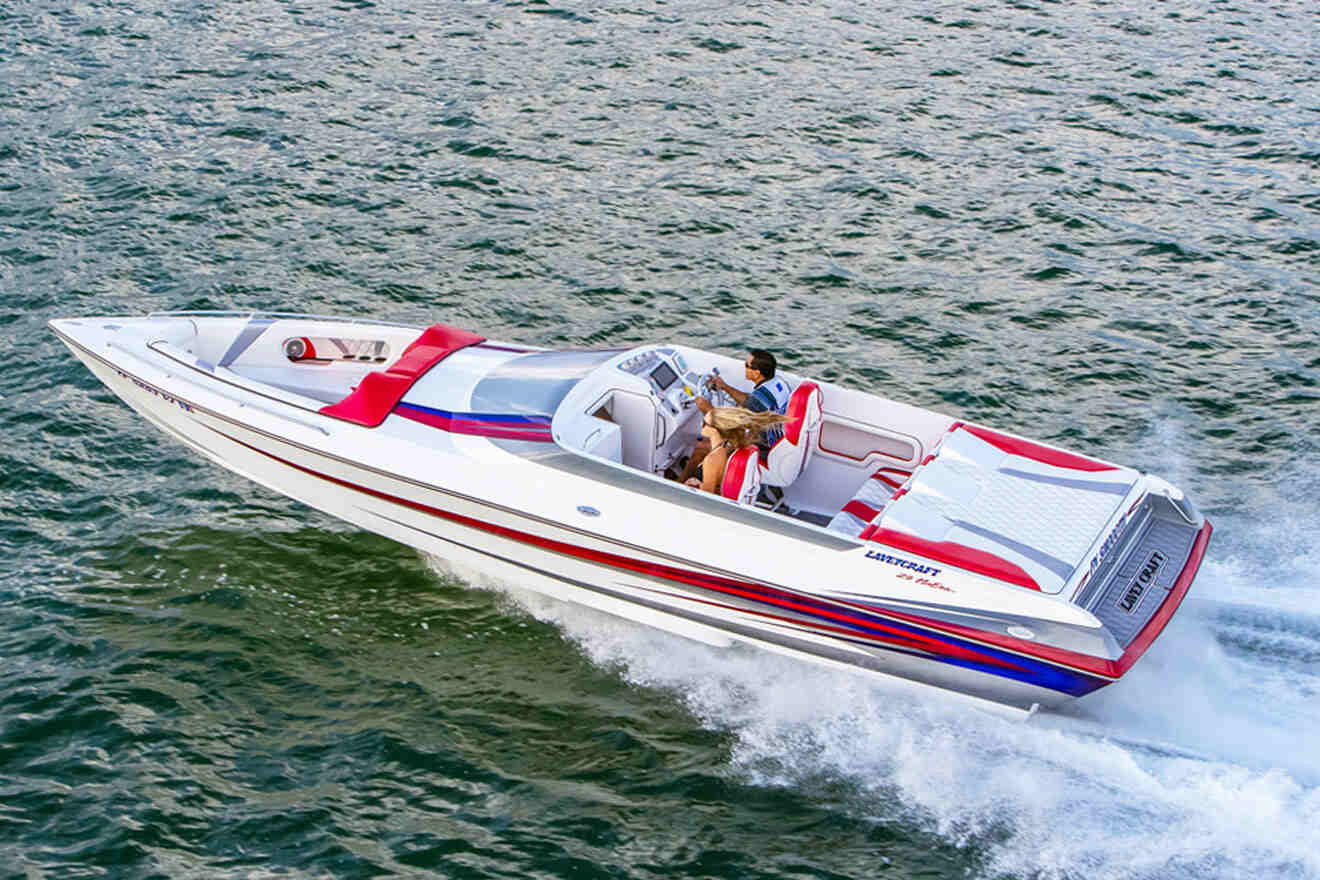 Duration: 2 hours
Price: from US$160
Why you should take it: for adrenaline junkies
With this exciting, adrenaline-fueled tour, you'll feel the rush as you experience San Diego Harbor up close and personal while you drive your own speedboats.
Your trained guide will teach you how to maneuver the speed boat successfully and be by your side while taking in all the sights, such as going past military ships, Shelter Island, Seaport Village, Maritime Museum, and other amazing landmarks.
I recommend you take advantage of photo opportunities during stops along your route for the perfect Instagram shot.
This activity will only take about 2 hours, but since the hotel pickup and drop off from the San Diego area isn't provided, it will probably take longer time out of your day.
4. Admire San Diego's sunset views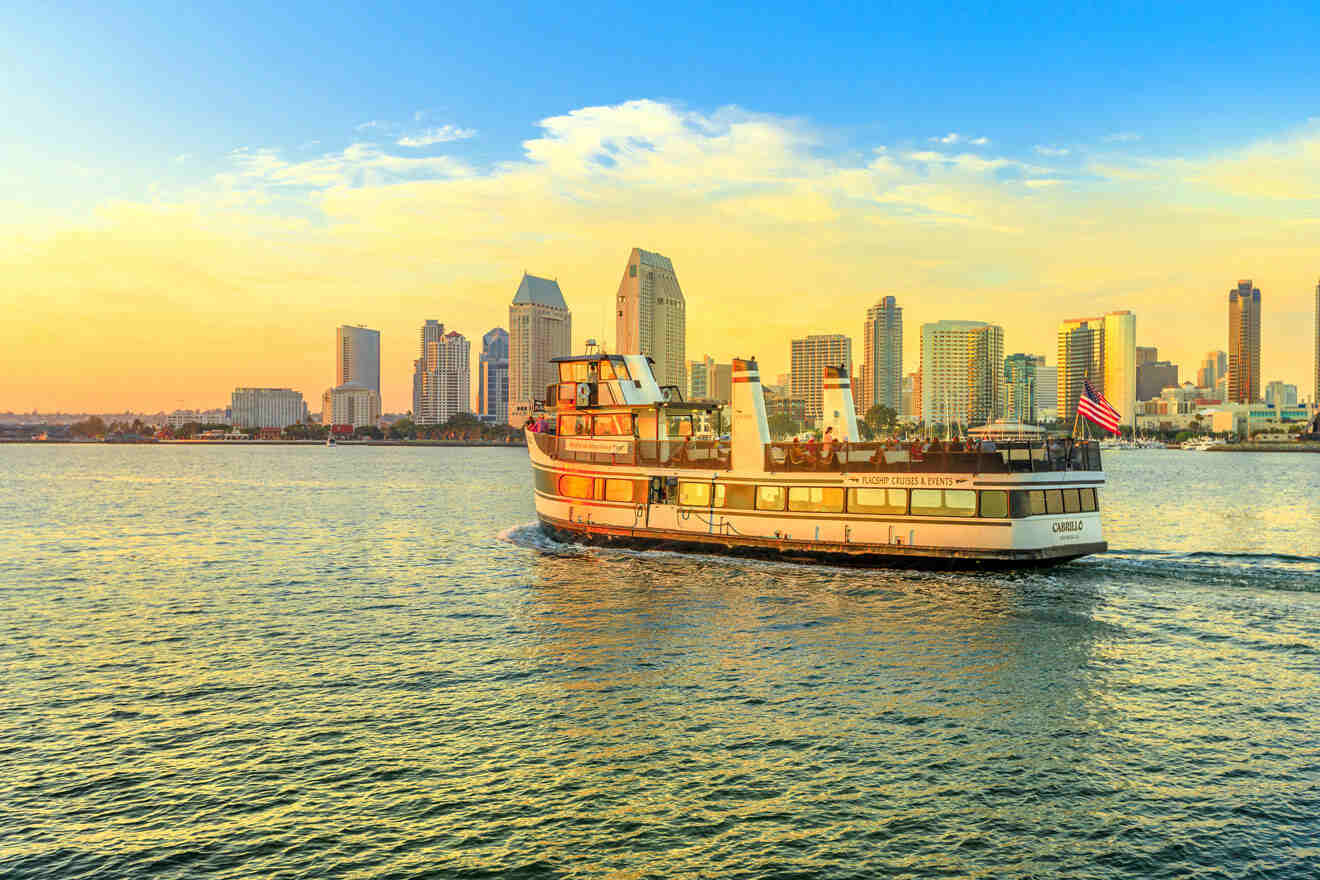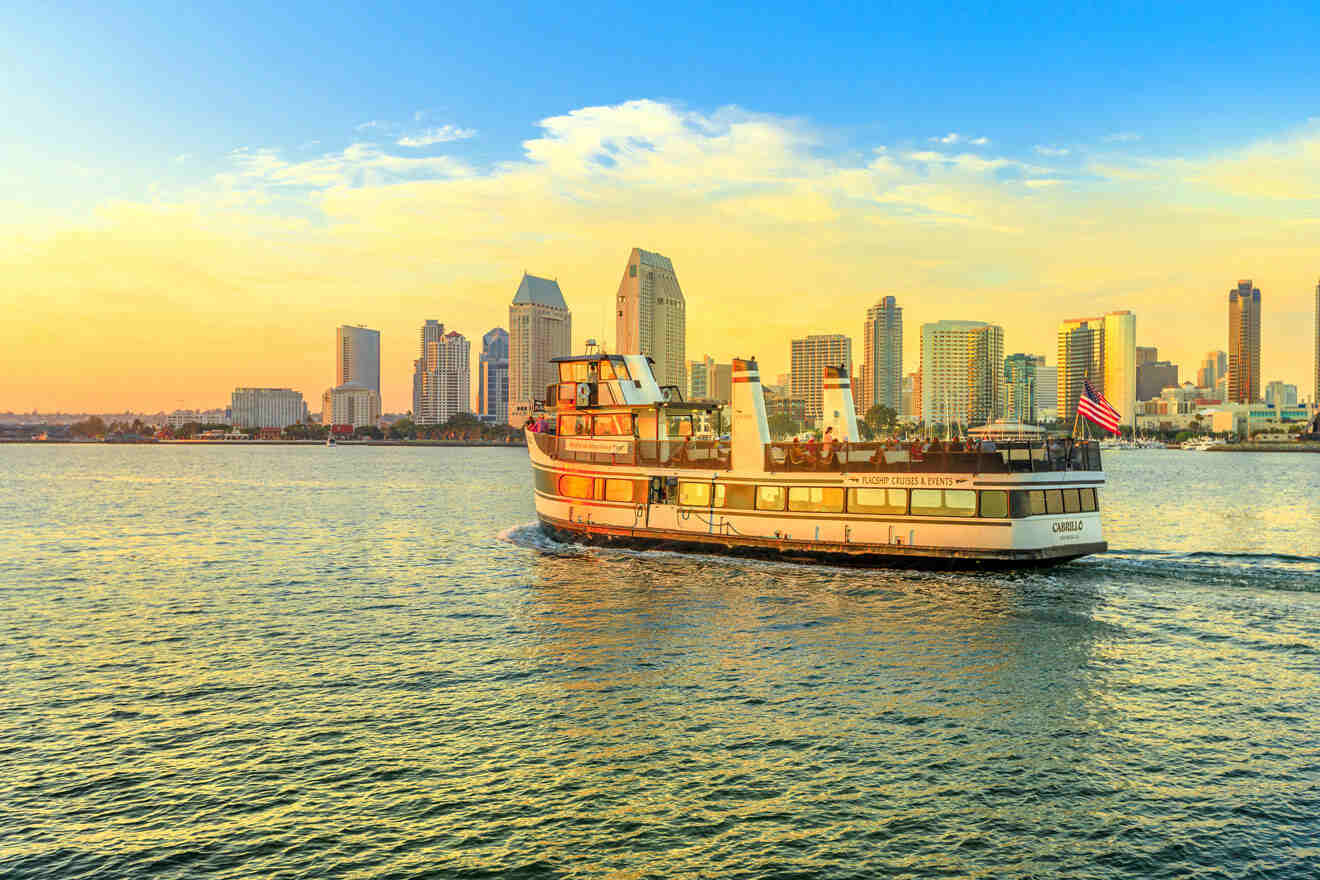 Duration: 3 hours
Price: from US$115
Why you should take it: for romantics
This is one of the perfect Harbor tour choices for all the gentle souls who want to experience the sunset views of the area while enjoying a boat ride. Also, those who like to go with the traditional flagship cruises will have a blast as well.
You'll pass through all the iconic landmarks, including Point Loma and the Naval Amphibious Base. It's an intimate cruise with a small gang of up to 6 passengers, so you'll have both personalized attention from the crew and plenty of time and space to explore.
During the journey, the tour operators will provide some light snacks and beverages on board, and you can also plug in your own music and listen to it on surround-sound speakers.
5. Embark on the official tall ship adventure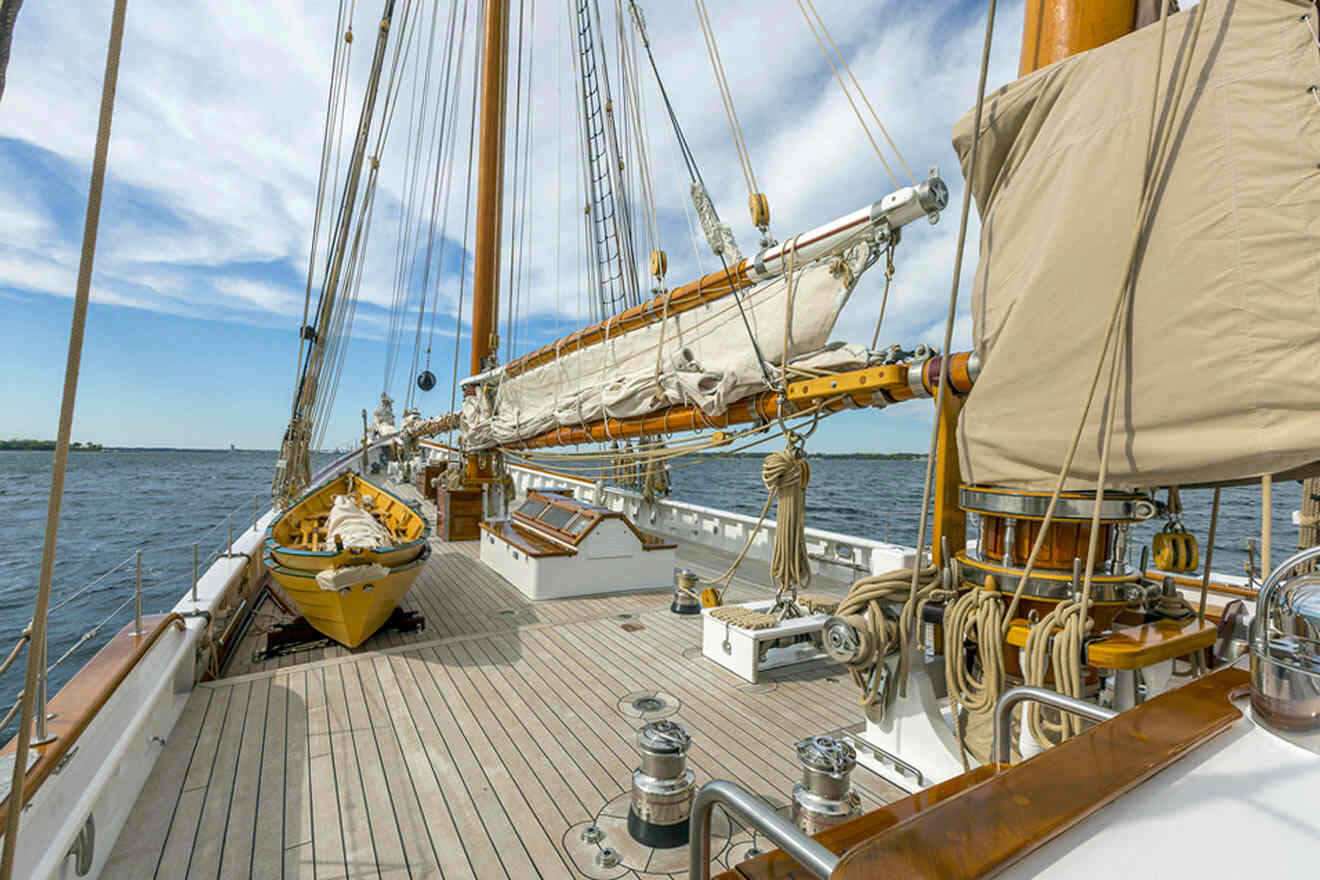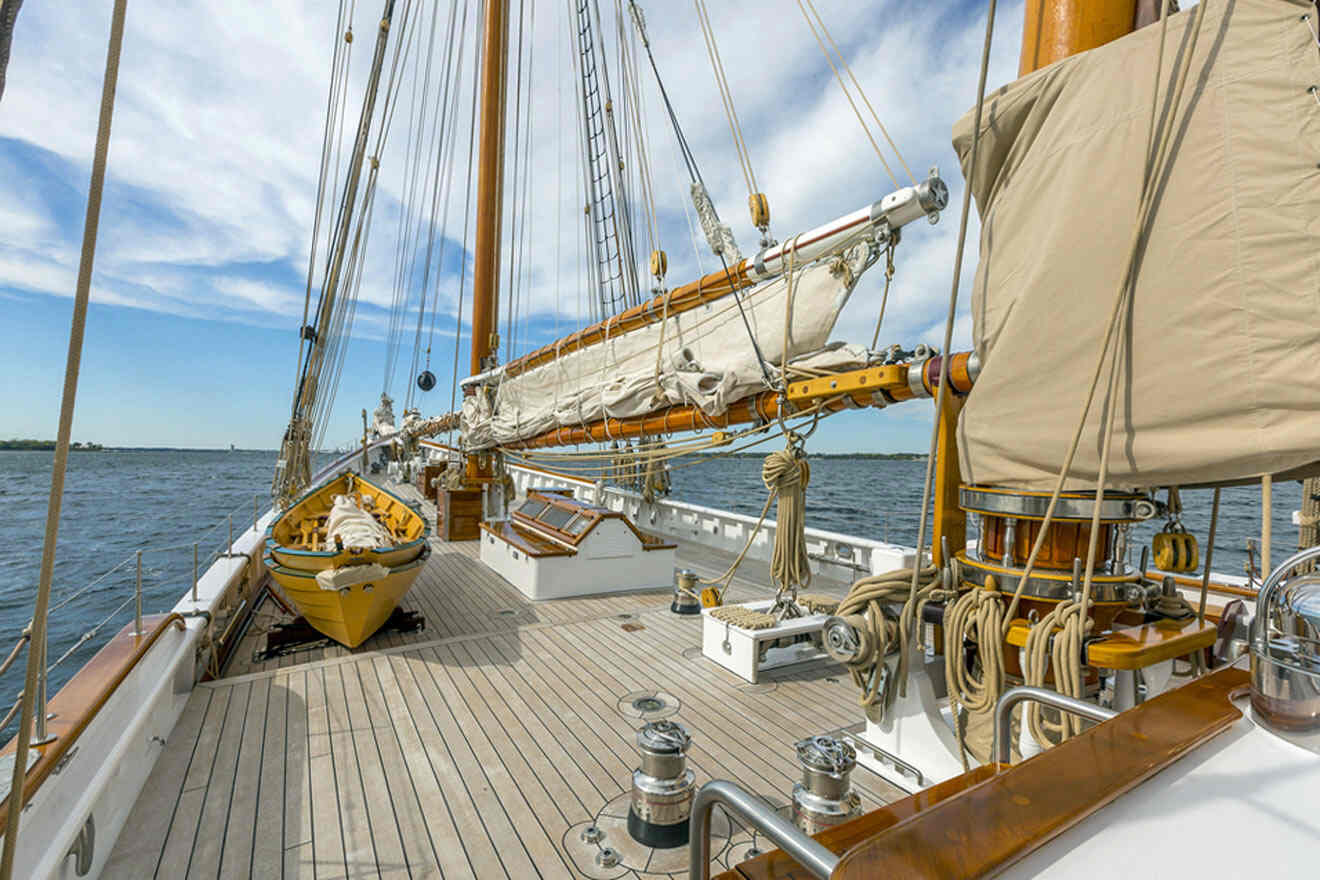 Duration: 4 hours
Price: from US$120
Why you should take it: includes an entry to Maritime Museum
Climb aboard and be part of the sailing crew on board one of the last traditionally rigged tall ships! This unforgettable journey back in time will allow you to haul a line, steer the wheel, and even witness the sailors as they climb up and down the rigging like monkeys! The tour is topped off with exclusive admission to the Maritime Museum.
The knowledgeable crew of Californians will tell you all the amazing tales, and you'll learn about San Diego's historic naval battles and the subtle art of ship gunnery that made them famous.
Make sure to check out the Maritime Museum of San Diego before or after you take your boat cruise. There, you'll get a close look at a range of historic ships, including Star of India – the oldest active sailing vessel.
6. See San Diego Bay from the comfort of a yacht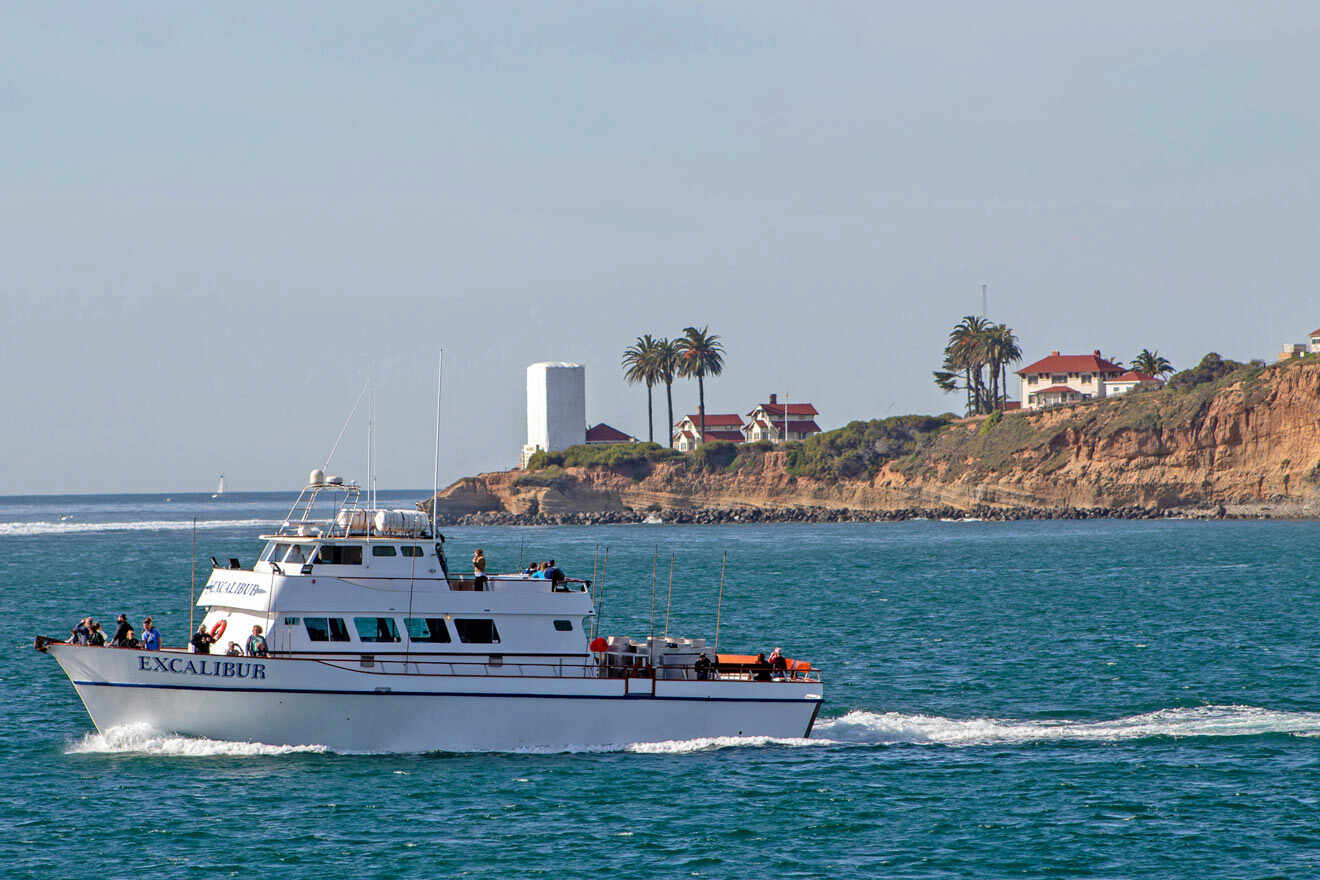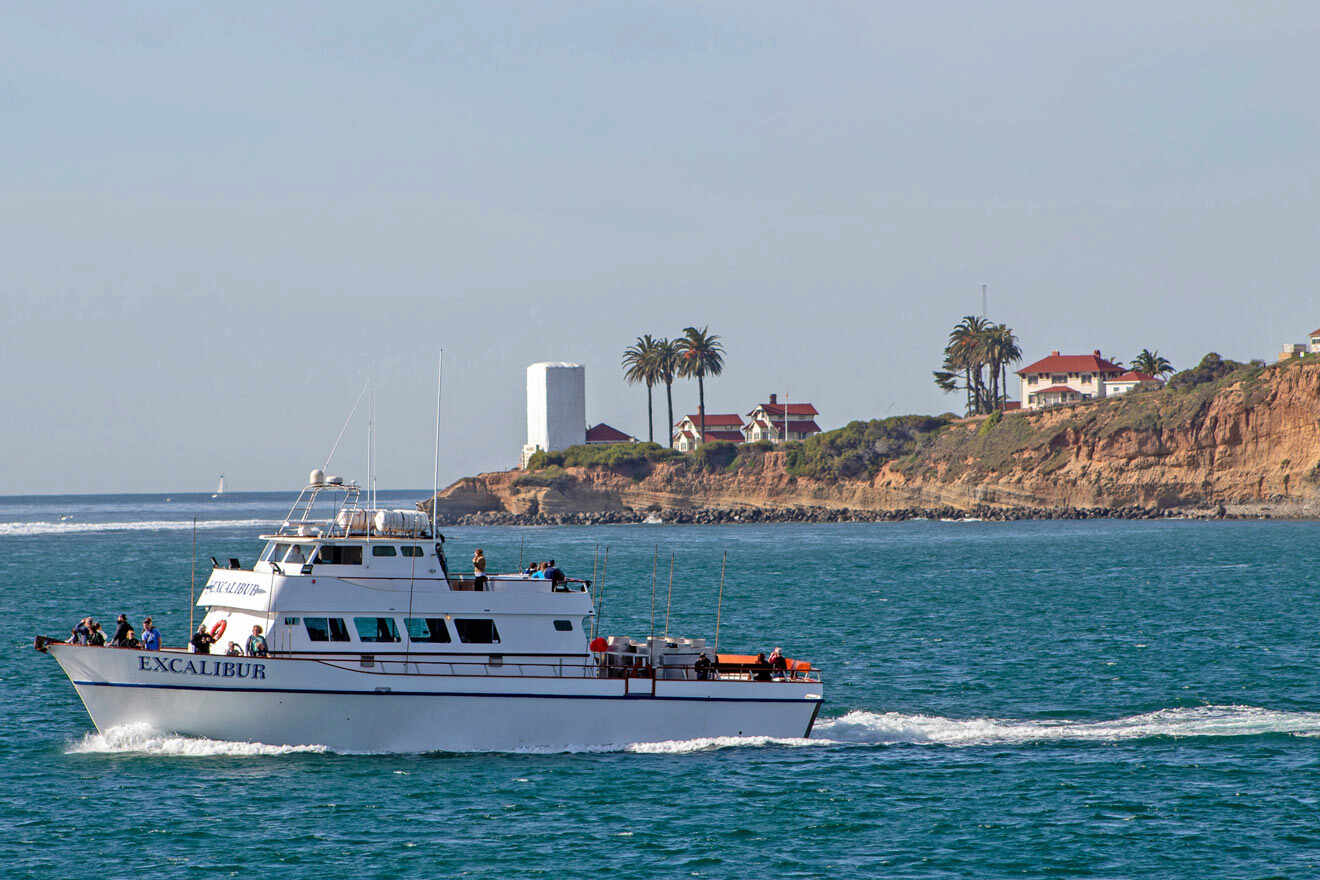 Duration: 2 hours
Price: from US$110
Why you should take it: a great yacht trip
Embark on this luxurious 40-foot (12 m) sailing yacht and be treated to the view of the city's skyline from the bay. You'll sway with the tranquil waters, indulge in an included glass of wine, and keep an eye out for dolphins, sea lions, or naval ships if you're lucky – all while lounging with the comfort provided by deck cushions and bean bags.
With only 6 seats available at a time, your reservation also ensures that your special journey will remain private.
And if you like to enjoy luxurious dinner cruises that give you the feel of royalty, the Coronado Ferry Landing company can give you the unforgettable dinner cruise of your dreams.
7. Hunt down San Diego sights on an exciting jet boat ride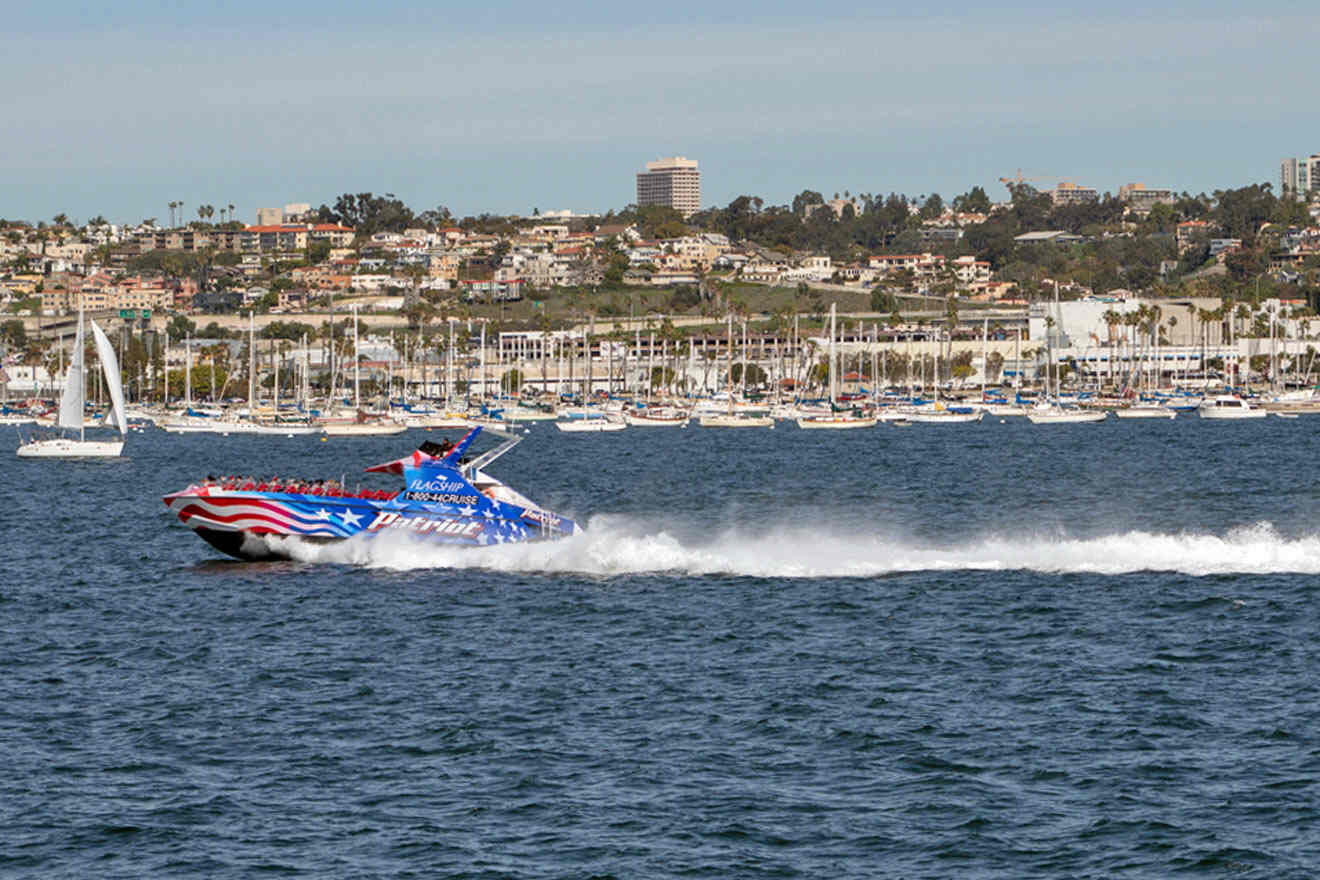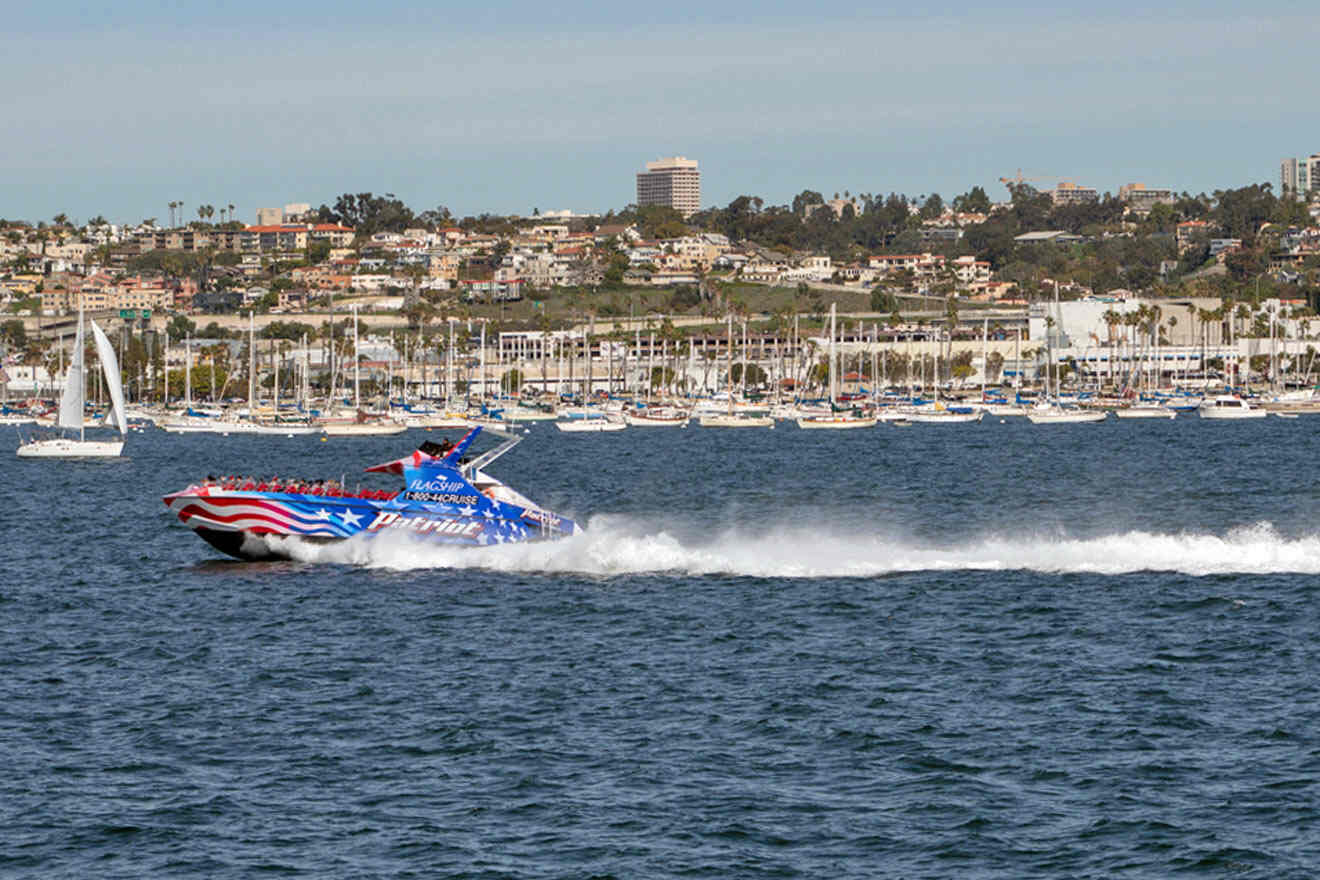 Duration: 30 min
Price: from US$40
Why you should take it: for those tight on schedule
Tear through the choppy waters of San Diego Bay on both wild and short jet boat rides – guaranteed to get your blood pumping! Your captain will be sure to point out all the amazing landmarks, including the USS Midway, Coronado Island, Seaport Village, and more.
As soon as you check in, they'll make sure you get prepped and protected with your own personal waterproof poncho and plastic bag.
One more thing that makes those rides convenient is the various morning or afternoon departures you get to choose from, so you can totally customize this experience according to your free time and schedule.
8. Taste your buds on a brunch cruise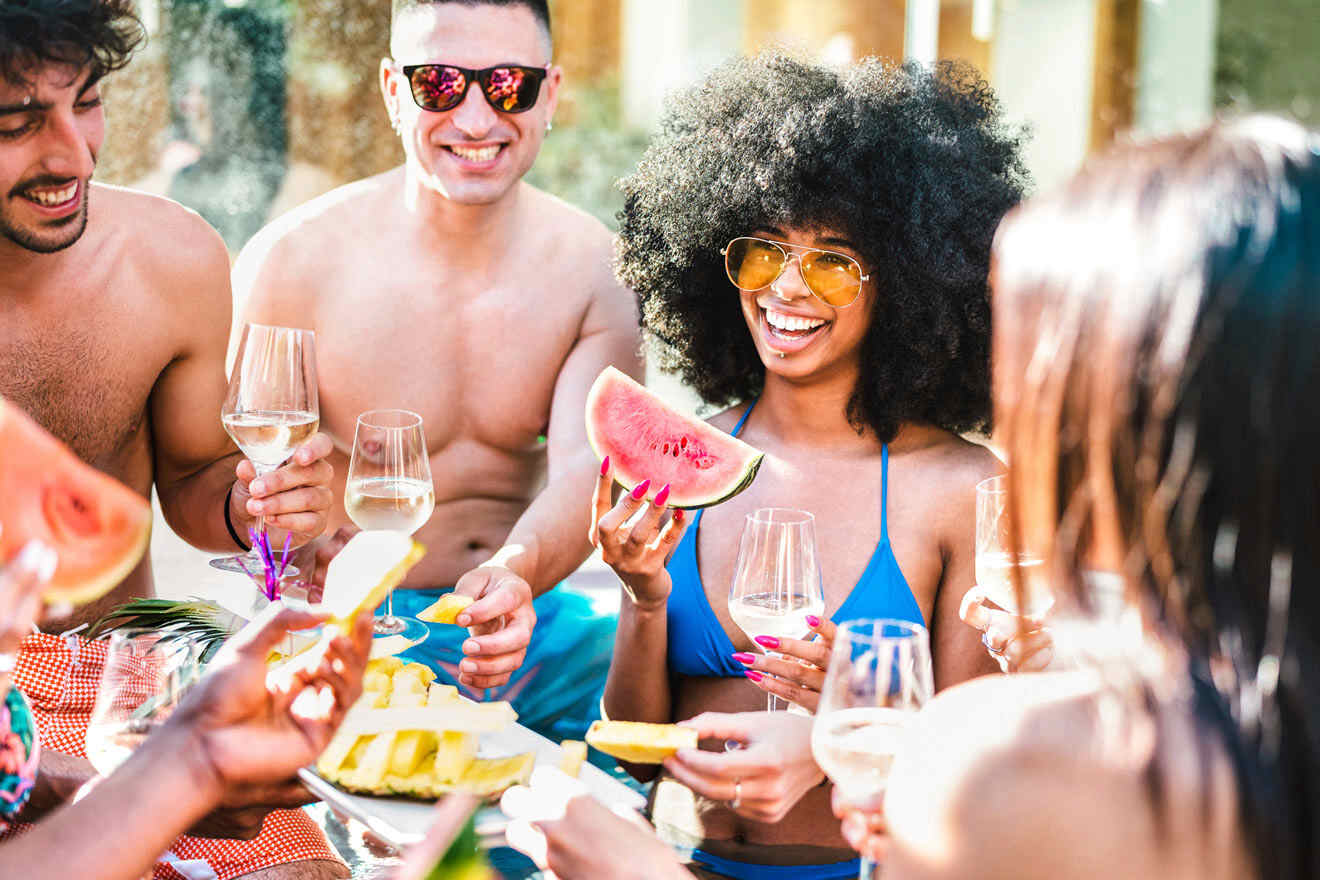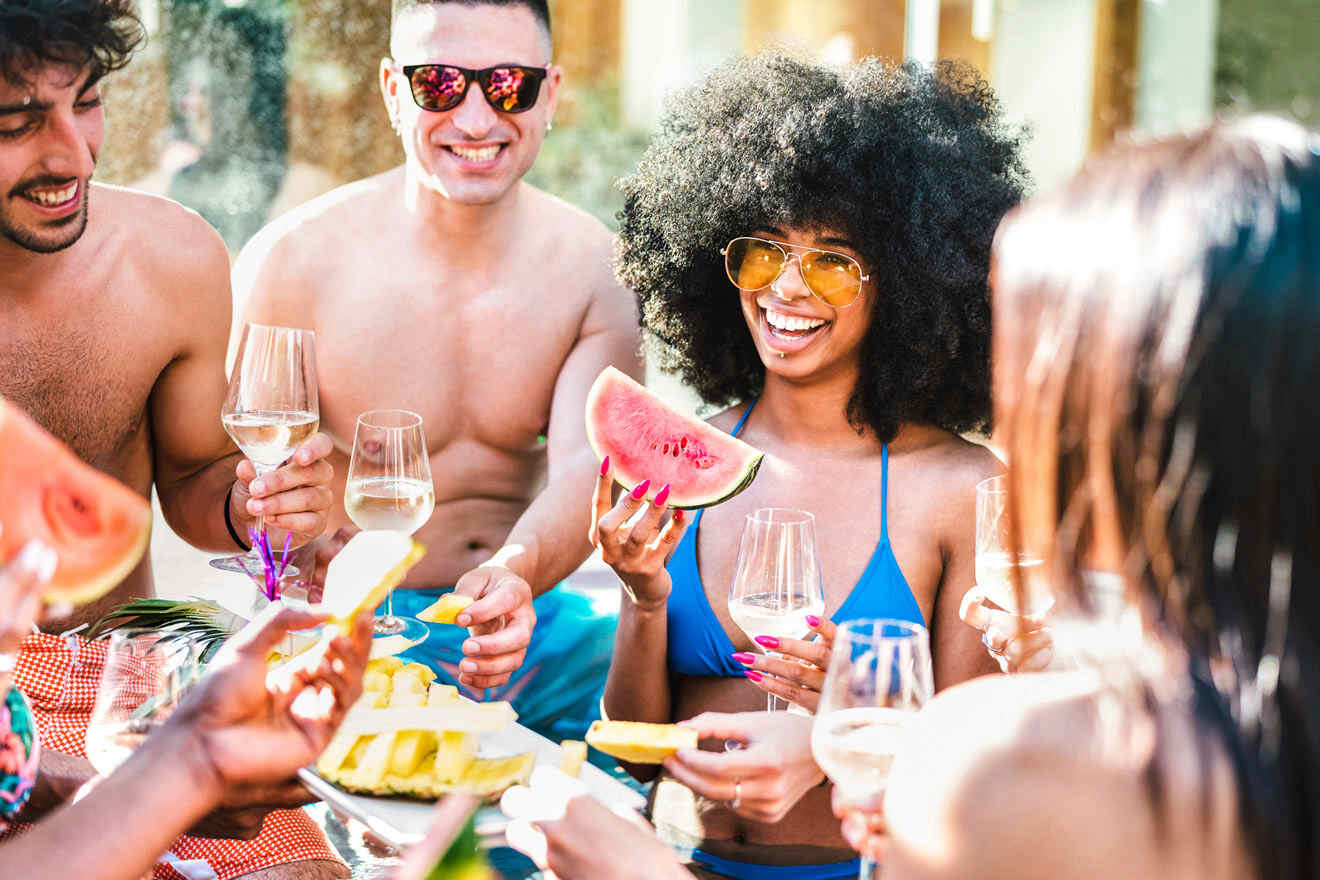 Duration: 2 hours
Price: from US$110
Why you should take it: tasty treats for hedonists
Brunch cruises and champagne cruises are a must-do for any hedonist out there who likes to enjoy life to the fullest. And, of course, the San Diego visit is no exception to that. So I found you a great champagne buffet option.
Not only can you take in breathtaking views of the city skyline, but you can also enjoy the bottomless mimosas and delicious breakfast options, both vegetarian-friendly. You'll get to indulge in live entertainment as the attentive crew tops up drinks all aboard the luxury yacht.
And if you want to revel in the lavish plated brunch and sip on champagne while seated at your private table, you can embark on this brunch cruise option. 
9. Join a San Diego seal tour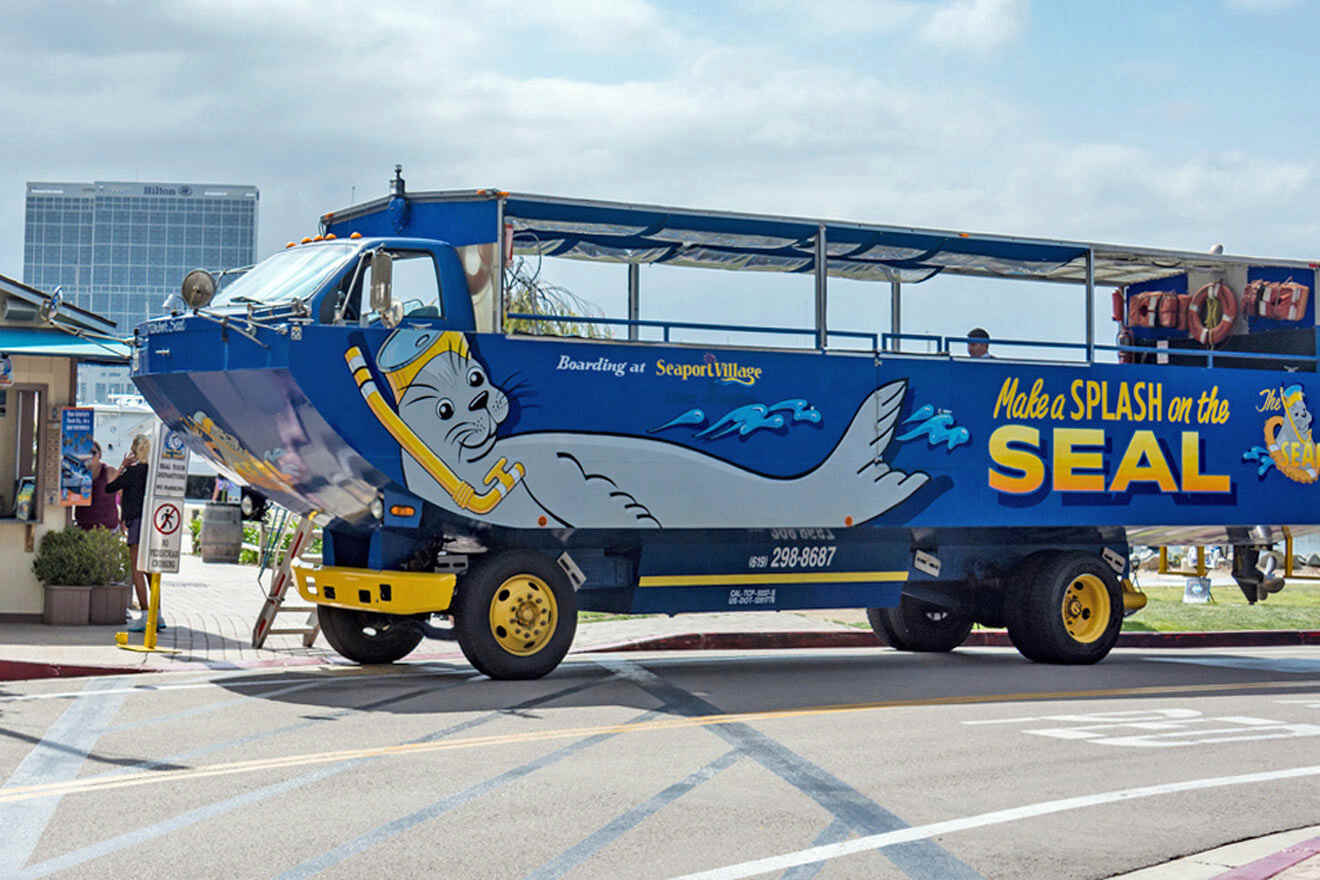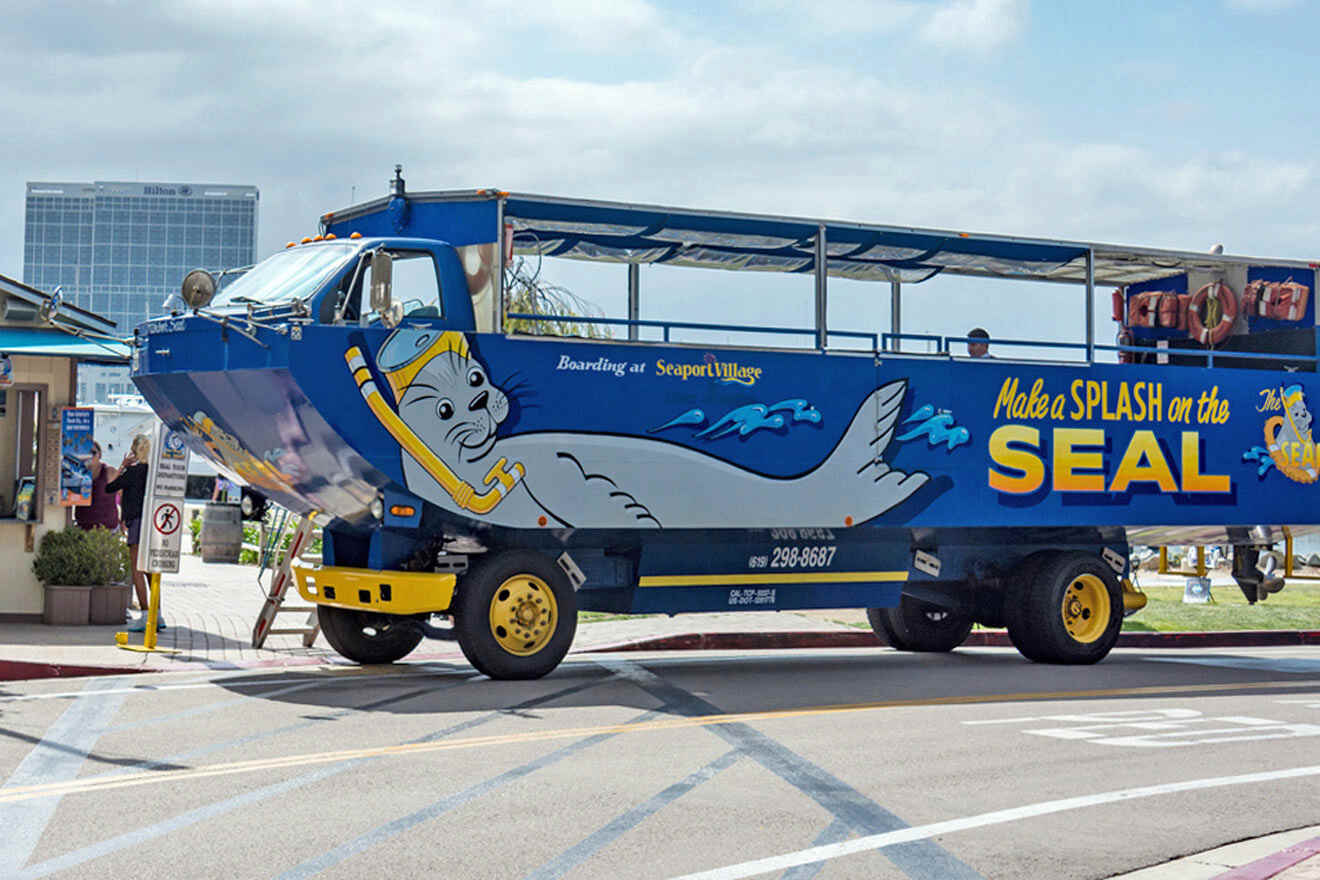 Duration: 1.5 hours
Price: from US$60
Why you should take it: see landmarks both by land and the sea
Step aboard your cruise ship and start your explorations of San Diego with a unique amphibious vehicle ride – you'll get to traverse both land and sea. Kicking off at the Seaport Village on Harbor Drive, you'll start your journey along the waterfront with an expert guide by your side.
Unveiling a history lesson on some of its early sailors, they'll also keep you informed about military sites in town, such as US Marine and Navy establishments nearby, too!
You'll take a dip into its waters for an even more immersive experience, and make sure to keep your eyes peeled for the vibrant marine life before you head back to your starting point.
FAQs about your San Diego Harbor Cruise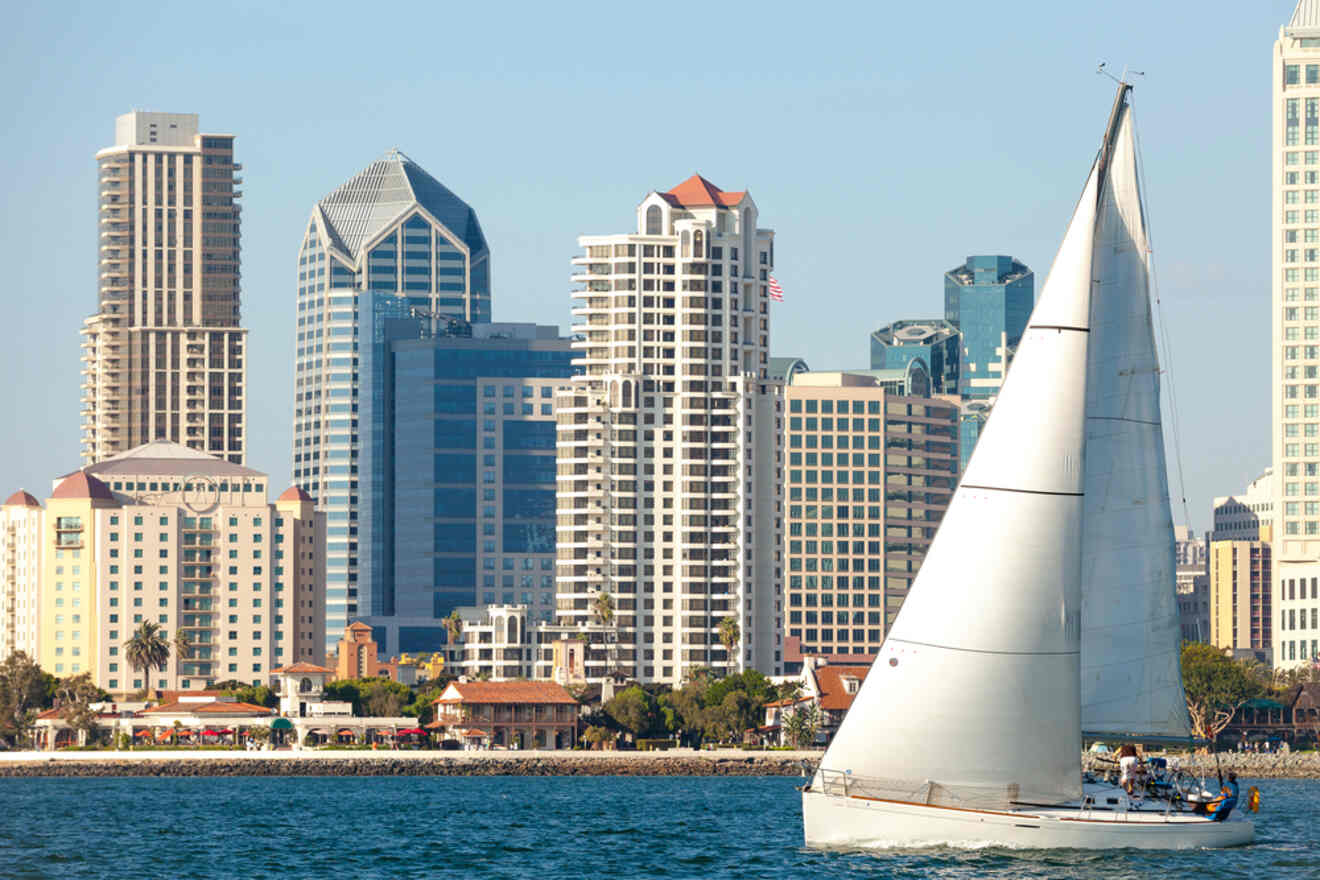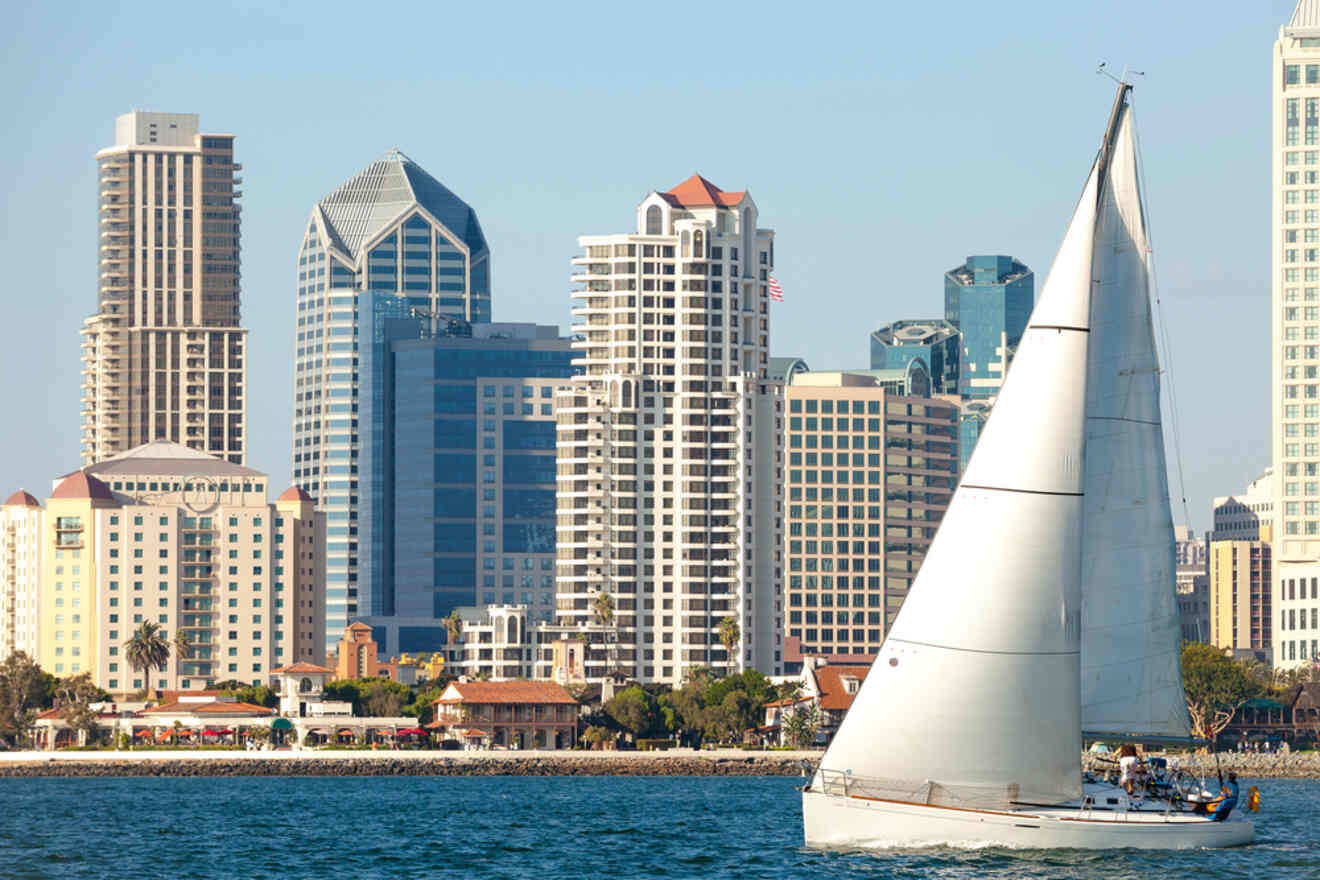 📍 Is the San Diego Harbor cruise worth it?
Absolutely. It's an amazing way to admire all the beautiful and historically important sights. Make sure to check out the most popular and well-rated San Diego Harbor cruise.
👚 What to wear on a harbor cruise in San Diego?
Consider bringing a light layer of clothing for cooler evenings, and don't forget sun protection for the sunny weather.
🛥️ Can I take a private San Diego Harbor cruise?
Yes. Many tour operators are offering a private cruise experience. I recommend checking out the cool and comfortable yacht cruise with only up to 6 passengers allowed.
💰 What is the cost of a San Diego Harbor cruise?
The average price of a San Diego cruise is somewhere around US$80. However, you can join a jet boat ride for as little as US$40 or feast on a brunch cruise for US$112.
Conclusion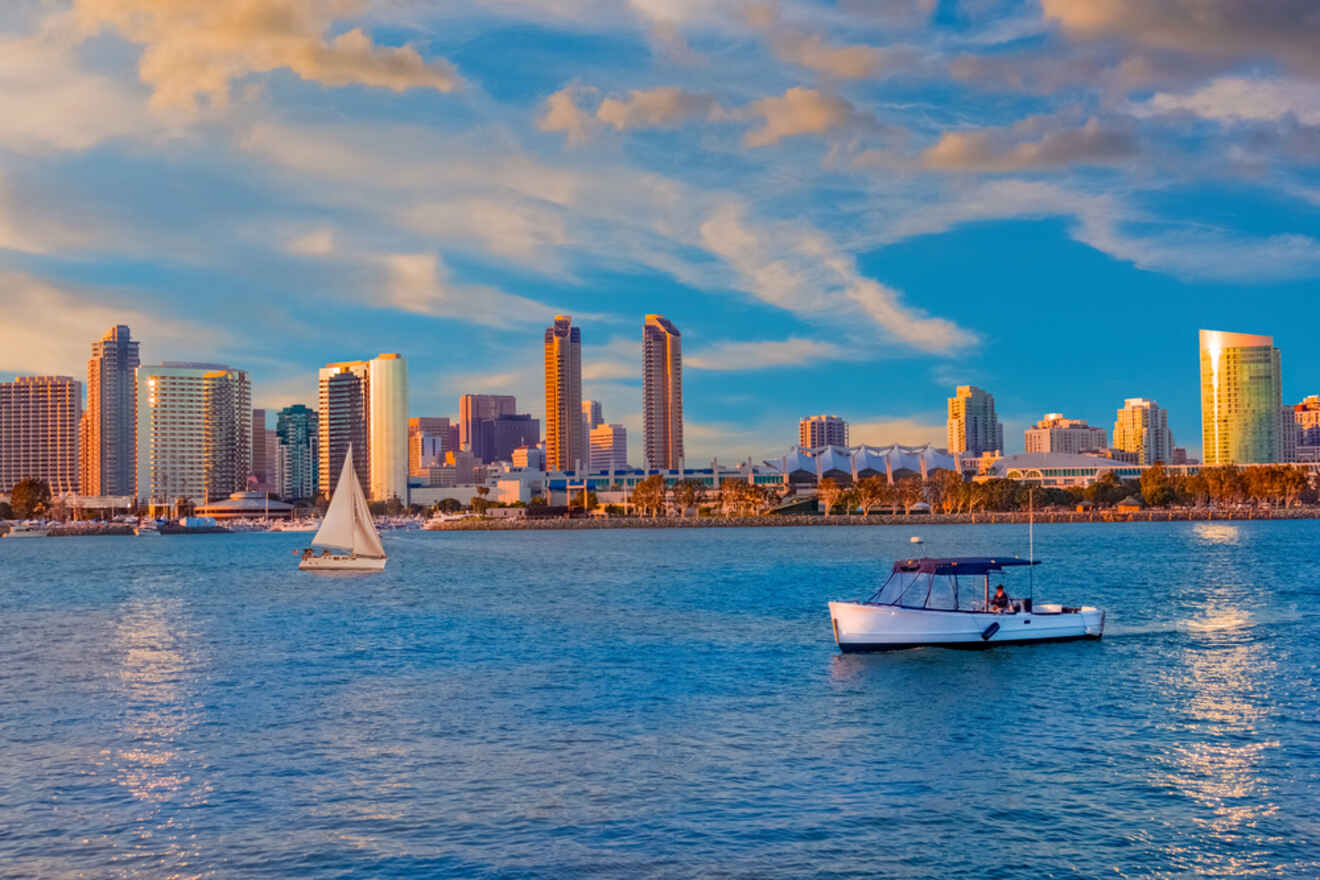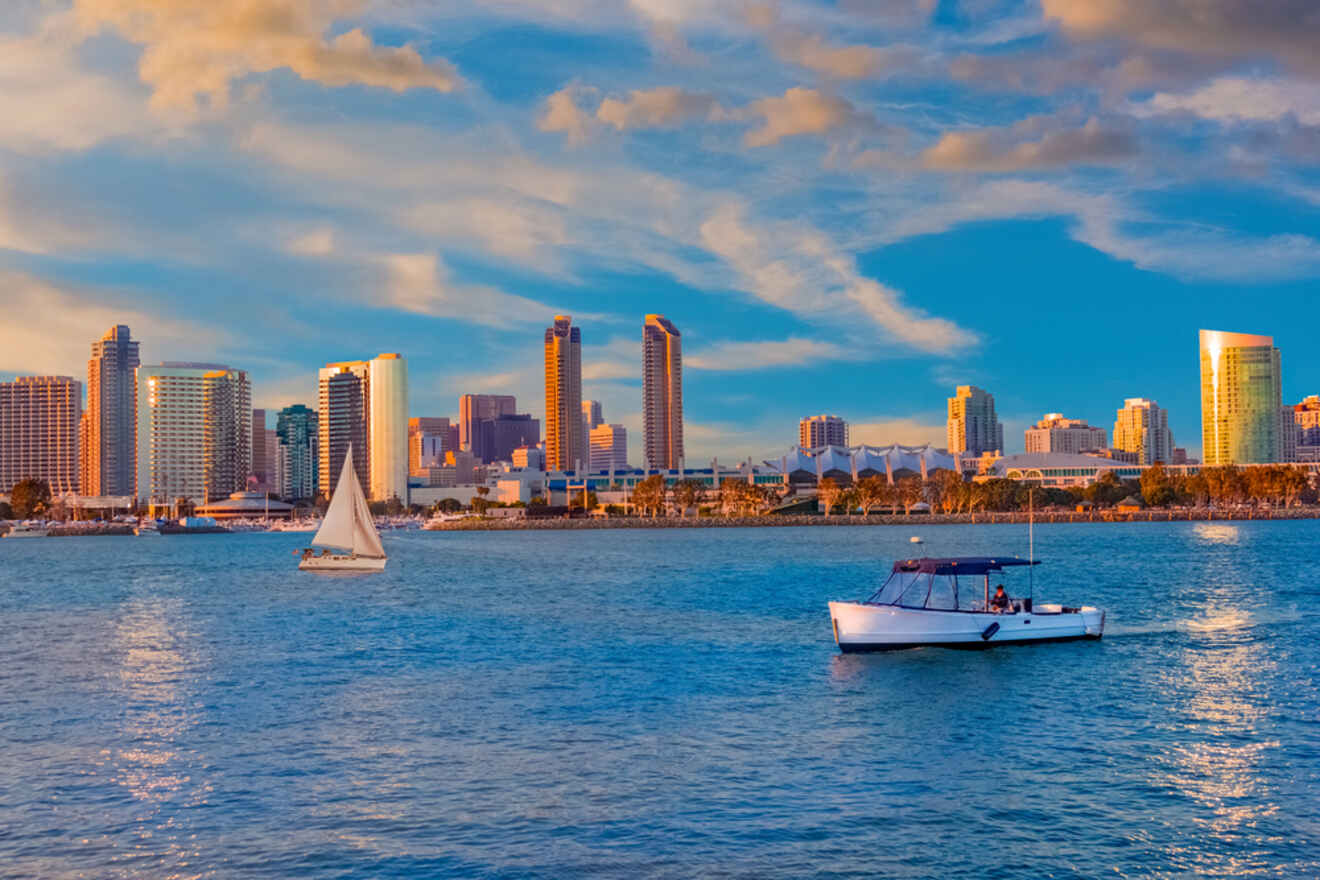 There you have it: the very best San Diego Harbor cruise options to embark on.
Seeing all the amazing historical landmarks from the water has never been easier, especially with so many different options catering to different groups of people and interests!
Don't let this exciting adventure slip away because of poor planning, so make sure to book your spot in advance!
And if you already had the chance to cruise through San Diego Bay, I'd love to hear about your experiences. If you wish to share anything, leave me a comment below! The same applies if you have anything to ask or add to the list!
Happy cruising,
Angelina
---
Pin it for later!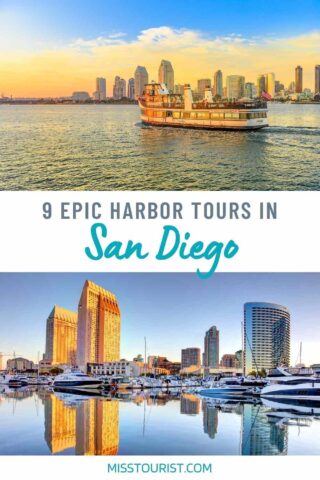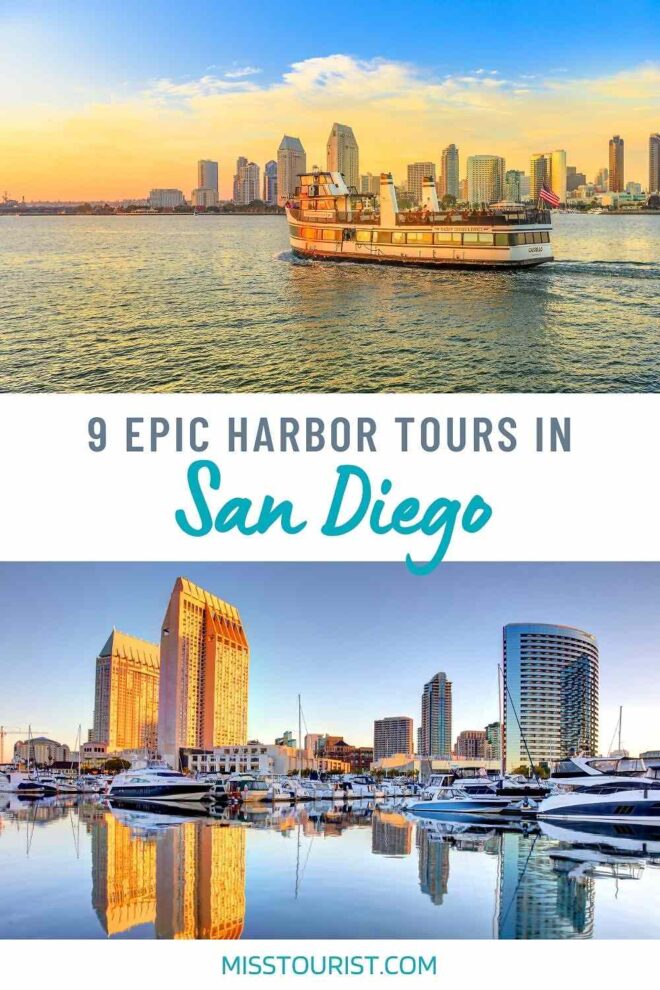 Pin it for later!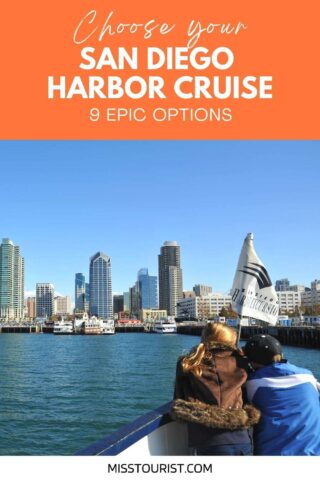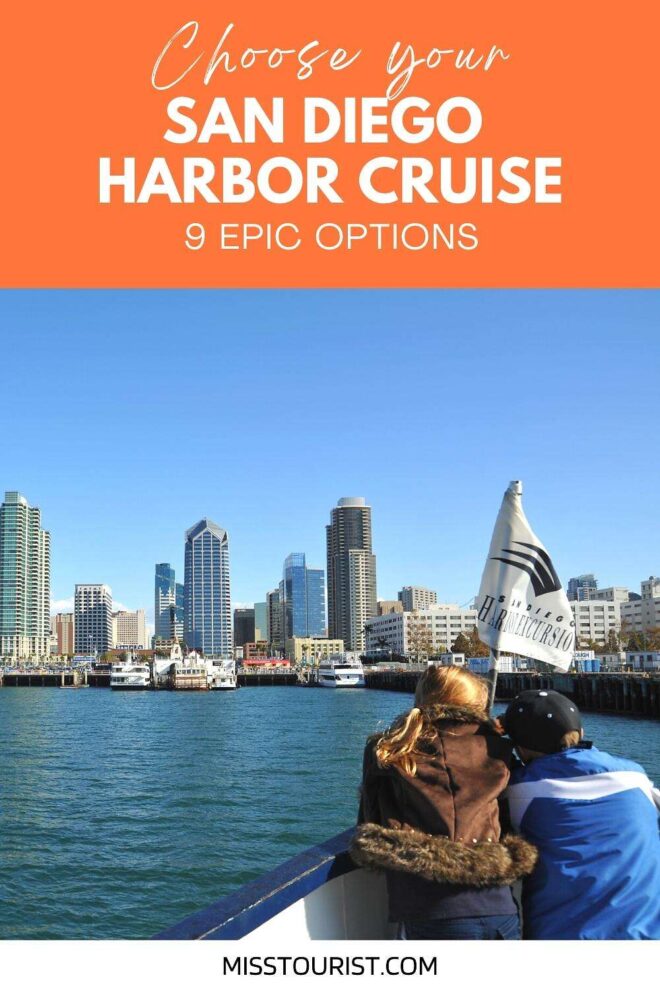 Products You May Like